By Jack Trout, on January 23rd, 2017
         2014, 2015 & 2016        TRIPADVISOR'S TOP AWARD WORLD FLY FISHING OUTFITTER.
                                                                                         
SPRING
 SIGN UPS FOR * UPPER SACRAMENTO, McCLOUD   &  LOWER SAC * YUBA RIVER * M.F. FEATHER RIVER * KLAMATH * PUTAH CREEK * PYRAMID LAKE * TRUCKEE RIVER * DESCHUTES * SANDY RIVER * CHETCO OREGON
                       MARCH * APRIL * MAY * JUNE  – 530-926-4540
530-918-8879 OUR INTERNATIONAL PHONE THAT RINGS ME ANY WHERE OR EMAIL AT INFO@JACKTROUT.COM
                                           MORE DESTINATIONS TO CHECK OUT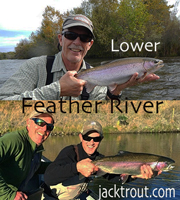 #1 Outfitter For One Day Fly Fishing Trips World Wide.
                                        #1 Outfitter In Fly Fishing World Wide On Tripadvisor 2014, 2015 2016
Need an up to the minute update? Check out our Facebook Page & Videos –
ONE DAY FLY FISHING TRIPS CIÉNAGA DE ZAPATA, CUBA –
1 1/2 HOURS FROM HAVANA TO ZAPATA PENINSULA –
LEAVE 6:30 AM – HAVANA
FISHING 8 AM TO 4 PM, THEN A SHORT TOUR ON THE WAY BACK & STOP FOR A DRINK ON THE WAY BACK AT SLOPPY JOE'S PUB 1917 IN HAVANA.
CUBA CLASSIC CAR TOURS AVAILABLE * MULTI TOUR DAYS AVAILABLE * FLY FISHING
$750 for two anglers, includes lunch and transportation round trip from Havana. Plus short tour afterwards and a trip to Sloppy Joe's pub (1917)
We are working to get prices down in Cuba for these trips, at this point it is very hard due to logistics, prices and being the first to offer this trip to Americans. We are pioneering something that is new and it's like navigating the Old Wild West.
Bring your gear please – 7 wt / 8 wt for bones  – 10 wt. for permit & black bass – 11 or 12 wt. tarpon (Call for fly list.)
****************************************************************************************************
6 NIGHTS 5 DAYS FLY FISHING CIÉNAGA DE ZAPATA, CUBA
$3950 PER PERSON /D.O.            * TARPON * BONE FISH * PERMIT * BLACK BASS
DAY 1. LAS SALINAS – BONE FISH
DAY 2. FISHING RIO HATGUANICO – TARPON
DAY 3. FISHING RIO HATGUANICO – TARPON
DAY 4. LAS SALINAS – BONE FISH
DAY 5. LAS SALINAS – BONE FISH
THIS IS BARLEY A 3 STAR PACKAGE, THIS IS FOR SOMEONE WHO IS ONLY THERE FOR FISHING, DOESN'T COMPLAIN MUCH, AND IS NOT WHITE GLOVING IT ON THE LODGING. 4  STAR PACKAGES IS BELOW, THIS IS FOR THE TRAVELER ON A BUDGET.
The boat we use is top of the line! If the most important part of your trip, this package is for you!
              SAN LAZARO * LAS SALINAS * RIO HATIGUANICO
Las Salinas area we are catching mainly bone fish, we suggest bringing a 7 or 8 wt. 
Come To Cuba To Catch Permit And Enjoy Breath Taking Views. My Guides Know Where To Go And How To Catch Them.
My Guide Felipe Has Fished These Waters Since He Was A Kid, Now With Access To Superior Hunting Grounds With Our New Skiff, We Have The Ability To Take You To The Spots Where Bones, Tarpon & Permit Frequent depending on tides.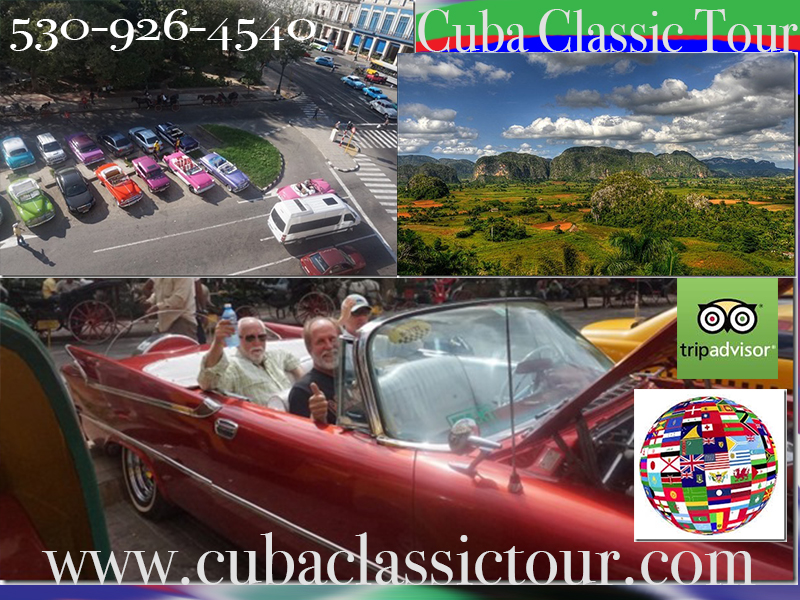 A Big thank you Goes Out To: Jim Chadwick (2nd Trip), Michael Wior, Adrian French, Bryan & Christine Frost, Victor Mahony (2nd Trip) & Guest. So Far Signed Up To Go To Cuba In 2017, Our 25th guests we've sent so far in 2 years. It's a wonderful place to visit, we have the experience now to make it a great adventure for all Americans & other countries. Respectfully submitted, Jack & Carola Trout
Dear Fellow Anglers,
Hope you are all doing well, we are touching base to let you know that we have the following
weeks available for the prime season of 2017:
CAYO CRUZ, AVALON FLEET I (GROUPS BETWEEN 8 AND 12 ANGLERS): MARCH 31ST TO APRIL 7TH, 2017
JARDINES DE LA REINA, AVALON FLEET II: MARCH 18TH TO MARCH 24TH, 2017, 6 OPEN RODS
JARDINES DE LA REINA, LA TORTUGA: JUNE 24TH TO JUNE 30TH, 2017, 10 OPEN RODS
ISLA DE LA JUVENTUD, PEROLA YACHT: JUNE 2ND TO JUNE 9TH, 2017, 6 OPEN RODS
CAYO LARGO, HOTEL SOL CLUB: JUNE 30TH TO JULY 7TH, 2017, 6 OPEN RODS
We can offer special discounted rates at any of these dates, feel free to ask.
We are also offering group specials, with free trips for group leaders.
Give us a call to arrange tours or fly fishing in Cuba.
Kind regards, Jack & Carola Trout
Our Cuban Guide Jesse Aguilar Is One Of The Best Tour Guides In All Of Cuba, He's All About History, Culture And Making Sure Guest Have a Great Experience While Staying Around Havana.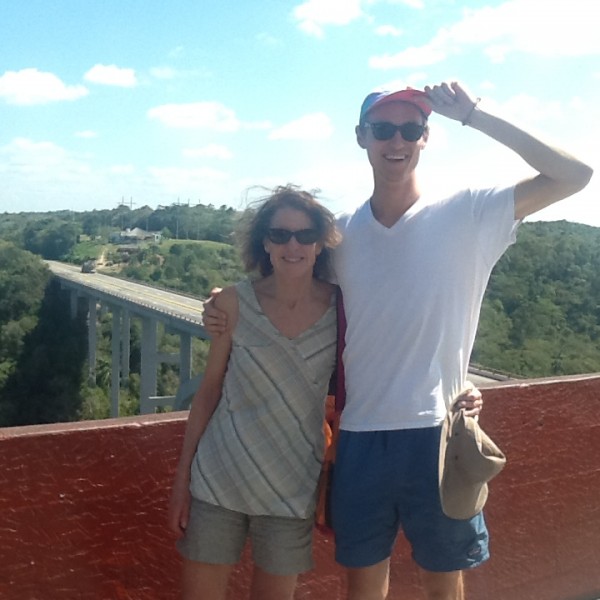 Ask Margy & Bo Titus, They Enjoyed Their Experience With Jesse Thoroughly And Raved About His Tour With Cuba Classic Tour In February of 2017.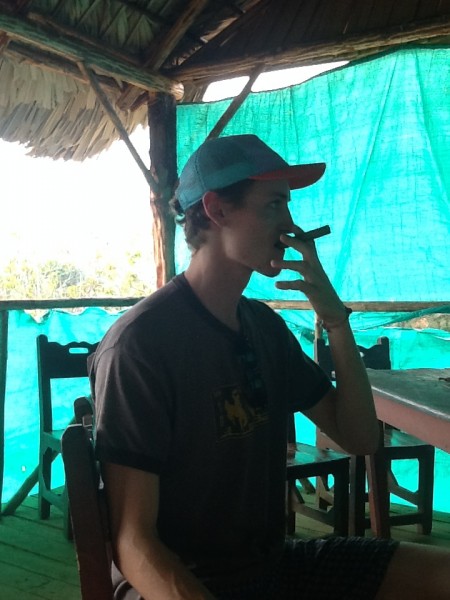 Bo Got To Visit And Authentic Tobacco Farm Near Vinales And Sample What Freshness Is All About.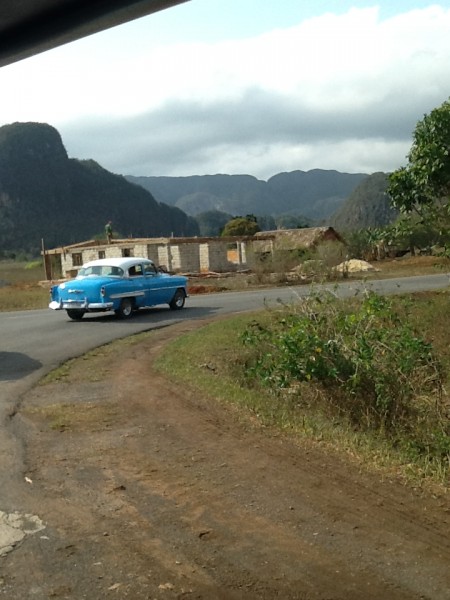 It's Always Great To See Cuba In Classic Cars, Providing Those Trips Is What We're All About.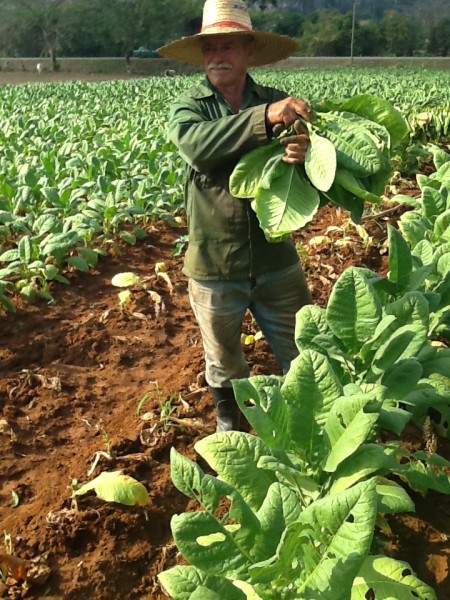 Got To Love It! This Tobacco Farmer Is Reaping The Fruits Of His Labor. There's A Few Bugs Out There Too That Love, Just A Pinch Between The Cheek And Gum…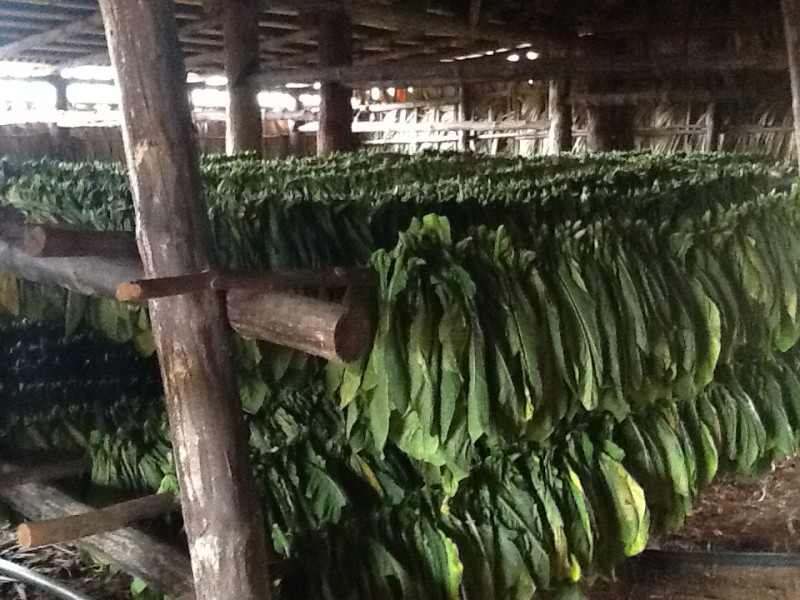 The Drying Process Is Cool To See Also, Then Comes The Rolling Education.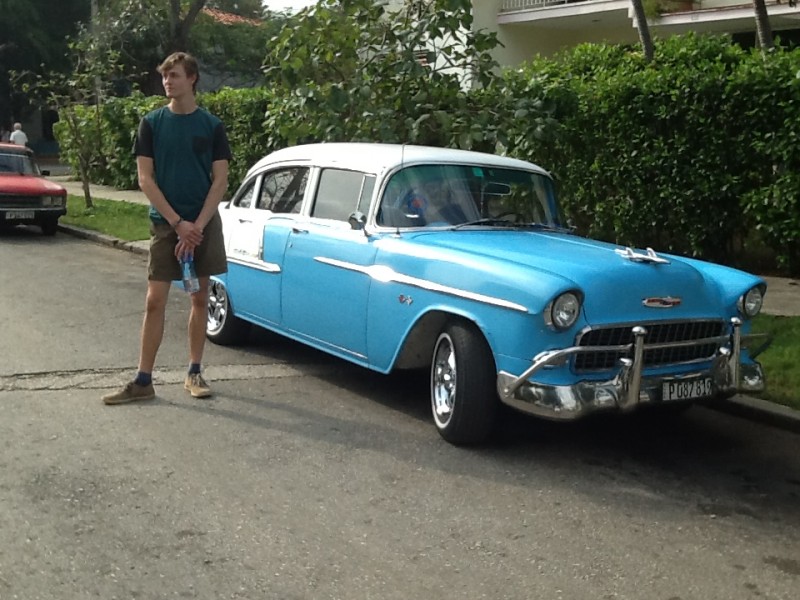 Next A Trip Into Town To Witness A Little More Culture. With Jesse, Anything Is Possible.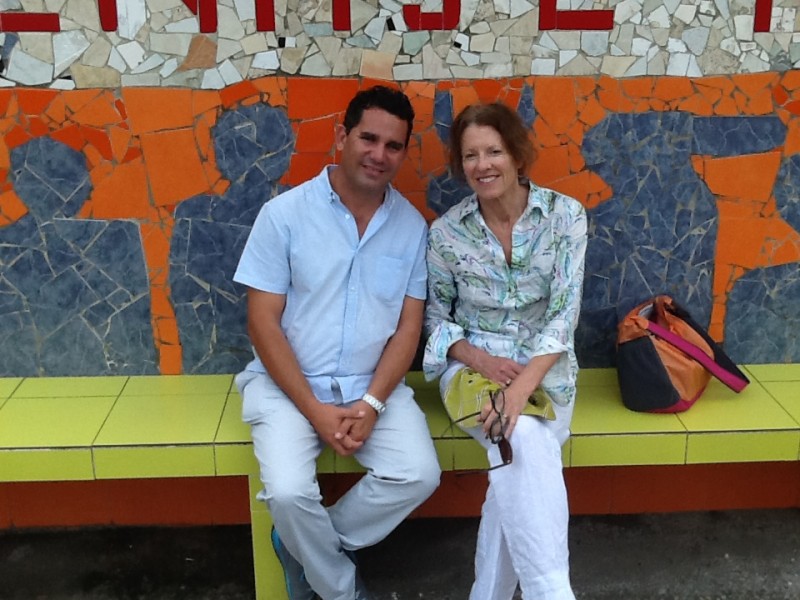 Margy Really Enjoyed Her Tours With Our Partner Jesse, Let Us Become Your Tour Guides To A Cuban Dream Vacation.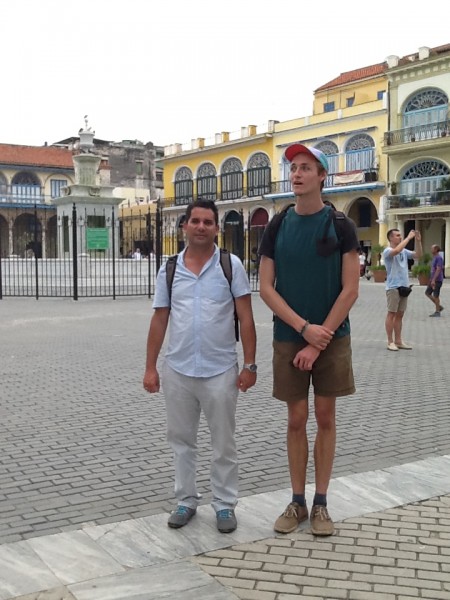 Bo Enjoyed The Architecture Of Old Town That Dates Back to Colonial Times Around The 1600's.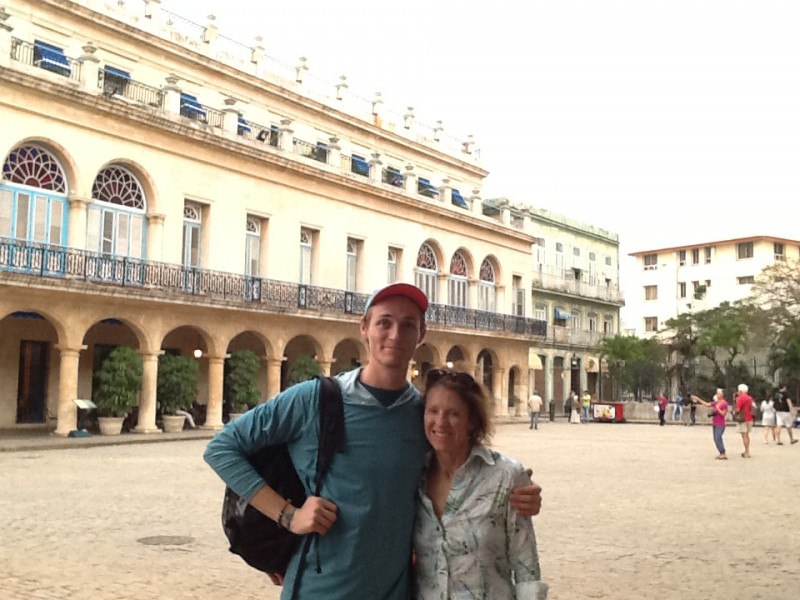 Viñales Is A Wonderful City, Especially When Mom's There To Share The Experience.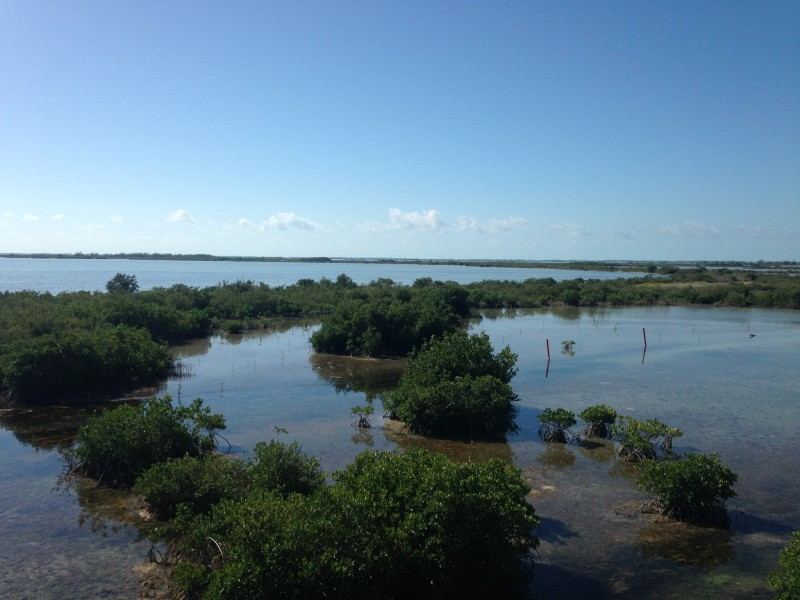 The Next Day We Sent Them On A Fly Fishing Expedition Near Playa Larga To Fish In Las Salinas For Bonefish.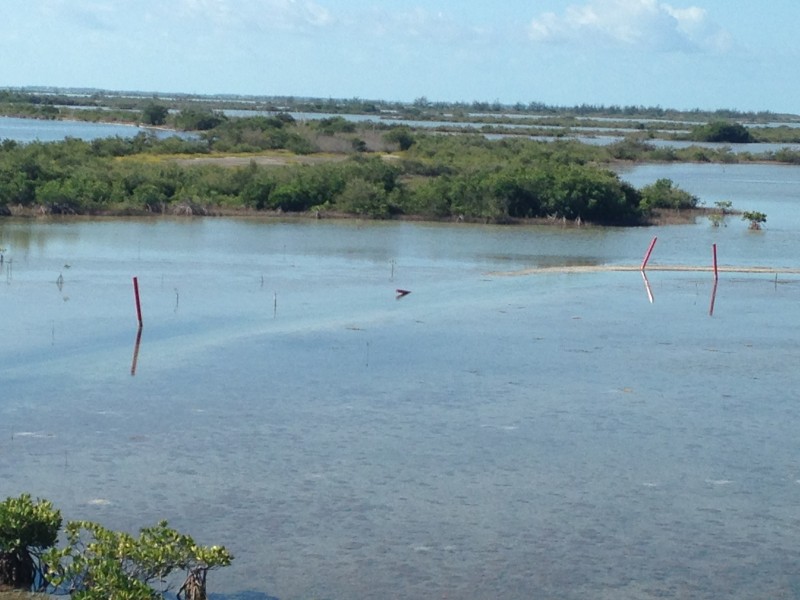 Out Here Bones Lurk!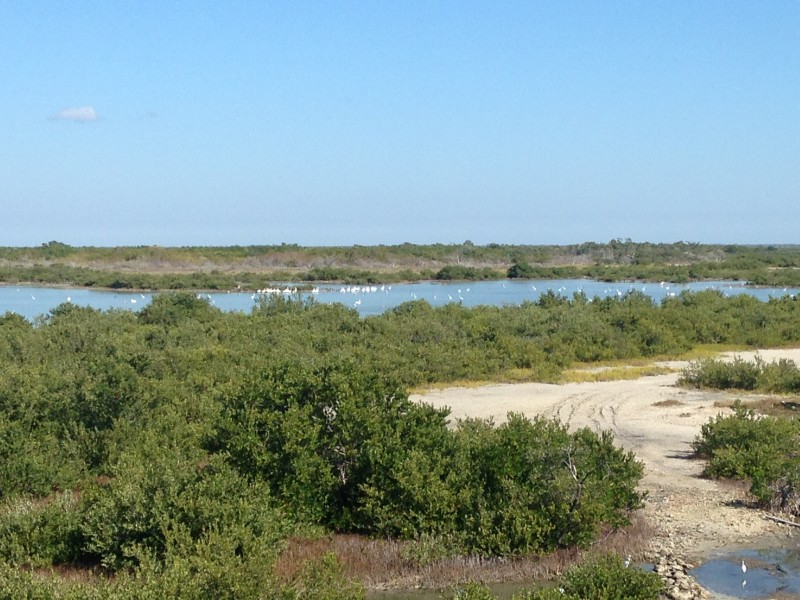 You Could See Many Birds That Live In Their Natural Habitat Including White Egrets &  Flamingos.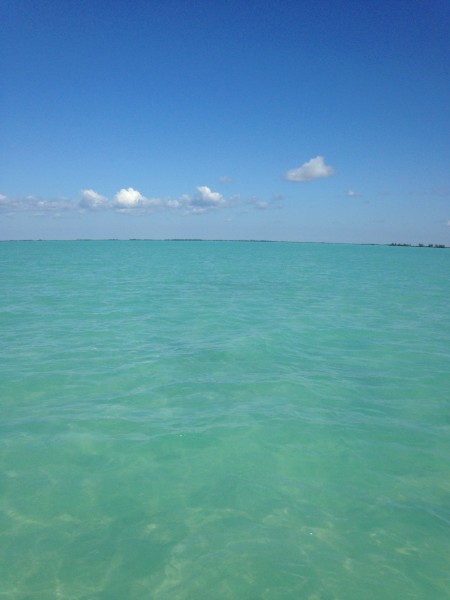 But It Was The Ocean Waters That Held Fish Is What They Really Came For.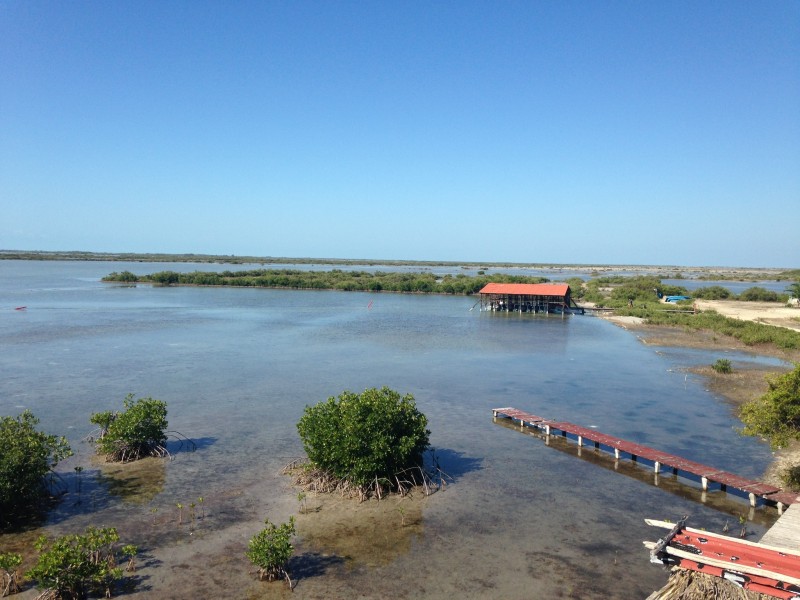 The Dock Is Where Any Good Adventure Starts.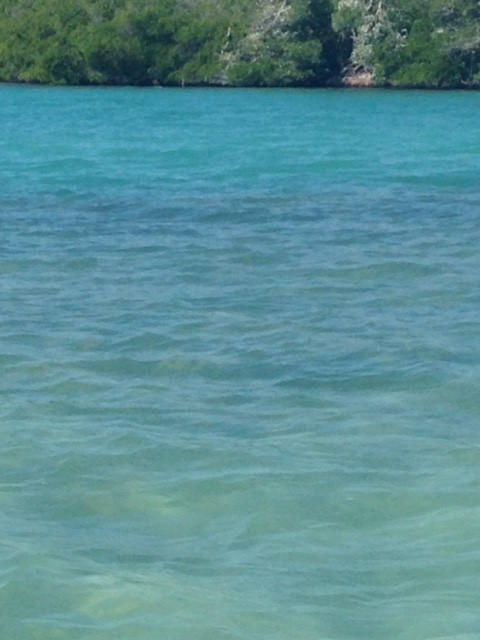 Not Too Far Out From There Schools Of Bones Could Be Seen.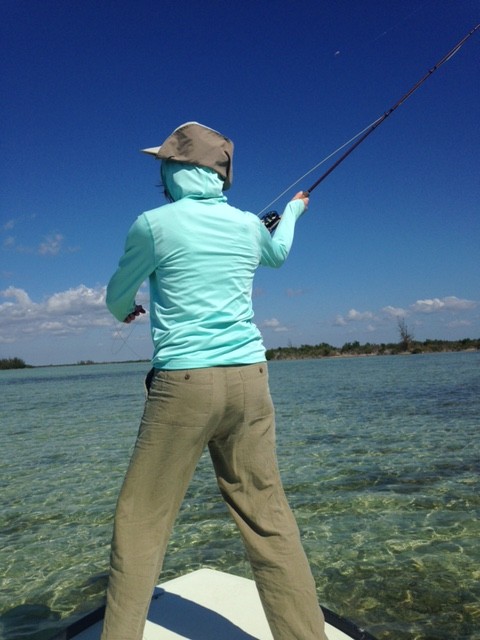 Low Tide Came And Julio Our Guide Spotted A School Of Bonefish, Margy Began Casting In A School Of Over 100.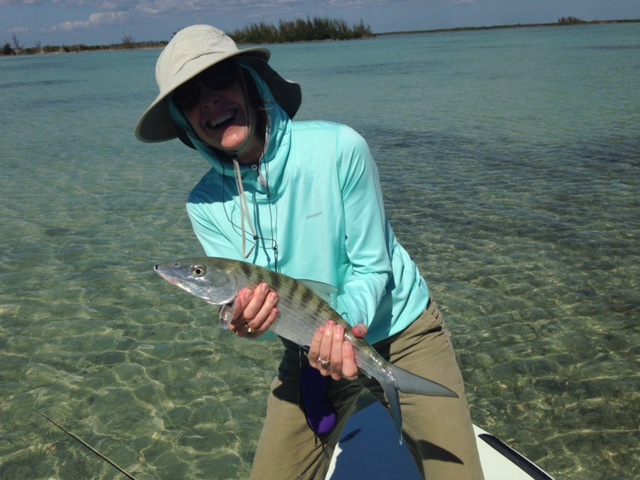 Jack and his wife Carola organized an amazing day of bone fishing from Playa Larga, Cuba. It is an exquisitely beautiful flats seascape and we were the only boat as far as one could see the entire day. Our excellent guide put us into fish and we caught 'bones' all day. He was also an amazing teacher and my son caught his first bonefish and many more. I highly recommend Jack and his team. It was a perfect, productive, long day, a great boat and picnic lunch, and I hope to do it again!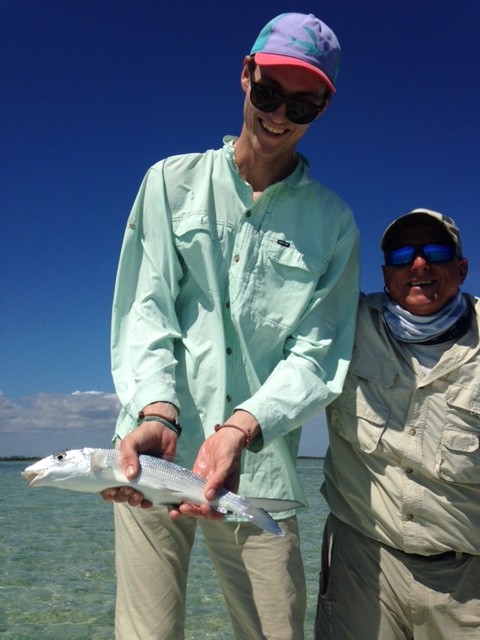 Not To Long After, They Both Started Hooking Bones Left And Right! We Got A Bonefish Adventure For You In Cuba, As Well As A – 4 Star Packages, Let Us Know How We Can Help.  Info@jacktrout.com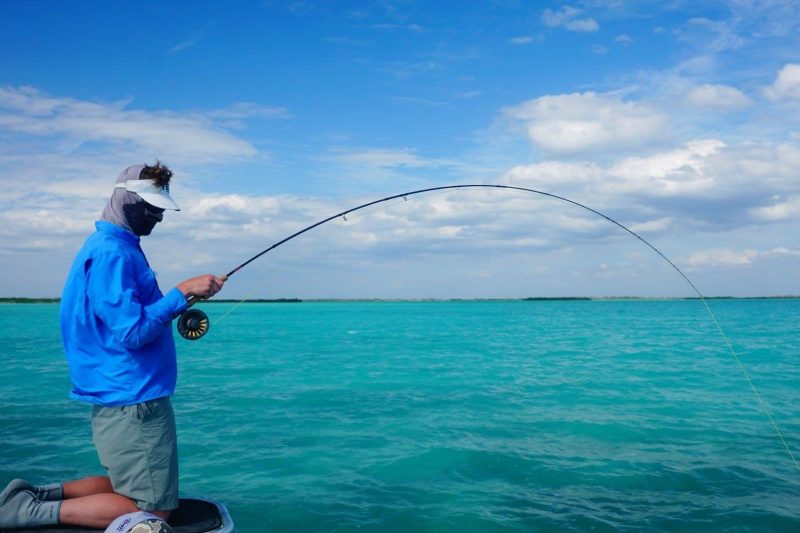 Las Salinas Cuba, My One Day Adventure I Offer For Bone Fish.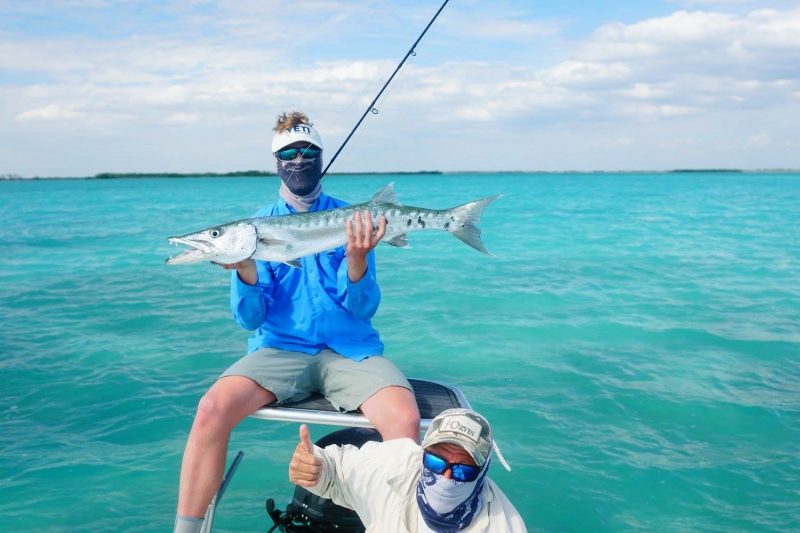 Barracuba!! 🙂
The Means By Which We Travel.  www.cubaflyfishguide.com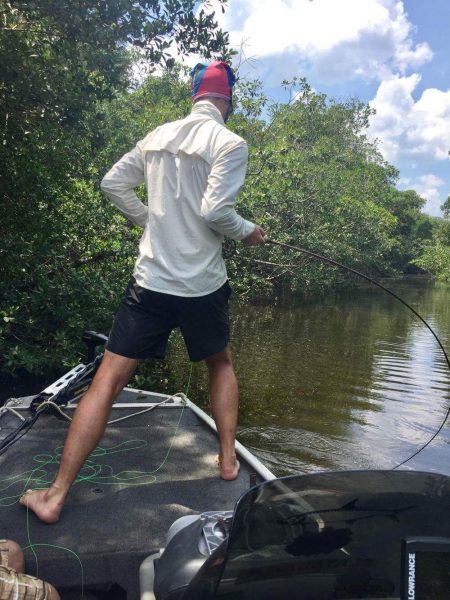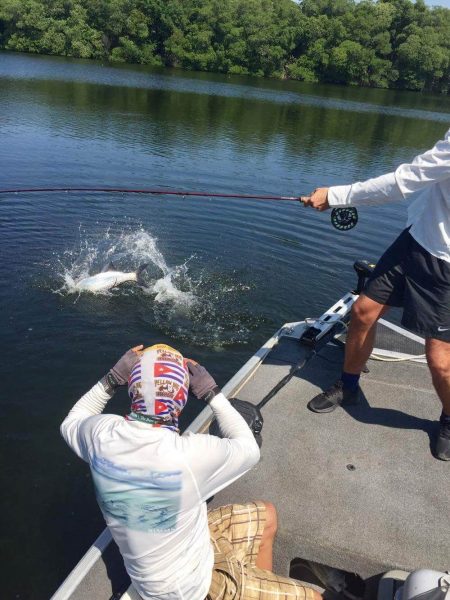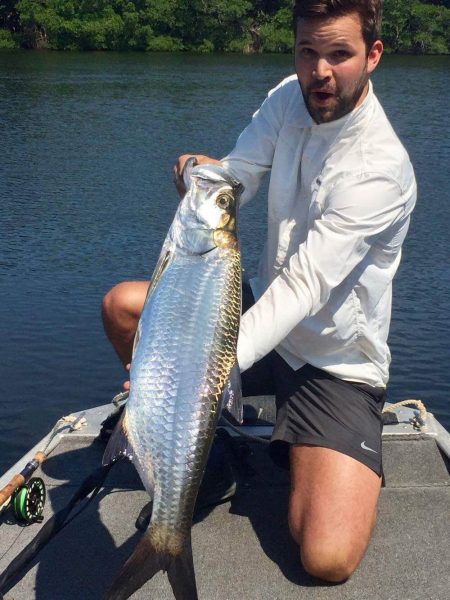 Success, Mr. Tarpon!
**********************************************************************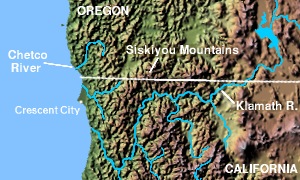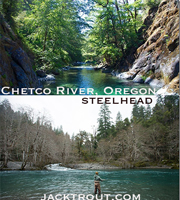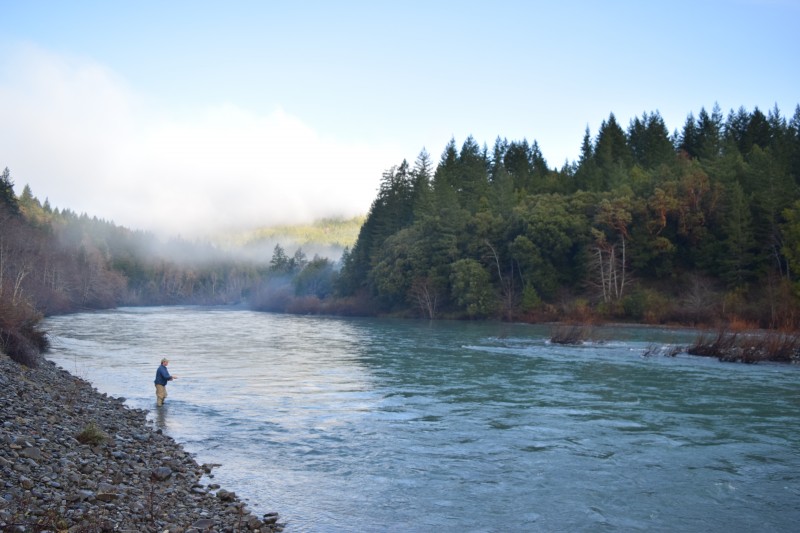 Up In The Pacific North Coast Of Oregon Is The Chetco River, A Short River In Comparison To Most Coastal Rivers. This Is One Though, Steelhead & Salmon Love Because Of It's Unaltered Pristine State.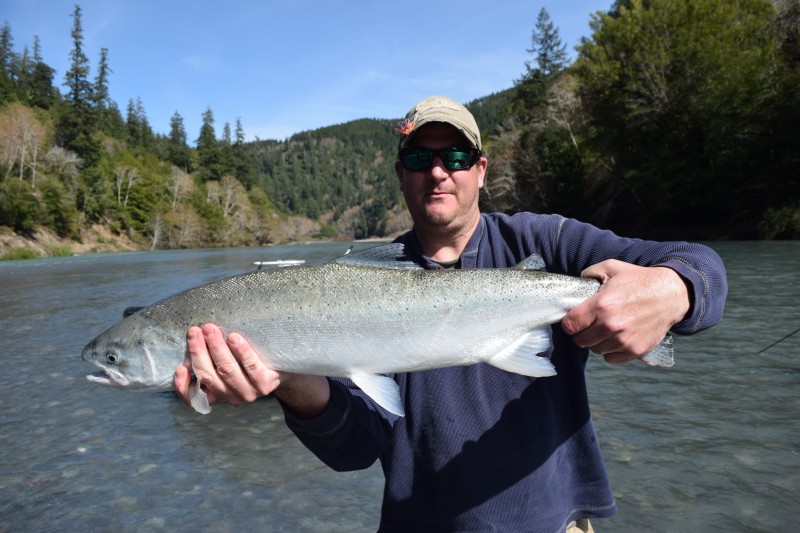 This Steelhead Was Caught In March Of 2017 With Our Guide Kenton On The Chetco River. Devin And His Family Came Over From Plymouth, Minnesota. What A Prize For The Ride Out, But Our Guides Grew Up On These Rivers.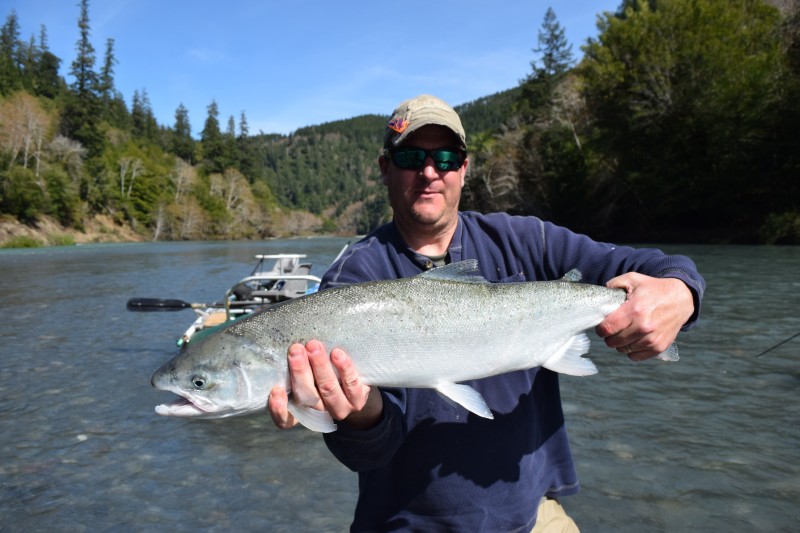 I booked a trip through Jack Trout and would highly recommend them to anyone looking for a great experience. My guide Kenton was very professional, patient and knew the Chetco river very well. We landed and released three beautiful wild steelhead and had a great time. Kenton helped me with my spey casting technique and how to read the water where steelhead travel. I will be back and book through them again.
Devin L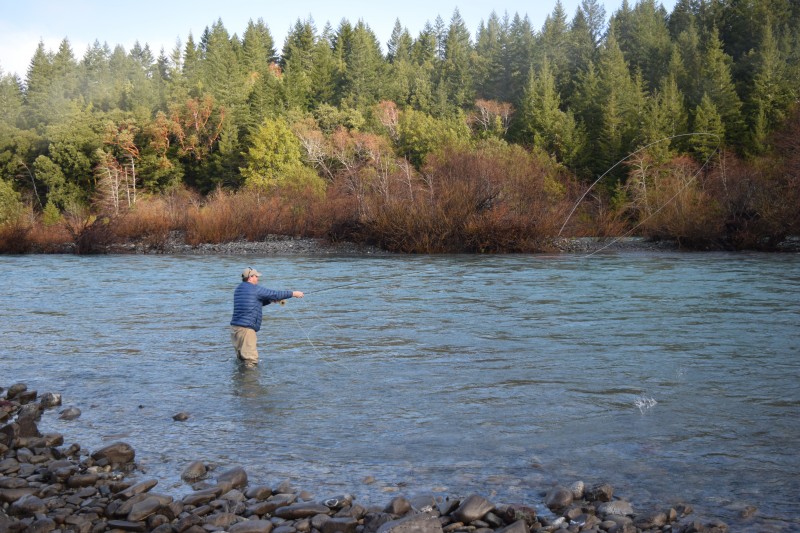 We Are The Spey Casting Experts, Give Us A Call When You Want Instructions.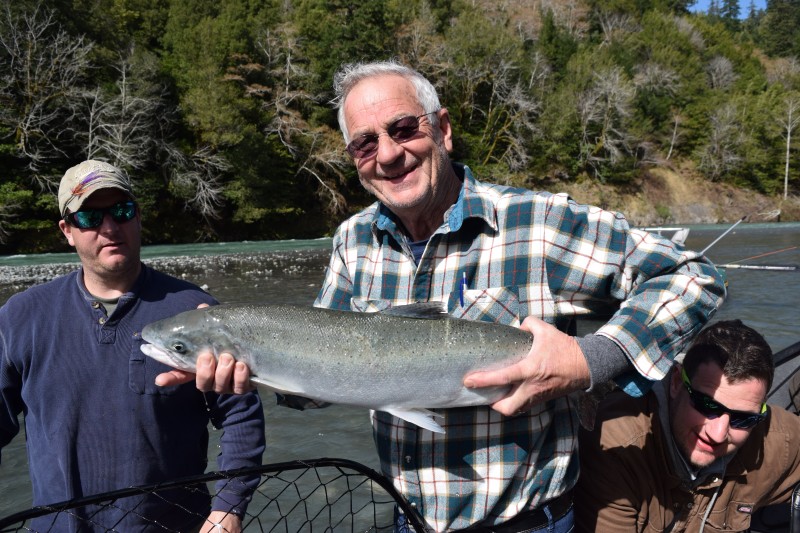 Pops Also Got Into The Action That Day With 3 Steelhead Landed And 2 Salmon.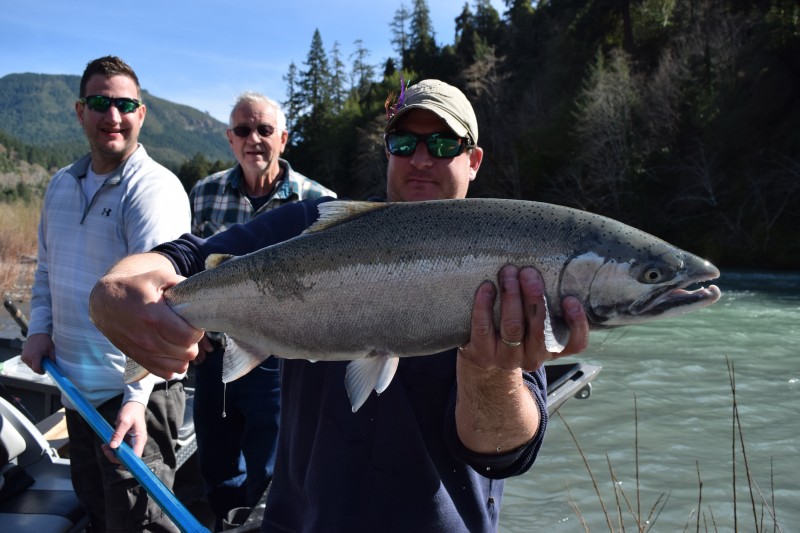 Now That's Worth Bragging About Just About Any Where In America.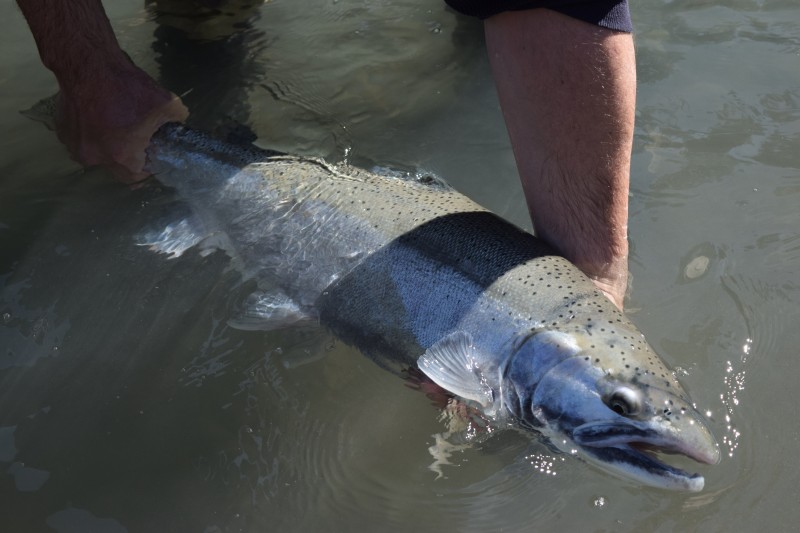 He Was Released Unharmed Folks.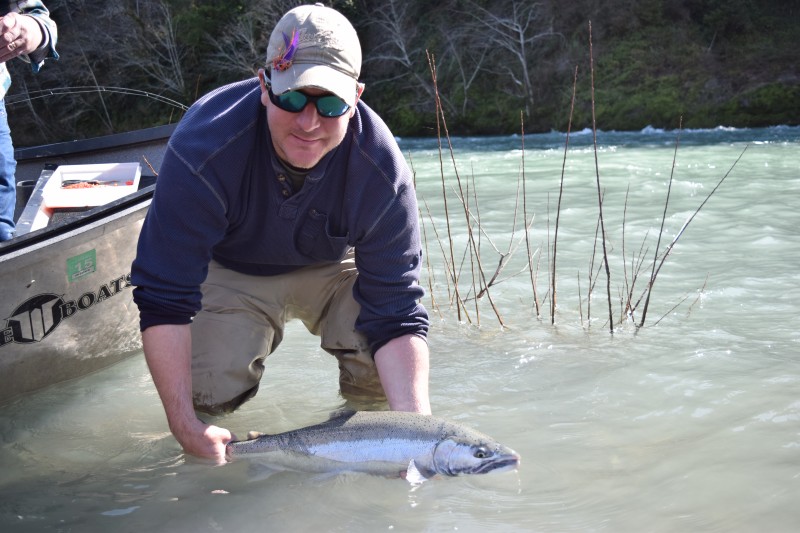 Devin Long, Thanks For Coming Out To Oregon And Calling Jack Trout Fly Fishing International, The leaders In Pacific West Fly Fishing. Many Rivers, Jack Trout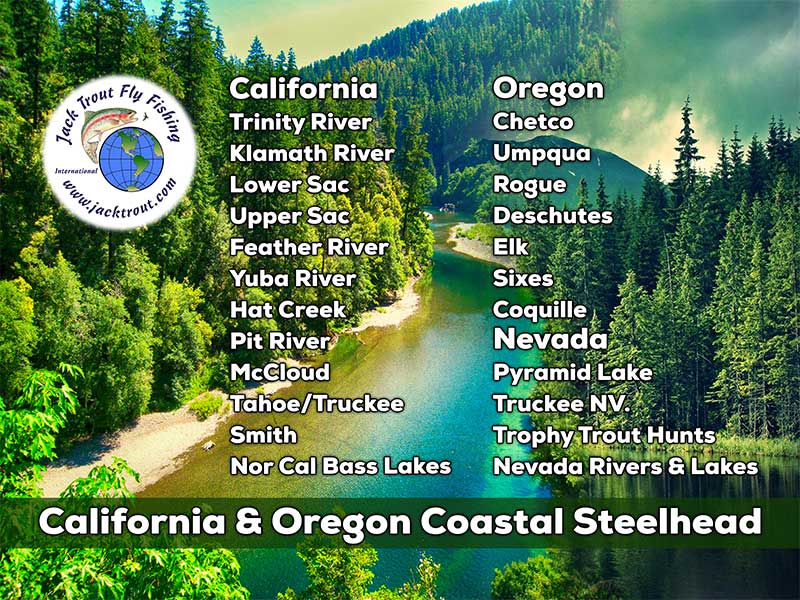 GOING TO RENO, NEVADA AND NEED A TRIP? JACK TROUT FLY FISHING INTERNATIONAL HAS YOUR GUIDE ON PYRAMID LAKE AS WELL AS MANY OTHER GREAT LOCATIONS & RIVERS IN NEVADA.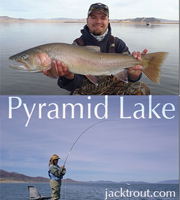 <CLICK HERE FOR MORE INFO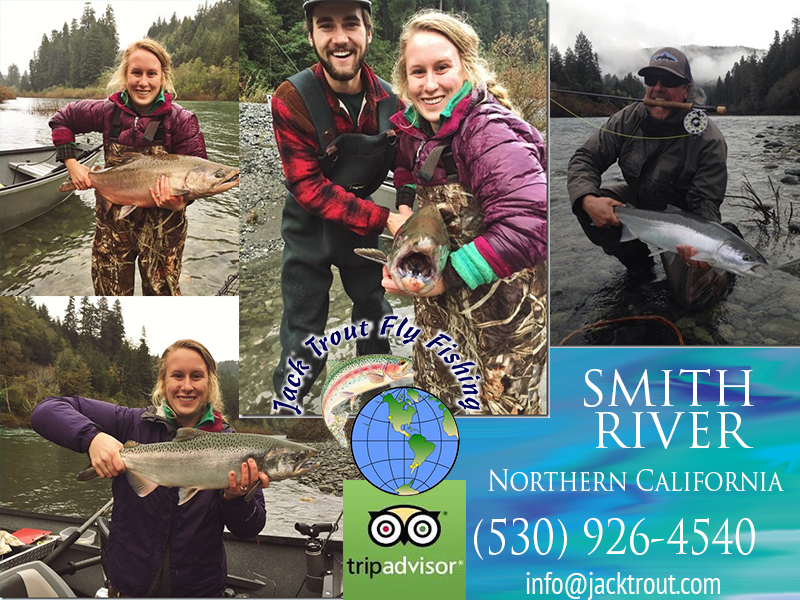 CALL NOW TO FISH THIS RIVER IN APRIL, OUR GUIDES ARE REPORTING AN UNUSUAL AMOUNT OF STEELHEAD LURKING, IN A SECRET LOCATION.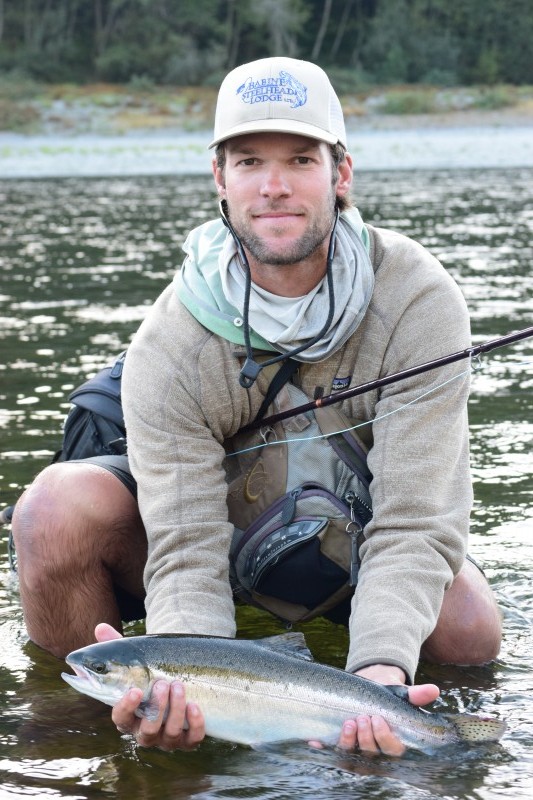 Our Head Oregon Guide Kenton Bansemer Says It Was A Terrific Season On The Chetco, Elk & Sixes, But Those Rivers Are Close Now And The Smith River Still Has Steelhead And Salmon, Schedule Your Trip With Us For April.
(THE TOM BRADY OF FLY FISHING GUIDES, HE WILL BREAK ALL RECORDS EVER KNOWN IN THE SPORT.)
Jack Trout Hotline 530-926-4540 or info@jacktrout.com or 530-918-8879 Rings Into My Computer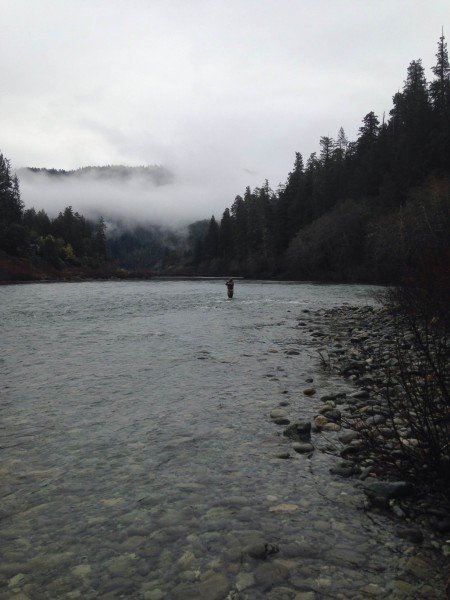 You Won't Be Disappointed And We Know Where They'll Hiding As Well As Instructing You Along The Way.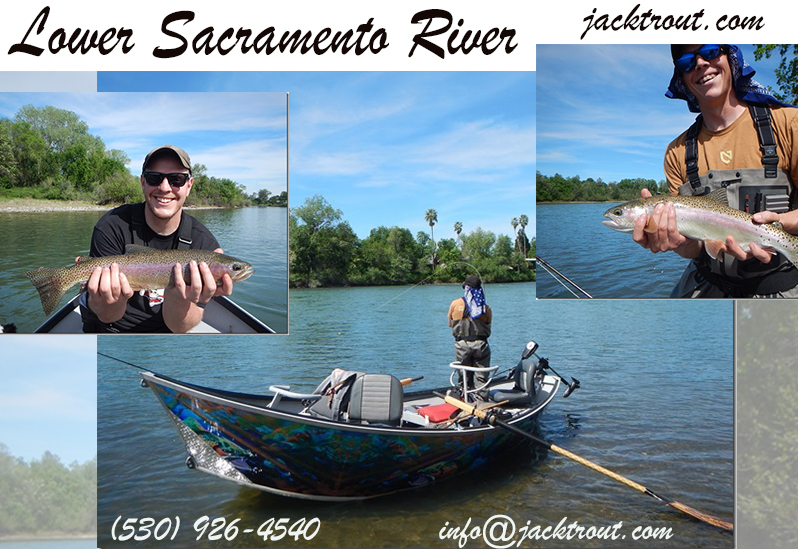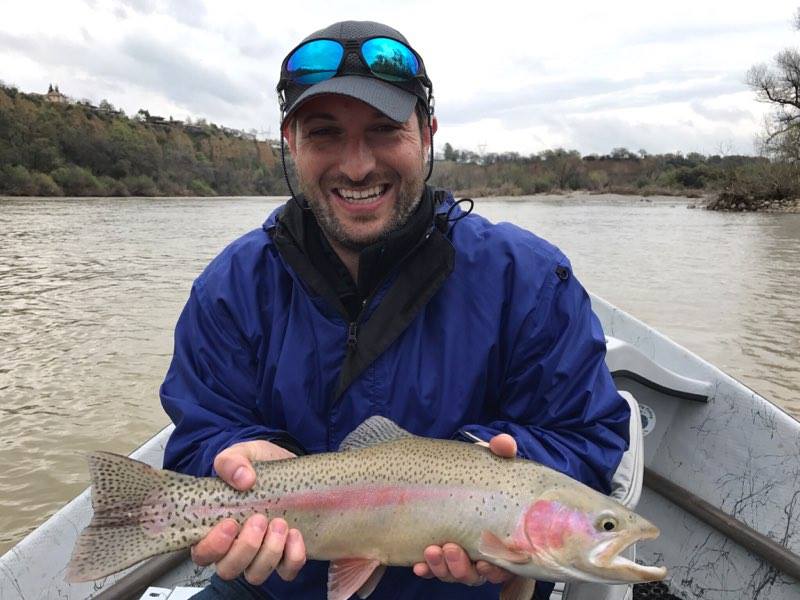 Jack Trout Fly Fishing California Are The NEW Leaders In Guiding On The Lower Sacramento River, Guide Ian Stratte, Can Pull A Rabbit Out A Hat And Still Provided For A Great Day With Lance Matthew's Group Last Week. How Do We Do It? With Guides That Have More Heart And Determination Than Any Other Outfit Today, We care More People And Have The Newest In Boats & Equpiment! Many Are Talking About It Through Reviews And Social Media, That's What Makes Us #1. Put Your Trust In Us And Tell Everyone Please, jt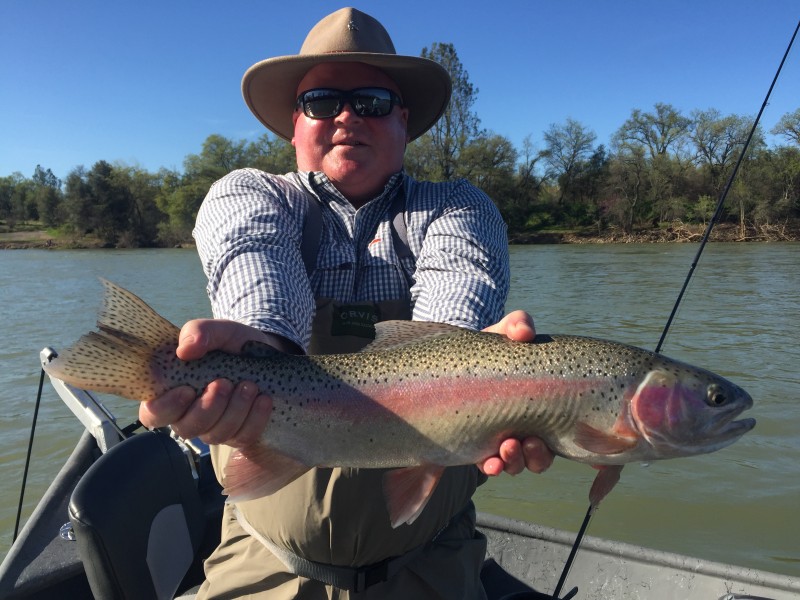 Guide Forrest Brizendine Says, "Now's The Time To Book Your Spring Trips On The Sacramento River, It's Only Going To Get Better!" He Has Had A Great Week. Have You Seen Forrest's New Boat? Only The Nicest Piece Of Equipment On The Lower Sac By Any Outfitter! Way To Go Forrest, Always Getting Better!  🙂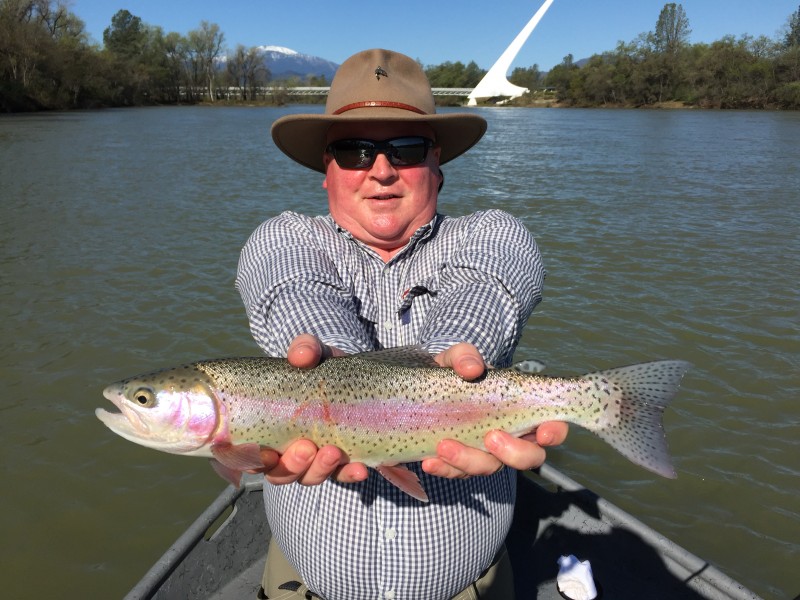 You Can Win A Free Jack Trout Hat If You Can Tell Me What Color Is The Best Fly In Dirty Off Color Water Like This? Nice Fish Forrest!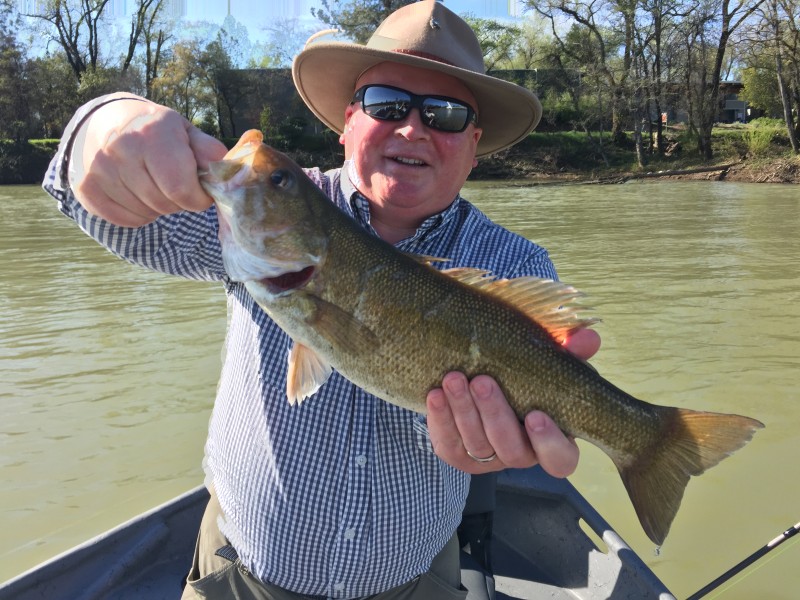 Even Got A Bass, Just For Giggles!! 🙂 Way To Go Forrest, Thanks For Your Updates! jt
My Guide Ryan Williams Took Out His Friends Kayla & Brandon For A Exploratory Mission Out On The Lower Sac.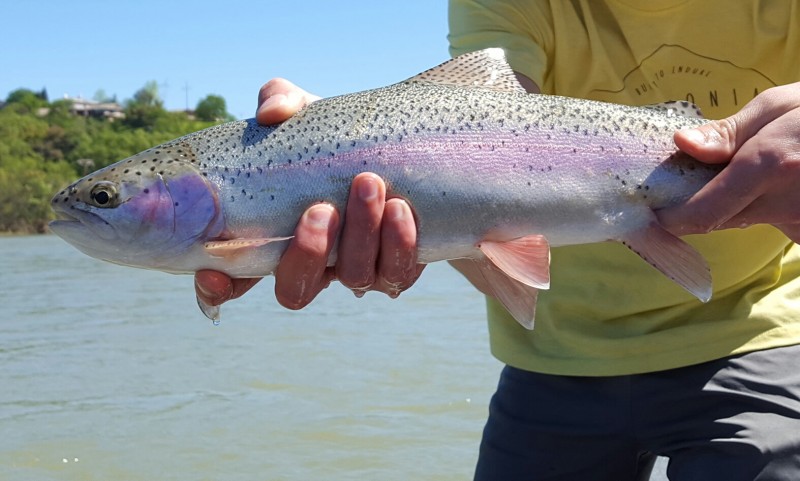 Find It They Did! The Lower Sac Is Now Officially Open And Fishing More Consistent. If You Know The River Like We Do, You'll Be Catching Trout With Us!   530-926-4540

Chailyn's Glory Is The Name Of This Boat.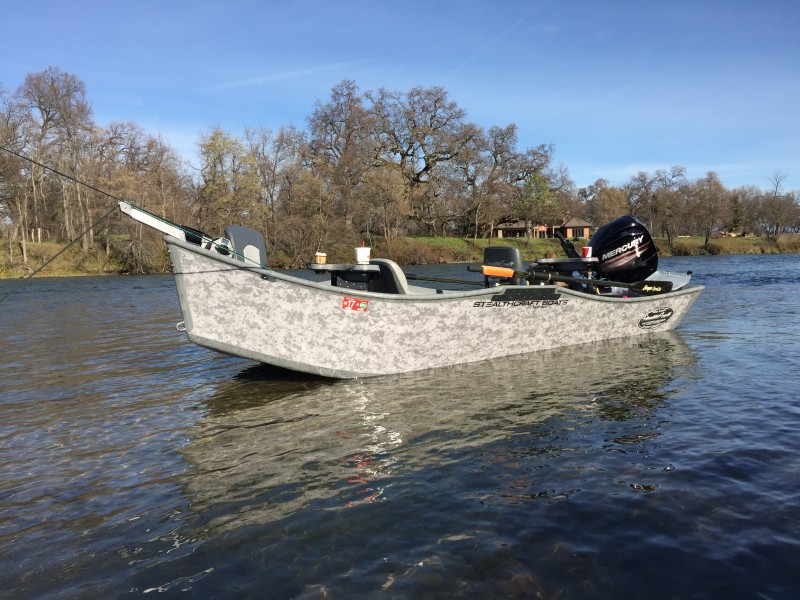 Forrest Brizendine's Boat 2017 – Having The Best Boats & Equipment Is Key To Leading The Way In The North State, When Guides Prosper So Do Their Clients On The Lower Sacramento River 2017 Key Season.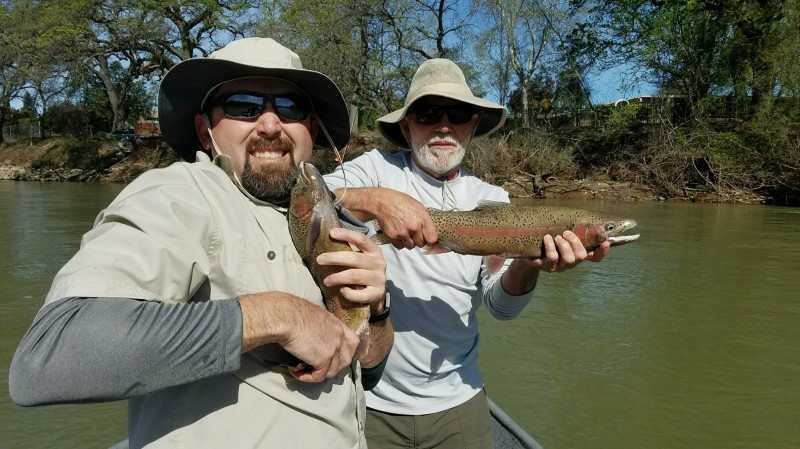 SAC IS BACK FORREST BRIZENDINE REPORTS TO ME YESTERDAY!! JUST IN TIME FOR OUR BIG GROUPS COMING IN APRIL.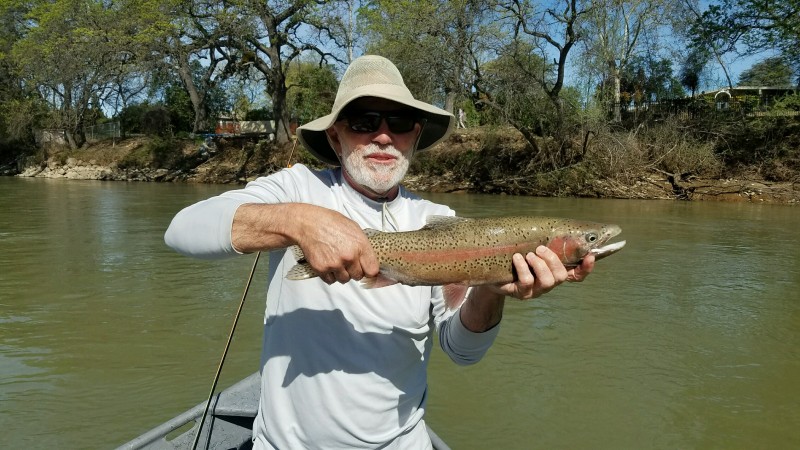 April 3rd, 2017 – Even with Off Colored Water, The Team Trout Guides Can Get You Into Trout When All Other Option Are Failing.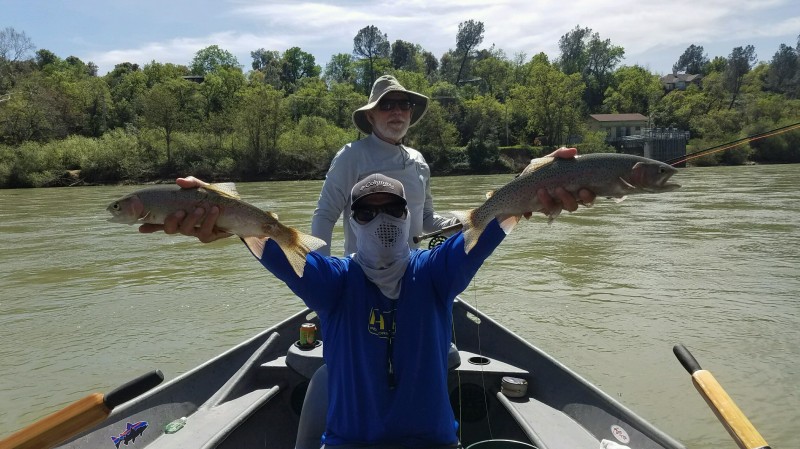 Hey Jack, Hook over 50 fish that day up in Caldwell, river is now around 2′ of viz. Best, Forrest B.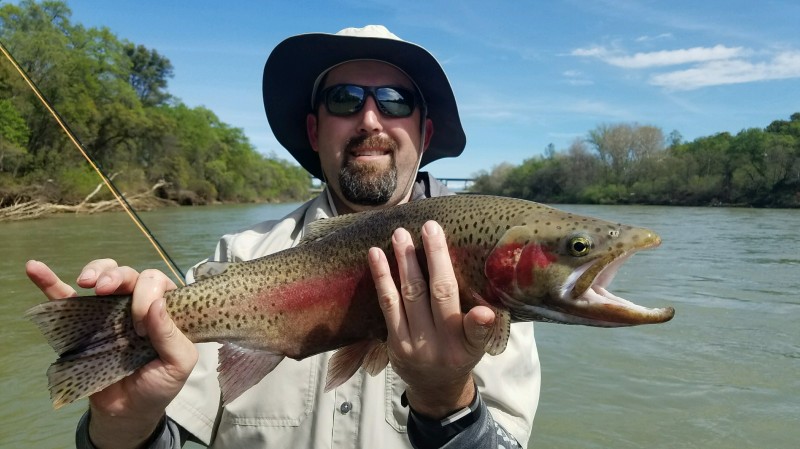 SWEET PEACHES PACK YOUR BAGS, WE GOT YOUR SPOT ON THE BOAT, ALL DIALED UP NOW FOLKS!  530-926-4540 or info@jacktrout.com
Meet You At The Parking Lot Across From The Black Bear Diner In Redding, On Cypress & Hill Top Avenue.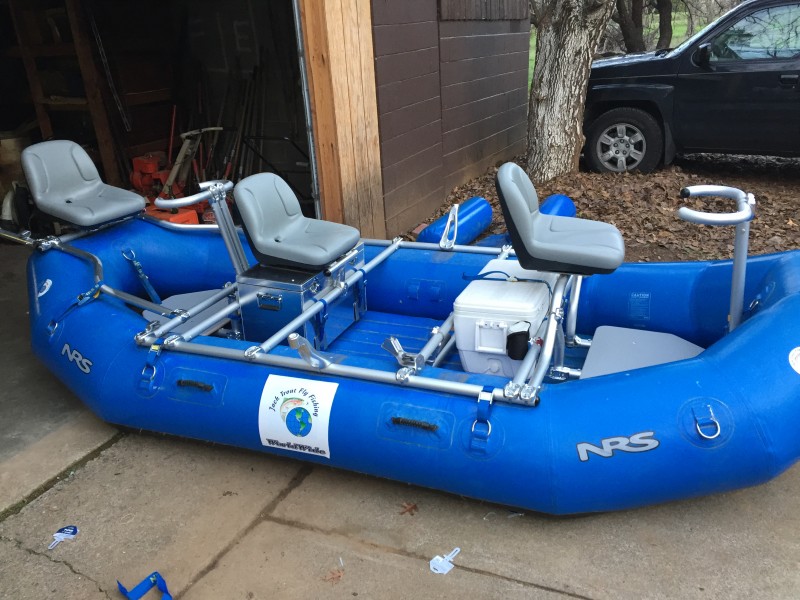 Chailyn's Destiny Is The Name Of This Boat.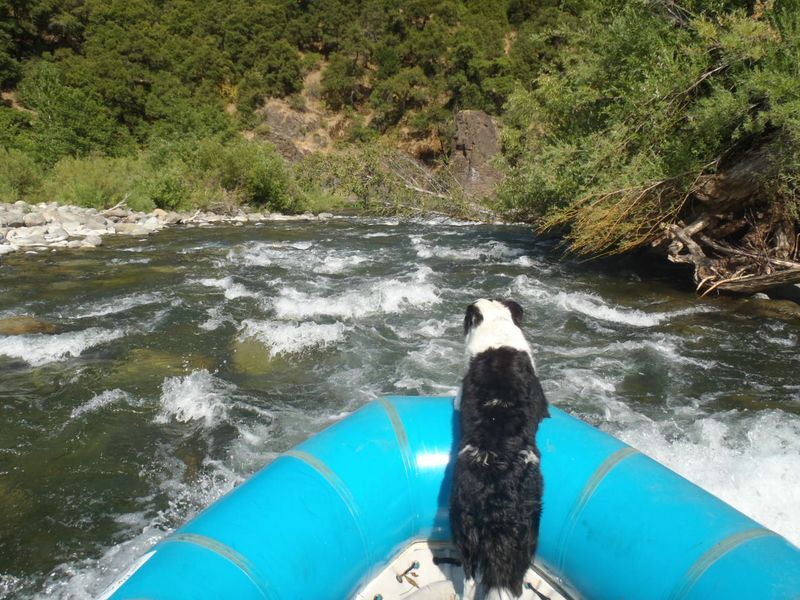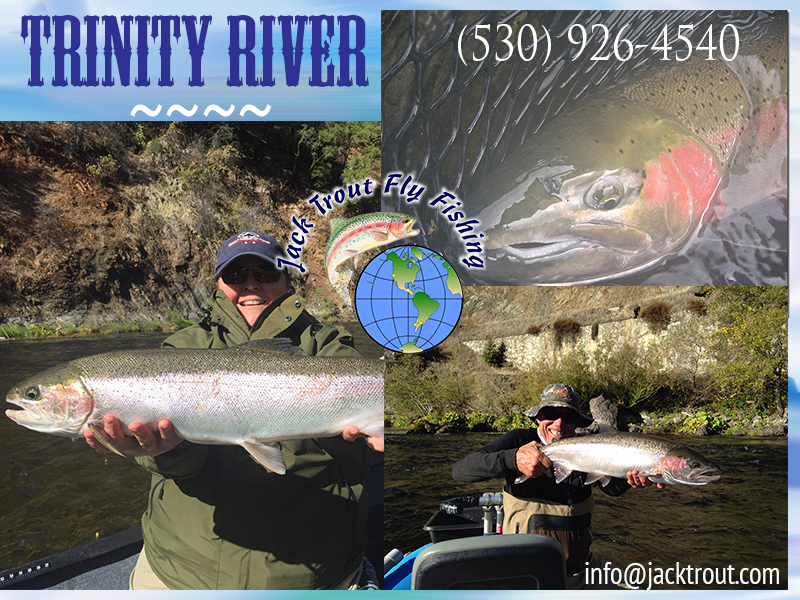 Project: Lewiston Dam
Please make the following release changes to the Trinity River.
Date                Time         From (cfs)     To (cfs)
04/05/2017      0200           300              400
04/05/2017      0400           400              500
04/05/2017      0600           500              700
04/05/2017      0800           700              900
04/05/2017      1000           900             1100
04/05/2017      1200          1100            1300
04/05/2017      1400          1300            1500
Comment:  Storage management
Issued by: R. Field
—
View online at http://www.trrp.net/restore/flows/release-email/
—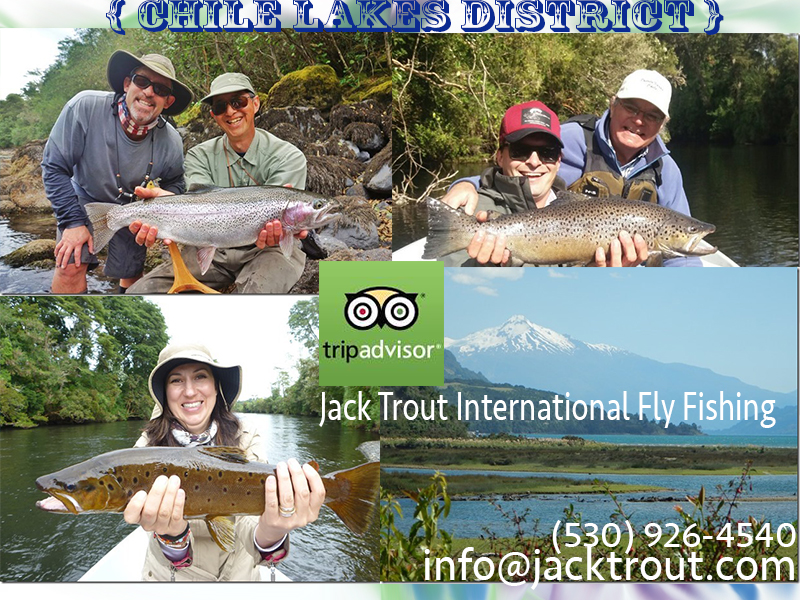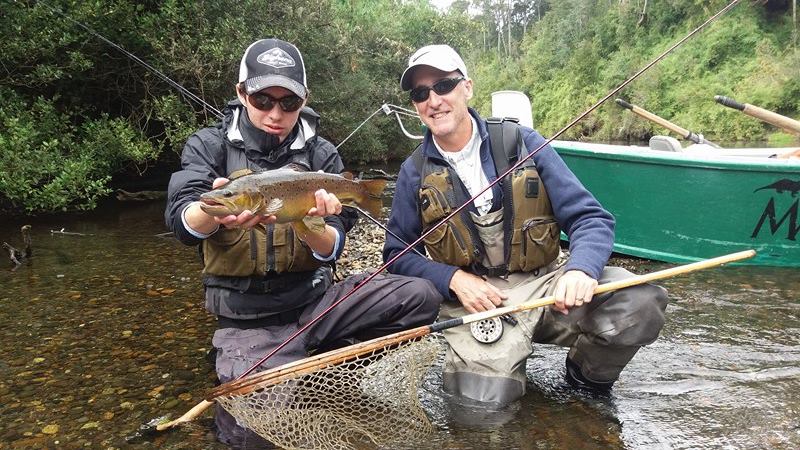 Tim Halter Went Out With my Guides Gustavo & Mattias Bayer In Chile, They Had Nothing But Net!
Mattias Has Become One Of THE Best Fly Fishing Guides In All Of Chile. He Has His Private Ranch We Guide Out Of On The Private Section Of The Rio Maullin.
We Had The Distinct Pleasure To Fish & Guide Gary E. Stevenson, One Of The 12 Apostles Of the Mormon Church, He Was The Only One Who Really Caught Anything That Day. What A Divine Day He Had Indeed And Makes Us So Honored That He Chose Us To Guide Him And Of Course The Lord.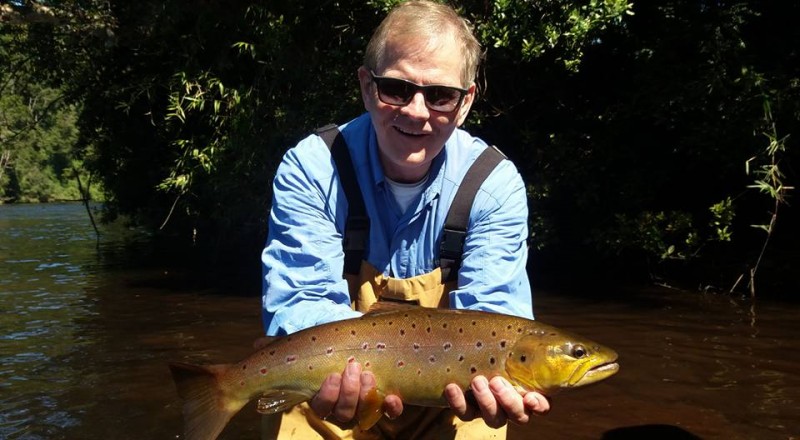 What A Beauty Gary, Hope To Guide You Again! Thanks For Calling On Jack Trout Fly Fishing International.
Good Old, Scotty Smethers Out Trying His Hand On the Rio Maullin, While I Guide In The Chailyn Boat In Chile.
(RIP Chailyn, Daddy Is Always There For You Dear.)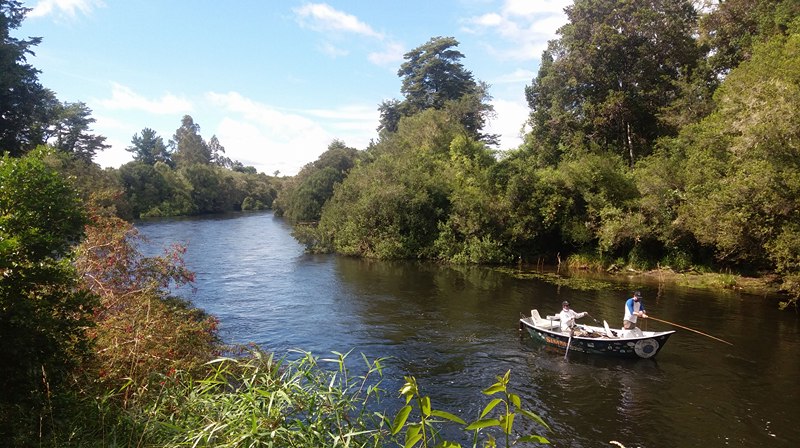 Guiding Is Timeless…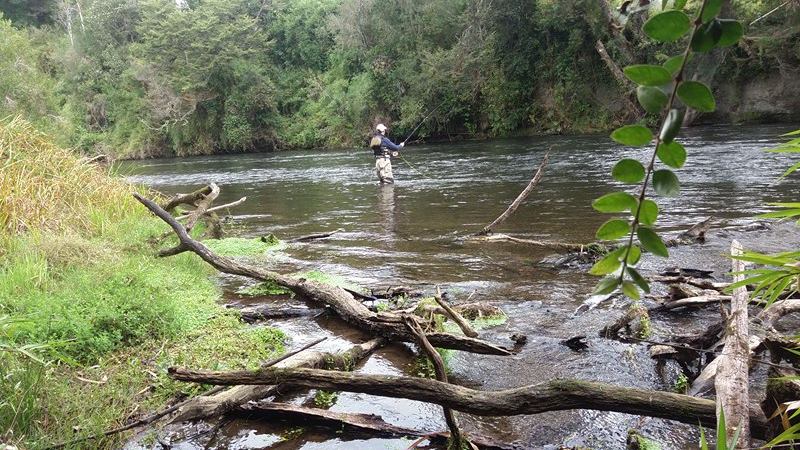 Tim Halter's Son Ryan Had The Time Of His Life Fishing With My Guides And Caught The Biggest Trout Of His Young Adult Life.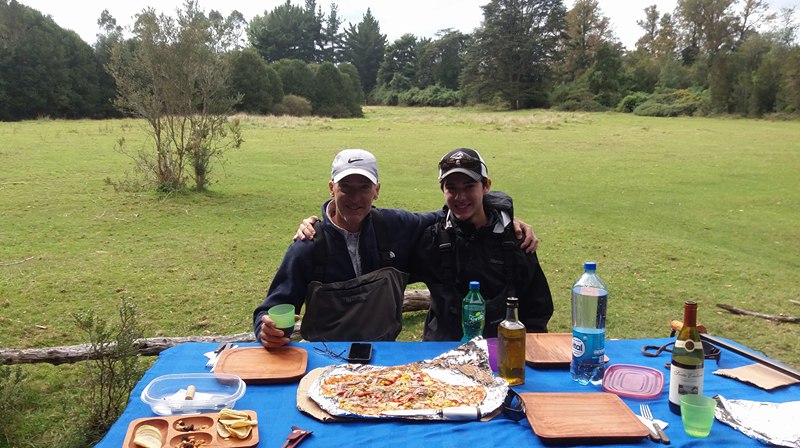 Being Out With Pops At 15 Years Old Is What Life Is About, It's These Growth Years That Makes A Boy Change Into A Man, Or Maybe It's Just Enjoying Mattias's Famous BBQ Grilled Pizza On His Ranch In The Lakes District Of Chile. But Really, It Gives A Young Man, Something To Fall Back On Later In Life. Take Your Sons, Daughters And Grandchildren Fly Fishing This Year, We Have Something Special In Store! 🙂 jt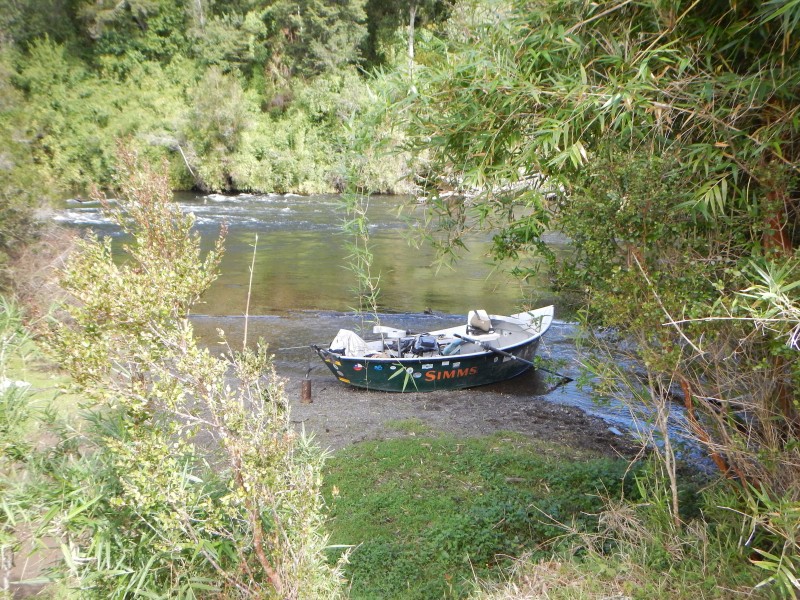 My two days with guide, Mattias, were great. His relentless efforts to "get the fish" were very much appreciated. I had a great trip and enjoyed the streamside barbecue…a taste treat. The professionalism and services were awesome. I would definitely do it again!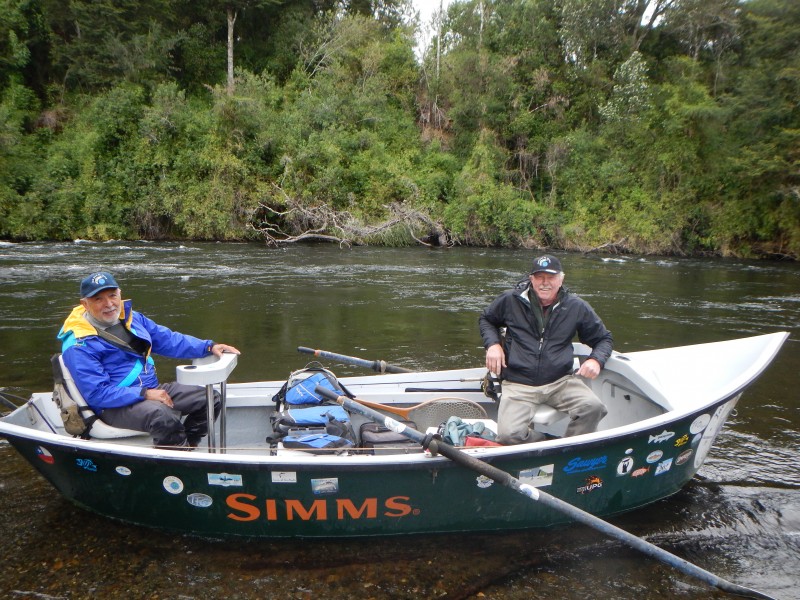 Tom Hatch & Gary Flores Had A Great Week In Chile, Unfortunately It Wasn't Catching As Much As It Was Enjoying, Some Weeks Here, Either The Fish Or The Weather Isn't Cooperative. It's Western Style Fly Fishing, The Better The Angler You Are, The Better You Do. The Fish In The Rio Maullin Have So Much Live Food To Choose From, Making Your Fly Come Alive Is Key Element To Success.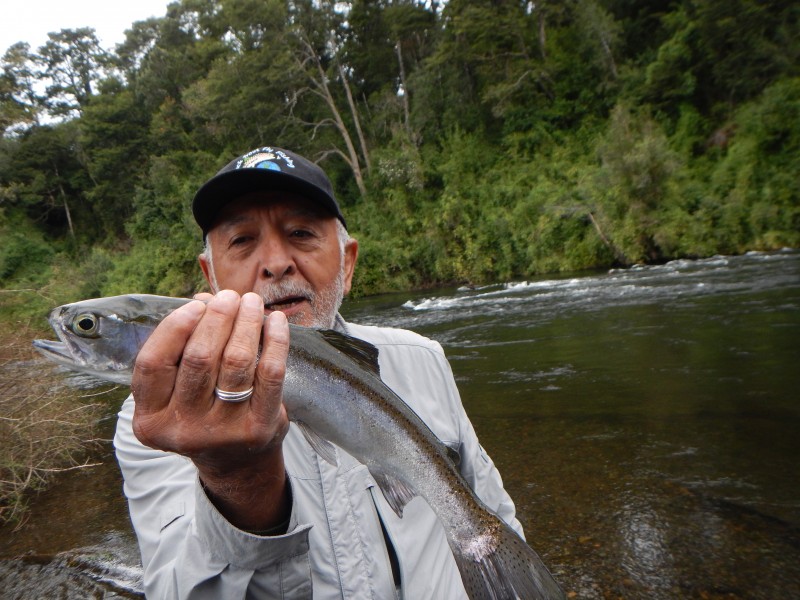 George Flores's First Altlantic Salmon.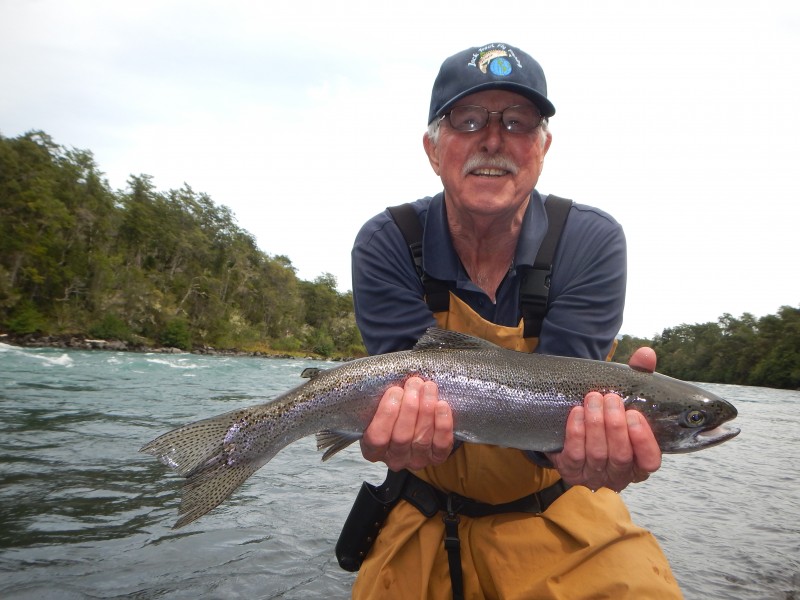 Tom Hatch Did Hook This Lunker On The Rio Petrohue In A Good Location I Know And Frequent.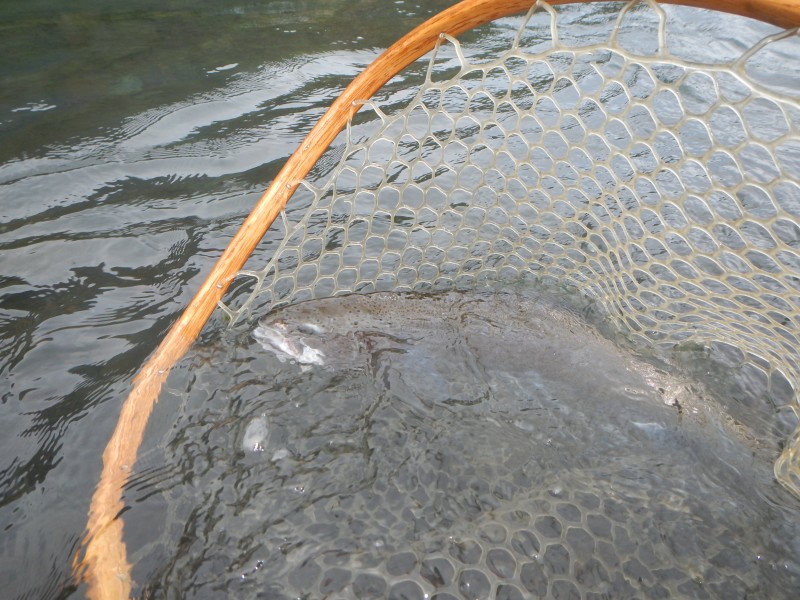 A Real Beauty nestled In The bases of The Andes Mountains, Trout Like This Can be Caught If You Make Your Best Drifts And Have A Little Luck On Your Side.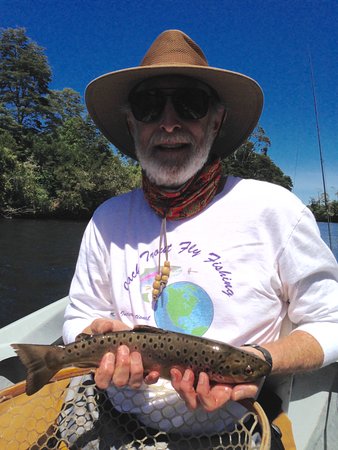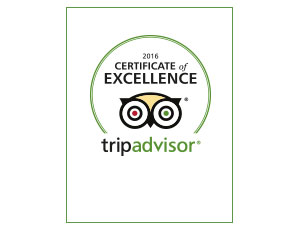 Fly fishing in Puerto Montt with Matihis was a truly worldly experience. all I did was call
Carola and give her the details of my cruise and she did the rest..we drifted the river for about 4 hours caught several rainbow and brown trouts.. jack provided me with an excellent , English speaking guide, all my gear ( first class stuff ) and a once in a lifetime experience to fish the beautiful waters of Chile…
all in all, it was an easy, peasy , lemon squeezie adventure.!!!
We Offer This 10 Day Fly Fishing Trip To Chile & Argentina, 2 Countries – 7 Days Fishing, 3 Regions – Included Hotels, Breakfast – Lunch & Dinners. Includes You Own Room The Entire Trip. 
$5900 Per Person For 2 or $5500 Per Person For A Group Of 4 ~ One Of The Best Trips Going To See Both Sides Of the Andes, We Cover A Lot Of Ground On This Trip And Is Not For Lodge Lovers, But People Who Like To Travel To See Different Terrain And Rivers And  Not Be Fishing In One Area. * Ask Us About Our 11th Day Free Program. Dates Open For 2017/2018 Season. 
Thanks, Jack Trout & Team Trout International Fly Fishing Guides.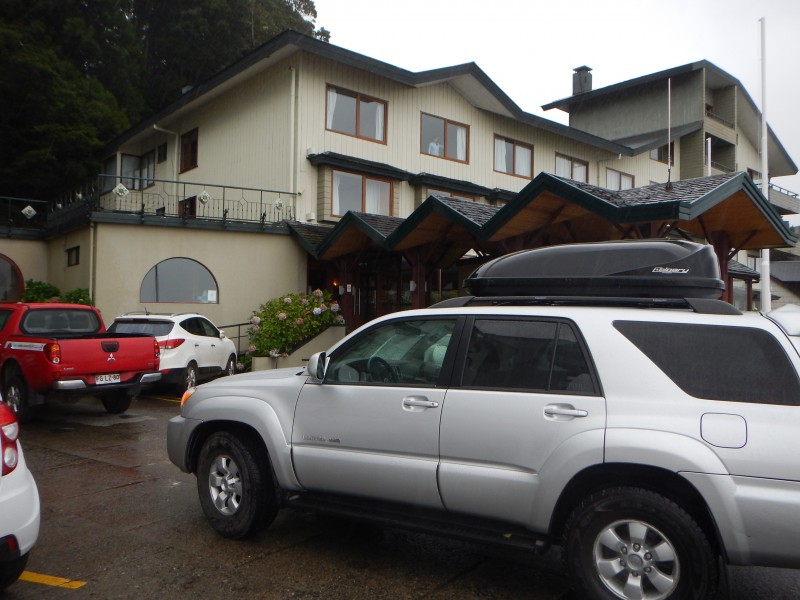 We Have Good Vehicles Here In Chile & Argentina, As Well As All My Guides Down Here, Put Your Trust In #1 –
Jack Trout Fly Fishing International, Inc.    It's Our Experience That Makes The Difference.
Great Steaks At The La Marca In Puerto Varas, That's What We're Talking About!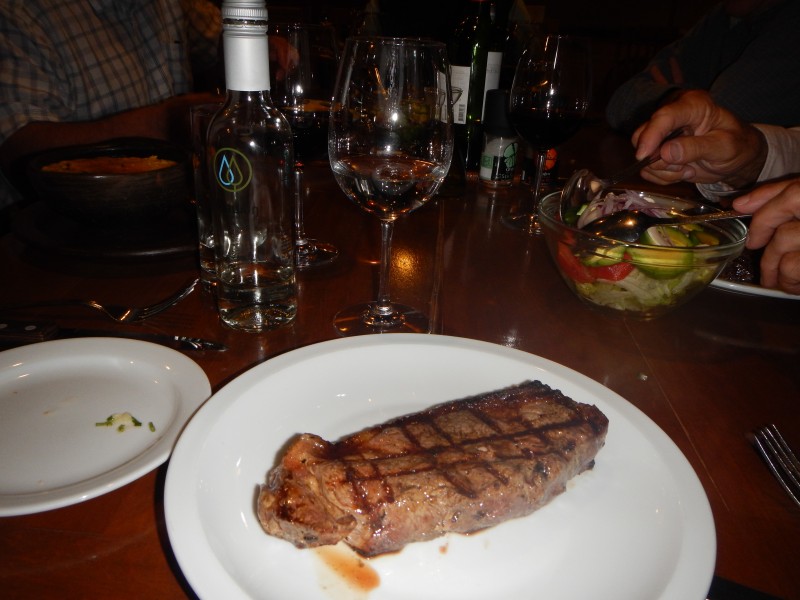 La Marca Steaks In Puerto Varas Are Very Popular with Our Clients, With Some Cuts Seen Here, Not Available In The United States.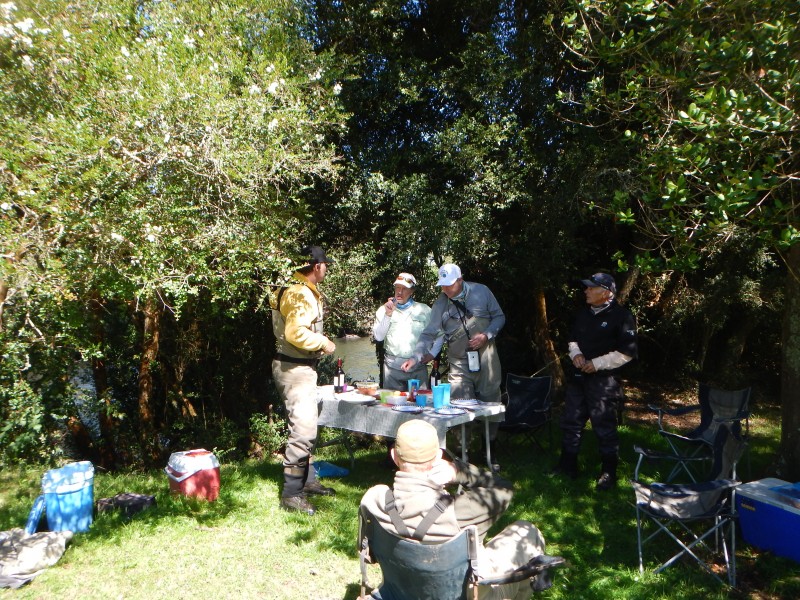 The Eric Mline Group Of 4 Enjoying One Of Our Outstanding BBQ Lunches On The Banks Of The Rio Maullin In Chile.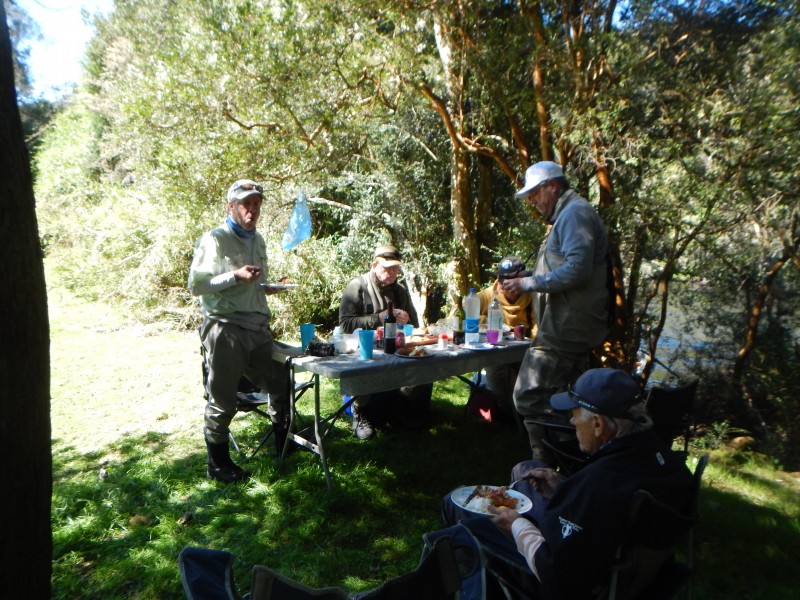 Carola's Mom's Deep Fried Chilean Sea Bass Called Down Here, Merluza Is So Absolutely Delicious, I Could Eat It Everyday.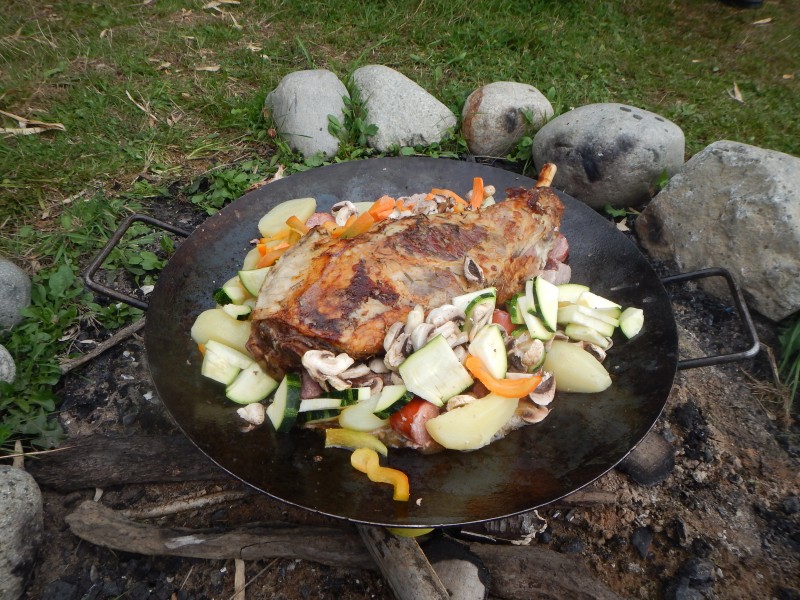 One Night I Slow Cooked A Leg Of Lamb For Several Hours, Just To Bring It Out On the River To Reheat It For Our Group. They Thought It Was Pretty Good.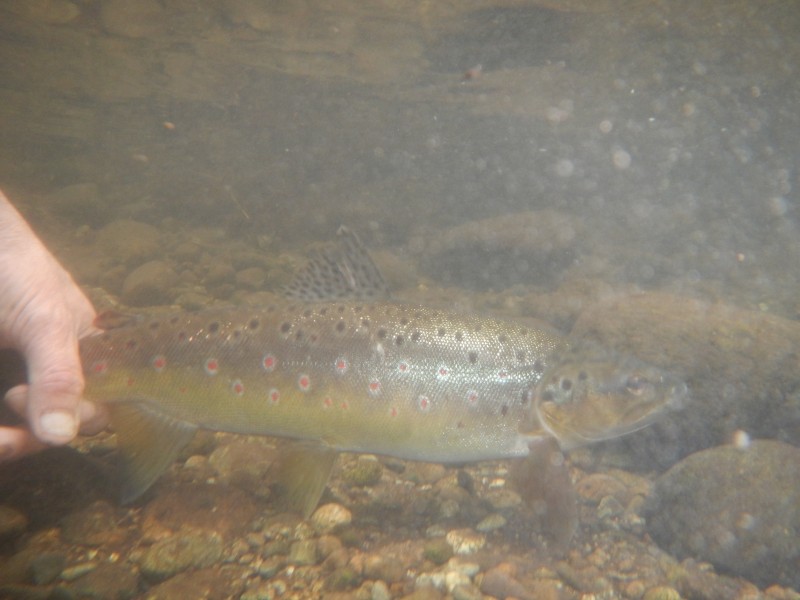 Eric Caught More Fish After Lunch That Day? Could It Have Been The Lunch?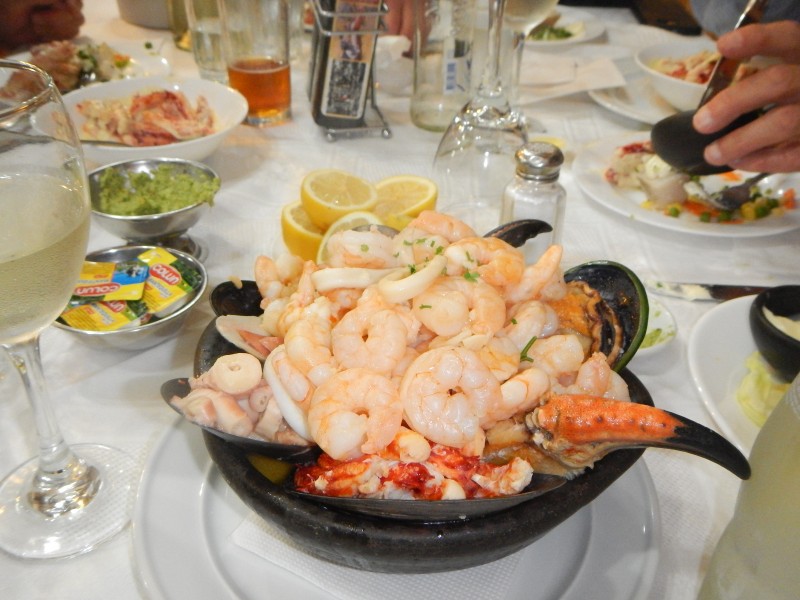 That Night At The La Olla Restaurant In Puerto Varas, The Seafood Was Rolling Folks! King Crab, Abalone, Shrimp, Claws, Razor Clams And More!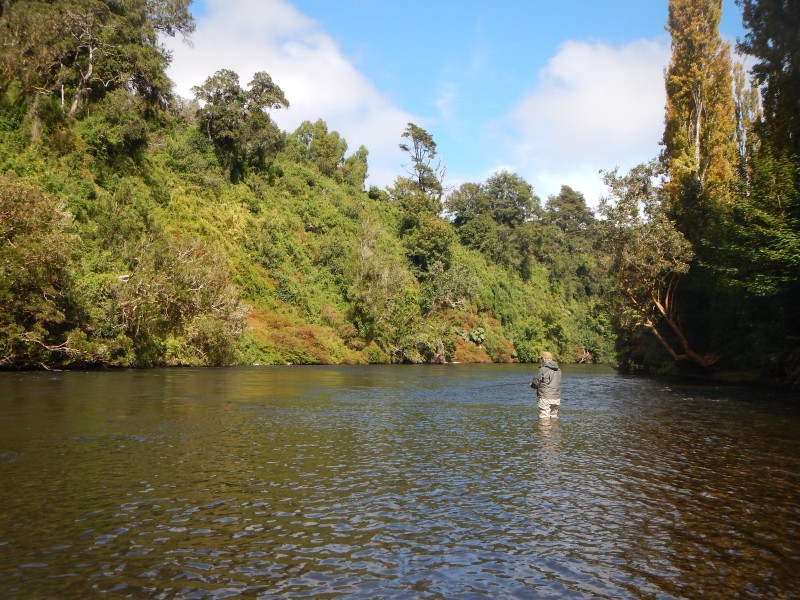 "Fly fishing in Pucon"
Jack and his wife Carola were amazing help putting together a day of fly fishing in Pucon Chile. Our guide Pauli was an amazing teacher and put us right on the fish for our first rainbows on a fly. The trip was one of a life time and I would highly reccomend it to anyone.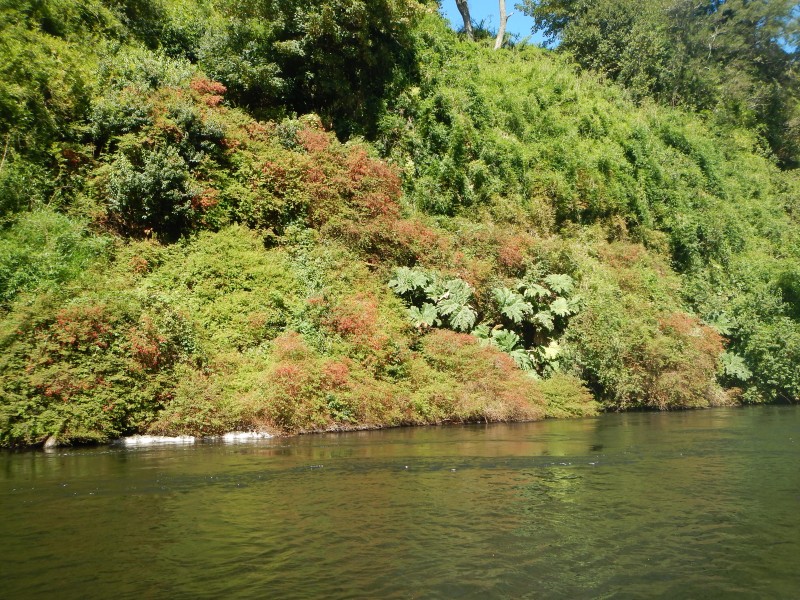 "Fishing Rio Maulin Chile"
Jack Trout arranged a days trout fishing on the Rio Maulin, Puerto Montt for me while out ship, Seabourn Quest was docked. Excellent guide Matthias looked after me. We fished 8 miles of the river in about 5 hrs of fishing. Caught lots of trout including one of about 6lbs. Brilliant day. Would have no hesitation in recommending Jack and Mattias.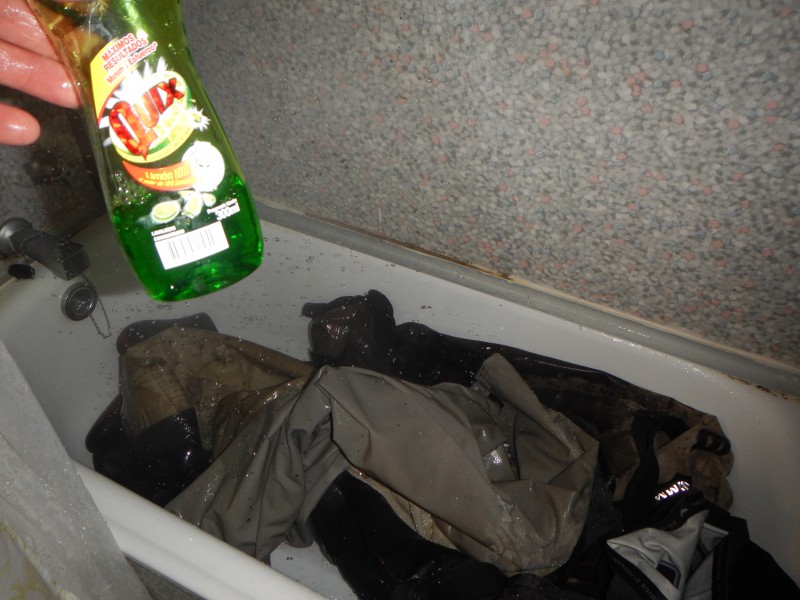 Clean Your Waders When You Travel From State To State – Country To Country. Just Use Dish Soap In Hot Water And It Will Kill All River Born Plant Diseases And Snails That Can Cause Rivers And Fisheries To Go Bad.
DO IT OR BE A PART OF THIS ONGOING WORLDWIDE PROBLEM!! I MEAN IT, DON'T BE LAZY, CLEAN YOUR WADERS AND BOATS EVERY TIME COMING AND GOING ABROAD. JT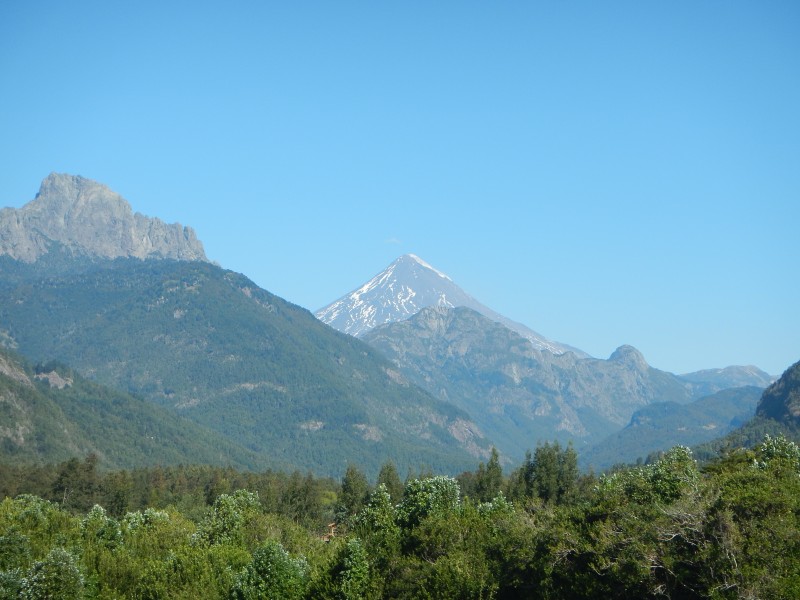 Climbing Over The Andes In Our Comfortable Cars Is One Of Favorite Drives Of My Life, And The Scenic Beauty Is Unsurpassed. The Drive From Puerto Varas Though May Be Too Long For You, So We Also Offer This Trip From Valdivia, Which Cuts Down Driving Time To Argentina.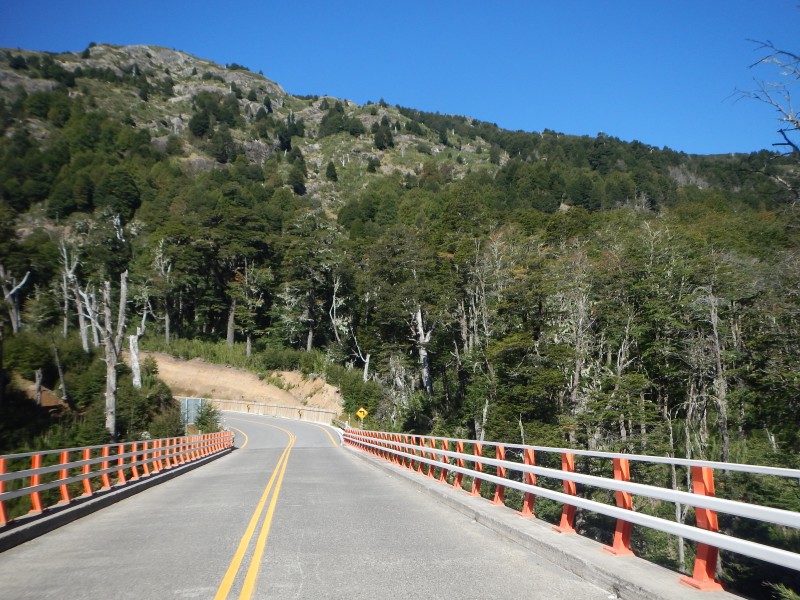 The Roads Are Perfect And It's Amazing To Think That Just A Few Years Back, These Roads Were All Dirt, We Are The Only Fly Fishing Company Ever To Offer Or Do This Trip And We Are Proud To Announce, We Have Done It Now 17 Times And Still Counting. We Pioneered This Awesome & Unique Jack Trout Adventure!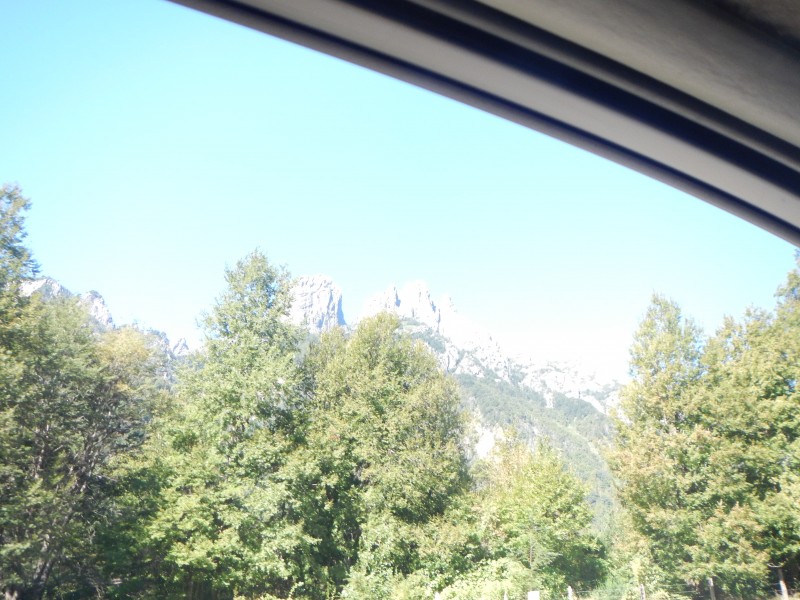 Email –
Hi Jack – I read the great reviews on some of your fishing trips and was looking to get some info.  I'll be in Argentina dove hunting and then heading into Chile for some vacationing in early November 2017.  I heard the fly fishing is amazing in that part of the world so I wanted to check to see the options and availability.  We'll be in Puerto Montt area for 5 days and haven't made any arrangements yet.  Right now there are two couples for this part of the trip but I don't think the wives will want to go fishing.  I was thinking of two days of fishing (preferably float).  Please let me know the best way for us to discuss potential options.  Thanks and I look forward to hearing from you.
Sincerely,
Bob Gutman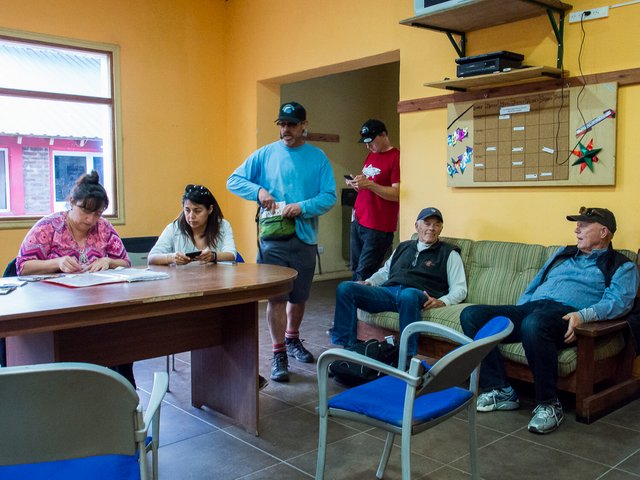 When We Finally Crossed The Border After Some Hassles With Some Guard And Mattias's Paperwork For His Car, We Found Out Later, He Was Ok, It Was Just Someone Pee'd In That Guards Cheerios That Day. We Had A Late Start From Puerto Varas, The Group Was Anxious To Get Their Fishing Licenses And Get To The Lodge To Start Their Argentina Side Adventure. Folks, Some Things We Have No Control Over On This Trip, So We Say, If You're Impatient Or Don't Like Long Drives, Might Not Want To Do This Trip. If Your Young At Heart And Want A Unique Adventure That Doesn't Throw You In A Lodge With A Bunch Of People You Don't Know, Fishing The Same Rivers Everyday, This Trip, Might Just Be For You. Give Us A Call, We Are Always Getting Better, Trying To Improve This One Of A Kind Fly Fishing/Travel Adventure. Submitted Respectfully, Jack Trout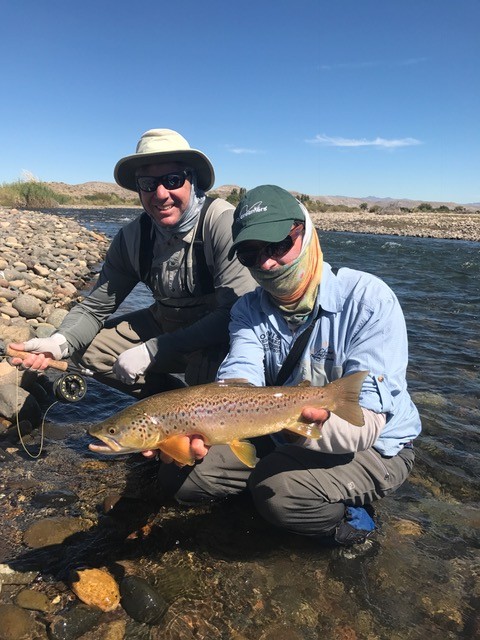 The Fishing Is Always Great In That Part Of The World In Argentina And You Might Catch Some Of The Best Trout Of Your Life Daily. This Week We Were Very Lucky, Winds Were Low And The Sun Had The Trout On A Fall Bite.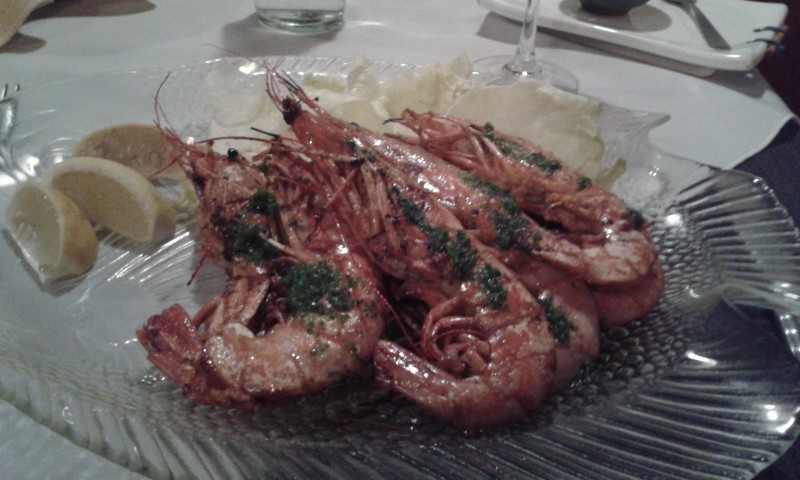 Dinners Every Night Were Exquisite, We All Enjoyed The Food At Local Restaurants We Know And Love, As We Share Our Knowledge Of This With You. Clients Enjoyed Getting Out And Sampling Local Cuisine, As Opposed To Being In The Same Place Eating Every Night.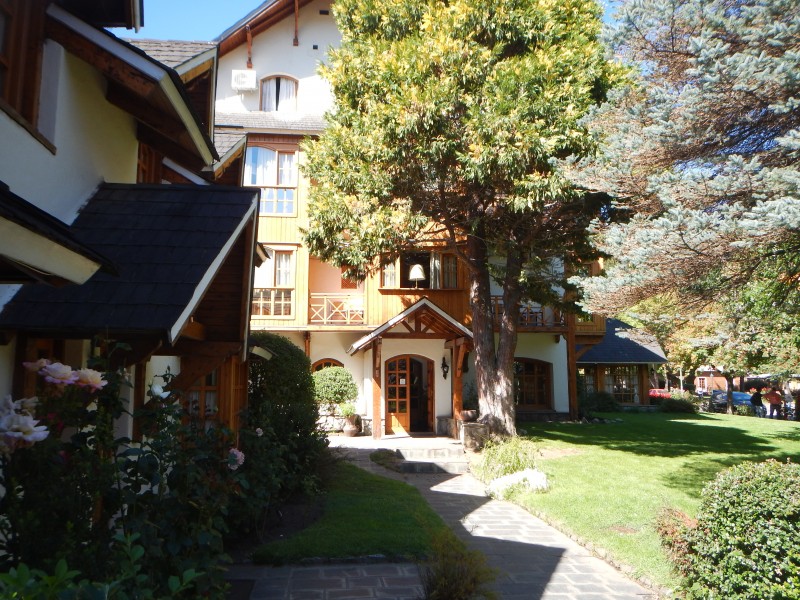 Our Lodge In Town Is One Of The Finest And You Will Enjoy Easy Walks Downtown Afterwards To Shop or Just Cruise And Site See, While Not Being Handcuffed In A Lodge Environment.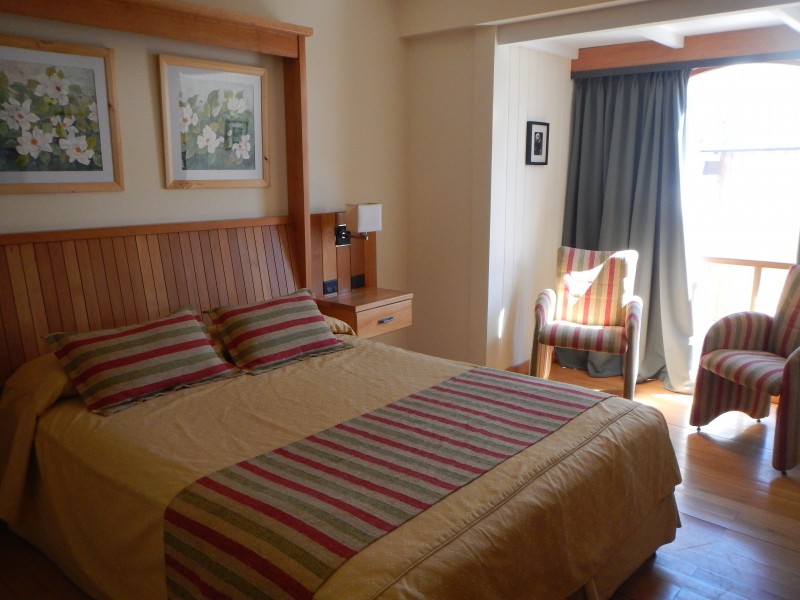 Very Comfortable Lodging, But You Don't Lose The Culture, Being That Our Lodge Still Offers The Decor Of The Local Forests.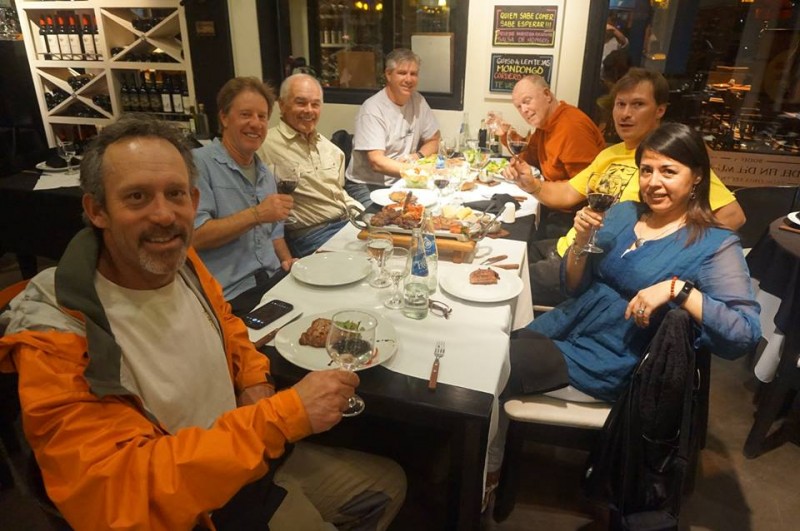 I Think You're Going To Like What I Have Put Together Over The Past 26 Seasons, Maybe This Trip Is For You, Give Me A Call To Discuss The Pros And Cons And What It Has To Offer You And Your Partner. There Is No Non- Angler Price With This Package, The Group Has To Be Even And Everyone Pays Full Board.  jt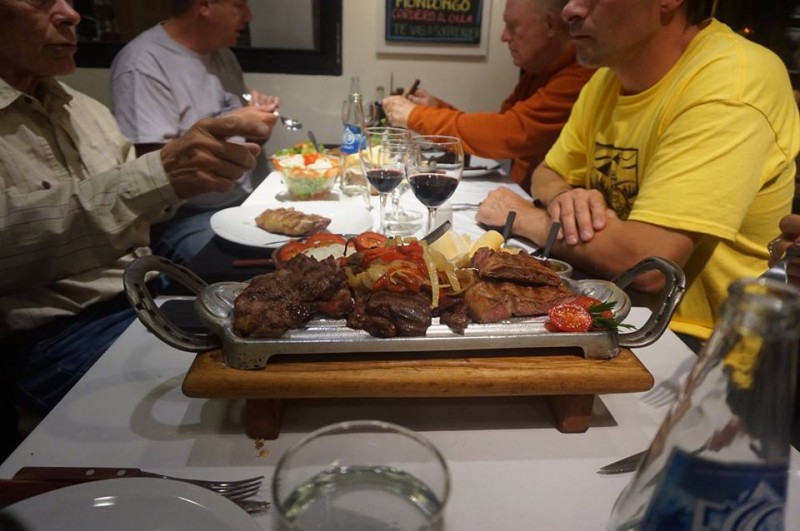 The Food In Argentina Is Always Great, Of Course It's Great In Chile Also.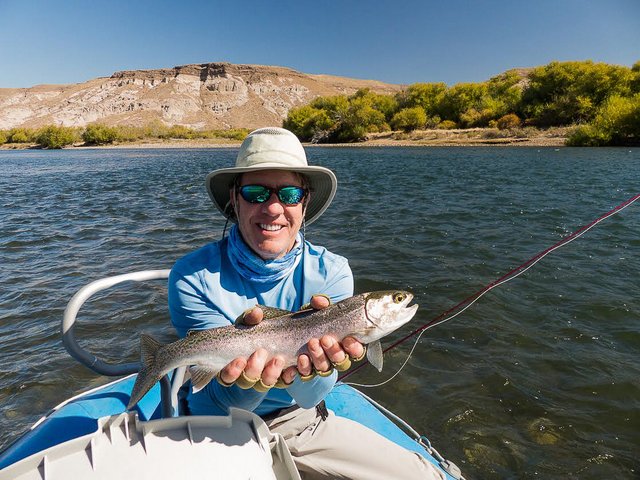 The Fishing Is Even Better, But Remember, The Better You Are At Fly Fishing, The Better You Do. The Fishing Is All Relative Folks To Your Abilities, With Respect Of Course.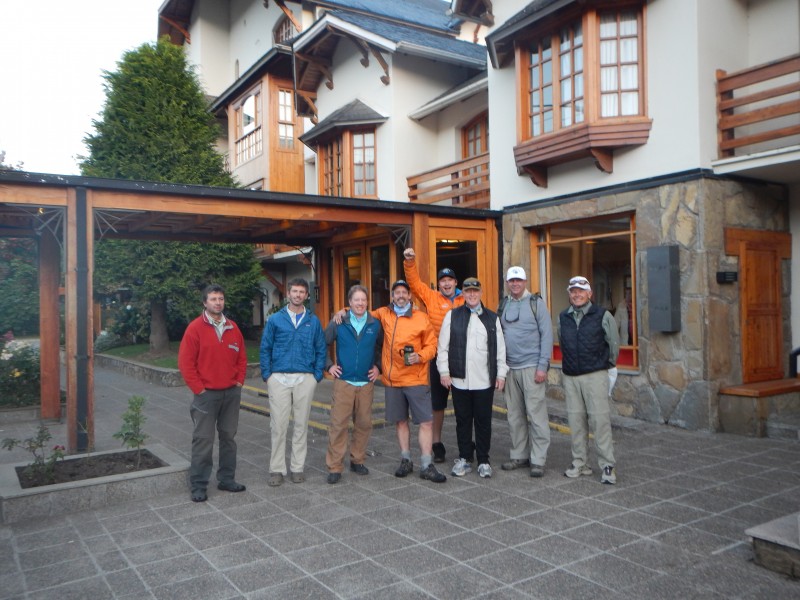 Attitude Is Everything! Look To Mattias For High Energy, He Is One Of Chile's Greatest For This, I am So Proud To Work With This Superstar Guide, Who Has Transformed Himself Into A Guide Superhero!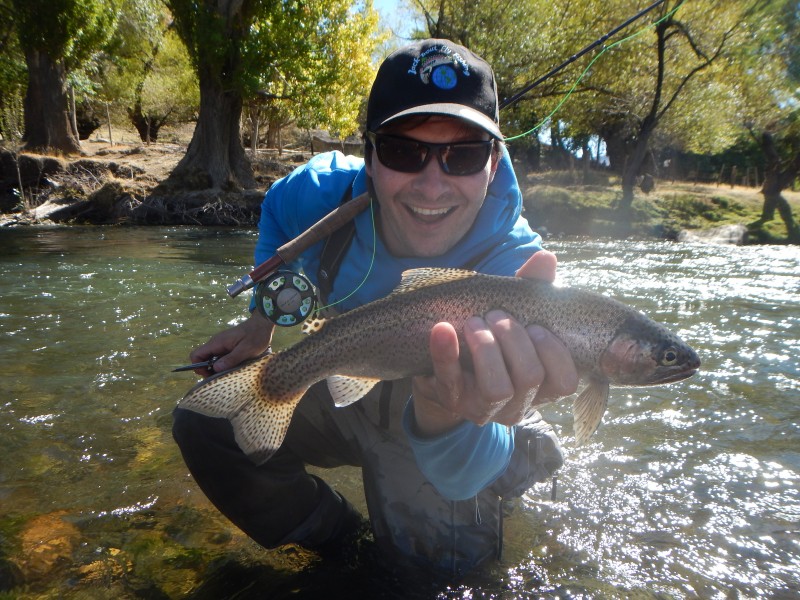 He Had The Time Of His Life Over There, And Thanked Me Often. It Made Me Feel Great Working With People Like Him In Foreign Countries Has Been A Highlight In My Lifetime. Watching His Growth And Becoming The Best Fly Fishing Guide In South America, In All Areas, Attitude With Clients, Enthusiasm, Great Conversations On The Water With My Clients And Amazing Lunches. He Has Really Been Spectacular This Season. This Is Why I Do IT Folks, Evolving Into Something Better Always, Isn't That What Life's About! "In Life, You're Either Getting Better – Or Getting Worse."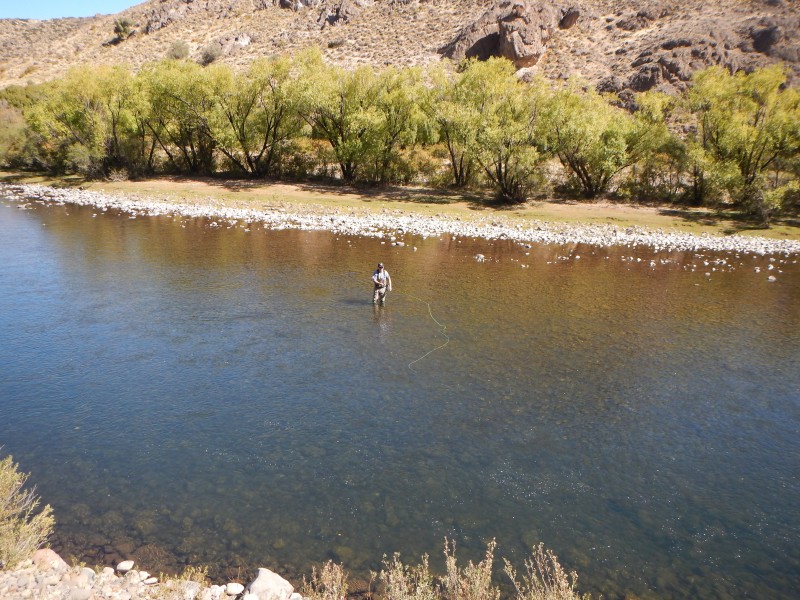 Mattias And I had a Lot Of Fun That Day! Then I Broke My New Hardy Rod Pulling A Hopper Off A Bush The Wrong Way, So I Took A Nap Under A Tree…Watched Mattias Catch Fish..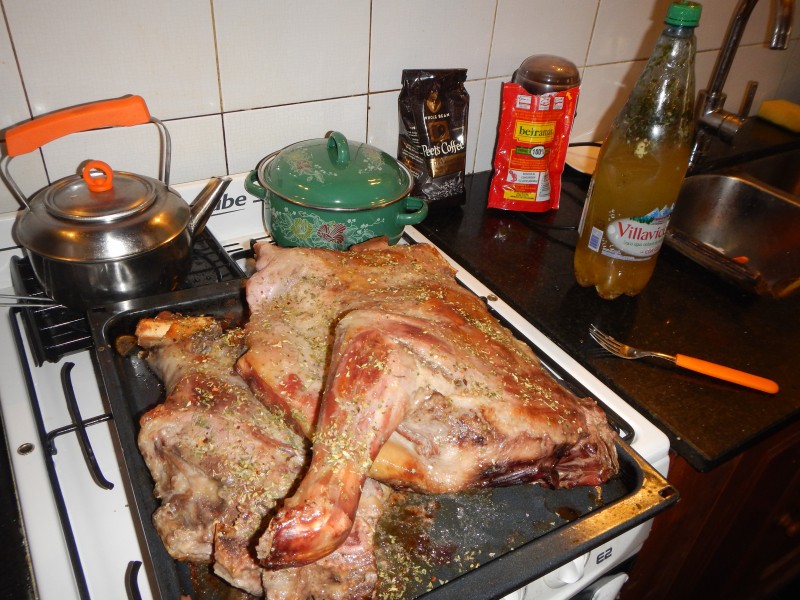 So I Wanted To Do Something Great For The Clients, Have A Surprise Lamb BBQ At The Lodge, I knew They Would be Tired From The Drive And Multiple Days Fishing, So I Slow Cooked A Lamb At Our House With My Own Homemade Chimichurri Marinade. The Secret To Cooking Lamb Is Braising It At High Heat For 40 Minutes, Then Turning Down The heat To Low For One Hour, Then Just Simply Turning Off The Oven, While Dressing It Often With My Secret Sauce As Often As Possible. Turn Back On the Oven At Low Heat For A Half Hour Or So, Base With More Chim-Sauce And Turn Off The Heat For 15 – 20 Minutes. This Strings The Meat  And Make It's So The Meat Just Falls Off The Bone In Pride And Honor. After 4 to 5 Hours Of this, You'll Be Ready.  Want My Chimichurri Recipe? Email Me at info@jacktrout.com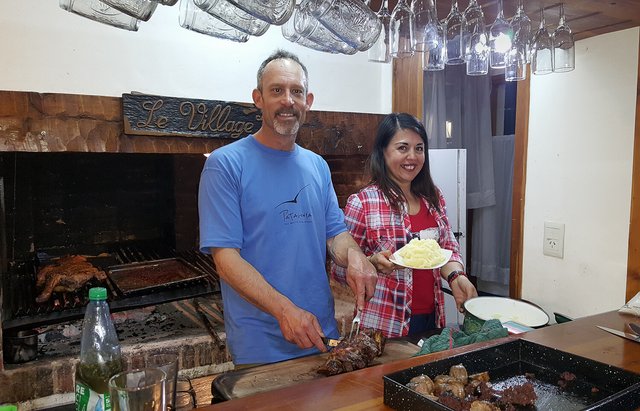 Then Just Re-Heat On Coals And It Turns Out Delicious Every time.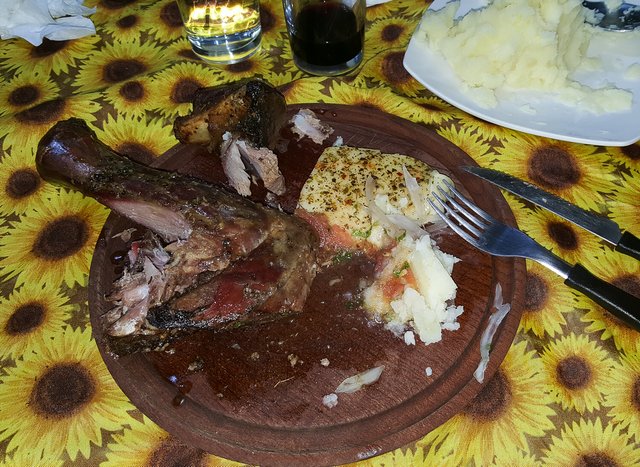 You Be The Judge! Slow Is The Way To Go People.. lol jt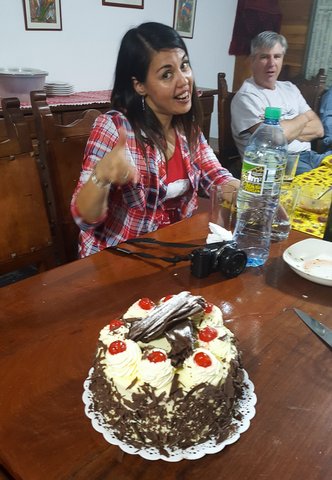 A Little Dessert? Remember DESSERTS SPELLED BACKWARDS IS STRESSED, Eat More Desserts! 🙂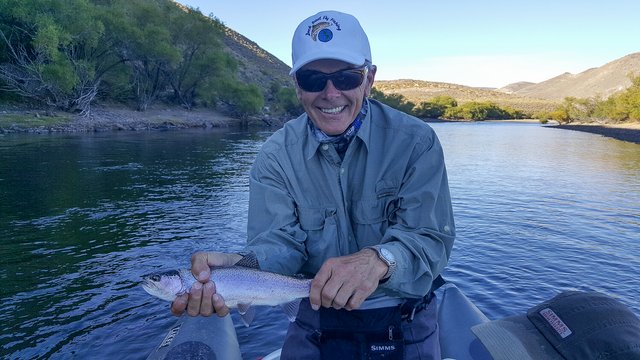 John Wolfe Of San Diego, California, Sure Learned A Lot On This Trip About Fly Fishing, He Sure Was An Enthusiastic Pleasure To Be Around.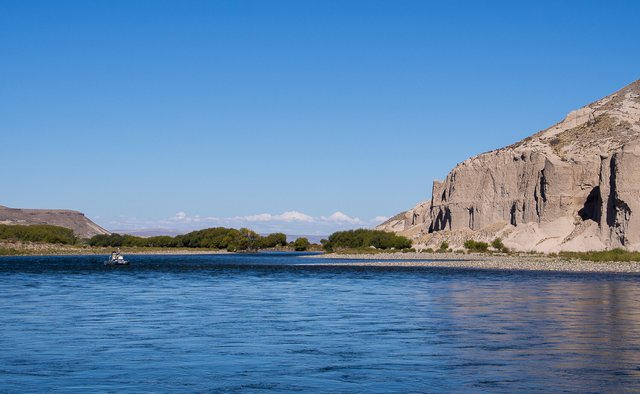 The Floats Were Long And Wonderful, But Without That Patagon Argentine Wind That Can Cut Right Through You, Their Week Was Blessed.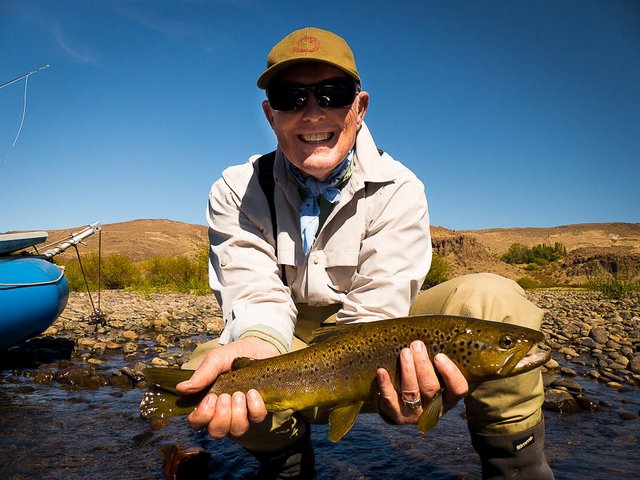 The Trip Was A Success Thanks To The Weather And Good Guiding, You Just Never Know, There Is No Predicting It, It's A Wild Card Of Fate In Both Countries.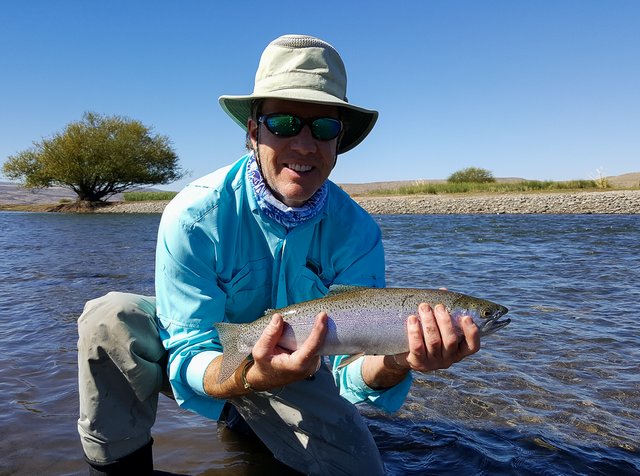 Eric Mline, Did The Best Out Of The Group, But He Was The Most Experienced, Which Is Usually The Case. Let The Truth Be Known, That is How It Is With Fly Fishing Most Of the Time.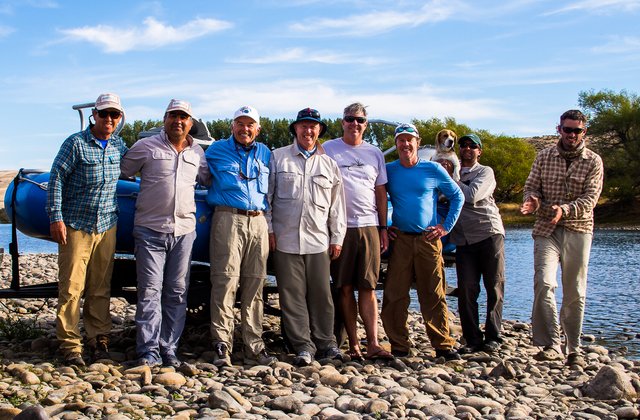 But Everyone Seemed To Love This Trip And The Argentine Guides Were Great As Always.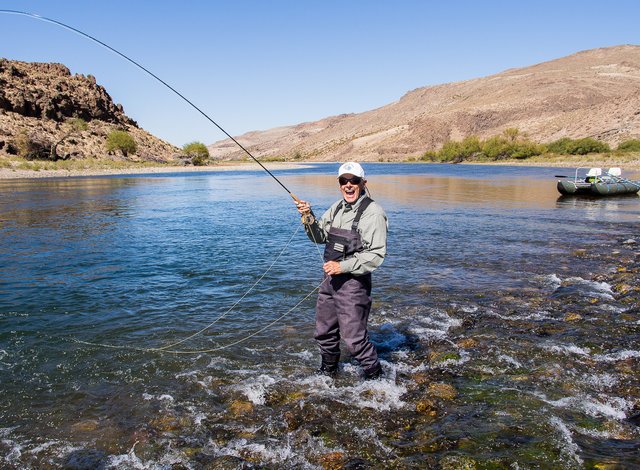 John Wolfe's Enthusiasm Was Contagious And It's Folks Like This That Makes It Better For Everyone Else In the Group. People Who Only Have Fun When They Catch Trout, Might Not Want To Do This Trip, As These Trips Are About A Lot More Than Just The Success Of the Hook-Up, This Is A Once In A Lifetime Trip To See More Than Anyone Who Has Ever Seen Staying In A Lodge, Or In One Country Fishing The Same River Or Possible Two In A Week. A Very Unique One Of A Kind Fly Fishing Trip, That Involves Long Travel, Culture, Fishing Two Countries And The Stamina To Pull It Off Personally, And Go Away With A Smile On Your Face Because You Know It.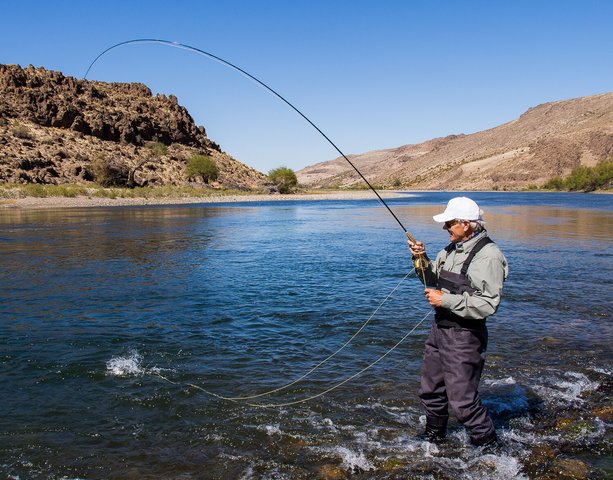 Yea, It's Unique Alright, You Might Love It!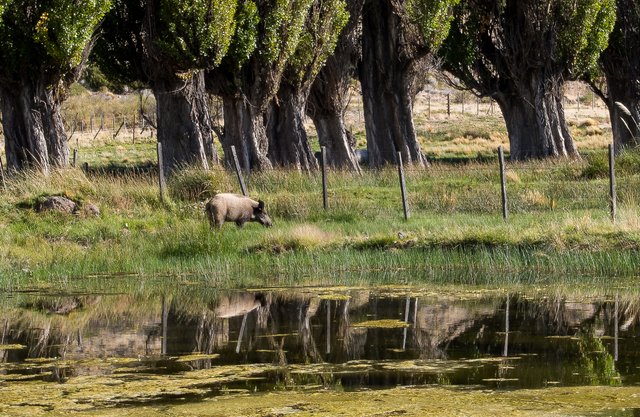 And What You Could See..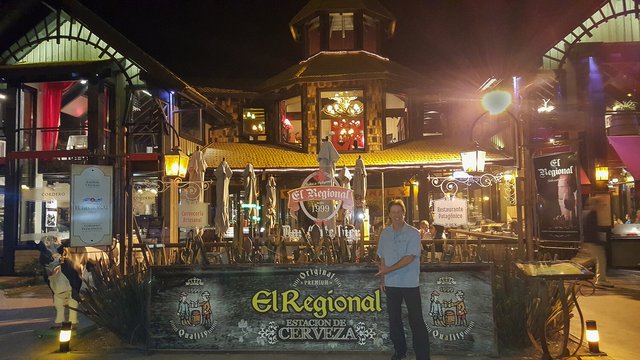 The Best Places We Take You To, That Has Taken Us Over 20 Years To Find, As Well As And Countless Road Trips, Finances And Hours Of Trial And Error On Our Dime.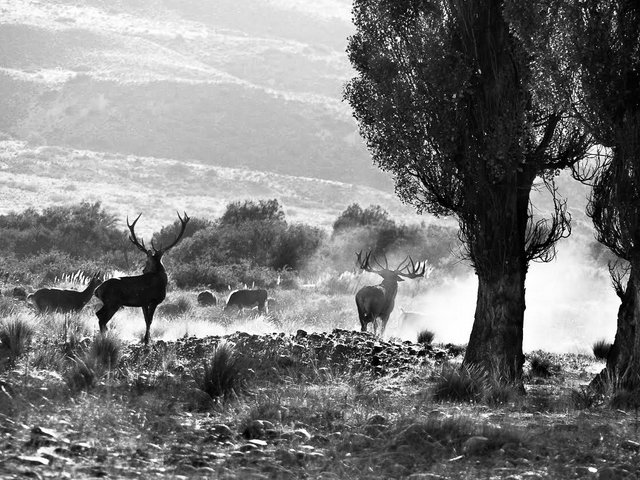 The Impossible To Witness!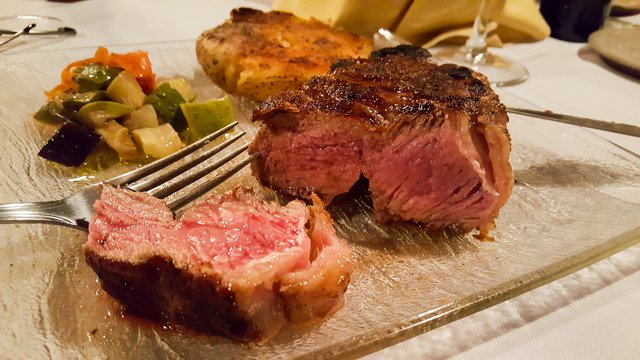 The Most Tender Moments, So Near And Dear To Our Hearts.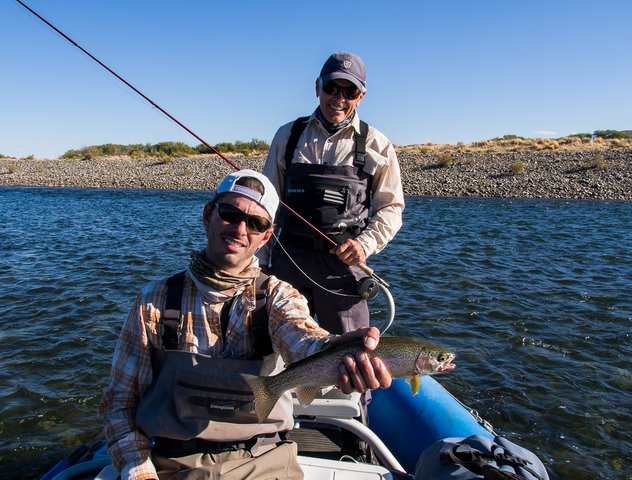 Yea, We Might Just Have An Adventure Awaiting For You.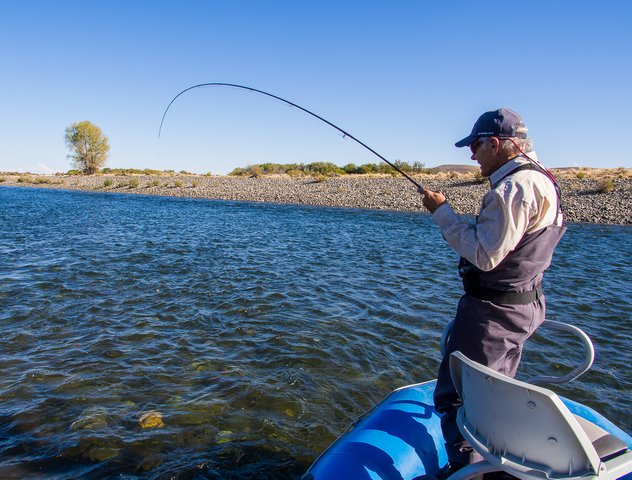 One You Or The Trout, Could Sink His Teeth Into.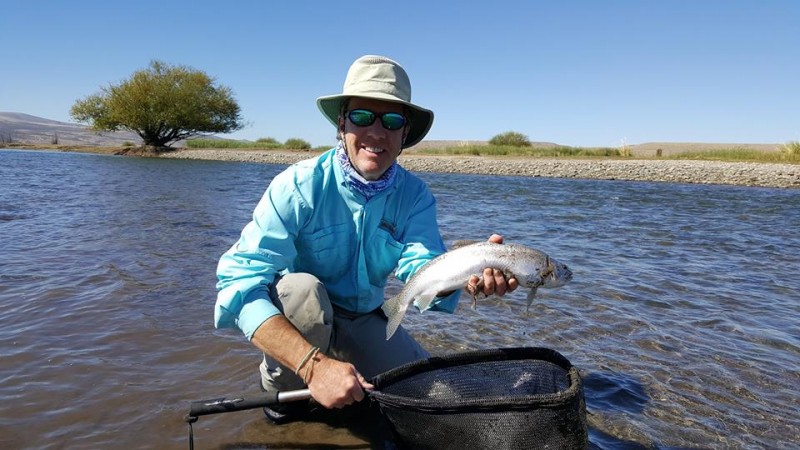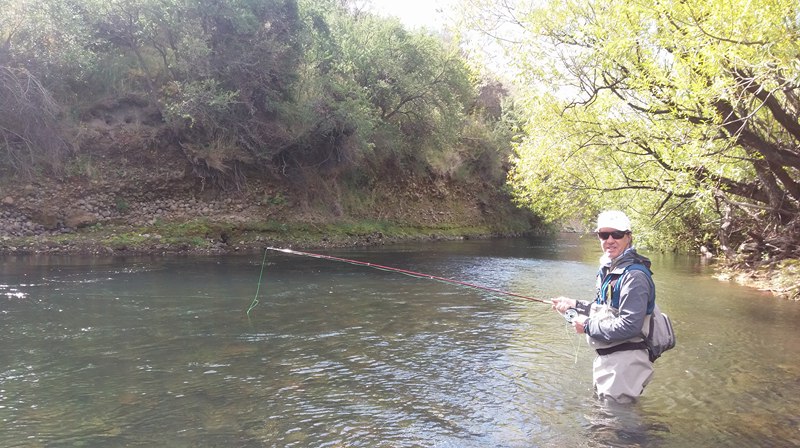 We  Do Have Openings For 2017/ 2018 So Let Us Know If You Have Interest In Our Fly Fishing Trips.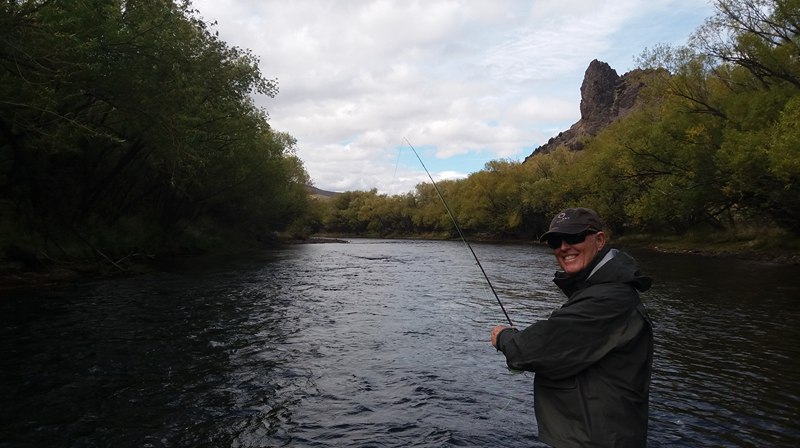 Maybe We Could Put A Smile On Your Face Too! In 2017/ 2018 On Our 10 Day Chile – Argentina fly Fishing Trip Adventure! jt
We Are Now Selling Packages To The South Island Of New Zealand, Give Us A Call, Thanks, Jack Trout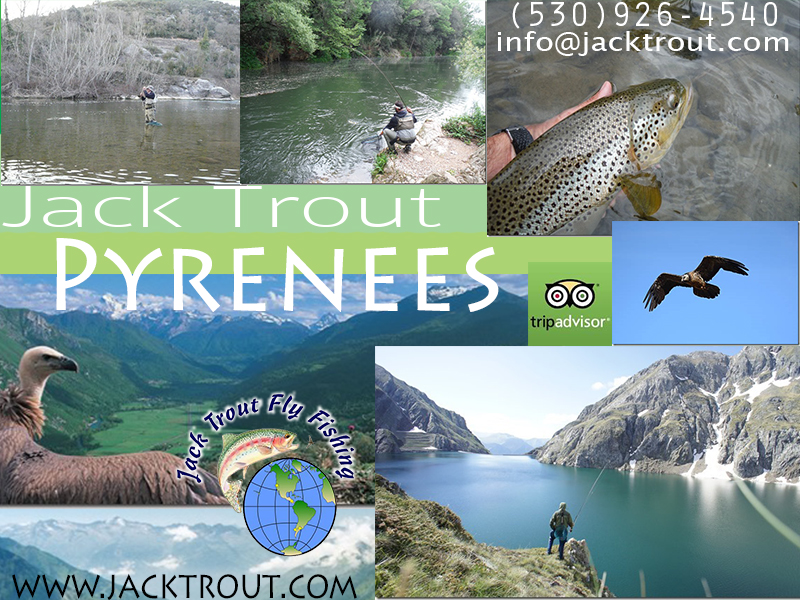 GOING TO EUROPE THIS YEAR? ASK ABOUT OUR SPAIN, ITALY & FRANCE -BY RAIL FLY FISHING BUDGET TRIPS.
Click On The Banner Above
*******************************************************************************************************************
 RYAN & LAKE OROVILLE, A BEGINNERS PARADISE & NOT FAR FROM SF BAY AREA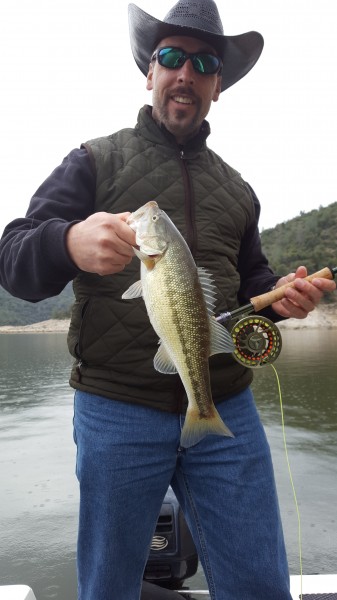 "Amazing fly fishing on Lake Oroville!"
We had an amazing day fly fishing on Lake Oroville with our incredible guide, Ryan! We are new to fly fishing and Ryan was patient, very knowledgeable, and a great teacher. Within 30-40 minutes he had us both not only fly fishing but catching ah-mazing fish (a 4 1/2 lb. bass…wahoo!) and lots of them! Ryan's knowledge and experience of the lake, the fish, and the art of fly fishing was extraordinary. We highly recommend Jack Trout Fly Fishing…his trips are fabulous & he knows how to pick great guides!!! Thank you, Jack & Ryan for the wonderful memories. Dave & Debby
Our Guide Ryan Has Some Great Trips For Beginners Out Of SF Bay Area Fly Fishing For Bass On Lake Oroville.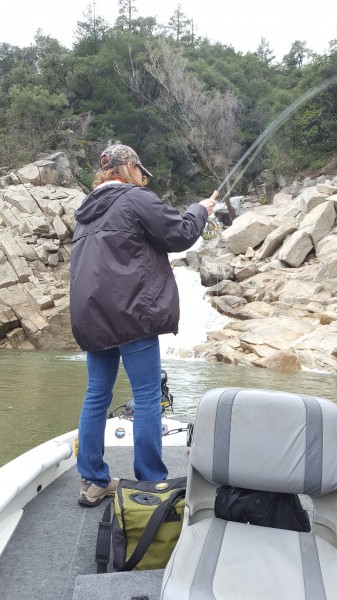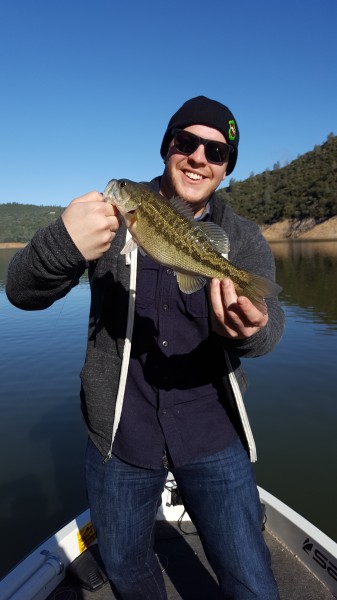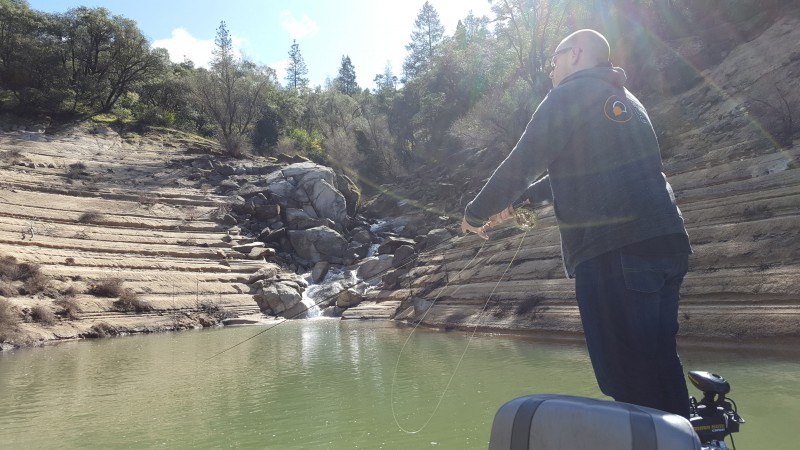 Doesn't Matter Your Skill Level, We Can Get You Into A Bass And You Will Love It.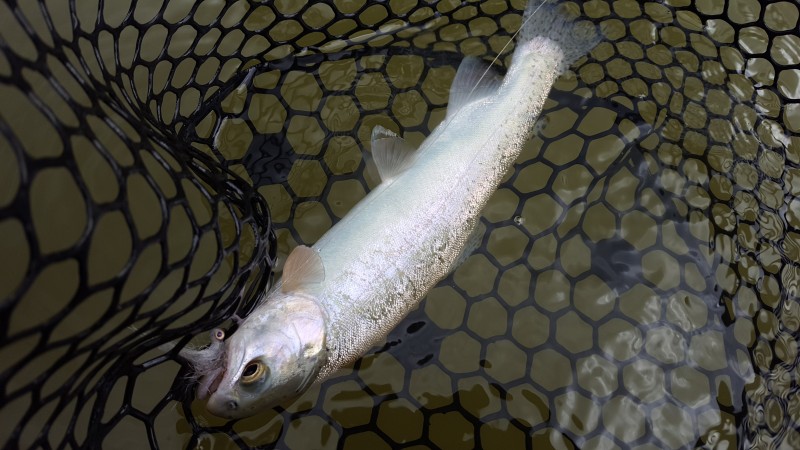 Maybe Even A Trout, If You're Lucky!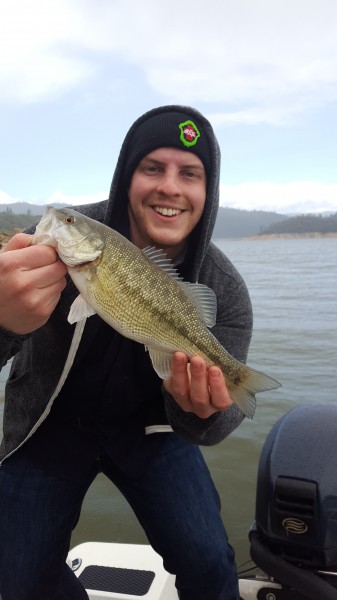 Google reviews
in the last week
Jack provides a great experience right from the start. I found his contact online and the reviews looked great and he had tons of info and pictures on his site, so I sent him an email. He got back to me right away and helped put everything together for our trip. Jack was away on a fishing trip in Chile, but still took all of the planning into his hands and made sure everything was seamless. Jack has a big team of guides and hooked us up with a great one for our trip named Ryan Williams. Ryan took us out on Lake Oroville to fly fish for spotted bass. We had a blast and caught a ton of fish. Both my brother and I are newbies, but it didn't matter – Ryan was super patient and super helpful. It was a great experience. If you're visiting California, a fly fishing trip is a great way to experience nature and Jack and his team are the people you want to call.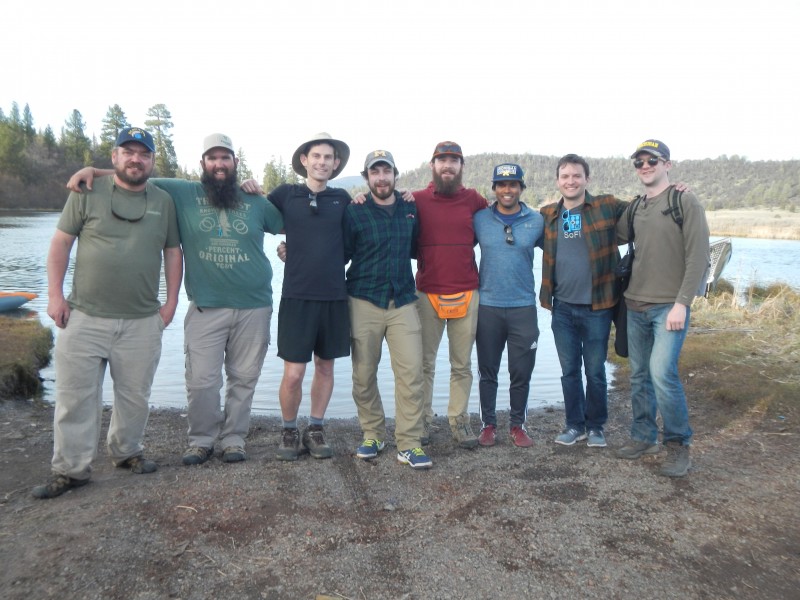 Our group had a great time learning fly fishing basics from Dale, Ian, and Ryan. Ian gave especially great casting lessons and insight into bait and river strategies. Baum Lake had beautiful backdrops and an abundance of neat wildlife I had never seen before. Jack's recommendation to stay in Dunsmuir was much appreciated; it allowed easy access to tasty food and drinks at Dunsmuir Brewery Works. Thank you for the trip of a lifetime – I think I found a new favorite hobby!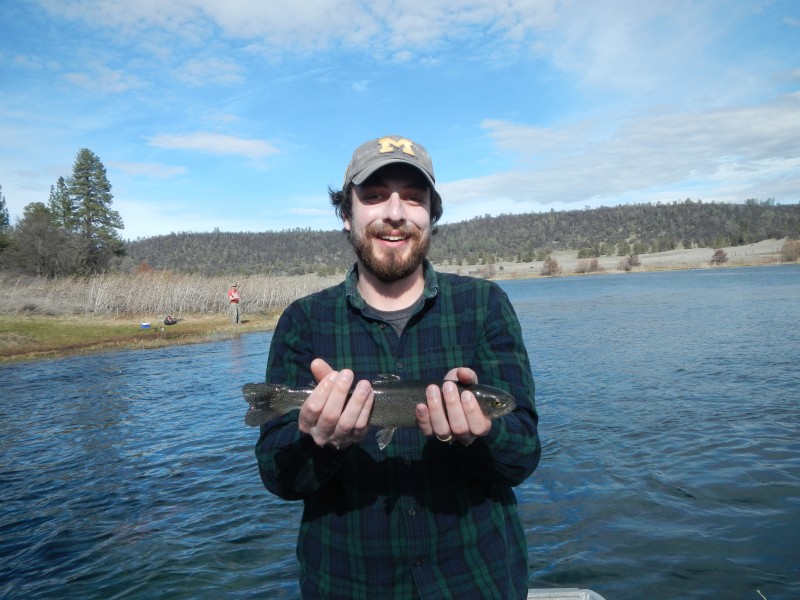 Start to finish, our experience with Jack Trout was great.
It was simple to schedule a trip a few months in advance. Jack Trout was also especially helpful in recommending the best place for us to stay for our trip. Our location ended up being perfect for us since it was close to food and entertainment.
Jack Trout helped us get connected with 3 great guides – Dale, Ian, and Ryan. All three were experienced fly fishermen and exhibited patience with the members of our group as we learned casting technique and fishing strategy. By the end of the 2nd day, everyone had felt the satisfaction of a great cast, a caught trout, or just the simple respite of being on the river surrounded by wildlife.
Personally, Dale worked with me and one other member on our boat. He was personable, patient, knowledgeable, entertaining, and conscientious. He made it a point – as the other guides did – to make sure that we were having a great time. I learned so much fly fishing theory after 14 hrs with him on Baum Lake. Bonus: I caught 3 rainbow trout over the 2 days!
If we go fly fishing again, we will be working with Jack Trout and his guides. Period. He helped make this bucket list item into one of the best trips I've ever had.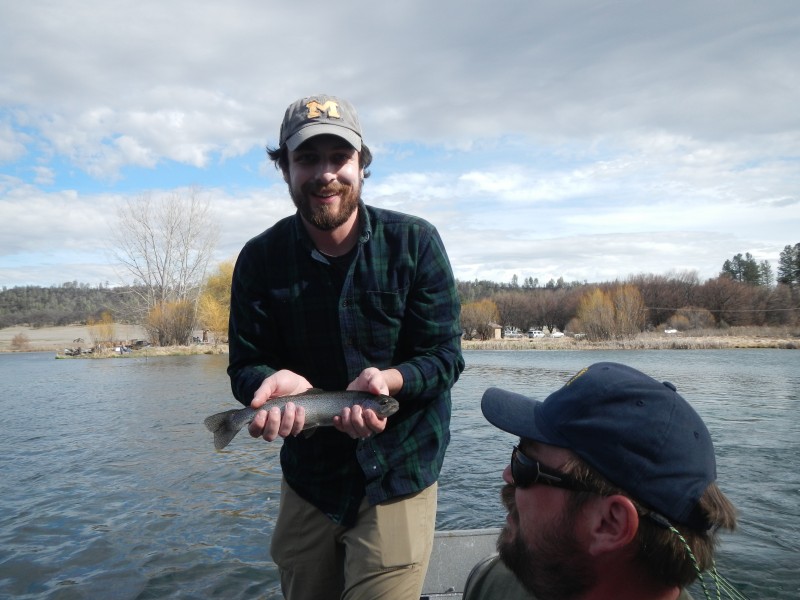 Way To Go Dale, Look Forward To Seeing That Group Again This Summer! jt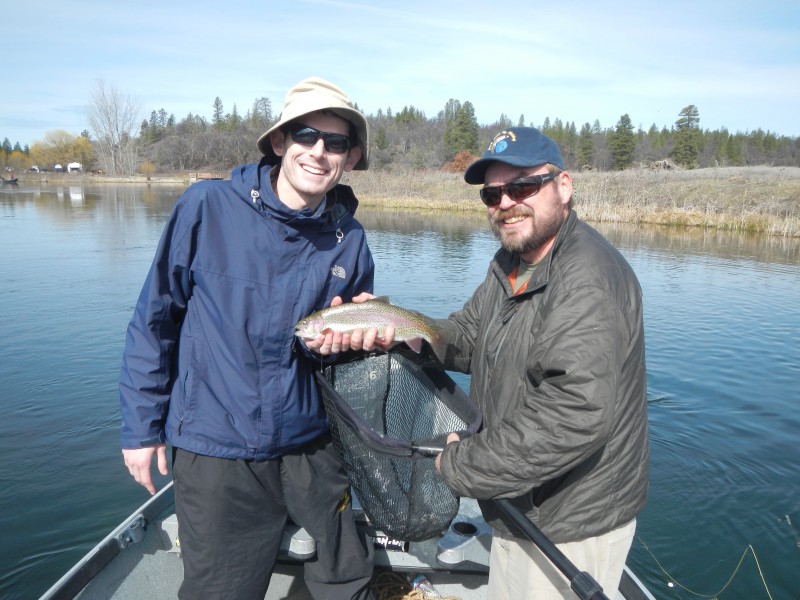 Dale Has Been Doing Great With His Beginners Groups Up On Baum Lake, Some Days He Has Been Reporting Good Dry Fly Surface Action. Call Us For North State Fly Fishing Instruction. jt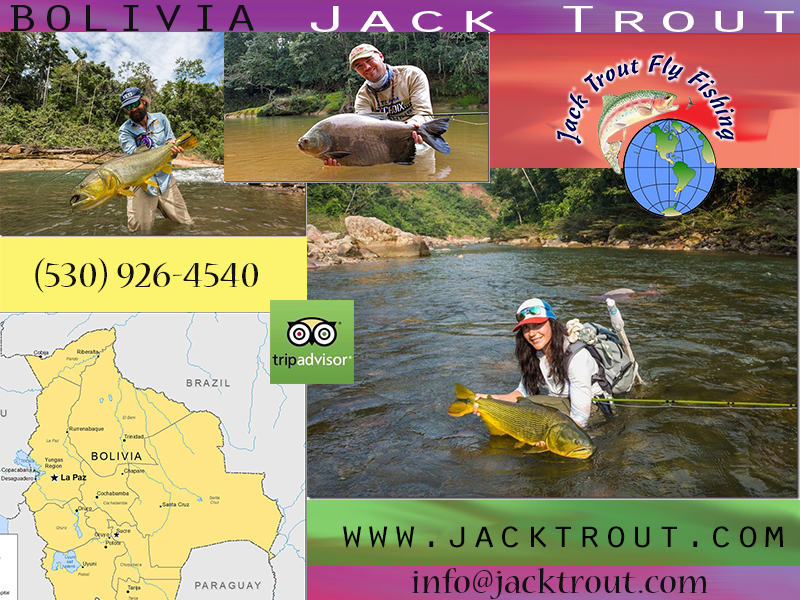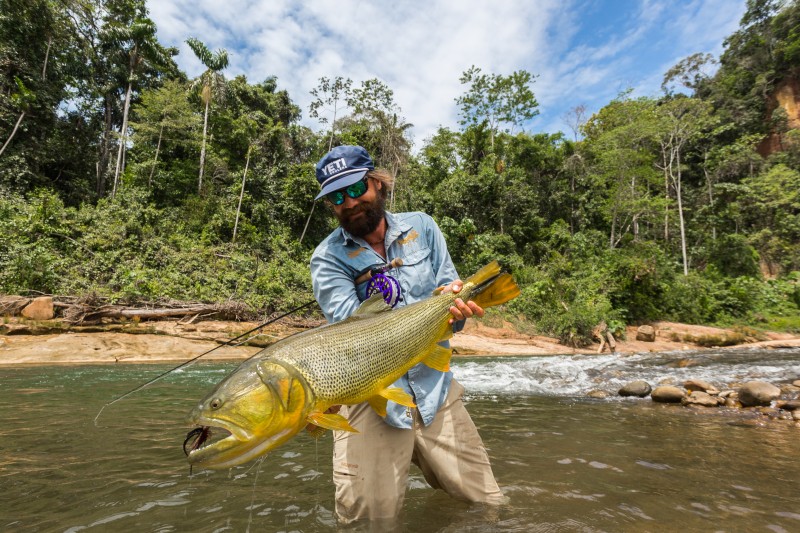 When It's Time To Serve Those Jungle Dream Needs, To Explore The Kid Inside Of You, And Your Ultimate Indiana Jones Adventure, Do We Have A Place For You In Bolivia!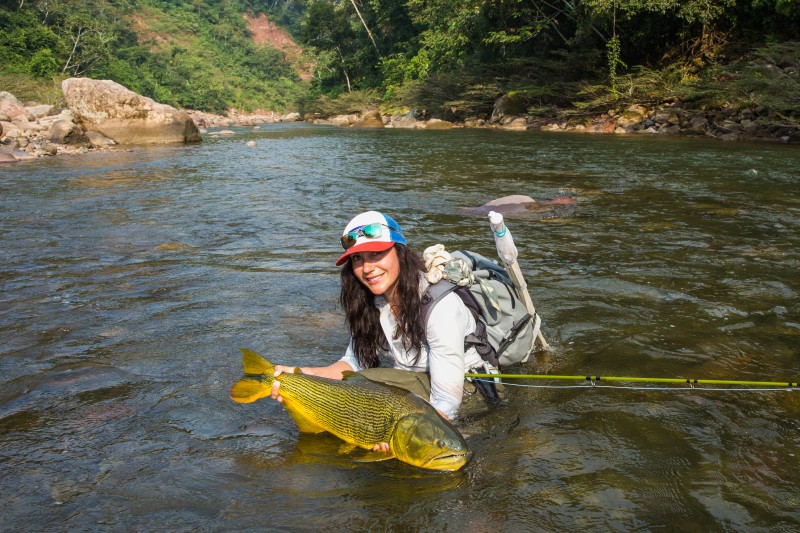 Where Dreams Do Come True And Golden Dorado As Big As Your Leg.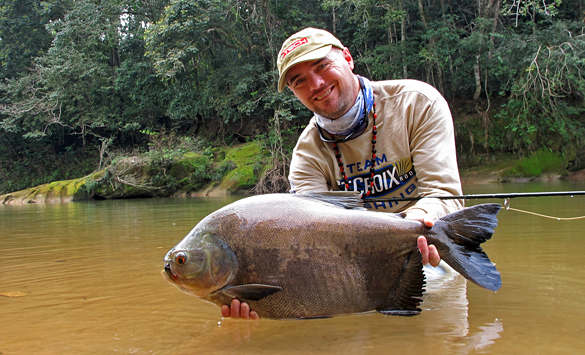 Where Pacu Roam And Thrive… You Could Add A New Specie To Your Repertoire.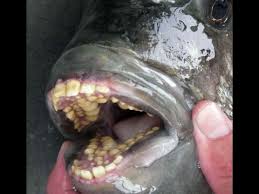 4 Out Of 5 Dentist Approve!! Call Us For Your Jungle Adventures In Bolivia Or Brazil, We Got You Covered. 🙂
CALL US FOR YOUR TRIP TO THE BEST LODGE IN ALL OF THE AMAZON! WE CAN GET IT ALL SET UP RIGHT, JACK & CAROLA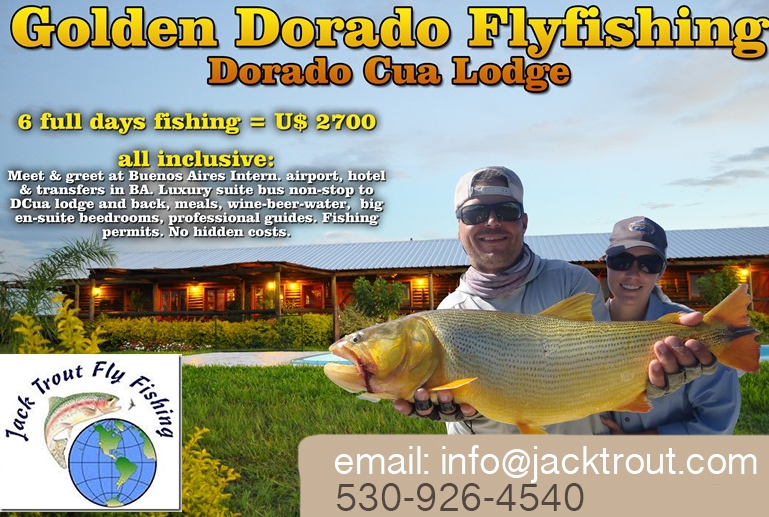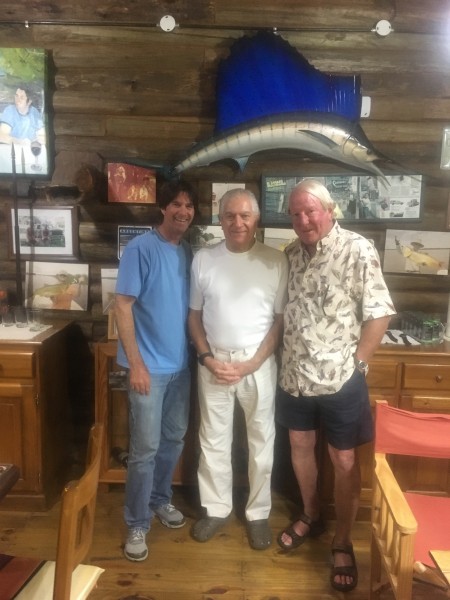 Yea!! It's Mario Battison And His Wonderful Cuá Lodge On The Rio Paraná, Near Buenos Aires, Argentina. We'll Pick You Up At The Airport. 
Dorado Cuá lodge site is located in front of the amazing wetland river Isoró, with many streams that Are born from of Paraná river, the Lodge is only a 20 minute drive by- boat to Paraná river.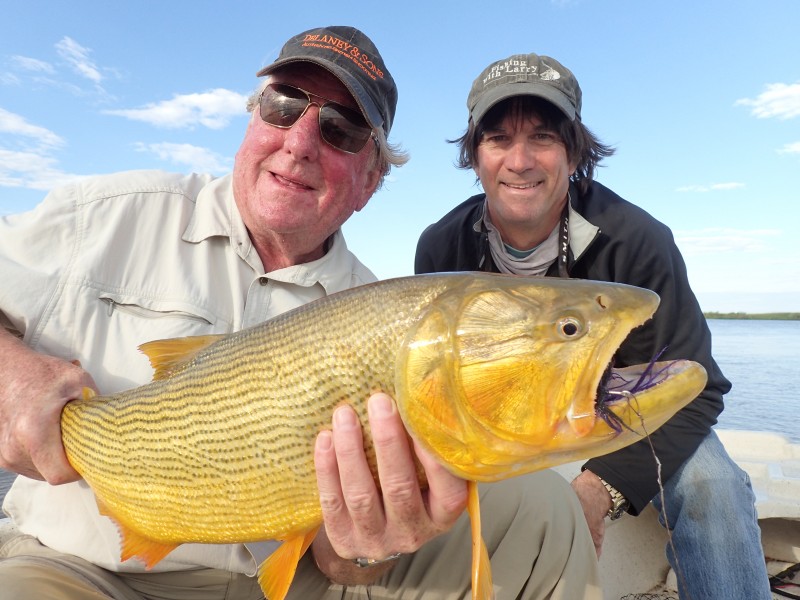 The Lodge Is Situated In The Perfect Location, Where Some Of The Best Fishing Ever Exists For Golden Dorado.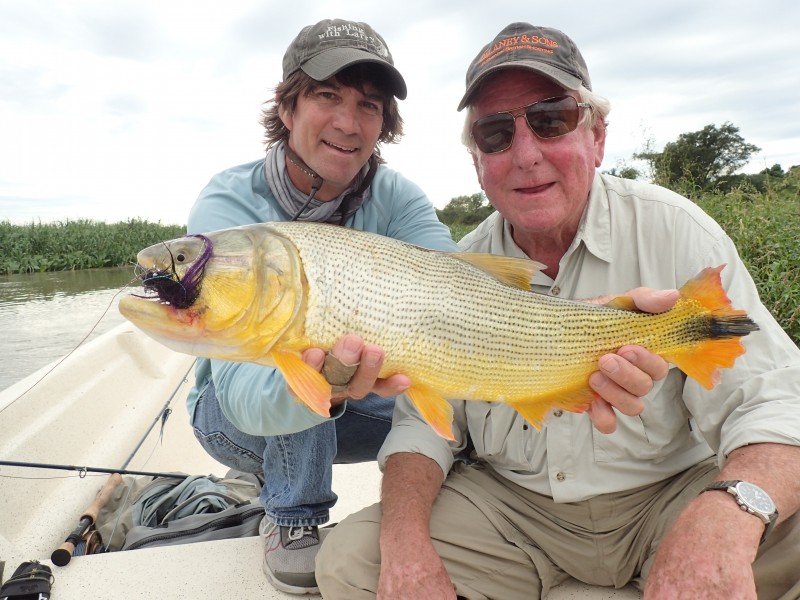 Whether Your Fishing With Larry, Or Fishing With Jack Trout Fly Fishing International, WE Can Make Your Golden Dorado Dreams Come True At A Very Affordable Price! The Meals, Lodging, Atmosphere & Fishing Is Unsurpassed.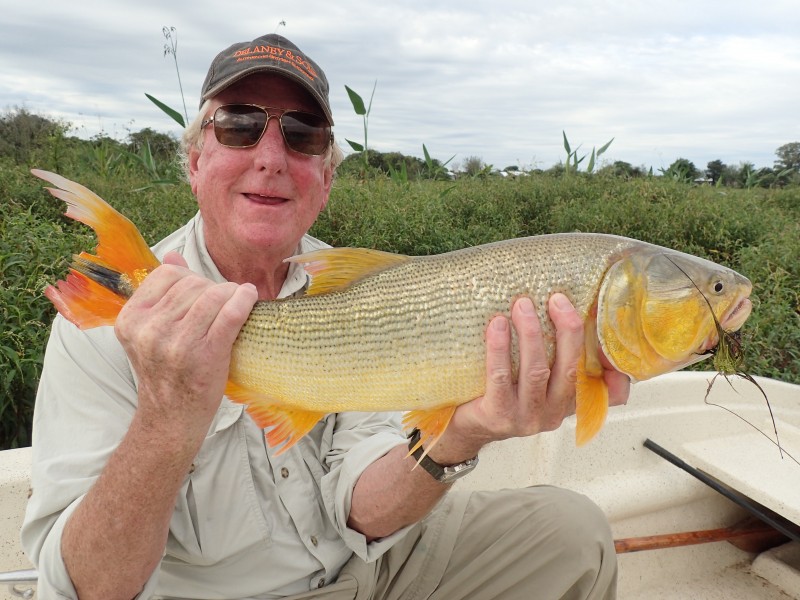 Just Another Day Out With Mario And His Guides, Makes Our Clients Happy Campers.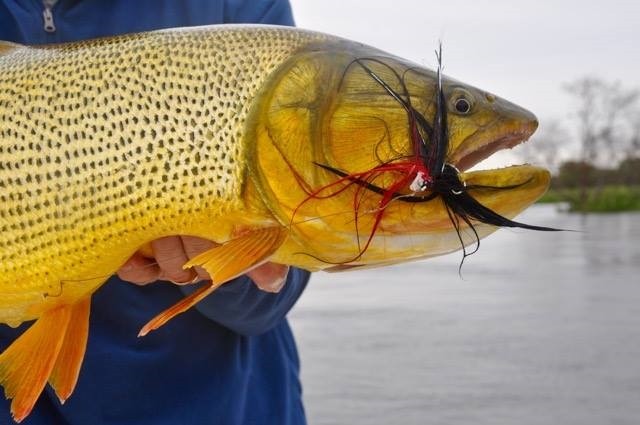 Gotcha! Give Us A Call, We Can Customize A Package For You, Just Yesterday, A Couple From Spokane Washington, Booked 5 Days Fishing, Where The Husband Is Fishing All 5 Days And The Wife is Fishing 3 Days But Staying 6 Nights, It Was for An Incredible Low Price. That's What Mario Battison And I like To Do, Make Fly Fishing Affordable & Fun For Any Families Budget. Give Us Call, jt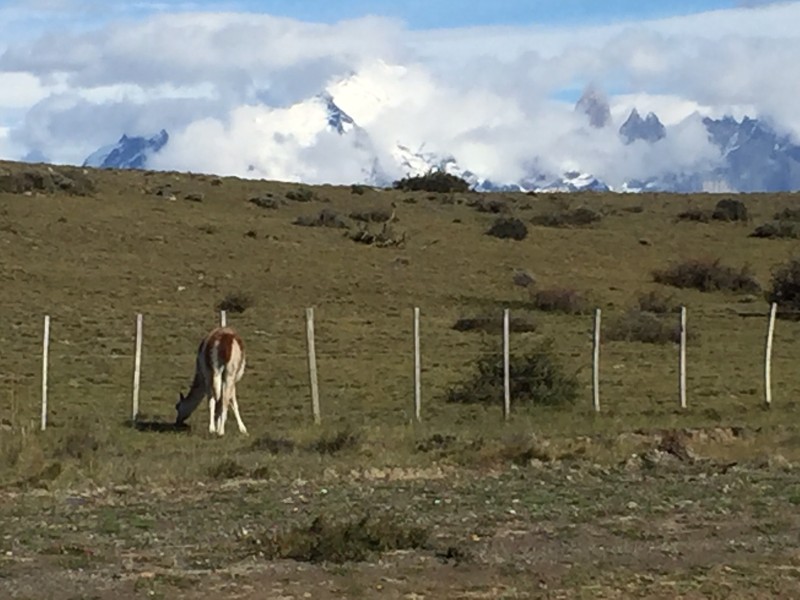 So You've Had Patagonia Chile On Your Bucket List.. And Now You Want To Set Something Up For Next Season, Well You're Just In Luck, I have The Guides Ready For You And We Have A Perfect Track Record. I Might Be Guiding There Too Next Season, Give Me A Call. Jack Trout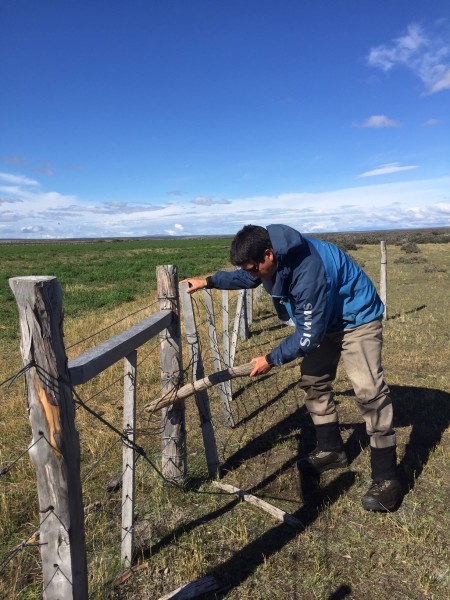 Access Is Everything Down In These Parts And We Know How To Get You There.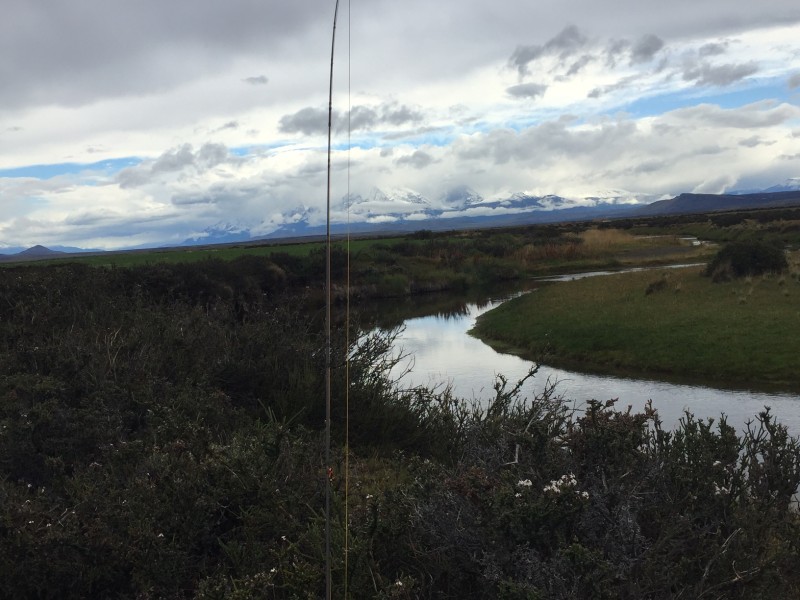 Luscious River Banks Teaming With Huge Trout Just Waiting To Eat Your Fly, If You Present It Correctly.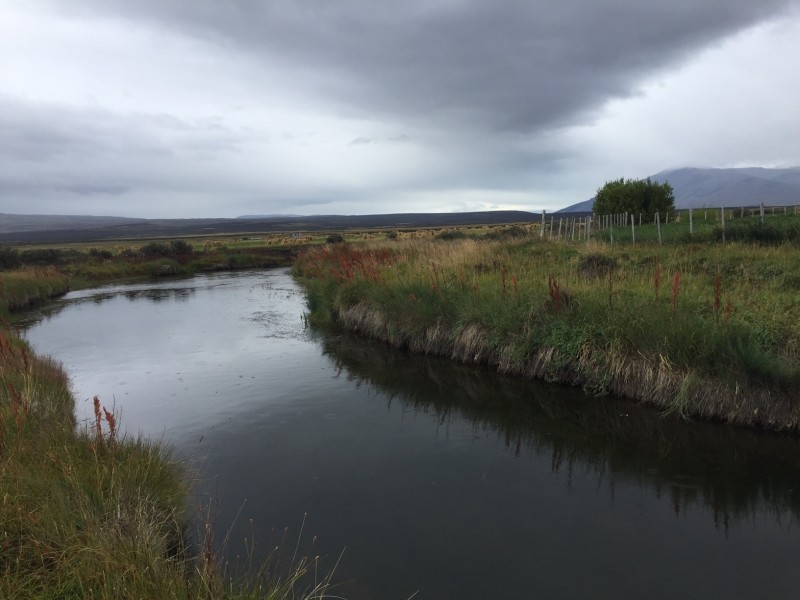 With An Emphasis On Presentation And Being Quiet, Those Fish Didn't Get Huge By Being Dumb You Know. Approach With Caution, Listen To Your Guide.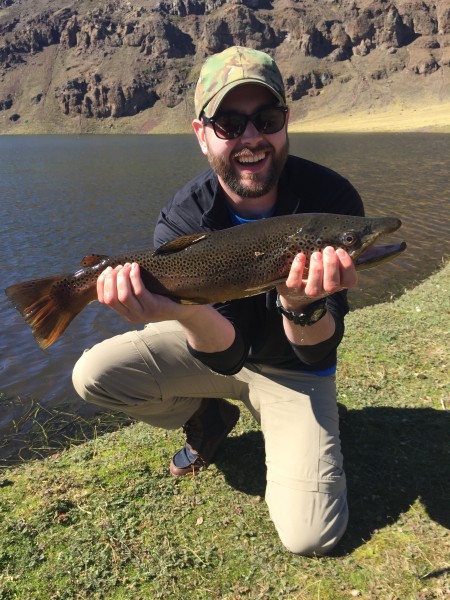 After Scotty Smethers Left Me He Went Down And Fished With Ben And Boy Did He Have A Good Time!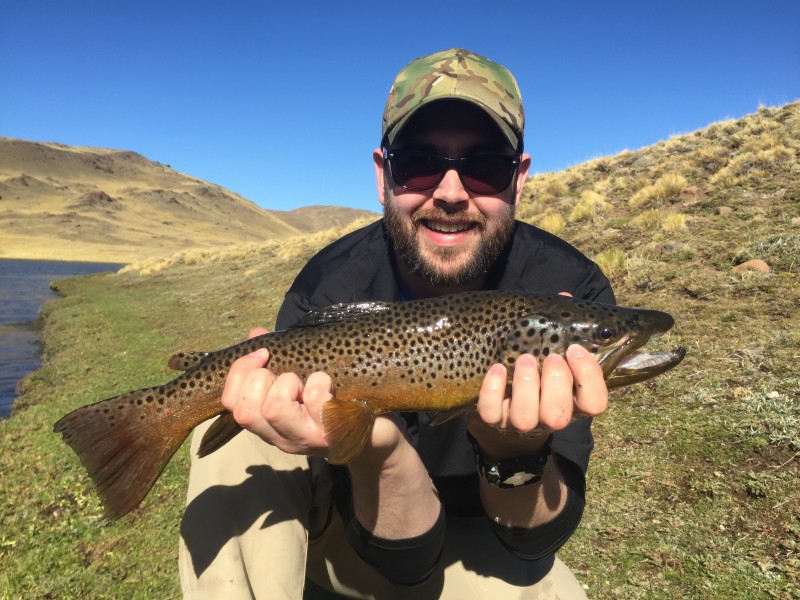 Jack,
It was incredible! The quality of the trout in Ben's spot was just unreal. I had an absolute blast, and smashed my record! Check out the pics!
THANKS SCOTTY, SEE YOU IN THE FUTURE BRO!! JACK & CAROLA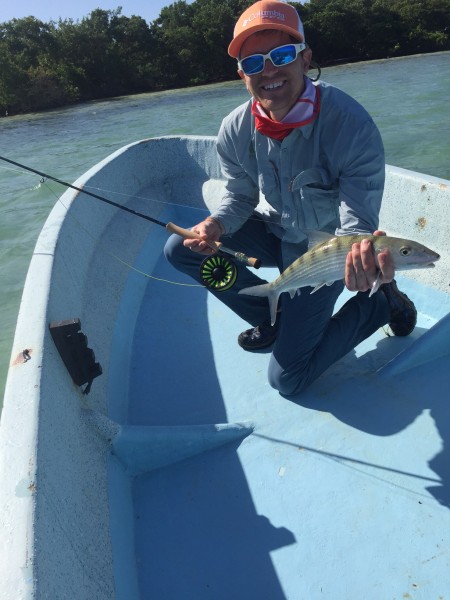 Thanks for setting this up Jack! Had a good day with Noawell and caught not only my first bonefish but double digit fish that day. Here are just a couple pics from the experience.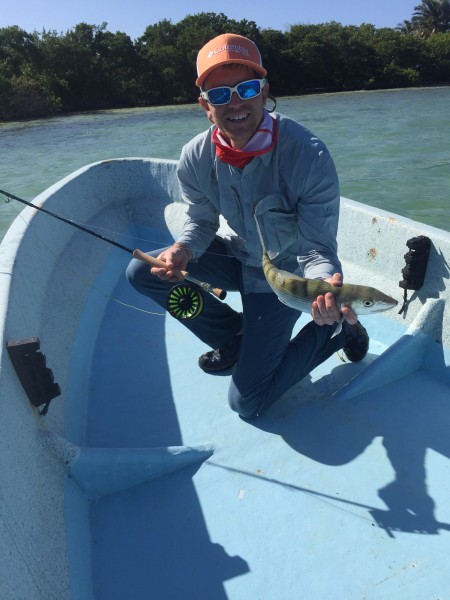 Gladly did, 5 star reviews on both Tripadvisor & Google Reviews as this trip was just what I needed. I'll make it a tradition on every Belize trip from here out I believe, and continue to work on my casting 🙂
Luke
"Great day trips from southern Belize!"
Was hoping to catch my first bonefish on a business trip with only free day in Belize, fortunately found jack who was one of the only guides that could accommodate that schedule. Walked away with not only my first bone, but first dozen plus after a great day on the water fly fishing with Noawell
WHOHOOO LLOYD NUNEZ IN HOPKINS VILLAGE BELIZE, WHAT A STUD GUIDE GOING ON 30 YEARS NOW!! CONGRATS! NUMEROUS CLIENTS HAPPY AS ALWAYS – CHECK IT OUT!  JT
Yea, We Have An Excellent Adventure Waiting For You In Belize, We Have Been The Number One Fly Fishing Outfitter In Belize For One Day Trips For Over 20 Years. Thanks For Putting Your Trust In Us, We Won't Let You Down. Whether It's In Hopkins, Placencia, Dangriga, Punta Gorda, Caye Caulker, Glover's Reef, San Pedro, Ambergris Cayes or A Cruise Ship Out Of Belize City. No One Helps More One Day Fishermen Than Jack Trout Fly Fishing International,
Thanks Again,Jack Trout –       Fly Fishing International In Belize. Give Us A Shout!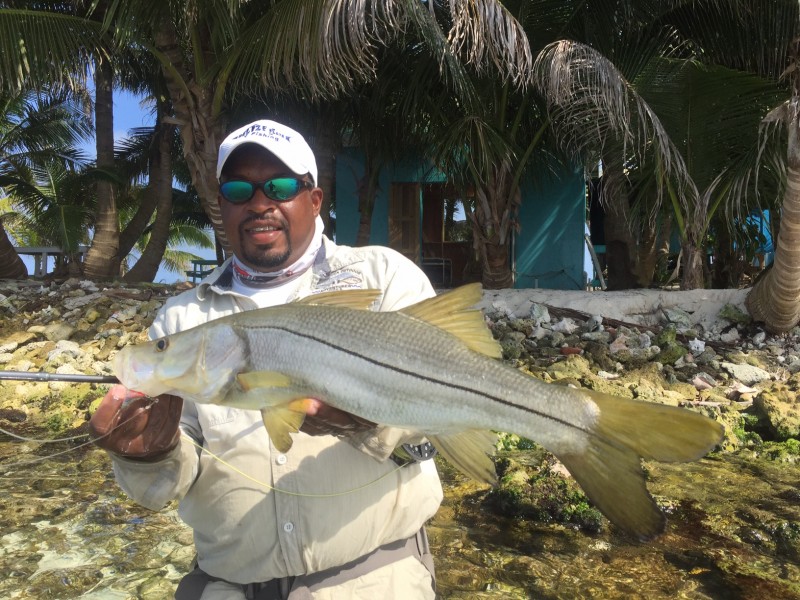 My Head Guide Wayne And His Brother Daniel, Will Be Waiting For You In Placencia, You Can Expect Great Fishing And Adventures!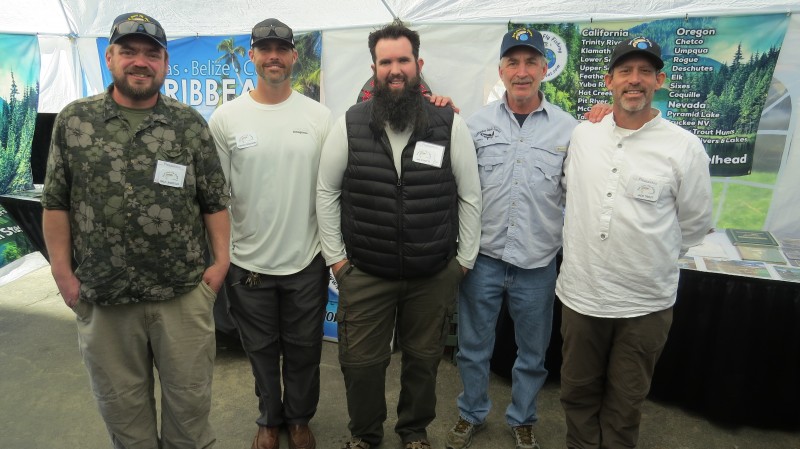 Pleasanton Sportsmen Show Was In February For 3 Days, I had a Terrific Time With My Guides And Speaking On The History Of The McCloud River Rainbow.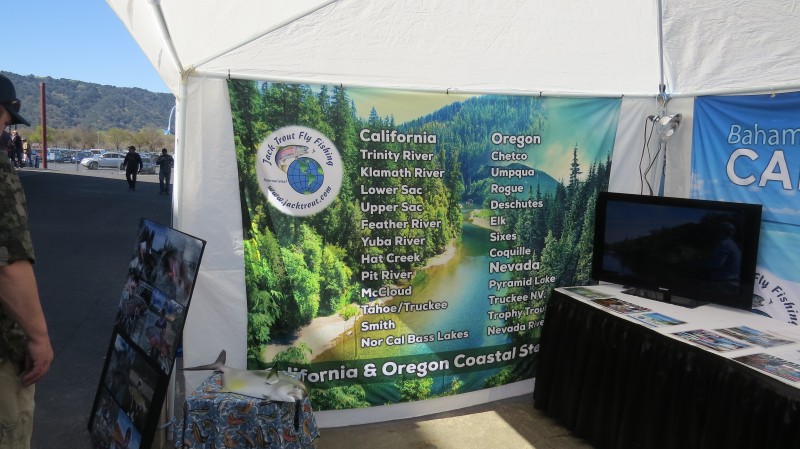 We Tried To Have a Great Booth For All Of You Visitors & Past Clients, Every Past Client Got A Free Jack Trout Hat.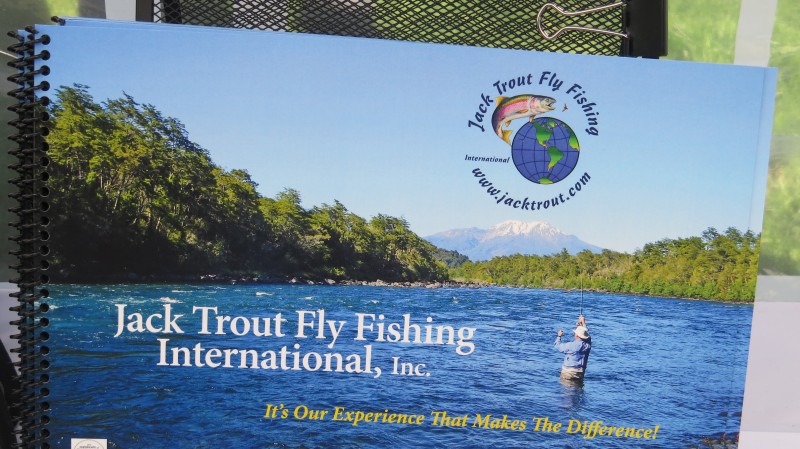 If  You Want Us To Mail Out Our New 2017 Handout, Drop Us A Line… info@jacktrout.com  or 530-918-8879 or
530-926-4540 Office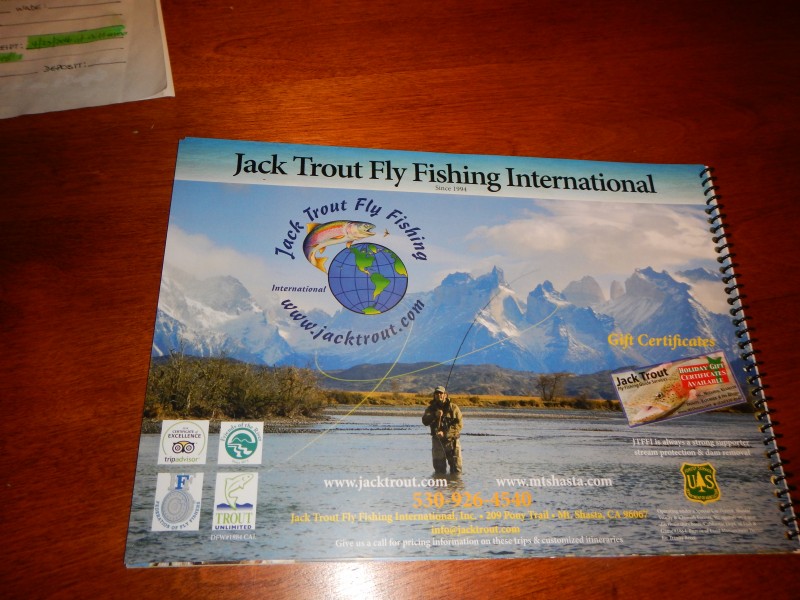 We Can Send Our New Piece Out To You Too, Drop Us A Line – 530-918-88879 or 530-926-4540 or Best is to Email: info@jacktrout.com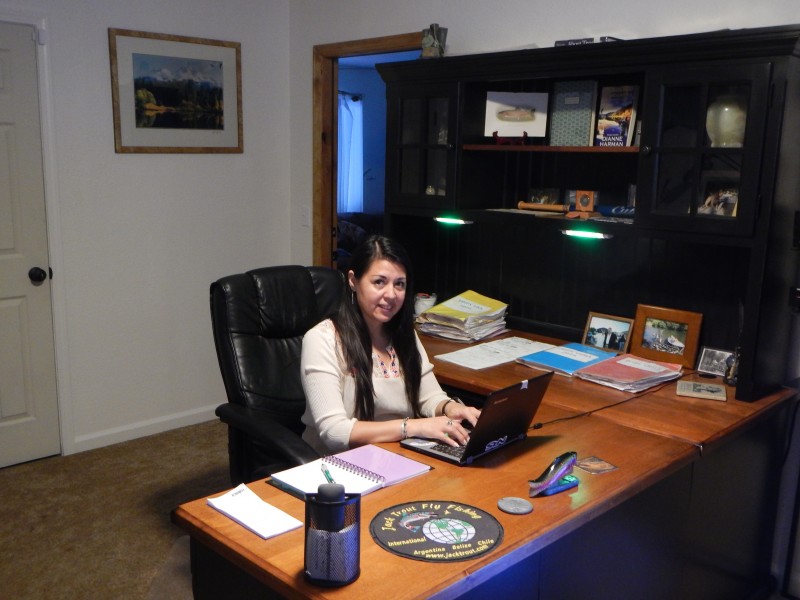 Carola Trout Working Her Magic, Coordinating Your Trips In Our Newly Expanded Offices. You Can Believe, We Will Always Get It Right. Thanks, Carola & Jack  
(We Are Hiring A New Office Assistant To Carola In The Shasta Area, Please Call.)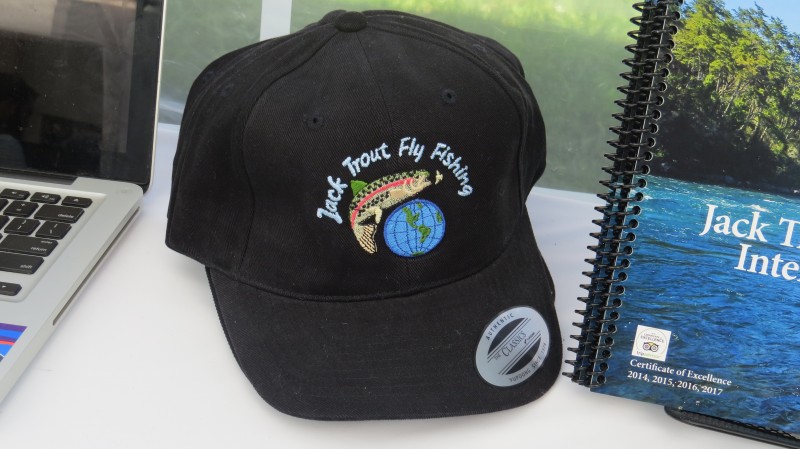 Hats For $15.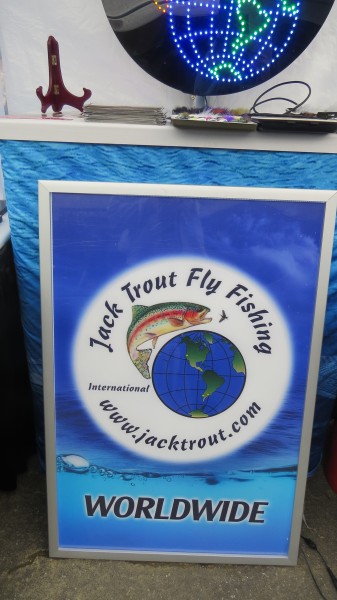 Our Goal is To Have A Jack Trout Guide On Every River Worldwide For An Affordable Price, With A Mighty Fine Lunch And Gear.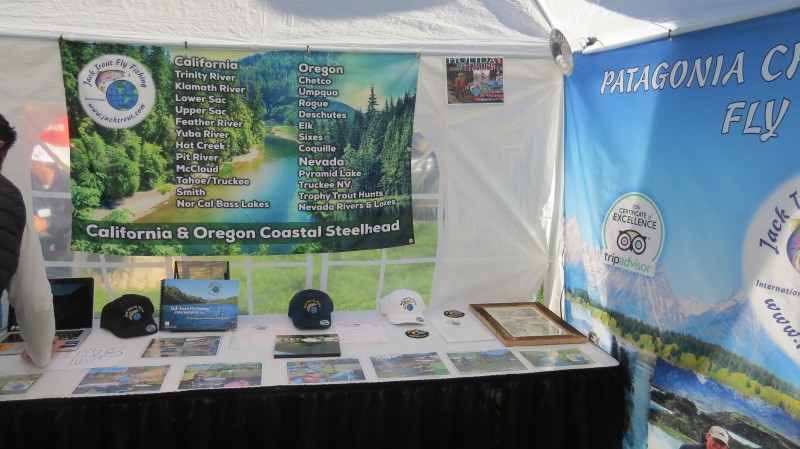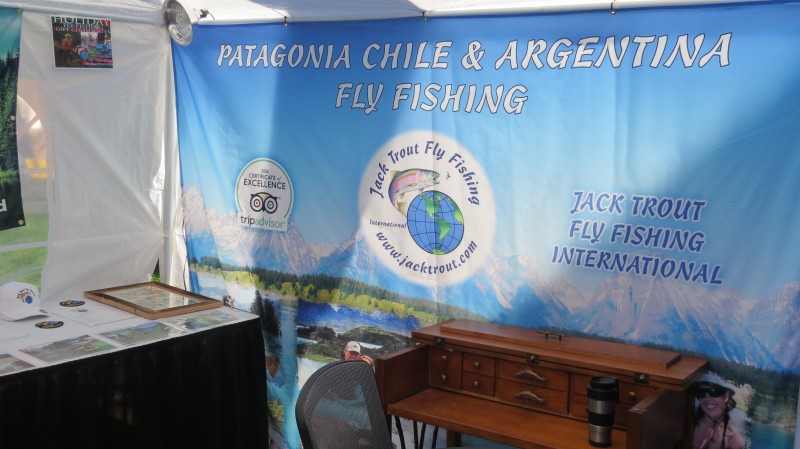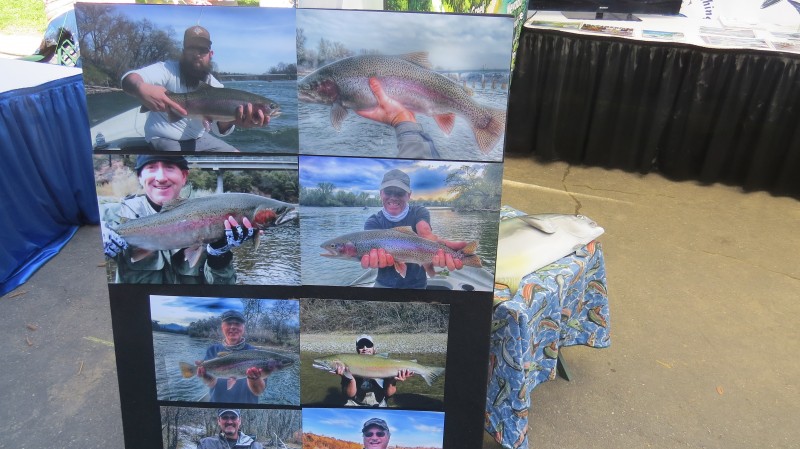 I Only Work With The Best In The Industry, A Cut Above The Rest. Our Happy Clients And Top Ratings On Reviews Prove This.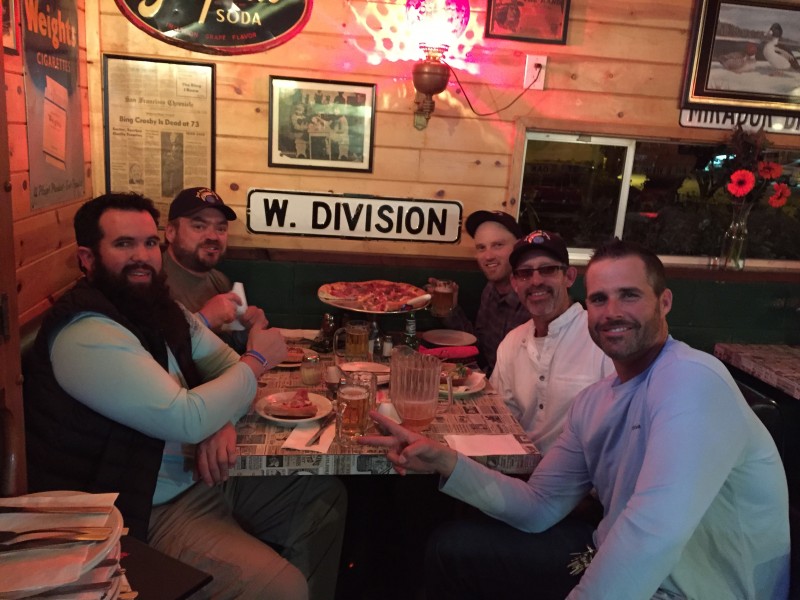 Out For Pizza with The Boys In Pleasanton After The Show Closes, That Was So Fun!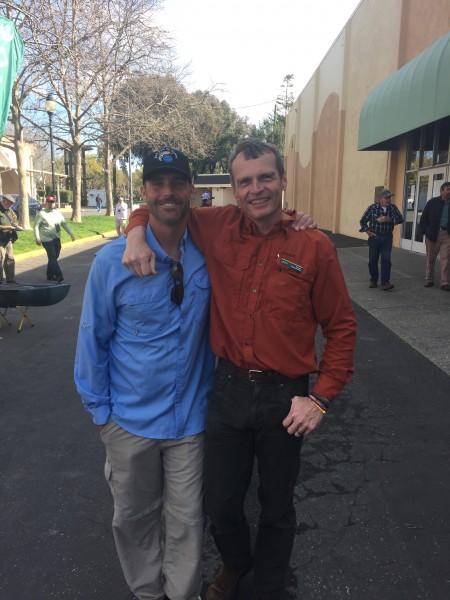 All The True Legends We Met Down There. Including The One Being Hugged!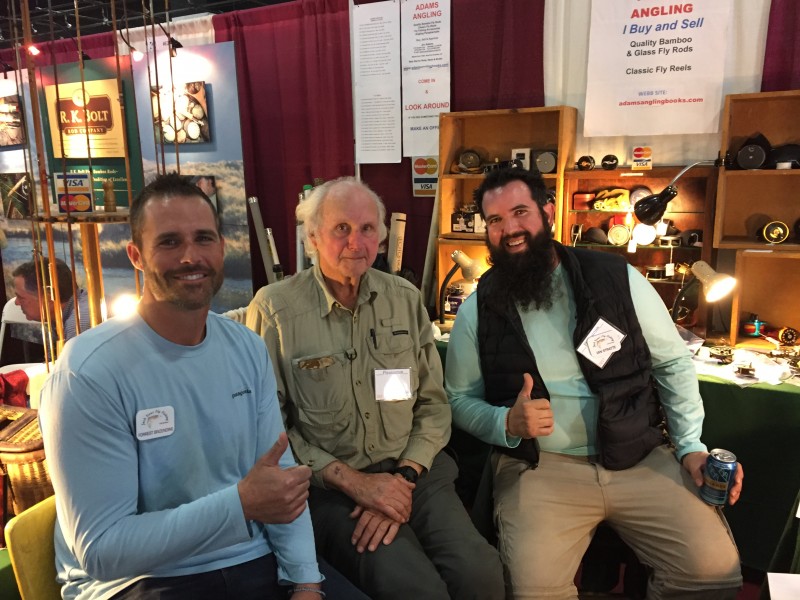 And Some That Belong In The Smithsonian Of Fly Fishing..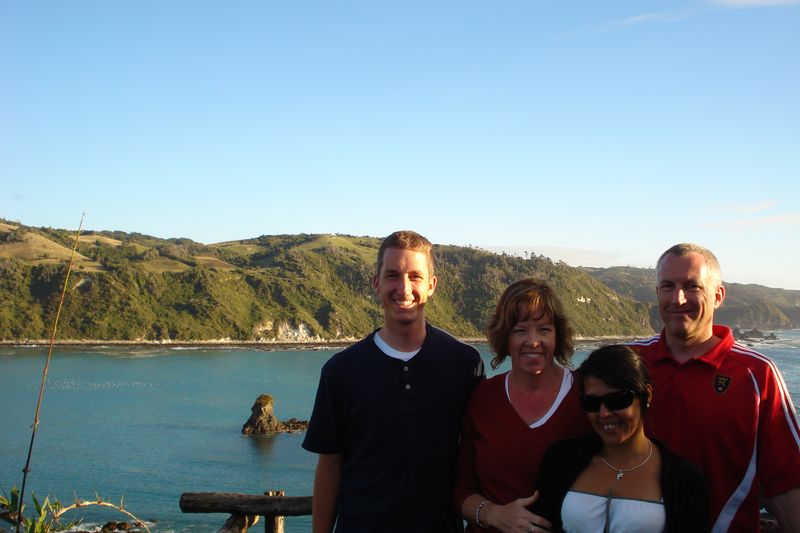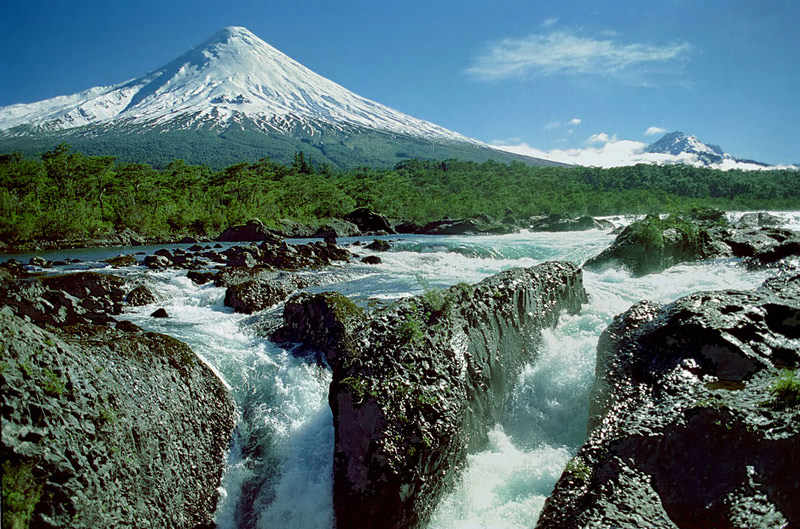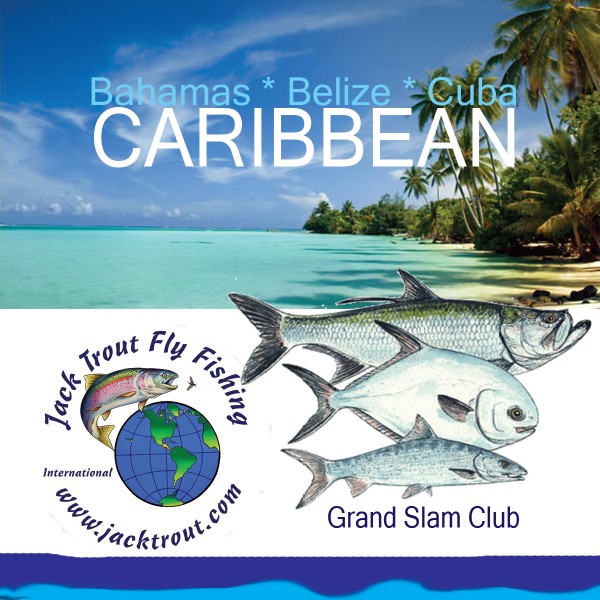 Tommy, Solomon And I Have You Dialed When You Go To The Bahamas! jt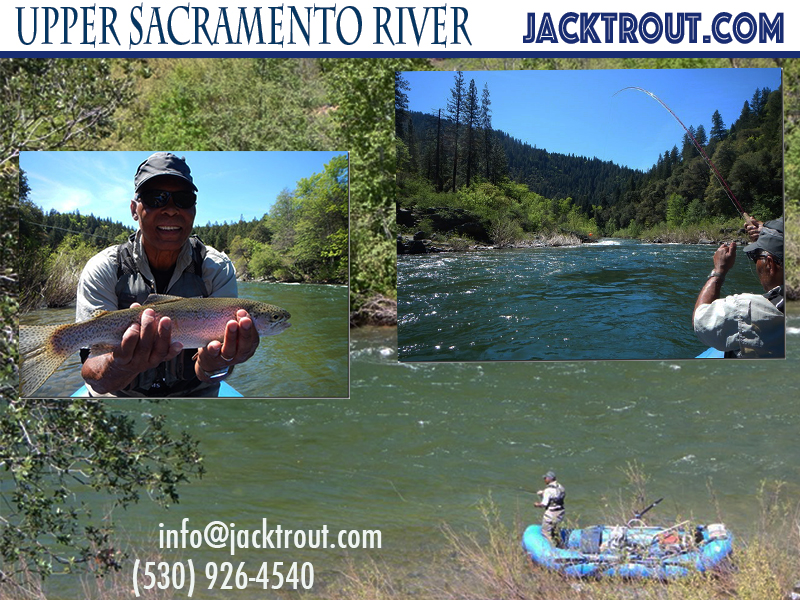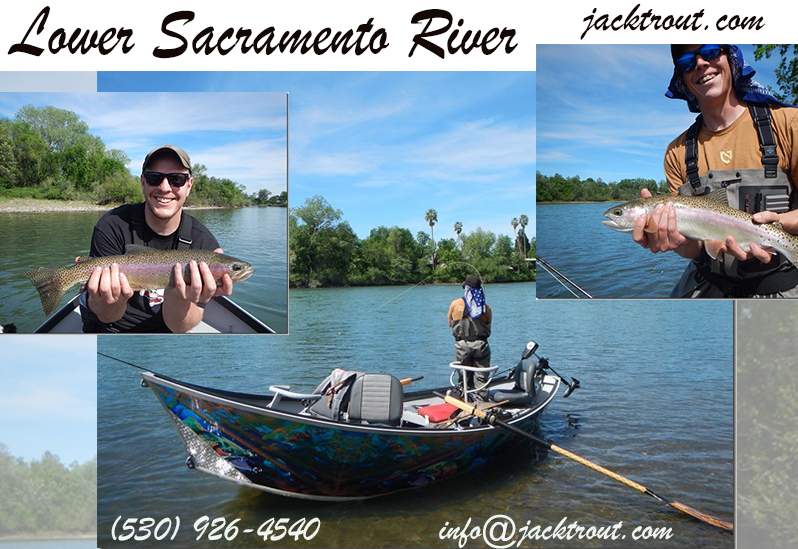 Mount Shasta Tours With Robin Kohn – www.tourmtshasta.com  Since 1994, The Leader In Mount Shasta Area Tours & Step On Your Bus Guide Service. We Have All the Permits To Make It Happen.