2014, 2015 & 2016        TRIPADVISOR'S TOP AWARD WORLD FLY FISHING OUTFITTER.
                                                                                         
SPRING
 SIGN UPS FOR * UPPER SACRAMENTO, McCLOUD   &  LOWER SAC * YUBA RIVER * M.F. FEATHER RIVER * KLAMATH * PUTAH CREEK * PYRAMID LAKE * TRUCKEE RIVER * DESCHUTES * SANDY RIVER * CHETCO OREGON
                       MARCH * APRIL * MAY * JUNE  – 530-926-4540
530-918-8879 OUR INTERNATIONAL PHONE THAT RINGS ME ANY WHERE OR EMAIL AT INFO@JACKTROUT.COM
                              MORE DESTINATIONS TO CHECK OUT
Cuba Tarpon                                                       Belize Permit                               Pyramid Lake Cutthroat
Chetco River Oregon Steelhead      Sandy River Oregon Steelhead       Spain Pyrenees Zebra Trout
Romania Transylvania Dracula Trout      Brazil Peacock Bass                      Argentina Golden Dorado
Yuba River Steelhead                Middle Fork Feather River Trout         Lower Klamath River Steelhead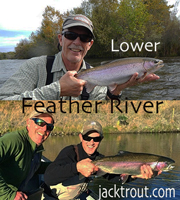 Lower Feather River Steelhead  Need an up to the minute update? Check out our Facebook Page & Videos –
JACK TROUT FLY FISHING FACEBOOK PAGE
Author Dianne Harman, came to Chile with her husband former Senator Tom Harman, the plan was for her to tour and pal around with Carola, while I was on a Congressional Mission to entertain the Senator in the likes of some fishing trips planned on both sides of the Andes Mountain Range. We are still the only outfitters in the fly fishing industry that offer a 10 trip from Chile over the Andes into Argentina and proud of it. Dianne right now has the number one sports fishing book in the United States on Amazon for over 10 weeks, Murder In Cuba has been a number one best selling book. Carola is the star in this short read and helps prove in the book that I am not the murderer. Though I don't want to give away any clues as you might say, It's always good to have a supportive spouse who has your back. Dianne is working on a sequel and her endeavors now brings her down to Chile for part II. Tom Harman, just likes taking it easy and catching a few fish along the way. Being that they have been married for over 50 years, they are a great example of a power couple and are like mom and dad to me and Carola. We love them! Muder In Cuba – Dianne Harman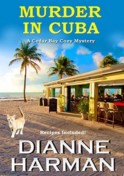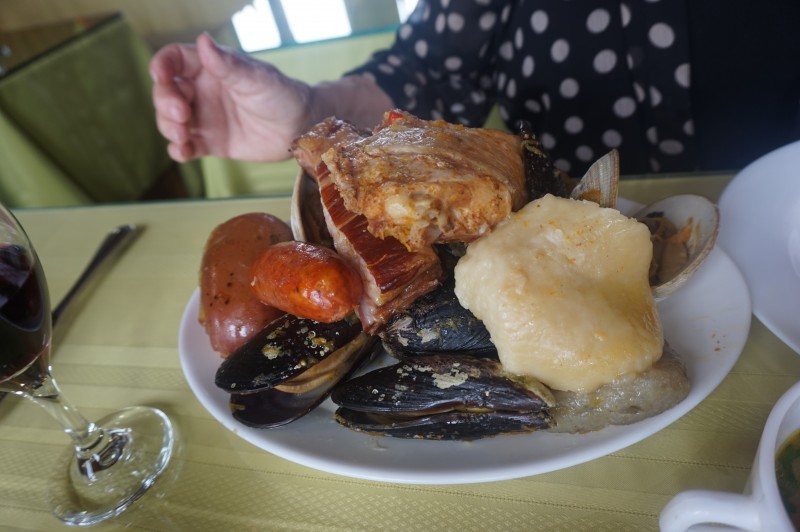 This is absolutely my favorite Chilean cultural cuisine called Curanto. It's made of oysters, smoked ribs, German sausages, chicken and these kind of flat dumplings called chapaleles. This dish first originated in the Isla de Chiloe and has spread throughout parts of Chile as solid cultural meal. If you go to Chile you must try this wonderful dish, but bring a friend though, you'll need the help!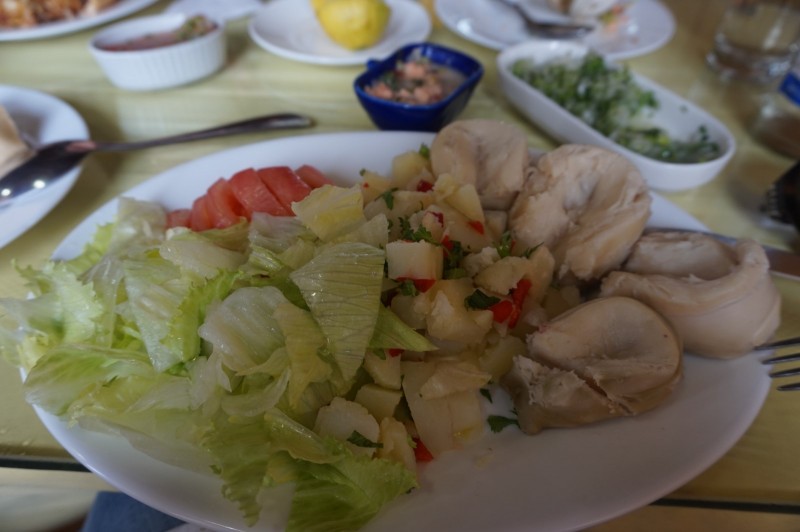 Carola had the black abalone which is wonderful too and affordable, as each plate cost between $7 to $10 dollars with our high dollar exchange rate now. In the Northern Hemisphere we have Red Abalone, down in the south, they have blacks abs.
If you go to Puerto Montt, we suggest eating at Angelmo near the harbor, eat at restaurant #8 upstairs, they have the Jack Trout Sticker on their window for a reason. 🙂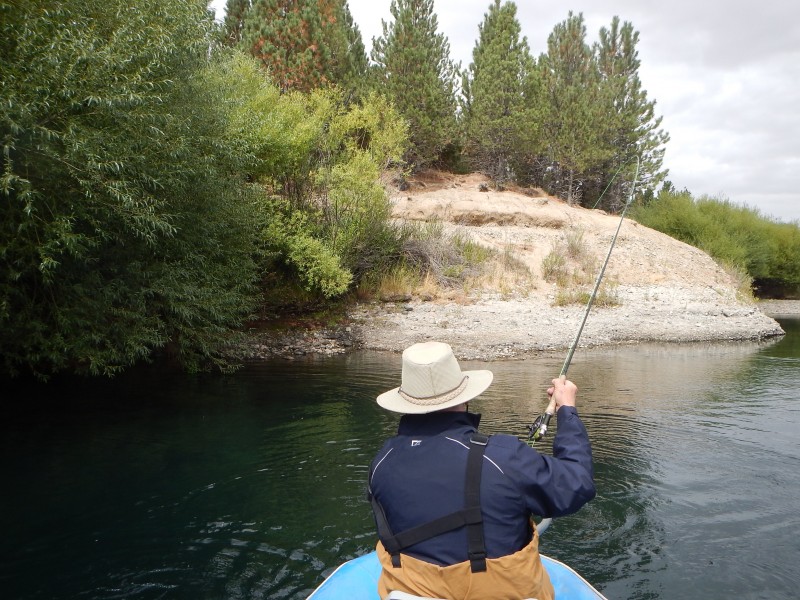 [vimeo]https://vimeo.com/158889691[/vimeo]  Tom Harman, catching trout on the Rio Chimehuin with our guide from Argentina Esteban. If you plan on taking a trip to Chile or Argentina give us a call you won't pay than you would with any other outfitter and chances are you'll pay less as we charge $4500 per person for the 10 day trip which is way less than the industry standard.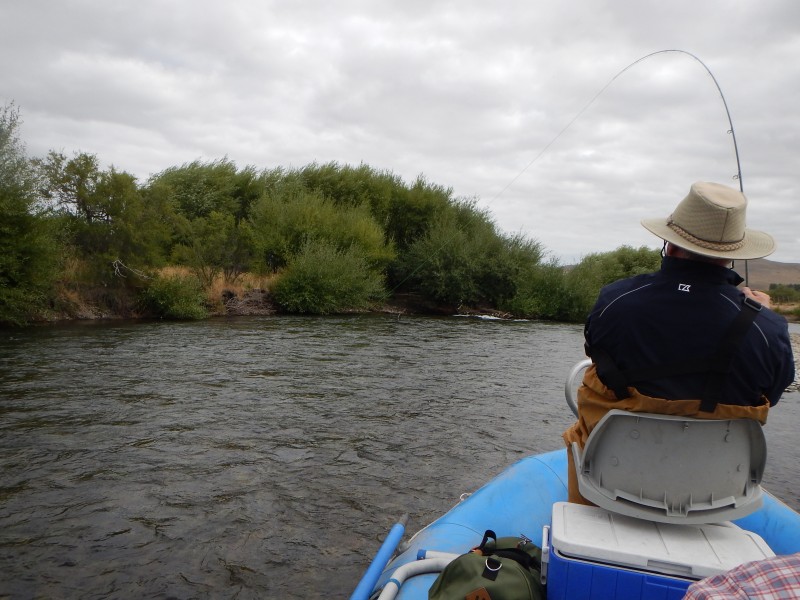 We caught every fish in Argentina on dry flies and droppers. But 90% were caught on dries.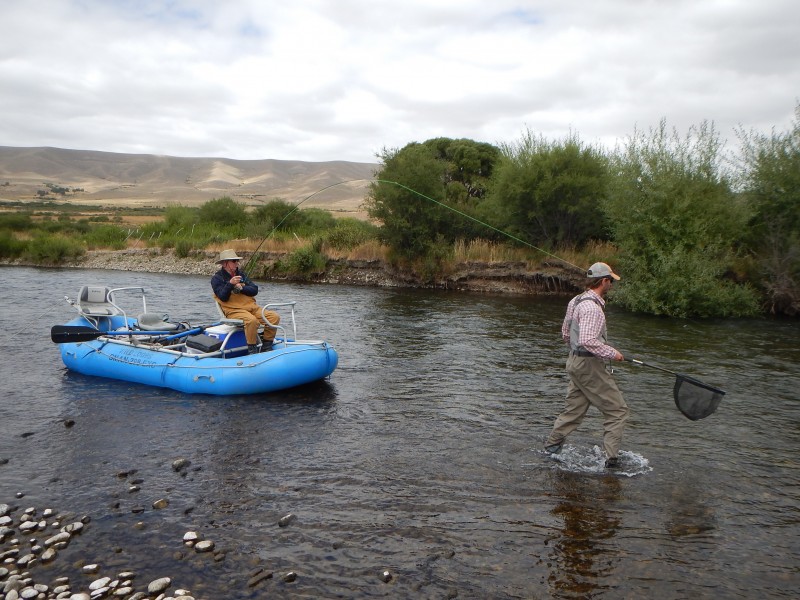 The rivers are low in Argentina, but that made the dry fly fishing all the better as Tom Landed another trout.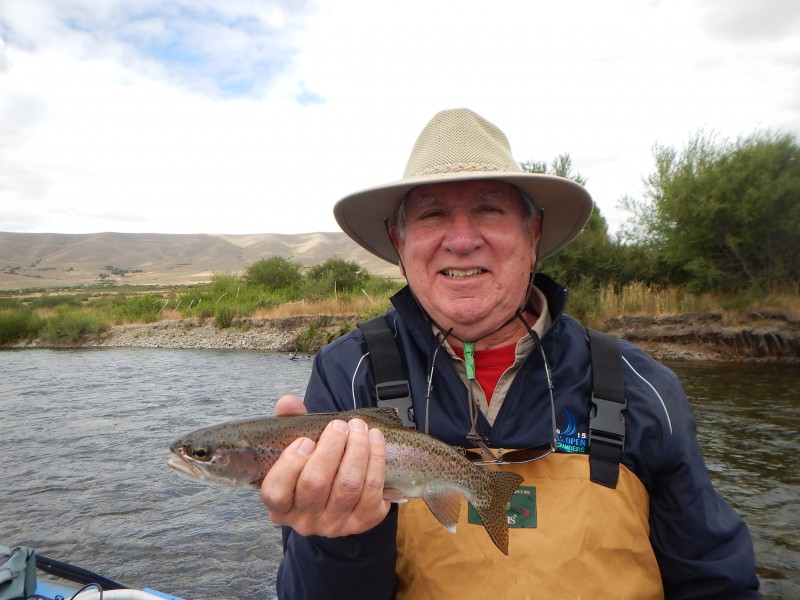 Former Senator Tom Harman, will be remembered for his strong environmental stands when he left office. He enjoyed his trips in Argentina as he cares about rivers and streams where ever he lives or fishes.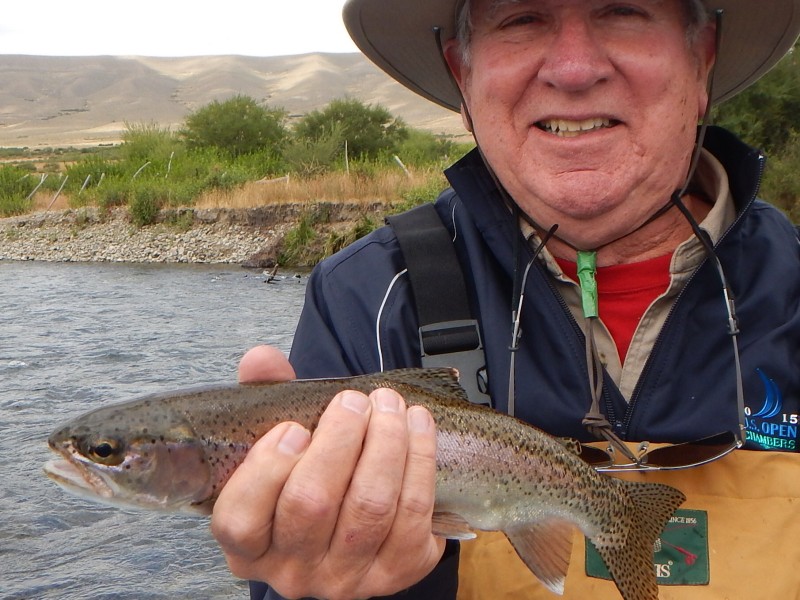 Way to go Tom!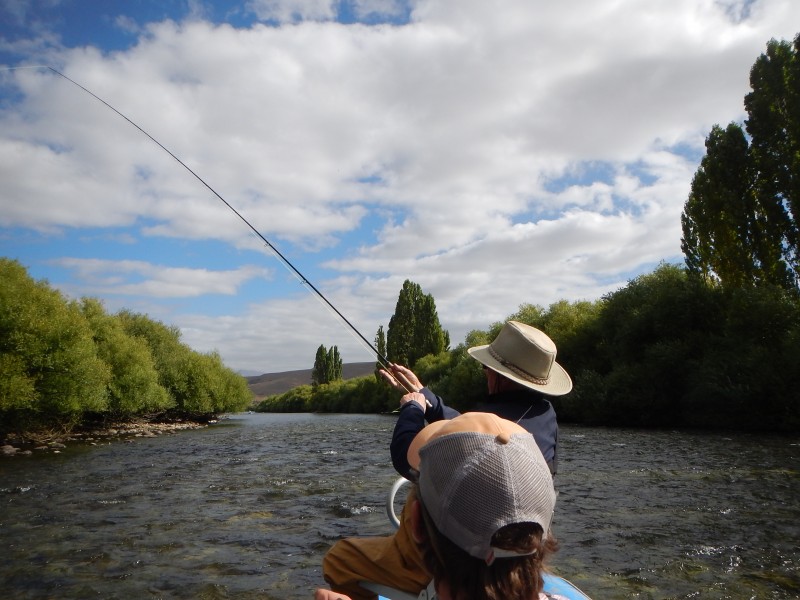 A few more yards down the river, another take on his dry fly.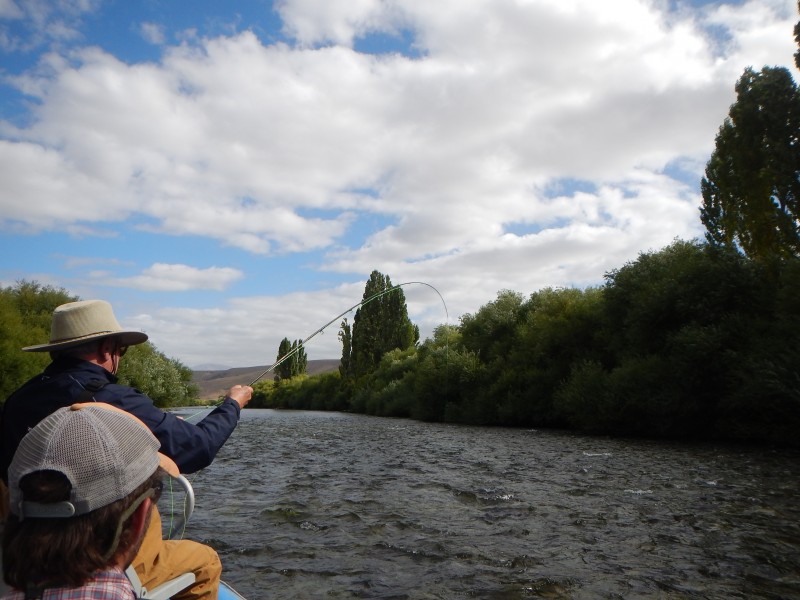 It was fun that day as trout were eating our bugs in no more than 2 inches of water.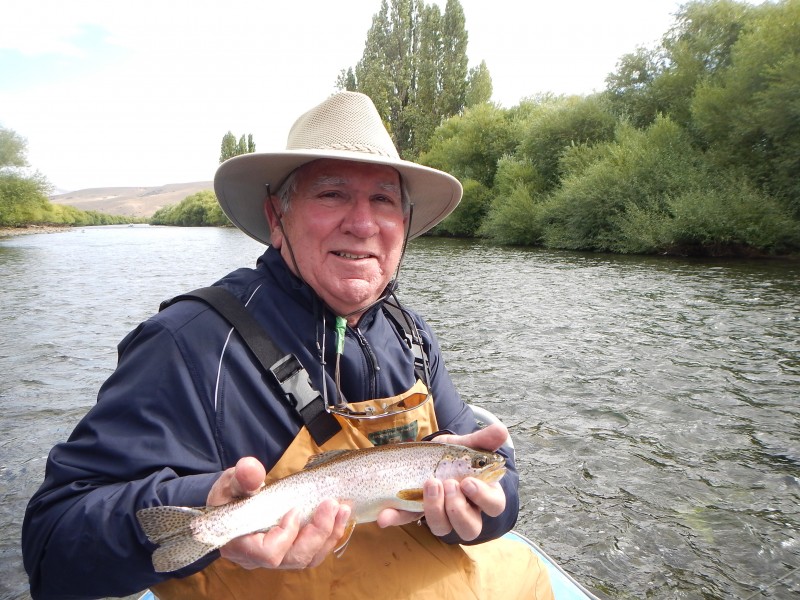 Nicely done Sir! That day we landed over 20 trout each and enjoyed everything about that day with little or no wind.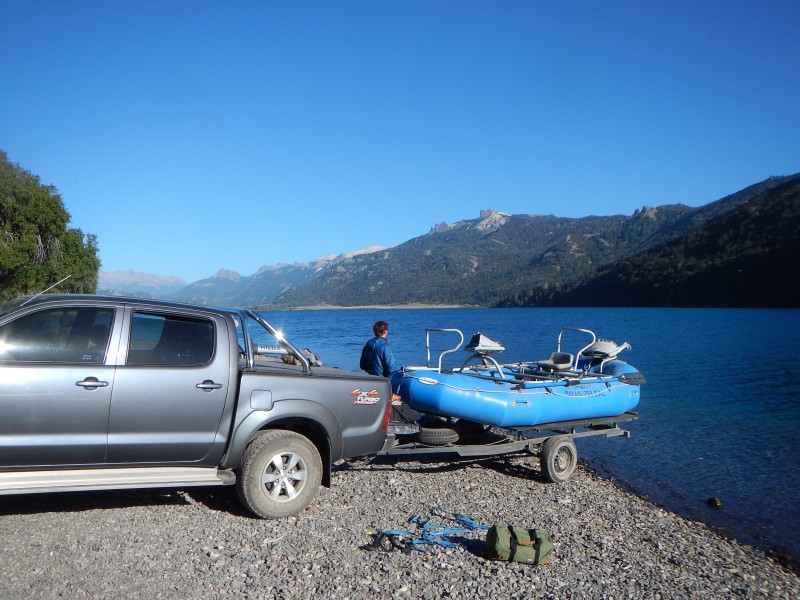 The next day we headed for one of the most beautiful dry fly lakes in the world, Lago Filo Hum Huam. (Pronounced – Feelow Wha-oom)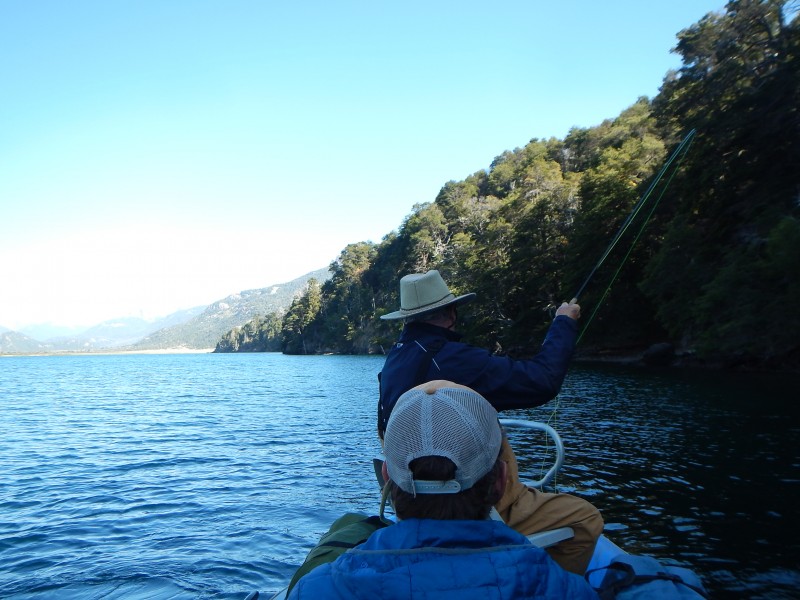 [vimeo]https://vimeo.com/158898191[/vimeo]
I hooked a trout and it got off, then the Senator, landed a nice trout that fought him hard.
Another beauty caught on a Fat Albert… Hey Hey Hey!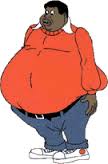 –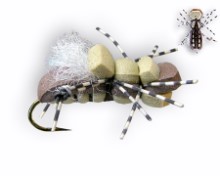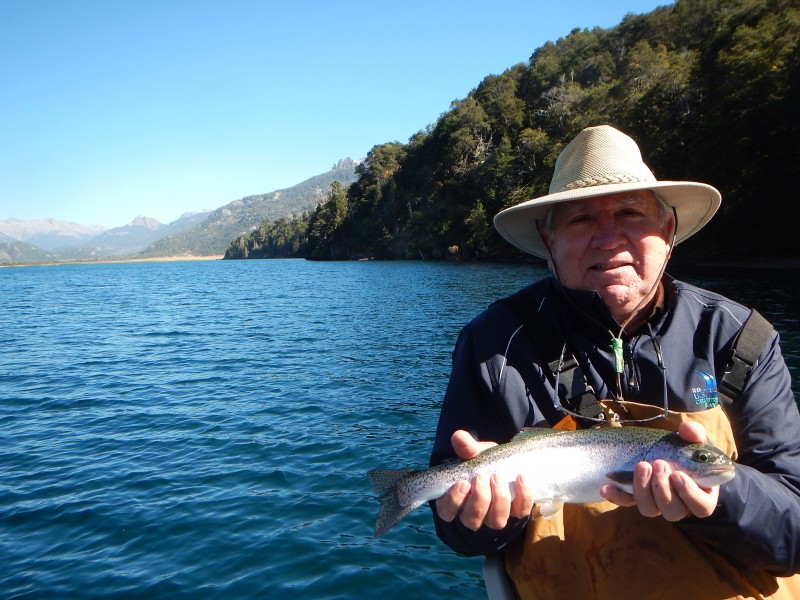 [vimeo]https://vimeo.com/158897953[/vimeo]
The scenes were priceless and we soon began to hear Red Stag (European Elk Introduced in the 1800's) bugling off in the
distance as the rutting season is now on the rise in Argentina.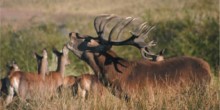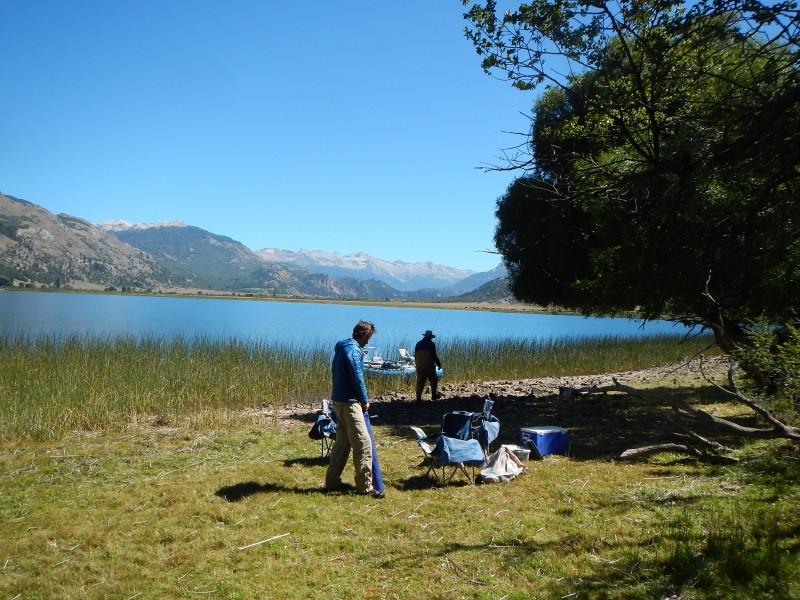 Esteban and I set up the lunch for Tom on this perfect sunny day in Argentina.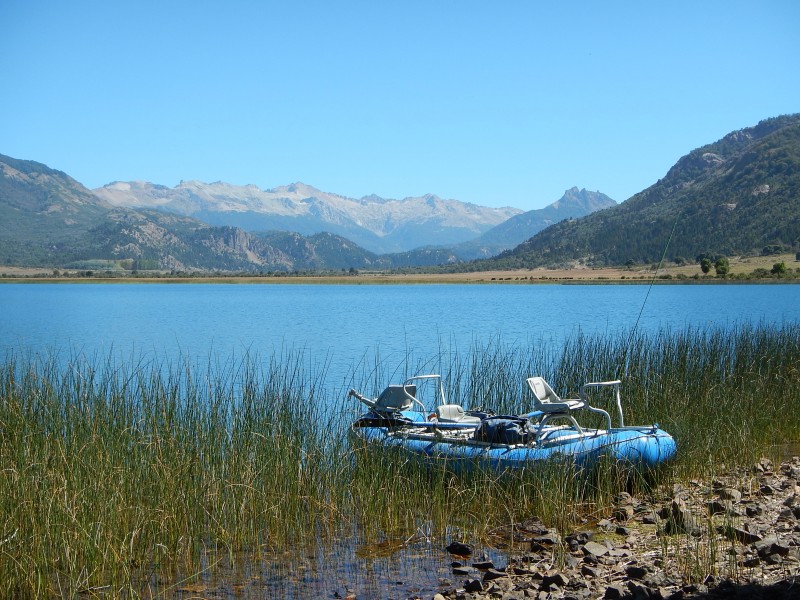 We really have access to some great equipment here in Argentina, I think you're going to like it.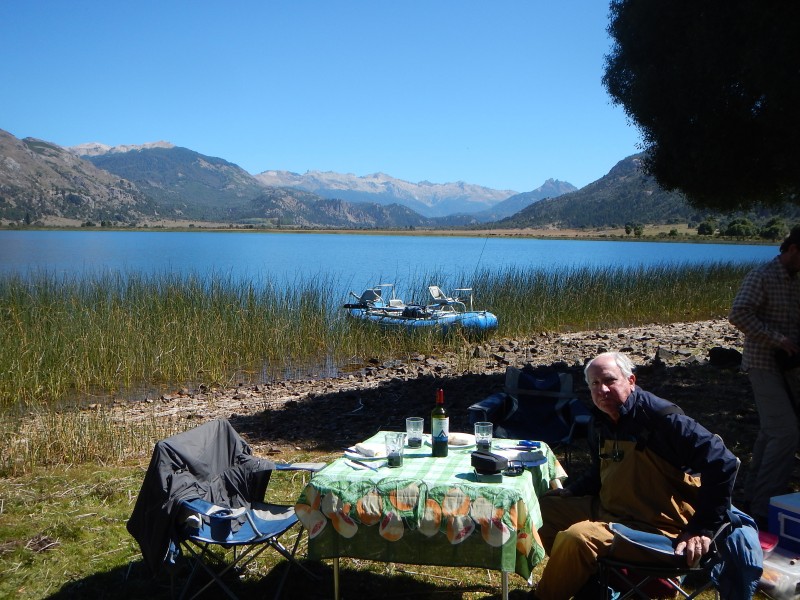 Everyday wonderful wine and a hot meal prepared by Esteban's partner Erica, the Senator loved it!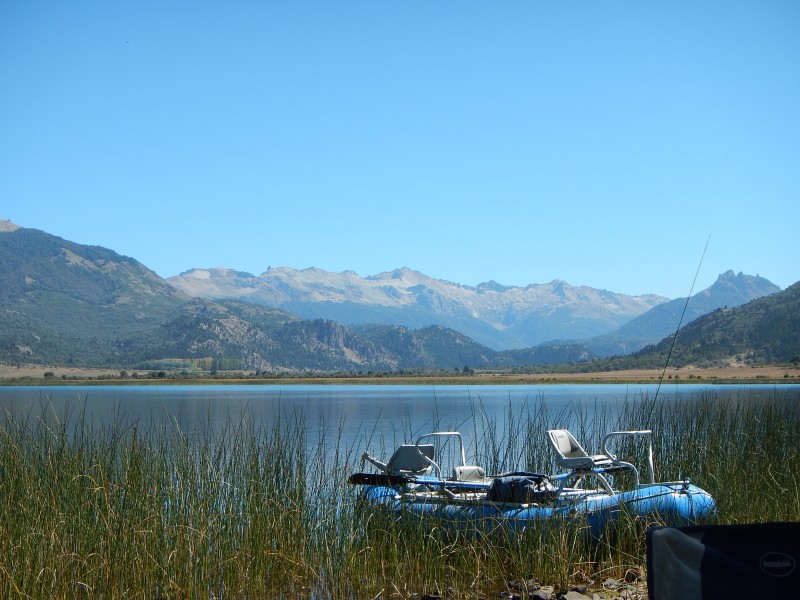 Look at those Andean Mountains staring down on us like a father that appreciates his sons.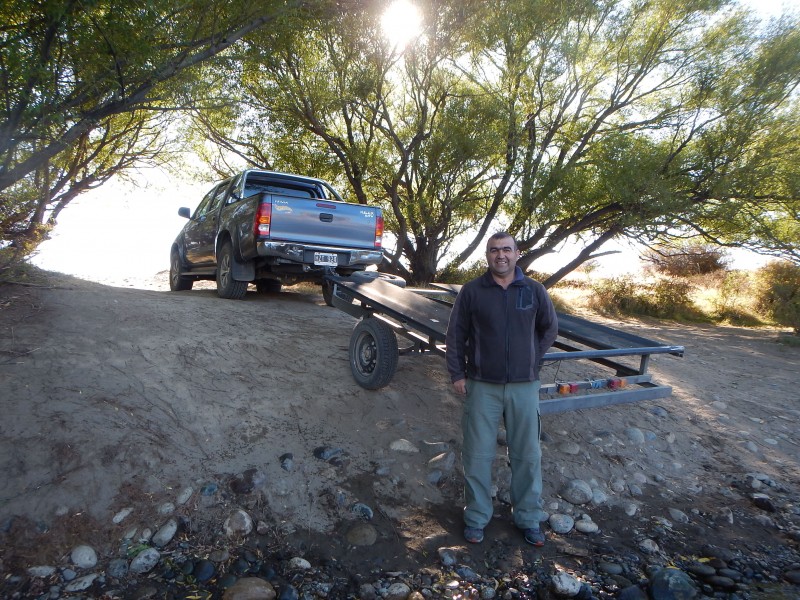 Fausto our shuttle puppy always there to help out in the mornings with chairs or something I forgot in the truck. Fausto is a retired Argentine police officer who helps us each summer. Truly a good guy to help out and be at the bottom when we take out the raft.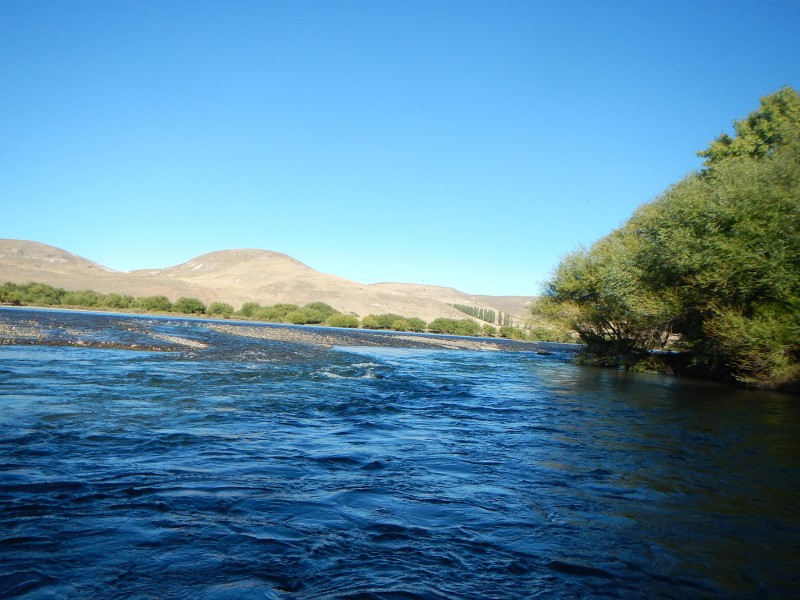 The Rio Collon Cura was low when we fished it that day, but that just made the trout all that much closer to the surface to take our dry flies.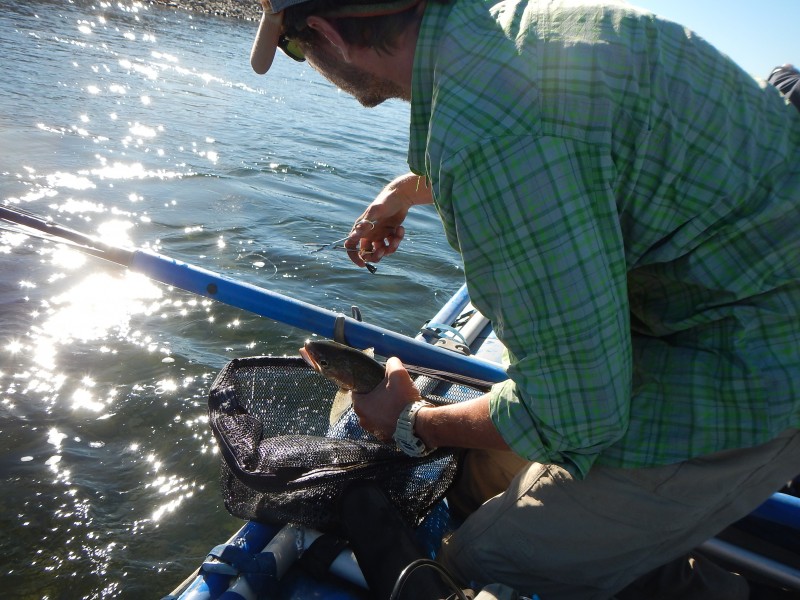 I landed the first trout right off the bat! A nice 16 incher as the Senator insisted that I fish with him out of the back.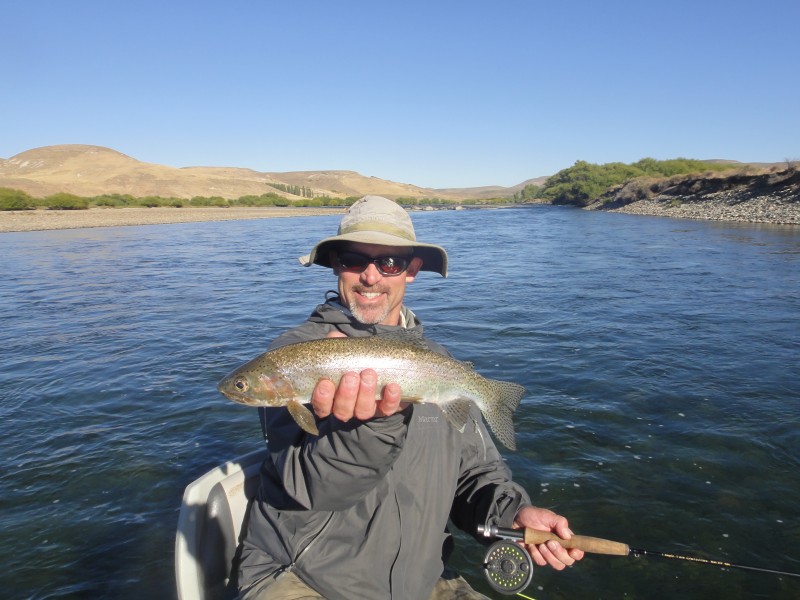 How fun that was to catch these healthy rainbows on dry flies.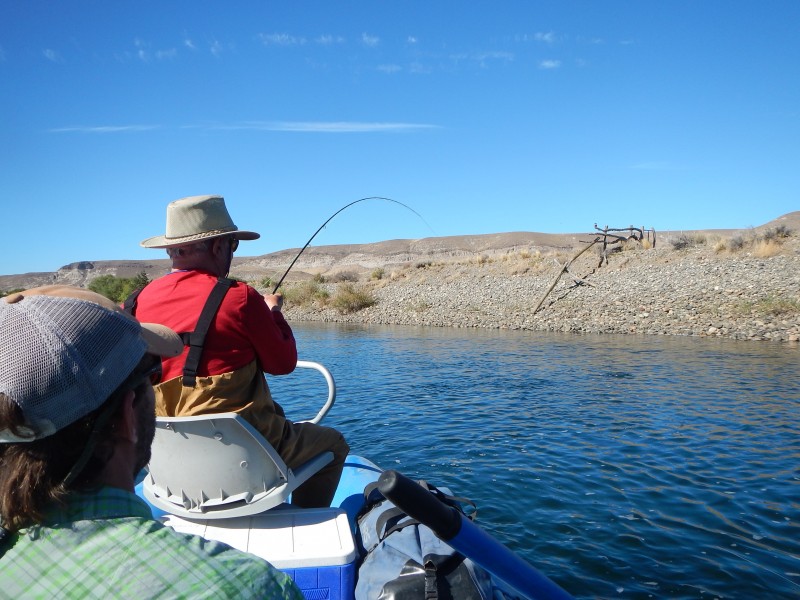 Then it was Tom's turn to catch a nice trout.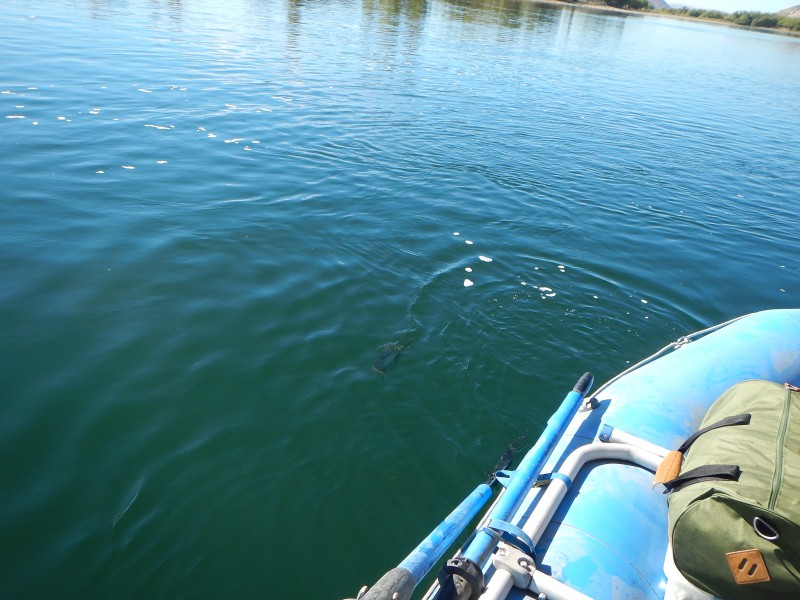 It was a real hoot that day with my client of over 20 years, Tom Harman.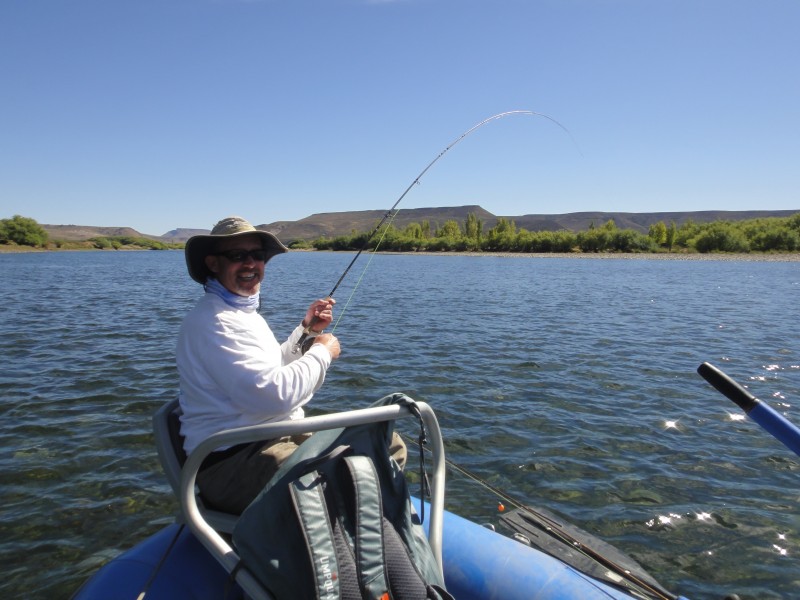 This trout took a dry fly in an eddy way in the back of this hole and it took us down river and I finally landed him.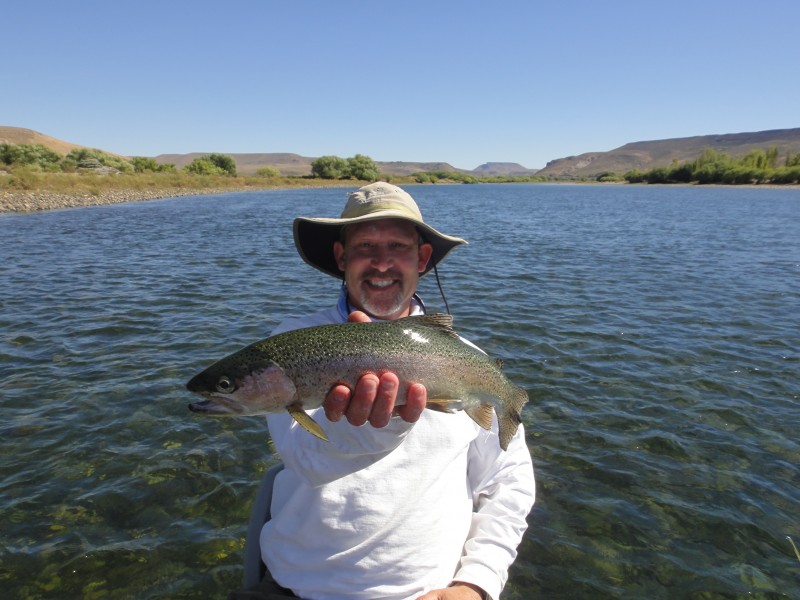 Then I hooked this absolute lunker, that took me a while to land. Tom landed one almost as big but it slipped out his hands into the river before we could take the photos.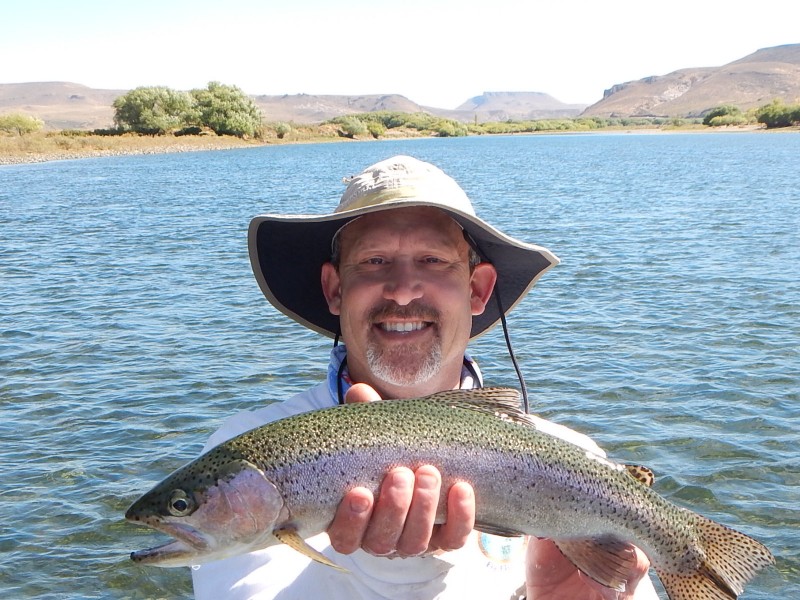 Shucks folks, I'm speechless! (Rare.)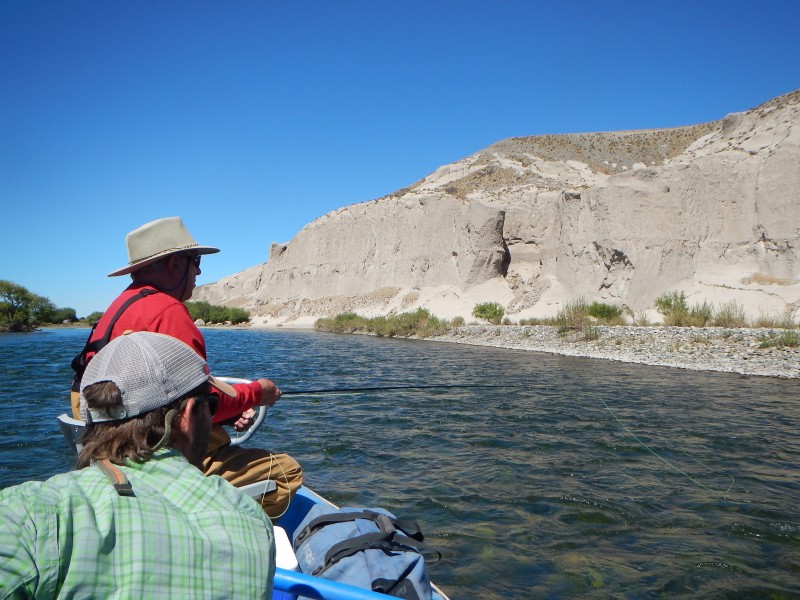 The scenes down here are like out of a Spaghetti Western at anytime you think you would see Gregory Peck or Clint Eastwood come riding out of the hills. (My dad in 1946 played as an extra in the Gregory Peck movie Dual In The Sun.)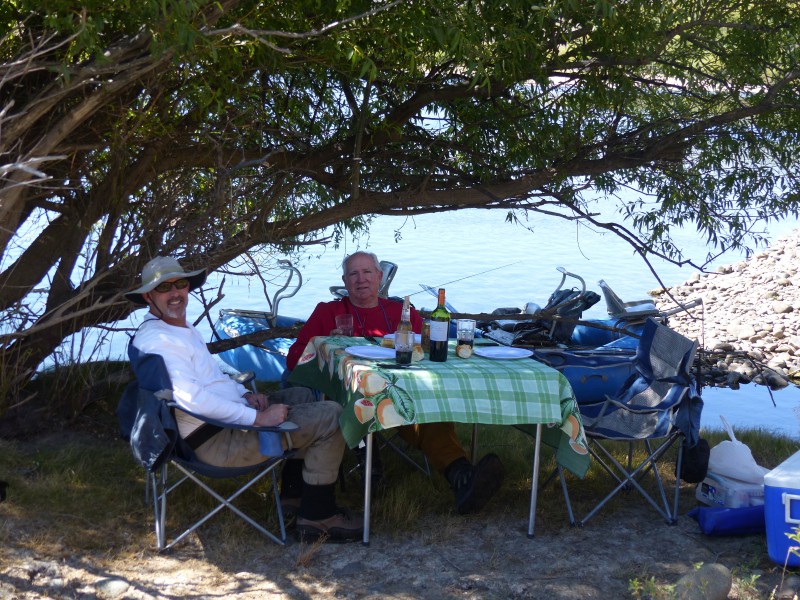 What great lunches we had when we went down the rivers and lakes together in Argentina.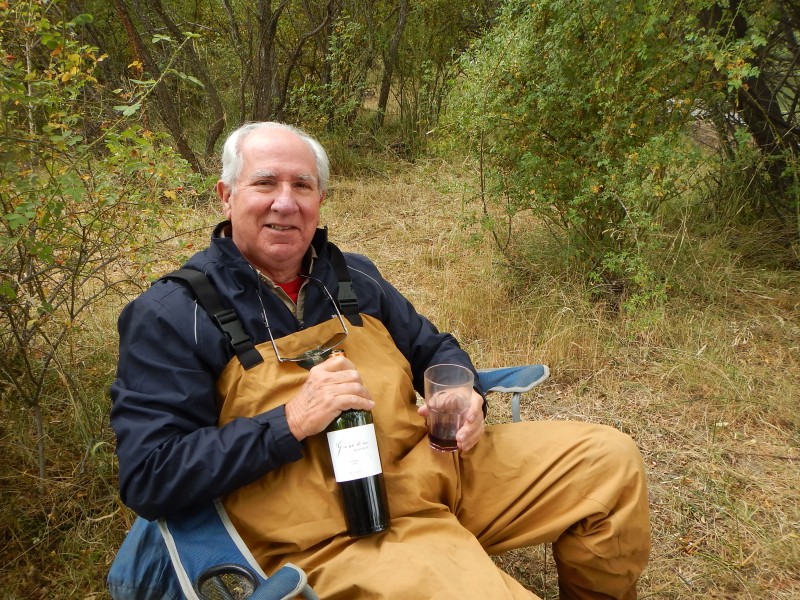 If this guy ran for President he would get my vote for sure.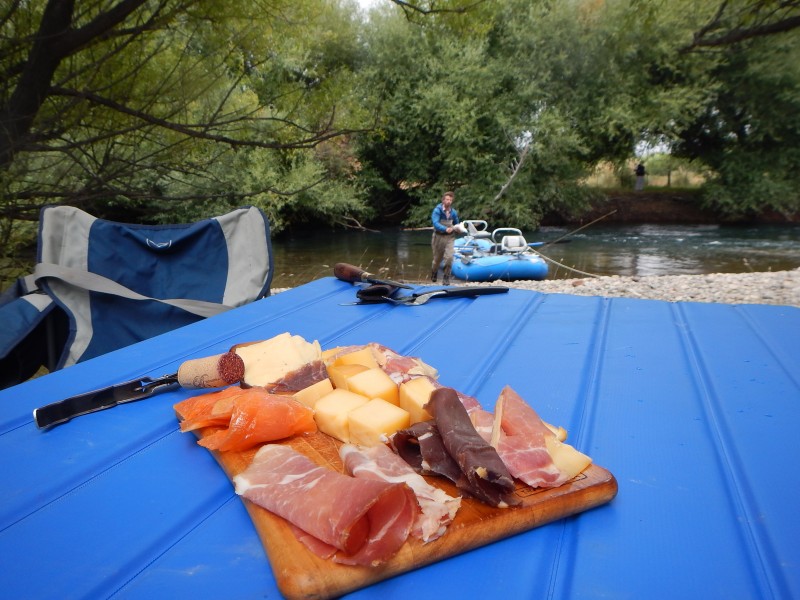 Esteban and Erica's lunches are always great, expect it when you come to Argentina with Jack Trout Fly Fishing International.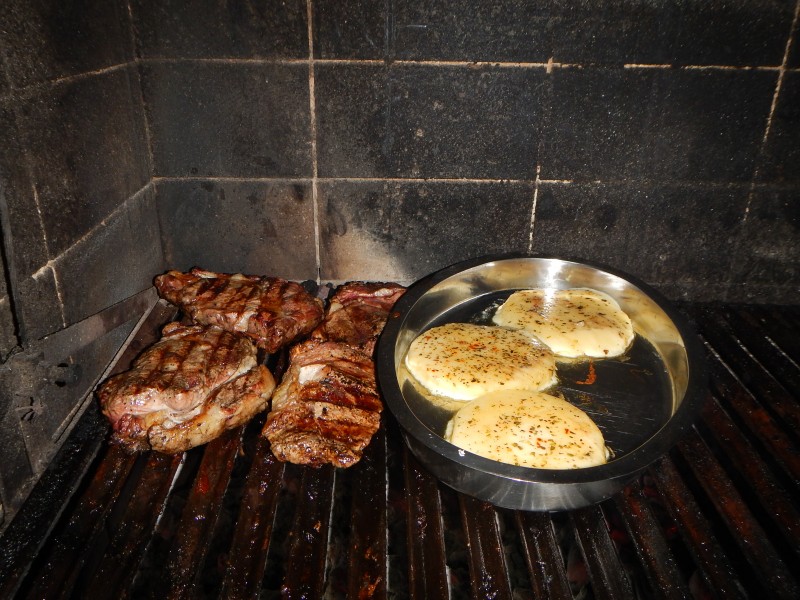 The last night we always have a BBQ that they call down here an Asado. Those steaks were the best tasting meat, and with the provolone cheese on the grill how can you go wrong.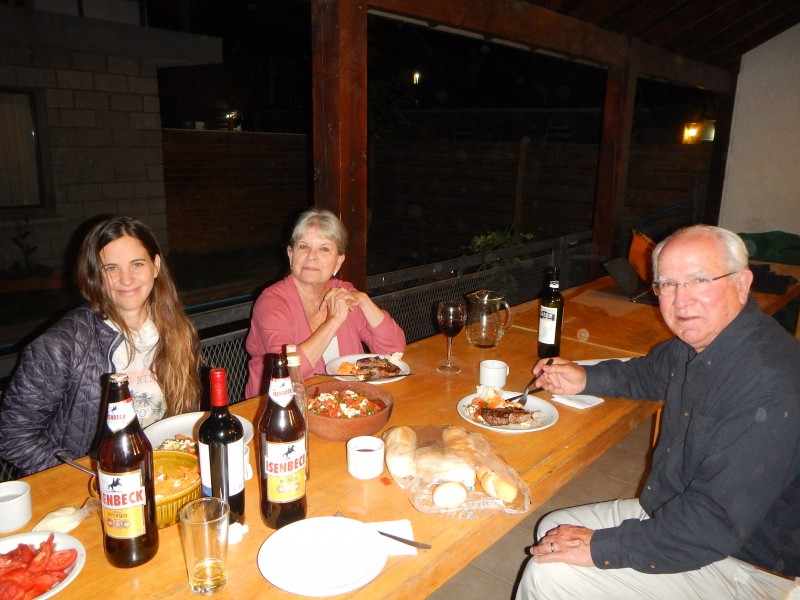 Erica the fantastic Argentine chef with Dianne and Tom over for our last nights asado together.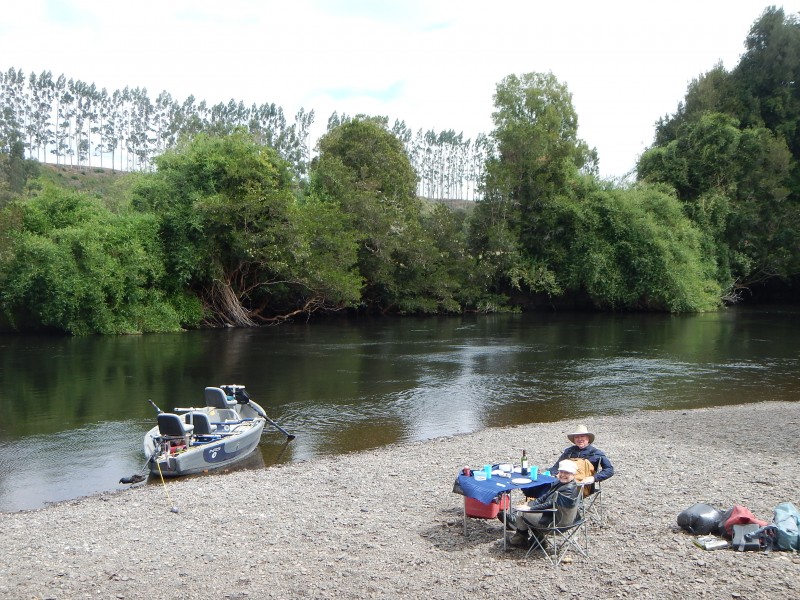 We would like to thank Les Wong for booking his trip with us for Golden Dorado in Argentina in October 2016.
   <Click here for more infomation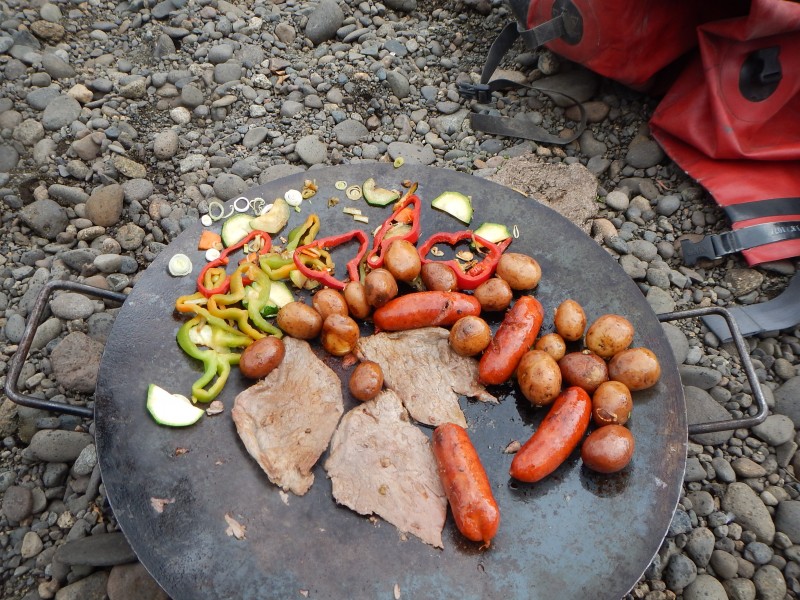 We put together a pretty good lunch of our own here in Chile. We like these grills we do on a disco as they call it here. The Senator was so impressed, he bought one and took it back to the United States.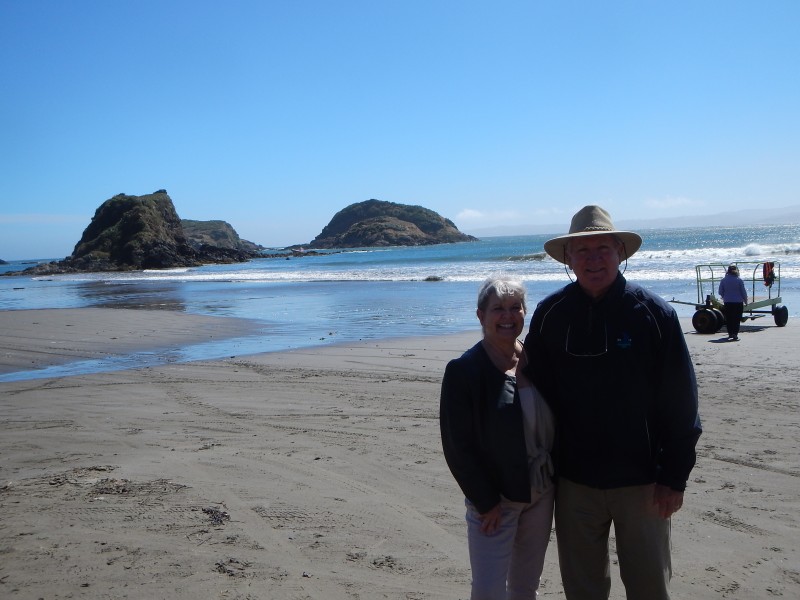 On another day we took the couple over to Chiloe Island to see the penguins as they both commented that they just didn't want to fish on this trip but also see other things, sites and views. We also own Puerto Montt & Puerto Varas Tours, click on this banner for more information.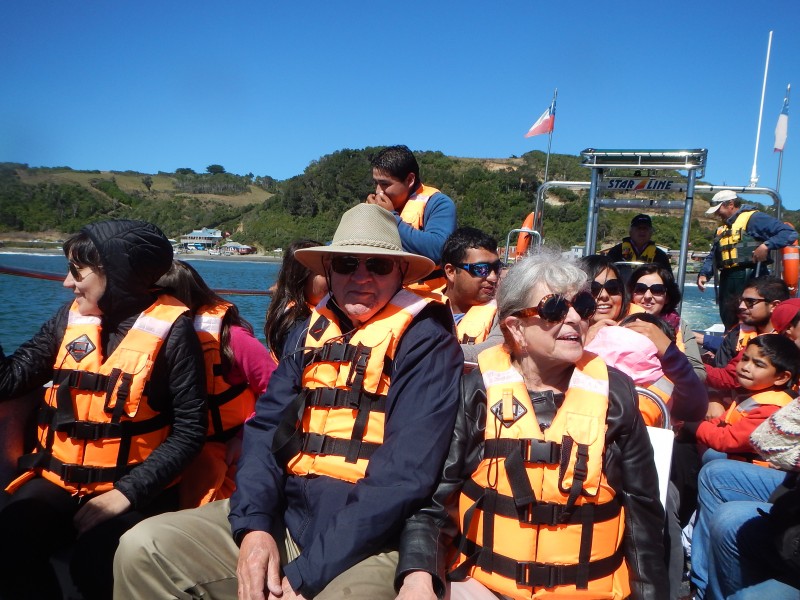 We took a short boat ride out to the islands where the Humbolt and the Megellanic Penguins meet up halfway between Antartica and Peru.
 The Magellanic is a South American penguin
 breeding in coasts of Argentina, Chile
, and the Falkland Islands
, with some  migrating to Brazil
where they are occasionally seen as far north as Rio de Janeiro. 
Its nearest relatives are the Humbolt penguins from Peru
 and the Galapagos penguins
. The Magellanic penguin was named after Portuguese explorer Ferdinand Magellan
, who spotted the birds in 1520 and are an endangered specie. They meet and mate annually here in Chiloe about November and leave with their chicks about the middle of March.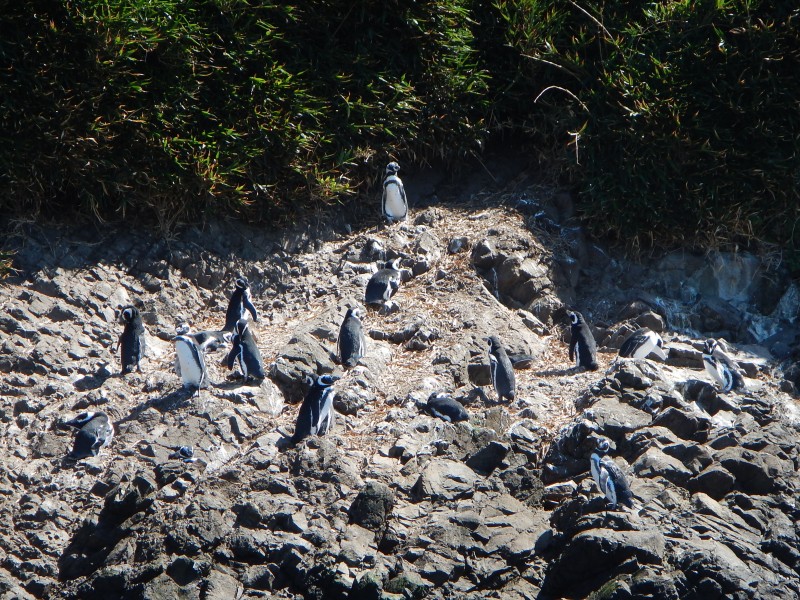 We love coming over here to see them hang out and do the wild thing. One time the Penguin Protective Service asked me to take an injured penguin into Ancud about an hour away to a vet clinic in which I accepted, (He had a hole in his side from a fall from the rocks.) I heard later that year I had saved the little dudes life. Made me feel good.
We had a lot of fun that day.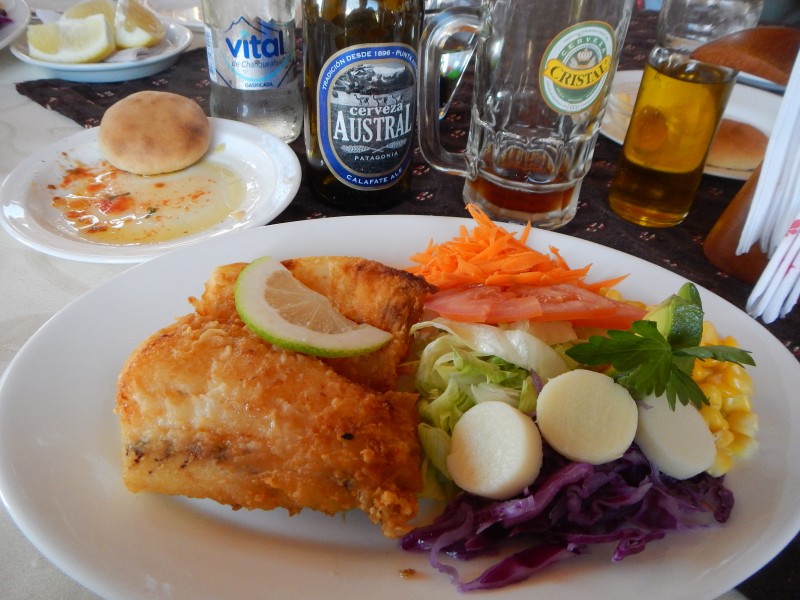 We had a nice seafood lunch later that day at one of the restaurants on the beach. Congrio is one of my Chilean favorites!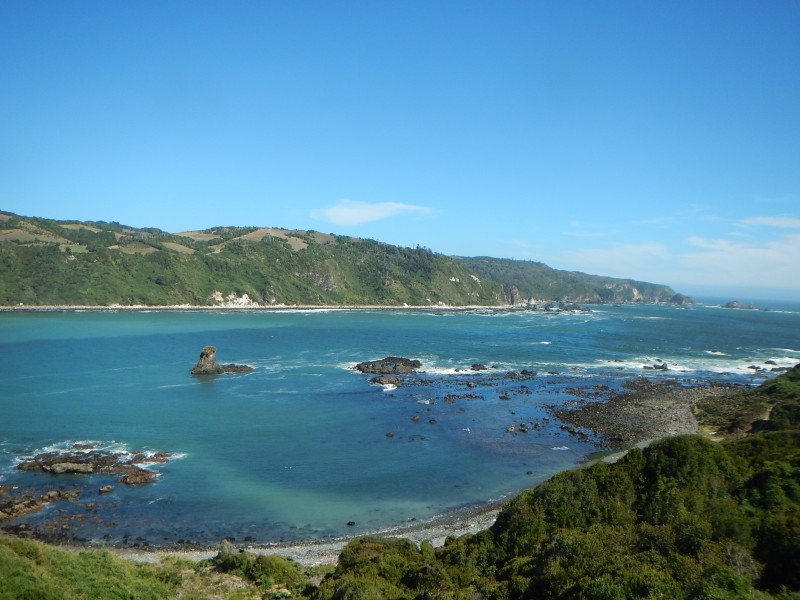 Afterwards we had some great views on a mountain road we know and explore.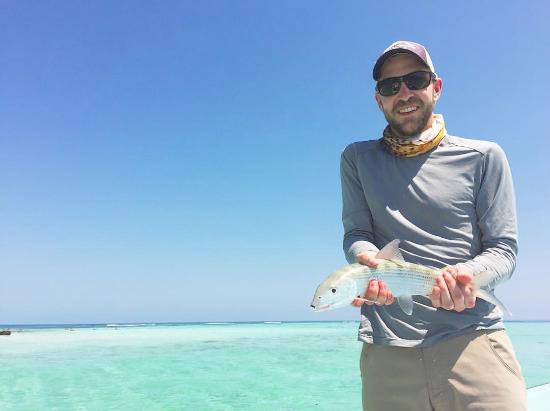 "

Bonefishing in Belize!!!

"
I booked a trip through Jack Trout for my honeymoon in February. Jack responded quickly to any questions my wife or I had and has truly gone beyond our expectations more than once. He set us up with an incredible guide in Placencia name Wayne Castellanos. Everybody in the village knew Wayne and told us how lucky we were to have him. Upon returning to the states I couldn't find my fly box, which had slid under the seat of the boat. It took one email to Jack to get my flies back – which has been no easy feat. He went way out of his way to get them back to me. Jack picks the best guides – you won't be disappointed.
Our client enjoyed his day  we set up on the Upper Yuba wading.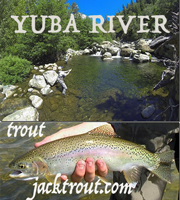 <Click here the Upper & Lower Yuba Page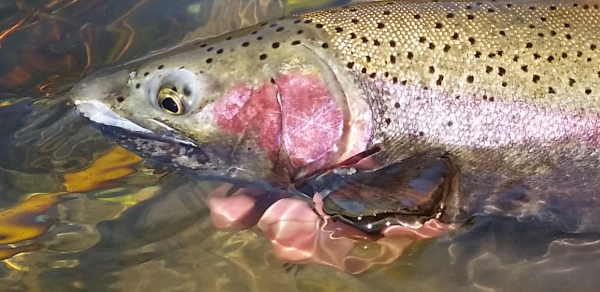 We guide the Lower Yuba for steelhead also by driftboat & jet.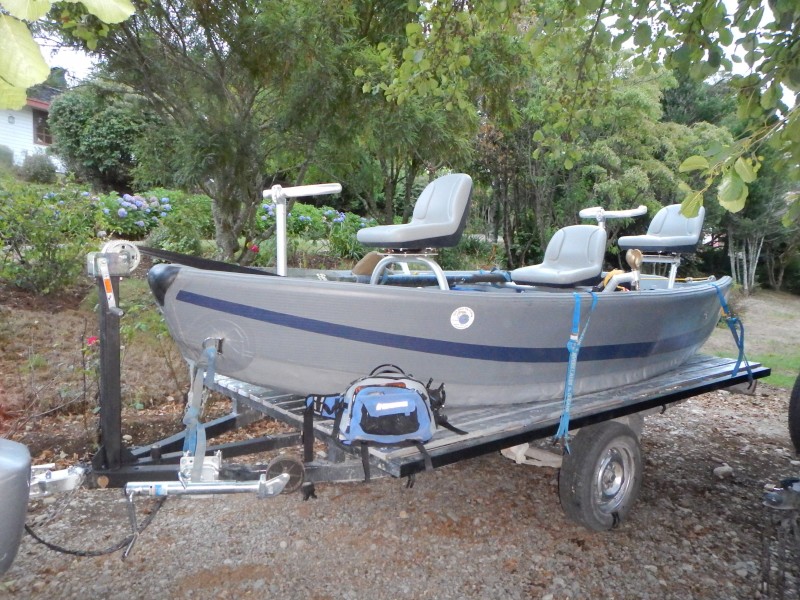 Our baby the Chailyn I, I love this boat for more reasons than one.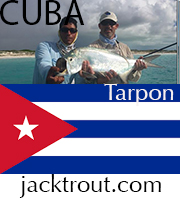 We like to thank: Kristin Stroud and her family of 6 for their trip they booked to Cuba in July. Jim Chadwick, Dick Gebhart and Jason & Jo Randall too, we'll have fun Cuba this June & July.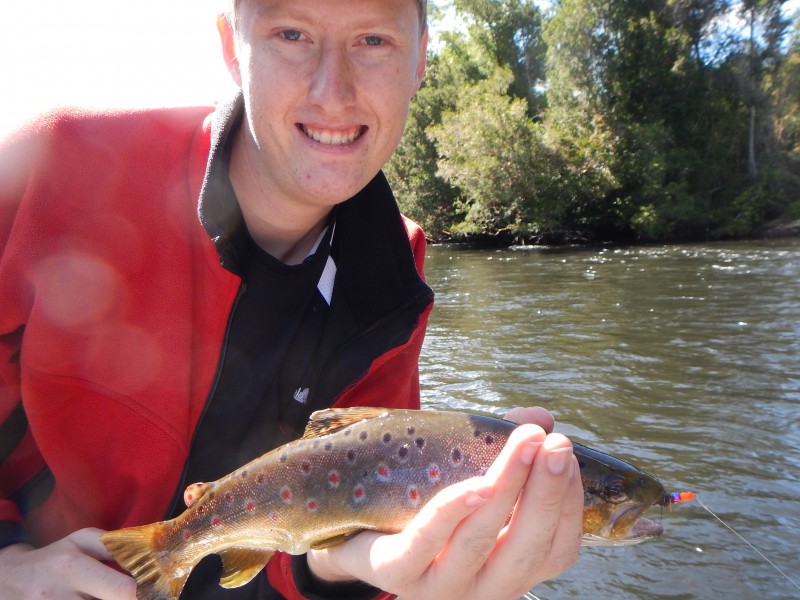 You shine you crazy diamond, look at the colors on this Loch Leven Brown Trout from England.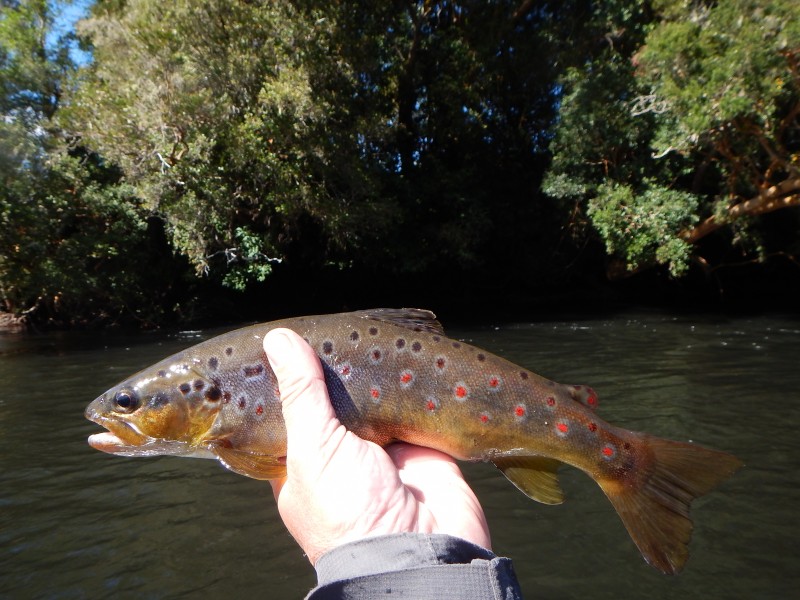 I'm sure this trout has a lot of friends.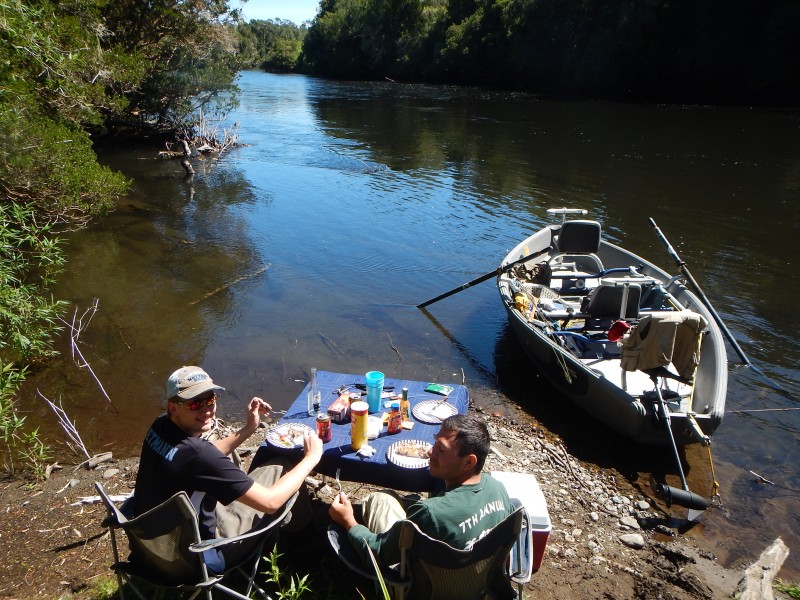 Lunchtime is always good around these parts with two college kids from Oregon State University. Sierra and Ben are here studying for a few months in Chile on an internship, then they'll return back home.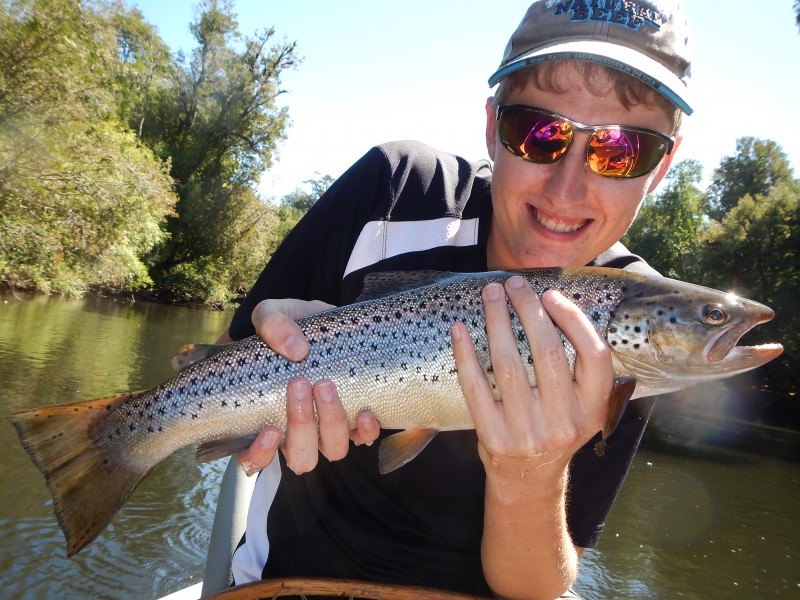 Then after lunch, Ben hooked this Sea Run Brown on my Tie-Dye Crayfish pattern I tie up.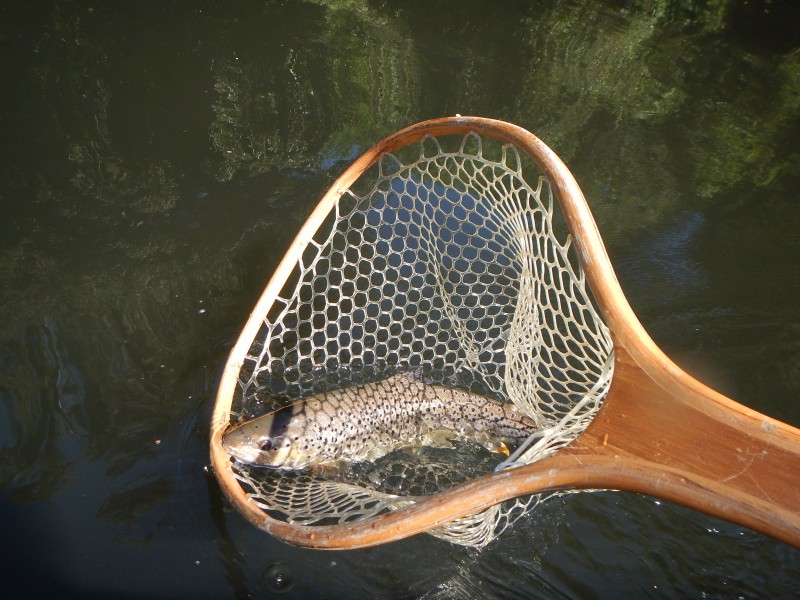 I had such a great day with Jack and Carola, it was something that I never wanted to end…. their hospitality, knowledge, experience, and English/Spanish abilities were perfect. Never had I imagined I would be in one of the most incredibly beautiful settings, reeling in fish, with amazing new friends. If you ever have the chance to tour or fish with Jack Trout, you must do so!
[vimeo]https://vimeo.com/158956337[/vimeo]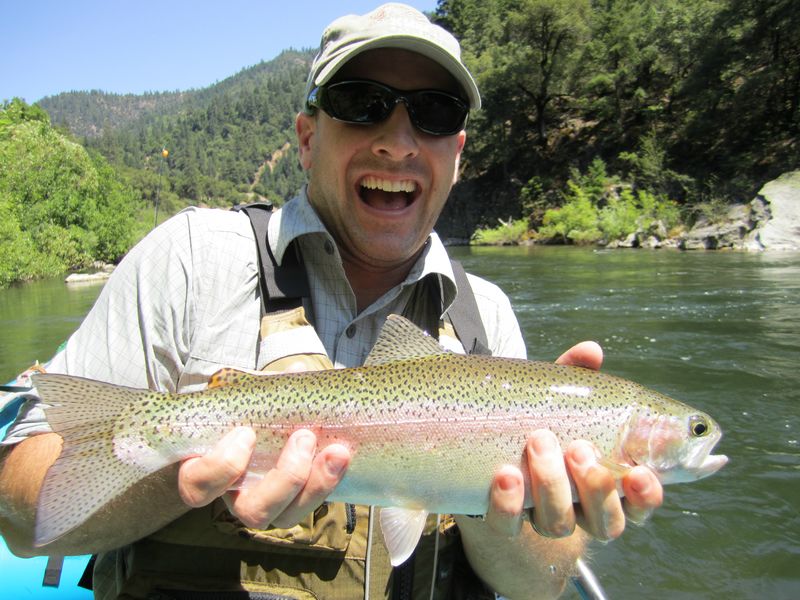 Back home to the Upper Sac and the raft fly fishing adventures begin.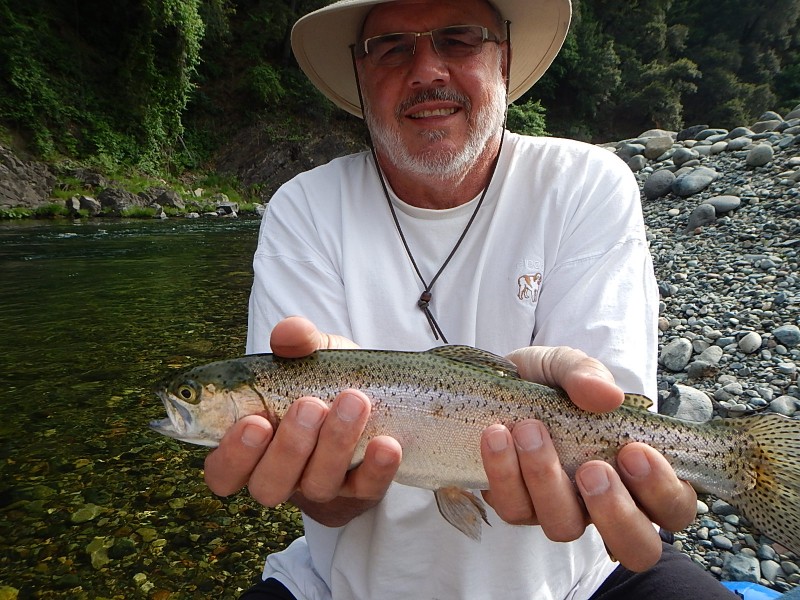 We look forward to seeing old friends and new clients, as well all the great places we love to fly fish in and around Mount Shasta, California.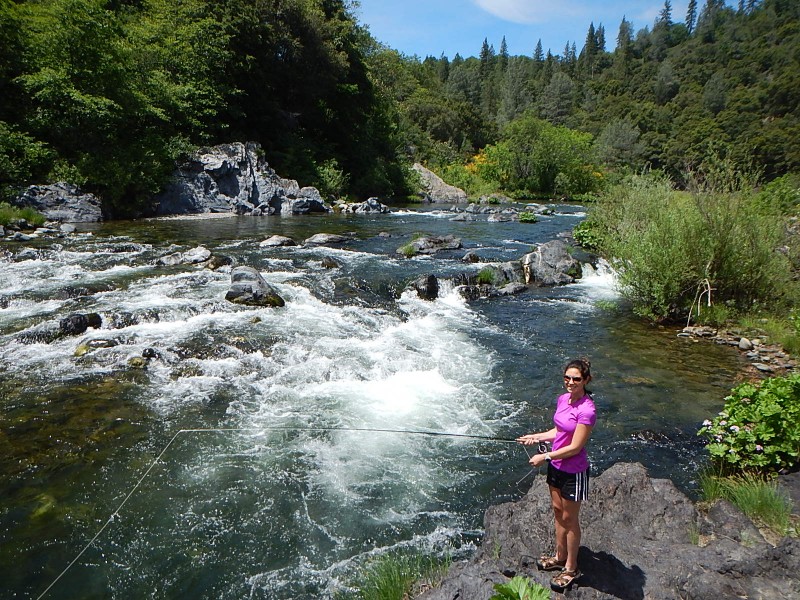 Do some wading, like always!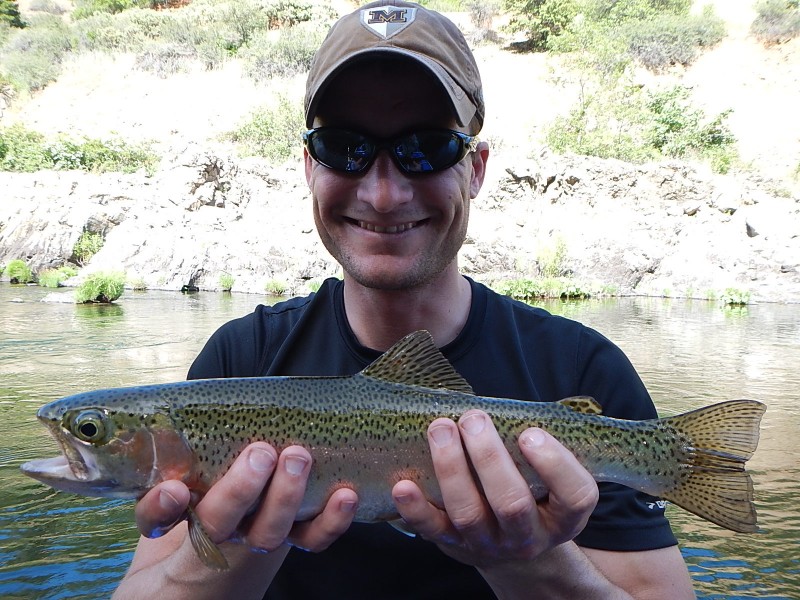 Land some beauties and access the best waters on the Upper Sacramento River.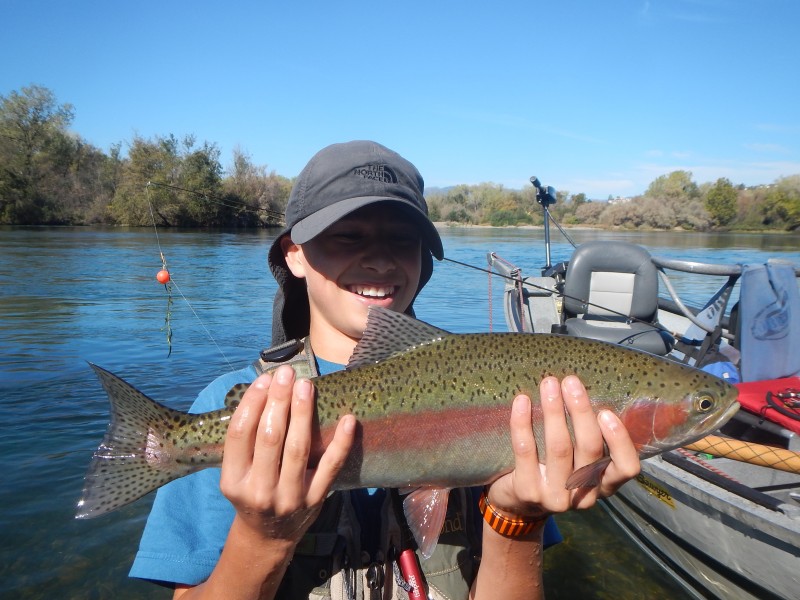 See some great kids land some Lower Sac Trout, out of Redding California on down to Red Bluff and beyond.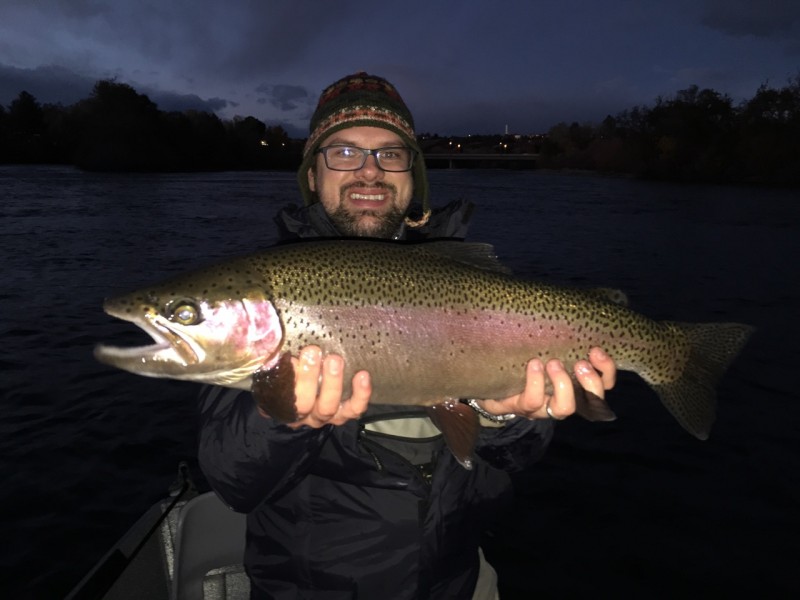 Maybe make some records like Danny Gebhart did this past November when just before dark he landed this 10 lb hog on the Lower Sacramnto River. I've never seen anything bigger.
Just a nice lunker landed is what I'm talkin about.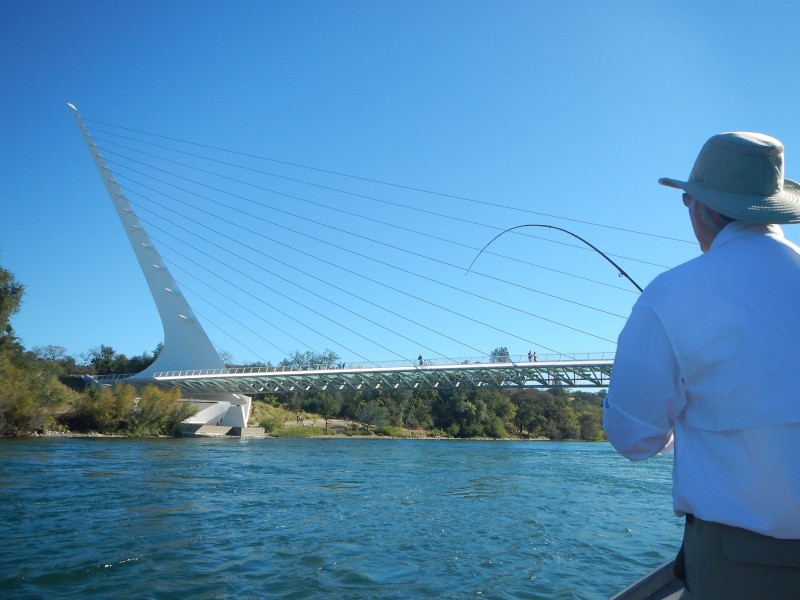 Whoohooo!
We could guide you on the Pit River in all three sections Hat Creek & Baum Lake.
Do a little wading and get you to the good water.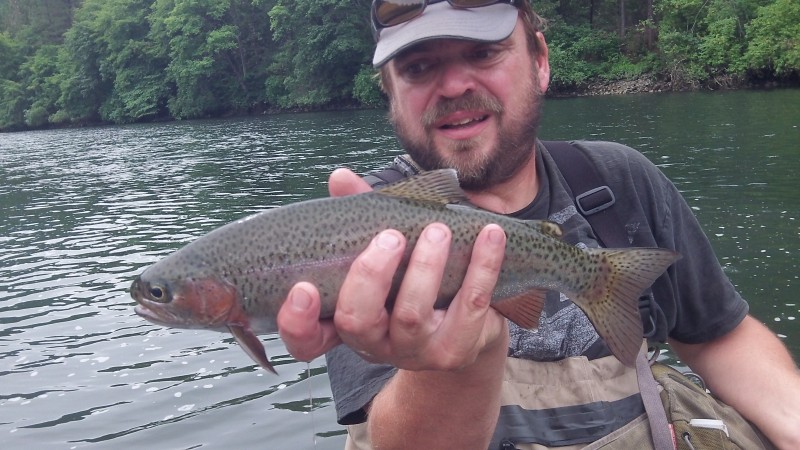 Our guide lives over there, so we got you dialed.
Thanks for watching folks! Jack & Carola Trout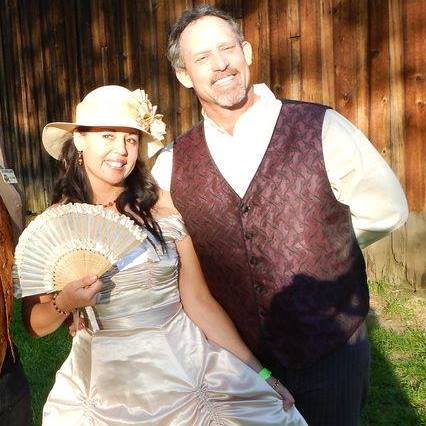 Jack & Carola Trout 1872.
Jack & Carola Trout at the Shasta Historical Society Gathering at the Shasta Museum in Shasta, California. (Not Mt Shasta.)
Look Below You Can See Us In The Picture From Baird, California In 1872 the McCloud Hatchery. (Where Shasta Lake is now.)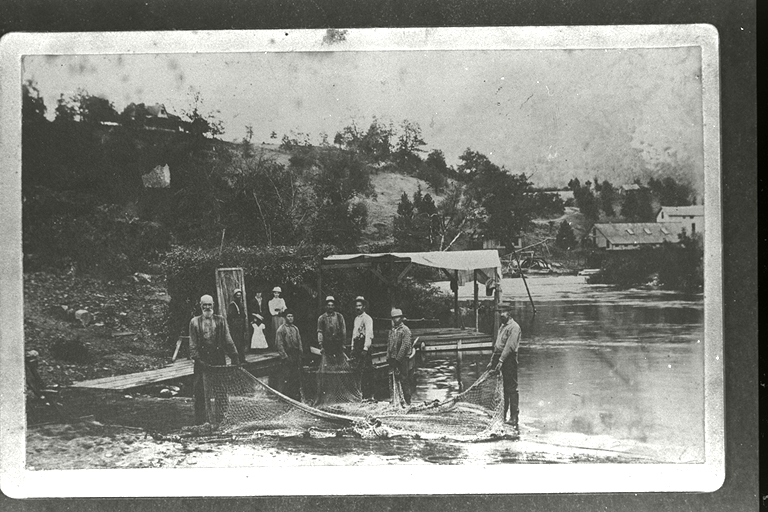 WORLDWIDE    
TOUR MOUNT SHASTA
      <CLICK ON THE BANNER