Mid Summer Fly Fishing is Fantastic, hope to see you in August & September!
Upper Sacramento River Fly Fishing Float Trips & Adventures will continue through August!
WELCOME TO THE MOUNT SHASTA AREA AND THANKS FOR CHOOSING OUR COMMUNITY
Stay In McCloud, Dunsmuir & Mount Shasta when you visit the North State, Redding and Shasta County is far from the greatest views of Mount Shasta at 14, 162 feet. Our day time temps lately has been in the 80's. We have rivers, lakes and small town stores for you to visit & explore. Our restaurants are excellent and you'll find a friendly pure water atmosphere when you hang out in one of California's most beautiful small towns.

 Mt Shasta has snow on it this year! This is a good time of year to bbq and relax in the Northern California sun. In the past month the river flows have been perfect for fly fishing and trout are hungry from a long winter. Hope to see you up here for the best August & September fly fishing in years! The hatches are great and the trout are even better..
Thanks for visiting a dropping a buck in our area!
Many Rivers to You, Jack & Carola Trout

 Bob Ostrander say's, "I'll be working my way back to you babe!" I mean, who's pulling who here?

 Just a little guy, but his name's RUDY! (Nobody believed in this trout but me, then he went on to be famous folks!)

 Ah, the sit down meal, that makes one really appreciate the time on the water. The sounds of the river, shade, good food..Not overated Sizzlers!

 More hook-ups feed the fire and with these nice river levels how could we go wrong..

Sexy fins, nice eyes, great health.. Man have I been on the river too long, I need my wife Carola! She's the sexiest Trout I know!!

 Jim with another lunker to add to his first year of fly fishing. We love beginners!!
 Enjoy this interview that inquiring minds want to know!

 I love, I love, I love, my calendar cat!
When Preston Rush showed up with little Valdez dude from Portola, the fish all stood at attention and lined up for the catch.
Now that's a great catch for your first time fly fishing! Way to go Preston Rush!!
Mike Rush, my best friend from Portola. What a total bro to come over and visit your old friend from Portola.
Thanks for everything and say hi to everyone ~ Trout's
 After guiding 22 out of 25 days, I was pretty happy to have 3 days off over my b-day on July 31st. I'm sorry I can't get everyone's picture up right now, but over the next 2 weeks if you watch you'll see how we did. I am so happy to announce that the Upper Sac has really come back completely from the 1991 chemical spill by the Union Pacific Railroad. The river is fine now and the average size trout is fantastic! I have open dates after the second week of August if you'd like to float Upper Sacramento River with me. Thanks to the over 4000 people on my email list and past clients who have been keeping me really busy in this sluggish economy! Taking good care of people in the past has its rewards!
WE LOVE YOU MAN!!   JACK & CAROLA 

TROUT
 Nice trout!
Even in the slower water trout are on size 18 and 20 mayflies & midges.
This nice hatchery trout from Shasta Lake came up to escape the summer heat and lack of oxygen.
John Wilhelm came back to fish with me and had a great time! John Wilhelm in 2003 went to Chile with me and we had a great time with he, Taki & Rob Brown. (Rob Brown caught a 9 lb brown trout in Chile, is there something in the name?)
Thanks for coming back up and fishing with me!
John Wilhelm, you are my Sizzler of the Week Award Winner!!
Congratulations Sizzler!               Jack & Carola Trout
 She's a brick ~~ House !!  She's mighty mighty ~  just lettin' it all hang out

One day we ran into Grizzly Adams and his wife on the river and this guy was panning for gold! I know dredging is bad for rivers, but panning some gravel sitting on your duff seems harmless to me. Especially if you find a grain or two…
GOLD GOLD GOLD GOLD GOLD!!  
 Now that guy looks happy!
Another great catch folks!
 What a nice bend to fish on.
 John Wilhelm, on that bend you see from the Interstate 5 near Lamoine. You know, the place to see from the highway that you always wondered about…?
Enjoy this video
Some clients enjoying bringing wine for my gourmet lunches I serve for no extra charge.
Good food, good company make us produce great trout!
 Underwater you can see trout always head for the bottom of the river where things seem safe.
Jerry Moison on his many adventures with me had a ball with his son Kevin out on the Upper Sac River this past week.
What? I can't hear you…?
Enjoy this video.
Kevin Moison on top of his game folks!
Ripping out line down in Delta time! 
So many great trout now in the Upper Sacramento River, call me today to schedule trip down before flows get too low!
530-926-4540
Stan Poitras, the man, the myth, the mishaps and the laughter! Loving life 100% as he reels in another lunker!
 M
eanwhile underwater the fight is on!
We stopped off on this bend to try our luck little did we know…. 
 Happy clients make life great folks!
 My honest opinon is you should come up between August 12th and the 25th and I can take you down the river!
Stan that is a fantastic trout!! measured at 19 1/2 inches. One of many on that day!!
Debra out on her first day fly fishing had a ball! At Jack Trout Guide Service, we're all about teaching and instructing beginners! (Oakland A's always have a strong farm team, that's why they always have a good team. Good rookies coming up the ranks!! That's my same philosophy)
We like beginners!! We love to instruct, cook great streamside meals and talk about this great forest we live in.
 Fish on Sizzler! Way to go Debra, your boyfriend Breck was thrilled!
Breck now catching a trout on his homemade fiberglass rod he built when he was a youngster.
 Solid catch Breck! Thanks for coming up again.
Next story, Mike & Dan Ward. Two brothers who really know how to get out drink Saint Pauli Girl Beer and fish like mad men! These two California boys hit the jackpot with Trout!  2 weeks or less I promise folks!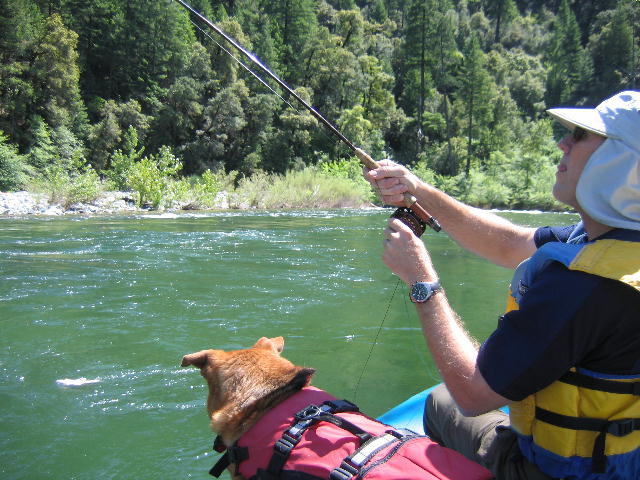 Shasta Trout was my fly fishing guide dog who many of you remember from the 1521 trips she went with me on.
We did 7 TV shows together and she would howl if I even mentioned the word "Fishing!"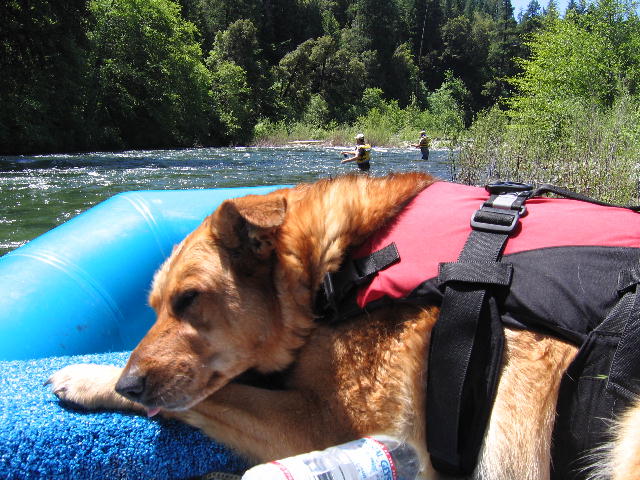 She passed away in 2005 after getting sick and dying from the blue green algae on the Klamath River, like so many other animals have. She was the greatest guide dog in that she would point towards rising trout, twitch her ears and not move a cubic inch on guide trips with me and clients who used her as a back rest on the raft. She is always truly loved and missed as it has been 5 years this week since I lost her and I have never had the heart to replaced her. You can't replace a dog as special as Shasta Trout Fly Fishing Guide Dog. She will always be in my heart and when I think about the McCloud River, I think about Shasta Trout.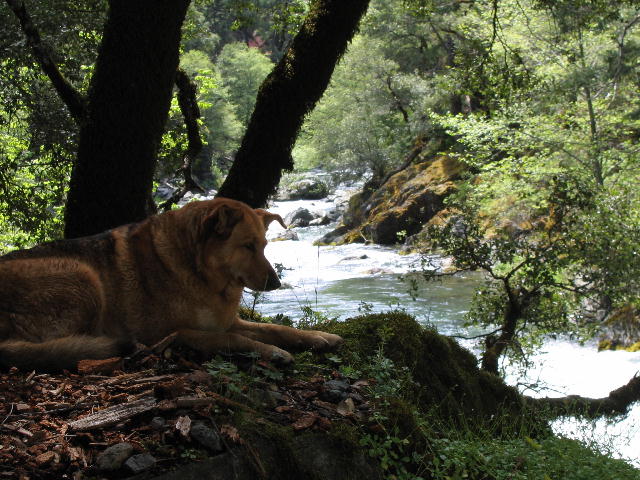 The Original

~  

Shasta Trout the fly fishing guide dog ~ The one and only since 1994 ~ 2005
*******************************************************************************************************
                      

PATAGONIA CHILE 2011
We have a wonderful fly fishing, lodging and tours in 3 regions of Chile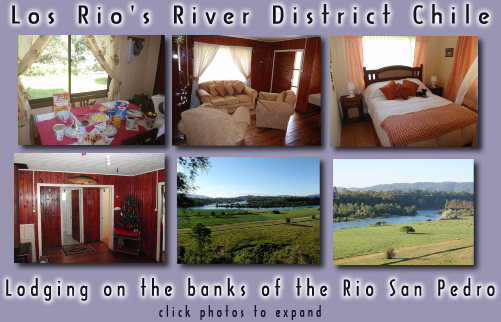 Let us plan your intinerary, flights, rent a car, rent a gear and more.  17 years outfitting in 3 regions of Chile!
Jack & Carola Trout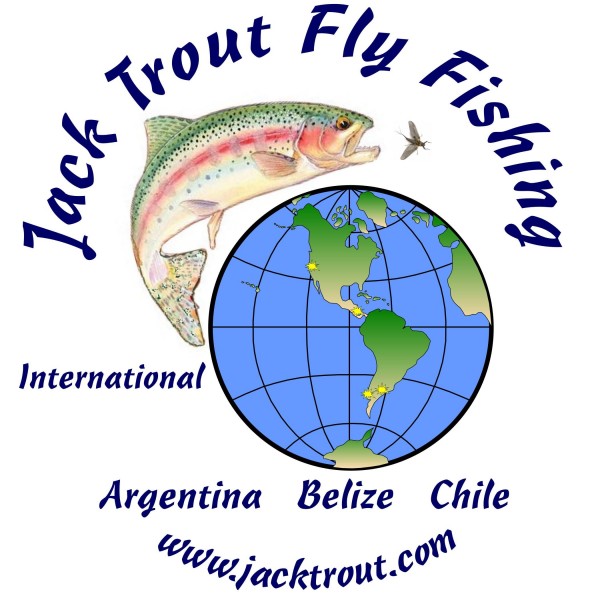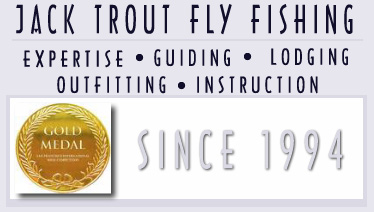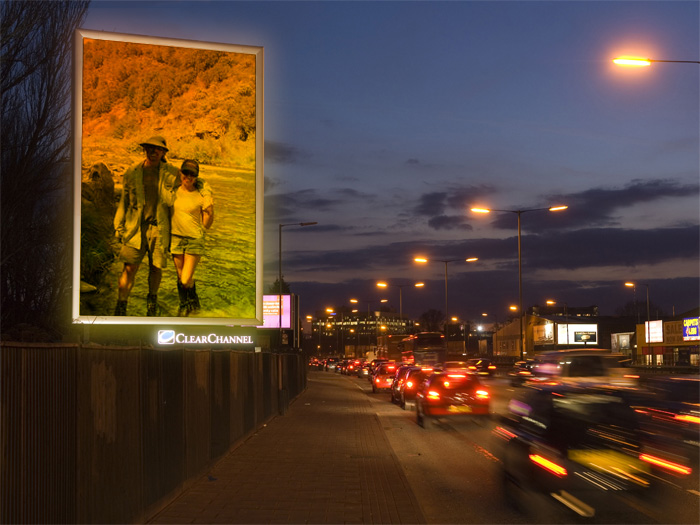 Today is Carola and My, 6 month Anniversary!!
I look forward to being with my wife after immigration approves our marriage and her entry into the USA. I know it sounds crazy but we have been waiting for and apart for months. This last week I finally got a letter from Immigration that they received our money and they acknowlege they know about us…. Wow! Thanks so much. No one should have to go through what we have, on top of it my attorney never returns my phone calls and it's driving me nuts.
Keep me busy guiding, it helps us get through this B.S.
Thanks for all your continued support and emails. Carola and I will make it through this time, it's just hard to be apart. Especially in light that we both just lost of fathers and all the other things we previously endured with earthquakes and volcanos eruptions could make out to be a good book someday….
Saludos, Jack & Carola Trout
California Office (May through November)
1004 S. Mount Shasta Blvd Mount Shasta, California 96067
530-926-4540
http://www.mtshasta.com     http://www.jacktrout.com   
Chile Office & B & B (November through April)
Los Allevanos T39 Km 4   Los Lagos, Chile  Region 10
Cell Chile 56-9-94671995
 SKYPE:  TROUT24
 EMAILS FROM YOU:
Jack, an especially good and inspiring blog entry ! Great underwater shots. What kind of camera is that ?
You're right about a wonderful dog. There's no replacing such a special one like Shasta. I had two black labs who I too would never replace with another.
Take care and good luck. I'd love to come down but no dinero this summer. I'm betting on next June, though.
**************************************
Dear Jack Trout –
I'm staying at the Mt. Shasta Resort for a few days next week and have some time on Wednesday (8/11) to fish.  I'll have my wife and 22 mo old baby girl with me.  Do you have a guide available Wednesday afternoon/evening?  Is there a spot on the river where I can drag my wife and baby so they can sit on the bank and enjoy the river while I fish?  Let me know?  I'm pretty well equipped, though would look to your recommendation on recommended rod length and weight.
I look fwd to hearing from you.
Kind Regards.
Bill Valentine
************************************************************
Jack,
Yes, I work for Silver Oak! That is so cool that you were Justin's guide out on the McCloud river! My parents have a place in the McCloud forest and we've heard so many wonderful things about you and your trips from the neighbors! I would like to get a gift certificate for fishing trip. About how far in advance do we need to book the dates? Do you do any type of overnighter/backpacking trips?
Thank you!
Nicole
*********************************************
Although I was a commercial fisherman many years ago, I simply know nothing about fly fishing.  Is there any chance that an 82 year old could survive a raft trip and also catch a  trout?
********************************************************************
Jack/Carola,
Thanks for your quick response.  That all sounds good.  I'd like to start setting up an itinerary for Chile.  I like the idea you suggested of fishing with you for several days, then heading out on my own to Argentina.  I'd be looking to arrive into Santiago around the 7th of January, then departing on the 16th or 17th.  And I can be a little flexible with both the start and return dates.  I'm an American based in Panama, so I'd be flying from Panama City.
To be honest, I've only been fly fishing for two years, and mostly on small rivers and streams in the Catskills and Vermont.  But I just started a one-year project in Panama and I can't pass up the opportunity to fish down your way.  Since most of my gear is for small stream fishing and I'll also be trying to travel light, I'll probably rent gear from you as well.
So what information do you need from me?
Kind Regards,
David
***********************************************
hello,i have decided to take a fishing trip in south america after reading many articles and web posts. i love to fly fish and spin fish,fishing in general. i ran across your web page on google and thought i would say hello.i am looking for any info you could send me about fly fishing in chile. possibly as soon as next year i would love to go with my girlfriend who loves too fish as well.at least a week, some guided days and some possibly not.loved your web site,am a pacific northwest native and myself have fished all over washington oregon and northern california. love the shasta, weed area.so do you have pacage for next year?? do you yourself guide?? rates??   well any info would be greatly appreciated thanks,    steve durgan            thanks for your time
**********************************************************************
Hi Jack,
I wanted to thank you again for a great trip.  Both my brother Mike and son Connor had a wonderful time. And because of that, I thoroughly enjoyed myself.   I really appreciate how patient you were with Connor, and he's delighted he caught the 3 big rainbows.  We now are believers that you are truly whitewater guide, trout guide, comedian, gourmet chef, and wildlife tour director all rolled into one. 
Also, if you found the big heart-shaped rock in your stuff or in the boat, I'd appreciate it if you could send it to me at:
 Dan Ward
****************************************************************
Jack,
Hope the fishing's good!  I'd like to send you a couple of my personal 
favorite Chicago pizzas – what address works? They ship them frozen 
(dry ice) and you bake them at home – they turn out great.  By the 
way, we had a fantastic time fishing.
Jim from Chicago
P.S. Haven't fallen out of any boats lately!