HAPPY 4TH OF JULY THANK YOU FOR VISITING THE MTSHASTA AREA.
UPPER SACRAMENTO
RIVER FLY FISHING RAFT TRIP !
UPPER SACRAMENTO FLY FISHING RAFT FLOAT TRIP IN FULL SWING NOW!
CATCHING GREAT NATIVE TROUT ON NYMPHS AND OVERCAST DAYS ON THE SURFACE.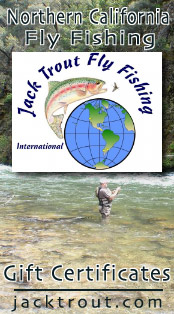 McCLOUD RIVER AT A GREAT LEVEL FROM DAM TO AH DI NAH SECTIONS. CHECK OUT FLOWS ON OUR LEFT SIDE BAR DOWN.
VISIT DUNSMUIR ~ McCLOUD & MOUNT SHASTA THIS SUMMER!
HAPPY FLY FISHING FOLKS!!  JACK & CAROLA TROUT
This past week has been fantastic! Lots of sun and great summer like weather makes fly fishing productive on the Upper Sacramento River.
As the edges expose themselves to us in the raft we can fish as we go by or I can tie up the raft upstream and we can walk down and fish from shore wading.
You remember Kobe Beef from last season the dog we saved from being sent to the dog pound. Well the dilemma was when I left for Chile what would happen with the dog? I wrote about it on the mtshasta.com web site and my past client Howard Nestell, from Elaine's Pet Resort's in Fresno, California put Kobe Beef up for a few guide trips. What a great thing that was for Kobe, that dog deserves a good life and a home just like we all do. (At least all of us good dogs out there!) I think for sure if we didn't work together and find a solution a very fine dog would not be with us now. Ever since Kobe Beef came back to live in Shasta in May he has been so well behaved, almost like a completely different dog.
http://www.elainespetresorts.com/   Fresno California ~
SHASTA TROUT FLY FISHING GUIDE DOG FROM 1994 TO 2005
I WILL ALWAYS MY REMEMBER MY GREAT ADVENTURES WITH YOU AND SHASTA TROUT MY FLY FISHING GUIDE DOG & MY BEST FRIEND. JT


Ray Gibson and his South African friend Norman and their wives came up to explore and check out the Mount Shasta area. Do a little golfing at the Mount Shasta Resort then one day out fly fishing with me.



Hooking up in the deep eddies has been a given lately..
It was so fun being out on the Upper Sac with Ray Gibson, what nice folks and they really enjoyed their stay at the McCloud Dance Country RV in McCloud California.
Stay in McCloud California this year!!
http://www.mcclouddancecountry.com/
Way to go Ray! Thanks again for choosing to stay in the McCloud area when you visited the Mount Shasta area. You just can't go wrong.
Fish on again, what a great day fishing on the Sacramento!
Now that is a true lunker my friend! I'm sure you'll be back someday to our area. In the meanwhile have a great year and thanks for visiting our community.
A great trout indeed.. Especially after I revived him again and watched him swim off.
This is a guide's favorite scene out on the river. The "Double Mint Twins!" Hey like the commercial says, "Double your pleasure!"
Double Hook-Ups ~ Double Hauls ~ Double Digits..
Lunch time folks!
Yahoo!! What a great delightful trip this has been!
Every trip has been a dozen or more trout per angler, all catch and release of course. Now is the time to book your trip the river is really getting into shape for my fly fishing adventure.
Jim is always ready for a fly fishing adventure in my raft. I had an opening called him up and he dropped everything and headed for Dunsmuir for 3 nights.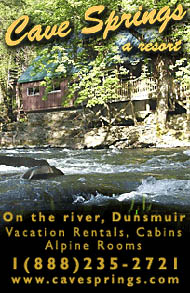 < CLICK HERE ASK FOR LOUIE DEWEY.
Jim hooked into a bunch of trout using a size 16 Amber Prince Nymph.
I also would tie on a EC Caddis size 14 in the afternoons!
I think the trout are the biggest I've ever seen in the river this year. Every trip we have been catching a few trout over 3 lbs.
The right place to be on the river.
Jim says every time he hooks a trout he sheds another winter layer.
Hey, that's a really nice trout just about any where in the world! Shasta Rainbows are incredible trout.
From shore life is brilliant with Tim and Jennifer Kardos of San Mateo.
Boy, this trout needs to go on a diet or possible the belly burner by Ronco.. Order now!
Tim Kardos with another trout on Father's Day and it sure was his day!
Happy Father's Day everyone. jt&ct
Designer trout in for the fall fashion extravagenza!
Then about every 5 feet Tim hooked another trout.
A prize for sure, now lets eat some lunch.
Hope you like our chicken wing basil tortellini served on butter lettuce.
Tim is at it again folks with another nice trout on heading down stream like a locomotive.
Jennifer with a nice trout on the line and fighting hard from the back of the raft.
Wow! Jennifer Kardos of San Mateo ~ YOU ARE MY SIZZLER OF THE WEEK AWARD WINNER!!
CONGRATULATIONS SIZZLER!!  JACK & CAROLA TROUT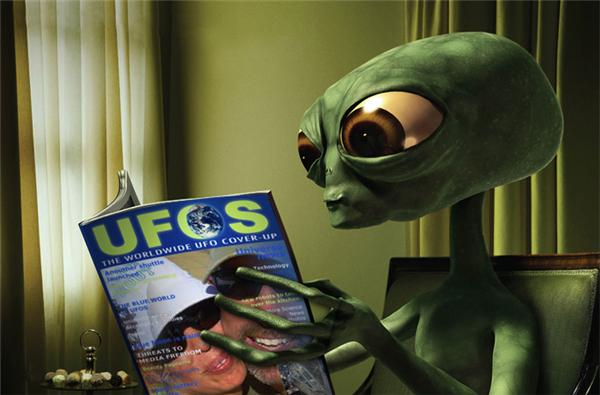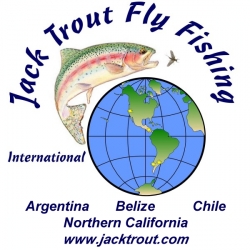 When it's time to hire a guide for fly fishing give me a call, it's my 18th season.
http://www.jacktrout.com/      or   530-926-4540   Jack & Carola Trout

Ted Fay Fly Shop the Oldest Fly Shop in Northern California ~ Click on the banners to go to their fly shop site in Dunsmuir California.
530-235-2969  Bob or Steven ~ Stream Reports, area info and more!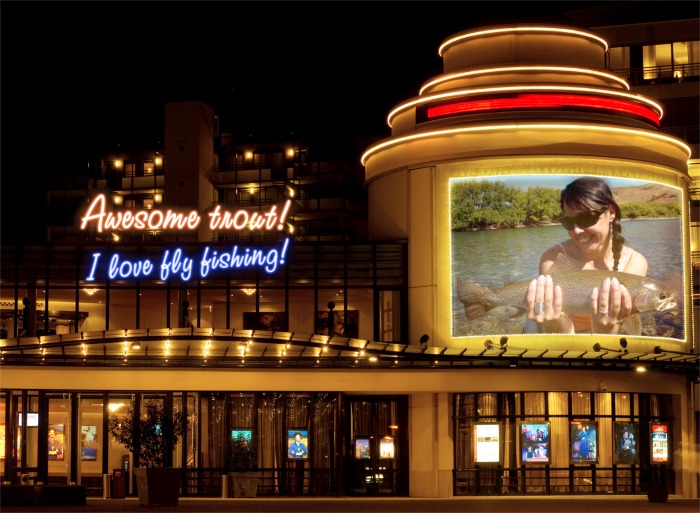 Coming Soon more adventures with Carola as she finally arrives from Chile next Tuesday June 28 th, finally my wife comes to America. The next story I will also have the full update on the Puyehue Volcano in Chile and stories on us hiking and fly fishing around the North State area.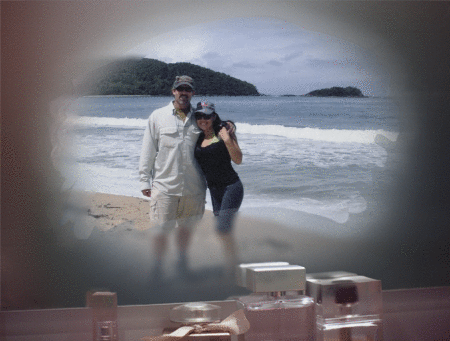 After a very long time apart in the past 3 years I can see clearly now my future with my wife in California and in Chile. We just needed to keep wiping the foggy mirror the United States Immigration kept making for us with 3 different government departments just to get Carola a Visa to enter the USA and we've been married for almost 2 years. (Immigration Reform needs a big time head examination. Folks who have started businesses in 2 countries would be better served not standing in line and waiting for months separated, waiting on too many disfunctional Government departments. ) Pathetic is the only word I can use to describe this process we have just gone through. But we finally made it! JT & CT
For more information on fly fishing on the McCloud or Sacramento Rivers or other rivers in our area click on the above banner.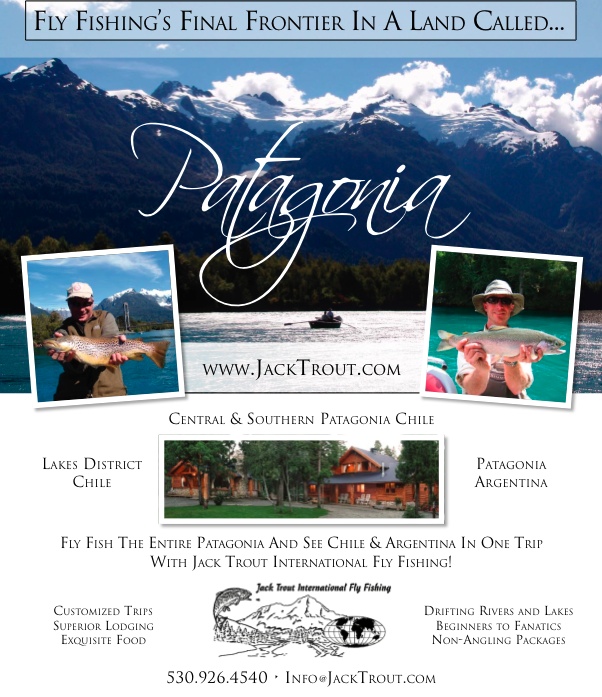 CHILE & ARGENTINA 2011 ~ 2012 WILL HAPPEN, VOLCANO ERUPTIONS ARE COMMON IN CHILE AS THEY HAVE 2006 VOLCANOES IN CHILE. WE ARE MONITORING THE SITUATION AND THINK THAT WE WILL BE OK FOR NEXT SEASON BUT WILL KEEP YOU NOTIFIED IF EVENTS CHANGE. SANTIAGO AIRPORT IS OPEN RIGHT NOW. ROAD FROM OSORNO TO BARILOCHE ARGENTINA IS CLOSED. ROAD FROM PUCON TO SAN JUNIN ARGENTINA IS OPEN.
Carola will give all the information up to date this next week when she arrives.
After a long anticipated arrival, Jack & Carola Trout are finally reunited in the United States, Ladies and Gentlemen. Let's give them a warm welcome as they probably deserve it.
Thanks for watching our adventures and for all your support through emails and out on the river! Carola and I are so excited to finally be together in Shasta. We look forward to seeing to you too.
Best, jack & carola trout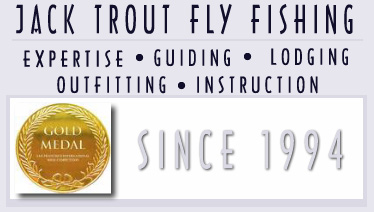 Times are tough we know, if you want to trade we are open my friends as trades have served as a win/wins in the past ~ Construction skills in California or Chile, we need to expand our new home we just bought and build a cabin in Chile and in Cali an office and a new fence would be nice. We also take in trade ~ Wine, wine tours around Napa, silver dollars, silver coins, gold coins, gold you found, restaurant dinners if you are an owner, In & Out Burgers Gift Certificates, firewood and concert tickets, Giants, A's, Raiders, 49ers, old fly fishing gear possible ~ All or part in cash is good for us. Thanks for digging that stuff out for me….OH yea I'm married now ~ US!
Jack & Carola Trout
EMAILS FROM YOU:
It looks like the universe in coming together for you. Too many natural disasters in Chile ? The Colorado River is flowing at historic levels, but stating too recede. If you and the love of your life want too experience what I think is the best trout fishing in the lower 48, get in touch. You can stay with us. Glenwood Springs, Colo. is an epic place.
*********************************************

Plan for Hydroelectric Dam in Patagonia
Outrages Chileans
Published: June 16, 2011
SANTIAGO, Chile — A white gas mask hanging from her neck, Paula Bañados strode side by side with 30,000 other marchers through this capital one recent Friday, a determined look on her face.
Tomas Munita for The New York Times
Protesting last month in Santiago, Chile. Government approval of a plan for a dam in a pristine part of the country has brought thousands to the streets.
Multimedia
"Patagonia without dams!" Ms. Bañados, 19, shouted with the others, pumping a fist in the air.
"The government is saying we will be left without energy, but it's a lie," she said. "They are just trying to scare us. But we won't be scared away, because we know we're right."
By the time Ms. Bañados reached Chile's presidential palace, some demonstrators had begun hurling stones and pieces of wood at the armored police vehicles. As sirens blared, the police responded by firing water cannons on the crowd, driving protesters back.
Other protests took place in several more Chilean cities. In what has become a surprising national movement, organizers have mounted large protests for several weeks since a government environmental commission in May approved the $3.2 billion HidroAysén dam complex in a pristine region of Patagonia, known for breathtaking glaciers and lakes, that draws thousands of tourists a year.
The protest movement, which has resulted in 28 police officers' being injured and more than $100,000 in damage to public property, has rattled the government of PresidentSebastián Piñera. His approval rating fell to 36 percent in May from 41 percent in April, in part because of the outcry over HidroAysén, according to Adimark, a Santiago-based research group.
While the government supports expanding hydroelectric power production, more than 60 percent of Chileans are against HidroAysén, polls show. After the commission's decision, now the fight turns to the 1,912-kilometer (about 1,200-mile) transmission line yet to be approved. Many Chileans consider Patagonia a national treasure, and the battle to stop the project has inspired people to join the anti-dam cause to an extent that other environmental protest movements in South America have not.
HidroAysén is an especially tense subject in Chile because the country, more than its neighbors, is struggling to secure energy supplies to keep up with its economic growth. Chile will need to double its electricity capacity generation over the next 10 to 15 years, according to government officials and private energy analysts.
Chile has little oil or natural gas of its own. Importing gas became unreliable after Argentina began reneging on its commitments to ship gas to its neighbor starting in 2004. After the earthquake in Japan this year, Chile's mining and energy minister, Laurence Golborne, said it would be "very difficult" now to build a nuclear plant, given fears that the quake raised about Chile's own earthquake-prone geology.
Government officials say more energy is needed to raise the economic level of poorer Chileans, and to lower electricity prices, which in southern Chile average about twice those in Brazil.
More energy also will be needed to expand Chile's mining sector — the engine of Chile's economy, said James Brick, an analyst with Wood Mackenzie, an energy consultancy.
Brazil has embraced hydroelectric power, which produces about 80 percent of the country's electricity. Chile produces about 40 percent of its energy from hydroelectric power. But HidroAysén, a planned complex of five dams on two rivers, would produce 18,430 gigawatts a year, which was about 35 percent of Chile's total consumption in 2008. It would also flood a large part of a region dominated by national parks and reserves, say people opposed to the dams.
"This project is the tip of the spear to convert our Patagonia into a true service patio for energy generation," said Luis Rendón, coordinator of Acción Ecológica, an environmental group.
Those opposing the dams say the government should focus on improving energy efficiency and boosting capacity for nonconventional renewable fuels like wind, solar andgeothermal power.
"Compared to Brazil or Argentina, Chile is doing very little to incentivize renewables," said Roberto Román, an associate professor of mechanical engineering at the University of Chile. "In 5 to 10 years, solar options will be cheaper than HidroAysén."
Plan for Hydroelectric Dam in Patagonia Outrages
Chileans
Published: June 16, 2011
(Page 2 of 2)
Foreign nongovernmental organizations like the Natural Resources Defense Council and International Rivers have helped fund the protest movement. Douglas Tompkins, an American who has acquired more than one million acres of land in Chile, much of it in Patagonia, has helped develop the movement's publicity campaign.
Multimedia
"Chile has no energy policy," Mr. Tompkins said. "Retrofitting homes is where energy policy has to begin."
Government officials say energy efficiency, and electricity generation from wind and energy, while important, will not be enough to stem a shortfall beyond 15 years. Without a nuclear-energy option, hydroelectric plants will be critical to slowing an expected increase in coal-fired production, said Mr. Golborne, the energy minister.
While "there is no energy supply problem facing our government," Mr. Piñera said recently, "if we don't make decisions today we are condemning our country to a blackout near the end of this decade."
But those who oppose the dam say Mr. Piñera is showing signs of the kind of corporate-government economic concentration that has defined past Chilean governments. An Italian-Spanish-Chilean consortium owns HidroAysén, and the majority stakeholder, Endesa Chile, owns most of the water rights to both rivers the dam would affect.
Last year HidroAysén sponsored advertising that alarmed many Chileans, including one television commercial in which the lights go out while doctors are performing an operation. (In recent weeks the consortium has put out advertising seeking to better explain the project.)
Daniel Fernández, HidroAysén's chief executive officer, criticized dam opponents' "information distortion" tactics, including statements by the writer Luis Sepúlveda that the transmission line would carve a path of "23,000 soccer stadiums, one after the other" through Patagonia. Mr. Fernández said the line would carve a much narrower footprint.
Mr. Fernández said the project would flood about 14,600 acres, making it the "most efficient dam project in the world." A dam project in Argentina, Condor Cliff, he noted, would flood more than seven times that — about 111,000 acres of Patagonian sheep-herding land — and has not caused a public outcry there.
The notion of any disfigurement of the Aysén area has nevertheless fueled the protests, which have become a forum for Chileans to express a general "uneasiness" with the government, said Alberto Mayol, a sociology professor at the University of Chile. On Thursday, there was another large march in Santiago, with crowd estimates of between 70,000 and 100,000, this one to protest the state of public education.
The battle against the dam will be a long road. HidroAysén does not expect to propose the transmission line until December, or to have final approval until about 2013. The first dam could be operating by 2019, the last by 2025, Mr. Fernández said.
About 4,000 people attended the most recent march to protest the dam last Friday. A mix of young and old waved Chilean and Socialist flags. Children riding their parents' shoulders chanted, "Patagonia without dams."
There was no violence or property damage, as there had been at earlier protests. "Welcome to a new Patagonia protest," shouted organizers perched atop a flatbed truck, their message carried over several large speakers. The truck led the march with an organizer barking orders into a microphone for when to stop and start, and when to chant.
"For us Chileans, natural resources are the most precious thing we have," said Víctor Cesped, a 21-year-old architecture student at the University of Chile who was taking part in his fourth protest. "The Patagonia is a source of pride, something very dear to our hearts."
Aaron Nelsen and Pascale Bonnefoy contributed reporting.
Chilean Court Blocks Plan for Patagonia
Dam Project
Published: June 20, 2011
A Chilean appeals court on Monday suspended a plan to build five dams and
hydroelectric
plants in the country's Patagonia region.
The court ruling came in response to actions filed by environmental groups and legislators arguing that the government commission that approved the $3.2 billion dam project last month had not taken into account a technical review.
The ruling temporarily halts the government's approval process for the project, which set off large protests around the country in recent weeks.
Opponents applauded the ruling, hoping it was a step toward scuttling it altogether.
Amanda W. Maxwell, Latin America advocate for the Natural Resources Defense Council, based in New York, said the ruling was significant because the court was "the first authority in Chile to stand up to the behemoth project and to the intense political pressure to get it built." She said the ruling indicated that the court "values the rule of law over private business interests, and sees no need to rush to build the dams."
A lawyer for the project, Mario Galindo, told the Chilean newspaper La Tercera that the decision would do nothing to stop it. The ruling was "purely formal," he said, "and there are no decisions about the legality or illegality" of the dam complex.
The HidroAysén project, proposed by an Italian-Spanish company, Endesa, and a Chilean company, Colbún, would build five facilities that would generate 2,750 megawatts of electricity. The energy would travel to Santiago over a 1,200-mile transmission line that has yet to be approved.
Critics contend that the project is environmentally destructive and unnecessary, and that Chile should focus on developing forms of renewable energy like wind and solar. The complex would be built in a region of Patagonia known for breathtaking glaciers and lakes that draws thousands of tourists a year.
But Chile, more than any of its neighbors in Latin America, is struggling to secure energy supplies to keep up with its economic growth. The country will need to double its capacity to generate electricity over the next 10 to 15 years, according to government projections.
Chile has little oil or natural gas of its own. Importing gas from Argentina has been unreliable, and the earthquake that damaged nuclear reactors in Japan this year has rendered building one in Chile unlikely, given its propensity for earthquakes.
A version of this article appeared in print on June 21, 2011, on page A11 of the New York edition with the headline: Chilean Court Blocks Plan For Patagonia Dam Project.
*********************************************
I will be staying in Weaverville for four nights August 1 to 3
Rd
and would like to get cost for a trip. It will be just myself and really just want to either float or a wade in trip. I have never been to this area of California before. I am in good shape and fly fished many times, but being from Ohio fly fishing opportunities are rather limited.
Thanks, Mike Jones
********************************************
Hello Jack
Always enjoy your Emails.
One that disturbed me was concerning the damning of 5 rivers in Chile. The Chilean people should get in touch with New Zealand as they went through a similar situation a few years ago where the government wanted to build dams in the fiord district. The people won and the land is still intact.
Where do you fish in Belize. I was in Placentia this spring. We stayed out on a Caye and fished tarpon and permit. Would like to explore another area.
Hope we can do some fishing together in the near future.
Cheers
Laurie Swinghammer
********************************************
Top o the morning to ya Jack & Carola,
Twas a fun conversation on the phone yesterday. Thanks for returning my
call. You definitely got me all excited about our trip this winter.
Robin and I live in Vancouver Washington, just outside of Portland Oregon
and we live here because we are blessed with an abundance of rivers, lakes,
mountains, high desert, and the wonderful ocean to entertain us year round.
We'd rather live nowhere else…..except possibly the grand land of Chile.
This will be our first trip to Chile and from everything we have uncovered
about it reminds us of our homeland. Time to stop looking and hop aboard a
plane and touch it. That's just what we are going to do and we are excited
to have you initiate us into your beautiful country.
Your website is really good, we have enjoyed your Blogs. Fishing is
obviously in your veins. I too enjoy fishing but this trip is not just about
fish. We want to immerse ourselves in the culture and the country of Chile
and what better way to discover the place than to go where the fish are.
That's where people are really living life fully. We would like to hook-up
with you first, get settled in with one of your adventures, then take off on
our own armed with some of your ideas of things to do, places to go, things
to see. Possibly even hook-up with you again later in the trip. It's all
wide open at this point, we are just putting this trip together and any help
with the rudder steering us in the right direction would be much
appreciated. If Chile is half of what I think of it now, we may not go home.
Well I suppose we'd have to on this trip but I have serious dreams of making
Chile my home.
Robin and I own and operate a RV storage facility in our town so we get all
the latest and greatest places to go around here as part of our job too,
which is pretty cool.
Please stay in touch. Look forward to meeting with you. In fact it would be
nice to shake your hand, maybe buy you a beer in Shasta before you head
south this year. We drive to the San Francisco area for family and we could
stop by on our way thru. Just let us know the best times and we'll make it
happen.
Be well and keep your line wet,
Joe Pedron
p.s. Ray Gibson and Norman Welthagen store their RV with us year round and
turned us on to you. They're really fun people. FYI – Norman likes his
beer and he prefers Coors. Have fun convincing him to release his fish.
************************************************
Hi Jack,
We were just thinking of you this morning. We are leaving for Dunsmuir Saturday morning and will be staying in Rivendale on of the Cave Springs house rentals. I know that cell phone coverage and internet are not wonderful in this area so we need to arrange where and what time we will be meeting on Sunday in advance just in case you can't reach us. Also where is the fishing good that we should try without you on Saturday late afternoon and evening and on Monday morning? We will be bringing a keyak and were thinking of Castle lake or maybe Gumboot. We can also do river wading.
Thanks,
Jennifer
****************************************************
Great work, nice shots, thanks for a great trip!   Gustav
*******************************************************
Hi Guys ,
just to let you know if you want to fulfil a dream trip I have booked
the wonderful Uig lodge in the Outer Hebrides of Scotland for a week
from the 9-16th july. You are invited to join us at one of Scotland's
most magnificent setting for a week of fine dining , stunning views,
oh and some of the most varied and interesting Atlantic Salmon and
brown trout ( including the ominous ferox ) fishing you can possibly
imagine!
The cost to you , get there and a bring a pair of simms waders for me
, the cost to me a whole lot but what the f***k .
Fully inclusive of drink , very fine food , chef, the best ( and most
coveted ) location and view from any lodge in the famous Hebrides ,
gillie etc and great company.
let me know soon !
regards Alastair ******************************************** Dear Jack:
My wife and I are organizing a bird photography trip to Ecuador and
would like to tie it together with a fishing trip to Chili. I'm a
fly fisherman from B.C. and want to experience Chilean trout fishing
spending about a week or so. We plan to visit Ecuador sometime
between Jan and March 2012. Could you give us some rates and optimum
times for such a trip to Chili?
Best regards,
Bob Olafson