****SIGN-UPS FOR CHILE & ARGENTINA 2009 DECEMBER 1ST TO APRIL 1ST****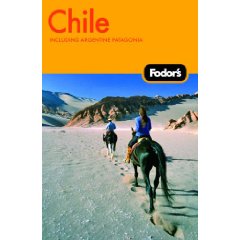 Check out Fodor's Travel Books, Chile 2009 with Argentine Patagonia –
Fly Fishing Chile and Argentina section by; Jack Trout.
http://www.amazon.com/Fodors-Chile-4th-Including-Argentine/dp/1400019672
All the guides and outfitters I contacted in Chile and Argentina, you're in it! If you plan to go to Chile or Argentina, I spilled all my best secrets and listed the best guides and outfitters in both countries in this 464 page publication that covers every area
of travel and interest in one book.
---
CHAILYN – MY BABY GIRL WILL BE A CITIZEN OF CHILE AND THE USA!!!
---
Trinty River – Klamath Steelhead Trips Start October 1st
---
Fall – McCloud,Pit, Upper & Lower Sacramento Drift Trips
---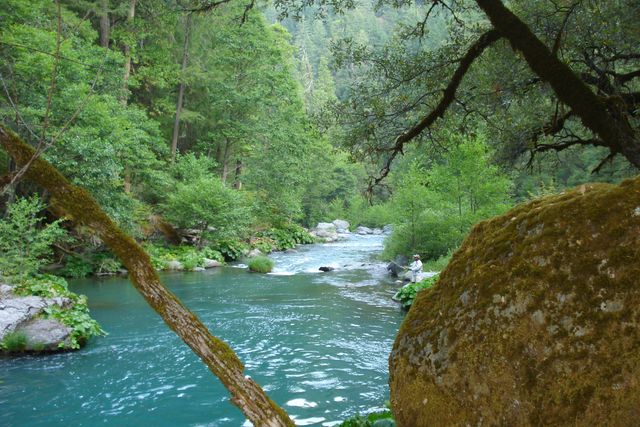 ---
What a great time right now as the temps cool and the thought of fall right around the corner always adds a little line speed to my double haul cast. September through December in the North State always produces the largest catches. Just to stop and think that right now as I write this, steelhead are making their way up some of our coastal rivers.
Hope to see you this fall! Jack Trout
---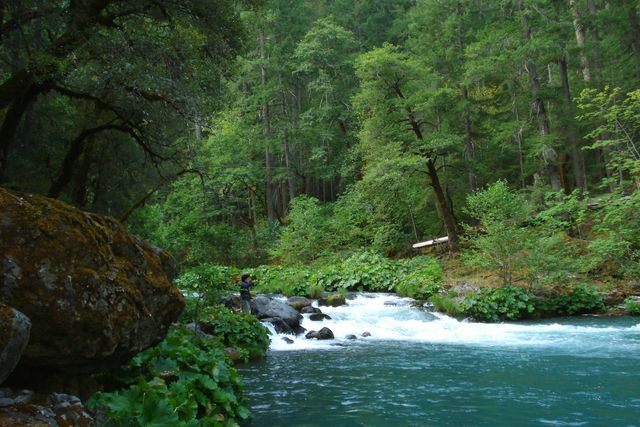 ---
Past customer Shane Brice, casting on the edge of the Lower McCloud River.
---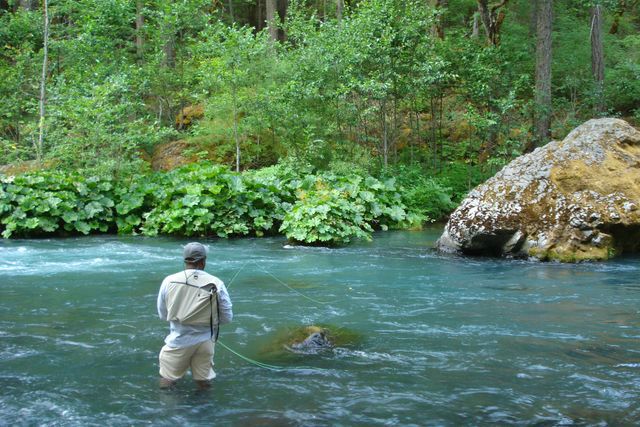 ---
Brice is high sticking to allow his drift to be perfect.
---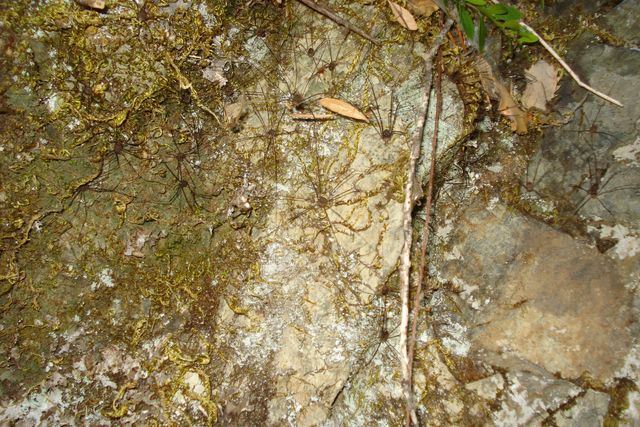 ---
Who's your Daddy?
---
---
Shane is the Man!
---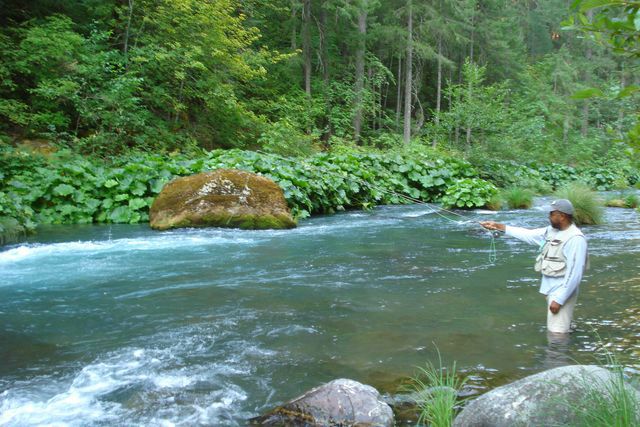 ---
location – location – location…
---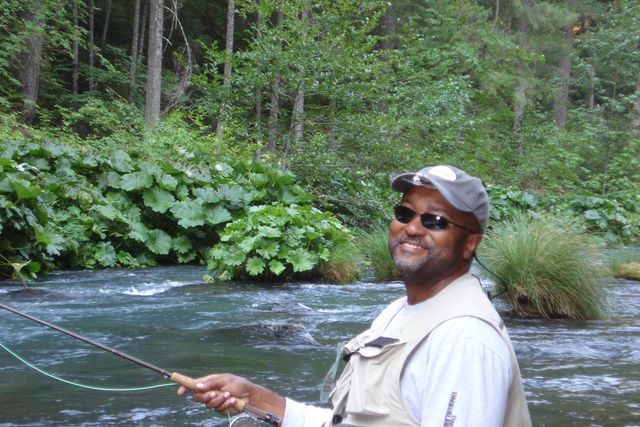 ---
You remember a few years back Keith and his son Shane came up and we fished the Trinity, McCloud and Upper Sac rivers.
---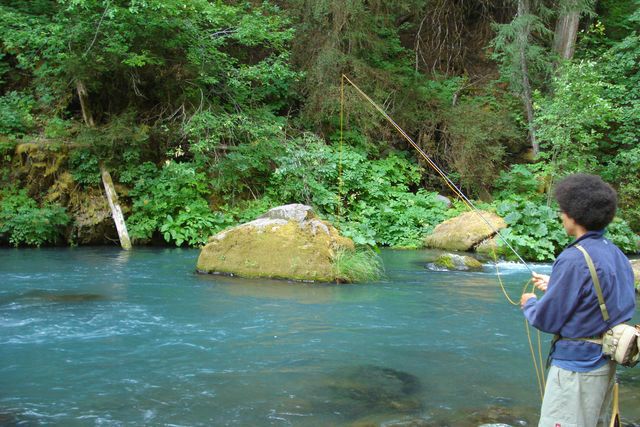 ---
Sweet drift man!
---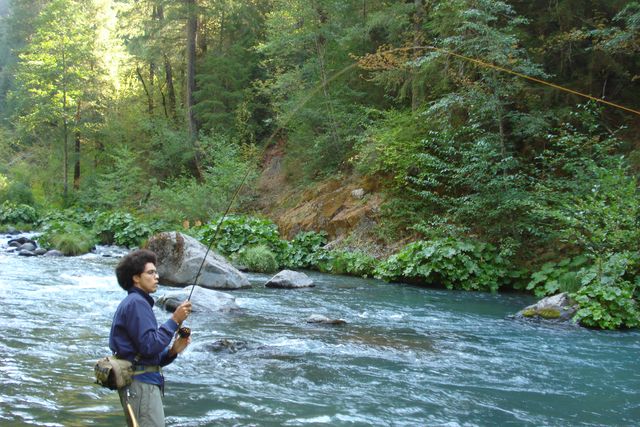 ---
Try Poxyback Green Drakes size 12, Micro Mayflies size 16 and Caddis Poopah. The right amount of weight is critical right now on the McCloud River.
---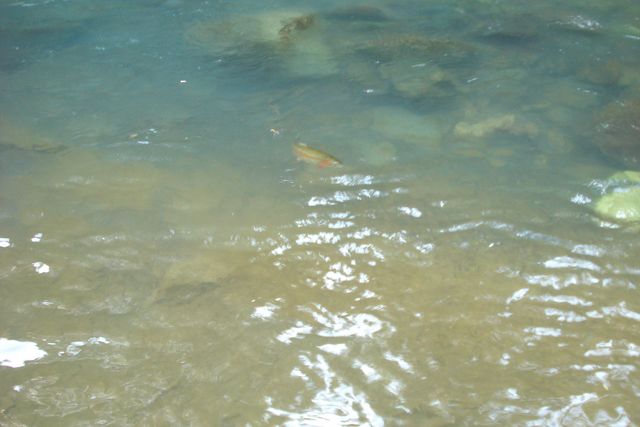 ---
The window of opportunity, what an awesome trout!
---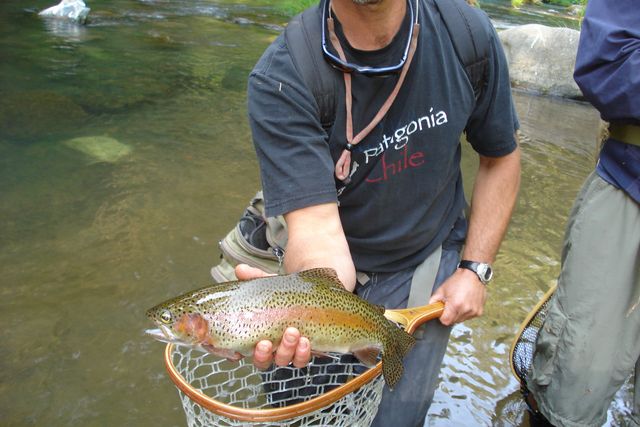 ---
Toro – toro – taxi – See you you tomorrow my son!
Mark Knophler – Skate away – http://www.youtube.com/watch?v=jjDD30FjwdM
---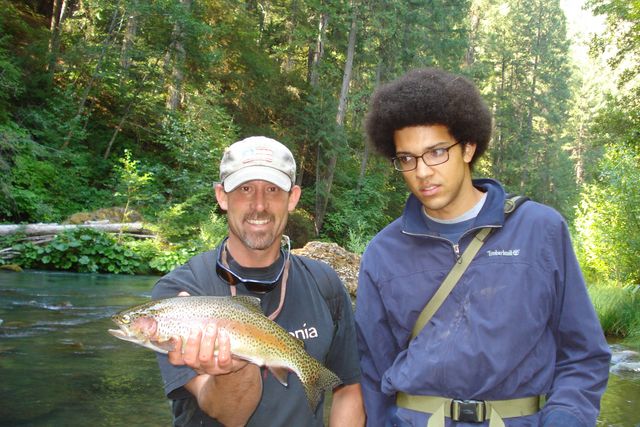 ---
Photo finish!
---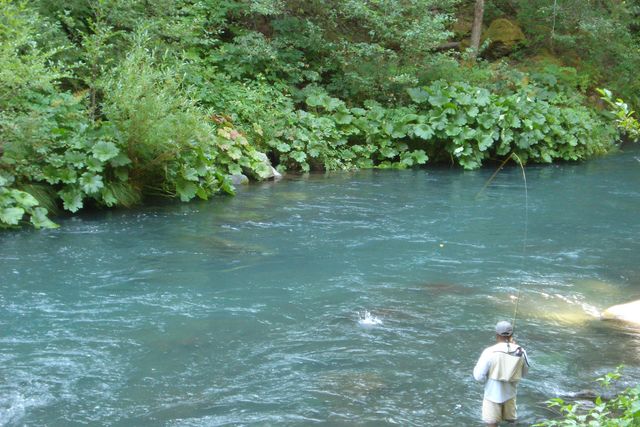 ---
Brice that's alright man!! That looks BIG! Oh, he got off…. Take another drift…
---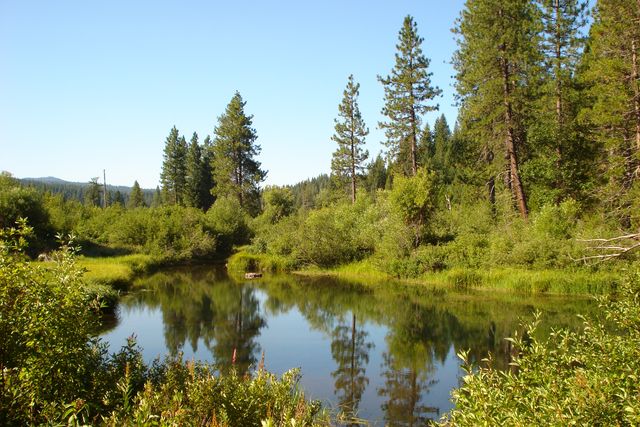 ---
Just like Larkin Dam the head waters of the McCloud River are golden!
Just like Phelps and our Olympic Athletes, on top of the world and golden! I hope we win in the overall medal counts. Remember when Russia used to be the best in the Olympics. As my friend Ray would of said; "Georgia-Georgia."
---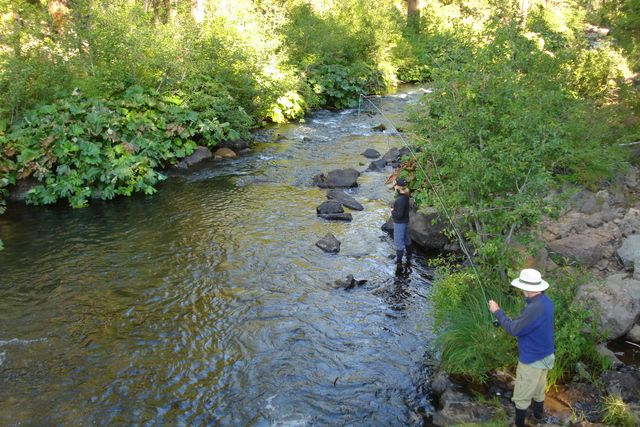 ---
Summer time is beginner time! I love beginners, just like the Oakland A's, have a strong farm-team, stay in first place often.
---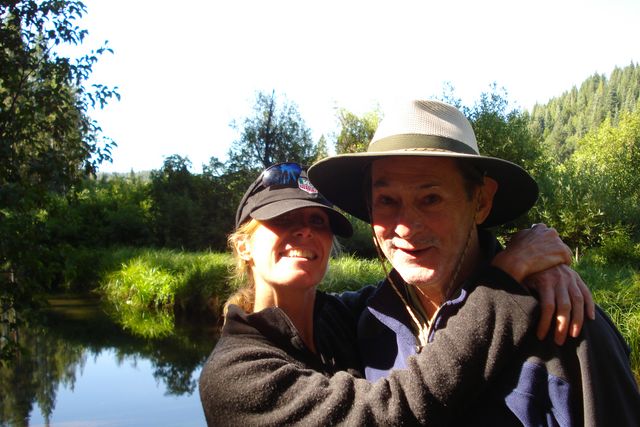 ---
Sparks are flying folks, with these two love birds!
---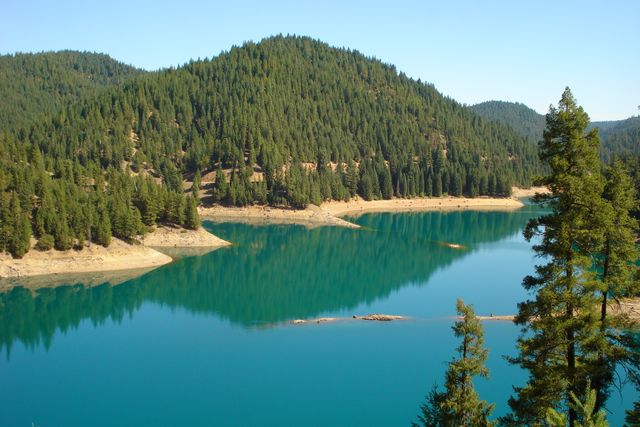 ---
McCloud Lake… Low man low!
---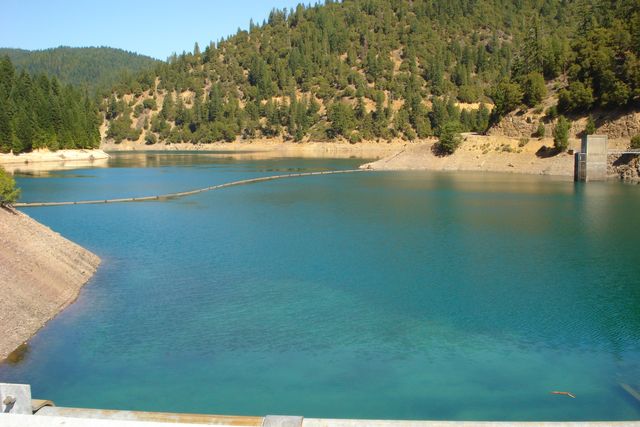 ---
The next time someone says they don't belive in Global Warming, ask them if they have a passport?
---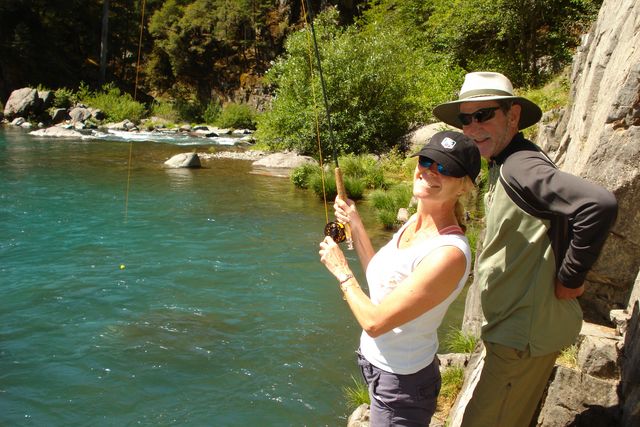 ---
Mary's first real trout on a fly rod!!
---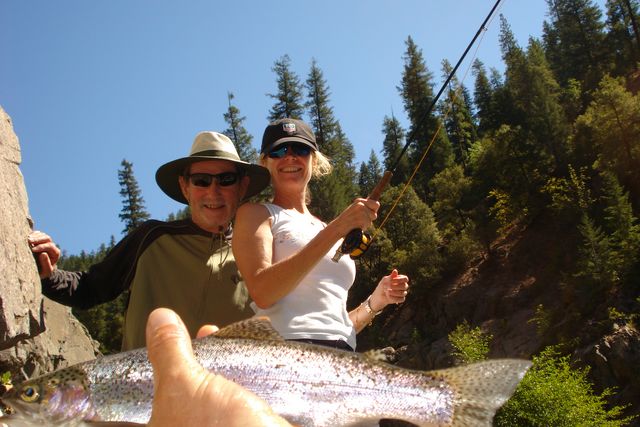 ---
A picture really can say it all! The happiness fly fishing puts on people faces is worth the price of admission. Thank you all, that have continued to supported me and this area with your tourism and environmental concerns, I promise a 100% commitment always! jt
---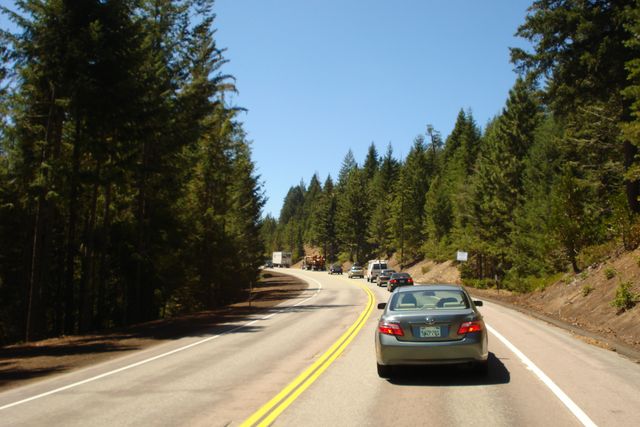 ---
Dear Jerry Brown Attorney General & Staff,
My name is Jack Trout, I have run a fly fishing guide service fulltime on the McCloud River for 16 years. I have read your report on the Nestle Water of Switzerland, coming into the town of McCloud and starting this monster of a facility. Thank you very much for your concern and your threatened law suit that left them only to tear-up and start over. I was very impressed with the 10 page letter that came out of your office that included a broad and in-depth scope dealing with environmental issues and targeting the facts that were not discussed relating to the Siskiyou county planning department, our lousy Supervisors that are selling our water rights away to foreign investors and its companies as well as the defunct McCloud Water District. In this report, I see you made mentioned to the monitoring of Mud Creek, Squaw Valley Creek in the future DEIR. This is only part of what I think needs to be studied in the new DEIR if a deal is struck again at all. I would also like your office and all others concerned in this study, to also monitor and consider highly the effects of Upper McCloud River at;
1.Big Springs on the Hearst Estate
2.Larkin Dam/Pond Upper McCloud
3.Little Springs below Lower Falls on the Upper McCloud River.
Based on the amount of CFS (cubic feet per second) that Nestle was wanting to extract from these underground aquifers, I have determined that these other places could and would be effected if not limited by their normal use and flow. These springs are unique to California and need to be protected,
the future of California's water lies now with actions that include wherewithal and foresight.
I would also like to vehemently express my concern that the climate has changed in our Shasta/Trinity Forest drastically since the deal was originally written up with the McCloud Water District in 2003. The town needs out of this deal completely, there are better ways that are more useful and conforming to the town of McCloud and the tourist direction this community is trying to head towards.
I must also mention with the amount of big rig trucks coming up the narrow & winding 89 corridor, we can not handle any kind of impact of trucks over 10 to 15 trucks per day more in either direction. Nestle was trying for 400 to 600 trucks per day. This would completely change the dynamics of our area forever and make this road a death trap in the winter.
This really isn't worth Nestle's while to operate in our tiny little town and area.
I have many pictures recently following two big rigs with 12 to 15 cars following behind with tourist. This is happening all the time, ask the CHP in Mt Shasta, they'll tell you. 89 cannot handle Nestle, NO WAY!!
Thank you for your consideration,
AG JERRY BROWN LETTER > http://search.doj.ca.gov/AGSearch/search/?IW_FIELD_WEB_STYLE=MCCLOUD&IW_DATABASE=AllAGSitesIndex
Jerry Brown AG Complaint Form >
http://ag.ca.gov/contact/complaint_form.php?cmplt=PL
Many Rivers & Vistas, Jack Trout >~>>})>)(:>
Jack Trout International Fly Fishing & Scenic Tours ~ Argentina * Belize * Chile * Nor Cal
1004 SO. Mt Shasta Blvd. Mt Shasta, California 96067 www.jacktrout.com www.mtshasta.com 530-926-4540 email: info@jacktrout.com
Chaiten Chile –
Piloto Pardo 843
Cell – 011-56 9- 9467 1995
---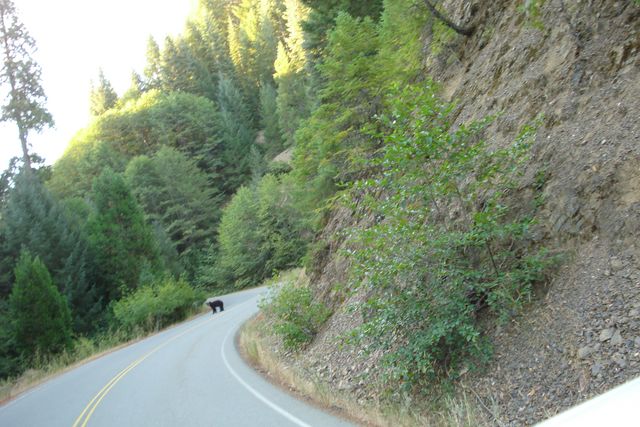 ---
Bear in the road, grab that camera fast! Many animals are out scoruging for food in the early 6 am to 7 am hours. I saw an elk calf the other morning on the way to the Upper McCloud River and about …. myself!
I am so glad the elk are starting to propagate again in Northen California, we used to have Grizzley Bears and Mountain Sheep back a few weeks ago, in the Pleistocene Epoch.
---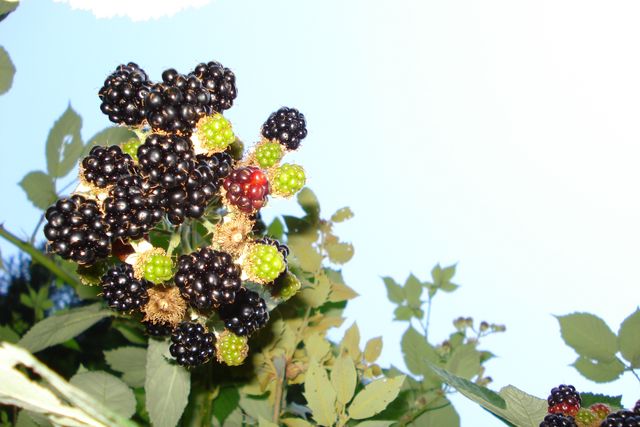 ---
The pecking/picking order for Shasta/ Trinity fruit berries>
All from 1500 to 4000 foot elevation:
1. Raspberries – June/July (Carola's favorite)
2. Thimble Berries – July (Jack's favorite)
3. Black Berries – August (bears favorite)
4. Elder Berries – Sept (deer favorite)
---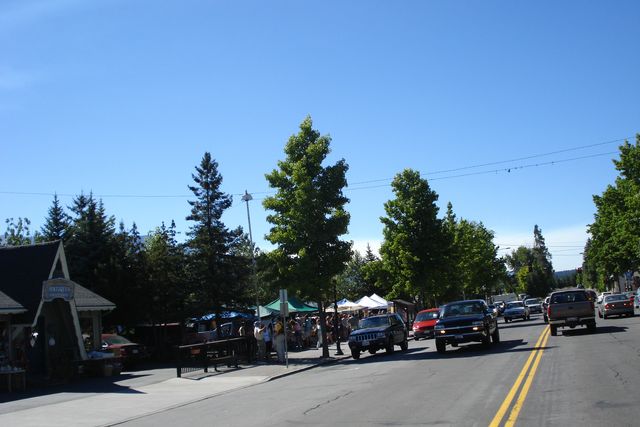 ---
Oh look it's the famous Mt Shasta Farmer's Market!!
Mondays and Thursday 3 PM to 6 PM.
---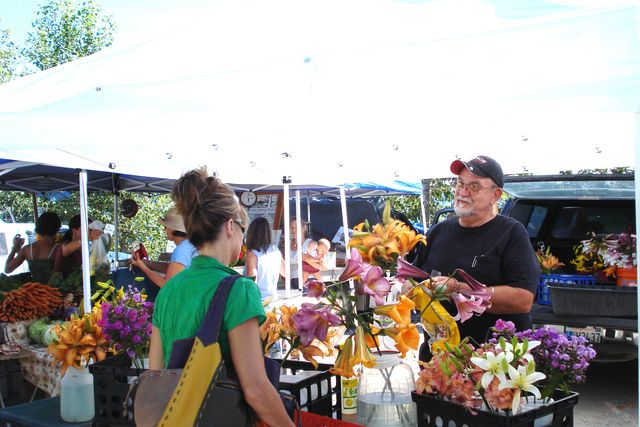 ---
Wow, gorgeous fresh orchids are always a pleasure!
---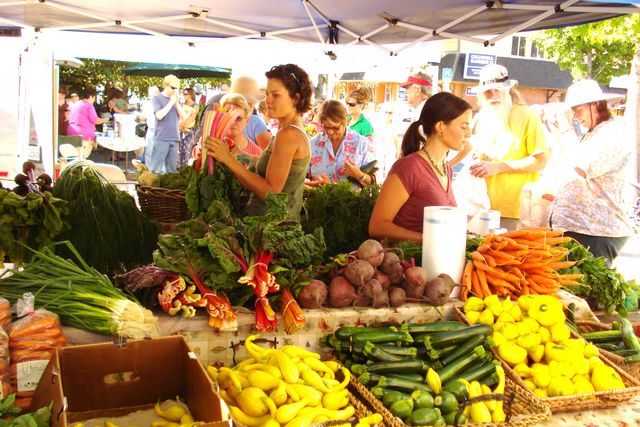 ---
Only the finest produce available always fresh always organic. Yea, you could say we have a little slice of apple pie up high in the alpine climate known as Shasta.
---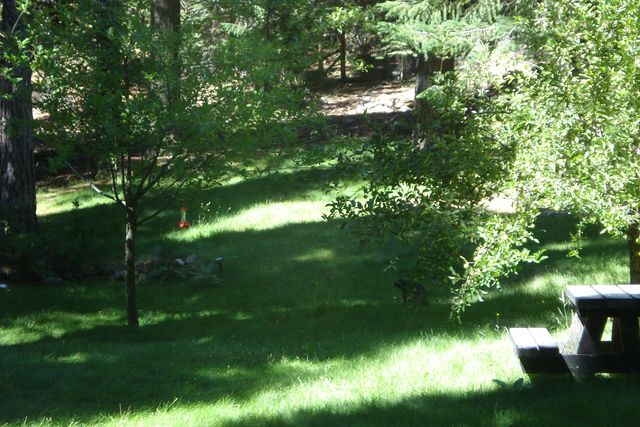 ---
Back home for my well thoughtout vegetable portrait, I saw a raccoon frolicking in my yard as he ate apples and played varmint games that made me laugh.
---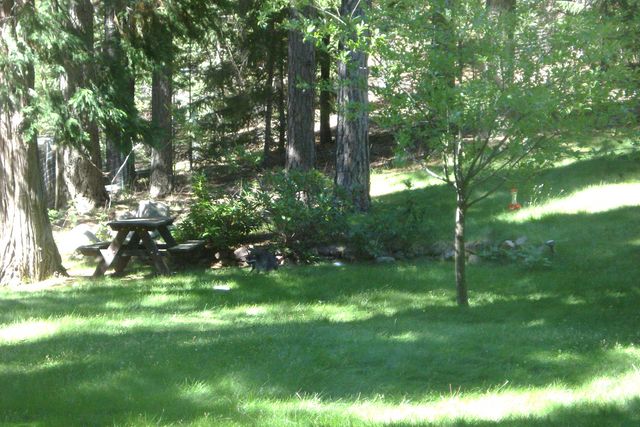 ---
This was one happy welcomed critter. "Eat up my boy, the mornings are getting colder!"
---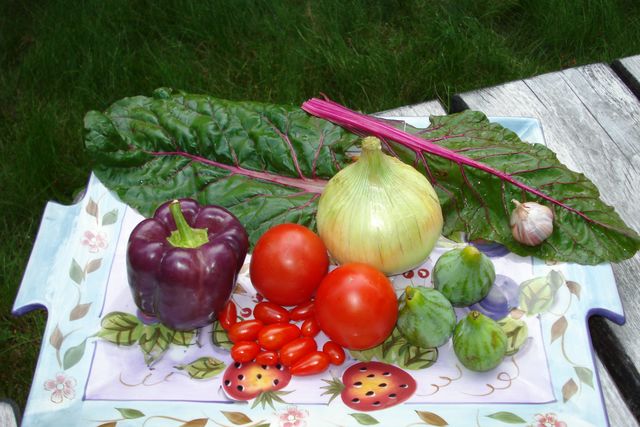 ---
Ah Picasso!
---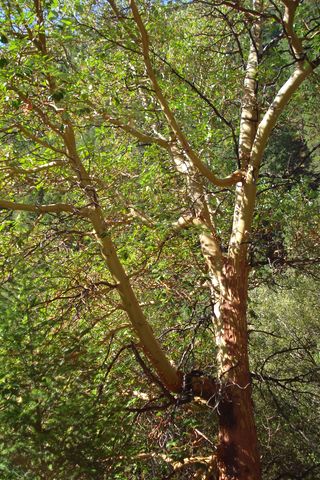 ---
The Lone Madrone on the McCloud River. Can you tell me where this only Madrone tree lives on the McCloud River?
---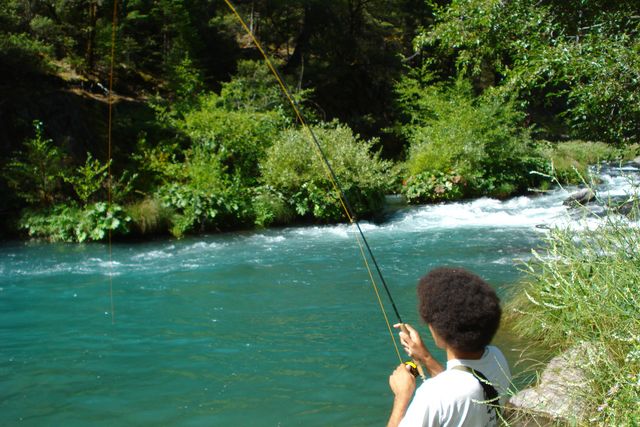 ---
The zen and peace of it all…
---
---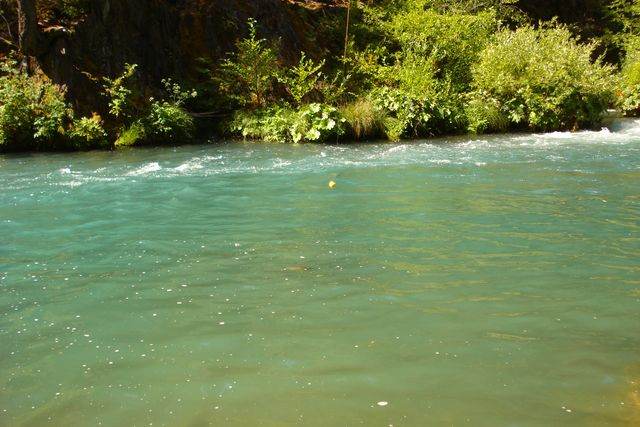 ---
Surface lurks are cool!
---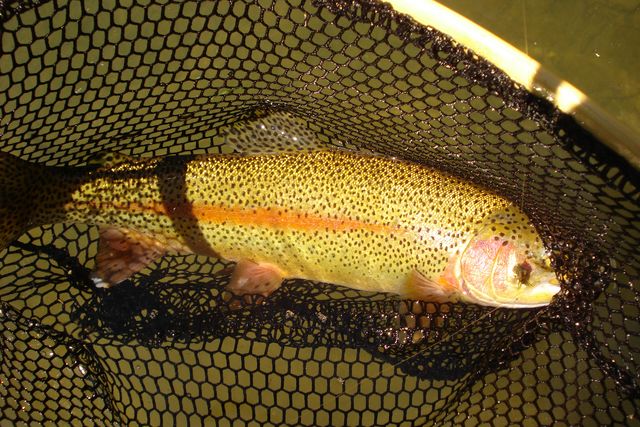 ---
Golden Gate Colors!
I left my heart in SF – http://www.youtube.com/watch?v=ryF9p-nqsWw
---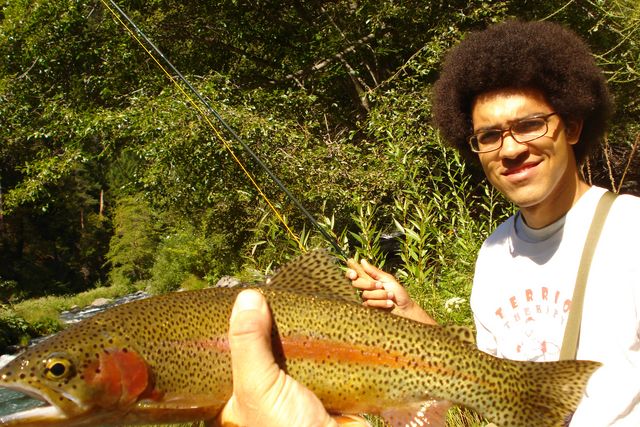 ---
Shane Brice – CONGRATULATIONS YOU'RE MY SIZZLER OF THE WEEK AWARD WINNER!! THE CROWD APPLAUDS AND THE AUDIENCE RISES TO THEIR FEET!
---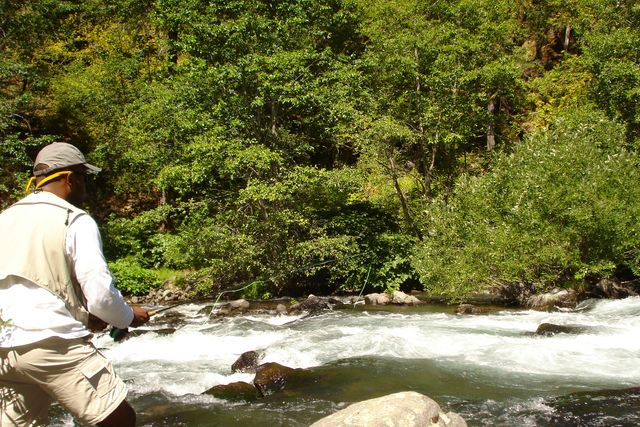 ---
Many folks like catching trout on dries right! This is a mid summer technique that works great on many North State rivers. High sticking dry flies in pocket water locations can be absolutely awesome this time of year. Corners or windows that are flat on the side of highly oxygenized water is a place for fish to hold and not be detected easily from prey or unsupecting insects traveling the same paths.
---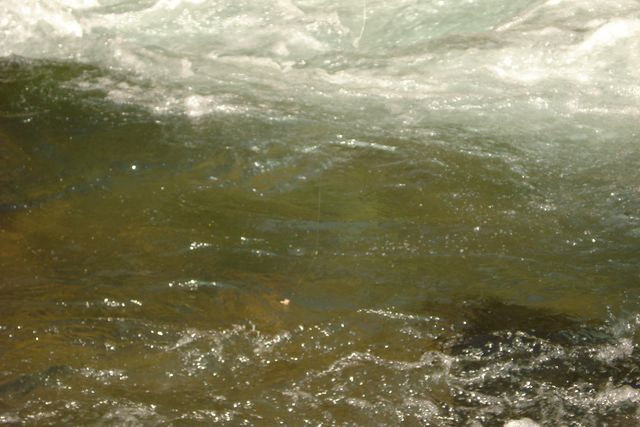 ---
Don't be afraid of love – Take all that extra line off the water and just spoon feed that dry fly on the surface Sizzlers, then when Monica slurps, you're attached to your fly at the hip. Guaranteed success!!
---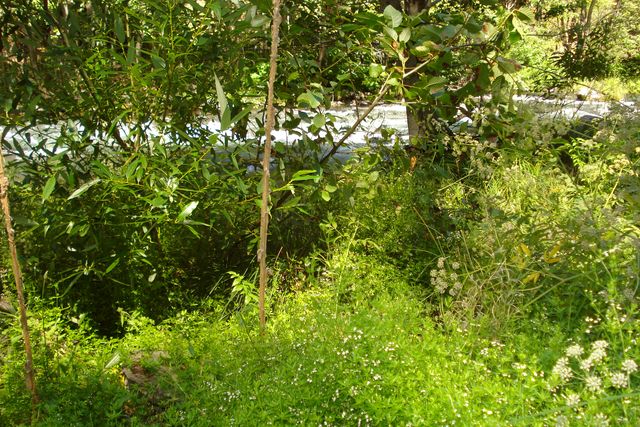 ---
Then afterwards you can sit on the side of the river and stare at all the gorgeous views and no one would ever find you, not here….
---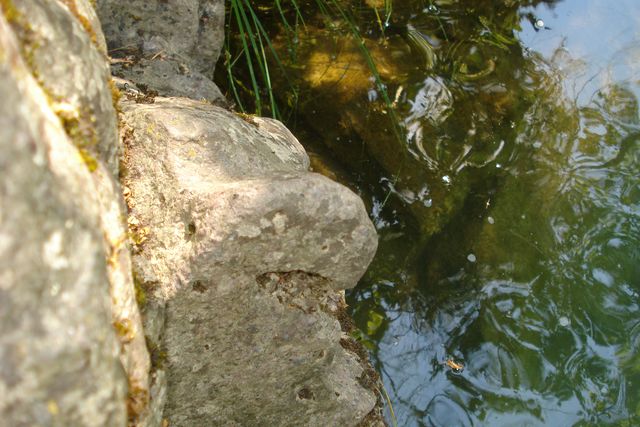 ---
Ancient Cliff Handle Artifact –
This is a location on the McCloud River that for centuries Winnemum Wintu Native Americans, setllers and you me have had to grab this same rock handle to pass by this terrific cliff wall that runs along the banks of the McCloud River.
---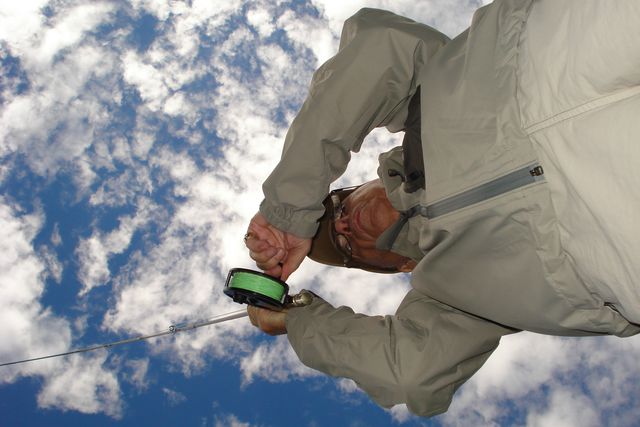 ---
Ladies and Gentlemen meet Buzz from Palm Desert, California! Former McCloud resident Fred Strong, bought Buzz a fly fishing gift certificate last season. Thanks Fred!!
Weather forecast – Partly clouded, with light winds from the north
and the possibilty of post nasal drip…..
---
---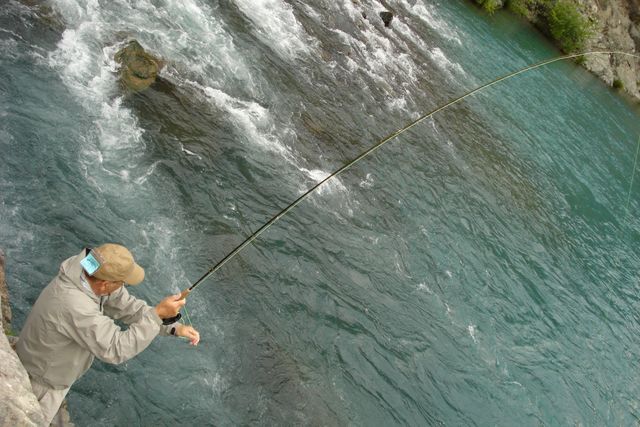 ---
BUZZ, Born to be wild!!
Steppen Wolf watch this classic video!!
http://www.youtube.com/watch?v=mJS8j9YYB9w
---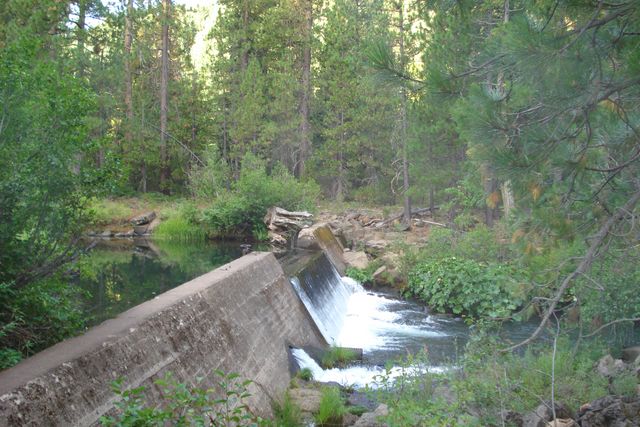 ---
Huck Finn look.
---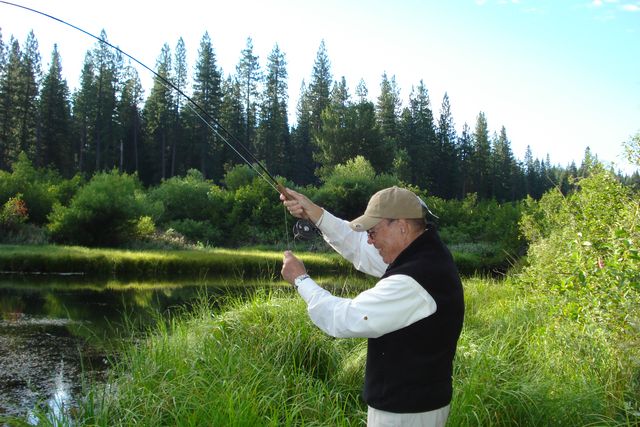 ---
Buzz – Showing off a little…
---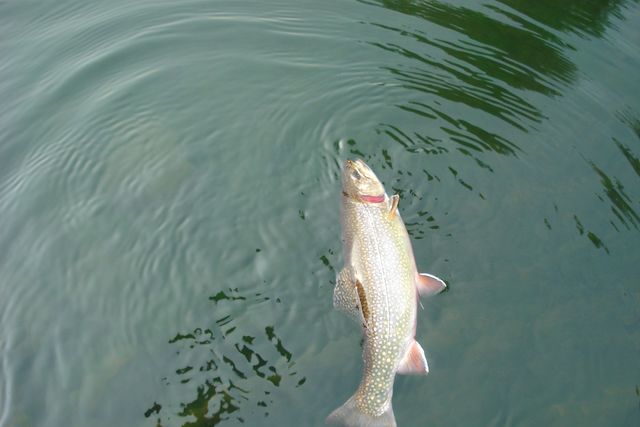 ---
I should of named my girl Brook Trout….Chailyn Brook Trout, will she pinch me for that…? Comments from the audience PLEASE!
---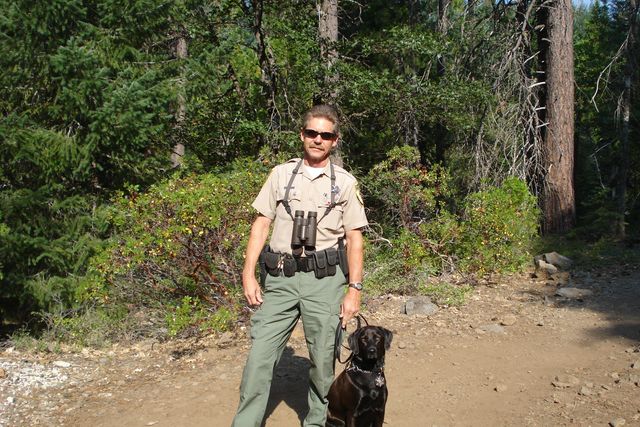 ---
Joe Powell (The Ghost) and partner Katie Warden Dog! Joe has had to cite a few folks for littering (My hero!) No licenses and taking too many trout. It is the fisherman's responsibility to know the rules for each fishery. I like teaching folks that you can catch and release and still have a quality experience! Then eat out at a fine restaurant in our region, and the next time you come up to the area, that trout is even larger. Following the rules and looking out for
our precious resources is something in all of our best interest. Thanks Ghost Joe and Katie for protecting and caring about our little
neck of the woods, a place we all call home.
http://www.dfg.ca.gov/news/news05/05051.html
---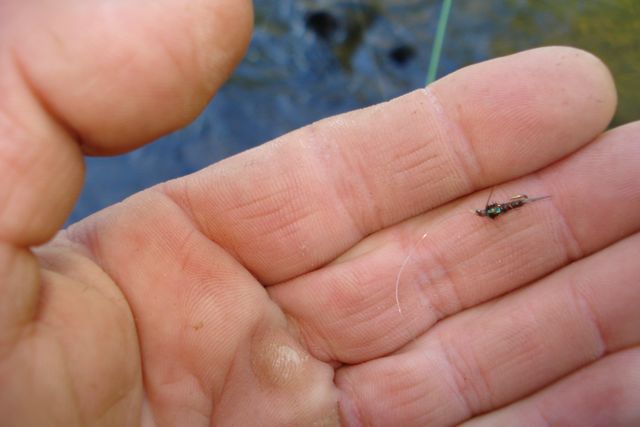 ---
Mid summer go to nymphs with no beads. Size 18 Pt's works best this time of year then change to Caddis imitations in the afternoons.
---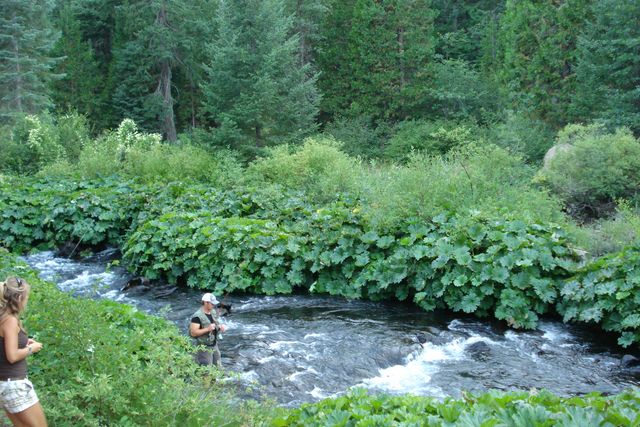 ---
Jeff Kowan Adventures are the best!! Jeff brings out the whole family and we have a hoot and shin-digg!! Thanks Kowan Fam.
---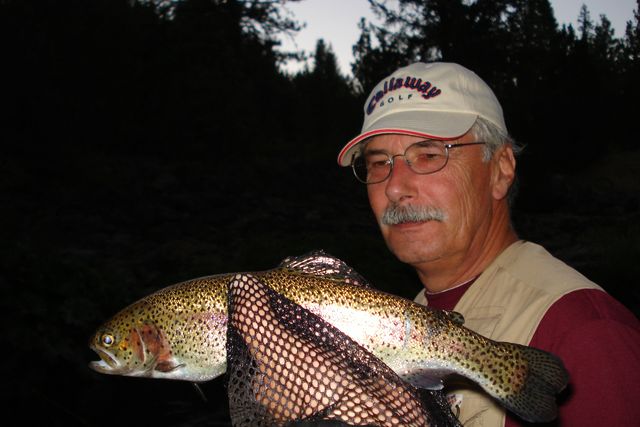 ---
Pops Kowan is cooler than cool, he the bomb folks!
---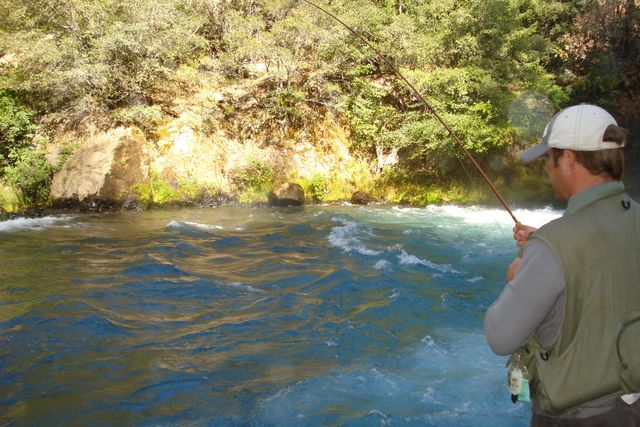 ---
Kowan at the Cliff House fly fishing the Oceans 11, now how sweet is that!
---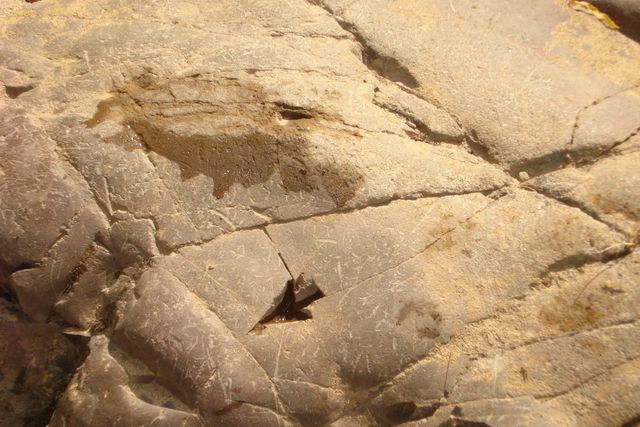 ---
<<<< This way people
---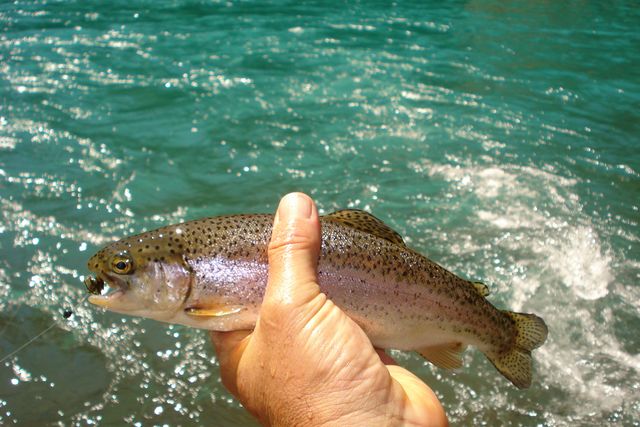 ---
Good set up for deep holes in the McCloud River. Now wait for it to sink at least 10 seconds and do these short but fast 1/2 inch strips
and hold on Nelly!!
Nelly Furtado – One Trick Pony – http://www.youtube.com/watch?v=P7Opdh5b4Uc
---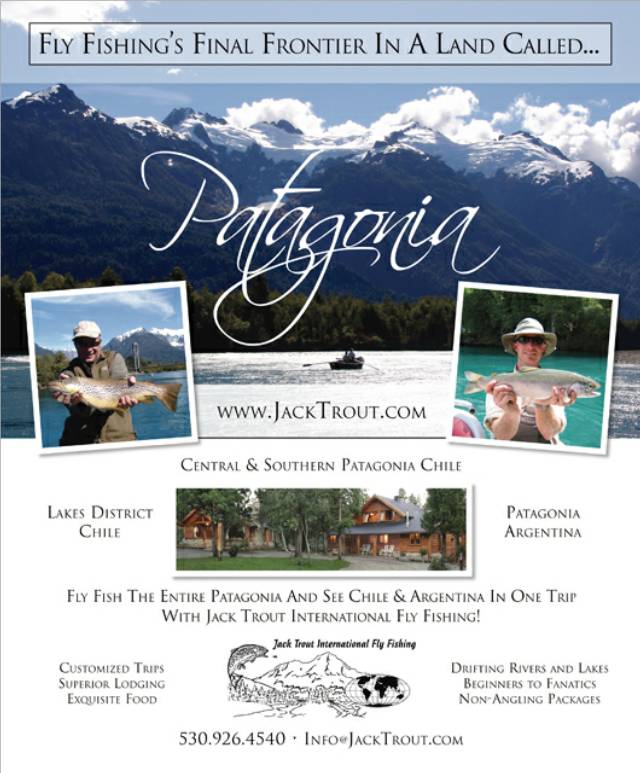 ---
---
Sign up for Chile and receive a signed autograph copy of my book.
Just kidding!!
That's hilarious, I am so happy about this book. I can't believe they left in a few of quirky tips like bringing your coffee filter and some of your favorite grounds because all they really have throughout Chile is Nestcafe instant. I won't give Nestle Water of Switzerland a break in the Northern or Southern Hemispheres. Bring your Peets coffee to Chile, you won't be dissapointed.
EMAILS FROM YOU:
Jack thanks again for another great fishing experience. The two days we spent on the McCloud were truly a unique adventure(too bad the bear pictures didn't turn out). This is the second time and fourth river we've fish with you and have never been disappointed. We hope to see you soon on one of those special Chile or Belize trips.
Best regards
Keith Brice and Shane Big Fish Brice
---
Hey Jack,
I'm sitting here with Capt. Lloyd and he said that 5th to the 12th of October in Belize at our place sounds great. So how are you?
Looks like Travis is coming back!! Lloyd said to rest his arm.
Later Bro!
Franz Nunez – Jack Trout International Belize
---
Dear Jack,
At long last, here's Fodor's Chile! Please take these copies for your bookshelf. I enjoyed working with you and I am very proud of the improvements we made this year.
Best wishes, Adam Taplin
Fodor's Travel Books
New York.
---
Baby, today in the morning I was with my mom to the matron again, my pression is very high, the maximum range for a pregnant woman is a 140/90 and I had 160/90 after 10 minutes they took me again and I stay in 157/85 even high…..for this I have that to take it for 5 days and to go on Wednesday to see that it happens, if they me derive to a specialist (is no sure) depend, I have to look after so much, with this one presents again the risk of preclamcia when the pregnancy advances and the fact that the pressure is high is what explains the arterial uterine alteration and therefore the flow does not come since correspond to Chailyn, and can be that for this she this low weight or smaller in agreement to the period of gestation……
baby, you quiet I am take care always, and if I have to left my job I will do, of course Chailyn and my health is most important, I only want you know all of the pregnancy, take it easy, we will be so good, you trust in God and Center in the good things and in your work, and certainly in our love………..
Right now I am in the bed again jajjaa, and tomorrow I will go to the doctor for my control for bronchitis and take my pression…..in the morning….
Every will be well and only you send me good energy, support, of course so much love and very immediately we will be together the three …..we miss you always all the time…
Please chanchito….all will be fine, I love you so much and Chailyn too, she is moving so much because I am eating jajajjja some sweet( no chocolates) are prohibited for the doctor and matron……today I listen her beats, OH MY GOD!!!! so strong My mom listened too, so great cielo, she is strong like you and me for this I know WE WILL BE FINE!!! Jack, Carola and Chailyn the most great team is our family baby
you take care and relax, good luck in the business and the trips…you beautiful family…`Paloma and truchita girl….we love you always daddy!!!!!!
---
Hola Jack, how are you
Here I'm trying to solve this puzzle made by the volcano..is not going to be easy to organize trips to Yelcho this year.
There is a research that is going to be made by CONAMA, I participated in two meetings with them for deciding the spots where they should take the samples of biodiversity and water composition.
I would like to have one of these Fodor's travel books, how can I get one??. Could you send me one and then I pay you…I would be thankful.
Cheers
Francisco Castano – Tres Piedras Fly Fishing Chile
---
---
Howdy Jack,
I e-mailed you sometime in the spring requesting information about setting up a trip for my father, brother and me. Well, calendars got full, weeks passed on by and here we are near the end of summer. Anyway, we are ready to commit now and would love to come up this fall before you head down to Chile. (By the way, Congratulations to you and Carola and may Chailyn be born healthy and happy!!) Steelhead fishing on the Trinity sounds like exactly the kind of trip we would love to make!! I was wondering if you have any availability for a Saturday trip on any of the following weekends ˙ã October 18, 25 or November 1st. Please let me know whenever you get a chance and I look forward to hearing from you.
Cheers,
Gregg Jones
---
We look forward to seeing you at two upcoming, free events at the McCloud Book Gallery.
On Saturday, September 23rd, from 4-8 pm please join us for a reception for Redding painter Susan Greaves. Her show, McCloud Heritage and Other Landscapes, is currently featured at the Book Gallery.
On Saturday, September 30th, from 4-6 pm, please join us for a slideshow, talk and book-signing by William Miesse, co-author of the new Heyday Press book, Sudden and Solitary: Mt. Shasta and its Artistic Legacy, 1841-2008.
Refreshments will be provided; you bring the great conversation!
For more information, see http://mccloudbookgallery.com/Events.html or call 530-964-3273.
---
Jack,
it was a pleasure to speak to someone who was not only passionate about the river but knowledgeable as well!
A few questions;
1. How many acres did the McCloud Fishing Club originally purchase?
2. Does the Club have a primary owner, governing board or club president? And is the club still active in the rivers conservation? Perhaps the club has a mission statement?
3. What prompted the club to make the donation to the Nature Conservancy?
4. Do you know the genus and species of the trout that were introduced into the British Iles, New Zealand ect?
5. Do you know if the introduction of the McCloud species caused the extinction of any native species in these foreign countries?
I think that's it….some of these questions are probably impossible to answer so don't be shy about telling me you don't know. I've written the entry but it has some information gaps in it and its about 100 words too long, when I get it edited down could I send it to you for review?
Thanks again for sharing your knowledge with me!
Methea
——————————————————————————–
From: Sapp, Methea
Sent: Thursday, August 21, 2008 6:48 PM
To: info@jacktrout.com
Subject: History of McCloud River Club
Hi Jack,
Let me preface this by explaining that I'm working on a reference book called America's Natural Places. I've been assigned to cover 8 states in the West and Pacific so naturally California falls under my jurisdiction. I've selected 100 natural places based on their unique natural resources, species composition, rarity of habitat along with unique conservation efforts or in some cases looming threats. The McCloud River is one of my choices; I've been reading extensively on the Nestle' plant, sale of Bolliboka and expansion of the Shasta dam and feel like I have a decent grip of those issues. I'm however having trouble finding information on the McCloud River Club which made a land purchase on the river in 1900 and then a significant donation to the Nature Conservancy in 1974. Could you or someone you know give me more insight to the history of this group and their present day activities?
Thank you for your time,
Methea Sapp
---
Hi Jack,
that is great. thank you. I will send you a check for $500 as part of the deposit. Let me know when you will need the rest. I look forward to living there this winter. Don't worry we are very responsible people and I will not let anything happen to your house. I have grown up with the most annal person I know so I seem to fallow in my mothers footsteps on cleanliness. I know you have been worried about it.
steph
---
MOUNT SHASTA SHOW
Sunday, August 24th at 7:00 pm
Soul Kirtan at the Flying Lotus
(w/ Sacred Projection of Douglas Deboer and Friends)
$10
Come and join us at…
315A S. Mount Shasta Blvd.
Mt Shasta, CA
Soul kirtan is call and response style singing of devotional music with Ariah's soulful twist on things and a modern touch! Spread the word…it will be a beautiful evening where we all share in the ecstatic singing together!! Blessings.
Ariah Firefly Update:
After just finishing a 3 day workshop, with 9-10 hour days of giving and teaching healing methods of Egypt, Atlantis, and Lemuria, I am bubbling with joy. I am currently booking a tour as well which so far will include Southern California, Northern California, Iowa, Boston, Maine, New York and Hawaii. I have my assistant helping book this (and she is incredible!!), but I am pretty much the booking agent, not to mention doing healings, finishing recording the record and still putting in some hours at my internet radio job. Needless to say, the plate is full, yet I would like more dates for the tour in 2009, so we are working on it. Doug and I have been having a blast sharing the sacred art and chants as well as Kevin and Joel, my LA musical support of gifted musicians. We want to do it as much as possible so if you would like us to come play at your area, let me or Susan know (susan@ariahmusic.com).
The record is still set to be done in October, and yes, we still need to raise $3,000 more to complete it (only 1/5th left of total). If interested in helping, you can pre-buy the CD for $25 (and we will include a ticket to a show as well as both sides of the record) on http://www.ariahmusic.com/ on the Tour and Workshops page.
Other than that, Doug and I have moved into a small guest house that we love and adore and there is lots of creativity going on here as well as meditation. We love our Taoist practice: Kunlun. Please check it out on www.kunlunbliss.com. I am training to facilitate this amazing practice of releasing blocks, replacing them with the ecstatic bliss, and then much more beautiful, mystical process, like shifting oneself into what my teacher Lama Dorje calls: Golden Dragon Body.
Keep in touch and let me know how you are doing. I send you much love and the light of oneness. Bliss-ings. Ariah
---
How do I advertise a vacation rental on your site? Do you provide property management, too?
We have a 3 BR 2 BA about 2400 SF on 6 acres on Hornbrook, CA.
Nina
---
I have told Mr.
Rickard in person that he is required to have a permit. Interestingly he
was the only guide to show up to the McCloud flow study meeting and was
lobbying very strongly for keeping the flows as low as possible. He did
not seem to have a strong interest in the results of the studies with
regards to the health of the actual fishery, just the ability to get his
(or the McCloud River Club clients) to a fish.
---
Right on, Jack!
Rod Diridon, Sr., Executive Director
Mineta Transportation Institute (MTI)
---
Cuusin, como estas?…imagine fulll work….I calling carola but without being able to speak with her(it) where this difonica, but improving, I wait for rapid pass the time in order that you could turn and to be united in the last stage of the pregnancy(embarrassment) of my dear premium(cousin) …. she(it) surprises you much but he(she) understands the situation is the better(best) thing that they could do…
Look after yourself very much and I you expect to know soon fondness
Jaquy, Javier and my little boy Joaquin – Puyehue Chile
CHAO AMIGO
---
Hey,
Want a free Obama/Biden sticker? MoveOn's giving them away totally
free–even the shipping's free. I just got mine, and wanted to share
the opportunity with you.
Click this link to get a free Obama/Biden sticker:
http://pol.moveon.org/barackstickers/?id=-9051859-GvqfY_x&rc=
Thanks!
Mike Foster
---
Spectacular pictures, Jack! Very impressive!!!
Dave Clark – KTVU
---
Dear Editor,
I would like to express my extreme gratitude to Kelli Hardcastle, Neil Raphael and daughter Mia who voluntarily spent last Sunday cleaning trash out of Castle lake. I, like many locals, swim in Castle lake regularly every summer. There is no doubt that increased use of the lake has increased the amount of trash in it. When I jumped into the lake on Sunday I noticed a diver(Kelli) handing trash to Neil and Mia in a kayak. I swam over to thank them and learned that besides cans,bottles and food wrappers Kelli was retrieving all sorts of trash including part of a boat that still smelled like gasoline! By the time they were done the boat was pretty well full. This family deserves a round of applause from the community. Castle lake is a jewel and with increased use it is the community that will keep it that way. You can thank Kelli, Neil and Mia yourself at the Farmer's Market on Monday's, find them at the Taku River Red Salmon booth.
With Gratitude,
Jenn Carr and all the Castle Lake Users
---
Jack,
Thanks for getting back to me so quickly! The weekend of October 25th would be perfect˘we will take it!! So for the 2 day trip, I just want to confirm that we will drive up to your neck of the woods on Friday 10/24, and then fish Saturday/Sunday 10/25-10/26. Is that correct? We are coming from San Francisco and will probably be getting there pretty late on Friday night, so if you have any hotel recommendations, that would be appreciated.
Also, can you please let me know what the total cost will be for 3 of us? Do you need a deposit to reserve the trip?
Thanks again and us Jones boys are so excited to make this trip!!
Cheers,
Gregg
---