*****SUMMER FISHING SCHEDULE CHANGES NOW 6 AM TO NOON – 4 PM TO DARK FOR MOST PRODUCTIVE FLY FISHING ON THE McCLOUD & UPPER SAC!*****
---
---
*****FALL SIGN-UPS FOR STEELHEAD FISHING FOR SEPTEMBER – OCTOBER – NOVEMBER*****
---
---
*****CHILE & ARGENTINA SIGN-UPS FOR SINGLE DAY FLOATS AND WEEK PACKAGES FOR NOVEMBER THROUGH APRIL 2010*****
---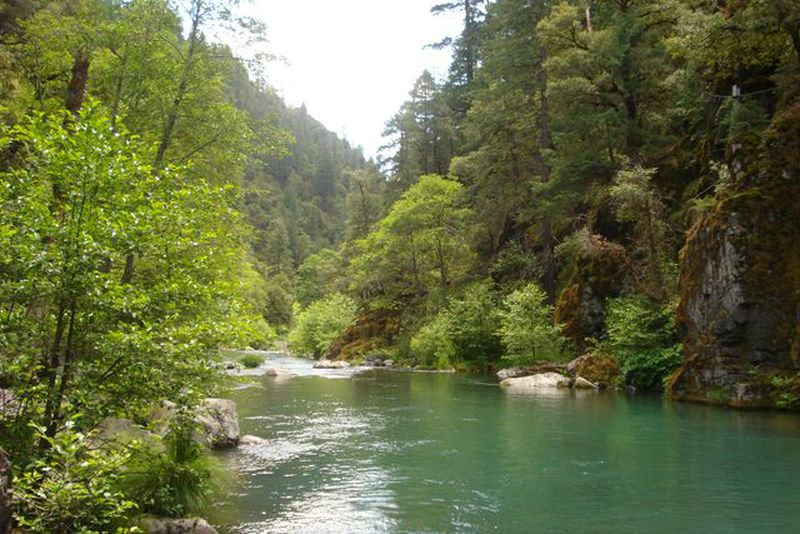 ---
What is more beautiful than the canyons of the McCloud River. In all its striking scenery and turquoise colored water, truly a spectacle
in the eyes of the beholder.
California's only underground river that flows some 20 miles or more
via lava tubes where it surfaces in a meadow and starts its decent through 3 wonderful waterfalls each unique in character and size.
If this river could speak, oh the tales it would tell, maybe you know of one personally you'd like to share via email to me and the audience. Let's hear'em folks!
I might also mention, haven't updated my web log in a month due to only having 11 days off in two months. Thanks to you, Carola and I are grateful! Every year things seem to get better.
Thanks to our great support, Jack & Carola Trout
---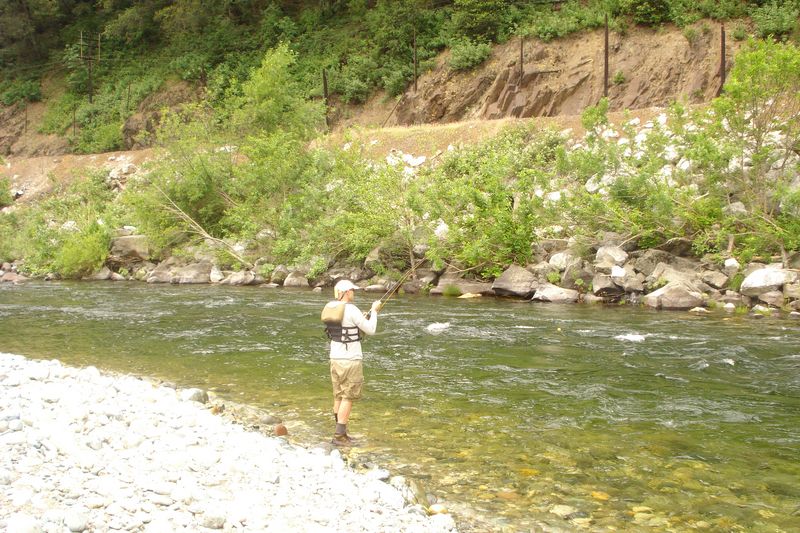 ---
Chris Clark Ladies and Gentlemen, down from his home in Portland, Oregon. This guy loves fishing California and comes down about 4 times a year to raft and fly fishing the Upper Sac as well as head into the McCloud for a little Disney trout magic.
Chris is the only person to see bears on my raft trip on consecutive
years, now he's coming for bears and trout!
---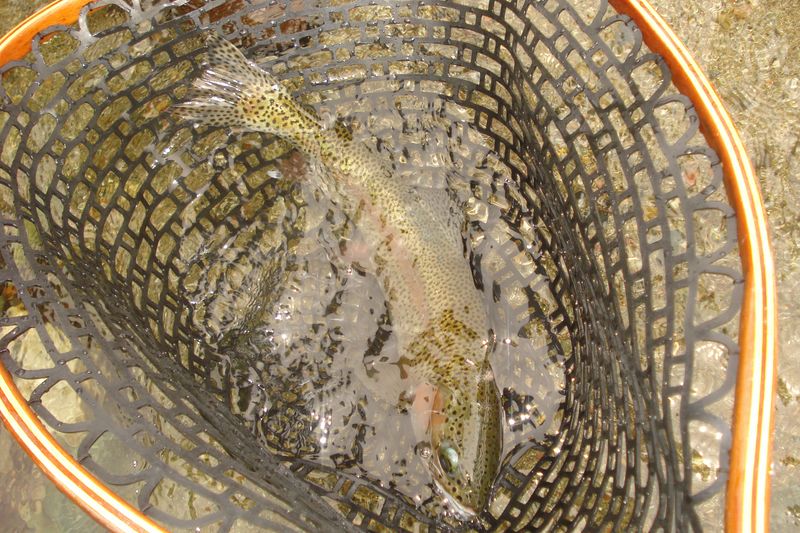 ---
Nice trout Ore-Bro! It's always great when we start the day off with a quality trout like this one!
---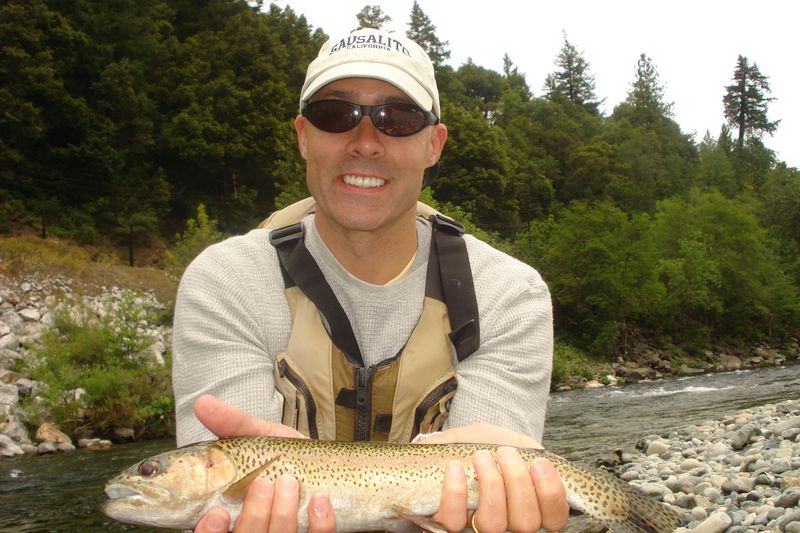 ---
Chris Clark of Portland, Oregon – YOU'RE MY SIZZLER OF THE WEEK AWARD WINNER!!
CONGRATULATIONS SIZZLER NOW GO OUT AND MAKE US PROUD BY INVENTING A CAR THAT RUNS WATER. jt
---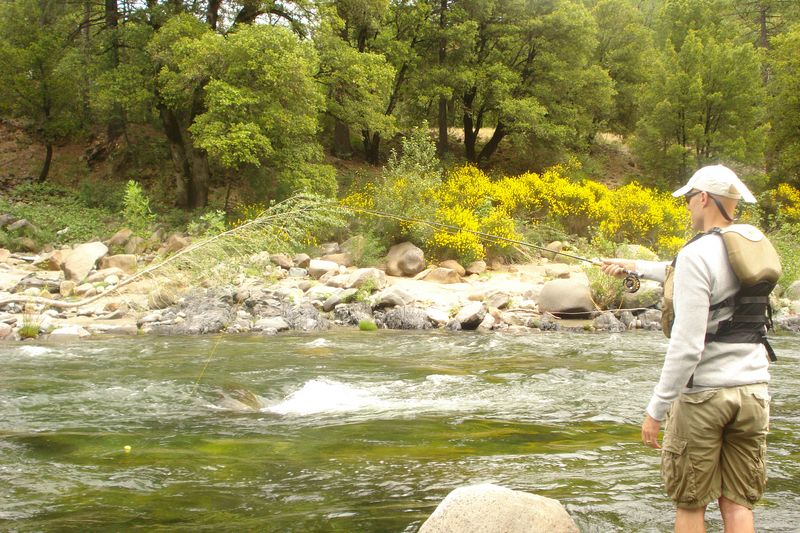 ---
The pocket tah-tah!
---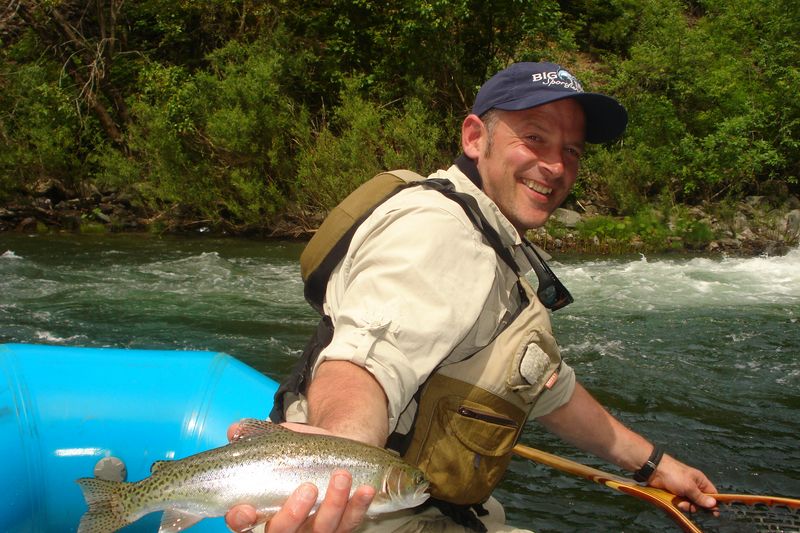 ---
Way to go Todd!
---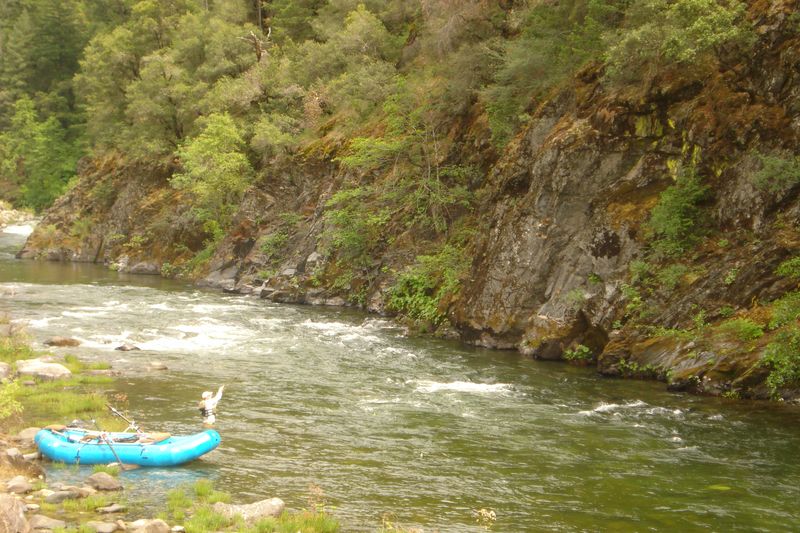 ---
Hook-up in Pollard Canyon, here I come with the net!
---
---
If the Emerald City had a river, I think it would look like this…
---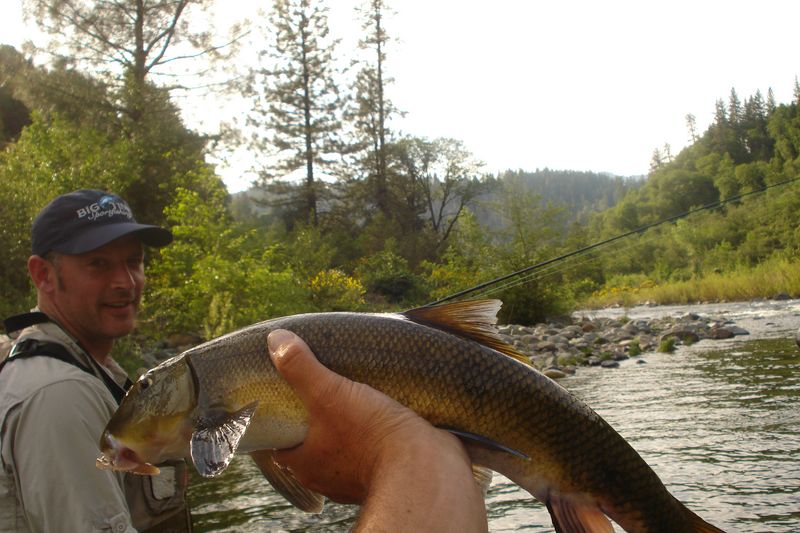 ---
You caught What?
---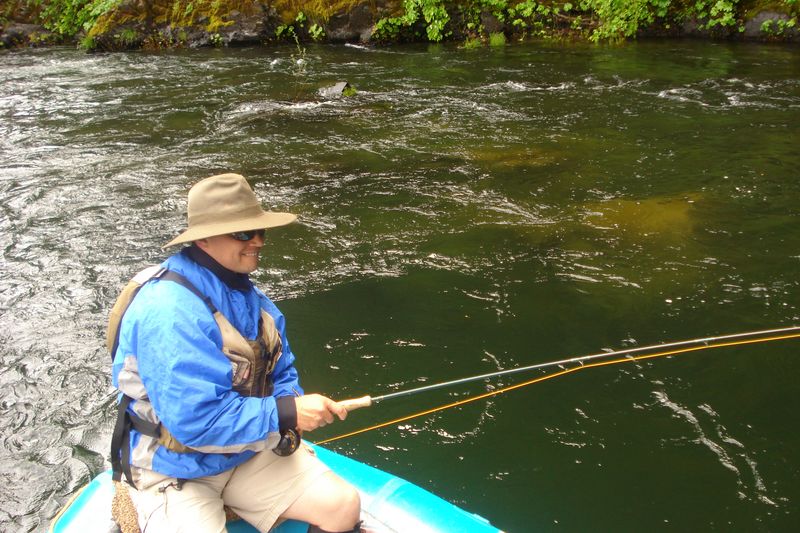 ---
My two friends from Granzella's Restaurant in Williams, California Dino & Artie came up to fish with me on the Upper Sacramento River.
Right off the tip, Dino hooked a trout and the fight was on!
If you haven't heard Granzella's is back & better than ever after they rebuilt their fine establishment due to a horrific fire.
(Polar Bear did not suffer second hand smoke as the employees worked to get the mounts out first. Do yourself a favor and stop by Granzella's in Williams – 500,000 people a year can't be wrong as they leave there full with a smile of satisfaction!
http://www.granzellas.com/Restaurant_Deli/restaurant.aspx
---
---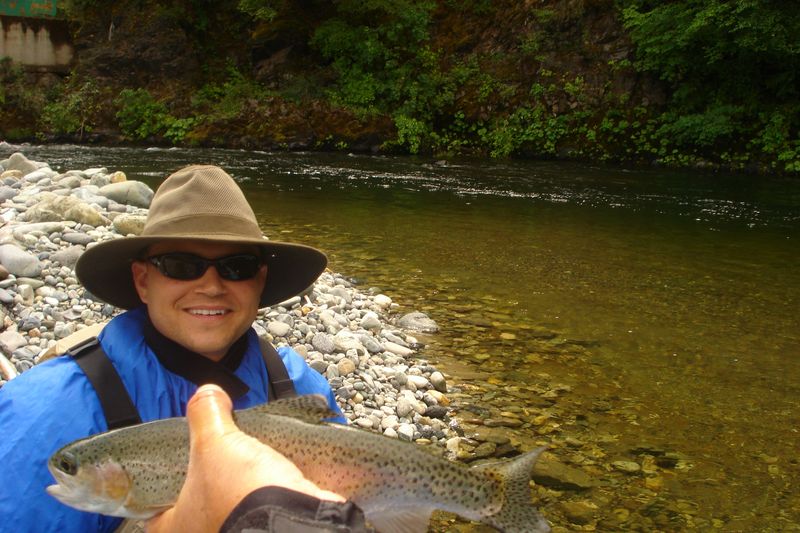 ---
Nice one Dino, Now let's hook some more! But not before we enjoy Granzella's World Famous Muffuletta Sandwich out on the raft!
---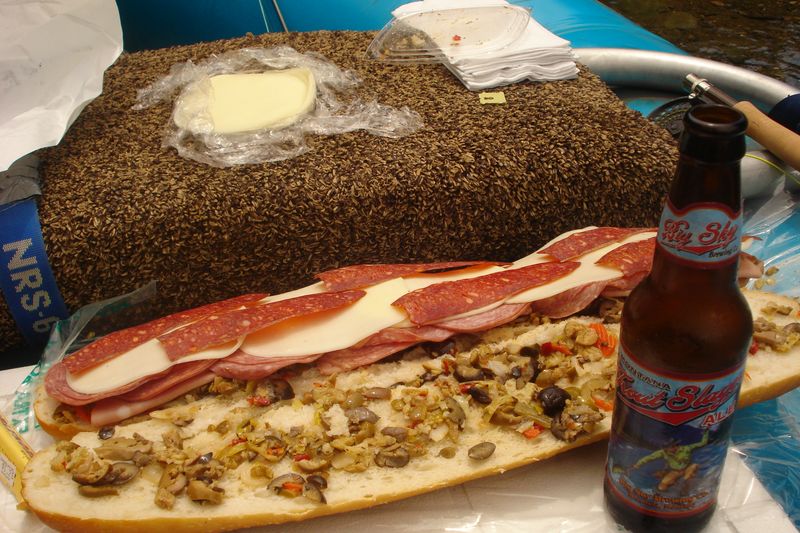 ---
Read up on the history of the Italian Muffuletta Sandwich. One of my personal favorites!
http://en.wikipedia.org/wiki/Muffuletta
---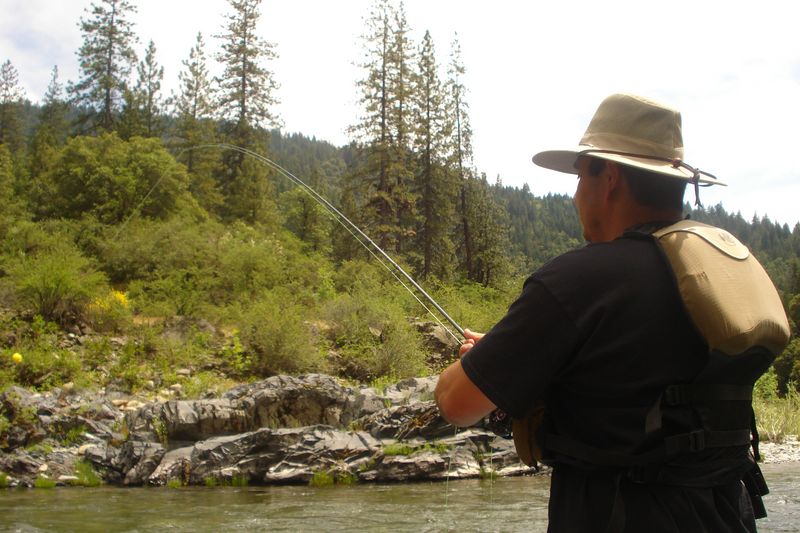 ---
After that delicious lunch it was Artie's turn to hook up!
Map to Granzella's > http://www.granzellas.com/contactus.aspx
---
---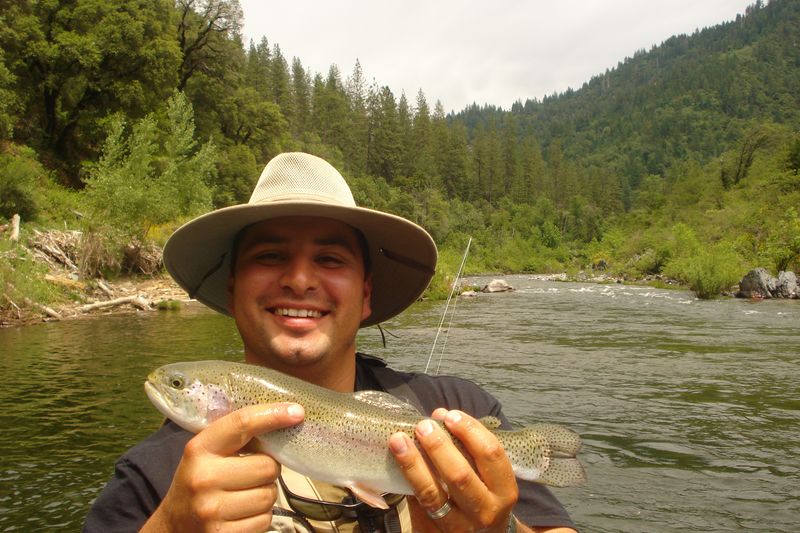 ---
What a fun time we had hooking trout down the river all day long! The clouds rolled in and we started hooking trout on dry flies.
Size 16 Parachute Adams – A real secret fly if you know what I mean.
---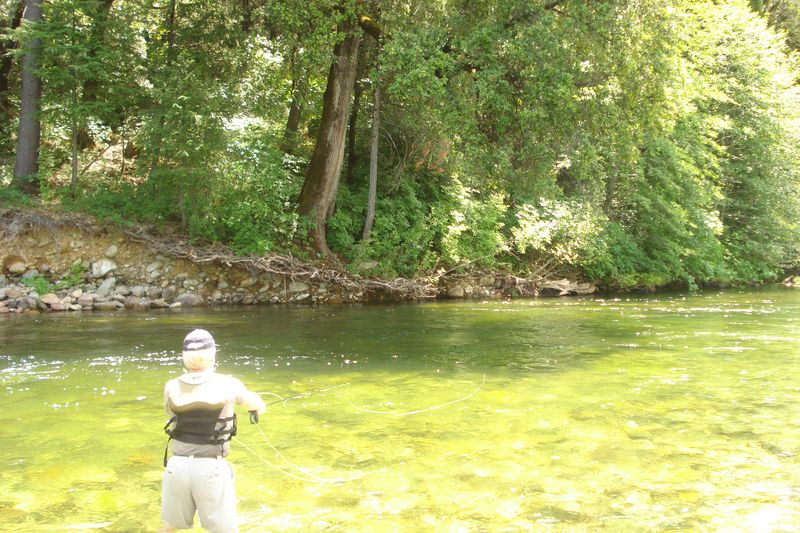 ---
How sweet it is!
---
---
The classic bent rod – life is good shot!
---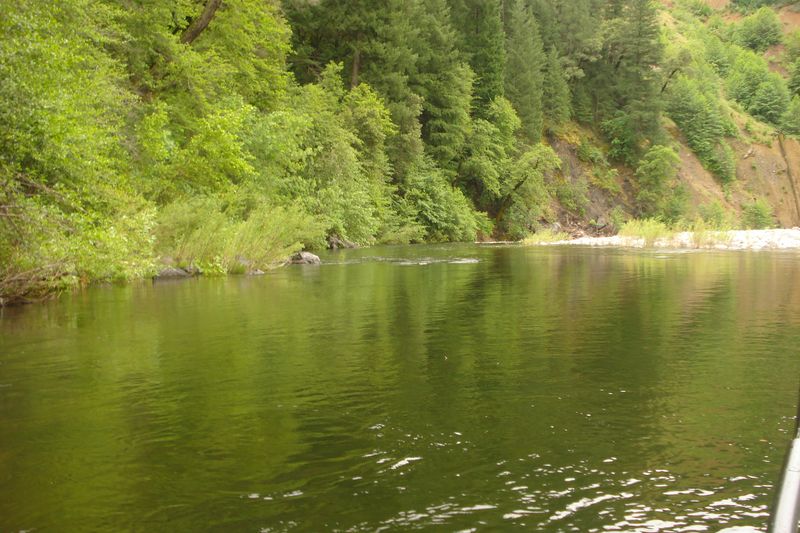 ---
It's kind of hard to see but there are size 14 Creamy Dun Mayflies hatching on the surface of the Upper Sacramento River, can you see them?
---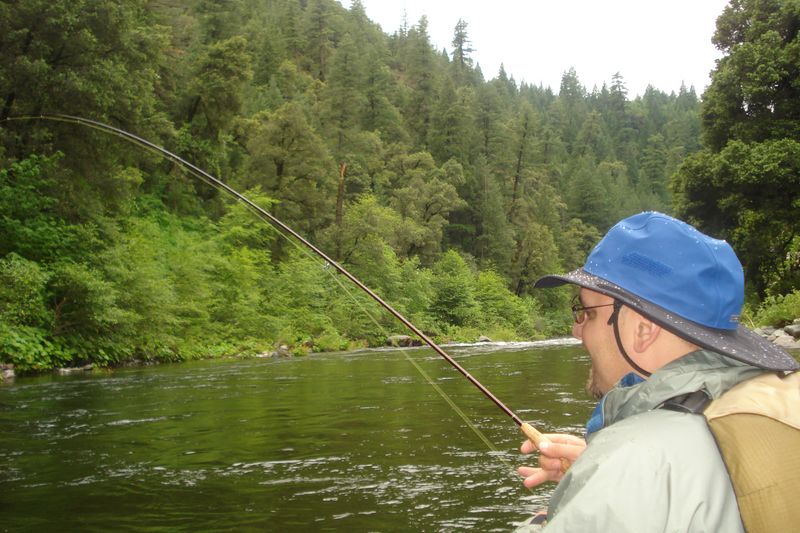 ---
Hola Rob Fuette, having his first trip out on my raft with old school
past client Jim Collins, this should be fun!
---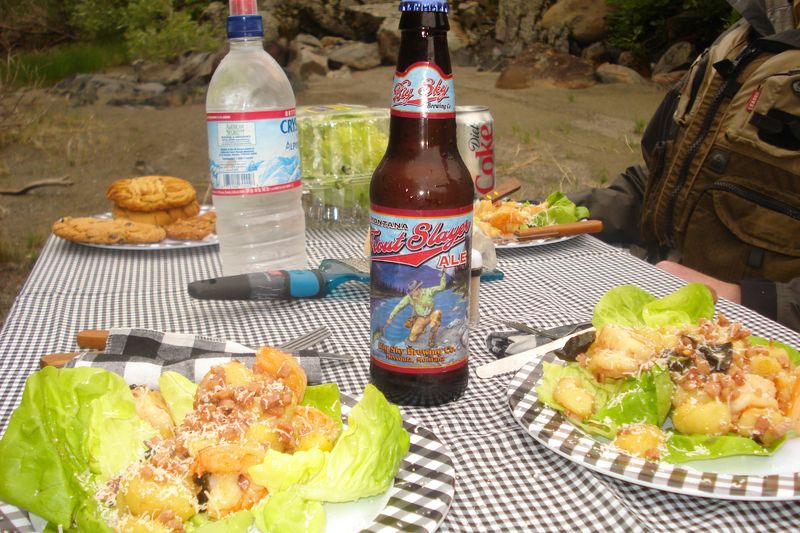 ---
Lunch is served with none-other-than Trout Slayer Sizzlers!!
I figure it's time on the water, the right bugs and Trout Slayer Beer!
What ever works, by all means please!
http://www.bigskybrew.com/Our_Beers/Trout_Slayer_Ale
---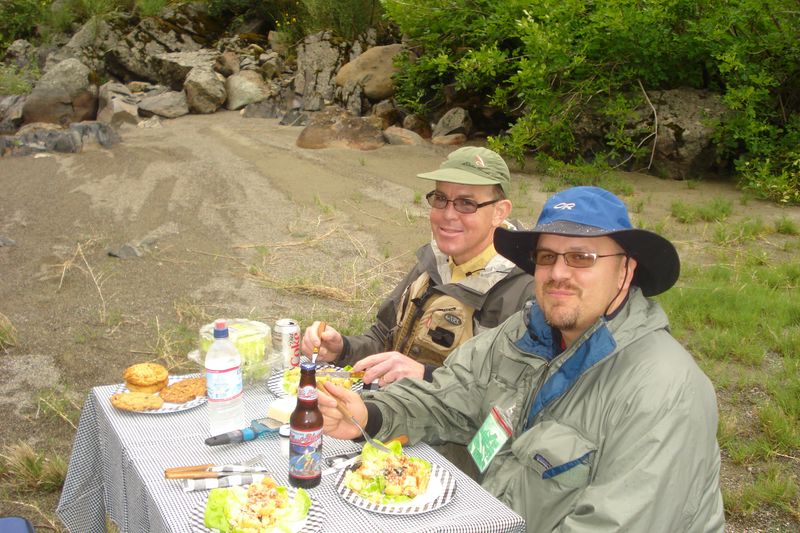 ---
So what do you think? Two funny guys on a beautiful river now that's cool!
---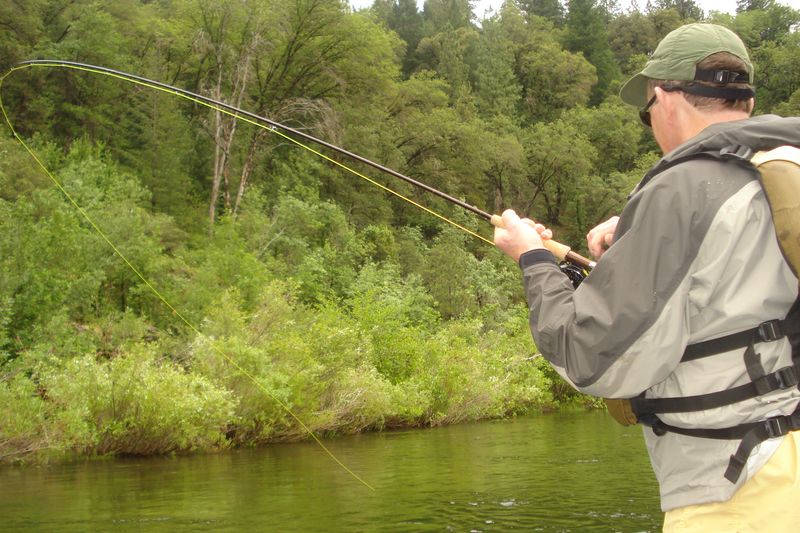 ---
After lunch the hatch really turned on and there we were dry fly fishing the rest of the day!
---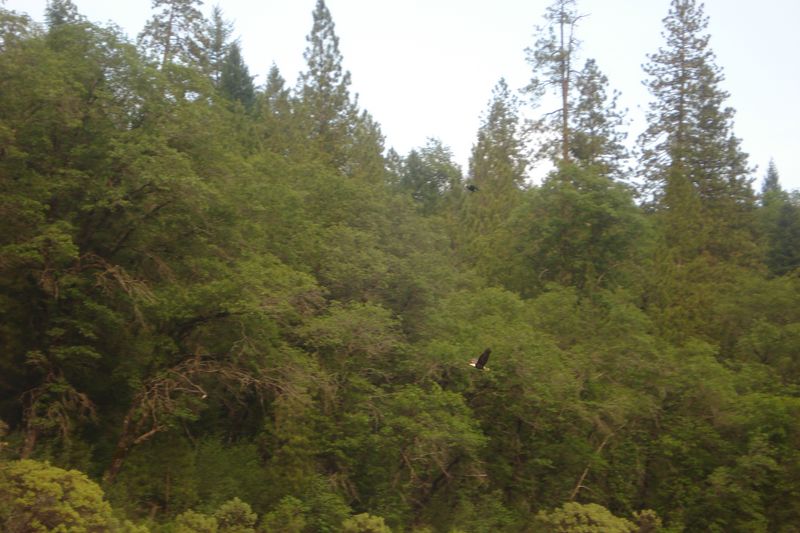 ---
Then the eagle flew by, like by design. A day a guide can be grateful for, great fishing on dry flies and lots of wildlife.
---
---
Then Jim hooked another on a dry fly!
---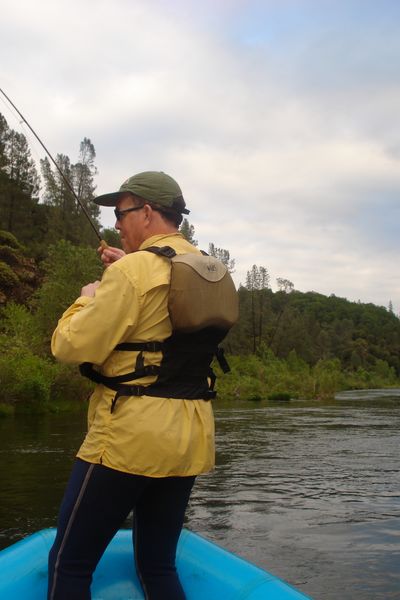 ---
A little further down, yet another folks! It was a great day to be alive as we rafted all the major rapids inline and on cue, I was really proud that day.
(Yes, I still get fired-up after 17 seasons, it's a passion I have for my client's successful fishing and the business I've built.)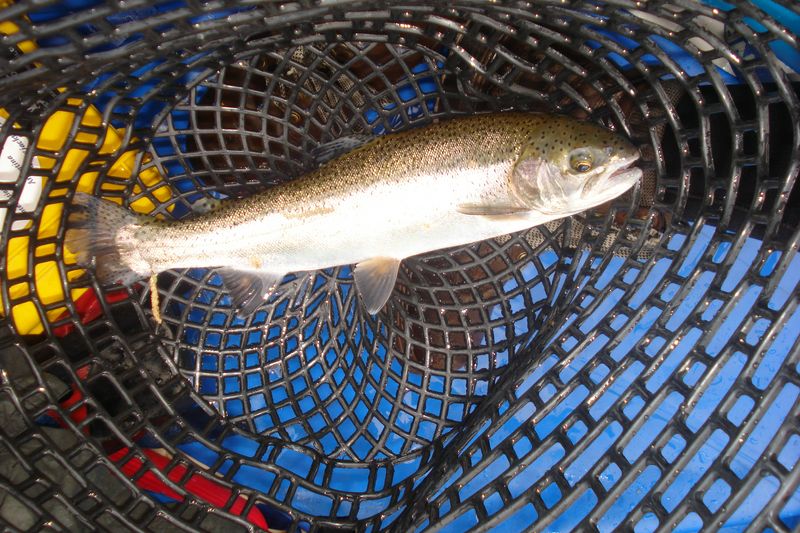 ---
Check out this Kammy, in its Kameo appearance! Up for its wild run from Shasta Lake.
(Kamloop up from Shasta Lake)
---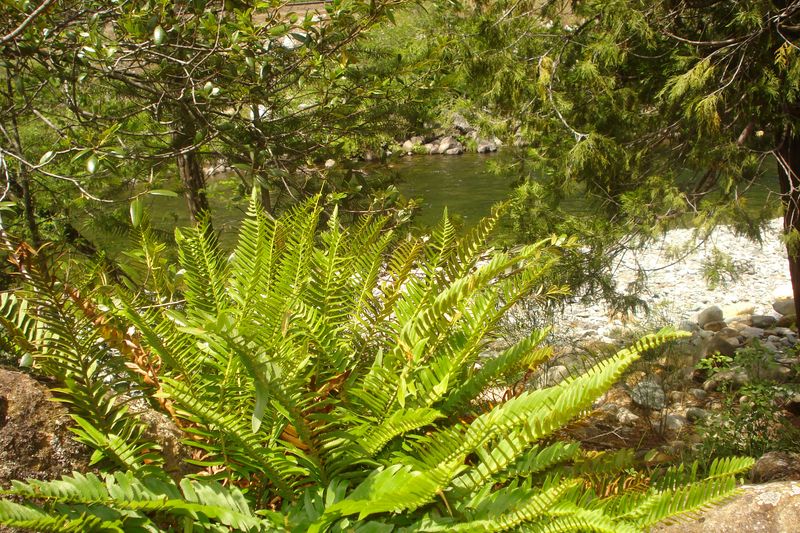 ---
(In a old pioneer accent)
Now that's a nice Fern.. Dale? I think I'll name that town Ferndale.
Oh Fester, you go on and name that town anything you reckonly know.
Yea, I reckon…
---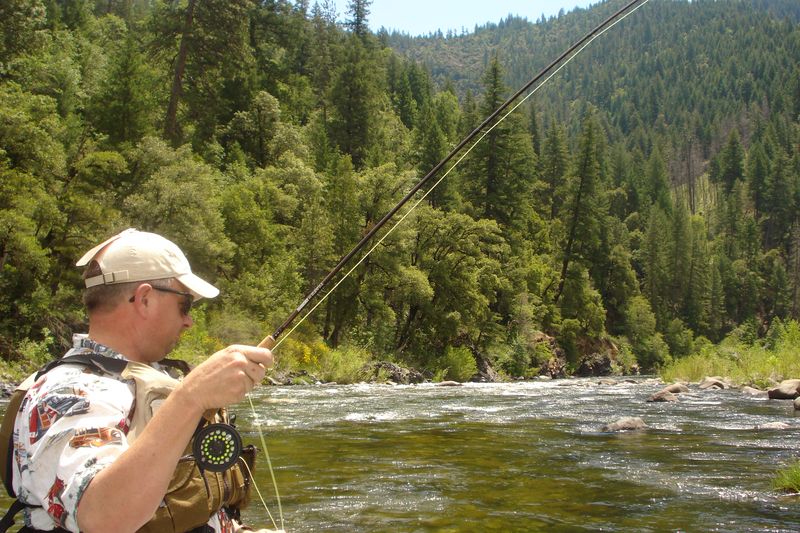 ---
One of my favorite newer clients is Chris Bruener, we have had some great trips together and good laughs!
Thanks Chris for coming up again.
---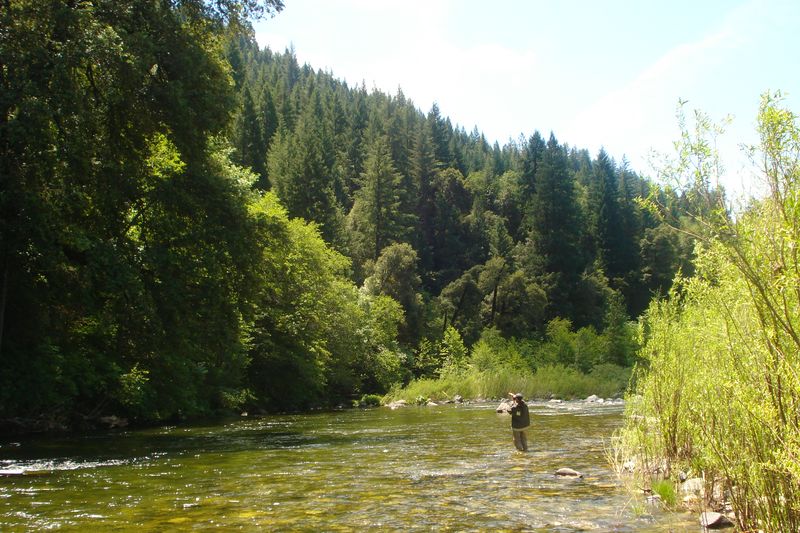 ---
Andrew Cirigliano from Allenwood Penn. fishing for the 2nd year in a row.
---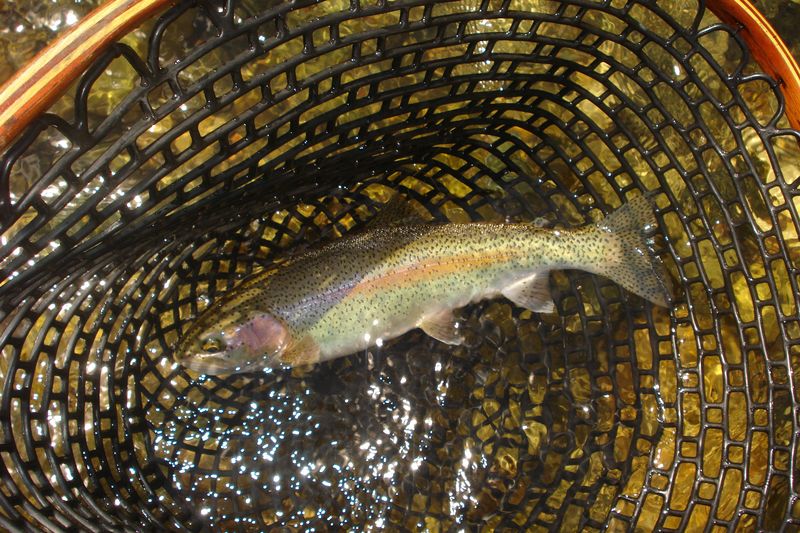 ---
That's a nice trout Andrew, like those racing stripes!
---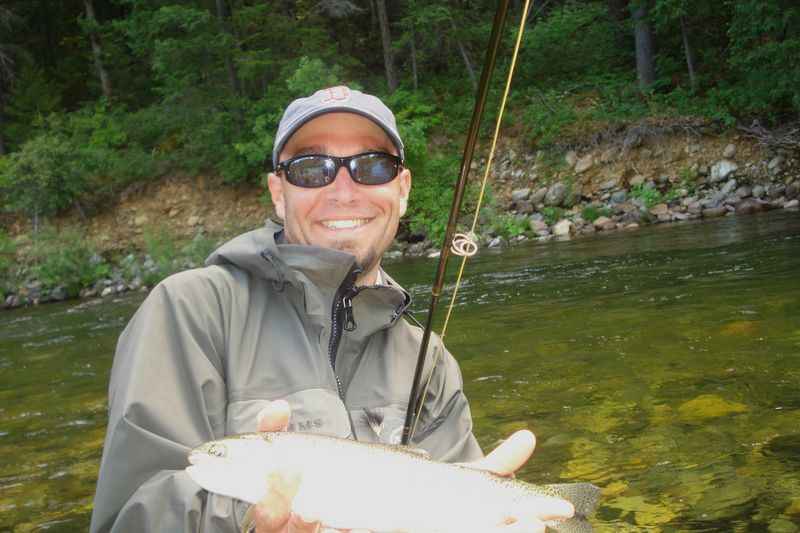 ---
Oops should of not used the flash on this one…
---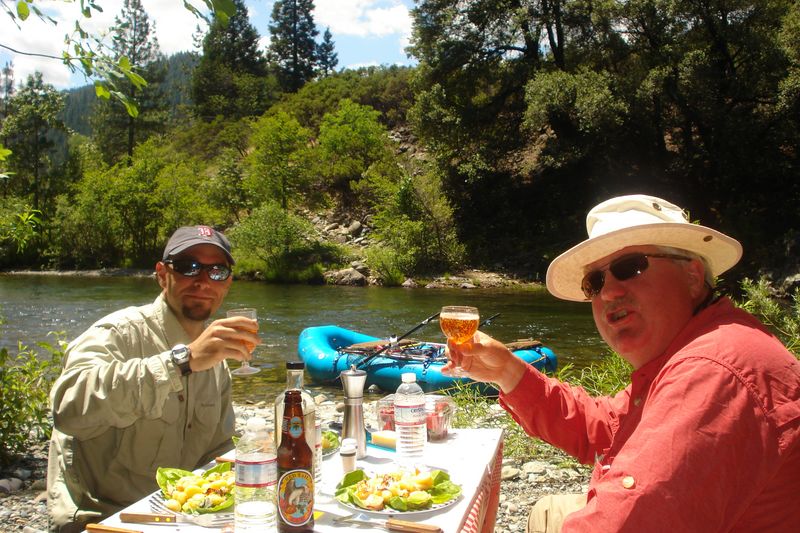 ---
Saludos Amigos! Lets try a California favorite Red Tail Ale with your lunch.
http://www.mendobrew.com/brews/red_tail.html
---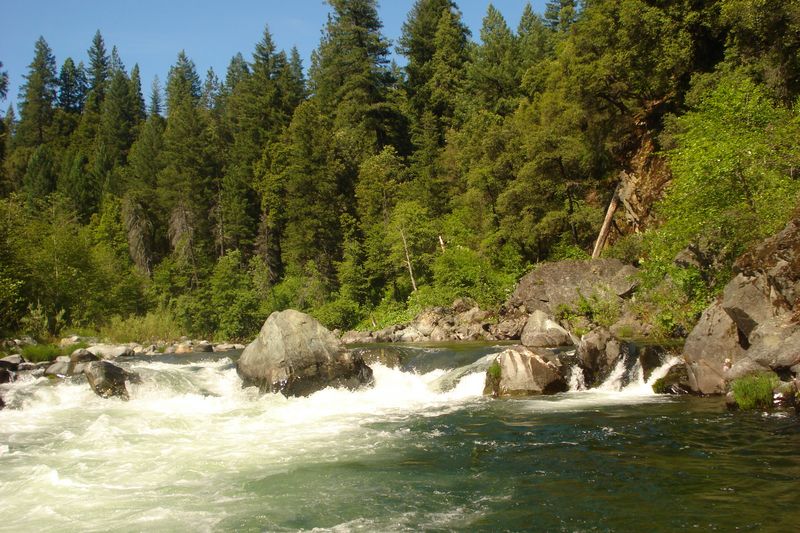 ---
This drop is called Bottoms-Out!
~Keep your oars inside and trust in the force Trout, the rapid will guide you through naturally…~
~O.K. Obe-One-Trout-Trophy!! I believe – I believe….
---
~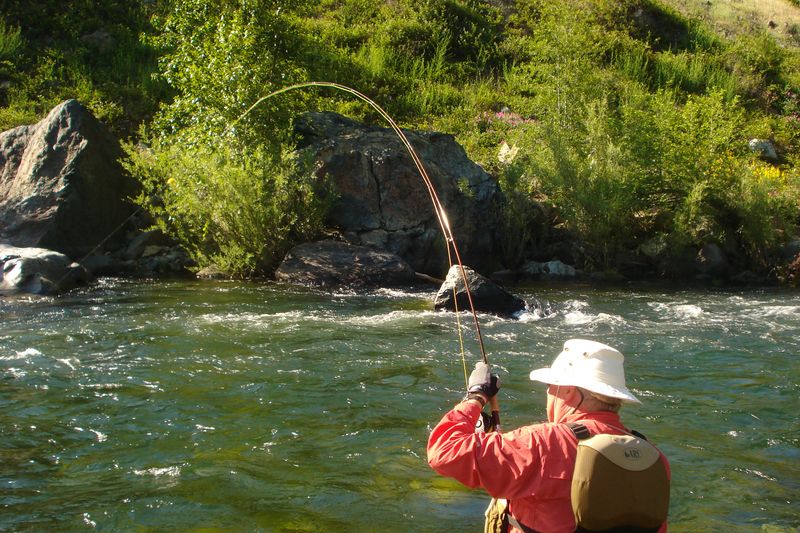 ---
Since 1997 I've been guiding Bill James of Orinda, California
and he's heard everyone of my jokes like 10,000 times.
So I just wanted to invite Bill back up in the fall, because I have new material now!! If there's anyway you could bring Jasper back up with you, That cat was cool!
---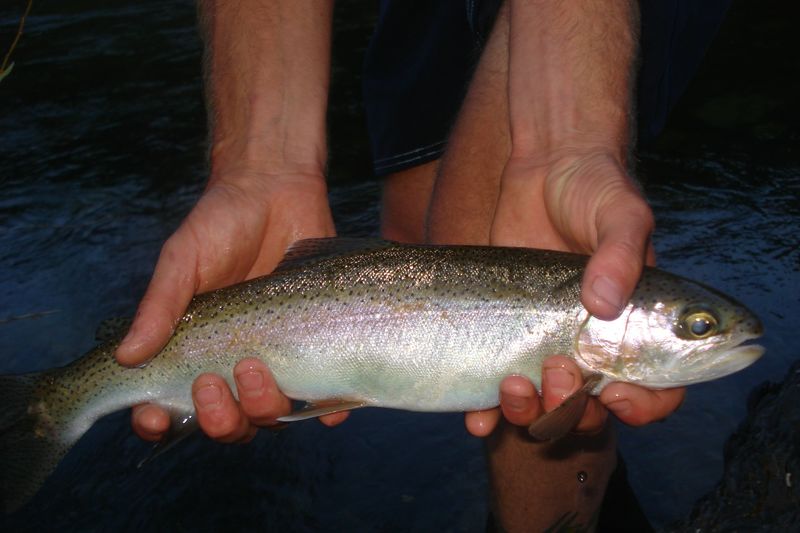 ---
Trout on trout, get it from the source!
---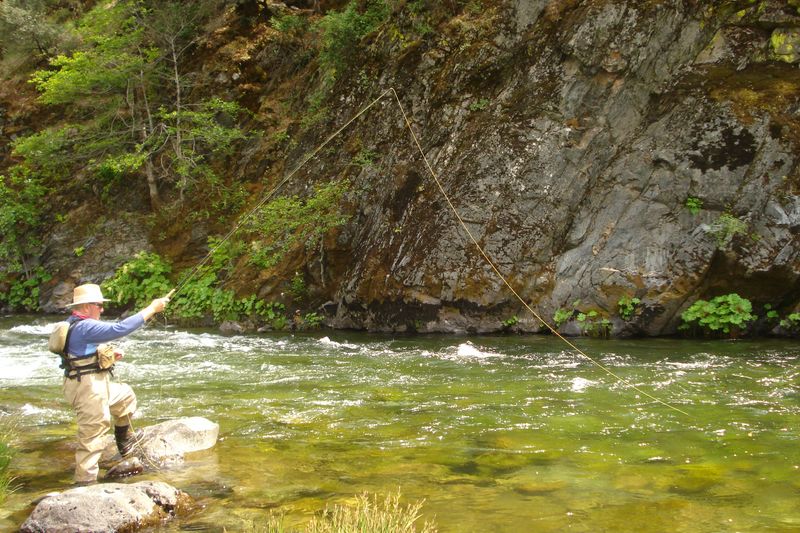 ---
Mr. Peter Sandmann bring me a hook-up!
---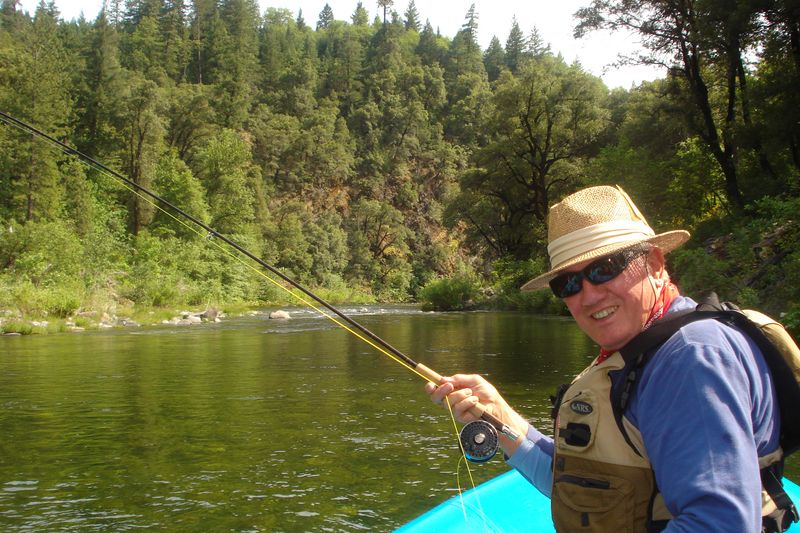 ---
He's kind of got the Shatner thing going, I had a great time guiding on this day.
---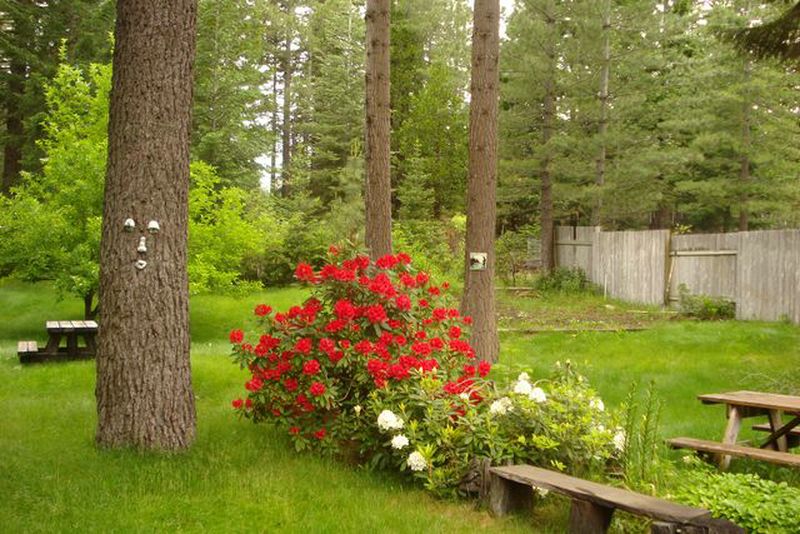 ---
Alright my backyard is greener than ever! Must of been all that righteous rain from the Heavens above.
All that rain in June sure was a welcomed event, especially in light of how dry it was last year at this same time.
---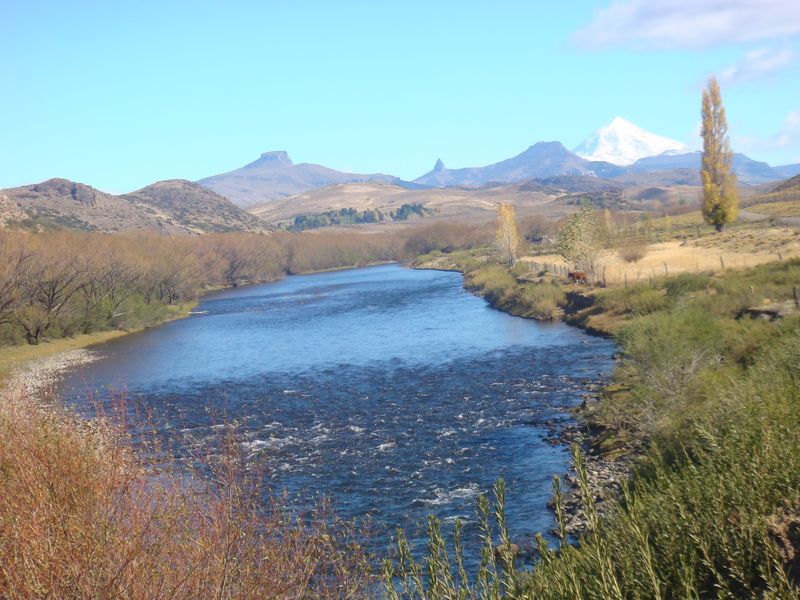 ---
Now lets head over to Argentina and get an update from my client Jim Kiefer who planned his Argentina fly fishing vacation with Jack Trout International Argentina.
Guide Ale Buck and Jim Kiefer hit it off from the moment he hooked Jim and his bags at the airport in San Martin de los Andes, Argentina.
Folks I am proud to announce we got it going on in 2010 for Chile and Argentina!!
We will be offering packages for 10 days in both countries. 4 days in Puerto Varas area with me as your guide and 5 days in San Martin de los Andes, with one day of travel over into Argentina.
What a great trip it will be to fly fishing and experiencing both Chile and Argentina and we'll be with you all the way!
Let's get on to the fishing!!
---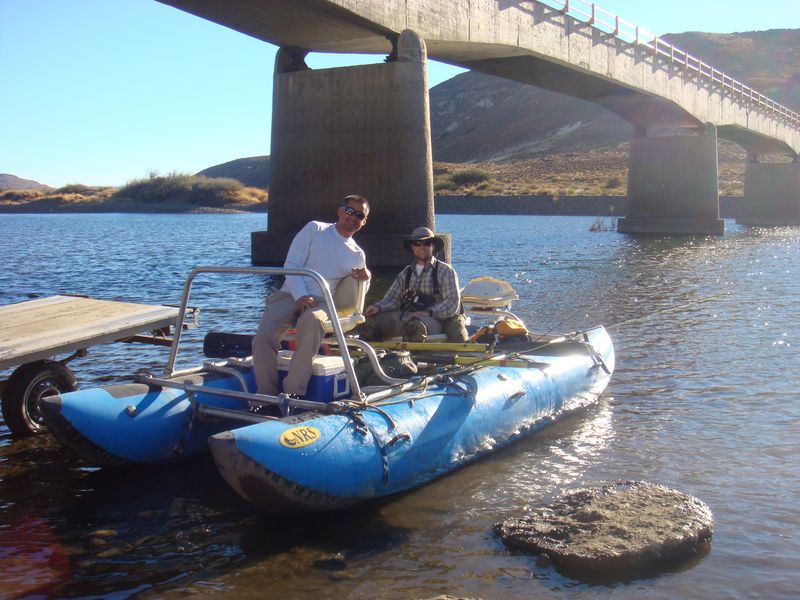 ---
World meet Jim Kiefer and Guide Ale Buck on their week-long adventure
in San Martin de los Andes.
Good luck men! jt
---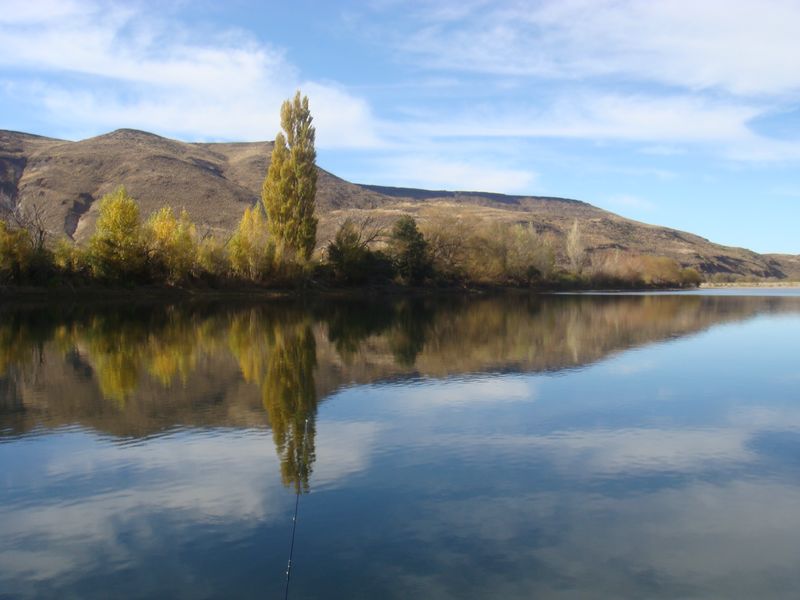 ---
What Argentina lacks in scenic beauty compared to the "Heidi Movie" pictures I take in Chile, of huge iced-capped green mountains and lush lined rivers, Argentina makes up for in trout size, populations and production.
All rivers in Argentina are catch and release and they are serious about it! It has led to some of the most rewarding trout fly fishing
and Argentina's tourism for this has flourished, especially in the last 10 years.
I think having trips to both countries will fulfill everyone's dreams of what a successful fly fishing adventure is all about and also accommodate any non-anglers or someone who likes an opportunity to see it all in one trip!
---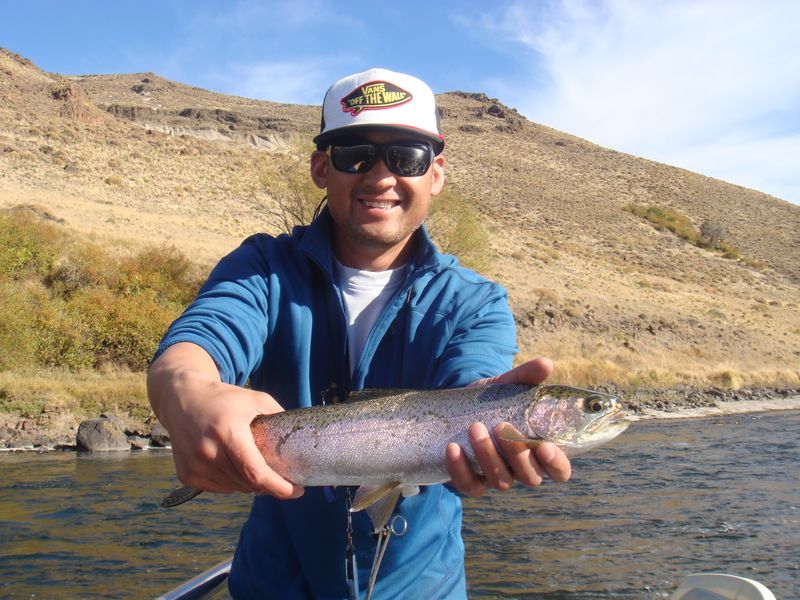 ---
From the terrestrial dry fly fishing or the size of the average trout.
Argentina is a place to check out in our winter time their summer,
from November 15th on through April when Jim Kiefer came down.
---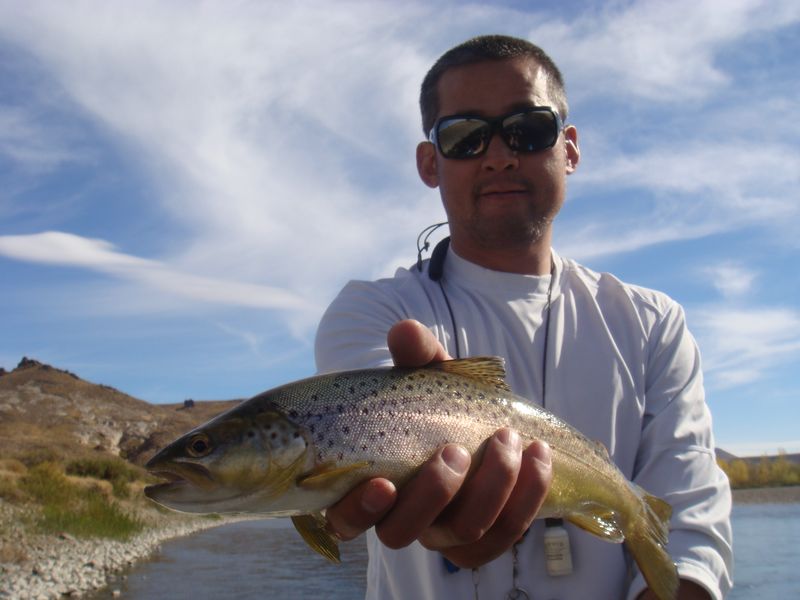 ---
Nice brown trout Jim!
---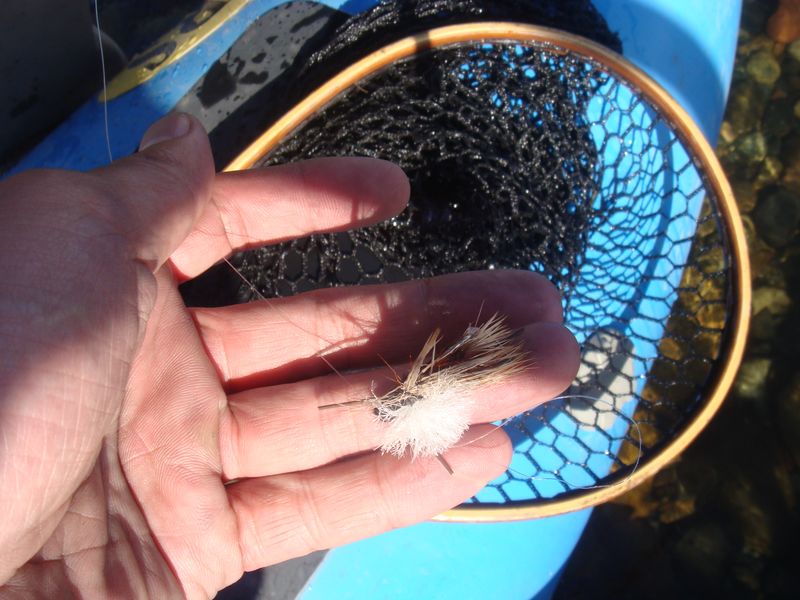 ---
Madam X's or Chernobyl Ants – We gotcha covered Sizzler!
Can you see that one….Thought you could!
---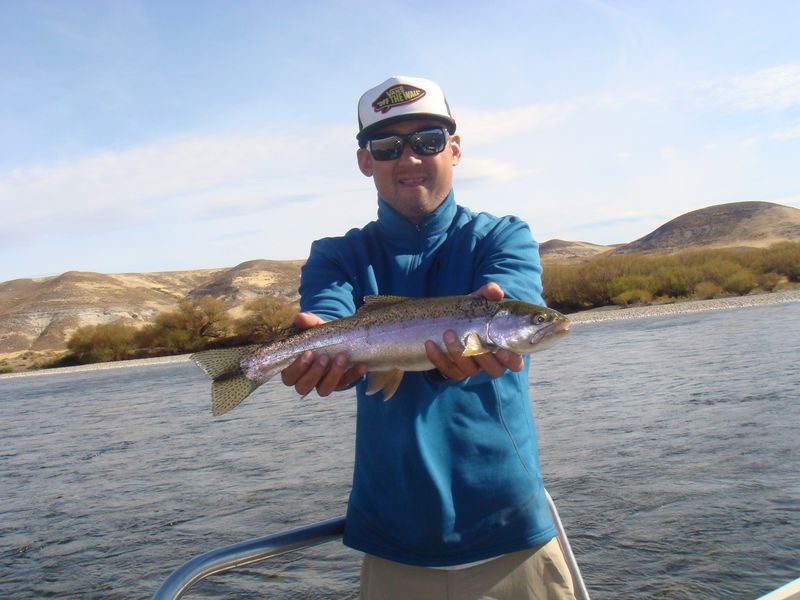 ---
Is this like the same big fish over and over…? I think not comrade,
Jim's doing some kind of Moonwalk out there now.
---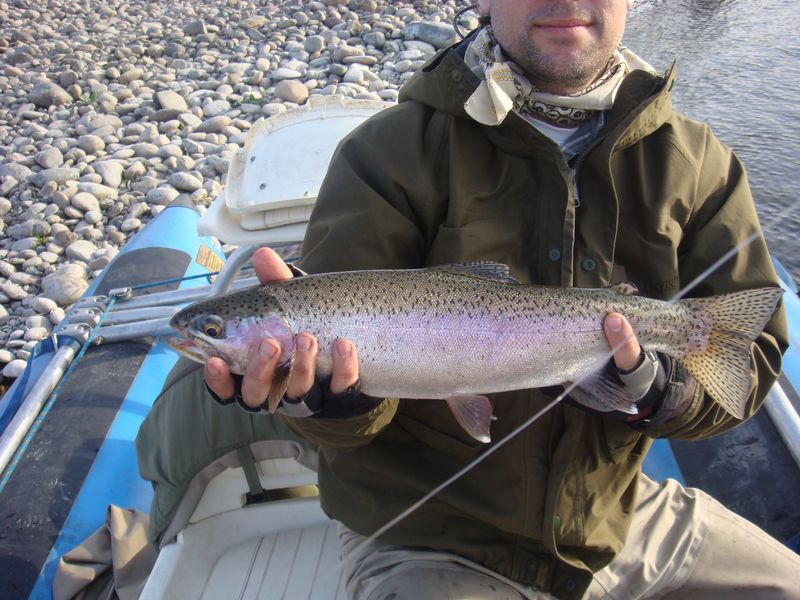 ---
Nice trout way to go Ale!!
Well boys heck of a show you put on for the folks out there!
Thanks again to Ale and Jim, I wish I was there – With room in the boat I would have had to fight Carola for the extra seat!!
That girl of mine loves her fly fishing!!
---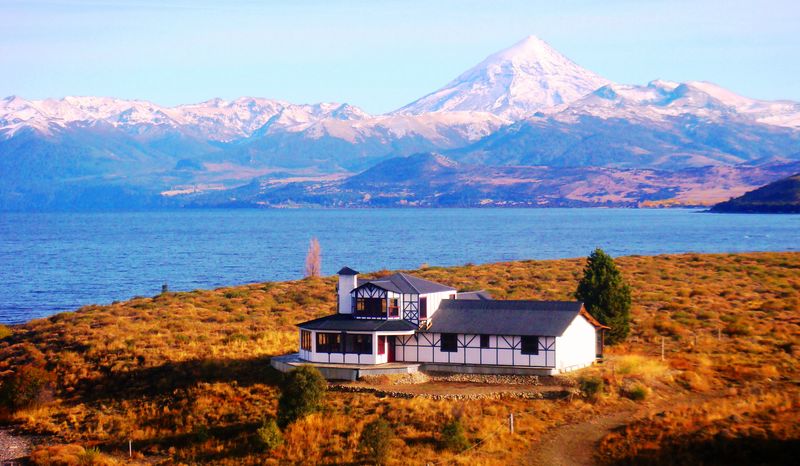 ---
— On Thu, 4/16/09, Jack Trout <info@jacktrout.com> wrote:
Jim
I'll arrange for another day of fishing. I have you booked for lodging on April 20th, 21st, 22nd & 23rd, you're flying out of San Martin on April 25th
Where are you staying on April 24th? We can help you find an inexpensive place or you can book another night at the same place.
Have fun and safe flights.
Let me know what you decide.
Trout
Hi Jack
I don't know what I was thinking. I need 1 more day of lodging. Thank you for looking out for me. How is fishing? BIG FISH? I will take lots of pics. for you and send it to you.
Thank you
Jim
---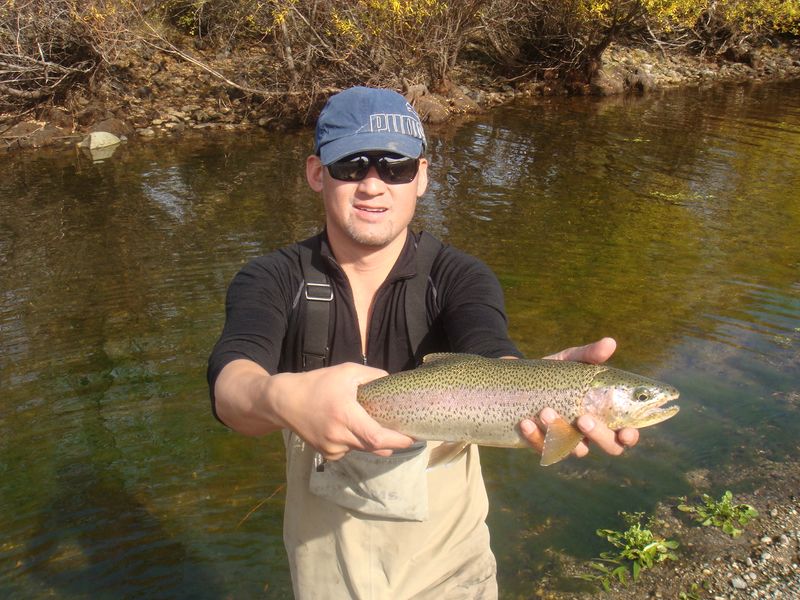 ---
Another great catch!
We got it dialed for you! Call us for your Chilean/Argentine dream vacation!
Jack & Carola Trout
  530-926-4540  530-926-4540 for more information.
---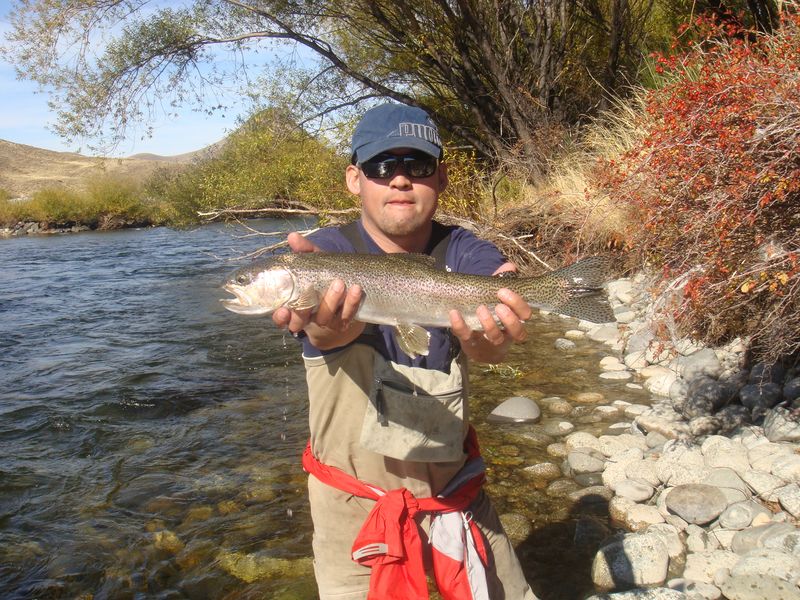 ---
Hi Jack,
Thanks for all your help on my travels. I couldn't of done it with out you. I can only send so many pictures at a time. I'll send you more.
Ale was a fine guide, I would highly recommended your Argentina fly fishing packages to anyone interested, please feel free to use me as a reference in the future.
Best wishes, Jim Kiefer
Colorado Springs, Co.
---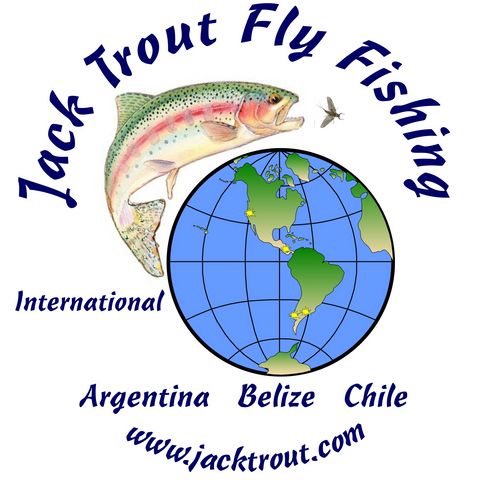 ---
On another note:
I am sorry to announce there has been a body found on the McCloud River at the Bollibokka Club now owned by the Westlands Water District headed by Tom Birmingham. The disturbing thing about the discovery is that the body found was headless and handless, supposedly at the doings of one of their own by the Mexican Cartel.
Yes this is no joke folks, the Mexican Cartel is operating in our Shasta Trinity Forest quite regularly and growing the hippie cabbage.(marijuana) Makes me want to say; "Run-Forest-Run!"
(Growing pot out in the National Forest is not cool and is making remote areas with south facing slopes even dangerous)
Watch out in the private clubs too, if I was a cartel from Mexico it is the perfect environment for success. Little or no people around behind locked gates and some of the best pot growing climate known in the world. Last year the DEA found over 700,000 plants between Mt Shasta and Redding and all I am saying is be aware people and bring a buddy.
My suggestion is to not go onto any of the targeted clubs or the Shasta Trinity Forest hiking alone especially in September and October. Since no one is writing about it, I had too. I might mention the same thing happened over on the Klamath last week
and an officer was shot over towards Susanville by a ban of Mexican Cartel, but he got the last shot in and one more down.
Keep an eye out folks – this is no joke….
Many Rivers, Jack Trout
---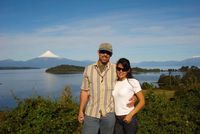 ---
To all of those out there that watch our web log Thanks! Hope to see you in 2009!
Many Rivers & Oceans to You, Jack & Carola Trout
 (530) 926-4540  (530) 926-4540
---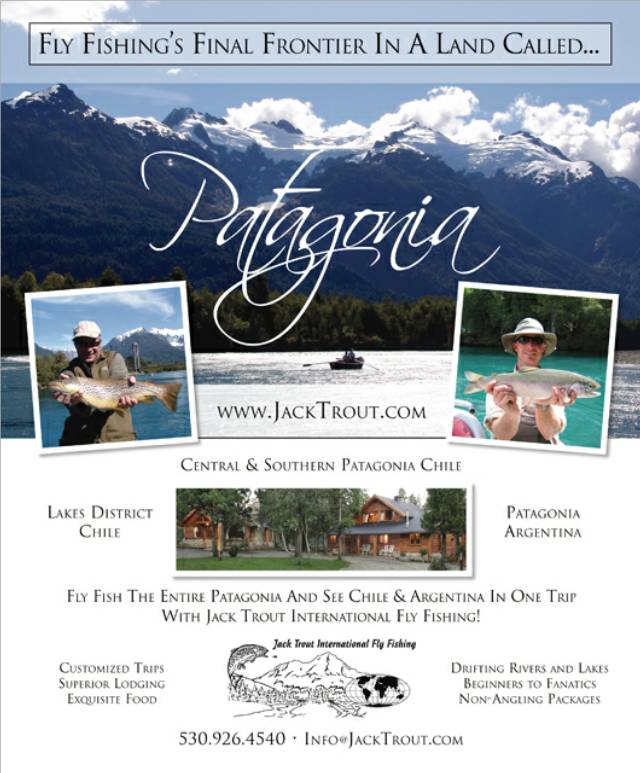 ---
---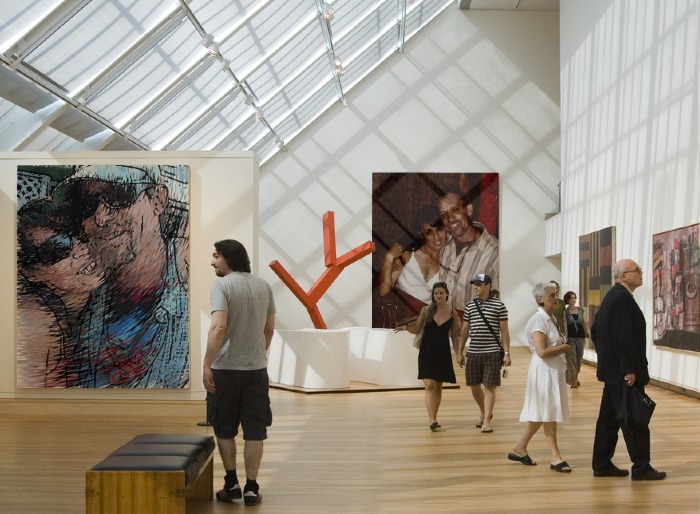 ---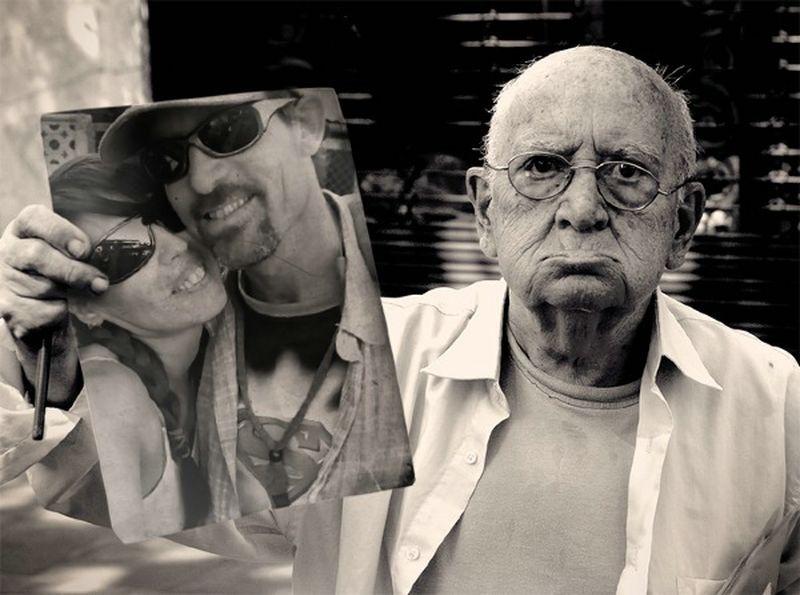 ---
EMAILS FROM YOU:
---
Hi Jack, Myself and my 2 boys want to come up to Shasta August 14 th and or 15 th Fri and Sat. for fly fishing all have some experience. Are you available to guide or could you recommend someone for us? I know its short notice but thought I'd give you a try. Enjoyed our steelhead trip with you 2 yrs ago and always read your blogs. Rob Quinn
---
Baby!!!!
thanks so much for nice song, and romantic idea you call me when you listen Boz Scaggs, another day I saw the band in program tv, he is mature man and him voice is well, very good voice and he singing the first song you sang to me in Chaiten "We're allone", he is white man, but for me he has black man voice, fantastic……thanks so much for nice surprise chanchito I love it!!!!
I really appreciative you call me and sing for to me, I love you so much!!! today is really nice day, with sun for me is a gift of God with this weather, some clouds, but is good…..I am ok and send you my love……..happy for nice day here, is great you too there……
I thought to go to Puerto Montt to pay the bills, but maybe I'm going tomorrow or Tuesday I don' t know, today is a day to stay home, to do things here, clean, cook order everything and go after basketball training more later, but I need to pay my bills before to go to Santiago this week…….I am ansious baby!!!!!!!!
buscar
Have nice day and enjoy working baby!
today I will go for basketball training in the afternoon…is good my back is better, no exercises for 3 days is good for today……I will made the fire now, there is sun outside, but inside is cold…..
ok baby, good day for both and I love you all the time, take care so much…….
you paloma novia Carola Trout.
---
Just a short hello and hope you are all well and having fun with your lives.
On this day it is important to remember that Freedom is not free.
We all have our separate views of what it means to be free and each of us has the freedom to hold and express its individual meaning. We need to remember the brave men and women that have over the years, in many lands giving us our freedom.
From America Happy 4th Of July!
George Protsman
---
Jack: thanks for calling yesterday. Wedneday the 8th would be great. It will be two of us although I¡Ùd like to offer to have a couple other people join but I won¡Ùt know that until Tuesday. The McCloud looks really interesting but I suspect that the Upper Sac will be the right answer. Let me know what I need to do from here.
Thanks!
ERIC F. RISLEY
---
Good afternoon Jack, we spoke last week about a weekend outing I am trying to plan for 23 individuals ranging from 10 to 80 years of age. We have lodging secured at the McCloud Hotel for the weekend. Part of the itinerary will include a meeting Saturday morning, then a scenic tour (with your help) and dinner on the Dinner Train that evening. I understood you were going to put a proposal together for me to present to the ¡∫powers to be¡Ö. I know you must be very busy with our great weather but could you please send something to me at your earliest convenience so they can determine if this activity will be suitable for all. Thanks much
Sheri Dunmoyer
---
HEY JACK, SORRY I NEVER GOT BACK TO YOU BUT I DID FIND MY WALLET. FOUND IT IN MY JACKET IN THE HOTEL ROOM. KAY TOOK FLY FISHING LESSONS IN TENNESEE BUT DID NOT STEP ON ANY DOG TURDS. CAUGHT A 178 YELLOW FIN THE OTHER DAY. THEY HAVE BONE FISHING ON OHAU SO I MIGHT TRY IT BUT THE TUNA FISHING IS ON NOW. GOT SOME CURRANTO UP BY VINDA. WE THOUGHT VINDA WAS A SMALL TOWN. I DROVE IN THERE ON A FRIDAY NIGHT TO FIND SOMETHING LIKE MIAMI BEACH? GOT TO SURF IN PICHILEMU. THE SURF HAS BEEN UP AND THE FISHING GOOD. SUCH IS LIFE ON KAUAI. THANKS FOR EVERYTHING! ALOHA JB
---
Hi Jack,
Down to the wire, but we got the report posted here: http://water.ca.gov/drought/updates.cfm
about 6 pm last night. Your photo appears on the cover, credit is on the following page. It appears again on page 7 with credit as well.
It looks great and we are very happy that you allowed us to use this beautiful photo.
I will print out a nice copy for you. Where can I send it?
Thanks again,
Dru Dunton
---
Hi Jack,
How are you? My son and I are coming to Happy Camp in late July. (23rd until the 27th)
Traditionally, how is the fly fishing at that time?
Steelhead? Trout?
I hope that you are doing well.
---
Jack,
How are the conditions. looking to go fishing again with my son Patrick and Nathan.
When would be a good time to go.
Let me know
Paul Reyes
---
GOD ENJOYS A GOOD LAUGH!
There were 3 good arguments that Jesus was Black:
1. He called everyone brother
2. He liked Gospel
3. He didn't get a fair trial
But then there were 3 equally good arguments that Jesus was Jewish:
1. He went into His Father's business
2. He lived at home until he was 33
3. He was sure his Mother was a virgin and his Mother was sure He was God
But then there were 3 equally good arguments that Jesus was Italian:
1. He talked with His hands
2. He had wine with His meals
3. He used olive oil
But then there were 3 equally good arguments that Jesus was a Californian:
1. He never cut His hair
2. He walked around barefoot all the time
3. He started a new religion
But then there were 3 equally good arguments that Jesus was an American Indian:
1. He was at peace with nature
2. He ate a lot of fish
3. He talked about the Great Spirit
But then there were 3 equally good arguments that Jesus was Irish:
1. He never got married.
2. He was always telling stories.
3. He loved green pastures.
But the most compelling evidence of all – 3 proofs that Jesus was a woman:
1. He fed a crowd at a moment's notice when there was virtually no food
2. He kept trying to get a message across to a bunch of men who just didn't get it
3. And even when He was dead, He had to get up because there was still work to do
Can I get an
AMEN!!
Richard Lucas
---
Hello hello
…just sittin' here at the courthouse — waiting —
Back from a trip to Nashville – where we did a show at Bonnaroo Festival outside of Manchester Tennessee. 80,000 people camping out geeze – lots of mud and good times. Fortunately we had a big tour bus to keep our arse out of the mud ….sort of.
Then it was off to Baltimore where I got to guest with Ed Vedder's shows there – and we did a slammin show at the 8×10. Great music lovin' town!
…back to Nashville – 2 more Eddie shows at the Ryman Theater – then somewhere in the back woods of Pennsylvania we did the Church of Universal Love Festival – no hippies there – no sir! Just more mud.
and now – for the homecoming portion of the tour – jury duty in Marin County.
I suspect this will net $15 more than our Eastern tour – as this is the going rate!
Anyways – no shows planned at this point – except for an outdoor house concert in Portland Oregon this Saturday June 27. If you want to go to that call Rick at 925 997 5797. He will get you sorted.
T'anks! …and guns
Jerry Hannan http://www.jerryhannan.com
---
Google Web Alert for: jerry hannan
Gregg Allman Plus Jerry Hannan     tickets concerts and tour dates …
Find and buy Gregg Allman Plus Jerry Hannan tickets at Ticketmaster.com.
---
Well, I¡Ùm gonna get up there again for two or three days of fishing in October while the steelhead are in bloom. It¡Ùs been three years too long.
You gonna be in town for the steelhead run? If you remember, I only like to fish with the boss dude. ;o)
I¡Ùm working on bringing up a friend of mine, Don. Great, fun guy. Loves to fish, new to fly fishing. I¡Ùll be helping him learn all this silly fly fishin¡Ù stuff from now until then. That way it¡Ùll cost me a bit less, but one way or the other I¡Ùm heading up. Just have to firm up the dates. Any suggestions there?
But . . . I need to ask a favor: I/we will most likely need rods (8 weight) and Don would need waders and boots. Do-able? I¡Ùm not even going to bring the 5 weight, but I am considering picking up a 10¡Ù 8wt. We¡Ùd like to come up on our motorcycles. I can get the waders & boots, etc in the bike, but there ain¡Ùt no way I¡Ùm going to wander down to, or park in, those dirt/gravel parking areas on this beast. Could I talk you into picking me/us up at the hotel (the Victorian in Weaverville) before we head to the Nugget for our all too important hearty breakfast before fishing all day? Would you be willing to help us on that?
I¡Ùm primed and ready to head up. It sucks that it¡Ùs five months away!
I look forward to couple of days of fun on the water with you again.
Jim Gorman
---
My wife and I have never been fly fishing before and have no fly
fishing equipment. We would like to try it next April or May. How much would
it cost for a full day plus equipment? Is there any camp grounds in the
area?
---
I¡Ùm fishing/floating with you on Thursday, July 25th and Friday, July 26th on the Upper Sac and Klamath Rivers. I was thinking of staying in Dunsmuir the first night on the assumption that we would float the Sac the next morning. Do you have a preference for a meeting place? Thanks, and I¡Ùm looking forward to some fishing.
Bob Bouchard
---
Where do we meet you friday and at what time. Looking forward to a fun trip. If you need to you can call me on Susan's cell phone # . See ya friday.
Tom and Billy
---
Jack,
I will be in Chile for work the week of July 13, but believe I will not have anything to do on July 12 or 13. I am trying to book my flights now, and believe I will get to Santiago, Chile on July 12 at 8:04. Is there any chance I can get in a day of fishing near Santiago? I could also maybe fly to Puerto Montt if you think it is possible to do a round trip in a day. I look forward to hearing from you.
Kind regards,
Don Renaldo
---
Jack,
We are looking forward to Friday, there will be three of us and we can probably meet sometime around 2:30-3:00. If you have waders that would be helpful, 2 size large and one size medium. We will only need one pair of boots, size 11. Let me know when and where to meet you and we will see you then.
Thanks,
Dave Young
---
Hi Jack:
My wife Lindy and I are owners of a vacation rental home in McCloud,
CA (www.Toadhollowrental.com) and I am an aspiring (beginner)
flyfisherman. I have noticed your JackTrout.com and MtShasta.com web
sites have lots of links for local lodging and would like to know how
we might be added to your sites. We had fishing families in mind when
we remodeled one of the 100-year old mill houses in central McCloud,
and believe we have one of the nicest rentals in town.
We are members of the McCloud Chamber of Commerce and are a fully
licensed and permitted Siskiyou County vacation rental. If you can
provide a mailing address I would be happy to send a couple of our
rack cards.
I look forward to hearing from you.
Sincerely,
Dan Fay,
---
Dear Jack,
Thanks for the information. We are interested in the banner ad for
starters. If I understand correctly it would be $150 — $75 to create
the ad plus $75 for one year's display. Please let me know what we
need to do to proceed.
Regards,
Dan
---
Congratulations! I just finished visiting your Web site and was pleased to read that you are married. She must be one great and smart gal to have got 'ol Jack Trout to rise to the occasion. I'm happy for you.
All is well. Joined the SF Fly Casters Club on the Truckee. Had a wonderful 2.5 days of all dry fly fishing. Looking forward to going back up in a week or so.
The guys are probably sick and tired of me telling them about that giant trout we caught in Argentina.
Take care Jack. Best wishes and lots of happiness.
Kindest regards,
Rob
Robert B. Brown
President & Publisher
---
Hey Trout,
You have become so much more attractive….with a beautiful new wife. I don't get to Northern California anymore (have great fishing here in Michigan), but I read your reports regularly.
I think I should give Argentina at try while I'm still young enough to do…..If I do it, youll be the man!
Your old customer,
Ken Maxwell
---
Jack,
I just want to confirm that my son, Cooper and I are on for Thursday, August 13 and Friday, August 14 for fly-fishing at Shasta. I'll look forward to getting the info from you on lodging and other details. We're both really looking forward to it!
Best,
Keith
D. Keith Grossman
---
Jack, Lets plan on Saturday August 15th for the 3 of us. Let me know what you need to confirm. Rob
---
Jack,
we are going to be in the mt shasta area
July 18 to July 26th, 2009.
Please lets find some time to get some new spots if possible for fishing and
thanks
bob miller
grant and grace say hello, as does kathy.
---
Dear Jack,
Bruce and I have been on your email list for a while and we find
that we will be in your area sometime the week of July 10th to the 19th. Do
you have a day available to guide or could you recommend another guide.
Thanks so much,
Beth & Bruce Sterten
---
Jack,
Just left you a VM.
Can you do a float on Thursday July 23?
Let me know, I am trying to arrange a trip with a friend.
Paul Reyes
---
Hi Jack,
I sure wished I could have gotten the girls up to the Upper Sac. last month,
but it just got too complicated with the logistics of all their summer activities –
I¡¯m now trying to figure out the possibility of where to go fishing for two-three
days in late July (7/30) early August (8/5) Any ideas?
Thanks,
Jack Holliday
---
---
Chanchito
I hope you had nice trip today, so long trip to Santiago for 13 hours I have pain in my ass jjjaja, is true…..Arrive to Santiago midday…….
Alejandra was for me and we were in subway ( three differents), right now is cold here, but no rain, here is not possible made the fire, like our house….enough smog in Santiago, they have calefactor no problem……more clothes, I have blue jacket Kuhl…..
I love you so much and miss you, great day tomorrow for us baby, now excited and ansious……don't worry, I' ll be fine…
I will pray like last night to God and my saint Sor Teresita for all things are ok tomorrow……
I want you know I am serious and strong I have all papers for immigration……..
Ok baby I go for siesta for 1 or 2 hours, I need rest and relax, more later get up…..
take care and feel you better my cosita linda…..thanks for call me today really important and appreciative……
all Alejandra's family send greetings baby, they are so nice with me……..
I love you all the time, always!!!!!
Your Chanchi Novia Paloma Carola Trout.
---