Fall Steelhead just around the corner!    Sign-ups for Sept~ October~ November start now!
 (If you want scroll down to very bottom now and play Chicago Video for music while you read)
Patagonia Chile 2011 looks to be another fantastic season as we head into our 17th year down there.
United States of America ~ Hearts, thoughts and prayers are with the stranded miner's in
Chile.
   Force Brothers!        Fuerza Hermanos!
The bees work harder than most out in the hot sun of California. We have a scorcher this week folks but they say it will be cool by the weekend, just in time for the next series of guide adventures where you the audience can be the st
ar! Can you believe next year will be 10 years of blogs. I started this fly fishing web log in April of 2001 and would like to thank all the viewers and folks who have been there over the years! I look forward to at least 20 more years of web logs and stories. It's been a lot of fun and even when I'm so tired and I need a nap on my couch, I think about all you fishing Sizzlers 
out there just jonesen for some more of that "Trout Porn" and I start creating another adventure. Carola and I do it for you folks, we're dedicated and love what we do for you and the Mount Shasta area as well as Chile.
Guiding and outfitting is our life, just like the bees in the forest
, we have a job to do and a mission in life and it all has to do with YOU!
Many Rivers to You, Jack & Carola Trout
Blazing Saddles folks! It's Larry Blazer!
This spot has been a payday lately!
Howdy Bob, had a great trip with you and Larry, thanks again. Trout
Enjoy This video of  100% fun!
Are you suffering from
repeated facil expressions requiring the possibility of high resolution skin repositioning.  Act now ~ Do not delay….
When I look at this photo closely, it makes me smile and feel good about how much enjoyment one can have in the great outdoors.
Step outside to see the light!
Hook-ups are always welcomed!
We always like when we hook in the staggy crags!
Like those "big naturals" on her! 
Nice Trout Gene! Sorry for the foggy lense…
Roger with a respectable trout also.
 I always like when I make a gourmet streamside lunch and the clients brings a nice bottle of wine.
After lunch another ripper trout that sends Gene Weber's reel screaming for mercy!
5 hours of energy now, no 2:30 feeling later…
 Nice shot up high, so many places to fish.
Many folks call me from the Mount Shasta Resort, for fly fishing, tours or floats.
The first time on a river bank can be a fun place with mom!
 On hotter days, fishing early and late is best.
Can you name this area on the Upper Sacramento River? One of the most narrow places on the entire river…
This is a great place to hook-up on trout on dry flies in the evenings near Flume Creek.
Use size 18 E.C Caddis or size 16 or 18 Adams.
 Steve Perata on top of his game folks!
Chucky Monkey is Carola's 
favorite ice cream!!  I like chocolate covered bananas with nuts!
Ok say cheese…!
Ok,
so I know you weren't going to fish but just try it…
Alright! See it was fun and you can catch trout on your very first time fly fishing!
Ah, the romantic river lunch, we can deliver that too.
Jim 
is back folks, ready for some more action!
Cool trout, now go catch another!
How many trout have we cau
ght together this year Jim? I think this is your 5th trip since I've been back in April.
 Enjoy this video ~ I'm Going To Disneyland !!
This is our Gnocchi with panko chicken in a parmesan cream basil sauce. Bring your wine and your set!
When Dan, Joy and Ollie Fellows showed up the trout stood up and auditioned like it was America's Trout
Got Talent!
Dan nice catch my friend, hope to see you and Joy as well Ollie the fishing Dog soon!
Enjoy this video of one cool mutt named Ollie!
 This is sweet! 
What a great day you had your first experience fly fishing! That's why here at Jack Trout Guide Service we like beginners.
If you have someone you were thinking of introducing to the sport, don't hesitate. We offer full on the river instruction * Gear * Great River Lunch* Great guides who are fun to learn from and be around.
Just like they said in the brochure, I like this outfit!
it just seems like it's always getting better here on the rivers in the mighty North State of California.
Howdy Friends and Neighbors my name is Findango, I might mention that dates are starting to fill up for September & October, you might get a hook on that date you were considering.
Kent Cohee hooked into a strong one here!
Way to go Sizzler!
Sacramento Squaw Fish ~ That was a heck of a good fight!
Now that's one mighty fine catch my friend! Making you my Sizzler of the Week Award Winner.
CONGRATULATIONS SIZZLER OF THE WEEK!!
(Please note that his life jacket was taken off for only this picture being he was under 12 years old and wanted to look cool for fans at home! Which he does!)
 Don Engle fly fishing on the Upper Sac really enjoyed his first time ever fly fishing. Especially when his grandson hooked up!
Jack, we're not interested in the gourmet lunch can you just bring PBJ's!
In 1944 Bob Williamson graduated from McCloud High School. He lived with his father at LaMoine years later and always wanted to float the Upper Sacramento River. He fished the McCloud River before Shasta Dam and remembers the steelhead runs on the McCloud.
Bob Williamson a California Outdoor Legend
!!
Way to go Bob! Thanks for allowing me to be your guide, it's an honor!  Jack Trout
Dean Backer with a lovely trout. I really enjoyed this guy who makes a lot of the scenes you see on television.
It was a great day out on the Upper Sac! 
 Ron Mulcare enjoyed his day last week on the Upper Sac too!
Thank you to all who have made this one of my most busiest summers!
We have had some great times, fishing, rafting laughing and enjoying the river.
As we head into fall steelhead and then Chile, I look forward to many more of your fly fishing & scenic tour adventures!
Many Rivers to You, Jack & Carola Trout 
********************************************************************************
Chile 2011 ~
Chile 2011 ~
Chile 2011 ~
Chile 2011 ~
Chile 2011 ~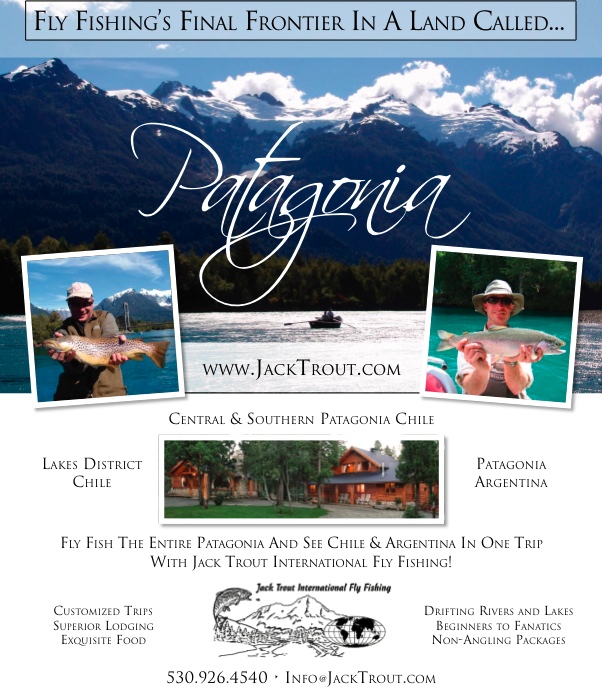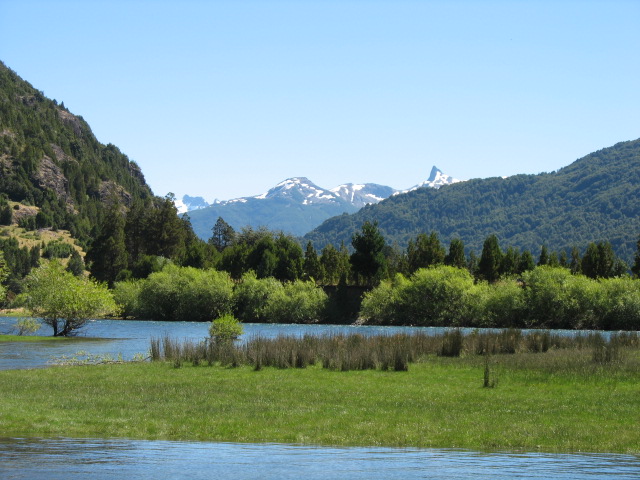 So many breathless landscapes await us all this year in Patagonia Chile.
The means by which we travel and more often than not, we never see another person.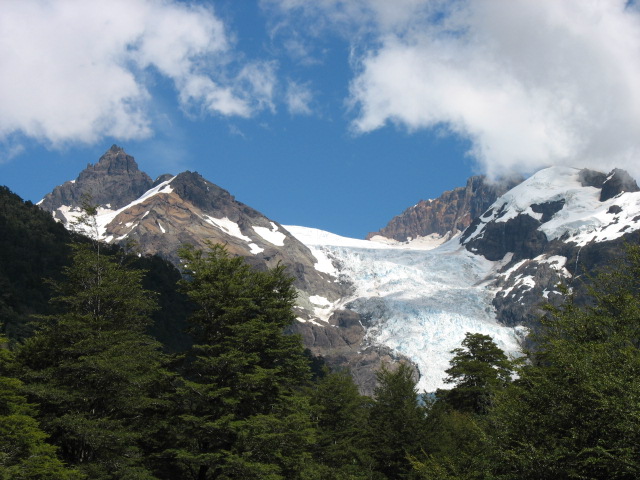 Glaciers that actually make noise melting while your drifting down the river.
We hope to paint a new landscape for you this year in Patagonia & The Lakes District of Chile.
Chile 2011 Season Starts November 15th 2010.
I'm in Chile in my wife's arms on November 3rd (Dreamy!!) I'm leaving early this year due to USA Immigration. I can't be away from my wife any longer. It's hurts only when I breath.
It's only the beginning of a great 2011 season in Chile!
I love my Chilean wife Carola!
Best, Jack & Carola Trout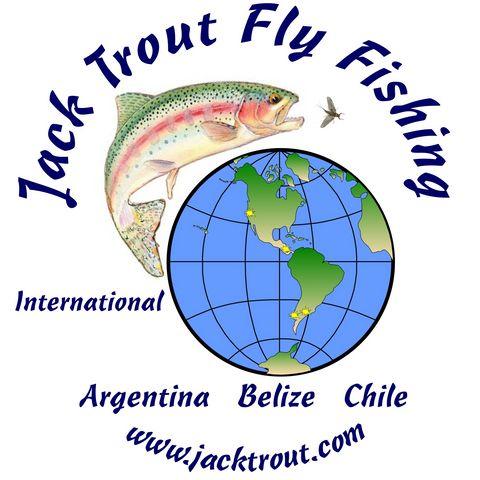 EMAILS FROM YOU:
Hi Jack,
 My son Bergen is all fired up about fishing with you. 
The Klamath is close to his heart because he is part Karuk Indian and my Father-in-law helped run the tribe from Happy Camp.
The thing that I enjoy most about Bergen is his respect for the fish, the river and the future.  His dream is to attend Humboldt State University in two years.  He is holding a 3.3 right now, plays JV football
and has his first job!
 Also, we get to fish with JACK FREAKIN TROUT himself! 
We will arrive in Happy Camp on Saturday afternoon for the Sunday morning fish.
Can you recommend an in-expensive place to stay or a safe spot to drop a tent?
 Enjoy your day, Phil Chapman
Oakland Athletics
*****************************************************************************
Jack, 
How do you look in mid September and in mid October? How would you suggest as far as rivers to fish this year at those times?  
Bill Hazen
********************************************************************************
Hey Jack-
My father passed along your blog. The Upper Sacramento looks really 
nice and quiet. We enjoy fishing, but also enjoy nice beautiful rivers 
and floats. What's the latest you can run clients up there on a float 
day on the Upper Sac?
– Jonathan
*********************************************************************************
Many thanks. Two of  the location scouts responded to me and added u to their lists for a local contact.
Dean
***************************************************************************************
need to go fishing next week!!!!!!!!
Richard Gebhart, DVM
*****************************************************************************************
Sorry to hear you are going through such hell with getting your wife into the country….doesn't seem right!!  Good luck
 Stan Poitras
General Manager & National Account Executive
 It's Calendar ordering time!! 
imageX  |