2014, 2015 & 2016        TRIPADVISOR'S TOP AWARD WORLD FLY FISHING OUTFITTER.
                                                                                         
SPRING
 SIGN UPS FOR * UPPER SACRAMENTO, McCLOUD   &  LOWER SAC * YUBA RIVER * M.F. FEATHER RIVER * KLAMATH * PUTAH CREEK * PYRAMID LAKE * TRUCKEE RIVER * DESCHUTES * SANDY RIVER * CHETCO OREGON
                       MARCH * APRIL * MAY * JUNE  – 530-926-4540
530-918-8879 OUR INTERNATIONAL PHONE THAT RINGS ME ANY WHERE OR EMAIL AT INFO@JACKTROUT.COM
                                           MORE DESTINATIONS TO CHECK OUT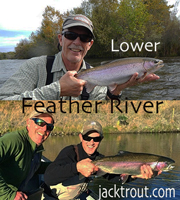 Need an up to the minute update? Check out our Facebook Page & Videos –

We are happy to announce that we still have the following weeks available for those looking to fish Cuba on Spring season 2017:
JARDINES DE LA REINA:
MARCH 11 – 17, 2017, HALCON YACHT, 3 SKIFFS AVAILABLE
JUNE 10 – 16, 2017, LA REINA YACHT, 3 SKIFFS AVAILABLE
CAYO LARGO:
APRIL 07 – 14, 2017, 2 SKIFFS AVAILABLE
MAY 19 – 26, 2017, 2 SKIFFS AVAILABLE
JUNE 23 – 30, 2017, 4 SKIFFS AVAILABLE (ASK FOR GROUPS SPECIALS)
CAYO CRUZ:
MARCH 31 – APRIL 07, 2017, AVALON FLEET I, 5 SKIFFS AVAILABLE
APRIL 21 – 28, 2017, AVALON FLEET I, 4 SKIFFS AVAILABLE
ISLA DE LA JUVENTUD:
MAY 12 – 19, 2017, PEROLA YACHT, 4 SKIFFS AVAILABLE
JUNE 02 – 09, 2017, PEROLA YACHT, 4 SKIFFS AVAILABLE
AMERICANS CAN NOW FLY FISH CUBA INFORMATION REPORT < Click Here for more info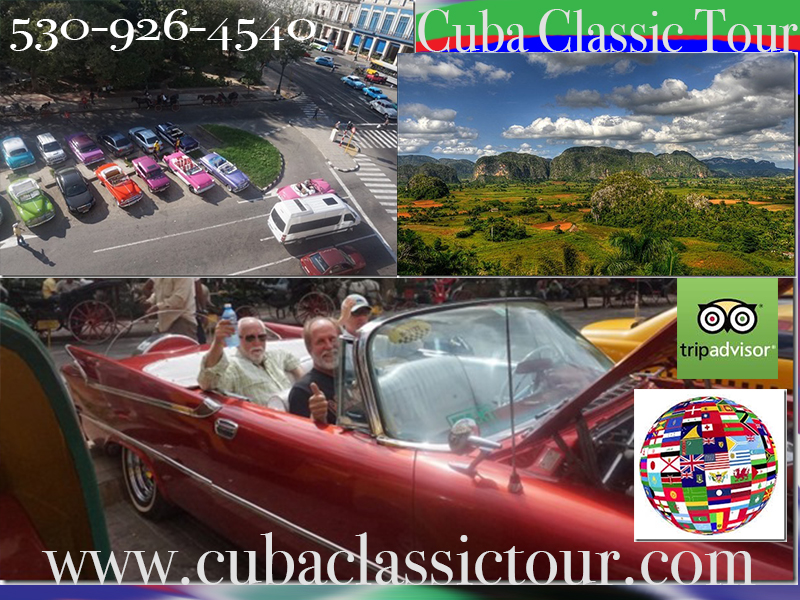 A Big thank you Goes Out To: Jim Chadwick (2nd Trip), Michael Wior, Adrian French, Bryan & Christine Frost, Victor Mahony (2nd Trip) & Guest. So Far Signed Up To Go To Cuba In 2017, Our 25th guests we've sent so far in 2 years. It's a wonderful place to visit, we have the experience now to make it a great adventure for all Americans & other countries. Respectfully submitted, Jack & Carola Trout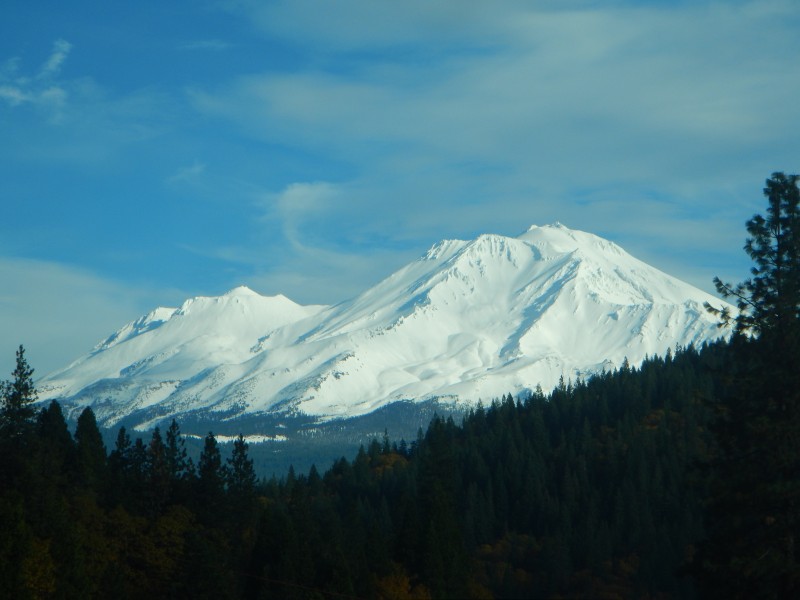 I would just like to say
Happy Thanksgiving

to everyone out there! I hope you've all had an excellent year and continued success into the 2017 year. Around here, the water is abundant this fall season. We received plenty of precipitation and snow pack, the rivers are near perfect. So the question is, where are all the steelhead and salmon? This has been the slowest season I have witness since I started guiding in 1994. The Sacramento River population of salmon migration this season was pathetic and reminded of the book by John Steinbeck's ~ Grapes of Wrath. I wasn't at the recent DFW meeting regarding closing the upper section of the Lower Sac Hwy 44 to Keswick Dam and eliminating motors and the lot. I say what ever at this point, you all should be ashamed at yourselves at the Bureau of Reclamation and the Dept Of Fisheries, not allowing Coho, Sockeye, Kokanee, Chum, Steelhead access to the colder springs up north of Shasta Dam was a devastating mistake When The dam was built in 1947. In Livingston Stone's report to Congress in 1896, he said, "The McCloud River was most important part of the year around migration of salmon up the Sacramento River system, he said that the McCloud River was an important refrigerator for the runs that arrived all summer long then." The Bureau of Rec. cut off the fish and didn't put in a ladder to get the fish to the badly needed springs up north when they needed it and we are feeling the results years later. I mean how would you feel if you were on your honeymoon and got stranded in Redding or Oroville, California. I would perish too. Something has to be done, it could just be that this is the effect of the drought years we suffered through with little water and decent steelhead runs 2010 through 2013. I think if we don't do some preventative maintenance we could lose them all someday and be left with only bass.
(It could happen, think of all the species we have already lost.) My advice is if they can do a Keystone pipeline from Canada, why not a huge tube that circumvents Shasta Lake and runs into the bottom of the Upper Sac in the Lower Sac down river from Keswick Dam. I think it could work, the flows on the Upper Sac are around 200 cfs in Oct usually and they could screen off the bottom to Shasta Lake and the minnows could go down the tube of water into the Lower Sac. Sounds crazy doesn't it? I heard of more crazier these days, it's worth a look. As far as the steelhead fishing after Thanksgiving, we're scratching a few, don't cancel your trips, you'll see around 0 to 3 adults per boat average both on the Trinity and the Kamath River. That's why you trust Trout, I'm transparent and I call it like I see it, it doesn't always make everyone happy around me, but after almost 30 years, I think I've paid my dues and know a few things by now respect it. If we can run Nestle out of here off of the lava tube aquafers on the McCloud River and running 200 hundred trucks per day on little HWY 89, we can do some pretty amazing things together. Last seen Nestle was running full speed with their tails between their legs down to the Sacramento valley, where they belong. I wouldn't never mess with the McCloud River, you'll end up like Tom Birmingham of the Westland's Water District, exposed and paying the piper with a $50,000 dollar fine to the Government for Enron like schemes on their trusting investors and the Westland's company that had to pay $125,000 in fines. I wouldn't get within 10 feet of investing with that corrupt water district. They banned me from their club, for speaking up for the river, I speak for the river and it's inhabitants only, we don't need to lose anymore of the McCloud Or The Upper Sac, believe me I know that's the only reason the Westland's Water District bought the Bollibokka Club out from underneath The Nature Conservancy..
We're Going To Make A Tube For Salmon Around Shasta Lake And We're Going To Get Los Angeles To Pay For It! Make Salmon Great In America Again!   🙂
Back to the Rivers –
Klamath Mouth ~ Another thing that hurt the Klamath River , was the Mouth being closed for extended lengths of time in August, September and October.
Lower Sac Dilemma ~ The Gas Motors On The Lower Sac are not helping Redd populations and future generations of salmon from what I have witnessed. The DFW also uses motors to monitor the redds, they should quit doing it also and get in the river.
Klamath Dams – Dams must come down on the Klamath River, all of them. If we can't guide the river to wait for it to heal, so be it, take those dams down, the blue green algae and fertilizers are killing the 2nd most important river in California. You need the Klamath to buffer the problems on the Lower Sac, time is of the essence. Take the dams down. 
Upper McCloud River – Reintroduce Bull Trout On The Upper McCloud River.
Respectfully Submitted, jt
FEATHER RIVER STEELHEAD ~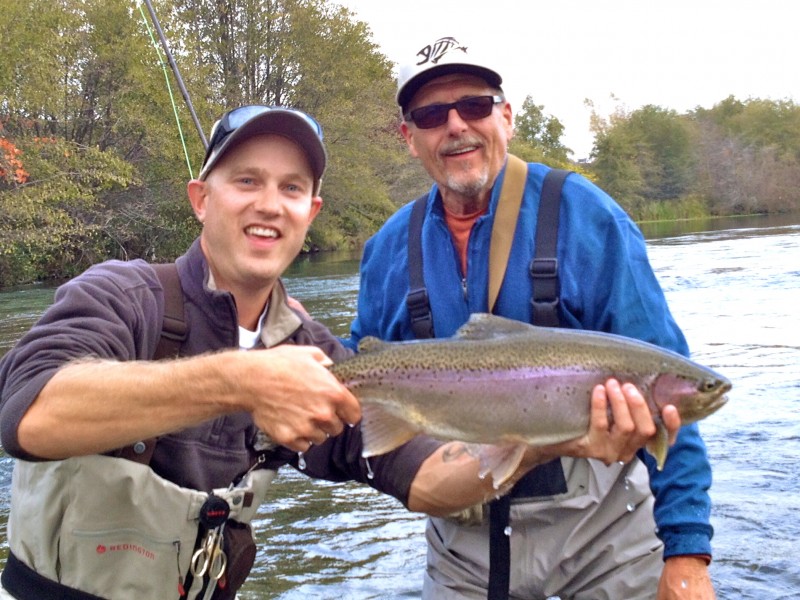 Ryan Williamson On The Feather River with another happy customer, this is a good option this season and it is closer from the Bay Area if that is important.
Our client Ewen Chow hooked some lunkers on his trips a couple of weeks back on the Lower Sac and Feather River. I was told by all the guides, this guy can fish, that counts for something this year, it's been a little tougher, that means we all need to get a little tougher out fishing this winter.. Game Face, Game Face!! 🙂 Just have fun, remember on any given year, "Steelhead fly fishing is 800 casts divided by what ever happens good that day." jt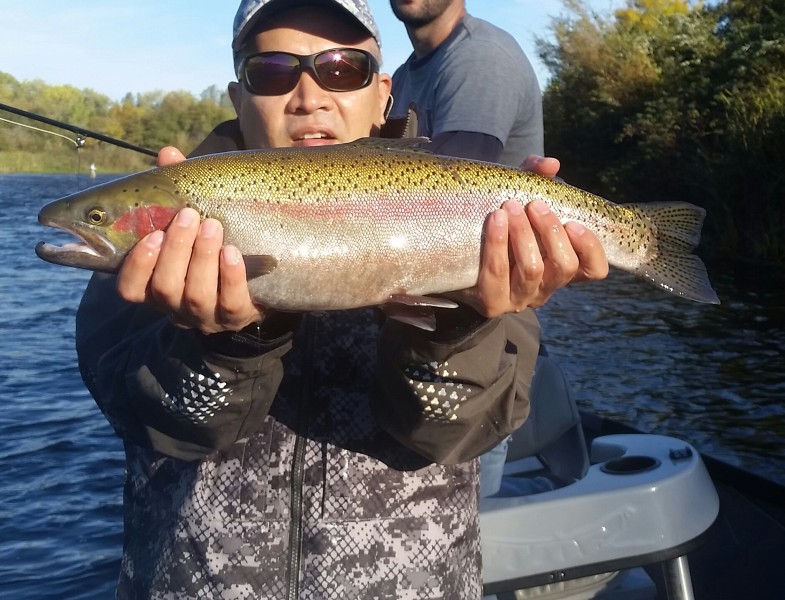 "Awesome guide~"
I had an awesome time with the two guides from Jack Trout, both of them are very friendly and working really hard, me and my friend had a wonderful time!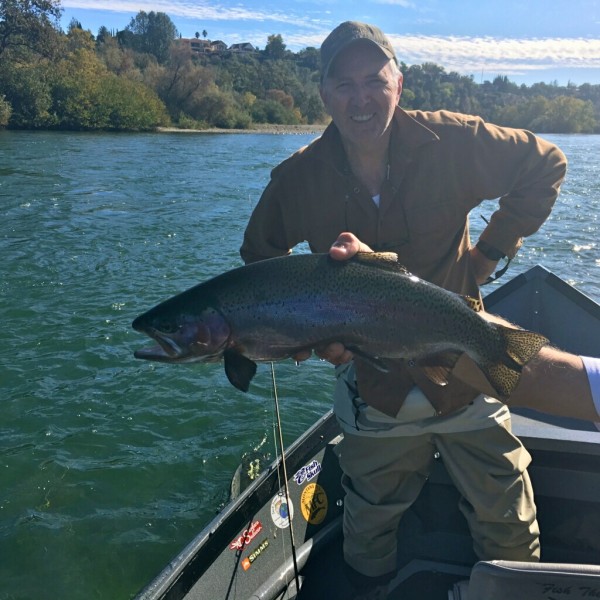 Way to go Ryan!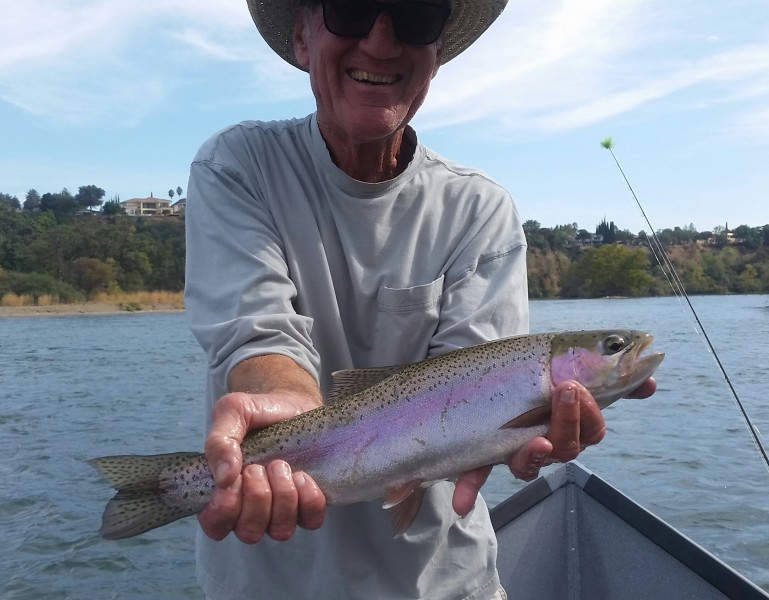 Lower Sac delight!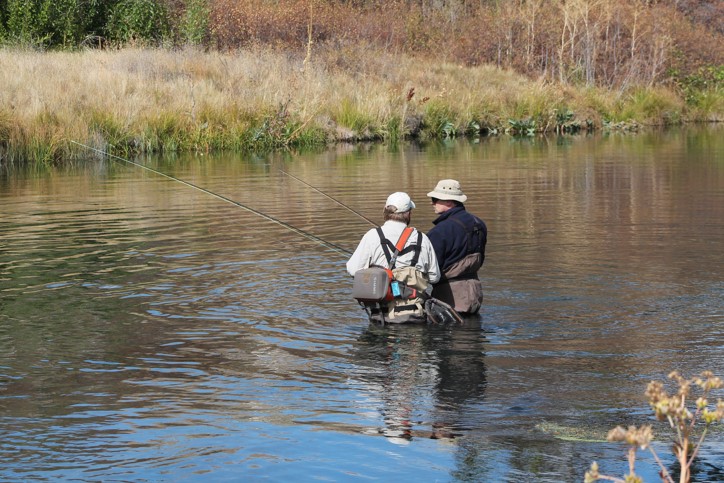 Dear Jack & Carola:
Thank you for a wonderful experience on Hat Creek. Dale was a great guide. He patiently taught my brother the basics of dry fly and streamer fishing, and even more patiently untangled my many rats' nests. What a wonderful day we had!
Best regards,
Sebastian Braum, PhD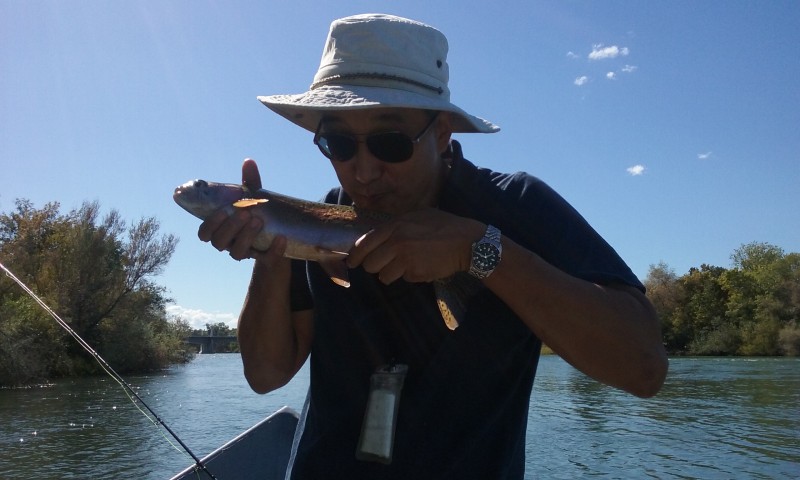 Dale's got a new drift boat whoohoo!! Call and ask for Dale, you won't be disappointed.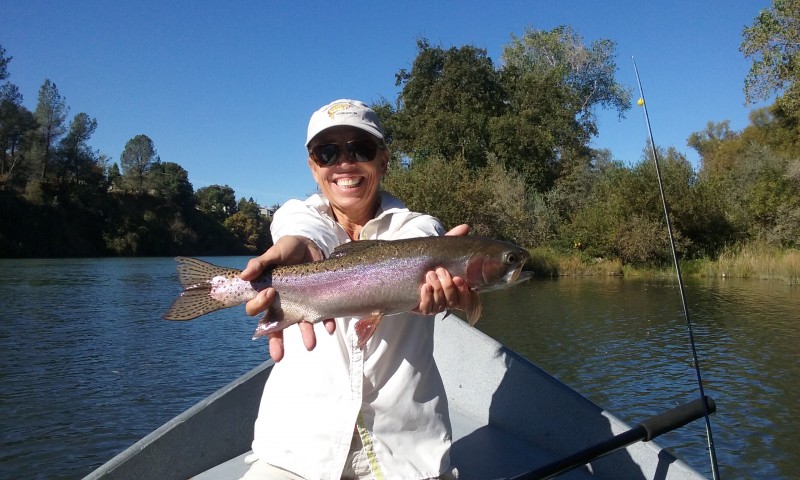 Now that's worth talking about folks! Thank you Anthony Chen, we appreciate your business.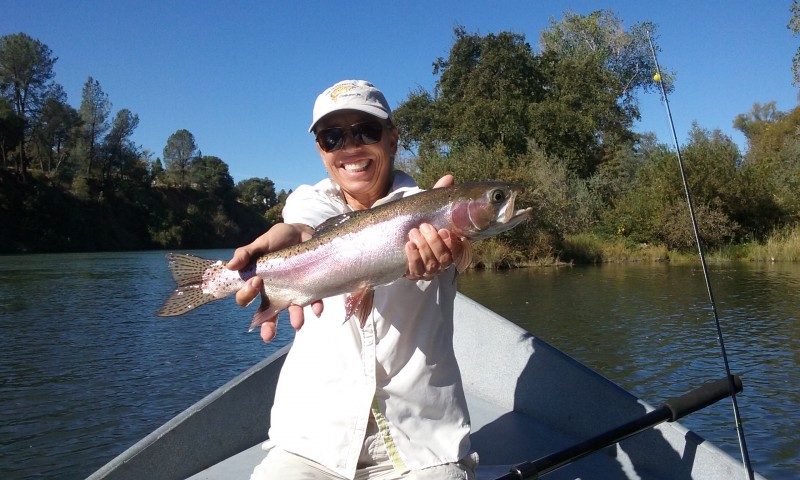 That looks like a steelhead to me!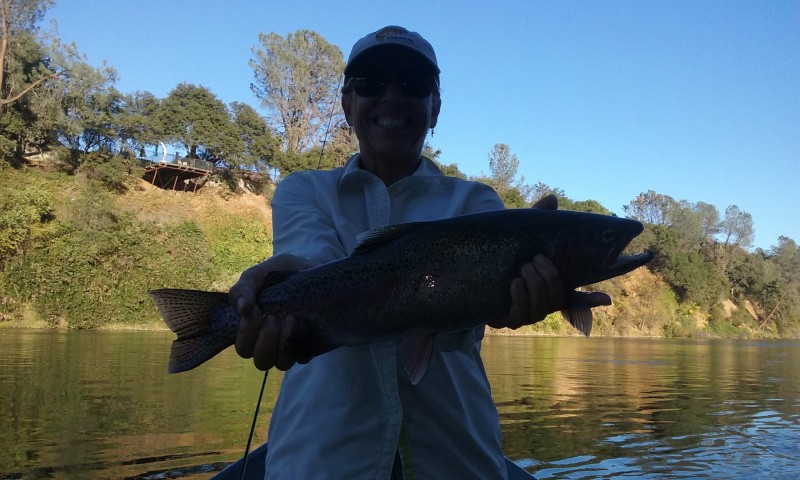 Wow, a lot of lunkers bro! Thanks Dale for being such a great guide.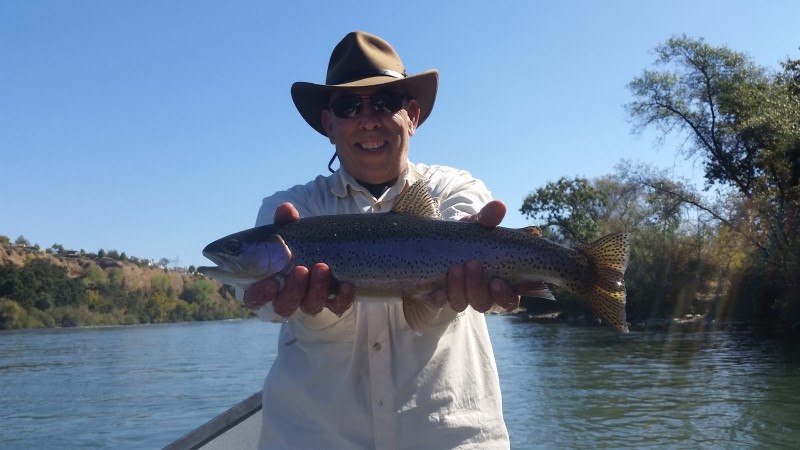 Nice trout Al!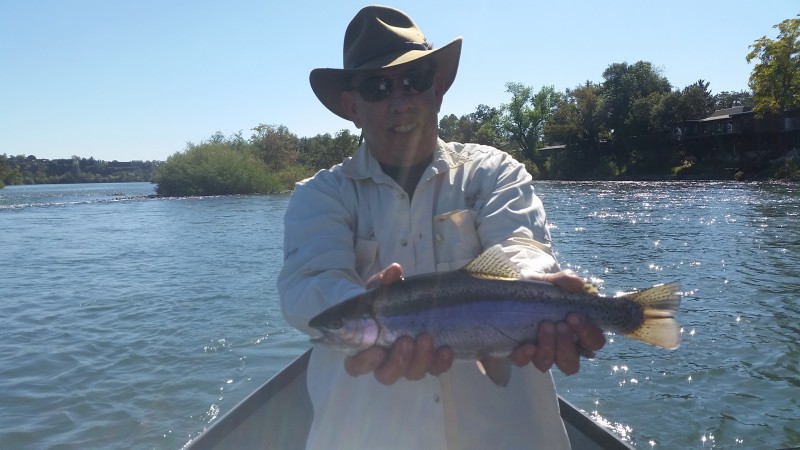 One more for the road!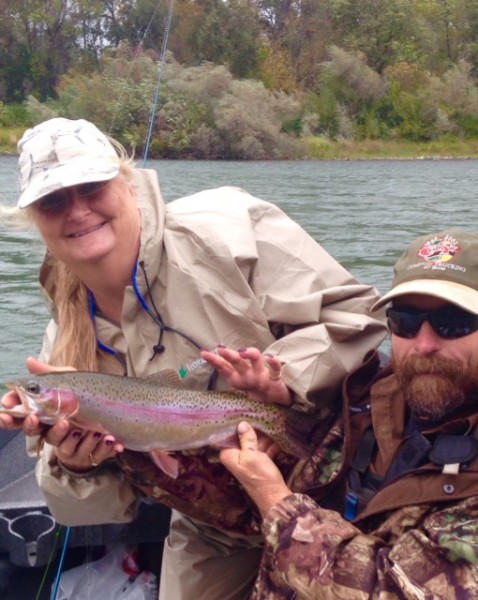 "Could not have asked for more!"
Marie and I had the best time with our guide Jim Pettis last Saturday on a drift trip down the lower SAC. The weather was not kind to us but Jim put us right where we could catch fish and I caught the biggest fish on a fly I have ever caught (16-17″ rainbow). It was a great day! We will definitely be back and be requesting Jim each and every trip we take. Jim is very down to earth and was very patient with me; as I am surely an amateur. Thank you so much Jim you were wonderful and we very much appreciate all your hard work in those rough and rainy waters. Jeannie
10% Off On All Jack Trout Fly Fishing Gift Certificates, It's The Gift That Keeps Giving, Makes For A Great Salmon Stocking Stuffer.
What amazing service! Called for a friend who needed wading boots. Jack set him up with a new pair of @simmsfishing boots. Fit him like a glove and made his trip enjoyable and memorable. He even came to our hotel to drop them off and set it up so that he could drop them off at the front desk in the evening. Now my friend is going to pick up a pair of Simms when he gets home. Great guy, friendly, and knowledgeable.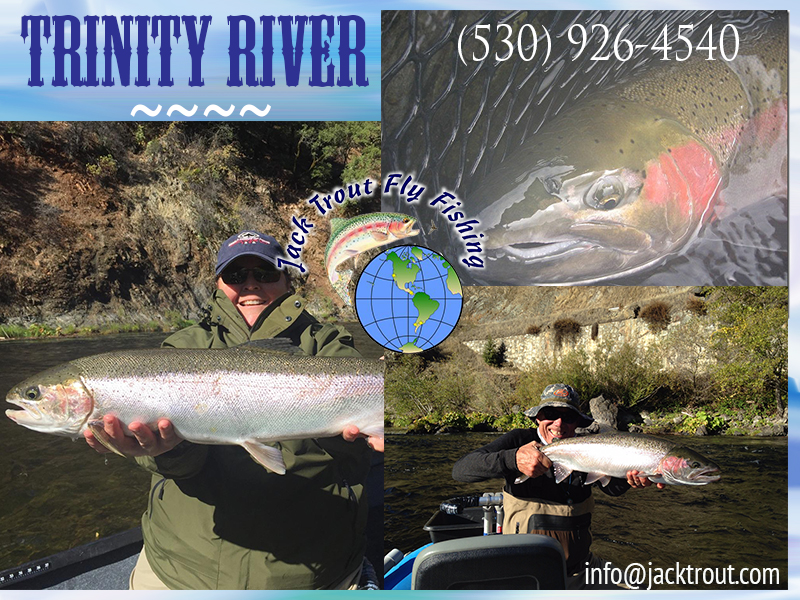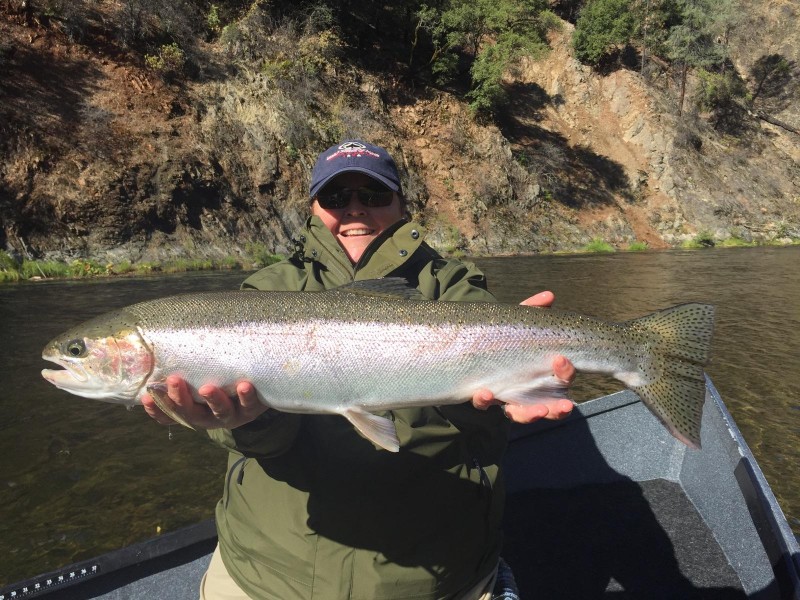 15 lber landed by Forrest and his client a couple weeks back.
Head Guide Forrest Brizendine & Ian Stratte Are Landing  Few Piggies On The Trinity River. Though It Is Not Lights Out, If You're Experienced, You Might Stand A Chance Of Landing One  Of These Beauties. (No Guarantee.)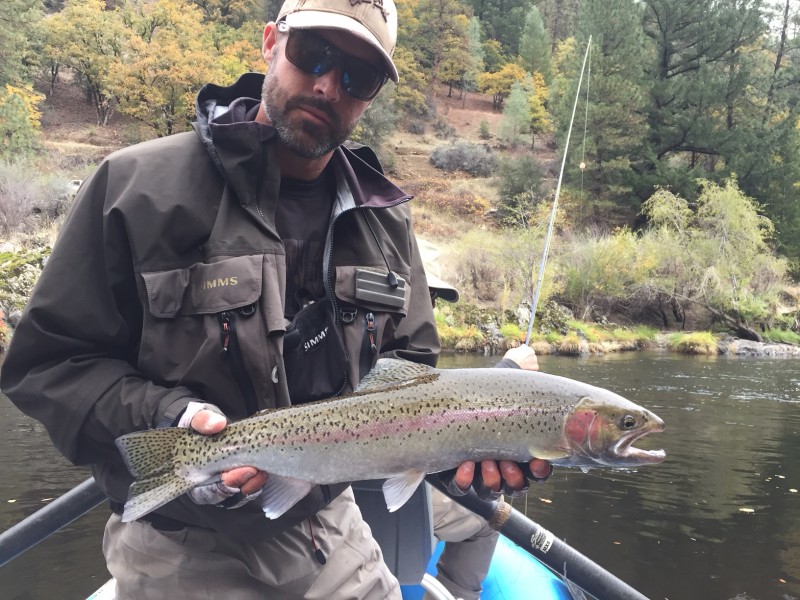 Might Be Worth It Just To Be Out There In Search Of Incredible Catches Like These. "I Think I Just saw That Fish Flash A Gang Sign?"  Remember The Trinity Is The Everest Of Steelhead Fishing In Our Area, Less Experienced Anglers Are Better Off Going To The Lower Sac Or Klamath.
You made it to the summit bros! Forrest Is Like BO, And BO Knows Football, Forrest Knows How To Find And Land Footballs. Bo = Forrest, And Forrest Knows…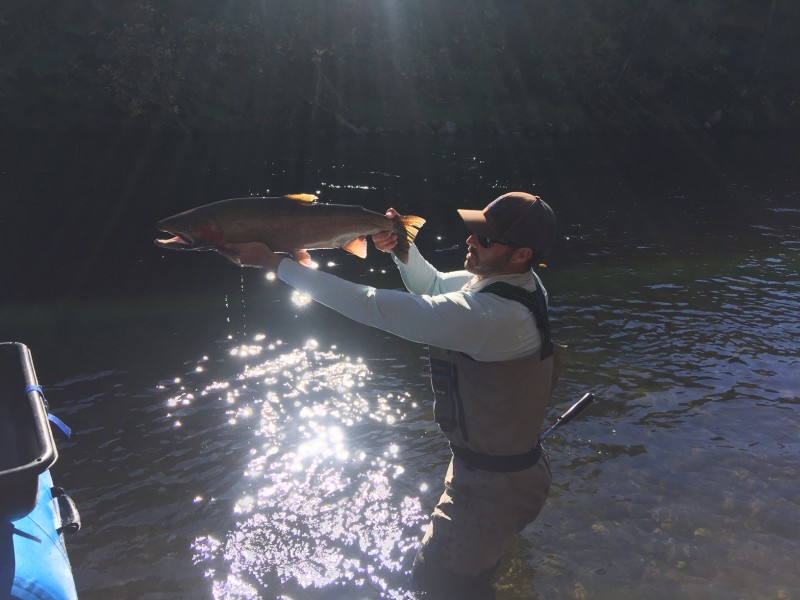 When Forrest Talks, People Listen….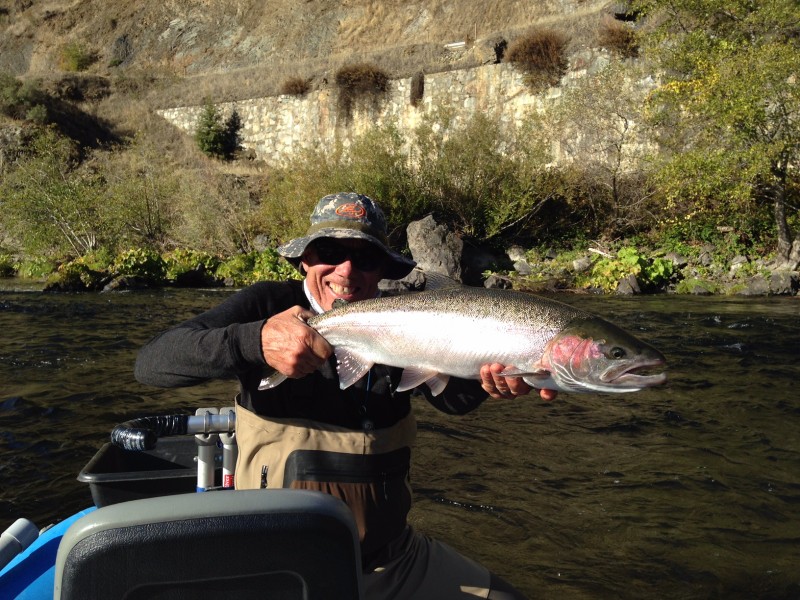 This is what I'm talking about!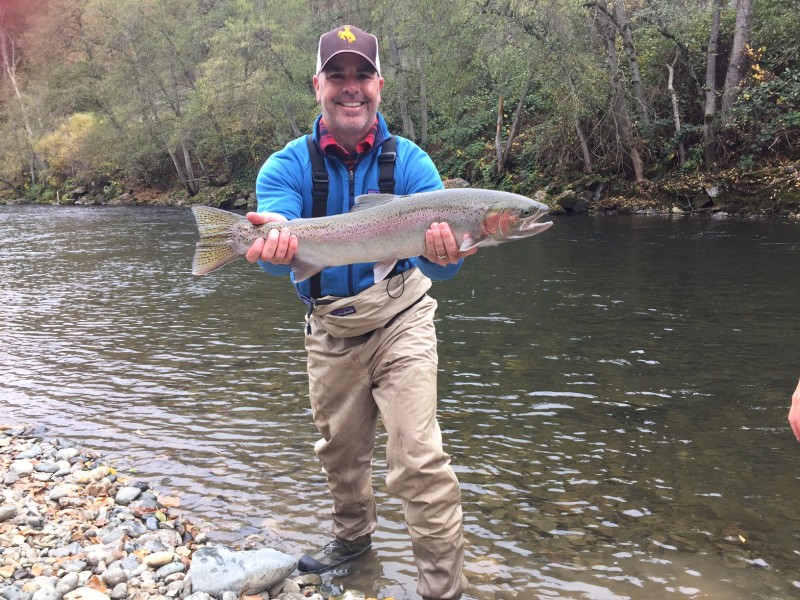 A Thanksgiving Turkey if I ever seen one! Happy Thanksgiving everyone!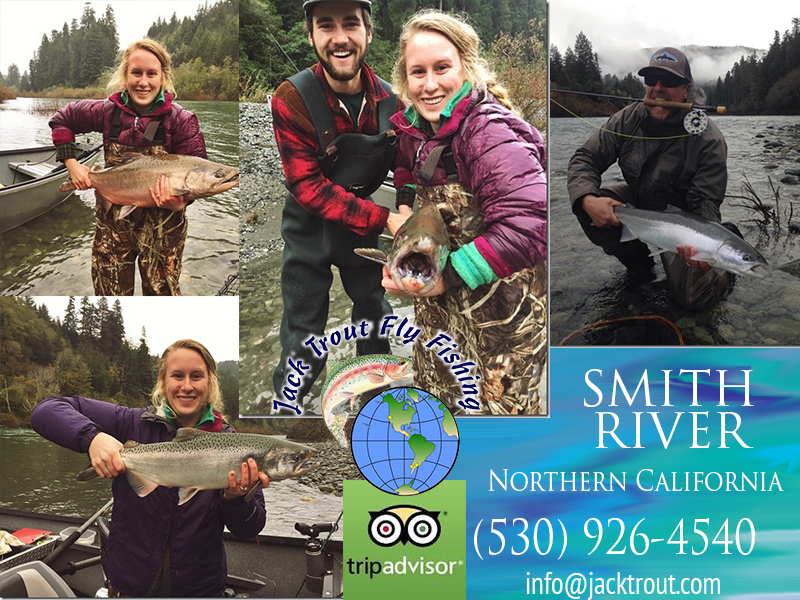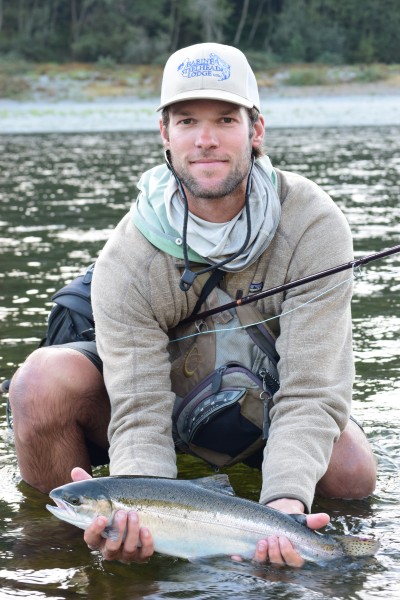 Guide Kenton Bansemer – Head Jack Trout Guide Klamath Mouth, Chetco, Smith, Elk & The Sixes.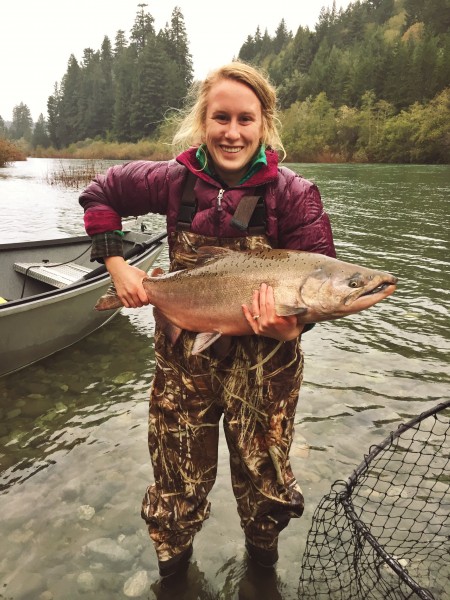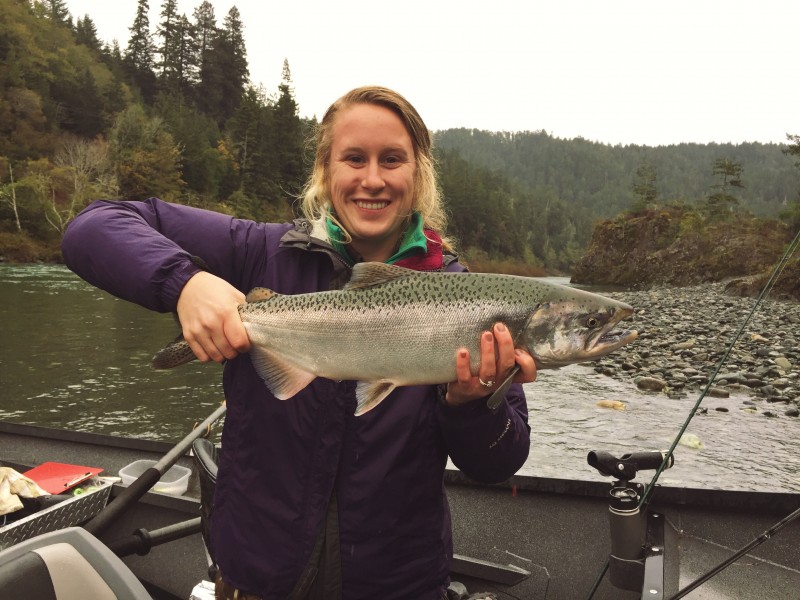 Thank you Jack Trout Guide Service!!
Best Honeymoon fishing trip on the Smith River!"
We had a great time fishing on the Smith River with guide Kenton Bansemer. We hooked into some monster salmon and really enjoyed floating down the wild, scenic, and incredibly beautiful Smith River. Kenton was a great guide and taught us a lot about fishing the river. He even spent time to teach us how to spey cast. Great way to spend a day for honeymooners who love to fish together!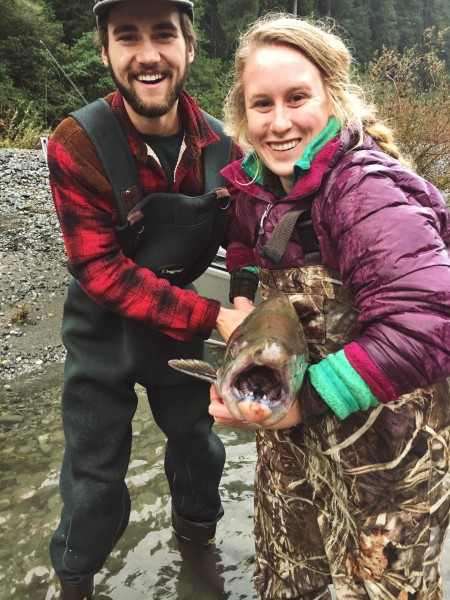 HI Bethann & Colin what a fantastic trip we arranged for you with Kenton on the Smith River. We took pride in that it was your Honeymoon and it was a honor for us here. Making people fishing dreams come true is what we're all about.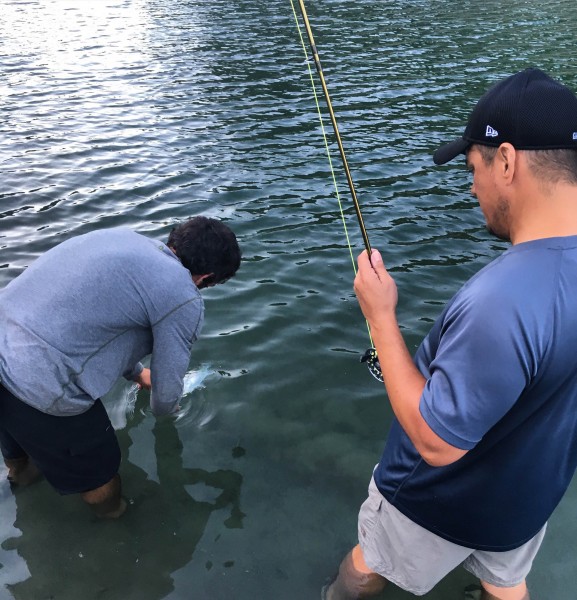 It's amazing the things you catch on fly rods over on the California & Oregon Coasts.
Then Again With Kenton And Neal Guiding Our Clientele, I'm Not Surprised.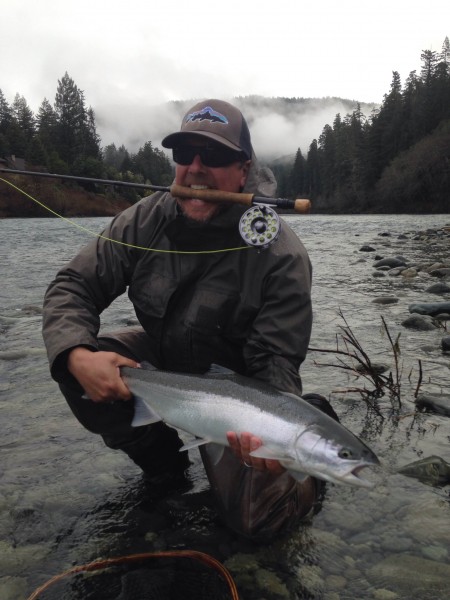 Wow! A Real Silver Bullet! I Think We Better Set You Up A Coastal Trip…
ROGUE RIVER & UMPQUA RIVERS OREGON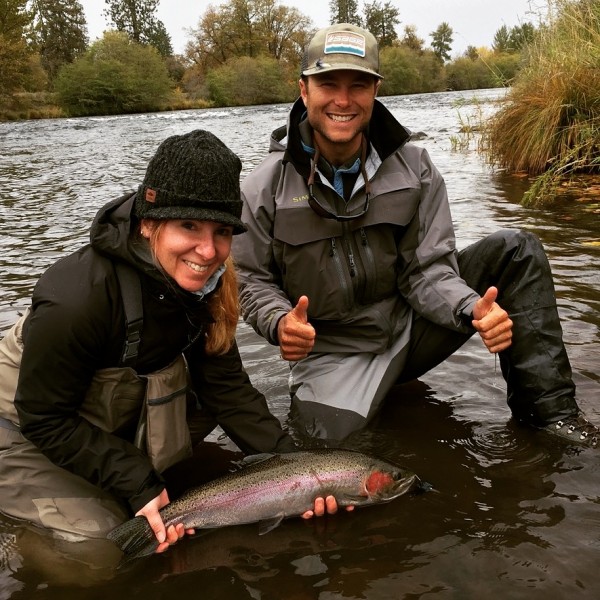 You wont find a guide more dedicated to the pursuit of steelhead on the fly then Brandon Worthington. Brandon offers fly fisherman the best opportunity to catch these amazing fish, with both Spey casting and the swung fly and indicator tactics. Join him year round in pursuit of these challenging fish on the Rogue, Umpqua, Klamath, Coast and beyond.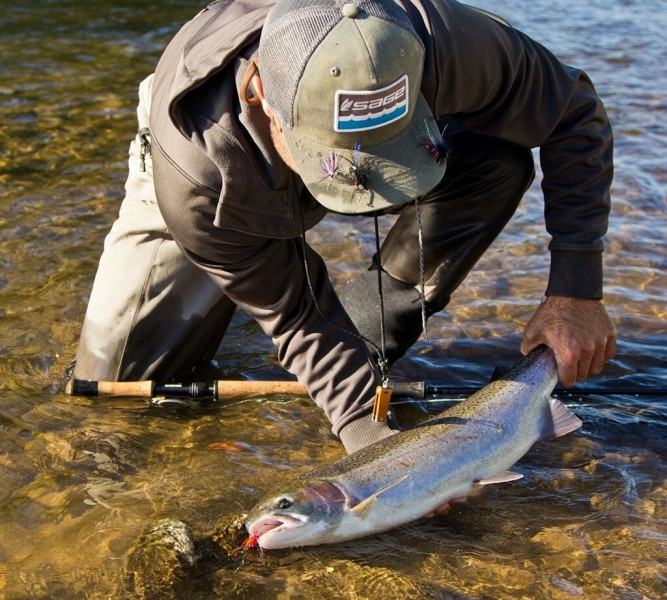 If You Have Been Thinking About Taking A Spey Casting Lesson Brandon Worthington Is A Patient Instructor Who Can Teach You. This Guide Is A Superstar In Southern Oregon, I Highly Recommend Him. Jack Trout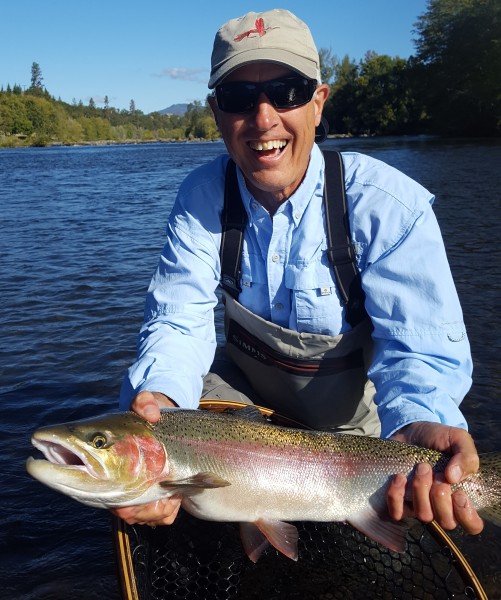 Another Happy Client That's Coming Back For Sure! Thanks Brandon.
Now That's A Serious Fish, Makes Me Crave Oregon Rivers & My Favorite French Donuts From VooDoo Donuts.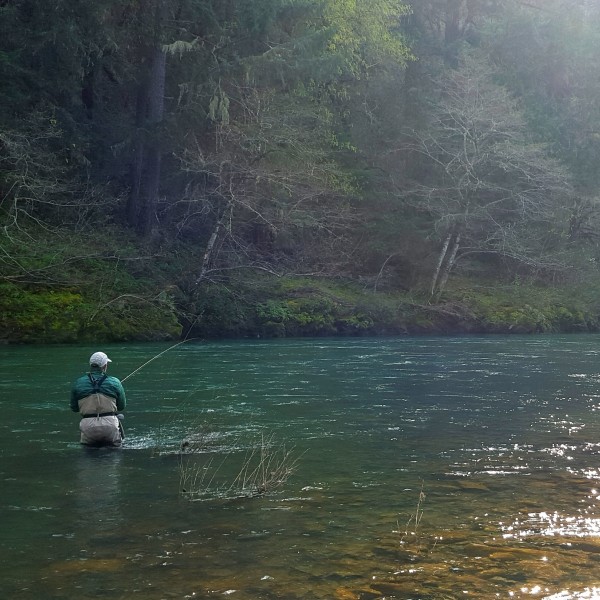 Spey Casting On The Umpqua River.
Meanwhile, The boys From England Left Me And I Had Set Up A Trip On The Rogue River With Steve Walser, The Cornwall Boys Had a Wonderful Experience And Pete Gordon Got 3 Beauties as well as others lost in translation. The location that Steve set up for my clients couldn't of been better. thanks Steve!
Nick Landed This 11 pounder With Steve Walser.
"fly fishing california"
just back from California and another great trip with Jack.have fished with him twice before in Argentina and Chile,but this was my first trip to the USA.Fishing conditions were difficult due to the weather but Jack managed to put us onto the fish-steelhead and rainbows.we fished several different rivers and the scenery was tremendous,Jack really put himself out so that we could experience all that Northern California had to offer.Also fished with one of Jacks guides, Dale Langstaff,what a great guy!
Then it was North into Oregon to fish the Rogue river with a guide that Jack had recommended to us-Steve Walser .We had a great four days of fishing the Rogue all thanks to Jack for setting this up for us.
So there we are ,another great trip with Jack Trout, i cannot recommend him highly enough,if you want just a days fishing or longer then Jack is your man!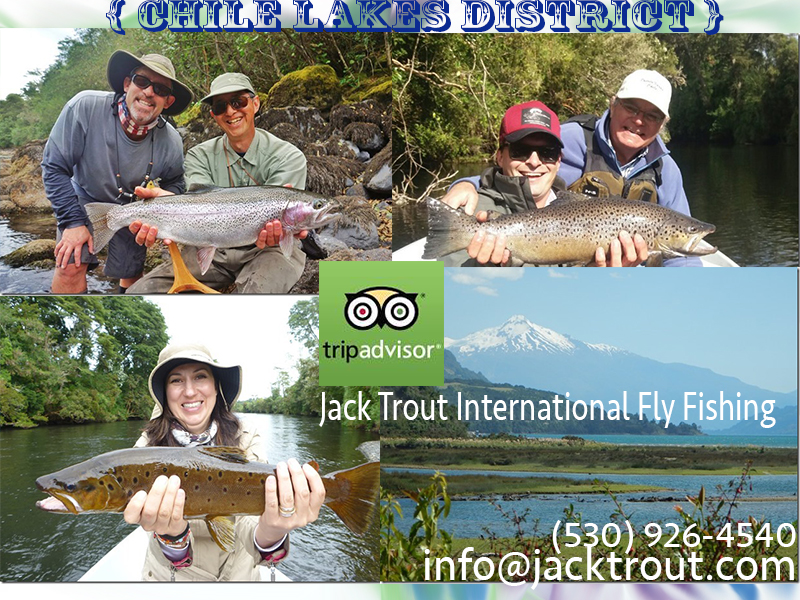 CHILE UPDATE:
Carola & I Will Be In Chile & Argentina From March 1st To April 15th, 2017. We Have A Group Booked March 17th To March 27th, Eric Mline Group Of 4, Thank you.
Open Dates: This Is For Poeple Who Want To See A Lot And Don't Mind Traveling Long Distances By Vehicle To Get To Remote Areas And Have Access To Special Fly Fishing Locations. If You Have A Bad Anything, I Wouldn't Consider It.
March 5th to March 14th – 2 slots open for the 10 day tour including fly fishing and lodging in the Lakes District (float 2 rivers) , Rivers District (float one river.), then over the Andes Into Patagonia Argentina (float 3 rivers & wade one.) Staying at the finest places and going to the best restaurants in the area and we know them all since we have done this trip for over 20 years. $5000 per person/double occupancy.
Also March 30th To April 8th, 2017 – 2 to 4 slots open, must be the same group for 4 – $5000 per person/double occupancy. (Bargain)
We are the only ones who provide this trip between Chile & Argentina to see 2 countries, fish 3 regions, 6 to 7 rivers and the best lodging at local B&B's and exquisite food at restaurants we know and love down there!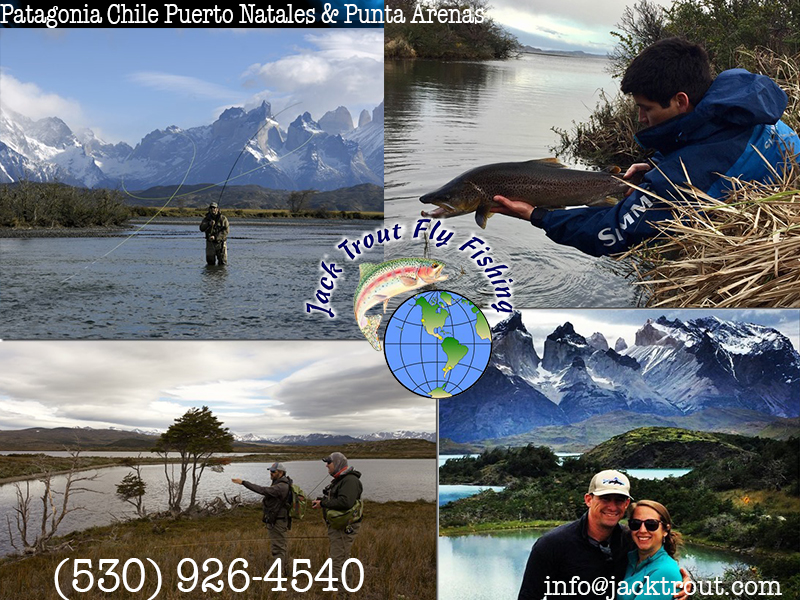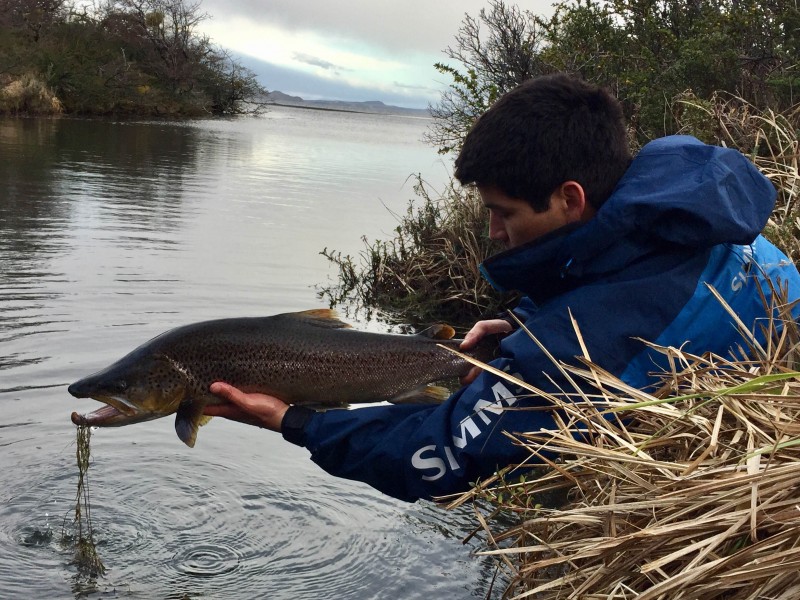 Heading Down To Punta Arenas Or Puerto Natales In Far Southern Patagonia Chile? We Have The Guides! We Supply All The Equipment, Help You With Logistics, Lodging or Rent A Cars. What Ever You're After In South American Fly Fishing. Jack & Carola Trout Has You Dialed 100%. Our Track Record Speaks For Itself, hundreds of People Helped Since 1994 And We're Always Getting Better. No One In The Fly Fishing Industry Cares More Than We Do About Your Dream Fly Fishing Adventures. We Get It!  Thank you, Big Huggy, Jack & Carola Trout – 530-926-4540 (Everything is the guides fault, no extra charge! 🙂  )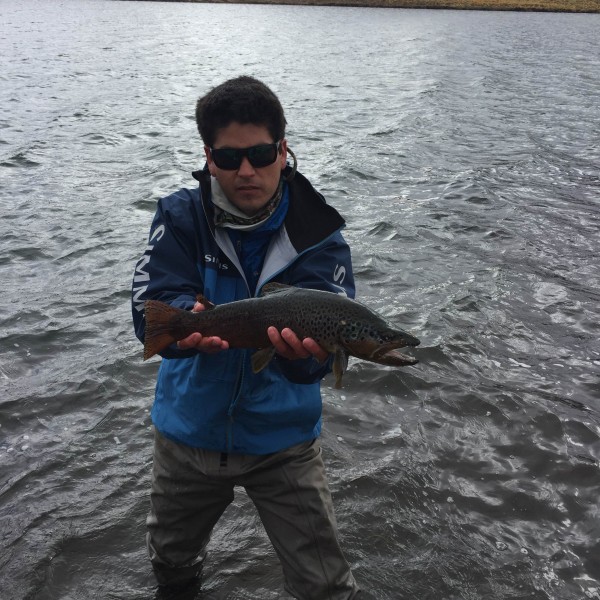 Benji our Guide In Puerto Natales Is A Stud, He Knows Where The Big Browns Hang Out.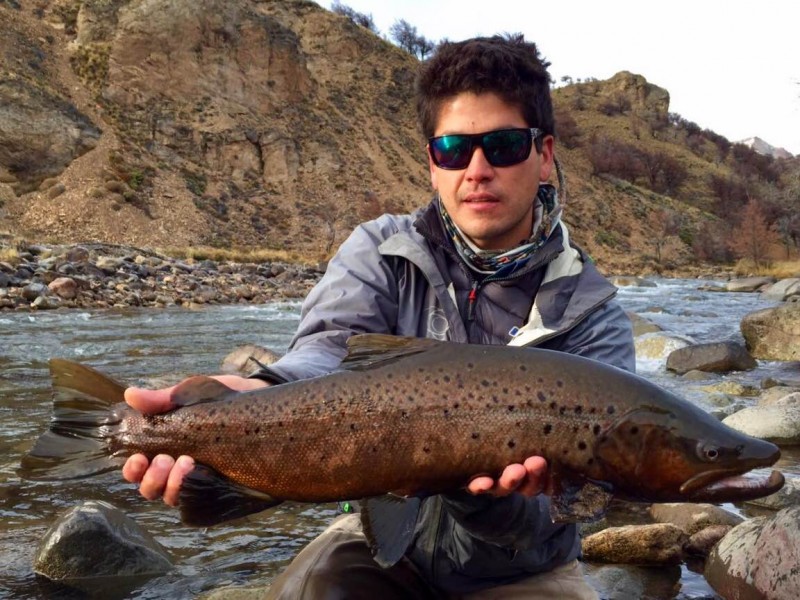 Now You're Just Showing Off Bro, That's Incredible!
"Great day of fishing!"
We had a day off during our very busy business trip in Chile. Carola was a great help in making sure our accomodations were acceptable as well as pointing us in the right direction when it came to enjoying Puerto Varas…a great city! The night before we had a note at our Hotel from our guide Mattias making sure we would be in the lobby at 8 am. He was well prepared with everything for a great day of fishing. It was rainy and Mattias had an extra rain coat for my business partner who thanks to Mattias had a enjoyable day vs a very wet and cold one. Our trip was business first so we did not expect much in terms of fishing. But to my surprise the fishing was great, the guide was fantastic, the meal and all the ammenities were perfect. Even though our trip was only booked for one day (that is all we could do) Jack and Carola were in constant communication with us before and after. Rio Maullin was amazing and the private access to the river meant that we basically saw no one except for a couple of people in one pool…16 Km of river all to ourselves. My experience with fly fishing is mainly with Atlantic Salmon so Mattias took the time to explain sinking tips, strip fishing, roll casting etc from a drift boat. Certainly was something new. I now come to Chile regularly but the next time i will indeed book more time off to fish and when I do come back to fish it will be with Jack Trout!
Thanks Jack, Carola and Mattias!
Pierre Nadeau
My Best Friend & Guide In Chile Mattias Bayer Is A Champion On His Private Ranch Access On The Rio Maullin Or On The Rio Petrohue On Our Private Section, We Make People Happy When We Pick Them Up At The Cruise Ship In Puerto Montt And Get Them Nice Trout, A Spectacular Lunch On The River And Back To The Cruise Ship On Time. That's Just Doing Our Job!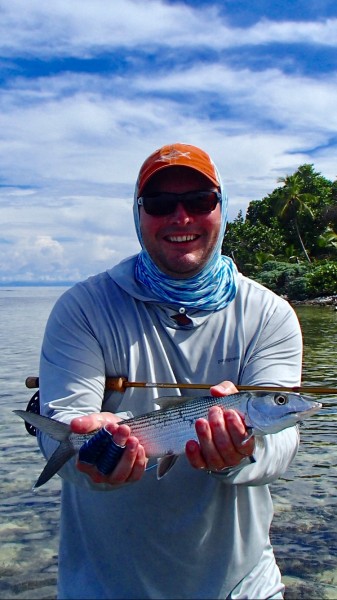 Chris Spencer sure loved his trip with our guide Wayne in Placencia this past month.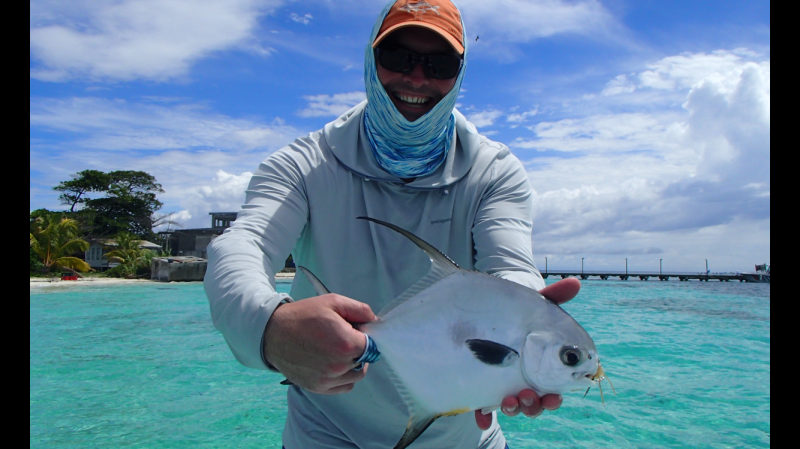 He got a permit on a crab.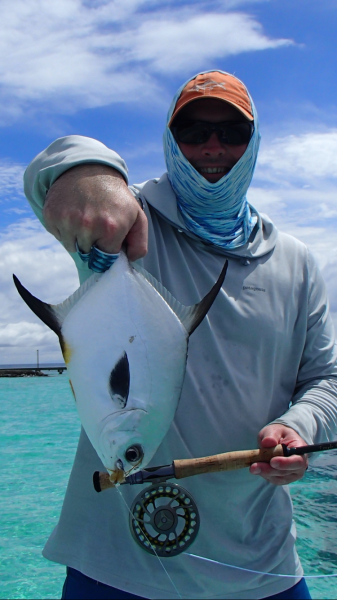 That's an elite club you've entered now, keep it going! 🙂 jt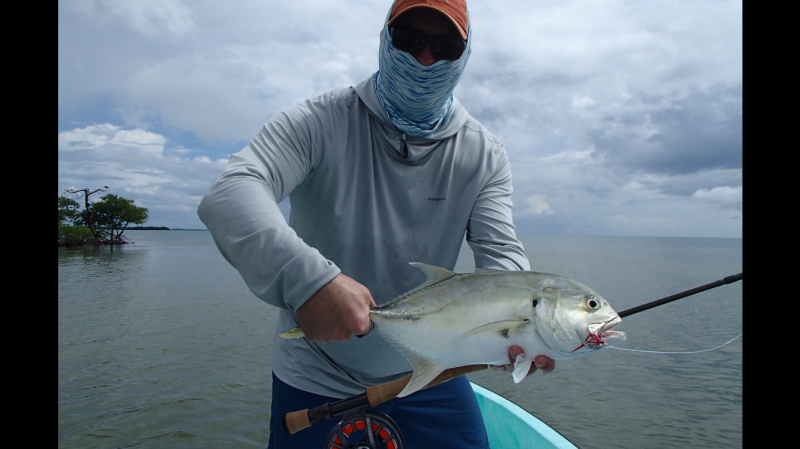 A jack too, whoohoo!!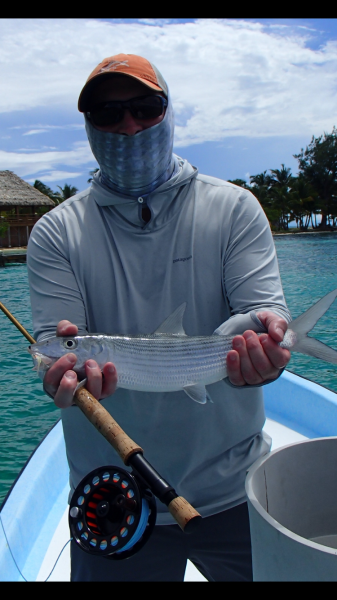 More bones for the road, thanks Chris for calling on Jack Trout Fly Fishing International Belize, we aim to please! jt
Ah Wayne, showing off again! What a cool cat! Another happy client, thanks so much for all your help!  Hug, Jack Trout
Tight Lines Everyone! Hope To Hear From You All, One Way Or Another!  Enjoy Your Holidays!
Many Rivers & Oceans To You, Jack & Carola Trout & Team Trout International Fly Fishing Guides & Tours.