Cuba An Open Fly Fishing Paradise – By Jack Trout
                                                                      
It all started with a phone call from my former client, retired California State Senator Tom Harman. He wanted to go to Chile and Argentina with my wife, Carola, and me in March, 2016. He also mentioned he and his wife were interested in going to Cuba when it opened up to travel by Americans. I had long dreamed of going to Cuba after hearing stories from Canadians and Europeans who had been there and reported they'd had the saltwater fly fishing trip of a lifetime. Just the look in their eyes when they told stories of huge schools of bonefish and massive tarpon made my head spin, but the thing that really sparked my interest was how permit to 25 lbs. were being caught regularly. That and the possibility of achieving the coveted Grand Slam by catching all three in a single day made my adrenaline flow. I've fished and guided in Belize for over 20 years and my perspective on fly fishing saltwater flats was based on my experiences in that wonderful country, but the dream of going to Cuba and being on the cutting edge of a new fly fishing destination was of paramount importance to me. Hopefully, the political winds of change will soon allow Americans the opportunity to travel to Cuba just like the Canadians and Europeans do now. Everyone else in the world can get there easily, but not us Yanks.
We know about the Cuban Missile Crisis of 1963 that ultimately closed the door for all Americans to travel to Cuba. Prior to that, in 1961, after President Kennedy stashed away 1,200 Cuban cigars and 900 cases of Cuban rum, he signed the Embargo and the Cuban people have suffered enormously ever since. In the fifty plus years since the embargo was enacted, various environmental foundations have been established to protect the oceans and the fisheries in Cuba. Also, Marine Protective Areas have been established by the government that limit the number of anglers that can fish in these protected areas which are primarily huge saltwater flats, the same type of flats that bonefish, permit, and tarpon like to call home. Fishing in these protected areas is managed exclusively by fishing companies like Avalon Fishing Centers out of Mendoza, Argentina since 1993 that were smart enough to see the great opportunities for world class saltwater flats fly fishing years in advance and literally sewed up the exclusive fishing rights for all of Cuba. Only a limited number of anglers from other countries are allowed to fish in these protected areas. In fact, Cubans can't even fish their own waters in these areas, except for some limited commercial fishing allowed for lobsters and fish commonly ordered in local restaurants.
Since the time that the United States enacted the embargo many years ago it has been quite difficult for Americans to travel to Cuba. There are no direct scheduled airline flights to Cuba from the United States. Yes, there are some flights, but these are charter flights taking groups of American citizens to Cuba to study cultural activities and things of that nature. Once they get to Cuba, their activities and travel within the country are strictly controlled. They can't spend a relaxing day at the beach, go fishing, or simply tour the country on their own. They can't leave the group, go off on their own or engage in any activity other than the approved group activities such as visiting the home of a Cuban family or touring a local factory. However, there is a way to get around these restrictions and avoid the daunting task of going to the Cuban embassy and trying to obtain a visa, but it will cost you a modest premium. Americans can make a $250 charitable donation to certain approved charities, such as the Ocean Foundation or the Permit & Tarpon Foundation, and those charities are authorized by the U.S. Treasury Department to issue travel papers for Cuba to the person making the donation. It's easy to obtain the approved travel papers issued by these organizations. Your charitable donation can be made online and the approved Cuba travel papers are likewise issued to you online by the charity. Since there are no direct flights to Cuba from the United States, you have to fly to Cuba through Toronto, Mexico City, Cayman Islands or Cancun. Yes, this adds a little travel time to your trip, but the rewards of being able to fish some of the world's most pristine saltwater flats makes it worth the trouble.

  Everyone was in high spirits as the thought of arriving in Havana loomed ahead of us. I will say that stopping in Mexico City (particularly the airport) was something of a hassle and next time I would prefer to depart for Cuba from Cancun or Canada. The immigration process in Havana was simple. We showed all the forms that we'd filled out in Mexico City to the immigration authorities and no one asked or bothered to look at the travel papers that had been issued to us by the charitable foundation. The young girl stamping passports asked me if I wanted to have my passport stamped. I replied in Spanish, "P lease do, stamp it right here, and as hard as you can!" I showed her the page I wanted stamped. It was the page in my passport that had a picture of the United States Capitol on it and a quote from Samuel Adams when he said in 1776 on the signing of the Declaration of Independence, "What a glorious morning for America." The young woman centered her stamp over the photo of the Capitol and smashed her stamp down on it with a resounding clang. She looked up at me, smiled and said in a warm and friendly voice, "Welcome to my country." Given the circumstances of our trip, it was indeed a "Glorious morning for America."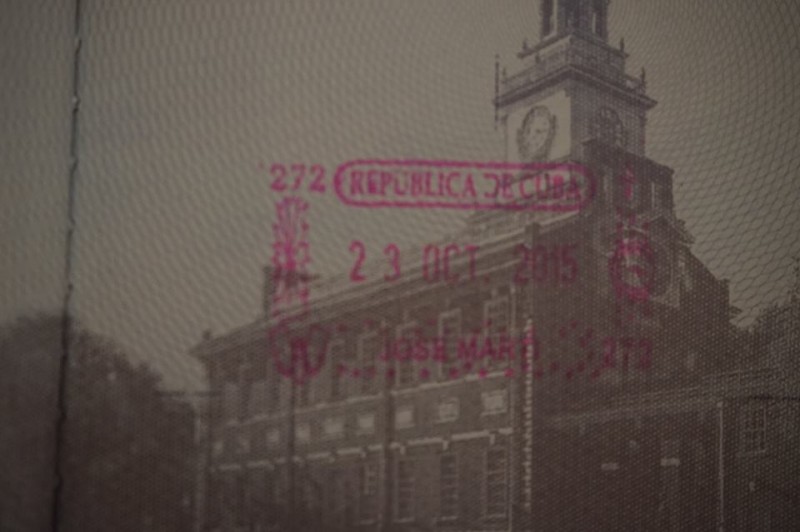 As we stepped out of the terminal, the warm air and humidity were a welcome relief, as it was late October in Northern California where I come from, and it was starting to get colder and colder each day. The first thing we saw outside the terminal was a plethora of older model cars that were being used as taxis. All types of American cars from 1953 to 1958 were seen zooming in and out of the airport traffic. A red '57 Chevy passed us and Pat Connolly was all fired up commenting within seconds on the date and model. It was soon followed by a '56 muscle car and then a yellow '56 Buick Skylark. It was like we had stepped back in time into a Rod Sterling Twilight Zone. We were legally in Cuba and feeling like the luckiest Americans in a half century to be able to witness what was off-limits and unimaginable just a few months ago. My wife Carola, who is Chilean and an expert in Latino countries, easily arranged for the transfer to our hotel, and within a few minutes we boarded a couple of taxis and the six of us were soon traveling down the main thoroughfare of Havana, Cuba.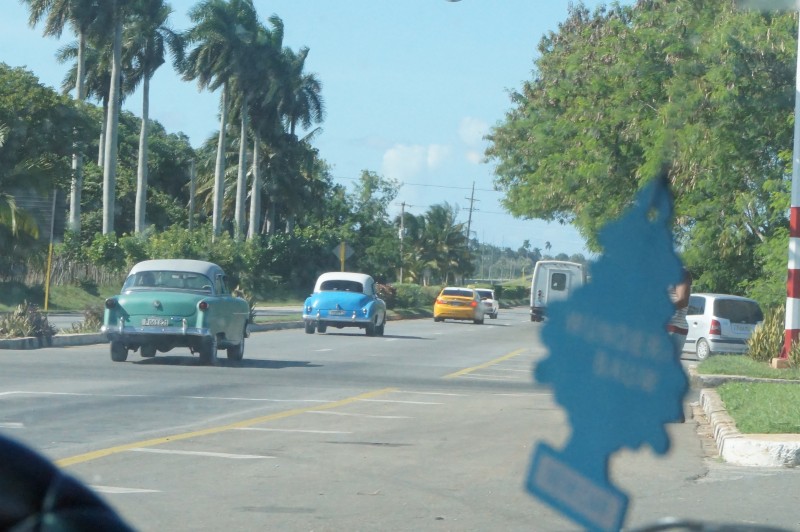 Traveling through Havana is like a magical trip back in time. It's something I encourage you to see before it disappears. Today, Cuba is still a capsule stuck in time, but things they are a changin', and to see it today is to relive that era after World War II when America was on the rise and cars were built out of love instead of necessity. We spent our first night in Cuba at the five star Iberostar Central Park Hotel, one of the best hotels in all of Cuba. By the way, these accommodations were arranged by my Cuban fishing partners and were included in the overall charges for the trip. No Motel 6 on this trip. Everything was first class! Down the street and around the corner from our hotel was a pub called Sloppy Joe's. This is where the original Sloppy Joe sandwich that your mother used to feed you when you were a kid was invented in 1917. All of us enjoyed chomping down on one of these delicious sandwiches. An open air bar on top of our hotel provided an incredible view of the Central Park, the White House of Cuba, and the surrounding area all of which literally took your breath away. Dick, Pat, Carola, and I had a Cohiba cigar after dinner, just to see what all the commotion was about Cuban cigars. They were terrific and we learned that you could bring back $250 USD worth of cigars for personal use or as souvenirs. Seeing Cuba, its culture, and especially its music, which seems to be everywhere you go, is to believe it. If I were you, I'd add it to my "Bucket List" before all the cars are sold and this innocent slice of unclaimed paradise disappears.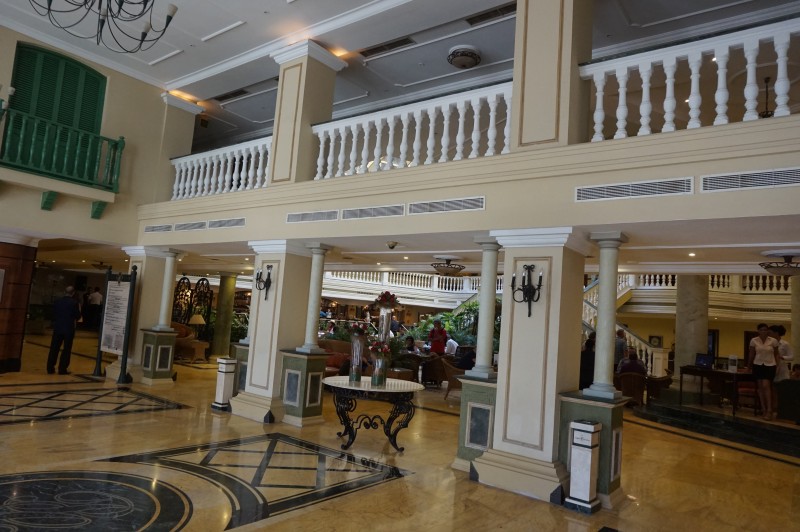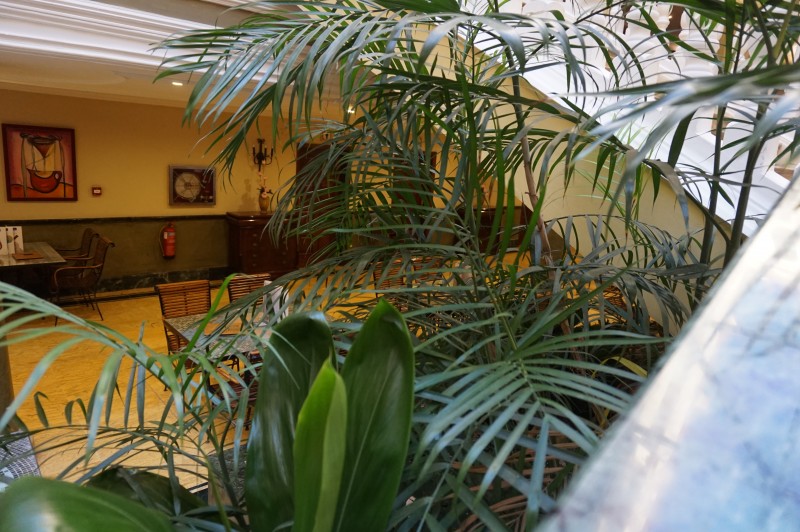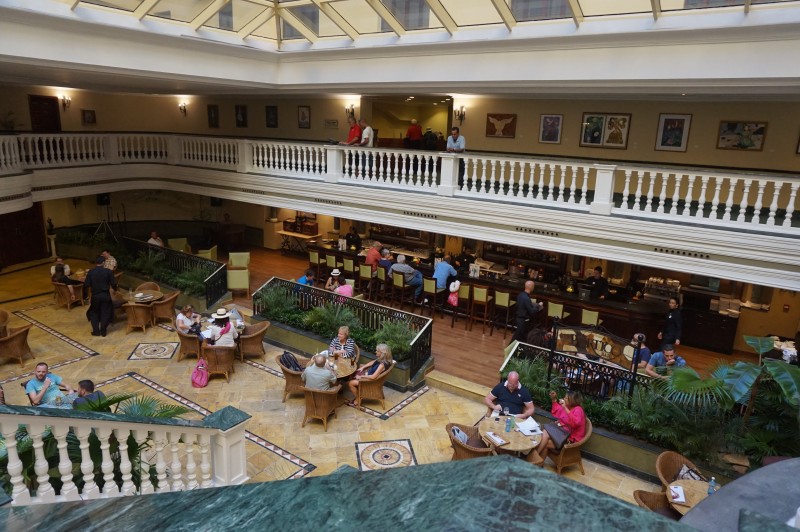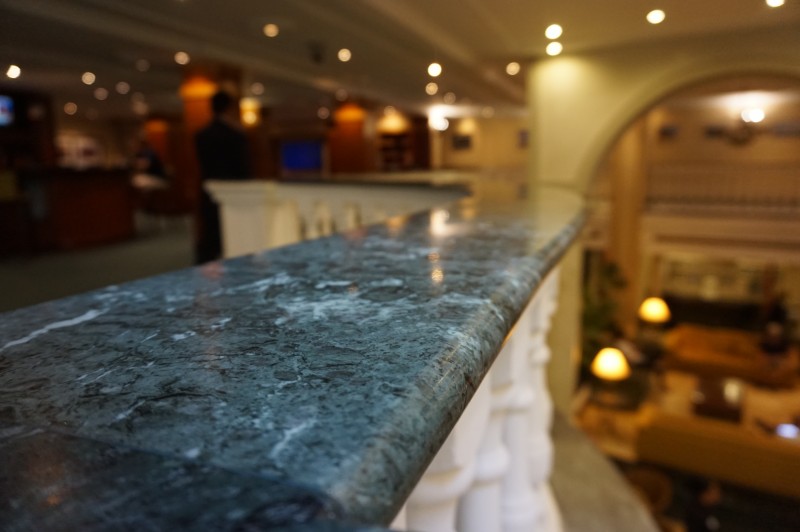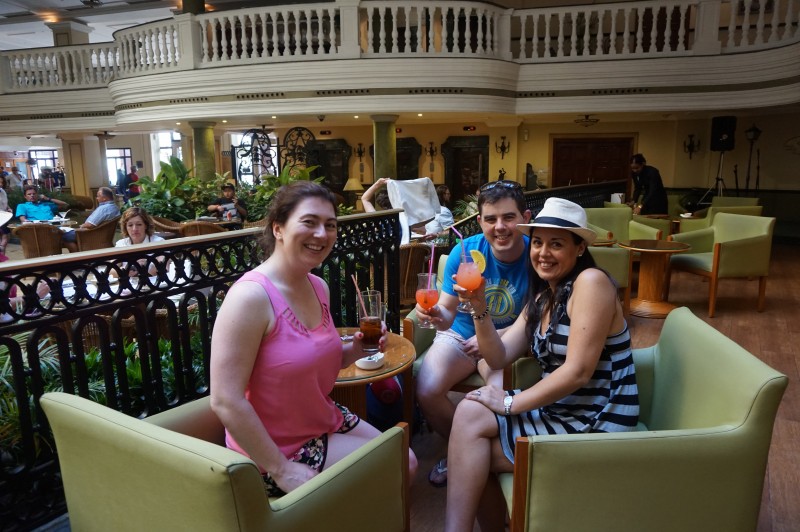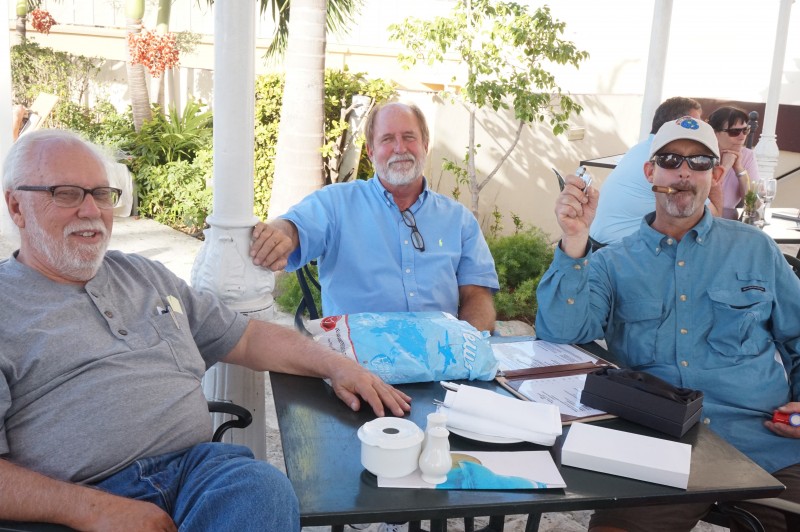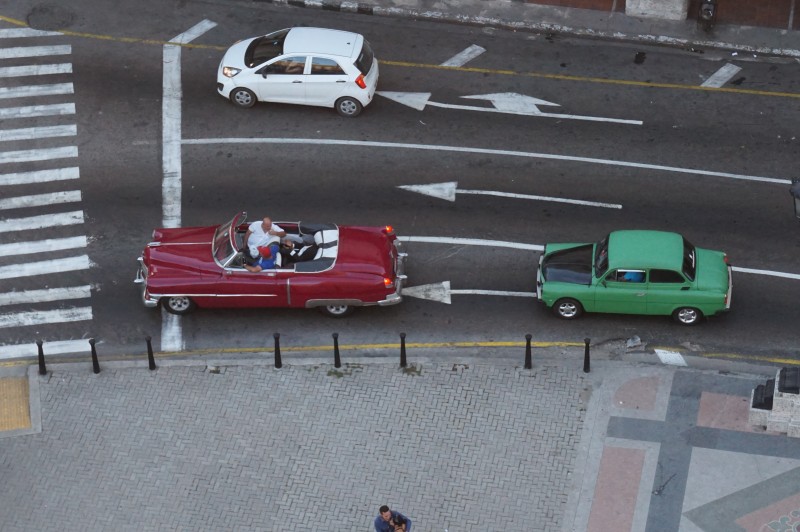 Check out www.cubaflyfishguide.com For More information. Jack & Carola Trout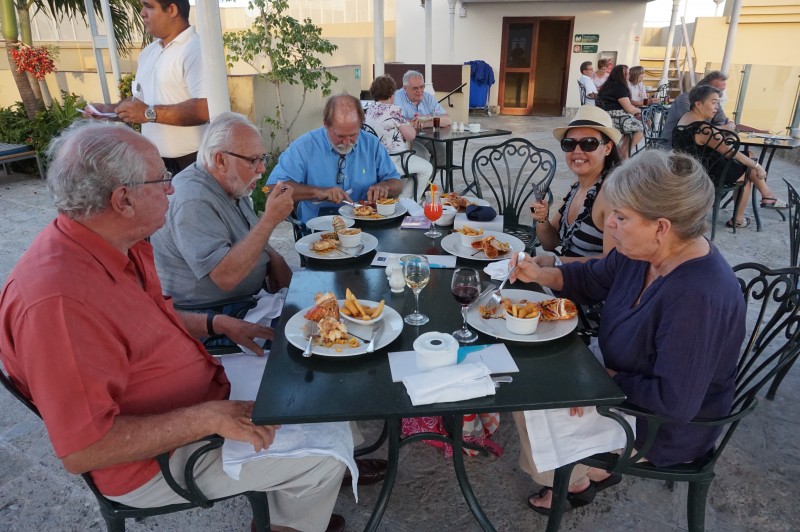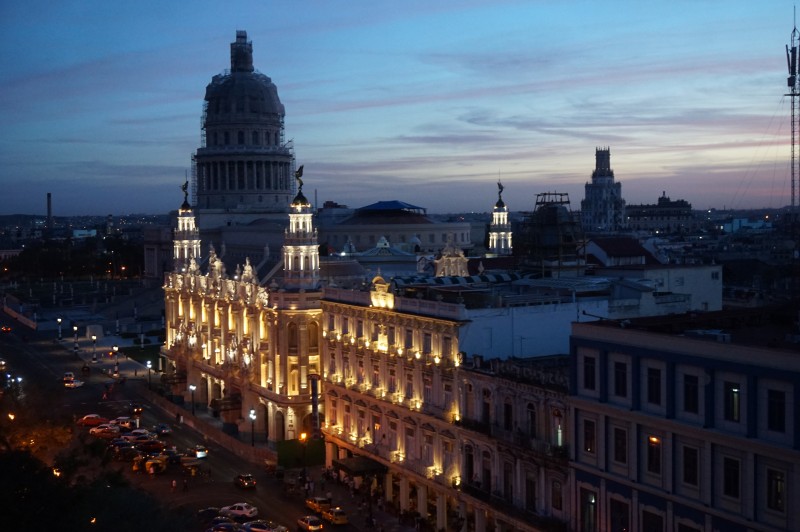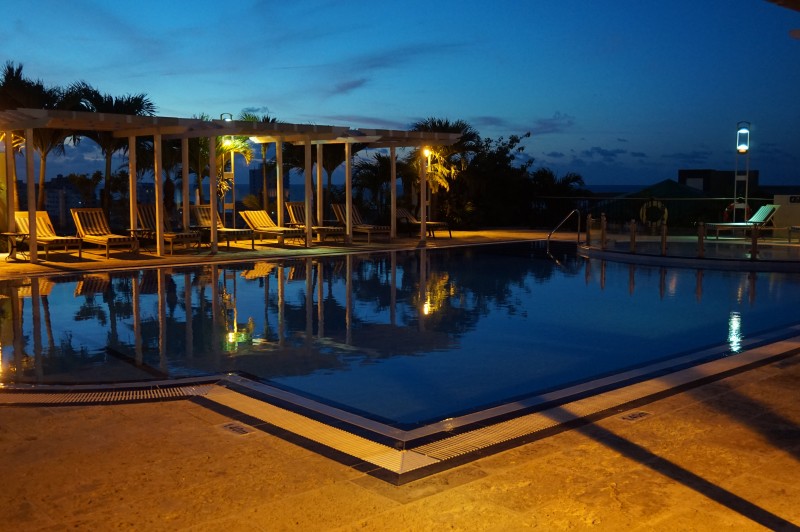 The next day we flew to Cayo Largo, a large island about 40 miles long and located 60 miles off the south coast of Cuba. The Cuban government has designated the island to be used exclusively for tourism. There are no permanent Cuban residents on the island. All of the Cubans on the island work in the eight hotels on the island or in other occupations such as transportation or infrastructure maintenance. As we landed on Cayo Largo I could see several fly fishing boats cruising the flats and nearby mangrove islands which seemed to be everywhere. Just seeing these pristine fishing areas made my heart pound. After we left the plane and entered the small airport terminal we were greeted by a three piece band and two dancers who were in high spirits singing and dancing to the tune of native Cuban music. A large air conditioned bus was waiting to take us to the Playa de Sol resort where we would be staying for the next seven nights. We were greeted at the hotel by my Cuban partners who informed us that all our food and drinks while we were staying at the resort were included in the cost of the trip. If you can believe it, the bar at the hotel is open 24 hours a day! Bring on the Cuban rum!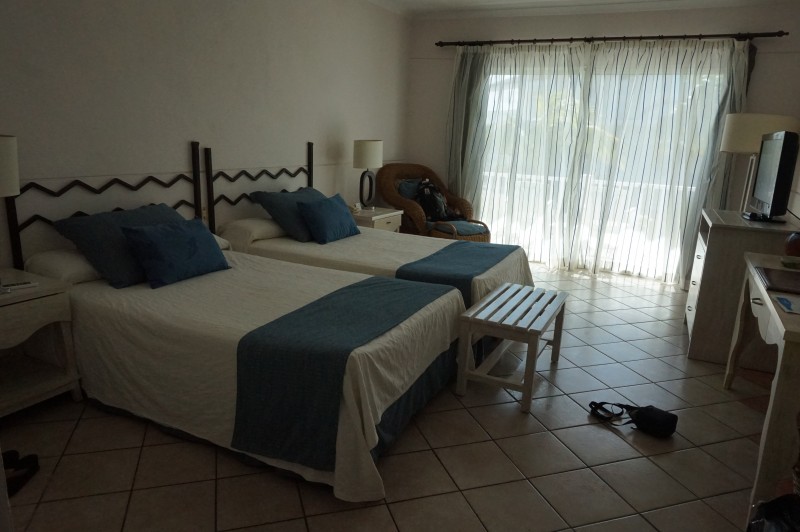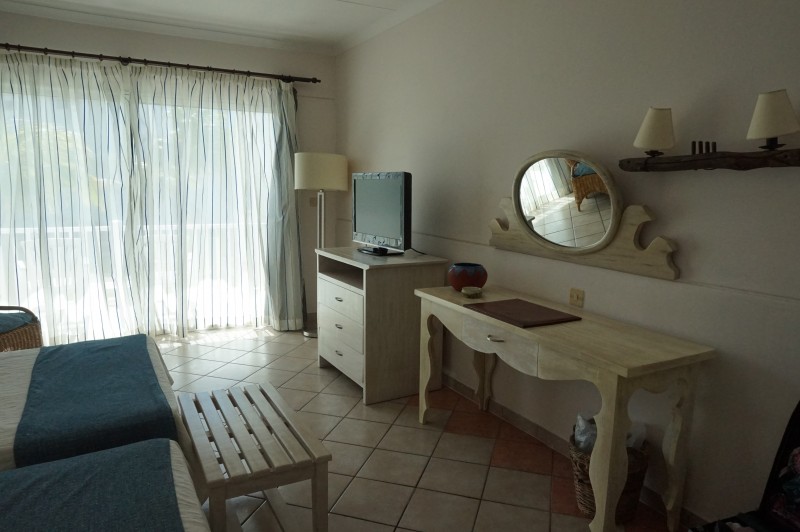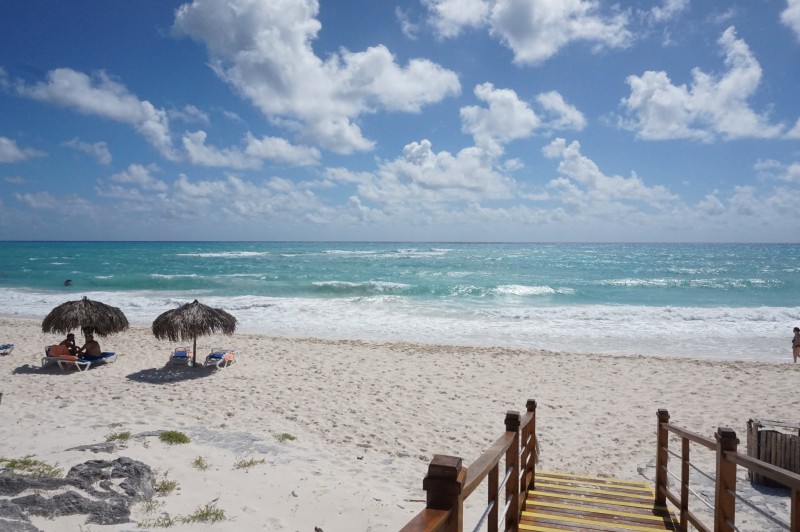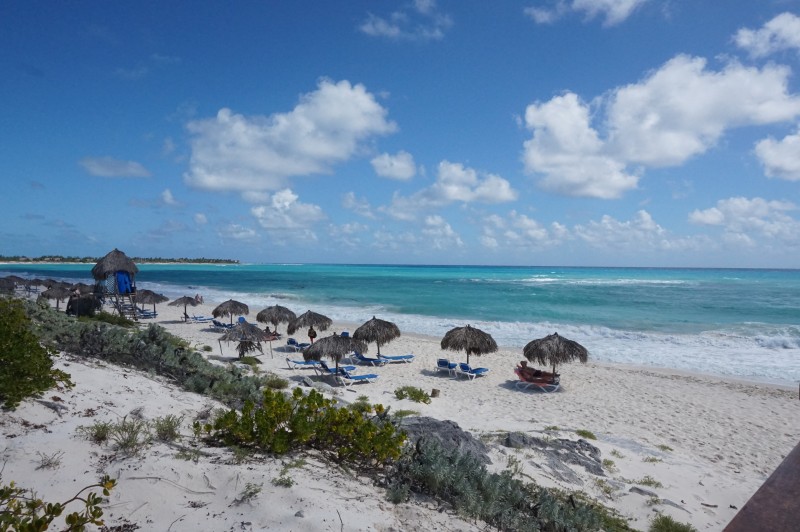 At 7:30 a.m. the next day, after breakfast at the hotel's huge open-air buffet dining room, the four intrepid fishermen in our group loaded up in a van and were taken to a nearby marina where our fishing guides were waiting. After a full orientation of the island and the areas we were going to fish that week, the head guide showed us an area map that was divided into 6 sections called beats. It was a massive area, over 30 miles in length and containing more areas to fish than anyone could possibly complete in a weeks' time.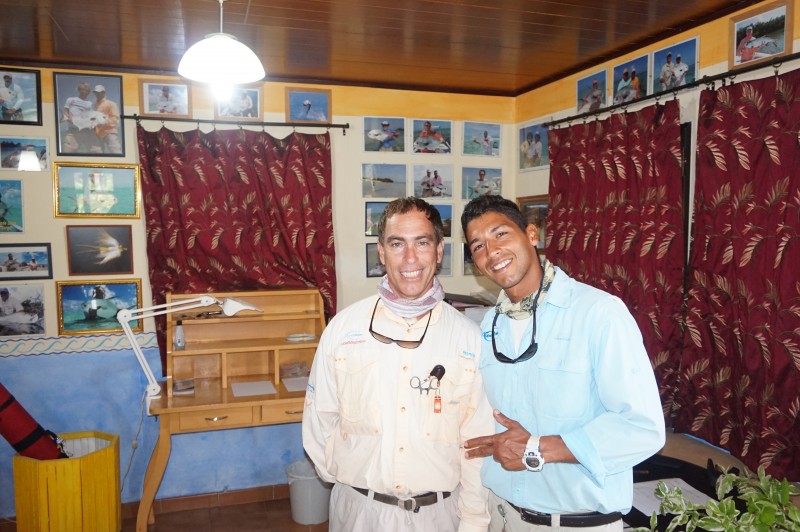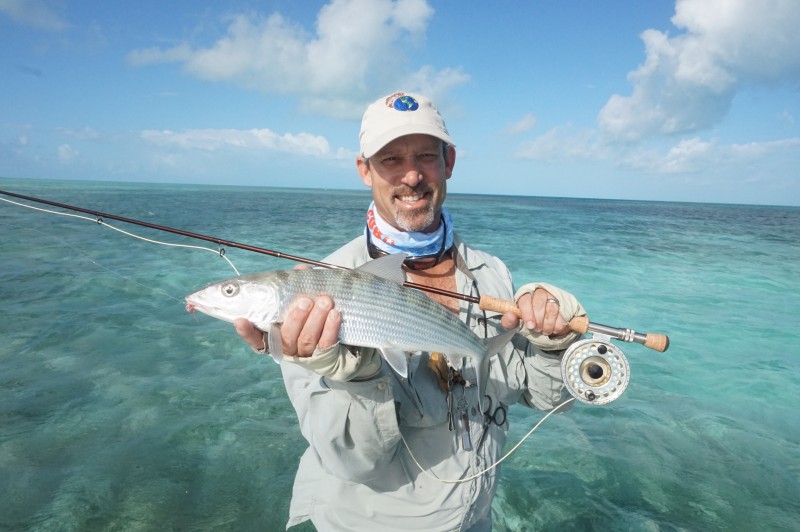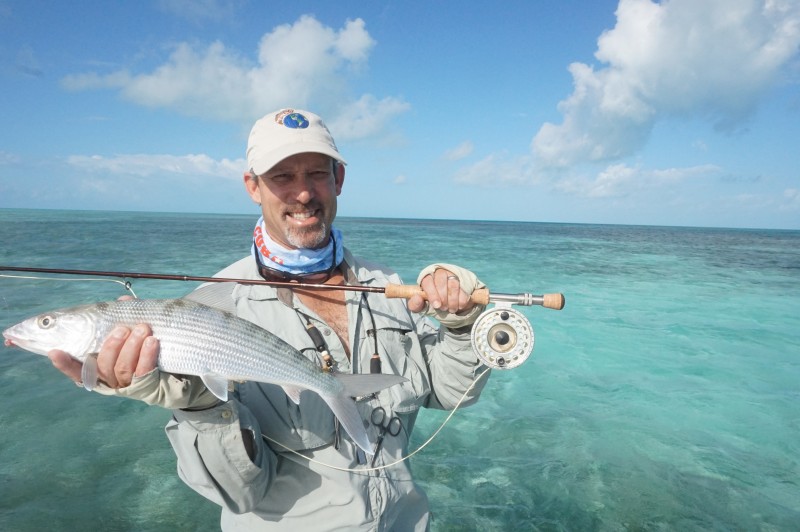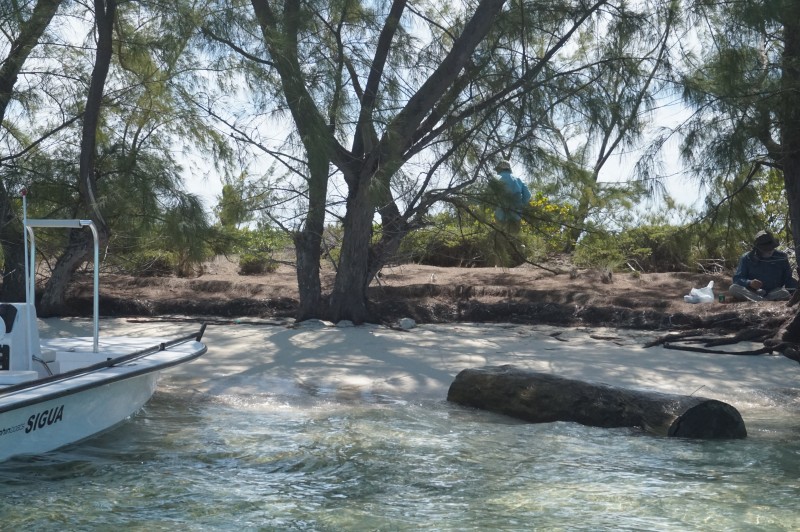 I had one 11 wt. rod set up for tarpon with an 80 lb. tippet and a purple colored cockroach attached with perfection loop knot. Another 8 wt. rod with 12 lb. tippet set up for bones with a shrimp imitation and another 10 wt. rod set up with a crab or a shrimp pattern for permit. This proved to be a good decision on my part because in Cuba, unlike Belize, it's quite common for tarpon, permit and bones to all be located in the same area. Being able to make a quick change to the type of rod that's appropriate for the species you come across is really important, particularly for those who are trying for a "Grand Slam," a tarpon, a permit, and a bonefish all in the same day. Our guide's name was Landy and he was from the Island of Youth, an island with 80,000 inhabitants some two hours west by boat. He was 31 years old and had been fishing these waters all his life. He knew every opening to every channel, knew when the tarpon were migrating, and was quite good in all other areas that make a difference between successful fishing and getting skunked. It wasn't long before he had us on a school of over 2,000 bonefish. It was an incredible sight to see. There were so many fish feeding on the bottom that a huge cloud of murky water was created by their feeding activity. I'd seen schools of maybe 100 bones in Belize, but these fish were close in and feeding right in front of us, while lemon and nurse sharks cruised around. I made a cast of only 20 meters and low and behold, on my first cast in Cuba, I hooked a bonefish that was about 5 or 6 pounds. The bone took line out like a Ferrari on rocket fuel and it was a good thing I had on my sun gloves with a leather patch sewn into its fibers or the line would have dug into my knuckles like I've had happen in years past. Senator Harman, who was fishing with me, cheered me on and after a thrilling 10 minute fight the fish was landed. A short time later, Dick and Pat cruised by and told us they landed several bones and Pat had broken off a 20 + pound Mutton snapper. Like us, they'd seen another school of fish containing at least 1,000 bones. They mentioned that some permit were lurking within the school of bones, apparently seeking protection from the hungry shark predators running back and forth through the crowds of fish.
We stopped for lunch on a small beach and sat underneath a grove of pine trees. The thick blanket of pine needles made for a convenient cushion as we sat on the ground and threw scraps of food to several large and hungry iguanas that would run up and eat anything near our finger tips. Landy told us he caught bonefish everywhere in any kind of tide but preferred the low tide out on flats. That day the four of us in two skiffs caught numerous bones up to 7 pounds. Among our group of 4 fishermen, Pat had the best success, catching and releasing at least 15-20 bonefish. Spirits ran high that night as we enjoyed a lobster dinner at the resort and partook of many free drinks at the bar, including a terrific 7 year old Cuban Rum that the bartender, Miquel, served us.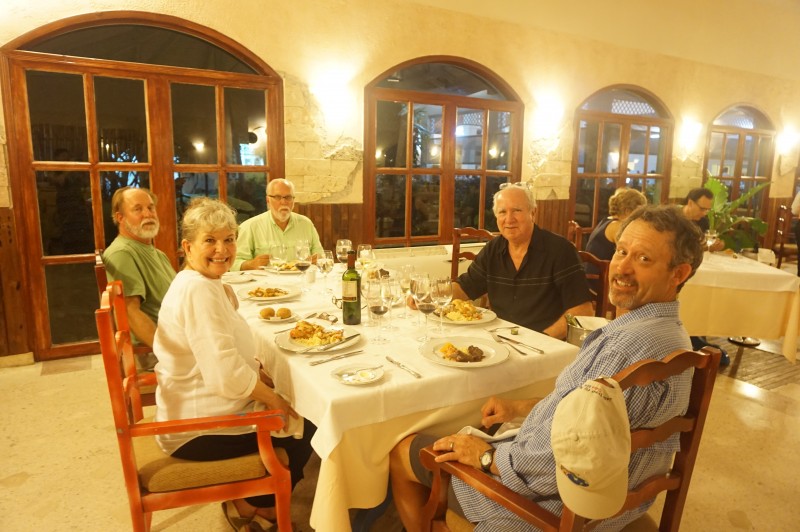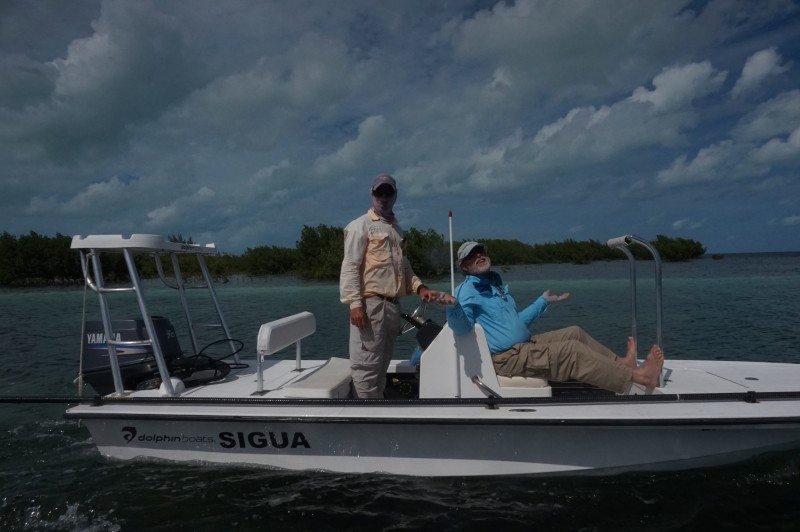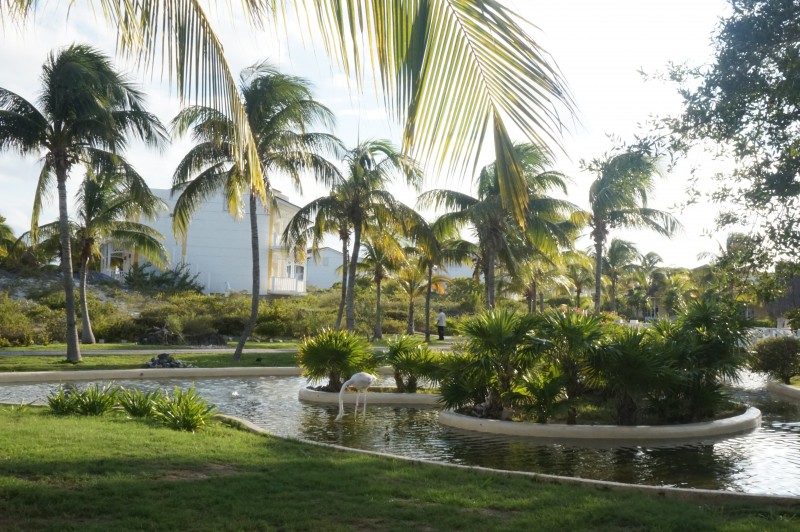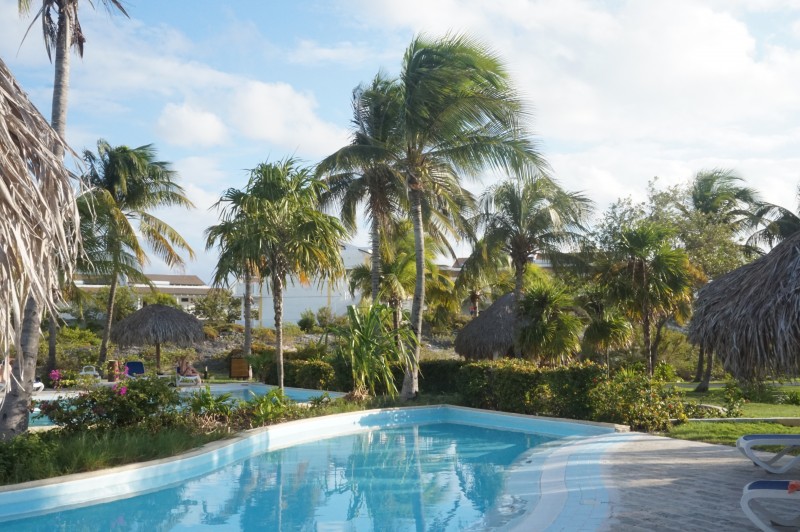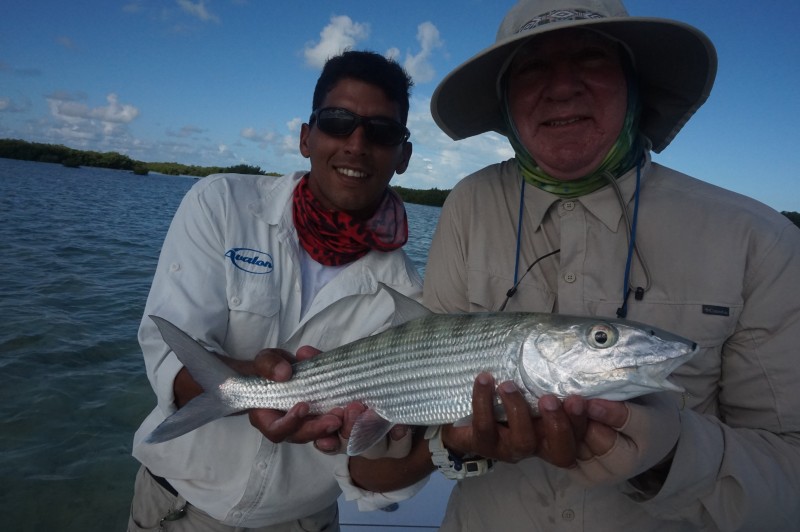 During the next two days, the Senator and I caught many more bonefish. Almost without exception, we found ourselves casting to huge schools of bones. The days were mostly calm, but if the wind came up I would splash water on the casting deck and this would hold my line on the deck. You don't want to have your excess line spilling over the side of the boat, because sometimes an opportunity arises and you need to be able to react within seconds at lightning speed. Your ability to make a quick and accurate cast to your quarry is the difference between success and failure. Often I would gather my excess line in my right hand, put it in a loop, and hold it in my left hand until we saw fish, and then I would drop it on the deck and cast.
Several times during the day we headed into the mangrove canals and caves and Landy would crash the water making noises that would attract the tarpon. Very soon resident tarpon would come to investigate the noise, hoping to find some friendly fish that was finding food for then them. More often than not, we saw tarpon between 10 to 20 pounds. I caught several in waters not much deeper than 5 feet. They seemed kind of dumb when they took the fly in such shallow and often murky lagoon water. Landy told me he caught huge tarpon at any time of year in channels where the tidal flows come in and out from the open ocean. He said he had his best results on rising tides when the moon was at its lowest in its monthly cycle. He indicated that the big tarpon migrate during the year and the best months to catch a large tarpon (100 pounds and up) is during the migration months of April, May and June.
On our 4th day of fishing, the ocean was dead calm. Speaking of weather, we had excellent conditions the whole week we were there. Temps were in the mid-80's, there was mild humidity and a few clouds here and there every day. This particular day was the finest day of all and Landy told Pat and me that we would be fishing in area 6 which was supposed to take an hour to get there by boat, but because of the calm day, we made it there in just 40 minutes. It was like cruising across a double layer cake and before long we were in a channel chasing tarpon around left and right. In these circumstances your cast must be as long as humanly possible. Thirty meters is a must and I encourage all who read this article to practice casting long distances using the double haul and learn metric distances, because all of the guides give you target distances in meters, not yards or feet. We caught several more tarpon that day in the 20 pound range and later we heard the Senator also caught a nice 25 pound tarpon that day. Later, while we were cruising on a flat about 4 feet deep or less, I went to get a drink of water and as I closed the lid on the ice chest it made a loud clunking noise. Landy said, "Jack, keep it quiet or you'll scare the permit." For permit you must be totally quiet when stalking them as they are elusive and very difficult to catch. If tarpon key on disturbances and abrasive noises that are acting like "Conan of the Sea", permit act like the "First Ladies of Saltwater" and remain very fickle and skittish as they feed in small schools of no more than 8 or 9 fish. Fishing for permit demands you make accurate casts leading the fish and not spooking them with a garbage shot. You must take into account the winds of the day and listen to your guide's exact words and do exactly what he says, or you will never have a chance. The strip is of utmost importance, for tarpon, long strips, very fast, then slower. For permit with a shrimp, slow to medium 5 inch strips, smooth and continuous, are best. I lost an opportunity at the biggest permit of my life because I used a crab pattern from Belize and didn't consult with Landy before I changed to it. The lesson to be learned from this experience is to use local shrimp patterns when fishing for permit and don't use patterns from Belize or other permit fishing areas. Landy was a great guide, not just because of his knowledge of the local waters, but he also provided us with insight into what life is like in Cuba. When I asked him what he thought about possibly lifting the American embargo he said, "That would be great, but right now we would welcome any country that would be willing to bring things we could use here in Cuba."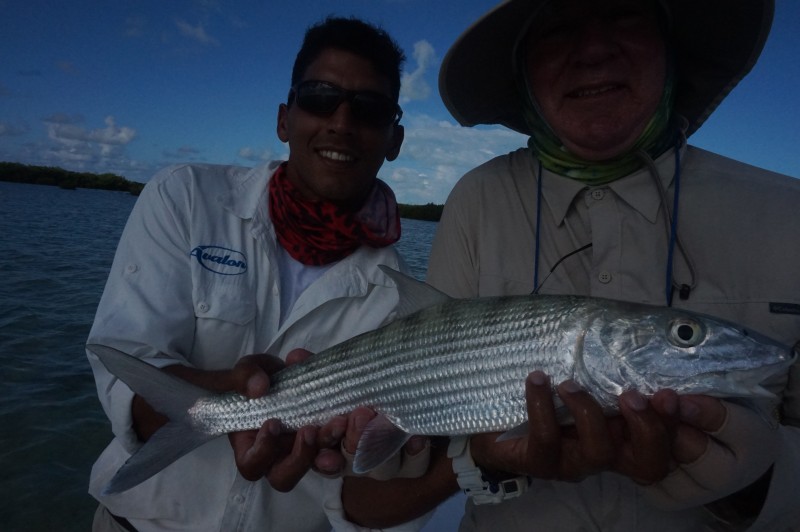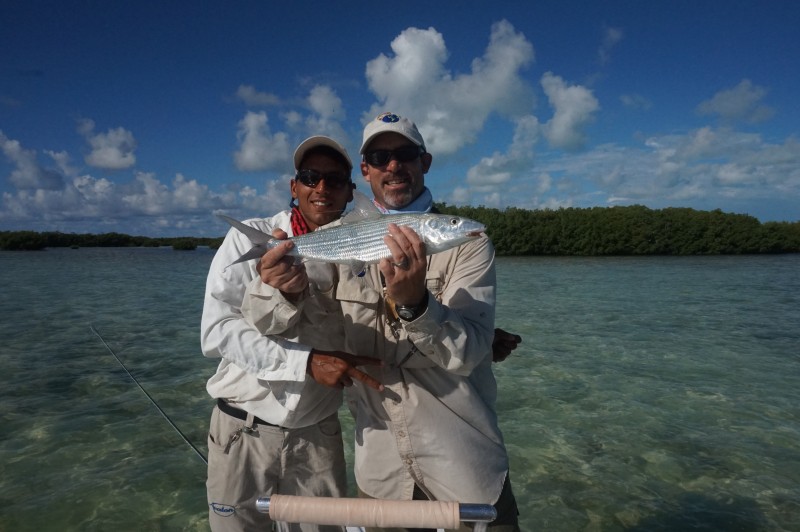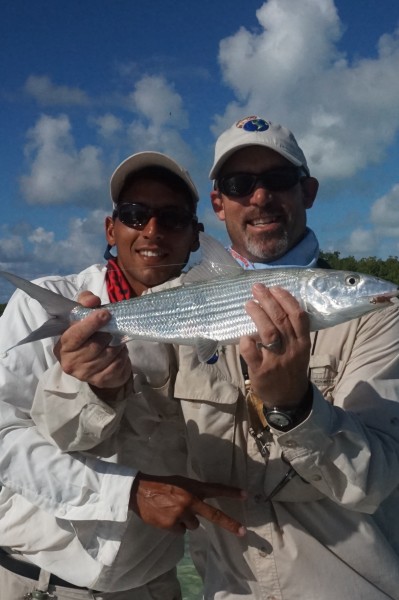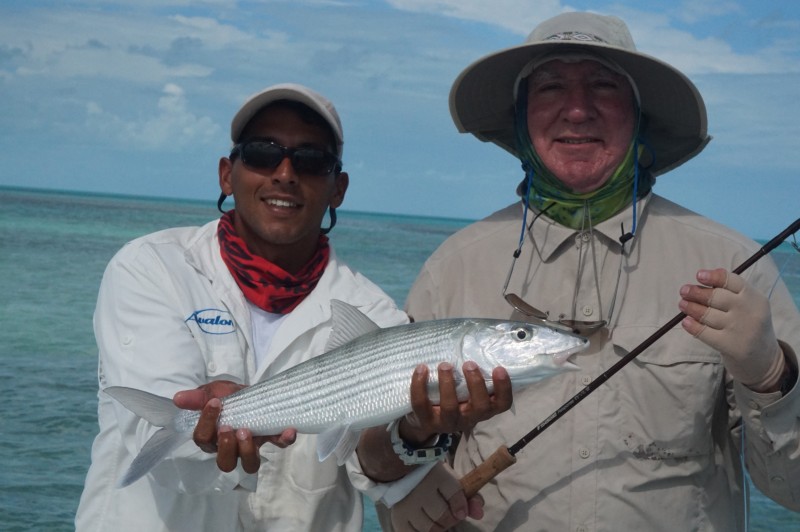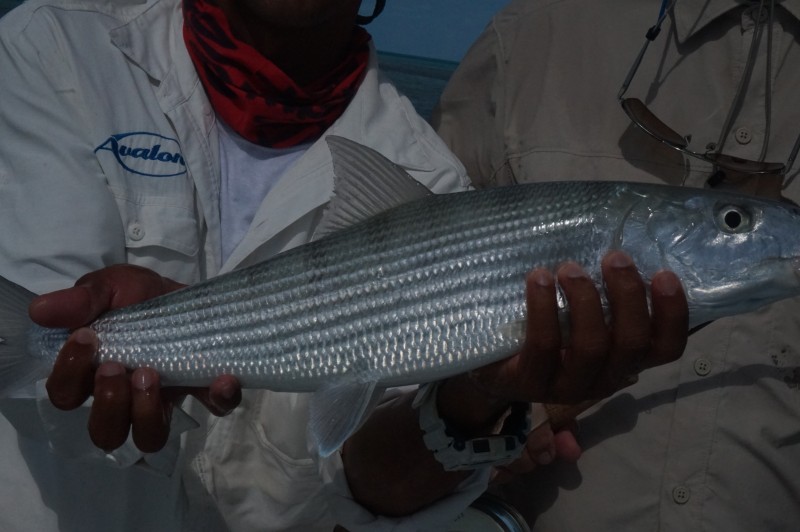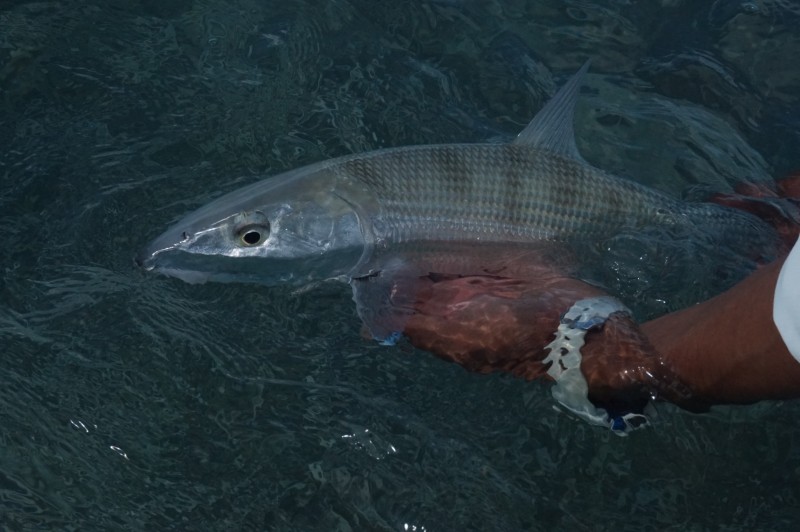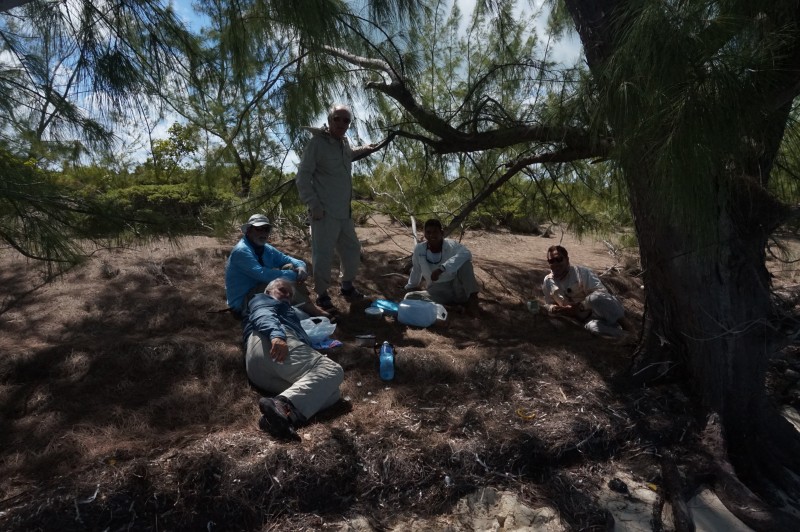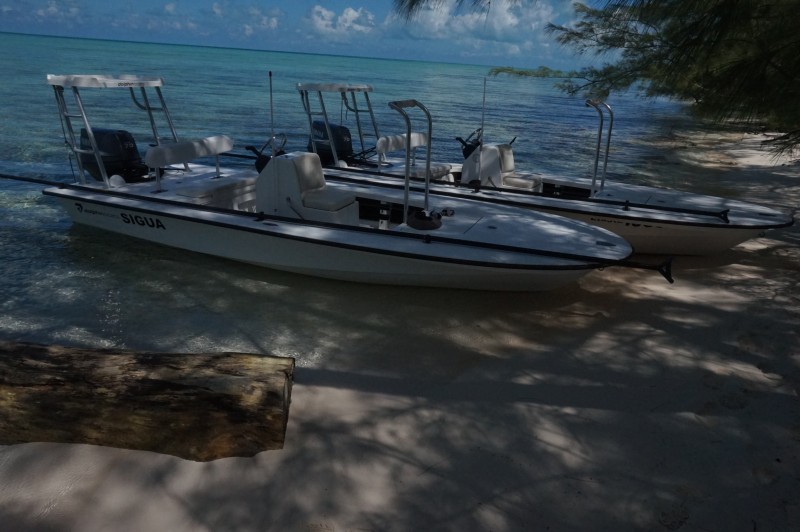 Check out www.cubaflyfishguide.com For More information. Jack & Carola Trout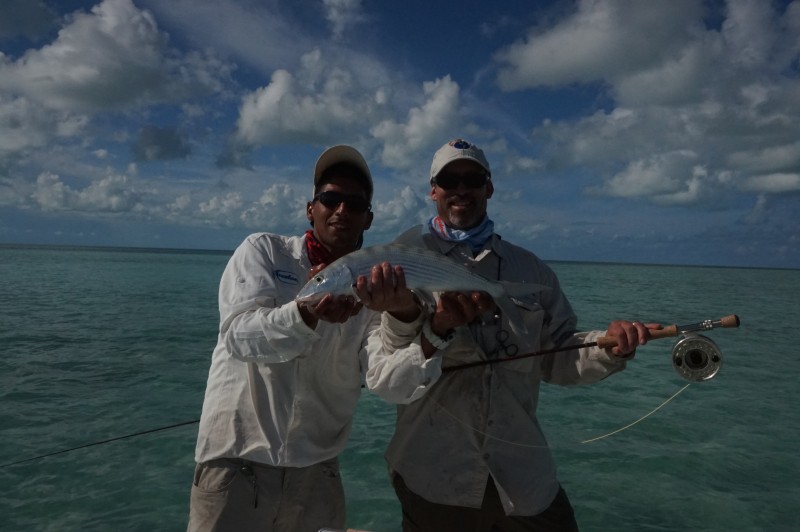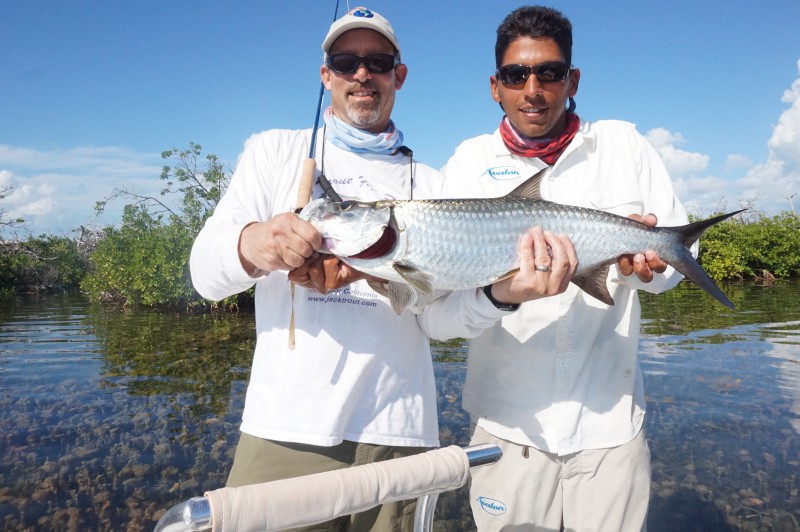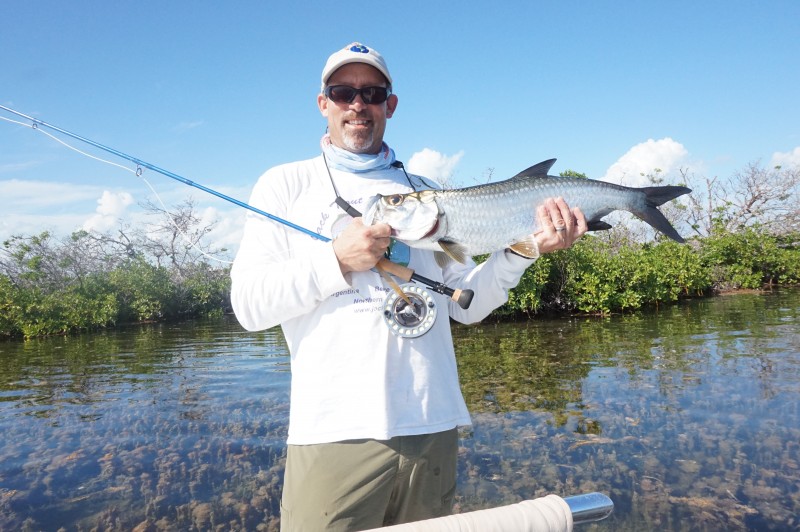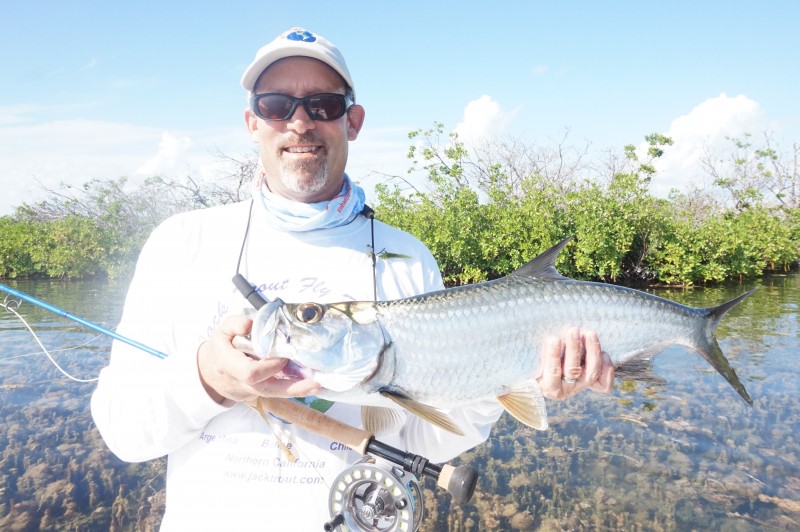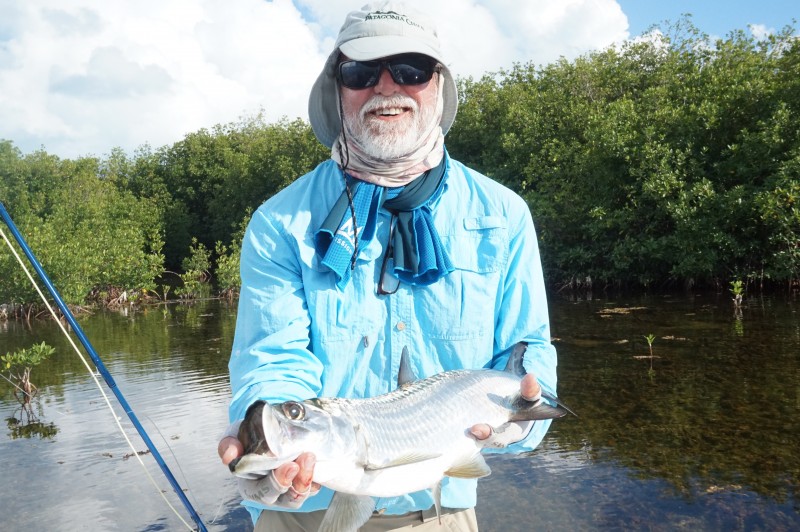 The day I fished with Pat, I landed lots of different fish, including a snapper, bonefish, tarpon, and I had a big barracuda on for a while. If I'd just caught that big permit I would have had a grand slam, however, being the outfitter who organized the trip, it was better for me to allow the others in our group to go first and not be in the pole position or go for personal records. A true guide or outfitter will do anything to make his clients' experience the best of the best. I feel a guide guides and the fisherman client fishes. The outfitter is there to enhance the trip and make sure the clients communicate things during the week that would make the trip better.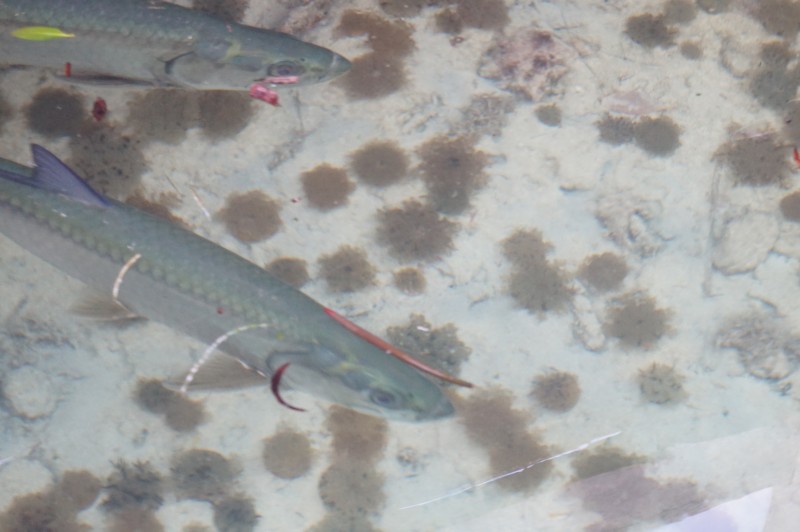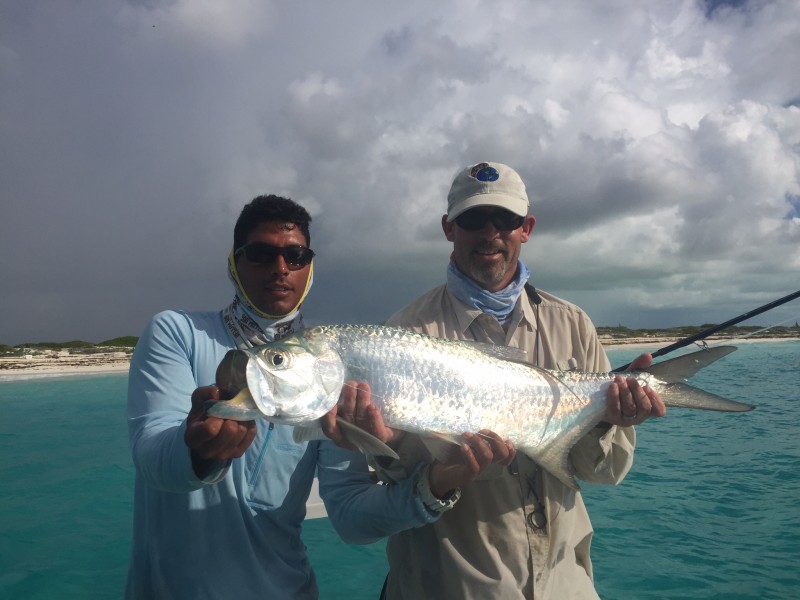 One day Landy took Dick and me to a beach near Paradise Beach where he told us last year it had been rated the number one beach in the world by TripAdvisor. It was gorgeous and truly a little piece of paradise for those people that were lucky enough to be enjoying the beach that day. Later Landy took us to an area where waves were crashing down on a reef just one football field out from shore. I thought to myself, this doesn't seem like a place for fish, it's just too beautiful. Then Landy said, "Jack, look at 10 o'clock, a huge school of tarpon!"
We soon were poling our way towards the school which was frantically crashing the water. You could see their huge tails as they rolled on the surface and then dove into a school of sardines. Landy was working at full speed now, pushing and poling back and forth with his 25 foot long pole trying to get our boat closer to our prey. The school looked to be at least 25 in number and bigger than anything we had previously seen. It was my turn on the casting deck, and if I could make the right cast, I might be able to end the week with a great fish story I could take back and tell the folks at home. Suddenly, Landy yelled, "Jack, there they are at 25 meters at 11 o' clock!! CAST!" I doubled hauled as hard as I could with my heavy 11 weight rod and just at the perfect flex my line zipped through the air and curved into the pod of feeding fish. I made 3 long strips and bam, the line stopped. I hand set on that beast with a hard strip strike once, then twice, and then a third time before he started pulling out line at a startling rate. I heard Landy shout, "Yeah, Jack you got your big tarpon, you got your big tarpon!!" Just then the tarpon jumped into the air once, twice, three times, but my extra hook sets paid dividends and he rushed past us into the blue-green turquoise water that only the Caribbean has. The whole school was under us, and Dick started casting as I jumped down off the casting deck to try and make this a double hook-up. It wasn't to be as the school disappeared before Dick could hook up. It took about 20 minutes, but soon a 30 pound tarpon was at the side of the boat with my fly in his mouth. Landy and I exchanged a high five with my open hand and after the obligatory photos, he released the fish. By then Dick and I were done for the day, and we decided to end it with lunch at a small restaurant in a nearby marina where we had a fantastic lobster lunch for 20 Cuban pesos. After lunch we were pretty much convinced that Cuba was the best place we'd ever fly fished in saltwater. We decided to head back to the resort and take it easy, visit the beach, reminisce, and hang out after our last day of fishing, and, oh yeah, there was the lure of the open bar and that good Cuban rum. Later on, Julian from our group arrived with the others and told us he had a Super Grand Slam, landing a permit, tarpon, bonefish and a snook all in one day. We toasted his catches and the great time we had that week with more fine Cuban Rum and headed soon after for our last wonderful dinner in Cayo Largo, Cuba.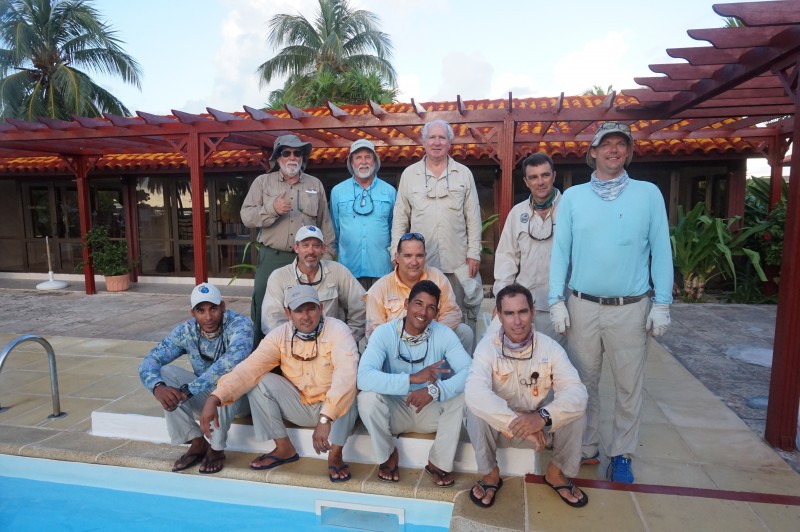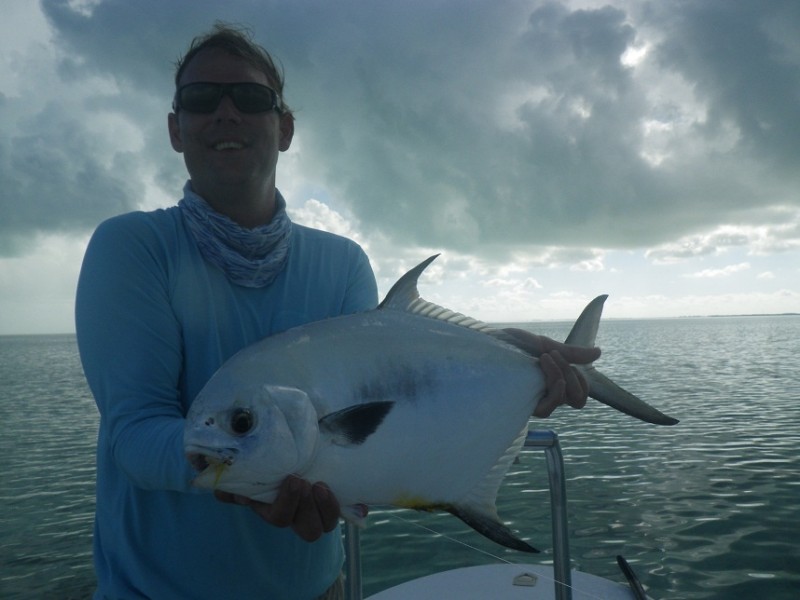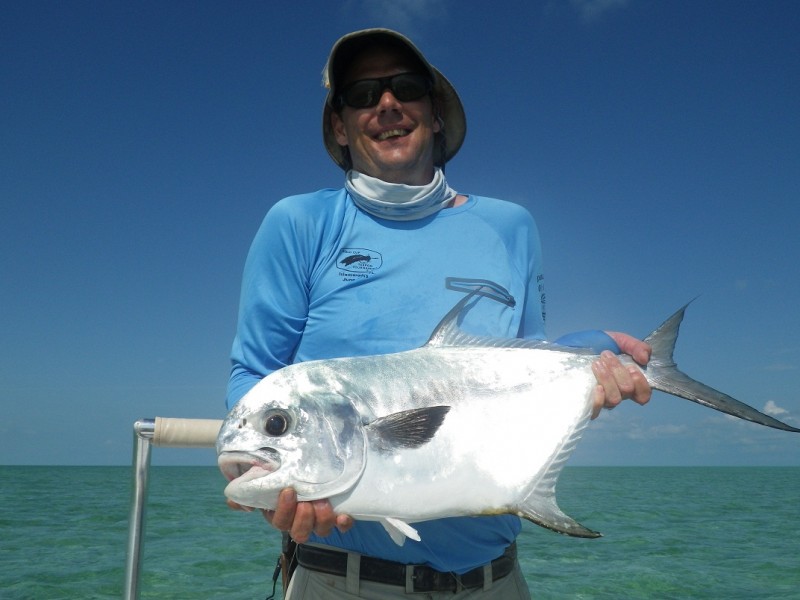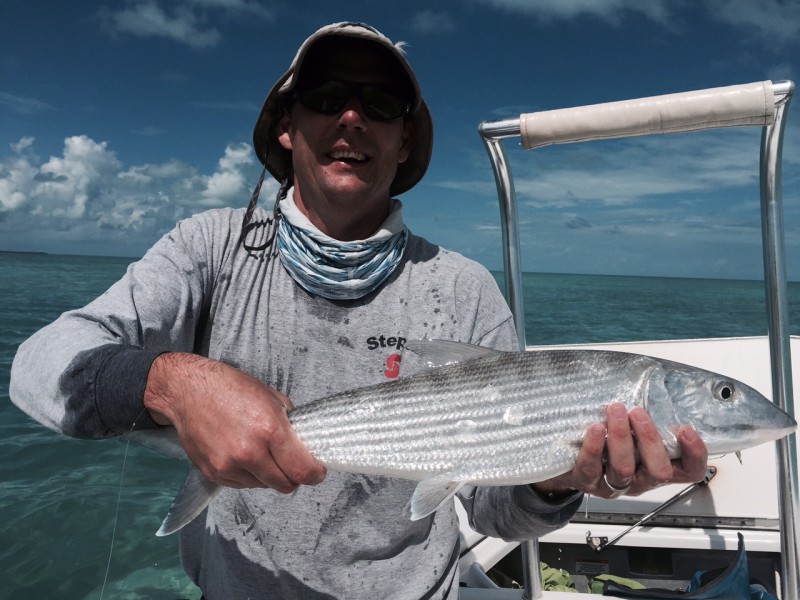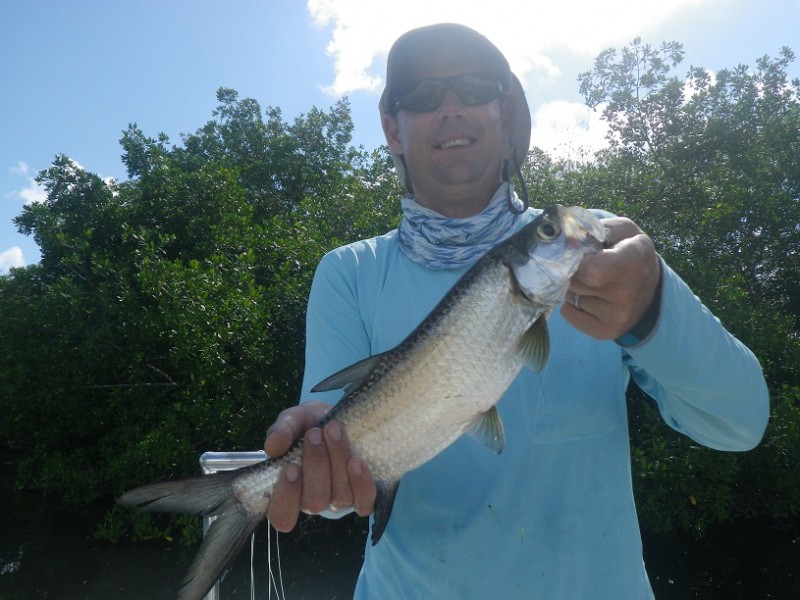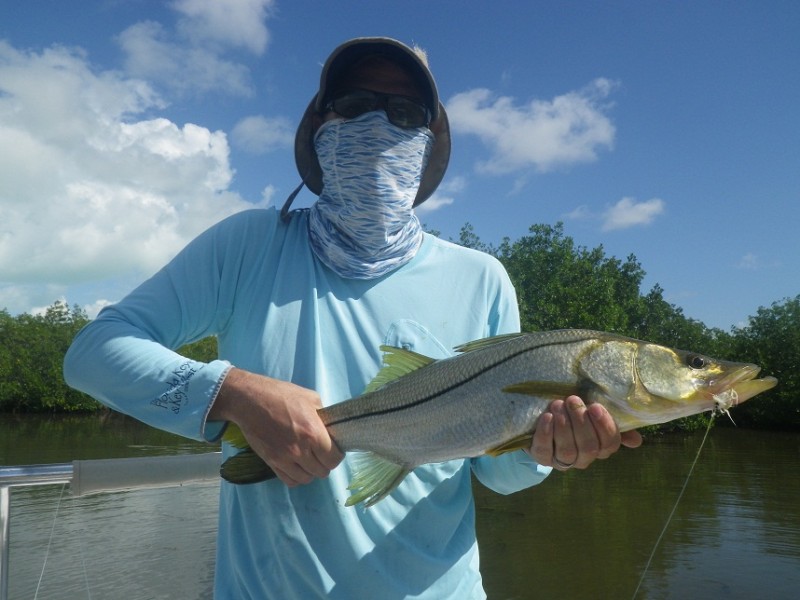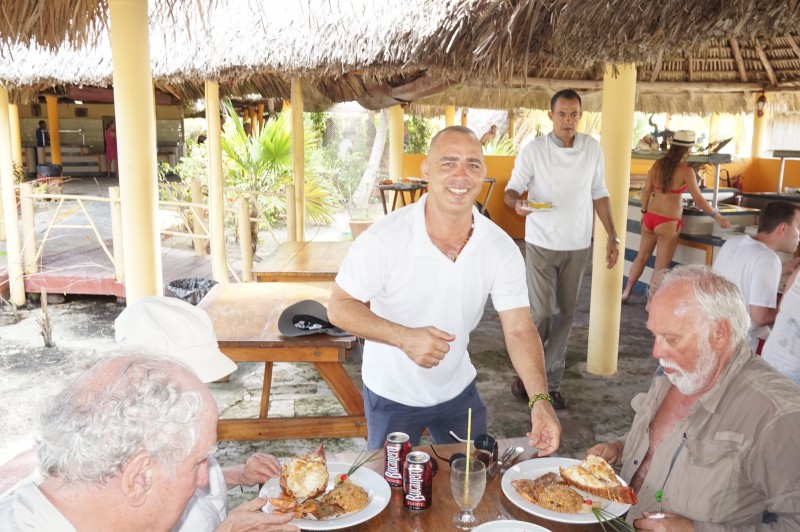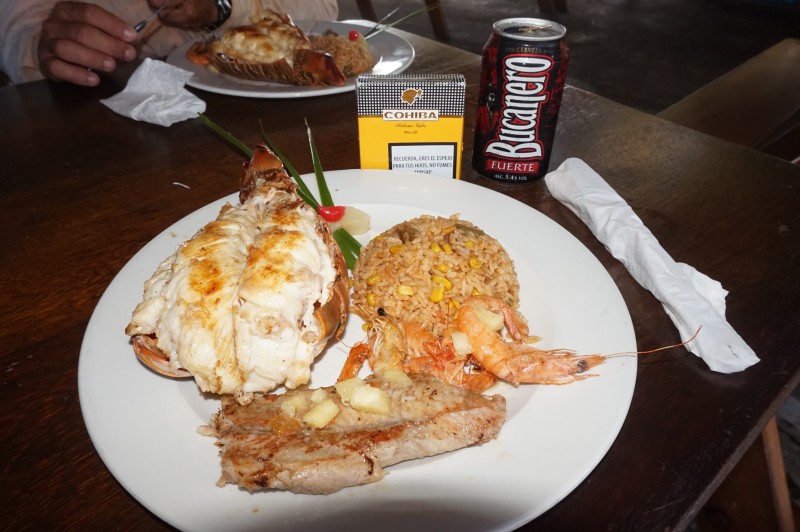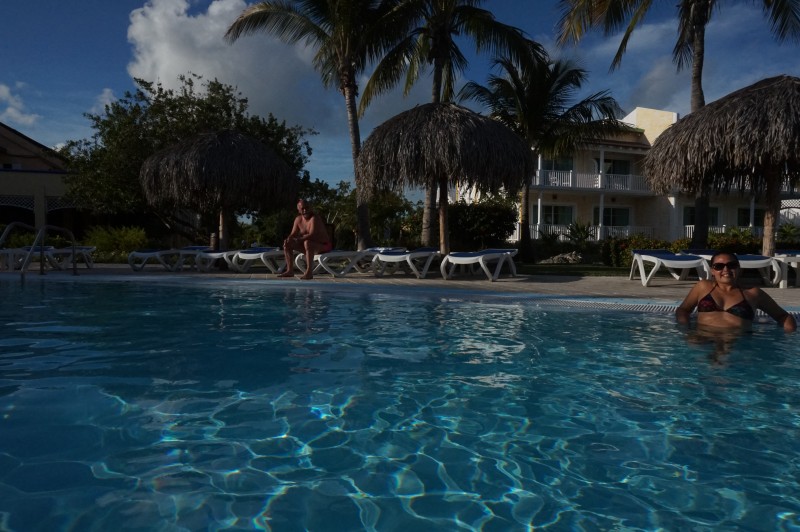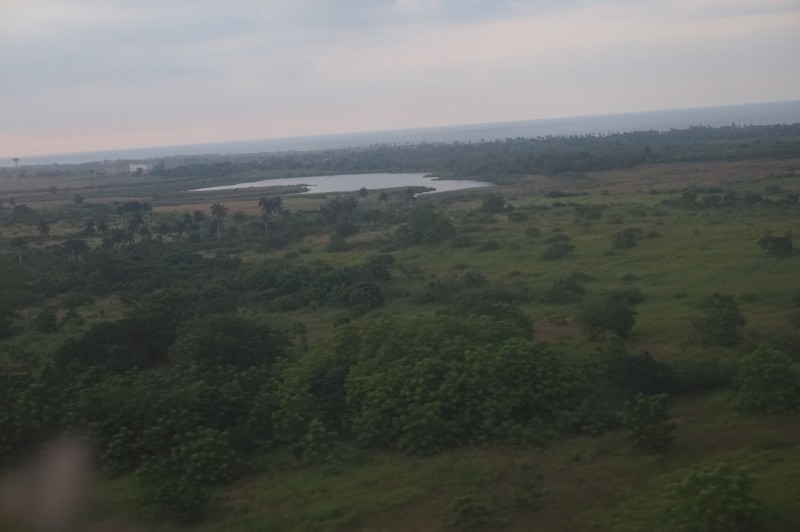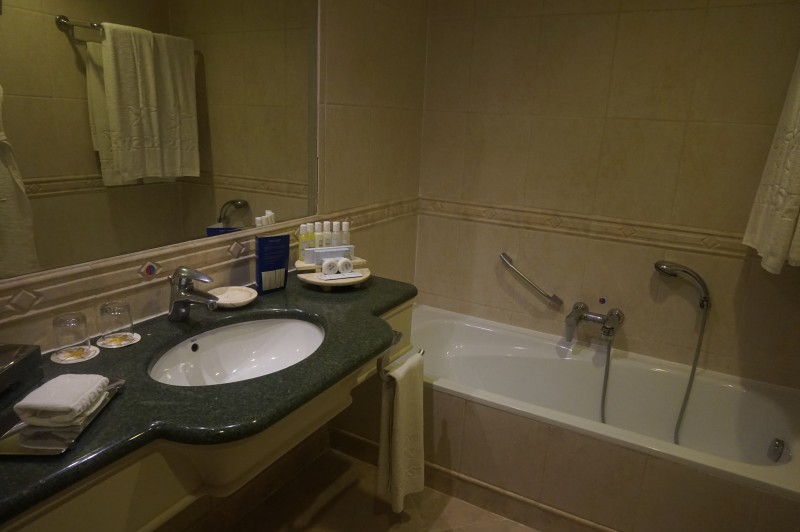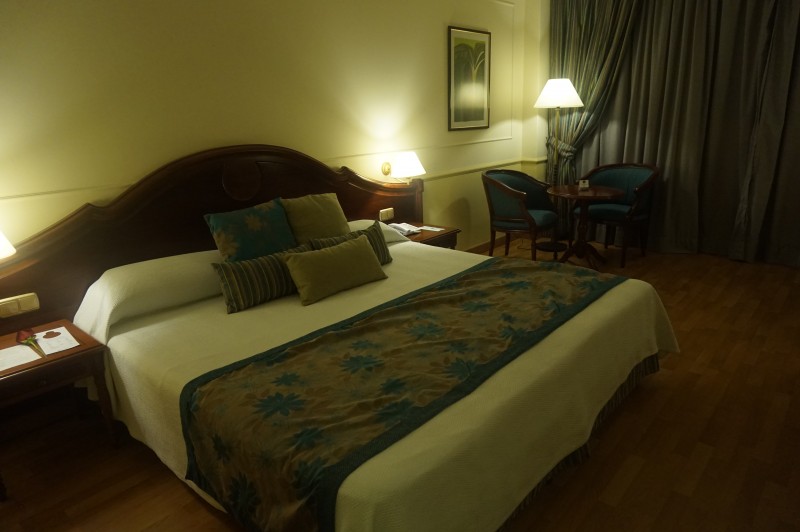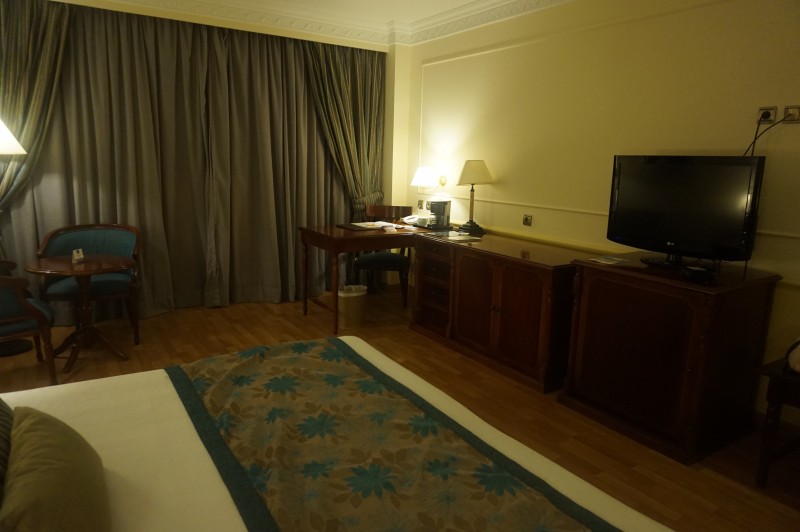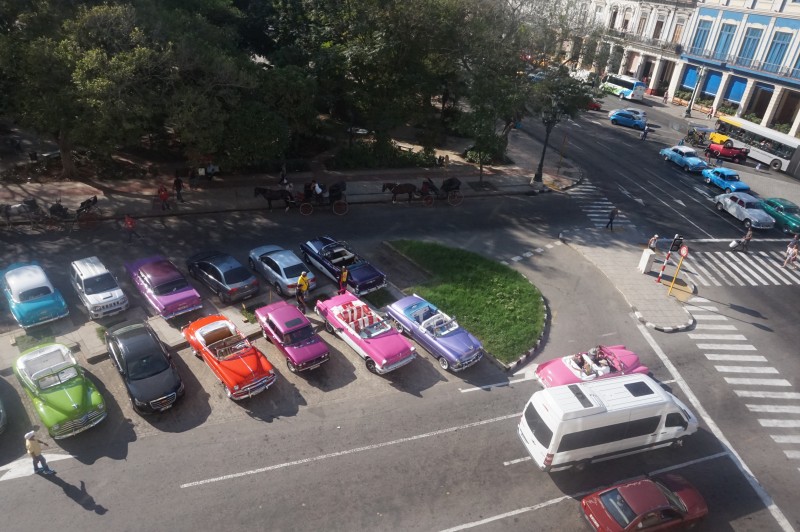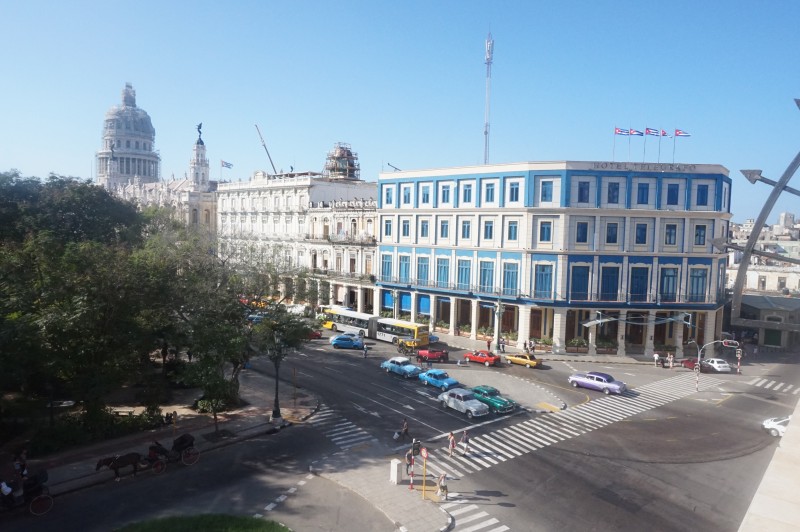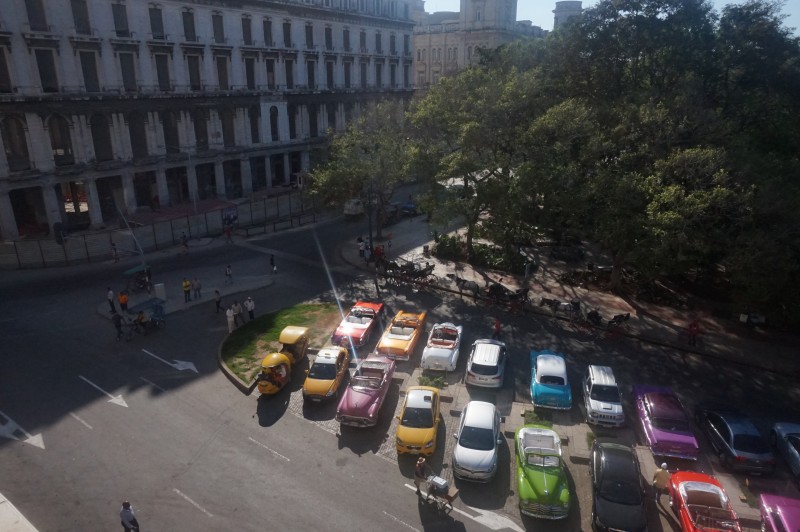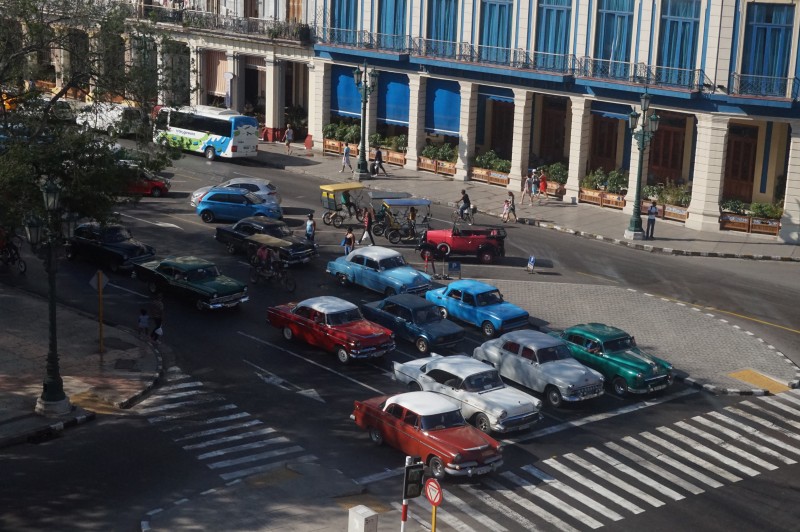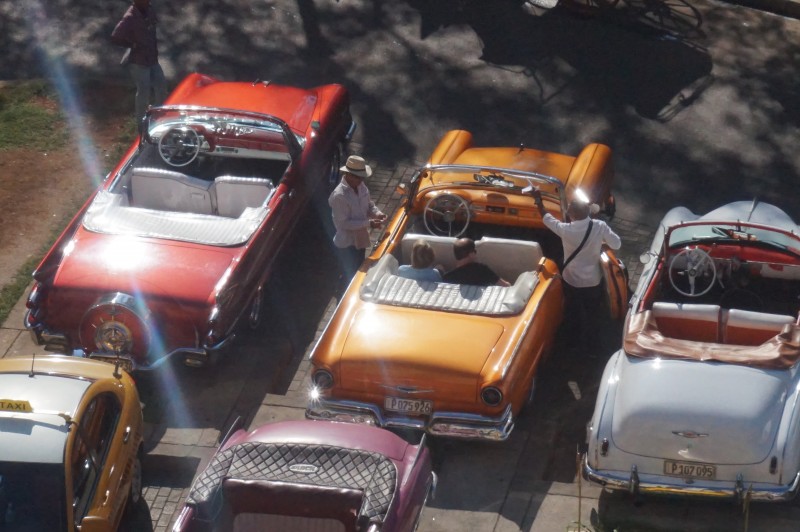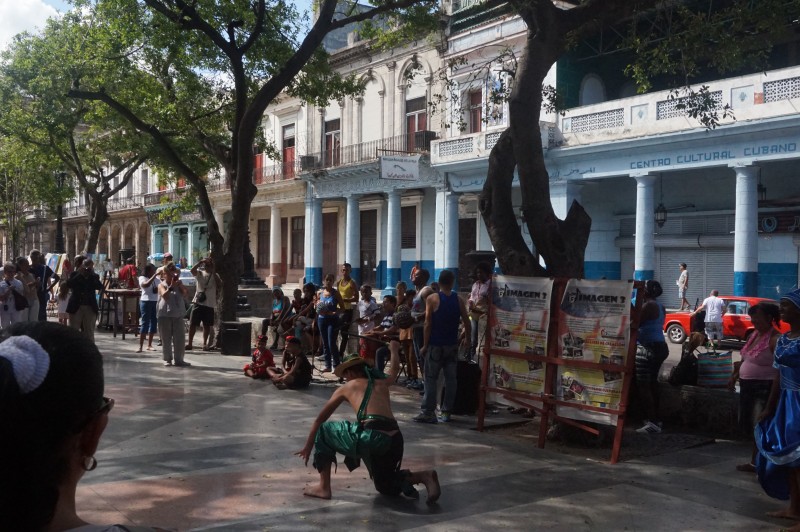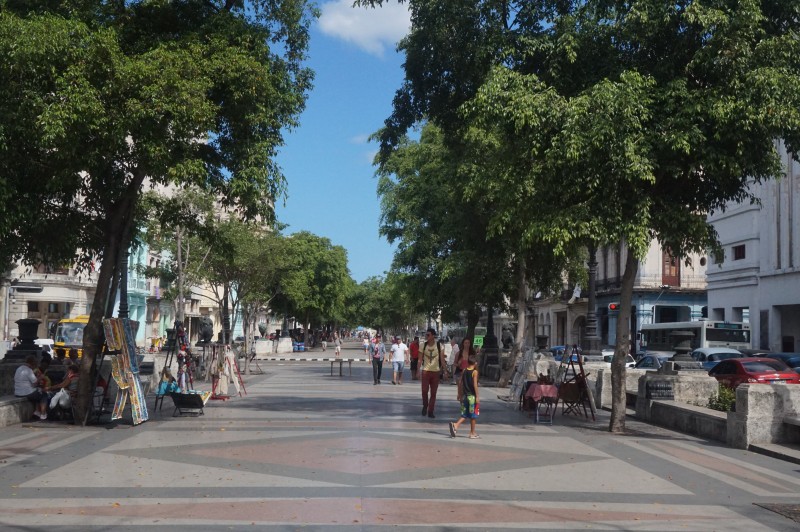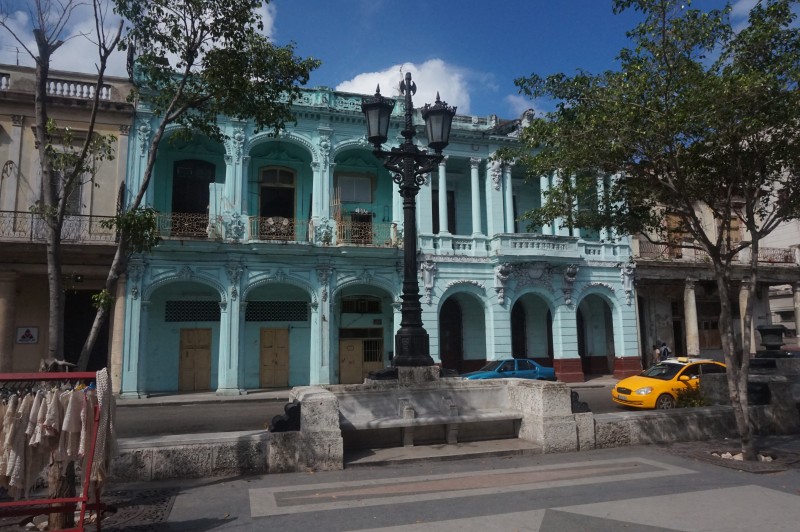 Our return trip to the States was somewhat long and arduous as we again had to travel first to Havana and then to Mexico City. I arrived safely home with a box of Cuban cigars and a nice bottle of rum, not to mention the memories of a trip of a life time. Yes, things "they are a changin" in Cuba. Better hurry on down there before it becomes overly developed and turns into the next Miami Beach! I'm already taking reservations for my next trip to Cuba on May 8-15, & June 25th to July 2nd, 2016. Give me a shout. I'd love to have you join us.    Jack & Carola Trout   – info@jacktrout.com