2014, 2015 & 2016        TRIPADVISOR'S TOP AWARD WORLD FLY FISHING OUTFITTER.
                                                                                         
SPRING
 SIGN UPS FOR * UPPER SACRAMENTO, McCLOUD   &  LOWER SAC * YUBA RIVER * M.F. FEATHER RIVER * KLAMATH * PUTAH CREEK * PYRAMID LAKE * TRUCKEE RIVER * DESCHUTES * SANDY RIVER * CHETCO OREGON
                       MARCH * APRIL * MAY * JUNE  – 530-926-4540
530-918-8879 OUR INTERNATIONAL PHONE THAT RINGS ME ANY WHERE OR EMAIL AT INFO@JACKTROUT.COM
                                           MORE DESTINATIONS TO CHECK OUT
Cuba Tarpon                                                       Belize Permit                               Pyramid Lake Cutthroat
Chetco River Oregon Steelhead      Sandy River Oregon Steelhead       Spain Pyrenees Zebra Trout
Romania Transylvania Dracula Trout      Brazil Peacock Bass               Argentina Golden Dorado
Yuba River Steelhead                Middle Fork Feather River Trout         Lower Klamath River Steelhead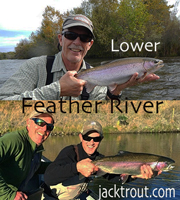 Lower Feather River Steelhead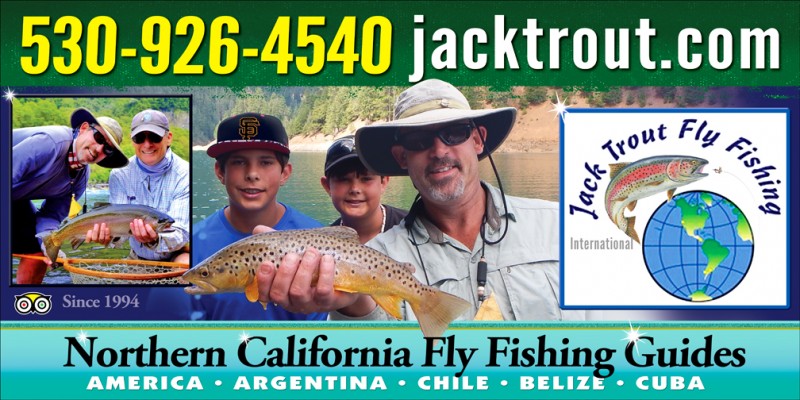 CUBA * CUBA * CUBA * CUBA * CUBA * CUBA * CUBA * CUBA * CUBA *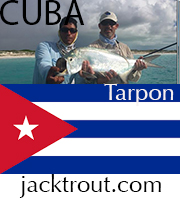 JULY 22nd to 31st, 2016, 4 SKIFFS – 8 Slots Open. $6400 – or stay at the VILLA MARINERA CABINS for $4700 and $1760 for a Non-Angler.
AUGUST 12th / 21st, 2016, 5 SKIFFS – 10 Slots Open. $6400 – or stay at the VILLA MARINERA CABINS for $4700 and $1760 for a Non-Angler.
9 NIGHTS TOTAL 10 DAYS – 6 DAYS FLY FISHING – 2 NIGHTS IN HAVANA IN A 5 STAR HOTEL COMING GOING, PLUS 7 NIGHTS AT A 4 STAR RESORT ALL INCLUSIVE RESTAURANTS & 3 FULL SERVICE BARS ALL OPEN 24 HOURS PER DAY AS WELL AS LOADS OF ACTIVITIES FOR NON ANGLERS. 
WE ARE AN APPROVED FLY FISHING INTERNATIONAL TRAVEL AGENCY, WE ARE WORKING WITH PARTNERS WHO HAVE THE EXCLUSIVE RIGHTS TO ALLOW JACK TROUT CLIENTELE TO FLY FISH IN A PRIVATE MARINE STUDY AREA APPROVED BY THE US TREASURY AND THE CUBAN GOVERNMENT. WE FLY AMERICANS FROM FORT LAUDERDALE & MIAMI TO HAVANA AND BACK, WE KNOW HOW TO GET YOU THERE ON TIME. WE WANT TO BE YOUR AMERICAN PARTNERS IN SAFE LEGAL TRAVEL TO CUBA, WE KNOW THE ENDS AND OUTS AND HOW TO MAKE IT A NO BRAINER, GIVE US A CALL, WE HELP FOLKS LIKE YOU ALL THE TIME. WE HAVE BEEN IN THIS BUSINESS SINCE 1994 AND SPEAK FLUENT SPANISH AS WELL AS HAVE BEEN TO CUBA OURSELVES, WE CAN HELP AMERICANS ENTER CUBA FOR FLY FISHING AND MAKE YOUR DREAM FLY FISHING VACATION A SUCCESS! CAROLA AND I CAN HOST GROUPS OF 6 OR MORE, LET US BE YOUR GUIDING LIGHT IN CUBA BEFORE THINGS CHANGE LIKE THEY ARE SURE TO DO. THE 1ST CRUISE SHIP LEFT LAST WEEK. GIVE US A CALL, JACK & CAROLA TROUT * 530-926-4540.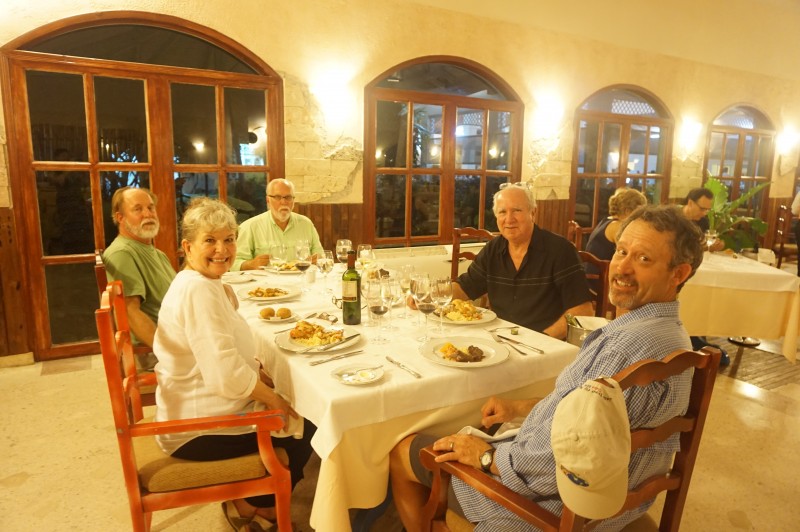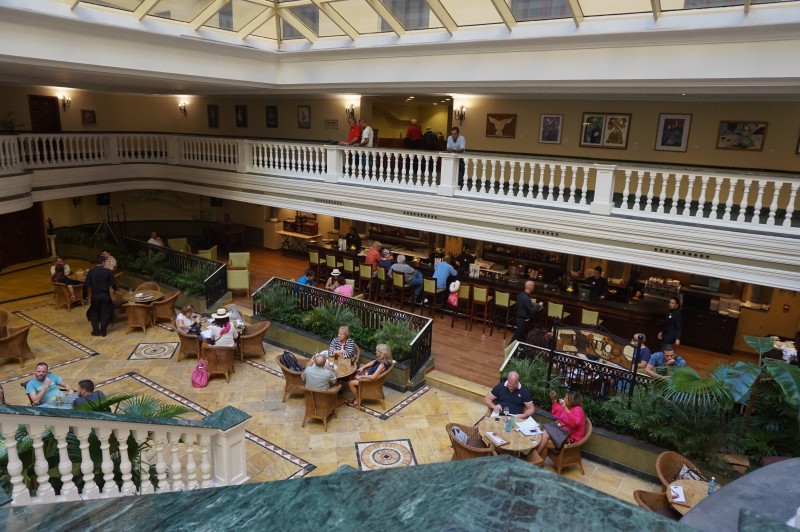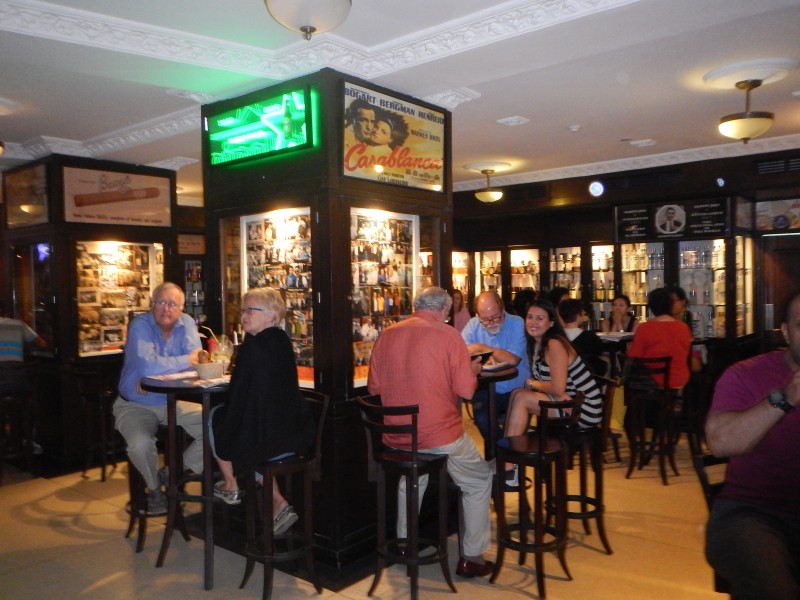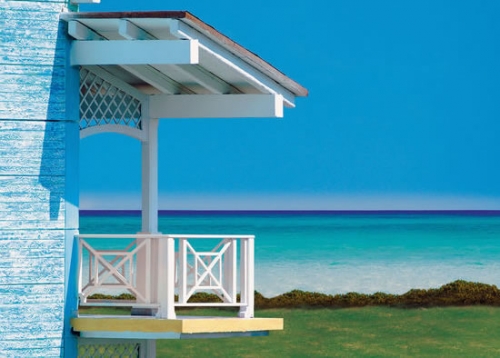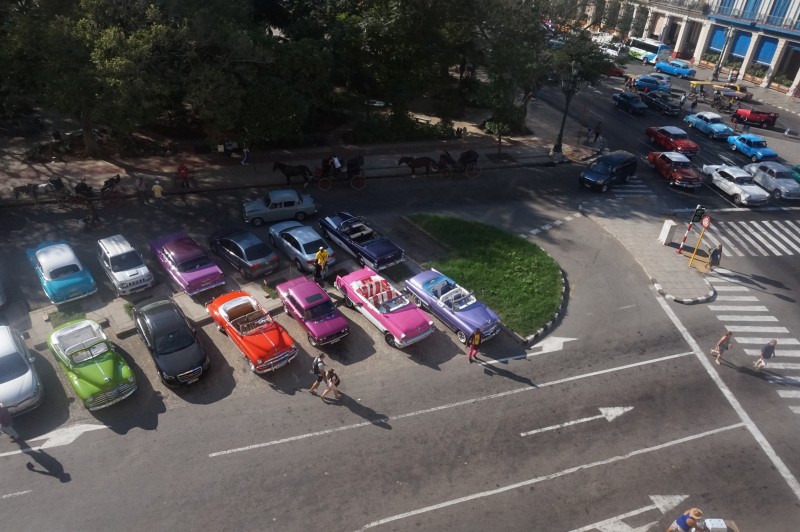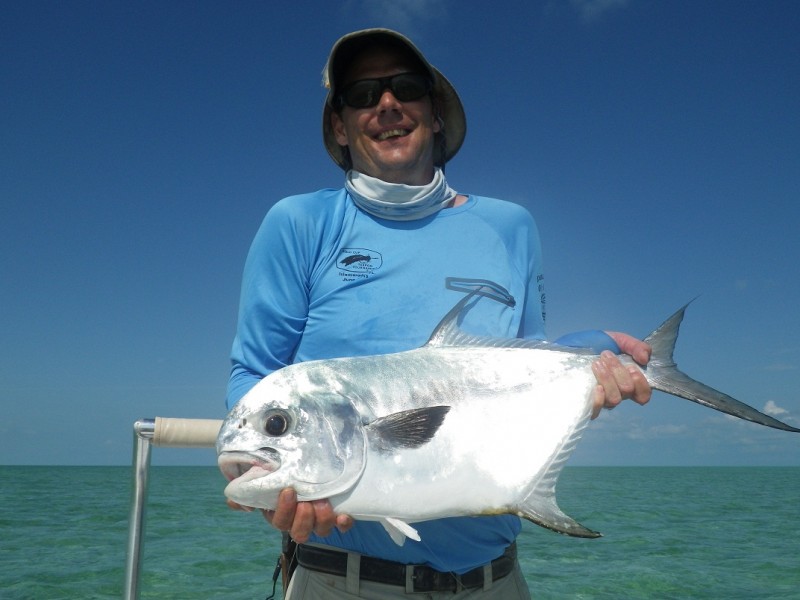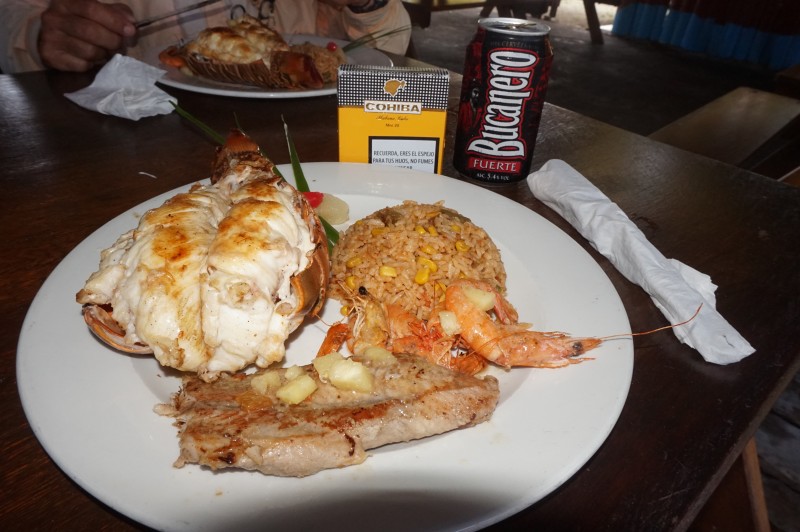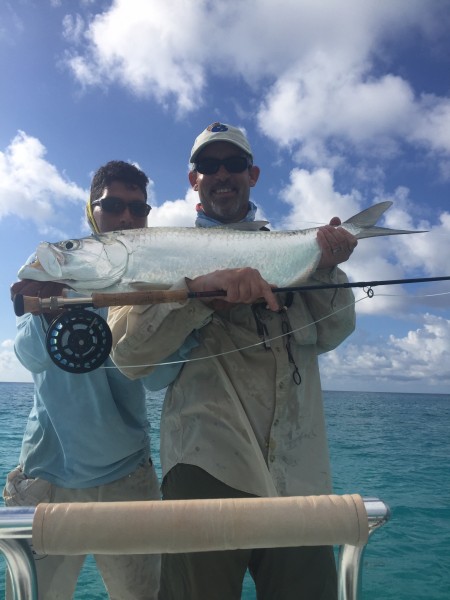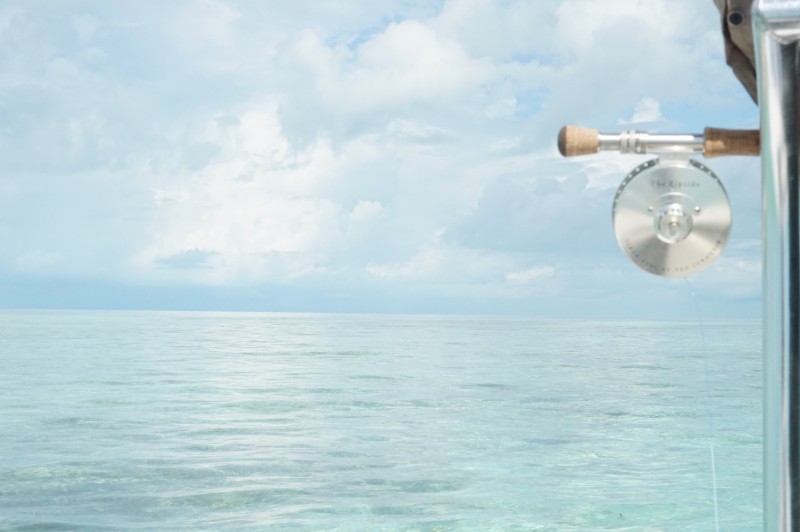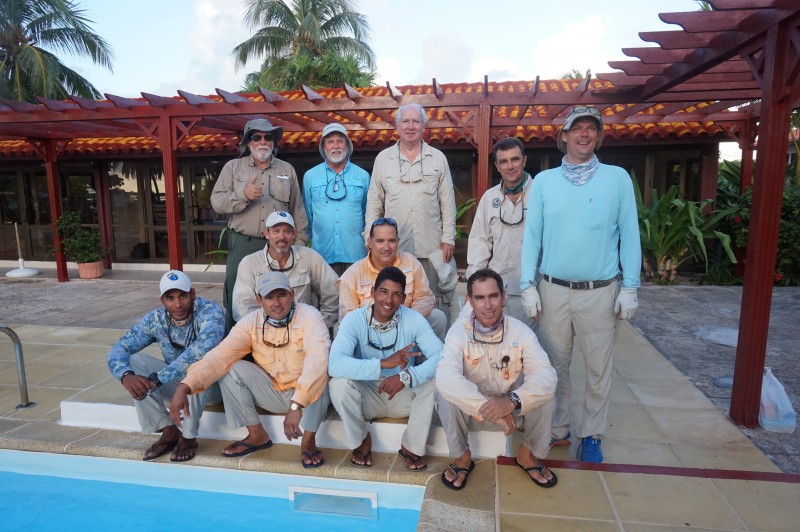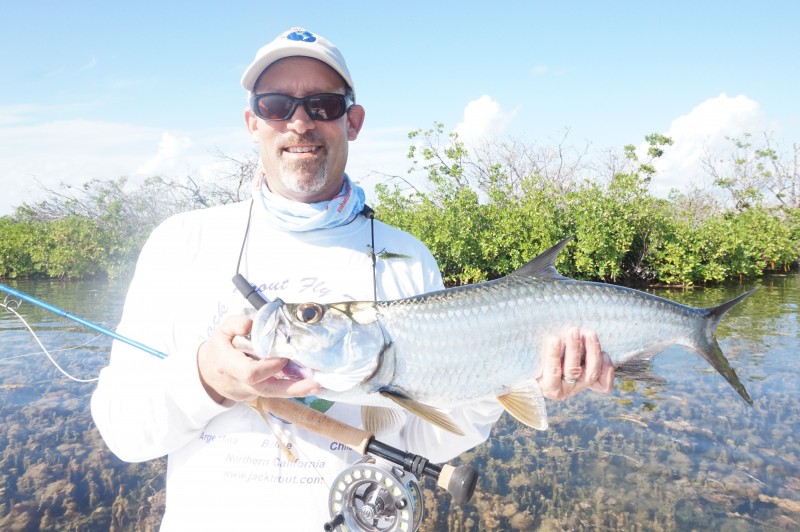 Thanks to these folks for booking trips to Cuba this summer-
Kristin Stroud          Jason Randall
Robert Stroud          Joann Randall
William Stroud         Richard Gebhart
Benjamin Stroud
Jackson Stroud
Charles Stroud
Victor Mahony
Jim Chadwick
SHASTA * SHASTA * SHASTA * SHASTA * SHASTA * SHASTA * CALIFORNIA
Well folks it happen, we got all the snow and rains we needed to reboot all the rivers in Northern California. I'll be able to raft the Upper Sac for several months this year and we can have some memorable trips together. So give us a call and pack your bags because up here in the Shasta area we have plenty of water for your fishing pleasure. Thanks for watching, Jack Trout & Team Trout Fly Fishing International Guides.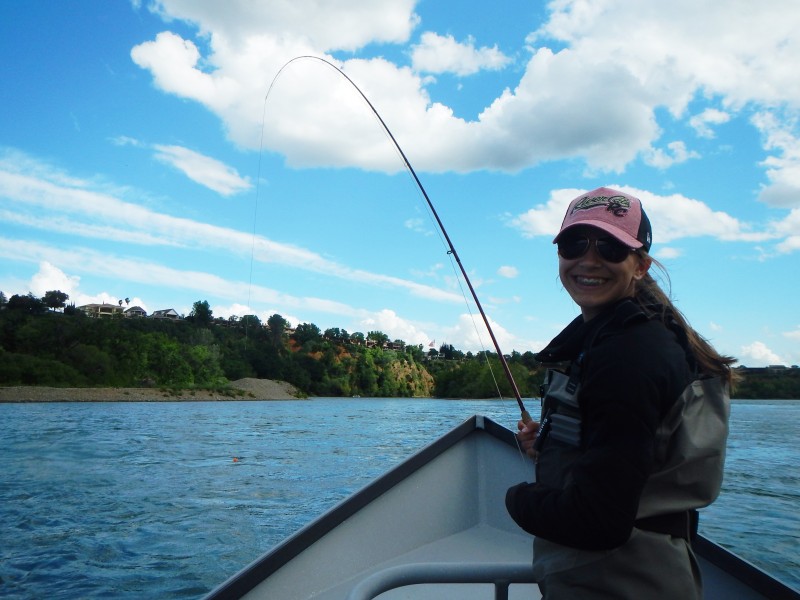 Bailey Granzella came up to fly fish with her father Dino on the Lower Sac, it's great when Moms & Dads can spend times with their kids out on the waters of the North State.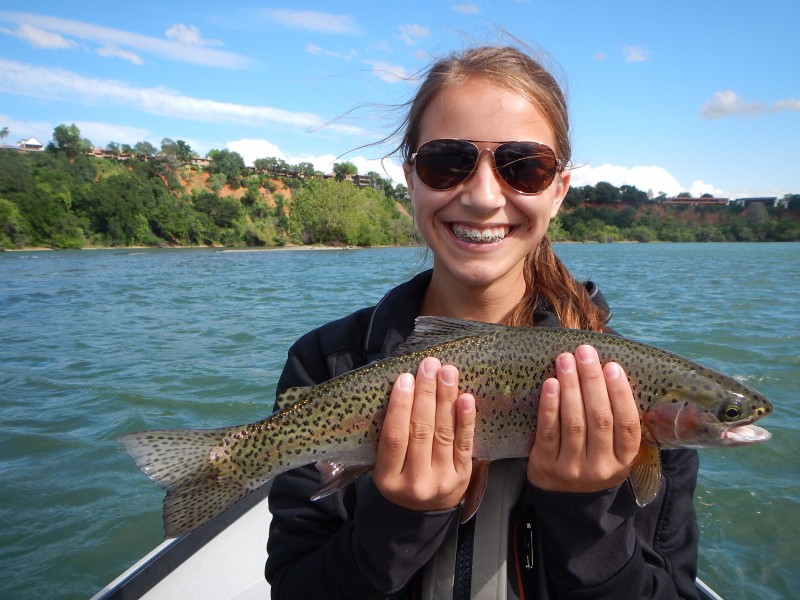 This was her first trout ever landed on a fly rod.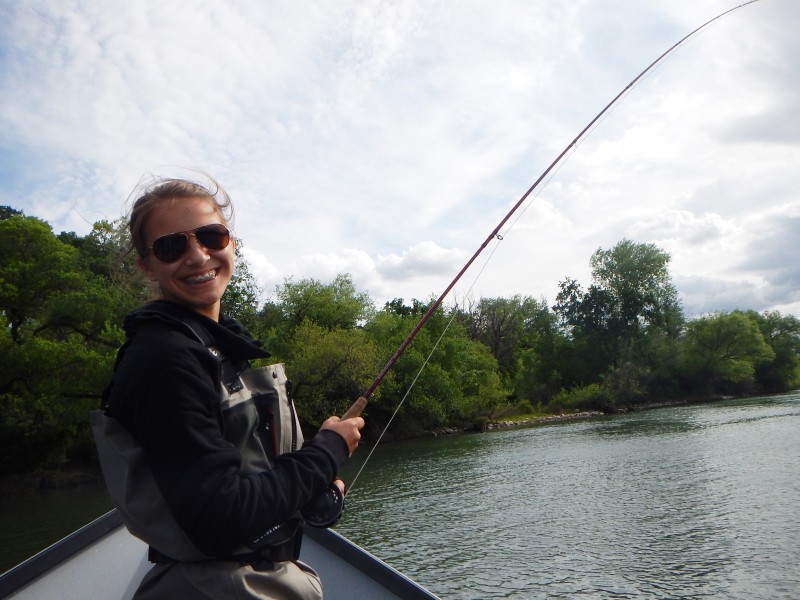 After an hour she was a veteran and landed more trout with pops watching!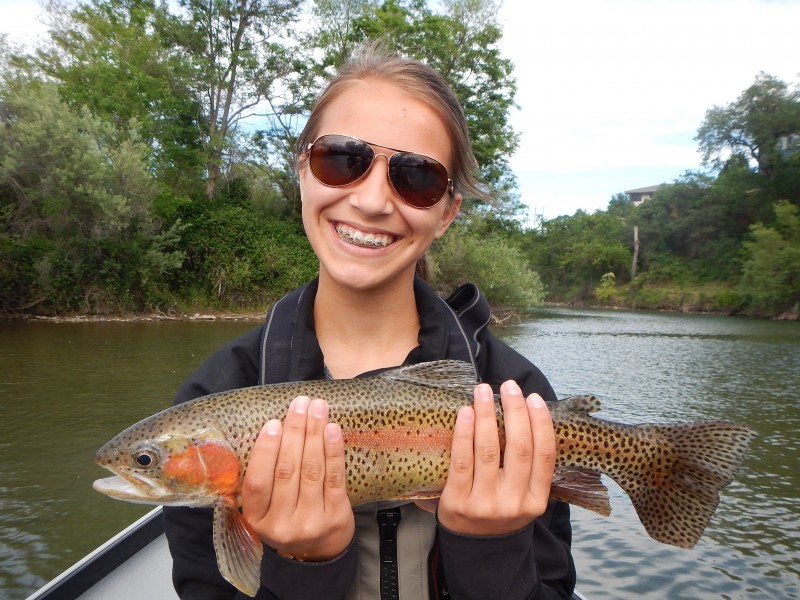 Now that's an awesome catch Bailey! Thanks for coming up, looks like you out fished your dad, we know now who wears the fly fishing pants in this family.
Come into Granzellas Restaurant in Williams to see our fish mounts from local North State rivers. Coming soon!!  Permit from Belize, Tarpon from Cuba & a Bone Fish from Belize!!  http://www.granzellas.com/   < A must stop before or after Jack Trout Fly Fishing Trip!!!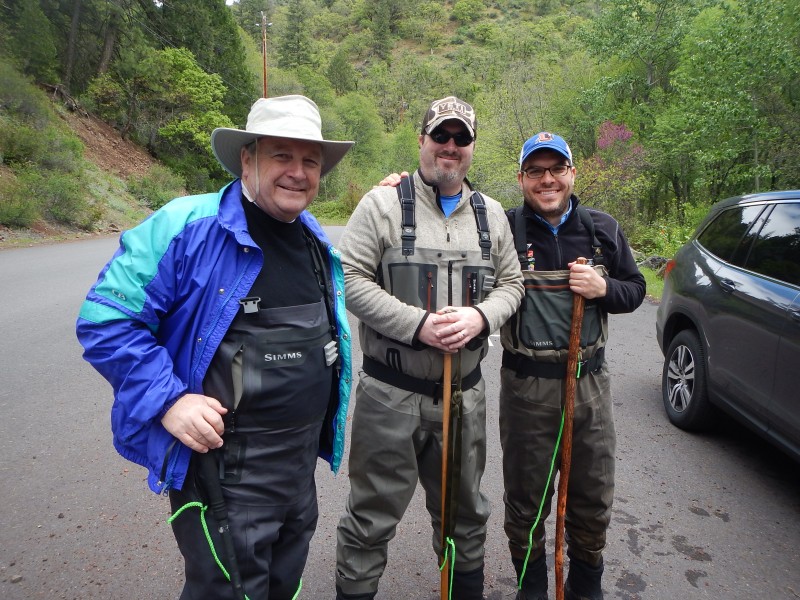 The Pit River is a river we like to guide here at Jack Trout Fly Fishing and we supply our clients with the best Simms Waders, boots and wading staffs.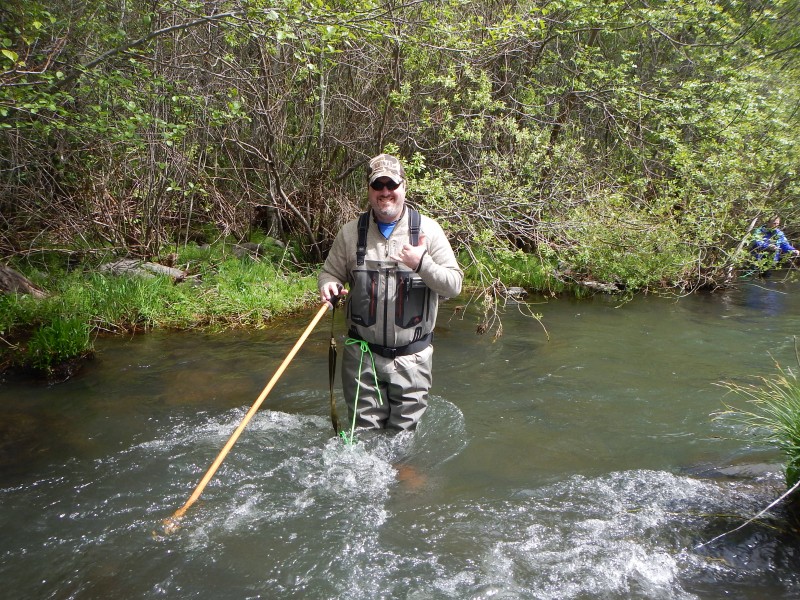 Brian sure enjoyed his day out on the Pit river catching nice trout on nymphs for his first ever fly fishing adventure. They wanted to wade so I brought them to the Pit River for their fly fishing adventure.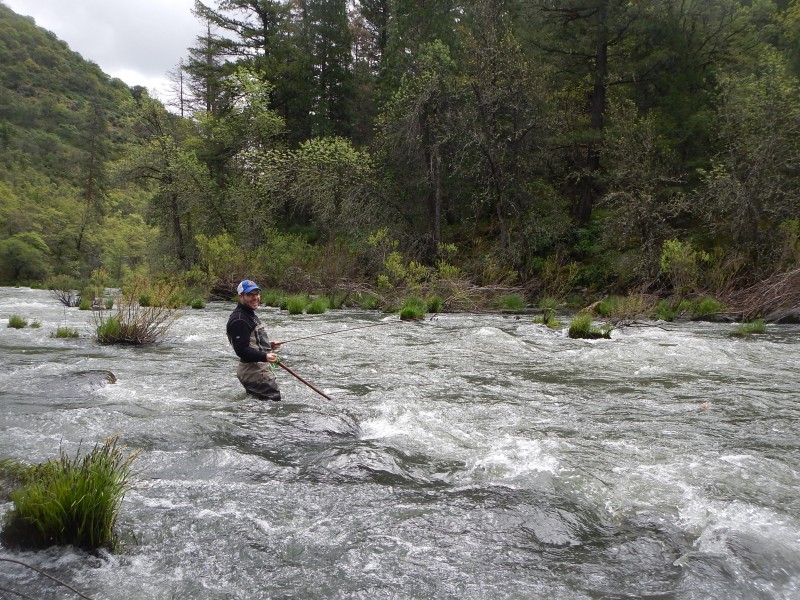 Chris Horne wading in the Pit, the way to fish this river is be out in the middle holding on and high sticking to seams & currents near where you are standing within two rod lengths.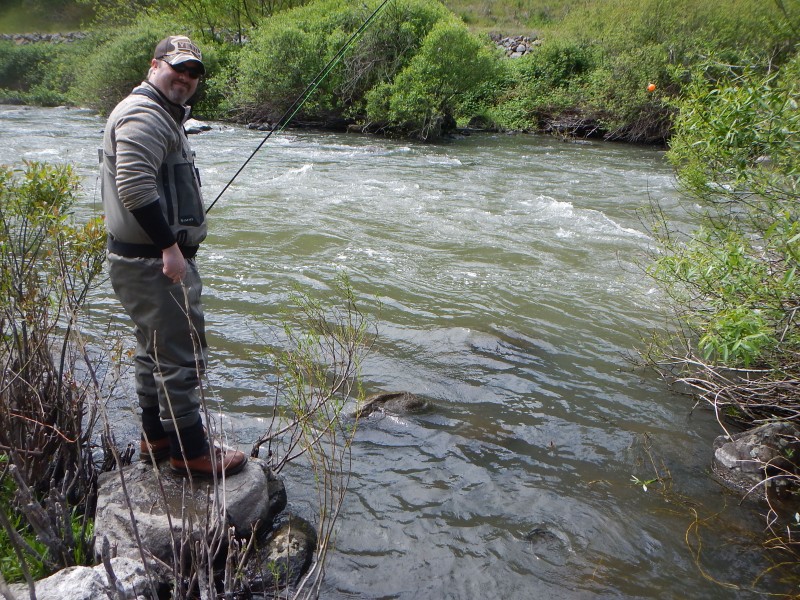 I then moved Brian and the family to another section of river and Brian started hooking trout left and right!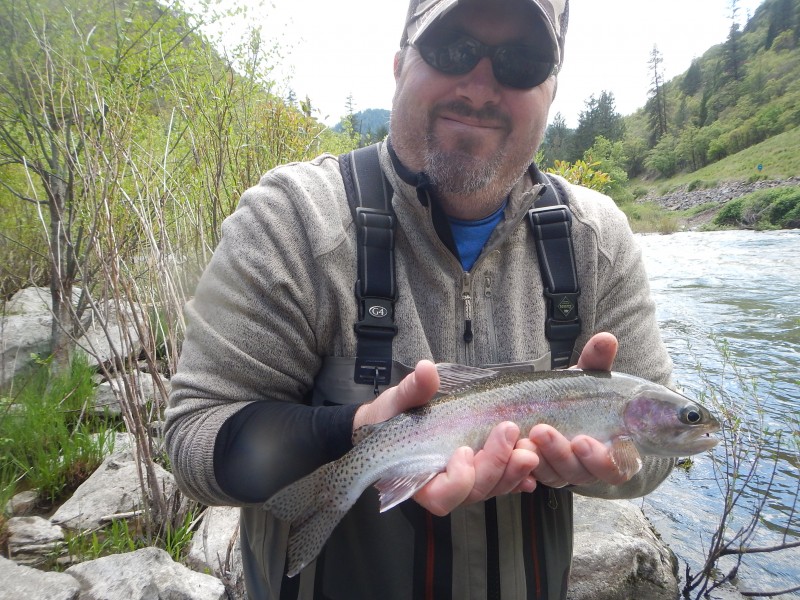 "First time fly fishing!"
Had a great trip this week in Mt. Shasta fishing with Jack Trout. It was the first time my father, brother and I had ever been fly fishing and to say it was a great trip is an understatement. We waded The Pits on day one and I caught my first rainbow trout. Jack put us on a little honey hole and we caught several fish throughout the afternoon. The home cooked lunch on top of the dam at the Pits was phenomenal as well! Day 2 we hooked up with Forest and floated the lower Sacramento in 2 boats. Jack is a world class fisherman and host, and provided numerous memories with my family I will never forget. I would recommend him and Forest both to anyone in the Mt. Shasta area! Thanks guys!
Bryan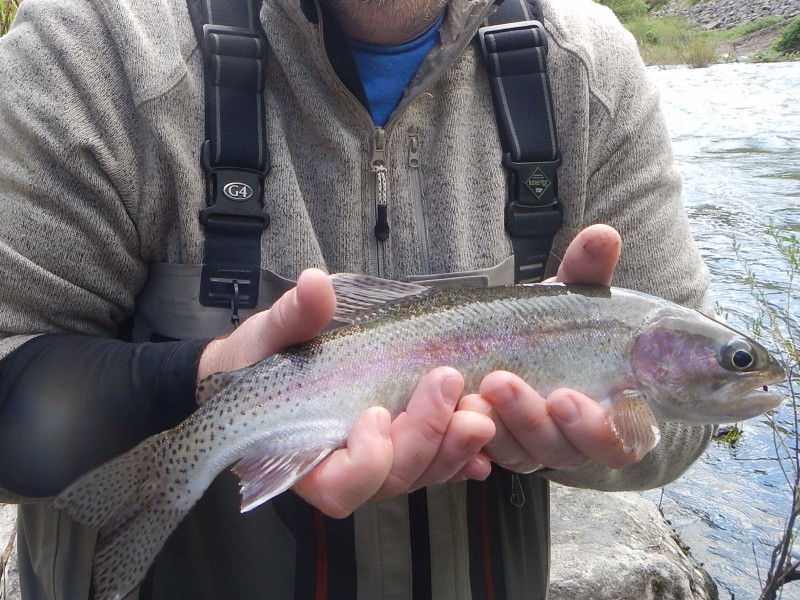 Nice Pit River Trout Brian!! You learned a lot that day. jt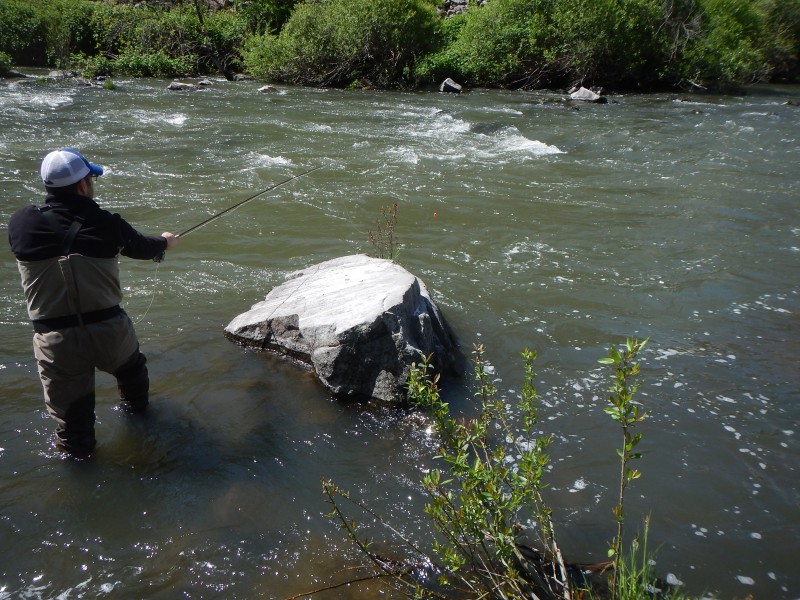 The classic Pit River spot if you head out to fish it folks! Good Luck, Jack Trout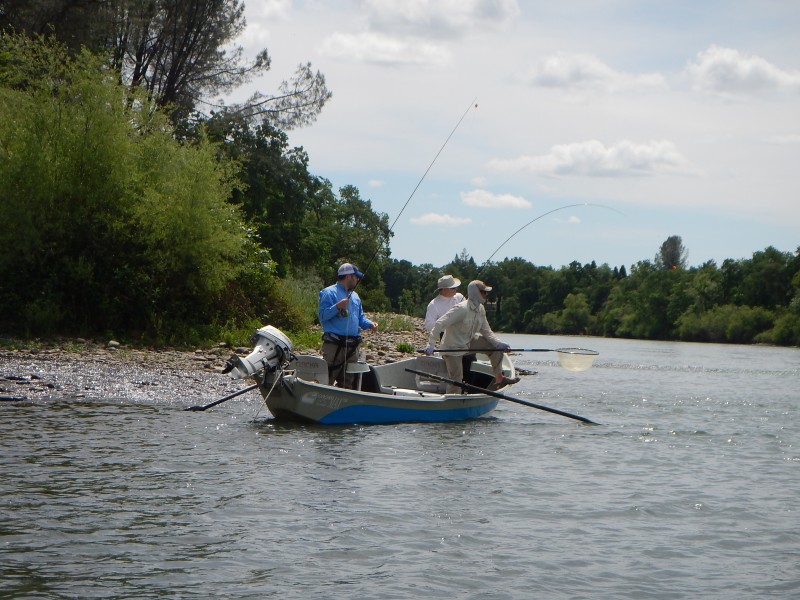 The next day guide extraordinaire Forrest "Rise & Shine" Brizendine and I were out on the Lower Sac with the Horne family and high hopes as it didn't take long to start hooking up on trout!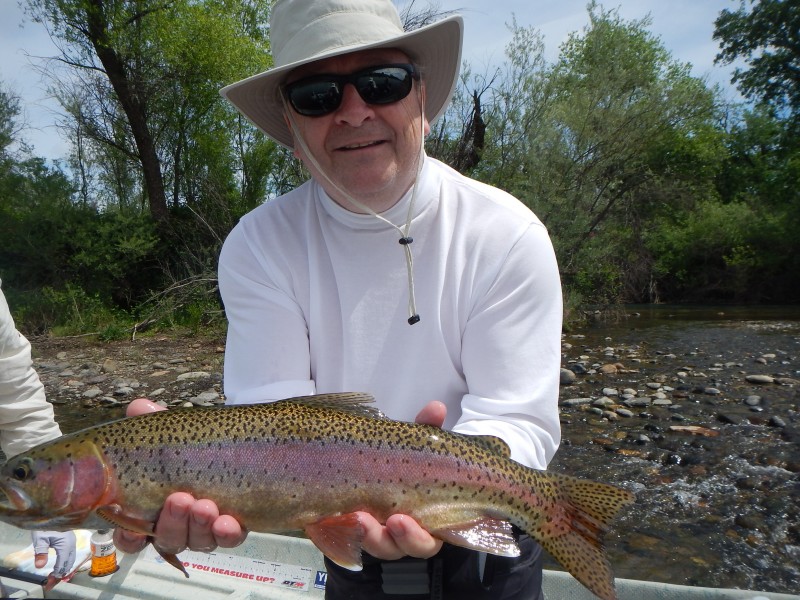 Pops Horne hooked up on this lunker that must of gone 4 lbs, nothing new for guide Forrest, he does that all the time folks.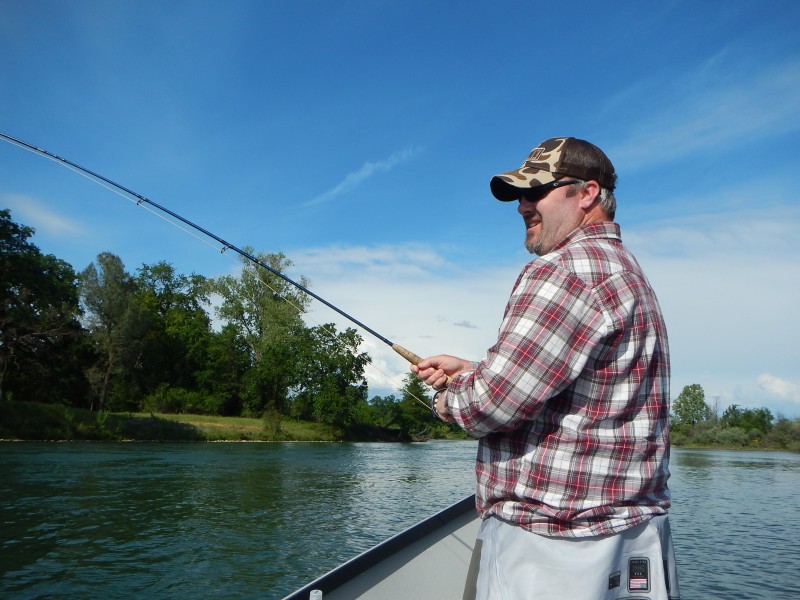 Then Brian started hooking trout and learning how to fly fish out of a drift boat.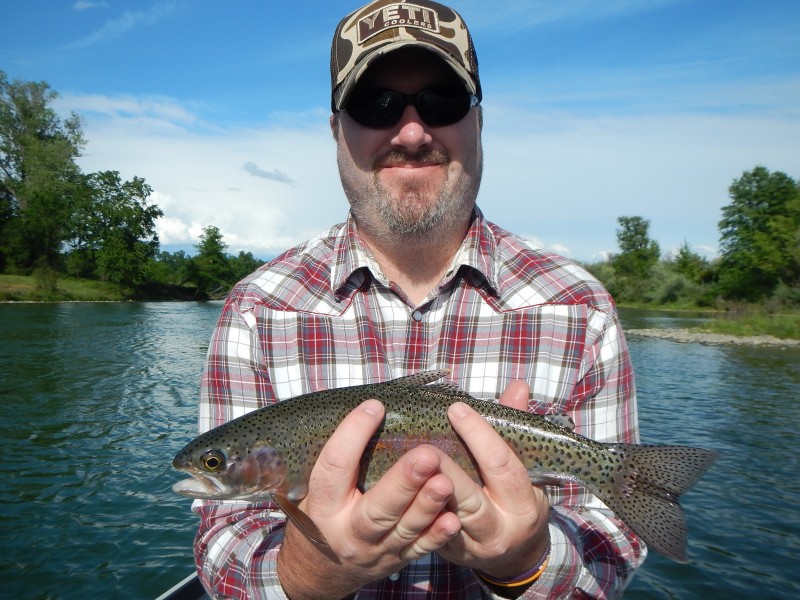 Nice trout Brian, you're on your way to becoming an intermediate fly fisher, now consider joining a local fly fishing club and learn to tie your own flies, it's a de-stress hobby! 🙂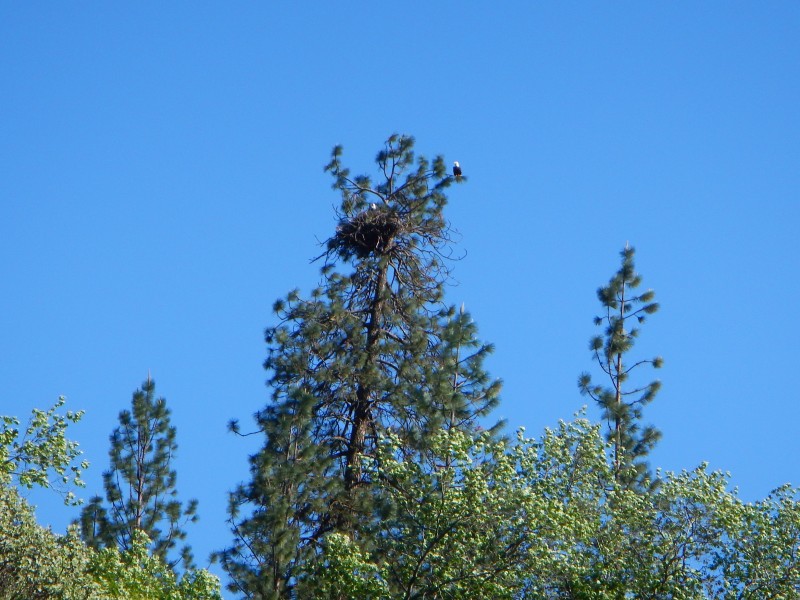 On the Upper Sac float we see a Bald Eagles nest that must be at least 40 years old, it weighs so much and holds at least 4 eagles!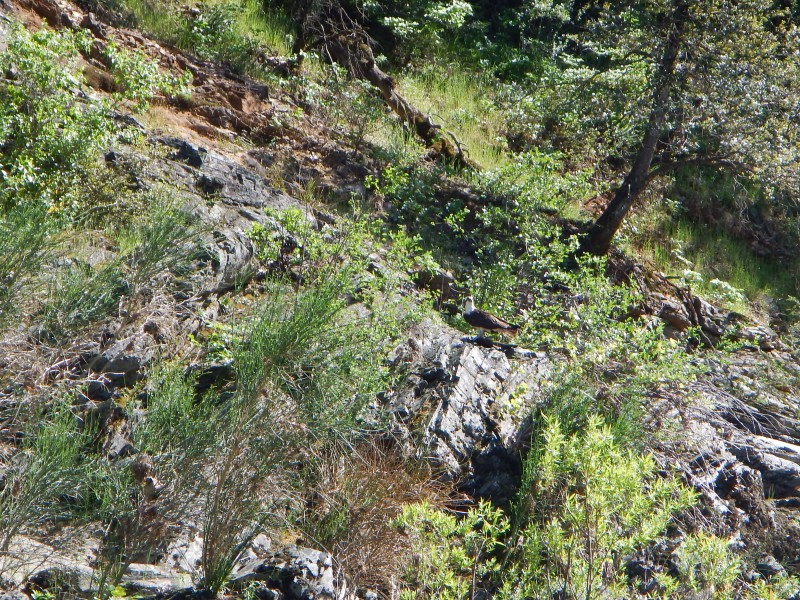 Then an Osprey came down and took a 16 inch trout it could barely fly with. It then ate it right in front of us on a nearby rock.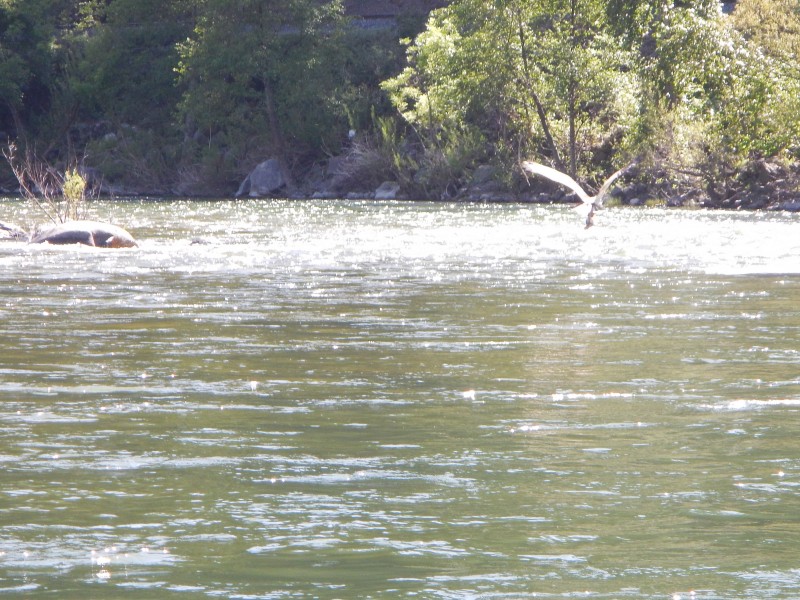 We got too close and it flew off with its dinner.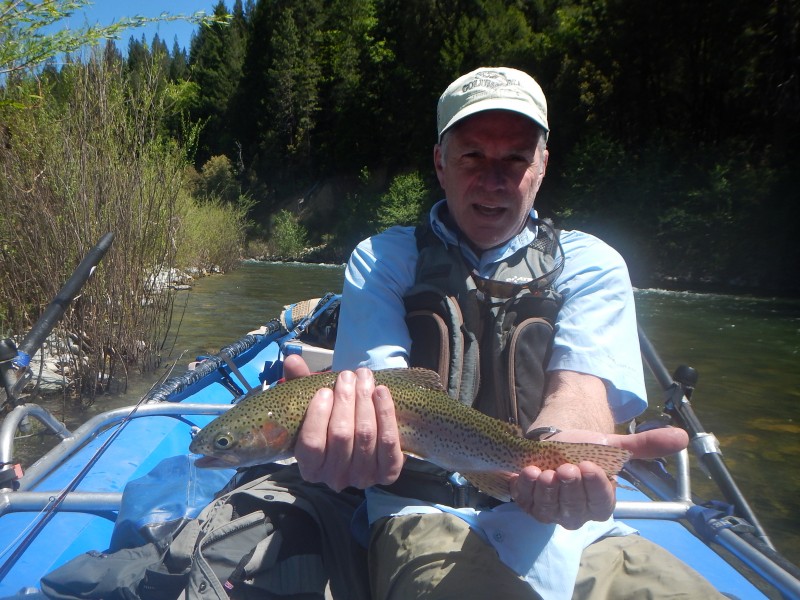 Jim's back to fish with me and catch some lunkers on the Upper Sacramento River.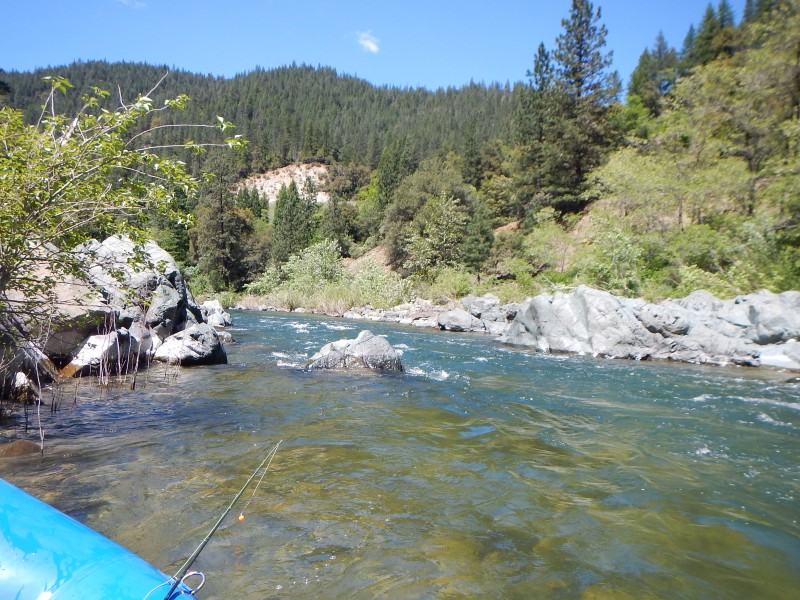 Look at those perfect edges full of trout folks.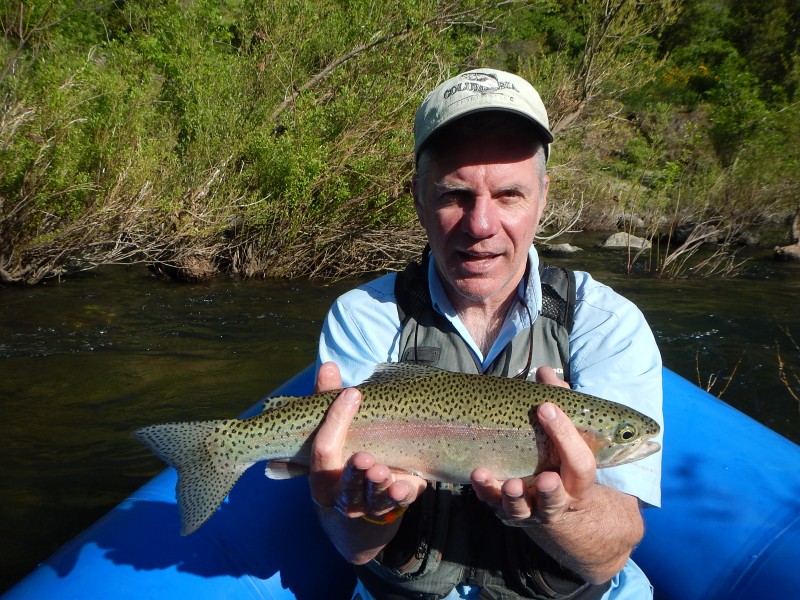 Whoohooo!! Judges score a solid 10 on that hook up!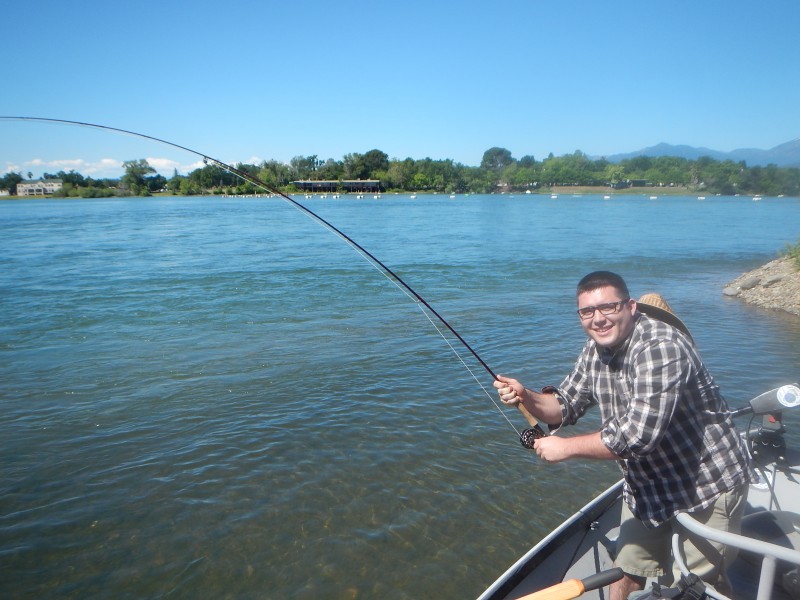 Charley Confer came in from a town many people should visit in America… Climax, North Carolina!! 🙂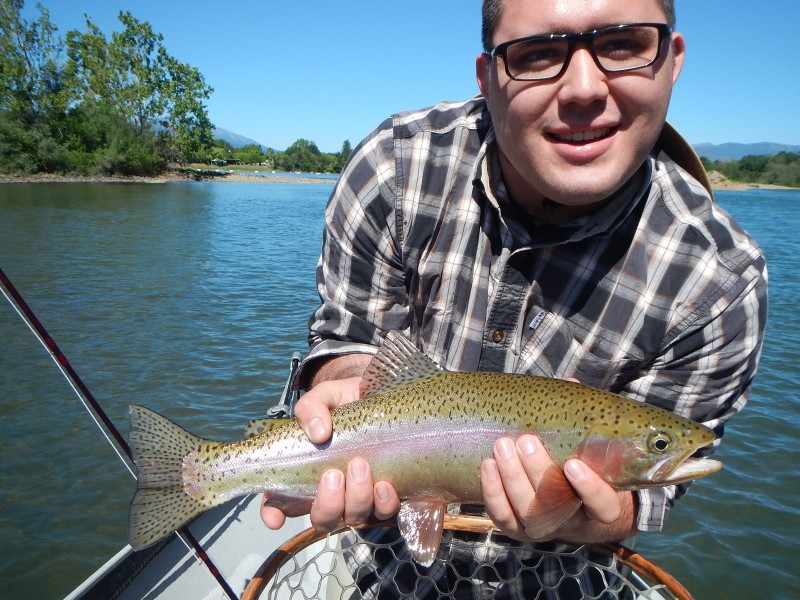 Charley caught his first trout with his cool pops Dave out on a sunny day on the Lower Sac in Northern California.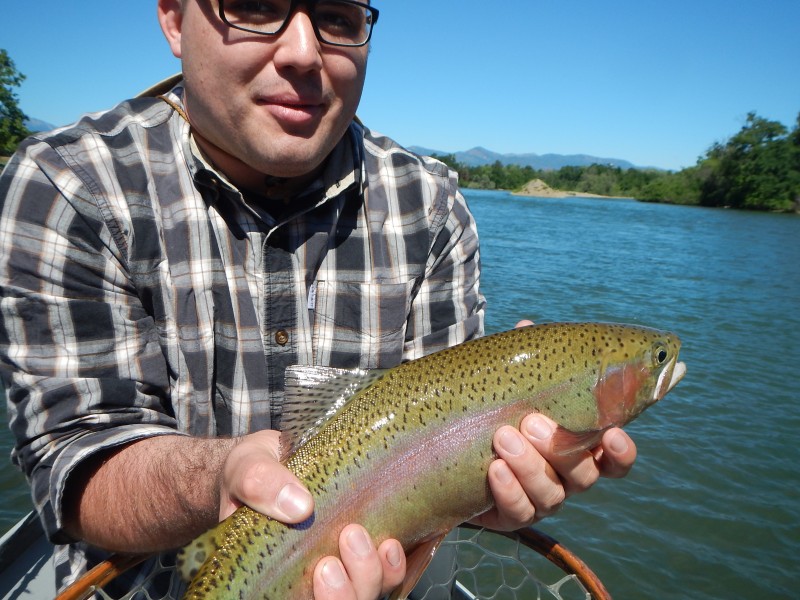 A real chunky monkey if you ask me!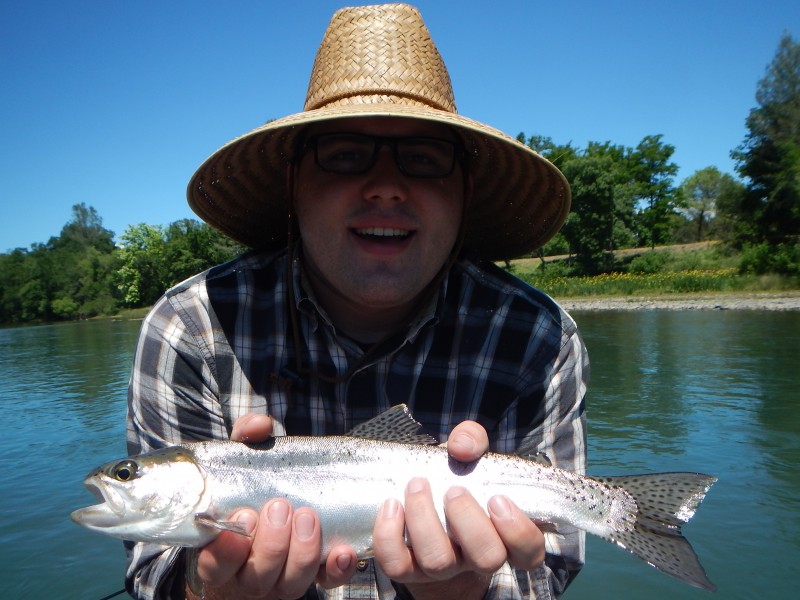 That day the river was red hot! The Lower Sac is fishing great right now, let's get out there sometime this spring/summer.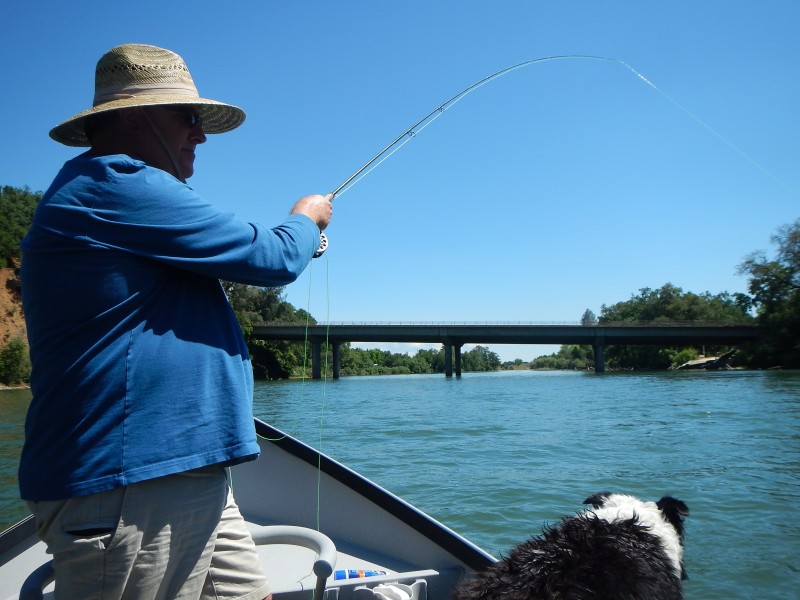 Then Dave started hooking up on trout and the day was complete. Beef Trout sure enjoyed his day out there.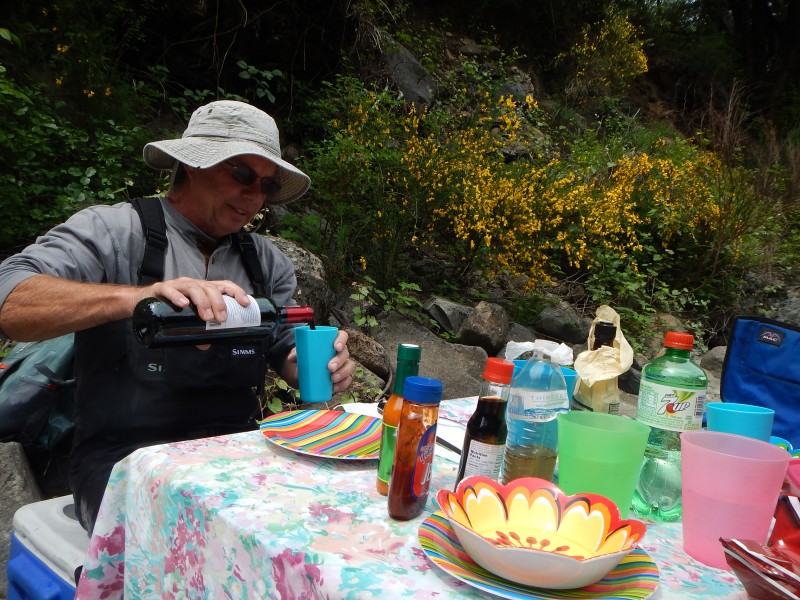 Time for a great lunch out on the river! Let's have some wine folks.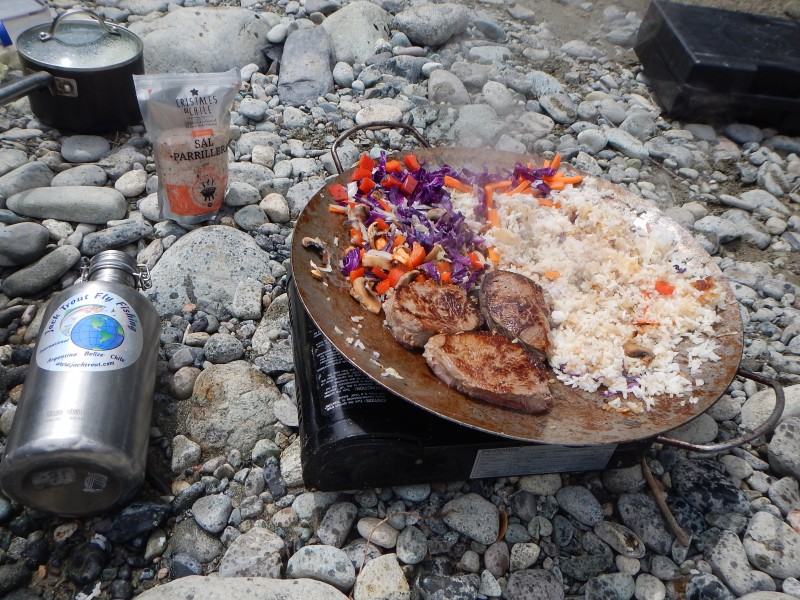 Why not? A stream gourmet lunch is something the fly fishing industry has been waiting on for ages!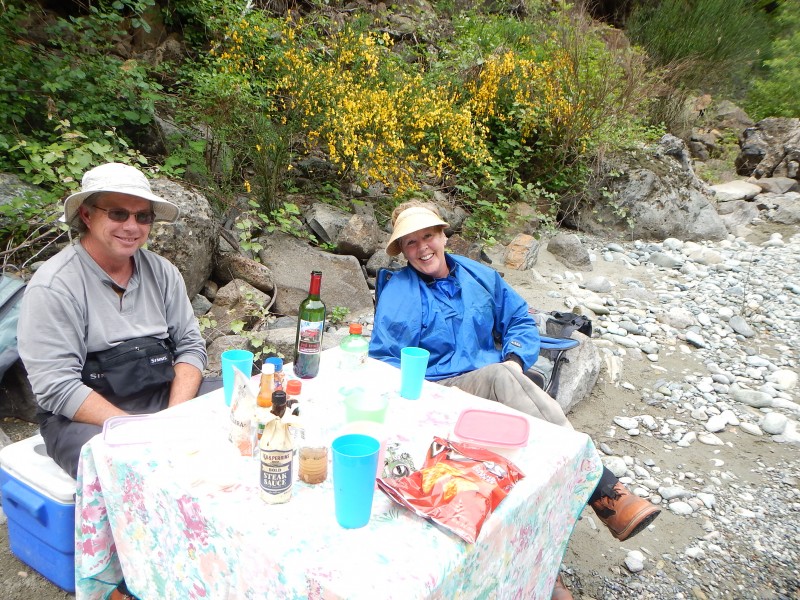 Ron and Patty Hiebert out having fun in the Shasta area, we always welcome tourism in our neck of the woods, thanks for choosing the Mount Shasta area.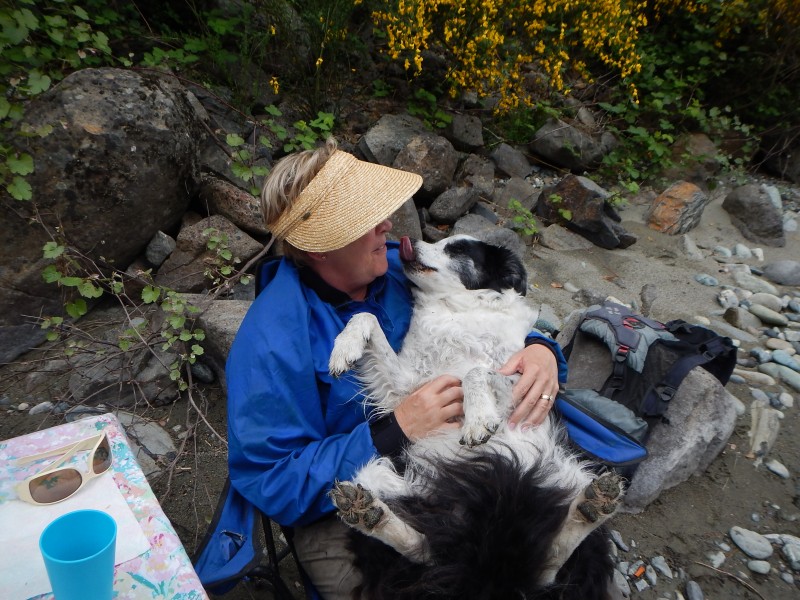 Beef! Don't french kiss the clients!  🙂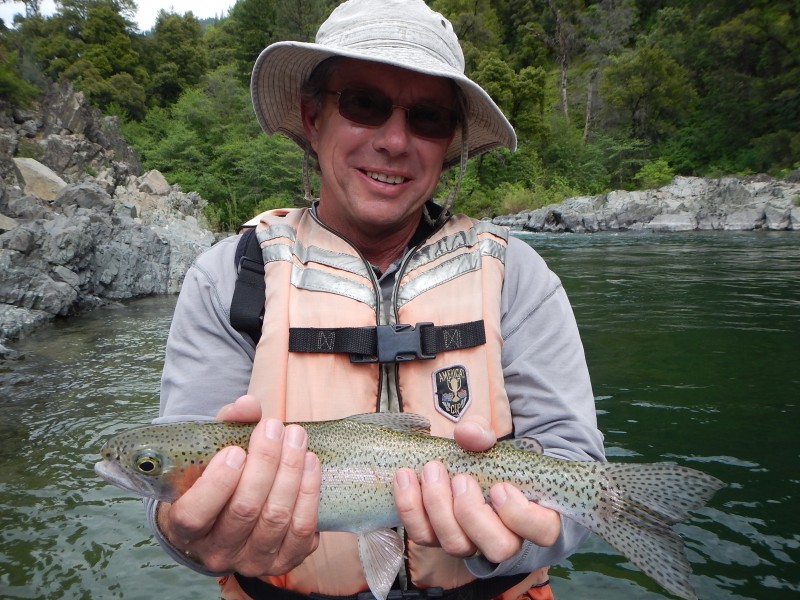 After lunch Ron hooked a nice trout, this was his first day out fly fishing.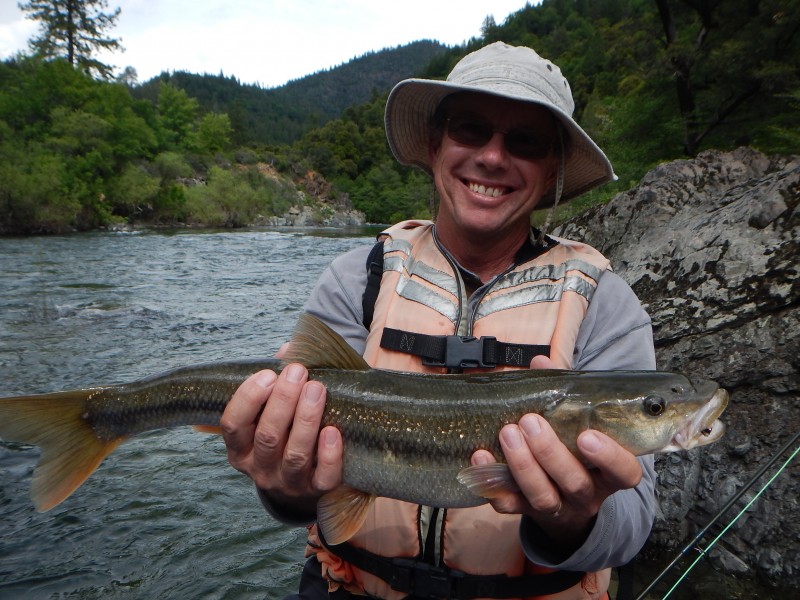 Then a huge Squaw fish that took a stone fly imitation.
I like to see pink wild Azalea's out on the river, they smell so great and it marks the time of the season as they are only out for a week or two then they are gone.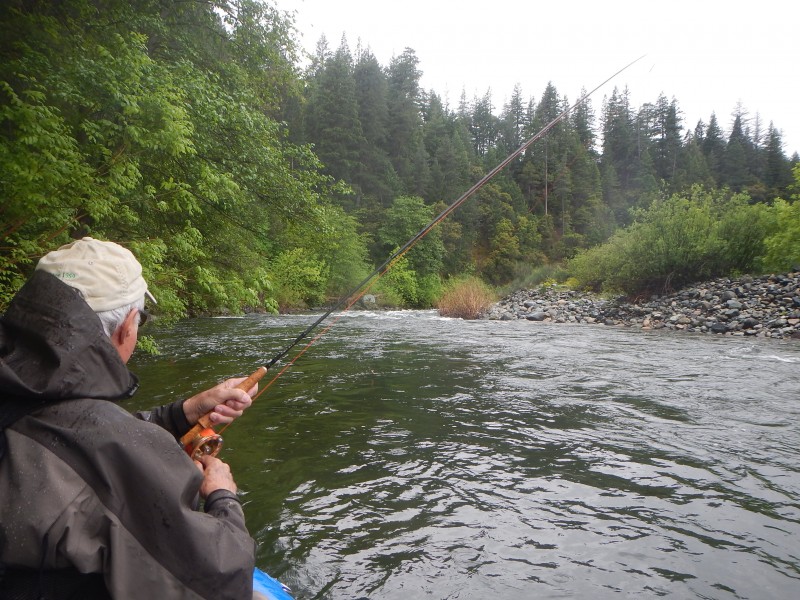 Then I got Colin Claxson from San Rafael a serial writer in a local tabloid, he enjoyed his time out on the Upper Sac for his first float.
Louie Dewey is a local legend, he and his wife Belinda have been providing and hosting rooms for my fly fishing clientele since 1994.
 www.cavesprings.com
Louie Dewey Hotline – 530-235-2721 For rooms serving Dunsmuir, Mount Shasta & surrounding areas. 🙂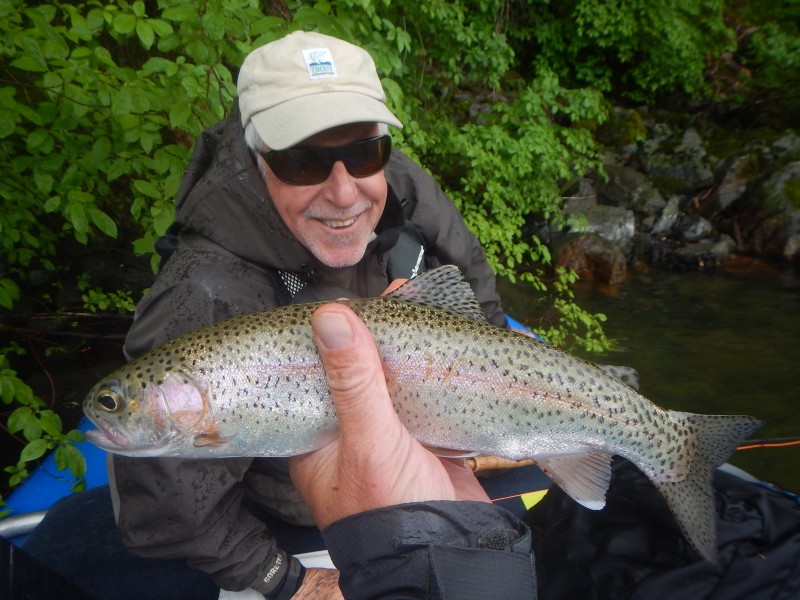 Nice trout Colin! That day we caught lots of trout on golden stones.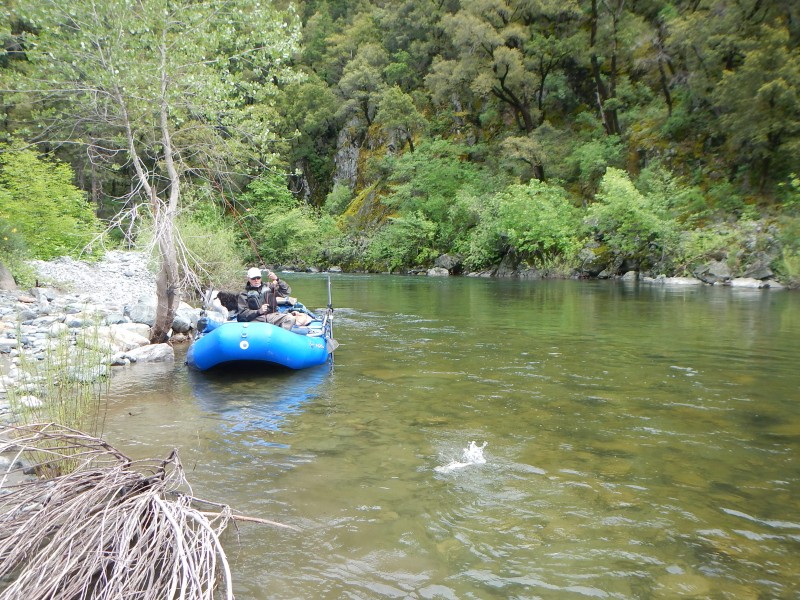 Then one on a nice  bend I know and the race was on!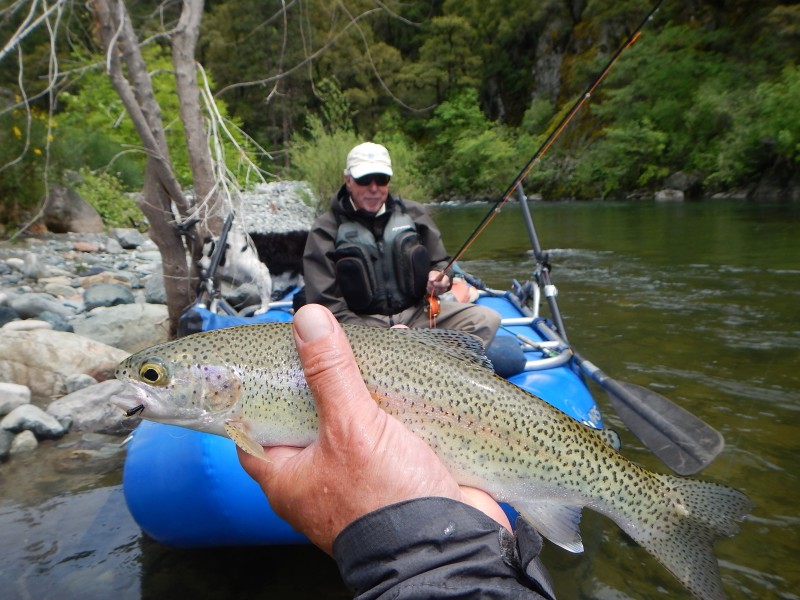 Beautiful dots!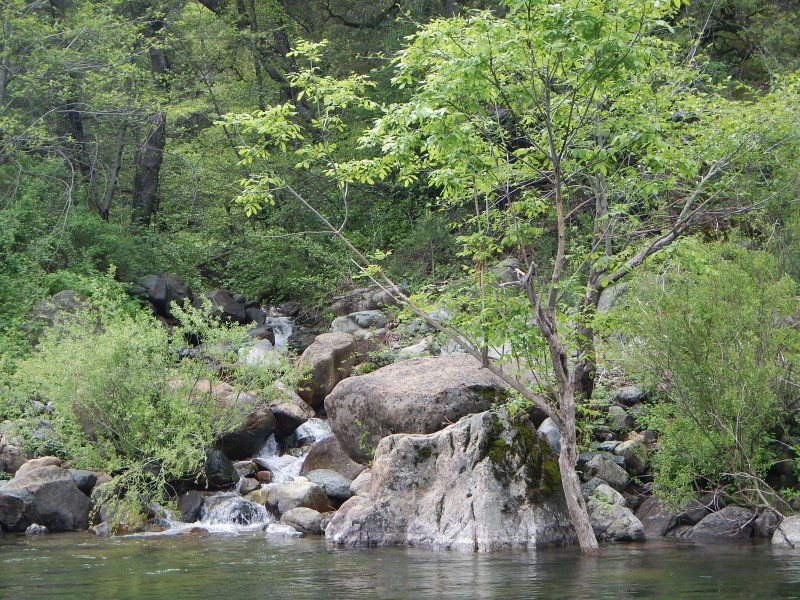 Boulder Creek On The Upper Sac, always a pleasure to see because it means we have a normal water year! Time to get up here folks, we have the water and the fishing is fantastic, the flowers are blooming, the restaurants are wonderful and the people of Shasta welcome you in open arms. We know you've worked hard, we want to entertain you now. Come to the most friendly tourist area in California, come on in and be treated as a local in the towns of McCloud, Dunsmuir, Weed & Mount Shasta. We want your tourism, we promise to make it a great experience! There's a synergy here, a vibe that fills the soul with wonderment and you leave feeling better than you did before. Come on up and drink some Shasta water, stare at the mountain, you'll see what we're talking about. Big hug from every one who lives around these parts, you're welcomed. 🙂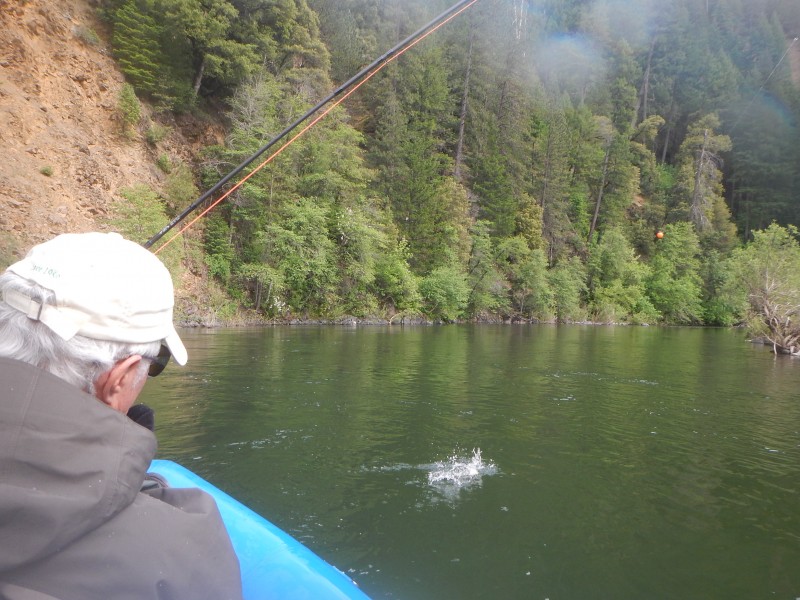 Colin stuck a nice little piggy in a very deep hole I know near Pollard.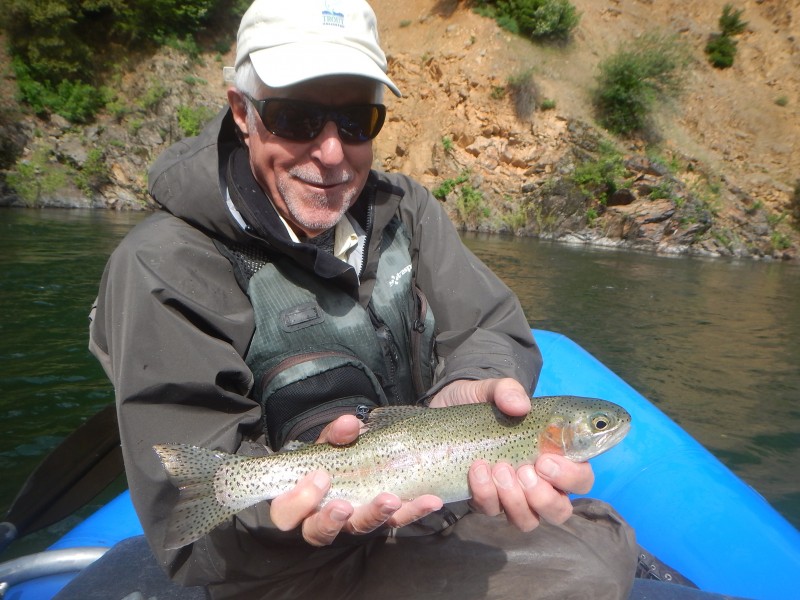 Awesome Sauce!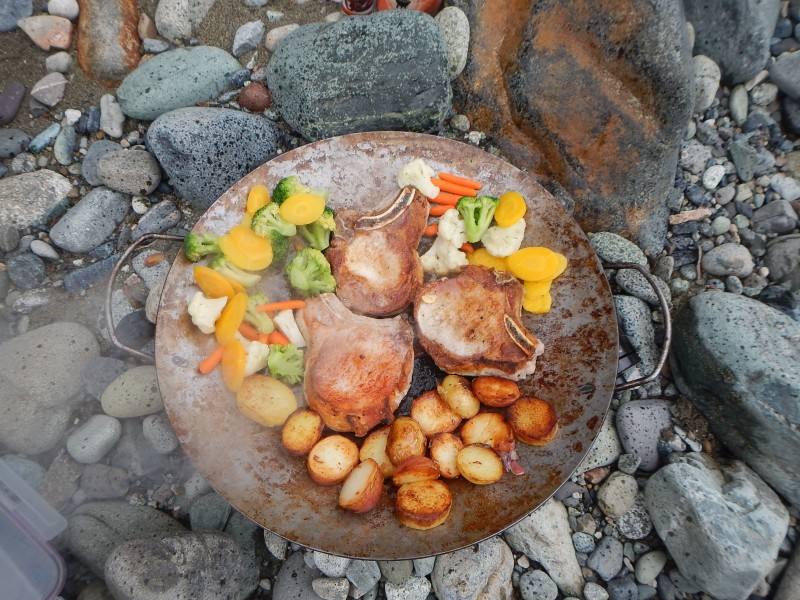 It's time for lunch and we're cooking up something great for you! The Chilean Disco cooks everything evenly and perfect.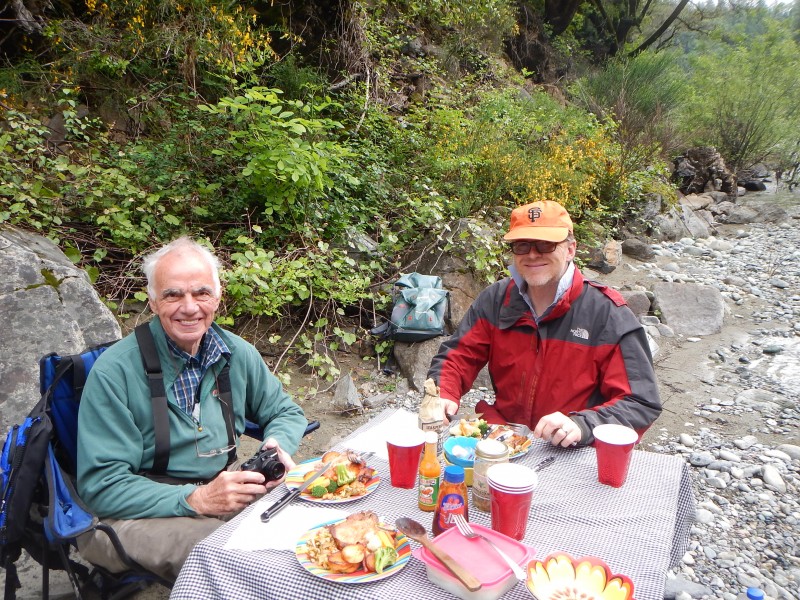 Finally a true stream side gourmet fly fishing lunch.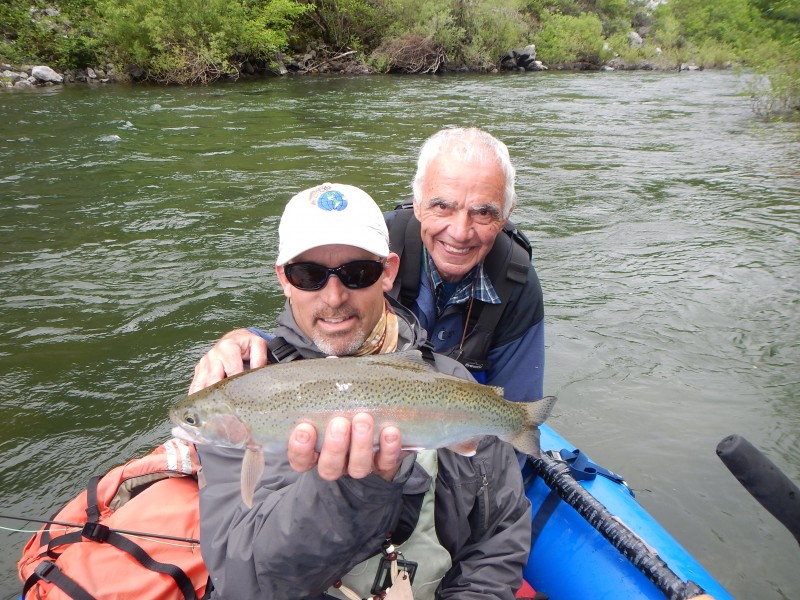 Then back to the fishing with Pop's great hook up!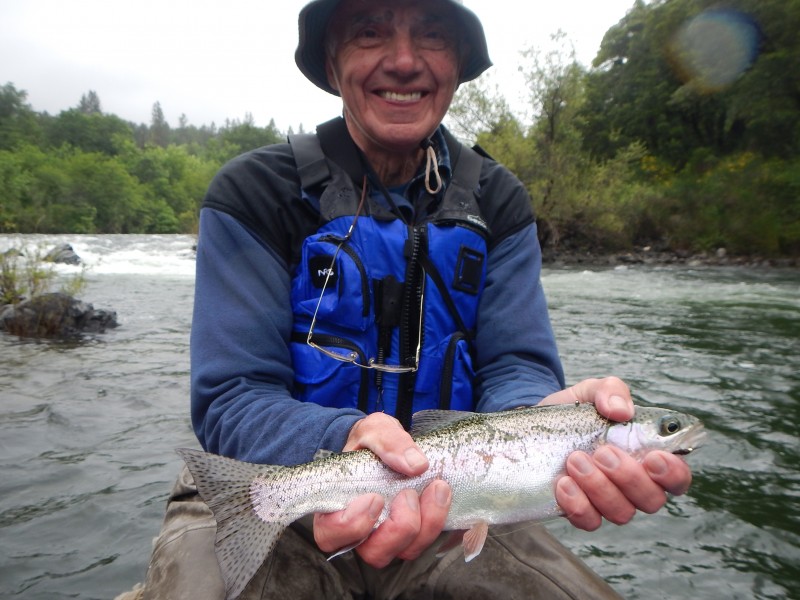 Then Pops hooked another trout, he was on fire! Thanks for coming up Boardman's of England!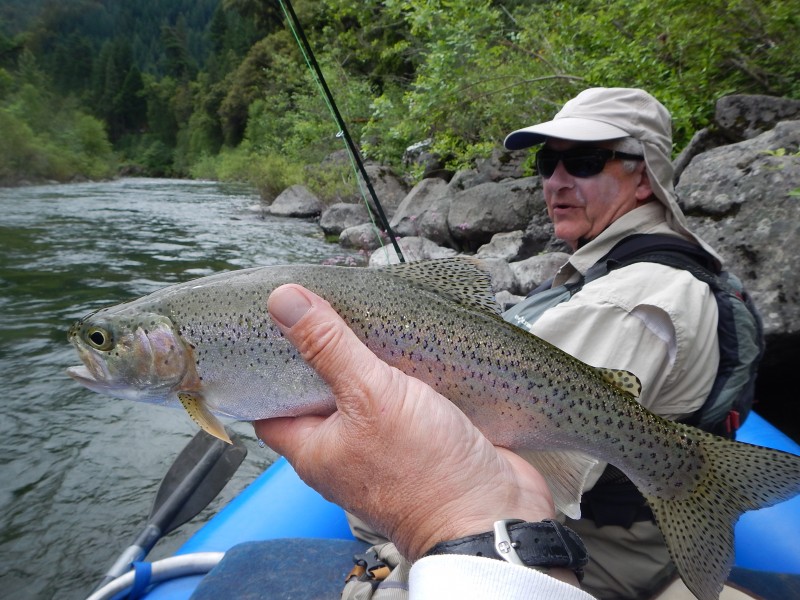 Then my good client Philip Thomsett and his friend Brian Williamson. We had a great day together! Thanks for coming up, jt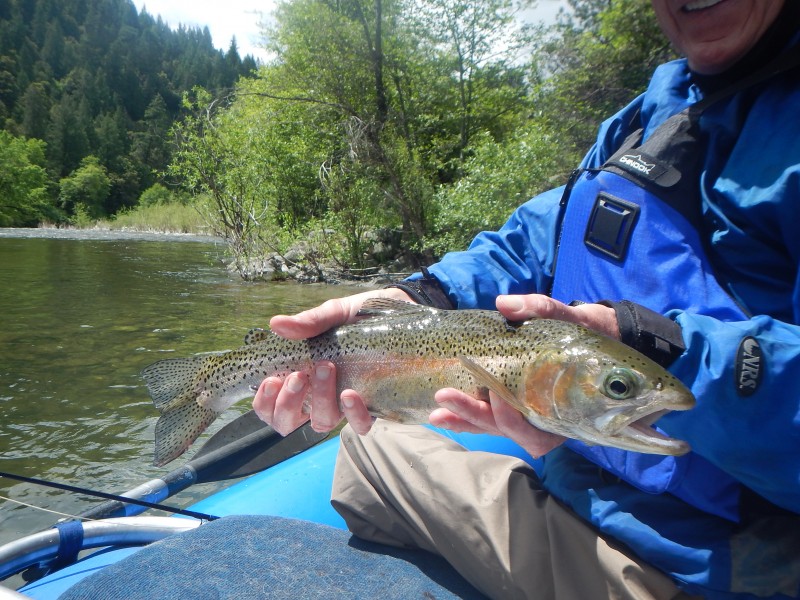 Then a first time ever fly fisher Patrick Rogers called and he hooked a nice trout for the first time out on the Upper Sac.
Lunch Beach On The Upper Sac is a great place to land this spring.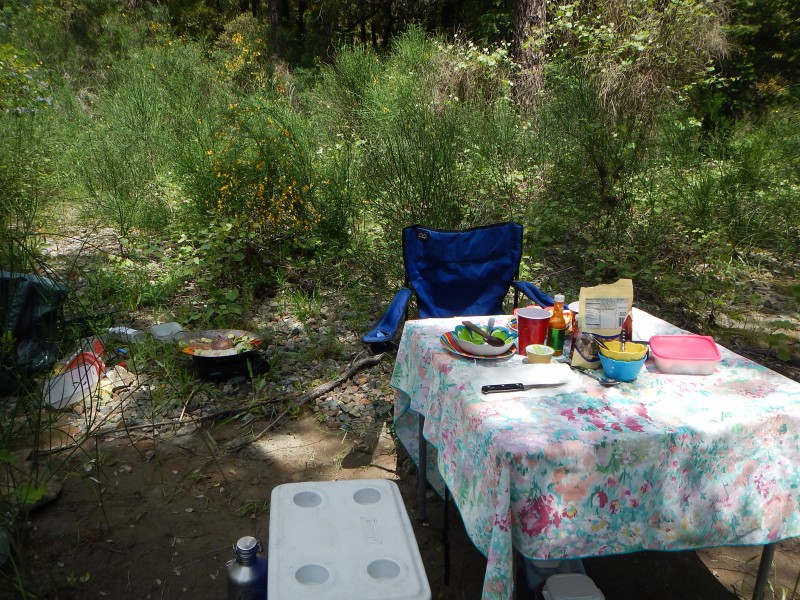 We're cooking up a storm this season folks!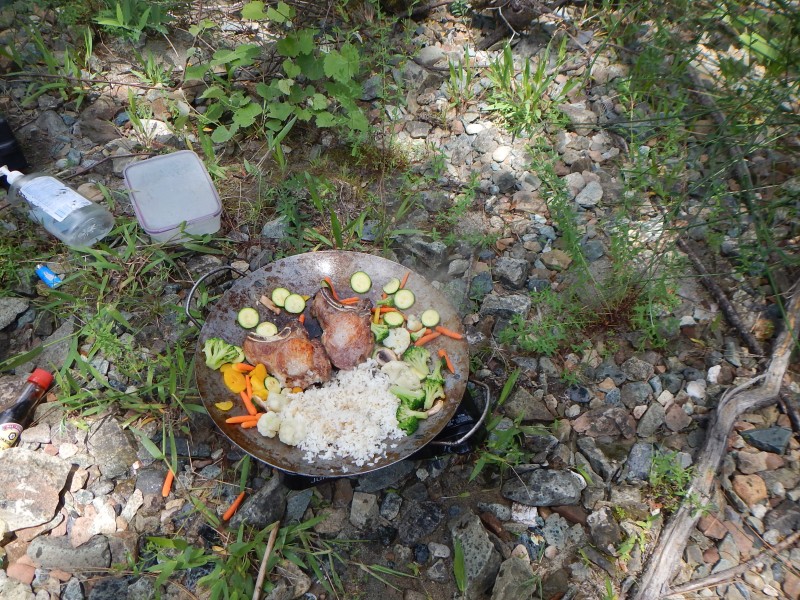 Good ole Costco pork chops, out on the river. That's what we'r talking about.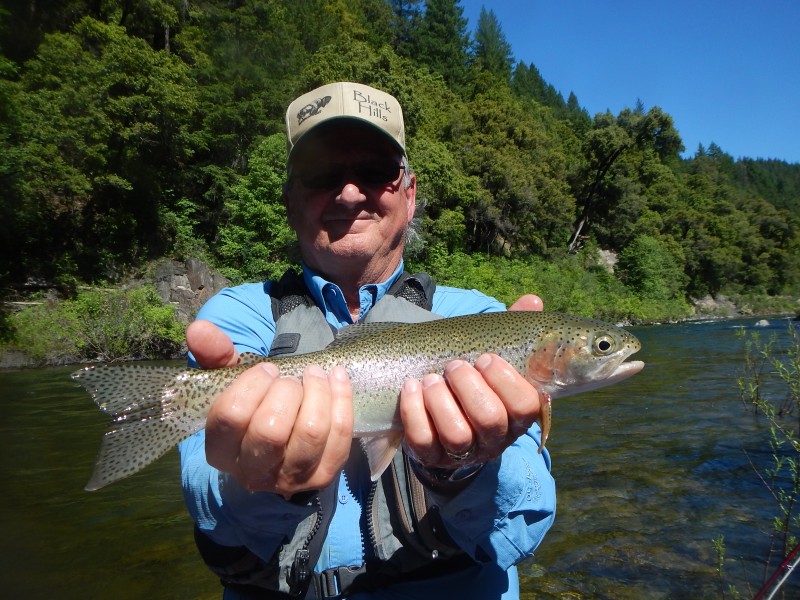 Way to go Tony!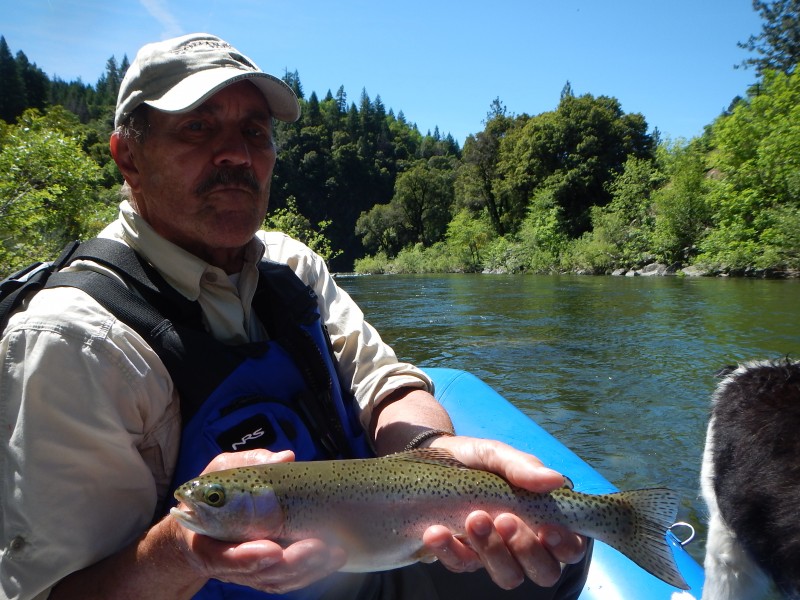 Nice one Roger! Thanks for coming up really enjoyed our trip.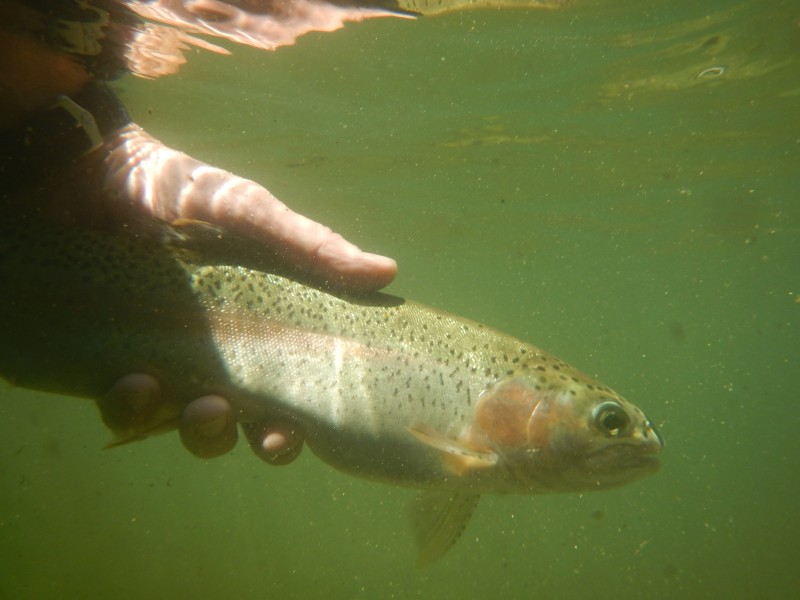 TAHOE – TRUCKEE – RENO * TRUCKEE RIVER * PYRAMID LAKE * DAVIS/FRENCHMEN'S LAKE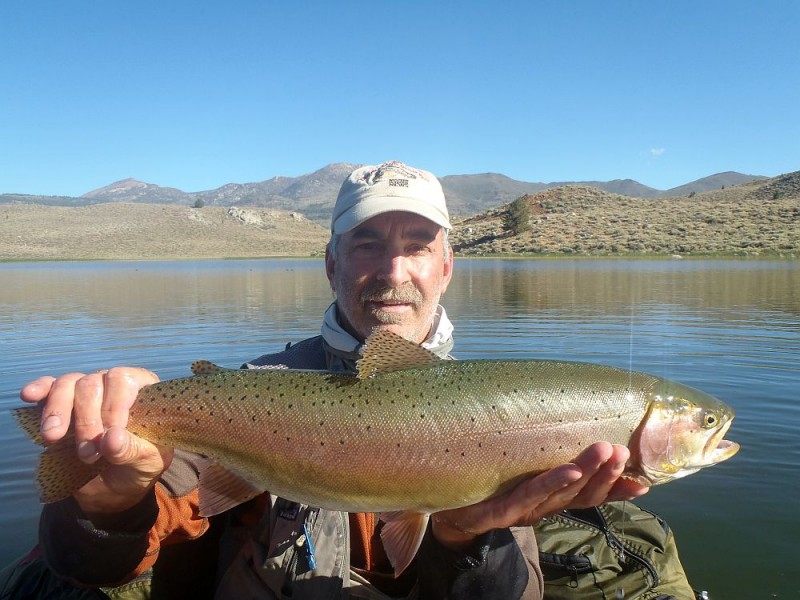 If you're heading over to the Reno/Tahoe/Truckee area give me a call, I have a great guide over in that area out of Reno who can guide you. We Guide Pyramid Lake Outside Of Reno, Nevada. Wouldn't You Love To Land A Lahotan Cutthroat!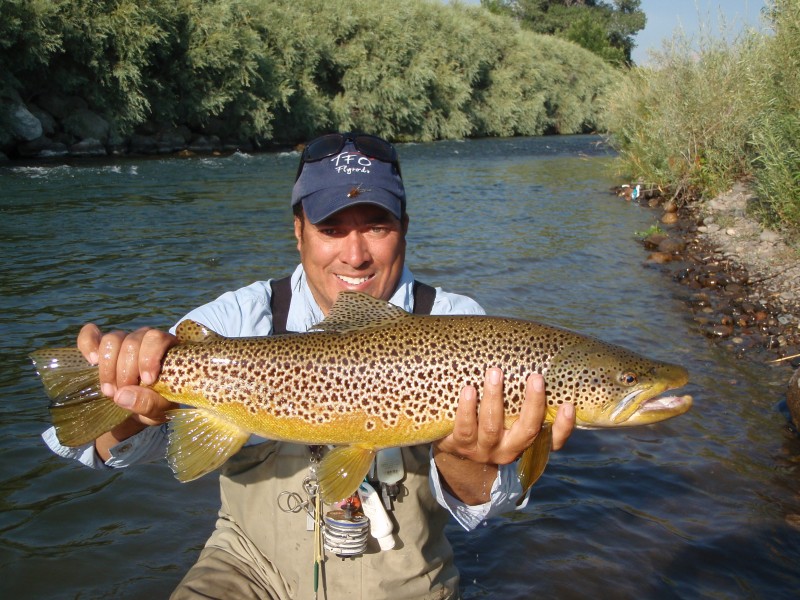 Truckee River Lunker Browns.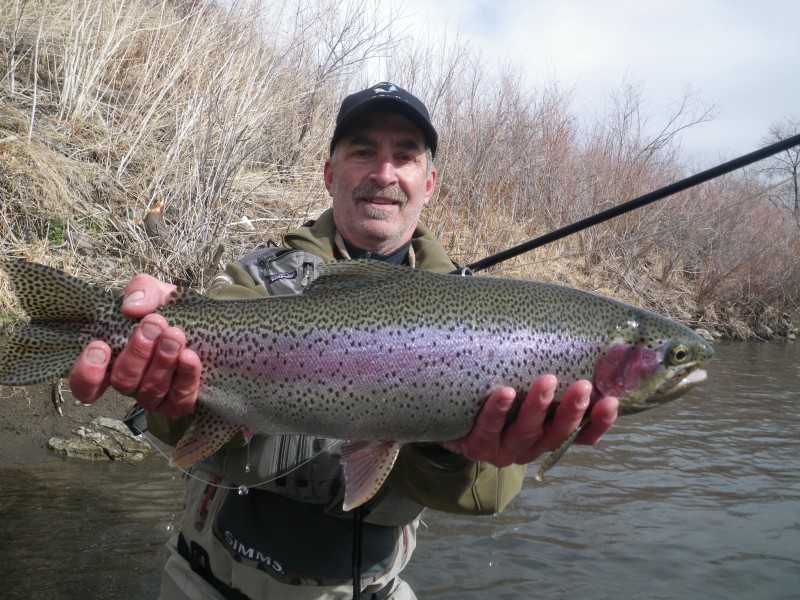 Hog Hunter!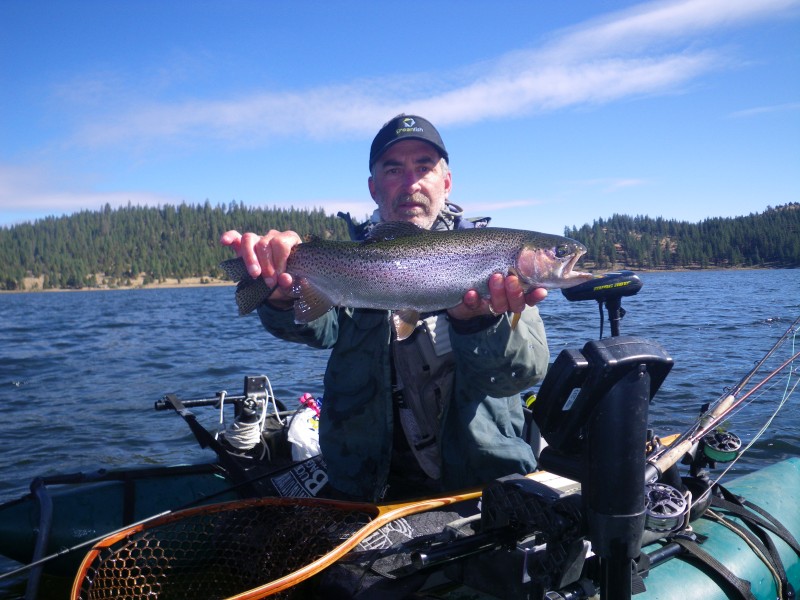 Lake Davis And Frenchmen's Lake, the area I was born and went to school at Portola High School. Now back offering guide trips at these locations.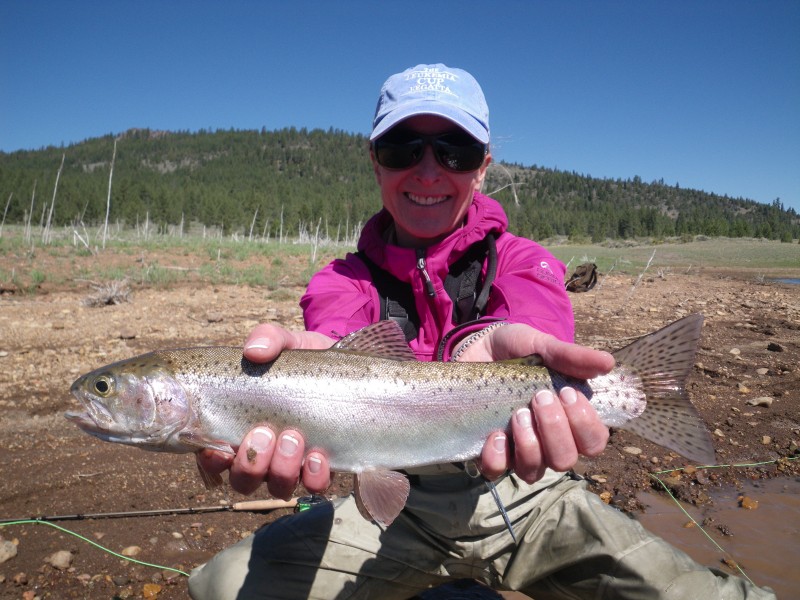 My guides know where to catch these beauties.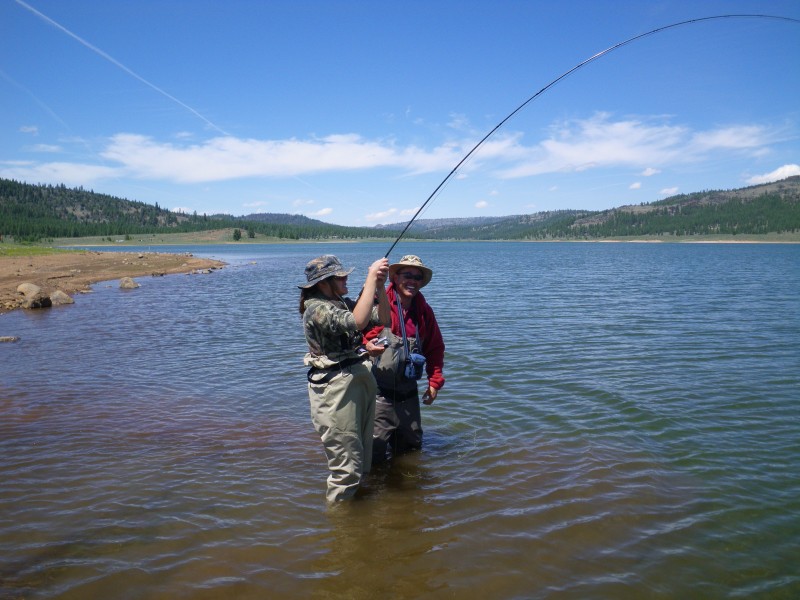 We got you dialed for fly fishing guiding in Plumas County, Jack Trout Fly Fishing International can get you hooked up!
Thanks for watching folks! Jack & Trout & Team Trout International Fly Fishing Guides. info@jacktrout.com * 530-926-4540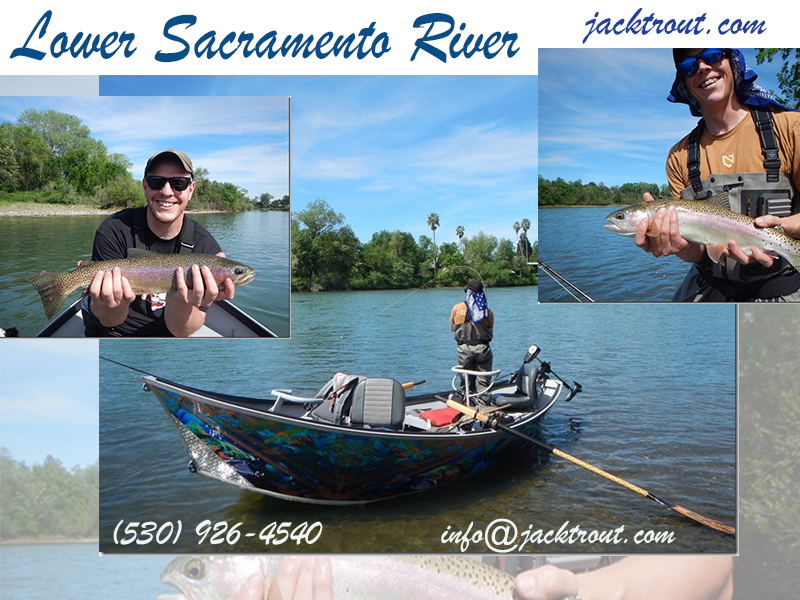 Westlands Water District will pay big fine to settle SEC civil charges
Read more here: http://www.mcclatchydc.com/news/nation-world/national/article65065707.html#storylink=cpy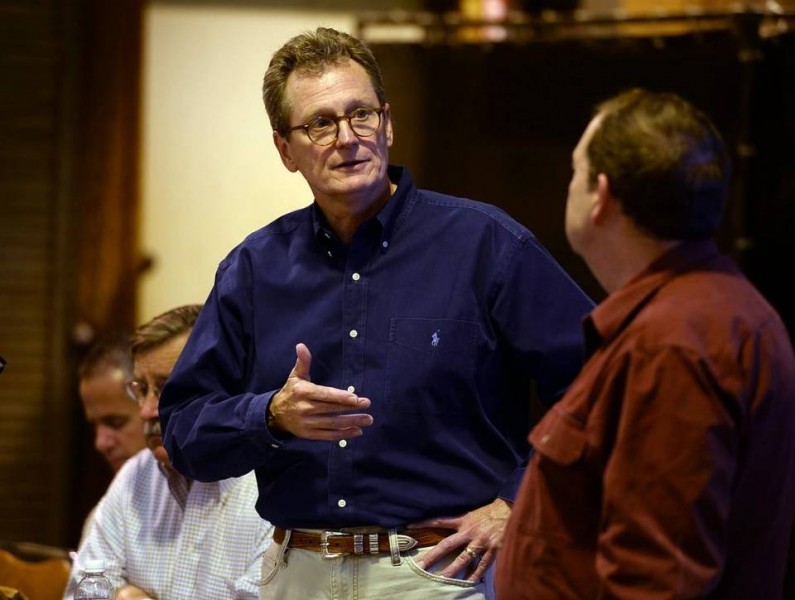 WASHINGTON 
The giant Westlands Water District will pay $125,000 to settle Securities and Exchange Commission civil charges that it misled investors about its financial health, officials said Wednesday.
The nation's largest water district, and one of its most politically active, Westlands will pay to settle charges that arose out of a 2012 bond measure. The district's general manager, Thomas W. Birmingham, also will pay $50,000 as part of the settlement.
The charges, which Westlands and Birmingham neither admitted nor denied, involved accounting maneuvers that allegedly masked revenue reductions caused by drought and corresponding cuts in water delivery.
"The undisclosed accounting transactions, which a manager referred to as a 'little Enron accounting,' benefited customers but left investors in the dark about Westlands Water District's true financial condition," Andrew J. Ceresney, director of the SEC's Enforcement Division, said in a statement.
ISSUERS MUST BE TRUTHFUL WITH INVESTORS, AND WE WILL SEEK TO DETER SUCH MISCONDUCT THROUGH SANCTIONS, INCLUDING PENALTIES AGAINST MUNICIPAL ISSUERS IN APPROPRIATE CIRCUMSTANCES.SEC Enforcement Division Director Andrew J. Ceresney
According to the SEC, Birmingham "jokingly" made the Enron reference in discussions withWestlands' nine-member board of directors. The now-defunct Enron was a Texas energy company that grew fast and then collapsed following revelations of crooked bookkeeping.
Louie David Ciapponi, the water district's former treasurer and assistant general manager, agreed to pay a $20,000 penalty to settle charges as well. Ciapponi also neither admitted nor denied the charges.
The record $125,000 to be paid by Westlands marks only the second time a municipal bond issuer will pay a financial penalty to settle an SEC enforcement action.
"Westlands, Birmingham and Ciapponi determined that entering into the settlement to fully resolve the matter was in the district's best interest," Westlands said in a statement.
Westlands officials declined to speak about the case, but they noted in the statement that "the settlement did not find that Westlands, Birmingham and Ciapponi intended to mislead potential purchasers of the 2012 bonds."
The Westlands statement also stressed that the district has taken "prompt remedial actions," including drafting new written policies and training.
Even so, one longtime Westlands critic said she wasn't surprised by the SEC investigation, adding that it suggests doubts about the district's true financial picture.
"The legal action taken by the SEC today against Westlands raises serious questions about the wisdom of relying on this large federal contractor to finance about half of Gov. Brown's delta water-export tunnels," said Patricia Schifferle, director of Pacific Advocates.
Westlands, in its statement, noted that the district "has not missed any payment required to repay the 2012 bonds" or others issued by the district.
According to the SEC, Westlands had agreed in prior bond offerings to maintain a 1.25 debt service coverage ratio, which is a measure of the ability to make future bond payments. It is the ratio of revenue to debt service payments.
In 2010, though, the SEC said, Westlands officials learned that drought conditions and the resulting revenue losses would prevent it from reaching the 1.25 ratio. Rather than raise water rates for farmers in the 600,000-acre district, the SEC said, Westlands used "extraordinary accounting transactions" that reclassified reserve funds as revenue.
The district then informed potential investors in the $77 million bond issuance in 2012 that it had met or exceeded the 1.25 ratio for each of the five previous years.
"That wouldn't have been possible without the extraordinary 2010 accounting transactions," the SEC said.