2014, 2015 & 2016        TRIPADVISOR'S TOP AWARD WORLD FLY FISHING OUTFITTER.
                                                                                         
SPRING
 SIGN UPS FOR * UPPER SACRAMENTO, McCLOUD   &  LOWER SAC * YUBA RIVER * M.F. FEATHER RIVER * KLAMATH * PUTAH CREEK * PYRAMID LAKE * TRUCKEE RIVER * DESCHUTES * SANDY RIVER * CHETCO OREGON
                       MARCH * APRIL * MAY * JUNE  – 530-926-4540
530-918-8879 OUR INTERNATIONAL PHONE THAT RINGS ME ANY WHERE OR EMAIL AT INFO@JACKTROUT.COM
                                           MORE DESTINATIONS TO CHECK OUT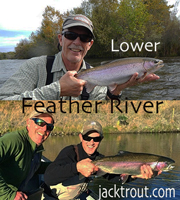 Need an up to the minute update? Check out our Facebook Page & Videos –
CUBA FLY FISHING & TOUR PACKAGE
This is the best package going to Cuba period. Hosted by Jack & Carola Trout – 2 nights coming and going at the 5 star Iberostar Hotel in Downtown Havana. 7 Nights at the Playa Del Sol Melia On Cayo Largo.
6 Days Of Fly Fishing In Our Exclusive Marine Study Park.
24 hour open bars and restaurants included in the package. Only 6 skiffs in a 250 mile radius doing different beats daily. Exclusive private water. $6700 per person double occupancy. You fly from Fort Lauderdale to Havana on a Friday, Stay the night in the either the 5 star Melia or Iberostar Hotel in Havana. Then the next morning early on Saturday we fly you from Havana to Cayo Largo the second biggest island in the Cuban Archipelagos to our 4 star Club Sol Resort. All meals, drinks, entertainment at night including shows are included. 4 restaurants, 3 bars including a tiki bar, sports bar and swim pool bar included for your entire stay on Cayo Largo with us. Closely located to an incredible beach. Non angler activities daily. Fly fishing 6 days Sunday, Monday, Tuesday, Wednesday, Thursday, Friday on the best skiffs (Boats) 2 per boat or you can upgrade to get your own single skiff. The guides are very professional and know those home waters like the back of their hands. Lunch is brought from the resort each day out on on your fly fishing excursion.
(Fly fishing only.) 
On Saturday, we fly back either at 6:30 am or 3:30 pm to Havana, you stay one more night at either the Melia Hotel or Iberostar Hotel 5 star hotels, if you decide to stay longer, we can arrange a classic car tour of Havana, Cienfuegos, Trinidad and Santa Clara excursions. We can also guide you to Viñales or to Matnazas including Hershey Town. Otherwise Sunday you fly back to the United States or Canada.
 Sign up soon!  Jack Trout – 530-926-4540 or info@jacktrout.com
Read about our entire 5 star 10 day trip to Havana and Cayo Largo Cuba below or go to www.cubaflyfishguide.com.
READ OUR TRIPADVISOR REVIEWS, PEOPLE ARE TALKING ABOUT OUR COMMITMENT & DEDICATION TO YOUR SPECIAL FAMILY DREAM VACATION TO CUBA. AT JACK TROUT FLY FISHING INTERNATIONAL, WE GET WITH PROGRAM, WE WILL NEVER LET YOU DOWN.
Our Commitment To You, The Guides, Operators & Jack & Carola Trout
"Amazing Family Adventure to Cuba!"
Words can not describe how wonderful our trip to Havana and Cayo Largo, Cuba was with Jack and Carola Trout!
This world-class salt water fishing adventure to Cuba was a graduation gift for our oldest son. Our family of 6 (3 anglers and 3 non-anglers) enjoyed 9 days of travel, touring and incredible fishing with this special couple. Accommodations, dining and tours were top notch in both Havana and Cayo Largo. We encountered very few travel related issues that couldn't be handled immediately with Carola's Spanish speaking skills. She was a super help with our little kiddos (8 and 4 years old) as she scheduled activities and fun things for them to do during the days. It is always a good time to fish and hang out with Jack and his crew of highly trained guides. Our anglers caught the most and biggest bonefish they've ever caught! They also caught tarpon, snook and snapper; however, the permit was elusive on this trip. Our little ones fished, released baby turtles, found many starfish and played on the most beautiful beach in the world. We highly recommend traveling and fishing with Jack and Carola Trout and are looking forward to our next trip with them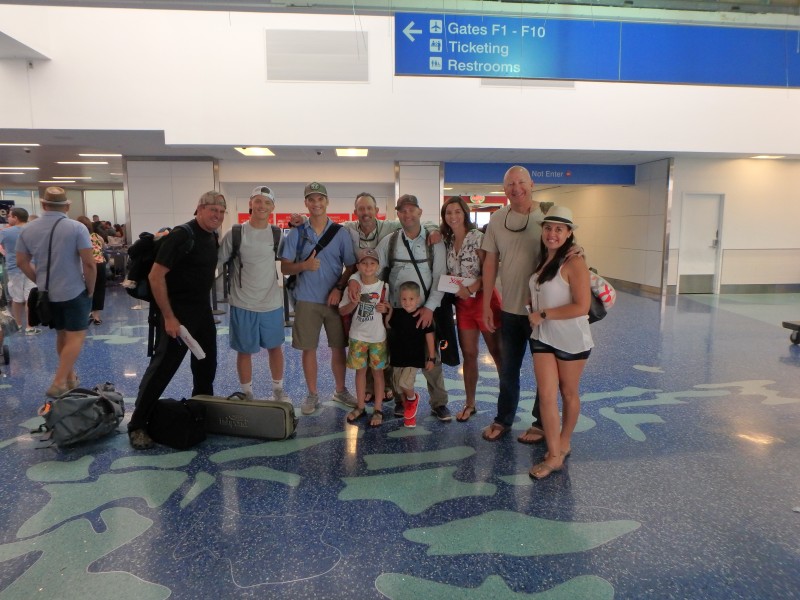 In July, Carola and I hosted our 2nd group to Cuba, what was great about this trip was we didn't have to fly through Mexico City this time, which made for a whole lot better connection in Fort Lauderdale, Florida. We had put together a great group of folks that were ready for all the culture and history Cuba had to offer, but more so, those undiscovered fly fishing grounds just waiting sunny side up for a fly and a opportunity to cast out our bacon for breakfast. All in all, everything went accordingly, there's always going to be delays in travel to Cuba, the infrastructure just isn't there and mixed with some confusion on how this new program is going to work, bring something along for you to suspend your mind in another place while some of these delays occur, there's nothing anyone one can do, it's Cuba travel folks.
Thank you Elena at Xael Charters for being our partner for flights to Cuba for our valued clientele, everything went perfect!
Thanks, Jack & Carola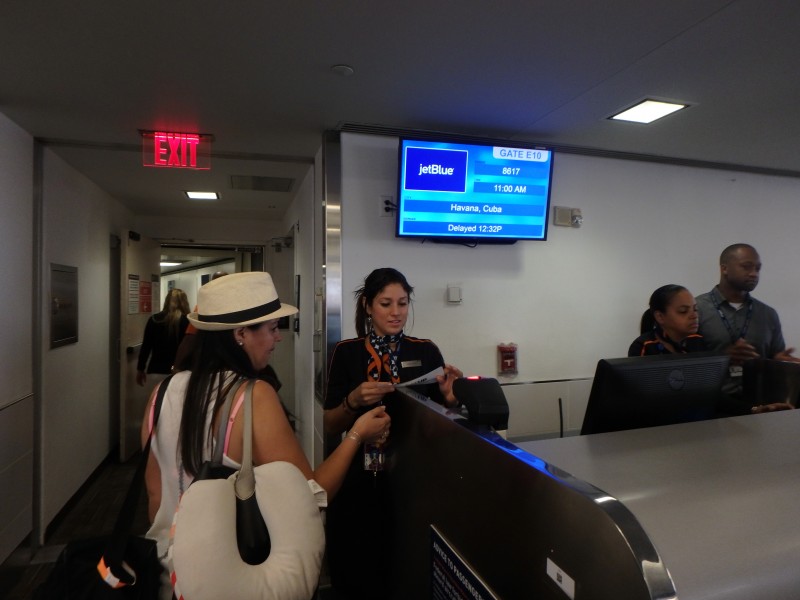 We boarded the Jet Blue flight headed for Havana and Carola and I got excited as we entered the plane, destine for paradise island once again.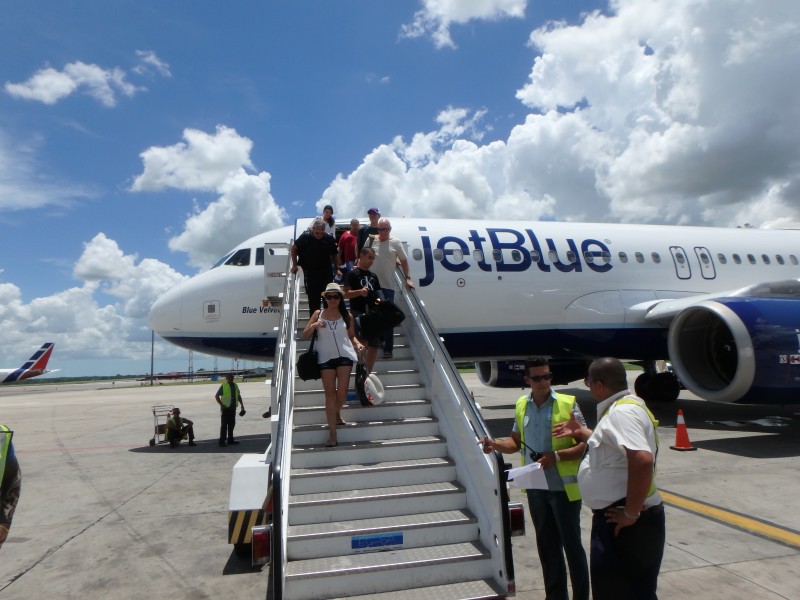 50 minutes later we arrived and the humidity and heat wasn't that bad, we processed ourselves through customs, got our passports stamped and headed outside of the terminal to look for our transfer guide and grab a cold drink.
We arrived next at our 5 star hotel, the Melia Havana, and there on our table was a bottle of Cuban rum and a box of delicious chocolates. I thought to myself, what a classy place this is, never even asked them.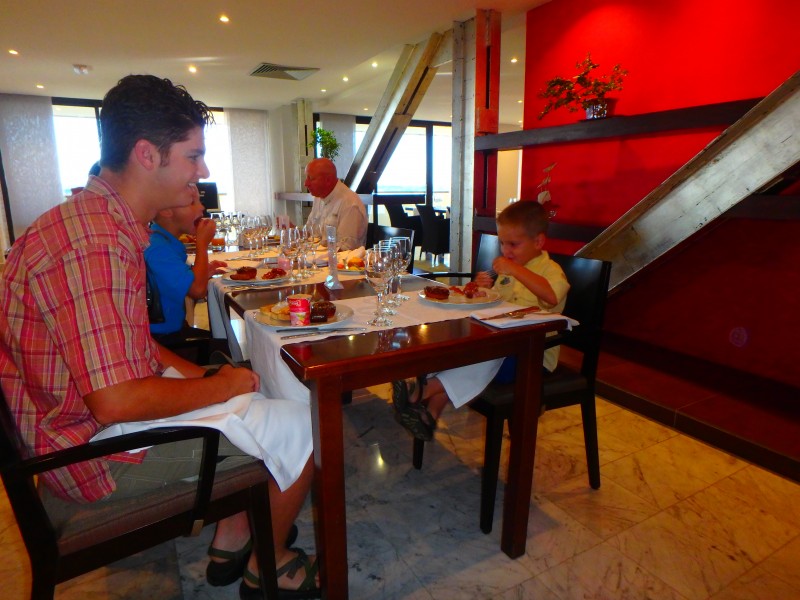 The next day we had a fine breakfast at the Melia Hotel with the group, all were excited for our next plane fight to Cayo Largo, but first a little fun in Havana is always in order, this historical town dates back to the its discovery in 1509 by the Spanish, there must be so many great historical sites for us to find, I'm sure glad we had our tour guides Jesse & Katia to show all of us the best places in Cuba to tour. Little Charlie was a highlight on this trip, you wouldn't think an 5 and 8 year old would fair very well with a mix group of adults, but as mom, Kristin Stroud mentioned; "Charlie boy is just all about fun and Barrett "Bear" Stroud is an old soul at 8 years old." That sure was the truth, I swear the entire trip, all of the kids were never unpleasurable to be around, in fact they enhanced the trip and took some of the pressure off Carola and I. These kids were brought up right and were just happy to be in Cuba, they seemed to know the importance of the trip right down to 5 years old. ( I wanted to mention this just in case there's anyone out there with young kids, this is the perfect place to bring them, why pops fishes or mom for that sake.)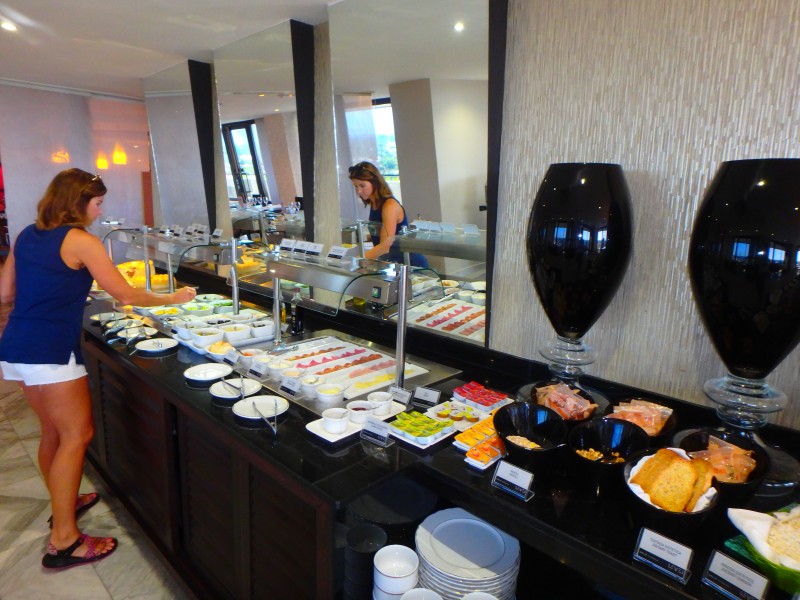 The buffet in the morning at both the Melia Hotel and the Parque Central Iberostar Hotel, both 5 star hotels in Havana, Cuba get our highest endorsement. The quality of the food too is top notch, we were all impressed.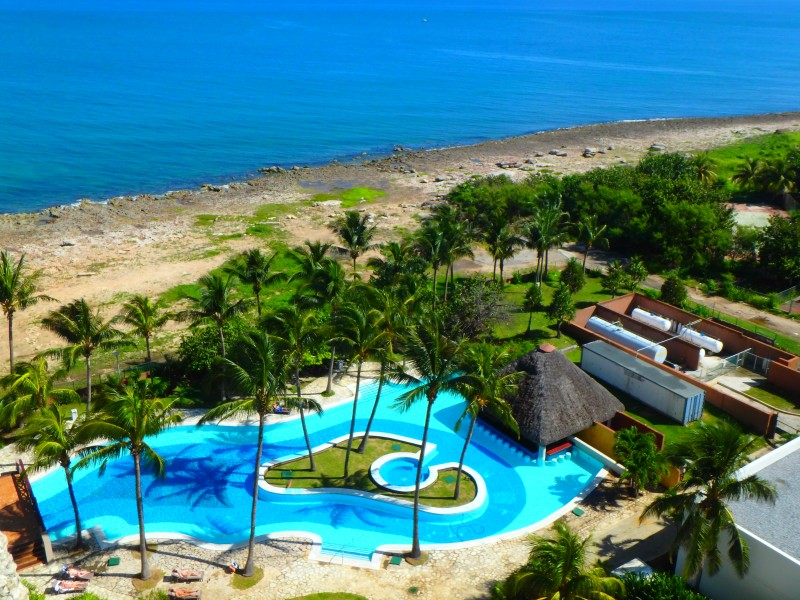 I walked outside on my balcony and looked outside into the Cuban sunset draped in ambers under which, the soft Caribbean Ocean whispering light calm waves, feathering onto spotted rocks I saw from the 10th floor room that I was thoroughly enjoying. Many locals were out gathering shellfish in the low tide, the air was warm, but completely bearable, I finished my smooth mini Cohiba Cuban cigar that reminded of her oceans, looked out one more time to connect and walked inside the air conditioned room that at first was freezing me, Mr. Green Jeans!
So I had a little time when we heard our flight would be delayed to Cayo Largo due to a tropical storm that was dumping rain in Cayo Largo, our destination. We had asked the group to bring such things as Advil, aspirin, cough syrup, etc. I called one of our tour guides to pick me up and he knew right away where to take me. A local client he knew right down the road from his house. It was great and the staff were very happy. In Cuba, they don't have a shortage of doctors, they have one doctor for every 80 people in Cuba. They have a medicine crisis, they need basic things like, what I mentioned and coloring books for kids or even better bug spray, sun block, allergy medicines. Luckily I had Robert Stroud on our trip, a highly respected doctor from Amarillo, Texas that brought a boat load of medicines with him to be handed out as gifts to the people of Cuba. This made us all feel real good about being there not just to take advantage of their terrific resources, but also give something to show that we Americans care about the future of Cuba and how we might be able to work out a win/win between out two countries this time.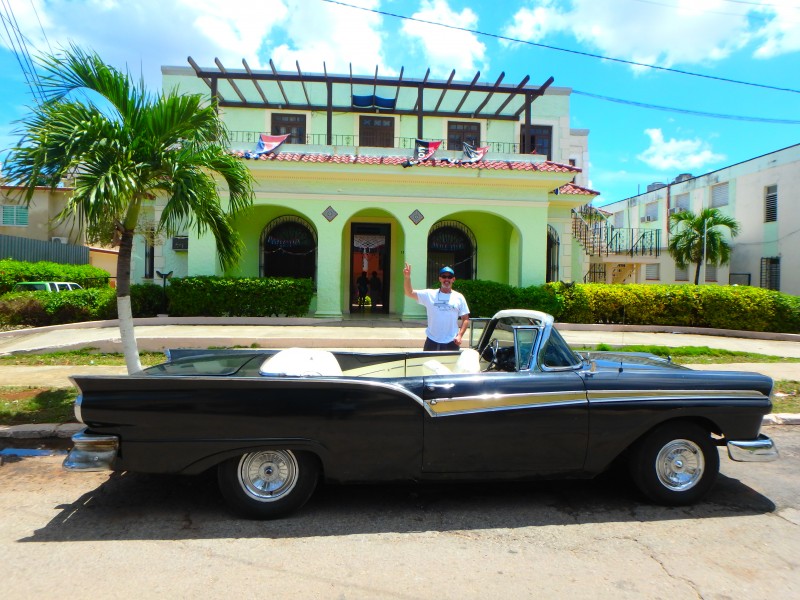 I think this car is where they got the idea for the the Bat Mobile, that's what Juan was telling me. Then he said; "hey, you haven't met my family yet, why don't you come over for some tea and meet everyone?" I replied; "sure thing, let's go!"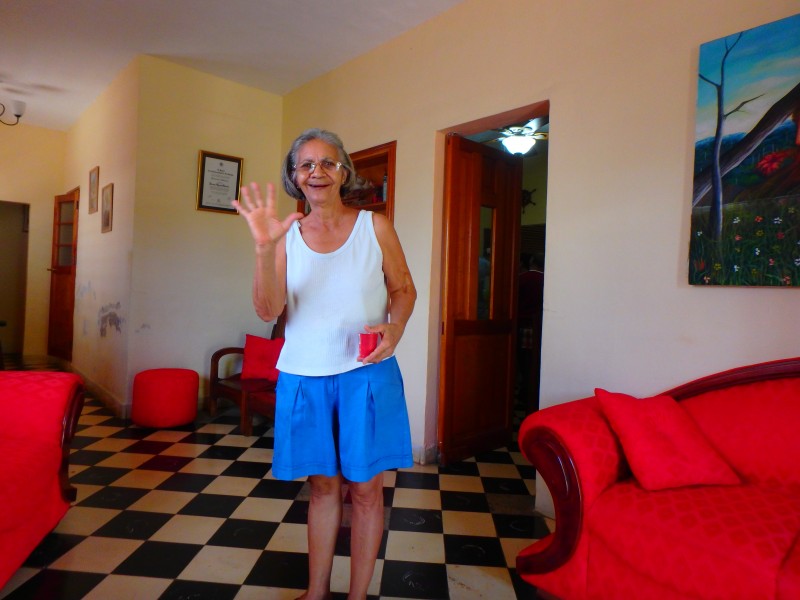 Grandma was a kick! She lived there with her husband and their grandson and his wife and child, they were very nice, happy people. Grandma was a solider in Fidel's army at one time and still held him in high regard, her grandson mentioned, why the youth are looking for a better way of life. An opportunity to create a new way, one that involves growth and the chance to achieve back, what you work hard for everyday. He went on to tell me that the Government is allowing more independent businesses now as well as the usual state run businesses. It was all very interesting to me as knowing the history, I was honored to be an American, sitting in a authentic Cuban home with this warm family opening up to me and telling me their families story after 60 years. What I saw in a half's century of time was the passing of the baton, it felt as though the people were willing a change, one that was fueled by our own loosing of the restrictions entering into Cuba as Americans. Just this year, the US Government allows you now to bring back $100 or less in Cuban cigars or rum. No problem anymore about getting your passport stamped from Cuba, so there's no need to go through Mexico City anymore, the worst airport on Earth. Flights are now leaving daily from the United States mainland to destinations all over Cuba. Could it be we are finally going to completely open up relations again with Cuba including banking and lifting the embargo, I sure think it's time based on what I am seeing people.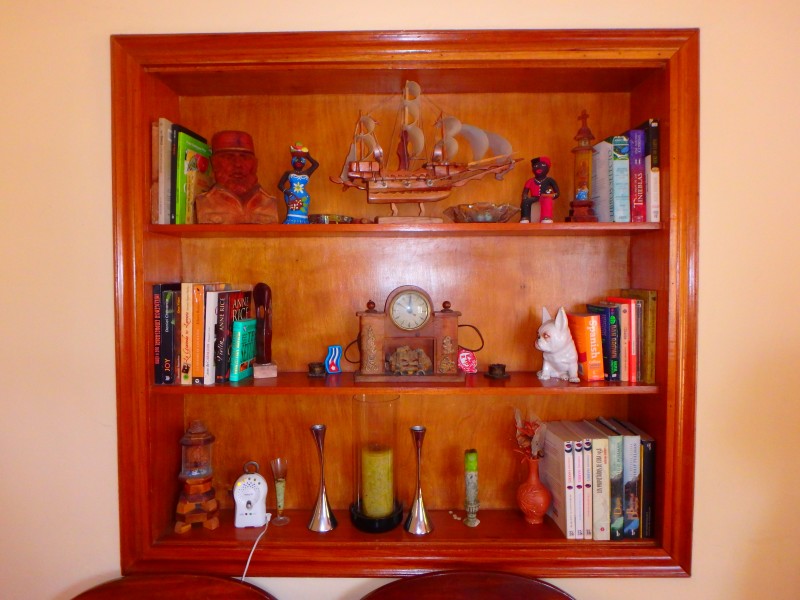 I thought to myself this shelf was so classic, every where you go in Cuba everything is an antique, so of course I was all fired up to walk around and check out art and antiques that seem to pop out at you in every direction.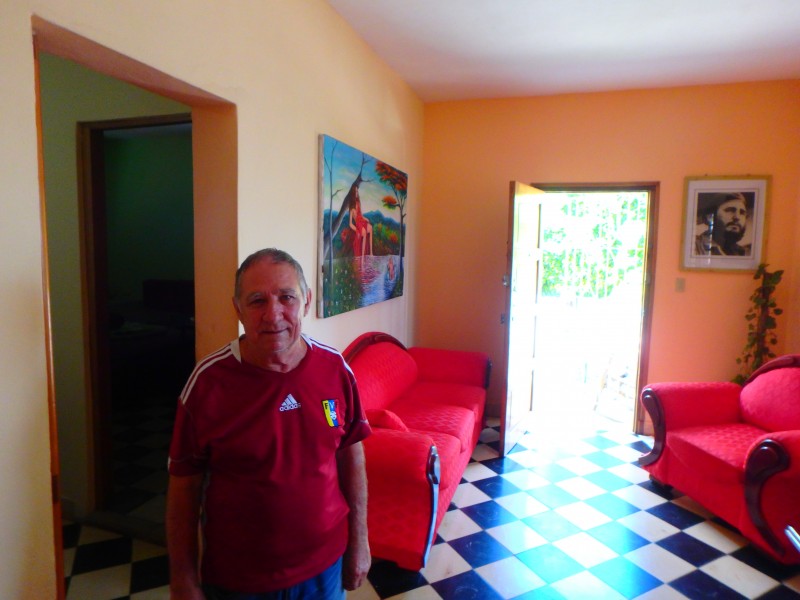 Grandpa was some where in the middle, he sure smiled a lot and was happy I came by for some tea. I don't think he had seen very many Americans, he was as amazed as I was, that I was there.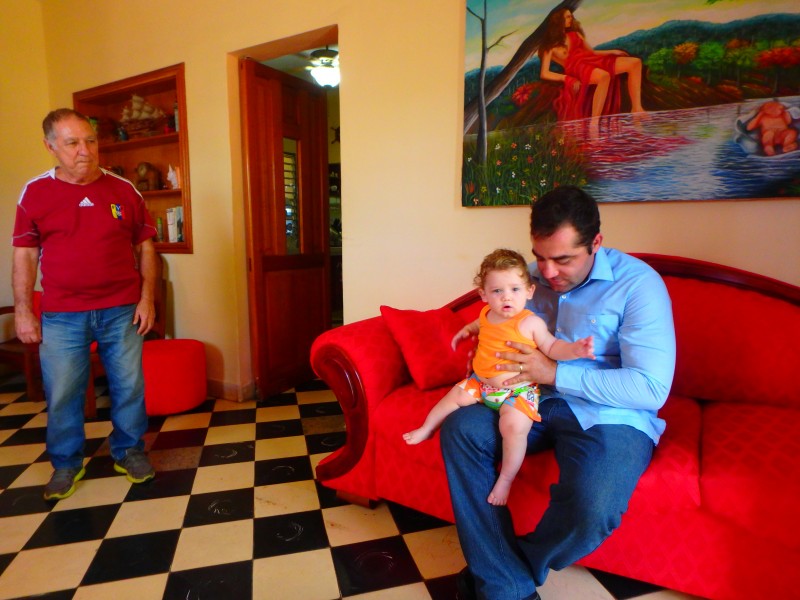 This was one of my fondest experiences in Cuba, I really enjoy real culture, not just the 4 & 5 star, but the heart and soul of the country, I certainly found it here. I wish this family and my guide the best as Cuba becomes a little more open to it's neighbors to the north. Let us hope this child in arms, has a prosperous life, the one you and I all deserve to grow up and have. Made In America products, should be made available in Cuba.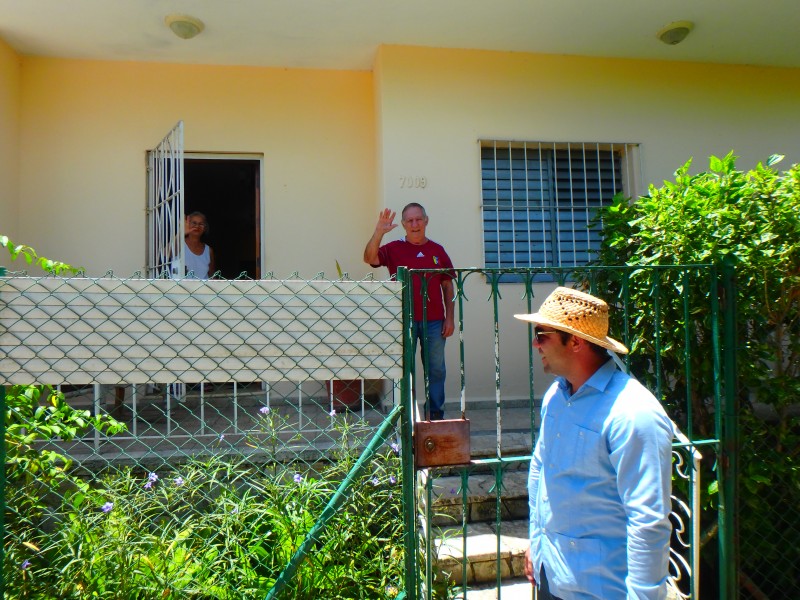 What a trip highlight really enjoyed that experience! Bye Pops and Mom!  jt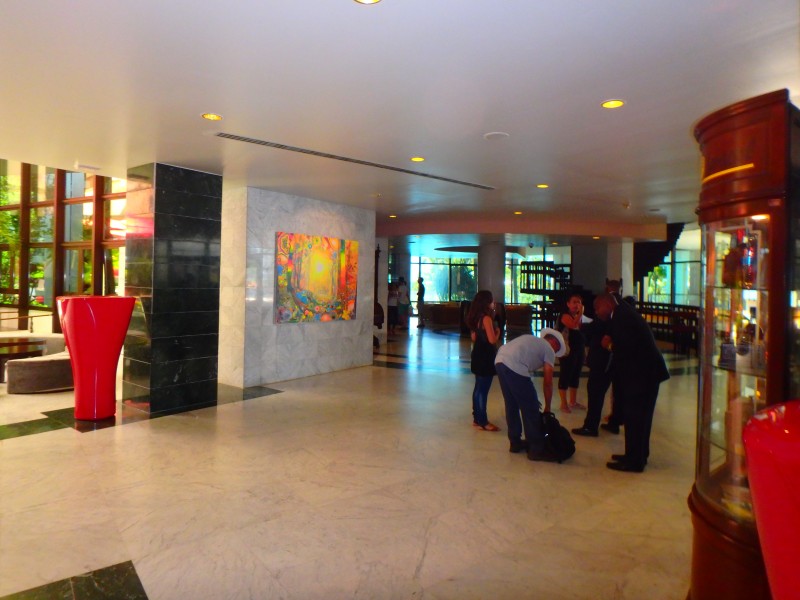 Back at the hotel, the plane is still delayed to Cayo Largo, that's ok, they don't even have the rooms ready until 3 pm anyway, gives us a chance to cruise Havana more, this is like being in Modesto, California for Graffiti Night, but here it's 24 hours a day, 7 days a week. The cars are amazing folks!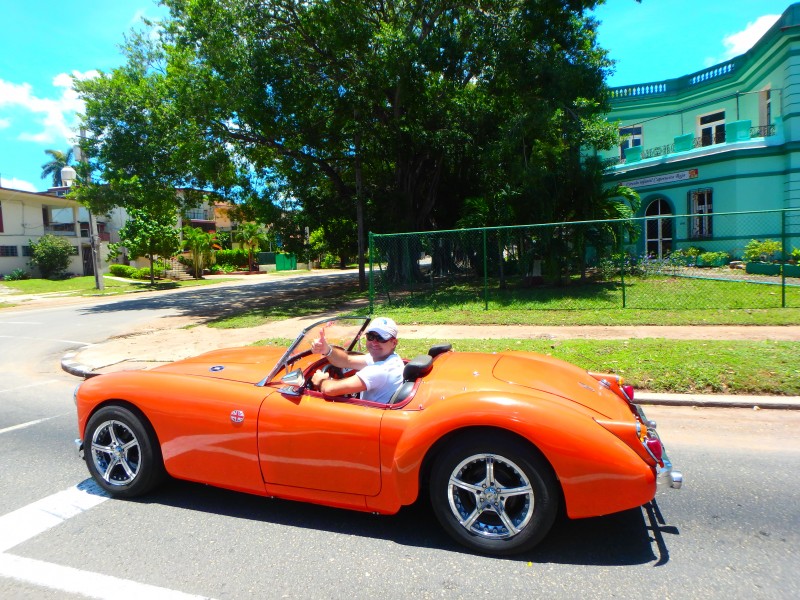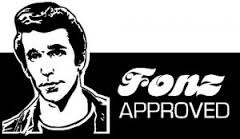 The tour was most excellent!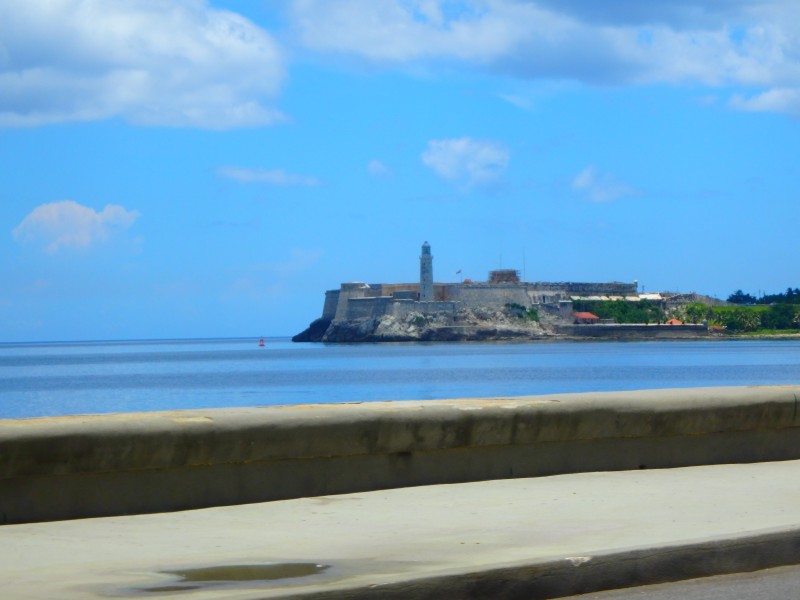 2nd Day Tour (external areas and some Ernest Hemingway places, price $200 for One – for 2 people 300.00 USD from 9.00 am to 3.30 pm)
– Exploring of important places at the other side of Havana city Bay where big Spanish colonial fortresses are located which are used for protection from the pirates attacks and Spanish empire enemies. Stops by the Morro Castle for a fantastic panoramic picture of a big part of the city, some minutes at the 1962 missile crisis military exhibition and Jesus Christ Park.
– A visit to Jose Fuster street artwork project which since the 1990's has been the most significant open artwork neighborhood in Havana city inspired by the catalan artist Antonio Gaudi.
– A visit to Finca Vigia (Vigia Farm) where the American writer Ernest Hemingway used to live from 1939 to 1960, which is since 1962 the very first  Museum dedicated to the relevant writer and journalist. (Fees entrance: 5 CUC each)
– A short visit to Cojimar town where Hemingway used to keep his boat for fishing and he met Gregorio, an old locale fisherman who becomes later his inspiration for the famous novel The Old Man and the Sea. Stops for drinks.
– Some minutes (about 45) at the handicraft market for Cuban souvenirs. (Optional)
– Stop for drinks at a typical Cuban bar suggested by the tour guide to finish the day. (Optional).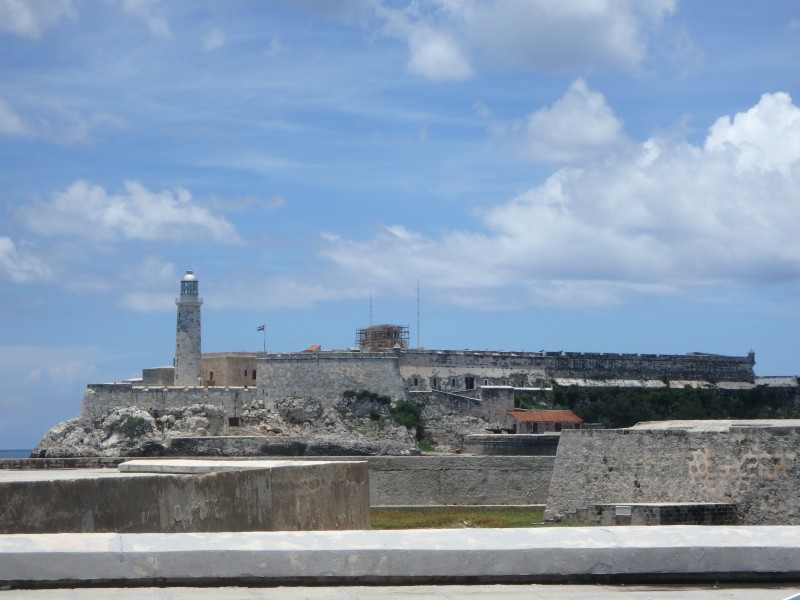 That was an amazing Spanish fortress from the 1600's we saw. As I glanced at this incredible fortress, I relived in my mind the history of Havana and how important this area of the new world was when the Spanish fortified their buildings on the island due to the world wide importance of Havana, not only were these forts built to wart off attacks from pirates, buccaneers and French corsairs but Havana had become a regular stop on everyone's voyage to and from the New World.
The most important trade headquarters for supplies and trading of gold, alpaca wool from Chile & Argentina, emeralds from Colombia, mahoganies, leather, spices, dye sticks, corn, manioc and cocoa from locations in and around Cuba or brought in from outside locations to be traded in the markets controlled by the Spanish.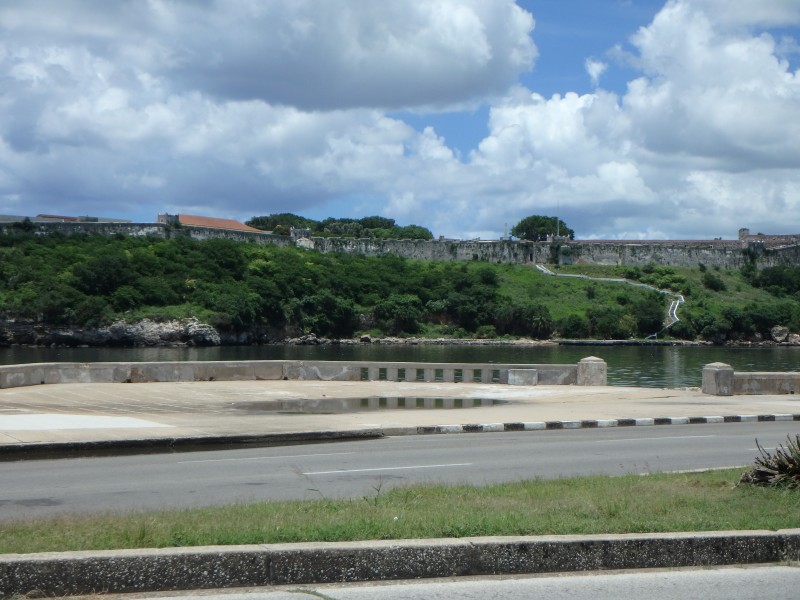 The information that was provided was tops, we highly suggest taking tours when you are in Cuba and we can help you.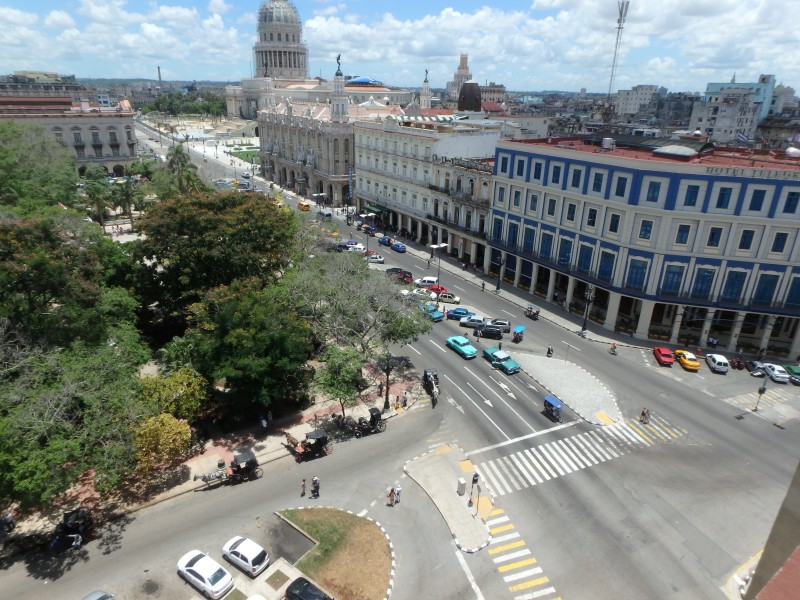 Carola and I decided to have lunch at our favorite restaurant in Havana, at the top of the Parque Central Plaza Iberostar Hotel, the best lobster I've tasted is here folks.
Need I say anything….?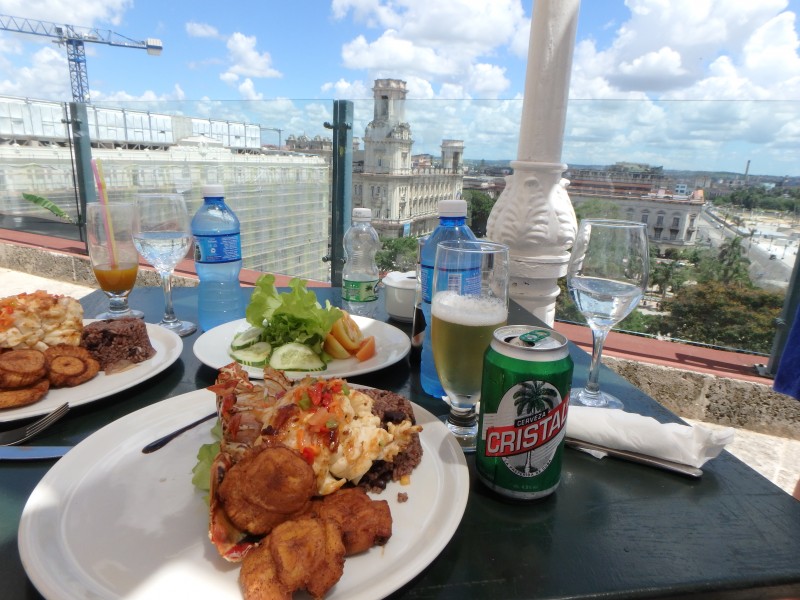 I'll shut up and eat now..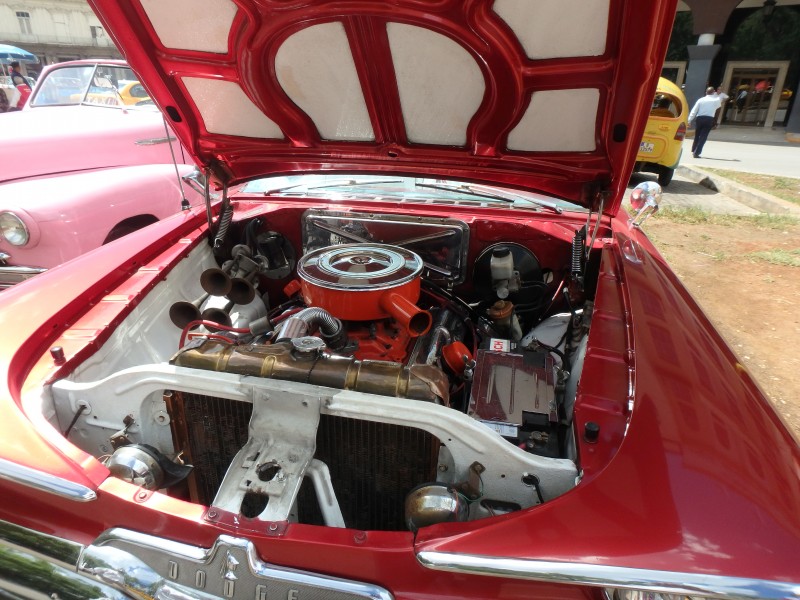 After lunch we went out and checked out the engine in the car we were cruising around in this 1959 Dodge Custom Royal.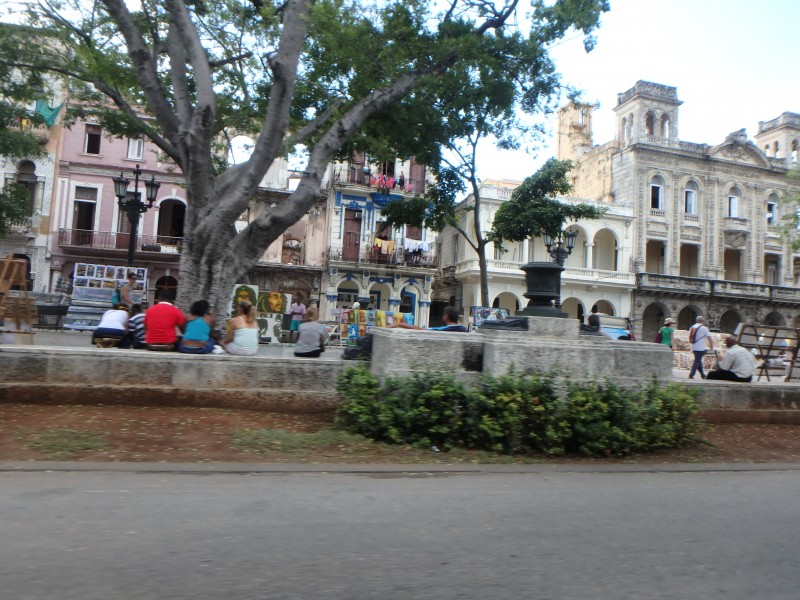 The town was peaceful, people cruising the streets and as the many street markets thrive with the influx of tourist that have been coming more every year since 2008.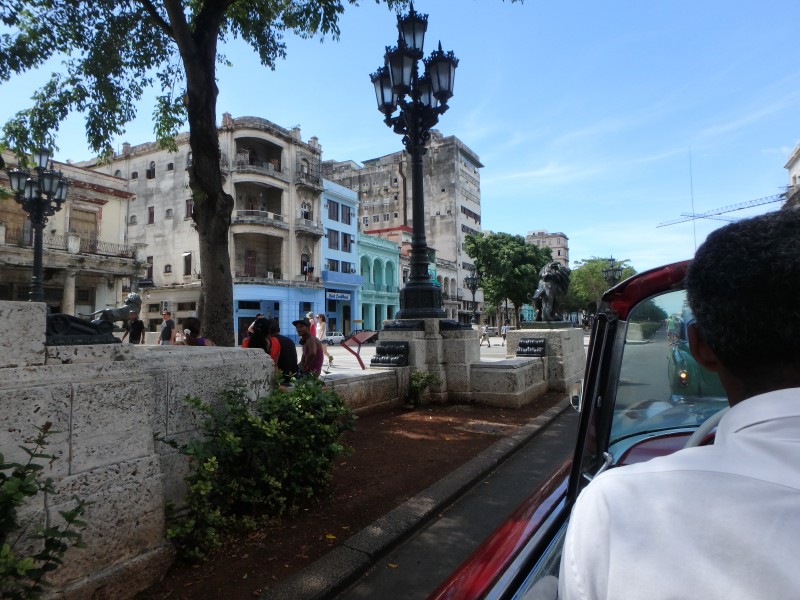 This is real Cuba people, a place worth checking out if you're American.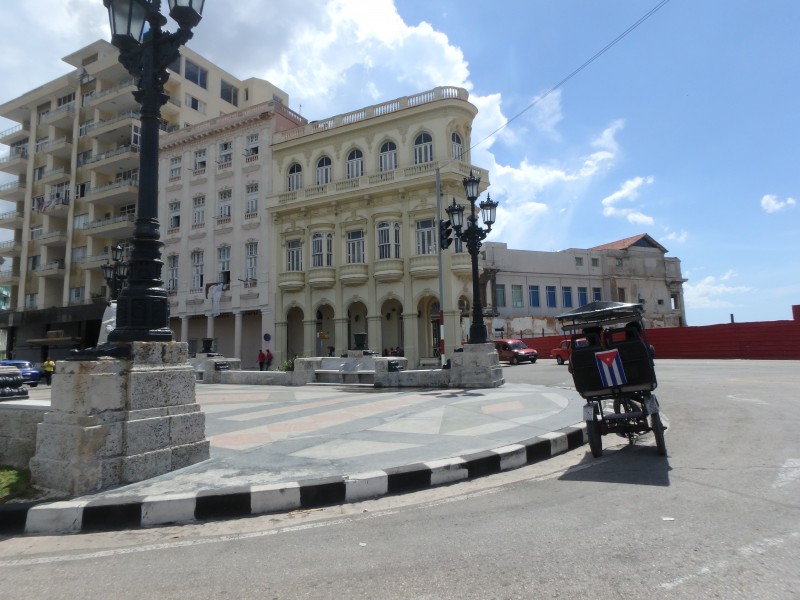 The decor of the buildings are amazing stuck back in the hey day of Cuba which was the 1920's & 30's when mob gangsters worked at the casinos and Havana had more movie theaters than Paris or London. The movie stars like Frank Sinatra, Eva Gardner and Gary Cooper flocked to Cuba during this growth era, for many of the elite, Cuba was the place to be.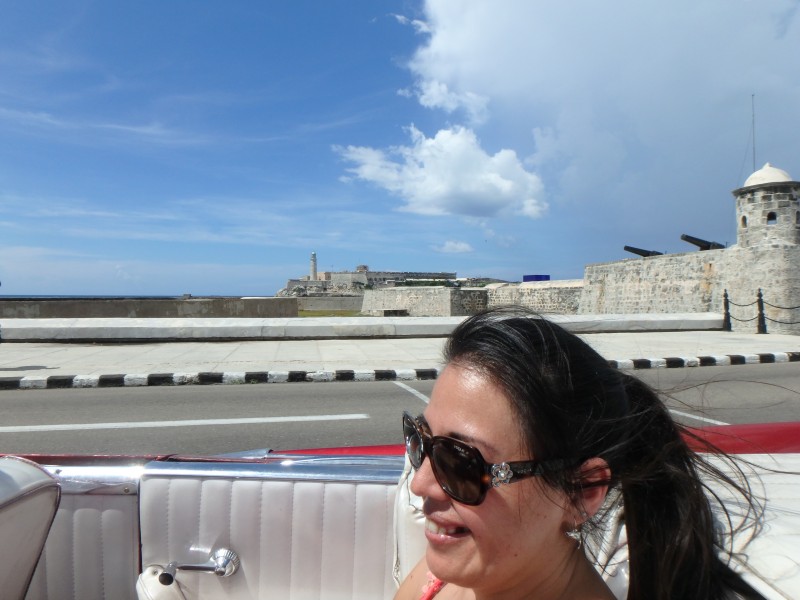 My wife knows a little about countries and their people who suffer through eras of hard times like she and her family did in Chile in the 1970's. If the government initiates changes that enhances more freedom for the people and from that everyone benefits in the end. Chile is a perfect example of how Cuba could flourish if they follow the lead and the movement of the youth of Cuba. Pinochet was a tough dictator who tortured Carola's father Armando, because he stood up in behalf of the workers he managed at a sugar company near Puerto Montt, Chile. After Pinochet left office, the country of Chile studied Milton Friedman's free market economic plan and changed their thinking. The country has done nothing but good ever since and has become a model country in South America and in the world economically, socially and in solid stability. I see Cuba heading in the same direction in the future, this place is going to have a big economic boom in the next 10 years if both our governments are smart, leave out the ego and do what's right for both countries future.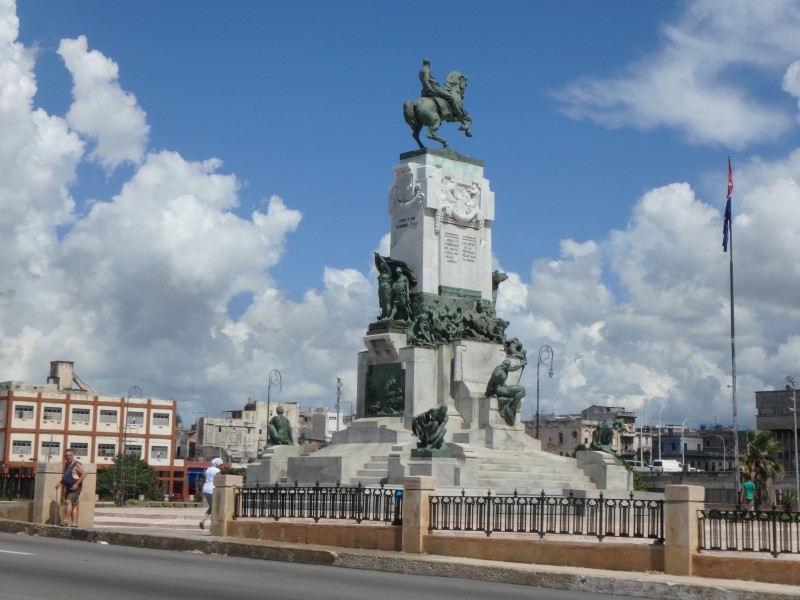 So much great art to see in every direction of Havana. I like the story of the English invading Havana in 1762 for 7 years they controlled its ports and exports until the French worked out a deal that gave England Florida, in trade back for Spain's control once again of Havana.  Amazing history as both countries are well represented by the populations of native residents who families once fought for a right to live here because it was the best place to be during those times.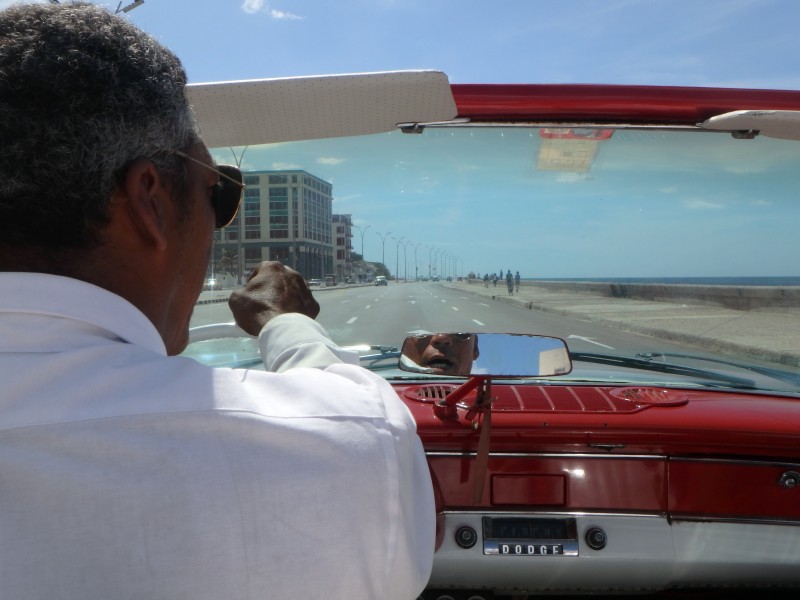 Cruising around the city in this amazing convertible Dodge makes you step back in time.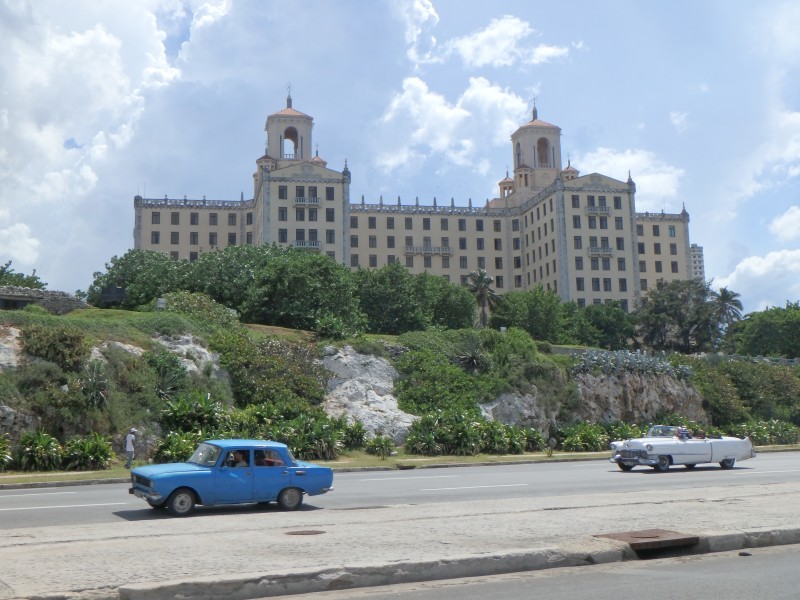 This is the hotel where diplomats, presidents and very important people stay while visiting Cuba, that of course wouldn't be me.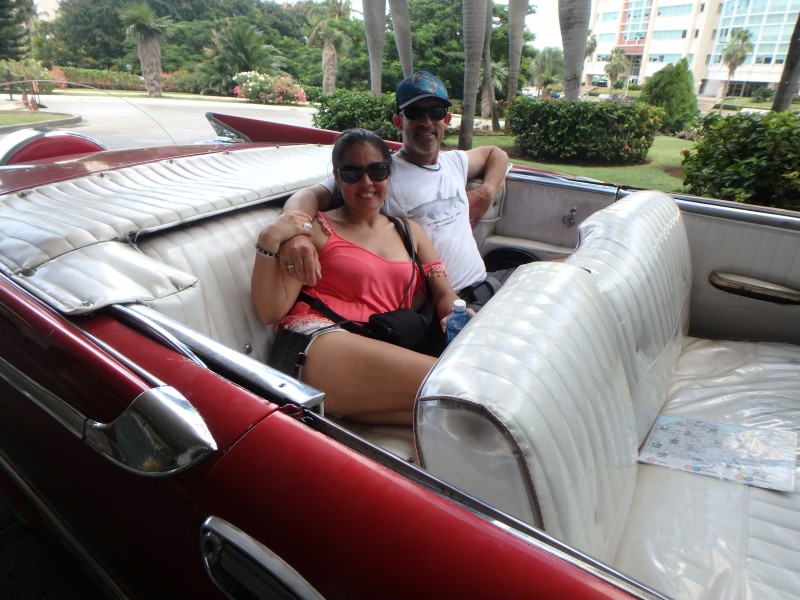 There Carola and I sat, suspended in time in an era that was never forgotten in Cuba.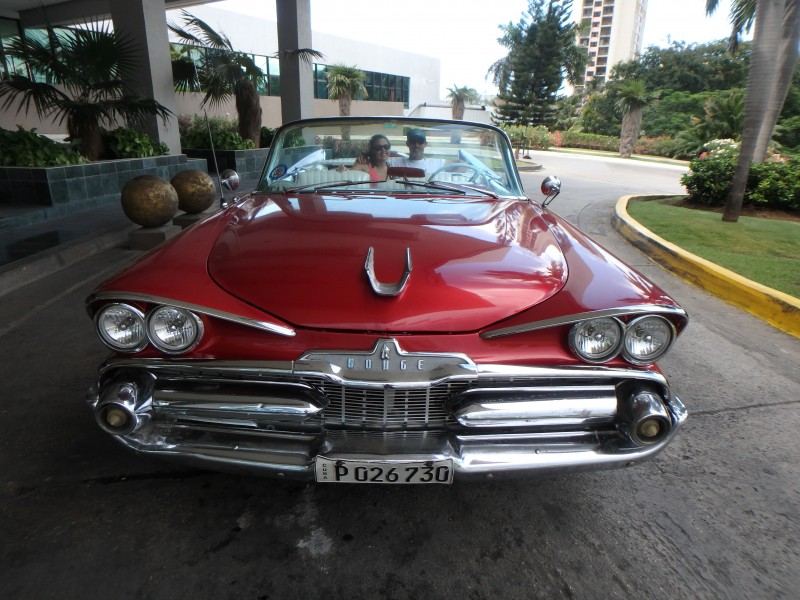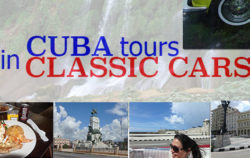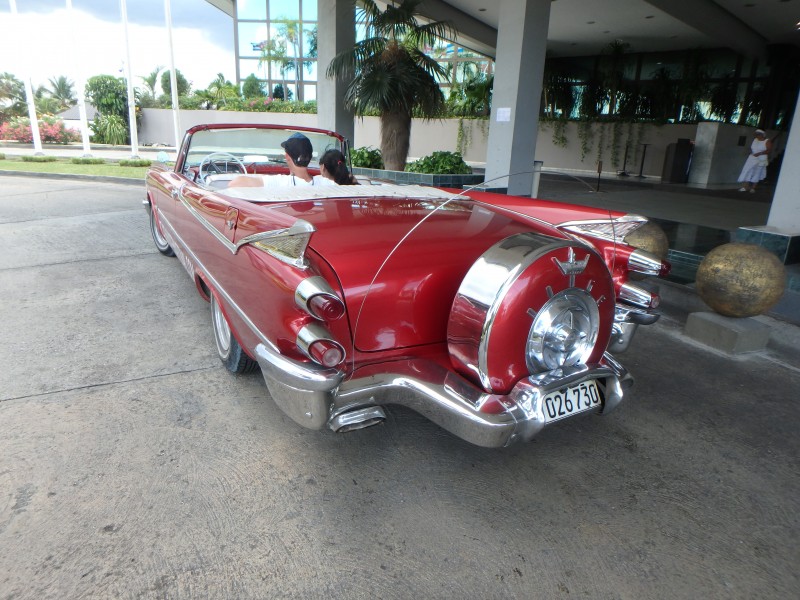 Full circle of life folks… Not over rated!  Whooohooo!! Cuba is a paradise, get there sooner than later or you'll be sorry. Later that day we flew to our resort on Cayo Largo to start our adventures there.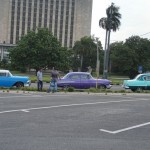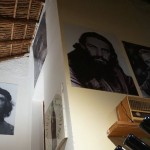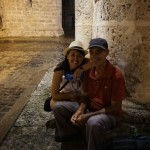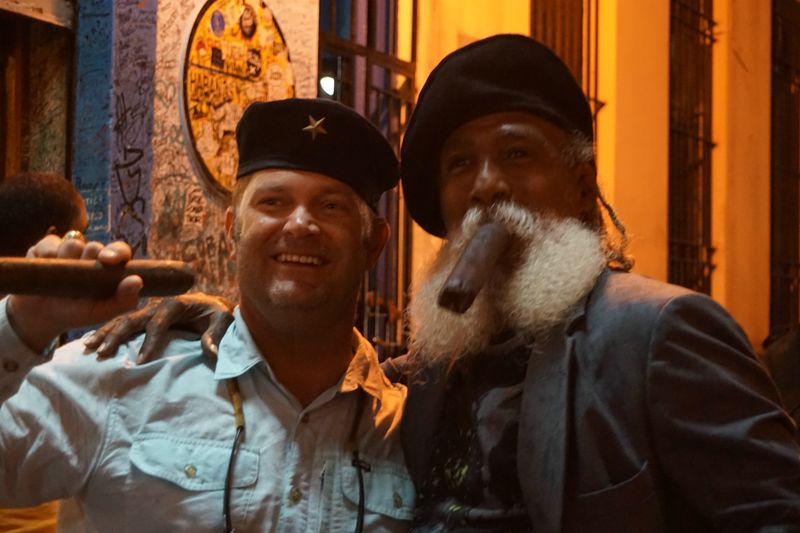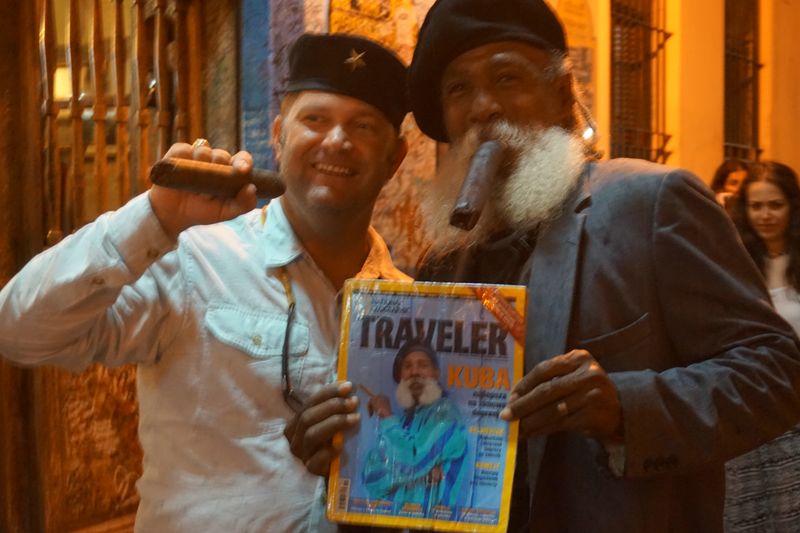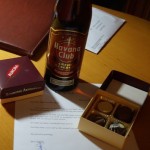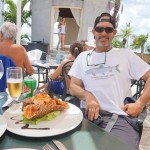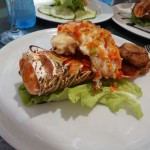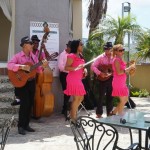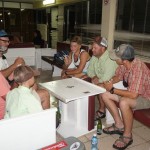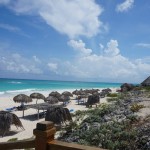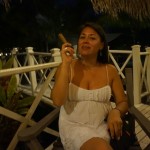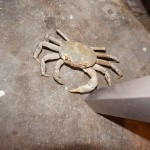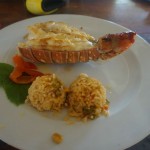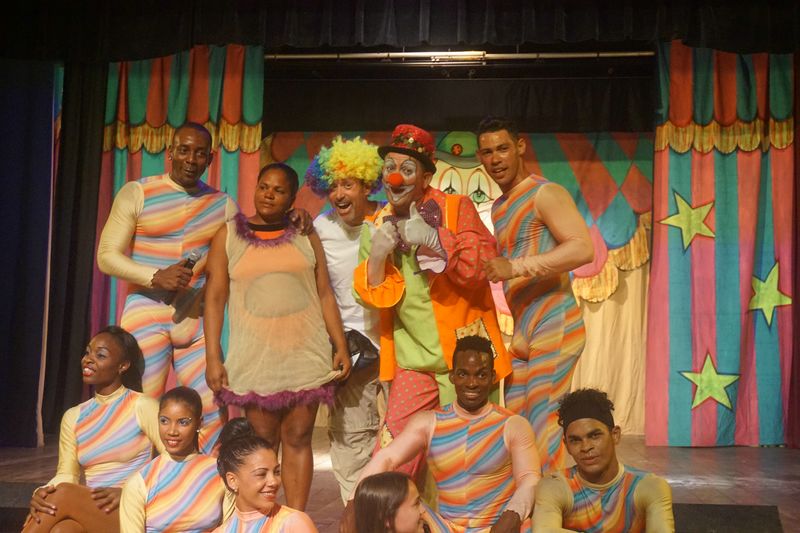 Whooohooo! Made The Show…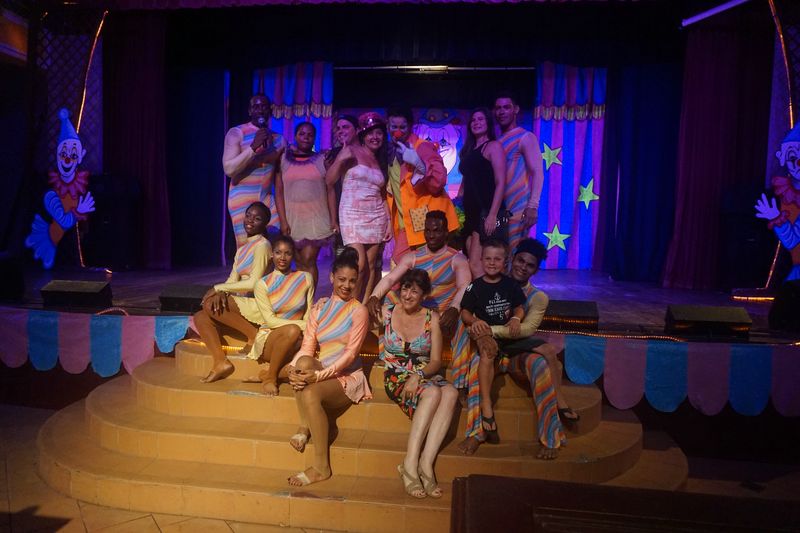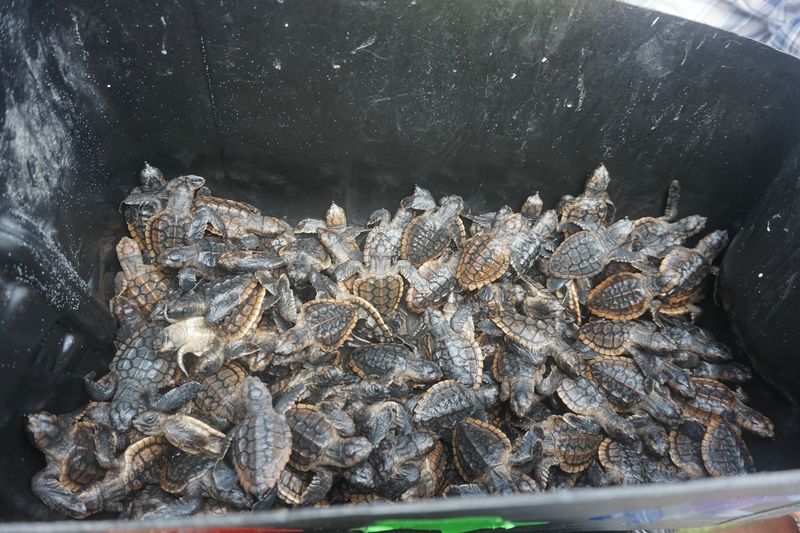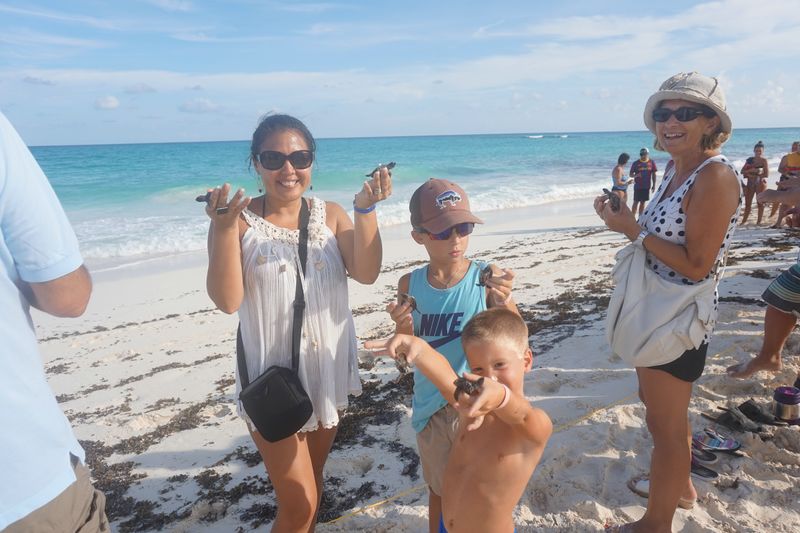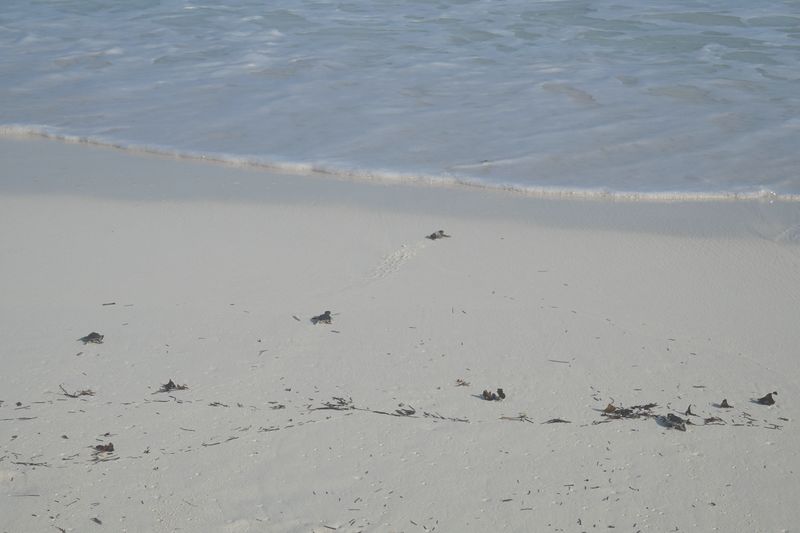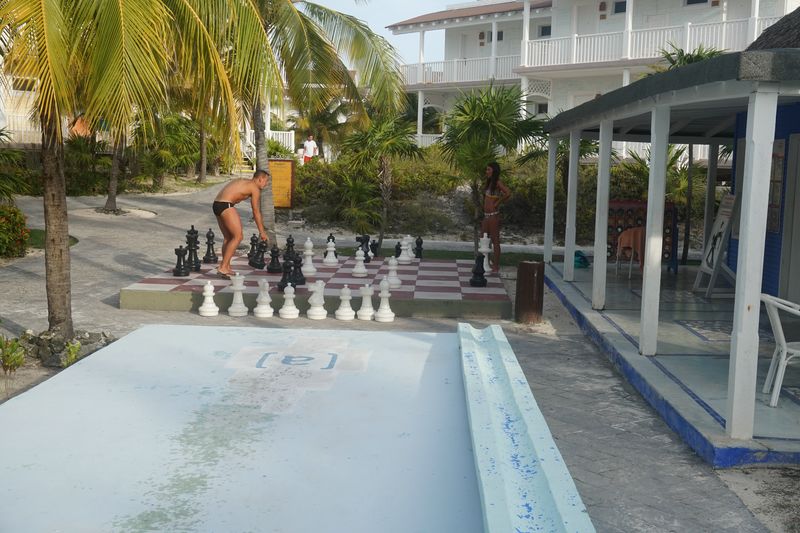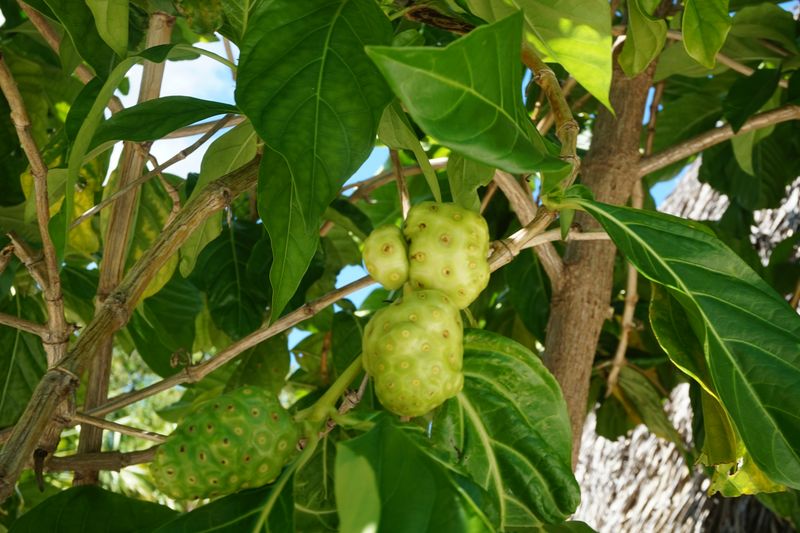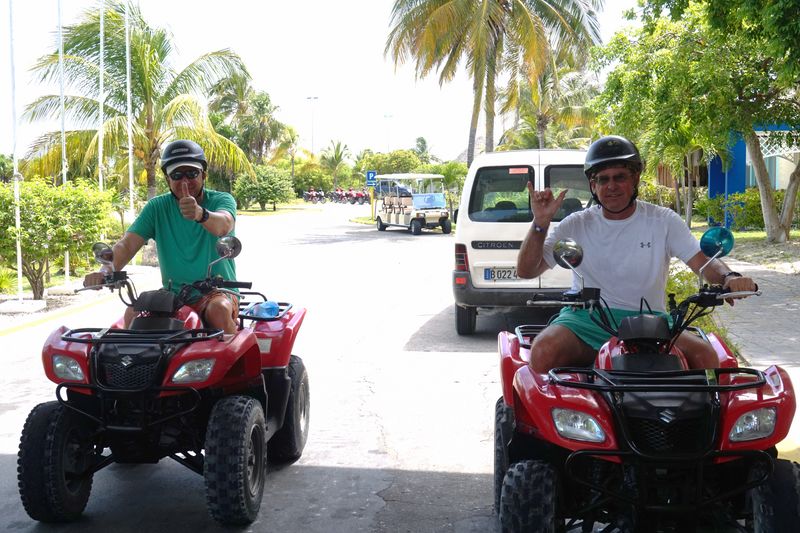 The resort has so many activities when the group wasn't fishing, there was turtle duty, to replenish the Caribbean with sea turtles program. Quads, full size chess, pool volleyball and dancing as well as numerous activities near the white sandy beaches on the ocean.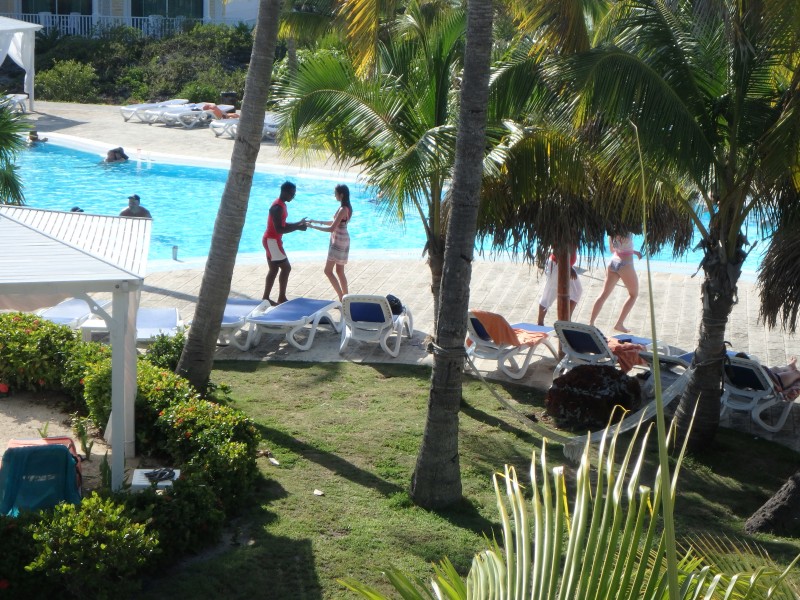 I would just look out of my deck and constantly see things going on around the resort. What a fun place indeed.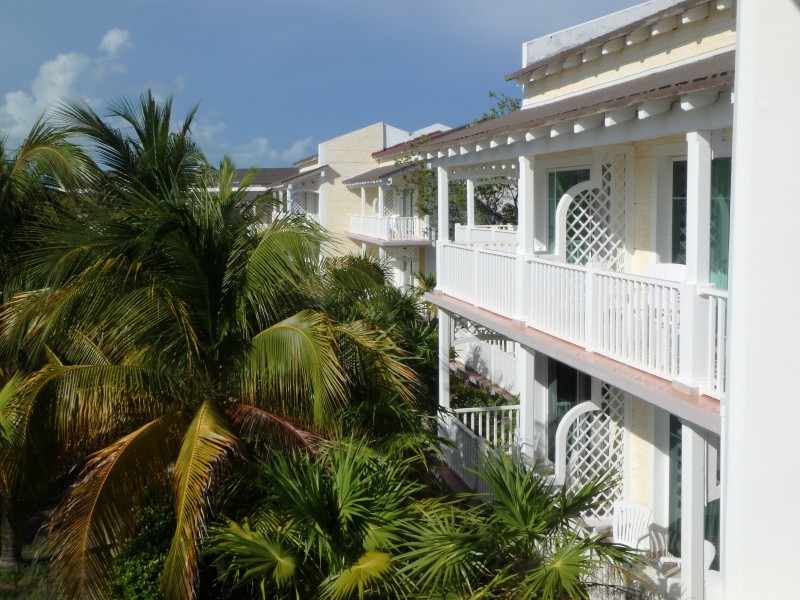 Rooms were comfortable, spacious and clean.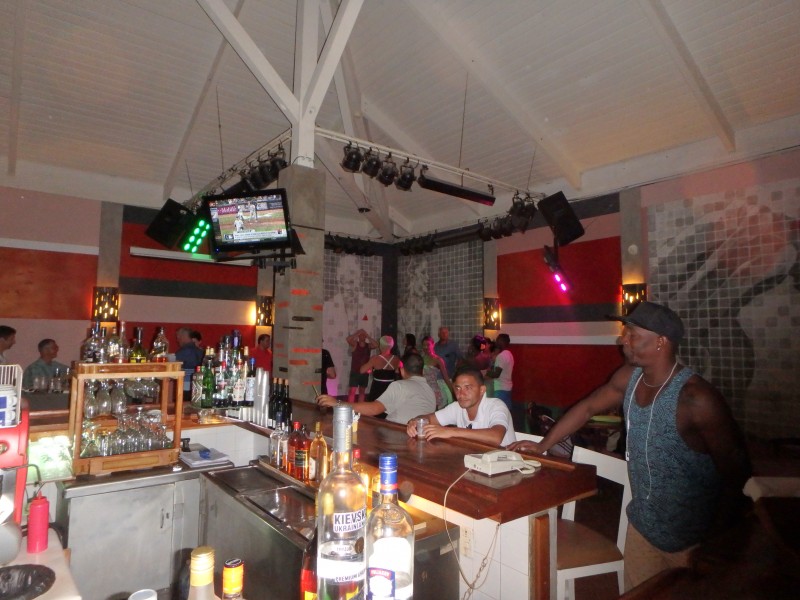 24 hour on sight sports bar was happening nightly. Everyone enjoyed thoroughly the free drinks and food.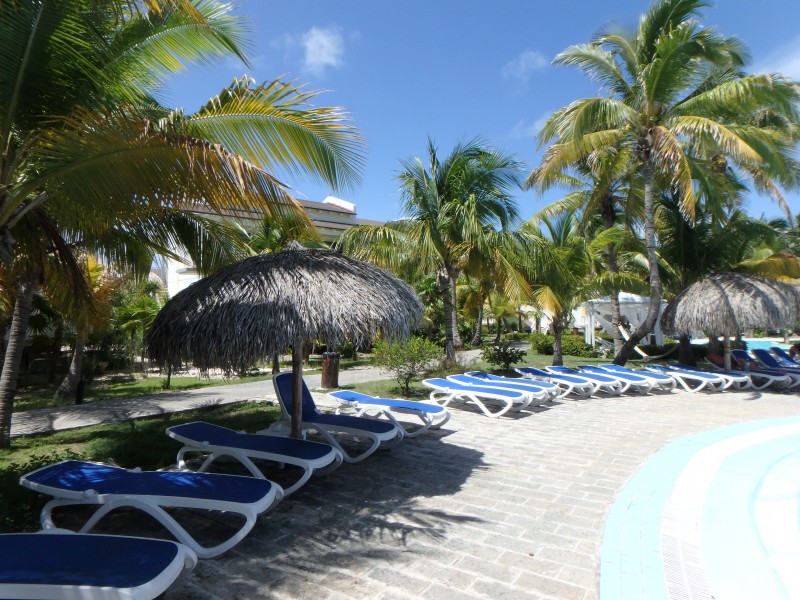 Pool very inviting as usual.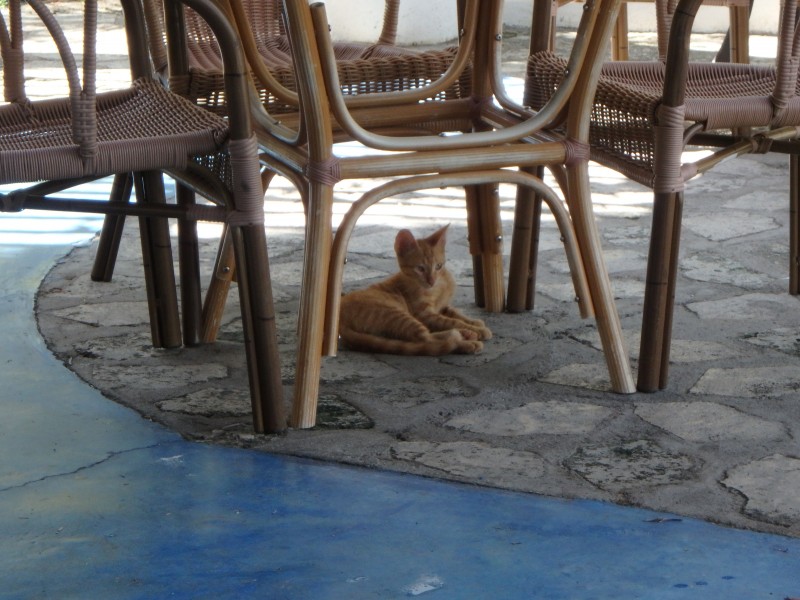 Check Out Best Selling Mystery Author Dianne Harmon, In Her Very First Jack & Carola Trout Fly Fishing Mystery Series.
Click On The Book To Buy A Copy On Kindle.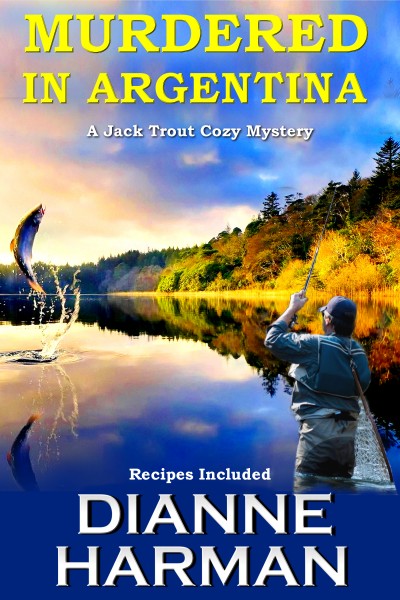 #1 Fishing Book On Amazon Kindle, This Is A Really  Great Fly Fishing Mystery Adventure, Worth Checking Out. Plus A Historic Bamboo Fly Rod That President Eisenhower Once Owned And A Hardy Reel From The Late 1800's, then the owners found dead and the fly rod & reel has vanished? (Oh man, wouldn't you know it! 🙂 )
Now That's My Kind Of Story Folks. Get The Book

Or

Kindle, You Won't Be Disappointed.  
Click On The Book To Buy A Copy On Kindle.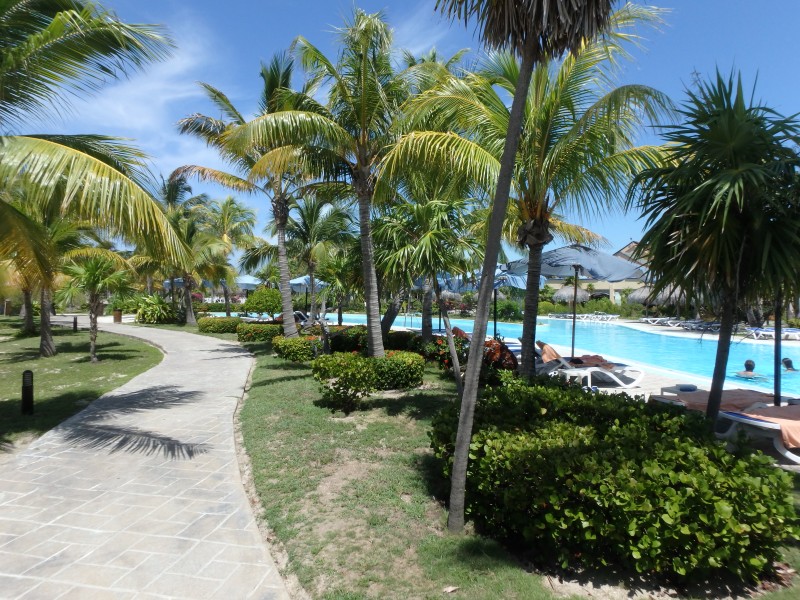 Think I'll go for a stroll….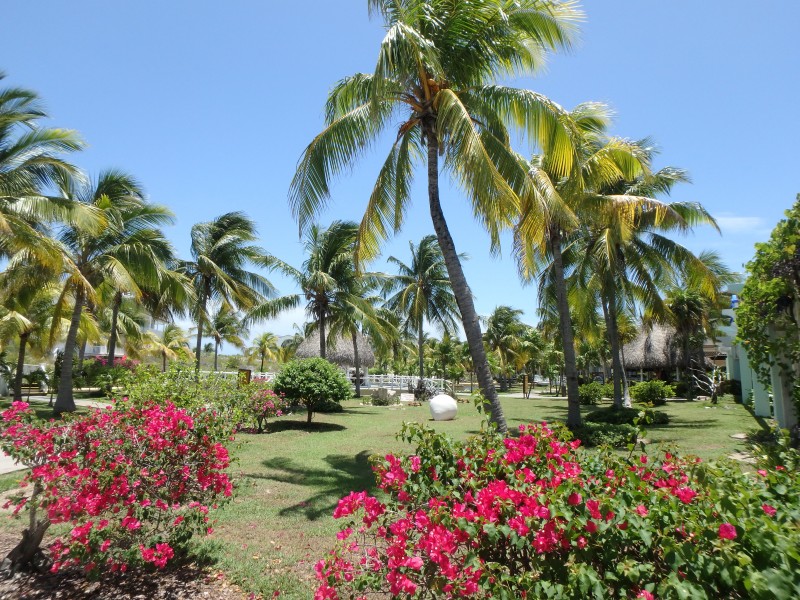 Love these bushes of flowers every where.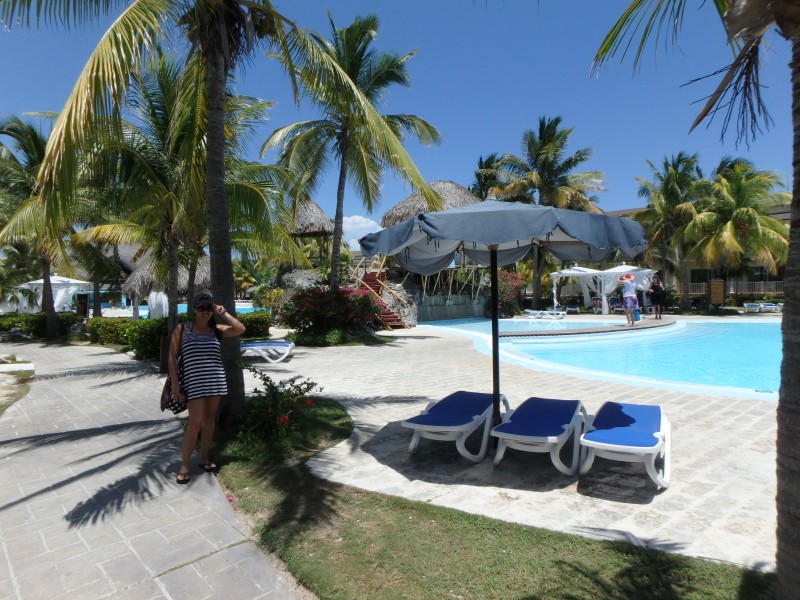 There she is! "How was your day babe?" I hung back that day and Carola had gone to the beach to set the turtles free into the ocean.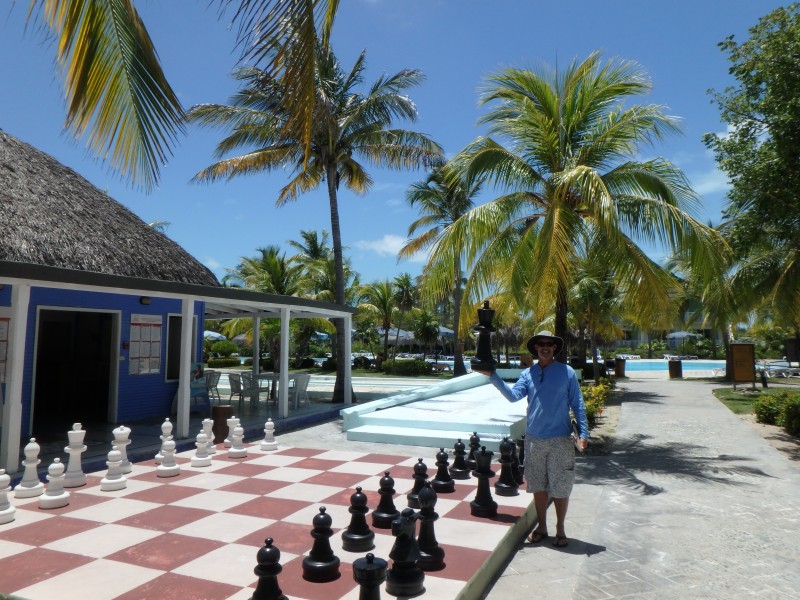 Anyone for a little Chess?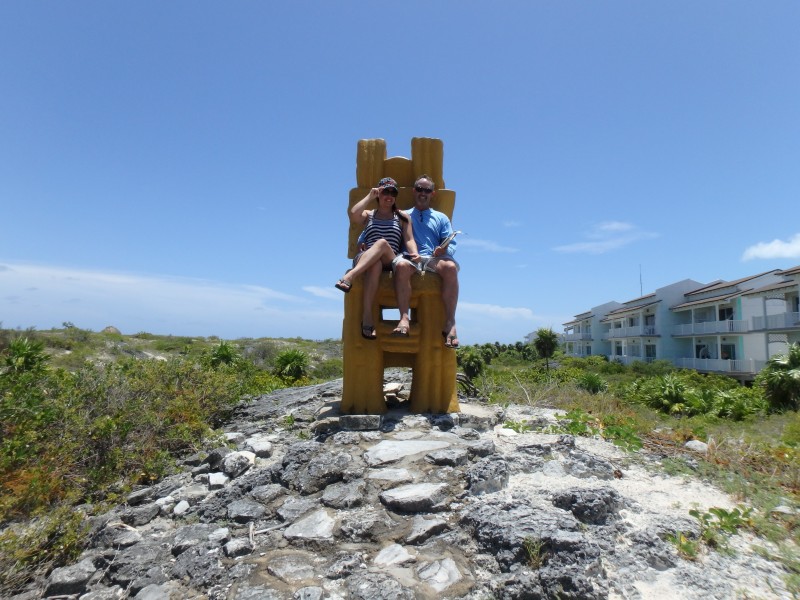 Up in our happy chair in Cuba!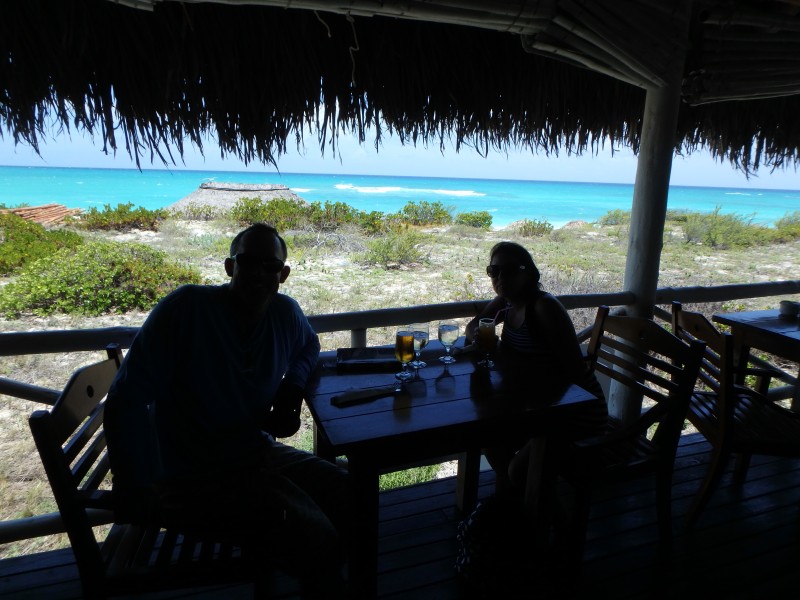 Maybe a drink over in the beach restaurant would be great. 4 places to choice this facility is huge!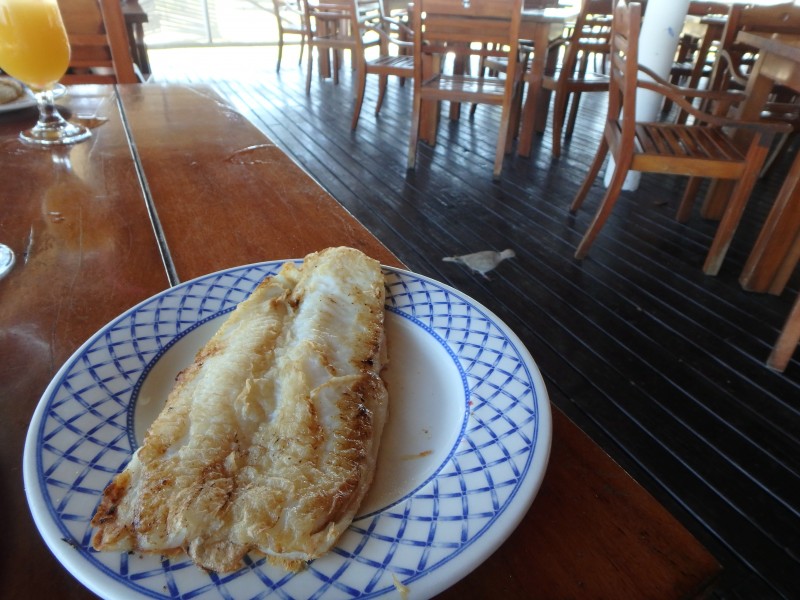 The freshest seafood and fish you can find.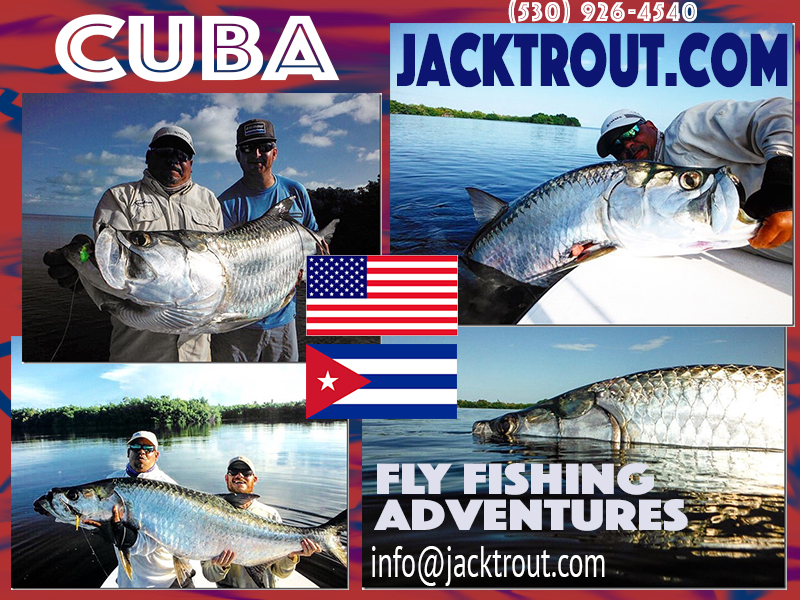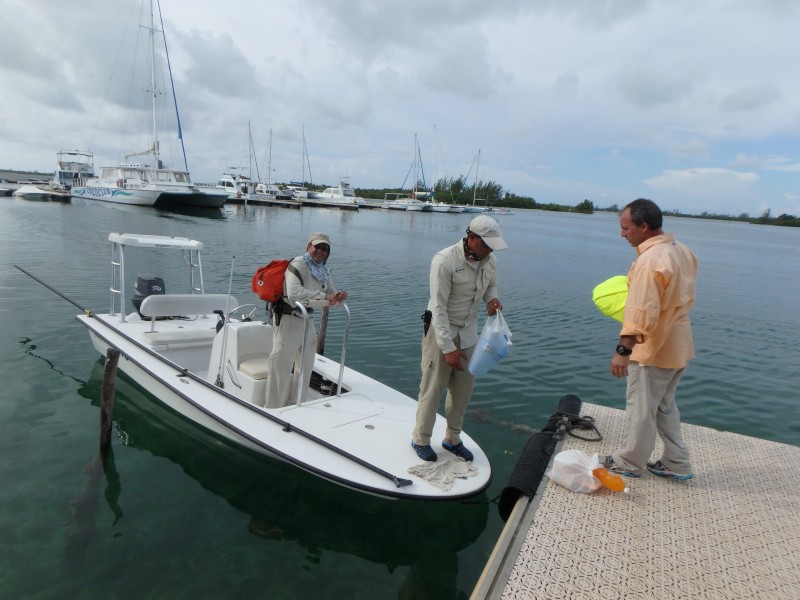 The next day the group got ready to fish, I had booked so many people for this trip, there wasn't a boat left for me. Now that's a good problem, I was happy my group was taken care of.
Our bartender Miguel Antonio and a famous bottle of Cuban rum, being displayed.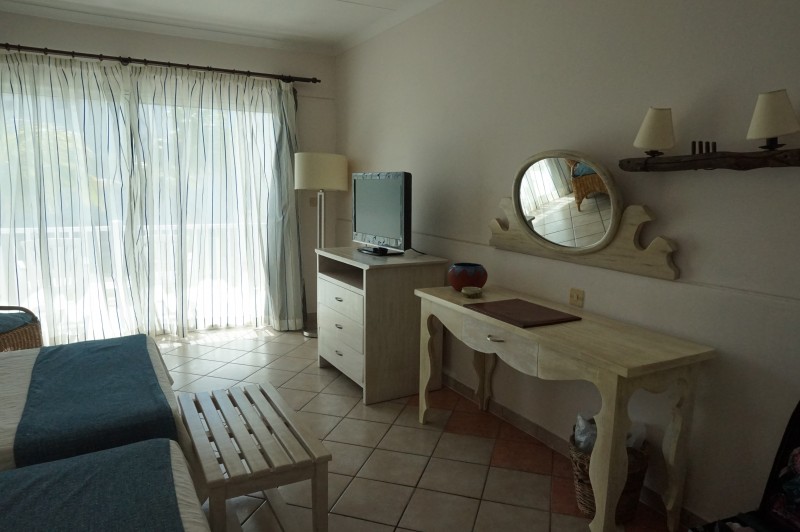 Our room in Cayo Largo, very comfortable and great views off the balcony.
Barrett "Bear" Stroud at Paradise Beach in Cayo Largo.
Double Hook-Up – Bone Fish with Victory Mahony & Will Stroud, Cayo Largo Cuba.
Charlie Stroud, nothing but stars folks!
Will Stroud Mutton Snapper on a 7 wt fly rod.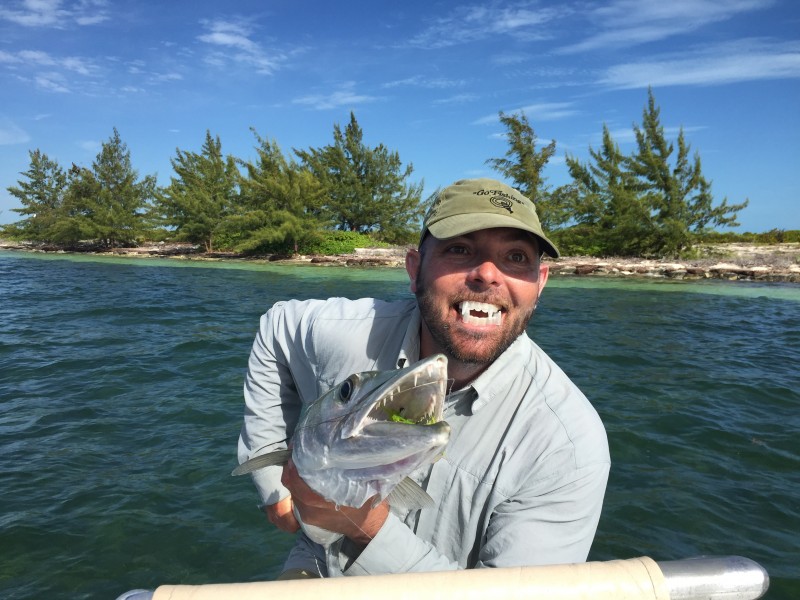 Jen from Denmark, with his best impression of a barracuda, I think he wins folks! What a great guy who travels the world looking and catching exotic huge fish to add to his list of personal record catches.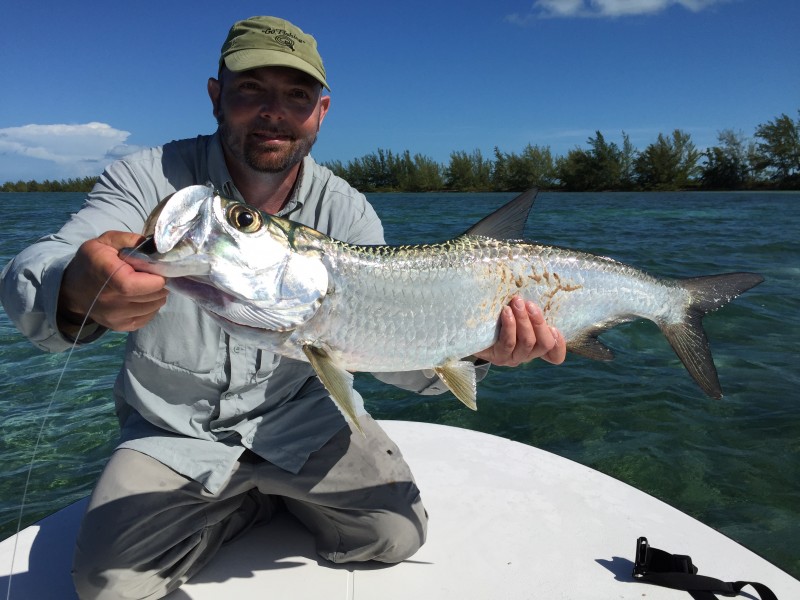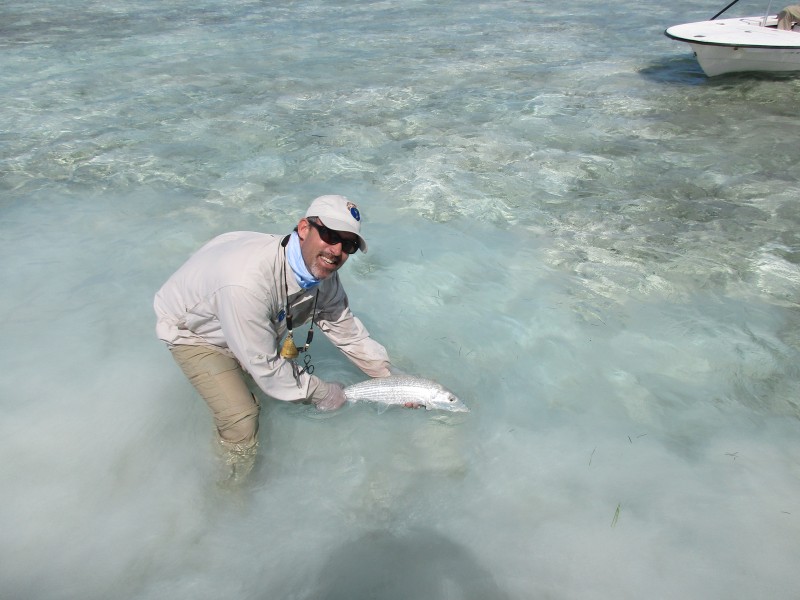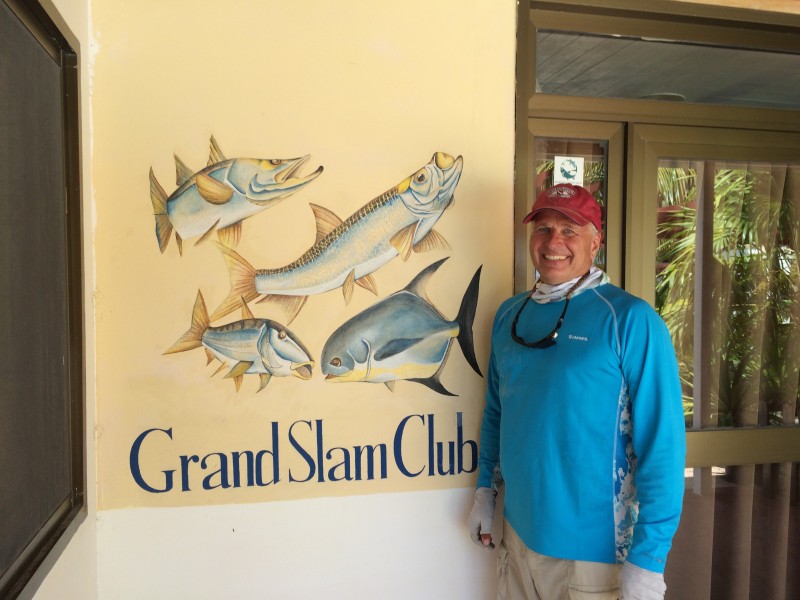 Jason Randall with his grand slam the week before, we had set up their trip too and it was a smash as he and hi wife Joann and Dick Gebhart had a wonderful trip to Cuba.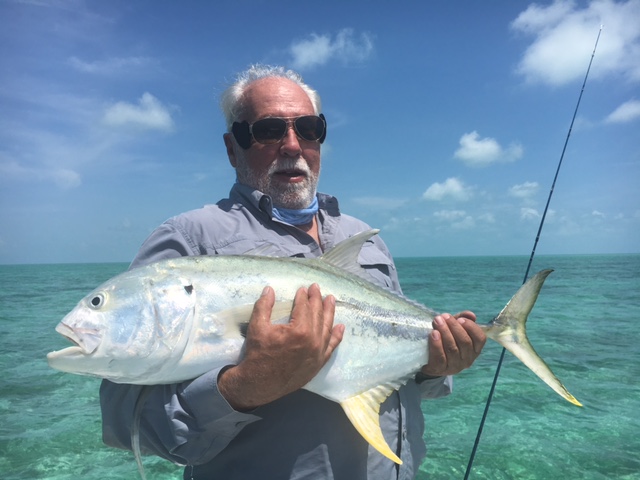 Good ole Dick Gebhart with a nice jack!
Robert Stroud with a nice tarpon he caught with our guide William.
Many bones up to 8 lbs were caught daily in private marine study grounds.
The group had a fantastic time and some have already rescheduled trips for 2017 .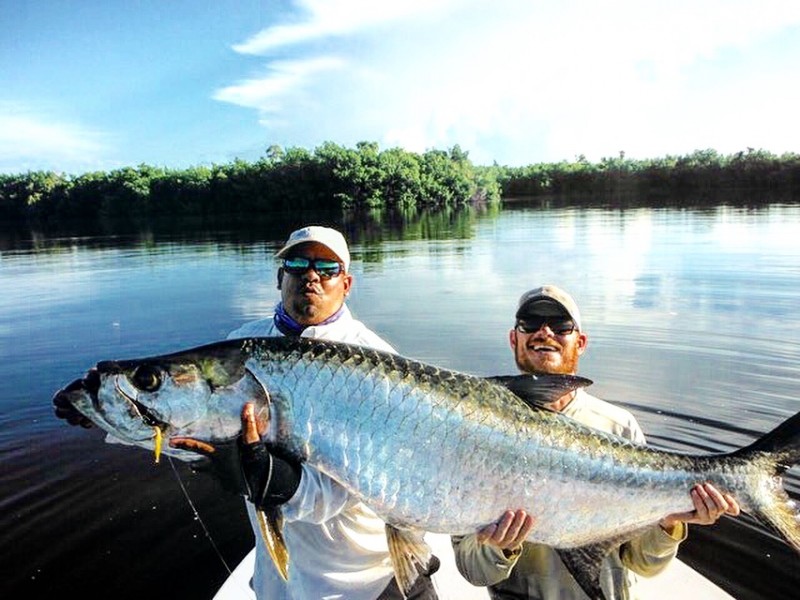 Then the big boy was caught! Over 100 lbs!! Whoohooo! That's a huge tarpon on any planet.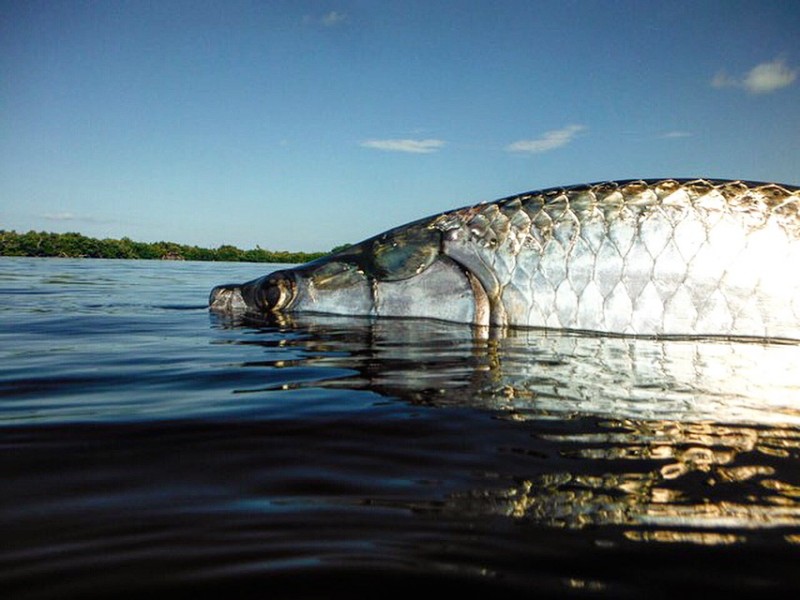 I would be scared to be swimming around this beast, just out of respect.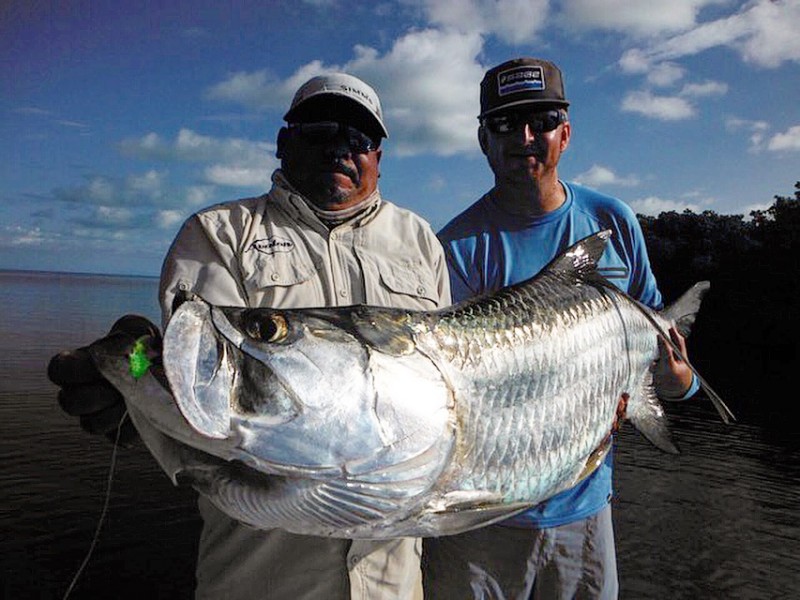 Now that's a handful!!!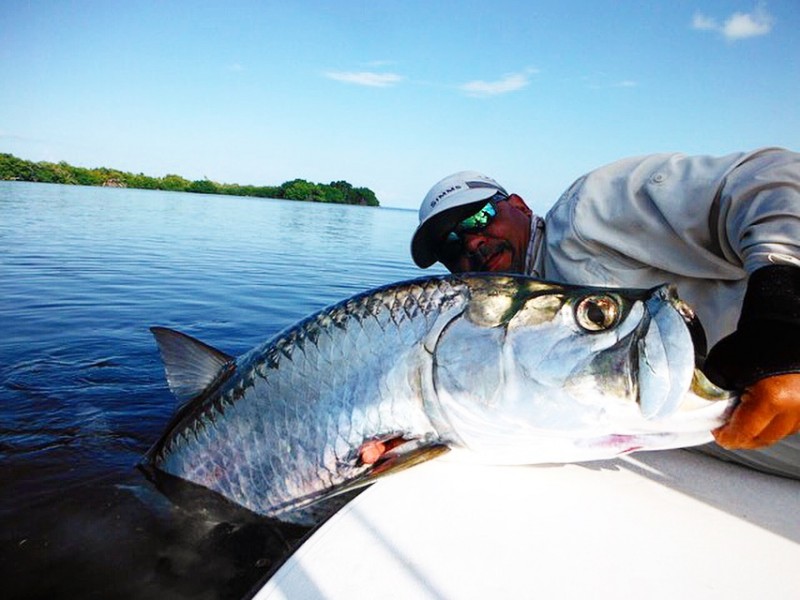 Way to go bro!!! Whooohooo Tarpon Magic Folks! Isn't that why we wake up every morning…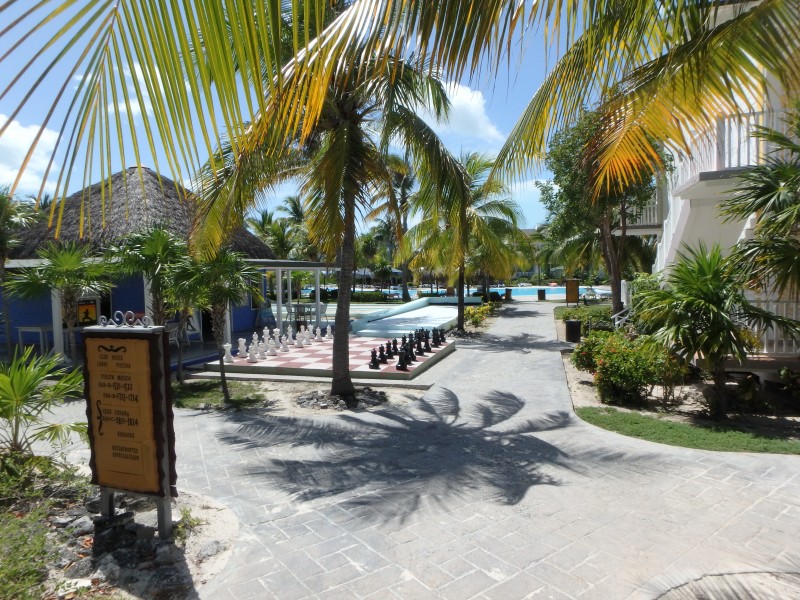 What a fantastic place on Earth, call us to schedule your trip to Havana and Cayo Largo –
Jack & Carola Trout – 530-926-4540 * info@jacktrout.com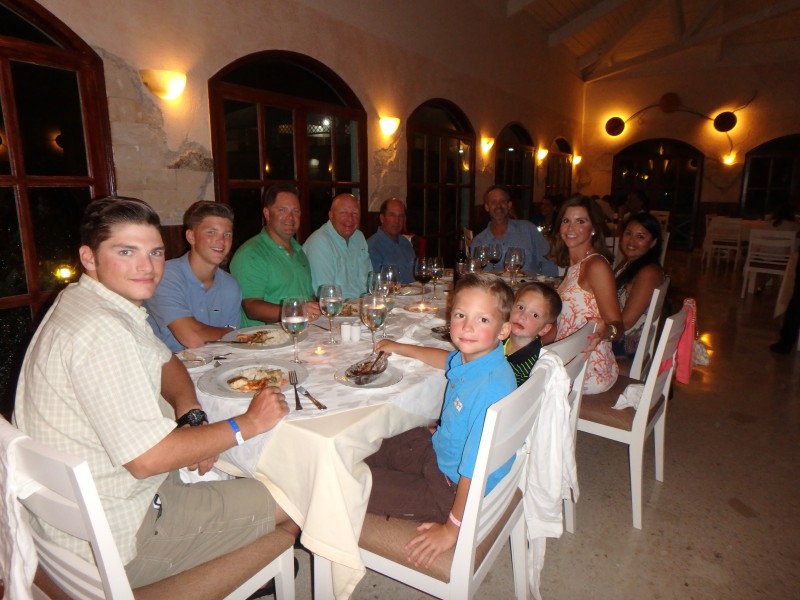 That night we had a scrumptious dinner and the wines and dessert were the bonus. We would like to thank Victor Mahony who nightly would make sure the group had the very best wines, that was very generous of him and we were delighted.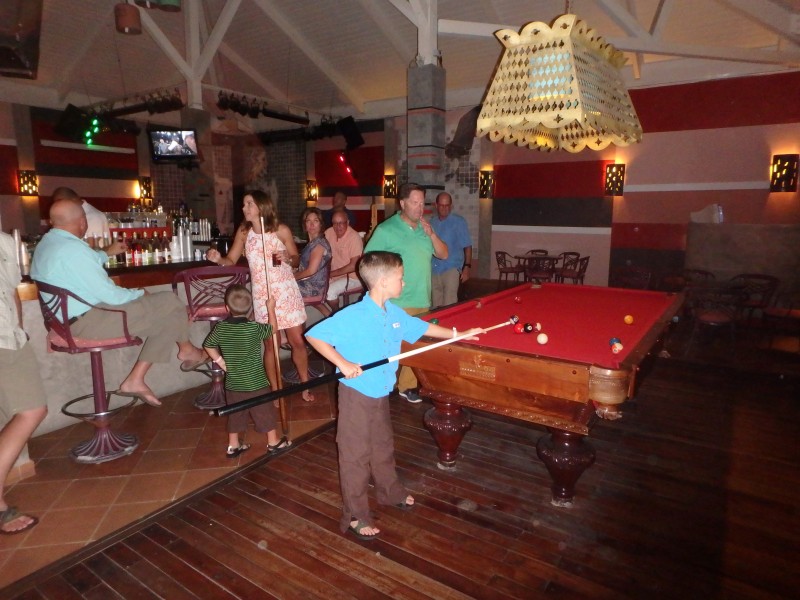 Little sports bar afterwards was like seconds on desserts, Carola and I and the entire group enjoyed each others company.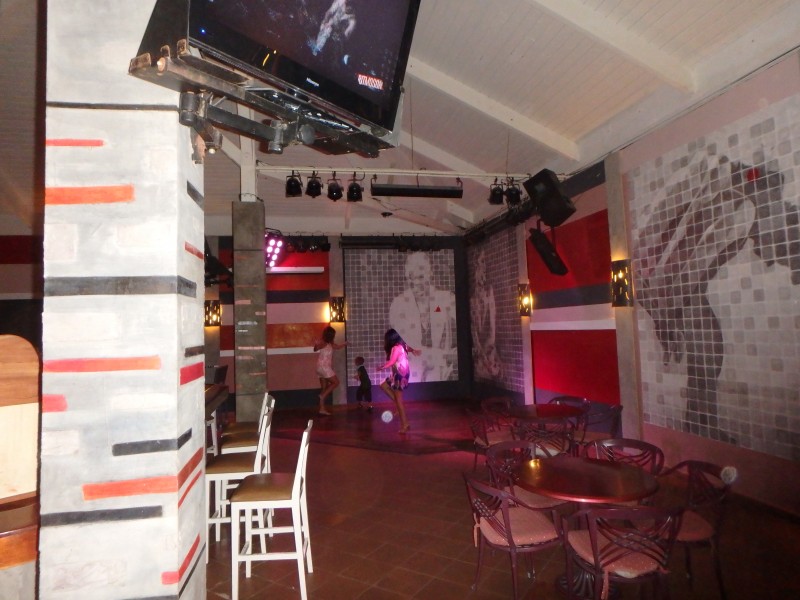 Little Charlie getting the dance moves down with mom and Carola!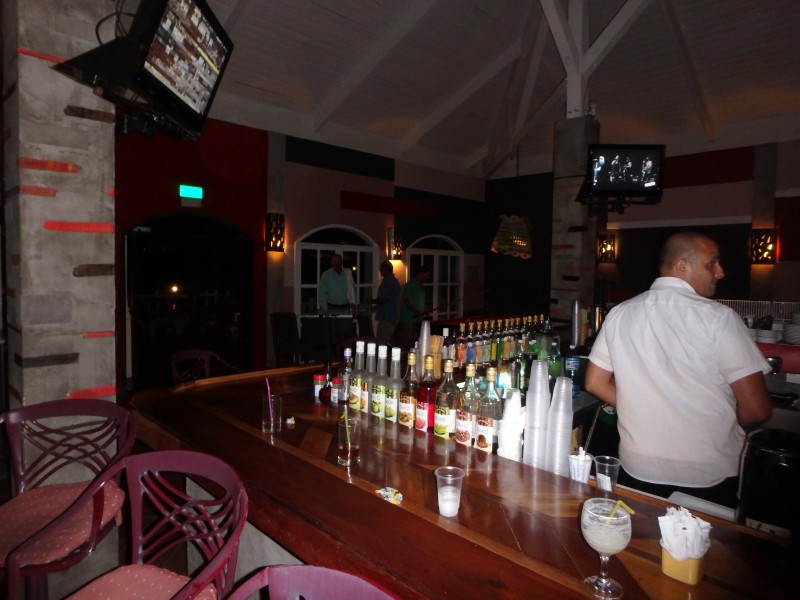 The place was pretty quiet that night, just our group, one of the reasons I like Cayo Largo and Cuba in July & August, you don't wait in lines for anything like you do from December through March which are the prime tourist months here.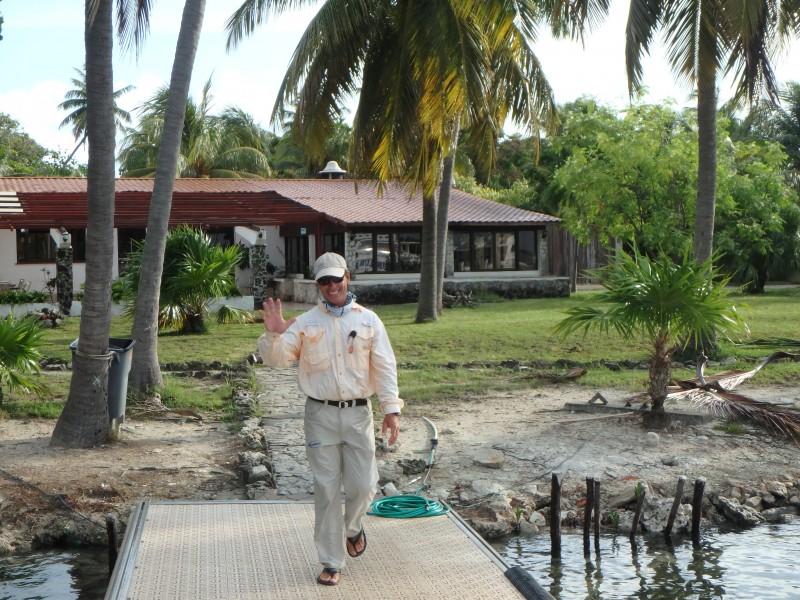 Our excellent and experienced fly fishing guide Jorge.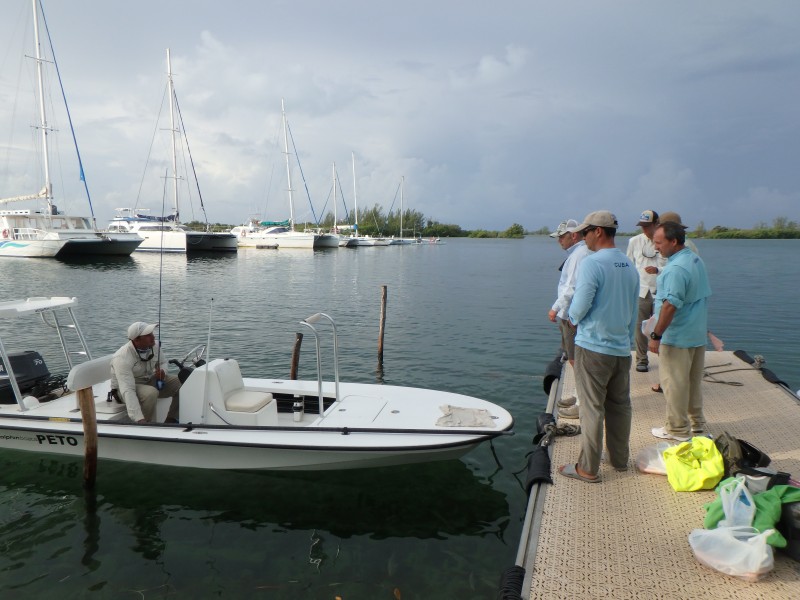 Just going over a few things…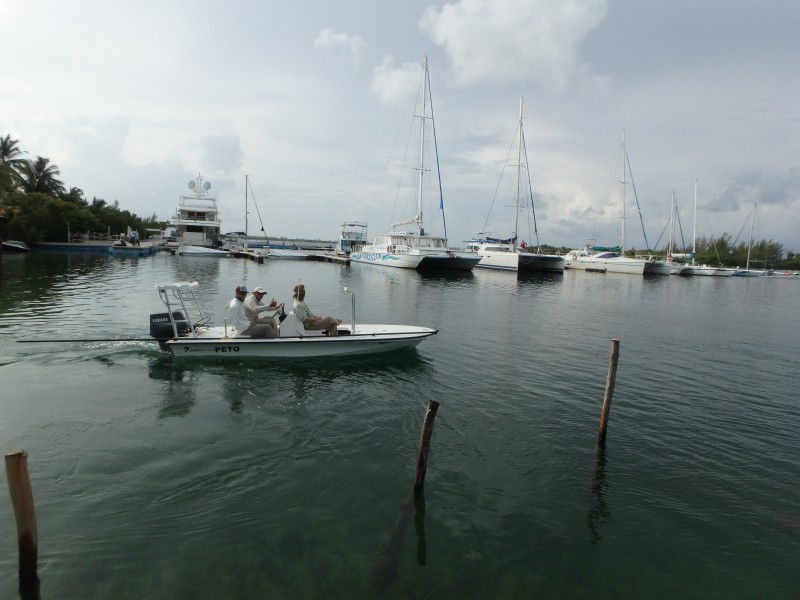 There they go…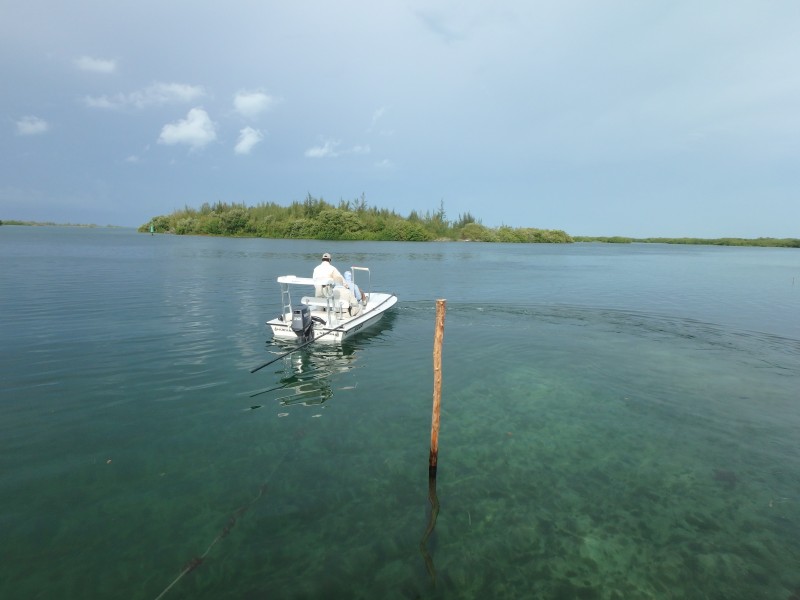 Have a great day!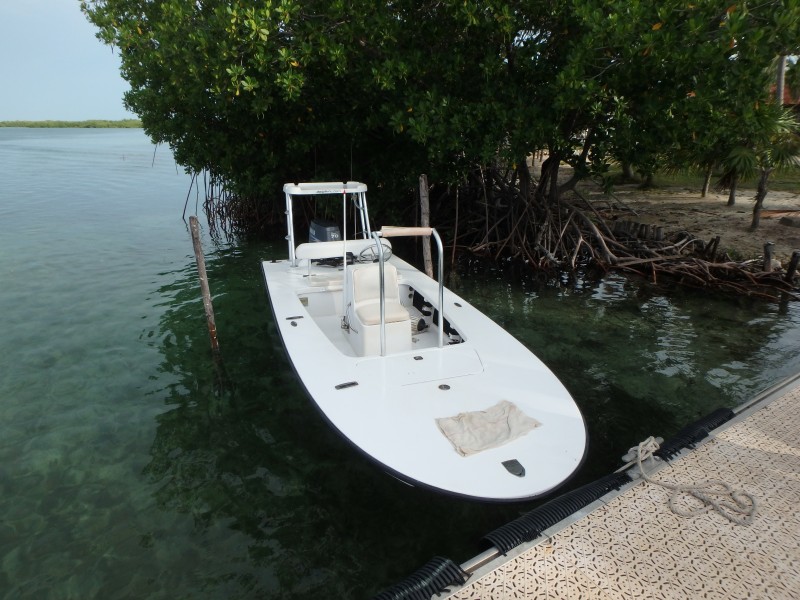 Our skiffs are the best, give us a call to schedule your fly fishing trip and tours to Cuba.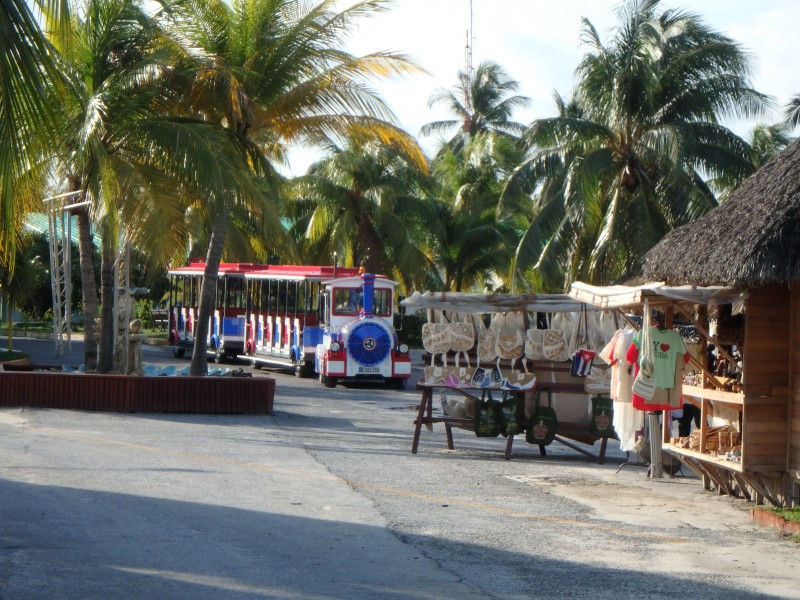 Anyone up for a little train ride?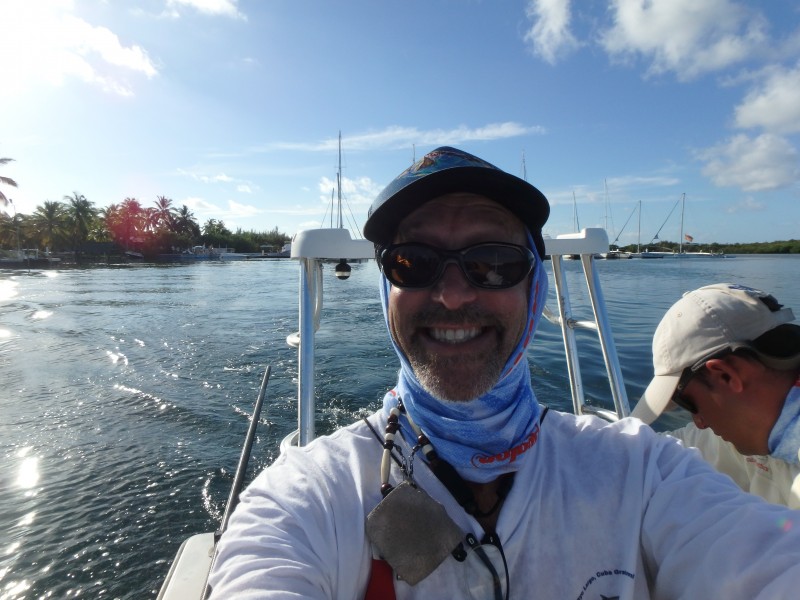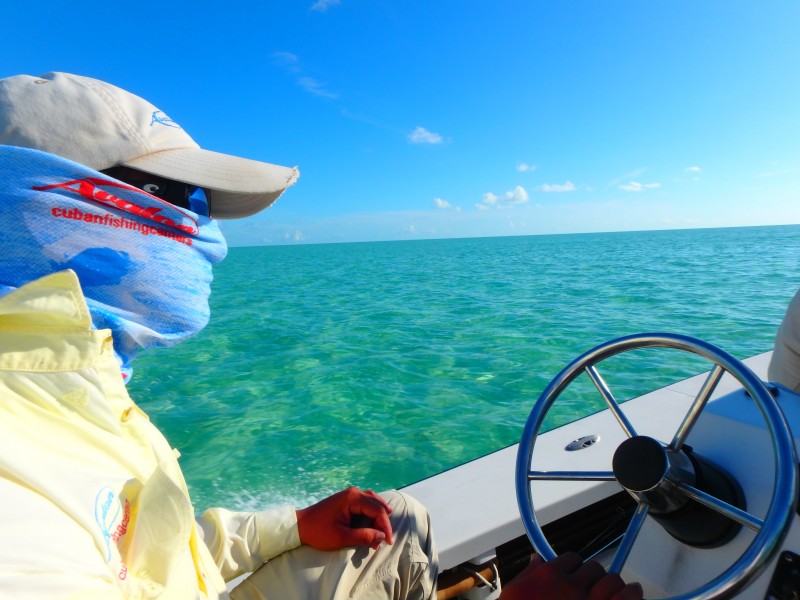 All of our guides are very experienced and know the waters like the back of their hands.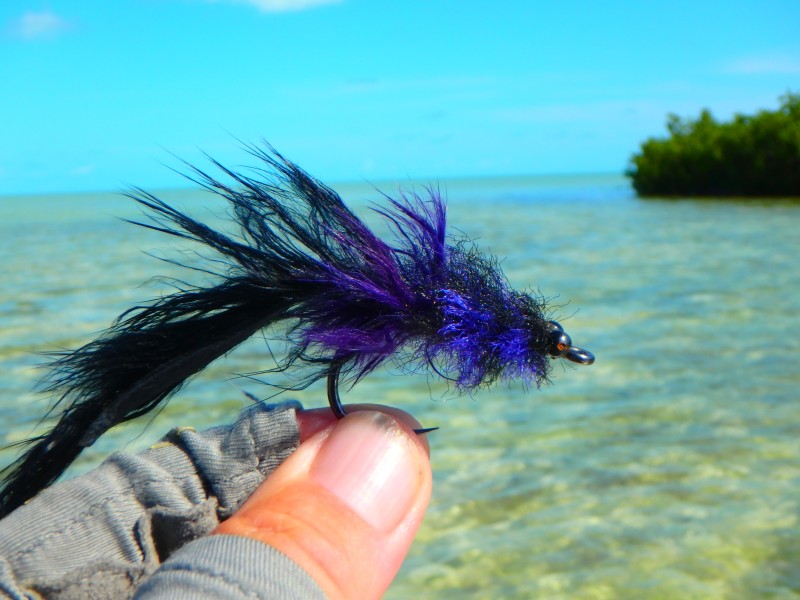 Great tarpon fly for Cuba.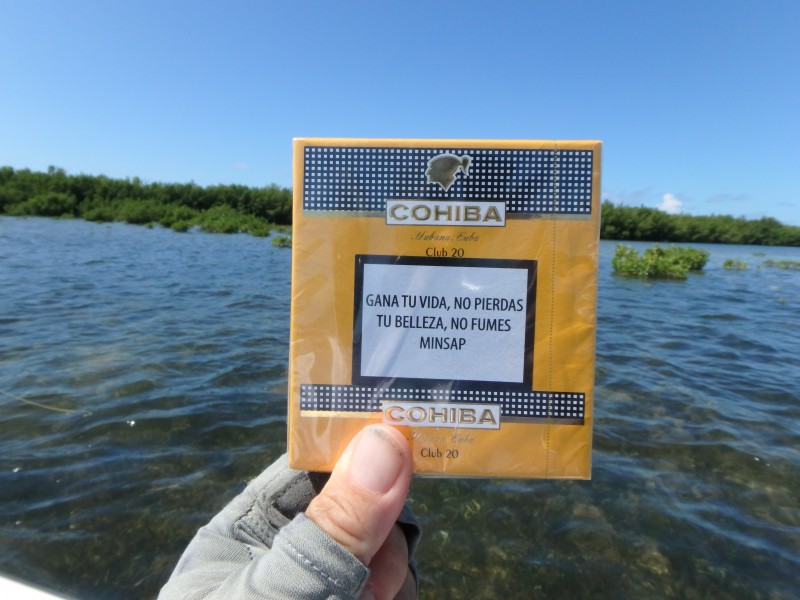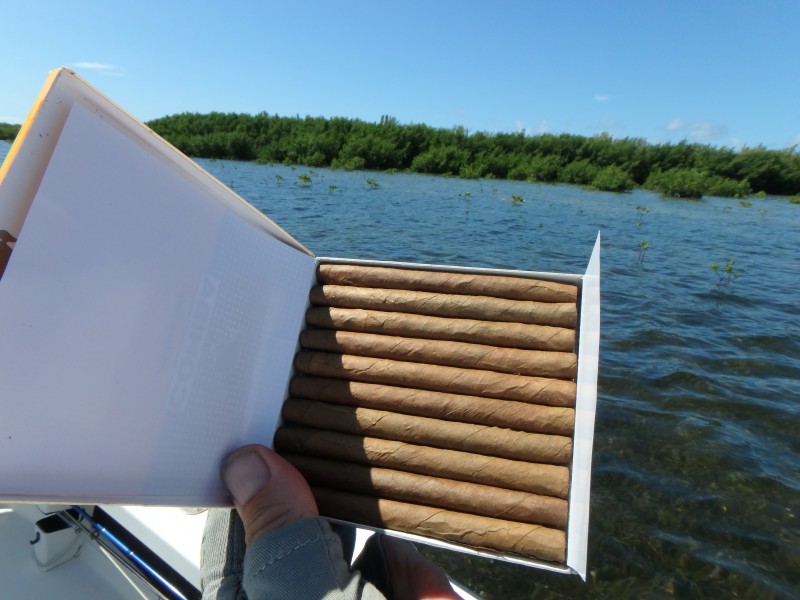 Sweet!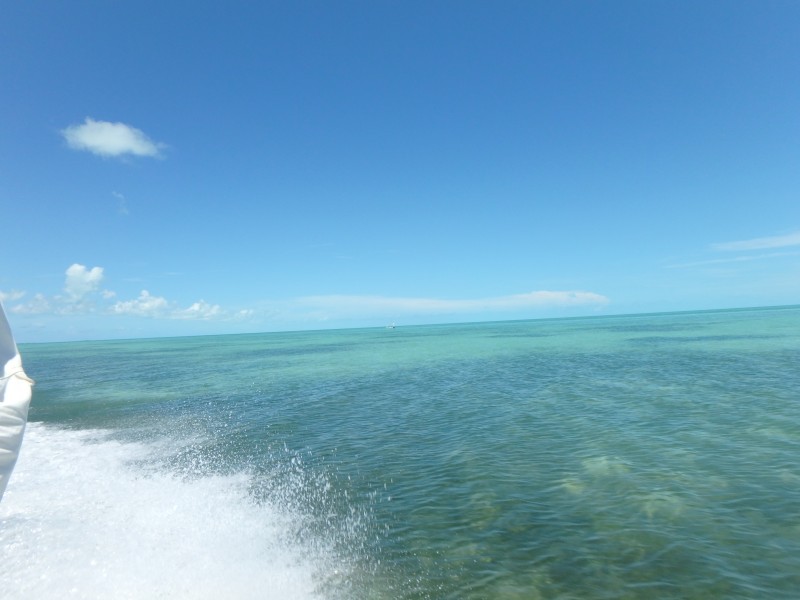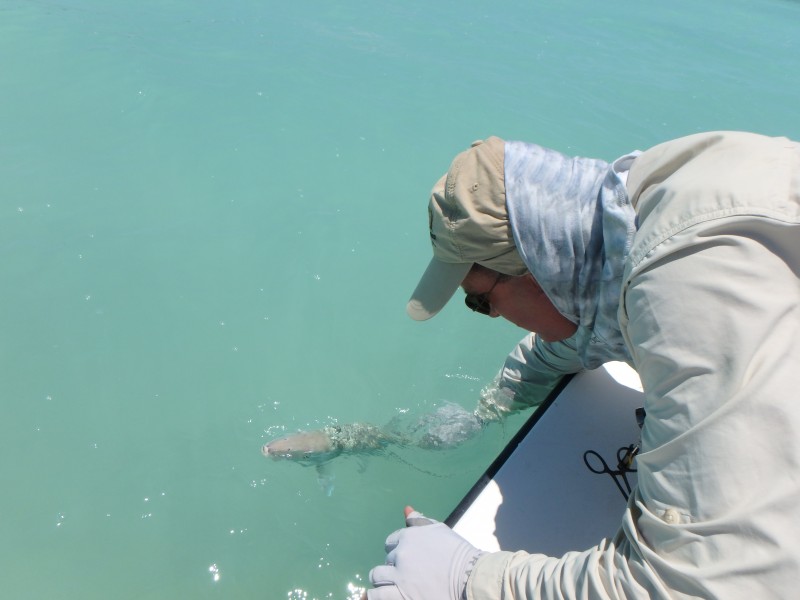 Victor releases another bone fish caught.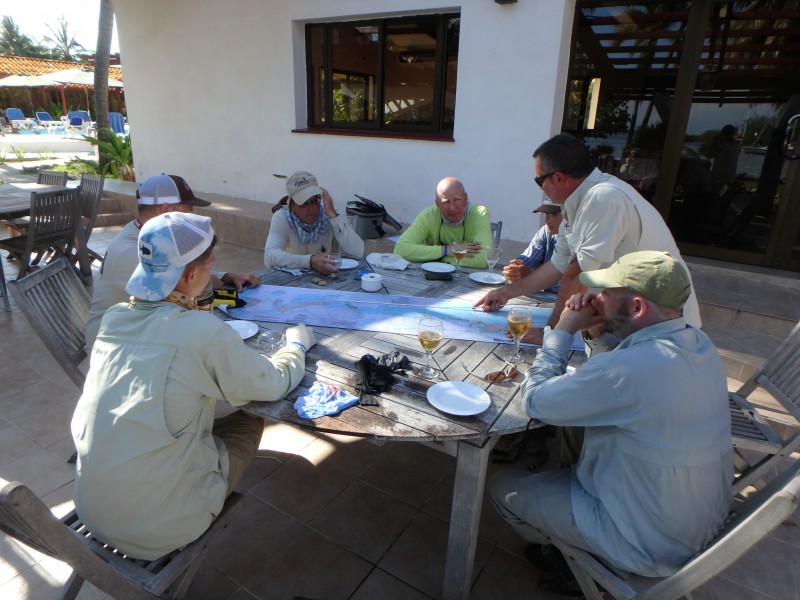 The daily routine, see where we are going to fish tomorrow and eat great pizza, Mauro always has the best plans and advice for our groups.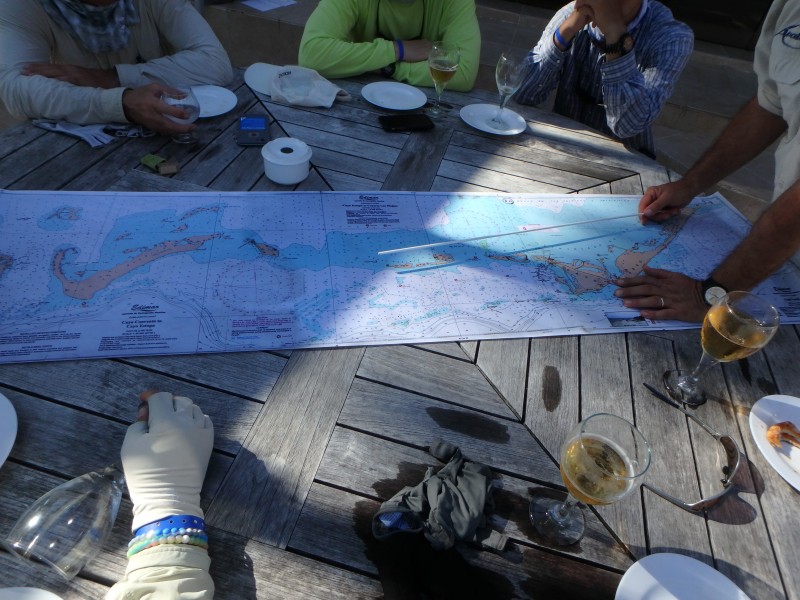 This is really fun as we get to dream a little each day and listen to Mauro's keen advice. Mauro knows the dark crested secrets of how to catch really big permit… SEE HIM HERE BELOW.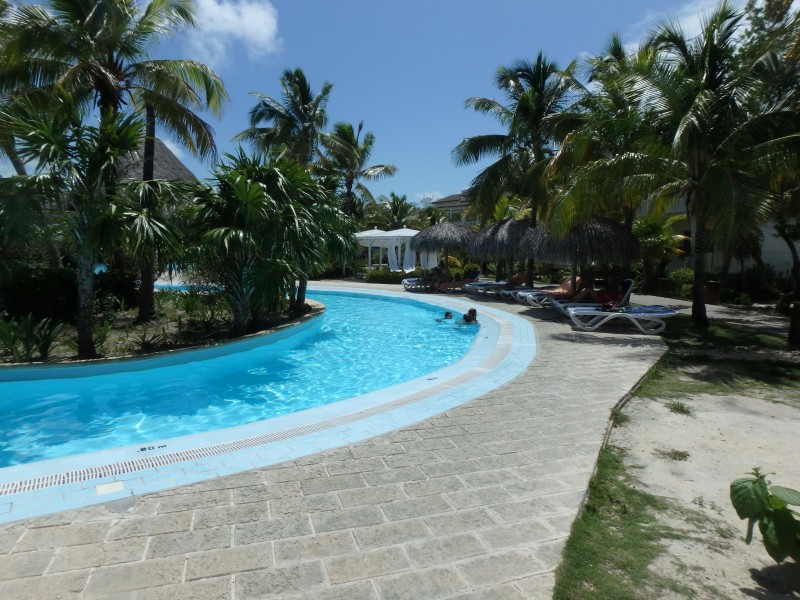 Our family friends from Argentina, we sure enjoyed their company!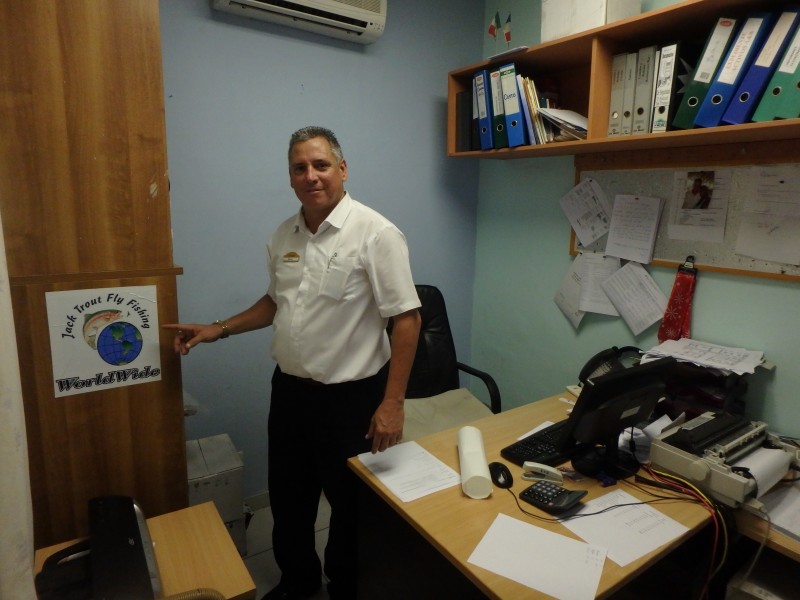 Rena, the manager at Sol Club, showed me where he put my banner, right in his office, we all laughed about that one.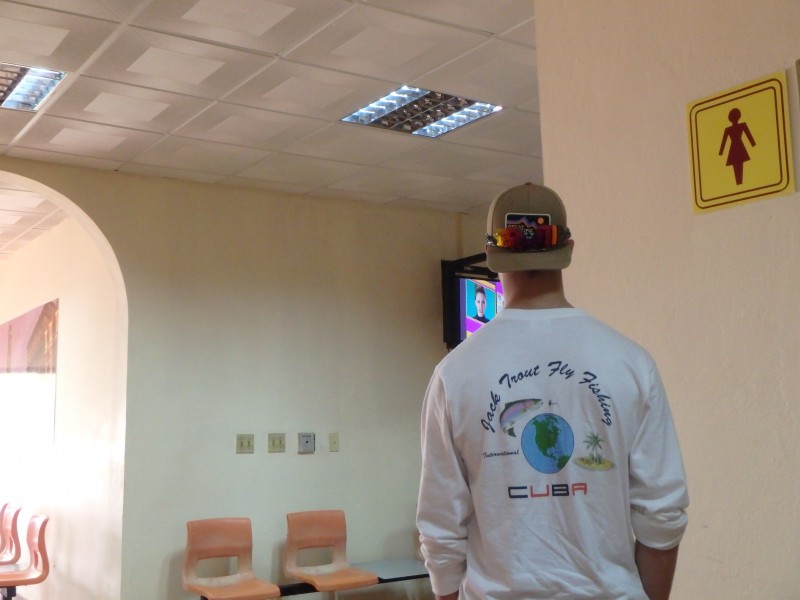 Jack Stroud was sporting the new Jack Trout T- shirt for Cuba.
*****************************************************************************************
How To Spot Counterfeit Money In Cuba
CUC and the Cuban peso (CUP). Sometimes not having that information makes visitors vulnerable for being rip off by local vendors in the streets. You only want to use the gold colored bill on the left hand side, see our examples. jt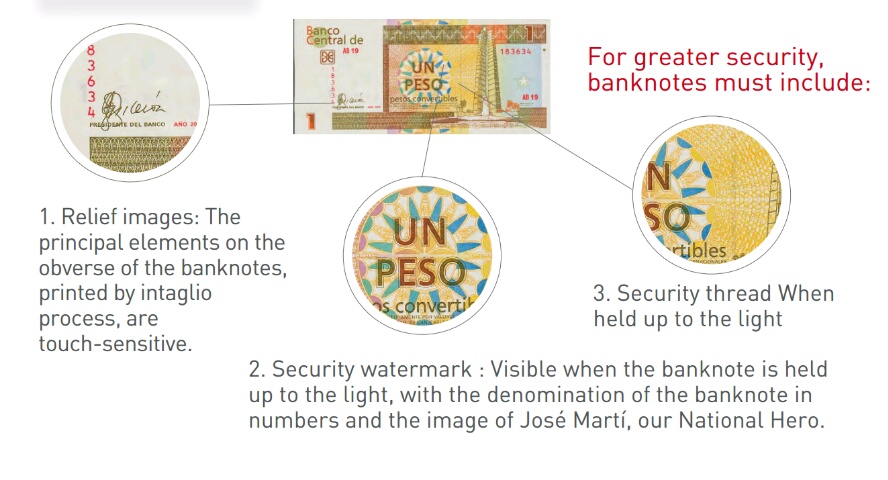 Exploring the real Cuba. 
Cuba is generally safer than most countries in the Western hemisphere. Violent attacks are extremely rare and people carrying guns, drug or criminal gangs operating in the island won't never be seen.
Petty theft (eg unattended shoes or towels disappearing from
the beach) is common, but preventative measures work wonders. Pickpocketing is preventable: wear your bag in front of you on crowded
buses and at busy markets and only take what money you'll need when you head out at night. However Cuba is pretty safe and generally people will give you a happy and friendly face everywhere, so useful information and hospitality if you may need.
It is not recommendable to give away things to people on the streets. If you are having a tour your day could be interrupted for a long time because your charity act will be transformed into a big concentration of people around asking you for more things.
If you truly want do something to help, pharmacies and hospitals will accept medicine donations and schools happily take pens, paper, crayons etc. Alternatively, pass off your donations onto your "casa particular" (private hosting) owner, some friends you could make during your holidays or leave it at a local church.
Hustlers in Cuba, be careful!
Hustlers in Cuba living on the tourist money are called "jineteros" (term used for men) and "jineteras" (term used for women), so literally "jockeys". They have been known to assume false identities of real workers (rental houses owners, taxi drivers, cigar rollers and even professional tour guides) in order to make some easy money from the tourists who visit Cuba, specially those who comes for the first time. They try all the time to provide help to the tourists they pretend to have as truly friends over charging them anytime tourists pay for a service they have already recommended. The worse thing is that several times hustlers hardly try to sell the tourists they are with other services like: drugs access, ilegal cigar purchases and sex, things severely punished by the Cuban government.
It is not so difficult to identify when Cuban hustlers is dealing with you as they can be highly interested on being friend of you (more than normally happens when 2 people meet casually for the first time), always trying to match with great effort and sweetened speech your interests with what they can offer you as help. Phrases like: "I have a good friend" or "I have family living in your country" are also commonly used for hustlers in Cuba to get more confidence from their victims.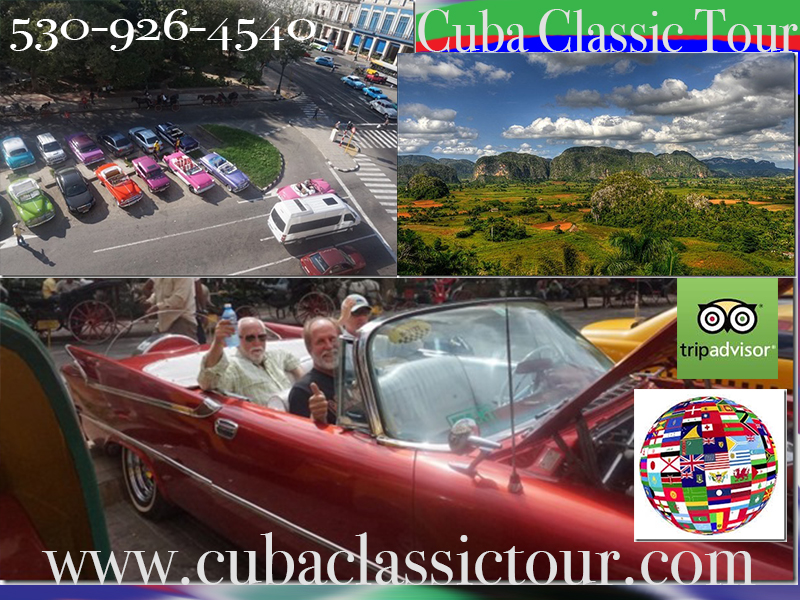 Cuba Classic Car Tour Guides – Jesse & Katia Aguilar – Ready To Take You On Your Cuban Adventure !
After we flew back through Miami, Florida and had no problem with customs at all, we stopped at the world famous Joe's Stone Crab Shack and had an amazing lunch with Victor Mahony. The entire trip Victor would not allow us to pay for anything, his line was; "When you're retired, you can pay for everything, but until then respectfully, I have the bill." What a great guy who has a heart of gold, he kept thanking us for us to bring him on this trip. I would think it was the other way around, but then again, there's not too may Victor Mahony's out there, that always puts everyone else in first place.
Thanks for watching our adventures, please call us to schedule your fly fishing and tours trip to Cuba. Many Rivers & Oceans to You,
Jack & Carola Trout and Team Cuba USA – 530-926-4540  *  info@jacktrout.com