BIG RAINS HIT THE NORTH STATE AND STEELHEAD
DRIVE THEIR WAY UP THE KLAMATH, TRINITY & LOWER SAC !!
BEST NORTHERN CALIFORNIA HOLIDAY DESTINATION LOCATION IS THE MOUNT SHASTA AREA, COME SPEND THE HOLIDAYS WITH US !  
McCLOUD, MOUNT SHASTA, DUNSMUIR OR WEED.
1991-2011 ~  20th year annivesary of the Union Pacific Rail Road derailment in the Upper Sacramento River ~
We'll Never forget!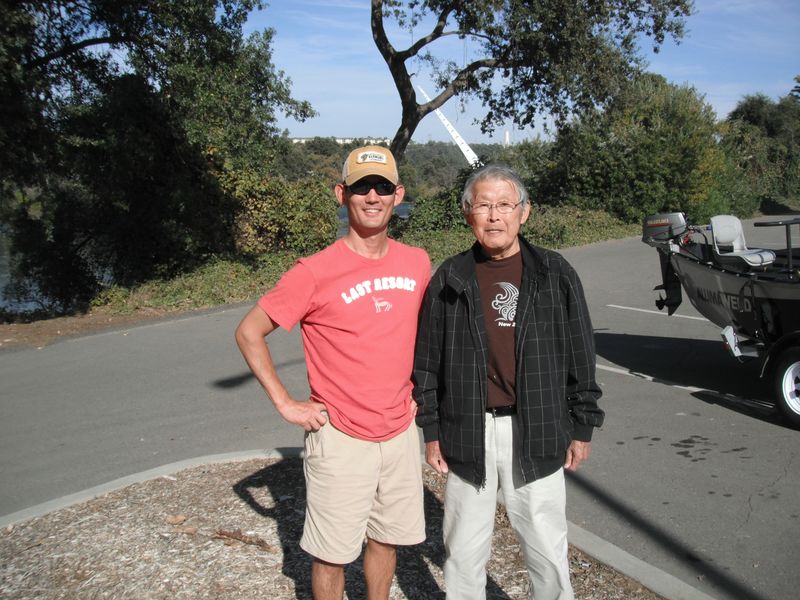 When Peppi & his father Fuji showed up for a little fly fishing on the Lower Sac with our guide Forrest, the stock market rallied that day and dividends were paid!
 Lower Sacramento River Posse Grounds, Redding California

Peppi broke the ice with this nice catch.
 But not to be denied, Fuji hooked one larger on his first real day of fly fishing.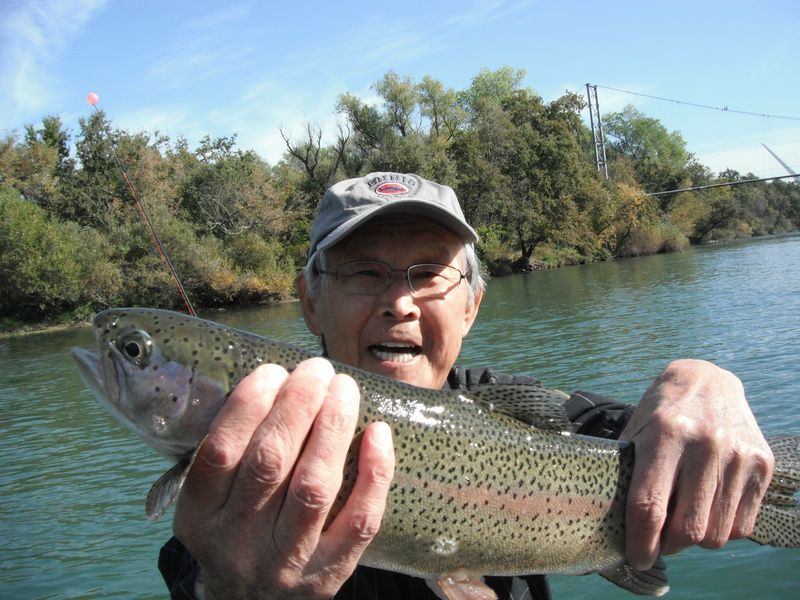 Yahooo! I'm getting excited too just thinking about what it must of been like to hook a screamer like this. Way to go Fuji!!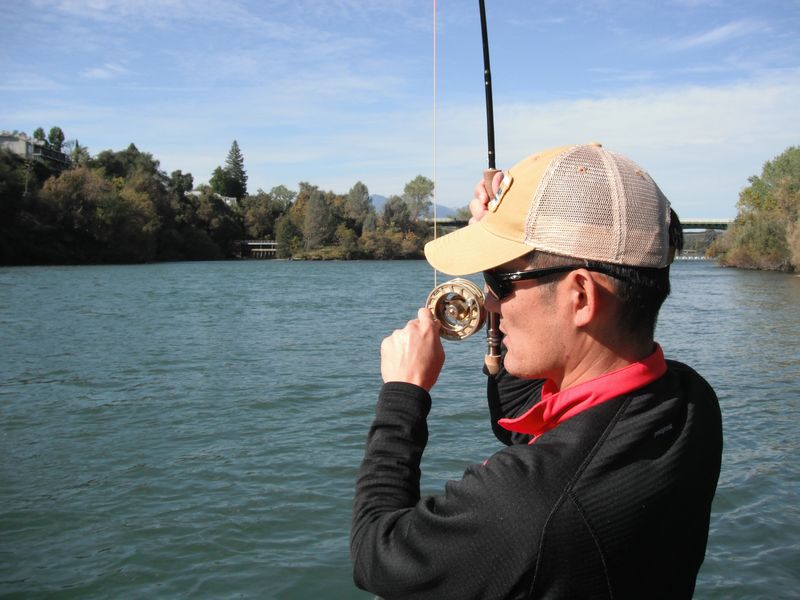 Then back to Peppi, it looks like it was a hook fest to me…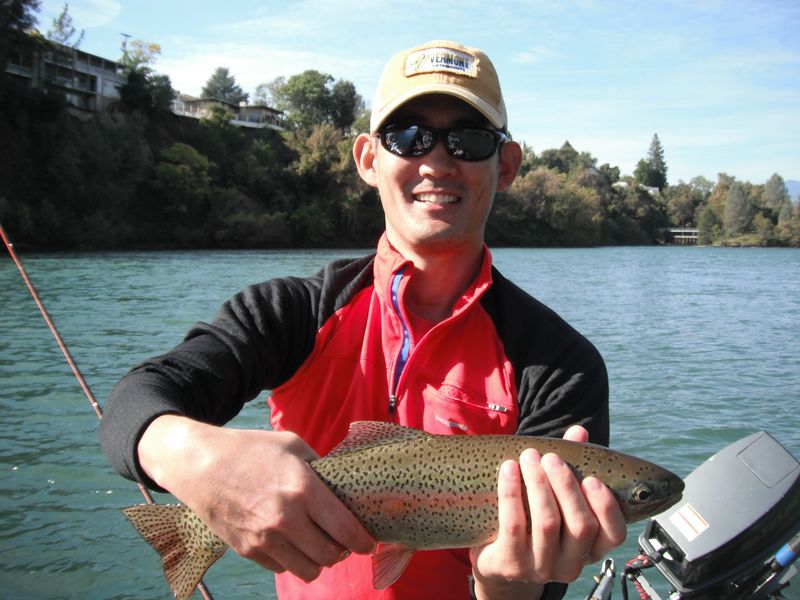 I love those trout out of the Lower Sac, not too many I have ever seen in fly fishing 23 countries more prettier than these Lower Sac beauties. Look at the markings and the colors on this trout, SEXY!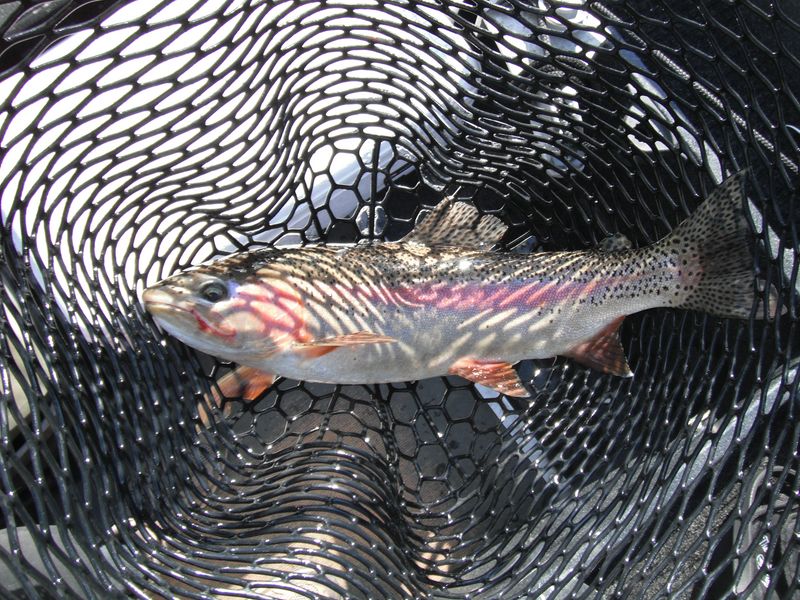 It's like Trout Porn! Guess I've been on the rivers too long… Carola!!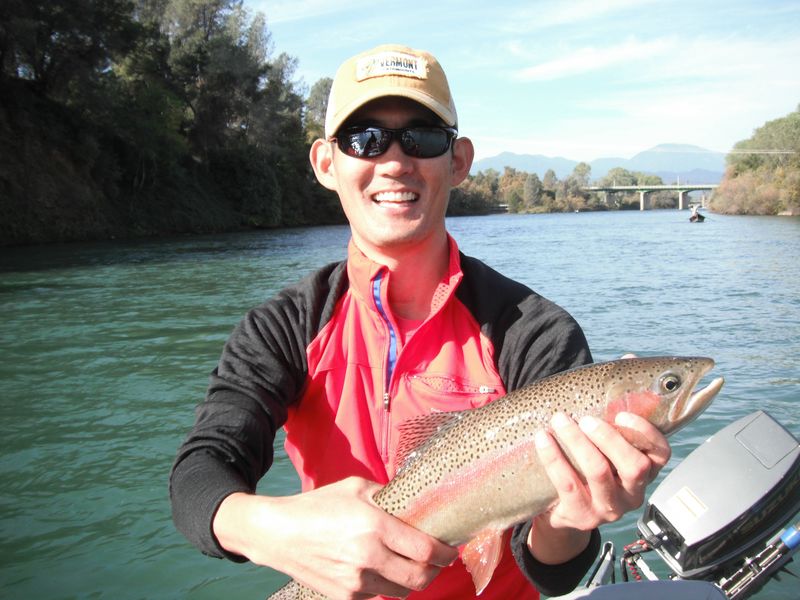 What a banner day to have on the Lower Sacramento River nearing the holidays!  You might think about sneaking up this fall to catch one !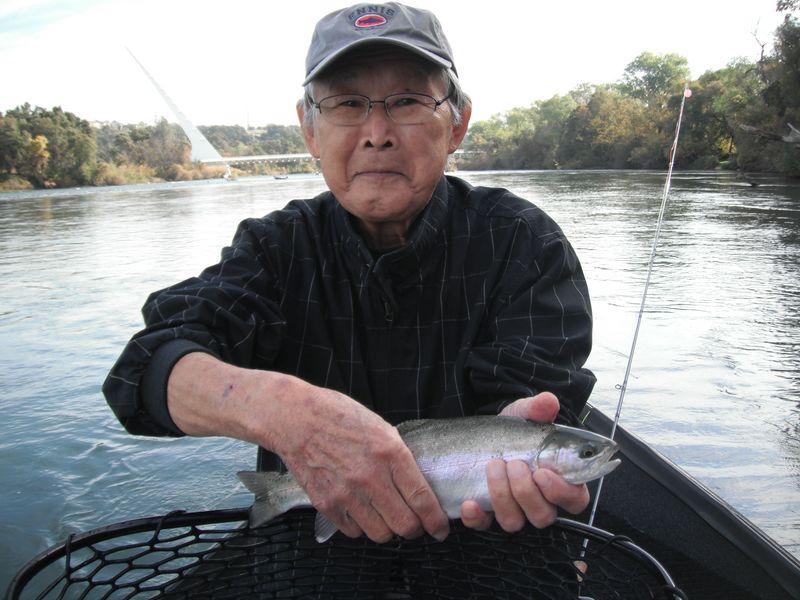 That looks like a steelhead to me… Peppi & Fuji, thanks for coming up and using Jack Trout Guide Service and the Team Trout Guides.
We'll be waiting for the next time!  JT CT & Team Trout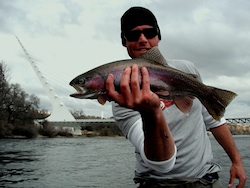 Forrest Brizendine Team Trout Guide for Trinity/Lower Sac/Klamath Rivers
Klamath River 2011 Fall Steelhead & Salmon Season is here!!
Many Jack Salmon have been caught this season on fly rods making this a CALASKA kind of year on the Klamath. Now the steelhead are making their way up the canyons.
Cade Webb with a fine salmon he caught on thsi fly rod.
Roger, Karen & son Calvin Katz with a large fish on the Klamath River!!
See you in the spring, for our fly fishing raft trip on the Upper Sacramento River.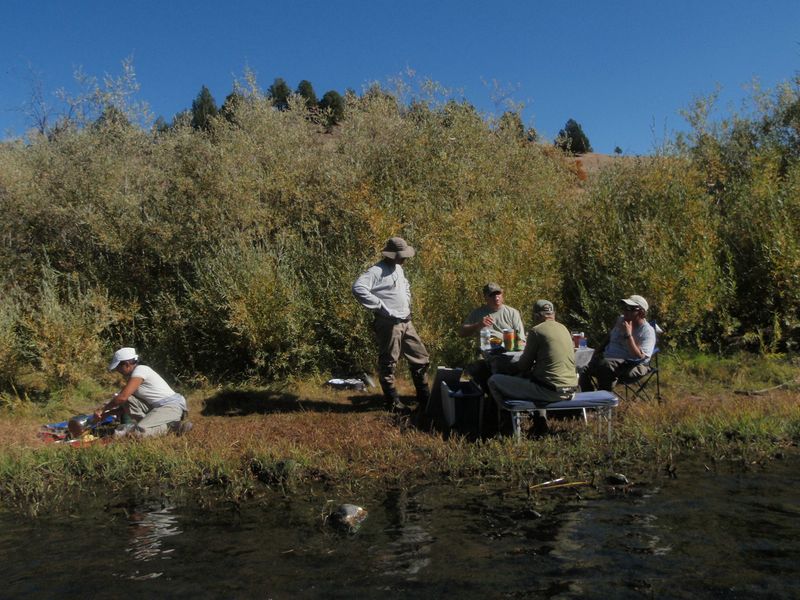 We have been having a ball providing our anglers with more than just a cold sandwich from Raley's or Rays Food Place.
We serve our clients gourmet lunches so one can sit down with friends and family and enjoy the river. We have found our clients don't mind spending the money to come up if they receive a true value.
MVP – JACK TROUT GUIDE SERVICE 2011 – Where would I be without my loving wife who not supports me in all my efforts but is always coming out with new recipes for you and I.
How lucky is that!!  jt & ct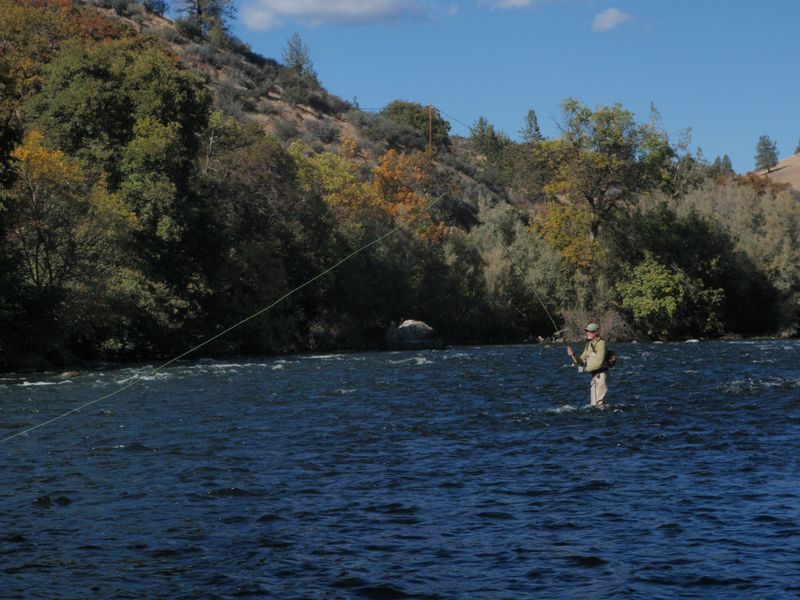 Bring your spey rod, we love them! The Klamath River in all sections is an excellent river to spey cast in.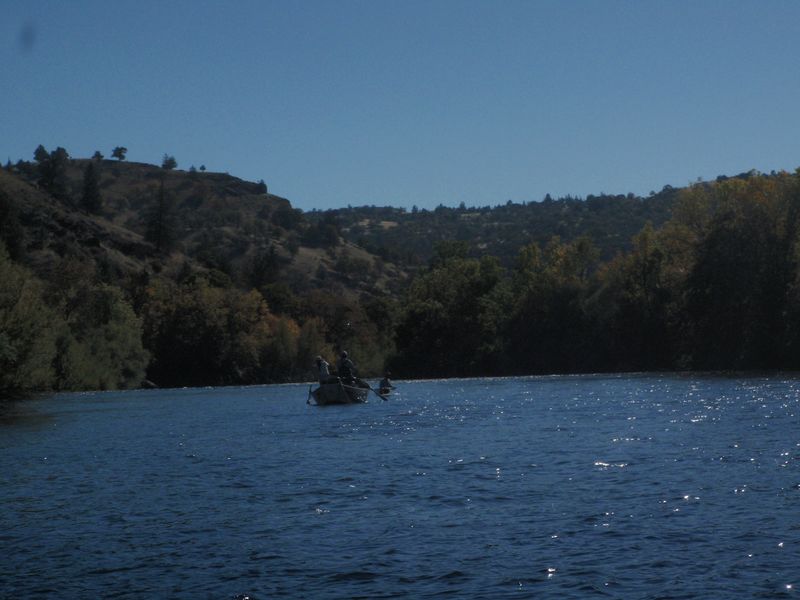 Further down the river another hook up! What a fantastic steelhead year on the Klamath River.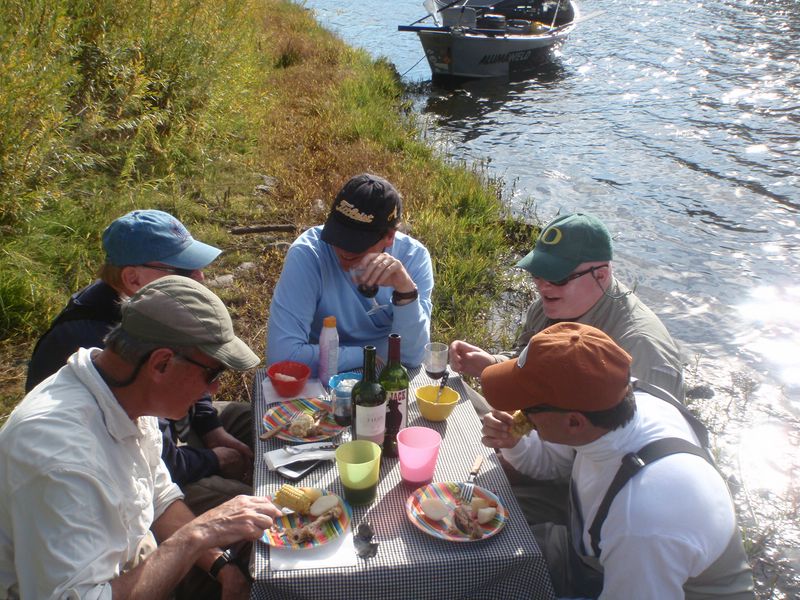 What we like to do is when we have groups out on the rivers, we like to put them together for a big fly fishing party lunch.
Great minds think alike… They all liked the food and red wines they brought.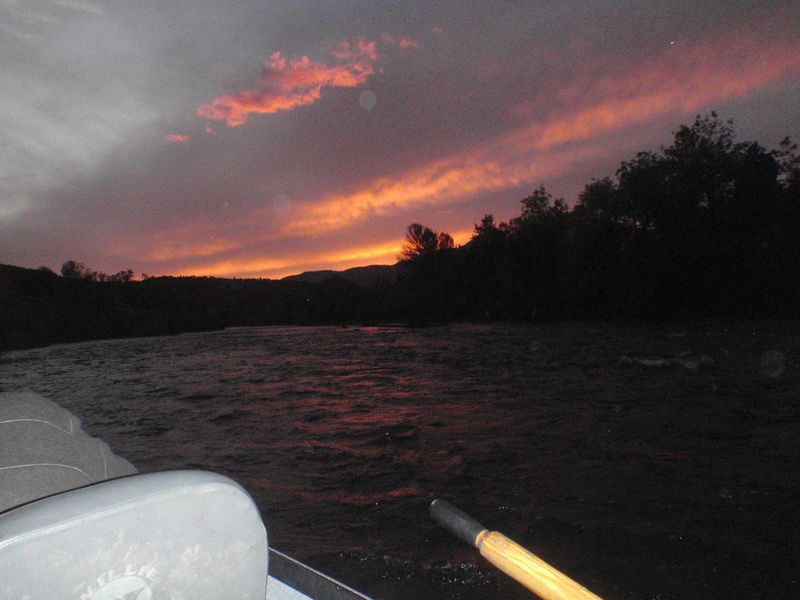 Sun downs are not downers around here, come on up to check them out!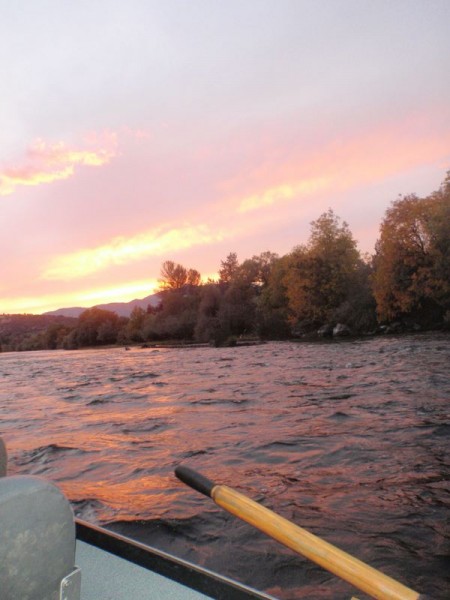 Awesome to check out and witness friends.
It's a good thing little buddy they made you double – jointed,  you got your work cut out for you now…
As my friend Mauricio & Christina say in Chile.. Fly the Condor my friend, spread your wings and glide!!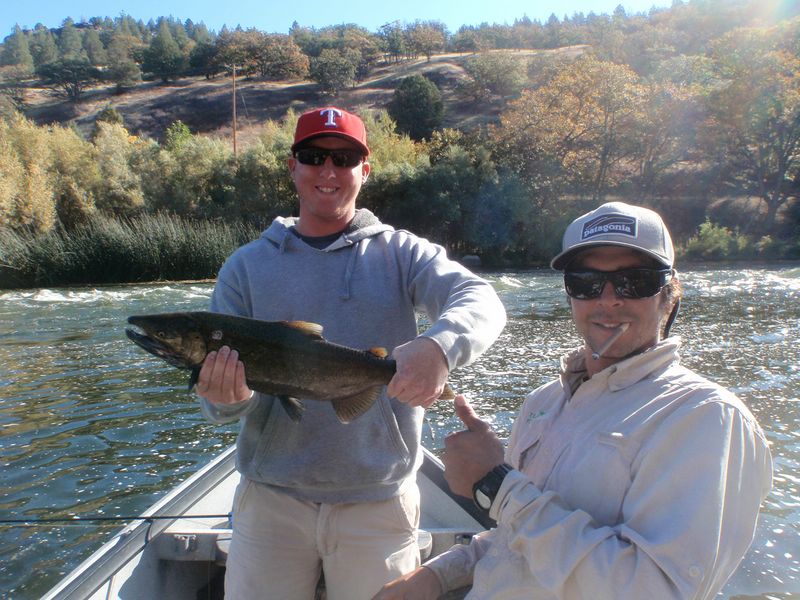 Guide Isaac Roman with a great hook and a great day with up with Reade & Ron Germann
 Then it was father Ron's turn on a great steelhead from Northern California.
Then a massive salmon was caught, way to go Reade!!
Not to be denied, he then caught a steelhead.
Reade Germann of Temple Texas,
YOU'RE MY SIZZLER OF THE WEEK AWARD WINNER!!!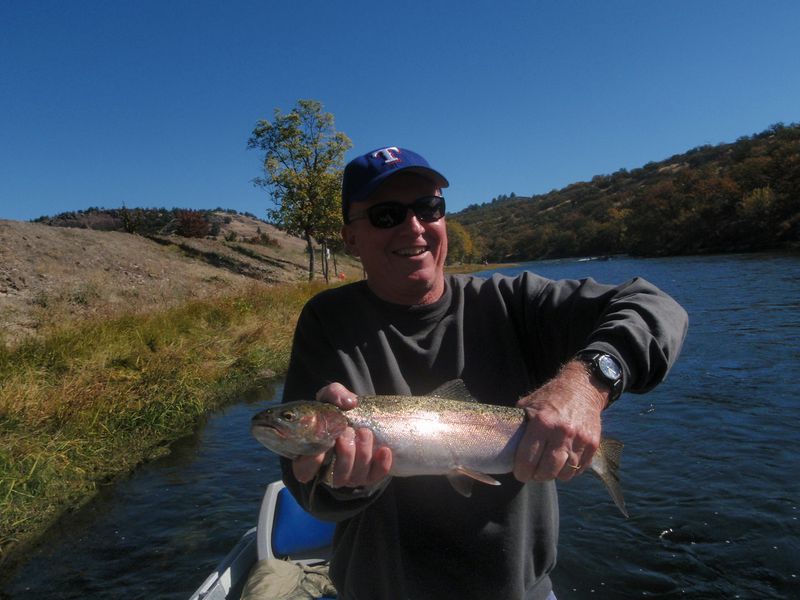 Like father, like son.. Sorry Texas lost the World Series but you won big time on your trip out to California!!
Besides, we all know Ron Washington is a total winner, he will be back!  I remember back when Dusty Baker and Ken Tennel gave me some tickets to the SF World Series in 2002, we lost to those pesky Anaheim Angles with one strike left in a similar fashion.. It hurt bad. I remember I  was given tickets right next to the dug out and the expressions on the ball players faces when we lost was terribly gut wrenching.
TORTURE!!
We made it back in 2

0

1

0

and won it all and the best part was the Dodgers were in the cellar baby!! (

Last place

L.A. Dodgers

the year the

S

a

n

F

r

a

n

c

i

s

c

o

G

i

a

n

t

s

won the 2010 World Series

)
So hang in there, it can happen to you! You don't need no stinking badges man…
JT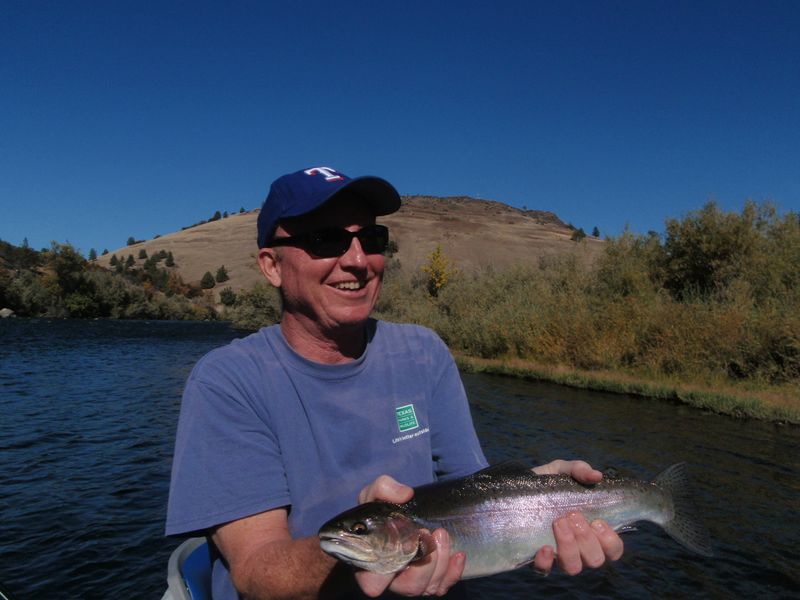 What a great steelhead to land my friend!! That fight you had with this ornery critter reminds me of the Alamo!!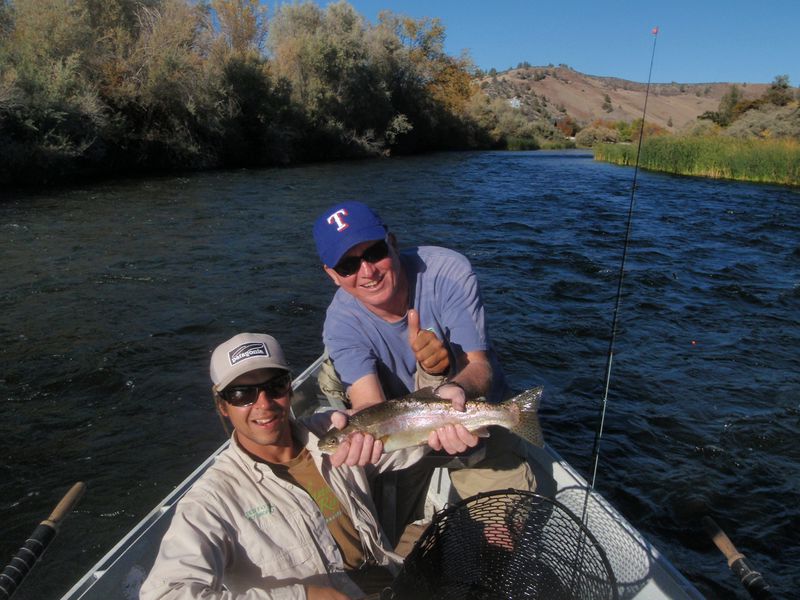 Jack- 
We've had a great time visiting California! The beach scene in San Diego, the freak show that is Beverly Hills & Hollywood, the wonder of the seals at La Jolla and the elephant seals along the Pacific Coast Highway, the incredible strength and majesty of the Redwoods and the raw beauty of Yosemite all were incredible to see. The highlight for me, however, was the guided fishing trip with Isaac along the upper Klamath. From the minute we met him, we knew you had set us up for a great adventure.Early on the river, as other guides began to move their clients along the Klamath, I was able to see and compare our trip with the approach taken by other guides. The other guides had nice shiny boats, all the right clothing from LL Bean, and fly fishing rigs that were certainly state of the art equipment. Isaac's rig showed the wear and tear of a boat owned by a man who knows the river like the back of his hand. He showed up wearing the uniform of a man who was part of the river, not one to simply ride it. His rods and reels were the experienced tools of a guide who fit his rigs to the rhythm of the river.The other guides would float down the river some, drop anchor, and fish the channels throughout the entire day. By contrast, Isaac was the only guide to float down the hot spots, and then row back upstream to refloat the stretch of water. And, we're not talking once or twice- Isaac busted his ass all day long floating, rowing back, floating, rowing back. At one point, when the river was a bit shallow, Isaac left the boat, got in the river, and pulled us back up for another float along a stretch of river- again, not once, but several times. His knowledge of the river was incredible- almost like a Klamath savant!On a few times, Isaac had us fishing on the opposite side of the Klamath river where the other guides had anchored their clients. I couldn't help but notice that after we departed that stretch of river, the other guides would ease their clients over to the same spot we had been previously- an obvious show of respect for Isaac's knowledge of the river (and a telling gesture indicating their lack of knowledge of the Klamath!). Isaac explained how the river was managed, respected and abided by California's catch and release rules (not the other guides, mind you!), and had a sincere enthusiasm and earth-bound relationship with the river. The green the other guides respected came out of their clients' wallets- the green Isaac treasured was the color of steelhead and salmon skins with spots and hues of silver, pink and red.The best part was his reaction as my son and I caught fish. Pure joy, enthusiasm and living the moment- Isaac was his happiest when we were working a fish, sometimes for 20-plus minutes. The best part was one particular fight where my son had hooked an adult King. The fight went on for what seemed like forever. In the end, after dragging us along the river, the beast seemingly said "enough" and jumped into the air, shook its head, and spit out the hook. My son looked on in disbelief- and that's when Isaac's magic saved the day. "Reade, that was incredible, man!!!!" Isaac reminded him that he had just spent a half hour one-on-one with nature! It changed Reade's view of the outcome- he didn't "lose a fish"- rather, he had experienced the rush of fighting a 25-plus pound fish on a beautiful river.In the end, the other guides exited their boats with crisp creases on their shirts, dry feet and dry hats. Isaac left his boat wearing the day's battle on the Klamath- drenched shirt, waders filled with water, and a soaked cap- all a badge of honor worn by a man who was part of the river, not a bystander.Thank you for an absolutely incredible day. The delicious lunch along the sand bar and the opportunity to meet you and Carola was refreshing and nourishing- it was the ideal break that charged our batteries for finishing the day on the river.There is no question that we'll return- having tasted the thrill one time was enough to hook us! We'll be back, and definitely with Jack Trout. Until then, best wishes for continued success and adventure to you, Carola and Isaac.Thanks, many times- and may I ask you to please share this note with Isaac? He really did more than anyone could expect- a true Klamath Rock Star!
Regards from Texas- Ron and Reade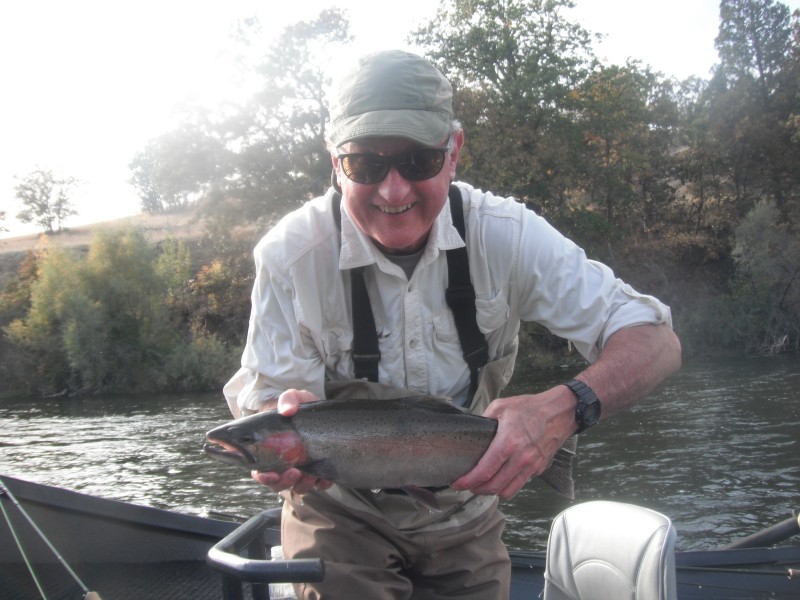 Jim Naughton out with guide Forrest Brizendine while I talked in Yreka to the Government at the Dam Removal hearing on the Klamath River.
Thanks Jim for letting me go, I know you had a marvelous day out
with Forrest.  jt ct  
 
 These 4 dams on the Klamath River must go folks!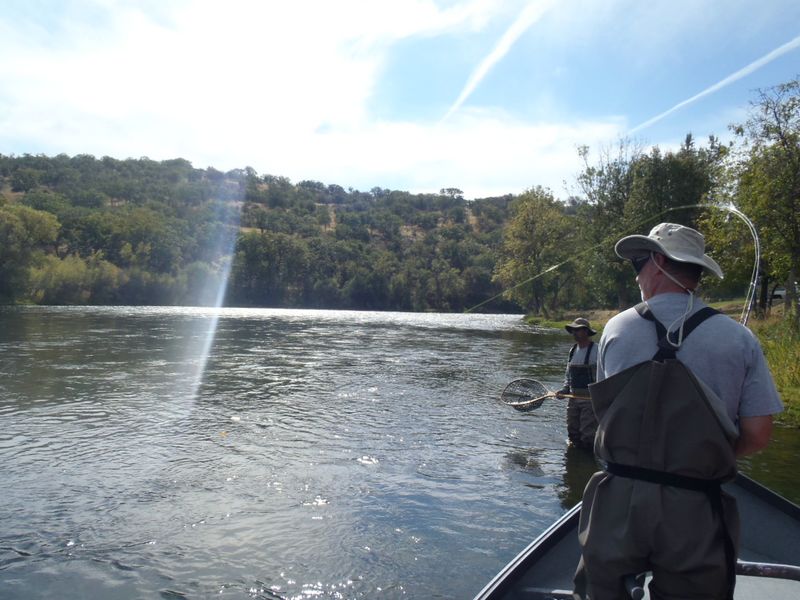 Alan & Mitzi Turpin from Pleasanton California with a huge salmon on his fly line.
 Time for a new net, this one isn't big enough!! Help BRODIN!! Help Brodin!!!
 www.brodin.com  The best nets in the world…

 I see the salmon took our Copper John size 12, that makes sense!!
 Catching salmon like this on 10 weight fly rods makes me want salmon season to never end, better get up here next season for these monsters! But as of now, the big steelhead our making their way up the Northern California drainages and will appear in a theatre near you soon.
 Fresh and ready for more action!
As we make lunch, you can sh0w your wife a few things and may be get a hook up to boot!
 That's a great scene for me, especially when I think about how hard it was to get my wife here legally.
 We have a gourmet stream-side lunch waiting for you!
Just bring your wine!
THE RIVER MAKES EVERYTHING A LITTLE MORE ROMANTIC!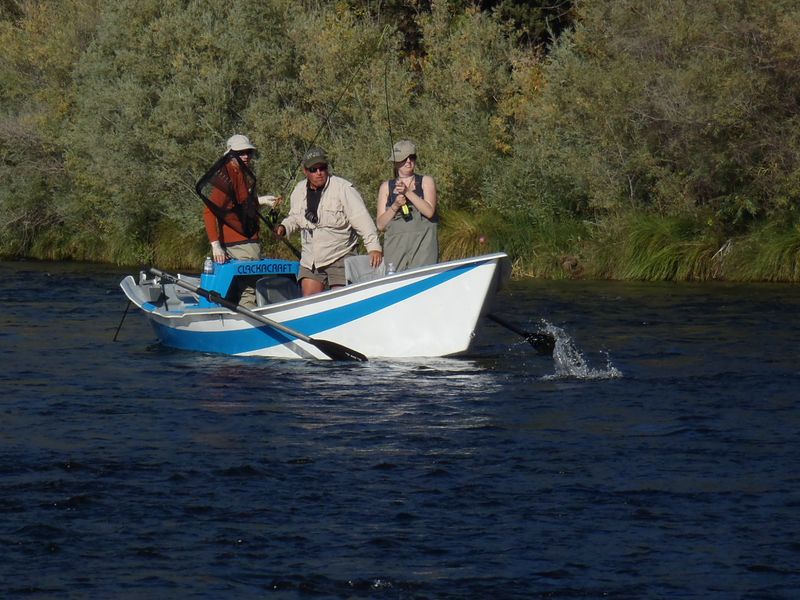 Guide Alan Blankenship with two clients and a big hook-up! Alan owns Three Rivers Guide Service in Mount Shasta, he has been out guiding his clients along side of me for years and I have total respect for this class act guide!!
A true North State Guide Legend. 
What makes the North State great is how professional the guides are and how we get along so well. I think we are all just happy and grateful our industry is surviving right now. Also thanks to all the folks who support all the North State guides, especially the Bay Area!! WE LOVE YOU ALL MAN!!
http://www.threeriversguideservice.com  * 530-925-7990 *  Mount Shasta Area.
 Thumbs up to the guides who make the North State a better place, it's up to you to get these tourist and anglers up to the Mount Shasta area, make them happy and get them back!
Hotels, restaurants, bus boys, gas stations and 
the tax basis rely on you to do a good job and keep this community thriving.
I sure want to do my part for this region and for Siskiyou and Shasta Counties, I know my role is an important one. jt
 Who is that on the banks??? Bankies!!
 What a day for daydream… We would like to thank Howard Nestell and Elaine's Pet Resorts for sponsoring Kobe Beef Trout this winter while we go to Chile and guide the masses. Go by and visit Kobe in Madera (if you're near) over the winter and get 15% off your next scheduled trip.
(Need photo evidence for my blog)
Elaine's Pet Resorts
40373 Brickyard Drive
Madera, CA 93636
559-432-5959
559-432-5616 fax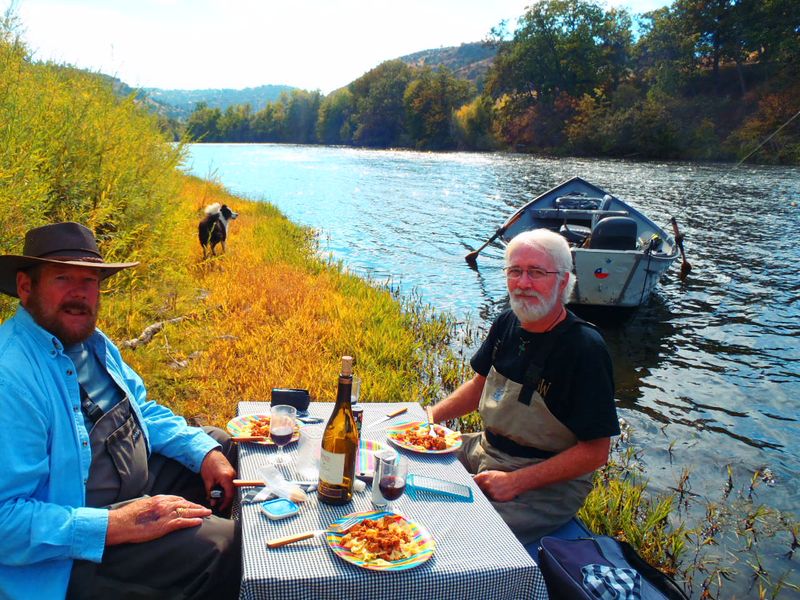 We had a wonderful day on October 14th when Jay and Michael came up from the Cameron Park area of California.
(Kobe Beef Trout  sees a rising fish!)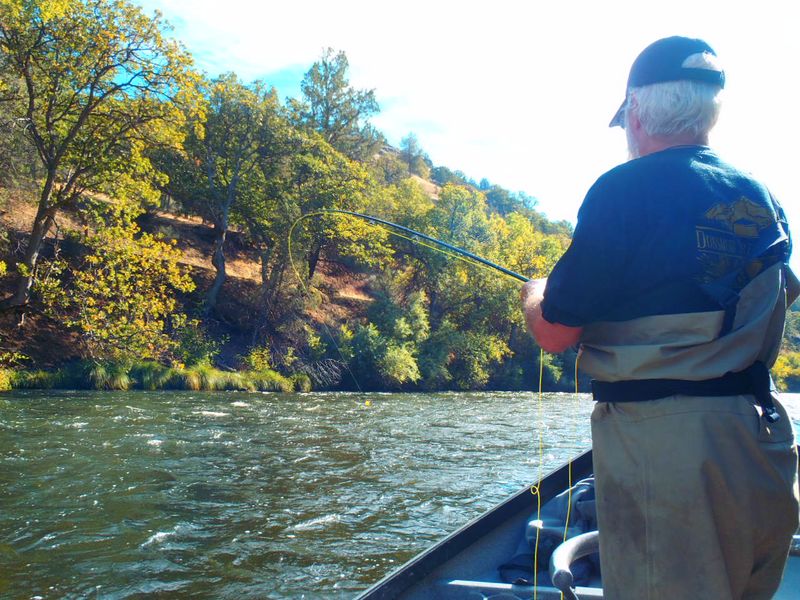 All day we watched Michael hook and land big steelhead on his big 10 wt. fly rod.
What a complete beauty! Michael we really enjoyed our
day out with you!
This guy wasn't huge but he sure fought well.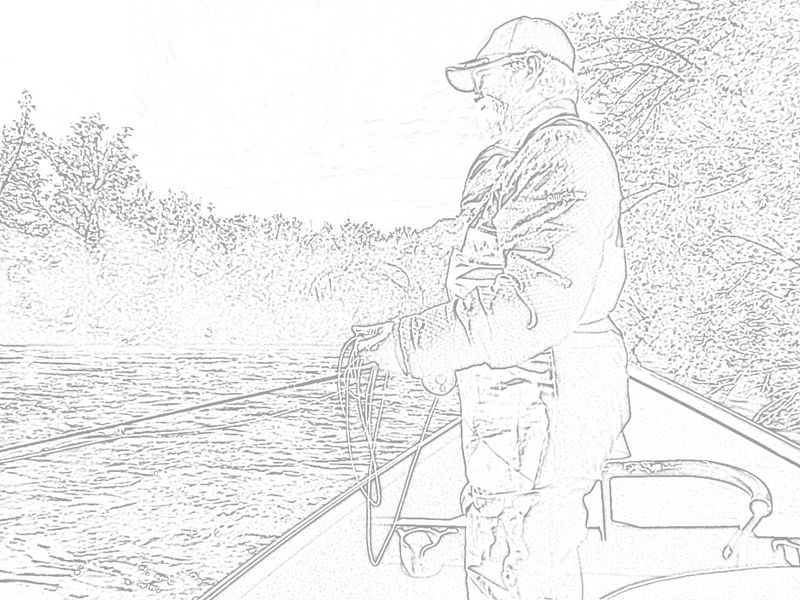 The sketch says it all folks…
 Salmon season, why are all the fly fisherman out catching the salmon bait guys? This year we had a record run of jacks and the flies seemed to be the ticket!

 Scott Jones booked his steelhead trip for October way back in February when we were in Chile…I think he must of known something!!
 One wild steelhead after another, what a day for the history books. Scott Jones thanks for all the fun out with you and Scott.
Way to go Scott Montrose!! Tell your uncle Ronnie hi from me and Carola, we love that song Space Station #5
See you next time around!!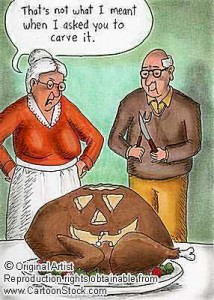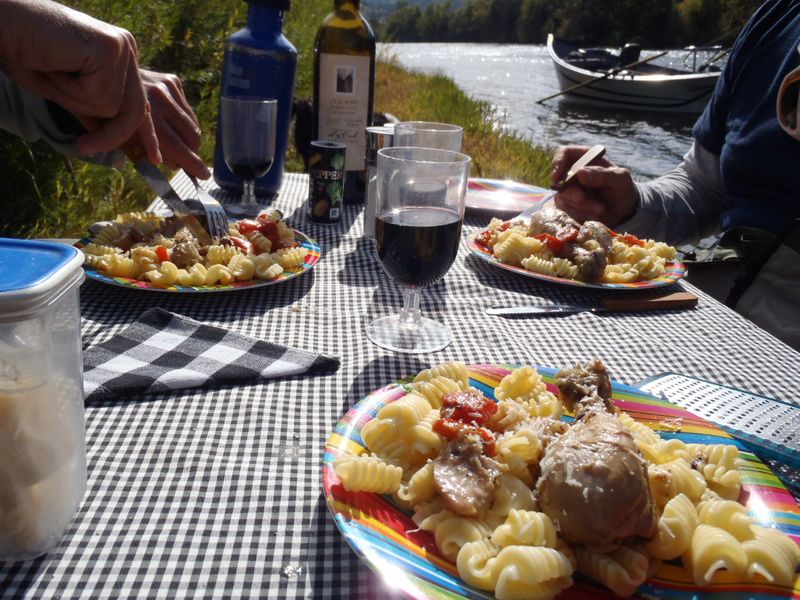 If you have a non-angler bring them along, they will enjoy Carola's stream side gourmet lunches, just bring the wine!
 Picture perfect my friends!! Bon apetite!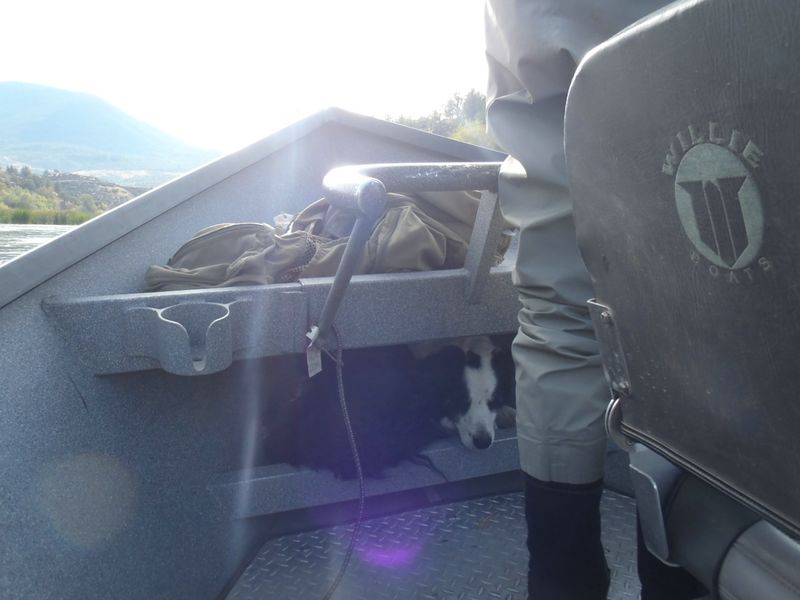 Built in dog pad, not bad!
 Slumber puppy….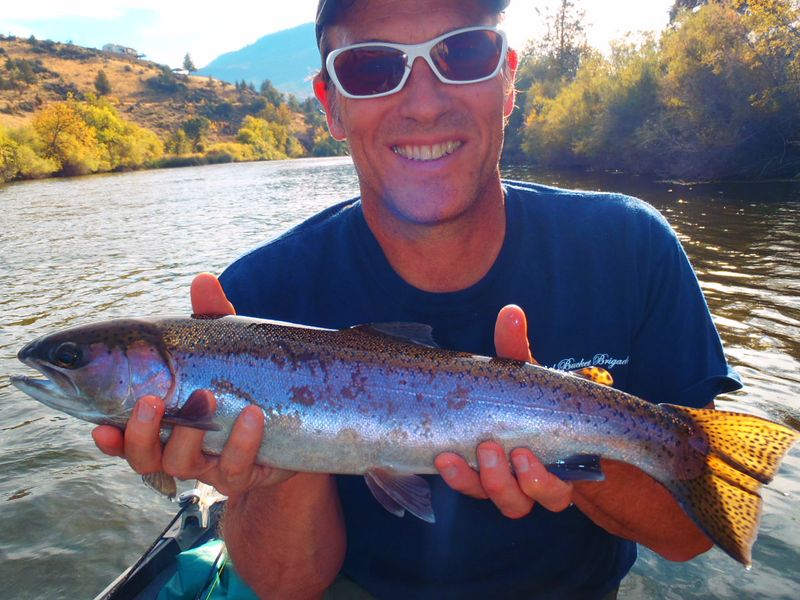 Get on your bad motor scooter and ride Montrose, because you're steelhead is rock candy baby!
 Mr. Jones and me!!
 Matt Hill Weed Fire Department, out with his 2 boys Patrick and Andrew learning to fly fish on the Klamath River.
Tell me ~ Mr. Jones…Mr Jones!!
 We call that a Happy Camper !!!   
Scott Montrose enjoying lunch with our other group Calvin and Karen Katz. These group gourmet stream side lunches were a hit this season with all of our valued clients!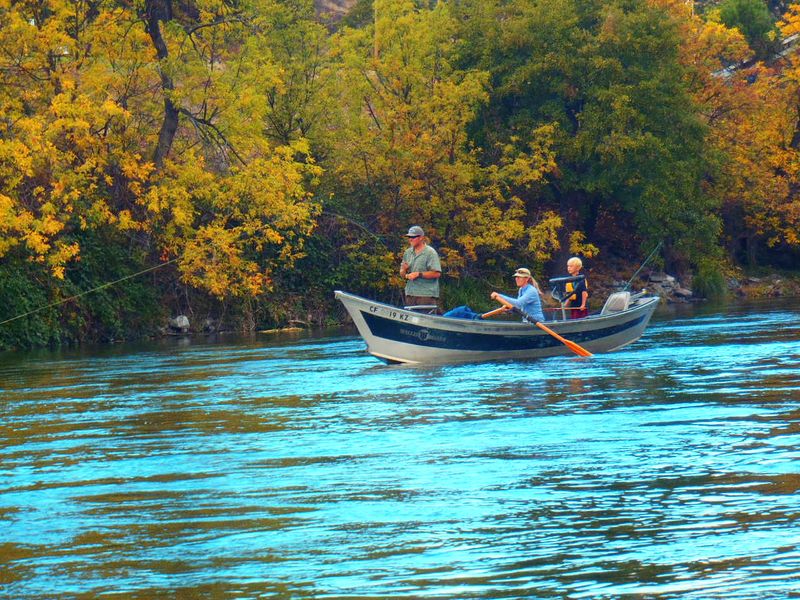 Matt Hill with a huge salmon on his fly rod and his wife Uschi Hill on the oars with young Patrick in back for the education.
Uschi is a nurse at Mercy Medical in Mount Shasta but was a rafting guide on the Idaho Salmon River for a few seasons too.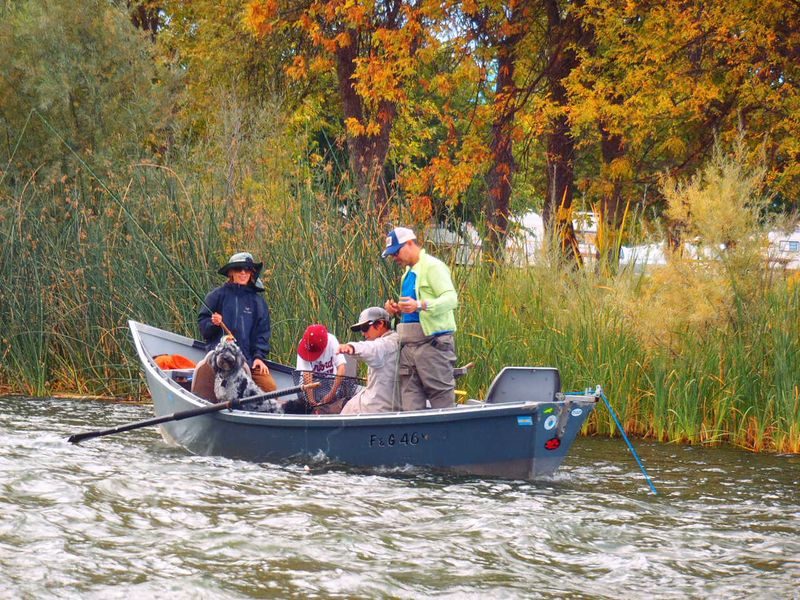 Calvin Katz with his first steelhead hook-up on a fly rod!!
Nice guiding Isaac Roman.
Way to go Cal !!! Jack Trout & Team Trout Guides.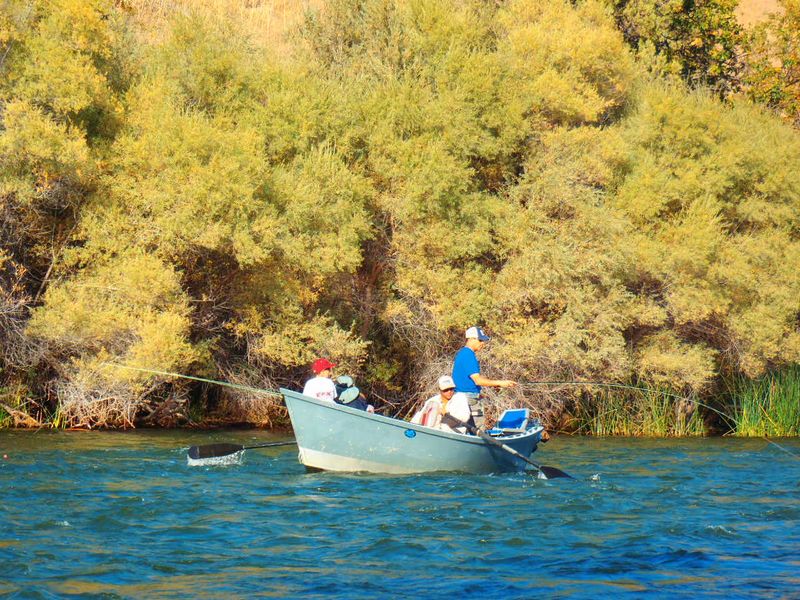 Now it's pop's turn out in the boat!
Carola carving her first pumpkin ever, my Taylor guitar in the background!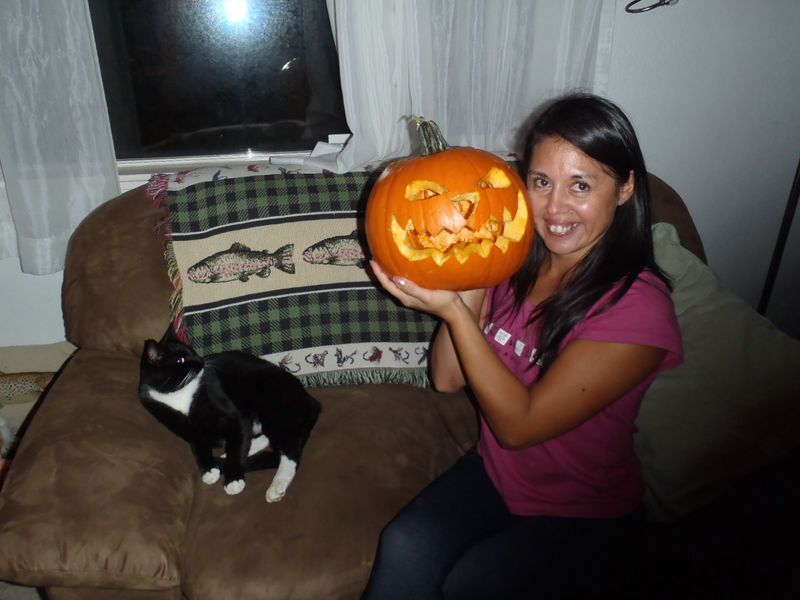 Our cat, Ford Lincoln, Mercury was impressed!!
(Named my cat that to help auto industry anyway we can)
Pappa's Pumkin Patch just North of Weed on HWY 97, that's where we get ours!
(530) 938-2755  
Pappa's Pumkin Patch  – 4916 Solus Drive, Weed, CA 96094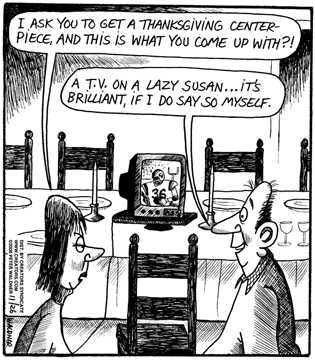 2011 / 2012 CHILE AND ARGENTINA SEASON IS HERE!!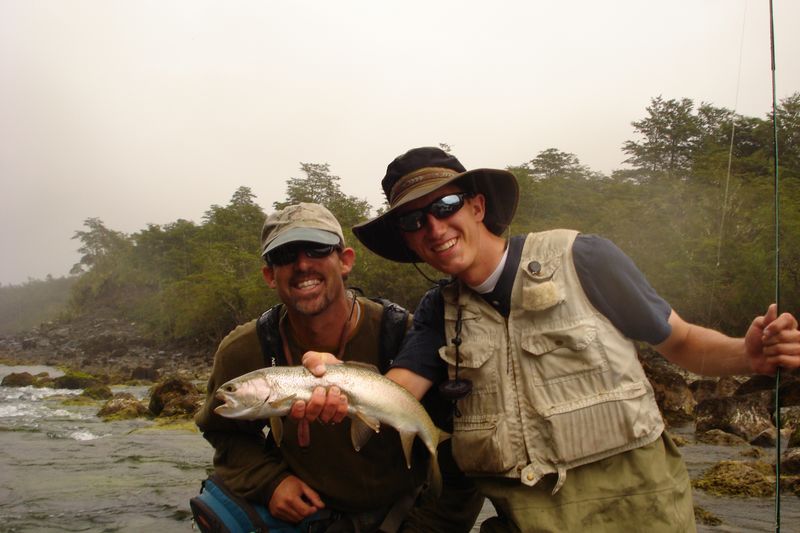 We look forward to guiding you in Chile this season and taking you over the Andes to guides in Argentina in our 18th year.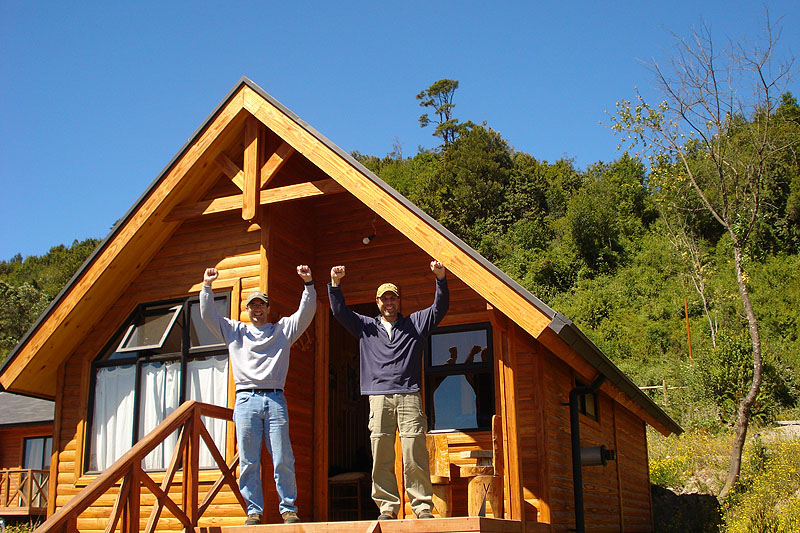 Our new cabin is waiting for you and sleeps 4 comfortable with a kitchen and dry fly fishing out in front.
Carola's gourmet lunches are what we're talking about!
 Underwater shots that make life worth living…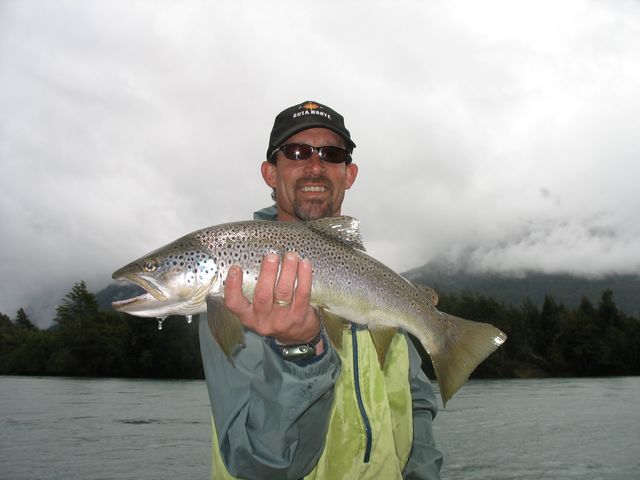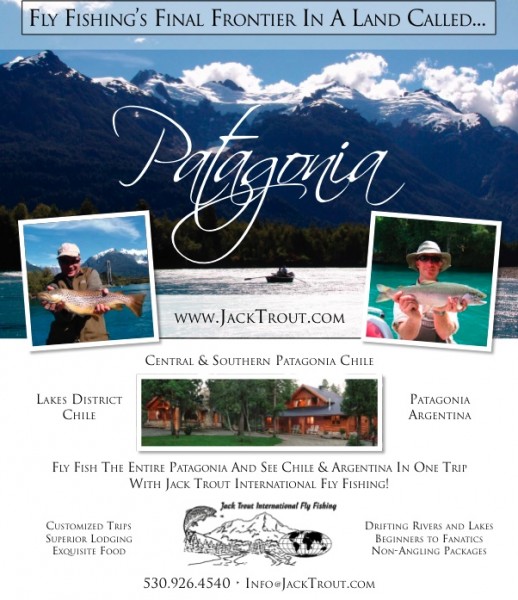 Thanks for watching our adventures and making the 2011 season a total success !! Best, Jack & Carola Trout & Team Trout
EMAILS FROM YOU:
Hi Jack,
You were right. I rebooted and got your beautiful pictures of the autumn rivers of North Cal. It took a long time to load, so the rich site content probably caused the hitch.
Best wishes for your adventures in Mt. Shasta, Chile and the Argentine.
Ed Smith
************************
Jack
Tracey (my wife) and I would like to book a trip with you the same two days as my brother (Nov 19th and 20th I believe). Can you get a guide for us as well?
We would stay at the Mount Shasta Resort. Do you know the number I will call and make a reservation.
Let me know. You will love my wife and she will love you as well.
Regards,
William Moison