KLAMATH STEELHEAD MAKE THERE WAY UP THE CANYON AS WE 
THINK ABOUT A NEW GLORIOUS SEASON
THAT AWAITS US!
McCLOUD RIVER DRY FLY ON FIRE ~ MEANWHILE BIG TROUT
LURKING IN DUNSMUIR SAYING; CATCH ME – KISS ME AND DROP A
BUCK IN TOWN FRIENDS.   
THE TOWN OF McCLOUD RECEIVES THE PRESTIGIOUS BEST LODGING IN SISKIYOU COUNTY AWARD!! BE SURE TO STAY AND LODGE IN McCLOUD, YOU WON'T REGRET IT THIS FALL AND WINTER. FANTASTIC B&B'S AND HISTORIC HOSPITALITY AND MORE!
 What a day for a day dream…. This is the one of the most beautiful times of year to visit the Mount Shasta area, pure clean crisp mornings, complimented by fall scenery and unique outdoor opprotunities!
OCTOBER AND NOVEMBER ARE WHAT I CALL SPORTSMEN MONTHS.
IF YOU HAVEN'T CALLED A NORTH STATE GUIDE BY NOW, YOU'RE MISSING THE BOAT FOLKS! CALL YOUR FAVORITE GUIDES NOW.
(ONE OF THE THINGS THAT MAKES ME PROUD AS A GUIDE IS ALL THE OTHER TALENTED GUIDES IN THE NORTH STATE, WHETHER IT'S THE FLY SHOP, TED FAY, MIKE HIBBARD, RON HART, CRAIG NIELSON, WAYNE ENG, STEVEN BERTRAND, ALAN BLANKENSHIP, RICK COX,  CHUCK V, JOHN RICKARDS, FRED GORDON, ALL THE GREAT GUIDES FROM THE TRINITY RIVER, GEORGE DURAN, BOB NORMAN, HERB BURTON, KIP, JIM PETTIS AND ERNIE DENNISON. I'VE KNOWN THESE GUIDES FOR YEARS AND THEY ARE WHY THE INDUSTRY IS SURVIVING !! IT MAKES ME HAPPY TO KNOW EVERYONE IS BUSY AND ARE DOING A GREAT SERVICE FOR THE NORTH STATE ECONOMIES!! THESE ARE GUIDES YOU KNOW AND LOVE, GUIDES WHO HAVE MADE A DIFFERENCE FOR YEARS IN THE NORTH STATE, GUIDES WHO LOVE WHAT THEY DO. THIS FALL AND WINTER, CALL ON THEM.)
 The Klamath River in far Northern California, rich and healthy after two big winters of precipitation. I've been thinking that this season will bring about record amounts of large returning steelhead being that this is the 5 th year after the amazing 2006 steelhead season no one will ever forget about, where most trips averaged 5 to 10 big adult steelhead averaging about 6 to 10 lbs. The Trinity River in 2006 was like a trip to Disneyland every time I was out on the river guiding. The only thing missing that year was the water quality was so bad in the Klamath River due to low water, low flows by the Bureau of Reclamation, it was like the steelhead and salmon would come into the Klamath mouth, go up the drainage sniffing out residency for the next generation, then B-line-it into the Trinity because the water was just that much better. Yea, we did have a lot of wild returning as well as hatchery steelhead thanks to the Arcata Hatchery, but that year I kept asking myself why not the Klamath River too? Obvious on big water years the feeder creeks help so much by driving salmon and steelhead up the Klamath and helping to absorb the blue green algae that makes the river semi-toxic until Mother Nature takes over and the salmonoids and others can begin to breath again. Think of it as a bad month in Beiging, China  on a honeymoon vacation trying to make a baby, then you fly to Mt Shasta and the air is clean again and you try with success! That's what the steelhead and salmon are dealing with on the Klamath River before the big rains come along, and think about when this honeymoon is over..It's over folks!(I'd of skipped the trip to Beiging if I knew that…) Think I'll give Carola big kiss!
The osprey are the first sign the fish are in! If you drive up the Klamath or Trinity Rivers you will see all the birds around, it's a pleasurable sight.
Big fish time of year, How do he do tadt! Steelhead doing crazy things to get off the line…
 Beautiful just beautiful, when it all comes together and we land the fish, magical is what I feel..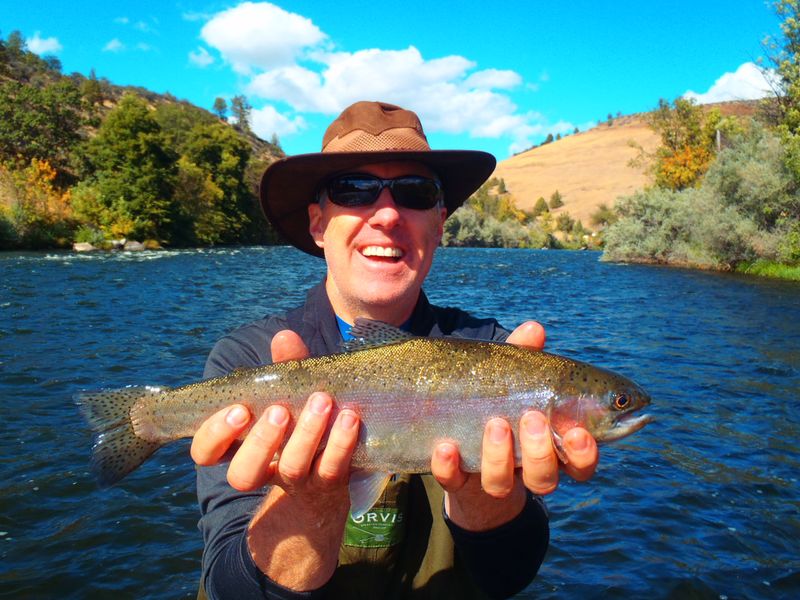 It's just something I have a hard time describing other than something you really love to do just because you're there.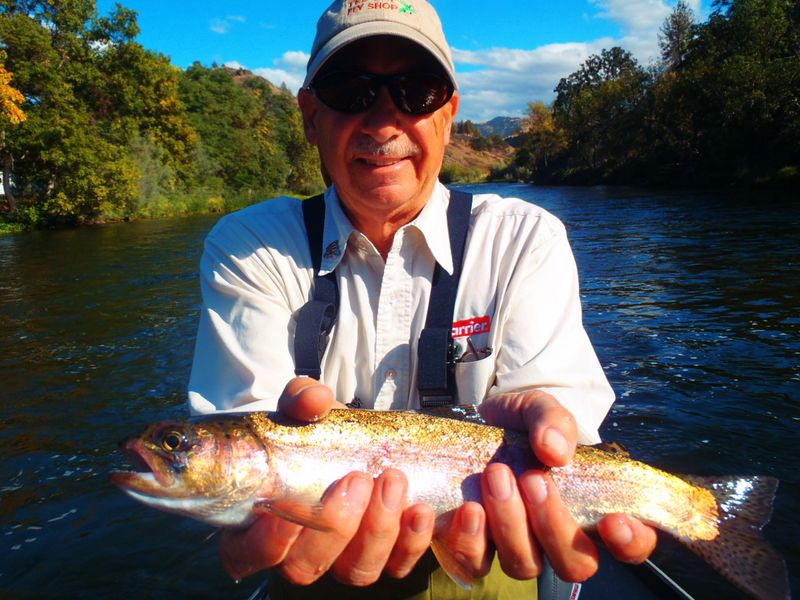 Maybe it's sharing it with a friend or a love one, the time on the water is one that is personal, a connection between whom ever you bring and the nature you've loved since childhood.
The tug of a big fish with incredible strength can take your mind off anything. Carola's gourmet lunches can help you have the courage and strength to help battle these enormous beast!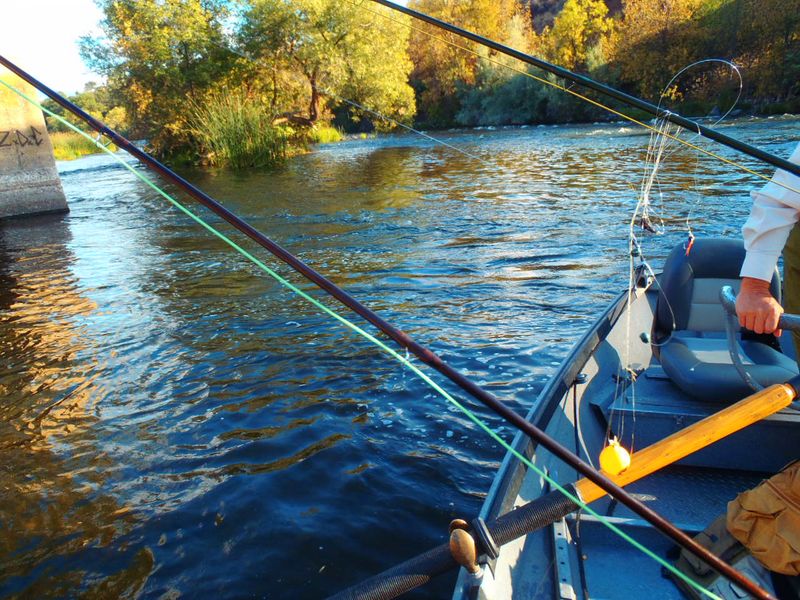 They give me strength on days that I need it the most, I mean what else was I put on this wonderful Earth for?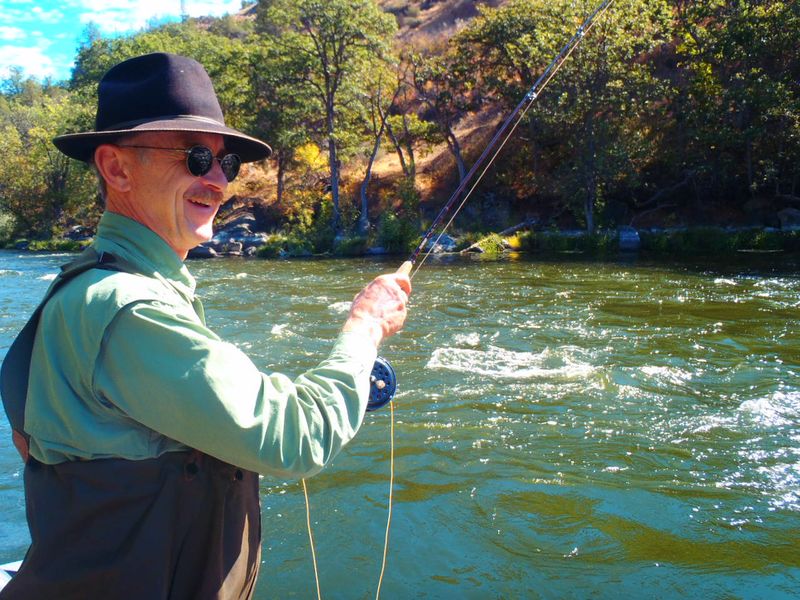 What if your name was Ward Thompson and you were like one of the nicest people on the face of the Earth? Would you ever quit smiling?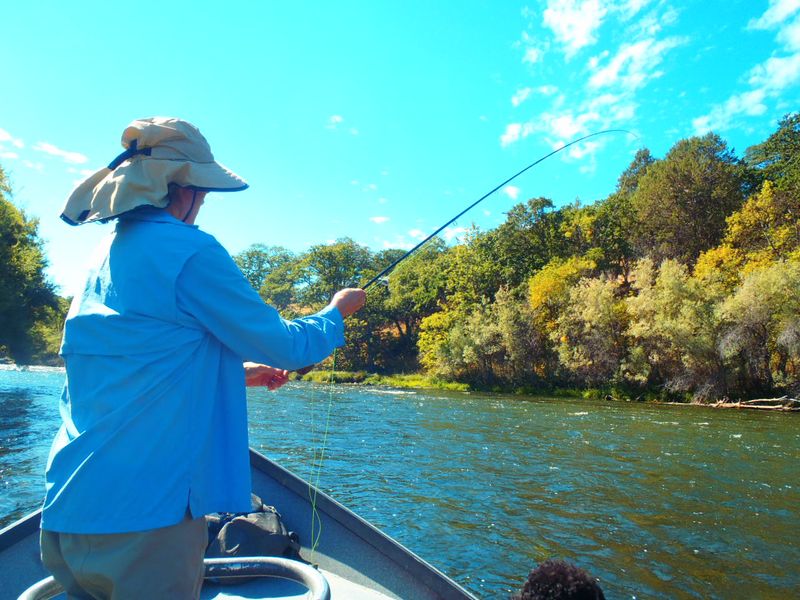 Would you bring your wife and awesome dog along too? Go around for a week meeting the whole town and making a bunch of friends around Siskiyou County? Heck, who can even spell Siskiyou County???
I mean where in the hell is Siskiyou County?
Ok, ask 5 of your work colleges if they can spell Siskiyou County and tell you where it is located in California….
Report back please. (My spell tool can't even spell Siskiyou?)
(We are the most Northern County in California, we kiss Oregon just for fun!)
 What if Ward Thompson at lunch caught the biggest fish of his life on a fly rod and he was just learning the sport?
 Would you crown Ward Sizzler of the Week?
What do you think about WARD THOMPSON AS SIZZLER OF THE WEEK AWARD WINNER!!!
CONGRATULATIONS SIZZLER OF THE WEEK AWARD WINNER.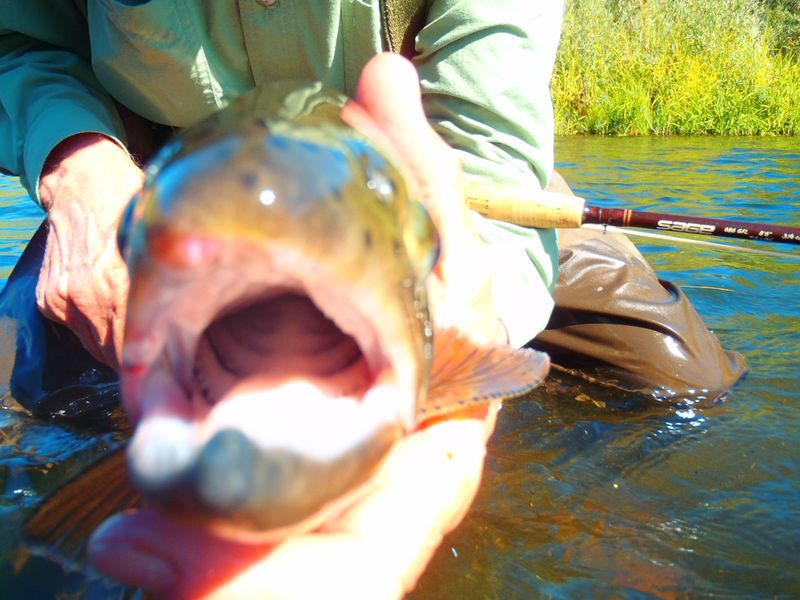 Did anyone ever say you had a big mouth!
 Serious cartoon fun out this year steelheading people!
 Carola's gourmet stream-side river lunches are the greatest!!
 Let us know what you like and we can make it for you. Also we now do stream-side BBQ's tri-tip, steaks!
 Living large is what we specialize in!! Let us know how we can make your trip even better, we believe in the word, YES!
 Carola's homemade desserts are a treat everyone is asking for seconds …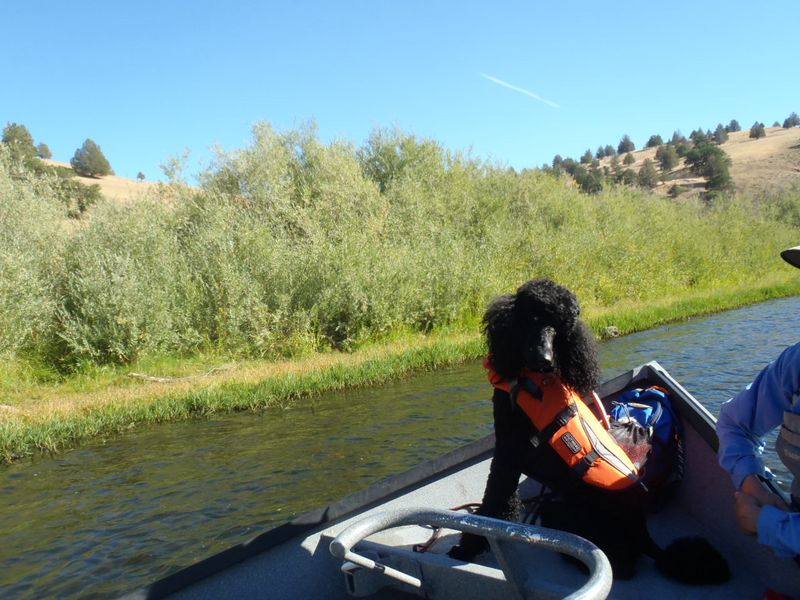 She sure does have the Purina All Pro Glow!! What a great dog out on the river, I would give this dog a A+ and highly suggest you keep her away from  some of the guys in Shasta, there's some desperate wolves out there! 
 Sandy how do you really feel about fly fishing…
 Super cool! Not bad for your first day…
 That's right, just keep that tip real high and they'll stay on…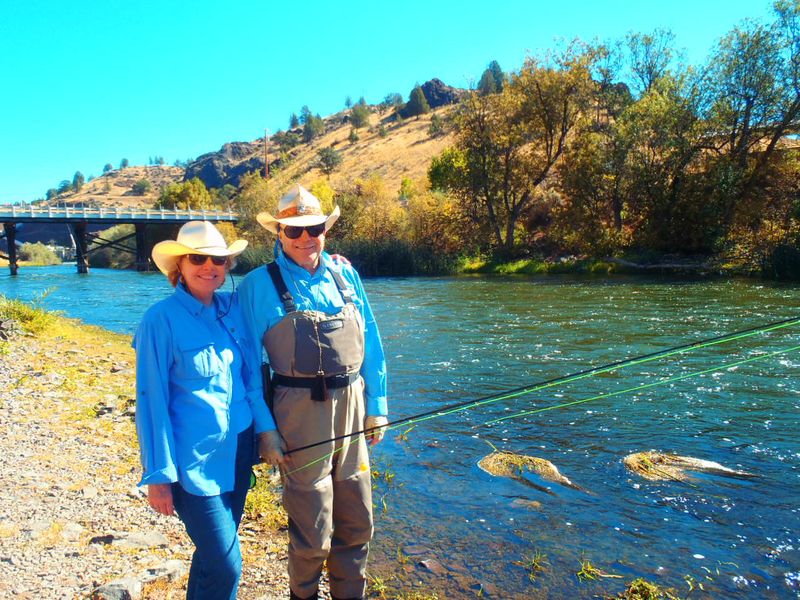 When Oz & Jeanne showed up from Las Vegas, Nevada it couldn't of been a better day out with 2 finer folks.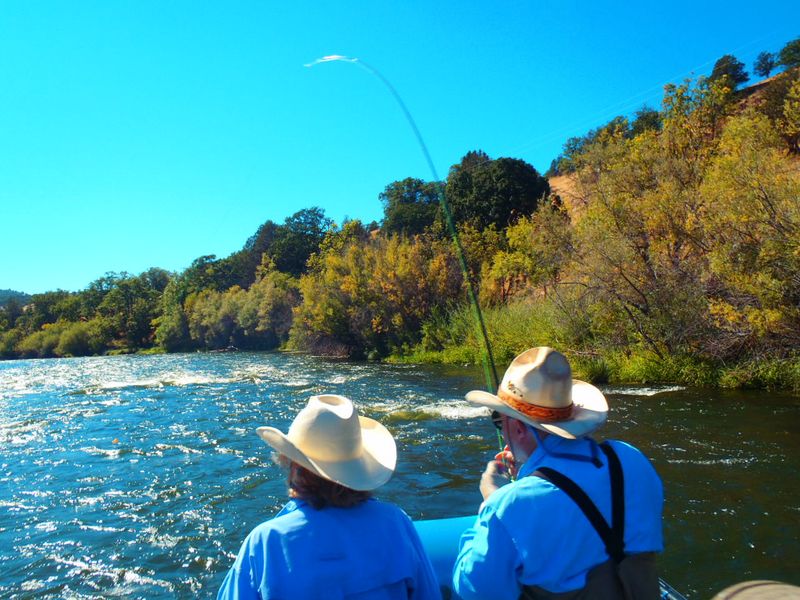 We hooked trout from the getgo and Oz and Jeanne found themsleves 3 new friends ~ Carola, Trout and Beefy Trout the Dog!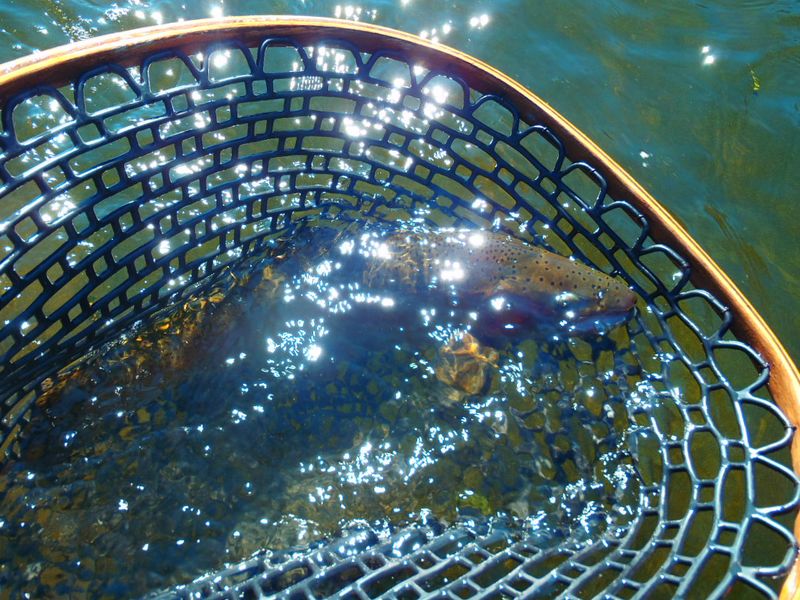 Fine steelhead indeed and more to come that day as the adventures lived on like the good ole days of yester years..
 Smiles were abundant that day and all who came left with brand new experience in life that lasted forever!
It was as good as it gets folks.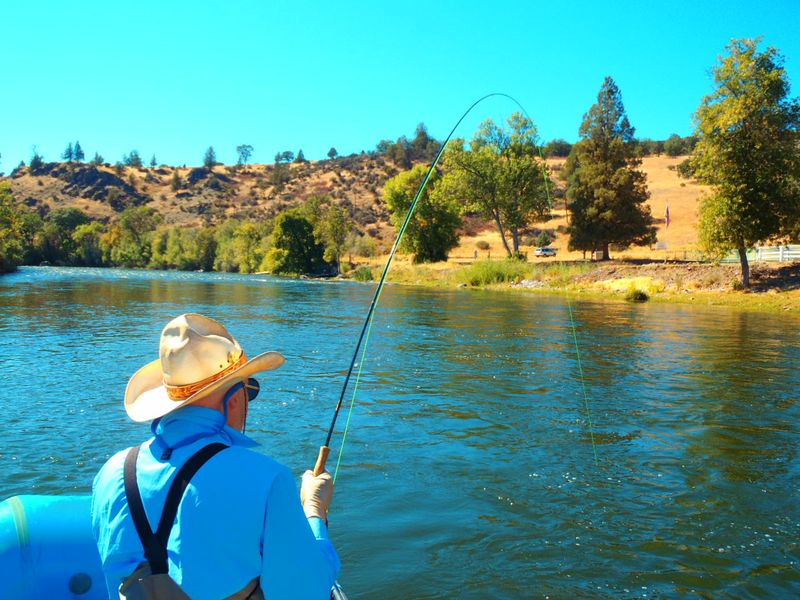 Every turn a new big fish with a ginormous attitude like he just came in from a storm at sea….
 Rods were bending, words were flying, all hell breaking loose except that fish…
One for the record books for I hadn't seen the likes of a steelhead like this, since the one I landed near the same spot in 2002 with two of my former guides, it was 14 lbs…
But then it turned near the surface and folded it's weight on top of the line and shook off… What an incredible fight indeed… No one loss on that one, it was one for the record books..
 Cheers to all the great fish in the all the drainages in Northern California. Happy 2011/2012 Steelhead Season everyone!!!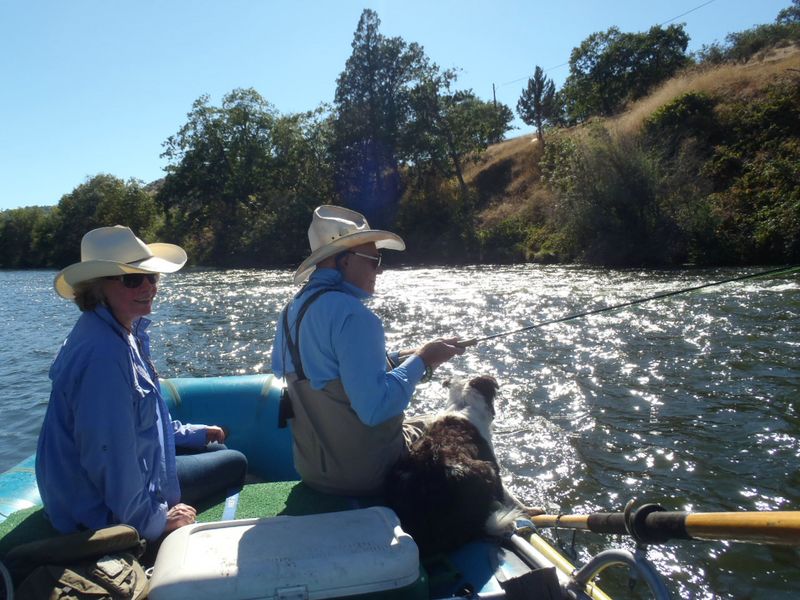 Some days I like the raft, its so quiet we seem to hook more fish…? It's perfect for couples and the non-anglers, there's many ways we can enjoy fly fishing and floating the rivers of the North State of California.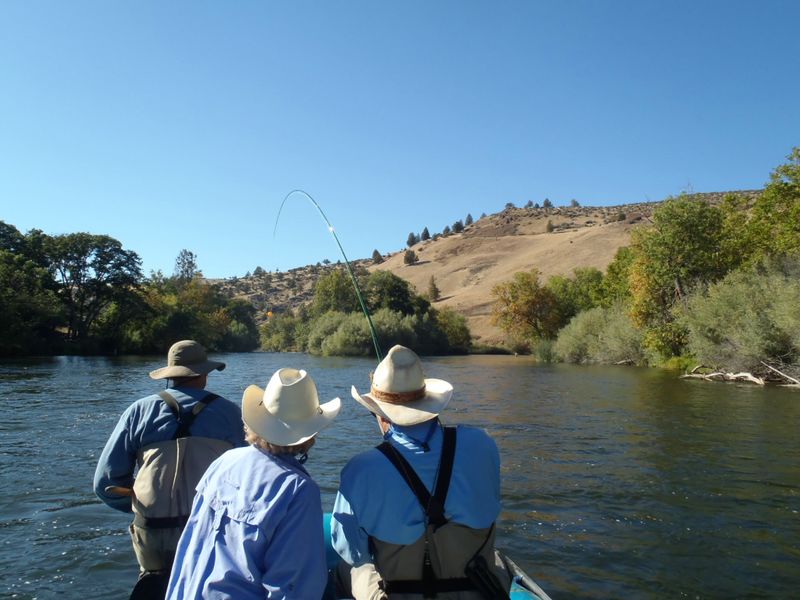 After Carola's fine cuisine fish seem to always bite better…Oz has a huge fish on…
 Oh man, look at the tail on that babe!
This season we have been catching many landable Jack Salmon!! It's like Calaska folks ~ California & Alaska on the Klamath River. We are catching Steelhead and these very fresh 5 to 10 lb Jack Salmon on flies. Oz and Jeanne loved their adventure near Mount Shasta, California. 

Can you imagine people pay $5000 a week to catch salmon and trout in Alaska and you can drive 5 hours from the Bay Area and stay around Mount Shasta, McCloud, Dunsmuir or Weed, California and catch these enormous size fish your first time fly fishing. We do it all the time people!! STEELHEAD AND SALMON ON A FLY HOTLINE – 
530-926-4540 WE HAVE YOUR DREAM FLY FISHING TRIP WAITING.
Hello Jack,
Hope all is well with you and Carola.
Here is an update on the current status of the proposal to remove four dams on the Klamath River, including Irongate dam. The draft Environmental Impact Report was released late last month. Interested persons have 60 days to comment on the draft EIS/EIR. These public comments must be received between September 21, 2011 and November 21, 2011. I encourage you and all other persons that are interested in preserving and restoring the Klamath River to publicly comment on the benefits of the proposed dam removal. Interior Secretary Ken Salazar has until March 30, 2012 to make a final "Record of Decision" either approving or disapproving the proposed dam removal.
Public comments on the draft EIS/EIR can be made by e-mail or in writing as follows:
E-mail Public Comments Procedure:
1. Go to www.klamathrestoration.gov.
2. Click on "Draft EIS/EIR".
3. Click on the drop down prompt "Comments: Draft EIS/EIR".
4. Complete the form with requested contact information and then insert your comments in the "Comments" box.
Written Public Comments Procedure:
1. Address written comments to:
Gordon Leppig
California Department of Fish & Game
619 Second Street
Eureka, CA 95501
2. E-mail contact is KSDcomments@dfg.ca.gov
If you need further information, there is a ton of information about the dam removal proposal at the web site given above. Recent technical studies have indicated that removal of the dams on the Klamath will not only help to restore historic salmon runs (projected 80 % increase) but will also provide valuable economic benefits (4,600 jobs) as well. The proposal is a win-win for all concerned.
Senator Tom Harman (R)
 The theory of relativity of fly fishing first occurred many years ago, it first started with Darwin's travels up the South American Coast just about hundred years before E=Mc2….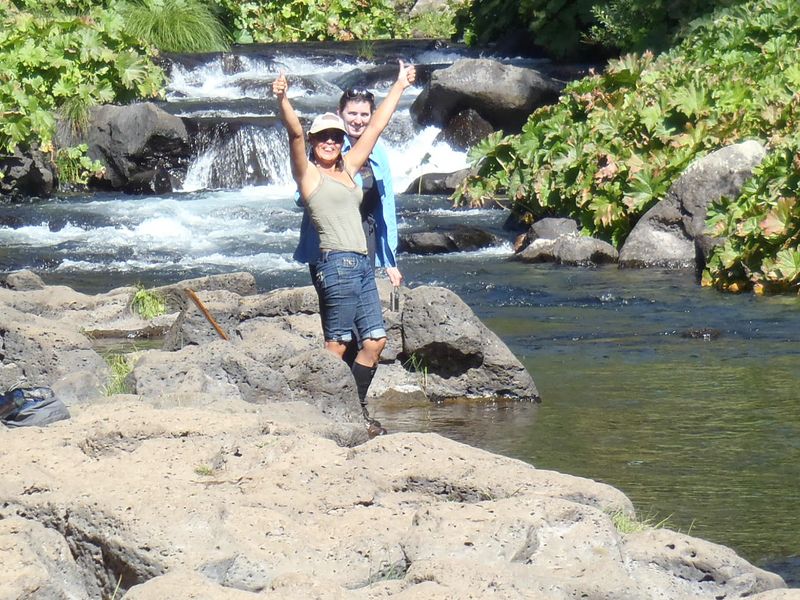 Carola guides her first client into a trout on the McCloud River!!
 Nice office Carola, plenty of trout every where folks, time to ditch work!
 Dry fly on the McCloud River, what a racket!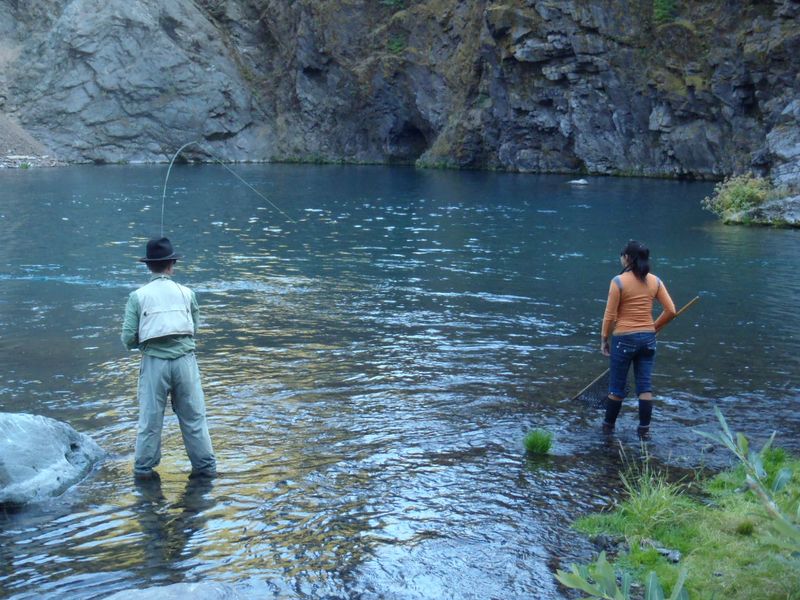 What about Ward Thompson, what about Bob?
 What a fricking dork the guide is! Ah duh, is that the best expression you can come up with for such a fine brown trout on the McCloud River. Ward, next time just hire a guide from Geek Squad.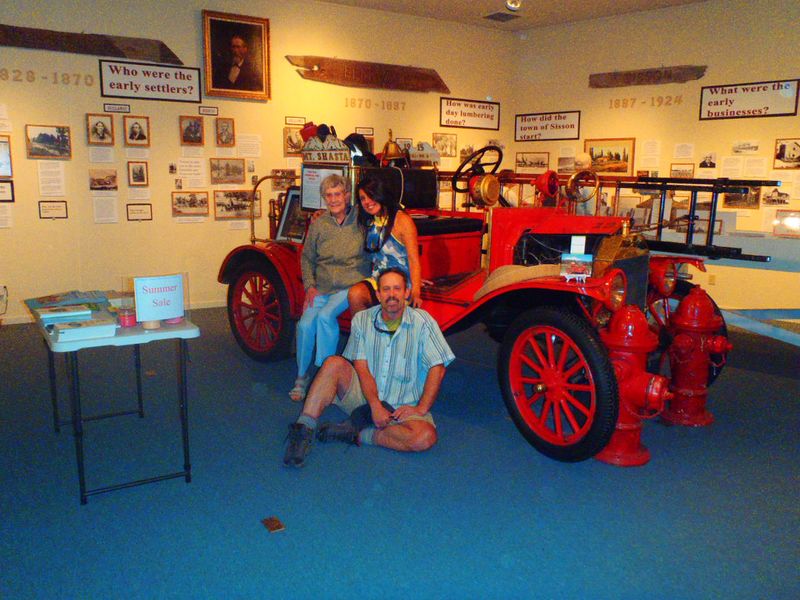 Last month my Mom came up from Walnut Creek and visited me and we took her to the Siskiyou County Museum in Mount Shasta. What a wonderful place you should visit when you come to Mount Shasta.
(A lot of great history you won't soon forget)   Sure was awesome to hang out with my Mom and Carola and be a tour guide..
We love you mom, Jack & Carola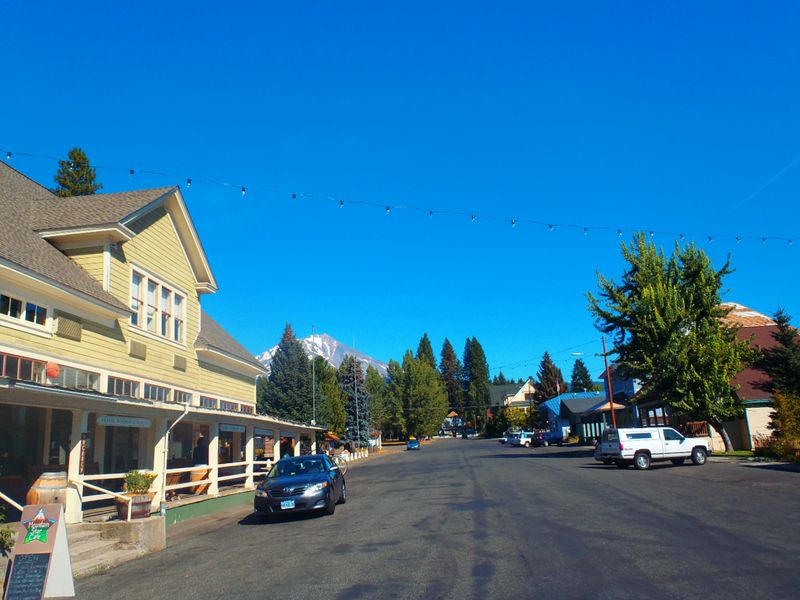 Yahooo!!! McCloud California!!!! 
Yahooo!!! McCloud California!!!!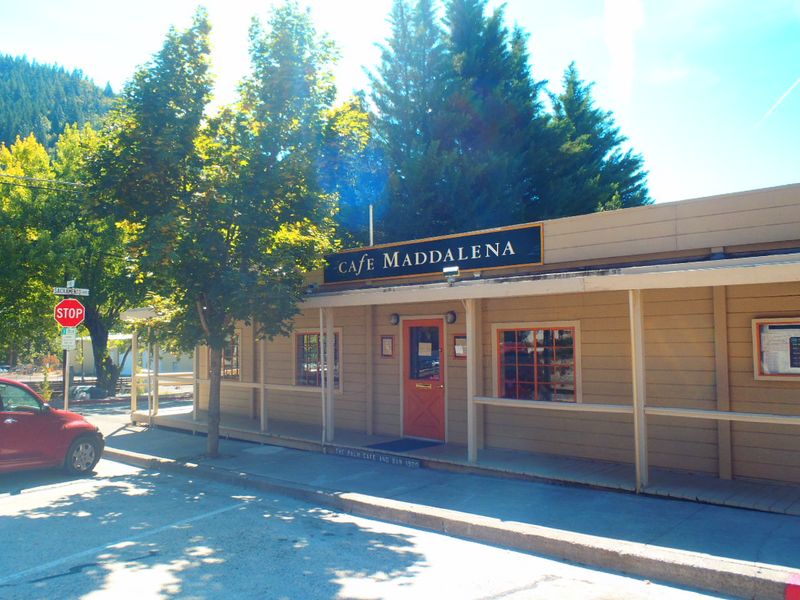 I have clients say they would drive all the way up just for the dinner. Cafe Maddalena's in Dunsmuir California.
The best restaurant in Siskiyou or Shasta County.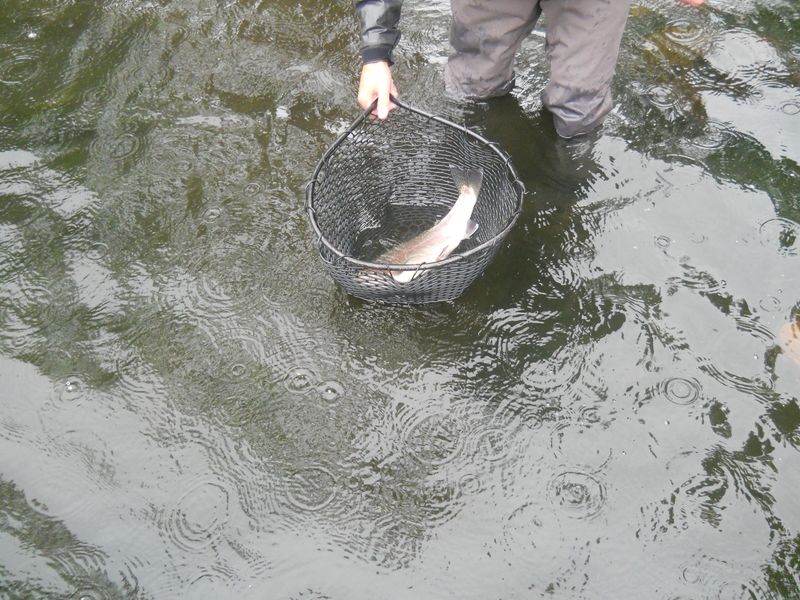 Rainy days and Mondays always get me down…. I guess that's why Karen Carpenter never was a steelhead fly fisher…?
 Isaac Roman sure had a spectacular day out guiding with Steve, Chris and Brady Clark the other day on the Klamath River.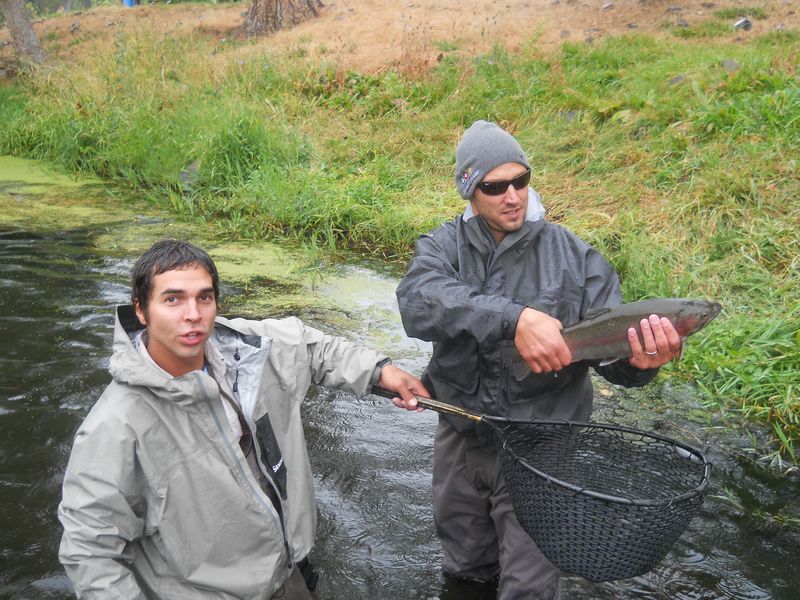 It started a little slow then it was one after the other on huge rubber legs..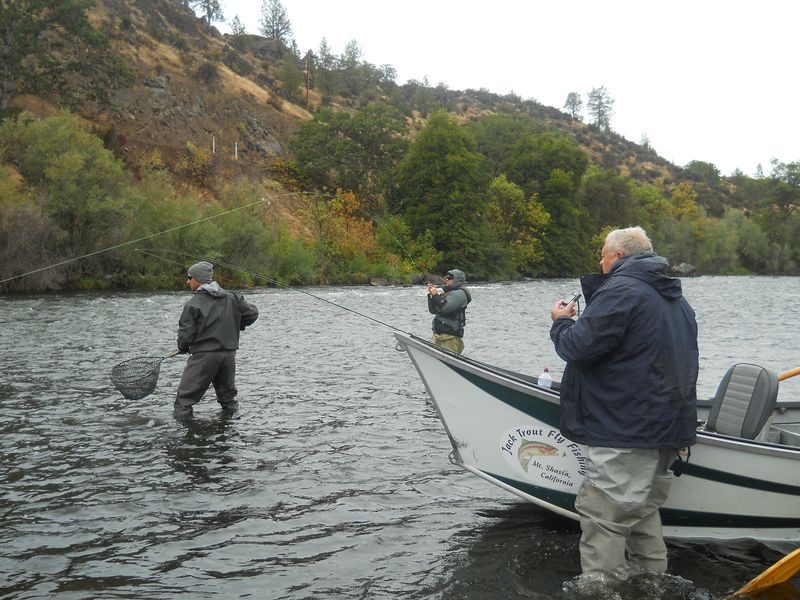 Soon it became a stick fest and dad was cheering his sons on like Norman McClean..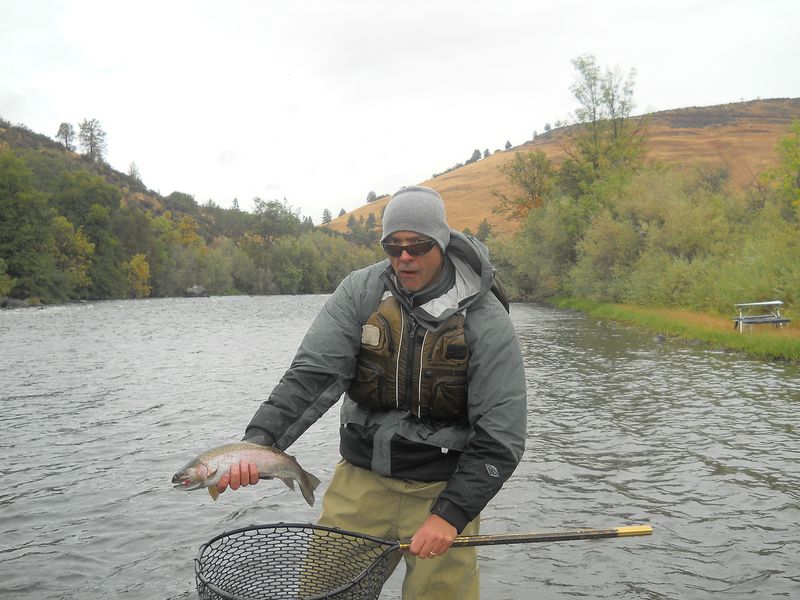 Way to go Chris!
 Brady Clark well known MLB player with a nice steelhead trout the Klamath River.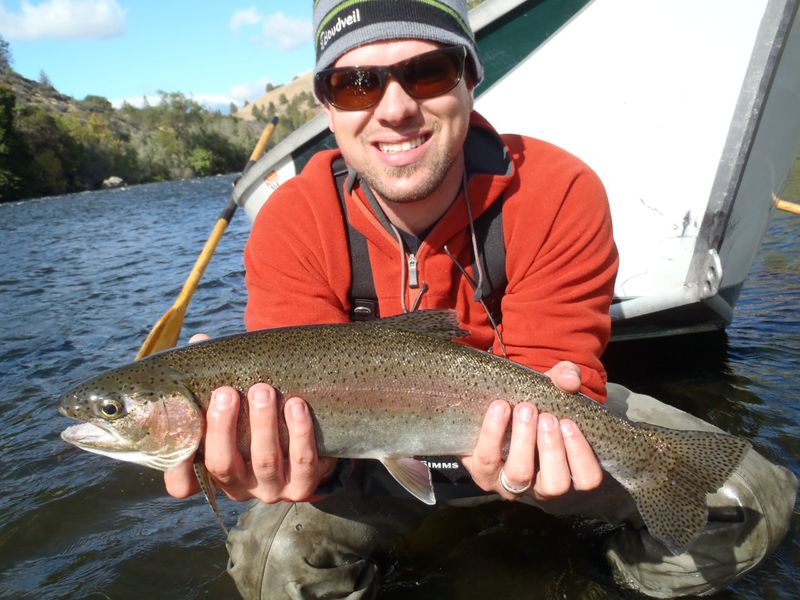 You remember Danny Gebhart, Richard Gebhart's son who went with me to Belize where we entertained the whole family of ten for a week! What a day we had this past week out on the Klamath River.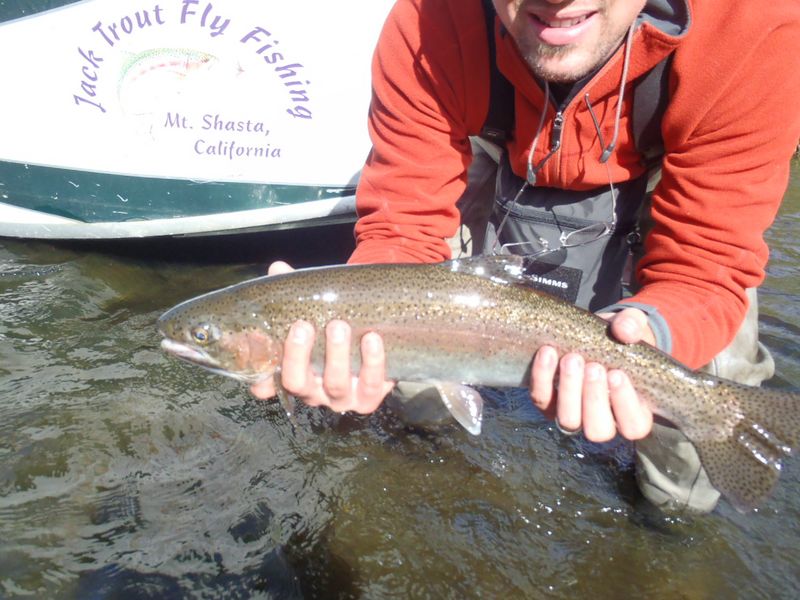 A great day indeed with numerous steelhead and salmon hook ups all day long.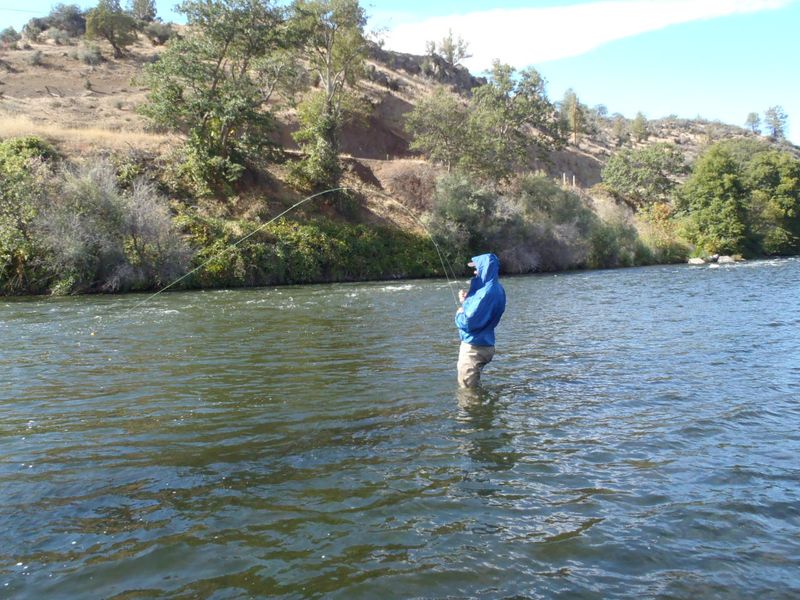 The perfect Fly Fishing Steelhead Song ~  YOU MAKE MY DREAMS COME TRUE
Written By Daryl Hall and John Oates
 What I want, you've got
And it might be hard to handle
But like the flame that burns the candle
The candle feeds the flame
What I've got's full stock of thoughts 
and dreams that scatter
You pull them all together
And how, I can't explain
But You make my dreams come true.
On a night when bad dreams become a screamer
When they're messin' with the dreamer
I can laugh it in the face
Twist and shout my way out
And wrape yourself around me
'Cause I ain't the way that you found me
I'll never be the same
'Cause You make my dreams come true
I'm down on the daydream
That sleepwalk should be over by now
I know that You make my dreams come true"
STEELHEAD, YOU MAK'N MY DREAMS COME TRUE!!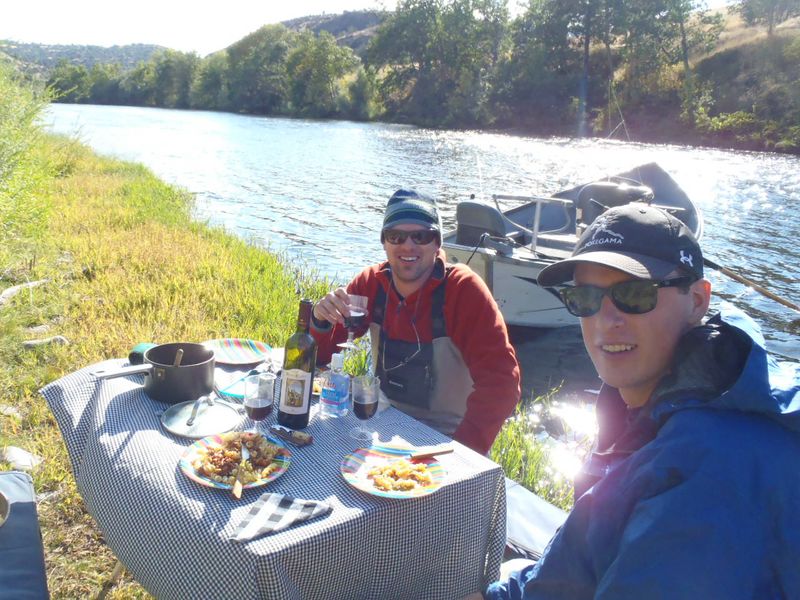 Dream come true is what I'm talking about!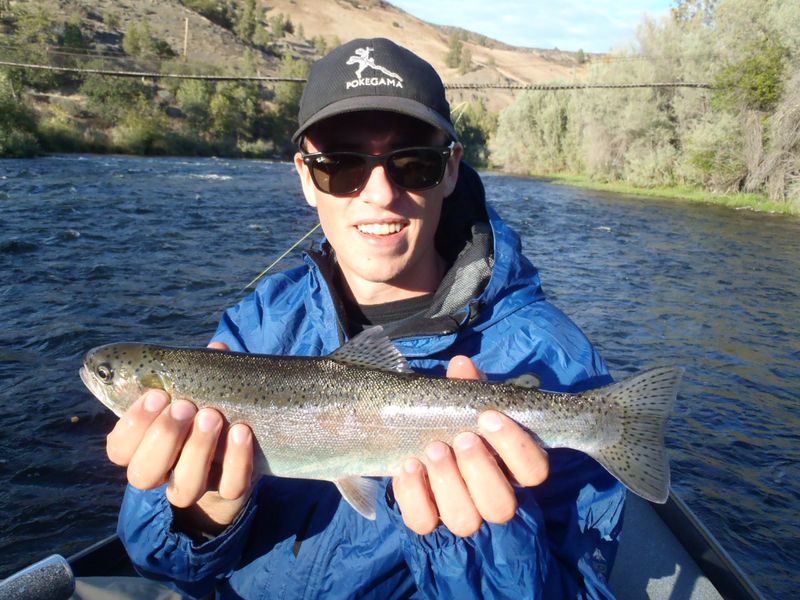 Nick Sierra thoroughly enjoyed his day out this past week! What would you say Nick to all the folks out there….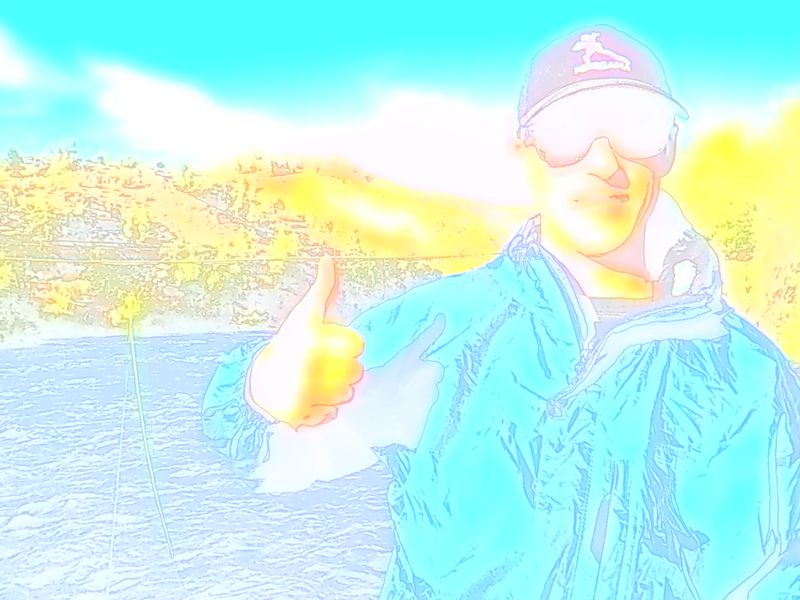 Epic adventure everyone, would highly suggest it especially if you like numerous hook-ups and action all day long, I didn't think I was still in California, I thought I might of traveled into the Twilight Zone..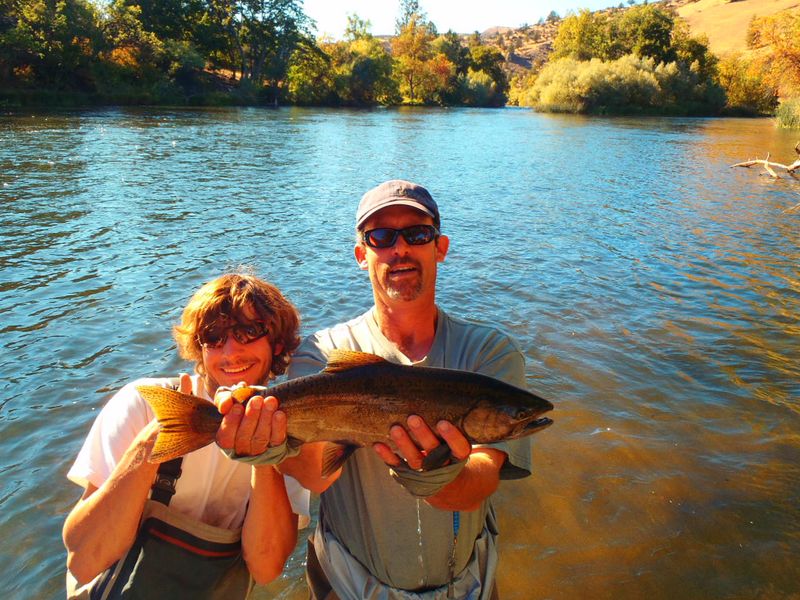 Sizzlers of America Unite! Steelhead & Salmon are on the run.
the jailer man and sailor sam were searching every one,
For the band on the run, band on the run, band on the run, band on the run..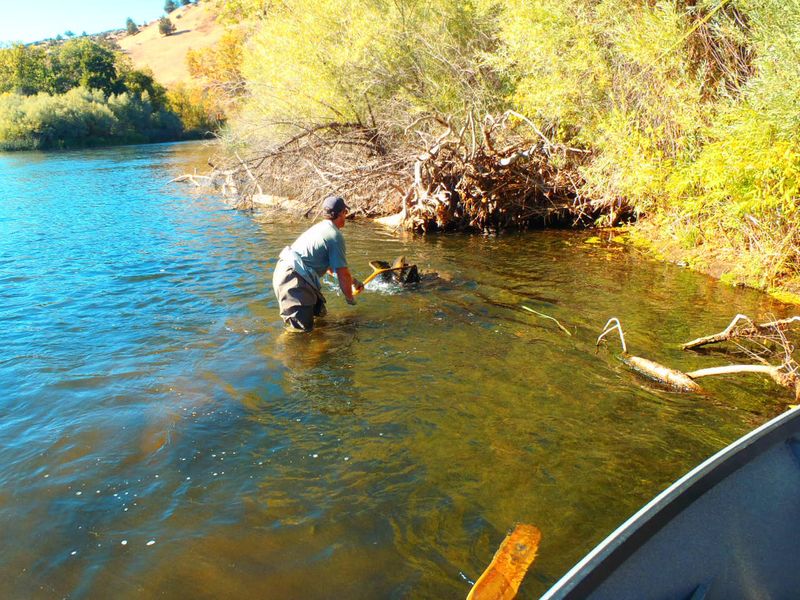 What in tarnation is that obscene creature, that barely fits in the net…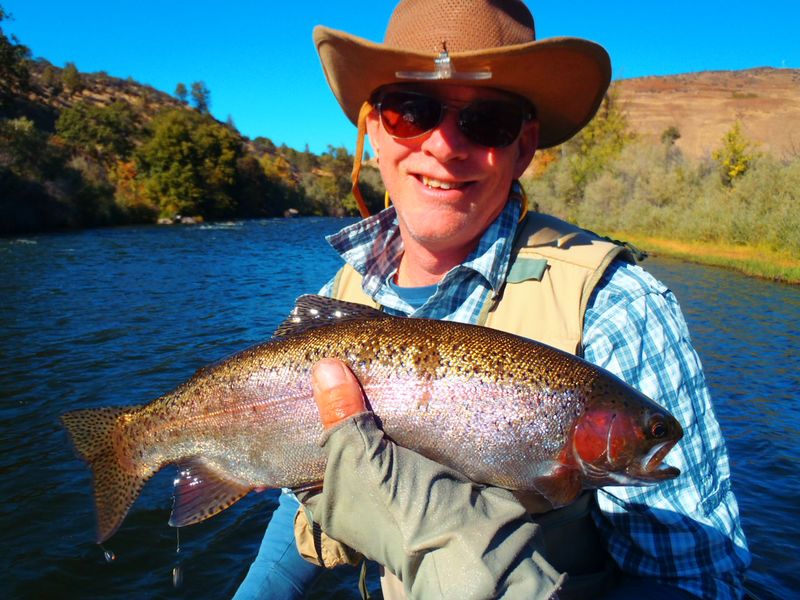 Jack:
Great trip! We had the time of our lives…..
now send photos please.
Thanks,
Steve Fuerch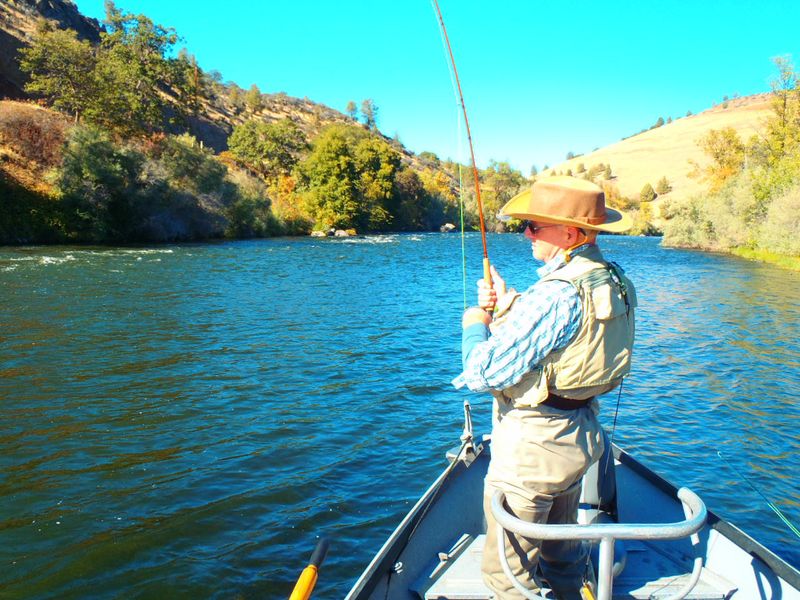 I love this life, out here with no one else around except this big old trout that came in from the ocean..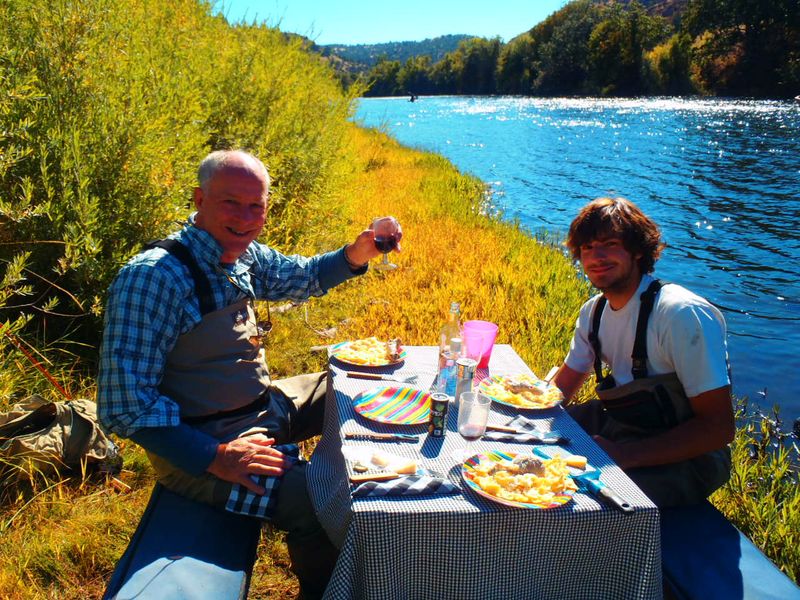 Cheers, here's to livin! Here's to my great son and daughter in college, this is what I do it for, spending this time out here with family is priceless.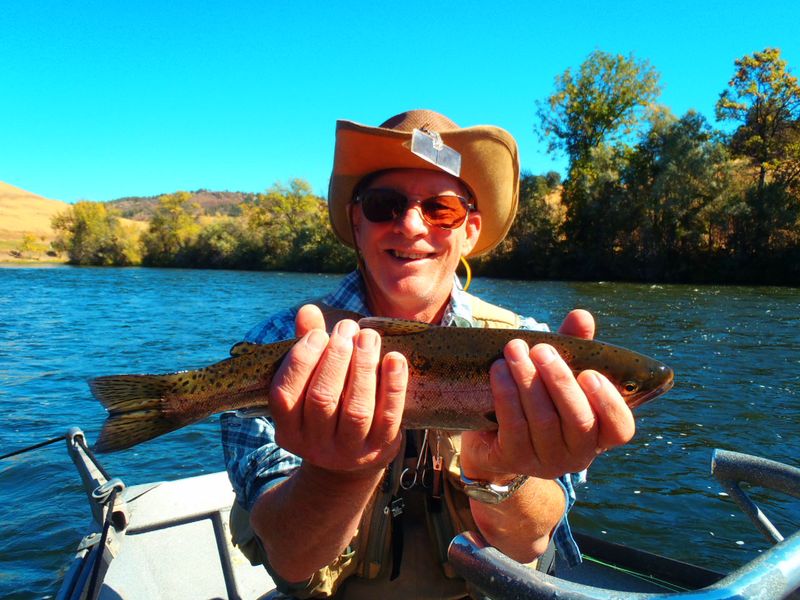 Another great hook up, I can't wait to make it up again. 

For thousands of years Native Americans as well as tourist from all over the United States and the world have enjoyed the
spiritual sounds and scenes of the Mossbrae Falls, about one mile above Dunsmuir California. Truly one of California's most unique and pristine water places, rivaling any place I have ever seen in Patagonia Chile including the North or South Islands of New Zealand. A place where the glacial waters born up on Mount Shasta come heavenly flowing down through hollowed out lava tubes and then magically appearing out of a fifty yard long hill side into the Upper Sacramento river.
Majestic ~ Breath Taking ~ One of Natures True Miracles.
I remember years ago, maybe the year was 1996, a Green

Drake

hatch (2nd biggest mayfly very green/purple, so cool my favorite bug) off that wall that was so prolific the trout were jumping in the air and taking them off the falls and the flora that hangs around the falls. I saw Mike and Christine Fong walking up the railroad tracks and told them about all the activity, they later told me they had the same success. So many great stories from Mossbrae Falls, I have heard them for years. The best one is the guide I won't mention names, who ran down the hill to check to see if someone else was fishing the small area and saw two people making love. He went back and told his clients, it's occupied now maybe come back later…?

 For years the passenger railroad cars would bring tourist up to witness the famous

Shasta Spring Resort

where they would stop and tourist would stay and enjoy what the area had to offer. One of the main attractions was

Mossbrae Falls

and the river activities. A lot really hasn't changed since then, people still have the same interest and meanwhile the

Union Pacific Rail Road

is denying tourist access by not allowing parking of vehicles down near

Scarlett Retreat

and putting up

obnoxious signs

saying

private property

do not trespass etc. I think as a good gesture for everything the railroad has done in the past and present, they should build a trail on their property to the

Mossbrae Falls

and quit throwing their issued

water bottles

and

crap

on the railroad tracks that eventually eroids it into the

Sacramento River

.
 Hey Union Pacific, if you'd just remember back when, we all had a hand in tourism and we worked so well together. I've read great stories of what you folks did for Peter Sisson back in the early 1900's when you dropped many people in what is now called Mount Shasta. Dunsmuir needs your help again, we need you to open up your doors and quit worrying so much about Judge Wapner. We need a trail to Mossbrae Falls, we need the parking spots back. Dunsmuir needs tourist, Please.  
 It was destiny folks, I was wanting to row at one years old in Portola, California, I pulled on something I thought was an oar!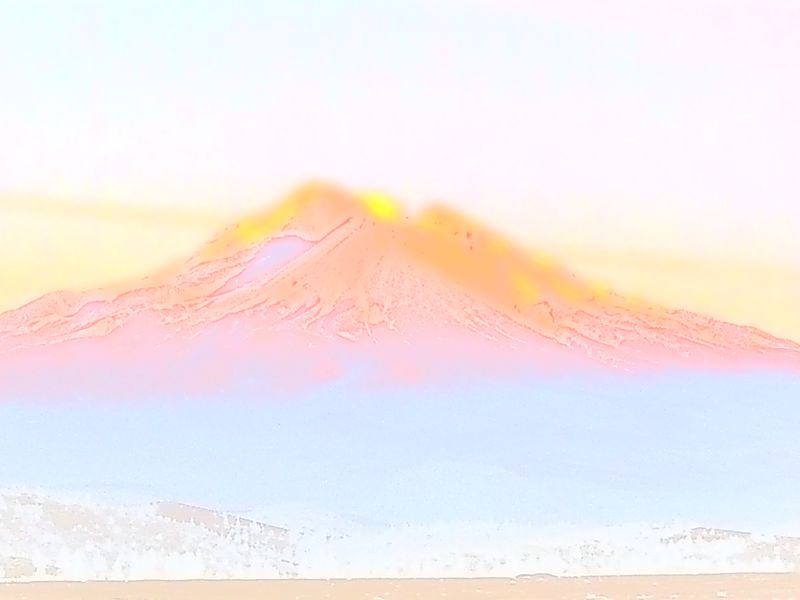 This should be a steelhead season to remember, Hope to see you out there..
We're dressing up on the river on Halloween, if you go up to the Klamath River on October 31st, look for us! If you can recognized me…(hehe)
Thanks for watching our adventures!!  Yahoo!! Breck and Debbie we'll have a great time on Hallloween!!
Jack & Carola Trout
2011/2012 CHILE SEASON DECEMBER 15TH TO APRIL 15TH 
CATCH YA THERE!!  JT & CT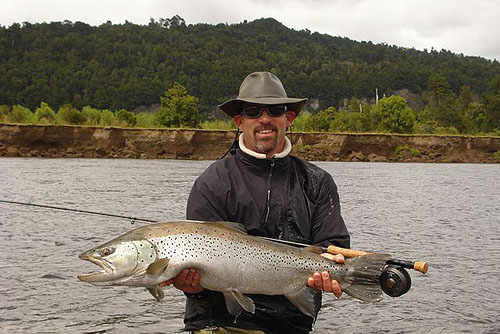 EMAILS FROM YOU:
Please help us locate a bone marrow match for Jack Grubb who is in desperate need of a bone marrow transplant.
There is also a local blood drive at the Etna High School 9am – 4pm October 12th
Bernay Hiett
530-468-4201 res
541-292-3737 cell
9108 Scott River Rd
Fort Jones, CA 96032
***************************************************

Dear Jack,Welcome to everyone we met this summer at festivals and fairs, and to everyone who has joined online.Please consider attending one of the dam removal hearings next week or the following week. The Department of Interior will be accepting public testimony about the draft dam removal Environmental Impact Report / Environmental Impact Statement.I hope you enjoy this issue of eNews. Your feedback is welcome. And if you can, please join us, donate or volunteer.

Sincerely,
Konrad Fisher, Outreach Director
Salazar: Klamath Dam Removal Will Cost Less
SAN FRANCISCO—The cost of removing four dams on the Klamath River in California and Oregon will be far less than first believed, Interior Secretary Ken Salazar said Monday as he worked to rally support for several massive federal water projects. Read full story: San Jose Mercury News, 9/19/11.
Additional News Stories:
Times-Standard | Capital Press | Oregonian
Dept. of Interior Releases Dam Removal Report
On September 21, The U.S. Department of the Interior released its long-awaited Environmental Impact Statement / Environmental Impact Review about Klamath Dam removal and restoration. The report predicted an 81 percent increase in the number of chinook salmon. It also found that dam removal would open 420 miles of salmon habitat, create thousands of jobs and cost less than it would to maintain the dams and reservoirs. The Department of Interior will accept written comments until November 21.
News Stories:
San Francisco Chronicle | Fox News

Editorial:
Sacramento Bee
Largest Dam Removal Ever Begins in Washington
Removal of two dams on Washington's Elwha river began this September. Until the Klamath River Dams are removed, this will stand as the largest dam removal and river restoration project in history.
News Stories:
New York Times | Washington Post | Scientific American | Seattle Times | Los Angeles Times

Parallel Studies – Karuk Tribe & Regional Water Board
SCOTT VALLEY – The Scott River groundwater study process continues to move toward the goal of defining the extent and distribution of interactions between groundwater and surface water in Scott Valley, with two studies currently being conducted simultaneously in the area. Siskiyou Daily News, 10/3/11
*******************************************************************************************
Dear guides, anglers, fish enthusiasts,
Please see announcement below about the upcoming Water Talks.
Also, Steve Gerace at the Mt. Shasta Herald asked us at CalTrout if we had any suggestions for people who may want to put in opinion pieces related to the Klamath Dams and recently released environmental document. If any of you would like to, please send a letter to Steve at the paper:
news@mtshastanews.com
, and if you would like to discuss talking points, call Curtis (859-1872).
Best wishes,
Meadow
Dear Friends of Water Talks,
We hope you can join us for the continuation of our Fall series next Thursday the 19th, 6 pm at the Sisson Museum.
Best Regards,
Meadow
Water Talks: Agriculture in Siskiyou County
Siskiyou County-CA
What do we grow in Siskiyou County? How do irrigation systems work in our agricultural valleys? Water Talks: Agriculture in Siskiyou County will be held Wednesday October 19th 2011 from 6:00 pm to 8:00 pm in the Activities Room at the Sisson Museum located at 1 North Old Stage Road in Mount Shasta. The Talks are free and open to the public.
"You see a lot less young people going into agriculture and the number of small family farms is going down substantially. It is a lot of work. It is a full time job that never ends," said Mario Burch of 5M Ranch and 2nd Vice President of Siskiyou County Farm Bureau who will present on October 19th.
Burch will be joined by Jim Morris, who raises hay on Bryan-Morris Ranch and is a director of the Siskiyou County Farm Bureau, Steve Orloff, Siskiyou County Farm Advisor for UC Extension and Jeff Fowle, 1st Vice President of Siskiyou County Farm Bureau and rancher who raises beef and hay on KK Bar Ranch.
"Reducing agricultural water use is not as simple as just switching to a less water-intensive crop or to drip irrigation. Growers have compelling reasons why they do what they do," said Siskiyou County Farm Advisor Steve Orloff.
Attendees can expect to come away with a better understanding of agriculture in Siskiyou County and how it relates to water.
Water Talks are an ongoing series of informational and educational events with local and regional expert presenters sharing on a range of water related topics. Water Talks is a project of California Trout. California Trout is a nonprofit organization dedicated to protecting and restoring California's wild trout, steelhead, and salmon streams. For more information contact Meadow Barr, California Trout Outreach Coordinator at 530-859-1411 or
mbarr@caltrout.org
.
---