FALL STEELHEAD AND TROUT ACTION STARTS NOW, BOOK YOUR FLOAT TRIP FOR FOR OCTOBER & NOVEMBER.
FALL MAYFLY & CADDIS HATCHES STARTING TO APPEAR WITH COLDER MORNINGS.
JACK & CAROLA TROUT NOT LEAVING FOR CHILE UNTIL NOVEMBER
28TH, WE'LL BE HERE FOR STEELHEAD AND ALL FALL FLY FISHING THIS YEAR!!!   
Perfect weather in the towns of Dunsmuir, McCloud, Mount Shasta & Weed, come on up and enjoy it with us!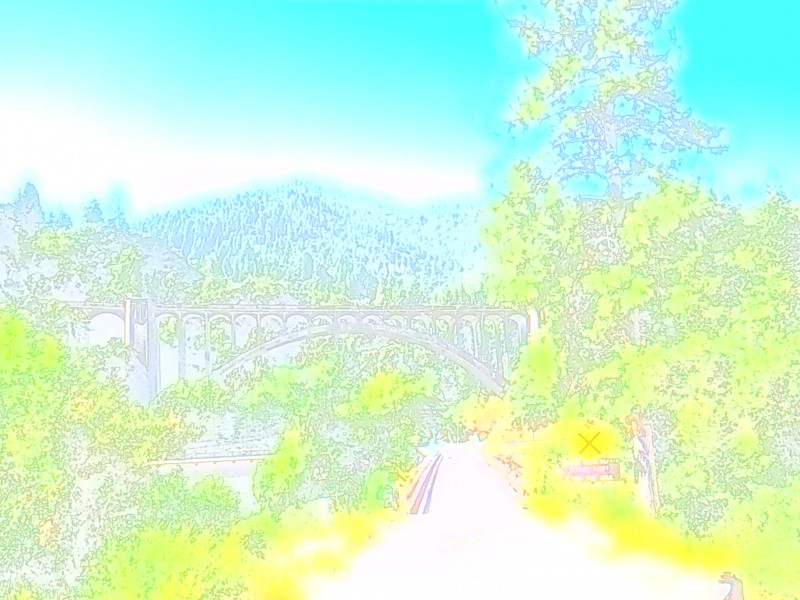 The fall colors are appearing now and with that comes all the other things I love and look forward to. I love my cup of coffee more in the colder mornings and savor the taste of California's best brew…MARIN COFFEE BREWERS OUT OF FAIRFAX or Peets!! I love a good fire  roaring in the stove in our home with the sound of a driving rain storm hitting the top of our roof. I love taking drives up Castle Lake Road on the south side of Lake Siskiyou in October, our little slice of Vermont. I love to watch the insect hatches increase from now until about the 1st week of November on the McCloud River. I love the colder nights and snuggling closer to stay comfortable. But most of all, I love seeing all of you out there…UP HERE!!  We welcome all of you who plan to come up and visit us in the North State this October, November & December, we can enjoy the fall together!
 Best, Jack & Carola Trout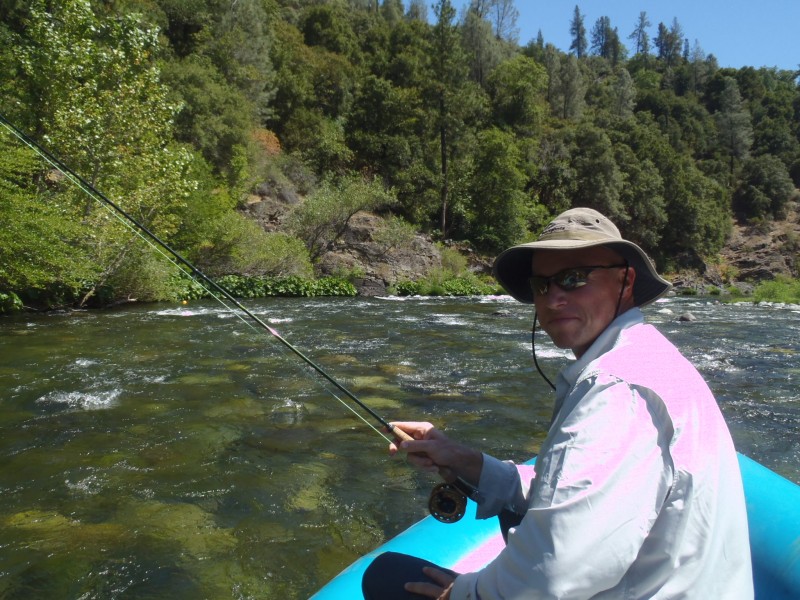 When Paul Letherbarrow showed up from England we heard a sound on the river, it was the trout bugling a tune as they blew reveille to announce..It's now time to fish!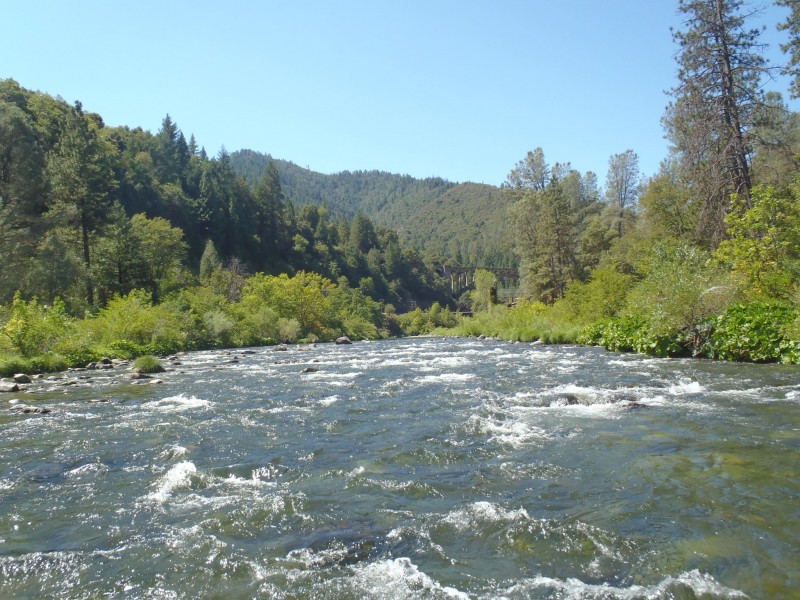 The flows were right and the mid day was still in the high 80's low 90's, so the trout were surging up from Shasta Lake to escape the summer heat.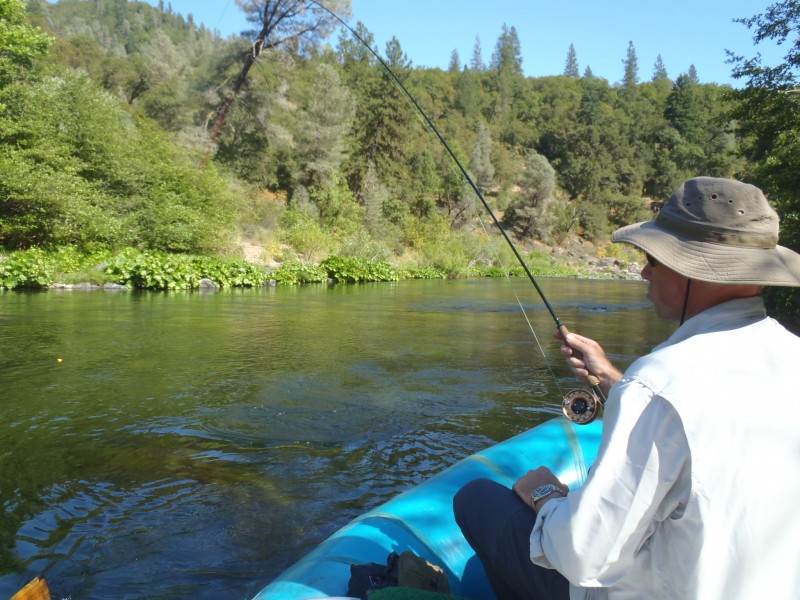 Paul had no problem hooking up most of the day!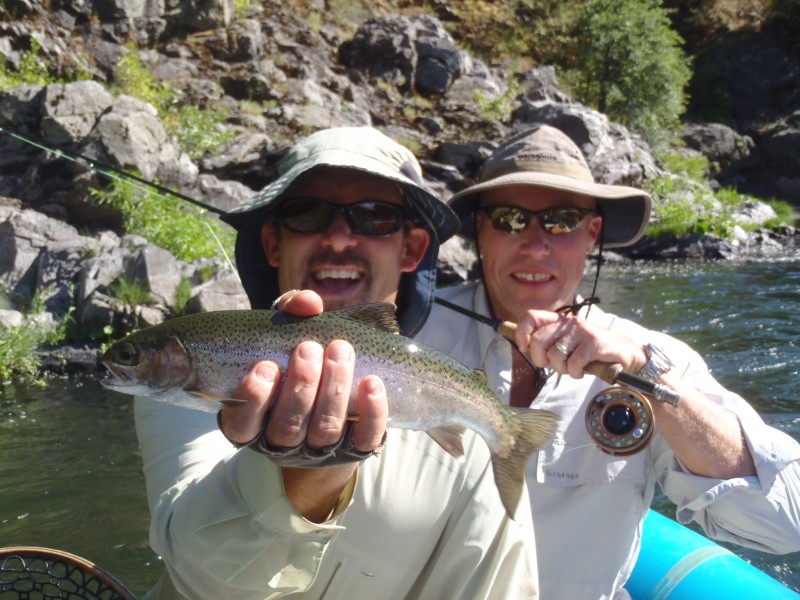 I was found in the usual position, mouth wide open talking about something completely off subject..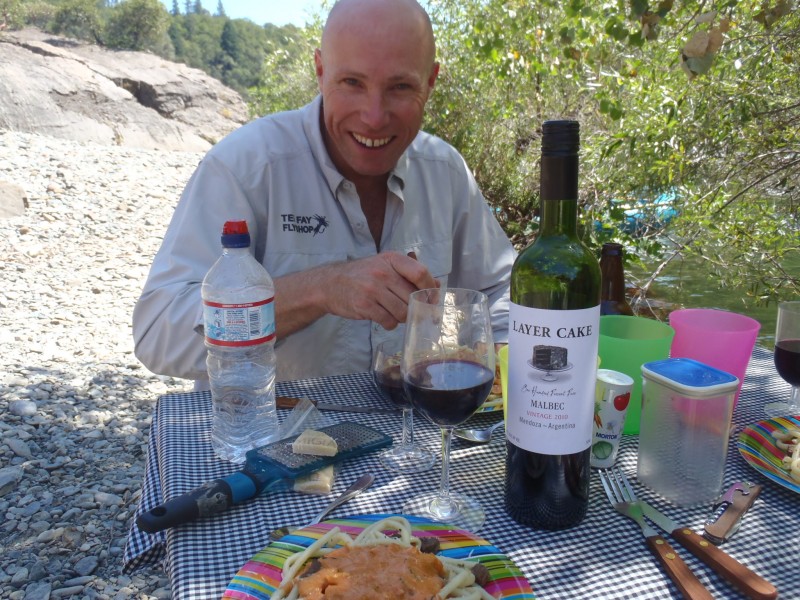 After about a dozen trout or so, we stopped for one of Carola's famous lunches on the river, gourmet style and she even baked a layer cake! If you get a chance this is a very good wine we like for around $15USD, Layer Cake Malbec, don't let the screw off top discourage you, the wine is smooth and delicious, especially with Italian food.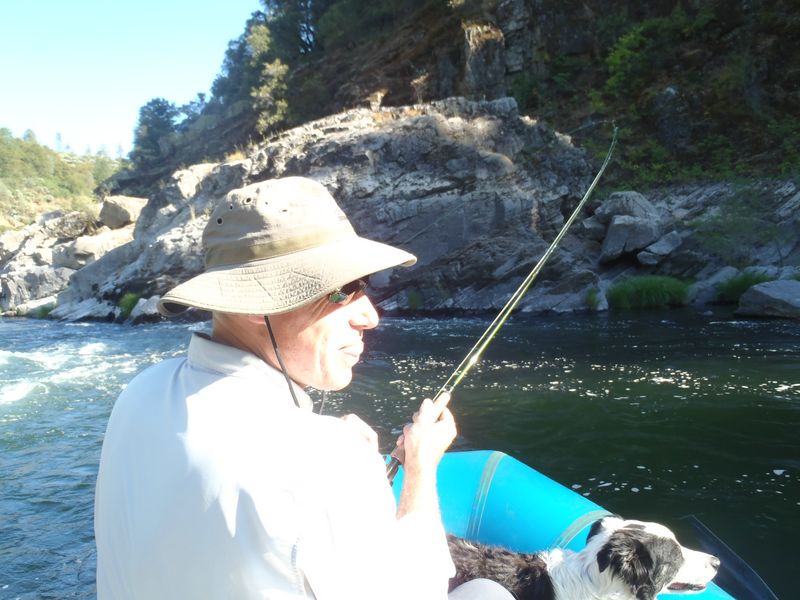 After lunch Paul went on a rampage and caught trout left and right, it was like a trip he remembered as a boy in Northern Windermere, on a lake his grandfather once showed him..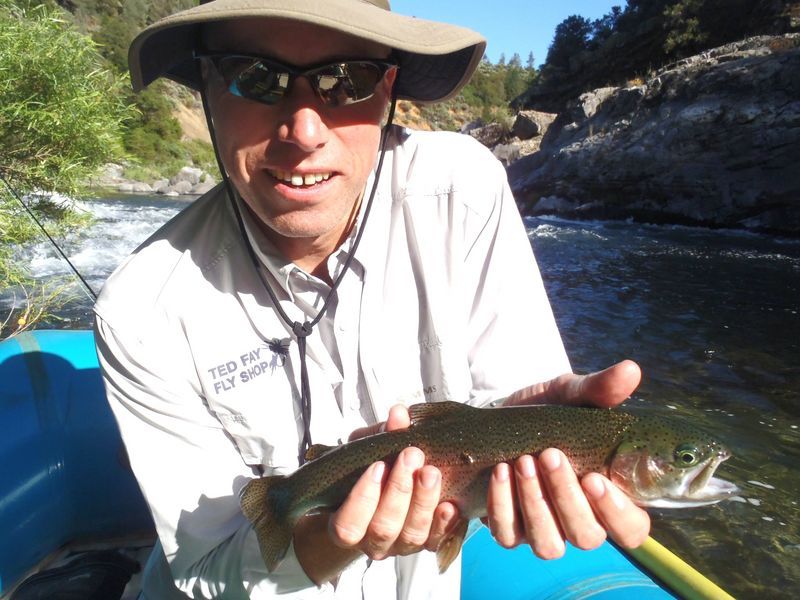 Sporting his new Ted fay fly shop shirt, have you got your TED FAY FLY SHOP HAT OR SHIRT?  Folks it's good luck on the river!! Head to Ted fay's soon and buy something for good luck, tell them Jack Trout sent you…
http://www.tedfay.com     530-235-2969  Bob or Steven ~ Trout line Update or Just B.S. about fishing!!
Ah, the Craggyland!! We love this place like a good English Bitter in a warm pub on a rainy England night…
GOD SAVE THE QUEEN OF ENGLAND AND LAND THIS TROUT!!
(JUST WANTED TO ASK THE QUEEN IF ENGLAND COULD TOOK US BACK IF WE BEHAVED, WE HAVE ACCUMULATED SOME SMALL DEBTS IN THE PAST 200 YEARS AND WE'RE YOUNG AND STUPID LIKE TEENAGERS ARE. I WAS WONDERING IF MOM FLIPPED THE BILL, WE'LL COME BACK, NO MORE TEA PARTIES, NO MORE PARTIES ON THE 4TH, WE'LL SAVE OUR MONIES THIS TIME AND INVEST.. WHAT DO YOU THINK MA? WILL YOU TAKE US BACK AND PAY OUR BILLS??)  …..QUEEN SAYS..NOT!           (Knee slapper out in the boat!)
It's a good thing we divided from England and now are attached at the hip with our sister country. England will always be family to the United States and that's a good thing. jt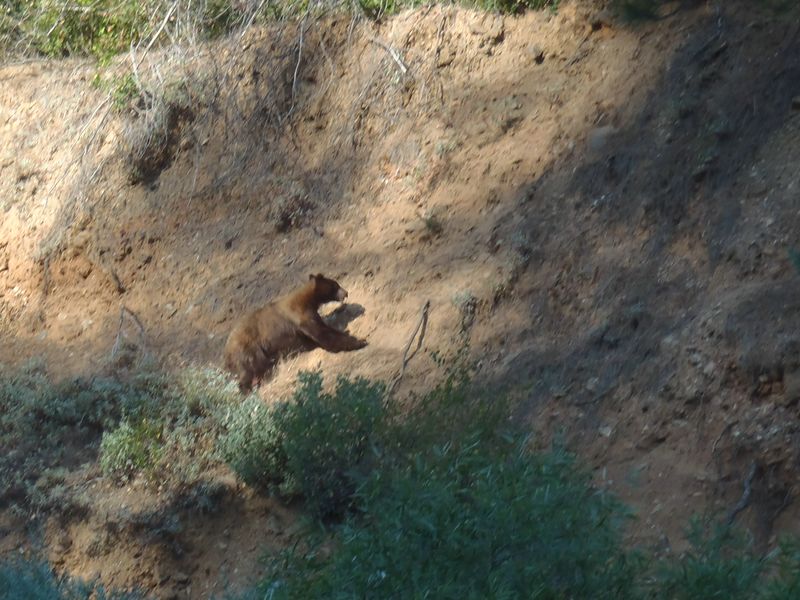 Then we traveled down a little farther and there was small bear rummaging around on the shoreline. The raft was quiet we were able to sneak right up on him. That's when you know, Trout really is accessing the most remote areas.
Paul we had a wonderful trip and I'm glad things went so well with Isaac guiding you on the 2nd day!!
Take care and we hope to see you again possible in Chile. Jack & Carola Trout
Then like magic Barbara and Bobbie showed up from Moss Beach, California to fly fish and reminisce about life and all the great things that were happening on the river that day.. Barbara looked at me and smiled the biggest grin that day and mentioned this was one of the best fishing trips she had even been in her life.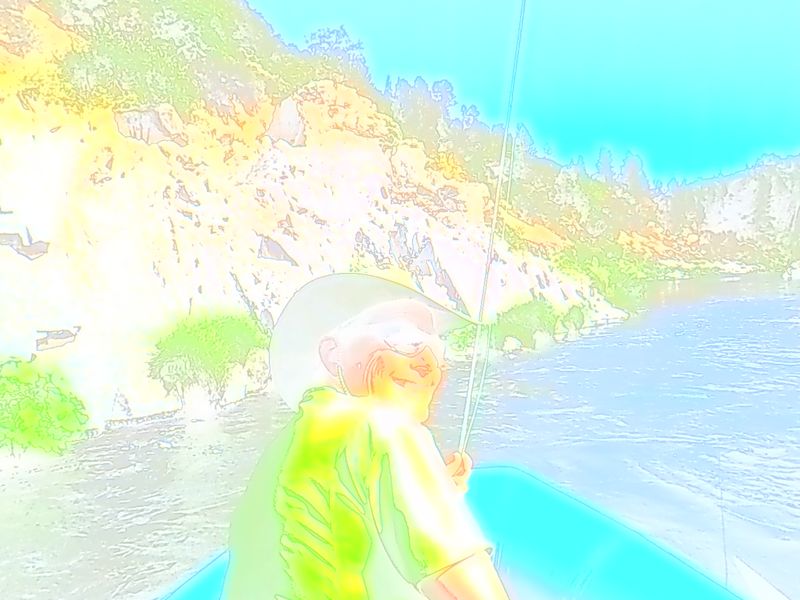 Bobbie looked back once and said, "You know life just doesn't get better than this!."
It was like magic that day as we dreamed things that only appeared in books or Walt Disney movies and we continued our journey on with 40,000 motorist above us in the hills not knowing about anything or anyone below..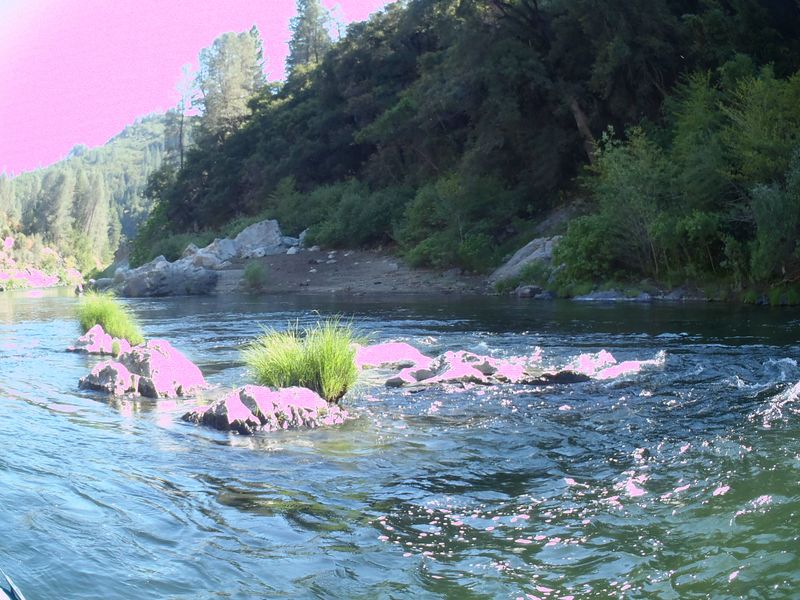 It was like a fantasy day where we stepped into another world and there laid rocks with strawberry cream icing swirls with skies that ruled the same. For sure this was the fondest river with its frosty layer glaze and the bottom left hand frame that was bent then raised. So I stood up and mentioned this sure looks great to eat, but once I took my bite, only then did I realize it was a dream…. Good Morning !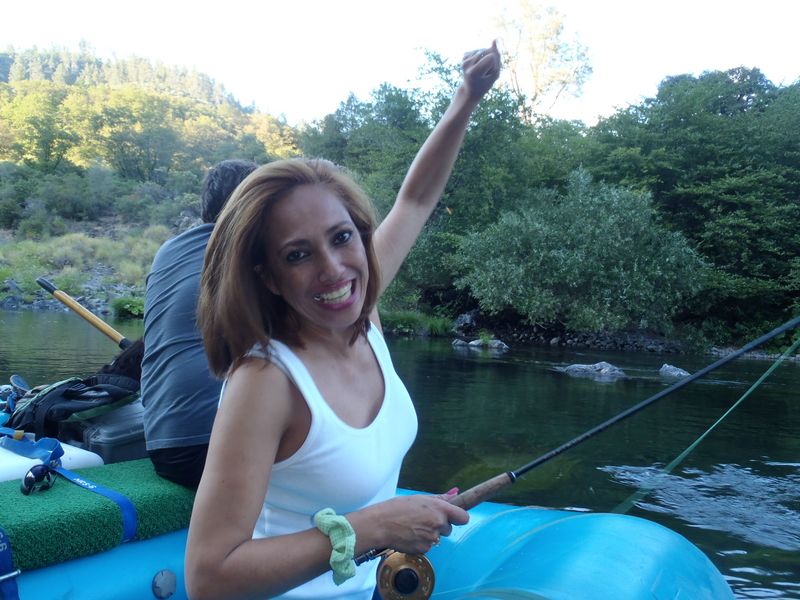 When Fay showed up from Seattle to try her luck fly fishing on the Upper Sac, the birds knew it was time to start heading south for the winter.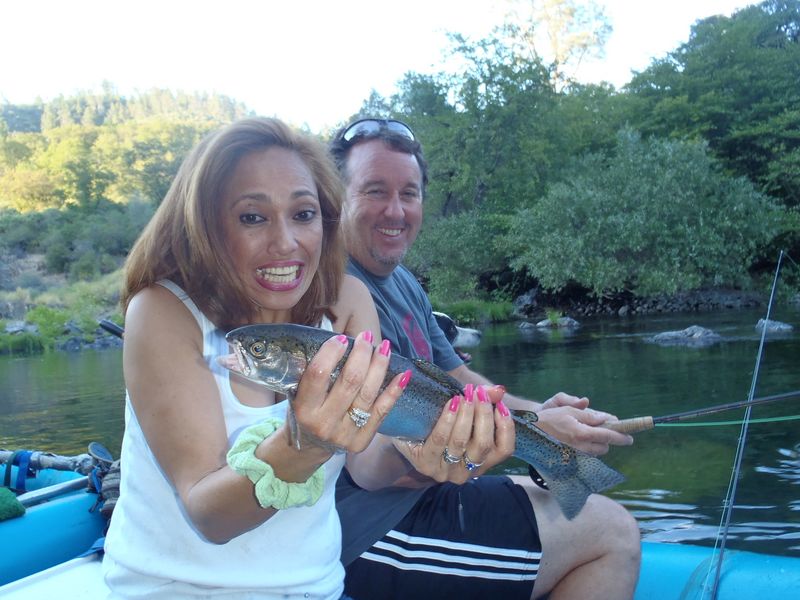 Tim and Fay had really never did any fly fishing before this trip. I'm sure after the great outing we had they'll be back for more. Fay don't cut the trout on any of those rings… "Are you chewing gum!?!?!"  (Out of Sideways..)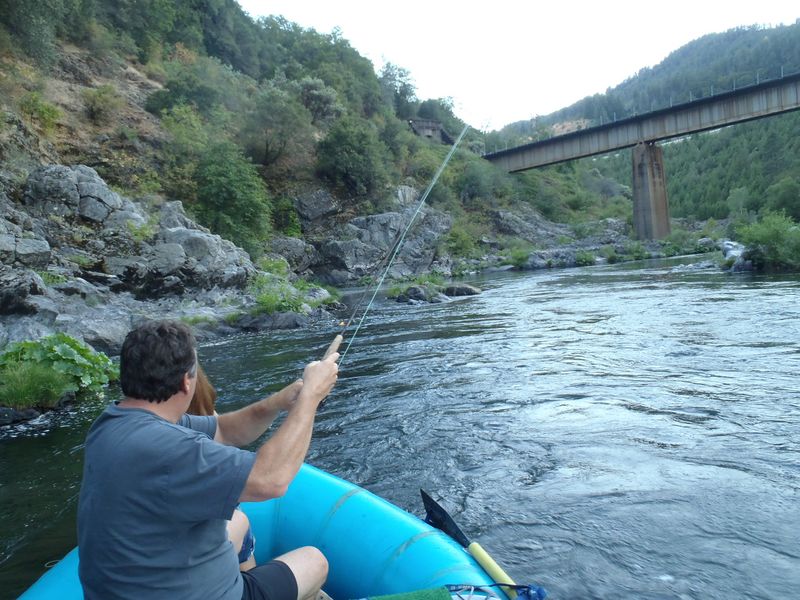 Then Boyfriend Tom got into the action with a nice trout of his own.
Looks like the double mint commercial ~ Double your pleasure with double hook-up folks!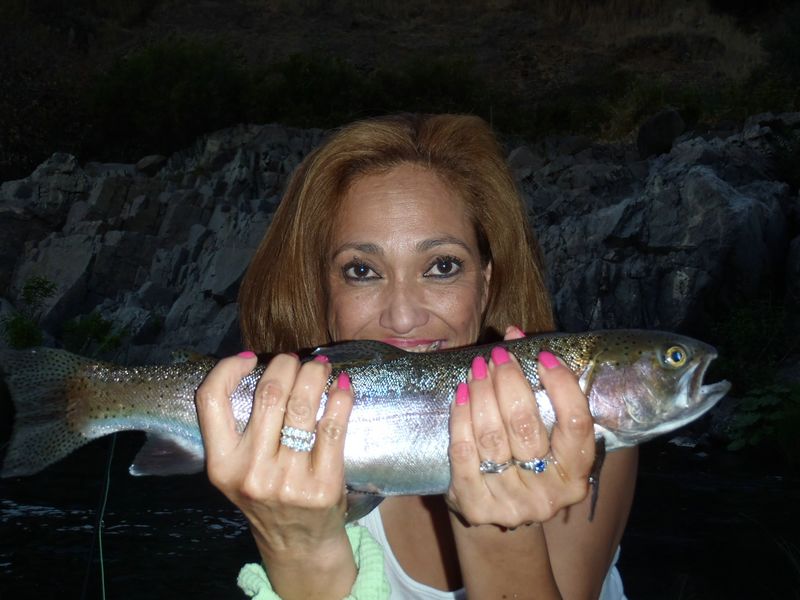 FAY ~ CONGRATULATIONS YOU ARE OUR SIZZLER OF THE WEEK AWARD WINNER!!
CONGRATULATIONS SIZZLER NOW INVEST IN GOLD!! GOLD, GOLD, GOLD!  (Don't tell anyone, silver too next 5 years!)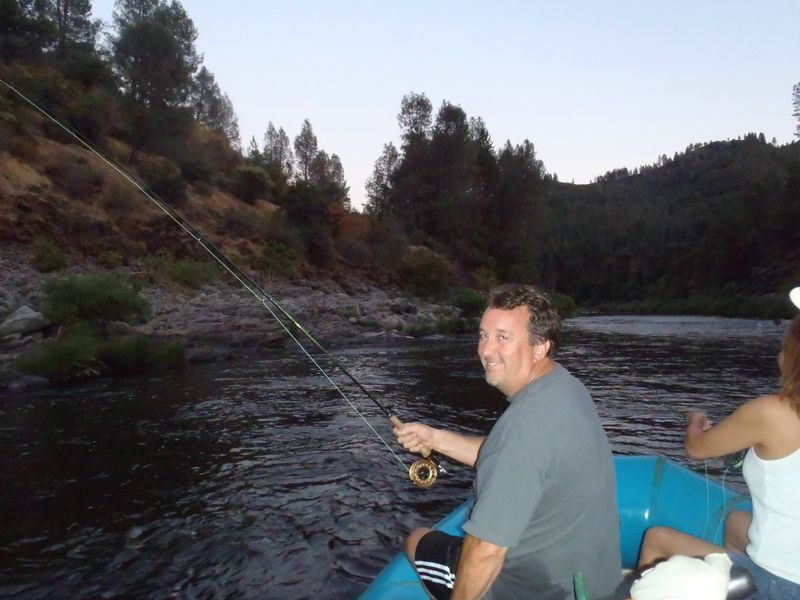 We started this trip later to stay out later and fish until dark.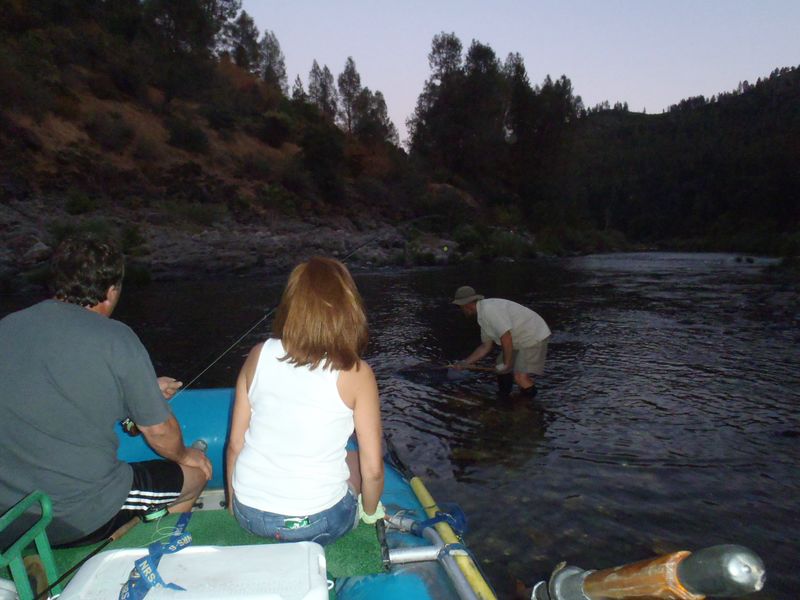 It was a real hoot especially with the warmer weather it just made sense.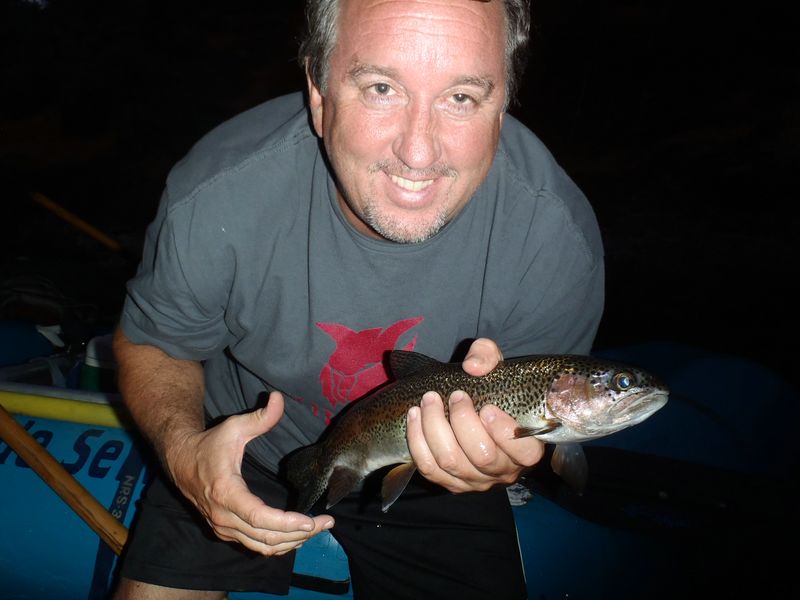 Way to go Tom! Thanks again for booking this trip and bringing Fay, Carola and I had a great time!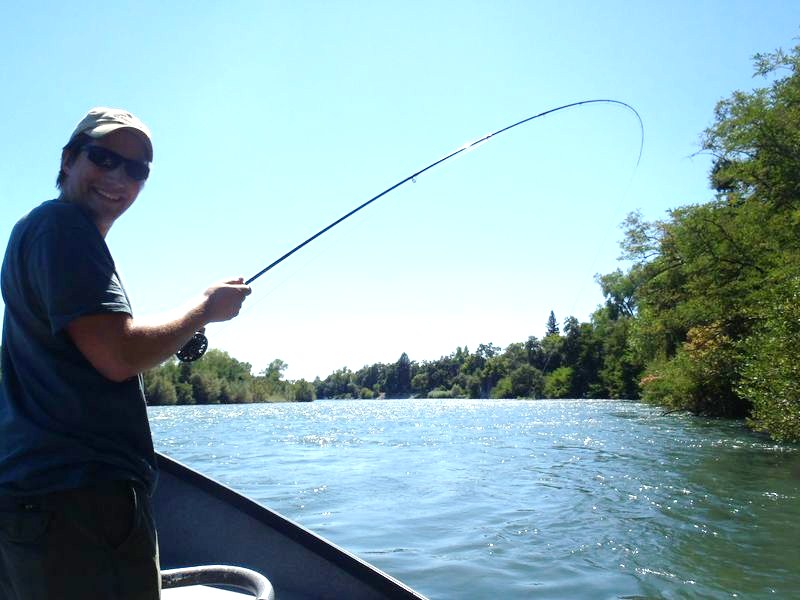 Jesse is back, the guy who found my drowned Olympus Tough Stylus camera I dumped in the Upper Sacramento River in June. Then in August when it was discovered at his feet wading, it turned on and the battery was completely full!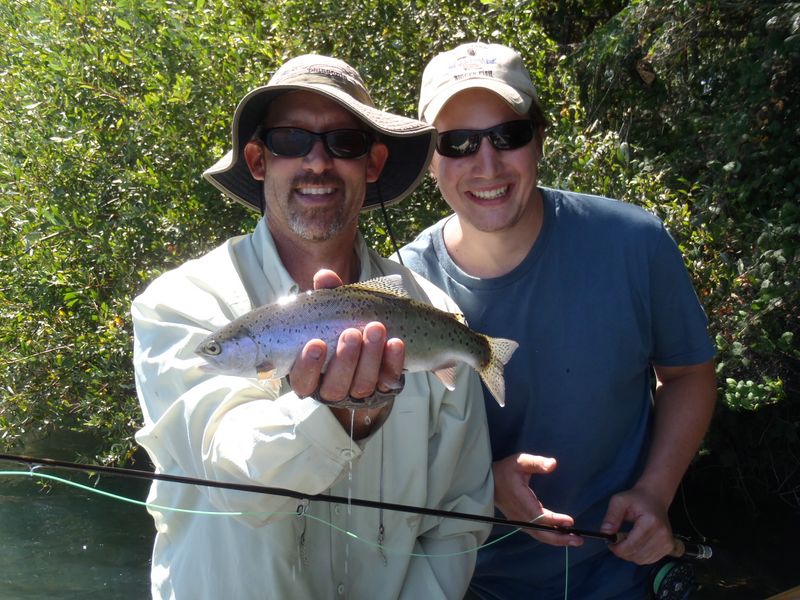 He hired me to take him out on the Lower Sac and boy did we have a great day! He caught trout all day long, in fact he hooked into 17 trout and landed about half. (Lower Sac Trout ~ if you land half you're doing good)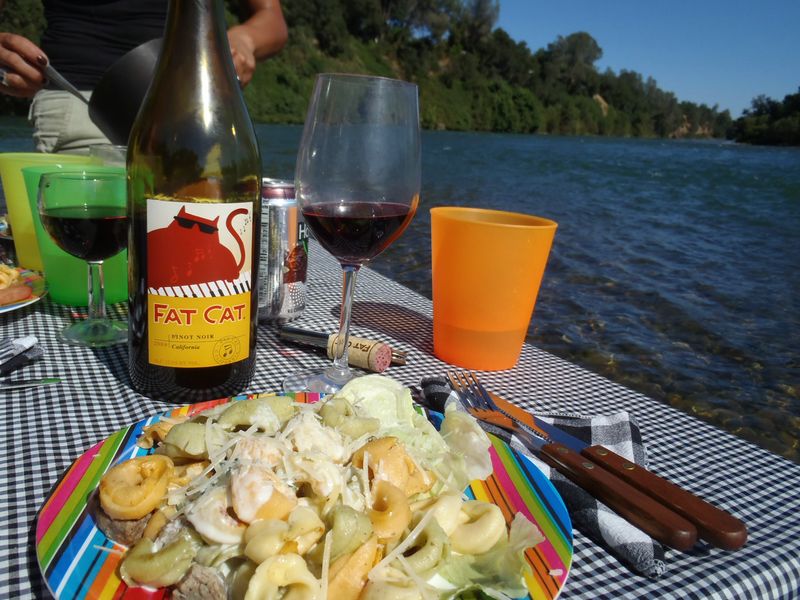 Carola kicked down one of her awesome stream side gourmet lunches and I do mean STREAM SIDE!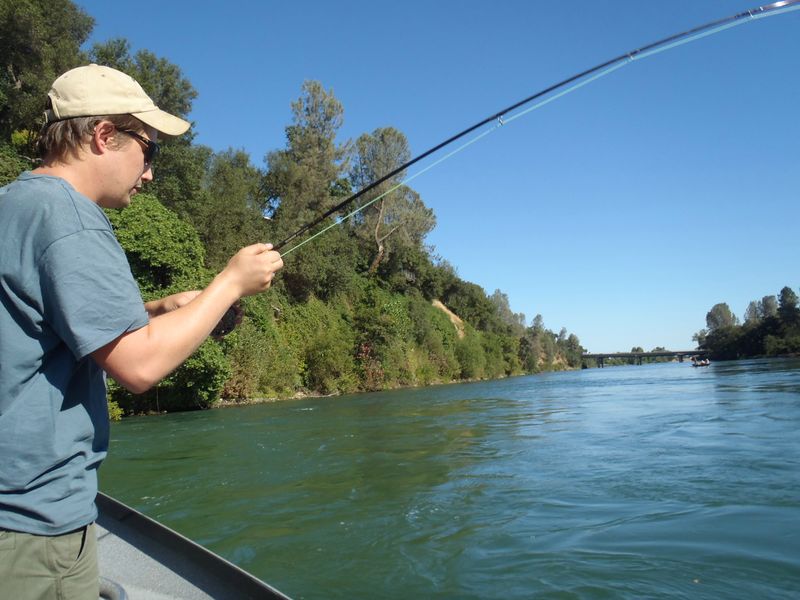 After lunch, Jesse continued to hook -up on trout and we celebrated an awesome day in the sun of California.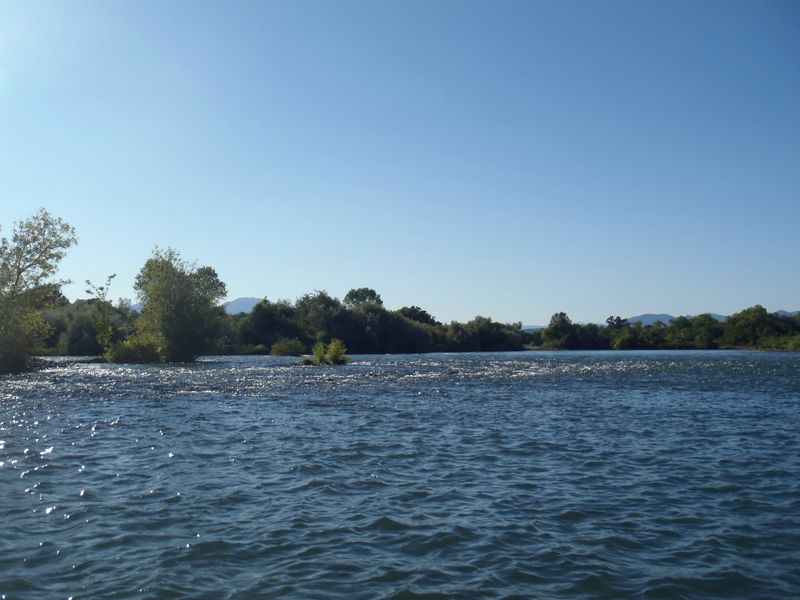 Think there might be a trout up in there? Just like when I asked Jack Timer out on the banks of the McCloud river at the Bollibokka Club in 1999 if his cousin Bill Clinton ever smoked out in college? He replied after his second trout under his breath, " I wondered if he ever exhaled.." That was a fun guy to fish with..
other words, for sure there are trout up there! jt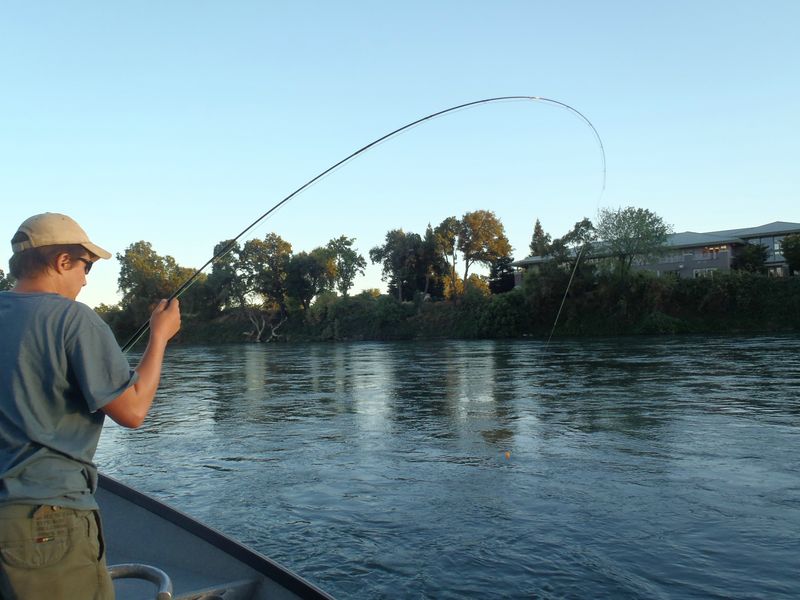 Jesse hooking up in front of the Sierra Pacific Industries Plant, some of the nicest people work there!
Hi Herb!!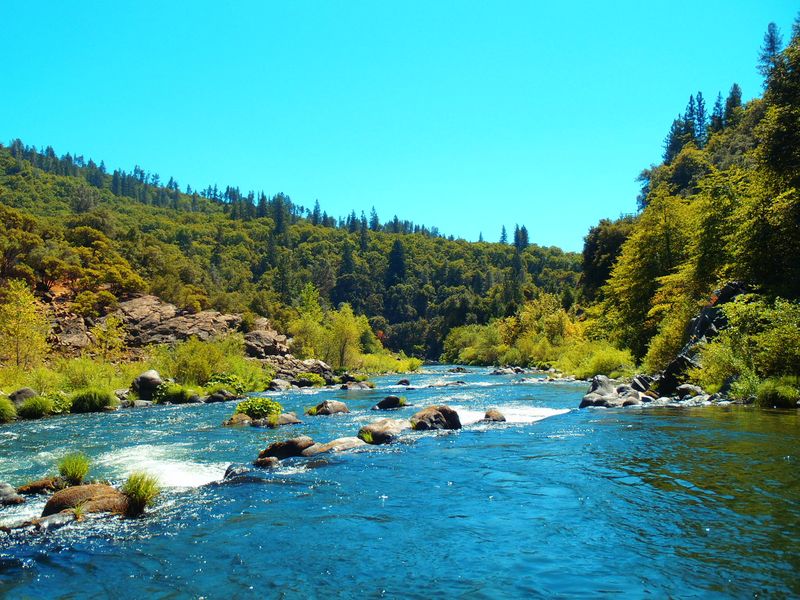 Fall magic is getting out and enjoying it folks before that winter flies again and your're worried about chains and snow conditions to get up here.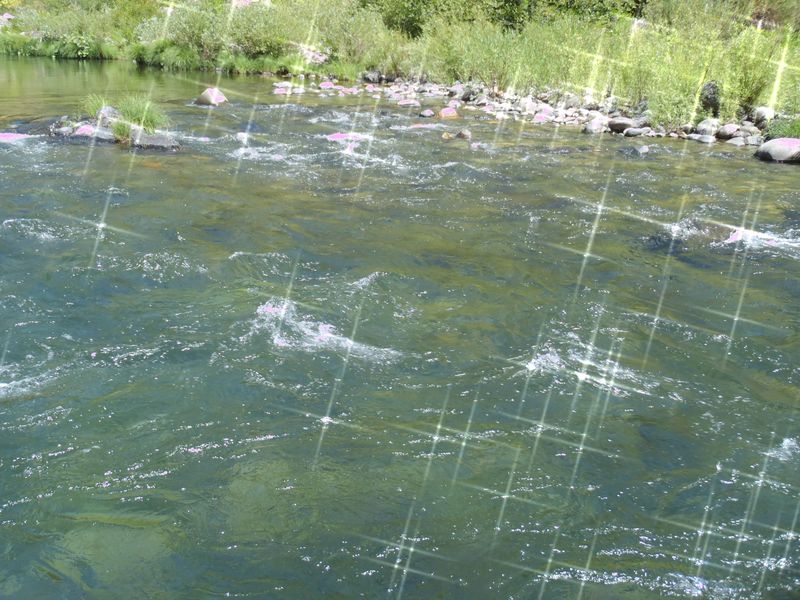 The river is perfect now and I'll I see when I'm out there is diamonds…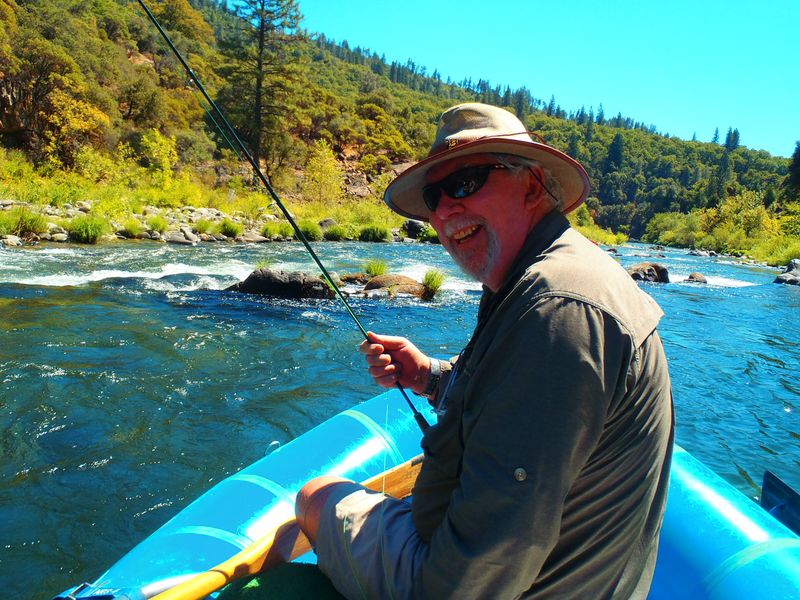 It's Ed Wall from Marin Coffee Roasters in Fairfax!!  Out for a little ride in the raft enjoying some quiet time away from the hustle & bustle of the Bay Area.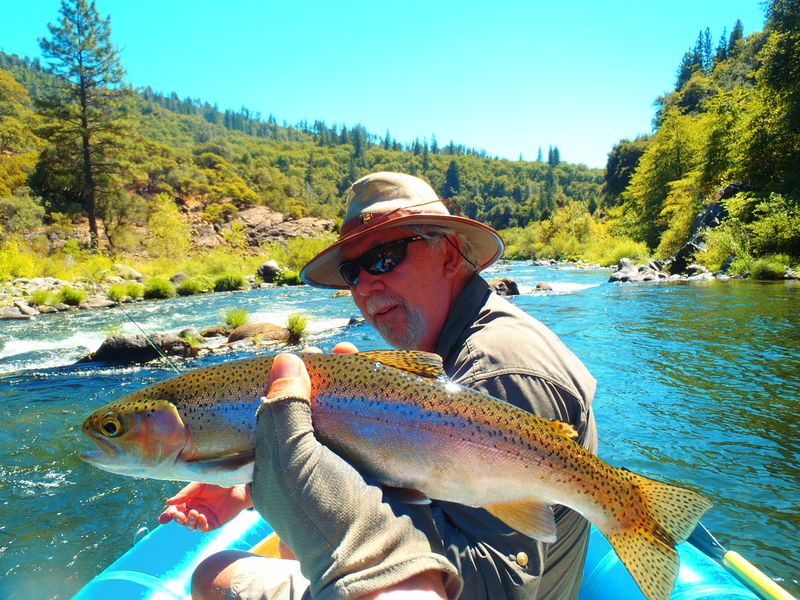 Now that's freshness worth a second cup.. Oh yea, wrong brand… How about," grown in the hills of Columbia and picked by Juan Valdez.." NO! Ok, how about, " Funny, Jim never has a second cup?" Not even close?
What about Mrs. Olsen climbing hills to inspect coffee beans or possible good to the last drop? Maybe that commercial with just the sound of the coffee percolator.
Ed Wall, let's work on a new commercial for your Marin Coffee House!  Trout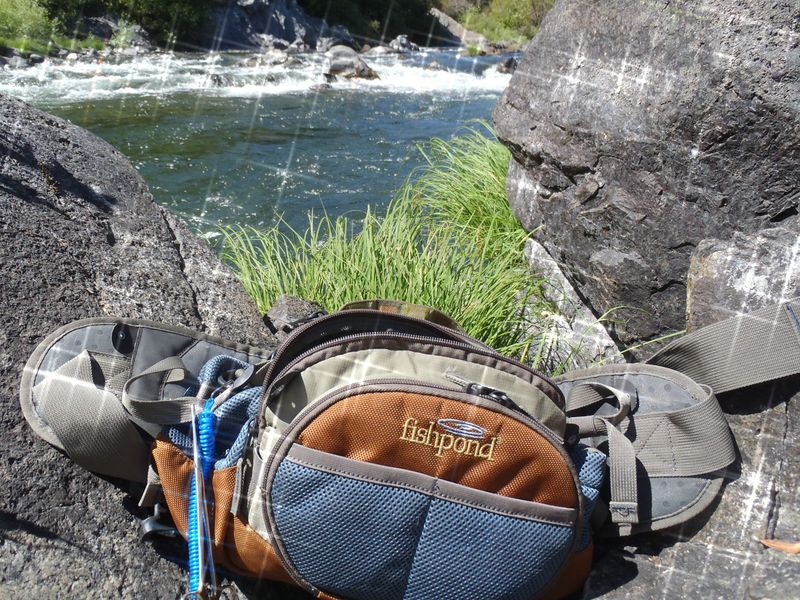 FISHPOND ~  FISHPOND ~  FISHPOND ~  FISHPOND ~  FISHPOND ~  FISHPOND ~  FISHPOND ~  FISHPOND ~  FISHPOND ~
HTTP://WWW.FISHPONDUSA.COM
MADE IN THE USA FOLKS! LOVE AND REVERED BY GUIDES LIKE MYSELF ~ BUY FISHPOND !  Jack & Carola Trout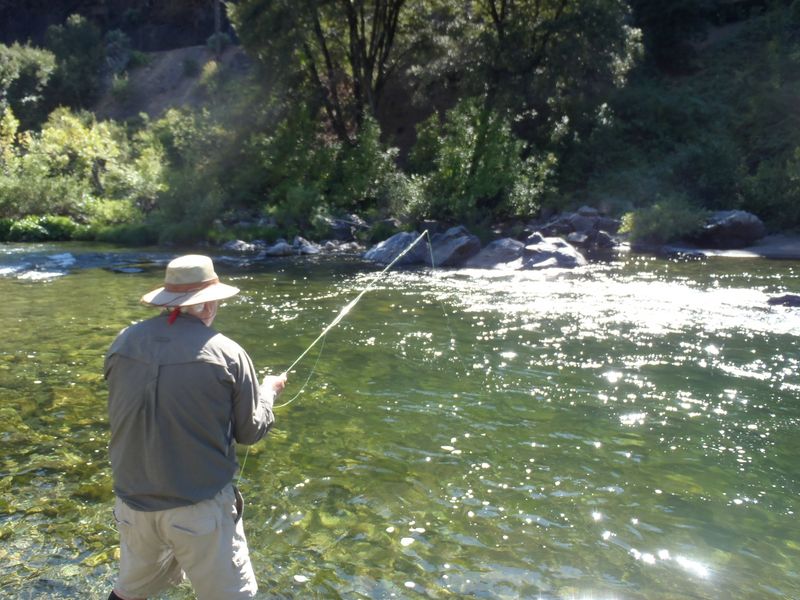 Wading  is highly effective this time of year with the lower August flows.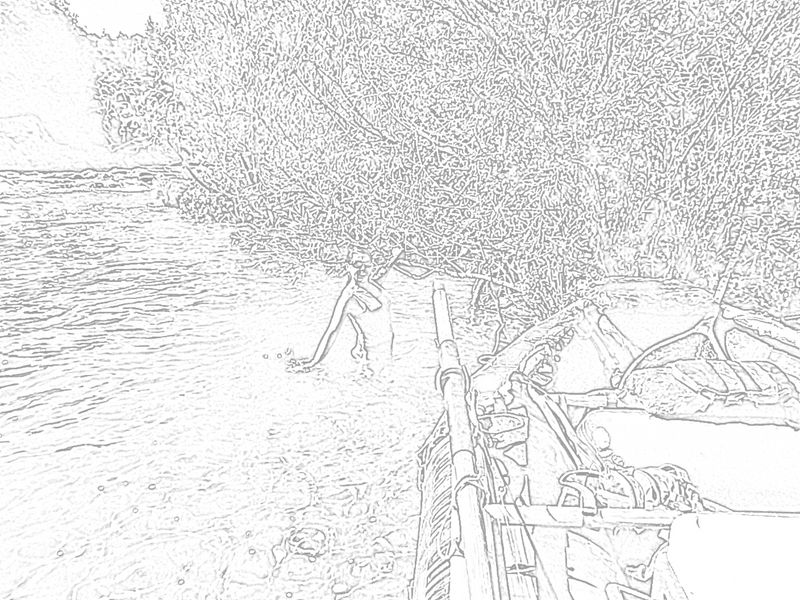 Sometimes a drawing can say more than words, so much can be expressed in the size of the head of a number #2 pencil.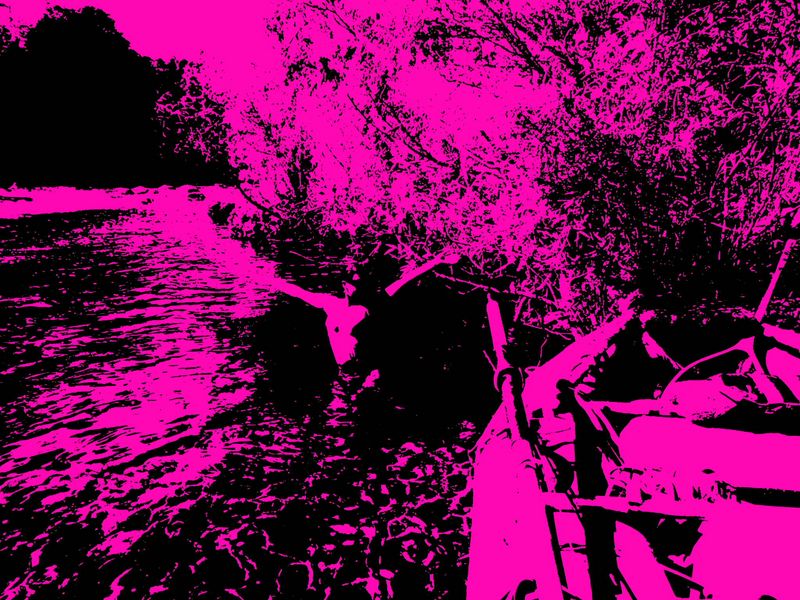 Add 1960's colors and you have scene beyond the norm of imagination. Punk colors that expresses ones love of life!
Kind of out there folks!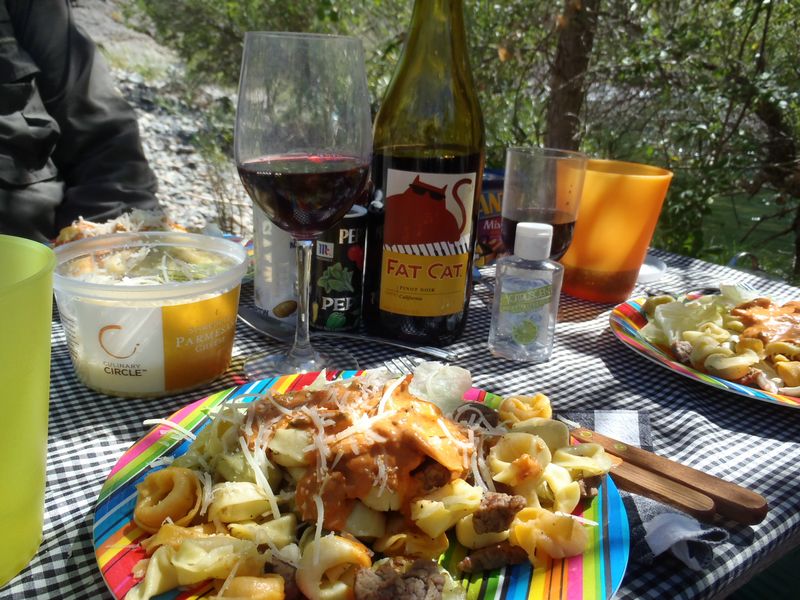 These meals are not out there, they are delicious and the best I've ever had on the river.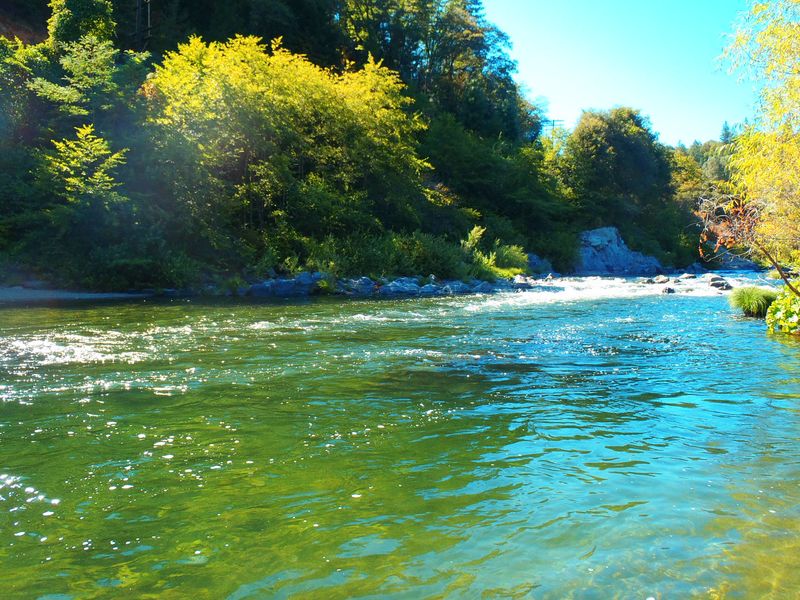 Water flowing from the peaks of Mount Shasta right into your office and living rooms…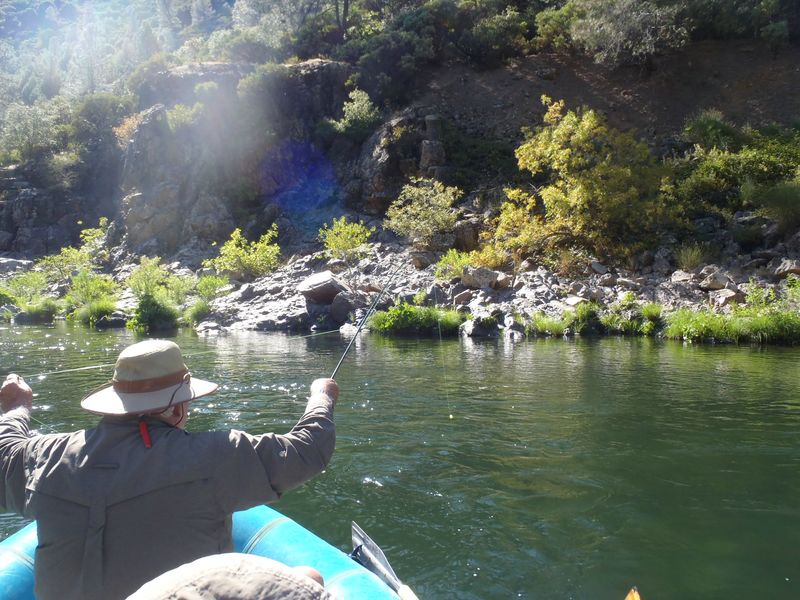 Whopper on the line! Whopper alert, whopper alert!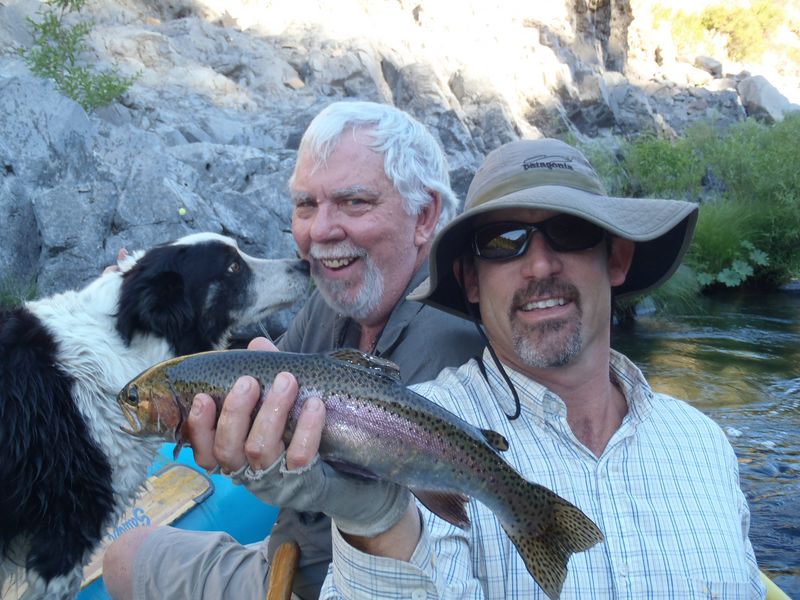 Kobe Beef Trout ~" Oh, you big beautiful coffee roaster of a man, I like the way you fought that trout, I think I'm going to give you big kiss, can you bring me some Paul Newman dog food next trip?"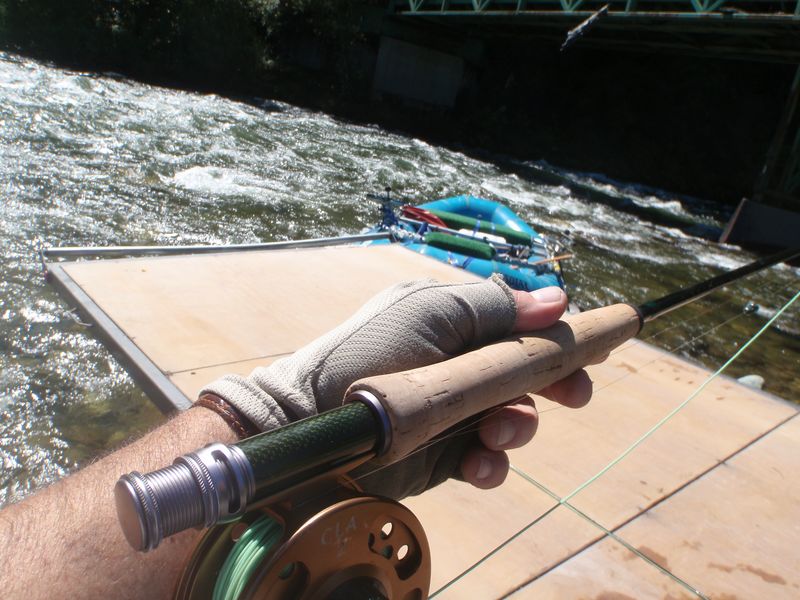 TEMPLE FOLK OUTFITTERS RODS ~ TFO   – MAYBE THE BEST ROD IN THE FLY FISHING INDUSTRY FOR THE PRICE!
WE OFFER THESE RODS WITH ROSS REELS FREE TO USE ON OUR GUIDE TRIPS, SO DON'T WORRY ABOUT GEAR WITH US, WE HAVE ALL IT ALL!
www.templefolkflyrods.com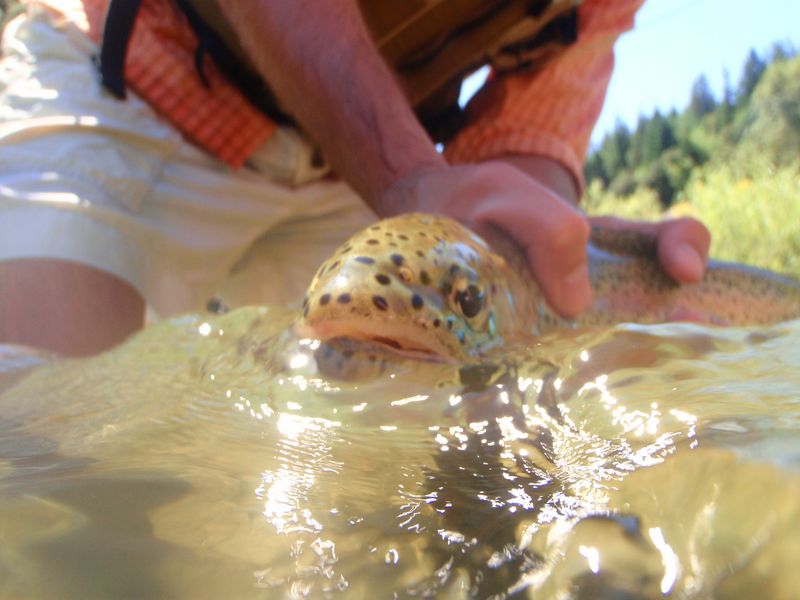 UPPER SACRAMENTO LEOPARD TROUT FOR SURE FOLKS!!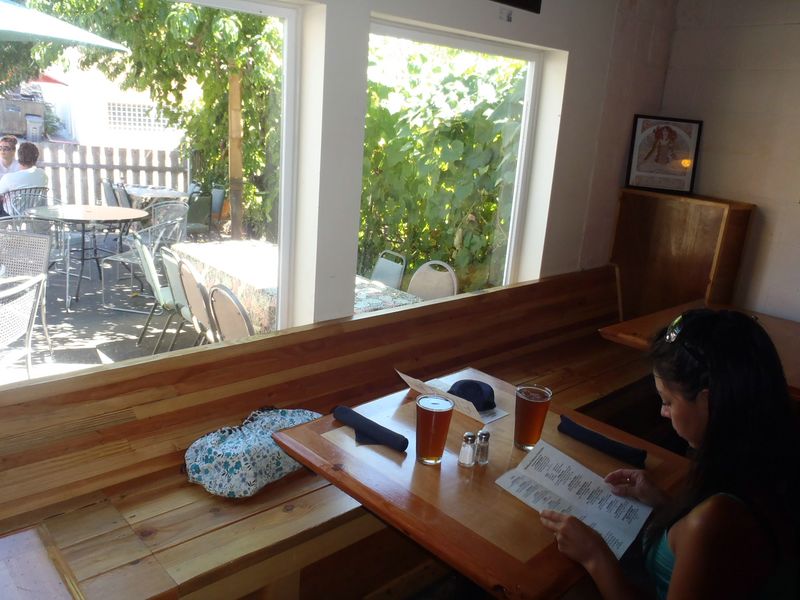 Carola and have discovered a new great place to visit in Dunsmuir! The Dunsmuir Brewery and Grill. This place brews their own beers and the food was great too!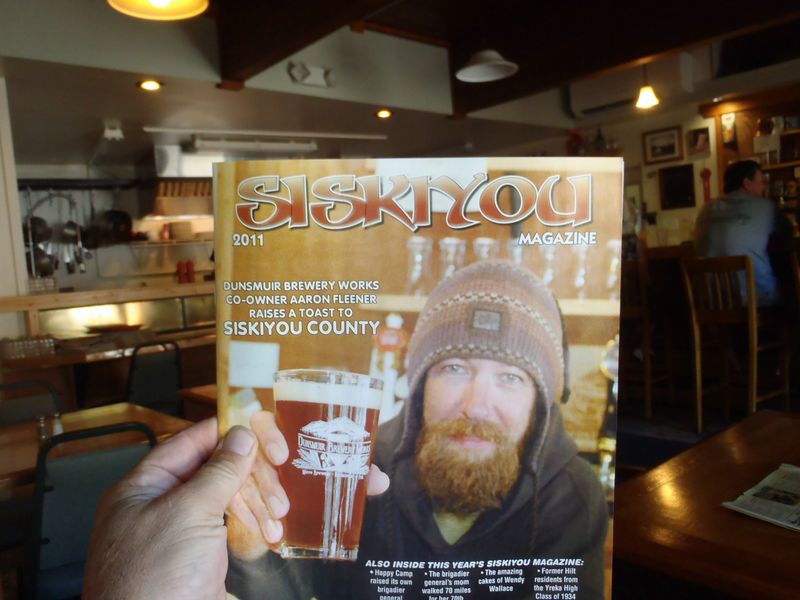 My former guide Aaron Greener (Not Fleener) opened with his partner Dave the Dunsmuir Brewery maybe in the worst time in the history of opening a business in California. in 2008 Aaron told me he had this idea to start a brewery and restaurant in Dunsmuir and I thought myself, that's pretty crazy in this economy, especially when I saw the building they were considering. But I would see he, Dave and Aaron's father working on the building that was a dump at best when they first started. Now that same place has been transformed and I have heard nothing but great reviews and reports from clients out on the river and I am certain that not only is Aaron and Dave going to make it, but folks I predict they make it big like Sierra Nevada. The beer tastes really good with a bold character and uniquely made in a way that only Aaron seems to know how.
FOLKS FORM THE BAY AREA, L.A. AND ALL OVER ARE TALKING AND THE WORD ON THE RIVER IS THE DUNSMUIR BRWERY MA HAVE THE BEST BEER RIGHT NOW IN CALIFORNIA!!
This is why I am so proud of Aaron Greener, this is what we need right now is more people thinking out of the box and creating a dream come true! I say we all learn from Aaron, have a good plan, follow it, become dedicated and start some new business. DON'T LISTEN TO THE QUICK SAND CROWD OR THE CHICKEN LITTLES, GO OUT AND CREATE SOMETHING MADE IN AMERICA!! WAY TO GO AARON, THE TOWN OF DUNSMUIR IS LUCKY TO HAVE YOU AND DAVE.
I AM SO FRICKING PROUD OF YOU GUYS, THAT TOOK TRUE AMERICAN DREAM GUTS!! THE KIND OF GUTS WE NEED FROM OTHERS WHO COULD STEP UP TO THE PLATE AND GET US OUT OF THIS TREADMILL OF UNKNOWN DISPARITY. I NEVER SEE IT ON THE RIVER BUT THEY TELL ME IT EXISTS..?
FOLKS THIS BRWERY RESTAURANT IS LOCATED NEXT TO TED FAY FLY SHOP!! HAVE SOME BEERS AND STAGGER IN TO ASK BOB, "HOW'S THE FISHING!"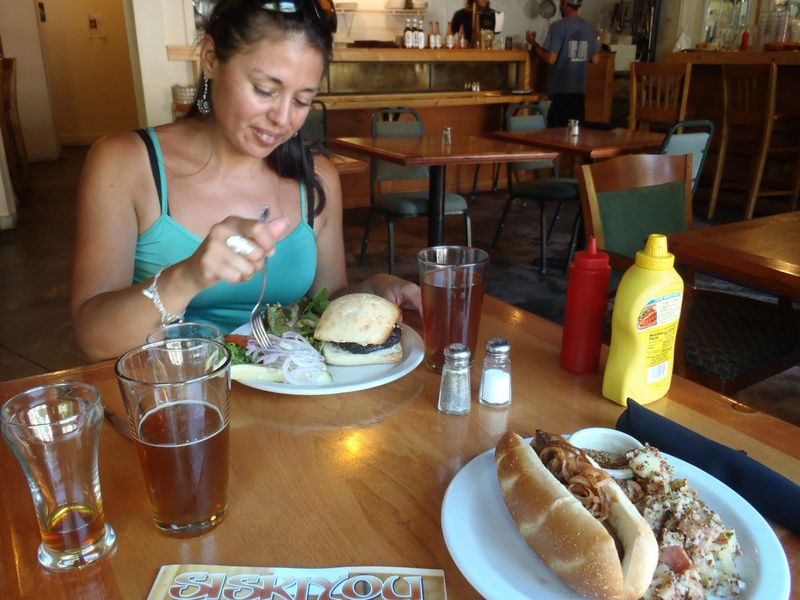 I really liked the Bratwurst served on a hoagie and Carola's burger was good she said, she always likes it WELL done, like
really well done.. Do yourself a favor and check the Dunsmuir Brewery on Dunsmuir Blvd.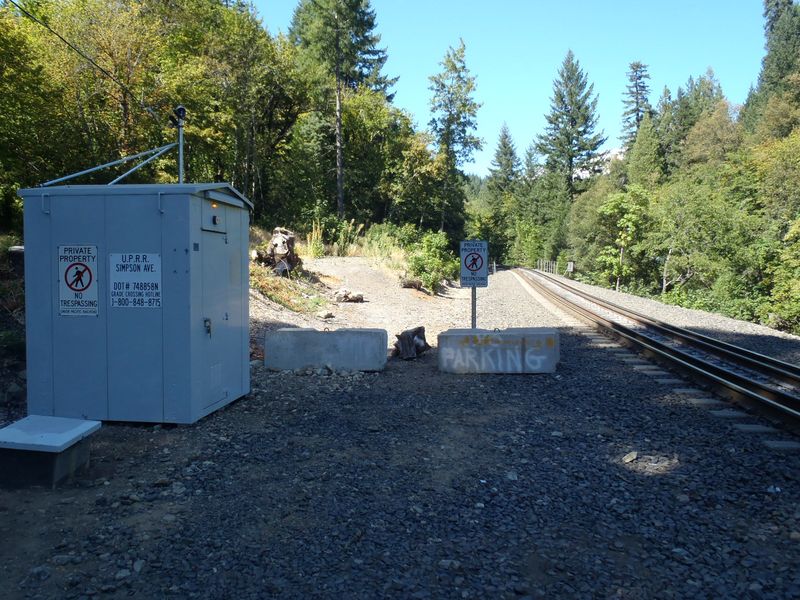 The Union Pacific Railroad is up to their same old shift again, denying tourist access with no plan in place for the depressed city of Dunsmuir California. No good way to get to the biggest tourist attraction Dunsmuir has to offer called Mossbrae Falls. Sure, some are telling me that there will be trails made eventually, but the Union Pacific's attitude and disregard towards landowners adjacent to the tracks, cutting trees not even on their property effecting hatches and trout cover all along the river in the Sacramento Canyon. Also for years their litter has been eroiding off their property and eventually falling into the Sacramento River. Not to mention their water bottles and litter they throw out off their engines because Union Pacifc employees who litter are uneducated and need a wake up call.
Well guess what folks, I know just the guy to start on the change… ME!
I think we need to sue the UNION PACIFIC RAILROAD as article 25 of the California byways laws states that when the property was sold to them that they agreed that they could NEVER keep anyone from crossing the tracks to access the river for fishing. Also I want them to take all the metal out of the Upper Sac or pay $1000 per day fine like anyone else would if they littered.
UNION PACIFIC IS BACK ON MY SHIFT LIST!! SHIFT IS GOING TO HAPPENING U.P. BETTER WAKE UP !! JACK TROUT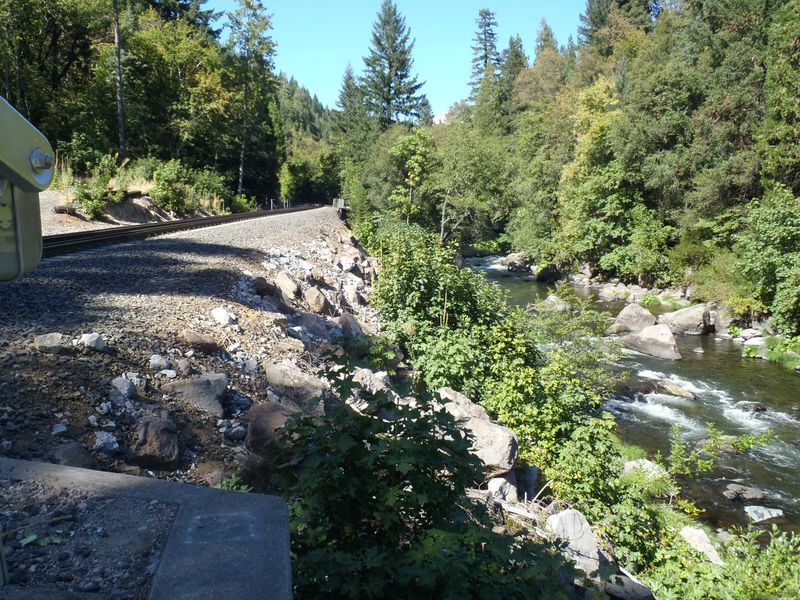 YOU LUT YOUR CAST FUSH BUCKERS!! I'M PISSED AND BELIEVE ME THIS DOES MEAN WAR!! HOW DARE YOU DO THESE THINGS TO THE TOWN OF DUNSMUIR, WE SHOULD NEVER LET YOU HUEONS OFF THE HOOK WHEN YOU TRASHED THE RIVERS SO MANY YEARS! (HUEON IS A SPANISH WORD THAT IS PRETTY CLOSE TO PECKERMEYER!)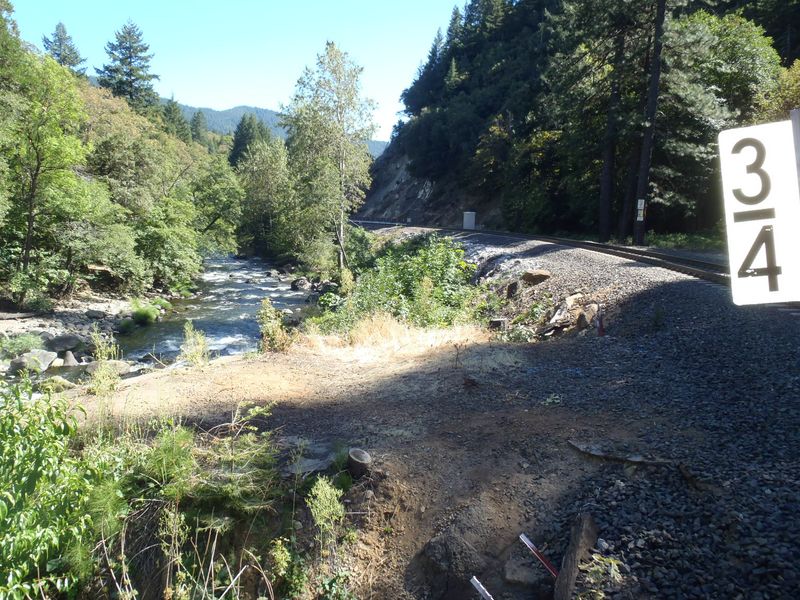 Closing the parking lots near the river, had you ever heard of Adverse Position..You know 5 years, etc. Did anyone tell you this looks fricking ugly or does the guys who throw all the little blue water bottles  make all the decisions without asking locals what they think  or even the Chamber of Commerce especially enlight of all the past years of suffering because of Union Pacific's derailments and littering without warrant. You have not heard the last from me and all the folks who won't put up with it.  Jack Trout & City of Dunsmuir.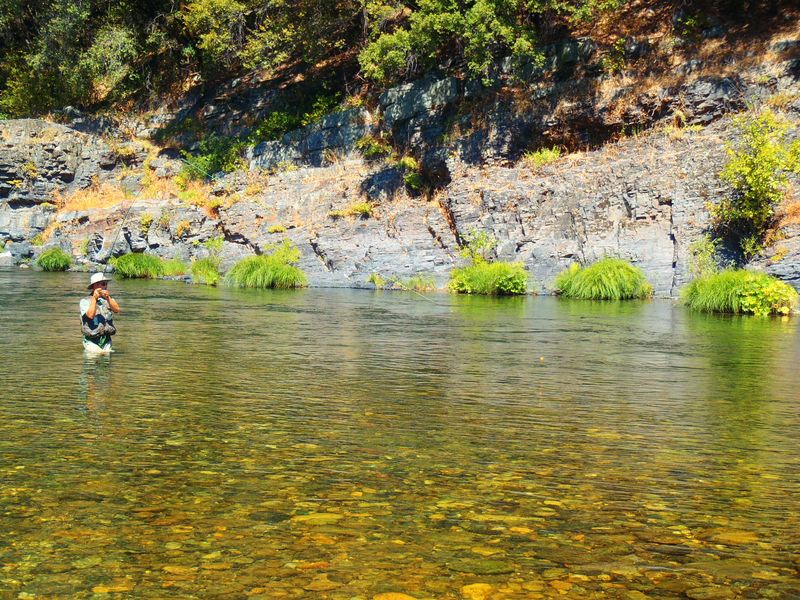 Let's go back to some scenes from the river that was destroyed by Union Pacific on July 14th 1991, they just wanted to put back in hatchery trout so if they spilled again, they could just add welfare trout, not natives…America Greed is not just on A&E people.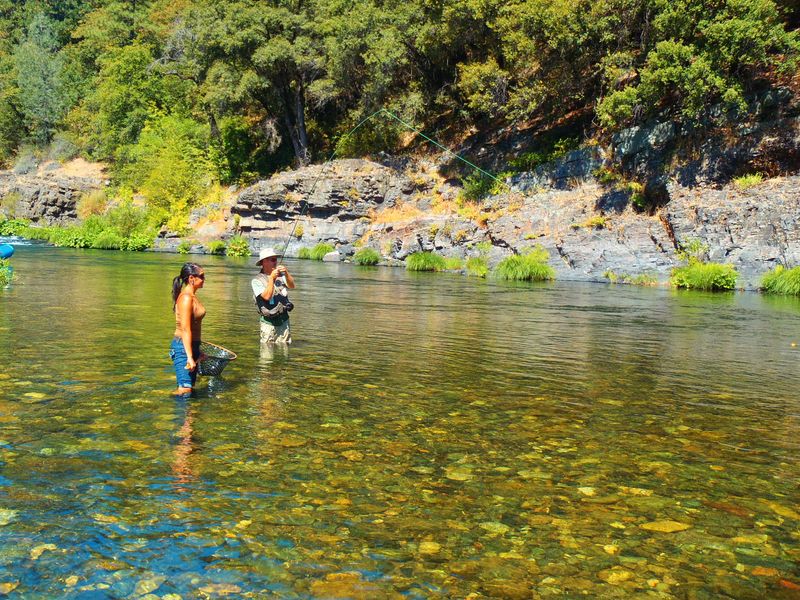 Nice hook-up with a great guide at hand!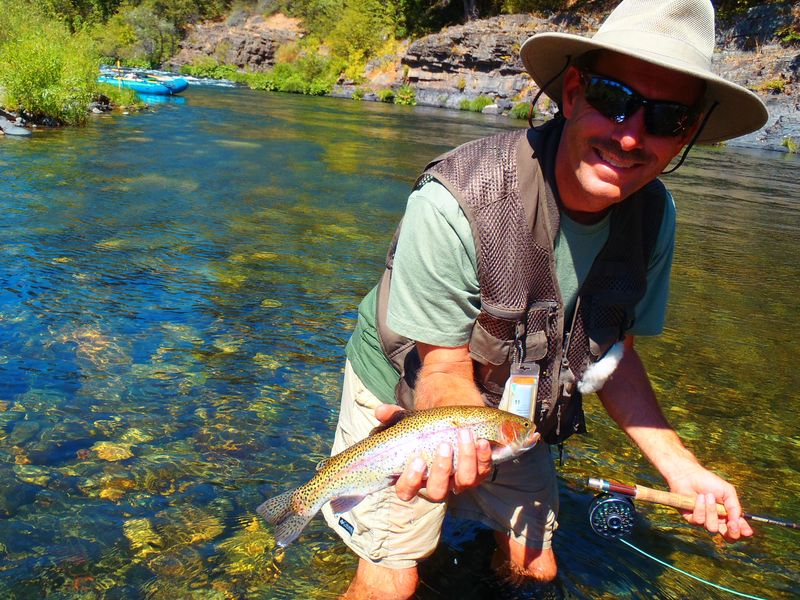 Russ with a nice trout later on they went into town stayed in a hotel, bought dinner and had some drinks at a local pub.
That's what happens when you have pure natural resources and a good healthy river to fish.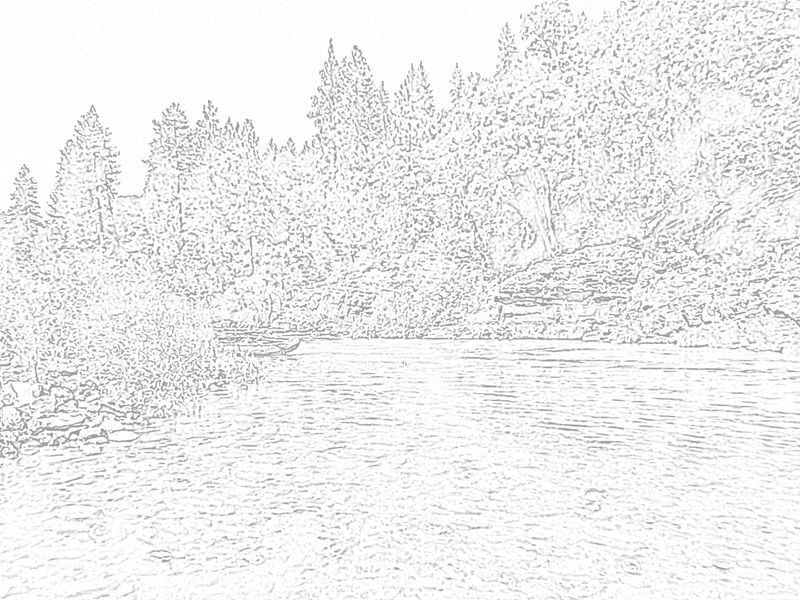 The sketch says it all folks, this was a fun day indeed.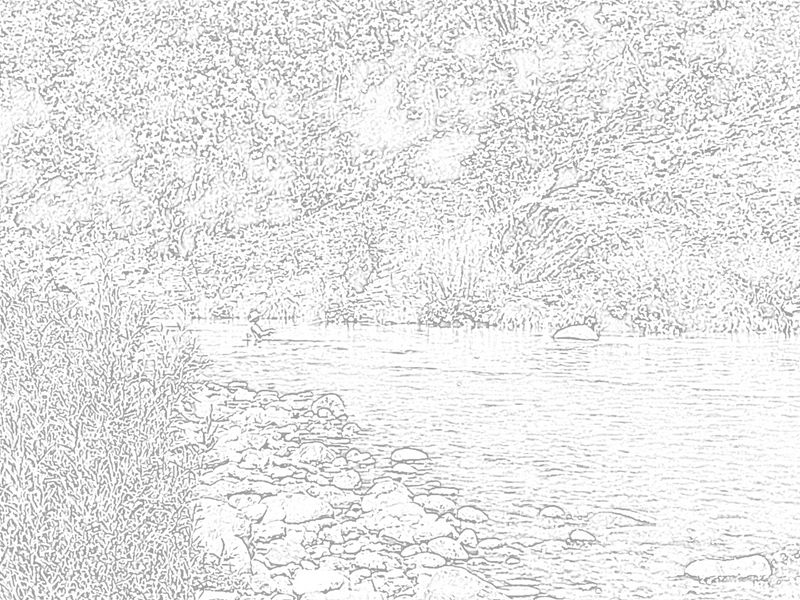 Russ out fly fishing with his good friend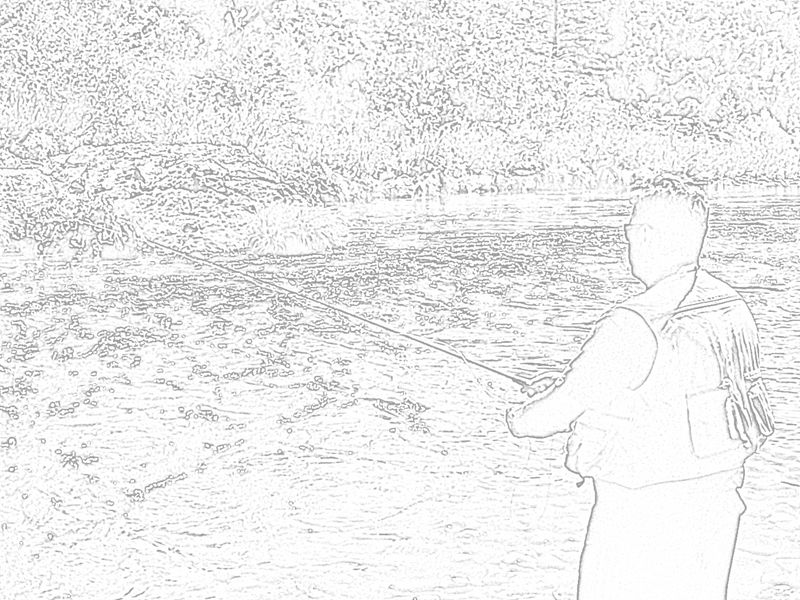 It's these pictures that get burned into the basement of my mind, very near the range of black and white.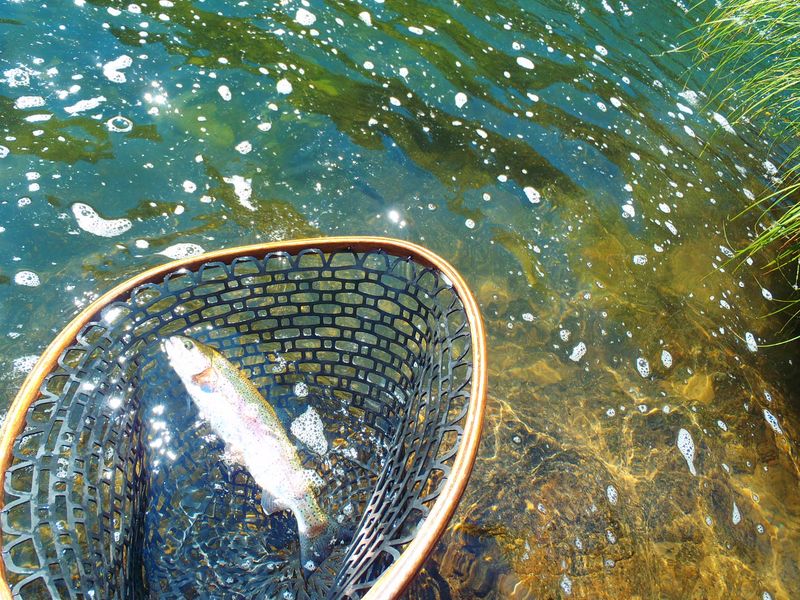 Netflix about trout works for me!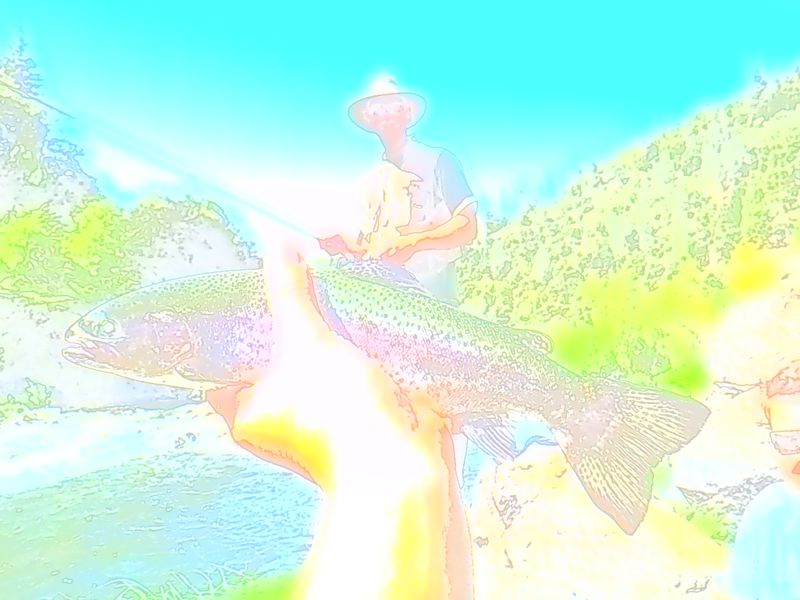 The water color is what I'm talking about Russ!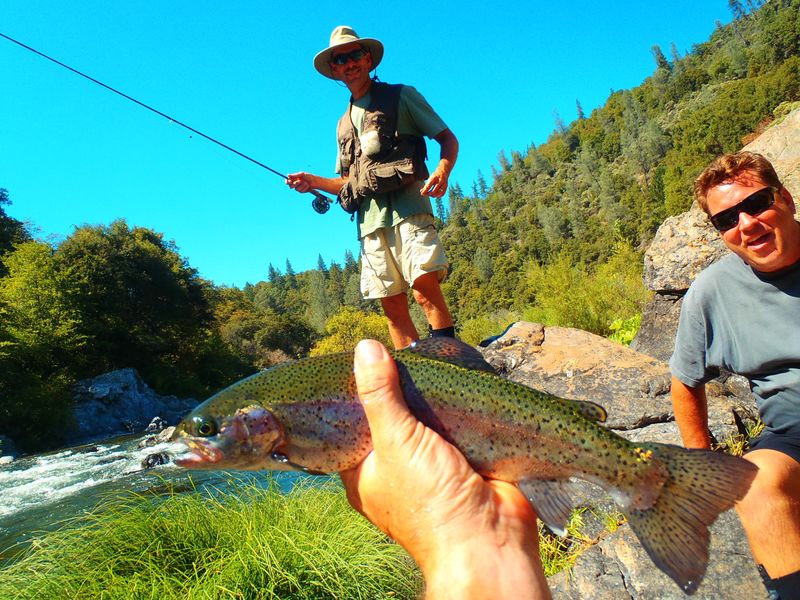 Hey, hey, hey! It's Fat Albert!!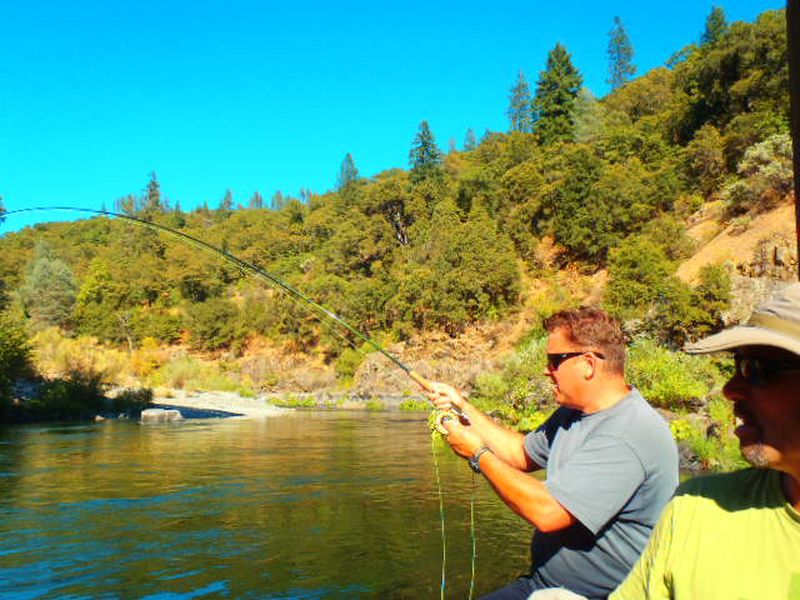 Brett's turn!
A really Rosy Odonell trout! Look at the colors on that pig!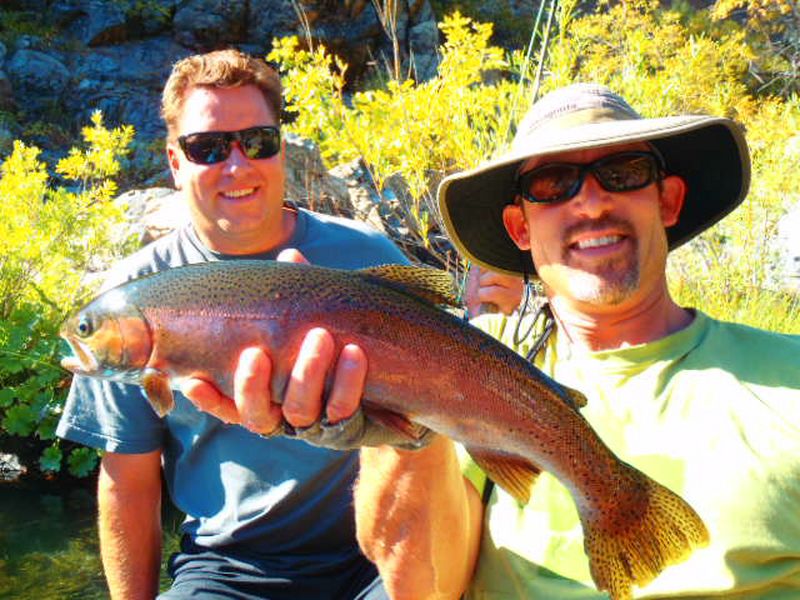 Wow! That should go to be 4lbs plus for sure.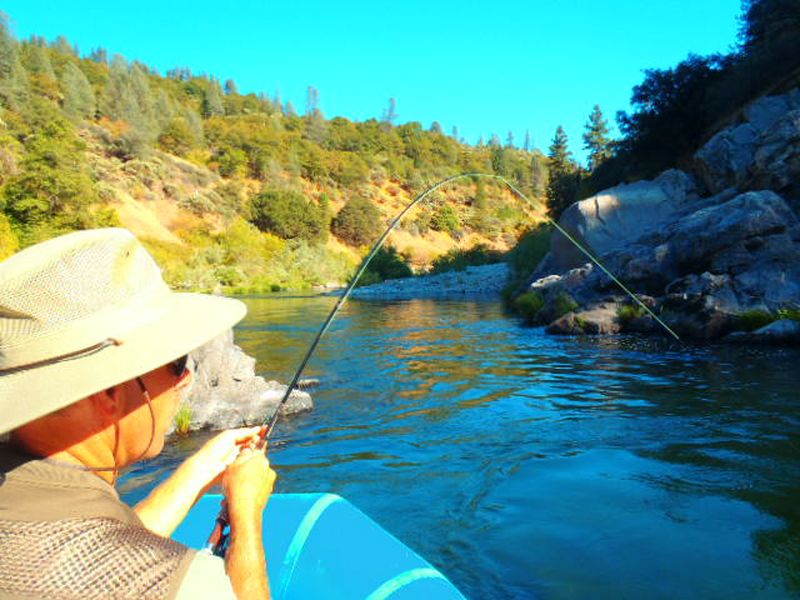 Russ in the Eddy Spaghetti hole with nice trout on!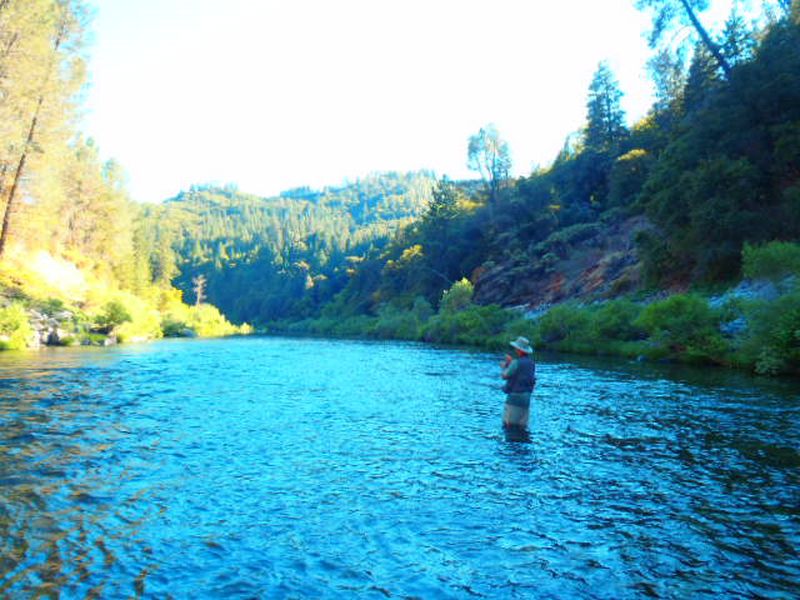 Ah, the run of all runs on the Upper Sac, the Miracle Mile!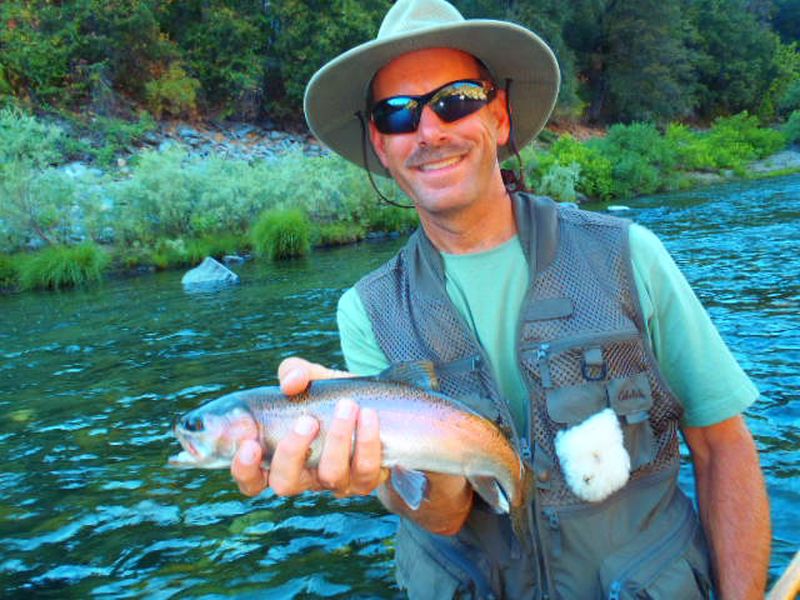 Maybe some of the best dry fly fishing any where when October rolls around and everyone is thinking steelhead.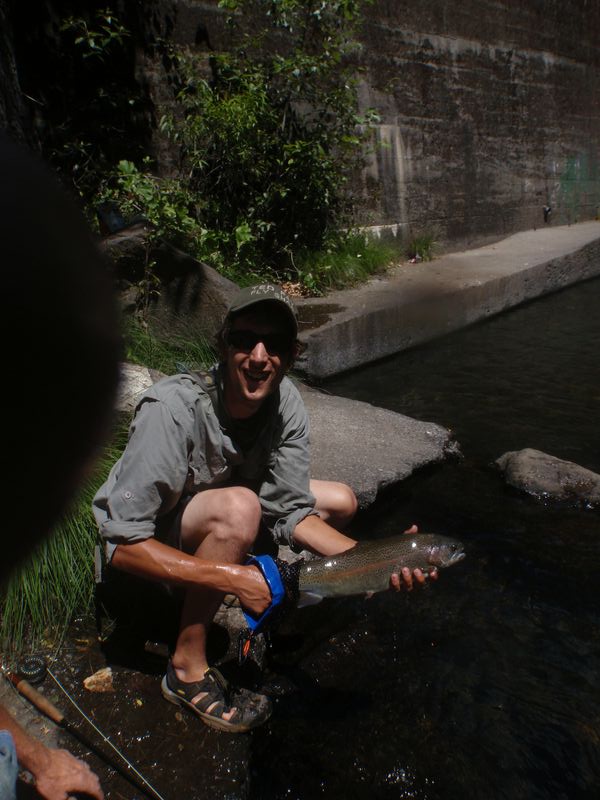 Through the town of Dumsuir where the Jurassic Trout stock program has been going well. Come on into Dunsmuir to catch one of these beauties.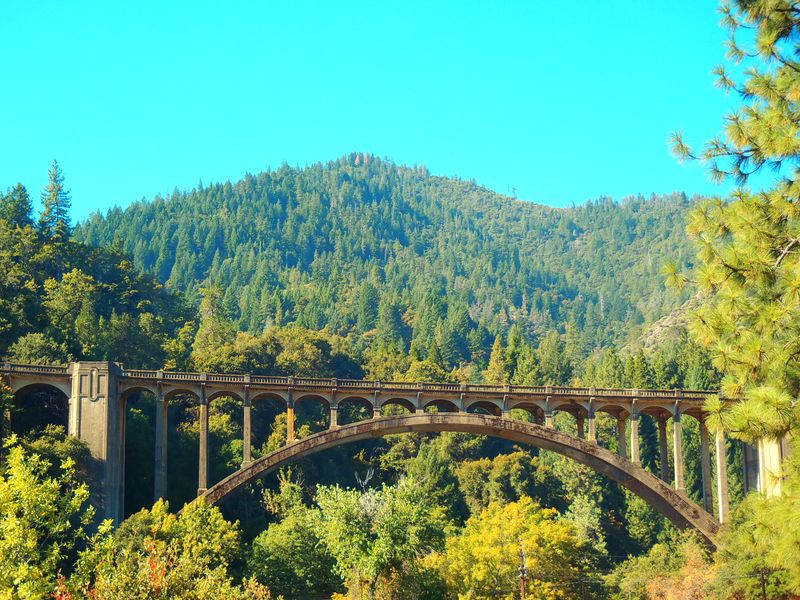 The reality is, life is great when shared with love ones and friends. Our experiences in the outdoors is what refuels us since that is where we came from. Get out in nature and enjoy it, live it and breath it! It's yours and mine and it should never be shut down or made not to access. Private is good but when you say you own it, is when it really becomes there's.
Modern day greed comes in many forms, sometimes not  monetarially. Greed can be displayed as acts that hurt a neighboring partner like the City of Dusmuir, that deserves Union Pacific to make consessions on their part and build a safe trail for the City of Dunsmuir and the tourist they've effected since 1895 with their chemical spills, continuing litter issues lumber load spills and thousands of other accidents never reported.
Entitlement is a myth called greed, the Union Pacific Railroad is stepping on thin ice these days and are back on the media
spotlight as of NOW!  Jack Trout 530-926-4540
Next week I start calling news sources to let them know what you are doing to our communities and tourist in these hard economic times. If you don't embrace the heartbeat of our economy then a heart attack will for sure happen and changes will be made the local way.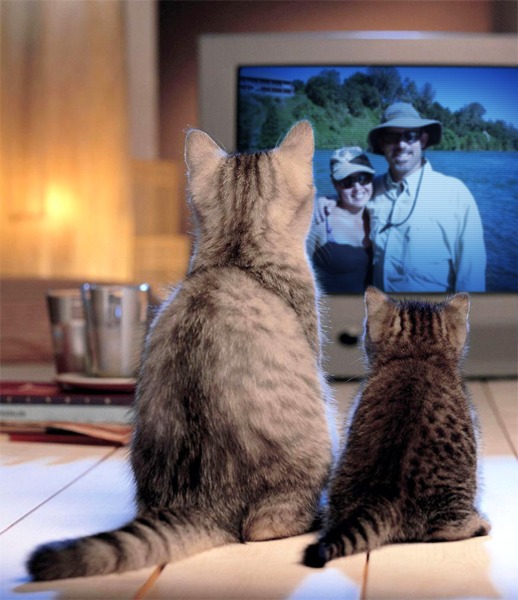 Thanks  for watching our adventures!! HAVE TO GET OUT AND GUIDE NOW!  BEST, JACK & CAROLA TROUT
EMAILS FROM YOU: