HAPPY HOLIDAYS FROM MOUNT SHASTA CALIFORNIA –
FLY FISHING IN DECEMBER & JANUARY AND GOOD WEATHER LOOKS TO BE PROMISING!
HOLIDAY GIFT CERTIFICATES MAKE A GREAT GIFT, VALID ANYTIME.
 THIS HOLIDAY SEASON SPEND SOME TIME IN THE MOUNT SHASTA, McCLOUD & DUNSMUIR AREA.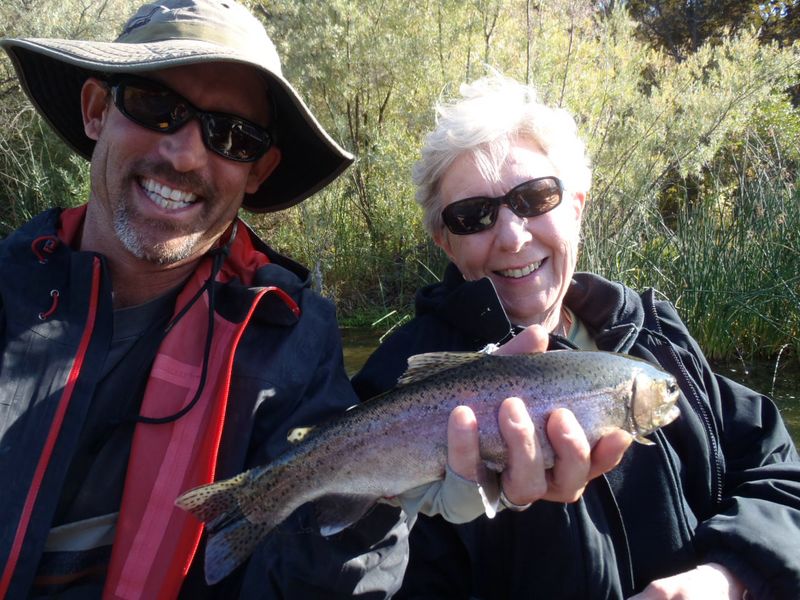 A nice trout can make anyone's day out on the river, Mary sure certainly thought so..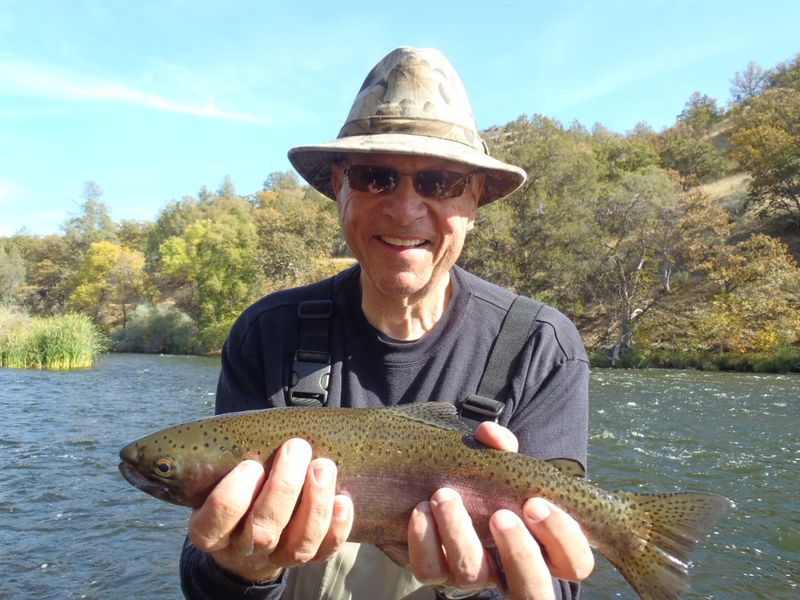 Bill's steelhead made his day and he was ready for the day two even more fired up!
 The fall was magical, I found many times this past season watching our guide dog Kobe Beef looking off into the distances at the wonderful views.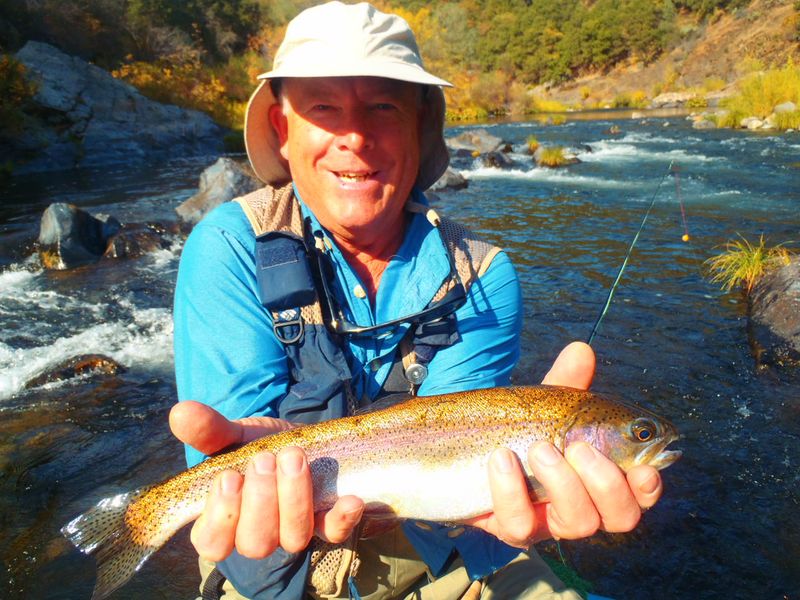 Many trout in the fall running out of Shasta Lake into our nets!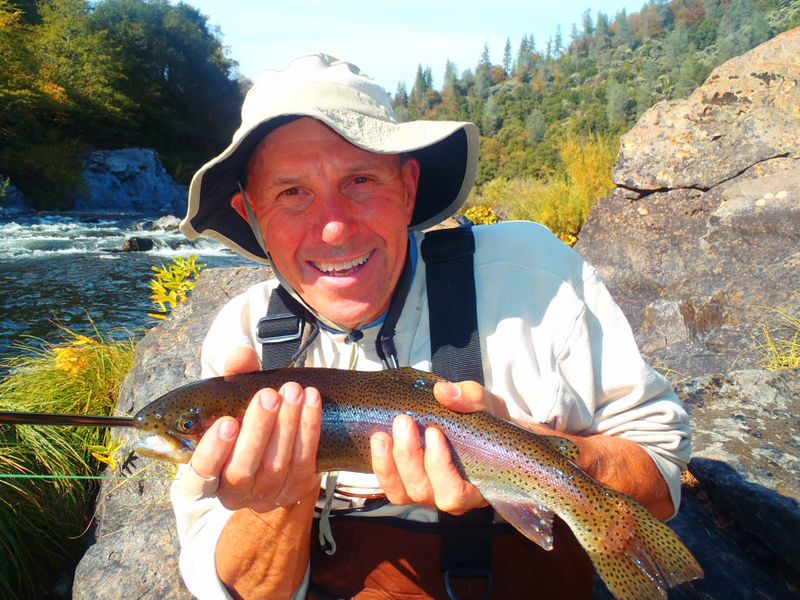 Many folks this year who have never fly fished the Upper Sacramento river caught nice trout that made their day.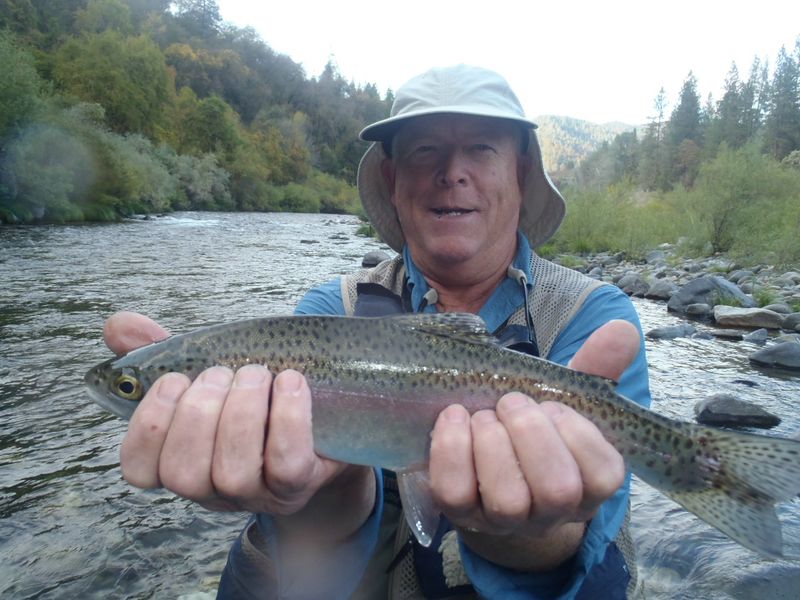 Thanks to all of you who love going on our Upper Sac fly fishing raft trip! 2012 will be great too!!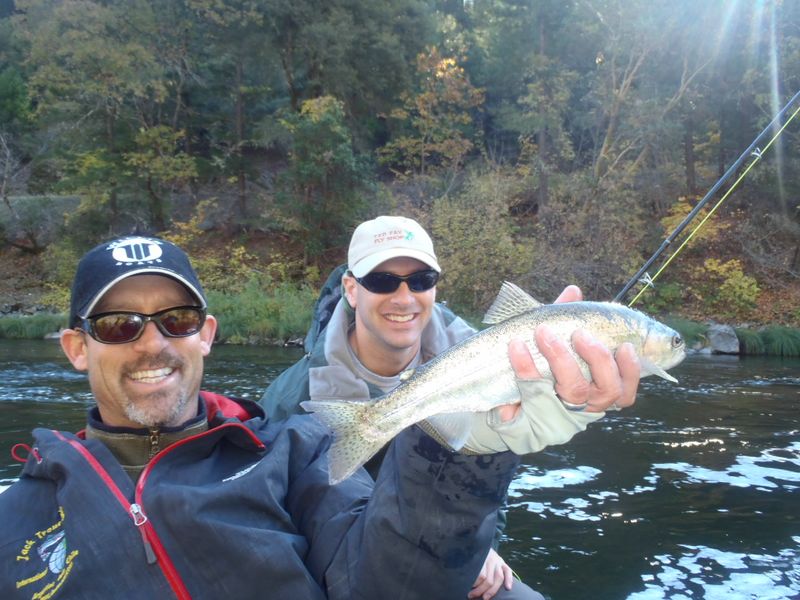 Fishing down the Klamath River canyons is another great way to access steelhead and salmon, David Creeggan and his dad Rich sure loved it down there.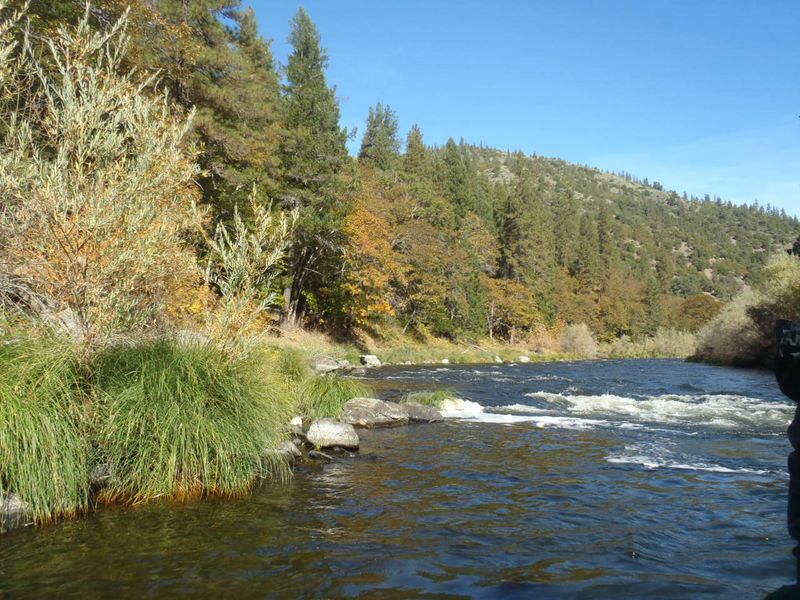 Walking speed water, foam lines and a sunny day..
Lush canyons matched with groves of Madrone & Oak trees, kind of like Disneyland for a steelhead or salmon. Too bad it's like hell when they arrive at the Irongate Dam near Yreka and Hornbrook California, located in the wrong place for a declining salmon population

.

 (There is no reason to ever stay in the towns of Yreka, it is not worth the effort, the Mt Shasta area is always the better choice. jt)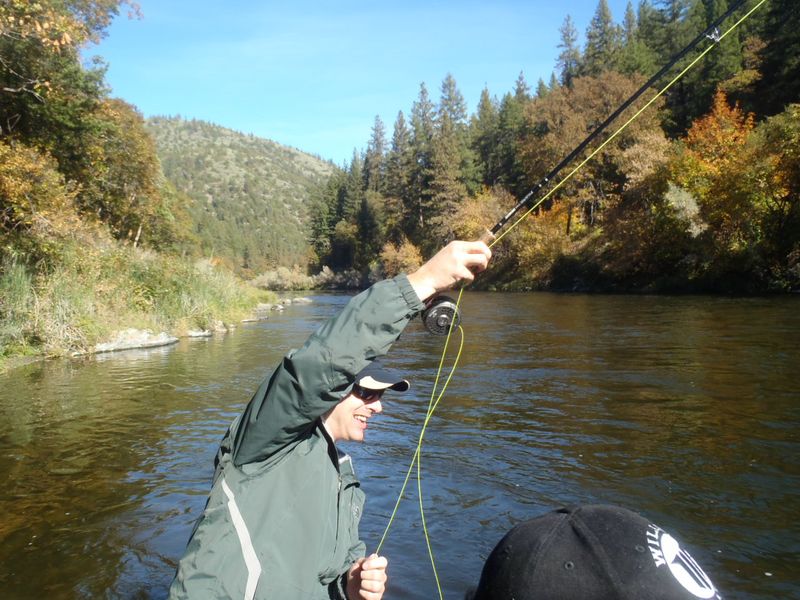 David Creeggan with a beauty steelhead on, will he land it…That is the question?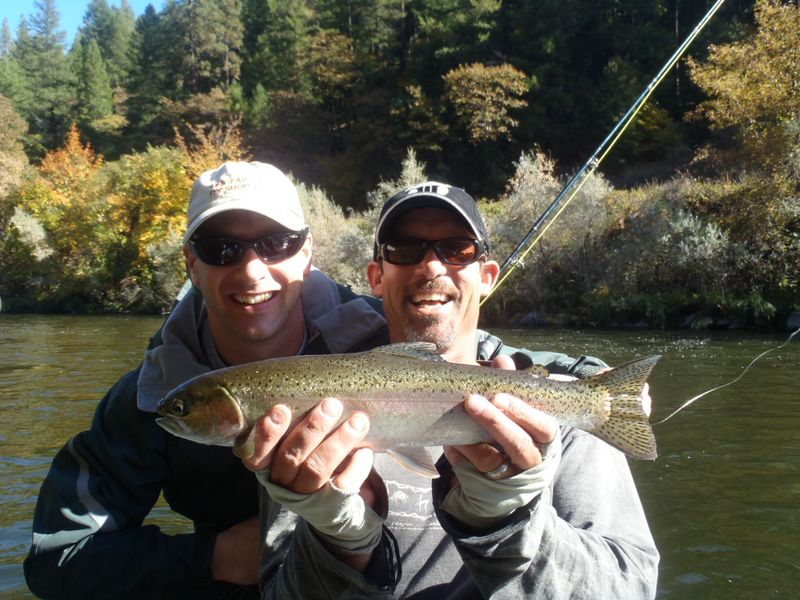 This was one hard fighting steelhead, way to go David!

!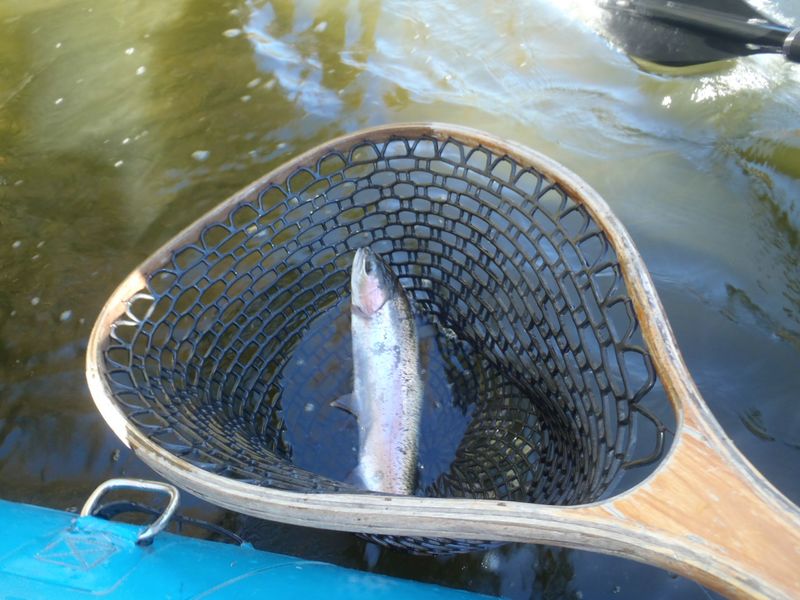 This season every where steelhead run the sizes have been larger than usual. I haven't heard anyone complaining on this one folks

.
Cromer like a bumper on a custom Chevy Truck, or a Buffalo Proof Dollar from the San Francisco Mint (The Old Granite Lady). This one is an American orginal
too, one you could put your mark on and say ~ MADE IN

AMERICA!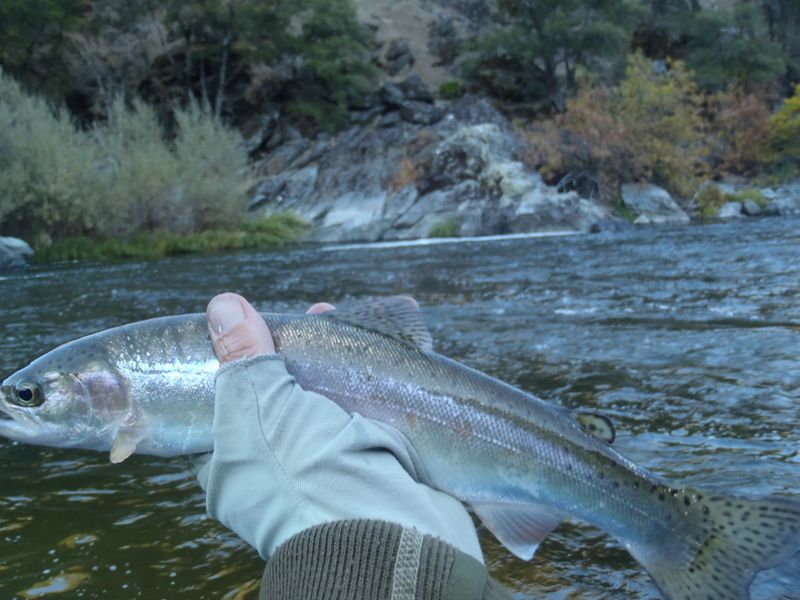 The Lower Klamath has real half pounders, small cromer and hard fighting like in the movie Rudy. No one could ever keep Rudy from a good fight out in the field! We love catching those little Rudies…. Rudy Rudy Rudy!!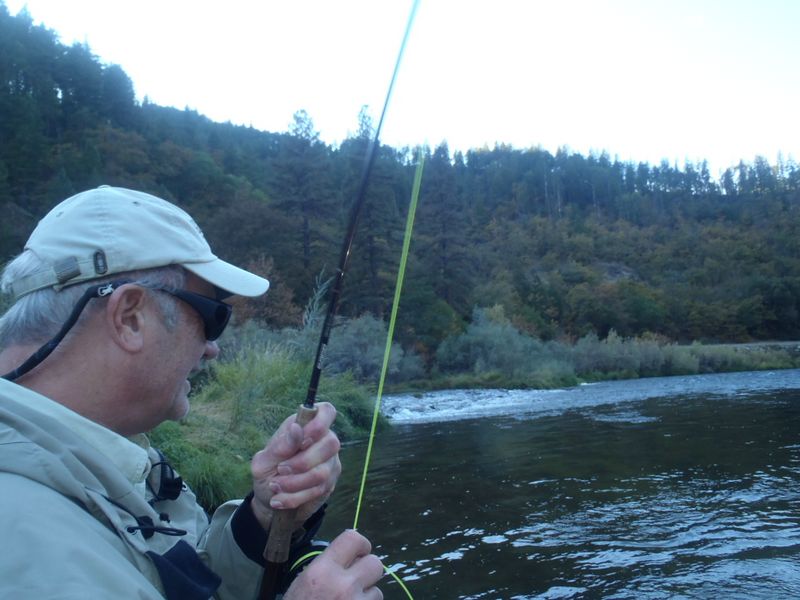 I've been fishing with Rich Creeggan for over 12 years, many moons ago we caught our first steelhead together on the Klamath River.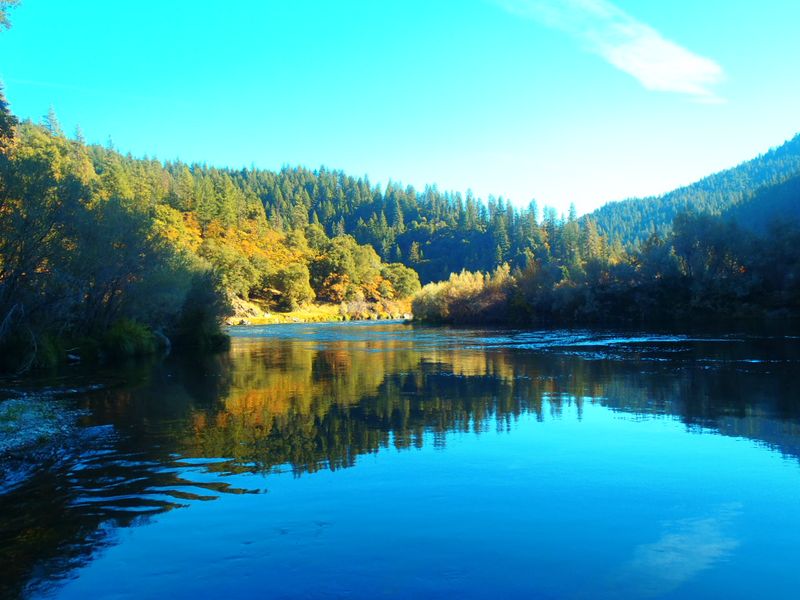 Beauty and the beast, look up and out and witness unsurpassed scenic beauty, look down and see the beast if you can he's lurking just beneath the depths looking for his perfect meal

.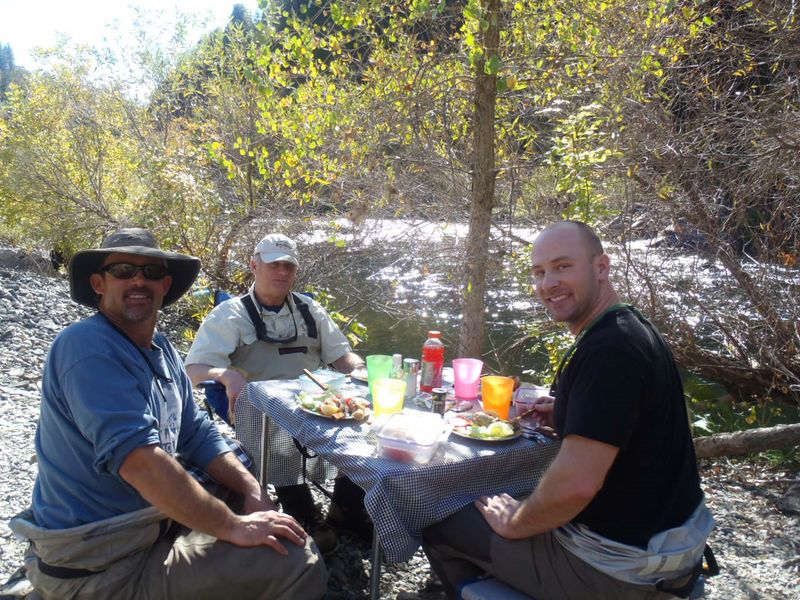 The next day out on the Upper Sac the menu was brilliant, the dessert fabulous and the company as good as it gets! Carola and I love all of our clients, it's just the Creeggans are like family!!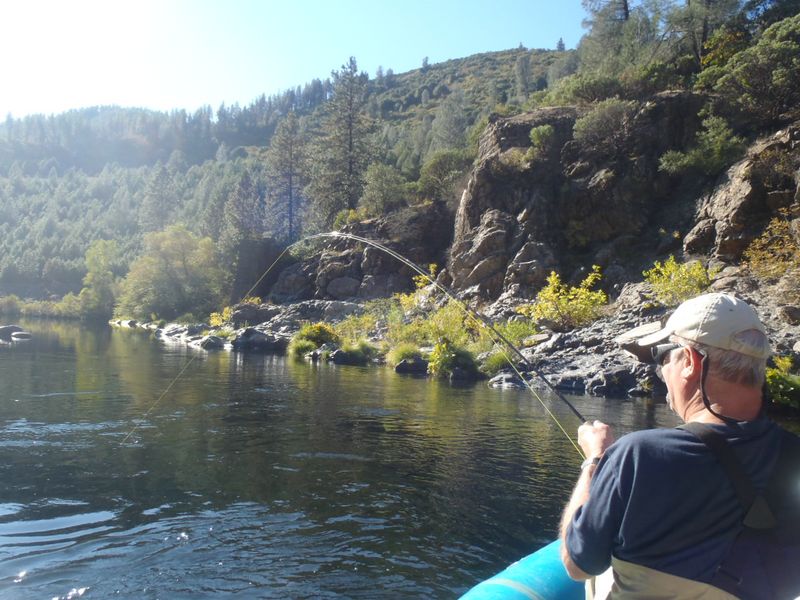 Rich fish on! It's great as a guide when you know your clients that are father & son are in their finest hours together.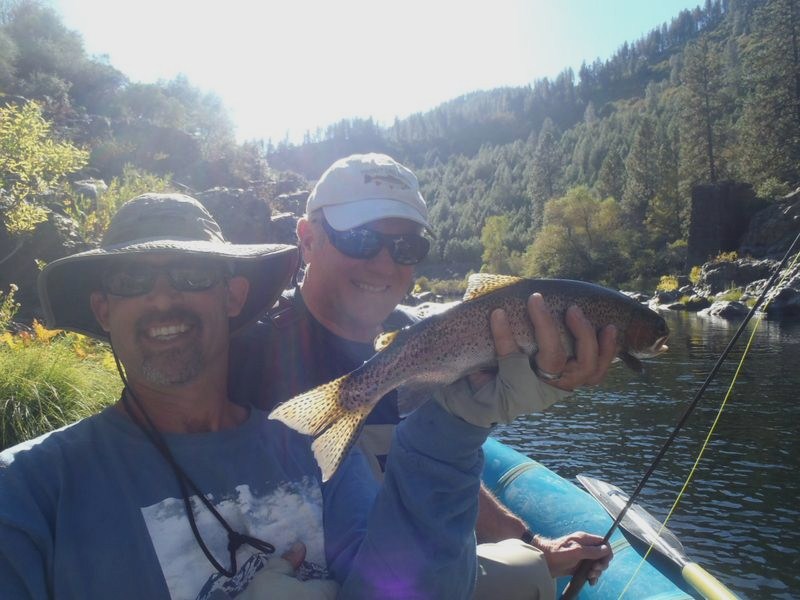 Sweet success is what I call it! The hours you spend out on the water they say never get deducted from the game of life

.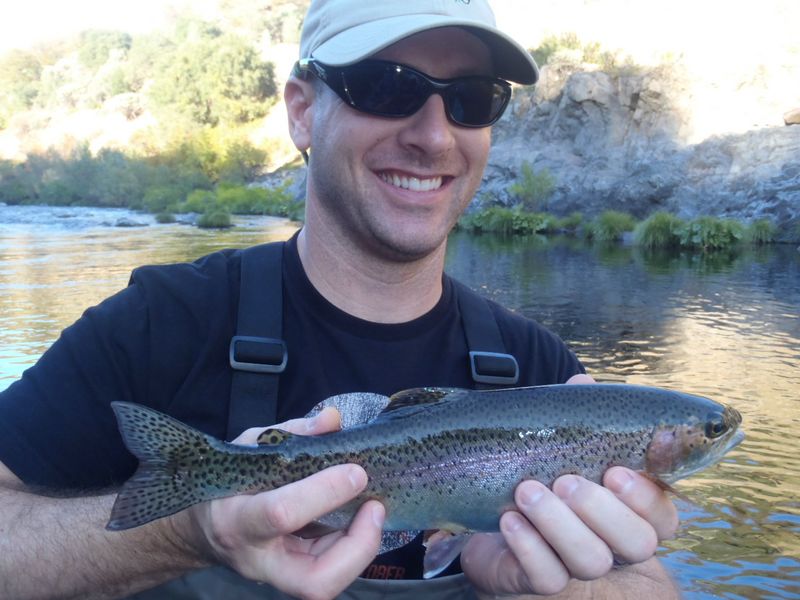 A little trout too to boot!
 As you descend the canyon elevations the flora changes from Pollard Pines to Oaks covered in vines of grapes. A hook-up is an expected event 
as we float onward down our course. This time of year we catch nice trout on small micro mayflies size 18 and zebra midges.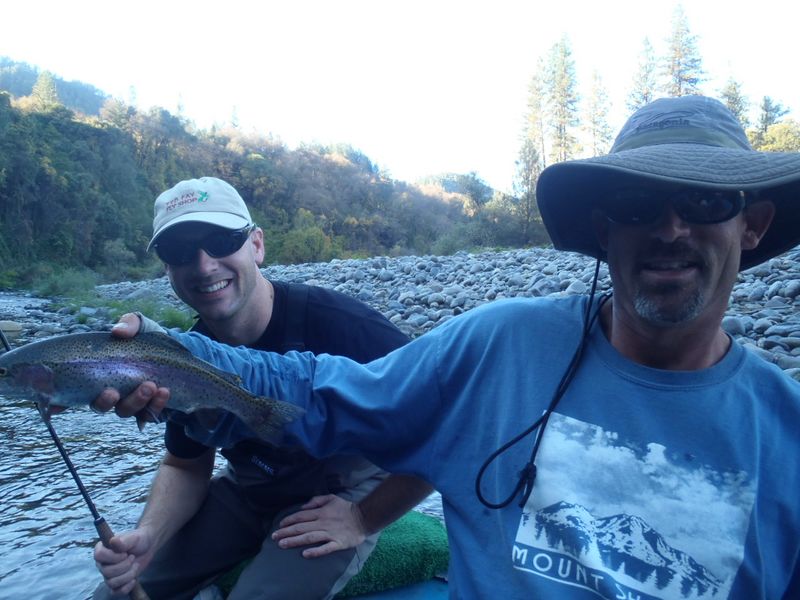 Yahoo! what a great Upper Sac Trout.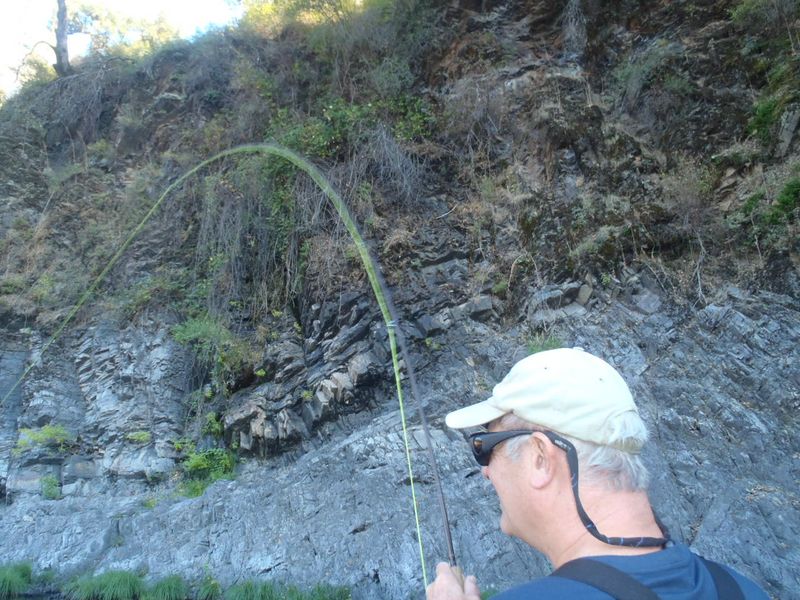 Now this is a Shasta Lake bruiser we have on here folks! Rich hold on for your life!  (No pressure..)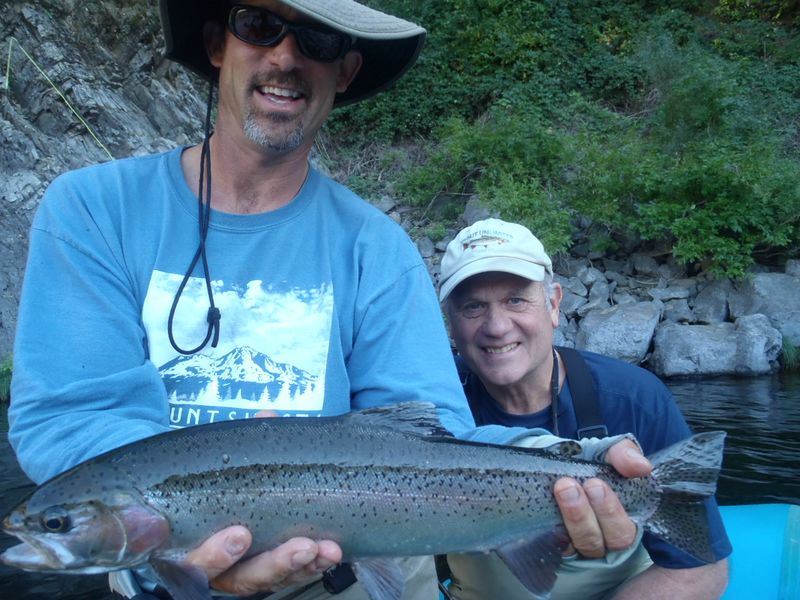 That is one mighty fine trout Rich Creeggan!!  Congratulations on being CO-SIZZLER OF THE WEEK AWARD WINNER!!
CONGRATULATIONS RICH CREEGGAN OF SACRATOMATO!! INQURING MINDS WANT TO KNOW AND FOUR OUT OF FIVE DENTIST APPROVE!!!  BEST, JACK & CAROLA TROUT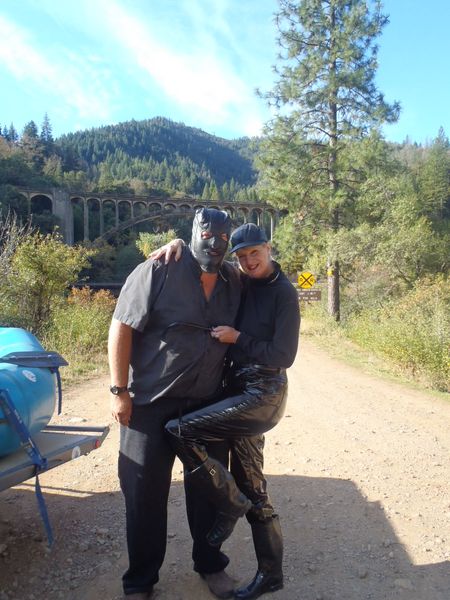 That's right folks Happy Halloween!!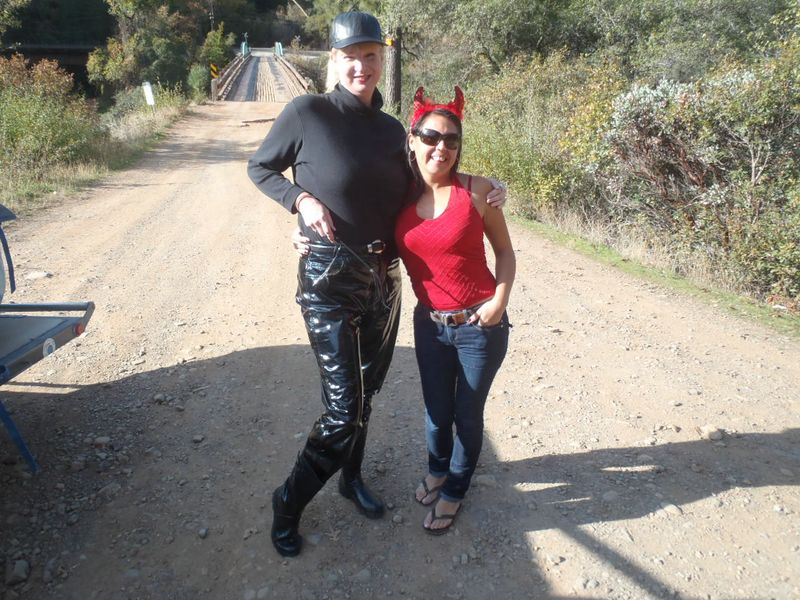 The devil wears Prada and Cat Woman less the whiskers… Ok, I can do this trip!
 I had this Mr. Jaws hat, it was slightly pathetic but served me well on this day.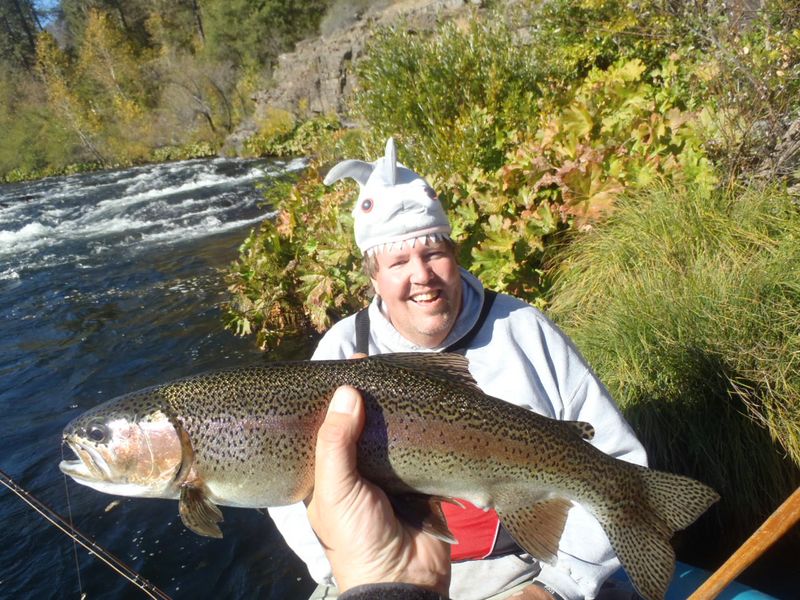 Now you put on the hat and see if it's good luck? Wow! It turned out to be true the hat was a ringer?!?!?!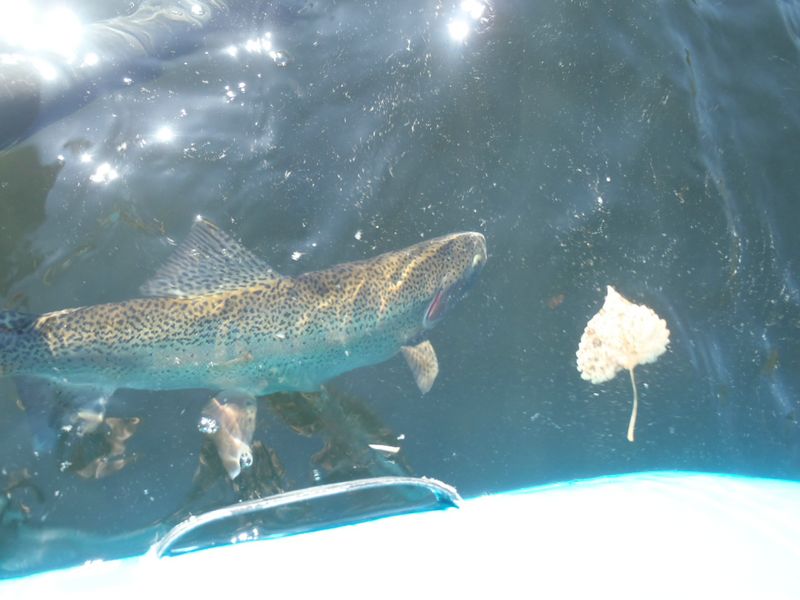 Now that's my favorite windows program ever from Microsoft Windows Trout! I'm in on that upgrade folks.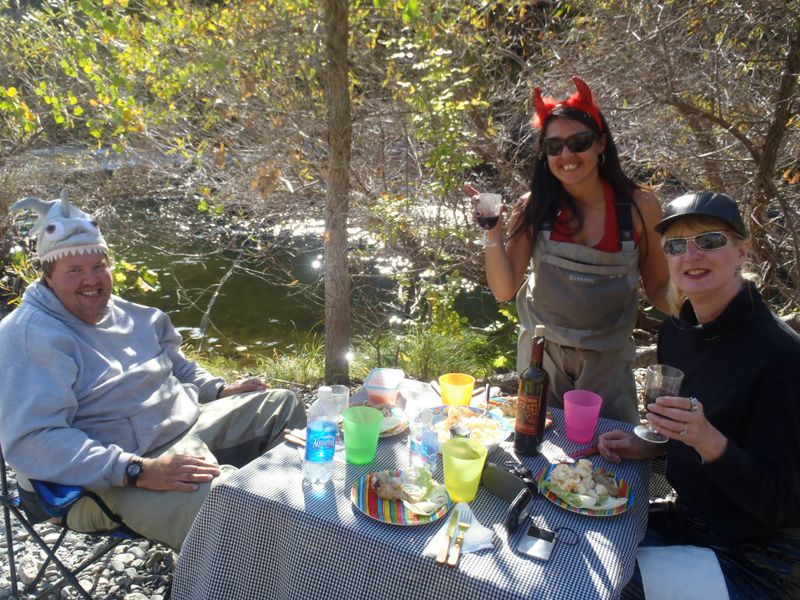 Come to our Halloween party but you must have a costume.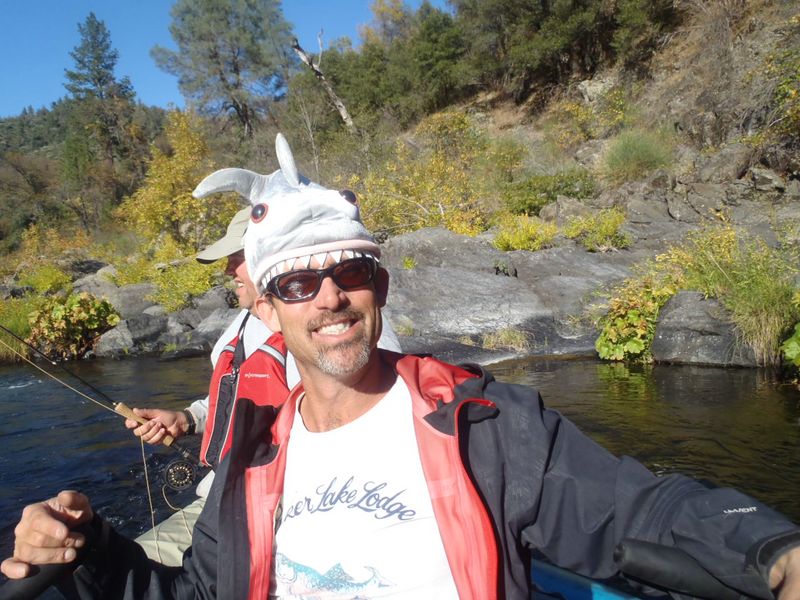 Anyone else out there own a Packer Lake Lodge tee-shirt? Who can tell me where Packer Lake is out there?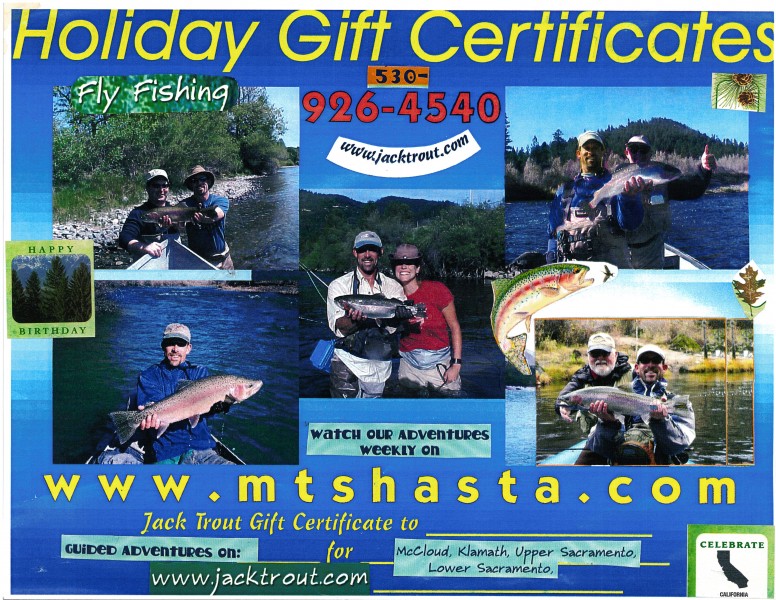 HOLIDAY GIFT CERTIFICATES ~ HOLIDAY SPECIAL FOUR TRIPS FOR $1100 OR $275 EACH FOR 2 ANGLERS –
(Must buy 4 trips and SAVE $500 THIS HOLIDAY SEASON)
GOOD ANYTIME ON ANY YEAR. GOOD ON THE UPPER SAC FLOAT, LOWER SACRAMENTO, KLAMATH RIVER, McCLOUD RIVER OR HAT CREEK.
2 FISHERMEN OR ANGLERS – STREAM SIDE GOURMET LUNCH INCLUDED – FLOAT OR WADE 
A GREAT HOLIDAY GIFT THAT KEEPS GIVING!!  MERRY CHRISTMAS, JACK & CAROLA, ISAAC, FORREST, KOBE BEEF
We accept all major credit cards. Also this can be used during this holiday season for trips with Isaac & Forrest *  Team Trout.
Many great catches this past season and happy clients that look forward to coming back.
Bent rods all day long fishing with Bill James of Orinda.
 Noth'n up my sleeve … Presto!! Now here's something we hope you really like!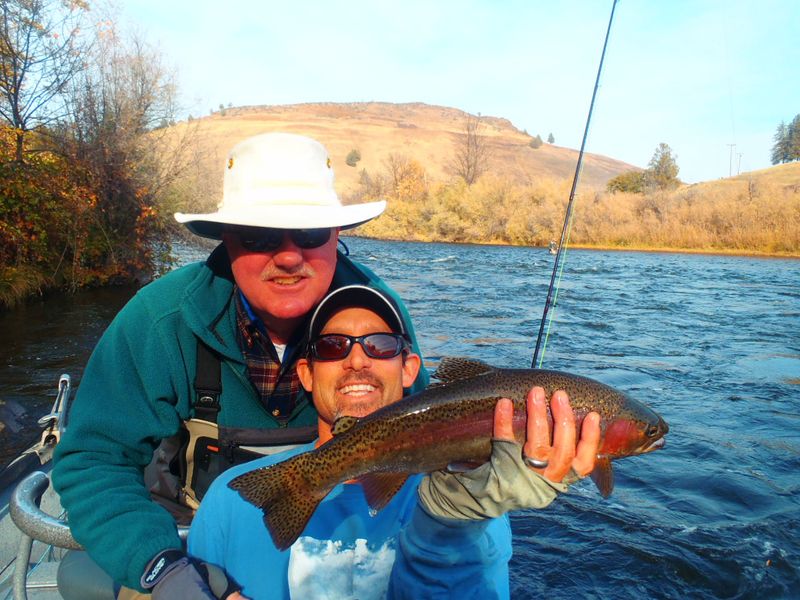 Those are racing colors, you trust me on that one!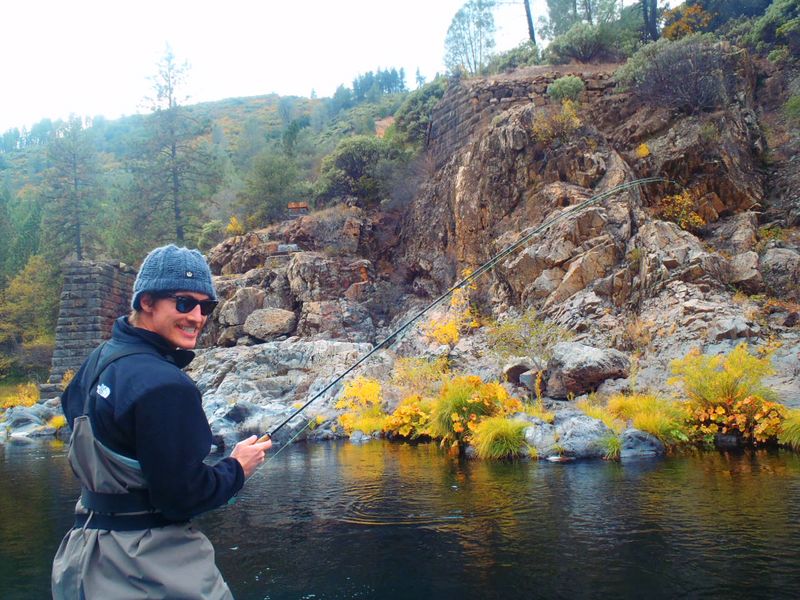 I only catch lunks in that hole….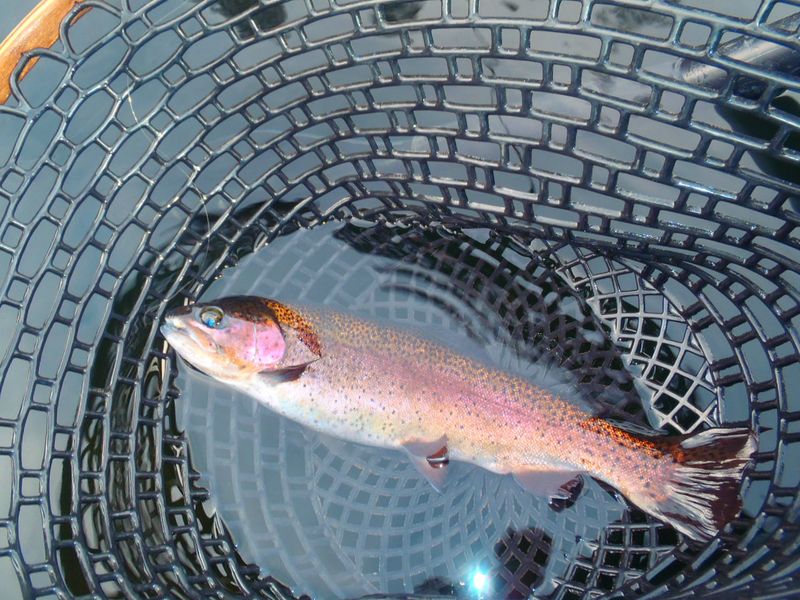 The colors this time of year are worth the drive up alone!
Hope to see you up here this Holiday Season, the Mount Shasta area is ready and proud to have you.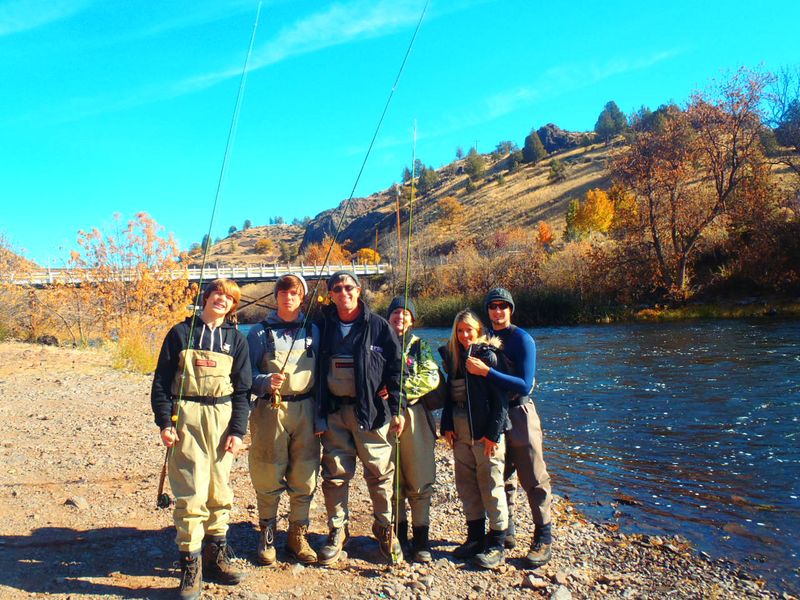 Phillip Chaney & Family ~ Ready for Action!!
Sometimes folks call us up and say… We want to try fly fishing, do you guide beginners who know nothing?
We say bring it on people, we love bringing folks up the farm leagues to the majors, especially the families.
You could say, Jack Trout Guide Service is the beginner fly fishing guide service one stop shop!
1. We have all the gear, we are outfitters not just a guide service.
2. 18 years experience guiding families, corporate clients & just plain ole lovable beginners.
3. We like beginners and families who think they won't catch a thing and have never held a fly rod.
4. We offer family prices and discounts.
5. We do the best stream-side gourmet in the fly fishing industry period, we invented it folks.
6. your story will air on www.mtshasta.com
7. We have talented guides who care about your experience.
8. EVERYTHING IS THE GUIDE'S FAULT NO EXTRA CHARGE!!  
EMAIL:  JACK & CAROLA TROUT – INFO@JACKTROUT.COM   530-926-4540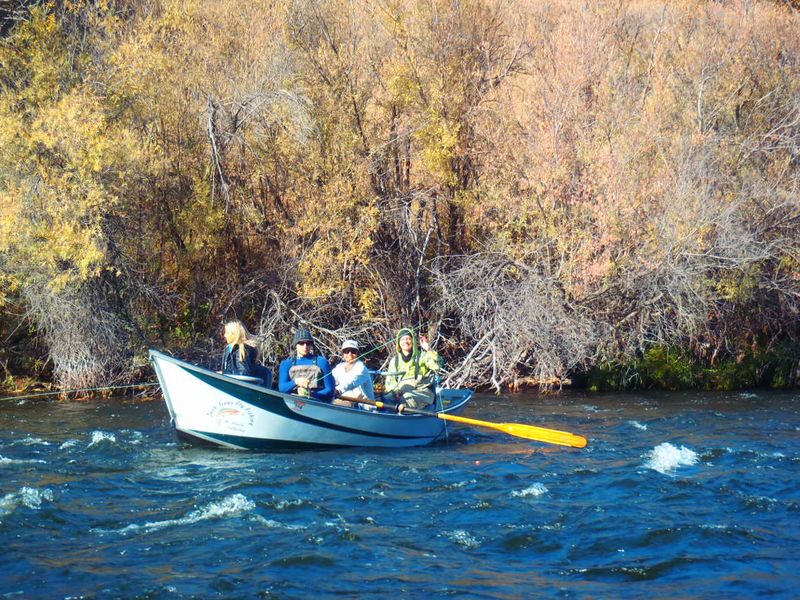 Isaac out with his clients looks to be a nice day out. It sure has been great to work with a true professional like Isaac Roman.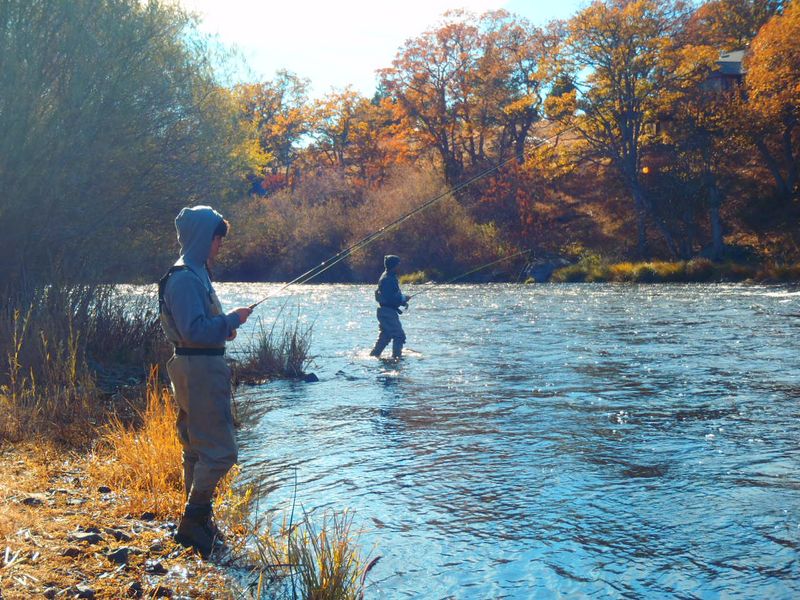 Joe & Ken wading in first and got some great takes…
Santa's Elk Hair Caddis, he knows where you've been…?
Lunch is always and epic adventure in itself, the food that my wife Carola prepares is made with love and all the freshest ingredients.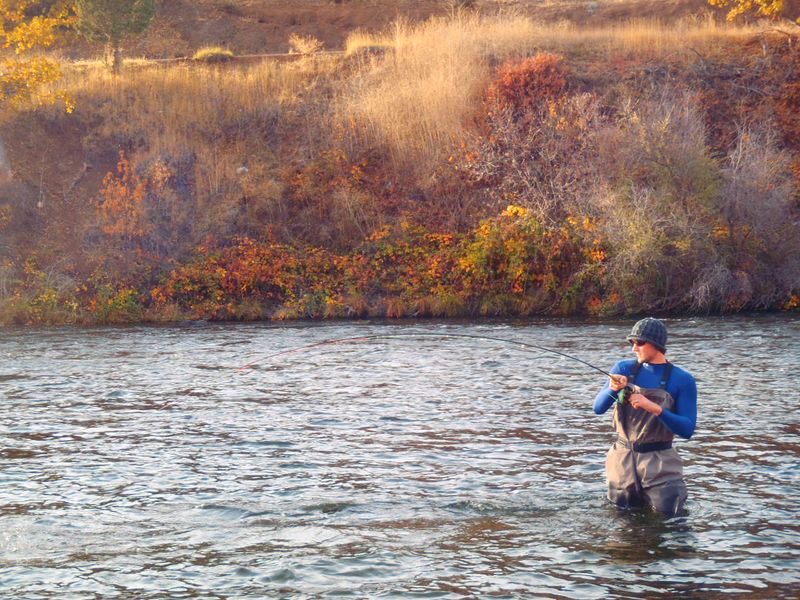 Aaron at lunch hooked into a silver bullet while waiting for lunch…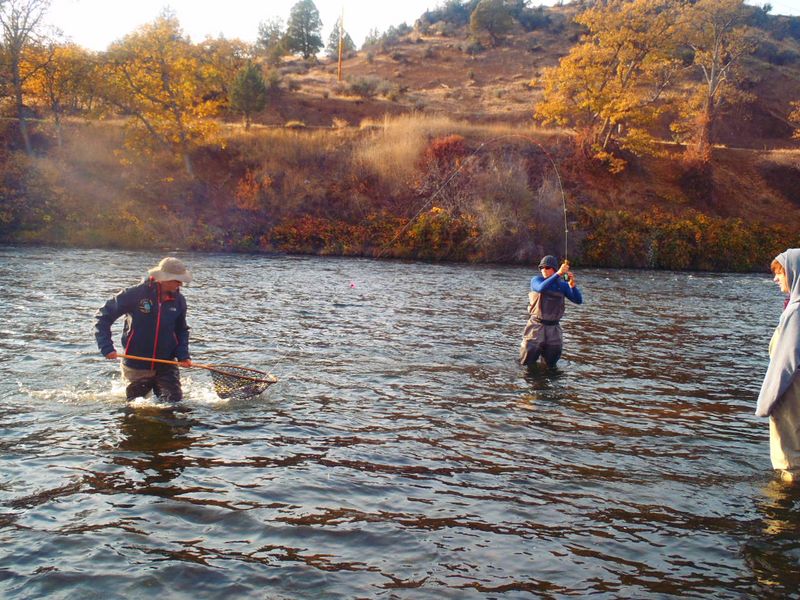 I ran and grabbed the net and moments later Aaron had his first ever adult steelhead.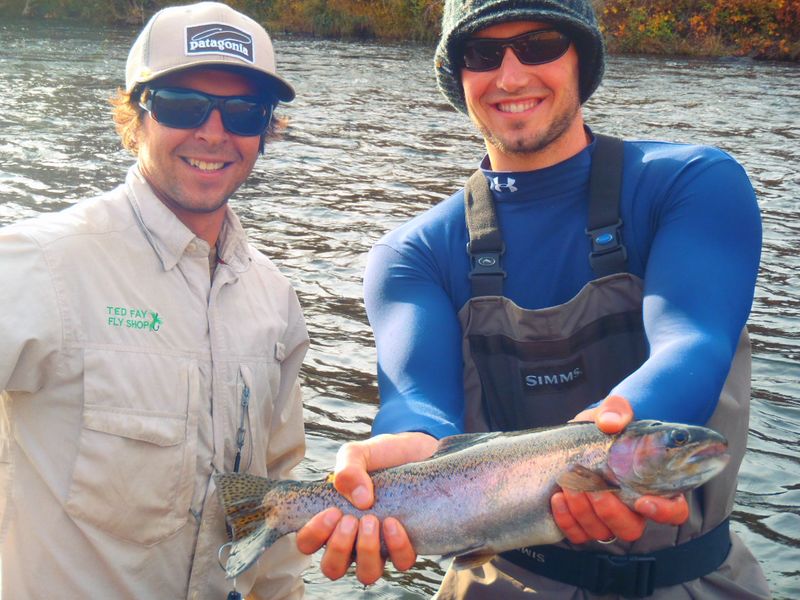 The group had no real expectations other than having a great time, but after that hook-up I saw everyone stepping up to the plate
and don't mean lunchtime folks! It's amazing what this sport will do to you and the places it takes you along the way. Anyone can learn it and do it anytime, it really isn't that hard.
A good guide like Isaac will instruct you and after a while you'll catch one these too.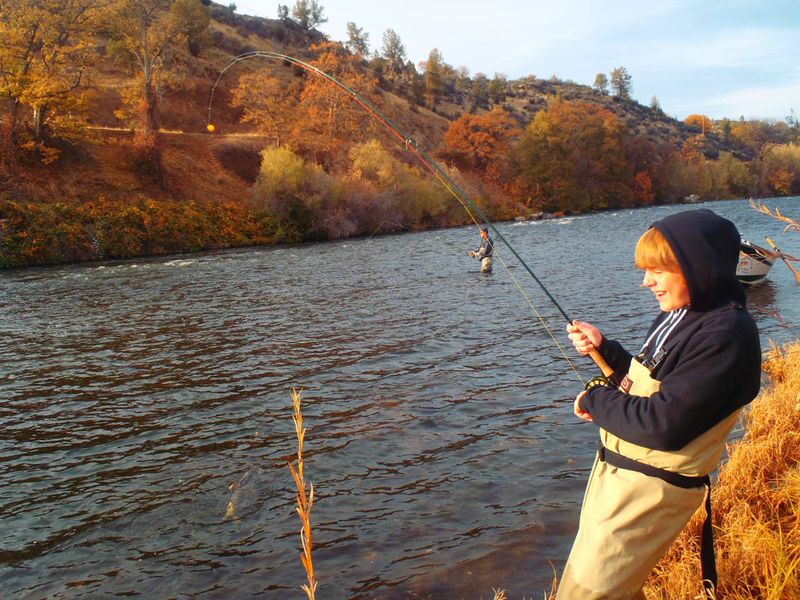 Joe with a true lunker on!!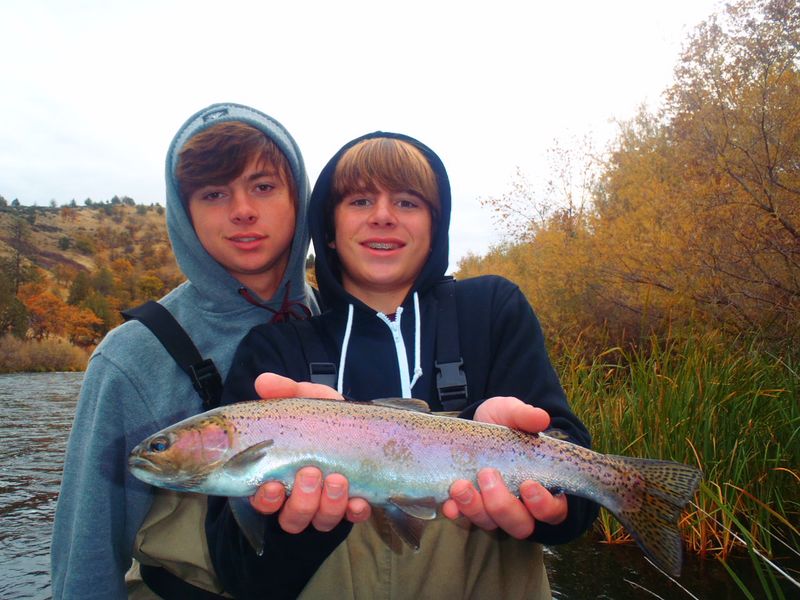 Joey & Kenny with a nice steelhead, the first adult steelhead is the start of a long and winding road that leads to many riffles, runs and tailouts. A nice place to be while countless millions will never know… These were two great kids to be out with on a river obviously heading in the right direction.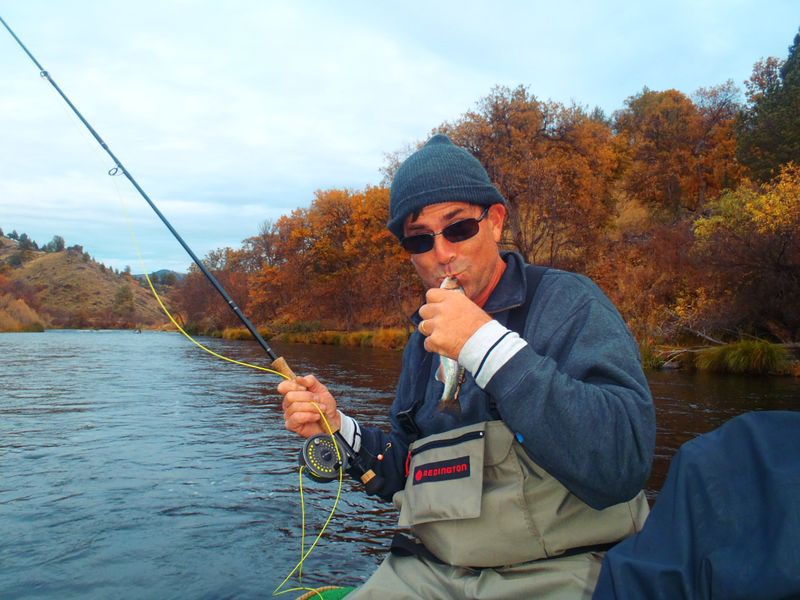 Phil Chaney seen kissing his first fish, a North State guide tradition.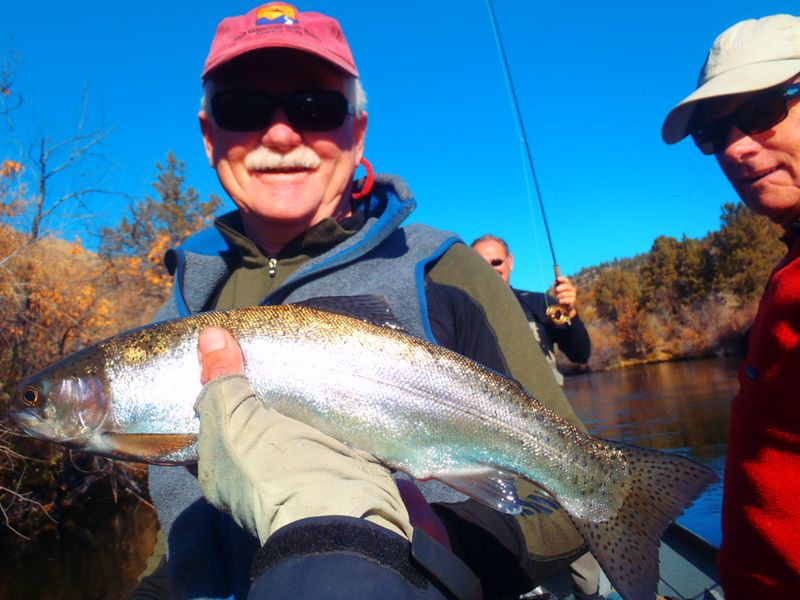 Patrick Bradlet with Howard Nestell Group –
Last year you may remember I rescued Kobe Beef from being sent to the dog pound with only 10 days until I left for Chile. I thought to myself, you have no business taking on a new dog and being that your leaving in a weeks time.. YOU'RE CRAZY! What in tarnation was I going to do? So I put a message on mtshasta.com about this dilemma and an old client Howard Nestell emailed and said he would trade for a few trips per season to house Kobe Beef as the mascot dog for Elaines Pet Resort in Madera, California. 
It was an incredible email that filled my heart with joy because in this day and age times are rough for animals and I want to do anything I can for them. If you look you'll see I made Siskiyou Animal Shelter the free sponser of this web site and we donate $$ annually also.
Well folk,s I am proud to announce that the boys came up to take me up on their Credits for Kobe Program. In life sometimes when it seems to be too much, you still have to make room to give more. The dog hit the lottery folks, 7 months with me on the rivers of the North State and 5 winter months down with Butch, Spike and Duke on some lake they all have a sniff fest on!! Ok, here's their adventures we'll call the  USDA Choice BEEF!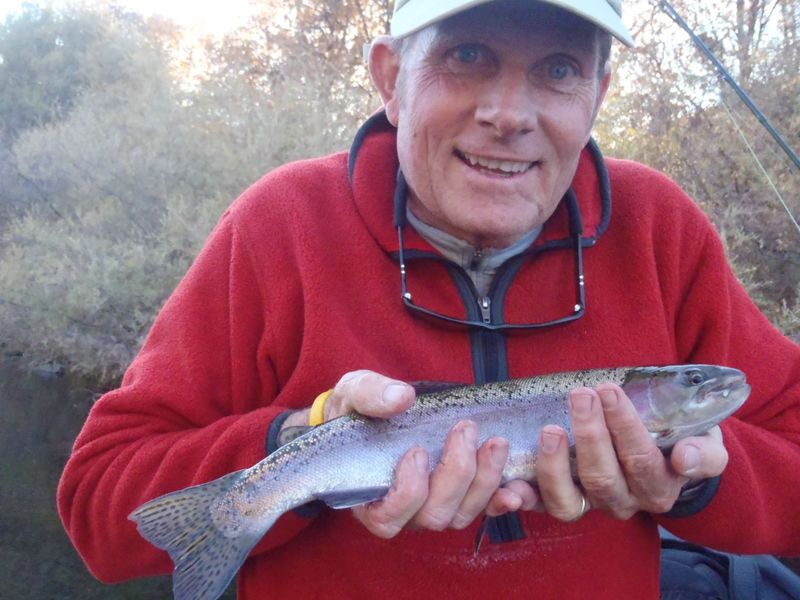 Jim with his first steelhead of the season.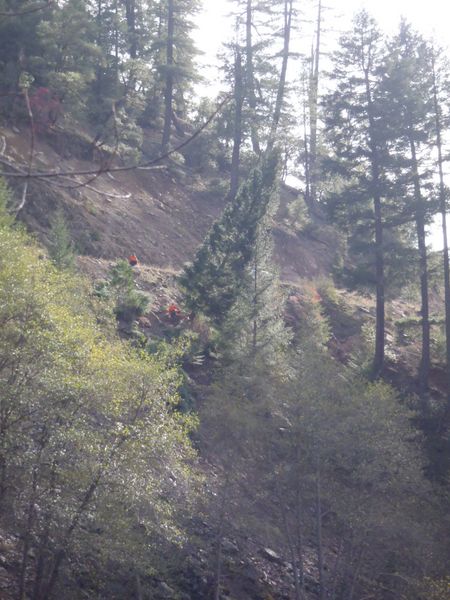 Then we went to the McCloud the next day and PG&E was cutting down these trees for no apparent reason??? I'm not a tree hugger but why would you cut down these two trees? I know PG&E has not been popular lately but this is no way to boost your poles if you know what I mean… I wouldn't be buying their stocks on this move….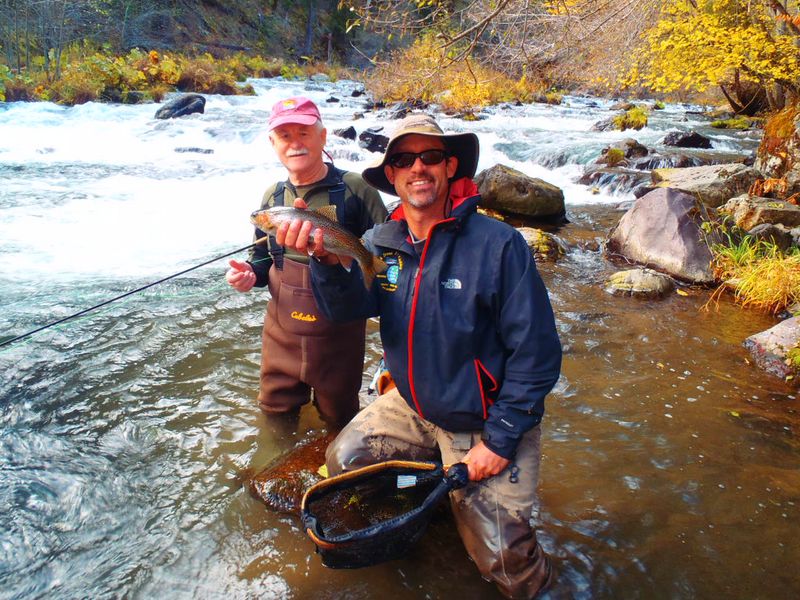 Patrick having the time of his life on the McCloud River on the last day of the season November 15th, 2011
McCLOUD RIVER IS CLOSED NOW UNTIL LAST SATURDAY IN APRIL 2012. 
Extremely Leopardy!! See those leopard spots all over that lovely creature…
 You gorgeous creature you, I'll follow you where ever you go!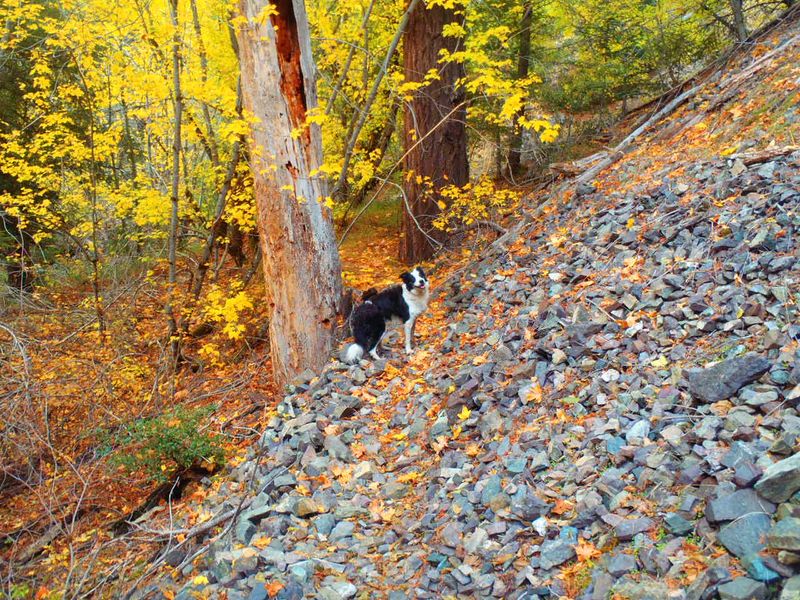 BEEF, ON HIS LAST GUIDE TRIP OF THE SEASON LEADING US UP THE TRAILS OF THE LOWER McCLOUD RIVER.
Folks it's a crying shame what in heck is PG&E doing now? The only explanation I see is our trails are down below.
(I had to move others from the trail that day)
WTF?? It does hold the hillside together better when you have live trees, this is a real head scratcher..
CRAMER SAYS!! SELL PG&E STOCKS THEY JUST DON'T MAKE MUCH SENSE THESE DAYS… TOO BAD PEOPLE.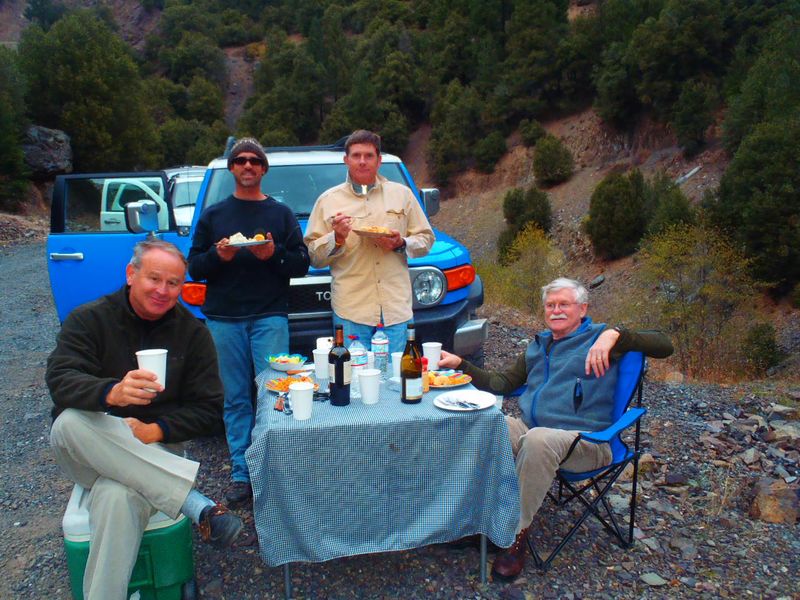 Lunch in style! Thanks again Howard and the gang for looking after Kobe while Carola and I guide down in Chile. We'll be back on April 20th this year. See you then for the Upper Sac float.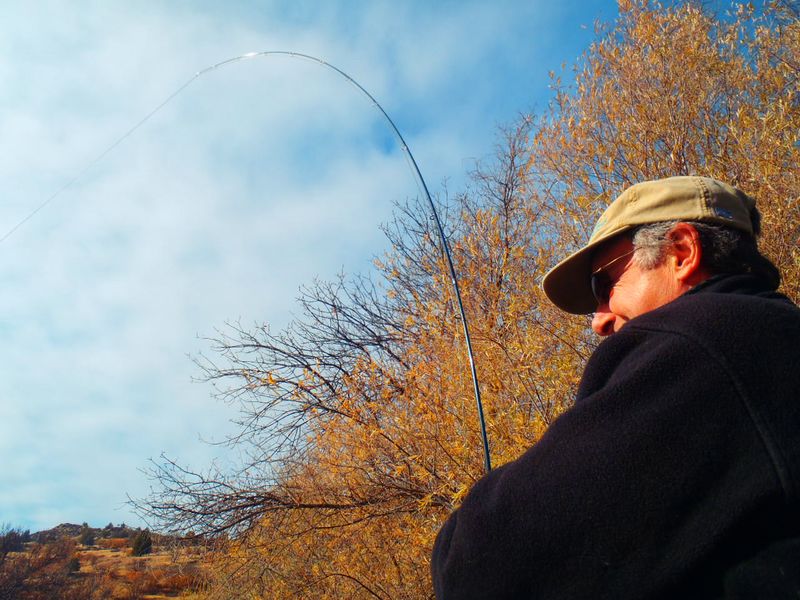 Jerry Moison and Stan Poitras up again doing what they love to do in life….
Catch fish!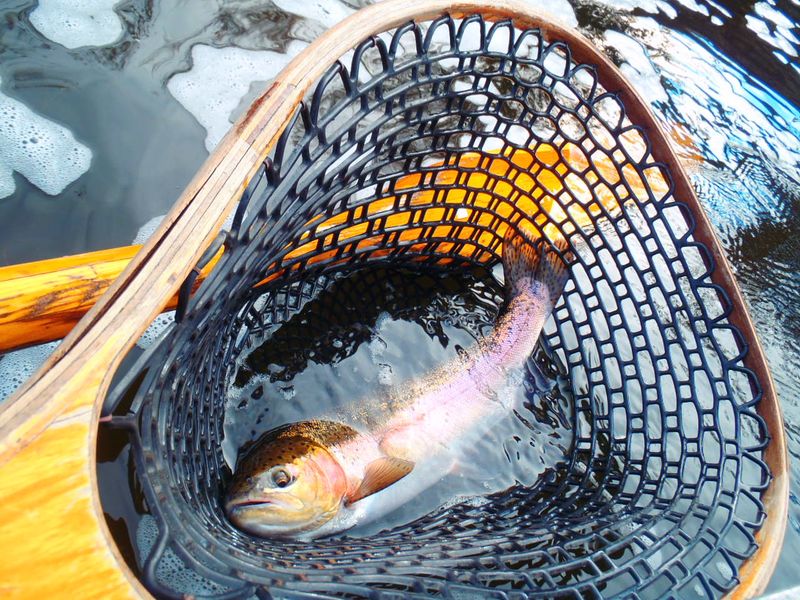 It never gets old looking at all these wonderful steelhead!!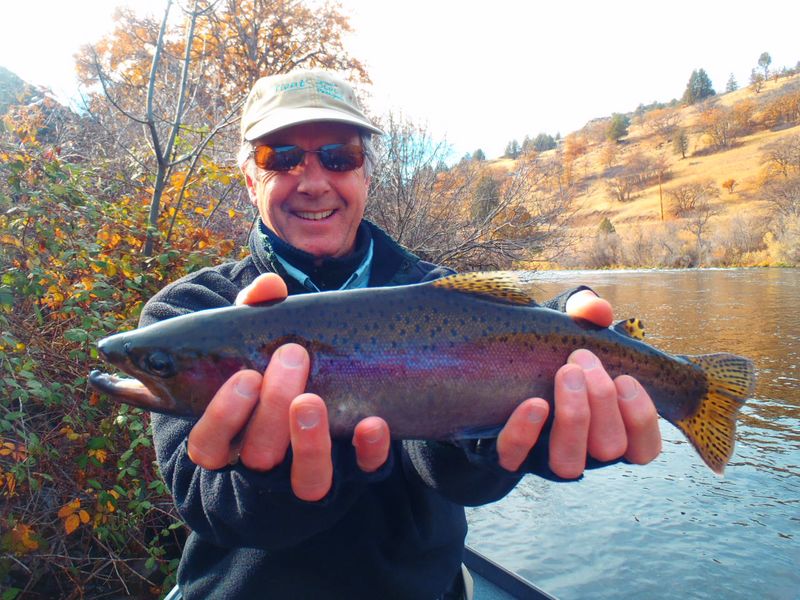 Way to go Stan, see you in the spring for the annual Upper Sac float.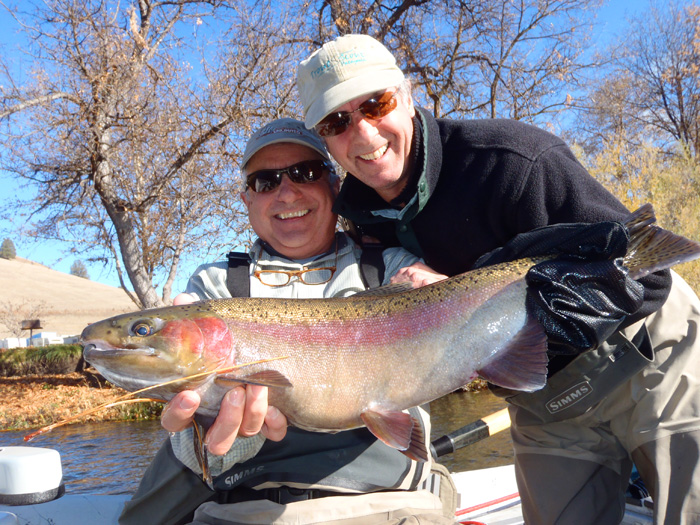 Wow! Jerry Moison out with Guide John Rickard from Wild Waters Guide Service Mt Shasta!!
CO-SIZZLER OF THE WEEK!! CONGRATULATIONS CO-SIZZLER!! JERRY MOISON ~ FEELING GOOD!!
WAY TO GO JOHN, MY MOM, CAROLA AND I GOT TO SPEND SOME QUALITY TIME TOGETHER OVER THANKSGIVING!!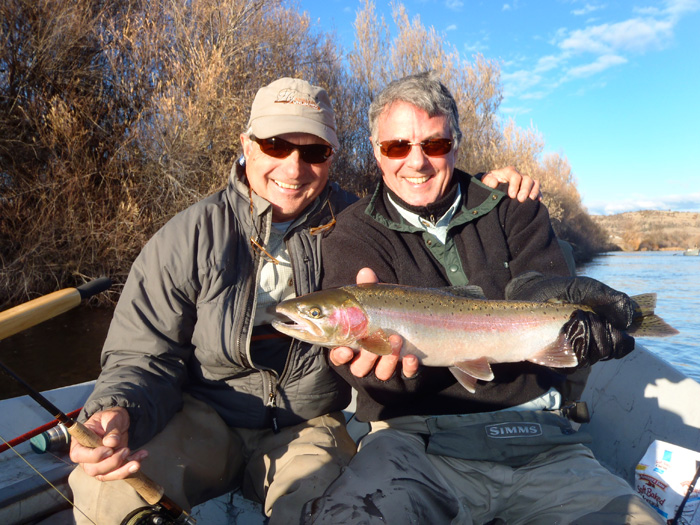 How sweet it is, You can add that beauty to the Bucket List. Nice colors on that buck!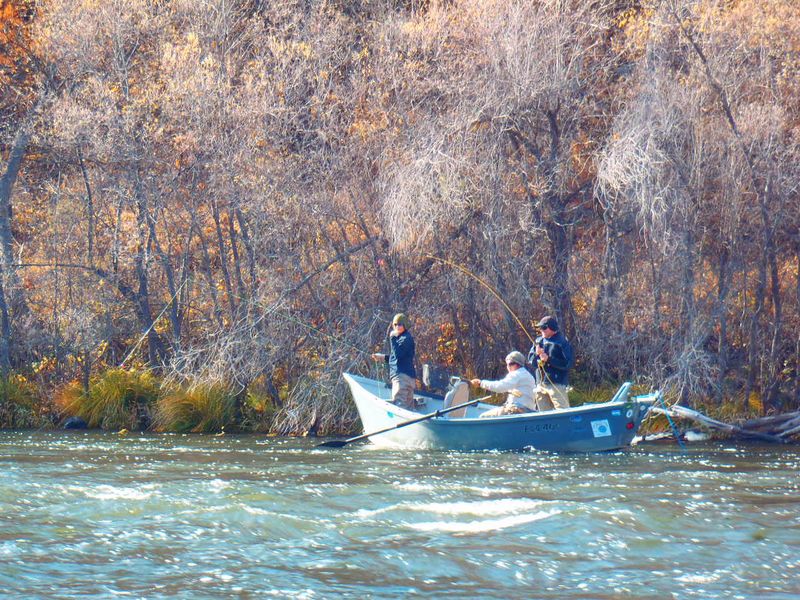 Everyone's been hooking up out in Isaac Roman's boat.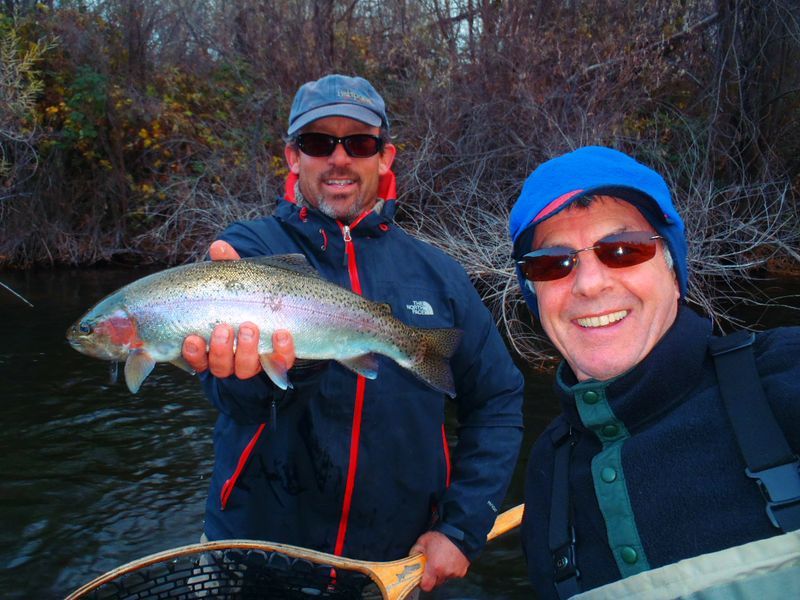 It's like a steelhead extravaganza folks!!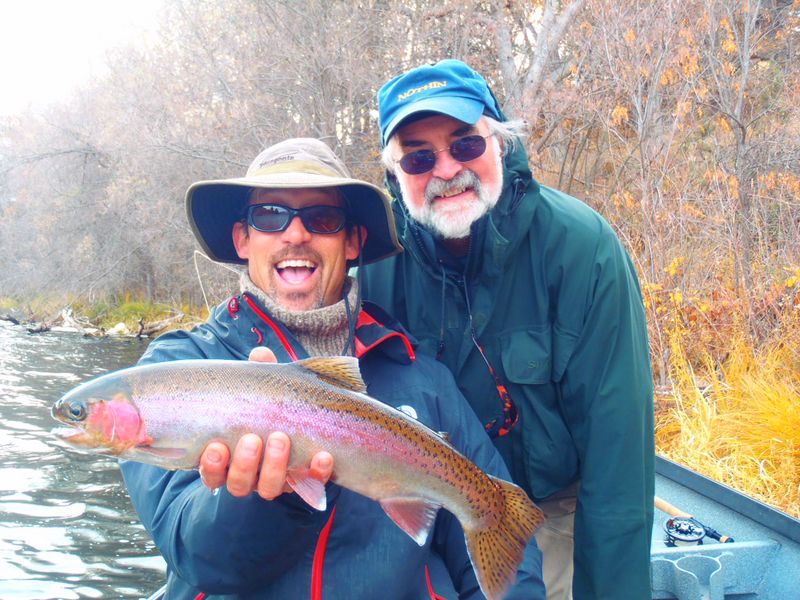 Erik Ericksen has been a client of mine for over 17 years, sure miss Ralph, bring him up with you next time!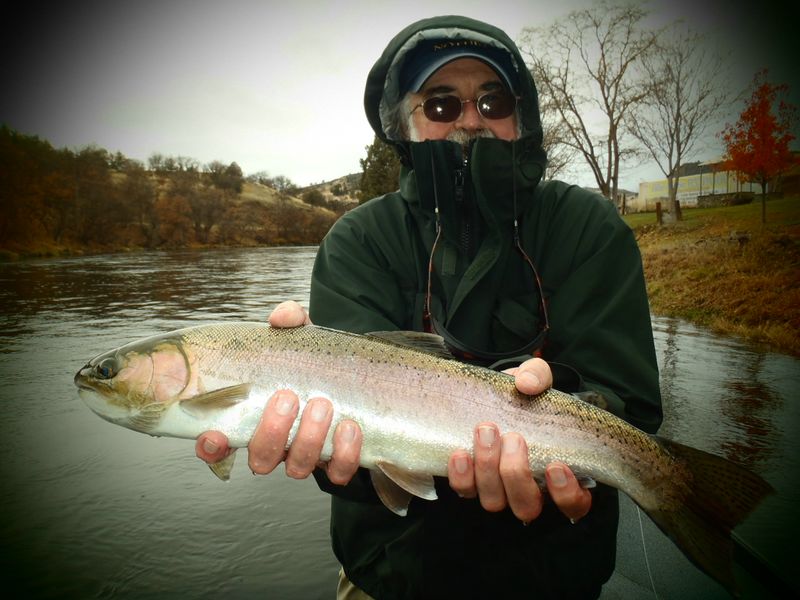 The big boys head into the Klamath River now until late January and we've got you covered.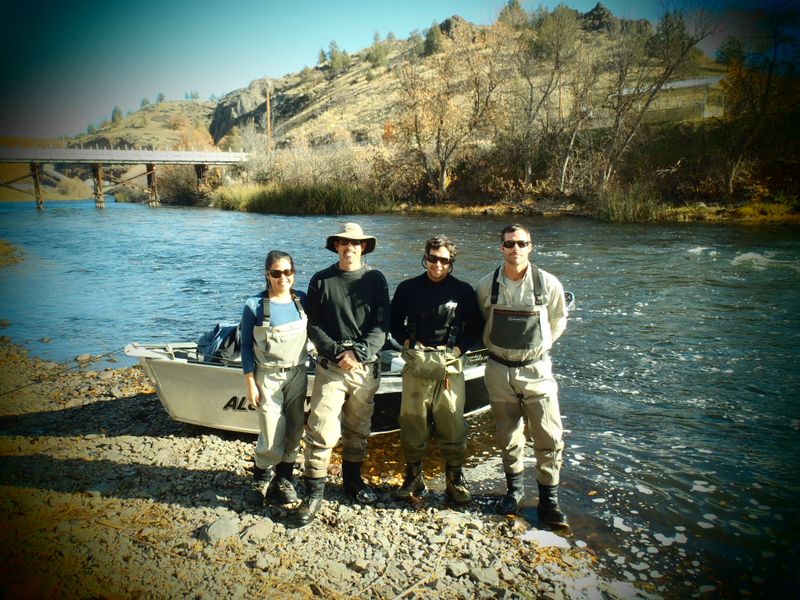 As most of you know Carola and I guide down in Chile and lead groups to Argentine guides from December 1st until April 30th.
The fishing is still great throughout the winter and Forrest Brizindine can guide you on the Lower Sac and Trinity and Isaac Roman can guide you on the Upper Sac and Klamath Rivers. 
Give us a call this winter at 530-926-4540  or better yet EMAIL US! info@jacktrout.com
Check out our background page
http://www.jacktrout.com/wp-content/uploads/legacy/backgrd.htm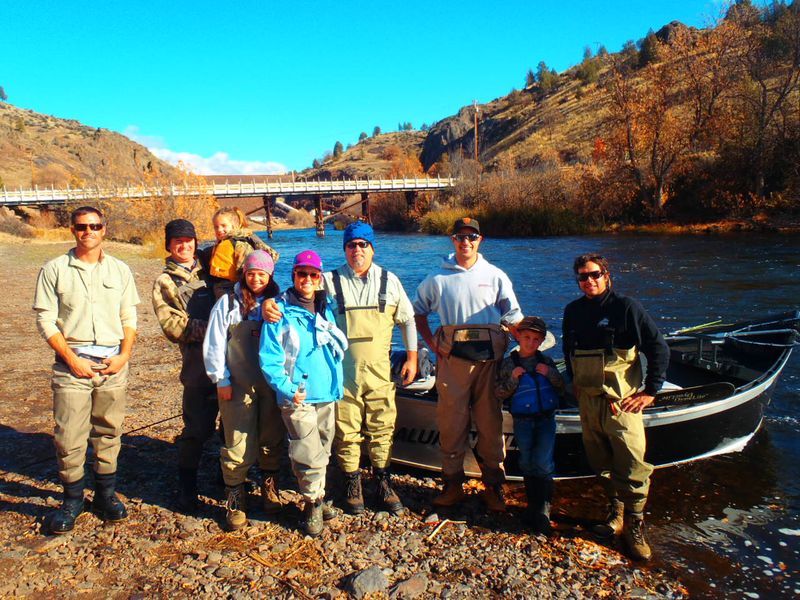 Families and beginners are our specialty, it's an art trust me on that one!
Come on up this Holiday season and take a float trip for steelhead!!
CHILE * CHILE *CHILE * CHILE *CHILE *CHILE *CHILE * 
**********************************************************************************************************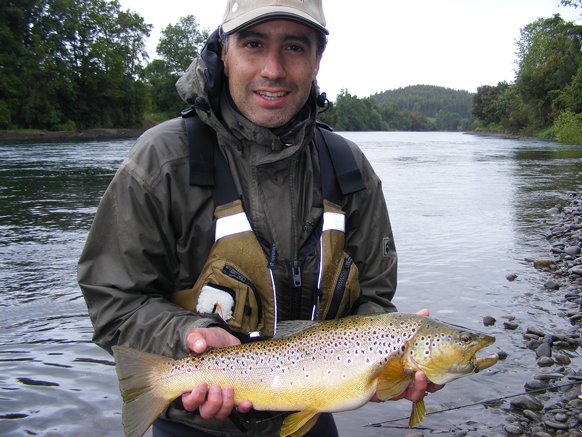 Here comes Chile 2012 folks!! Carola and I are really excited to be returning to spring, won't you come down and visit?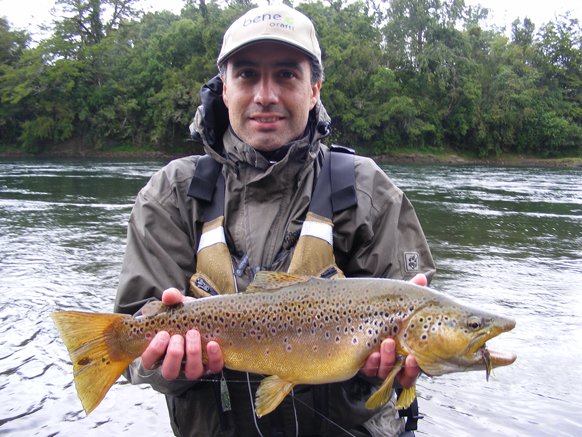 That's a National Geographic Adventure Moment!! I can't wait to be out hunting for trout like this….
 My good friend Mauricio Trout with a beautiful Coho Salmon, a real rarity to hook into let alone landing the mighty warrior!
 Since they have been reporting that Europe is buying less American exports we have begun the process exporting into South America. Did you know they don't have duct tape in South America! Thousands of other things like Betty Crocker cake mix or maple syrup. Think out of the box people the world is changing!   We've got some things up our sleeves!! jt & ct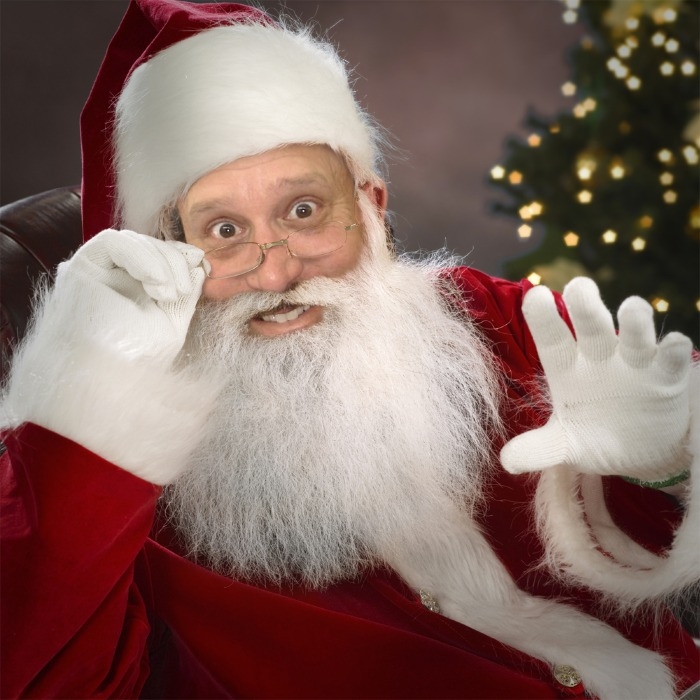 EMAILS FROM YOU:
Jack:
I want to buy 4 trips ($1,100) for next year. I think you have my credit card number. Just send me an acknowledgement. I have one more from the last purchase so this would make 5 trips we can do next year. Yeah! Should I consider doing a trip with Isaac this winter and if so, when and for what?
Jerry Moison
****************************
Hi Jack
Car is clean
We will not be in in the morning of the 2nd as we are at the airport. What time do you arrive. Do you need pikcing up at the airport
Ian
On Wed, Nov 30, 2011 at 3:16 PM, <
info@jacktrout.com
> wrote:
Ian

In Sacramento airport now waiting our flight. Will be there on Dec 2nd to get
the Jeepster! That's great on Edgar, he's great guide!

See you soon, we have a wine for you.

Your friends, Trout & Carola

Quoting Ian Staples

Hello Jack and Carola

Brian and Clare had a good day with Edgar yesterday. Thanks for organising
this.

When and at what time will you be here. We are checking the jeep today and
giving it a clean. It has been under a roof all the time but it is
absolutely covered with ashes

Ian

****************************************

Ok. I will take 4 trips. Big hug to Carola!  A Hicks