*****CHILE 2007 SEASON IN FULL SWING AS NICO AND FRANCISCO MEET 0UR FIRST CUSTOMERS IN FUTALEUFU! WAITING FOR PHOTOS OF CHILE 2007~~STEELHEAD ON THE TRINITY/KLAMATH RIVERS TILL I LEAVE FOR CHILE 1ST WEEK OF FEBRUARY THROUGH APRIL, 2007. STILL HAVE ONE SLOT OPEN FOR FEB & MARCH WILL GIVE A GREAT PRICE FOR GROUP OF FOUR!!*****
---
---
BOOKED 32 GUIDE TRIPS SO FAR THIS MONTH FOR JANUARY FOR ME AND MY GUIDES, THANK YOU ~ THANK YOU!
OPEN JANUARY DATES: 13TH, 14TH, 15TH, 16TH, 21ST, 22ND, 23RD, 24TH, 27TH, 28TH, 29TH ALL OPEN AND READY FOR YOUR GUIDE TRIP ADVENTURES ON THE TRINITY OR KLAMATH RIVERS!
---
---
CHILE ADVENTURES START!! PANCHO AND NICO ON THE ROAD FOR THE RIO FUTALEUFU & YELCHO!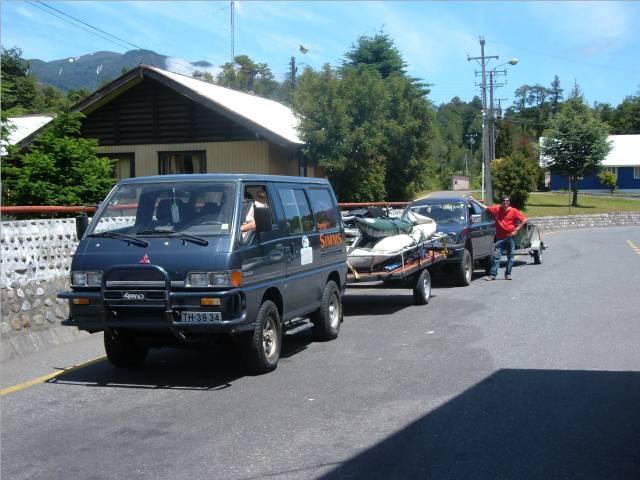 ---
Pancho and Nico at the Chilean/Argentine border on January 1st, 2007 getting the equipment over to the Futaleufu Valley for our up-coming fly fishing season in Chile! Way to go guys, it's snowing here! See you in a month!!
I wonder what kind of great adventures we're going to have this season??!!
(Hope we catch great fish, have happy customers and I meet a girl- "It keeps me searching for a heart of gold and I'm gettin old")!
---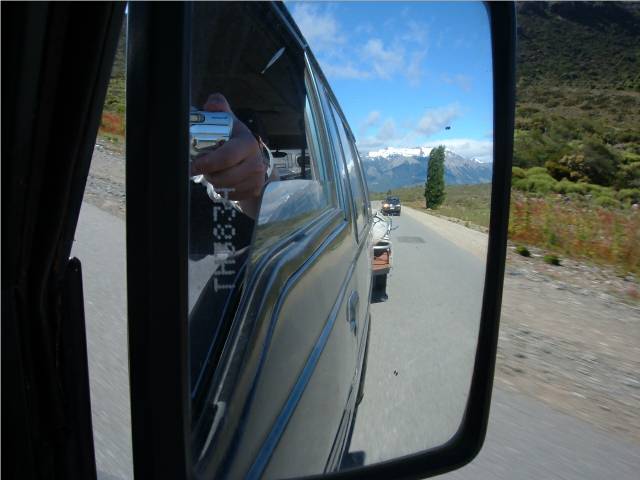 ---
Now that's a nice photo shot Pancho!! Look at those wonderful Andes Mountains, now that's what we came for!!On this trip Pancho and Nico are driving from Puerto Varas, Chile up to Orsorno, then over the Andes Mountains and the two borders between Argentina and Chile down into the Argentine towns of Bariloche, El Boson, Esquel and Trevelin. Then a hop and a skip over the Argentine border back into Chile at Futaleufu. (Dreamy-Adventure)!. This is one fun drive folks, I wish I could have been on!! (Nico, you're driving in the wrong lane)….
---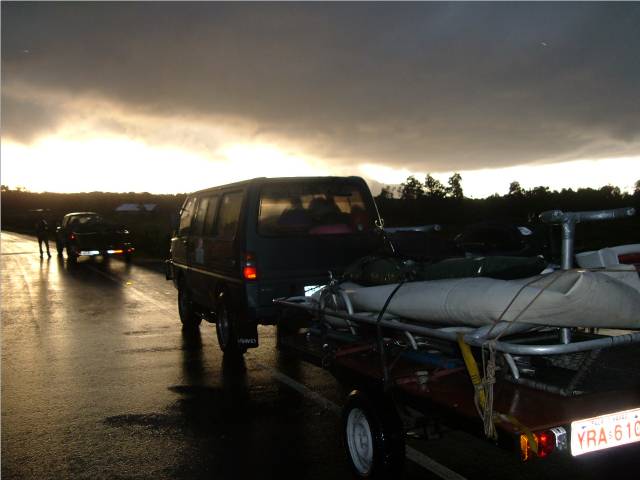 ---
Another border crossing it looks like to me! Stay tuned as Pancho and Nico will be sending photos to keep us informed as to; "What's going on in Chile"!! I start reporting with the Pancho and Nico after 1st week of Febraury!!! I'm so excited I can hardly sleep.
I will be guiding the month of January in Mt Shasta on the Klamath and Trinity Rivers for Steelhead. Many Rivers to You, Jack Trout
---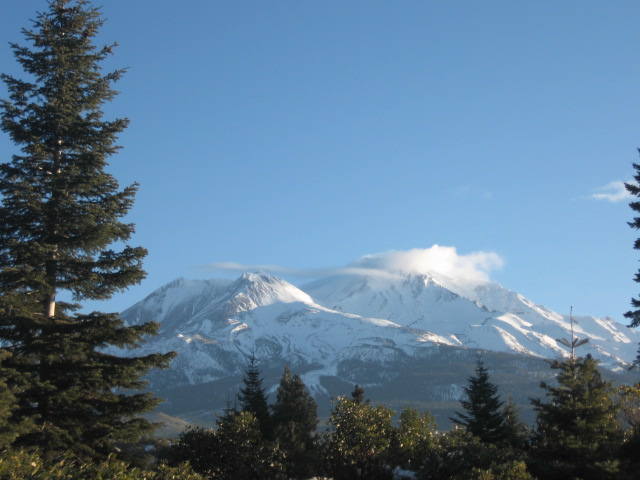 ---
NEW YEAR'S DAY 2007 ON MOUNT SHASTA!
---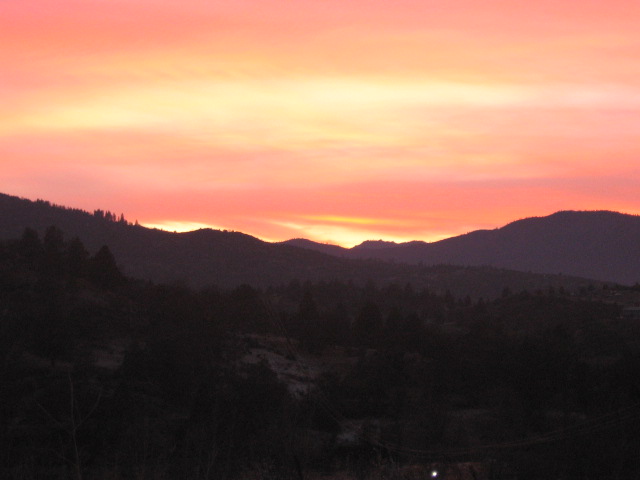 ---
Sunset on the mountains surrounding Hornbrook and the Klamath River on cold winter's day.
---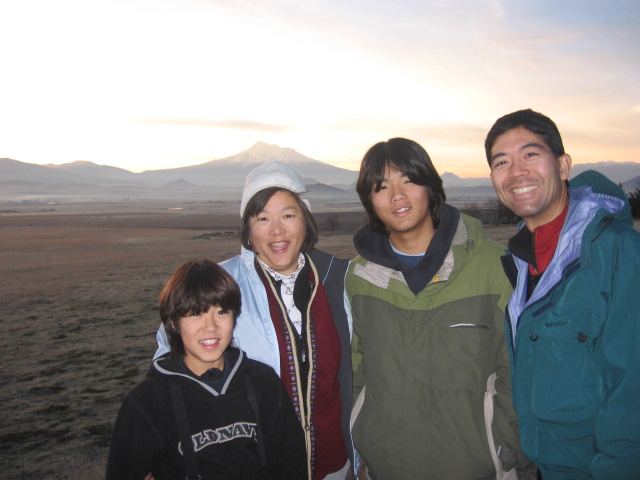 ---
Takata Family!! Lance, Alison, Mitchell & Greg ready for action!
---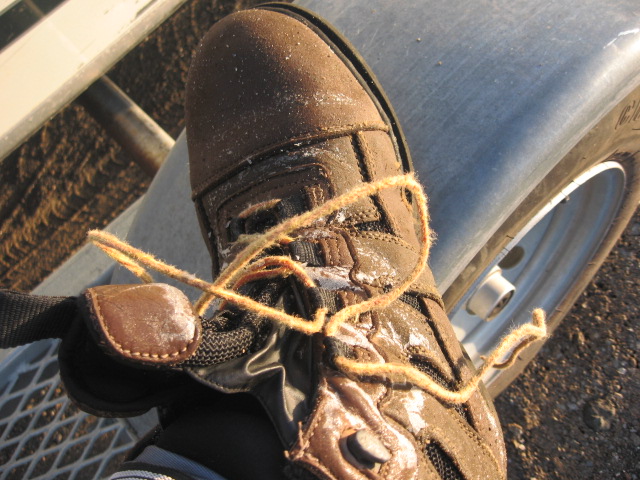 ---
Bring your boots inside the house overnight next time knuckle-head! (You'd think I'd learn after how many years…jt)
---
---
Hot toasted blueberry muffins complimented the morning jitters as we slowly approached the day! After the right gear was applied things started to warm up rather quickly! I was beginning to feel like a stud-muffin…
---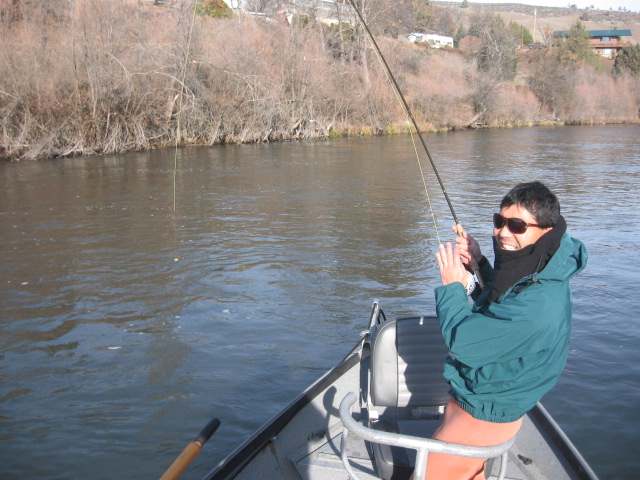 ---
Then Greg hooked into an adult steelhead and the race was on! Greg hooted and hollered as
I think he was surprised the fish was so big and fought so hard!
---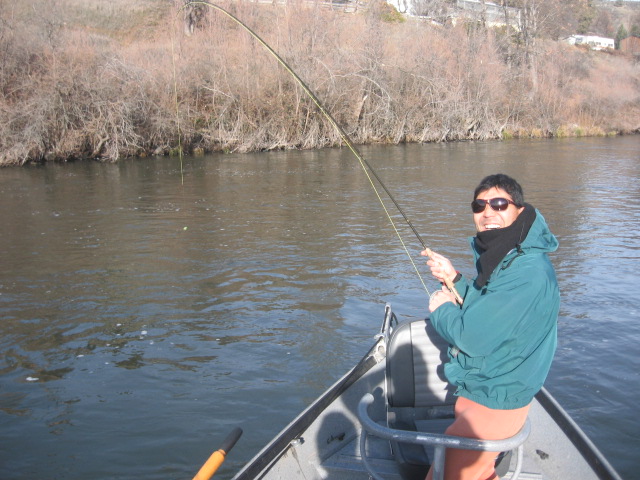 ---
This was obviously a crowning moment in the fishing history of Greg Takata's life Ladies and Gentlemen!! Happy happy happy!!
---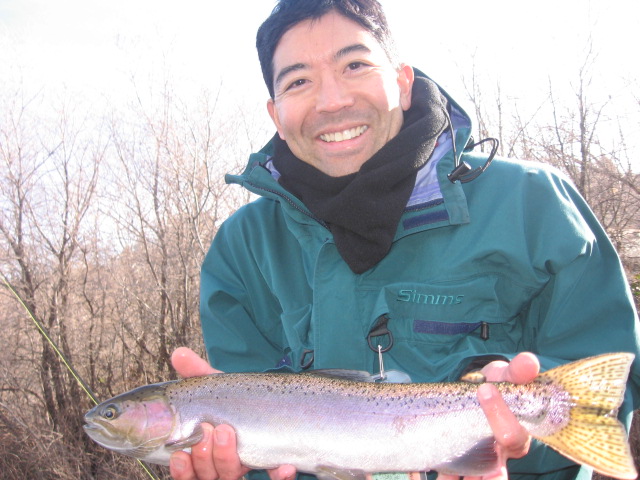 ---
Way to go Greg!
---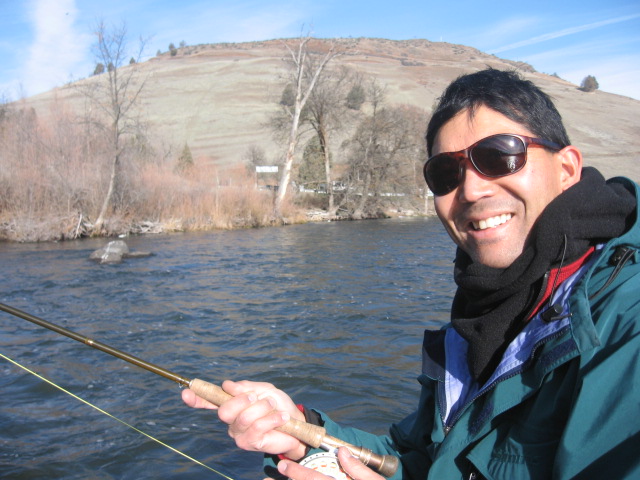 ---
Greg hooked another one a little further down the run and I could tell this one was a bigg'n! Then it JUMPED!!
---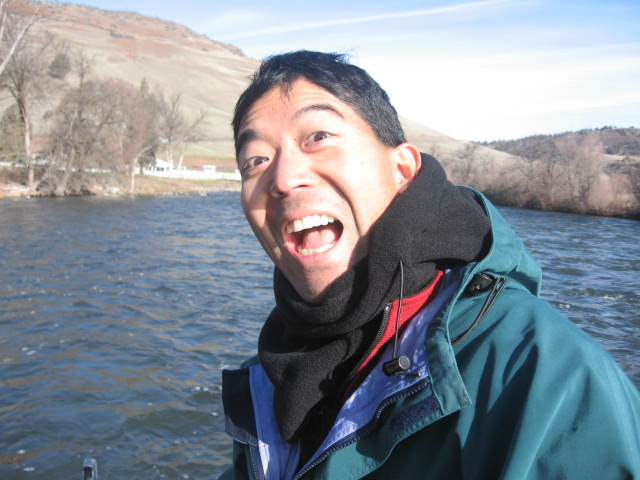 ---
Greg saw it and screamed! Dropped his rod, but recovered in time to keep the nice steelhead on.
---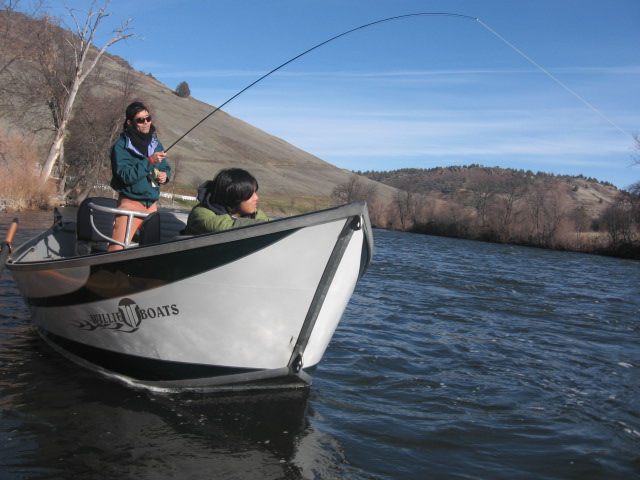 ---
We had to pull over to land the mighty warrior!
---
---
Nice wild steelhead from the Klamath River.
---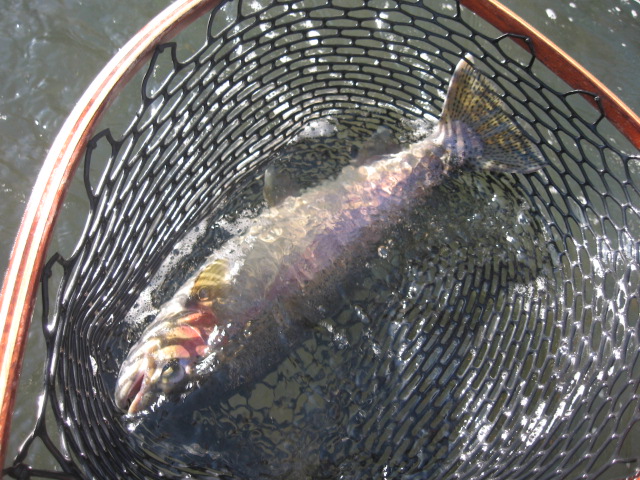 ---
One roll in the user-friendly rubber net and the fish was off to make babies!
---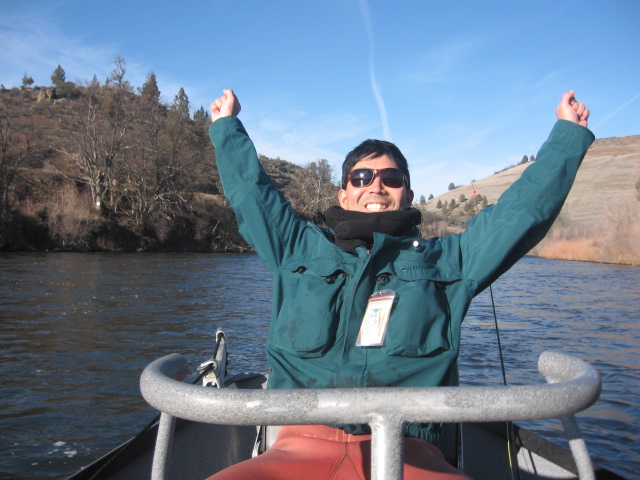 ---
Greg takes the gold in 2006 Ladies and Gentlemen
---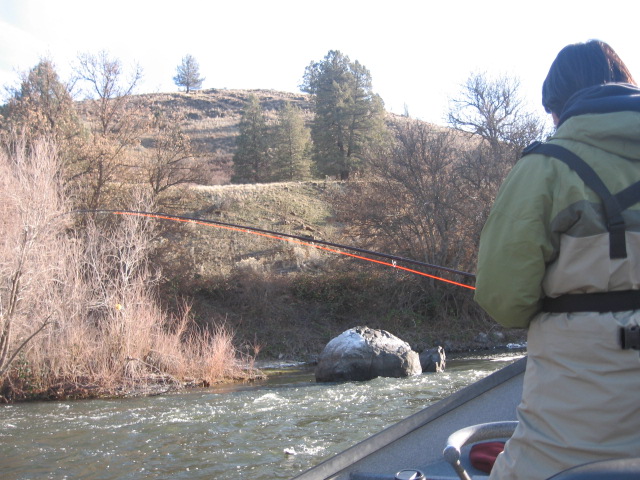 ---
Mitchell hooked one a little while after that.
---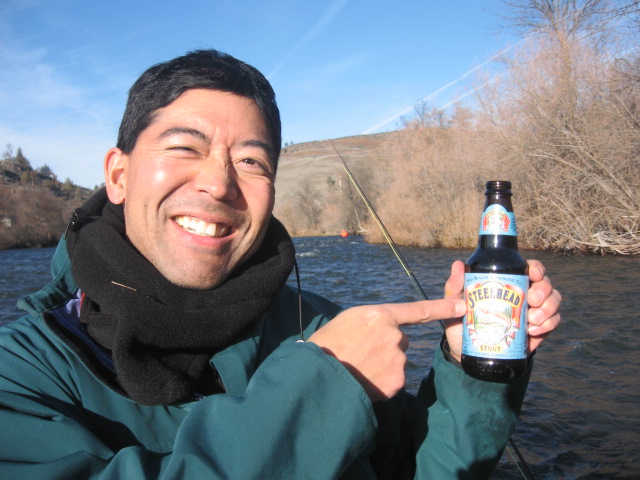 ---
This great fishing has been brought to you in part by; Steelhead!
---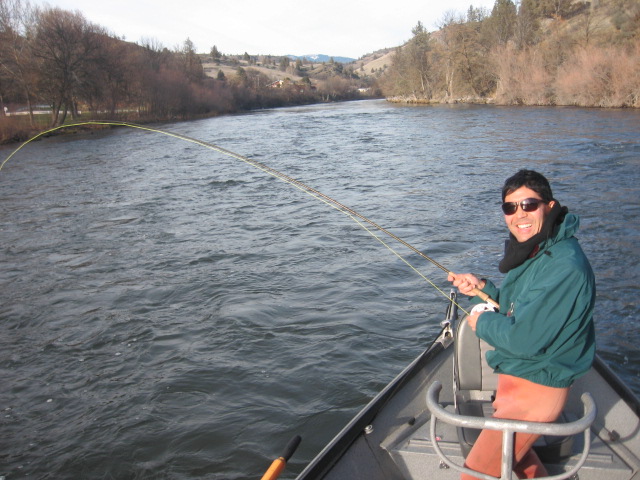 ---
I like the Klamath River for it's non-stop action!
---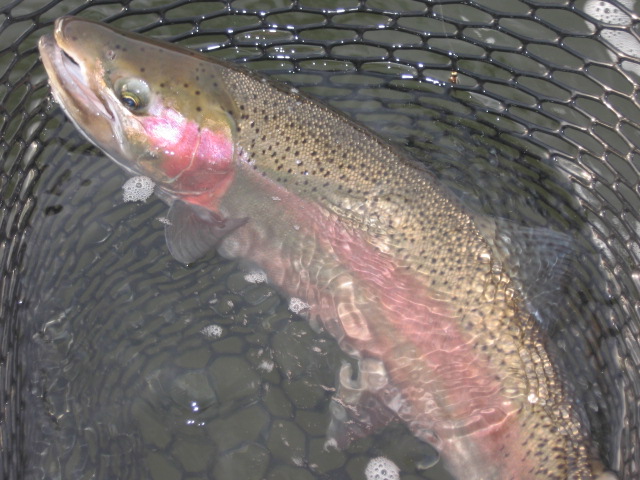 ---
A true lunker indeed Greg!
---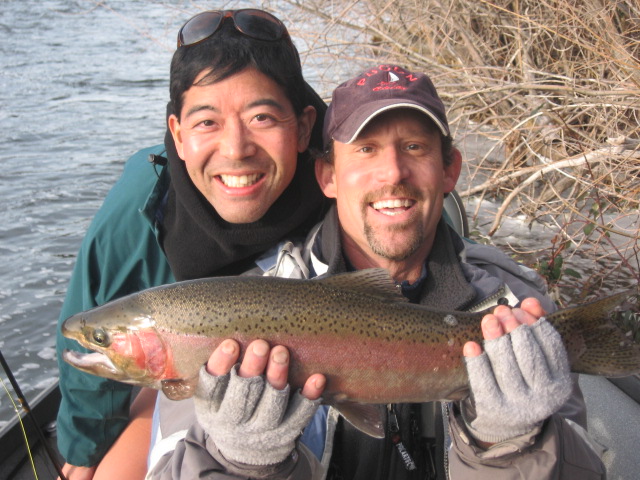 ---
Greg Takata, YOU'RE MY SIZZLER OF THE WEEK AWARD WINNER! CONGRATULATIONS SIZZLER!
---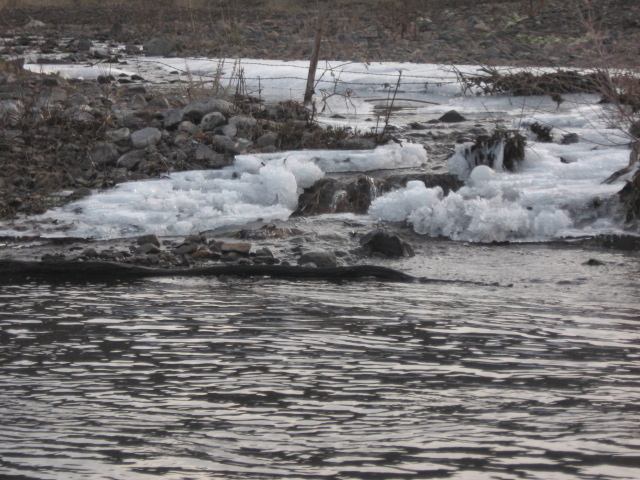 ---
Remember, the winter takes on a different theme. One that makes us appreciate the little things in life like a nice cup of Peets coffee in the morning. Or possible a warm fire back at the ranch! In any event, I love guiding this time of year cause we catch nice fish and it really never is too cold inside so many layers of clothes. (I just think about those crab fishermen up in Alaska and I'm toasty)! I think January is going to be the best steelhead fishing we've seen in quite sometime on both the Trinity and the Klamath Rivers. Myself and my guides are open for productive dates in January, give us a call at; 530-926-4540 Thank you, Jack Trout.
---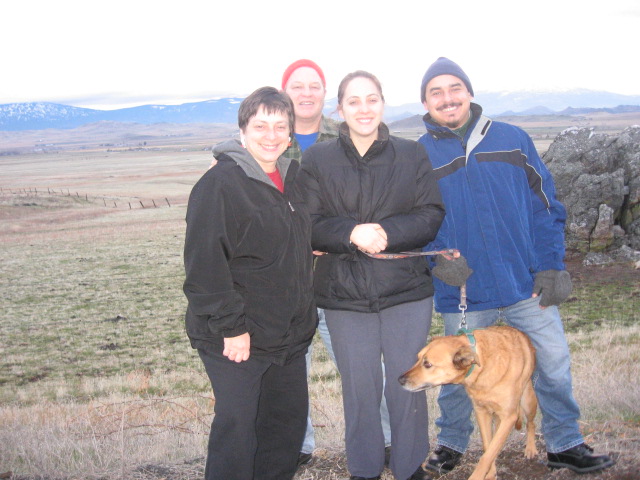 ---
Alexis Friedhaber bought a Holiday Gift Certificate for her daughter's boyfriend and her husband.
---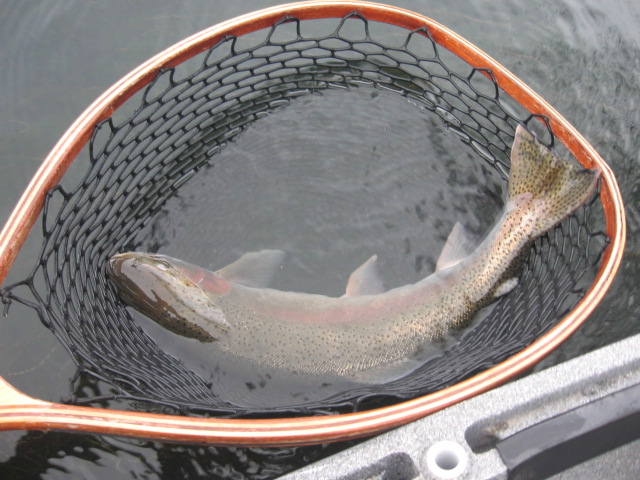 ---
Marcelo caught a nice steelhead his first time out!
---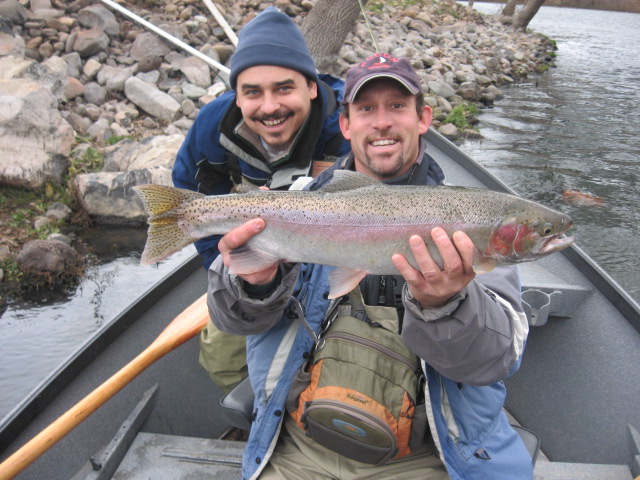 ---
I've been catching more wild steelhead on the Klamath River this year, which is good river health indicator.
---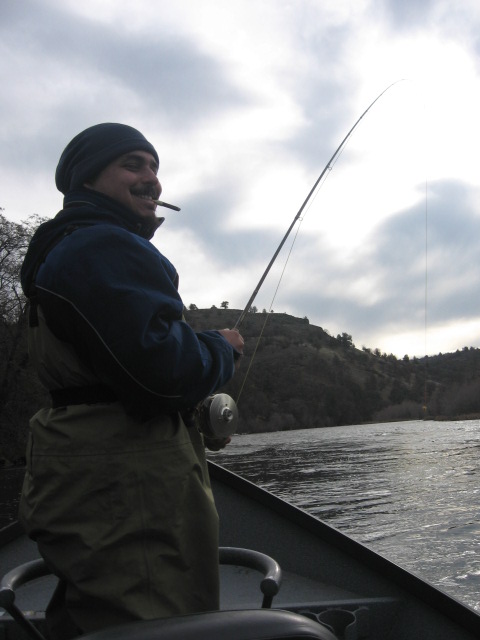 ---
Cigar for good luck?
---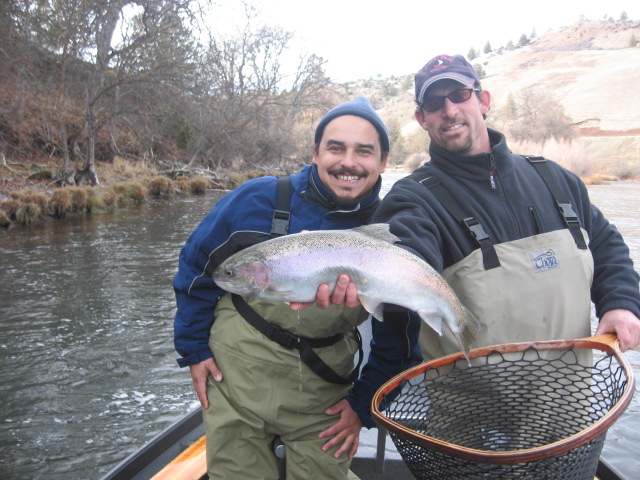 ---
Then this beast came jumping out of the river 5 times or more!
---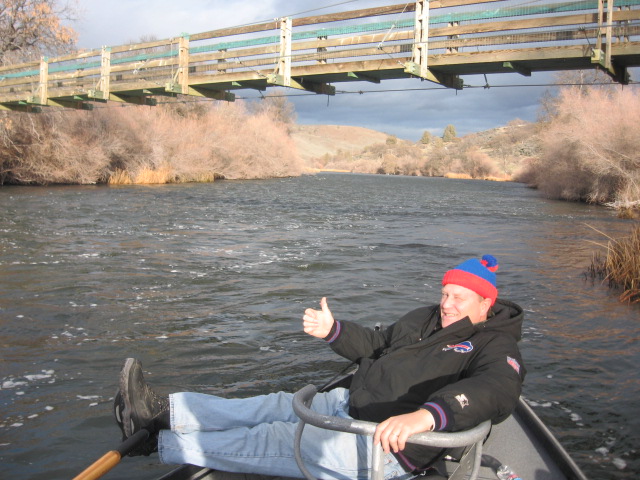 ---
Pops, who was originally from Buffalo, New York was found all day just enjoying the views and taking photos of Marcelo's steelhead!
---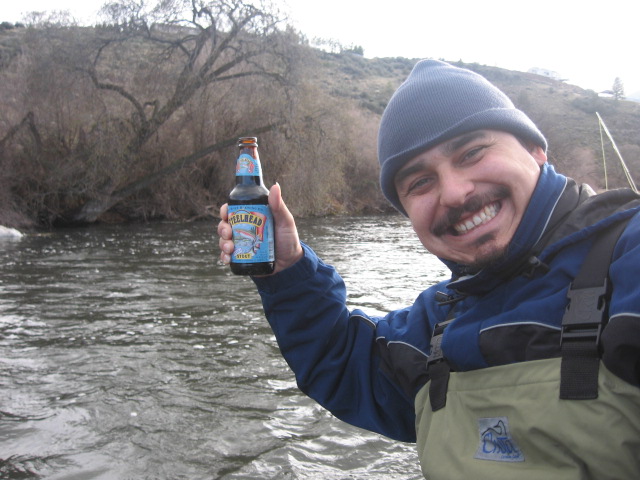 ---
That day Marcelo earned his steelhead!
---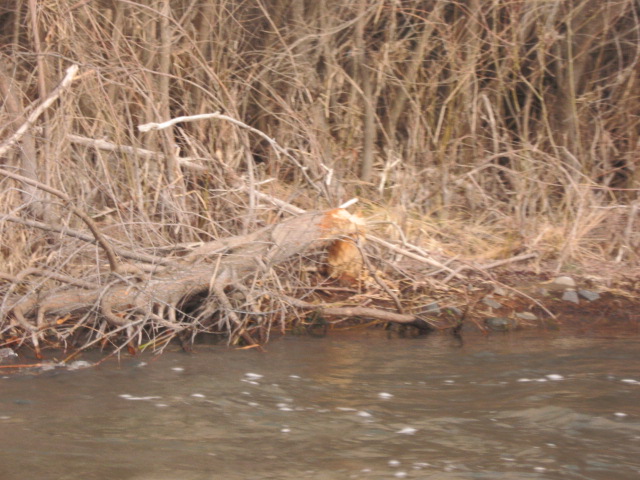 ---
One day out on the Klamath I saw the beaver that cut this tree in half! I thought to myself
how rare it was to see a beaver. It flapped its great big tail and made a large crashing sound as it dove beneath the depths never to be seen the rest of the trip. I've seen two mountain lions in 39 years out in the forest so seeing one beaver counts as a rare sighting! Thanks to the Hudson Bay Fur Trappers and many other pioneers in the 1820's from Central California to the State of Washington, beavers were nearly eradicated for their highly desired fur that was used for top hats that went out of style by the early 1900's. Seeing that beaver was so cool, it made my trip for sure!!(One great thing that occurred due to the Hudson Bay Fur Trappers, the river and the area around the town of McCloud was discovered by Alexander Mcleod and his band of 100 + loyal trappers from Fort Vancouver, located on the Columbia River. Shouldn't the town be spelled Mcleod, he really was the first Mcleod there….?) Read more about this and come back: http://en.wikipedia.org/wiki/Ross_McCloud
---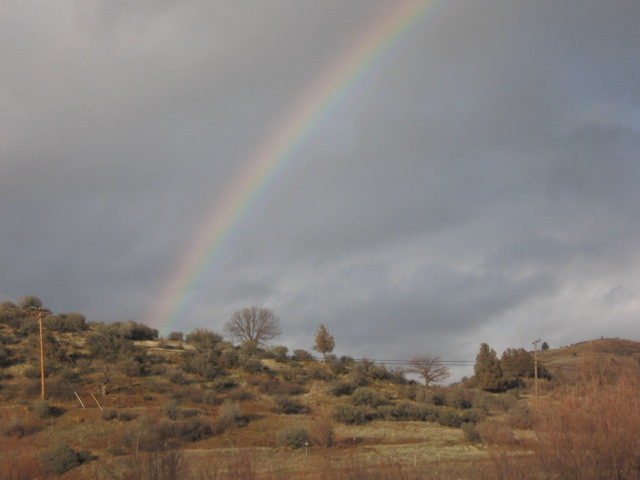 ---
That was a great rainbow we saw that day out on the river!
---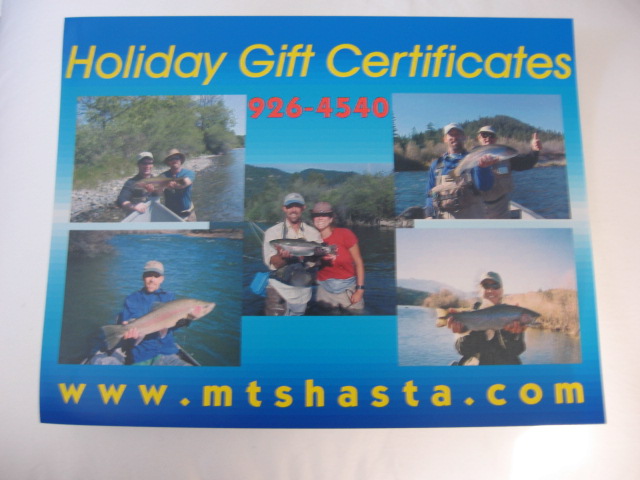 ---
GIFT CERTIFICATE PURCHASES THANK YOU LIST: TOM SHADDOX 2~DAY FLOAT GIFT CERTIFCATE FOR AN EMPLOYEE. GEORGE PROTSMAN 4~PACK FLOAT TRIP FOR A NEPHEW. HALLIE GROSSMAN 2~DAY FLOAT GIFT CERTIFICATE FOR HUSBAND. JEN ALTMAN $150 GIFT CERT FOR HUSBAND. SUZANNE SAYSETTE $100 GIFT CERT FOR DAD. CORI SAYSETTE $100 GIFT FOR DAD. JODY SMITH 1~DAY FLOAT GIFT CERT FOR HER HUSBAND. CLAIRE DONNENWIRTH 1~DAY FLOAT FOR HER HUSBAND. ALEXIS FRIEDHABER 1~DAY FLOAT FOR HER GRANDSON & HUSBAND. ELAINE HARTIN 1~DAY UPPER SAC RAFT FLY FISH TRIP FOR HUSBAND HAROLD. THANK YOU SO MUCH! 2007 WILL BE A GREAT SEASON IN NORTHERN CAL!! JACK TROUT
---
---
---
Thanks for watching those adventures! Stay tuned as we head to the Trinity & Klamath until February. Watch 2007 Chile Season start, as Nico and Pancho guide some folks in and around the Rio Futaleufu & Yelcho. Jack Trout 530-926-4540
---
---
---
http://www.jacktrout.com/futa.html
---
http://www.jacktrout.com/trinity.html
---
http://www.jacktrout.com/klamath.html
---
http://www.jacktrout.com/lowersac.html
---
---
EMAILS FROM YOU:
Jack,
Just confirming: we're (Bob and Gary) booked with you for Monday Jan 8th and Tues Jan 9th for the Klamath. We'll meet at the coffee shop across from your fly shop in Mt. Shasta City on Monday the 8th.
Happy New Year!
Bob McEwan
---
Four of us are palnnning a trip to the Trinity (or possibly Klamath as conditions dictate) on Jan. 25-28, and are interested in 2 days guided, probably the 25th and 26th. We prefer swing fishing over indicator nymphing but we're not purists. Mike Hibbard has been recommended, wonder if he's available and who else you'd recommend, also need to know rates for hte Trinity.
Jim Naughton
---
jack
i got two gift certificates for a fishing trip with you and another one coming(i.o.u.) from my other son. i am going to plan a trip up your way after you get back from chile. going to bring some people with me and was wondering if you knew of any cabins or cottages by the river(mccloud or maybe trinity) that sleeps 6 to 8 people. i think for about 4 or 5 nights. myself and maybe 2 more will fish with you for two days.
also if only my wife and i come another time for a weekend where do you suggest? you mentioned the shasta resort to me before, but we do not play golf, tennis, etc.. any other suggestions by the river(cabin, cottage, etc).
let me know so i can start checking them out.
happy new year
doug saysette
---
Jack,
I enjoy your emails; keep them coming!!
Best wishes for the New Year,
Dennis Pagones
---
Hi Jack
Thanks so much for the great trip last week. Alison, Mitchell, Lance and I had a wonderful time fishing, enjoying the outdoors and being hosted by you! There is no question that you know the water and the tendencies of the steelies because you had us on the fish and hooked up even in the dead of winter. I still can't believe how hard those fish fought especially after traveling the 160+ miles inland.
Your fun loving personality and passion for your lively hood made the day a trip one we'll never forget. I look forward to our next trip.
Tight lines and Happy New Year!
Greg Takata
---
I sure love getting these e-mails. You're a lucky man. Happy New Year!
Jim Evans
---
Hey Jack,
Devin and I are looking to line up another trip with you this winter to catch some steelhead. When is a good time in February when your not in Chile?
Thanks, Michael Blosser
---