****CHILE AND ARGENTINA NEXT WEEK!! STAY TUNED AS THE ADVENTURES CONTINUE IN SOUTH AMERICA!! WE ARE STILL GUIDING THE KLAMATH, TRINITY AND LOWER SAC WHILE I'M IN CHILE ~~ UPPER SAC RAFT FLY FISHING TRIPS START APRIL 1ST.
---
---
---
WESTLAND'S WATER DISTRICT BUYS BOLLIBOKKA ~~ LEIGHTON HILLS LIES TO ME AND THE WINTU INDIANS BY SAYING THERE IS NO SALE TO WESTLAND'S WATER DISTRICT TO MAKE SURE THE SLEAZY DEAL GOES THROUGH 5 MILLION OVER THE ASKING PRICE!! MEANWHILE, READ THE SAN FRANCISCO CHRONICLE'S ARTICLE BELOW!! A CONSERVANCY ORGANIZATION I WAS TOLD, WERE NOT GIVEN A CHANCE TO SHOW THEIR FULL PRICE OFFER.
---
BOLLIBOKKA UPDATE
---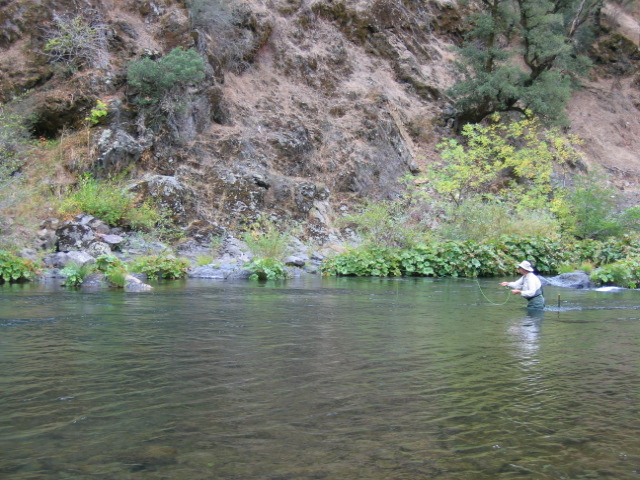 ---
SAN FRANCISCO CHRONICLE~ JANUARY 28TH, 2007
The Fresno-based Westlands Water District — already the largest agricultural user of Northern California water — has spent nearly $35 million to purchase 3,000 acres of land on the McCloud River to make it easier to one day raise Shasta Dam.
The land acquired by Westlands would be sold to the federal government and inundated if officials and lawmakers decided to raise the dam.
Located on the property is the private Bollibokka fishing club, built in 1904 by the founders of Hills Brothers Coffee, and 26 Winnemem Wintu Indian villages with burial grounds. The Indians worry that their access to sacred sites could be blocked by Westlands.
"Our purpose in buying the property was only to ensure there would be no additional impediments if the (federal) Bureau of Reclamation concludes it's feasible to raise the dam," said Tom Birmingham, general manager and general counsel for Westlands. The Indians "have conducted cultural activities there. I don't see any reason why they couldn't continue to do that."
Westlands' goal of capturing more water in Lake Shasta would help make more water available to the 600 farmers it serves. Those farmers now, on average, receive only 65 percent of the annual 1.15 million acre-feet they are entitled to under the district's contract with the federal government. Any extra water the district receives could be sold at higher prices to urban users.
An acre-foot is 325,853 gallons — roughly the annual amount of water used annually by a family of four.
Indians, anglers and environmentalists, who all oppose raising Shasta Dam, decried the sale to Westlands, which was completed Jan. 12, saying a higher dam represents a loss of irreplaceable river.
"It's going to inundate some wonderful, wonderful trout water and some very beautiful natural resources," said Duane Milleman, manager of guide services at the Fly Shop in Redding. "That's scaring a lot of people."
One prospective buyer of the property wanted to develop the property and create a subdivision of vacation homes. Westlands feared that more residents living in an area inundated by a higher dam "would create a greater impediment to the potential raising," Birmingham said.
That fear — and what Birmingham described as a "bidding war" for the property — led the water district to pay the Hills family $11,600 an acre — a purchase price nearly $5 million higher than the Hills' $30 million asking price. Birmingham said the water district would contract with someone to operate the fishing club.
"This was a case of a willing buyer, willing seller," said U.S. Sen. Dianne Feinstein, a supporter of raising the dam.
"It is in California's long-term interest to preserve the option of providing additional flood control, more cold water for the Sacramento River salmon fishery, more generation of electricity from clean hydropower and additional surface space at Shasta Dam," Feinstein said.
The federal government has been studying the environmental impact and feasibility of heightening the dam since 2000 and expects to complete its review by fall 2008. Birmingham predicted it would be decades before the dam was raised, if Congress approves the project.
For the 120 Winnemem Wintu tribe members who live near the McCloud, the land around Bollibokka contains sacred places and 26 village sites, each with undisturbed burial grounds.
"We need those lands to survive. By facilitating the dam being raised, Westlands is engaging in cultural genocide," said Mark Franco, whose tribal title is "head man."
In the 1850s, there were some 14,000 Winnemem Wintu on the McCloud. By 1900, just 395 remained, according to Caleen Sisk-Franco, the tribe's chief and spiritual leader. Tribal members who fought in World War II returned home in 1945 to find Shasta Dam completed and their old homes underwater.
In 2000, the Bureau of Reclamation first proposed raising the 602-foot tall dam by 6.5 to 18.5 feet, prompting the remaining Winnemem Wintu to declare war on the United States.
The Winnemem Wintu are not a federally recognized tribe, which means they have less power to prevent potential destruction of their village sites and sacred places.
"This land is what makes us what we are," said Sisk-Franco. "We will fight to the end."
Leighton Hills, who managed Bollibokka fishing club for his elderly parents, said one of the conditions of sale to Westlands was that the water district continue to allow the Wintu access to their sacred sites.
"Westlands has a varied reputation in some parts of the state relative to environmental issues," Hills said in an interview. "But in terms of their willingness to be responsive to our concerns, they've been great."
Sale of the property was driven by estate planning and a desire to avoid having 50 percent of the asset lost to federal inheritance tax, Hills said.
It was purchased for $5 an acre by Hills' great-grandfather Austin Hills and his brother Rueben after Southern Pacific decided to lay its tracks along the Sacramento River instead of the McCloud.
A number of wealthy San Franciscans have been members of the club over the past 103 years. Its members opposed raising the dam because it would destroy the prime trout water running through the 7-mile stretch of river where the property is located.
"The McCloud certainly ranks among the best fly-fishing streams I've been on," said Birmingham, who has fished at Bollibokka, which means "black manzanita" in Wintu, and elsewhere in the West.
Unlike some of the Winnemem Wintu sites, the club's buildings will survive even if the dam is raised by 18.5 feet, Hills said. The lowest building, called "The Rock House" and built by Winnemem Wintu tribe members, is 33 feet above maximum reservoir level.
Allied with the Wintu are several environmental groups, including the Natural Resources Defense Council, which is working with the tribe to win recognition by the federal government.
"This purchase is a five-fer for Westlands," said Barry Nelson, senior policy analyst for the NRDC. "It eliminates an opponent of the dam, heads off the tribe, blocks any development, the district will be bought out with public funds if the dam is raised, and they can use the fishing club to lobby for the project."
Westlands has long been a target of criticism from environmentalists.
Farm drainage water from some of Westlands' 600,000 acres along the western side of the San Joaquin Valley carries heavy amounts of selenium, which can poison wildlife. Westlands has successfully sued to force the federal government to clean up the toxic water.
Jack Trout, a guide on the McCloud for 16 years, learned of the possible land sale when he was taking a group out to the Bollibokka last October and encountered Birmingham, whom he had guided before, and a local real estate agent looking over Bollibokka.
Trout wrote an angry blog about the potential sale and his chance encounter with Birmingham, who disputes Trout's account.
Trout remains angered by the sale, fearing not just a loss of livelihood but of something deeper.
"The river has given me life. The river was there before the Hills family, before the Wintu Indians. All we have in the end is the river, and we have to protect it."
E-mail the writers at glucas@sfchornicle.com and tstienstra@sfchronicle.com.
Page A – 1
---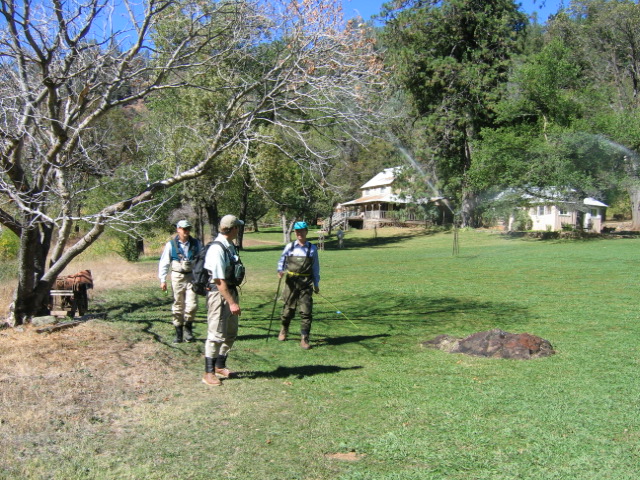 ---
(EMAIL FROM LEIGHTON HILLS NOVEMBER 13TH 2006)
Jack,
I have to say I was very surprised to have you hang up on me before any conversation. I thought after a long break you were interested in rebuilding ties.
I think that it falls under common discretion that when you are a guest on another's property, you don't then broadcast what you overhear or who you might see in the next room. We have had a LOT of interest in Bollibokka, and Missy and I have given tours to interested parties many, many times over the past several weeks, now months. We've had interest from movies stars, Silicon Valley entrepreneurs, and many others who would understandably expect that their visit would not be then be publicized and criticized. I understand that you know Tom Bingham from guiding him previously, and the fact that he was willing to show the property to one of his wealthy board members interested in nice sporting properties certainly does not warrant the comments you have written. But more to the point, it's not appropriate to be writing things good or bad about people looking at Bollibokka, and that is why I was upset.
It looks like we may have an arrangement taking shape where Bollibokka will continue on, with only a partial sale / rearranging of ownerships, basically something we had hoped for from the beginning. I think that would be great for Bollibokka, and great for our family. With the types of hassle and scrutiny that people working on such a deal might now think they will be subjected to, as you've done with Tom, I'm hoping that some don't decide that they don't want to be part of it.
I understand that you were acting out of protection for Bollibokka, and we're on the same side in wanting what's best for a place we love. I would appreciate it if you would consider this info and point of view in deciding what parts of the current text could be edited out.
http://mtshasta.com/2006/11/07
(The request about the www.mtshasta.com/bollibokka page is a simple request to delete information that is way out of date. Several of our members have asked us to ask you to remove the page because it's confusing for their guests when they do a search for Bollibokka.)
Leighton
Leighton Hills
16 Miller Ave., STE 202
Mill Valley, CA 94941
415-383-7102 (O)
415-383-7060 (F)
LJHills@pacbell.net
---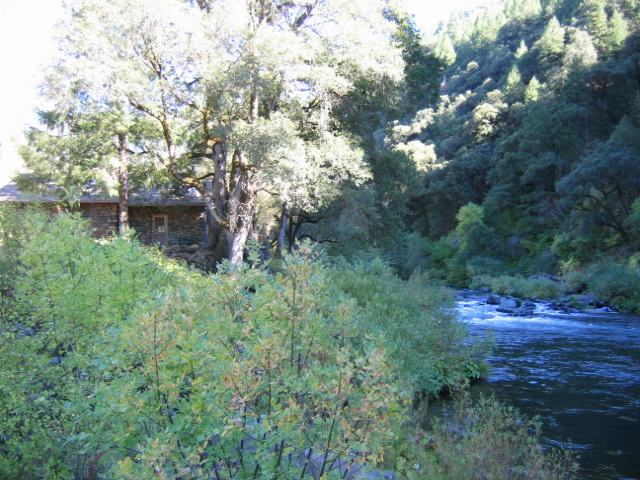 ---
(EMAIL FROM LEIGHTON HILLS ON SEPTEMBER 24TH 2006)
Jack,
Looks like Tom devoted more space to the article than expected. The link is below.
He also makes the Shasta raise seem to have more of an effect than is true. The Rock House, which is the lowest building at the Clubhouse, is 33 feet above the max level of Shasta so the increases being considered of 6, 10 and 18 feet don't even affect that. Here's what I wrote for Missy in terms of disclosure (I guess we've been trying to make such a big deal of the Shasta raise when were complaining against it, that when we looked at it objectively, it doesn't really affect us all that much). Anyway, here it is:
"It's safe to say the project remains squarely in early study stages, as it has been for at least the last 8 years, and no recommendations are expected to come from the operator of Shasta dam, the Bureau of Reclamation, for several more years. The local Indian tribe (Winnemem Wintu) has been very effective in asserting that further use of the McCloud for water projects amounts to cultural genocide as more of the tribe's sacred locations are subjected to possible flooding a theme that plays hard with Californians and with the California politicians whose approval would be needed. Further environmental reviews would follow, and physical construction of a project – if ultimately approved – would extend project implementation further to the future. Expansion of Shasta has been under study since completion of Shasta dam in 1945.
In any event, the lowest building in the Clubhouse area (the Rock House) is 33 feet above the maximum reservoir level. Increases to dam height studied have been 6 feet, 10 feet and 18 feet – so even the lowest building in the Clubhouse area would not be affected by the project. The Clubhouse and other major buildings are approximately 50 feet above the maximum reservoir level.
Moreover, a larger reservoir is expected even by its proponents to fill only once every ten years – and then, the time duration before the reservoir would recede would be approximately two weeks (and would take place early in the spring before fishing and most other outdoor activities). here's why. For safety reasons, the operators of the dam presently have to drain out so much water before the start of each rainy season (to avoid the possibility that a storm of epic proportions might overtop the dam) that they are rarely able to refill the reservoir during the following normal rainy season (that's why Shasta rarely fills even now). If the operators had more safety height available at the top of the dam (to avoid overtopping), they wouldn't have to drain out so much water, and that's how this project could provide more water to California on an annual basis. It would be an exceedingly rare rainy season (modeled to be two weeks in ten years) that the reservoir would actually utilize any safety height added to the dam.
In the event a project is approved and completed, Bollibokka would have to relocate the caretaker's cabin at Nawtawaket Creek, but otherwise the impacts on Bollibokka are minor of short duration. Bollibokka would receive compensation from the government for the right to store water on Bollibokka property (even though likely an infrequent occurrence)."
Leighton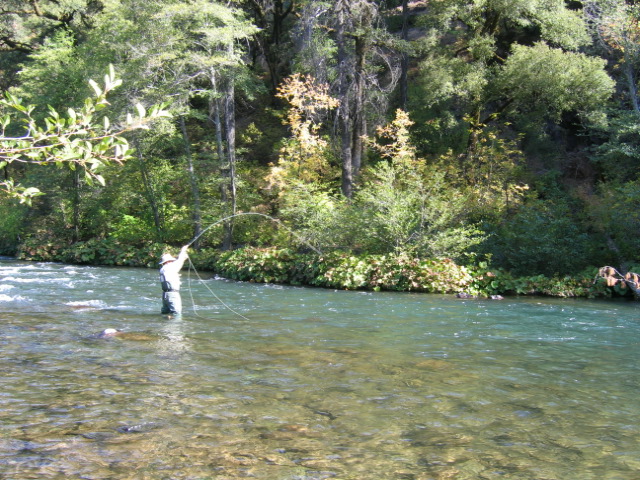 ---
(EMAIL FROM LEIGHTON HILLS NOVEMBER 8TH, 2006)
Jack,
Please immediately remove all the text and photos relating to Bollibokka from you website on http://mtshasta.com/2006/11/07
Please also take down the "hidden" website www.mtshasta.com/bollibokka.
I can assure you you will be facing a very large lawsuit from Bollibokka if you do not comply by 5:00 p.m. 11/9. Please confirm right away that you intend to comply with our request.
Leighton Hills
16 Miller Ave., STE 202
Mill Valley, CA 94941
415-383-7102 (O)
415-383-7060 (F)
LJHills@pacbell.net
---
LEIGHTON HILLS, YOU CAN SUCK MY FIN!! YOU SOLD OUT ON THE STATE OF CALIFORNIA IN MY OPINION. YOUR FAMILY MIGHT BE RICHER NOW BUT LIFE BECOMES A LONELY LEGACY, JACK TROUT
---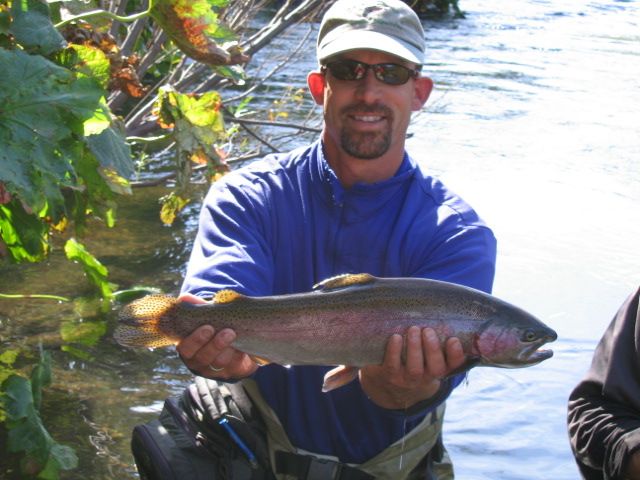 ---
AN IMPORTANT MESSAGE FROM JACK TROUT:
All the above pictures were taken at Bollibokka, could you imagine allowing one inch more of this river being absorbed by Shasta Dam being raised someday? It's not just the river though it's everything, the amazing terrain, oaks and elephant ears that will be under water because of the actions of Leighton, Herbert and Doryce Hills and Tom Birmingham from the Westland's Water District. I couldn't imagine selling such a great historic piece of property given to me by my great grandfather just because of a future inheritance tax?
I always thought Taylor Hills, Leighton's son, would take over some day. Leighton always talked about how much he loved Bollibokka and the McCloud, but in the end just like all
trust fund babies it was all about the money, it's a drug for the rich.
That part is really none of my business though, I just could never do it because of my relationship with the McCloud River. I guess when you have to work hard for things in life and they aren't just given to you do you begin to realize how precious these things are. The one thing I'm most upset about is The Nature Conservancy had an full price offer on the property and the Hills wouldn't even consider it because of what was prearranged I guess, through Westland's Water District. I was told by George Stroud with the Nature Conservancy, that during the time we were all wondering what was up with the sale and the all the rumors were flying about Leighton Hills and Bollibokka. George Stroud told me he had a member of the conservancy that was willing to pay full price for Bollibokka property but was told by the Hills that it was too late and they wouldn't consider it even though the escrow hadn't closed. The private investor would have preserved the property
I was told by George. When I asked George Stroud to call the media, he said he didn't want to run the risk of losing his job by exposing his client or the Conservancy? I thought to myself why am I the only person willing to put it all up for the McCloud River? (Tom Stienstra of the SF Chronicle thought the same). These groups that say they defend rivers are suspect in my point of view when it really comes down to it. That hurt people cause we couldn't verify everything, and people who knew things in the Bay Area wouldn't talk on the record to The San Francisco Chronicle because they were scared for their livelihood and the potential for repercussions. Now since the deal has closed and recorded on January 12th 2007, Westland's Water District and the forever disliked in the North State, Hills Family who stuck the dagger in all of us that really care for the McCloud River. I guess we can all take a look at what we could have done better to help curve the sale out of the hands of such a gruesome bunch like the Westland's Water District. I know we need water storage for the future, I know the statistics of how many people are suppose to be in California by the year 2100. We need water storage people!
But Shasta Dam is not the place to build higher.
In fact you can mark my words, some day
raising Shasta Dam will be a critical mistake in California history.
Look at the Klamath Dam, what is happening? The dam is out-dated, full of silts and harmful diseases that kill fish, raised water temps and the promotion of algae blooms. This is a smaller version of Shasta Dam in the future but the culprit this time will be salinated farm soil from our water being transported from too far north, it's happening now people. Now one of the biggest reasons Shasta Dam is being raised is because of the cost factor. It's the least expensive way to increase water storage, not necessarily the best way of course. I like the idea of desalinating ocean water and pipe them in over the small range of mountains to the west of the San Joaquin Valley down to San Diego. How about since Westland's Water has made so much profits on us up north That they flipped the bill with the Bureau of Reclamation? The other avenue is to build smaller dams or catch basins in the revines of the west hills all the way down the interstate 5 freeway to Los Angeles. If you live in Los Angeles you should be out raged that Westland's Water District pays as little as $30 an acre foot for our water up north and sells it to LA for as much as $350 an acre foot!! No wonder they can sell bonds and buy Bollibokka, they have been ripping everone off with the help of Tom Birmingham.
I'm telling you for the future, raising Shasta Dam is a recipe for disaster, how do you plan to clean the dam one day? Smaller dams down to LA or desalinization is a better answer for California's future water programs. Jack Trout
(When my father used to guide Leighton and Gray Hills at Walton's Grizzly Boys Camp as kids he should of knocked some more sense into their skulls)!
Here's the letter he wrote and organized for the CRMP protesting against any dam expansion, I went called Bob McKenzie KTVU to get media attention not to raise the dam. Then out of no where two years later the Hills family put up the property for sale and sold it to the Westlands Water District for $35,000,000.00 instead of selling it to the Nature Conservancy buyers that offered full price
at $30,000,000.00 what a travesty of history in the chronicles of the McCloud River. This poor river has been screwed, blued and tatooed by clubs that only care about their cronies instead of the Native American Wintu's they extirpated from the river after 1870's and the fish that have stocked the world. Remember trust fund babies can never be trusted when it comes to environmental issues and protecting habitat over spending mommies money. Check out this letter, it will make you feel ill like I did I;m sure.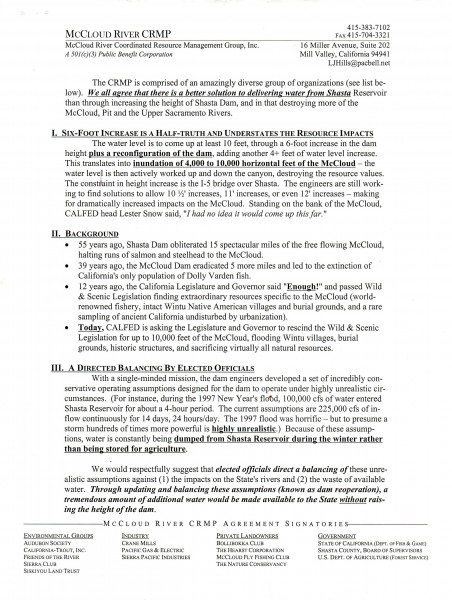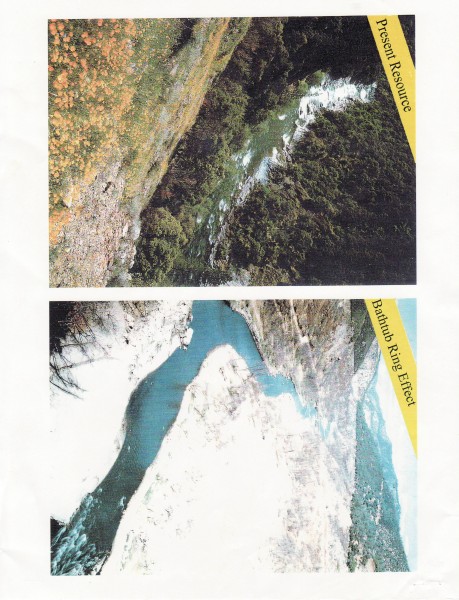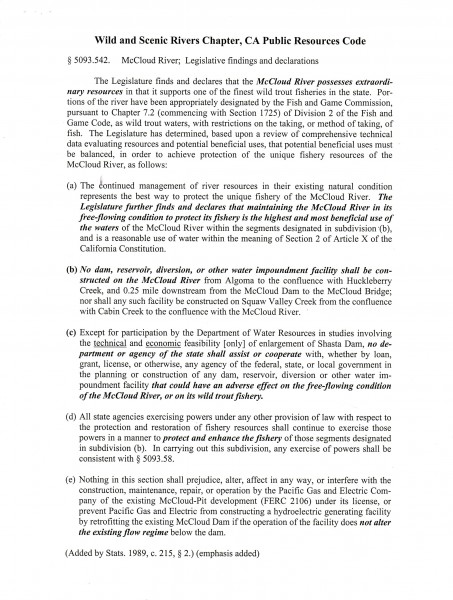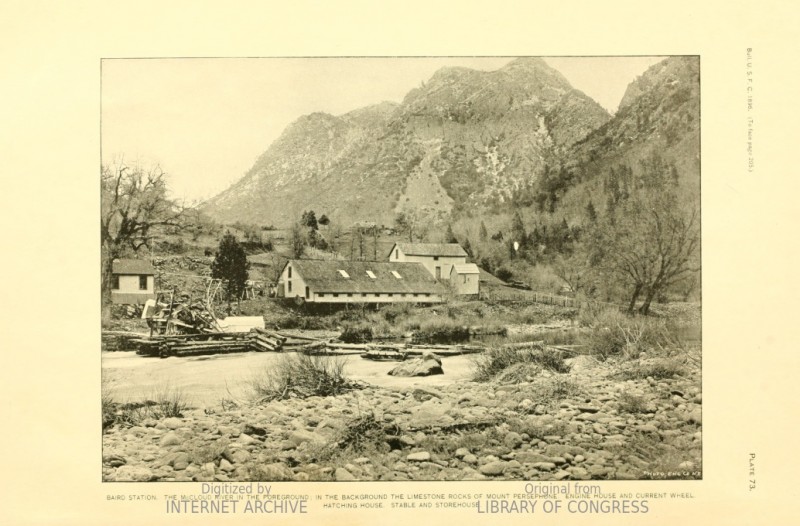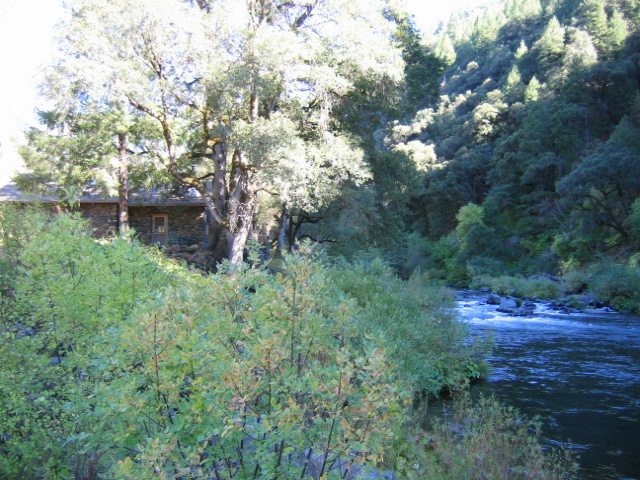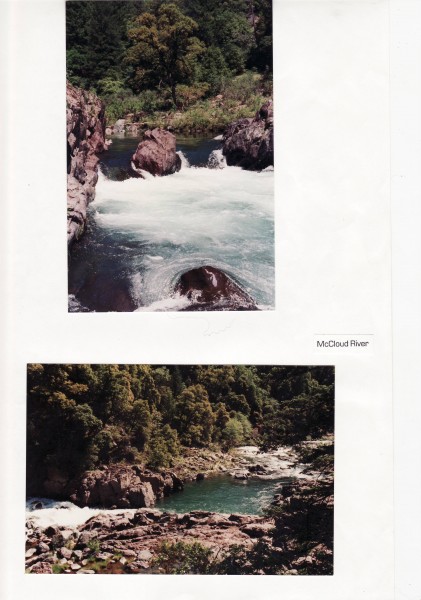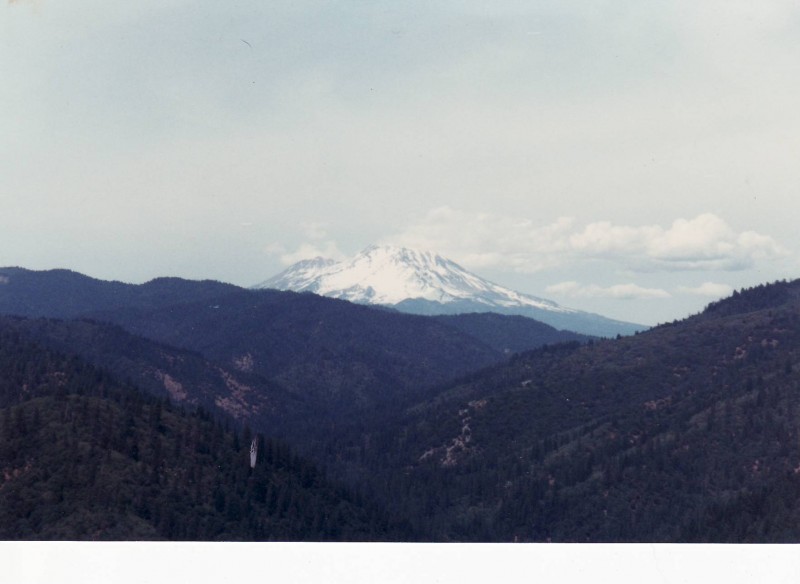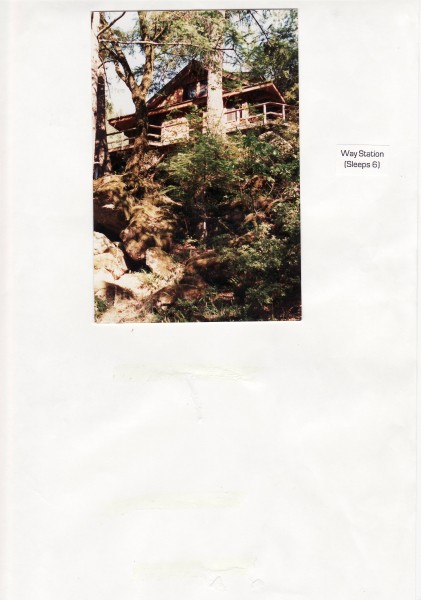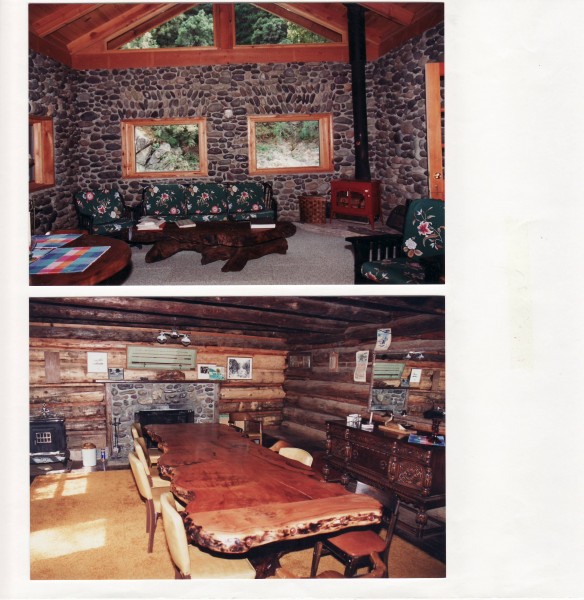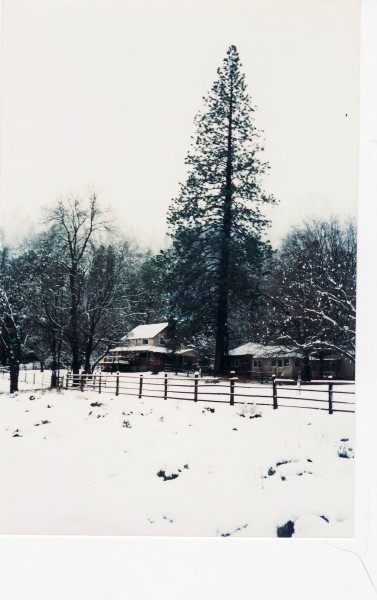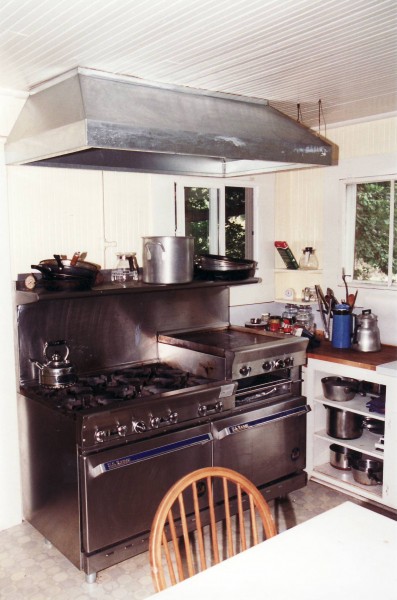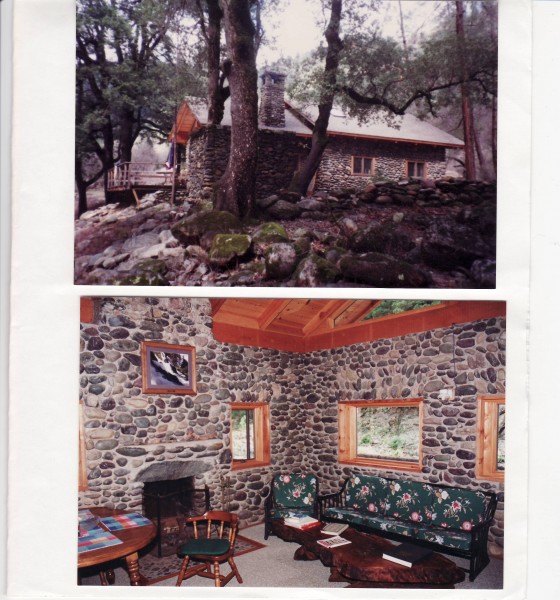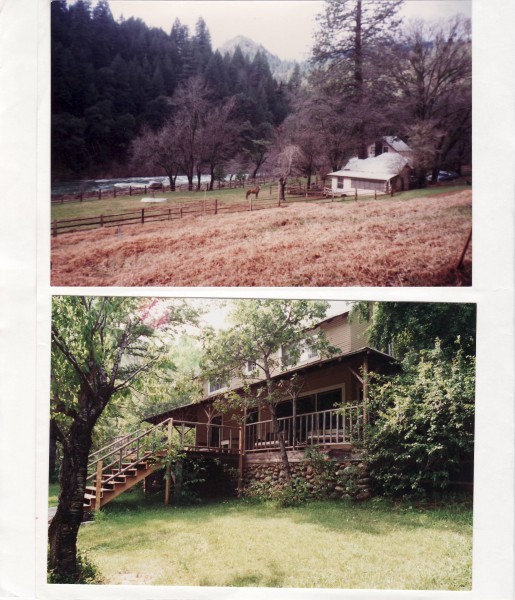 ---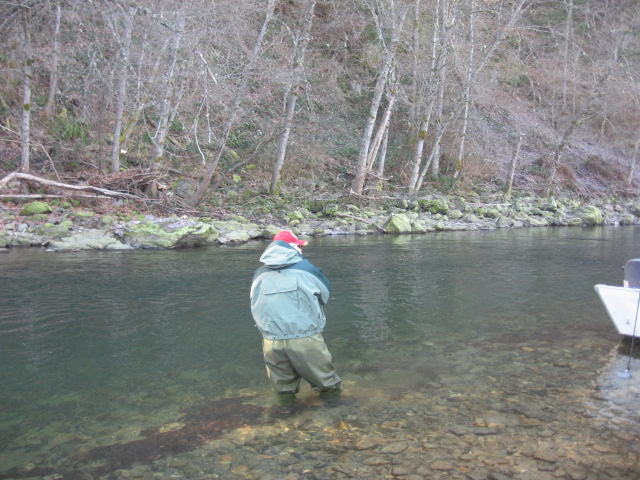 ---
I'm so sorry but I'm so sad for the Mccloud River that I can't really write this week. I will return though with stories from Chile and Argentina starting next week. Jack Trout
---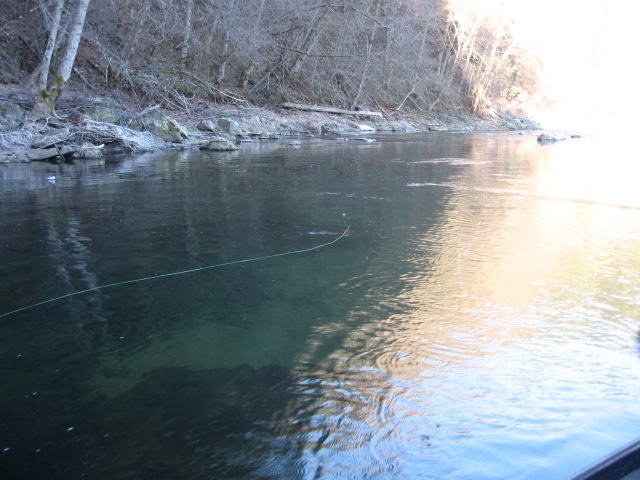 ---
The Trinity River on Sunday January 21st was lowered to 265 cublic feet per second, the minium required flows on the Trinity are suppose to be 300 cublic feet per second. The water rights law suit that was won by the Hoopa Indians is not being recognized. The river is too low and is not being monitored correctly by the Bureau of Reclamation. Jack Trout
---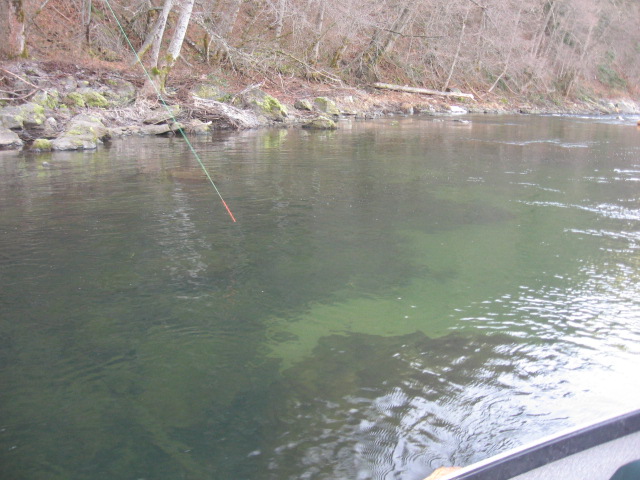 ---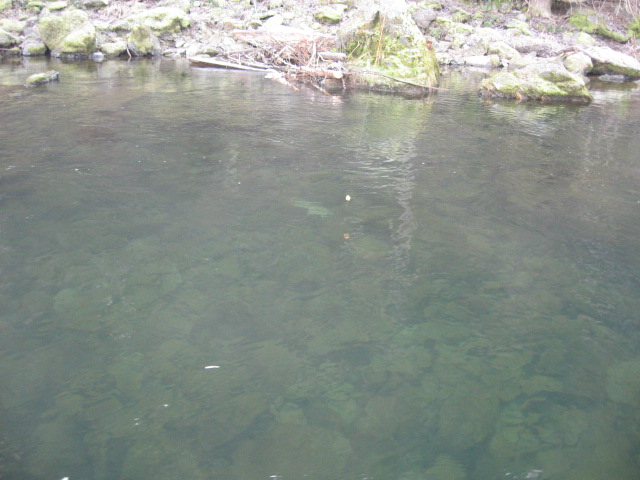 ---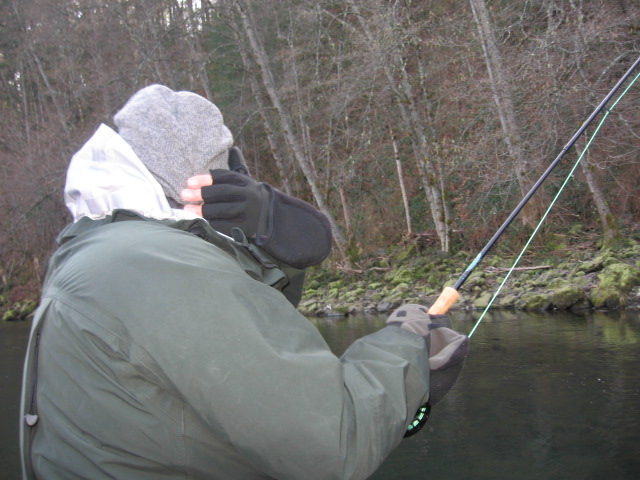 ---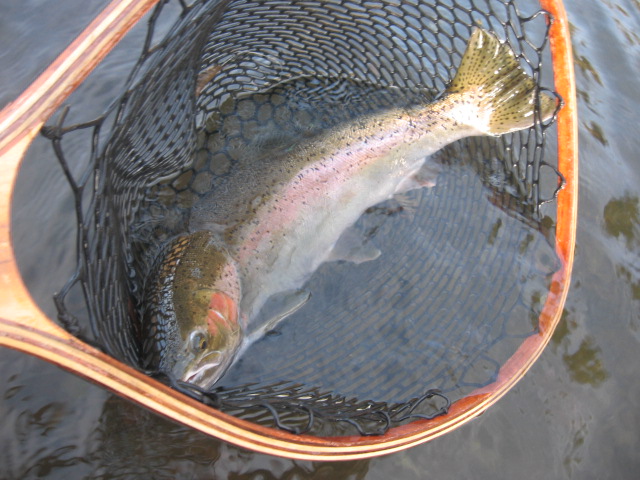 ---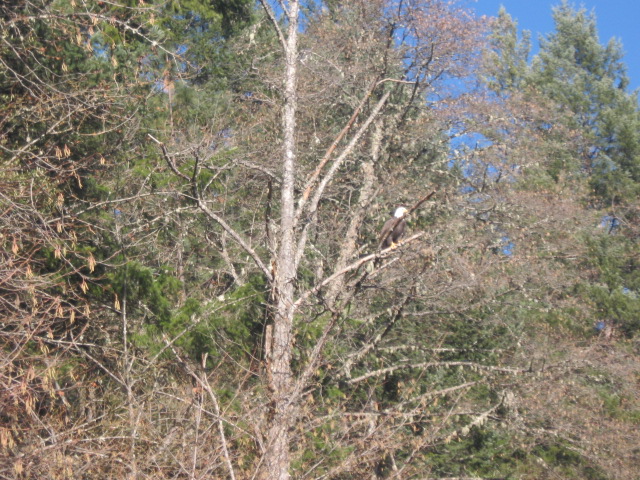 ---
(SAN FRANCISCO CHRONICLE ~ Sunday, October 23, 2005)
Westlands, for example, pays as little as $31 an acre foot for its federal water, while the Marin Municipal Water District pays about $500 an acre foot for water from the Russian River, and Southern California cities pay $200 an acre foot and up for state project water. In large degree, Westlands' policies directly reflect the personality of its dynamic general manager, Tom Birmingham.
Birmingham is unapologetic in his defense of the interests of his constituents. In particular, he takes deep umbrage at the "demonization" of his district by environmentalists.
Westlands' current water contract with the Bureau of Reclamation, the federal agency that operates the Central Valley Project, runs to 2008.
Barring unforeseen difficulties, agency officials said, approval of the new contract is expected by mid-February. It will run for 25 years, with an option for a 25-year renewal.
Opponents say the contract does not acknowledge an extreme environmental downside. They say Westlands will actually receive significantly more water than before, at the expense of Northern California's rivers.
---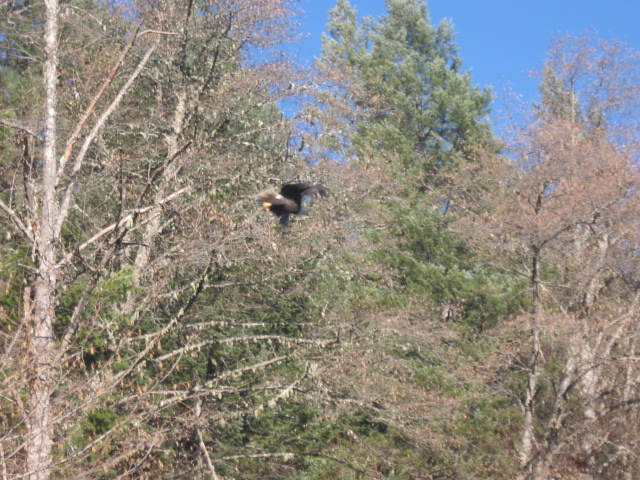 ---
(San Francisco Chronicle ~ Sunday, October 23, 2005)
But in the places where this water once flowed — the delta of the Sacramento and San Joaquin rivers, the Trinity River in the far north state — fisheries have declined drastically. That's a direct result, biologists say, of water diversions to the south.
First among the winners of the water wars is the Westlands Water District southeast of Fresno — the nation's largest irrigation district. http://www.sfgate.com/cgi-bin/article.cgi?f=/c/a/2005/10/23/MNGS9FCR3L1.DTL
---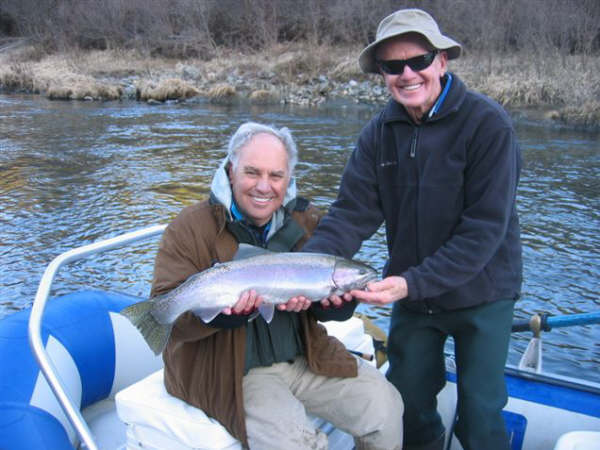 ---
Nice steelhead Jim and Bob, glad you enjoyed your guide trip on the Trinity River!
---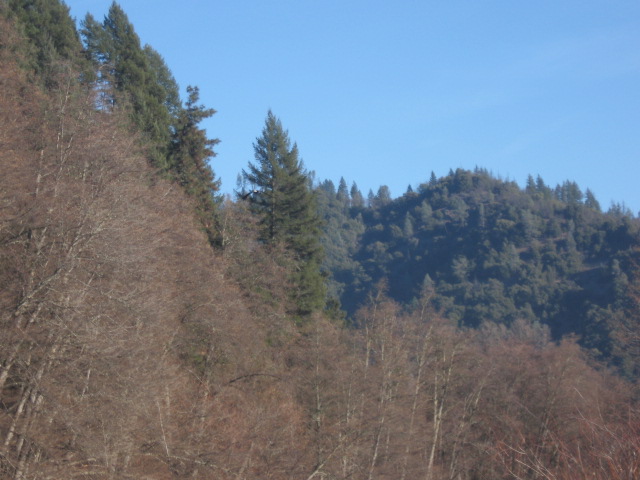 ---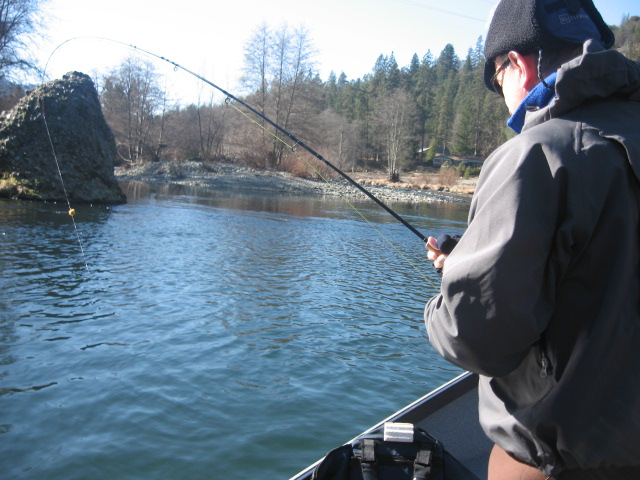 ---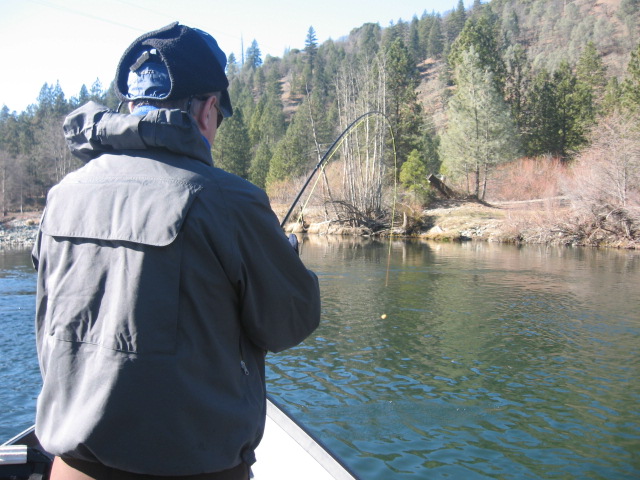 ---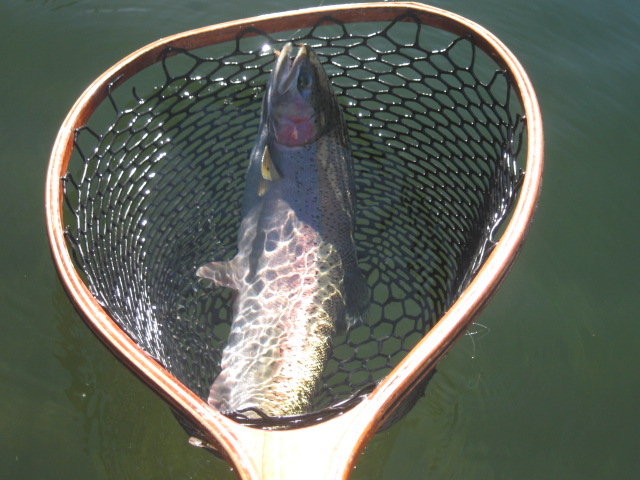 ---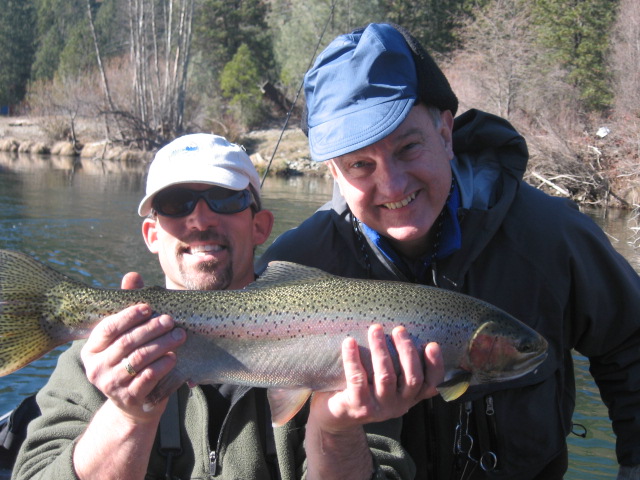 ---
Jim Naughton, WAY TO GO! YOU'RE MY SIZZLER OF THE WEEK AWARD WINNER!! CONGRATULATIONS SIZZLER!! Thanks for coming up and bringing a group a good friends! Jack Trout
---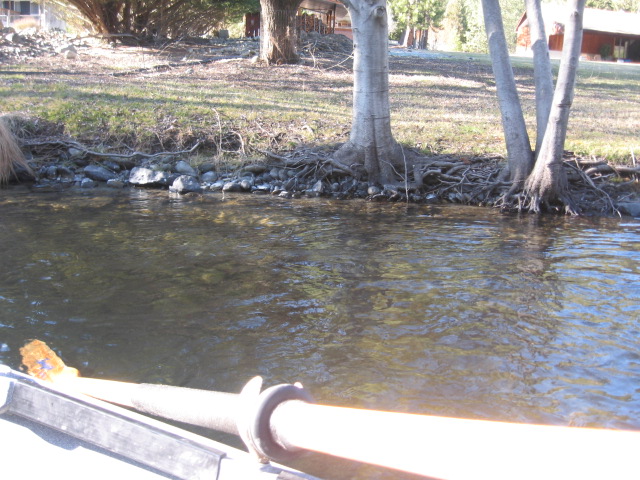 ---
(Eureka Standard-Times ~ November 24th, 2004)
A federal appeals court refused to hear again the Westlands Water District's suit against a restoration plan for the Trinity River. None of the U.S. 9th Circuit Court of Appeals' active judges voted to hear the case again. The decision is the latest victory for the Hoopa Valley Tribe and fishing and environmental interests that have fought for years to cut diversions from the Trinity to the Sacramento River, where Westlands and other irrigation districts get their water. »
---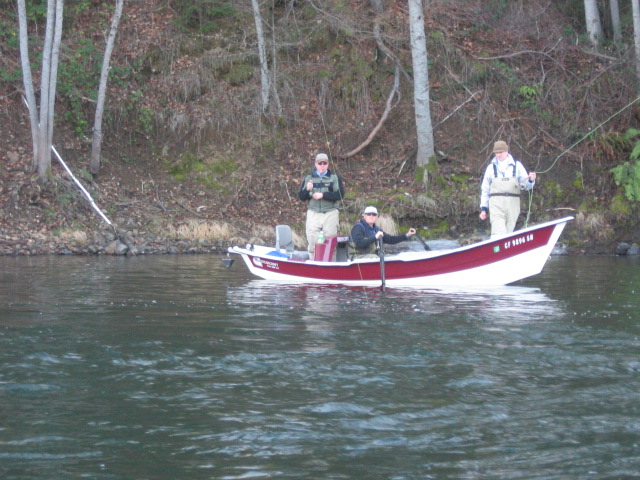 ---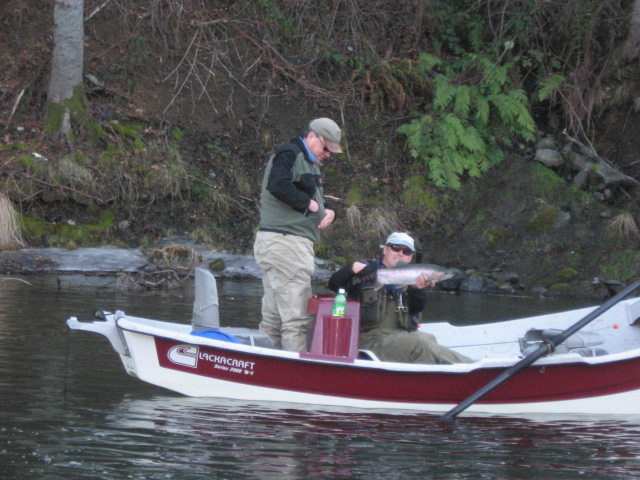 ---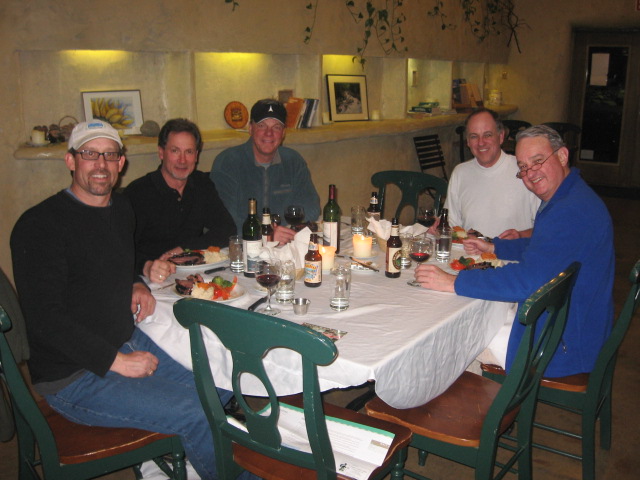 ---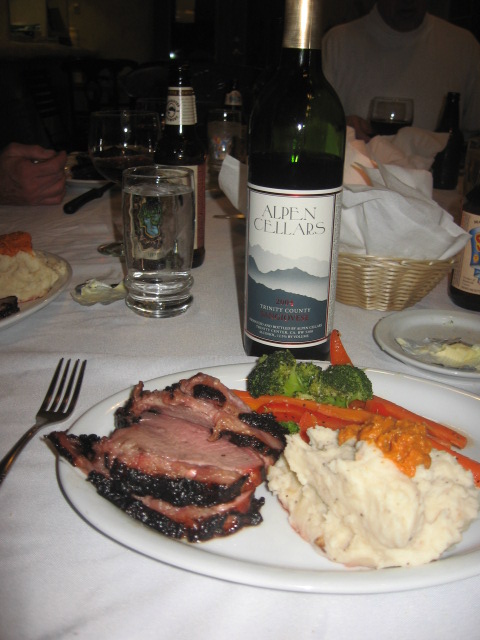 ---
Straw House ~ 457 HWY 299 Big Flat 530-623-1990 Great dinners about 20 minutes west of Weaverville.
Alpen Cellars of Trinity County~ http://www.alpencellars.com/
---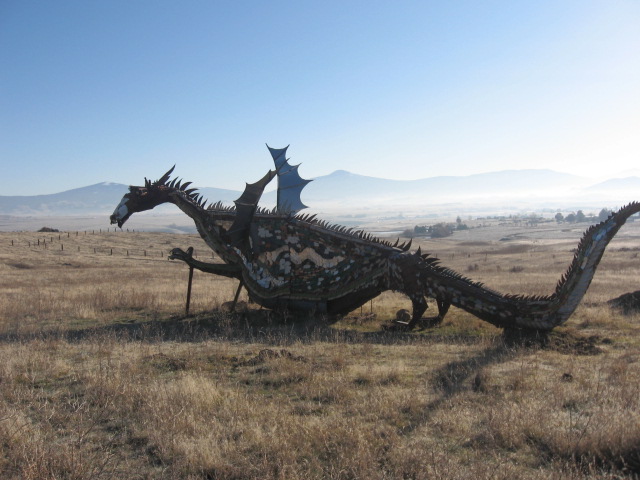 ---
On Interstate 5 just after Yreka you can see the famous Shasta Dragon!! I would like to thank NOAH fisheries and all others who helped in getting the Klamath River flows kept up at 1300 CFS constant release from Iron Gate Dam this past fall and winter. Maybe we can still save the salmon that are decreasing annually on that terrific river we all love. It's too bad it takes these horrific events to get the attention of our policy makers. Can we take a deep hard look at the Trinity before it's too late….Westland's is making calculating moves for future profits on Northern California water resources, we could be in trouble people. Jack Trout
(THROUGH MY VEINS THE RIVER FLOWS IT'S REIGN, MAY THE RIVER FLOW UNTIL IT MAKES IT HOME).
---
EMAILS FROM YOU:
appreciate your quote about protecting the river in today's newspaper. This was particularly difficult, if not unexpected, news from Stienstra. Thanks for your efforts to make known the plight of our waters, Klamath, McCloud, etc. and doing what you can to help.
Jim Collins – Corte Madera, CA
---
HOUSE FOR SALE NEAR THE TRINITY RIVER: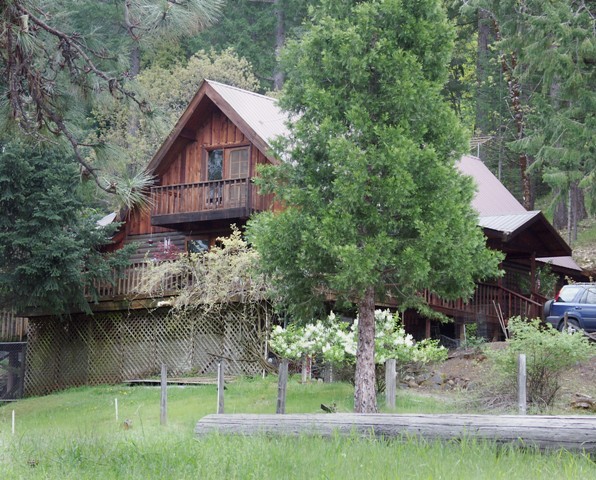 ---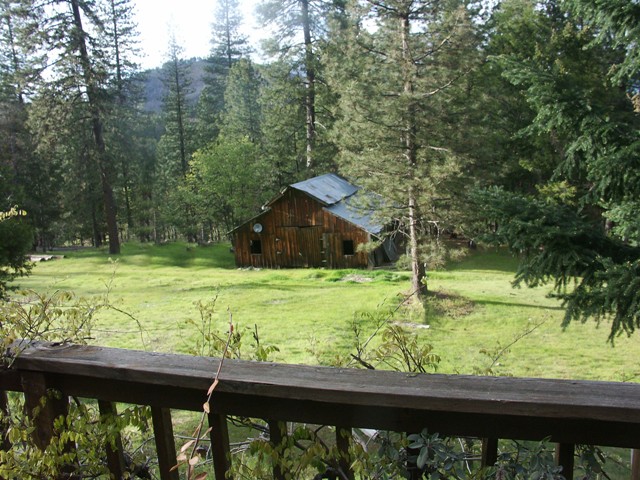 ---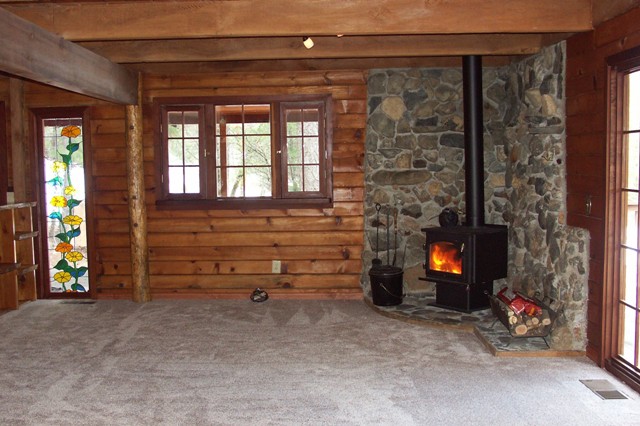 ---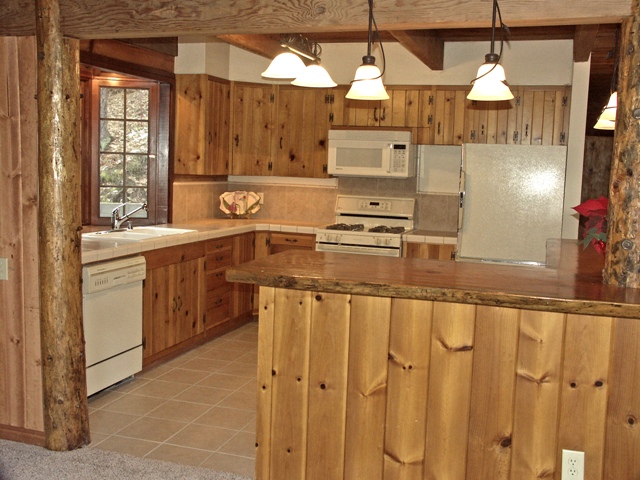 ---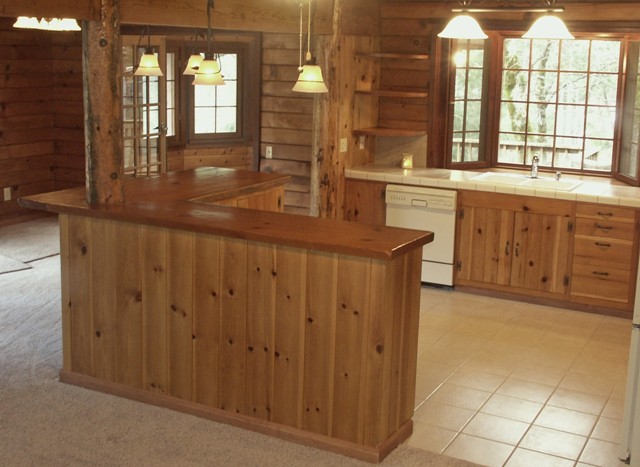 ---
WATER AGENCIES NEED NOT APPLY.
Price: $ 499,000.00
Address: 3051 Oregon St
WEAVERVILLE, CA 96093
Bed/Bath: 3 Beds – 2 Baths
Size: 2192 Square Feet
7.6 Acres
With year around pond
http://www.bringyourownhome.com
ID #546
Contact Information
Contact: Trena Richards
Phone: 530-840-0224
---
Jack,
Thanks for your attention and expression about this horrible action!!!!!
Keep it up, man!!
Richard Lucas
---
Man, you don't pull any punches re: Hills! Way to go, man! This turned out to be just what you and I talked about, a sale of property they are afraid will be under water soon. Pretty sad. It is interesting to note, however, that if they bought the land for $5 and acre in 1865 (which I think is when they did), that represents less than 6% per year appreciation! Certainly not bad, but not gangbusters.
Hey, do you have a day free to float the Trinity on the 20th? Mark and I are coming up to utilize a chit with Nielson that I bought from CalTrout years ago, and I thought he was going to take us to the Trinity. He tells me he doesn't guide the Trinity, and that he's going to take us on the Klamath. Well, I guess that's fine, but I'd rather do the second day, the 20th, on the Trinity. Are you available, or do you have one of your guys that will float with us?
C. E. Patterson
President
---
EMAIL RESPONSE FROM LEIGHTON HILLS JANUARY 29TH, 2007
---
Jack,
It was a sale under threat of condemnation. We did what we could to get the protections for the Wintu.
Leighton
Leighton Hills
16 Miller Ave., STE 202
Mill Valley, CA 94941
415-383-7102 (O)
415-383-7060 (F)
---
MY REPLY TO LEIGHTON:
Leighton
I'm on the phone right now with Caleen Sisk Franco (Winnemem Wintu tribe) you did nothing for the Wintu Winnemem you led them to slaughter she said.
Caleen Sisk Franco~ Did you think you were getting us stronger allies?
Caleen wanted to know how long Bruce was going to be at the care takers cabin?
Why don't you call her or tell me coward ~ 530-275-1048
You are the biggest liar, you only think about yourself Leighton,it's always been that way that's why you never return people phone calls on time, and how you treated me was harsh you said it yourself! you're a creep! I helped you build the reputation and the membership of that club you son of a bitch!
You should be given a saliva test for selling your property to Westland's, and then you lied to all of us. How do you explain that Pinocchio?
Why did you have to sell it to them we could of fought with Caleen now you are so screwed in the history books!! Your family will be up there with the sluice boxes and hydraulic mining of Nevada County pal! You people are evil.
Condemnation. Westland's was scared of us that's why they jumped! We could of beat those guys with the help of the Wintu, me and your attorneys. The tide was changing until you got greedy.
You help wire the deal for Westland's and the Bureau of Rec.
Man you really sold us all out !!
You lied to us for that you are forever cursed for selling this property to Westland's Water District.
You never even put the Wintu in contact with Westland's Tom Birmingham or had them for a single meeting, they don't know what to do? The way I see it, your family had the Native Americans help them build the rock house and then you told them to leave their land forever. You cut down Great Grand Pa Wintu's apple trees in the front yard, there use to be 12 Caleen said to me one time. What did your family do to the Native Americans around Bollibokka in the early 1900's where did they go?
Have a fine life dark soul, Jack Trout
---
This is sad news Jack. I hope something can be done. On a more positive note, my wife and I went to a great Jerry Hannan show at Rancho Nicasio yesterday. He was playing with a new trio and sounded good. Hope to see you in the Spring.
Mike Levinson
---
Dear Members,
A lot has taken place in the fall and winter months √ and I'm glad to
report that the Bollibokka Club will continue operating in its
existing manner, albeit with a new owner. As several of you know, and
others have just read, we were approached by Westlands Water District,
located in the San Joaquin Valley who was concerned that Bollibokka
might be sold to a developer. Westlands is obligated to pay 1/3rd of
the costs of operating and expanding Shasta Dam, and if a future
enlargement of Shasta meant flooding expensive new homes built by such
a developer, Westlands felt it was better economically to purchase
Bollibokka now at the undeveloped price, and a good play for its
substantial reserves. Westlands' General Manager has been fishing at
Bollibokka for the past 7 years as a guest of one of our members, and
he was able to convince his Board of the benefits of purchase thereby
avoiding the risk of development. Since Westlands does not want the
property ever developed, they agreed to our requirement that the
fishing club continue operation for at least 25 years (which they said
would very likely continue thereafter as well).
In a separate transaction, we also transferred ownership of the upper
three miles to a private party who agreed to allow our family
continued use of the property and buildings (from the Campground
upriver to the boundary with the McCloud River Club). At the request
of the buyer, that portion will not be part of the club. The buyer
has asked that we not publicize his identity, so I'm not free to say,
but his interest is in long-term holding for the next several
generations of his family.
You will doubtless be hearing all sorts of speculation on what it
means for Bollibokka to no longer be owned by our family. In terms of
Shasta expansion, parties that are not directly impacted always have
more lobbying credibility √ so the pros and cons of expansion are
still going to be effectively presented. I think there are some
excellent alternatives that will be presented by the McCloud River
CRMP. Even if an 18 foot increase is implemented in the next several
decades (the Rock House is 33 feet above the current level of Shasta),
there are some feasible compromises that can virtually eliminate
impact on the fishery. Those issues will be thoroughly discussed
throughout what will certainly be a very long review process.
In terms of the coming season, we provided a list of all Club members
to Westlands last week, and you should be hearing from them soon
regarding interest in continuing membership and scheduling. As
mentioned, their General Manager, Tom Birmingham, has been enjoying
the club for the past 7 years, so he has a very clear knowledge of
what it's about. Bruce will get a promotion, and will be receiving
Westlands' benefits like CALPERS health insurance and pension
benefits. I haven't yet heard the specifics about Jim and the others,
but all play important roles to effectively operating Bollibokka.
Several members have been very helpful in us working through
Westlands' interest in Bollibokka. My mother and I are very thankful
for that help, and I will be asking those members to help further with
making the transition to Westlands management of the club.
Although all transitions are difficult, my mother and I feel good
about the changes made for Bollibokka. We've eliminated the risk of
an uncertain sale stemming from a death of either of my parents.
We've eliminated the risk of downward pressure on value due to Shasta
expansion becoming more imminent. And we've eliminated the risk that
the property would no longer be operated as a fishing club. We are
hoping for the best from Westlands, and have included numerous
provisions in our sales documents to help make sure that takes place.
You will doubtless be hearing from us further, and my mother and I
wish you the best.
Leighton
Leighton Hills
16 Miller Ave., STE 202
Mill Valley, CA 94941
415-383-7102 (O)
415-383-7060 (F)
LJHills@pacbell.net
---
IF ALL OF THIS WAS GOING TO HAPPEN ANYWAY WHY DID WESTLAND'S PAY 5 MILLION OVER THE ASKING PRICE????? YOU FOLKS DID NOTHING FOR THE WINTU YOU NEED TO ARRANGE A MEETING BETWEEN WESTLAND'S YOU AND THE WINTU INDIANS SOON.
---
Way to go Jack!! Kick butt and take names. Rich creeps are
pretty much all alike…never enough money and willing to do most
anything to get more. Sickening! Hope you have a great trip to
South America and recharge your spirit down there. See you when you
return for some fish chasing. Mike Foster
---
One more thing Leighton
The first time I went to bat for you to stop the dam increase and I contacted everyone from the media and tried to make a difference.
I REALLY MEANT IT AND I STILL DO. YOU CHANGED WE ALL DIDN'T!!
Jack Trout
You use to call Shasta Lake a toilet bowl now your defending it!
Your gaining friends and sounding like an Amway salesmen.
---
To Mr. Trout and Caleen Sisk Franco:
The following is a document that Leighton Hills has asked some of the minority shareholders(including me) to sign. I have not signed this (or any other) consent form, and I have not received any notice regarding an election of directors pursuant to the proposed amendment to the articles of incorporation. Until the Articles of Incorporation are properly amended to provide for 3 directors (instead of 5), and until 3 such directors are then properly elected (with notice to all shareholders, etc.), does anyone actually have the legal authority to convey title to any of the McCloud River property owned by the Bollibokka Land Company?
WRITTEN CONSENT TO ACTION TAKEN
WITHOUT MEETING BY THE SHAREHOLDERS
OF
BOLLIBOKKA LAND COMPANY,
a Nevada corporation
Pursuant to authority granted by Nevada Revised Statutes § 78.320(2), the corporate
action referenced below is hereby taken without a meeting by the shareholders of Bollibokka
Land Company, a Nevada corporation (the ≥Corporation≈), and the shareholders have consented
to the following resolutions as actions of the Corporation as shown by their signatures below.
WHEREAS, on or about March 7, 1989, the shareholders of the Corporation adopted by
written consent a resolution to amend the Corporation≠s Bylaws to provide that the Board of
Directors shall be reduced to three (3) directors subject to further change as provided therein.
WHEREAS, in taking the action to amend the Bylaws, the shareholders failed to adopt a
reciprocal resolution amending the Corporation≠s Articles, and as a result, the Bylaws and
Articles were in conflict with respect to the fixed number of directors.
WHEREAS, since the amendment to the Bylaws, the Board of Directors of the
Corporation consisting of three (3) directors have fully and faithfully performed the obligations
of the Board despite the conflict between the Bylaws and Articles.
WHEREAS, the shareholders now desire to resolve the discrepancy between the
Corporation≠s Bylaws and Articles.
NOW, THEREFORE, IT IS RESOLVED that the shareholders ratify that
certain amendment to the Bylaws adopted by written consent dated March 7,
1989.
RESOLVED FURTHER that the shareholders hereby approve and authorize the
amendment of the Articles to provide that the Board of Directors shall consist of
the number of directors as set forth in the Corporation≠s Bylaws.
RESOLVED FURTHER that the Fifth Paragraph of the Articles is hereby
removed in its entirety and the following paragraph is inserted in lieu thereof:
For the management of the Corporation, the governing Board of
the Corporation shall be natural persons styled and called the
Board of Directors. The number of directors shall be specified in
the Bylaws of the Corporation and such number may, from time to
time, be increased or decreased in such manner as prescribed by
the Bylaws.
RESOLVED FURTHER that the following individuals be, and hereby are,
elected to serve as the directors of the Corporation, and shall serve in such
capacity until the next annual meeting of the shareholders or until their successors
are duly elected and qualified:
Leighton J. Hills
Herbert G. Hills, Jr.
Doryce L. Hills
The shareholders, by signing this Consent, waive notice of the time, place and purpose of
the meeting of the shareholders and agree to the transaction of business by written consent of the
shareholders in lieu of meeting.
IN WITNESS WHEREOF, the undersigned have executed this Written Consent to
Action Taken Without Meeting by the Shareholders as of this 22nd day of November, 2006.
EXECUTED IN COUNTERPARTS
APPROVED:
Herbert G. Hills, Jr.
Leighton J. Hills
Doryce L. Hills
[Name of Shareholder]
---
To Mr. Trout and Caleen Sisk Franco:
On your web site, Mr. Trout, there is a letter from Leighton Hills addressed to the members of the Bollibokka Fishing Club in which the following appears:
"In a separate transaction, we also transferred ownership of the upper three miles to a private party who agreed to allow our family continued use of the property and buildings (from the Campground upriver to the boundary with the McCloud River Club). At the request of the buyer, that portion will not be part of the club. The buyer has asked that we not publicize his identity, so I'm not free to say, but his interest is in long-term holding for the next several generations of his family."
A search of the Shasta County Records reveals that the upper 3 miles of the Bollibokka property was sold to the J L A FAMILY L L C in a deal that closed on December 7, 2006.
I believe that the J L A FAMILY L L C was formed by a real estate developer by the name of John Arrillaga. I am not surprised that he has asked that his identity not be publicized.
---
MESSAGE FROM THE WINNEMEM WINTU
---
Hi Jack,
Thank you for thinking of us again. I'm glad you are so concerned about the great possibility that the river will be ruined further. We share in the gloomy future of the river. We have been put in a horrible position to fight this. Now, our first challenge is to get Senator Boxer to re-introduce the Campbell bill "Winnemem Wintu Restoration Bill". Boxer's office policy is to have the congressman in her district bring it forward or at least be supportive of it, but Herger never will because we stood in the way of the Mt. Shasta Ski Resort for 15 years until it stopped and as you know he is a farmer/developer. Herger tells us that he will assist us to go through the BIA federal recognition process, but we believe the US should honor the 1937 Act which allow them to take our lands for the Shasta Lake project and promised like lands to live on. If the government would have processed this Act then or now, we would already be a federally recognized tribe, but the BIA and BOR didn't finish their obligation and paper work. So now every where we turn, we are penalized for their mistakes.
I will keep you in the loop as to how we are going to do this. We would like to get in to our rightful position to fight the Westlands and BOR water giants. We now call upon our sacred places to direct us in this war.
Keep in touch.
Caleen Sisk-Franco Winnemem Wintu
---
NO ONE AROUND MT SHASTA WANTED THE SKI PARK ON THE MOUNTAIN IT HAD AVALANCHED TWICE BEFORE IN 1975 & 1985, SO OBVIOUSLY THE MOUNTIAN DIDN'T WANT THE SKI RESORT EITHER. THE SKI RESORT IS WHERE IT SHOULD BE LOCATED NOW ON THE LOWER BUTTES OF MT SHASTA. JACK TROUT (Wally Herger was heavily lobbied)
---
Fuckers.
Gregg Foster
---
Oh Jack,
This is sad news. I feel bad for the Wintu Indians. Your comparison to the Vatican being flooded was right on. Haven't the Native Americans suffered enough? It makes me sick to my stomach thinking their sacred lands will be affected. Like you said, it even goes deeper than that. It goes all the way to the heart of the river, the river that nurtures and sustains life they way it's supposed to be. Your comments have soul, Jack.
I wish you the best time in Chile, though I know you are disheartened and angry about this mind-blowing transaction. Try to find some peace in the Argentinean winds. May the ways of the Chilean rivers work their magic on you and lift you to the place where you can continue to inspire all the rest of us who are stuck walking on pavement.
Love, Tracy
---
John Arrillaga ranked 346 among The 400 Richest Americans In 2005. New owner of the top three miles of the Bollibokka.
---
Gray Hills called me and said he had nothing to do with the sale, he was completely opposed to the sale of Bollibokka. Jack Trout
(Kane & Able)
---
Jack, Thanks for the great info on the McCloud and the dam raising. Keep being a pain in the ass to that guy.
Chris Lane
---
Jack,
Thank you for the update on the land deal that in Mt. Shasta area. I read the account in the Chronicle and was saddened that the bastards are going to ruin another peace of mother earth. You are my hero. Please keep up the good fight and keep me informed. May the forces that be protect, guide and support you.
George Capone III – (God Bless you Jack)
---
Hello Jack
In 1990 the Quebec Hydro Corp wanted to dam some rivers. The Native Cree's in the affected areas stopped the project through publicity directed at the end user of the electric power. The end users were mainly in N Y State. The Native point man on this effort was Mathew Coon Cum.
Google dug up the following: http://www.cda-cdai.ca/symposia/2002/haslip.htm
You can also go to Info Mart at 1 800 661 7678 and ask for Coon Cum, New York, Dateline. The event happened in 1990.
Good Luck
Laurie Swinghammer
Canada
---
Jack-
I am looking to do some Steelhead fishing with Dave
and Scott in October. Will you be guiding in Northern
Cal in October? We can't make it on the weekend of
October 6 and 7, but the others would work for us.
Please let me know.
Thanks
Scott Jones
---
U.S. Orders Modification of Klamath River Dams
Removal May Prove More Cost-Effective
By Blaine Harden
Washington Post Staff Writer
http://www.washingtonpost.com/wp-dyn/content/article/2007/01/30/AR2007013001757_pf.html
SEATTLE, Jan. 30 — In a decision that could trigger the largest dam-removal project in world history, the federal government said today that four hydroelectric dams on the troubled Klamath River must undergo costly modifications to allow passage for salmon
—————————————————————————————-
---
All Klamath Restoration Friends,
Congratulations ! You all must be rejoicing with this significant advance.
We -PelicanNetwork and me – are physically away from the Klamath now. But we think about you, and advocate Klamath restoration at every opportunity. I can see minds lighting up with an understanding that the profligate, plundering ways of the past century and a half must be surrendered, and a caretaking connection to the land can be the new order.
I am very proud to have been associated with your historic effort. Now it's on to the bigger effort to restore the watersheds of the Klamath River System. Restoring ancient land management practices can be a reality.
Sincerely,
Jack
---
Hi Jack,
Thanks for the up date on the Klamath, it only shows that they are finally learning that dams make rivers sick and sick rivers kill all living things who must have water to live. It also shows the power of the good guys when they work together to protect mother earth's treasures. We have been following the progress of the Klamath through our Hupa friends.
Hey, I guess you will be going to South America to guide huh? How long will you be gone? I hope you can enjoy the time and have good dreams about the McCloud River. This time a way may bring strategic visions through eagle eyes so when you return your body will be refreshed, your mind rested, and your heart settled. Just be care.
After all these years of going to our sacred sites up river, I still don't know who is who behind the gates leading to Bollibokka, but I am quickly catching up. Mostly I think Bruce is a very good man and have always had good words with him. I think I have met you twice at meetings and then again at the Rock House a few years back when you invited Grams (Florence Jones) up for a TV interview against the raising of Shasta Dam. Now, it was assumed that Leighton was also against raising the Dam, but we never heard from him directly on the planned Shasta Dam raise. We trusted Leighton when said he would give us some land that wasn't valuable to his family, but oh so important to the Winnemem Tribe. We tried not to be pushy when he was looking into giving us the Puberty Rock area in 2005 and we followed up and he said he was talking to his family and it may happen before or at our Puberty Ceremony last July 2006. We invited him to come to the ceremony and witness the tradition so he might feel the importance in his giving us the land. As you might have read we had trouble with some of the boaters who passed through the Forest Service volunteer closure of the river. Anyway, it sounds like he was to busy getting ready to sell all of Bollibokka. Wish we knew in time to bid. We are not rich but there is a program that would have bought sacred land like that for a tribe's survival. So many places up the river are necessary for our tribe. He wrote us off without even investigating if we had any way to buy it. After dealing with the Hills for 103 years we just didn't think it would ever be for sale. By the time we found out it was already in escrow. That was a black day on our calendar. Now Westlands, who stated they want the Dam raised is controlling river front property and our sacred sites and burial grounds. Leighton said we should wait a couple of weeks. Then a Missy called and said we should wait a couple of weeks for something good to happen, but could not say what we would be waiting for. Sounds pretty fishy to me.
We have been pushing to be included in the CRMP but without success, we were invited to present our issues at a CRMP meeting not long ago, but still no invite to be a part of the CRMP to protect the McCloud River. Now it appears the the CRMP will be unable to do the job they were created to do. The River now needs to be protect as a Wild and Scenic River I guess. Will the CRMP be able to do this or will it fall apart. Then it will be open for all the rich guys to bond together to protect and support the Leighton and Westlands deal, since they are all good "fishing buddies".
You mentioned a "Missy" on your web info, is that Missy from San Francisco, is she a realtor? If it is, she is responsible and of course totally supportive of the Leighton-Westlands land deal. Do you know her very well?
---