*~ Mount Shasta ~ McCloud & Dunsmuir Area Fly Fishing Report ~*
Summer fly fishing at its best right now! Come on up and enjoy our clean mountain streams & lakes, fresh air and mid- 80's temps!! All rivers, lakes and creeks are in perfect condition and levels are safe for wading.
Many Festivals, markets and events happening in the Mount Shasta, Dunsmuir, Weed & McCloud in this next 2 months ~ Hope to see you out there!  jtct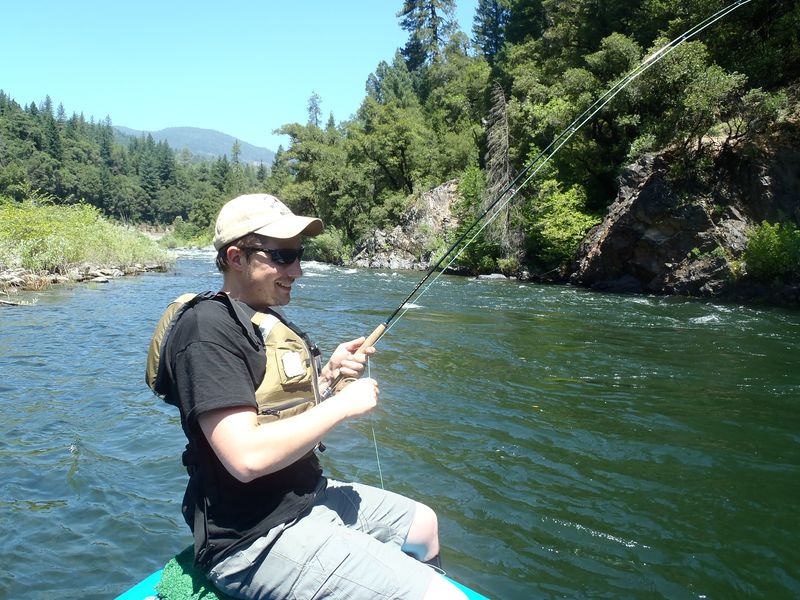 Jessie and Emma came out to experience fly fishing on the Upper Sac out on my raft. Pure enjoyment and summer thrills was eminent for two who came on my float with little or no expectations. For that day the fish were cooperating as they stood at attention and saluted us on our 10 mile journey through some of California's most prime waters.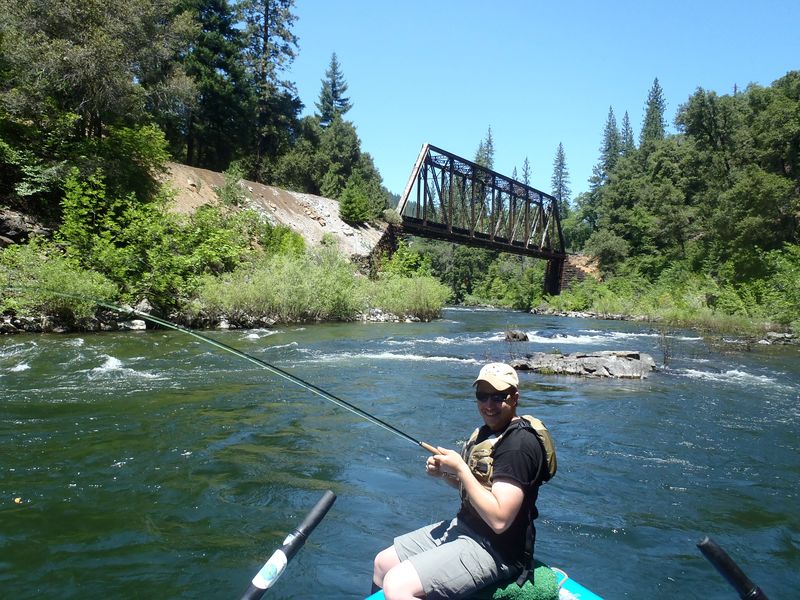 " Can you say pocket water Sizzlers?" Thought you could….
Fishing this magic green water bed from an inflated smurf couch has been a lifetime dream of mine ever since we stopped in 1983, in the parking lot of the Ray's Food Place in Mount Shasta for a Round Table pizza after a North Sections track meet for Portola High School at the College of Siskiyous. I ran the 200 meter dash and fell short to a runner from Etna High School who's gazelle like speed led him past me at the finish and I took 2nd in the North State for small schools. That day while chewing on a pepperoni pizza, I looked up at Mount Shasta at 15 years old and knew something was really here for me. I could just feel the energy of mountain run through my veins and I dreamed a wish that years later came true for me. Now to be here with my wife Carola our dog Kobe Beef (Loyal fly fishing guide dog) and our cats Ford Lincoln Mercury Winchester (Full name, but goes by Ford) and Katie Babby.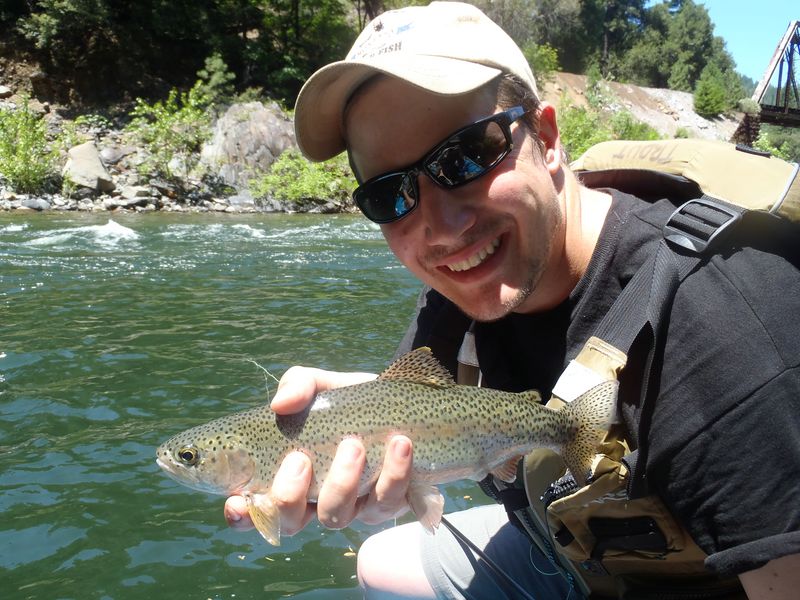 Jessie, the apple of your mama's eye, you shine you crazy diamond!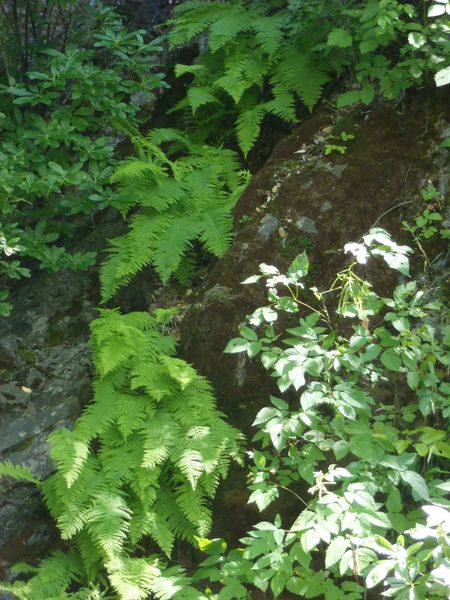 Lush green forest dew shaded smells of evergreen pine scents, make me feel zen moss under my comfy buns, sense cool pure water drips on my happy smile with sun rays on my chest feeling proud to be alive as natural cures, rules and controls our lives, for this is where we came from.  
 Yahoo, Another successful trip! What a fantastic year out on the Upper Sac.
 Upper Sacramento Raft Fly Fishing Trip will still be going all Summer!! Sign-up now for September and Oct as August dates are almost completely sold out. Upper Sac Trout Hotline – 530-926-4540
I know this picture isn't the greatest but the fish sure was! 
Then Emma got into the action and caught this nice trout a little further down stream. Few months pregnant and all that's a North State Legend for ya, that babe might be delivered double hauling!!! Thanks for coming out and checking things out in the raft we had a great day!
See you on August 25th for part 2 of your adventures!! jtct
 Then we got a call from a nice couple from San Jose named Axel & Alex a couple from Germany living a few years in Australia that are now living here. (Imagine when these two first met..

"Hello my name is Alex

, my name is Axel!

Wow it's destiny

, yea, lets fall in love right here!

OK, I'll marry you..!!"

)

That's how I imagined it….?
They were fantastic couple to meet and we shared a day together as I guided Axel fly fishing and Alex and Carola enjoyed a day talking out on the raft and on the shoreline.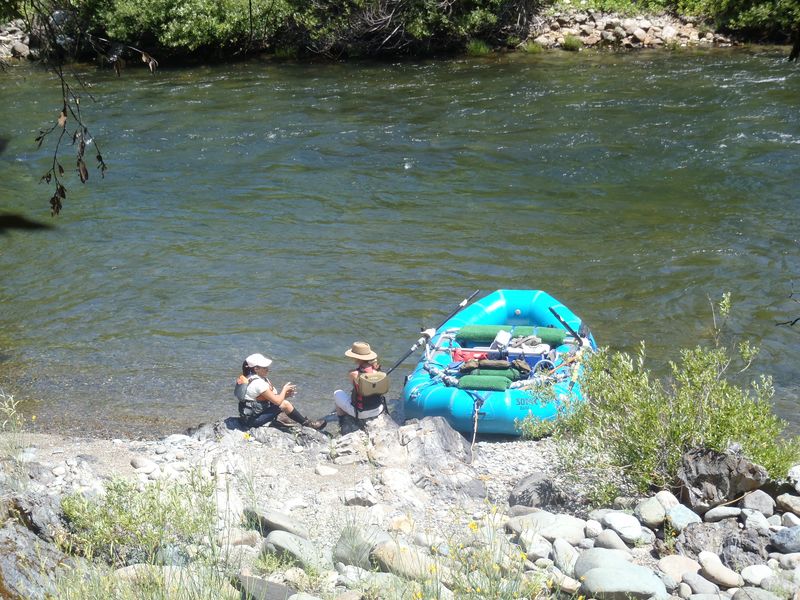 It was a real nice yak they had on the river where inquiring minds would want to know…
 later in the day, Carola made her famous Chilean Estofado, a dish the clients have been raving about!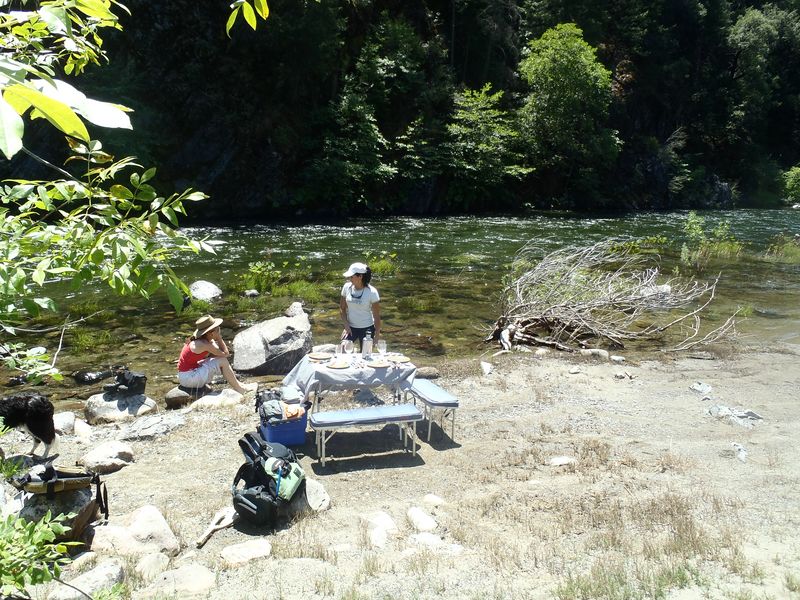 I looked over and they were still chit-chatting, 
talking away, it sure was great to have Carola here to entertain. I can remember many days out on the river where her presence would of been greatly appreciated. Her help to me and support as a loving wife has been so helpful and fulfilling, it's true what they say about what a good women can do for a disorganized man. We make a great team and I haven't felt this great ever in my entire life. It's like all the great, the good and bad has been divided in 2 and now life is even more bearable. I am truly grateful and thankful that I waited until my 40's to meet and marry Carola Trout.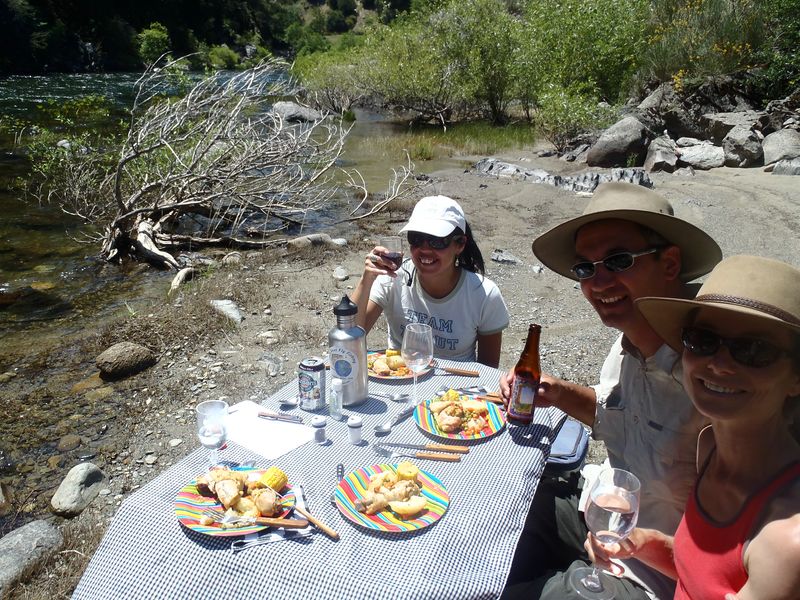 It's like life is just getting going for me, I finally grew up and became complete thanks to my best friend and wife Carola Chuleta (Pork Chop ~ nickname).
Even though I'm still always growing and learning (Aren't we all!), I still always try to keep my sense of humor like my oldest brother Pete always said. Folks it isn't all bad out there, I think we all just need to strive and find our happy place in life. Sometimes life throws us curve balls and that's just life,  but I think life's about how you try to effect as many people as you can in positive way. I know sometimes it's hard, you just don't show up to the plate to hit a home run all the time, somtimes even get a hit. But as much as I can, I am concentrating on how I can effect other peoples lives in a positive way and after 44 years on this Earth, Carola and I feel that this is the secret to life. 
 Way to go Axel! Hope to see you and Alex again this fall!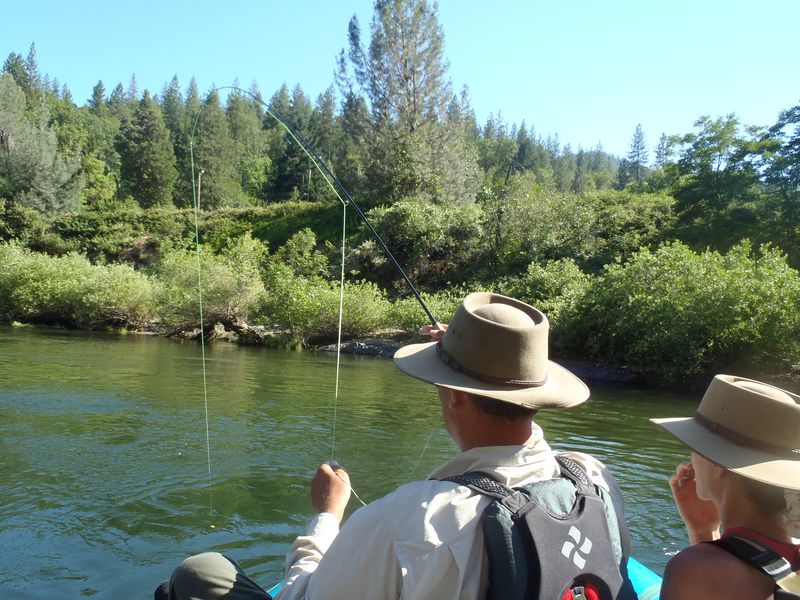 Always a pleasure when the one you love is next to you on the raft.
 Thanks again for looking us up we really enjoyed our time out with you two, come on up again or maybe we'll come down and see a concert at the Mountain Winery.  Best Jack & Carola
 When David Rovero of Mill Valley Speaks… People listen!  Dave thanks so much for coming up and bringing all the great wines. Tell you what, we'll make you a fantastic lunch.
My b-day was July 31st and Dave Rovero brought a very nice wine to enjoy the next day with Carola in our home. We wanted to thank him for his thoughtfulness. If you need insurance and live in the Bay Area call: Muzio & Rovero Insurance Services 655 Redwood HWY Suite #302.  Mill Valley, Ca 94941  415-388-2096  He might bring us up another bottle.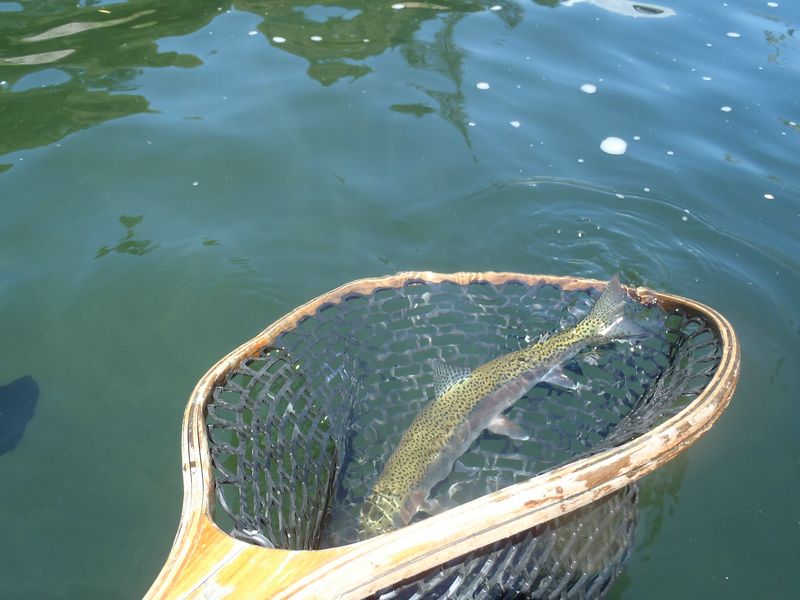 And like that the trip started and we hooked up instantly..Not to say if you bring us a bottle of wine you might hook a fish as fast as Dave did but it helps..  (totally kidding)
(Thanks Peter and Judith Brown for the awesome bottle of Argentine Bonarda)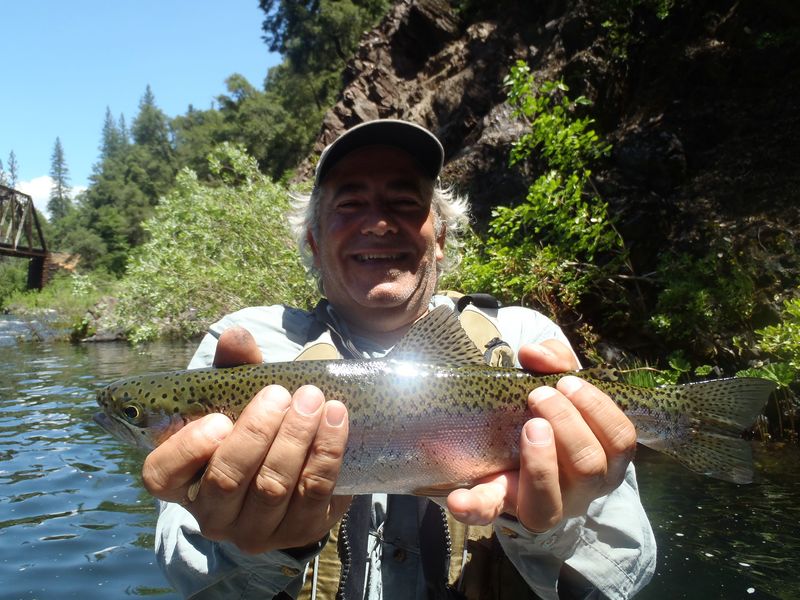 Dave what a nice trout on a fine summers day! Lets stop and enjoy lunch here in a little while, we've caught a lot of trout.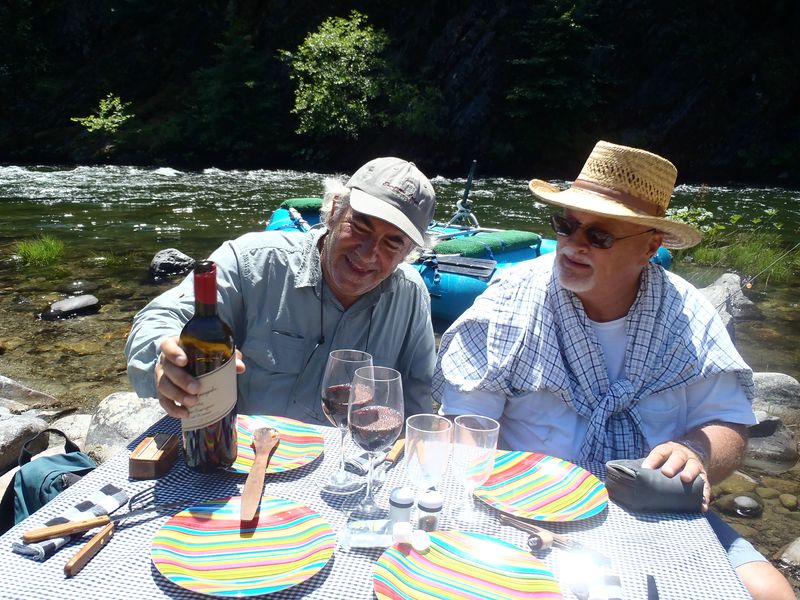 It just doesn't get any better does it?
 Cheers, to more flows, fishes and great vintages!!
OMG! Carola has been freezing strawberry shortcake at home and then serving it to us as a classic American style dessert as a fresh cool summer river lunch delight!! Request it on the next trip you reserve, she make it up guranteed…
Dave with another hook-up folks!! What I need is a live river cam on top of my head then I could come streaming into your office and you and your employees could watch our adventures everyday and get nothing done!  Oh yea there's no internet on the river, guess it wouldn't work..So leave all that stuff at home and we'll have fond memories together…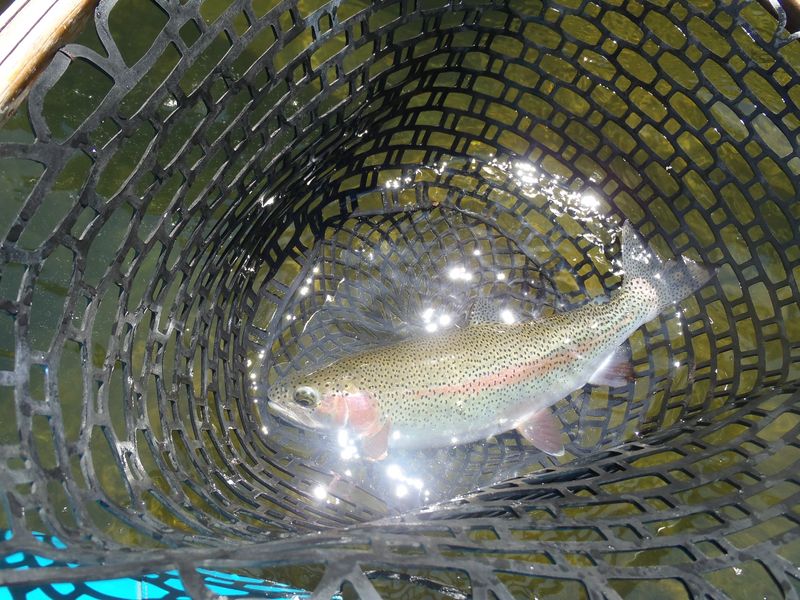 You're a shining star, no matter who you are. Shining bright to see,  what you can truly be!
 Baby you're a brick -HOUSE!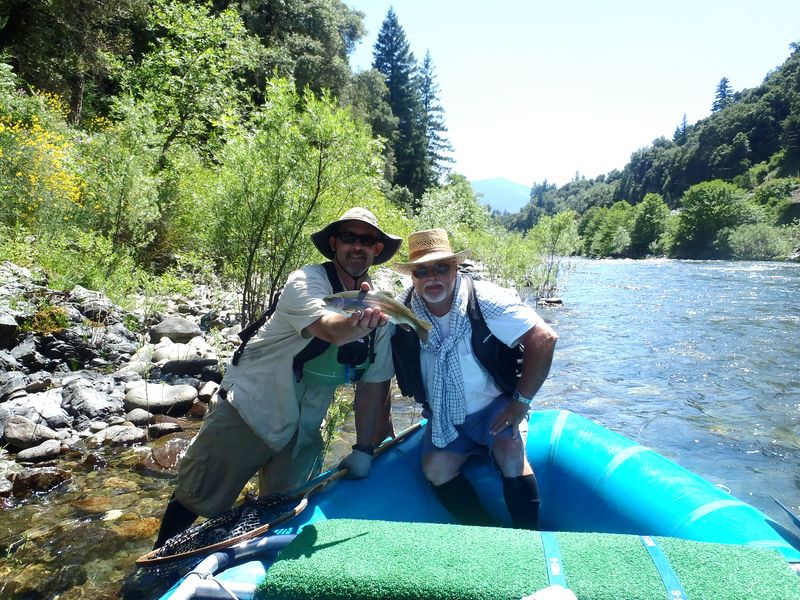 Everyday the river gets better, the health of the Upper Sacramento River and the trout we've caught this year has been astounding to say the least.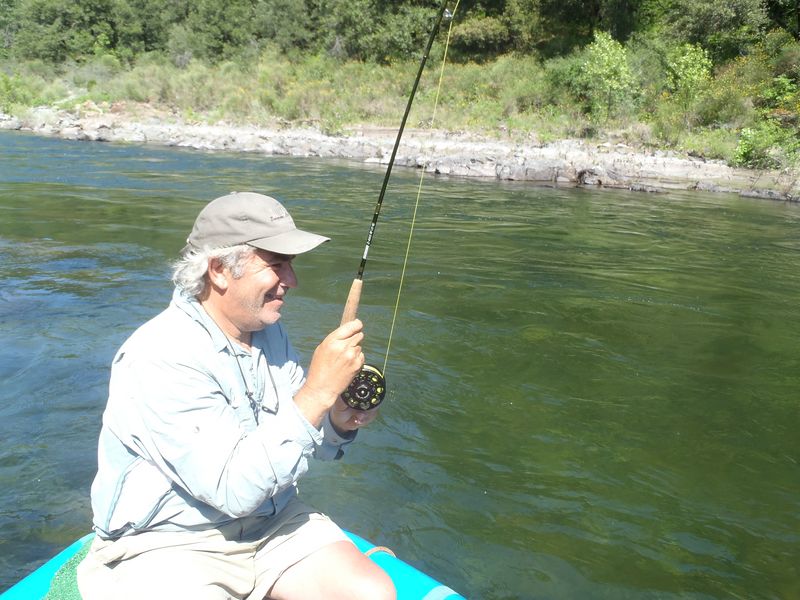 Puts a smile on my clients faces!! Mine too as I have never seen so many big fish in past years.
 I know not all the pics show huge fish, but when you take into account all the huge fish we lose daily, trust me it's a banner year on the Upper Sac for big trout.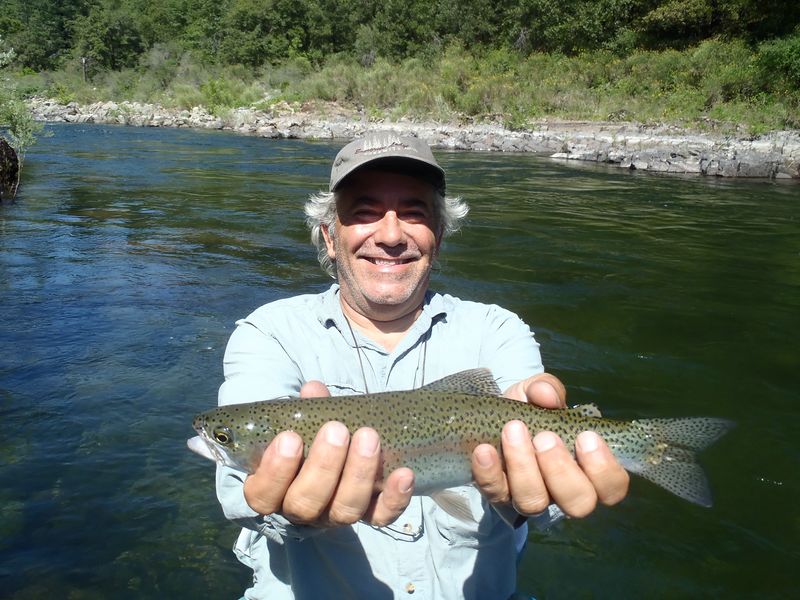 Dave and I agree, we miss all the Day on the Green Concerts and laughed when we found out that many of the same shows we both had attended way back when. Winterland, Old Waldorf, Concord Pavillion, Day on the Greens and Mountain Air shows up in Angles Camp California.  My older brothers and sister use to hide the alcohol and pot on me when I was 12, they would seal-a-meal then sew it into the bottom of my bell bottom jeans and I would walk right into the concerts waiting on my family and their friends to be frisked by the guards.(We were harmless) It sure was the wonder years back then, Dirty Dick Nixon was President and life was much more simpler. Thanks to my Brother Tim, Pete and M'lissa for taking me to so many concerts, I was the only sober person there and I remember everything Sizzlers. I really loved growing up in the small town of Portola, California and then adventuring the Bay Area scene every summer, it was like Opie Leaves Mayberry R.F.D… Gee Pah!  JT
I saw – Pink Floyd, The Who, Jefferson Airplane, Sammy Hagar like 10 times, Eddy Money when he just arrived the Bay Area and met Jimmy Lions, he was Eddy Mahoney and the Rockets, Boston, Tom Petty, ZZ Top, Ray Charles, Doobie Brothers, Ratt, Boz Scaggs, Lynard Skynard, Bob Segar, Elvin Bishop, Hall & Oats (Sneaked in  backstage), Steppen Wolf, Marshall Tucker band (Sneaked in backstage) Heart, Pat Benatar, The Cars, Dire Straits,Pat Travis, Bruce Springsteen,Y&T, Third Rail, Paul MarCartney with Wings. So many more I can't remember I was young. Yea growing up in the Bay Area and being one of kids you saw playing and dancing around at concerts,  was an invaluable experience! Loved it, Jack Trout
 I wonder what ever happen to all those concert going turkeys?.. We all became chickens and are now home with our wives paying bills and not getting out enough time to enjoy another great show. The prices are so high now, makes it hard to feel good about going.
Well It's getting about time to go another show, I wonder who we could see that is still any good or even alive? These days the folks we like are so old if they didn't get the shakes in the morning, they wouldn't get any exercise Sizzlers..
Carola loves Eddy Money, maybe we could go see him???
(Talk about Shak'n! We saw Boz Scaggs, Def Leopard, Poison & Cheap Trick in 2009 that was some great shows. ) 
What in tarnation is this?!!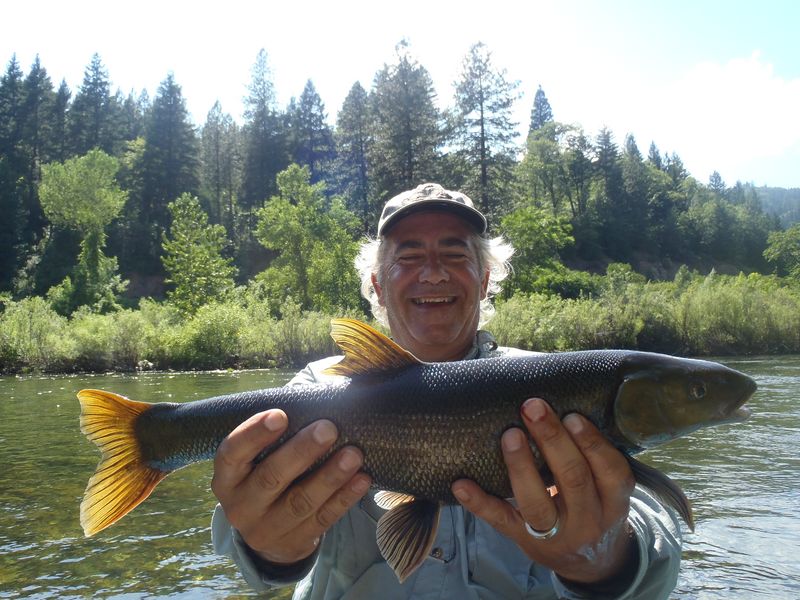 Native Sacramento Squaw Fish ~ Looks prehistoric to me my friends..
This fish fought like a tank! Might be able to make the Queens armor  out of this one.
Yea, it's ugly as can be but fought like a champ! jtct
 This day was a hook fest folks!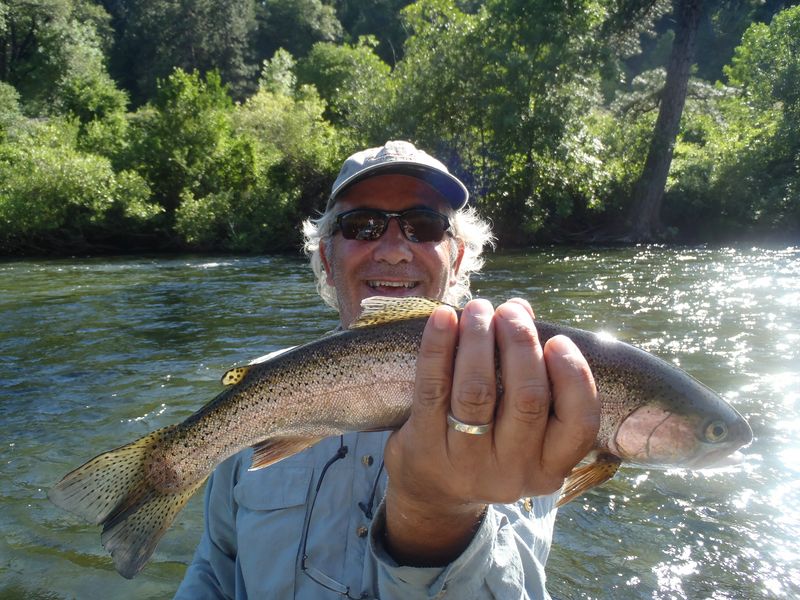 EVIDENCE ! Dave always great to fish with you, hope to see you again in August or September!!
You are the man!!  
 Jack & Carola Trout
We loved the wine, thanks again for your generosity!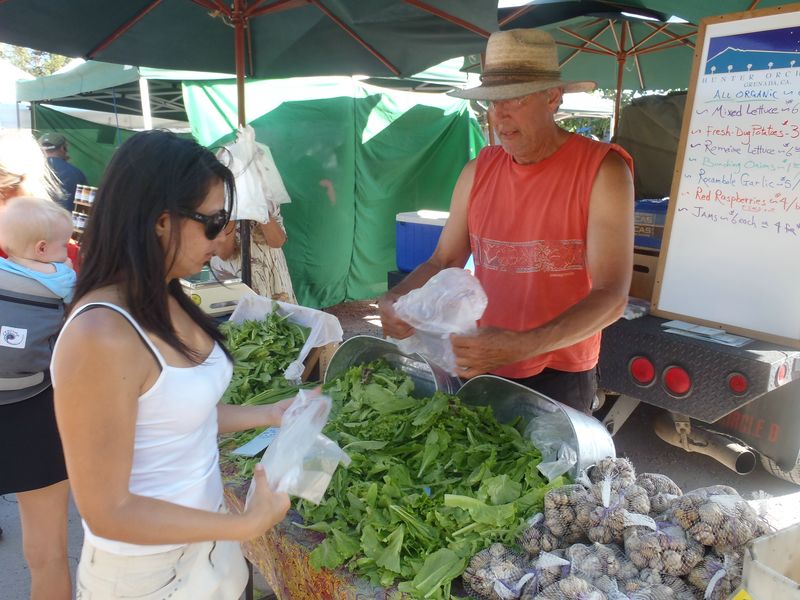 Mondays on Mount Shasta Blvd – Mount Shasta  3 pm to 6 pm is the Mount Shasta Farmers Market!! Support this event by buying fruits & vegetables as well as fresh tamales and local grown honey. Located near mt Shasta Blvd & Alma street.
Yahoo, fresh vegies and fruits make me feel healthy and fit!! Carola Trout
This is where we shop for greens for your guide lunches..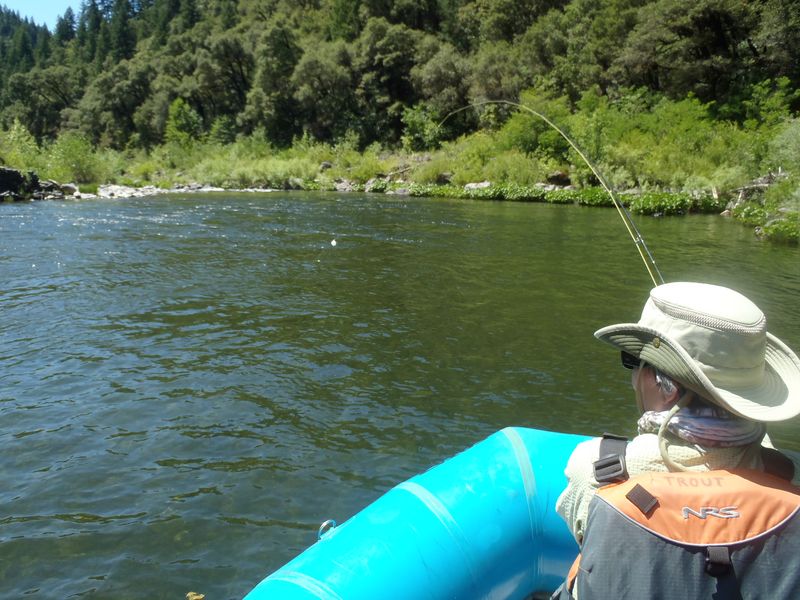 It's Judith & Peter Brown from the Golden Gate Women's Fly Casting Club!! What a great organization for women to join and get more info on the where, what and when on fly fishing.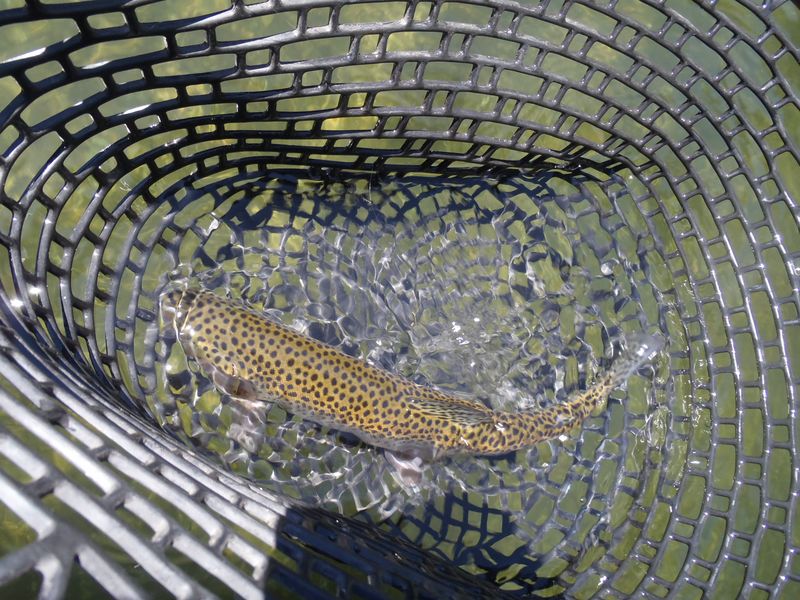 Look it's a Sacramento River Leopard Trout!! I made up this name as a specie myself over the years, but you tell me these spots are huge compared to most we catch in the river, thus the invention of the name Sacramento Leopard Trout.
You could say something like….  "Wow look at that leopardy trout!!" Then your friends would say.."What in the hell are you talking about?" You might feel super cool….Or NOT!
For sure leopardy Sizzlers!
Can we get some debate going on this Leopard Trout issue, I say not myth or fantasy.. I didn't dream it up back at a Day on the Green, this is a serious specie.. Jack Trout  ~ Napa State Hospital.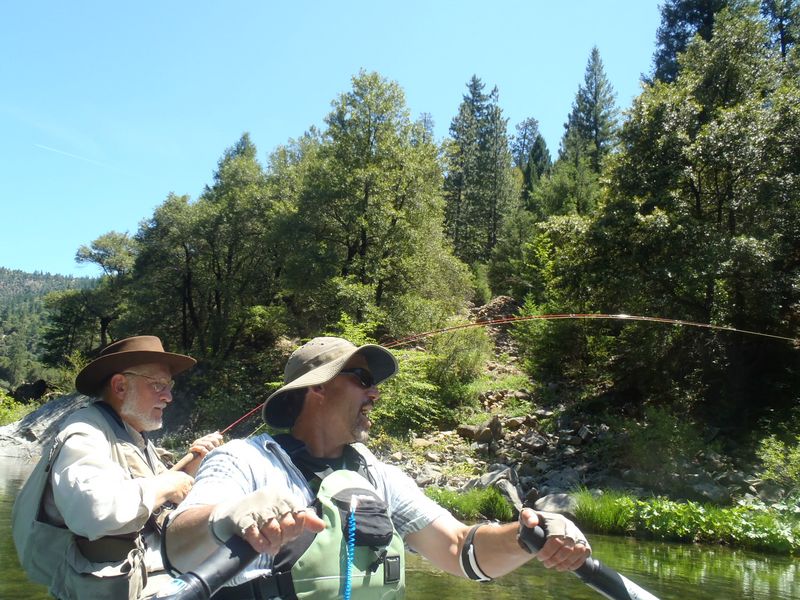 There I go again running my big mouth out on the river. I remember the 8 year old clients son who asked me, "Since you talk so much Mr. Trout, do you talk in your sleep?" and meant it…!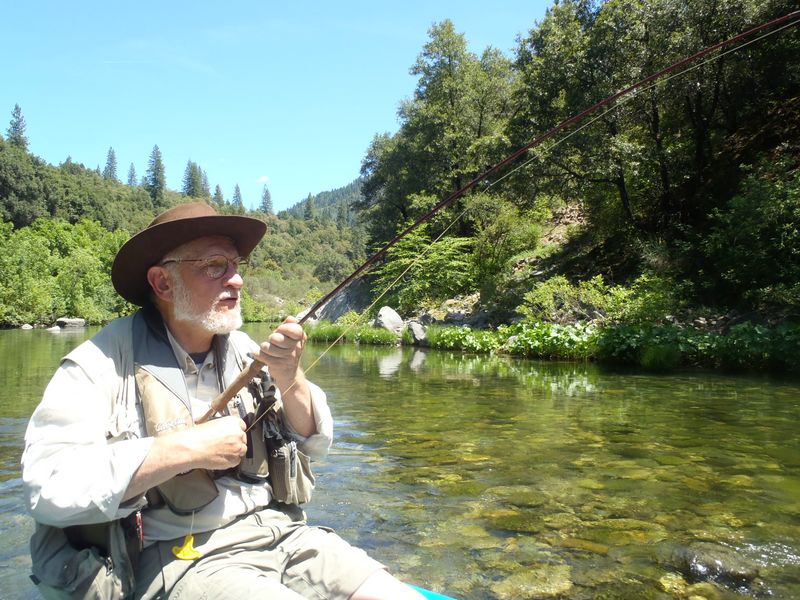 Peter Brown, Ladies and Gentlemen!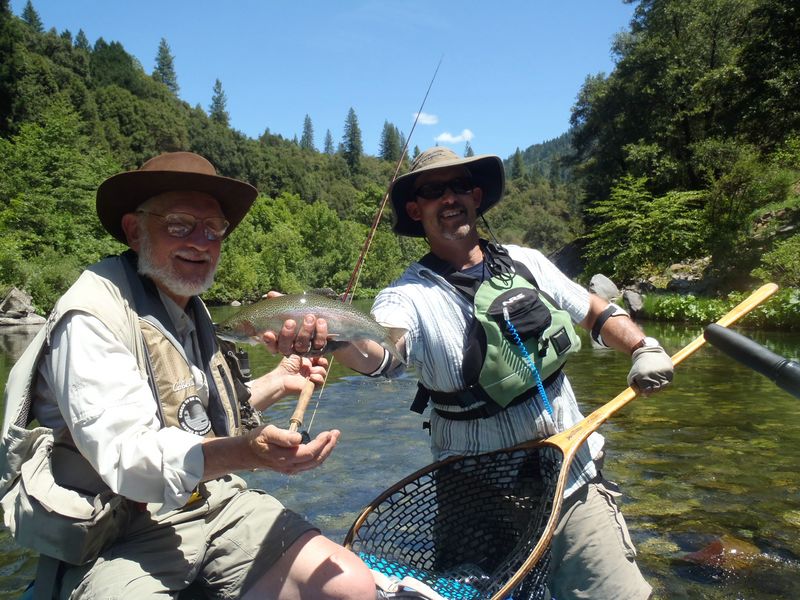 This trout moment is brought you by
~

Mount Shasta

~

D

u

n

s

m

u

i

r

and

M

c

C

l

o

u

d

,
the 3 towns who love to lodge, wine, dine and entertain you. The next time you're thinking of a total tourist destination resort area with historic hospitality, think of the 3 best little towns in America. We work harder to be nicer and provide full service that is above the other areas of California like Tahoe and Mammoth . Plus we don't have the crowds and we want you here more than they do!
WE LOVE YOU MAN!!
I promise when I say old fashion, good ole people who care about your tourist experience!  That's us, that's the North State difference and that's why we deserve your tourist dollars here in Siskiyou County! 
McCloud, Dunsmuir & Mount Shasta are your towns and you are welcome here with us anytime you're ready, we'll be waiting for you with open arms.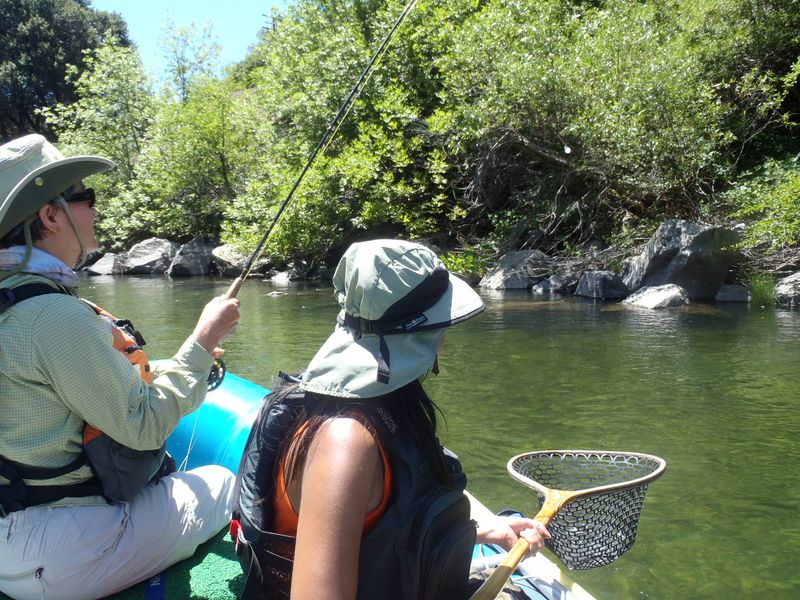 Carola out on the raft in her training to be a guide.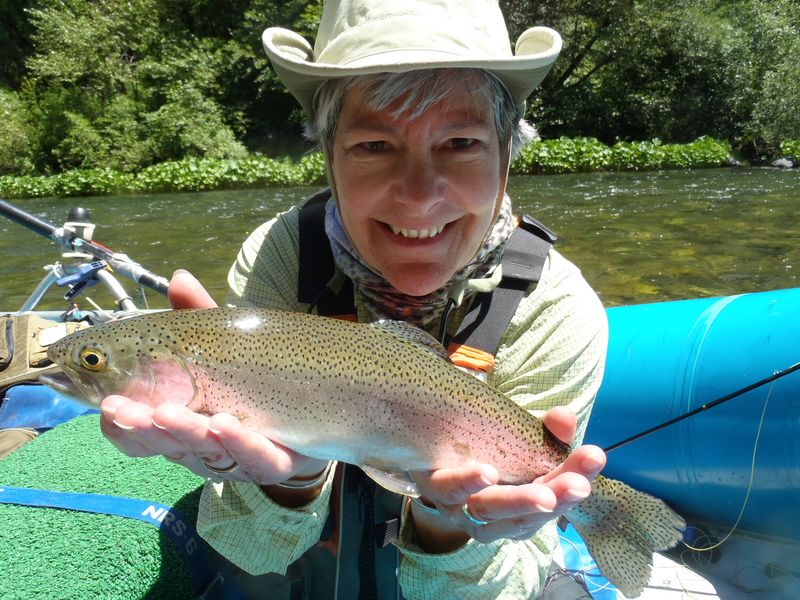 Judith, on another one of her extraordinary fly fishing and casting reprisals known well by anyone who safely fishes near or across from her knows, just don't fish behind, for it's a for sure grapes of wrath

….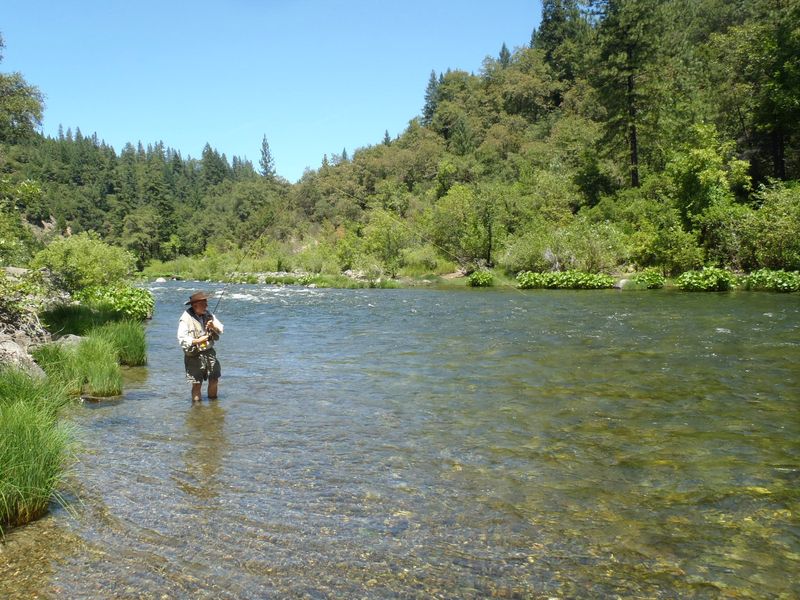 Big Pete with 4 or more right before lunch in this one rifflege!!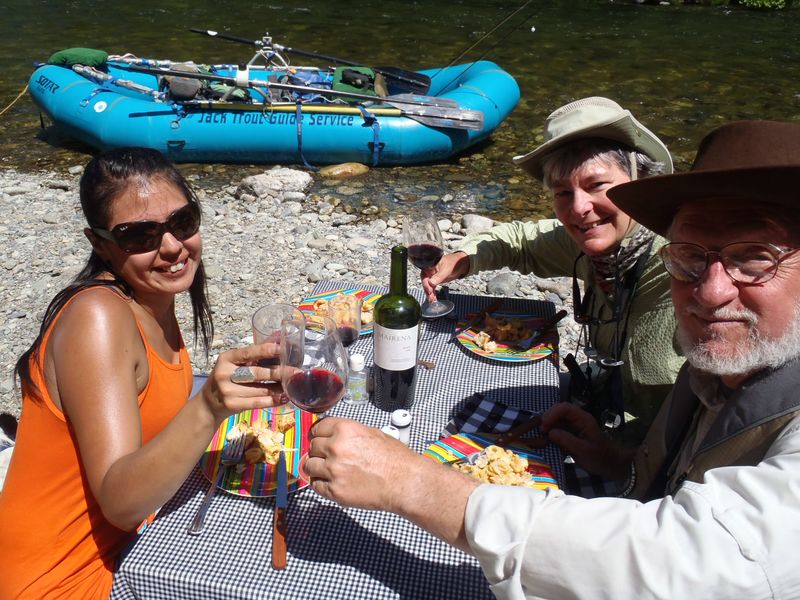 Pete & Judith brought this lovely Argentine Bonardo red wine for us to enjoy on the river and we so grateful as it complimented our great day together and Carola's fantastic river cuisine.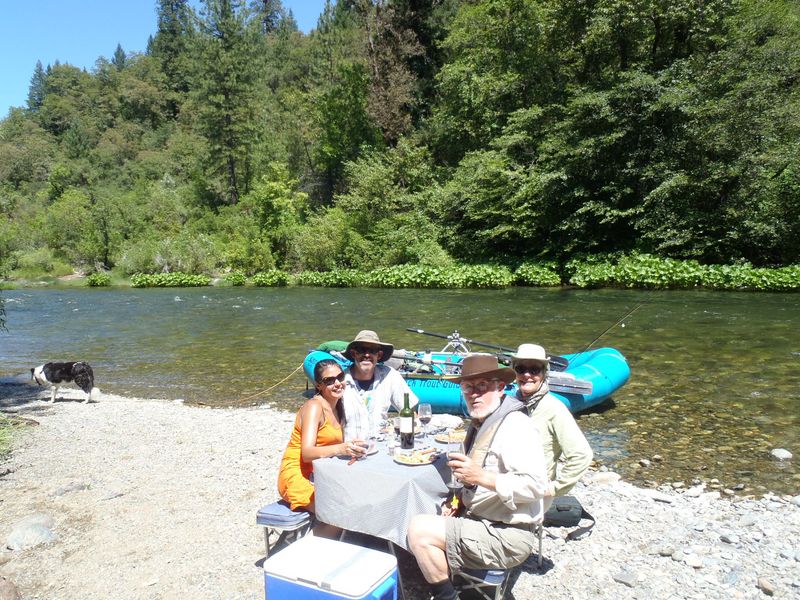 Ok, I have this new cool mini tri-pod for the camera, let's take a timed shot.
 Kobe Beef  (Loyal fly fishing guide dog!) is liking his new sun cap!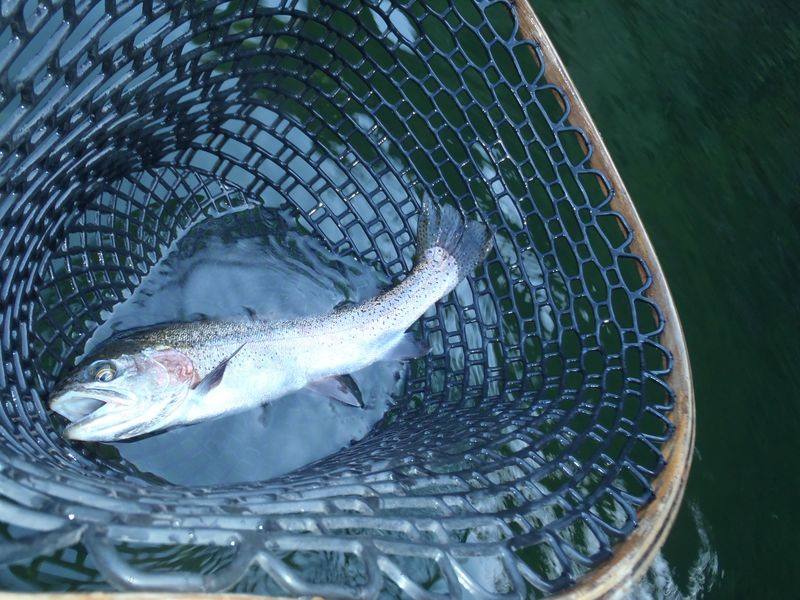 Nothing but net folks!!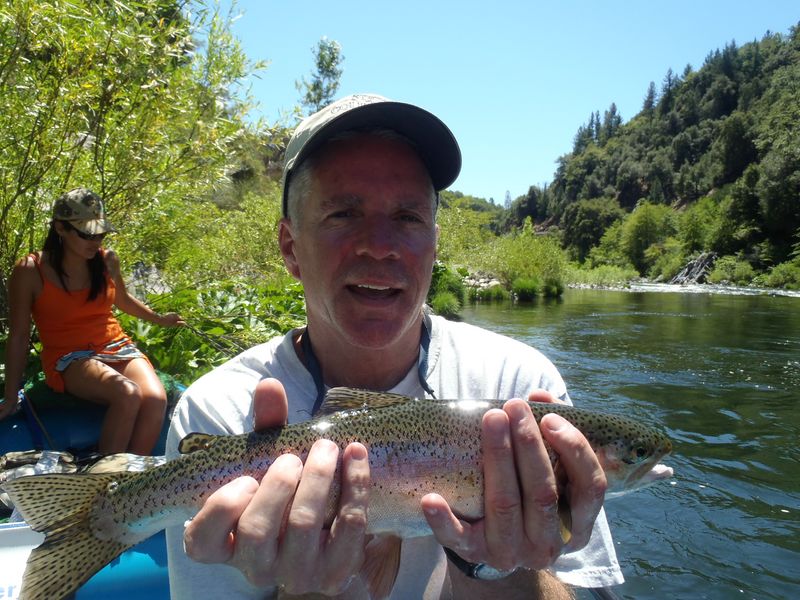 It's Jimmy up again to fish another day!! We always have a great time out on the river together. Check out Jim P.
on my http://www.jacktrout.com You can view his Youtube Video ~ "I'm going to Disneyland!"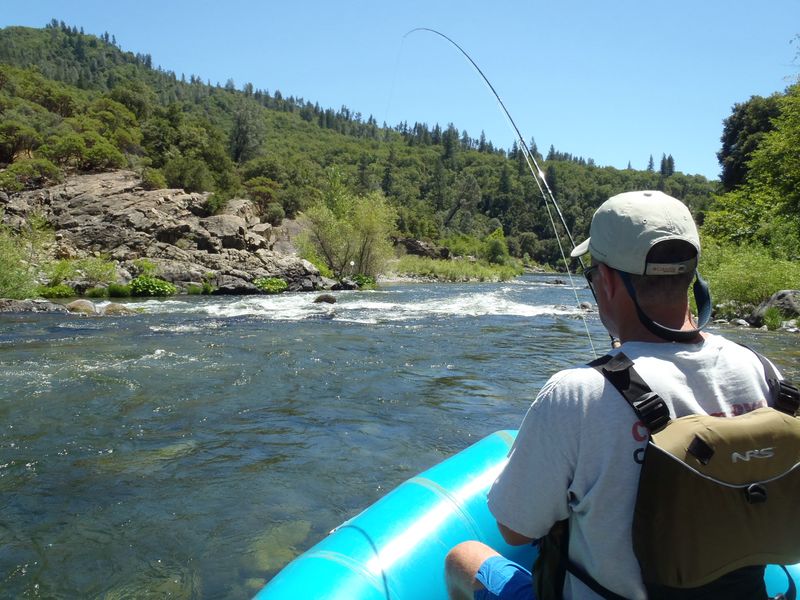 Fishing all these pockets has been so productive folks, I would say without a doubt now is the time to book your summer or fall trip.
 Call your favorite North State Guide and get up here!!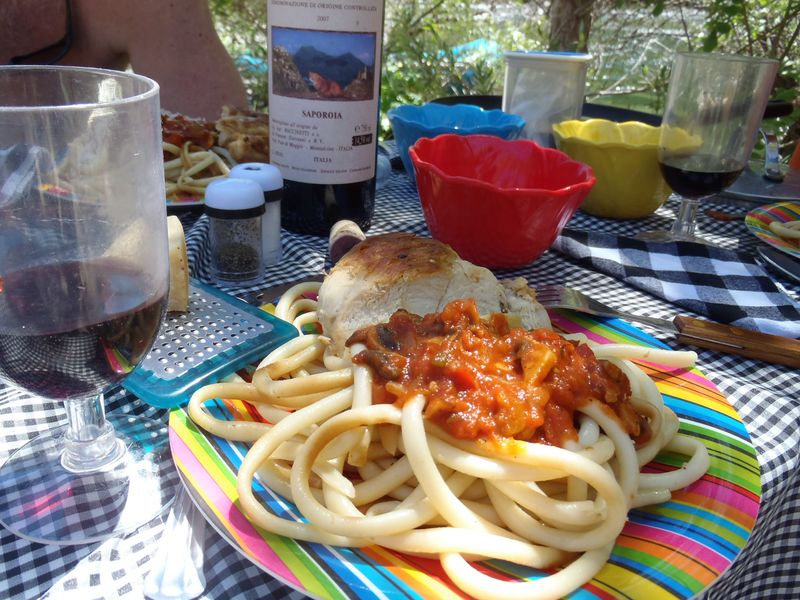 New on the menu ~ Carola's Kitchen Creations ~ Carola's Chilean Spaghetti,  just add Italian wine and we're set!
Kobe Beef  (Loyal Guide Fly Fishing Dog) has been a terrific addition to Team Trout! This dog loves the raft and at night he sleeps in the raft and guards your life preserver or commonly known as a PFD (Personal Flotation Device). Someone last week tried to walk into our yard at night and the Beefster ran them off! Good dogs worth their weight in gold, for big cats, big crooks or just saving a life from the dog pound. This dog was about a week away from the glue factory, now out with you & me on our adventures as we solve mysteries without any clues…
Must feel good to hit the dog lottery.. To win, to feel love ~ TO BELONG!
Life is about effecting others in a positive way ~ Jack & Carola Trout 
Not leopardy….
 Thanks so much for all of your support and keeping us so busy this spring and summer!! We look forward to all the folks we are guiding here now and later on in the year in Chile and Argentina for our 2012 season in South America.
Best to all of you, Jack & Carola Trout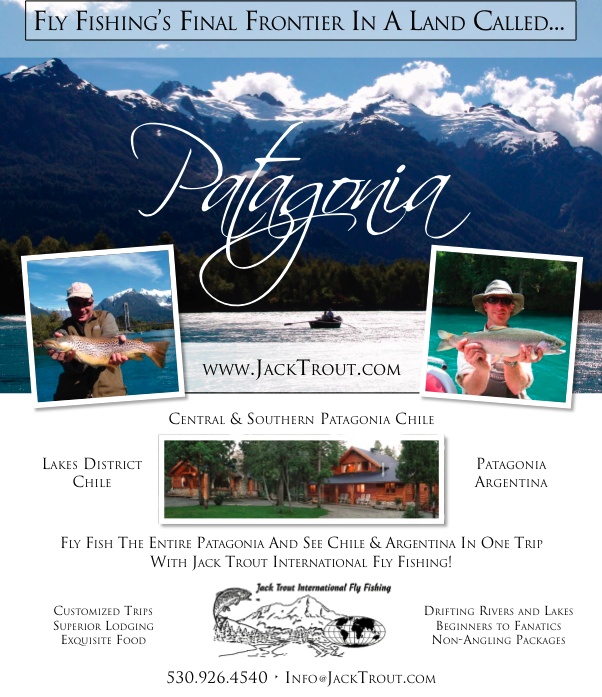 EMAILS FROM YOU

:

I would want to pair up to keep cost down,may be able to pair up twice, the following dates would work for me. Sept.19-23,Sept 25-30 Oct.3-7 Oct. 9-14 Any guide would work for me,I like streams,upper sac, McCloud ,never fished them,but thats what is my area where I live. . Thanks Lonnie p.

*******************************************************

Jack, we are targeting the last week of January 2012. We probably can't do the 11 day version. Can we do a week and if so I would target a Wednesday to Wednesday. We are flexible but we just don't feel like we can invest 10-12 days during our busy months. Let me know what you think and we can get after it.

Tight lines,Dan

********************************************************

Hi Jack!

I think I am ready to book a day trip 🙂 Are you available on Saturday, September 24. We are in San Jose so the closer on the Sac river to us the better (that is of course if the fishing is good at that time). Let me know. 🙂

-Amy

**********************************************************

Hello,
My wife has been interested in trying fly fishing so I would like to take her. I also have never been.We will need to rent all equipment.What do you recommend (full day or half day) for someone who never been before? Is part of the day used for training?How do I find out what days in September are available?Thank youDave M

**********************************

Nice, what dates do you have available for your upper sac float?

*************************************

Hey JackDo you have any dates in September open?Scott

***************************************

JackGreat post this past week on your website!Just wanted to let you know – we did come up and did drop as much cash as we could in Mt. Shasta and McCloud and Weed (I tried to spread it around).My girls had their first every fishing trip on the McCloud at Fowlers and my 6 year old Alyssa even casted and caught and landed her first ever McCloud River rainbow!They had a blast – the hatchery, the WONDERFUL Sisson Museum, Castle lake (good God that place is packed these days,…too bad), McCloud, city park, Weed city park, visiting their great grandparents and great great grandparents and other family in the City Cemetery….you name it, we did it and they loved it.Thanks for promoting the area up there.Here's a slice of history I will never forget, nor will my girls: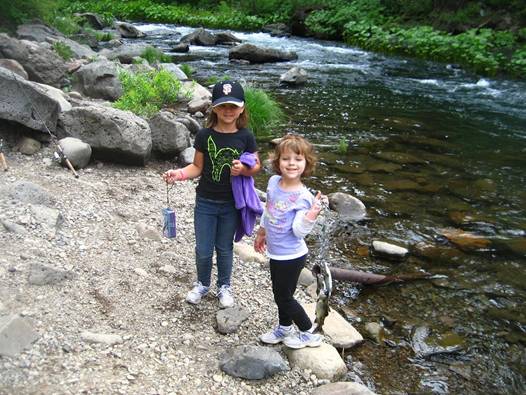 *******************************************************************************
Hi Jack,
I checked with Robert on availability and unfortunately they are not
able to make the dates due to soccer practice, etc. We will look for a
date later in the summer/fall for a float trip.
We are planning on heading up during the weekend and do some camping so
perhaps we'll see you on the river.
We are planning on hitting a few spots that we have had some luck with
in the past, but Robert asked me to check with you to see if you can
recommend 3-4 additional spots that we can hit for wading or shore-line
fly-fishing.
Cheers
Gustav
*****************************************************
Hi Jack, Jerry and I are fishing with you September 4th and 5th and wanted to know where you'd recommend we stay? We'd like to arrive on Friday the 2nd and spend three nights, we'd each like our own room and would rather not pay more than around $100 per night.
Stan Poitras
*************************************************
Hi Jack,

Puyehue's ash affected mainly Villa la Angostura and Traful area .
The Malleo, Chimehuin, Collon Cura and Alumine rivers are ok since they received a really small amount of ash and will be perfect for fishing in November. 

By now the volcano activity decreased a lot but continue with a low ash emission mainly in Villa la Angostura and Bariloche direction because of the predominant wind in the area which goes 90% of the time east-southeast.
The main problem today is the airlines are not flying to San Martin and Bariloche airports. Hopefully this is going to be solved in the coming weeks.

It will be great to have them here 9 days for fishing. Let me know what they like to do(float, wade, float and camp) and I can send you a tentative schedule.
Best regards,
Gonzalo
**************************************************************
Hi Jack!
How are ya, bud?
Good here….
Will let ya know if any backstage opportunities arise.
Been doing a lot of movie stuff lately.
SW
**************************************************
Hello Jack and Carola
Really happy to see you two together again!
But I'm pissed that you came to SF and did not even give me a call. This is my territory and I'd like to show you around the big City sometime.
Ciao,
Smiley
A. Smiley Curtis
Department Chair
Graphic Communications
City College of San Francisco
***************************************************************
I always love to see your pics. Glad to see you have your lovely bride with you.
I loved the Silver Oak story. I've got a '95 Napa under my bed (so my wife doesn't make Sangria with it).
It is wonderful wine made by good people. I sent it along to my best friend who gave me the wine, and can actually afford to drink it. And he fishes too! We enjoyed some Silver Oak at his son's wedding last month.
Fish hard,
Ron
****************************************************************
hey Jack, I enjoyed your latest blog posting. Seeing fish is not as good as catching them, but enjoyable nevertheless. A history note: you visited Geyserville. My wife's maiden name is Clar, and Geyserville used to be named Clarville. Her Great,great gtandfather was a Spanish land grant land owner and the king gave him the entire area of Geyserville and actually a good portion of Sonoma County. Of course, when California was taken over by the gold rush people and became a state, he ended up without his land and became a wood carver. Also, my youngest brother lives just out of Geyserville up on the western hills. Steelhead from the Russian River spawn in the creek on his property. So, you mentioned catching fish on small bead head nymphs. Remember the time I caught a bunch of trout on the McCloud with a nymph you had never seen before? I spend a lot of time sitting around tying flies, so I'm sending you some to put to good use. I hope this finds you well, having a great summer with Carola and catching many fish. Keep your tip up. Mike
******************************************************************
Hi Jack,
I know you're busy with all the guiding but just wondering if you could let me know where to stay. I saw a place called Dunsmuir Inn. Is that a decent place and close to where we will meet? Thanks- Mark
***************************************************************
WHAT A BEAUTY!
fresh from the sea a cracking atlantic grilse (7lbs) fought like mike tyson .
Hooked and lost a 12 -15 lbs sight fishing with a dry fly !
regards
Alastair
Way to go Alastair!! See you in Panguipulli Chile!! Saludos, Jack & Carola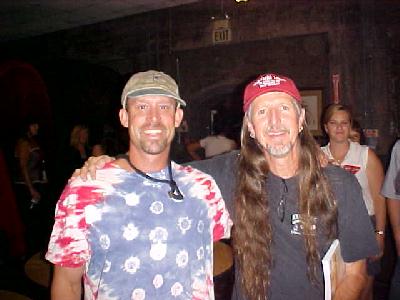 Jack  Trout & Patrick Simmons from Doobie Brothers concert. (The talented musician who wrote Black Water, South City Midnight Lady and many others we all love.)
Back Stage too!!