* ~ FALL & WINTER SIGN-UPS FOR STEELHEAD FLY FISHING ON THE KLAMATH & TRINITY RIVERS~*
WE HAVE DATES OPEN IN SEPTEMBER ~ OCTOBER &  NOVEMBER ~ GET A GOOD DATE NOW FOR A GREAT STEELHEAD & TROUT THIS FALL!
 Jack & Carola not heading for Chile for the 2012 fly fishing tour season until November 21st, 2011
McCloud ~ Lower Sacramento & Upper Sacramento fishing good~!
Isn't it funny how life can change and you find yourself looking at things in a different way? Some days it's just better to lie on your back and relax and take life the way you were suppose to see it. Maybe you thought it was a another way, but it wasn't and now you know to just kick back and take it in stride and lie on your back.  August has always been the month to kick back and enjoy things from the Earth up!  As Sheryl Crow said ~ Soak up the sun people and start looking up!
Here's my list of why you should get on your back in August;
1. Enjoying the sun while lying on your back  is the best way! 2. Under a Cedar tree on a blanket with your lover looking up after a picnic at a wonderful blue sky.
3. On your back in the Mount Shasta Panther Meadows parking lot looking for meteor showers at 3 AM
4.Under a shaded oak tree with light rays from the sun on your face and a summer breeze that makes you feel high.
5. Grandma's Hammock looking up at the old Victorian.
6. On a inflatable mat on Lake Siskiyou looking up at a cloud that reminds you of a chicken and you show your friends.
7. Looking back at a lovely blue sky as you float down the river after your fly rod…Better turn over friend!!!  
Enjoy your month looking up from below!
Jack & Carola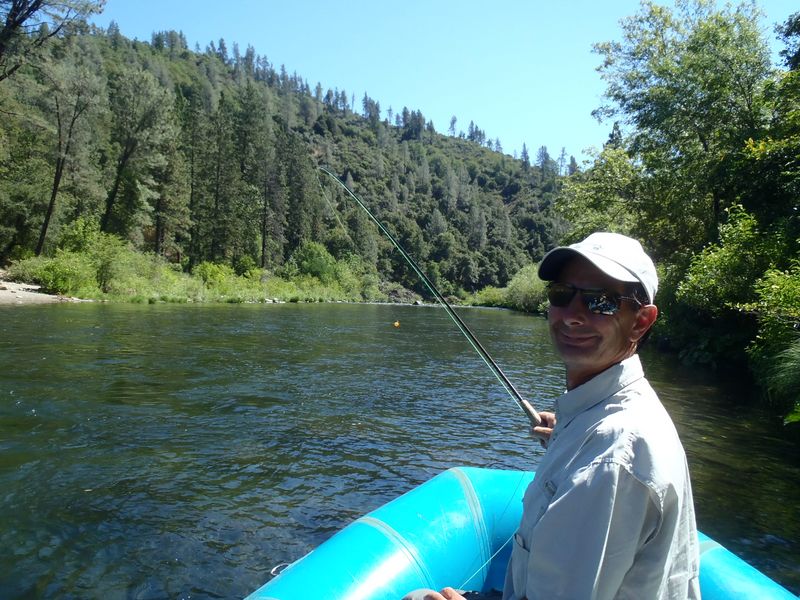 Floats have been great as of late! Mike Jones from Okeana Ohio sure
enjoyed his trip, thanks for coming out and visiting us Mike!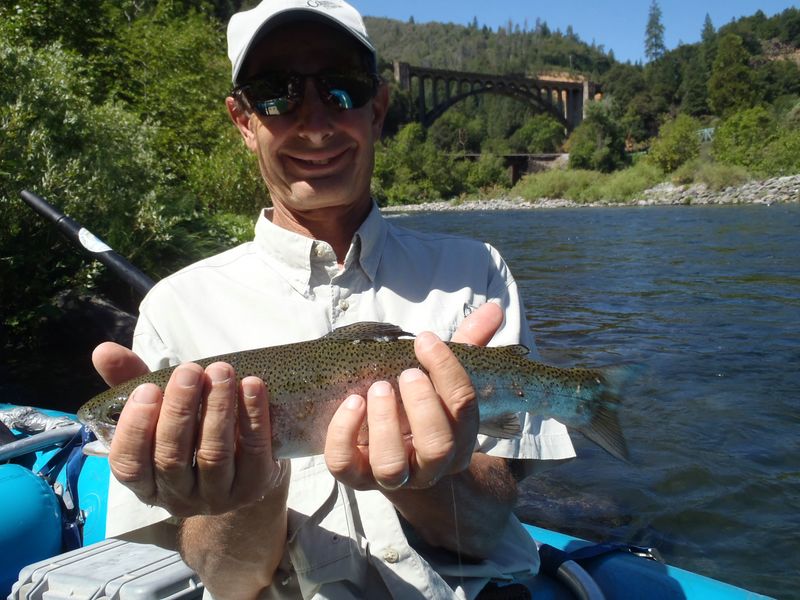 Big trout are coming out of Shasta Lake running now up the Upper Sacramento River to escape the heat of the lake.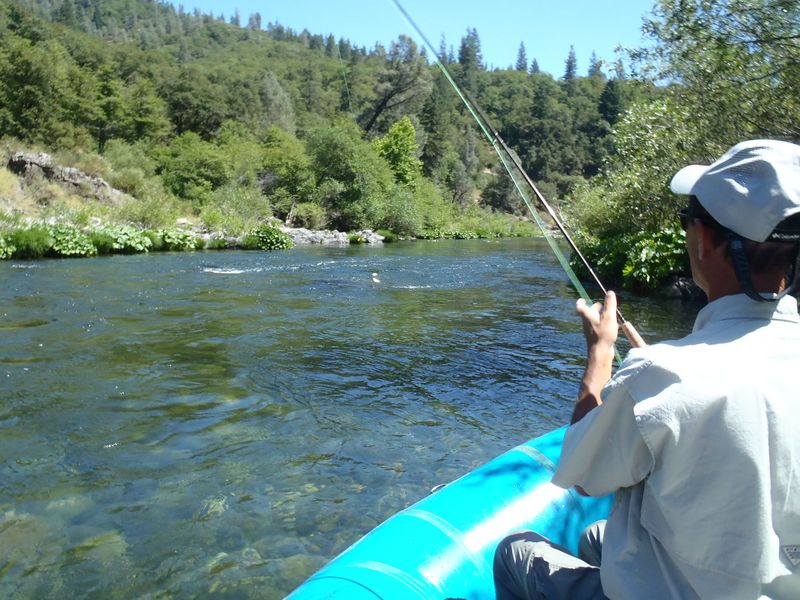 My clients and I like to access this water by raft!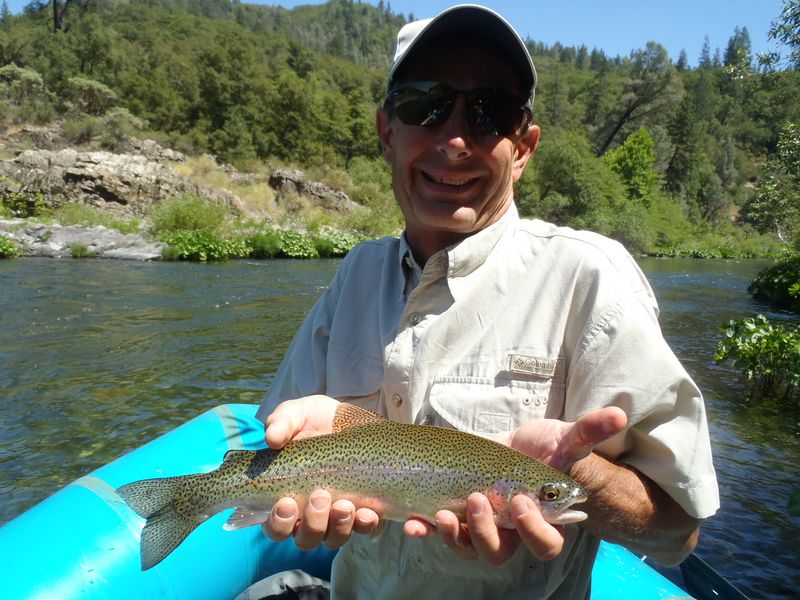 Mike Jones, thanks so much for coming out from the great State of Ohio to hang out with us here in Mount Shasta!! We love tourist and others like Mike Jones will love it here too!
~~~~~~~~~~~~~~~~~~~~~~~~~~~~~~~~~~~~~~~~~~~~~~~~~~~~~~~~~~~~~~~~~~~~~~~~~~~~~~~~~~~~~~~~~~~~~~~~~
Whether It's McCloud, Dunsmuir, Weed or Mount Shasta, we've got you covered. These are the best places to escape to in the hot summer heat of down below. We have the purest water, best fishing rivers and lakes matched with mountain views and historic North State hospitality! We're your total destination tourist location for the State of California!!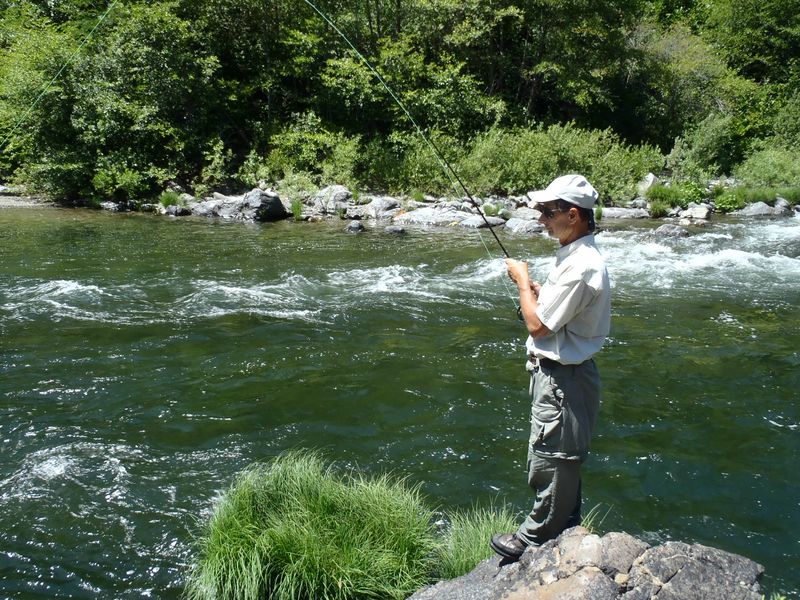 Perched on a rock with a lunker on your line is where you'll be with me. It's sublime my friends and my wife Carola and I are 100% dedicated to seeing that you have a wonderful experience when do come and see us.
We don't really go out on the town these days, we are just so happy to be together now. Often lately we have said our clients are our family, these are the people in our life who mean so much to us and you all know who you are out there. You know it's been a love affair between me, my guiding, and all you out there. Now with my partner who compliments what I do in every way, it's a huge bonus for all of us. You are all going to meet her, she's a kick in the pants folks!  But it's been the clients lately that have told me how they appreciate Carola's help in words they have expressed to me out on the river. Thanks so much for all your support, we guided 25 out of 28 days here in August. Isaac and Chet have been busy guiding in August and it looks like things are really shaping up for this fall for trout & steelhead season.
We'll be ready when you call us for a trip!   TEAM TROUT
 This was another reason! These lunches are incredible and everyone is raving about Carola's cooking. I bet every guide wishes they had a 92 lb wife that fit in the boat and cooked like Wolfgang Puck! We love how every one is showing up now with their favorite wines and Carola & I are faced with having to share a glass with them at lunch..(Oh Indian burn or was it titty whistle?) Heck of a lot of fun is what it is people!
People are just loving this tranquil not really seeing a lot of folks fly fishing. Talk about river runs through it! I'm haunted by rivers Norman McClean!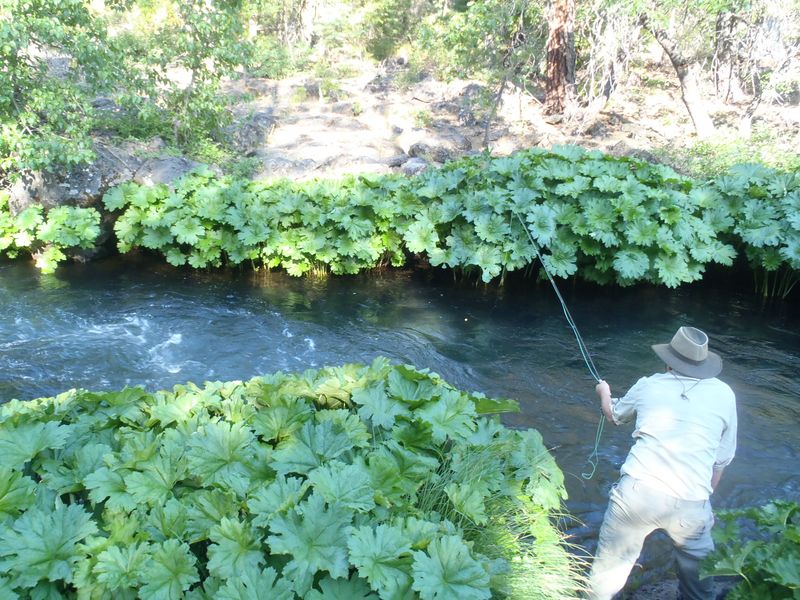 The Upper McCloud is a great place for beginner fly fishers and nature lovers to explore.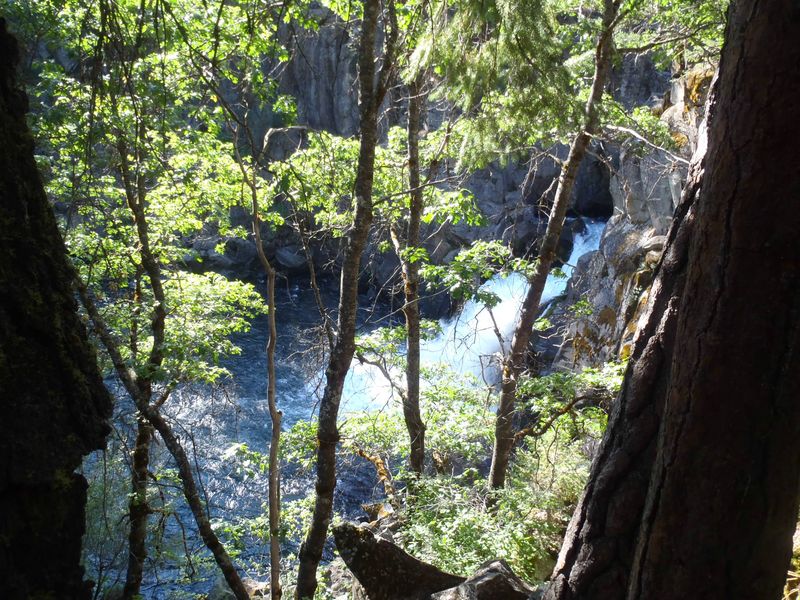 We can all be happy that  Nestlé Waters France S.A.S never got their grubby hands on the sacred waters of the McCloud River. 100 to 600 big rig trucks up down little highway 89 would not of been a good idea especially in the winter.
Yea maybe we need jobs up here but selling off our water rights to foreigners at the top of the food source for water in California sounds like what Howard Cosell would describe as; "The Debacle of a franchise! Hello everyone this is Howard Cosell here in the frozen tundra of Metropolitan Stadium….Look at the little monkey trout run!"

  Chao to Howard and chao Nestlé Waters France S.A.S ~ You're both a part of  history now!
Adios Mr. Hand, I'm flying far away from your classes in the future!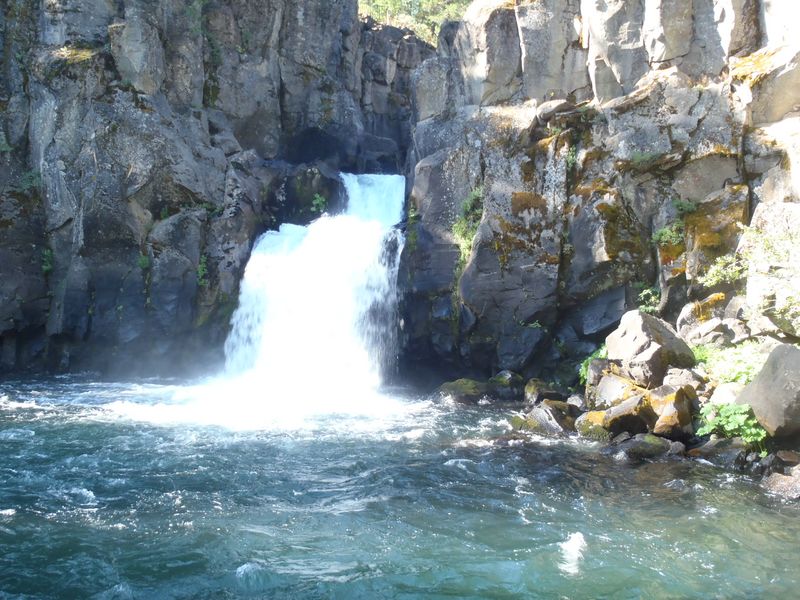 Pure water from the source must be protected always. You think the ups and downs of the stock market hurts, try to win with foreign companies owning and controlling our water rights here in California or buying and owning many things you and I cherish as sacred where ever you reside. It can happen people, China, France, Germany, Switzerland, Dubai. 
No matter how desperate we are for income in these little mountain water towns we have to think like entrepreneurs (stolen French word) and  towns like McCloud should build their own water facilities and not rely on companies from other countries. Dunsmuir, if you need more big trout through town, build trout ponds like they do in England and build a reputation of having the biggest river trout in the United States. Think out of the box little towns and put ideas to good use to get the tourist here. We have it all here in the Shasta, as we are all the best areas of California in one location.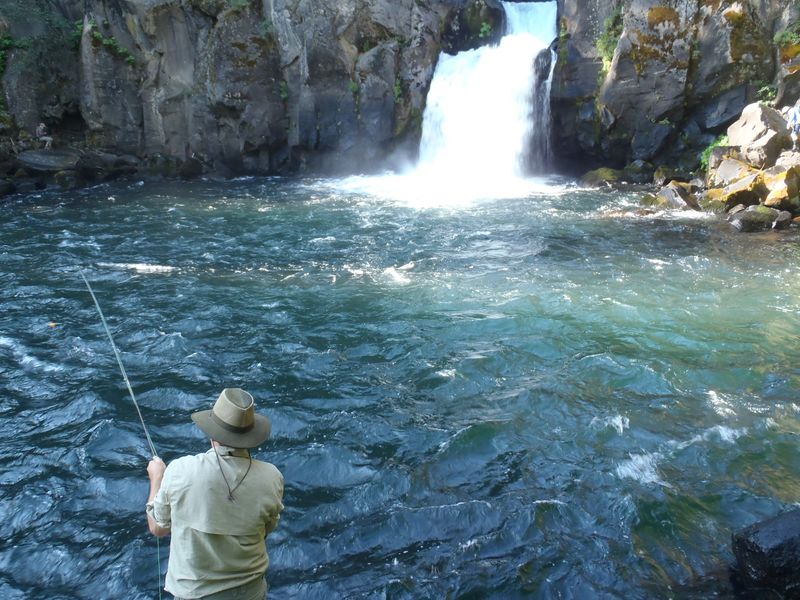 Did you know this water from Mount Shasta lava tubes travels some 22 miles from the interior core of the mountain through the town of McCloud down highway 89. When you travel down highway 89 you're on top of lava tubes that travel all the way to the McCloud Falls for all of us to witness and enjoy. This is an aquifer miracle of the purest level for the State of California. If my dad's name was Jor-El,  the McCloud Falls would be Planet Krypton, the place I flew to re-boot my computer. Lex Luther was any other country that tried to lay their dirty-birdy  hands on our area water.
 (Thanks Kathy Bates!)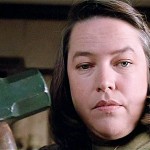 Just needed to get that off my chest and let all of you know out there, help me watch our California water rights up here at the top of our Golden State, these are vulnerable times! Jack Trout
When you're learning to fly fish and want to wade a wild Northern California River a place like this is special! The McCloud Falls Area.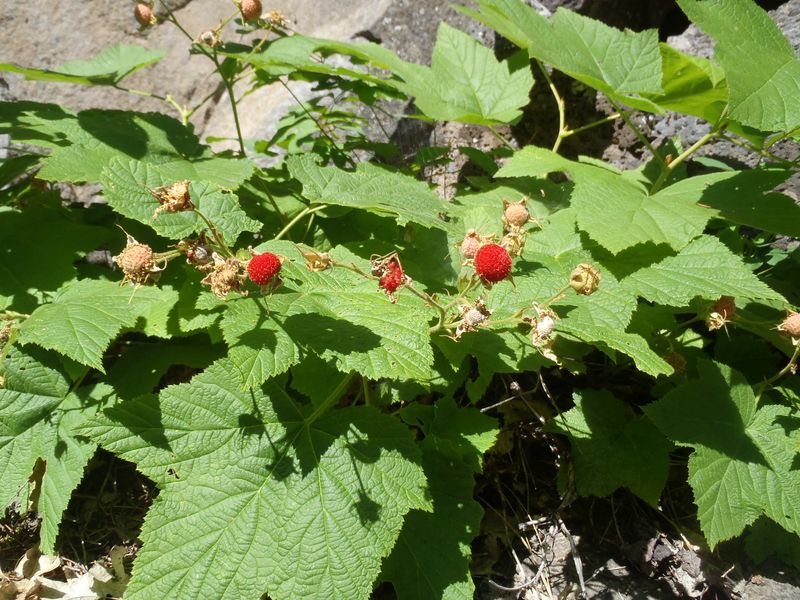 Have you ever tried a Siskiyou County Thimbleberry? You can find them on the McCloud Rivers and in the town of McCloud.
Have you ever stayed in the town of McCloud? What a wonderful place to visit, with the candy store, the mercantile shop and the great food at the Soda Shoppe Cafe. Stay at the many fine hotels and B&B's in the town of McCloud or park the good ole RV at the Dance Country!  
ENJOY & GOOD DAY!
 That's the most delicious water I think I've ever seen!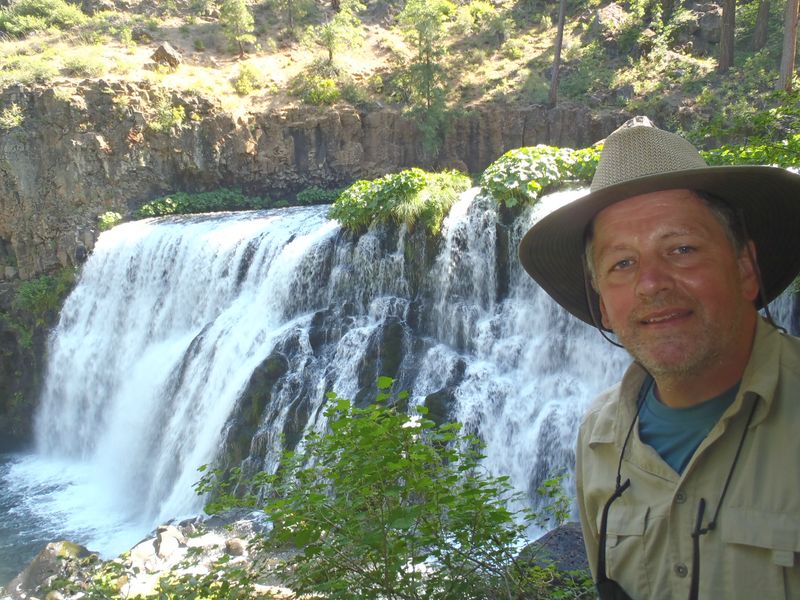 Ed Constantine, who stayed with his family at the Siskiyou Lake Campgrounds from Escondido California, was amazed and never knew water falls like this existed in Siskiyou County. We caught trout at all the falls and later when went down to the Lower McCloud River.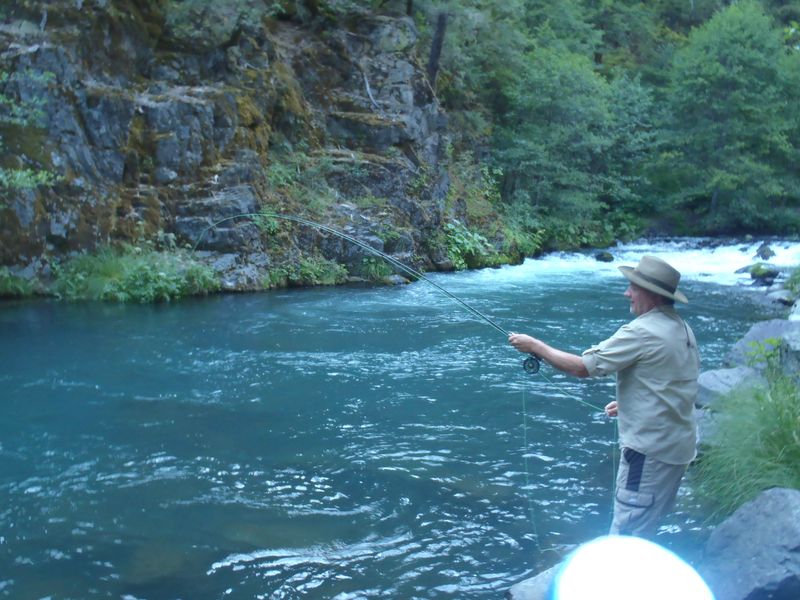 The dry fly was happening and we caught many trout on Light Cahill's size 16 & 14, as well EC Caddis size 16.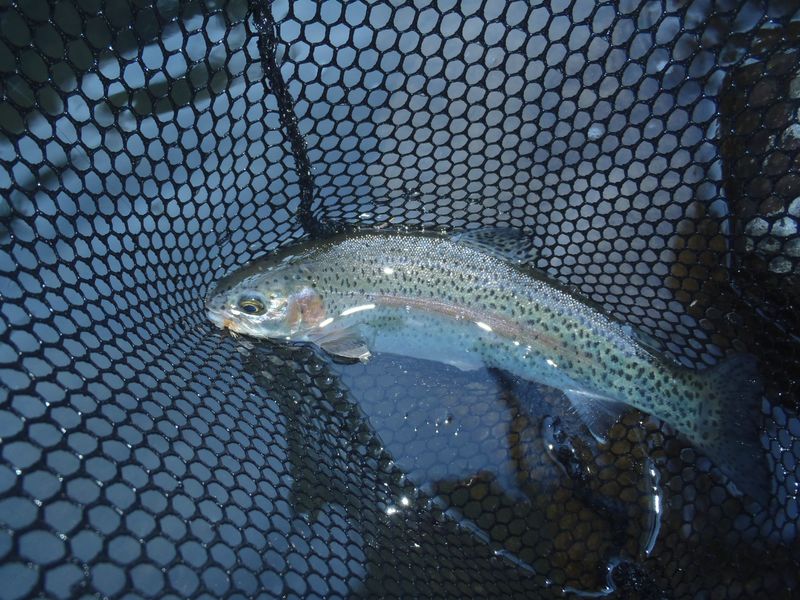 Lots of trout on dries makes any beginner happy!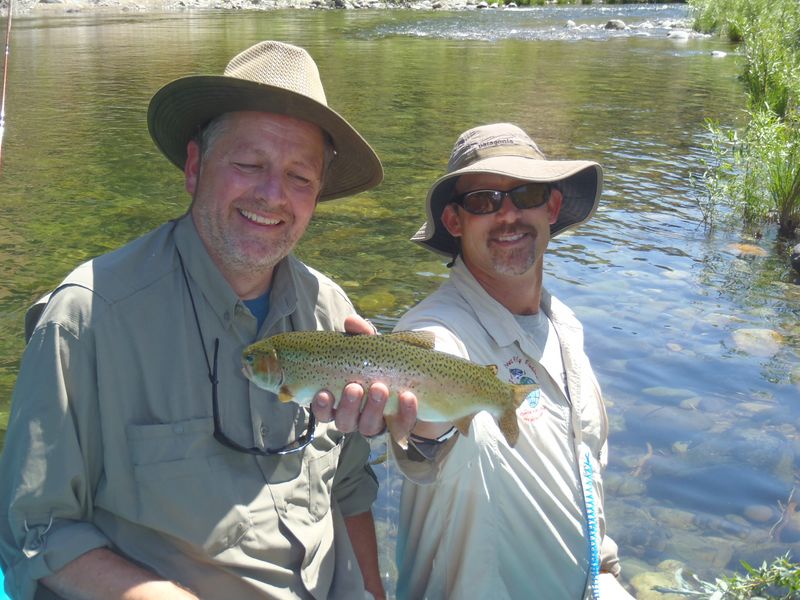 Then the next day I floated Ed on the Upper Sac and he caught trout all day long!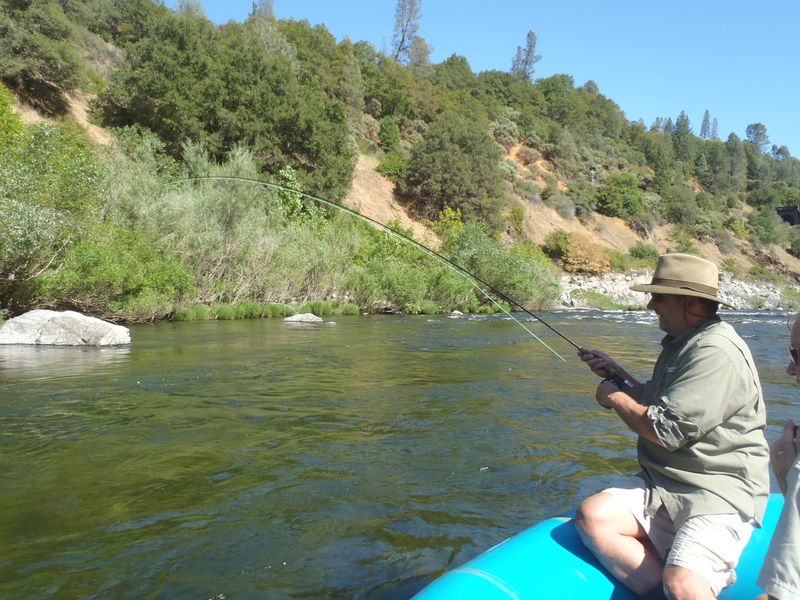 What a hoot we had and Carola was cheering from the back seat, it couldn't of been a better day.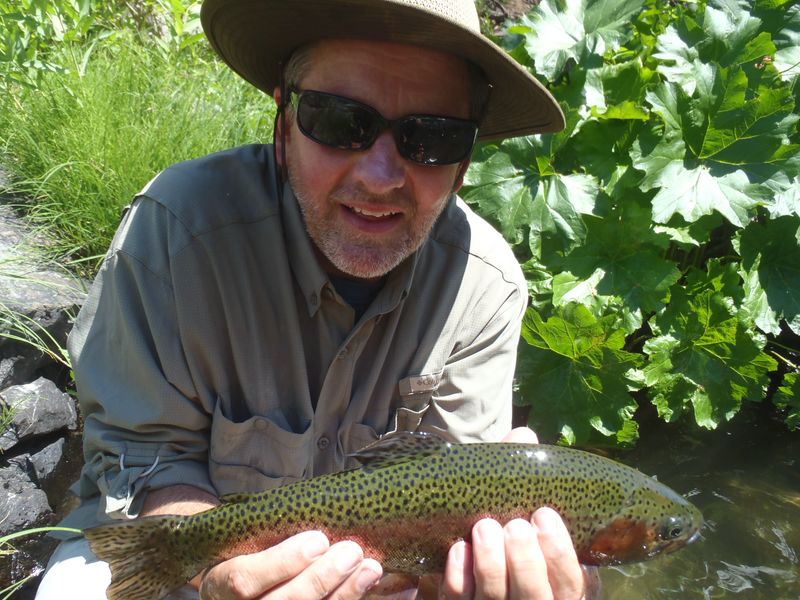 Then we caught a trout I recognized only in the Hat Creek ~ Pit River Burney area. That day we caught several trout like this one I had never seen in this section before.
1st clue ~ Big dark red stripe like a Hat Creek/ Pit Trout
2nd clue~ Football shape
3rd clue~ See next picture below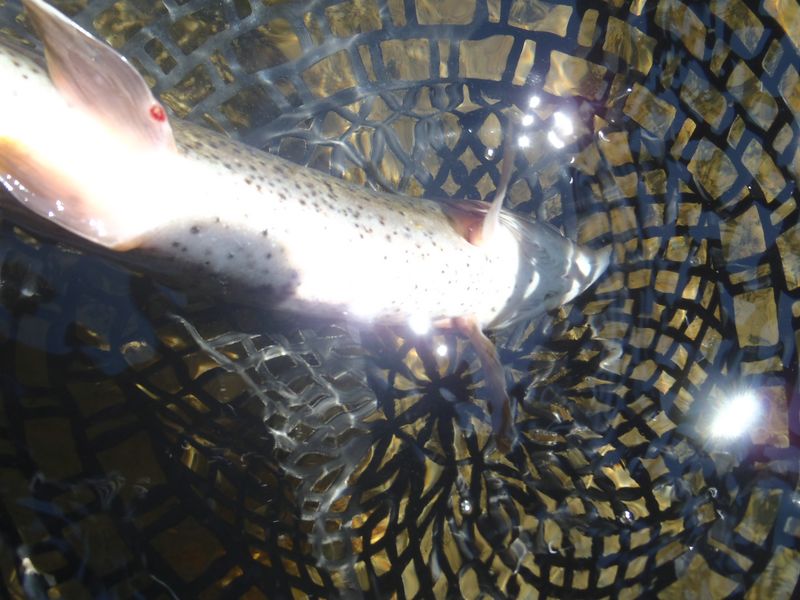 Course ground pepper markings like trout over from Hat Creek and Pit River. I always thought those trout had the course ground pepper on their bellies because they had to hover in the boulders in high water with big numbers of crayfish maybe it's camouflaging? Maybe I'm out there on this one folks, but one thing I know for sure , I know I see the course ground pepper on the bellies of trout normally around the Burney area…True story!  He's a dam escapee from Shasta Lake, it's Dr. Richard Kimble, the Fugitive Trout!!  jt

Can I get any comment on this from the Peanut Gallery….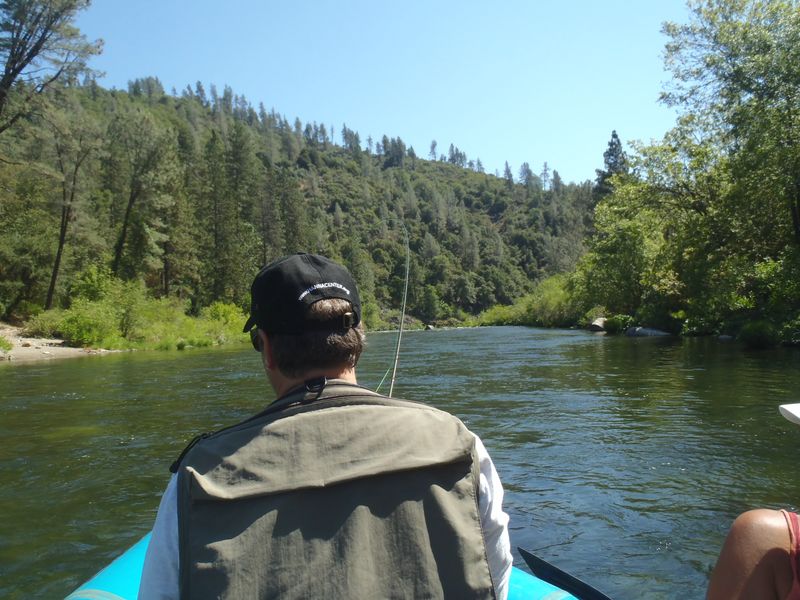 Cruising out on the raft on all those nice bright sunny days was over the top this past 2 weeks.
 
It was all about ~ Fish on!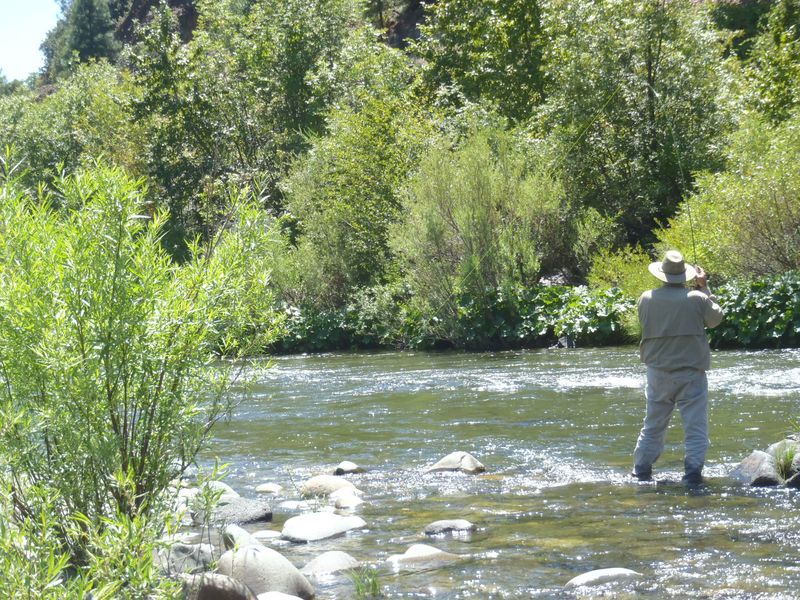 Rob Ostrander up with me again on the Upper Sac.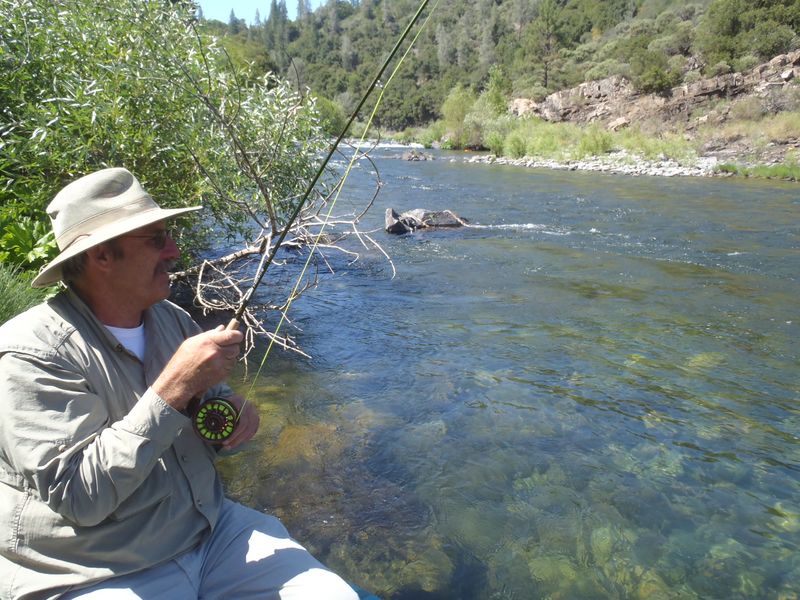 As always we had a great time together.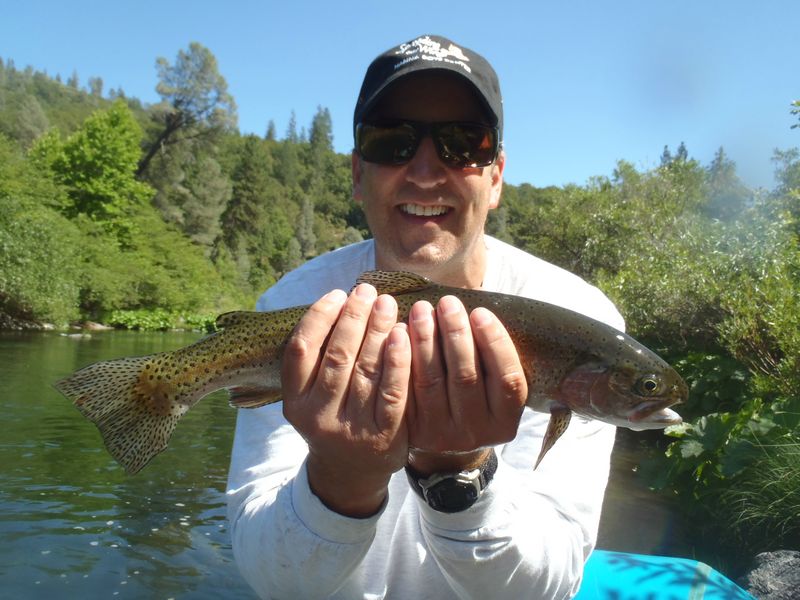 He brought this really cool guy Mike Battaini, who loved the trip and caught a bunch of trout with us!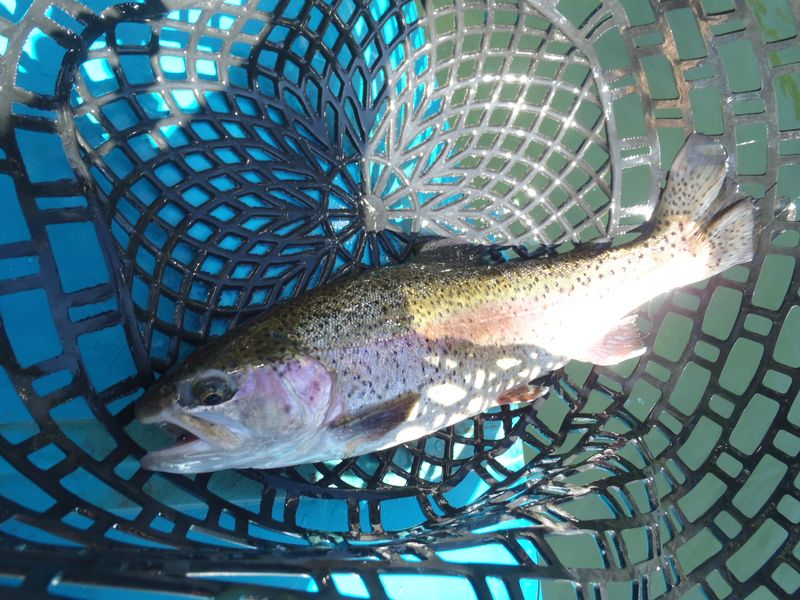 It was a heavy catching day and for this we all cheered when another great trout was caught.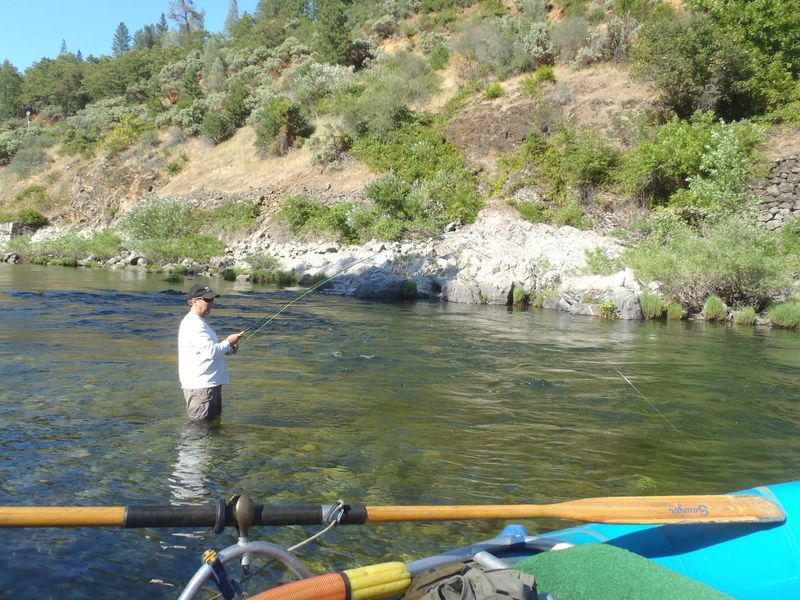 Michael enjoying another hook-up outside of the raft.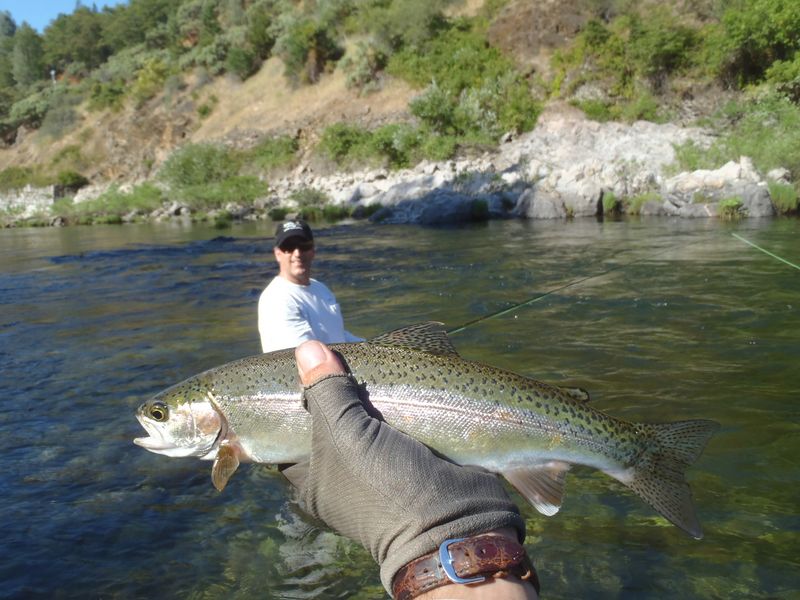 Frequent flyer miles for sure little dude, I'll see you'll credited!
 The trout of the North State are some of finest found anywhere in the world.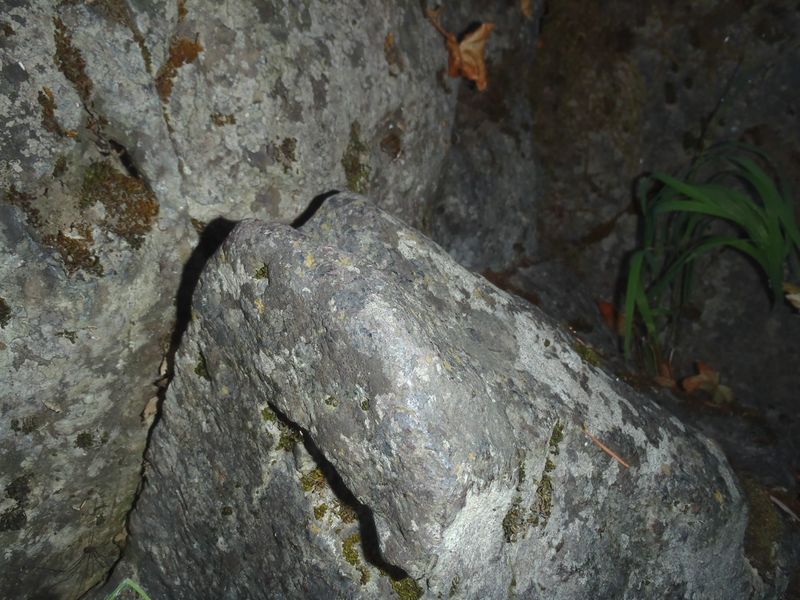 Have you ever seen this artifact on the Lower McCloud River. This is worn down from thousands of years of Native Americans and you and me grabbing out for this handle climbing the walls down just around the corner from the McCloud Dam. You can feel the years of this smooth 
hand worn fitting rock as you crawl the wall over to the left bend hole.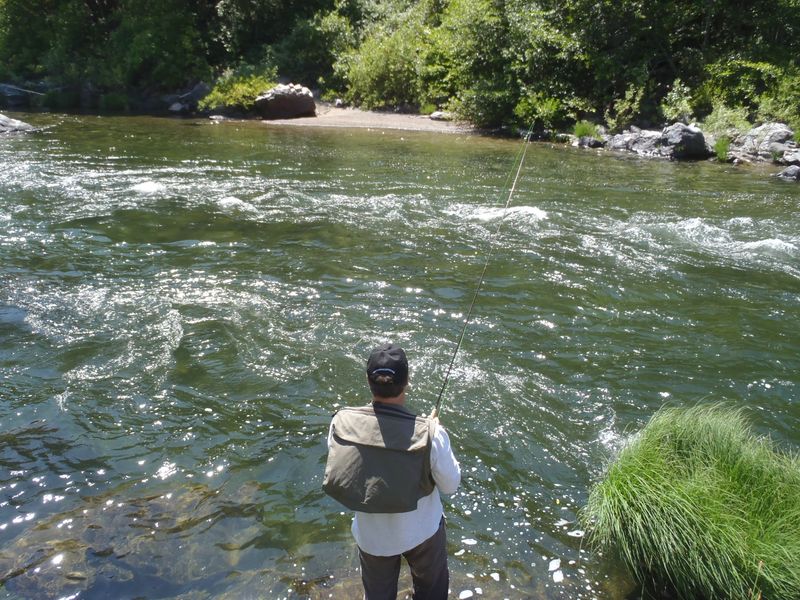 We caught many wading and many from the boat that day.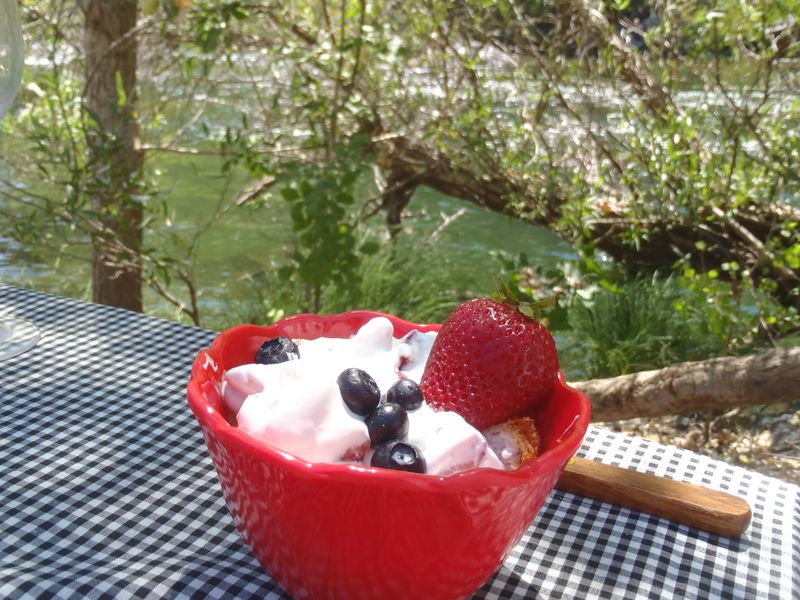 But nothing was better than the desserts we enjoyed that Carola homemade!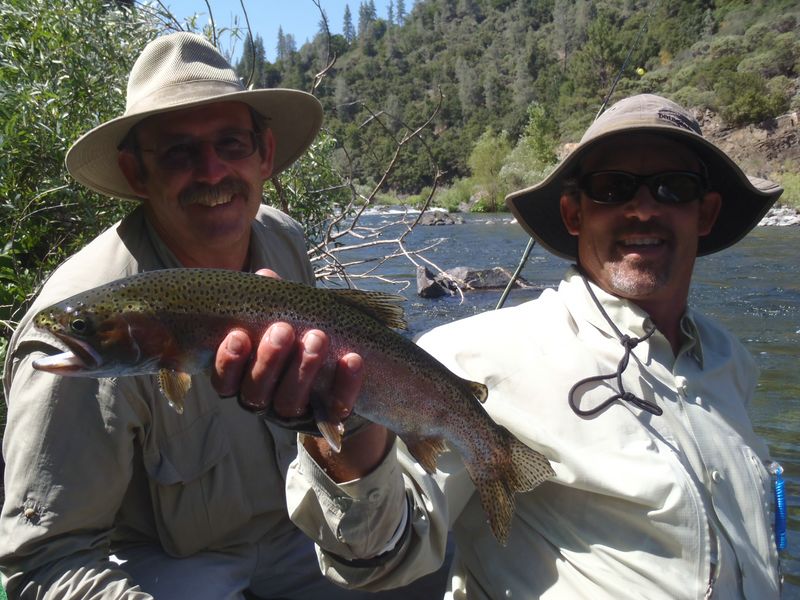 The fishing after lunch was even better!! We caught a lot of huge trout that day! 
Must of been Carola's dessert!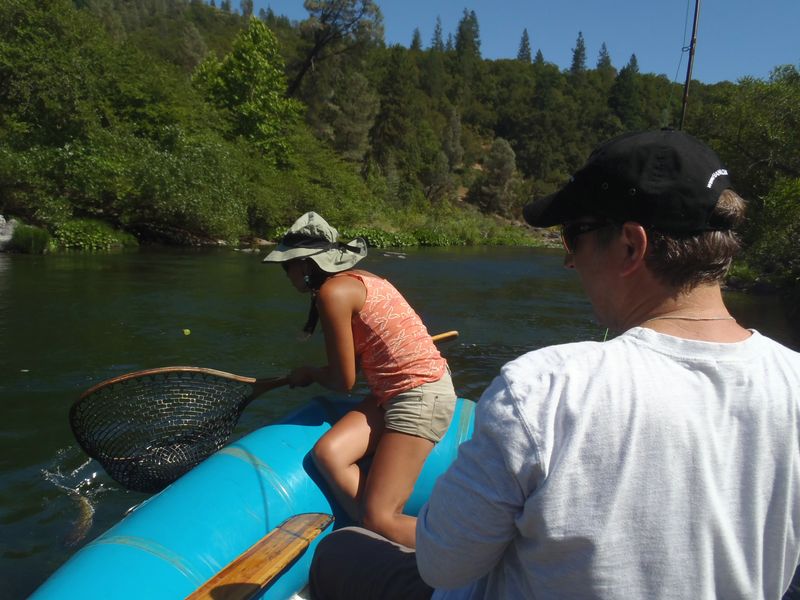 That's the finest deckhand in the land folks, talk about winning the lottery!!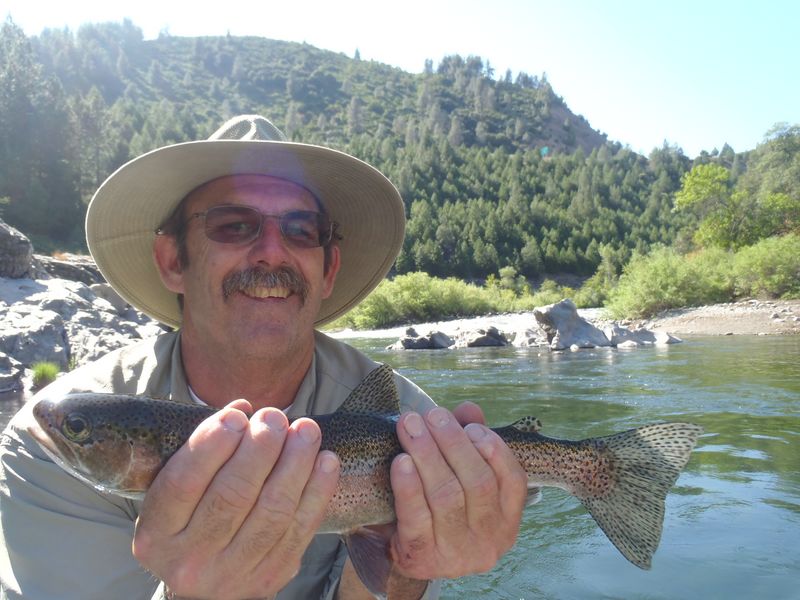 Thanks again Debbie Ostrander for buying all those Gift Certificates Rob and I are really enjoying them!!!
This last trip was one of the best ever!!  So many more to come, wow the future looks bright, better wear shades.
 Oh Yea almost forgot, on the way back driving up the hill taking out the raft my neck was bothering me, so I decided to put some Ben Gay on my neck while I was  driving. Well it must been some Karma thing from Portola High School when we Ben Gayed someone's jock strap, because the truck hit a bump in the road and the heat of the day had melted the full jar of Ben Gay as it poured into my lap and all I heard was, "Jack be nimble, Jack be quick, Jack jumped over a candle stick! Mixed with a little, "GREAT BALLS OF FIRE ~ DUH NA NA NA NA ! GREAT BALLS OF FIRE!!"
THANK GOODNESS FOR THAT WATER HOSE!!! JT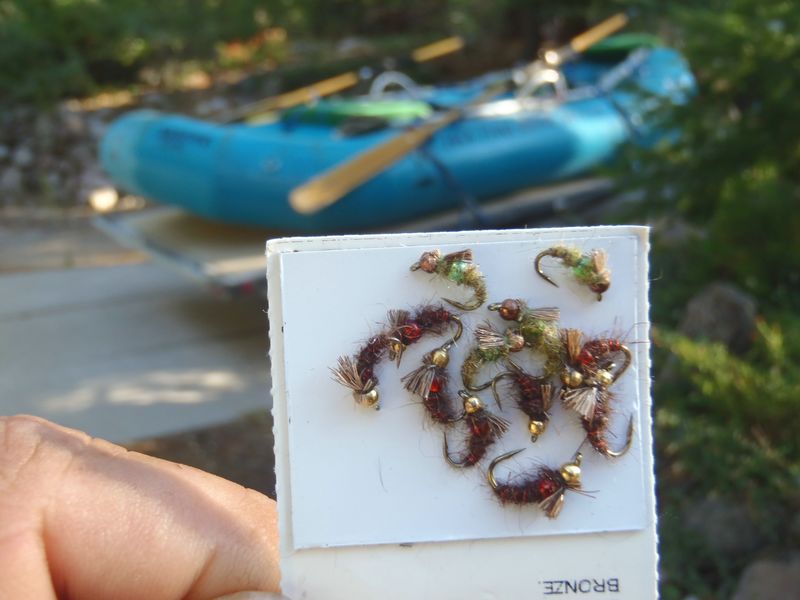 From  Mr. Mike Foster
Jack,
Here are some Foster No Name Nymphs for you to try. The chocolate one is the one that worked in the McCloud, but the olive has been good at times too. Hope they bring you and your clients good luck. I'm working on getting around better, so may be able to head your way soon.
Best regards, Mike Foster   Ferndale, California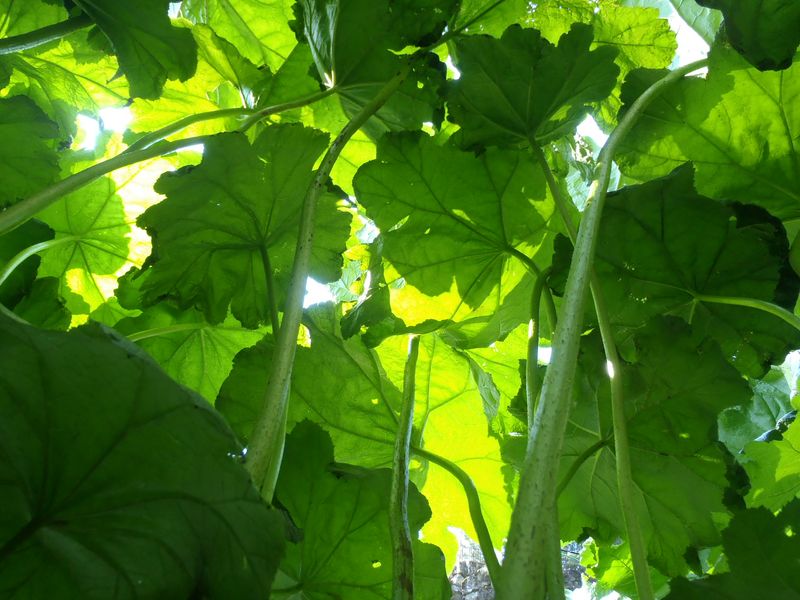 Mike Foster, You are a California Legend, a great father, football coach and writer. I miss you out on the river and hope you get well soon and come meet my wife, you would like her. We are thinking about you and will leave a spot open only for you on the river.
This picture is for you, it's ok to be on your back healing, looking up at the big giant leaves. Print this photo and put it where you tie those awesome flies to remind you that we are fishing together this fall!! Time to heal Mike and let's get amongst them, we have some more adventures to write together!
Your friend, guide & family, Jack,  Carola & Kobe Beef Trout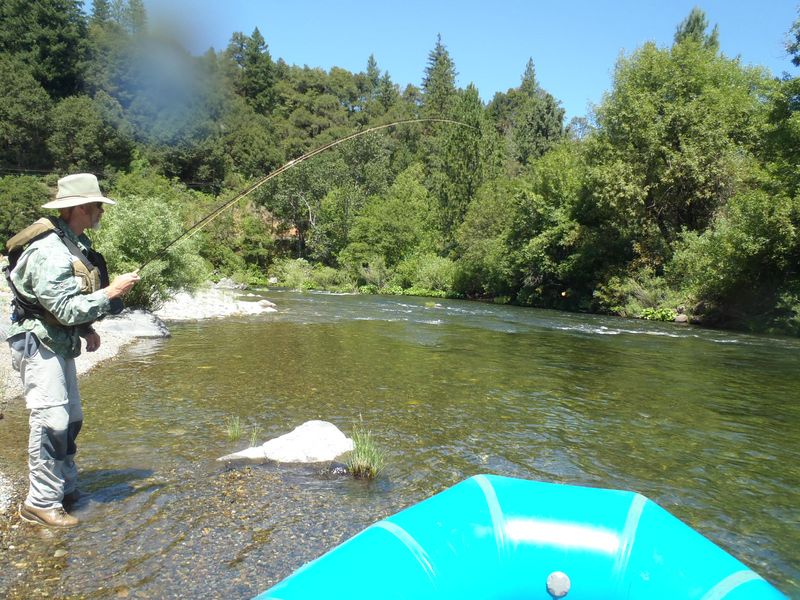 Speaking of Ferndale Sizzlers! It's Mr. Sopjes from Ferndale Science Class!!  Wow this guy knows all about Biology, Chemistry, AP Environmental Science , and Physics …
 One brainy career student from the University of San Diego  and Humbolt who is really making a difference with his teaching skills up the Northern California town of Ferndale.
University of California, San Diego &  Humboldt State University ~ Majored in  Biology, Physics & Oceanography ~ That qualifies you for a big Wow! Sizzler!****************************
I loved my teachers back at Portola High School. My Science teacher Mr. Rife was the best, I saw him at my father's celebration last year. I have so much respect for all my old teachers back at PHS. After spending a day with Dave Sopjes, 
I knew why I always liked my old teachers from school, it's a good tribe of people, the CTA ~ California Teachers Association. My dad belonged to the CTA.
You all out there would of loved my dad as a guide and 33 year educator from Portola Ca. 
But folks like Dave Sopjes, or Dave Rife even Ray Rhode always wanted to see us do better, wanted to effect others in a positive way and have a positive out come and maybe as life goes on we realize this is the true meaning  of life.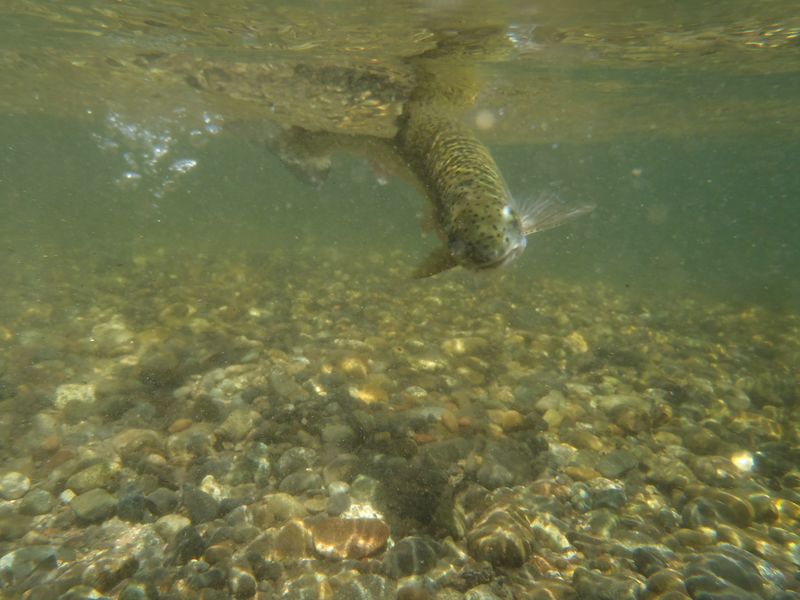 Fish that rock and roll will always live on ~ Long live rock I need it every day!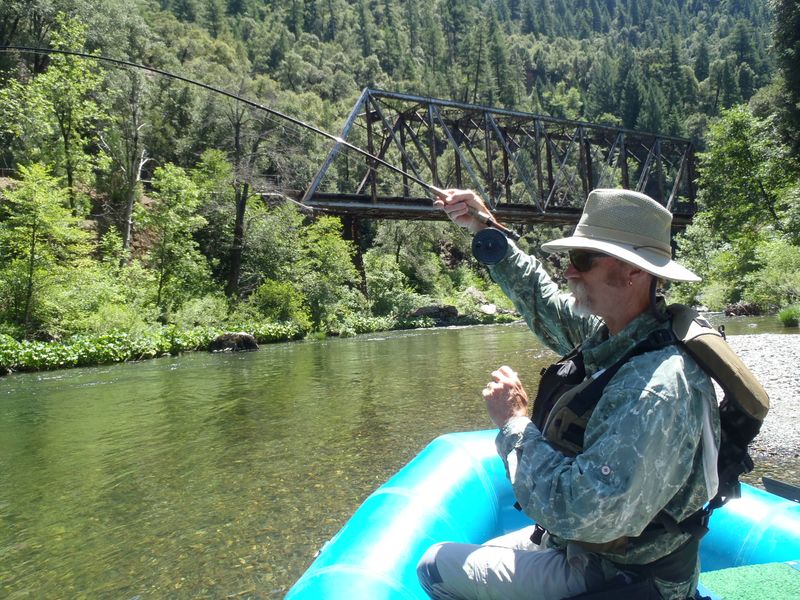 Big Dave, way to go! Nice trestle shot for the Olympus Camera Moment.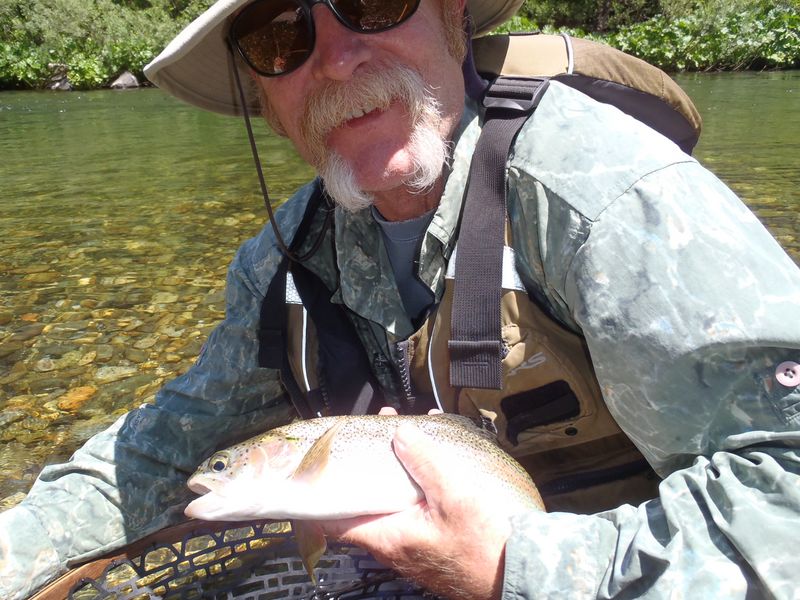 Lovely trout are like a box of Sees candies, and everyone loves a box of chocolates!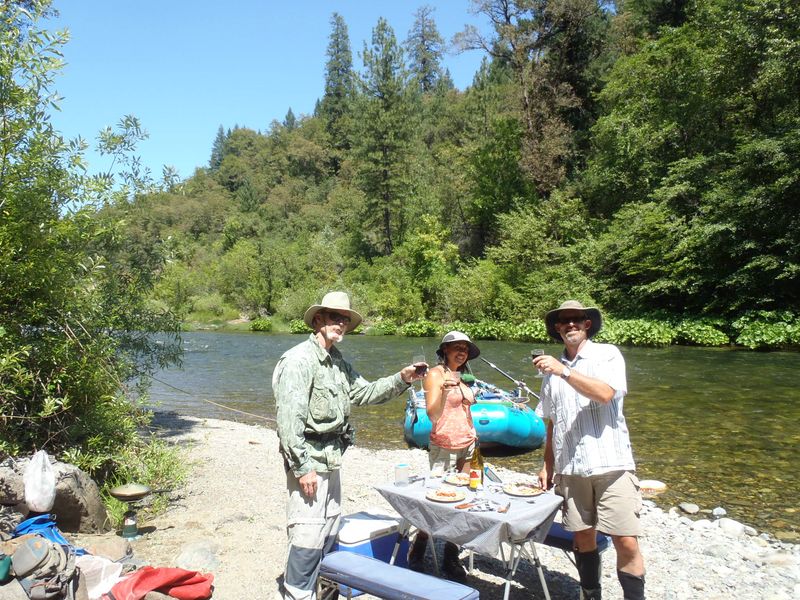 How about some fine wine from Napa California!! Yahoo Sizzlers, makes a great day even sweeter and then to top it off with Carola's gourmet skills. Let's see what Chef Chilean 33 Miners (My Chilean wife!) has cooking in the kitchen today?
 Carola's Chilean Spaghetti ! One of my favorites all time on the river dishes. Ask for it on your next guide trip…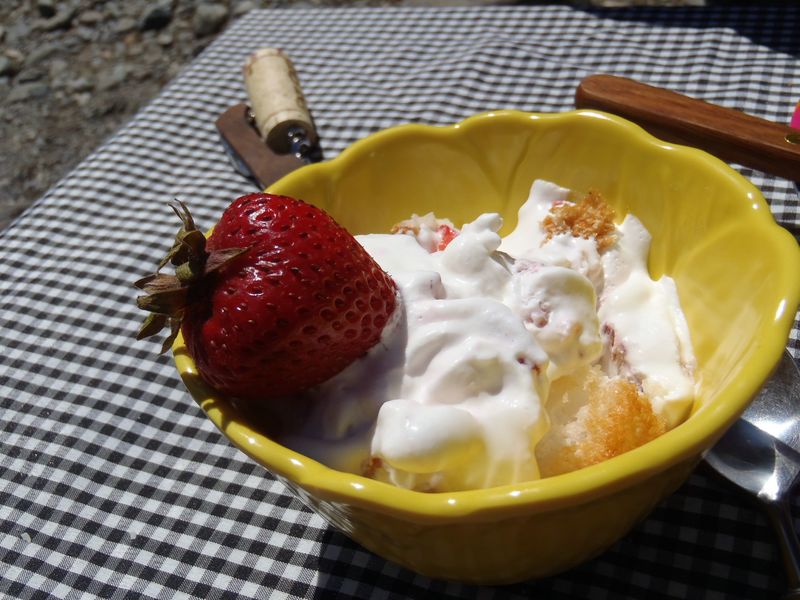 Strawberry Shortcake my friends ~ Stream side….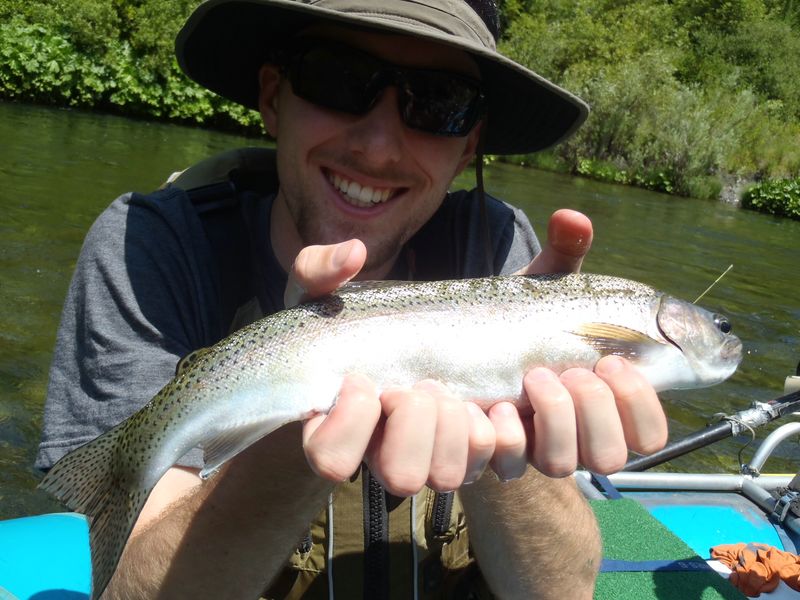 I'll still be floating the Upper Sac until I leave for Chile with Carola in November. But if you could put in a word with the Sky Pilot, I could use some rain between now and then to make it happen.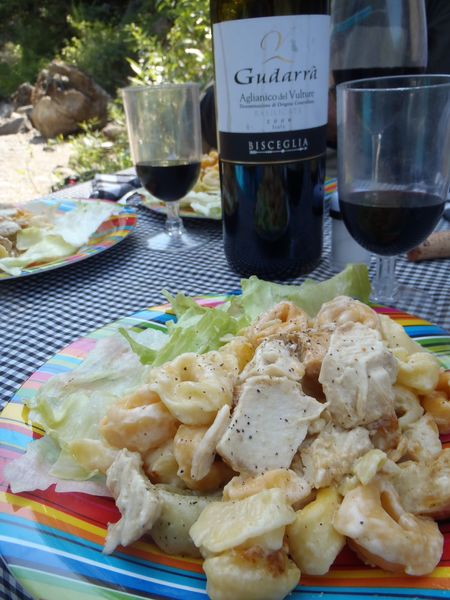 Carola Trout's ~ Chicken Tortellini covered in a Cream Basil Alfredo Sauce with an Italian Wine.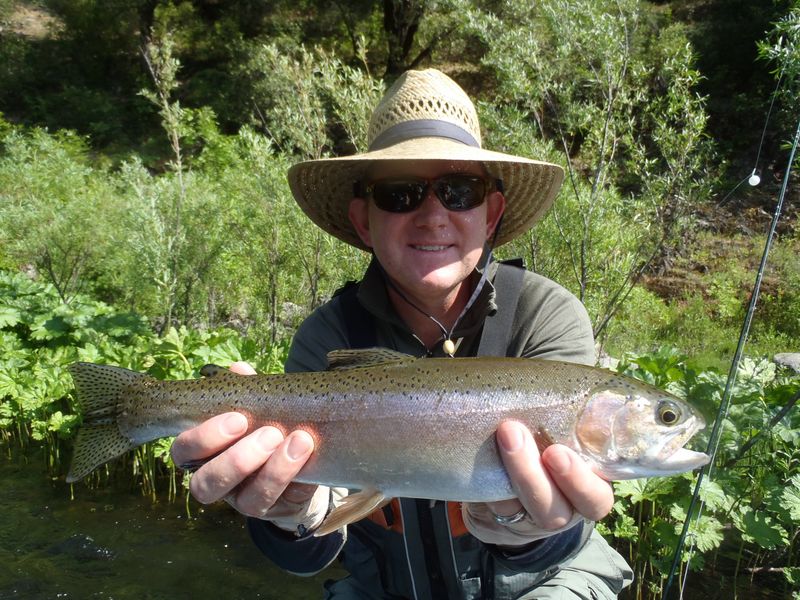 Earl Rennison ~ Sizzler of the Week Award Winner !!  
Congratulations Sizzler!! JACK & CAROLA TROUT
 So many trout to be caught and where are all the people? I would say it is time to make arrangements to come up and visit the area.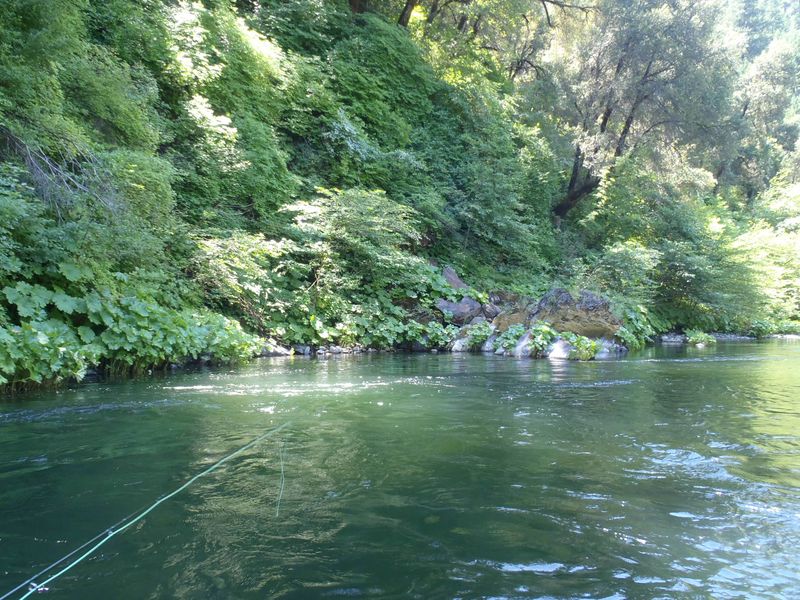 Natures candy, a nice shot of nature at its best!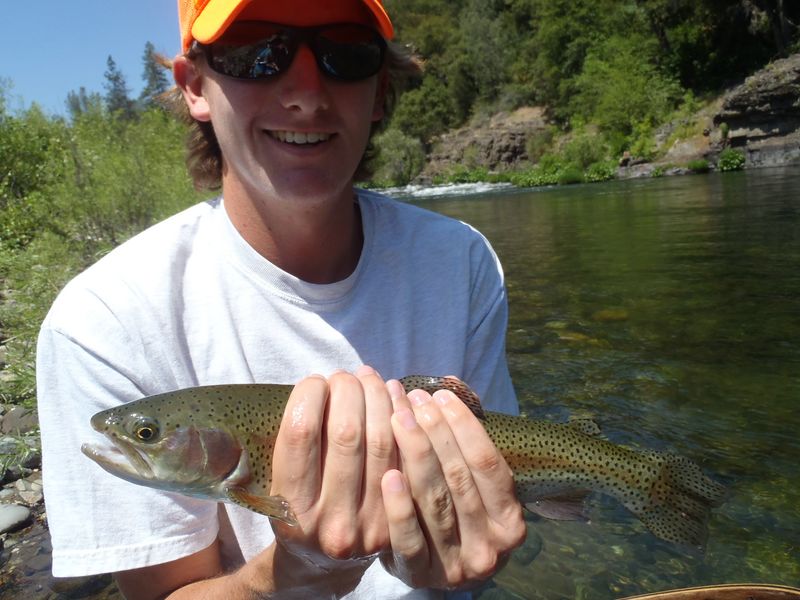 Another lovely trout that makes my day!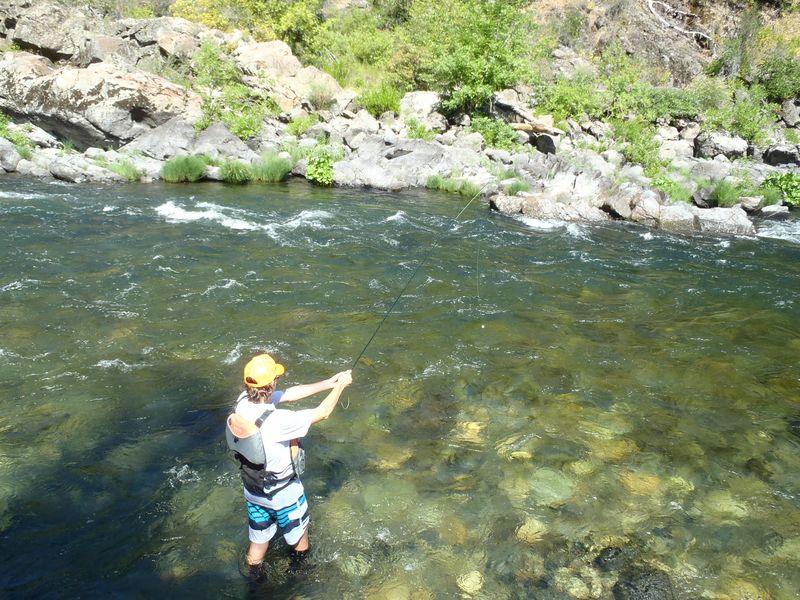 Fish on people and enjoy your National Forest, I mean they're yours and mine. Don't let time slip away from the things you love to do in the outdoors, hope to see you out there with a smile on your face!
Thanks for watching our adventures, Many Rivers to You, Jack & Carola Trout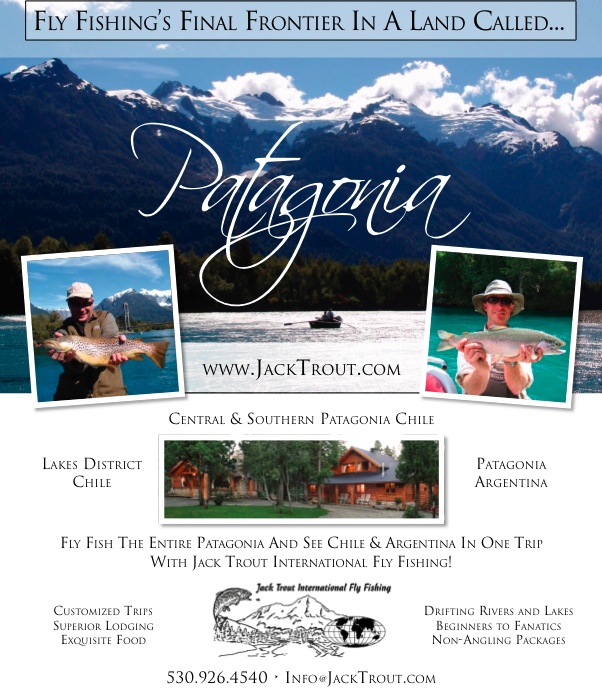 CHILE & ARGENTINA 2011 2012 ~ NOVEMBER 30TH TO APRIL 15TH
Jack & Carola are looking forward to all of you coming down this next season in Chile and Argentina so far:
Bob & Theresa Norgard
Debbie &  Jim Kent
Dan Alsaker, Tom & Pamela Hemmingway
Dave & Kathy Waldram
Mr & Mrs Doug Brown
Olle Eriksson with son & Erik Holmström
*************************************************************************************
EMAILS FROM YOU:
Trip Advisor
Reviewed August 2, 2011
If you haven't yet floated the remote sections of the Upper Sacramento River with Jack and Carola Trout, you are missing out on one of California's most spectacular travel experiences. This trip has it all-superb fly fishing for rainbow trout, white water rafting, fantastic canyon views and a gourmet stream-side lunch. Jack and Carola are attentive fly fishing professionals, committed to providing their clients with a top-notch unique day on the water. My only regret–the fishing was so good I couldn't put my rod down long enough to take any photographs. No problem–Jack and Carola did!
***************************************************************
Trip Advisor
Reviewed July 10, 2011
My son and I were fortunate in linking up with Jack Trout as we planned our trip to Northern California. Jack's rafting expertise enabled us to fish stretches of the Upper Sacramento River that could only be accessed by mountain goats, and his knowledge of the river ensured that we caught some beautiful rainbow trout. Jack's gracious hospitality and endless patience with our beginner flyfishing skills provided us with a wonderful day on the River. We look forward to meeting up with Jack on a future trip.
************************************************************************