*****CHILEAN FLY FISHING FLOAT TRIPS ON GREAT RIVERS, EMAIL info@jacktrout.com*****
---
DON'T PAY FOR LODGES OR WEEK PACKAGES – BUY ONE DAY GUIDE TRIPS OR FLOATS AND WE'LL HELP YOU FOR FREE WITH YOUR LODGING AND ITINERARY
IN CHILE!!.
SAVE $$ IN THIS ECONOMY WITH JACK TROUT INTERNATIONAL FLY FISHING.
---
http://www.jacktrout.com/chile.html
http://www.jacktrout.com/chilelake.html
http://www.jacktrout.com/belize/belize.html
---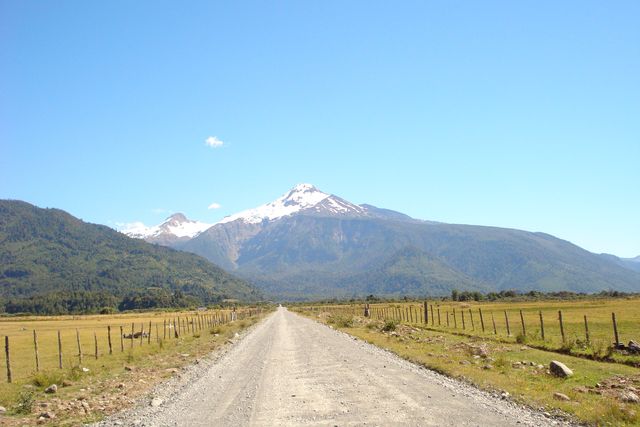 ---
One of the great things about Patagonia Chile is on some of the longest dirt roads there are still no telephone poles, electric lines and no dams also. One can find him or herself wondering into a land of the distant past, a feel from the 1930's, though I never was around then, you could almost close your eyes and go back in time and find only the season have changed since then.
The journey through Chile is a life changing episode of continuous amazing landscapes that always come back to you in the wee hours of the early morning when you lay stirring in bed, wondering if you really want to get up and join the Human Race.
jt
---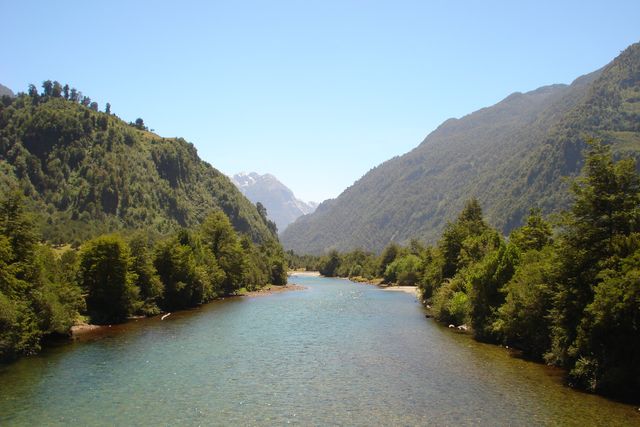 ---
A world in which every valley produces a new river ready to be explored by you or I. Blessed with such vast resources of water, Chile like no other stands bold and proud with an abundance of everything we need to live and be nourished by. A wealth of wealth, found in the land, water and air, Chile has everything unspoiled natural and true. Chile is waiting for you.
---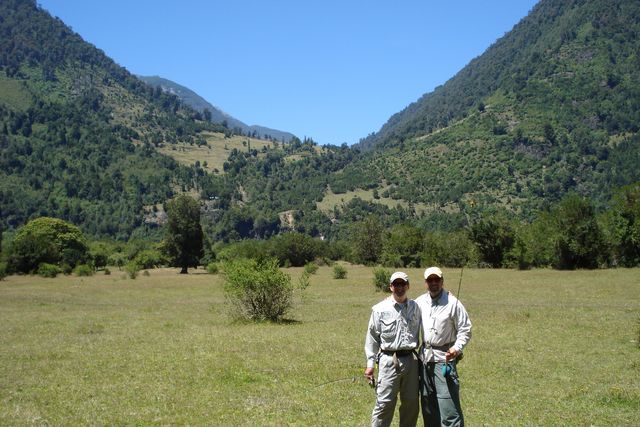 ---
Out in the center of the Earth, two friends enjoy a sparkling moment in the history of their greatest fly fishing adventures!
---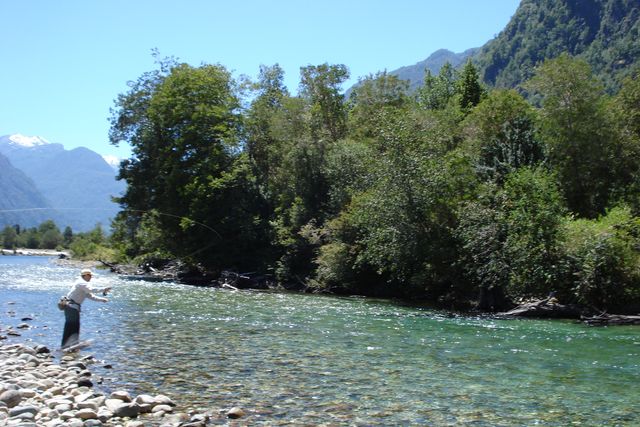 ---
A small Chilean river, let's see if there is any trout here?
---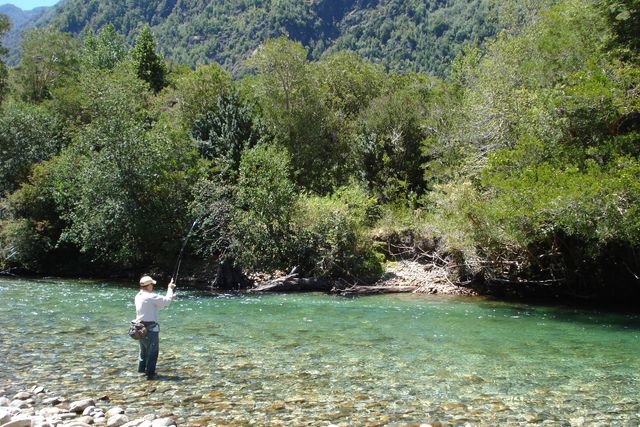 ---
Under the brush along the banks a silver flash is seen, then a huge tug!
FISH ON IN PATAGONIA CHILE!!!!!!!!!!!!!!!!
---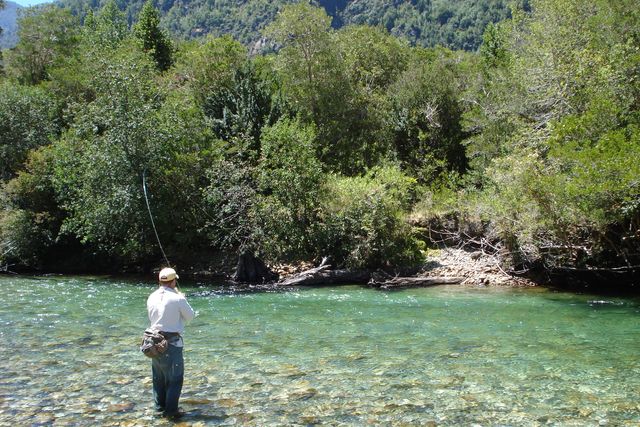 ---
A big run and a fight up and down the beautiful crystal clear water
and a happy delightful scream comes from Dave.
---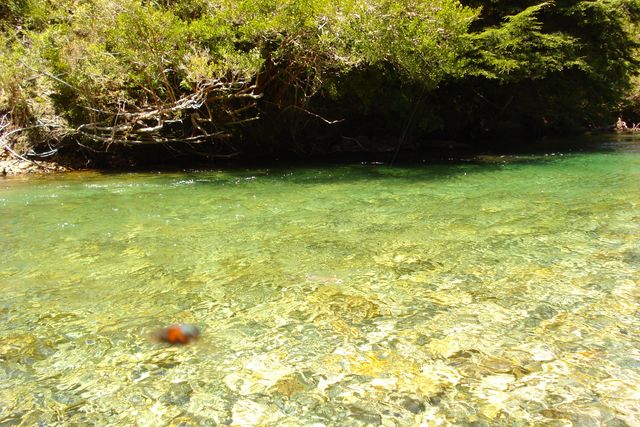 ---
The perfect holding spot for a healthy trout.
---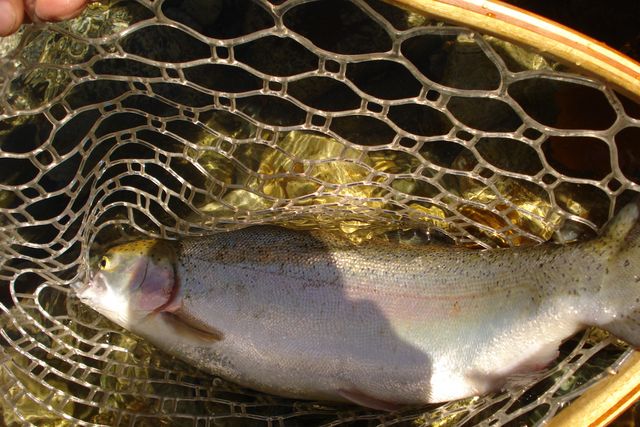 ---
A real beauty caught in a Brodin net!
---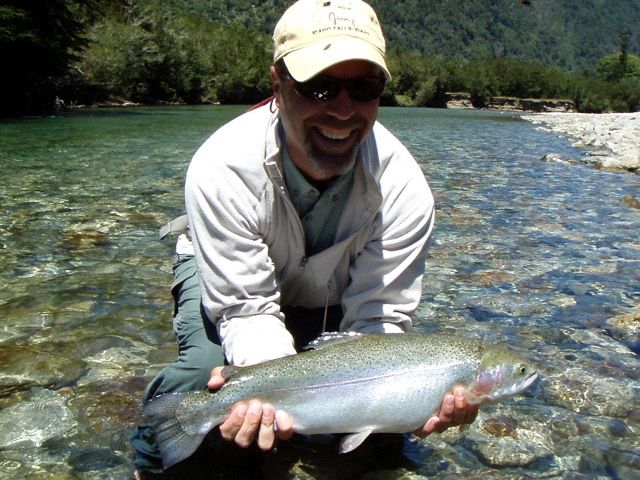 ---
Nice trout for a nice guy! Way to go Scott, what a great place to be
on a fantastic fly fishing season.
---
---
Scott later on taking it kind of easy, vacations can take you to many places, all in which serve a purpose.
---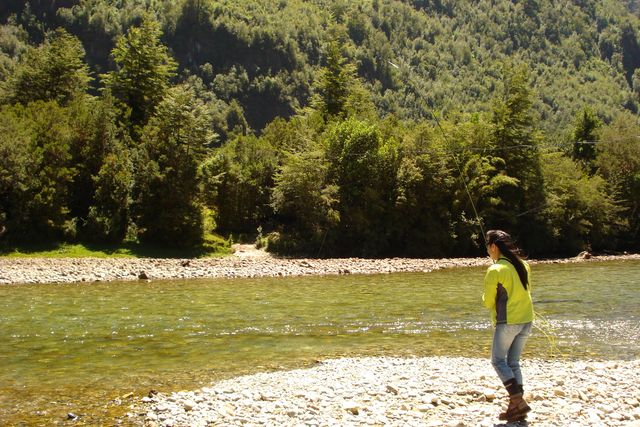 ---
Carola with a nice trout on further downstream…
---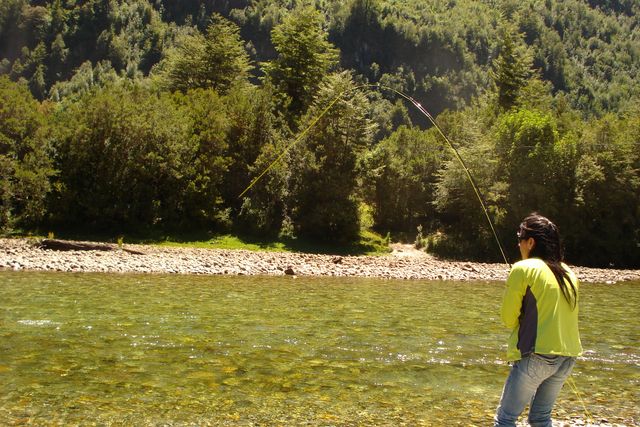 ---
This trout looks kind of different though?
---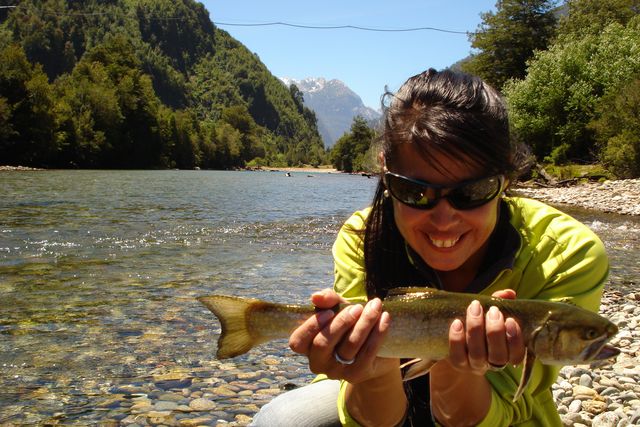 ---
Carola's first brook trout and a rare catch indeed in Chile's untamed and ever changing Patagonia.
---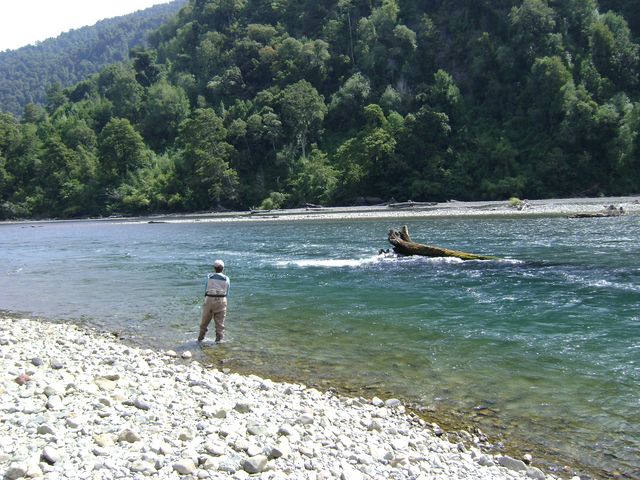 ---
Out with Sally and Tom from Colorado…
---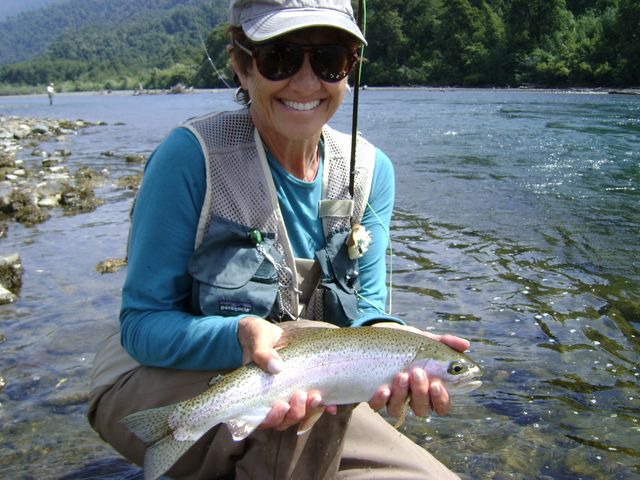 ---
Sally hooks a lovely specimen.
---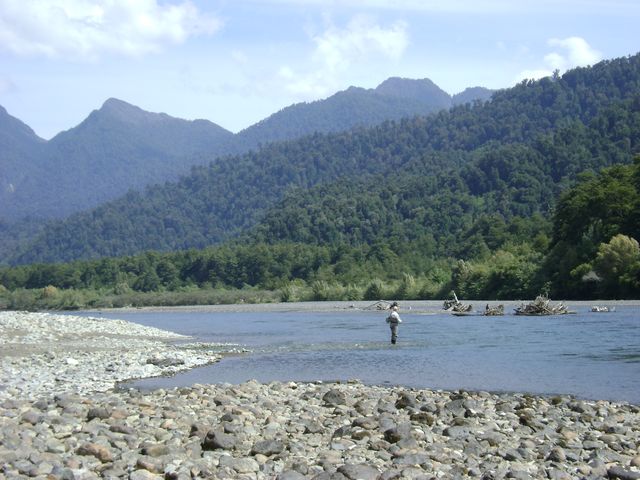 ---
Tom's next with his fly in the river and a big grab!
---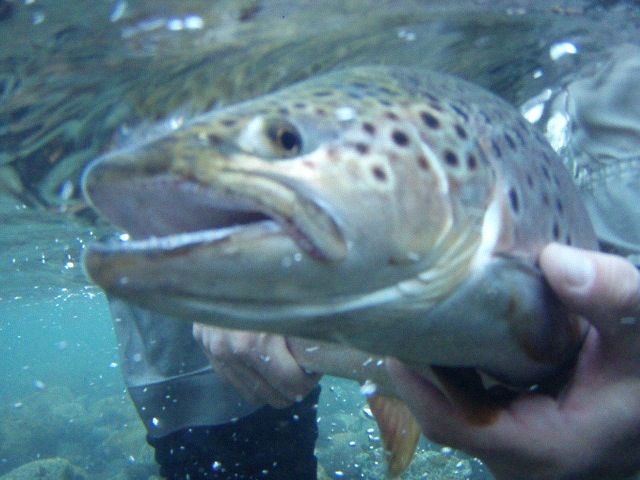 ---
A very respectful brown with likeness of the underwater view, an awesome look at ground level.
---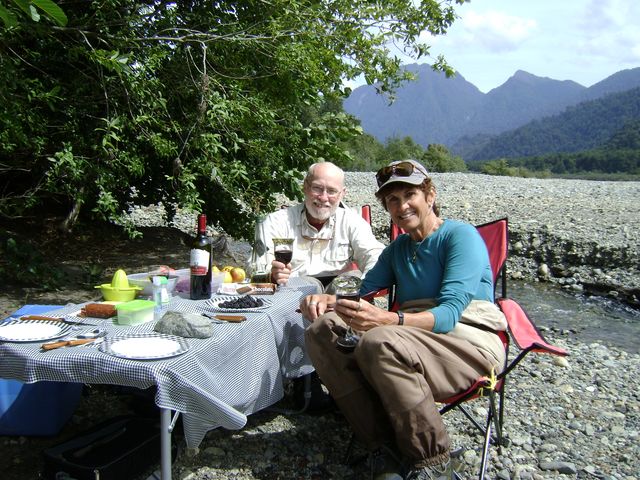 ---
And what could be better than Carola's lunch, serve with a fine bottle of Chilean wine. Tom and Sally sure enjoyed this lunch, with fresh picked berries off the vine.
---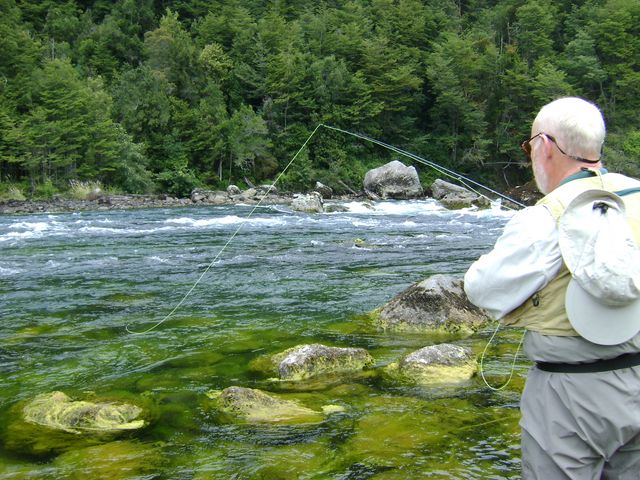 ---
Tom out fishing the pocket water section finds action on his second drift!
---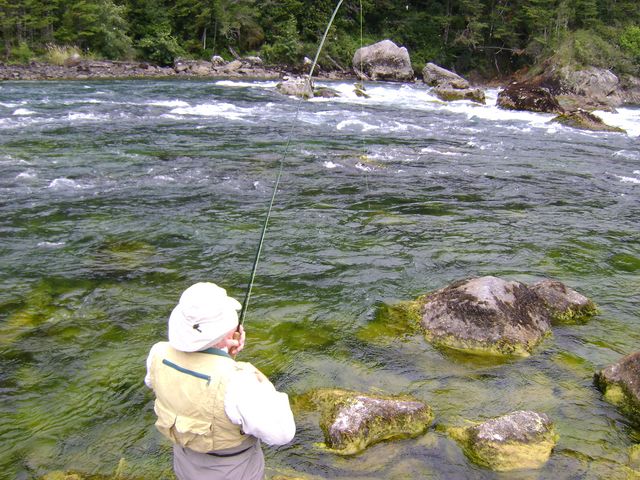 ---
Fish on Tom!
---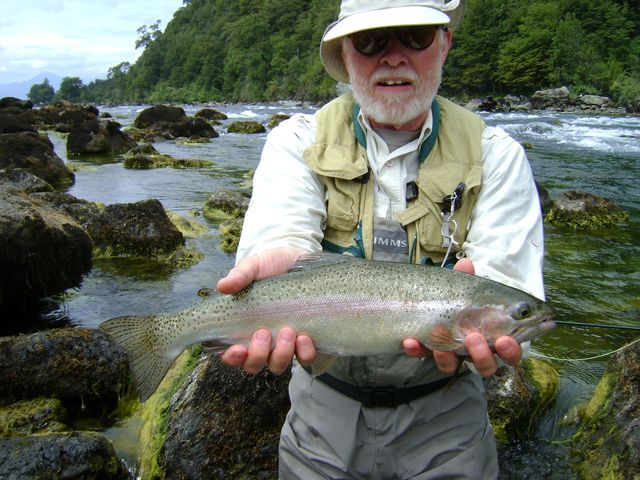 ---
That day Tom caught over 12 this same size 19 in all!
---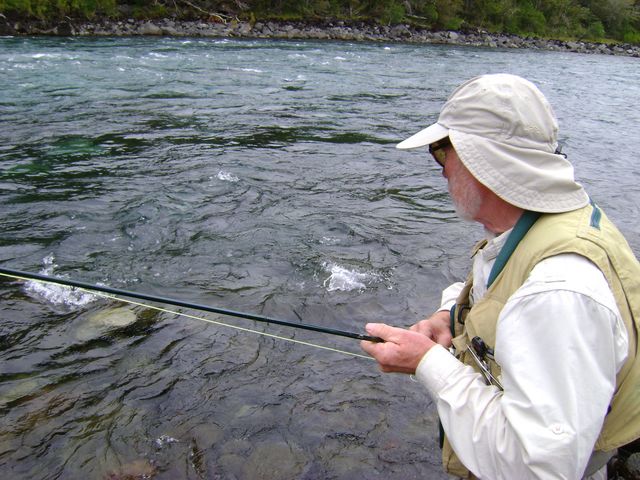 ---
And another! Thanks for a great time on the river, I really enjoyed
our trip together Tom & Sally, see you back next year in Chile!
---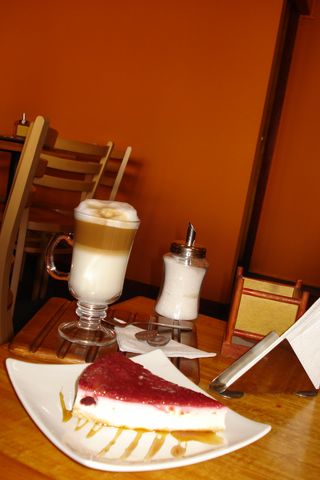 ---
This coffee in Chile is called a cortado, we know it as a latte back home. The raspberry cheese cake is divine also, making this the perfect rest stop for me and my clients.
---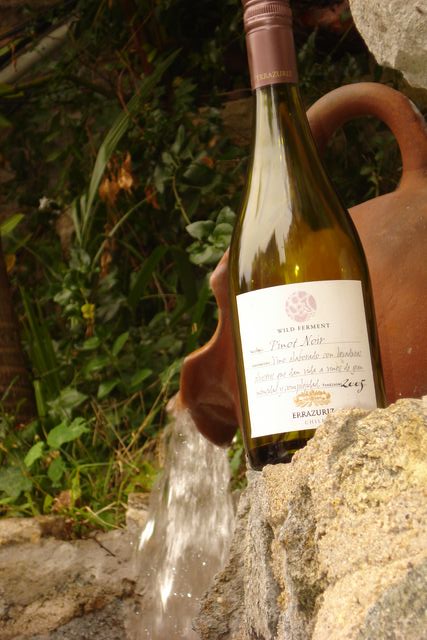 ---
Been guiding a bunch this season, time for road trip! Our night in Viña del Mar was smashing to say the least, let's celebrate with a fine bottle of Chilean Pinot Noir direct from Errazuriz Vineyards!
What a fine place and fine bottle Carol and I enjoyed together.
http://www.errazuriz.com/errazuriz/english/default.asp
---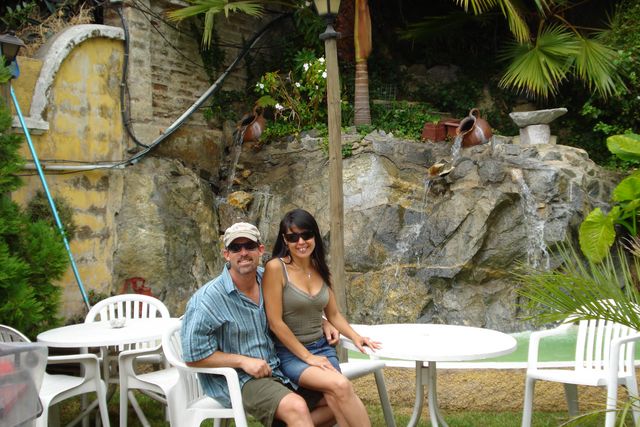 ---
This was a very special trip for us because it was our 2nd anniversary together. We stayed in a very nice place on the playa in Viña Del Mar. Had a wonderful dinner and walked around and enjoyed the night life in Viña like two love birds.
(Viña Del Mar – Means: vinyard from the sea)
---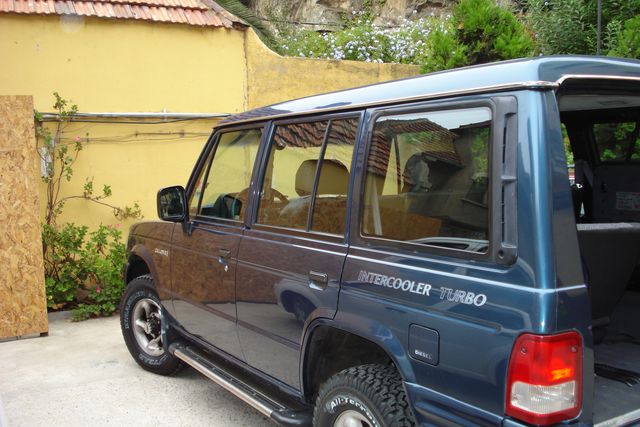 ---
The next day we bought a new SUV in Los Condes district of Santiago.
This vehicle is perfect for transporting clients for fly fishing and tours all around Chile including the Isle de Chiloe.
---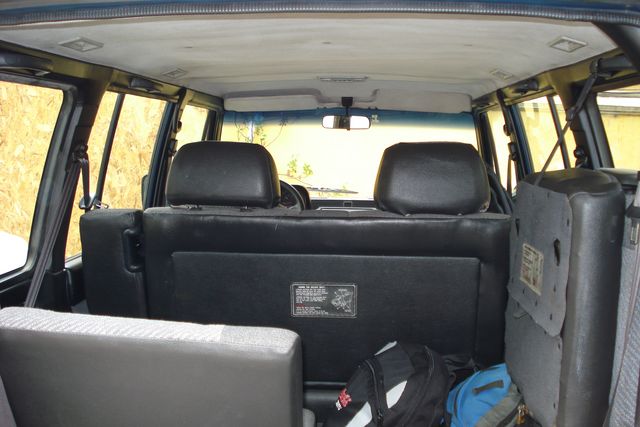 ---
With 3 sections of seats, we can easily fit 6 to 7 people comfortable
and what smooth ride! We plan to buy a luggage rack for placing clients bags on top.
---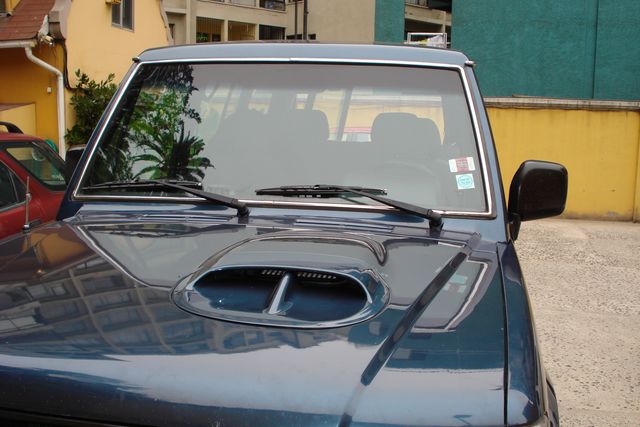 ---
It's missing one thing though… A name? Can you please help us name our new SUV in Chile? It could win you a free 1/2 day guide trip in either Chile or N. Cal. Send in your emails to info@jacktrout.com
Thanks, Jack & Carola Trout
---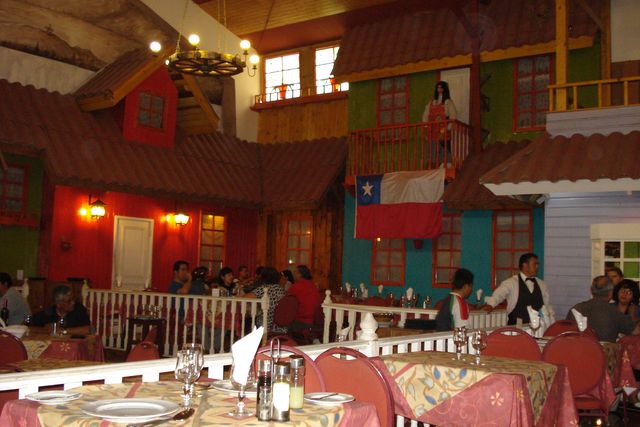 ---
We heard about this excellent restaurant in Viña del Mar called Doña Licha Restaurante, we thought we'd check it out. What was so great about this place was it was like all of Chile's cultural areas in one fine restaurant. It had home designs from Valparaiso, a balcony for musicians and typical casas from all over the central regions of Chile, including Carola's favorite wine sections.
---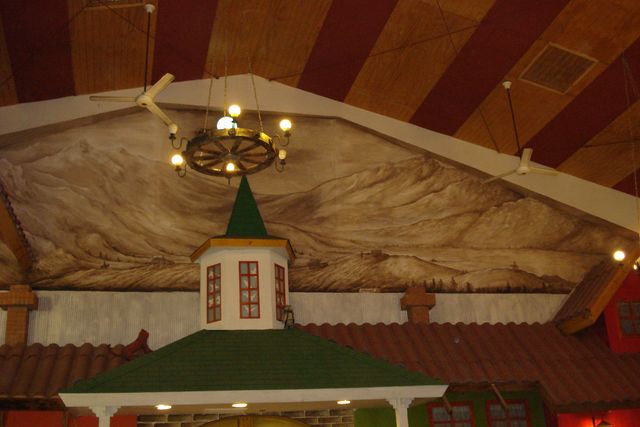 ---
You really got a nice feel in this place and the service was incredible, next was food and if I'm not mistaken, we heard that was excellent too!
---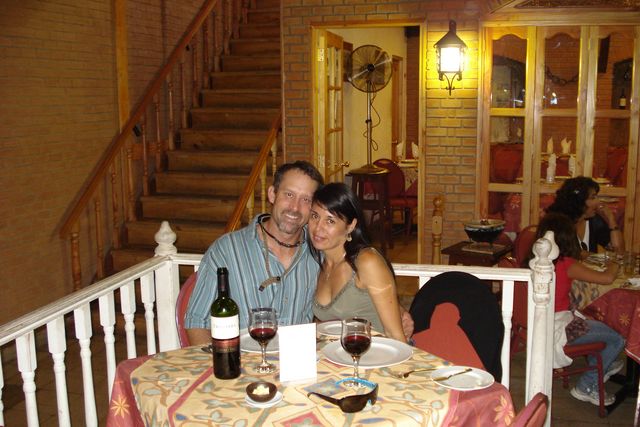 ---
Can you take our picture please!
---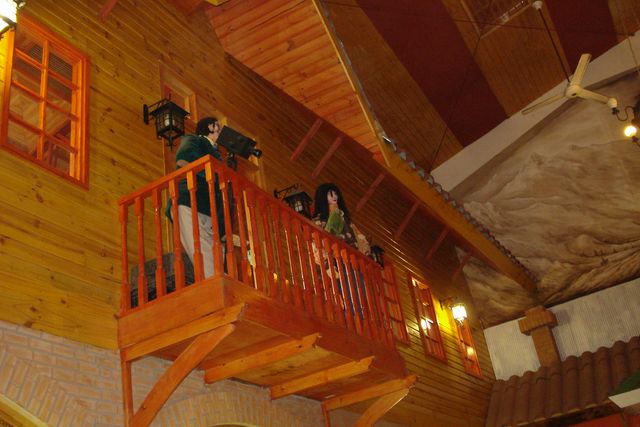 ---
Lights, camera, action!
---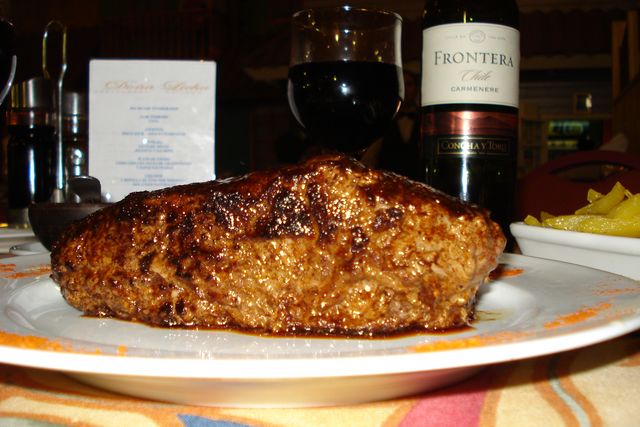 ---
This was the best steak I've ever had in Chile! So tender and the taste was incredible folks. I give this place a 10 + on all areas.
---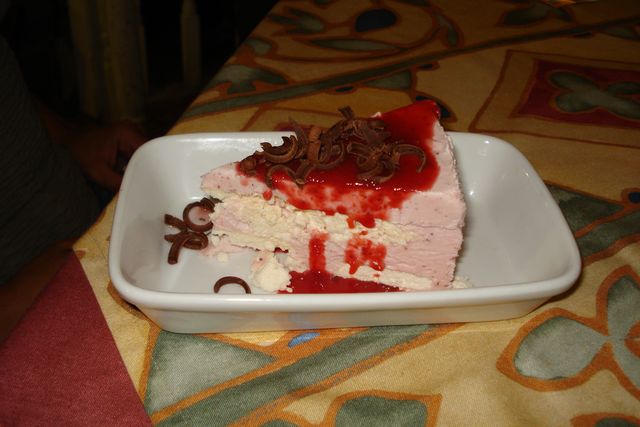 ---
Desert was fabulous, it was a strawberry ice cream cake with graded chocolate and a strawberry dedicate sauce. Wow! Yummy!
---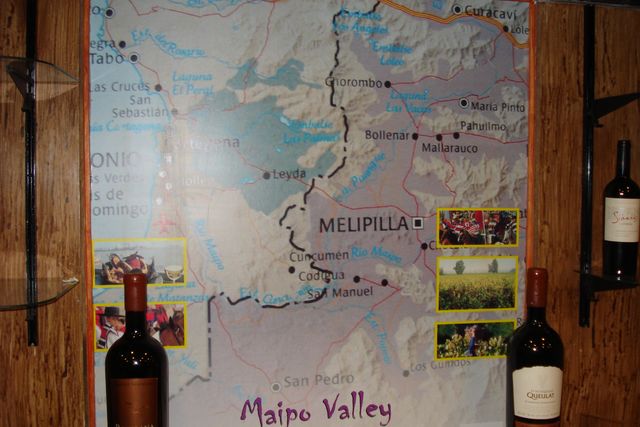 ---
Later, the owners nephew took us a tour through some of the other private sections of the restaurant and they had great maps from Chile's wine regions. Maipo Valley is a very famous wine region of Chile, our favorite from this region is from a man named Martin Silva
from the house of Silva named; Ventisquero – means Glacier.
A great price with a little fruit forward, well balanced and a fine
finish.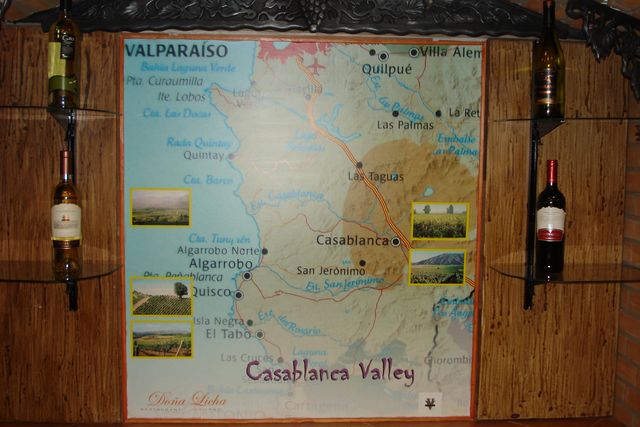 ---
Casablanca wine region is located between Santiago, Valparaiso and Viña del Mar and is famous for its white wine grapes.
Concha Toro is fine white wine from this area.
---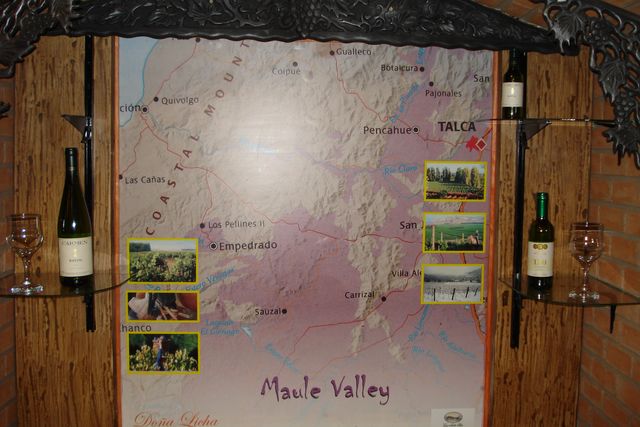 ---
The Maule region of Chile is south of Santiago and produces great red wines or vino tinto as they say here in Chile. A great pinot noir from this region you can find in the USA is called P.K.N.T
I just haven't found it sold here? It has a purple label of a chili
and is a fantastic value priced under $5 USD at Rays in Mt Shasta.
---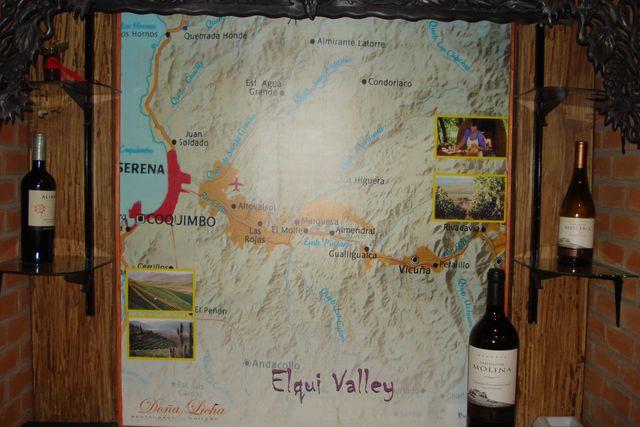 ---
The Valley de Elqui is not really famous for its wine growing but its pisco is famous throughout the country! This white grape region porduces an alcohol that Jeff Gordon could put in his formula one car
to enhance performance! Pisco Sours are the countries #1 drink, I suggest only one of these delicious martinis in disguise.
---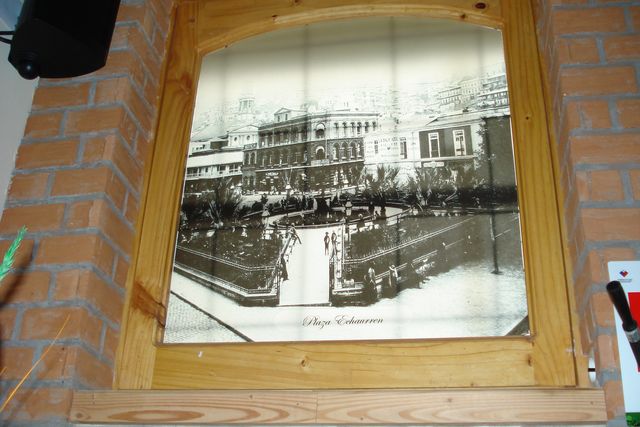 ---
Plaza Echaurren, located in the center of Valapraiso is a historical area to visit. This restaurant had many interesting features to compliment you visit, especially since I had been there before.
---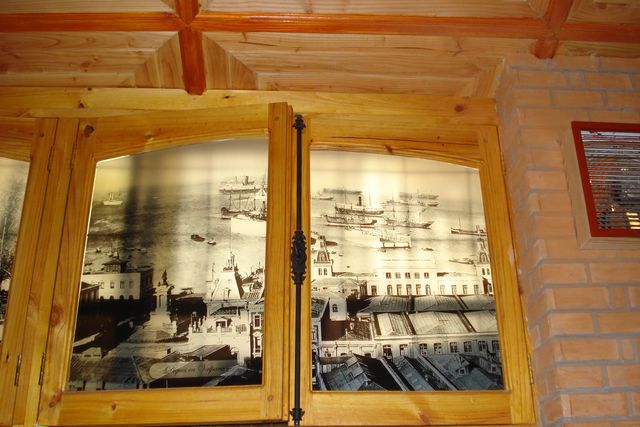 ---
Old Valparaiso bay and the ships of yester-year, Chile's most important import hub.
---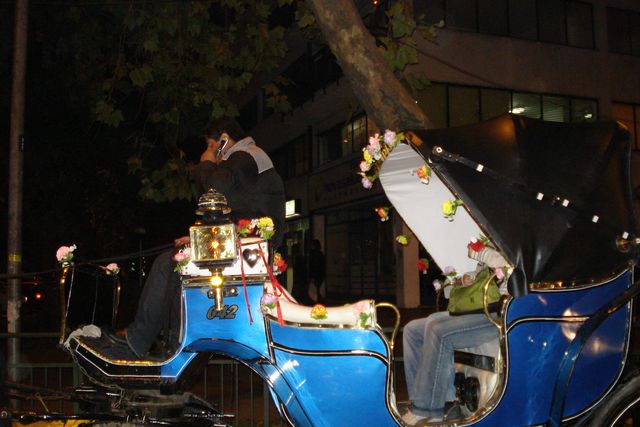 ---
Later we took a carriage ride for two. We thought it was funny the driver was on his cell phone most of the trip talking to his wife.
---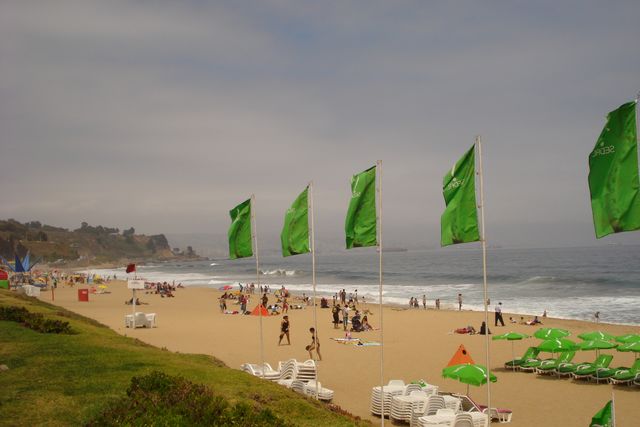 ---
Finally the beach at Reñaca, what a perfect day it was. The previous we were getting the ball installed to tow the boat and some other things for the SUV and it was overcast the entire day, we sure picked it right!
---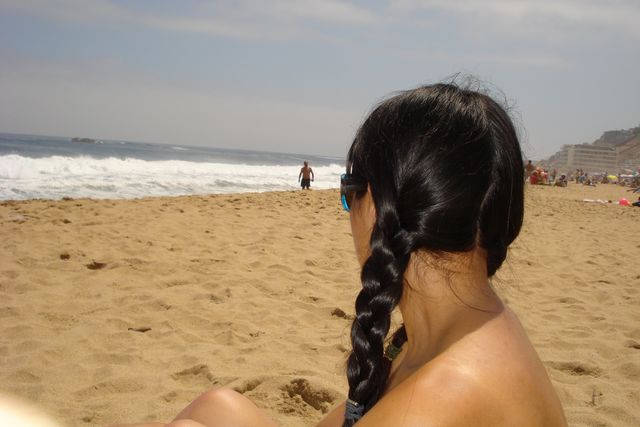 ---
Carola and I just hung out talked about old times in Chaiten Chile
and were grateful for our day in the sun on this beautiful beach called Reñaca. That day I got a little too much sun and later looked like a lobster.
---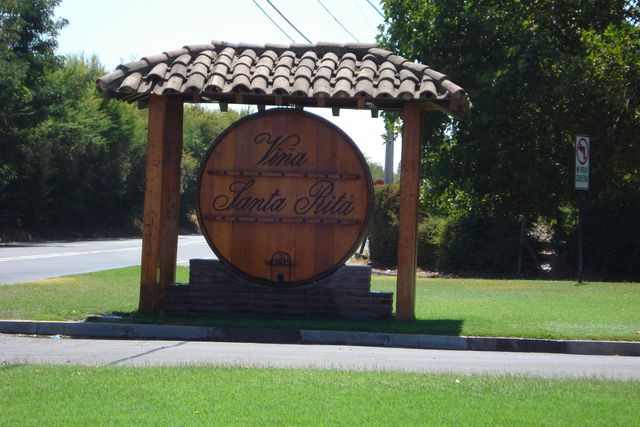 ---
We left the next day to tour the southern wine regions of Chile.
Santa Rita is one of Chile's most famous wineries, we'd always wanted to tour this are and it was again a great find.
---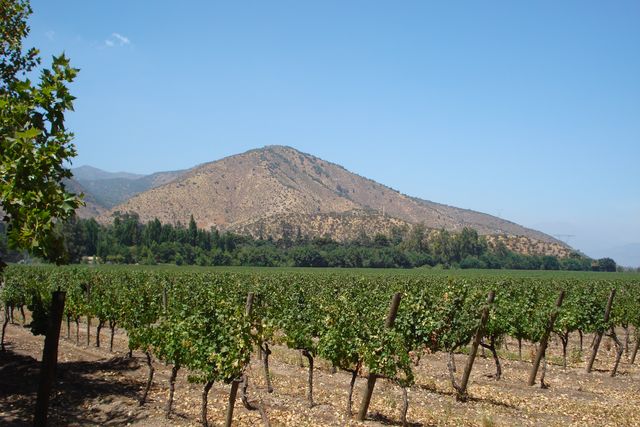 ---
This is their orchard that produces fine red wines.
http://www.santarita.cl/OpenNet/asp/default.asp?boton=Homepage
---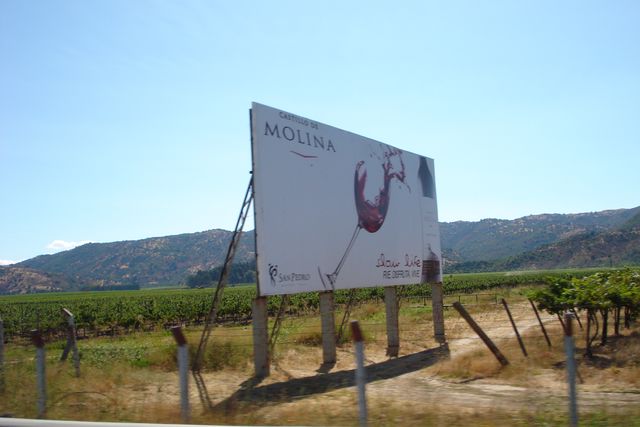 ---
Castillo de Molina is another favorite of ours.
http://www.sanpedro.cl/flash/nuevos/home%20la.swf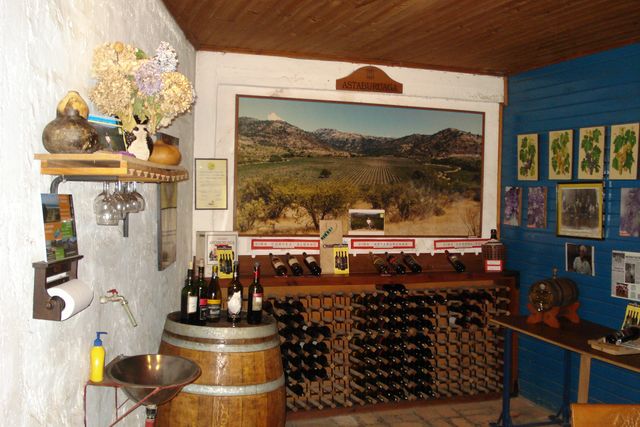 ---
We stopped at a smaller winery called Astaburuaga that produces some great syrahs, I pick up a few bottles there for later. I might mention that at no time on this trip did we drink any wine and drive, but we sure bought a lot for later on!
---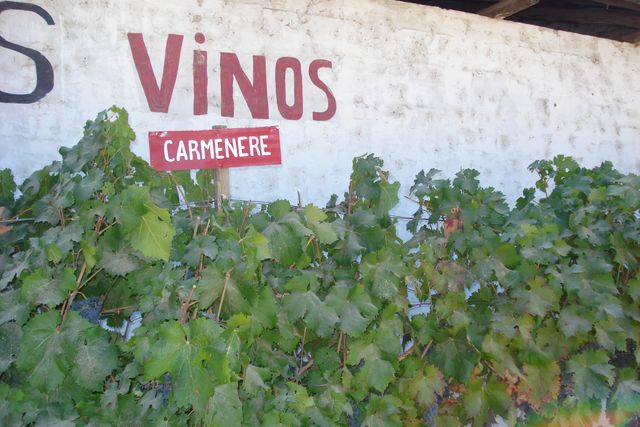 ---
Carola and I had a fun time trying all the different grapes as they offered every type of grape grown for red wines along side of their tasting and purchasing rooms. The Carmenere seemed to be the sweetest
…..
---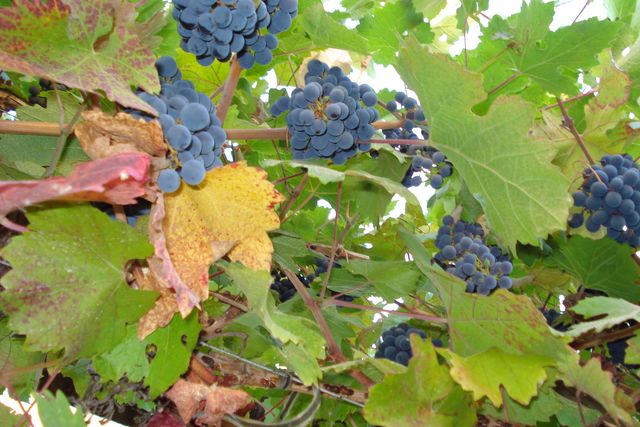 ---
The Valleys of Casablanca, Maipo, Maule, Curicó, Rapel and Colchagua are the principle wine cultivation areas of Chile.
---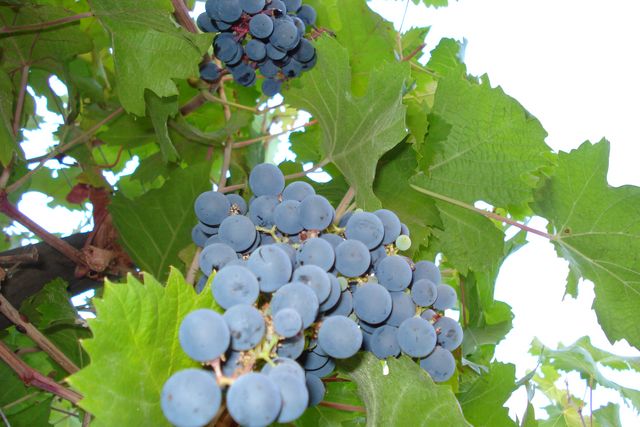 ---
Here's complete list of Chilean wines:
Cabernet Sauvignon de Viña Santa Mónica
Cabernet Sauvignon de Viña Concha y Toro
Chardonnay de vitivnícola Miguel Torres
Sauvignon Blanc-Chardonnay de Viña Don Francisco
Cabernet Blanco de Viña San Pedro
Agustinos
Almaviva
Alta Cima
Altair
Anakena
Andesterra
Antiyal
Aquitania
Aresti
Astaburuaga
Balduzzi
Barón Philippe de Rothschild
Botalcura
Bisquertt
Calina
Caliterra (Valle Central)
Camino Real
Canata
Candelaria
Canepa
Carmen (Valle Central)
Carpe Diem
Carta Vieja
Casa Donoso
Casa Lapostolle (Cachapoal) (Colchagua) (Casablanca)
Casa Marin
Casa Nueva
Casa Rivas
Casa Silva
Casa Tamaya
Casablanca
Casal de Gorchs
Casanova
Casas de Giner
Casas del Bosque
Casas del Maule
Casas del Toqui
Casas Patronales
Catrala
Cavas del Maipo
Cavas del Valle
Chadwick – Errázuriz
Chateau los Boldos
Chequén
Chocalan
Concha y Toro (Maule) (Rapel) (Casablanca)
Consorcio Vinícola de Chile
Cono Sur
Corral Victoria
Correa Albano
Cousiño Macul
Cremaschi Furlotti
Dallas Conte
De Martino
Domaine Rabat
Domus Aurea (ex Clos Quebrada de Macul)
Doña Javiera
Echeverría (Molina)
El Aromo
El Huique
El Principal
Emiliana
Errázuriz (Curicó)
Errázuriz Ovalle
Estampa
Falernia (La Viña más al Norte de Chile, en la Comuna de Vicuña)
Francisco de Aguirre
Garcés Silva
Gracia
Hacienda Alhué
Hacienda Chada
Hacienda El Araucano / J & F Lurton
Haras de Pirque
Huelquén
Indómita
Inés Escobar
J Bouchon
Jacques & Francois Lurton
Korta
La Fortuna
La Montaña
La Playa
La Posada
La Reserva de Caliboro
La Ronciere
La Rosa
Lagar de Bezana
Las Niñas
Las Pitras
Laura Hartwig
Leyda
Linderos
Lomas de Cauquenes
Los Acantos
Los Robles
Los Vascos
Luis Felipe Edwards (Colchagua)
Lyon
Macaya
Maipo (Valle Central)
Männle
Mar
Mario Edwards
Martínez de Salinas
Matetic
Miguel Torres (Curicó)
Millaman
Misiones de Rengo (Colchagua)
Montes
Mont Gras (Colchagua)
Morandé
Ocho Tierras
Odfjell Vineyards
Peralillo
Perez Cruz
Pirazzoli
Porta
Portal del Alto
Pueblo Antiguo
Puertas
Quebrada de Macul
Quintay
Ramirana
Ravanal
Requingua
Rucahue
San Esteban
San Pedro (Lontué) (Valle Central)
Sánchez de Loria
Santa Alicia
Santa Carolina (Rapel) (Valle Central)
Santa Cruz
Santa Ema (Maipo)
Santa Helena-Vinos de Chile (Curicó)
Santa Hortensia
Santa Laura
Santa Mónica
Santa Rita (Maipo)
Segu
Seña
Siegel
Sol de Chile
Sol y Viento
Soler
Sutil
Tabali
Tabontinaja (Gillmore Estate)
Tarapacá ex Zavala (Maipo)
Terra Andina
Terramater
Terranoble
Terraviva
Tierra y Fuego
Toltén
Torrealba
Torreón de Paredes
Torretti
Tres Palacios
Trivento
Undurraga
Ureta
Valdivieso
Valle Frío
Ventisquero (Maipo)
Veramonte
Via / San Rafael
Viñedos del Maule
Villa Golf
Villard
Vinsur
Vistamar Wines
Viu Manent
Von Siebenthal
William Cole
William Fevre
Enjoy!
---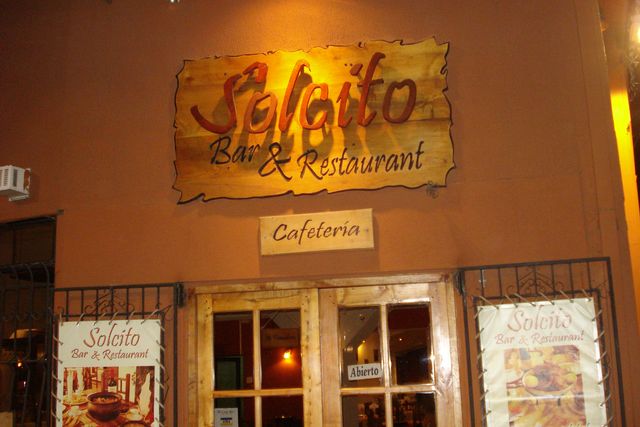 ---
We found this great restaurant in Los Angeles, Chile that is….
---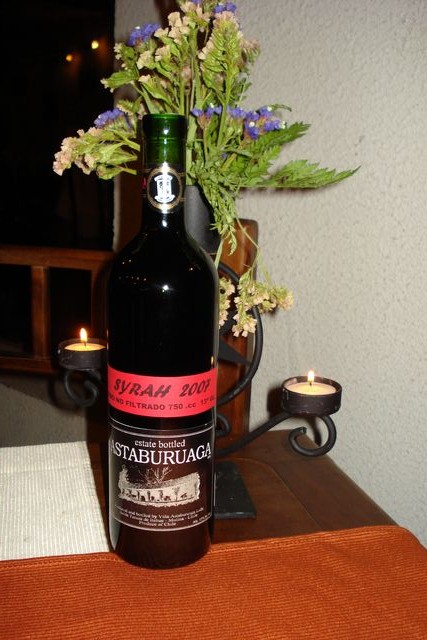 ---
This was a syrah from Astaburuaga.
(Try to say that name fast 6 times, yea right!)
---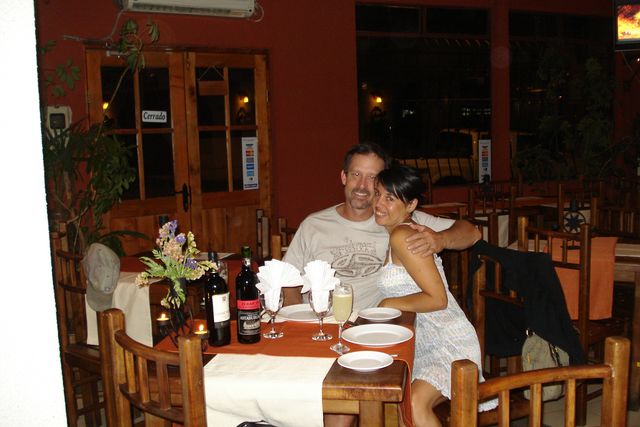 ---
Maybe one of best pictures together and after all we have been through together we deserve it!
I love her folks and she me!!
---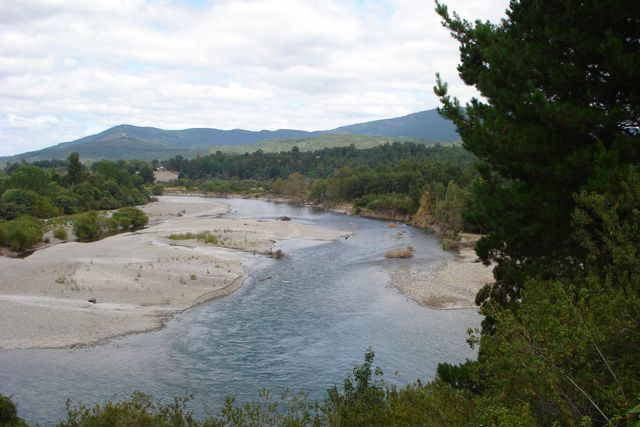 ---
The Rio San Pedro, another great Chilean river I plan to return this season and float/fish.
---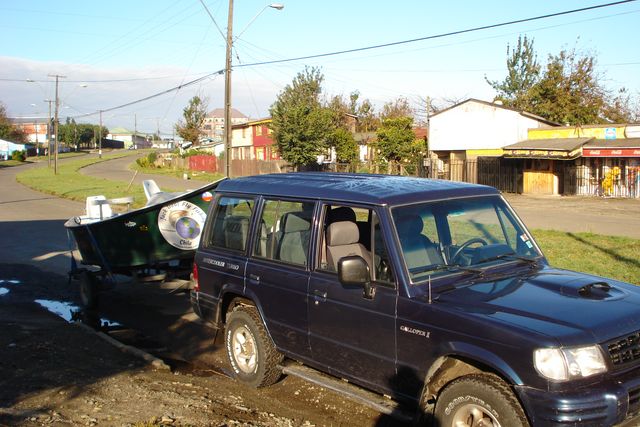 ---
Back near home, we loaded up the boat to take a float and do some fishing, what a great adventure up north. But as always, more adventures to come!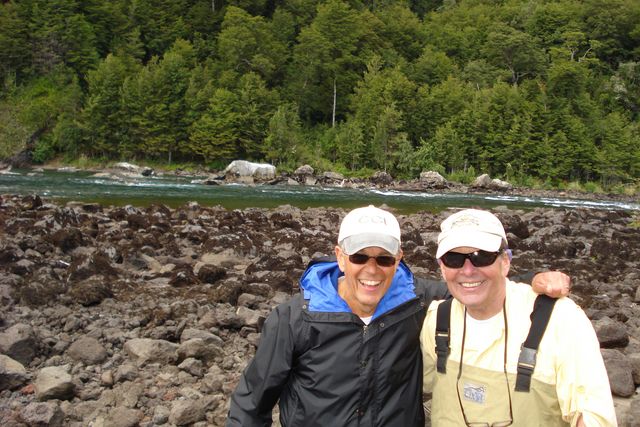 ---
These two characters have know each other for over 45 years! Stay tuned as we show their adventures, and check out two bros from Austria, hook-up with a husband and a wife from Norway, also fish and tour a family on local rivers then head to Isle de Chiloe.
Thanks for watching our adventures!! Jack & Carola Trout
Chilean RUN # 14.634.029-6
Chilean Business RUT # 48122714-3
---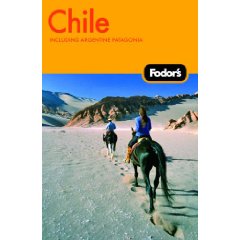 Check out Fodor's Travel Books, Chile 2009 with Argentine Patagonia –
Fly Fishing Chile and Argentina section by; Jack Trout.
http://www.amazon.com/Fodors-Chile-4th-Including-Argentine/dp/1400019672
---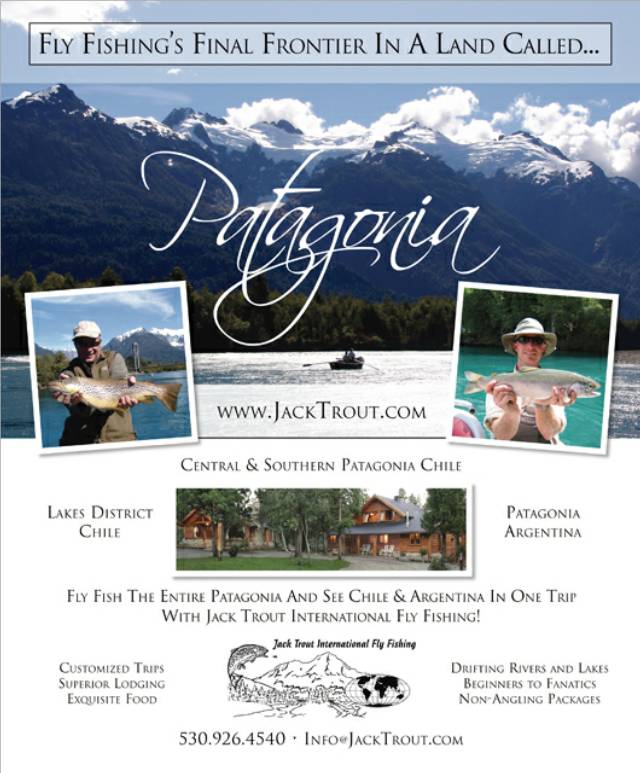 ---
Saludos, Jack & Carola
Jack Trout International Fly Fishing & Scenic Tours ~ Argentina * Belize * Chile * Nor Cal
1004 SO. Mt Shasta Blvd. Mt Shasta, California 96067
http://www.jacktrout.com http://www.mtshasta.com
 530-926-4540  530-926-4540 email: info@jacktrout.com
SKYPE: jacktrout24
Chilean RUN: 14.634.029-6
Chilean RUT # for Business: 48122714-3
Piloto Pardo 848, Chaiten, Chile Decima de Los Lagos
(Central Patagonia Office)
Hopefully reopened in 2013 due to Chaiten Volcano Disaster
(Lakes District Office)
Llanquihue – Chile
Cel: 011- 56 – 9 94671995 Jack in Chile.
---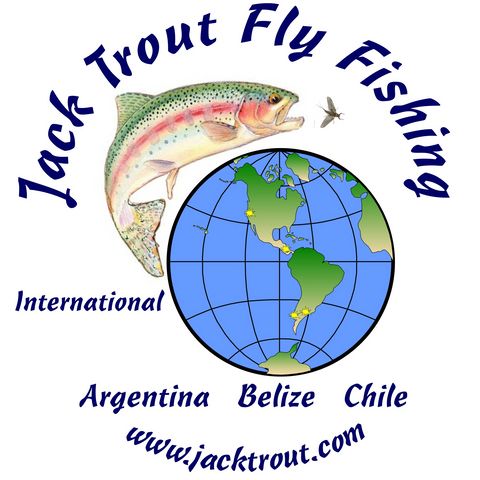 ---
http://www.jacktrout.com/futa.html
http://www.jacktrout.com/chile.html
http://www.jacktrout.com/chilelake.html
http://www.jacktrout.com/argentina.html
http://www.jacktrout.com/belize/belize.html
---
---
EMAILS FROM YOU:
---
I miss my connection to my favorite place…for some reason, I have stopped getting your web logs the last couple months & I miss them! I hope all is well w/you & Carola & look forward to hearing from you soon.
Thanks, Teri Drake
---
We haven't received your last couple log updates. (Not since Dec. 14th) Please make sure we're still on your mailing list.
Thanks!
Megan Boyle
---
I have found some super nice rods and reels at fantastic prices. I am looking for someone to field test a spey rod on big waters. Interested?
Chris
---
Hi Jack,
Thank you for your interest in our wines! We're always happy to hear from our fans!
Let me know when you'll be in our neck of the woods and we¡Ùll make sure you have a fabulous experience.
We offer facility tours on a daily basis, along with wine tasting in our tasting room, from 11 a.m. to 5 p.m. excluding some holidays.
If you¡Ùre interested in a more scenic tour of some of our estate, you can make reservations in advance for our Tephra Ridge tour & tasting which includes lunch. We offer the Tephra Ridge tours at 11 a.m. and 1 p.m. by reservation. The tour and tasting lasts about 1 Π to 2 hours and is $45.00 per person, or $40.00 per person for wine club members.
We hope to see you soon!
Darcie
Darcie Schmidt
Assistant Director of Hospitality
Langtry Estate & Vineyards
---
Jack:
I saw your website. My parents used to take us up to Copco Lake in the late 1960¡Ùs. There used to a big salmon fly hatch around May at a ¡∫ghost town¡Ö called Beswick about a 2 miles from the Copco Bridge. We would pick the flies off the trees and use them to catch large trout. Does that gig still happen?
Thanks for your reply.
Will Stuart
Mountain View, CA
---
Yo Trout! Hope all is well down there, I heard another volcano eruption, glad it's there and not here!
Skiing sweet pow at Castle Lake, now it's pouring rain up to 7,000′
see ya crazy fishing dude!
=Chris
Shasta Mountain Guides
P.O. Box 1543
Mount Shasta, CA 96067
530-926-3117
www.shastaguides.com
---
Okay, That sounds too good to ignore! Tomorrow's a busy day as both Glen and I have one more day of work. If you called my cell phone after 6 pm our time ( pacific time ) tomorrow we could talk the details. My only hesitation is that we have 5 nights reserved at the Manatee Inn in Placencia but I don't think getting out of the last two nights will be a problem. Glover's reef sounds intriguing. That's where it all started with this Belize trip , looking at Slickrock Adventures…. So call me and I'd love to talk last minute financing and details with you. You and Glen could talk also but I kind of want to surprise him with a bit of this. Happy Birthday to whomever is being celebrated tonight.
Thanks, Jacquie
---
Jack,
Thanks for putting it on paper for me. I think we might be pushing things back one day; We'd arrive in Puerto Varas on the 10th, and would possibly do a combination of two days excursions with you on the 11th and 12th. Fishing on one day (either the two person float or the wade – explore combo), and Chiloe the next (possible overnight stay in Castro…?)
Can you confirm the lodge availability and describe the hosteria as well as its availability? Do these dates pose a problem?
Thanks so much for your help. I can tell we're talking to the right guy.
Cort
---
Mt. Shasta Rentals;
Hello….looking at your Jacktrout site. How far is the River Oak Cabins from Lake Shasta? I am looking to rent cabin (with full kitchen), enough room for 3 people (one 14 yr old). I am not familiar with the area….want to take in Lake Shasta and area with son. Hope to take him boating and fishing….i.e. lots of activities. Another question; do you allow pet (dog?), we must bring our GSD, She is extremely obedient and well trained, except chases squirrels. I know this would be extra cleaning fee if allowed. Any info would be appreciated. We would like to stay 1 week in cabin near Lake Shasta. Is this a private lake?? Many places I am seeing are on the Sacra. River (just north). So many questions, but want to make good choice.
Thank you,
Nina DeAngelis
West Hills, CA
---
Hey jack,
we are planning on doing 3 days with you: 2,3,4 march the two float
trips sound good and a third day of wading is also on our agenda, like
you offered earlier!
I have somebody who will float us on the paloma for one day, we will
probably try to fish one more river in Coihaique and then start on our
way up, fishing our way back to victoria…..
This is something we can dicsuss at your place in laanquihue
Passport numbers will come tonight
best regards
Johann Heubach
Salzburg Austria
---
Hi Jack I can see by the e-mail chain why you are so vexed. My guess is that Ingram and Leitch are the same person given that both e-mail addresses were generated from Yahoo.
We have never hired a Bill or William Leitch to work on our books. If you google Leitch, his name comes up attached to Fodor's because the South American Parks book is sold off an Amazon page that features a Fodor's book.
Love your web site. I see that you have featured our book. We love your fishing feature.
Best Regards,
Tim
---
Hi Jack,
How have you been? I hope all is well with you and your new family!
A good friend of my daughter and son-in-law is traveling to South America soon and will eventually be in Chile. Is it OK to give him your number? I don't know if you'll be down there when he's passing through, but it would be great for him to have an American contact when he gets to Chile. He's a very nice, free spirit type of guy. If you are busy or would rather not have him contact you, no problem.
Hope you are having some good fishing!
Take care,
Cindy
---
Hi Jack!
Hope your new year is a good one so far! By the looks of your blog, I would have to say, … yes! And by the looks of the photos you have published (awesome!), you certainly live a blessed life!
I ran across this video showing the brief banding of the hummingbirds at the Illinois Audobon Society last fall. I'm hoping that you received the Adopt-A-Bird Certificate I sent you in September.
This video shows Vernon Kleen banding the birds, and the how/why they do it. -Vern is the same guy that banded the birds we adopted.
http://www.prairienet.org/bremersanctuary/photo_album/hummingbird_festival/
It's been raining cats and dogs around here! But, that doesn't keep the hummingbirds away. They've been buzzing around the feeders wildly. I guess they know it's a sure meal!
Okay, … Well, just stopped by to say "Hey!"
We'll keep in touch!
Best Regards,
Linda Kersey
www.A1GlassHummingbirdFeeders.com
714-846-8604
---
I'm looking for the Sturgeon bite do you have any friends that can give you a heads up.
Ian
---
Hi Jack,
Thank you for your quick response. This is a surprise birthday gig.
We have been to Chile fishing on his 50th 10 years ago. Loved it!
The brown were running! I have book marked your company and schedule and will get back to you probably about the northern California trips first. Either way I will be in touch in March. Thank you!
Pat Cook
---
Hi,
We're in our third month of offering lodging at Jay House, and the comments from guests have been very positive. If you're planning a trip (or guiding one) to the area, please consider staying in our cozy and comfortable vacation rental. It is completely furnished with a fully equipped kitchen, linens and other amenities. It has 2 bedrooms and will sleep up to nine comfortably Master bedroom with queen bed, plus a curtained alcove with a daybed Second bedroom with a double bed plus bunk beds Sofa sleeper with double bed in the living room.
Located on Jay Street in the heart of Colusa, Jay House is a short walk from the Sacramento River, restaurants and lovely historic neighborhoods. It's a comfortable home-away-from-home for bird watchers, duck hunters, fishermen, and people with business in Colusa.
The cost is $120 per night for two people, plus $10 per night for each additional person. Well-behaved dogs are welcome at no additional cost, and there is a fenced back yard. There is a fully refundable $150 cleaning deposit with each reservation.
Pictures and more details, as well as reservations calendar are at www.jayhousecolusa.com.
We'd love to have you as our guests at Jay House!
-Connie & Chris
Connie Cloak
Jay House Vacation Rental
707/480-3457
www.jayhousecolusa.com
---
Hola
Mi nombre es Jorge Gonzalez Gales
Somos un par de pescadores con razonable experiencia en Fly Fishing, me
gustar a tener un telefono para llamarlos desde el exterior y conversar
una opcion de pesca para fines de la primer semana de marzo.
Nosotros planeamos estar esa semana en Santiago y desde all pasar 5 dias pescando.
Atte.
Jorge
---
Unbelievable to get your great message from Chile, Jack, via Skype (sp?) no less. Wow.
Great to hear from you. I passed along your message to Stephani and she also wishes you the best. With Valentine Day looming Saturday . . . Did you decide to go ahead and Do It after all? Or wait? Or . . . Whatever you decide, we send you both our love, support and good wishes, and good times. Lord knows you deserve the best, and now it seems you have it!
Well, a monster storm is just getting ready to slam into us tonight. One forecast has 16 inches of snow from now to tomorrow. Looks like a drought-buster, and you would not believe the lakes, still way down. Shasta 32 percent full, Oroville 32, Folsom like 25.
So right in the middle of this blizzard, tomorrow morning, we're heading to L.A. for a wedding (!) on Valentine's Day. The projection is it will take 2 to 3 hours just to get to Redding. That's what you're missing while sitting out on a summer day with your shirt off. Hah.
Did a story on Chet Kyle last Sunday with a great picture from Chris Carr. It's posted at the Chronicle's website at www.sfgate.com, then go to sports, then outdoors. Chet is great.
So keep in touch and let me know what you do or don't do on Valentine's Day!
Your bud, T
---
Hello,
My husband and I are changing our get-away plans at the last minute and am wondering if you have any places available for rent this Friday night – Monday morning?? It's just the 2 of us and we love remote, nothing top of the line needed. Checked your website and liked the looks of Dunsmuir Pines, for example.
Many thanks,
Elizabeth Gillis
Berkeley, CA
---
Jack,
this is joe & cindy looking to head up to shasta 21 & 22 of feb. Do you have anything available? I know its last minute but we thought we would check with you first. Not picky either house would do it!
Thanks Joe
---
Hi,
I believe this is what you need for the fishing license. Let me know if you require more info. Looking forward to fishing.
Bob
---
Hi Jack,
Tim Rafford in Maine. How is the fishing? Have you fished the Rio Patagonia lately? Send me some details. I read your weblog and noticed mention of William Leitch? Is he hassling you? I've got a long story about him, too long to tell via e-mail. Short story: I received a very threatening e-mail a few years ago, from a mystery man. I finally traced it to him. I wouldn't worry about him. He's a dinosaur.
Good luck
Tim Rafford
---
From: Timothy Rafford [mailto:inspects@maine.rr.com]
Sent: Saturday, February 28, 2009 7:33 AM
To: wlmleitch@yahoo.com Bill Leitch
Subject: Greetings
Hi Bill,
It's been a few years. Up to your old tricks, eh? You probably don't remember me, since it appears most of your spare time is spent creating twisted alter-egos and leveling wild accusations against legitimate and successful business people.
Cream rises to the top,and deadwood sinks to the bottom. That is the beauty of Chile's pure form of capitalism. As competition increases -ceteris paribus- business operations unable to adapt will disappear (like the dinosaurs).
I would suggest that if you spent as much time trying to improve your business as you spend fabricating libelous fairy tales about the competition, you might improve your bottom line.
Ceteris Paribus is Latin for "all things being equal". I'm guessing that you've never studied the romance languages.
Regards,
Tim Rafford
---
Hello Jack,
I am currently working on a piece for the S.F. Chronicle regarding pen-raised salmon. Among many of the issues is the fact that escaped farmed fish often provide angling opportunities. A friend of mine led me to your web site and fishing business as an example of someone who is doing precisely that – taking people fishing for farmed fish. I think it is all the more interesting because you are doing it in Chile, which provides most of the farmed fish for US markets.
I plan to include a comment or two about your business in the article, about how successful you've been pursuing farmed fish for sport in Chile. Would you care to comment?
By the way, the pics of Chile on your web site are gorgeous!
Thanks,
Dave Ingram
My Reply to Dave: Wed 2/11/2009 1:35 PM
Dave
Can I call you on my SKYPE phone at .02 cents per minute, or would you prefer an email?
Chile provides 40% of their export of farmed fish to the USA markets and is in a world of hurt because of the disease that is out of control right now. Many don't know when you buy a salmon from Chile, it could very well be a trout.
I do take people fishing for farmed fish that escape from pins and my clients don't seem to mind at all. In fact my clients Dave Harker and Scott Miller preferred catching them over the smaller wild trout we were catching on other Chilean rivers a few weeks back. My business is doing great here in Chile, but it also helps that it is my 17 year of operating here in Chile and of course my web log is famous. Google: fishing web log, I think I'm number #1. I am legal Gringo guide who has fished many rivers throughout Chile and Argentina and have written books for Fodors Travel out of New York.
Chile doesn't have a stock program like the U.S. People these days just want to catch big fish Period!
Chile has other fish that are not pen raised like, Sea-Run Browns, Sea Trout, Atlantic Salmon, Steelhead that also grow large and run in with the escapees., so it's like a lottery prize when you fish here, you don't know what great catch you may receive.
I love seeing folks catch these fish, because before Livingston Stone (Fisheries biologist with the U.S. Fishing Wildlife Dept New York) introduced the McCloud River Rainbows, Pacific & Atlantic Salmon and Germans came into Chile introducing Brown Trout there were no indigenous trout & salmon here .
So in my eyes what really is the difference between trout & salmon that appeared then or now?
So there you go!
Can I get your number to call you direct? A landline is best price for me.
Can you please mention www.mtshasta.com my web log I have maintained every few weeks since 2000, the first fishing web log on the internet.
Many Rivers to You, Jack & Carola Trout
Tell my friend Tom Stienstra     Hello!
Jack Trout International Fly Fishing & Scenic Tours ~ Argentina * Belize * Chile * Nor Cal
1004 SO. Mt Shasta Blvd. Mt Shasta, California 96067 www.jacktrout.com www.mtshasta.com 530-926-4540 email: info@jacktrout.com
SKYPE: jacktrout24
Piloto Pardo 848, Chaiten, Chile Decima de Los Lagos (Central Patagonia Office)
Hopefully reopened in 2013 due to Chaiten Volcano Disaster
Villa Los Presidentes
Calle Ramon Freire (Lakes District Office)
Casa N* 2
Llanquihue, Chile
Cel: 011- 56 – 9 94671995 Jack in Chile.
From: Dave Ingram [mailto:daveingram57@yahoo.com]
Sent: Wednesday, February 11, 2009 12:39 PM
To: info@jacktrout.com
Subject: article
---
From: Dave Ingram [mailto:daveingram57@yahoo.com]
Sent: Thursday, February 12, 2009 5:40 PM
To: Jack Trout
Subject: Re: article
Dear Jack,
I won't be needing your help after all. A collegue of yours down in Coyhaique, Bill Leitch, tells me you are running an illegal guide operation. The fact that you also pimp your "fiance" and other women to clients is despicable. If there was something I could do about it, I would.
Ugly American, indeed.
Emailed to me on 02/11/2009
Dave
---
Dave Ingram -Bill Leitch
I run a legal operation my carnet number for my business is 14-634-029-6 . Bill Leitch is completely incorrect and is dishonest with spreading such a vicious rumor. I am in Vina Del Mar with Carola right now and we received your email on our anniversary. Thanks.
I have never pimped out women to any past client, maybe some trout, so you can call me a trout pimp. As far as Bill Leitch goes, he contacted me last year claiming that dams would save Chile from relying on foreign oil and myself and my fiancé tend to disagree with Bill.
The only reason I have such harsh words for Bill Leitch has to do with his first email to me, it was rude and condescending.
Dave, I have a good friend who is pretty high up with the SF Chronicle and in fact he emailed me asking about Carola and I, so I will find out if you really work for the Chron. Or sfgate.
As far as the your last email to me and Carola, we take it with a grain of salt, I am a legal Chilean worker. Your welcome to call Ernesto Montana at the Registro de Civil from USA 011-56-9-77641241 and you can also contact Valentina Espinoza in the Gobernacion de Extranjeros at 011-56-65-731280 in Puerto Montt or in Futaleufu 011-56-65-721505, (She rotates from each office area) They both know me well and will tell you I am not only legal to work but have solicited my residency for Chile.
Bill- You really have hurt my fiancée Carola, and we will get you for that, I have never done anything to you to spread such shit and I'm on your trail now!
Dave you must be pretty gullible to buy into such bullshit, based on one persons accusations or darn right cruel. By the way you spelled colleague wrong.
Bill, we'll be in touch soon.
Many Rivers, Jack & Carola Trout
CC: Tom Stienstra ; SF Chronicle
Jack Trout International Fly Fishing & Scenic Tours ~ Argentina * Belize * Chile * Nor Cal
1004 SO. Mt Shasta Blvd. Mt Shasta, California 96067 www.jacktrout.com www.mtshasta.com 530-926-4540 email: info@jacktrout.com
SKYPE: jacktrout24
Piloto Pardo 848, Chaiten, Chile Decima de Los Lagos (Central Patagonia Office)
Hopefully reopened in 2013 due to Chaiten Volcano Disaster
Villa Los Presidentes
Calle Ramon Freire (Lakes District Office)
Casa N* 2
Llanquihue, Chile
Cel: 011- 56 – 9 94671995 Jack in Chile.
---
From: Stienstra, Tom     [mailto:TStienstra@sfchronicle.com]
Sent: Wednesday, February 18, 2009 3:41 PM
To: Jack Trout
Subject: RE: article
Hi Jack!
I alerted the editors at the Chronicle with this letter (the e-mail chain was included):
This guy, Dave Ingram, claimed in this e-mail chain that he's writing a story about salmon for us . . . and he also accuses NorCal's No. 1 guide, Jack Trout, of running an illegal operation in Chile (he's licensed there) and "pimping out his fiance and other women to clients." This is a giant red flag and editors should be on the lookout.
. . . it was incredible to hear your voice via skype all the way from Chile! We were in Malibu last weekend for a wedding, then returned to Mount Shasta for a monsterous snow storm (Mammoth now has 15 feet of snowpack) that hit all of California. Got snowed out and ended up in a hotel in South Weed. Taken two days to dig out, but back in the saddle today and coming up for air. . .
. . .
did you get married on Valentine's Day?
. . . what next for Mssr. Trout?
---
Dave Ingram
Daveingram57@yahoo.com IP # 68.142.237.110
n.3bullet.mail.re3.yahoo.com
Inktomi Co. Sunnyvale, California
Lat: 37. 4249
Long: – 122.0074
---
Total tracked email 1 http://www.whoreadme.com
——————————————————————————–
Last Tracked Email
Subject 🙂
Sent on 2009-02-28 04:36:41
Your IP Address 201.246.45.97
——————————————————————————–
Last Email Response
Recipient wlmleitch@yahoo.com
Subject 🙂
Opened on 2009-02-28 09:02:30
IP Address 206.174.91.82
Location Juneau, Alaska, United States
Details… http://www.whatismyipaddress.com
Country: United States
State/Region: AK
City: Juneau
Latitude: 58.5813
Longitude: -134.7699
Area Code: 907
Geo-Location Map
---
I went through all my records and could not find what I needed. This started for me about 5 years ago. I leased a lodge on the Cisnes, and ran it for a couple of years. Bill Leitch sent a letter to the editor of the El Diaro Aysen accusing several guides and lodges of operating illegally. If my memory is correct, you were mentioned in the story along with me, Patagonia Adventures (Larry Page), and some others. The owner of the lodge I leased (Juan Luis Galvez) went apeshit and got the Chilean authorities involved. We sent the e-mails to the Cyber crimes unit of the carbinero's, and Bill Leitch dropped off the planet until now. The reason he appears to know so much about you is that he is most likely a local lodge owner (or working for a local lodge owner) His English is too good, and he is a pretty good writer. I assume he is a gringo.
Tim Rafford
---
Dear Carola and Jack,
Thank you for organizing hotels for us in Fruttillar and Pucon, at very reasonable prices. In Fruttillar, at Hotel Salzburg, we had a very special and nice room with a perfect view of the lake. The set menu with fish from the lake was very delicious. Pucon is a lovely, nice, small town, and Hotel Geromino was just perfect. Altough very close to everything, it was a little bit away from the most busy streets. It was very clean, the room had a great view of Vulcano Pucon from our terrasse, in fact the hotel has an observation video of what's going on up there. The receptionist, a young student of dentistry, spoke perfect English and was very helpful in organizing transport and hotels for our forward jouney. He also recommended an extremely good place to eat steaks, Maga, where we had the best meat and wine on out journey so far.
Finally, many thanks also for the fantastic day on Rio Petrohue. Fishing was excellent, company likewise, and food as well! The pictures came out fine, and I have many things to write about also.
Best regards,
Irene and Terje
Norway
---
________________________________________