Huge Trout Stock !  Go to the city of Dunsmuir, through
town ONLY, the city has stocked many trophy sized
trout for you to catch. (Could you drop a buck while
you're there, it cost the city merchants $12K) My advice
City of Dunsmuir,
build your own trout hatchery and control your destiny.
(I have August 3rd, 4th & 5th off, want to float the Upper Sac?)
Day Time Temps are perfect in Dunsmuir, McCloud &
Mount Shasta!!  Come on up and hang out on Lake
Siskiyou or head for the North State Rivers.
Jack & Carola Trout
We would like to welcome all the viewers who watch from Ukraine, Russia and all over the World. We enjoy your messages of support.
Thank you so much for all your daily sign-ups for our RSS feeds!  jtct
(Audience, I'm on a 11 day straight guiding binge, I really don't have much time to write, so if you see any grammatical or mistakes, email me please.)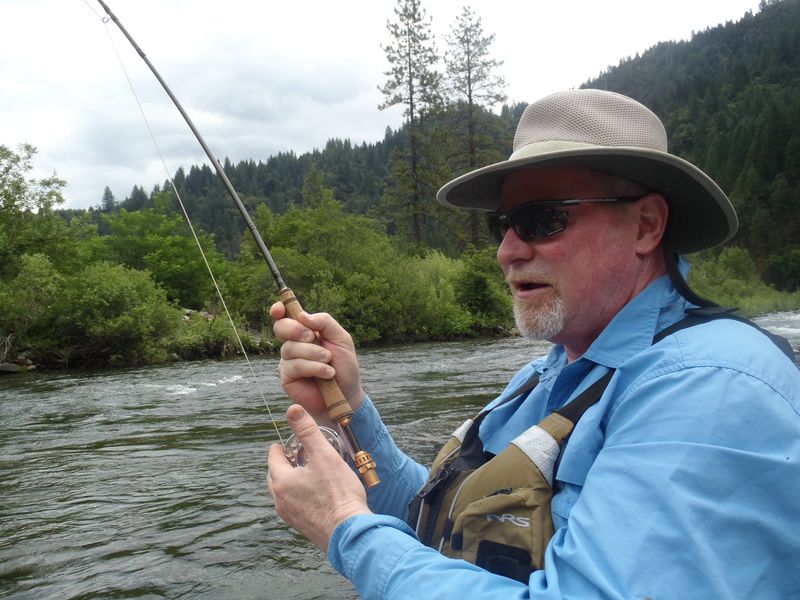 Douglas Akay ladies and gentlemen reeling in another hot trout on the Upper Sac!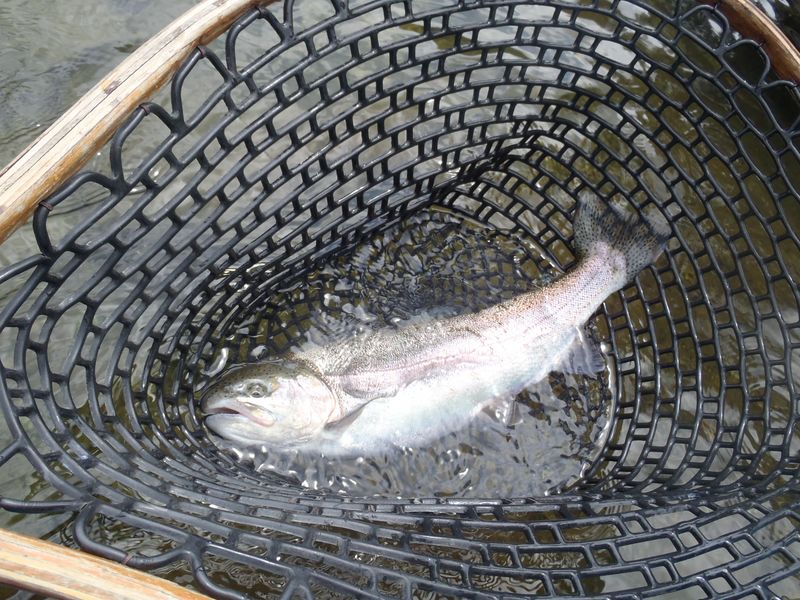 Lunkerville a new hit series, coming to a  North State 
theater near you Sizzlers!
 Silver bells ~ Silver Bells ….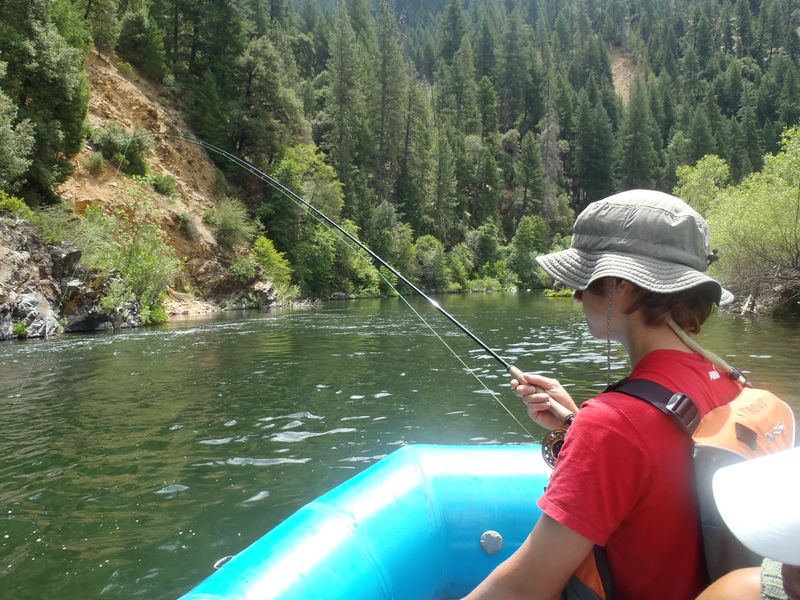 Alex Akay ready for a great day!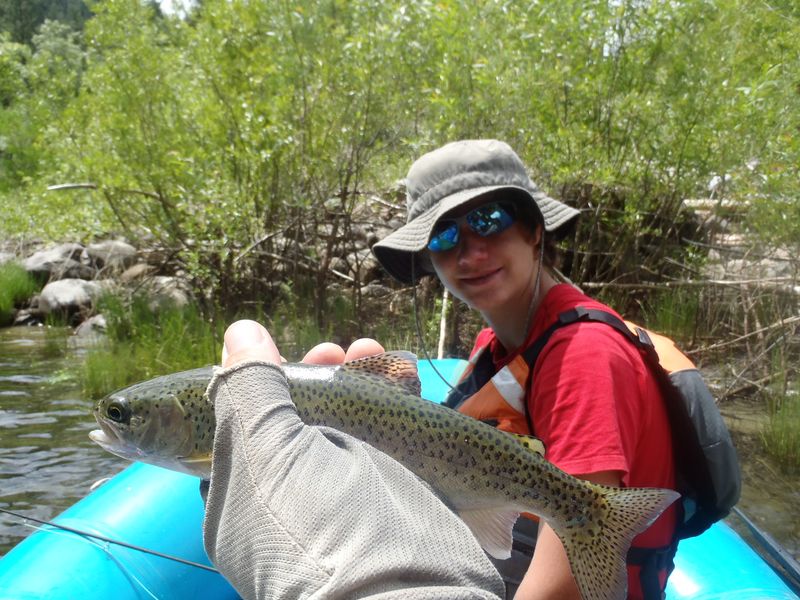 Yo bro! Nice trout hope is  all is good back in SF. I have that beautiful quartz rock you found on the river as I will be holding it until you come back up this fall. (Found it the next day under some things in the raft)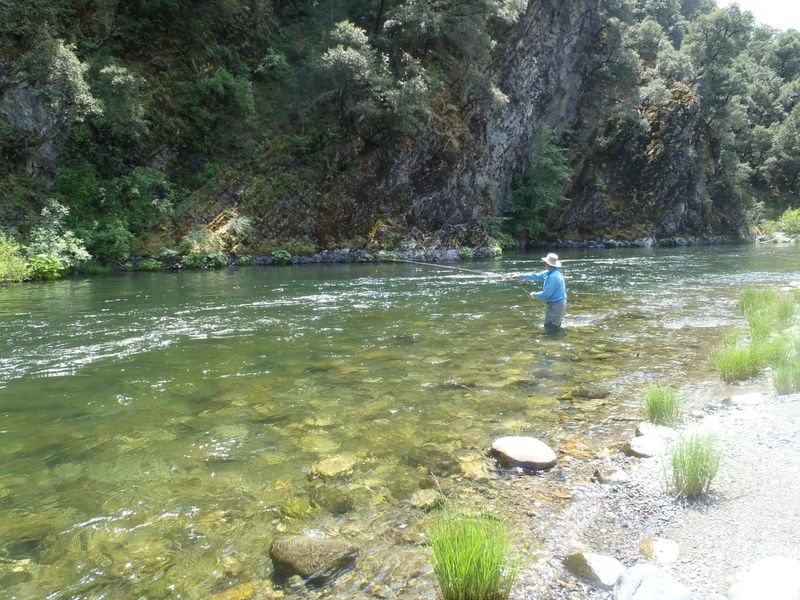 The river is in fine shape my friends, so when you come up, I'll be
floating until October/ Nov this year.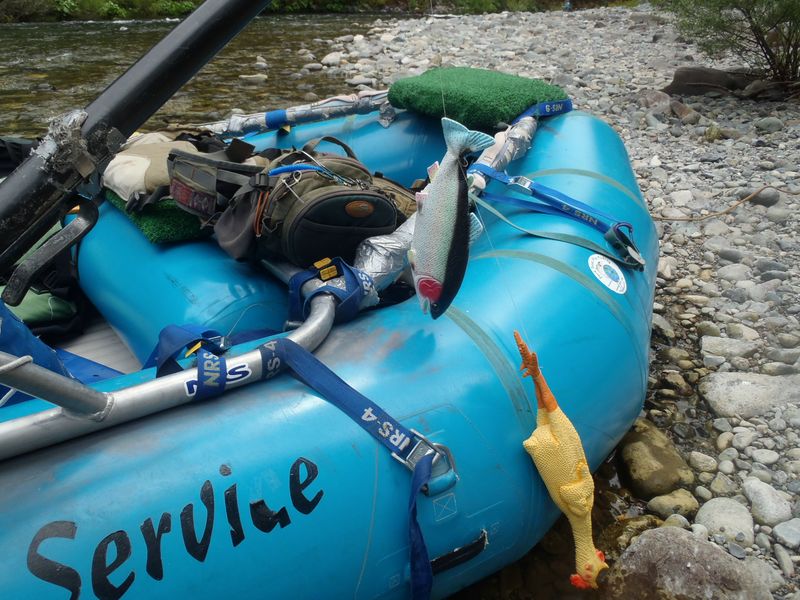 Catch rate has been good lately…  (In a pioneer's voice)
"How's that rattle snake taste Festess? Taste like Chicken Cody!"
                                                                (Time to get the new banner on the raft…)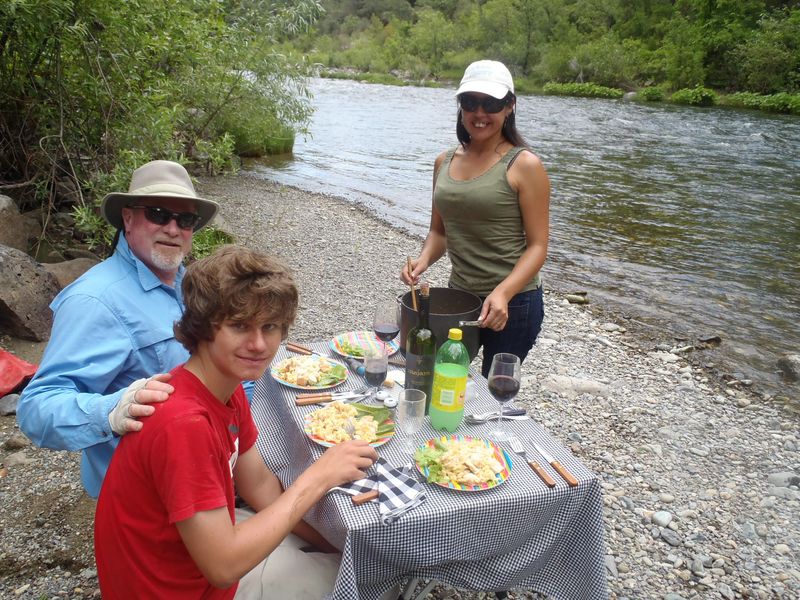 Lunch time! Carola's fine cooking is always an excuse to stop and relax. Enjoy great food stream side and reflect on the day and maybe life itself.
(I'm having an epiphany out here! Boy that's a big word for a fishing guide…) (What does that mean again..)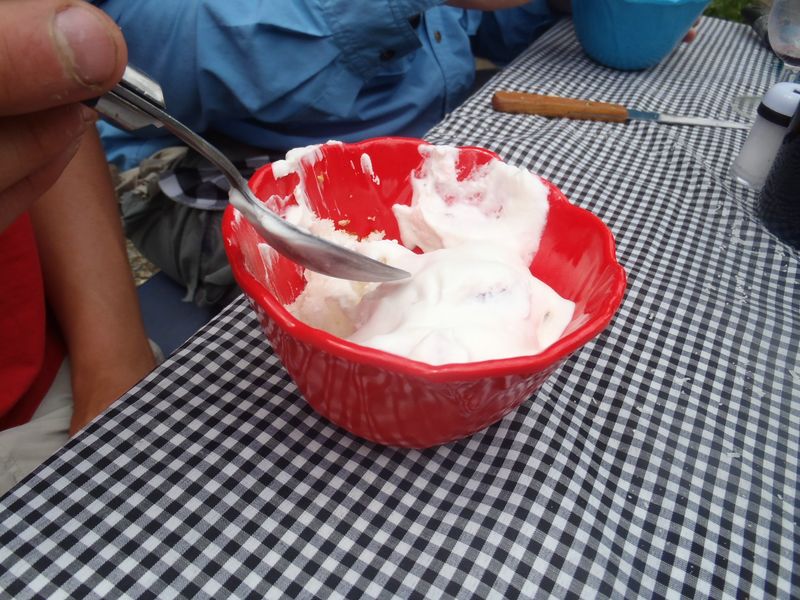 Carola's strawberry short cake, wow what a river treat!!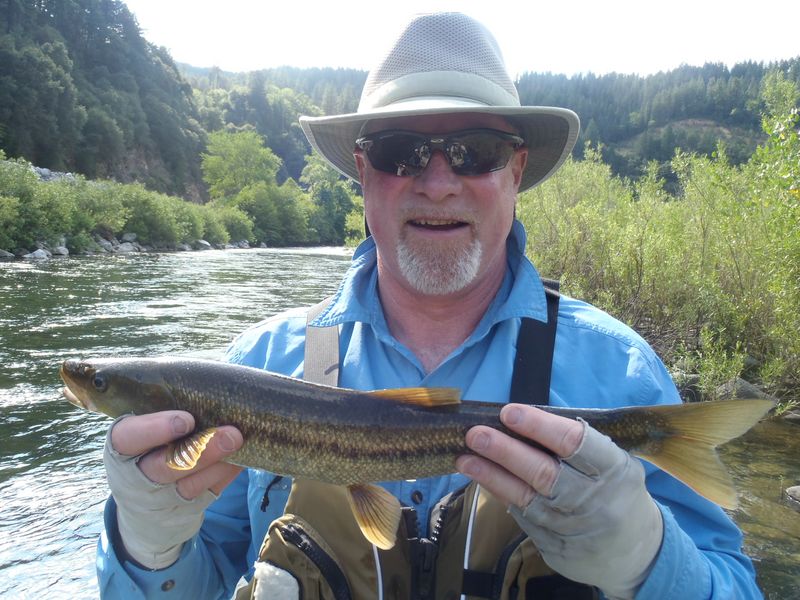 Ewwww! A Sacramento Squaw fish sure put up a good fight, not too cute though…
Dressed like a politician, that fish is slimmy..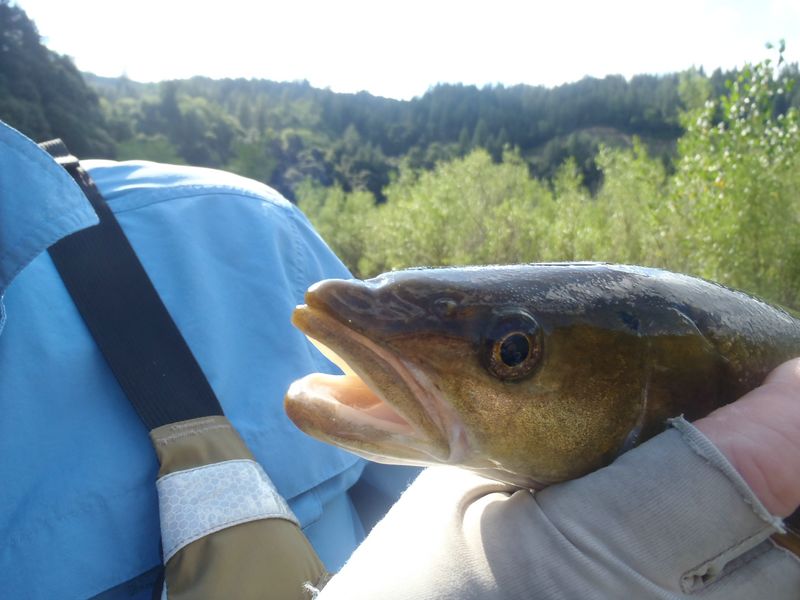 Lips like Cameron Diaz!
 Doug get him in man!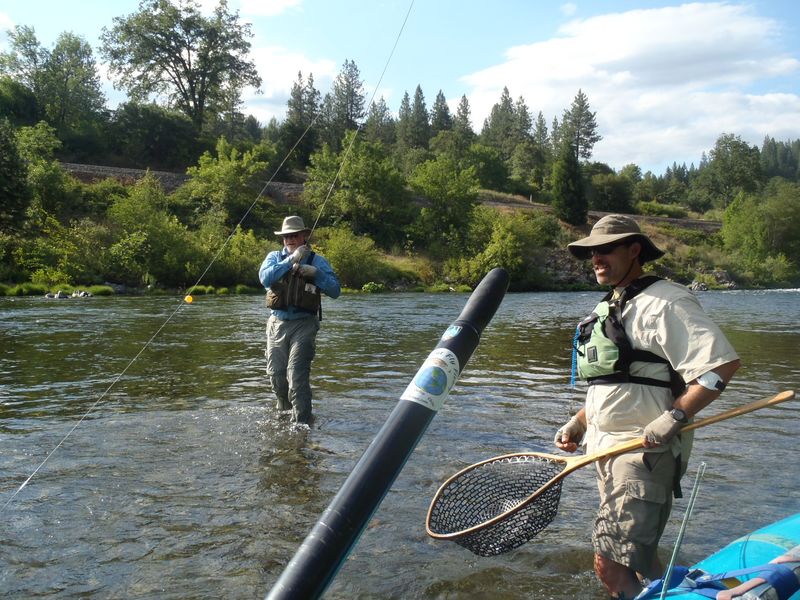 Great trout to hook up on. Alot of the trout we are
catching now are caught on small size 18 beaded
nymphs. Mainly mayflies and caddis immitations.
 Sweet! I have been guiding Doug and his wife Catheryn Akay for over 10 years. In fact Doug was one of my first clients in the raft back in 1997.
He tells me, it's his favorite fly fishing trip to do in California.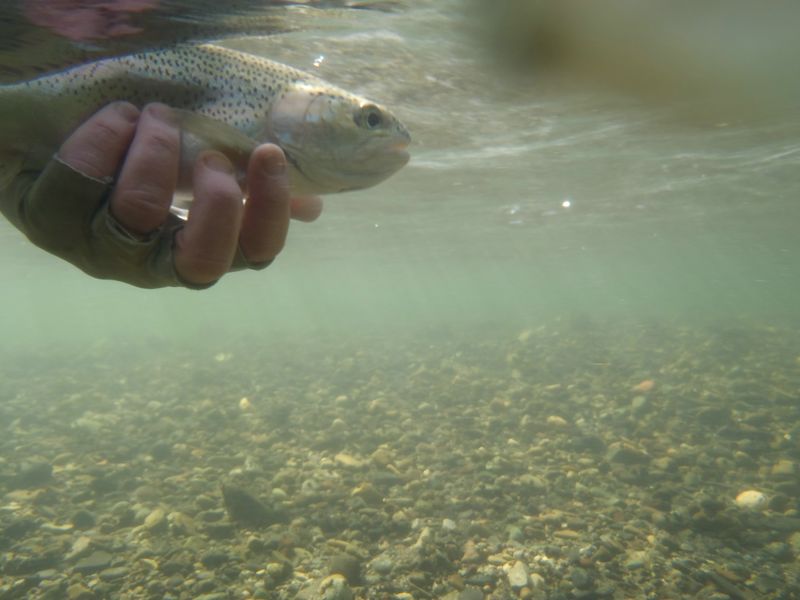 The release of  a trout properly is vital in this hot weather, try your trout in the water until your camera is completely ready (Even focus to the area where he'll be held up to) then hold trout up quick, take picture fast and get them back to safety. Until the temps get down into the 70's and 80's again, we need to limit the exposure the trout is out the water to 7 seconds or less.

 

Nice trout on in this deep water, let see what he looks like?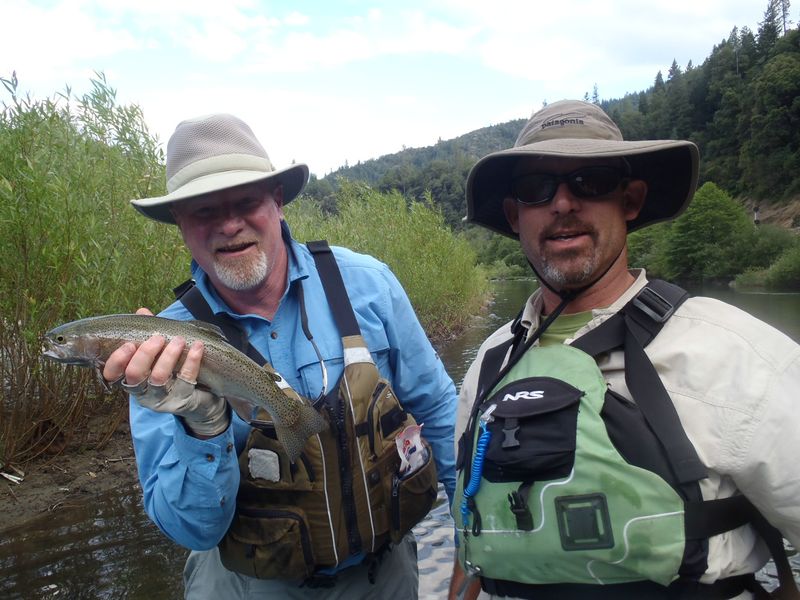 Way to go Doug!
You are my Sizzler of the week Award winner. Congratulations Sizzler!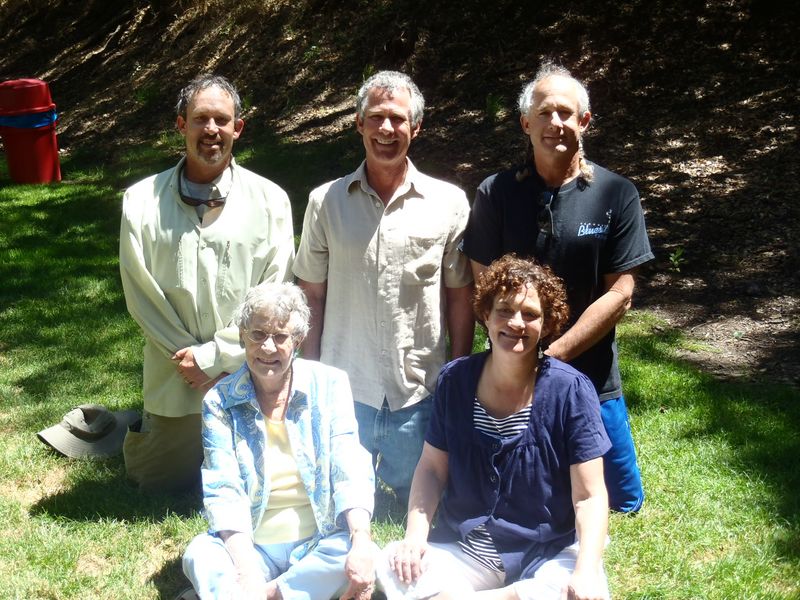 Last week in Walnut Creek, California we had our Family Reunion. Thanks to all who showed up, all the best did !
Next to me my brother Tim, then my oldest brother Pete, my Mom Patti and sister M'lissa. I love my family and we are lucky to have had such a great up bringing here in California. My dad past away last year but he was with us that day as I felt him.  We love you all!  Jack  & Carola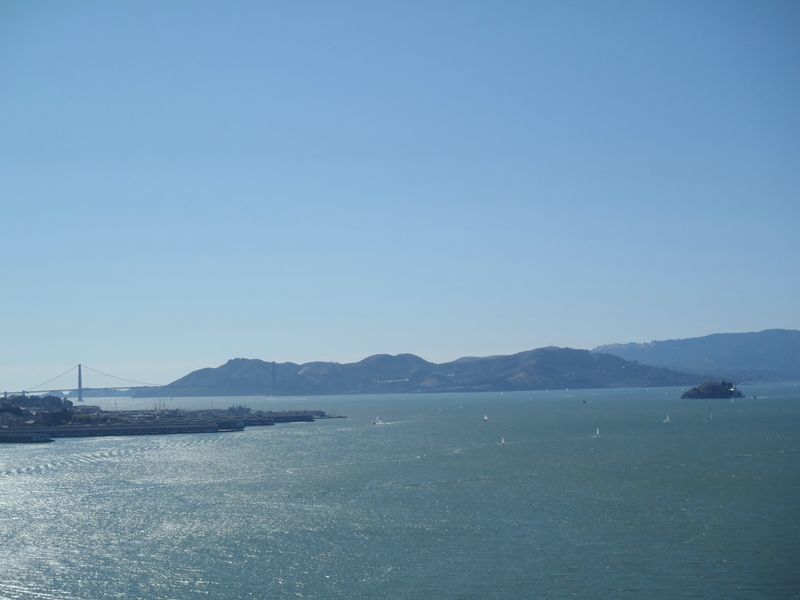 After we had the family reunion, I thought it would be a great idea to take Carola to San Francisco and down to Fisherman's Wharf, possible see the Golden Gate Bridge if it wasn't foggy. Last time we visited the Bay Area we never did see the bridge because of all the fog.
(Darn Mark Twain was always right, cold in SF in the summer months better head to Mt Shasta area for sun!)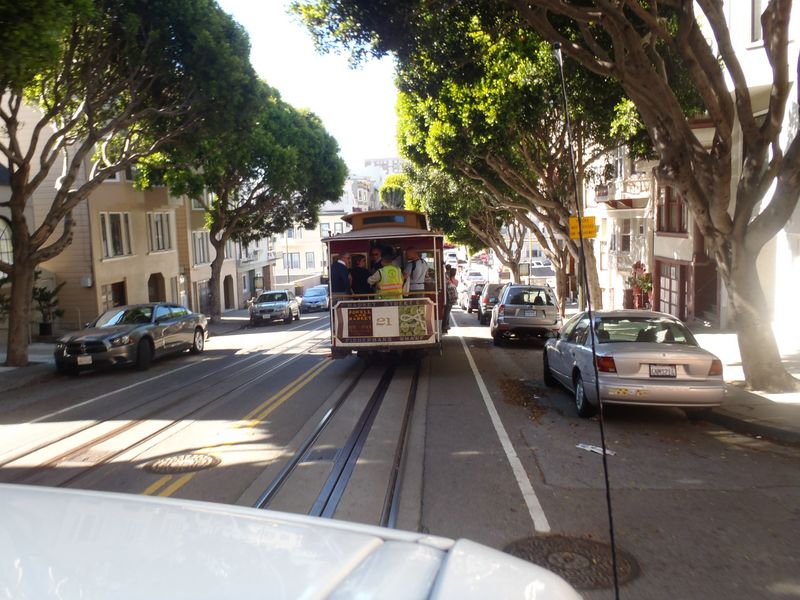 I took her up Hyde street and we went down all the big steep hills at fun speeds!! She loved it folks. Then we got behind this cable car and she began to really feel the good vibes that move slow in San Francisco. The history, the sea food smells, the ocean air and of course Lombard Street!! We spent an hour on the wharf, then got in the FJ Toyota and headed towards Marin County.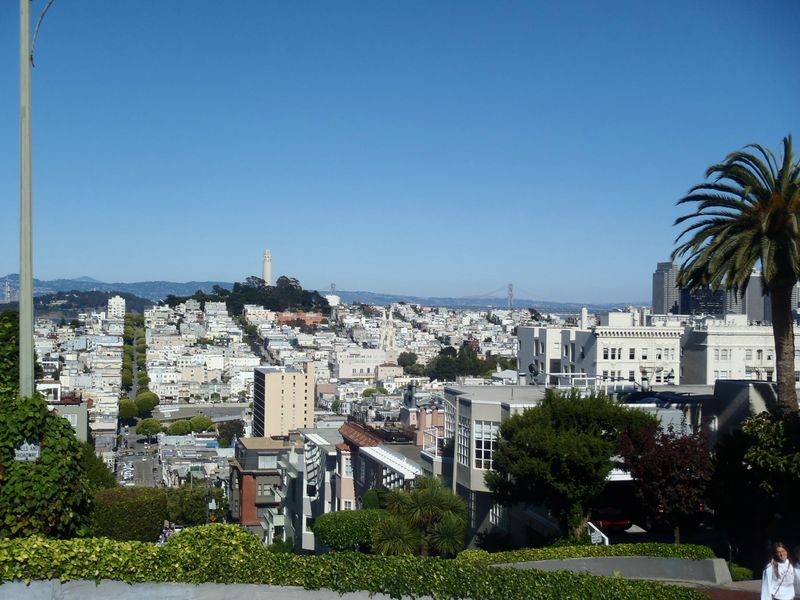 Coit Tower is a fine place to visit while in SF, but arriving on such a warm weather day was the biggest bonus. It sure made up for the last time we were there in 2009. We loved San Francisco, for sure the most beautiful city in the world. We ate crab at the wharf and that day everyone was there visiting…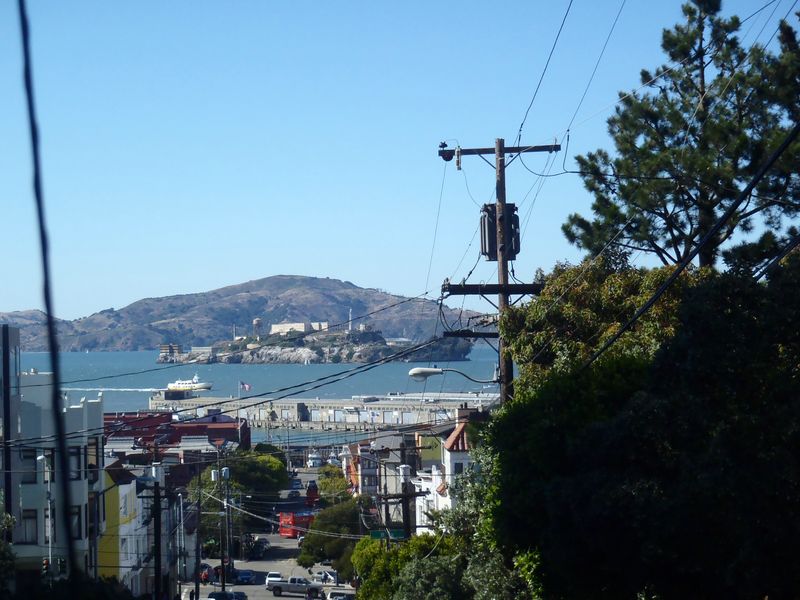 I came over a hill very fast like Karl Malden and Michael Douglas in a Quinn Martin Production and there was Alcatraz Island!! Wow, so many criminals, movies and tourism revolving around this place. My dad told me once; "when I was young I saw that they had to dredge around the island and the bay to get the island to rise to what you see now."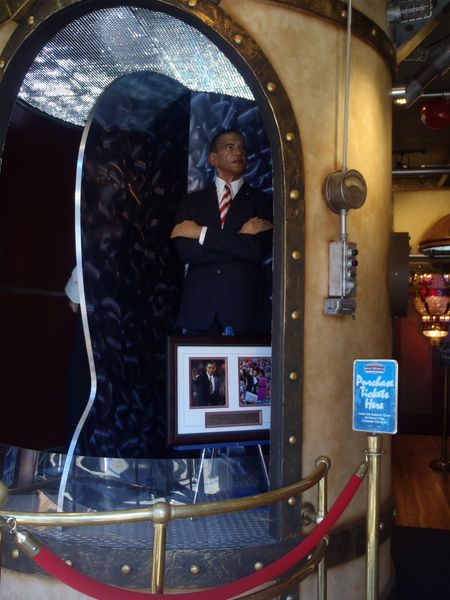 After we ate terrific crab sandwiches at Aliotto's Crab section on the wharf, we took a cruise and saw President Obama. Unfortunately he and Congress weren't talking too much and nothing really got accomplished, meanwhile gold and silver prices that day kept going up, up, up…
Then we saw Johnny Depp and Carola got really excited..
( I don't know why?)  Damn you Captain Jack Sparrow!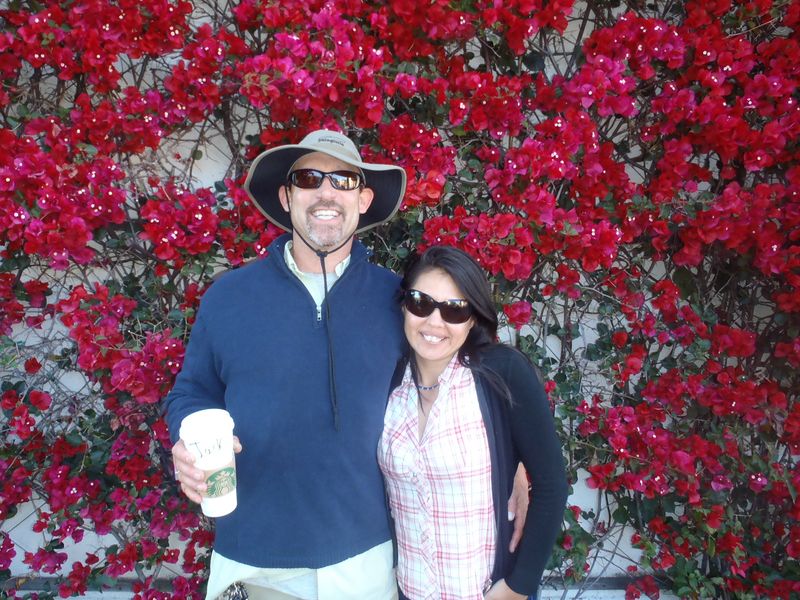 That day folks with all of our history you know about, the years we waited on U.S. Immigration and their delays, borders and walls. That was all behind us now, we were just 

so happy to be together again in front of a wall of beautiful flowers. We knew that day it was our time now, in spite of what the U.S. Government, U.S. Immigration, National Visa Center and U.S. Embassy in Santiago did  to us. (Can you say disfunctional, thought you could boys & girls!)
For me it has been embarrassing as the Chilean Government has been so good to us in business and replacing the home we lost in the Chaiten volcano eruption. But we're here now, so any of you that are out there that are waiting, doing the Tom Petty, "Waiting, wondering, worrying about some little thing that don't add up to nothing!
"The waiting, is the hardest part."  Thanks Tom Petty!
(My advice to the U.S Government – Uncle Sam we are suppose to be family, I mean you are my Uncle aren't you?
Then why do you put me in line with all these other foreigners who were not born in America and just want to live here? I don't mind other foreigners at all, but I have paid taxes, own a business and make money for the good ole USA, I deserve to be treated better and as an American citizen I should. YOU NEED TO HAVE A DEPARTMENT JUST FOR AMERICAN BORN CITIZENS WHO MARRY ABROAD AND CUT DOWN ON ALL THE DEPARTMENTS, IT COST ALL OF US TAX PAYERS MONEY. HOW DOES IT BENEFIT OUR COUNTRY FOR CAROLA TO WAIT IN CHILE IN SUB ZERO TEMPS FOR 2 WINTER SEASONS, THEN I'M SENDING MONEY OUTSIDE OF THE USA TO SUPPORT HER. THIS IS THE FUNDAMENTAL PROBLEMS WITH OUR GOVERNMENT ON BOTH SIDES OF THE POLITICAL SPECTRUM. 3 DIFFERENT AGENCIES JUST TO GET MY WIFE A GREEN CARD. YOU NEED TO GET MORE ORGANIZED AND HELP FOLKS WHO HELP THE USA MAKE MONEY$$
UNTIL YOU CHANGE YOUR WAYS AND GET YOUR ACT TOGETHER, A SMALL TIME GUIDE IN NORTHERN CALIFORNIA
WITH LITTLE DEBT,PERFECT CREDIT AND A GREAT FUTURE WITH HIS WIFE IS DOING BETTER THAN THE UNITED STATES FEDERAL GOVERNMENT… ANOTHER WORDS YOU'RE IN A PATHETIC STATE RIGHT NOW WITH OUR NATION
AND IMMIGRATION. YOU GOT YOUR HEADS STUCK UP YOUR ASSES (SEE THE LIGHT) AND NEED TO REALLY LOOK AT HOW YOU CAN PROCESS IMMIGRANTS THAT COUNT AND BENEFIT THE USA FASTER.  JACK & CAROLA   (KMA)
(If I ran my business like this I'd be printing more dollars too…PATHETIC!) Too much month at the end of the money….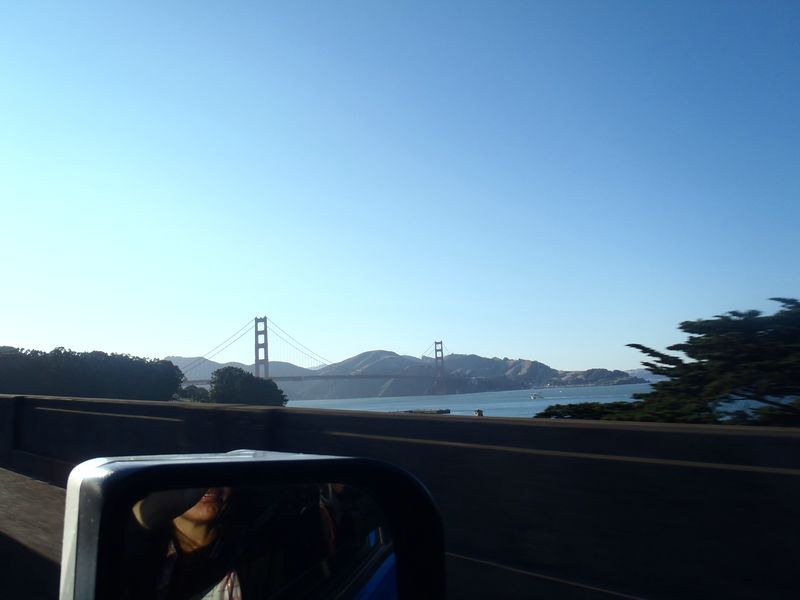 So we made our way to the Golden Gate Bridge and the excitement arose! The music was loud and pumping energy into our souls.
Carola was finally going to see the Golden Gate Bridge, a lifetime dream 
 for she and her family.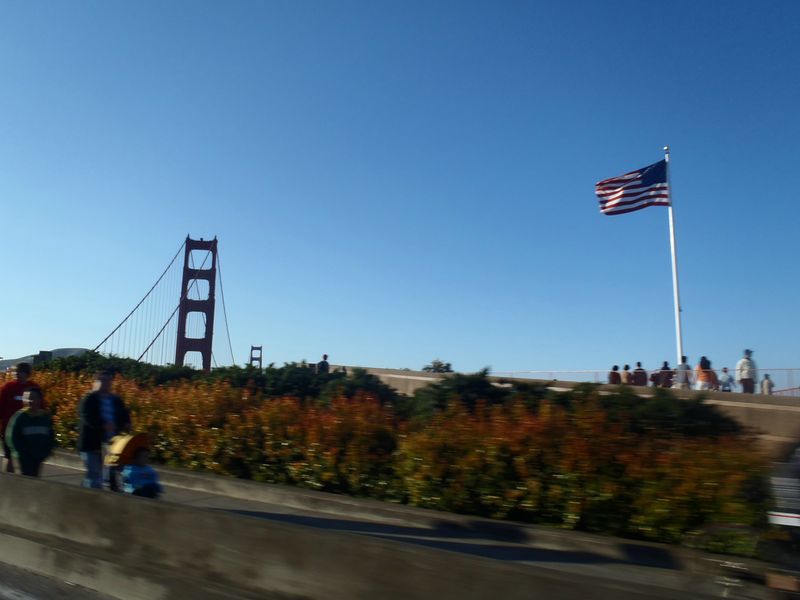 The American flag was in full flight that day and so were the folks walking across the bridge, there was a good energy you could feel in the air. That night we stayed at the Windsor Holiday Inn Express for around $110 with tax. (Good price for the area. Avoid Healdsburg if you don't want to pay extreme retail for dinners and lodging) Head for Geyserville, and embrace Northern California history at it's best.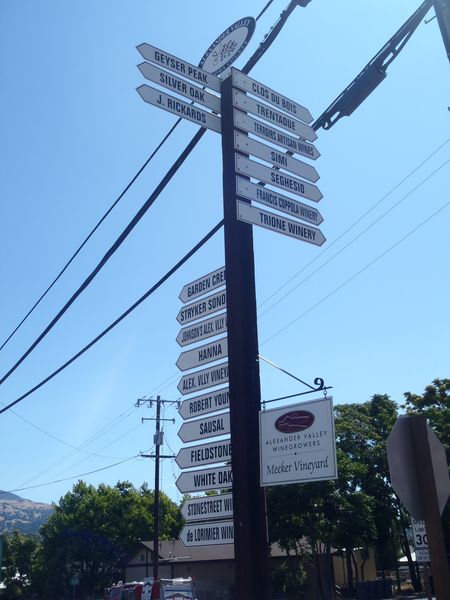 Geyserville was an old mercury mining town back in the late 1800's.  The business of extracting mercury from the ground was a very dangerous endeavor that took the lives of many miners and unassuming workers. We thought this area would be more interesting to cover being that it was the crossroads for 3 of the best wine growing areas in California.
This region has over 250 wineries and from Geyserville you can head out in almost any direction to find them.
Famous for its unique Cabernets, Alexander Valley was just a few minutes east of us, then over to the west the Russia River and it's production of Pinot Noirs and Chardonnays was always a favorite with me. But it was Dry Creek Zinfandels that Carola was interested in tasting. But on this day we had an invite to see an old client of mine from way back and something he created that was enjoyed and revered the world over.  (You'll see…!)
In downtown Geyserville California, just as you come into town on the left-hand side of town from SF is Brad Beard and his Mercury Winery. He offers vast information on the entire area and complimentary tastings from his tiny production of Pinot noirs, Bordeaux-style blends and esoteric white varietals. This guy is like the Chamber of Commerce for the entire area. Full of helpful information matched with an excellent attitude, greeting Carola and I and educating us on the history of the area, how the town came about, early days before the wine explosion and hints on where to go depending on what your interests are. If I was going up to those three regions again, Brad Beard would be the first place I visited Sizzlers and you should too!
Brad Beard's – Mercury Winery Geyserville
21015 Geyserville, California   http://www.mercurywine.com  & info@mercurywine.com  
707-857-9870
Do yourself a favor and go visit Brad and his puppy Freddy Mercury (We loved his 5 month old black lab!)
Have a free taste on Brad, you'll be glad you did!  
Brad & Freddy, thanks so much for all your good energy and hospitality your place was a highlight!! Jack & Carola Trout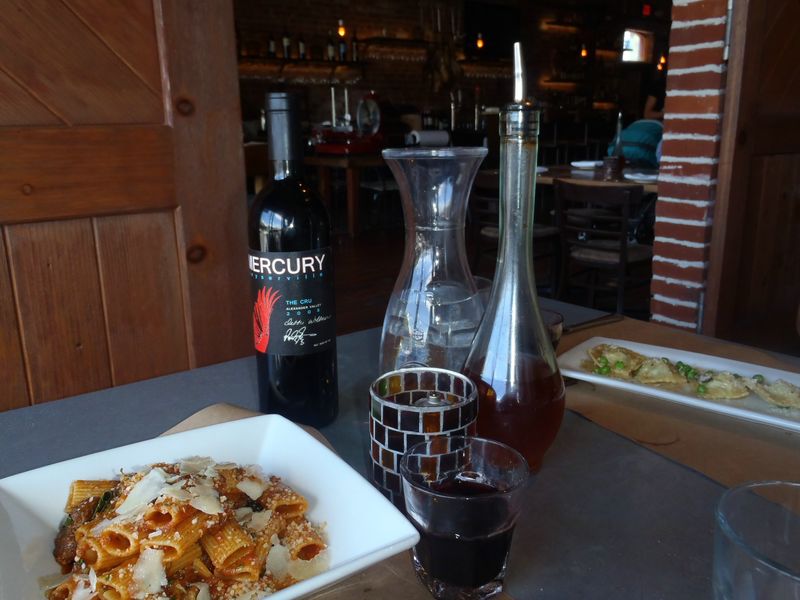 Next door is the Diavola Restaurant, a great place to enjoy many of the local wines produced in the 3 regions and more.
But we had our Mercury Wine and all was good!  We loved at 12:30 how they served wine in a fruit glass to make you feel like it was ok… The food was marvelous!! I would highly suggest this place to.
Diavola Pizzeria & Salumeria – 21021 Geyserville Ave. Geyserville, California 95441  707-814-0111
Also there are great places to stay in Geyserville. Check it out!
Here's some helpful site for you:
www.geyservillecc.com/Wineries/Wineries.htm 
http://www.wineroad.com  
ww.winecountrygetaways.com/russian_details3.html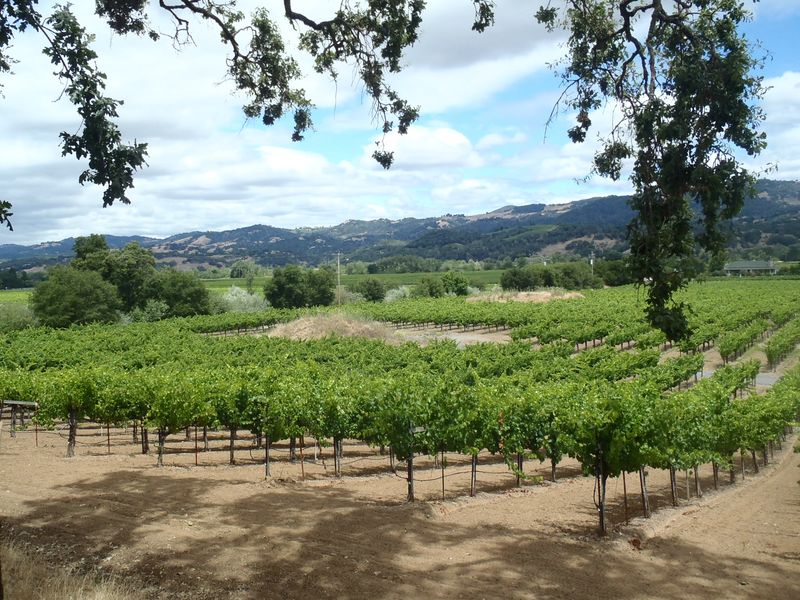 The fruit, the area, the legend of California wines grows every year world wide. Another thing that makes proud to be from California. That sweet taste of mature grapes grown in the California sun that makes me smile and enjoy my meal with friends and family that much more. I love my State and embrace the time we spend here in California as it is one of the greatest places to live on the planet Earth.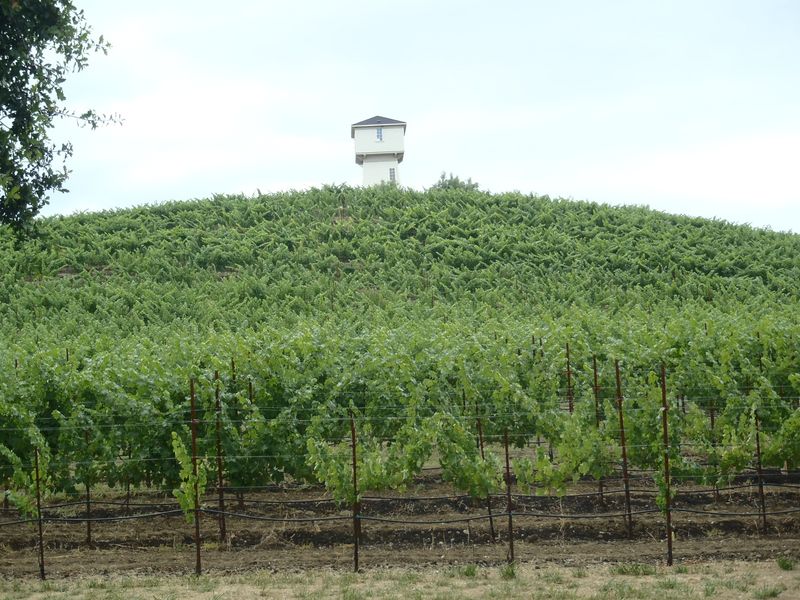 Ok, Who out there recognizes this same scene illustrated on a famous wine label bottle? Silver  …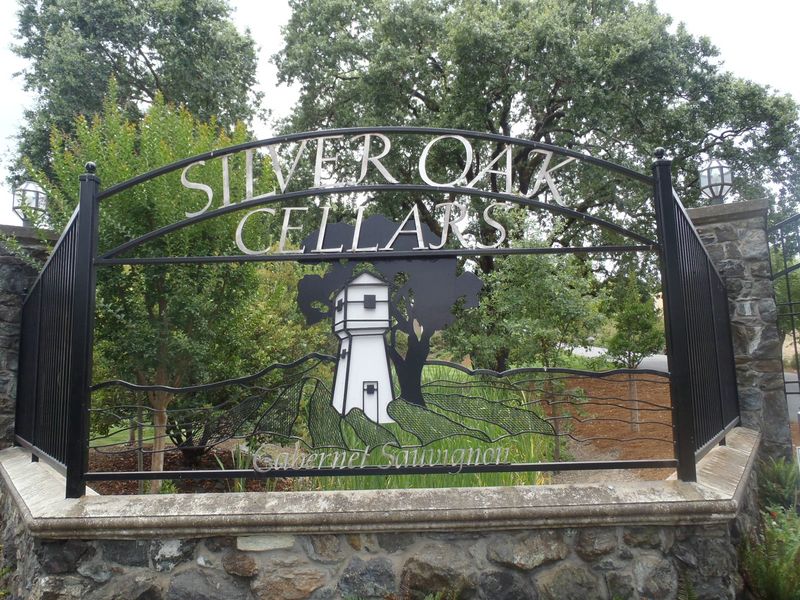 In 1996 Justin Meyers the owner then of Silver Oaks with a fine man named Joseph Ciatti hired me as their guide at the Bollibokka Club on the McCloud River. Little did I know later this man would change my life forever.
So I had the invite to their winery for their Alexander Valley wine production to do a story on the man I know as;
THE FATHER OF CABERNET JUSTIN MEYERS &
SILVER OAK WINES.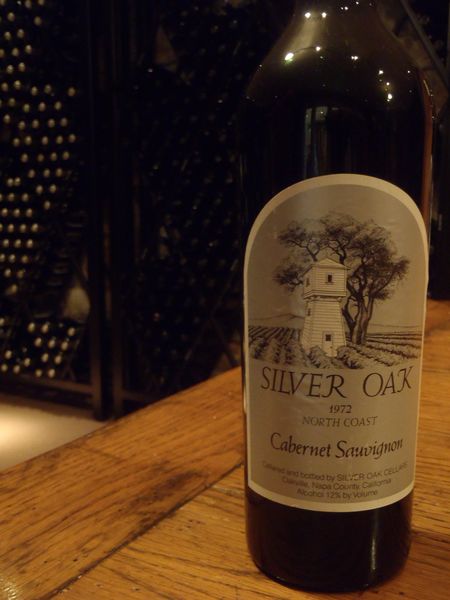 Carola and I were invited and led all over their estate and shown how the wine was made and processed for you and me to enjoy. Here's the first bottle ever of Silver Oak from 1972. Wow! What a library of wines Sizzlers.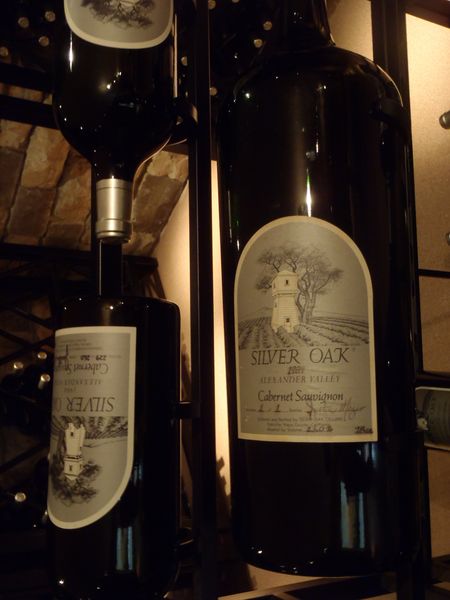 Now a double magnum signed by the Father of Cab himself. See this story wouldn't be complete without the complete story. Back then I was struggling to save money to buy a home in Mount Shasta and one day I was out on the river guiding Justin Meyer. He asked me how my life was going, he told me that he just bought his daughter some stocks in natural gas for her b-day and she accidently had to pay thousands in taxes because he invested her into the perfect stock. I remembered he laughed and we continued fishing. He talked about his wines and how he thought it was best to wait four years on Cabernets in the barrels and that the sugar should be 24 1/2 % sugar to grape. (It was obvious to me, turning the product over and price points were not as important to Justin, making the best innovative Cabs. He then stopped and asked me if I owned a home. I told him I had about 1/2 of my down payment saved up and was still looking. He said, "Jack in life a person receives a little help it can be like a spark for life, if you find a home and need some help call me." So when I found my home in Shasta, I borrowed $15K from Justin Meyers and paid him back with interest for every penny I borrowed. We have had our home now for over 10 years and he was right, that spark is still burning to this day – loud and bright! Low fixed rate loan I can afford easily and we are not upside down. I thought I'd share this story because I am to this day so grateful to this man who came out of no where and gave me a spark in life. Thank you so much Justin Meyers, I will never forget you and Joe and all your good vibes and kindness, especially the time you gave me and my guides a double magnum of 1998 Silver Oak to enjoy back at camp. (He never treated anyone like a second class citizen and for that I hold him in the highest regards.)
What a good guy for the ages, the Father of Cabernet ~ Justin Meyers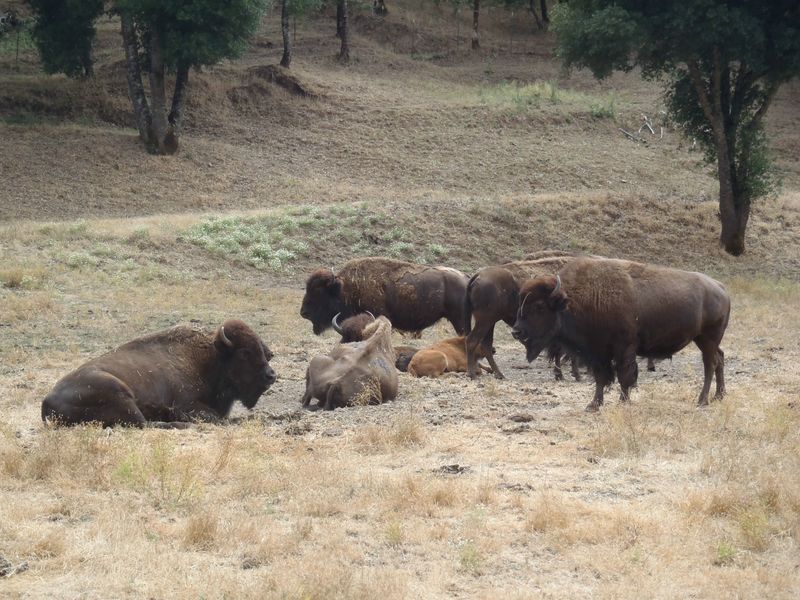 After you leave the Geyserville area, if you head up Interstate 101 then make a right turn on Highway 20 you can see the heard of Buffalo!! This was so great to witness and completely complimented the day. This heard started out small a few years back and now has grown to over 15 bulls, cows and young'ns.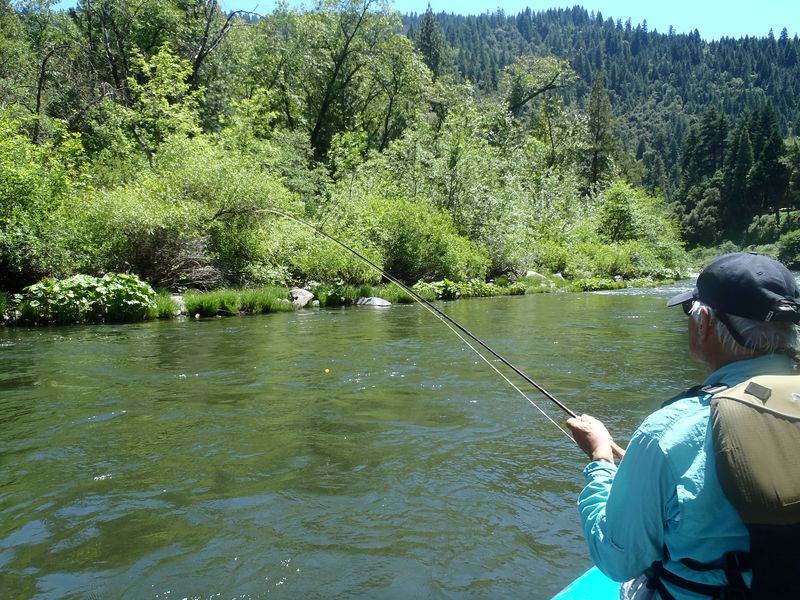 Next was our clients Dave & Kathy Waldram from Oregon enjoying their day together on the Upper Sacramento River.
Nice trout Dave.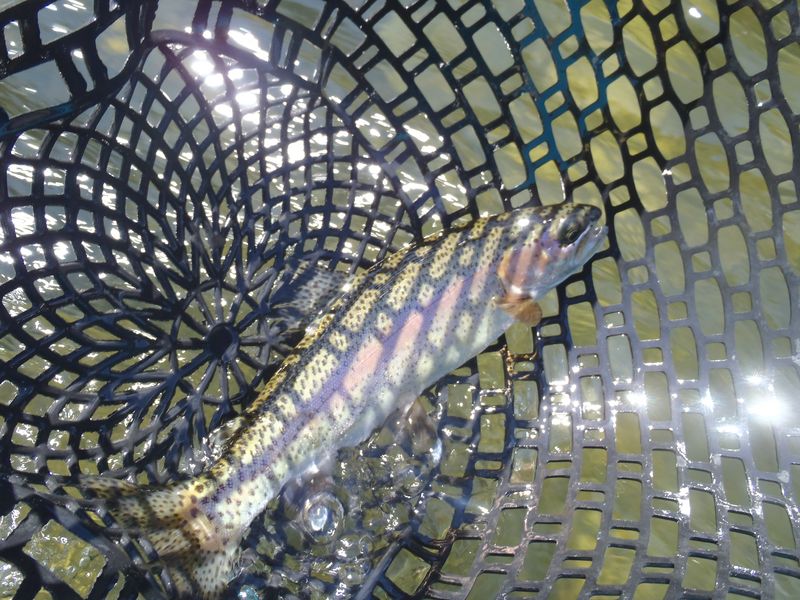 Dave and Kathy came down to visit and talk about our trip later on next year in Chile and Argentina.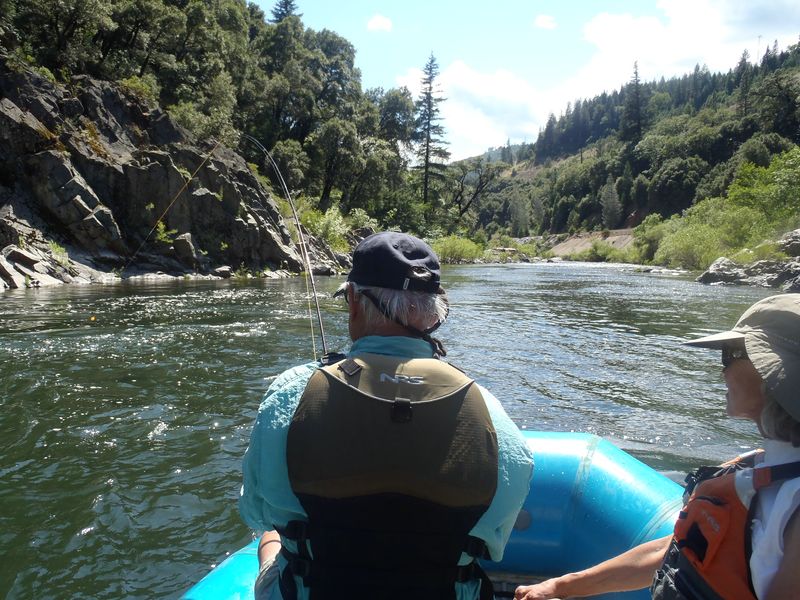 All day we caught fish, joked and laughed together, it was real hoot

!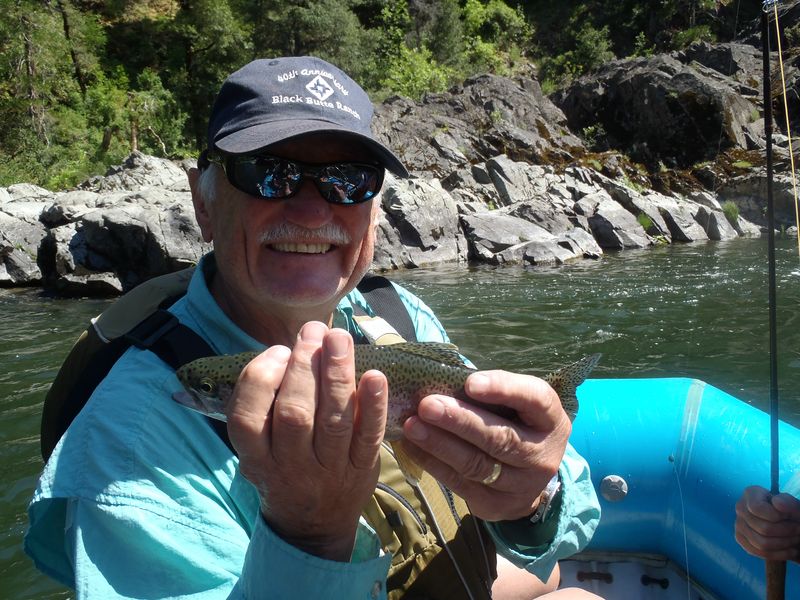 Dave & Kathy, I am really looking forward to our adventures together in 2012 in South America! I will call my friend Alex Prior in Chile and get that info we need on Uruguay portion of your travels.
(Dave and Kathy plan to travel to other countries while visiting South America and Carola and I are helping them with info they need on the side for free.)
 Carola's world famous cuisine, what a nice stop in the middle of the day.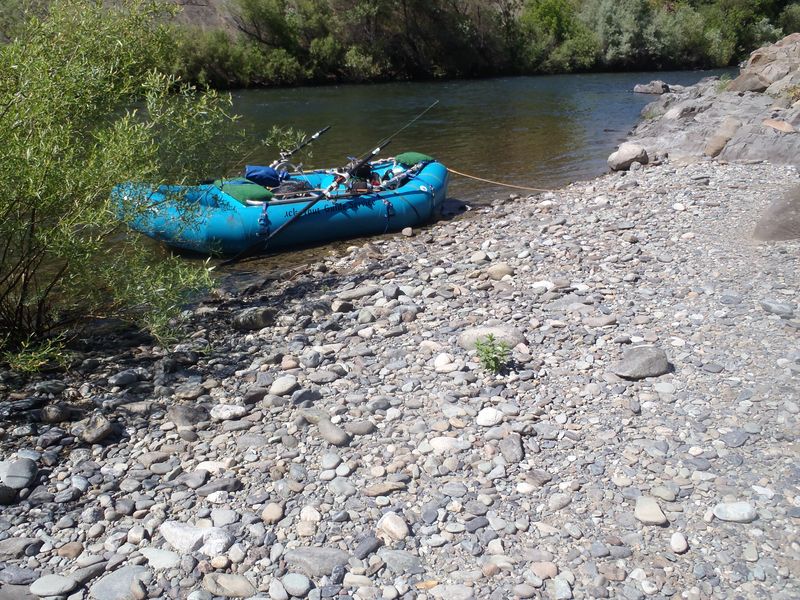 Huckleberry Warrior Raft! Where would we be without you Huckie!!
We 
love you Huckster!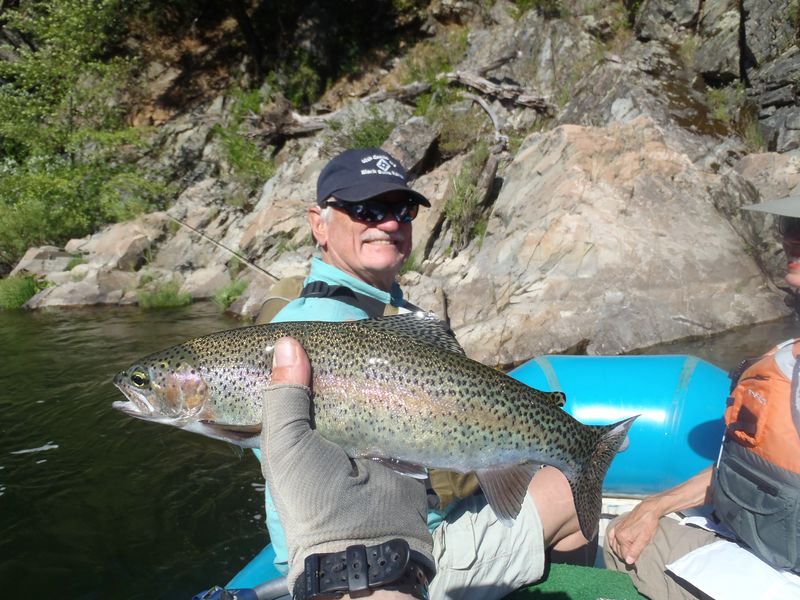 The apple of your mother's eye.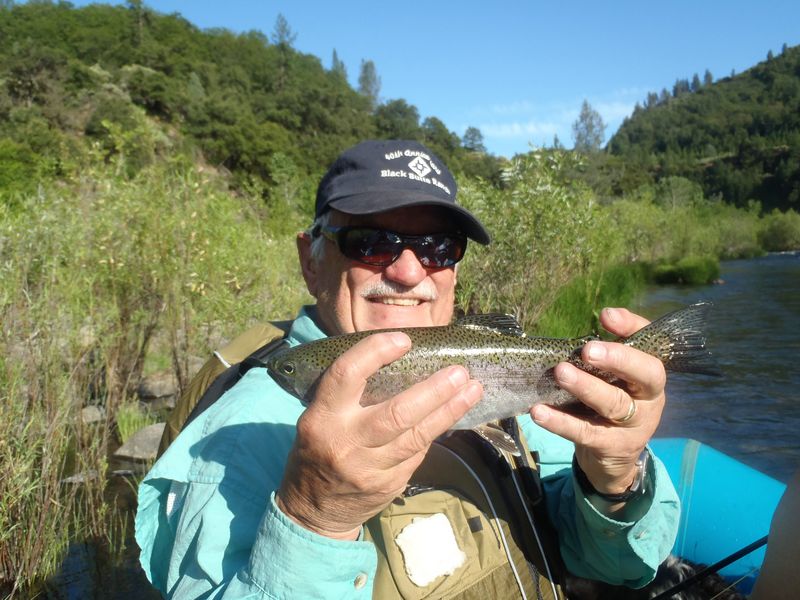 Thanks again Dave and Kathy, especially for the dinner at Bill Goats afterwards, we really appreciated it.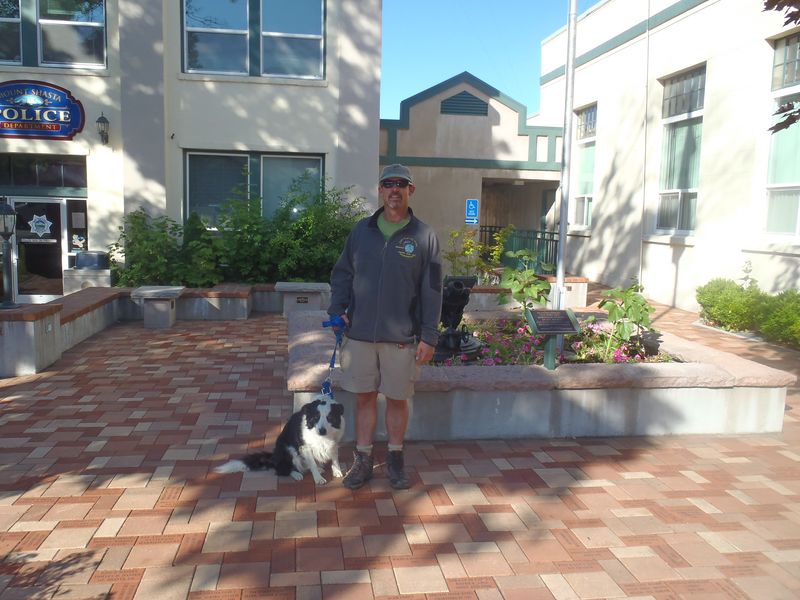 Here's a picture in front the City Hall/Police Station last week. Did you know you can get a brick printed with your family names and any favorite expression and have it placed down in the Mt Shasta Plaza Walk. I think it's still $50 bucks.
Coby Beef loves to walk in downtown Mount Shasta, with all the shops, restaurants and great views of Mount Shasta. Why not be a local for a week and come on up and hang out with us! McCloud, Dunsmuir & Mount Shasta are perfect temps right now –
Mid 80's – No traffic or smog – clean clean water – RIVERS & LAKES – clean air – fresh food – fresh fruits –
Come on up and spend a buck in our area, I promise you'll be back.
 Jack & Carola Trout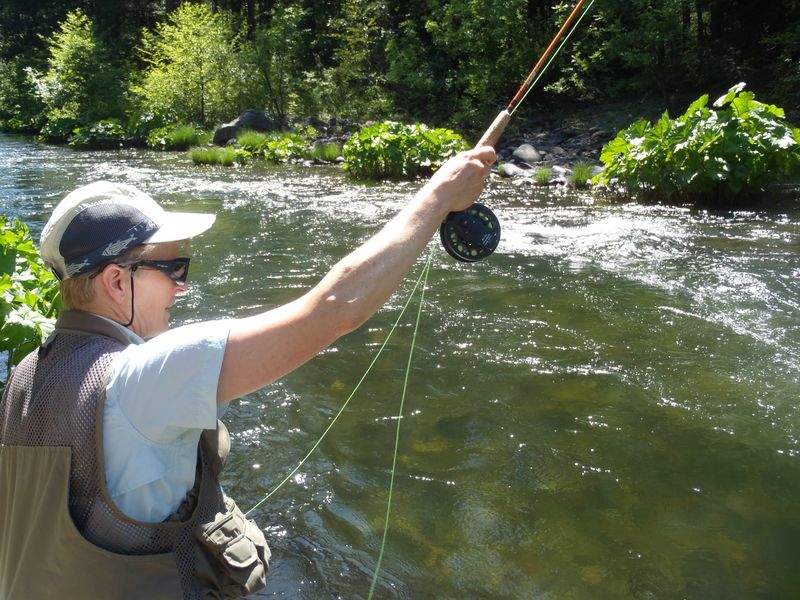 It was great to fish with Judith this week on the Upper Sac for a half day.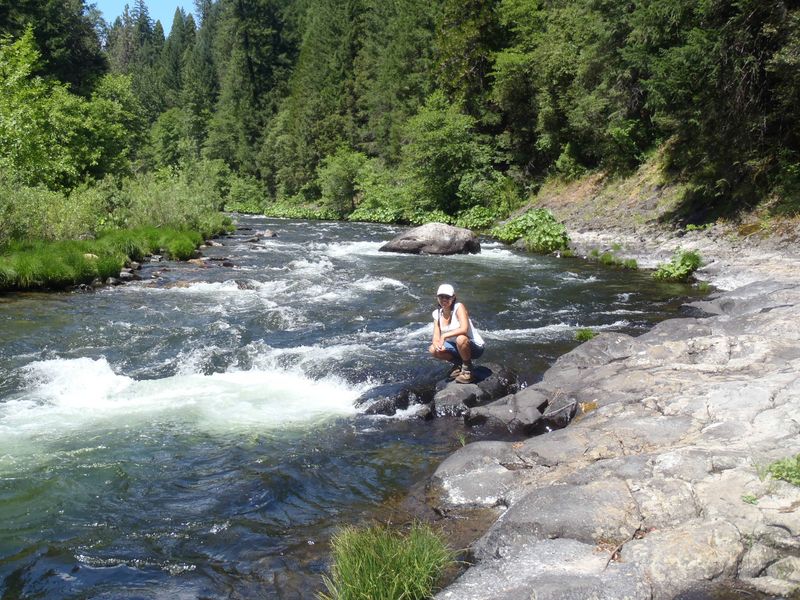 After waiting so long for her, it's great to have my wife here with me doing what we both love to do. Guide you fly fishing and touring.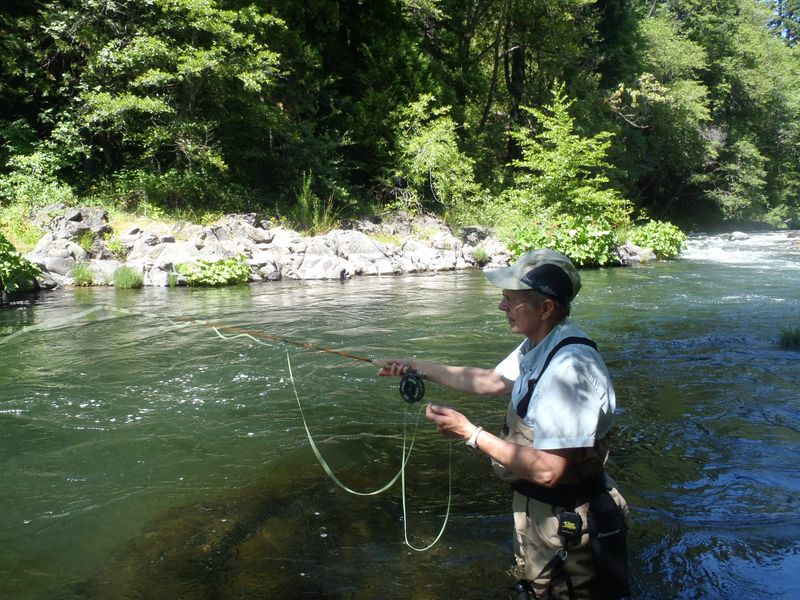 The big fish are some where down there, just need to keep fishing..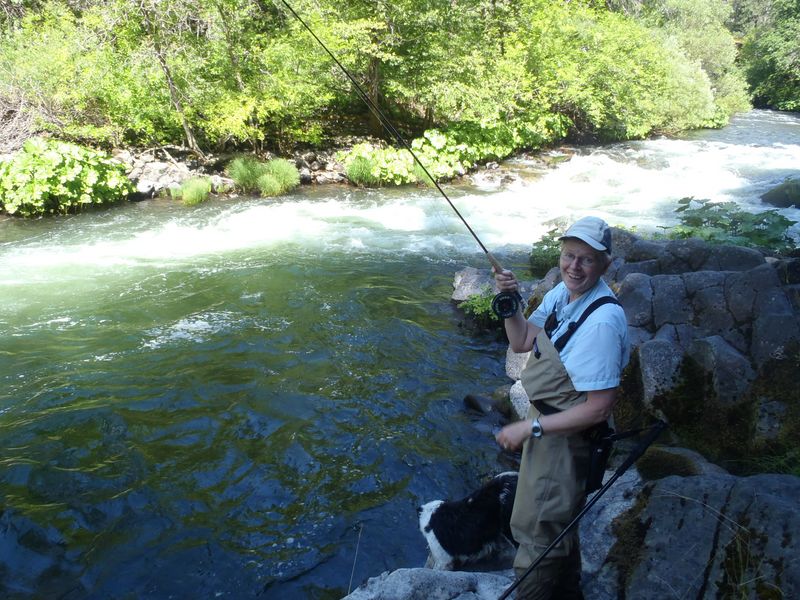 Fish on people!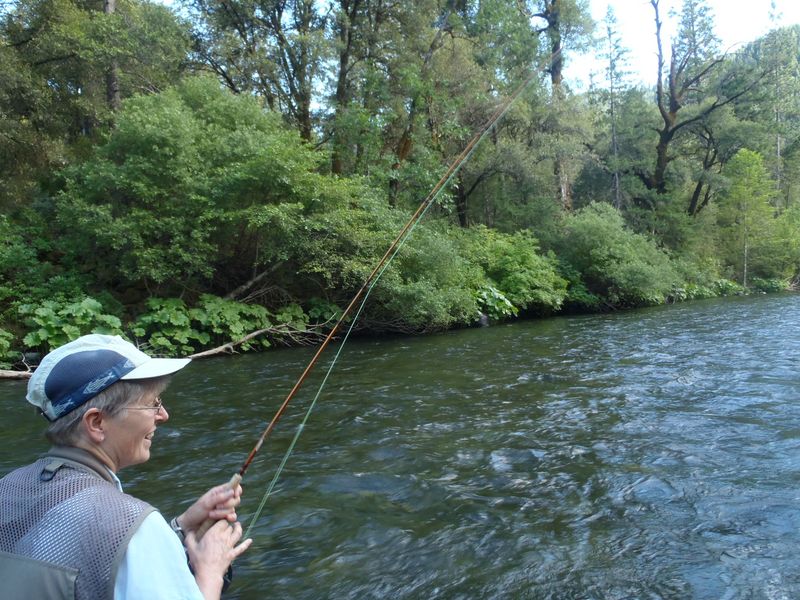 The thrill of catching trout on a fly rod is contagious, we hope you catch it!
The next day, we were back out in my raft hooking another trout.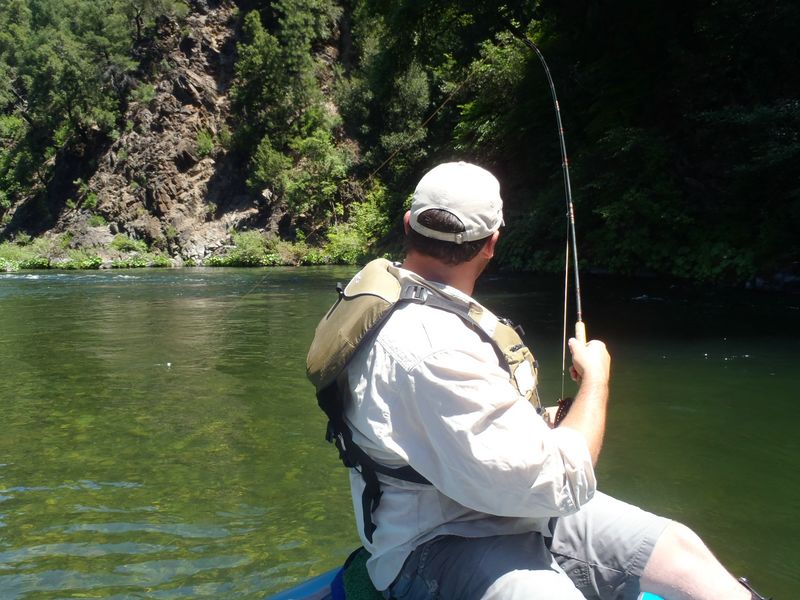 Some of the most beautiful places on the river we visit daily in my raft.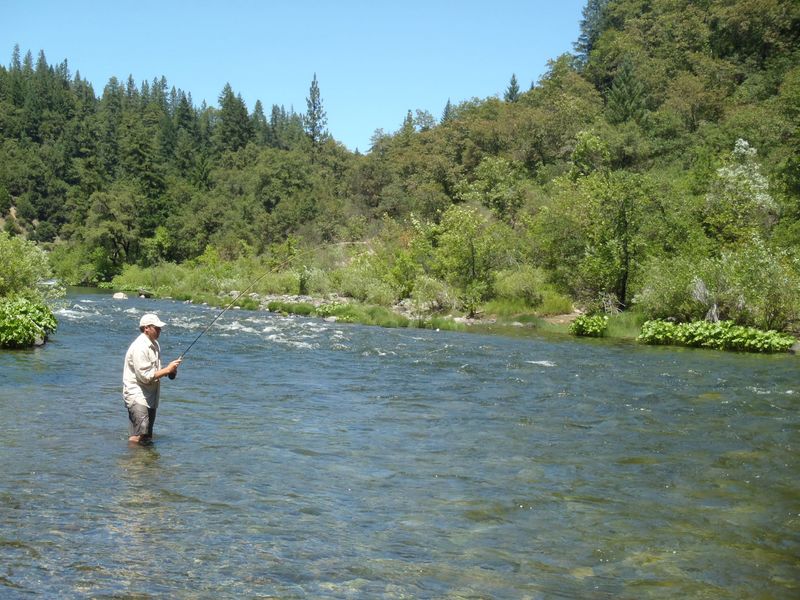 Nice riffles teaming with trout and we are accessing them easily right now.
We only do catch and release so if you want to keep trout, please don't call us. Go to the town of Dunsmuir and catch all those huge stocked trout, they are made for the frying pan. Wild trout deserved to be released and ready to feed for another day.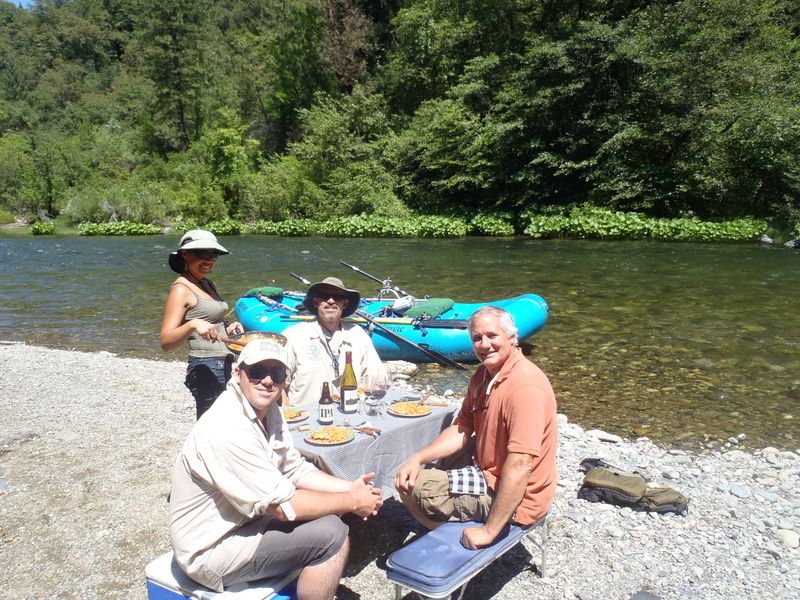 I could get used to this!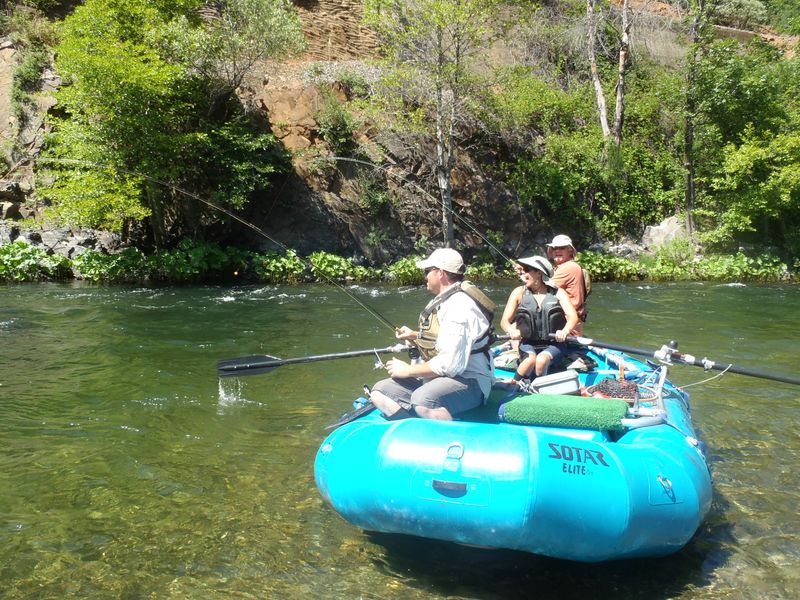 Now it's time for Carola to take over and guide as she rows our clients into a double hook-up!!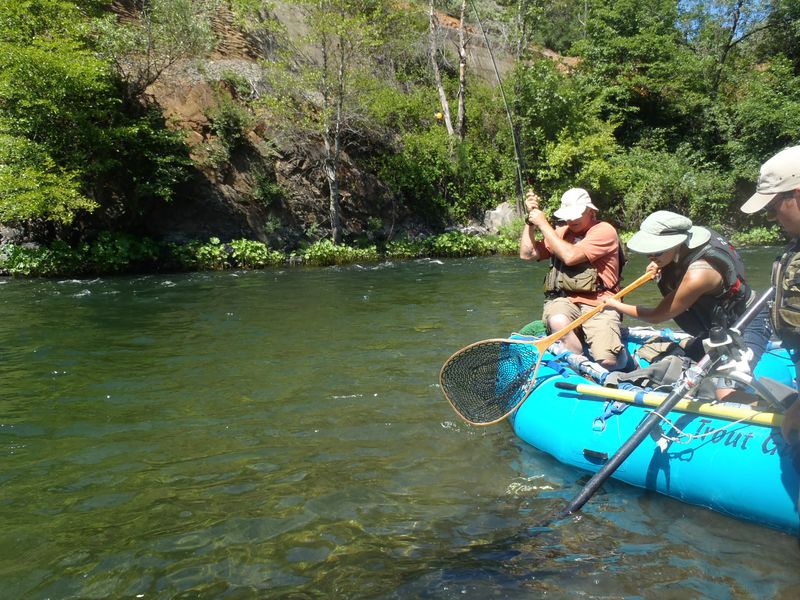 Yahooo! Carola –  Bill & Tyler Joost, ready for acton!
 Wow! That hook up seems heavy…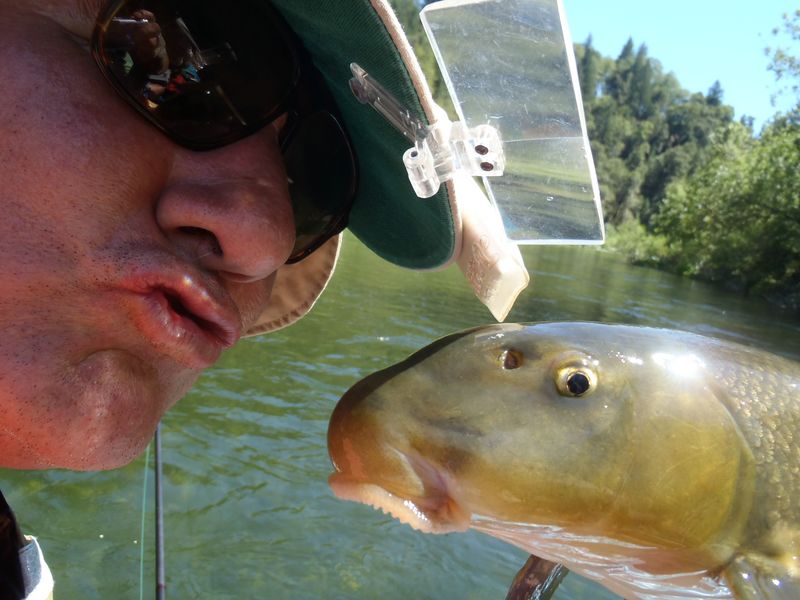 A sucker!  Who needs lipo with that kind of suction..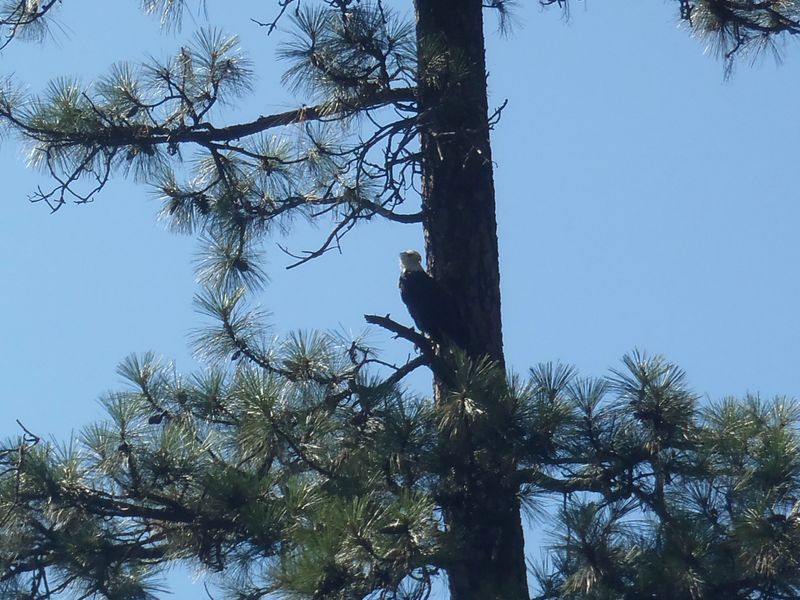 Our partner from the friendly skies looking down at us on this marvelous day.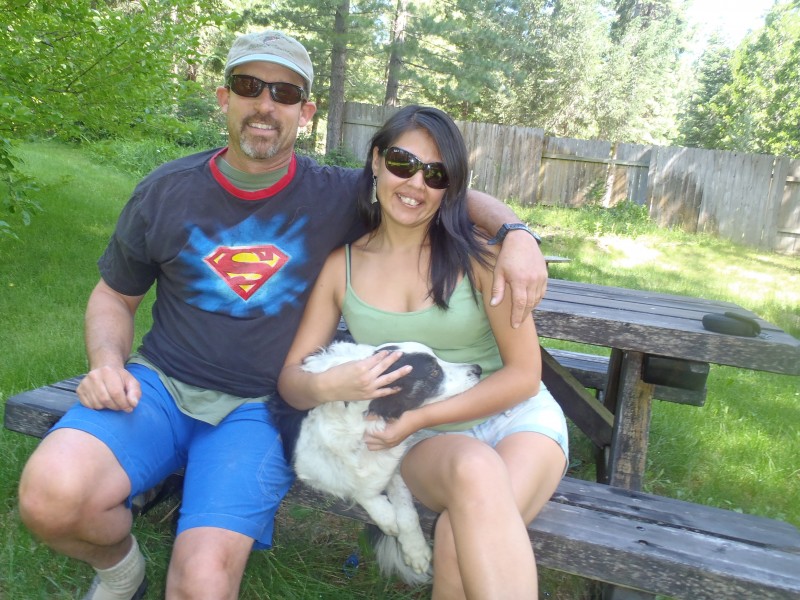 Thanks for watching our adventures! I will make another post on my b-day July 31st, I don't have a day off until then and that's so great!!  Thanks so much for all the work people, we are so appreciative!! See you all in August / Sept as we will be floating the Upper Sac all season.  Saludos, Jack & Carola Trout    530-926-4540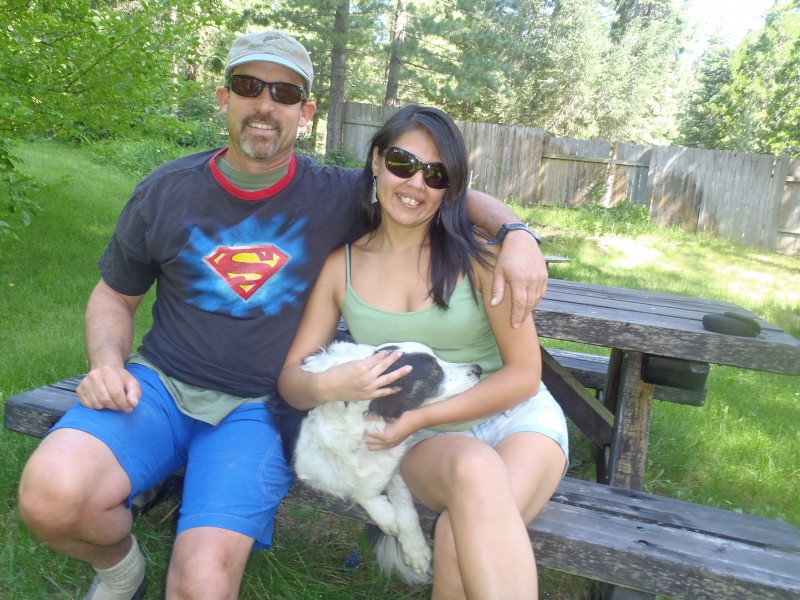 Thanks again everyone! We couldn't do it without all of you!  
Best to you all, Jack & Carola Trout