OUR NEW YEAR'S RESOLUTION, SPEND MORE TIME ON RIVERS!

 Then one day I was sitting down at our place on the Rio San Pedro and
Richard & Diane Collins drove up in their rent a car and asked if we had any openings for the week. Just by luck we had some time right before and after Christmas and took them on the Rio Dios for a nice summer time float for trout & steelhead.

 Richard hooked up right away on a nice trout that screamed out line as I rowed the boat aside to the bank and jumped out into what looked to be about 2 feet of water, little did I know it was like 6 feet and my Ipod got dunked and was never heard from again…

 A nice start to a fine day indeed!

 Not more than 100 yards further down river we hooked into another trout and Richard commented on how strong these trout were.

 Way to go Richard this guy was a beauty!

 The views were fantastic and off in the not so far distance we could see the mountains of Patagonia Argentina.

 We stopped for a break in the day and had one of Carola's famous gourmet streamside lunches. Folks I am so happy to annouce this was Richard and Diane's 49th Wedding Anniversary, what a goal for Carola and I!! That would make me 92 years old, hope I'm still rowing doubles, I mean even rowing my boat!

 At lunch we had an awesome chicken dish called Cazuela, infamous in Chile, made legendary by my wife Carola!

 After that great lunch it was Diane's turn to start hooking up on trout.

What a nice trout she landed indeedy folks!
 
 May 2011 be a prosperous one for you and your family. Debarb that hook partner and all is good for the next hook-up.

 Ah, the double hook-up ~ Not overated Sizzlers!

 Hefty hangs to the lefty trout!

 Then Diane was socking it to them out of the back. I might also mention Diane was one of the best back seat fishers I've seen in a while. On this day she never lost a fly
(Job Security for me if you do, so don't worry that's why I tie all my own flies in Chile).

 That's a bruiser Diane way to go!!

 Then she hooked up again Sizzlers!

 That looks like steelhead to me! What a fantastic first day both Diane and Richard commented as they hooked into over 20 trout & steelhead.

 Christmas was the next day as we guided them on Christmas Eve and I got home and Carola had this wonderful meal ready for our first Christmas alone in our new B&B in Chile.

 What a fantastic dinner it was as we buy these terrific range fed chickens by a local farmer that are huge, delicious and free of the things the mass merchants add to food that we shouldn't be eating.

 Carola's dessert was also fantastic and I had kind of a tear in my eye of gratefulness to have found such a great partner in life. I love my wife Carola!

 The next day we opened our gifts in the morning and I scratched my scratcher and won nothing, but felt like I had so much to be happy about. I was there with my wife next to my side with football games on my Dish TV, it was just like being back in California except no snow..

 Next we drove Diane and Richard down to the Lakes District of Chile and fly fished on the Rio Maullin near Puerto Montt & Puerto Varas.

 This river is like fishing on the Amazon with 90% of Chile's birds living within the flora and this cool Roble tree with this plant growing out of one of its branches that looked to me like Tina Turner's hair..
(Better be good to me!)

 Then Richard hooked up on a total lunker brown trout.

 The trout was big but Richard hands were even bigger!

 The we hooked into this prehistoric looking fish that I think was related to a perch…?

 We took a day off and 2 days later we floated a private section of the Rio Petrohue, it was another great day out ont he river. Except for the tabanos (Horse Flies).
 Enjoy this video from Youtube Sizzlers!
 
 What a nice brown trout Richard landed, he said this trout hit like a freight train.

 All day we hooked into trout as we made our way down the 10 mile drift.

 Then we heard the crashing of thunder way off in the distance and thought could it be, rain on a perfect sunny 90 degree day? We could see that clouds were forming on the volcano Osorno in the same way storms are made on Mount Shasta in Northern California.

 Little by little our perfect sunny day was dissapearing fast and we started to see lightning.

 That's Southern Chile for ya, bring all clothes you can for the four seasons in one day.

 The trout were still bitting though…

 Especially anytime we got near a structure of logs and stumps.

 Nice spunky monkey Richard landed.

 We stopped for a another fine meal by my wife and enjoyed a bottle of one of Chile's finest wines for the price.


 Then Diane went on a tear people as she landed trout after trout, it was like Richard just handed over trout torch!

 Diane hooked into a smaller sea run brown from the ocean!! That's a prize anytime we hook and land one of these beauties. Brownie Points Diane!!

 I can always tell it's a sea run brown because;
1. Undammed rivers are most important to keep this trout thriving in Chile.
2. Hologram silver color.
3. Less dots usually only on the top section above the lateral line.
4. Usually a bluish color on the gill plate.
5. grow to enormous proportions, especially in the far south of Chile.

 Then Diane hooked into this nice rainbow to complete her day! I know now where they coined the term "Knuckle Head!" Look at this trout closely…

 Diane & Richard thanks for looking us up in the Fodor's travel book!
YOU ARE BOTH MY SIZZLERS OF THE WEEK AWARD WINNERS!!
CONGRATULATIONS SIZZLERS ON YOUR 49TH WEDDING ANNIVERSARY EXTRAVAGENZA!!

 We are so glad you enjoyed our cabin on the banks of the Rio Maullin, good on ya catching all those trout on dry flies out front!
 

49 years folks!!!
 
 New Years Eve we hung out with Carola's family and celebrated the coming of 2011 with great food and spirits!
(Hey folks, notice the Twin Towers poster that was purchased in 1999. fricking epic! I get a chill in my bones everything time I see this picture and the metaphor behind the scene.)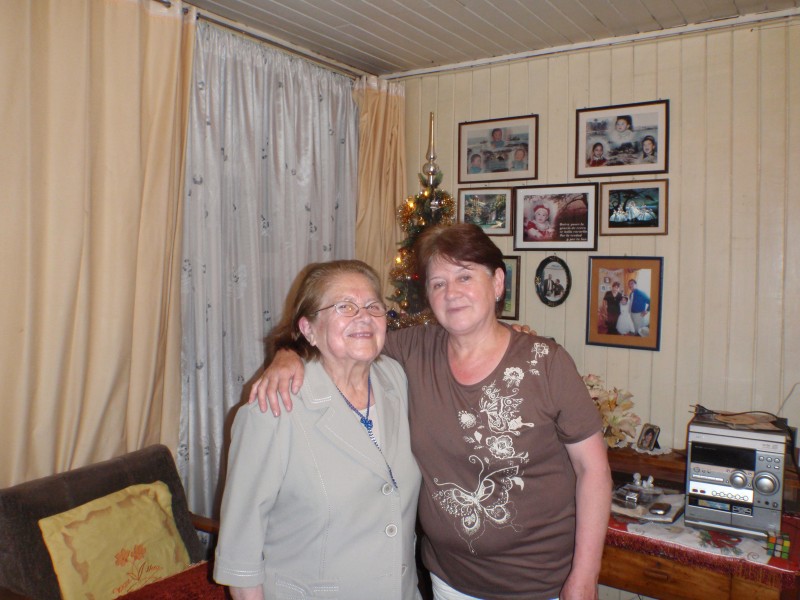 Carola's mom ~ Nilda Paicil & Grandma Celia, two of the sweetest ladies I know that love me and have totally accepted me as their son to Carola.

 New Years came and there we were, celebrating togetherness, something the United States Immigration has made so hard for us.
PUTZ!

 Carola's dad Armando Paicil was a great man who lost his life to cancer at 67 years old, exactly one month to the day after my father Raymond passed. (The hardest part was being married yet seperated because the the USA Immigration) We will always honor the 7th of any month as we both lost our fathers on this day. Armando will never be forgotten as he was always so special to me and Carola and supported us through everything we had endured. I thought it was so brilliant of him to have a poster of the Twin Towers in New York with the Statue of Liberty he bought for his house in 1999. He loved America and embraced the idea of his daughter one day living with me in the United States. I am personally grateful to have met him and have his blessing to marry his daughter, I would just want him to know that Carola will always be taken care of by me in his honor and because I am good husband.
Armando Paicil ~ June 7th, 1943 – 2010
Love, Jack & Carola
                      
  FLY FISHING GIFT CERTIFICATES!
 
 Thanks for watching our adventures and Happy New Year!
Jack & Carola
                                
EMAILS FROM YOU:

I'm looking for my Go Giants! picture somewhere to send you.
The World Series just about killed Huey – I had to send him home and buy him a ticket. Foster
++++++++++++++++++++++++++++++++++++++++++
Sweet Dark Side of the Moon pajamas! CW
+++++++++++++++++++++++++++++++++++++++++
Hi Jack and Carola
back in Chile today and hope to get south sometime soon. I am delighted you are busy, you guys deserve some good luck after the last couple of years. Hopefully you can still squeeze in some time for for old buddies!
How are the trout behaving , cant wait to get a line in the water it has been forever !!!
cheers
Alastair
+++++++++++++++++++++++++++++++++++++++++
Dear Jack,
I was wondering if you might have some availability in Chileduring the March 2011. My wife and I are coming down from Sacramento to Peru for a couple days on business and would like to come and spend 4 to 7 days with you if possible.  The plan now is to leave Sacramento on March 5 and come home March 19 or 20. I am somewhat flexible as to dates but wold like to know what you might have available so I can start to firm things up. Also, my wife loves the outdoors but does not fish and would rather not spend days on a drift boat. It appears from your web site that there are other options for a non-fishing wife. Do you have any suggestions I can entice her with?
Thanks in advance. 
Yours truly, 
John Angerer
++++++++++++++++++++++++++
Hi Jack,
  I hope you enjoyed the holidays,  It has been quite cold and snowy here so Im even looking more forward to visiting the southern hemisphere for the first time.
  I have a few questions for you regarding our trip or actually the part of our trip when we will be traveling to and from you. 
 1.  Is it possible to fish for seatrout or salmon along the coast the first half of feb?
2. DO we need to pre-arrange a visa for argentina since we will be crossing a remote boarder.
3.  Can you tell me a few patterns and sizes that we should tie up before our trip.
  Thanks and Im looking forward to your detailed plan for us for traveling and fishing.
  Ranjit
+++++++++++++++++++++++++++++
Jack,    Another earthquake??  Are you guys OK where you are?  Hopefully it wasn't close and won't effect you at all.  It looks like I have a new hip and back surgery in my future….falling apart!!   Anyway, I can sit and tie flies and have been making some to send to you.  What is your mailing address down there?  I'll pack them up and send them along as soon as I can.  I hope your New Year is your best one yet.  Keep your tip up.   Mike Foster
++++++++++++++++++++++++++++++++++++++++++++++
Hi Jack
I got your latest blog posting celebrating the New Year. Hope you and Carola are doing well. Was fortunate to get out fishing with Walter on New Year's day and the day after so I'm feeling rejuvenated from a long semester with nose-to-the-grind-stone. Sure miss the relaxing time I had with you two in Chile. Once i retire in a couple of years, I'll make my way back down there.
Attached are a few pictures of some hot fish that we got into about two miles from the Ocean. They were a lot easier to hook that the were to land!
My best to both of you and have a Kuntsmann for me, Smiley 
A. Smiley Curtis
Department Chair
Graphic Communications
City College of San Francisco
++++++++++++++++++++++++++++++++++++++++++
Dear Sir/Madam,
The attached correspondence relates to an immigrant visa referenced on the subject line.  This case is being processed by the National Visa Center. Please read the information carefully and follow the instructions.
This message contains confidential information and is intended only for the individual named.  If you are not the named addressee, please notify NVCinquiry@state.gov immediately by e-mail from your system.  E-mail transmission cannot be guaranteed to be secured or error-free as information could be intercepted, corrupted, or contain viruses.  The sender therefore does not accept liability for any errors or omissions in the content of this message.
If at any time you wish not to receive correspondence by e-mail you may "Opt Out" by sending a written request to NVCinquiry@state.gov.  This e-mail is sent by: The U.S. Department of State's National Visa Center, located at 32 Rochester Avenue, Portsmouth NH 03801.  Please DO NOT REPLY to this e-mail.
+++++++++++++++++++++++++++++++++++++++++++++
Jack and Carola,
Happy New Year, and we hope that the Earthquake yesterday has not bothered the fishing. 
We are planning a trip next Holiday to Argentina and want to head south to do a little fishing on that trip.   We know you are the foremost expert and want to know what you would suggest.  Maybe we can get out the CA this summer and fish with you as Austin has really been hit with the fly fishing bug.  
Patrick Shea, Co-Founder
++++++++++++++++++++++++++++++++++++++++++++++++