Jack & Carola Trout back in Mount Shasta on May 17th, 2011. Carola finally gets approved to come to United States!!
LOWER SACRAMENTO RIVER ON FIRE AS FLOWS AND FISHING CONDITIONS REMAIN PERFECT.
McCloud River too high flows at 1000 CFS, will fish again when flows
are much lowered.  (Under 500 CFS is best)
SIGN-UPS FOR UPPER SAC FLY FISHING FLOAT TRIPS FOR LATE MAY, JUNE, JULY AND AUGUST BEGIN NOW! LOOK FORWARD TO A GREAT 2011 SEASON IN NORTHERN CALIFORNIA. JT & CT – TEAM TROUT GUIDES..
MAY 19TH 2011, UPPER SACRAMENTO FLY FISHING RAFT TRIPS START THIS WEEK!! FLOWS ARE PERFECT! JT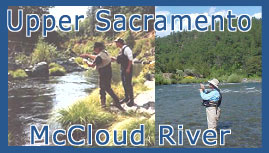 MAY 9TH, 2011 SAD DAY IN CHILE AS ALL 5 HYDRO DAMS ARE APPROVED FOR CONSTRUCTION IN PATAGONIA CHILE EFFECTING 6 NATIONAL PARKS, 11 RESERVES, 5 RIVERS WITH 100% OF THE POWER GOING TO SANTIAGO CHILE. THE ENDESA COMPANY FROM SPAIN IS BUILDING THESE DAMS WITH NO CONSCIENCE THAT THEY ARE DESTROYING SOUTHERN PATAGONIA TO BENEFIT SANTIAGO AND ITS THIRST FOR MORE ENERGY.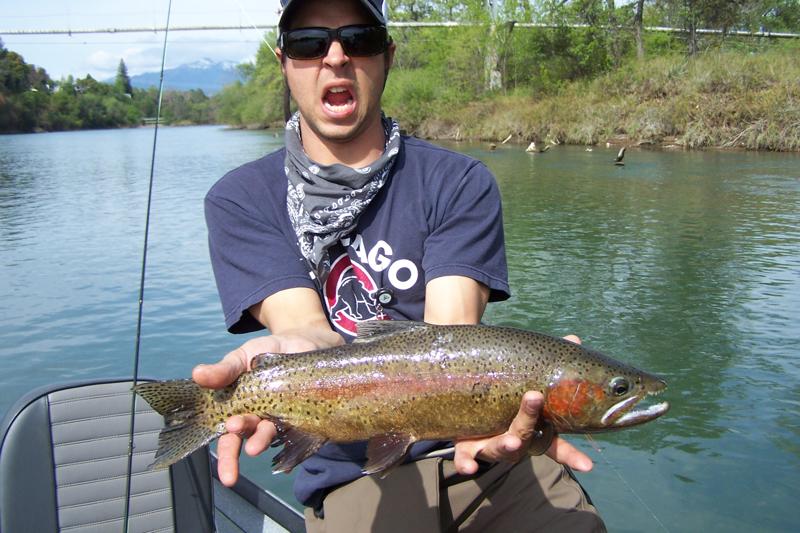 My guide Isaac Roman says fish on folks! Lunkers are being caught daily on the Lower Sacramento River in the months of April & May 2011, give us a call to schedule your next fly fishing adventure.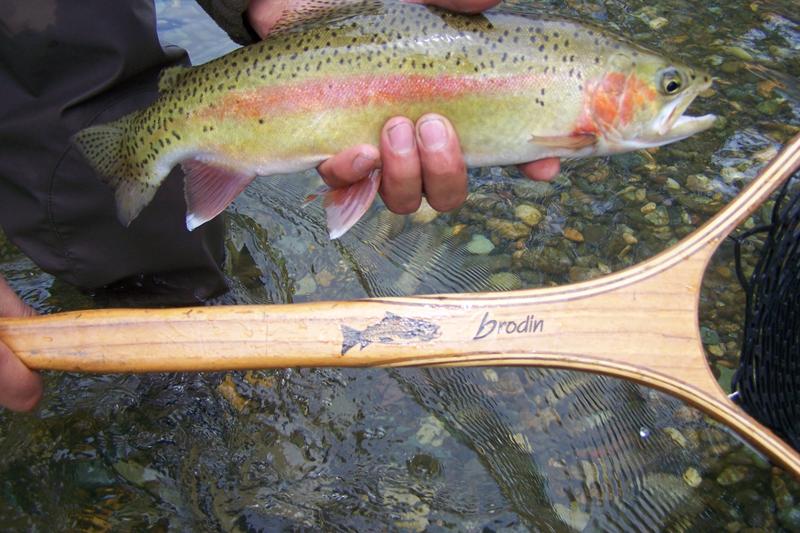 Lower & Upper Sacramento Trout are some of the finest looking trout in the world that's why you need one on your line soon.
We'll supply the Brodin net!  http://www.brodin.com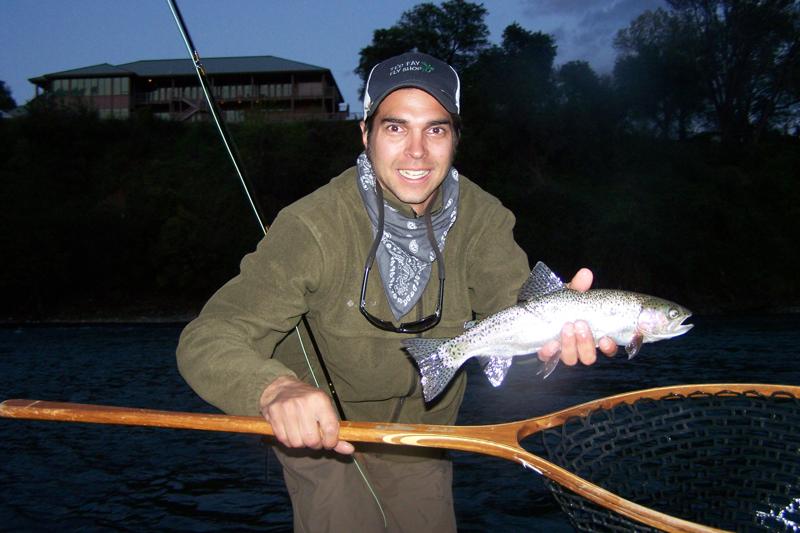 Isaac's done a fine job while I was gone guiding in Chile. I heard nothing but great reports and folks caught trout and steelhead as well as enjoying great stream side gourmet lunches.  Way to go Isaac!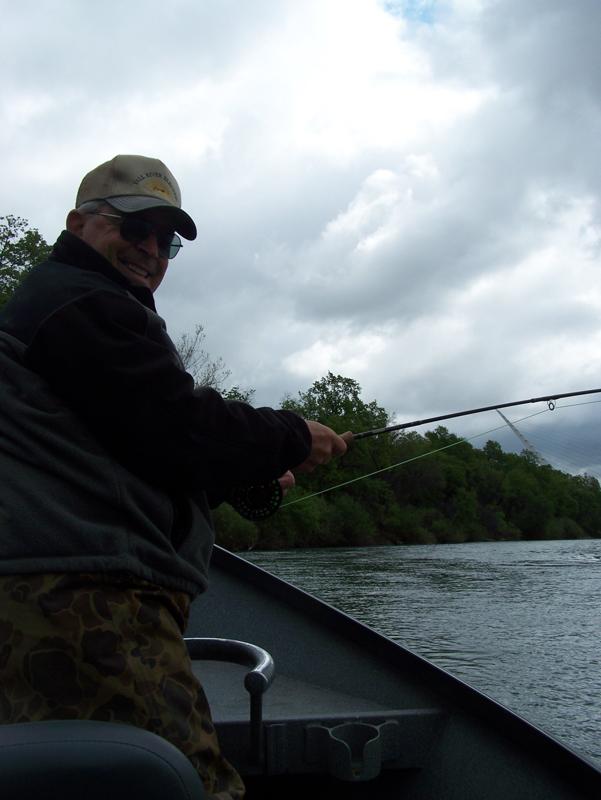 Happy characters that enjoyed every minute of it in the Jack Trout boat dusting off the cabin fever as true spring is right around the corner folks.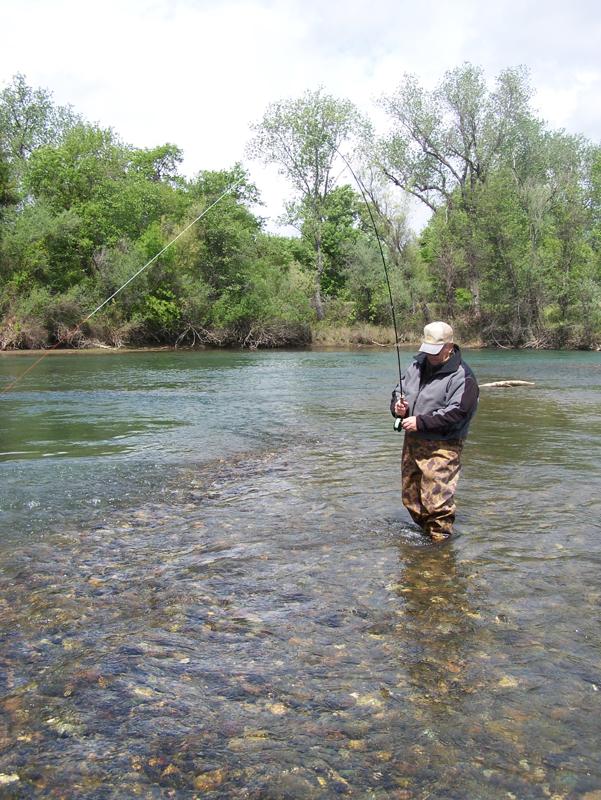 Can't wait to be back in the USA enjoying the pure waters of the Sacramento river, whether it's e thupper or lower sac, Team Trout is on top of it!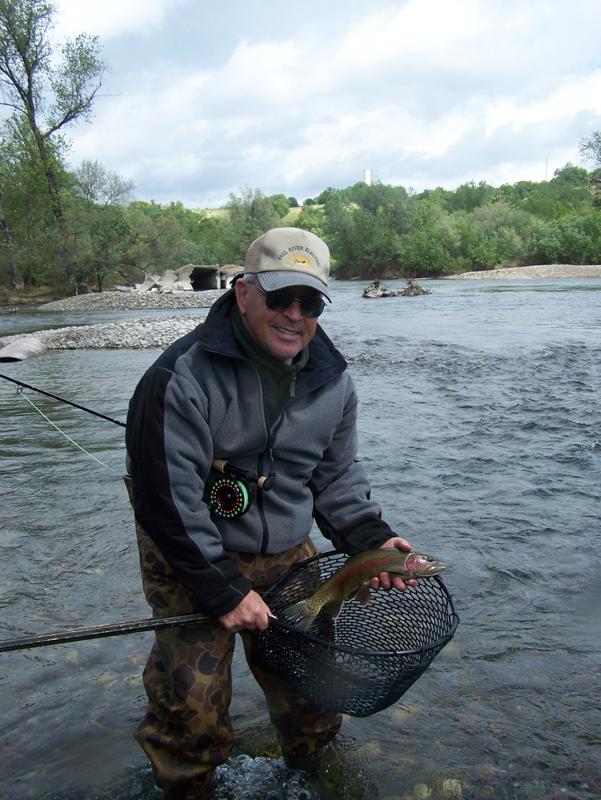 It must of been those camo waders, those are cool! I wonder if the Navy Seals Team 6 wear them too!  Geronimo!
(Neptune Speared Ya Coward!)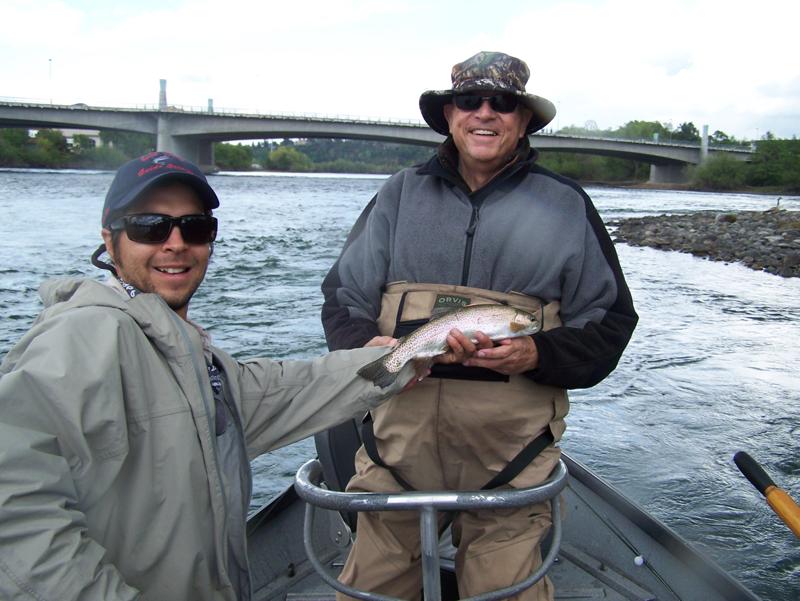 Success is a good thing especially when the trout is happy too, the weather is starting to warm up and soon we will shed our jackets and start layering on the sun block again.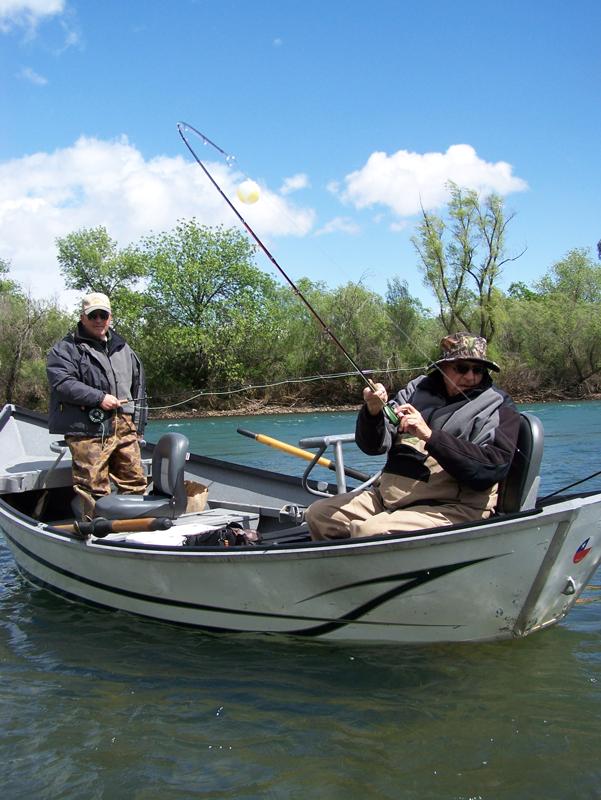 I love when they run all over the place, Lower Sac trout are good for this!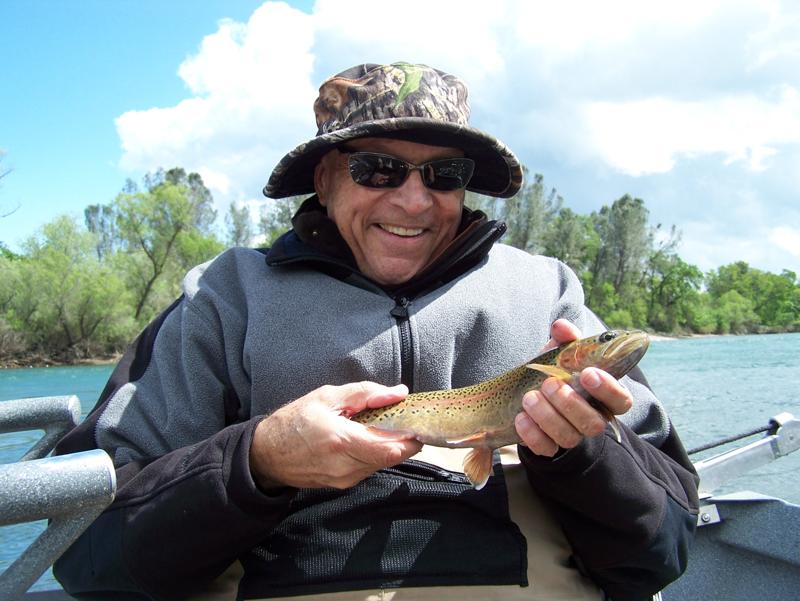 A nice trout indeed, way to go!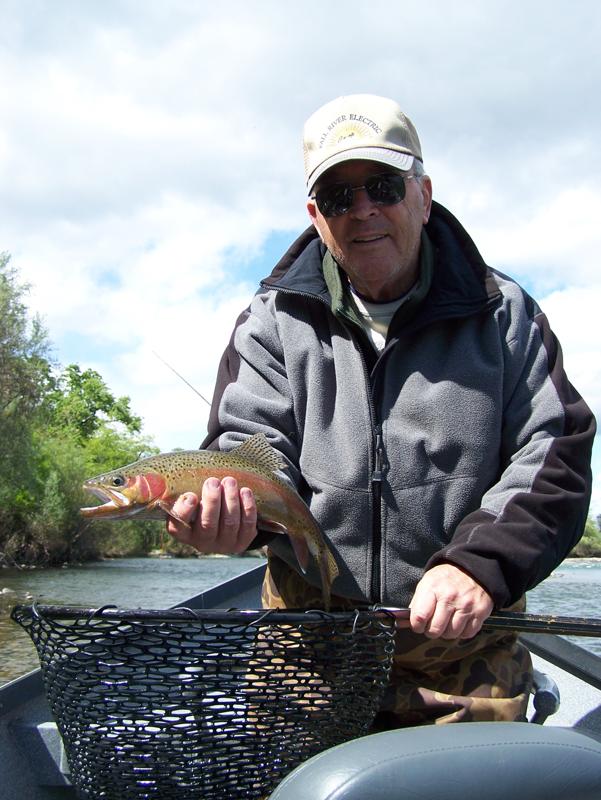 That's some cool racing stripes on this one folks.
So when your ready to head out for some trout fishing in Northern California, call Team Trout we got you covered!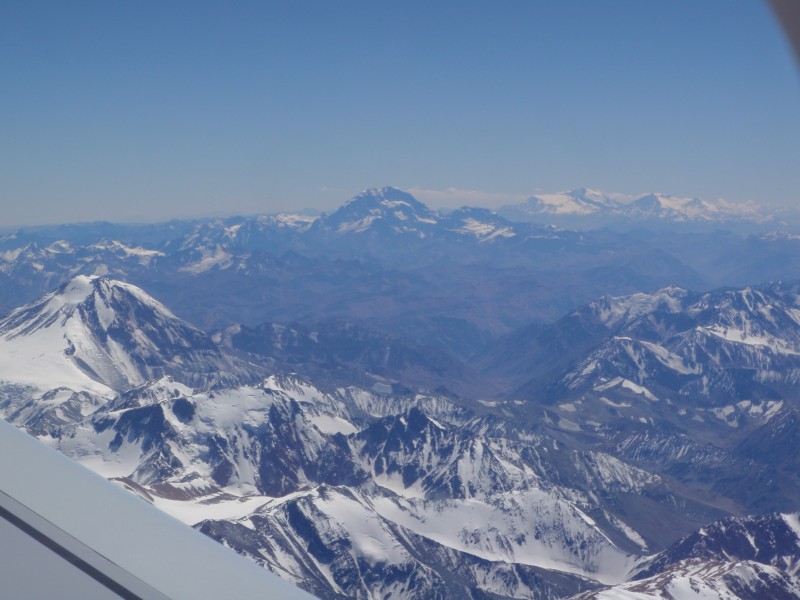 Last month Carola and I took a trip to Brasil to visit our past clients we guided from last year in Chile. Ricardo & Thais Laterza invited us to stay a few days in their home in Cuhna, Brasil. It was amazing flying over the Andes Mountains of Chile and Argentina on the way.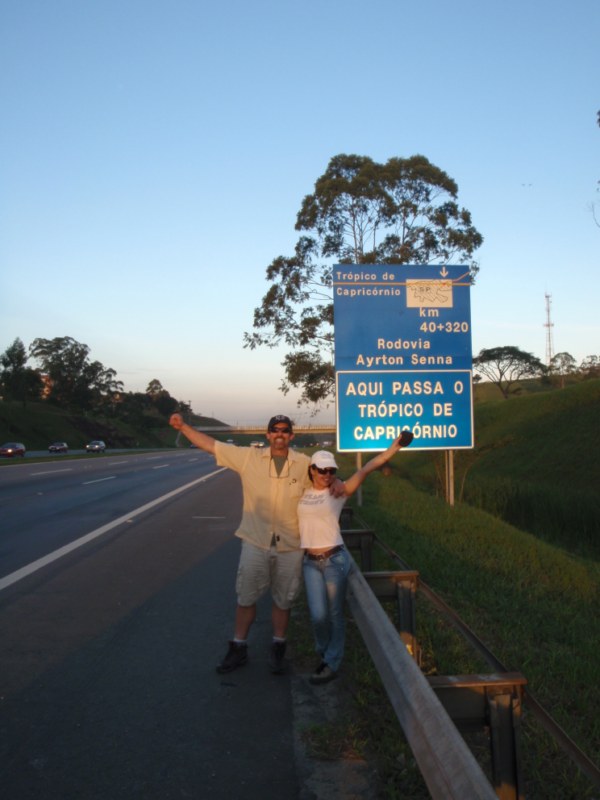 After picking us up at the Sao Paulo airport we stopped here to take a picture at the Tropic of Capricorn.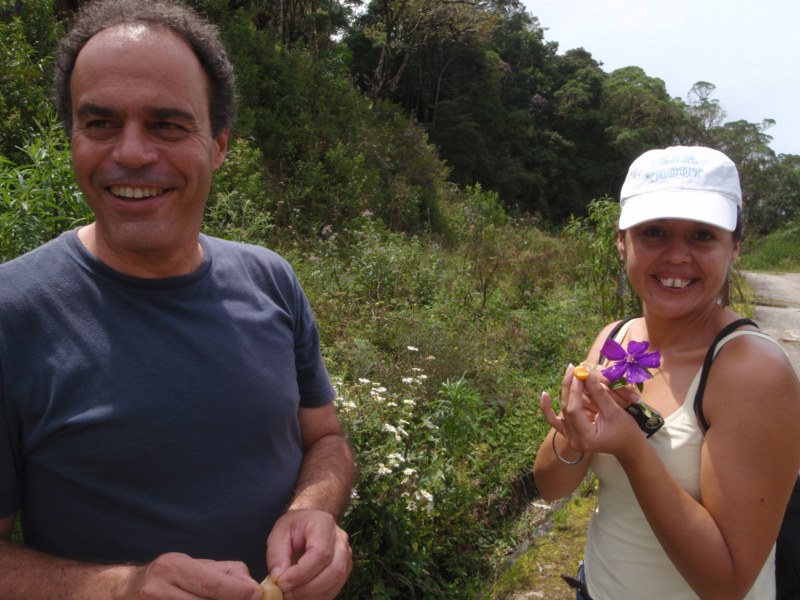 The next day we went for a hike out in the local forest and pick fruit like raspberries and this other fruit that was yellow like a cherry tomato but sweet as can be like a peach. It is called a Golden Berry or* Physalis
Peruviana
This a berry quite rich in vitamins A,B and C and antioxidants. 
You can bathe it  in chocolate, wait util it hardens and folks you'll love
it!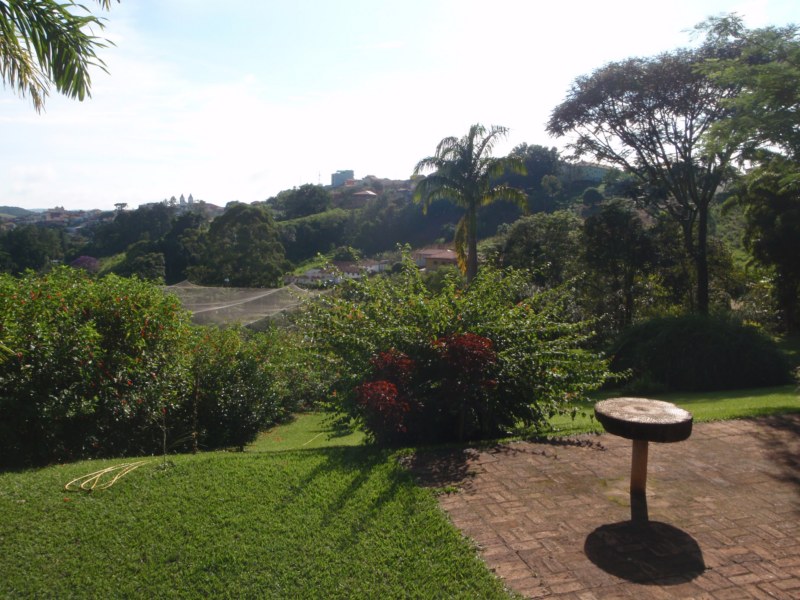 Their property was amazingly beautiful and we wanted to say thanks again for putting us up for a few days and graciously hosting our travel experience in Brasil you folks are the greatest!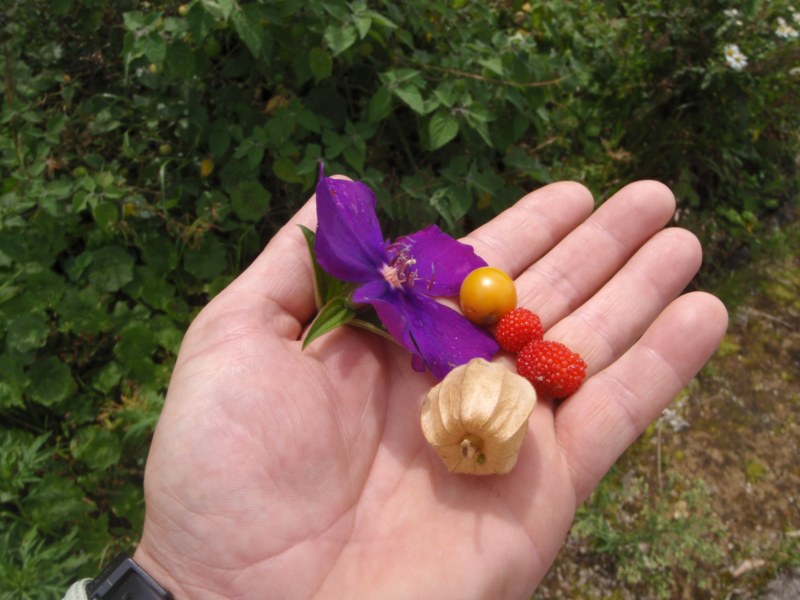 The most interesting fruit was the Golden Berry or Physalis Peruviana seen above, it actually comes out that husk in the palm of his his hand. I found myself eating many of these as I had never seen or tried this fruit before.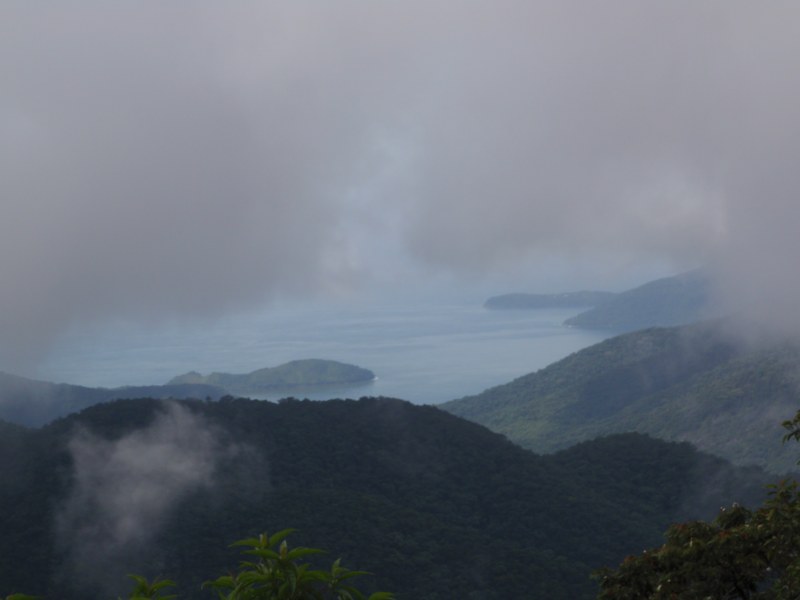 After a few days in Cuhna, we headed for the ocean to do a little fly fishing in the town of Paraty, Brasil.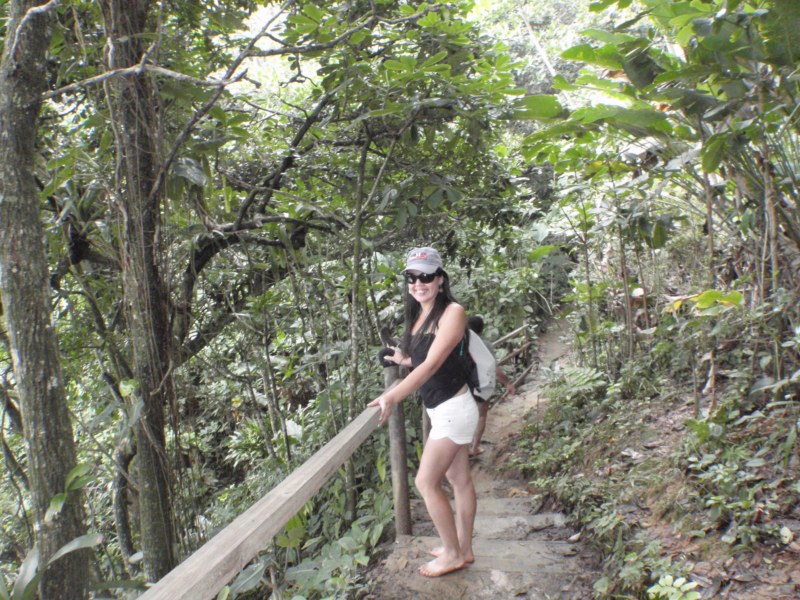 We first went to this great spot to take a jungle hike and a refreshing swim in the ocean, looks like Carola's was up for this!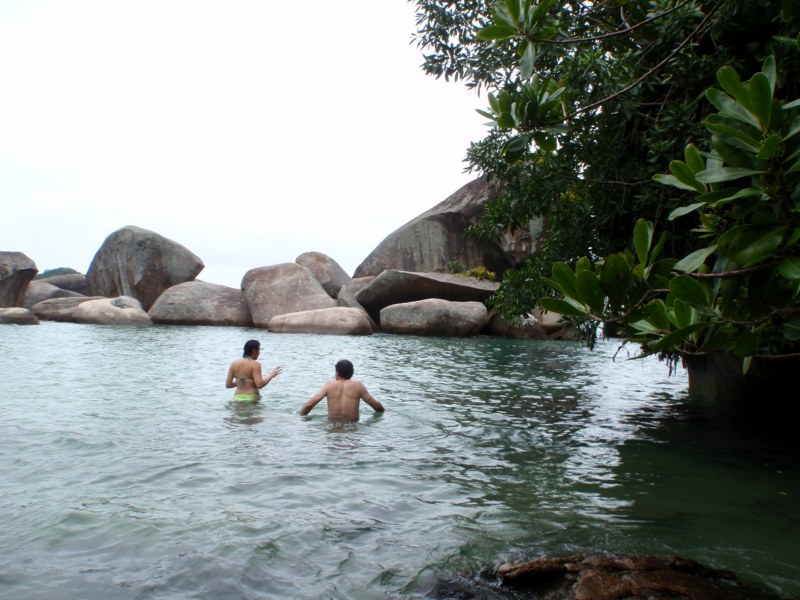 Ricardo led us to this wonderful place that was completly protected by these huge rocks, it was like swimming in a pool made by the Sky Pilot.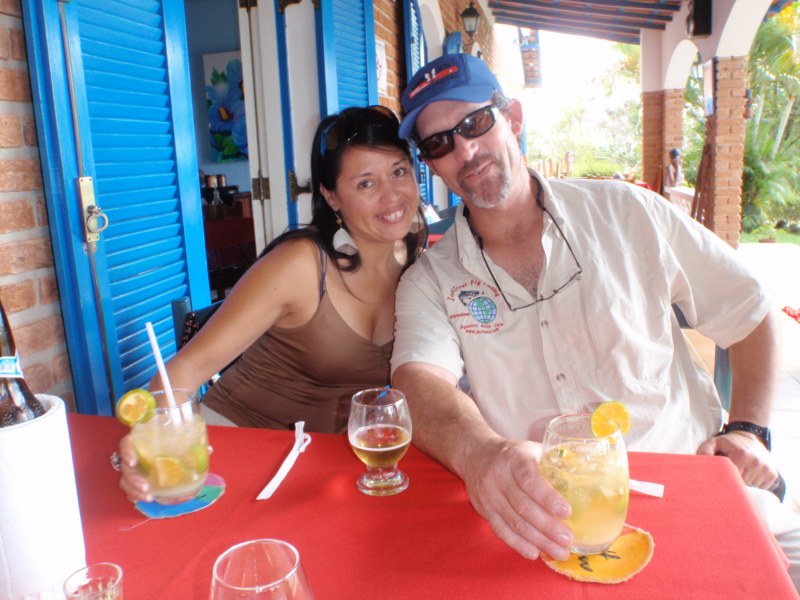 The day before we enjoyed Brasil's nation drink, the Caipiriña. It was kind of strong but after one, I was loving those sweet lemons. Notice the lemons they have there are the color of our oranges back home. Everything is so good there espcially the fruit!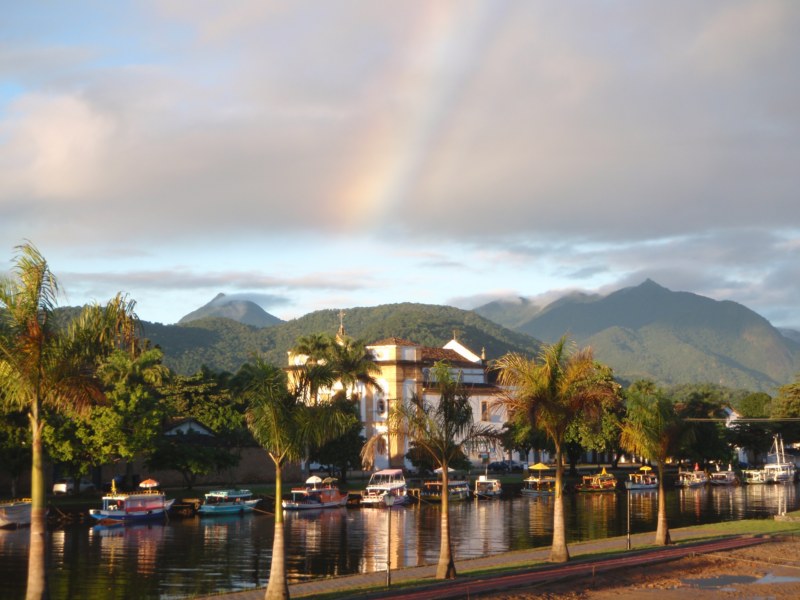 The town of Paraty is nestled about halfway between Rio de Janiero and Sao Paulo about 4 hours north or south from each city. Ricardo explained how Paraty was founded formally as a town by Portugese colonizers in 1667, in a region populated by the Guaianás Indians.
The Guaianás people who lived where the city now stands called the entire area "Paraty". In the Tupi language "Paraty" means "river of fish". Even today the Brazilian Mullet still come back to spawn in the rivers that spill into the Bay of Paraty. When the region was colonized by the Portuguese, they adopted the Guaianás name for their new town. After the discovery of the world's richest gold mines in 1696 in the mountains of Minas Gerais, Paraty became an export port for gold to Rio de Janeiro and from there on to Portugal. The ensuing gold rush led to the construction of the "Caminho do Ouro" or "Gold Trail", a 1200 kilometer road, paved in steep areas with large stones, which connected Paraty to Diamantina via Ouro Preto  and Tiradentes. Not only was it used to transport gold to Paraty, but it was also used to convey supplies, miners and African slaves by mule train over the mountains to and from the gold mining areas. Two substantial sections of the Caminho do Ouro have been excavated near Paraty and are now a popular tourist destination for hiking.
The Gold Trail fell into disuse because of attacks on the gold laden ships bound for Rio de Janeiro by pirates who frequented the islands and coves of the Bay of Angra dos Reis. Eventually a safer overland route from Minas Gerais to Rio de Janeiro was created because of these pirate raids. Finally, the gold itself began to run out in the late 18th century, and Paraty declined.
The Gold Trail was submitted for inclusion on the World Hertiage  in August 2004.
I particularly liked his story of how the locals here in the 1600's built a fake city so when pirates floated into the huge bay they saw a city that was like a Hollywood set and then locals would ambush them with cannons and war ships built to protect the main harbor of Paraty and then later the famous Gold Trail.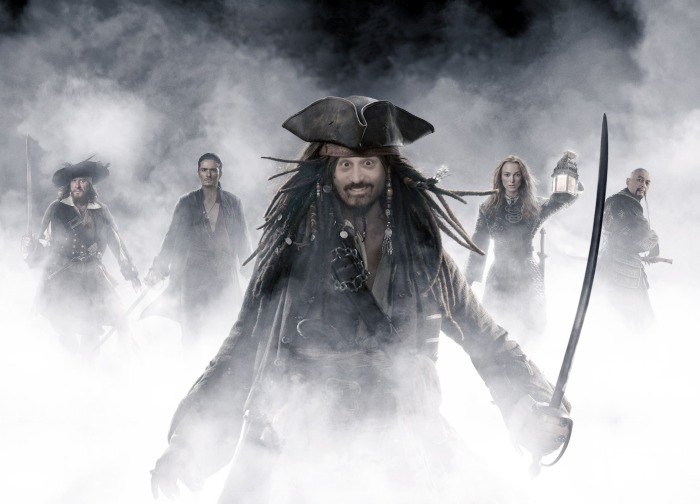 You can never be too careful when pirates hit your bay!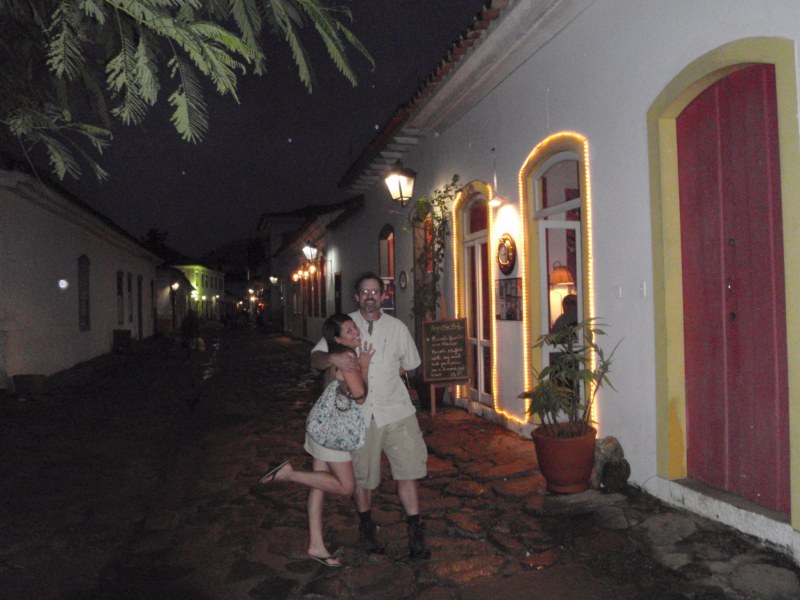 Carola and I loved this place loaded with fantastic restaurants, shops and fine beaches. You could just feel the history sweating from the  masonary walls and cobblestone streets made so they drain down the middle when heavy rains appear throughout the Historic Center District. No cars or trucks are allowed in this part of town, only foot traffic or bicycles. Motor vehicles are only allowed in the Historic District on Wednesdays for deliveries. Horses and carts are a very common sight in Paraty and are frequently used all around the city.
Paraty has been able to maintain many of its historic buildings. Much of the architecture of the city has not changed for 250 years or more.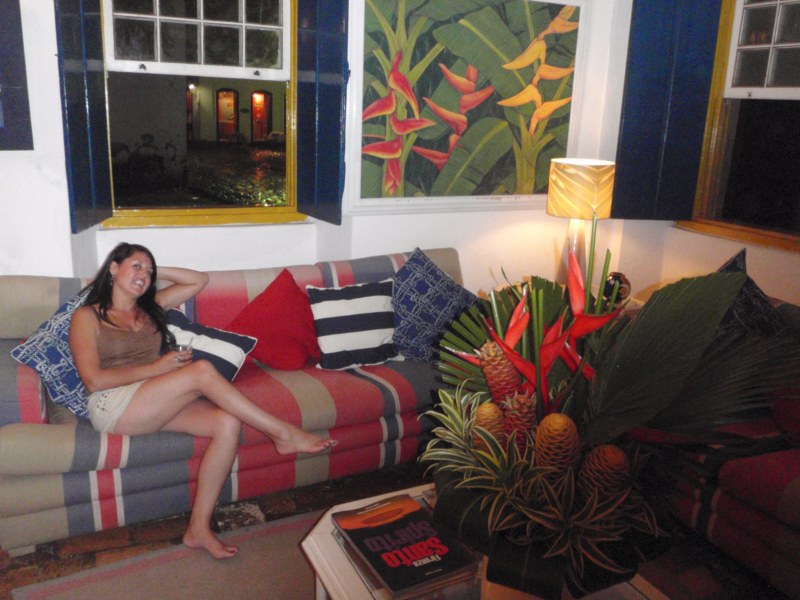 Folks check out this plant on the table, it is all real! Of course there are different species int he arrangement but everything in the bowl is alive and real. This was a restaurant pub we stopped at and had a drink and a wonderful dinner. We found the prices to be quite expensive, expect to spend around $80 USD for 2  for a formal dinner as the the Brasilian Real ($$) is about  4 Reals to every $1 US dollar, we were glad we were only going to be there for 4 days more then head off for the more affordable country of Ecuador. Be really careful here, wine prices are through the roof.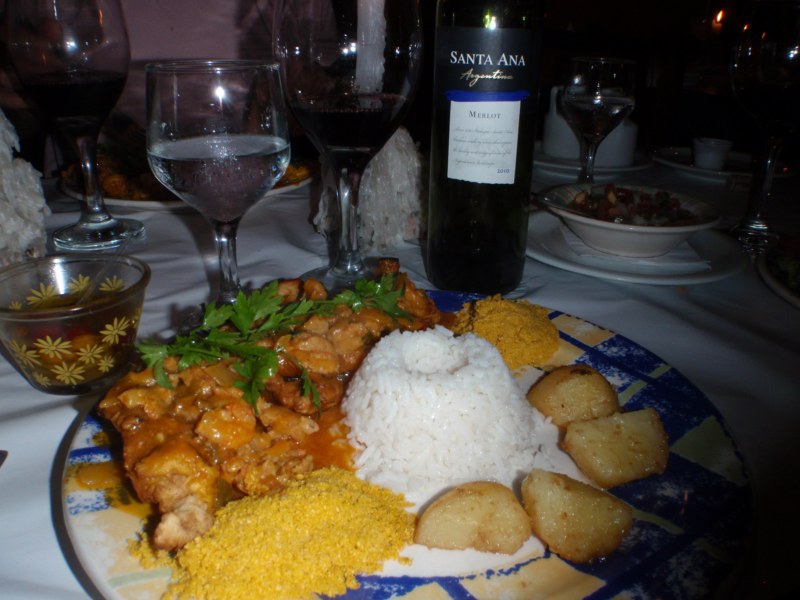 The food was always awesome and the portions are huge, lots of fresh fish, seafood and tasty meats.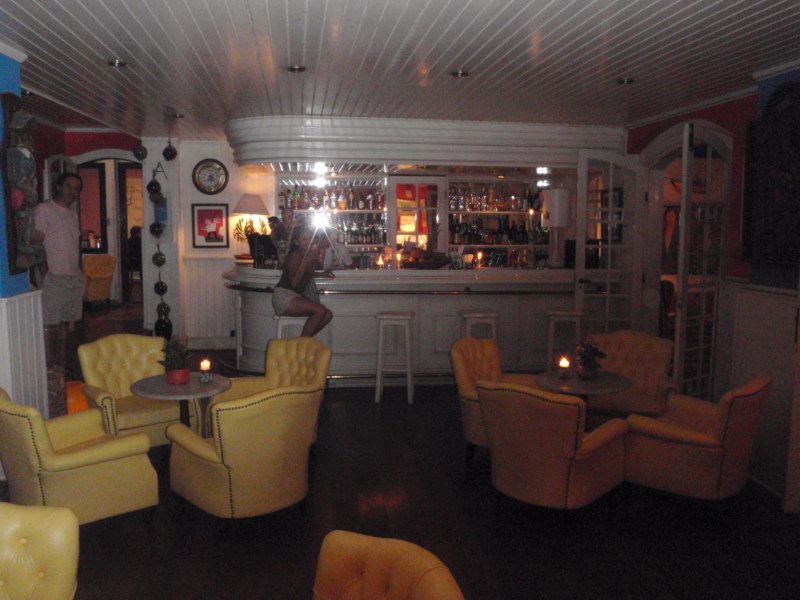 We showed up mid week so the crowds from Rio de Janeiro tourists were low.  Alot of times we had the whole bar to ourselves as it was also the off season for tourists in general. We loved this place that reminded of something you would see in the southern part of the United States.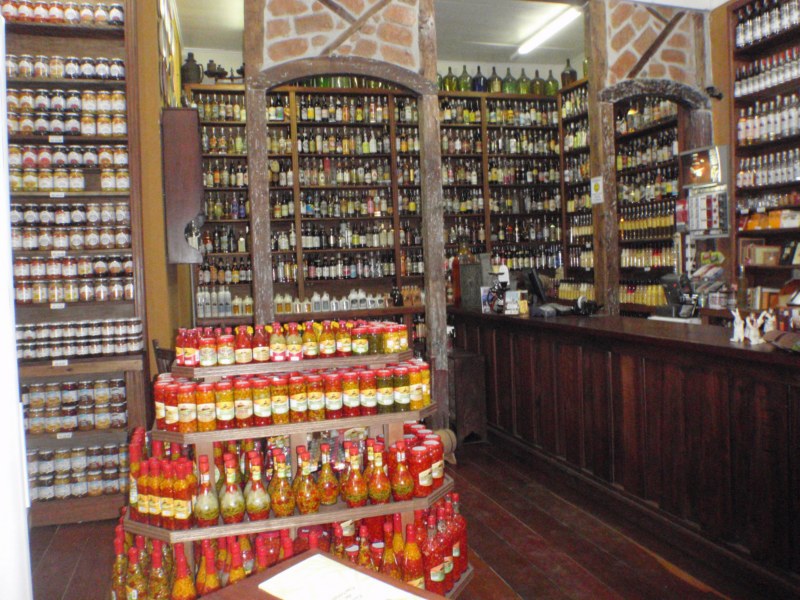 Cutsy shops that sell lots of sauces, wines from Argentina & Chile, jellies, dried fruits and more.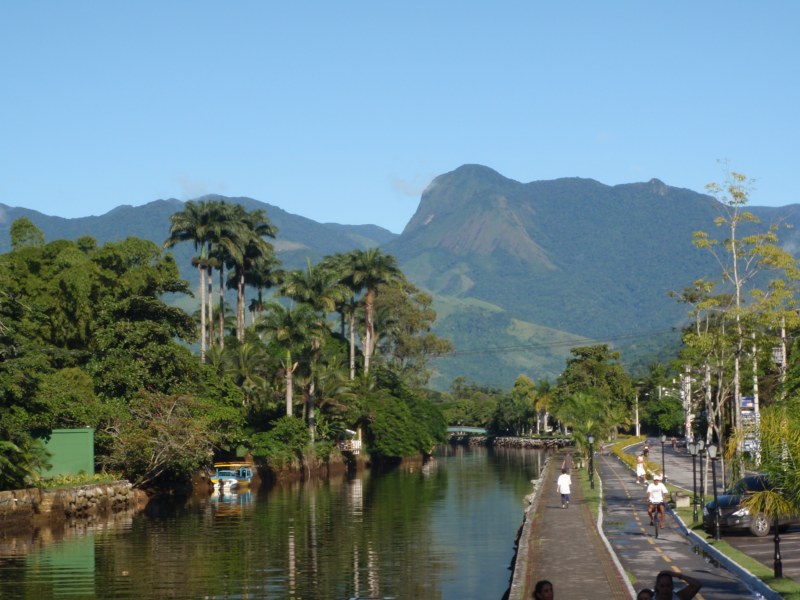 The town is gorgeous, very historical in old town yet very progressively developed and touisty when you walked around just on the outskirts of the central district. The town is completely safe to walk around at any hour just stay in well lit areas like any place you would visit.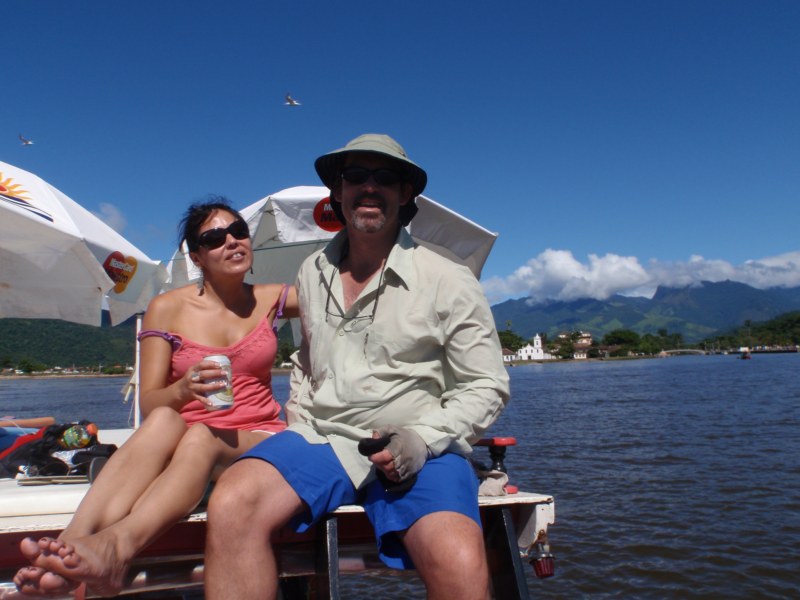 The next day I broke out my 8 weight fly rod and some big ocean flies I tied back in Chile and hire a local water boat taxi to take us out near the little islands off out in the Bay of Paraty. It cost about $125 USD for 7 hours out on the water and was worth every bit of it as it was certainly a trip highlight for us.
The local boat operators had never seen a fly rod nor did they ever have anyone ask them to fly fish around the little islands and rocks. They were use to locals and tourist just hiring them for trolling lures, so I needed to completely educate them on what I wanted to do. It was lucky for me the first day Ricardo went along  to translate my game and the second day I was saved again that Carola speaks Portuguese.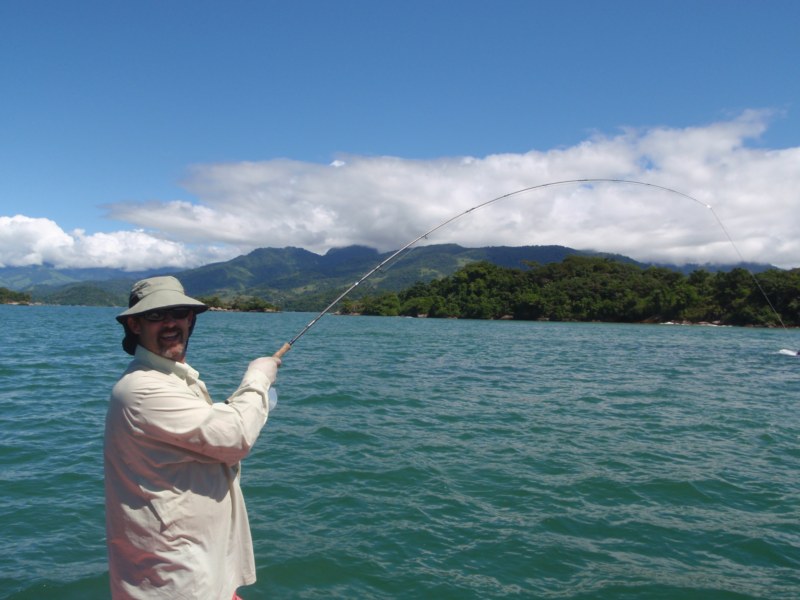 A soon as we got near any structure I casted my big fly with a 650 grain 24 foot sink tip and immediately hooked up. The biggest one got off (Shucks!)
but we did get a look at him and it looked to be a permit and it was big! What power this ocean fish had,  it was like reeling in a car door with a motor…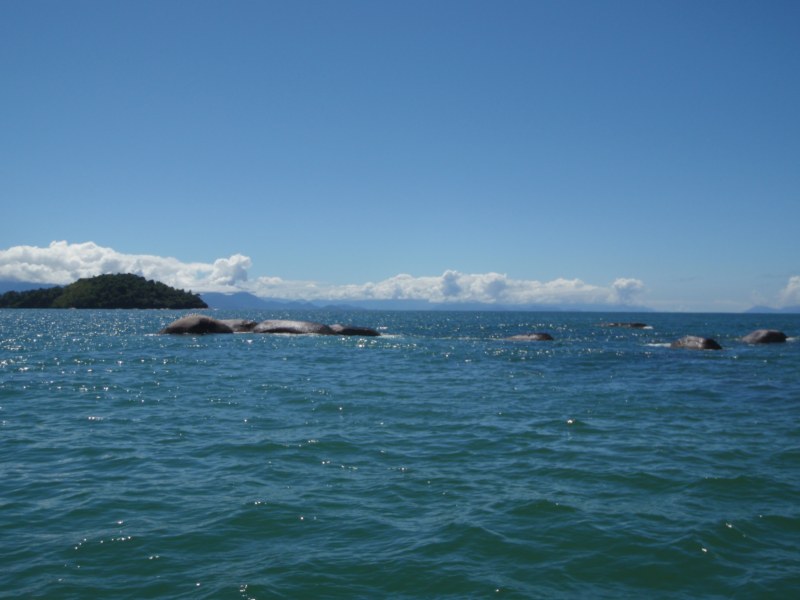 I hooked into 3 fish here all powerful and ran like hard.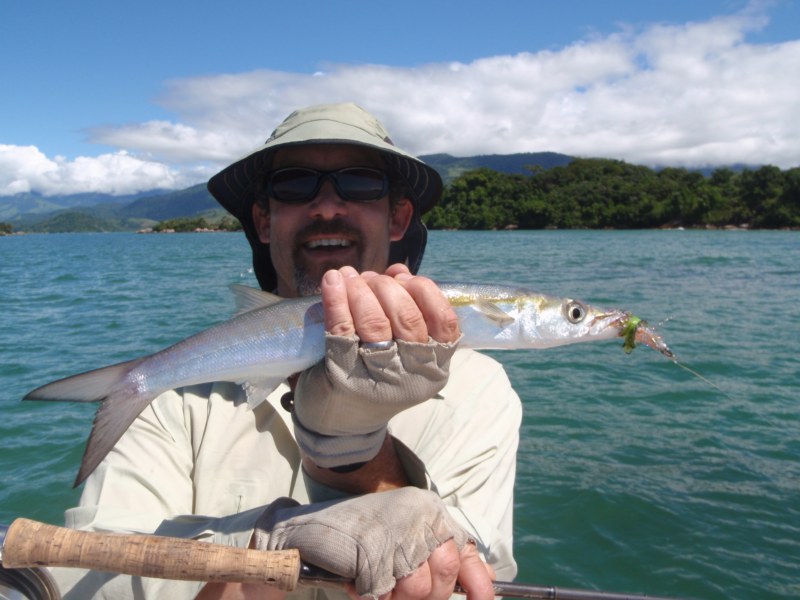 I first landed this baracuda, but lost another soon after that was 3 times its size…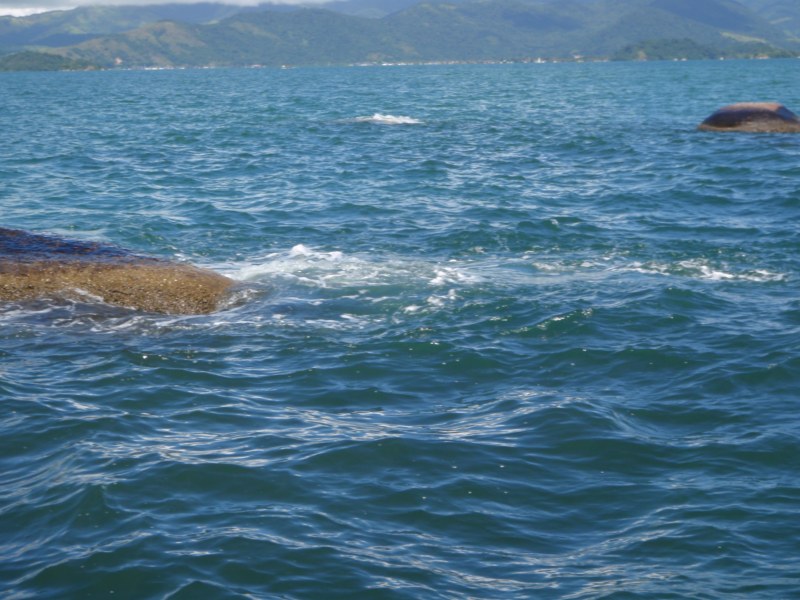 Anywhere there was foam near rocks you could find ocean fish hanging out.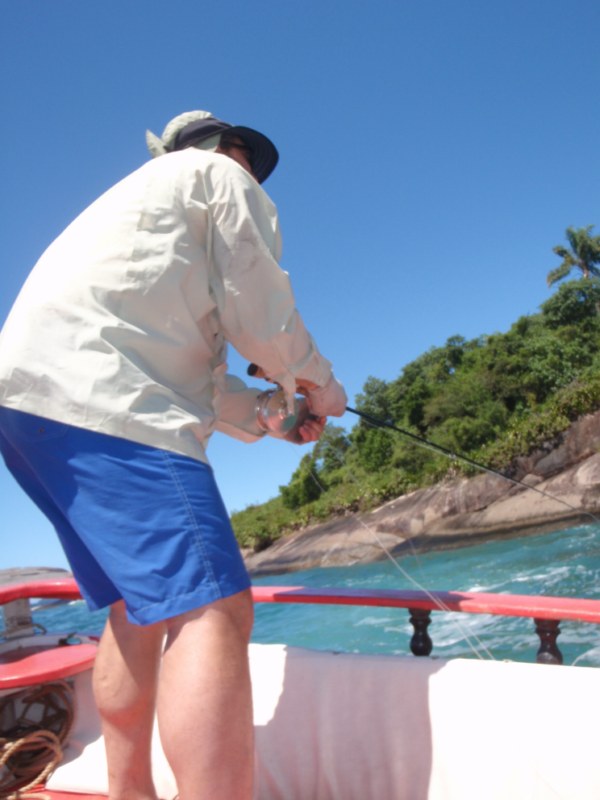 I had a Sage 8 wt rod with a Ted Jurrasik Tibor Reel, it was perfect for what I was fishing for.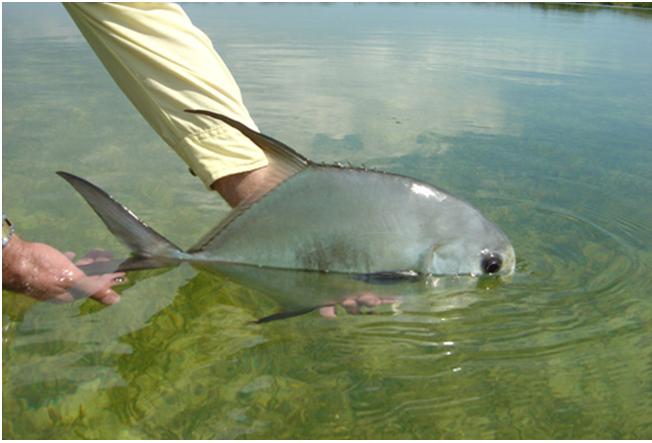 This was a great permit, but much smaller than others I had on my line.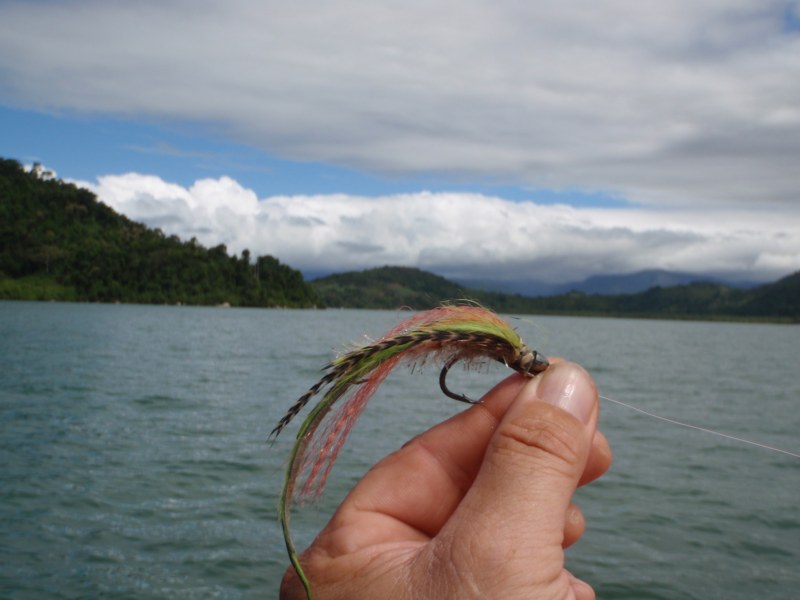 This fly seemed to be the most effective so when you go remember to bring a few. They seemed to be really motivated by the green on top.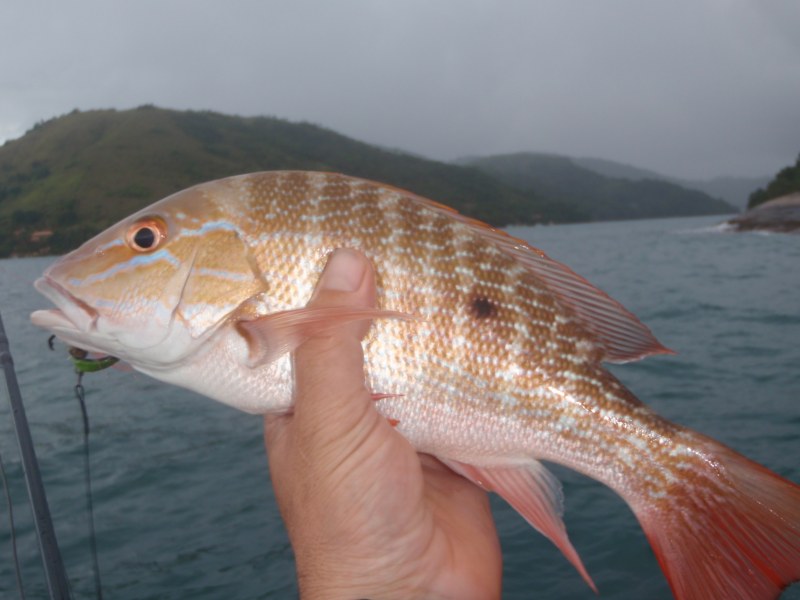 I caught this pargo which I released then I ate a much bigger one for lunch a little later on that day. Yummy!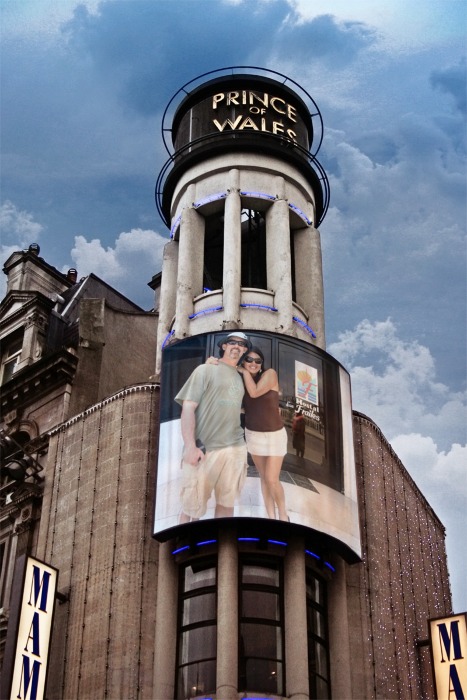 We would like to say hello to all our friends in Great Brittian, sure was fun to watch the Royal Wedding the last week. I think it's good times right now,  it's almost like there's a new era coming on where both countries are ready for a rise in nationalism and economics. Sometimes change can be so good, it all starts with feeling proud about your country and waving a flag  in honor of your deep feelings you have inside, something I haven't felt or seen for a longtime in both England and the United States.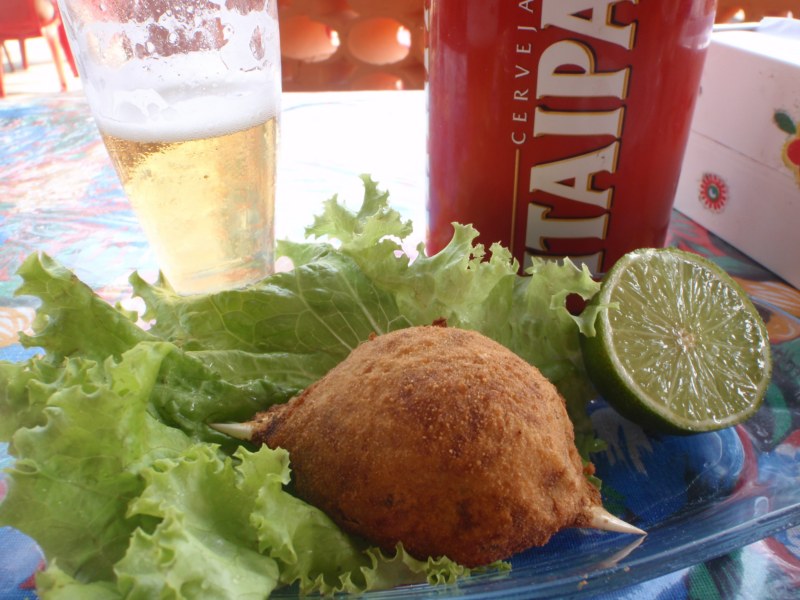 This is the best crab cake I've ever tasted, I sure wish the dollar was stronger so it didn't cost $8.50 for one..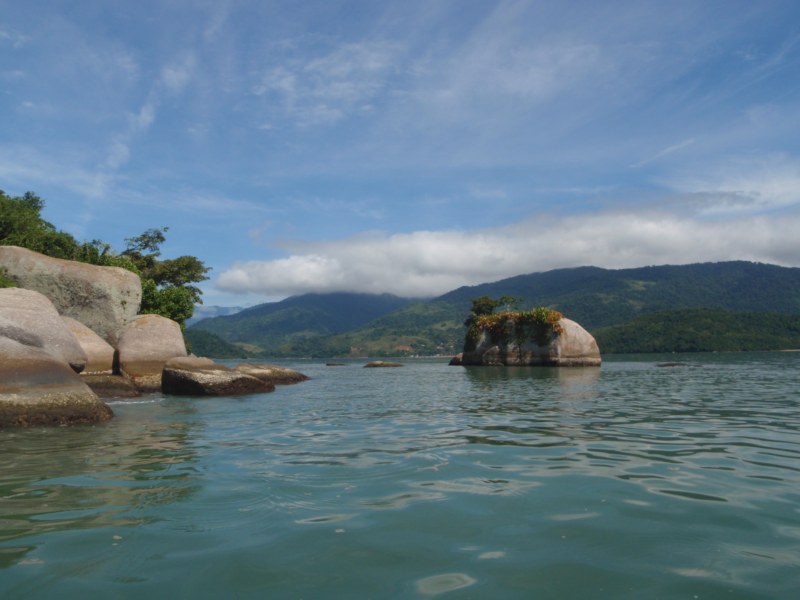 I loved all these cool rocks that provided structure for all the ocean fish that hung around them.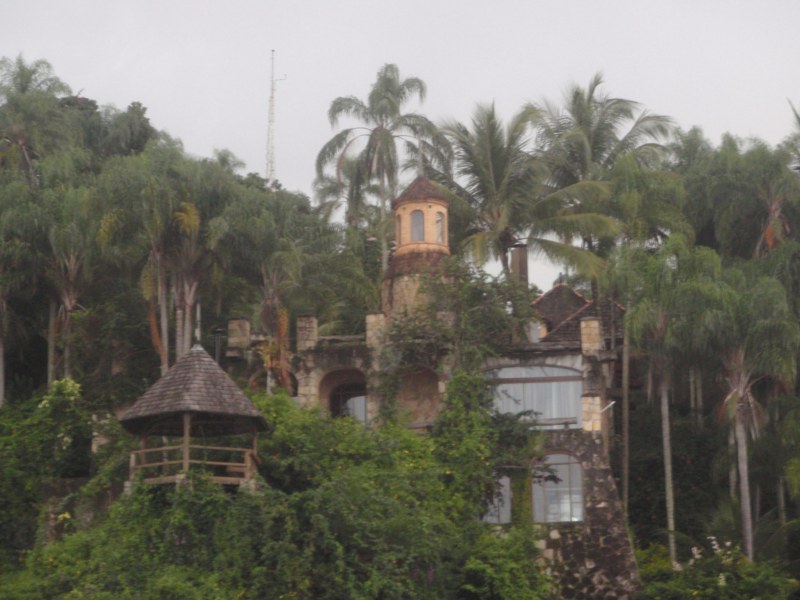 I started to get the idea that very rich people from Rio de Janeiro and Sao Paulo lived there and maintained a second home.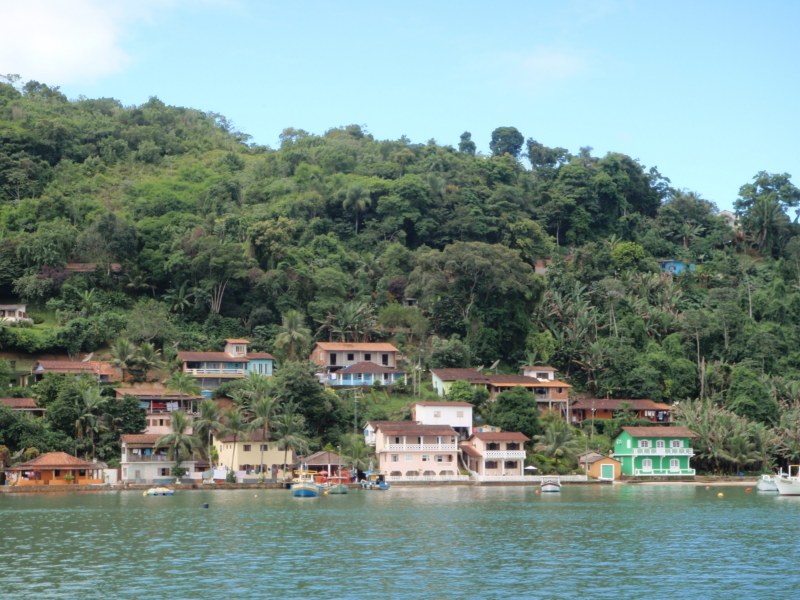 Most of these places were locally owned but also a lovely place to reside.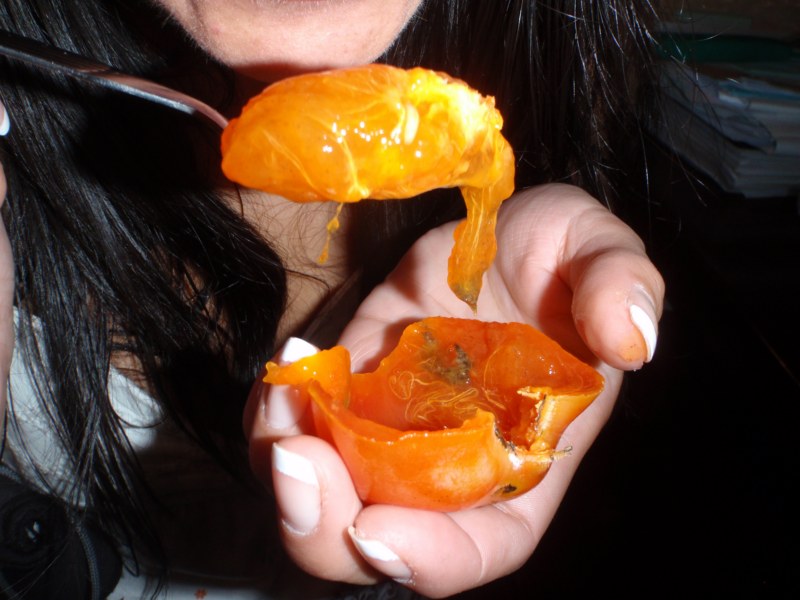 This was absolutely the best fruit I've ever tasted in my life, it's called Caki. It's like a fruit of pure jelly is what it tasted like to me.  Awesome!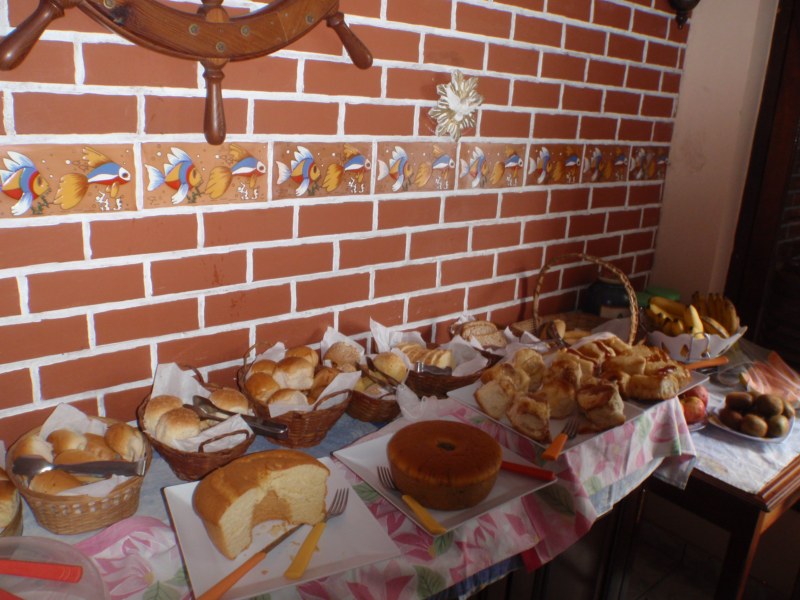 We found a wondeful place for only $66 USD per night with a balcony and a wonderful view of the Paraty Bay and the river. Every morning we had a wonderful breakfasts with beads, extraordinary coffee and tropical fruits. (Off Season price)
http://www.pousadadoimperador.com.br      Pousada do Imperador Hotel
Av. Nossa Senhora dos Remedios, 27, Paisa do Pontal – Paraty,  District of Rio de Janeiro
email: contacto@pousadadeimperador.com.br
(242) 3371-1413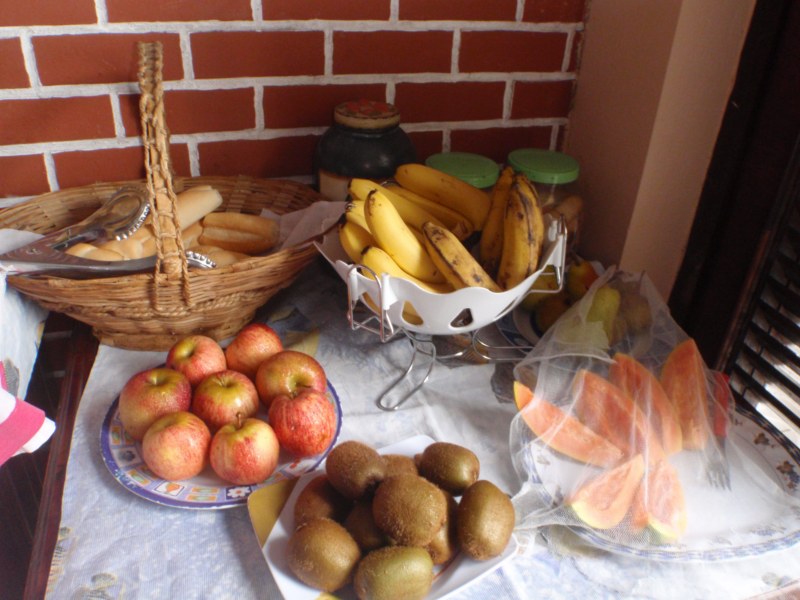 I particularily loved the fresh fruits daily. Fruits from brasil have a real fantastic tropcal taste you don't get int he States.
By the way I spell Brasil with a "S" not a "Z" because that's how they spell it in Brasil. (Not Brazil)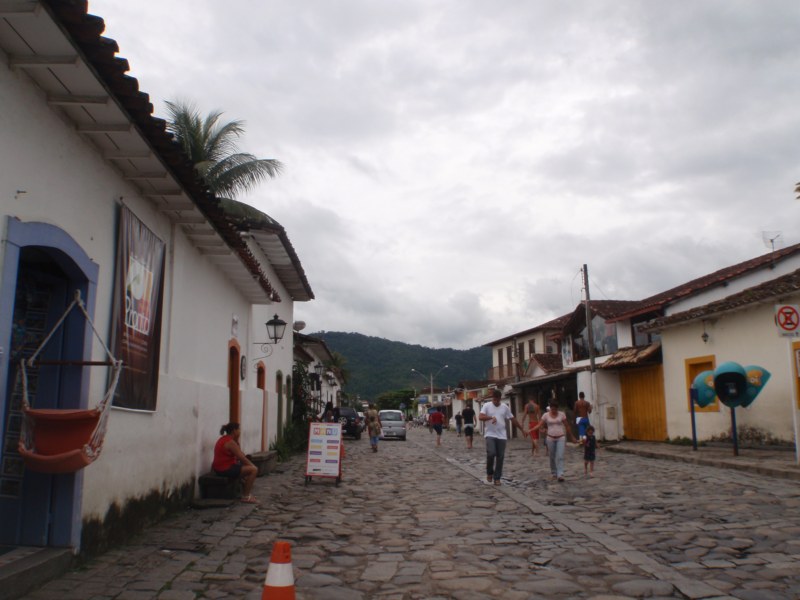 This is near where you leave the old historical district and walk into the town. The people are really nice in all of Paraty, you would like this place for sure!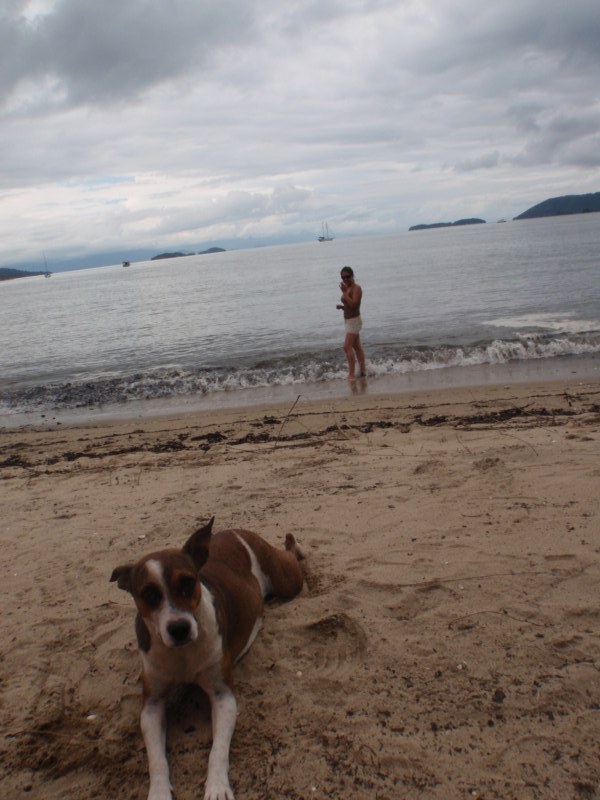 We met this dog and he hung out with us and I fed him later…
Here we are now in Chile near our home close to Pucon Chile and the volcano you see off in the distance called Villarrica. We'll be back in Shasta in May and we look forward to hosting you there! Give us a call at 530-926-4540  or email us at info@jacktrout.com – The Upper Sacramento Fly Fishing Raft Trip – Gourmet Streamside Lunches and expert guiding. Thanks for watching our adventures Jack & Carola Trout
10 YEARS AND STILL  GOING STRONG! SINCE APRIL 2001 www.mtshasta.com HAS BEEN
BRINGING YOU STORIES AND PICTURES. THANKS FOR WATCHING AND MAKING US THE
FIRST FLY FISHING WEB LOG BLOG ON THE INTERNET WAY BACK WHEN. JT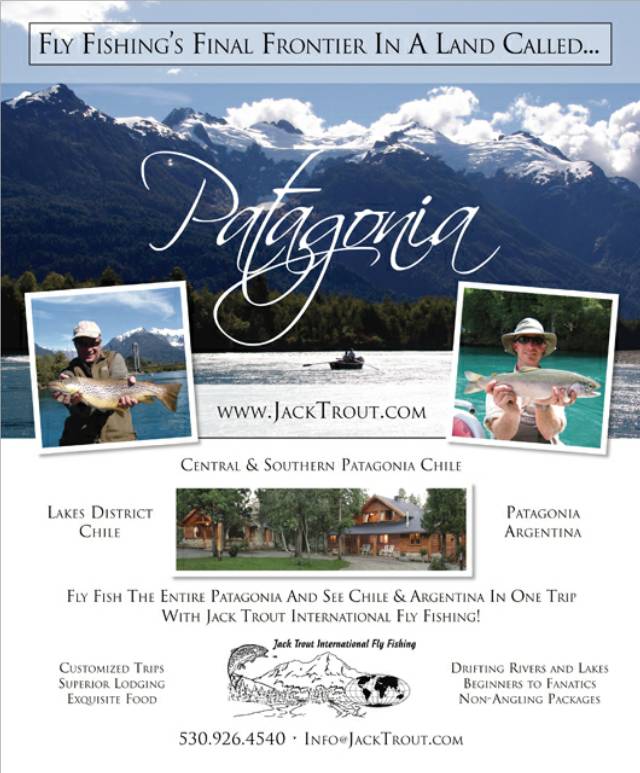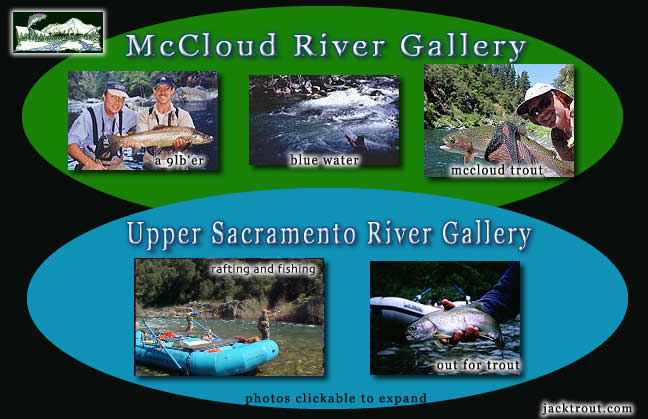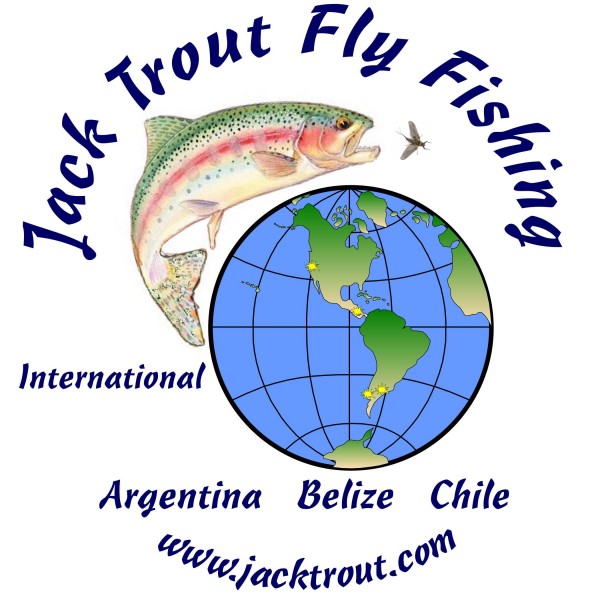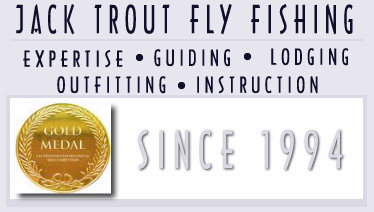 EMAILS FROM YOU:
Jack,
It is really great to see your newest post.   I'd wondered where you were.    I used to travel Central and South America extensively and miss it mucho
I always enjoy seeing what you're up to.    I trust you've been able to get Carola into the US now.
Best regards,
Ron Hickman
Marietta GA
**************************
Dude,
I've been meaning to write you to see how your trip to Brazil and Ecuador was.  I hope you and Carola enjoyed yourselves. Is she back in California with you?
I'm settling in in Bogota.  Busy as hell, but finally done with the project run by that insane Argentinian.  So life is a little it easier.
Still hoping to get down to Chile again this year and maybe dive a river or two. I saw some mountain stream dry-fly fishing on one of your recent blogs, which interested me as well.
Have a good summer and I'll be in touch.  Looking forward to another beer garden tour.
Take Care,
David
**********************************
Do you have any availability for a float trip next weekend on the upper sac? Is it fishable? Also -do you have any color on the McCloud- is it worth getting over there for a day next weekend– or too high?
Scott M. Smith, CFA
Wells Capital Management
****************************************************************
Good to see you back! Ready to reload your wine cellar?  I'm taking vacation next week and am thinking about doing some fishing. If you're interested in trade, let me know!
**************************************************
I forwarded your last email to my wife.  I have ONE shot to get her into fly fishing. She is 5'4″ and 100lbs soaking wet.  I think she'd prefer to wade but I also think it might be tough for her given her size.  She wouldn't be up for a full day on the water.  Maybe if it had a long break in the middle.  I was thinking of an afternoon and then the next day.  I will heed your advice on what water and when.  She didn't play sports.  We took fly fishing lessons long ago and got the basics quickly.  But she doesn't have a lot of upper body strength.  My best guess is that small water throwing a dry fly would be the best.  And I don't care if I catch any fish or if the fish are tiny.  But I think for her to get into it, she'll need to catch fish.  Small ones probably would do just as well as big ones.  And she hates poison oak and gets it just by looking at it.
This will be challenging.  But if we can get her hooked on fly fishing it would mean the world to me.  She is very visual, likes for things to be beautiful and is generally pretty chill. 
One shot Jack.  The last time I got her on the water was 12 years ago and the guide and I fucked it up.  I made mistakes and so did the guide and I paid dearly for that.  If this doesn't work… I have another 12 years to try again.  No pressure, huh?
So let me know what you think… Time of year, different water… Whatever.  Turn her into a "Sizzlah!"and you will have my lifelong devotion.
Sent from my Verizon Wireless BlackBerry
********************************************************************
Hey Jack—Welcome back! I'll be calling you soon to set up a trip.
Jim Parrinello
*******************************************************************
Hi Jack,
Just to let you know that our trip last summer was brother Mike's last trip on the upper Sac – he passed away Friday.  It was a good trip, and he mentioned it often.  You made it great.
Thanks, Dan
********************************************
Message from sender:


Hi Jack, The NY Times must have read your latest email, because in today's paper (May 24) there is a very strong editorial opposing the construction of the seven dams in Chilean Patagonia. Best Wishes, Ed SmithOPINION  

| May 24, 2011


Editorial:  Keep Chilean Patagonia Wild
In a potentially disastrous decision, Chile approved construction of dams in a largely unspoiled natural haven.

Hi Jack,
I'm in France visiting my grand children (couldn't work—- shoulder) and have wednesday May 25th International Herald Tribune and it has the greatest editorial on how dumb Chile is for letting them build dams in the Patagonia.  I could get into a lot of talk but you already know everything, just thought you would like to know it is going world wide.
Also I went with my daughter and grand children to a fishing sight in the hills and met some local fly fishing nuts.  Through them I met a man from Marseille that makes about four or five bamboo rods a year.  Well after looking at them I purchased a 4/5 for 400 Euros about $500.ºº.  Can not wait to show you how nice of a rod it is.  It was fun just to see how I made him a local celebrity because he was making it sound like I came all the way over just to buy one of his rods.
Would not mind if you would give me some insight into what reel would be best for this rod.  I'm setting it up for small streams.  Not going to break it going after big fish.  It came with a warranty for as long as he is alive, my guess about ten or fifteen years, but you never know those French live a long time (the nation with the most over 100).
I am so happy that you are able to bring Carola with you, maybe now I'll come up and see you. No really I plan on getting up to see you this summer.  Still do not know if I'm going to be able to do any fishing.
May send you another E-mail with some pics.  PAT