Happy Holidays !
NORTHERN CALIFORNIA FLY FISHING GIFT CERTIFICATES.
 Give the gift of Fishing, the gift that keeps on giving.    530-926-4540 TROUT HOTLINE.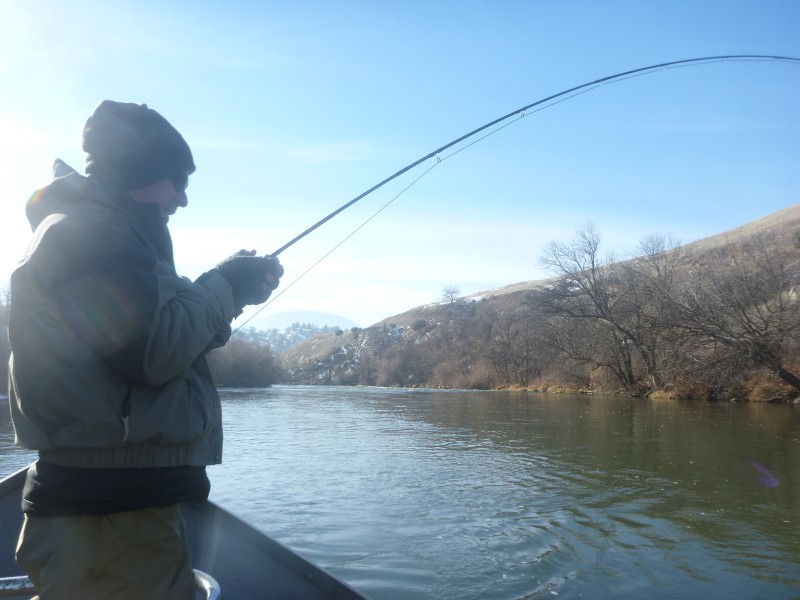 Right now out on the Klamath River in far Northern California the steelhead fishing has been pretty good. We have been averaging about 6 fish per angler per trip. I heard a rain is on schedule for this weekend, so that could only help things. I also heard the other day that this is the driest Mount Shasta has ever been and we're heading for a new annual record low rain fall this season. So I think if we started getting some really significant rains, it could bust wide open and the fantastic steelhead season just lies ahead.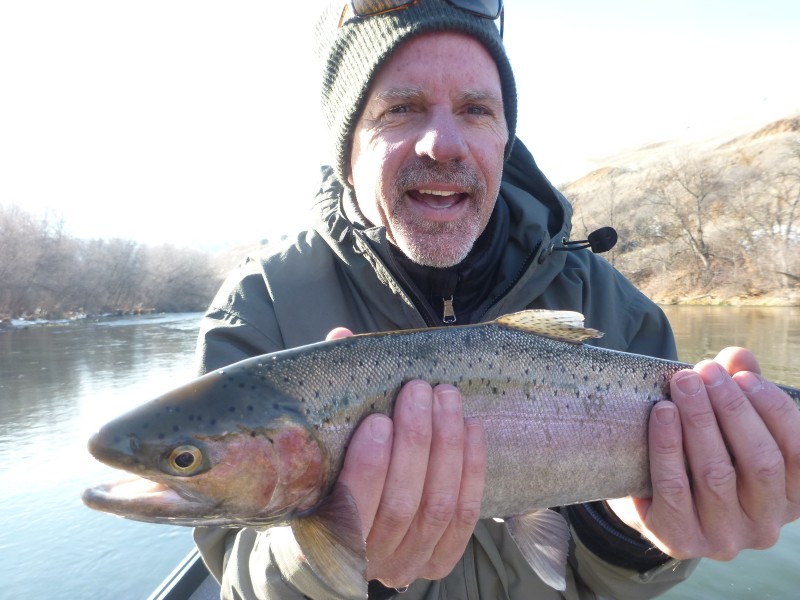 Not that the fishing is all that bad right now, not very many people out there right now and it is making Jim Pulesi a happy camper.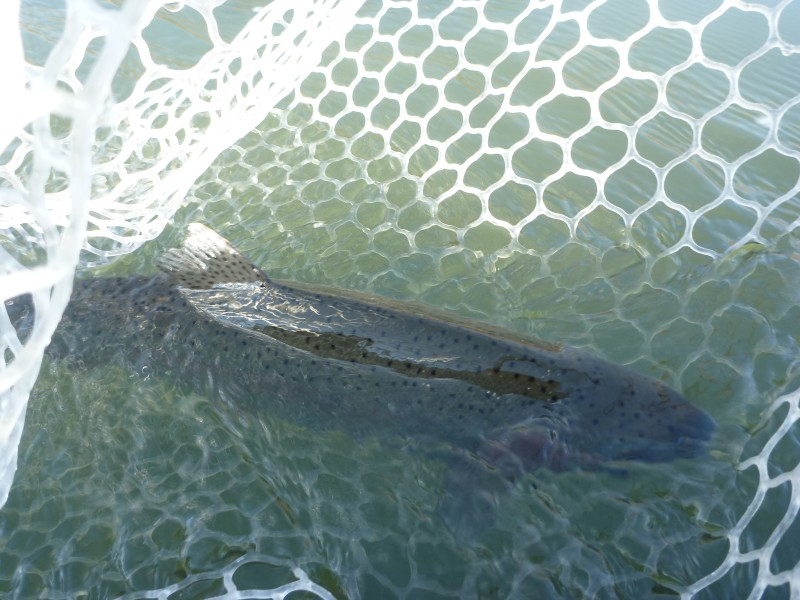 A good net is always the way to go with the successful release of a steelhead trout, these new rubber nets are great in that they don't hold your hook.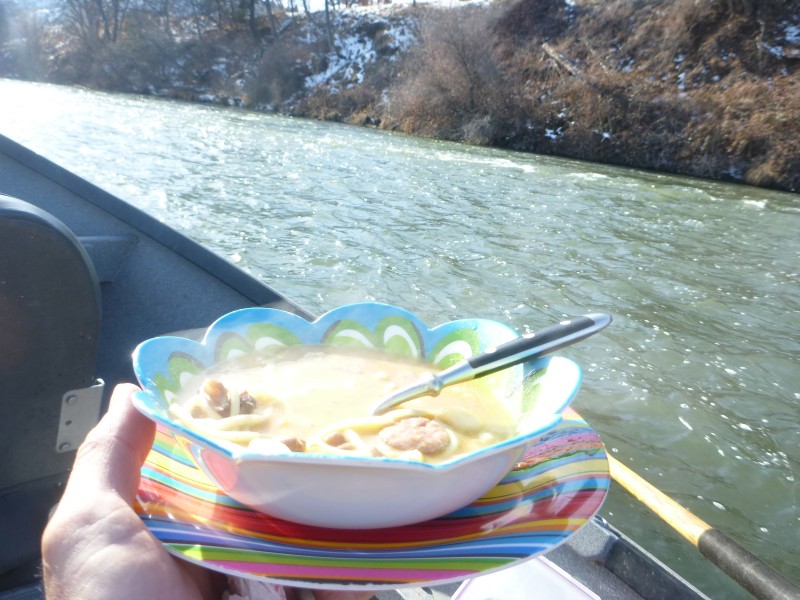 We always have a hot home cooked meal for you out on our fly fishing trips that make you feel good inside.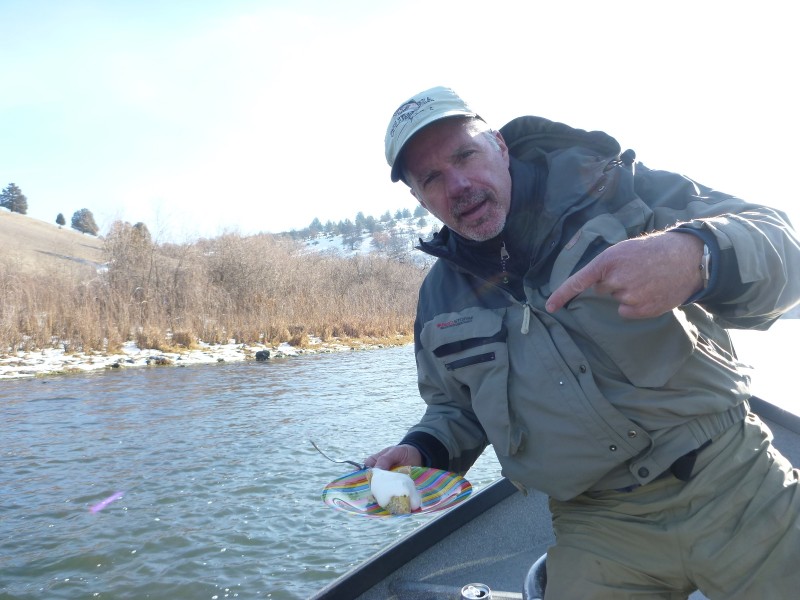 Of course homemade banana cream pie always compliments a great lunch out on the river.
JACK TROUT FLY FISHING HOME PAGE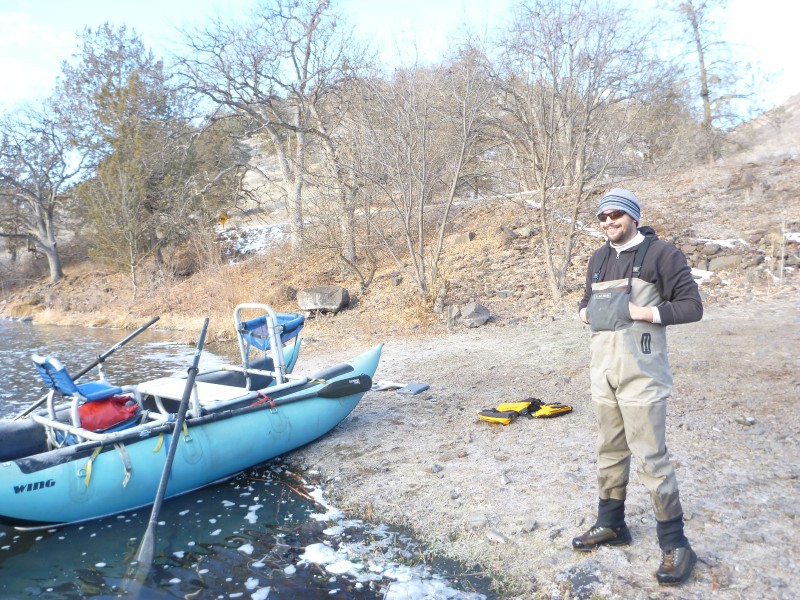 Meanwhile, the Karuk Tribe know there are Coho Salmon spawning now in the river and I have seen them too. They come out in full force this time of year to do a fish count on these endangered fish trying to make a come back on the Klamath River. It's a good thing we have organizations like Cal Trout, who have helped so much with Shasta Valley restoration project on the Shasta River with a concentration on the habitat and recovery of  the Chinook & Coho Salmon populations in the Klamath River system. Also Trout Unlimited and Federation of Fly Fishers are also actively protecting rivers and river habitat, and are worthy of our consideration to donate and become a part of.
 Next a client I hadn't seen for over 10 years called and said let's get on the Klamath and catch some steelhead!
\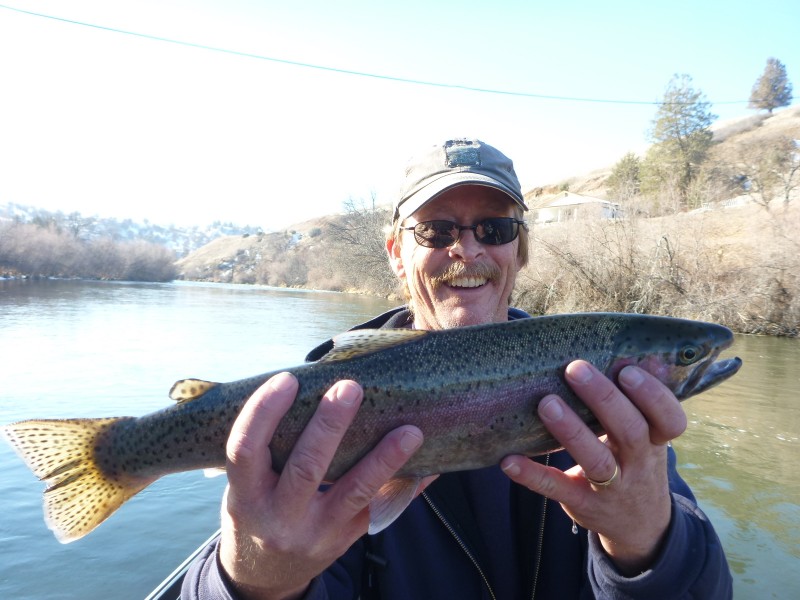 Brett from Roseville had a wonderful day on the Klamath River hooking some really nice steelhead trout.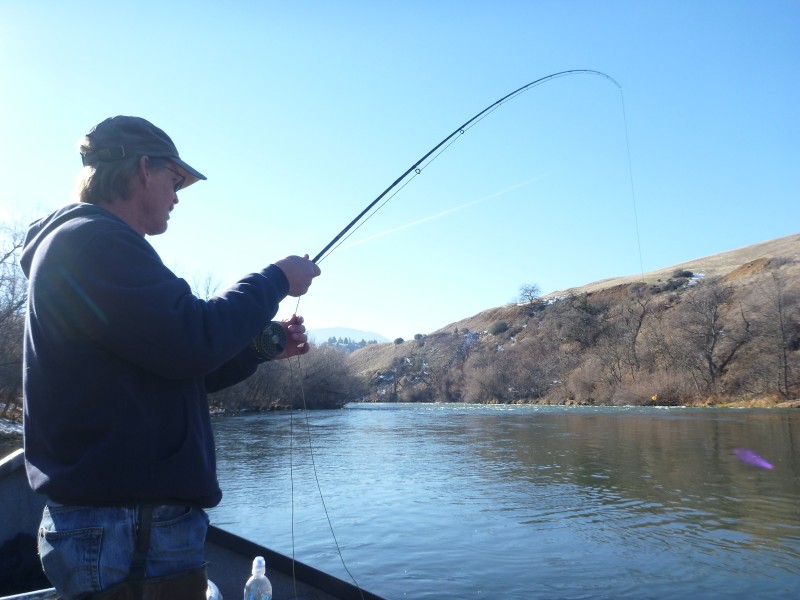 It was pretty good weather that day, I think it got up to 50 f and we weren't that cold. but no worries, I have a heater in my boat.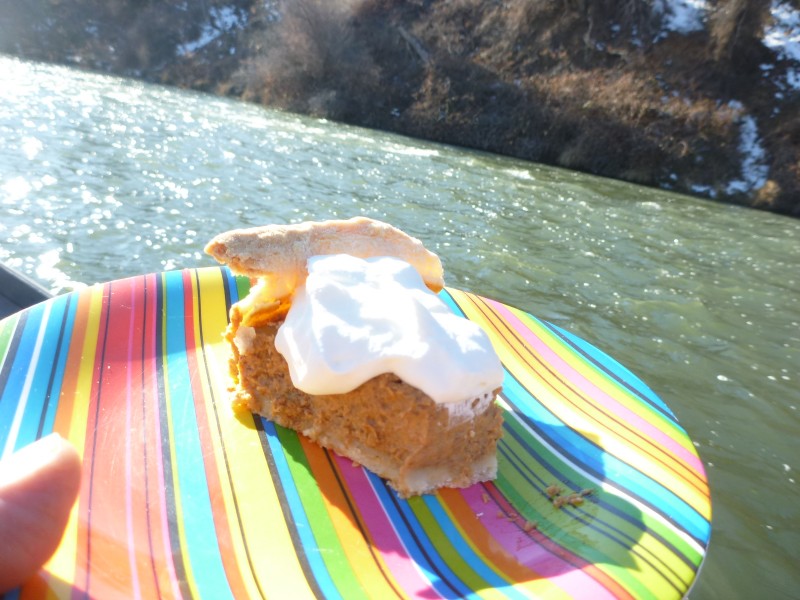 Homemade pumpkin pie was delicious! It sure stays in form and is easy to eat out in cold weather, but not as much as it's appreciated in the tum-tum.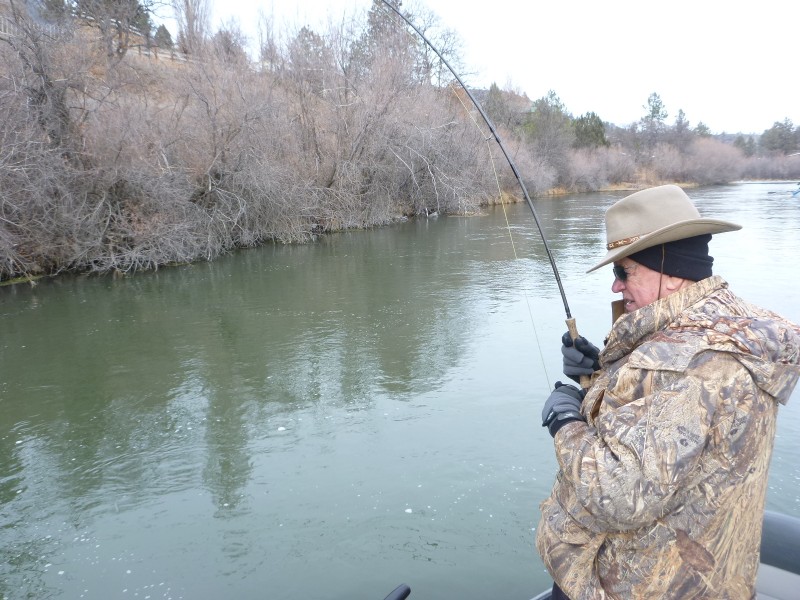 Pat Patterson is one of my first clients back in the early 1990's, he's fished with me in Chile and all over the place as well as with many Jack Trout guides. What a great guy!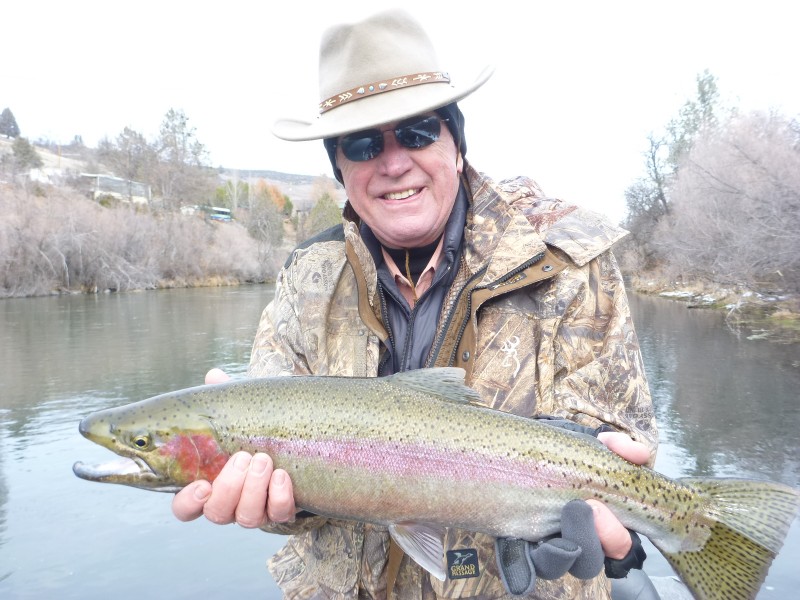 He always seems to land big trout with me where ever we fish together. Way to go pat!
KLAMATH RIVER STEELHEAD GUIDE INFORMATION PAGE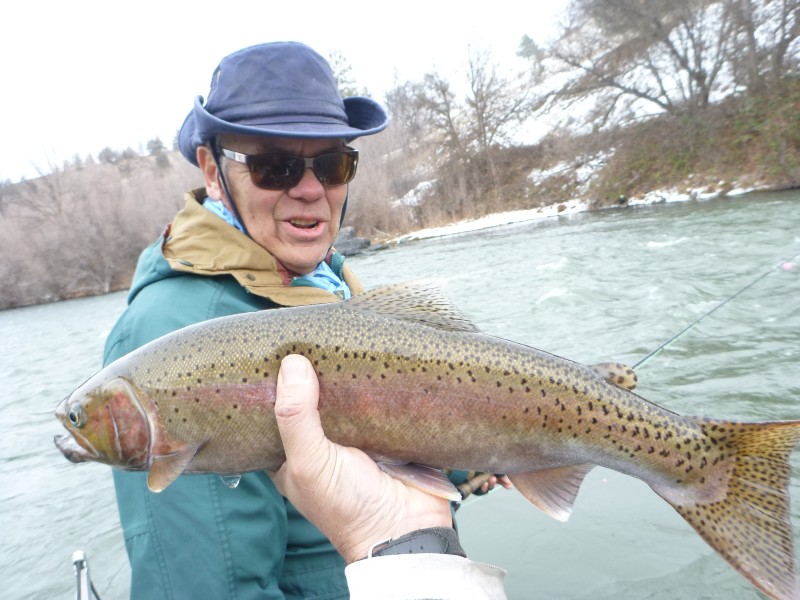 Gary, retired a few years back and still remembers the 10 lb McCloud River Rainbow he landed in the Rio Maullin with me in Chile in 2006.  Have a great holidays with the family!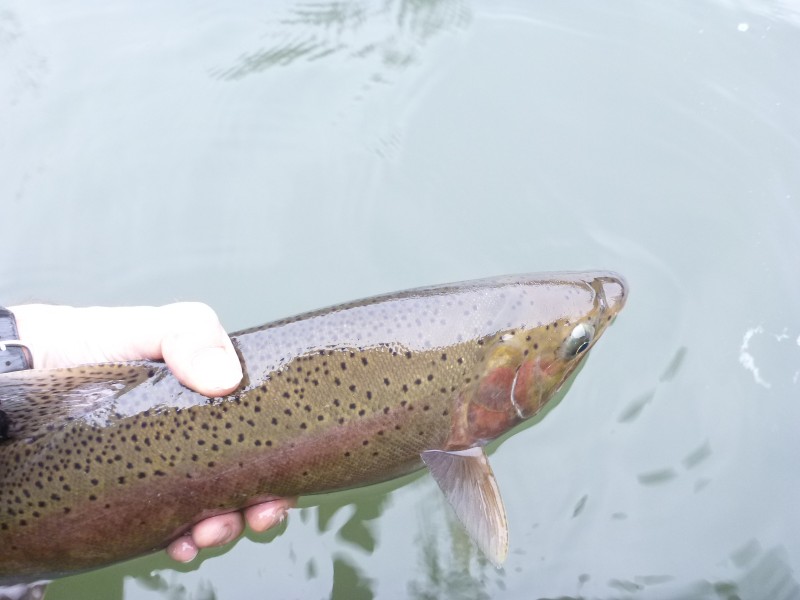 We love this time of season as the biggest trout of the year are caught in river in Northern California.
 So if you get a chance come on up, were fishing steelhead all winter here in Northern California before we head out this year for Belize, Chile and Argentina. Hope to see you on one of those great adventures.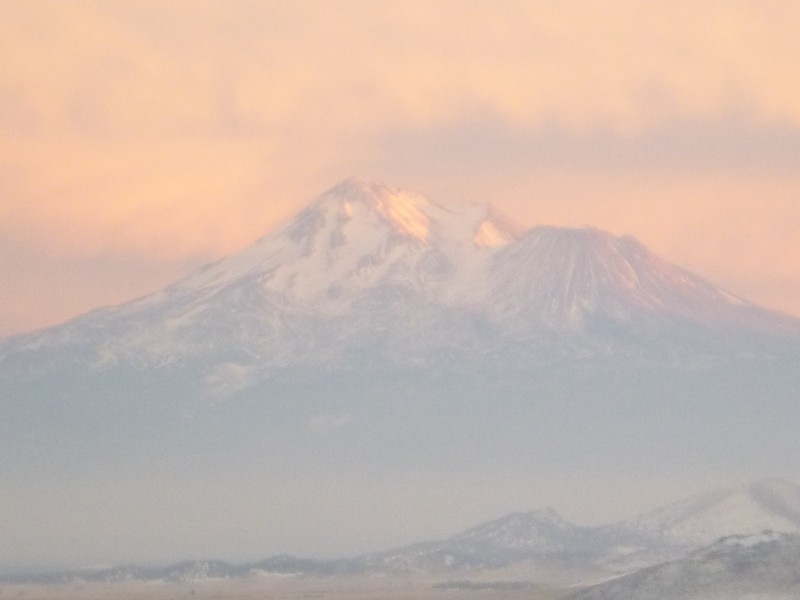 Mount Shasta in it's winter colors and silver spruce glow.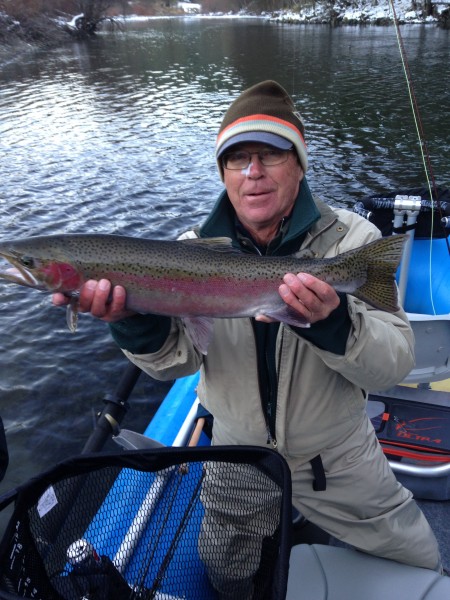 Meanwhile, over on the Trinity River things are heating up with our guide Forrest as clients land huge steelhead.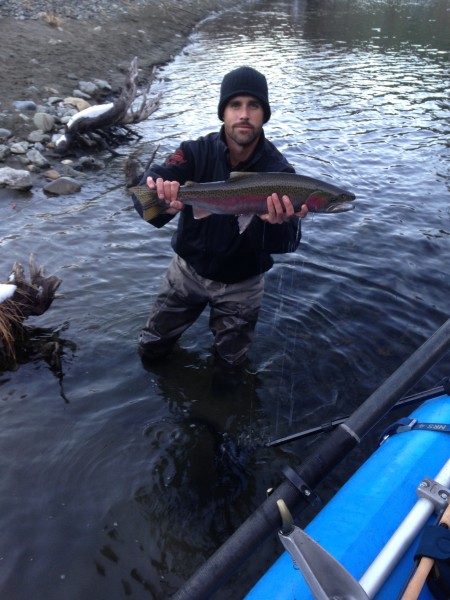 This is nothing new to this super star guide who is getting Jack Trout clients into the steelhead trout of a lifetime.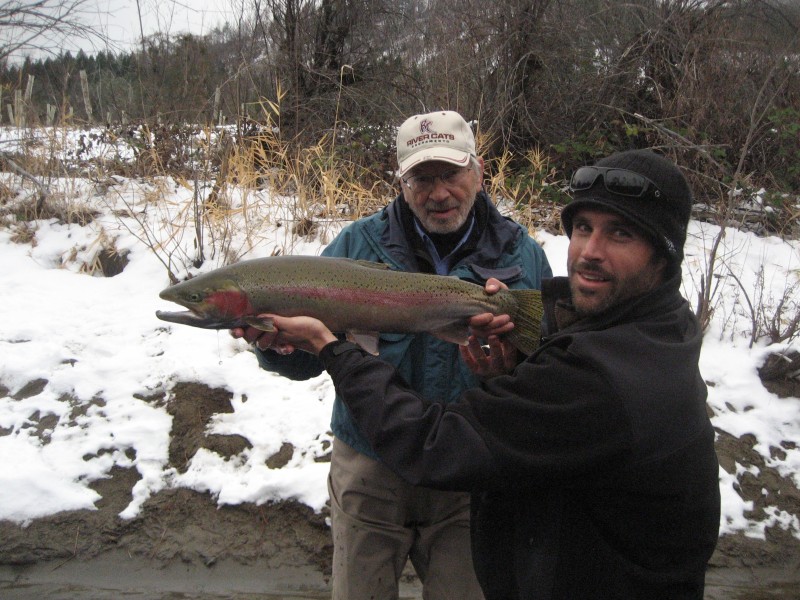 Now's that's a nice holiday gift!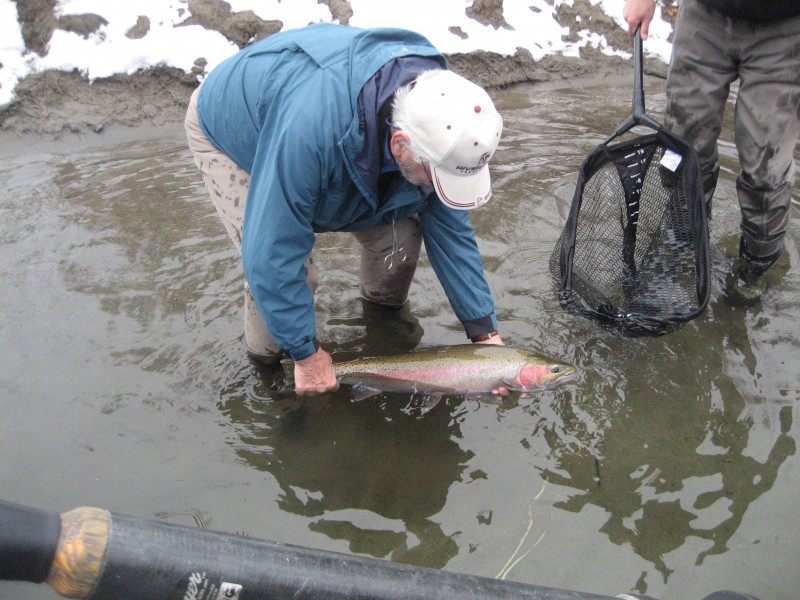 Just absolutely gorgeous with those red racing colors.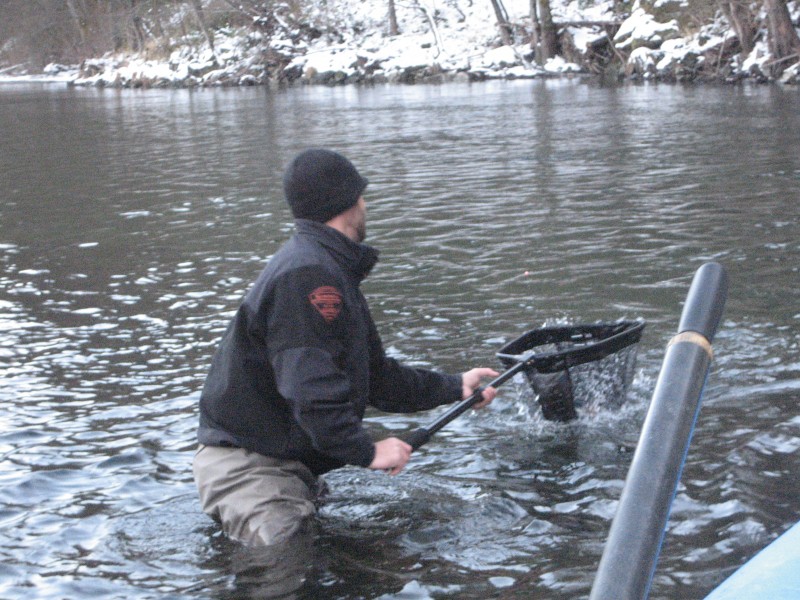 Yet another, Run Forrest Run !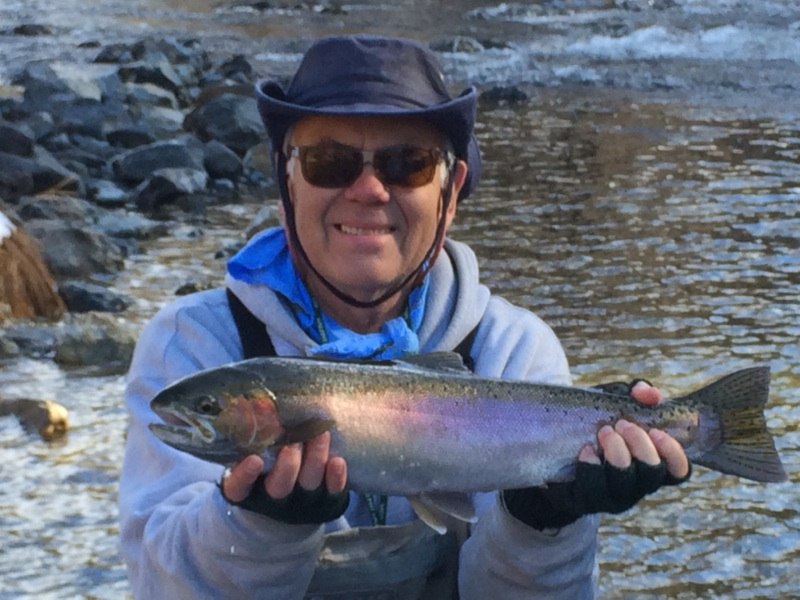 Over on the Trinity, Gary and Pat do well with Forrest also.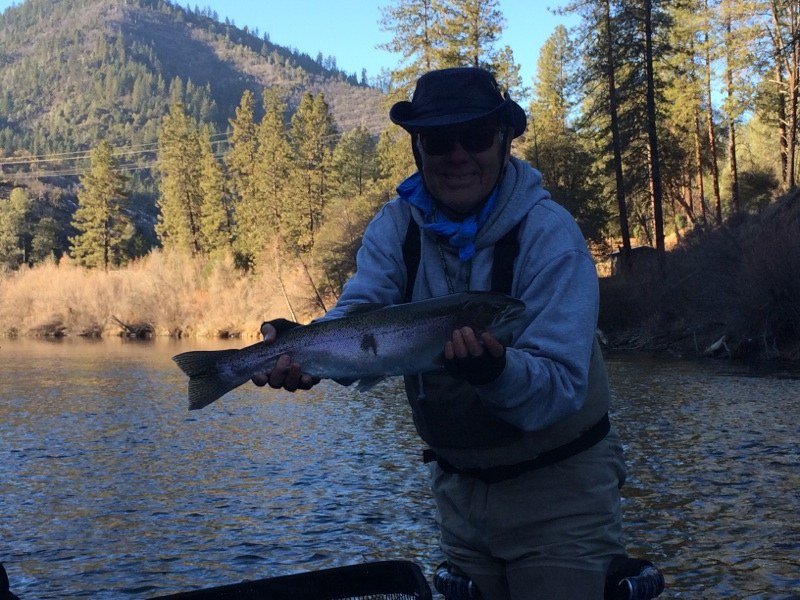 It was a nice catch for Gary on that day, isn't easy landing big trout like this but someone has to do it.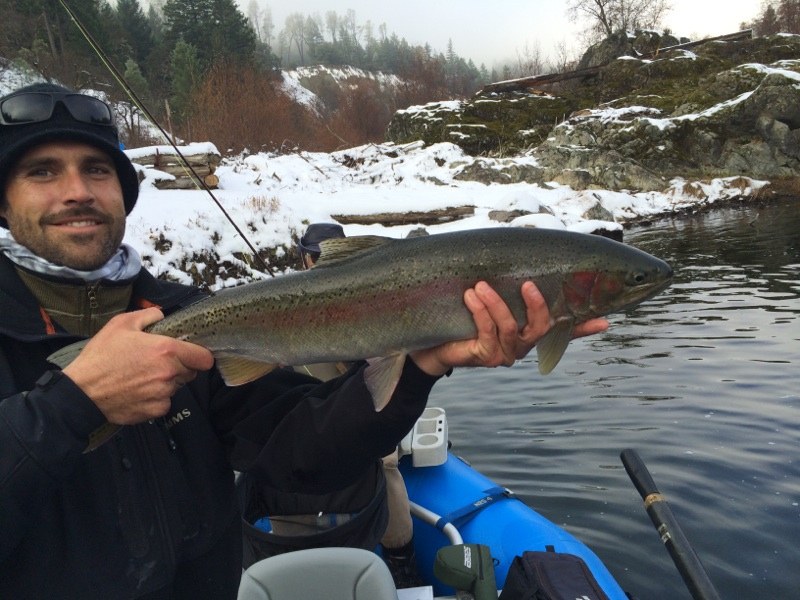 Forrest, tis the season to be jolly! Ho ho ho!!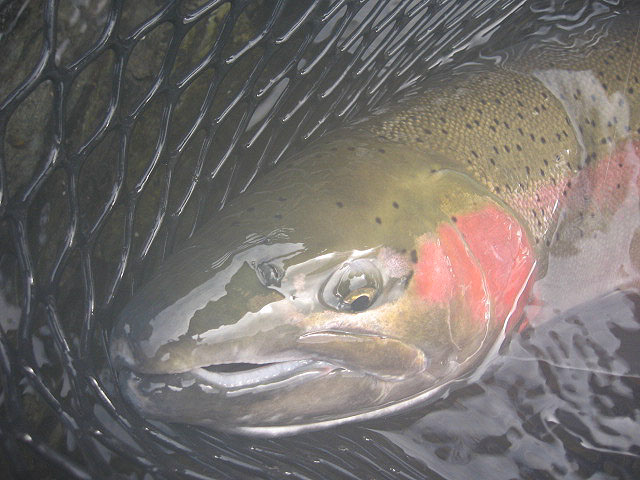 The face only a mother could love and 20 million fly fishers across the world.
TRINITY RIVER FLY FISHING GUIDE INFORMATION PAGE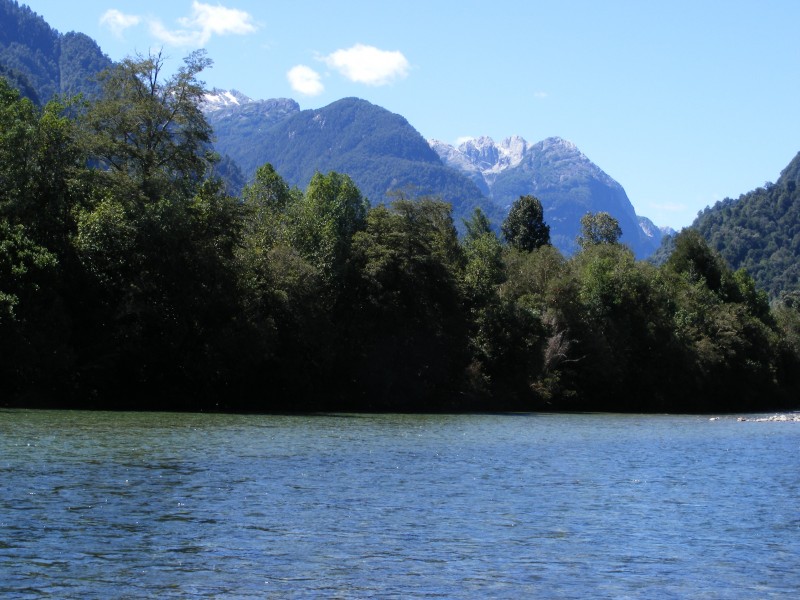 Since 1994, Jack Trout Fly Fishing International has been outfitting Chile and Argentina, we have the most knowlegeable guides and we spend time guiding with our guides in Chile and all over the world, not just on the end of a phone line trying to book some trips. We always have great vehicles, great equipment and some of the best lodging and meals known to the industry. We travel around to see all areas of two regions or guide you for a day off the cruise ship, just let us know how we can customize your travels fly fishing in Chile and Argentina. My wife Carola gets discounts on airfare through www.lan.com so we help you save money, set up all your other reservations and take the guessing work out of South American travel. We have set up trips for people to Machu Picchu, Galapagos, Easter Island, Uruguay, Brazil, Belize, Chile and Argentina for tours and fly fishing. In all cases my wife always saves the clients money as we receive commissions we share with all of you. Everyone wants to save a buck, we want to help you with your central & South America travel needs and together we can accomplish this as we are unique in what we are offering to the public and the have the ability to call right down and get the answer or the reservation nailed down. We specialize in border crossings with rent a cars, airline tickets, complete South American travel itineraries and over 23 years experience in adventure travel on what to watch out for and where to check into. This information has been invaluable to travelers who don't have the time to research these things we know or research daily. When you consider doing any kind of travel to Central or South America, give the local Central & South American travel experts a call and I'm sure we'll save you money too.  Thanks, Jack & Carola Trout – Team Trout International Fly Fishing Guides
530-926-4540 USA   9-94671995 Chile  –   info@jacktrout.com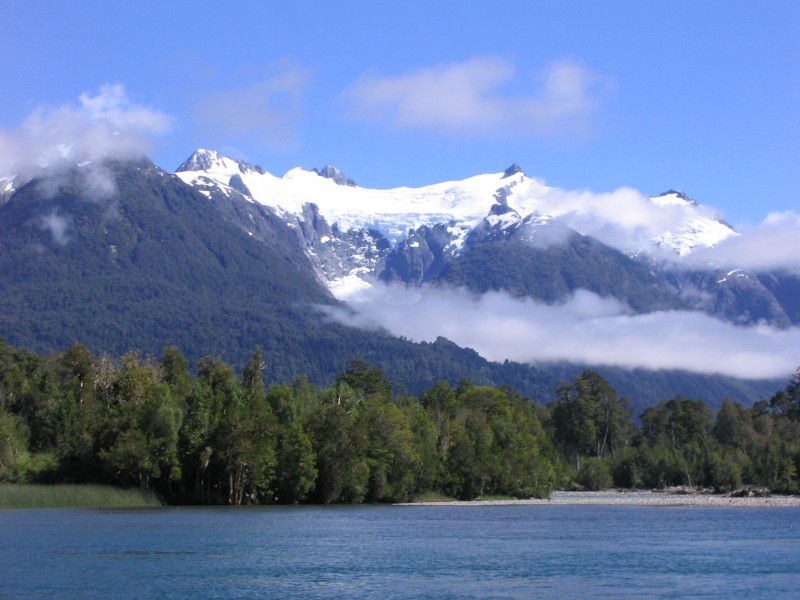 This is truly a magnificent place for anyone loves water, incredible landscape views and productive fly fishing.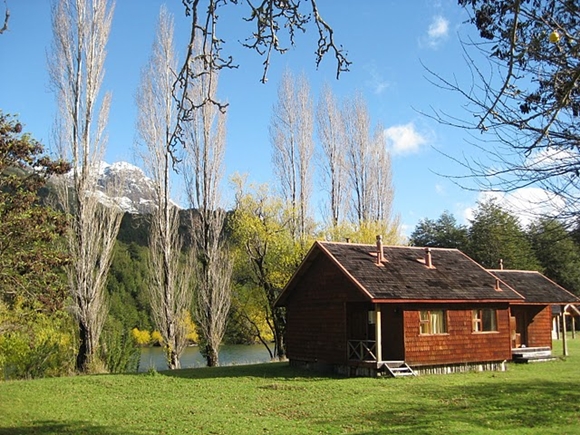 We have a place just waiting for you right on the banks of the Rio Palena in Central Patagonia Chile.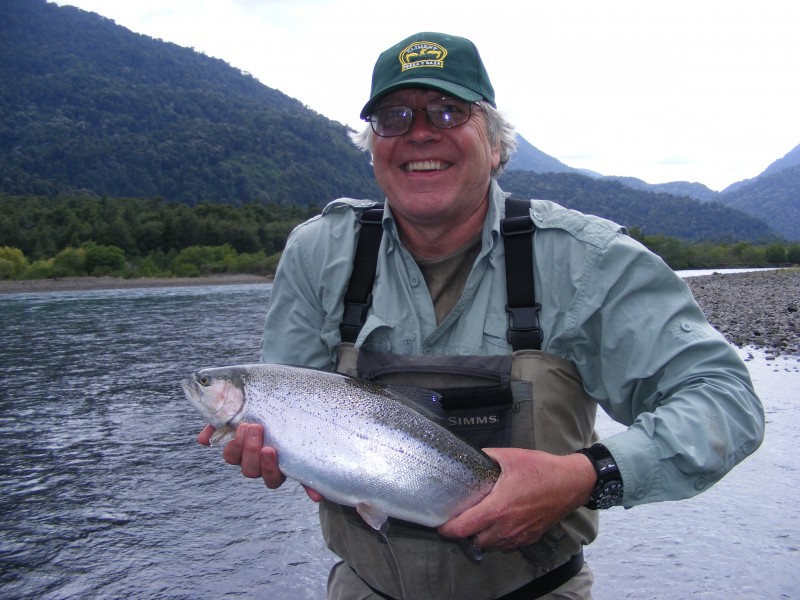 Fishing is excellent here and not a lot of pressure at all on these very remote Chilean rivers.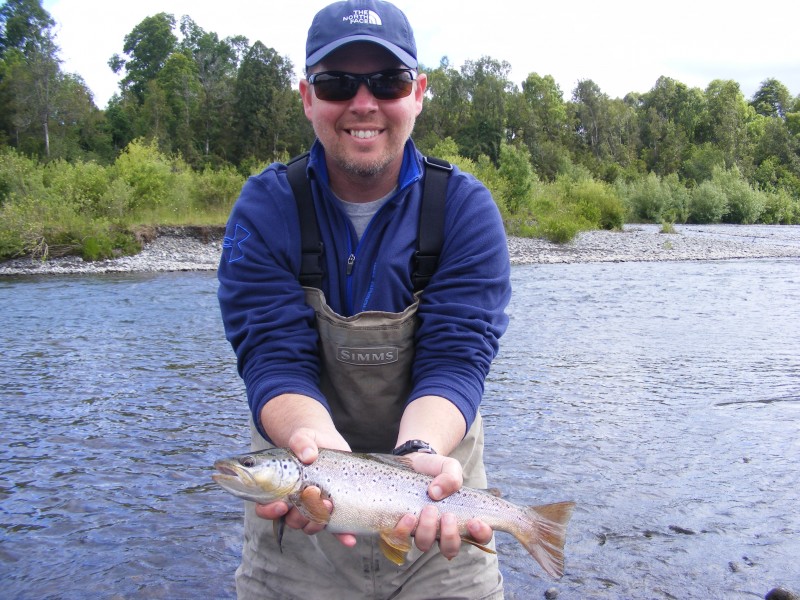 Steve Vaughn sure enjoyed his day fly fishing out with his family with our two guides Edgar and Patricio, who provided a very successful day out fly fishing on the Rio Rahue in the Lake's District of Chile in between Puerto Montt  Puerto Varas and Pucon Chile. They caught many nice brown trout that day in good weather.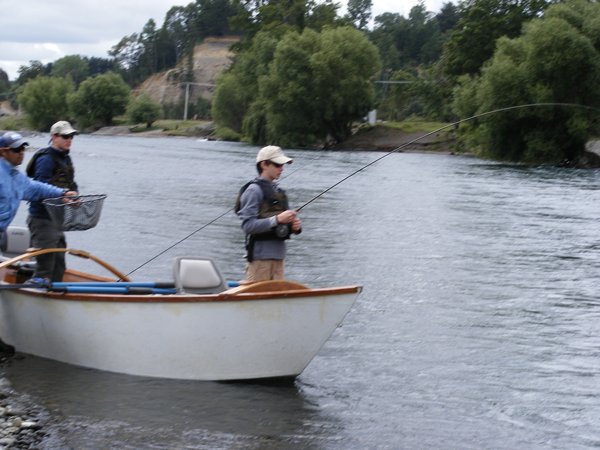 His son who was just learning fly fishing caught some great trout that day.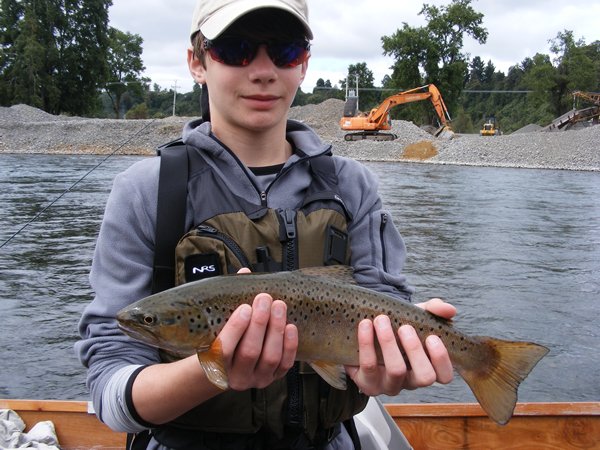 Nice brown trout even with the industrial modernization going on in the background, I would get down to Chile and Argentina now before all the roads are paved and everything's discovered. At least you could say you were there before…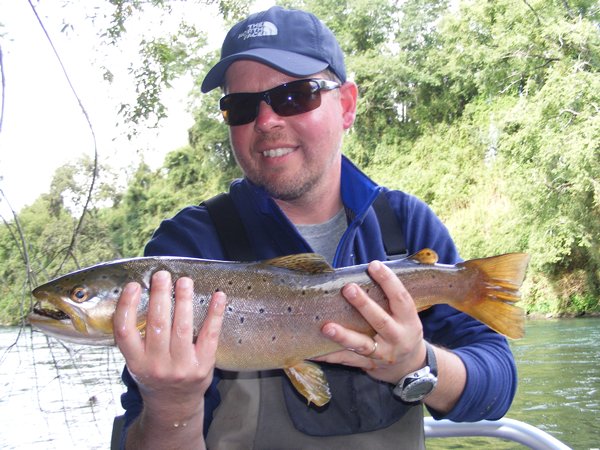 Stephen Vaughn with a gorgeous brown trout, now that's worth the trip!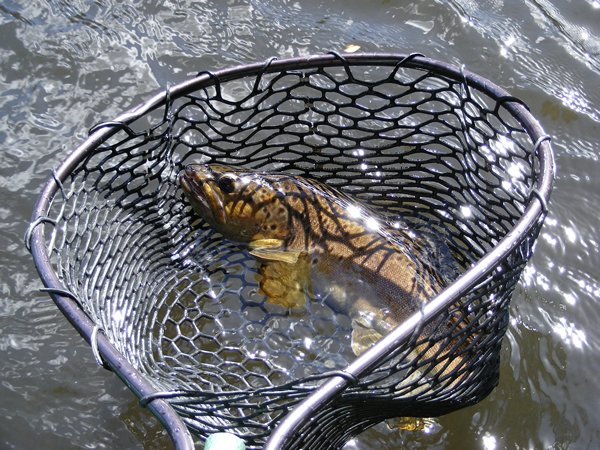 When it's time for Chilean & Argentine fly fishing travel, guaranteed we can save you money on all aspects of your travel, throw us a line.
CHILE FLY FISHING GUIDE & LODGING INFORMATION PAGE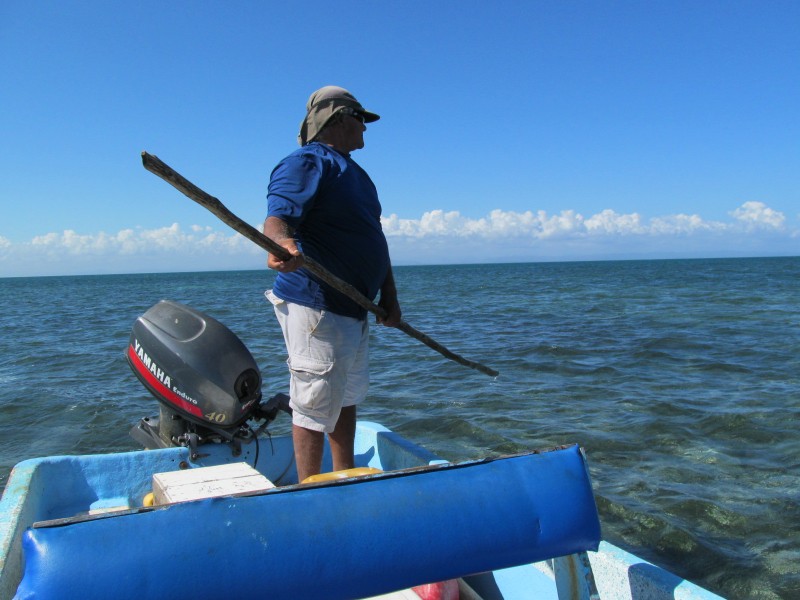 Down in Central America our guide Lincoln Westby is getting our clients into quality Belize salt water fly fishing guide trips like he has for over 30 years.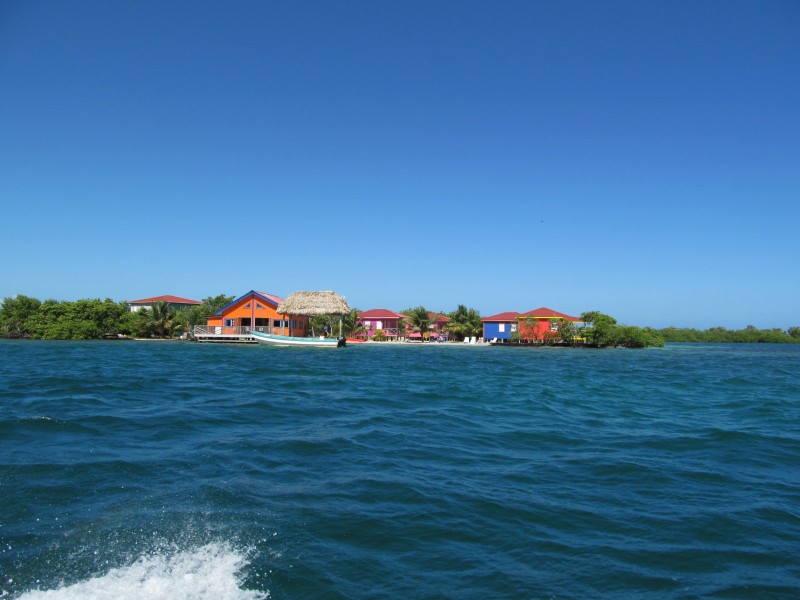 Picking you up at your colorful place on the water, not too much longer after that you have a fish peeling line off your reel at an enormous rate!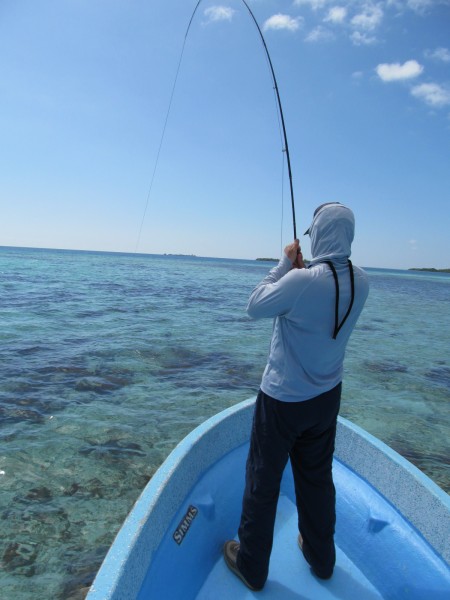 A permit caught by our client Peter Jordan of Southern Cal, it's an epic fly fishing moment for any angler.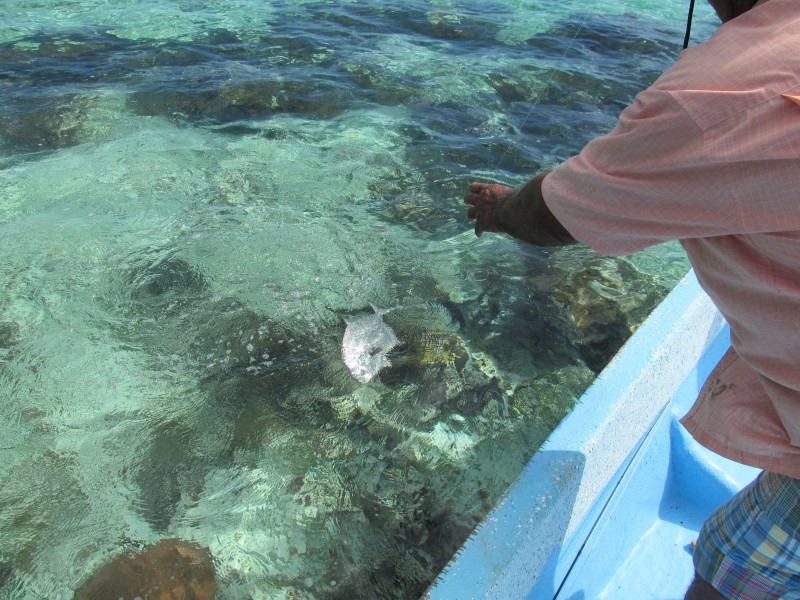 It really is true, one of the most covenant prizes as a fly fisher, a permit landed is still one of the rarest catches to this day in the sport.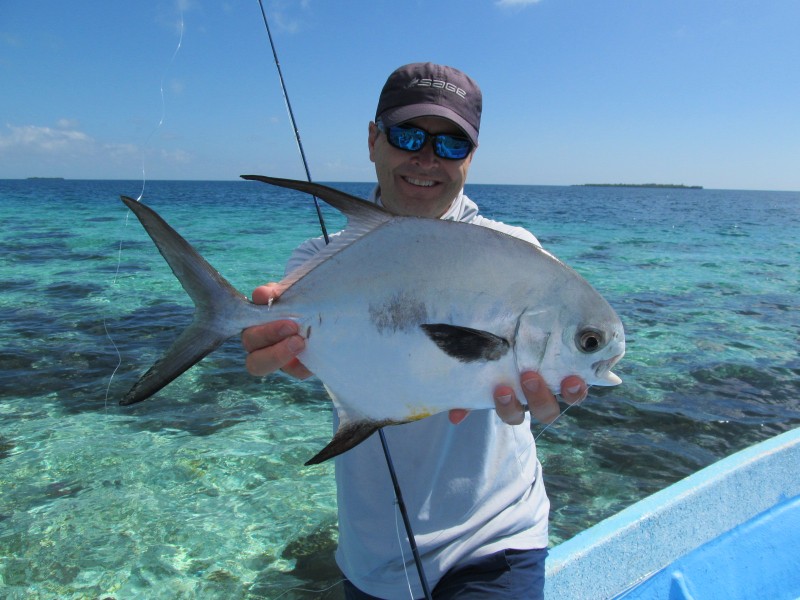 Shawn Foltik with a nice permit landed, I can't think of anything better to do out in the ocean.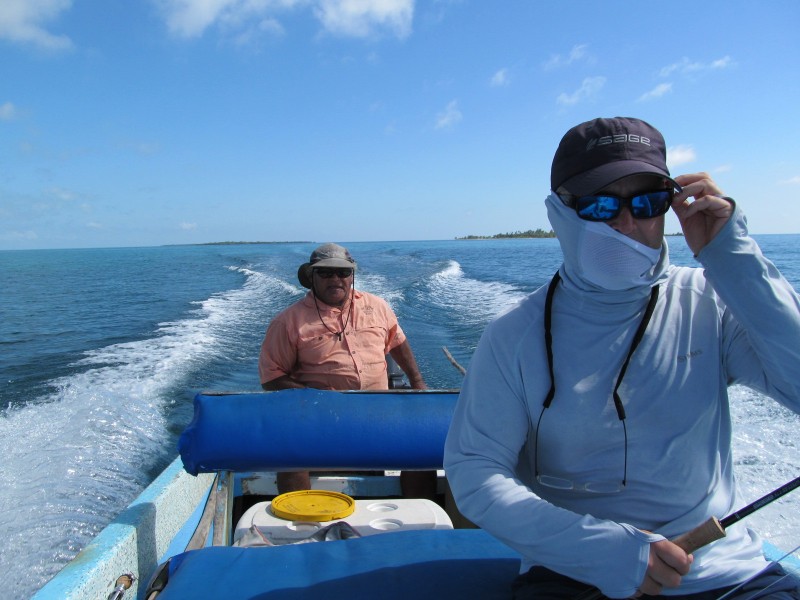 The run out is always a hoot, hold on your hats! Lincoln Westby is so classic to be out on a guide trip with in Belize, this guy is a legendary guide known throughout Belize for his fly fishing skills and eyes that can see fish like Clark Kent through the ever illusive ocean glare. My advice, when he says "cast there!" Just do it because he sees them, you don't, and hold on! You got your finger buddy, so the line doesn't burn into your finger? Ok, then you're ready!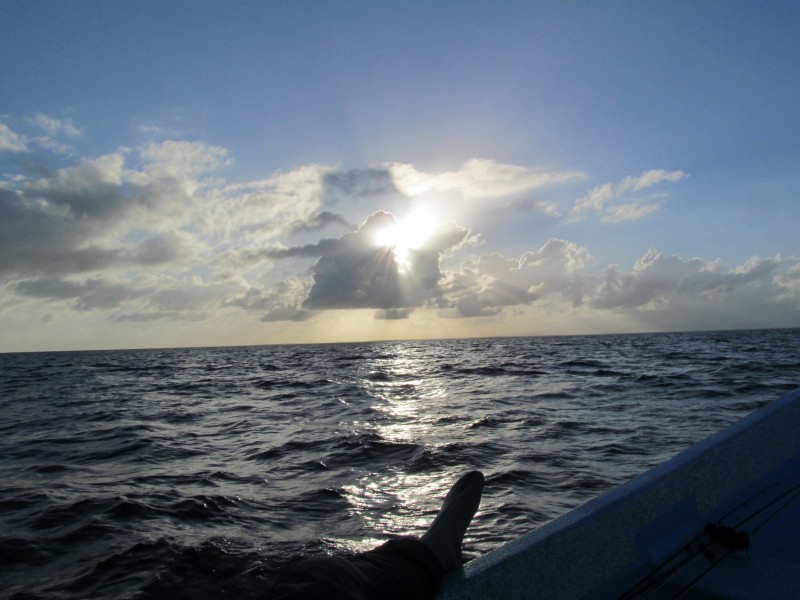 Nice escapes every where you look in this country.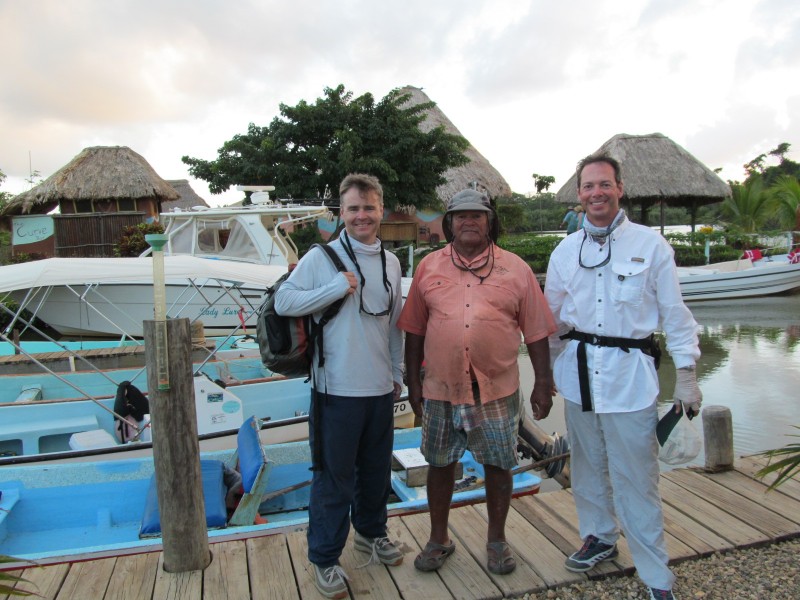 The mighty warriors ready for action! Hi Peter and Shawn thanks so much for calling on Jack Trout International for your fly fishing travels and outfitting. We'll catch you again in the spring when you come up and do a raft trip down the Upper Sac with me.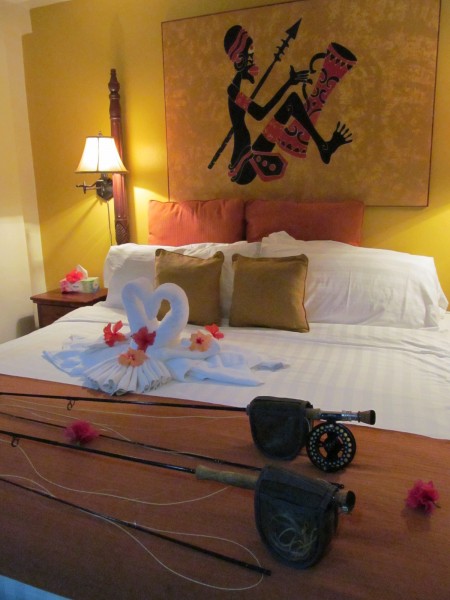 Always great accommodations awaiting. We'll always over see your entire trip and make sure your travels are heading in the right direction.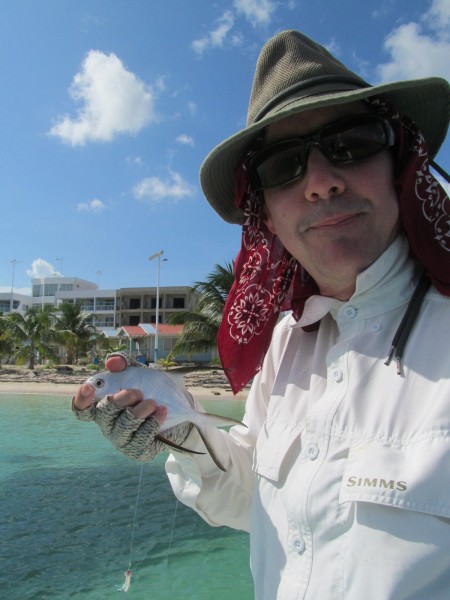 We can't guarantee everything, some of that's up to you. But anything we have control over will be handled professionally and correct.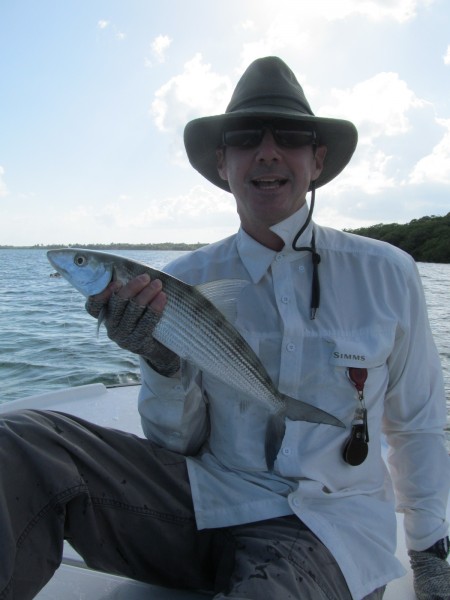 We catch bone fish and tarpon, but we target permit as a profession and hobby for our clients.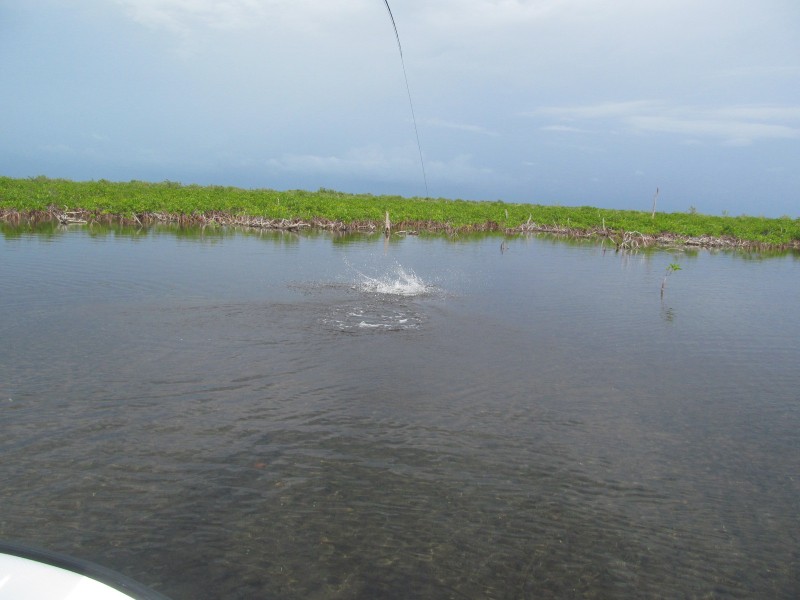 Look fish on!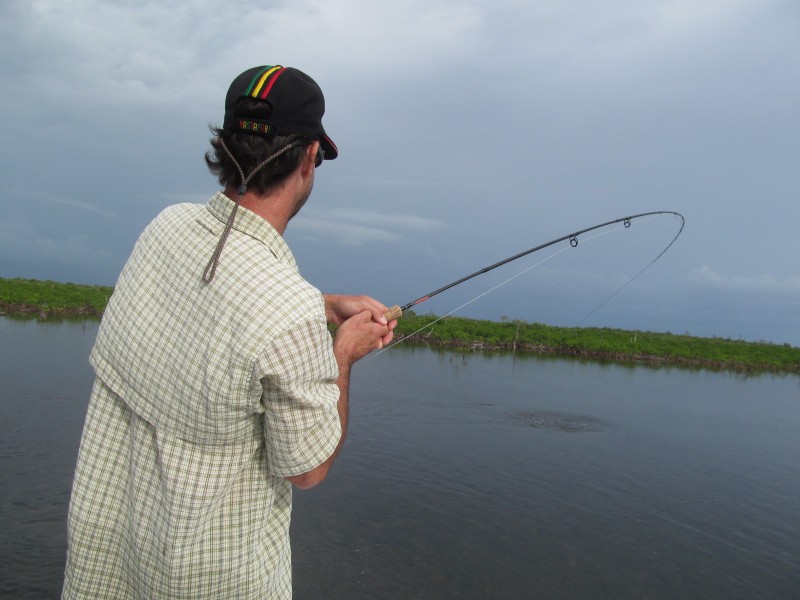 That looks like a hard fighting fish.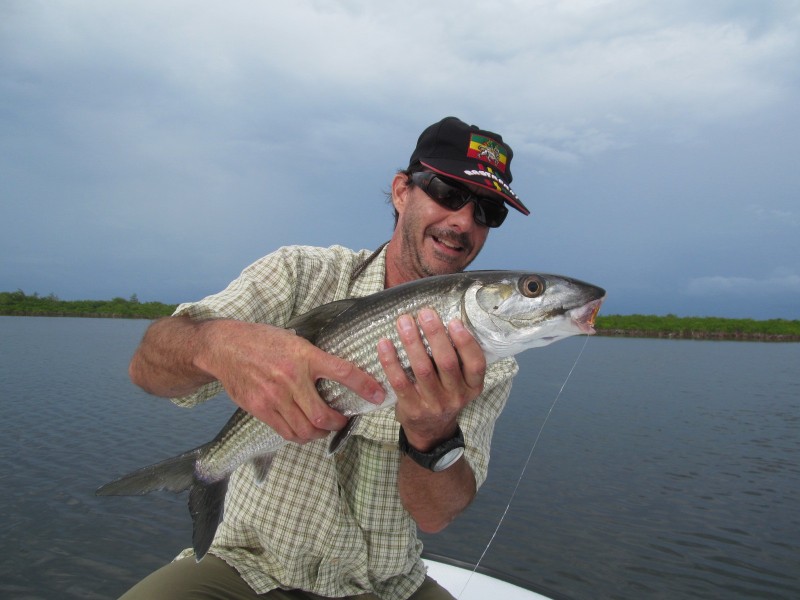 Bravo Peter, that is nice bone fish anywhere in the world.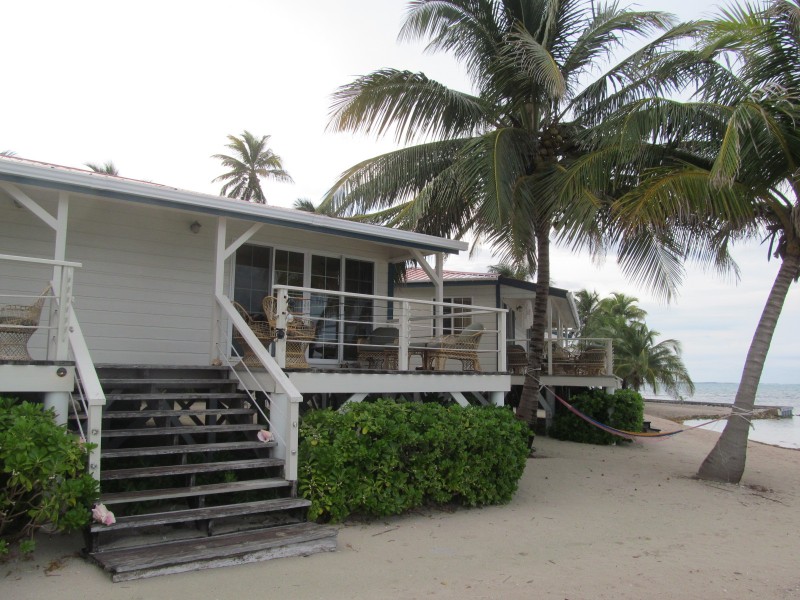 So you want a place on the beach that's affordable…..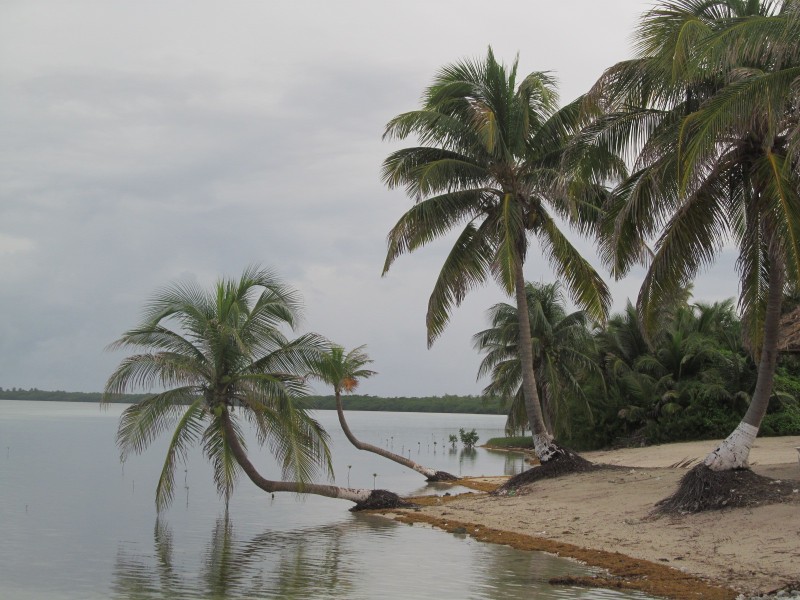 Possible remote with fishing in front and no one around….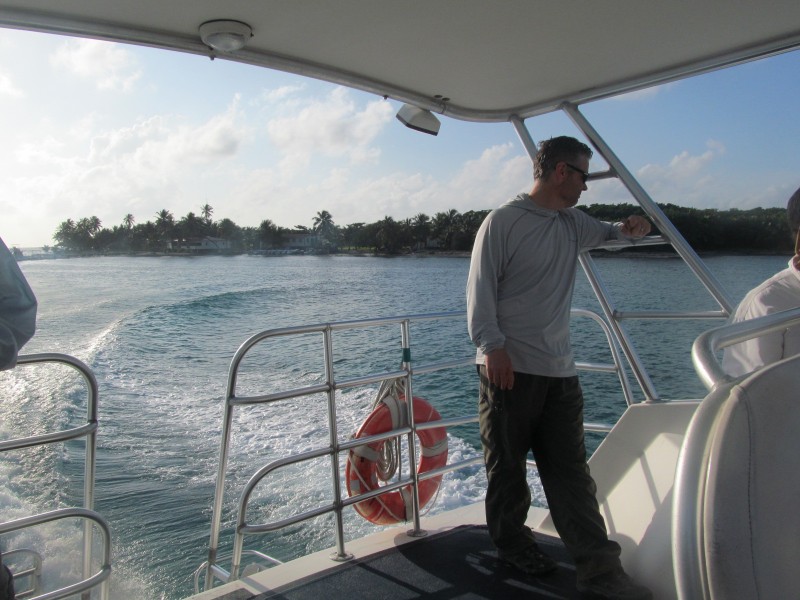 Take a cruise out to one of the nearby atolls or islands, we can arrange that.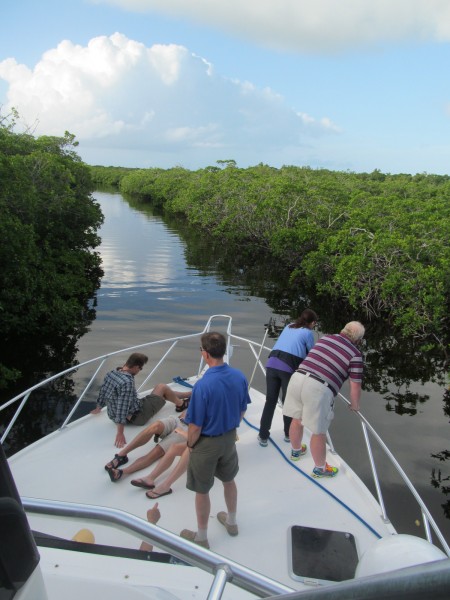 Tour a river with alligators, snakes and exotic birds, we're all about this, just don't get too close…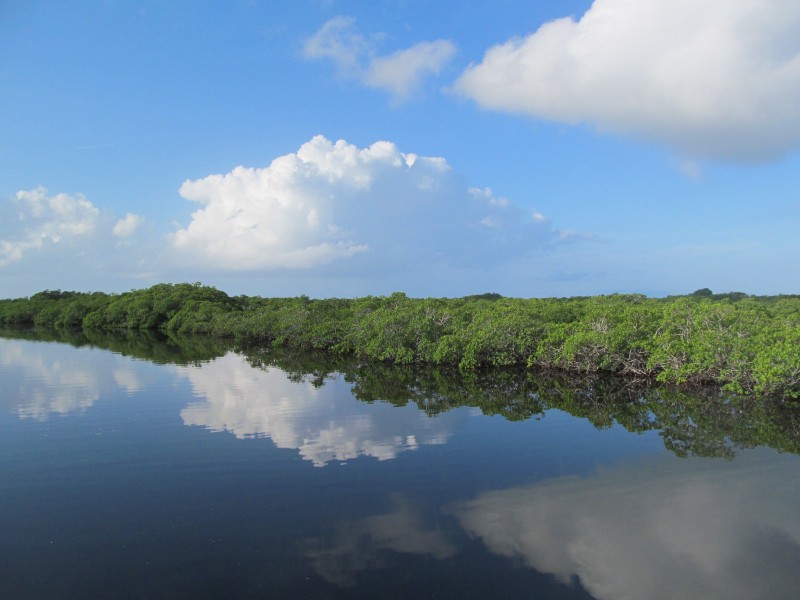 Reviewed December 19, 2013 NEW
We just returned from fishing out of Hopkins, Belize and my friend and I each landed our first permit on days 1 and 2 of our trip. Jack set us up with the best guide in Hopkins (or possibly anywhere) – Lincoln Westby. Jack got to know our needs based on our experience (it was our 4th trip to Belize) and matched us with a perfect guide. We also appreciate his recommendation to stay in Hopkins Village and his advice with all other logistics and entertainment suggestions during our stay. We would definitely recommend using Jack to organize fishing or any other activities in Belize. There are lots of options and Jack knows the best of the best.
Visited December 2013
*****************************
"Belize"
Reviewed November 27, 2013
Jack was very helpful preparing me for my trip by supplying local flies. He connected me with the region's best guide and we caught a ton of fish. The permit escaped me, however, so I'll be back. Hopefully with Lloyd.
Visited October 2013
******************************
Email just received-
Hey Jack,
 I wanted to shoot you a quick note to thank you for putting me in contact
with Lloyd Nunez. I just got back to the beach, after one of the best
days of fishing of my life! Lloyd and Robby had me on fish from the
start. It was an unforgettable experience.
Cheers, Mike Peterson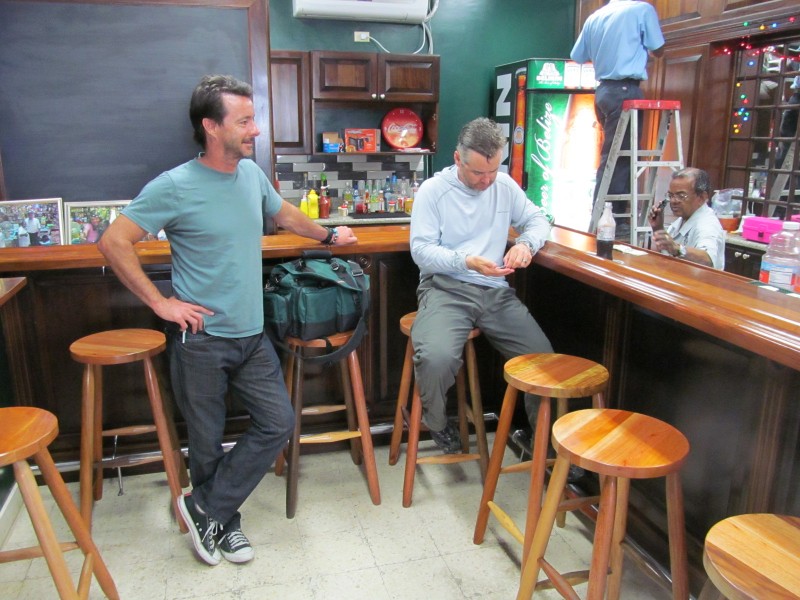 As Christmas lights get put up in Belize, maybe it's time for your salt water fly fishing holiday vacation.
BELIZE FLY FISHING GUIDE & LODGING INFORMATION PLACENCIA & HOPKINS
Chile Fly Fishing Information Lakes District & Rivers Chile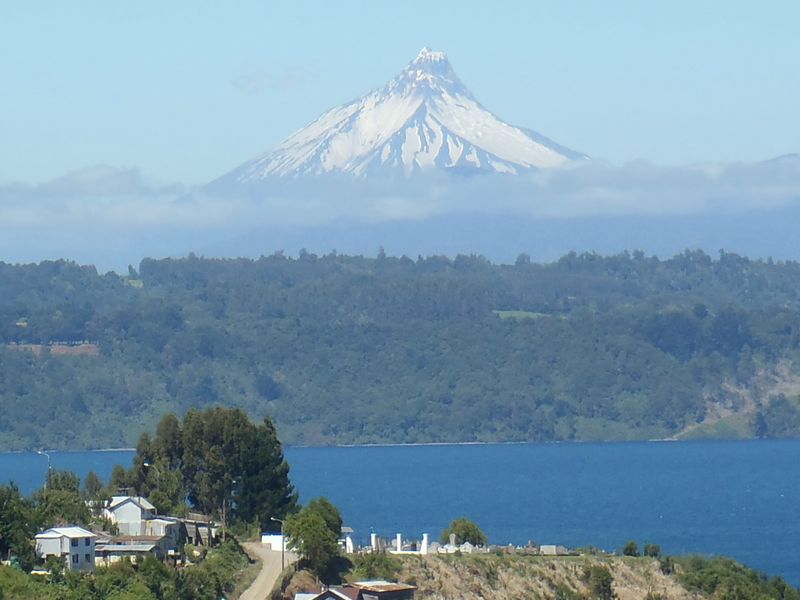 Puerto Octay Chile and the Volcano Puntiagudo in the back ground.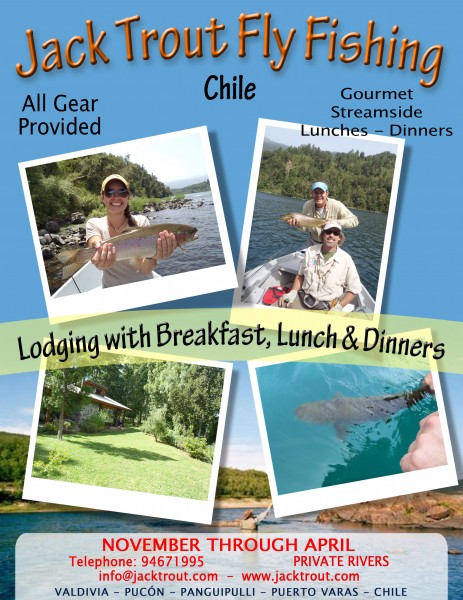 Happy Holidays Everyone!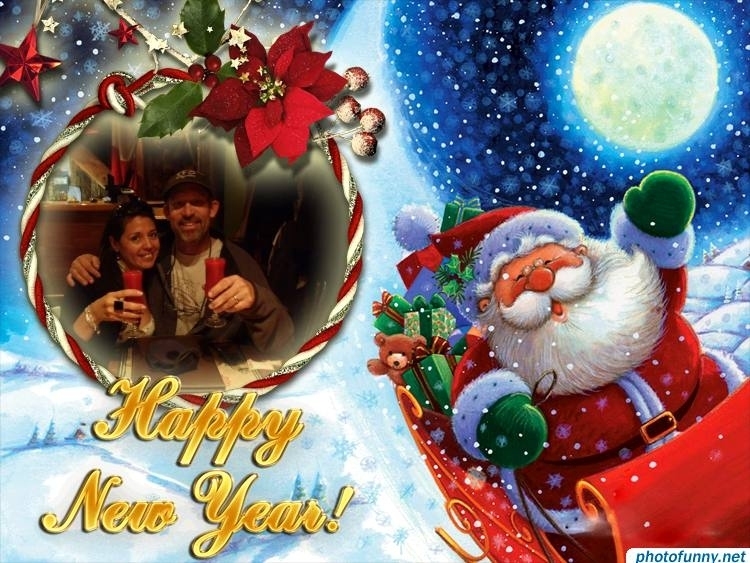 All the best wishes, Jack & Carola Trout