Howdy Sizzlers from Patagonia Chile and all points inbetween!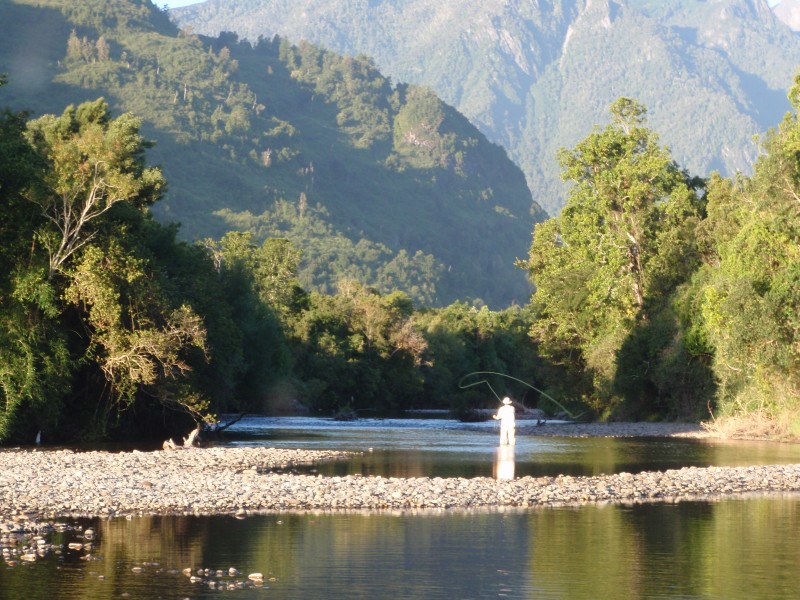 Thank you all for your support and guide trips in 2011, we promise to deliver the best possible guide extravagenzas as we head into our 17th season here in Chile and California.
Wild flowers are blooming and we are looking forward to a great week with Liz and Alex Kanon.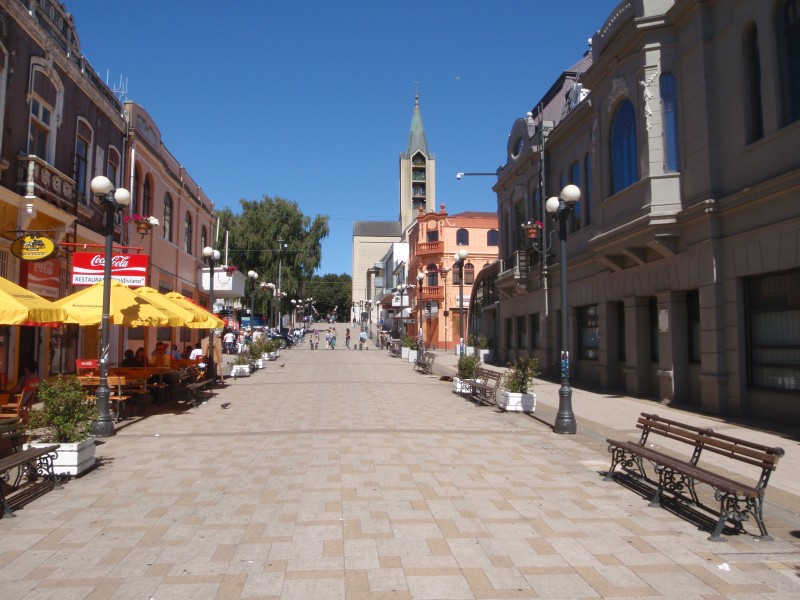 Valdivia Chile looking great as always as the many restaurants and pubs are awaiting you and me.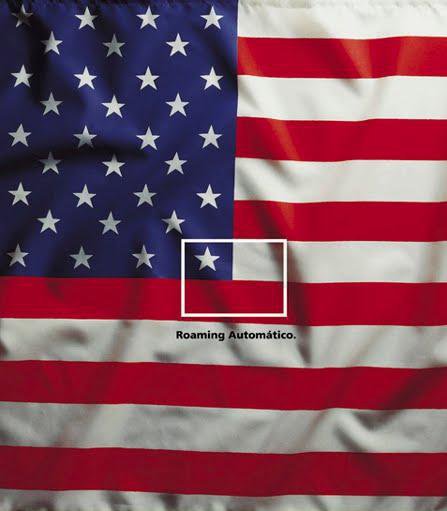 Chile and the United States are connected in so many ways, I have always said, side by side with England, Chile stands proud as a true friend and supporter of democracy, brews, wines and a South American fan of our music, movies, and life style. Our connection has always brought us together in the forefront of the world. Chile rocks Sizzlers and you should know in addition to the 33 miners story that hit the world hearts, we have a connection that will always be strong and happy as only good prevails in the end. Like a kiss from my wife when she is happy with me, this is what rules in the world, nothing else matters but family, children and happy clients whose dreams are fulfilled. Life is too short to worry about anything else and the memories that we have that are about good is what makes us human as we cherish the togetherness as tenants on this Earth. We love life and continue to make each day better than the previous, some days are harder than others, but we try to get better always and respect others…
Saludos de Chile my friends,
Jack & Carola Trout
 Imagine all the people ~ John Lennon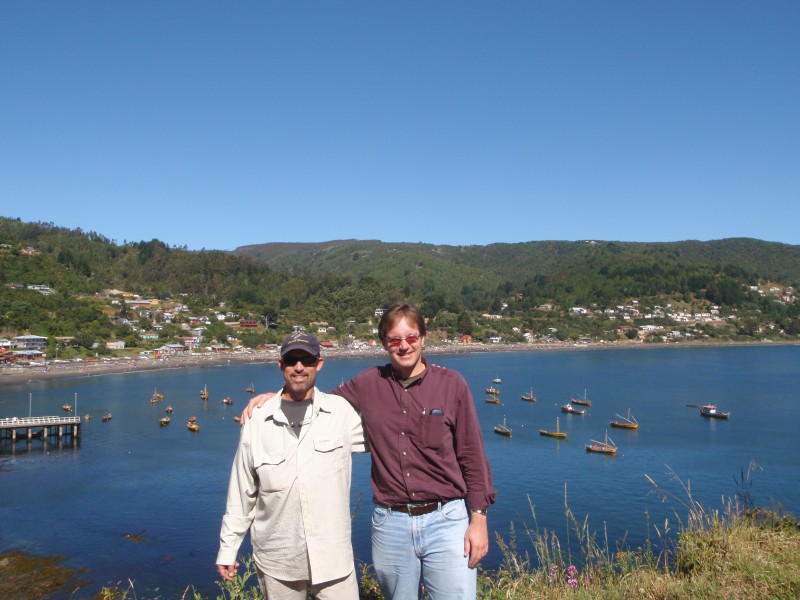 Our next clients David Ames arrived and we took him on a tour of the Chilean coast near Valdivia Chile.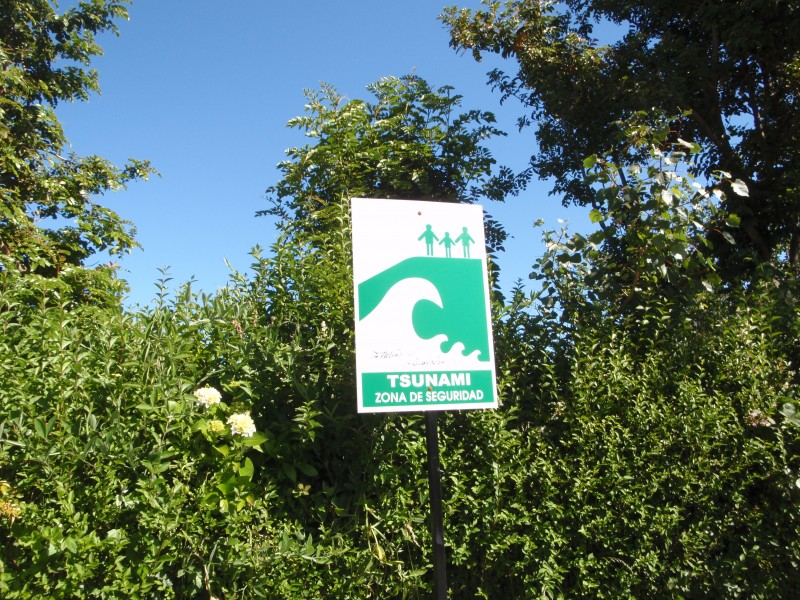 Always like an Indiana Jones adventure in this country, but such is life Sizzlers!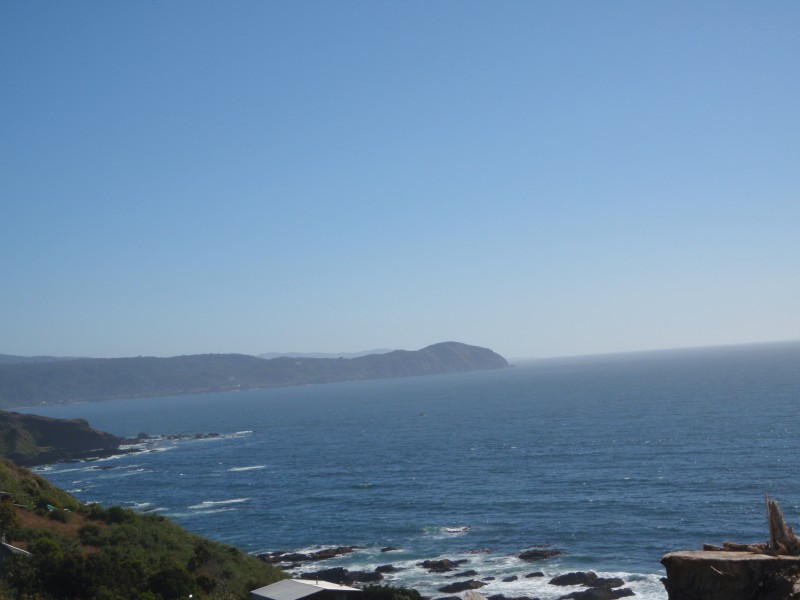 Chile and the Pacific Ocean, in all its splendor and glory the views, sights and fresh smells all so powerful for all to witness…
German Beer Tours in Southern Chile – Micro Cerveceria en Chile
David, lets go on a tour of the new era micro brews that are coming of age here in Chile! We love Southern Chile because this is area that has all the great German brews and we want to tour you here Sizzlers!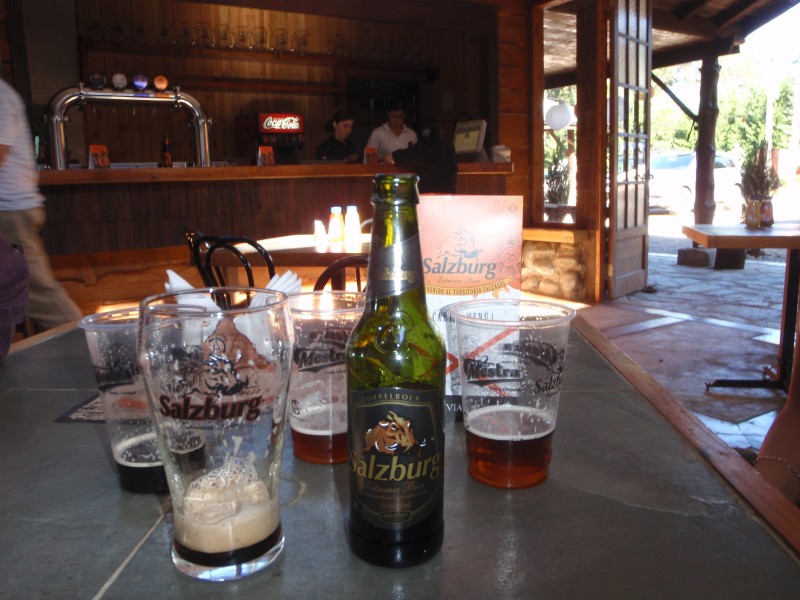 Salzburg brewery, you rock man and thanks for all the free brews as this is one great place! David really liked the great beers here.
http://www.cervezas-artesanales.cl/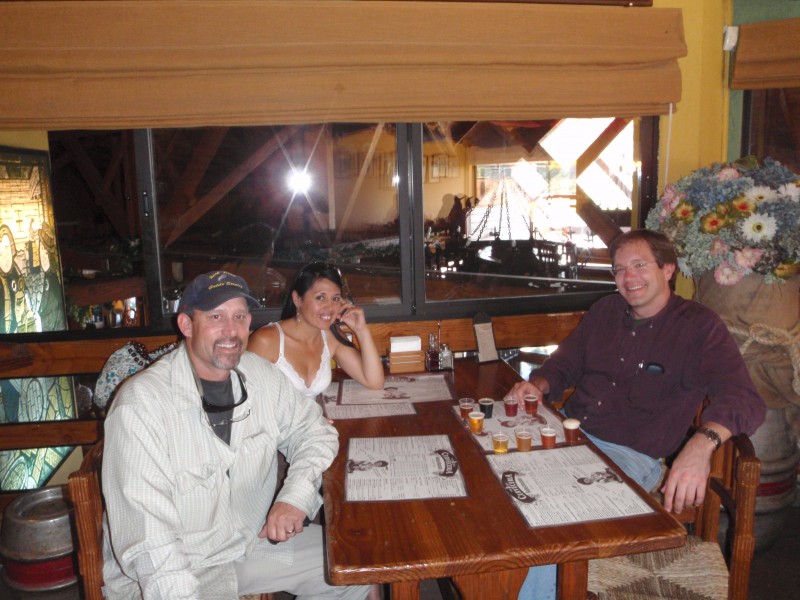 Next we headed down the road to the Kunstmann brewery and David tried some of the best beers Chile has to offer.
 http://www.cerveza-kunstmann.cl/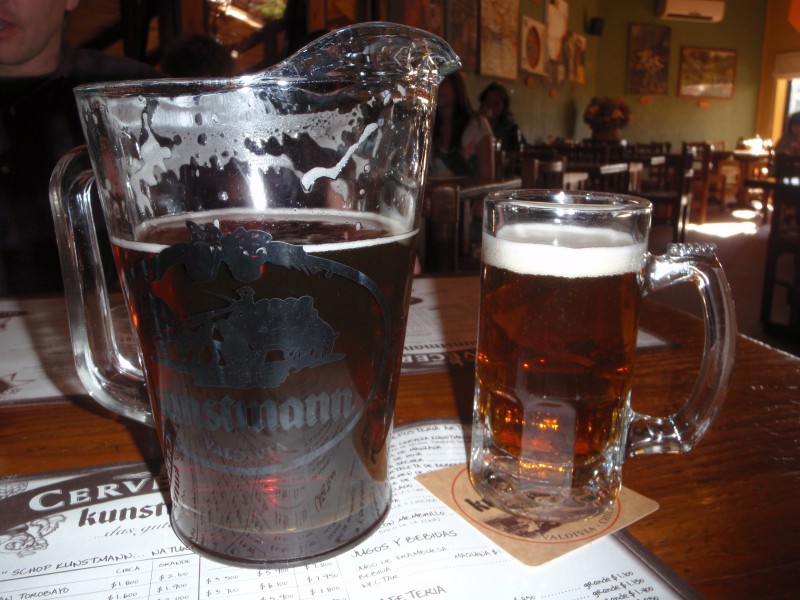 Hey Sizzlers, if you head to Chile stop off in Valdivia and try some Kunstmann beer, as you won't be sorry. I am always grateful for the Germans who colonated here and brought their great beer recipes from Europe. More so on great taste than power, that's what makes these Chilean German brews so memorable!

Next we headed to the Calle Calle Cerveceria or brewery outside of Valdivia Chile. I love this place beacuse they have an open door to a lagoona in the back and you can feed the carp Sizzlers!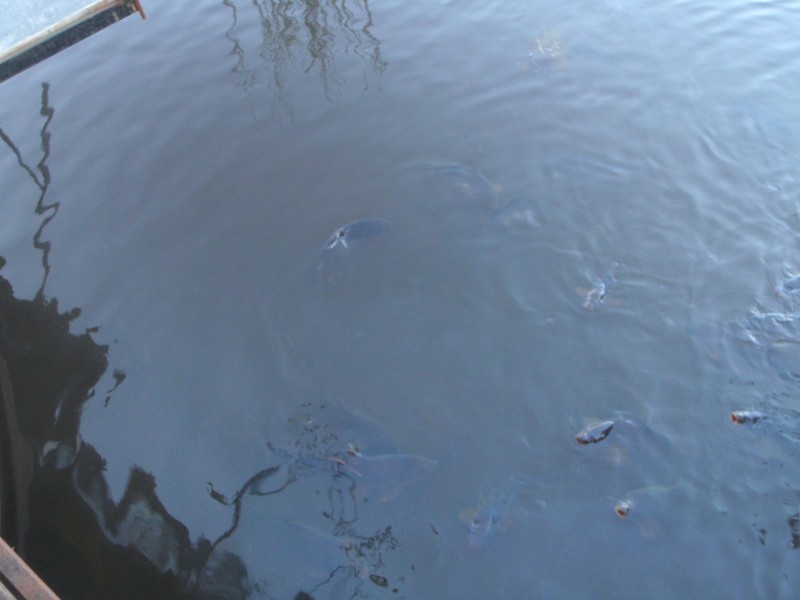 How cool is that as hundreds of carp are awaiting a free meal.. Bolsero pesca o Free loaders…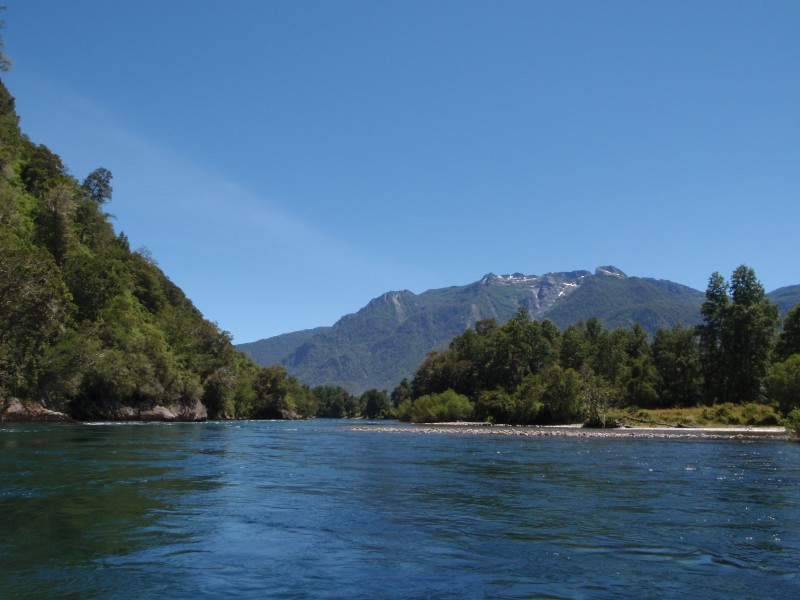 Oh my God, it's the Rio Dios on a perfect sunny day!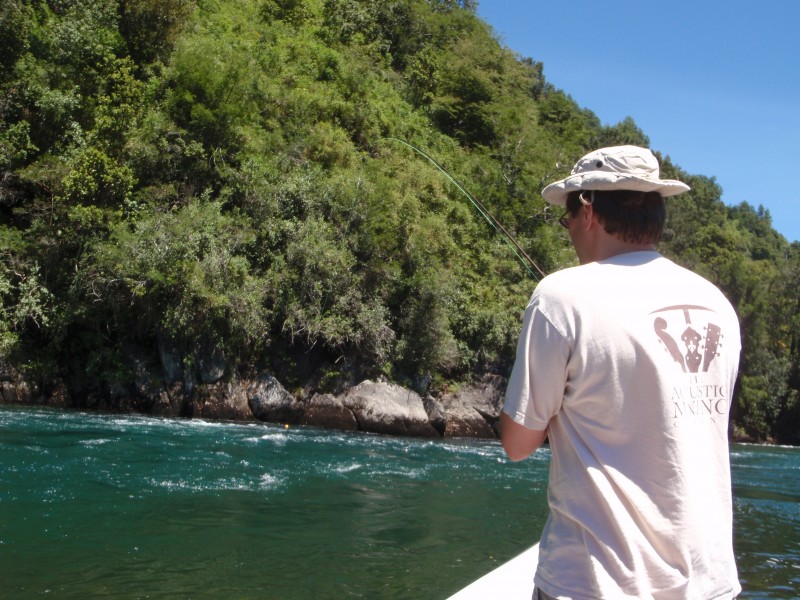 David Ames with a hook-up epic adventure!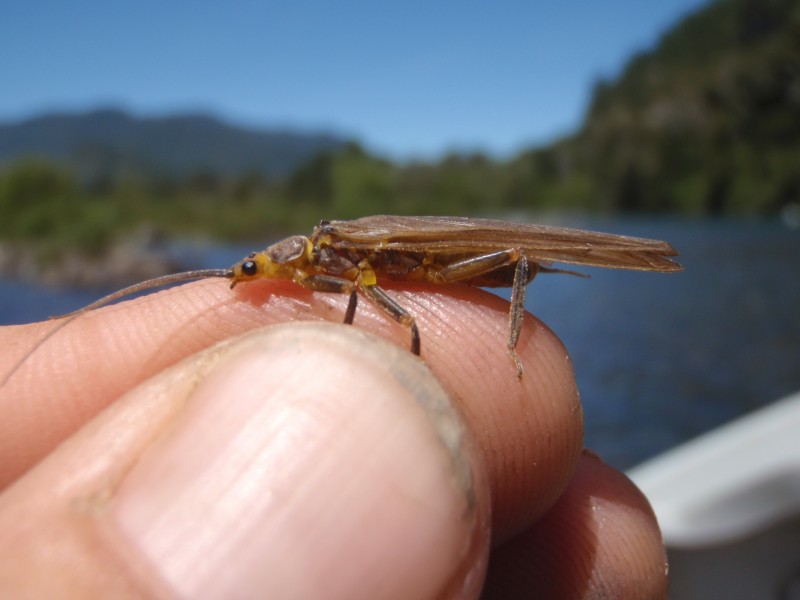 Golden Stones are hatching here now!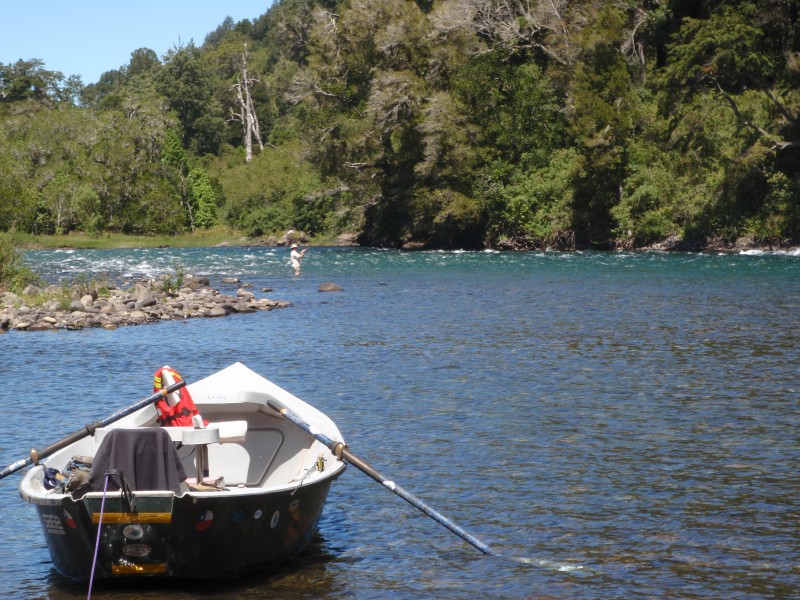 Dave, you go fish that riffle and Carola and I will prepare a great lunch for you,  hook-ups are bonus Sizzler!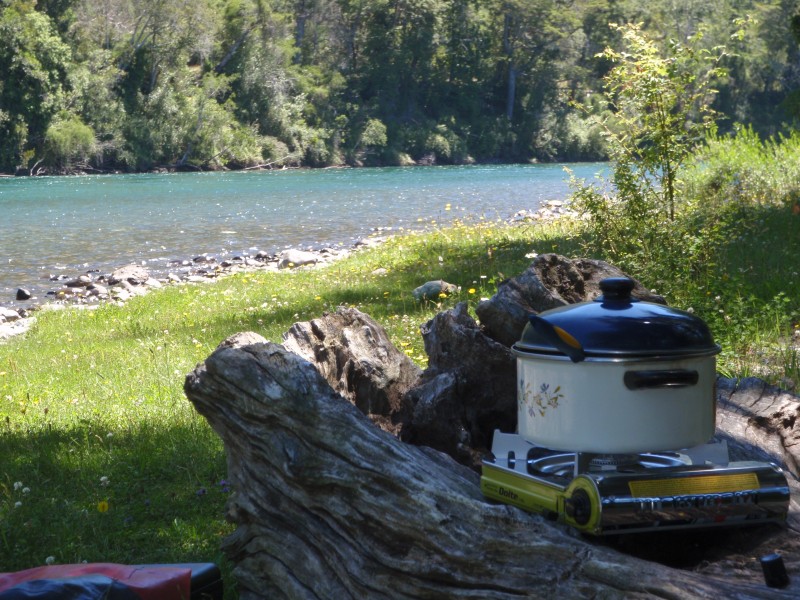 Stainless steel stove for outdoor cooking, just like Richard Collins said in a recent trip, "Trout, I'm glad I met you after you married Carola!"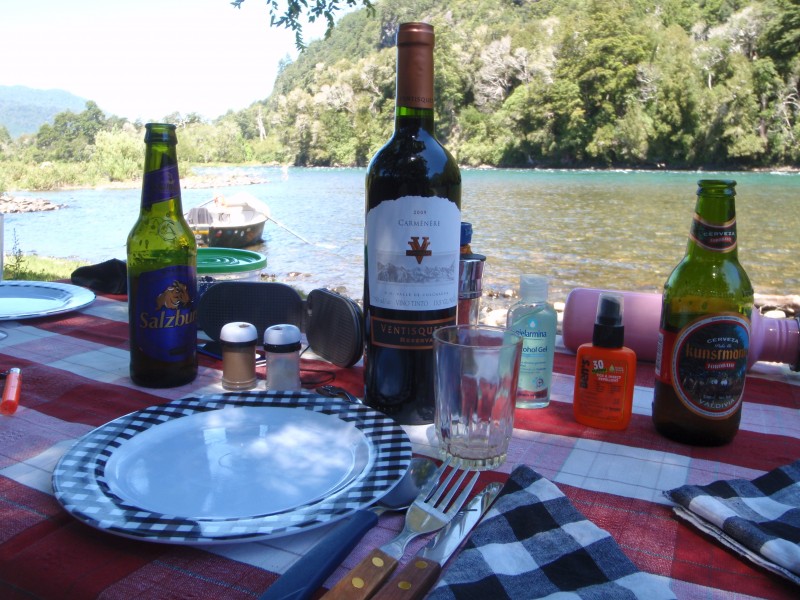 Carola always has some special meal planned for your dream vacation to Chile, then I have the fly fishing knowledge of 17 years stored in my brain. Together we make a team that has your best interest at heart and lasting memories we share together for all!  So look in the background because our valued client has another hook-up and we know that's what it's all about!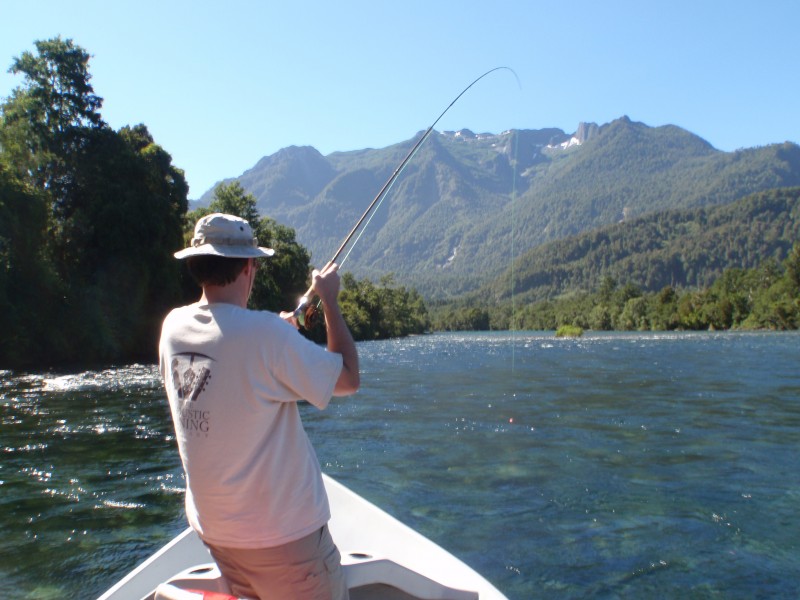 David Ames hookage Sizzler!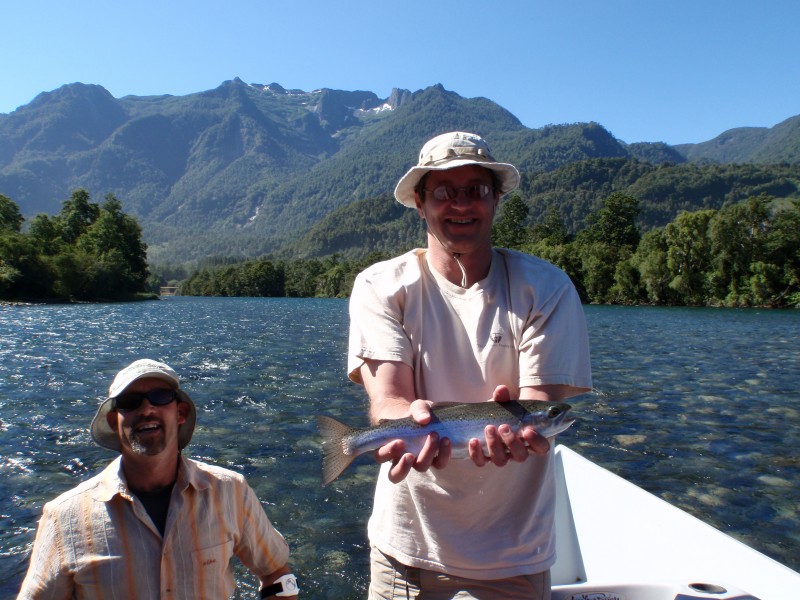 David what a nice trout, thanks for calling on us as we exist for you!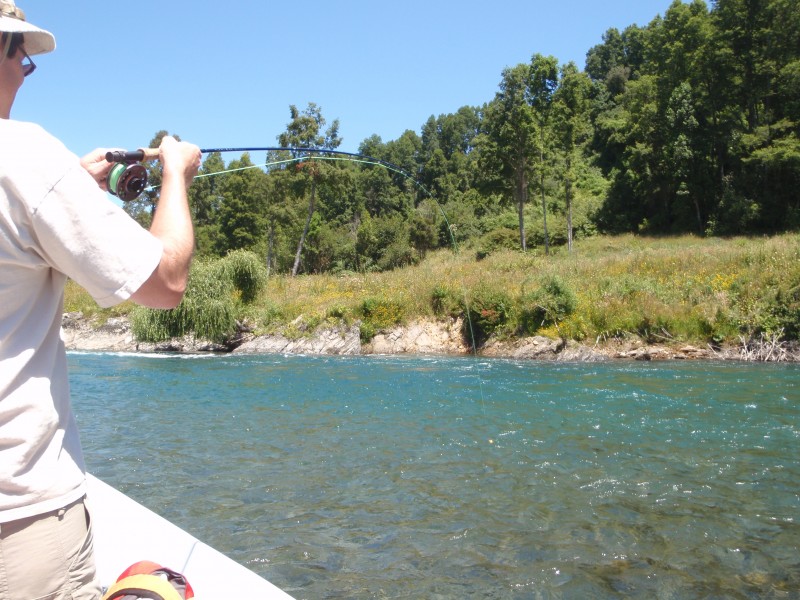 Out of the drift boat living large on a perfect sunny day.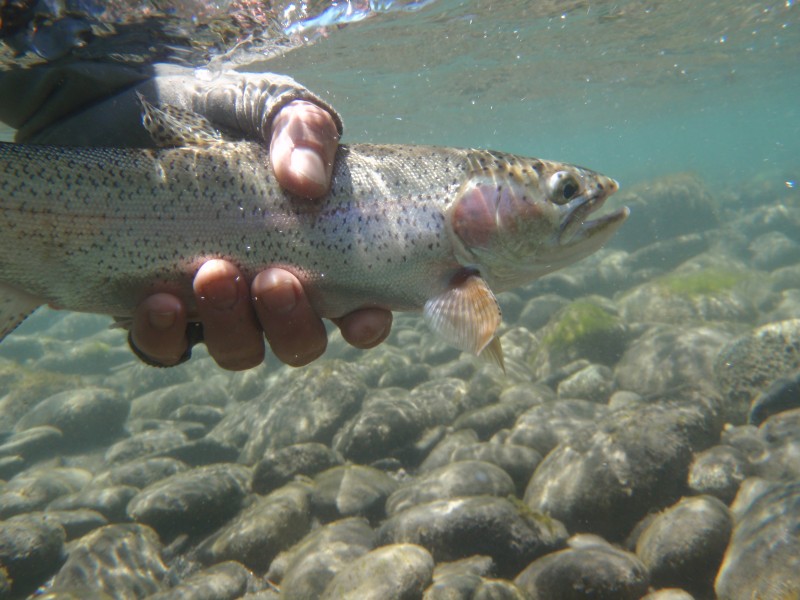 The catch and release of wild trout is a world wide phenomenon Sizzlers!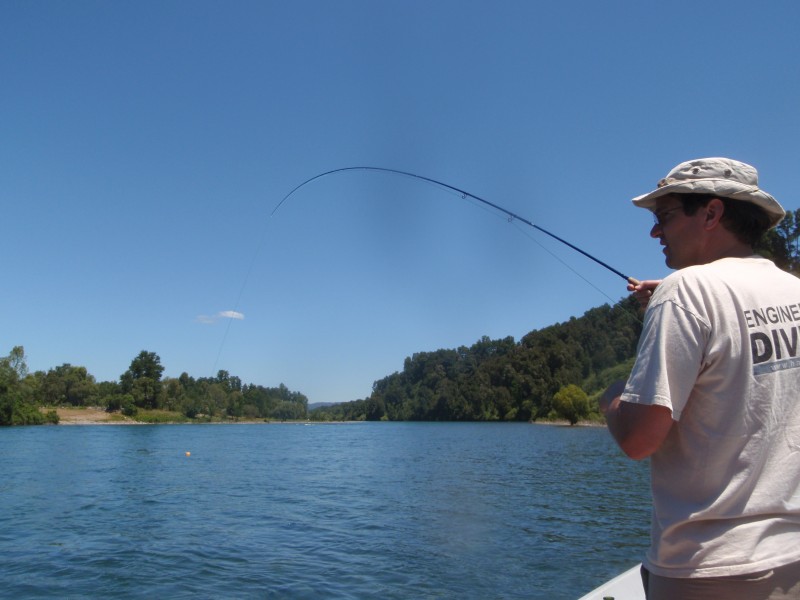 David hooks into another trout that is released unharmed…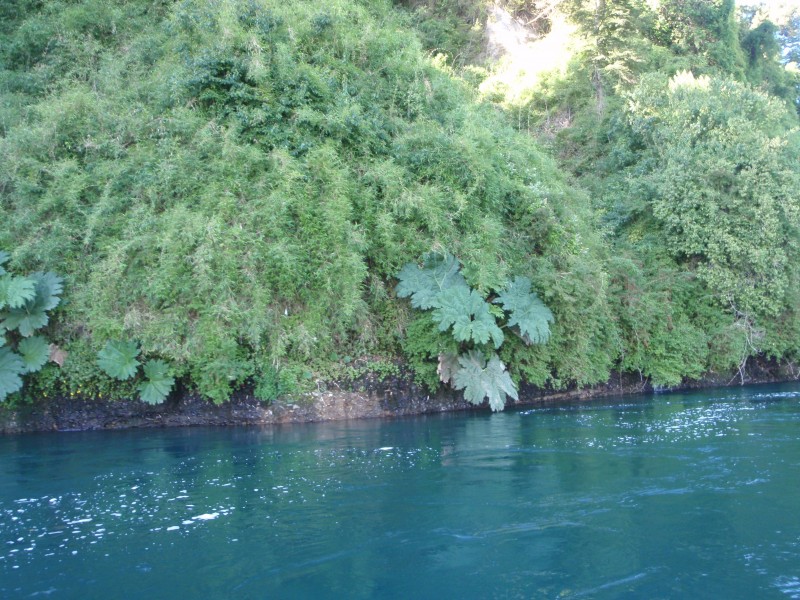 Epic beauty, elephant ears as big as Grandma's rhubarb pie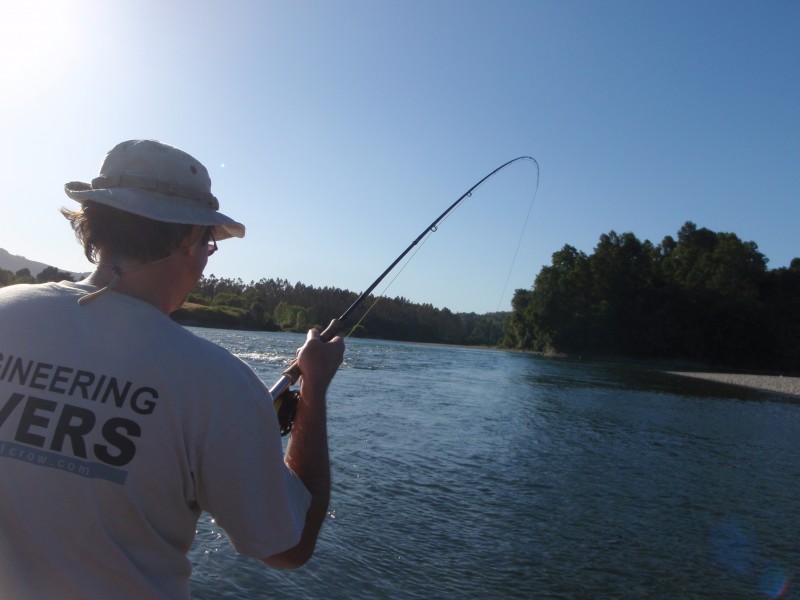 David hooking up all day on the Rio San Pedro, as I didn't want this trip to end early and headed in at dark!! I love this job!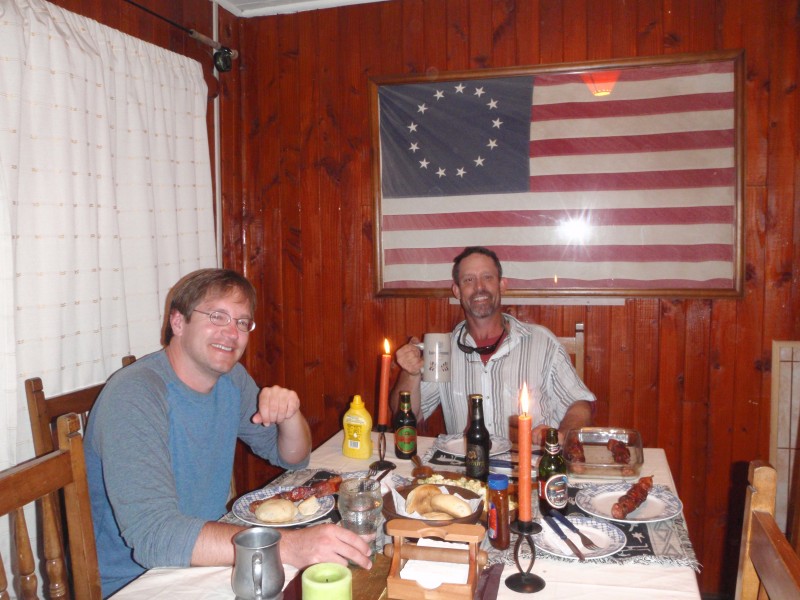 That night we ate SHISKABOBS and had a nice drink as classic as it sounds..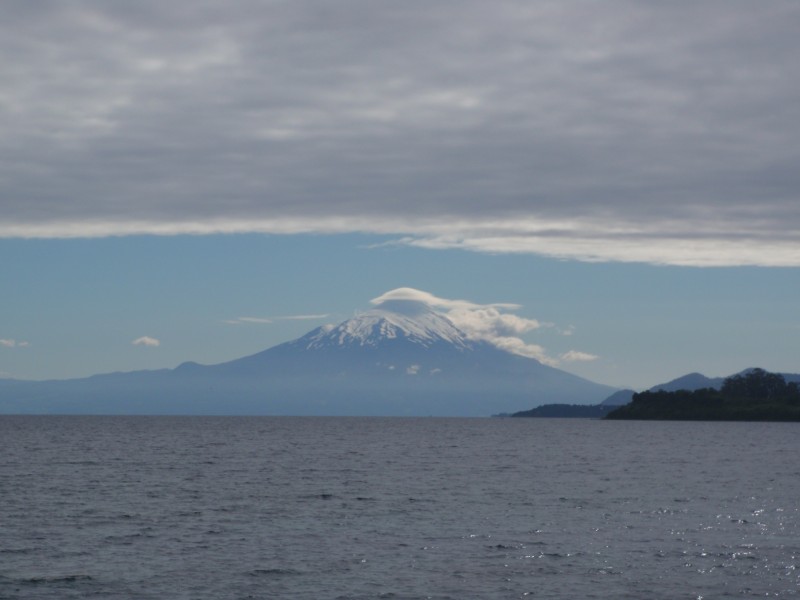 Later that week we saw the cap form on the Volcano Osorno as a sign that the prefect weather for sure was on the forecast for change.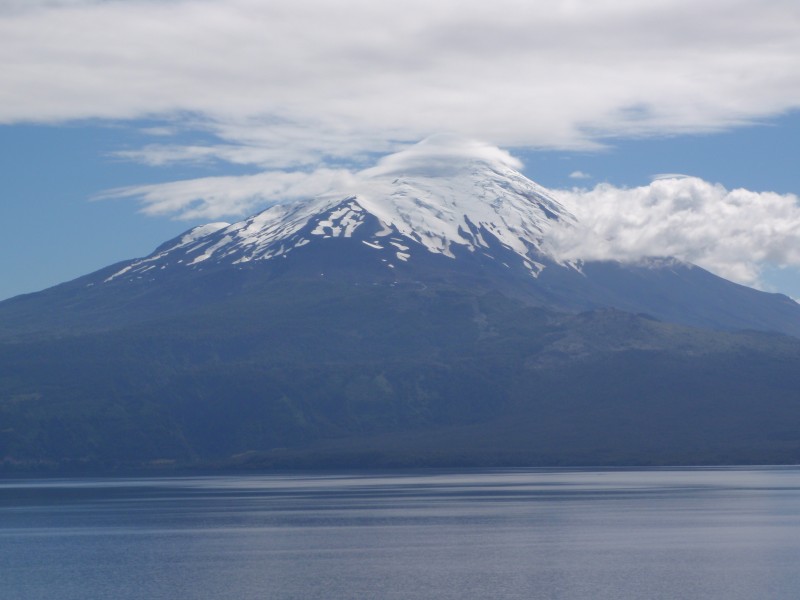 Then it happended the weather change and the winds picked up and just like I've said before, be ready for the four seasons in one day.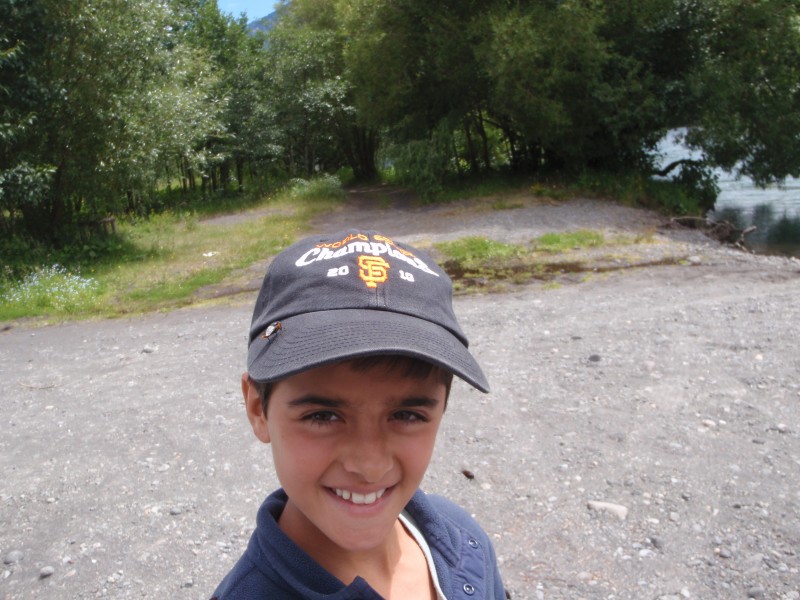 On the day we got ready to float the Rio Petrohue, I met this young kid that was just as much a fan of the SF Giants as me and we slapped high fives as all must realize that the San Francisco Giants are the champions of the Baseball's Worlds Series! After 54 years and a change of address from New York, the torture is over folks! With the LA Dodgers in the cellar looking up at us as world champs, makes it even sweeter! My pops Raymond looking down with a big grin as a young man from Chile wears his Giants cap proud… Pops Raymond, we did it finally, I love you Dad.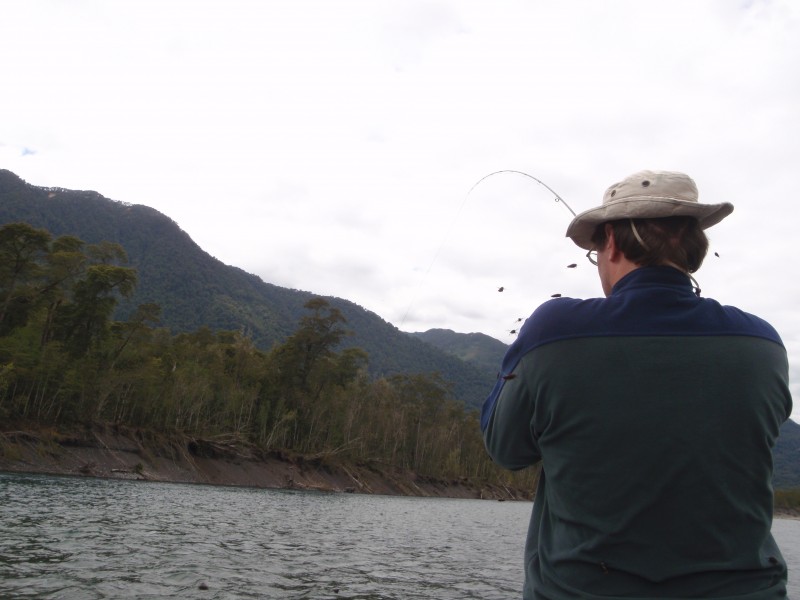 Out on the Petrohue River in Chile, where are all these horse flies coming from?In all my years I have never seen it like this, but the fishing was hot!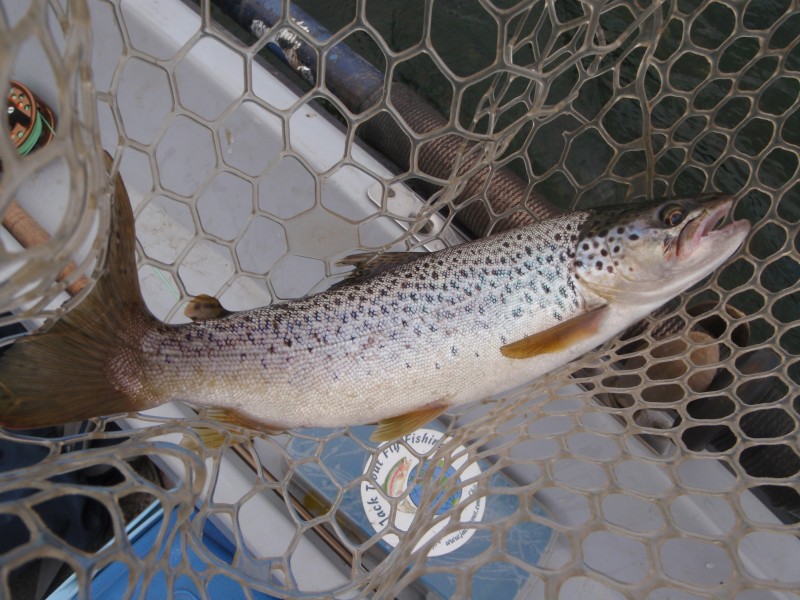 We landed another brown but these flies are driving us crazy!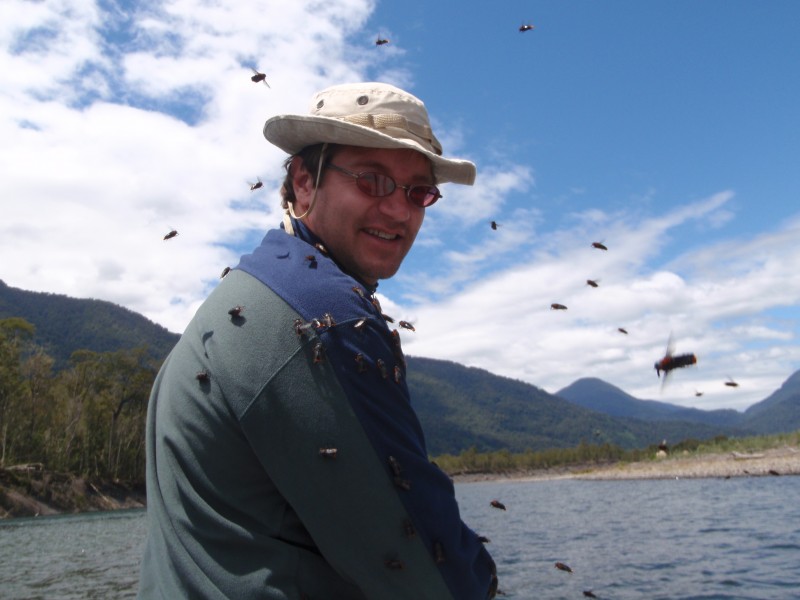 WTF Over!
Good thing these black flies only exist in the months of January and 1st 2 weeks of February, only about 45 days… My assumption is that last years rains completely flooded these guys out as they burrel in the sands of the beaches ashore, so this year with the low water flows we have twice as many as usual.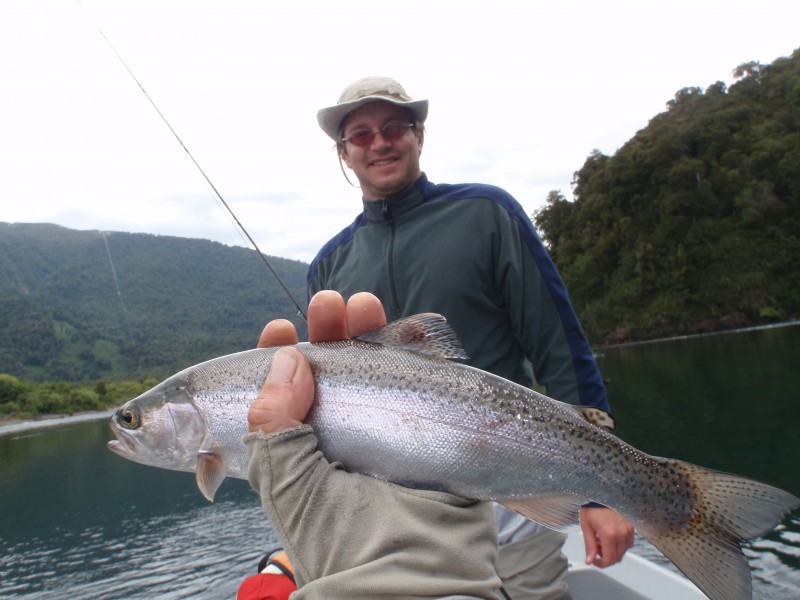 I like this trout you landed David, but have never seen so many tabanos flies…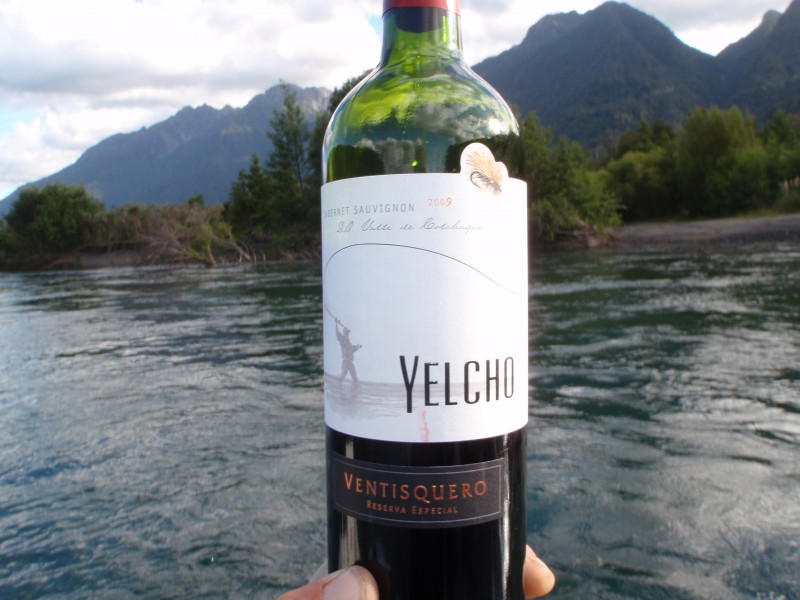 Let's open a bottle of Ventisquero wine, maybe that will take away this buzzing sound we have endured for hours..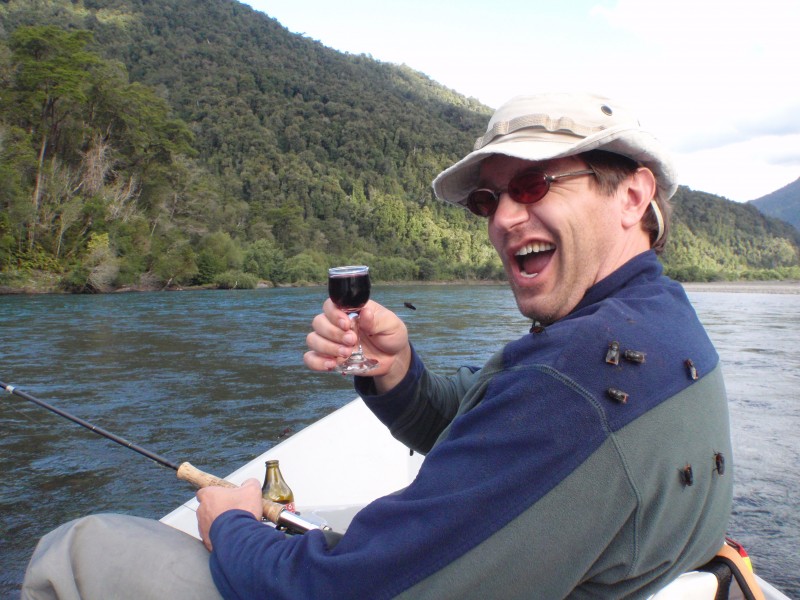 That will do the trick Trout!
Last year we received an email and a phone call from Sernatur National Service for Tourism in Chile asking us what we thought could make Chile's tourism better. We told them that some sections should be designated as "Catch and Release" and that some sections of rivers in Chile should be "Fly Fishing Only" We didn't think much would happen because we mentioned that most if not all of Argentina's rivers were already designated as "Fly Fishing Catch & Release" and that the reputation of Argentina's rivers reigned supreme compared to Chile's when place neck to neck. We knew Chile was far more beautiful in comparision as if it was like comparing the greenery of Austria to the high desert scenes of Nevada.
Basically the sign reads:
Fly Fishing Only
Barbless Hooks
Catch & Release Only
No Treble Hooks
Fishing License Required
Recreational River
Amen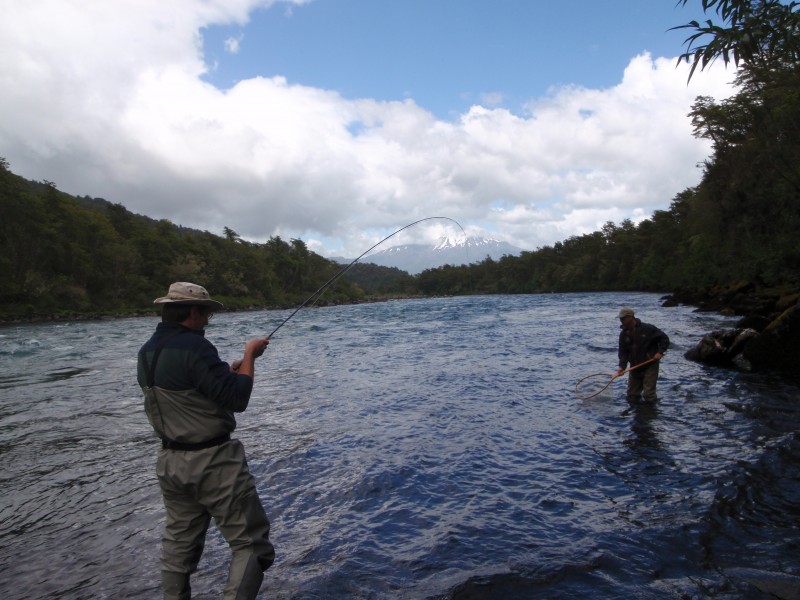 David hooks up on another great one wading on the banks of the Rio Petrohue.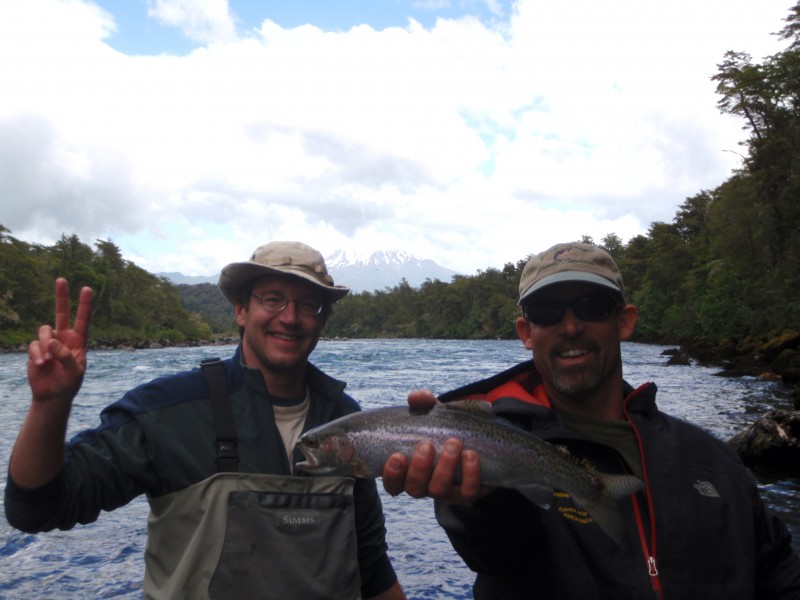 Peace on Earth folks!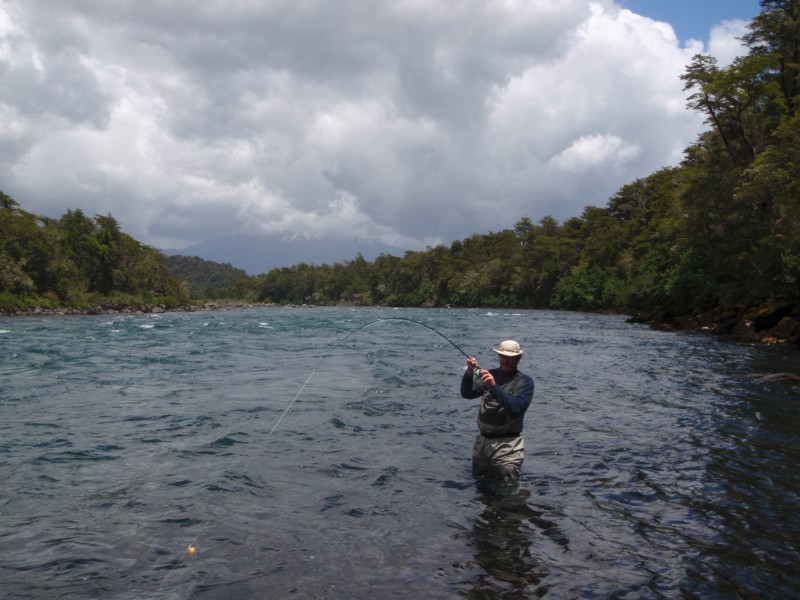 David hooks up on another and another….
Nothing but net folks!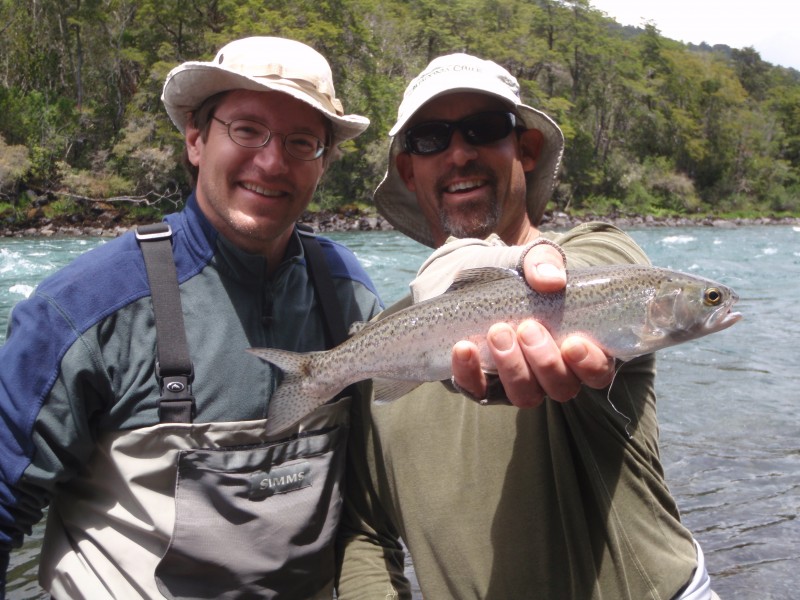 What a fun day we had indeed!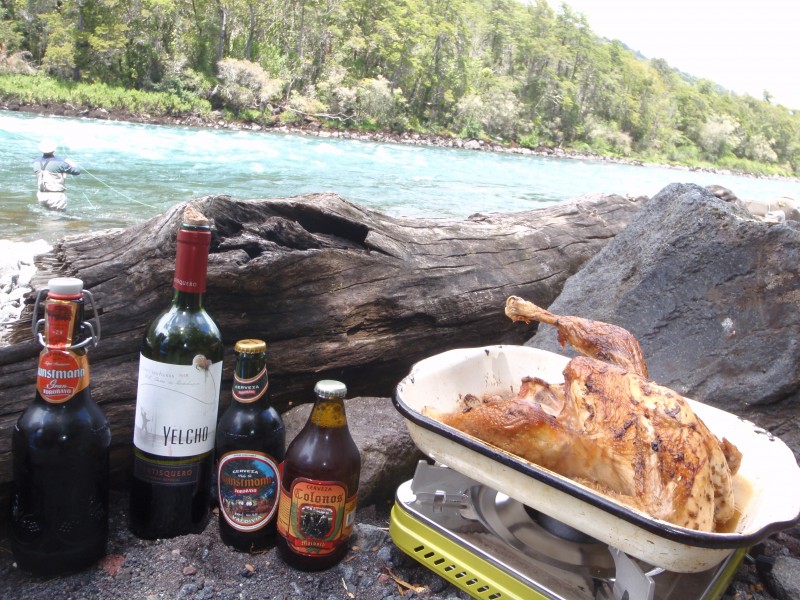 And Carola's lunch was spectacular as usual, with a nice assortment of wines and local German brews for one to savor.
The new Colones Maibock is my personal favorite! Watch this video on this great beer you must try when visiting Chile or go by their brewery.
 Way to go David, you're are my
SIZZLER OF THE WEEK AWARD WINNER!!!
CONGRATULATIONS SIZZLER!!
How to rent a car or truck to cross over the border
from Chile to Argentina.
I might also mention that we helped David obtain a rent a car from Chile to Argentina which is imposible to do from outside of Chile. Let us help you on your special trip from Chile to Argentina as only a few rent a car places offer this service and insurance must be pruchased & notarized by law for Argentina & Chile's strick border crossing rules. Don't be like the German folks we saw onetime in the airport in Valdivia frustrated because they were told months in advance everything would be ok with the Chile – Argentine border crossing only to find out on the day of their vacation nothing was really secured.. BUMMER!!
Let Jack & Carola Trout take care of it for you and you'll know everything will be secure, ready and legal for both countries!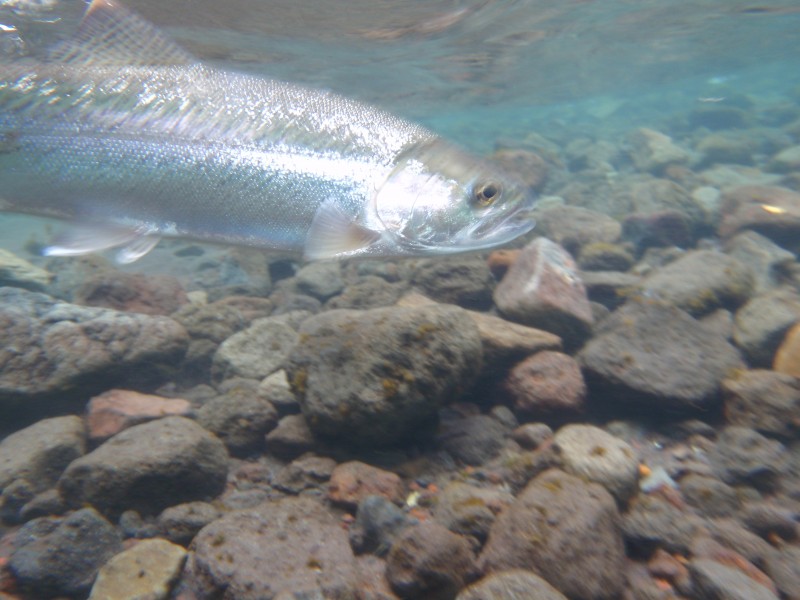 Underwater catch and release, epic Sizzlers!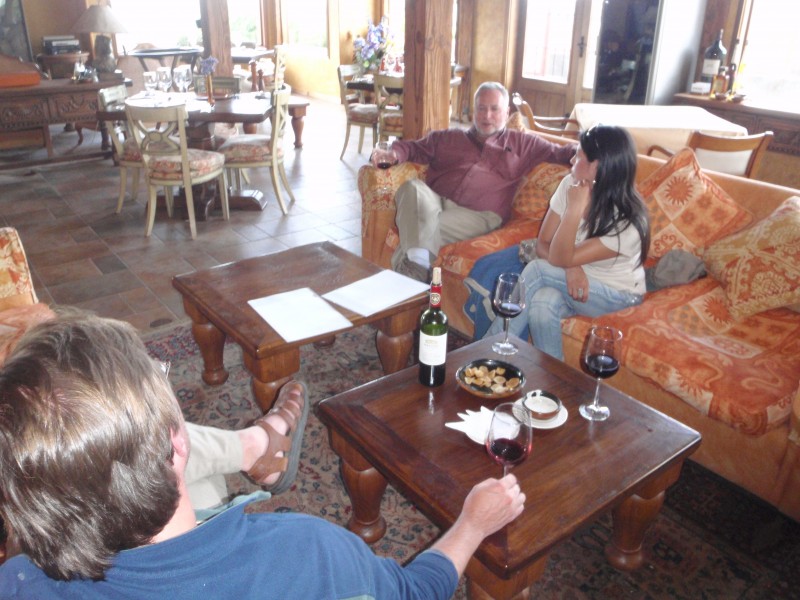 Then  we took David to the Yankee Way Lodge for a few drinks with our good friend Paul Kinney. We are so happy to annouce that the lodge is reopened with lodging, lunches and dinner. What a great place to visit and enjoy!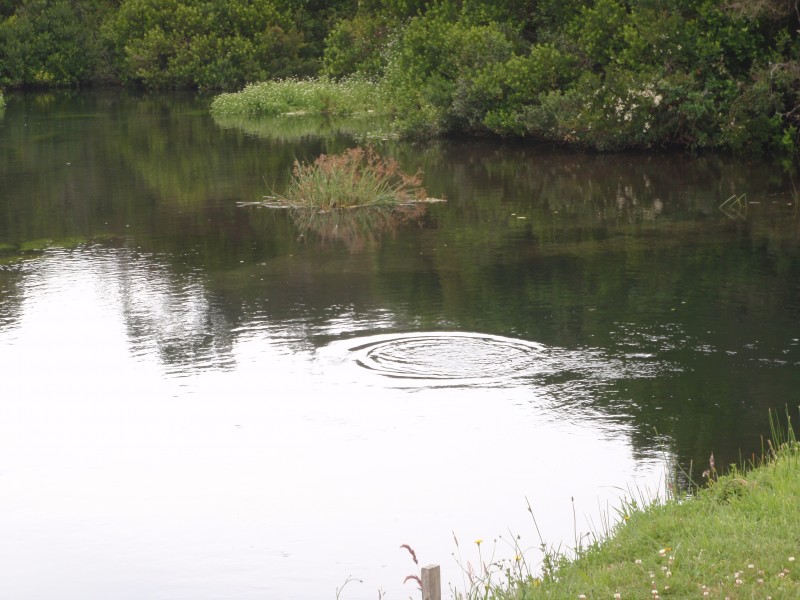 Trout are rising in front of our cabin on the banks of the Rio Maullin!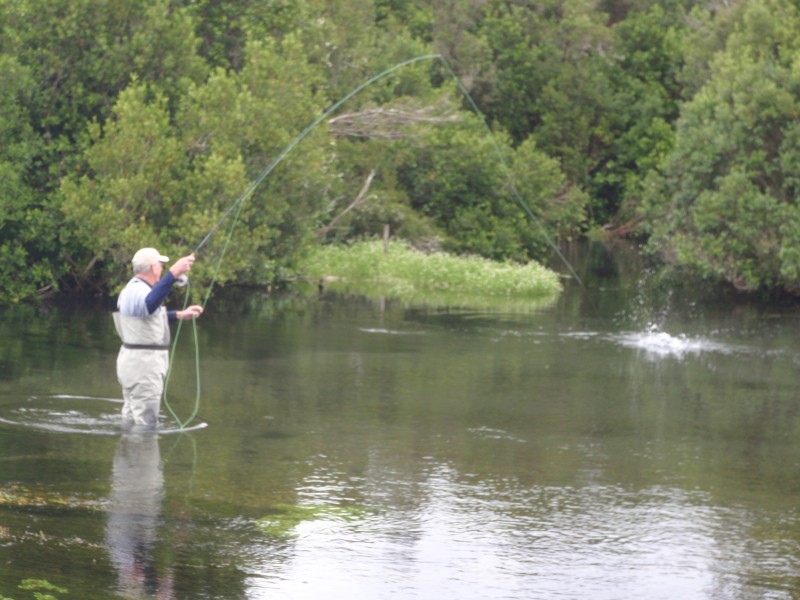 Lee loved his dry fly experience after getting off the cruise ship in Puerto Montt Chile.
 SET,  FISH ON!
 My favorite time folks!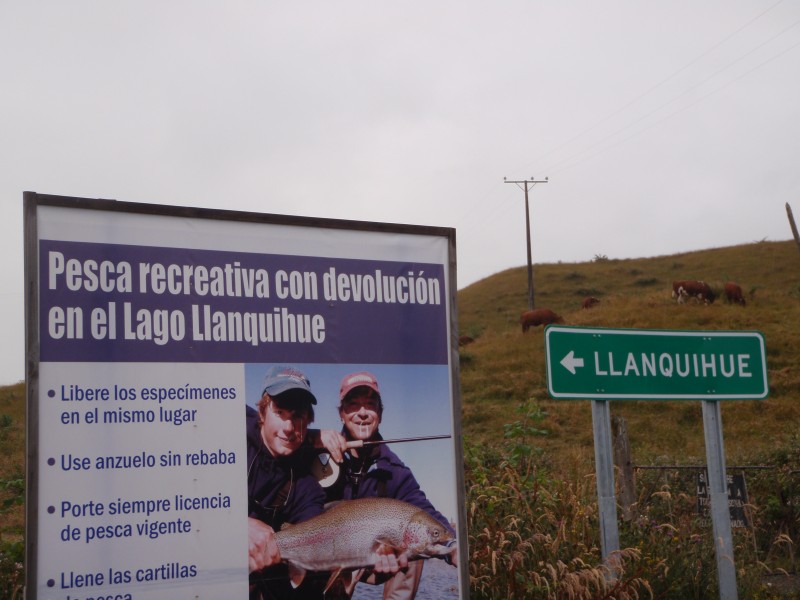 Catch and release finally prevails in Chile! In many rivers and lakes in Chile now catch and release is a way of life.
With the help of the Chilean Government and Senapesca, now all we need is affordable one day licenses for tourists, who could buy them online over the internet. I would charge Gringos about $15 per day or $25 for 2 days as many guides never purchase now because they charge
$60 USD for a year. It makes great sense and this could be the next good move by Senapesca via the internet as all Gringos have credit cards to buy this online before entering Chile.
 (With respect just as a suggestion) Jack & Carola Trout
You all remember my good friend for life, Juan and Leticia Ramos. We had a great get together last night in Santiago at their home with their two daughters Camila and Catalina. We talked about the days of past in Coyhaique and all those classic memories we cherished and loved. We will never forget all the people we have met on the way and all the folks we have guided or have touched in some special way. Carola and I know that life is about meeting people like this and how we grow together and watching young ones like Juan and Leticia's children become the next generation of expression on Earth. We would like to express that love of freinds and family rules everything on any Continent on the face of our mother planet. A smile is always the most important expression where ever you live anywhere in the universe, so do it often as you can because its free people.
Love Jack, Carola, Juan, Leticia, Camila & Catalina
Thanks for watching our adventures! Peace on Earth Sizzlers and spend more time in our great ourdoors!!
Jack & Carola Trout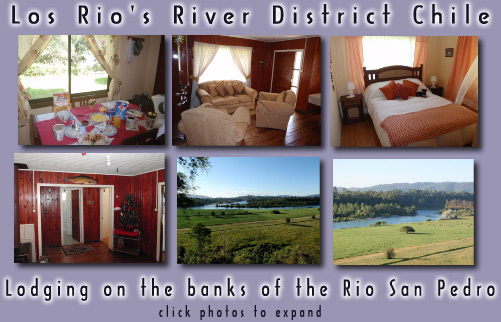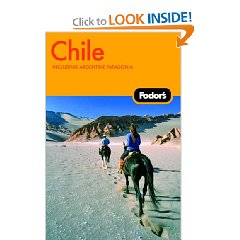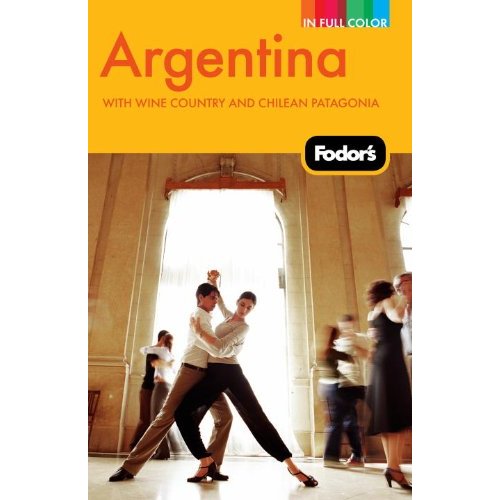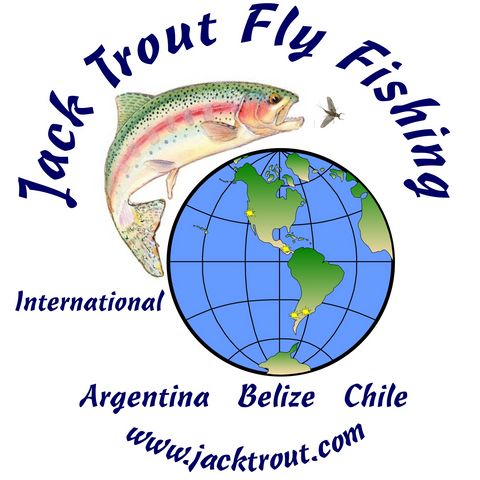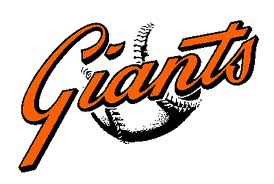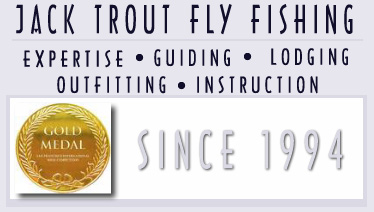 EMAILS FROM YOU SIZZLERS!