**LOWER SACRAMENTO STILL ON FIRE AS DRY FLY FISHING HEATS-UP AND CADDIS HATCHES GOES BONKERS!! CHILE 2007 DON'T MISS OUR BEST YEAR EVER*~*CUSTOMIZED FLY FISHING AND NON-ANGLING PACKAGES FOR CENTRAL PATAGONIA~LAKES DISTRICT~ARGENTINA PRIVATE WATER ON ONE TRIP!
NEW EQUIPMENT, RAFTS WITH FLY FISHING FRAMES, TRAILERS (SAME OLD GUIDES: NICO, PANCHO & TROUT)!
---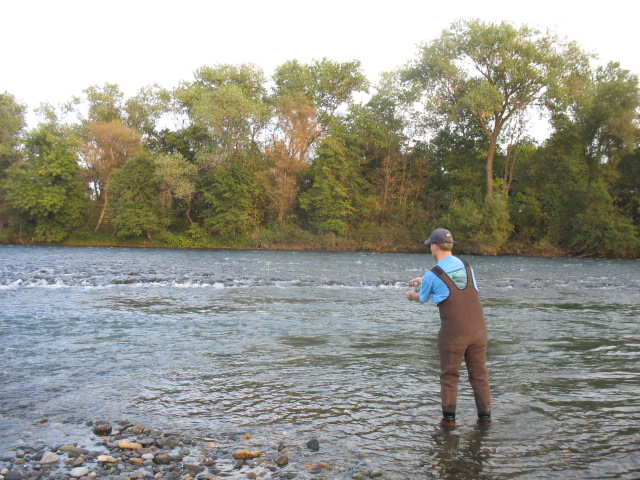 ---
Here comes the fall! Sunrises are a fantastic right now up in the Mt Shasta area while steelhead are running up our coastal rivers! Yea, life is great right now and we are looking forward to sharing your adventures with our audience. Jack Trout
---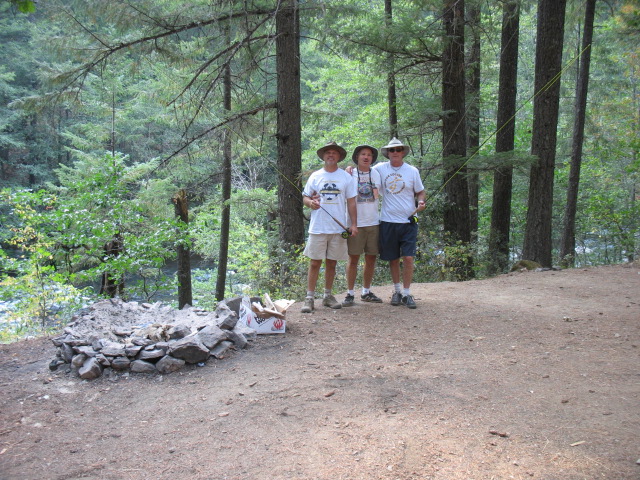 ---
When the Mills Band came to town it was like music to my ears! It was a birthday present for Matt, from the boys in the band.
---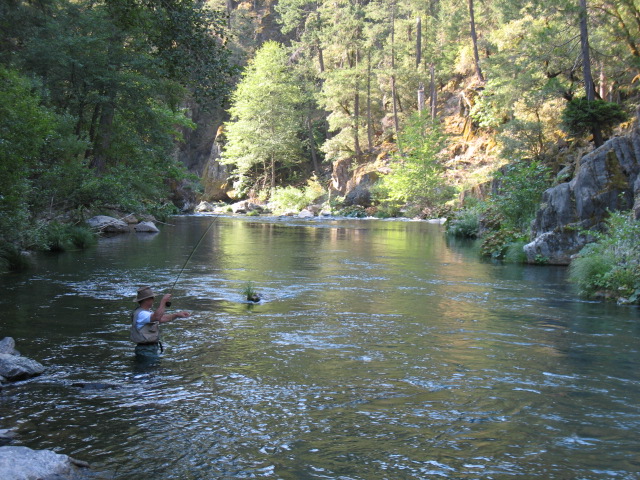 ---
http://www.millsband.com is the url you want to check out. Robert was the first to hook up on the McCloud River!
---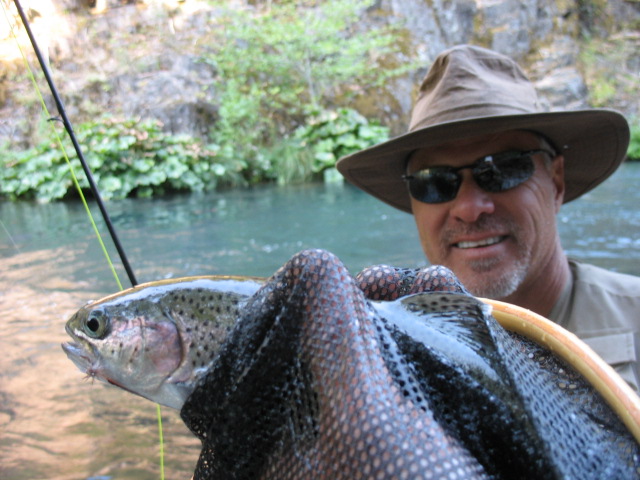 ---
Nice trout Robert!
---
---
It was Paul's first time fly fishing and he hooked-up right away!
---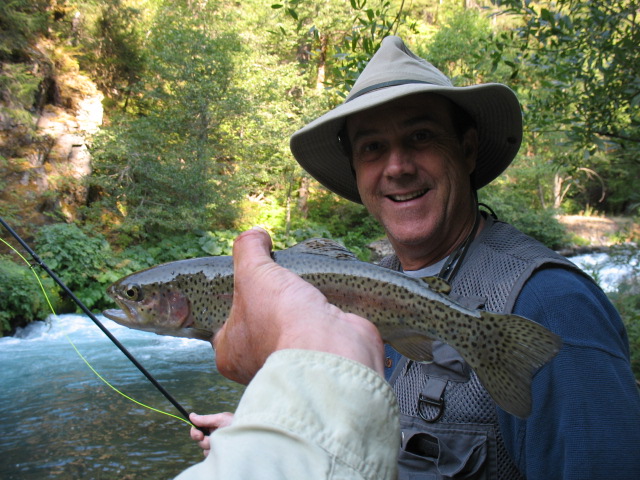 ---
This guy can play the guitar folks! See the Mills Band play at venues around the Auburn area.
---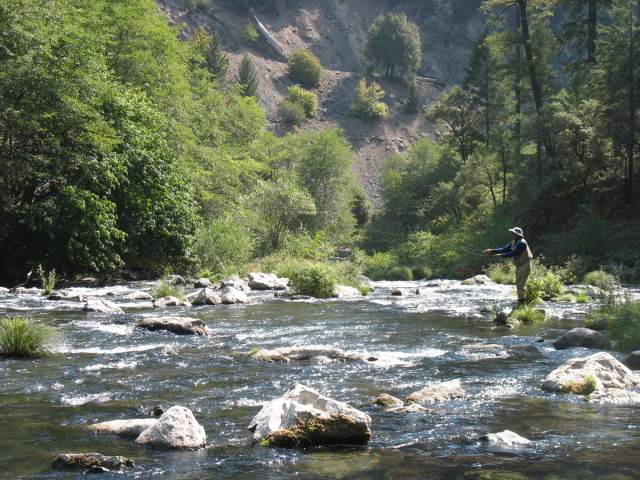 ---
Matt liked the pocket water the best, when your birthday boy you get first choice.
---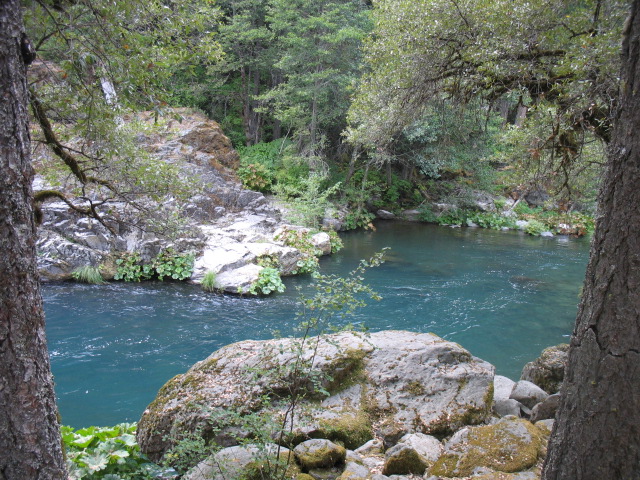 ---
We walked down the Pacific Crest Trail on the McCloud River and found this wonderful spot called; Raspberry Tang.
---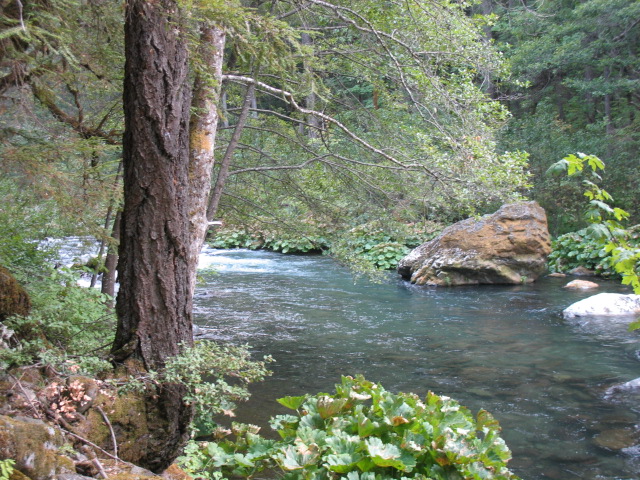 ---
Then up to Green Drake Bend, and we were into the strawberries folks.
---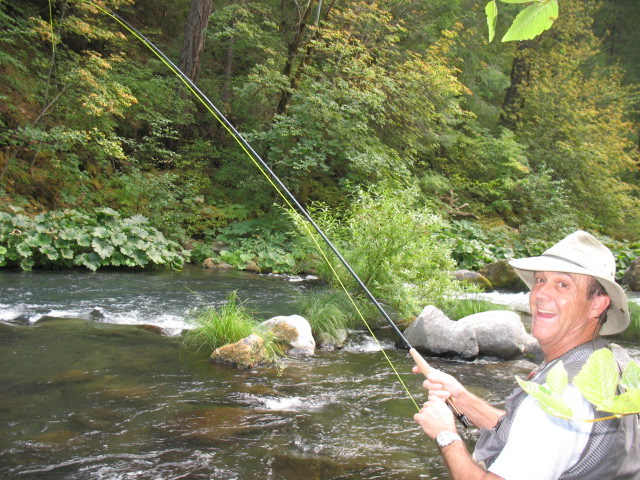 ---
Paul caught a fish on a Stimi size 12.
---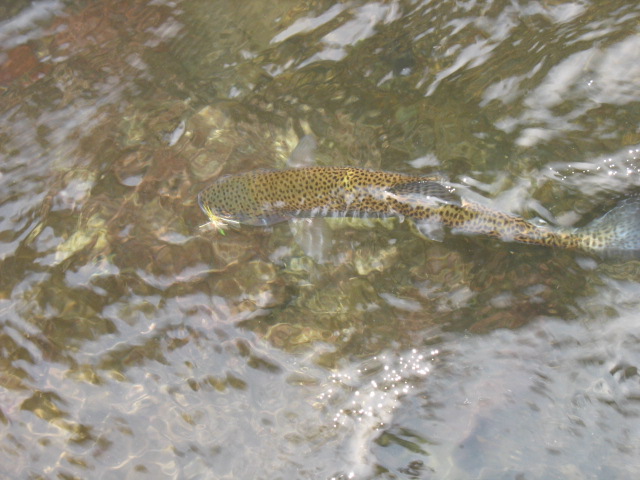 ---
Way to go space cowboy!
---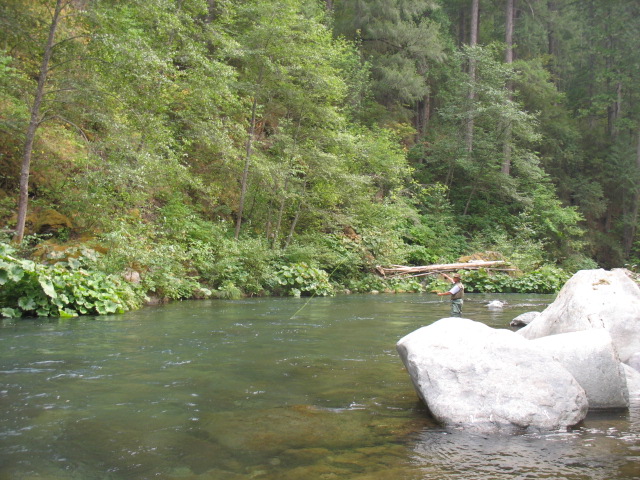 ---
Robert at Porky Pine Run hooking into a decent trout on dry flies near dark.
---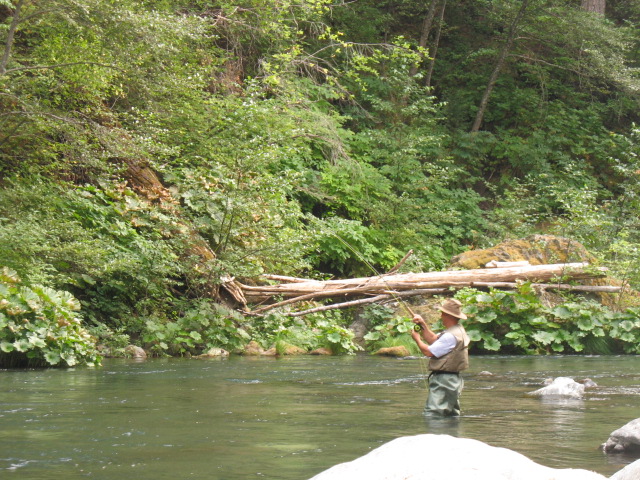 ---
This trout gave Robert a great fight!
---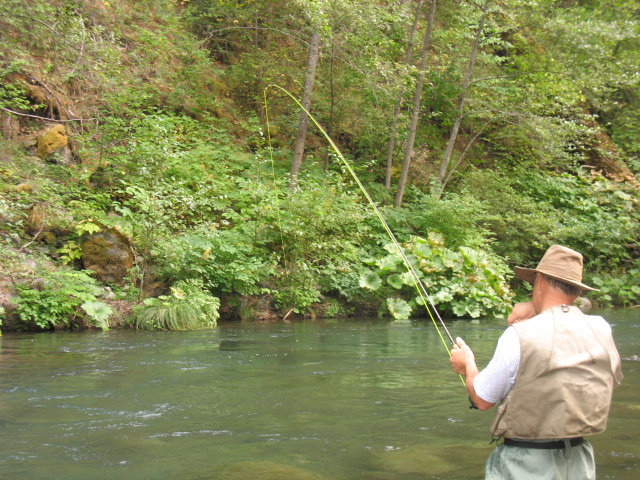 ---
Robert was having so much fun he forgot it was Matt's birthday…!
---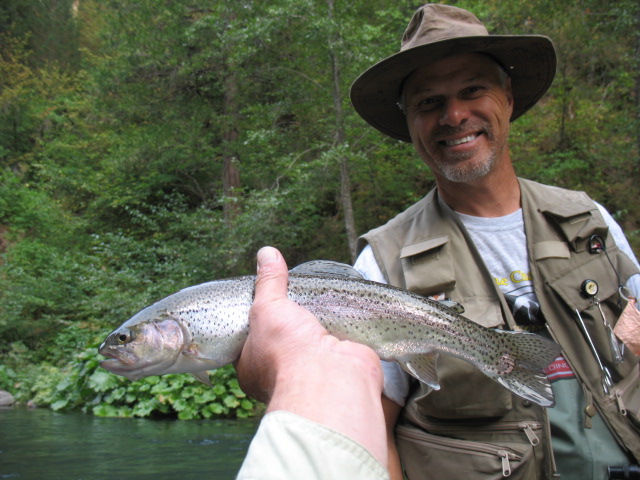 ---
Thanks for booking the trip Robert see you guys in the spring.
---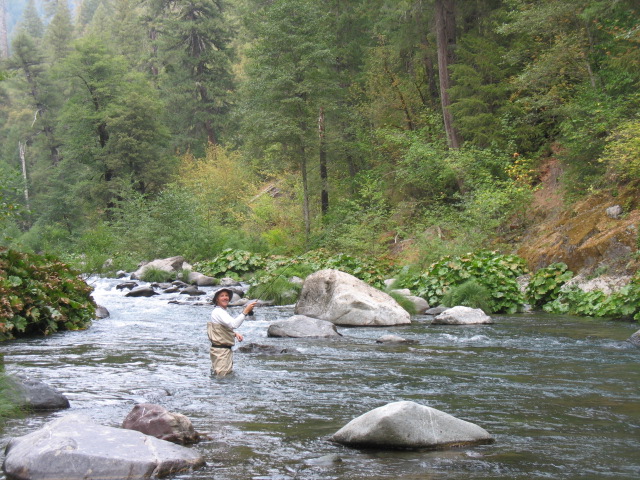 ---
The birthday boy then starting seeing all kinds of trout rise, and the bug population grew as dark became amoungst us!
---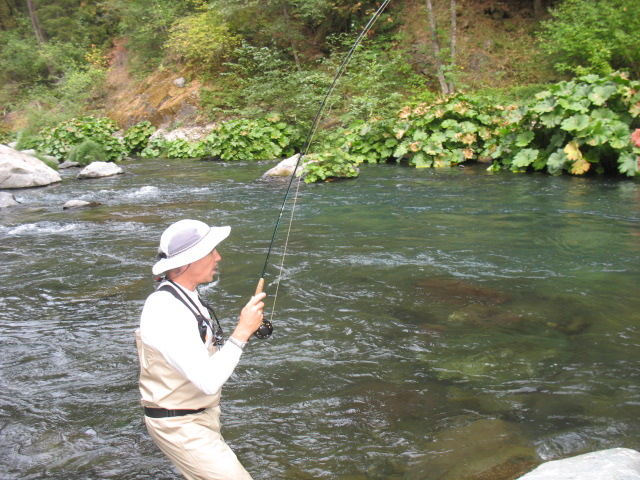 ---
For his first time fly fishing Matt handled this trout like an expert!
---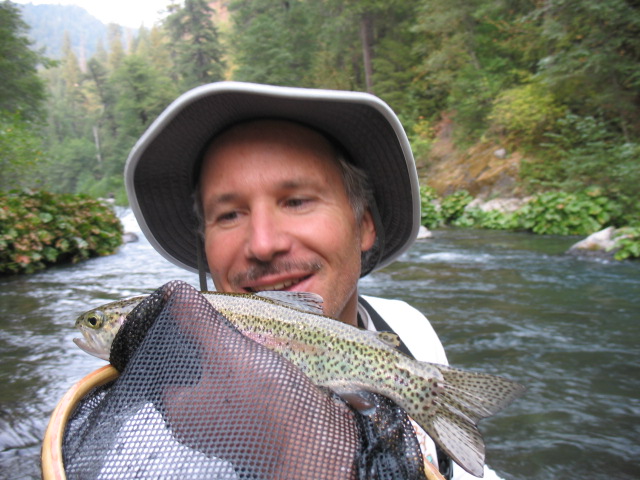 ---
Nice trout Matt! CONGRATULATIONS YOU'RE MY SIZZLER OF WEEK AWARD WINNER!! CONGRATULATIONS SIZZLER! THANKS AGAIN FOR COMING UP, TRULY A GREAT EXPERIENCE!
---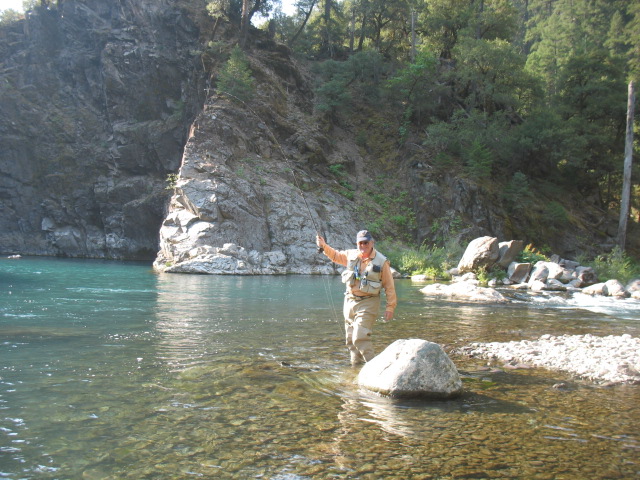 ---
Mike, thanks for coming up!
---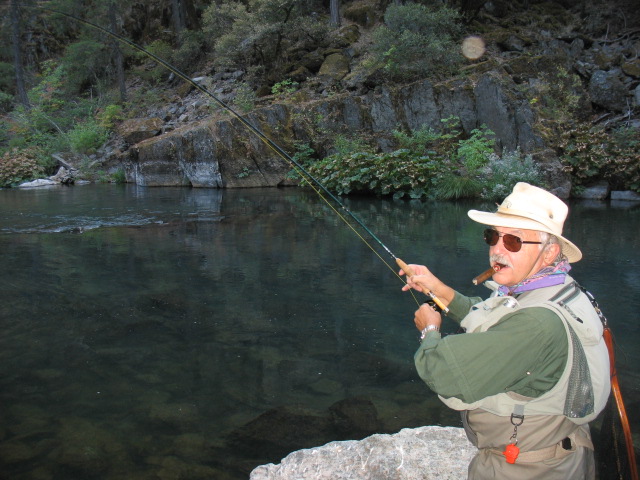 ---
Chuck had a great time guiding you, see you on Oct 5th, 7am at Pollard Exit, Upper Sacramento River. I can guide you for a 1/2 day like planned, then I have to head off to guide at Bollibokka for three days. See you again then Chuck! This guy is an expert!!
---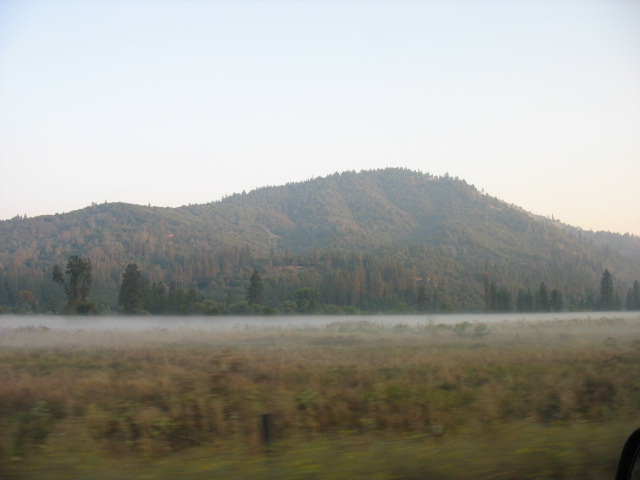 ---
September 15th, was the last day for fly fishing on the fly fishing only section of the Trinity River near Lewiston.
This was a small valley covered in fog near the town of Lewiston. This really shows fall is approaching quickly.
---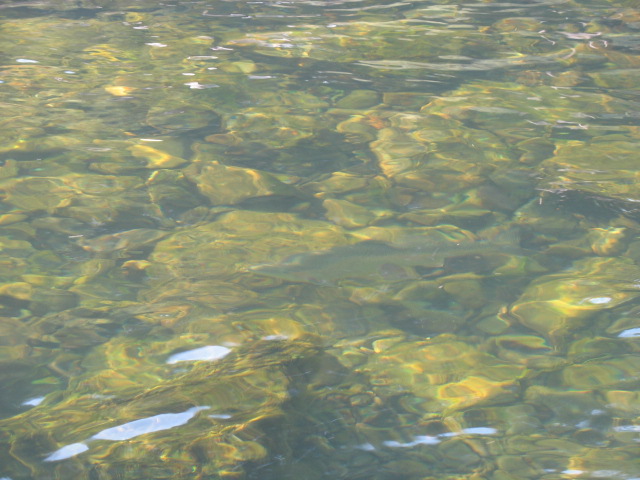 ---
Right as we walked up I could see some adult steelhead holding near shore.
---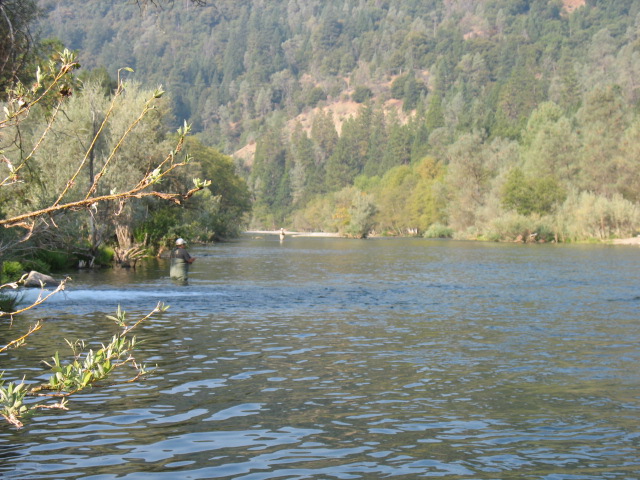 ---
The fly fishing section of the Trinity River is a special place for beginners, group outtings, and lovers of terrific fly fishing. You can see trout everywhere! We will now be floating the Trinity River down stream for jurassic steelhead!
---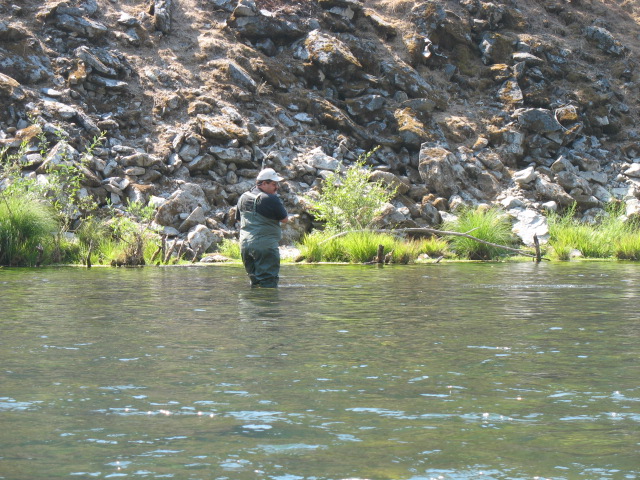 ---
Dan Sardella came up with his group of friends and work mates from Modesto, California.
---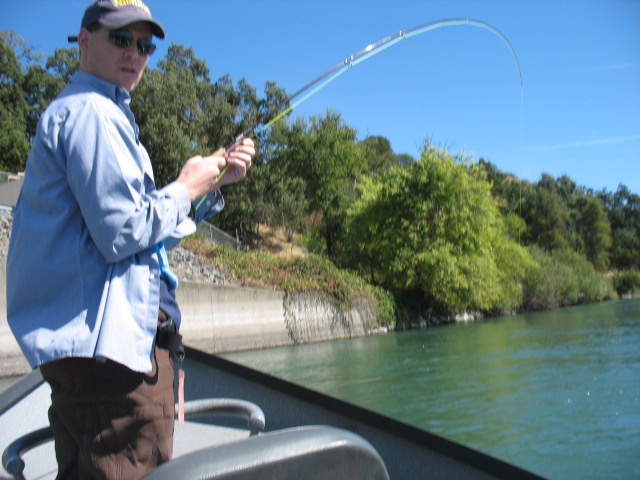 ---
Dan, good job out on the Trinity river fly fishing with the boys!
---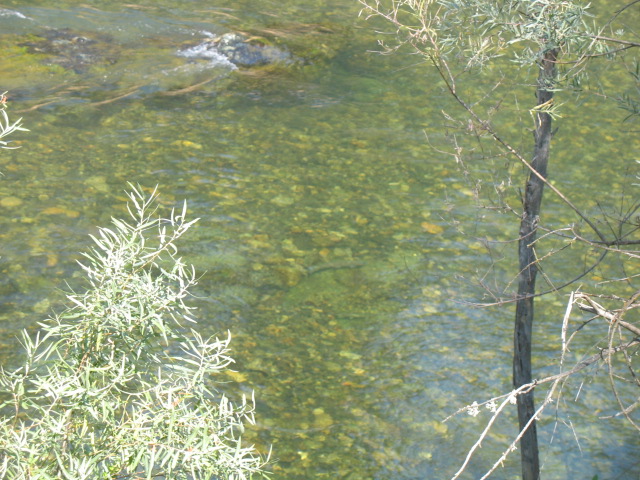 ---
Meanwhile, I could see adult steelhead all over the map!
---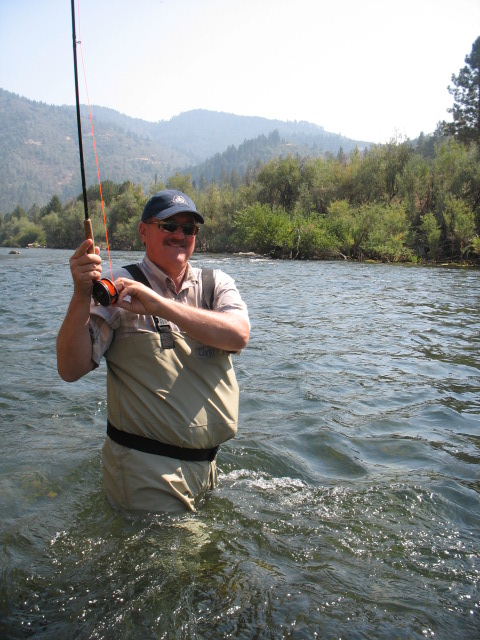 ---
Gary, Aaron and Jim had a great time guiding you, hope to see you in Chile.
---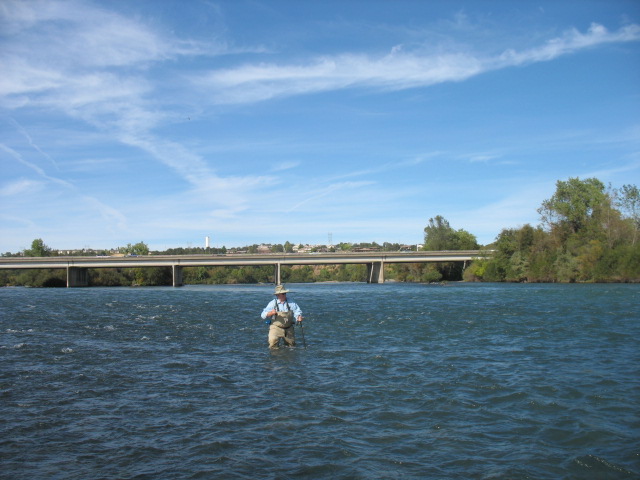 ---
Bill Reed, thanks for coming up hope to see you in the winter for some steelhead!
---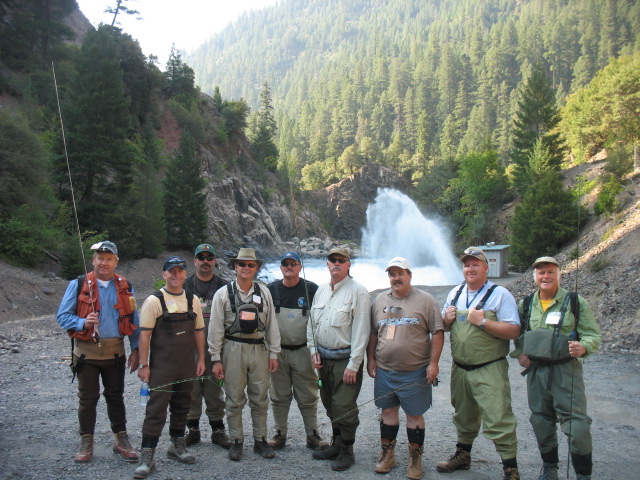 ---
Thank you, Dan Sardella/ Bill Reed Group! The Mt Shasta area, guides, restaurants and pubs thank you!
---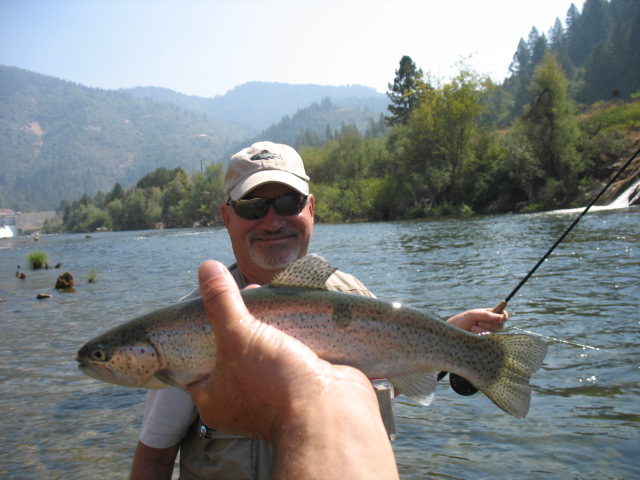 ---
We forgot to mention this lovable character! Gary from Indiana, Aaron & I enjoyed guiding you. You were a happy kind of guy, with a smile that never left. Thanks for making the trip so much fun and appreciating our great State of California!
---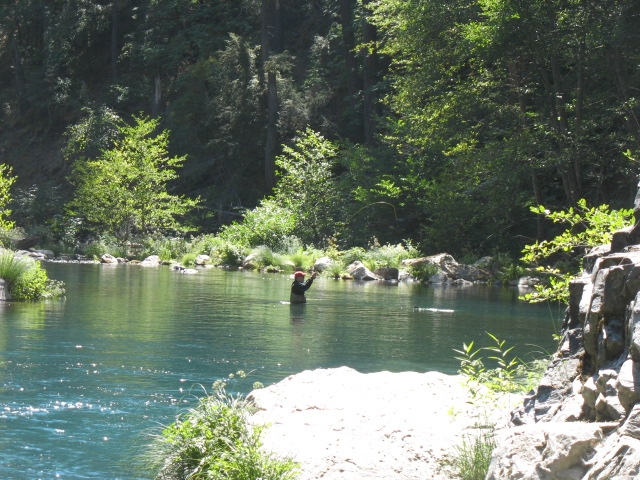 ---
Fred Minor, great day for your first-time fly fishing! Thanks for choosing Jack Trout Guide Service!
---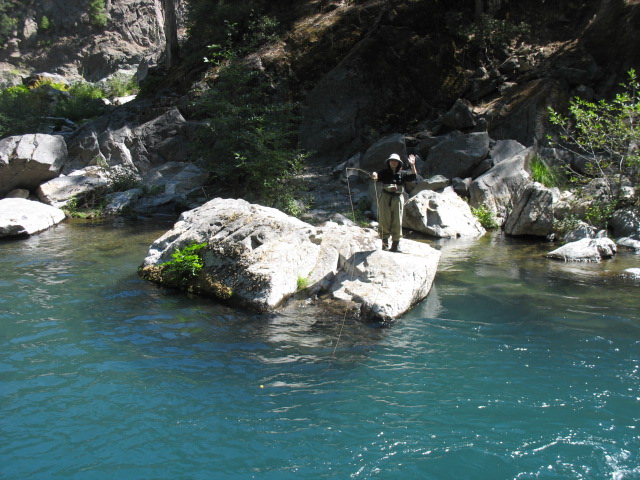 ---
Suzi, what a great first day fly fishing! Take care and keep enjoying the sport of fly fishing. It's the places it takes you to that I like best.
---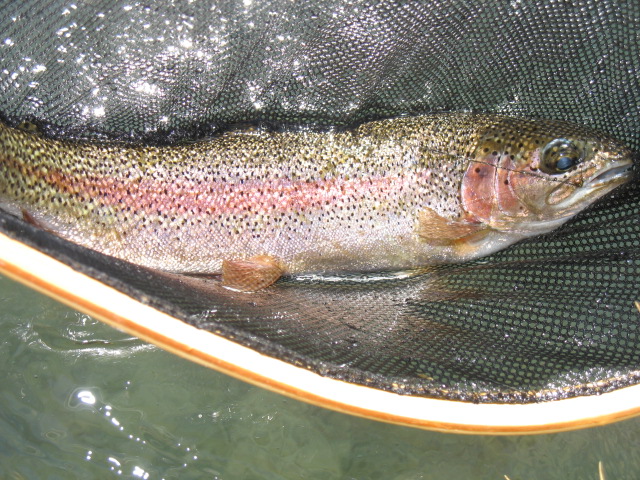 ---
The McCloud Rainbow, JUST SAY NO TO NESTLE WATER IN McCLOUD, CALIFORNIA. NESTLE WATER IS NOT WELCOMED IN McCLOUD, CALIFORNIA!
---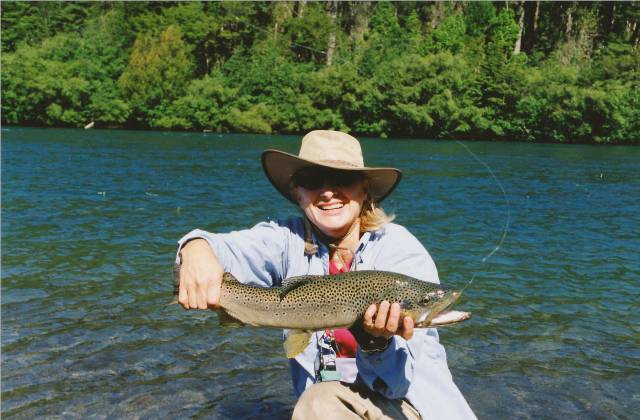 ---
CHILE 2007, ARE YOU SIGNED UP YET? http://www.jacktrout.com/futa.html
---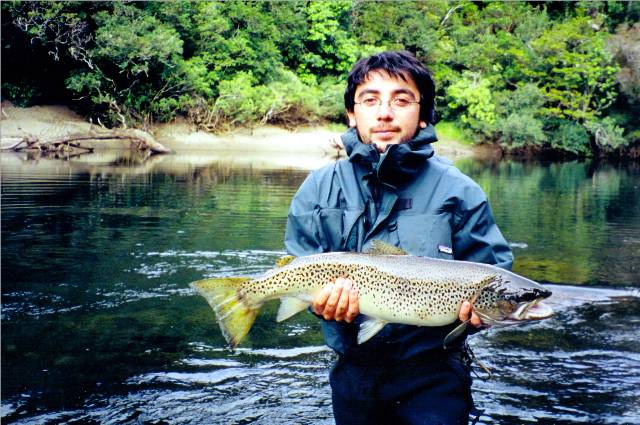 ---
WE HAVE SOME WEEKS LEFT IN MARCH AND JANUARY, PLEASE CALL SOON TO RESERVE YOUR DREAM VACATION IN PATAGONIA!
---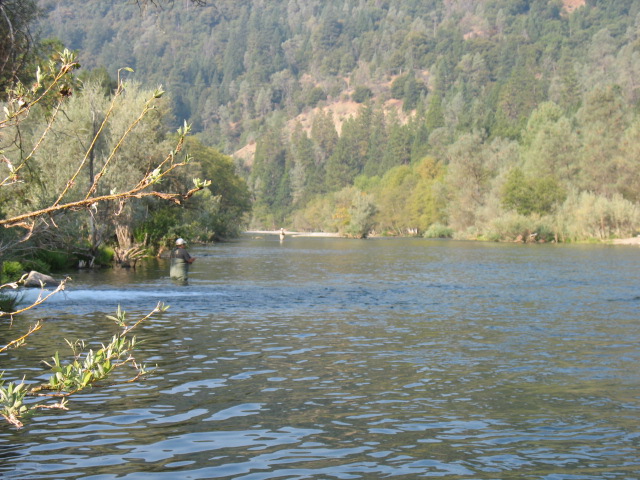 ---
Pat Patterson, Ladies and Gentlemen!
---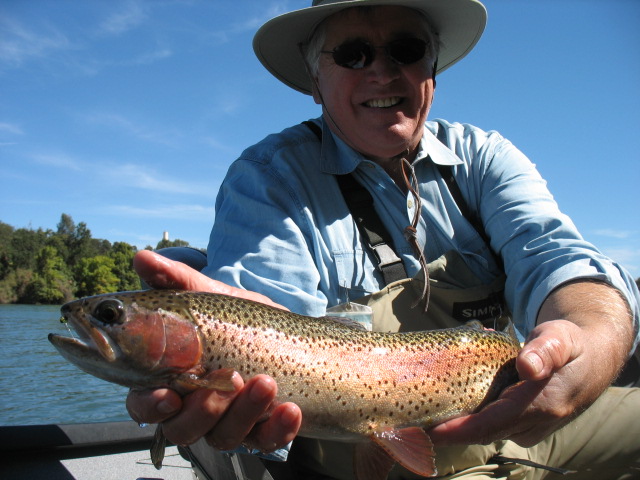 ---
Pat has been to Chile with me, Bollibokka, raft trip on the Upper Sac, Klamath, with me and Tom Stienstra, and others I can't remember?
To say the least we have fished a lot together over the years!
---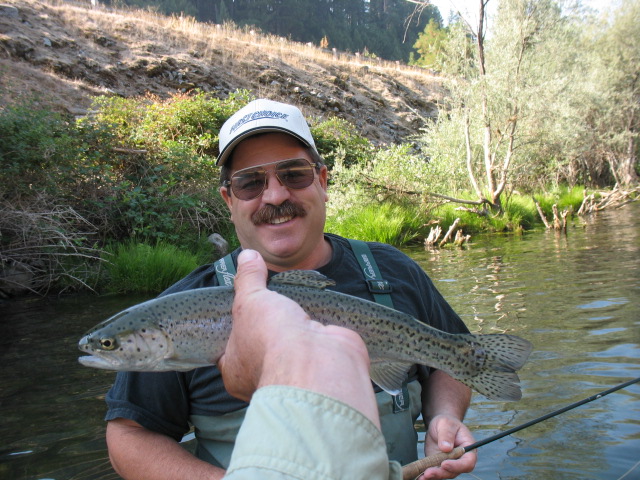 ---
Pat brought his son Chip with him this trip. Chip hooked up on a lunker right off the cuff!
---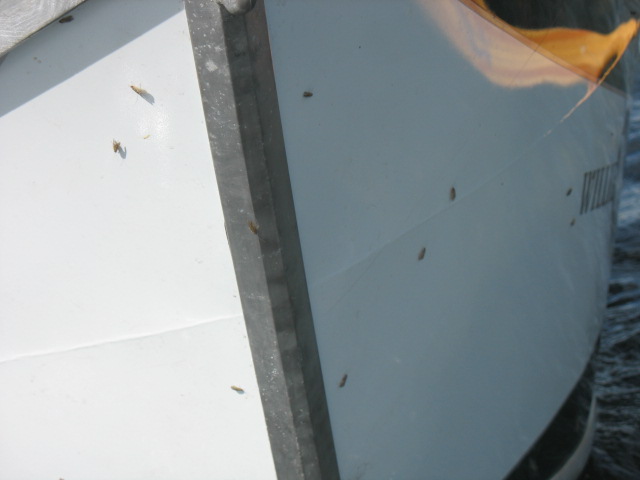 ---
Then mid-day we starting seeing the caddis come off the river! In recent outtings, I've seen caddis come off but the river was at 14,000 CFS. You can catch trout on dries on the Lower Sac, but the secret is, you need to wade the river and get out of the boat with waders on. Since then, the river was lowered to 8500 CFS, a very wadable flow level. So I anchored the boat, and all of us got out and was using size 14 Caddis dries when Pat hooked into four nice trout in a row! It was magic Sizzlers! He hooked into trout over 4lbs but we couldn't get them all in…
---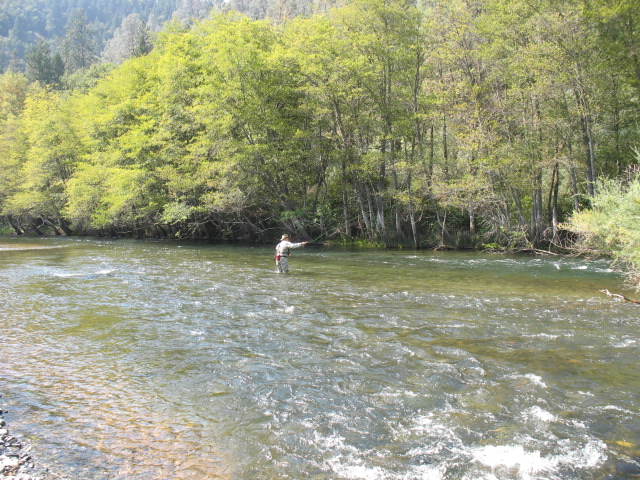 ---
I think it's awesome when Pat hooks up cause he has this laugh, that always so classic! I love my job, especially when we're catching fatty-bows on the Lower Sacramento River, it's taken me so long to learn enough to guide on it, over 12 years now. But days like this, when it all ties together and river turns that switch and my drift lines are perfect, the Lower Sac becomes a church for anyone and everybody. When a customer has fulfilled the dream they had in their mind when they had booked the trip! That's successful guiding. jt
---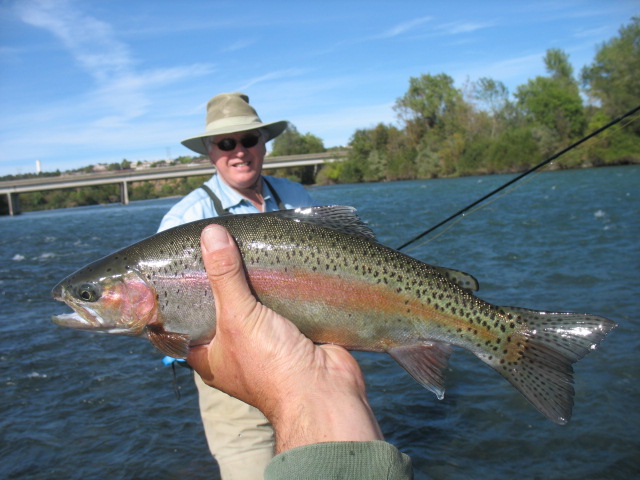 ---
Nice trout Pat! Some wonder why I hold the trout? If the customer doesn't mind, I hold the trout to take a fast photo then release it unharmed. It's better for the trout that way. Pat Patterson has fly fished all over the world and everytime I fish with him I learn something new! Thanks Pat, hope to see you in Chile 2007.
---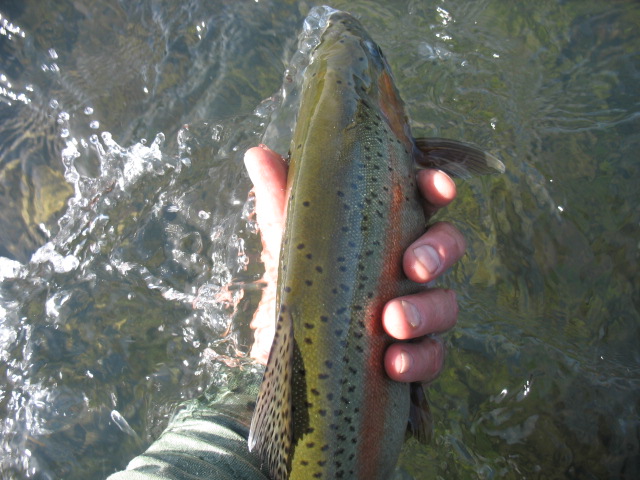 ---
Look at the shoulders on this soldier!
---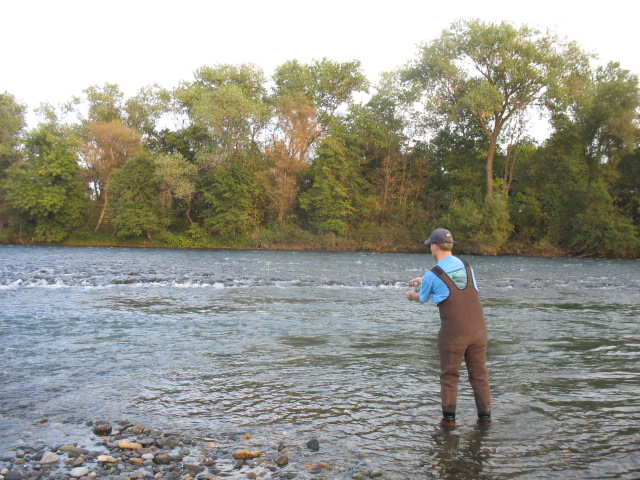 ---
You can see trout everywhere on the Lower Sac but using dry flies in the fast confluences is where you'll actually hook a trout. The fish are too smart to fool in the flat water until almost dark. Keep changing your size 16 & 14 dry fly cause there is no special caddis fly, it's the drift, plain and simple. These trout
are culprets and catching them on dry flies I would compare to catching Permit in Belize. Timing, presentation and luck! I will admit that the different variations of the Fox Poopah dry and nymphs are your best bet! Good Luck!
---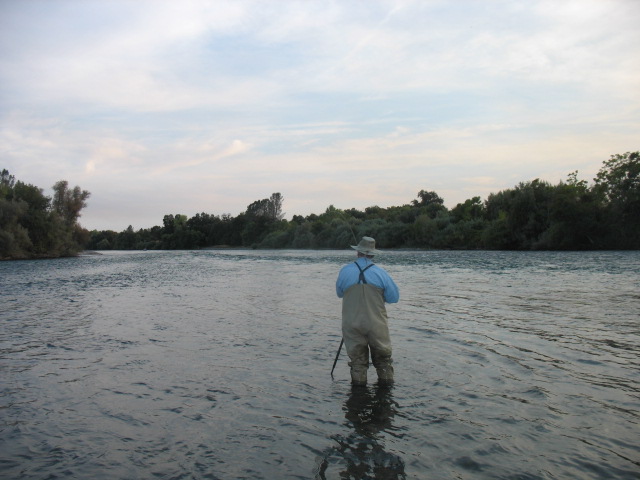 ---
Pat was so happy to be catching trout on dry flies. He says I have genuine enthusiasm for guiding, I say he has more enthusiasm for fly fishing and being out in the great outdoors!
---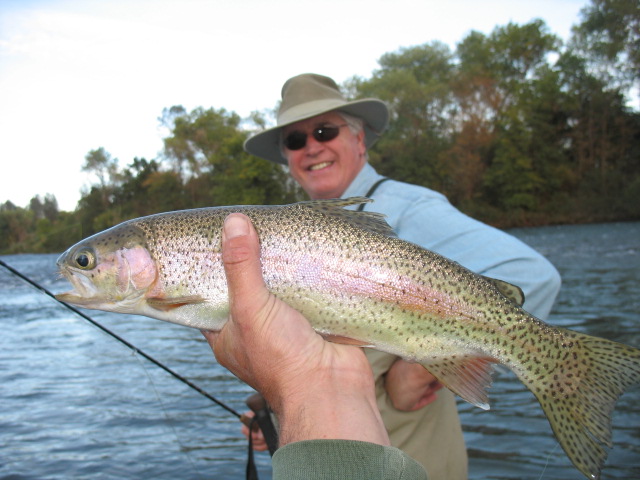 ---
Cool Pat! The Lower Sacramento River is a gem I want to share with all of you!
---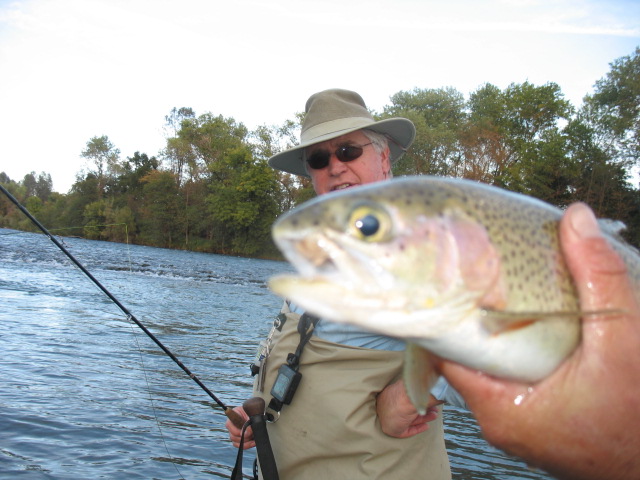 ---
Oh yea! Elk Hair Caddis work also but keep changing the dry fly! Thanks again for coming up Pat & Chip!
---
---
**STAY TUNED AS WE HEAD UP AND TAKE A 4 DAY FUN-FLOAT ON THE DESCHUTES RIVER IN OREGON IN SEARCH OF RED-SIDES & STEELHEAD!! THEN BACK ON THE McCLOUD, LOWER SAC & TRINITY (HAVE WE TAKEN PHOTOS OF YOUR TRIP BUT YOU HAVEN'T RECEIVED THEM? PLEASE EMAIL ME WITH YOUR TRIP DATE AND I WILL FORWARD THEM OVER TO YOU! REMEMBER WHEN YOU BOOK A JACK TROUT GUIDE TRIP, YOU GET ALL YOUR PHOTOS FROM THE TRIP AND YOU'LL BE ON WWW.MTSHASTA.COM)
THANKS FOR WATCHING FOLKS! JACK TROUT
---
---
EMAILS FROM YOU:
I'm looking to set up a couple of days for me and a buddy the weekend of 10/21 and 10/22. We plan to stay in Redding and think a day of wading on the Upper Sac or McCloud and a day of floating on the Lower Sac or Trinity or ?? would be great. Or, if you think there are other good destinations then were flexible. We;re both solid intermediate anglers and mainly looking for good company, good scenery, and good fish. I live in Palo Alto, but have never fished in your area. Please let me know what is available.
Doug Atmore
---
Hi Jack,
Greg and I are confirmed for Friday, Nov. 3. I've invited a customer (+
his guest) and am waiting on him to reply back to see if he's in.
At a minimum:
Greg and I for Friday
At a maximum:
Greg, myself, plus 2 for Friday November, 3 and Saturday, November 4.
Let's head down into the Trinity!!!!
Yeeeeeeeehaaaaaaaaaw!
Talk soon, Chris Welch
---
Hi Jack,
I wanted to let you know that Fred & I had a great time fishing with you & Aaron on 9/3/06 (Aaron was really great with first time fly fishers with no experience like we were!) Suzi Hmphreys
---
WOW! What's it about! I have been rendered speechless and inarticulate by the honor. I am at least glad that the photo is obviously me looking my best. Many are jealous of course, over this honor of being Sizzler of the week. John Klochak
---
Hello!
I have just finished perusing your website and would like to find out a little more.
I am thinking on purchasing a gift certificate for my husband for his upcoming birthday (October 2nd) and can't make up my mind which is the better deal.
I was looking at both your Klamath River package and your Henderson Springs package.
My husband and I live in Lake Shastina so distance isn't a problem. I am leaning towards the Henderson Springs package and my husband taking a couple of his buddies (of which the cost I would include in his gift certificate), however, I need to make sure if there are any seasonal restrictions on when they can go etc
Thank you for your help in this matter.
Sincerely, Kimberly Roetto
---
Hi Jack,
Thanks for the pic's. They were fantastic!! Lynn and I plan to be up at Mt. Shasta next month to do a little Steel Head fishing with you. I will get back to you on some dates and hopefully you can fit us in.
I am interested in some property up there so let me know if you find anything out about that McCloud River piece you told me about.
David and Lynn Parrish
---
dear jack,
thanks for introducing us to the joy of fly fishing, and the beauty of the
Mcloud. love your pictures! our trip was one that won't be forgotten.
from the glacial blue waters to the gorgeous fish to watching you cast to
learning the art to immersing oneself in the beauty it was all good!
thanks again,
matt semonsen
you're welcome to use my house on the sf of american any time. october is
still very nice, and the fishin is good.
the weekend of the 28th is out though.
as elvin bishop wrote (and which we play) "i'm goin fishin, just to ease my
mind".
---

hey jack
when will you start fishing the Klamath west of I-5? A friend and I would like to come north and hook up with a jack trout guide for a day. we would camp and meet guide am day of.
thanks,
Terry Egan
---
Thanks Jack, I love the McCloud river. When I wanted to unwind I always went to the blow hole, while living in Mt. Shasta.
Al Heitz
---
JACK,
Thanks for the phone call. My next life I want to be Jack Trout. My situation is that I have 10,000,000 pounds of walnuts to process before I'm allowed to seriously entertain a steelhead or two flirting with my indicator.. We are beginning harvest a week later than 2005, it is a nature thing. I think salmon and steelhead are in tune with all agriculture crops and late arriving this year as well.
I'm open to the Trinity as long as there is solitude and fish aplenty. I will probably come alone or just bring my son,Ty. He needs to reconnect with nature and I would really enjoy that. The Upper Klamath has been mighty good to us and I will trust your judgment on where to go; you know what I value! It is not blue herons,
change of the colors, new rivers for change sake,or deer on the bank- if you get my drift!
Just kidding, get yourself in shape to paddle,and get all the chamber of commerce
activity out of the way so we can put in a couple serious shifts on the river.
I will call you when I see a light at the end of the tunnel and solidify a plan. Greatly look forward to it.
Bob Cademartori
---