**FALL STEELHEAD FISHING STARTS NOW!!~ TRINITY & KLAMATH LOOK GREAT FOR OCT, NOV, DEC!
LOWER SACRAMENTO LUNKERS CONTINUES!!McCLOUD/UPPER SACRAMENTO DRY FLY
**CHILE SIGN-UPS ARE GOING GREAT 8 CUSTOMERS COMING BACK FROM LAST YEAR!!
---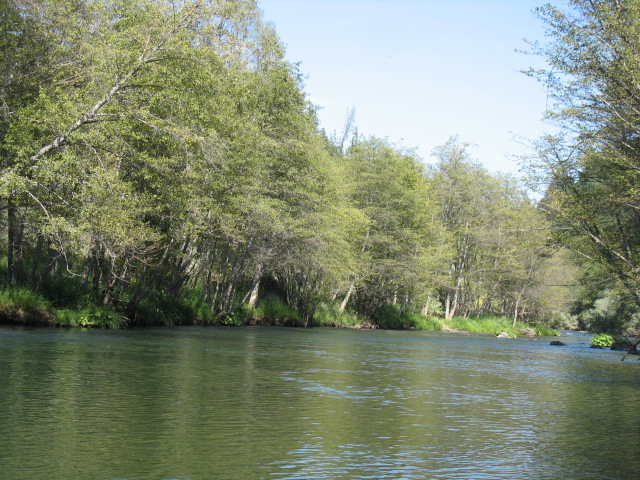 ---
Trinity River between Dutton Creek and Evans Bar. This is one of the floats we offer on the Trinity River. We hope to guide and drift you this fall on the Trinity, Klamath or Lower Sacramento Rivers.
---
---
My friends Aaron Martin and John Klochak, invited me over to do a little snorkling on the Trinity River and some tributaries that led into the river. I've always wanted to see the fish from this perspective and to see summer steelhead in their natural environment, and where they held in the river was worth the price of admission….GAS!!!$$$!!!!So my friends suited me up and threw me into the river…
---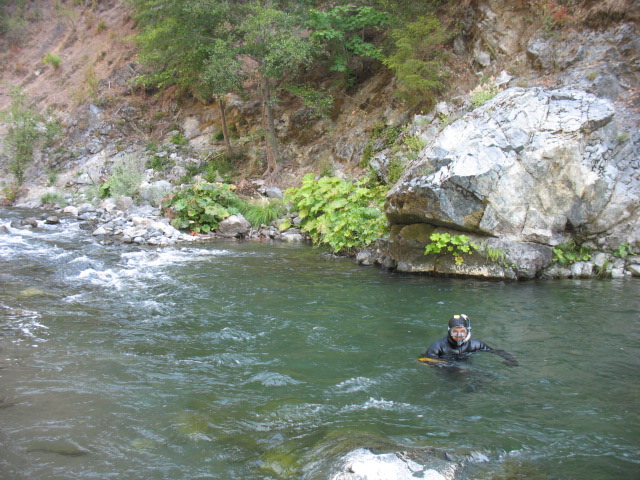 ---
Here's Aaron Martin showing me how it's done.
---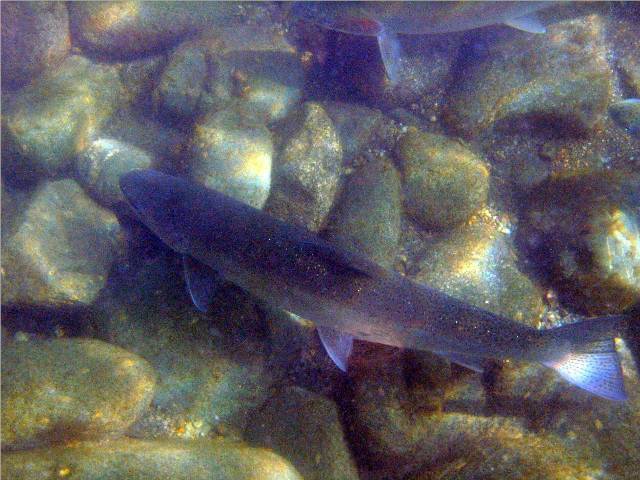 ---
It didn't take too long to start seeing steelhead. Some were resident rainbows, some were 1/2 pounders which are about 14 to 17 inches. Aaron told me that the 1/2 pounders on the Trinity River only make it up as far as Burnt Ranch Gorge. A lot of the fish we are catching up near Junction City are resident trout not 1/2 pounders. (interesting…)
Then it happened, we plunged into a deep hole and there was a school of over 30 Summer Steelhead!! Some ranged from 4lb on up to over 10lbs!! Wow, that was amazing to see.
---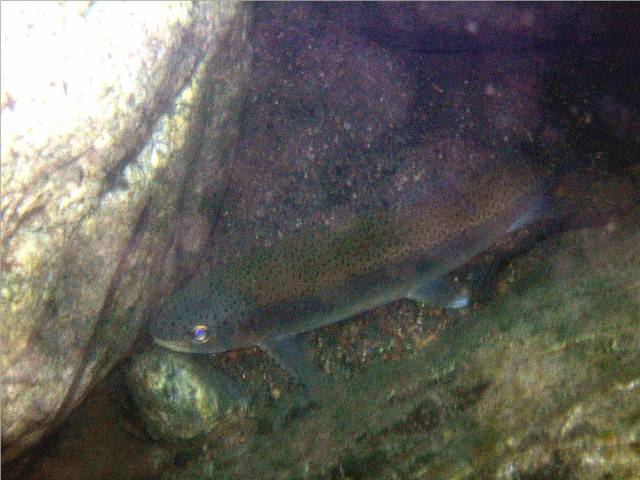 ---
Most steelhead like this one, you could tell weren't eating. They were faced backwards to the current in almost a state of hypnosis. They seemed like they were drugged or just trying to get it together. John Klochak, told me that some of these steelhead have been tracked as far as the Bering Straits. That's a long journey for anyone with fins, then to think after all that they have to change from salt water to fresh water just to breath. That's like living in LA for years and then moving up to Mt Shasta. It could leave one dazed and confused a little until you got used to our clean mountain air and water.
---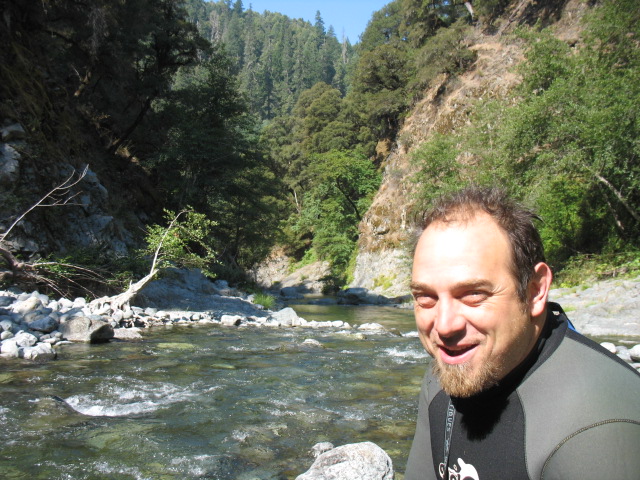 ---
John Klochak, Ladies and Gentlemen! John is a Salmon Restoration Ecologist. He has also traveled all around the world fly fishing! This guy defines the word "Trout Bum", plus he studies and protects our state's water sheds for future angling and for the likes of you and me! John Klochak you're my SIZZLER OF THE WEEK!! CONGRATULATIONS SIZZLER!!
PROJECT PROTECT SALMON KLOCHAK-007. Look out Sizzlers!
---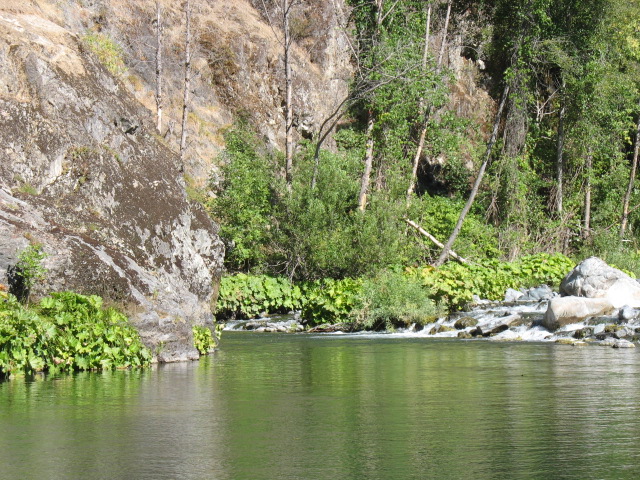 ---
Isolated canyons that are remote and private to access is what you'll find on the tributaries of the Trinity River. This is prime water for summer steelhead that need a break from being harassed by anglers. If we want to see our future brighter in the steelhead community we have to continue protecting this precious resource or we'll be left over salmon! You know the salmon runs are way down bra!! We counted less than 200 adult summer steelhead in a 4 mile length of canyon. This was not an easy day of floating down a river. You have to propel yourself by using your hands on the bottom of the river. By about the third run, with all the gear, and new muscles I was using, I was hurting to say the least. Aaron and Klochak, were always saying to me, "keep up, stay in a straight line"! These guys are in Superman shape and cruise down the river counting fish like census takers dressed as a seals.(More like Navy Seals)! I felt so sore that night, more-so than even those Willie Tate, two-a-day football practices at Portola High School growing up!
---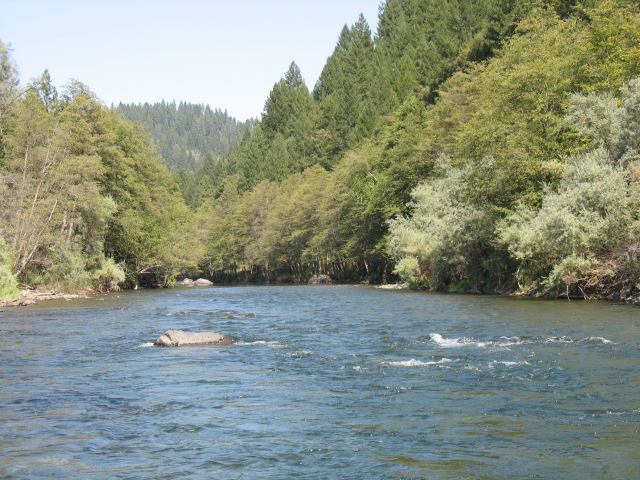 ---
Over on the Trinity things are looking good for Oct/Nov/Dec for fly fishing, problem is that the Bureau of Reclamation will probably lower the flows from 450 CFS to 300 CFS very soon. The real life story is every year this happens the steelhead and salmon suffer. 300 CFS is too low at least for this season, we have the water this year to maintain a flow up at 450 CFS and the break should be given to the fish when the bounty is plentiful. I think the Bureau of Reclamation on high water years should change their flow rules and run the river at a higher flow. I know the Yurok and the Hoopa Tribes agree with me, do what's right for the river's health.
---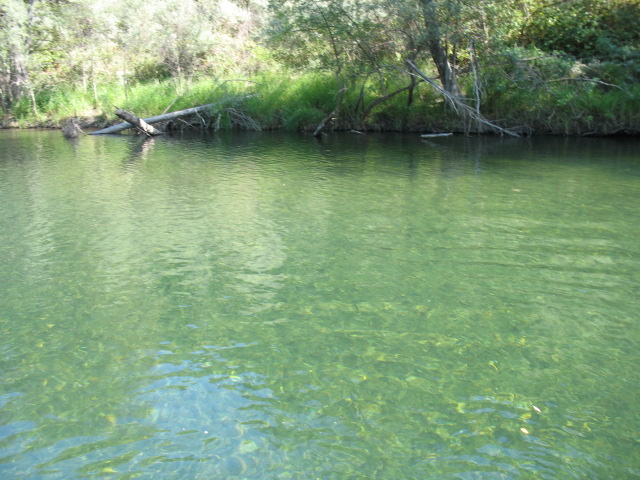 ---
Here's the Trinity River the jewel of California, worth protecting.
---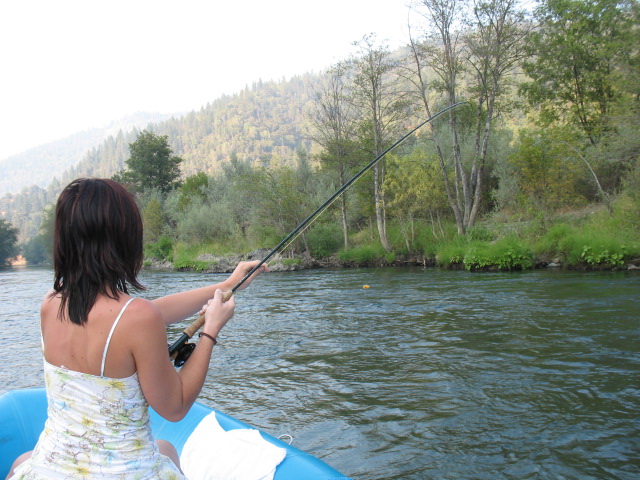 ---
The river is at 450 CFS is perfect for every kind of recreation and it allows fish more cover, oxygen and under-cut bank space, very important for the fish happiness. Everyone needs crib space!! Come on people, this year let's keep the Trinity at 450 CFS and see how we do!
---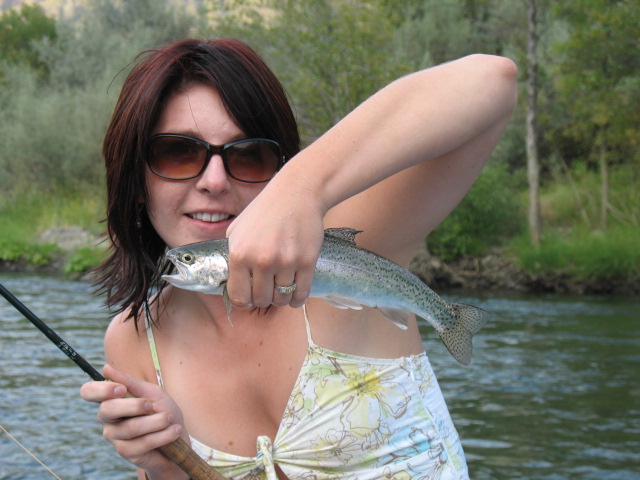 ---
When was the last time you caught a trout, steelhead, or salmon on the Trinity River? It's a great place to visit, please be extremely wise with fire in any form.
---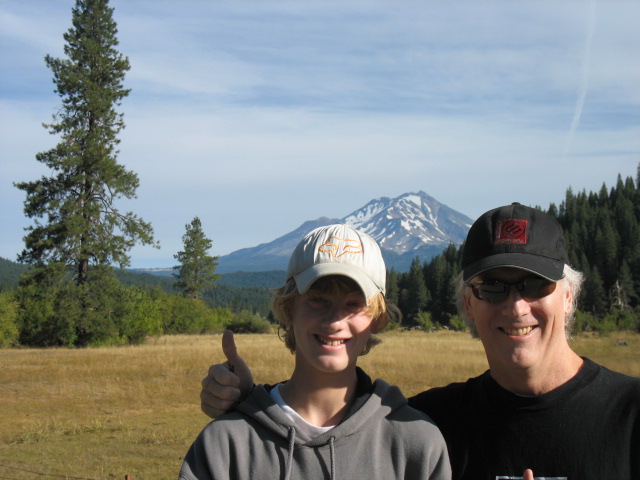 ---
Ric and Tyler Craig, were referred to me by Jim, Evan & Julian Mossop! This was Jim's second referral in a year, so I would first like to thank Jim for these referrals and his companionship along with his great kids, on all the Northern Cal rivers we fish together! It was like Ric and Tyler already knew all about me, they had these million dollar smiles plastered on their faces like there was this Walt Disney adventure attached or something….? So we headed off for the McCloud River for their first day ever fly fishing.
---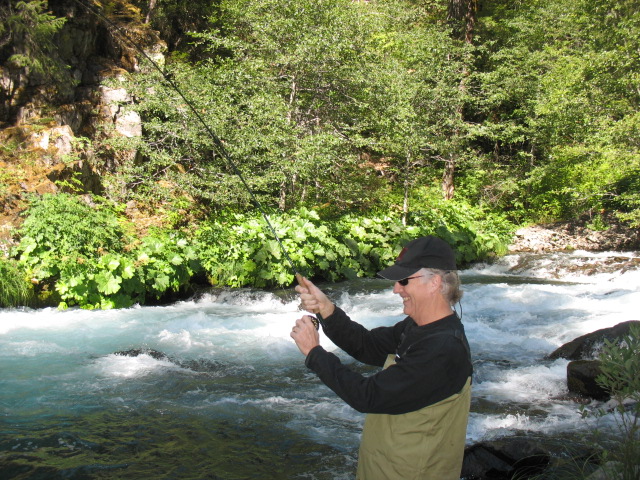 ---
Father Ric hooked up first and he was hootin and hollerin like a scene out of HEE-HAW! You let another…..!
---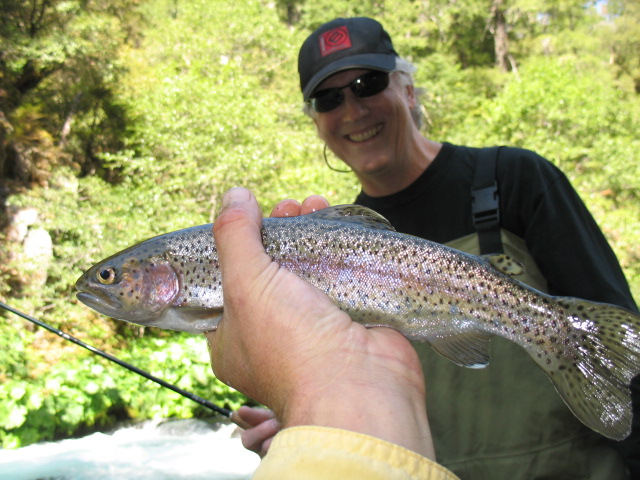 ---
Way to go Ric your first trout on a fly rod! I wonder how many people I've taught to fly fish over the 14 wonderful years guiding?? How many licks does it take to get to the center of a Tootsie Roll Tootsie Pop? The world may never know? (Commercial from 1970's Tootsie Roll)

---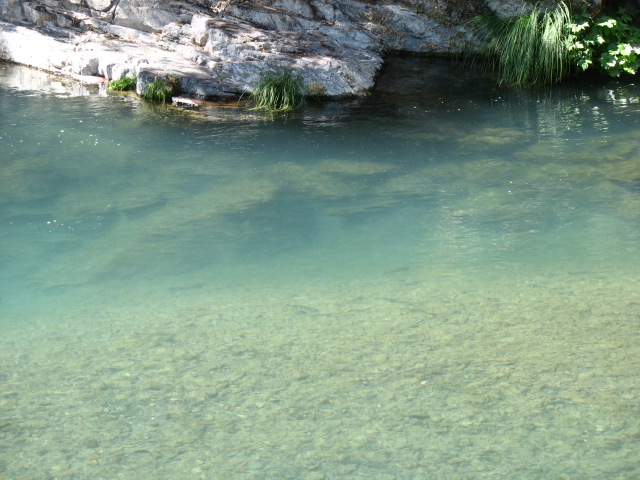 ---
What a great sight to see! Our community has decided Nestle Water in McCloud California, must go! We can't take chances with such a valuable resource. We don't want more trucks on highway 89, and tapping into the lava tubes is recipe for disaster. I call upon any and all to stop this project before it destroys our resources and the ecology of California's most important water shed the McCloud River. All the rainbow trout in Chile, Argentina, New Zealand, Australia are from the McCloud River. They were transplanted there in the late 1800's by a Man Named Livingston Stone a fisheries biologist from New York. This was and still is an important part of American history and this is why we need a 60 foot statue of a McCloud River Rainbow in the town of McCloud, not a water bottling plant. (at least one the town owns, water will be the most important single factor in the future, don't sell yourself short), THIS CORPORATION IS FROM OUT OF OUR AREA, THEY DO NOT KNOW ANYTHING ABOUT OUR COMMUNITY LET ALONE THE HISTORY AND NOSTALGIA OF THE WORLD'S MOST IMPORTANT RIVER. I CALL ON THE HEARST FAMILY, THE FISHERS, THE HILLS, AND THE TOWN OF McCLOUD TO STOP NESTLE WATER. We don't need to risk the McCloud Falls and the entire water shed of the McCloud River. (I'm running into enough trucks with Dannon Water in Mt Shasta)!
---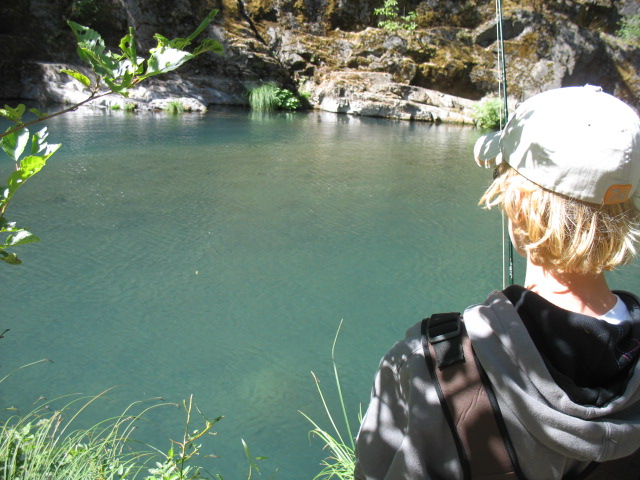 ---
Then son Tyler hooked up and life was great!
---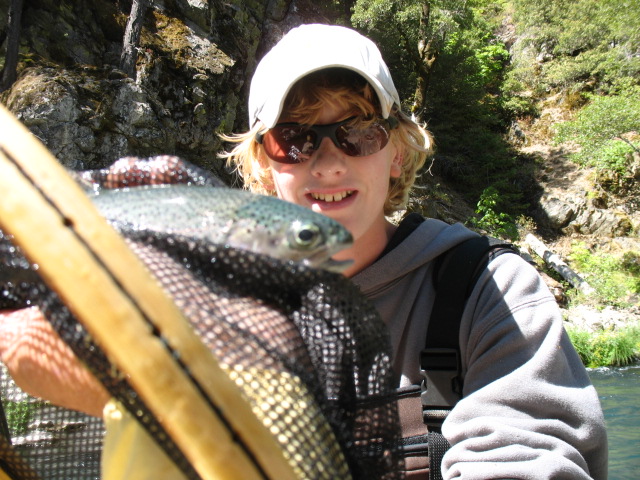 ---
Here's looking at you kid!
---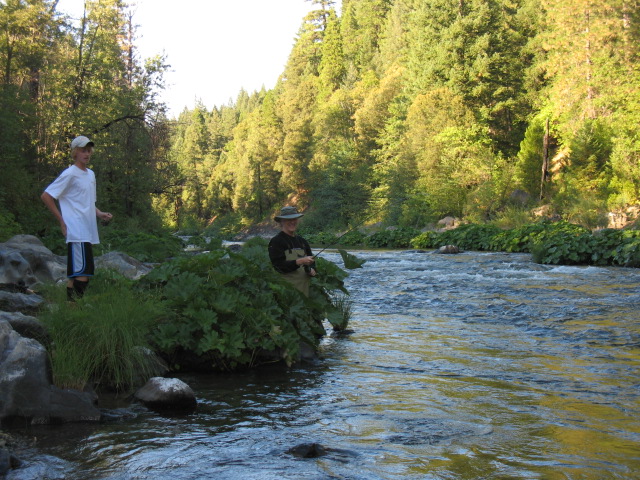 ---
Then over to the Upper Sac to end the day off right! In the end, all was good, Ric and Tyler had a memorable experience together, priceless by visa standards. I sure enjoyed our day together, hope to see you with the Mossop's on Oct 1st! jt
---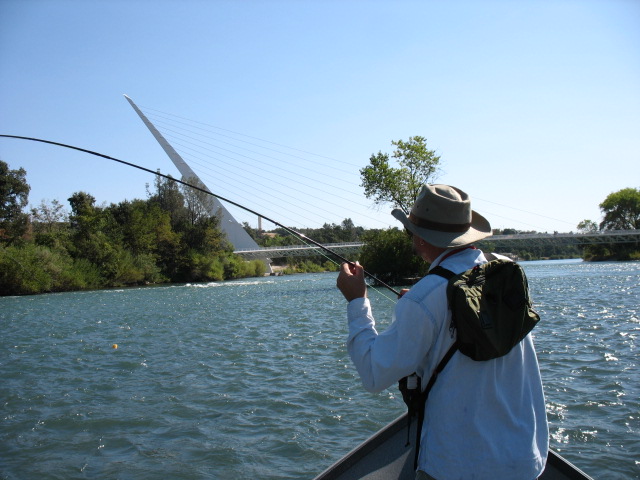 ---
Dave Earl a name you can't forget! Dave Earl, the guy I met at the Posse Grounds on the Lower Sacramento River a few weeks ago in his pontoon boat, now able and ready in Jack Trout's Willimena!!! We have an adventure here for you folks!
---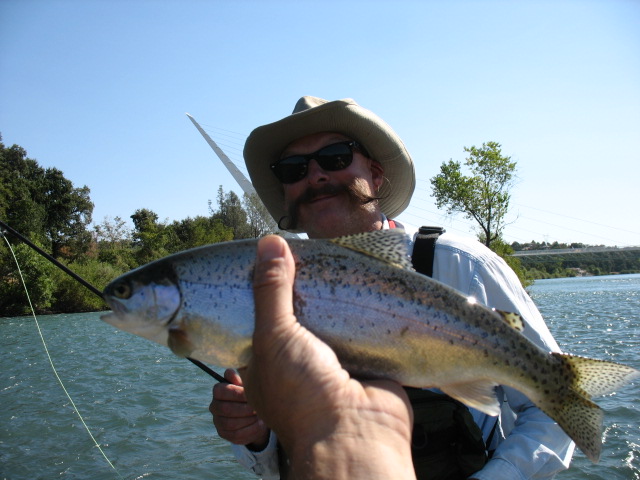 ---
We anchored near the Sun Dial Bridge and Dave Earl hooked into 5 in this one spot! You might recognize Dave from Pier 39, he plays a show there with his harmonica, mandolin and guitar. Check him out at www.davearl.com
---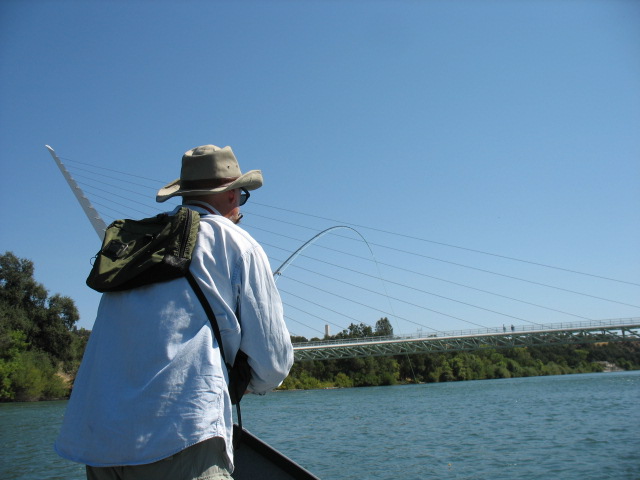 ---
Hard fighting trout that never give up easy is what I always find on the Lower Sacramento River!
---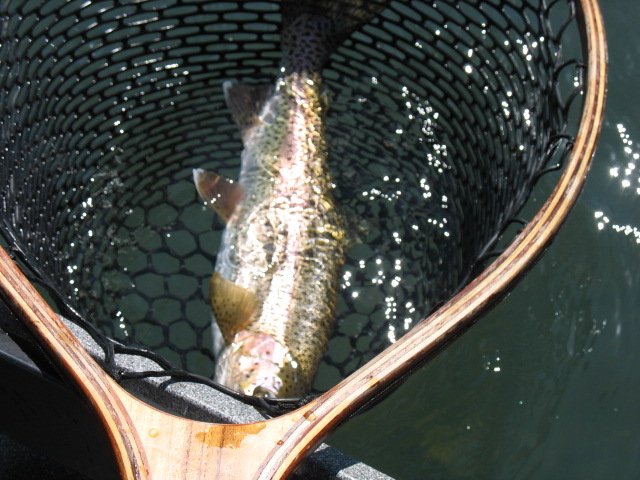 ---
Seems like every trip we catch trout over 3 lbs.
---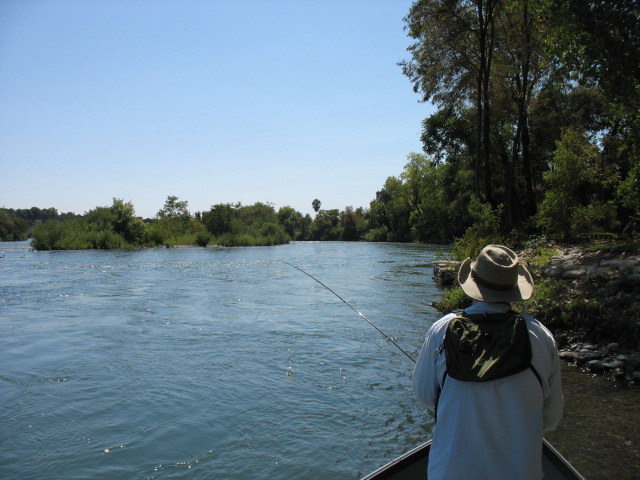 ---
We hooked into trout in all areas of the river!
---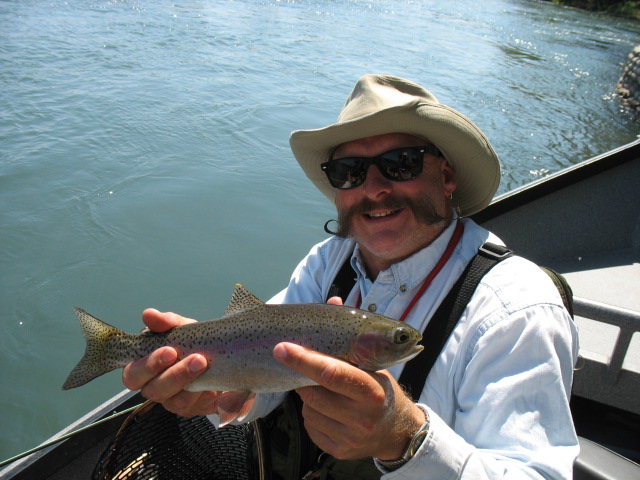 ---
Dave was fun to fish with! His funny handle bar mustache, (none of you probably noticed) and his quick wit and sense of humor made for a great day!
---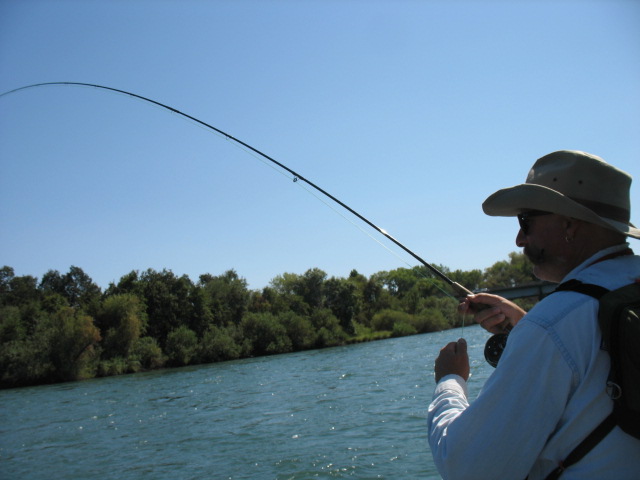 ---
I really liked fly fishing the Lower Sac this time of year you never know what size you're going to catch!! And right then Dave Earl hooked into a very nice trout!
---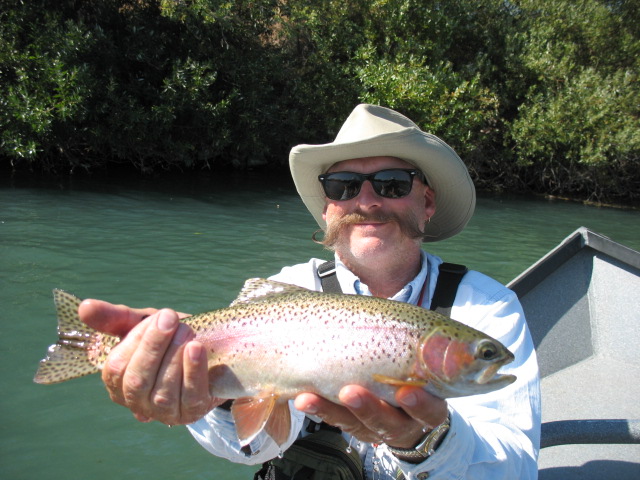 ---
Nice work music man!!
---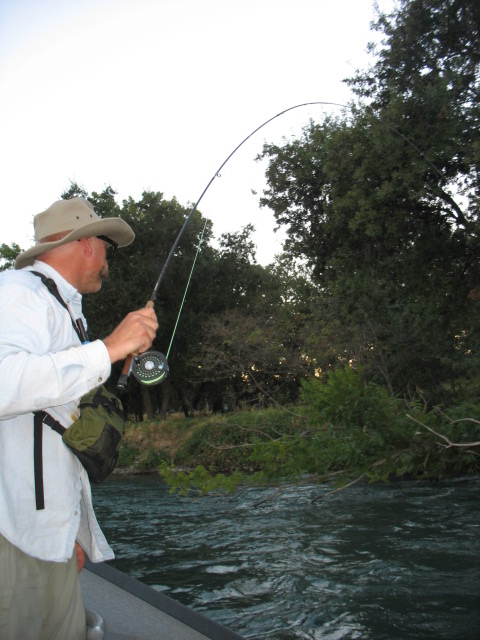 ---
So the next time your down at Pier 39 in San Francisco near Ghirardelli Chocolate Company look for Dave Earl! Stay tuned as we fly fish with Dave Earl on the McCloud River, Oct 2nd
---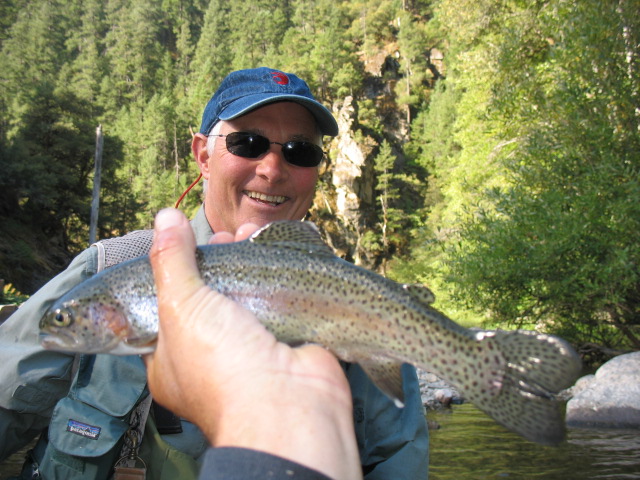 ---
Greg McSwain had a marvelous day on the McCloud River.
---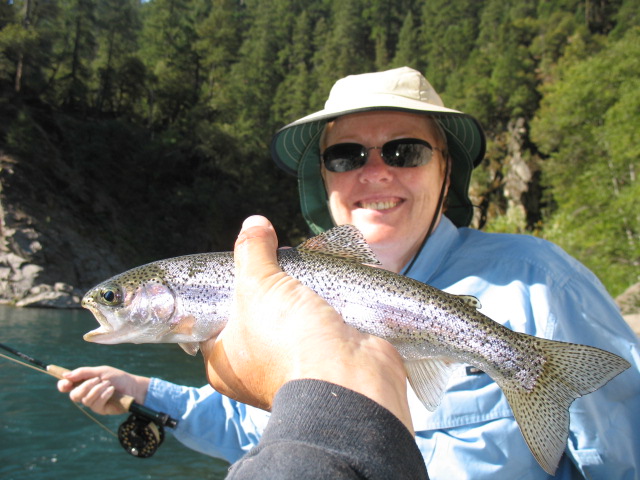 ---
This has been a great year for first time fly fishers, like Suzann McSwain!
---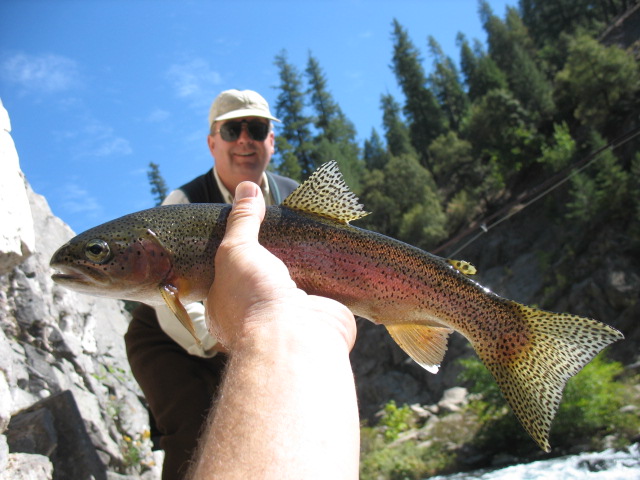 ---
Bill Harrel, thanks for coming up to see us!!
---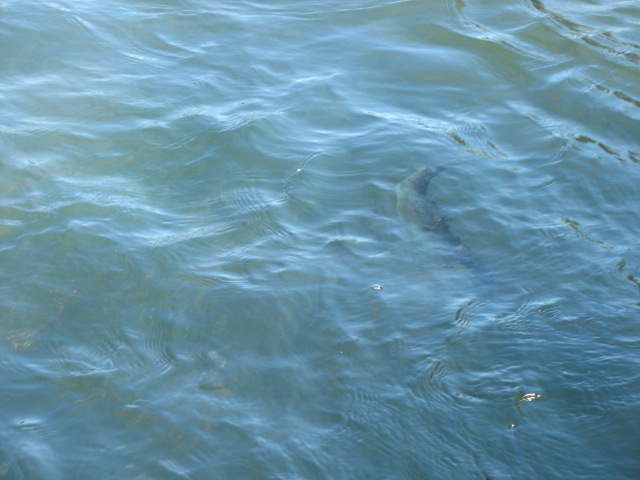 ---
The one that got away!! This was one of the biggest trout/steelhead I've ever seen on the Lower Sacramento River, got off right at the boat!!
---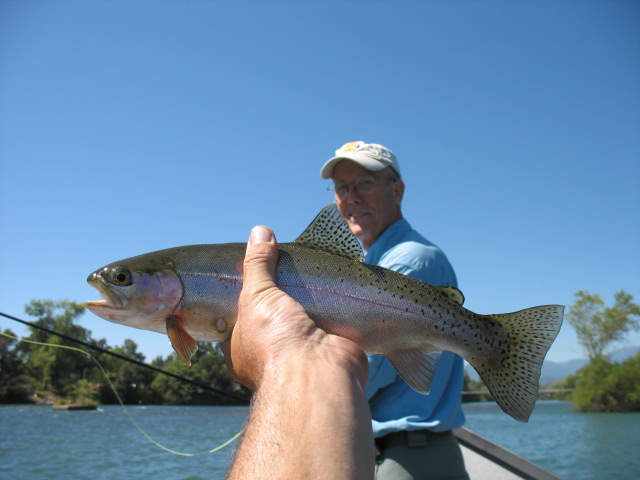 ---
John came out from Indiana to fly fish the Lower Sac, "with the Indiana boys, on a Indiana night"! (Tom Petty) She grew up in an Indiana town, had a good looking mother that never was around. But she grew up tall, and she grew up right, with the Indiana boys on the Indiana nights! So with that in mind the stage was set for four friends from Indiana who grew up together and contacted, Jack Trout Guide Service to guide them down the Lower Sacramento River.
---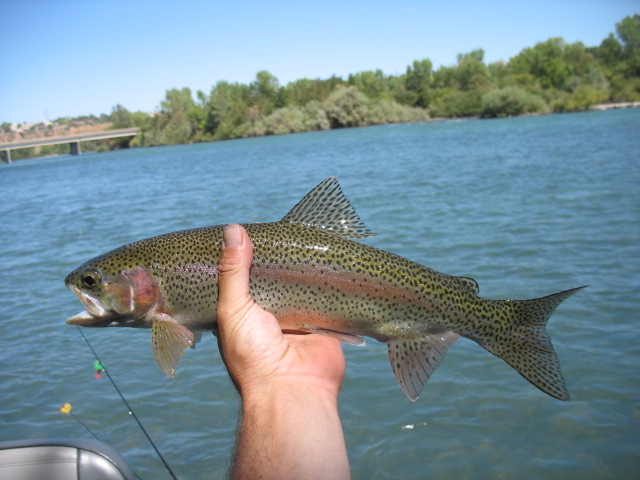 ---
At lunch a nice trout was caught on a caddis dry fly after seeing it rise!
---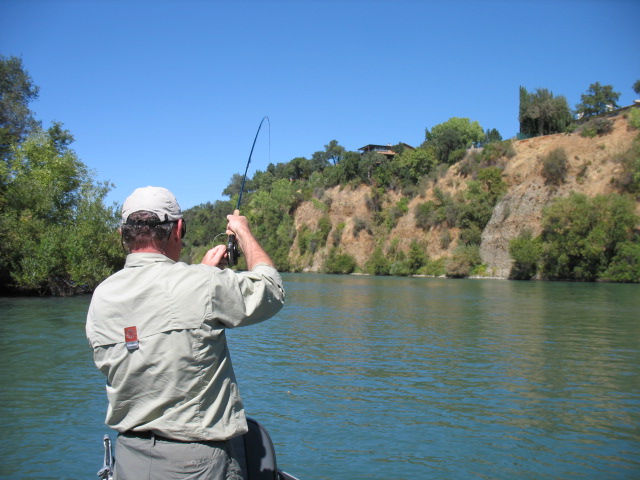 ---
Not too long later, Steve caught a lunker that took him for a glorious ride.
---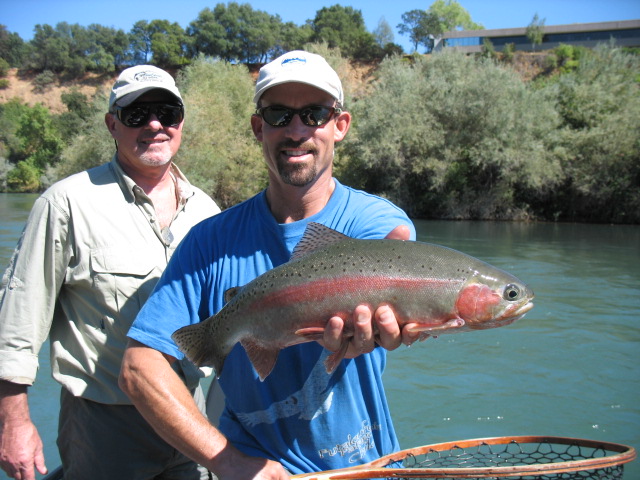 ---
This has to be Miss America! If we had a contest she'd get my vote
---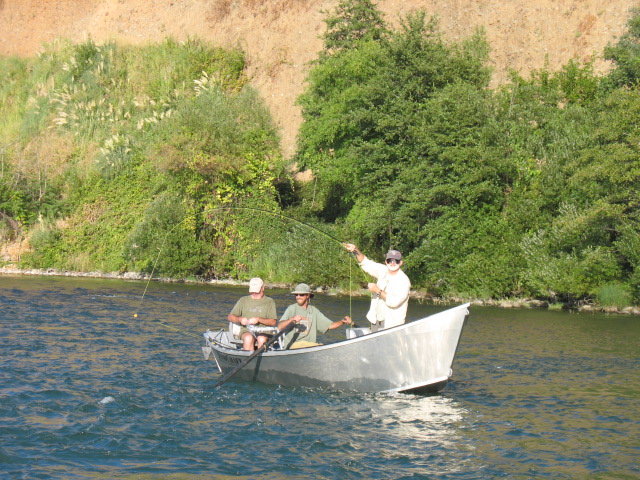 ---
Guide Aaron Greener was having a fantastic day with Gary and Randy landing numerous trout!
Like I said before, I think you should come up now and fish the Lower Sac with us, you won't be disappointed. All the folks who have called based on my previous weblogs are thanking me and my guides at the end of the trips. How about you? Are you jonesing to hook a trout? Are you stuck in a rut and need a trip to re-boot the Intel Pentium Processor in your brain? Come up to Mt Shasta, we don't honk our horns at you in traffic, we have no traffic. (Even if we did, we still wouldn't honk). We have clean air, water, green trees and the sound of flowing rivers.
---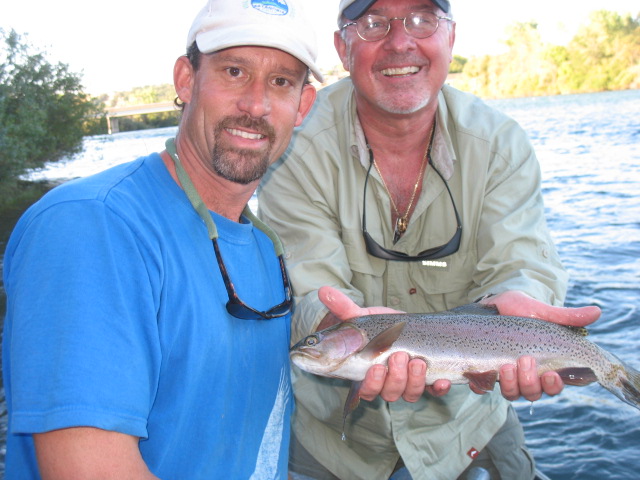 ---
Steve thanks for coming up, we had great times on your 3 days of guided fly fishing! See you next year!
---
STAY TUNED AS WE HEAD FOR THE McCLOUD, LOWER SAC, UPPER SAC, TRINITY AND TAKE 3 DAYS OFF FROM GUIDING UP ON THE LOWER DESHUTES IN OREGON! THANKS FOR WATCHING FOLKS, JACK TROUT
---
---
EMAILS FROM YOU:
Jack, Thank you for the awesome time you supplied to a birthday boy and his friends.
Truly, you made it the special trip I was hoping for. Matt said he had never had a better fishing trip.
It was great to have you teach us the fundementals of flyfishing, and to watch a real pro (cast) was one of many highlights. My be we can get you to come down this way and stay in Coloma with us.
Check our website out and see if we are playing the Coloma club when your free.
www.rmillsband.com
Well, we will see you the next time we come up.
Robert Mills
---
---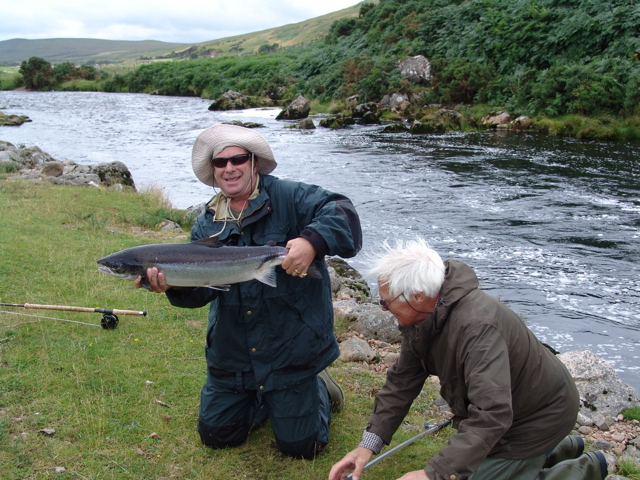 Dear Jack,
River Halladale,hadn't rained for two months and the river went up
four foot, we had 56 grilse and salmon to seven rods. The Halladale
is as far north as you can go in Sutherland, on the main land within
sight of the Orkney's Point taken, without your training Maureen up
the tally would have been much lower. The river after another
training session next year will inevitably be devoid of fish!!!!
Maureen will be fishing with you most if not all days, what is the
cost and i will make the transfer. Really looking forward to feb. We
are going to Argentina for a month before, starting at Buenos Aires,
the Iguazo Falls and then Purerto Madryn, Tierra del Fuego, where we
are going to catch a monster, Puenta Arenas and then Mr Trout"s
tours, we are lucky.
As ever.
David.
PS Maureen got a hole in one on the Golf Course the other day, 180
metres so she is getting fairly upish!!!!!!
---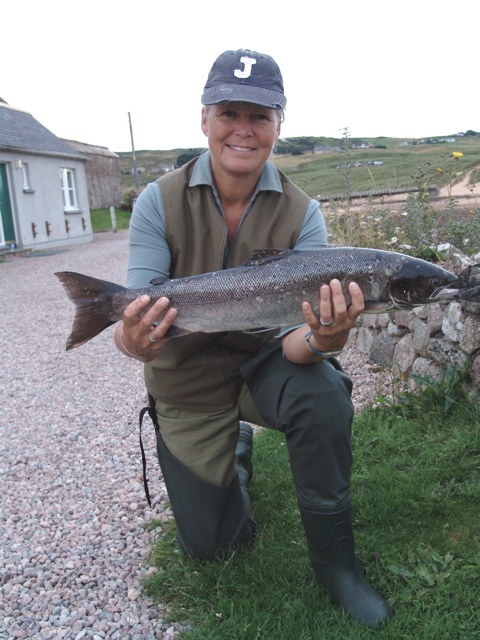 ---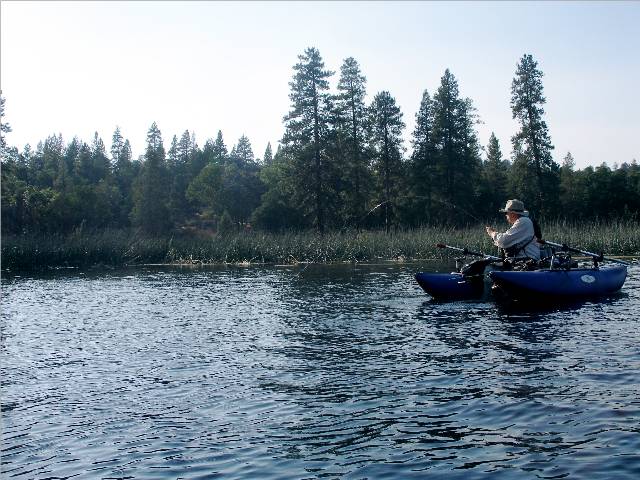 ---
thanks fer the pics- i used your strike indicator this week on the
pit-it rules!!
hers a photo of me catching a 3 pound trout yesterday at baum lake
dave earl
http://www.davearl.com
---
---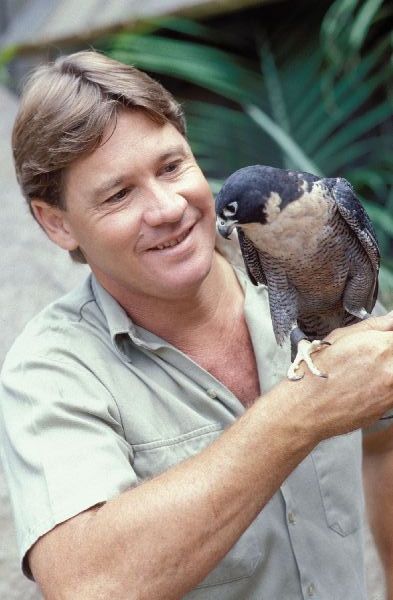 ---
Jack,
I'm sure you've heard about the Crocodile Hunter. I am so sad he died, but thank God he died doing what he loved. He taught us to see the beauty in all beasts, and as heart-wrenching as it is to lose him (poor family, poor kids) at least he didn't die from a car accident or from cancer or old age. He probably was admiring that stingray in all her dynamic glory before she got him right in the heart.
I've often thought your personality and sense about life were similar to Steve Irwin's. Friend to all things Mother Nature….the animals will surely miss him.
Tracy
---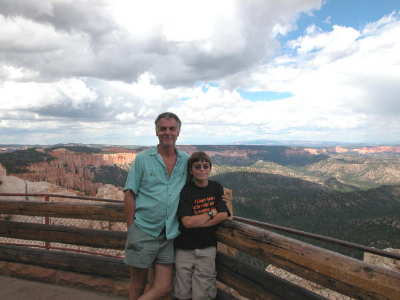 ---
Yo Jack,
As usual I love getting your mail/site/blog. Thanks.
Here is what has been up for Bryce and I. See attached
We had a great five weeks camping from Grand Canyon, thru Anazasi
Country, into the Colorado Rockies, old friends in Aspen, then thru
Utah and home. After 3 miles I punked out hiking down the Bright
Angel Trail and had to send Bryce on his own to do the river trip.
Eight days. It was great for him. I had to crawl out. Very
sobering experience.
Great fishing in the Rockies. Some were places I had seen and always
wanted to fish. Some were brand new, turned onto by guides. Some,
like my old campsite near my favorite little Lime Creek, an hour out
of Aspen on the old 4x roads
Bryce has really come into his own as a fisherman. Nothing better
for a kid… well… some of those girls do look enticing. But that
fishing is still a little ways off. He could eat these trout NOW!!!
Look forward to fishing with you again.
Spencer
---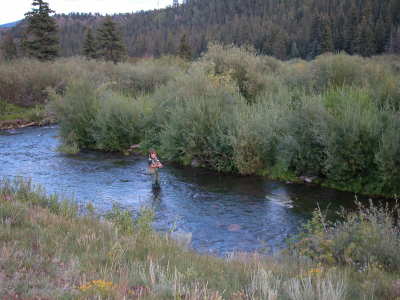 ---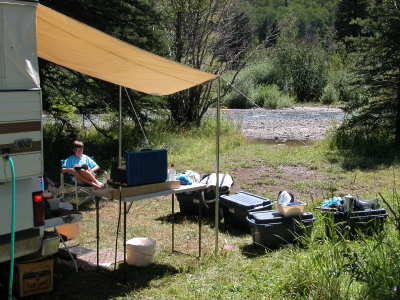 ---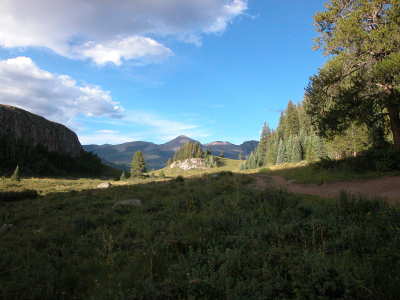 ---
Take a kid on a camping adventure like this and you'll never have to worry about what he will turn out to be in life, nature will turn him out right everytime if he spends time with her! Cheers Spencer and Bryce, jt
---
Hey Jack,
Hey whadya mean FUNNY mustache? My 'stache is a CHICK MAGNET dude!!
dave earl
---
dear jack,
thanks for introducing us to the joy of fly fishing, and the beauty of the
Mcloud. love your pictures! our trip was one that won't be forgotten.
from the glacial blue waters to the gorgeous fish to watching you cast to
learning the art to immersing oneself in the beauty it was all good!
thanks again,
matt semonsen
you're welcome to use my house on the sf of american any time. october is
still very nice, and the fishin is good.
the weekend of the 28th is out though.
as elvin bishop wrote (and which we play) "i'm goin fishin, just to ease my
mind".
---
Great shots of the Trinity, Jack! Thanks for those.
Jim Collins
---
Hello Jack –
Suzann and I had a great time with you half-day on the McCloud. I spent the following day on the North Umpqua and my guide was nowhere near as productive. All day – no fish! I went back to my mother-in-law's on the McKenzie and had 5 inside of an hour. We travel between SJ and Ore several times a year and like to break the drive with a half-way stop in Shasta – and, when I can swing it, some fishing. I am still selling Chile. Hope to see you soon.
– Greg
Gregory Scott MacSwain
---
howdy jack!
wow, so cool to see your stories and photos as usual.
the wetsuits were hopefully reminding you of SURFING? one of these days
we'll have to teach you how to surf/fishing and hook up.
thanks for sharing your page with us.
take care,
peggy and
bob/rusty too 🙂
---
—