*****BEEN HAVING SERVER PROBLEMS SORRY ABOUT THE MONTH DELAY!! STEELHEAD MADNESS IN THE KLAMATH & TRINITY!! SATURDAY OCTOBER 21ST 6:30PM JACK TROUT & SHASTA TROUT, ON THE FINE LIVING NETWORK ON THE UPPER SAC RAFTING & FLY FISHING. WE HAVE ALL OUR PERMITS TO RUN ALL SECTIONS OF THE TRINITY AND KLAMATH RIVERS!
---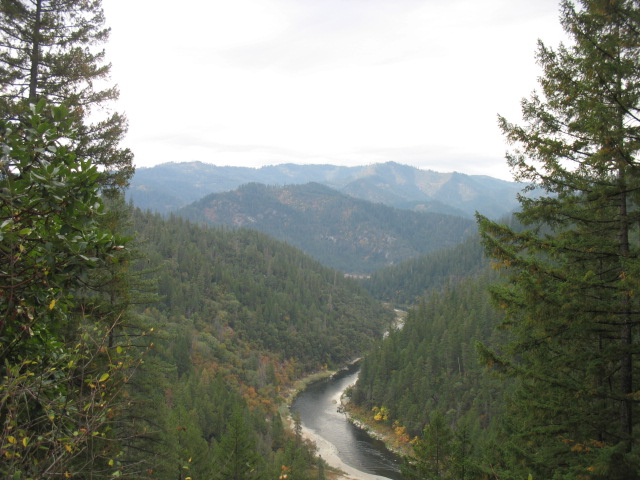 ---
Wow! What a journey this past month has been! I've been out on the McCloud, Lower Sac & Trinity, and then off for a fun 34 mile float & fly fishing trip up on the Deschutes River from Warm Springs to Maupin, Oregon. Right in the middle of all these adventures my server went down and was unable to provide me with a board to put my new stories up on, so I just had to wait. It was so hard cause I received about million emails wondering if I had fallen off the face of the earth? I replied, "no, I'm just out in a guiding vortex again and my server got the runs"!
So I'm back in action with an up-to-date story from this past week on the Lower Klamath and Trinity. The next story will encompass all the past adventures from the end of September, and the first two weeks of October!. Thanks Jack Trout Happy Steelhead Fishing!
---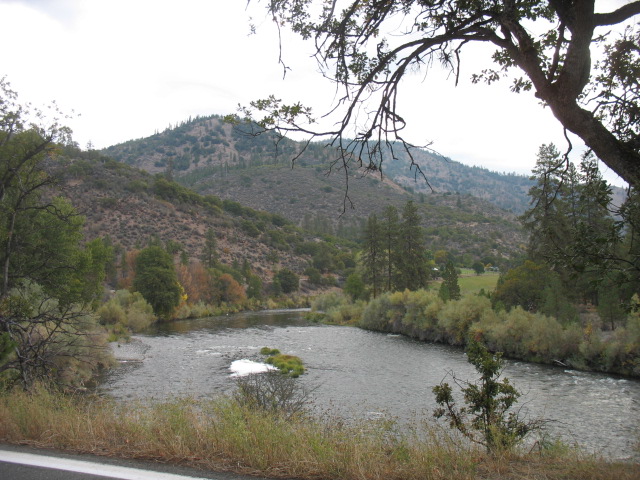 ---
So when I got the call from my good friend Aaron Martin, asking me if I wanted to float the Lower Klamath with Aaron, his Mom and Dad from Prince Edward Island, Girlfriend Mandy, and of course their lovable mutt, Commander Willow. I said, "for sure I'm there"! It tied in perfect with my next guide trip, I could float with them on the Lower Klamath then afterwards I could head for Willow Creek make the left turn on Highway 299, and head up towards Weaverville, and then fish with my customer Jim Gorman, who was heading up from L.A. On the way down from Mt Shasta on Highway 96 I stopped to see the Beaver Creek Riffle, it looked good, and I was happy to see the river look so much better after all the floods we witnessed on this site this past December. I was feeling really good about the river, what lied ahead of me the next 4 days, even the flows were higher than usual for this time of year. Yea, you could say I was ready for adventure!
---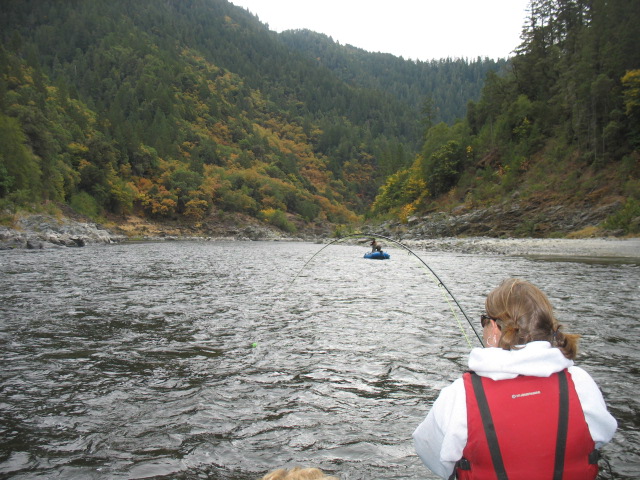 ---
So we loaded the rafts up and put in on the most incredible piece of water! The canyons reminded me of the Lower Rio Petrohue in Chile. The trees were different though with their brilliant autum fall colors like a brush stroke on a forested painting. The air was misty that day with signs from the Sky-Pilot that rain was on the way. After a few runs I realized, this was a trip that only should be done in a raft not in a drift boat. And after that thought cleared, I noticed Mandy's indicator dissapeared and she swung her rod high to set the wild beast as it jump a mile high!
---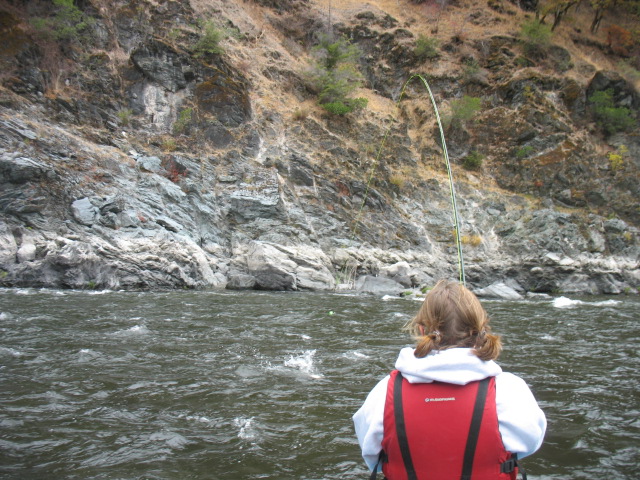 ---
Mandy did great by letting it go and run as much as it wanted, but a big steelhead on Mandy's line was no new thing for this local girl as she played it like a fiddle.
---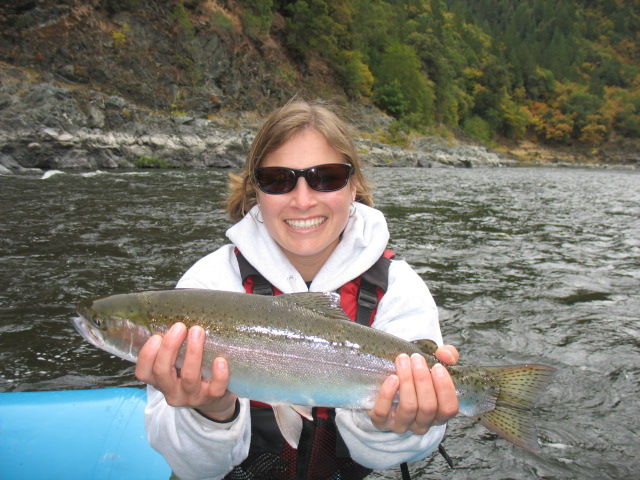 ---
What a nice wild steelhead!!
---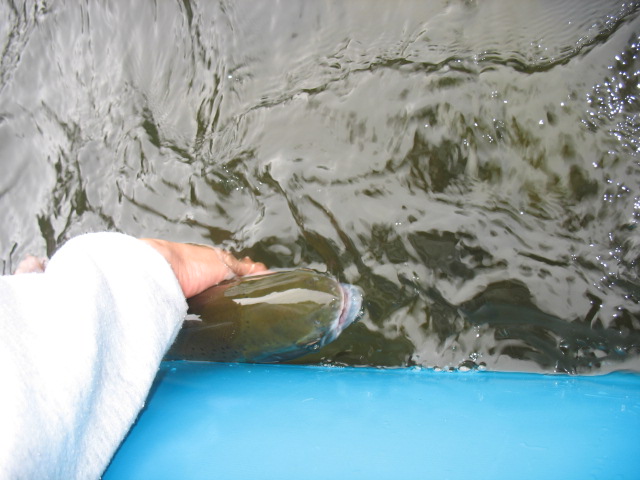 ---
Releasing ALL steelhead is good-form! IT IS THE LAW THAT ALL WILD STEELHEAD BE RELEASED, BUT EVEN HATCHERY STEELHEAD SHOULD BE REALEASED SO YOU CAN COME BACK SOME DAY AND CATCH'EM AGAIN. IF YOU DON'T THINK SO, YOU SHOULD CONSIDER HOW THE STEELHEAD FISHING WAS IN GENERAL DURING THE 1970'S AND EARLY 1980'S, IT SUCKED!! DON'T TAKE FOR GRANTED A RESOURCE THAT IS PRODUCING BENFITS, PROTECT IT!! JACK TROUT
---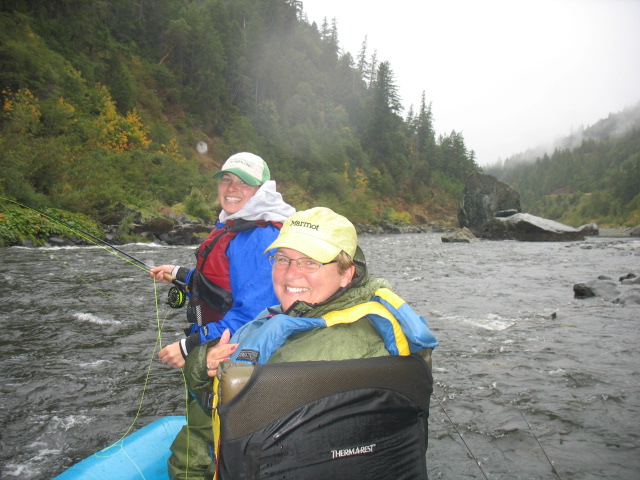 ---
That day we had two rafts for five people and a dog, that was a perfect ratio and we stopped at some places to wet a line and try our luck.
---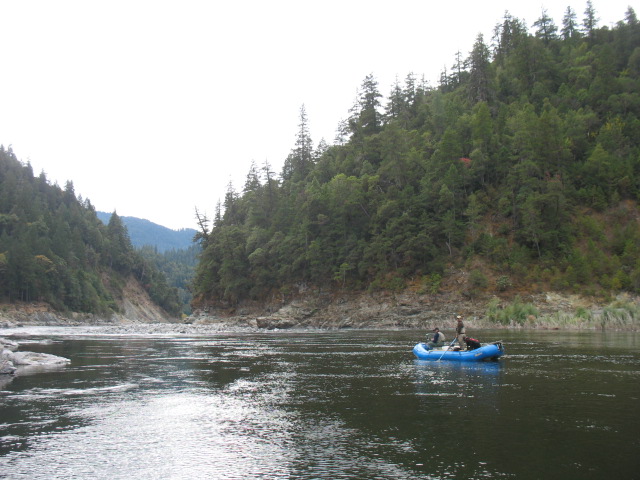 ---
It was great to see Aaron and his dad Fred, together doing what they love to do.
---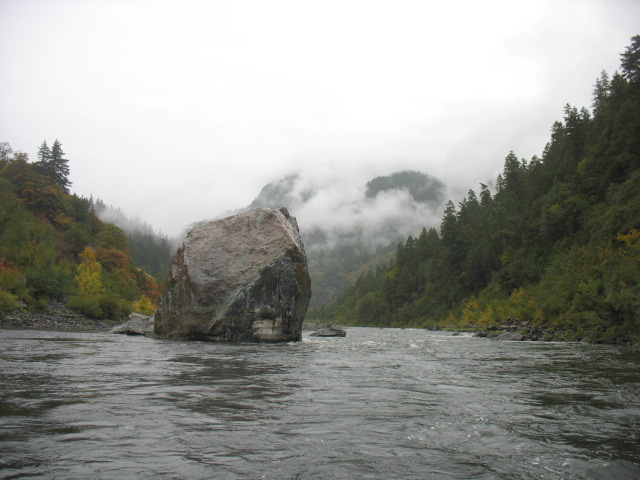 ---
The scenes were breath taking!
---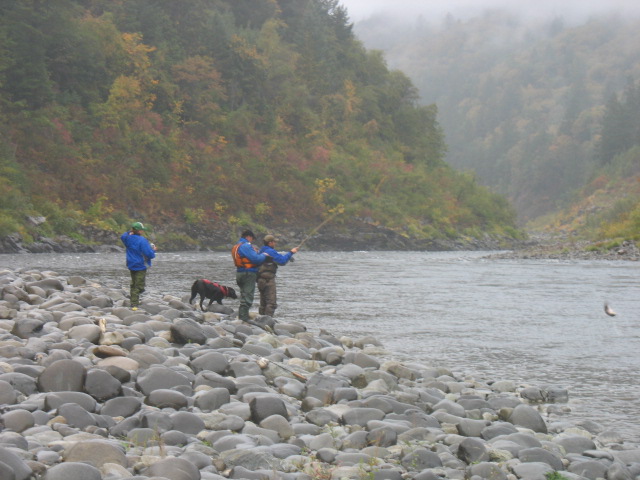 ---
We pulled over at a spot 1/2 way down that Aaron knew and within 4 minutes Aaron had on a crazed steelhead jumping and bouncing all over the place like that T.O. guy from Dallas with that MAD-COW Boy disease. It jumped again in the air and the shot was taken!
---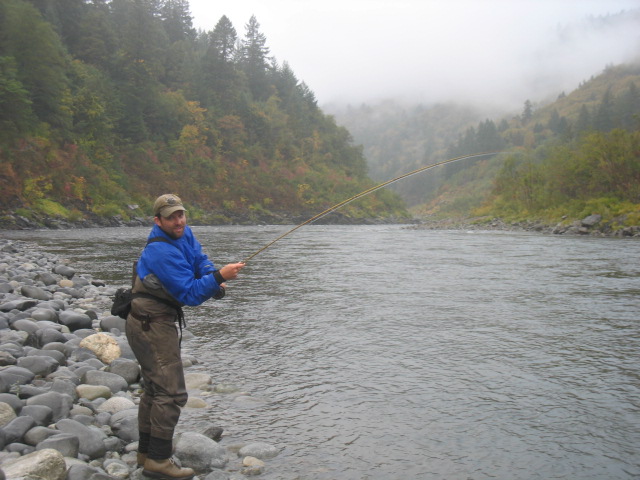 ---
This is cool, but I just saved 15% on my auto insurance by switching to Jack Trout Guide Service!
---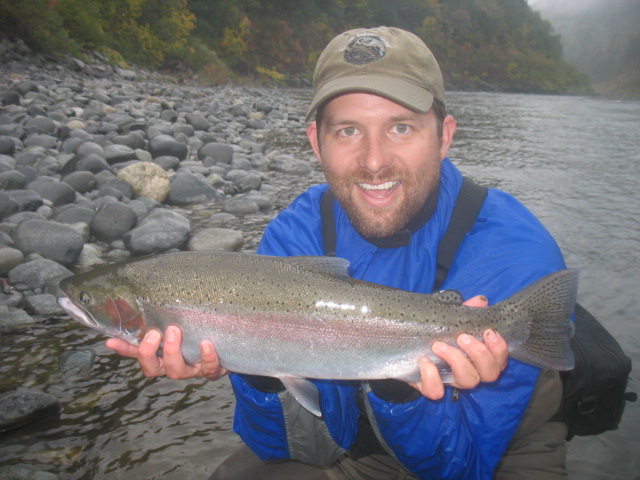 ---
Right on Rock Star!
---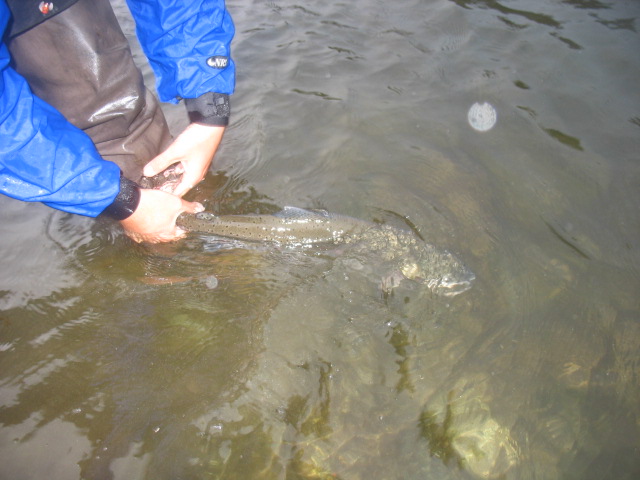 ---
What a healthy horny steelhead, up looking to spawn this fall! This is when you don't want someone to practice safe sex! We like the slutty steelhead that make lots of babys and owe tons in back child support! (steelhead not dead-beats)!
---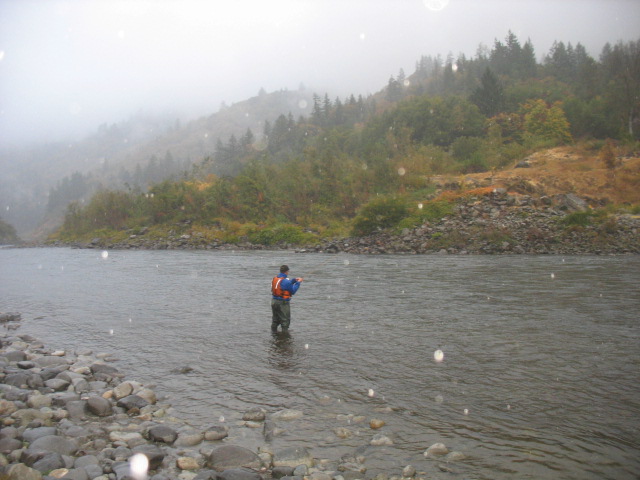 ---
Aaron's dad Fred, then tried his luck and before long he also hooked into a beauty!
---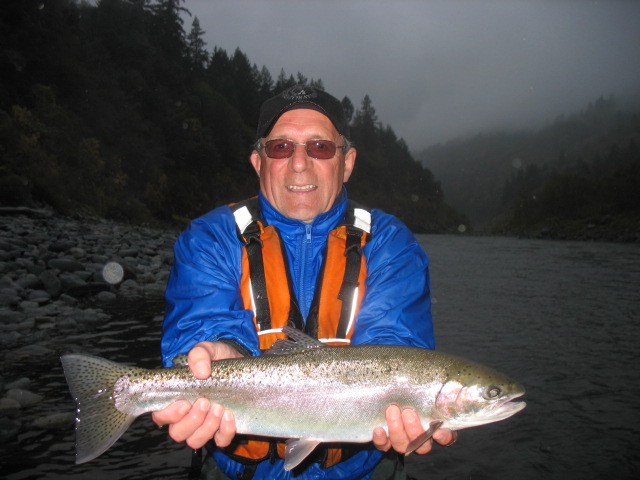 ---
He fought and fought untill it was almost dark!
---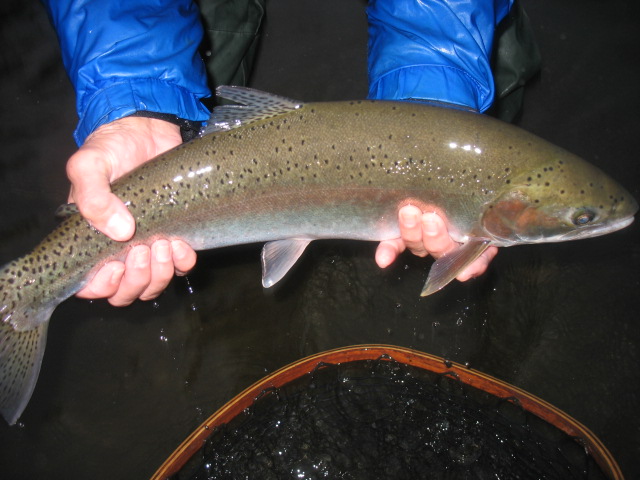 ---
Fred, it was nice to meet you and fish with you take care!! Jack Trout (All the adult
steelhead we caught that day were wild)! After that I drove to Weaverville on a long drive I would suggest doing with a passenger next time. I had to get ready for my next customer Jim Gorman. What would his trip be like? What would he be like? All I really knew was that I was tired, but a candle was lit in my heart filled with excitement, for I had a feeling that the next following adventure would just be an extension of the great memories I just had with Aaron and his family! Life was great and the adventures couldn't stop now, they were just getting started!
---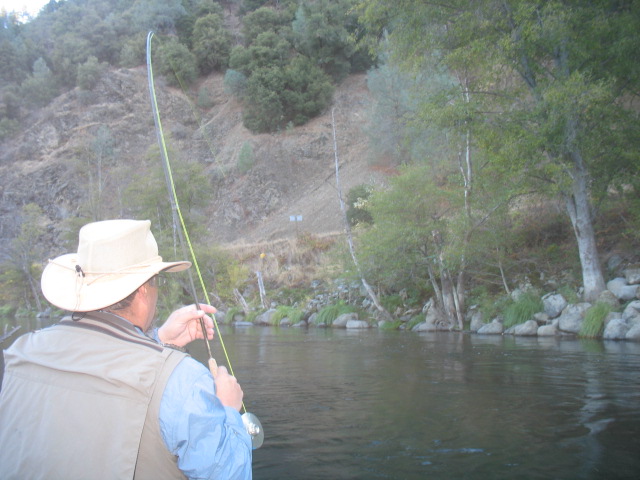 ---
I met Jim, and right away I felt like this was good guy to hang out with for 3 days. The sky was over cast, we could see steelhead rising, playing, being active, and my heart was pounding with excitement as Jim's indicator vanished into thin-water! Jim had hooked a monster within 15 minutes of our departure.
---
!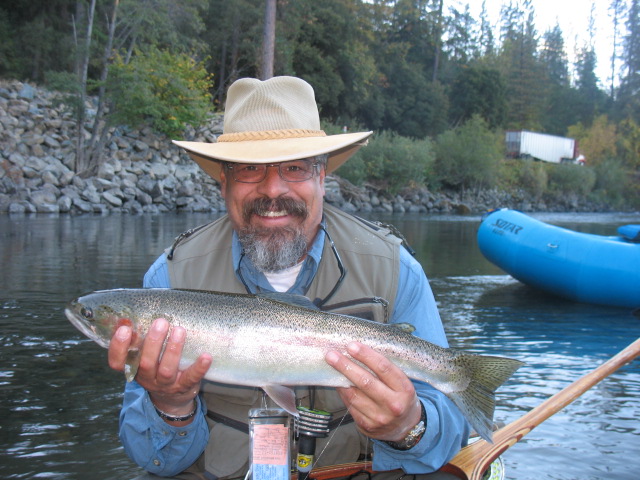 ---
It was a nice wild steelhead! Wow was he a hard fighting fish!
---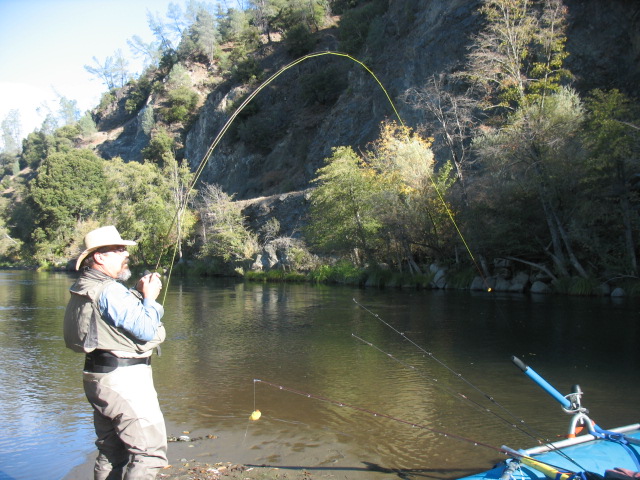 ---
Right after that he caught another one a little further down wading. You notice the water is much slower than what trout hold in. Remember with steelhead, "foam is home"! Fish the foam water to catch the biggest steelhead, not fast riffles. So we did and we were rewarded!!
---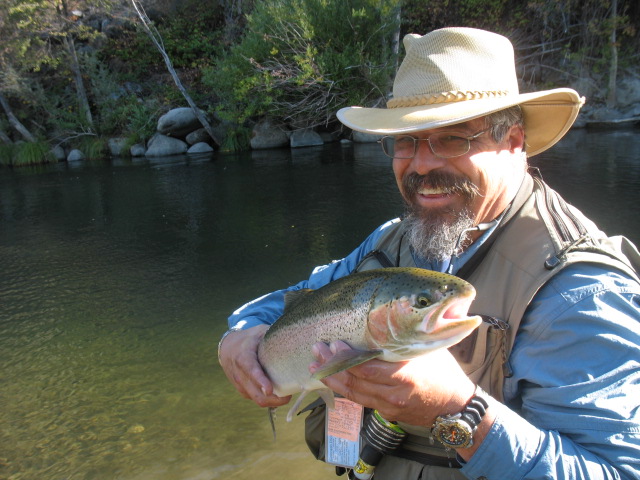 ---
I think one of the greatest parts of my 3 days with Jim was learning that he had never wet a fly in California after living here for over 20 years! This was his first experience
fly fishing our great state and we showed him our true colors. Welcome to California Fly Fishing!!!
---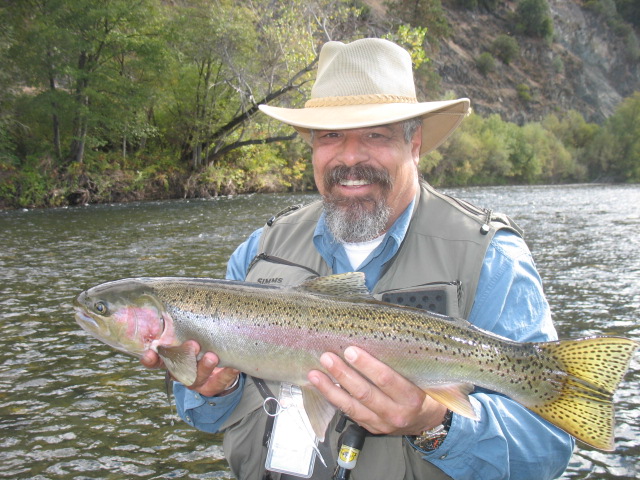 ---
A little further down the river he caught this hatchery toad! It must of been over 30 inches long.
---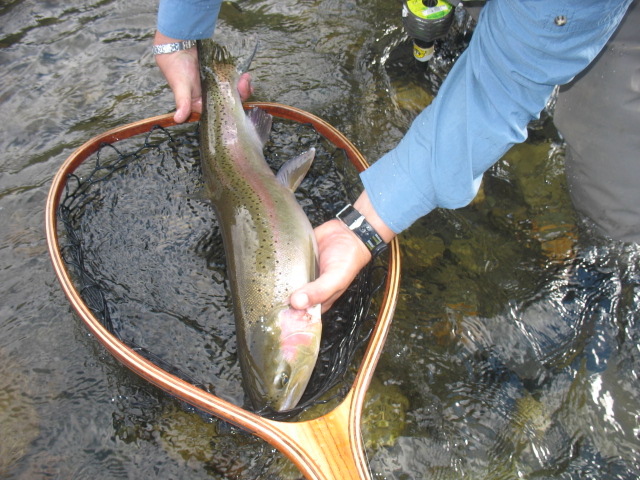 ---
I could barely get this fish into the net!
---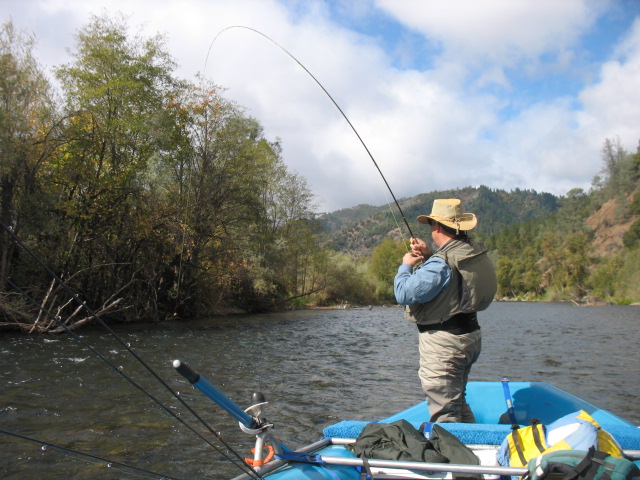 ---
The places we fished were epic to say the least, I like fly fishing the Trinity in a raft, it's a lot quieter and the river flows are so low, it just makes sense.
(INDIAN CREEK LODGE, TRINITY RIVER RECOMMENDED PLACE TO STAY . 59741 HWY 299 DOUGLAS CITY 530-623-6294 LET JIM AND HIS STAFF, TAKE GREAT CARE OF YOU WHILE YOU STAY ON THE BANKS OF THE TRINITY RIVER! FIVE STARS, FOR GREAT OWNER ATTITUDE, LODGE CLEANLINESS AND ATMOSPHERE. ONLY 10 MINUTES FROM GOOD FOOD IN WEAVERVILLE. $55 to $65 GREAT PRICES!!)
---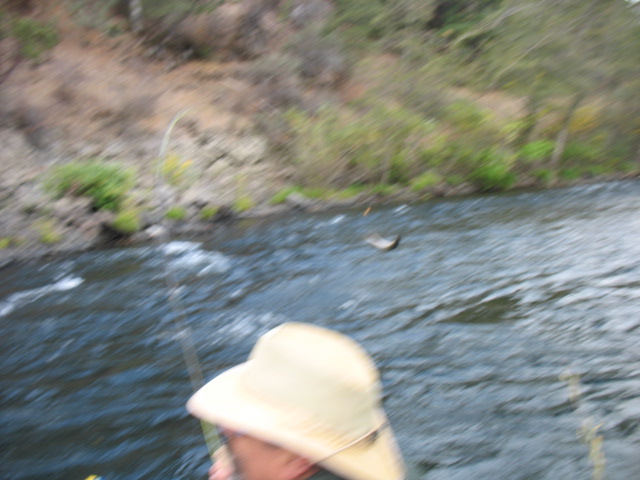 ---
And then it happened, we drifted down a slope and dropped down into a new area and the indicator once again dissapeared. Jim set the hook and out jumped a huge fish as silver as a Stanley Morgan Dollar in mint condition! We both gasp and then it jumped 5 more times, this fish was loco!!!
---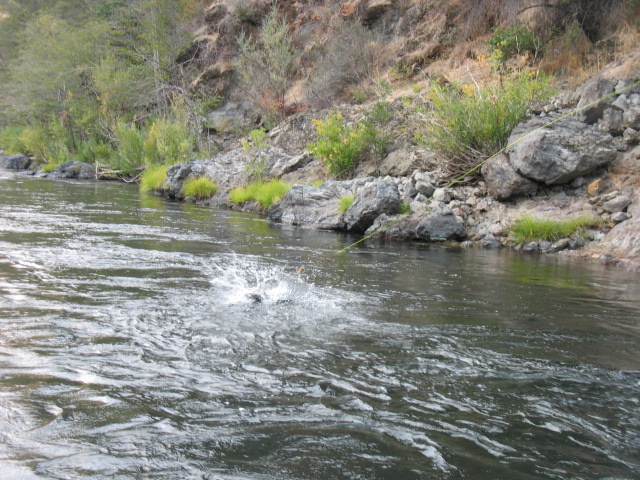 ---
It surged up near the surface and threw water everywhere, Jim laughed with excitement!
---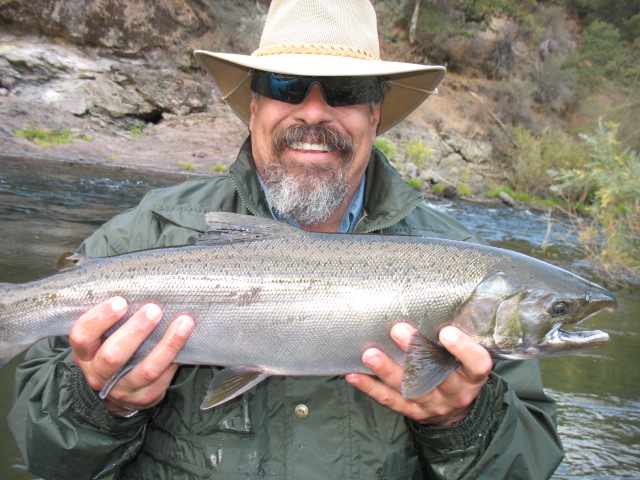 ---
It was a Coho SILVER SALMON!!! A hatchey Coho from the Trinity Hatchery. (right maxillary removed is Trinity Hatchery, left maxillary is Klamath Hatchery) A very rare catch indeed!! CONGRADULATIONS JIM GORMAN, SIZZLER OF THE WEEK!!!! CONGRADULATIONS SIZZLER!!
---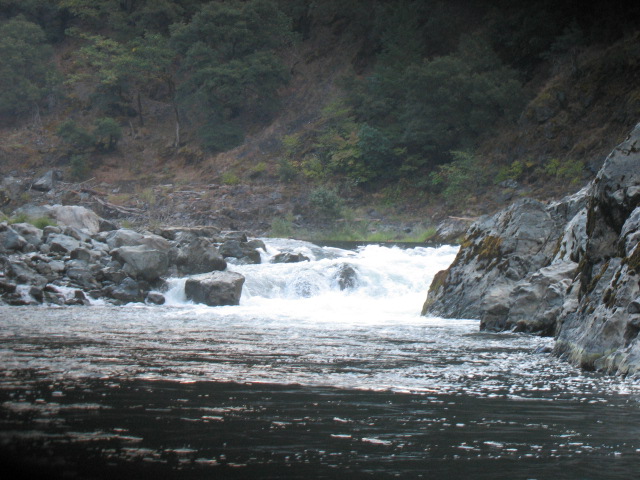 ---
Hells Hole on the Trinity River! One morning I got up early to run Hells Hole alone, I've always wanted to run it by myself and this was a great opportunity to do so!
There were others that were very technical and demanded my full attention, expertise and strength. But no drop was better than Hells Hole!!
---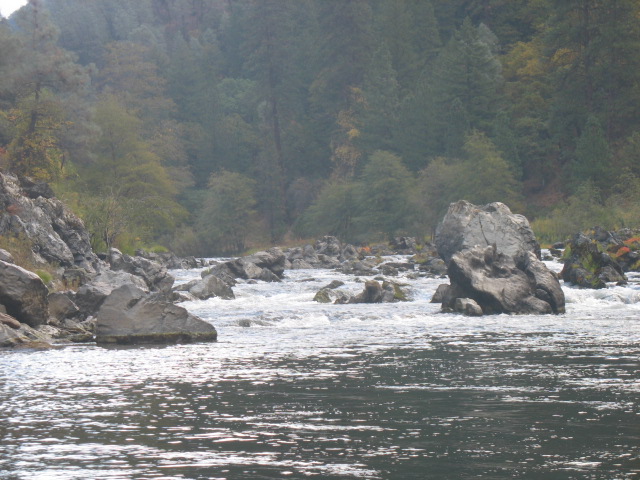 ---
Welcome to Pinball on the Trinity River! I took out in Big Flat on a 6 mile float, and was in time to meet Jim Gorman for our second day, as he was just getting his waders on as I pulled up ready to go!! Wow what a fun experience, plan to fly fish this section in a latter story!(donot attempt this on your own, I am a certified class 4 rafting guide)
---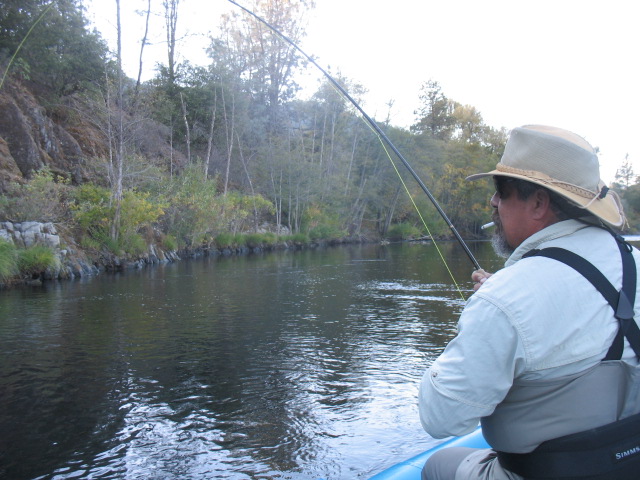 ---
The second day was harder, the sky was bright and there was no hatch that day. We caught one very large adult compared to the 9 we hooked the day before. Jim was in his element enjoying every minute of the trip whether we were catching or B.S'ing.
---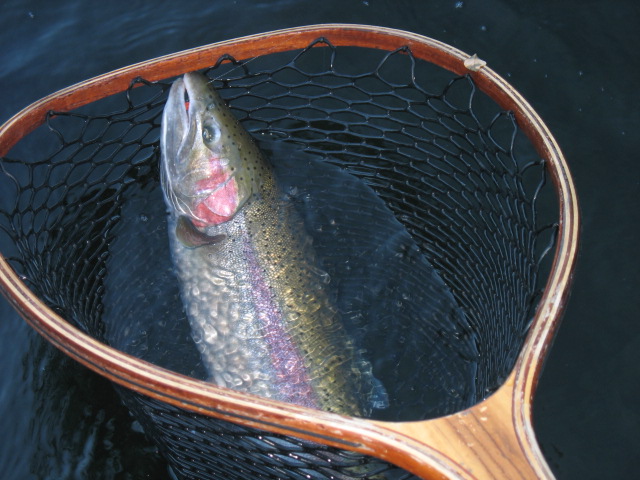 ---
What a nice steelhead indeedy!
---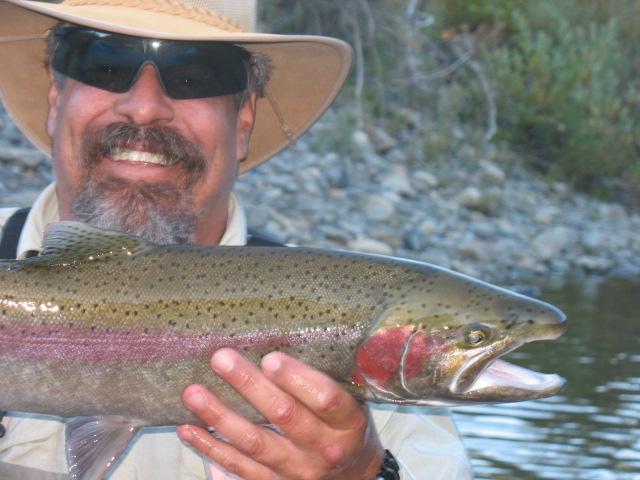 ---
What a great guy Jim Gorman turned out to be! Thanks again for coming up Jim!! In 3 days Jim hooked 16 adult steelhead landed 14, one Coho Silver Salmon and countless hatchery 1/2 pounders. Jim at the The Indian Creek Lodge in Douglas City Thanks you, the Nugget in Weaverville, and the Burger King cause we got off the water so late every night!
---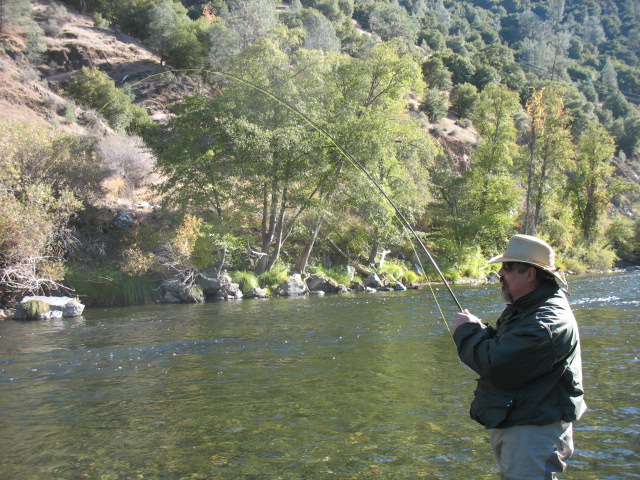 ---
But it was on the last day that Jim hooked his biggest steelhead!!
---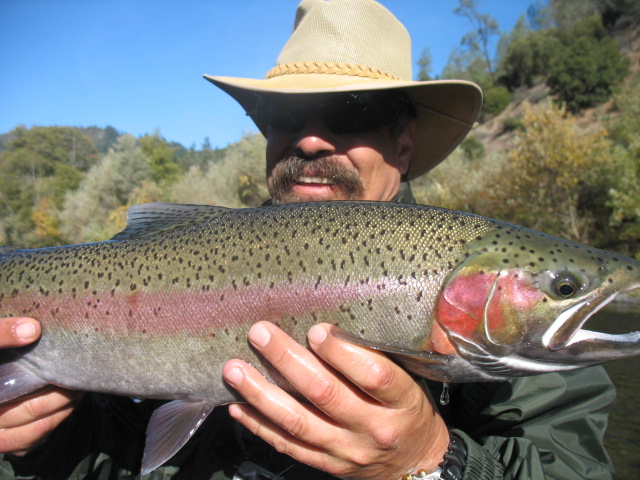 ---
Wow! That's some great make-up on this doll! This is better than the models on the Maybelline commercials….
---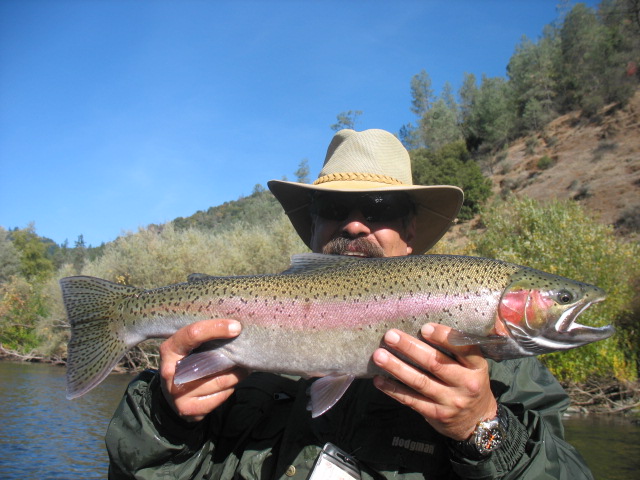 ---
A nice healthy adult wild steelhead!!! What could be better? Call me for booking your steelhead trip this fall/winter Jack Trout 530-926-4540*****THANKS FOR WATCHING THOSE ADVENTURES!! STAY TUNED AS WE ACCESS MORE STEELHEAD WATERS ON THE TRINITY, MIDDLE KLAMATH, McCLOUD AND UPPER SAC RIVERS!! JACK TROUT
---
---
---
---
http://www.jacktrout.com/futa.html

---
---
http://www.jacktrout.com/trinity.html
---
---
EMAILS FROM YOU:
Jack –
I≠ve lived in southern California thirty nine years now, and have been fly fishing Colorado for the last thirty seven. No, I didn≠t start at age two. Living in southern California doesn≠t exactly lend itself to fly fishing and, frankly, I had no interest. I fished Colorado because I could be in the mountains fishing a beautiful mountain stream catching a lot of fish. Shucks, I only had two weeks a year and wanted to get in as much fishing as possible.
Well, this year Colorado wasn≠t an option so I looked around and your website caught my attention. Your quick response to my query and constant updates on the fishing in the area sealed the deal. You took the time to keep me updated prior to my arrival, that shows me you care about your clients. When I finally got to talk to you on the phone your enthusiasm and good nature made me sure I≠d found the right guide. Now all we had to do was find the fish.
My three days on the Trinity River were great. You knew the river, knew the pattern, and put me on the a lot of big fish. In fact I took the biggest fish (that≠s plural fish) I≠ve ever taken with a fly rod.
Thanks Jack for three fantastic days of fishin≠, yappin≠ laughin≠, beautiful scenery and great food at the Nugget Restaurant.
Best Regards,
Jim Gorman
Anaheim
---
Hey trout-dude- next time you are in, I am at 530-…-….
heard you had a bit of a whitewater adventure- right on!
I know you'll be leaving soon. Wanted to ask:
I have, as you pointed in in naming me a SOTW, fished for trout all over the place. While Chile was great, it did occur to me that it did not jive with my proclivity for native fishes. I have been researching and considering checking out sveveral rivers for freshwater dorado. Wondering if you have ever considered fishing for these critters, which by all accounts, are an incredibly worthy gamefish. I will likely by planning an exploratoiry expedition sometime soon. Wondering if you might ever be interested in an end or beginning of your S American season exploratory trip of this type? Would of course be N of your typical grounds…
later,
Kloch
P.S.:
Were I the crazed eloquent eubellient type like yourself, I might have to go on about not being able to hear the sounds of nature- not even sure I knew what or where nature was for that matter…for most of this weekend…I'll be steelheadin this next weekend though, hope to get back into this fishy nature thing. might even shoot some quail.
---
Hi Jack,
Do you have any dates available for fishing on the Trinity in November?
Thanks,
Bruce Bardessono
---
I am hoping to do some fly fishing in the near future. It would be just me and I am a complete rookie. Do you have anything coming up in the near future?
Thanks,
Brian Mogensen
---
JACK!!
That was so cool.
You rock, baby!
I loved seeing Shasta…what a heart-tug.
It was good seeing you on TV. Made me feel
like I actually saw you in real life.
You Fine-Living Star, you!
Tracy
---
Hey jack:
Just a note to thank you again and say what a great time it was spending the day with you on the Klamath, it looks like you had a good day on Monday as well.
Hopefully we can get out again sometime in the future.
Best regards,
Fred Martin.
---