2014 & 2015        TRIPADVISOR'S TOP AWARD WORLD FLY FISHING OUTFITTER OF THE YEAR.
                                                                     
STEELHEAD SIGN UPS FOR * TRINITY * KLAMATH   &  LOWER SAC
STILL HAVE SPACE IN DEC * JAN * FEB * MARCH
The Steelhead Are In Big-time !!
530-918-8879 OUR INTERNATIONAL PHONE THAT RINGS ME ANY WHERE OR EMAIL AT INFO@JACKTROUT.COM
Need an up to the minute update? Check out our Facebook Page & Videos –
JACK TROUT FLY FISHING FACEBOOK PAGE

SOLD OUT –  June 24th, to July 2nd, 2016  Cayo Largo, Cuba. 5 slots open for Cayo Santa Maria May 8th to May 15th – Tarpon Migration Period. Call for more Info. Carola and I will be on both trips to over see all activities and connections, consider joining us.
We Have 4 slots left for Cayo Largo for July 16th to July 23rd, 2016 – Receiving calls daily, reserve your space now and Non Anglers welcomed.
Soon I Will Have More Dates Available For Cuba In 2016 / 2017  Give us a call to schedule your adventures for legal Americans in Cuba. CLICK ON THE BANNER ABOVE TO READ OUR WEB LOG STORY ON CUBA. or go to www.cubaflyfishguide.com
Jack & Carola Trout – 530-918-8879
Murder in Cuba by Dianne Harman, Amazon Kindle format
Cuba — a land of classic cars, beautiful beaches, salsa music, and the best cigars in the world. As diplomatic relations between Cuba and the United States starts to improve, everyone wants a piece of the action. When Mike's friend, Jack Trout, asks Kelly and Mike to join his wife and him on an exploratory trip to a Cuban island, it's an invitation they can't resist. Mike's dream of fly fishing the saltwater flats on the exotic island is quickly replaced when he's asked by the local constable to help solve the murder of a British fly fishing guide, Dudley Samms. Jack becomes a suspect and his wife, Carola, asks Kelly to help solve the crime.
Plenty of quirky characters have reasons to wish Dudley dead, but who killed him? The Englishman who is the head of one of the largest international banks in the world? The American with no visible means of support, but who has plenty of money to fish all around the world? The victim's wife? One of the Cuban fishing guides? Or was it Jack?
— Murder in Cuba by Dianne Harman
http://www.amazon.com/dp/B01A2IST2U/?tag=omnimystery-20
See all eight mysteries in the Cedar Bay Cozy Series for 99¢ each on Kindle.
Murder in Cuba by Dianne Harman
A Cedar Bay Cozy Mystery (8th in series)
Publisher: Dianne Harman
Price: 99¢ (as of 01/02/2016 at 6:30 PM ET).
Visit our New Indie Mystery Books page on Omnimystery News for a complete list of titles featured today.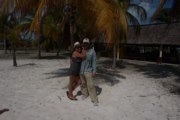 We hope to host your trip or group in Cuba!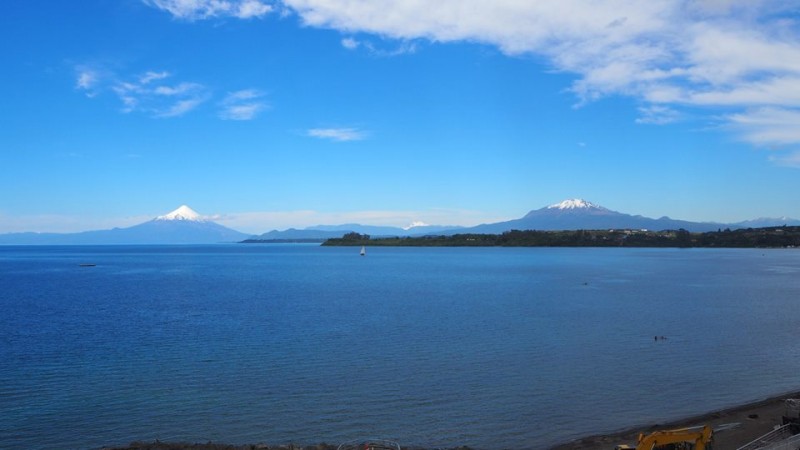 This year marks our 24th season in Chile moving into our new house we are renting in the hills of Puerto Varas, Chile. We are pretty excited to the say the least. Looking out from the city center from our clients hotel room. We could see as many as 5 volcanoes panning our eyes from north to south. We thought about how last May the volcano on the right called Calbuco erupted. All its volcanic ash landed in our home river the Rio Petrohue. The river is still closed due to access. The Chilean Government states it's just not safe right now. They want to get more ash cleared from the roads and the immediate areas nearby the river. This was a huge blow to our guiding. We rely on this river because in December and especially in March & April, it can be fantastic fishing.
The Rio Maullin and other rivers up north in the Rivers District will be guided om more often. Chile is the original land of sky blue waters. Chile is raw, it's still forming itself and no one knows when or where another eruption might occur. Six volcanoes have erupted in the last 8 years in a two hundred circumference. Those volcanoes are known for more than just scenic their  beauty. We have been affected by the Chaiten volcano  in 2008 losing our home and everything we owned. The town was devastated. Other volcanoes include Llaima in 2010 near Temuco. Puyehue in 2011, Villarrica in Pucon in March of 2015 and Calbuco near Ensenada in May of 2015. We also had an underground ocean volcano eruption in Aysen near Coyhaique in 2011. Over the years my wife and I have grown to think of volcano eruptions as a normal way of life. Most natural events occur and seem to affect the ranchers that live right under the volcanoes. Some rivers can be affected. Countries like Argentina seem to soak up most of the ashes as the wind blows in that direction which is east of Chile. You can't live your life walking or wading on potato chips. Chile is one try I would of never wanted to miss in my lifetime. Some of the most beautiful places in the world have volcanoes as their backdrops. Tornadoes in the Mid
Western United States, I regard as far more dangerous then what is happening here in Chile. If the entire southern end of the country doesn't far into the Pacific Ocean all at once, I think we'll be golden. I cherish my lifelong commitment to the most beautiful country I have ever seen in my lifetime. Say you were here and a natural event occurred. Take into account our Chaiten Volcano hadn't erupted in 9000 years. After your trip, I would head to Las Vegas friends, that's pretty good odds.
… Thanks for watching, our adventures,  Many Rivers to You, Jack & Carola Trout
Picked up the Toyota & the drift boat.  Got them serviced. Registered them at the Technica Revision where they check headlights, smog, brakes, etc. Chile has advanced vehicle emission vehicle safety standards in the world. You see a lot of well taken care of cars out and about. Drank my favorite beer Gran Toyo Bayo from the Knunstmann Brewery out of Valdivia. Got a flat tire the next day, got it fixed for $8 USD. Then I fed a homeless dog and went by the supermarket where they were having a sale on prosciutto.
We ate some huge strawberries. Went by and visited my guide Mattias's private ranch on the banks of the Rio Maullin. He and his father built this party deck for our clients. They can now sit up there and enjoy the river. The sounds of birds which 90 % of Chile's birds live in the trees and floral. What a great place to enjoy some great Chilean wines. Mattias has a quincho also, where they do group BBQ's and parties. They plan to build a lodge this year, so next year we'll have a place where we can set you up right on the river. That sounds like a plan!
Got a call from a group of people coming off a cruise ship in Puerto Montt.  Chris Sullivan of Outhouse Steak House and Jeff Gargiulo Winery out of Napa were two people I had heard of.  They invited us out to dinner and I suggested my favorite restaurant in Puerto Varas, La Marca. The holiday spirits ran high that night.
The company was splendid, the food was divine. The savoring of what was to come the following day out fishing. I got to see my old pals back at the restaurant, Chef Carlos and his head waiter Ivan. Some of the best steaks I've ever tasted. Chris Sullivan the owner of Outback Steakhouse left the restaurant with a  grin on his face.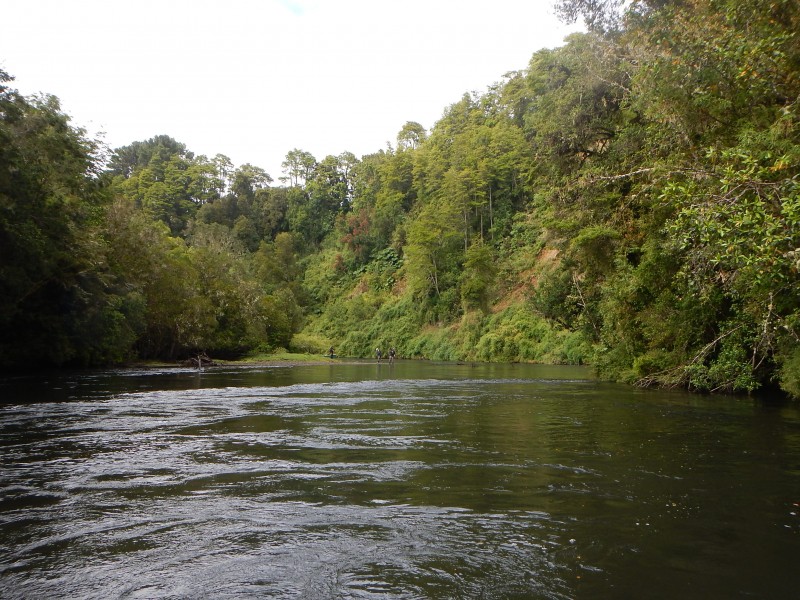 We hit the Rio Maullin early the next morning and the fish were hungry. On this river we pretty much use all streamers to catch them.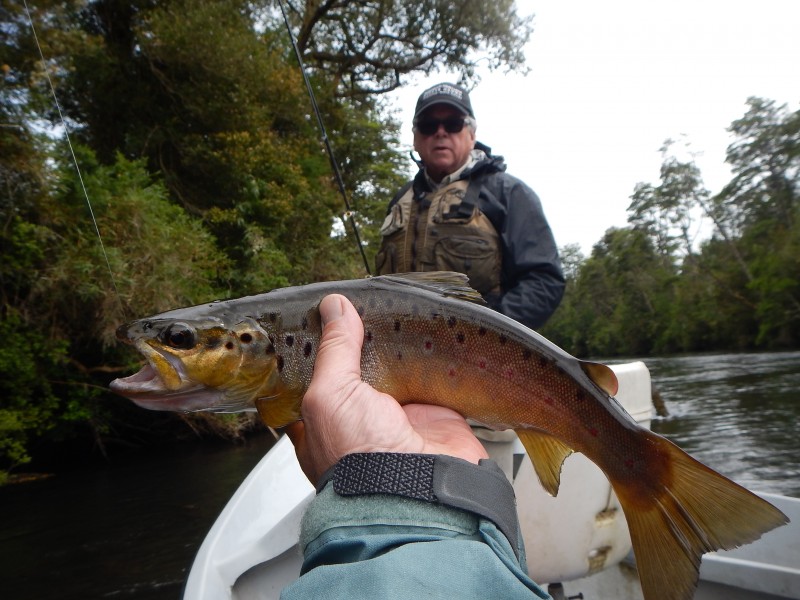 Jeff Gargiulo was in my boat then hooked and landed the first brown trout that day. He began to talk about how beautiful the river was. It was evident to me he was enjoying his trip already.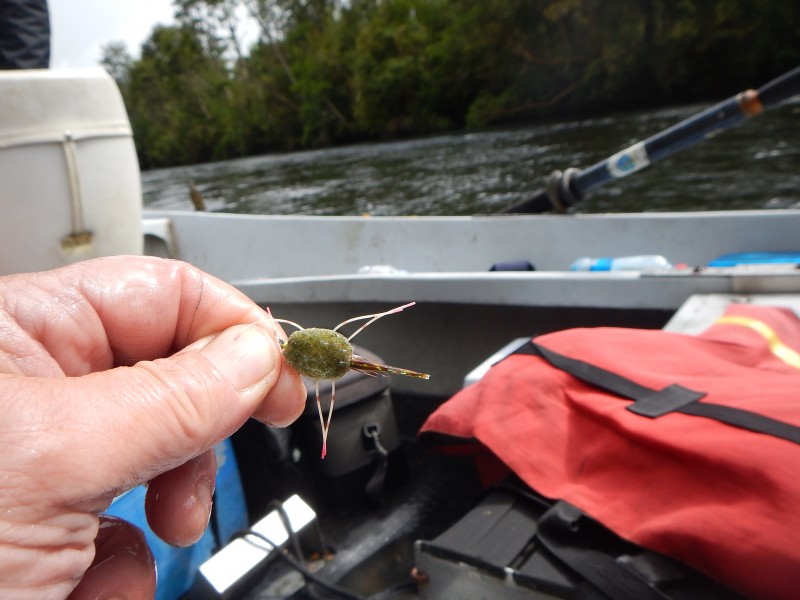 Pancora crabs are abundant down here so I use flies that imitate those crabs, in green, orange and black.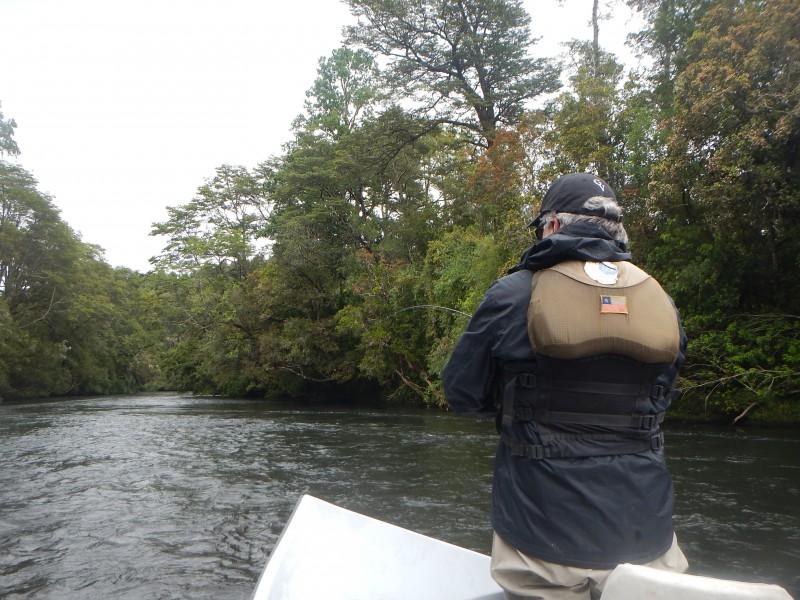 Soon the trout were biting pretty good and Chris hooked up on a few.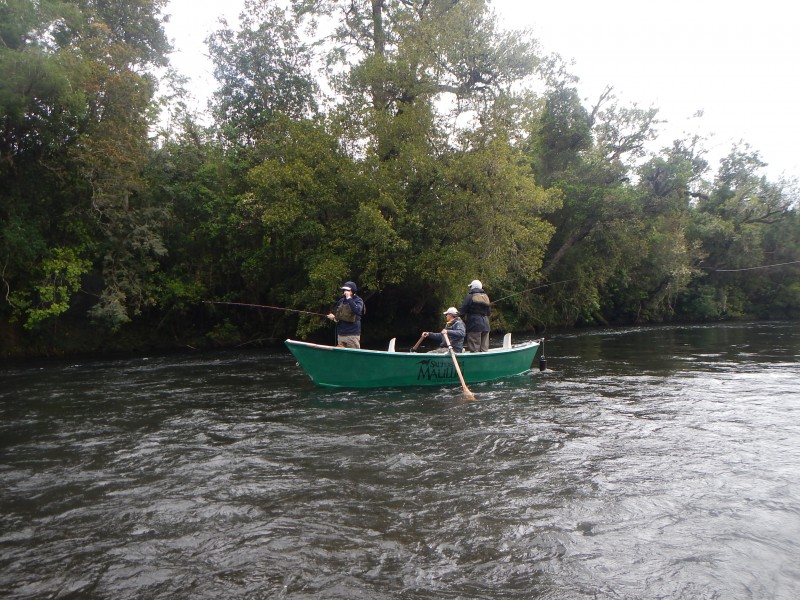 My guide Mattias had the other two anglers Jim Chadwick & Lee Arnold, who were catching trout and enjoying themselves.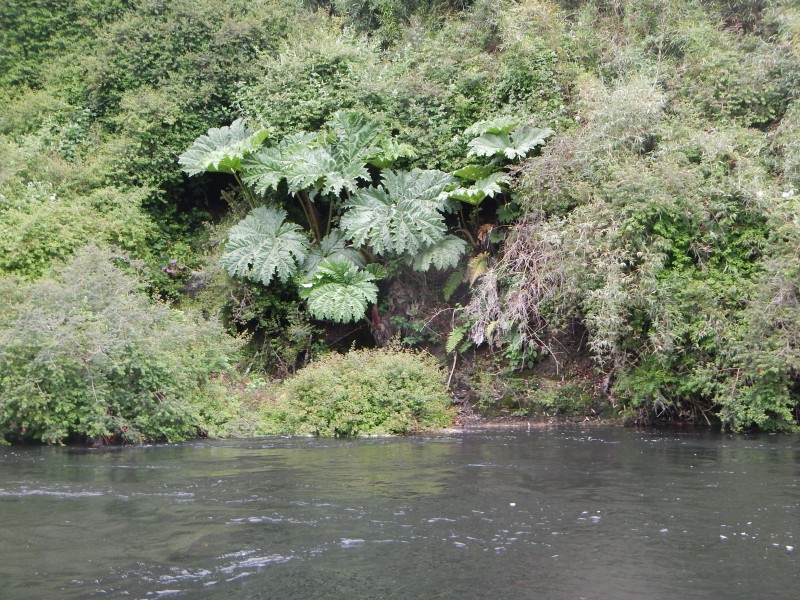 The larger than life elephant ears that resided banks side. Related to the rhubarb plant, it was one of our witnesses that day.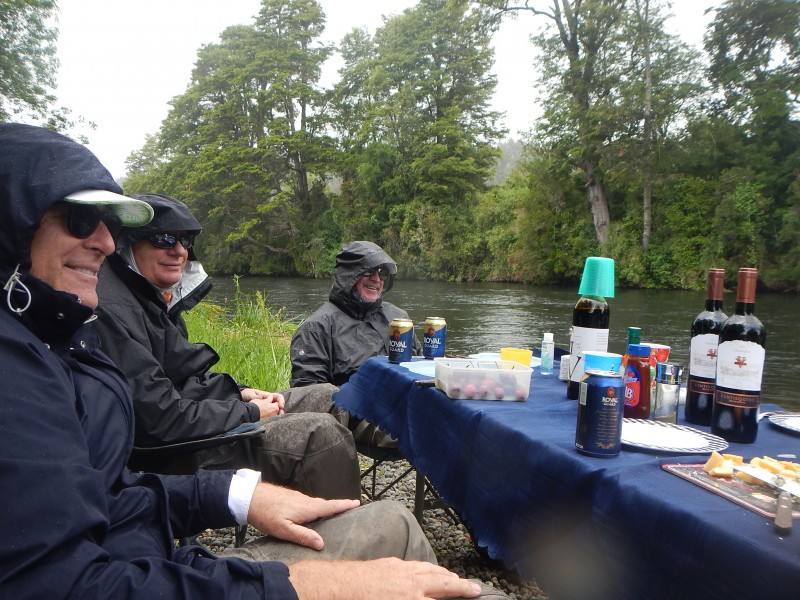 It was a little wet that day, early December in the lake's District can still be like early spring in other places. So the boys had a beer and some of Jeff Gargiulo's famous wine. We never opened the Ventisquero Carmenere from Chile, we didn't have to.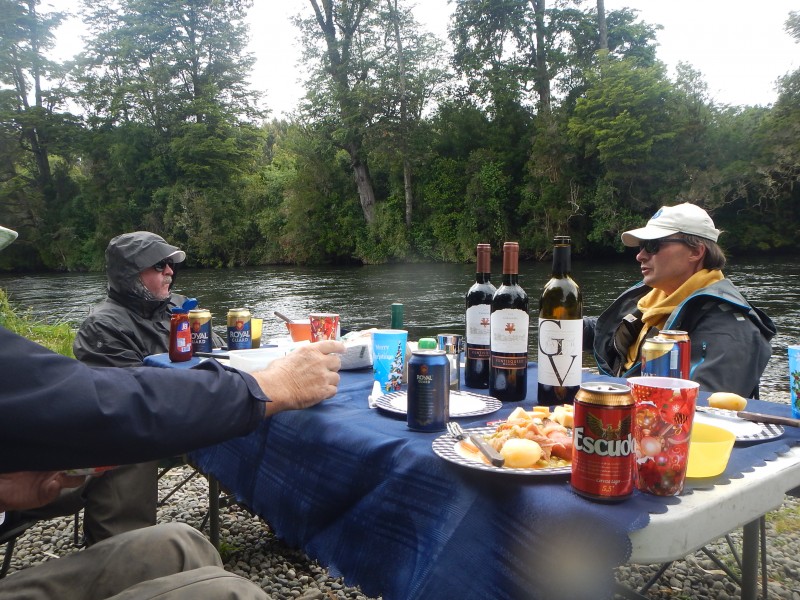 We had one of Carola's homemade Chilean dishes and they loved it. Chris Sullivan of Outback Steakhouse told us the story of how they came up with the Bloomin Onion idea. He said it was a 13th century recipe that he found in a book. Then when he shared the idea with his head chef. the chef said, "Blimey O'Riley, that's not going to be easy Chris." But they pulled it off and we all know, that's been their secret of success as one would coin.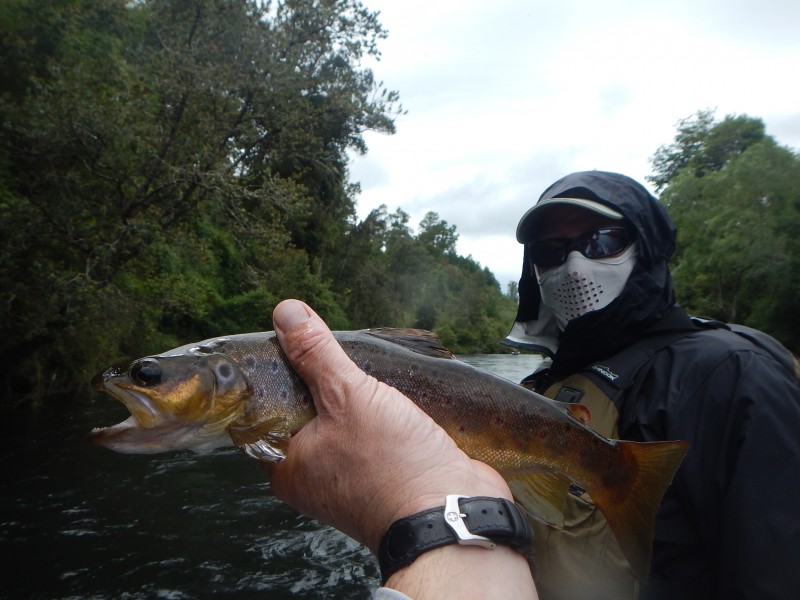 The boys switched boats after lunch. Jim Chadwick landed this brown trout, not huge but we caught trout all day long. Looks like Jason on Elm Street, the fish fear him! 🙂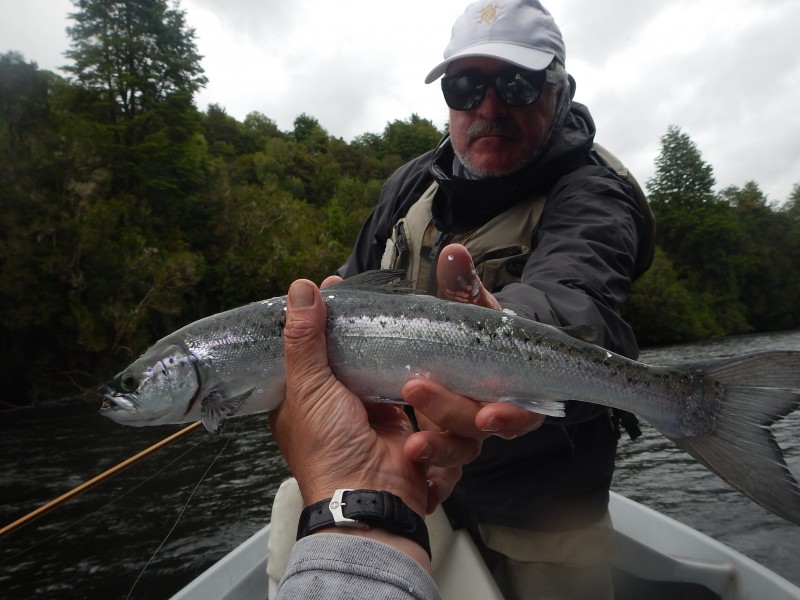 Chris Sullivan's 1st Grilse Atlantic Salmon, sent down here by the English in the mid to late 1800's.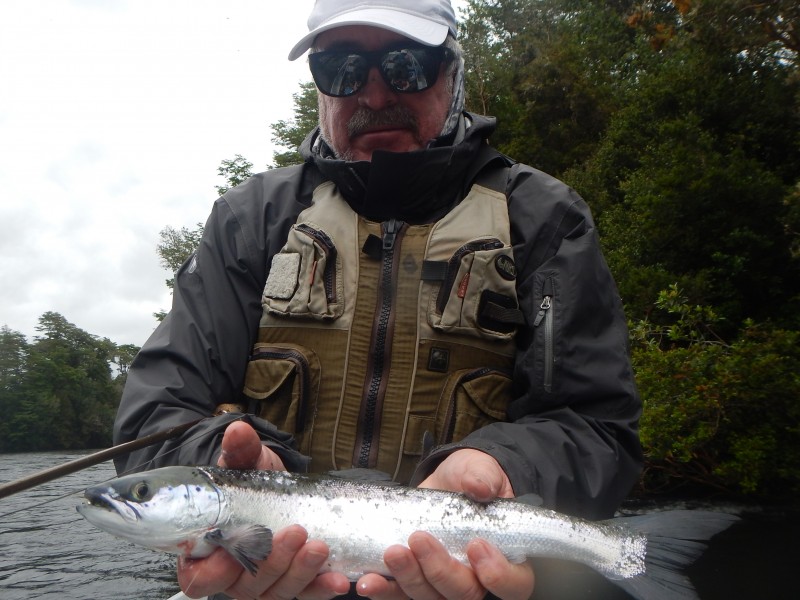 I have never seen so many schools in the Rio Maullin like this year, what a great year for this specie in Chile.
We got out of the boat and did some wading, Jim and Chris caught some more trout.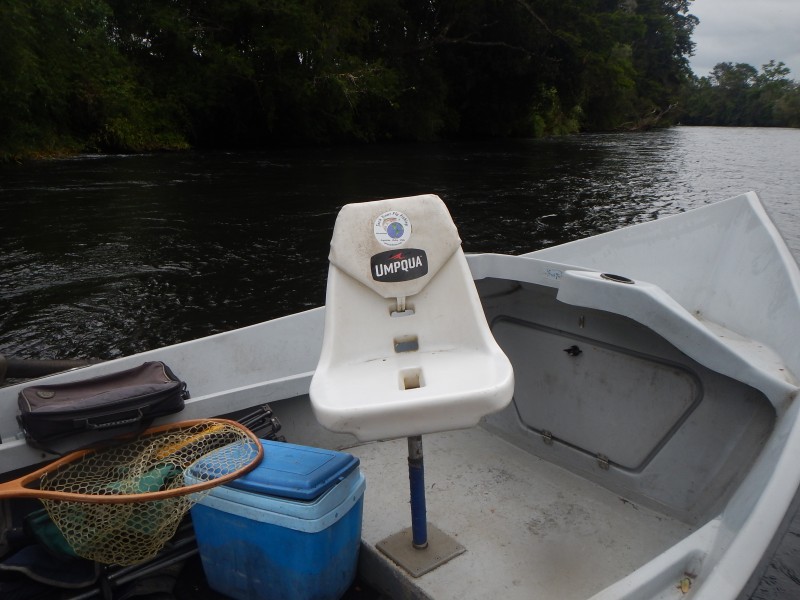 Jack Trout Fly Fishing International is sponsored by Umpqua Flies & Feather Merchants & Brodin USA Nets.  Thanks!  jt
Hey everyone, it's the most lovable anchor in the world – Medieval Anchor out on another adventure in Chile!! What would we do without Medieval Anchor there to rescue the day, always chillin while you're fishing unaware. A true modern day unsung – hero! Medieval Anchor, you're so cool.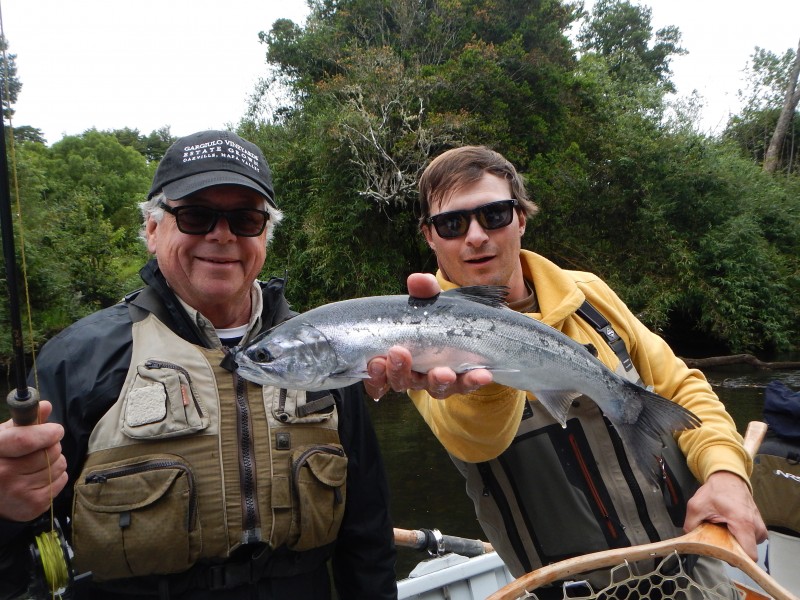 Mattias and Jeff Gargiulo landed the biggest Atlantic Salmon that day, way to go Team Trout!
Jim with a respectful Loch Levan Brown Trout, down here in Chile.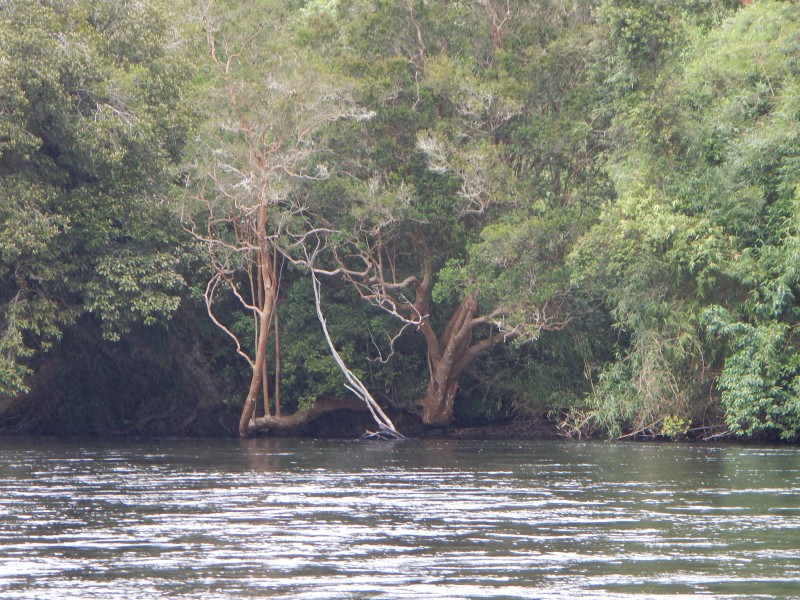 It was good to see my old friends like the Harp Tree out on the Middle Rio Maullin section. After Jeff, Chris, Jim & Lee left us, I received this email from Jeff Gargiulo.  Great Day! (Subject Line)  "We all had an enjoyable experience. You and Mattias were great. Thanks to Carola for a special lunch. First Class Trip. Thanks, Jeff ."     (Chris & Jim, had asked me to find them a guide down in the Coyhaique, Aysen, Chacabuco area down south of us and I know a lot of the guides down there being that I started down there guiding in 1994. )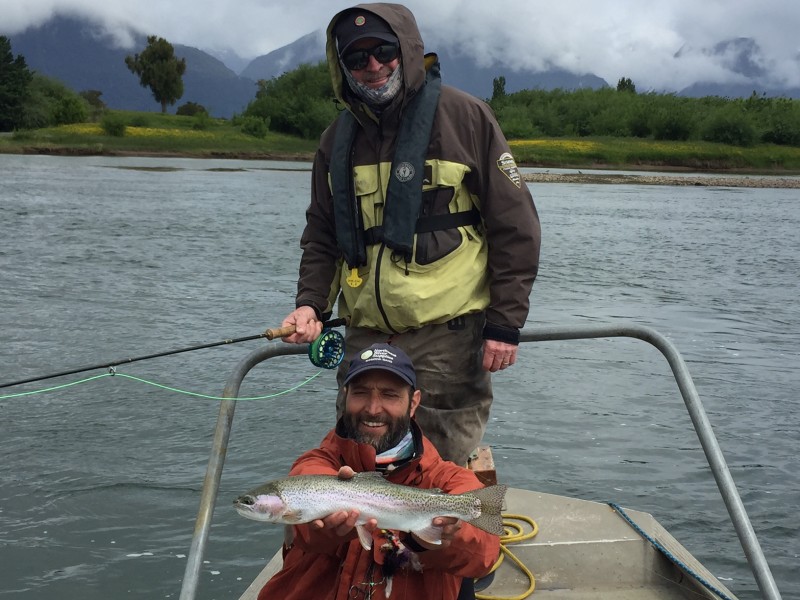 They had a great trip with my guide Jose and caught many nice trout on dries and nymphs. If you're thinking about fly fishing down in the Coyhaique area of Chile. I have guides and lodging packages I can help you out. Just let me know how or when folks.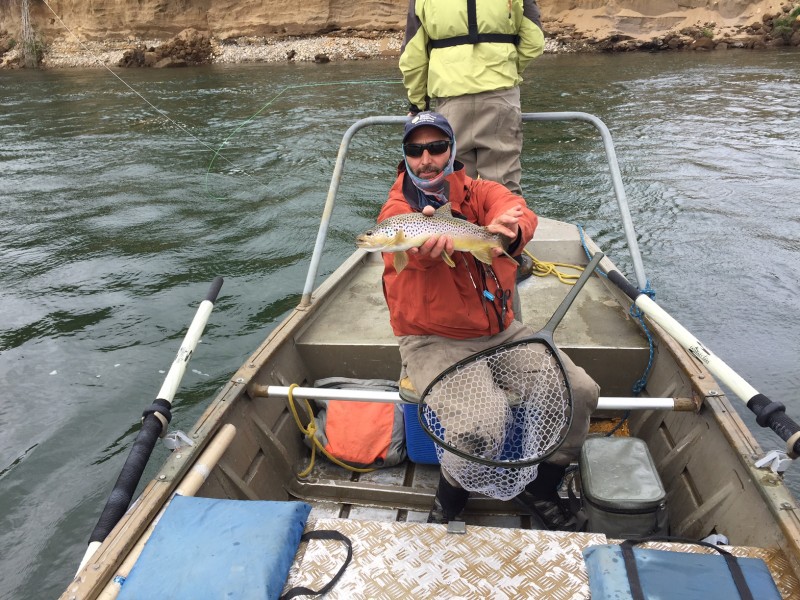 Nice brown trout bro!
Another bow to go bro! And he got them back in time to make the cruise ship deadline, that's always good…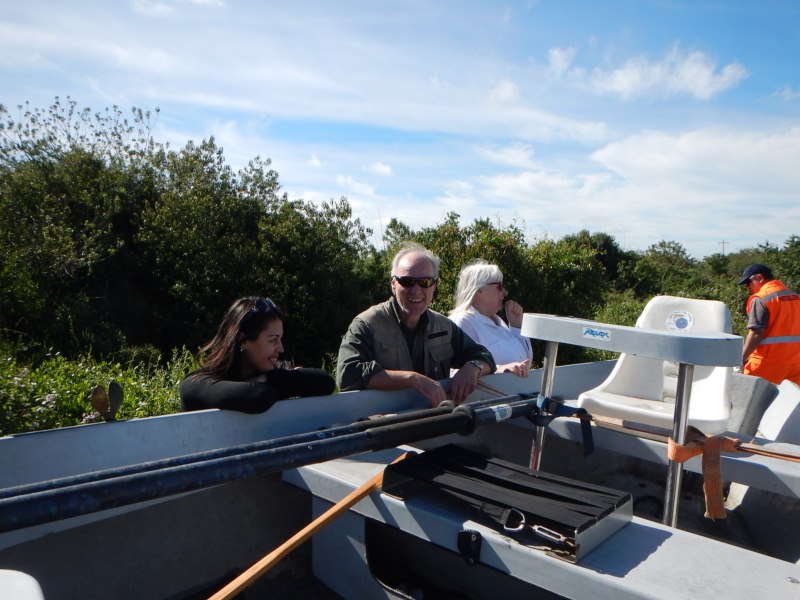 Pete Gordon and his wife Sheri came down for a 2nd year to Chile. Last year Pete brought his brother Noel and his brother in law, John Bradford. We provided a first class trip so he came back this year with his wife. I had got the trailer bearings repacked in Puerto Varas like I did every season. Right after we had picked up Pete in Valdivia, Chile, one of the trailer tires came flying off at 65 miles an hour. The 2nd day of our adventure together came to screeching halt. Stress set in, but I tried not to let it show. Even Carola had a sunken look on her face as we combed the Interstate 5 looking for my trailer tire to no avail. What do you do? You're stranded out in the middle of no where. Looking for a tire that won't even help you if you found it. The mechanic never tighten down the spindle or what he had greased inside around the bearings. I call this the "Chile Factor" though it could happen in your country. For some reason somethings seem to happen here that are just plain dumb. I remember my dad saying when I was growing up, "I hate stupidity!" This was evidently one of those times. This was Pete & Sheri's special vacation and we had to think fast. We were going to drop the boat off anyway in Pucon, Chile and leave it like we always do at the Marina. So If I could just make a plan to leave it some where with a mechanic and then it dawned on me. "My old trusty mechanic who had made my trailer was only about 20 minutes up the road in Los Lagos. Carlos could help us!" as I realized this, a crew showed up that provide roadside service here in Chile! All those times I had paid and complained about paying road tolls had paid off, we had help within 30 minutes. It was a miracle and who da thunk it?  Carola's and my frustrations soon turned to shrewdness and determination. We made our plan to get that boat and the trailer to Carlos in Los Lagos. 
Sheri & Pete were amazed how fast we were rescued.  We all thought  that this would of never happened in the USA or Great Britain. At least this fast. But on a sunny roadside near Paillaco, Chile we were rescued. The crew didn't take people to Los Lagos, they took people to Paillaco. Carola convinced them this is where we needed to go and I slipped the guy a tip and off we went.
Check out Pete Gordon's Adventures Last Year < click here
I will never bitch again about paying road tolls in Chile, they literally saved me and my clients trip, or at least a day or two as we only lost 45 minutes that day.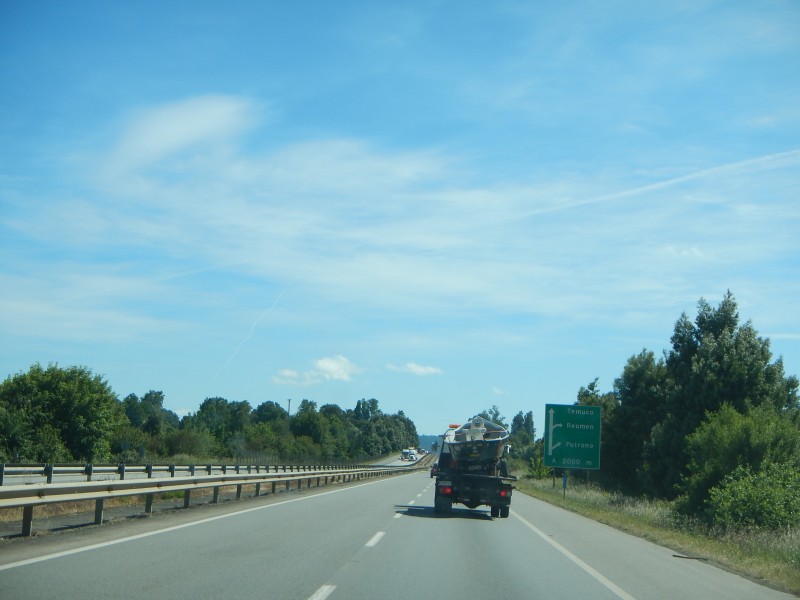 Hold on baby, daddy & mommy are right behind you!! So you want to be a guide in Chile? Be my guest, but be ready for the "Chile Factor." I love this country, but shit happens and you have no control over it here.  The road crew determined that the only logical explanation was the guy that I had regrease & repack the bearings didn't screw his head on right that day. Ah, life is box of chocolates, breath Jack breath…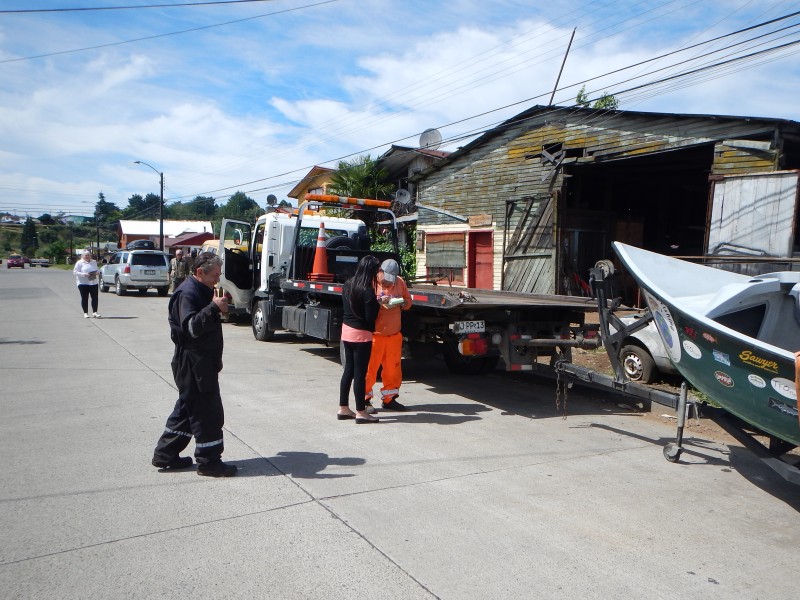 We got it to Los Lagos and Carlos was there working. He dropped everything to see his old friends that used to live in Los Lagos, Chile. I miss that town, we loved living there when we did.  Strange unusual things happen in this country from time to time. It's who you know and how you over come obstacles with solutions that make you a great outfitter in Chile. Not only the things we all know and love. Carlos looked at it and said, "how many days do I have?" We said, "5 days, we're heading to Argentina and well be back on Sunday." Carlos exclaimed, "No problem, I'll have it done." We left 10 minutes later and only lost an hour's time. which I then realized  by not having the boat and trailer on the back for 2 more hours as we rode towards Pucon Chile. I felt as though we had dodged a bullet. If that had happen closer to Valdivia, it would of thrown our whole trip off. We were ok now. This was on the way to the Rio Dios on our way back, we could just pick up the finished trailer and be on our way. That was the plan, we hoped it would work out. Thank you Sky Pilot for looking after us on that day!!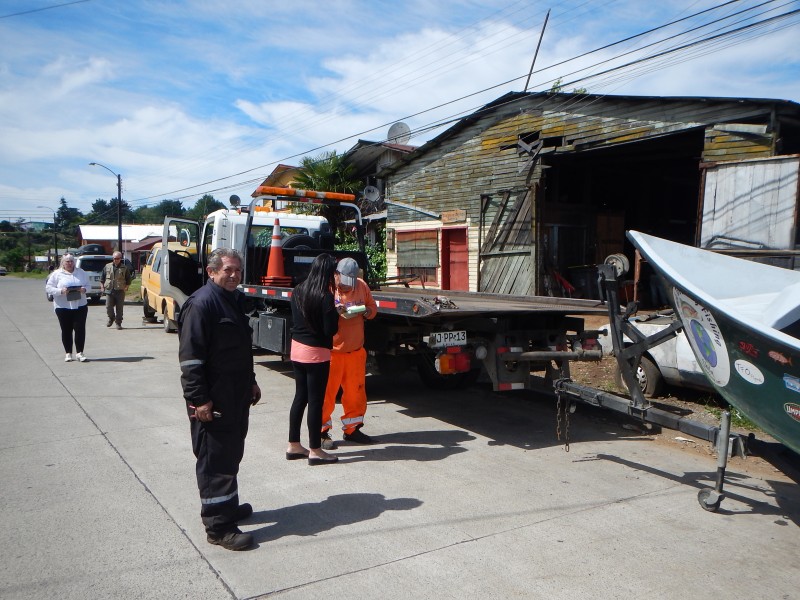 Gringo Loco, Jack Trucha!! Carlos always loved laughing at me every time I had shown up with a problem, this guy is a badass down here, he can make or fix anything. I sure wish we lived closer, having a good mechanic in every town of Chile has been a lifetime endeavor as you never know down here, life is coming at you 24 hours a day, I refer to it as the "Chile Factor."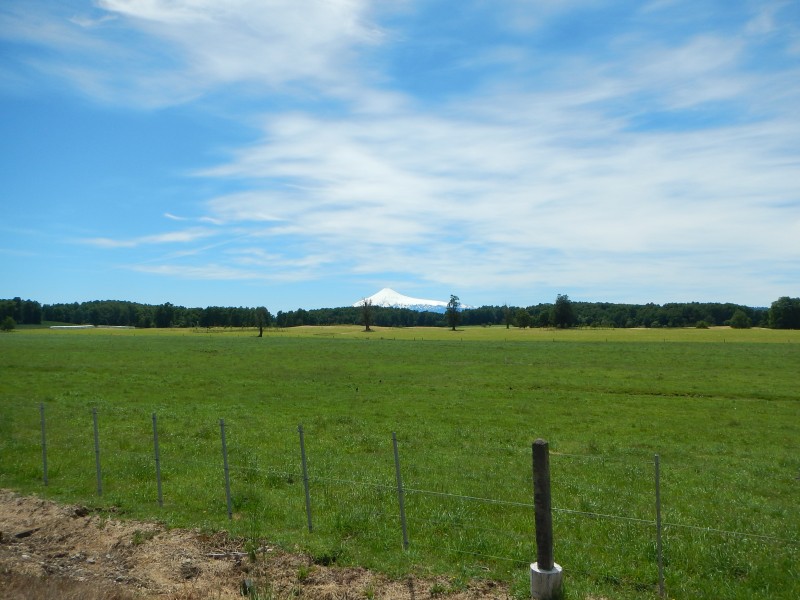 We drove the 7 lakes road. Without the trailer and boat we gained more time and we could go the scenic route. Through the town of Panquipulli, one of Chile's most beautiful areas. It was breath taking and we drove at a consistent speed fast enough to make it to Pucon by lunchtime. Off in the distance we could see the 3rd most active volcano in South America, Villarrica. Puffing smoke out of its bowl. 
When we were here last year the volcano erupted when we were with my guide Esteban in Argentina.  Bob Lowe & Scott Kellerman were happy that they got to fish a few more days in Argentina. The roads were closed. Then it vented and stopped and everything went back to normal. Poor old Bob was sad when we passed by it again and he couldn't get a picture of it spewing lava.. Thus is life.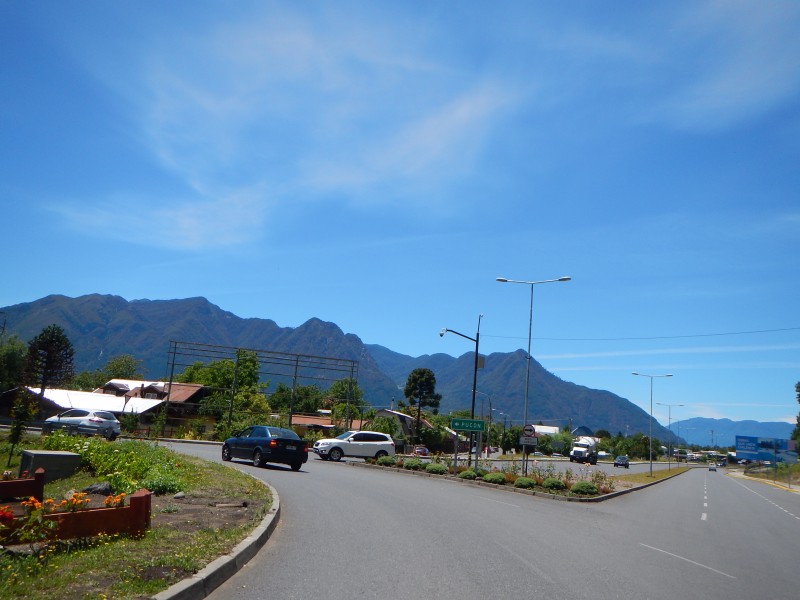 Wohoo!! Pucon Chile, one of the greatest tourist towns in South America! Love this place with its great restaurants and fun pubs, this is great town to come to in your teens, 20's and 30's. It's a youthful place with plenty of treks, rafting and canopy places. Good fly fishing rivers.  But I always suggest December, March and April. Because the rest of the months during summer time here in Chile, it's a popular zoo of people from Santiago. But for now it was peaceful and populated with tourist like us and locals who lived here.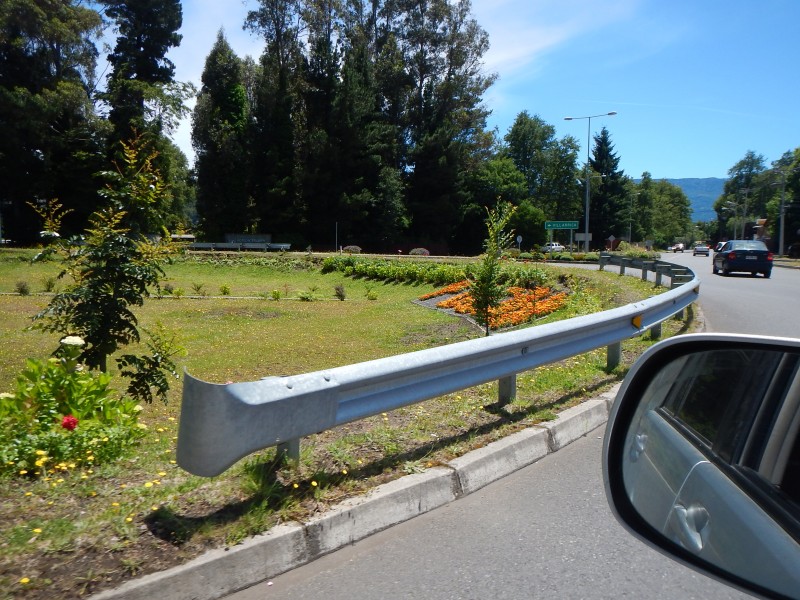 So we stopped to buy our insurance for bringing a car from Chile to Argentina, gassed up and made our way to our favorite place to eat in Pucon.
Thinking of taking a rent a car from Chile to Argentina? You better check in with Carola Trout, that will get screwed up for sure if you don't have notarized documents and know the ins & outs. We have seen countless times people being turned away at the borders because they were missing a form they needed. Talk to the border crossing experts, talk to Jack Trout Fly Fishing International & Tours, we can save your trip!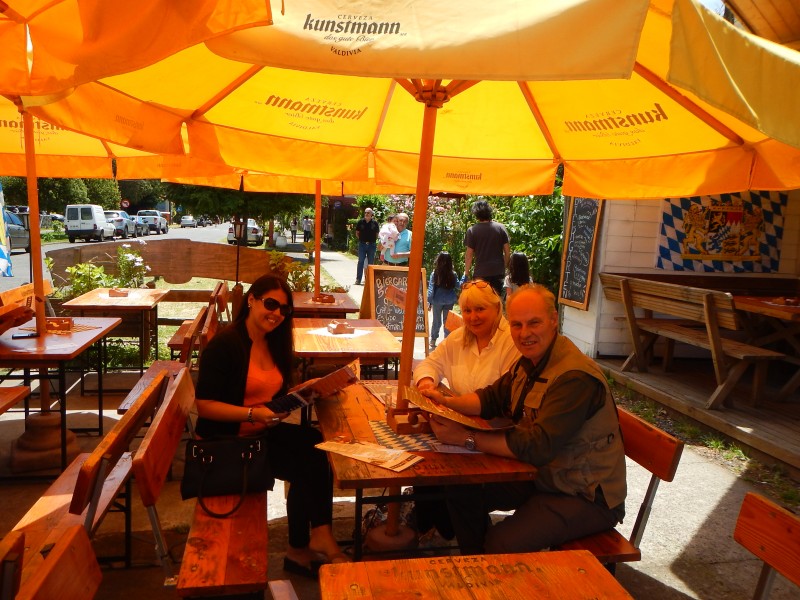 I could finally relax a little, I knew I had my trailer with the right guy. So we stopped and had some great German food at the Bier Garten in Pucon Chile. Pete, Sheri and I had the Wiener Schnitzel, that was fabulous with a great beer of course. Carola ordered the German meatloaf, which was yummy too.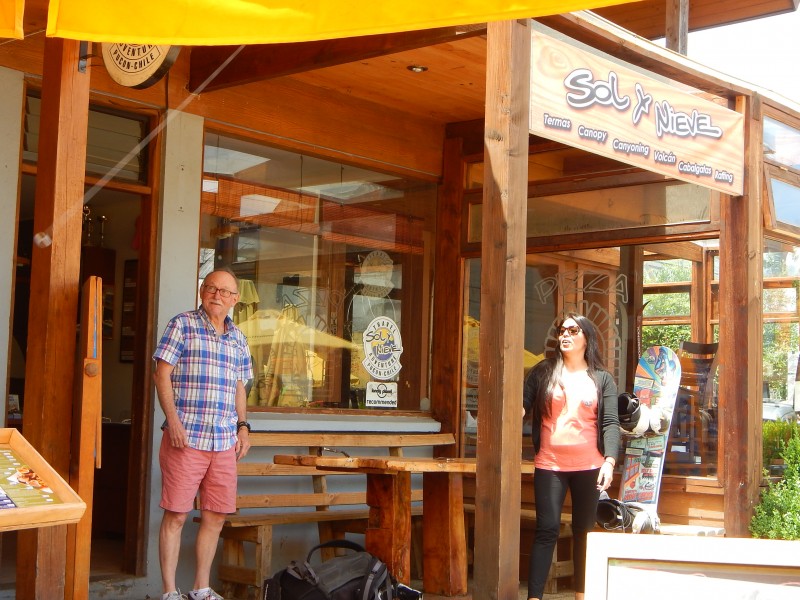 Next door was our old pal Willie who owns Sol y Nieve, a place for trekking, tours, hikes, rafting and more! I needed to store my unique oars I had brought down made for me by Sawyer Paddle and Oars. I also had some life jackets made by NRS and my net made by Brodin Nets USA. These are  valuable down here but I knew Willie could help us out as he always does. He and Carola enjoyed a game of swinging rings where to try to hook a ring on a hook that he mounted on the crossing wall. If you stop into Pucon, don't miss Willie and Sol y Nieve.
http://www.solynievepucon.cl/en/    < Pucon Adventures Start Here With Willie!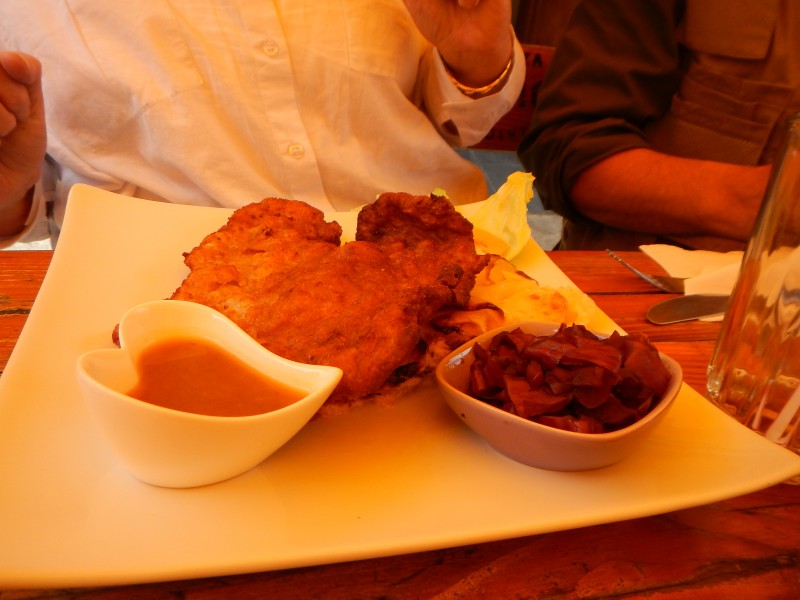 Wiener Schnitzel at the Bier Garten in Pucon Chile. It's like being transported to Germany for the afternoon. The owners are from Germany, they like to visit Graeagle, California on their vacations to California. I mean what's the odds of that?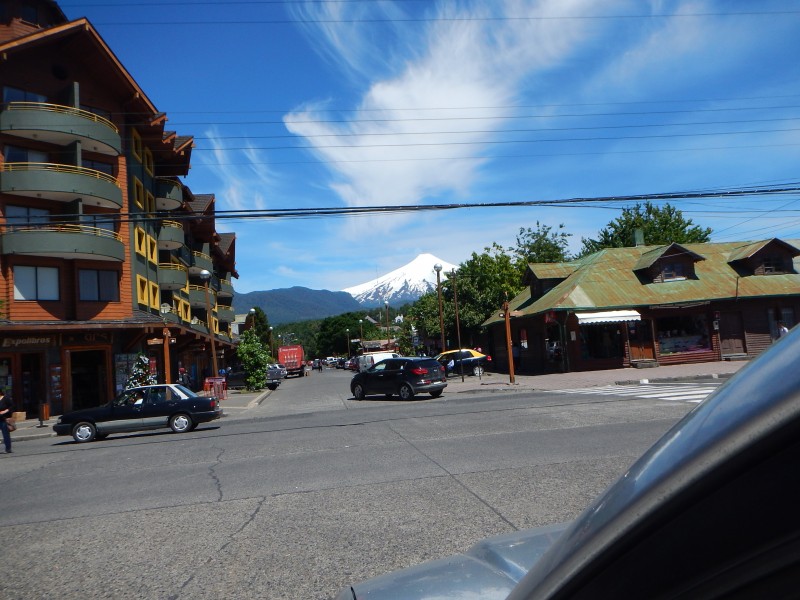 Villarrica was only smoking that day. We finished our lunch and headed east to go over the Tromen Pass into Argentina to start our fly fishing adventure.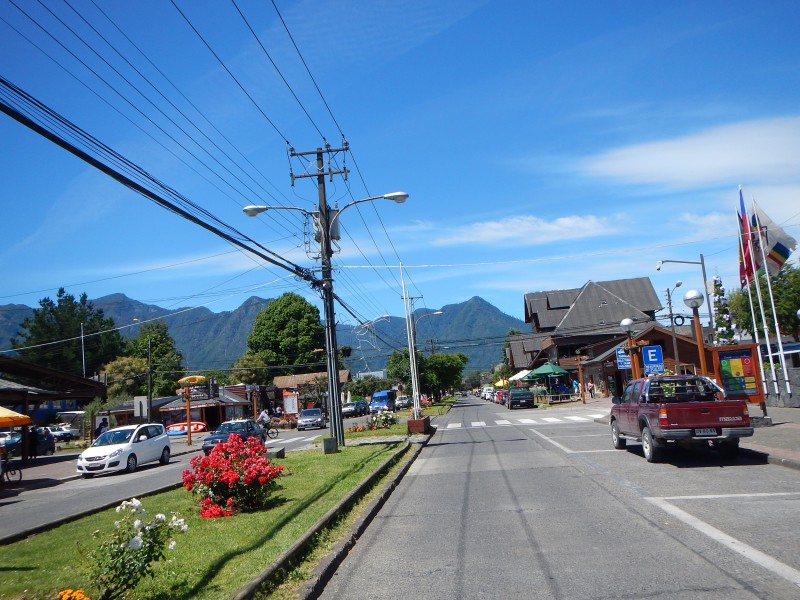 Pucon is such a cool European like Chilean tourist town. You have to visit here if you come down to Southern Chile to the 9th region.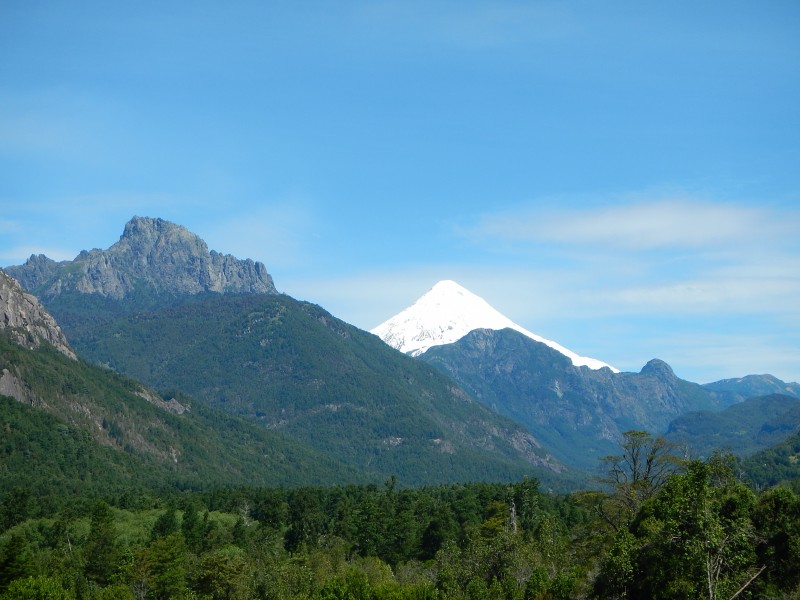 As we made it to the base of the Andes Mountains we could see the border volcano between Chile and Argentina, Volcano Lanin.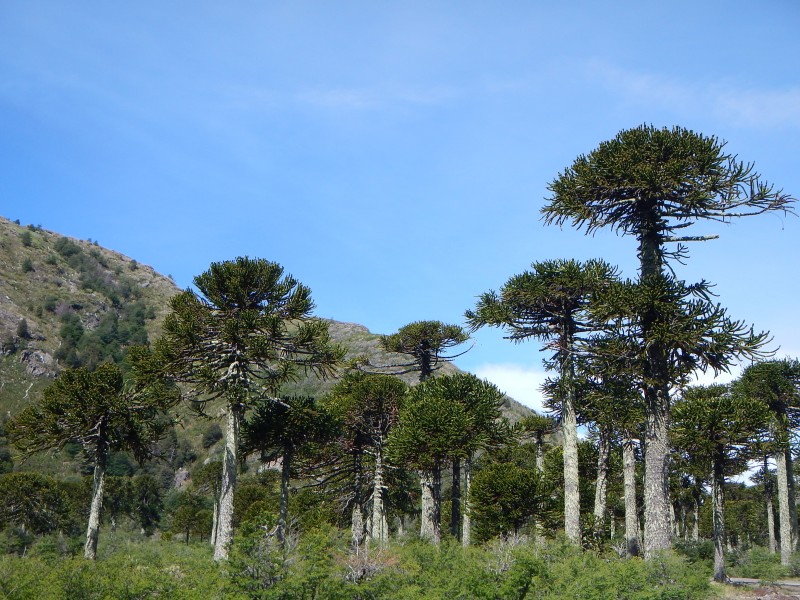 Once up near the pass on the paved road by the Chilean Government. You could see the Chilean Pine Trees, also recognized as the Monkey Puzzle Tree in North America. Down here we call them Araucaria, that's why they call this the Region de Araucaria. A whole forest of these trees is straight out of Jurassic Park. They should of filmed something up here, I know the Chileans & Argentines would of loved it.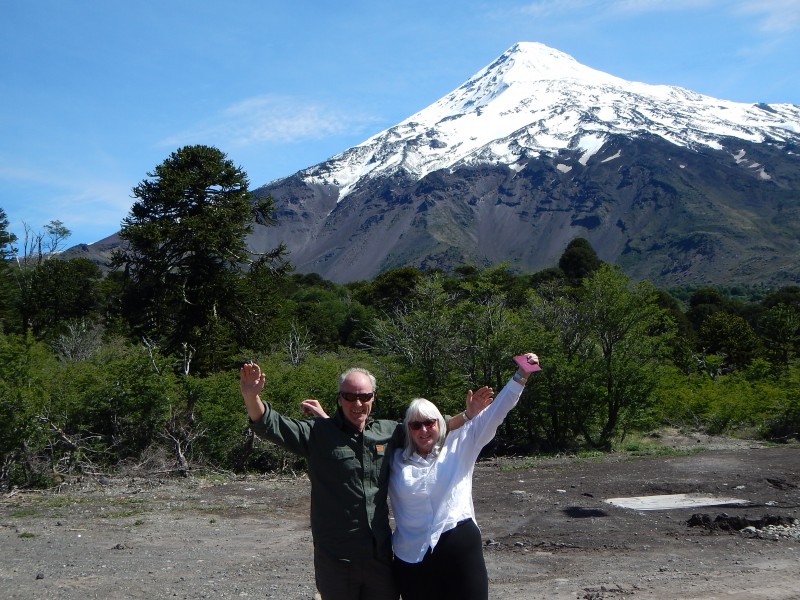 Just below the breath of Mother Lanin. Pete and Sheri jumped for joy as we knew what laid a ahead could only be better and better. Last year this volcano was venting and I videoed it.
Lanín is a large, conical and active (but at present dormant) stratovolcano on the Chile-Argentina border, located approximately 45 km southeast of Villarrica volcano. 
The volcano is mostly basaltic and andesitic in composition and many eruptions came from flank vents. 
The most recent eruption took place about 2200 years ago and produced a small lava dome at the summit and a block lava flow to the north.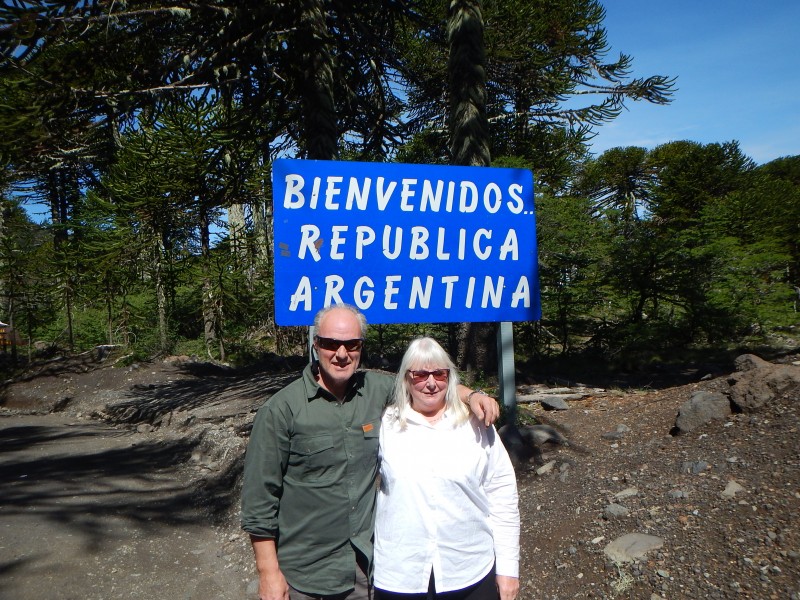 Welcome Welcome!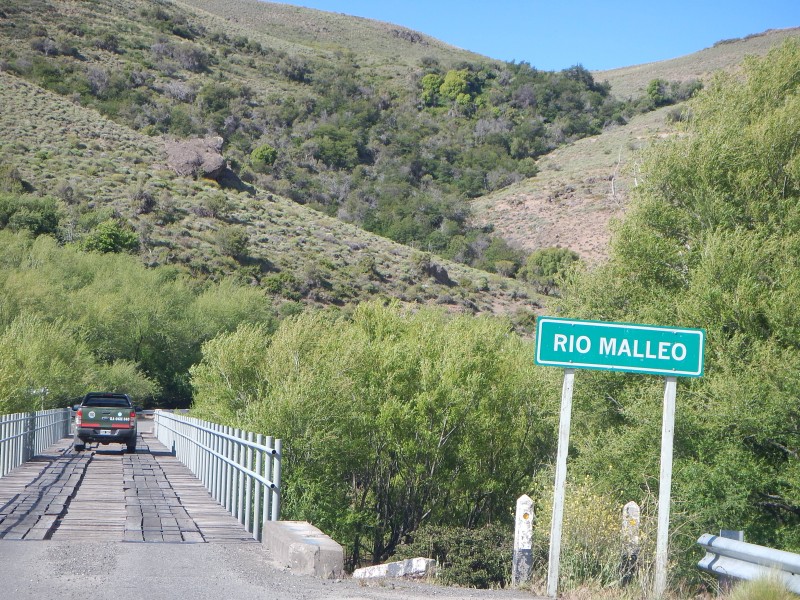 Then once over the border we made it down from Tromen to the best dry fly river I know of, the Rio Malleo.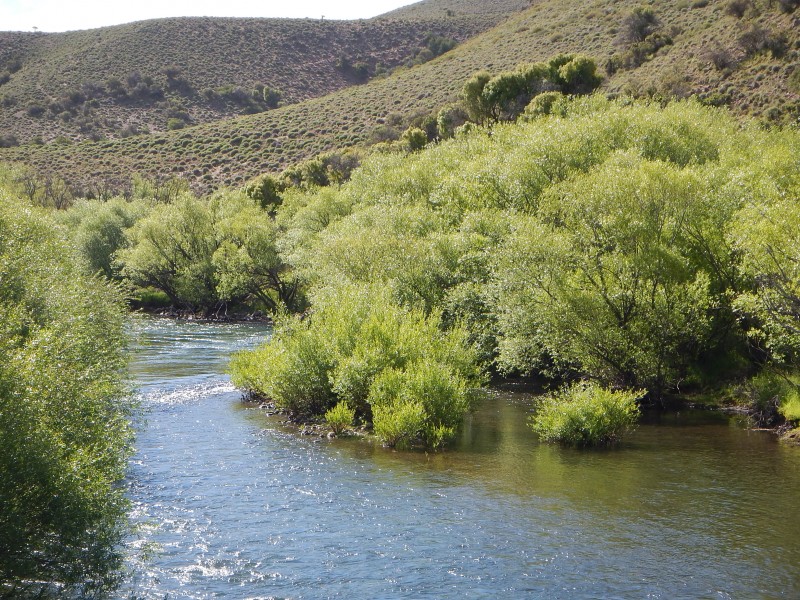 The river was 3 times higher than last year and I began to get happy.  Last year this river was suffering from John Steinbeck's Grapes Of Wrath. There was no water and Argentina had been in a severe drought for almost 5 years. Like California, both Argentina & Chile had been following California's weather patterns. Sunny was the forecast for a long time.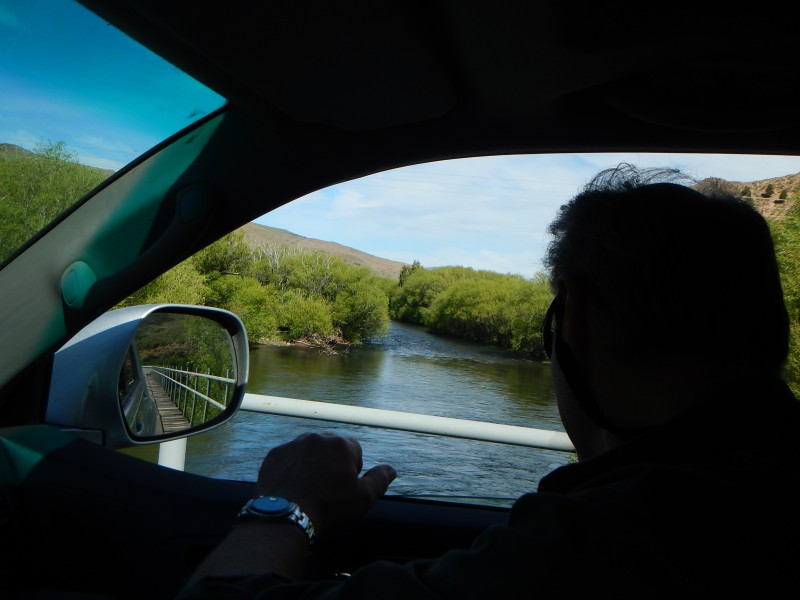 Pete savored the moment and you could tell he was up for the task later on in the week.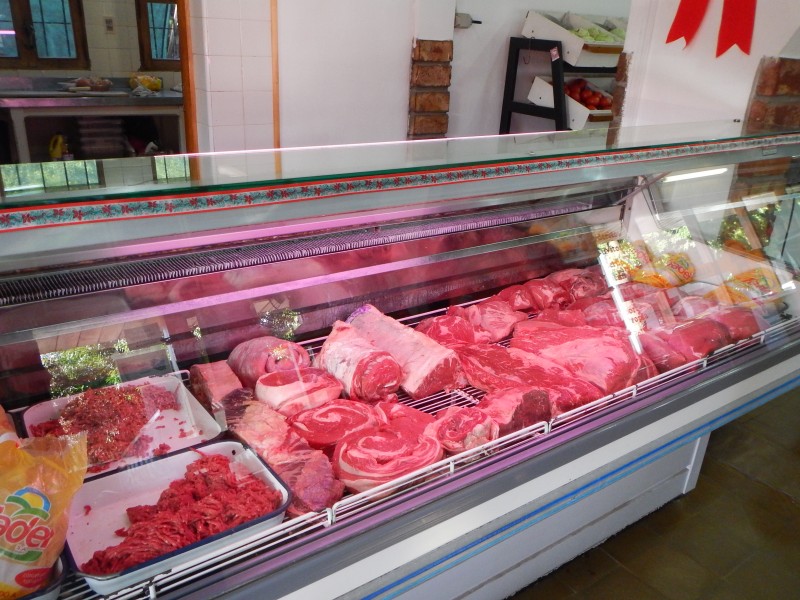 We dropped Pete & Sheri off at our lodge in San Martin.  I did my usual stop at the meat market in the downtown. See my old friends there and check out what real meats looked like from Argentina. Clean and beautiful, Argentines are to meat what the French are to food, passionate about it.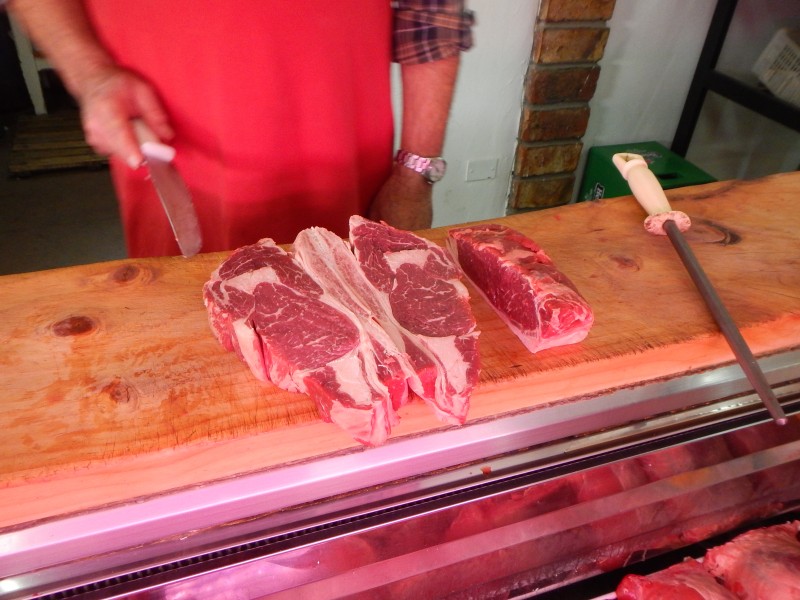 3 New Yorks, Fred Flintstone sized, about $3 USD each or all for under $10 USD. If you love meat, say no more, Argentina is your home away from home.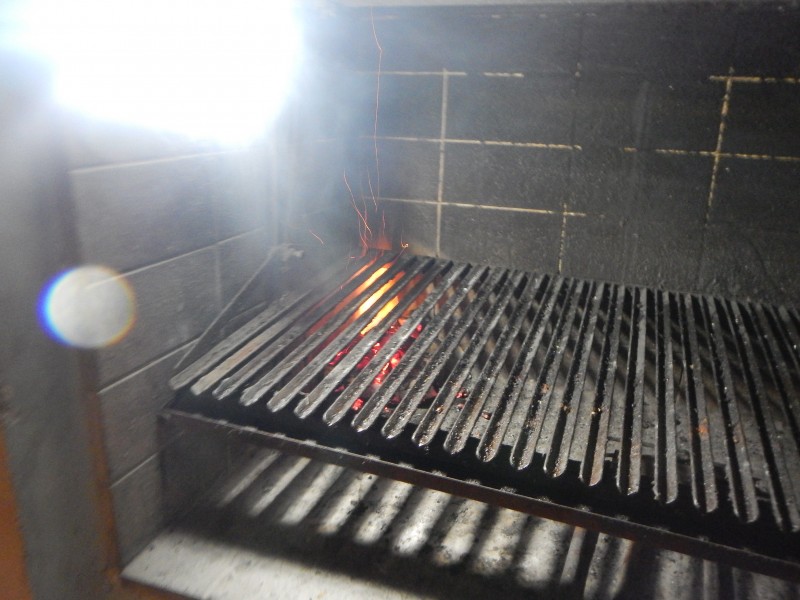 The clients said they were were pooped and told us they'd see us in the morning, so I fired up the parrilla (bbq) and started in on my favorite thing to do in Argentina, BBQ meat!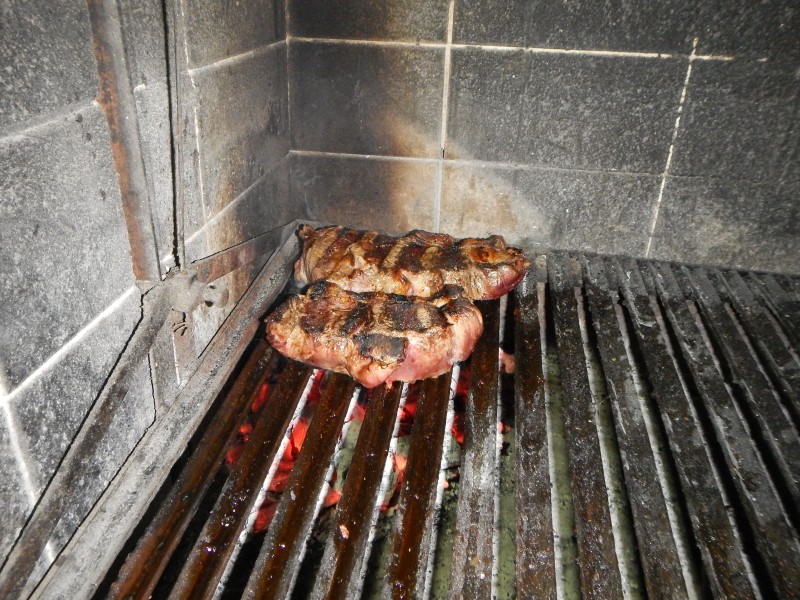 Here in Argentina they use a grill that can be taken up or down depending on the kind of meat you're trying to cook and the temps you want the meat to absorb.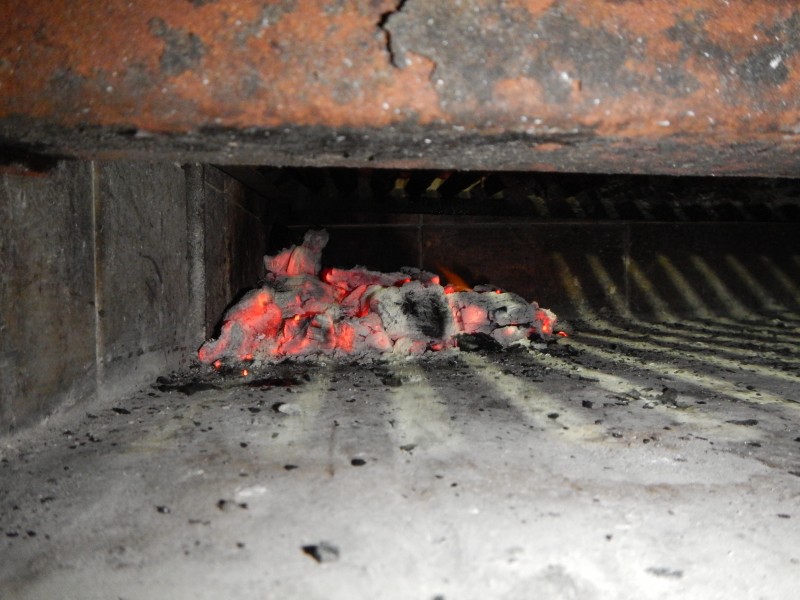 Unlike the USA, Argentines NEVER cook on black coals. That's a no no here, they only use white or red embers and the meat flavor is clean. For the best steak, I've ever tasted is waiting for you here in Argentina. Be sure to have some chimicurri sauce, just to dip into on the side, this really goes great on their spring lamb.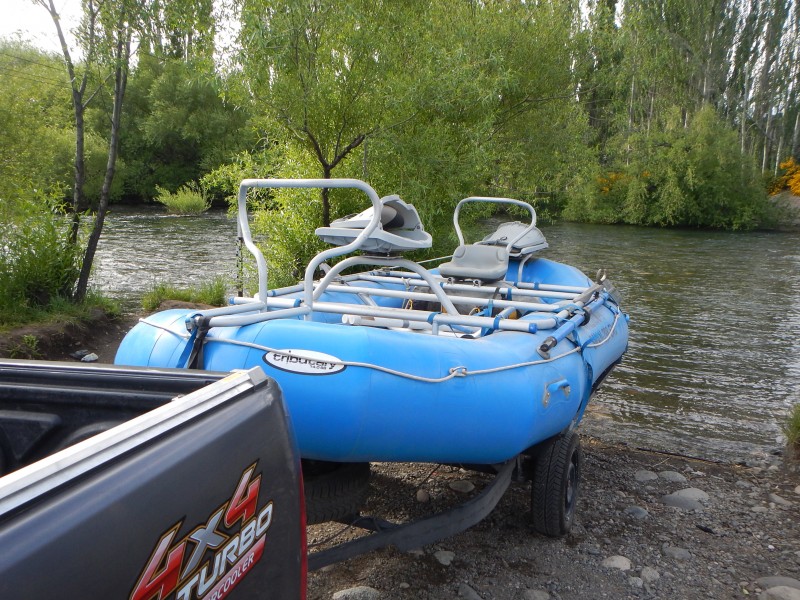 The next day my guide Esteban and I met Pete while Carola and Sheri had decided to tour the town of San Martin together.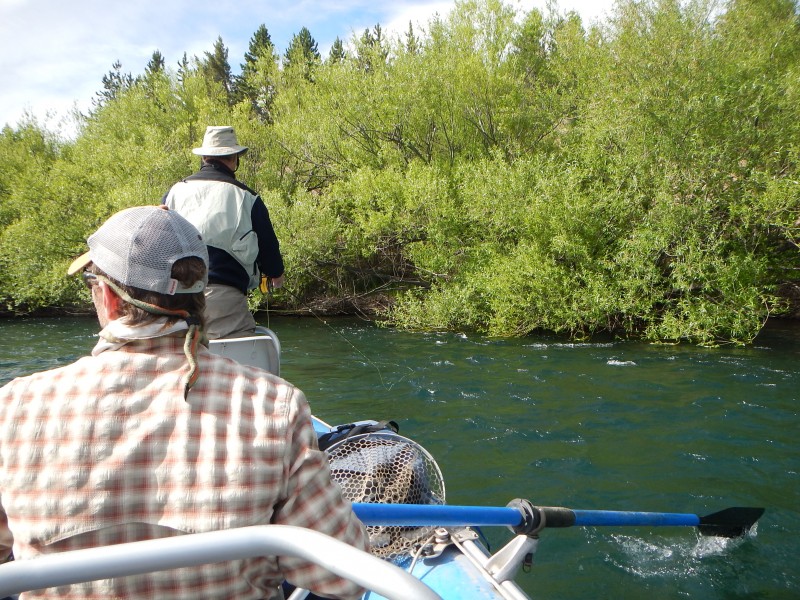 Esteban had us both throwing dry flies and constantly reminded us to get closer to  the banks of the river. It was still high water and these trout were holding as close as they could especially the big ones.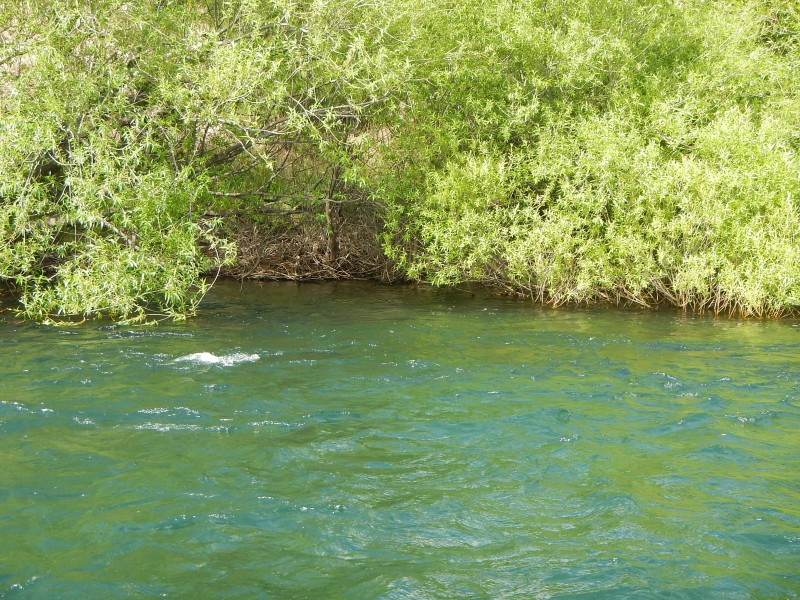 Like way into that cove would be the 3 second shot you had to make it, like casting into a tea cup if you asked me.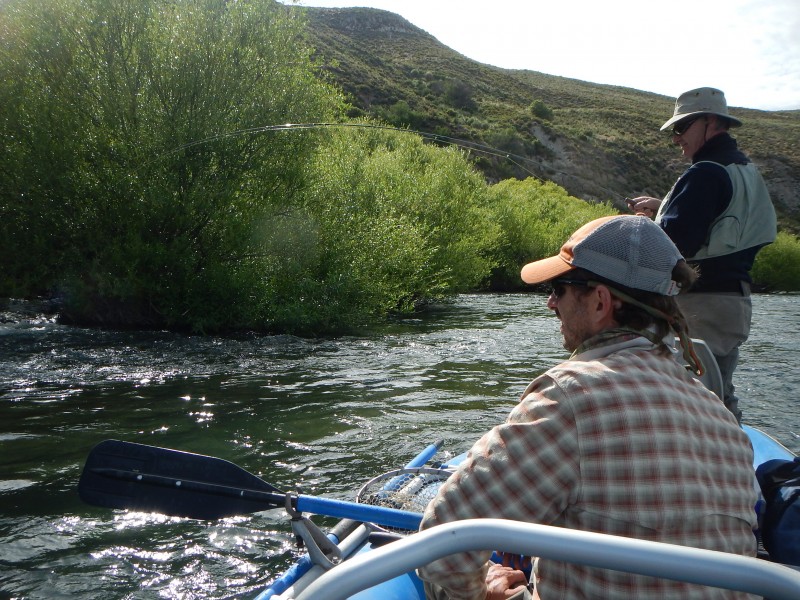 But after about 10 minutes Pete had his first trout on a may fly imitation.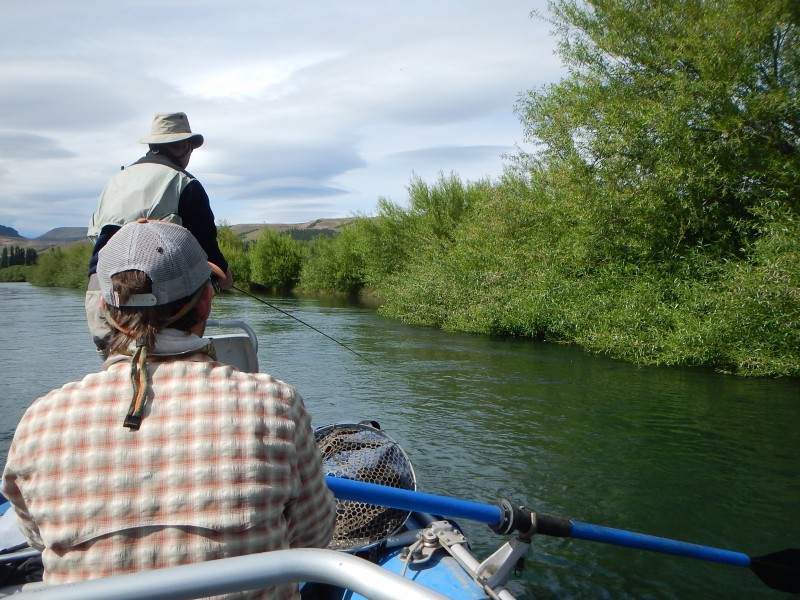 Every cast counted as closer to the shorelines, under brush or banks was best.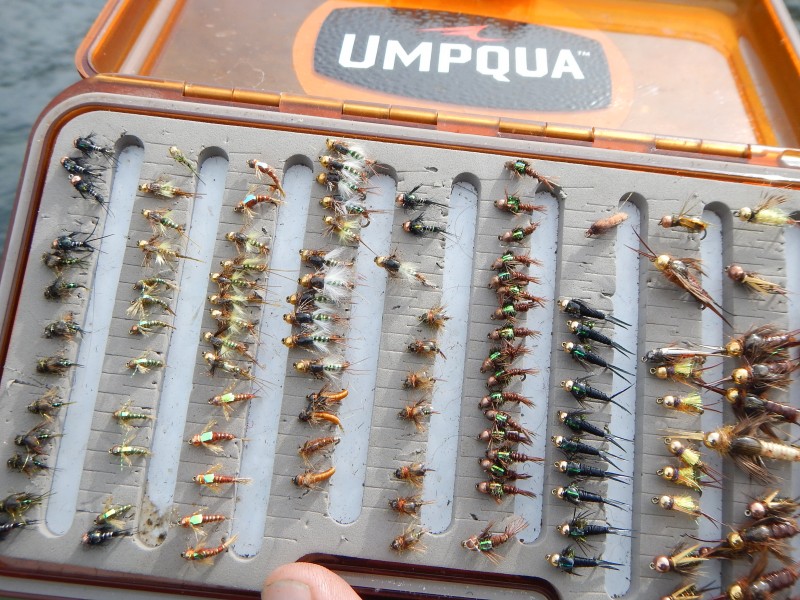 If you bring nymphs to Argentina, this is what your box should consist of. If I don't tie my own flies, I rely on Umpqua flies. The best hand tied flies in the industry today.  www.umqua.com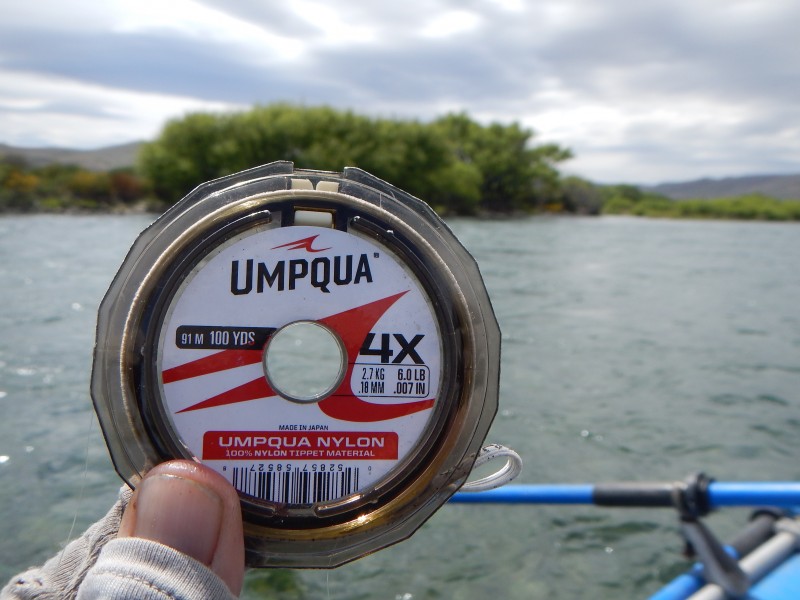 I truly think they also make the best tippets too. Rio is too thick, Orvis is too snobby, go with Umqua. You'll catch more and break off less.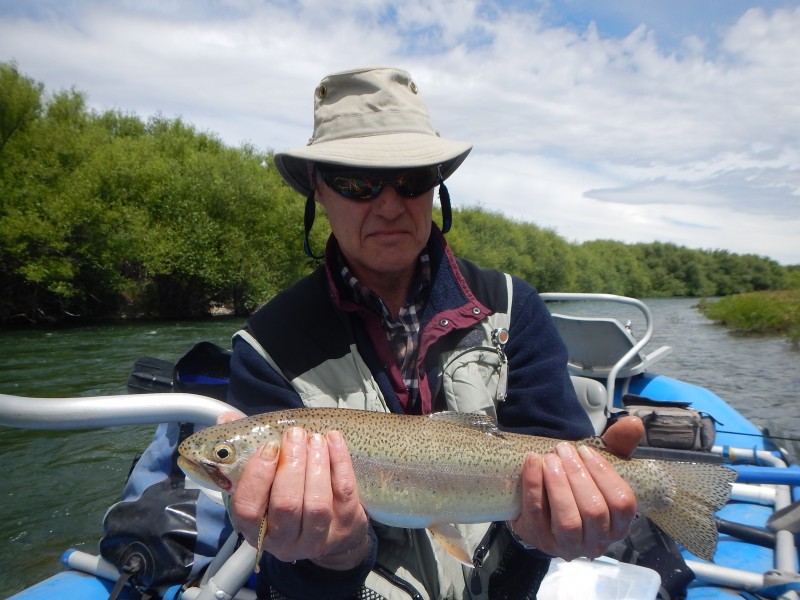 We caught this trout on an attracter pattern on the surface and we were off to the races. I caught a few in the back but was mainly filming the action.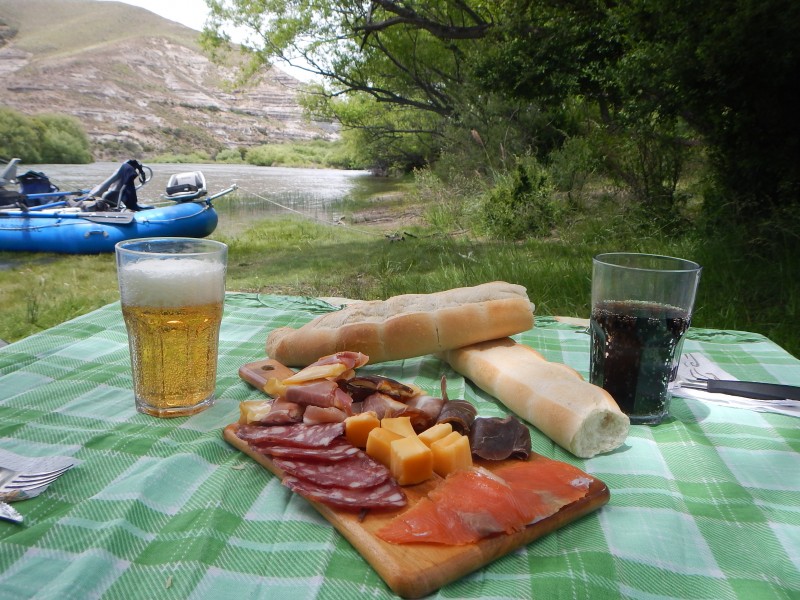 Pete landed more than 10 trout before lunch and then we stopped for a bite.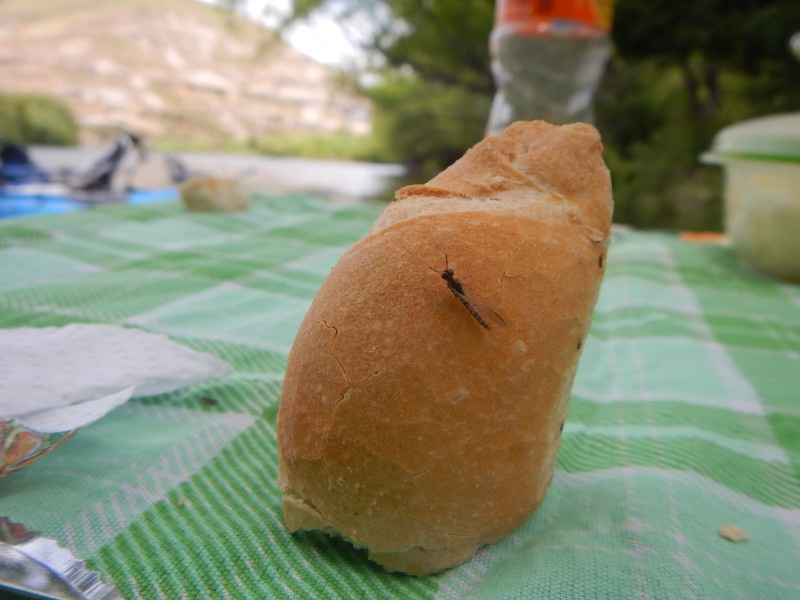 So did this baetis may fly that seemed to be part Italian.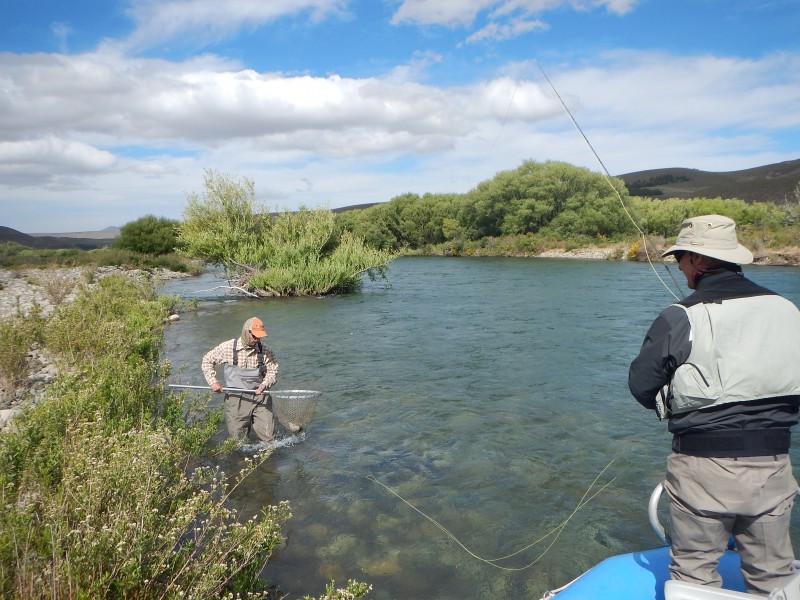 After Lunch Pete hooked more and more trout on dry flies, it was the best dry fly float both of us had ever seen.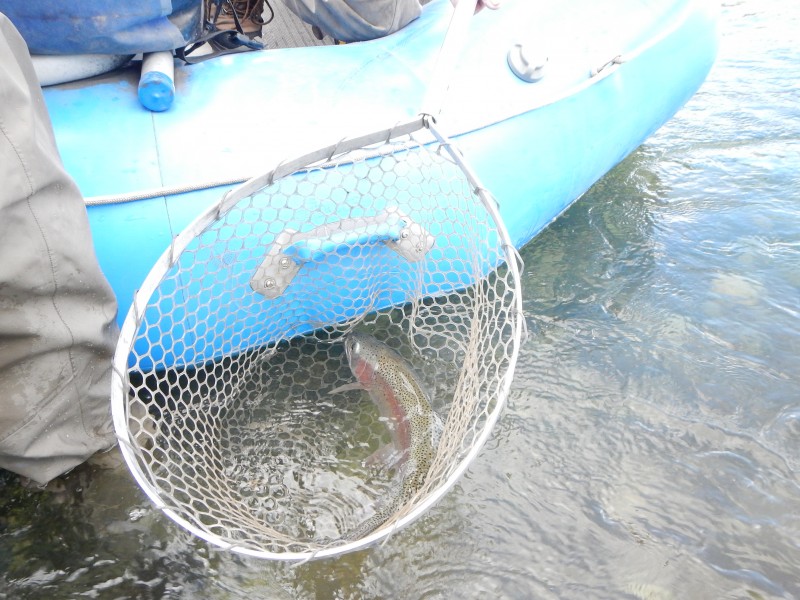 These trout Pete was catching were beautiful and they were taking dry flies on the surface, I mean how fun is that!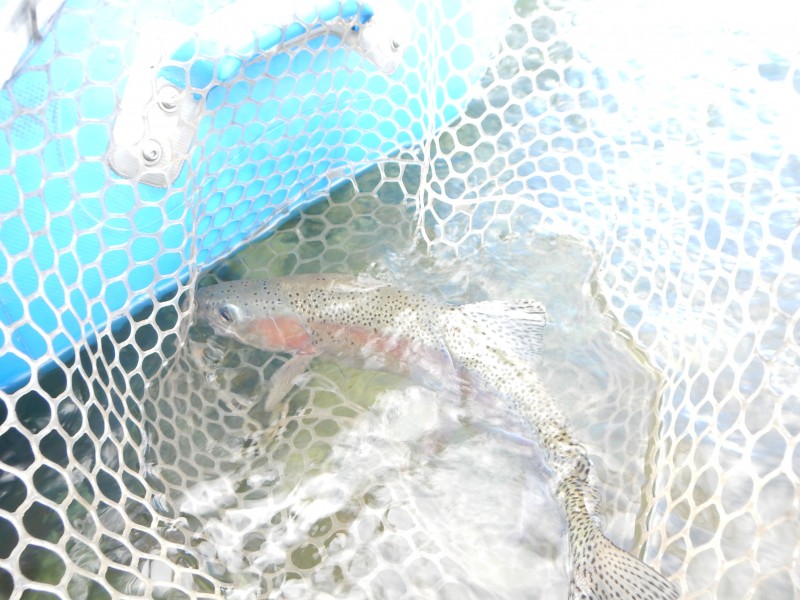 What great fights they put up in these cool Argentine streams and boy were they healthy looking trout.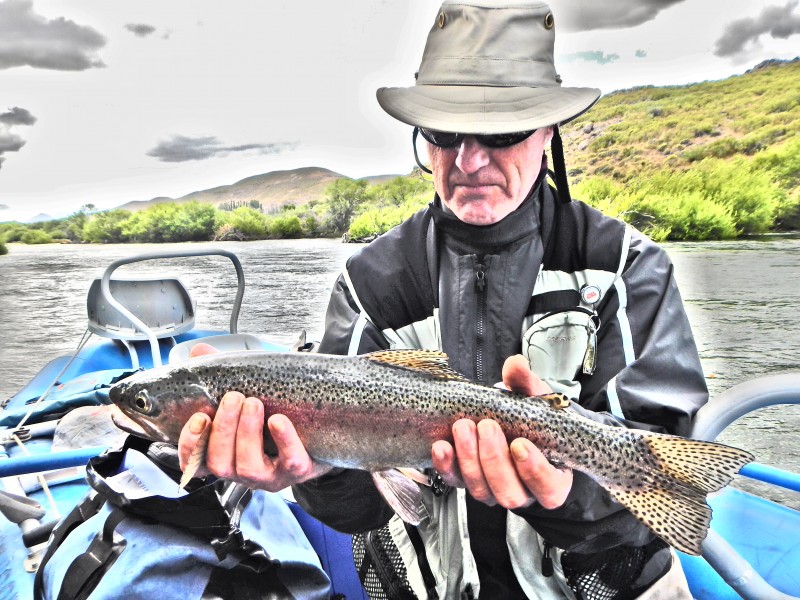 It was like Pete was right out of a painting, frozen in time, in which all his years of fly fishing were passing right before his eyes in a instant…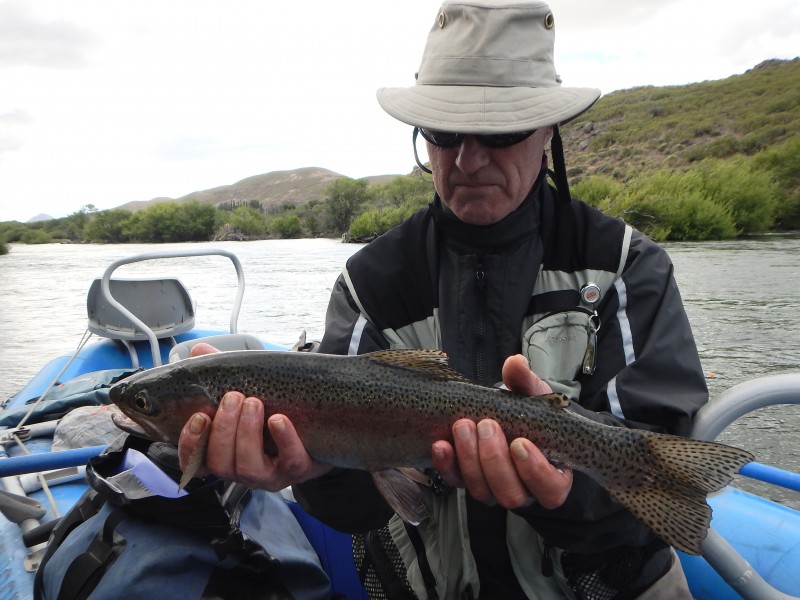 And so they say….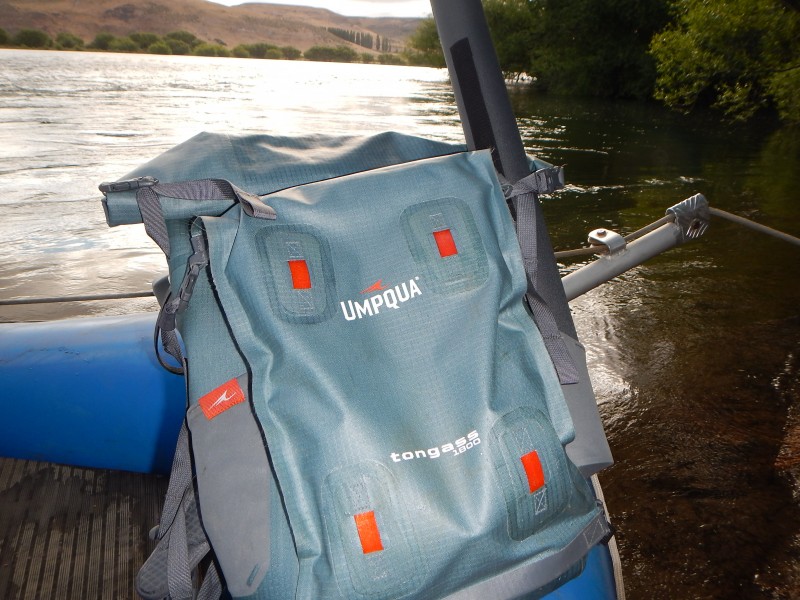 The best fly fishing waterproof backpack is made by Umpqua, get your Tongass off the couch and get on the river folks, whatcha ya waiting for partner!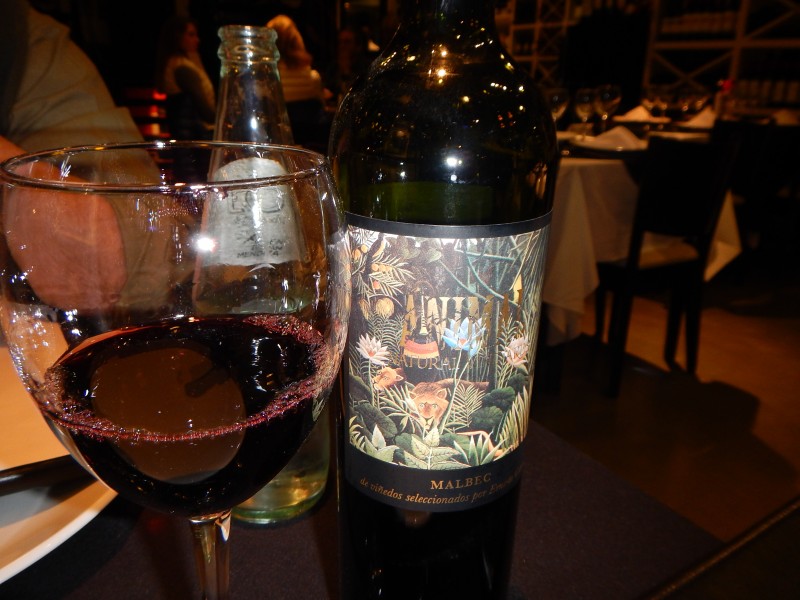 I asked Esteban where he thought the best place for lamb was in San Martin de los Andes and he replied without hesitation, "El Regional." He told me the night before at the wonderful La Meson Restaurant, to look for this wine called Animal. It didn't sound like a traditional name for a wine, but who was I to judge, it was his country and he had never steered me wrong in the past. Boy was he right, that was one fine wine.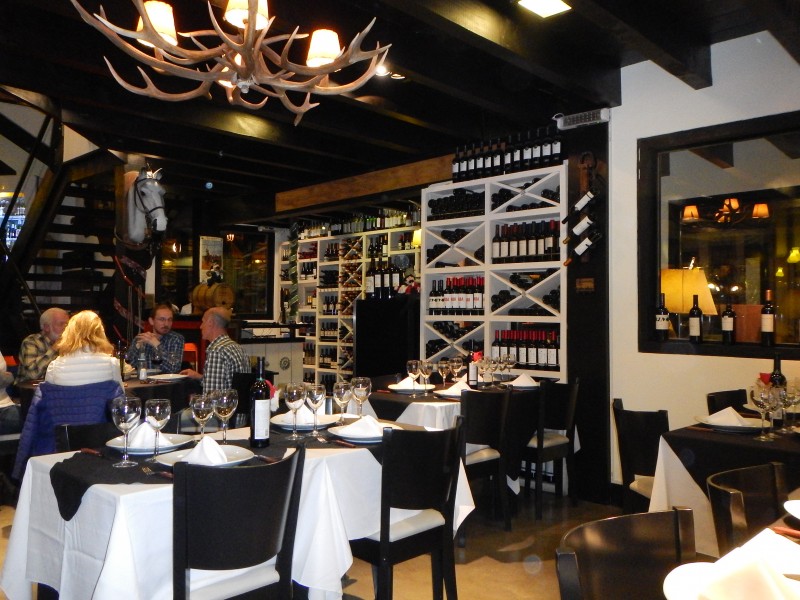 Being that it was only 8:30 pm, there were other Americans dining as the Argentines and Chilean tourist don't come out until after 10 pm for dinner and finish sometimes around 1 am. I am not kidding folks in the summertime, families and children are eating around mid night in South America, it's common.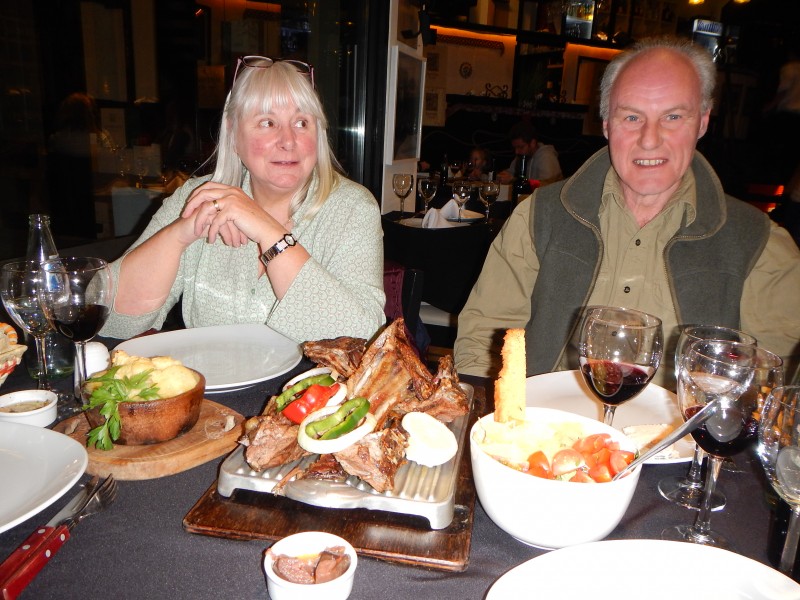 If you like the best tasting lamb with all the fixin's, you will score gold here in Argentina, just don't ask for mint jelly, ask for chimichurri!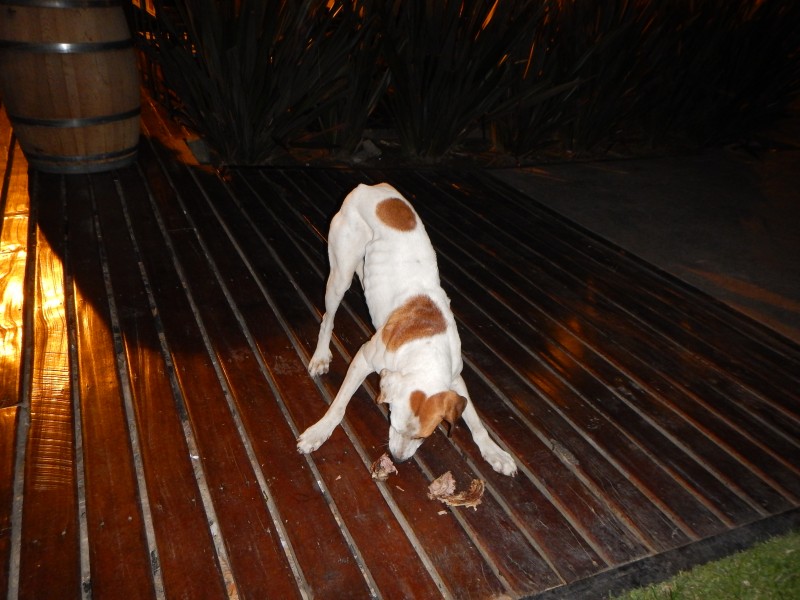 So much food, afterwards we were approached by this nice homeless dog and made his month with what we had left over. We love feeding homeless dogs out in the streets of Chile and Argentina, something good to do for someone in need, it's life you know.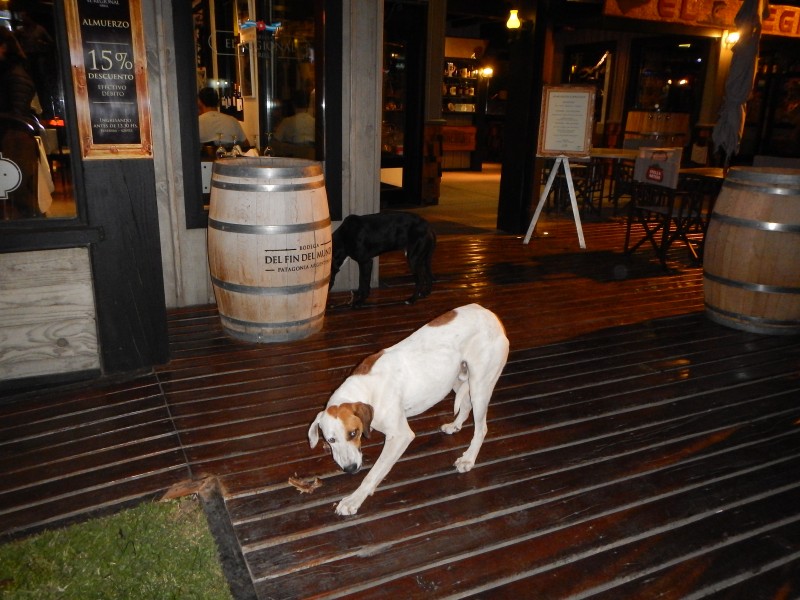 Same to you partner! Enjoy…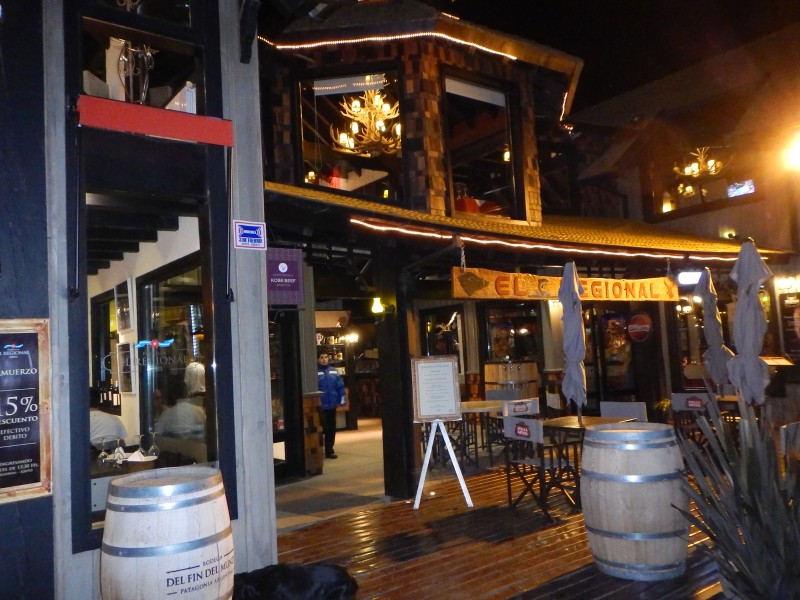 What a great place, we'll have to return there with former Senator Tom & Dianne Harman, scheduled for March 3rd to the 14th & Al Hegendorn scheduled for March 18th to March 28th. This year folks March is sold out entirely! Well I have a few single days, here and there…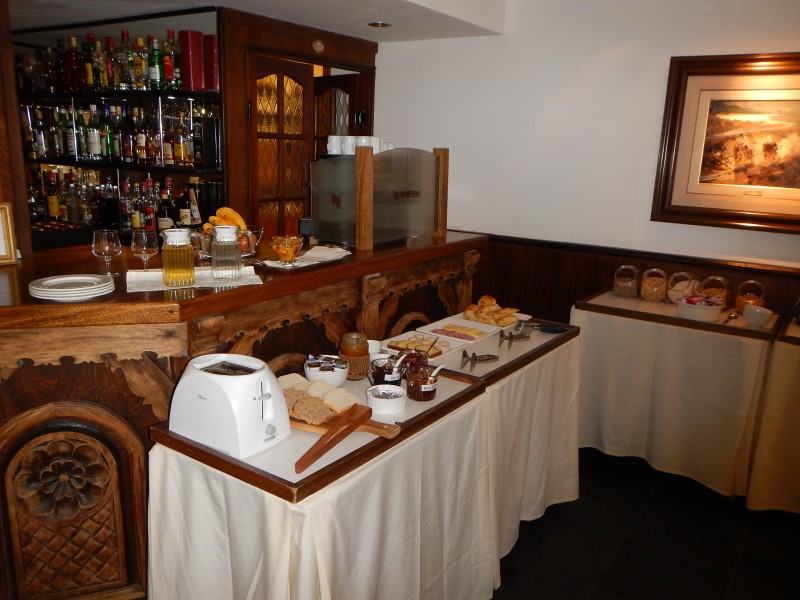 Back at the lodge the breakfasts are wonderful, plus they will make you an omelette if you'd like and the fresh squeezed OJ is great.
Clients have really liked our choice in having this stay at this 5 star lodge while fishing in Patagonia Argentina.
Pete & Sheri Gordon really enjoyed their stay here and plan to come back again for the 3rd year in a row next season.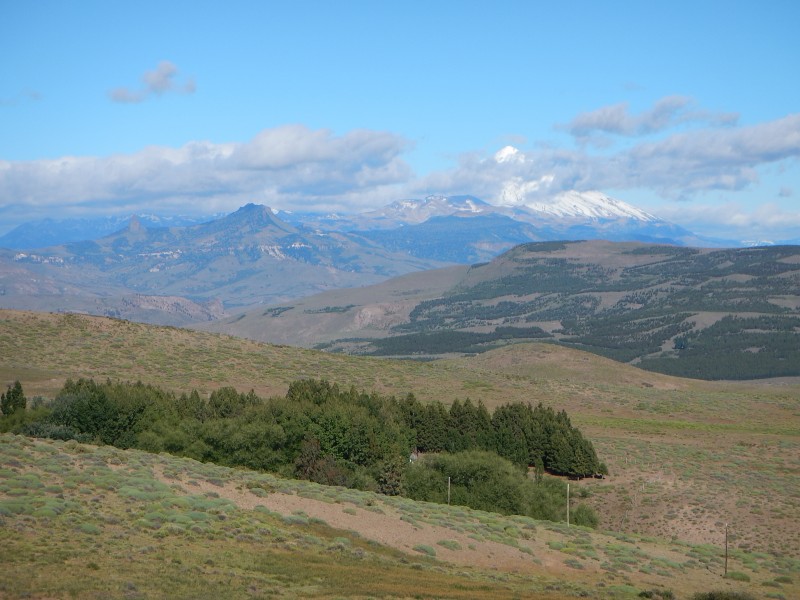 The next day, Esteban showed up at 8 am and we took the long drive to the Alumine River. It was so amazing and some what primal as we headed into the areas and reservations of the Mapuche Indians who had lived out in these areas for thousands of years. off in the distance like most places around here you could still see the Volcano Lanin.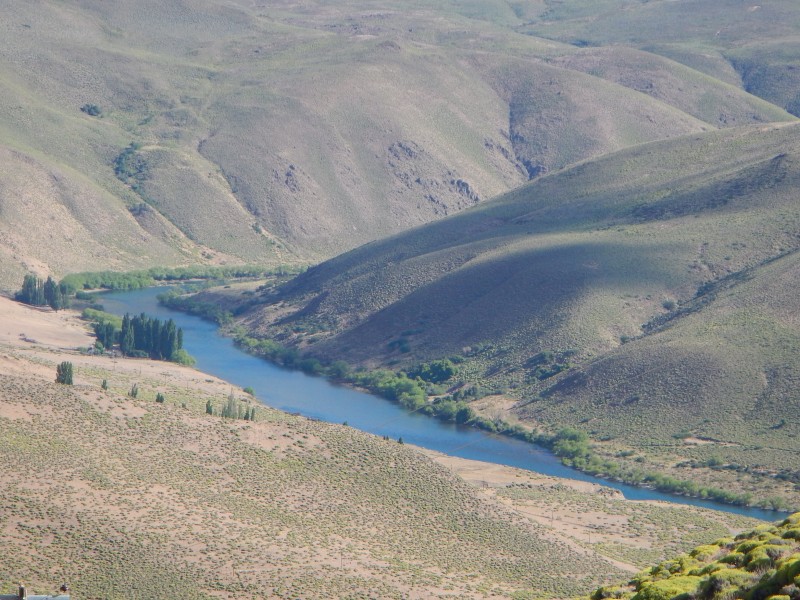 From up high we could see the Alumine River off in the distance, flowing like a desert rose in barren pampa, where the  only true greenery that existed lived near the banks of this river. It flowed some hundreds of miles through the middle of Argentina. The river was formed by receding glaciers that melted high up in Andes Mountains only to drain through crevices, cracks and crevasses as it glissades down the mighty steep peaks that still stand thousands of feet in height to feed the birds, plants and animals that would wither away if not for the sake of what you and I are 96% made up of.
 In Argentina and Chile a person must take the car for the day, we call this person the Shuttle Puppy, the unsung hero who guards the vehicle all day and makes sure we have back up out in the middle of some where. Faulso is a great Shuttle Puppy, he always has our backs when we're out on the rivers of Patagonia Argentina.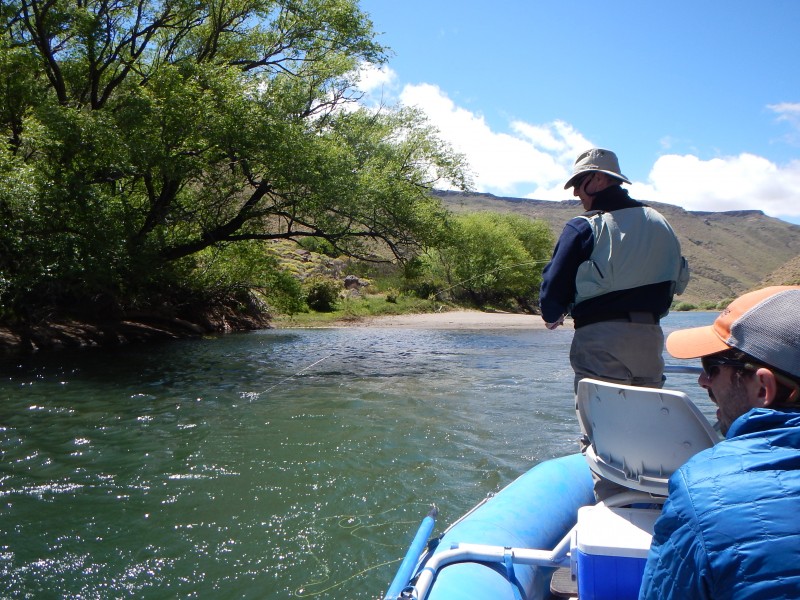 Minutes after getting on the river a nice trout is landed on a dry fly.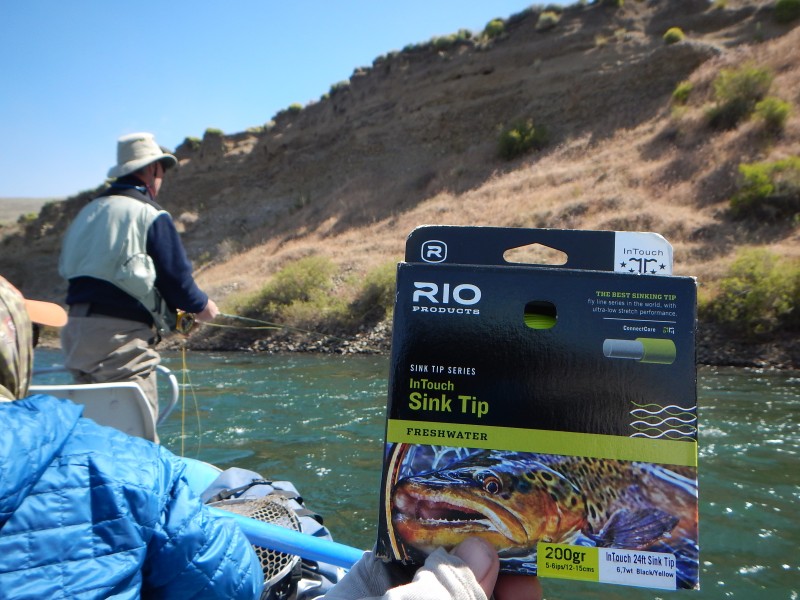 If a sink tip is needed down here in Chile or Argentina, I go with the best, I go with Rio Lines. That goes for dry fly floating lines, nymphing floating lines or salt water lines. Somethings never change and Rio still makes the best.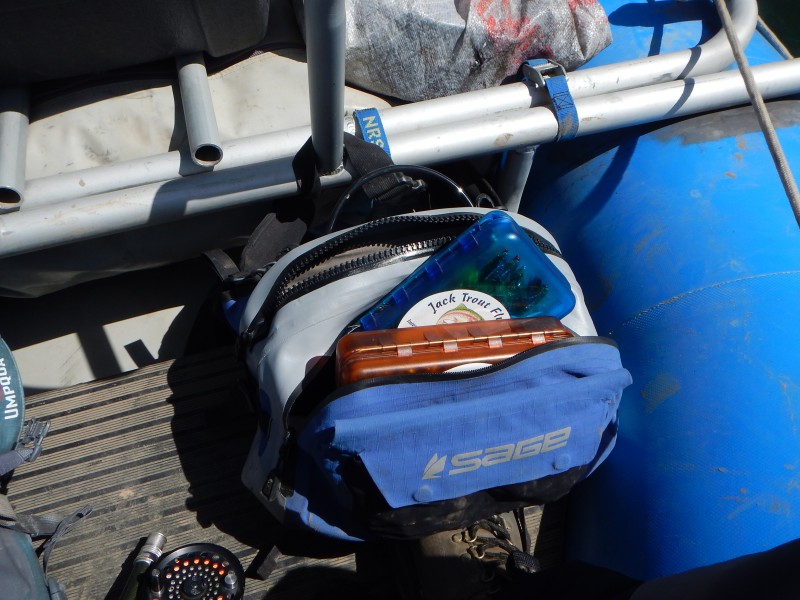 I sure love my Sage water proof fly fishing bag, the best I've seen in the industry today.  http://www.sageflyfish.com/
When you come down we have all the fly fishing gear waiting for you. Simms waders and boots, the best you can have period. http://www.simmsfishing.com/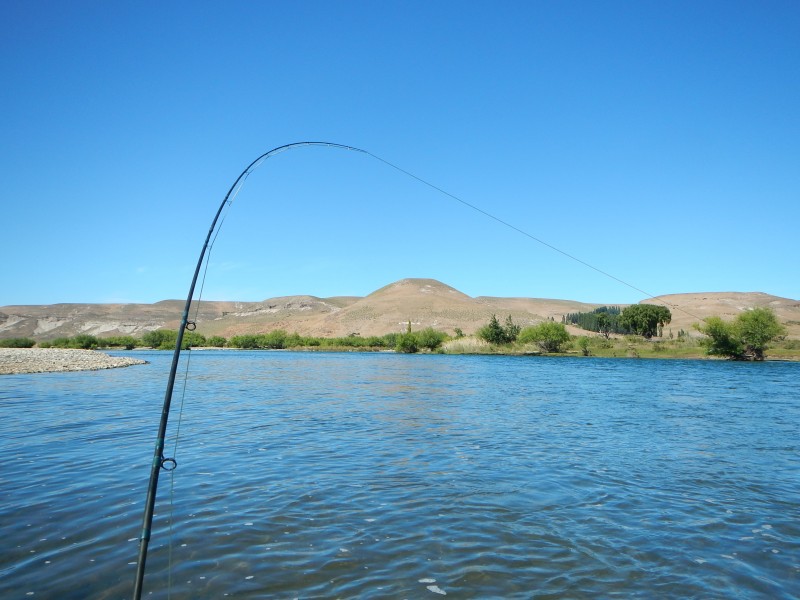 That morning Pete and Esteban decided to wade the banks of the Rio Chimihuin as I had a thought to head way down stream and try my luck with light cahills as I could see a huge hatch of PMD's landing all over the place.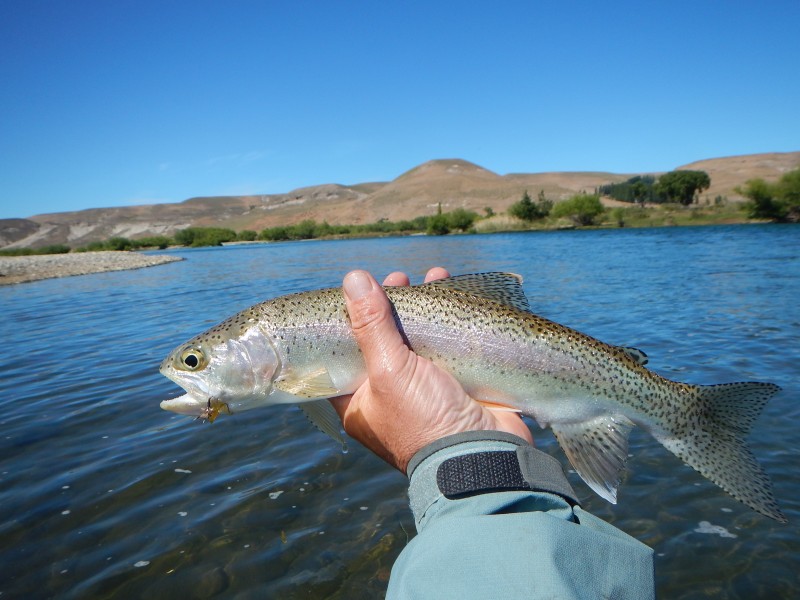 I walked down the river a 1/4 mile and started fishing behind this willow tree that acted as a seam in the river and began catching trout after trout on dry flies. What a hoot!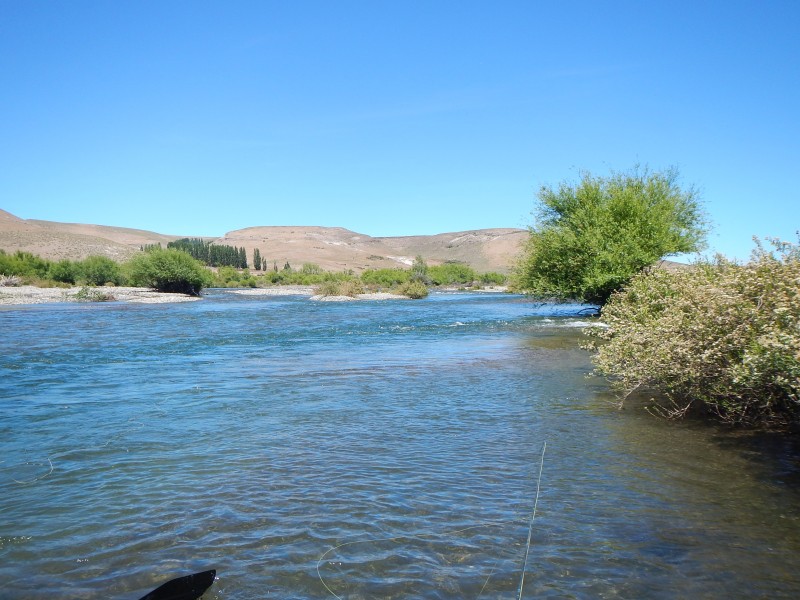 What a great personal experience here in Argentina.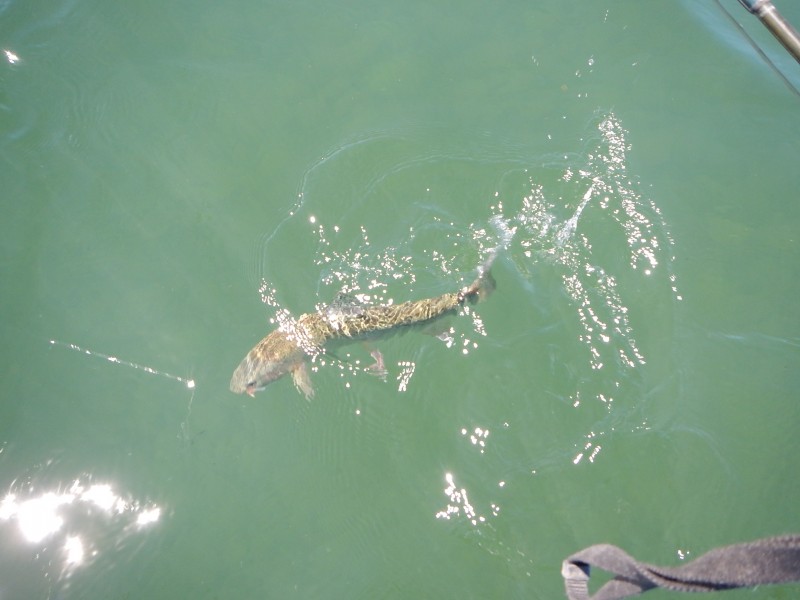 Some of the places we float by are truly amazing like this huge sandstone mountain that was carved some millions of years ago left standing here where trout like to line up to eat their m & m's.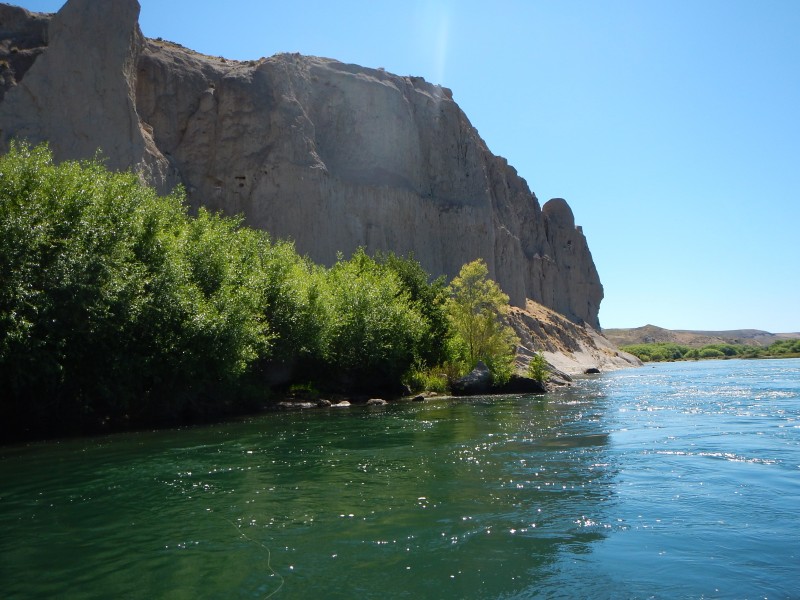 It's like Heaven on Earth people here in Argentina fly fishing.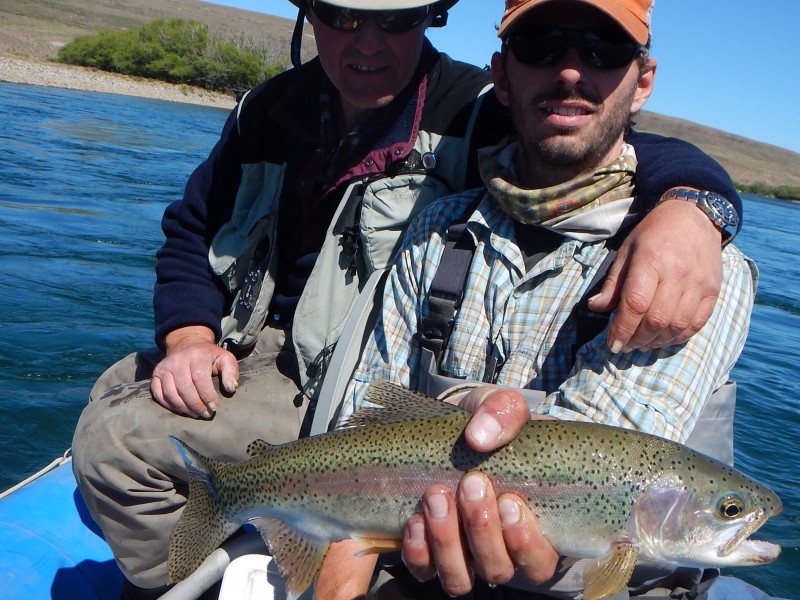 Nice trout Pete and Esteban, glad I could be there to film. I really like Esteban as a guide, he ties so many of his own flies, he's a complete guide I have 100% confidence in, out on the rivers of Argentina.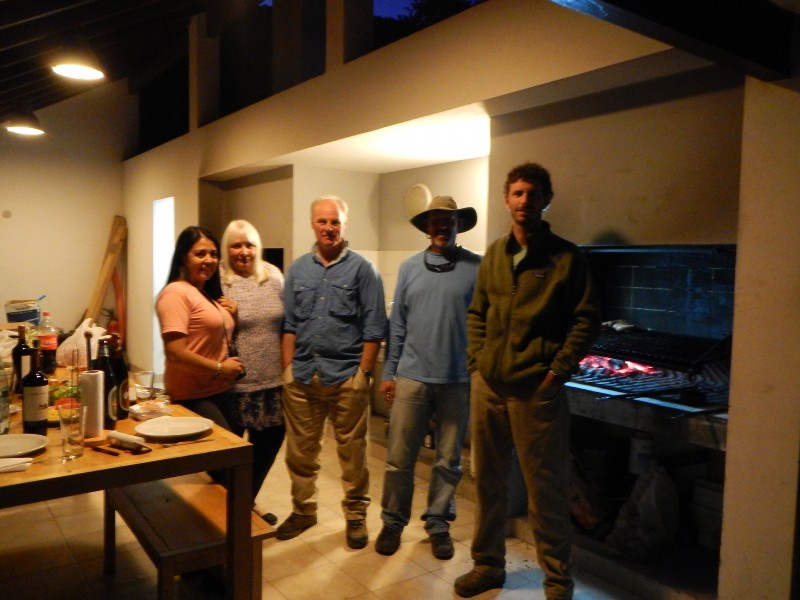 Everyone knows I love to do a asados down here in Chile and Argentina, that's greek for BBQ. So every season I invite our guests & guides for a night to remember us by.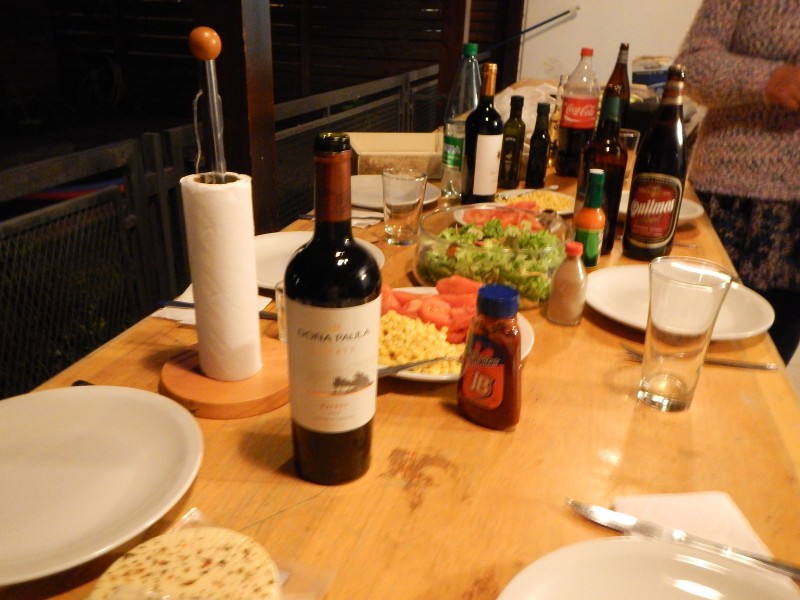 Good food and spirits is what I'm talking about, maybe some of you out there don't drink, well that's ok too you know, you must eat something? If you're a vegetarian… I wouldn't come to Argentina, they consider those folks very strange.. Just kidding, we'll make you a salad, that leaves more meat for us!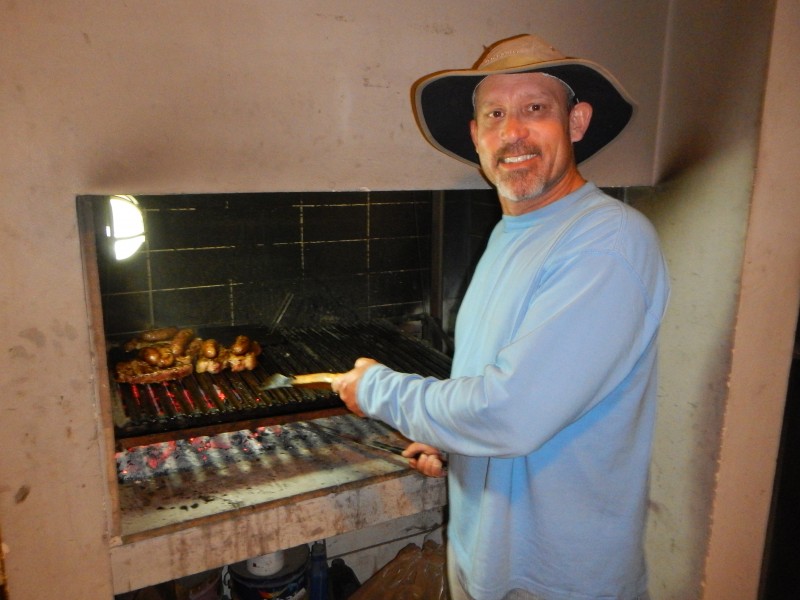 Certainly in my element now folks!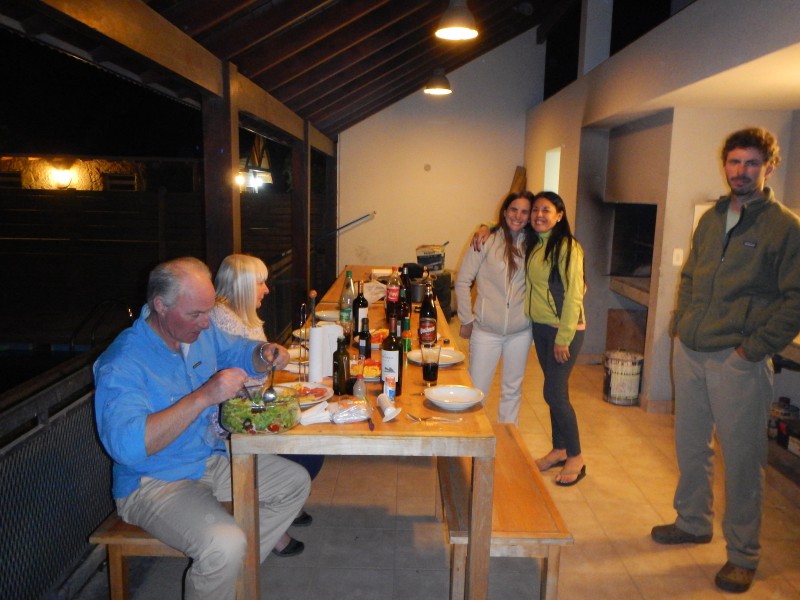 Erica & Carola showing some love for the moment while the clients enjoy some great food here in Argentina. Guide Esteban enjoying our time together in his country.
Fondue provolone with huge steaks and the great summer sausages of  Argentina are just part of the experience down here in la la land.
I always make the traditional stop into the Damonte Fly Shop here in San Martin Argentina, they have everything a fly fishermen could ever dream up.
 That day Pete caught great trout wading on a local dry fly river.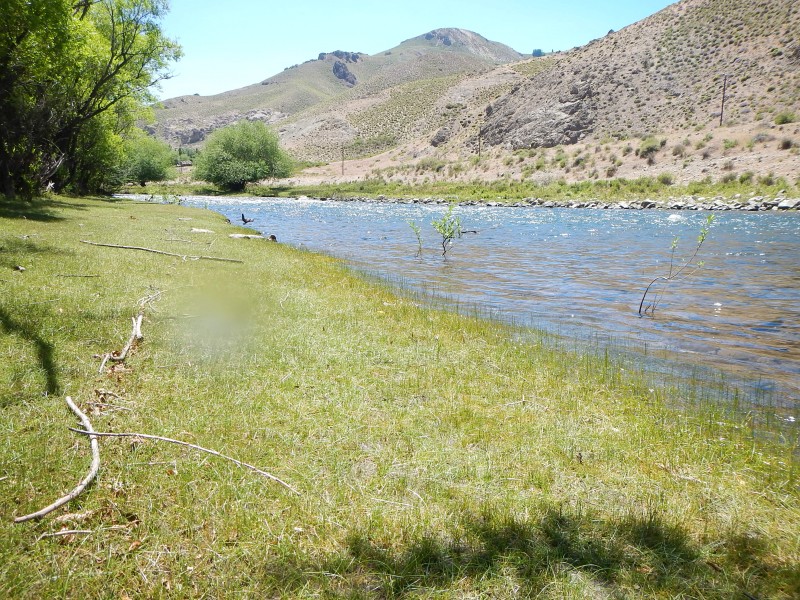 What a spot! We both fished it for 3 hours or so and then headed back into Chile, to check on my trailer.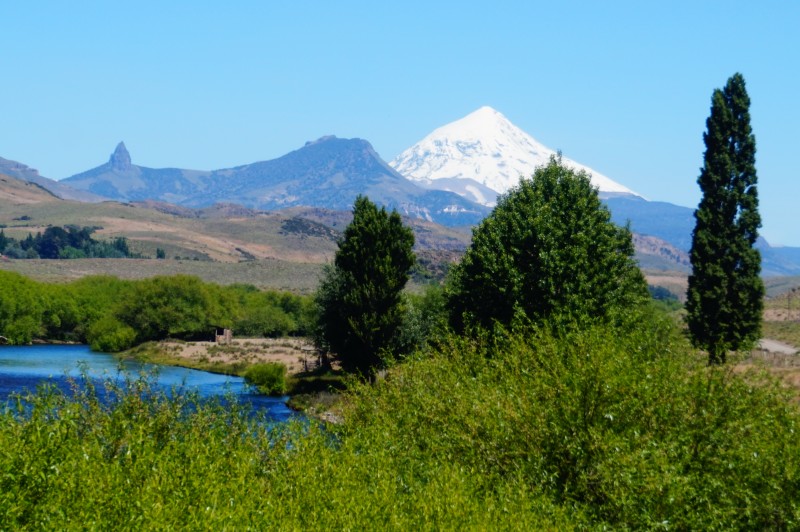 <(:<<(0((<<(<   =   🙂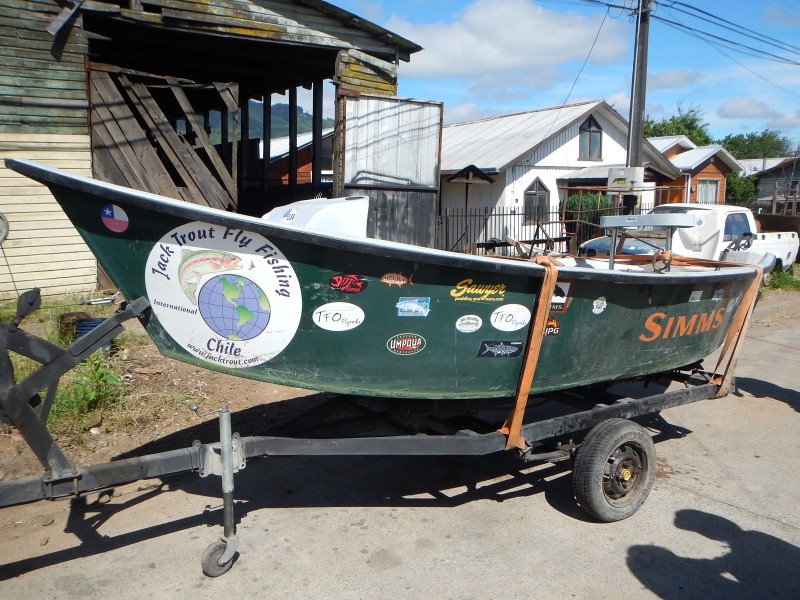 Carols didn't let us down, normally you couldn't find a soul on Sunday, this wasn't the case, Carlos had it all done, we had picked up the oars in Pucon from Willie and the same day we headed for the Rio Dios in the Rivers District of Chile. Actually we hadn't lost anything on Pete & Sheri's trip and had everything to gain now, luck had to be on our side.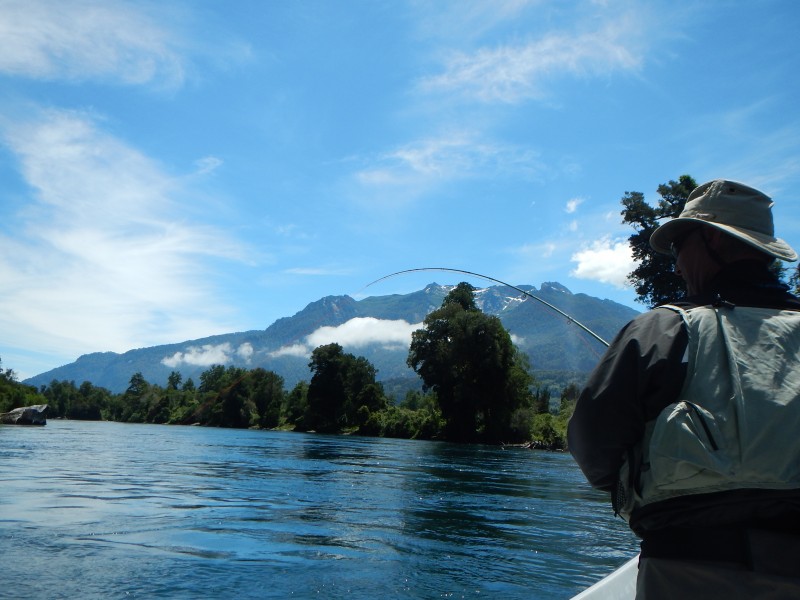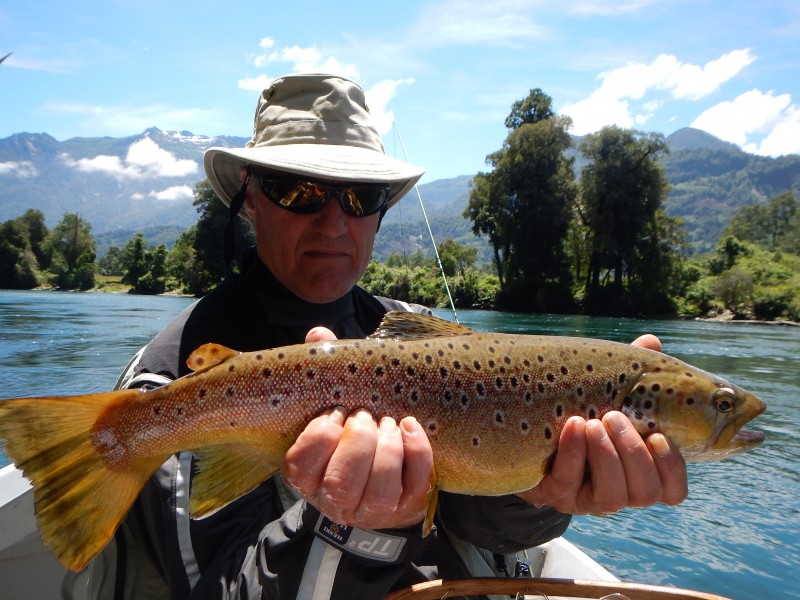 Within 10 minutes of entering the river, Pete had on his biggest trout of the trip, we were so excited!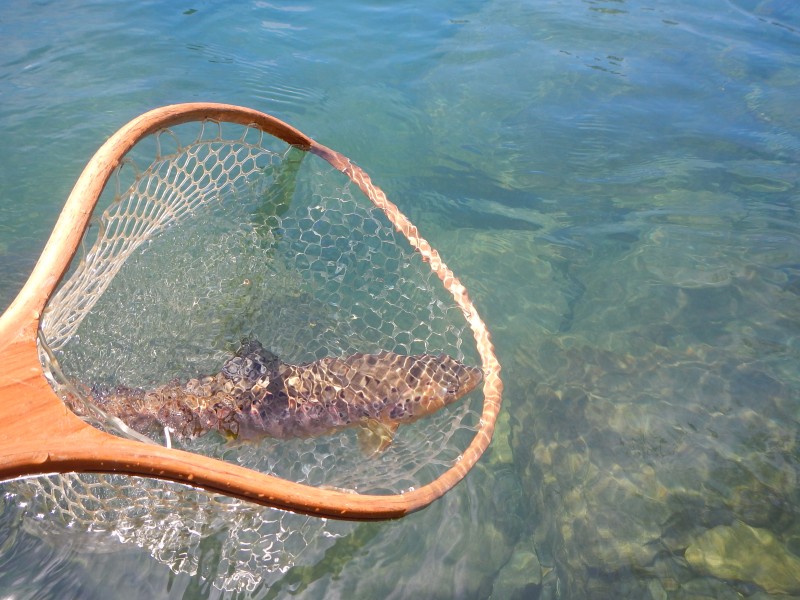 What a splendid trout indeed my friends.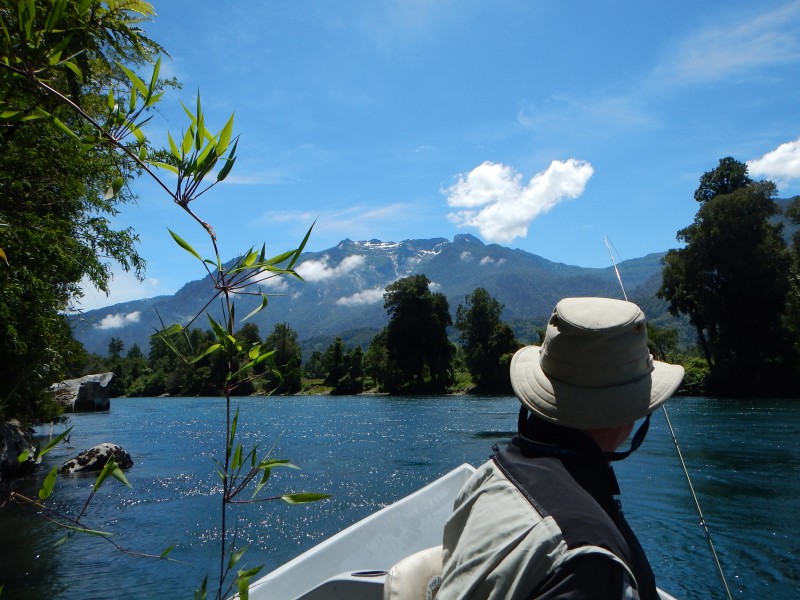 We looked back at that majestic mountain that reminded me of something out of the Rocky Mountains in the United States.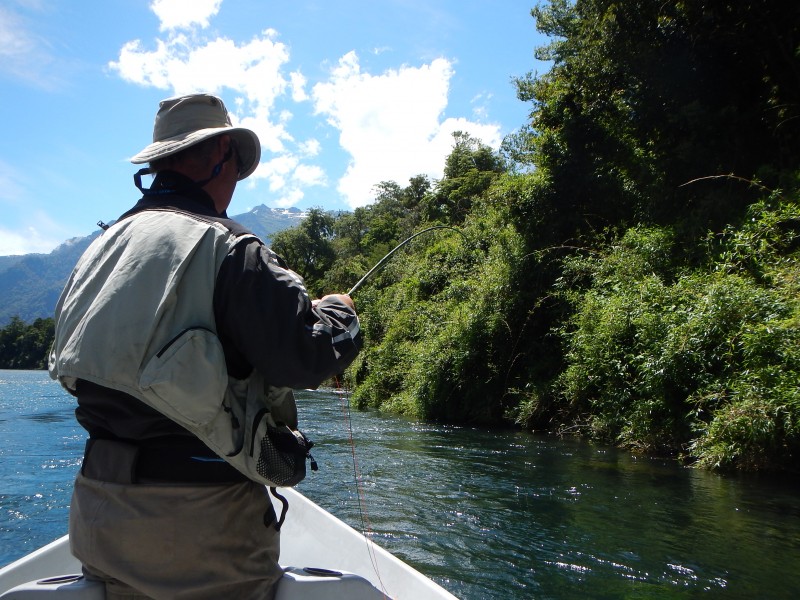 We threw streamer patterns in and near the banks of this emerald green river. We were rewarded on most of the casts. Pete Gordon was an expert fly fishermen from Cornwall, England. He's a retired Game Warden. So when he wasn't fishing, he was thinking about it out on the rivers and oceans of Southern Great Britain. He's spent his fair share of time serving the public and keeping it fair for all outfitters. They rely on good angling for the paying folks and the non paying folks I know appreciate him too. 
I wanted to make sure his 2nd year in Chile was extra special.  Argentina blew his mind, now all I had to do is keep up my end here in Chile as his personal guide. People like Pete Gordon, have a passion in life this younger generation can't understand.
His father before him was an English intelligence spy. After being exposed in Italy and sent to a concentration camp. He escaped his encampment by the Germans and the fascist Italians led by Mussolini. He made his way for 6 weeks along the Italian mountains of the Apennines starving and in need of some help. Along his way. He met a young beautiful Italian girl on a farm, who hid him away from harms way. Fed him and later they fell in love and moved to England to start their family on a 25 acre farm in Cornwall. Sometimes something like this can skip a generation. They don't understand how lucky they are. The sacrifices another family member made on the families behalf. His pops received two gold maple leaves by the British Armed Forces for his efforts. I have guided a lot of people in my 20 + years but Pete Gordon lives by the same creed his father did. Pete is the Constamment fly fishermen because of this. He lives, eats and breathes fly fishing unlike anyone I have ever met.  I have never guided someone who is so about fly fishing yet so pleasant to be around. No matter where we are in the outdoors of Chile or Argentina, he could at any moment drop everything he owned. Just to live near a river, lake or stream down in this part of the world. 
Many times on our trips, I would mention about a guard being at the top of Tromen Pass guarding the border. How cold it must be in the winter. He would say, "Yea, Jack but he gets to live up here and look at that great mountain everyday." Other times when he just wants me to do a video just panning the river and the mountainsides. I think Pete gets claustrophobic in big cities and crowds of 5 or more. He'd rather trade it all in for a day out in nature and I admire that.
If I had to sum Pete Gordon up in one sentence. I'd say Pete Gordon fly fishes and loves the great outdoors. Like his father he's trying to find his way out of the Apennines Mountain Range. Fly fishing helps him get down the trail of life. Nothing is ever taken for granted. jt
Trout after trout, Pete must of landed well over 20 trout that day.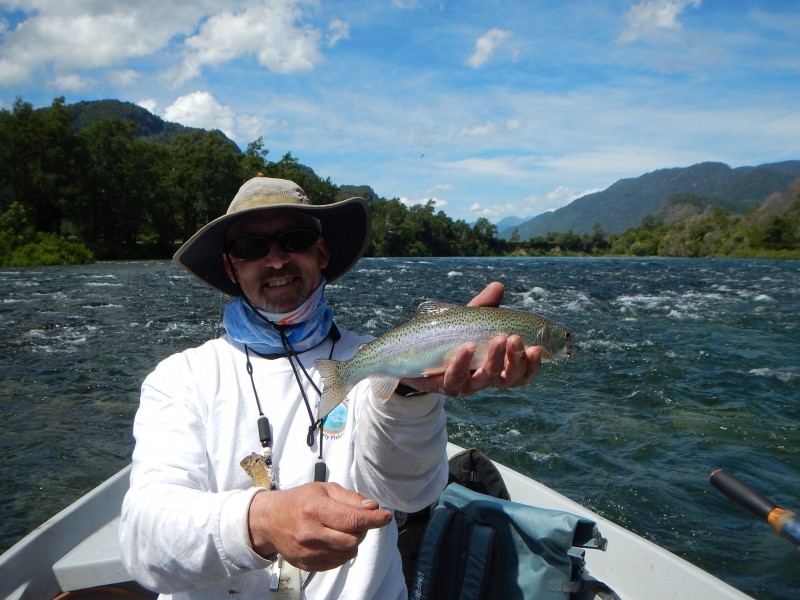 The scenes were amazing and it was great to be back on my home turf out in my drift boat again.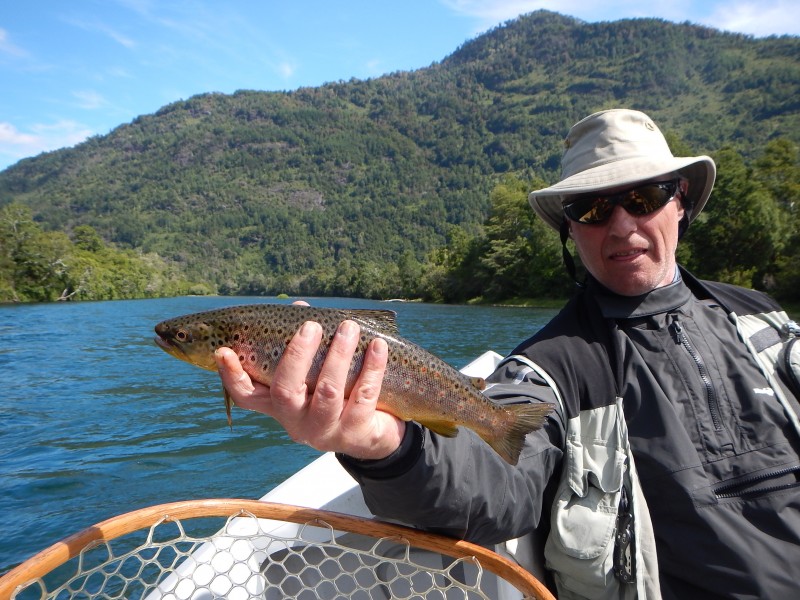 The trout here were hard fighting and very healthy.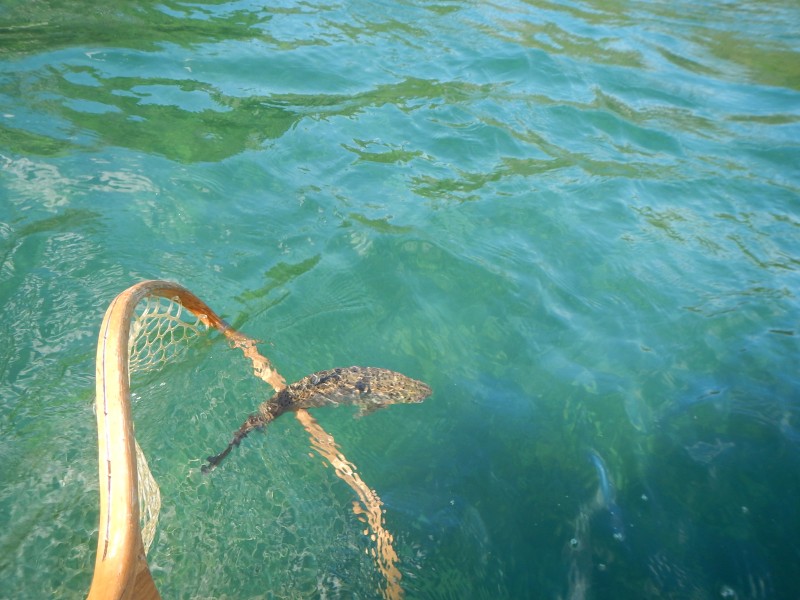 Back you go!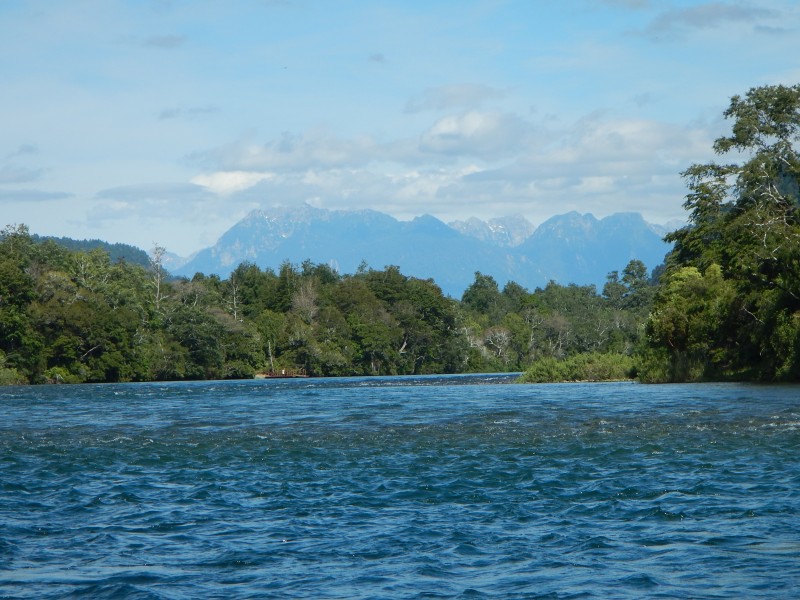 As I stared back out into the Andes that divided Chile from Argentina, I gave a thanks to the Sky Pilot or my guarding angel as someone was looking out for us on this trip, the location of where my trailer took its fall was too uncanny.  A warm chill ran down my spine and I was thankful, almost teary eyed, humbled and grateful.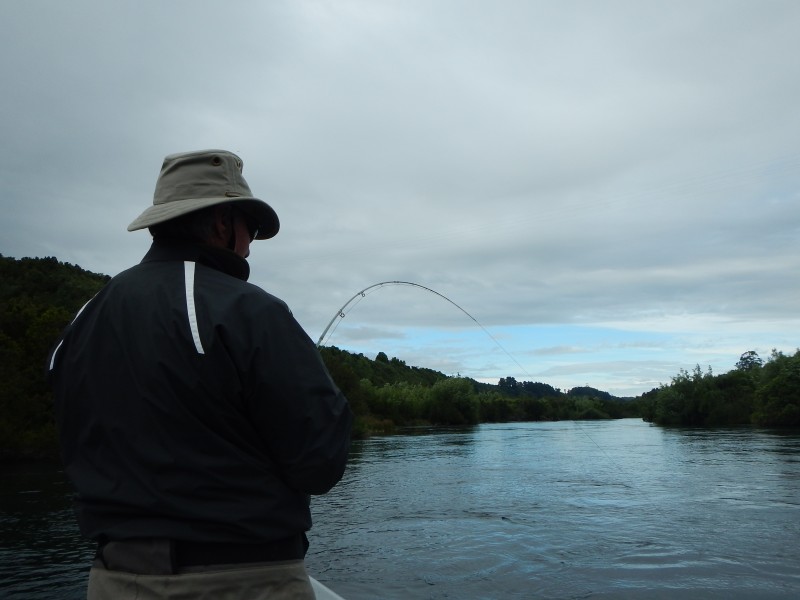 We drove back to Puerto Varas later that night and the next day we floated the Upper Maullin and within 10 minutes he had a larger brown trout bigger than the previous day.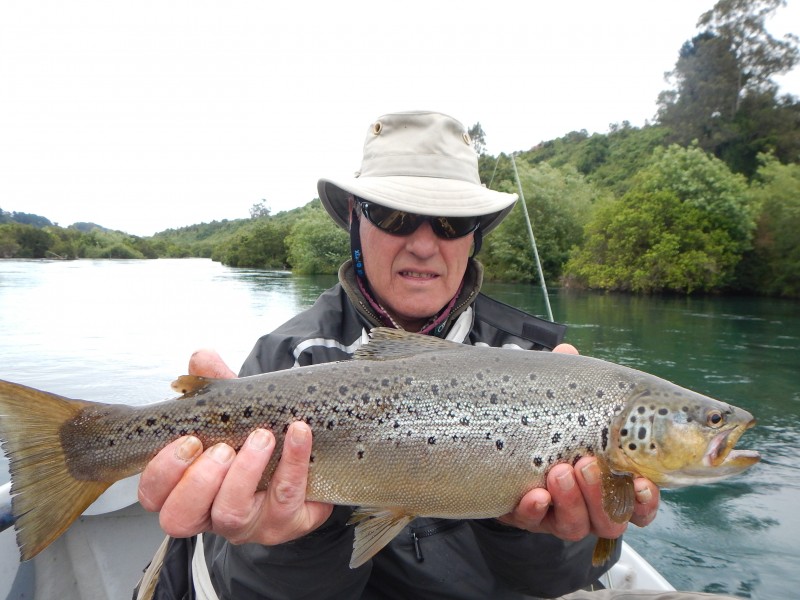 What a great brown trout Pete Gordon of Cornwall England had landed. Everyday of his trip he landed a trout larger than 4lbs. Some days… Several.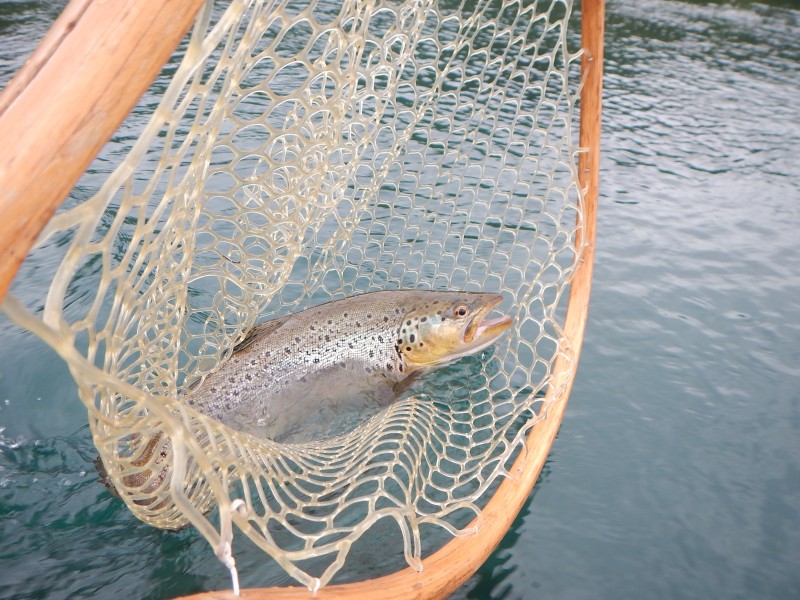 Sweet buddy, don't worry we'll let you go!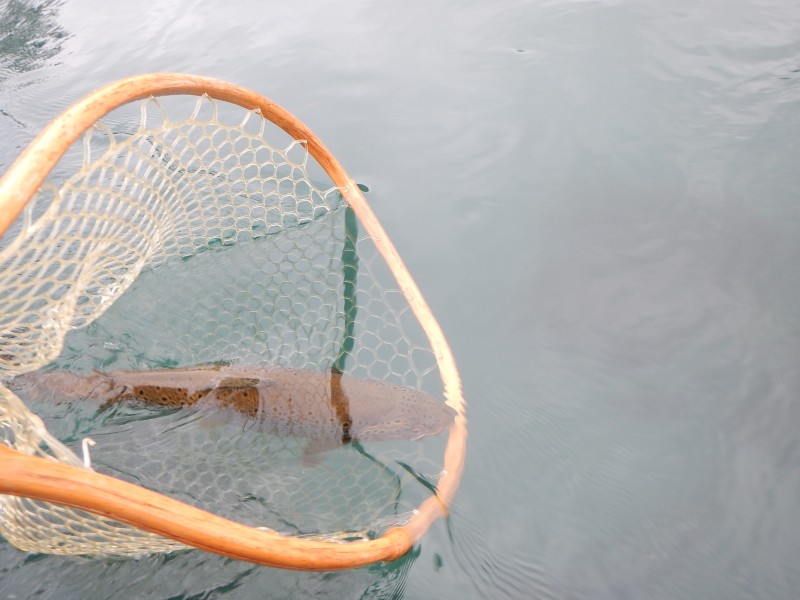 A real hammer head if you ask me…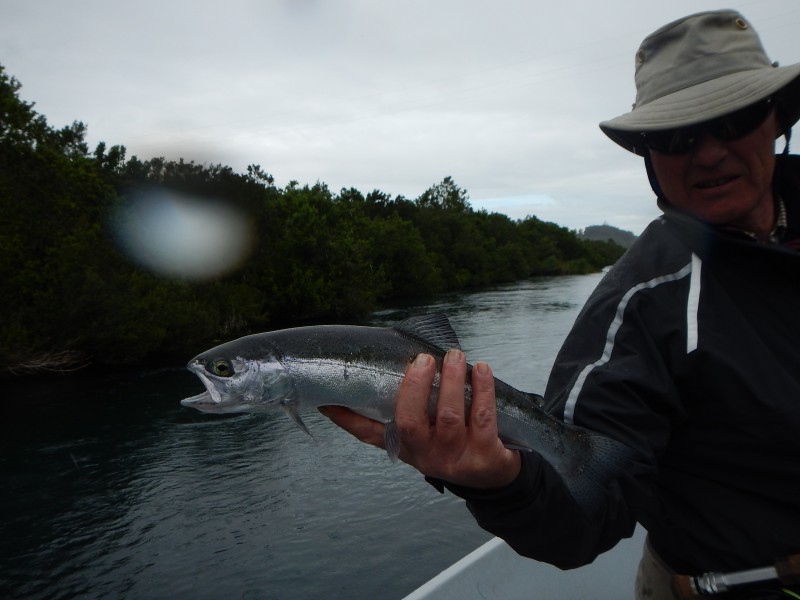 Pete then began catching all these Atlantic Salmon they call grilse back in England and Scotland.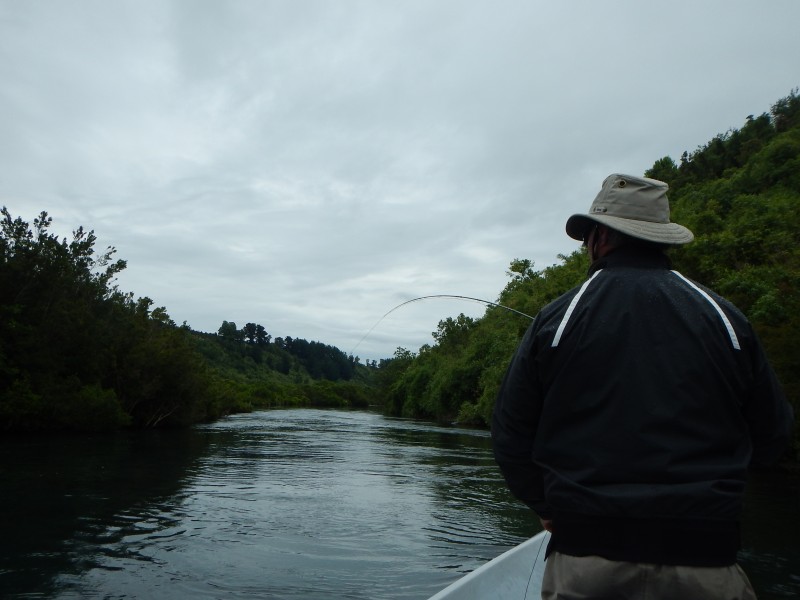 One after another, Pete was in his element catching lots of  great trout on the Maullin River.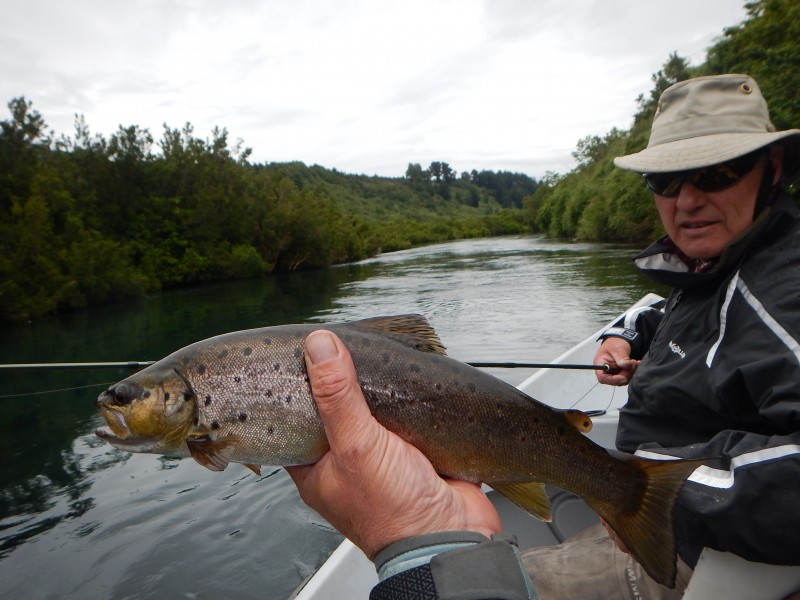 Chunky bro!
The weather was perfect and over to the sides we could see trout rising to mayflies every where floated that day with the light misty rains that were falling, then it would stop and the streamer fishing would pick up.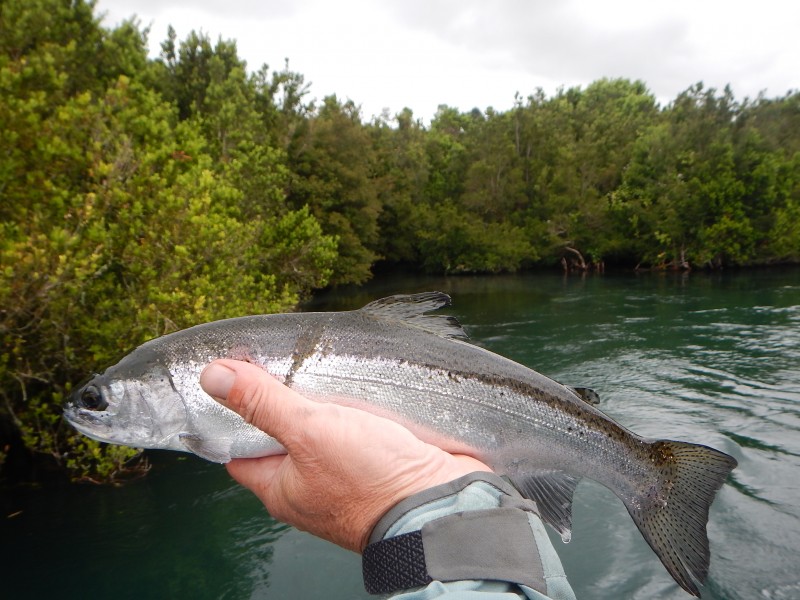 Full of Atlantics this year!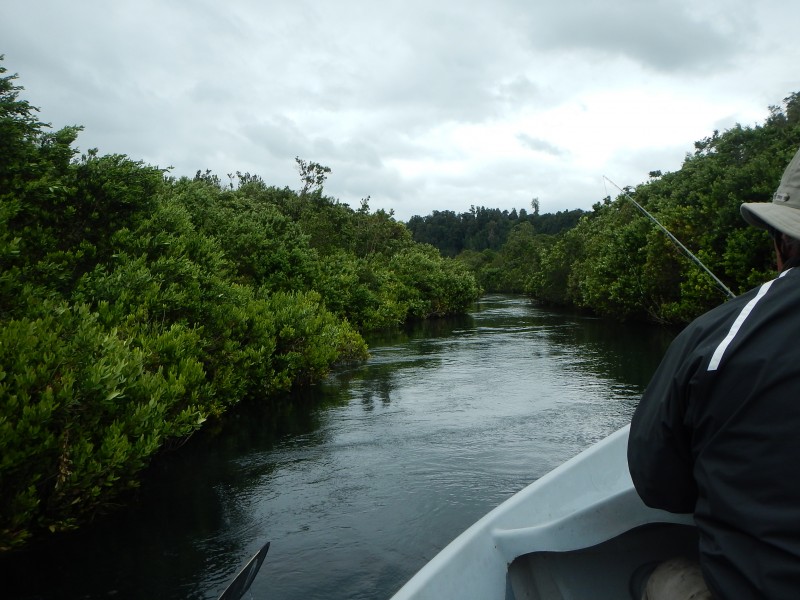 As we headed into the narrows of the Maullin River we could see Atlantics spread out from under the boat.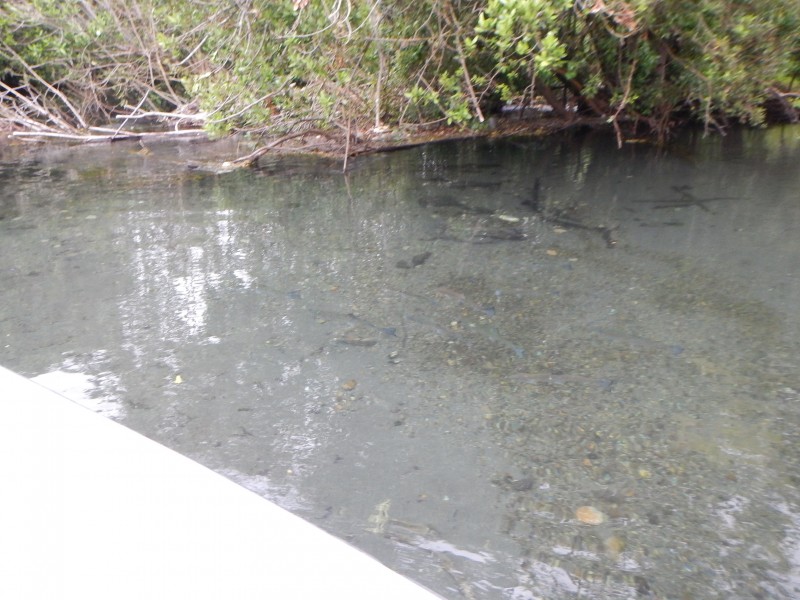 Look very close at this picture, can you see them?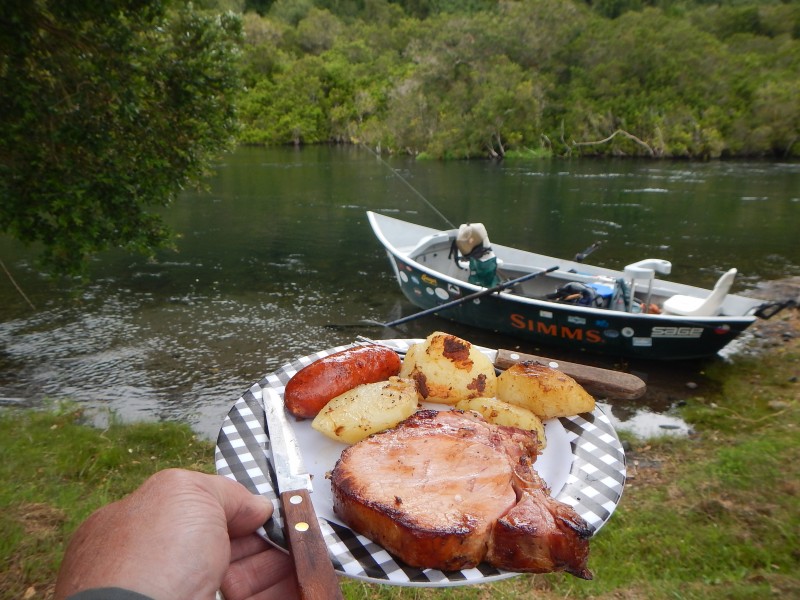 At lunch I heated up a center pork chop, some potatoes and sausages, Pete loved it.
Another great trip with Jack Trout.After having fished with him last year in Chile,this year we did Argentina also
The trip started off in Argentina based in a great hotel in the beautiful town of San martin de los andes.I was met at the hotel by Jacks Argentinian guide Esteban and from there we went to the first river of the trip,a beautifully clear water set amidst stunning scenery.Needless to say the fishing was unbelievable and Esteban was a first rate guide,extremely knowledgeable and he spoke very good English.
The next three days were spent fishing equally beautiful rivers again in stunning scenery with many fish caught ,all on dry fly.the guiding and services provided by Jack and Esteban could not be faulted and it was a truly memorable experience,definitley warranting a return trip.
Then over the border and into Chile ,first stop an enchanting river called the Rio Dios,emerald green in colour and flowing through magical scenery.We caught some seriously big browns on this one,drifting about 10 miles downstream for the day.
Then on down to Puerto Varas staying in the Bellavista Hotel on the shores of lake Lanqueille with a stunning view of the snow capped volcano Mt.Osorno.
The fishing was every bit as good as last year with fishing on various local rivers,more big Browns,rainbow trout and Atlantic Salmon a truly mixed bag.
Jack is not only a very knowledgeable fishing guide,he has also obviously learned a lot about local history,geography and the local wildlife which all adds to the enjoyment of the day.
If you intend to visit either Chile or Argentina then I would strongly recommend getting in touch with Jack,he will organise everything for you and take the hassle out of your stay,he will always try his very hardest to make you happy and nothing is too much trouble for him .I also have to mention Jacks wife Carola always very busy in the background organising things and making sure that everything runs smoothly,being Chilean herself she knows how things work over there and that's a big plus.
So, yes another great trip to be recommended and yes I will be rebooking with Jack again.
Pete Gordon – Cornwall, England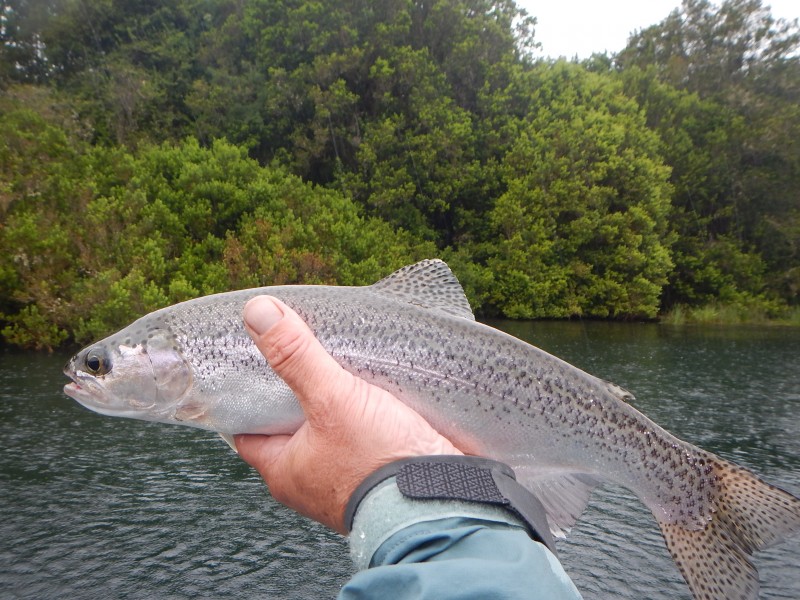 Bows after lunch on my Pancora Crab pattern didn't hurt folks, Pete was thrilled! I had only wished the next day on another river I didn't accidentally leave my camera in the car, then Pete caught 2 more browns over 4 lbs. Sorry Pete, that was dumb dumb on my part. Pete's camera he brought all the way from England just for his trip didn't work and I was there when he opened it from the package. His department store in England,( if you're reading this) you should give Pete & Sheri Gordon a new UPGRADED CAMERA for this F-Up, it affected their entire trip, I felt bad for them, they had to rely on us, which was fine but that's not what they bought a new camera for. anywho, had a great time with you folks and look forward to seeing you in Cuba and Northern California in 2016!!  Huggy, Jack & Carola Trout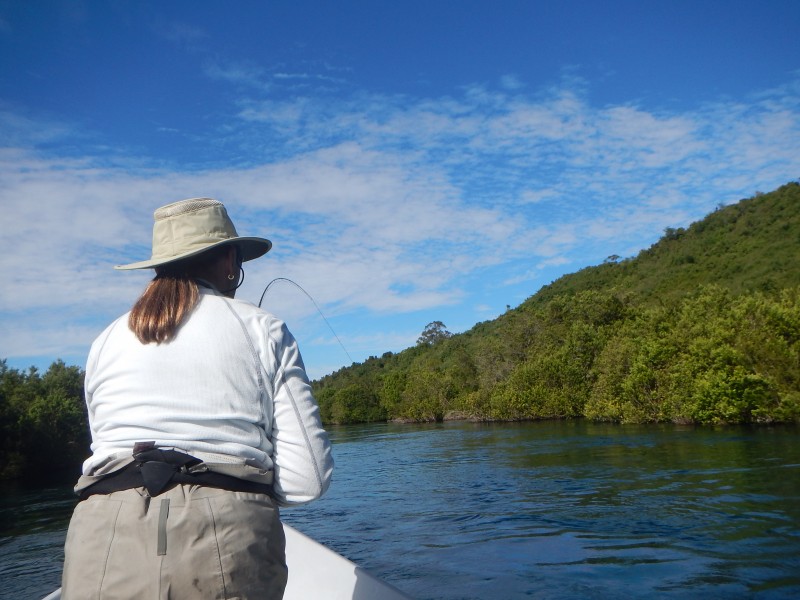 Trisha & Her son Charlie Irish called on us a few months back to take she and her son out for a day of fly fishing in the Lake's District of Chile.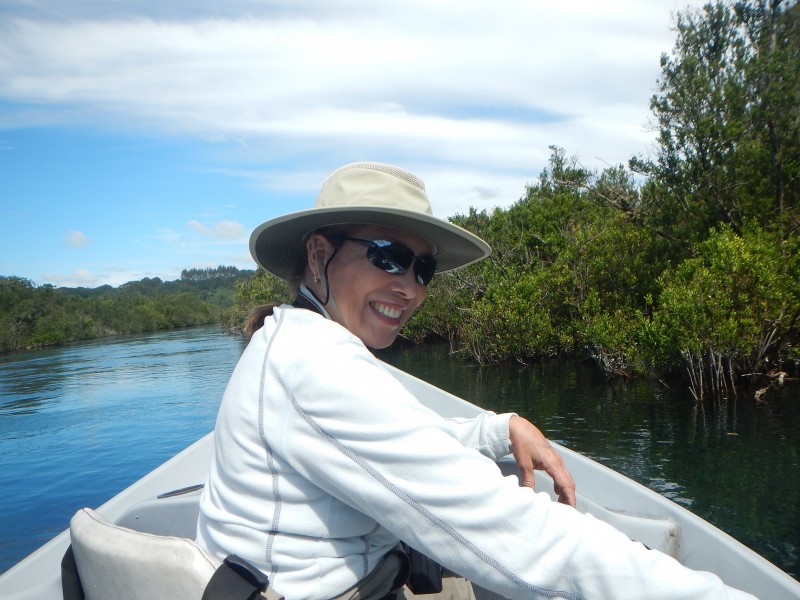 I always think it's so great when mom wears the fly fishing pants in the family, more women should try the sport, it's the places it takes you, you know!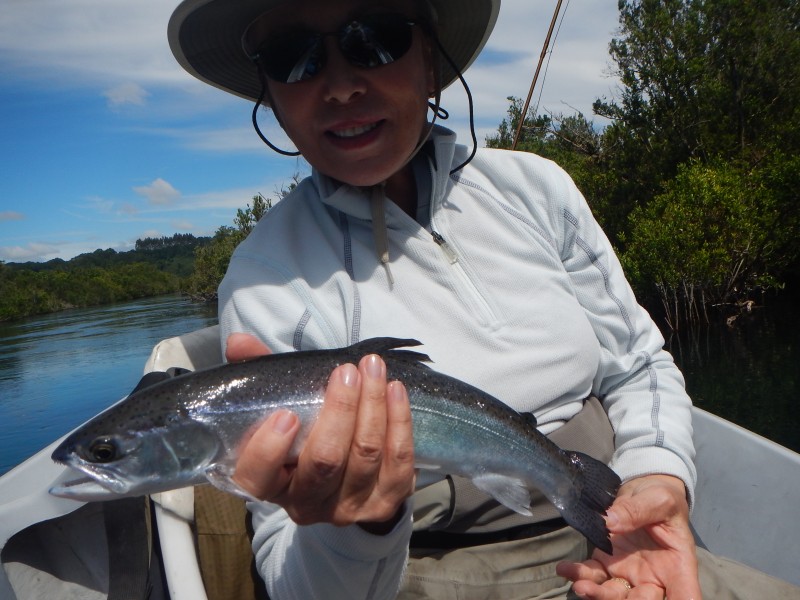 She hooked her first Atlantic Salmon Grisle and they fought her hard.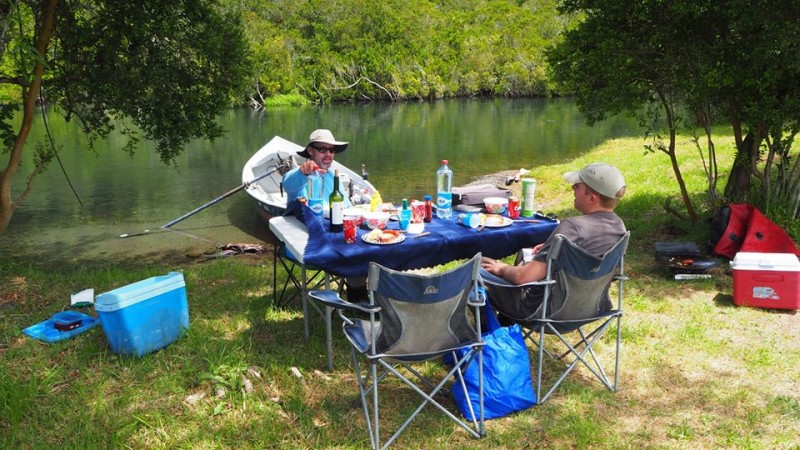 The fishing was tougher that day because it was over 80 degrees and very sunny, not much surface activity. But Charlie, Tricia and I enjoyed our lunch together.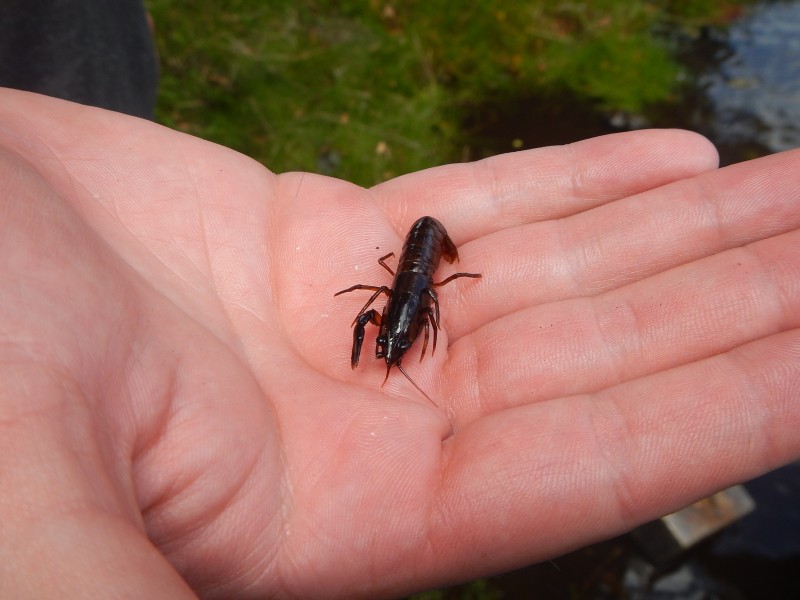 The river is loaded with fresh water black shrimp. I have a great pattern I tie to imitate this crustacean.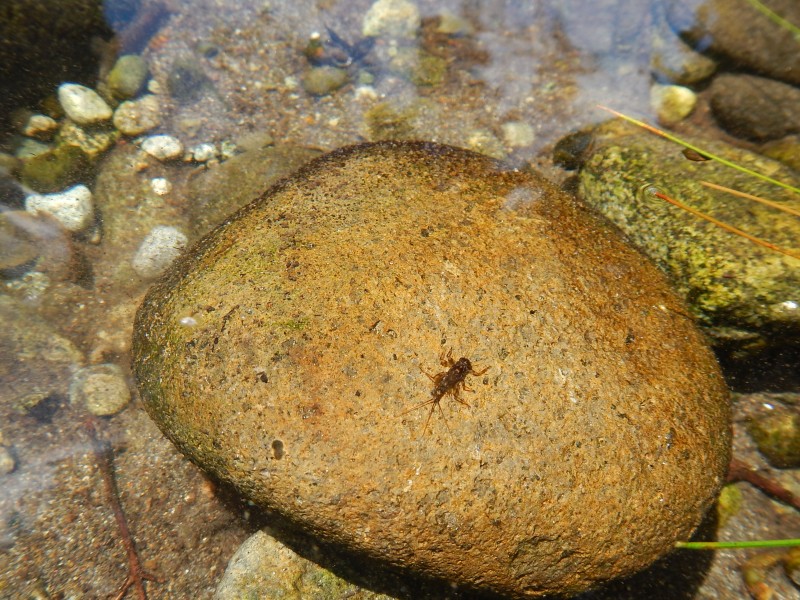 Many Crawler mayflies on the granite rocks as well as the Pancora crabs.  Thanks for coming and fishing with me Charlie & Tricia, it was terrific! *****************************************************************************************************
Torres Del Paine – Punta Arenas – Puerto Natales – Jack Trout Fly Fishing International Guides & Tours
 In December, January, February, March & April, you can find some of the most beautiful views on Mother Earth down in far Patagonia region Of Chile. Jack Trout Fly Fishing International & Tours can assist you with flights, hotels, lodging packages, fly fishing guides and more.  Jack Trout F.F.I.T- 530-918-8879 World Wide Cell or info@jacktrout.com
If you want to see glaciers,we can set it all up!
Possible catch a huge trout, no problem we know where to go.
 Amazing fjords and glacial areas from a safe distance, we got you covered folks. (Not literally though.)
The fish are abundant down there in the summer months of the North American winter.
So you say you like lamb… Hangout and act like a Patagonian for a week, well why not!
 See the incredible breath taking Torres Del Paine National Park.. Oh Ya!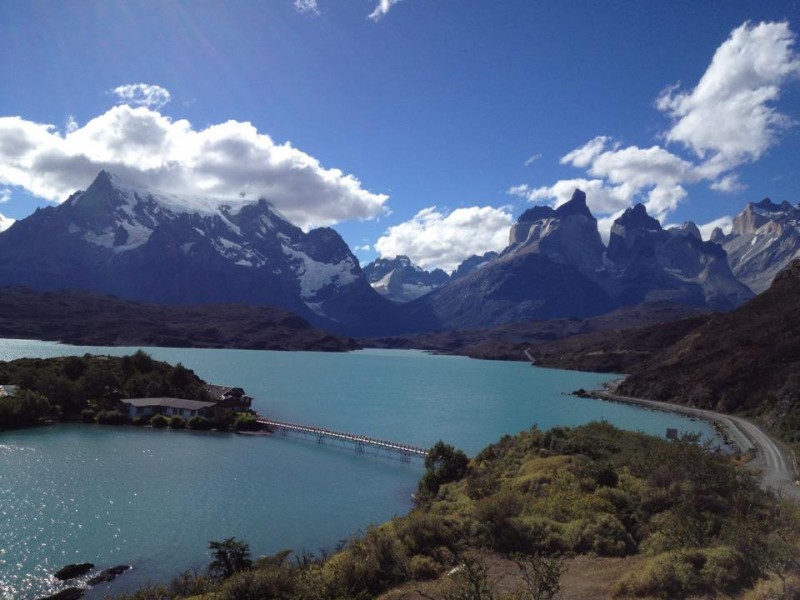 Witness some of the best views any where left in the world, you're a phone call away. Jack Trout F.F.I.T has got your best interests in mind when we help you with your special itinerary for your dream vacation to Southern Patagonia Chile.
How about a Patagonia lunch out on the banks of our private river running through the pampa?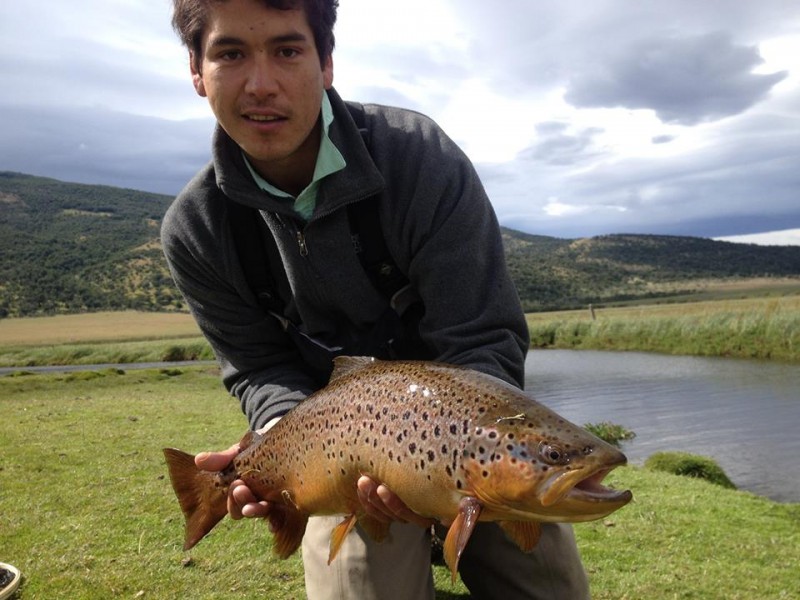 Our guides know where the big trout live and soon so will you!
You will like our English speaking guides on our private water ranch, can we pick you up at your hotel?
Can a trout that large live in water so small? Yes it can folks as it's Disney here in Southern Patagonia.
 Happy client after happy client is what we're talking about.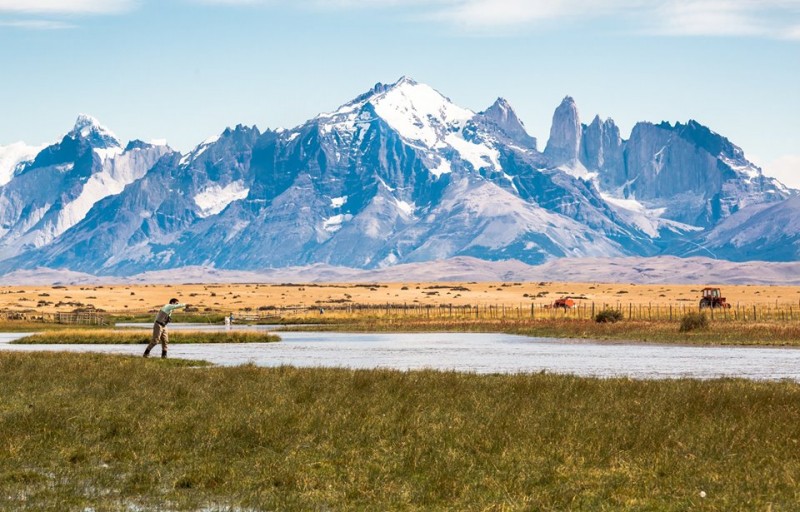 Get out of town is what you'll be saying, this is too darn special to pass up and Jack Trout FFIT has you dialed in for Southern Patagonia Chile.
Go to www.jacktrout.com for more information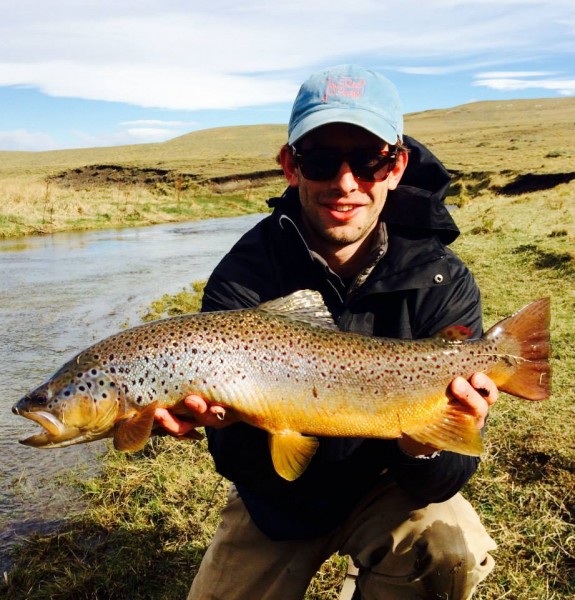 That's obscene, but of course you're in far Southern Patagonia Chile and it's the right time of year.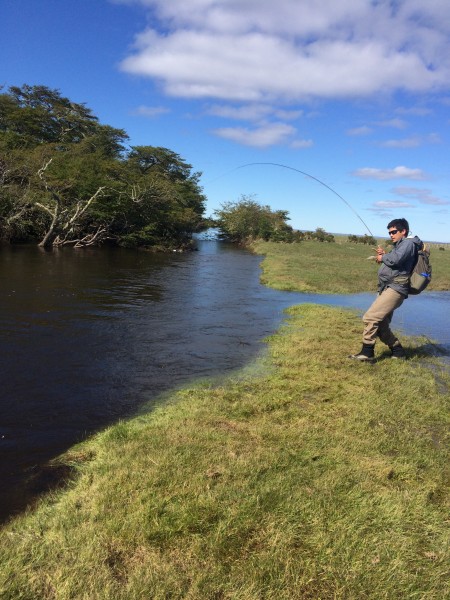 Sweet another trout on, what a great day for sure.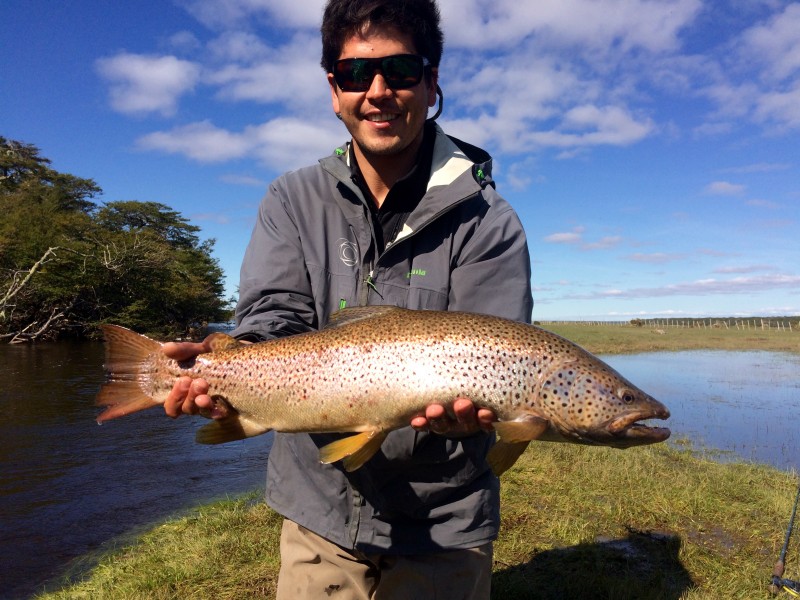 Yea, you can't go wrong if you come down here during the rights months of the year, you're going to catch some lunkers and have a great time with my guides.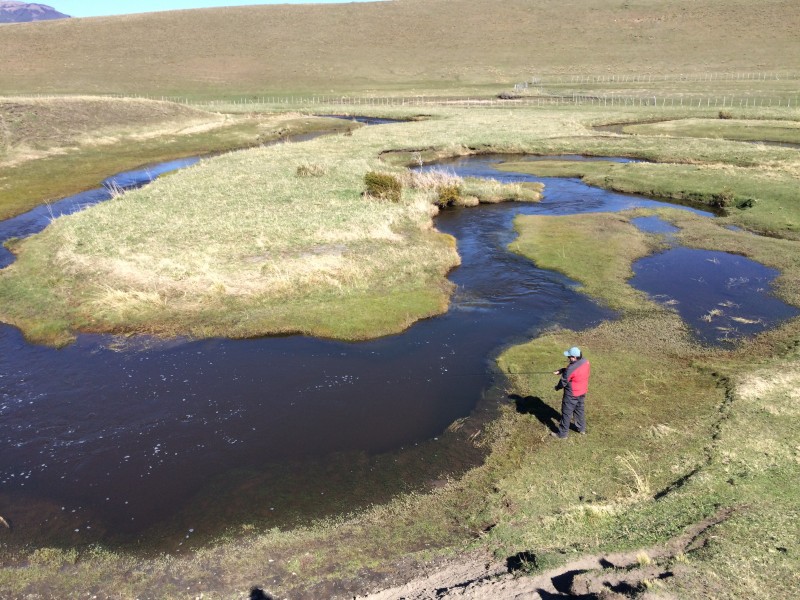 Did I say it's all on our private access ranch, that almost guarantees great fishing experiences.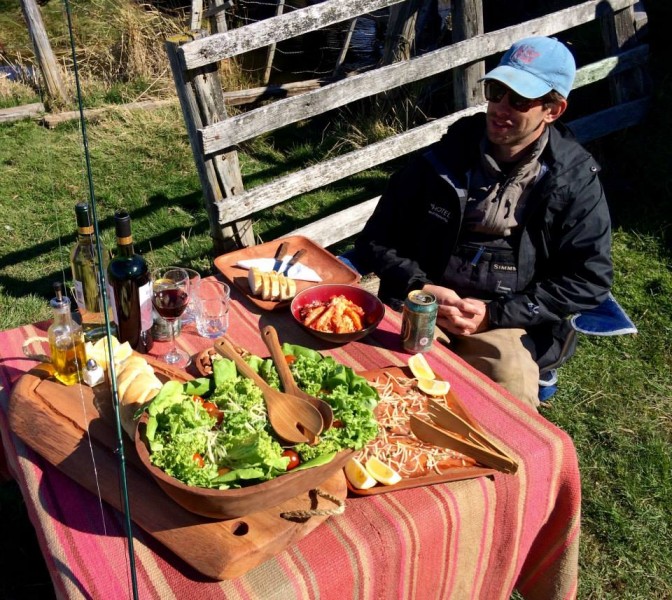 Give us a call folks!  Jack Trout Fly Fishing International & Tours * 530-918-8879 * info@jacktrout.com * 530-926-4540 * Skype: jacktrout24 ***************************************************************************************************************
 I found Jack Trout on the web, contacted him that I would be coming to Pucon, Chile and wanted to fish w/my buddy and son and Jack arranged an epic Trip. We had 3 guides, a gourmet Chilean lunch w/steak, salad and red wine in the mountains bordering Chile/Argentina and YES!, the fishing was great. Having fished extensively in Oregon, CA and Idaho using strike indicators and nymphs, I learned an entirely new way to fish using no strike indicators. Stripping the line with a nymph on the end and 'feeling' the fish strike. It was a fantastic day, great fishing, awesome setting, fantastic meal! Would highly recommend.