STEELHEAD SIGN UPS FOR * TRINITY * KLAMATH   &  LOWER SAC
STILL HAVE SPACE IN DEC * JAN * FEB The Steelhead Are In Big-time !!
530-918-8879 OUR INTERNATIONAL PHONE THAT RINGS ME ANY WHERE OR EMAIL AT INFO@JACKTROUT.COM Need an up to the minute update? Check out our Facebook Page & Videos –   JACK TROUT FLY FISHING FACEBOOK PAGE

I Have One Slot Left For June 24th, to July 2nd, 2016  Cato Largo, Cuba – 6 slots open for Cayo Santa Maria May 8th to May 15th – Tarpon Migration Period. Call For more Info. Carola and I will be on both trips to over see all activities and connections, won't you join us.
Soon I Will Have More Dates Available For Cuba In 2016 / 2017 Give us a call to schedule your adventure to Cuba.
CLICK ON THIS BANNER TO READ OUR WEB LOG STORY ON CUBA. or go to www.cubaflyfishguide.com
Jack & Carola Trout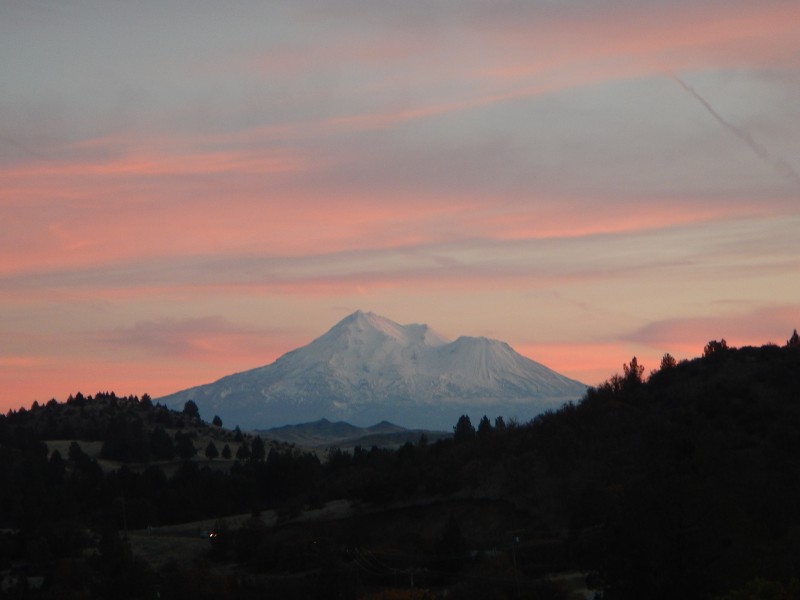 Like a young girl waiting for a chance at the high school prom, this mountain's next dance will be when the snow hits Shasta, things will start to return to normal in our severe drought stricken state of California. El Niño, We Salute You, Now Bring It On!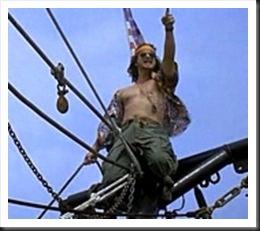 You Call This a Fricking Storm, I'm Lt. Dan!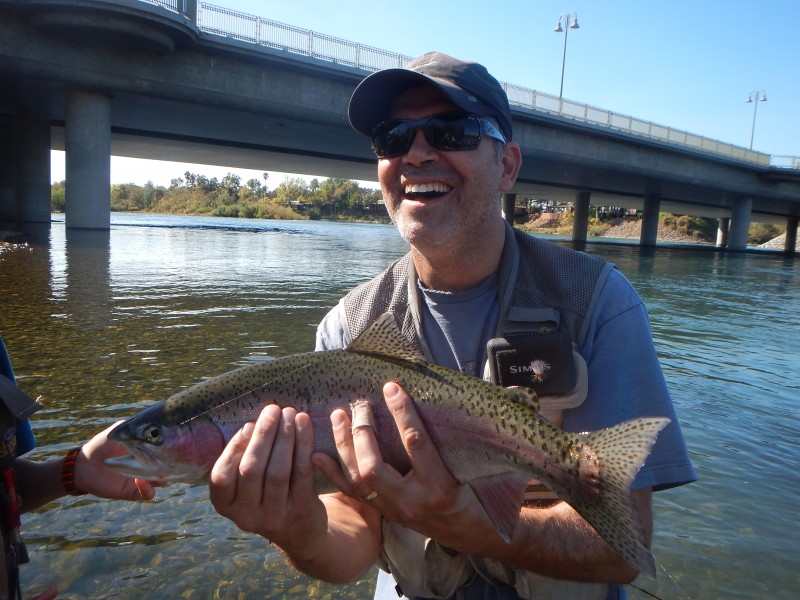 Rodger, Karen & son Calvin Katz came to town this past month to have a day of fly fishing on the Lower Sac in Redding, California. What a great day of catching lunker trout.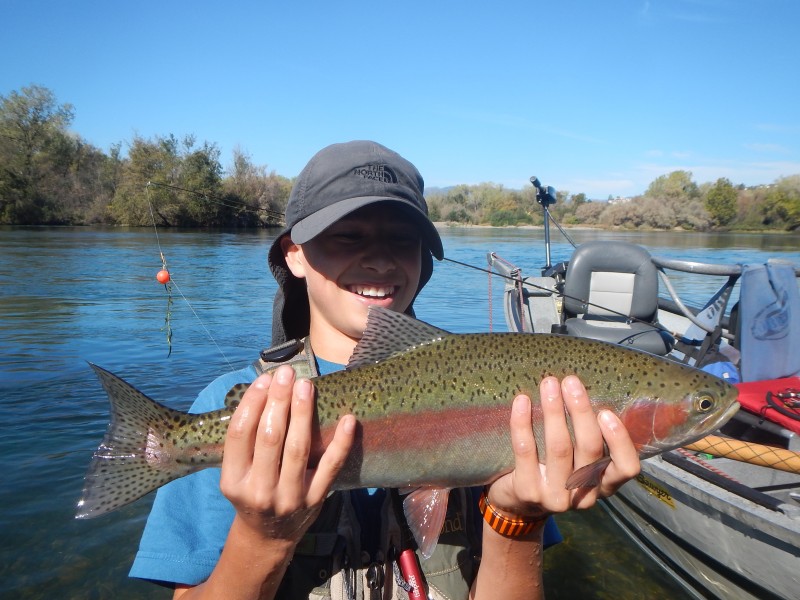 Soon after Rodger hooked up his son Calvin landed this incredible beautiful trout that I think made his 2015 year a memorable one.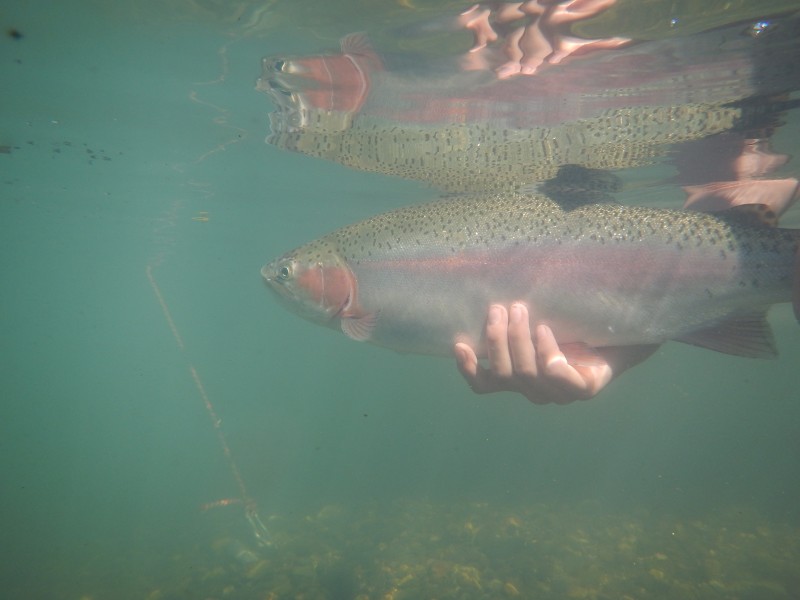 The trout did his tour of duty, so we helped him out and sent him on his way.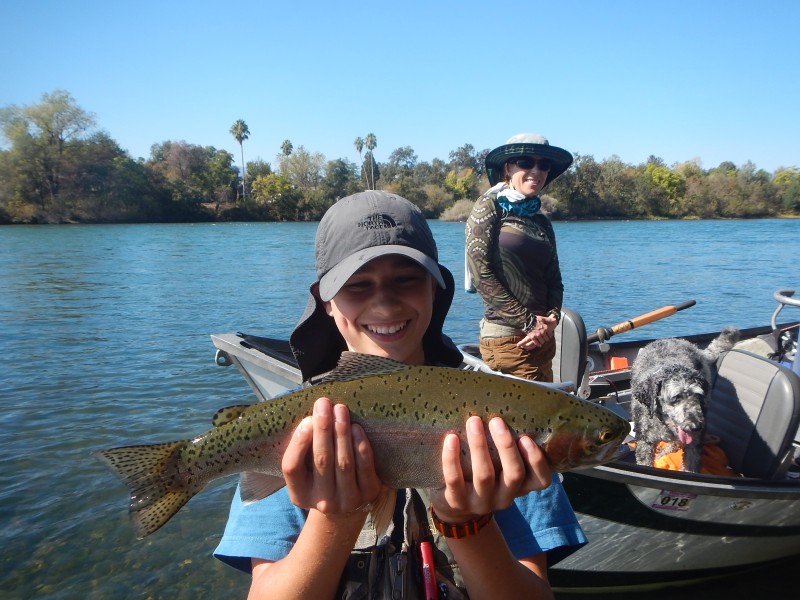 Soon after he landed another and his mom Karen was thrilled with his catch. Thanks Katz family for coming up again, we'll see you in April like we discussed. jt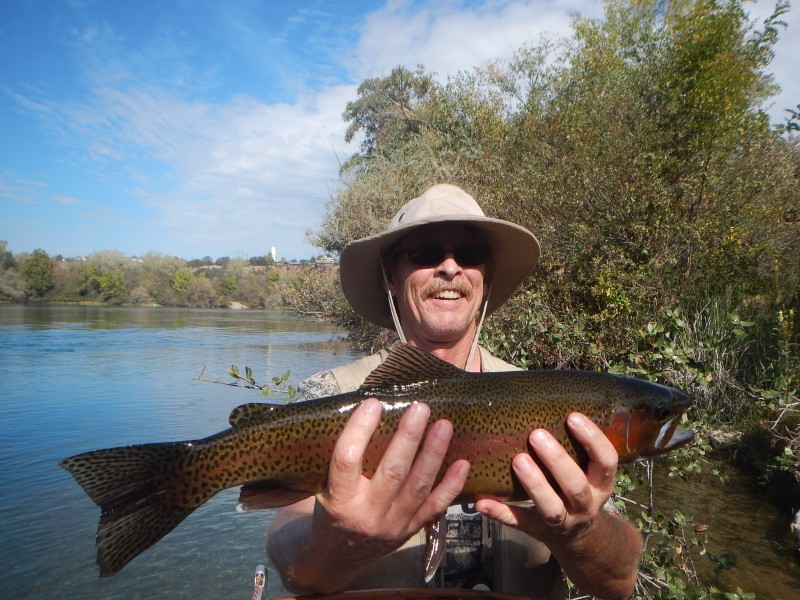 When Brett Franklin comes to town, break out the happiness, it's going to be a great day!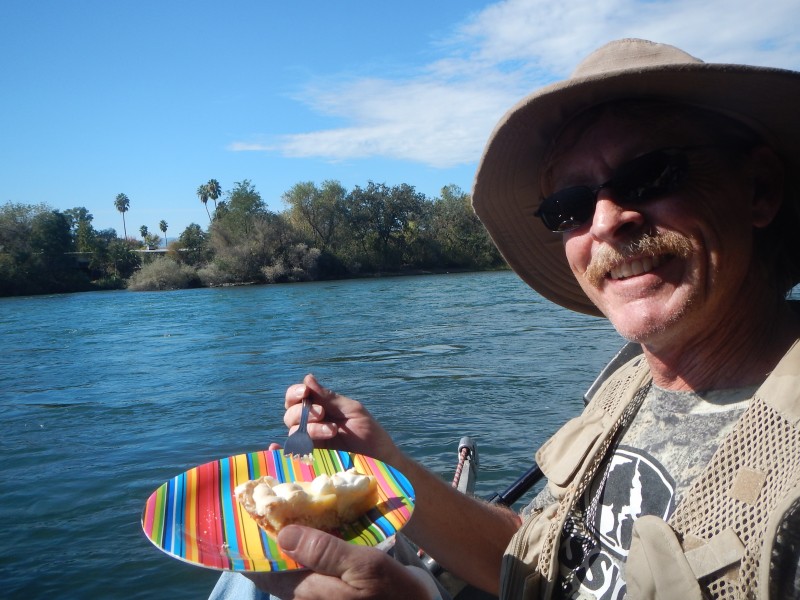 What could be better than Carola's famous pies out on the rivers of the North State and the world. Brett sure seemed to be enjoying it.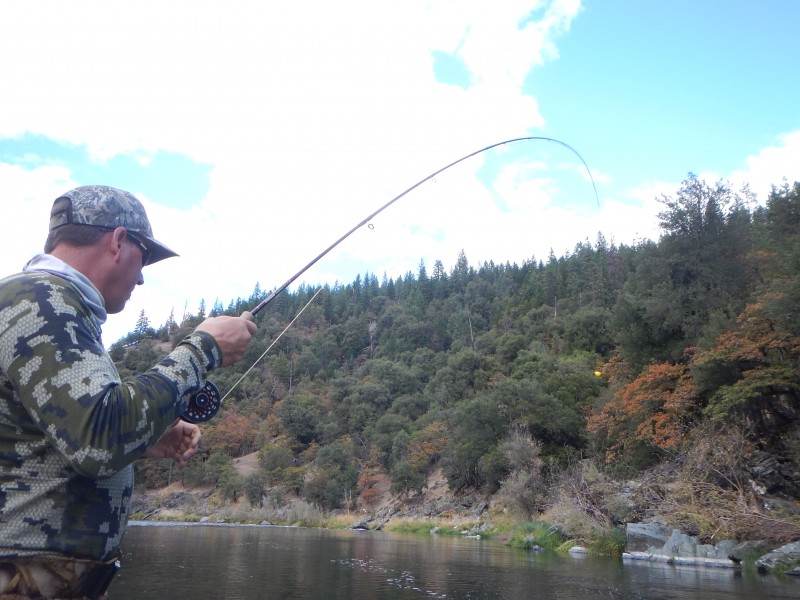 I fished with David Wolfle last year in Chile, he had so much fun, he scheduled a winter fly fishing with me on the Middle Klamath where he caught numerous steelhead.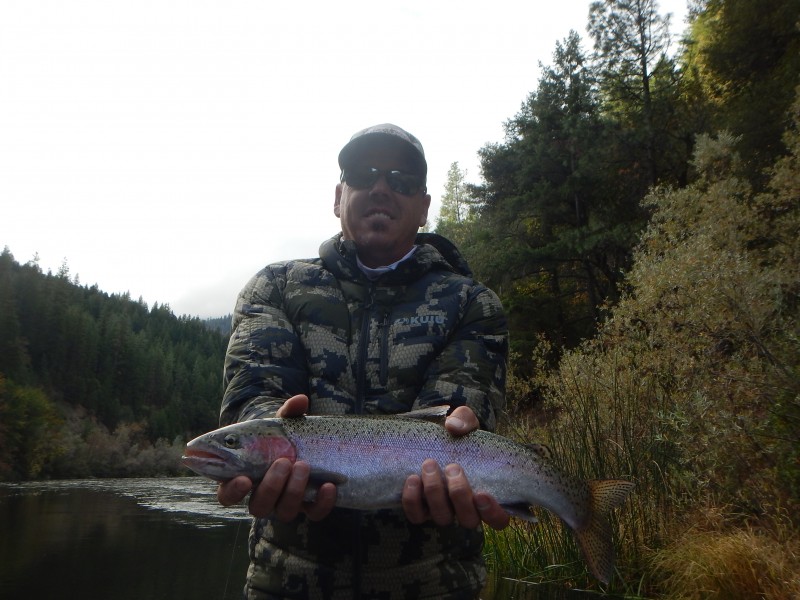 Love that river! We can guide you now, if you want a steelhead trip on the Middle Klamath or the Trinity give me a call at 530-918-8879 or info@jacktrout.com  Thanks, Jack Trout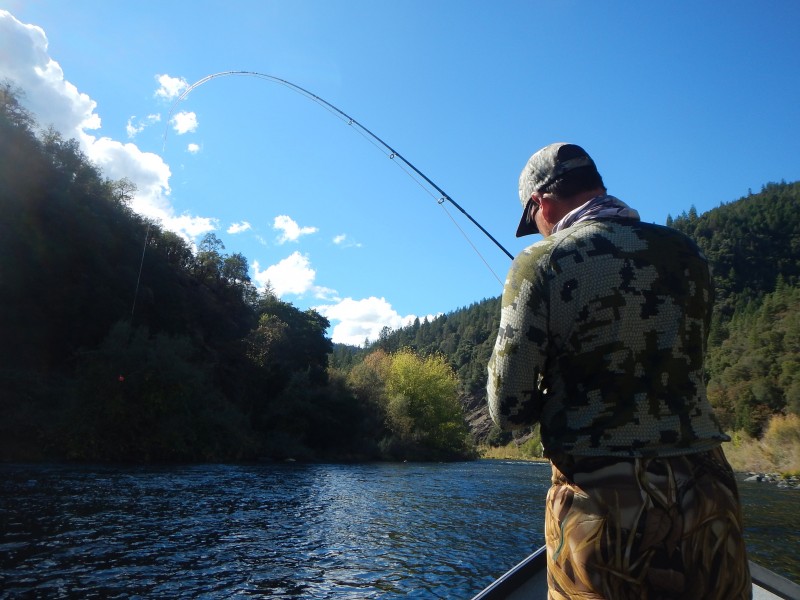 Thanks David, hope to see you in the spring, what a great day we had.  jt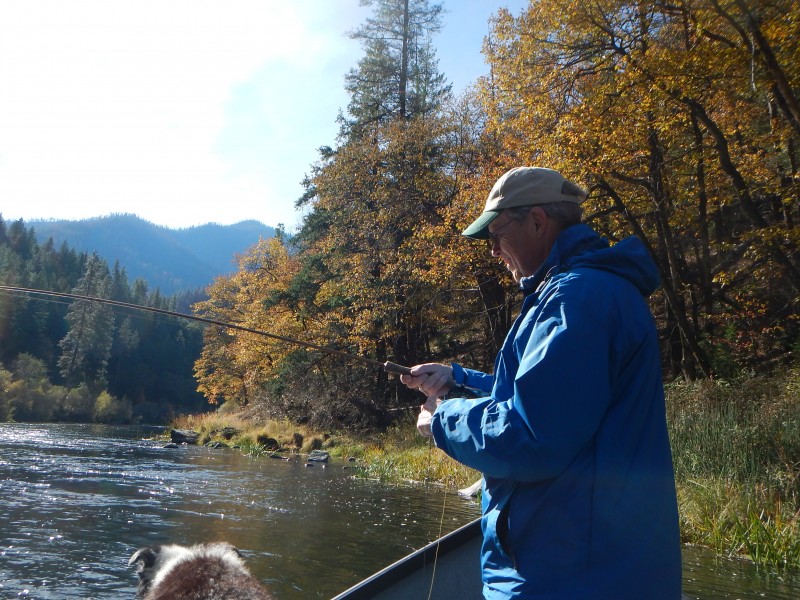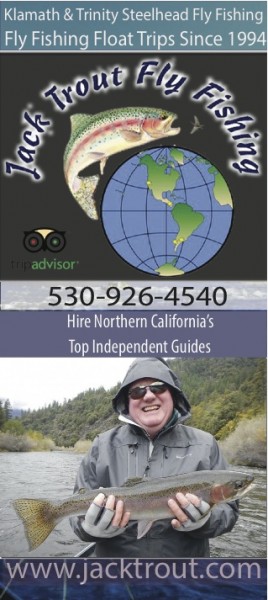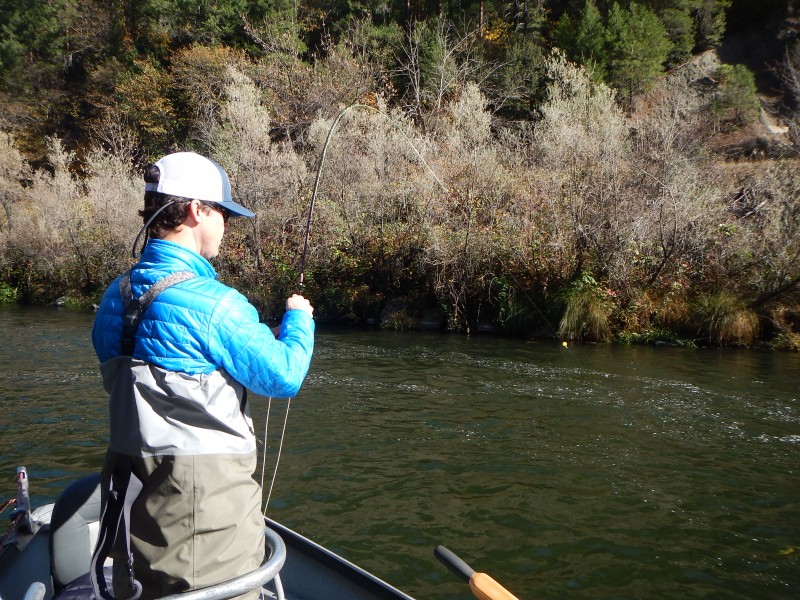 Then an old friend contacted me named Chris Welch and said he was going to be sending his neighbor and his father to come and see me for a wonderful day on the Middle Klamath River. Their names were Timothy & Chris Baker from Marin and they were fired up to catch some steelhead.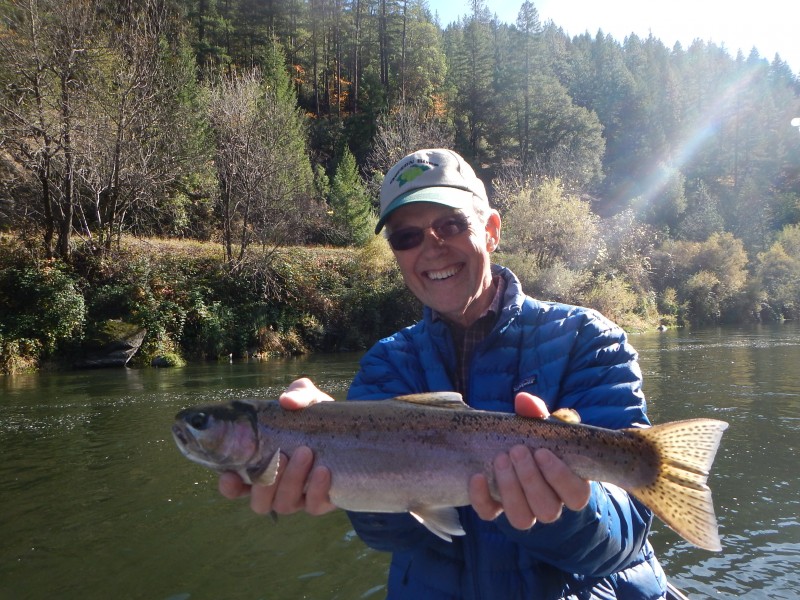 Wasn't too long after pops too hooked up on a nice adult.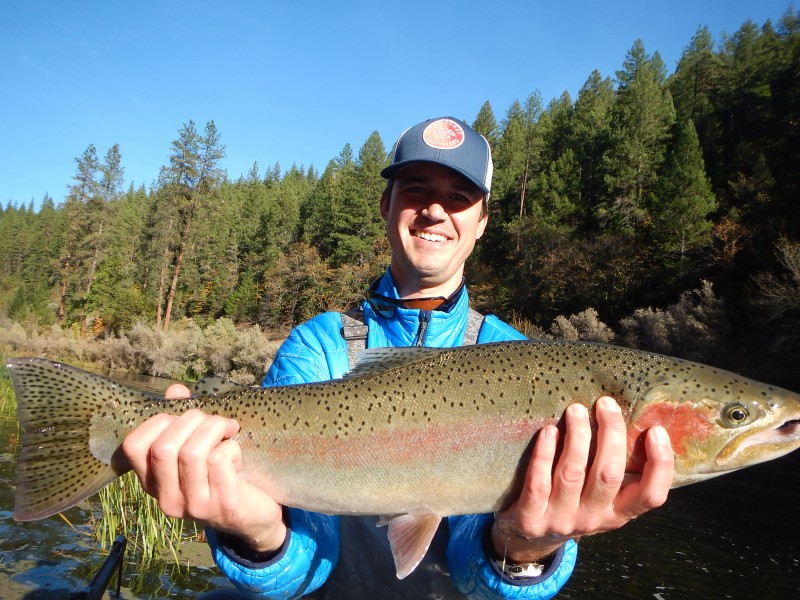 Then Chris hooked and landed this lunker wild steelhead that I am estimated at 8 to 10 lbs. He was so happy and his pops couldn't of been happier, they just wanted to hook some steelhead and this day went off the charts folks.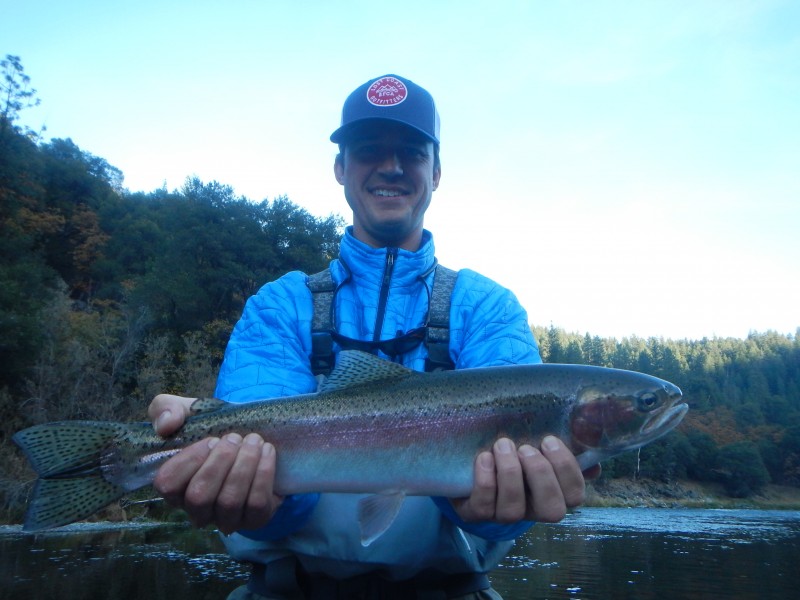 Almost every drift we did in certain locations we hooked and landed huge steelhead trout on big flies. I almost never catch hatchery trout on the Klamath River.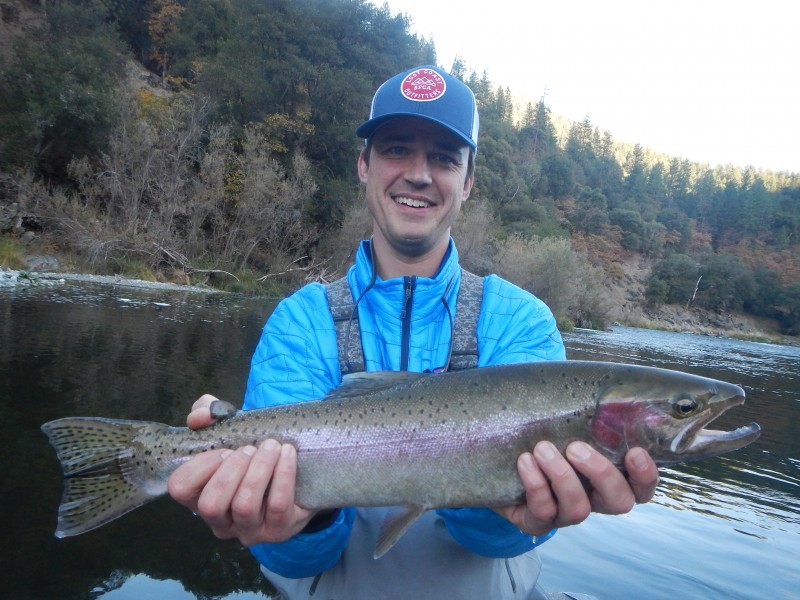 One more for the road, thanks Chris and we'll see you and pops in the spring!
I really enjoy out guiding with Forrest, we have some pretty great trips together and what a professional guide, it's always a pleasure and a lot of fun.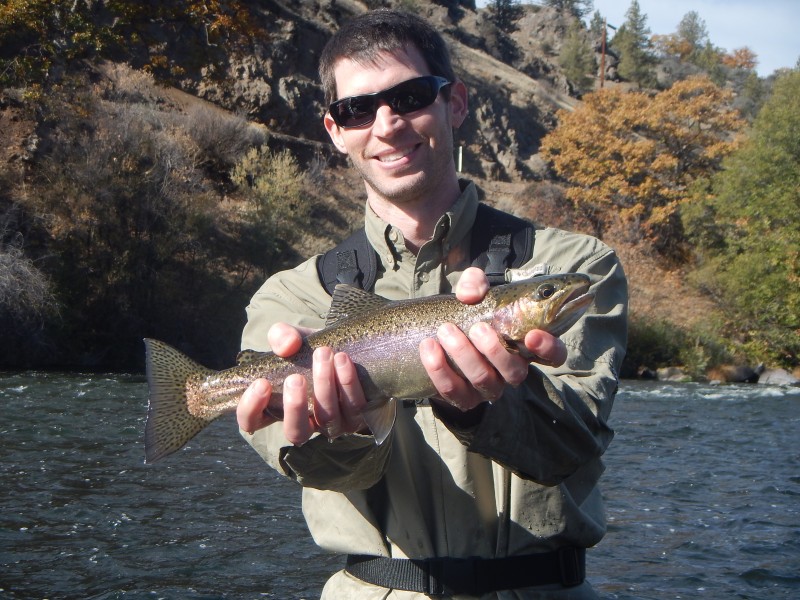 Way to go team!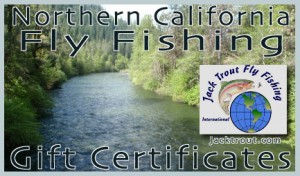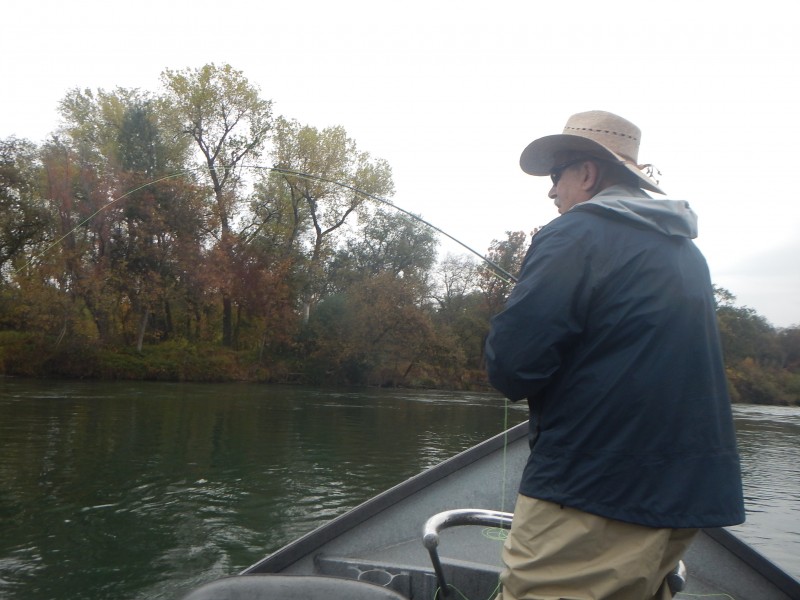 The next day down on the Lower Sac near the Sun Dial Bridge in Redding we hooked a bunch of trout and the group couldn't of been happier.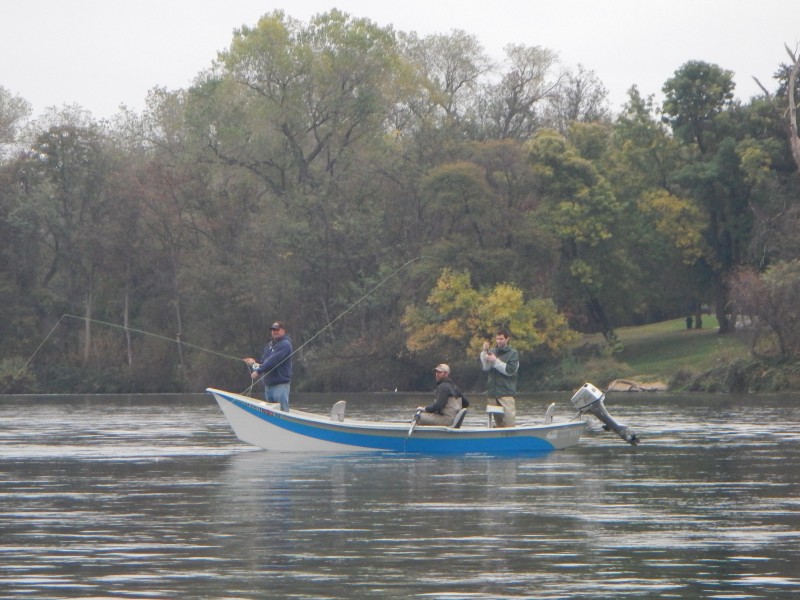 Forrest with clients out in his element.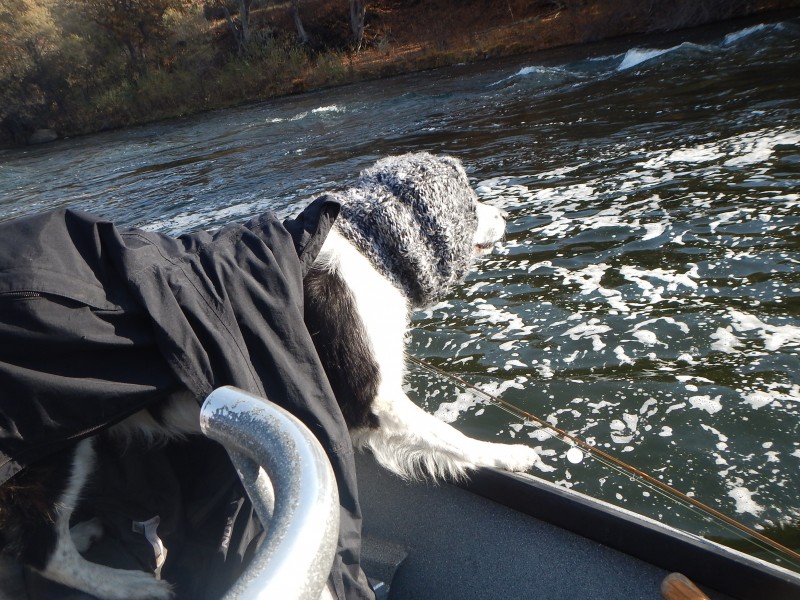 Just then, Beefy Trout saw a steelhead jump out of the river!
Feeling Cold, We Can Send You To Belize For A Week For Some Caribbean Salt Water Fly Fishing Action & Lodging.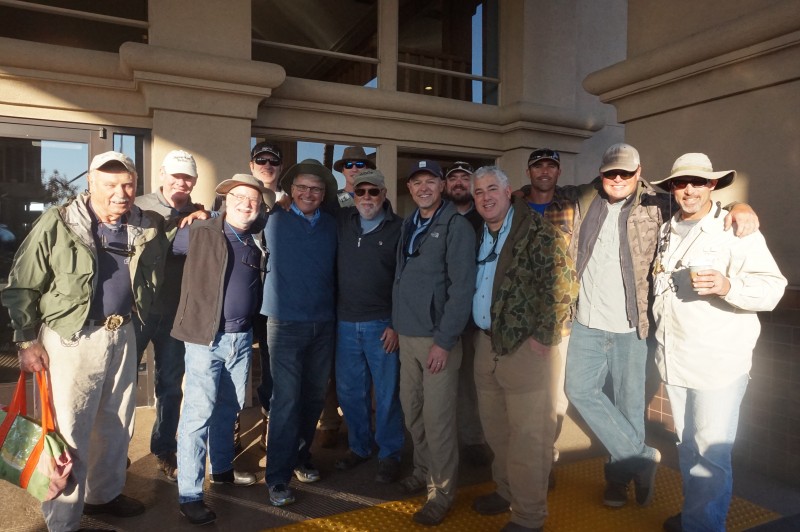 Then we had our scheduled trip with Dick Gebhart's group staying in Redding at the Best Western/ CR Gibbs Restaurant. We were really excited since we had most of the same group we outfitted earlier in the year for Hopkins, Belize and I had organized a dream team of guides to help out for this event. We had Matt Mitchell, ScoFree Freeman, Forrest Brizendine, Dale Langstaff and me. It couldn't been a better line up in the North State for this group of outdoor lovers.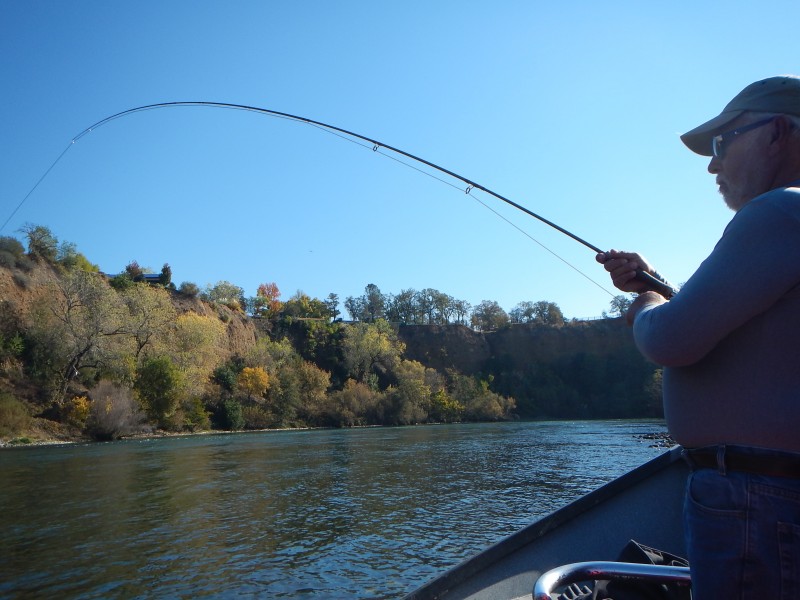 I took Dick out the first day and we caught really nice trout on the Lower Sac.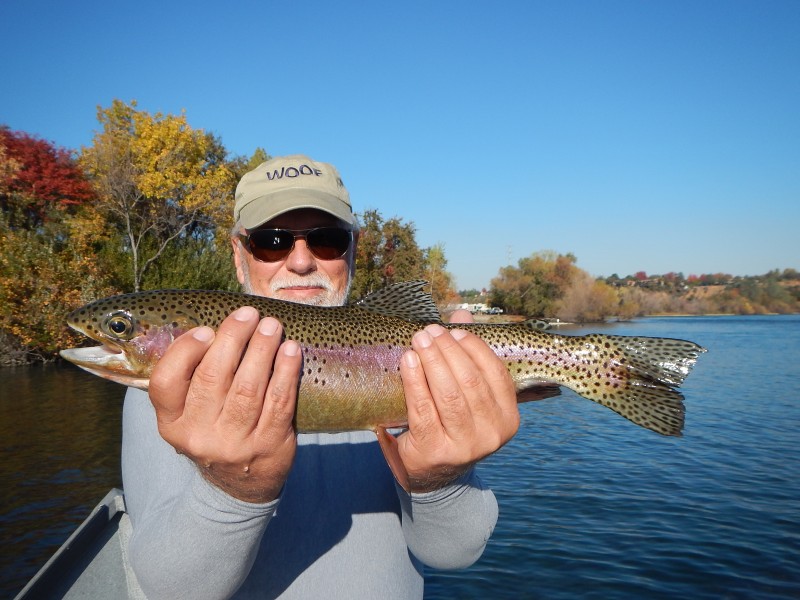 This was our first trout we hooked up on right there in downtown Redding, California.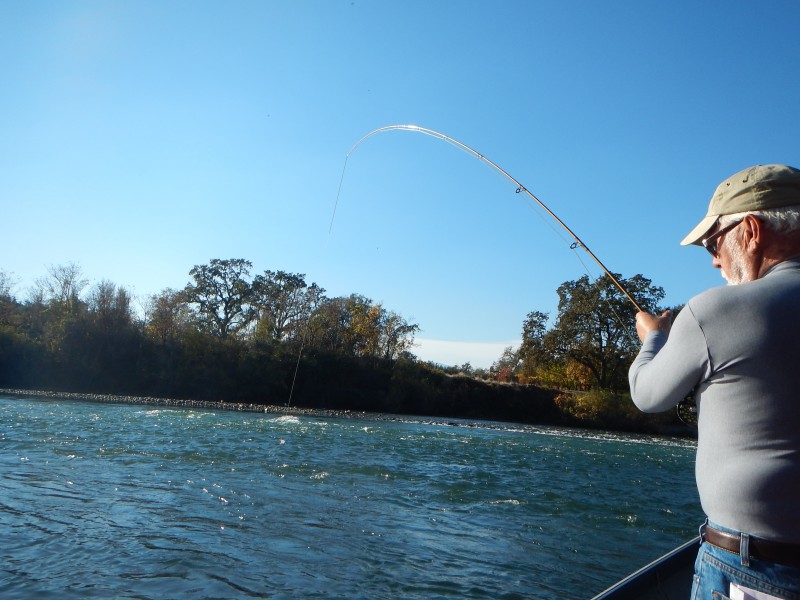 More along the way as usual, Dick really knows this river too, so we were guiding each other into trout, what a team and a great day to remember. Thanks Dick!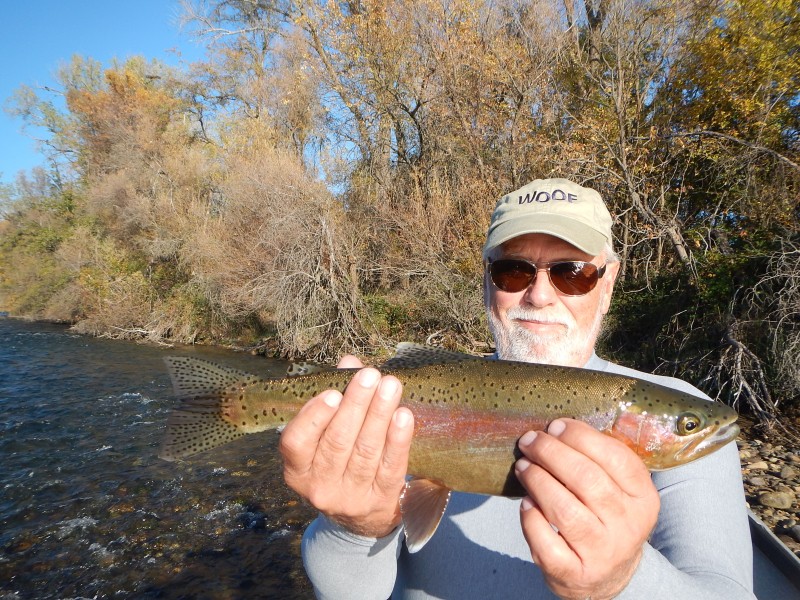 Then he landed this nice upstart philly from kent state!   🙂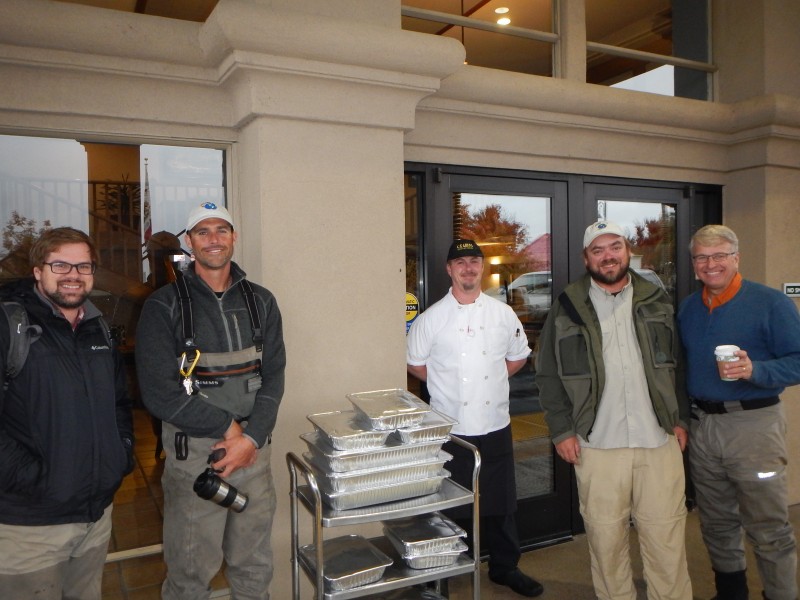 Everyday, CR Gibbs made the lunches for the group. Dick hosted his group of veterinarians like no other client I have ever seen or witnessed. He had most of the guides including me and their wives stay at the Best Western Hill Top so it made everything much easier for us, all we had to do was worry about was guiding out on the rivers and socialize in the evenings with our clients. There is no kinder man on Earth and I believe not having to drive back to Shasta every night like usual for me or Dale over in the Burney area allowed us to concentrate on the most important thing, Dick Gebhart's valued partners. We had folks that flew into Redding from far away as Florida, Illinois and South Dakota. It was a great memory for all of us who were lucky enough to attend as things were just getting started for the group that morning, the fantastic thoughts of landing a nice trout or steelhead and the day lie ahead was apparent on everyone's mind.
Click On Our Banner for more information.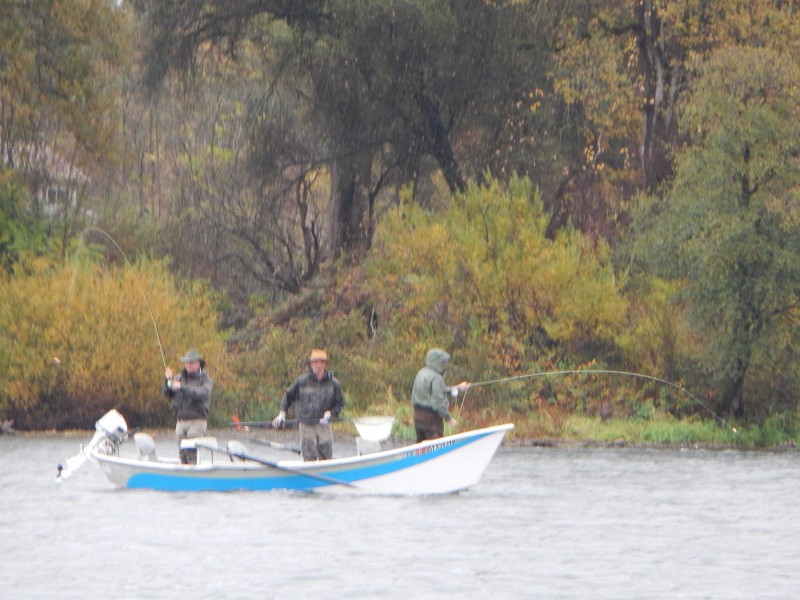 Right out of the blocks Forrest with a double hook-up! Forrest gets more doubles than a Wrigley's Spearmint Gun Commercial.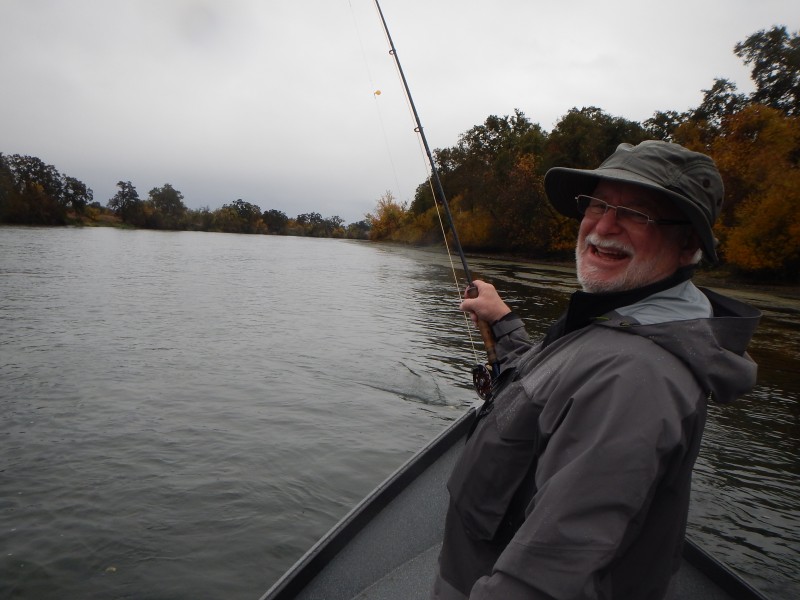 For most folks this would be called "Rare Form", not if your Stanley Diment, he's the most smiling happiest client, I think I ever guided…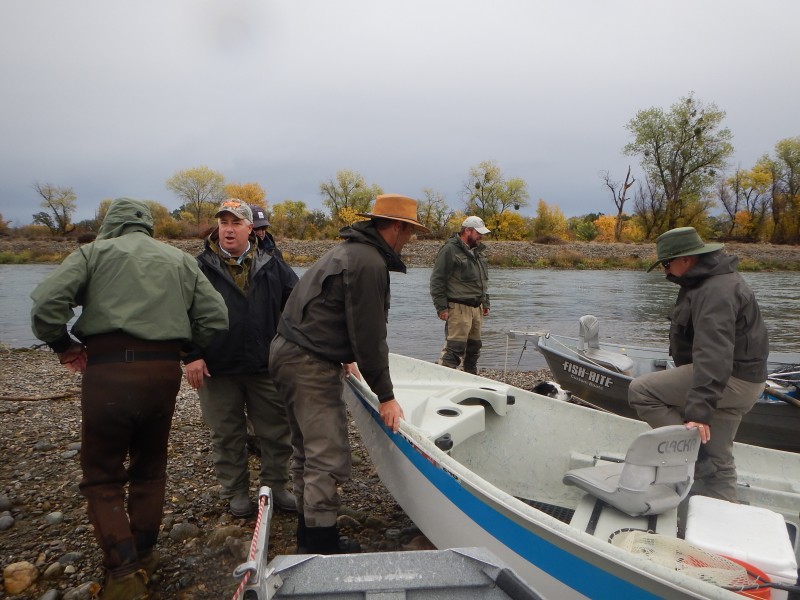 After a good morning,we all stopped for a shore lunch and a bull shit session, that's where we share some notes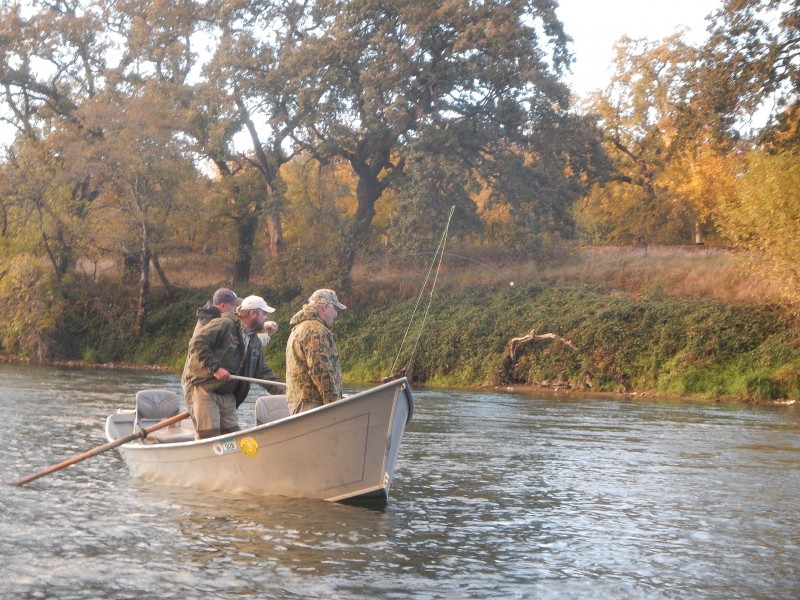 Guide Dale Langstaff & client Peter Ainslie with a fish on.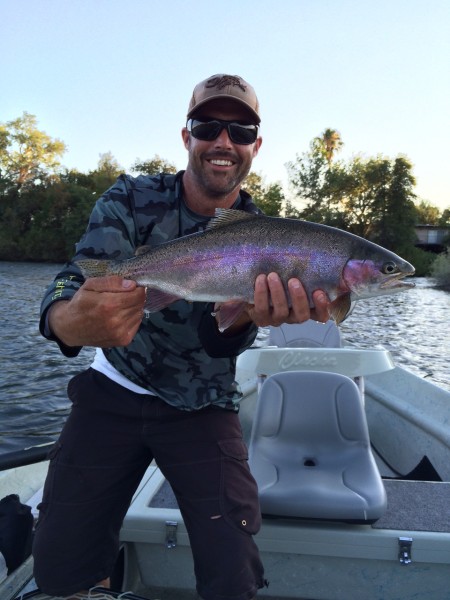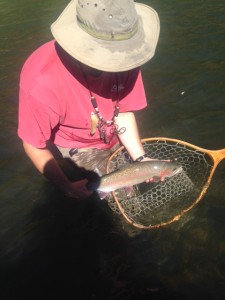 Forrest and me with some nice fish landed that day.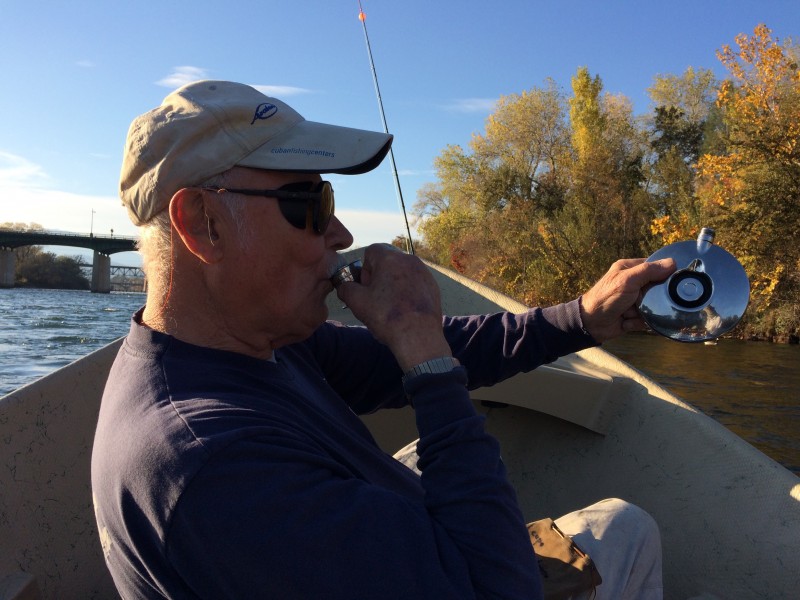 Rod Neuby, fly fishing legend and world fly fishing record holder for striped bass, fueling up for the cause! One of the funniest people I think I've ever met and outfitted.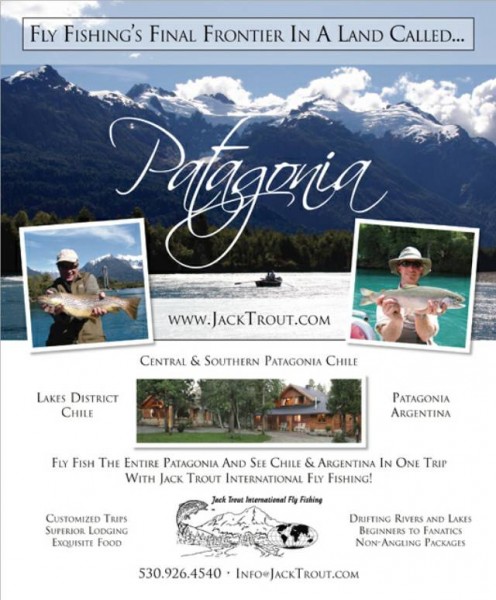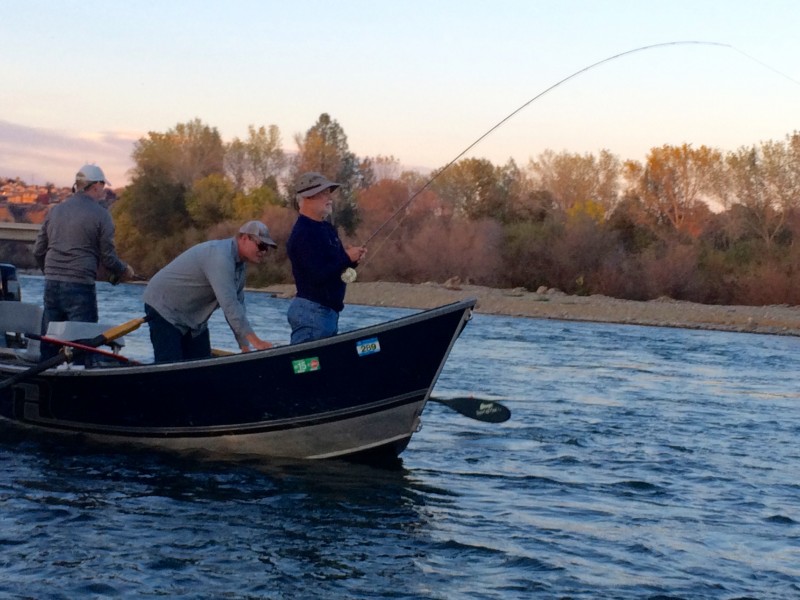 Stanley Diment with a nice trout on caught with guide Matt Mitchell.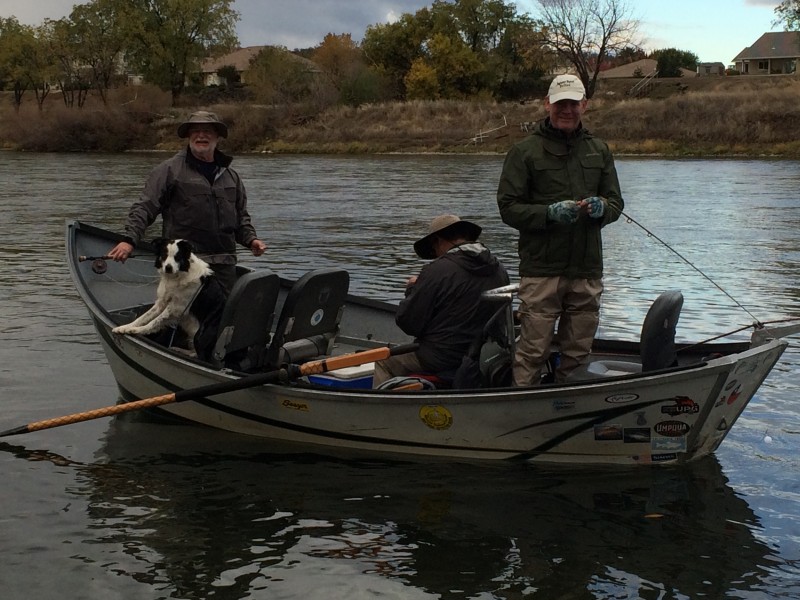 Job Security – Remember Animal House Movie With John Belushi (RIP) – Thank you may I have another! 🙂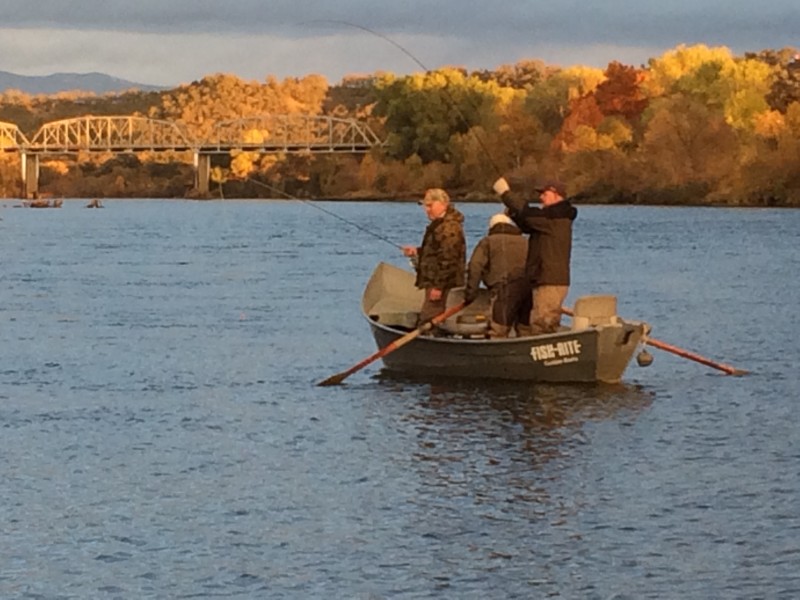 One more for the road, way to go Dale!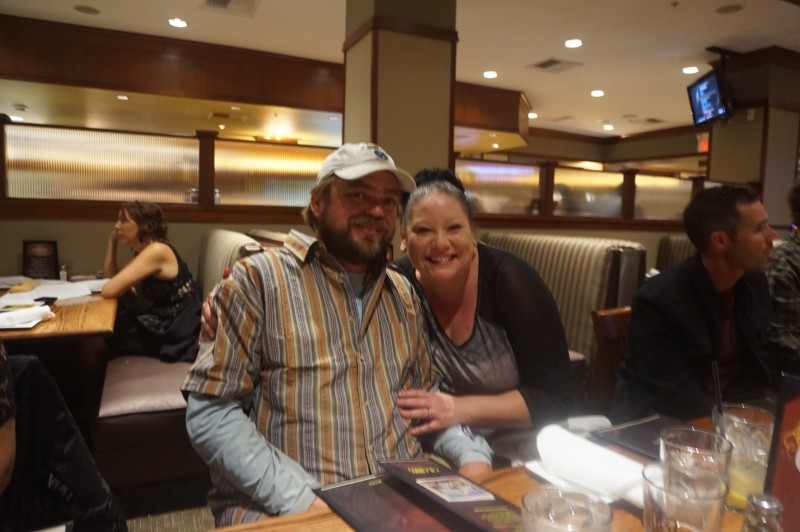 Another great thing that Dick Gebhart did for the guides was invite us to dinner each night. Dale and his wife Susie.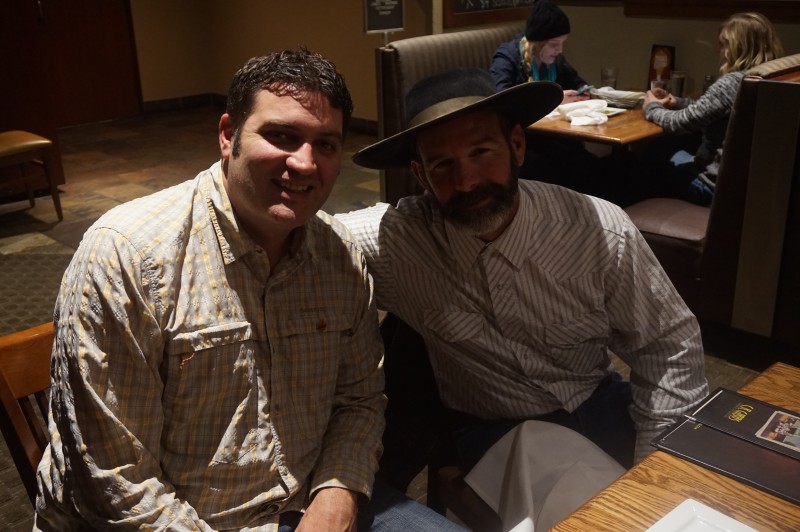 Brandon  Wilson and Guide Scofree Freeman.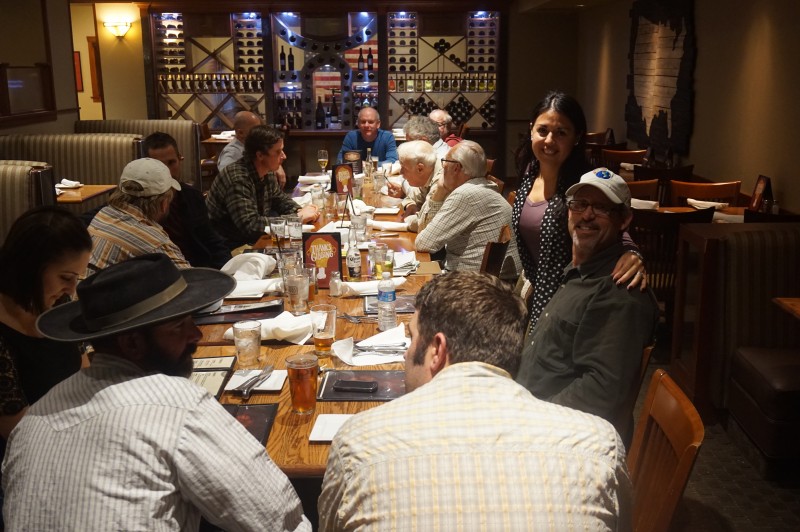 Carola and me of course.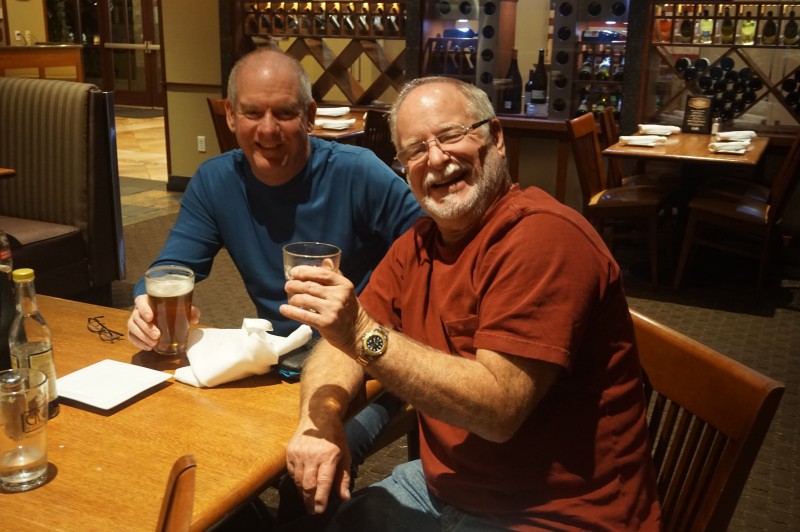 Stanley & Peter were having a good time every night!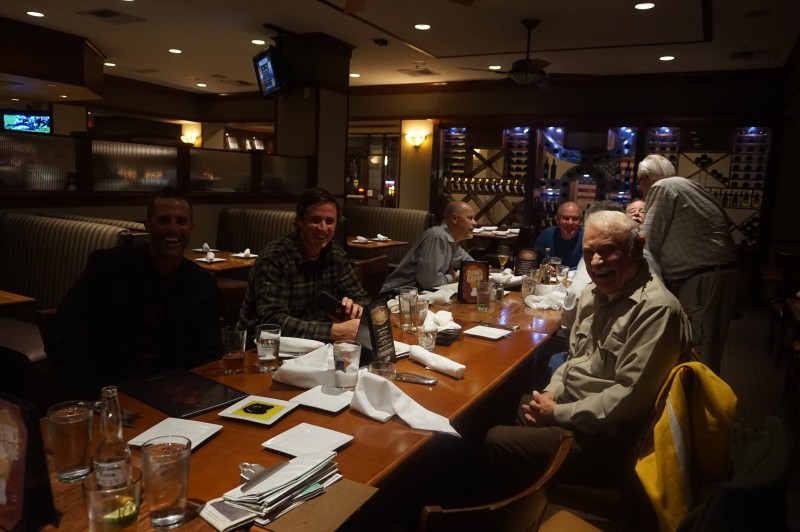 Guide Forrest Brizendine, Nick and Rod Neuby, having a great table powwow. You could tell the group was really happy and having a great trip.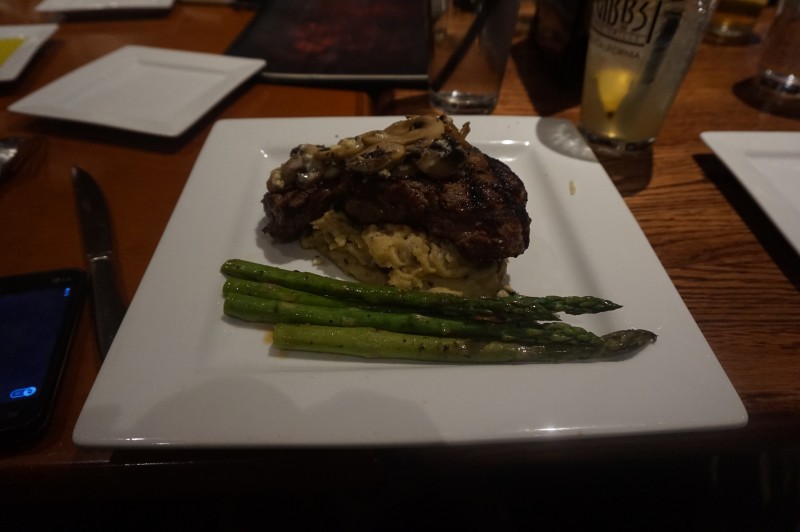 The dinners were spectacular thanks to Dick Gebhart, what a very generous man indeed, we all love him.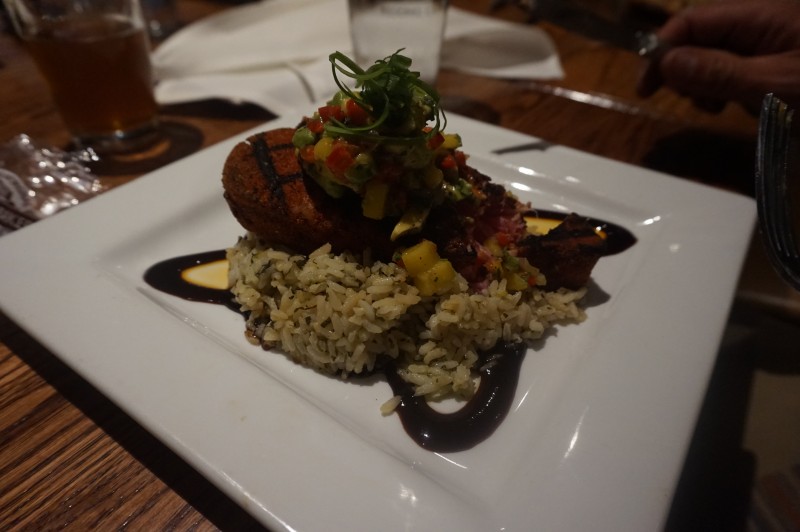 We all really liked CR Gibbs in Redding, can't give them big enough props as the food, service and attention were impeccable.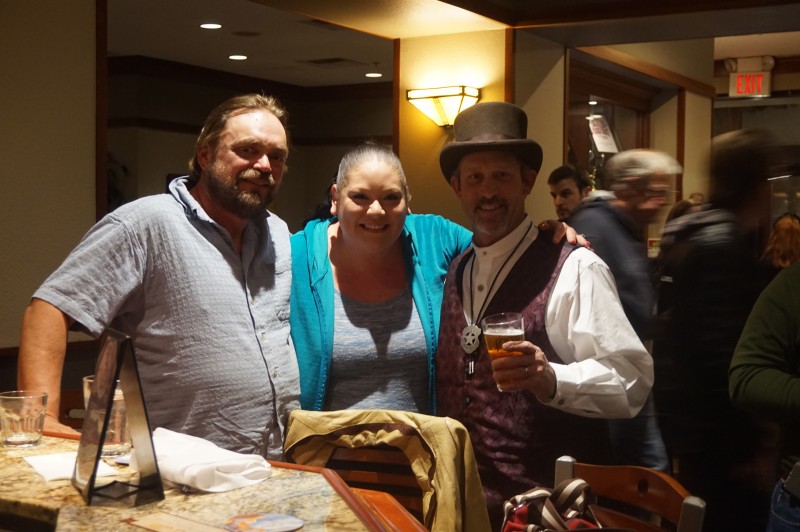 It was history night, my night to go back in time and share my knowledge about how the McCloud River Rainbows were shipped down to the Southern Hemisphere and distributed all over the world by United States Fish Commission.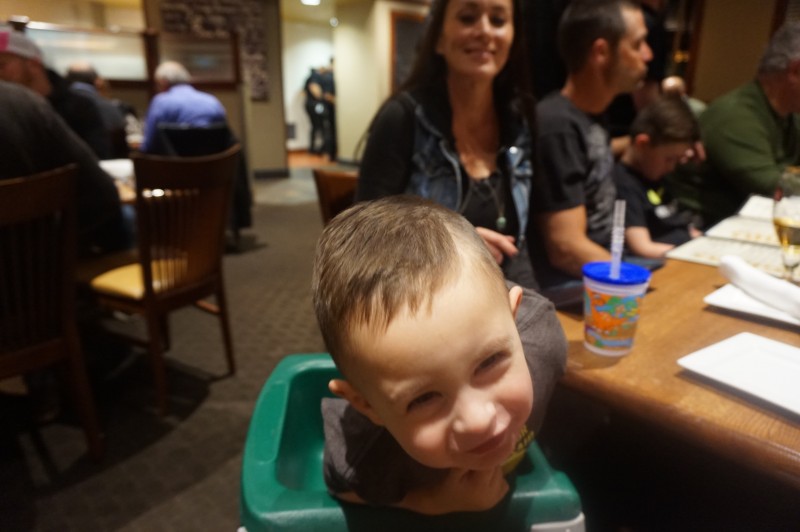 Forrest's son Royal, just can't wait to start rowing Daddies drift boat. His wife Kalani Brizendine in the background. What a sweet family.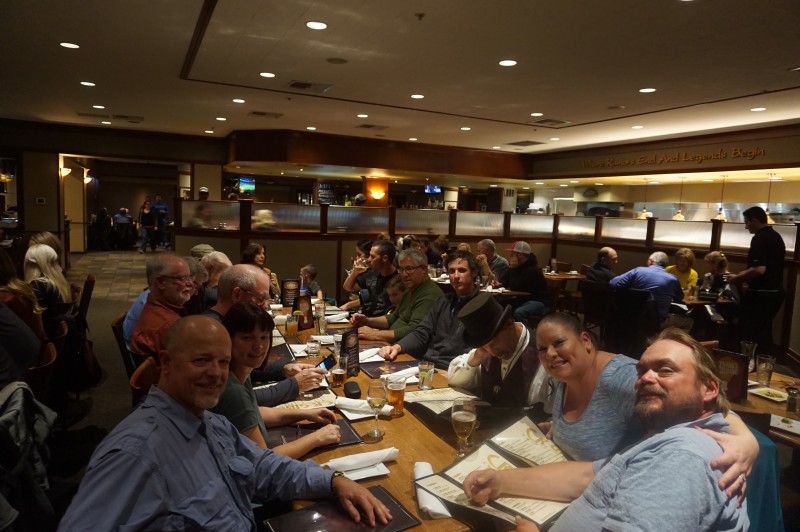 Jim Reed and his wife enjoyed their stay they said.
ScoFree Freeman and his wife Ana.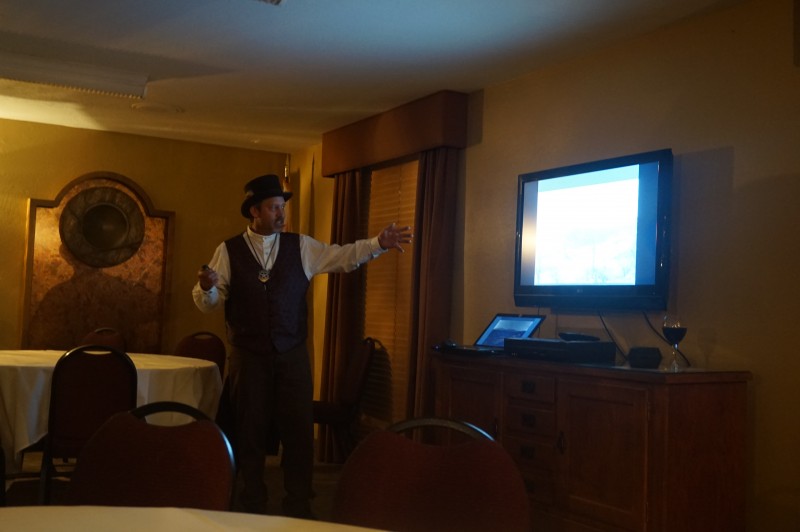 Then it was my time up on stage, I love to go back in time where I truly feel the most comfortable, you could say I was in my element. It's always a lot of fun for me to share these photos I have from the 1800's of our local area!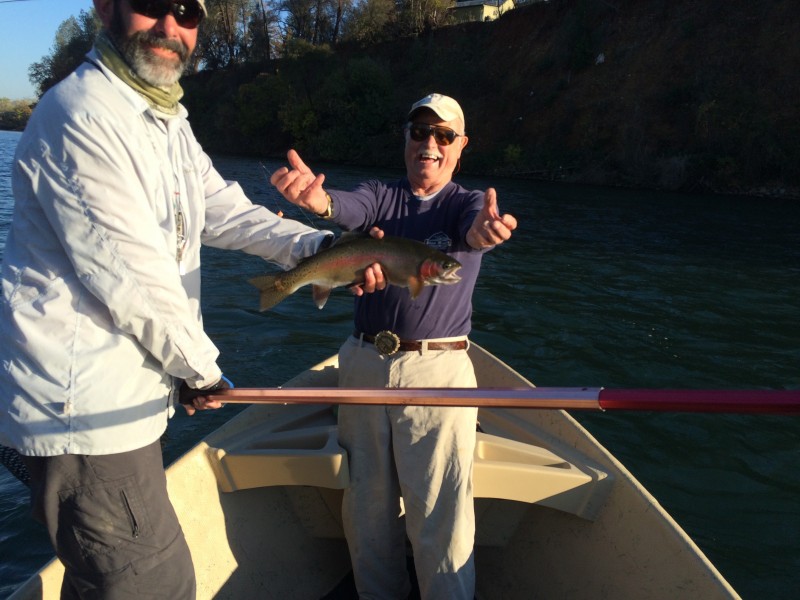 Rod Neuby and ScoFree with another trout landed!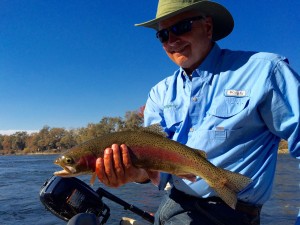 Author Jason Randall with a fine trout and the next day landing a steelhead on the Lower Sac.
"

Excellent experience

"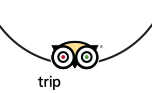 We spent three days fishing on the Lower Sacramento with Jack Trout and several of his guides. The guides were very knowledgable and helpful and I would highly recommend Jack Trout's service for anyone visiting the area. You don't have to be an experienced angler- They'll teach You!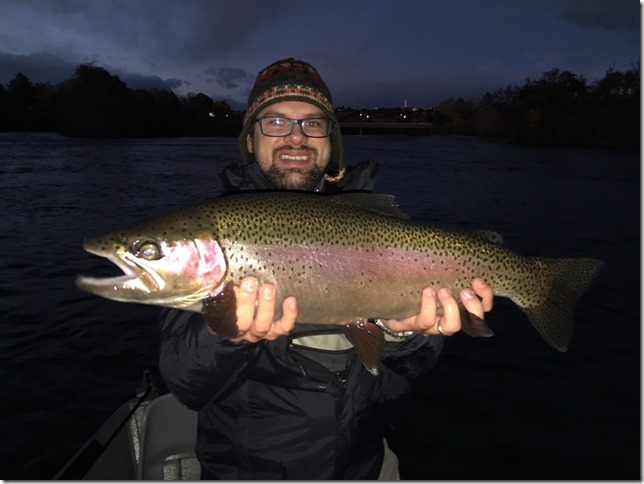 In the eleventh hour Danny Gebhart with guide Matt Mitchell landed this estimated 9lb behemoth trout. This trout was released unharmed but will be on display in the spring at Granzella's Restaurant in Williams, California
Go by and check out all of our clients mounts at Granzella's Restaurant, maybe yours landed will be next!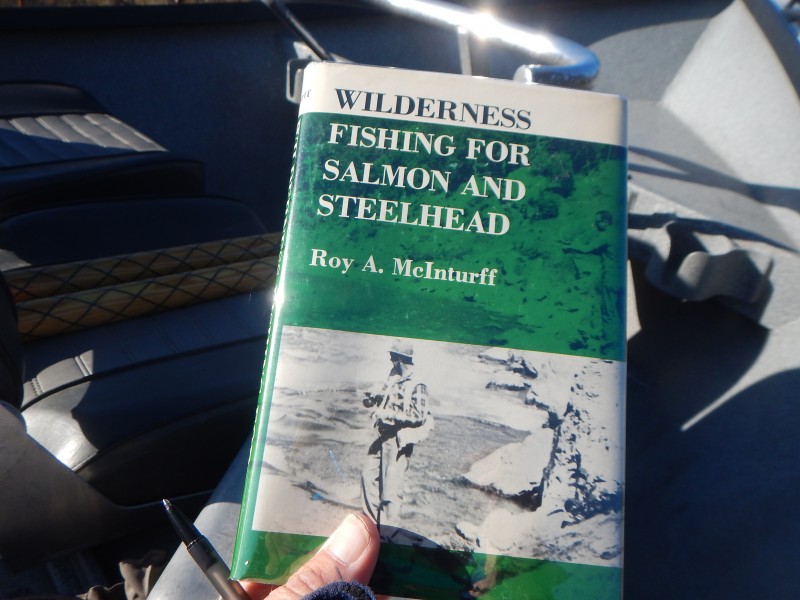 Then I had Dan Biddle come up from Folsom with his son Matthew and they gave me this book his Grand Father had written about fishing on the Klamath River back in the 1940's / 1950's Just starting reading it now. Thanks Dan!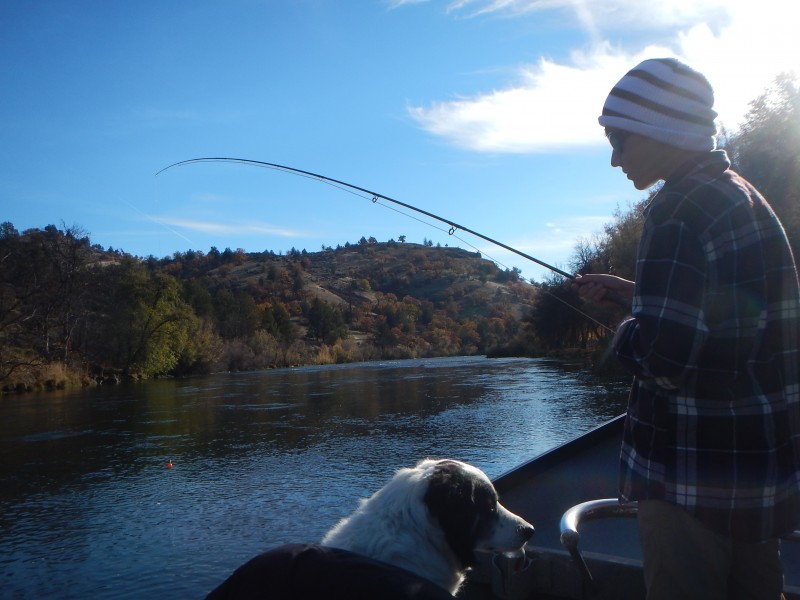 Matthew caught great steelhead that day, Great Grandpa was looking down on us smiling as Beef checked out and was chill'n.   
Jack too my son and I drift fishing down the Klamath river and you want to talk about fun?! Wow! Our trip was great and 8 hours fly by. I wish we had two days for fishing! Lots of fun and Jack was hospital, knowledgeable, and patient (I think I lost 7 of his cherished steelhead rigs from snags, but Jack patiently reset me every time!). My son caught more fish than I did, which is sort-of a good thing. My daughter came along and took pictures. Great family trip!!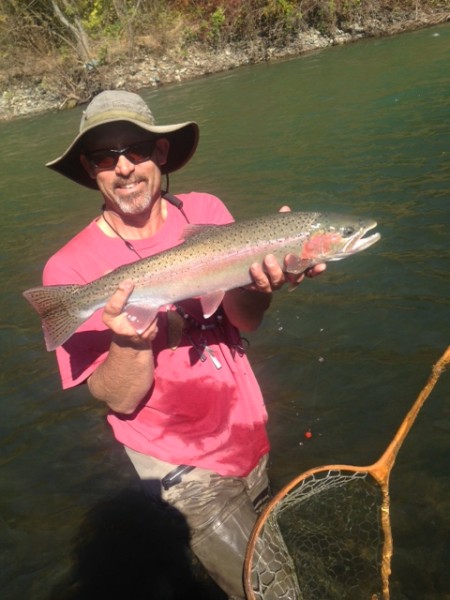 Steelhead galore folks!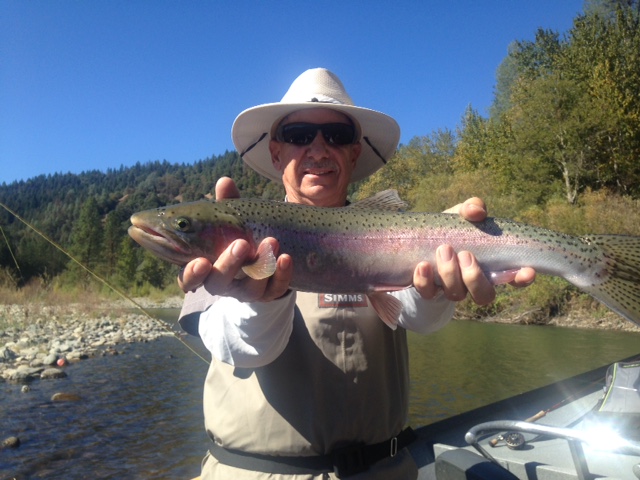 Al Hegendorn is a great client who will be coming  to Chile with us in March of 2016, hooked up on this lovely Trinity River Steelhead.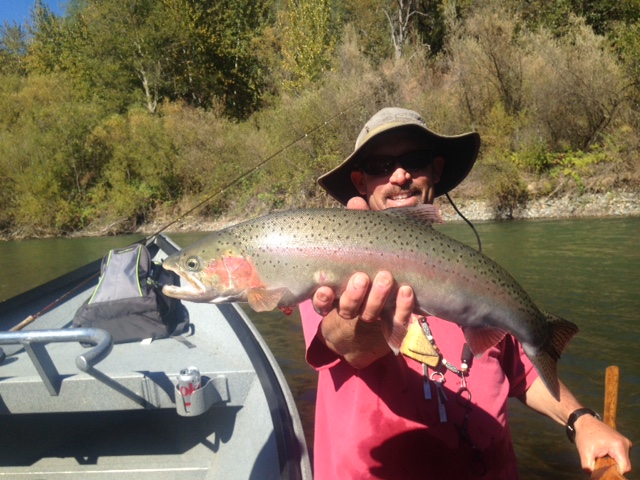 Love those racing colors!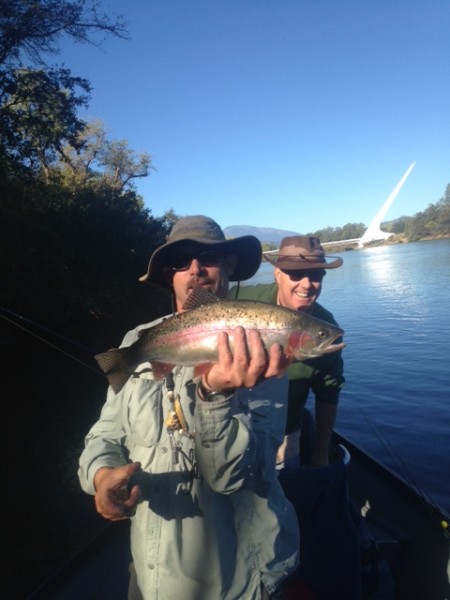 Burt skipped a trip to Italy to come to Shasta and fly fish. Thanks Burt, certainly a good decision other than the food part.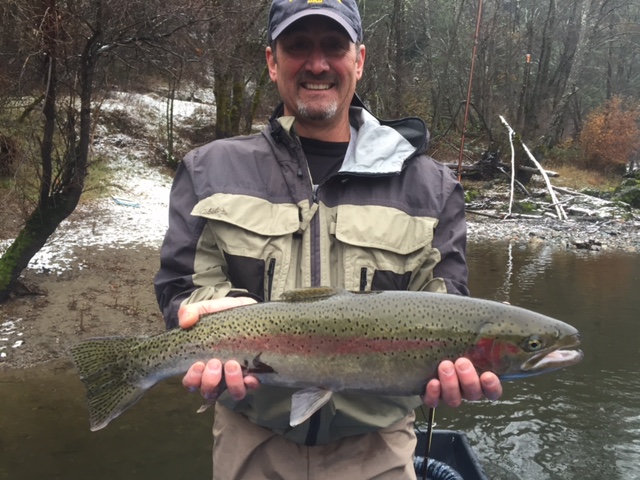 My guides have been catching great steelhead trout back on the Trinity and Klamath Rivers. Forrest, Dale, Matt and other Independent Guides that can work for any outfitter or themselves can guide you now just give a call to the Trout Hotline 530-918-8879 or info@jacktrout.com  thanks, Jack & Carola Trout & Team Trout Guides. Hire an Independent Fly Fishing Guide in Northern California, you'll be glad you did!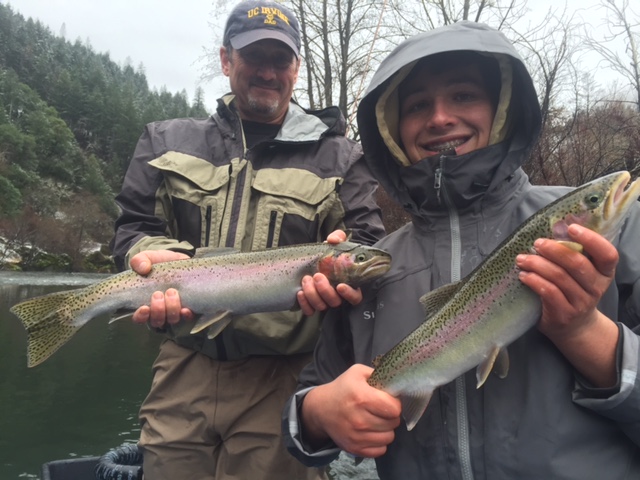 Like Father – Like Son ~ Now's the time to grab your son and come on up or down to the North State, the steelhead fishing is incredible and the steelhead are in on all rivers in full force.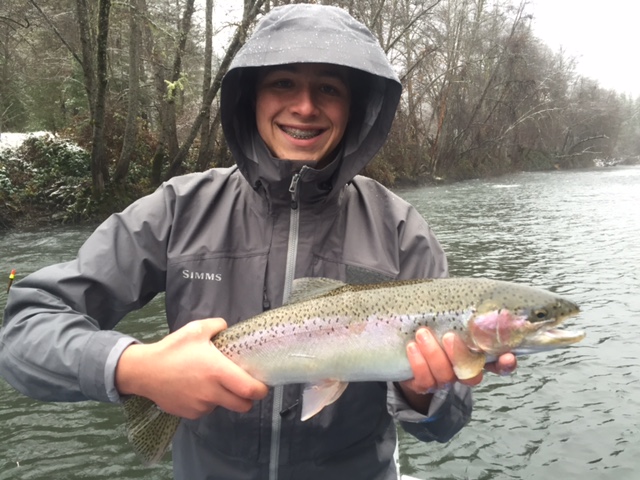 Coolio!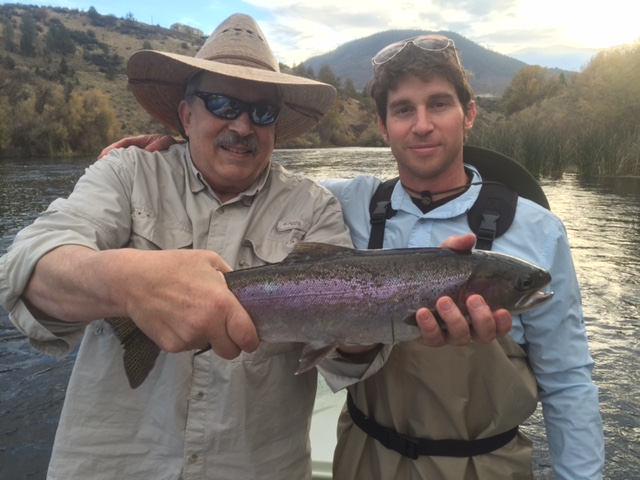 Father Son Team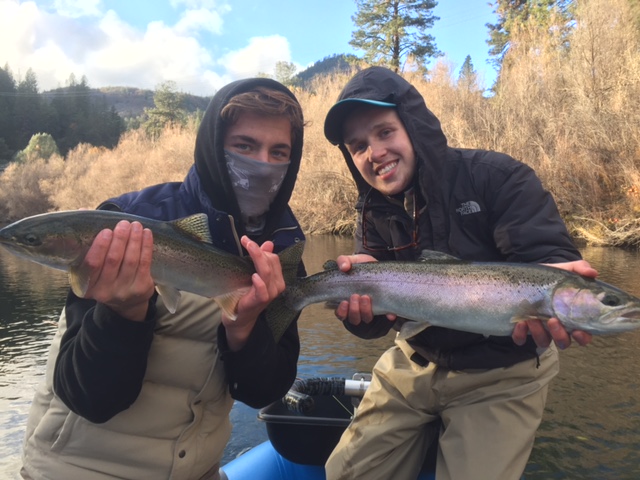 Best friends are coming out for steelhead.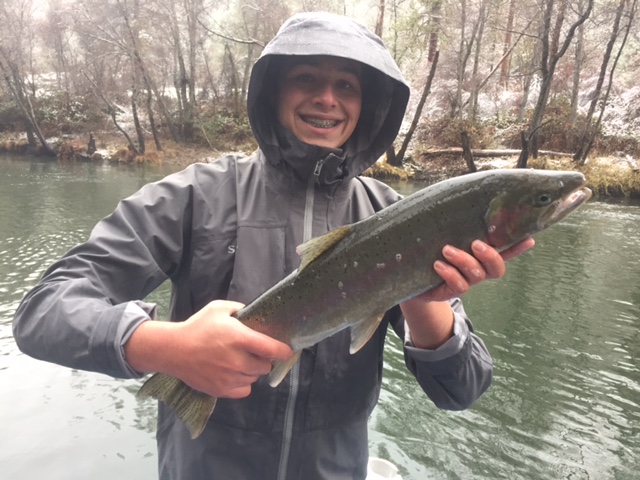 While others are hooking steelhead left and right, we hope to guide you this winter.
Many rivers & oceans to you, Jack & Carola Trout * Team Trout Independent Fly Fishing Guides Of the North State of California.  Thanks for watching our adventures and happy holidays!