Great adventures are happening now, we hope to guide and host one of your outings in 2012!!
Jack Trout Fly Fishing International & Tours
                                       Chile – Belize – Northern California & Argentina
                                                                                                info@jacktrout.com
CHILE * CHILE * CHILE * CHILE * CHILE * CHILE * CHILE *

CHILE *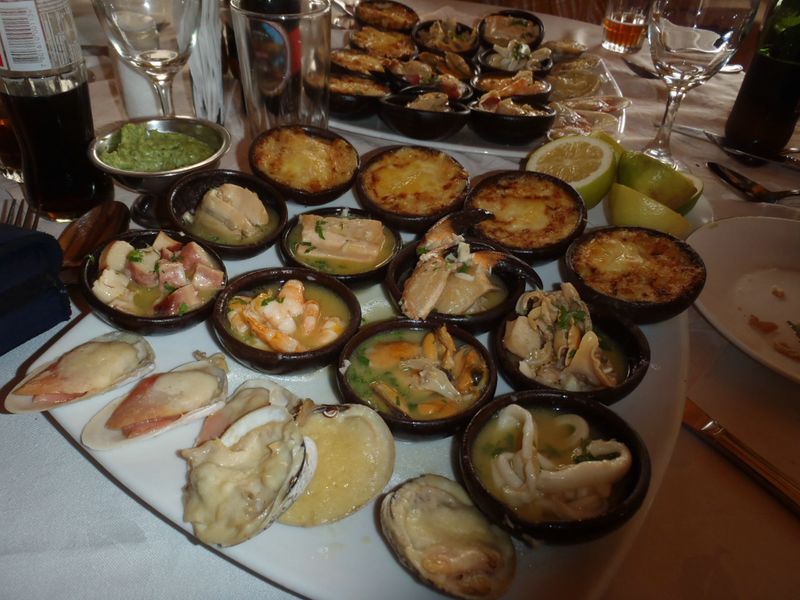 On a recent visit to Puerto Varas, Chile we experienced some of the best seafood you could ever find in Chile at the Olla Restaurant.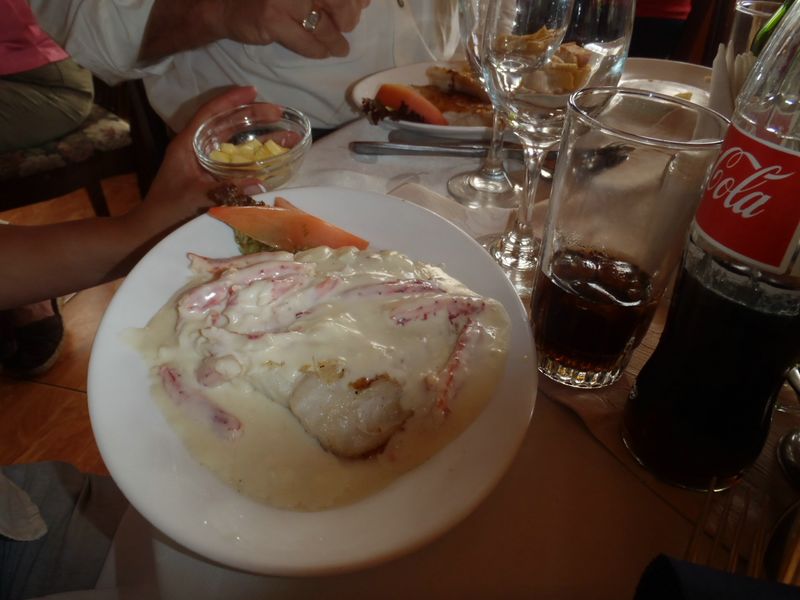 Carola had this wonderful fish called Congrio (taste like halibut, not fishy at all!) with a creamed king crab sauce.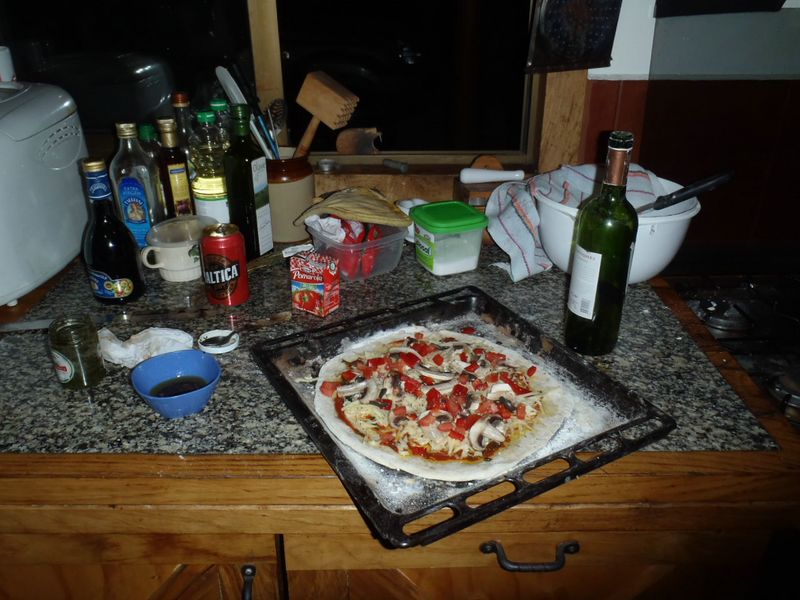 Back at the lodge, I'm making home made pizzas as usual.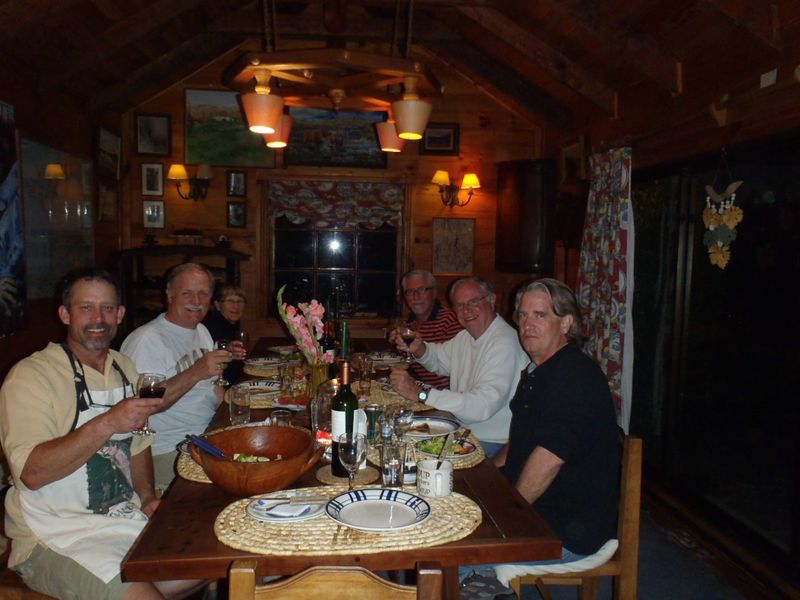 The food we put out here is over the top, so I am told. I know I must look a little buzzed, but after guiding 11 days straight and entertaining 2 groups I'm a little bushed! Though that fine glass of Chilean wine does mello me out a little.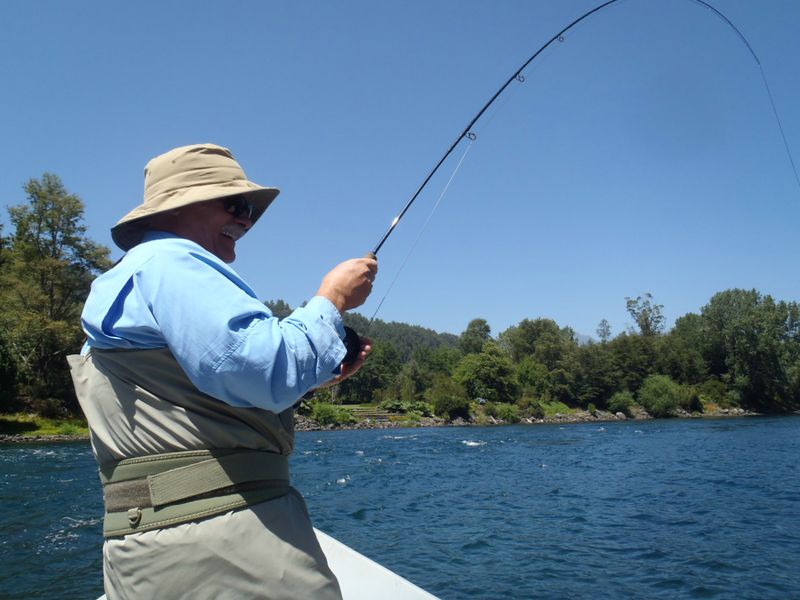 The next day we're back into the trout on a local river near our place.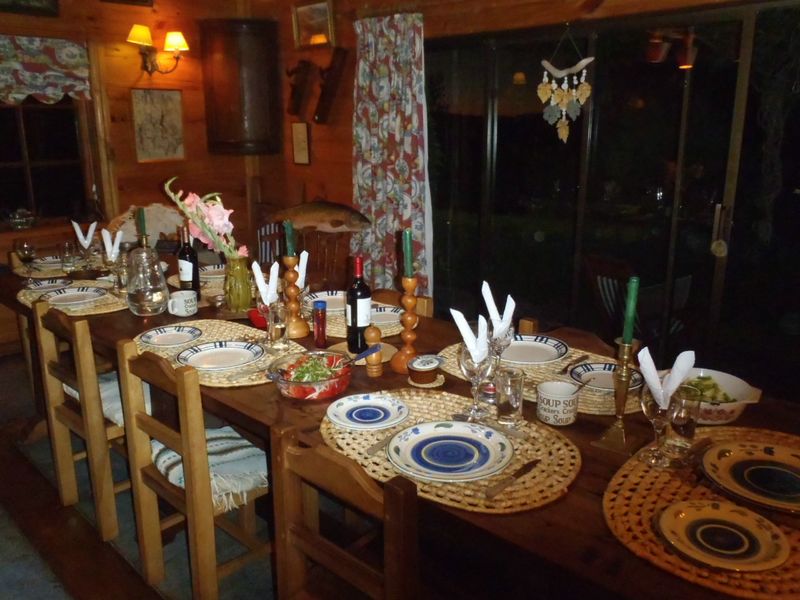 But back at the lodge Carola prepares a wonderful dinner with fine Chilean cuisine and secrets she has learned from her mother and grandmother.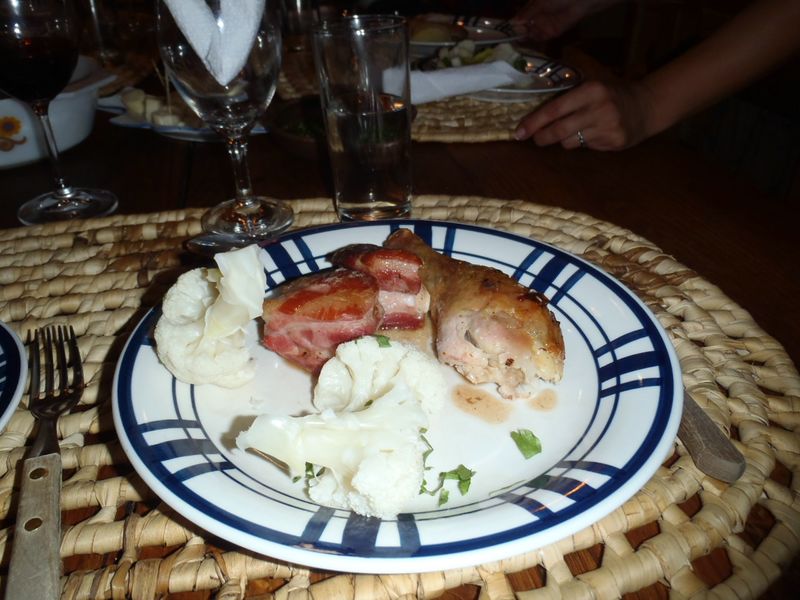 Everyone loves Carola's chicken and smoked ribs, I always look forward to some of the best meals of my life.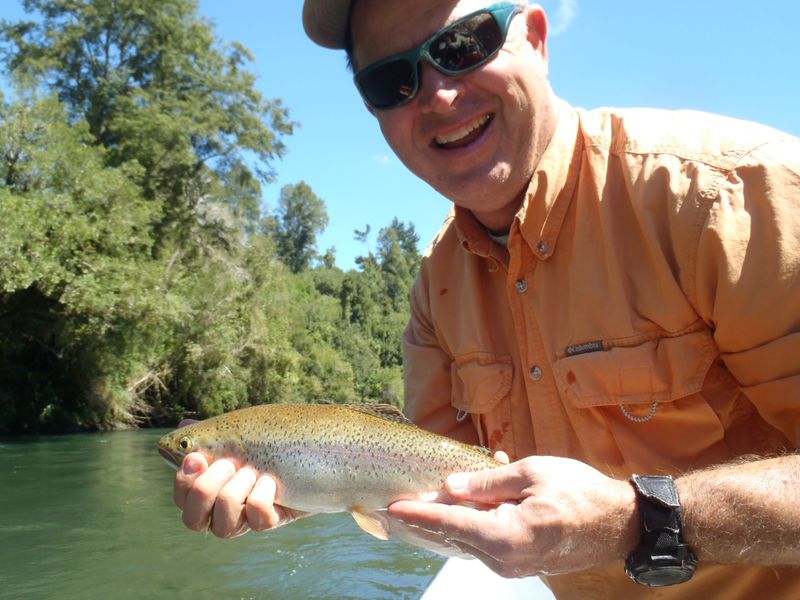 Unfortunately this week was very hot in Chile. The fishing was slow for bigger trout and most of the time just plain slow. When the water temps go up and the outside temps are reaching near 90's, there really isn't anything we can do except to just keep throwing the fly at them. It's like California in mid August, we call it the dog days of summer there. It's like this here too and it lasts for about 2 weeks, then usually the rains come in and colder weather appears.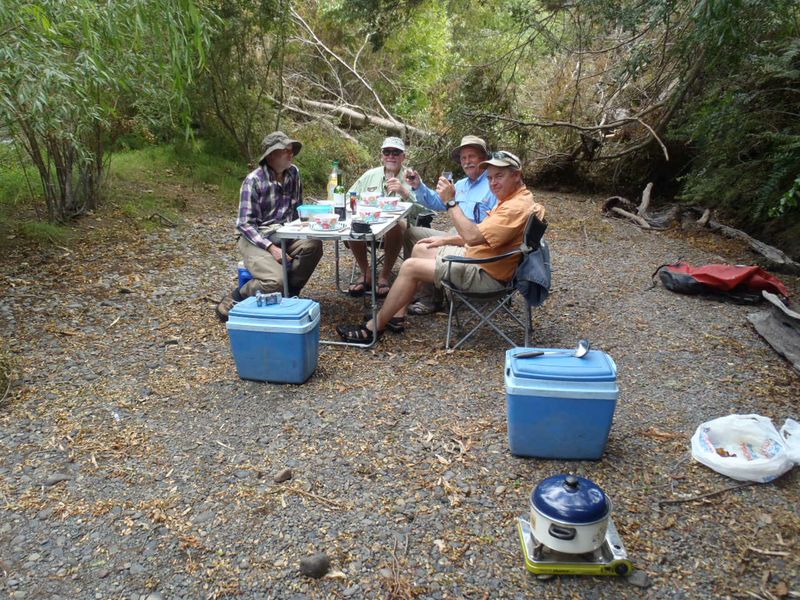 Lunch was great as always! Carola's lunches are like a white fish that saves a guide trip day in Montana, I'm grateful that at least one thing was predictable that week. "Many a white fish has saved a guide's ass in Montana." A classic guide quote.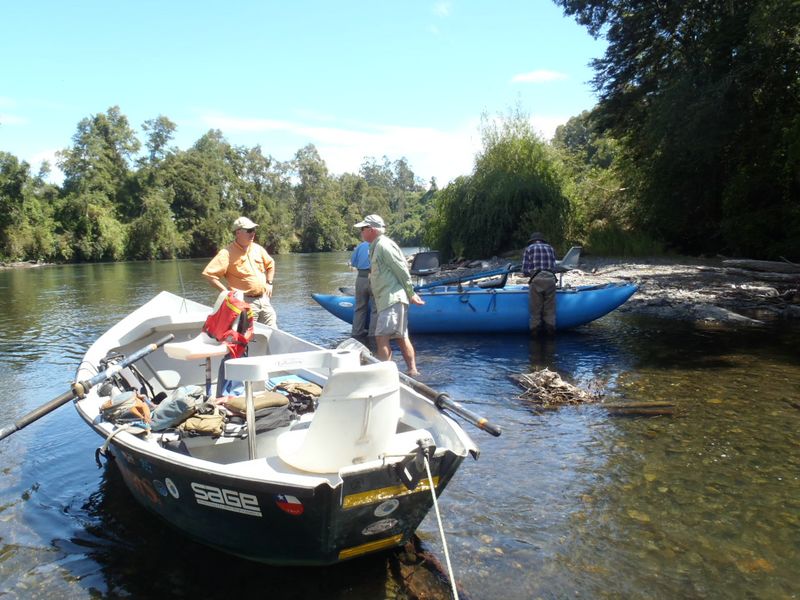 We headed back out on the water to fish more and enjoy the Chilean sun that was blazing that day.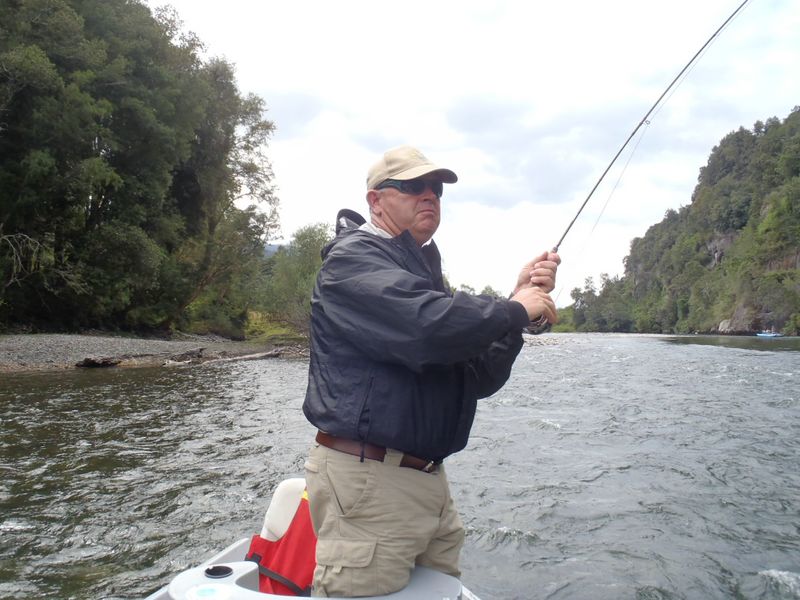 Colonel James Kent of the United States Air Force was ready for action! I might also mention he's a PHD.
(Wow! Brainy, folks like him make me feel more smarter.)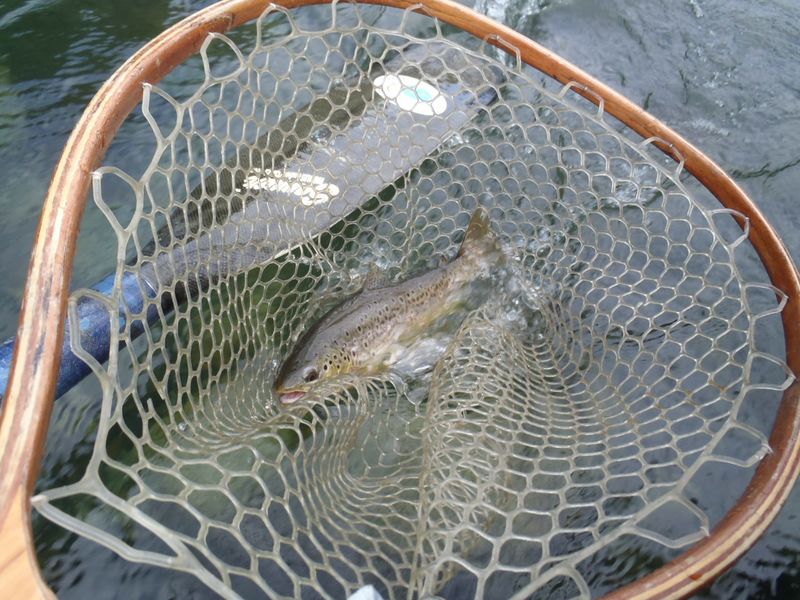 Brownie points Colonel !!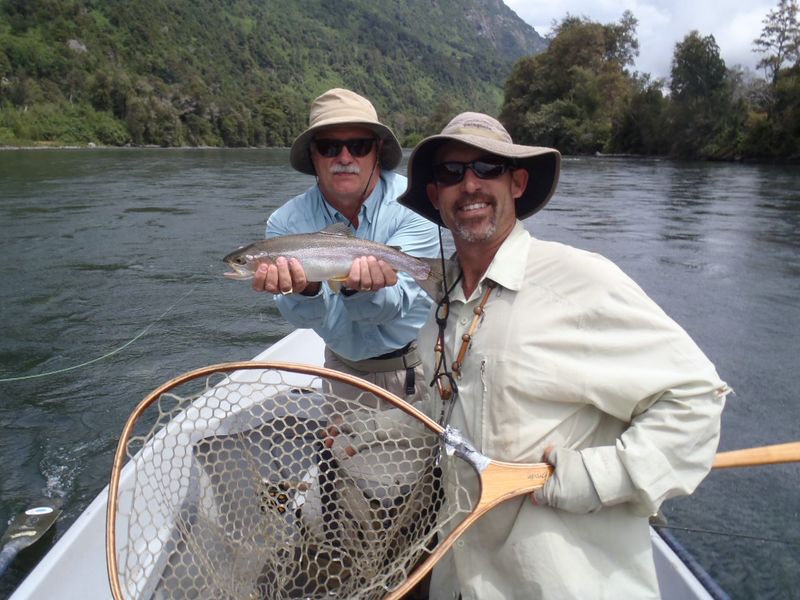 Then on another river Dan Alsaker hooked this wonderful trout that fought him hard.
Duct tape on my Brodin net, time for a new one!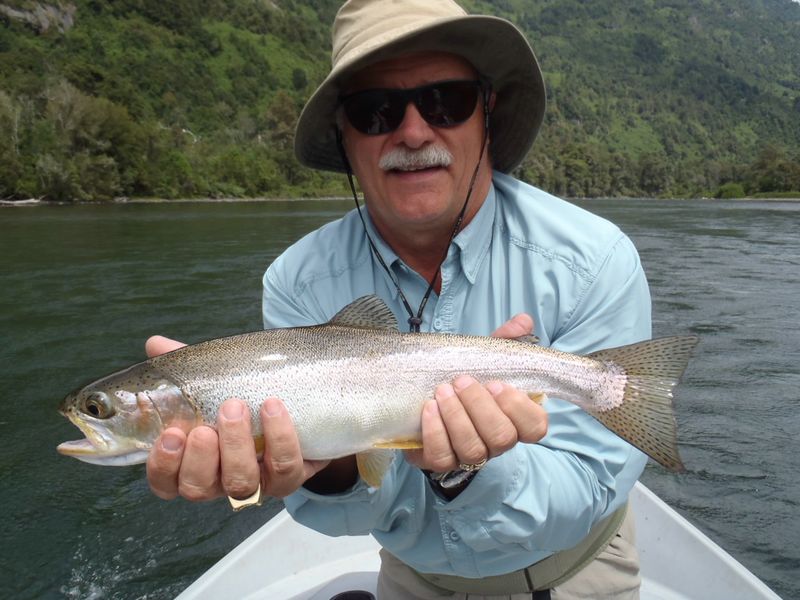 A reel beauty folks, I just love when the clients win and catch something nice.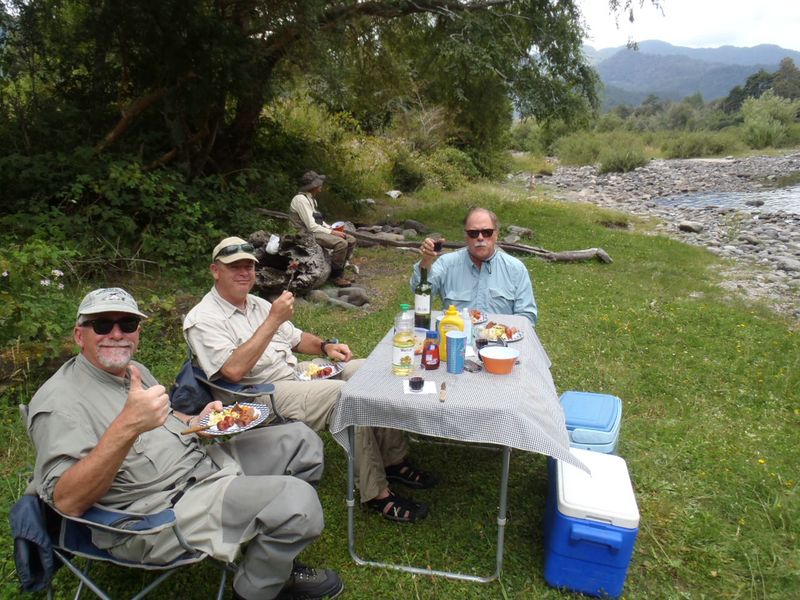 Thumbs up on the lunch and this made everything just a little bit better.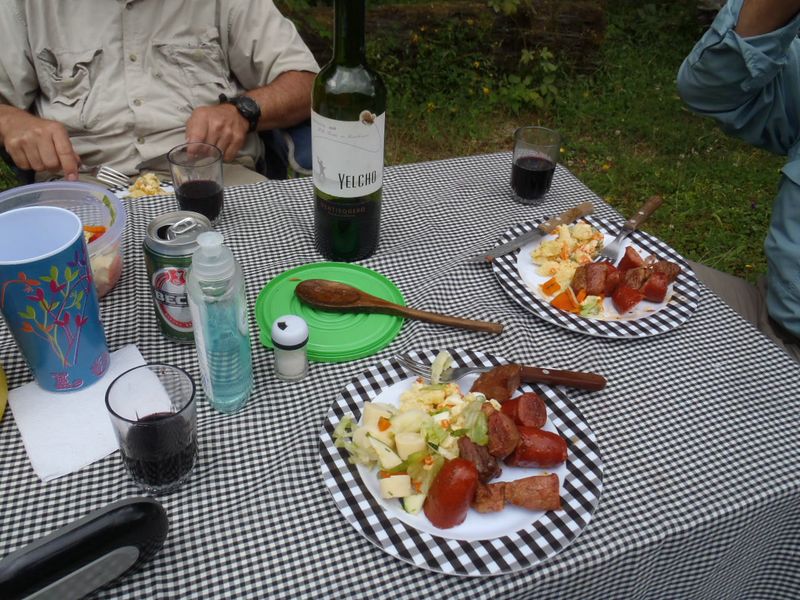 These Chilean BBQ's are worth their weight in gold, we love them folks and you will too. A little music anyone?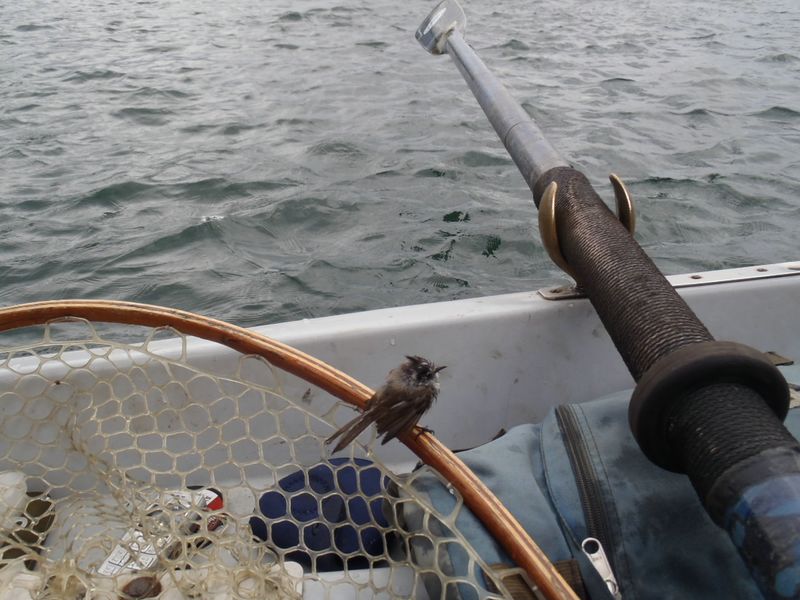 You want to hang out with me for the day, no problem little dude. I know things are tough out there!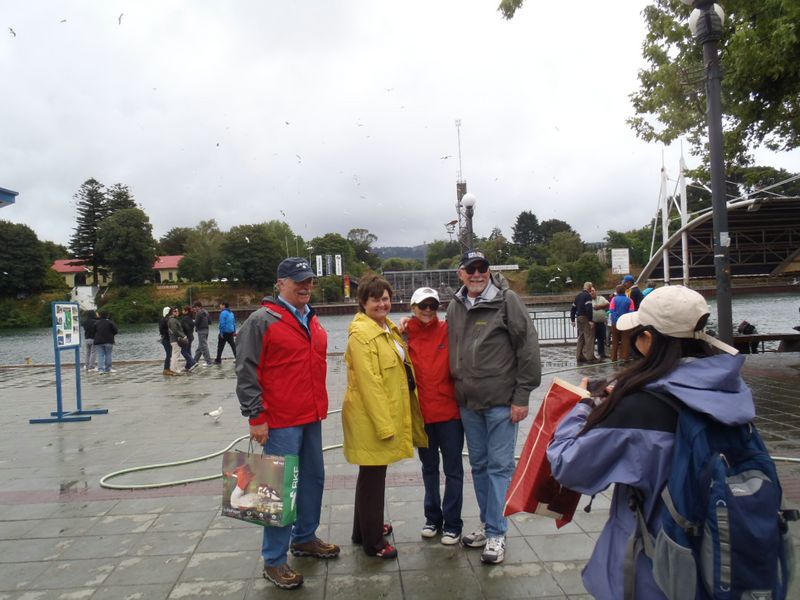 Carola taking folks out and around Valdivia Chile on her personal cultural tours of Chile.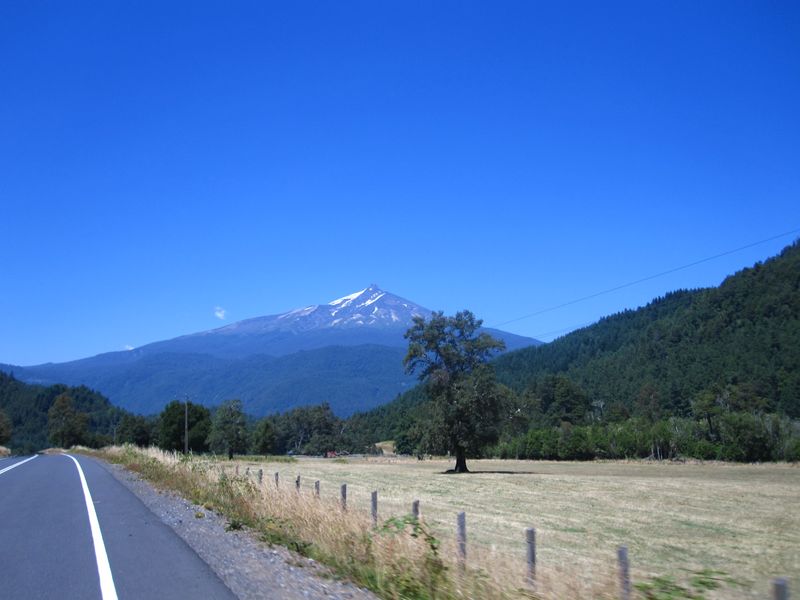 The drives around here are magnificent with over 2006 volcanoes in Chile it's spectacular drive in any direction.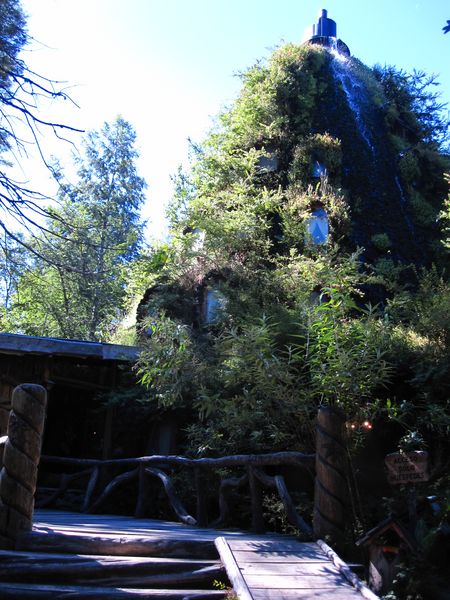 Have you ever stayed in a hotel that's inside a mountain side with a waterfall running down its outsides? Carola can show you where it is here in the River's District of Chile.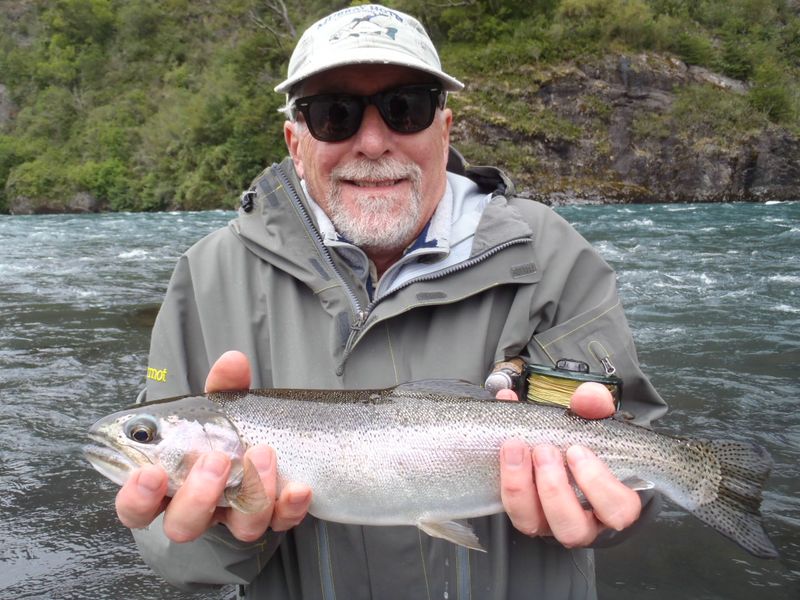 Tom sure loved his great trout he caught in the Lakes District of Chile. Dan caught a 7 lber but he leaped out of his hands before I could grab the pic!
Thanks again Dan Alsaker, Pam & Tom Hemingway and Jim & Deb Kent for the great week we spent together!
Jack, Carola & Edgar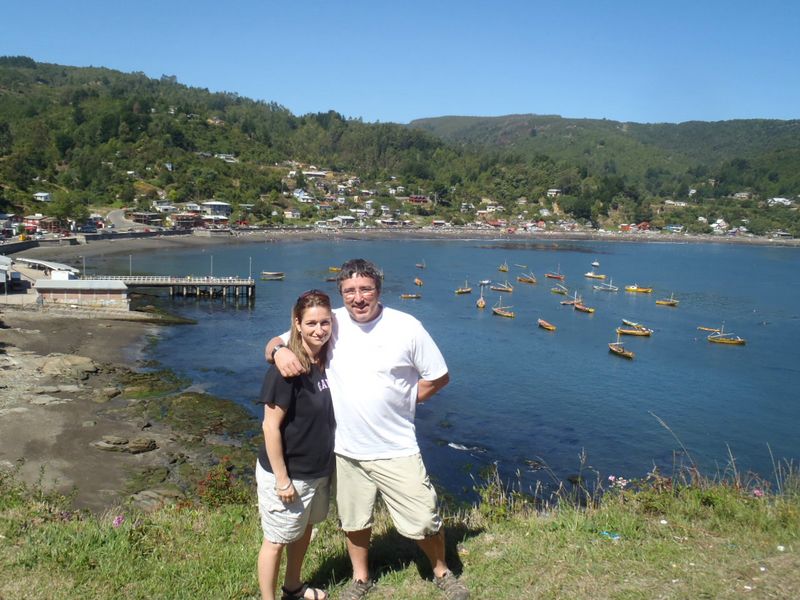 The next folks were from Colorado. Noelle & Wayne Westcott were on their second honeymoon and decided to contact us because we specialize in couples that like to fly fish and tour Chile.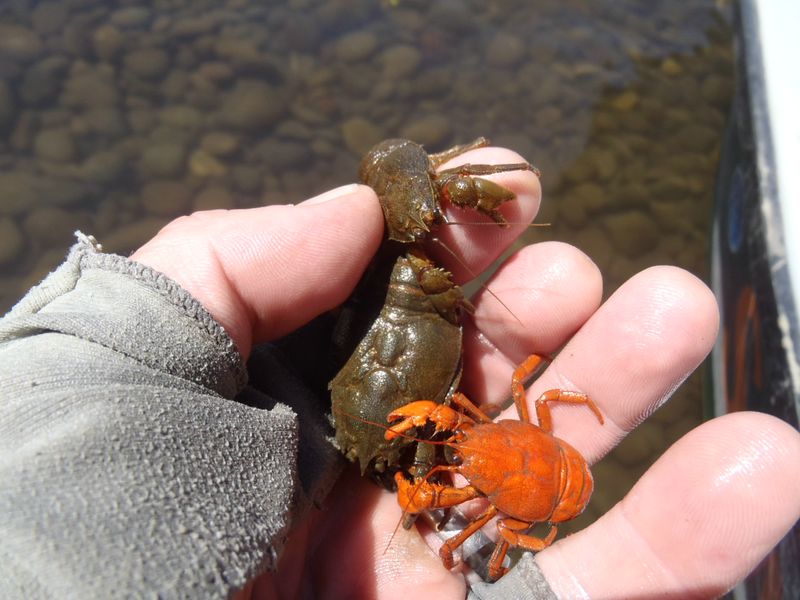 Noelle was a former fisheries biologist living in Ennis, Montana. She loved all the different critters down here was often showing me things in the rivers I had never seen before and knew little about. It's always great when you get clients who are totally in tune with their surrounding, as a guide I'm all ears. I don't claim to know everything about the rivers or landscape as I am constantly learning from you, life and the experiences we share together. The Pancora crab comes in all different colors, trying to imitate them is what it's all about around here. (images of pancora crabs)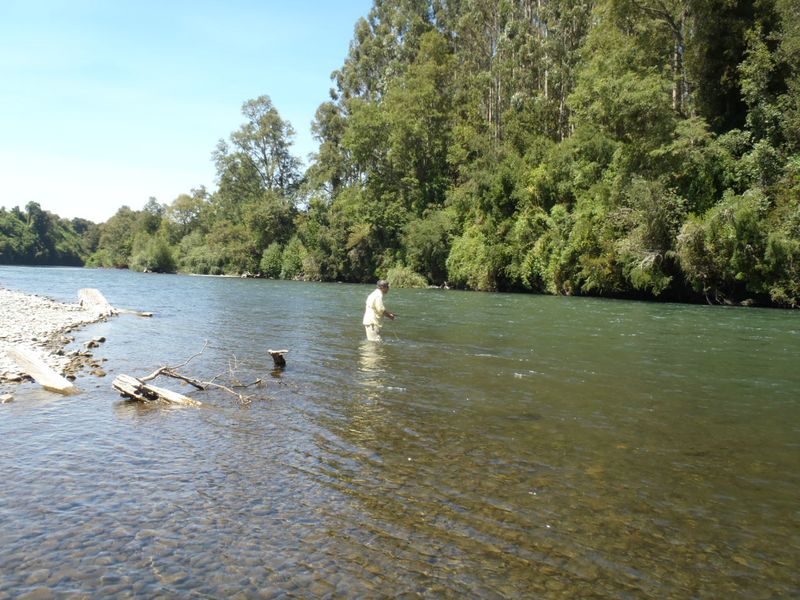 Many places we would just get out and wet wade as this was the last day we had of blazing heat here in Chile and the mornings started to get into the low 40's, more normal for productive fly fishing and trout feeding.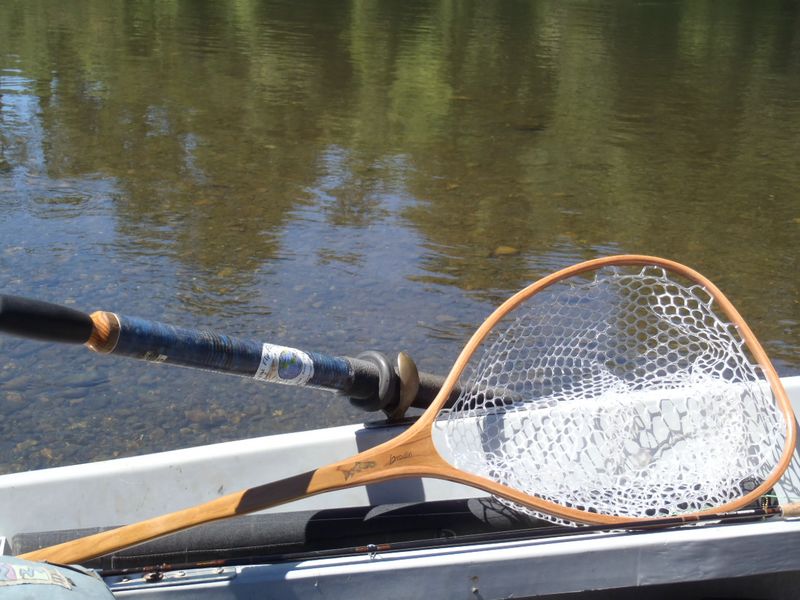 Got my new Brodin nets in the mail and we were off to the races!            
www.brodin.com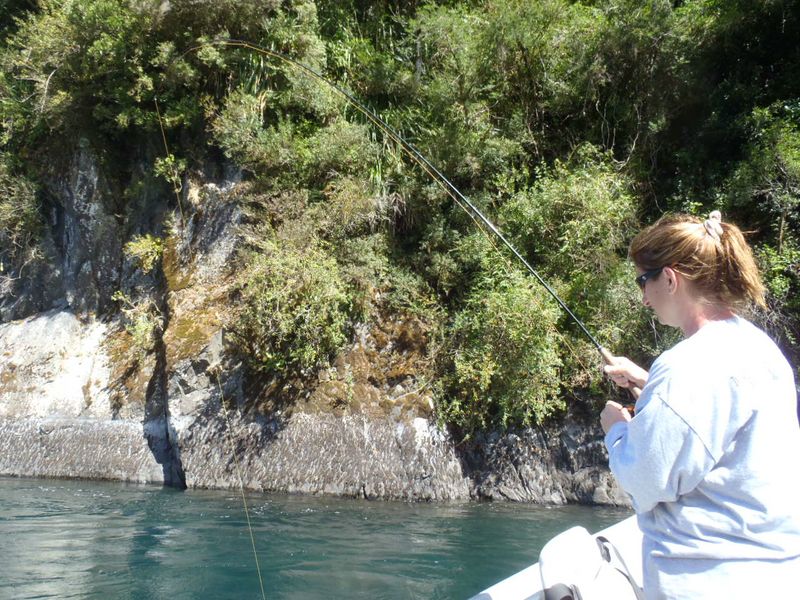 Noelle hooked into a nice trout that sent her reel flying, she loved every minute of it and proceeded to reel in the her catch.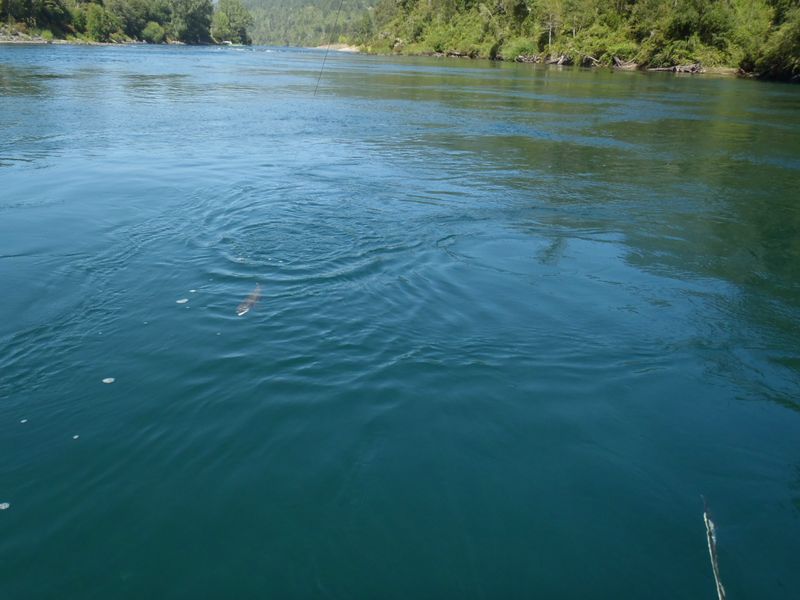 A nice sized trout indeed folks!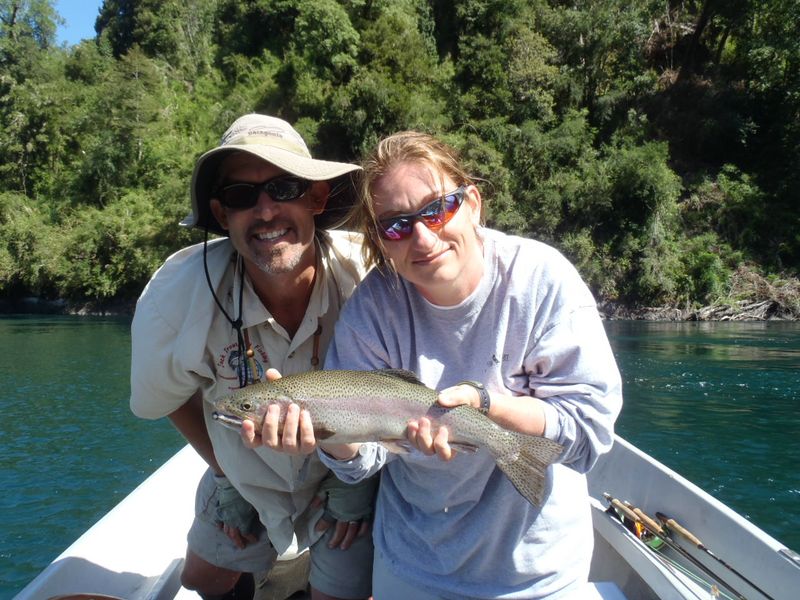 Way to go Noelle, the kids at home cheered for mom! Hi River & Honor 🙂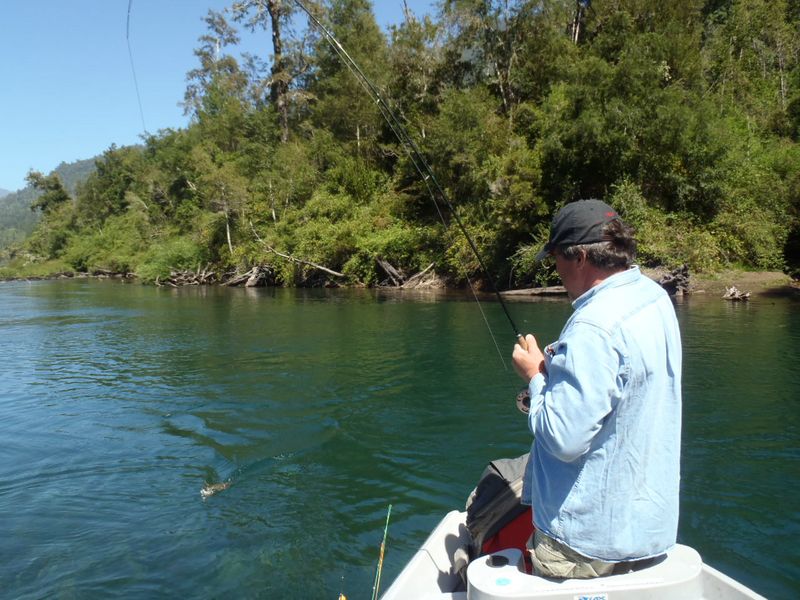 Then Wayne got into the action because Noelle always catches the first fish folks….That's the way it goes in this great family!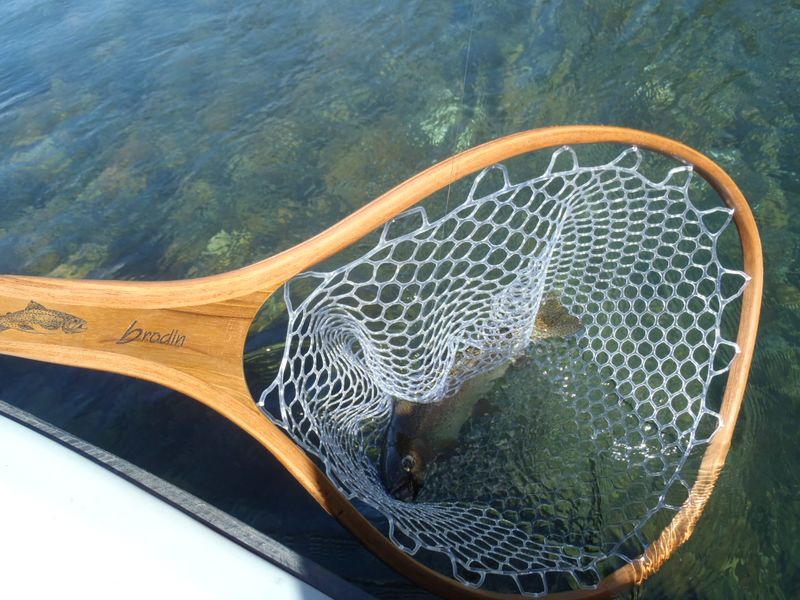 Now that's like normal fly fishing here in Chile, constant hook-ups and action.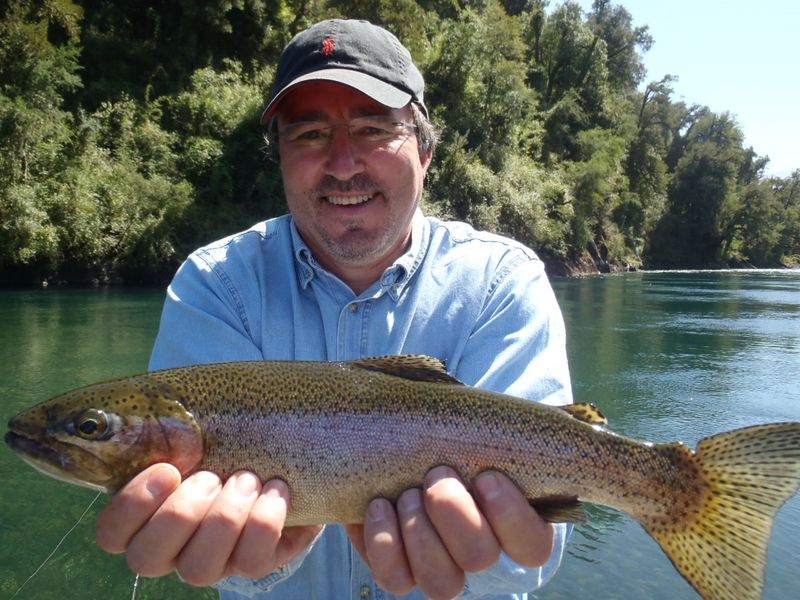 Another great fish Wayne and you're having the kind of trip you dreamed about. Man, you deserve it I know you work hard. (What a great guy to hang out with for a week)
Noelle comes out of the woods with another cool critter I have never seen before. Looks a little red eyed folks, wonder why?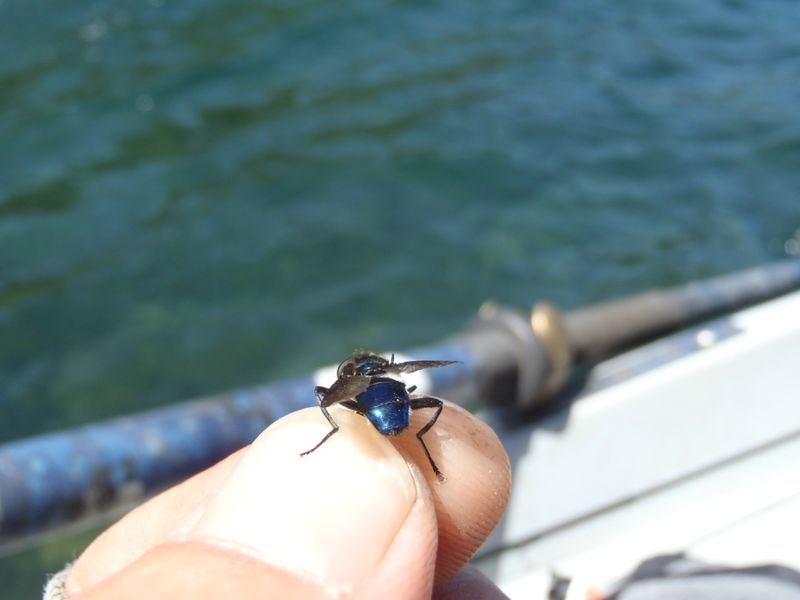 Yea, everything is so awesome here in Chile, even the flies have pretty blue aero-descent butts.. Wow, now that's special.
Another Pancora Crab photo for Google Images with huge Caddis casings and a snail, reminds me of my first photos of all the seafood from the La Olla Restaurant in Puerto Varas. The only difference is, this is a meal fit for a trout king.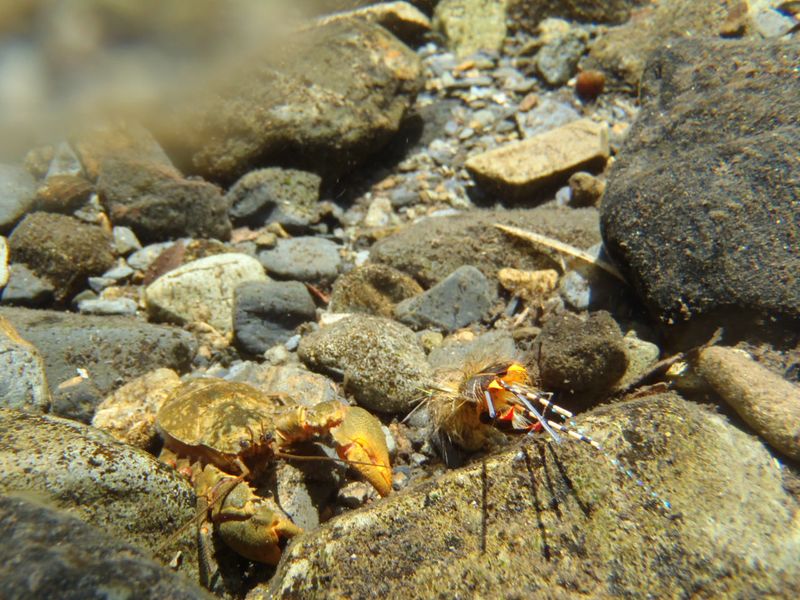 Let's use this pattern to imitate this crab and see how we do….
 These folks love the fishing, love the food and especially love each other. It just doesn't get better than this on a holiday fly fishing honeymoon vacation.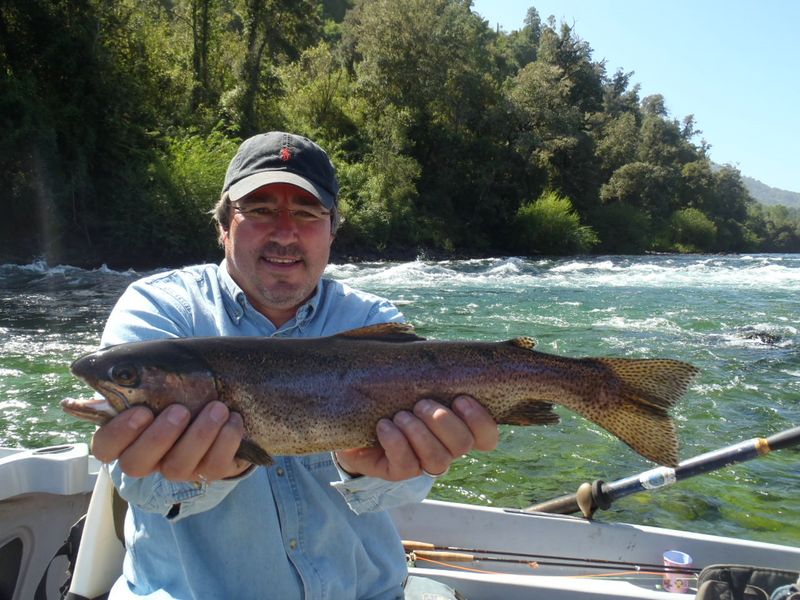 Especially when you're landing quality trout like these quite often. It helps that the nightly temps have dove into the 40's and the fish have gone on the bite.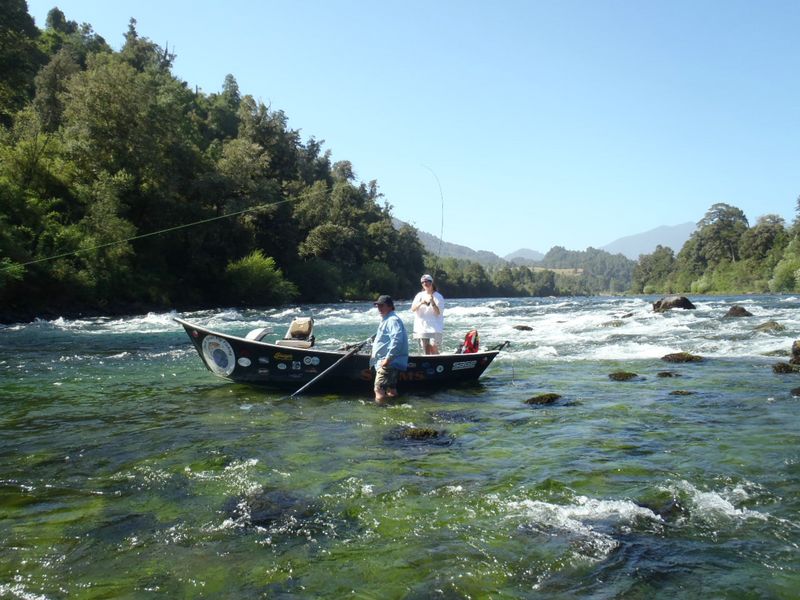 Noelle with about a 7 lb trout on, look at that lovely water Sizzlers! This is a private section of river we have exclusive access to.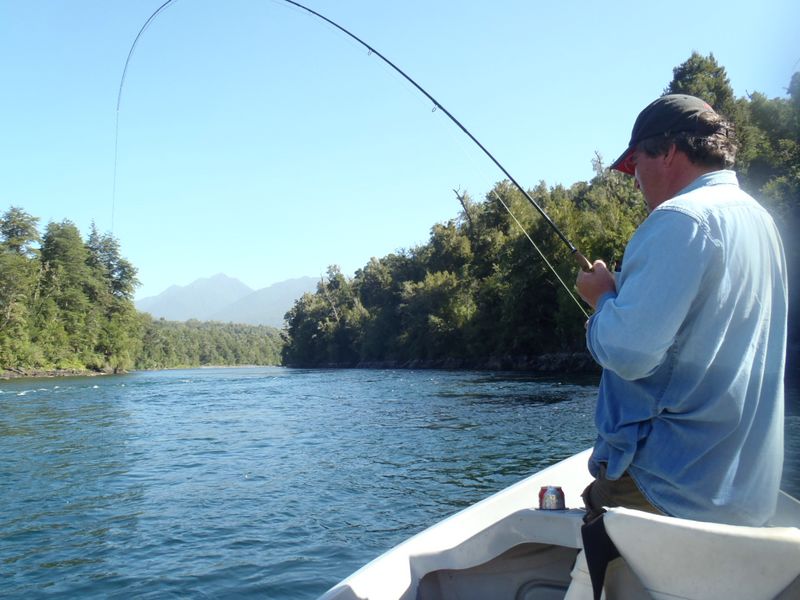 Nice one man! Just keep them coming, all these trout hook-ups makes a guide's day sweeter..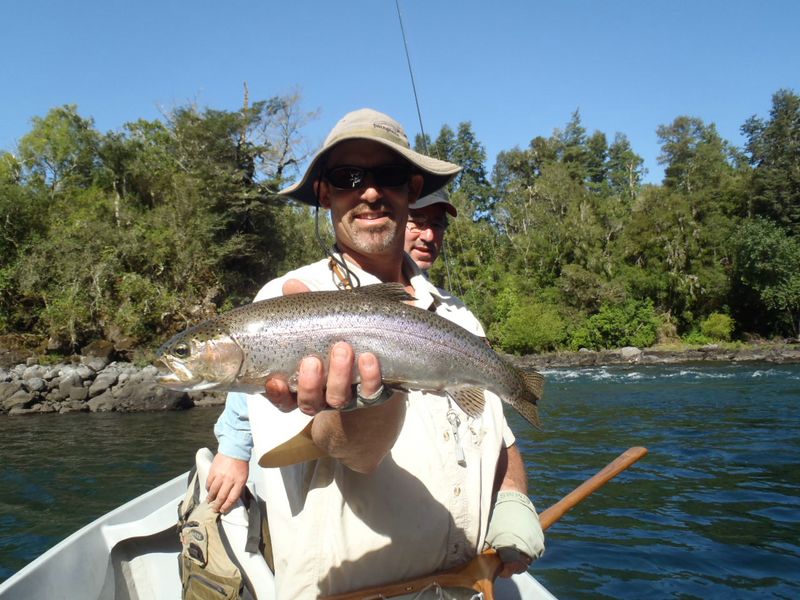 A real lunker fest on this day, these fish haven't fed normally for about 2 weeks and finally they are now going on the full on early fall bite.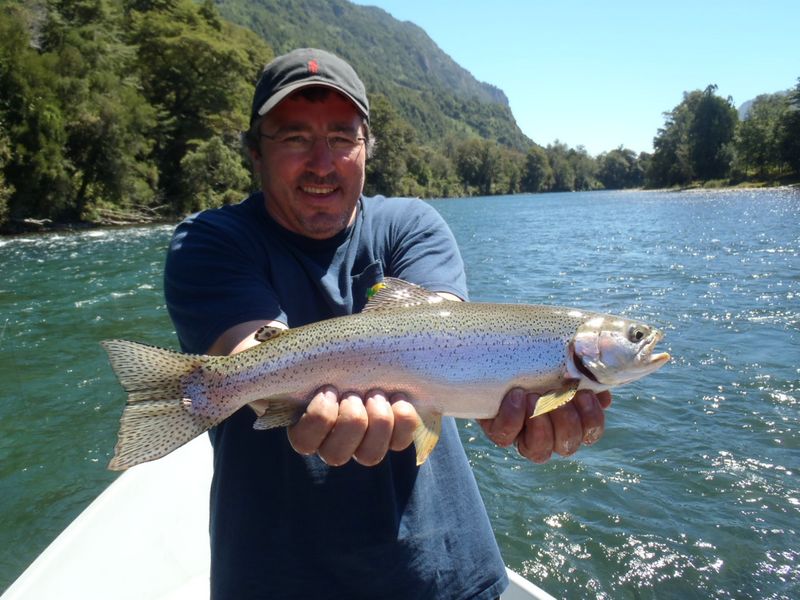 Just about every where we went we caught nice healthy trout with the Westcott's and lots of them. It also helped that Wayne was an expert fly fisherman from Colorado. He could literally launched the fly out like a bazooka.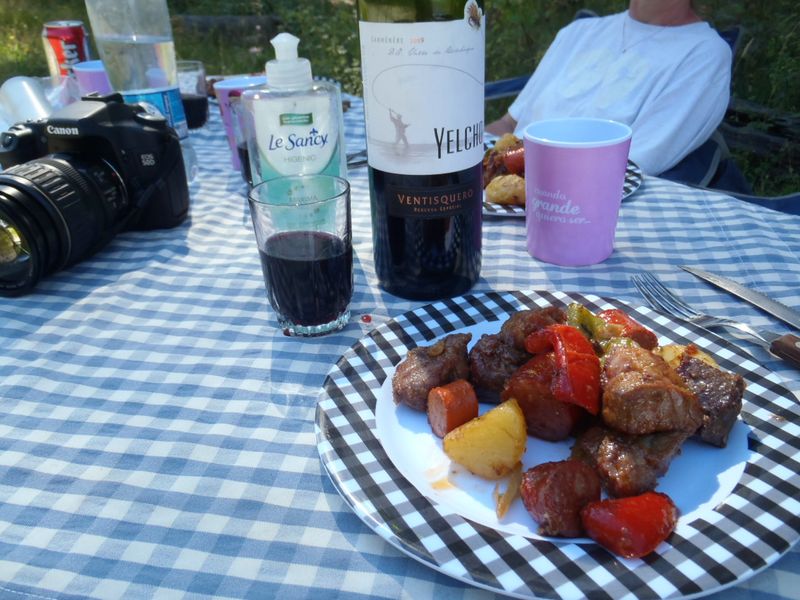 The food was marvelous and the wine was even better!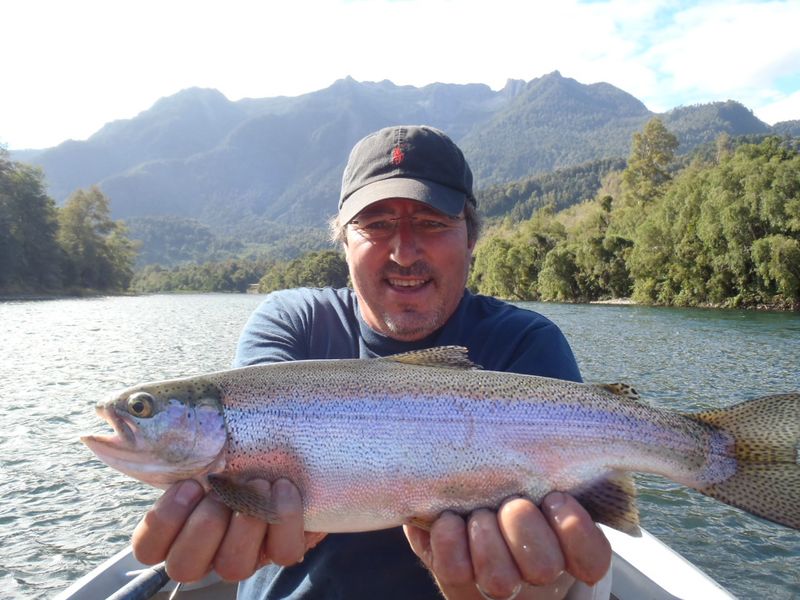 Wayne and Noelle say on their next vacation they are heading to Belize with Jack Trout Fly Fishing International & Tours.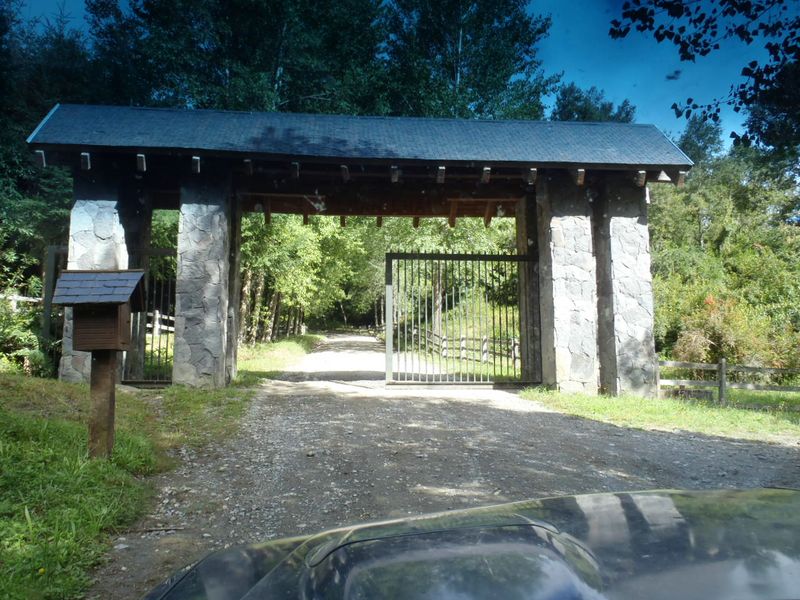 Private access to rivers in Chile is always a nice touch we offer as we have 3 rivers we guide privately here.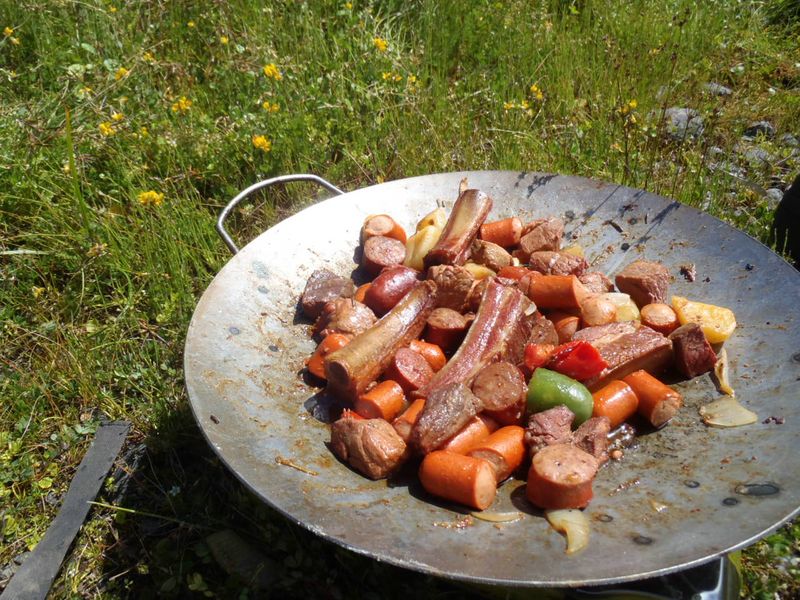 Let's fry up some meats in a disc for you in your guide lunch this spring in Northern California. This year we're bringing a little Chilean culture back home to California.
Now taking reservations for trips in Northern California for the 2012 season as we get back on the 3 rd week of April in Mount Shasta

.

UPPER SACRAMENTO RIVER * LOWER SACRAMENTO RIVER * McCLOUD RIVER * KLAMATH RIVER * HAT CREEK * PIT RIVER

                            INFO @JACKTROUT.COM            *        530-926-4540      *                 SKYPE US AT: JACKTROUT24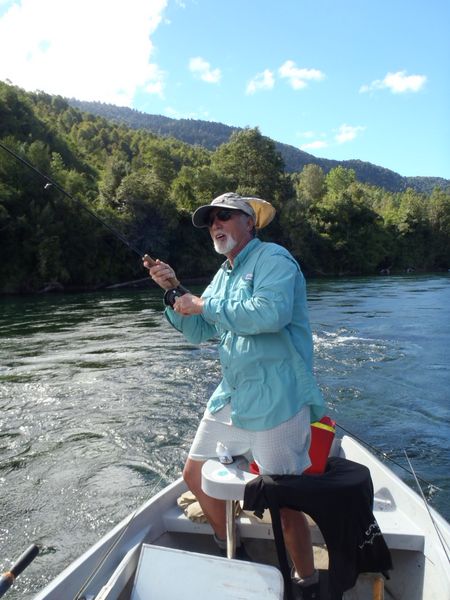 On an another private water trip, Michael fell in early in his waders and elected to fish the rest of the day in his underwear… We kept him in the boat though so he didn't wet wade….. 🙂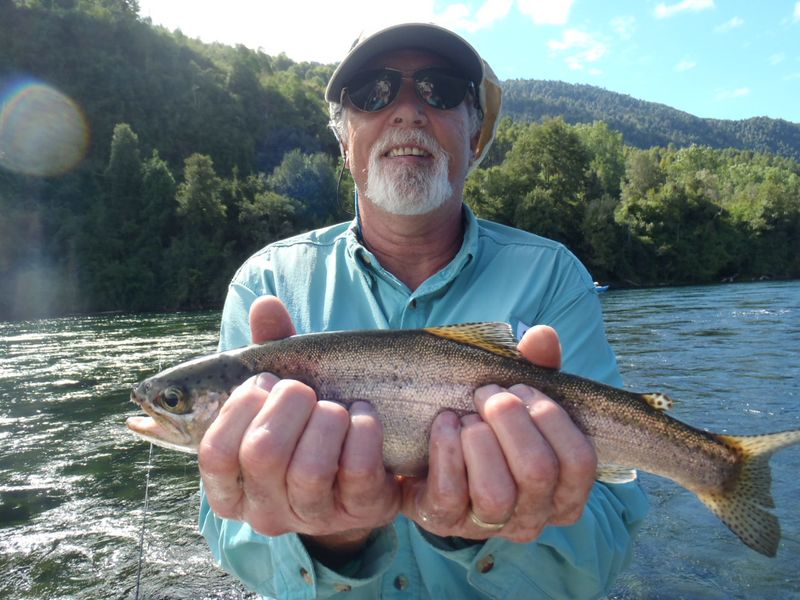 But after that he caught more trout, go figure…..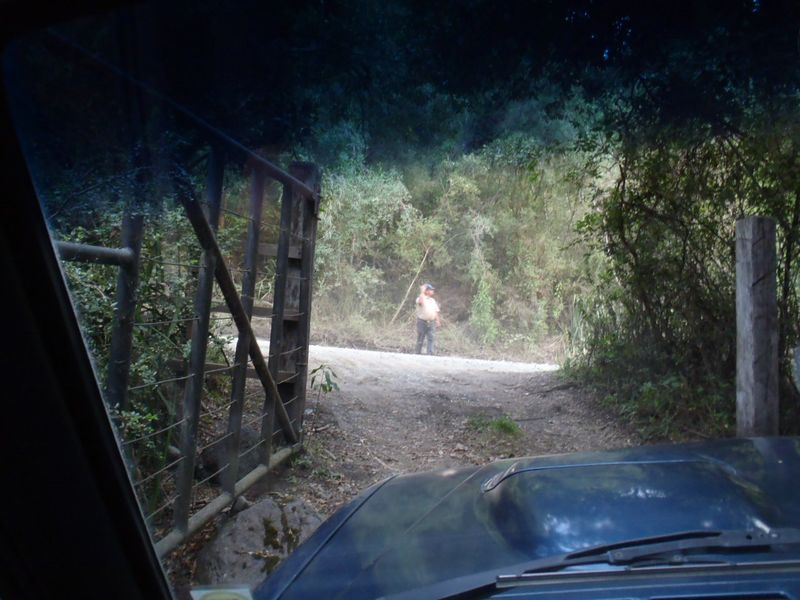 When we say private, we mean private folks…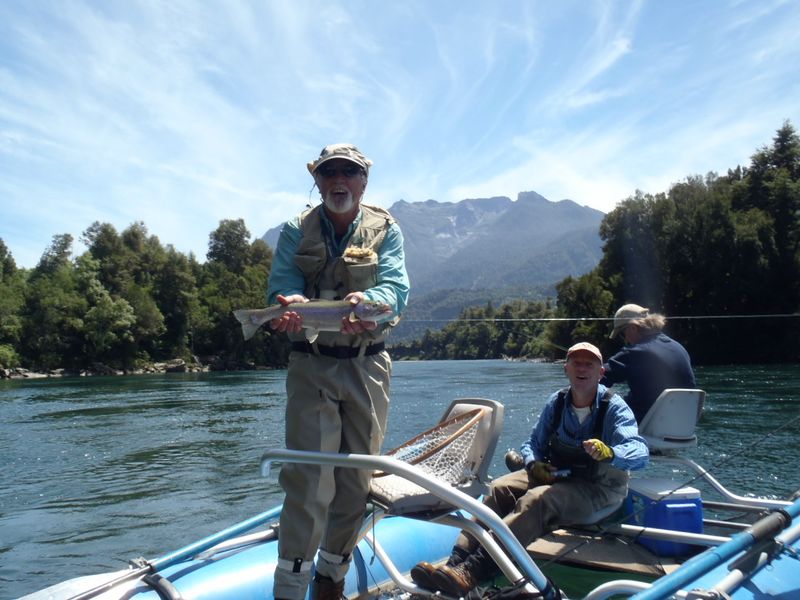 Out with Edgar the next day both Andy and Michael are landing big trout!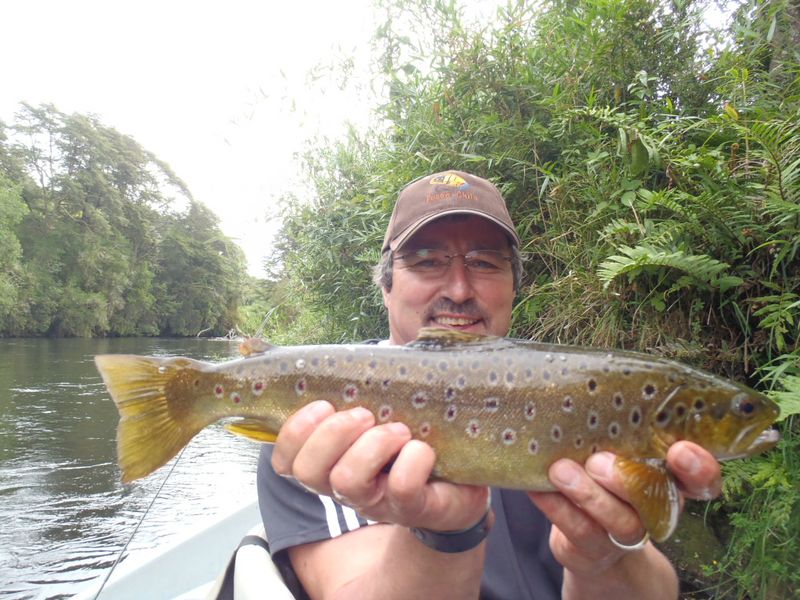 Wayne's out with me hooking into big beautiful brown trout. Love those spots.
The trout from the ocean are starting to come in now to all the rivers in Chile and we saw them surfacing and playing along the river in schools, it was amazing folks. Then Wayne hooked this 9 to 10 lber on a streamer fly and it was the fight of his life. The next day Edgar hooked more with our clients Michael, Tim & Andy. It is great fishing right now in Chile as fall is here!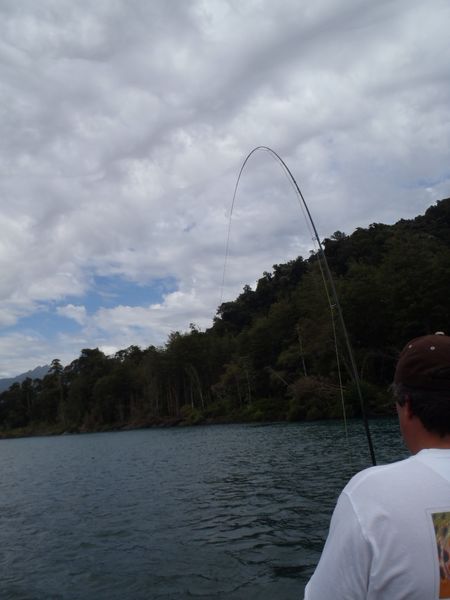 That day we probably hooked and landed over 30 trout, it was one for the ages as we saw and landed big trout all day long.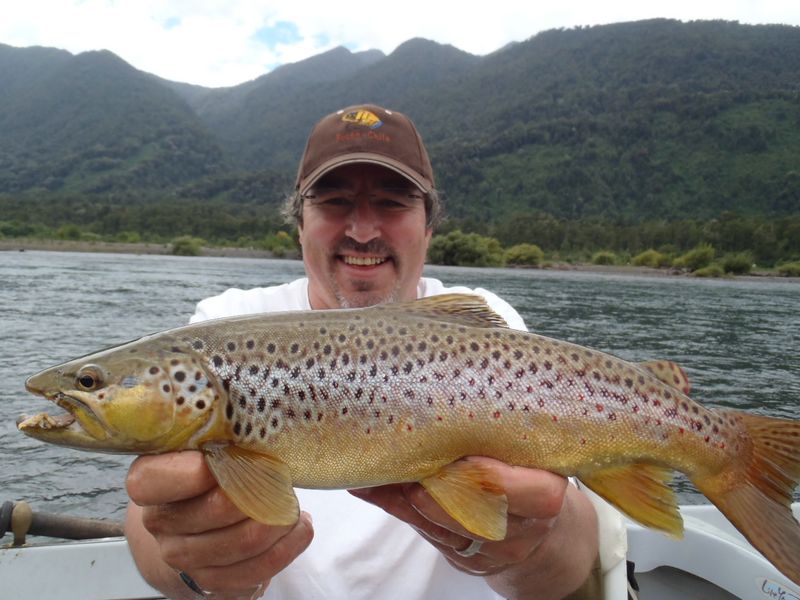 This brown trout after we landed it barfed up a Pancora crab and reassured me we were using the right pattern to catch him.
Wayne Westcott of Colorado. You are my Chilean Sizzler of the Week Award Winner!! Congrats Sizzler!!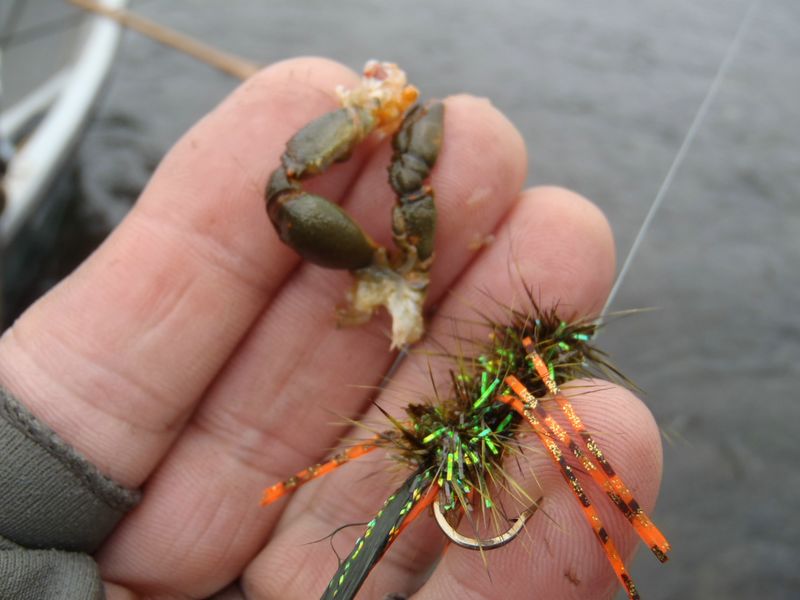 Don't have to be a rocket scientist on this one folks, this is great imitation for Pancora crabs when fly fishing in Chile.
Wayne & Noelle, great week! Look forward to helping you and the kids out on your fly fishing & tour dream vacation to Belize in 2013.
Big hugs, Jack & Carola Trout
LOWER SACRAMENTO RIVER *

CALIFORNIA

* LOWER SACRAMENTO RIVER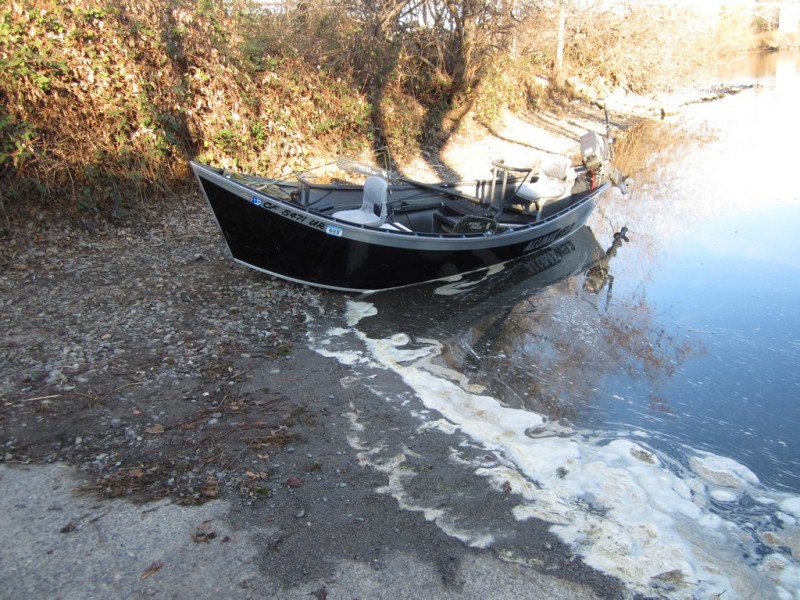 Forrest and Isaac are up to it again, having 20 to 30 fish days out on the Lower Sacramento River this past week near Redding, California.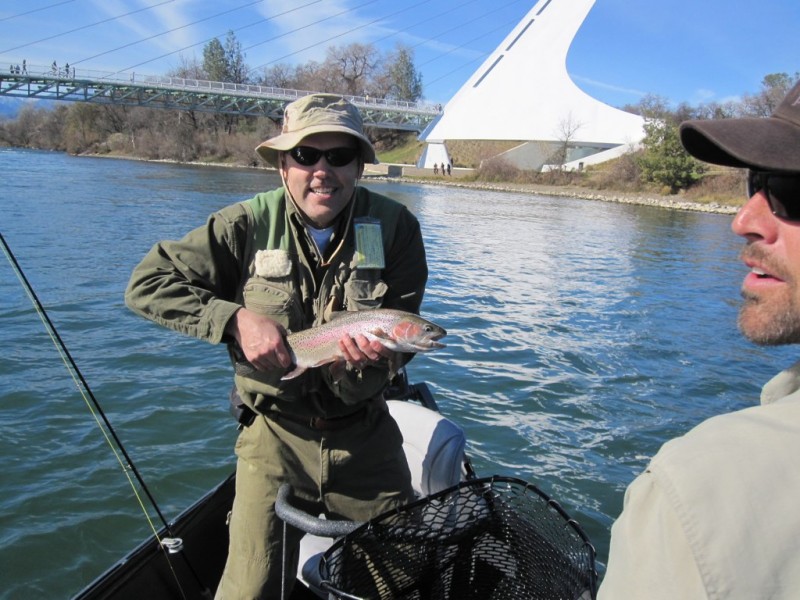 David Diaz and his father Jose, formally known and named by me as Pops, is out on another winter adventure on the wonderful Lower Sacramento River. Located in Northen California between Sacramento * Redding & Red Bluff California

.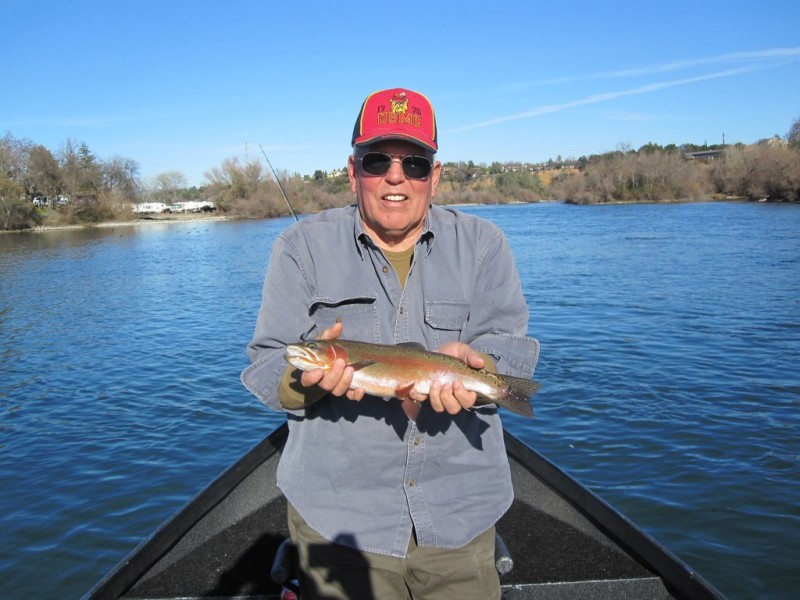 I have fond days out with the two them, guiding Pops and Dave on the Klamath River back before I bought my property here in Chile.
They are two of the most heart warming folks any guide could ever have on a fly fishing adventure. Forrest expressed the same feelings out on his trip with them.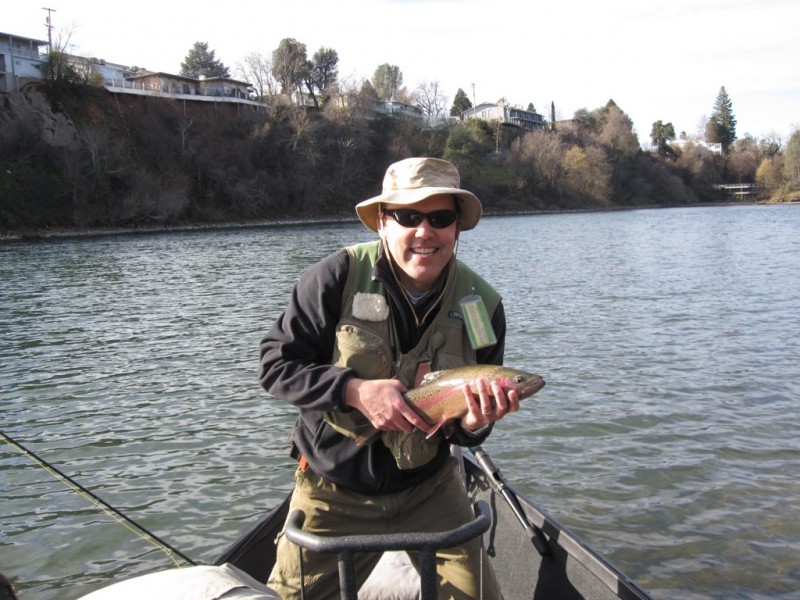 All day out with Forrest of Team Trout, Northern California catching lunkers on the Lower Sacramento River.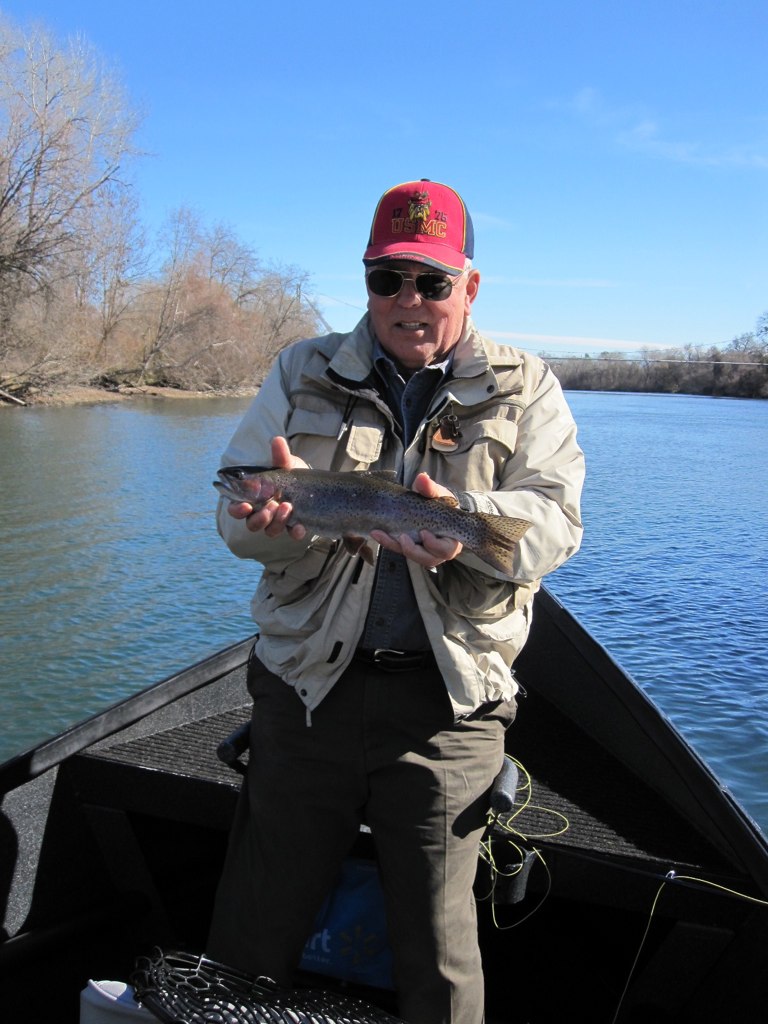 Pops showing the kid how it's done lands another!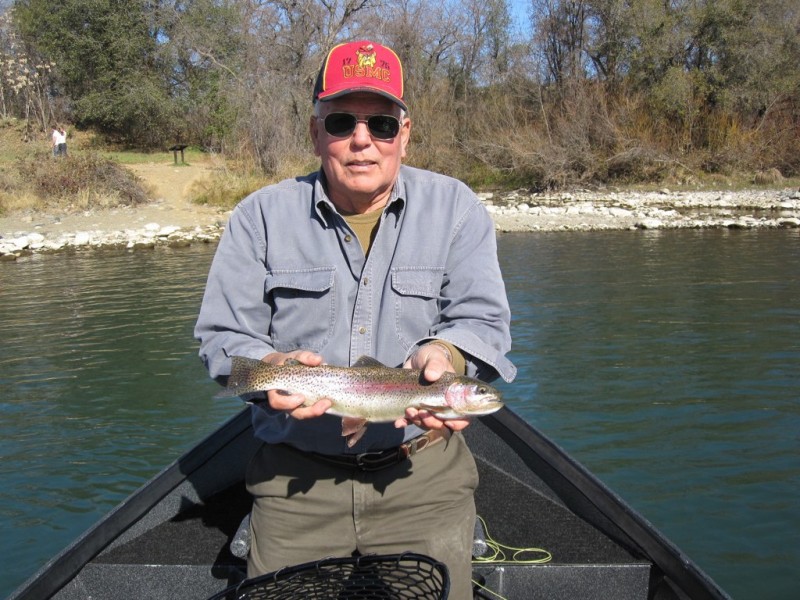 POPS! YOU'RE MY SIZZLER OF THE WEEK AWARD WINNER IN NORTHERN CALIFORNIA. CONGRATS SIZZLER NORCAL 🙂  Thanks again, Jack, Forrest & Isaac of Team Trout Northern California.
BELIZE *

BELIZE *

 

BELIZE *

BELIZE *

 

BELIZE *

BELIZE *

 

BELIZE *

BELIZE *

 Is it time to get away for a little salt water resort excitement? When was the last time you treated yourself to a tropical resort fly fishing and tour vacation?
Jack Trout Fly Fishing International & Tours has you covered.
"What makes the difference is our experience!"  

Catch a snook in a river nearby, later on we'll be fly fishing to some bone fish then later on that day, we'll jump some permit

.

Meanwhile, The family could be lounging on the beach out in front of our lodge or possible on one of our incredible tours.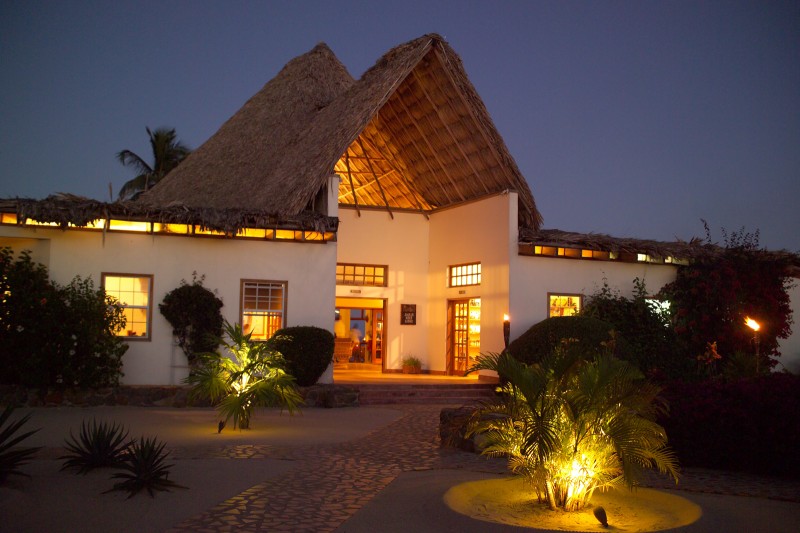 Our lodging is spectacular set in a private secluded section of Belize, with 5 star accommodations, lodging meals and guides.
Since 1999 we have provided fly 
fishing & tours to Belize.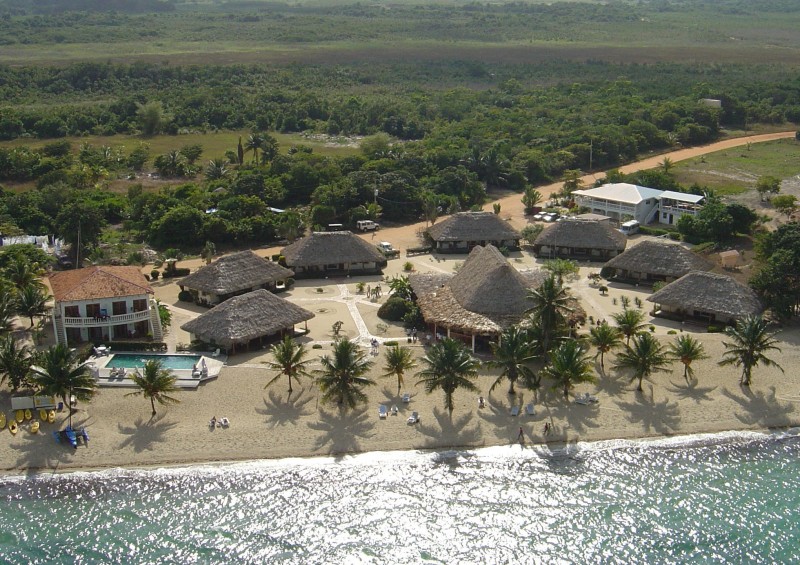 A lot has changed since then and we are proud to announce we have affordable angling packages for partners, family and groups.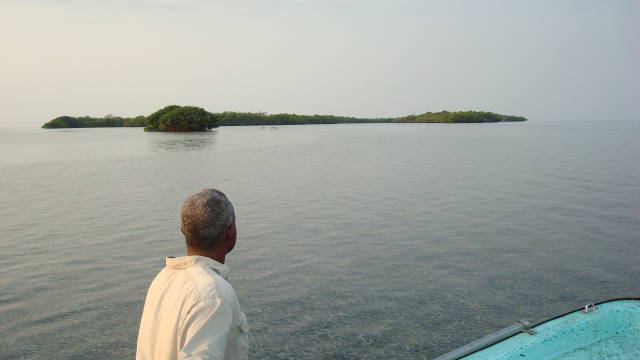 Our main goal is to provide unique salt water fly fishing experiences. Jumping permit daily is what we're all about! We have some of the best guides working for us in Belize, my partner and I won't let you down.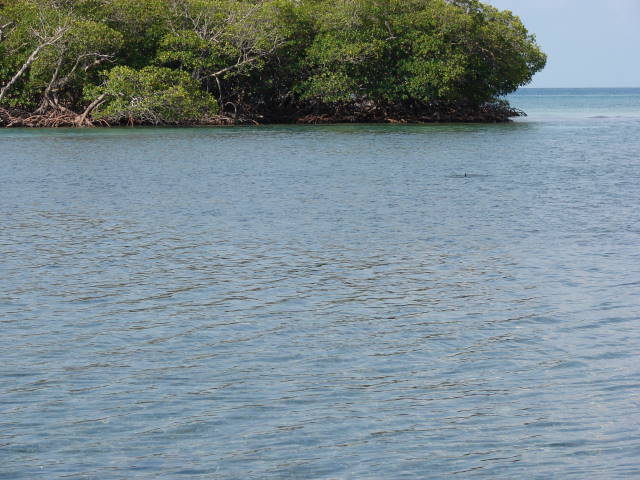 See those permit fining over there… Toss your fly over when you see their tails up in the air! Make a precise and accurate cast and you could join the exclusive club of individuals who have landed an ocean permit. Catch a permit, tarpon and bone fish in one day and you have what we call a "Grand Slam!" This is the most coveted club that salt water fishers join when fly fishing the seven seas.
Maybe that could be you my friends.  Good Luck, Jack Trout & Team Trout International Guides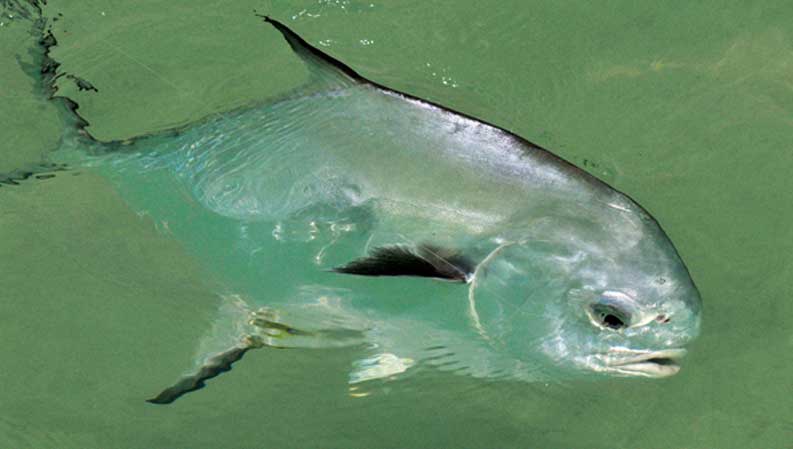 Landing one of these permit beauties is like fighting, "A car door with a motor!"
It's the  crème de la crème of fly fishing.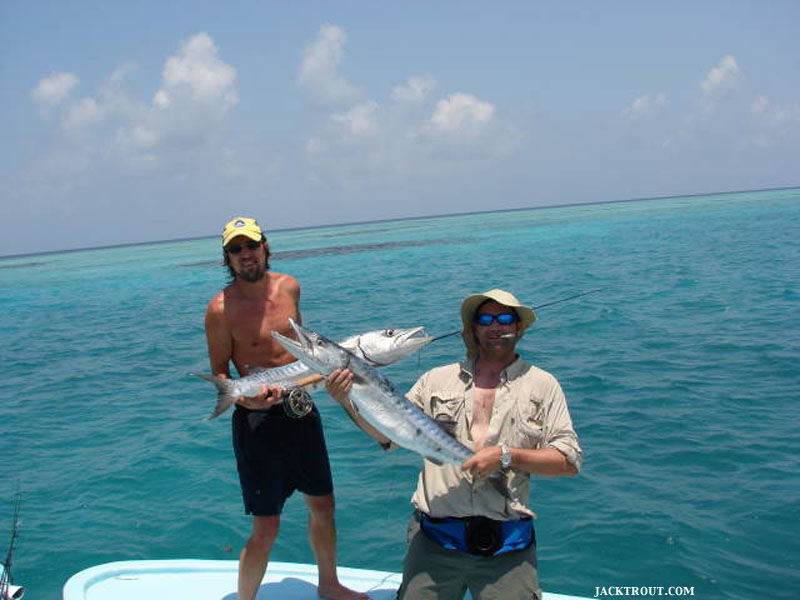 The barracudas are just big and fun to fight and land, but bring your steel leaders fans!
* ARGENTINA * ARGENTINA * ARGENTINA * ARGENTINA * ARGENTINA *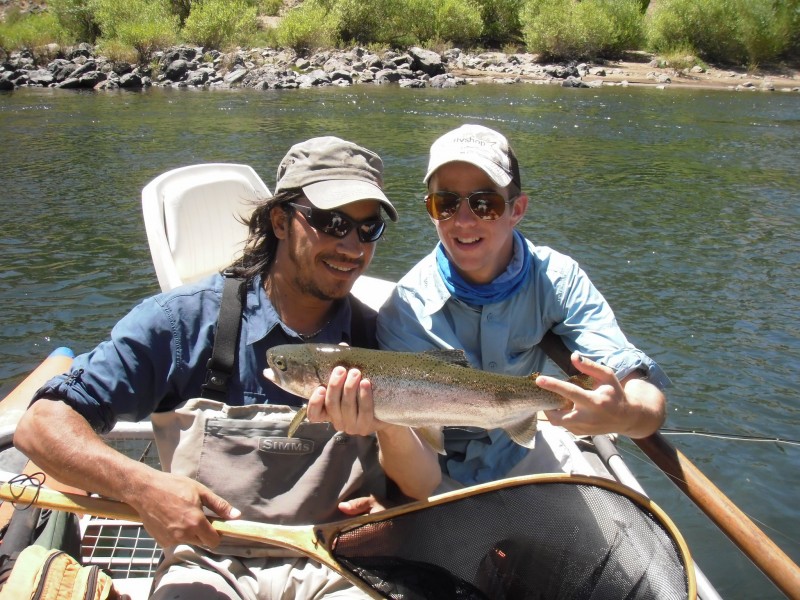 Over in Argentina our guide Juan is putting our people on trout left and right!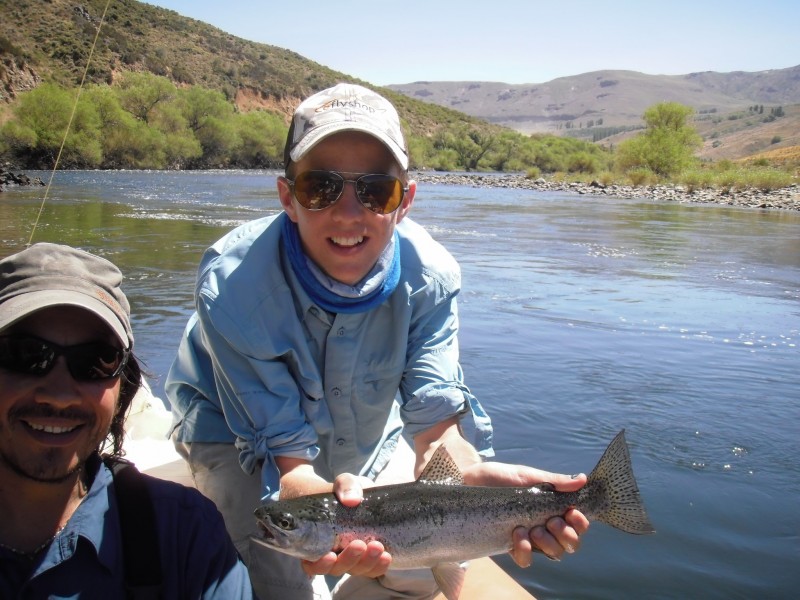 Another nice hook – up as well as fantastic guide lunches and drifts. We hope to guide you in Argentina this season or next.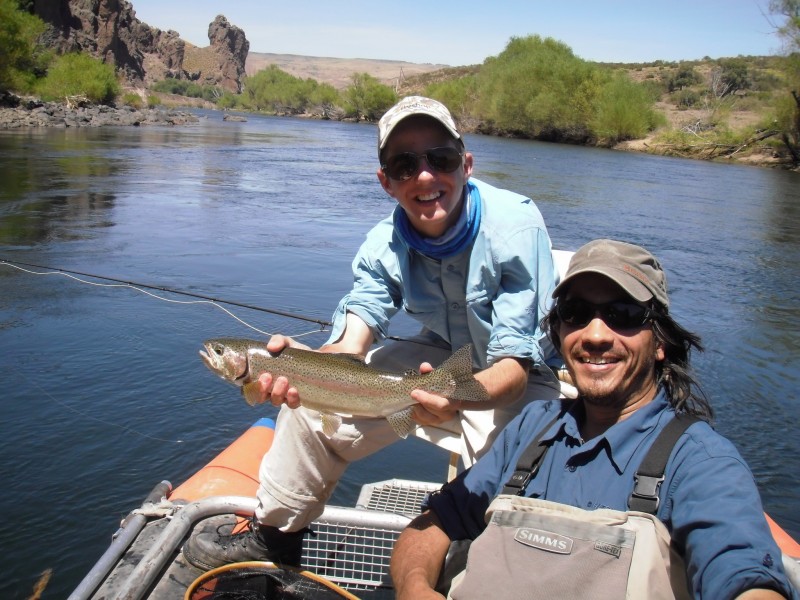 Juan, is a great guide to hook into if you ever have the desire to fly fish Argentina and Jack Trout Fly Fishing International can set it all up for you!
info@jacktrout.com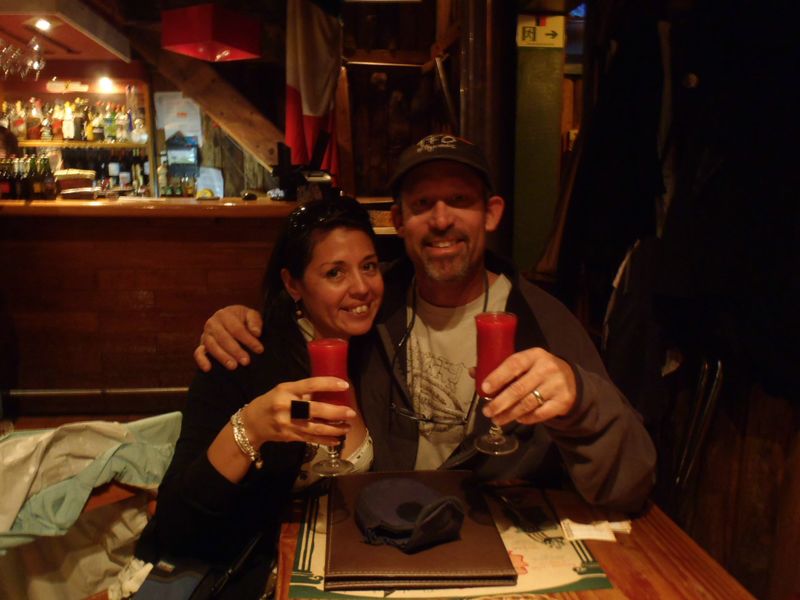 Cheers &  Saludo folks! Thanks for watching our adventures and we hope to hear from you soon.
Best to you in 2012, Jack & Carola Trout & the Team Trout International Guides.
http://www.jacktrout.com