**********************************************************************************
CHILE * CHILE * CHILE * CHILE * CHILE * CHILE * CHILE * CHILE * CHILE *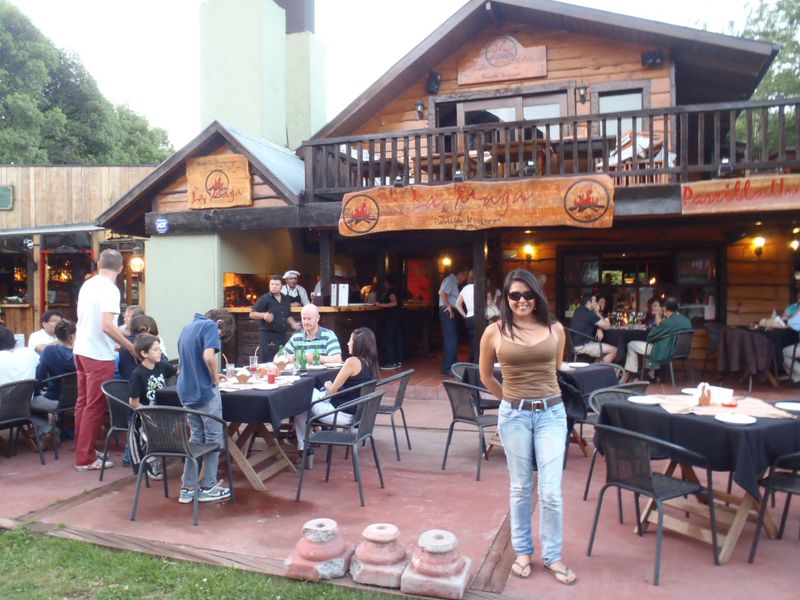 There is a place in Pucon Chile called the Maga, this place is simple magic if you 
like grilled meat cooked to perfection.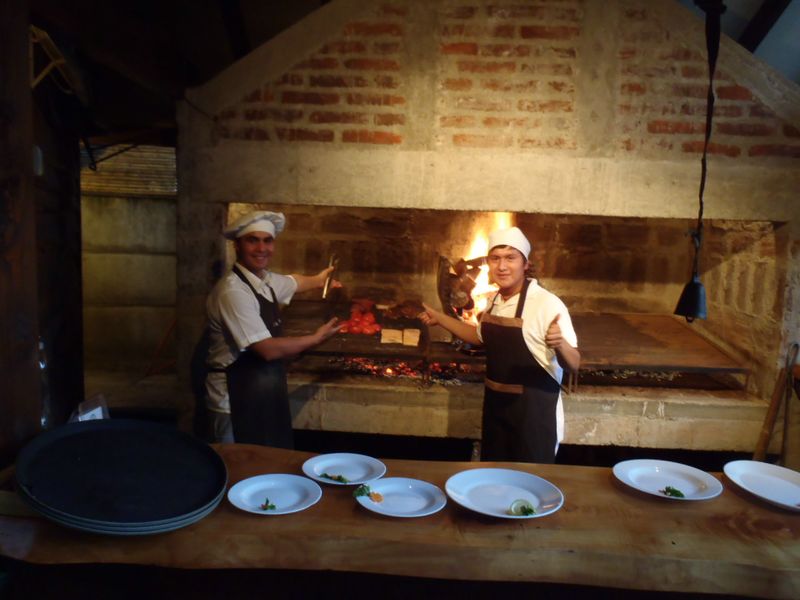 The chef's prepare their local woods daily for their art in cuisine relies on nature
and a flavor you won't find just any where.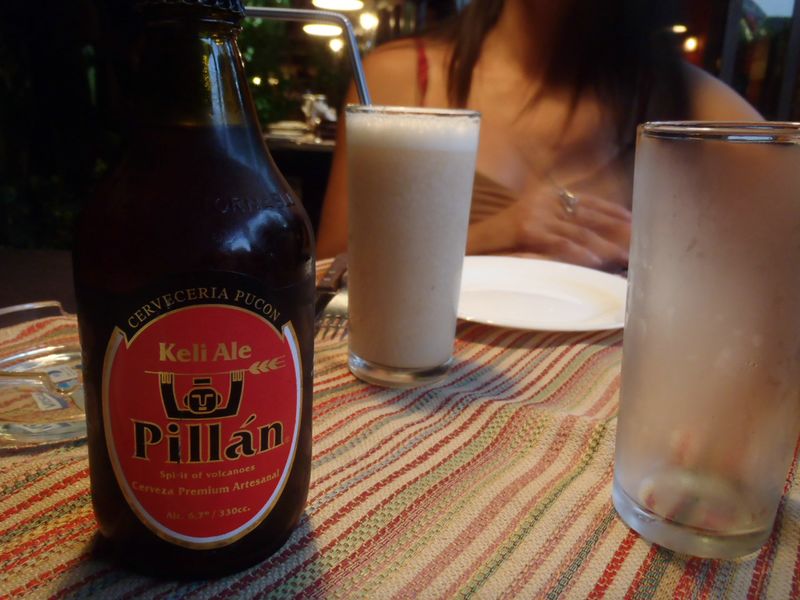 You might try a local micro-brew while enjoying your time waiting for your meal
as Chile embraces the new micro-brew revolution. Carola loved her fresh fruit
drink called Chirimoya.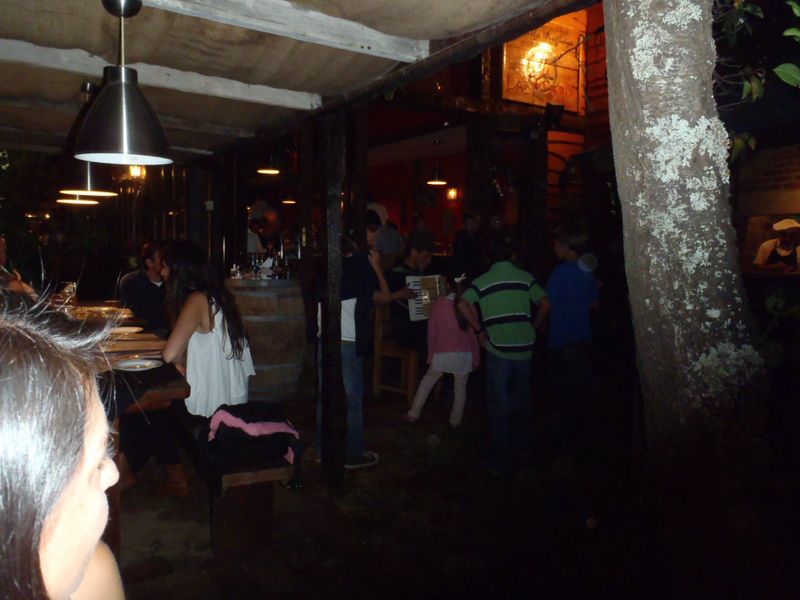 The atmosphere was perfect and so were the sounds of the accordion player
that enchanted all of us while we waited for our meals.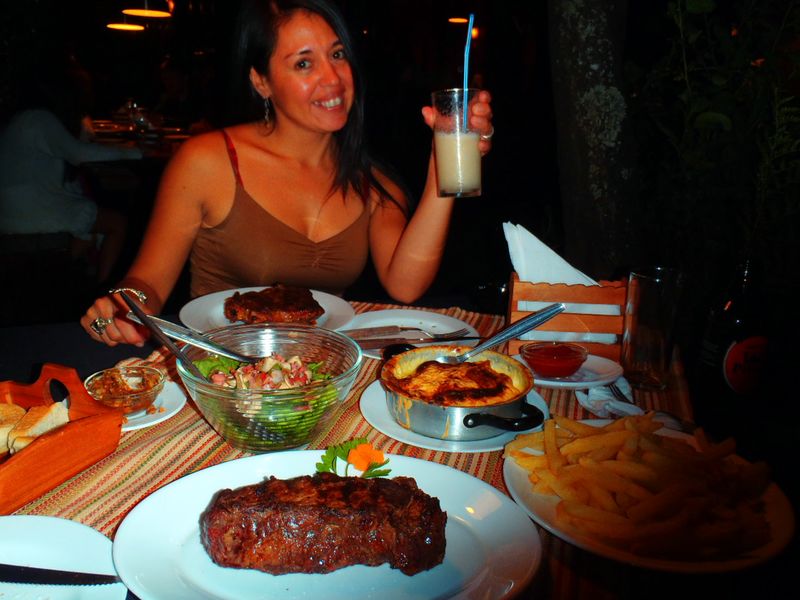 Now you see what we mean Sizzlers, this place is from another planet and the
chefs know how to cook your steak to your liking.
(Here they are called Bife Chorizos)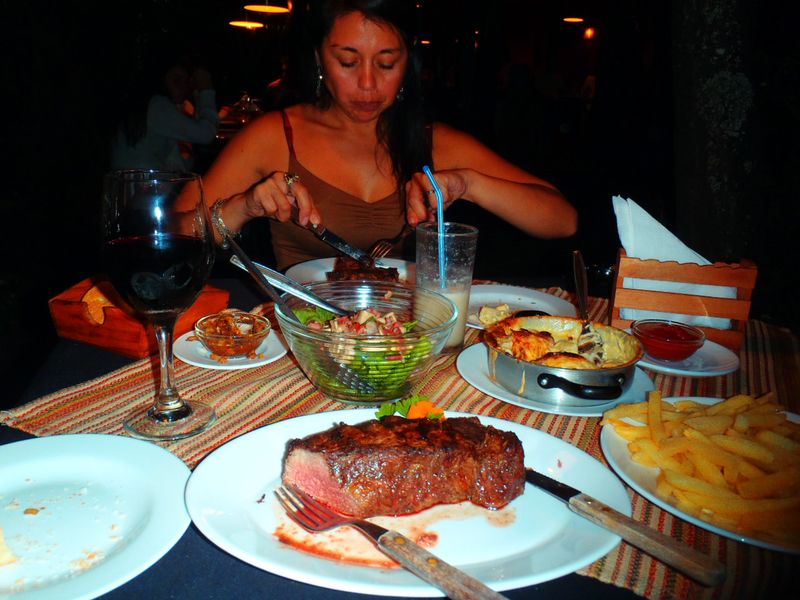 All I can say is exquisite!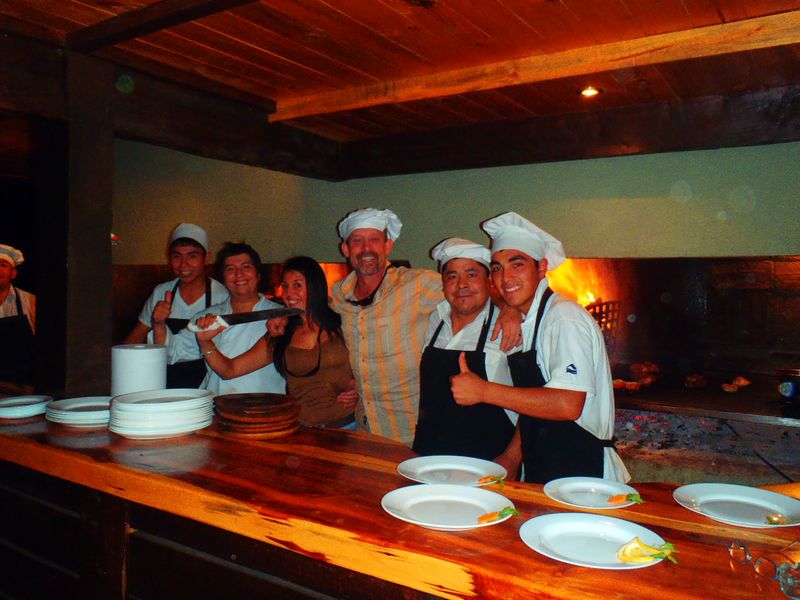 If you left this place still hungry, I'd be surprised for sure..
A few weeks back Carola and I went on a drive to try to find small dry fly rivers.
**************************************************************************************************
It's always fun to find a river you could use your 3 wt. on and possible catch
some trout on dries. I saw caddis on this river but the banks reminded me of
rivers and terrain I was accustomed to seeing down towards Coyhaique, Chile.
before long I put on a large hopper and be it as my guess was right.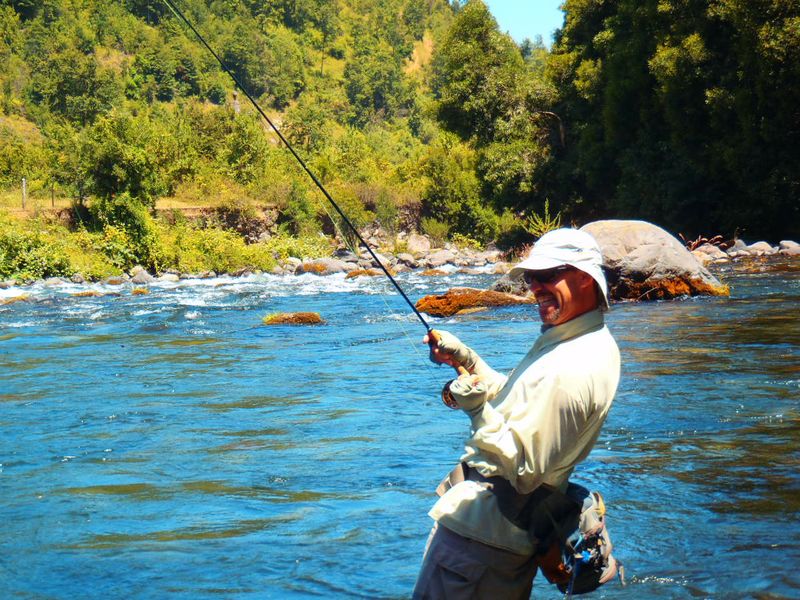 The trout weren't huge but catching them on dries on a smaller 3 wt, rod was
awesome. My dad always said anything you catch on the surface you can add 3
inches 
to son.. I sure miss my dad!! Today would be his 92 birthday as he was born on January 20th, 1920. You'd like my dad he was one of us as he loved the outdoors… Today call or give your dad a hug.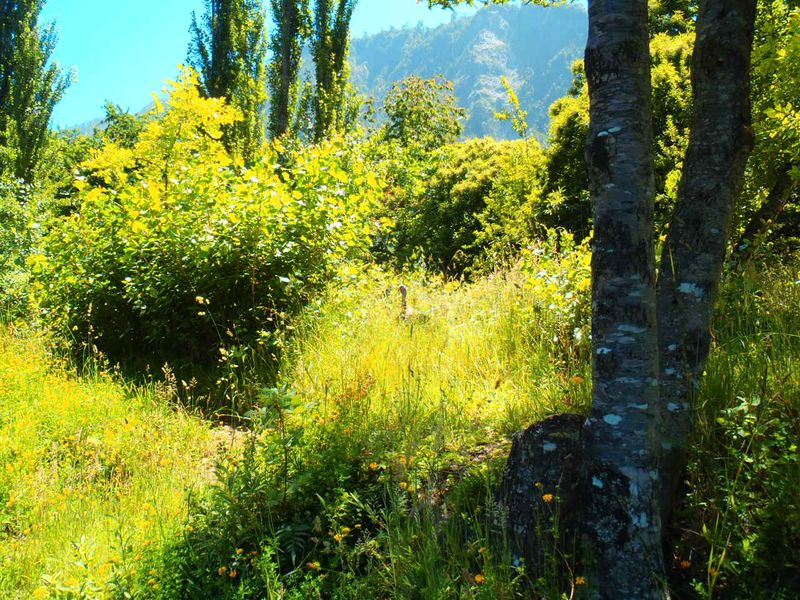 Just over in the brush I could hear a wild turkey gurgling and enjoying himself
as he ate his meal. The stage was set, the day couldn't be better.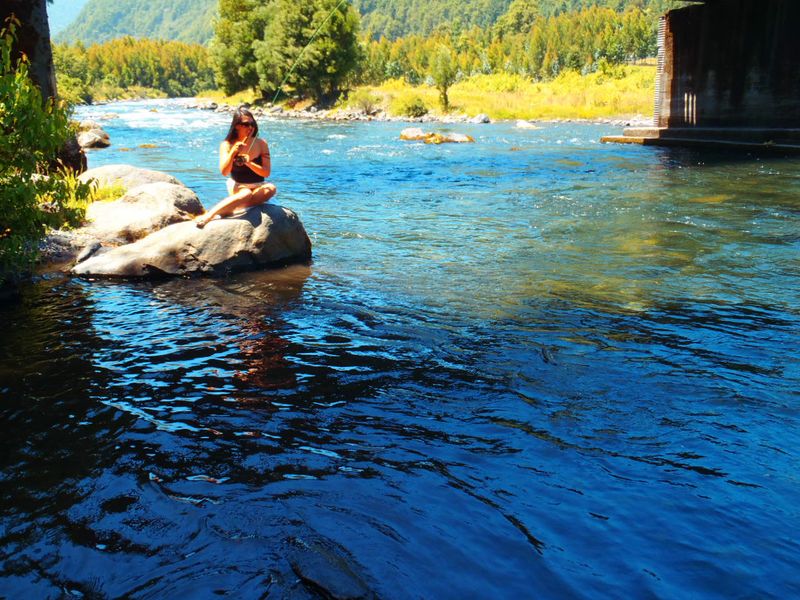 Carola threw a hopper on the river and caught a trout immediately. We caught six trout in this one section of river, it was a good day
for hoppers as the sun was out. The turkey was content and so was my wife perched on a rock she discovered and this new river we found
just out driving around the countrysides of Chile

.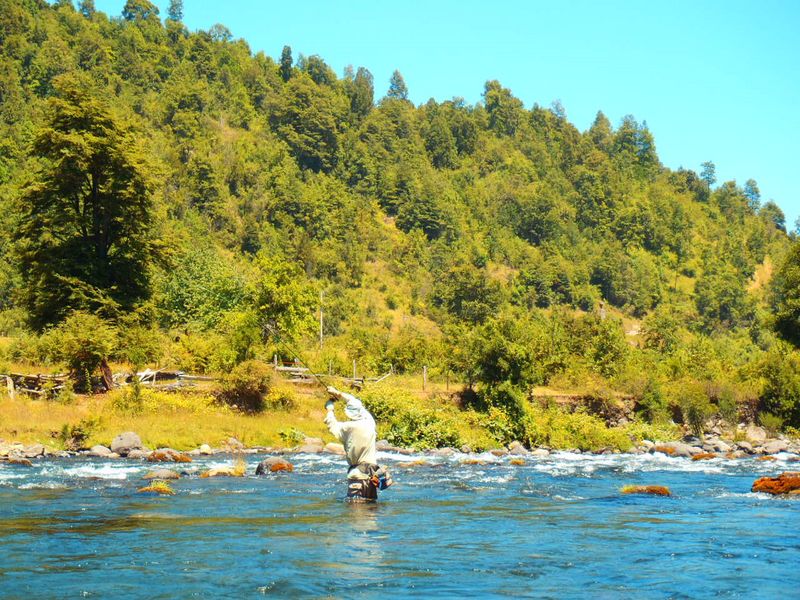 I had one trout take me down close to the rapids and I was off after him trying to tire him out and hope he didn't get caught behind a rock or a very fast current.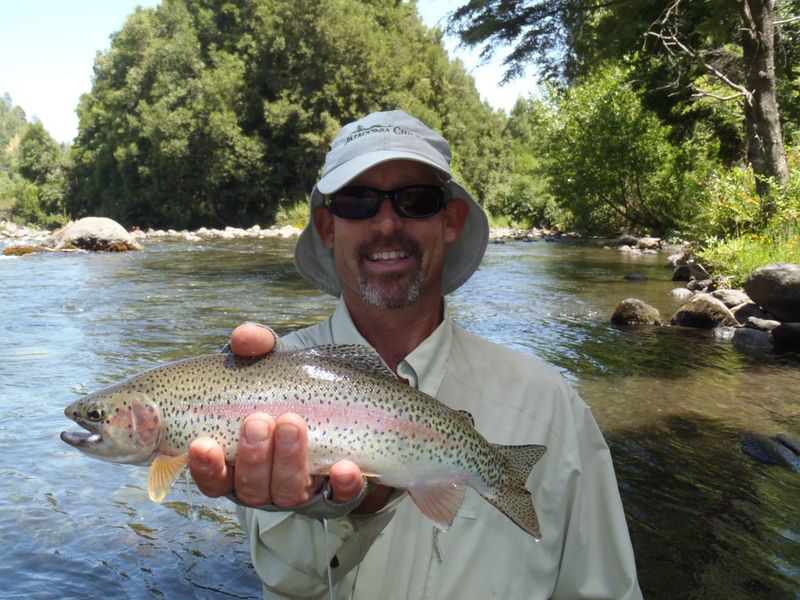 A nice rainbow trout on a smaller rod can make anyone's day, the best part
though was discovering this new river and figuring out what they really wanted,
which was hoppers!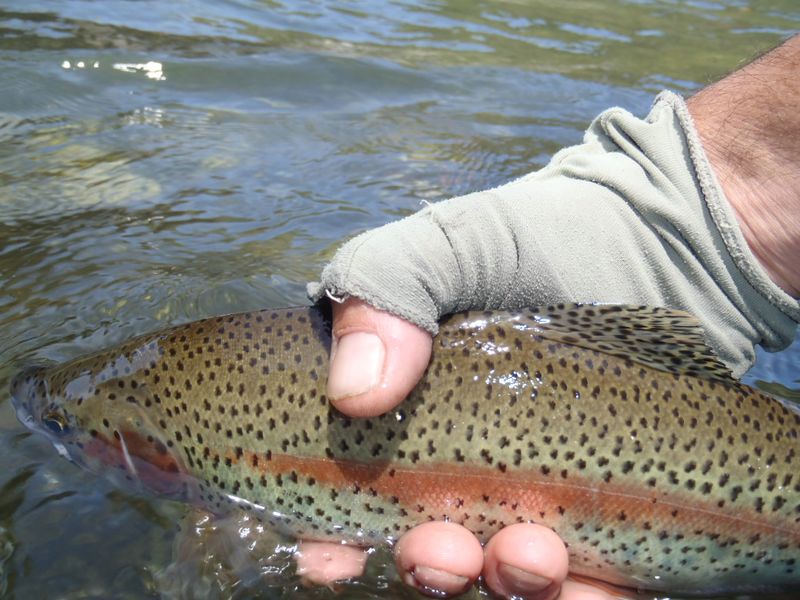 Those are racing stripes, I can almost guarantee that.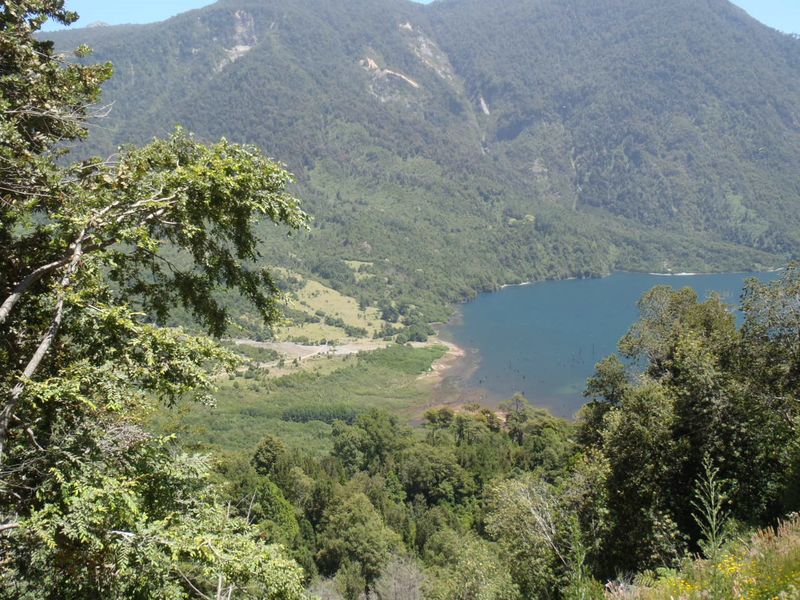 Over a mountain and now nearing the border of Argentina, we saw the lake I was skinny dipping in on my last post from the other end… Not even a soul around any where good thing for me…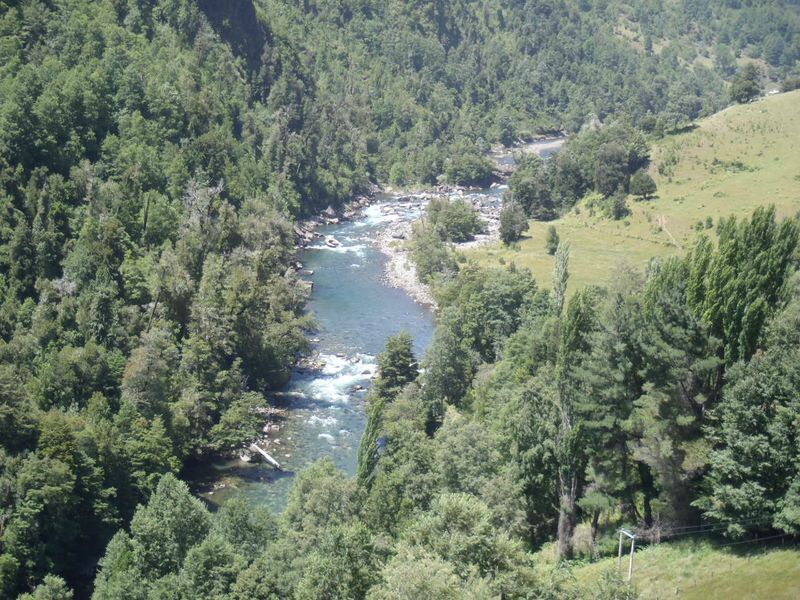 There ahead lie the beautifully colored waters that were born high up in the Andes Mountains looking perfect to fly fish from the distance we were at.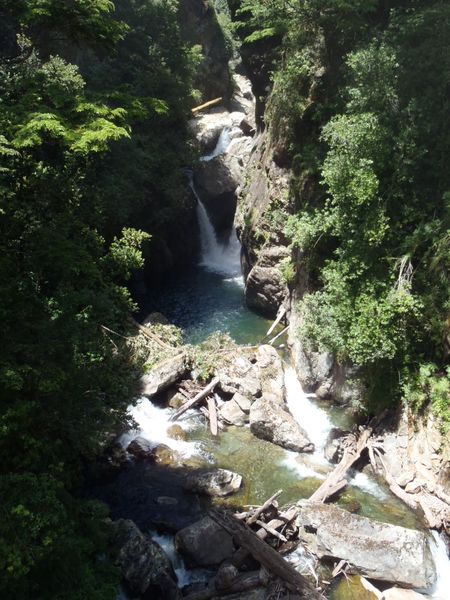 Waterfalls every where we looked, we were truly in awe as we drove through this new terrain neither one of us had seen before..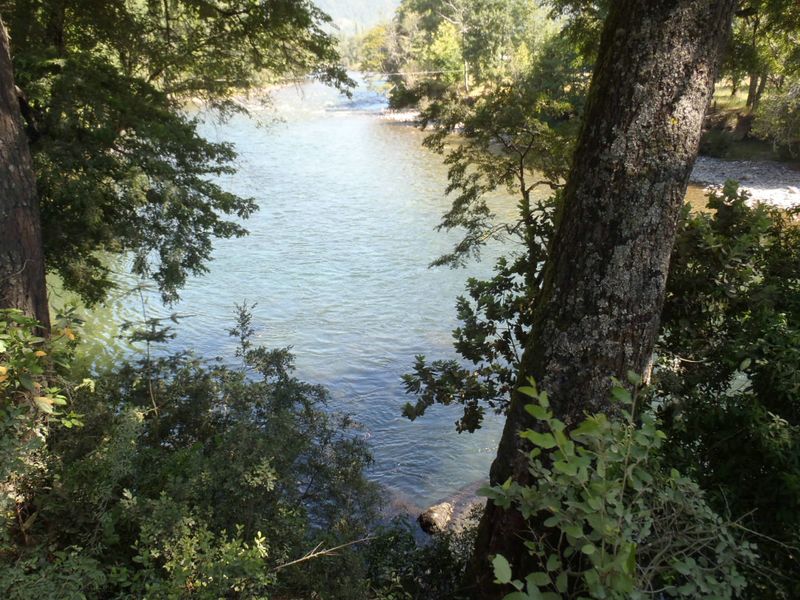 At the base was an incredible scene but being that it was nearly the end of the day, 
we had only time to take some photos and dreamed a
bout returning to this place sometime soon.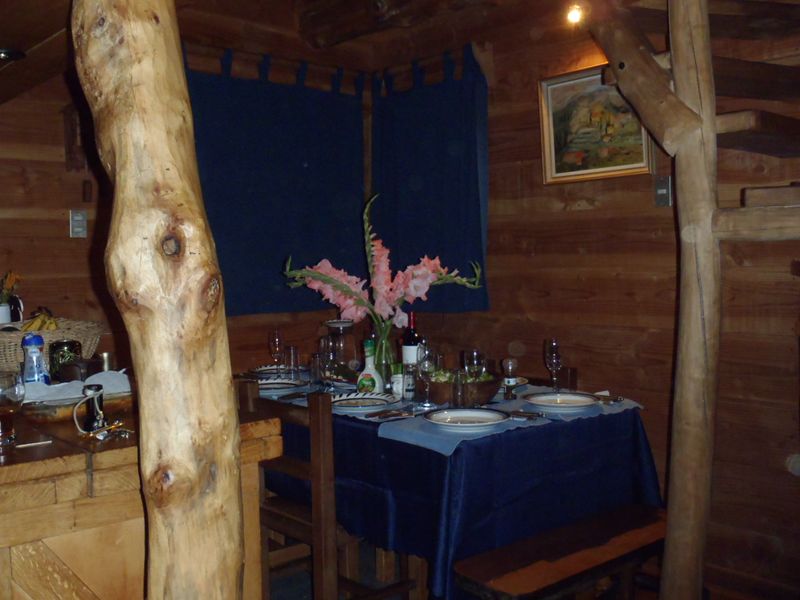 Back at the ranch, Carola was setting up the dinner table for our new clients from the American Embassy.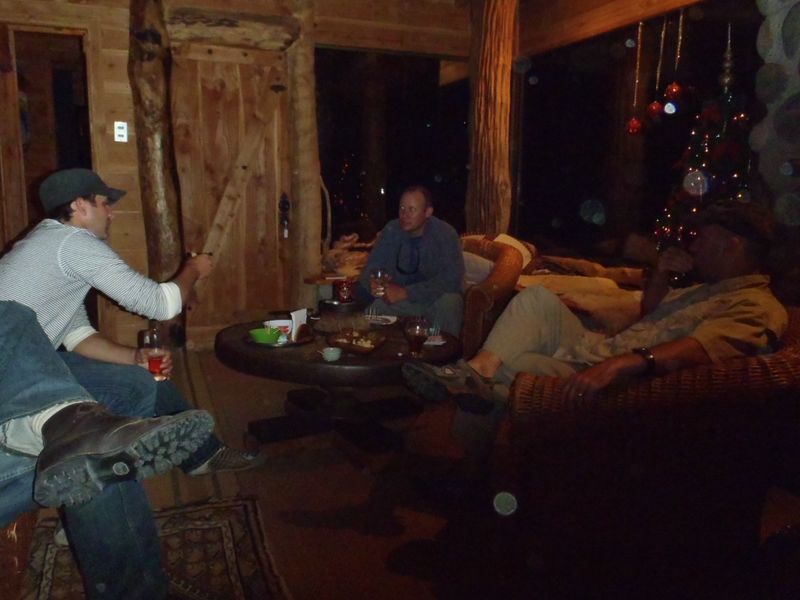 These were four likable characters that enjoyed time off just like you and I and we had many laughs with them on the first day.
(After surviving the immigration process with Carola"s entry visa, it was like a gift from heaven that these guys called and booked a long trip with us. Isn't life amazing, if you read back in my posts you'll see how unhappy I was with the immigration process and now to have a sort of redemption trip for Carola and I plus some$$.. I do believe the Sky Pilot works in strange and mysterious ways Sizzlers! 🙂  Maybe when all things look grim you have to remember that, "This too will pass my son." My dad used to say this too me when I was young. I love him for those wise words, he must know now how much he has helped me in my life. I sure hope he does…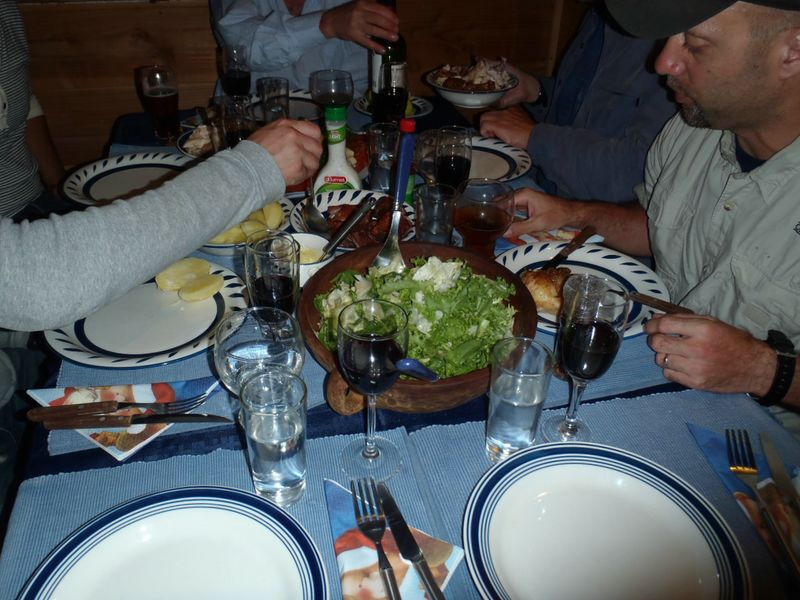 Carola's home cooked meals are always a smash with any of our clients and we munched some great food and talked about fishing.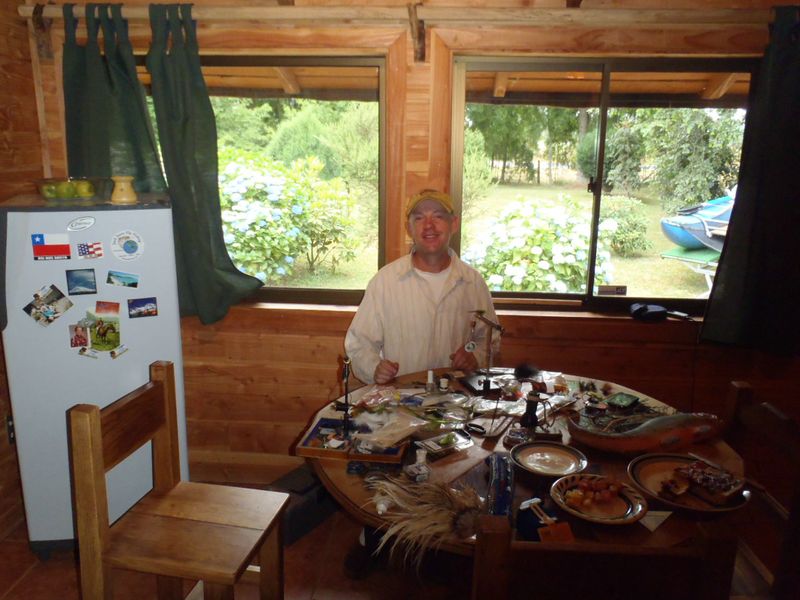 Meanwhile the next morning my guide Edgar and I were tying up a few  flies for the day.
Edgar wants to meet some girl from the United States or some where, maybe at a Swedish film festival? His problem is he guides too much… Send your inquiries to info@jacktrout.com and Carola and I will set it up.. 🙂
WIN A FREE DATE WITH EDGAR AND A FREE GUIDE TRIP ON THE RIVER!
LADIES PLAN TO BRING YOUR SWIM SUIT PLEASE.
 Out on the river the next day Dom hooked into a beauty! A brown trout that sent the reel a  flying and the sounds of a screaming infant was heard throughout the canyon. Her name was Ross!!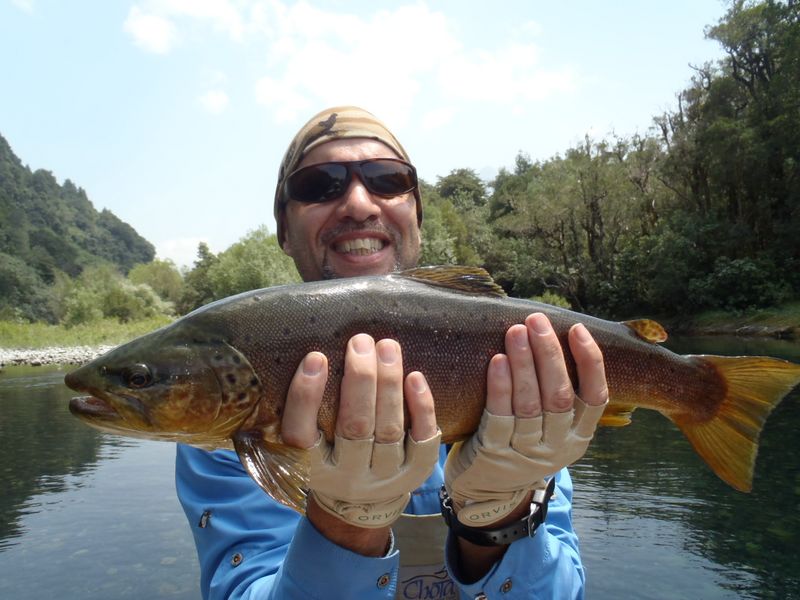 Now that's a nice brown trout in any country folks! That puts Dom in pole position for Sizzler of the Week!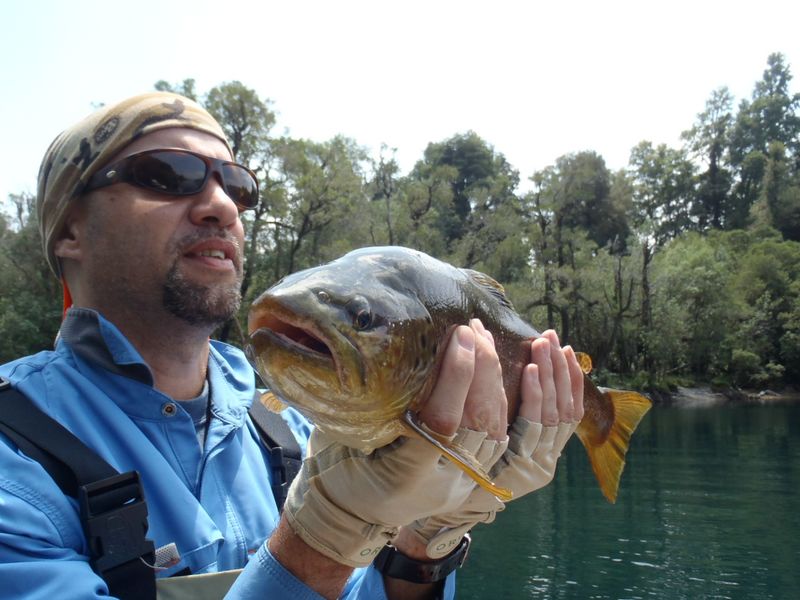 As my dad would say, "that girl looks brainy to me!" A huge girth and kipe was found on this dinosaur. My dad loved Olivia Newton John and her music in the 70's. I can still hear him say, oh Olivia what gorgeous creature she is!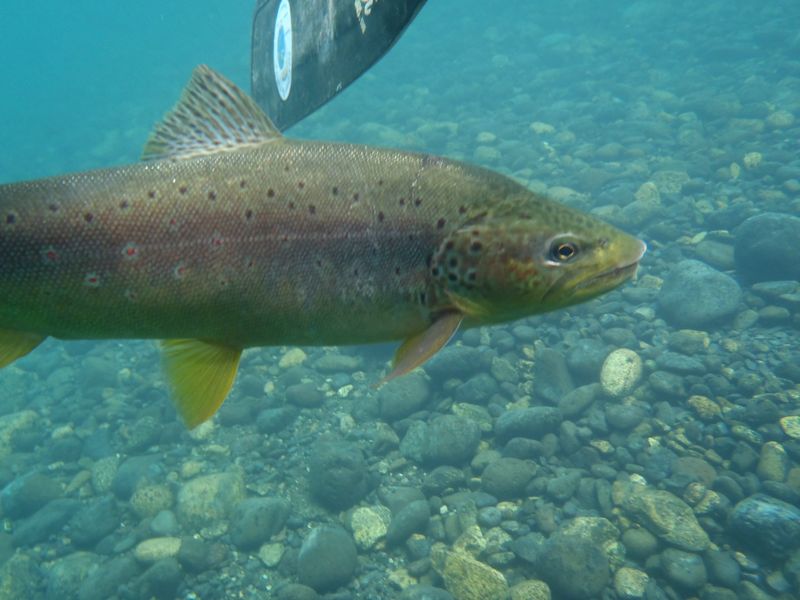 Under water you could see this beauty was long and tall with beautiful brown eyes, what a babe!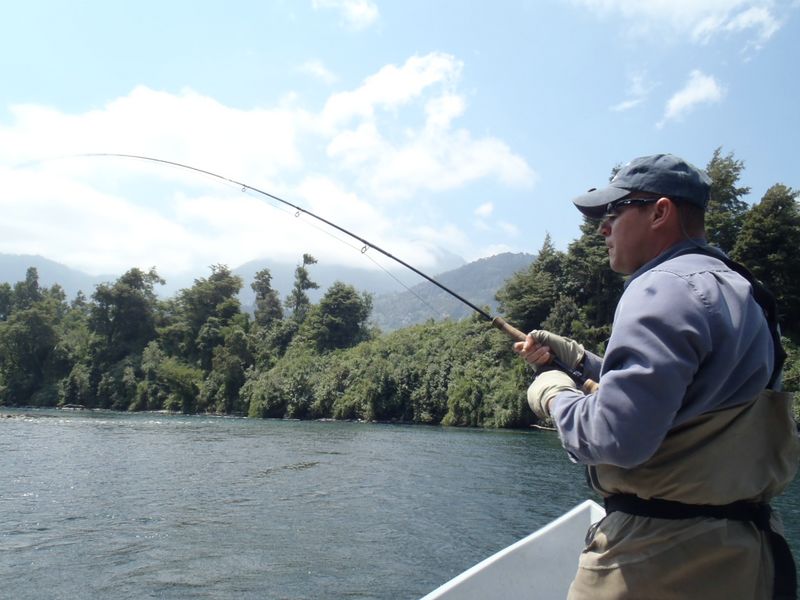 Then Scotty got into the action with his first hook-up of the day.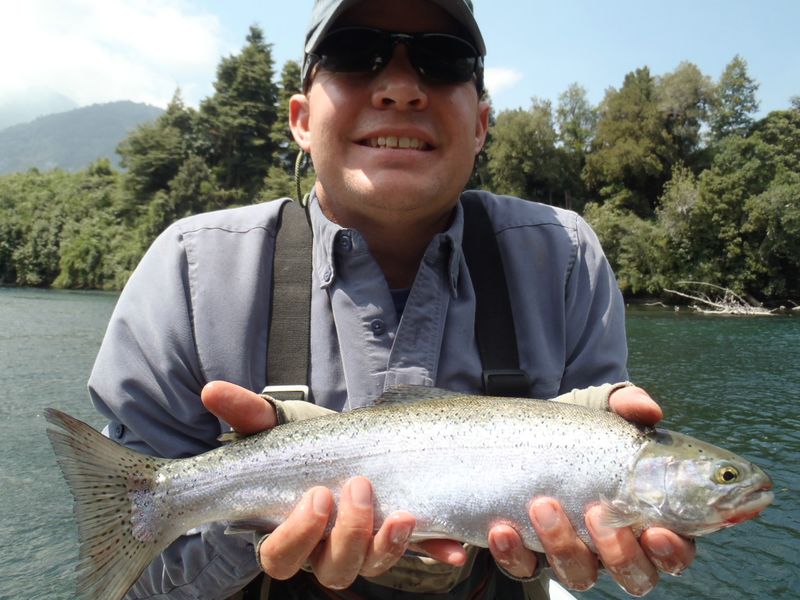 Shazamm! That is one fine fish there Scott!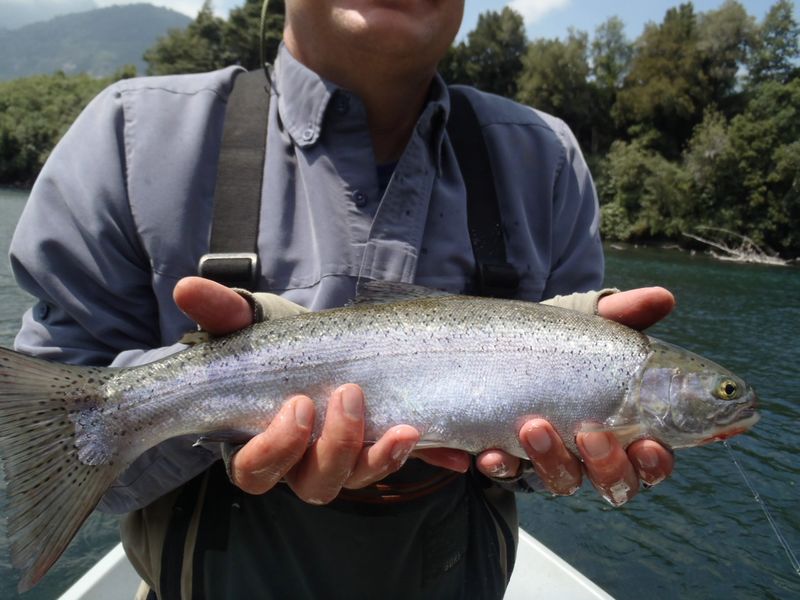 This guy is one of the funniest characters I've fished with in years.. Non – stop jokes but with a heart of gold. Wish there were more on Earth like him, but his mold is rare people. He has the basic quality of keeping life light with a his gentle humor and constant group satires. (He made me smile all the time!)
Almost wish he could be there on every trip just to take the pressure off me and Carola.. Thanks Scott, we thought you were awesome!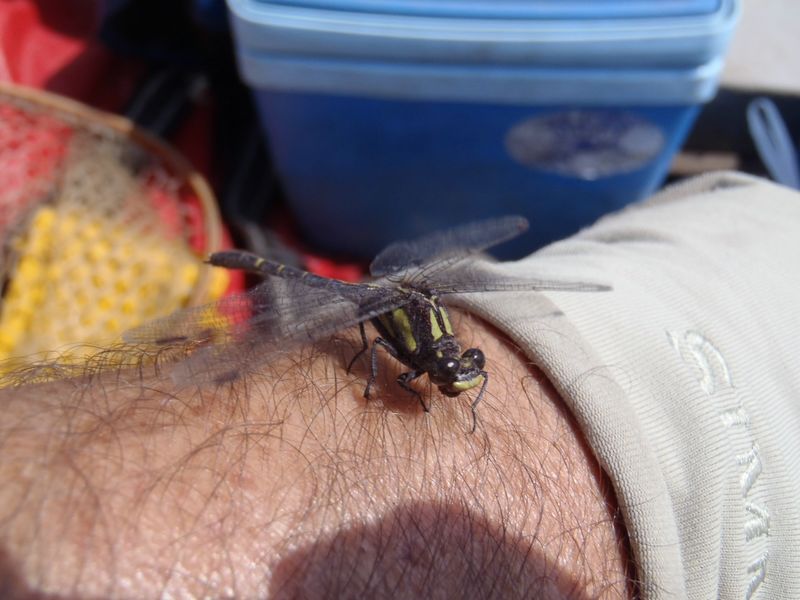 A damsel that follows me where ever I go, I think I'll call her Alejandra…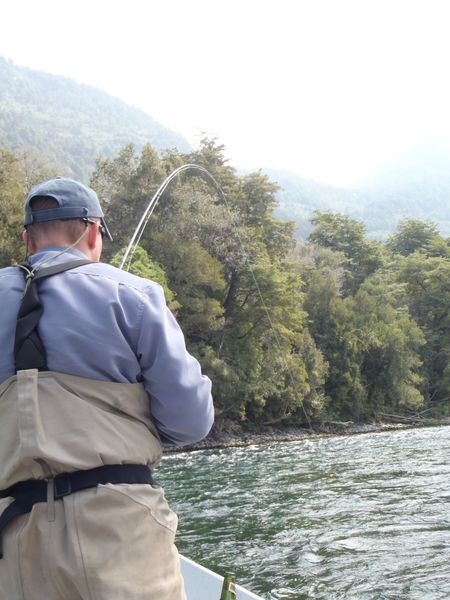 Scott with another hook-up and a strong fighter at that!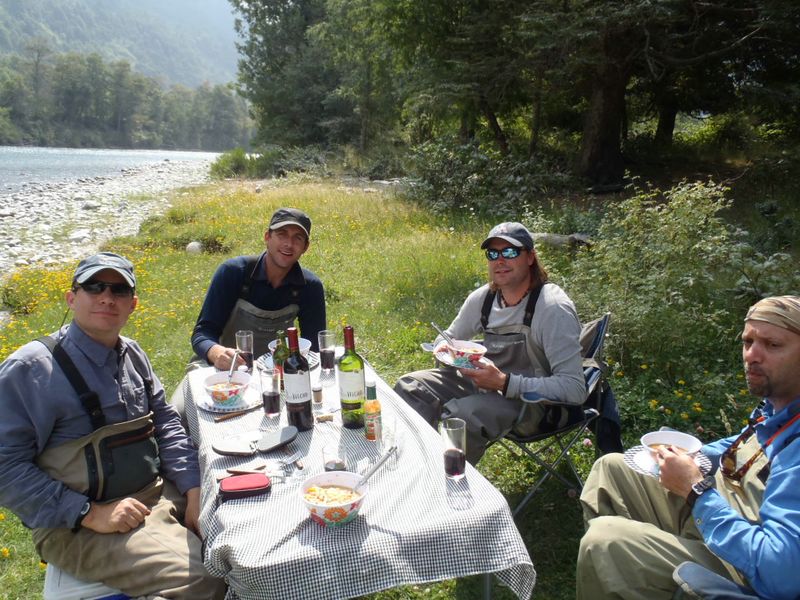 On the really hot days now the fishing has been slower than normal, were facing a drought here in Chile so we stay out until dark just to combat this recent problem I've been having. Sure hope the rains return soon, it would be just what the doctor ordered!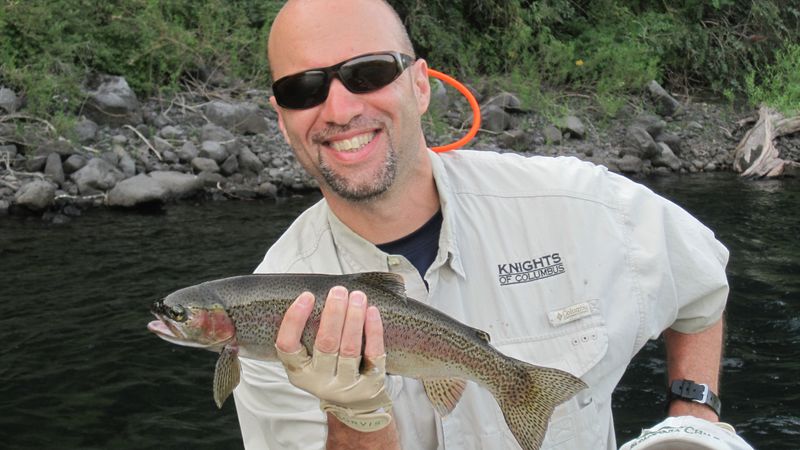 But while others suffer, Dom seen here just keeps hooking into trout…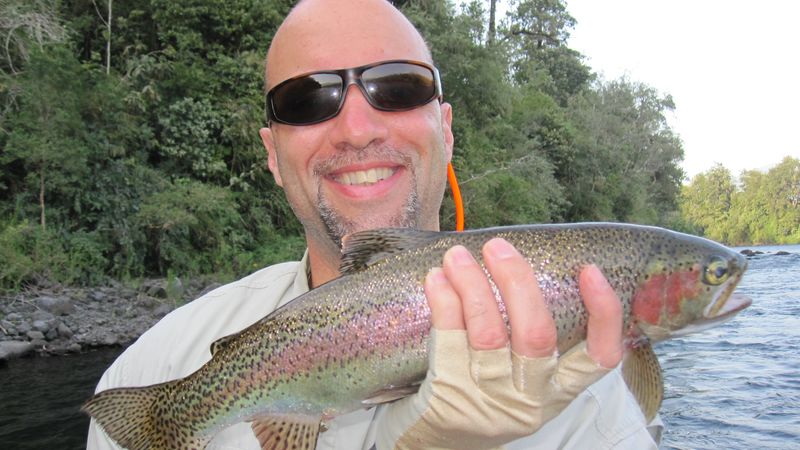 My money is on this guy for Sizzler of the Week! How about you?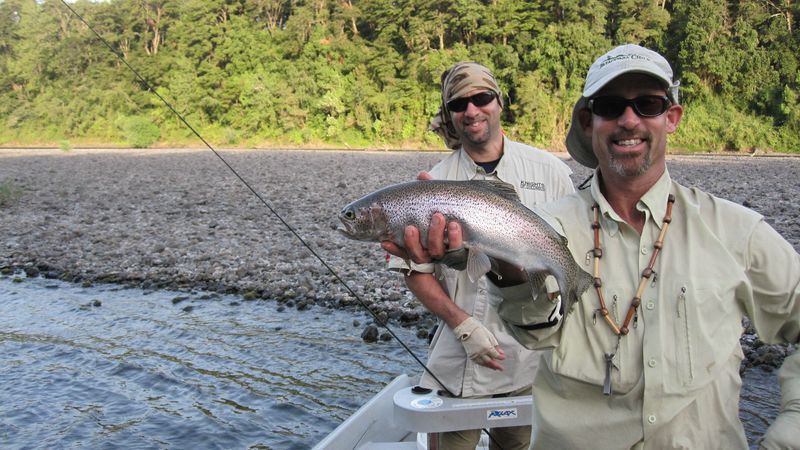 Then right before dark he hooks into this hard fighter that reminded Dom of the

Baltimore

Ravens defense! We hope the

San Francisco 49ers

and the

Ravens

play in the Super Bowl this year. The coaches are brothers and it would be the first time ever that two brothers played each other in a Super Bowl.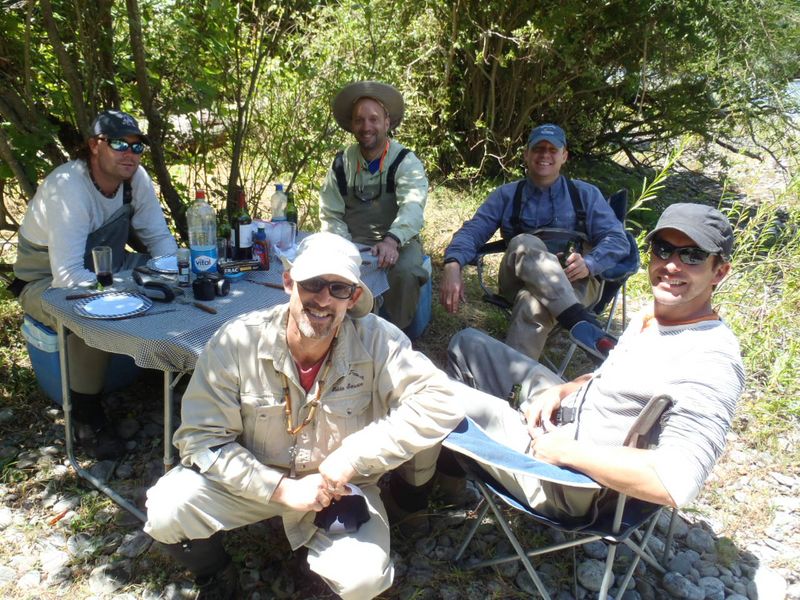 What a colorful group indeed, like that hat from Mexico Dom! (Scott made me use this photo)  🙂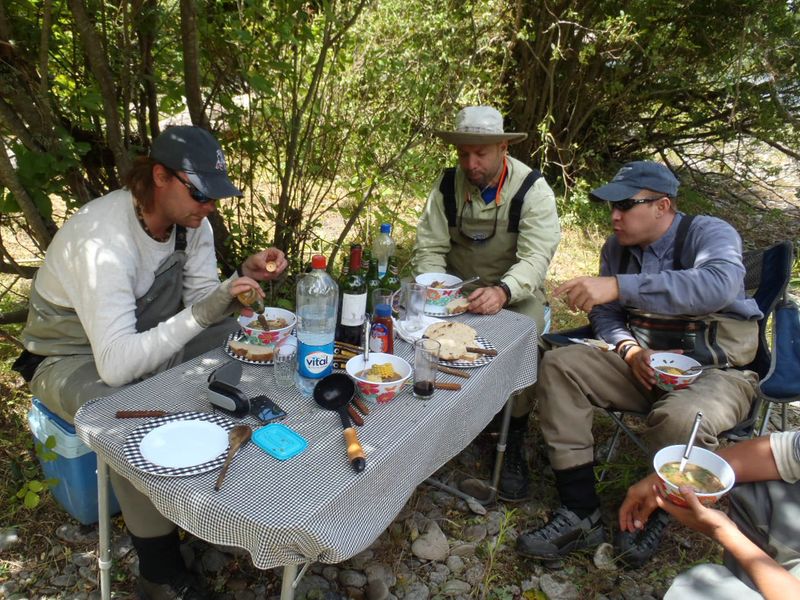 Carola made her world famous Chilean Cazuela and we laughed and joked just about everything. Meanwhile it was really windy that day and trees were falling into the river and so were the leaves, this made angling tough that day..  🙁 Fishing can that way sometimes Sizzlers, you never know as a guide, that's why I carry Tumms with me.. 🙂  Sometimes it just kills me that people come all this way and have sub-par fishing, but such is life… Ah %$#* !! But when it happens to some of the greatest people you could ever guide, it really gets me in the gonads. The clients usually just drink more…. Make the best of the opportunities you are given Sizzlers and smile, you're still here..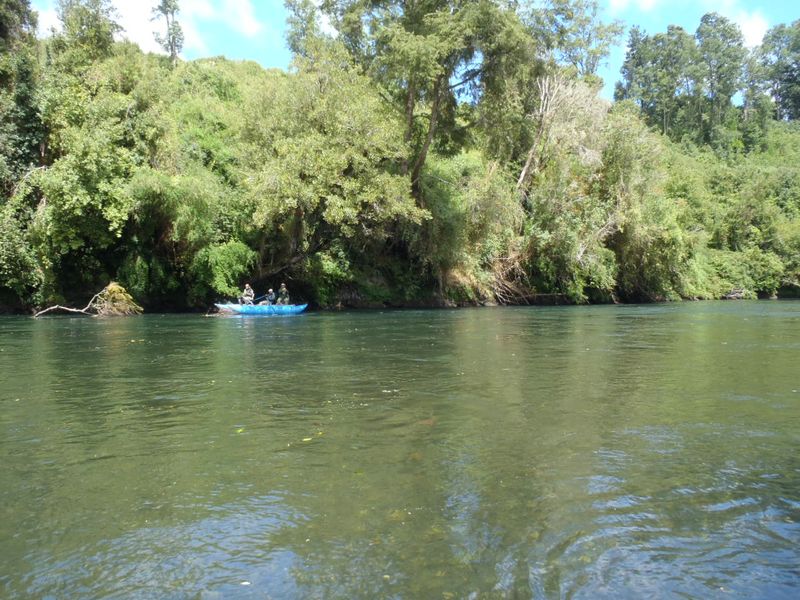 We were doing fine until that hurricane wind came up out of no where and the crying shame was the day after they left, the weather turned back to perfect fishing conditions. WTF – Chuck? I can't controll it, but the groups attitude was so great, they knew it and made the best of their time together in spite of the cards we were dealt. Carola, Edgar and I really miss these guys, and on a scale of 1 through 10 these guys were 12's! And not a one of them was below a 12 on the coolness scale, I am so glad these are the guys who protect our United States on many levels of our best interests  and you can rest assure that their intelligence was also a solid 12. (Sometimes you can get one peckermyer, that's like a group cancer but not in this group people!)
Makes me proud to be an American 🙂 Fricking the greatest guys you'll ever meet and guide PERIOD!!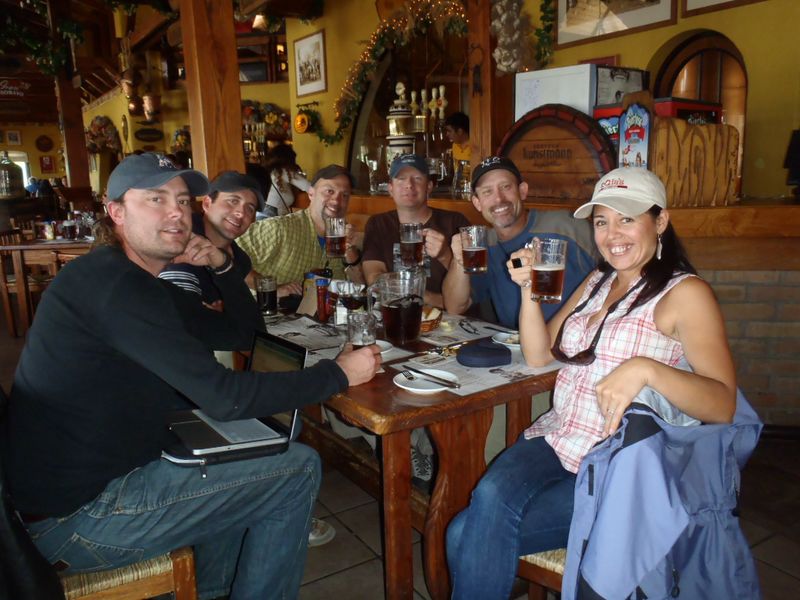 Cheers to those of you who protect
, love and live the USA
, we salute you!
Email from Scott R. American Embassy –
Jack,
Great update, job well done. We still talk about the good time we had, I would even like to come back with my family. We shall see. So, we will look at having you by here in march. Should be fun. I have not gotten to trip advisor yet, I will soon. Take care for now brother, and warm hug to the better half.    Scott
BELIZE *
BELIZE *
BELIZE *
BELIZE *
BELIZE *
BELIZE *
BELIZE *

BELIZE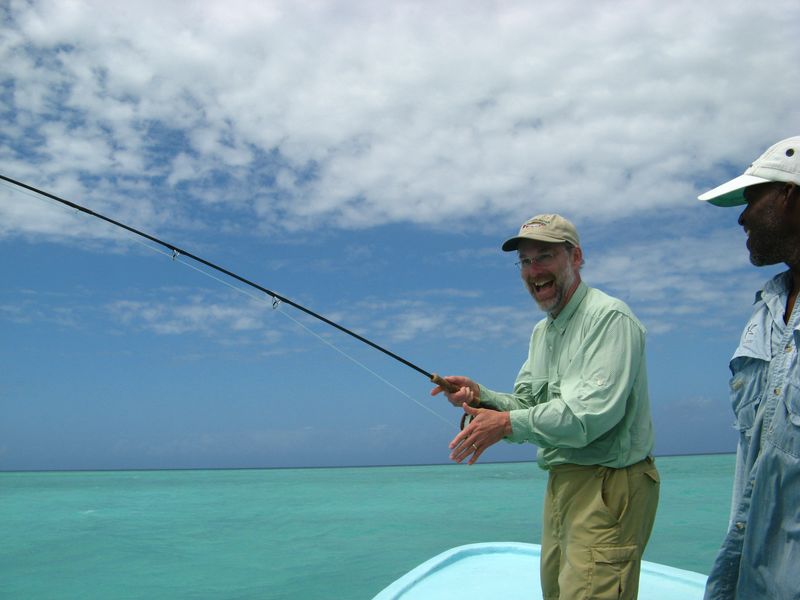 We have a place in Belize that is perfect to fly fish this time of year and is very reasonable priced.
We offer single day fly fishing trips as well multiple day fly fishing, meals and lodging packages. This is our 13 th year of outfitting Belize check out our site at:
http://www.jacktrout.com/wp-content/uploads/legacy/belize/belize.htm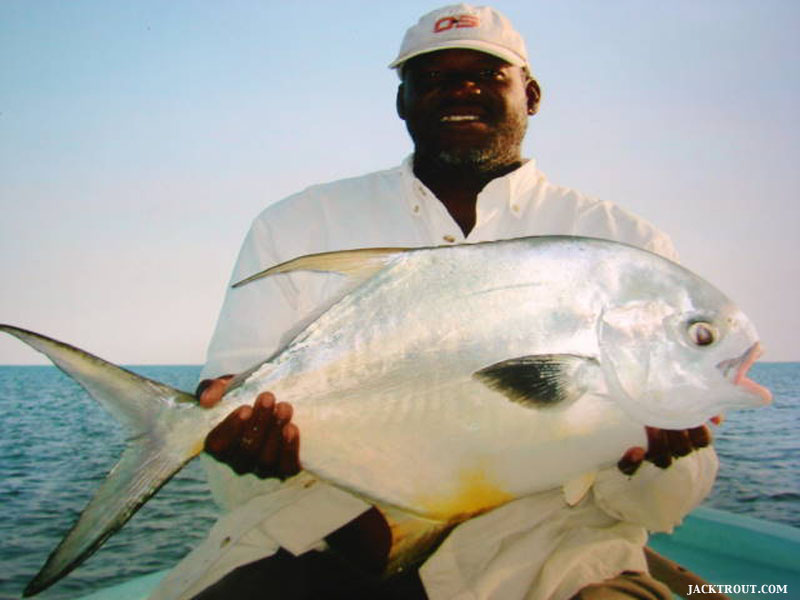 Our guide Lloyd will get you into the salt water adventure of your lifetime as he is an expert in jumping and catching Permit while fly fishing in Belize, but the bone fish is also productive in between.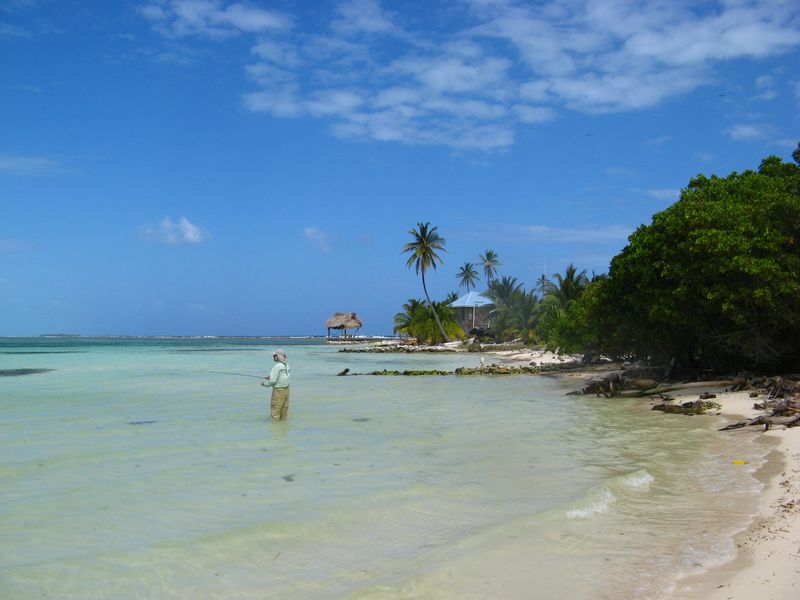 We offer beach front cabins with all meals included, check out our package prices.
BELIZE PRICE LIST
January 1st through September 1st
Fly Fishing Trips with our Very Experienced Local Fly Fishing Guides from Hopkins Village, Belize. Bones, Permit, Tarpon are what we mainly fish for in a 22 foot professional flats boat.
– GUIDED PER DAY FLY FISHING REEF TRIPS (NO LODGING) –
1 or 2 Anglers All Day ~ Blue Grounds/South Water Caye $400 1 or 2 Anglers All Day ~ Glovers Reef $450
Extra Angler ~ Blue Grounds/South Water Caye $175 – Glover's Reef $200
5 Star ~ Jaguar Reef Fly Fishing Package
$2950 per week per person. Double Occupancy
8 days 7 nights 6 days fly fishing or 5 days fly fishing, one day Mayan Cave River Tour. All Meals, Lodging, Transportation, Guiding, Flats Boat 2 days out to Glovers Reef with this package. 6 days fishing package is $3250.
Hopkins Village Fly Fishing Package
3 Star ~ Hopkins Village Fly Fishing Package $2150 per week per person. Double Occupancy 8 days 7 nights 5 days fly fishing, one day Mayan Cave River Tour. All Meals, Lodging, Transportation, Guiding, Flats Boat. This packages Includes one day out to Glovers Reef. 6 days fishing package is $2250.
We can also entertain the Non-Angler with these activities:
Mayan Tours, Scenic River Tours, Snorkeling, Diving Blue Hole or Glover's Reef, Atoll Bar Hopping (Very Popular!!) or Fishing / Atoll Bar Hopping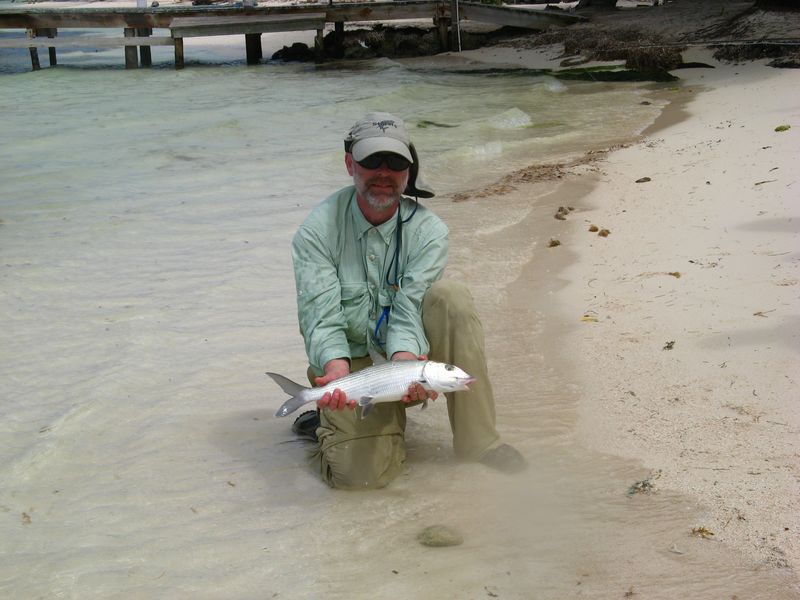 Walk out do a double haul to some bone fish, catch 3 then go back for some food & drinks… What a life vacationing in style with Jack Trout International Belize, we simple have you covered
.  Our experience is what makes the difference!
Want to talk to others that have gone with us, email us at info@jacktrout.com and we'll be happy to provide you the contacts. JT 
Can you say, "Freight Train folks!"
NORTHERN CALIFORNIA * NORTHERN CALIFORNIA *

NORTHERN CALIFORNIA
 *
NOR CAL
A heart warming picture of guide Isaac and his son River in a secret location in Northern California. Isaac has some great places to take you right now, especially since the weather has finally turned and Northern Cal is seeing some more precipitation. 🙂
Even some trout are being caught on the rivers of Nor-Cal !!
Book him Dano! Our client Dano who Isaac guided is enjoying the benefits of winter fly fishing…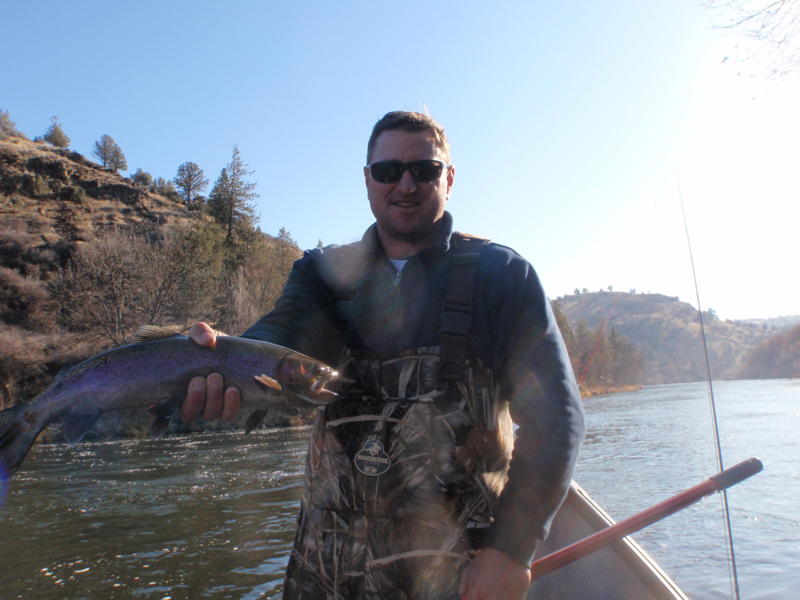 I like the way he holds the steelhead, you can really see the fish. Take notice Sizzlers this is an art!
Friend Brad, getting into the action also learning to fly fish can be a rewarding and fruitful endeavor, especially when you consider 

just the places it takes you alone

.
Even the Lower Sacramento is an option right now, it's open folks!
info@jacktrout.com
CHILE * CHILE * CHILE * CHILE * CHILE * CHILE * CHILE * CHILE *

CHILE *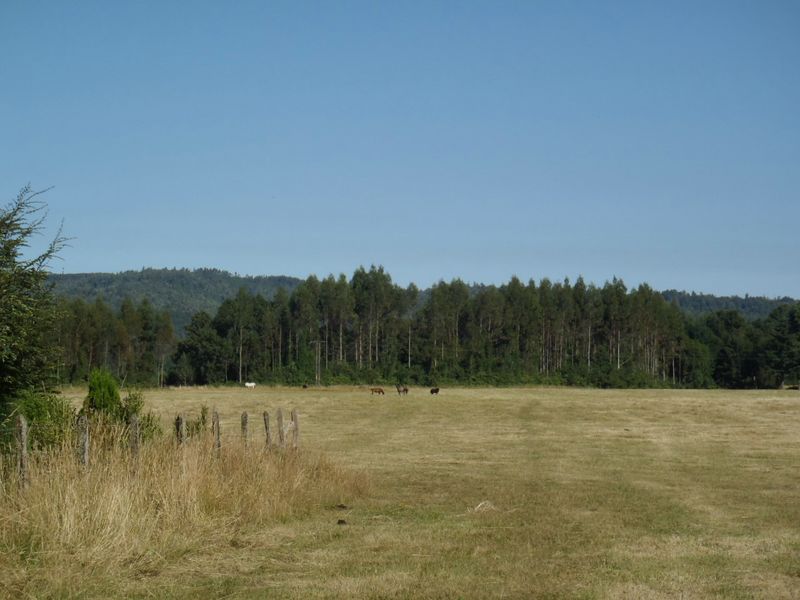 On the property we live at there are 6 wonderful horses and we love to ride them. We are a complete Chilean Tourist Destination Location, with not only tours & fly fishing and gourmet type meals, but horseback riding and picnic adventures down to the river!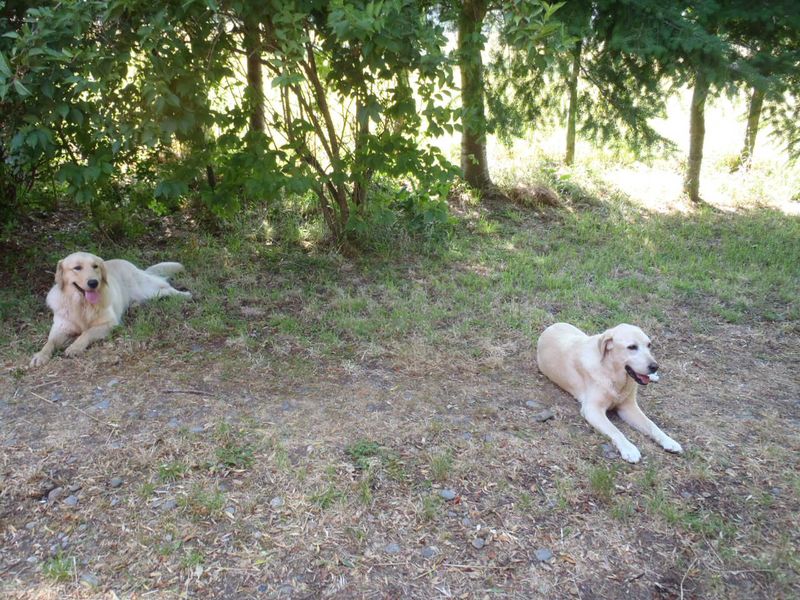 Even dog lovers like it here, with the likes of McKay and Zeuss, life just keeps getting better all the time..
We'd like to say that our operation in Chile has something for the entire family! Plus we have room to lodge you also 🙂
Whoa partner!! Jack Trout International Chile is the place to be, JT & CT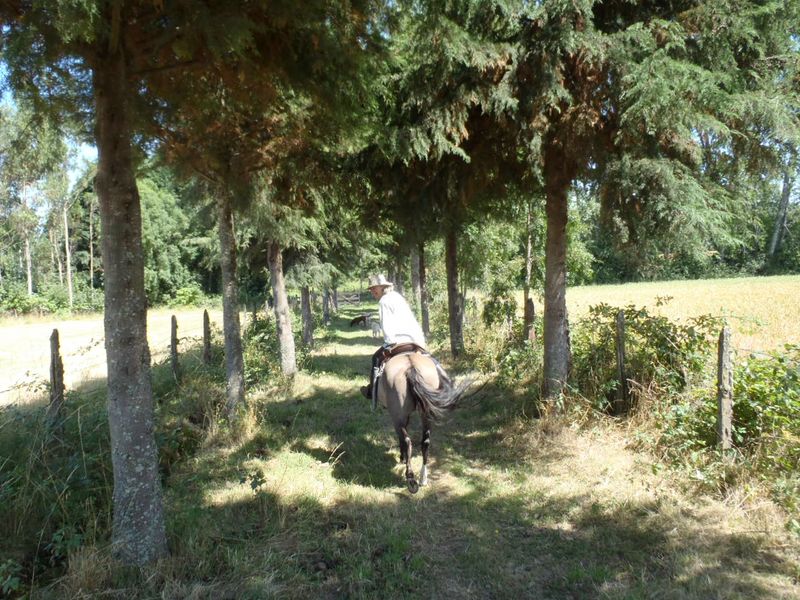 Maggy & Ian, our dear friends and hosts are off now in England, so being nearby we'll watch over things and take care of the horses and the lot. Come on down and lets go for a ride folks!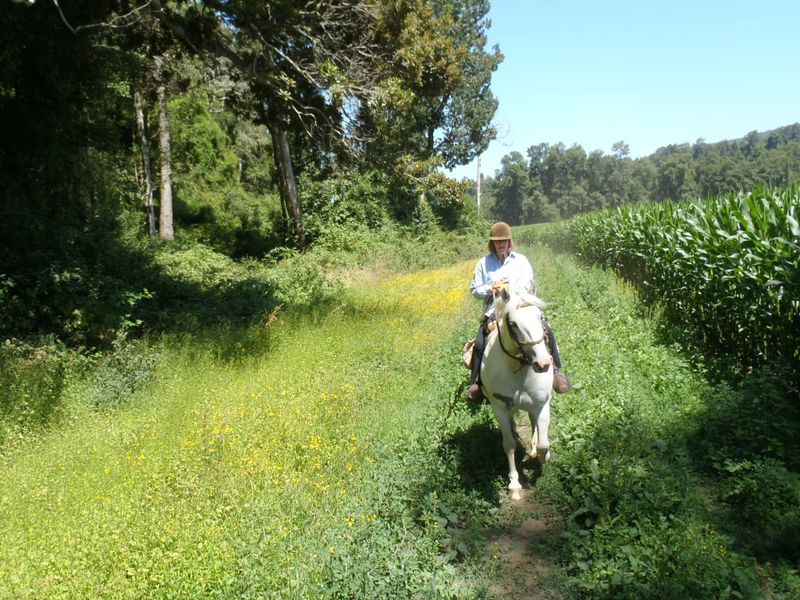 Sandra enjoyed her first time in years riding the 1300 acre farm as we went on a 6 hour journey..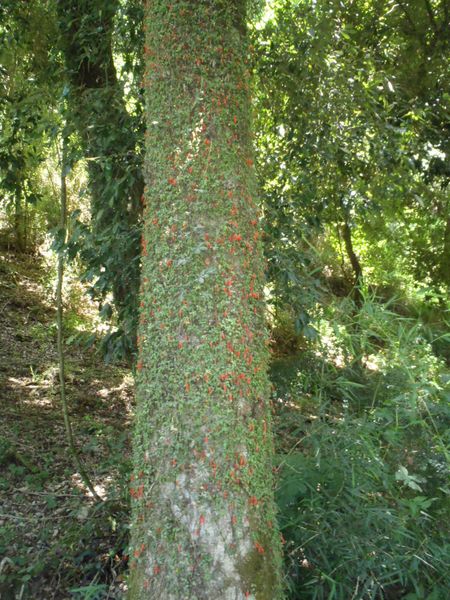 We saw this plant called the Waterfall Plant and the national flower of Chile, the Coihue blooms next month!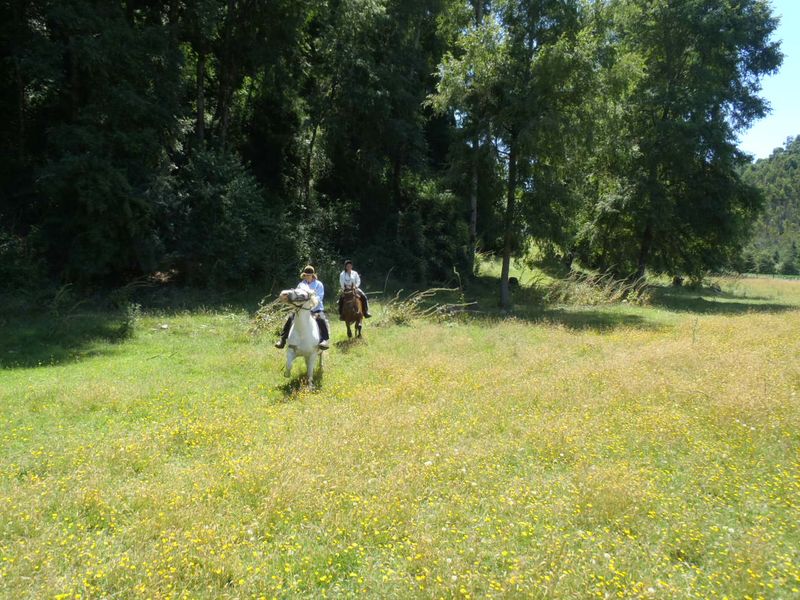 A little galloping anyone? Men be careful!!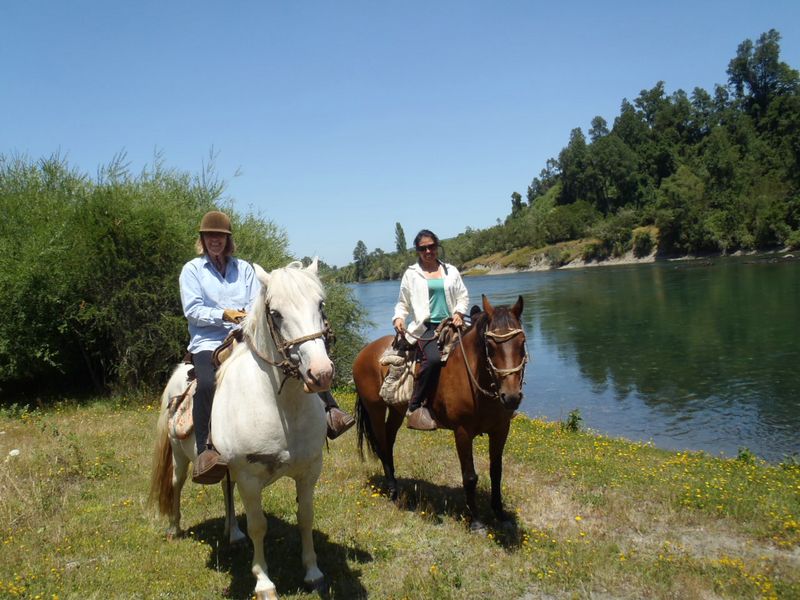 Ah, and now down to the river for my favorite part, possible on your adventure we can have a picnic BBQ lunch? Just let us know what you'd like.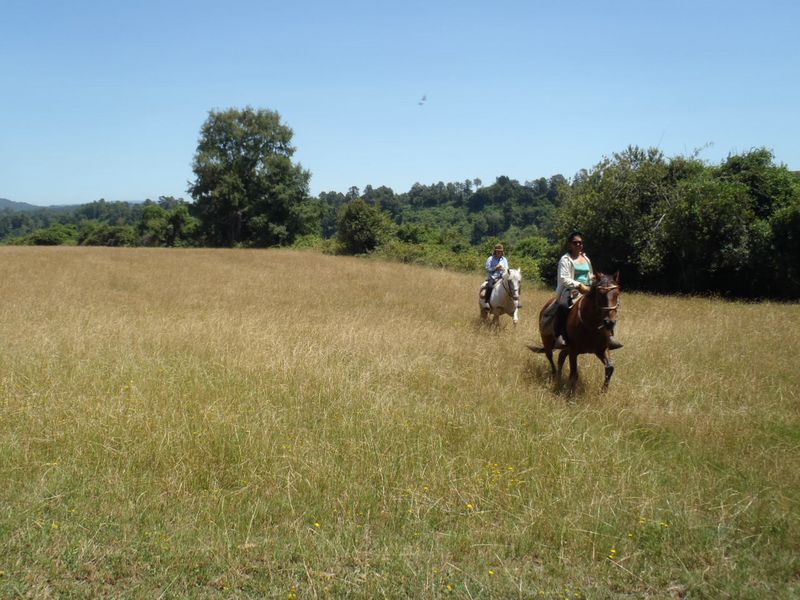 It's like an episode of Bonanza Pah! Ding diddle ling, diddle ling, diddle ling, diddle ling, diddle ding ding ding!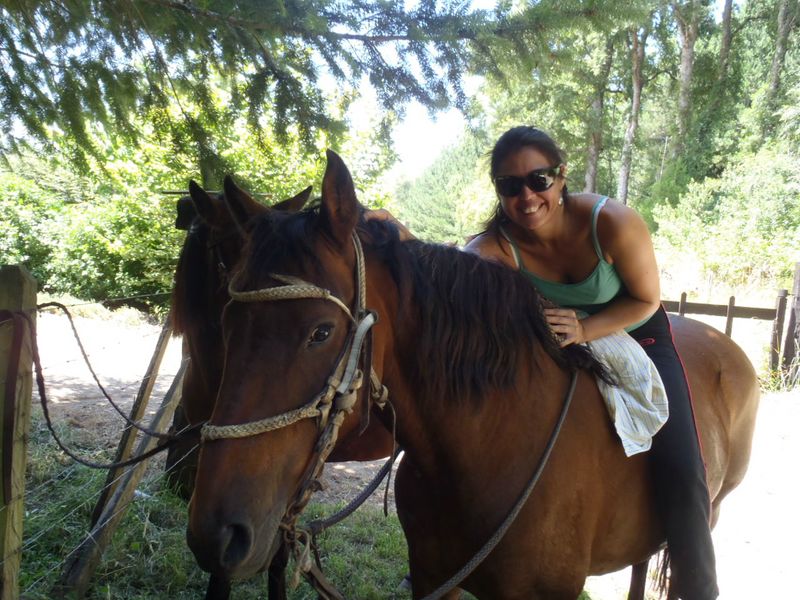 Oh Carola riding bare back now, that's supper cool! My mom said she loved riding back back as a child in a horse stable near Lafayette, California. Good on ya Mom!! My dad Raymond, rode horses as an extra in many old time western movies I love to think back then to the 1940's, it must of been so real Hollywood then, now it's just a freak show. Boy my dad sure lived a long and illustrious life, he once had a small role as an extra in a Bing Crosby movie, that must of been so cool.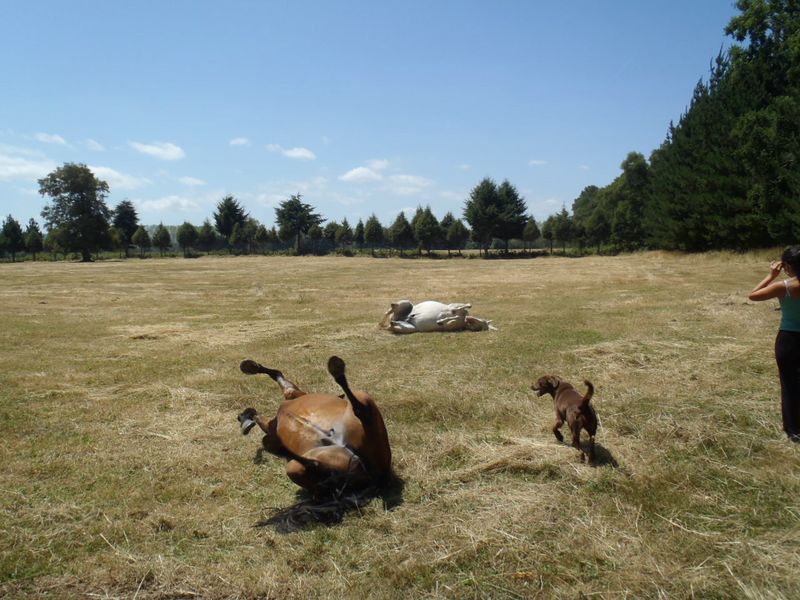 What a bunch of characters, I just loved Claire and Moro. They love where they live and so do we!
Come horse back riding in Chile near Pucon & Panguipulli 2 1/2 hours from Puerto Montt, Chile and stay on our real working farm ranch. Enjoy delicious meals and daily activities as we plan your dream vacation trip here in the land they call Chile.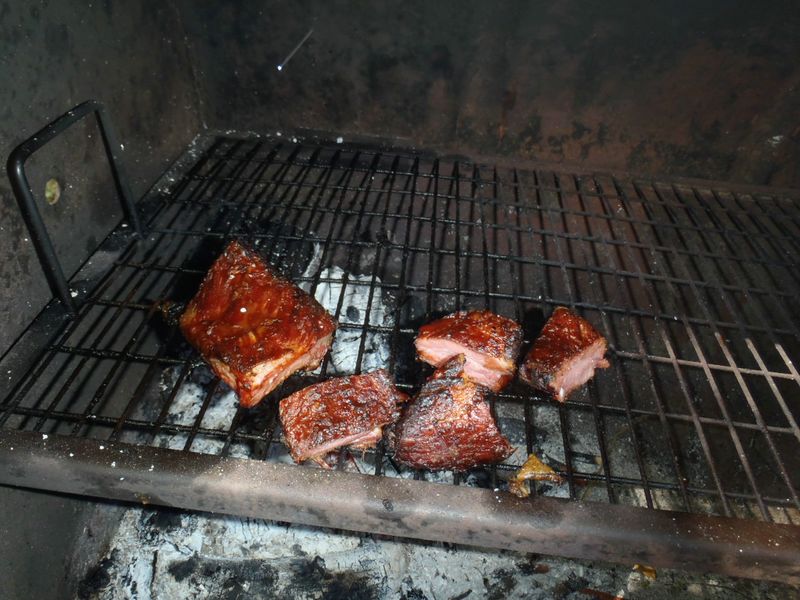 A little smoked ribs anyone?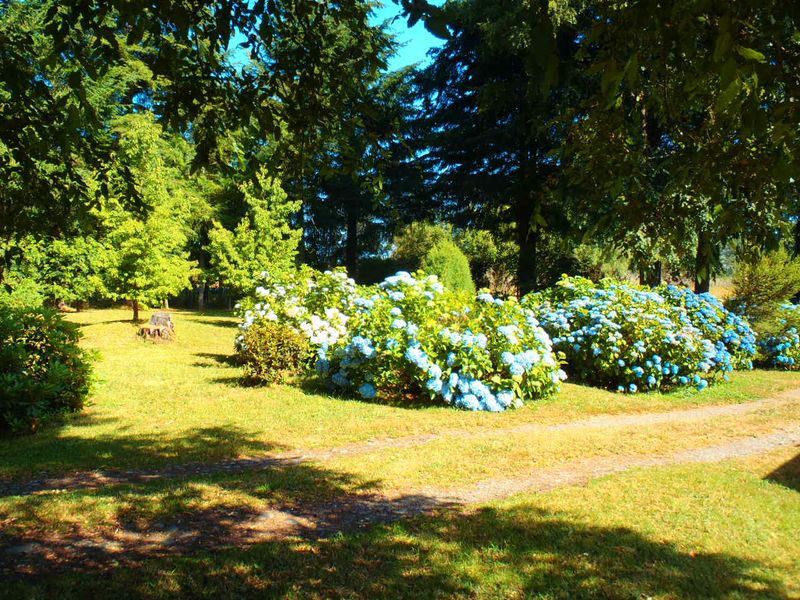 The flowers are in full bloom now and we're anticipating a  great fall here in Chile in Late February, March and April.
Out fishing one day with Edgar, the bite was on folks! I farmed 4 huge trout but landed 2 of them out of six, but lost all the biggest ones>> "L"
Guess I've been guiding too much, was one thought I had. I did land all the small ones though…..

.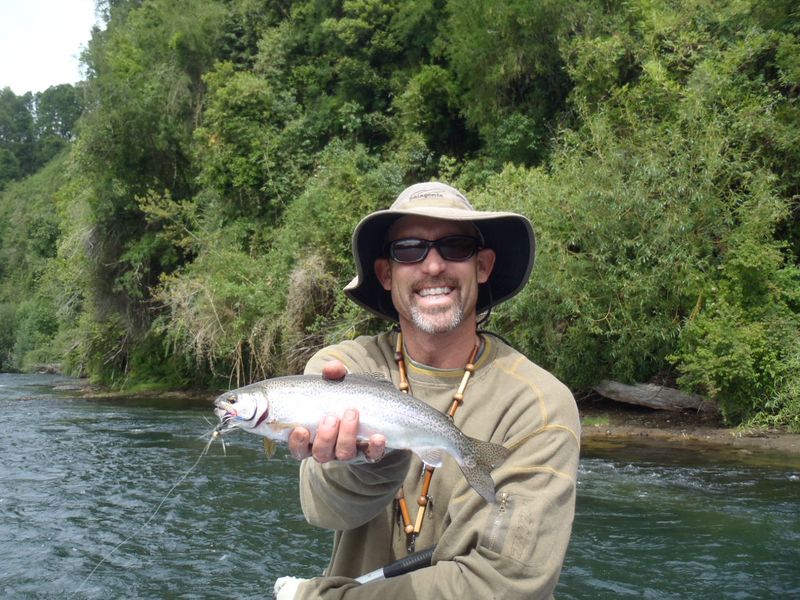 Guess that's why you'll never see me get upset when you lose one of those hogs, some trout have a different motor under the hood.
The 7lb brown trout I hooked and had almost to the net, I lost… The 5 lb rainbow…I lost.. The 4lber… I lost.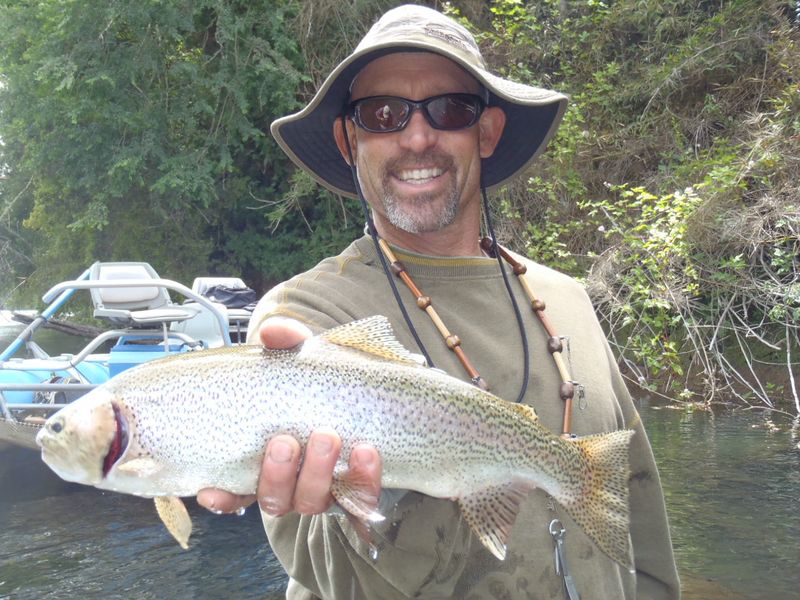 The 2 1/2 lber, I landed.. What a legend angler, better just stick to guiding..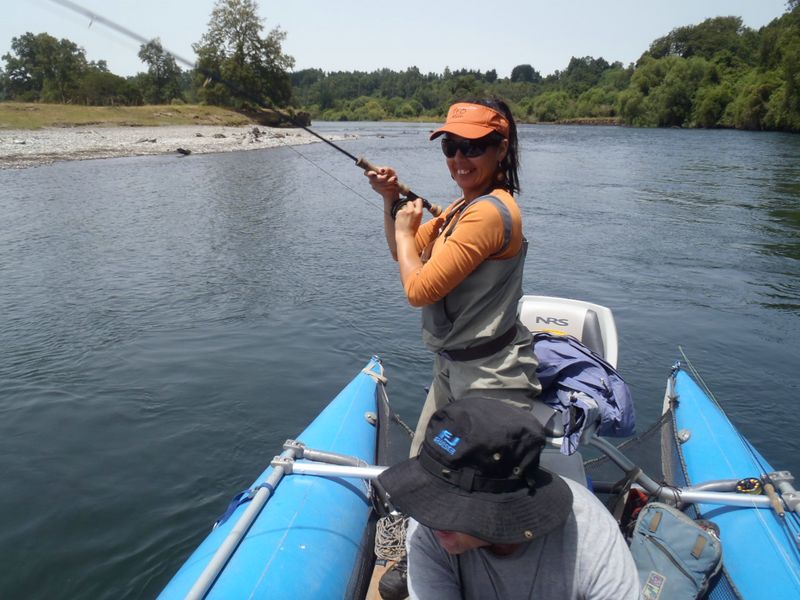 My wife landed all her trout that day, she's always getting better but we sure have fun together, especially with Edgar 🙂 Ladies take notice, Edgar has it going !! Getting tired of the United States, come down and stay with him…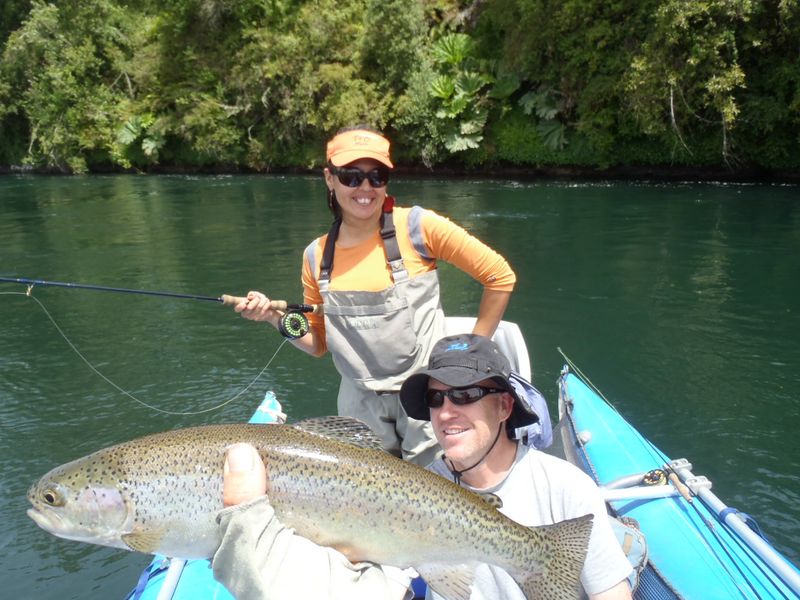 What a great time we had that day with Edgar on the oars, look forward to more adventures here in Chile!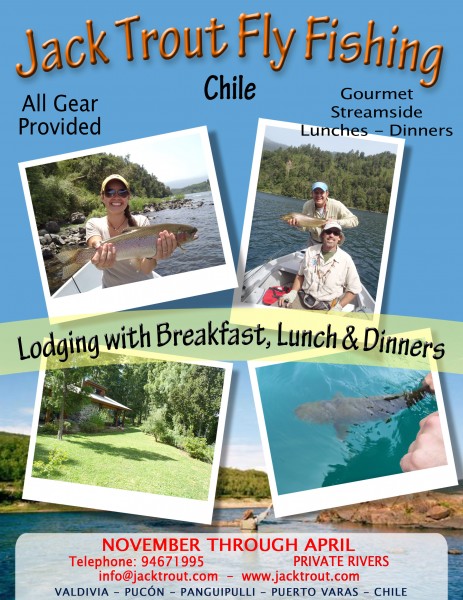 Thanks for watching our adventures, we look forward to hosting you at one of our locations internationally in the world!
Chile, Argentina, Belize or Northern California – We've got you covered!
Jack & Carola Trout and the International Team Trout Guides – 2012
I dedicate this story today to my dad, Raymond 1920 – 2010, who always was there for me. I will always love and honor my dad as his greatness shines through as I become more like him everyday. He was the perfect role model and taught me to always be a honest, hard working individual with integrity and pride to always try to the do the right thing in life. I look forward to seeing him again some day, but i know he follows me on this path of life. Love, Jack
EMAILS FROM YOU:
Hi you guys!
We're snowed-in up here in Seattle, but the rains returned today, so it won't be long before this turns into Slush Land. Hope you guys are faring better down there in God's country.
Can you send us the photos you have of our fishing trip with you? A computer crashed on us, and we have no photos of our glorious fishing trip anymore! Very sad moment for us. Then we realized that you have the originals!
Please send them via email, and we'll be forever grateful!
Keep in touch,
TOM & FAYE
********************************************
I checked flight info from Santiago to Puerto Montt on March 4,2012 and the
fare is $212 PER PERSON INCLUDING TAX. We will get into Santiago at 10 am on
March 3rd. Can Carola do better. The fare was on LAN. Look forward to our
trip. Were you meeting us in Puerto Montt and show us around Chiloe to start
our trip. We will have 3 weeks before we get to Uruquay so can probably
finalize that part after we get there.
Dave and Kathy
*********************************************
From Jerry Moison
Subject Line: This made me laugh our loud!
UP & DOWN SEX

At a Senior Citizen's luncheon, an elderly
gentleman and an elderly lady
struck up a conversation and discovered that
they both loved to fish.
Since both of them were widowed,
they decided to go fishing together the next day.
The gentleman picked the lady up, and they
headed to the river to his fishing boat and
started out on their adventure.

They were riding down the river when there was a
fork in the river, and the gentleman asked the lady,
'Do you want to go up or down?'
All of a sudden the lady stripped off her shirt
and pants and made mad passionate love to the man
right there in the boat !
When they finished, the man couldn't believe
what had just happened, but he had just experienced
the best sex that he'd had in years.
They fished for a while and continued on down the
river, when soon they came upon another fork in the
river.
He again asked the lady , 'Up or down ?'
There she went again, stripped off her clothes,
and made wild passionate love to him again.
This really impressed the elderly gentleman, so
he asked her to go fishing again the next day.
She said yes and there they were the next day,
riding in the boat when they came upon the fork in
river, and the elderly gentleman asked, 'Up or down ?'
The woman replied, 'Down.'
A little puzzled and disappointed, the gentleman
guided the boat down the river when he came upon
another fork in the river and he asked the
lady,'Up or down ?'
She replied, 'Up.'
This really confused the gentleman so he asked,
'What's the deal? Yesterday, every time I asked
you if you wanted to go up or down you made mad
passionate love to me. Now today, nothing!'
She replied, 'Well, yesterday I wasn't wearing
my hearing aid and I thought the choices were
f*** or drown  🙂
****************************************************
Jack,
Looking at trying to set up a trip, if I can find the guys, Iron gate…4 boats,2 days drift fishing plus lodging…8 fishermen
Mid to late May, stone fly hatch.
What does it look like???
George
**********************************************************
Thanks for sending the update to your website. We are more and more excited every day! Jim's hand is twitching just thinking about the fishing!
Looking forward to our time with you next week.
Deb and Jim
***********************************************************