*****STEELHEAD ARE IN ON ALL RIVERS!! CHILE SIGN-UPS*****
---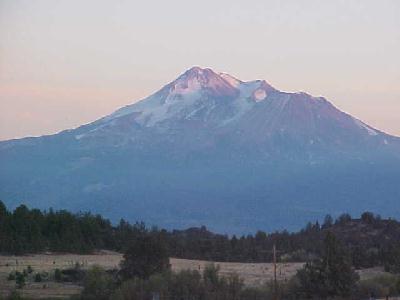 ---
What a great month October is, with its great fall colors signifying the changes that are about to come. I love coffee more as the mornings grow colder and my pile of long sleeve shirts have now been moved from the closet to the dresser.
The sunsets on Mt Shasta are seen in red pastels. All of this as the steelhead and salmon make their way up the many tributaries of California. Yes this is a wonderful time of year, my favorite by far! Hope to see you this fall. This will be a great steelhead season!!! jt
---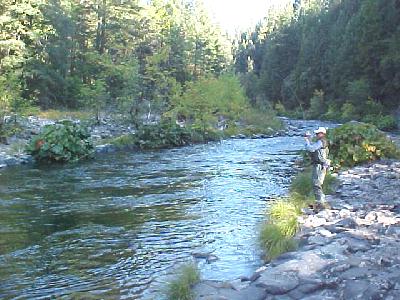 ---
I had Rick Piper come out from Hawaii to fish with me. Five minutes after we arrived on the Upper Sac, he hooked into a screamer that took us way down stream. Rick did good by letting this bad boy run. He caught it on a size 18 flashback P.T. The Sac is hot
right now, great hatches in the morning until late afternoon.
I look forward to blue wing olive hatches in the Winter!!
---
---
This was measured at about 19 inches, what the heck, we'll call it a 20 "er!! Way to go Rick! YOU'RE MY SIZZLER OF THE WEEK AWARD WINNER! CONGRATULATIONS SIZZLER! JT
---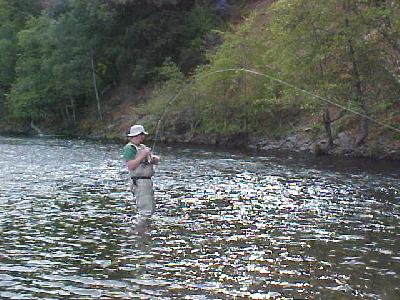 ---
I guided my longtime customer Chris Welch the other day on the Trinity River. The steelhead are starting to appear now and Chris and friend Scott were up for the task. Things were slow in the morning until we hit a pod of adult steelhead!
Chris had 5 on in this one spot and did all he could to get them in but in most cases, like usual the steelhead won more often. We saw Chris hook into 2 over 8lbs at least. They are so good at getting off or breaking you off with their corrupt
runs faster than Steve Austin, the Bionic Man!
---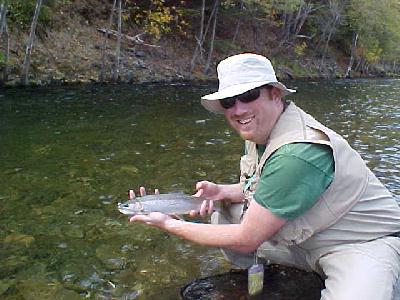 ---
Chris caught this cromer half pounder and enjoyed his first experience catching brutal Trinity river steelhead! Take care Chris and Scott! Man those steelhead run faster than Martha Stewart will next spring!
---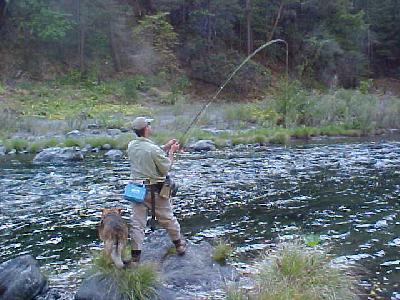 ---
I got to fish the Trinity last week and caught a nice one right off the bat! This is the time to call if you'd like to fish in October, November or December!
---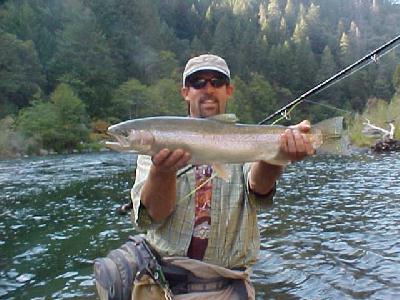 ---
You too might land one like this!
---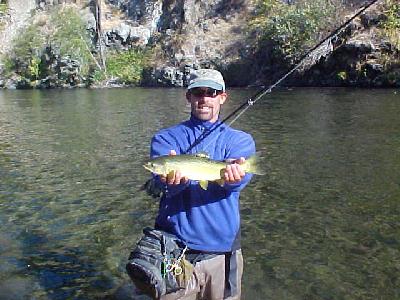 ---
Jack with a jack! I caught this Jack Salmon on a beaded Copper John size 14. Wow! What a day…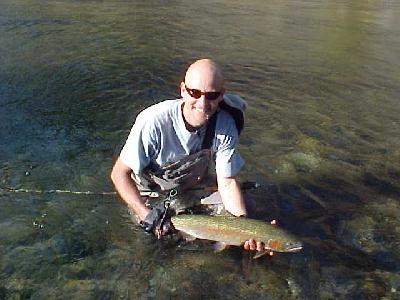 ---
Tory caught this lovely steelhead on a nice riffle using a mayfly immitation. Everyday more and more steelhead are arriving, lurking and munching salmon eggs… Where are you…?
---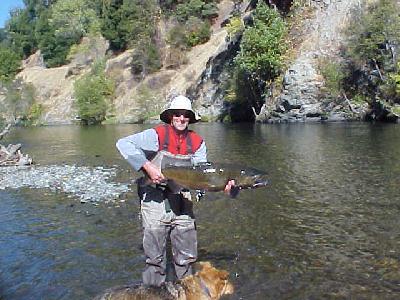 ---
Tory hooked this salmon also and got it in on a small weight rod! I think this guy is over 20 lbs… you think? Great day Tory, can't wait for our next adventure together!! jt
---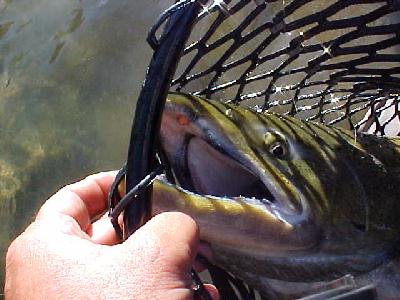 ---
Just in case you were wondering where these salmon were taking the fly, in the mouth of course! Salmon also take stoneflys and
many other nymphs when they first run up the river before they spawn, lay eggs and die.
---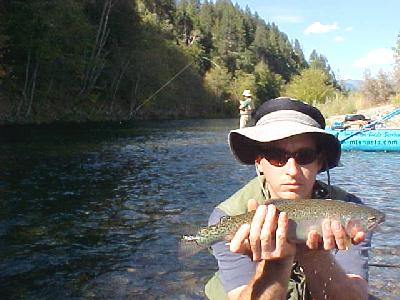 ---
Scott hooked this half pounder while Chris had on another lunker!! Way to go guys… jt
---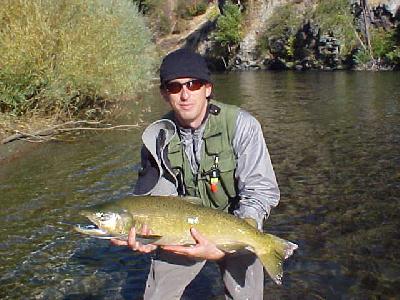 ---
Before that, Scott hooked this piggy that never even heard about any Atkins diet???
---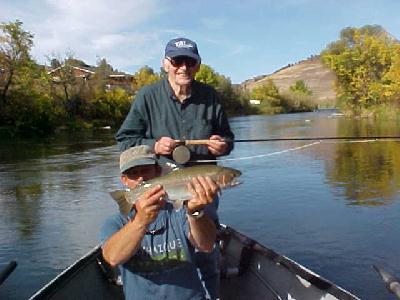 ---
Last but certainly not least, yesterday Oct 12th on the Klamath was great for Ewing Phibin. He caught this huge steelhead with his friend Peter. This was a wild steelhead
that probably passed me at the mouth of the Klamath last month!*****TAKE CARE EVERYONE AND THANK YOU FOR ALL THE EMAILS!! JOIN US NEXT WEEK AS WE REPORT FROM A PRIVATE CLUB ON THE McCLOUD RIVER, TRINITY, LOWER SAC, KLAMATH AND MORE!!
MANY RIVERS TO YOU, JACK TROUT ***CHRISTMAS GIFT CERTIFICATES AVAILABLE***
---