Nice rain storm today around the Mount Shasta area dropped some fresh dew all the over the region. As we cycle into more fall like weather so will the steelhead and salmon runs!
I predict the best steelhead runs since 2006, better get ahold of your North State Guides now and secure a date on the Klamath, Trinity and Lower Sacramento Rivers.
Best fall towns to hang in Fall are, Mount Shasta, Dunsmuir, McCloud, Weaverville and Orleans. Fish on Sizzlers!
As the summer winds down we start to feel the cooler mornings that remind us that right around the corner is the start of the fall cycle. Soon these colder mornings will make the leaves turn colors and with that comes the rains that drive us all to the best places we know in the North State. Trout are happy, steelhead are certainly happy as they make their way up the mighty NorCal rivers.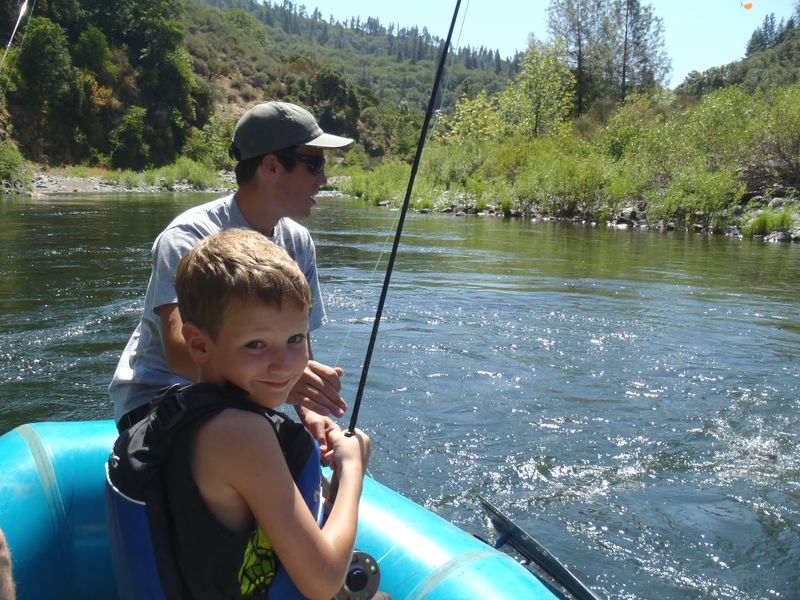 No matter what age you are we have a spot for you out in the raft!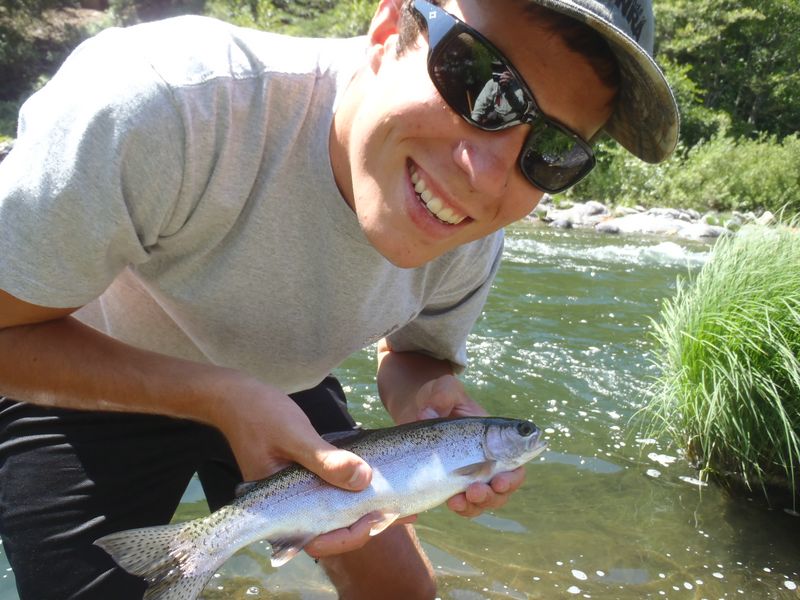 Smiling faces of folks who have never tried fly fishing and thought it might be too hard to learn but were later proved wrong when they caught the nicest trout they have ever seen. In time, you realize that it's the places the sport takes you to, not the catch that makes it all so wonderful.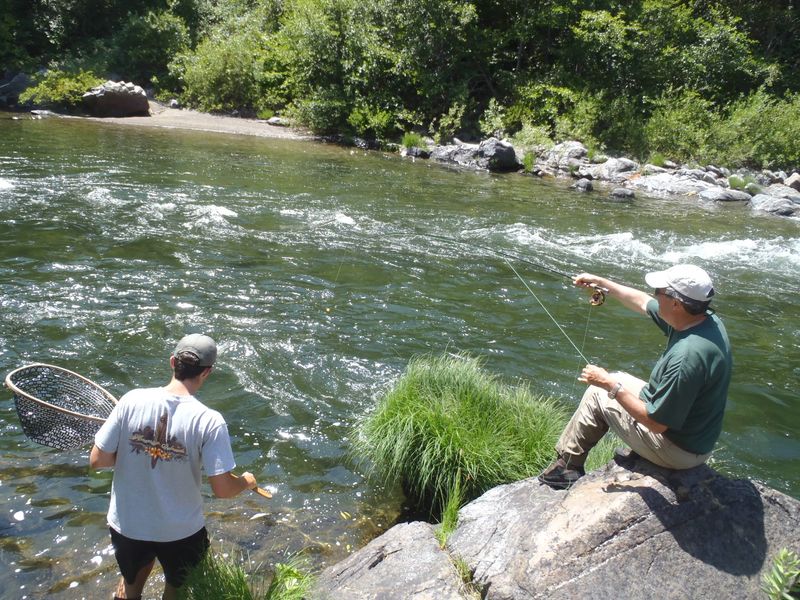 A great place to get out with Pops, and spend some quality time out in an area outside of the family element. A place where nature rules and a gut check mentions that this is s good place to retreat with the kids, they love it.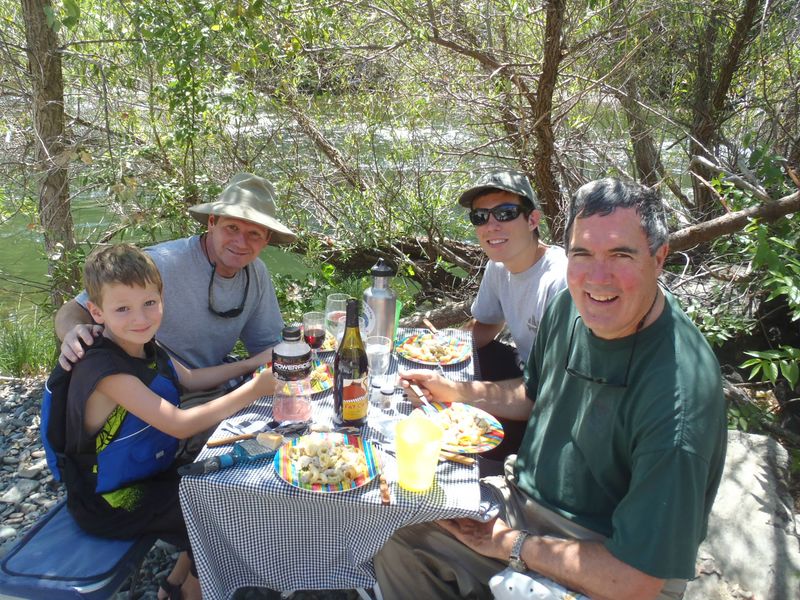 Enjoying good food out in the National Forests of California is a must folks, You get to stop and really enjoy your surroundings.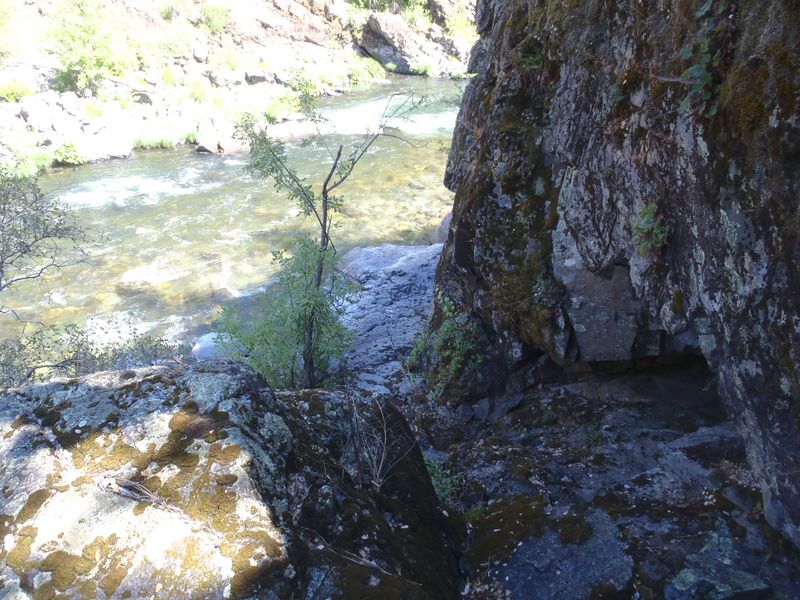 The only spot I have ever seen a mountain lion in the day time, I imagine this is his final resting grounds at night after we leave the river. This is why I have named this section of the Upper Sacramento River Canyon ~ Cougar Canyon
(Not after John' Mellencamp's ~ I fight authority, authority  always wins)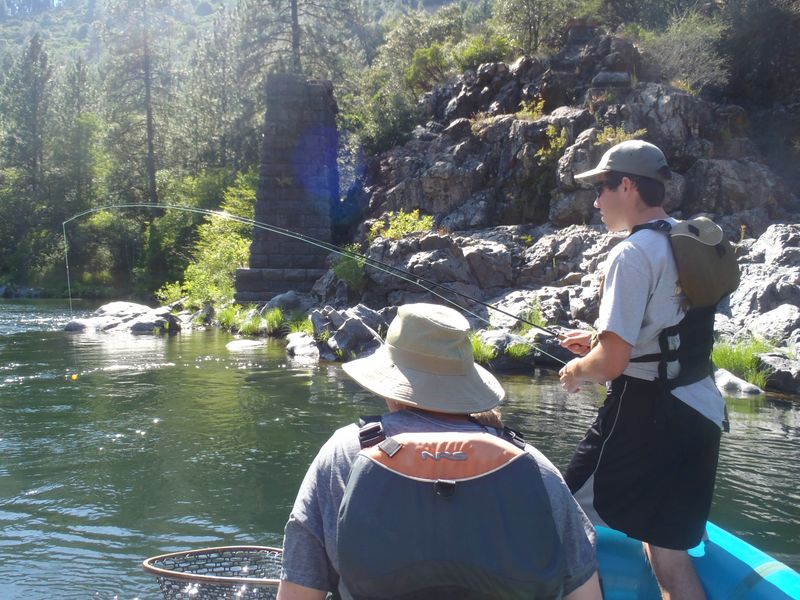 I can easily do 3 anglers in my raft so bring it on Sizzlers!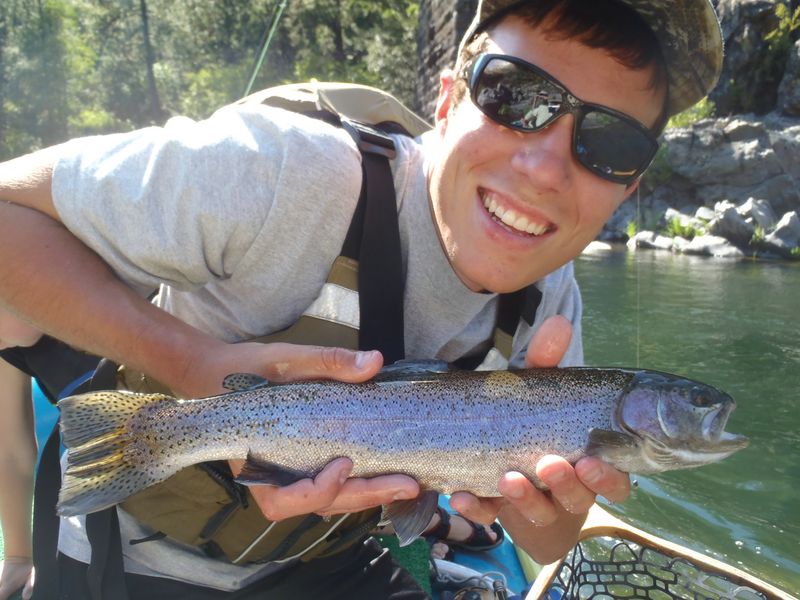 Way to go Sizzler! You're like those Gold prices up up up!  Then down for a few days then up up up!
 I'm predicting 2 big rain storms in the month of September that will bring flows back up and kick off a wonderful steelhead and salmon season.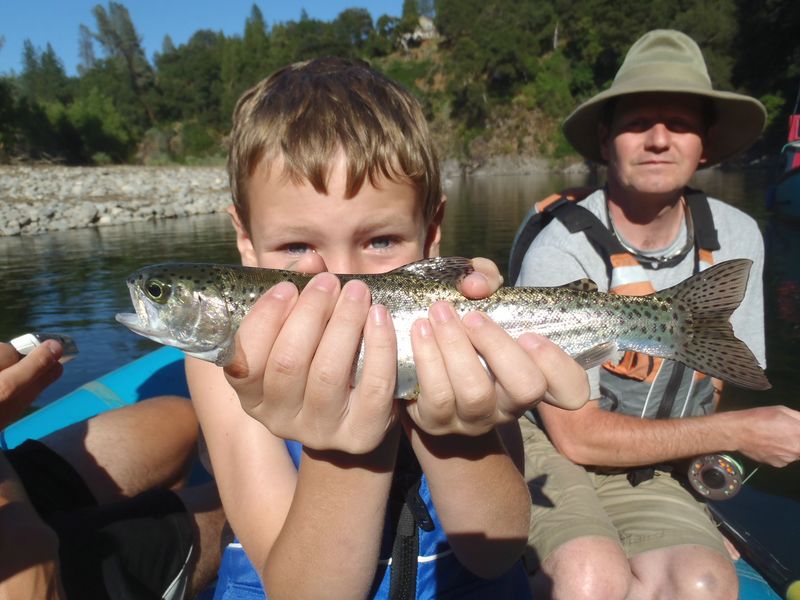 The first trout you ever caught? Do you remember where you were? Email me your first or best fishing story and we will post them Sizzlers!
Best story wins a free 1/2 day guide trip with me and Carola!!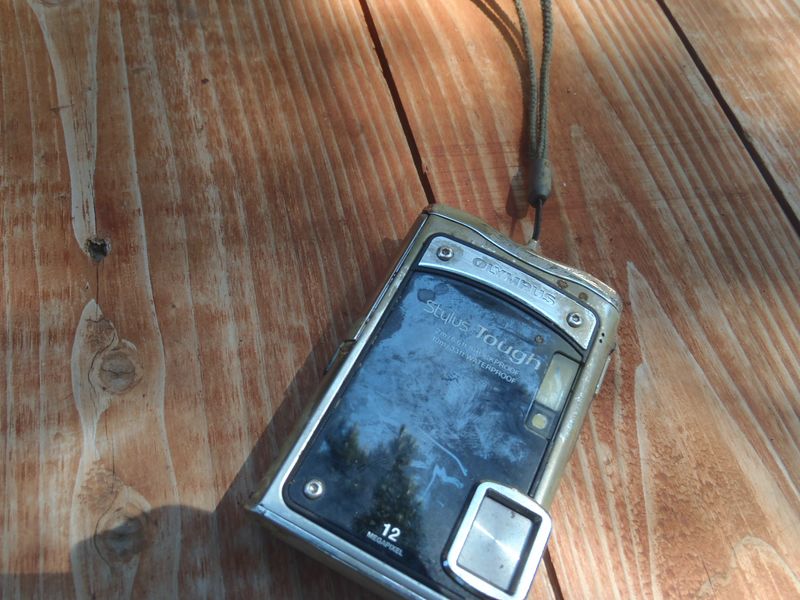 Now here's one of my most fondest stories in 18 years of guiding, one you must read and hear. Back in June the flows were at 2000 to 3000 cfs which is very high for that time of year. I was out with Chuck & Don Persyn two of my most favorite fly fishing groupies. As we rafted the Upper Sac the flows were high and dumb-dumb here forgot to clip his FISH POND FLY FISHING BAG to the raft with my camera in it and all of it went over the side. No one saw it and unfortunately the day became a one fly competition when none of the other anglers brought tackle or gear. As a joke, I thought to myself being that the camera was a Olympus Stylus Tough underwater/water proof camera I bought for about $300 that if anyone found it years later it might still work. The night after the trip we headed into Redding right after the trip and replaced everything for about $600 and was ready for the next day. (Ooouchh!!)
2 months later in August my client Jesse Mitchell was wading the Upper Sac and knew the story about my bag and the camera and looked down in the water and there was a shinning camera. Jesse picked it up and it turned on! He saw it was my camera with all the pics from a day on the river we had never forgot about.
http://www.fishpondusa.com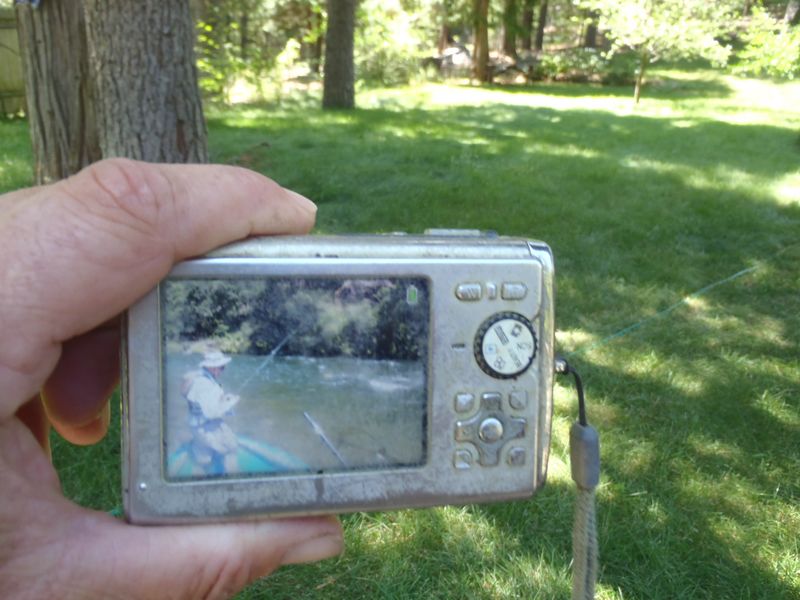 Not only did the camera turn on at my home the next day, the battery was fully charged!! I took a cloth to it and it cleaned up so nice you can't even tell. Guide Isaac is using it now on his guide trips. I highly suggest this camera, it will stand the test of time and even flows at 3000 CFS for 2 months and stay fully charged!! 
Chuck and Don Persyn, I have your pictures!! Also the guys from Texas and Georgia I have your pics and I will lok up your names and send them on!!
Olympus Stylus Tough underwater/water proof camera  – Sizzler Camera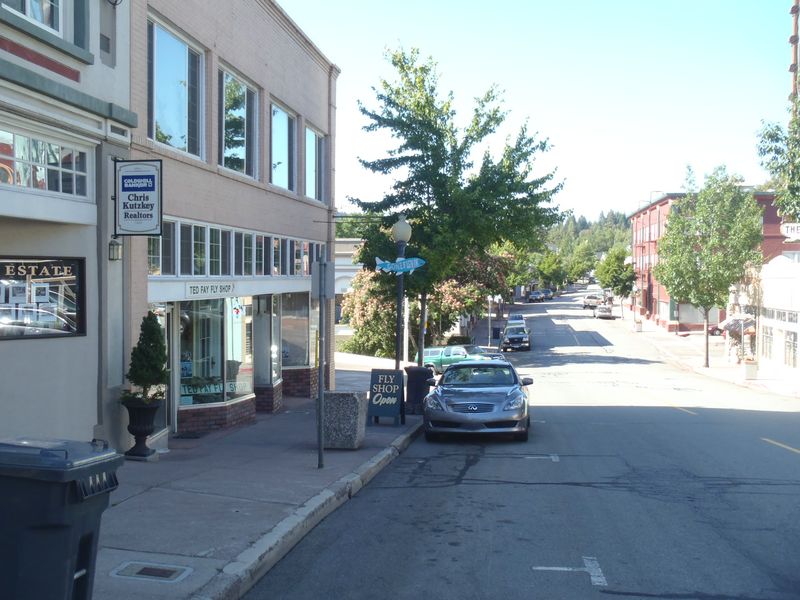 Have you visited Dunsmuir lately? Please support these small deserving mountain towns, they need your support right now. Gas prices have come down now so make a plan to come up and visit us. Did you know they stocked 2 to 10 lb trout in the Dunsmuir sections of the Upper Sac!! If you can, drop a few dollars around town, Dunsmuir has the best breakfast in Siskiyou County at the Corner Stone Cafe. Also my former guide Aaron Greener started his Dunsmuir Brewery which has great beers and great grilled food and of course the Ted Fay Fly Shop, the oldest fly shop in California.
http://www.tedfay.com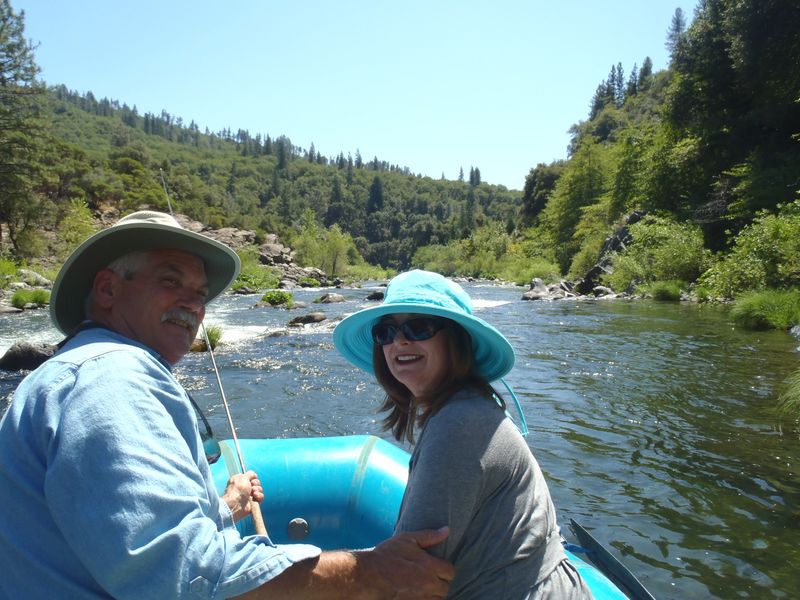 Steve and Maryann Perata know where to head when it's time to get out of the Bay Area!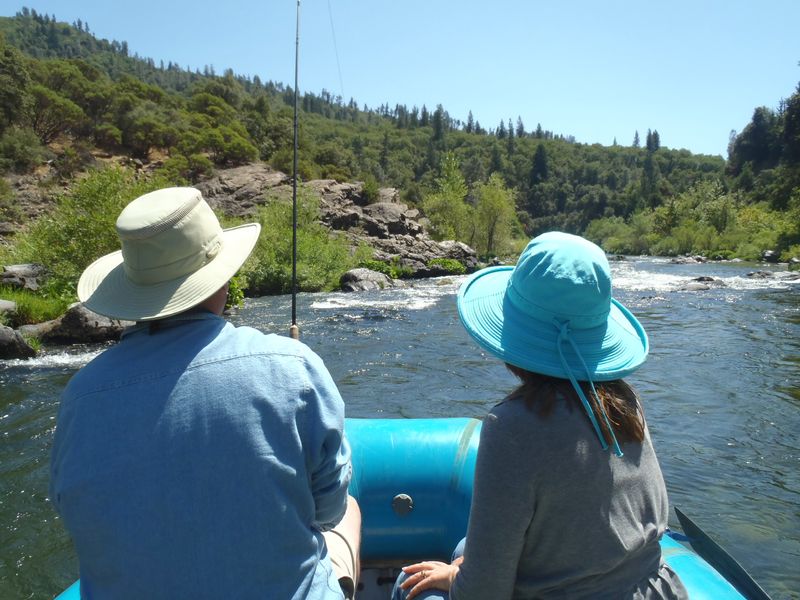 What could be better than floating down a West Coast river in the heat of the California sun.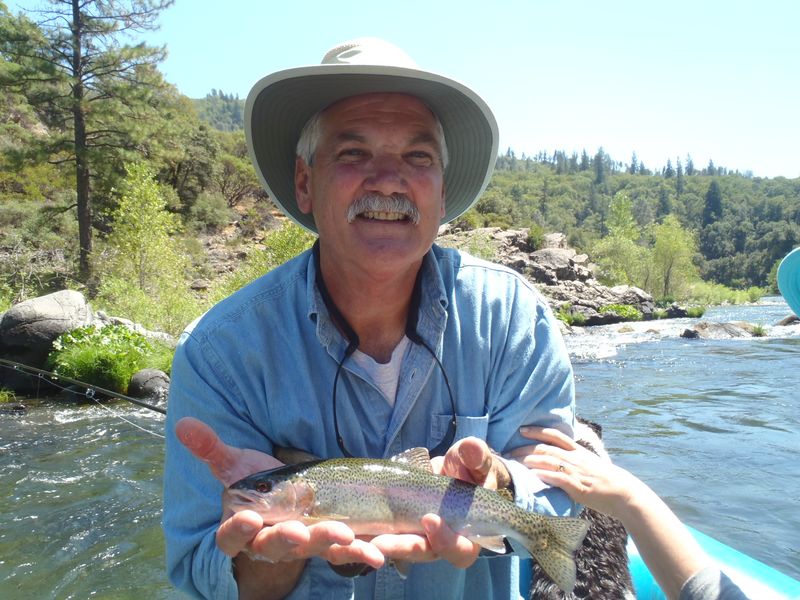 This is the kind of relaxation and fun we all need some time during the year, some more than others.
In a perfect world we always have you covered, whether it's Carola's  gourmet stream side lunches or the private place we access on our fly fishing guide trips.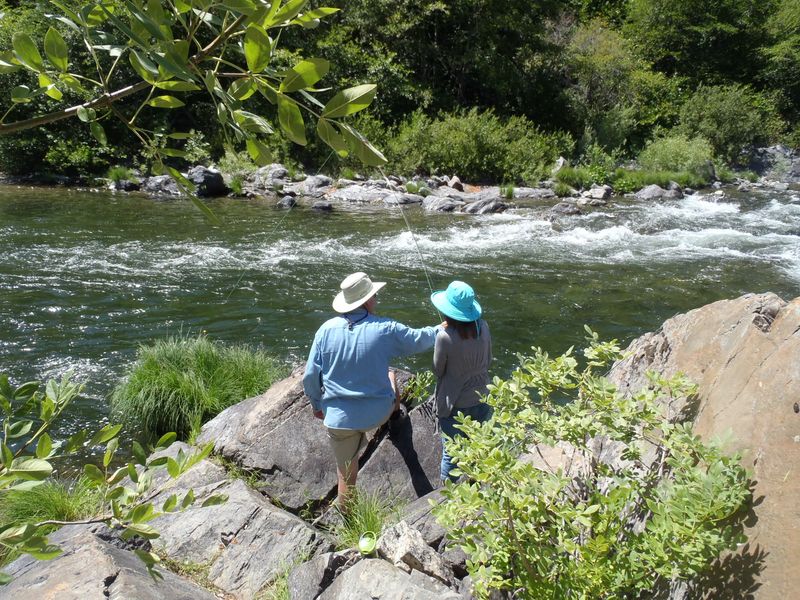 Steve said, " Jack take a break I'll help my wife catch a trout!"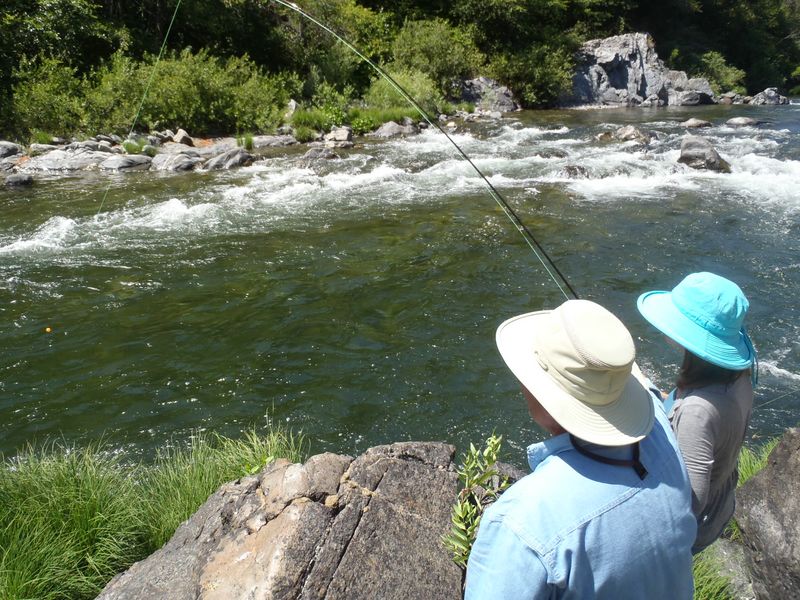 Steve and Maryann enjoying this rock and catching a few trout before lunch.
Enjoy this video of Maryann and Steve's catch!

 You asked how Kobe is doing? Well he's hit the high society folks and really hasn't had much time for Carola and I. It's like I have to schedule an appointment just to get a word in ? He's got his own set of friends now and is off galavanting  around
with his hair combed back and his Wayfayer's on baby!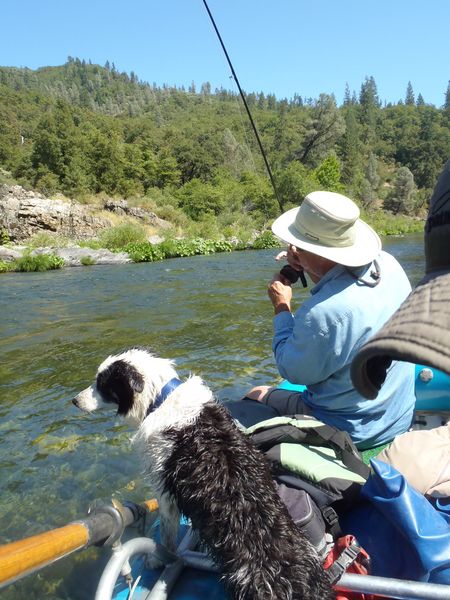 Fish on summer brother!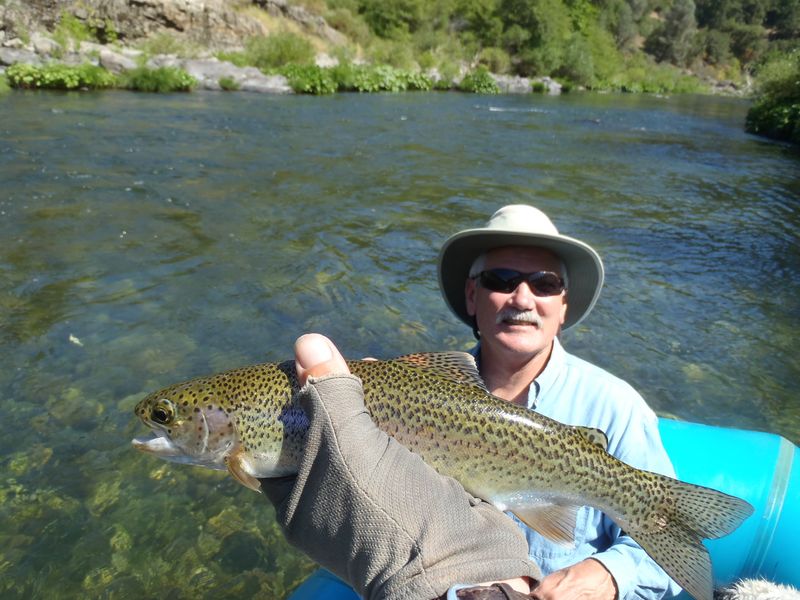 Another happy camper Pa!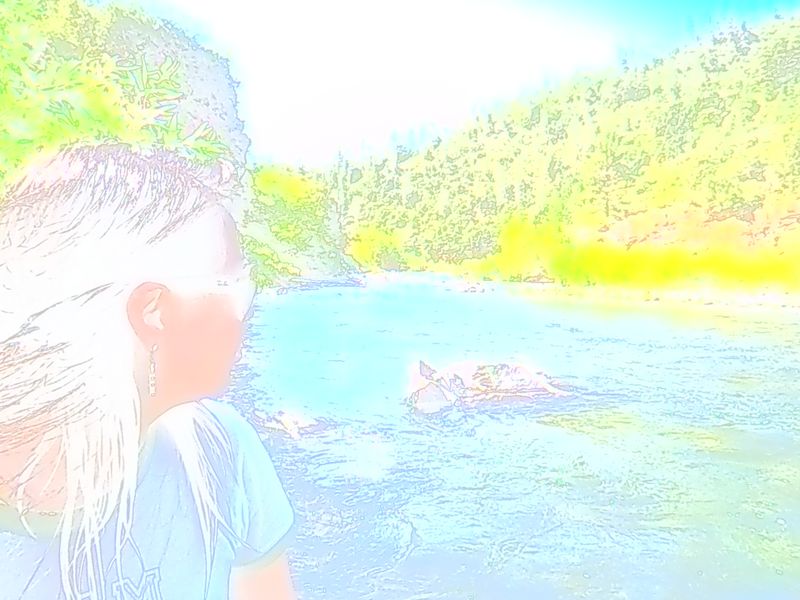 The Twilight Zone might just be in your backyard folks!
 Sweet Luster Liberty Carson City  Gold Dollar, I love this place folks!!
In life there's only one precious metal that harbors 2 expressions~ Finding that gold nugget and finding that  golden
moment.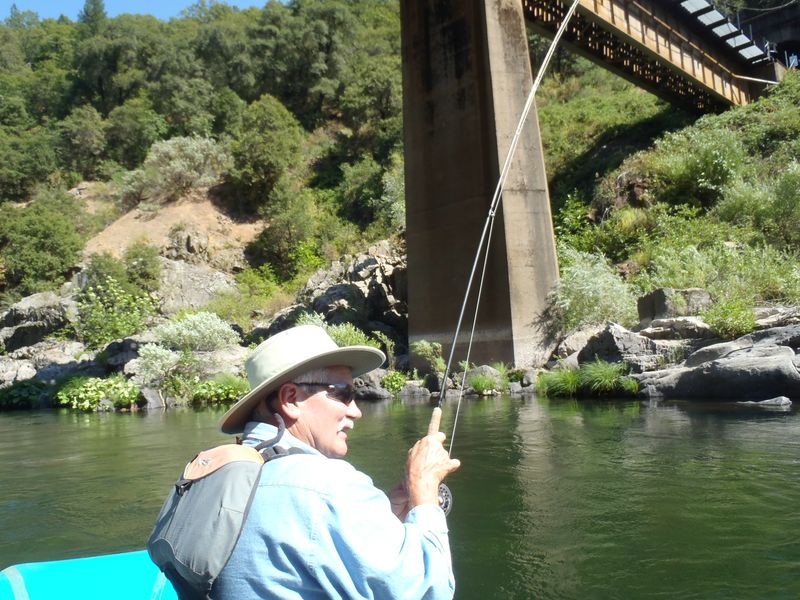 Having that nice bow on the line can make a person feel good inside, connecting with nature always fills the soul.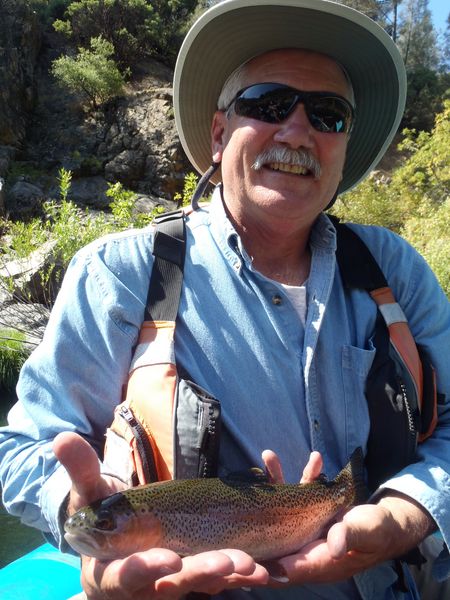 The best time is when it is spent with love ones out enjoying things together. Thanks again Steve and Maryann Perata for your continued support and the annual visits!
Have a great year,  Jack & Carola plus Kobe Beef Trout
When Roger Lustberg and Gene Weber show up for fly fishing on the Upper Sacramento River the trout always line up and salute!
 Not more than a minute out on the water and Roger hooks up on this nice little philly.
 Gene likes wading when he goes on the many adventures he travels on all over the planet Earth. Gene and Roger are both these kind of guys that just hook big trout!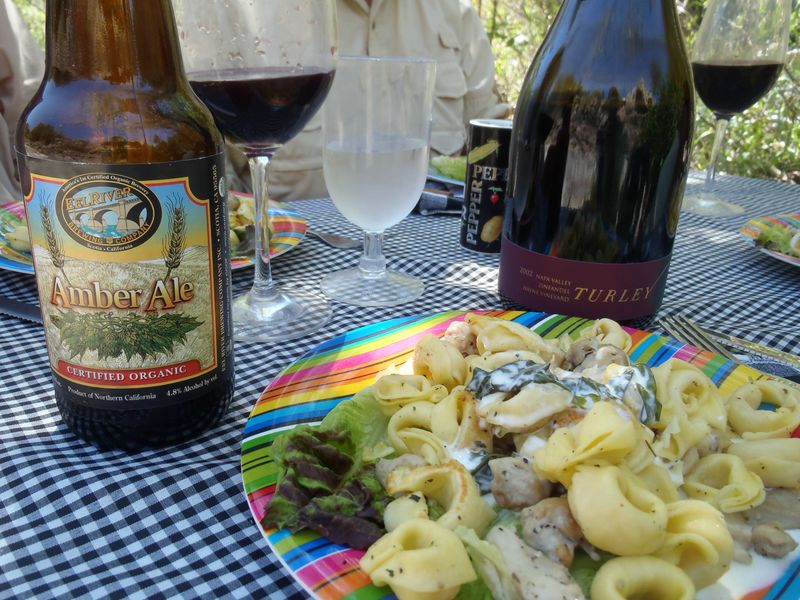 Carola's fine meals on reels is a wonderful way to enjoy a gourmet stream side lunch.
We can't serve you wine because this country has so many ridiculous drinking laws, but if you bring your own, we will serve you a fantastic lunch. Frankly, the clients have a better selection of wines than we do. All the folks coming to Chile and Argentina this year WE WILL SERVE ALL THE WINES, DON'T YOU WORRY!!  YAHOOO!  JT & CT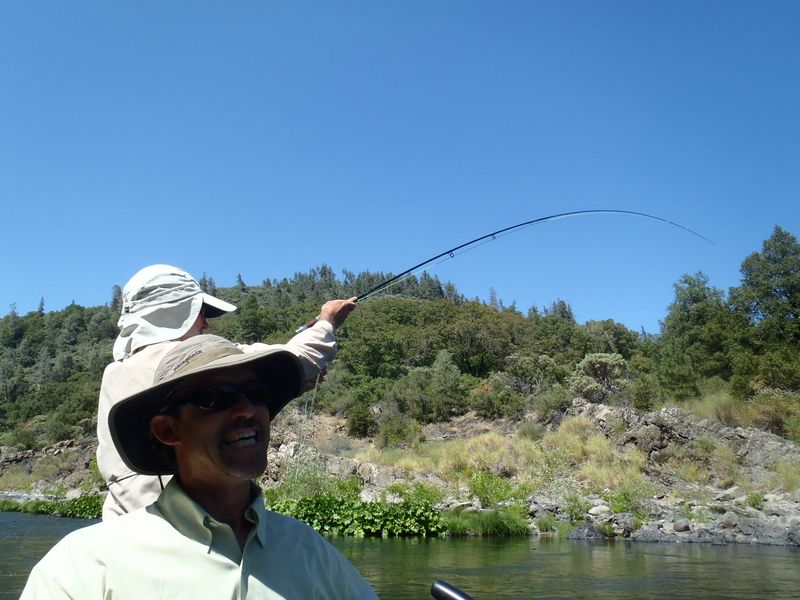 And I think to myself… What a wonderful world!
GENE WEBER OF WEBER CAPITAL MANAGEMENT OF SAN FRANCISCO ~ YOU ARE MY SIZZLER OF THE WEEK AWARD WINNER!!
CONGRATULATIONS GENE!!  (Got any hot stock tips?)  Heck let's just take him to Reno for a quick gambling escapade!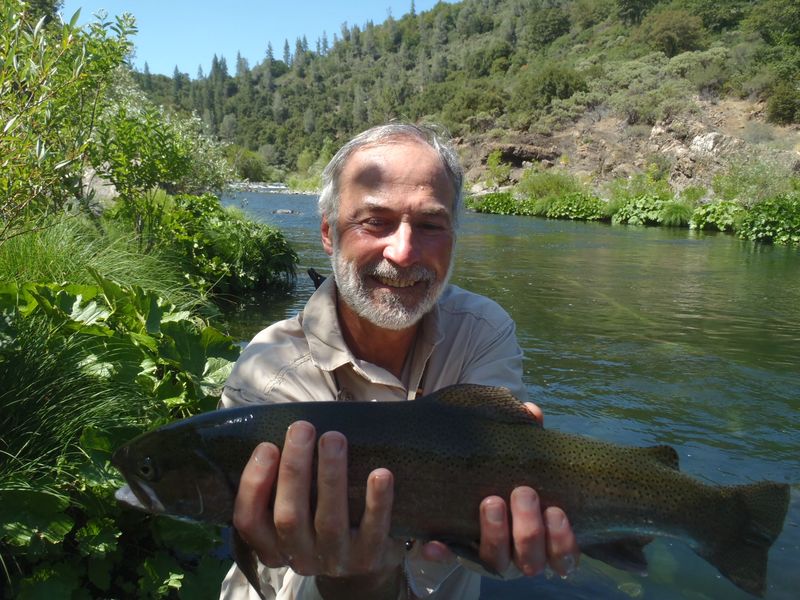 Oh Sizzler, what a great day indeed! There's more than luck folks to landing a heaping Mamoo like this beast.
Gene fishes for big trout and steelhead on his annual June adventures up in B.C. , I have seen this guy with many 20+ lb steelhead with that same grin on his face. Couldn't happen to a better guy! I'd put my money on Gene if it had to be a big fish or a big deal, some folks just know how to do it. Can you help her out, she's slipping out of her bra…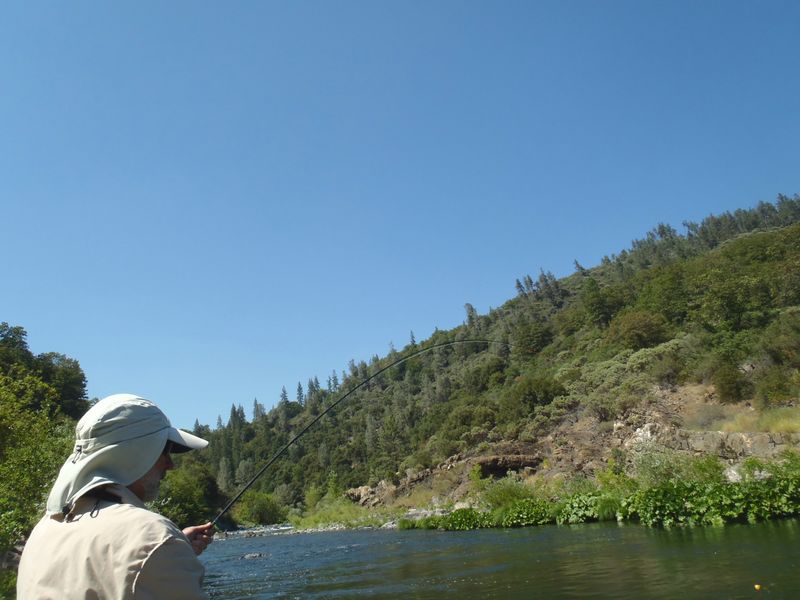 Gene Weber caught over 5 trout in this one spot, when the light switch is turned on, look out Sizzlers!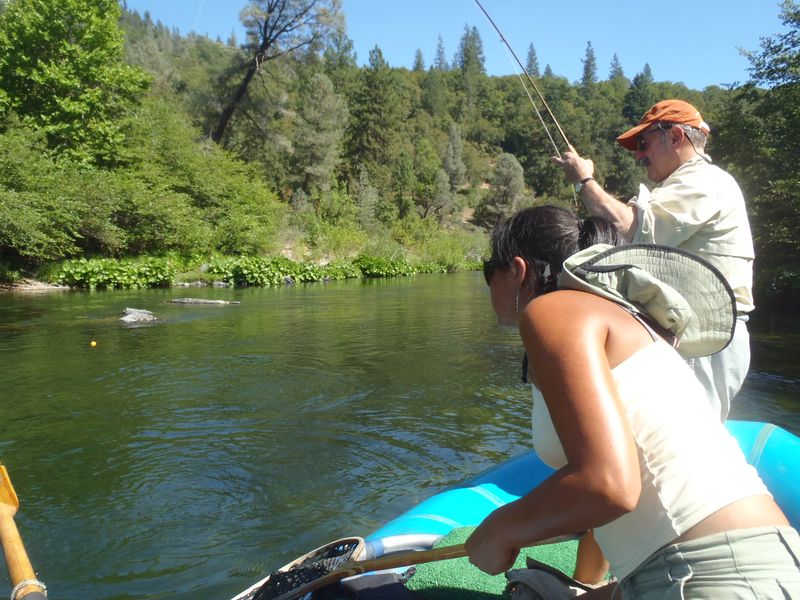 Carola on top of her game folks!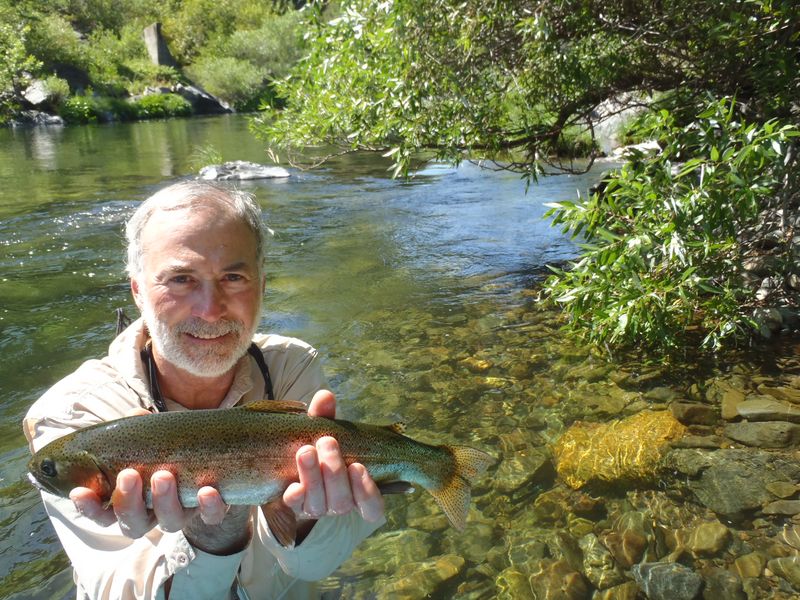 Big fish just follow some people…?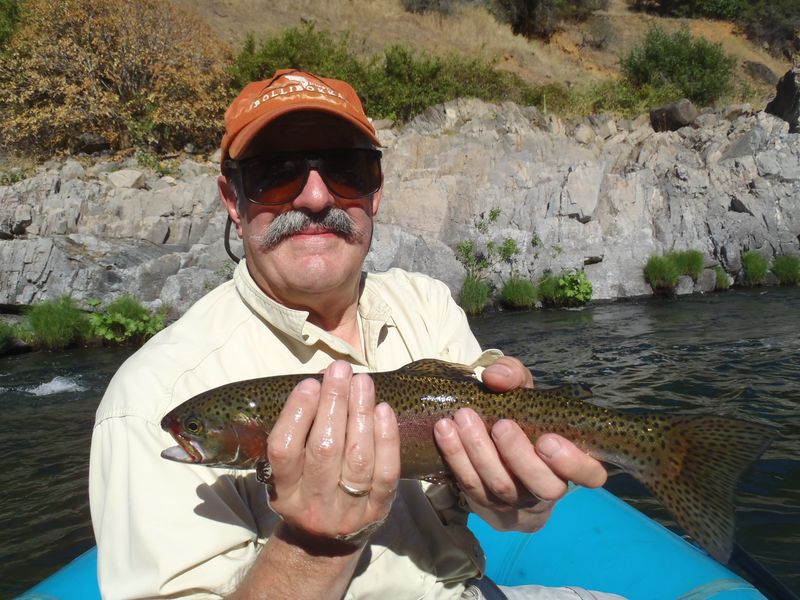 Nice bow Roger, hope to see you again in the fall when the rains come back and we can float the 10 mile section again.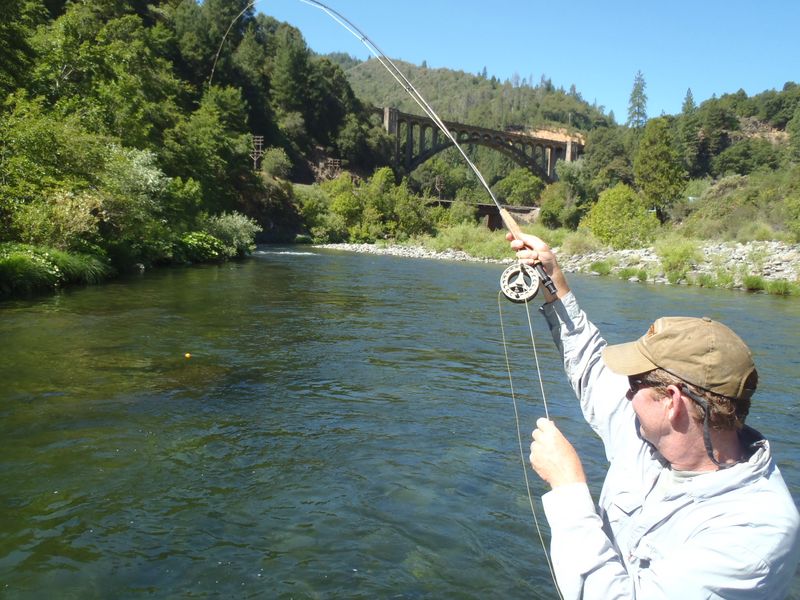 Look folks it's Tom A-Hawk ~ Hawkins hooking up near Dog Creek on the Upper Sac!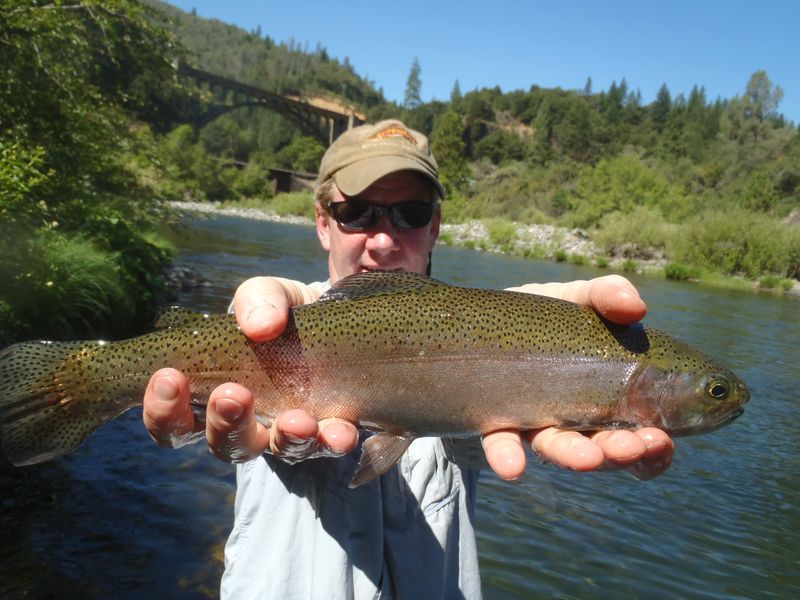 Like a shinny Buffalo Nickel, this one looks uncirculated to me!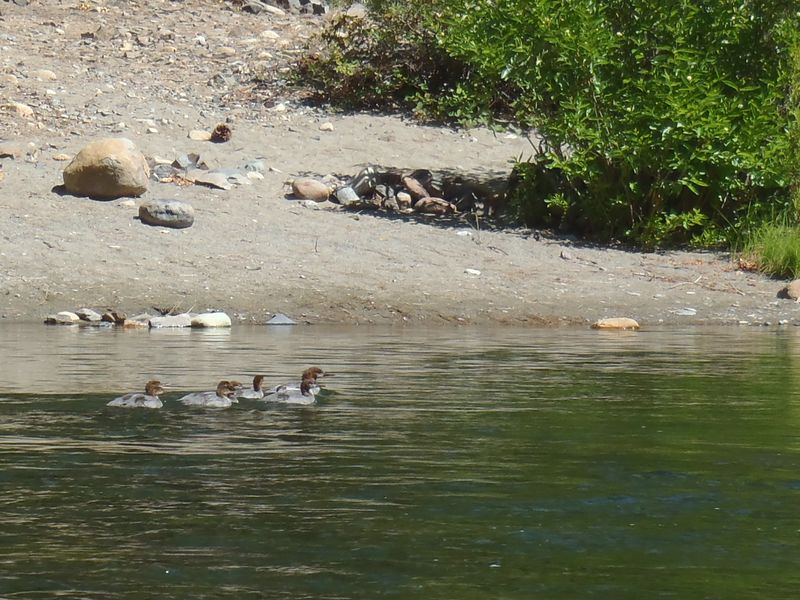 We are Family,  I got all my sisters and me….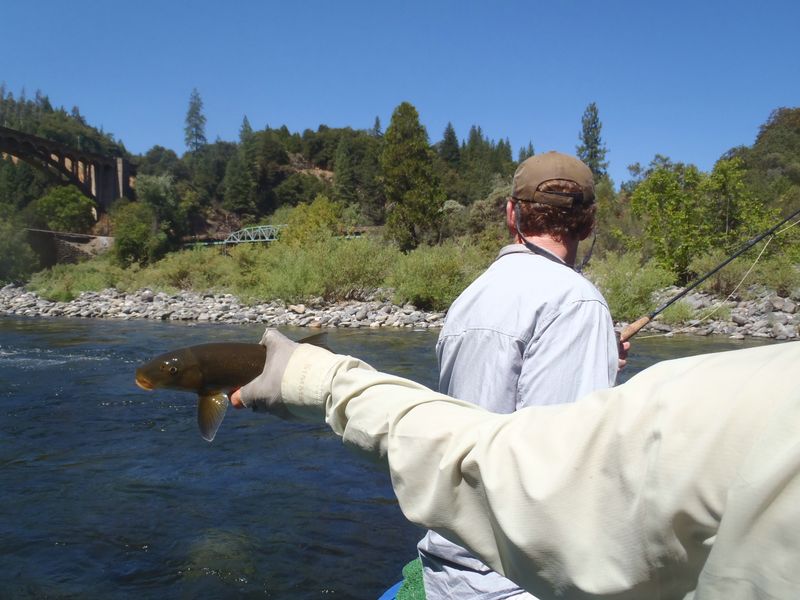 What do you get when you cross a politician with a potato?  
A  Dick – Tatter!
Trout don't know politics..
 Fine meals on the Upper Sac are what we are striving for!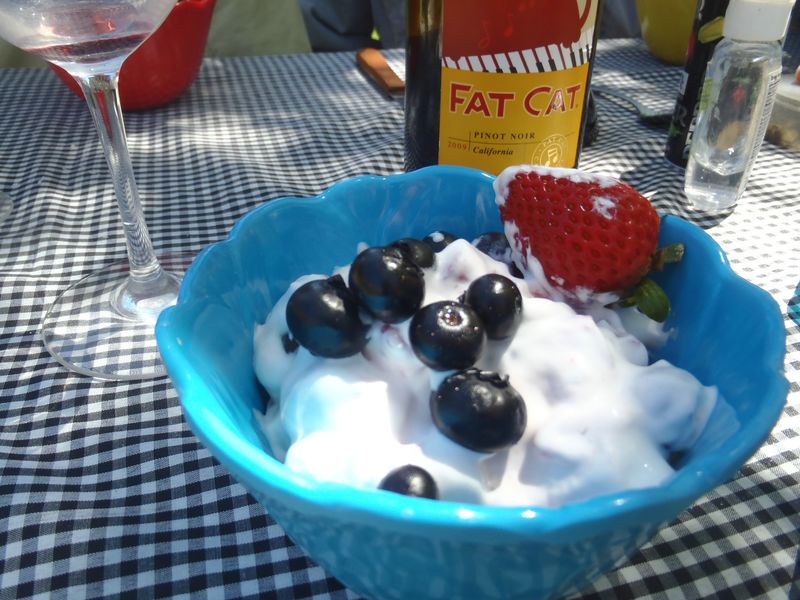 Fantastic desserts are what I'm talking about!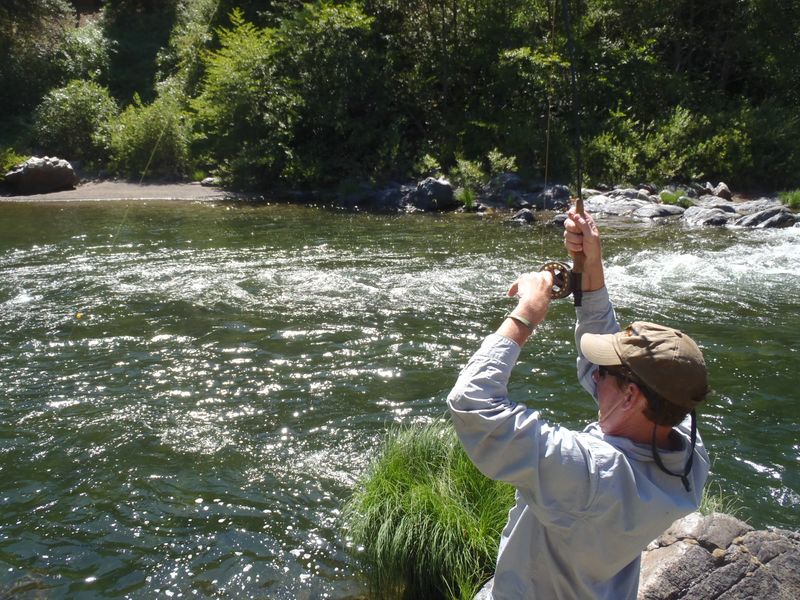 Tom-A-Hawk !  Tom-A-Hawk ! Tom-A-Hawk ! Tom-A-Hawk ! Tom-A-Hawk !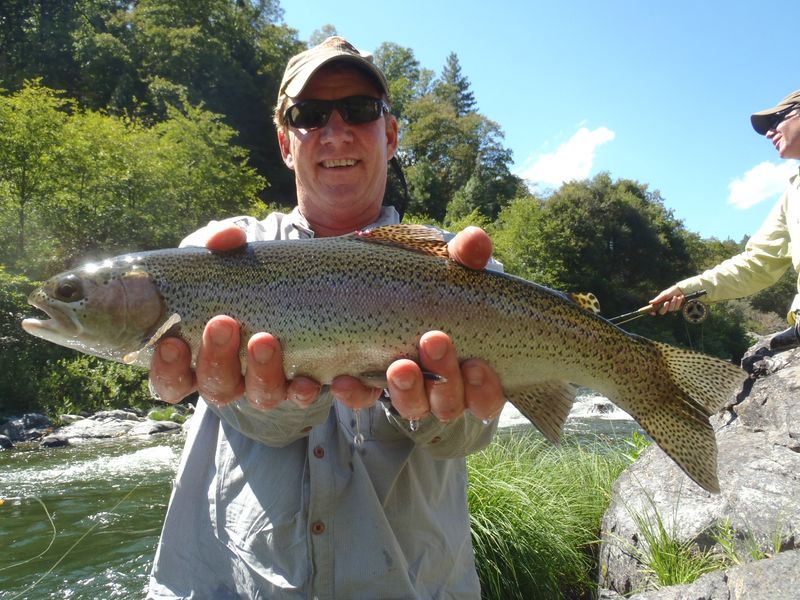 That trout looks Native American to me! Carol and I always have a great time with Burke Newman & Tom Hawkins of the East Bay Area.
Oakland, Berkley and Orinda Painters ~ 
Residential and Commercial Painting in Oakland, CA
Tom and Burke own a painting co called HAWKFLY PAINTING ~ CALL ON THEM FOR CUSTOM WORK AND THE BAY AREA'S BEST BIDS! PLUS THEY HAVE BEEN LOYAL CLIENTS OF MINE FOR YEARS AND SIZZLER OF THE WEEK AWARD WINNERS!! 
WE LOVE YOU 2!!!    jt & ct
Check this wonderful web site!!
http://www.hawkflypainting.com/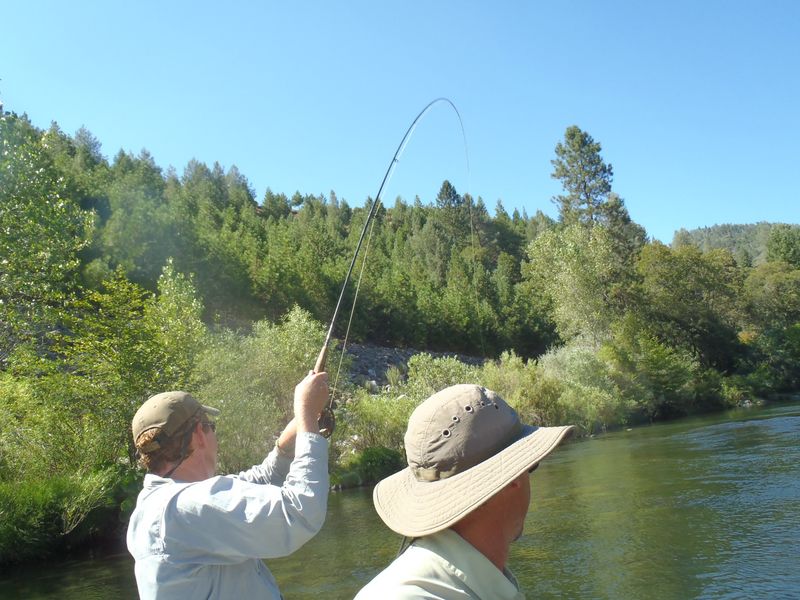 Tom
 with another great hook up! Not thinking too much about painting right now..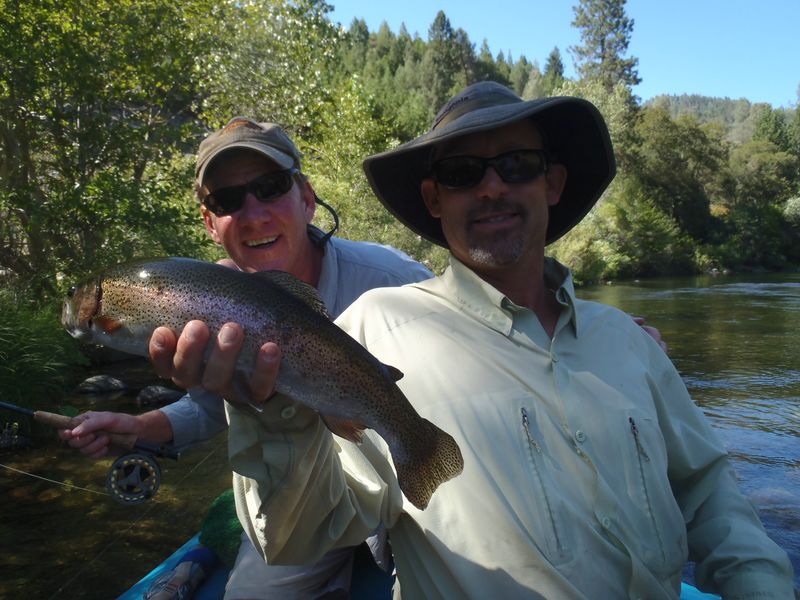 Big trout, big job ~  No problem, life just keeps getting better.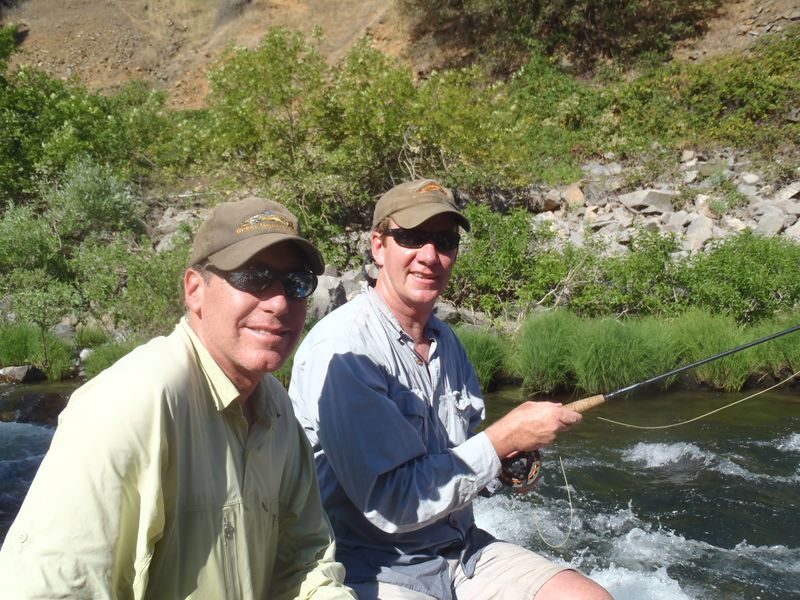 The Mighty Warriors out for another adventure, looking fundamentally together for another Scoobie Snack!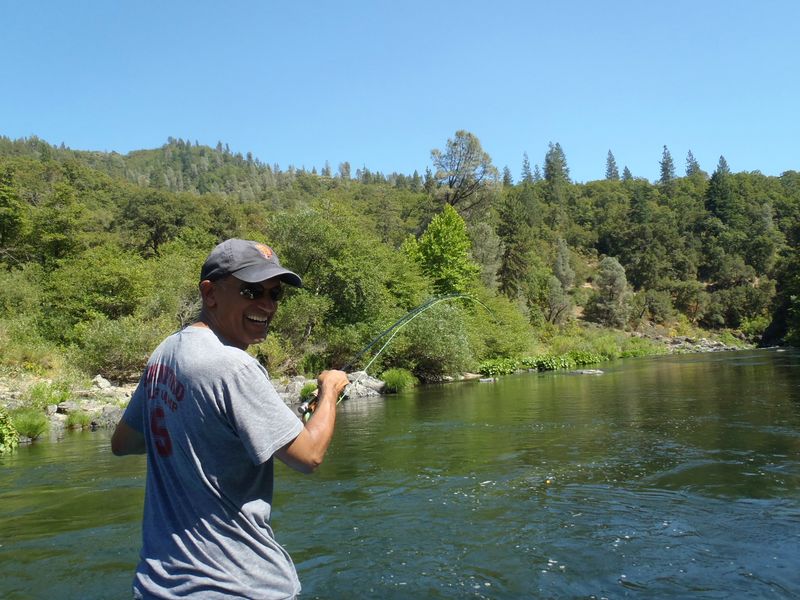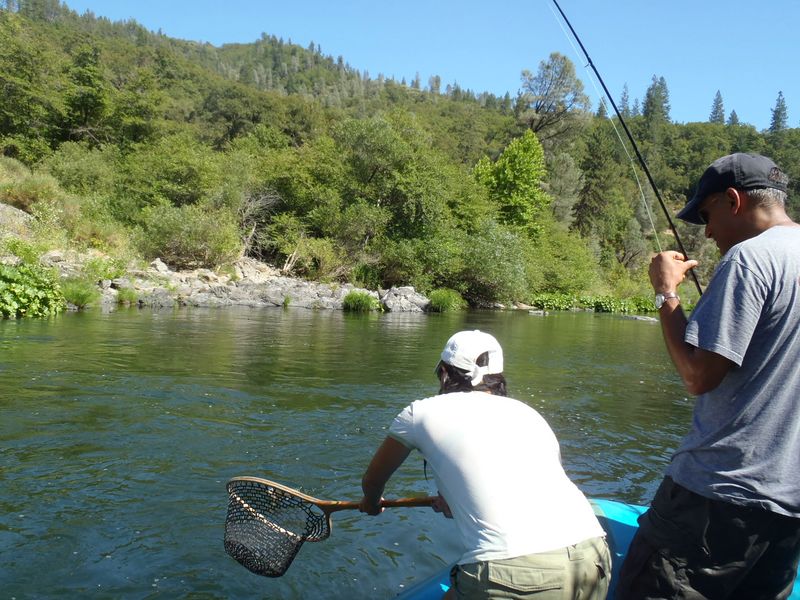 It's a job folks! Carola wanted to say hello to all the people who watch from South America!! Thanks for watching our adventures, JT & CT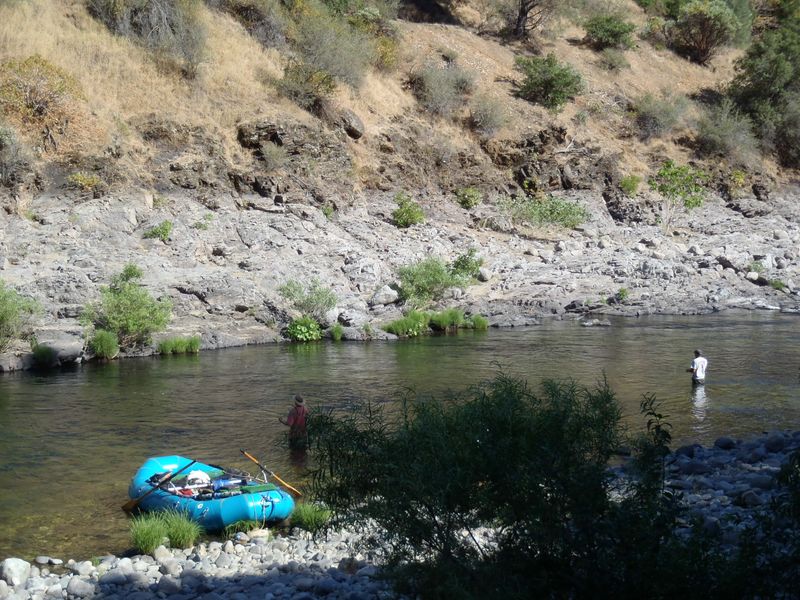 The Courgar Canyon get away, it's a great place to escape form it all.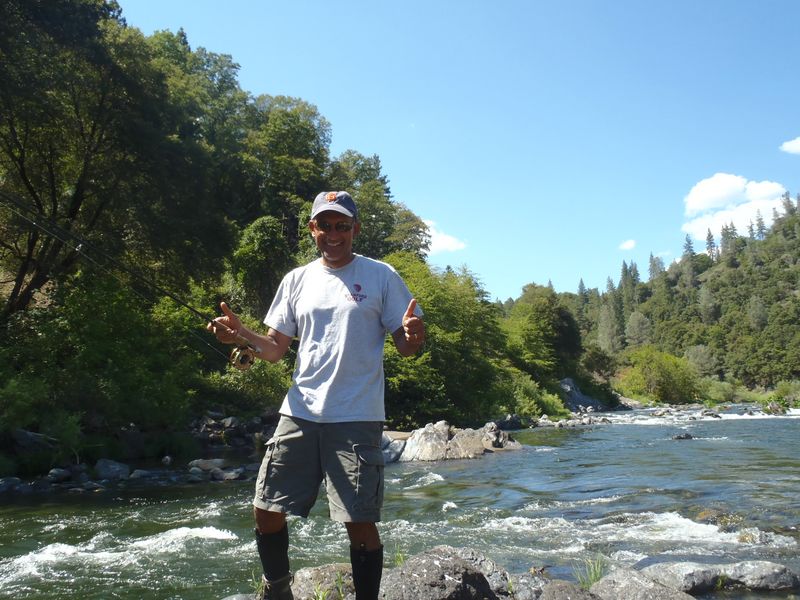 It just doesn't get any better than this, especially on my first day ever fly fishing, I must hooked 10 trout or more!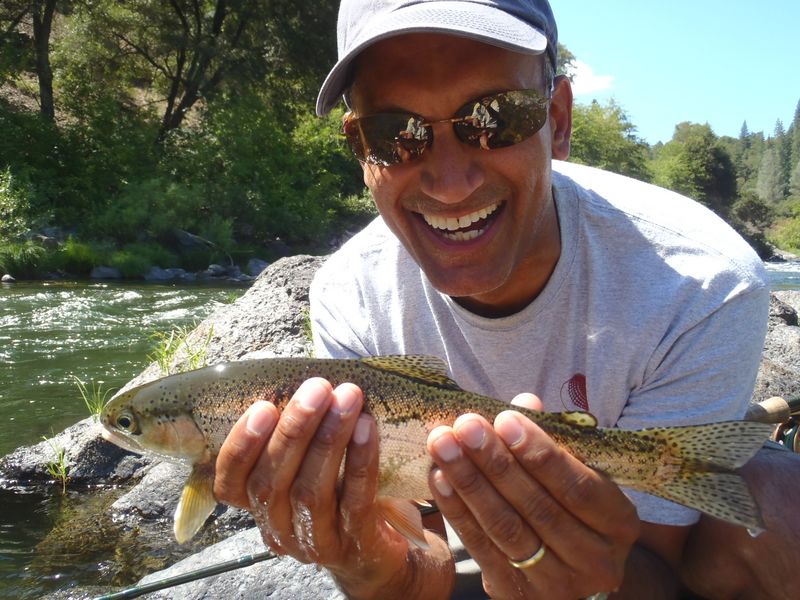 Wait until my wife sees me with this catch! I'm feeling pretty proud right about now, like I was 17 again!!
 Let's sit down now and enjoy some Carola's great culinary skills!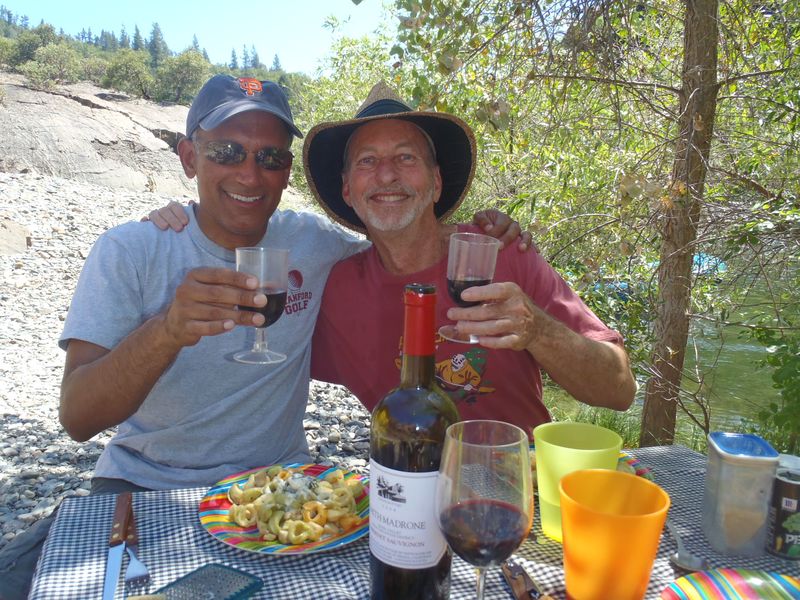 Friends don't let friends drink on the river alone!
CHEERS!!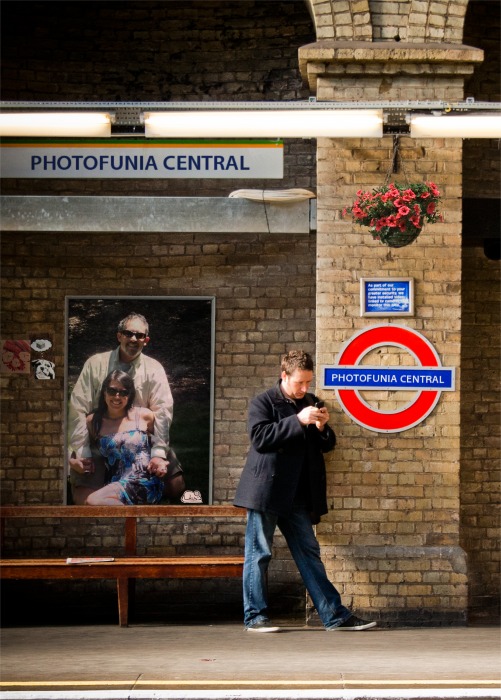 Thanks for watching our adventures and your adventures too!  Best, Jack & Carola Trout  530-926-4540
EMAILS FROM YOU: