FALL FISHING IS HERE!  EVERY TIME IT RAINS FROM HERE ON OUT ~ STEELHEAD ~ STEELHEAD ~ STEELHEAD ~STEELHEAD ~ !!
    Cali~Fly~Fish~Sizzlers!
SIGN UP NOW FOR OCTOBER ~ NOVEMBER ~ DECEMBER ~ FLY FISHING STEELHEAD TRIPS WITH JACK TROUT GUIDE SERVICE.

 

As we head into the fall colors up here in the Mount Shasta area we'd like

to remind you that this is a very special place to visit in the October and November months! (Castle Lake Road is our version of Vermont!)
Also consider a White Christmas this year by having your holiday up here in the towns of McCloud, Dunsmuir or Mount Shasta!! That's right folks, stir it up a little this year and get the family up to the North State and have a Northern California Holiday Celebration! We have many vacation homes available as well as hotels and a decorated light up mountain towns, that will make your holiday this year truly unique.
So this holiday season, maybe it's not the gifts you receive, but the place you receive them in! Let our towns be your towns this Thanksgiving through Christmas ~ We love tourist!
Thanks for dropping a few bucks in our area Sizzlers!
Jack & Carola Trout

 Alright it's Lieutenant Commander Bill Wedderburn with the
California Highway Patrol, Mt. Shasta! I like it best when the CHP visit
me in my raft out for a day of pure fly fishing fun.

Remember those old late night ads with "Ponch" selling homes for sale out 
there in the 
Big Springs area near Weed, California.

 Nice trout Bill, really glad you and Julie enjoyed yourselves out on the raft.

 

Catch & Release ~ It's ok for tourist not to kill wild trout in our local rivers and go out and get some food at one of the many great restaurants in McCloud, Dunsmuir or Mount Shasta area.

 

Bill's girlfriend Julie having a "clinic" as she lands 3 trout in a row!

 

What a great day to learn how to fly fish!

 

Kobe Beef sure had a great time on that day, wondering if we're going tomorrow? By the looks of how many guide trips I've done this season, I would have to say "Yes!"
Thank you folks for all your business this past season here in Shasta,
we couldn't do it without you. jt & ct

 Yahooo!!  With that hook-up Julie you are my Sizzler of the Week
Award Winner. Thanks again to you and Bill for calling on me.  Trout

California legends are molded from inside of ones heart in layers like an artichoke. They are always green inside and out, and are tough characters especially at the tips of their 
leaves. You can boil them, 
but it could take a long time to soften them up. Some artichoke's hearts are never goi
ng to give in, because they just aren't made to be eaten up by the man…
The artichoke I admire most is the one who has the biggest heart for our environment and doesn't sit around waiting to be gobbled up by a fat man with mayo..
That's why a man like Bob Praetzel 
needs to be recognized as a true California Legend ~ He's a Green Artichoke with a huge heart!!
http://baynature.org/articles/jul-sep-2003/saved-by-grit-and-grace
 

Glossy drawings and three-dimensional models showed a city unlike anything the Bay Area had ever seen. The original version of Marin-cello envisioned housing 30,000 people on the rugged 2,100-acre site. The plans called for 50 apartment towers, shoals of single-family homes, low rise apartments, and townhouses. There would be 250 acres of light industry, a mile-long central mall with pools and elephant trains, and a square bounded by churches called Brotherhood Plaza. At the summit of the city, on the highest point in the Headlands, would rise a "landmark hotel." Construction would last 20 years and consume $285 million in 1964 dollars.

On November 12, 1965, twelve months to the day after the first Frouge news conference, the Marin County Board of Supervisors approved the Marincello master plan, minus a few apartment towers. Some conservationists seemed relieved to be rid of an issue that had puzzled and divided them. But a few opponents kept fighting. They found grounds for legal action in the way the county had rushed approval and muzzled opposition, disqualifying a petition drive to bring the issue up to a countywide vote. A couple of lawsuits were filed.

Three attorneys labored on this seemingly lost cause: Robert Praetzel of San Rafael, and Martin Rosen and Douglas Ferguson of Sausalito. What drove these men at the time was not so much affection for a threatened place as fear of the precedent so massive a development would set. They were also outraged at the process, the way the county had been swept along. "I got involved not so much for an environmental purpose as a civic purpose," says Rosen, later a founder of the Trust for Public Land. "I just felt it was terrible that these few people could turn around an entire landscape, and not even consult the local citizens. I was more Jeffersonian than Thoreauvian."

On November 2, 1970, Gulf and Frouge settled their quarrel. On the same day, however, a state appellate court ruled on one of the long-running lawsuits against the 1965 development approval. Verdict: the plan must be submitted all over again. "To invalidate a multimillion-dollar development on a technicality is silly," snapped a counsel for Gulf Oil. Robert Praetzel, whose legal theory was the one that prevailed, still bristles at this. "The technicality was the fact that they didn't follow the law."

Today the Marin Headlands is one of the most visited, most appreciated sections of the GGNRA, itself the most heavily visited national park in the country.

 Classic story Sizzlers, see what you can do on your own to help our environment and let me know!  jt

 Matt Praetzel folks! Sure is great to see all my clients from Bollibokka on the McCloud River coming back to see me on different waters. Many like this trip on the Upper Sac.

 

Michael Jordan of fly fishing! Get'em Pops!!

 Some folks ask me if your fly fishing as an expert or a beginner is there some luck involved?
I'd rather rely on being exact with my rigs and guiding locations that way when luck comes around my clients and I are ready!
Trout

Bob, thanks again for coming up to see me, I'll see you in the spring for the 18 mile 2 day float!!
Trout over & out! 

 

That's our gnocchi with panko chicken in a basil paramesan cream sauce on fresh butter lettuce. Save room for the Peet's Coffee chocolate chip cookies!! You bring the nice bottle of wine or fashion brews.

 After lunch the bite was on~!!

 

McCloud River is fishing good right now, a little high but a lot of great trout are coming up from Shasta Lake.
Maybe you might hook the mighty 10 lb brown up from Shasta lake!!

 My good client Tom Shaddox of 14 years who likes
the Padres from San Dieg

o,
hooking up on a little Giant in the McCloud River…
(T

r

o

u

t, you're down right heartless…) 

 

Love those great colors of the McCloud River and its world famous trout!

 In another section of the Upper Sac wading with Tom, he hooks into a monster that takes him on a wild ride!
(I was a bad guide that day, when I missed the scoop and the fish left me with poop!) it happens folks, I'm not perfect…

 Here, I need to be perfect!!  These rapids I take folks on should only be done if you know the name of the rapids your going through and are a certified licensed and bonded white
-water rafting guide.
You have been warn. 
 Jack Trout  over 15 years rafting and guiding the Upper Sac.

 

Janene Leonard ladies & gentlemen,
Southern Cal's hottest fly fishing gal!! She brings here husband Pat along so he doesn't have to watch

Notre

Dame football games and he can just relax and count her hook-ups…

 What did the trout say?
"I think the 

Nevada Wolfpack is going to upset Boise State!"
"Oregon is going to a place they have never been before..? "
What is that little trout and how do you know? But before we could get another word out of him he jumped out of Jeans hand and was free!

 "J
ack Trout, this trip is ok! lot's of fish landed, great lunch and a talking trout!"

 

Lets see what this guy has to say about college football…  Not much, doesn't follow sports…

 Pat Leonard~ fish on bra!! I think we'll try next time by wearing a more neutral shirt but perfect in Belize..(Totally kidding, but I know you love it knowing your sense of humor!)

 Fantastic trout Pat, way to go bro!

 Pat fish on pumpkin!

 Pat I had so much fun with you and Jean! Can't wait to see you next spring, figure anytime after May 1st, 2011 or maybe we'll see you in Chile!
Take care, Jack & Carola Trout

 

Over on

the McCloud River in the Nature Conservancy things are starting to heat up!
 Enjoy this video.

 

Ed Payne enjoyed his day out on the McCloud River and hooked into some nice trout.

 Way to go Sizzler!

 

Ok, check out this photo very closely. Can you see the spider inside the house it spun for itself? The design on its back is incredible and it was munching on something in its kitchen. If I'm not mistaken doesn't that design on its back look like a fully decorated cross. The Sky Pilot really did this spider up, that's 

better than a tat

too parlor.

 

Brownie points!

 Kobe Beef, "Where the heck did that come from, the river..?" There might be more in there some where?

 Edly, that's a great sized
trout man!

 

If you buy fly gear or need anything on your travels to the North State I would be so appreciative if you bought all 

your fly fishing

things at the Ted Fay Fly Shop. Bob Grace is one of the nicest guys I know and this is the oldest fly shop in California. It is very important we support little fly shops like this right at the heart of the source of the resource. Bob Grace deserves it, he's vauble link for honest information and 

non-bais opinion on where it's best to fish or not fish. He has all the best equipment for probably less anyway, but more so places like this just don't exist anywhere and people like Bob Grace and his staff are the most knowledgable, courteous

and friendly in the entire North State. I truly have always felt it's lucky to go into the Ted Fay Fly Shop before you head out, you'll have Bob or Steven Bertrand's advice with the Ted Fay luck on your side!

 Ted Fay Fly Shop ~ Hotline Fishing Report ~ 530-235-2969
Buy 
your gear here on your next trip or call by phone to order by mail.

 Bill Hazen with a nice trout on the Upper Sacramento River. Right now I'm fishing EC Caddis on top with a dropper nymph like a black Copper John size 16.

 "First of all I would like
to say grace to my church the river and Pedigree dogfood. I
promise I won't move a cubic inch in the boat and
.. I thought I saw
something..!"

 

Really nice trout Bill!! Call me about Oct 22nd with Jack from Texas! He's always so great to be out on the water with, we had us a real hoot last year!
Thanks,  Trout

 

Nice wine selection Bill & Ed, I'll 

bring the gourmet lunch, you can bring the wine. Now that's a way to enjoy the river and really feel the zen of friends, nature, rivers and fly fishing. I think the best part about this sport is how you enjoy it to the fullest, let it age brother, let it age!
It's not just the hook ups, it's everything! We get it folks! JTGS

 Oh,the nets completely full theory, I like that theory!

 

Ok folks, get ready! it's Tim and Jennifer Kardos from Foster City!!! Oh these folks rock, I met them on the river and they told me they had read about me in the SF Chronicle but having a family didn't  always have $375 to take a trip down the river. So I told them I trade things like fine wines, construction, solar panels, pizzas

from Lou Malnati's Chicago, pastrami sandwiches from Carnegie

Deli NY, gold… You know things that are easy to come by if you live by there. Possible a little cash.
Anyway, if it's logical, legal and makes 

sense, I'd probaly do it. My goal is to teach as many people as I can the art of fly fishing and my Trout World. Anyway, so these folks brought me terrific Italian wines, Zins and Pinot's. They made a list for me so I had the born on dates

(Heard that in a beer commercial probably not appropiate.. Are you chewing gum?!)  Bridal ~ Like Sangiovese the region ~ Italy Tuscany 2007
Baccinetti Rosso di Monttalcino ~ Then they went on to list when the best years to drink these wines I was given. It was so thoughtful and I have learned a lot. I like Italian wines!!  "

Wow! If anyone orders the fricking Pinot, I'm out of there!" The thing I like best about Italian wines they gave me were how most were fruity but finished like a meal not green at all or immature.  Other's I liked were 2002 Villa Mt. Eden zinfadel from Sierra Foothills of Cali. When my buddies from Granzellas came to visit we enjoyed immensely the Pogiarellino Rosso di Montalcino.
It's been great to kick back and drick some great wines, I could never get here in Mount Shasta, nor do I time to research.
Just a thought
Trout & Carola
Want a great Chicago pizza b

y mail for about $20 per pizza includes shipping if you buy 4. My personal favorites ~ spinach, vegi, pepperoni & sausage.

The wives are out-catching the husbands 3 to 1. I need to put you with Pat Leonard and put Pat's wife Janene with Jennifer.. Sorry guys..

 Another great trout Jennifer, that is awesome!
 Tim ready for action in this Upper Sac video.

 Another great rafting season in California ends as the weather holds on for another great steelhead season that starts in October & November.
Happy Doggy!! Thanks for all the great emails and help in trying to find this great dog a home. The dog does nothing wrong in the boat and is a real good companion for a home that can watch him for 6 months while I'm in Chile with Carola. I'll pay for food and trade some trips, but you must have a good yard and a good heart.  jt
Everyone likes the dog out on the guide trips, I just couldn't see him end up in the dog pound.
 I would like to thank Union Pacific Railroad for answering my emails
and a call for help to get all this metal out of the river. (My office)
This really nice lady Liisa contacted me from Union Pacific and I told them I would take them down next season for free and show them all the metal on the Upper Sacramento because it needs to be removed entirely. It looks like it's a new era for Union Pacific Railroad, they are really trying to improve.  See you next spring for a 22 miles float trip in my raft down the Upper Sac!! We'll love it!! I'll bring Carola and Kobe Beef, you watch! We're getting the Upper Sac all cleaned up and all the UP metal removed!!! Yahooo Sizzlers!!! This will be the first time since 1894 that metal in the river will be removed by UP!!! I get so excited about it, I can't wait for next season already! Trout
Jack:  Following up on our conversation, please find my contact information below.
I look forward to connecting with you in the Spring,
Liisa
Liisa Lawson Stark
Director, Public Affairs
Corporate Relations
Union Pacific Railroad
915 L Street, Suite 1180
Sacramento, CA 95814
P:  916-789-5957
C:  916-792-9160
llstark@up.com
Jm Arnold retired San Francisco police officer from 1968 to just a few years back. This guy had some great stories about Clint Eastwood, Diane Feinstein, Harvey Milk and Dan White.
 
That's where "lucky" was invented.. Good ole days back in

SF!!
Go Giants!! 
What a great guy to be out on the water with! He commented on how much he enjoyed our trip.
 I really liked all the hard fighting trout we caught that day and the next day was on the Klamath River.
 We caught some really nice steelhead that day as well as trout on the Klamath River, as though it ended too short.
See you in the spring Jim, we can fish the same 2 rivers again! 
Trout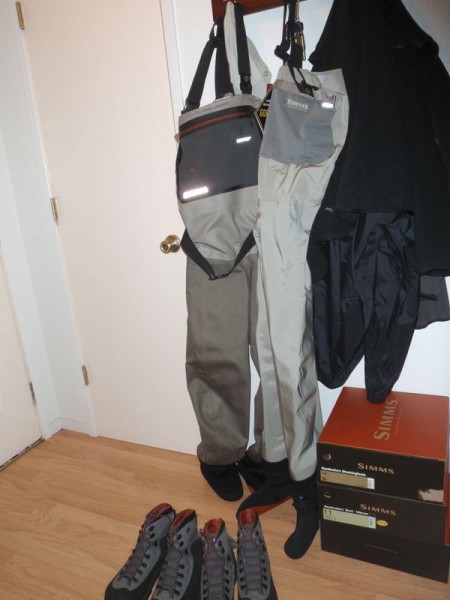 Thanks to Simms for sponsoring Jack Trout Fly Fishing and adding us to your Pro Guide Member Program. Carola and I are looking so forward to staying dry and staying comfortable in our new Simms waders.
http://www.tedfay.com  for new waders and assesories.
My good friends Artie & Dino from Granzellas out this past week on the Klamath River.
Artie with a nice steelhead. Everytime it rains people the steelhead are marching up the rivers!! Call your favorite guides, it's that time again!!
I use Fishpond gear out on the rivers! I have always liked their packs
especially since I'm not a vested kind of character.

Travis is my guide this when I am in Chile on the Trinity River! He and Eric Wisefish are probably the most knowledgable guides that live on the river.  Cal me for trips on the Trinity for November through February 
530-926-4540  Steelhead Hotline!!
Steelhead are on their way people! Get ready for a great season.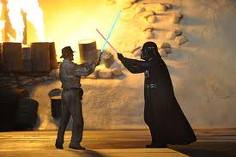 Last week I got in a sword fight with Tom Birmingham of the Westland's Water District, the Darth Vadar's of California Rivers.
Good thing the Force was with me!  

      Jack Trout
~~~~~~~~~~~~~~~~~~~~~~~~~~~~~~~~~~~~~~~~~~~~~~~~~~~~~~~~~~~~~~~~~~~~~~~~~~~~~
Chile 2011 ~ Chile 2011 ~ Chile 2011 ~ Chile 2011 ~ Chile 2011
~~~~~~~~~~~~~~~~~~~~~~~~~~~~~~~~~~~~~~~~~~~~~~~~~~~~~~~~~~~~~~~~~~~~~~~~~~~~~~~~~~~~~~~
Pick up the latest copy of Fodor's Chile 5th Edition 2010 or Argentina 6th Edition 2010 ~ I worte the fly fishing sections in both books! Hope to see you in South America this  2011 Season, it's going to be fantastic!! 
Many Rivers to You,  Jack & Carola Trout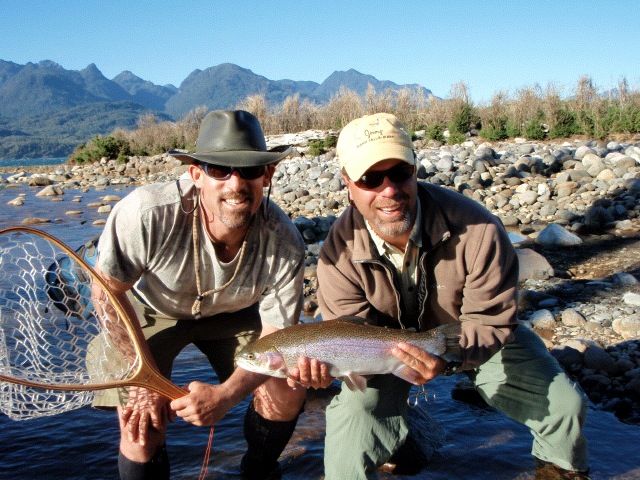 Looks to be a great 2011 season in Chile!! If you don't receive my emails in the winter you need to email me and get on my Chile list. jt&ct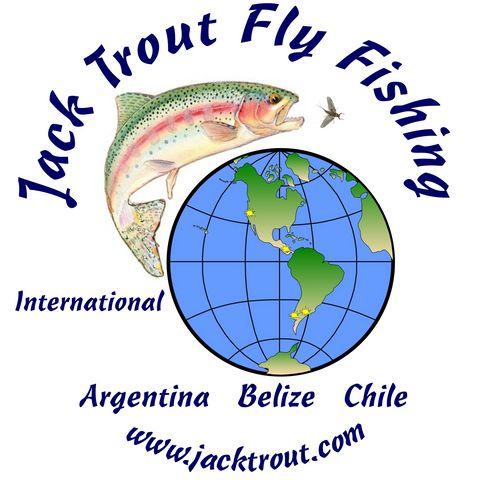 Our 2 bedroom cabin on the Rio Maullin with dry fly right out in front!
 
Carola took this photo today from our Bed & Breakfast in Chile, I'll be there so soon I can taste it!   The Rio San Pedro my home river in Chile.

I'm on my way ~

Home Sweet Home!  Our view from our kitchen table.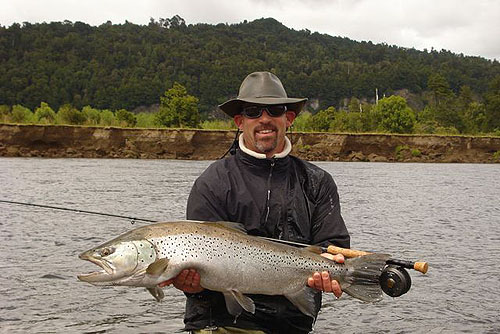 My biggest brown trout to date about hour from my B&B in Los Lagos, Chile.
 

Carola fly fishing at McCloud Falls live on NBC!!
 

Thanks for watching our adventures! I would like to officially announce that this small business is out of the recession, we've had a great season!!  Thank you Thank you folks!!  Jack & Carola Trout
 

To my Pops Raymond who has always been my mentor and never missed a thing in my life, I'll always honor you and be like you would want me to be. Honest, hardworking and a good husband to Carola.
Life is not the same without you, I miss calling 832-5250 and hearing your positive loving voice that always inspired me to do great things.
I won't let you down now Pops, I want to be just like you.
Love, jack
 Pops Trout 1920 to 2010   32957 days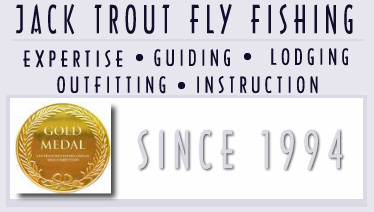 Emails From You: