CHILE FLY FISHING ADVENTURES CONTINUE LOOKING FORWARD TO LAST HALF OF THE SEASON!
We Rent Houses & Cabins in Chile or Argentina for your holiday vacation. We can help you rent a car or truck to cross over from Chile to Argentina. We can save you $$ on purchasing your airline ticket on

Chile and Argentina, two great places on Earth to search and explore in. On a recent trip Carola and I drove 3 1/2 hours from our home in Los Lagos, Chile to Junin de los Andes, Argentina and this was a view we experienced on our travels over the Andes Mountain Range. Let us plan your trip here in Chile or Argentina, we have experienced guides in both countries that can make your South American adventure experience the best possible.
Saludos de Chile, Jack & Carola Trout

On a recent guide trip Olle and Erik from Sweden, fished and lodged with us for four days and what a great adventure we had!

Olle started hooking trout from the get-go and we caught these lovely McCloud Rainbows in one of my favorite rivers in Chile.

I think one of the best parts about guiding in Chile is all the clients we receive from countries from all over the world and the realization that people from way off distances are just like you and me. They need quality time out in the wilderness with the sounds of a flowing rivers and the views of towering mountain crags in every direction one looks. What a great time Carola and I had entertaining Olle and Erik!

It's always a bonus anytime you hook a nice trout that screams out line from the reel until you see that he's now into my backing and I'm wondering what to do….? The element of surprise has to be one of the greatest experiences related to fly fishing, it's what keeps us all coming back Sizzlers!

Of course, a nice fine hot meal out on the river also helps.
Thanks Carola!!

Double hook-ups are my personal favorites out on the river.

Trout like this are a true reward no matter what country your fishing in! We mainly catch these trout & steelhead nymphing mayflies & stone flies and with streamers that immitate minnows in the rivers. We have a lot of trout and steelhead that make their way up from the connecting lakes and some migrate in from the ocean especially in March and April.

This was Erik's first day fly fishing and he picked up nymphing with an indicator like it was in his blood. I have heard from many friends that folks from Sweden are crazy for fly fishing. I'd have to confirm that fact..

From the boat or on the water wading, Erik had a splendid 1st day out fly fishing and we supplied him all the gear necessary.

Way to go Erik, your dad would be proud of you!

Olle Eriksson from Uppsala Sweden,
YOU ARE MY SIZZLER OF THE WEEK AWARD WINNER!
CONGRATULATIONS SIZZLER!!  Jack & Carola Trout
SUPER CHORY!!

Ah, Lago Llanquihue in Puerto Varas, Chile is a fine sight indeed.

So was the fine meal we had that night for dinner!

Then Raj & Michael came to visit us from Poland and Ireland! I was sorry to hear that they lost 3 days of their trip due to a snow storm in Europe that delayed their flights and left them high and dry in the airport in Madrid Spain. But once they arrived we put things in full swing and got them immediately out on the rivers of Chile.

And on his first cast Raj hooked into an enormous trout that took him for a good ride!

Then Michael hooked and landed a trout and we were off to the races..

Ready and armed with his special Simms waders it don't matter what country you live in around the world, Simms makes the best waders on the planet!

Two good buddies from 2 great countries. I thought it was fascinating all their stories about fly fishing in Poland, Serbia, Croatia and many other places in Europe you never really hear about. Carola and I for sure plan to go over this next year and visit the Dynamic Duel and fly fish and explore another region of the world. That should be super chory Sizzlers!

We waded parts of the Rio Petrohue and hooked up just about everywhere we fished that day!

Perfect riffles that just call out and say,"fish me, kiss me, rape me out on the river!"
Don't be scared folks, I love my job and my office.

Raj, hooking up out on some pocket water where you could see nice trout lurking using a Stimulator – Dropper.

Michael demostrating some mighty fancy nymphing that he says was invented in Poland. The Czechs stoled the idea from Poland, I knew it!
It's not Czech Nymphing folks, it's Polish Nymphing and you heard it here first…. jt ct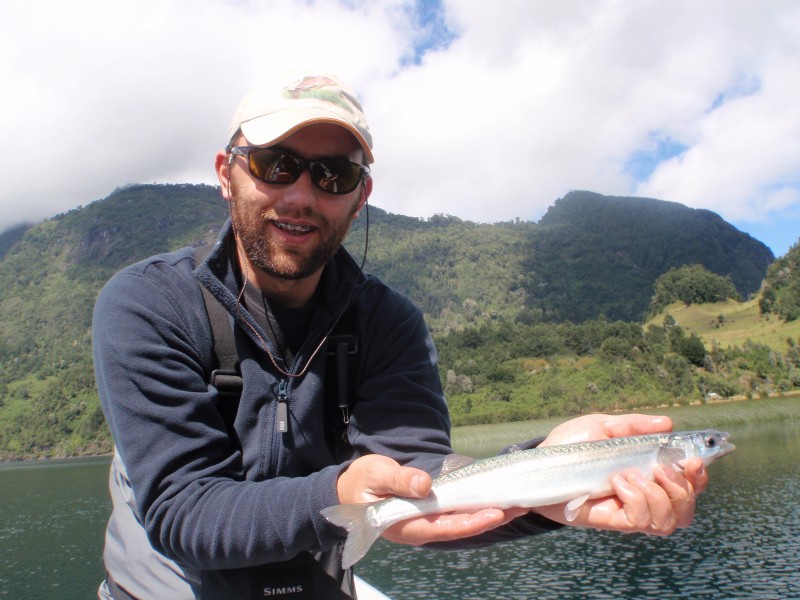 Out on a local lake we started hooking these native Chilean fish called Pejerrey, they put up a pretty good fight for their size.
Pejerrey are kind of like the Artic Grayling of Chile if you think about it.

Then it was Raj's turn to catch a fish.

Then we drifted into the river and made our way down the mighty Rio Dios.

Michael caught his first steelhead as it is always great when you can add a new specie to your fly fishing bucket list.

Raj went on a tear and hooked a few nice trout on his own.

A little silver bullet folks!

Then he got his brownie points for this one.

And Michael responded with this lovely philly… I would like to personally thank Raj & Michael for making their way out from such a far distance as Ireland and Poland. Sure would like to accumulate all the frequent flyer miles folks receive when coming out to visit us here in Chile. See you next summer in Poland, we'll make a great adventure
together in some special place in the world.
Carola and I are excited as we will go and visit our past clients from last season Ricardo & Thais from just a little south of Sao Paulo, Brasil. Then we are off for 2 weeks fly fishing on the Amazon River in Ecuador, stay tuned for those adventures in late March and April!!
See you soon Ricardo & Thais..

Ed Stein from the United States had a 2 days before he went on his fly fishing adventure on Nomads of the Sea. So he contacted us and we hooked him up on 2 local rivers we guide on floating and wading, then we lodged him on our private cabin on the Rio Maullin near Puerto Varas & Puerto Montt Chile.

Nice smile Ed, Hope your trip on Nomads of the Sea was epic..!

We hooked some browns and rainbows..

This trout needs Jenny Craig or trip out with Whale Watchers, I mean Weight Watchers…

The release of a trout is such a special thing, it guarantees more trout prosperity in the furture for you and me and it means a bigger trout the next time you hook him!
Catch & Release, the right way to fish out on any river.

Sexy isn't she! (As my wife would say, "Trout you've been spending too much time out on the water!")

Liz and Alex Kannon enjoying a nice sunny day in Niebla, Chile.
Our next cleints were from Arizona and they came to to Chile to celebrate their Honey Moon. (Luna de Miel) We thought prefect, we can take them out to the ocean when they land then we can take them on a beer tour around Valdivia. We hit Kunstmann, we drank it up at Salzburg Brewery and finished up at the Calle Calle Beer Brewery.
I always hire a driver for us so I can drink and be festive with our valued clients!

The views were incredible and the the ocean air was crisp and clean.

The last place on our plate was my personal favorite and the beers were even better. Plus the added bonus was feeding the 8 to 12 lb carp out back!

One day we took them on a tour from Los Lagos through Lican Ray then into Pucon Chile. The Villarrica Volcano was smoking it up, reminded me of a Day on the Green concerts back in the early 80's

Then we headed to the best place in Pucon for beers and real tacos at the Mama's & the Tappa's Restaurant and pub. I have known the owner Marcelo for over 10 years and he treats me and our clients right. I highly suggest this spot for a great lunch for any of those traveling to Pucon Chile.

That night we ate like kings at the Maga Restaurant & Grill. (Parrilla)

This is so far the best steak I have had in South America and it was in Chile! (Owners were from Uruguay, go figure..)
The bottle of wine was exquisite!

We lodged them at the Geronimo Hotel with french doors that led to a big deck and a view of the smoking volcano.. They loved it folks!

Alex fished a couple of days and we toured them around Chile the rest of their week here. It was so much fun, especially in light that we had our Honey Moon last year at this time so we knew exactly what to do and where to take them.

Breath taking views in  every direction we headed that week.

On this tour of Chile we also took them to the Isle de Chiloe to see the penguin colonies and Carola and I hung out in this great seafood restaurant where I was munching down on abalone empanadas as they went on their adventure.

So how was your week of touring and fly fishing Chile? A picture can say a thousand words folks! Thanks to Liz & Alex Kannon for coming out to visit us here Chile, we hope to see you in May in Califonia.
Have a great marriage, I know I am so happy being married to Carola.
For me life started after I met and married Carola for life. JT

Volcano Lanin on the border of Chile & Argentina is a spectacular site that all need to witness in ones lifetime. So when our 1 year wedding anniversary came along on February 2nd, I asked Carola where would you like to go? She said, "fly fishing in Argentina!!"
I knew once again, I married the right gal. Plus my Pops Raymond loved Carola and he was always a great judge of character…

So we headed for the Rio Malleo one of the best hopper rivers in South America.

There was my girl hooking trout in every river we fished on this special vacation.
Enjoy this video of trout lurking on the Rio Malleo

That same day our friend and guide for Argentina Juan,  hooked this lovely brown! When we set up your trips in Argentina you'll really like Juan, he's an expert on rivers around Junin and San Martin Argentina.
He ties all his favorite patterns of flies for all the of the local rivers.

Truly free and on top of life is my wife Carola Trout, what a true gem of a girl. I would like to personally thank the SKY PILOT for allowing us to meet 3 years ago in Chaiten Chile on Valentines night before the volcano blew and took everything we owned. We have risen from the depths and are now back stronger than ever, happy and healthy!
THANKS MAN!

These balsalt rocks carved out from the basement of time formed from glaciers that receeded and ruled the Earth and then completly dissapeared and left us with this wonderful high desert Patagonian architecture.

Up high on the side of the road near San Martin de los Andes, a must see when visiting Argentina just 4 hours north of Bariloche.

Lago Traful was brilliantly amazing!

The mountians spectacular in all their glory!

And oh the glacial waters that take your heart and soul for life.

I would say without a hesitation that if you want to come to Chile or Argentina we can help you out. Plan your itinerary, I can guide you in Chile then we can transport you to Argentina and arrange guides for you in Argentina as we know the best.
Don't pay huge prices, go with independent guides who can save you thousands, guide you for single day trips and you'll have more freedom.. Some folks have us guide them for one, two, three or multiple days, what ever they decide they have in their budget.
We get with the program folks and we know how imporatant it is now more than ever, to have a quality South American fly fishing or tour experience yet not break the bank!
Just a thought from ~
Jack & Carola Trout

There's my girl going at it again on the Rio Caleufu in Argentina, she hook trout on every river we fly fished and that makes me proud!
Saludos de Chile, Jack & Carola Trout
Thanks for watching our adventures as there will be more to come!
530-926-4540 California  011-56-9-94671995 cell in Chile from USA

EMAILS FROM YOU:
Great Fly Fishing Guide in Chile"
Old_Map_Keeper

9 contributions

Kettering, Ohio

Feb 6, 2011

I know Jack guides folks in California, but we stepped off our cruise ship and went fishing with Jack in Puerto Montt, Chile. Excellent, top notch. Jack knows his way around Chile. He got us to some places to fish that the locals don't even know about. It was driving rain storm in the morning, but the fish were biting and fighting in the Petrohue River. Lunch was local beef kabobs and a superb bottle of Chilean carmenere. Jack knows his way around Chile and around a trout stream. His knowledge of the water and the insects is everything you need for an excellent experience. And compared to other guides I checked, his prices are also the best.

++++++++++++++++++

Worth the hardship to get there.""
ziffle1111

1 contribution

Toronto, Canada

Jan 25, 2011

I took a ten hour, overnight bus ride from Santiago to Los Lagos, met by Jack, pick up Corola and the drift boat, drive an hour and a half to the river, fish, eat lunch on the river, fish till dark, drive an hour and a half back to their home, dinner at midnight, sleep, 2 hr drive to airport, 1 1/2 hour flight to Santiago, then a 6 hour flight delay, 3 hour flight to Lima, one hour layover, 7 1/2 hours to new york, 2 1/2 hour layover, then a 1 hour economy flight home. And, and this is the part that gets non-fishing people shaking their head, I gave up a Santiago to Toronto direct first class flight to do all this. And, I would do it again in a second.
Why?
Double digit hookups on a river that we had all to ourselves with some of the most spectacular scenery on the planet. Bows and steelies mostly. Was hoping for some dry fly action, but no. Luckily, Jack was saavy enough to get me into some nymphing setups until we sussed out what was going. Then it was fish on, fish on, more than 30 hook ups for the day. I think the only time I put the road down was for the consuela shore lunch.
Highly recommend!

++++++++++++++++++++++++++

Hello,

We will be arriving in Puerto Montt on the Celebrity Infinity cruise ship on Friday March 11, 2011. We arrive in port at 8:00A.M  and depart at 5:00 P.M.

We have 2 people who are interested in fly fishing. Can you please provide me with information if you have availability that day, the cost, the length of the trip and also the logistics of getting to and from our ship.

Thanks, Cheryl Blankfield

++++++++++++++++++++++++++++

Yo Jack,

Jackie & I meet you down in Belize. You where with that Calf. vet group. Fun time. Live in Western Colorado with BIG rivers. The Colorado & Roaring fork. Many fish in the twenty inch range. I'm glad you found the love of your life. I have too. Tight lines.  Jimmy Polowchena

++++++++++++++++++++++++++++

Dear Jack,
I am now back in Sweden. I would like to thank you for three great days on the Chilean rivers! According to Erik, the fishing license has now been paid, I'm glad that worked out. Also, if you have a picture of the nice trout with me, I would appreciate if you sent it.

Best Olle

++++++++++++++++++++++++++++++

Jack and Carola,

Happy New Year, and we hope that the Earthquake yesterday has not bothered the fishing.

We are planning a trip next Holiday to Argentina and want to head south to do a little fishing on that trip.   We know you are the foremost expert and want to know what you would suggest.  Maybe we can get out the CA this summer and fish with you as Austin has really been hit with the fly fishing bug.

Patrick Shea, Co-Founder

+++++++++++++++++++++++++++++++++++++++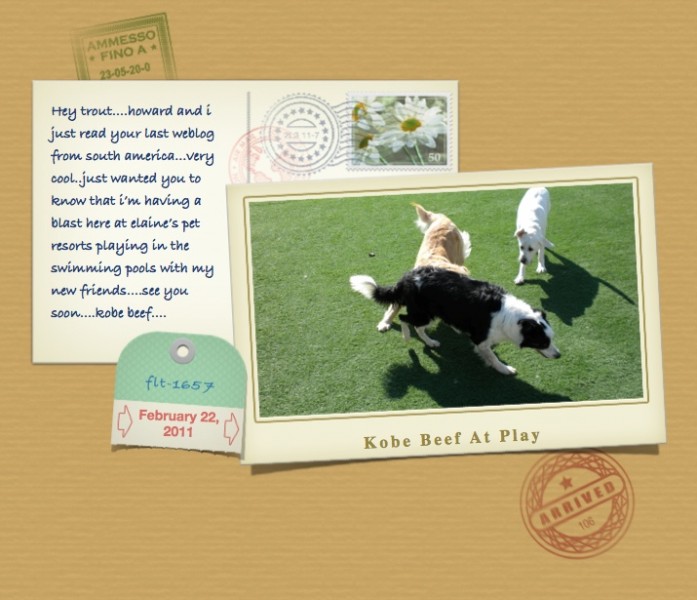 Fresno & Madera, California