HAPPY NEW YEAR EVERYONE!! 2012
LOOKS TO BE GREAT.  🙂   
Fireworks in Pucon Chile were off the charts last night!!
Carola and I found a spot right underneath the fireworks, I have never seen anything like it before so close.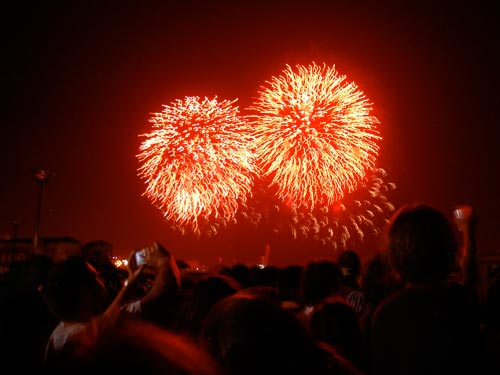 Sizzlen ~ Sizzlers!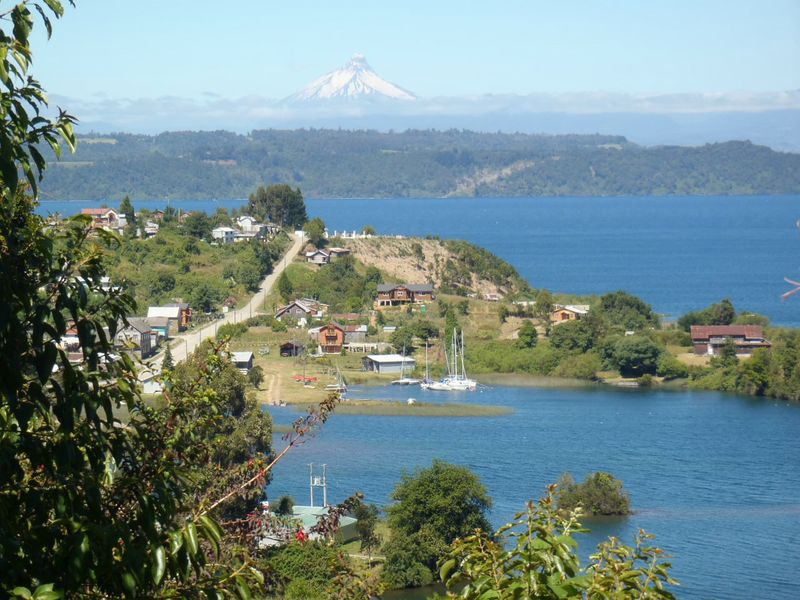 Happy new years from Chile ! We are having a fantastic season down here touring and fly fishing folks who contact us in our 19th season. This volcano is called Puntiagudo, it is located here in the Lake's District of Chile near Puerto Montt. At night it glows and illuminates the countryside and the stars here in Chile are so huge it seems as if they are merely holes to heaven.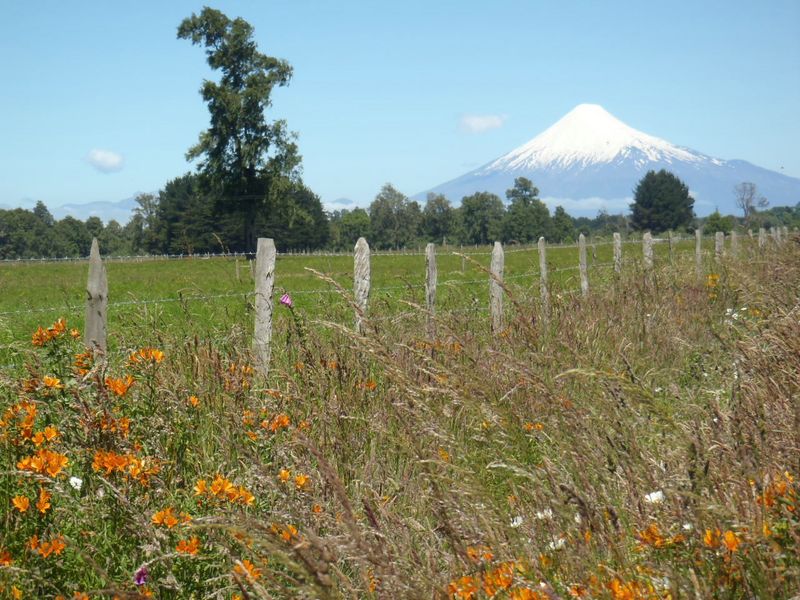 Another one of my favorite volcanoes is Osorno, located on Chile's second most largest lakes, Lago Llanquihue.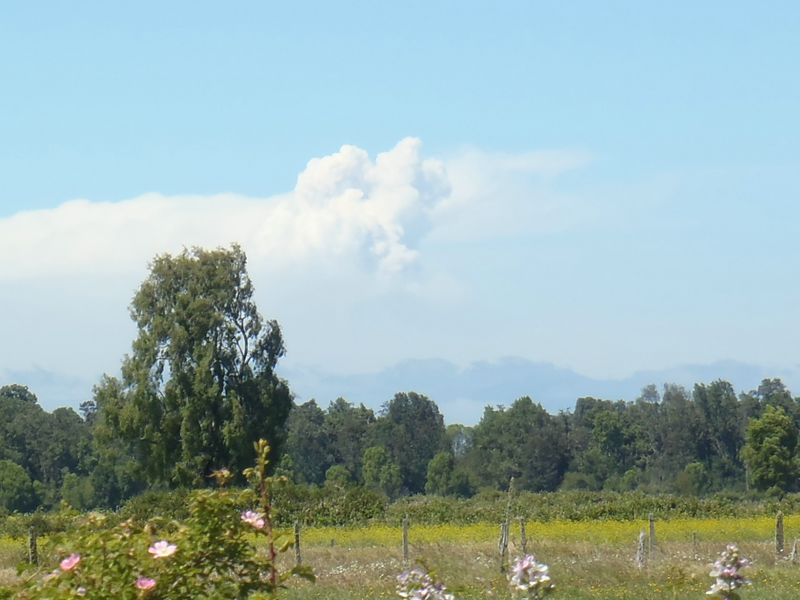 Meanwhile, Volcano Puyehue is still erupting but remains at a safe distance from where we tour and fish. What would life be without a little drama..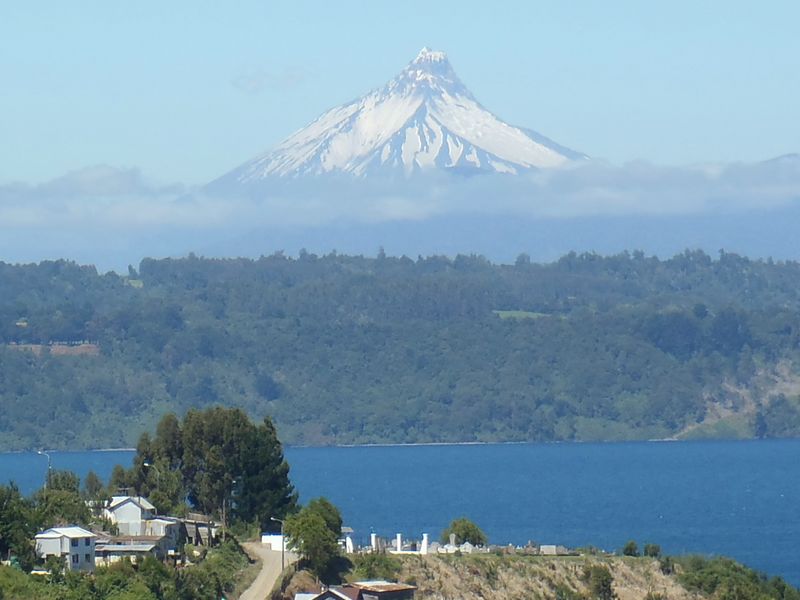 Puntiagudo from the town of Purto Octay, Chile.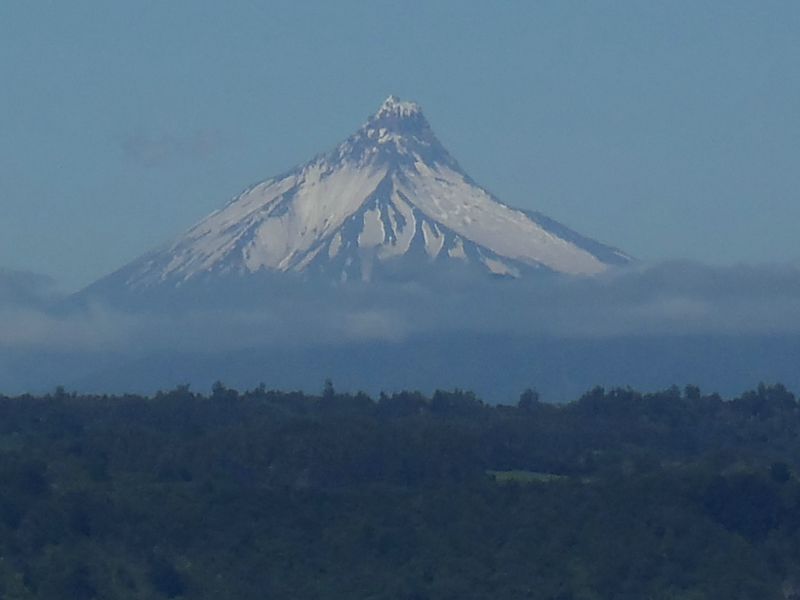 What an amazing site to witness, we tour our folks around these areas on our one of kind Chilean Volcano Tour. Some of the folks who visit us don't always fly fish, so we offer tours like these in a non-angler package.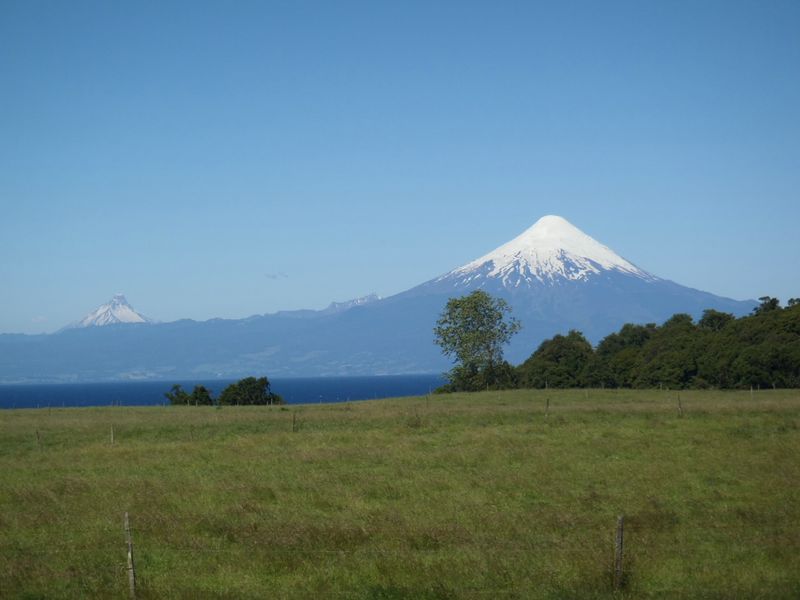 Chile offers 2006 volcanoes and remains number 2 in the world for the most
activity. (Indonesia #1, but Chile is trying hard to catch up!)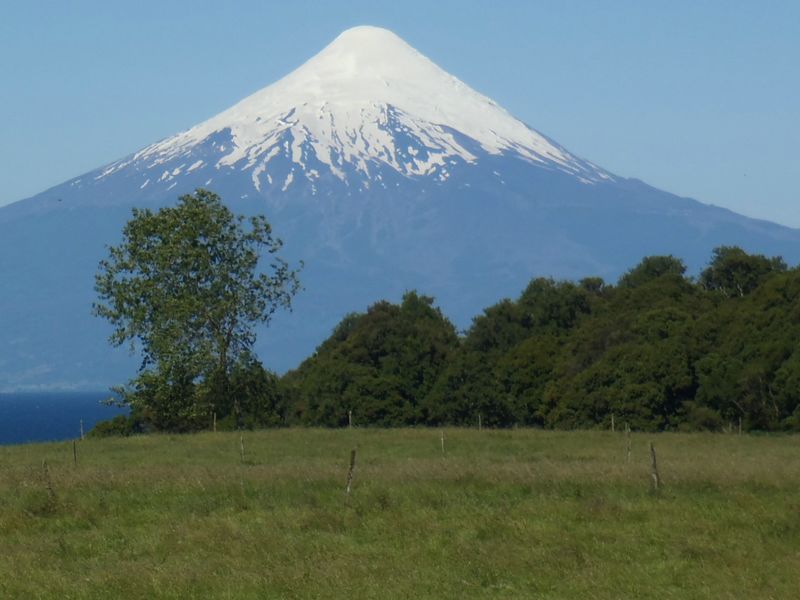 Volcano Osorno is like Mount Fuji in Japan, almost perfect in shape and looks.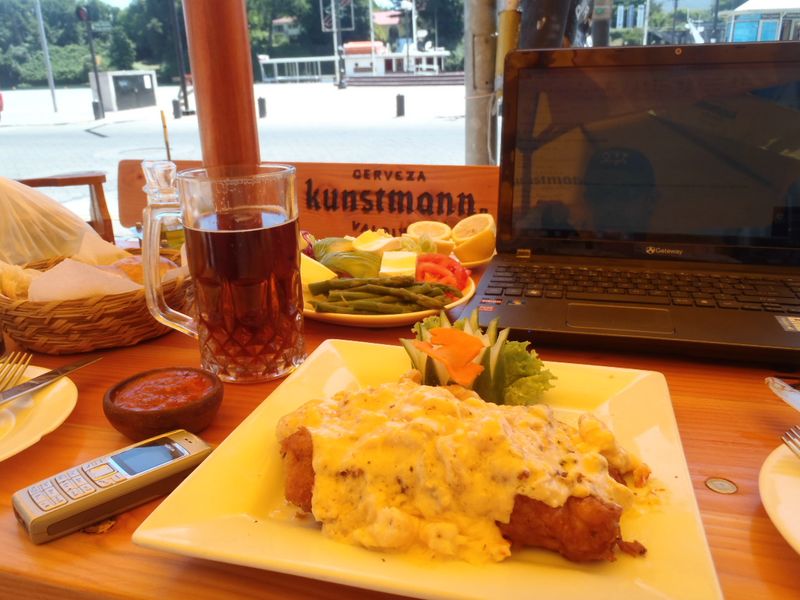 If you love fresh fish we have it here often. If you came down solely to sample the food you would be covered Sizzlers. The German beers here are great too!
Well enough with the food, scenery and touring lets get on to the fly fishing!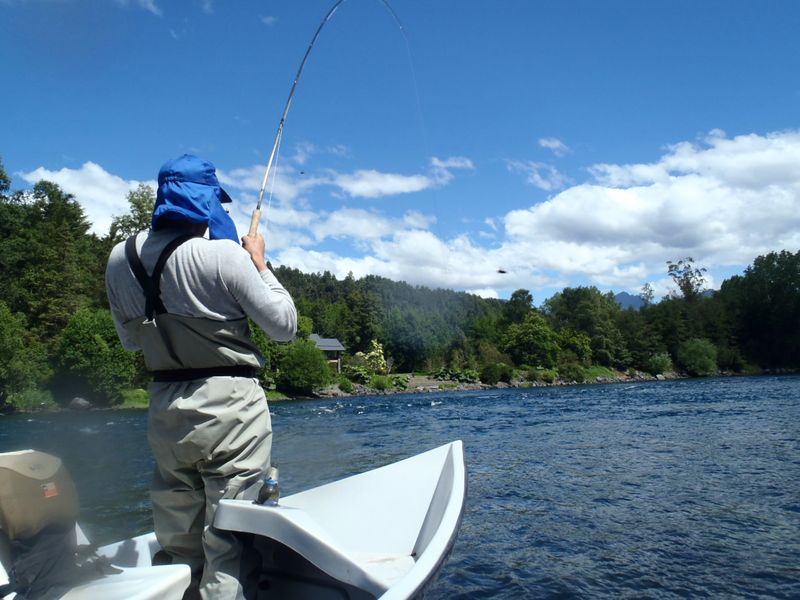 Alastair from Ireland will attest to the fly fishing in Chile is premier, especially when the sun is out.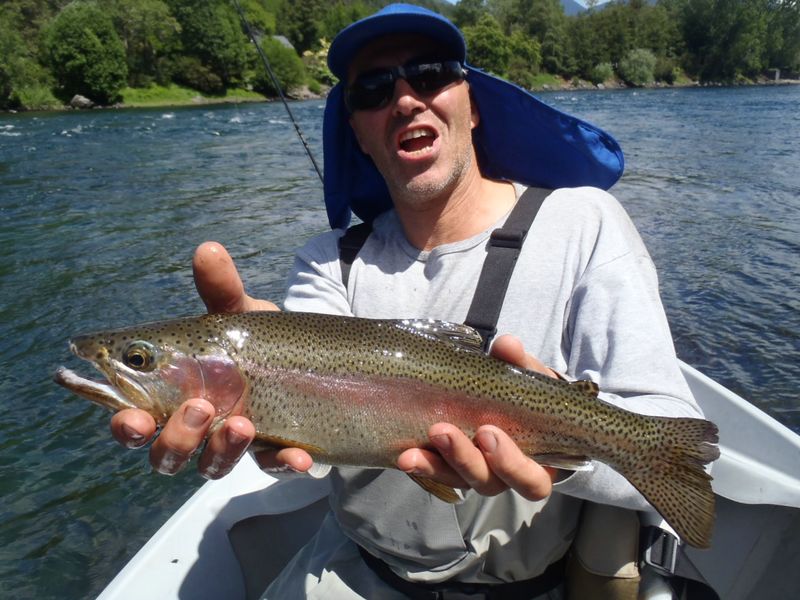 Way to go Alastair, starting the day out right!
(We have private access to a lake and a river, we'd like to share it with you as we go behind locked gates)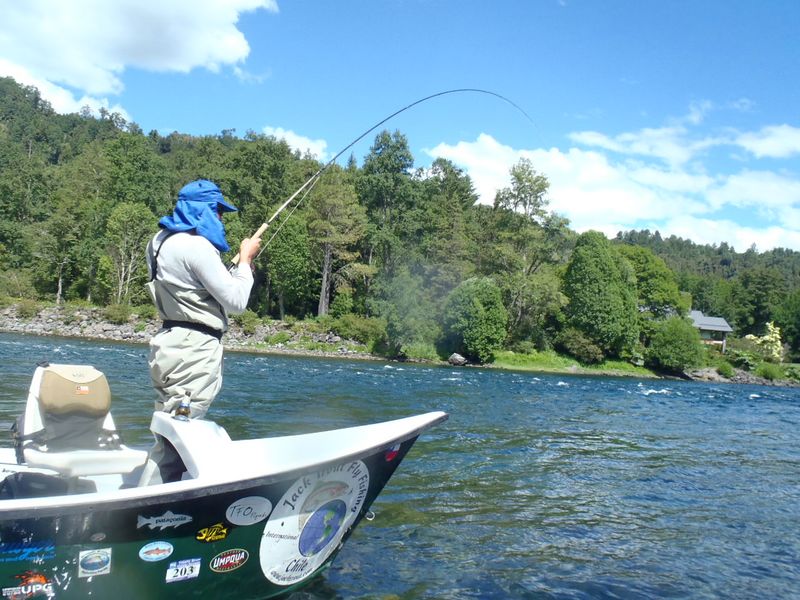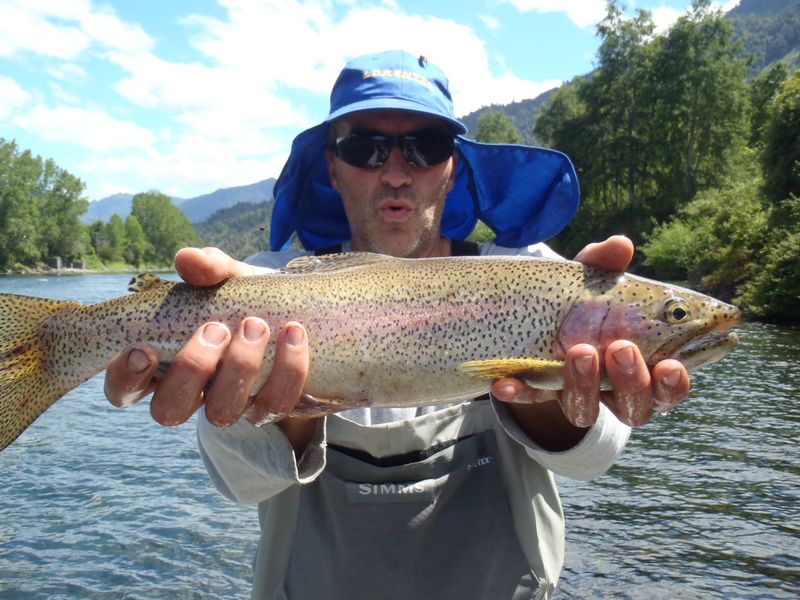 Many Trout like this are caught on flies and Alastair caught three of them in this one spot.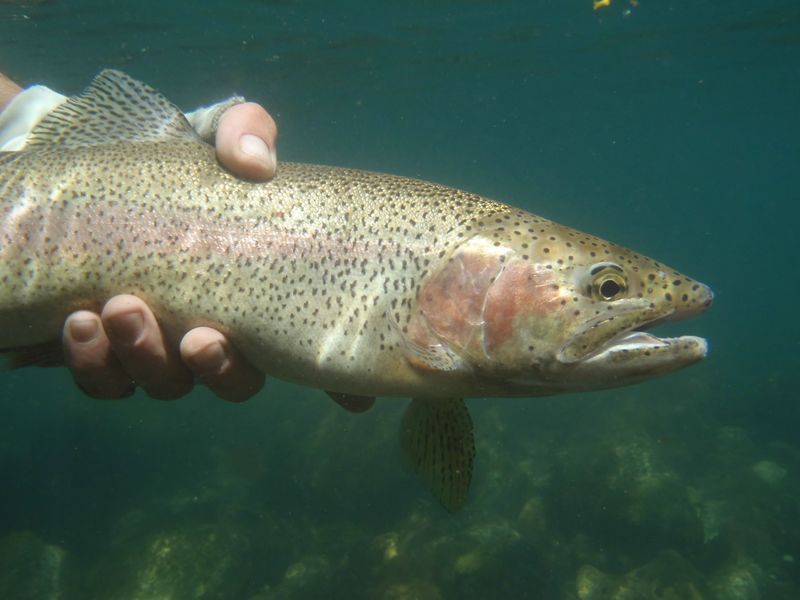 More trout porn ~ Sexy isn't she?? Eat your heart Flynt, we've got the market cornered.
Alastair, have a shot of Bailey's for us on that one!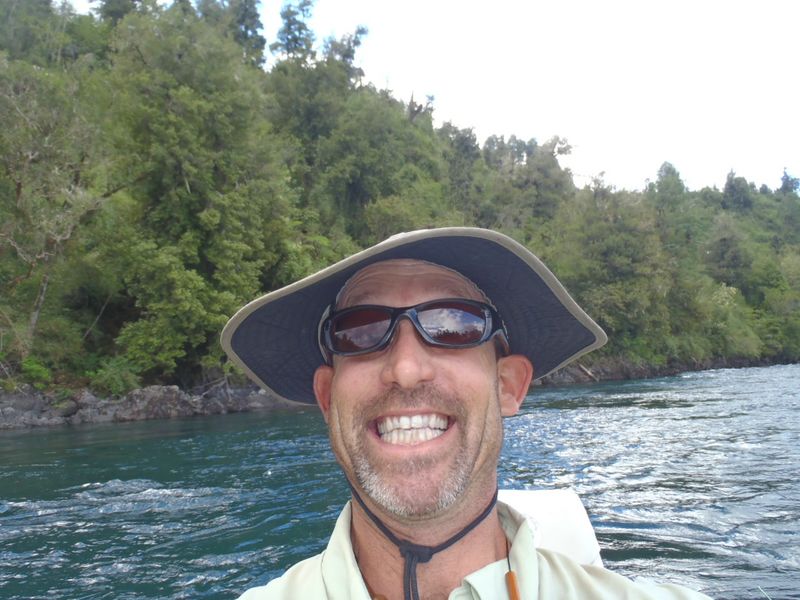 Life here in Chile with Carola is living large, it's not been an easy road I've chiseled out but now that everything seems to be heading the right direction big time!! Next year I get my Chilean citizenship and then I can vote and be a real Chilean. I have to live here now for 6 months or more, but that's a piece of cake. I love this country and its people. But mores so, I love my Chilean wife Carola, February 2nd will be our 2 year anniversary married and it just doesn't get any better than that folks!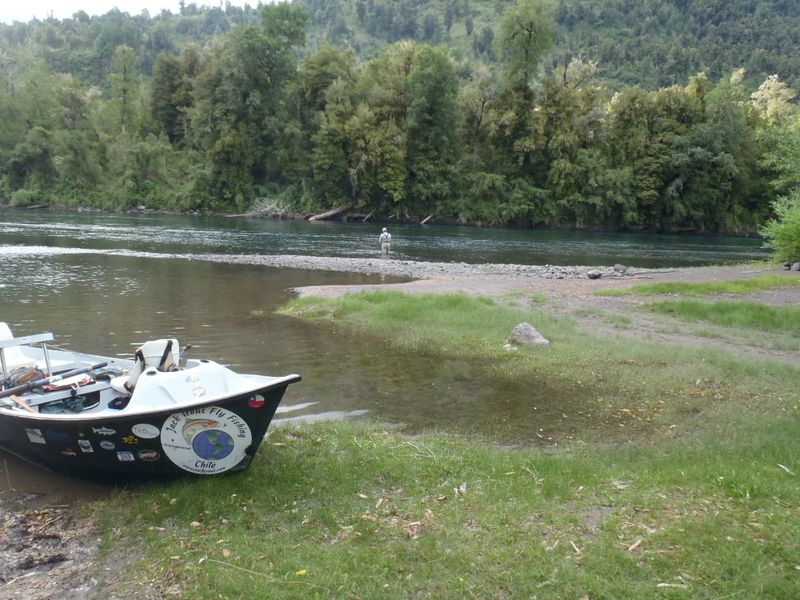 Maybe we'll see you out there casting a fly sometime in the future?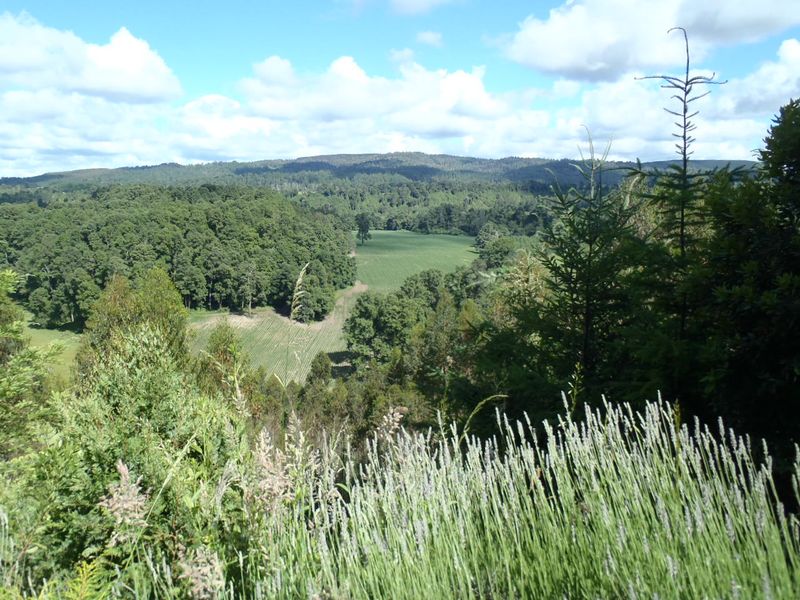 When you stay with us you'll have spectacular views!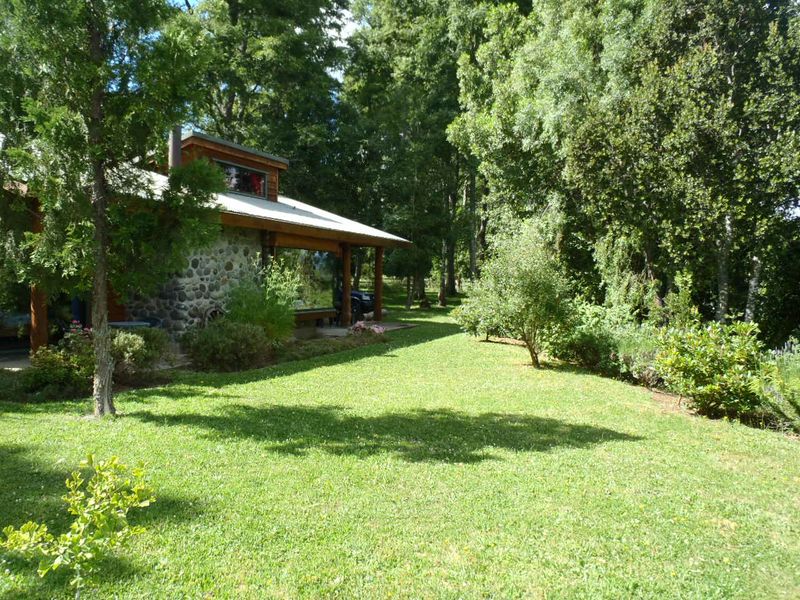 Rest assure the places we lodge you will be the best places to stay in Chile with a  four star atmosphere, laden in culture with an emphasis on being a Chilean resident for your duration

.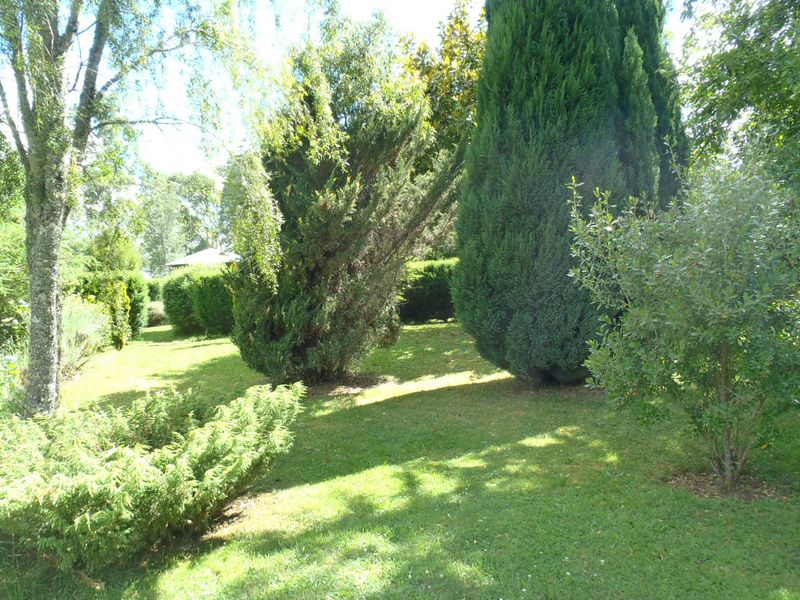 You'll love the English gardens and the many spices and herbs we grow on the property. (Legal spices & herbs I might add)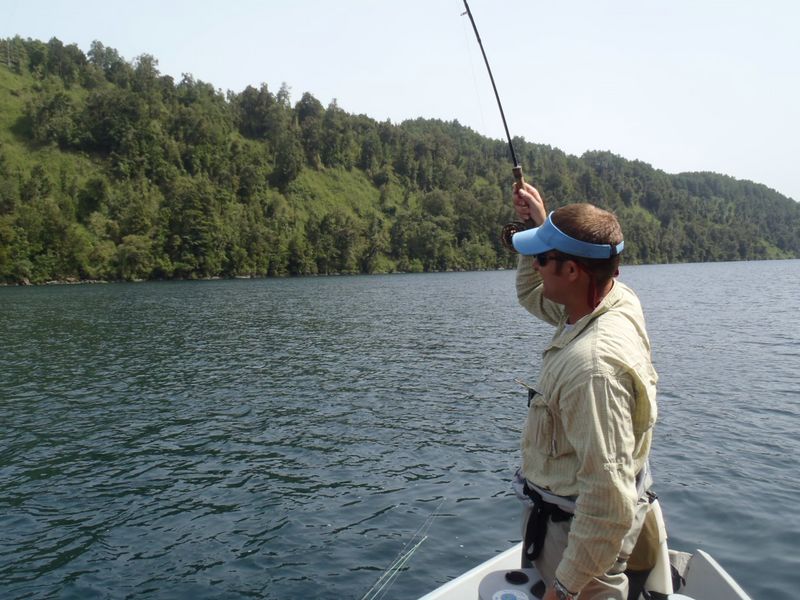 Chris Siess came to visit with his sister Jean, I mean Jen..(Inside family joke 🙂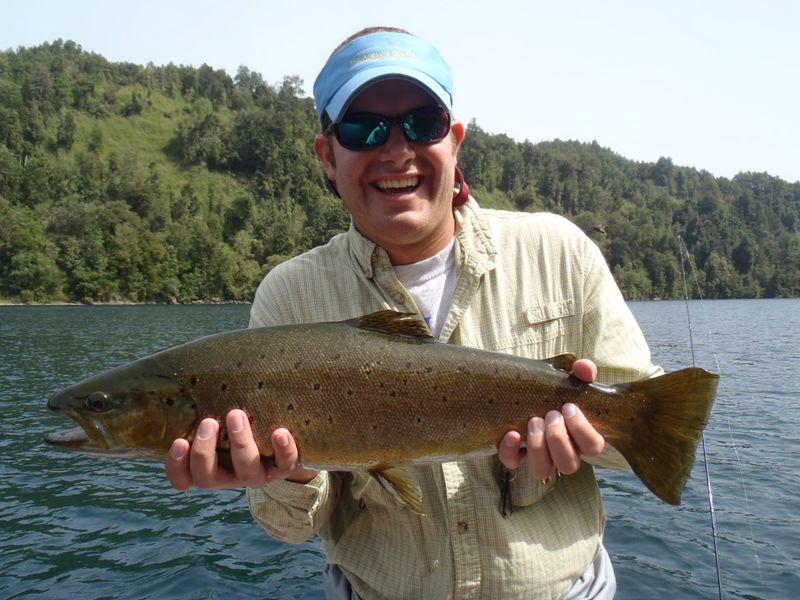 On his third cast in the boca of the lake he hook this nice brown trout!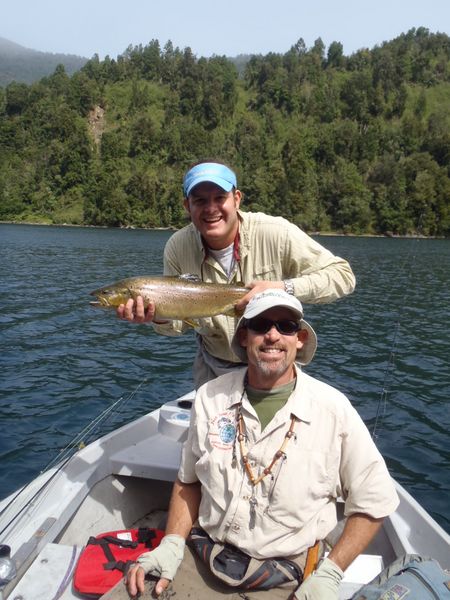 I love these moments, like the huge Browns John Rickard's client from Wild Waters Guide Service in Mount Shasta hooked on the McCloud River this past fall, for a guide these are the proudest moments because so many get off.
(When they get off, I just smile and we keep fishing, some trout have a stronger will. Many we never even see!)  
Checkout this huge brown caught on the McCloud River by Wild Waters Guide Service  then come back Sizzlers!
http://wildwatersflyfishing.com/set_that/2011/06/05/6-4-11-mccloud-27-loch-levan-brown-and-24-german-brown/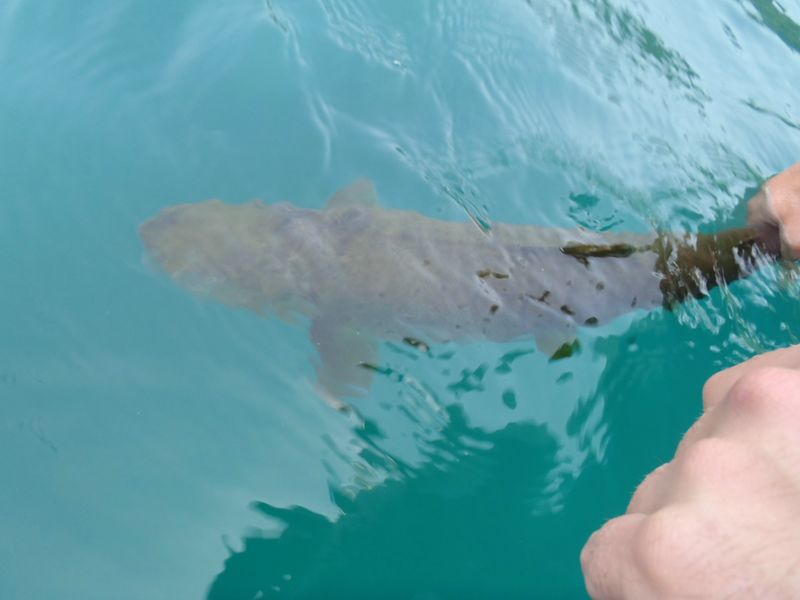 This picture really shows how huge this brown trout was, I would say 8 to 9 lbs as it had a huge kype (Shoulders) and was a thick black & decker!
Chris Siess you are my Sizzler of the Week! Congrats Sizzler!!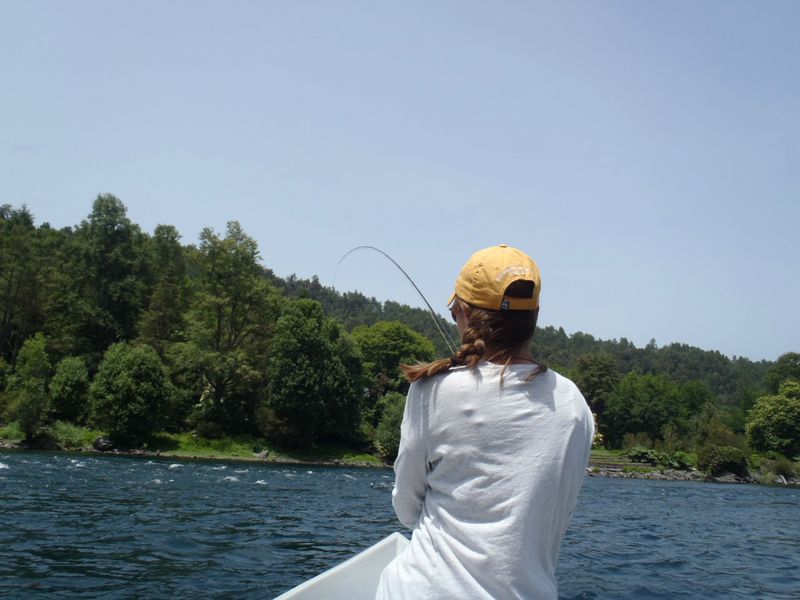 Jen with her 2nd hook up of the day with big smiles and played this trout it seemed forever as it was strong and ready for the battle!
Nice trout Jen, I think you must be loving Chile with your husband Henry.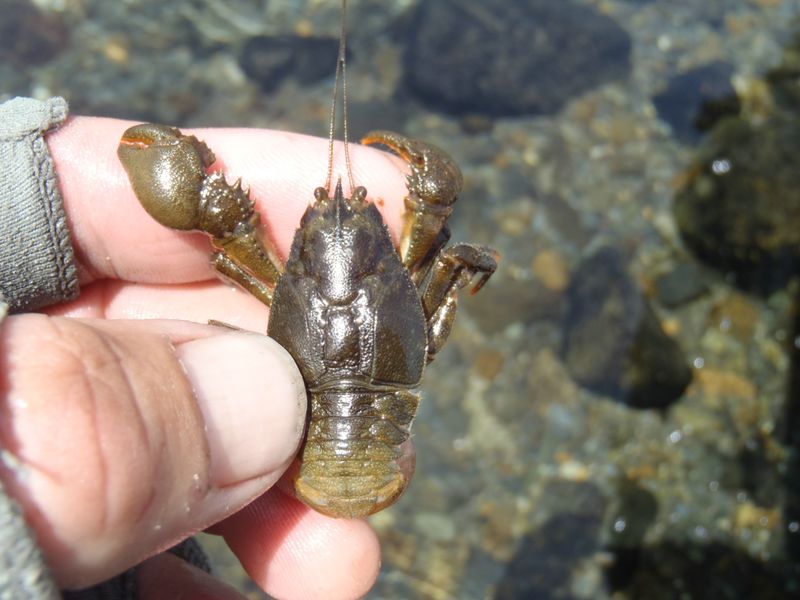 This is what we're trying to match, the coveted Pancora crab, the surf & turf of Chile. This is the king crab to a trout or salmon. (One night a stone fly hooked up with a crayfish..)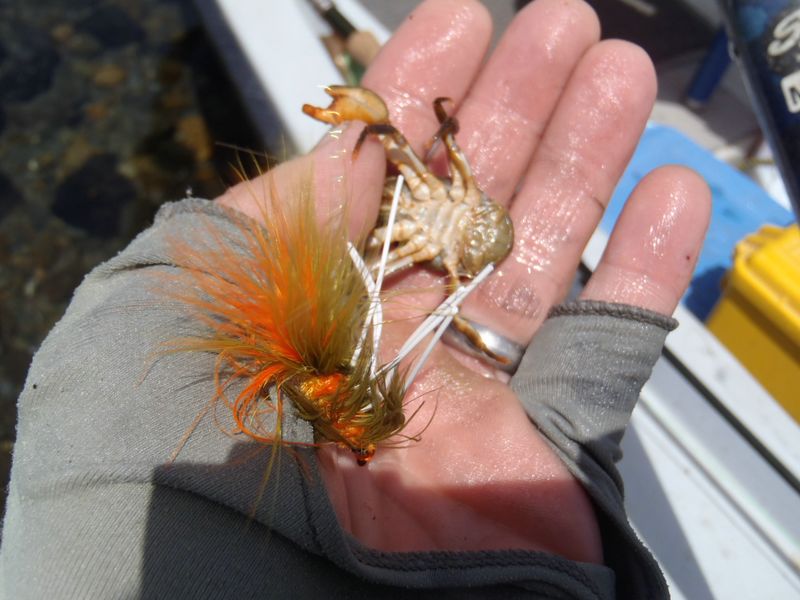 Here's what we're using to imitate the crabs down here, also in black and what ever you could dream up. How about a green Bauer Crab??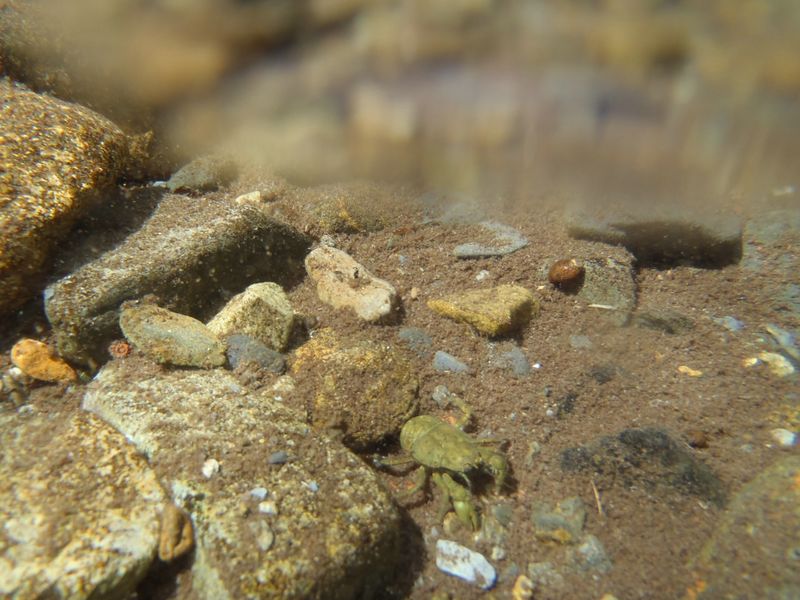 Under water you can see these crabs every where, we saw a trout engulfing a  huge one as we drifted into shore for lunch. He was so involved with swallowing his pray he couldn't move away from the clear and present danger, (for only a moment) and actually lifted his entire head out of the water and jiggled it down right in front of our faces.(Hey Gargoyle, more soup!)
Something I haven't seen before ever, it was amazing Sizzlers! 
( I could of hit this fish with the oar he was so close, even Indiana would of been impressed)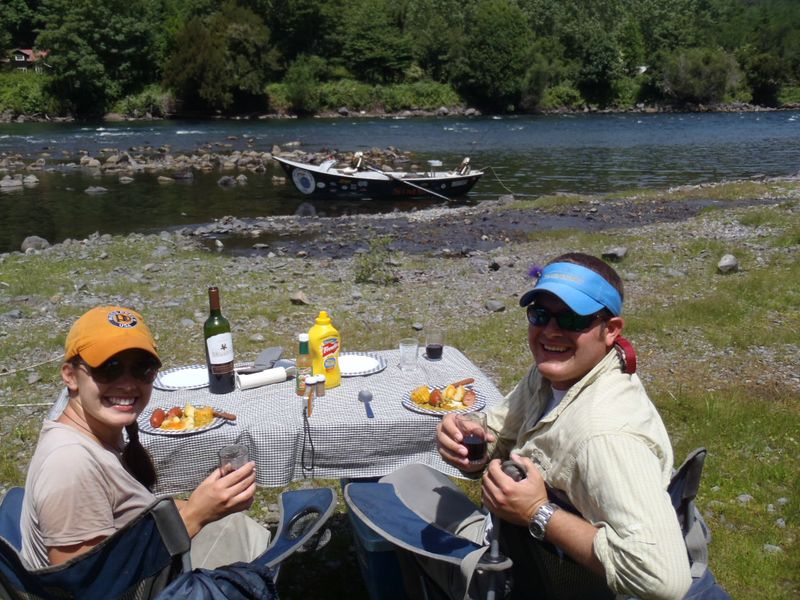 Lunch was marvelous as always and so was the Carmenere from one of Chile's finest.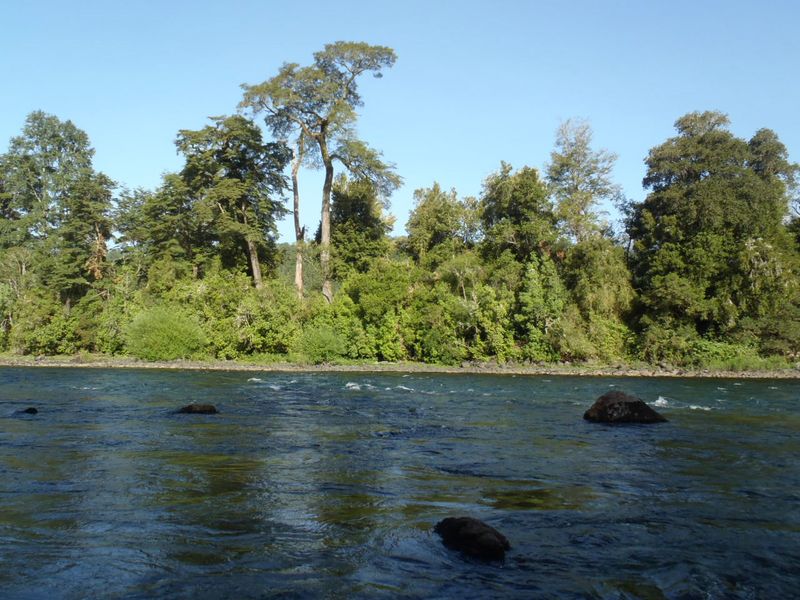 The rivers of Chile, always impressive and currently are without dams, always remain at a new level every time we get on them.
I always say, if you guide in Chile you need to know where to be when, and where not to be why… jt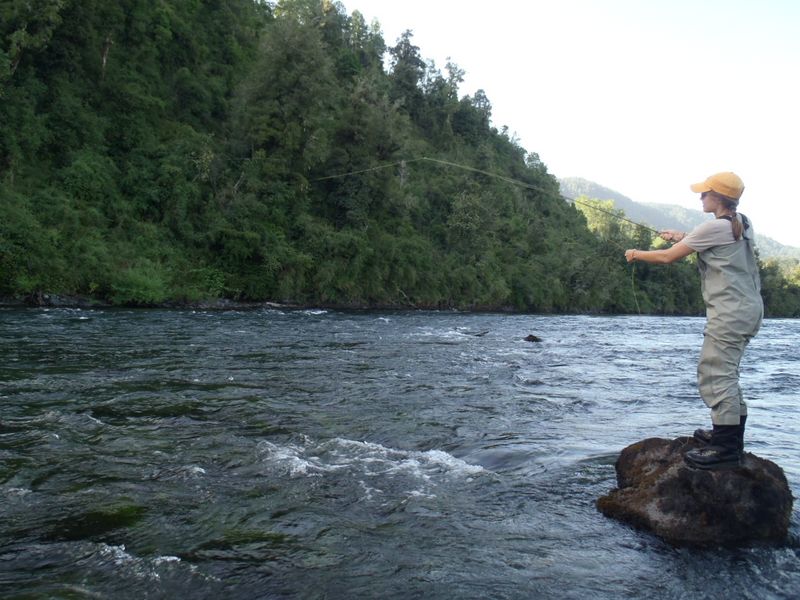 We have a perch waiting for you too.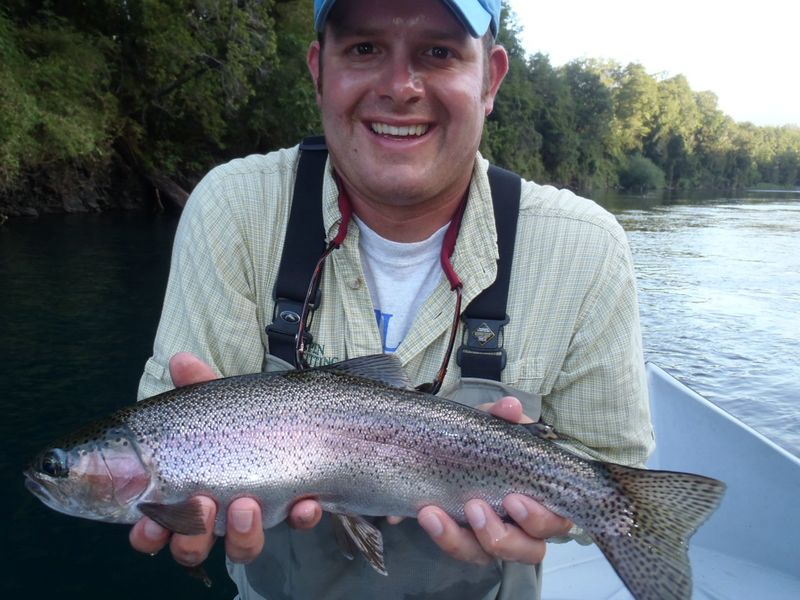 A little later things started to heat up again fishing wise, the mid day was pretty slow due to extreme heat for Chile.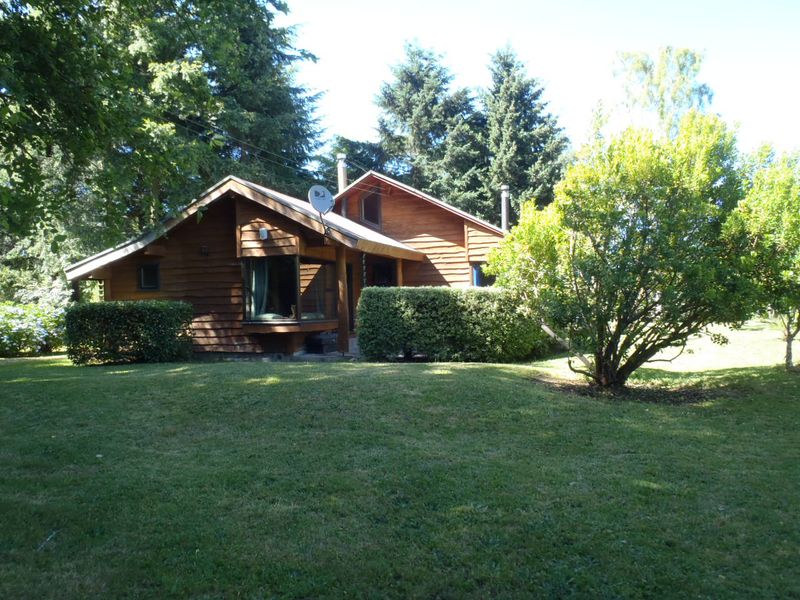 Come on down and stay at the pad, act like a Chilean resident for a few days, a week or 2 weeks.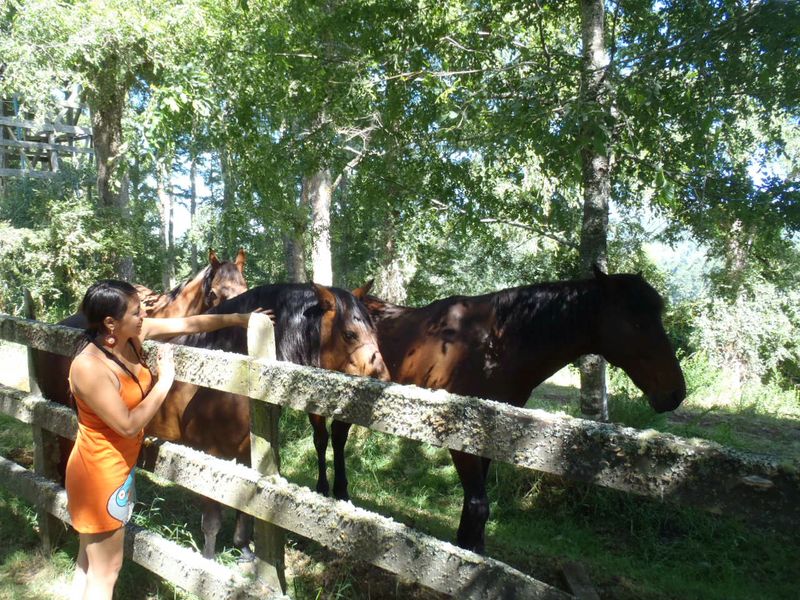 Like to horse back ride? We got you covered in that department too. Nothing better than a ride down to the river and back!
We offer horseback riding on our 1300 acre ranch near Panguipulli & Pucon Chile as well as streamside gourmet lunch. Give us a shout partner at info@jacktrout.com or our cell in Chile 94671995 🙂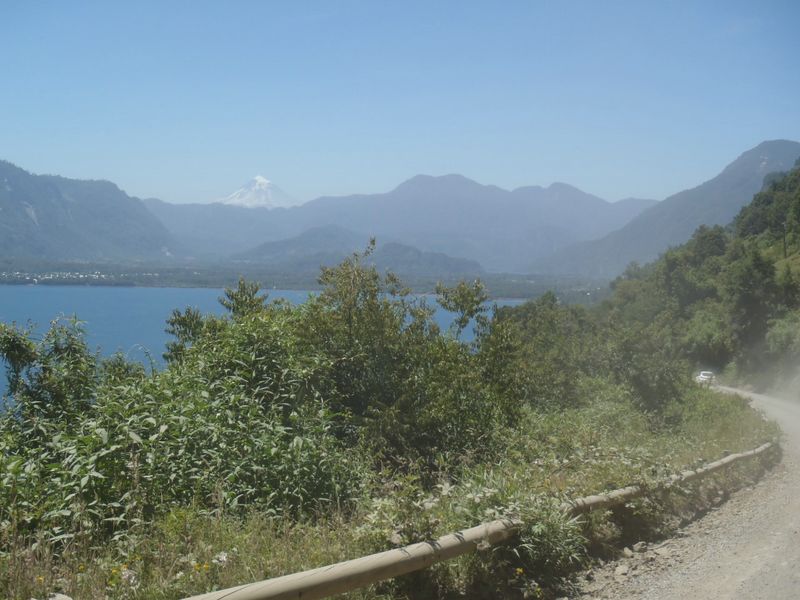 On our days off we always travel around looking for new rivers and places to tour you to.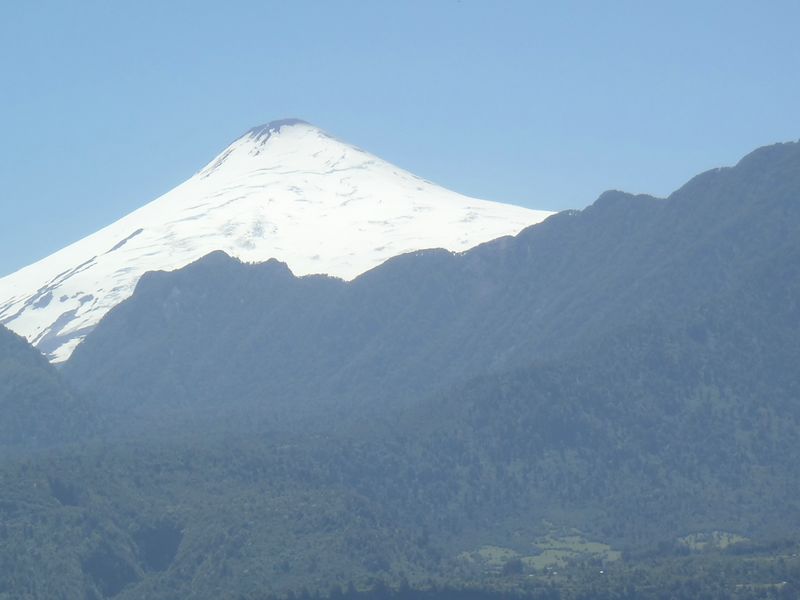 Amazing scenery in every direction here, when the Sky Pilot made Chile, he took extra time as though to have that great work grow in his direction of the universe. Out here you realize a planet out of size as the flora grows drunk and high, shadowed only by another volcano, Andes mountain peaks, just around the corner from magnetic south. The Southern Hemisphere is the cross I bare when I look up at night.   You know what they say, "When you see the Southern Cross for the first time, you finally realize why you are here."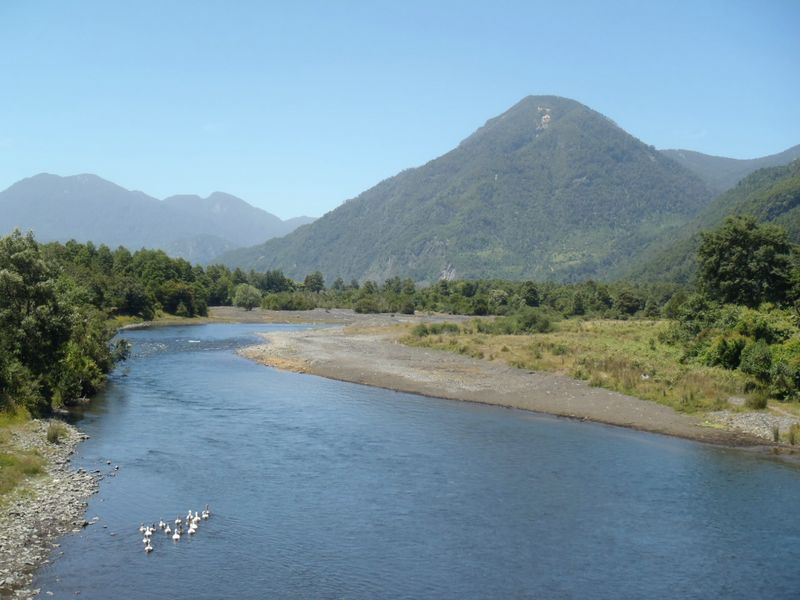 Found a new dry fly river this week where they eat hoppers! Loving that Sizzlers, as we all like some dry fly action. Bring a 4 wt. if you stay more than a week with us.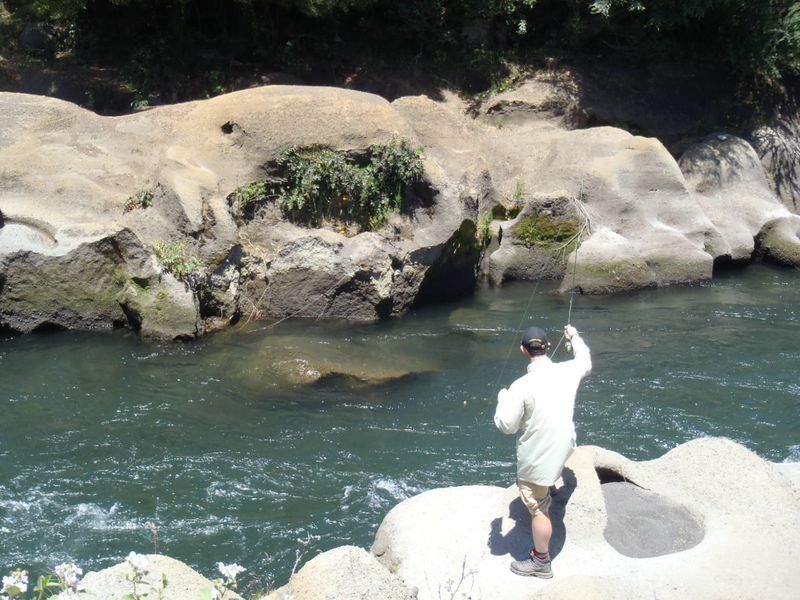 Found this cool spot too this week that runs into the river and caught some 12 to 14 inch bows. I'll explore it more after our next group comes in and give you an update.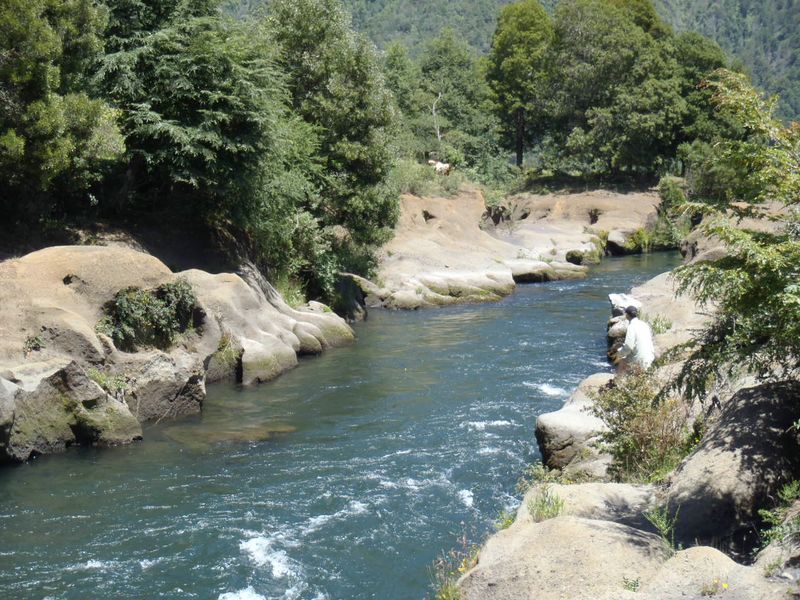 Sweet mother of pearl, I think there has to be some lunks lurking in the depths of this lullaby and I'm not lollygagging, Lester!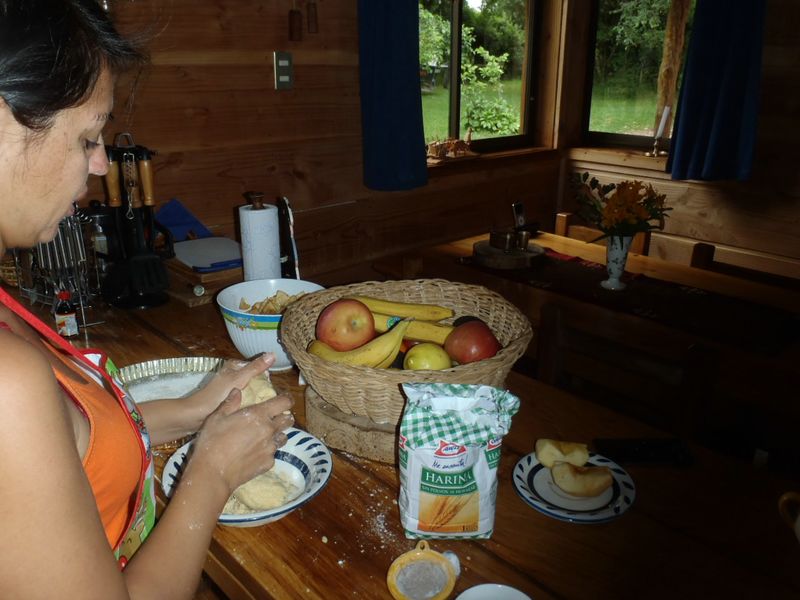 Meanwhile, my wife is making a homemade apple pie for Bill Moore our next valued client.
We always buy everything for you fresh from the Market! Nothing to worry about down here except getting fat. And as far as crime, California is more dangerous in the day or night.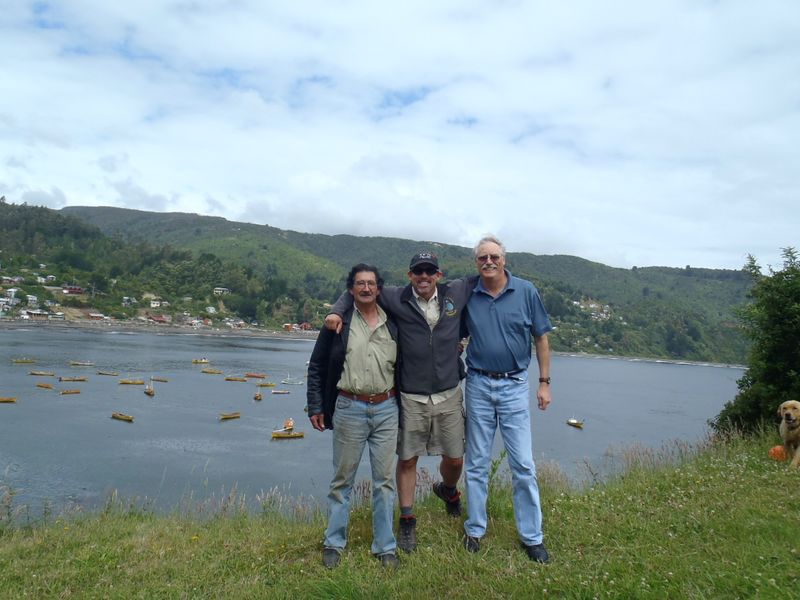 Bill Moore, from Missouri home of the Mizzu Tigers! He was ready for his German beer tour and insisted Carola and I drink with him so I hired my mechanic Cornilio (Corny) to drive us around. He loved it folks! I even bought him a sixer for later that night at home.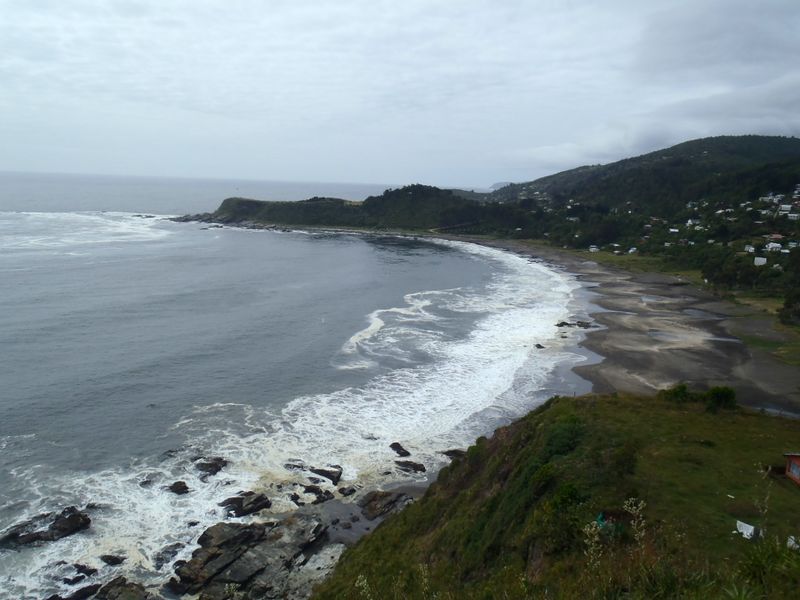 The Pacific Ocean in all it's glory, graceful and untamed all in one. Reminds me of my favorite movie of all time, Shaw Shank Redemption. I think I can hear Red's voice now in between the sounds of the crashing waves, Brooks and Andy Dufresne.
Corny had never been here before and was mesmerized by the utter beauty of his Chilean countryside. You could say he's institutionalized, by sheer fascination and these walls he calls home. (Thank you again Steven King!)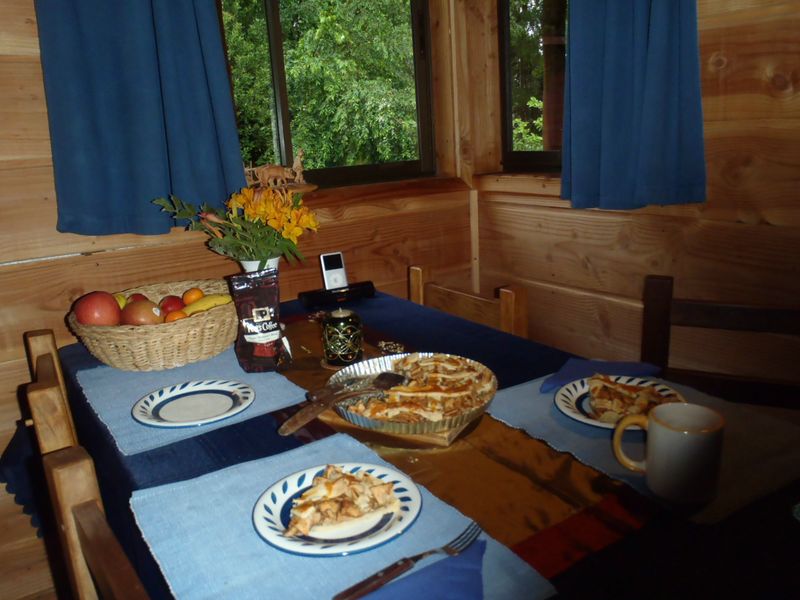 Carola's apple pie turned out wonderful, we all loved it!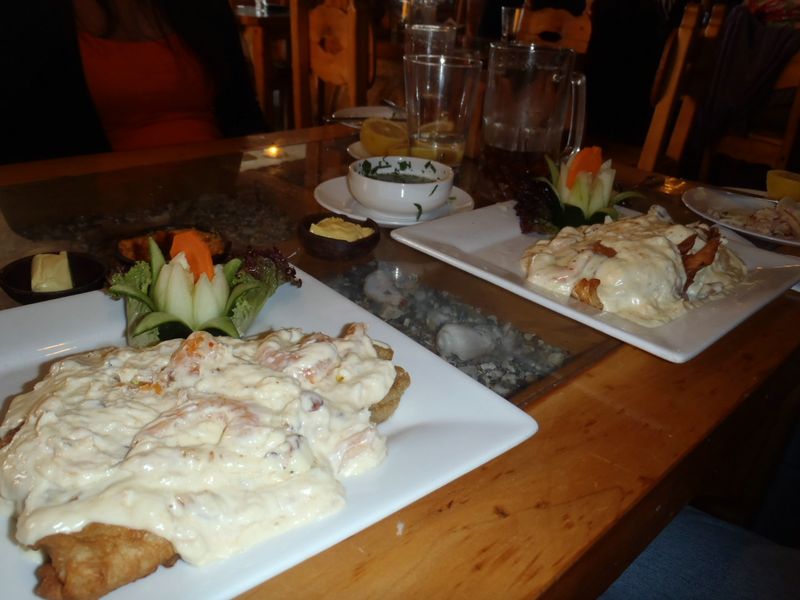 Dinner out was fantastic. Yes those are huge shrimps and king crab with abalone in that delicious alfredo sauce. The fish was called Congrio, if you love halibut for the hell of it, you will love this too!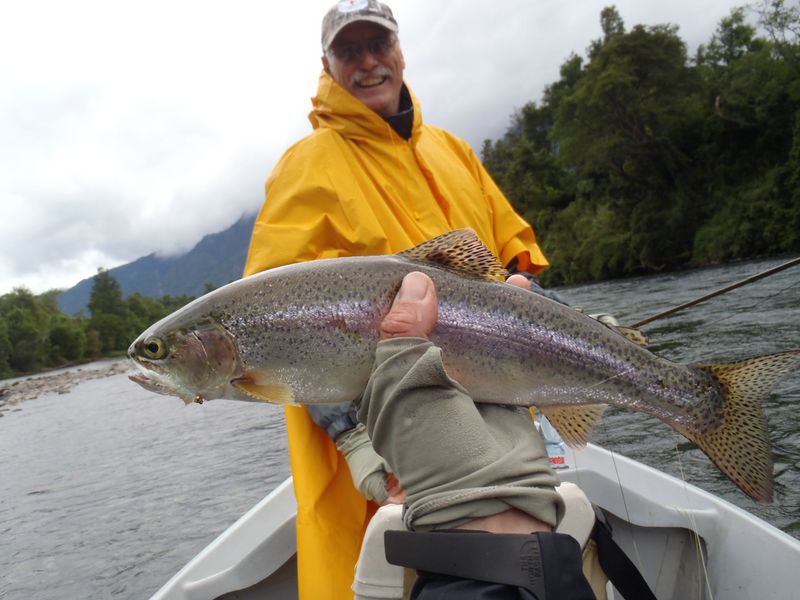 Bill Moore unfortunately arrived during a low pressure after we had many blistering hot days. This put the bigger trout down and we were left catching smaller trout with no one to blame other than the rain. There's nothing you can do, the weather can change so fast here where one day is 87, hot and sunny then it changes to 50's and the fish say…WTF? On blistering hot days the trout bite is early and late and that's just life.
(The better the fisher, the better you do. The weather is uncontrollable we suggest staying more days to assure you have a quality trip)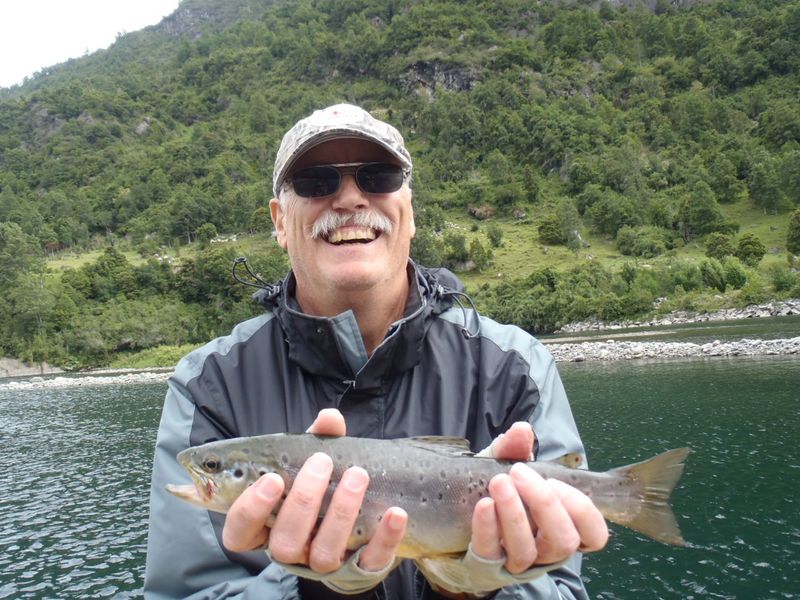 Same thing the next day on another river, but Bill said he really enjoyed everything in spite of the size of the trout…
People ask me is Chile really an awesome place to catch huge fish, I say it's no better than the USA, it's a place for fly fishing anglers to go in the winter months to catch some trout or salmon. Some days are better than others.
This is not in any way directed towards Bill or anyone in general. If you are coming down to visit us and your only concern is very huge trout, don't call us. We specialize in fly fishing, tours, culture and great food. With emphasis in couples who want to see it all.
If anyone ever wants to keep trout to eat, please do not call us. We only catch and release trout and all species we catch in Chile. Respect is premier and giving to the Chilean economy is our priority not taking from it. We are legal outfitters who carry legal working visas, who pay our taxes at home and abroad and don't put our clients in jeopardy like the outfitters from Montana that were deported,
and their clients were left stranded on the river as to be taught a lesson not to go out with just any outfitter and be sure to tell as many as you can when you return to the USA. (They were made examples of) I just needed to express that because I receive emails constantly asking me for work down here. Just know the answer is no way. I hire only Chileans and only guide people who speak English. (I speak very fluent Spanish, so my wife says 🙂 Happy about this)
But likewise, I refer anyone who is from a  Spanish speaking country to local Chilean guides in a form of respect to their country. I never ask for a commission, this is my gift to them for allowing me to work here. I have carved out my own area where other fly fishing guides are really not present and try to find all my own rivers to guide my clients on, who I think wouldn't even come down if it wasn't for my marketing efforts. It's been a long  journey to get to this point down here and in Mount Shasta and I am proud of this as most outfitters would of, and have given up along the way. 19 years speaks volumes now that it is 2012 and my wife and I are commited in many ways but are also tied to the hip of both countries we guide in. With respect to all who are reading this, if you know Carola and I, you know what we mean. Folks, we get it and have the respect of many Chileans guides down here, we refer all Argentine business out as we can not guide legally there at all, but they love us there too! Now you know why.
Saludos, Jack & Carola Trout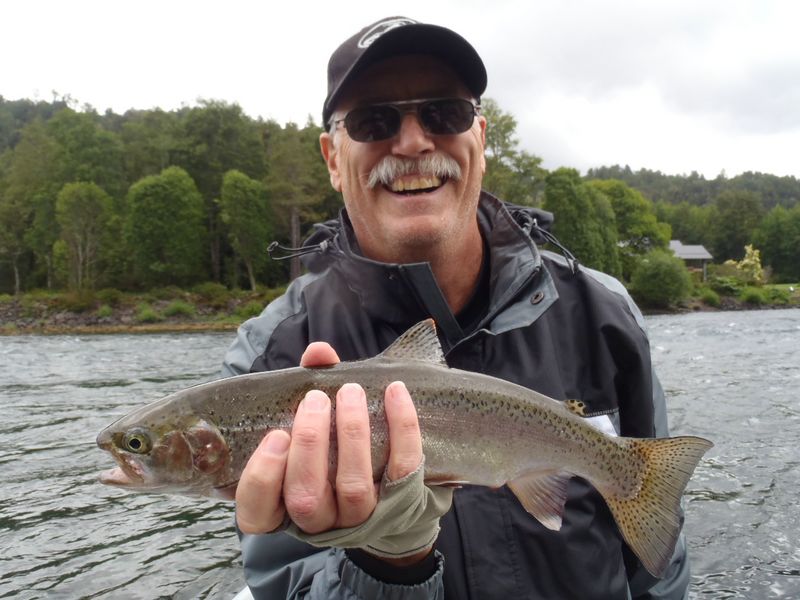 Way to go Bill, another Rudy!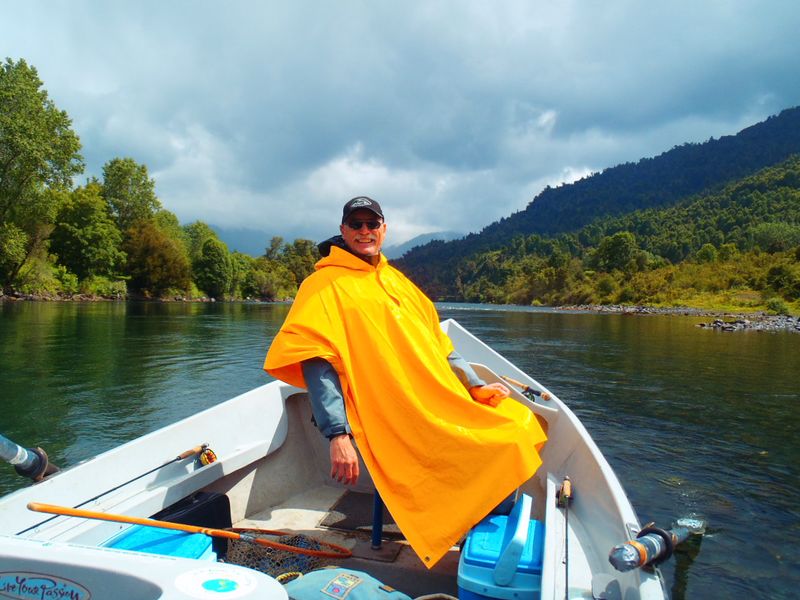 Live your passion folks, you only have one life fully lived, as my brother Tim would say!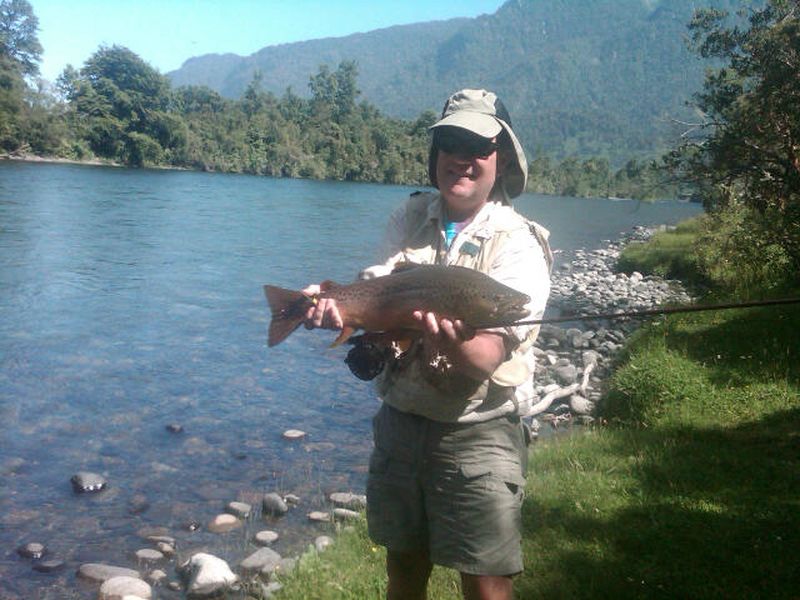 Graeme Shaw on the Rio Dios this past week. (God's River)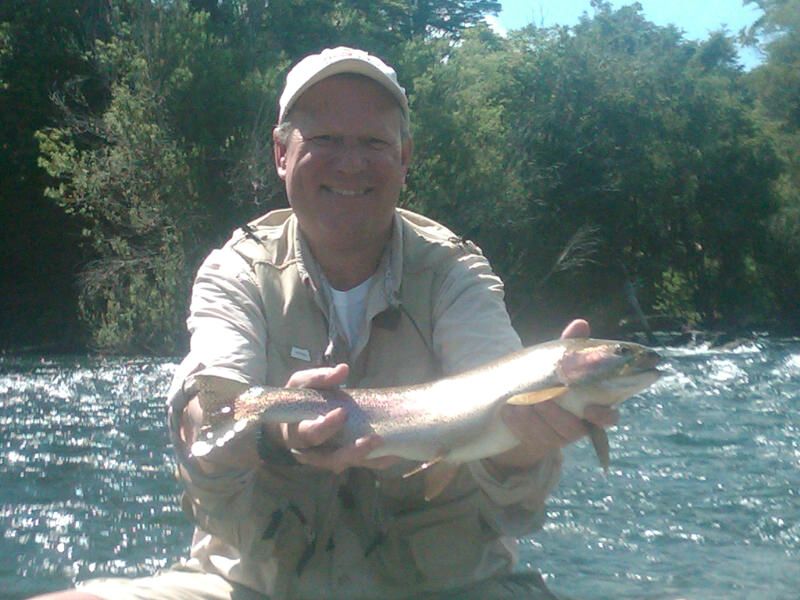 Way to go Graeme, I'd give you a Grammy.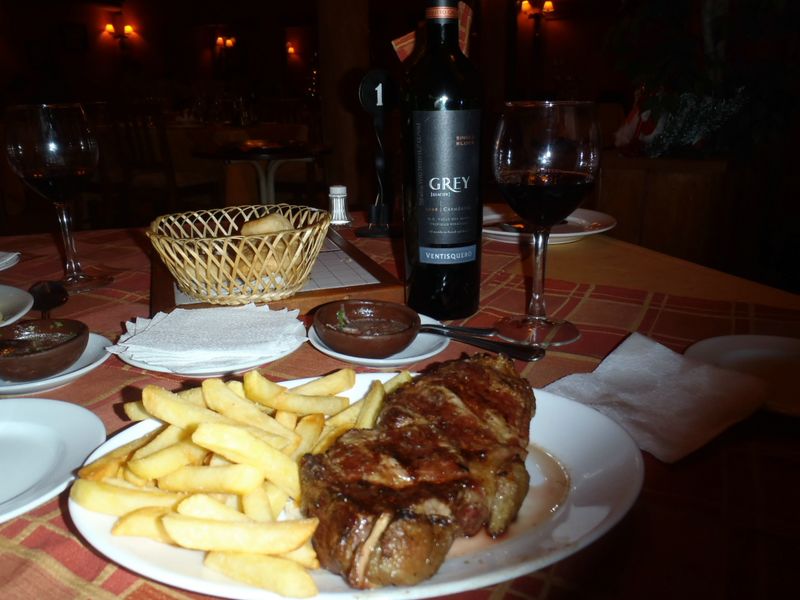 The best steaks I've ever tasted are in Chile & Argentina for sure!!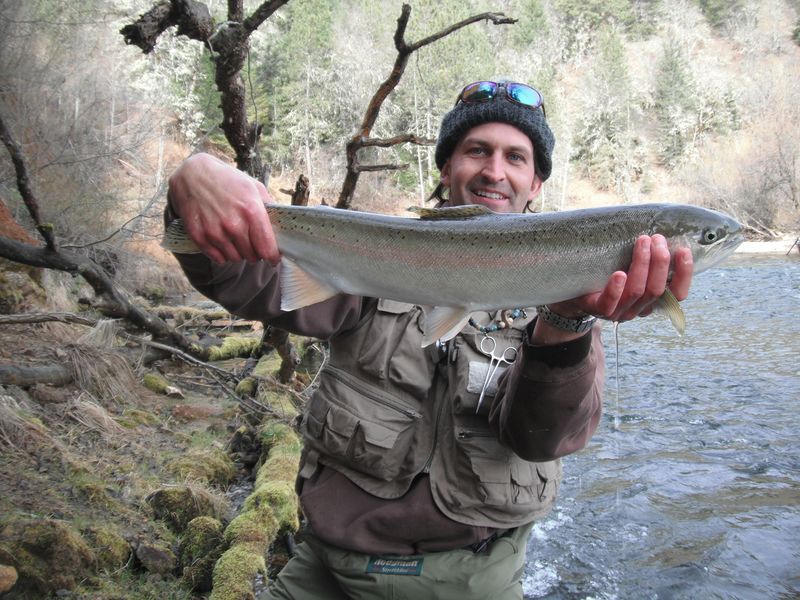 Isaac & Forest say rains are in the forecast for the Klamath & Trinity Rivers, In Northern California USA. Better email me for your next trip now steelies are in.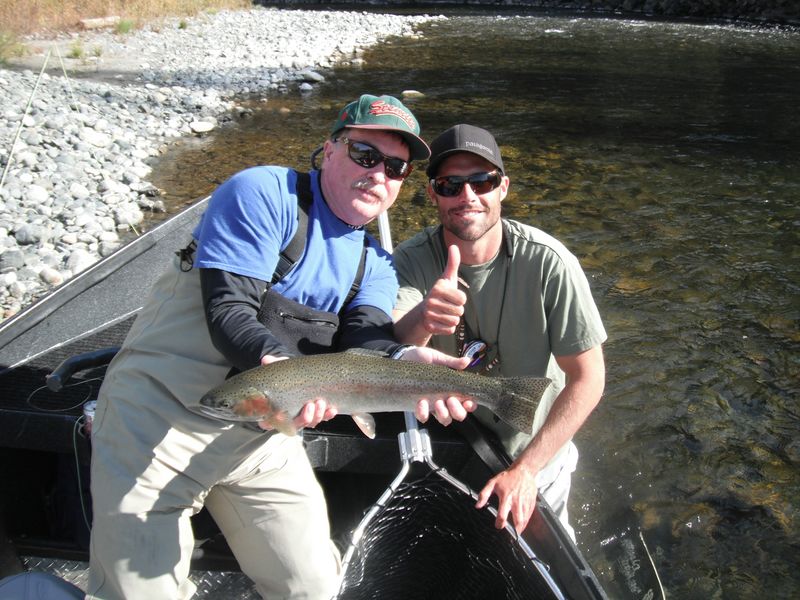 Forrest is ready for your next steel head adventure on the Trinity River.
Email me at info@jacktrout.com and I can set it up for you.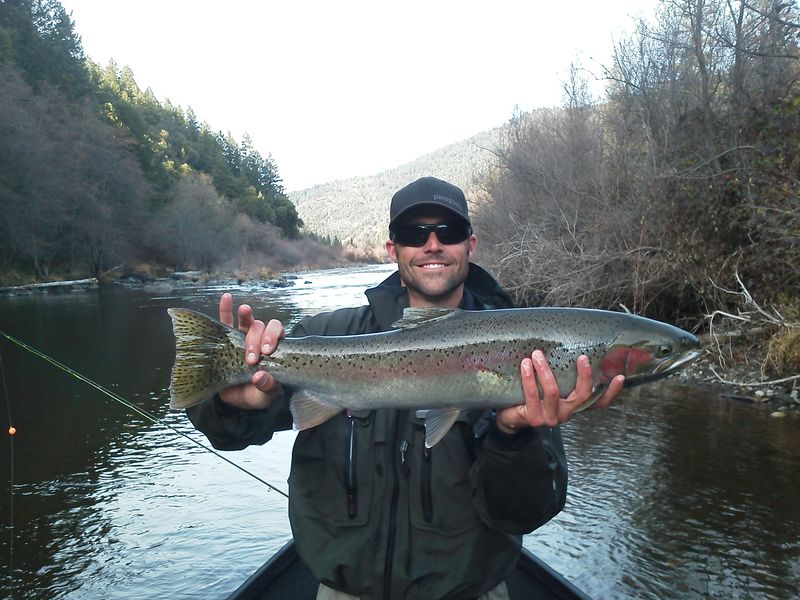 Jack,
Hello just wanted to shoot over some pics Greg, Jason, and my self rounded up on the trinity after the rain we had. I wish i would of had clients on that day it reminded me of 2006 and 2007,one of my best days Ive had on the Trinity. We fished the canyon and had a 15 day hook up if a half day, with one 29″ hatchery fish. Happy new year…
Time to call me for a trip with Forrest in January or February, the steelies are in!!  info@jacktrout.com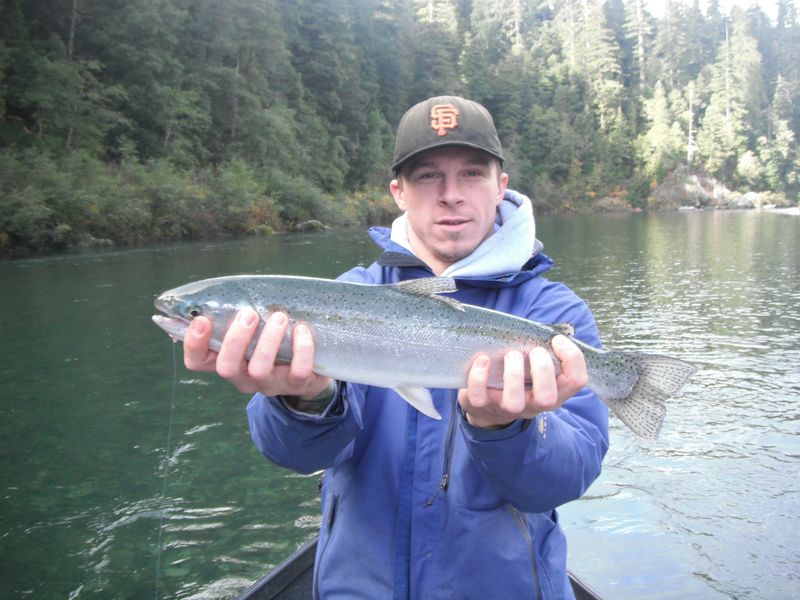 Isaac can guide you on the Klamath River just let us know when..
Thank you from the Team Trout Guides 530-926-4540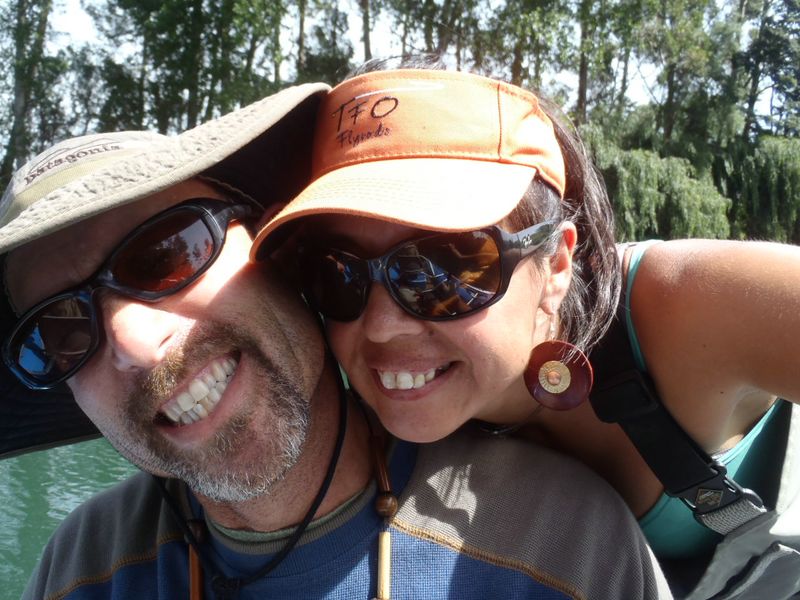 You make our dreams come true, now let us help you too! Thank you to everyone we guided in 2011, our best year ever! 2012 looks to be even better thanks to you. Hug, Jack & Carola
http://www.tripadvisor.com/Attraction_Review-g32755-d1641287-Reviews-Jack_Trout_Fly_Fishing-Mount_Shasta_California.html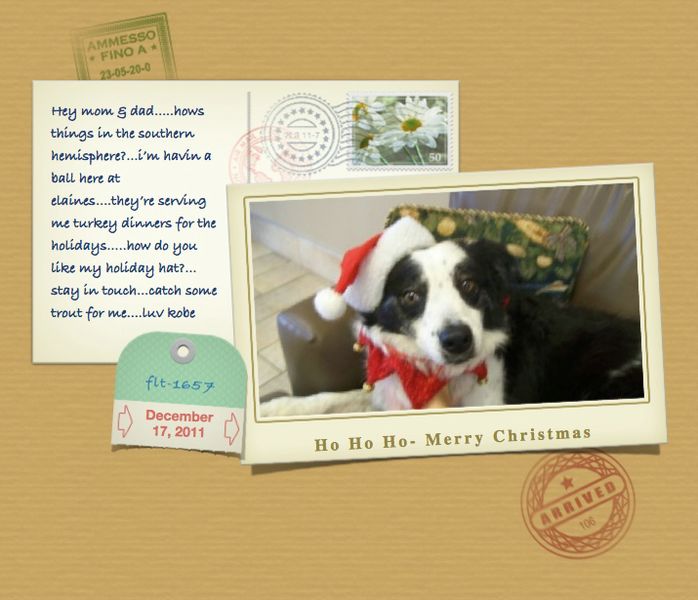 Thanks Howard & Elaine, see you for your free trips in Shasta and at the Mount Shasta Resort, we saved Kobe's life and now he's hit the doggy lottery!!
Feels great, it's not all bad out there. 🙂
Life's about how you effect others in a positive way, though some days are better than others, Carola and I strive to do right by you and our furry friends..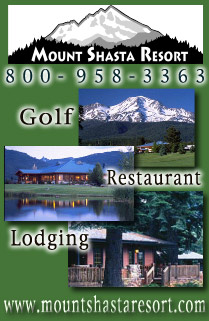 http://www.mountshastaresort.com
 I know, I know, a little too much information Trout! Those insects hurt!
EMAILS FROM YOU:
From Jack Trout: I forwarded this email thinking since Congress has such poor polls and so many Americans are fed up in all political
forums both Dem & Rep. and this is what happen. (Very Interesting as this will be the last time I post any politics on this outdoor site, but it turned out ok!)
I had to post these letters I am receiving, as they are so interesting.
****************************************************************
Winds of Change….
Warren Buffet is asking each addressee to forward this email to a minimum of twenty people on their address list; in turn ask each of those to do likewise.
In three days, most people in The United States of America will have the message. This is one idea that really should be passed
around.
_*Congressional Reform Act of 2011*_
1. No Tenure / No Pension.
A Congressman/woman collects a salary while in office and receives no pay when they're out of office.
2. Congress (past, present & future) participates in Social
Security.
All funds in the Congressional retirement fund move to the
Social Security system immediately. All future funds flow into
the Social Security system, and Congress participates with the
American people. It may not be used for any other purpose.
3. Congress can purchase their own retirement plan, just as all
Americans do.
4. Congress will no longer vote themselves a pay raise.
Congressional pay will rise by the lower of CPI or 3%.
5. Congress loses their current health care system and
participates in the same health care system as the American people.
6. Congress must equally abide by all laws they impose on the
American people.
7. All contracts with past and present Congressmen/women are void effective 1/1/12. The American people did not make this
contract with Congressmen/women.
Congressmen/women made all these contracts for themselves. Serving in Congress is an honor, not a career. The Founding Fathers envisioned citizen legislators, so ours should serve their
term(s), then go home and back to work.
If each person contacts a minimum of twenty people then it will
only take three days for most people (in the U.S.) to receive
the message. Don't you think it's time?
THIS IS HOW YOU FIX CONGRESS!
If you agree with the above, pass it on  (DO NOT FORWARD THIS LETTER IT IS NOT WHAT WARREN BUFFET SAID –  JACK TROUT)
****************************************************************************
Jack
Hope all is going better for you mow. Happy new year to you and your family
Warren Buffett did not write or promote the attracted. (checked on snoops). He did say that elected officials should nit get paid If they cannot balance and pass a sound budget
Bill
************************************************************
Jack, there is NO WAY Warren Buffet supports this piece of garbage. This is one of the Right Wing Conservative Big Lies that's been circulating for at least 11 years on the internet. Check it out on www.snopes.com. I would greatly appreciate it if you would circulate the response below to those you sent your message.
Specifically,
REALLY? No pension? To begin it would be unconstitutional to treat one government employee differently than another, but in any case, how would that be at all fair? These people work harder than any government employee, basically 16/7. Anyone who suggests otherwise should spend a week tailing one of their representatives. And there is no tenure now; that's for college professors!

Congresspeople participate in social security, have the same benefits, and pay the same amount or more as all other government employees. From Urban Legends: Under a law enacted in 1983, all members of Congress both contribute to and receive benefits from the Social Security system. Upon retirement, members receive either a combination of federal pension and Social Security benefits or Social Security alone, depending upon when their term of service started and how they configured their individual plan.

They DO buy their own retirement plan.

Congressional salaries are set by the U.S. Office of Personnel Management and are subject to yearly COLA. Individual members may turn down the pay if they chose, and some do. They DO NOT vote on increasing their own pay although they could vote to refuse COLA increases.

From About.com: Members of Congress receive retirement <http://www.opm.gov/retire/> and health benefits <http://www.opm.gov/insure/> under the same plans available to other federal employees. They become vested after five years of full participation.

They do abide by the same laws. The only difference is that they cannot be subject to criminal prosecution while in office, a provision in the Constitution designed to prevent Congresspeople from being subject to judicial and executive department constraints as a means of intimidation and coercion. Instead, they are subject to trial and censure by Congress itself. They can be expelled from office by a two-thirds vote of the Senate, and once they are out of office, they are subject to any and all enforcement against illegal activities while they were in office.

To make any contracts with past and present Congresspeople would be unconstitutional to say nothing of unwise. Actions of the government ARE actions of the people, so the American people, through their representatives, did make any such contracts, and without a contract, no government employee could act for the government. This is a stupid extremist idea for attempting to limit lobbying efforts, an impossible and undesirable goal: any one who just votes for a Congressperson could be considered a lobbyist.


There are already enough lies and misrepresentations from both sides of the political spectrum, even from the middle. We need to tell the truth about our problems; only then can we effectively deal with them and come up with solutions that work for everyone.

C E Pat Patterson
****************************************************************
Thanks. Will do.
JB
******************************************************************
Hi Jack,
I am certainly not going to forward this Email. According to both Snopes.com and Urban Legends, Warren Buffet does not endorse nor ask people to forward the "Congressional Reform Act of 2011". There is no such act in Congress either. This myth has been circulating around the internet since 2009. Buffet did make a quip on CNBC about how to eliminate budget deficits. As you probably know, he is on record as wanting Congress to raise his and other millionaires taxes to the same effective rate as those paid by his secretary.
Whoever forwarded this email to you was committing fraud — either intentionally or through ignorance.
Regards,
charlie falk
******************************************************************
Hello Jack. Hope you had a great holiday. FYI this is actualy not true. I did a petition on this after I saw it, and then found out through sites liek snope, that it is false. : )
: )
Michealene
*******************************************************************
No mention of election reform
Way too many corporate donors. Al
*******************************************************************
Hi Jack,I got your email below and checked it out. I suggest you go to:
http://www.snopes.com/politics/medical/28thamendment.asp
and see for yourself the facts. The anti-congress tone of the email is highly popular with good reason. Unfortunately the proposals below are not a solution, and Warren Buffett had nothing to do with it.Tight Lines!Lee
***********************************************************************
If you want to fix congress, first vote out all the teabaggers the the Koch brothers bought and foisted on us in 2010, as well as all republican leadership that does not do the will of the people. They are destroying this country.Next, all election are publicly financed. TV/radio media must allot free and equal airtime to candidates. No corporate or special interest money is allowed. If foreign entity tries to get involved they will be fined and the head of that group will be arrested for a minimum of 2 years, this includes the American (China's) Chamber of Commerce and all multinational corporations. Outlaw rich people from using their own money to buy a seat.Outlaw all lobbyists.Taking the pay away from congress members is the wrong way to go as it would only allow rich people to be members. Instead, force all members to put their all finances in blind trusts run by government regulators while in office.Instead of taking away health insurance, have them use Medicare, and open up Medicare for all Americans as as a public option, and make all medical insurance companies and medical facilities non-profit with a maximum overhead on 10%.Taking away pensions is also not the way to go, as it is a punishment for serving the country.Set up a transaction tax on all stock and commodities trades and use this to fund the damage done by the Banksters. Outlaw corporate takeovers that is financed on the backs of the workers and by raiding the pensions. Bankruptcies do not take money from the pensions or release lawsuit payments.
All dividends and capital gains are charged at the same rate as income, for all income over $1 million.
Now this would be a good start.  Ken
*****************************************************************************
Happy New Year Jack.
Truly,
Drew
*****************************************************************************
That's the best news I've heard all year!! Happy new years to you & you family. Look forward to seeing you soon. Artie
******************************************************************************
From Jack Trout – Then I wrote back in an email to everyone:
PS. I sent out an email that I wish I hadn't sent about politics, something you never mix with the outdoors. I might add that Warren Buffet really only said, if Congress can't agree
or get it together on issues that are so crucial to all of the American people, they shouldn't get paid. Now really knowing what was up and feeling for both sides of the political spectrum and the good ole USA I knew as a kid, I would just want to leave you all with this thought. We are all Americans and if I inspired anyone to think about where we are right now, what ever your politics are then good. We all need to think more, talk more, be considerate and debate democracy and the issues that are at hand and can benefit our children and future generations. From a fishing guide who never went to college and really never was college material as my dad once said, "You don't read enough!"
I'm talking, reading and thinking about it more often and I know one thing for sure, freedom is not free it comes with a price and we are all in it together so we better figure this shit out and start being more friendly to each other and get the issues resolved even if it means that each side gives a little more. I'm tired of it, your tired of it and it's killing our country from the inside out and the world is counting on us.
I promise I will NEVER send or talk about politics on my blogs or in emails that's just not me
, but now I am glad I sent that email because we are all thinking more. My dad went on to tell me that I was more of an entrepreneur and I should create business, something he wasn't.
We love all of you, we're just hurt by the cause.
Best to all Americans & Happy New Years, jtr
*****************************************************************
No worries Jack, no offense taken. We saw that a few weeks ago, thanks
for being concerned enough to actually do something. Most people just
ignore the whole thing, which is why we are in the mess we are today.
Take care
Cheers to you and Carola and good angling in 2012. Save one of those
big browns for me.
—
James Drummond
******************************************************************
Jack, I suspect there are more people out there who feel the same way but just don't take the time to vocalize it. I am not an overtly political person and tend to keep most of my beliefs to myself; however, you brought up a valuable message that more people really do need to hear. Warren Buffett is a highly respected man and can reach a very large audience. Thank you for taking the time to voice his words to your community.
Happy 2012 to you and your's.
Best regards,
Bonnie
********************************************************************
Politics are always a powder keg when tossed out in the wide spectrum of views that I am sure are shared by many of your readers. As for Buffet and what he said… who the fuck cares… to really understand how you feel look internally. You referenced the USA of your youth as what you want. Go back and look at how the country was run back then, you / we are fundamentally a product of moderate politics. This is a good thing and we need to get back to it.
The current administration is committed to "transforming America" What you really want is the good old days of moderate government built on compromise. Think about that when you vote.
There has never been a more politically divided time in our country. I think the tone was set when Obama addressed the republican minority during the last days of the healthcare debate.. " there was an election and you lost". This type of leadership cost the democrats control of the house 18 months later. First time in your lifetime.
Our president must represent the views of people not force his own personal agenda. There is a lot I did not like about Clinton, but he was effective and has my respect as a leader that found the middle and led his party and our country.
Let's get back to balance and realism in our country and away from personal agendas.
On another note. Huge congratulations on finding your life mate. What a tremendous partner you have in Carola.
Dave Wallace
************************************************************************
I loved it jack, let's kick all those assholes OUT! People get offended because the truth Hurts and Warren Buffet is right! Don't lose any sleep over it, the email will only make you stronger!!;)
DINO
*************************************************************************
Happy New Year Jack & Carola,I hope 2012 find you.healthy & happy.
Look forward to seeing you both soon!Love,Gretchen, Jake, & Jr.P.S. We are going to be grandparents…baby is due on the 4th of July. Brianna is thrilled are we!
*****************************************************************************
No need to apologize Jack. I'm sure that you have many capitalistic corporation supporting clients whose hackles might have been raised, but I'm not one of them. As close to the land as you are, you could possibly see more what our civilization has done to the planet than most other people.
Have a good 2012
p.s. I've been looking for some of those good Chilean red wines, but have not found any yet.
Al
****************************************************************************
Hope for Change in 2012……………………….. Gary
*****************************************************************************
Well said Jack! happy 2012!!! Carol
****************************************************************************
Great email. : ) Michelle
****************************************************************************
Ah keep talking politics!. Happy new year jack! Kris M.
****************************************************************************