Howdy do from Mount Shasta, looks to be a great weekend ahead of us!
UPPER SACRAMENTO FLY FISHING RAFT TRIPS ARE GOING GREAT!

 The rivers that Mt Shasta fills are all starting to come down now, just be careful for flows & water temps for children, it's not normal for this time of year! Have a safe 4th of July and please don't litter our area or start fires that could negatively impact our paradise. Like we say in South America, "Use your head Amigo, you only have one chance!" Read the fishing regulations for where you are fishing and you'll probably need to stop off and get a fire permit for your marshmellows extravagenza at night. Have a great time and we thank you for coming to Mount Shasta we appreciate you here!
US Forest Service 530-926-4511
Take care, Jack & Carola Trout

 The Town looks great! I love living here it's a special place on Earth and what a back drop folks!

 Pure water downtown that flows from a lava tube that comes from the center of Mount Shasta. The water never sees the light of day until it flows into your mouth! So bring your huge water jugs to fill up for home use, it's free. 

 Out on my raft fly fishing on the Upper Sacramento River has been epic to say the least.

 Perfect weather, Wild Azalea blooming which scents the air with a wonderful fragrance.

 Wet wading has been terrific since temps have been from 85 to 90's Lot's of sun folks!!! Enjoy this video..

 This is the time to access the Upper Sac for fishing because the leaves are on the trees and the bugs are hatching. Just go deep and use SSG weights to get down and slow down  for fish munching pleasure Sizzlers! In my raft I can get you to the otherside where the fish feel safe until August from likely waders. Enjoy another video just for you.
   This guy Steven Peek was a riot!    
 The smile says it all!

 Hookage from the raft is always double points Steve!

 That day and lately we have been catching so many nice Upper Sac cromies. The flows now are perfect for my Upper Sac Fly Fishing Raft trip and I do have some dates left. Call me for my schedule
530-926-4540  Jack Trout Line
 Even in the highest water trout are still biting away. If the leaves are on the trees the insects are there and the fish are hungry from a long winter. Now the flows are getting better for wading, so all the better!
 Fish edges of the river with Mayflies in the morning.
 I love this part of the river.
 Another very happy client, I'm sure I'll see again. Thanks to all of you who have called for trips for this spring and summer. I will continue to be doing fly fishing raft trip all summer so call for your date and we'll hook-up! 
Now here's a problem that needs to be addressed or we are going to have another salmon kill in the Klamath River this year like 2002.
It seems that no one is really watching the Klamath River. Yea groups and organizations representing the river's best interests say they have fixed the Klamath and all the interested in the river have passed an water allotment that would be beneficial to all parties. Ranchers in Oregon, salmon, steelhead, suckers, Native Americans & guides who make their living from what resources the river provides all.
Well you look at these photos I'm about to show you because I'm out there all the time and I can not believe how unhealthy and smelly this river is becoming. I haven't seen it this bad since 2002 the year the river was killed by the Bureau of Reclamation and we lost thousands of salmon. Like 2002, the river is being mismanaged and ignored by many that say, "there is nothing wrong with the Klamath River, we fixed it" Well you might have come to some agreement but the Iron Gate side to the Klamath River is ill and becoming over taken by the algae blooms that after yesterday, I have decided to leave the river because it is not fishable due to algae blooms and lack of flows.
These algae blooms could be compared to the BP mess in the Gulf, in that like oil, algae blooms destroy oxygen levels in the river and when you mix in low flows and heat these plants are completely taking over the river in the top sections of the Klamath River creating toxic diseases harmful for salmon and steelhead as we head into the hottest time of the year.
Just doesn't make any sense and now with the internet, I know for a fact these agencies hardly even look at the river's health in person. Next I will show you how I know this….
 
 This algae is deadly to fisheries causing lack of oxygen levels and brewing toxic diseses similar to a fish tank that is never cleaned.
So I called the Bureau of Reclamation in Klamath Falls, Oregon and talked to Kevin Moore and told him about these algae blooms  that are growing at a record pace for this time of year and that I thought it could be a repeat of 2002 when we lost all those salmon in the river. He was very pleasant, extremely friendly and candid. Basically he said these releases are decided by two entities that are at odds with each other. He told me, "Jack, if I release more water we get sued by the Fish & Wildlife who are protecting the endangered suckers in Klamath Lake and other drainages associated with the watershed. If we don't release enough water we get sued by the National Marine fisheries." Then he went on to tell me that also any dam operator who talks about releasing more flows to the fish is immediately replaced in Klamath Falls at the Bureau of Reclamation. This really angered me, as I realized that since the Bureau of Reclamation is located up in Oregon at the source of the water that there would always be an unfair bias for the ranchers and suckers, since those people working at the Bureau of Reclamation are living there in KFC. (Klamath Falls City) So basically speaking, even though the Federal Government is suppose to fair and justified to all parties interested in the resources of the Klamath, they aren't and are really extremely bias and underhanded in their approach, candid and honest.
Kevin Moore klmoore@usbr.gov also had no idea about the algae problems in the river, one reason is because they don't have web cams at the Bureau because they certainly don't check on the river any more or they are completely being oblivious to what is going on in the trenches of this disaster about to happen again.
Kevin Moore – Bureau of Reclamation  541-880-2557  Hands are tied at the moment, but I'll try to get loose and answer my phone. Call him and he will email you information regarding this subject.
Imagine by August how much this algae will grow, the entire width of the river folks. Jack Trout  530-926-4540
Can you believe this SH>>! Get a clue this is not healthy. Folks say to me, "Jack, if they take out the dams the river will just be a trickle in the fall." I say at least then the overnight temps are usually in the 40's low 50's where algae doesn't grow and it is a natural progression for the river's health as opposed to now we are heading into the hottest part of the year. We shouldn't be decreasing flows and growing algae in the river. I would have to say that President Obama and his Secretary of the Interior need to get clued in on this. So far I have not seen any kind of good environmental recourses being taken on by this administration. I'd have to give you a D grade on the environment due to missing in action syndrome. I know this year if something doesn't change we will probably have another salmon kill on the Klamath River, Kevin Moore and the Bureau of Reclamation can't do anything for the river's health being that they are located up in Klamath Falls. I think the best thing for the Klamath River is to move the Bureau of Reclamation to a neutral grounds so the river and salmon have a fighting chance. Jack Trout July 1st, 2010
 I mentioned on my last post, that on most if not all North State Rivers, barbs must be smashed down before fishing. The fine could be as much as $440.
California Department of Fish & Game Licenses online –
http://www.dfg.ca.gov/licensing/ols/intro.html
 Ah, the Upper Sacramento River is turning into the magic green color!
 Access is easy the fish are biting, hope to see you soon.
 Hook-up Sizzlers! We have been catching a lot of trout that are big and are so hard fighting we can't land them. Or should I say,"Some trout were just never made to land!"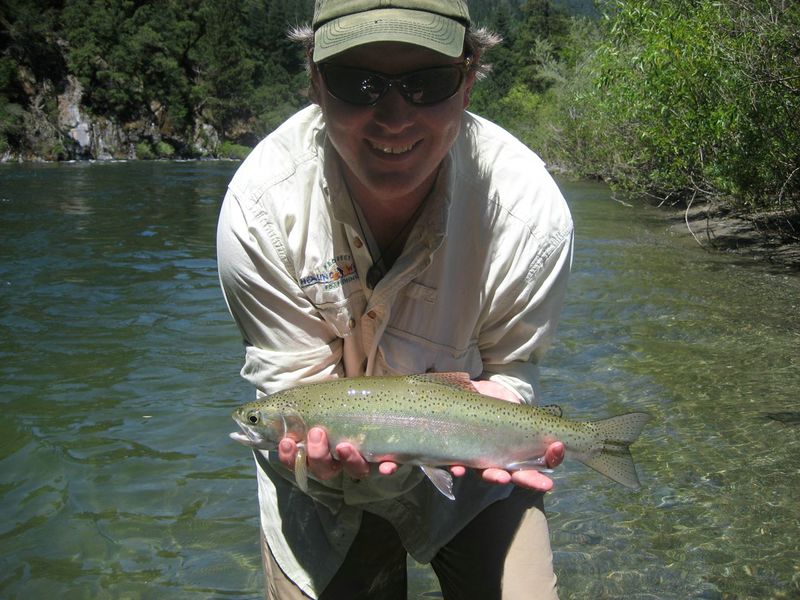 Alastair from South Africa you are my Sizzler of the Week Award Winner! This guy creates fabulous wines professionally. He gave me a bottle of his Cabernet and I stayed up late that night playing the guitar and singing happily over the phone to Carola my wife in Chile. (She loved it and wanted me to thank Alastair)
Now that's the sign of a fine wine my friends!
 Some of the places we access are simply amazing.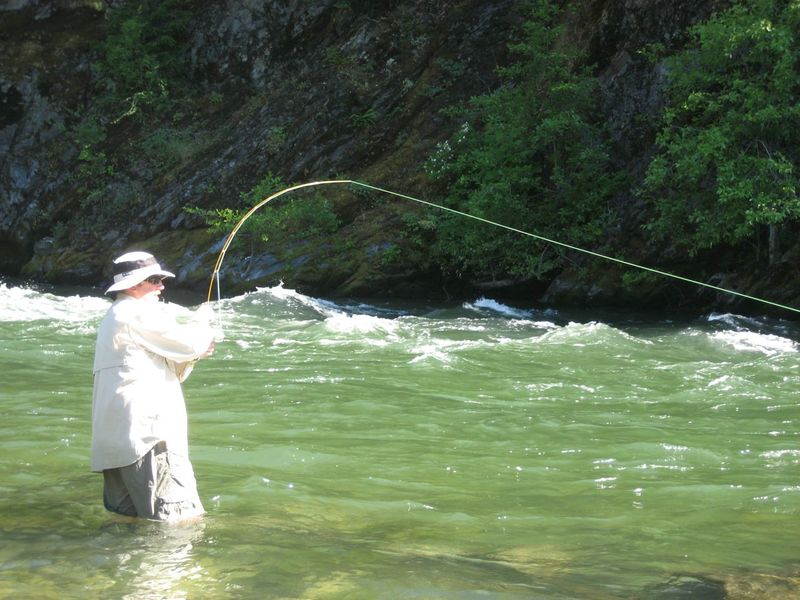 Chris with a nice hook up in some lovely water!
 A real beauty right out in front of Butterfly Beach my lunch spot.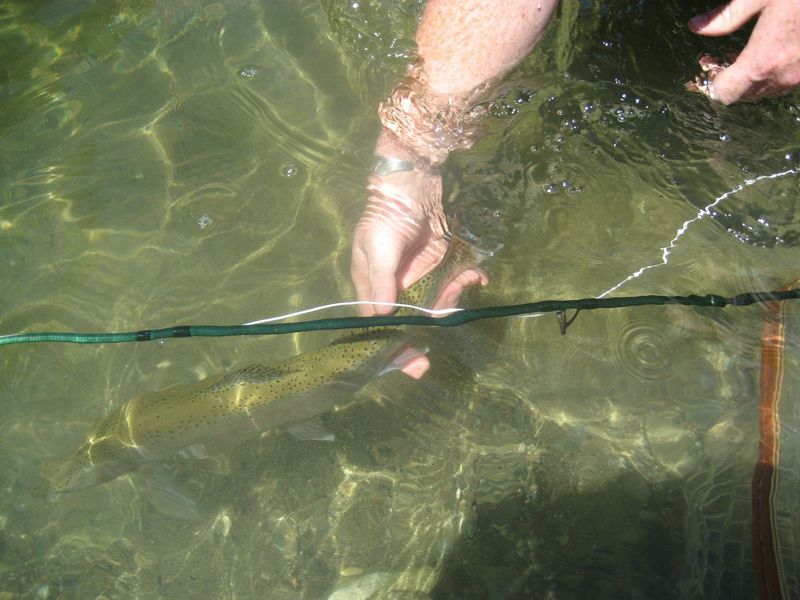 The release of a trout, not over rated my friends.
 Ok, today on the menu we have Jambalaya and spectacular views…
 If you are having a hard day just stare into this picture and you will be transformed into another world as it relieves stress. Do you see the case caddis..?
 Bald Eagle is doing great and has grown! The bears have not been seen so far..
 Butter lettuce still growing folks, getting ready to pick again for your guide lunch.
 2nd addition for Fodor's Chile & Argentina makes its way to book stores on July 9th. I wrote the fly fishing sections in both books.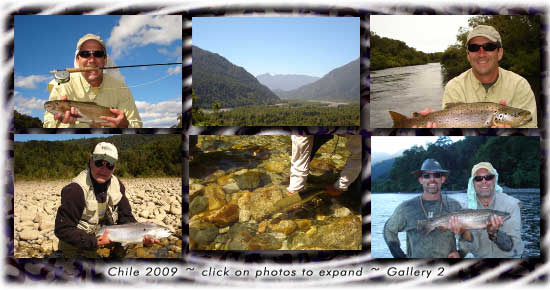 Carola and I hope to see you down in Chile this 2011 season.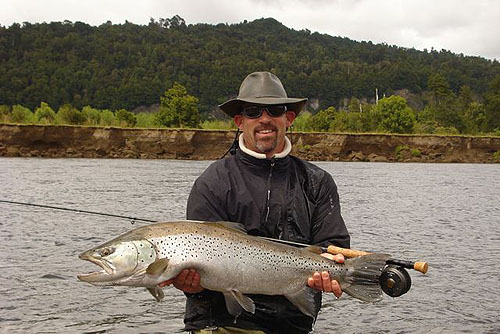 Here's a Sea Run Brown I caught less than an hour from my house in Los Lagos, Chile.
 We've been framed, a picture perfect frame job!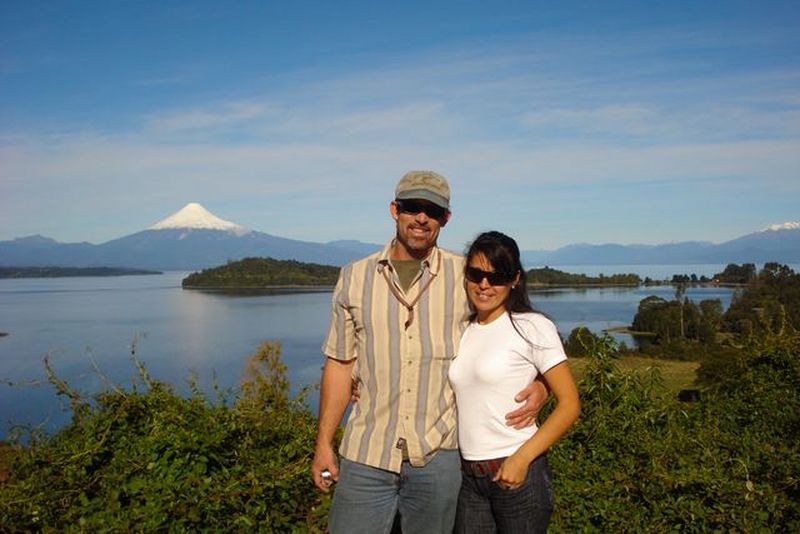 Team Trout is waiting for you in Chile.
Thanks for watching our adventures!  Jack & Carola Trout
530-926-4540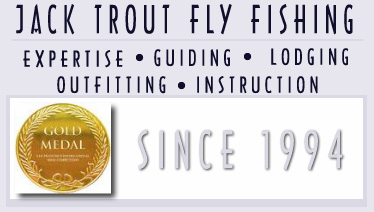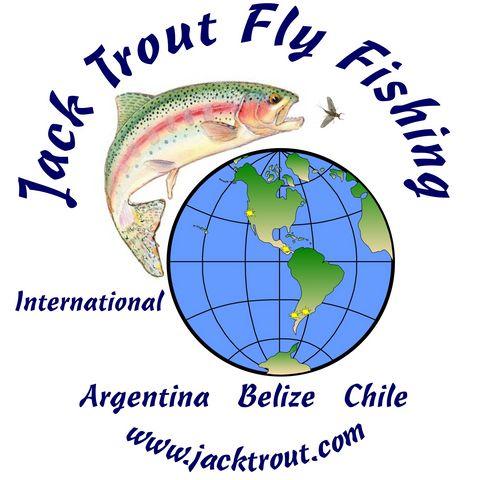 EMAILS FROM YOU:
Jackson,
     How does the 7th and 8th of July look?
                                              Jim
**********************************************************
Jack,
 
Michael, Bob and myself were interested in a day trip again and have some flexibility on when we can come up.  We'd like to time it where the fishing is good.
 
Please let me know your thoughts and what the going rate for the three of us would be this year.
 
Fabio
*******************************************
********************************************
Hi Jack..Hope your 4th is enjoyable and profitable.
Mom
Hi Jack-
Thanks for your monthly updates.
When I go fishing next with the Jack Trout adventure I will request 
that Carola be my guide.
You are a lucky dog.
Anyway, please pass your observations on the Klamath along to Glen 
Spain at <FISH1IFR@aol.com> and ask him to send them around.
He is in the middle of the dam negotiations and knows who the players 
are on a personal level.
Give him my regards.
I can't remember the guys at the papers but you could find the science 
writer at the Chronicle pretty easily, and he may be interested in the 
story behind the story. I wrote an irate tirade about the Klamath they 
published once.
Getting up at 3:00 am for a 6:00 flight in Albany that will get me to 
the Lower Dean above Bella Coola by Saturday afternoon.
Last year the river was blown out. Now, where are those socks…
************************************************
Soon as I get home tonight I'll send it. It is actually a shot of Alastair and one of his fitch. Good shot, good fish, but an unsightly mug 😉 He will undoubtedly be honored to have the Sizzler moniker & is probably right deserving. You however are the true Sizzler. Another great trip aboard the SS JT. I do really enjoy the humor, wit, energy, enthusiasm et al. Top shelf trip on any and all fronts. Hoping/planing to get up there again soon. My brother now has got the itch. I think it's the fishing itch, but now that I think about it!?
I included Alastair in the chain so he can be included on the JT blog. (Thats Jack Trout not Justin Timberlake, Alastair)
. . . . . . . . . . . . . . .
Cameron Baxter // Core Studio
*********************************************
Have you been in touch with Arch Super at Karuk Tribe? They should be notified about the mess on the Klamath. Maybe the tribe can kick some ass. I was looking forward to fishing the Klamath this year. I need to get together with you and plan out some trips. I was out on the McCloud and the Upper Sac a few weeks ago and they were running real high. Hopefully they've dropped so they are fishable. Are there any places fishable on the Shasta River?
***********************************************
howdy jack,
happy fourth to you as well.
take care,
peggy and bob and rusty 🙂
*************************************************
I recently sat in a meeting where dam removal experts employed by the federal government geeked out for a full hour about the finer points of how to physically deconstruct the Klamath dams. It was rewarding, and awesome. It finally started to sink in that the feds and all their resources have fully gotten behind the idea, and Klamath dam removal gets closer to reality with each passing day.But to keep the federal government focused on and supportive of dam removal, we need to once again supply them with the evidence that the environmental impacts of Klamath dam removal will be positive ones.

In the next two weeks the feds will be holding scoping hearings on the dam removal agreement throughout the Klamath Basin as part of an environmental review process required under the National Environmental Policy Act (NEPA) and the California Environmental Quality Act (CEQA).

The NEPA/CEQA analysis will provide the basis for a U.S. Secretary of Interior finding in 2012 that dam removal is in the best interests of the American public.

We know this isn't the first time we've asked you to attend a meeting and speak up for dam removal on the Klamath, and frankly, it probably won't be the last time either.

But we're counting on you to go the distance with us to UNDAM THE KLAMATH and BRING THE SALMON HOME. Please look at the list of hearings below, find the location nearest you and bring your family and friends to testify. Use the talking points we've supplied here, or simply tell your story about the negative environmental impacts caused by these dams and the benefits of taking them out.

Thanks for all you do.

Sincerely,

Erica Terence
Klamath Riverkeeper

p.s. If we don't turnout in large numbers to get our side of the story on the record, we run the risk of letting dam huggers skew the environmental analysis and hijack the whole dam removal process.

Click here for more info on the NEPA/CEQA scoping process, found on the website klamathrestoration.gov

Oral and written comments will be accepted at the following public meetings.
   
Dates, Times, and Locations:

•    July 7, 2010, 10 a.m. to 1 p.m., Copco Community Center, 27803 Copco Road, Montague, CA 96064.

•    July 7, 2010, 6 p.m. to 9 pm, Yreka Community Center, 810 N. Oregon Street, Yreka, CA 96097.

•    July 8, 2010, 6 p.m. to 9 p.m., Klamath County Fairgrounds, 3531 S. 6th Street, Klamath Falls, OR 97603.

•    July 9, 2010, 6 p.m. to 9 p.m., Chiloquin Community Center, 140 First Street, Chiloquin, OR 97624.

•    July 13, 2010, 6 p.m. to 9 p.m., Chetco Activities Center, 550 Chetco Way, Brookings, OR 97415.

•    July 14, 2010, 6 p.m. to 9 p.m., Arcata Community Center, 321 Community Park Way, Arcata, CA 95521.

•    July 15, 2010, 6 p.m. to 9 p.m., Karuk Tribe Community Room, 39051 Highway 96, Orleans, CA 95556.

Some talking points to get you started:

For everyone:

•    Consider how dam removal and alleviation of toxic algae blooms will enhance property values in project reach, in the upper basin and downstream- not just in Copco reservoirs
•    Consider removing dams sooner than 2020, as fish need relief as soon as possible
•    Consider how no action affects the physical and emotional health of Indian people – lack of fish, presence of toxic algae, etc., increase medical costs associated with these problems
•    Alternatives should focus on how we remove the dams – what time of year we would drain reservoirs, order of removal, deconstruction approach.
•    What is the economic impact of losing of CA and OR not have a commercial wild salmon industry? Consider this in the no-action alternative
•    What is the economic impact of losing sport salmon industry in CA and OR? Consider in no-action alternative.
•    According to FERC EIS, relicensing the dams will drive our power rates up more than removal – include in this EIS too!
•    Water quality and flows in the Klamath River will improve when dams are removed, providing for better recreational and fishing opportunities.
•    We need the jobs that restoration efforts, including dam removal, would provide!
•    Dam removal is an economic stimulus package for Basin.