NORTH STATE RIVERS GET IN SHAPE FOR JUNE FLY FISHING & EPIC HATCHES!!
Sign-ups for Upper Sacramento Fly Fishing Raft Trips.
Hi,
I am interested in fly fishing the Upper Sac; the 19th/20th of June would be great. Do you by chance have another single where I can join and share the $375 cost?
Thanks and Regards, Jerry Thomte
Any one out there want to join this nice past client of mine for a Upper Sac Raft Trip. Less than $200 per head. Includes Gourmet River Lunch. Carola's recipes!!

My Father Raymond has been my best friend all my life! I guess you've noticed I haven't had a post in a long time. My dad passed away on May 7th at my brother Pete's house in Portola, California. He always told me not to be too sad when he died, He said, "go down to the local fountain shoppe in Portola and get a strawberry milk shake to remember me by." You all would really like my dad.Born in San Francisco in 1920, a Veteran, educator for 31 years at Portola Elementary, fishing guide in Graeagle California for almost 20 years and a Fish & Game officer for a few years until they told him he had to carry a gun and he quit. He went to USC in the 1940's after WWII when Hollywood was really Hollywood and actually had acting part in White Christmas where he drove a Jeep on the set, but his tobacco pipe smoke went up into Ben Crosby's nose standing above him singing and he lost the part.(He thought that
was funny) He also had several other small roles common in those days for university students and Hollywood. He gave up the big city girl after college for the mountains and rivers, for this I am so grateful for. He lived simple, he was old school and is among the last moral generations left standing on the face of the Earth. His message was this, "Life is about how you effect other's as much as you can, in a positive way." I live his message he taught me daily and always remember the terrific times and note worthy lessons he helped me to realize while I was growing up. I love you Dad! You made e
very one of my high school football and track practices and games. You always supported me and loved me and I am eternally grateful to you. You are as good as it gets when it came to fathers & mentors!!!
Love, Jack & Carola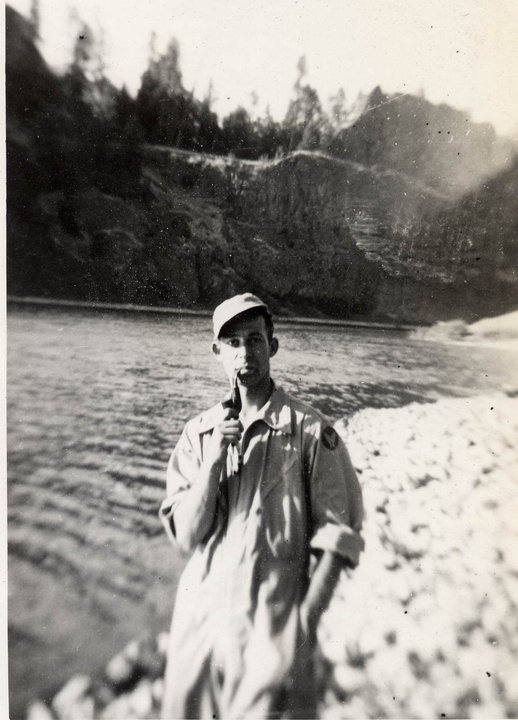 He loved rivers and the outdoors. He loved that pipe too and still lived to be 90 years old. I call that good genes! He quit smoking one day when we made a bet that he didn't have the will to stop. He never picked up the pipe again. They say that life is about how your described at your memorial service. I was sure proud to hear and see all the folks who showed up to pay their respects to my father. He was truly a California legend who myself, my family and the countless others who he educated who would come up to us in a super market to tell him thanks, you made a difference in my life. Thanks Dad!

Now you see where I get it fr

om! Times were a little different back in the 1930's out fly fishing in California. At least I think the trout here were caught on flies, the cat fish….? This is up in Red Clover Valley above Lake Davis, California. Before dam stories, Letser T Davis or the Westland's Water District. He had such a passion for the outdoors, I can remember him waking me up at 5 am and being so excited. One time he shut the car door on his thumb and it was locked, my best friend and I had to get the keys out of his pocket while he stoop there in agony with the door closed on his thumb. When it was finally opened, his thumb was mangled. But we still went out on our journey!

Carola loved my dad, I'm so glad she got to meet him. That might be the most important thing for us newly weds. She can see where I'm going in life and we're so proud of my dad, it's a match made in rivers. My Dad and Carola are the greatest 2 things that ever happened to me. I am sure looking forward for the immigration process for Carola to enter the USA to be a smooth one. It is very difficult to go through losing my father and having my wife stuck in Chile waiting for immigration to stamp her passport approved. We have lost a lot together in the past 3 years, now it's our time to start our family here in the United States and Chile, we are tired of waiting when we have done everything legally and honestly. I need my wife here in the USA to help me with the emotions I am feeling after losing my father and I need a break. Please if anyone can help me get Carola here sooner. If you know someone in Congress or a Senator who might need a guide trip for a constituent someday and may want a free banner ad on mtshasta.com. It's winter in Chile now and we can't wait any longer, we need help.
HELP!

So as I close the final chapter on the life of a man born in 1920 who lived and saw it all and will never be forgotten. I must say, "I am honored to be your son." I promise to live my life the way you would want me to live and my goal is to be more like you everyday until I can pass the torch to my children.
I know more now the meaning of life, and why we are here, my father was a shining example of this. Now it is our turn to do our part and bring new life to our family and become the father of our next generation.
Carola get ready honey, we're having children soon!! Someone needs to guide the masses someday in the future!!

My father would want this and I never thought I would say this but. I WANT CHILDREN!! THIS IS WHAT LIFE IS ABOUT. (She wants kids so much, she loves them!)
Little Trout's all over the North State Rivers, guiding folks from the Bay Area in the year 2050! Yahooo!!
Just when I thought things were getting sad, I feel empowered, like my dad is in me now and all those insecurities just disappeared. Isn't life amazing, wonderful, mysterious, rewarding, losing. It's like a Shakespearean play where you get to be every role in life. The hero the villain, the rich, the poor, happy, sad. All you have in life are the experiences so you have to make the best of life people!
Start living – You betcha folks!
Now all I can do is get Carola my wife here from Chile and start my family.
I love my father Raymond and will always think from now on about how he would approach life, because I know in my heart that would be the right right way to go about anything life presents me. I hope I can make it to 90 years old!
Lake Brittain near Burney, California. The Pit River and Hat Creek enter the lake
from just above here.
Artie and Dino are back from Granzella's of Williams, California. They wanted to float the Upper Sac and didn't care the flows were so high. Fishing was almost impossible since the flows were at 3000 CFS. The water was off color but it was warm so who cared.  http://www.granzellas.com

The flows were high but the ride was fine!

Dino hooked one at this spot and the fight was on! Happy camper indeed!

On a day like today, we went with Golden Stones and May Fly nymph immitations below an indicator with a ton of weight. Early in the season like this Mayflies are your default fly below and on top of the surface.

Dino really getting into this now because the trout is so spunky after a long winter of fighting currents and un-settled weather. He's freaking out and the fly rod is feeling the brunt of his actions as the reel screams out line in distress.

Under water the trout is closer to the surface now. (Ho'd he do dat?)

Ooops! Look out for the rock..Too late! Poor little wooper – snapper we'll get ya
some Neosporen.

Smile for the camera!

Nice one Dino, looks bigger under water….
 
Artie enjoying the thrills and spills of 3000 CFS on the Upper Sac, near Dunsmuir California. Fly fishing and rafting the Sacramento River is the way to go in the spring. Especially this June when it flows into perfect shape.

Now this is a good place to fish when the river is high.

I always like guiding the boys from Granzella's because they bring lunch from the
deli at Granzella's!!

Fly Fishing Hat Creek California can be a great place for a beginning fly fisherman.
I like to fly fish some of the faster currents on Hat Creek as well as the dry fly water.
 
For a beginner on his first fly fishing guide trip this can be an amazing experience. After several years it becomes like a zen in life that takes you to a special quiet place where the flow of the river caresses your legs and the natural rythyms and sounds of nature soothes the soul and makes you feel like you did when you were younger. It brings one back to his or her roots and Mother Earth is where all started folks! If you are stressed out, up to your ears in traffic and ready to claim gorilla status in a cement jungle! Chances are you my friend need NATURE 101.
McCloud, Dunsmuir, Mount Shasta, Burney are just waiting for ya!
Just a thought Sizzlers!
 
Wow under water insects in their natural habitat, now this stuff gets me excited! If I could make a living just filming under water shots of fish and insects, I would jump Sizzlers! Stone Fly just getting ready to hatch in June and fly around and feed the entire eco-system of the Burney – Hat Creek area. I love fly fishing with stone fly immitations on the surface!!
So does Carola!! She loves dry flies on the surface.

You think we had wind last week! Imagine you're an insect dealing with currents and trout lips! When was the last time you thought about that?
Talk about, "I'm having a bad antenna day? "

Nearly Adult Stone flies ready to hatch and appear in a theatre near you! One is a Golden Stone (bottom)
Salmon Fly or Stone Fly (Above) In June Hat Creek goes off with insects and the last two hours of sunlight is magic hours.

Mayfl
y or a Calibaetis size 14. Use a Parachute Adams or some variation of this grey
colored Mayfly, trout like them.
Beginner fly fishing Hat Creek on his first day ever on a fly fishing guide
adventure.

The trout are literally every where on this river, you just need to be patient and wait for them to feed. Right now 10 am to 1 pm then sun set on sunny days are the most productive times on Hat Creek.
If you don't see insects hatching and birds flying around, chances are you need to go down sub surface nymphing. Otherwise when the hatch is on, match the hatch and go poking around with dry flies and you'll get a big surprise my friends.
Hat Creek is a beautiful river easy to wade and perfect for fly fishing. I love guiding
this river like many others in the North State of California.
If you want to lesson on dry fly fishing on Hat Creek, I know the river well and love to instruct beginners here.

I guarantee under that tree is a trout waiting for an insect to fall off its leaves.

The Caulky Cliffs of Dover (My name for this great place on Hat Creek)
That's a lot of Rolaids tablets there my friends!

Now here's a good feeling story. Carola and I had fun just before I left Chile buying vacination shots for homeless dogs in our home town of Los Lagos Chile. It cost us about $6.00 per dog to vacinate them from parvo etc. They sure liked us at this pharmacy!

This old timer really appreciated our help! Plus we give them a free meal. It's not a big town,

we got to know all the homelss dogs and will continue to vacinate them. Next we'd

like to start a neutering educational program in Chile, just to see if we could pull it off. Sounds like

a lot of fun to me and anytime I can help an animal,

I'm all ears with a waging tail! If you're going to be out on the streets might as well be healthy not sick.
So the next time your in a foreign country, if you see homeless dogs, check to see if there's a animal pharmacy in the neighborhood. It's something else to do on vacation and you might educate a community.

Here's our next patient,"step right up sir!"
Los Lagos Chile, my other home!

McCloud River last week was a no go folks! We got snowed the heck out of there!

The Lower Sacramento River is the place to be right now out in my comfortable
drift boat!

Nice trout for your first time ever fly fishing! The Lower Sacramento River near
Redding California is a great place to learn to fly fish with a guide.
Check out this video, it's a North State beginner classic!

I like the Lower Sac because it has lots of trout this size and larger!


Wow, if I was like Bat Man as a fishing guide, this would be my "Trout Mobile!

This Story Sponsored By Sacramento River RV Park Resort.

Jim Daniels my friends, no relation to Jack…

Nice trout Jim on your first day ever fly fishing!! You played him like a fiddle.
If you want to learn fly fishing in a relaxed non-sterile environment with no ego-trip involved. Call me!
Just pure fun, pure outdoors with the most patient instructor that will re-tie your

tangles with a smile on his face and say,
"Thank you, that's job security!"
When it's time to learn the ropes of fly fishing, Jack Trout & Team Trout
Oh nice Sizzler! That's a whopper of a trout, what a great fight on the fly rod!

Beautiful Trout live here in Northern California!

I really like this fly fishing, let's do some more!

"Lunch in style out on the flats near a riffle we can fish, this is nice Jack."

Gnocchi with prosciutto and shrimp with parmesan cheese and olive oil.. Yummy!
When you go out with Jack Trout Guide Service you're going to be served a great lunch.

I think I'm going to invest in a fly rod…. This trout catch'in is fun!

Hefty double strength! I feel the same way this trout does, at 42 I'm pushing out a
little on the gut!

Now that's a cool nature scene there!

Nice trout Jim! Congratulations James Daniels you're are
my Sizzler of the Week Award
Winner!

Then he caught what looked like a small steelhead? Need Aaron Martin's opinion
on this one??
—– Original Message —–

Sent: Tuesday, June 01, 2010 8:56 AM

Subject: Hey Bud..

That was a really nice blog you did about your Dad.  Well done.  You two sure looked a lot alike.... Hope everything else is going good. That looked like a steely to me....chromer!!  Cheers man.

 Aaron -- Aaron Martin Fisheries Biologist II Yurok Tribal Fisheries Program 23001 Hwy 96 Hoopa, CA 95546 





He just kept catching trout until it finally got dark and we left! The trout were 

getting more ocean looking as we headed down the freeway.


 
 


 

 
Thanks for watching our adventures! Jack & Carola
http://www.jacktrout.com info@jacktrout.com 530-926-4540 530-926-4540

Emails from you
Hi Jack and Carola,Wishing you the best and with the passing of your father. Also good speech with Carola's immigration issues. You've got a good heart, things will work out. Keep the faith.Clay
**********************************
Jack,

It was great to read through this update. It is really cool to to feel your emotions regarding your dad and his place in your life. Alex, Nick and I all thank you for the moments you brought to us over the last two years. Your kind demeanor and love of the land resonates with the three of us. Those moments we had were all special and came at a time with my own kids that were all needed so dearly. As our parents move on to their great place in the sky, we take the torch and and use it as a beacon for our place in time. I am sorry for his passing but understand the circle of life quite well (to be discussed over a beer some day or a torch in the meadow with the boys).

The best to you in uniting with your wife. It is hard to believe this is so difficult. Forward never straight!
Take Care,
Gale
PS: In case you forgot who we are, we are friends with Chris (dad to be) from SF and you have guided us on two different occasions. Looking forward to a third.
***********************************
Hi Jack,
Though we've never met, I feel I somewhat know you after following your postings for a few years now.
First, my heart goes out to you as you grieve your dad's passing. That's a tough one, but the only way out is really through. However, once you get through, you may find that your dad will be your companion the rest of your life. At least, that's been my experience with my dad. All the wonderful memories just make my heart swell with joy. Meanwhile, though, the agony is a bit rough. Hang in there!
Now, about Carola. If my memory serves me right, you two were married in Chile. Was your marriage registered here? I'm not sure what the immigration laws are now, but back in '75 my husband (who was not then a U.S. citizen or resident) got a green card to accompany me (very much a U.S. citizen) here. So why can't she get a green card by virtue of being your wife? Then she would be free to come immediately. I'd be happy to bounce some ideas around if you'd like.
Have you talked to an immigration attorney regarding your options?
I wish you well on all fronts, Jack.
Aileen Kader
*****************************
Hi Jack, I loved your weblog. You have no idea how fortunate you are to have had such a great dad. Not every guy can say the same. Thank you for your great heart, and great work for the environment. When times are better you will see me again!
Lee Jester
**********************************************
I'll toast you and your dad next week. I am spending a couple days on the Green River, in UT/WY. I'll be sure to raise a beer for him. -Steve ******************************************************************
So sorry to hear about the passing away of your Dad. I know how that empty feeling stays with you and a part of you seems gone forever. Good luck on getting Carola here from Chile. We need to book a trip here. ***************************************************
I am so sorry for your loss, Jack. Wow, he had a great life, and a GREAT son! I love reading your stories! I hope everything works out with Carola...soon! Congrats! Hope to see you soon???!!! Hope you had good holiday weekend... Take care.
Lev Stallone
Sacramento River RV Park
*****************************************************
Dear Jack,Sorry to hear about your father.Big hug from your friends in Brazil.Say hello to Carola.All the best.
 
Ricardo Bandeira de Mello LaterzaGerente de Projeto/ Project Manager San Paolo, BrasilC O R E arquitetos associadosav. pavão, 955 cj 142 moemacep 04516-012 são paulo sp

********************************************************

very nice tribute to your father…i ski with your bro tim…i really really like him a lot..my dad too was an educator in loyalton, teacher/principal for 30 years, he died unexpectedly in 1991 but also had a HUGE passion for the outdoors..

hunting, fishing & local geology/geography…he taught these via FRC and Lassen college to local people & prospective students…my mom taught at loyalton elementary for 31 years also & she is still well & alive…what is the problem with getting carola over here? i would love to learn to flyfish someday….you have some great brothers jack, and you all are

that way because of raymond, even though tim was a little hellion cheers buddy, greg lonergan

***********************************************************

Hi,

I am interested in fly fishing the Upper Sac; the 19th/20th of June would be great. Do you by chance have another single where I can join and share the $300 cost?

Thanks and Regards,

Jerry Thomte

jerry@thomte.com
*********************************************
Wow, that was really touching. I only met your dad a few times but not nearly enough to get to know him. Very heartfelt tribute. No doubt he will be missed by lots of people but his legacy will live on. Good luck with Carola. Steve Roland