Shasta is the area to head to this summer as we have the ice cube that melts come July/ August as temps soar. The frozen little droplet inside of Mount Shasta, we'll call him Steve, is beginning his metamorphosis through time and delivers himself down the millions of aquafers deep inside the cavities of tubes that assent downward towards the Sacramento Valley. Then from the East side, flowing outward filling all of the Ahjumawi Lava springs some 50 miles or more away that spawn Fall River and several other ancient lakes. Some fear the worst this summer, but I know as a former Real Estate agent at 19 years old that it's "location-location-location," Hwy 89 in California for starts.
https://yubanet.com/regional/hwy-89-the-fishing-crossroad-of-california/
When you go out fly fishing this year look for area "ice cubes " and fish accordingly. "Near the source" is vocabulary we should all pay attention to this season and knowing hatches and when they'll occur is critical. I think hiring a fly fishing guide is of the upmost importance this year as we earn our pay and then some. Fathers and mothers need things to do with their kids and children need hobbies that will pay them back mindfully in the future as the world turns. Nature is brain-jelly, a marmalade of sweetness and tang, another reason to toast the holy ghost and give thanks as we eat our daily bread. We think it's going to be ok this season fly fishing, but it's knowing where to be why, and where not to be when, that will ultimately determined the key ingredient – success. After being a guide now for 27 years, I know where anglers should fish and the guides who can help them. Many rivers to you, Jack Trout
530-859-8087    *   Info@jacktrout.com  *  www.jacktrout.com
FIRE DANGER AND SMOKE IS ELIMINATED AS JULY 7TH, 2021 – MOUNT SHASTA TOURISM UPDATE 🙂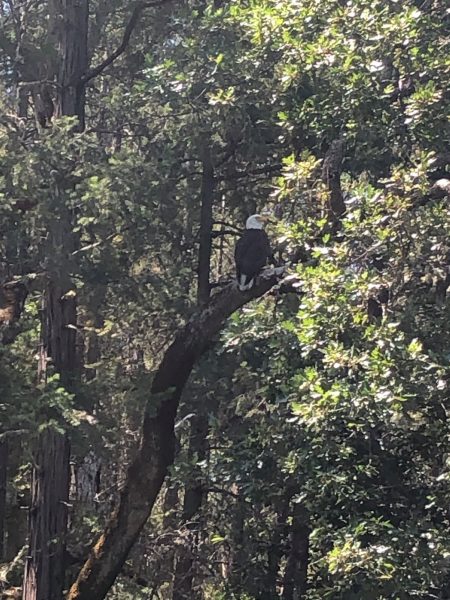 Klamath River July 2021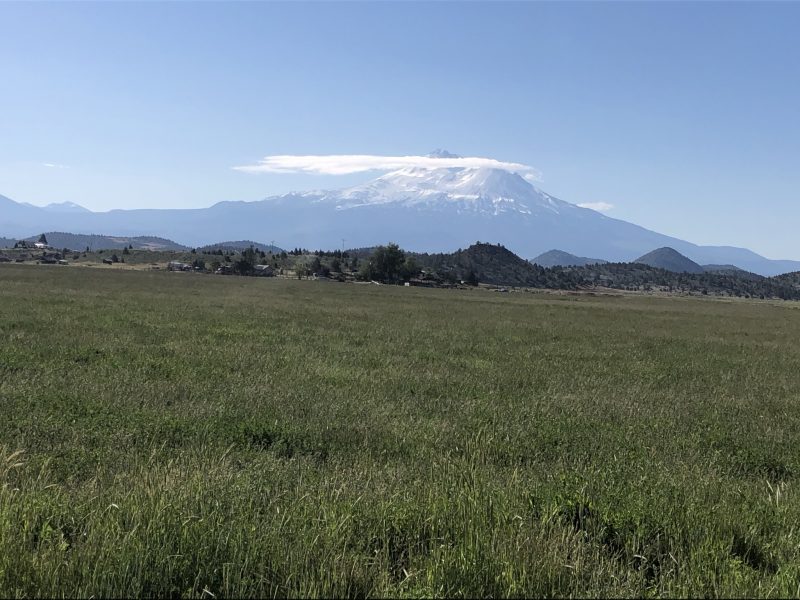 Mount Shasta is that ice cube, we are so lucky to have a mountain that is the source and determines so much about California's fate, good or bad. I always am grateful living here next to her and know there's no place like home.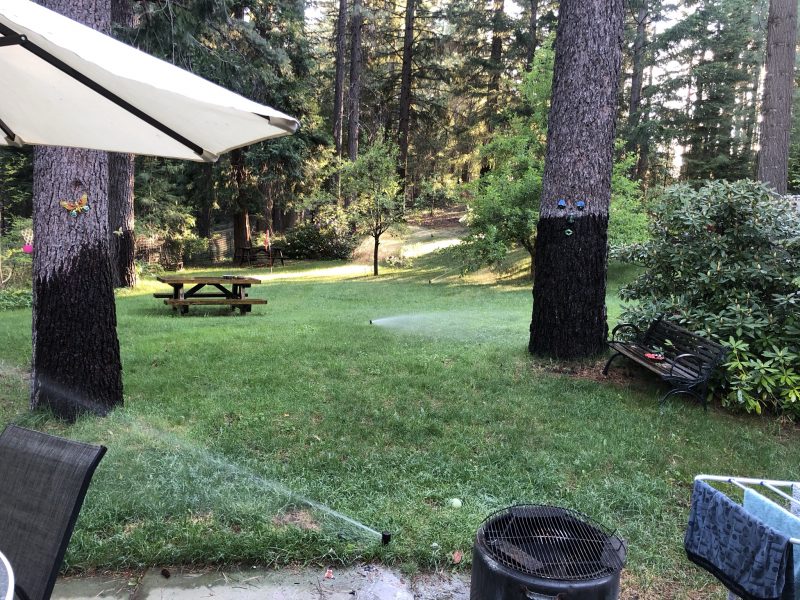 I am lucky enough to live on lava tube of water from her reservoir, one of those thousand aquafers passing right under the town and surrounding areas, fed by Mount Shasta. Water, water, water = Mount Shasta.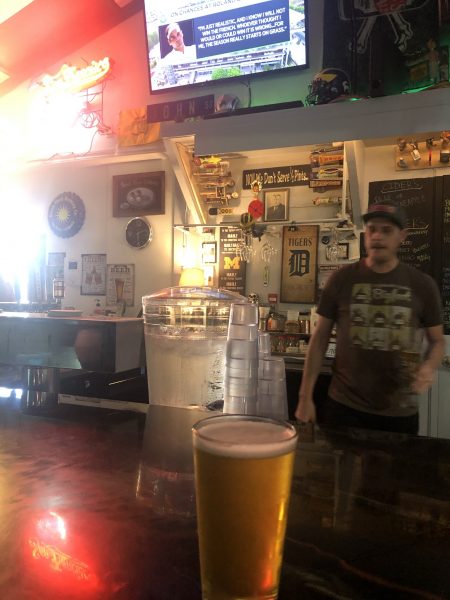 Water might be for fighting over like Mark Twain said, but beer is for loving over. Tried that Fall River Hex Hatch beer yet? Nice beers flowing out of Fall River Brewery, they deserve it all folks. 🙂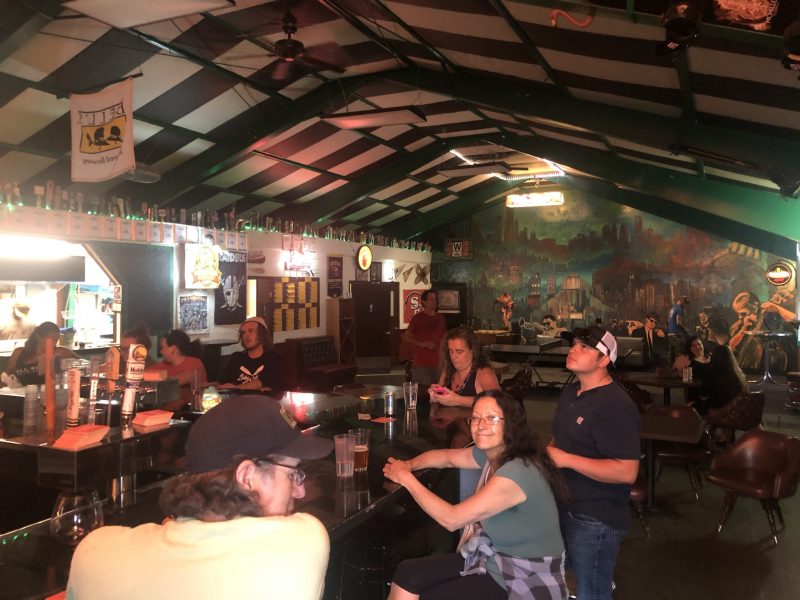 The best place to visit when you're in Mt Shasta if you're trying to be "local" is Handsome John's Speak Easy on Chesnut Street. Great food and good people hang out there. John is our beloved Mayor of Mt Shasta and over all cool dude. Only a few understand his fascination for the Redwings or Michigan, but then again any kind of outside culture is interesting when you live in Mt Shasta, good to support your team, Hansome John has passion.(LOL)  Be sure to go by and check out this place, it's worth it. jt
316 Chestnut St, Mt Shasta, CA 96067
""""""""""""""""""""""""""""""""""""""""
INTERNATIONAL TRAVEL RESUMES IN BAHAMAS, BELIZE, PUERTO RICO, US VIRGIN ISLANDS & EUROPE
BELIZE FLY FISHING TRIPS 2021
https://www.jacktrout.com/index.php/destinations/belize.html
We have the best fly fishing trips for you in Belize!! Give us a call to arrnge your travels. Thank you, Jack Trout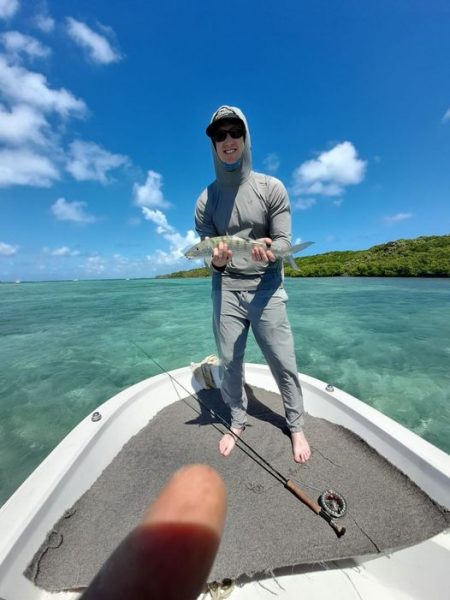 We help anglers everyday in the Bahamas as we were hired to help tourist with fly fishing day trips by the Bahamas Tourism Ministry.
https://www.jacktrout.com/index.php/destinations/bahamas.html
SLOVENIA FLY FISHING GUIDES & TRIPS
https://www.jacktrout.com/index.php/destinations/slovenia.html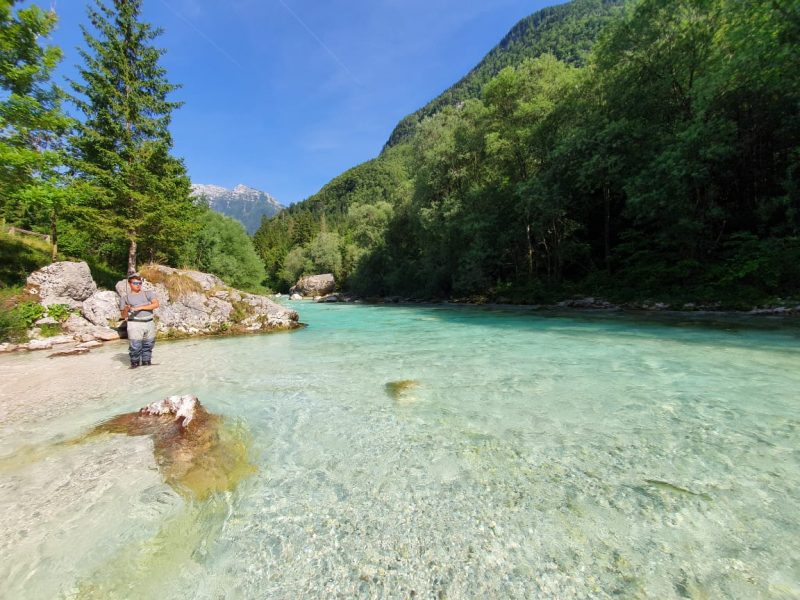 We have a great 3 country trip to Slovenia, Croatia & Bosnia.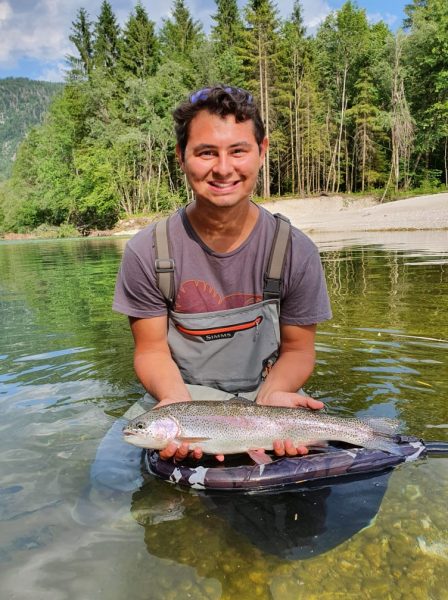 We offer trips worldwide in 54 countries, let us help you before you arrive & nail down your day trip for fly fishing.
We like to say; "The two best things in life is to see your passport getting stamped & adding a new species."
BOSNIA BOSNIA BOSNIA BOSNIA BOSNIA BOSNIA BOSNIA BOSNIA BOSNIA BOSNIA 
We set up this trip for Aaron Fox & Brad Fulkerson in Bosnia in July 2021.
https://www.jacktrout.com/index.php/destinations/bosnia.html
Fly fishing for grayling was high on my clients list of things to do on the River Ribnik.
My guide Sasa is the areas best fly fishing guide so if you're heading to Southern Europe, give me a jingle.
Aaron Fox's first Grayling ladies and gentlemen. 🙂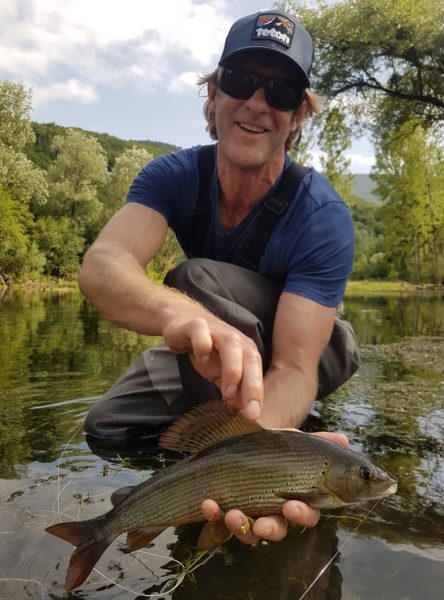 I would like to drink in a bar afterwards with this guy! 🙂
Our guide Sasa Dragojevic is the best fly fishing guide in Bosnia, but let us help you with a 3 country fly fishing trip through Southern Europe.   www.jacktrout.com
The river Ribnik in Bosnia is a great place to visit on ones "Bucket List."
Way to go Brad and thank you! JT
Ask us about our 3 country fly fishing trip through Slovenia, Croatia and Bosnia.
"""""""""""""""""""""""""""""""""""
Costa Rica * Costa Rica * Costa Rica * Costa Rica * Costa Rica * Costa Rica * Costa Rica
We set up this trip for these serial travelers in Costa Rica on the Rio Tenorio, we have the only fresh water float trip in Guanacaste. Go through Liberia Airport and stay at the Hotel La Pacifica. We'll be by to pick you up at 6:30 am.
You'll love it!! Thank you, Jack Trout
https://www.jacktrout.com/index.php/destinations/costa-rica.html
Upper Sacramento River Wade Trips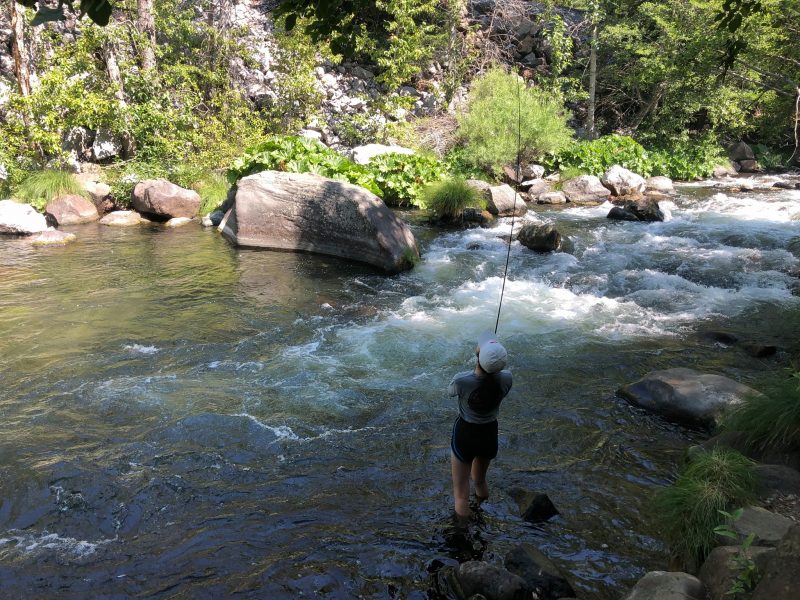 When it's time to learn fly fishing America knows, call Jack Trout Fly Fishing!
Thank you for your continued support and referrals. 🙂 We love you.
530-859-8087  Direct Trout Line – Jack Trout
Quintilus McDowell giving instructions on the river to a family of tourist who called this past week. Everyone caught trout and had a ball, there are still great places to fish in Shasta, but guides are invaluable right now as we know where to take you.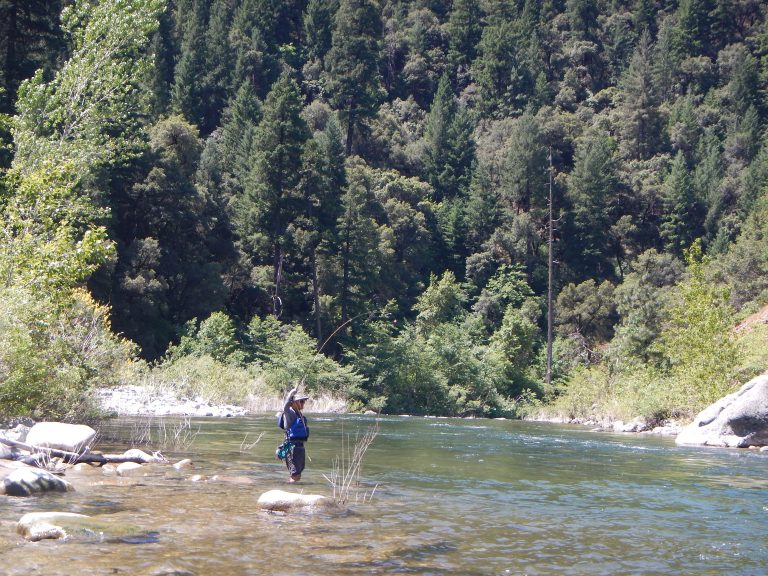 Fish on!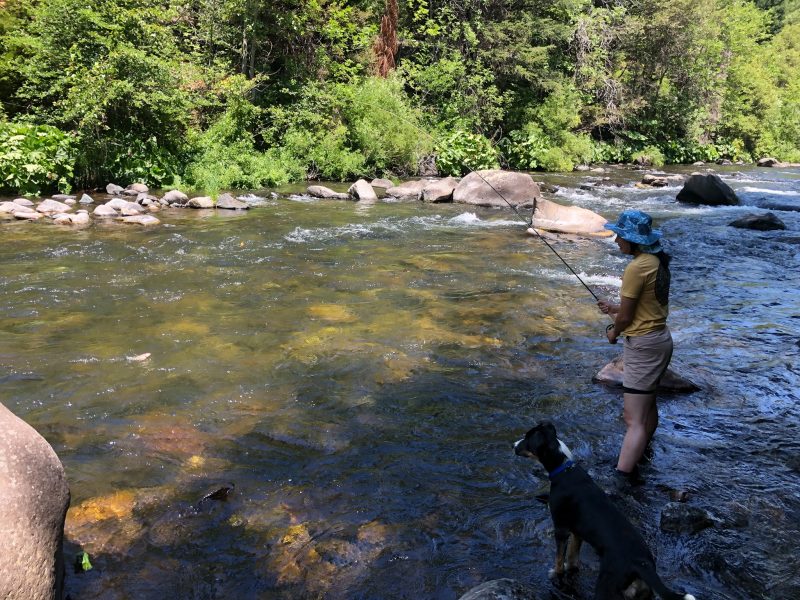 This is my new dog Trinity River!! He's a border collie from a Oregon ranch. What a great partner out on the rivers.
5 months old.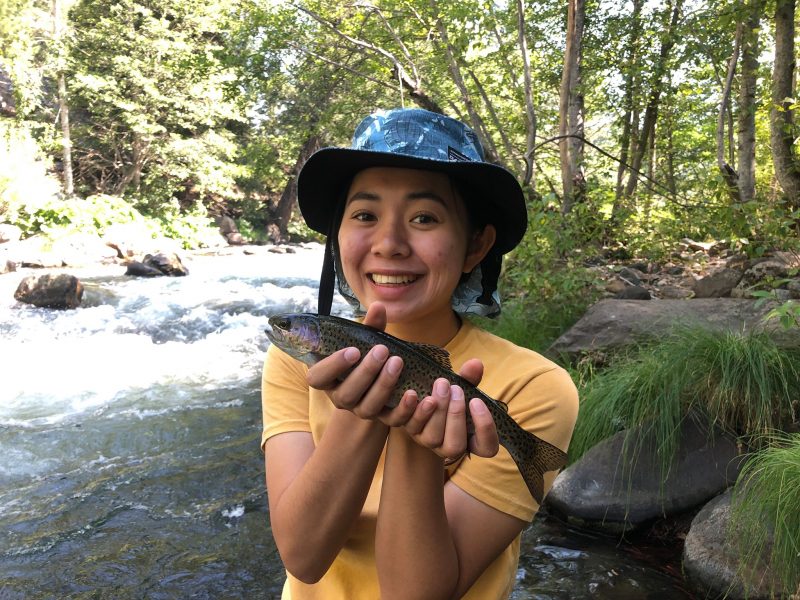 Her first trout, what a prize for the student from Davis Unversity.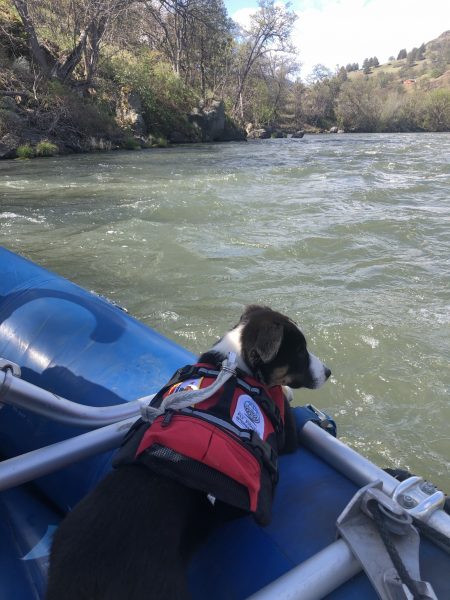 And then in my darkest hour, Murphy, my sisters dog who fell off my bed in March and died in my arms had me so bummed. I started to feel hopeless, fielding a divorce now for over 15 months, a tragedy in the family and more depressing news, a total stranger who some how knew, sent me a message on FB and told me of this dog up in Beatty, Oregon who was a rare 3 colored Border Collie. I drove up the next day and picked him up in the gun totten community, as I watch a young girl with pistol on her side tuck it under her shirt as she entered the post office to pick up her mail.  I named him Trinity River Trout and the next day he was out on the river and passed the test with an A. 🙂 A thousand kisses every morning, what a smart dog. Rekindled my spirits and made me realize, it's all about the youth now, whether it's a dog or yourself, stay young as long as you can. Get outdoors people!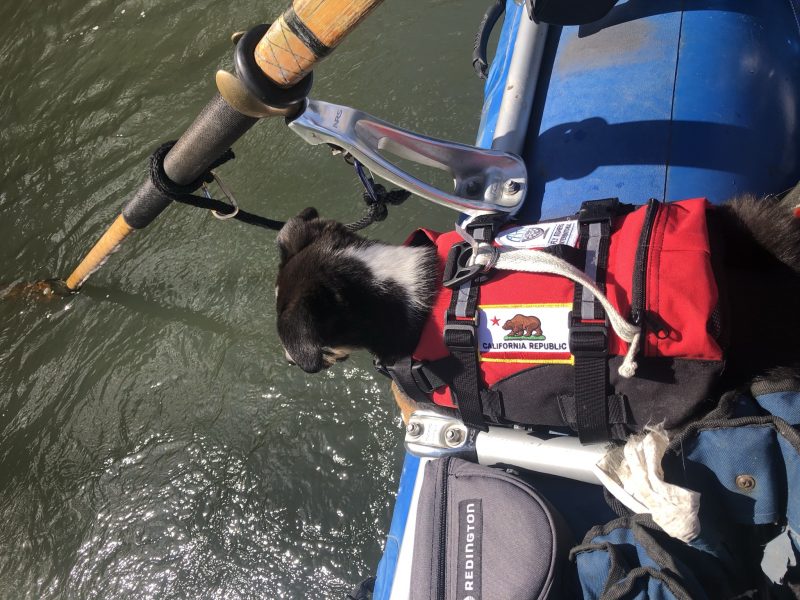 Dogs preform better when in uniform, I'm not kidding, remember that tip.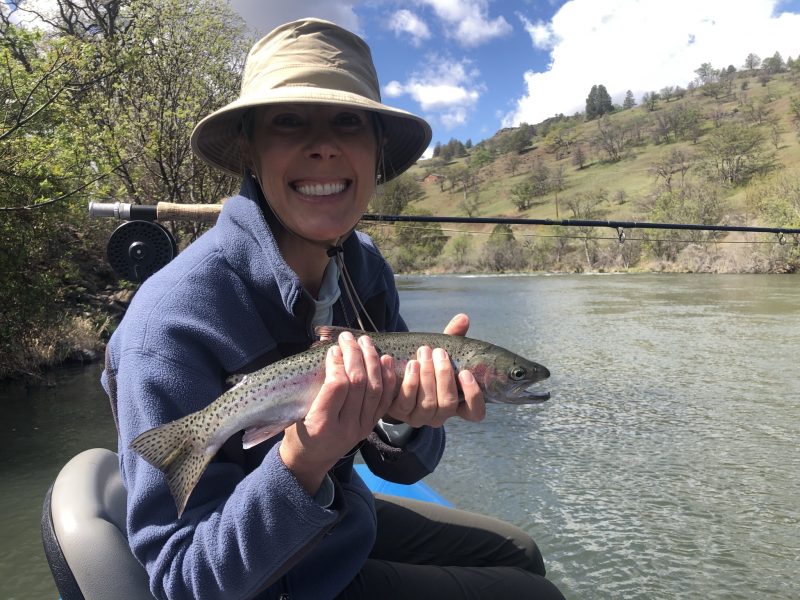 Many beginners coming up to see us this year! 🙂 The Klamath has been spot on!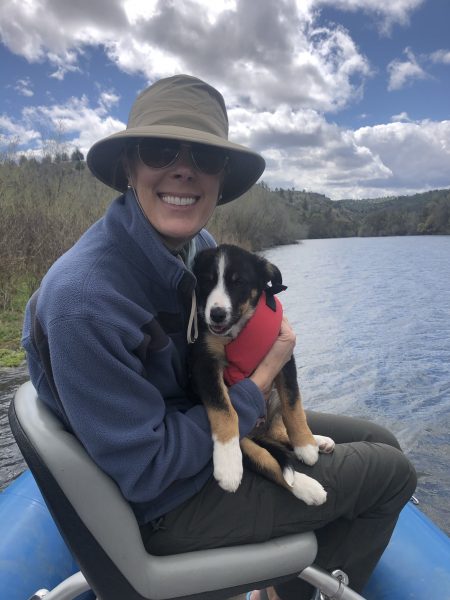 Looks like Trinity is making new friends, everyone seems to really like him.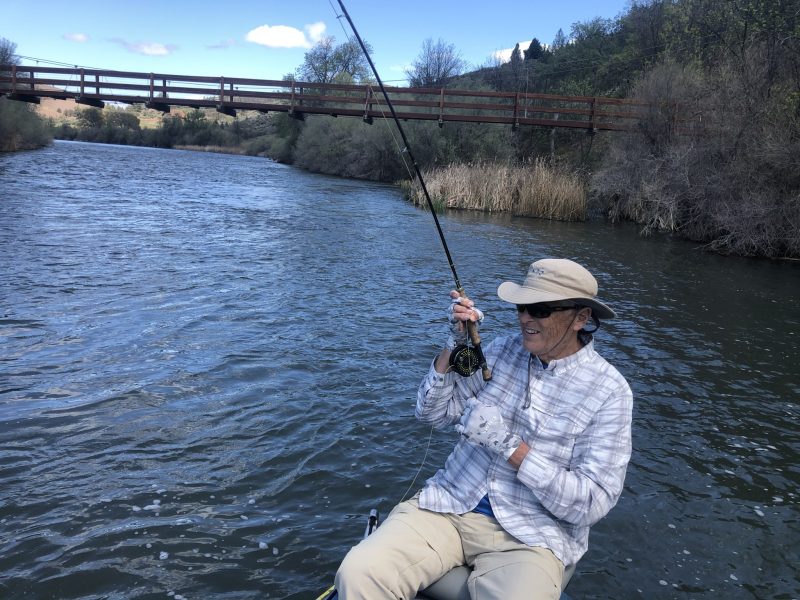 Fathers & Daughters coming up to see us as well as Mothers and Sons. So nice to see folks sharing experiences together because that's what we do. Here at Jack Trout Fly Fishing International, thank you for sharing your family experiences with all of us.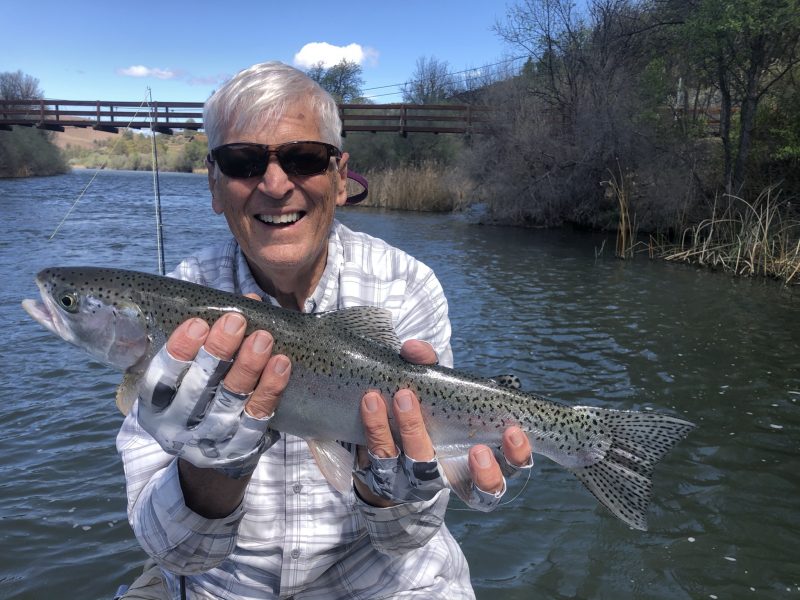 What a beauty!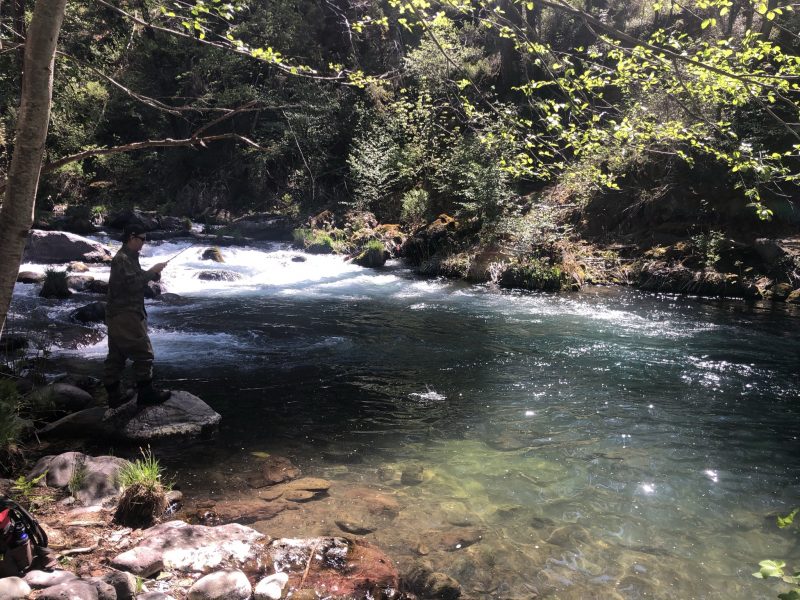 Over on the McCloud river, access is really tough and the USFS has given up on trying to repair the road down to Ash Camp with both PG&E and the Forestry pointing the figures back and forth, it's sad the general public loses out and Doug LaMalfa is worthless as a representative yielding solely to ranching, nothing else regarding the McCloud roads is getting done anytime soon to benefit the most important river in the world. sadly to report, everyone is fishing on top of each other. JT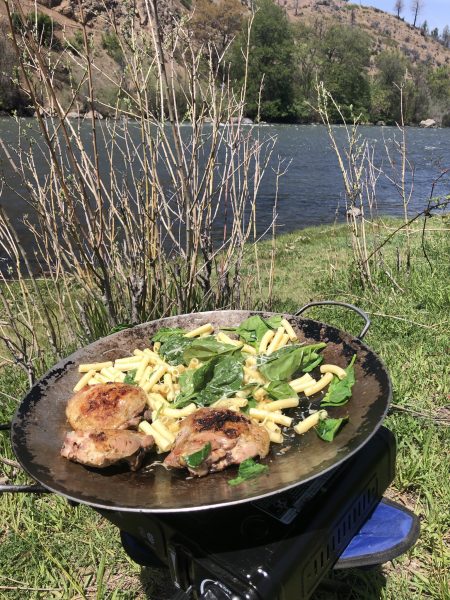 We still provide the best lunches in the industry for group outtings, remember, we guide familes, corporate groups & Hollywood.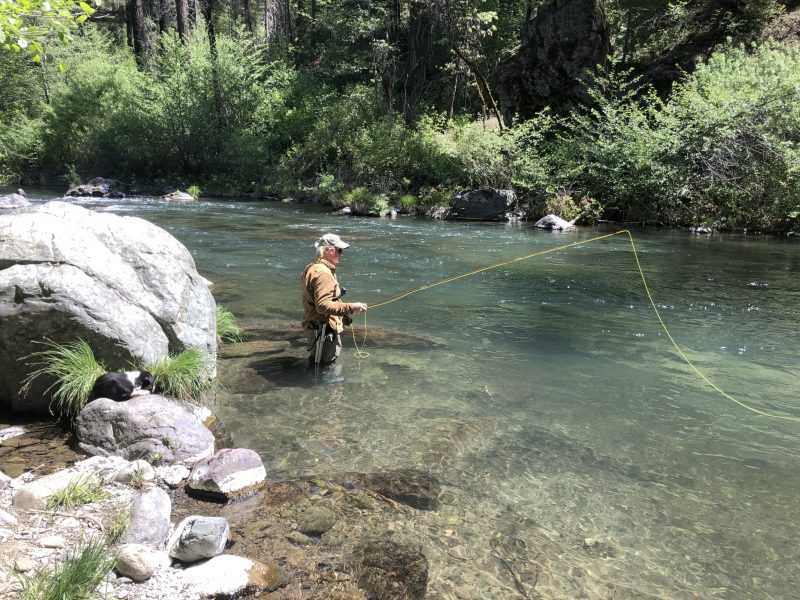 Out on the McCloud River with the bamboo fly rod.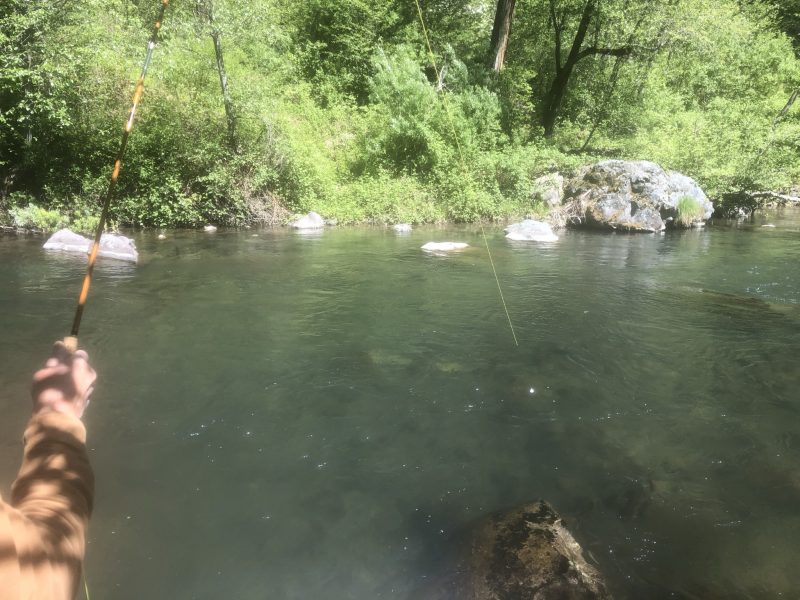 [vimeo]https://vimeo.com/547604685[/vimeo]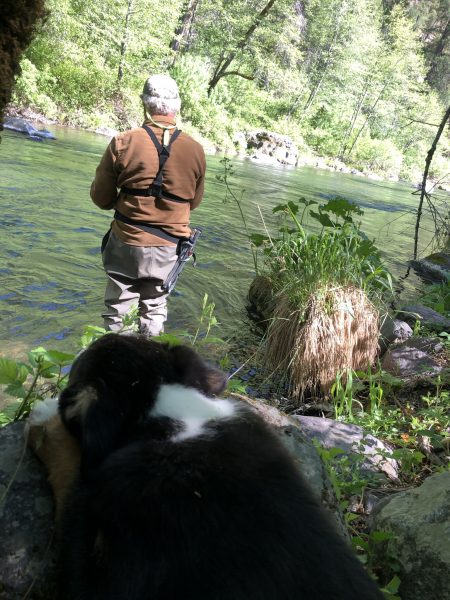 What a good dog from day one.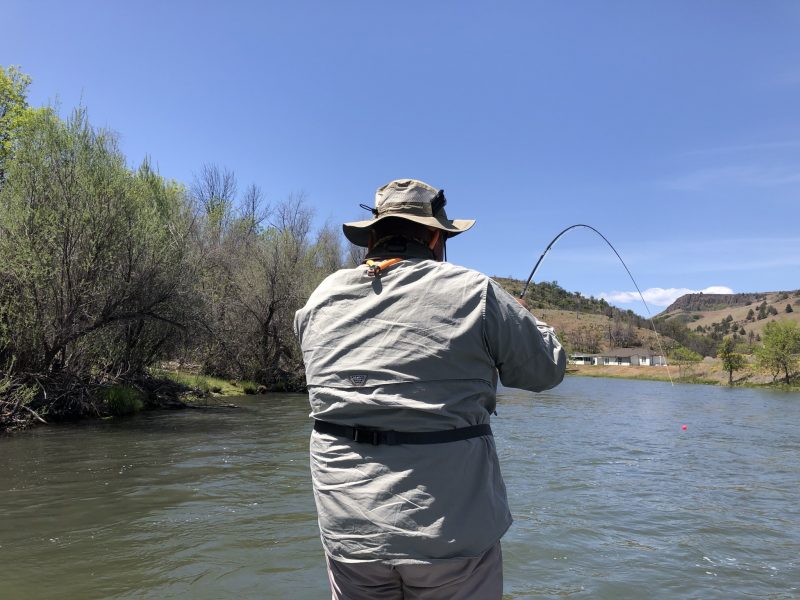 Whooohooo, the Klamath River what a great spring we're having.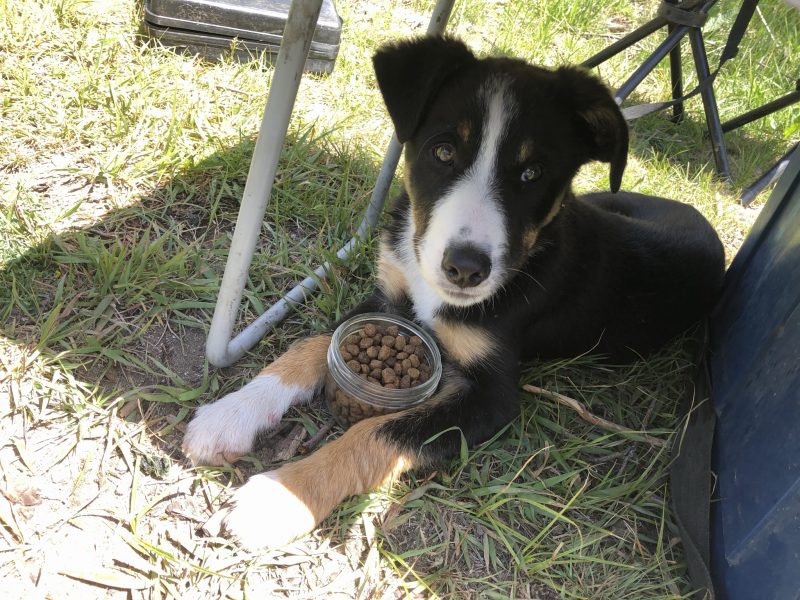 Trinity River enjoying his dog food in the shade.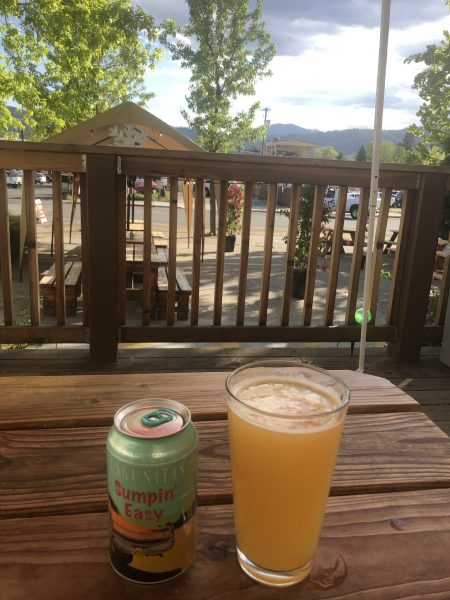 Ah, a day off. I like heading over to Crave's and getting thier Nachos Delux. It reminds me of a dish in Chile called Pichangas except they make those with french fries. Views from the deck are fantastic.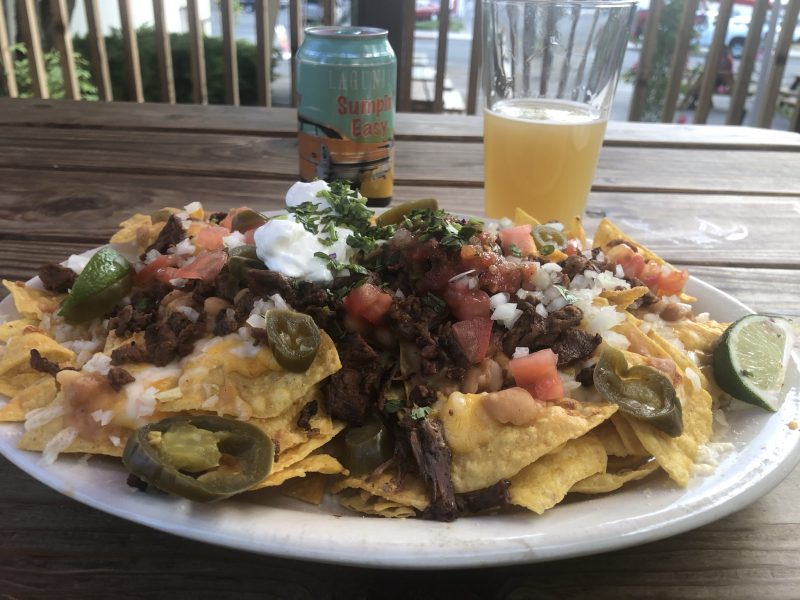 Just what the doctor ordered, thank you Crave's of Mount Shasta, you always deliver.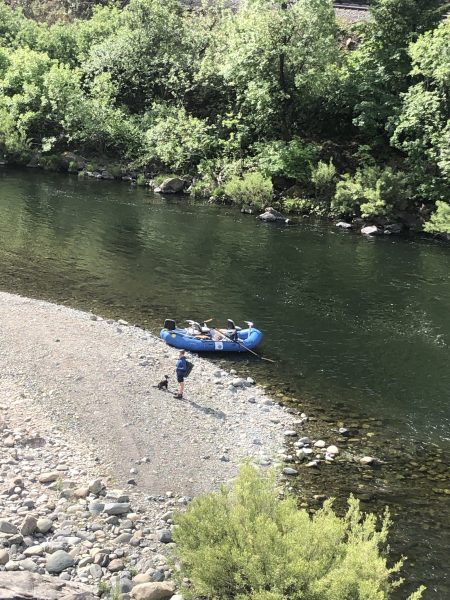 A good companion while me and pops go do a short shuttle of my trailer.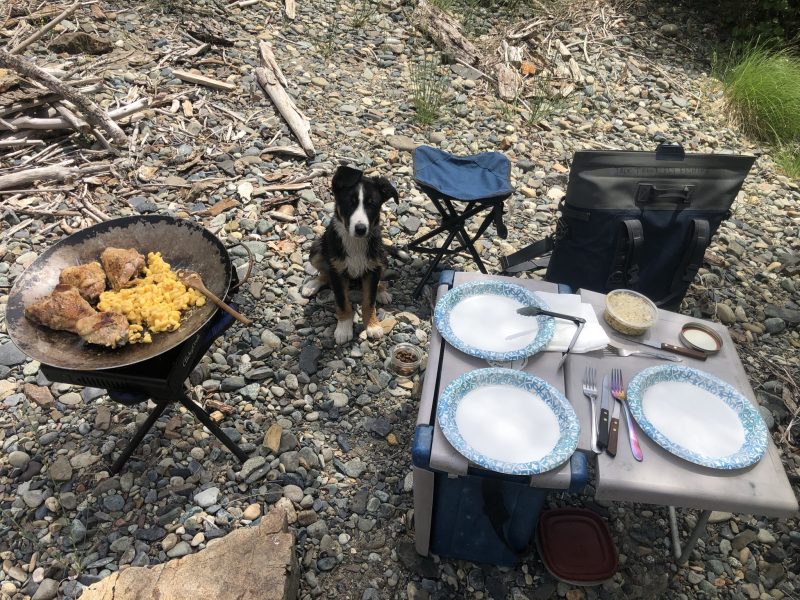 Lunch time folks.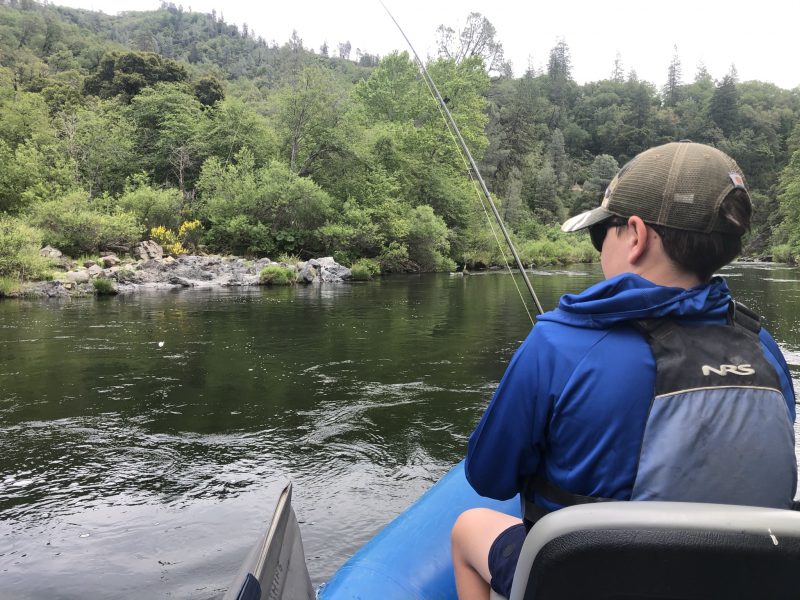 Youth and fly fishing is catching on, kids need hobbies more than ever, we get that.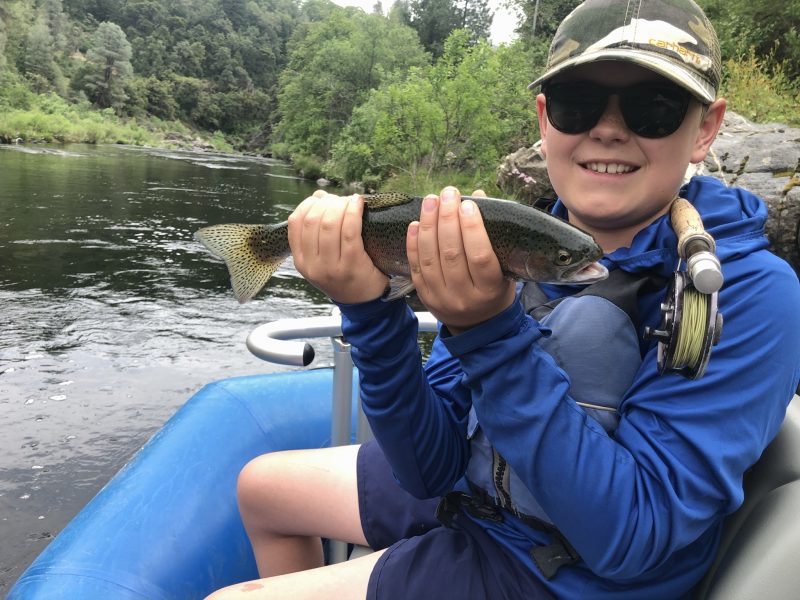 A trout like this can point youths in the direction of the outdoors and serial travel. The only way to reboot the intel pentium processor in your brain and truly feel free is to embrace nature.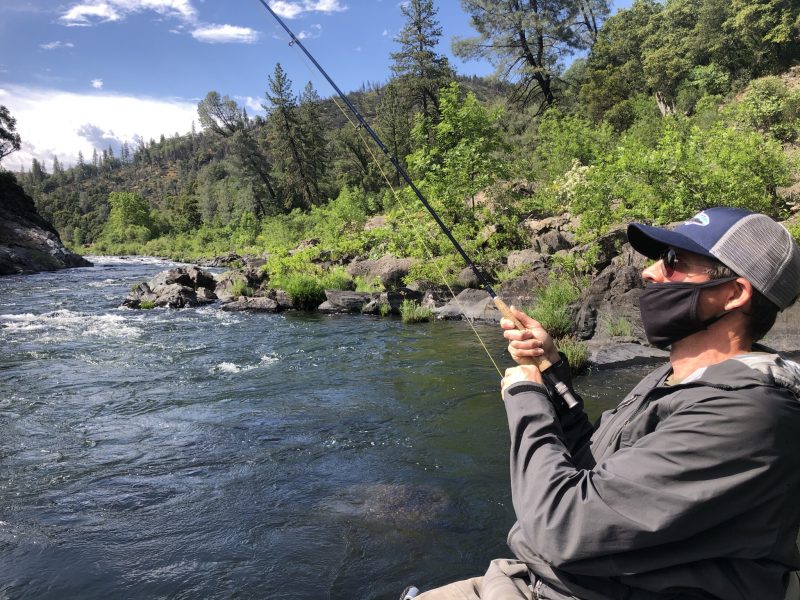 Going down rapids on rivers does it for me everytime.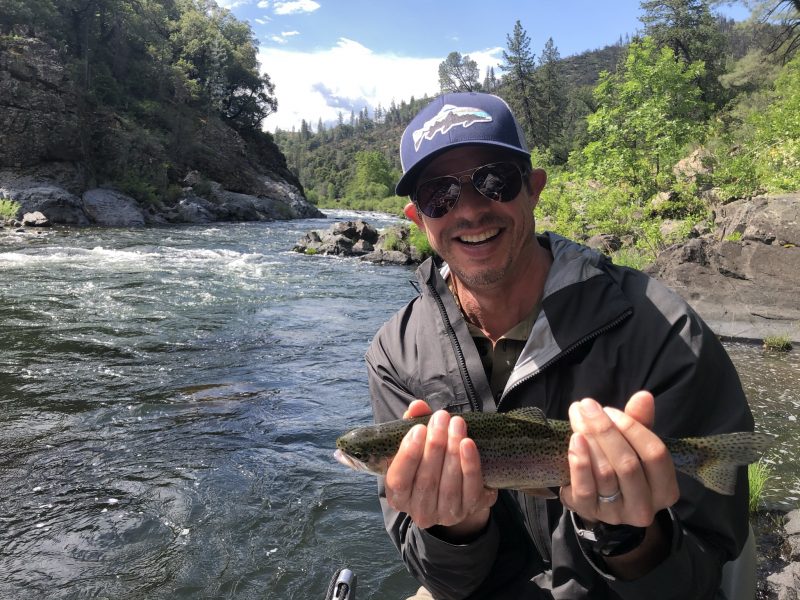 Pops hooking up in the canyon.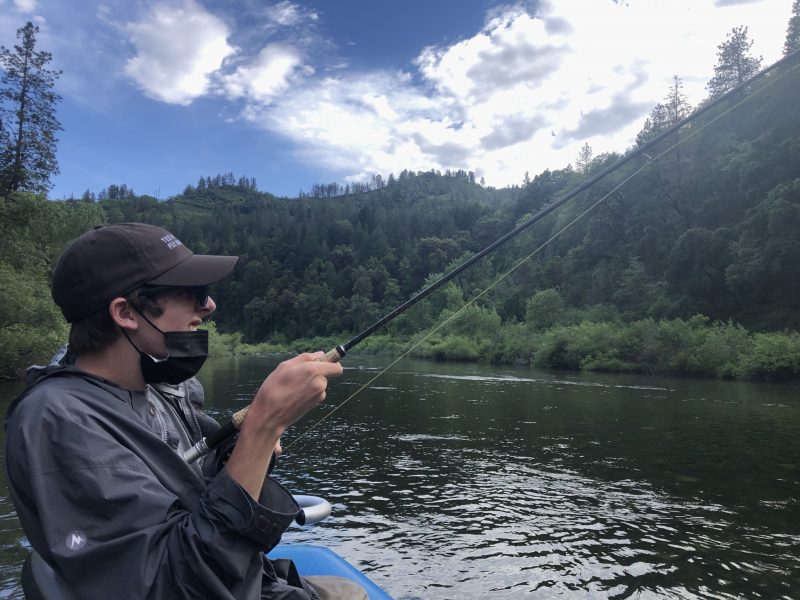 Oh, what a great trout battle we got going on here!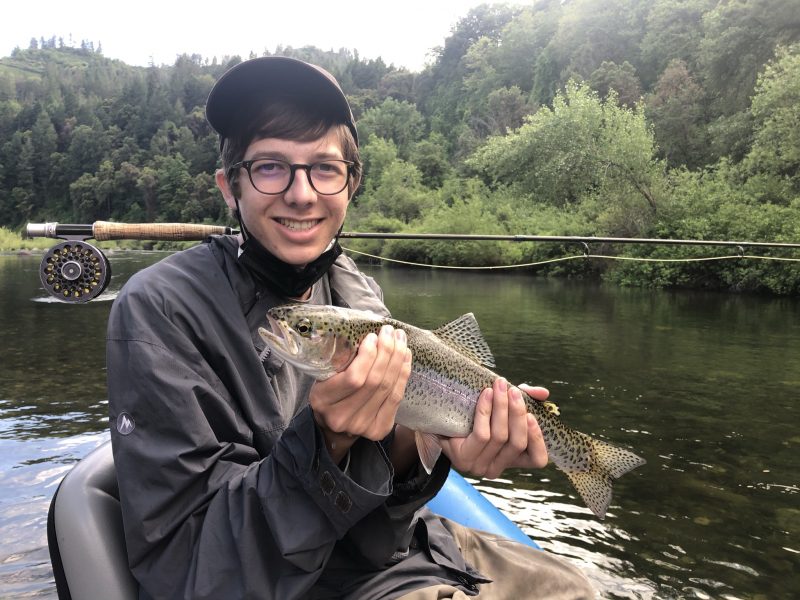 I say hey hey, way to go Joe! 🙂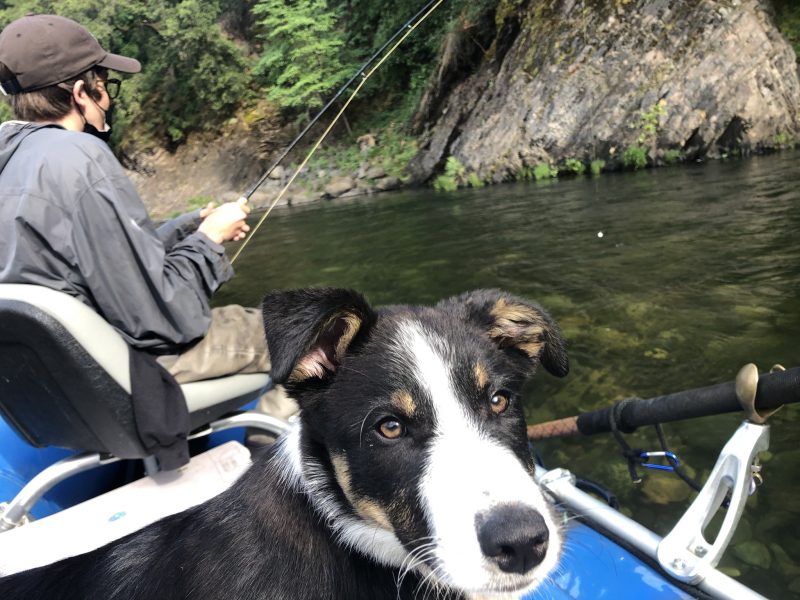 Trinity Dog, stop having so much fun hanging out calmly, you're suppose to act like a puppy? Those Border Collies, they sure are smart.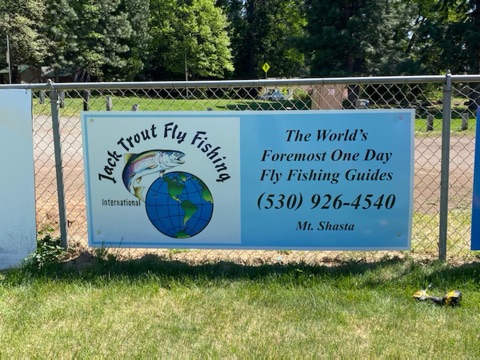 Support local Little League Baseball, kids need activities, sports and that feeling you get when you know you're apart of something.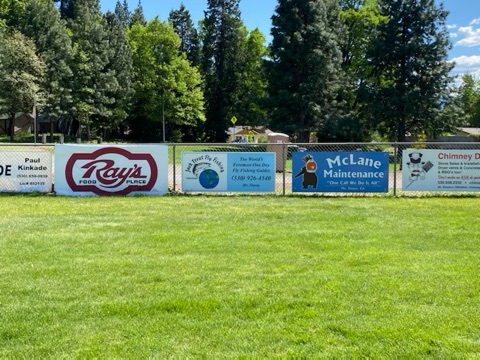 My dad always told me growing up, "You can't run with the big dogs pissing like a puppy." More appearant as of late.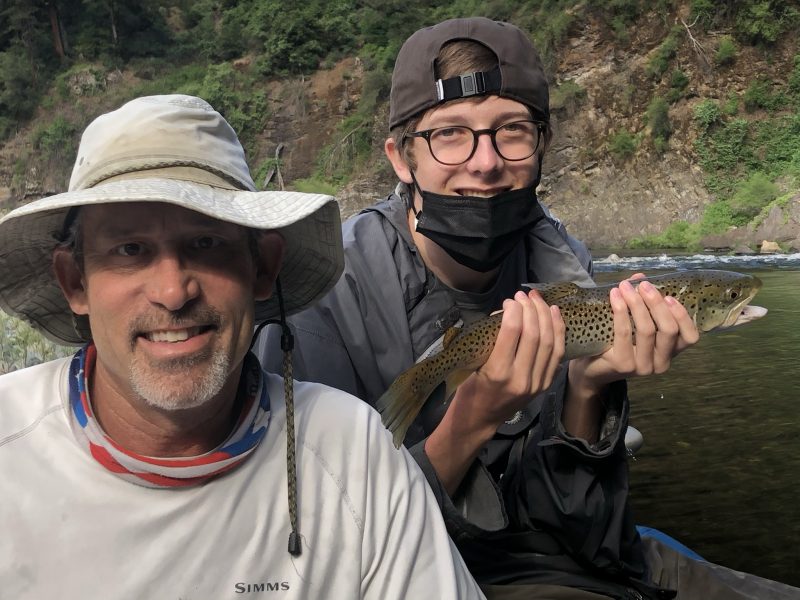 Making kids and parents dreams come true is what we're all about, been do it for almost 3 decades.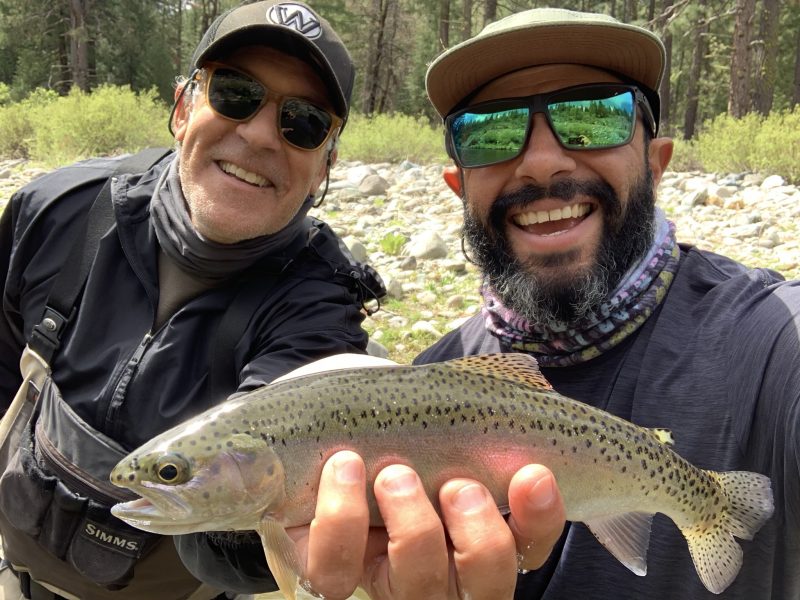 Other guides now are helping me like always, how we can we assist you? Any where on the planet, we have a fly fishing connection, rely on us, we know how important these trips are and have traveled many oceans to find fly fishing & the guides. JT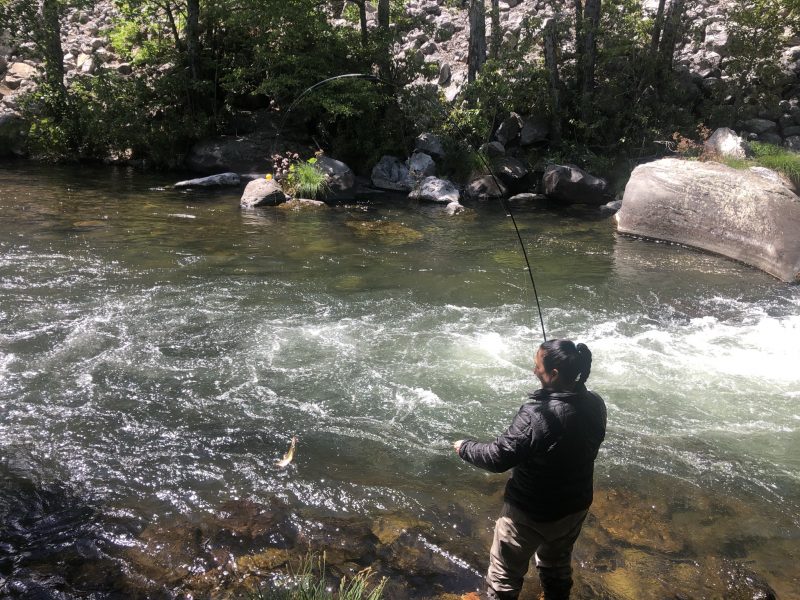 When it comes to beginners, we lead the pack in the fly fishing industry.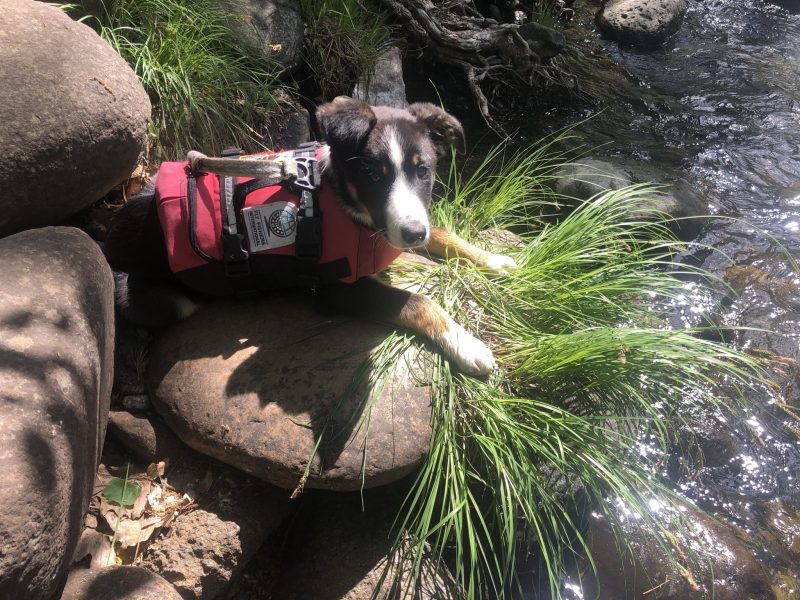 We have guides coming up the ranks as well as moral support mascots that make you feel good about life and being that side of the lawn. Hey Trinity, pee over here….. 🙂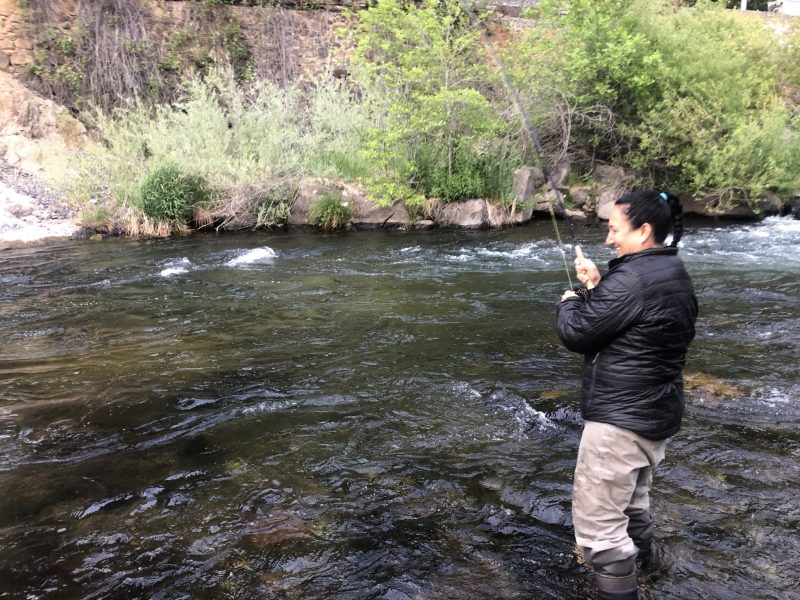 Good job Lori!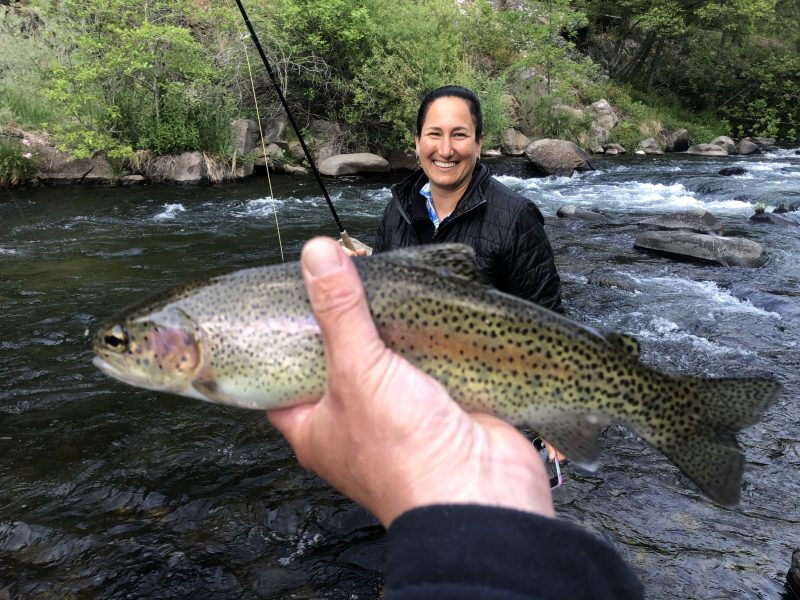 Out with pops, we caught lots that day, the clouds were out and so were the hatches.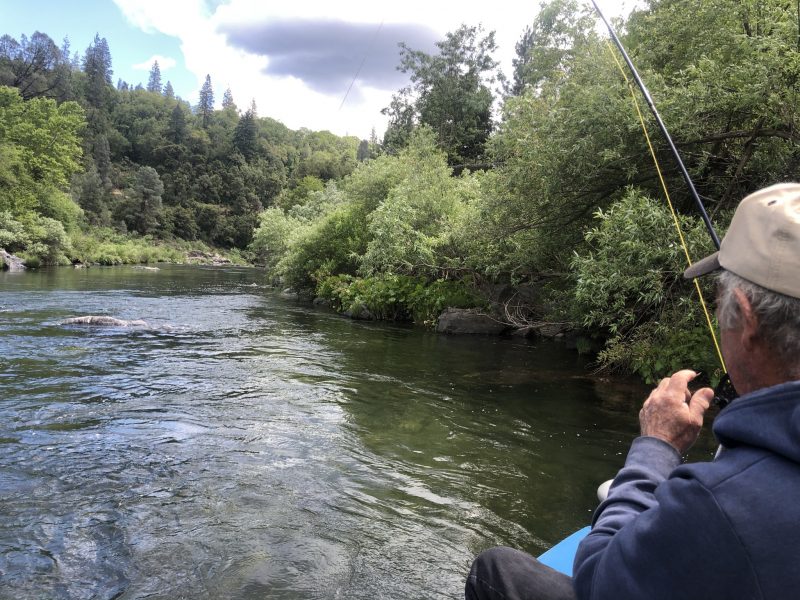 I have a new frame for floating that you don't have to stand while fishing, the only one of it's kind as all others you have to stand. Keep that in mind for the Fred Astaire in your family.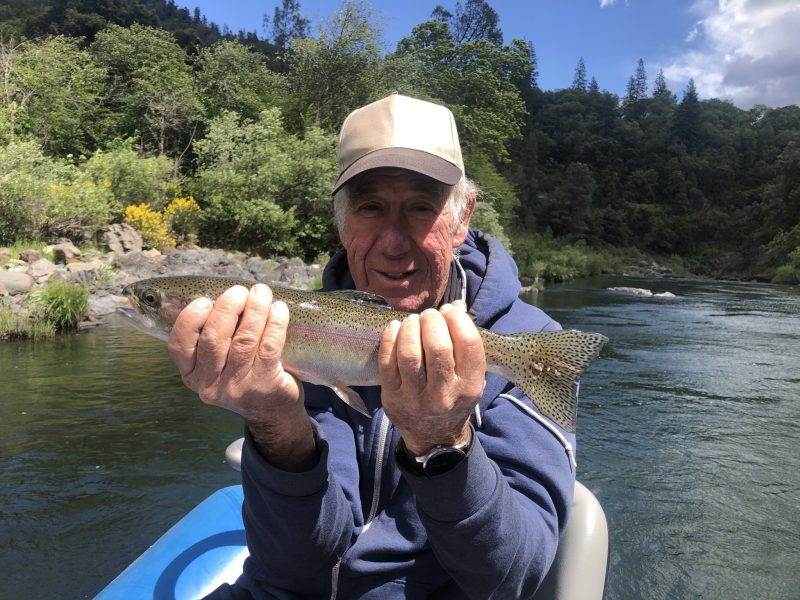 Nice hook up pops, it's been great to be out with you and your daughter for 3 days fly fishing.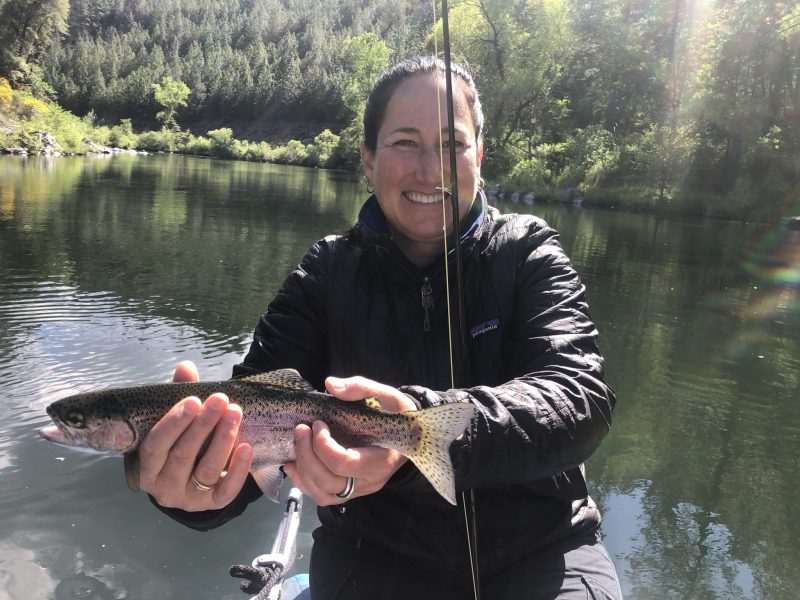 Nice.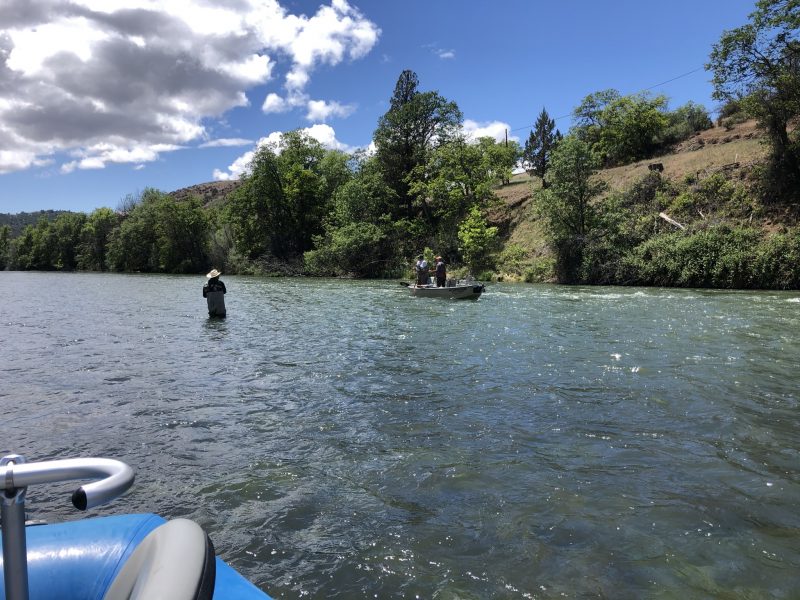 When it comes to group fly fishing for your company, family or Hollywood give us a call. 🙂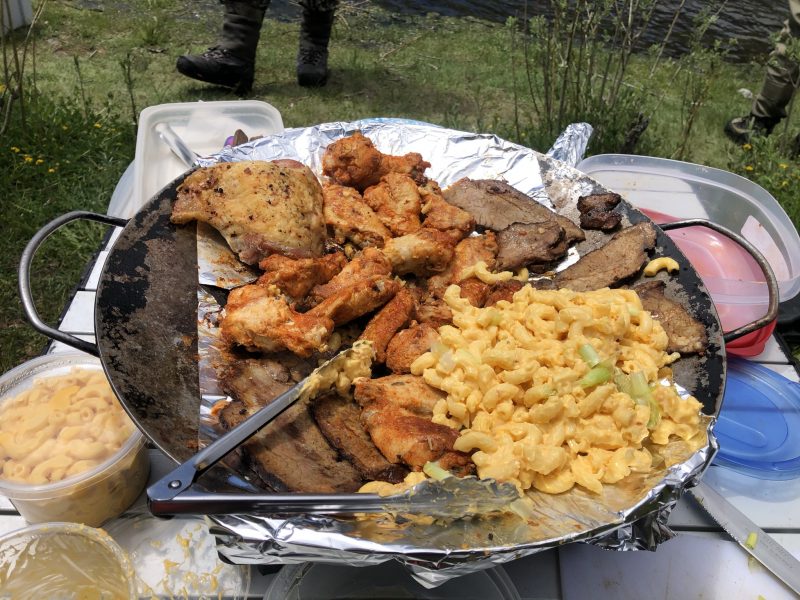 We can do just about anything and we aim to please. Team Trout Fly Fishing Guides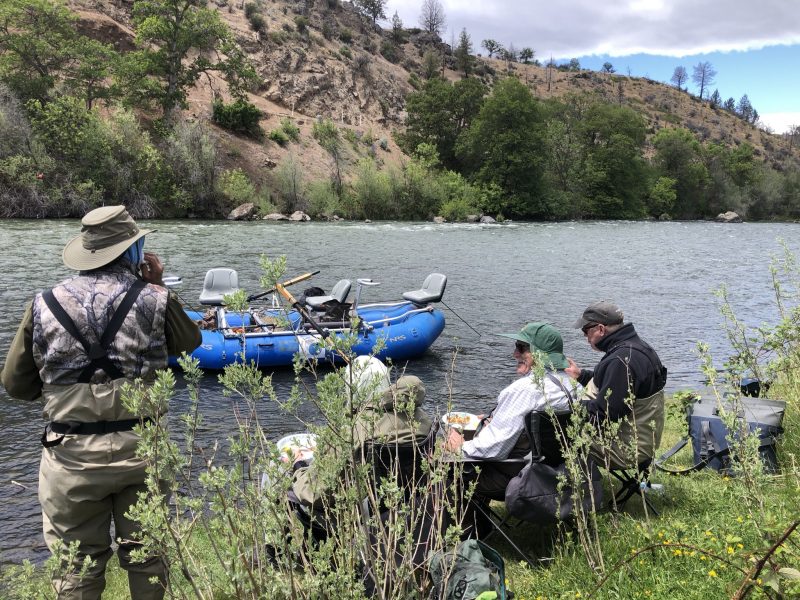 A nice pow wow!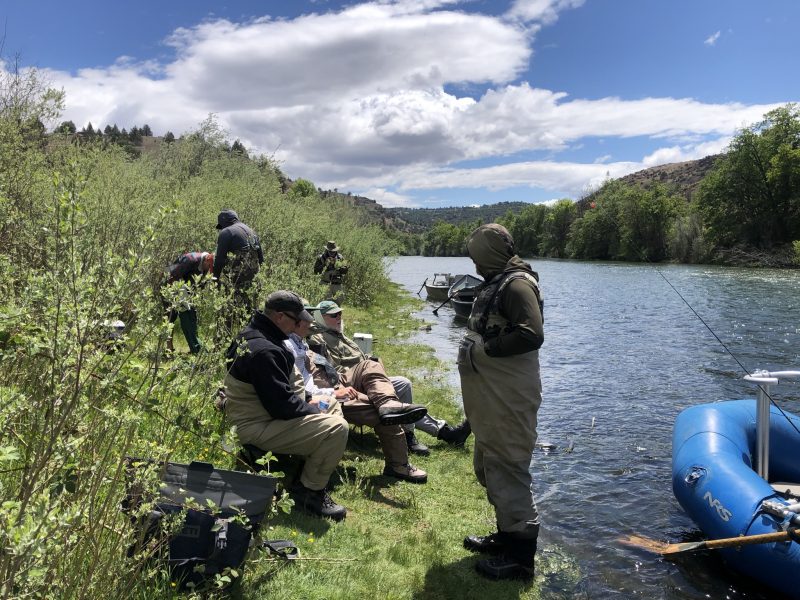 Great BS session for sure, make it an annual.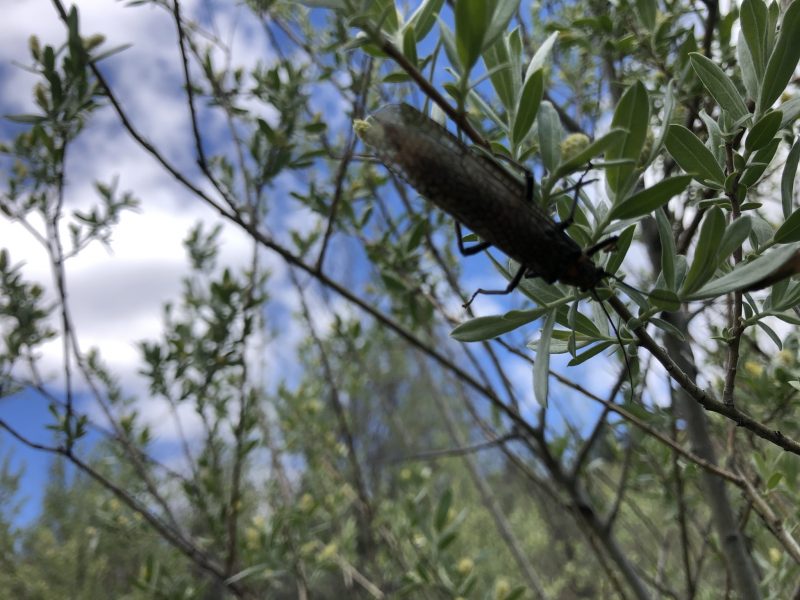 Salmon fly hatch comes and all fun breaks loose.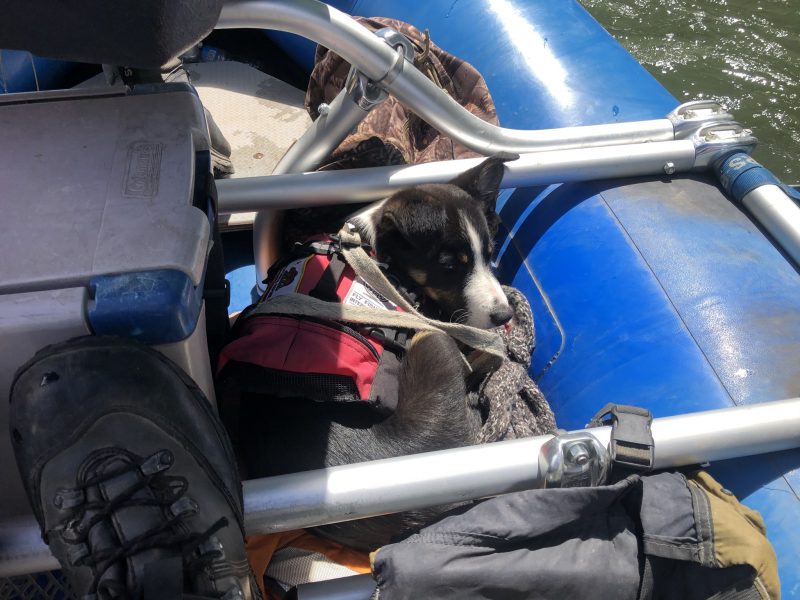 Trinity River Trout Dog just chills and watches you hook up.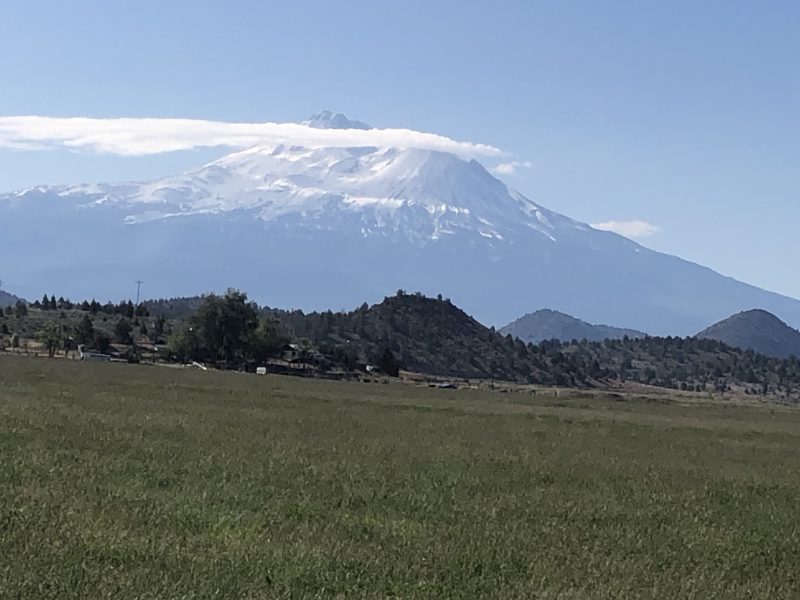 Mount Shasta stands witness to all your adventures.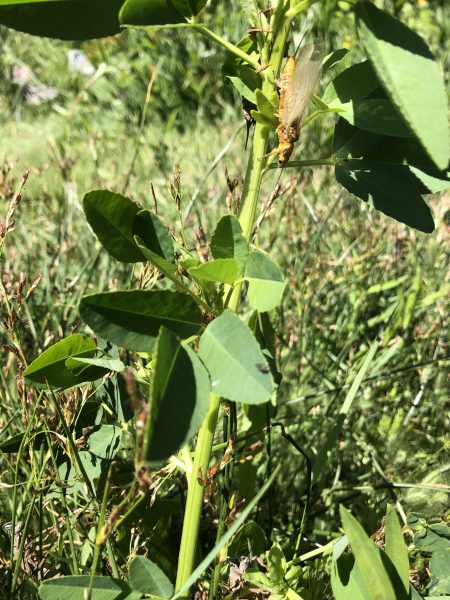 Golden Stones too.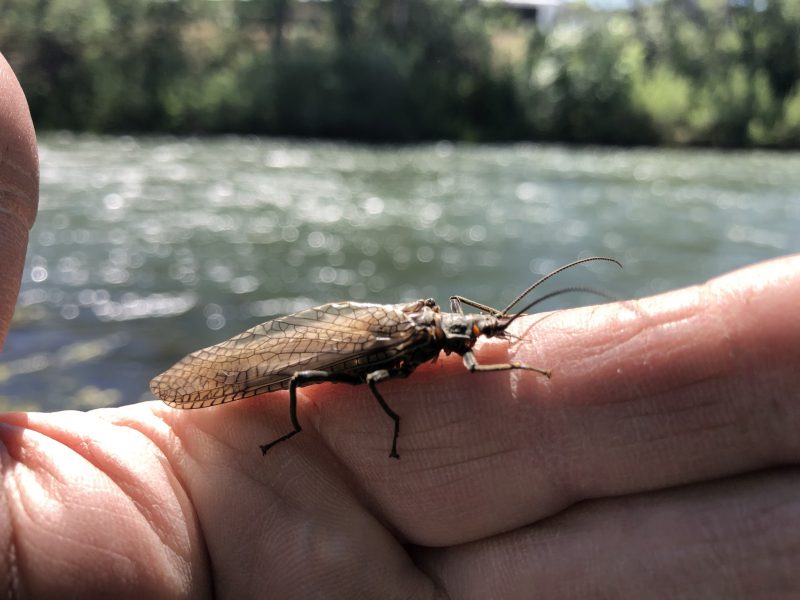 Dry flies – Salmon Fly Stonefly.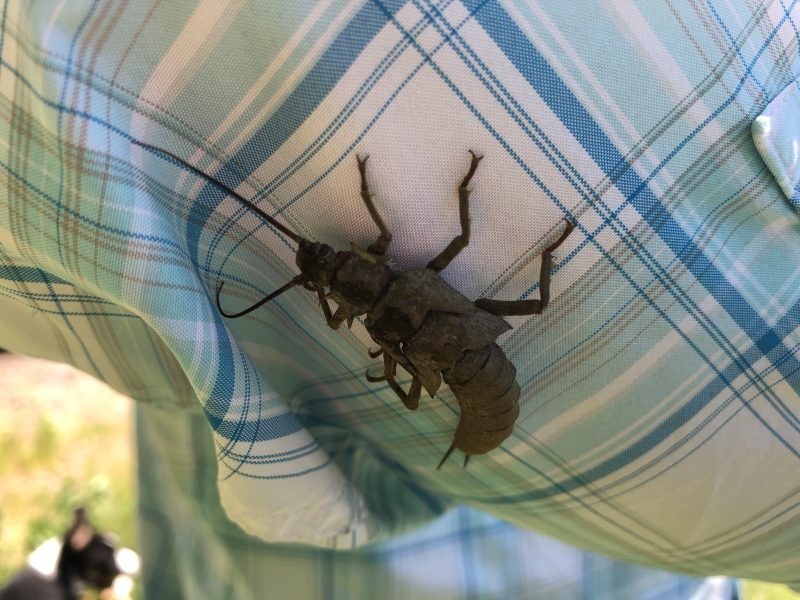 Nymphs – Salmon Fly Nymph.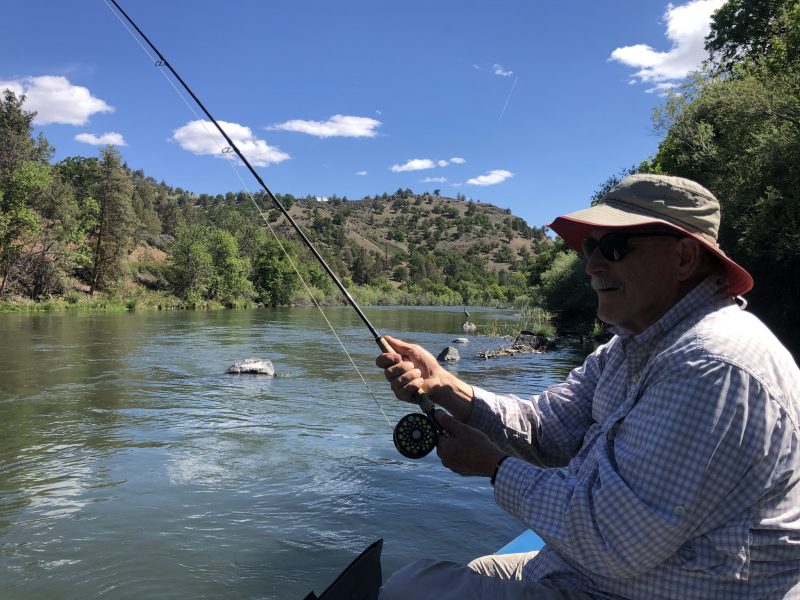 This new frame that allows clients to sit, has been fantastic this season.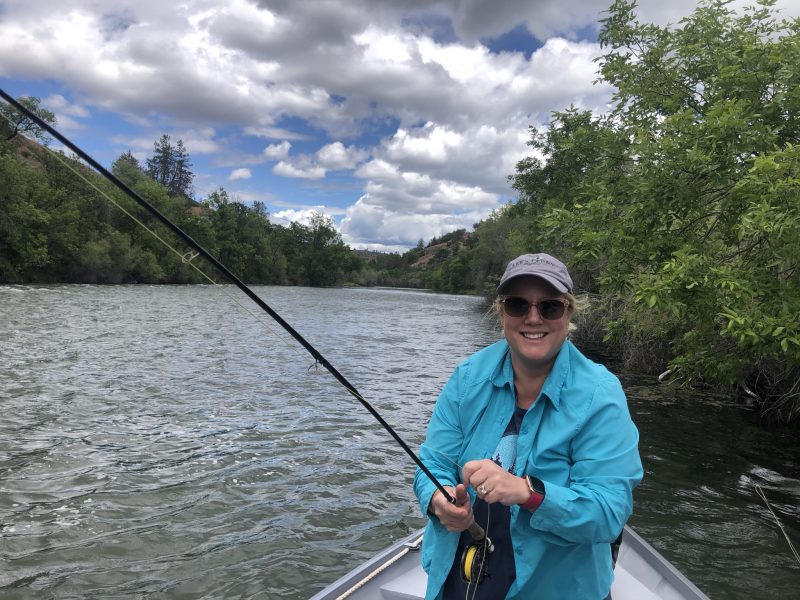 Got a chance to row a client's boat he had built to show him how to row rivers and stay safe. I was honored to be the one he called on for these trips.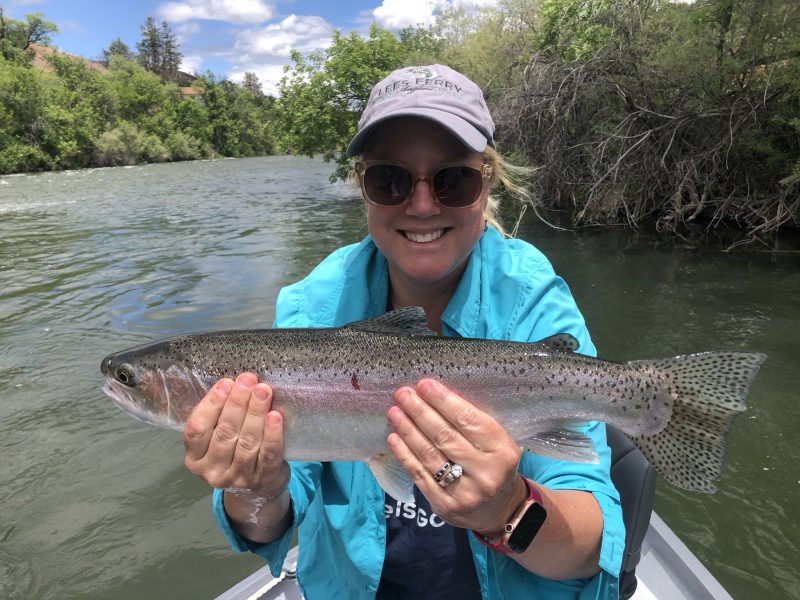 It paid off for them too.
COASTAL KLAMATH MOUTH FLY FISHING FOR CUTTHROAT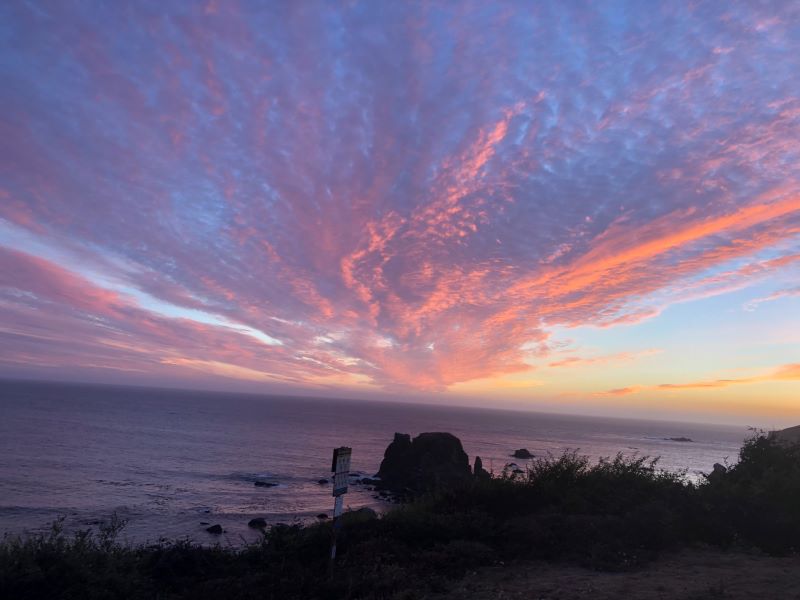 Now is the time of year to head over and see my fly fishing guides on the California coast where the Klamath & Smith estuaries begin and end. 🙂 Give me a call for more details 530-859-8087  Jack Trout
https://www.jacktrout.com/index.php/destinations/lower-klamath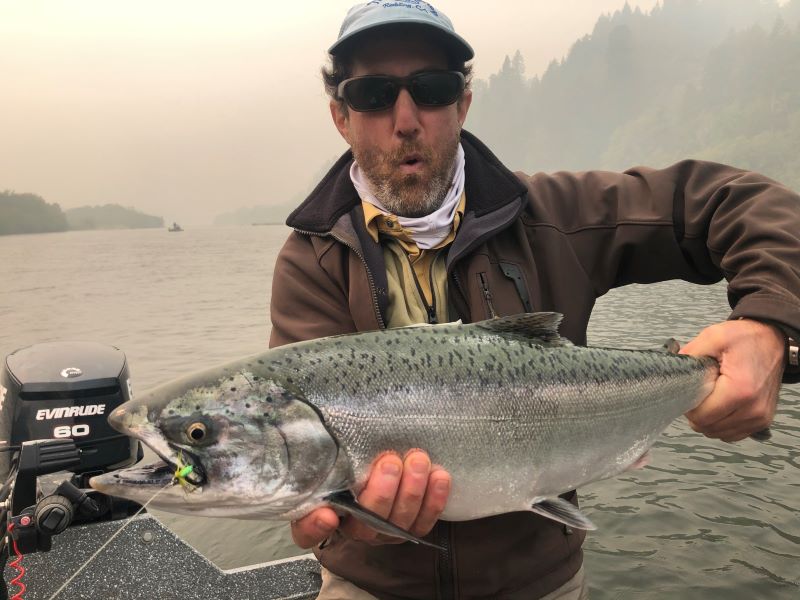 Now that's what I was talking about, what a hoot on an 7 or 8 wt fly rod.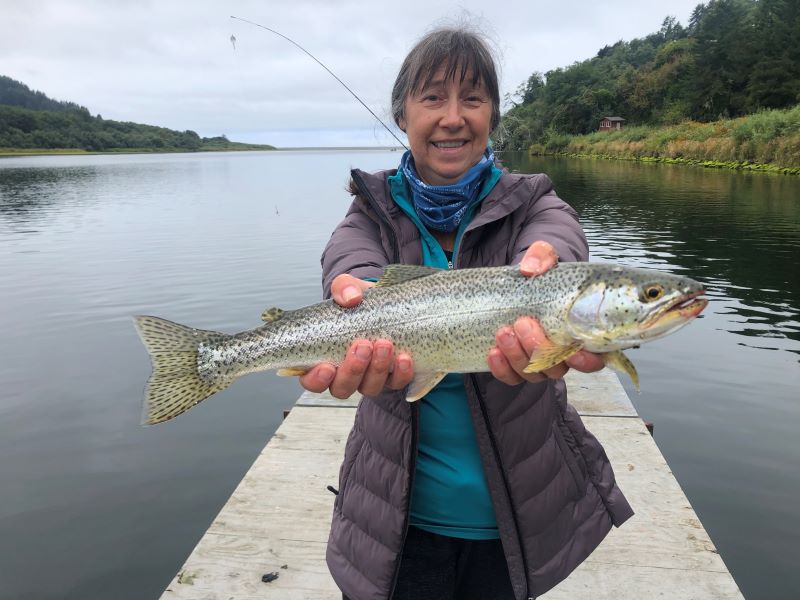 These trout fight so hard and dirty, all the trout, salmon and octopusses got together and named them cutthroat…. See how they are?!?!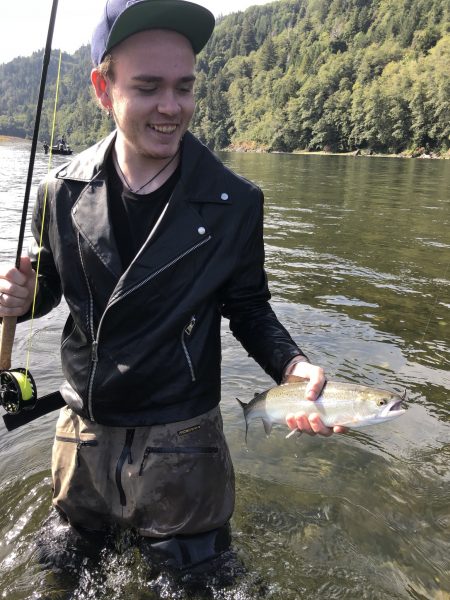 We even have the youth catching on, a modern day Fonzi 🙂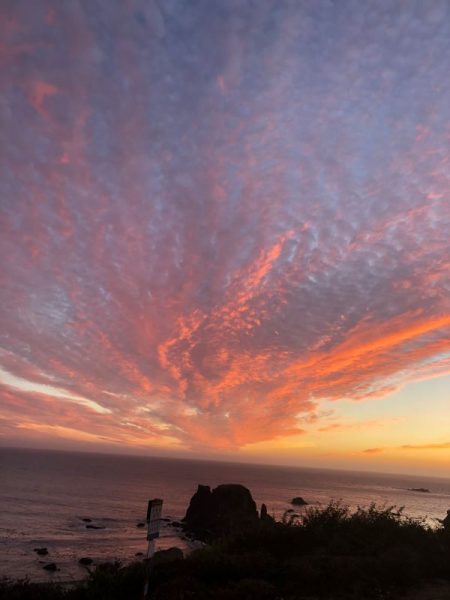 You'll could use these sunsets right about now….. J
"""""""""""""""""""""""""""""""""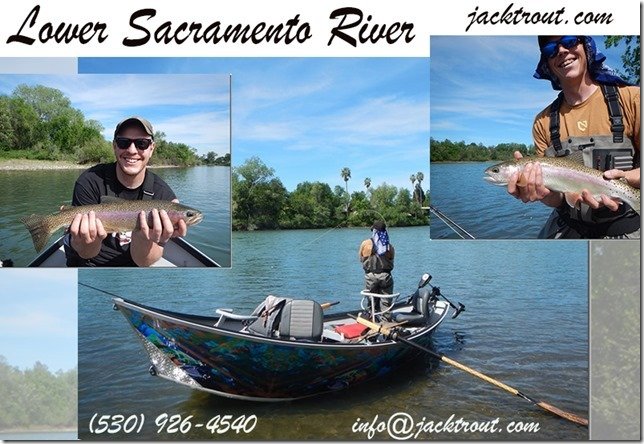 https://www.jacktrout.com/index.php/destinations/lower-sacramento
We have been having good trips on the Lower Sac, look towards August/Sept for best action.
NEVADA TRUCKEE RIVER IS HOT RIGHT NOW
https://www.jacktrout.com/index.php/destinations/truckee.html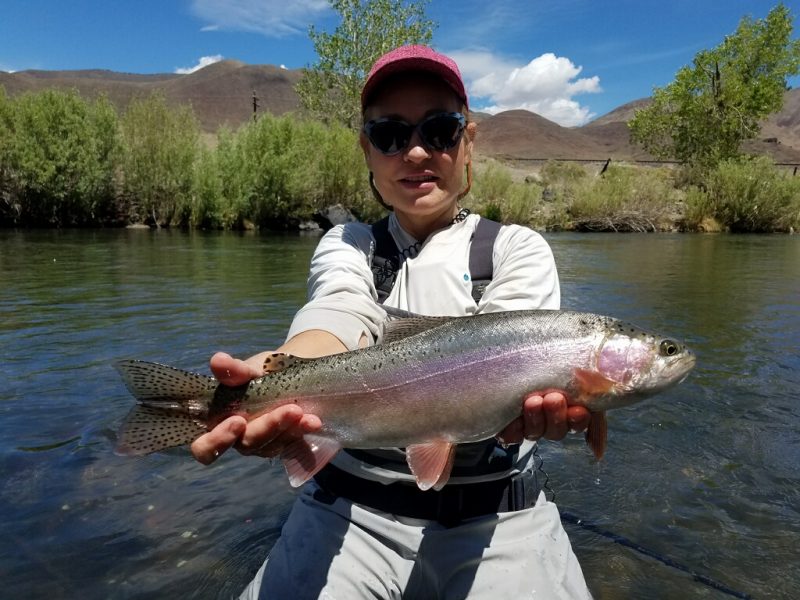 Half Day Guide Trips Nevada Truckee, a great solution to the low water condition in Plumas & Nevada Counties in California. Give us a call to schedule your adventure. J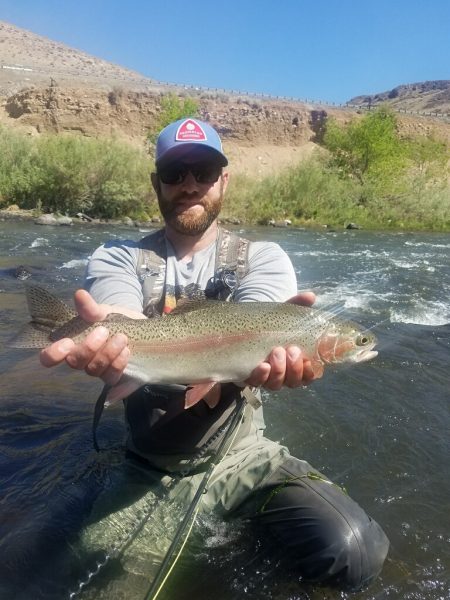 Now that's a beauty! 🙂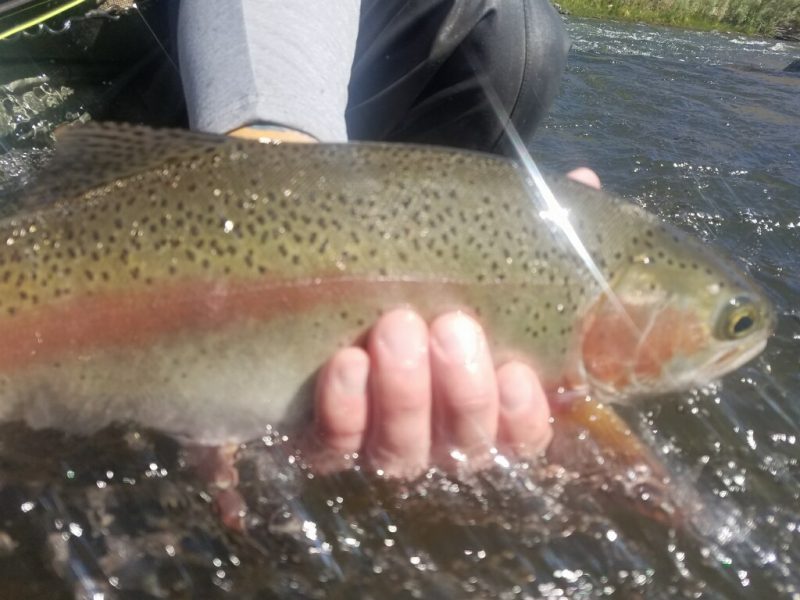 Oh ya! See you on the Nevada Truckee River this summer.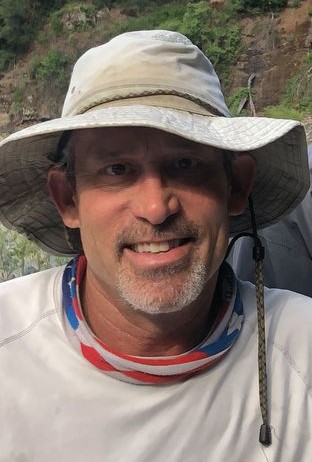 Thanks for all your support over the years, it looks like we're starting to get past the hardships we all faced over the pass 2 years or so, for some it's been 3 if you included fires. I look forward to the future and know deep in my heart that the best is yet to come!  Have a great 2021, Jack Trout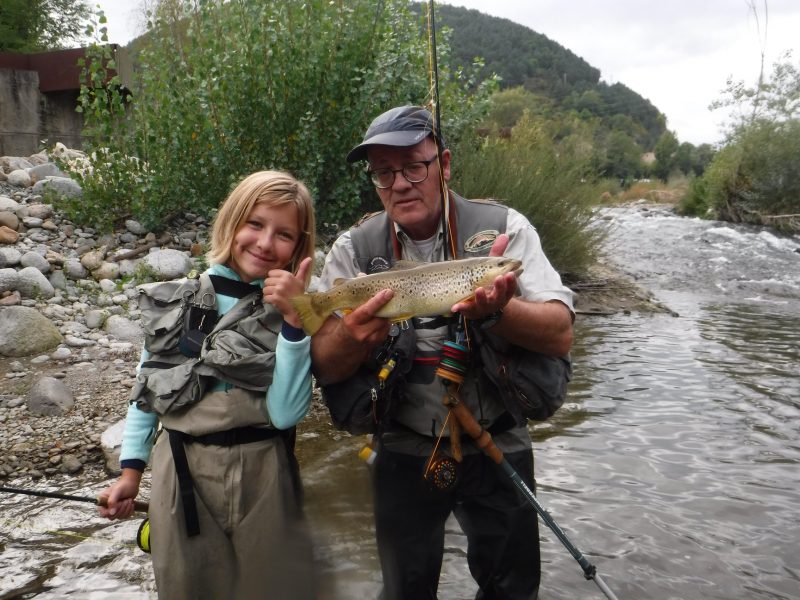 Spain is opening up as well as many other countries in Europe in July 2021. We supply all the fly fishing gear, flies for every country we operate in. Spain, Italy, Romania, Solvenia, Bosnia, Croatia, France and many more. Count on us when you need a day trip any where in the world.  www.jacktrout.com
Girona Spain, on the River Ter, stay at the Hotel Pasteral and we'll be by at 8:00 am to pick you up for your fly fishing adventures and outfit you. We also supply a free list of the best restaurants in any town we put you in as well as activities for non-anglers, etc.
https://www.jacktrout.com/index.php/destinations/spain.html
See our ads in Fly Fisherman Magazine June issue.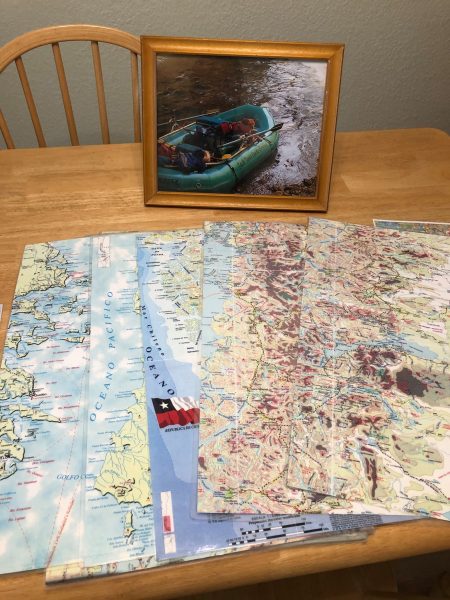 Heading to Chile or Argentina? You'll need a good map and I have maps that are 11 x 17 on good map paper available now. Give me a call Jack Trout – 530-859-8087  (We can laminate them too.)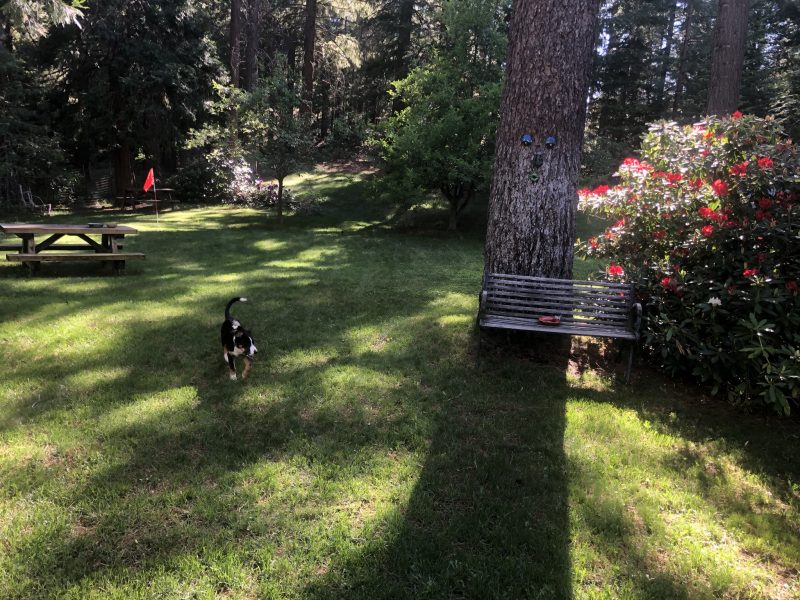 The dog is growing up fast, what a gift! Life has a way of redeeming itself when you think all else has failed.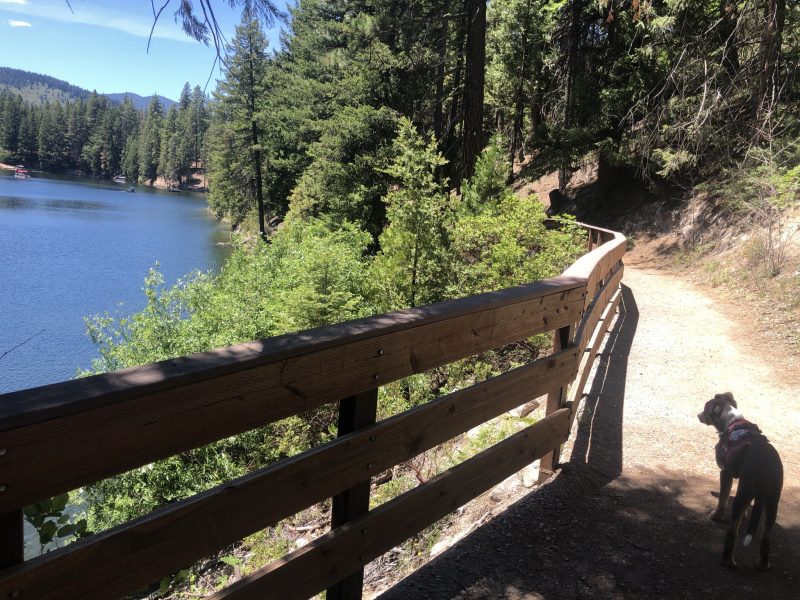 Never give up on animals, there's another adventure up ahead and another reason to stoke the fire inside your heart.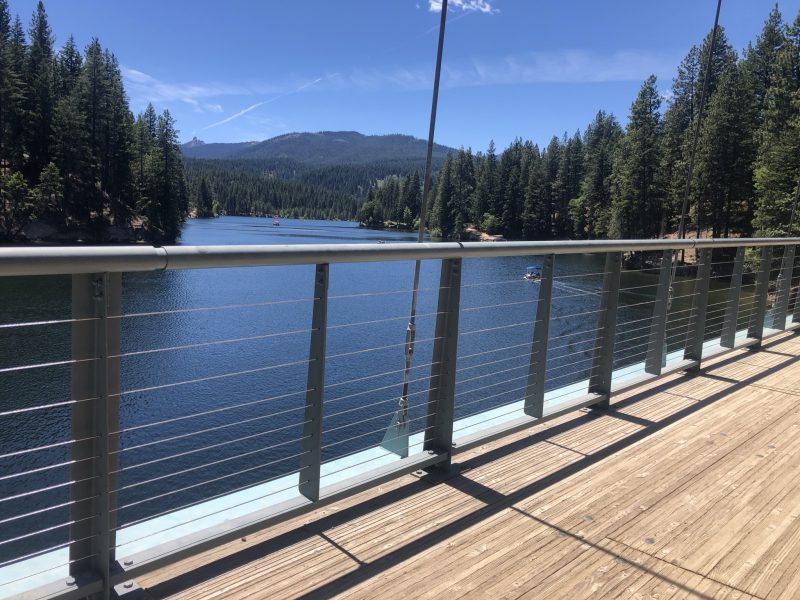 When visting Mt Shasta, check out the Siskiyou Lake trail, you won't be disappointed.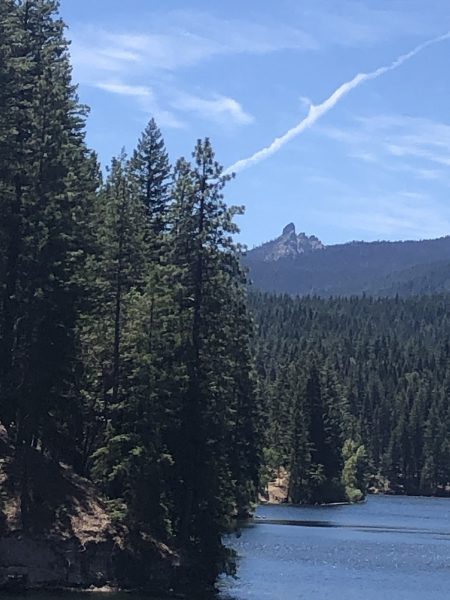 Castle Spier, a mircale from God and we thank him daily for everything he delivers when we get out in nature.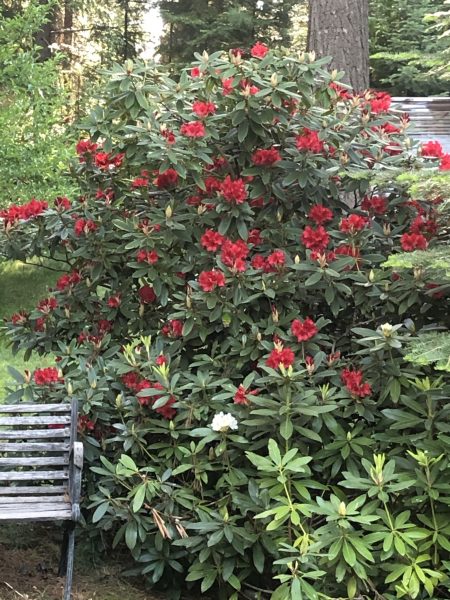 My rhodies are always a highlight this time of year.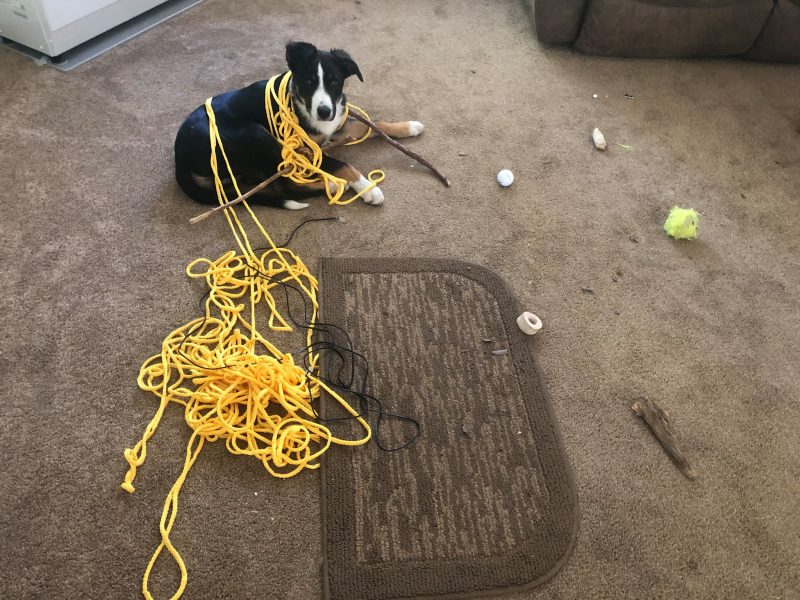 I never brought one thing to that table…..  Thank you for watching folks, Jack Trout & Trinity River Trout Adventures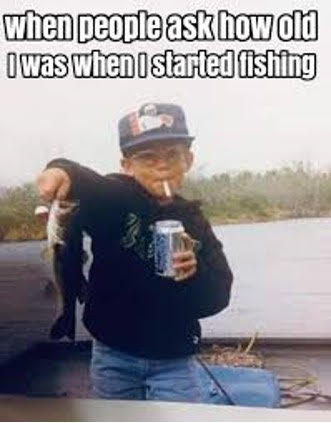 https://www.imdb.com/name/nm12318235/?ref_=pro_nm_visitcons