Fly Fishing Guide Trips – All gear included with home cooked stream side lunch for $375 – 2015 prices  
530-926-4540 * Jack Trout – www.jacktrout.com
Dunsmuir Fly Fishing Guides * Private Upper Sacramento Fly Fishing Raft Trips * Since 1994, Northern California Fly Fishing Guides
---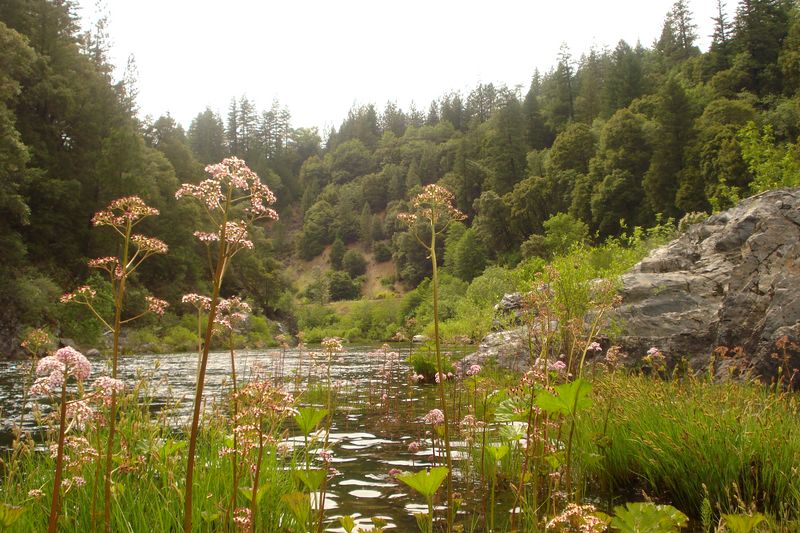 ---
It's just an Elephant Ear jungle out there! First come the tall pink flowers
and soon after the green ears appear. Once the ears have grown to become fully mature, they then become a perfect oasis for a trout trying to escape from the mid-day heat of the summer months. The ears are also popular with the insects, as the leaf becomes a huge
festival deck and all your buddies show up for concerts and parties at dusk, get inebriated and fall happily into an awaiting trout's mouth like one of those old fashion Mayan deals we all read about once.
Cool! And to think there's literally millions of these plants all over North State rivers producing insect night clubs…(No cover charge!)
---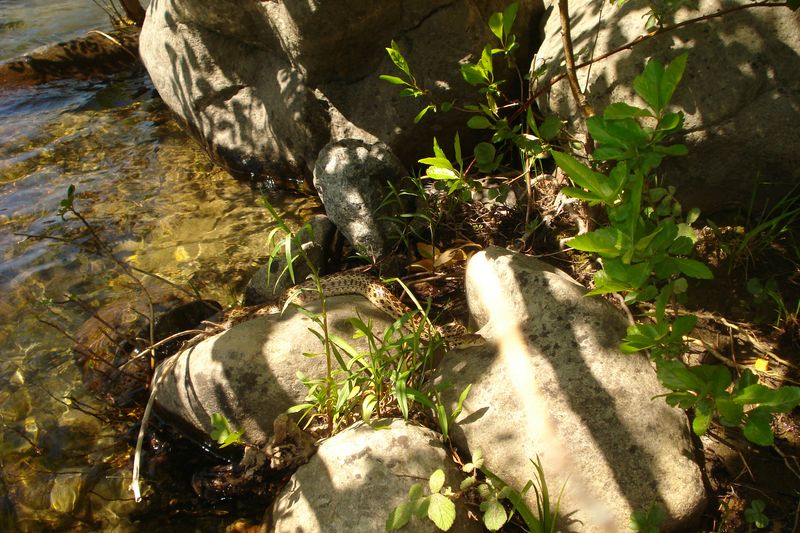 ---
Ok folks, we saw this Bull Snake cross the river in front of us so I thought I come ashore and take a look at this very beautiful native snake, that many mistake for a rattle snake because of the similar markings.
---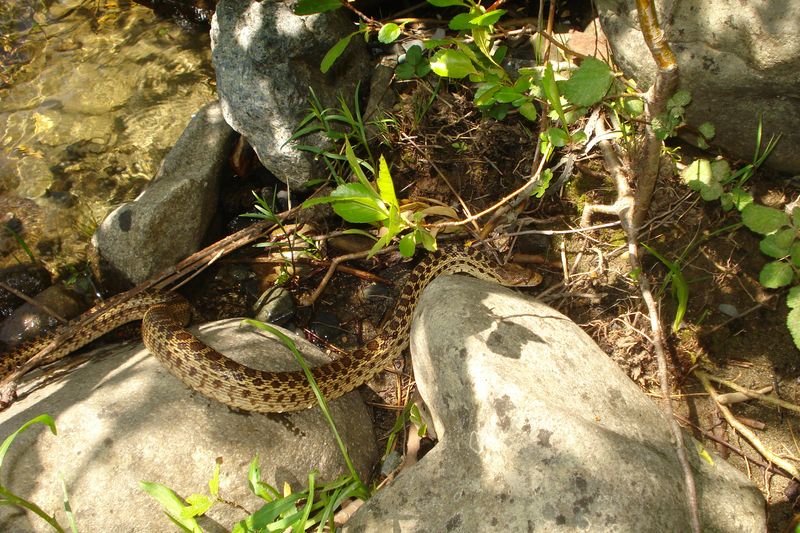 ---
It's sad for me that someone would kill this snake for no reason at all. It is important to know that snakes are so important for keeping rodent populations and diseases down. This snake kills those very rodents and does no harm to humans. It even shakes it's tail to make you think it's a rattle snake but it doesn't have rattles.
So I say, if you encounter any kind of snake out in the forest, let it live, even rattle snakes will do everything they can to get away from you and 98% of all bites occur when someone is irritating or playing with the snake.
My advice if your cornered and the snake is right at your ankles just freeze and he'll slither away before too long. I've had it happen at least three times in my life. jt
---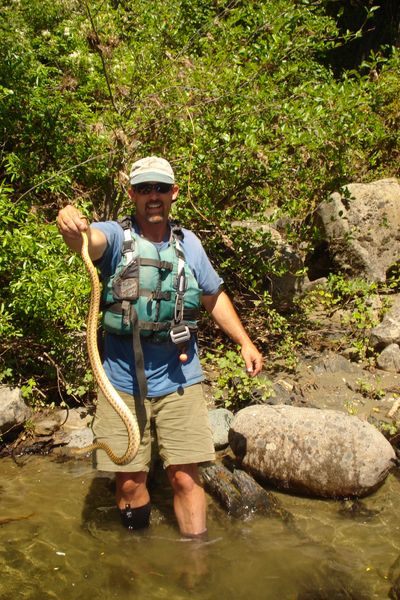 ---
Bull Snakes look like rattle snakes but cause no harm. I hope we can find a King Snake this year, they're my favorite!
---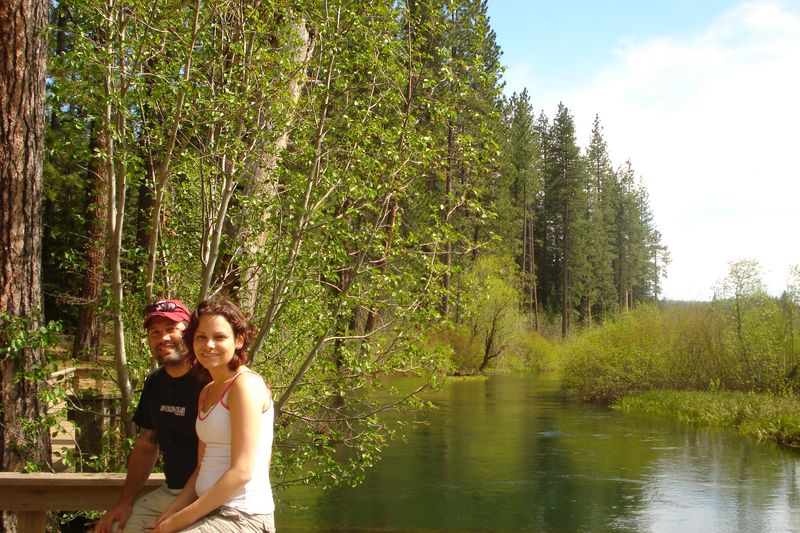 ---
Eddie & Carrie Bosquez from Texas enjoying their time together out in Siskiyou County, California for their one year anniversary.
---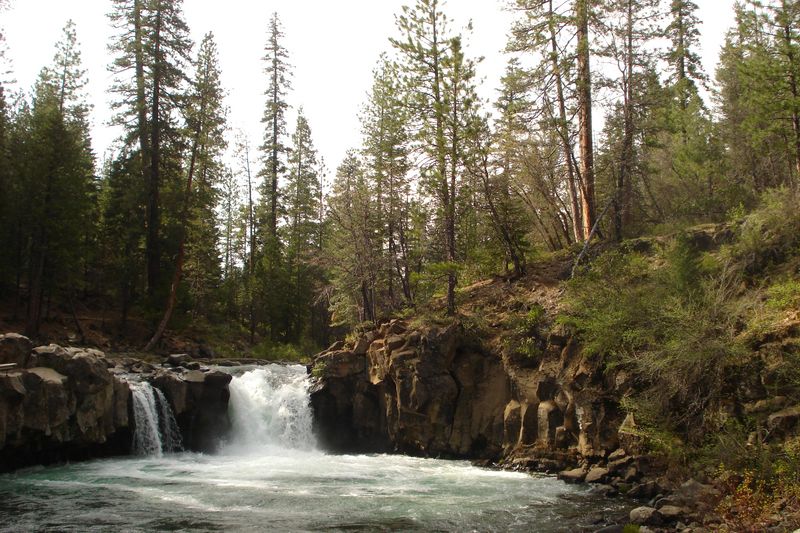 ---
Back in May, the Lower Falls wasn't falling too far down! We have had a fantastic barrage of rain in the past 30 days and this has put
the rivers in perfect flow conditions for fly fishing on all North State rivers. Now's the time to head up to Mt Shasta, Dunsmuir or McCloud for sure!
Fishing is idea for next 60 days!!!
READ IN AN OLD TIME PIONEER ACCENT:
("Fester, load up the wagon and tie the horses on, we're fix'n to go fishing in good ole Mt Shasta with that crazy Trout guy!")
---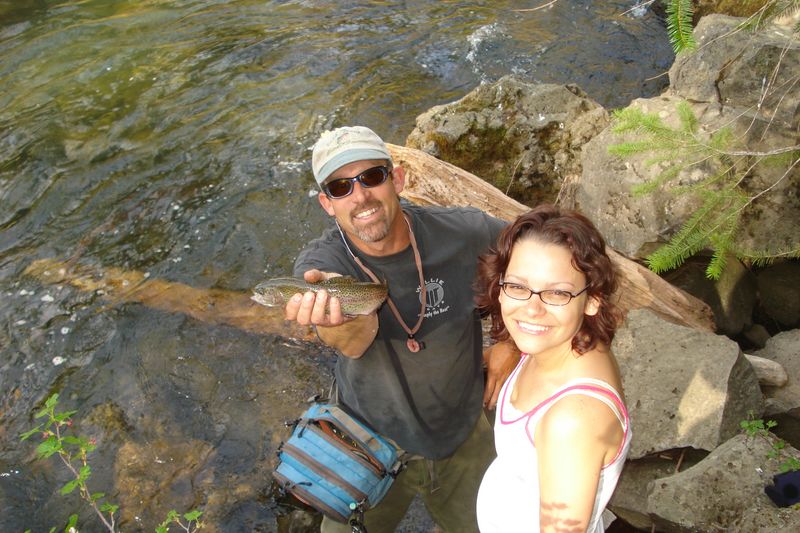 ---
Carrie Bosquez sure enjoyed her first hook-up ever on a fly rod on the McCloud River.
---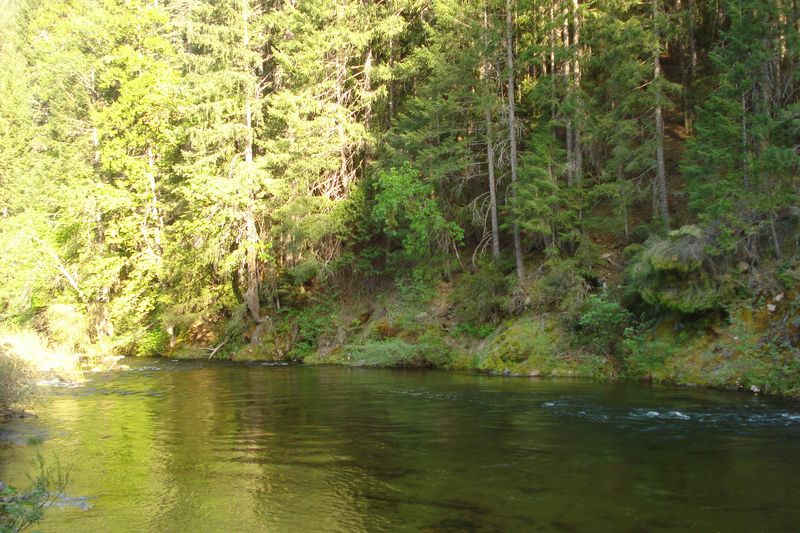 ---
The perfect Upper Sac look. Sure would be good to be there right now….
---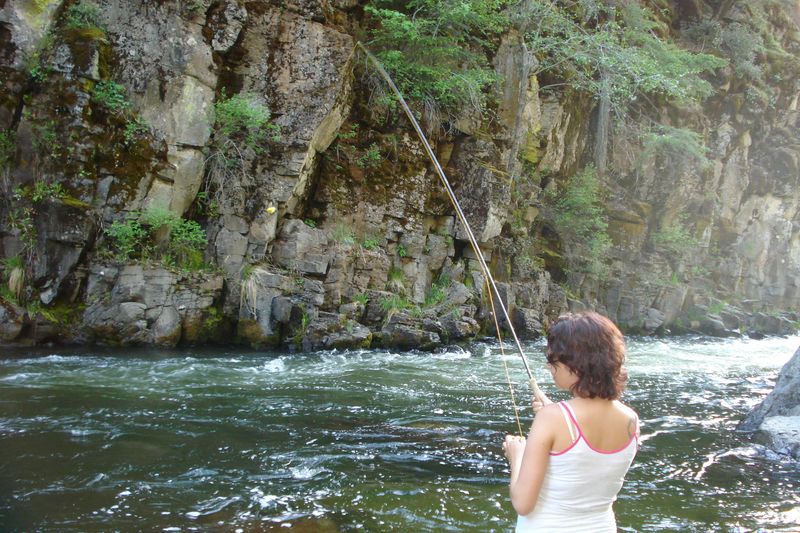 ---
Carrie with another one on on the Upper Sac! Eddie and Carrie want to come back to Mt Shasta very soon.
---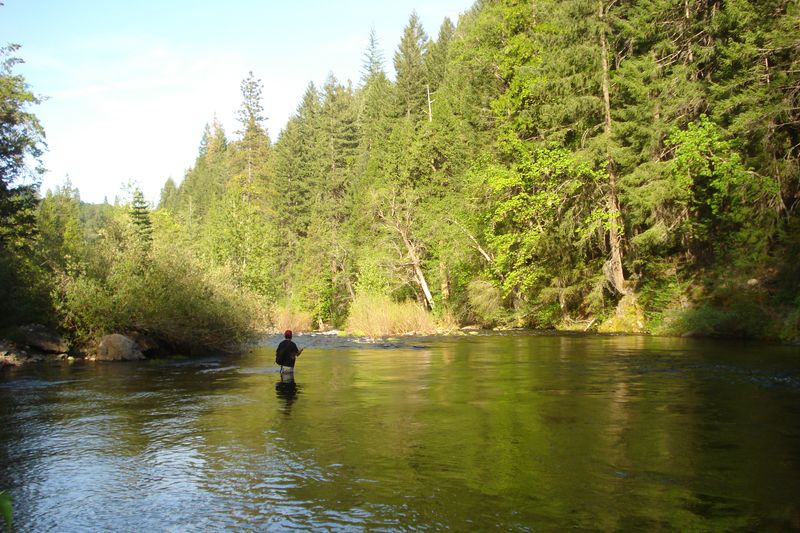 ---
Eddie said he could fish here everyday if given the chance. What a great place on Earth Eddie said.
---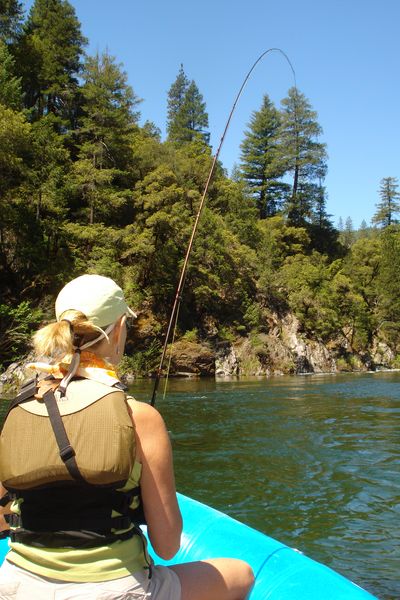 ---
This year Curt brought his wife Marybeth and it seemed like she hooked all the trout!
---
---
What an absolute beauty! This is what I call a Sacramento Leopard Trout. Of course this is my own made-up specie but don't those spots look leopardy?
JACK TROUT COMMON NAME OF TROUT SEEN IN PICTURE ABOVE:
Hydro-Dynamic Red Racing Striped Sacramento Leopard Trout
Latin version coming soon.
---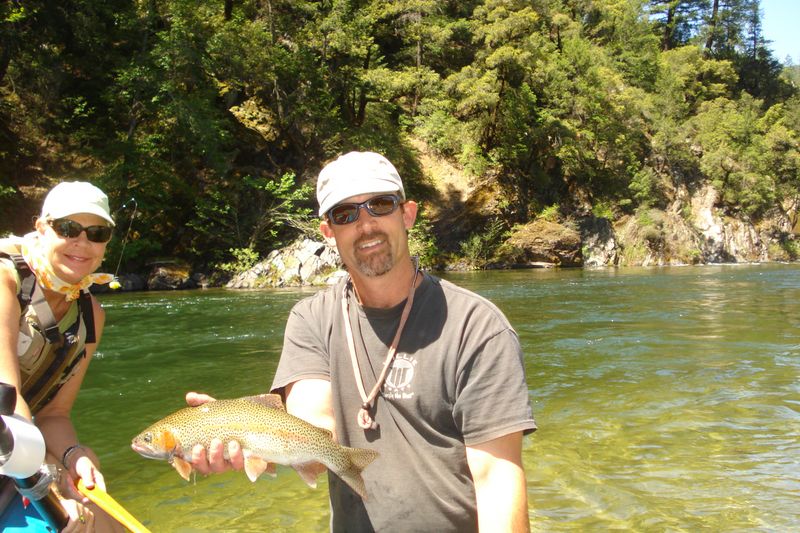 ---
A fine trout indeed Marybeth!
Marybeth Ries CONGRATULATIONS YOU'RE SIZZLER OF THE WEEK AWARD WINNER!!!
YOU ALSO OUT CAUGHT YOUR HUSBAND, WAY TO GO!!
MANY RIVERS TO YOU, JACK & CAROLA TROUT
---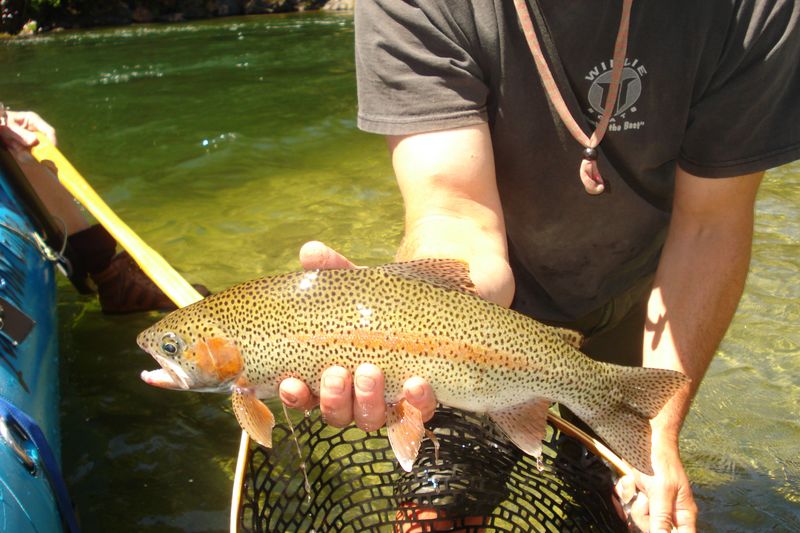 ---
Now that trout is leopardy!
---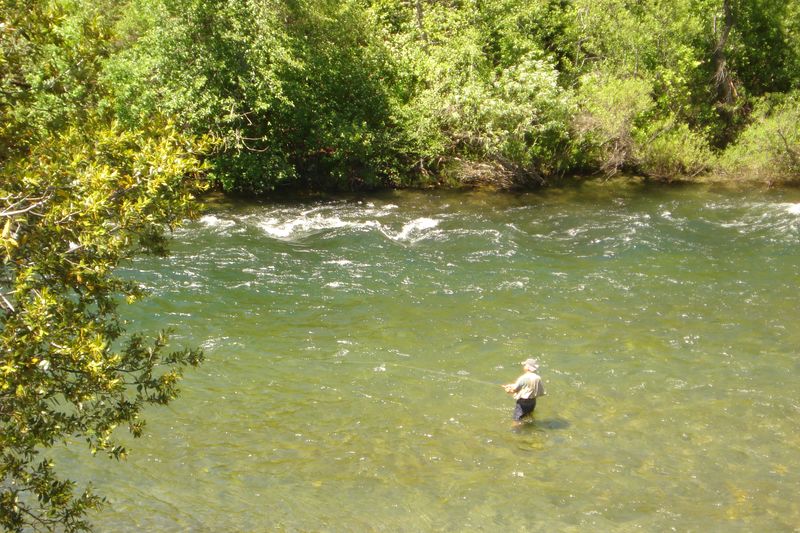 ---
Curt seen fly fishing from the watch tower.
---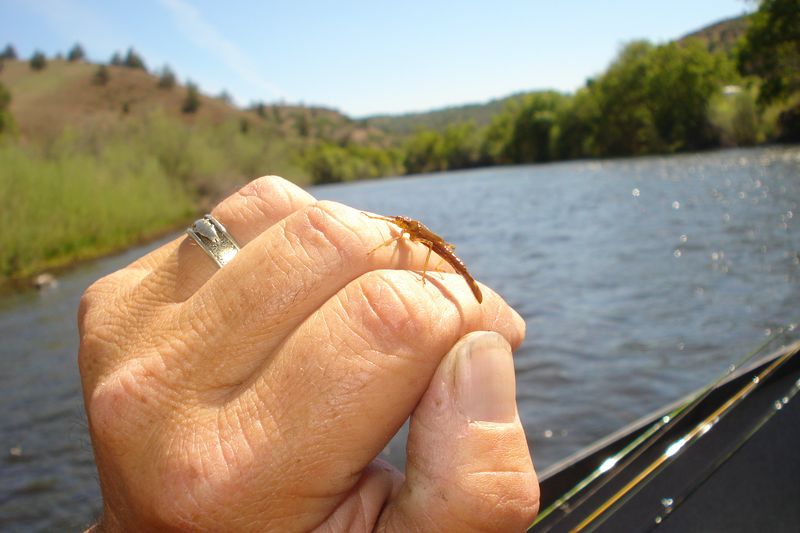 ---
Brown Damsel Fly Nymph Klamath River.
(Looked very happy before releasing him back.)
---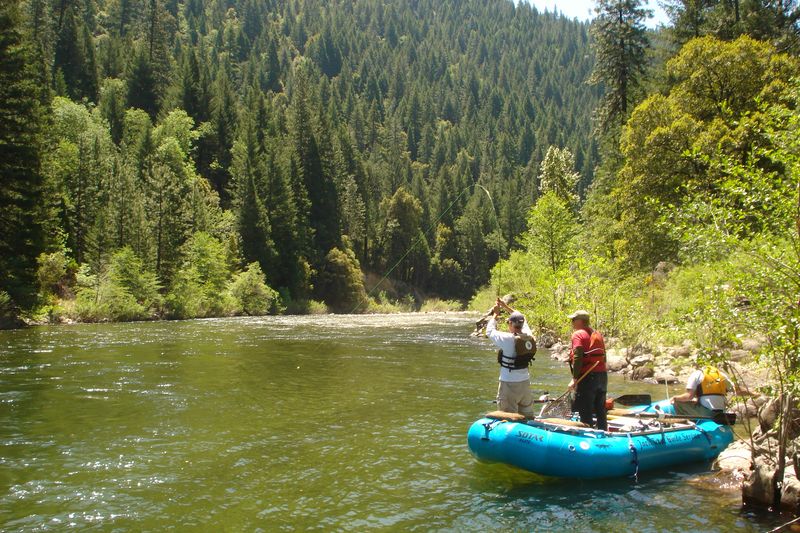 ---
Tim Tatum back for more action with his family on the Upper Sacramento River Fly Fishing Extravaganza.
---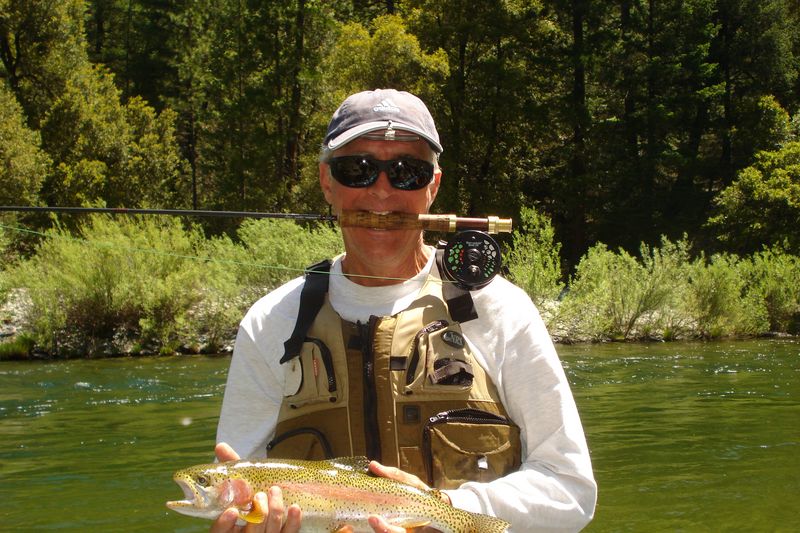 ---
What a great trout Tim! Thanks for coming back to the Shasta area, we're all glad to see you're back.
---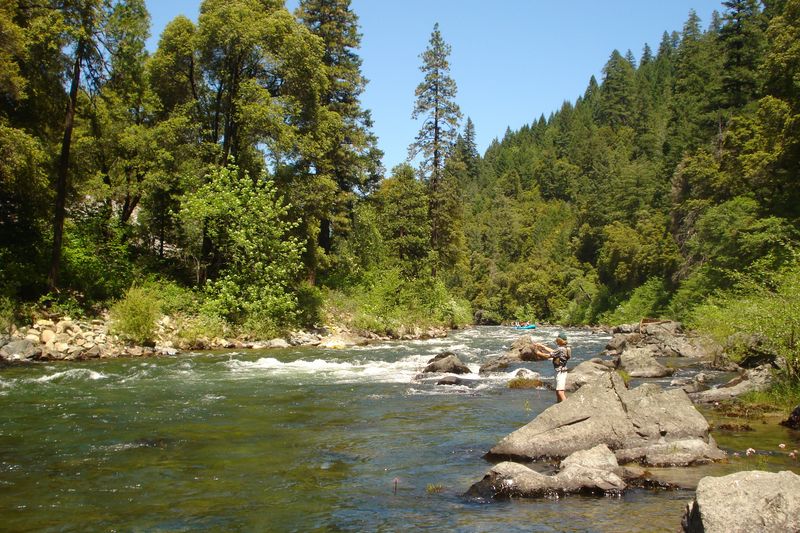 ---
Pocket water is always been a personal favorite of mine.
---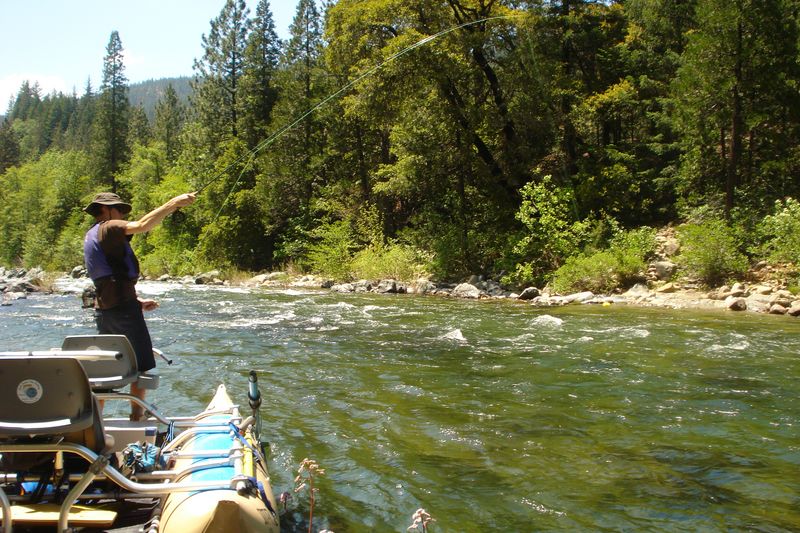 ---
Out of the cataraft is cool!
---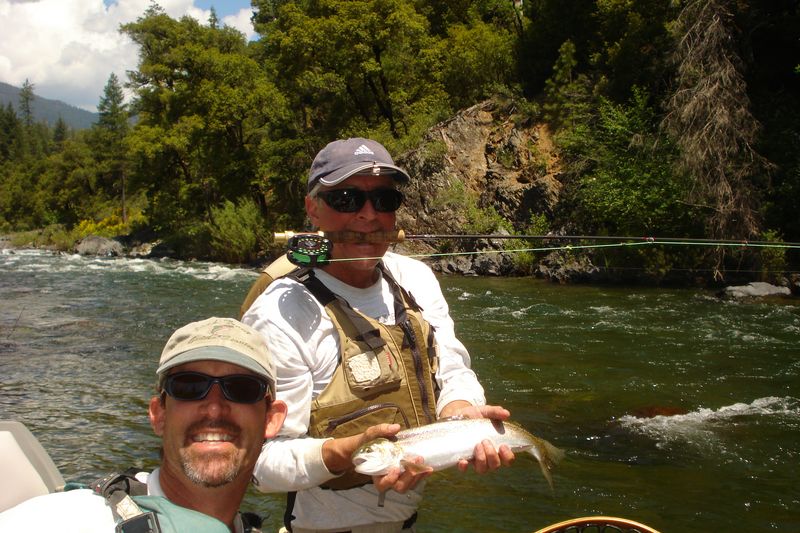 ---
Tim hooking another lunker! That one is a Kamloop Trout up from Shasta Lake, what a great fight.
---
---
Looks like the boys have another one on and they're hollering that it's big!
---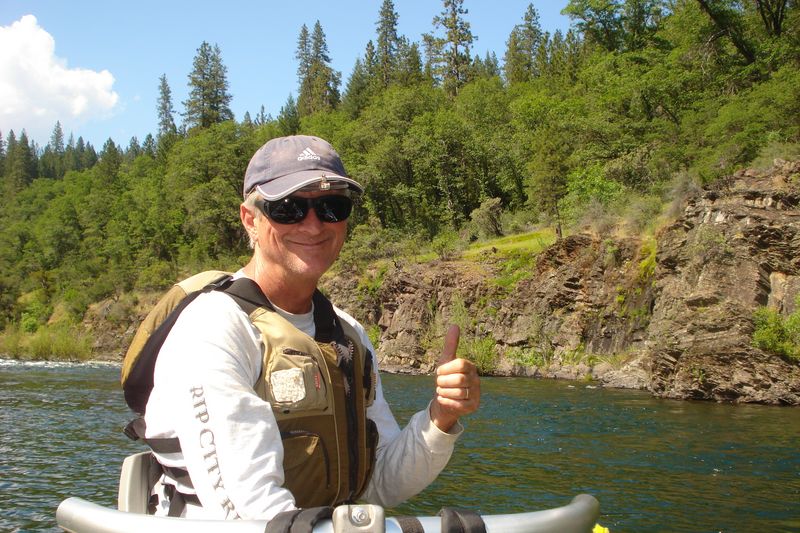 ---
This has been a great 2 days of fishing and everyone has caught nice trout.
Thanks!
---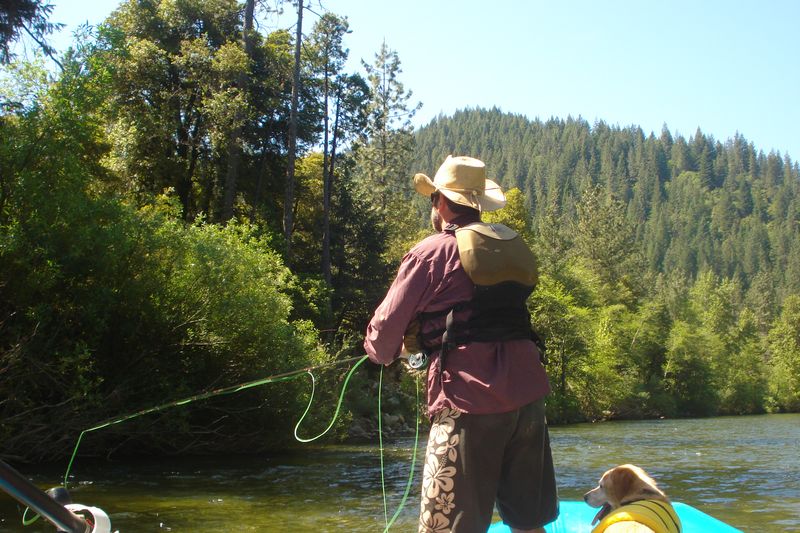 ---
Eric Schoen and his trusty companion!
---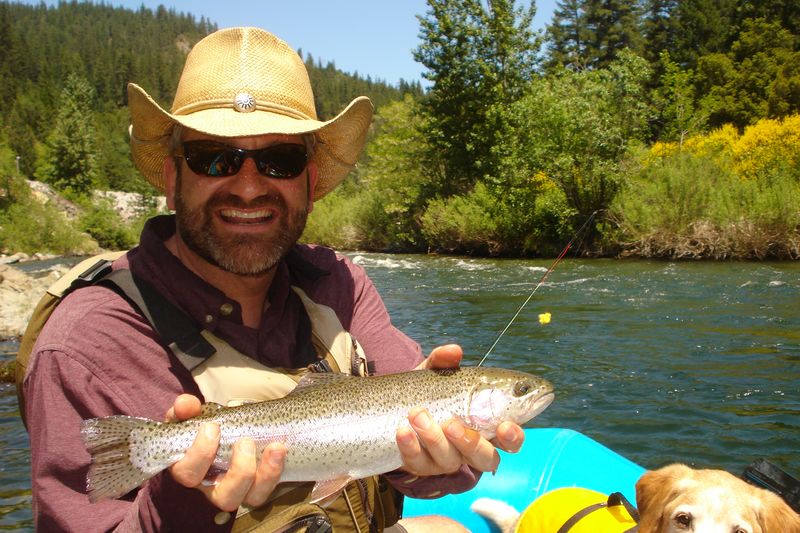 ---
Another great day with Eric Schoen and his mellow mutt.
---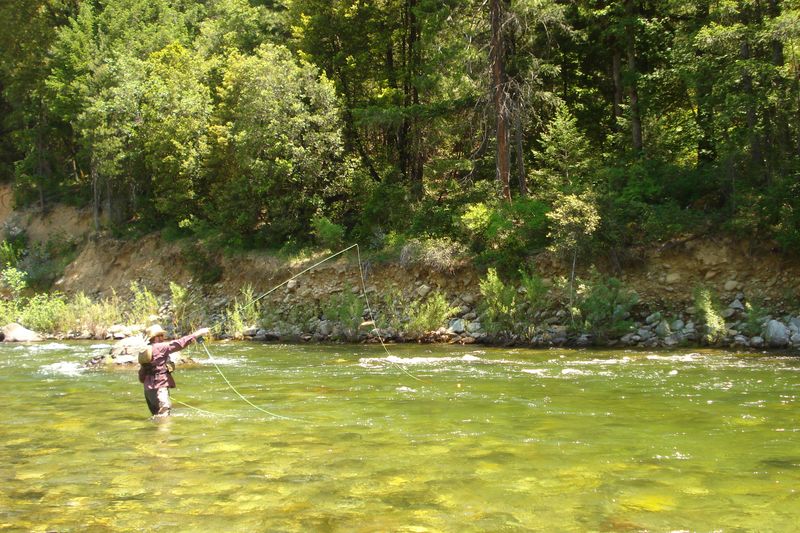 ---
We caught many fish just getting out wading some great pocket water high-sticking a triple nymph rig down to a size 20 nymph.(smorgasbord)
---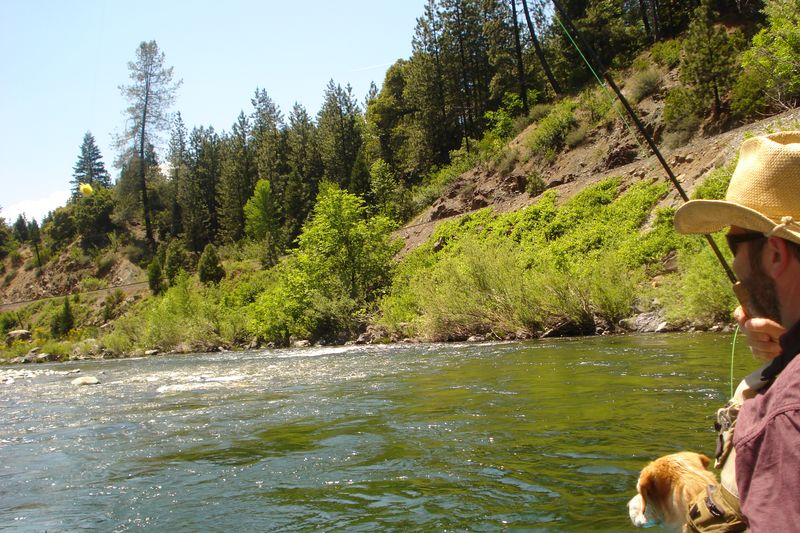 ---
Another thrilling adventure is around the corner always!
---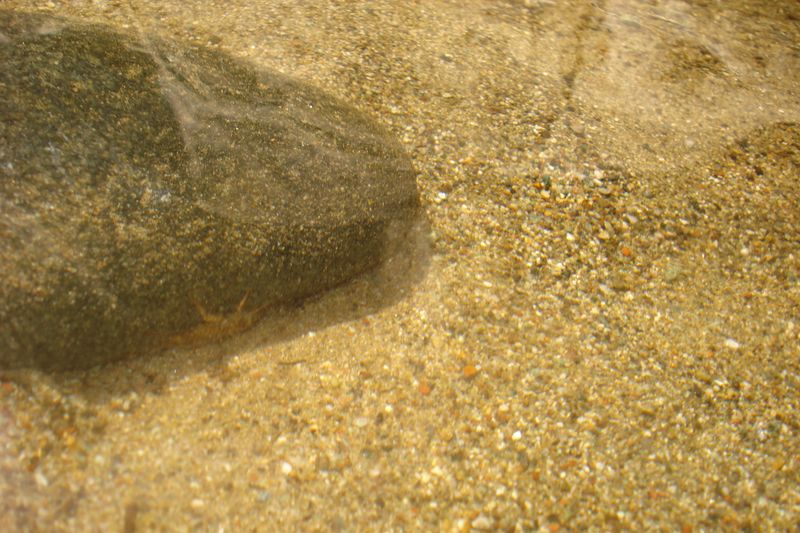 ---
The golden stones emerge now and become very active in the June months annually. You'll find them most in areas that look like they do. (Gin colored water and sand)
---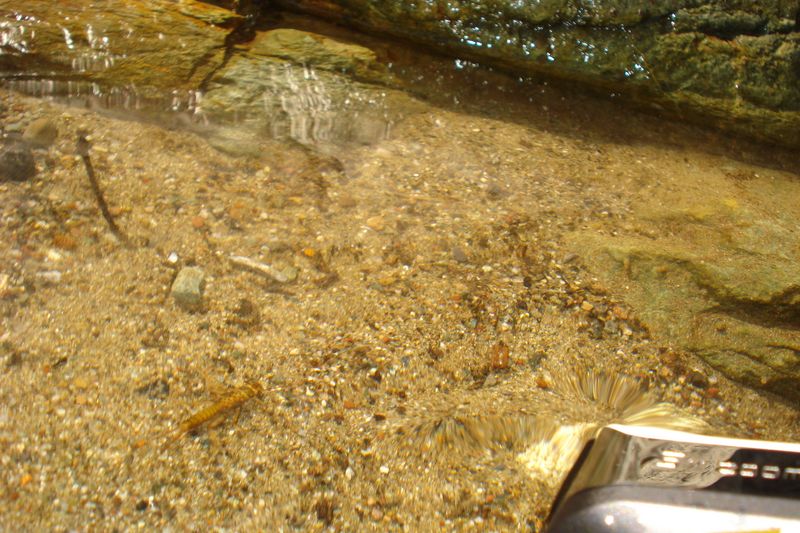 ---
They swim and breath through their abdominal sections so they need some movement in the water to extract oxygen. Trout love them this time of year and feed on the little rascals in all forms throughout their nymph stages in the river bottoms and so on through metamorphosis stages and adulthood in flight.
You could say the stones are golden with the trout, so be sure to have these flies in all forms – nymphs and dries as part of your arsenal in your fabulous fly box.
---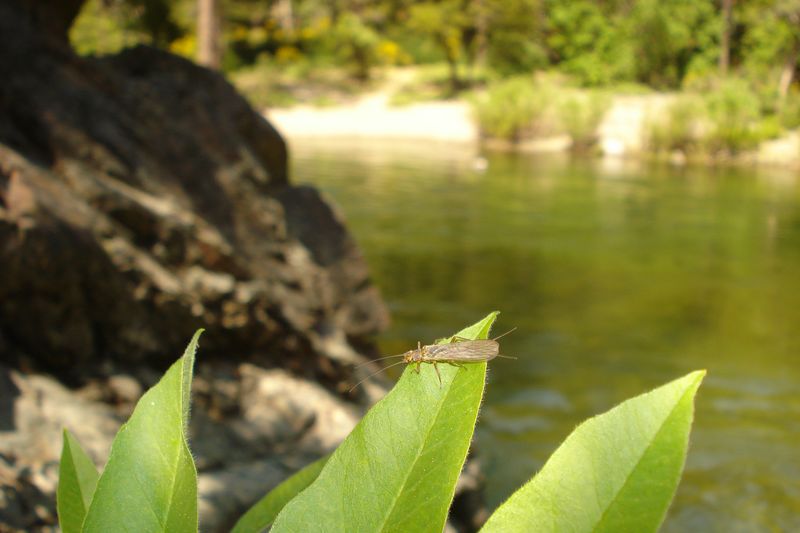 ---
From above you can see the wings sit flush and they love big green leaves to sit on and gather rays. So you could say when spring arrives and all the leaves are finally done growing on the trees along the rivers, only then do the Golden Stones appear.
---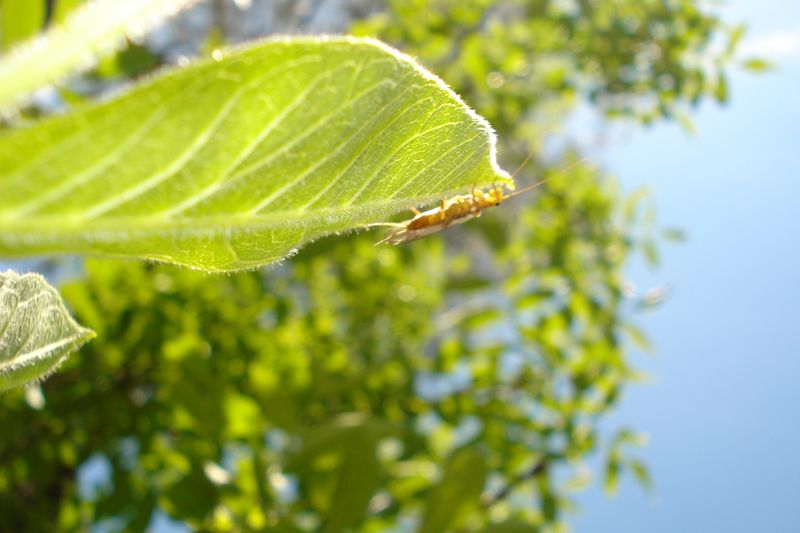 ---
I think the Rogue Foam Stone is the best fly ever invented for imitating a Salmon fly or a Golden Stone.
Available at Cannons Liquors Mount Shasta 530-926-2239
---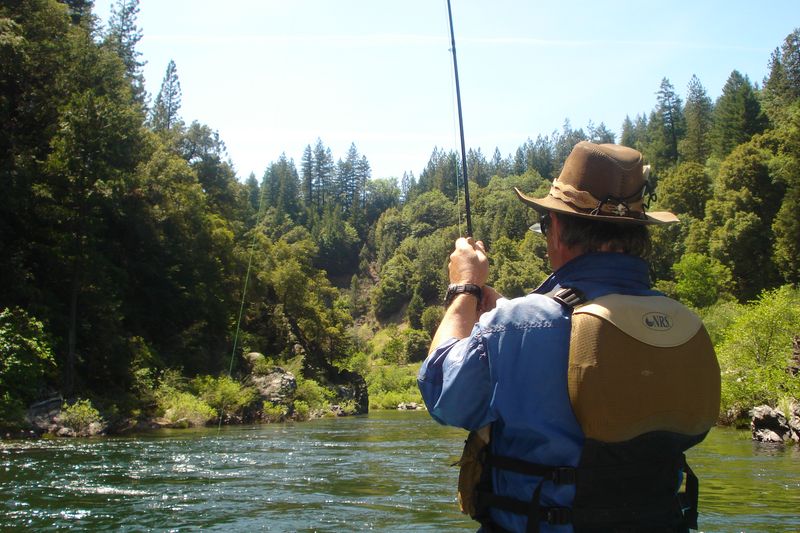 ---
Craig Heden fish on, Ladies and Gentlemen!
---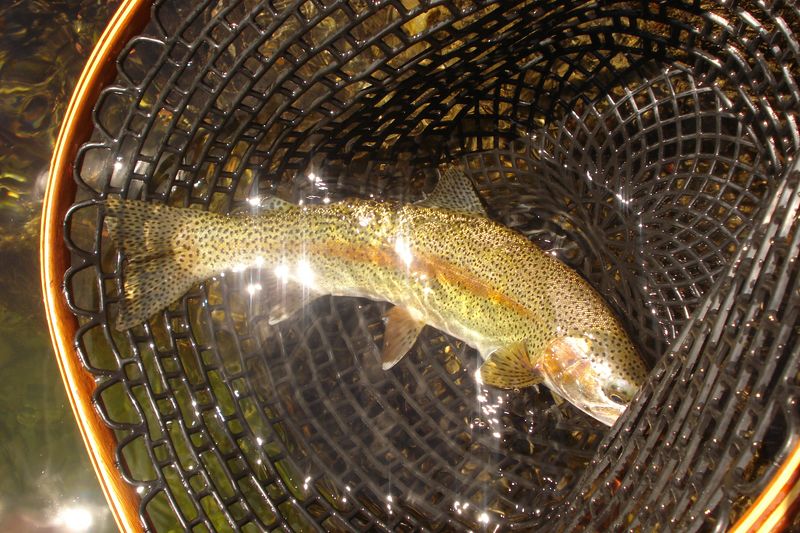 ---
Wow! What a fine trout indeed Craig.
---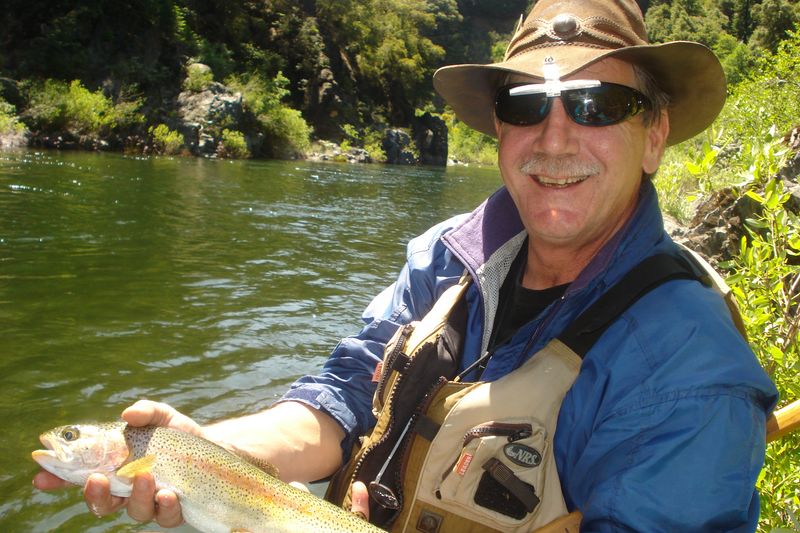 ---
That's a happy camper!
Letter from Craig's wife who bought gift certificate for Craig:
Dear Mr. Trout,
I just wanted to say thank you for the great fishing trip you took my husband on last week. Craig had a wonderful time and is still talking about it. Though he has been on many guided tours before, I can't remember his being this happy for as long after. And it thrills me that I got it right, for once. Thank you again and I'm sure you will be hearing from Craig in the future.
Sincerely,
Dody Heden
---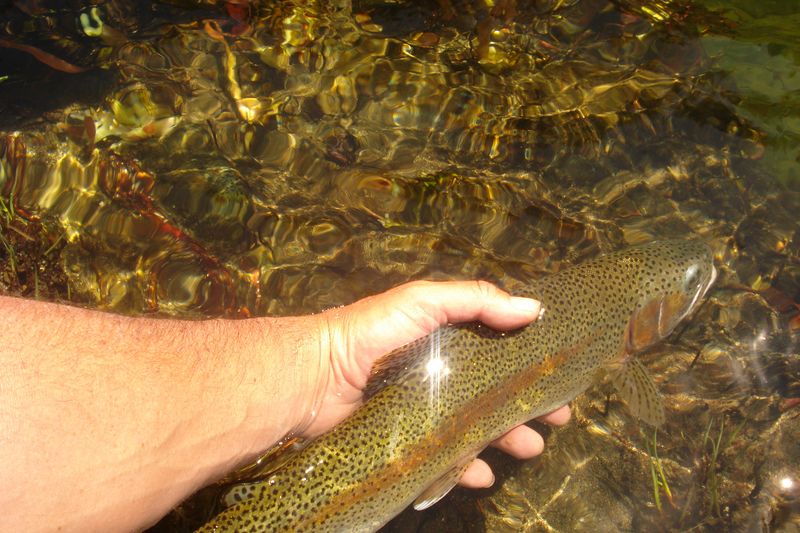 ---
That trout is just plain sexy! What a fine trout, I think the Upper Sac has some the best anywhere folks!
---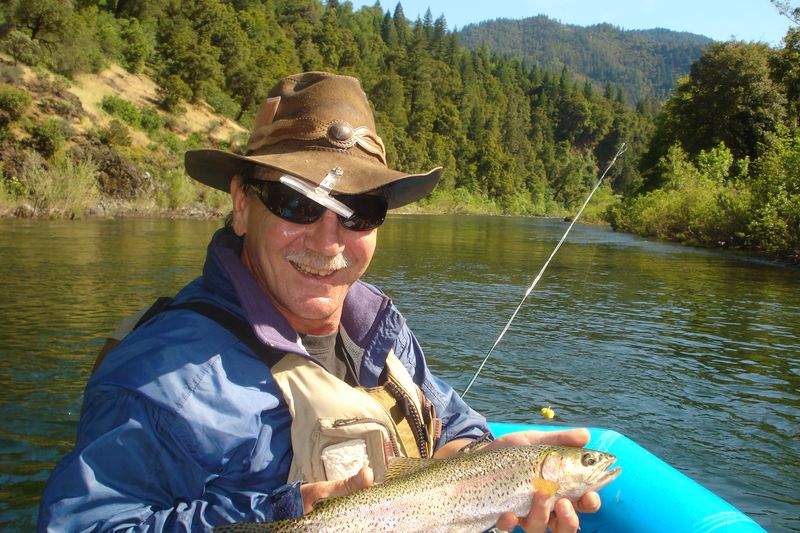 ---
Right on Craig, so glad you had such a great time! jt
---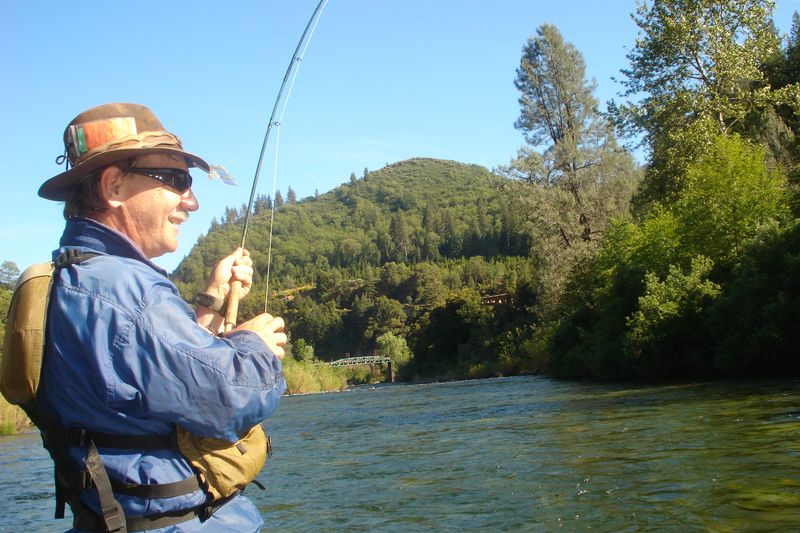 ---
Hooking up all day long was just one of those days I guess…
Craig, thanks again for all the great stories and your support!
You're a great dude!
Thanks to Dody for buying the gift certificate for Craig!
Saludos, Jack & Carola
---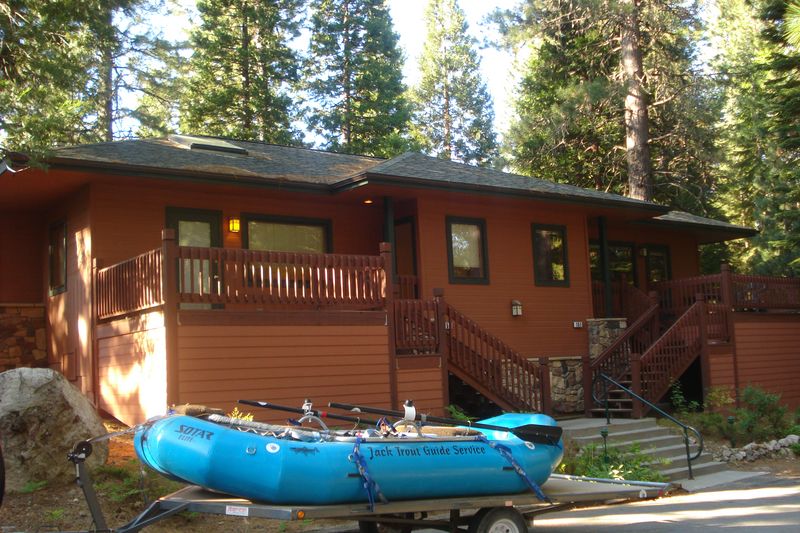 ---
Mount Shasta resort is a fantastic place to stay when visiting the Mount Shasta area. Offering two bedroom chalets with decks in a wooded community on the banks of Lake Siskiyou. Dozens of hiking trails, fishing spots, views, tennis and of course their famous 18 hole golf course with views from every shot in every direction.
800-958-3363
http://www.mountshastaresort.com
---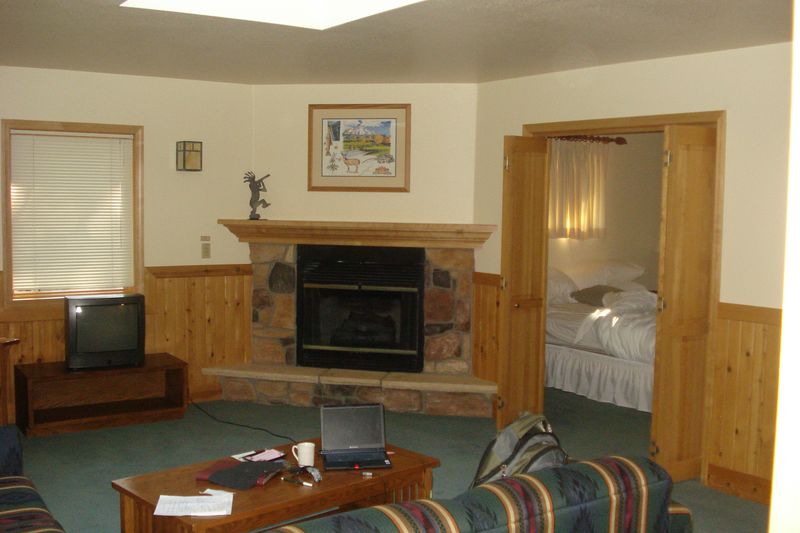 ---
Now that's a comfortable retreat in the woods of Mount Shasta!
Make it a point to take the drive to Mount Shasta this spring-summer or fall, you know you're as special to us as we are to you!
Mount Shasta loves tourist, come see for yourself!
---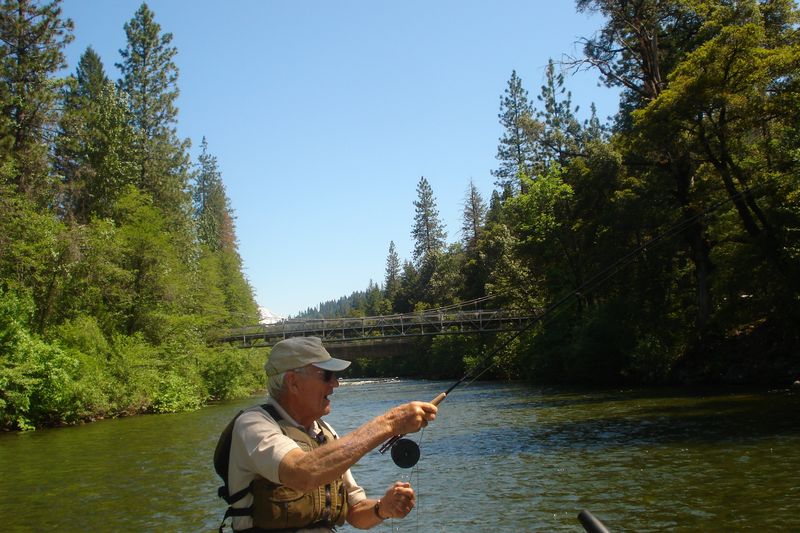 ---
Warren Heiman back for another fly fishing rafting adventure with his friend of 75 years from grammar school David Shippey!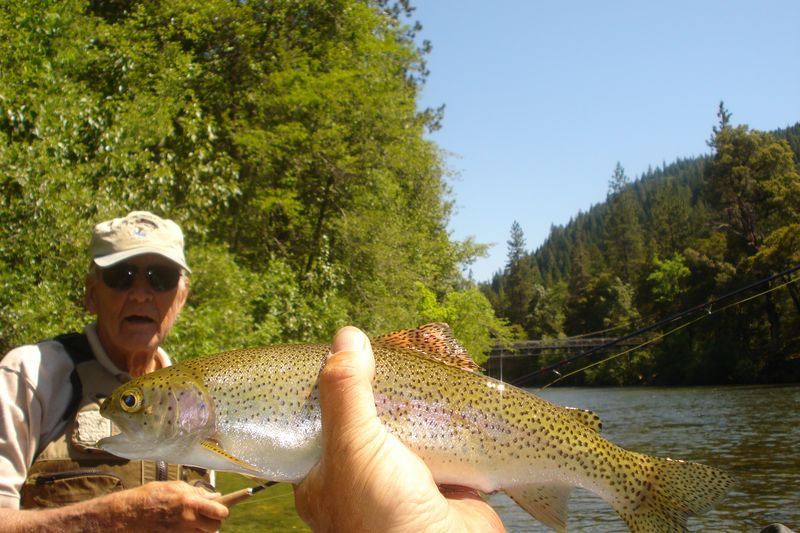 ---
A real cutie pie if you don't mind me saying so…
---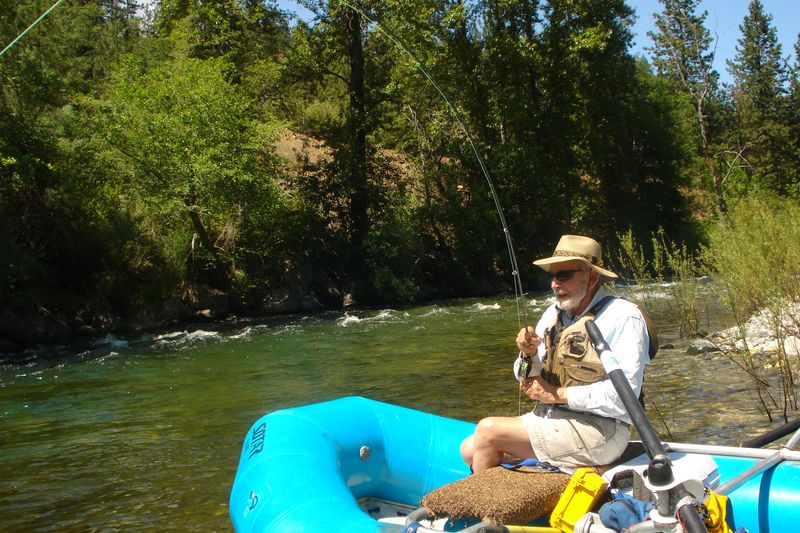 ---
David soon got in on the action!
---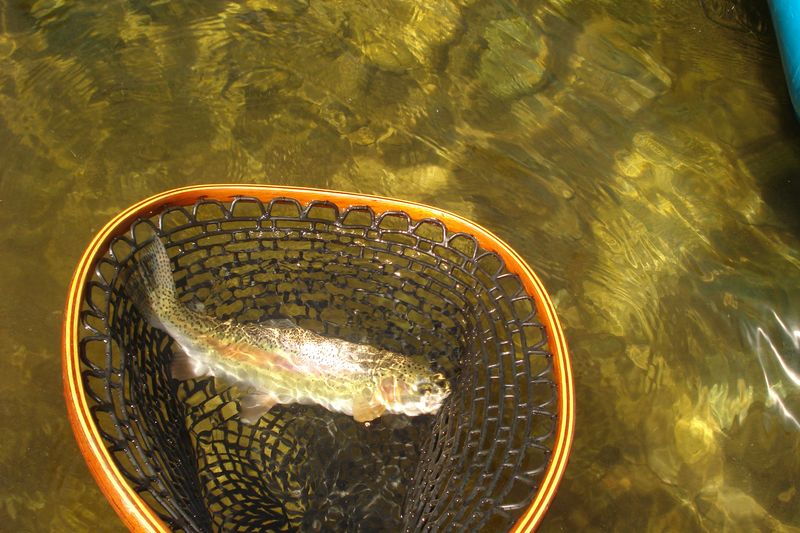 ---
What a beauty! Hold on tight David I'll be there to help. What a battle folks!
---
---
Another nice trout David! I hope I'm moving, fishing and stirring past 80 like these guys! Impressive!
---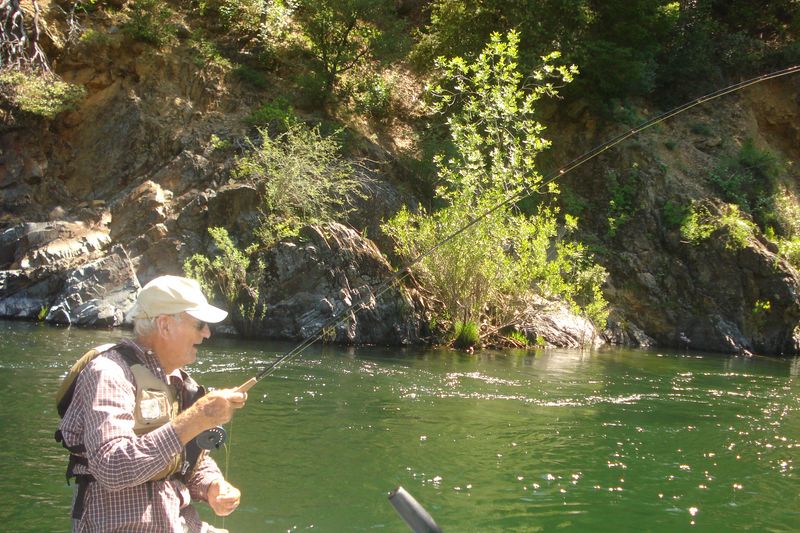 ---
Right on Warren fish on man!
---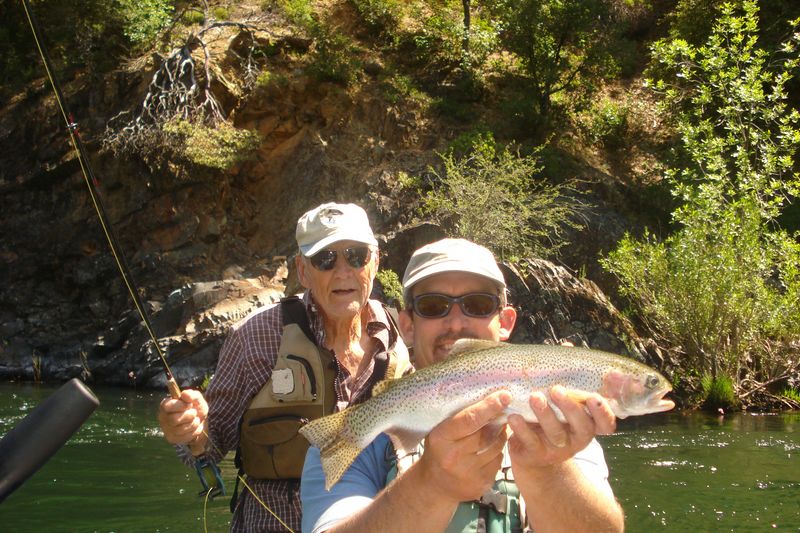 ---
Hey that's what we came for!
---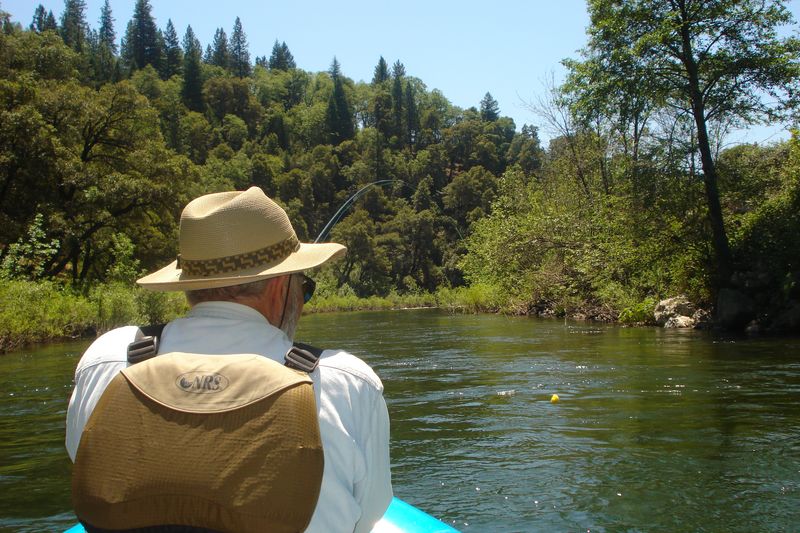 ---
David is this best day ever on the Upper Sac?
---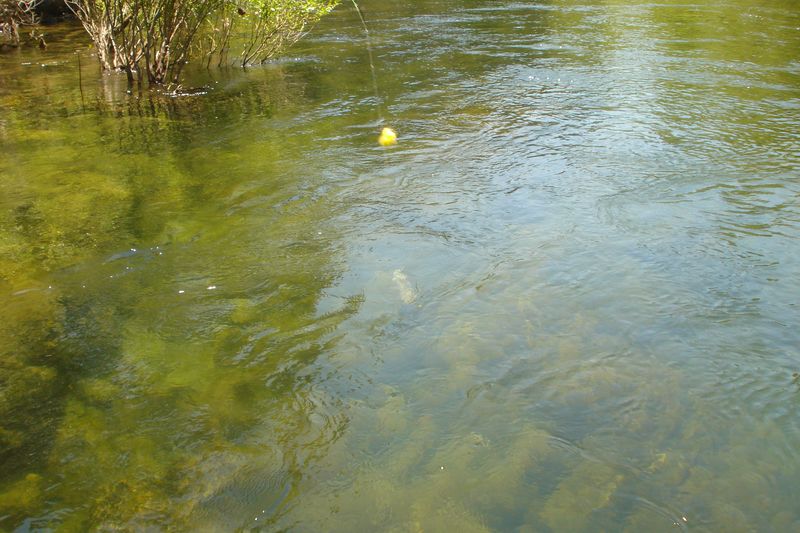 ---
That trout is wide…
---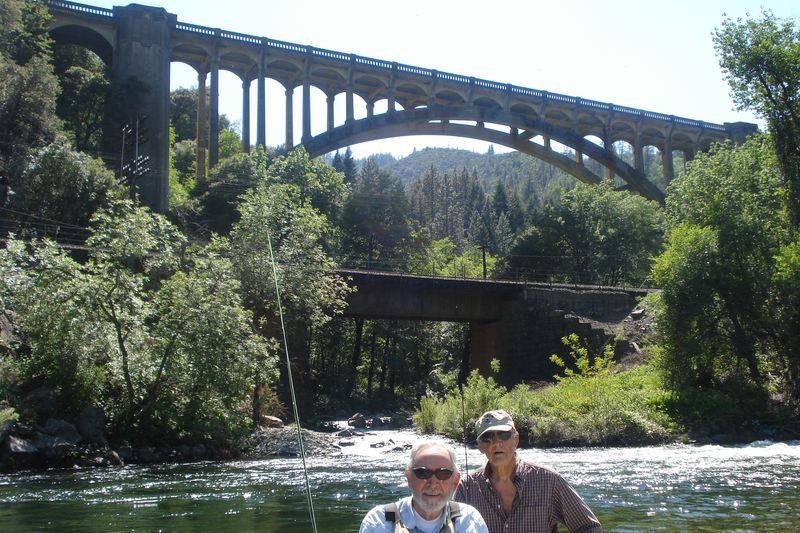 ---
Warren and David I had a great day hope you come back soon.
Trout
---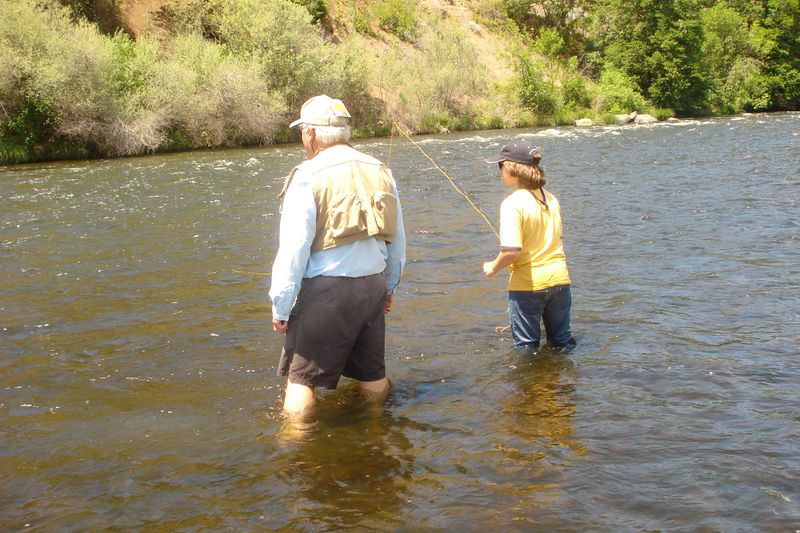 ---
Steve Mitrovich and Jeremy Clay on the Klamath River.
---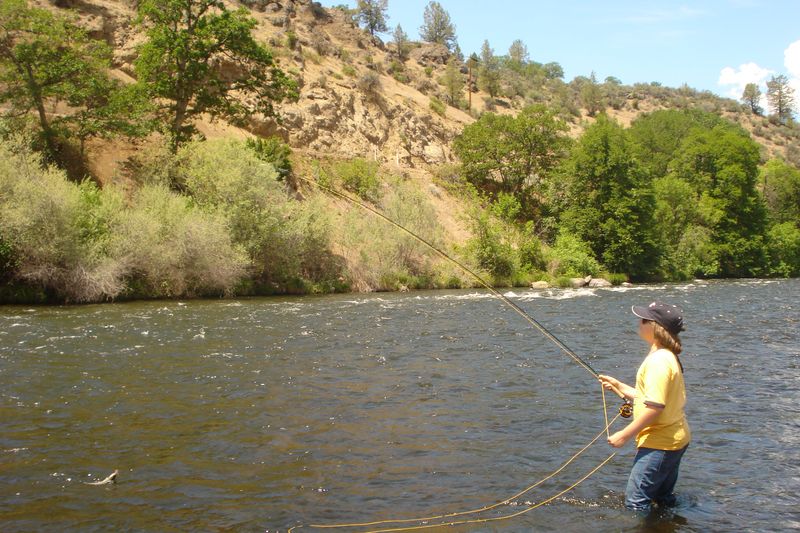 ---
"Jack,
Today at a meeting Jeremy and Nick's principal told me that they made of point of telling her what a great time they had fishing. She mentioned that they are usually very quiet, so it made a big impression.
Great job and I look forward to seeing you in the future."
Steve Mitrovich
---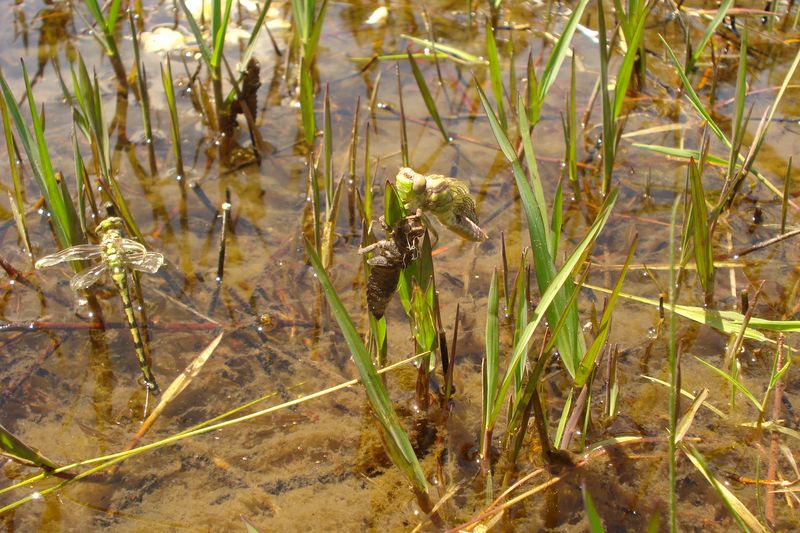 ---
The hatching of a Dragon Fly is an incredible thing to witness. In all cases when these insects shed their exo-skeleton they have to wait for the blood to dry and harden in their wings before they can fly off. This makes them very vulnerable to birds and fish alike while they hold their breathes and hope the process goes quick!
---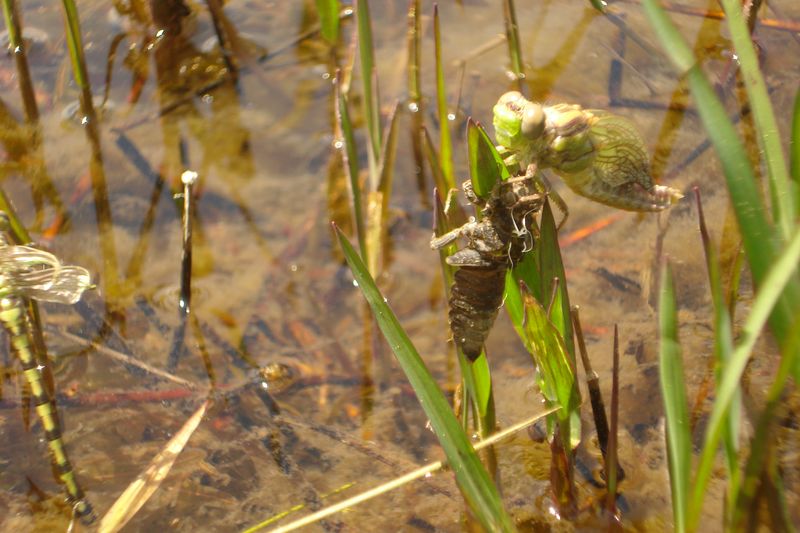 ---
Way cool bra!
---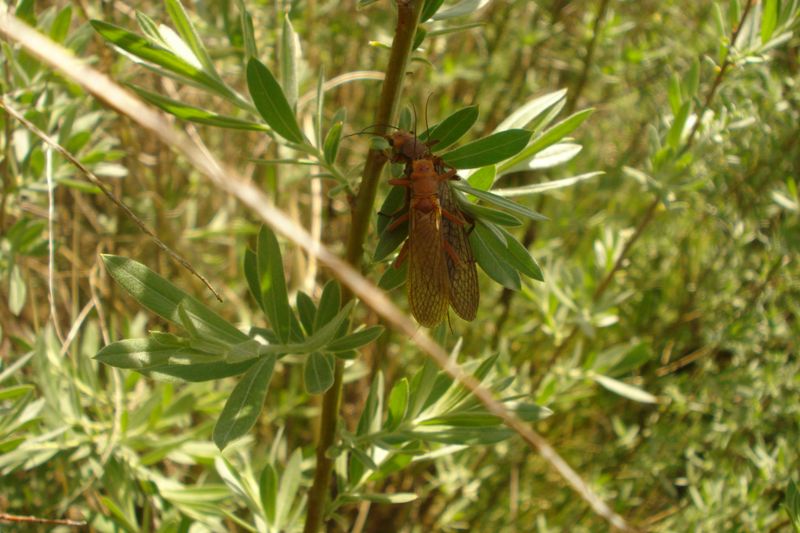 ---
"Come here you 10 milligrams of fun!
I'm going to show you brown sugar, this red-headed American is the original love bug!!"
---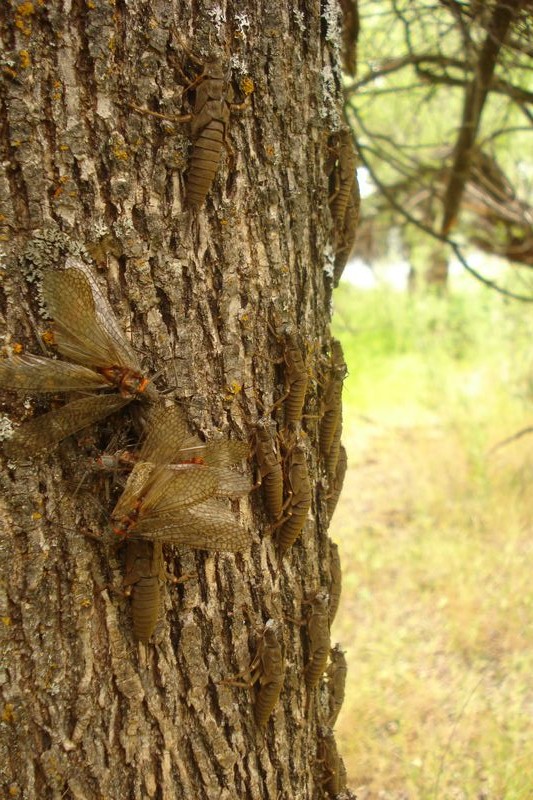 ---
Salmon fly hatch is like something from another world. Amazing is nature to make this happen every spring, these bugs feed everything.
Birds, trout, critters all love these salmon flies.
---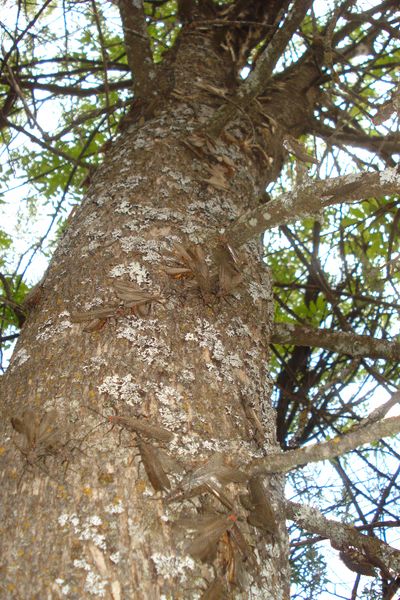 ---
Tree is plumb full of them!
---
---
Someone should tell these salmon flies to get a room!
---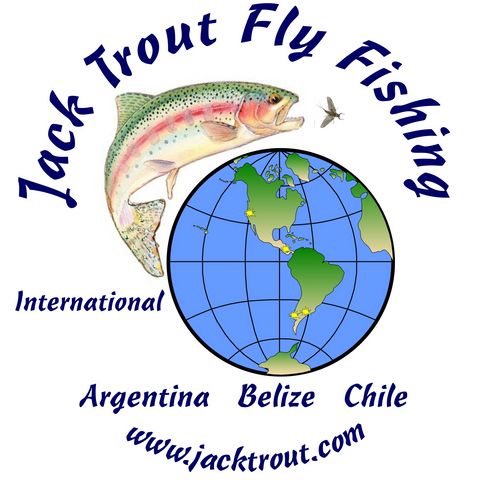 ---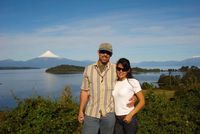 ---
To all of those out there that watch our web log Thanks! Hope to see you in 2009!
Many Rivers & Oceans to You, Jack & Carola Trout
(530) 926-4540
---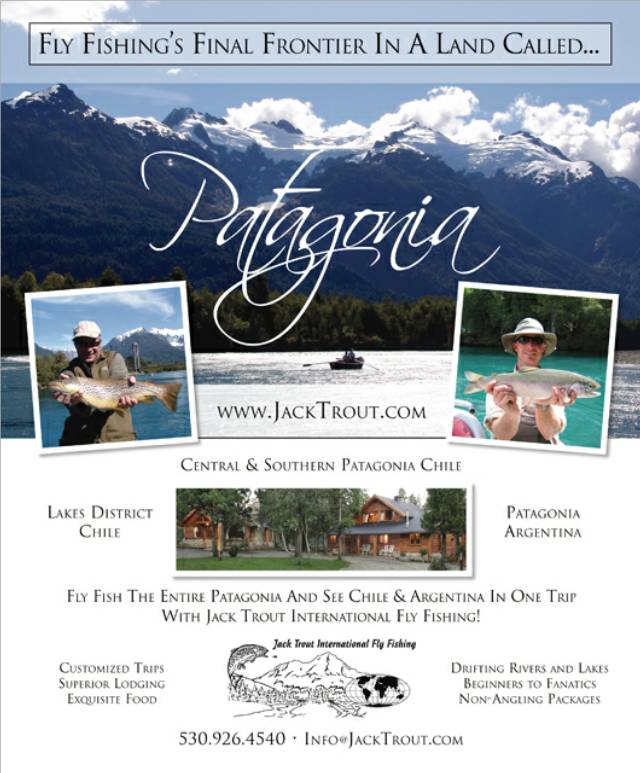 ---
---
EMAILS FROM YOU:
---
Dear Mr. Trout,
I just wanted to say thank you for the great fishing trip you took my husband on last week. Craig had a wonderful time and is still talking about it. Though he has been on many guided tours before, I can't remember his being this happy for as long after. And it thrills me that I got it right, for once. Thank you again and I'm sure you will be hearing from Craig in the future.
Sincerely,
Dody Heden
---
One more question, Jack. I know that I can find fish with a good guide, so either Argentina or Chile will work for me. However, as I indicated, my wife does not fish. So, considering scenery, photo opportunities, and other things to do, would you recommend Bariloche or your area? thanks!
Jim
---
June 20th, one day trip, somewhat close by, 2 people?
B R
---
Whats up Bro, left you a message on your answering machine 3 days ago and haven't heard from you. Would like to float the upper Sac. on Friday the 19th of june if you are available. Let me hear from you so I know you are still alive.
Tom
---
In the last page of the June issue of the Angling Report newsletter there is an ad(!) for Bollibokka with Sam Craig as the contact person. It refers to the web site www.bollibokkaclub.com. The rental rates and terms are the same as for the membership. I must say that takes away the exclusivity of the place. We'll see how much things change there now that anyone can pay to use it. Too bad the Hills sold it. Westlands must need the revenue.
Jack, please don't use my name…
Signed Anonymous
---
Jack,
Thanks! Sounds awesome! After I sent you the email I found your old email reference for the cold creek inn so I just booked there again since it was cheap and worked out good last time. I will be bringing most of my gear with me this time including a 5wt and 7wt as not sure what I need for this time of year. Not sure if Jason has rods as well? Hey, the only thing else I wanted to check on was to see about paying you for the third dayΣI can give you a card again or I can bring a check. What do you prefer?
–Andrew
---
Hi all—
I suspect most of you already have this information but in case not see below. Finally, Ah-Di-Na flows are online. See below for link. We are also asking for real time turbidity monitoring online¢¨available at confluence with Shasta Lake but we want it up by Ah-Di-Na or at the dam. We are also asking for flows from the McCloud Dam to be online as well.
Also, see attached for CalTrout and TU¡Ás comments on PG&E¡Ás Draft License Application for McCloud-Pit project. PG&E will consider all comments and then issue a Final License Application. FERC will then do an Environmental Impact Study, likely in 2010. New license not scheduled to be issued until July 2011. In the meantime negotiations continue.
Let me know if you have any questions.
Curtis
Curtis Knight, Mt. Shasta Program Manager
California Trout
701 S. Mt. Shasta Blvd. Mt. Shasta, CA 96067
w: (530)926-3755
c: (530)859-1872
www.caltrout.org
---
hope all is well with you.robin and we can't wait for the 29th june and
to go fishing with you again .hope this day still works for you. let me
know.we would like to know what hotel we should make our res. at thank
you and tight lines to you
keith&robin
---
Hi Jack,
My 2 friends and I will be coming to the Dunsmuir area to do some fly
fishing in mid July. We are interested in getting a guide for Friday,
July 17. Would you tell me what your full day rate would be and what
that includes. If we did a second day, would it be the same rate?
Do you have any arrangements with local lodging? What would the
general itinerary be for a full day?
I look forward to hearing from you.
Les
---
Jack,
Hello! Hope all is well in Cali. I am looking forward to coming up and fishing again and with the dates coming closer I just wanted to confirm with you. We should be fishing together on June 6th ¡î 8th right? Also, can you tell me what the name of that hotel was that you rec¡Ád last time? That worked out pretty well so I was going to try to get a room now for that w/e. Let me know when the time gets a bit closer if you want me to meet you at same spot as last time and also what time in morning. Feel free to call me too if you want to catch up live. See you soon. Thanks.
A
---
Dear Sirs,
I am planning a trip for four of us to come fishing in your area. We are four gentlemen from South Carolina who love to fly fish the streams in our Blue Ridge Mtns ¡î but would love the challenge of trying to catch fish in this area of CA. I will be in Falls River Mills beginning June 10th for a get together with friends. My Son and Son in Laws are coming out on the 13th.
There will be four of us for one or two days ¡î would love to do both rivers if possible.
We will be staying in the Falls River Mills area and would like to know what you have available for the dates of June 14,or 15, or 16th. We are interested in fishing the Pit and McLeod one day each.
Can you advise the driving time from Falls River Mills, if you have available dates, and of course the cost.
Thank yo,
Rolly
---
Hi Jack,
Thanks for all your help on my travels to Argentina. I couldn't of done it with out you. I can only send so many photos at a time. I'll send you more soon.
Best wishes, Jim Kiefer
---
Hey there!
How about Saturday, June 20th or Monday the 22nd for that float on the Upper Sac with my family?
Thanks,
Cindy Gebhart
---
Jack,
Thank you for your telephone call confirming our one day trip on June 9. My friend Bill Chapman and I will be there. We have our own rods and reels, but will need flies (and advice). If you let me know how much of a deposit you need, I will mail you a check right away. In the meantime, I will try to call you to discuss the details.
Peter
Peter B. Sandmann
---
Jack,
My dad loves fishing with you. When Lesa called me and asked about what to get him for a retirement gift, you were the first thing to pop into my mind. I can only hope that I get to go along on one of his upcoming adventures with you. Actually, my true hope is that he motivates and goes to Chile with you. Yasmin and I fished there back in 2001 and had the time of our lives! I know my Dad would go crazy for the trout there and all of the great wine:)
I am sorry to hear that times have been tough on you, hang in there. I know things will turn around for you.
We will be coming up there in a few weeks, June 17th, I hope you will be around so that we can meet up for a beer at a minimum if we don't fish together. I will call you for this. We will have Brooks with us, I can't wait to get a fly rod into his hands.
Take care my friend,
Billy Shaddox
---
Jack, Dave and I are all set for the 27th and 28th. A couple of
questions. Last year I didn't get out of the raft, so do we need to
bring waders and fishing boots?
Also, you has a rig all set for me, so should we bring rods, reels,
etc or will you supply them. I have all the gear as Dave gave up
fishing a few years ago and got rid of everything, so he will need
all the tackle. He couldn't stay away.
Also, we narrowed accommodations to Strawberry Valley and Woodsman.
Which do you recommend?
See you soon. Warren
---
Hello!
I saw your comments for the Fodor's guide to Chile and I'm taking you up on your offer to answer questions.
We are travelling to Chile on Saturday to pick up our son who has been a missionary there for two years. He has been in the Eastern part of Santiago only and we have never been to Chile. We would like to see the sights in Santiago but would also love to see as much as we can of the rest of the country in the 4+ days we'll have there. Can you recommend a route from Santiago (we'll have a rental car) with good places to stop….interesting roads to take, where to stay, etc? I would be so grateful. I have a Discovery Channel Insight Guide which is great, but I have no idea how to narrow down the information to our short trip….it doesn't give any information about places to stay, etc. either.
Thank you very much in advance for any help you can offer!
Sincerely,
Paula Lloyd
---
Today at a meeting Jeramy and Nick's principal told me that they made of point of telling her what a great time they had fishing. She mentioned that they are usually very quiet, so it made a big impression.
Great job and I look forward to seeing you in the future.
Steve Mitrovich
---
Hi,
Can you provide some info on your services down in Chile and Argentina
Thanks,
Henry
—
Henry Bowles
---
Beneath the photo from the REAGAN DIARIES is an actual quote that Reagan wrote about George "W" in his diaries, recently edited by author Doug Brinkley and published by Harper Collins
---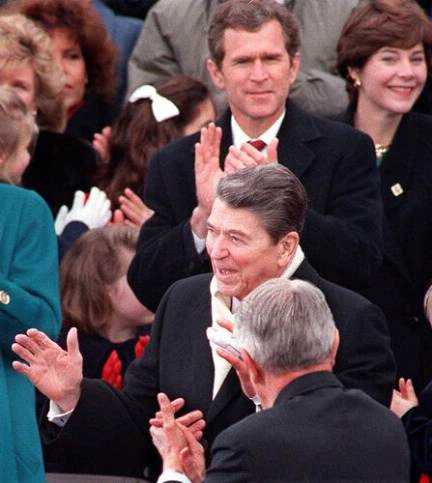 "A moment I've been dreading. George brought his n'er-do-well son around this morning and asked me to find the kid a job. Not the political one who lives in Florida; the one who hangs around here all the time looking shiftless. This so-called kid is already almost 40 and has never had a real job. Maybe I'll call Kinsley over at The New Republic and see if they'll hire him as a contributing editor or something. That looks like easy work."
---