BELIZE FLY FISHING GUIDES PLACENCIA, HOPKINS, BELIZE CITY, SAN PEDRO, AMBERGRIS CAYE, CAYE CAULKER 2019 – 2020 SEASON

 Click here to purchase your fly fishing holiday gift certificates 
  Belize's Lowest Rates For Fly Fishing – Cruise Ship Fly Fishing Experts Since 1994. 
$450 USD for Full Day – Includes Any Gear Needed & Flies Plus Lunch For Two
$350 USD for Half Day – Includes Any Gear Needed & Flies For Two
530-926-4540 – Belize Fishing Hotline

*
BELIZE

*

BELIZE

*

BELIZE

*

BELIZE

*

BELIZE

*

BELIZE

*

BELIZE

*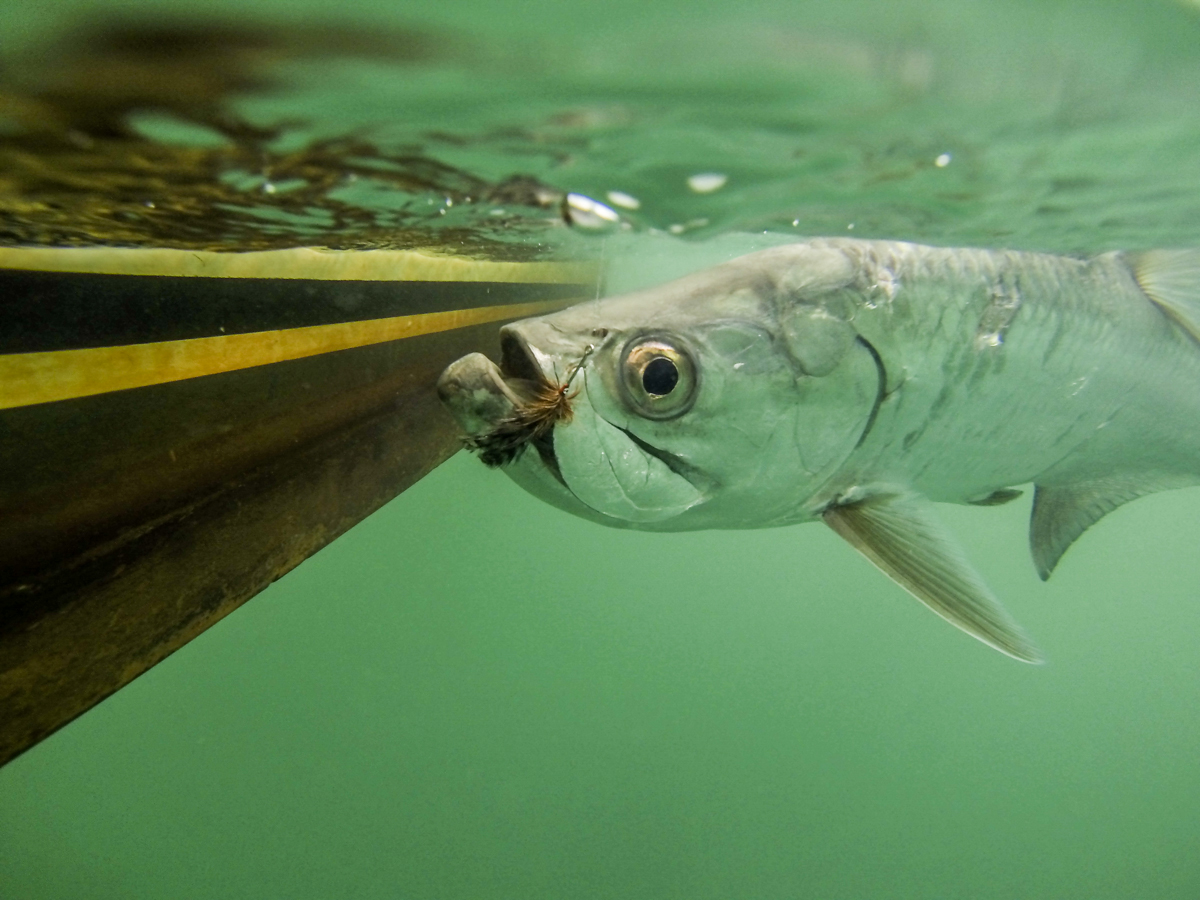 Catching tarpon on flies is always an incredible endeavor especially when you take into account their raw crude prehistoric brute force when hooked with metal like chromed body armor for stealth protection when out ambushing meals. These fish when caught are so strong they can burn the line into the skin of your index finger right after setting because the burst speed of these sea missiles are measured at the speed of  the eye. One should consider wearing a finger sock to lay the line in as a form of respect or fear. Right now our guides are busy taking our clients out to atolls and reefs around Belize, wading the flats looking for bone fish and cruising the mangroves looking for lurking tarpon or my favorite, seeing the tails poking up of
a permit feeding on crabs and they eat mine!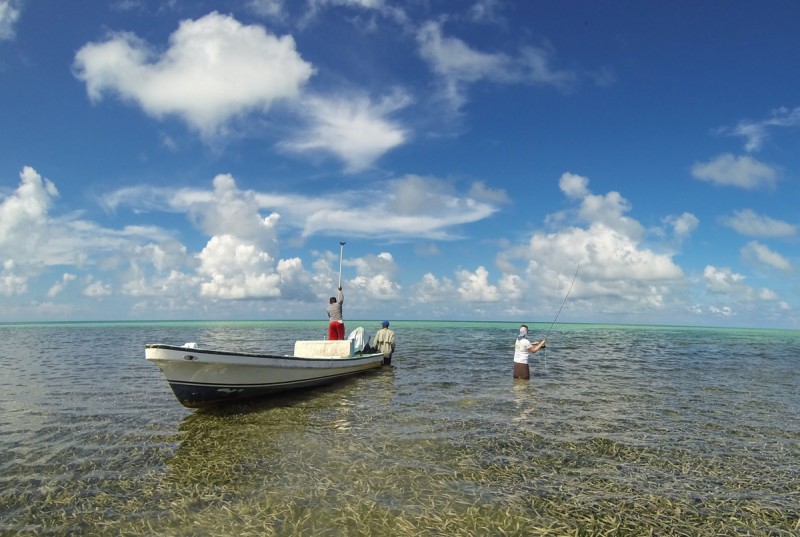 Wading the flats can be a lot fun, it always amazes me how my guides can see fish so easily when most folks can't see anything at all. The bone fish in Belize aren't as big as bones you might catch out at Easter Island or around Florida but the numbers are usually more favorable especially out towards Glover's Reef.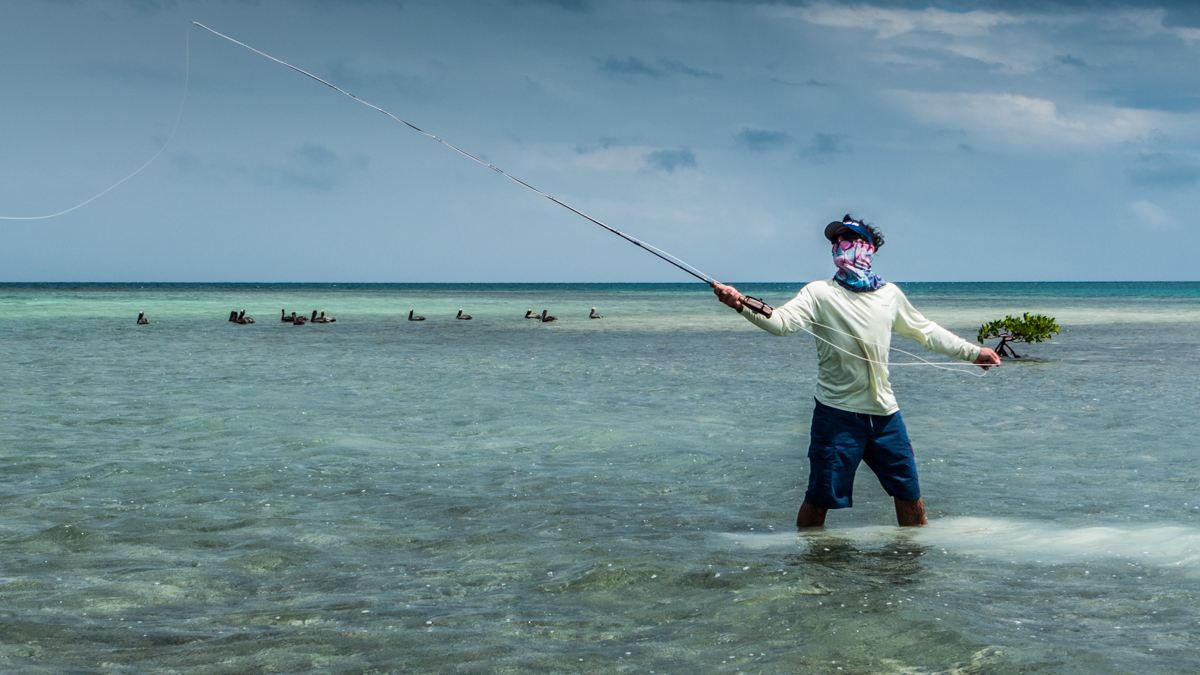 Due to the winds that frequent the area daily, it's good for the seasoned angler to learn how to double haul cast. Beginners can learn out on the water casting with the guides or cast from the boat to schools of feeding fish.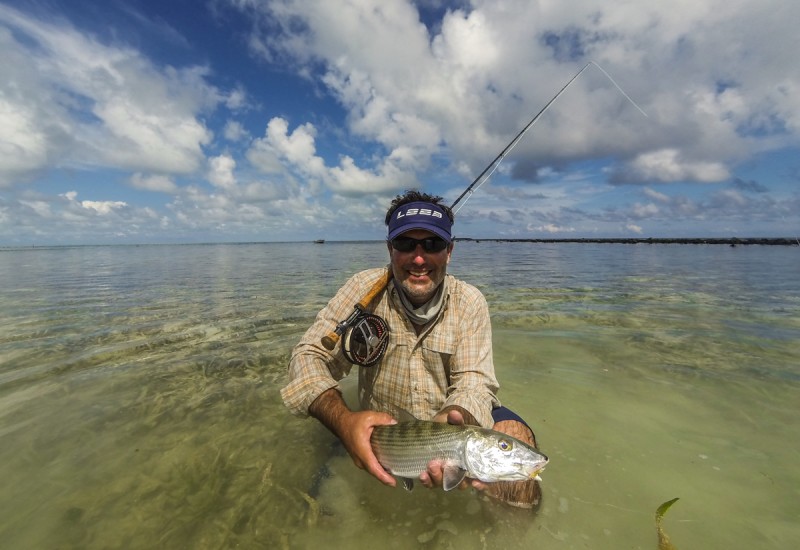 Brian enjoyed his trip to Belize with my guides and they caught many quality ocean fish on this trip. We're pretty excited about it folks.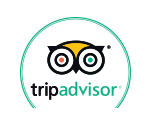 December 2019
This spring I called Jack to chat about going bonefishing. He recommended central/southern Belize. After an outstanding fishing trip in Chile and Argentina, where I first used Jack and his kick-ass guide, Mattias, I knew that I'd be in good hands in Belize. So, I went ahead and booked the trip. A few weeks later, his guides – brothers Wayne and Dan Castillanos, had me casting to big bonefish, permit, tarpon, and snook! It was a trip of a lifetime, one that I hope to repeat again and again. If you're looking for an honest, competent, and credible guide/contact for your next fishing trip, you've found the Holy Grail. Jack and his wife, Corolla, are the best. I won't book through anyone else. They're family, now. Thanks again for the wonderful trips!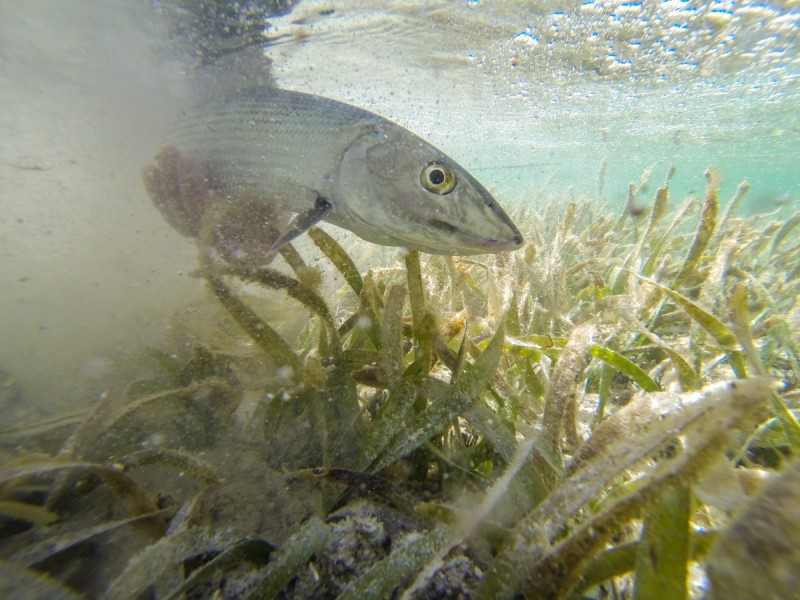 Hard fighting bone fish is always great for the ego, there's no end to the amounts of bone fish that frequent the flats looking to feed on your small pink crazy charlie.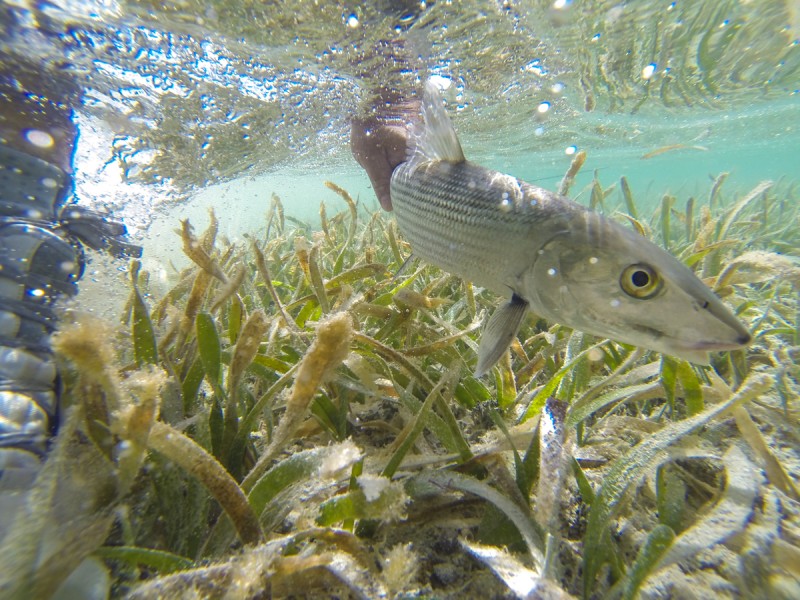 This is a good place for a beginner to learn fly fishing, these fish are user friendly and you don't have to cast that far to catch them.
 Then on another day Brian caught this incredible tarpon in the mangroves on a black death fly on 80 lb tippet. A true knight in shining armor, you'll need to pull out your best excalibur to land this heavy metal legend.
It was a perfect day to be out on the water and Brian's wife enjoyed the views, but cover up the sun can be a scorcher on some of the days.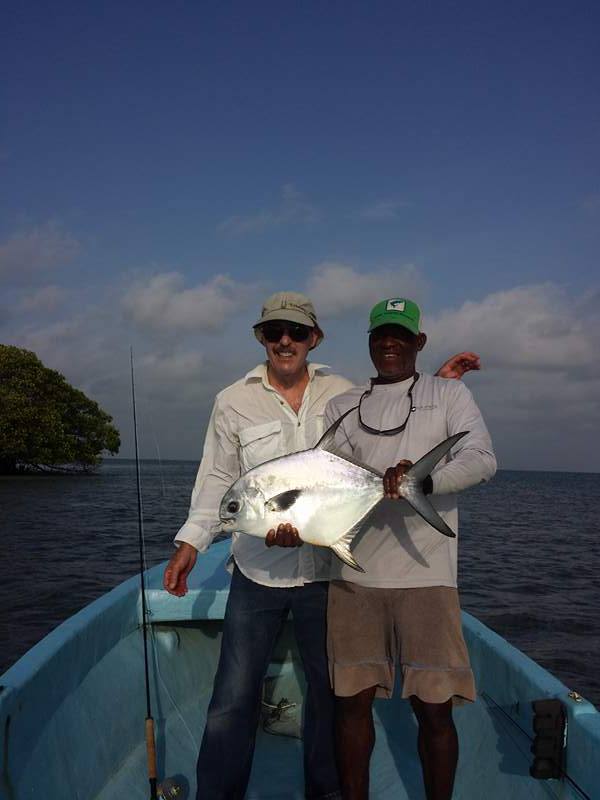 Lloyd has been championing the Belizean fly fishing scene now for 30 years come 2020, I am very proud of him and we have been friends and partners in Belize ever since 1994.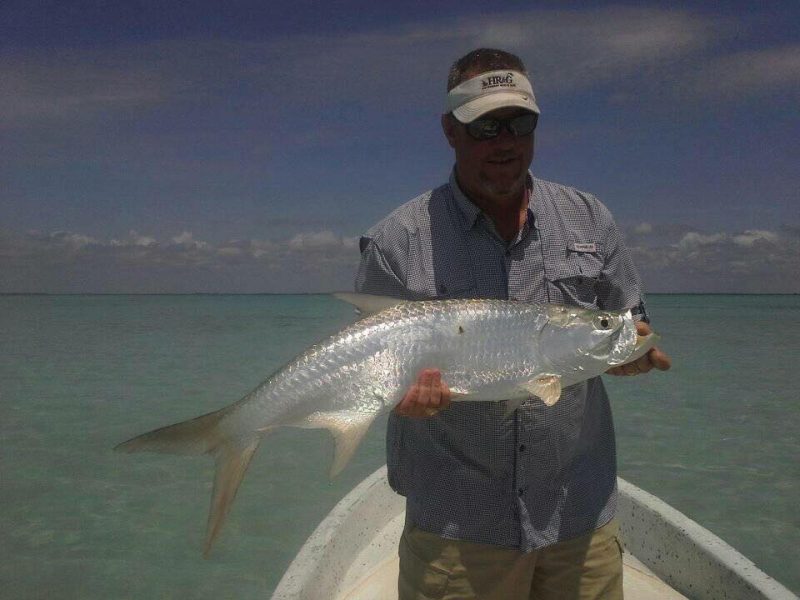 Tarpon are really fun on the fly. There's more baby tarpon in Belize in the mangroves and the channels but I can't think of a better place other than Cuba to get a Grand Slam with your fly rod.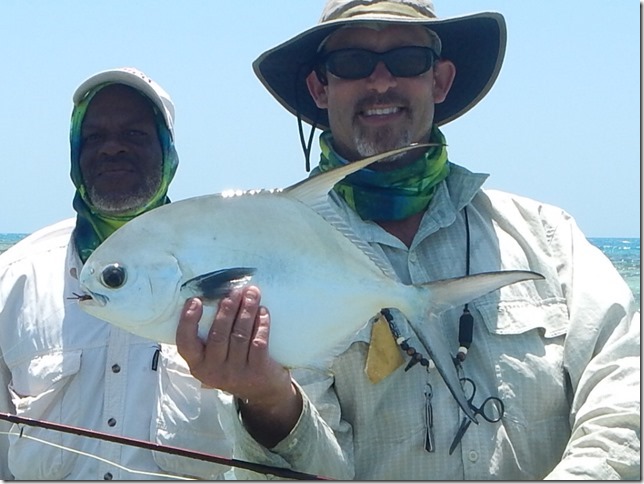 Lloyd Nunez got me my first permit in Belize and we haven't looked bac since. 🙂  What a good guy and check out our web site for fly fishing Belize – https://www.jacktrout.com/index.php/destinations/belize.html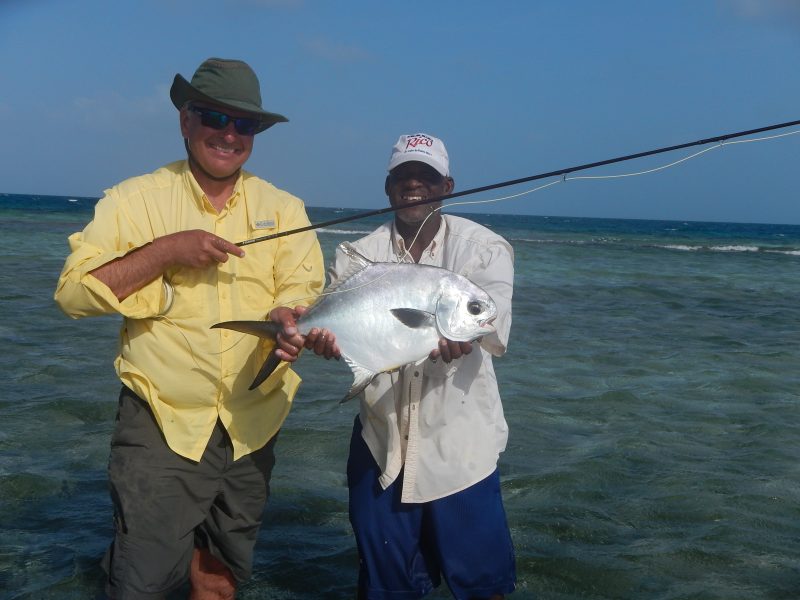 Lloyd Nunez from Hopkins Village with legend fly fishing author Jason Randall with his first Permit ever landed with Jack Trout Fly Fishing International. 
My guide Lloyd and his son Ivan, heading out for another day out on the ocean reefs of Belize, the second biggest reefs in the world. Lloyd and I have been working  together for 25 years and this year is our best year ever.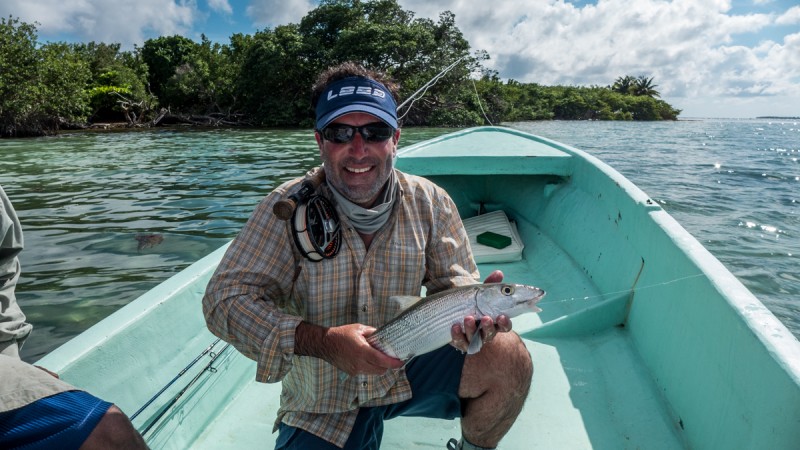 Brian thanks for coming down and hooking all those fish and taking great pics, look forward to seeing you in Chile in the future. Up casting on the deck bring a pair of socks so you can feel the line under your foot when you need that huge double haul to make a perfect cast and it gets caught under your foot. That's a great Jack Trout saltwater fly fishing tip. 
Good job King Lloyd the Guide, you are truly an accomplished fly fishing guide and Belizean fish finder. Over the years clients have loved your service, your knowledge, your dedication and commitment to being a top fly fishing Belize guide.
TRIP ADVISOR REVIEW
"Belize"
Reviewed November 27, 2013 NEW
Jack was very helpful preparing me for my trip by supplying local flies. He connected me with the region's best guide and we caught a ton of fish. The permit escaped me, however, so I'll be back. Hopefully with Lloyd.
Was this review helpful?Yes1
Problem with this review?
This review is the subjective opinion of a TripAdvisor member and not of TripAdvisor LLC.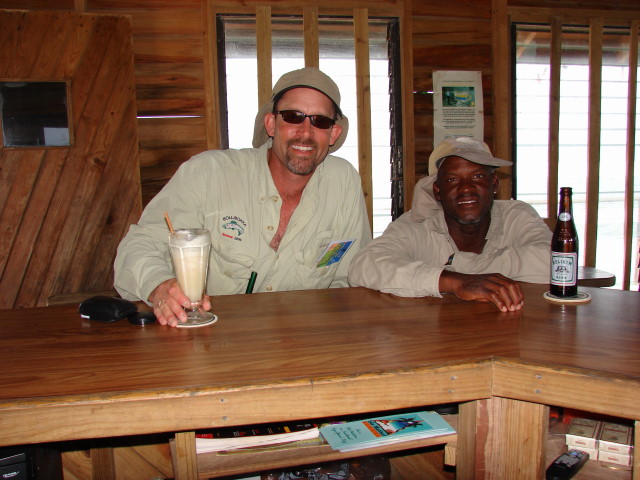 Yea, Lloyd and I have had a lot of good times together over the years.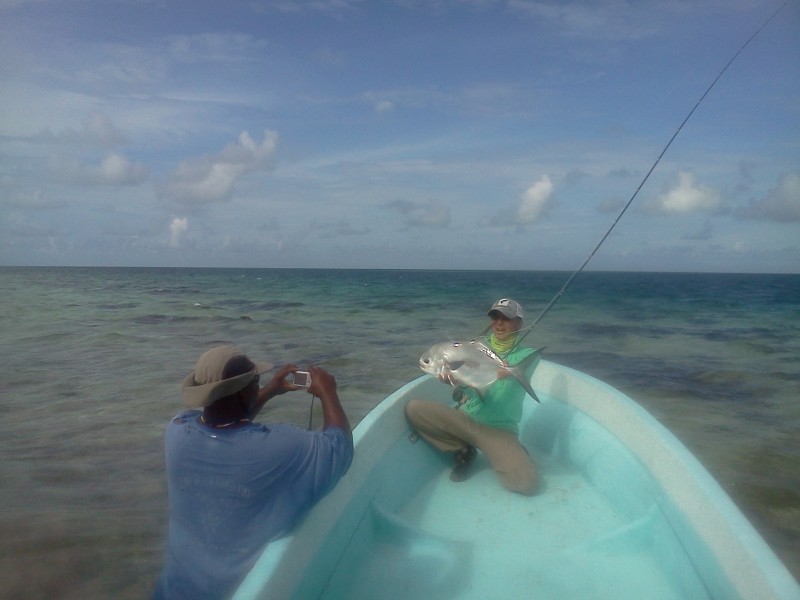 Meanwhile not too far away our guide Lincoln is got our another client into his first permit. John really enjoyed this hard fighting ocean fish that would make anyone's day.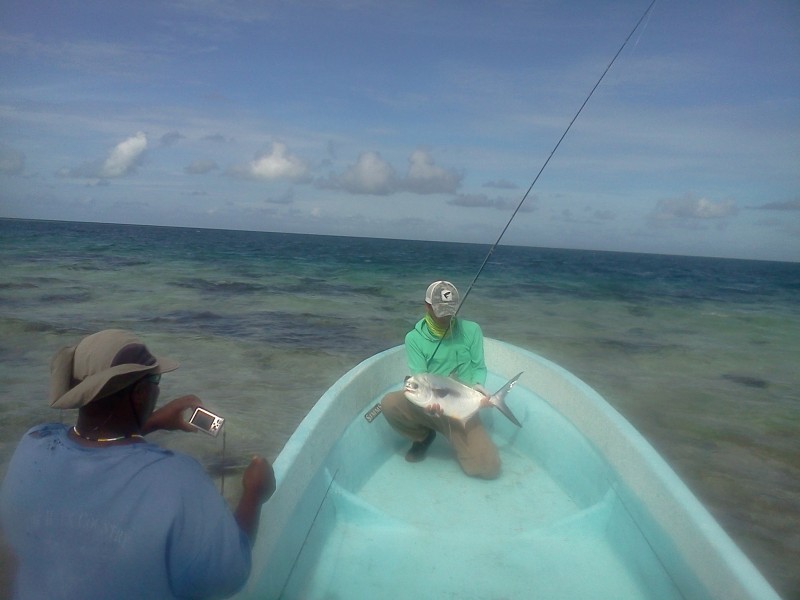 These fish fight so hard, I remembered when I caught my first permit on an 10 wt fly rod, it was like hooking into car door with a motor!
Contact us to go over the gear you need for your trips and the tides for the day of your guide trips. We are always on top of what's going on in fly fishing in Placencia and Hopkins Belize.
 info@jacktrout or 530-926-4540  ~ Jack & Carola Trout – Belize fly List for fishing
BELIZE CITY – SAN PEDRO – AMBERGRIS CAYE – CAYE CAULKER FLY FISHING GUIDES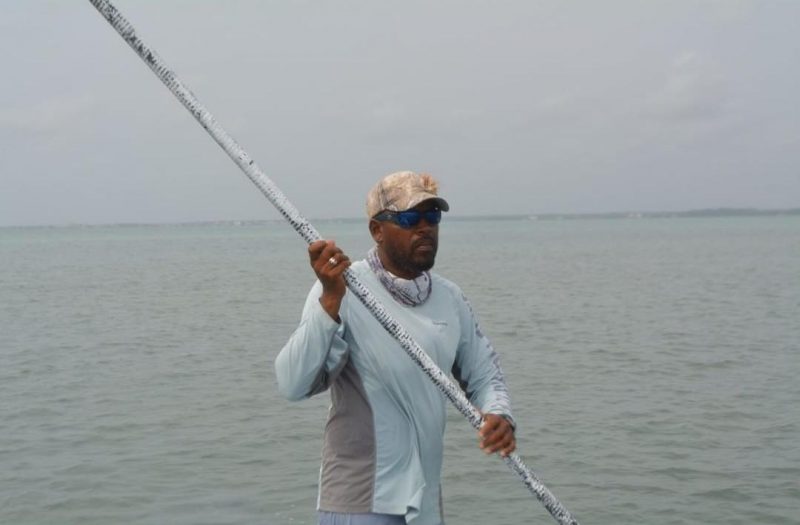 This is our head guide out of Belize City Dennis Young, he services the Cruise Ships and our main goal is to get you a Grand Slam, which is a bone fish, permit and tarpon in one day or on one trip all on a fly rod. Saltwater fly fishing is incredible and jumping these coveted species fly rods between 7 wt. to 12 wt. and actually pulling it all off is what we call in Belize "Living Large on the Fly!" But honestly, getting that Grand Slam under your belt is got to be one of the most rewarding accomplishments saltwater fly fishing has to offer and we want to be the ones who assist you in doing so.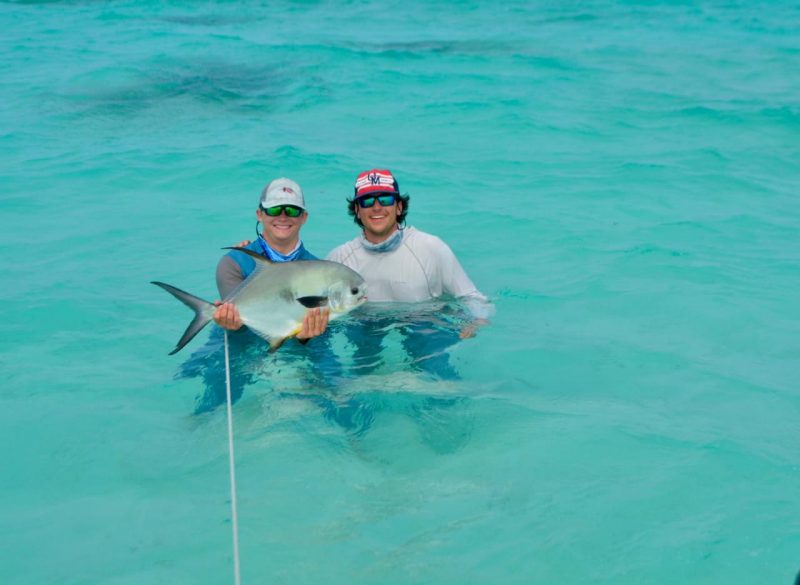 The Permit is the toughest fish out of the three to land on a fly.  Permit are very elusive and will usually only take a good crab or shrimp imitation and they need to see it drop in front of their face as they are turning back up, as though to take it last second and they're on! You need to listen very carefully to what your guide says and cast it very accurately. Next you need to listen to exactly what your guide says – He might say, "Take two short strips and stop!" "Ok, do four strips quick then two more strips slow." Be sure not to raise your tip to set and wait for your guide to say set as they know how the Permit are feeding and what is common for that particular grounds or country. The number one biggest key to getting the Permit landed is listening to your fly fishing guide, he knows what to do in every circumstance.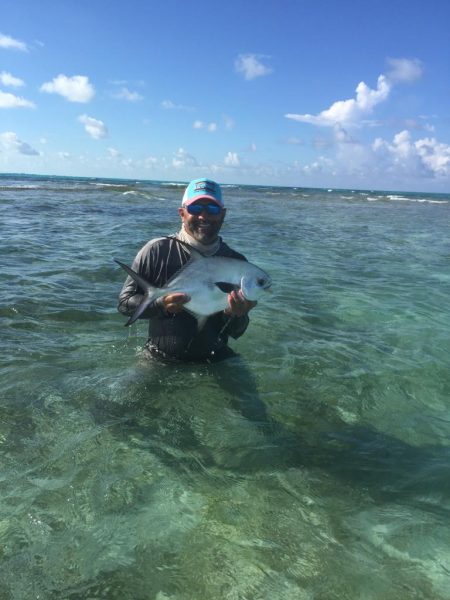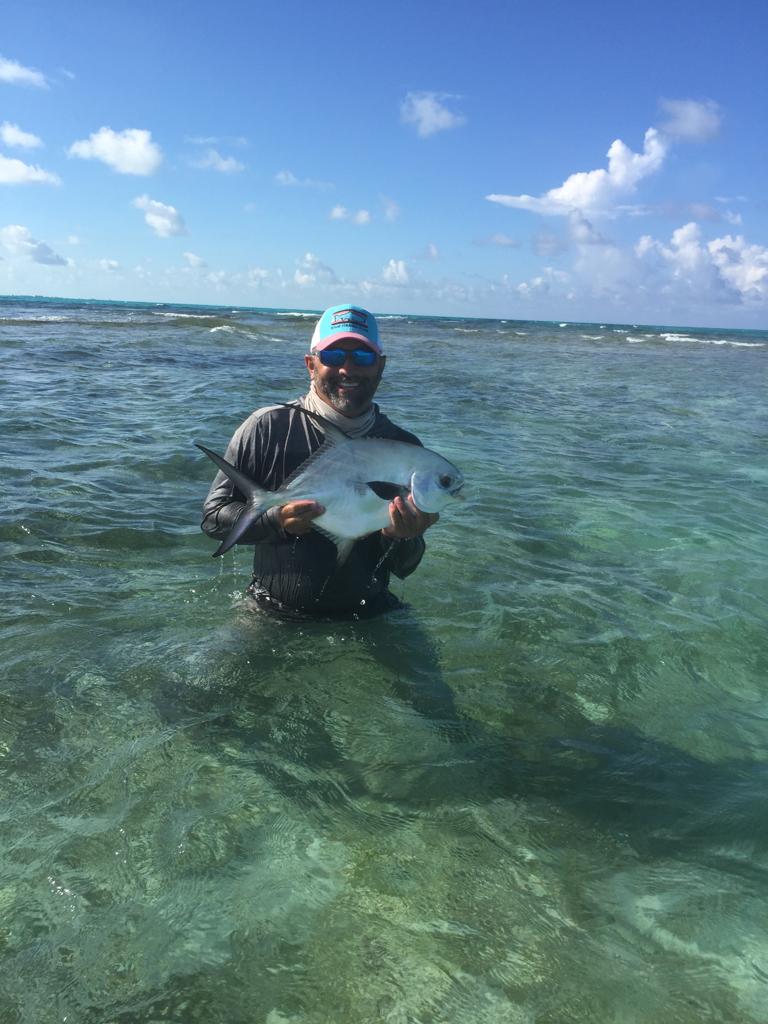 Dennis Young is one of the most celebrated fly fishing guides in Belize and the only I guide I have ever heard of that gets our clients Grand Slams right off the cruise ships, he's done it several times in short period of time. But this guy is a superstar guide and knows his waters like his own backyard.  If you need a guide in Belize – info@jacktrout.com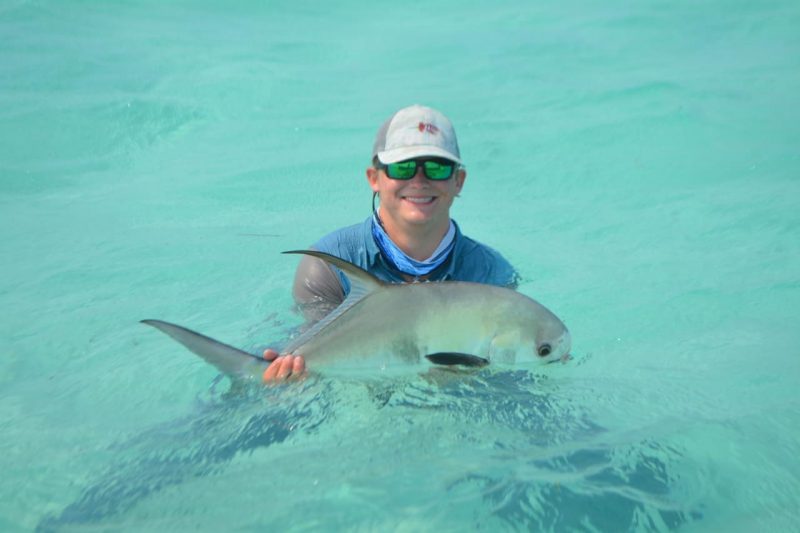 Permit are so unique when you are playing them, the only word I can use to describe it is spongy? When you turn them they don't feel like a fish with a pointed nose, they bend and swerve and I swear it's a kind of cushy feeling I have never ever experienced with any other fish. Don't get me wrong, when you first hook into the raw diamond of the ocean, the burst speed off the hook up is unlike anything I've ever experienced, you have no control until they decide to turn and come back so keep your tip high and work the fish back and forth by confusing tactics as this is one on one warfare of the sea and unless you can walk on water, the Permit always holds the advantage.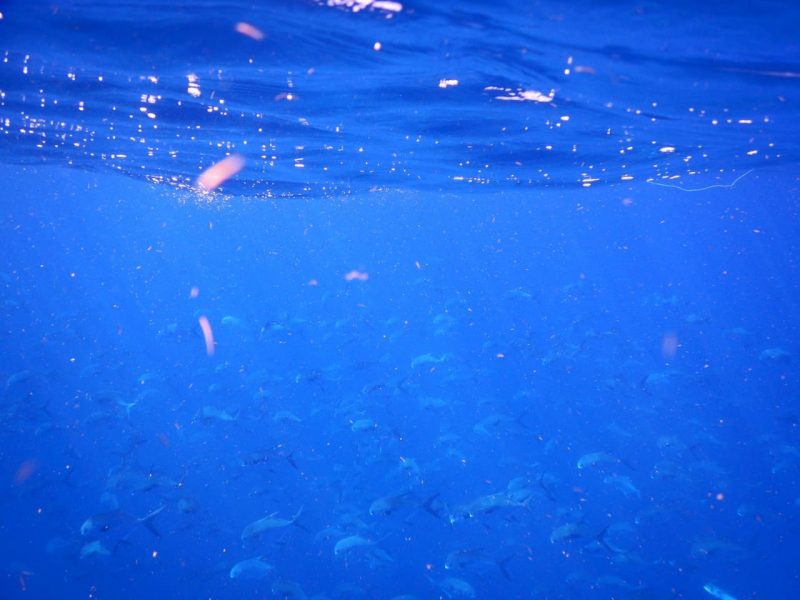 Belize is a normal migratory path for Permit, Tarpon & Bone Fish, it is not uncommon to see schools like this too, so there's a little bit of luck involved too this makes it even more rewarding when it finally happens. But even getting one specie and getting out on the ocean is worth it all. Most of the time it comes down to the better the fly casting and angler you are, the better you do if that's your thing. Some folks just want to get out fly fishing for a few days, catch anything and proceed back to the beach with their partner with drink in hand.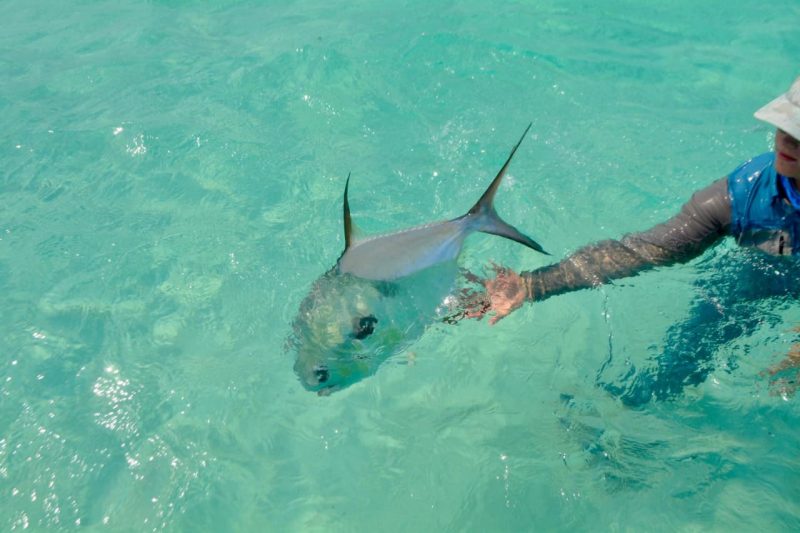 But rest assured, when it's your time out on the oceans of Belize in Placencia, Hopkins, Belize City, San Pedro, Ambergris Cayes, Caye Caulker or Glover's Reef. We only offer the best fly fishing guides, boats and equipment for the best prices.
$450 USD Day trip for two with all gear, flies and lunch. $350 USD Half Day trip, all the same but no lunch.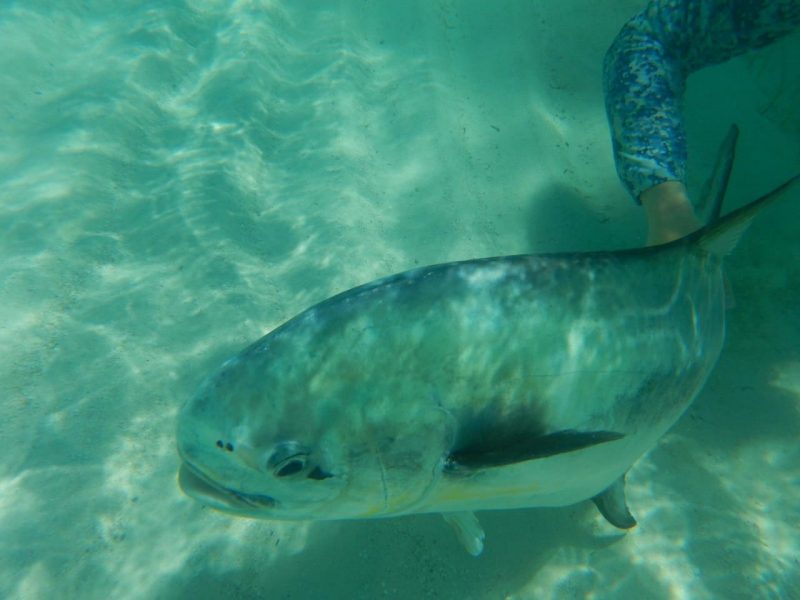 These Permit like to eat Bauer Crabs in tan or green, the only come in one size or you could tie them.
More and more women are getting into fly fishing and this really has the sport growing, we want to help you by providing all the saltwater fly fishing gear for free.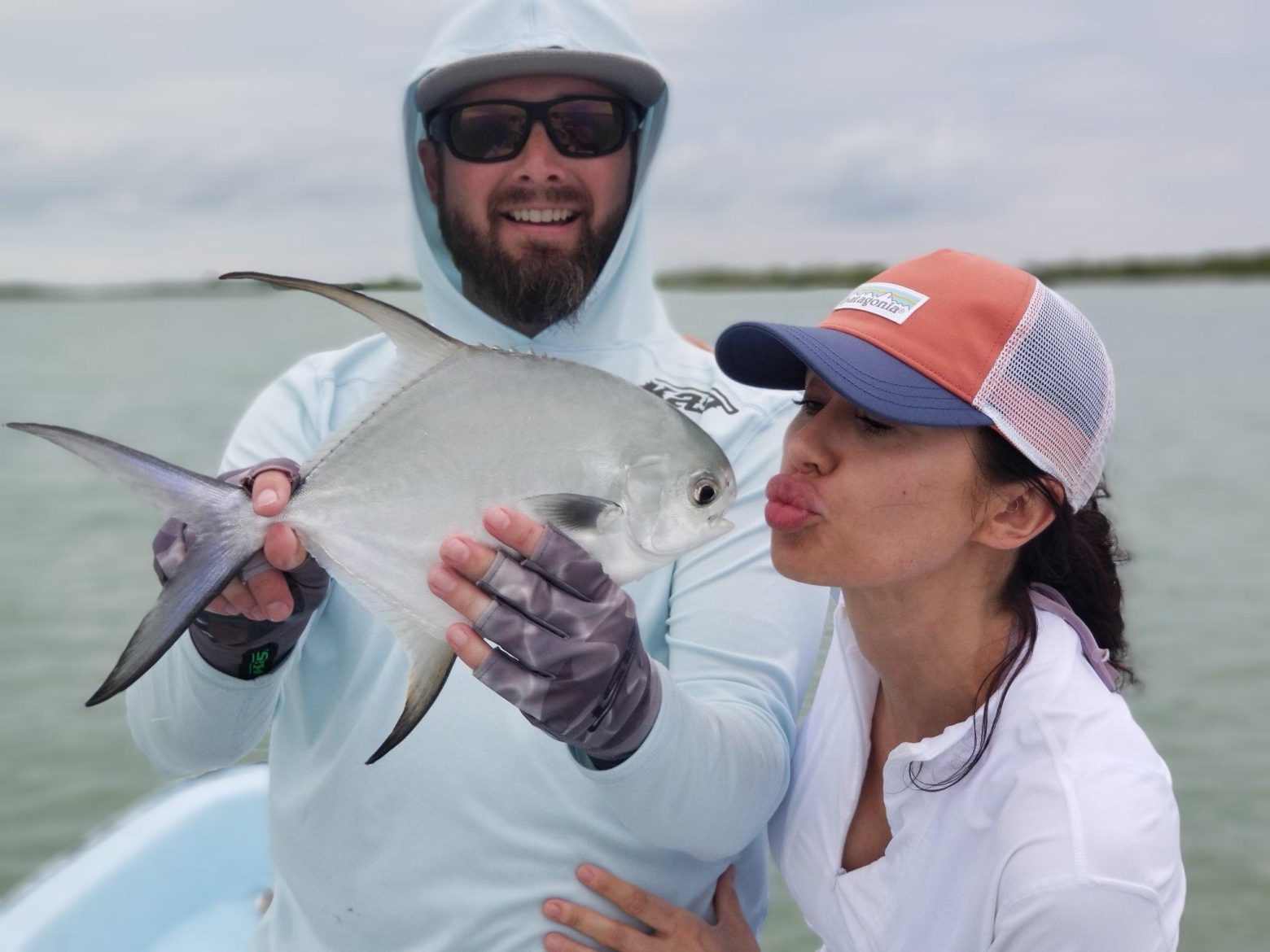 It's a great sport for couples to do together and together you grow learning something that takes you to the best locations in the world.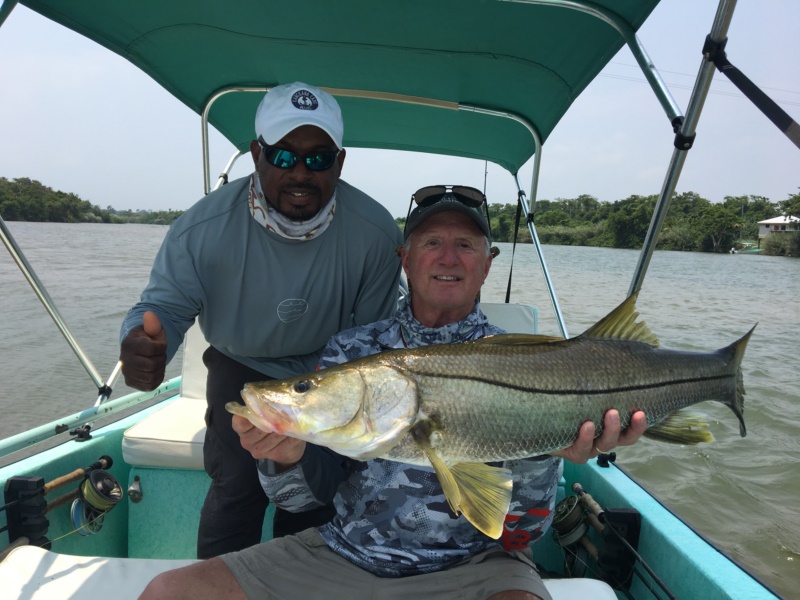 My fly fishing guide Wayne Castellanos has been serving the fly fishing community for over 20 years, let us show you why he or his brother Daniel are the best fly fishing guides in Placencia, Belize.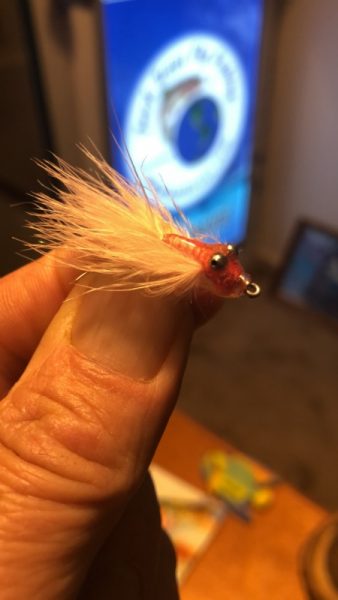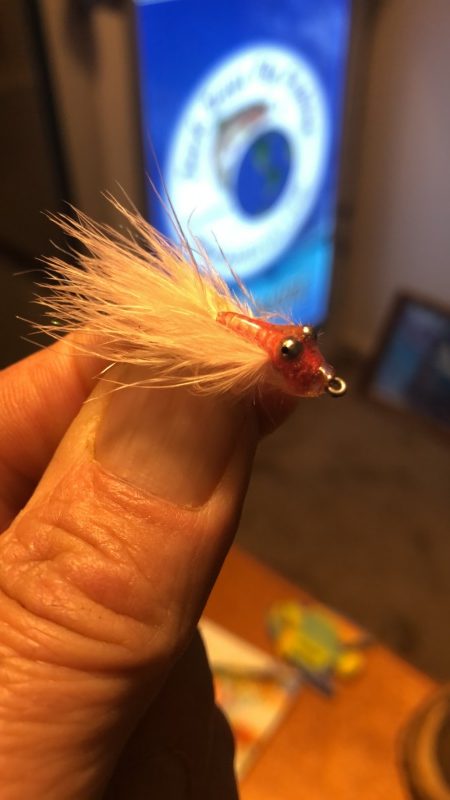 These are some Crazy Charlies a shrimp fly I tie and add a little epoxy, these are really easy to tie, so contact me and I can help you for free. Guides love it when you show up with a few of your own. 🙂 Size 8 in pink, pearl and tan.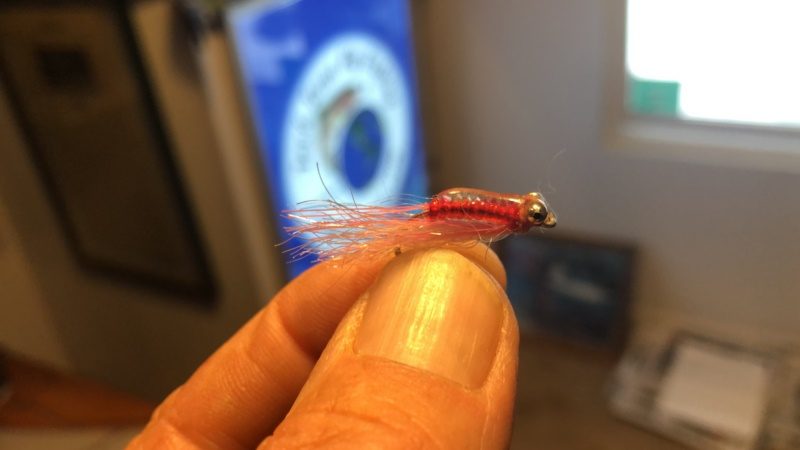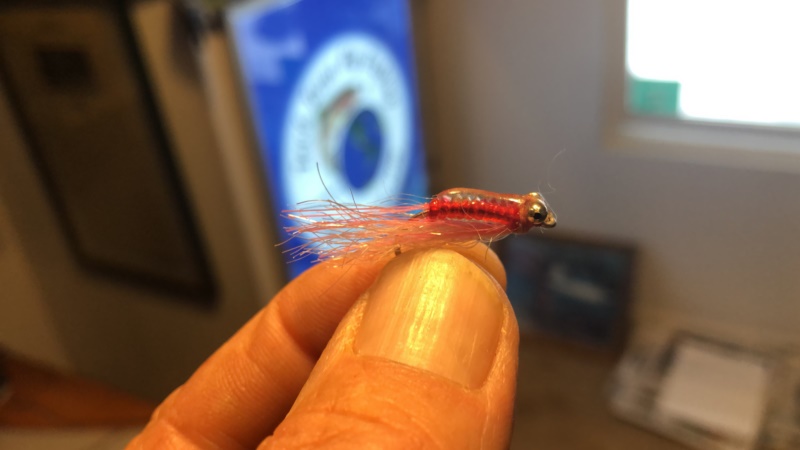 Give me a call and we can tie some up together or go over the plan via Facebook or Skype.
– Jack Trout 530-859-8087 Cell

My good friend and head guide Abel Garcia who has personally discovered many Mayan caves and Mayan Mountain spiritual passages out in the jungles of Belize. I remember one time over 10 years ago he had just discovered on his birthday this cave up in the hills that led to many Mayan tunnels and sacrificial chambers, the place was incredible and untouched. I remember seeing perfect unscathed pots and green gem stones as well as tunnels that led to more tunnels and stairs that led to stair cases that eventually dropped us out into this huge gathering area. An obvious ritual center, this area was totally open to the sky with lush green ferns hanging down from the sunlight, like an ancestral Seattle Super Dome . Later the next year Abel shared his discoveries with the Discovery Channel and the show was equally impressive. We can book your trips to Cave Branch Resort and request Abel Garcia to guide you.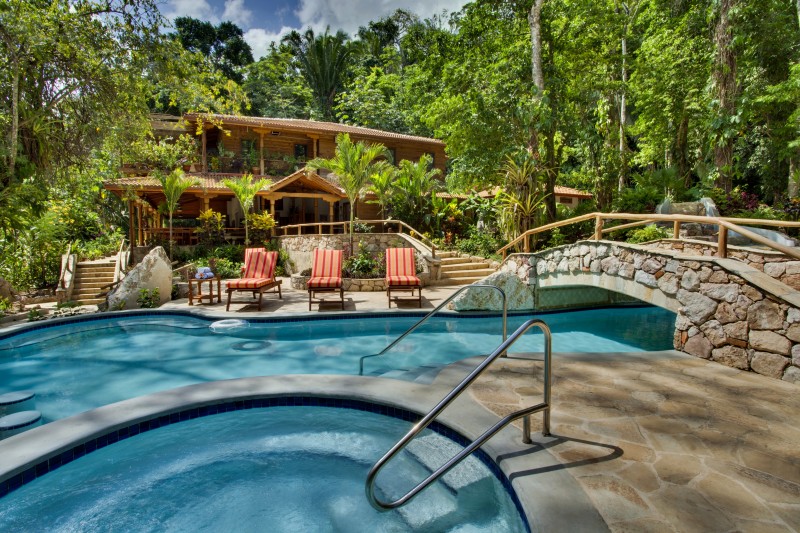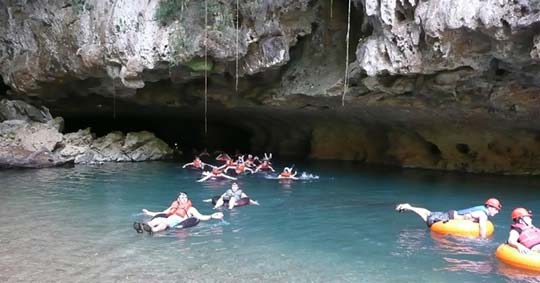 When you're visiting us for fly fishing we highly suggest you have us book your trip at Caves Branch Jungle Adventure Resort. the whole family will love it here. The river cave float trip is a real hoot!
 This a great place to try something new and exciting, hope you can make it here.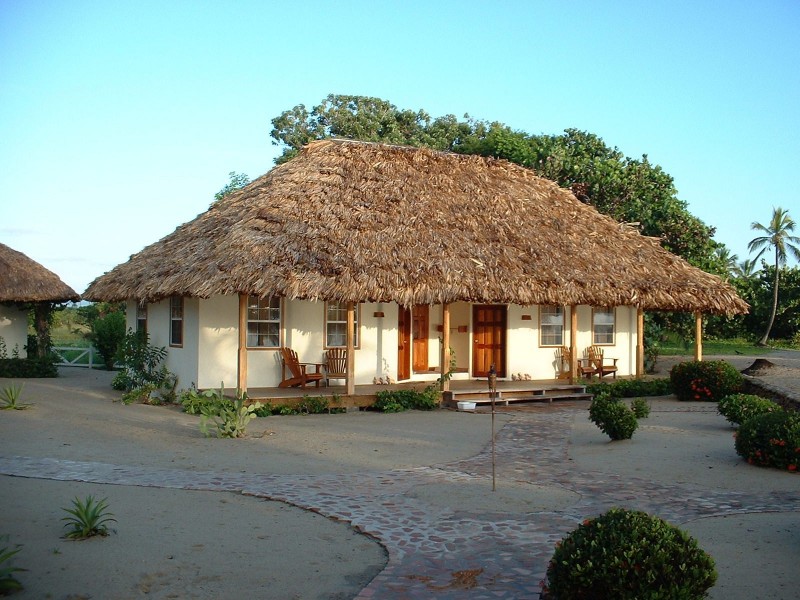 We can lodge you in this cabin for a weekly package or do daily fly fishing trips out to the reefs, flats and atolls.
BELIZE PRICE LIST
Fly Fishing Trips with our very experienced local fly fishing guides from Hopkins Village & Placencia, Belize. Bones, Permit, Tarpon are what we mainly fish for in a 22 foot professional flats boat.
– GUIDED PER DAY FLY FISHING REEF TRIPS (NO LODGING) –
1 or 2 Anglers All Day ~ Blue Grounds/South Water Caye $400 1 or 2 Anglers All Day ~ Glovers Reef $450
Extra Angler ~ Blue Grounds/South Water Caye $175 – Glover's Reef $200
5 Star ~ Tarpon Permit Reef Fly Fishing Package
$3250 per week per person. Double Occupancy
8 days 7 nights 6 days fly fishing or 5 days fly fishing, one day Mayan Cave River Tour. All Meals, Lodging, Transportation, Guiding, Flats Boat 2 days out to Glovers Reef with this package.
Hopkins & Placencia Fly Fishing Package
3 Star ~ Hopkins Village or Placencia Fly Fishing Package $2150 per week per person. Double Occupancy 8 days 7 nights 5 days fly fishing, one day Mayan Cave River Tour. All Meals, Lodging, Transportation, Guiding, Flats Boat. This packages Includes one day out to Glovers Reef. Home is located right on the beach and within walking distance to restaurants, pub and Sittee River.
We can also entertain the Non-Angler with these activities:
Mayan Tours, Scenic River Tours, Snorkeling, Diving Blue Hole or Glover's Reef, Atoll Bar Hopping (Very Popular!!) or Fishing / Atoll Bar Hopping
Hi I'm Jack Trout, I would like to welcome you to Belize and we look forward to helping your fly fishing adventures be a total success. We have the experience and the best fly fishing guides that service the area with gear rentals and the right flies and tippets.
First rate lodging for all budgets at a resort or a home on the beach or an island. There's something to do for everyone in the family as a whole or individually. I have recently seen airfare around $759 round trip from most terminals to Belize City, then you take a small hop flight to where we are and we pick you up there.
Give us a call and we can discuss your adventure family trip to Belize. 530-926-4540 or info@jaktrout.com
We look forward to making your Belize fly fishing vacation a  memorable one. Jack & Carola Trout
Trip Advisor Reviews on Jack Trout Fly Fishing International –
******************************************************************************************
BELIZE AIRLINE & FLIGHT INFORMATION FROM UNITED STATES, CANADA, UNITED KINGDOM
From the United States:
Direct flights to Belize (Philip Goldson) International Airport (BZE) are available from:
Atlanta(ATL):-Delta 1-800-221-1212 http://www.delta.com
Charlotte (CLT):-US Airways 1– 800-428-4322  http://www.usairways.com
Dallas (DFW):-American Airlines 1-800-433-7300  www.aa.com
Houston (IAH): Continental & Group Taca 1-800-523-3273 http://www.continental.com
Miami (MIA): American Airlines 1-800-433-7300
Newark (EWR):-American Airlines 1-800-433-7300 http://www.americanairlines.com
From Canada:
American Airlines for example from Calgary (YYC), Montreal (YUL) or Toronto (YYZ) through Dallas (DFW) to Belize (BZE) – flight times 7hrs:35min, 8hrs:20min & 8hrs:25min respectively.
Or with American Airlines from Ottawa (YOW) through Chicago (ORD) & Dallas (DFW) 9hrs: 40 min.
Connecting flights with Continental for example from Calgary; Montreal (YUL); Toronto (YYZ) and Vancouver (YVR) through Houston (IAH) to Belize (BZE) – flight times: 8hrs, 7hrs:44min , 6hrs:23min & 9hrs:53min respectively.
Or with Continental from Ottawa (YOW) through Newark (EWR) – flight time 10hrs:16min.
Delta Airlines from Toronto via Atlanta – flight time 7 hrs
TACA from Toronto via San Salvador 7hrs
US Airways from Toronto via Charlotte 7hrs
From the United Kingdom & Continental Europe:
Connecting flights with British Airways – London Heathrow (LHR) via Miami with American Airlines (overnight stay in Miami on outbound flight).
Connecting flights with Condor – Frankfurt (FRA) via Cancun with Maya Island Air (overnight stay in Cancun on outbound flight).
Other connecting flights from almost all major European cities through United States gateways to Belize listed above: Atlanta with Delta; Charlotte with US Airways; Dallas:-American Airlines
Houston: Continental & Group Taca; Miami: American Airlines and Newark:-American Airlines, all however require overnight stay in US on outbound flight.
Contact details for airlines from Belize:
American Airlines +1 225-4145 www.aa.com
British Airways http://www.ba.com
Condor http://www.condor.com
Continental +1 800-226-3822 http://www.continental.com
Delta +1 225-3423 www.delta.com
Taca +1 225-2163 www.taca.com 
US Airways +1 800-622-1015 http://www.usairways.com
Dangriga is located approximately 30 minutes by air from mainland Belize. Daily flights from the Philip Goldson International Airport as well as hourly from the Belize City Municipal Airstrip to Dandriga are provided by the local airlines Maya Island Air http://www.mayaregional.com/ and Tropic Air http://www.tropicair.com/  Tel: Belize +501 226-2012
Guest are met and greeted at Dangriga airstrip and taken with their luggage by one our guides or staff directly to the our lodging, cabin or house – 40 minutes away.
Call us and we can help you set up your flights and make sure your Belizean dream vacation all goes correct! Jack & Carola Trout – Team Belize Jack Trout International
We can also help you with your fly fishing, snorkeling, diving, Mayan tours, rent a cars and information on traveling in Belize, just give a shout! info@jacktrout.com
***** CHECK OUT OUR OTHER INTERNATIONAL LOCATIONS *****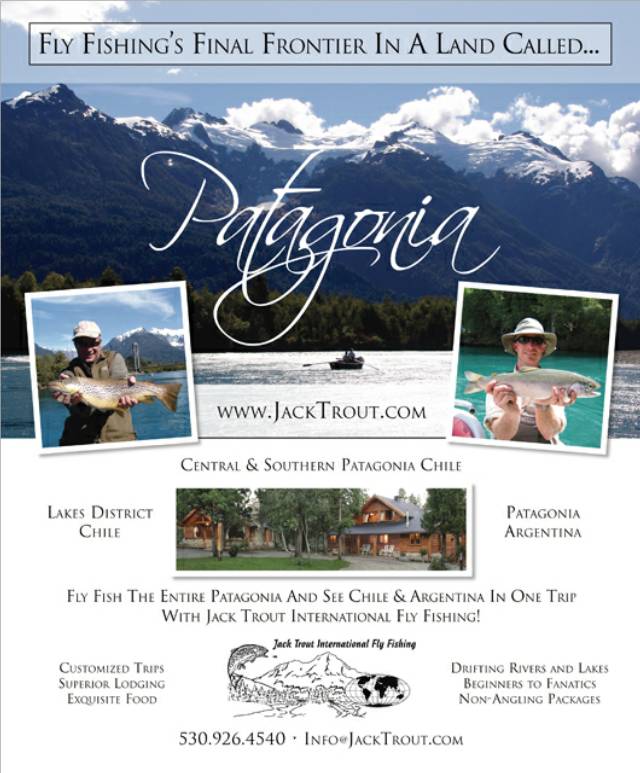 North Bay Chapter