MY COMPUTER CRASHED WITH EVERYONE'S EMAIL ADDRESSES, I DON'T HAVE ACCESS TO MY LIST IN CHILE, PLEASE EMAIL TO ADD YOU BACK ON

.
FALL STEELHEAD FISHING ON KLAMATH & TRINITY RIVERS – TROUT FISHING ON THE LOWER SACRAMENTO RIVER – UPPER SAC STAYS OPEN ALL YEAR
McCLOUD RIVER, HAT CREEK & PIT RIVERS ALL CLOSE ON NOVEMBER 15TH.

Congratulations to the San Francisco Giants 2012 World Series Champions! – Kobe Beef is a die hard fan, when he's not out being my deck-hand!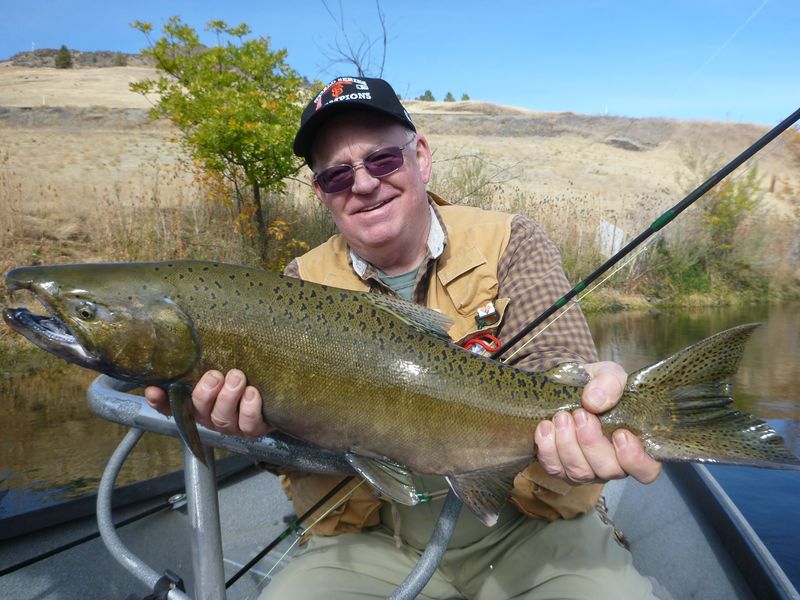 Over on the Klamath River local  Mount Shastaian, Emil ……  was equally happy about this huge salmon he caught on a 7 wt fly rod! The next time you go into Ray's Food Place, in Mt Shasta say hi to Emil. 35 years of serving the town of Mount Shasta with a smiling face! 🙂 (Emil spelled backwards is LIME, funny he likes margaritas…?)

 Tomas Kohn came out from the East Coast and enjoyed thoroughly his day on the McCloud river dry fly fishing and steelhead fishing on the Klamath River. Tomas Kohn is a former Professor at Boston University School of Business. Don't you just love people who create new things and become entrepenuers, better yet I like praising the people who teach it! My father was a school teacher for 33 years in Portola
and  a fishing guide for 16 years, he always encouraged me to create and start businesses as early as 16 years old.

 I always feel smarter when I guide brainy guys like Tomas Kohn. I'm thinking about everyone on the East Coast and I just heard to give blood
call – 800-Red Cross. Carola and I will give blood and the next 2 days. If this is the first time the stock market has been forced closed since 1888, this is bigtime people, time to step up to the plate!
John & Diane Rappaport from Orono, Minnesota came out to fish and visit after fishing with us for a week in Chile this past season down under. They loved the Shasta area and enjoyed staying at the Mount Shasta Resort, but moreso they loved this ghost bridge from 1916 that stands proud down above Dog Creek on Fenders Ferry Road.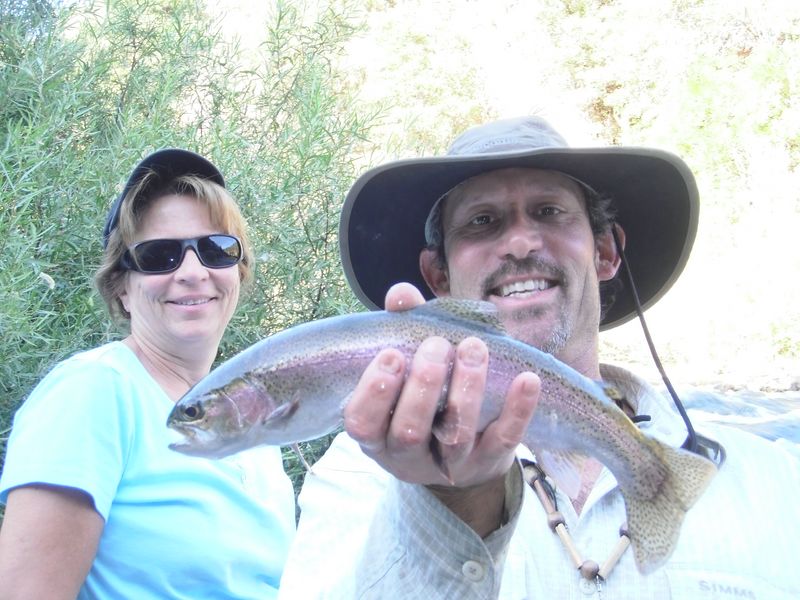 That day the fishing was real good and Diane hooked many trout on her 5 wt. fly rod.
John and I picked back up where we left off in Chile hooking nice trout and laughing about the experience as the day unfolds.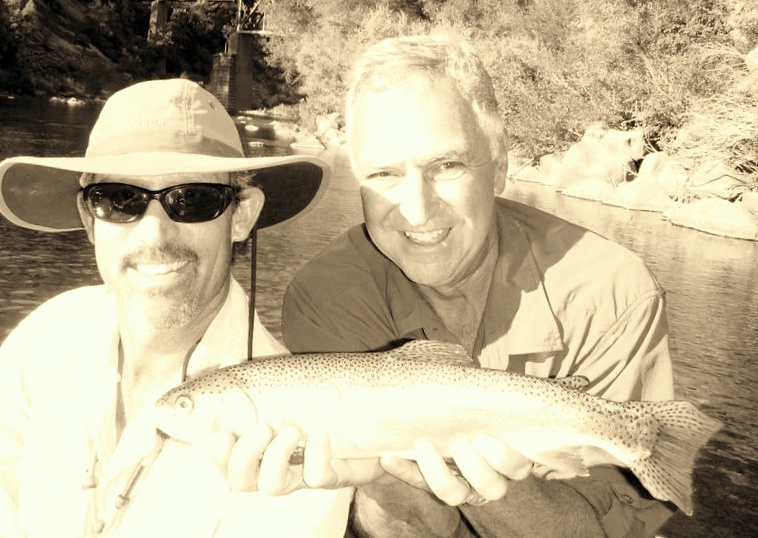 When we get to talking about history, movies, stories about Diane & John growing up with Bob Dylan and fly fishing this next season in Chile and Argentina,
everything just turns back & white.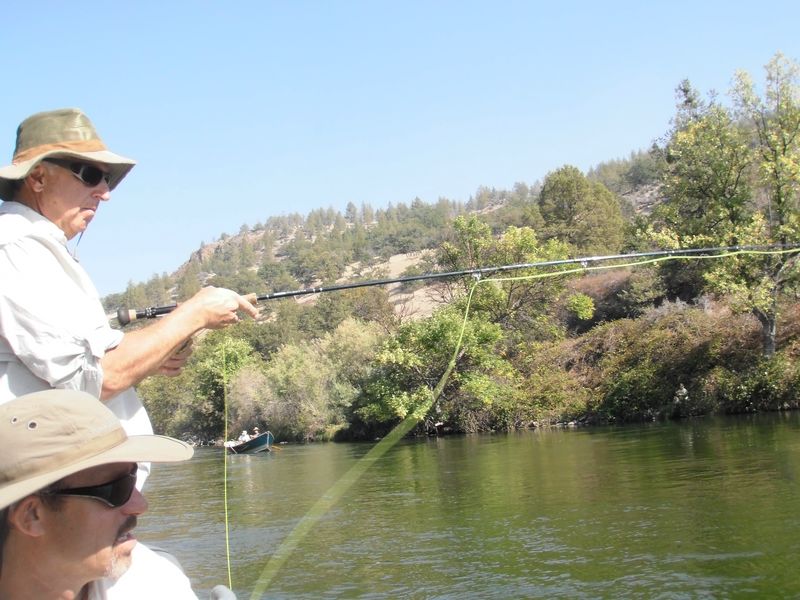 John enjoyed his first time fishing on the on the Klamath River and that day we hooked trout, steelhead and salmon. Sure would be great to see the dams taken out on the Klamath River the banks are really getting over grown and the blue-green algae is thick throughout the river system. This river needs a good
scrubbing and a river blow-out that would turn the rocks over thus returning gravel bars and easy spawning grounds to the upper sections on the Klamath River. For a salmon it's like making love on interstate 5, hard to turn over gravel let alone keep it humming in this sickly green river!   You think this year was a good salmon run, wait until you take down that wall.
……… take down that wall! 
(Just my opinion after guiding on the river every fall for 21 years)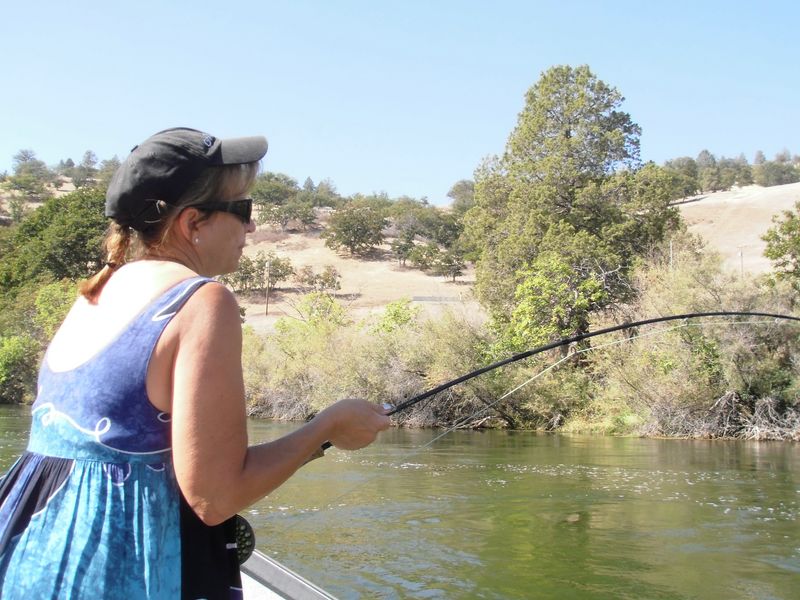 Diane with another lunker on. The salmon run approximately 163 miles to this section where they spawn, if the dams are taken out on the Klamath River it would be the largest project of its kind ever in the United States. Many of you say to me," I thought I heard that the dams issue was approved to be taken out?" That is true but the California Water Board approved a one year lease to Pacific Power on July 21st 2012.
Toxic algae found in Klamath River; chinook salmon's fall run not affected
Record Searchlight
Posted September 12, 2012 at 11:08 p.m.
Water quality officials have posted signs on the Klamath River from Copco Reservoir east of Interstate 5 to near Highway 101 on the coast warning people to stay away from blue-green algae in the water.
The signs warn swimmers, boaters and other river users not to come in contact with the toxic algae.
The algae can cause skin rashes, eye irritation, nausea, fever, mouth ulcers, flu-like symptoms and even liver failure, nerve damage and death in rare cases.
Siskiyou County environmental health officials were not available to comment. But county Supervisor Marcia Armstrong, whose district includes the Klamath River, said there have never been any reported illnesses from the algae in the river or its reservoirs.
The fall run of Chinook salmon, expected to be one of the largest in decades, has not been affected, said Clayton Creager, a scientist with the California Regional Water Quality Control Board.
"It hasn't resulted in a fish kill. We are concerned, but right now they are holding their own," Creager said of the spawning salmon.
The warnings do not include the Klamath River estuary at the Pacific Ocean, Creager said. There is no warning against eating the fish.
Craig Tucker, Klamath coordinator for the Karuk Tribe in Siskiyou County, said the algae blooms have put a damper on the tribe's annual world renewal ceremony, also known as Piky'avish ceremonies.
The river and the salmon play a large role in the ceremonies, which have been going on since mid-August, Tucker said.
"It's a real drag when you're supposed to be celebrating the renewal of the Earth and you look out in the river and you see all this algae in the water," Tucker said.
The tribe's spiritual leaders have to bathe in the river during the ceremonies, putting themselves at risk, Tucker said.
The algae growth shows the need to remove dams on the river, which he said are one of the causes of the blooms.
Creager said the algae blooms have become an annual event in the river and are typically caused by high summer temperatures and low water levels in the river.
The algae first blooms in the upstream reservoirs — Copco and Irongate — and then works its way downstream, he said. The state water board issued a news release  July 24 about algae blooms in Copco and Irongate reservoirs.
In September 2002, a massive fish die-off in the Klamath River killed 34,000 fish. From that event, numerous agencies began monitoring the water quality in the river and based on the water quality set "readiness levels" about conditions in the water for the fish.
The current readiness level is yellow, which means officials need to have a heightened awareness for fish disease and death and that agencies need to share information more frequently, according to the Klamath Basin Monitoring Program website.
The "fish mortality response plan should be dusted off and folks ready to respond with personnel and resources if the situation escalates," the website says.
There are four readiness levels — green, yellow, orange and red — with green the lowest level of concern and red the highest.
Anticipating up to 380,000 Chinook salmon swimming up the river to spawn this fall, U.S. Bureau of Reclamation officials have increased water releases from Trinity and Lewiston dams to flush the river and help prevent the spread of a fish disease known as "ich." The Trinity River flows into the Klamath.
Creager said the added water should help the fish.
"This condition would have been worse without those pulse flows," he said, referring to the higher water flows down the Trinity River.
© 2012 Record Searchlight. All rights reserved. This material may not be published, broadcast, rewritten or redistributed.

 Nice steelhead John! Right we use glo bugs or artificial eggs, stone flies and caddis to fool these fish coming in from the ocean.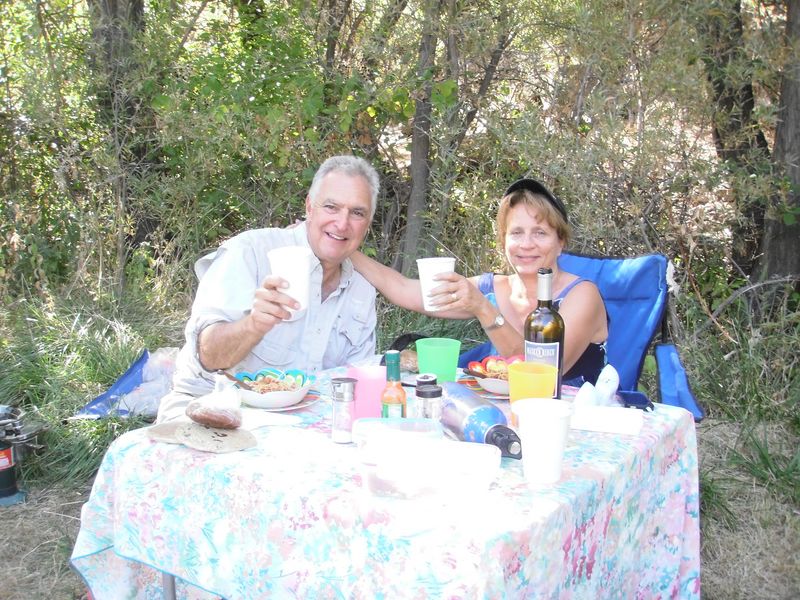 Lunches on the river were exquisite and John and Diane were impressed with the scenic beauty of  Northern California.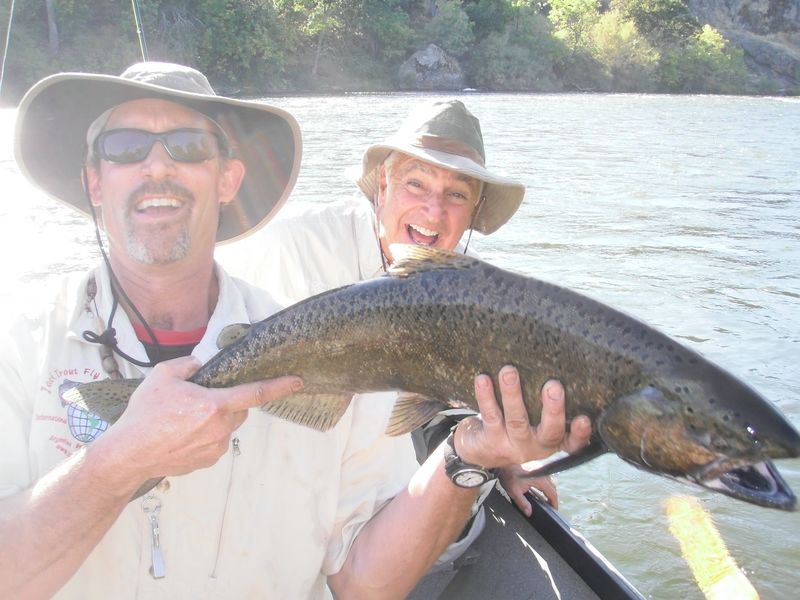 Over on the Klamath John caught one of biggest fish he ever landed on a fly line.
*******************************************************************************
 Back in time 1924 Dunsmuir – NY   Actual photo from Dunsmuir Park.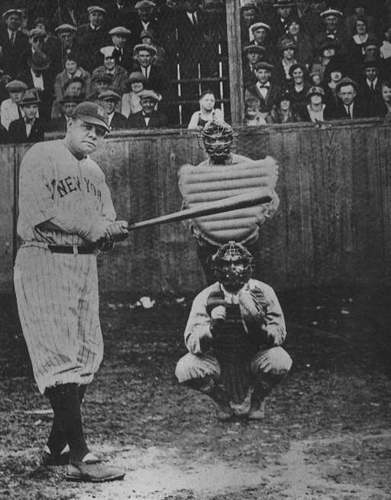 In 1924 after winning the World Series Babe Ruth came out on a train touring and playing in nationwide exibition games from coast to coast, one in which ended in the little town of Dunsmuir. (900 attendees) The actual photo above was taken at the Dunsmuir basebal park that was built in 1922, and has now out lasted Yankee Stadium that was built about the same time but was demolished in 2008. That day the Babe, hit 2 home runs and one Reva Coons of Dusnmuir states was hit out over the wall into the Sacramento River and was never found. Reva Coons late husband Bones Coons was a famous local babseball legend who passed in 1973. He was honored that day in April as he played on Babe Ruth's team against players from Dunsmuir, Mount Shasta and Weed. Burton Bones Coons and Babe Ruth's team won  that day and later the Great Bambino was quoted by Reva as saying,
 "To everybody (and that means everybody) in Dunsmuir, Calif.
We don't know yet how to tell you what a wonderful time we had in Dunsmuir. When it comes to beautiful girls, wonderfully fine fellows, and the real two-fisted spirit of California — little Dunsmuir gave us more laughs, more hospitality, more thrills, and more things to remember than any place between Broadway & Shasta."
Last year a team of experts came to the Dunsmuir and deteremined that the ball Babe Ruth hit that day went 604 feet and landed on the property at the
Cave Springs Resort.
Babe Ruth so loved the Northern California area that he kept his promise and revisted the Shasta area and brought Lou Gehrig with him. They also came back to Dunsmuir and met up with Bones & Reva Coons and the gang. Later the Lions Club invited them to fish on the Klamath River and they were hooked on California for the rest of their lives. (Ruth & Gehrig also loved to duck hunt in the Central Valley near Corning)
Includes a One Bedroom Chalet, Dinner for Two at our Highland House Restaurant and Champagne with Keepsake Glasses for only $189 per couple (excluding taxes and room surcharge)
Valid Thursday – Sunday, November 1, 2012 through April 30, 2013; holidays excluded. Black out dates: 11/21-11/24 and 12/21-12/31. Not to be combined with any other offer.   Subject to availability and restrictions. Advanced reservations required. Call 800-958-3363 to make your reservation!
http://www.mountshastaresort.com
 CHILE ~ ARGENTINA ~ CHILE ~ ARGENTINA ~ CHILE ~ ARGENTINA ~
Edgar is ready for a great year guiding in Chile, the season has already started.
We are on our way now down there!
We would like to welcome back to Chile 2013 Season – 
Wayne & Noelle Westcott – John & Diane Rappaport – Andrew & Rosemary Swann
Welcome 2012/ 2013 – Jonathon & Joel Mascitelli – Mike Hawkins – Shane & Pops
 Mahoney – Chris & Ryan Phillips – Bryant & Deborah Mendelson –
This will be another epic adventure fly fishing year!  Jack & Carola Trout * Team Trout Guides International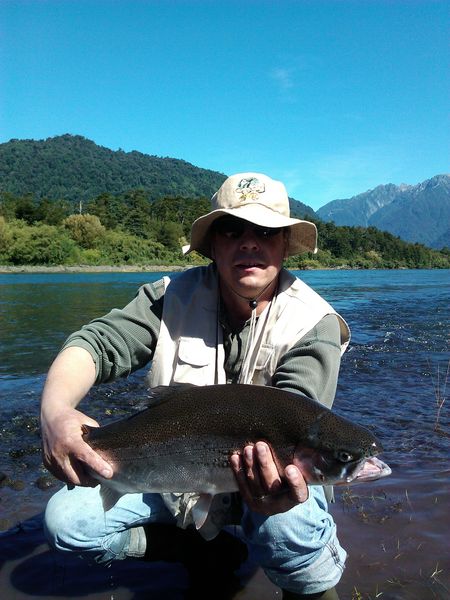 Big trout are being caught daily in Chile.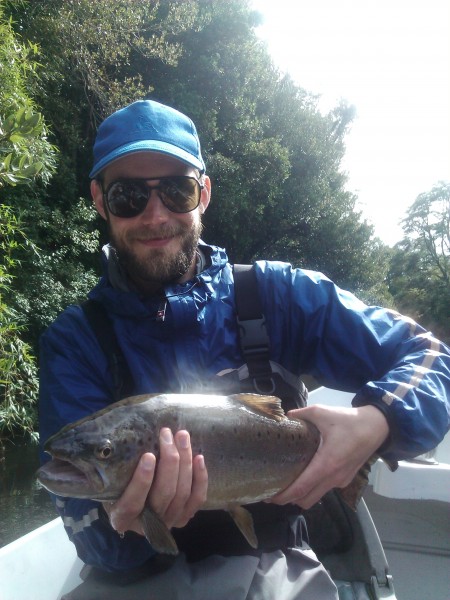 Browns deserve our full attention!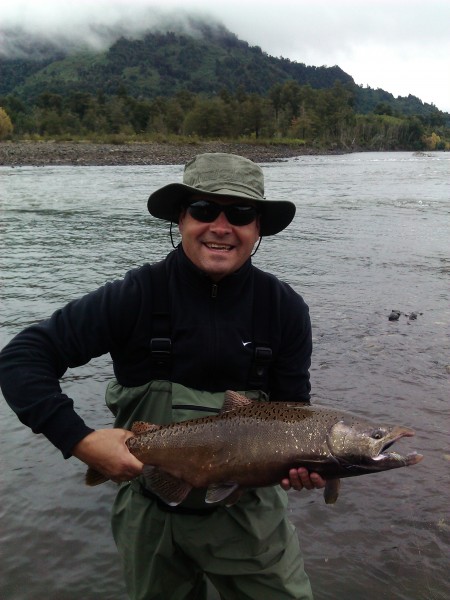 Salmon are fun to catch on the Rio Petrohue.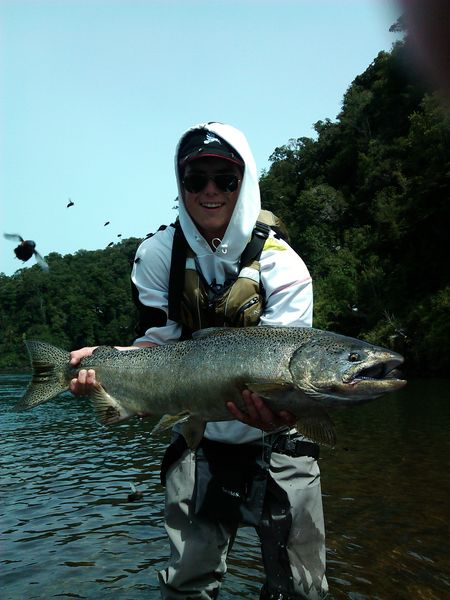 Especially if the Coliguachos are after you in full force on a hot January day! Huge salmon though on a 9 wt fly rod!!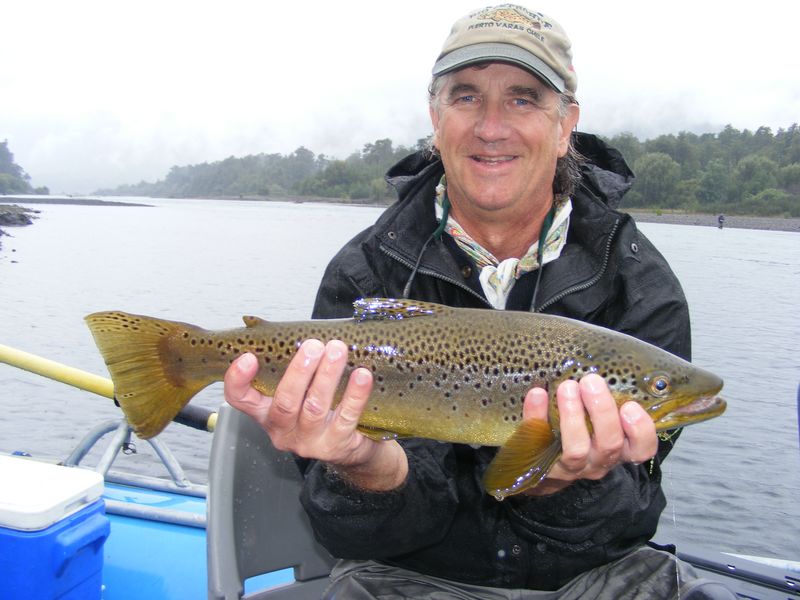 Andrew Swann and some brownie points!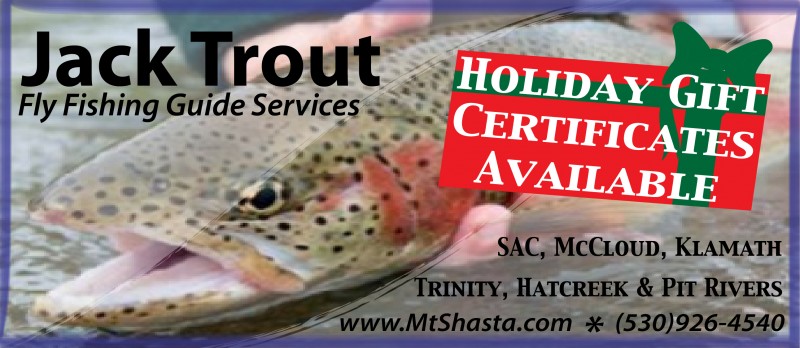 TRINITY RIVER — TRINTY RIVER — TRINITY RIVER – – TRINITY RIVER — TRINITY RIVER — TRINITY RIVER — TRINITY RIVER —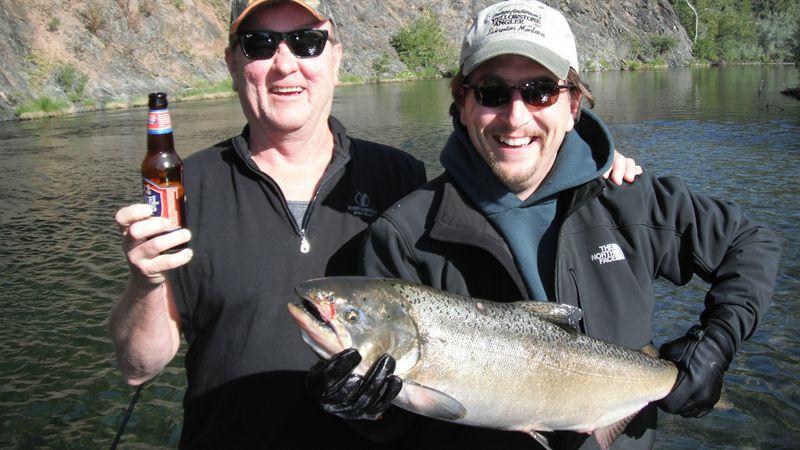 For many sportsmen out there now is the right time of year!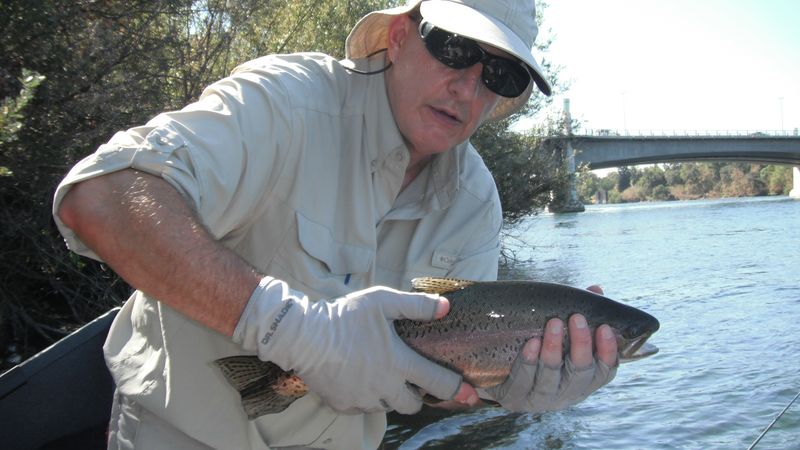 But my secret tip is with all the anglers on the Trinity and Klamath Rivers I would consider fly fishing for trout and steelhead on the Lower Sacramento River.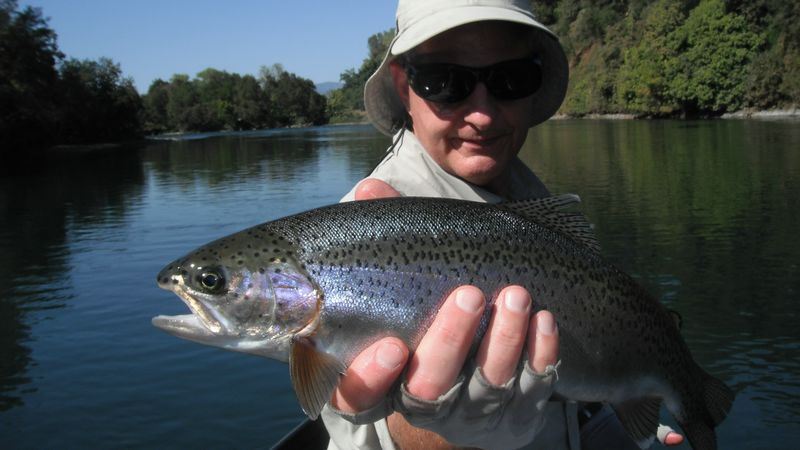 If you're a fan of warmer fishing conditions this time of year the Lower Sac can be a sure bet bite!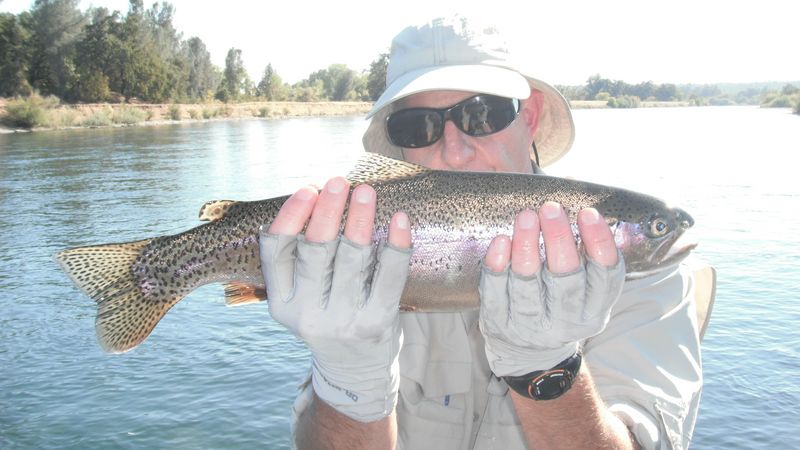 Sweet! 

 I know that section on the Lower Sac near Sacramento RV Park, way to go Forrest!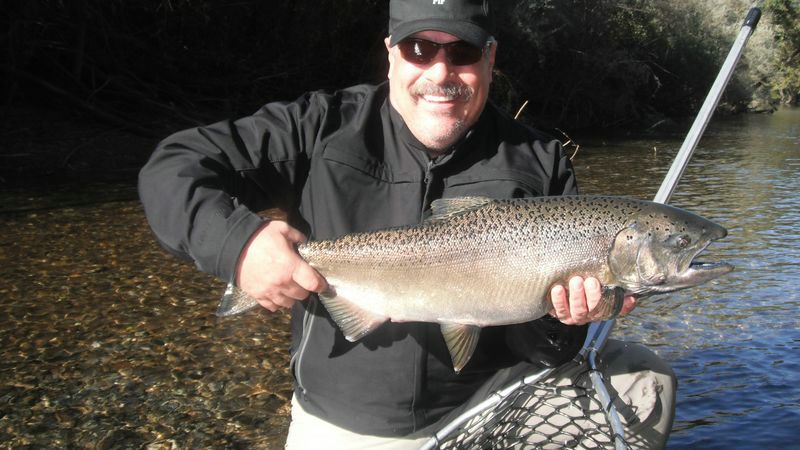 Back on the Trinity how about a king salmon on an 8 wt fly rod! We are booking trips right now on the Klamath & Trinity Rivers. Jim Gorman has been fishing with us on the Trinity River since 2006.

 What a healthy trout, probably just gobbling up those salmon eggs… A real hoarder isn't she.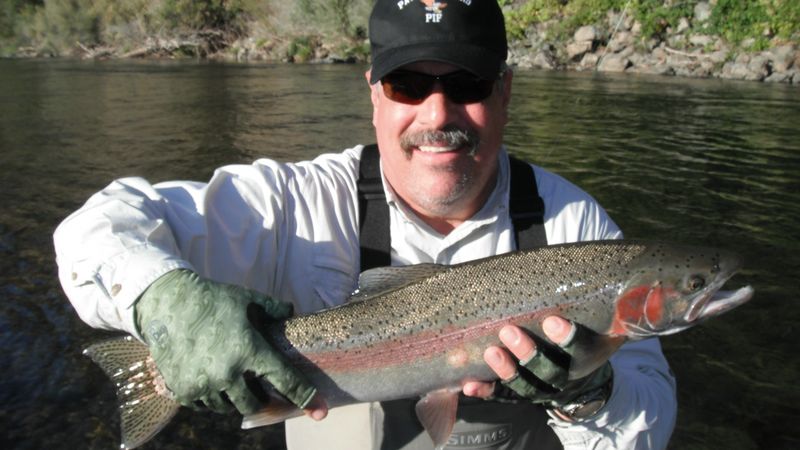 Now there's a nice buck, what a great river we have in Northern California, called the Trinity River.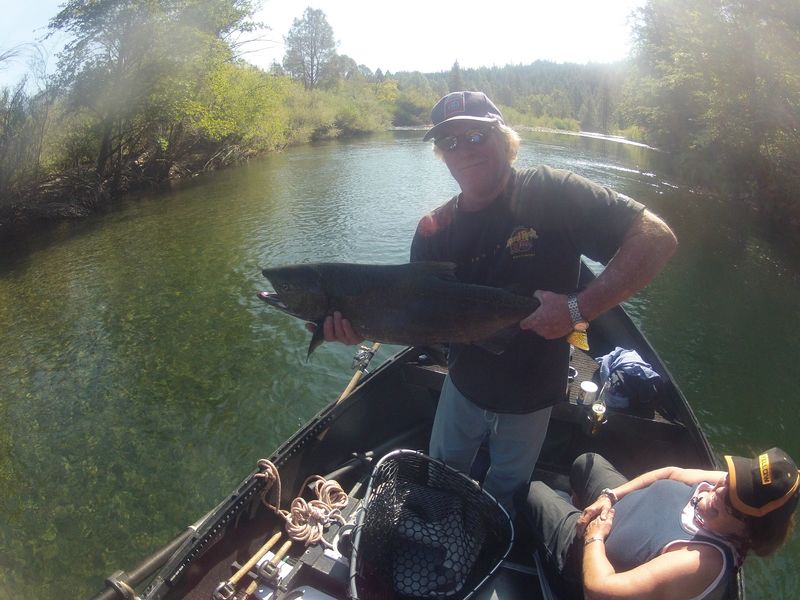 Salmon of my eye!

 Jim Gorman, you are my Sizzler of the week award winner!!  Congratulations Jim!!  Forrest & Jack

 That many big fish in 4 days of fishing must of worn you out a little.

See you next year JIMMY!!


 John Dean means business! Just the name John Dean sounds like BIG FISH – John Dean – BIG FISH – John Dean – And your brother Jimmy makes a mighty fine link sausage!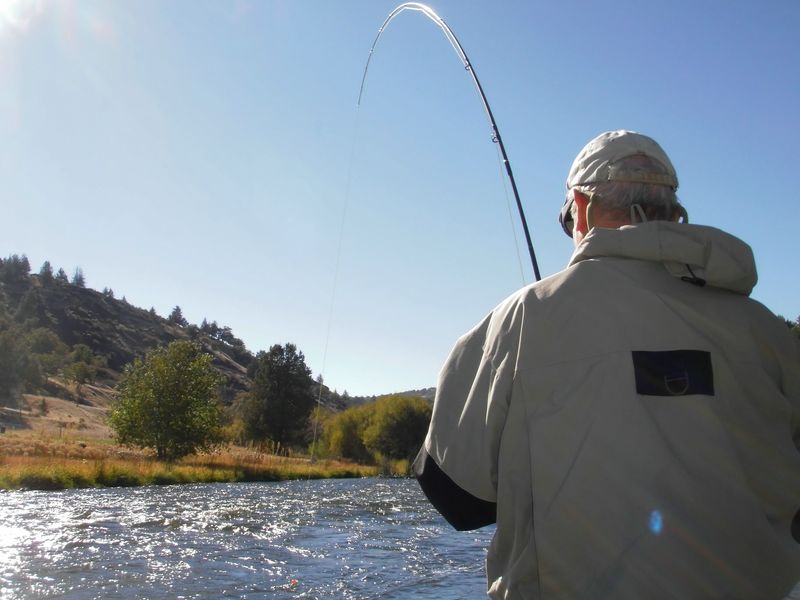 I've been fishing with Rich Creeggan since 1998, he comes up both in the spring and fall. Now his son David who has fished with me in past stories had a baby boy and named him Alex. I'm sure Alex Creeggan will be up fishing with me before too long..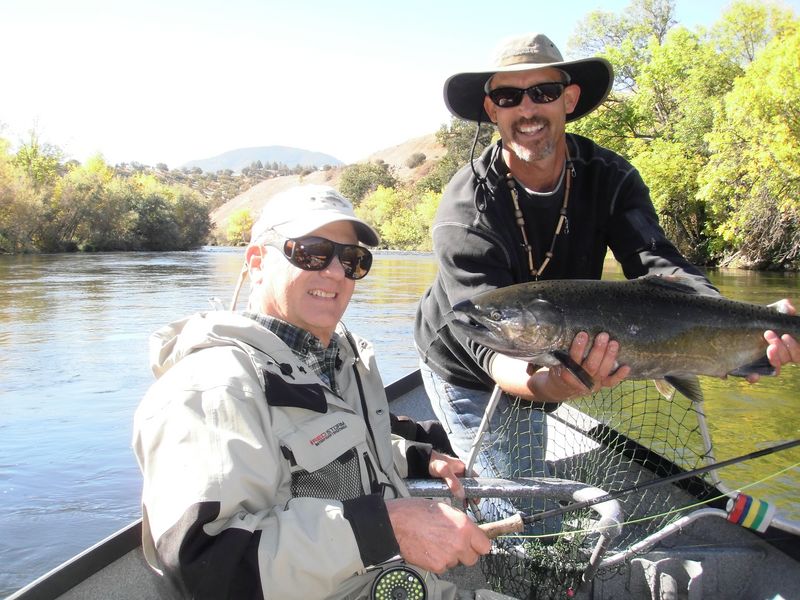 That day Richard caught 2 nice salmon on his 7 wt. fly rod.

 Then he landed a hatchery steelhead, you can tell because the fin next to his left index finger has been cut off.

 Then he landed a real big steelhead around 7 lbs, it was one of his greatest catches ever.
One more salmon for the road! Thanks again for coming up Rich, look forward to guiding you and David in the spring.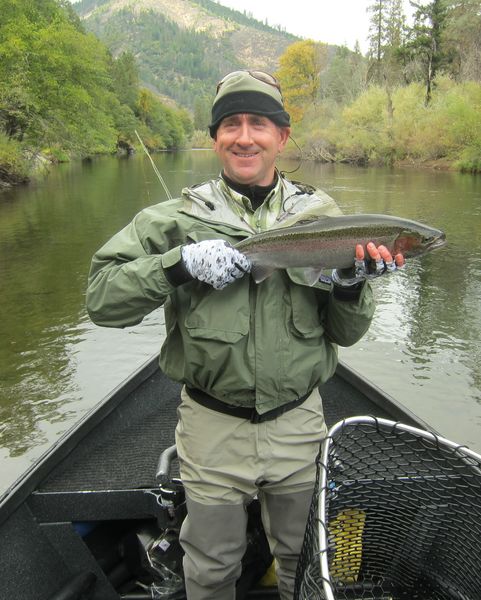 Tim Brandabur went out with me over the summer called me up and I set him up with my guide Forrest on the Trinity River.

Forrest will be guiding with Matt, Peter and Scott on the Trinity, Klamath and Lower Sac Rivers. Carola and I will be guiding with Edgar, Mattias and Juan in Argentina and Chile until May 2013.

The Trinity is prime now folks, hope to hear from you.

I'm sure you'll catch & release a few of these!  jt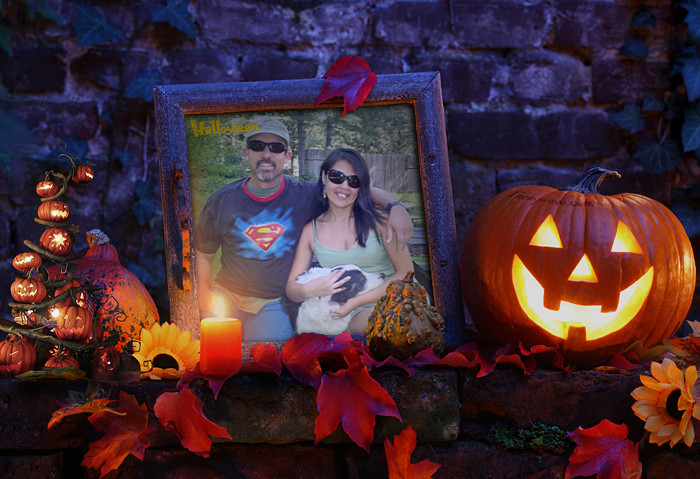 Happy Halloween everyone! Have a great rest of the season and thanks for watching our adventures! 
Best to you, Jack & Carola Trout & the Team Trout Guides International
Congratulations to the San Francisco Giants, I wish my pops could of seen it!
(I feel in my heart he does know about it)
      R
O

M

O

-S

A

P

I

E

N !
To all the great Major League Baseball Teams Giants fans respect and know the game, we respect your team and love the game. We watch the World Series every year no matter who is playing because we are all Americans and now it is our time.