**** HOLIDAY SPECIAL FROM PUERTO VALLARTA MEXICO *****
---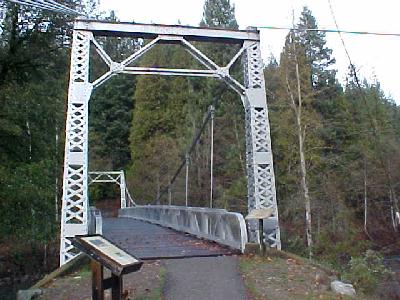 ---
The Sims Bridge turned 70 years old this year! This wonderful historic bridge was built by the CCC ( Civilian Conservation Corp ) in 1933 and was an engineering marvel when you take into account that they only had a pick up truck donated by the US Forest Service. Of course all the metal, lumber and goods were sent up by Southern Pacific Rail Road, but often the men were without the proper equipment needed to complete the task.
This was the first project that the CCC built ever in the United States.
---
---
I have the atmost respect for these men that worked hard providing an access for not only fire control, but constructing a bridge that is used and loved to this day.
Thank you Gentlemen from the bottom of my heart, " I love you man!". jt
---
---
I suggest you visit the Sims bridge the next time your heading up interstate 5 and look for the Sims exit. It's about 25 miles north of Redding, California and 20 miles south of Dunsmuir. You'll have a great views of Mt. Shasta and the SAC!
---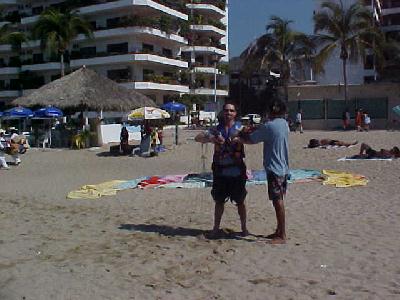 ---
Surprise!!! I´m in Mexico for the holidays. I decided to take a trip back down to Puerto Vallarta, it had been 11 years since I had been back and all the fond memories of great weather, awesome beaches and beautiful girls awaited me for my lengthy vacancy away from one of Mexico's great get away locations. I wanted to bring you great photos by air, so I decided to para sail to show you the views.
---
---
Once up in the air, I had wonderful views and the feeling of being on top of the world. I loved it! I would suggest this to anyone visiting, it¥s safe and a great way to see the entire area from outter space. It cost $25 US which I thought was worth every penny for the experience and knowledge that comes from it.
---
---
This is the view of the newer downtown area, I¥m staying down in "old town" which suites me fine. My room is only $40
per night with an ocean view and balcony as compared to almost the same for $150 to $250 per night. That's why I can afford to stay here two weeks as compared to most that buy packages pay retail and stay for 4 to 5 days. I'm telling you Mexico has changed. It´s safe and if your savy, you can find a room on your own when you arrive for a 3 times the savings. jt ( Besides, I`m down where everyone parties and the hot girls exist! SIZZLER!)
---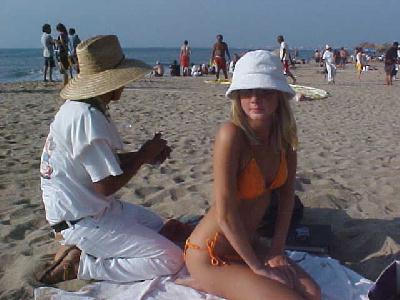 ---
Meanwhile, earlier I was walking down the beach looking for a gorgeous babe to photograph for the site and ran into Carly from Victoria, B.C. She has modeled and has done many photo shoots for companies you and I both know. I enjoyed meeting her and talking about beach life, modeling and nothing too important. Though, She is looking for more modeling work so anyone watching this site that has connections, I have all her information. She´s got charisma and a great sense of humor! It¥s always great to meet great people on my adventures, thanks Carly and good luck!! (Wow!! She´s got to be the Sizzler of the week award winner!!!)
---
---
This girl is going places, better get her to model for your company before you see her on Entertainment Tonight someday!
Oh by the way, in the last picture she decided to get a 48 hour tatoo, Carly I like your style! jt
---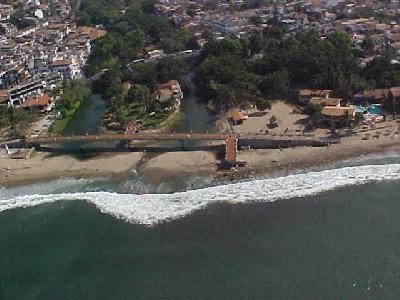 ---
Back up, I could see the view of the bridge I cross to get my coffee every morning. It was like in my dreams, you know when you fly or even fall, it was beyond comprehension until
you did it. And after all the thoughts of what could go wrong
left, you were in a place that could only be described as sublime. I love Puerto Vallarta, you should visit here too someday.
---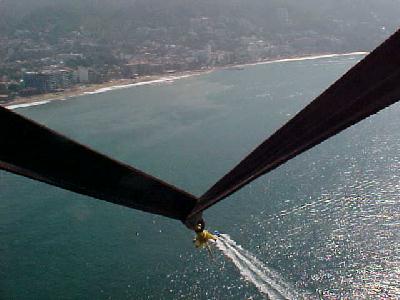 ---
That´s way up there!! jt
---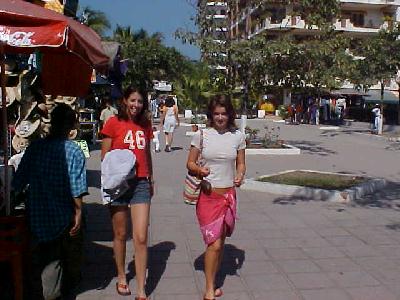 ---
When I walked to the Central Square to get a shrimp taco, I ran into these two cuties heading out to lay on the beach.
---
---
In my room in the morning I tie saltwater flies. This is a little green deciever, great for Mackerel, Dorado and Snapper. I plan to head up to Punta de mita an area north about 30 minutes, to check out the fly fishing. Supposedly, it has a barrier reef that holds many great ocean species of fish. Of course, I`ve worked hard this Summer and Fall so the party comes first, (New Years Eve Sizzler!) Then we fish up north! jt ***** HAPPY NEW YEARS SIZZLERS, TAKE CARE AND MAKE 2004 THE GREATEST YEAR EVER!! ***** JACK TROUT
SEE YOU IN PUNTA DE MITA 5 MORE DAYS.
---