* LAKES DISTRICT CHILE 2004 *~* HOLIDAY GIFT CERTIFICATES *
---
---
Mt. Eddy is a splendid site through the eyes of a Sugar Pine Tree lurking at 6000 feet. The creeks are starting to fill, trout are spawning, the Winter is working it's magic of replenishing the earth with what we are, and what we are made of, water! It all starts high on Mt Shasta and other high peaks in Northern California as snow and ice awaits the opportunity to deliver it's water and minerals down to the millions of drainages as it finalizes its journey when it tastes the salts of the Pacific Ocean.
---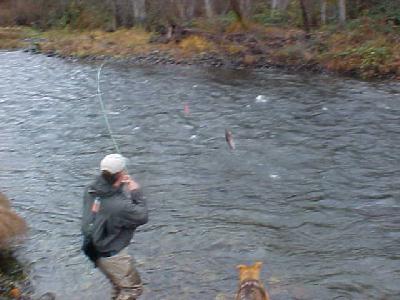 ---
Guide Mike Hibbard has been guiding the Trinity River and fishing it for over 15 years. He invited the guides from Jack Trout Guide Service to the Trinity River for a Winter Steelhead quarterly meeting. Little did we know it would turn out to be a lesson in "Home Field Advantage!" Mike was a gracious host and within 5 minutes after showing up, Mike had on a hard fighting Trinity River Steelhead. Mike loves to rib guide Jim Roberts and could be heard at the top of his lungs, shouting… Jim this is how it's done!!!
---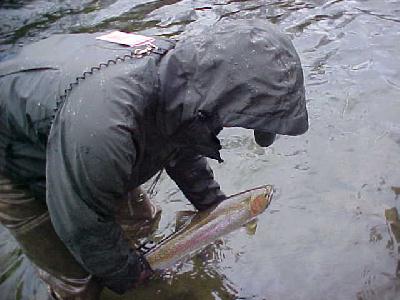 ---
Nice Steelhead Mike!! Mike took us to several of his best spots on the Trinity River and hooked Steelhead at every location! Every place, was easy to access and looked great for Winter fishing. I'm so busy on the Klamath I haven't had much personal time in this part of the forest. It sure was
great having a day off and fishing with the guys you guide with. The guys you usually see only at the end of the day, when we have a beer in hand and a lie in store. jt
---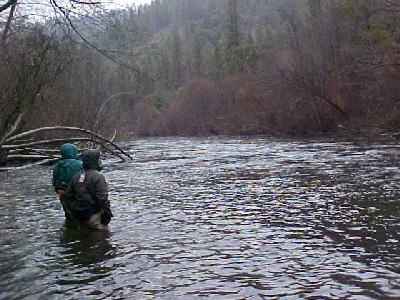 ---
Mike guided Jim into this nice 8lb Trinity River Steelhead. This location was right off the road but you would of never picked it over another location? Mike knows the Trinity well,
and we were like students in a classroom as Mike Hibbard spun his magic on a childhood river who over the years he had become one with.
---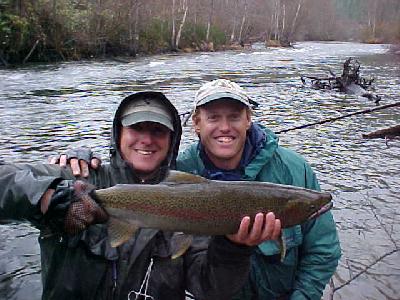 ---
These two guys are halarious! Guide Mike Hibbard left, Guide Jim Roberts right. I can assure you on one thing, nobody has as much fun with their customers as we do here at Jack Trout Guide Service! These two characters are why. Thank you so much Mike and Jim for a great 2003 season I had a blast guiding with both of you this year, you're the best guides on the planet. Way to go Sizzlers!!
Happy Holidays jt
---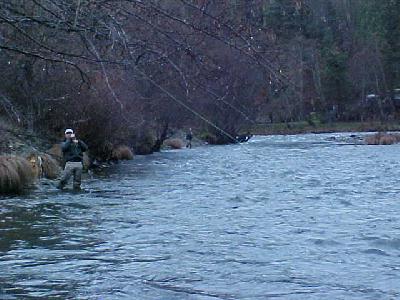 ---
Guides Mike Hibbard and Chuck Volckshausen with the double hook up scenario!
---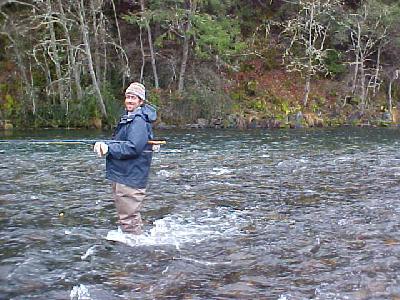 ---
Chuck Volckshausen guides for me on the McCloud River and the Upper Sac. Great year Chuck, many folks said what a great job you did for them this past season! look forward to 2004 and Happy Holidays..
---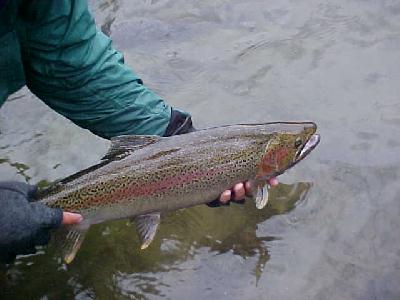 ---
If your in need of some Winter Steelhead fishing on either the Trinity River or the Klamath River, December through March is the time! Give us a call at 530-926-4540 Jack Trout Guide Service.
---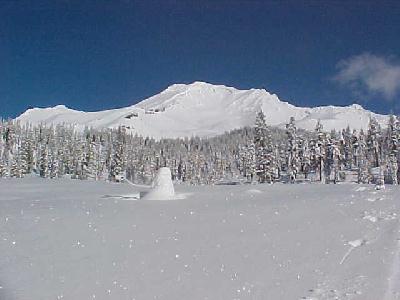 ---
I decided on my other day off to hike up Mt Shasta and take
some photos of people skiing or possible get a great shot of the mountain or maybe some animal? I settled on this diamond
snow scene with Shasta as a back drop in her holiday decor.
---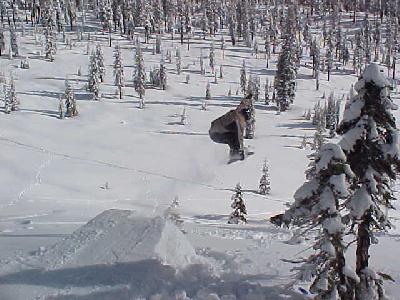 ---
I walked up from Bunny Flats a little further, and before long I could her the voices of two people having a ball!
My site grew nearer as I witnessed in astonishment a long red headed dude sailing off the side of a 800 foot mountain as he uttered the words AWE_SOME! It was a bright sunny day, there was plenty of powder, why not film a Mounatin Dew commercial! Garret from Mt Shasta, seen here getting air and
not obeying any speeding laws.
---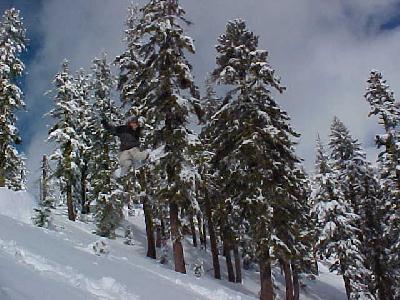 ---
Jeff seen here somewhere up in the trees! Jeff do you need a little oxygen? Way to go Jeff, of Mt Shasta, you're the SIZZLER OF THE WEEK!! CONGRATULATIONS SIZZLER! JACK TROUT
---
---
Black Butte as though it was in a post card. I hope this post card brings you happiness and holiday cheer, from all of us at Jack Trout Guide Service Thank you for a great season. Happy Holidays and great success to all in 2004!
JACK TROUT AND THE BEST GUIDES ON THE PLANET!
********************************************************
---