STEELHEAD FISHING GOING WILD ON THE TRINITY, LOWER SACRAMENTO & KLAMATH RIVERS, CALL TO BOOK YOUR FALL & WINTER FLOAT. WE HAVE THE MOST TALENTED AND FRIENDLY NORTHERN CALIFORNIA INDEPENDENT GUIDES. 530-926-4540
McCloud River reopened on October 5th, 2012 –
ASH CAMP -AH DI NAH – NATURE CONSERVANCY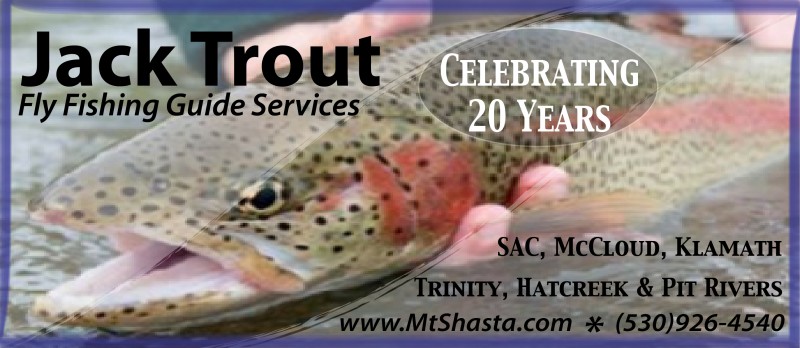 Thanks for all your support over the years, look forward to another 20 more!  
Hug, Jack & Carola + Kobe Beef Trout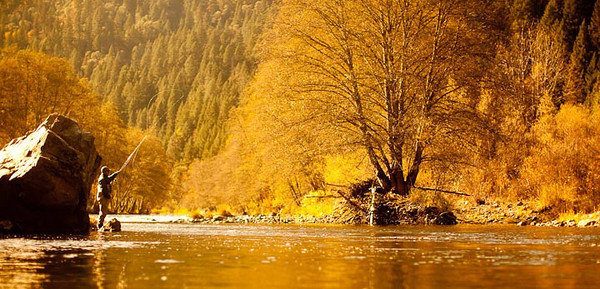 Fall on the Trinity River, the gold standard for fly fishing for large migrating ocean fish. Call us to book your fall & winter drift one of California's best steelhead & salmon fisheries. We offer some of the best independent guides, who are licensed, bonded & permitted. Let Forrest, Matt, Scott and Peter guide you into golden memories this season on the incredible beautiful and intimate Trinity River.
Jack & Carola Trout- 530-926-4540 –  info@jacktrout.com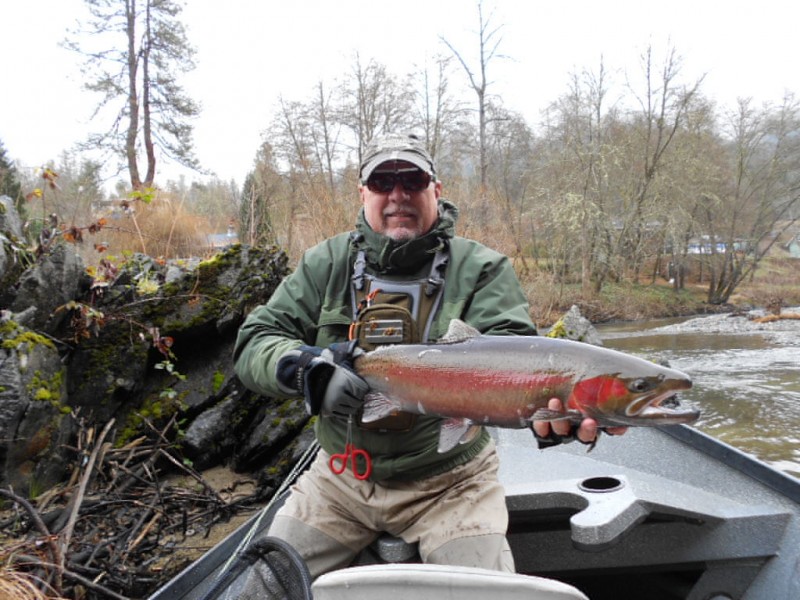 True lunkers not True Lies, are caught daily on the Trinity River from Oct through March annually, we suggest a 7 wt. fly rod with floating lines.
We've been landing some nice trout on the Lower Sacramento River as the caddis & mayfly bite heats up!
We are proud to announce we have 5 independent guides to serve you on the Lower Sacramento River!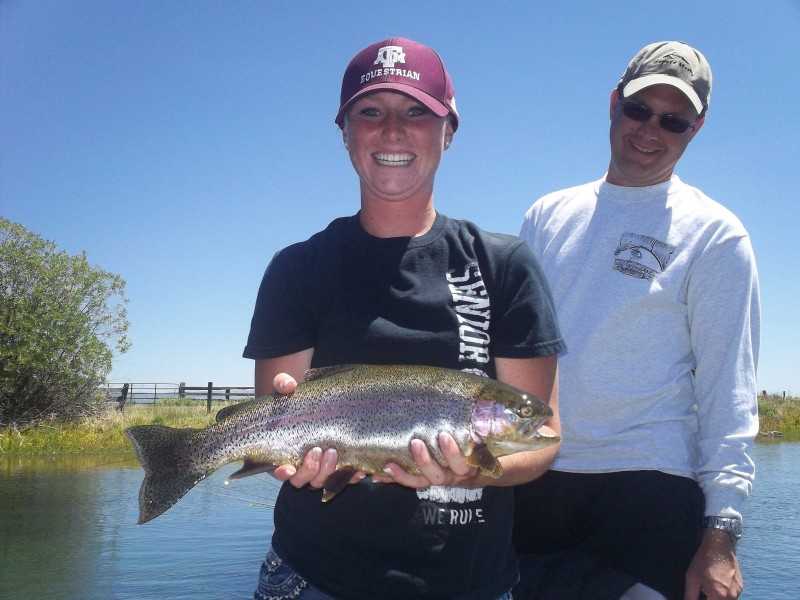 Fall River has been a great bet for those of you that love that surface action and spectacular views of both Mount Lassen & Mount Shasta from inside the boat.
The Upper Sac floats are still going strong on the Upper Sac for youngsters, handicapped and golden
oldies. We are here to serve all the kind people out there with heart & soul, that's what we like best. We are always very appreciative to have this wonderful partnership out on the best rivers with you.
Let us independent guides show you how we are making a difference in the modern fly fishing industry.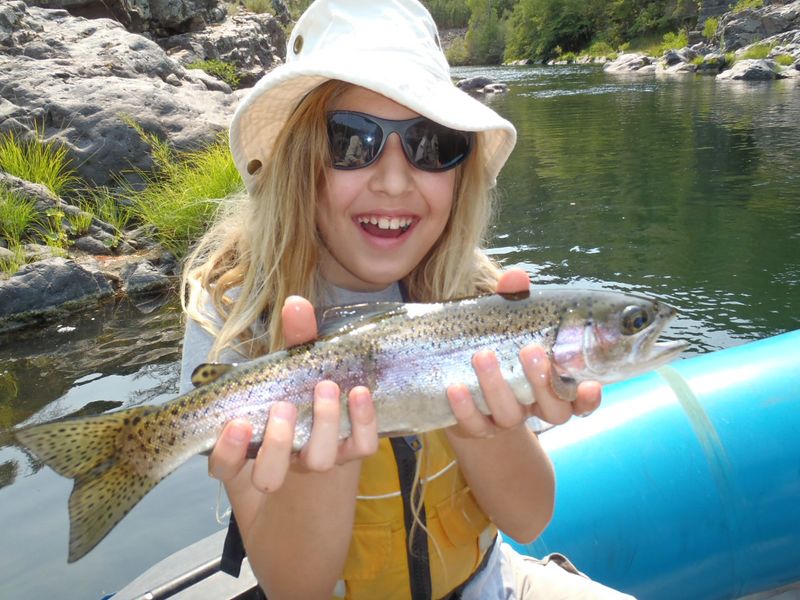 The first trout you ever catch on a fly rod you will never forget!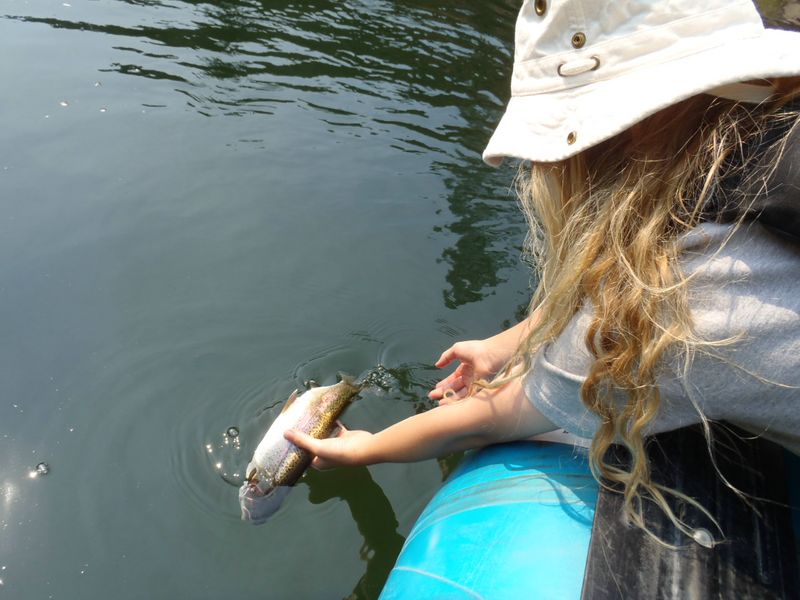 What a wonderful experience for a youngster to learn fly fishing, the memories out on the river with pops is a special place away from the modern distractions of text's and the general rat race.
(Some folks know they need a break and go, some folks will never know why, thus they never go.)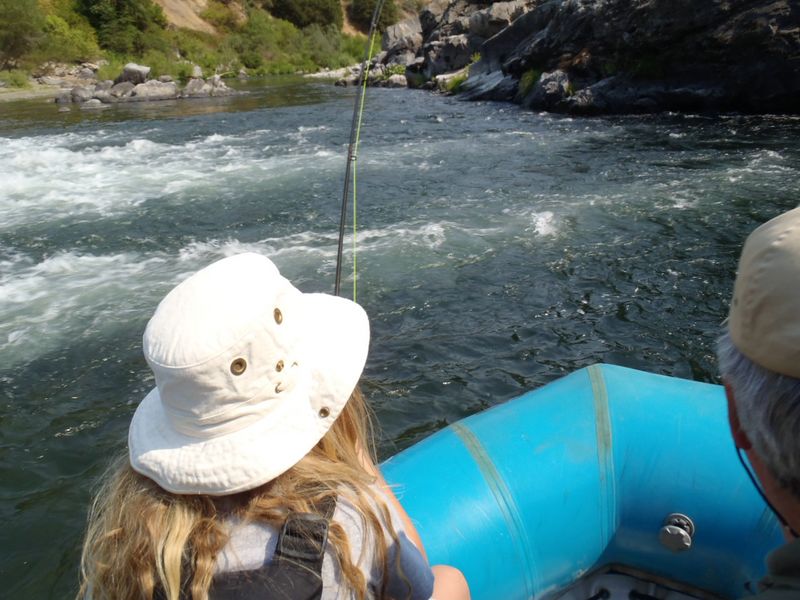 Fish on Pops!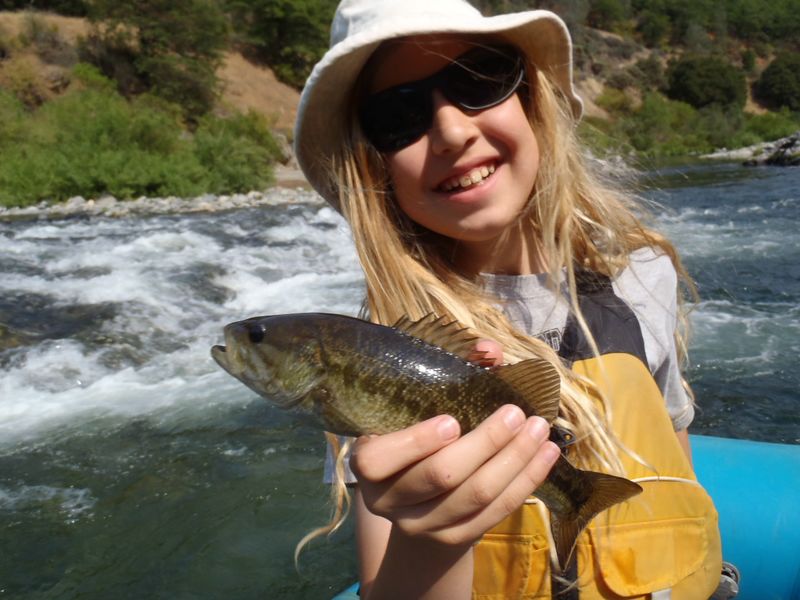 One of the two things I like most in life is seeing my passport get stamped & adding a new specie on my fly rod!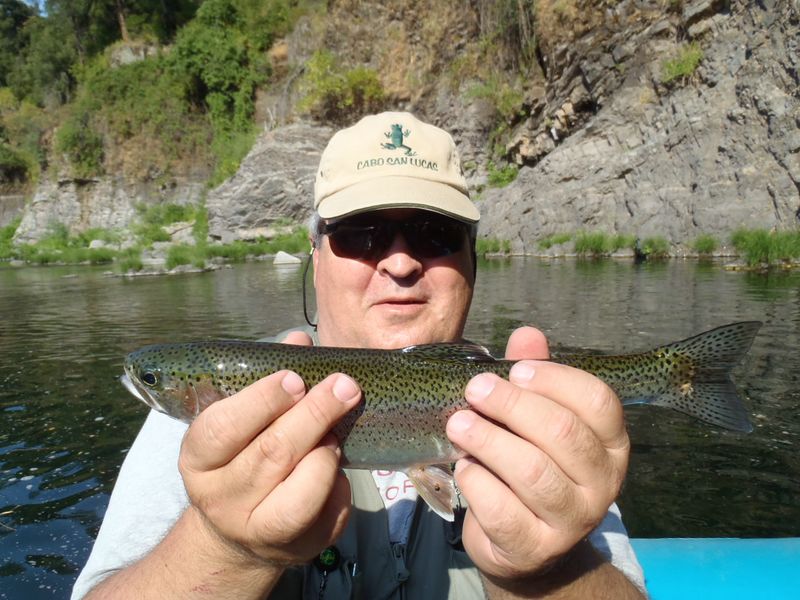 Pops got into the action also, when he caught this trout, but like most dads I guide they are not there to catch. They are there to see what their kids are catching and they fish vicariously like their parents did for them. It's a wonderful torch that's being passed folks and it all starts with you and me and all the guides in the fly fishing industry. It's important that this next generation of kids have hobbies in the outdoors and get out and exercise in the woods once or twice a week. My suggestion is this – You heard of Earth to Wood Contact on your home, it's not a good thing and it leads to dry rot. Well I propose for the new generation of kids being raised that parents initiate a program I call – Earth to Kid Contact. Another words, children stay away from pavement as often as possible and get on the Earth, it's healthier.
Not enough Earth to Kid Contact and you end up with dry rot attitude, from not getting out and enjoying the most natural and free resources we own… NATURE & FAMILY!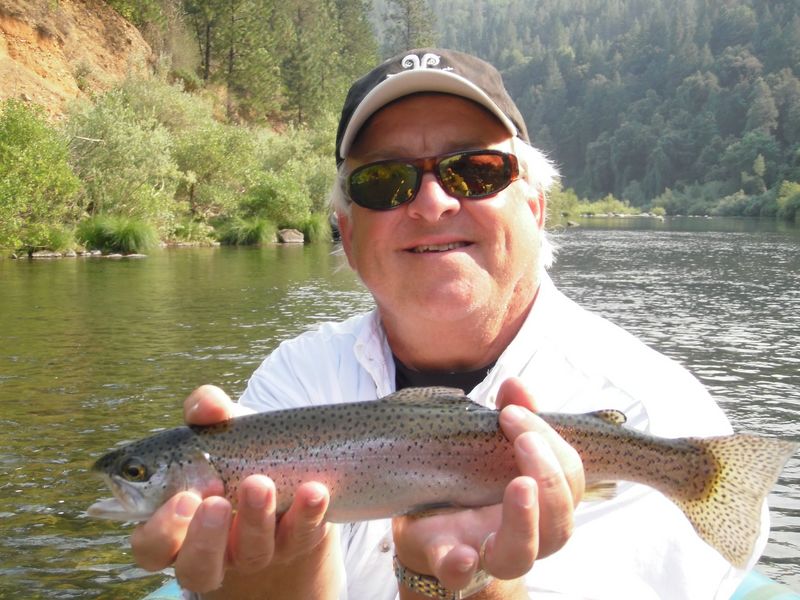 All the great folks we guide understand and lately fishing has been really great.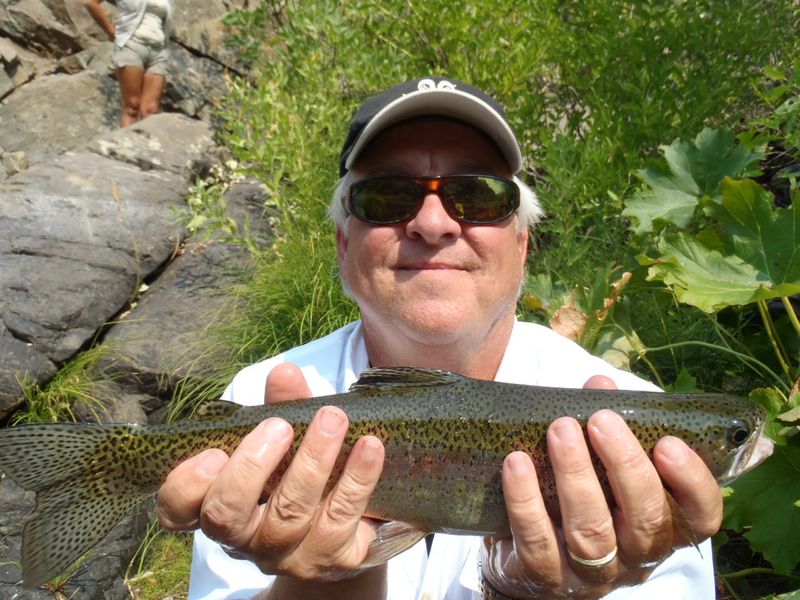 Big ones, little ones, the sign of a healthy fishery. Let us know what you expect on your guide trip, we really like to communicate and make sure your trip is the best possible.
Over Labor day we enjoyed the Classic Mount Shasta Car Show – It's nice to see old American classics never die and new American classics like my Chilean wife are here to stay!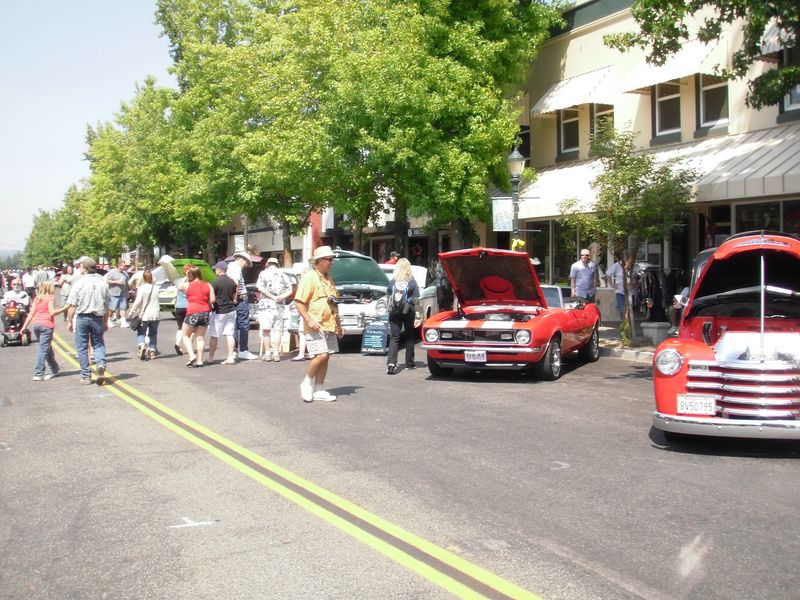 Come on up to Mount Shasta, Lower McCloud River opens this week but call 530-926-4511 USFS first because the information coming out on the McCloud River has been confusing with no real time-line or good information being offered.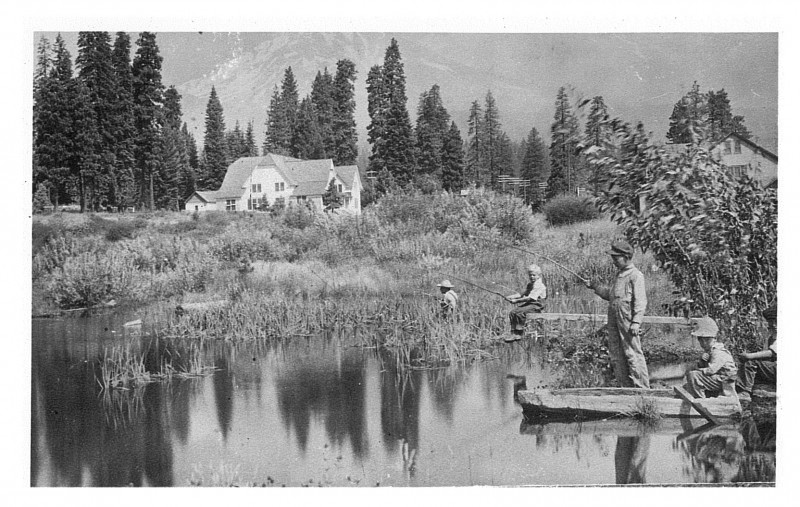 Sure wish the USFS Forest Service had enough sense to put a sign up on HWY 89 & Squaw Valley Road saying the

ROAD PAST BOAT RAMP TO ASH CAMP – AH DI NAH & THE NATURE CONSERVANCY – CLOSED UNTIL FURTHER NOTICE

. I have drove up there 4 times only to be denied what waste of gas and time.  
Just a thought, JACK TROUT
Tim Kardos with a nice trout on for his birthday party!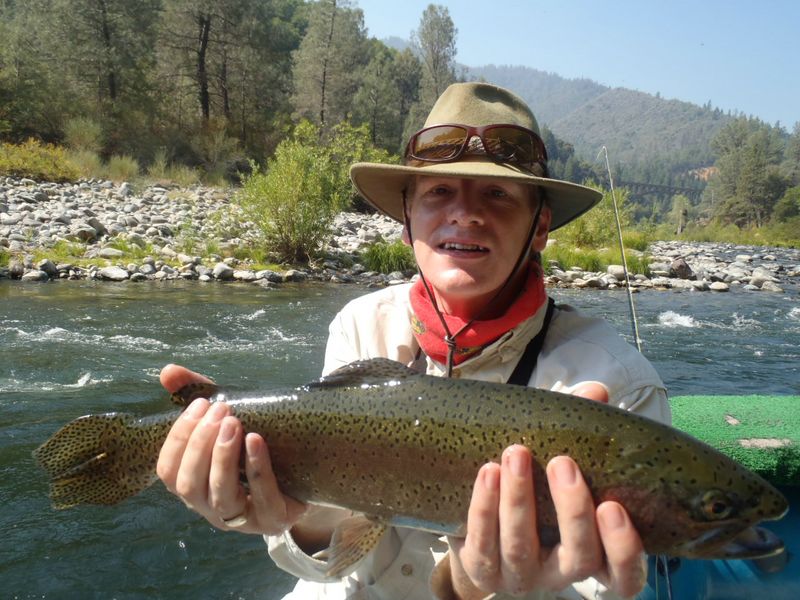 El Lunko! Way to go Tim thanks for coming back up.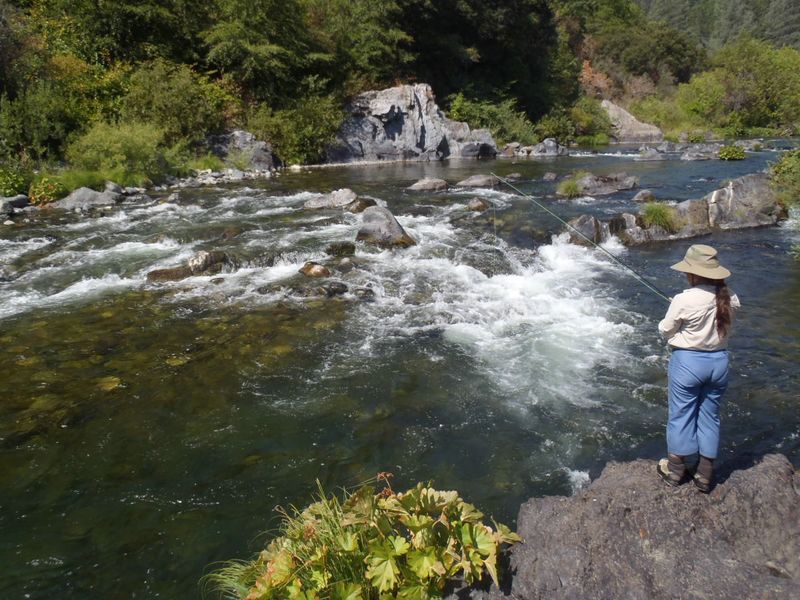 Jennifer fishing a  nice V with her double nymph rig.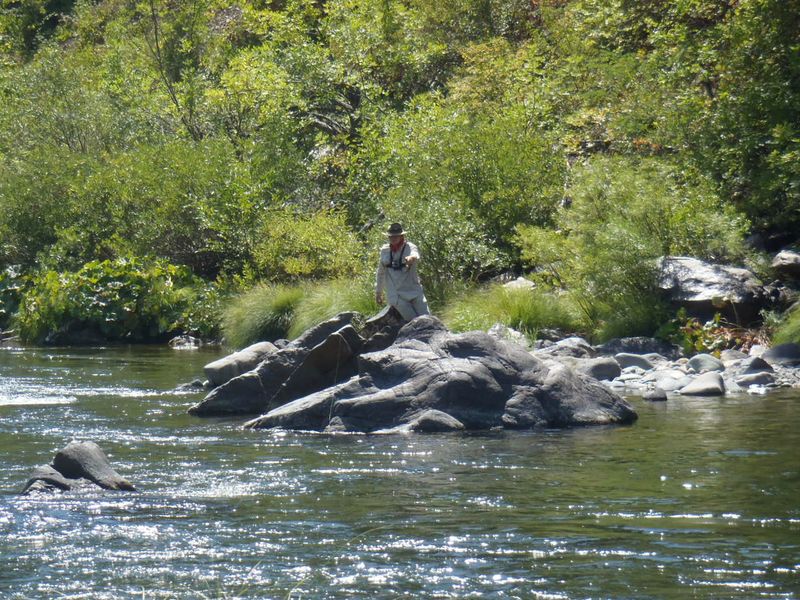 Tim enjoyed crossing over to the other side and fish off of strategic rock.
Carola has been making some really terrific chicken dishes you're going to love.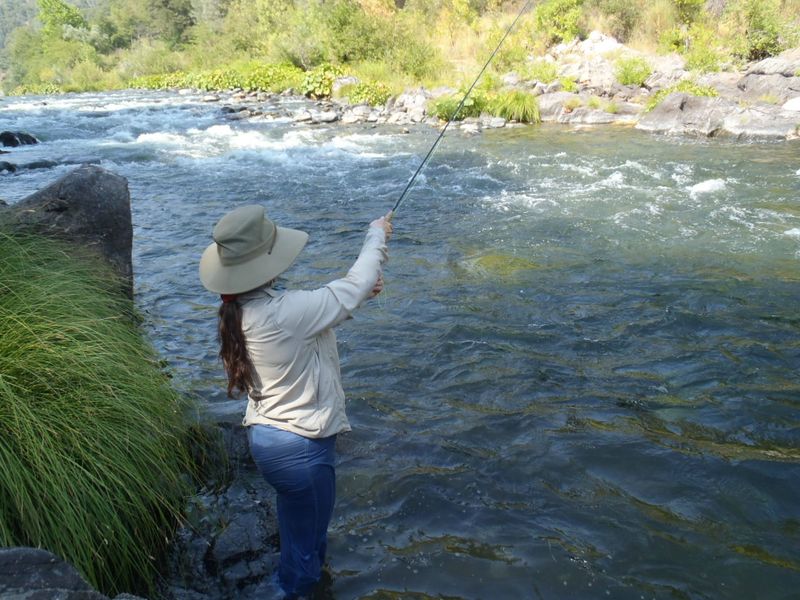 Here in Cougar Canyon a great retreat from the sun for anxious teaming trout!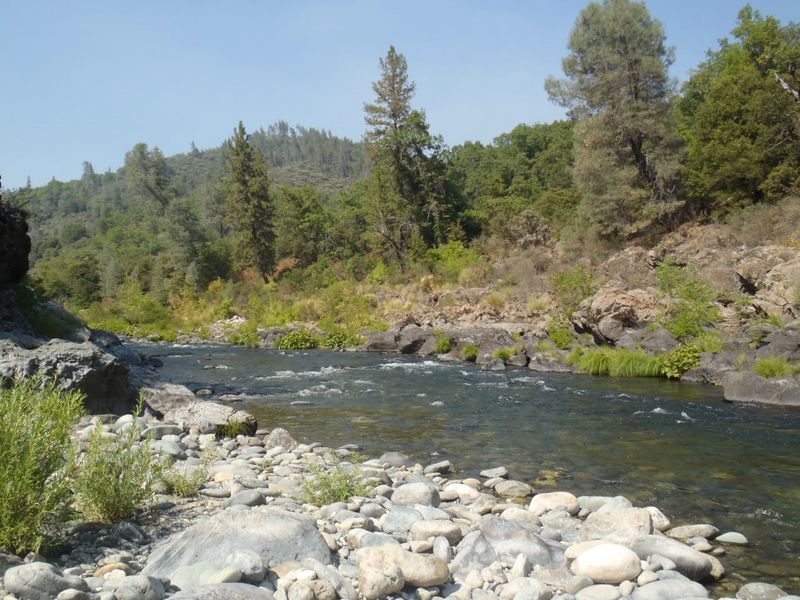 Go for the riffles folks, the trout are always there.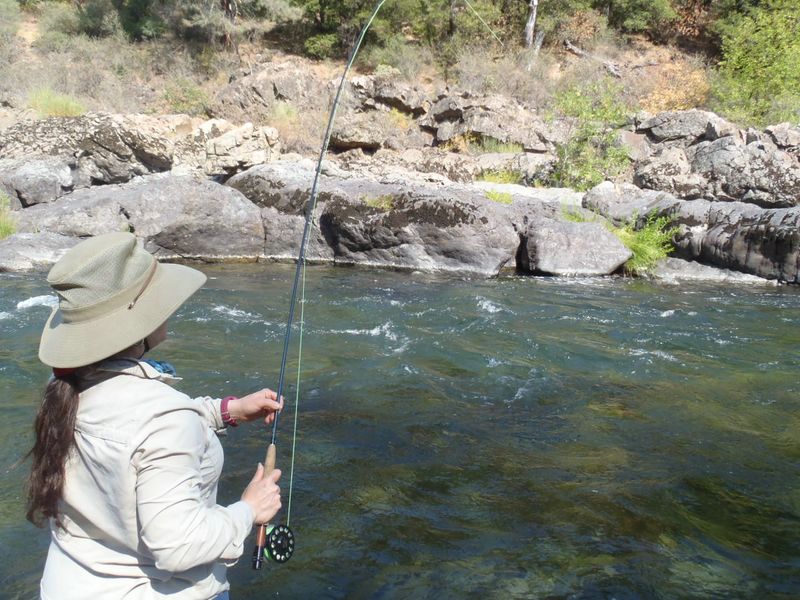 Jennifer hooks a nice trout wading in the same section of river.
That day Tim caught over a dozen trout, it was a good birthday indeed.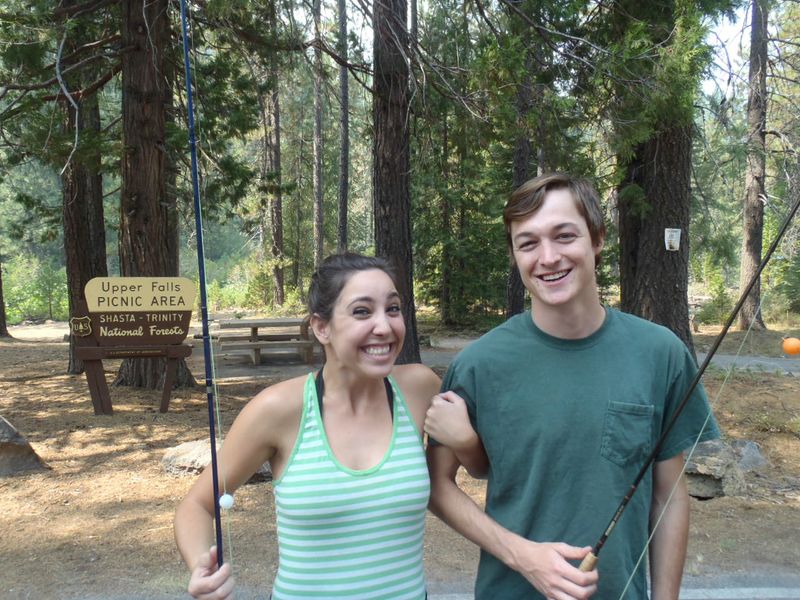 Shadee & Cortland are both college students at the University of California Los Angeles UCLA.
They were pumped about their first ever fly fishing experience!
Right off the bat, Shadee hooked up!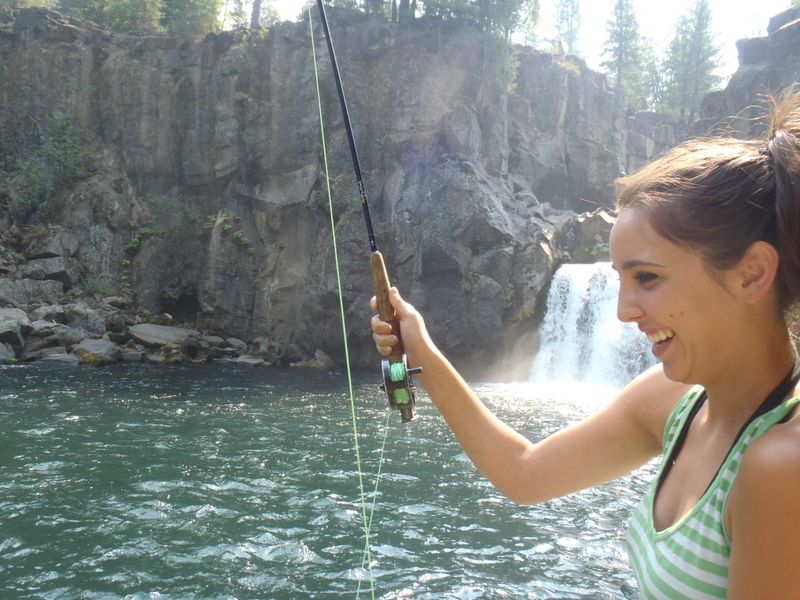 No doubt enjoying herself as she hooked numerous trout on her first experience.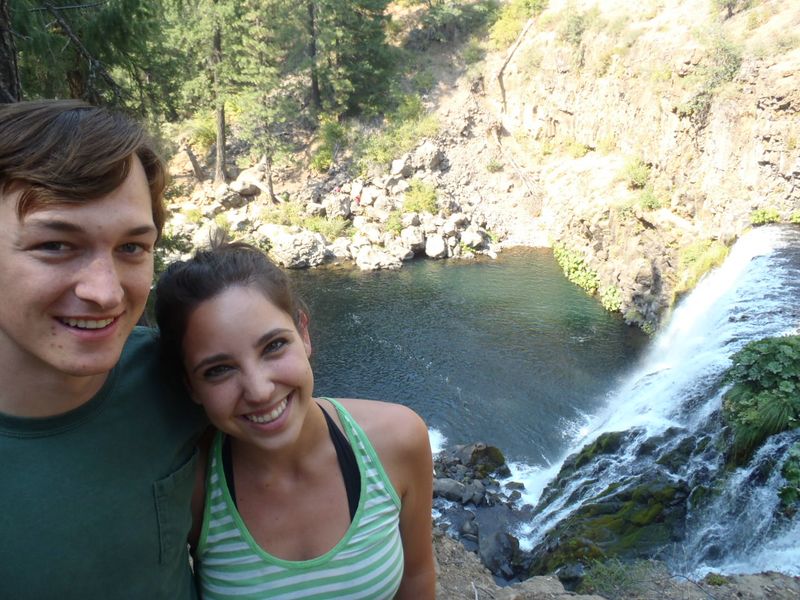 What a great couple of upcoming superstars who enjoyed their time at the Middle Falls on the McCloud River. Listen up all college students, this is a great place to retreat to,re-boot the Intel Pentium Processor in the 
brain, then you head home all ready to handle anything that life throws at ya!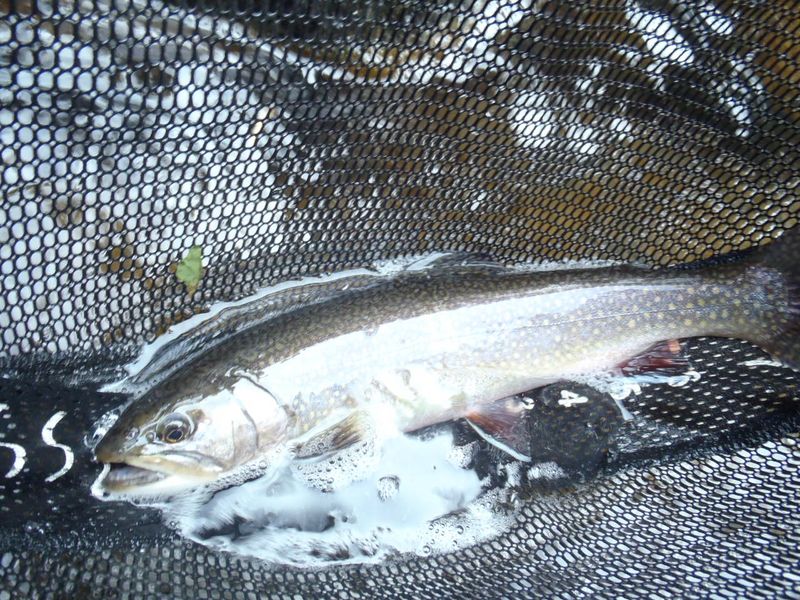 A nice brook trout is always a fine catch. Thanks to the Mount Shasta Hatchery the oldest fish hatchery in the United States 1888. Go by there sometime and visit the hatchery in the town of Mount Shasta.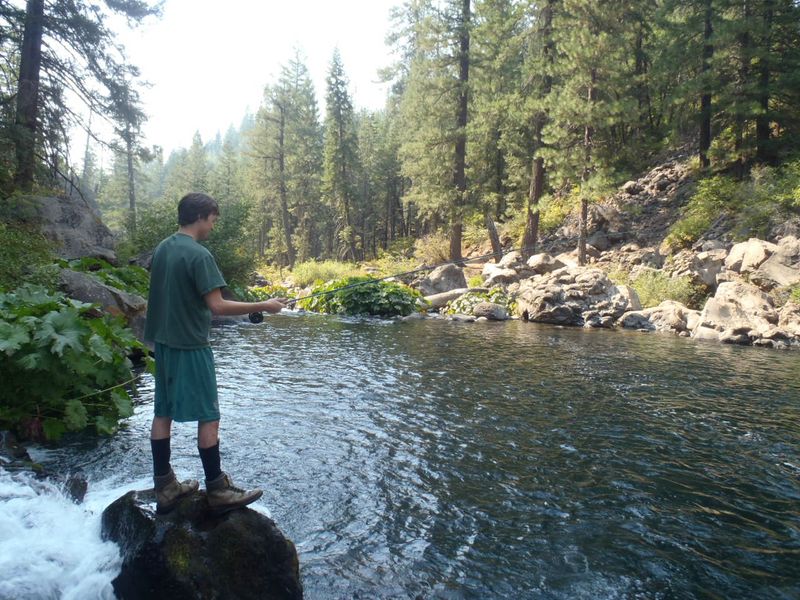 Courtland caught a few on this rock and then the trout started to rise to dry flies.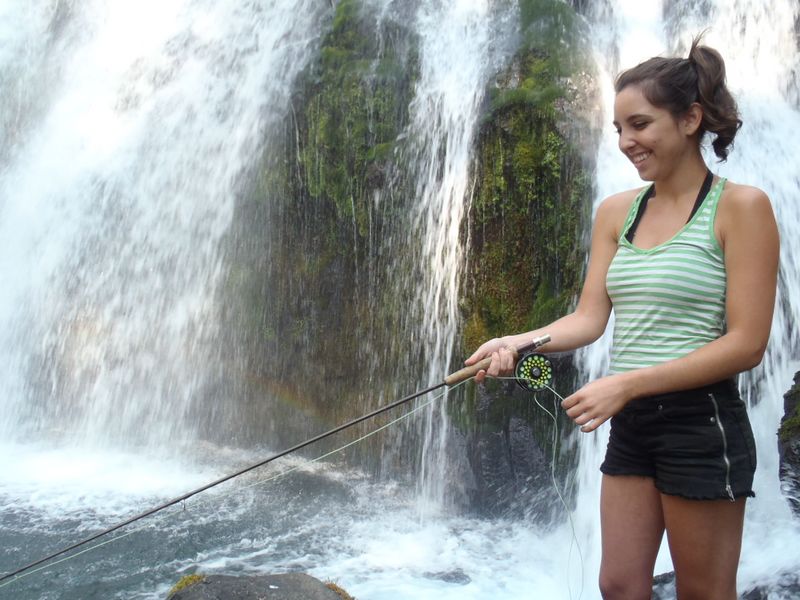 Fish on!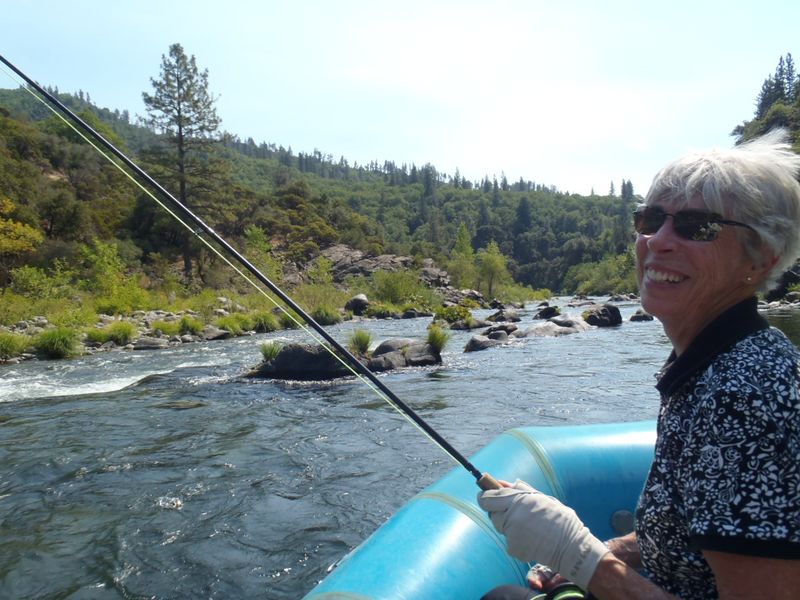 I have been fishing for years with Joan B. of the Golden Gate Fly Casters of San Francisco. She loves to take big trout on her fly rod as she has been known to travel all over the world to far away places such as Russia to land her next great catch. On this day we had our best day ever fly fishing and floating on the Upper Sac as she landed 3 huge trout and had on a few others and landed even more that were small but spunky.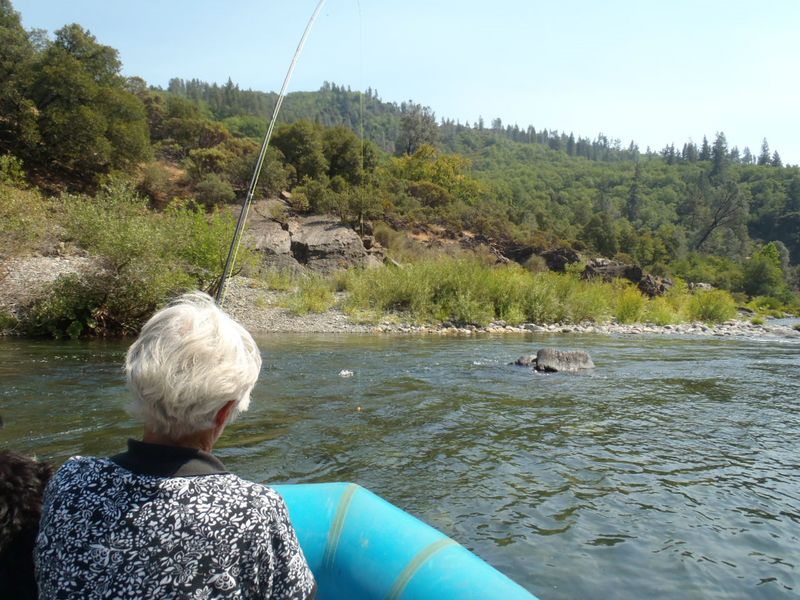 This Joan is so much fun! Carola just loves her and we had a real hoot that day!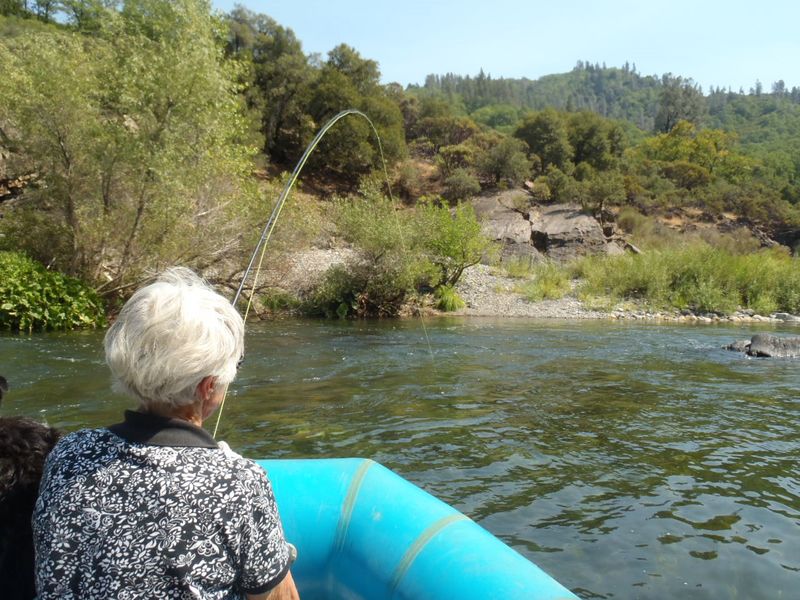 Joan – CAN YOU SAY LUNKER!! This lady knows her stuff, I have landed big steelhead with her on the Trinity River.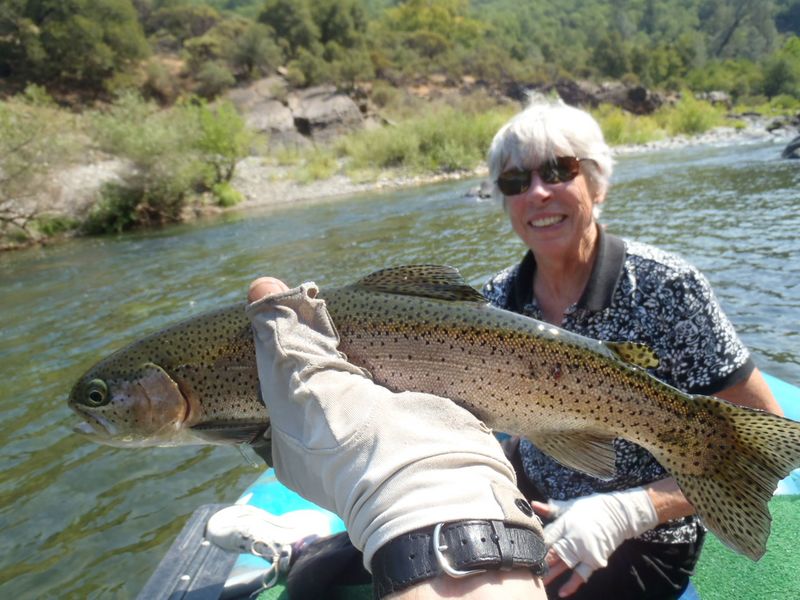 Joan B.  – YOU ARE MY SIZZLER OF THE WEEK AWARD WINNER!! CONGRATULATIONS SIZZLER~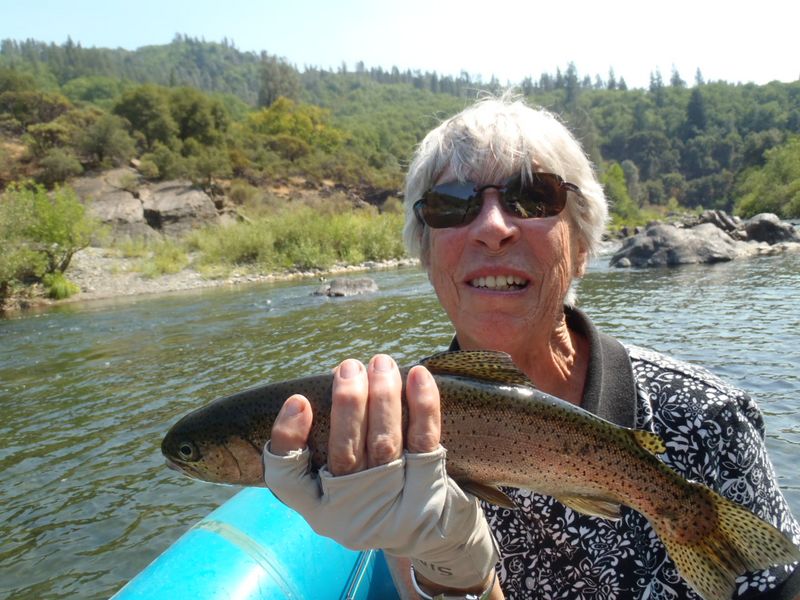 JOAN IS IN THE HOUSE FOLKS!
How cool is that!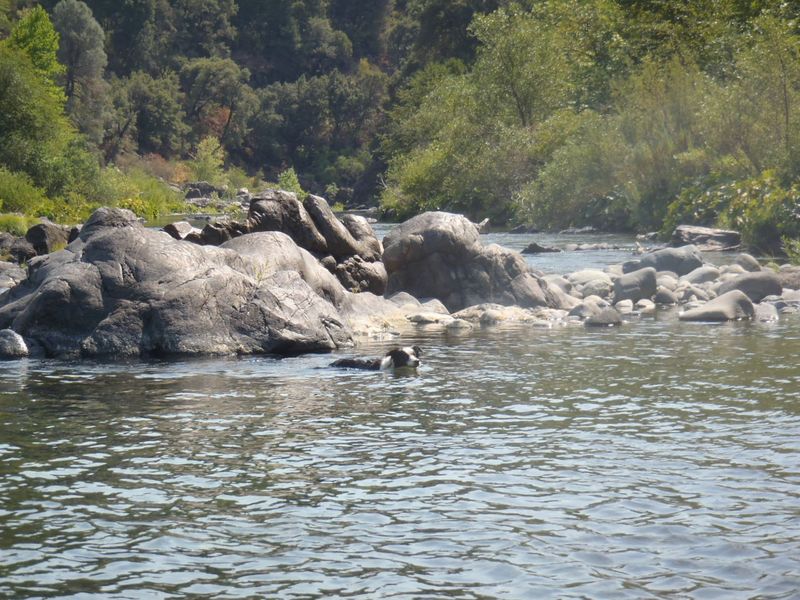 Beefster taking a swim on a hot sunny day!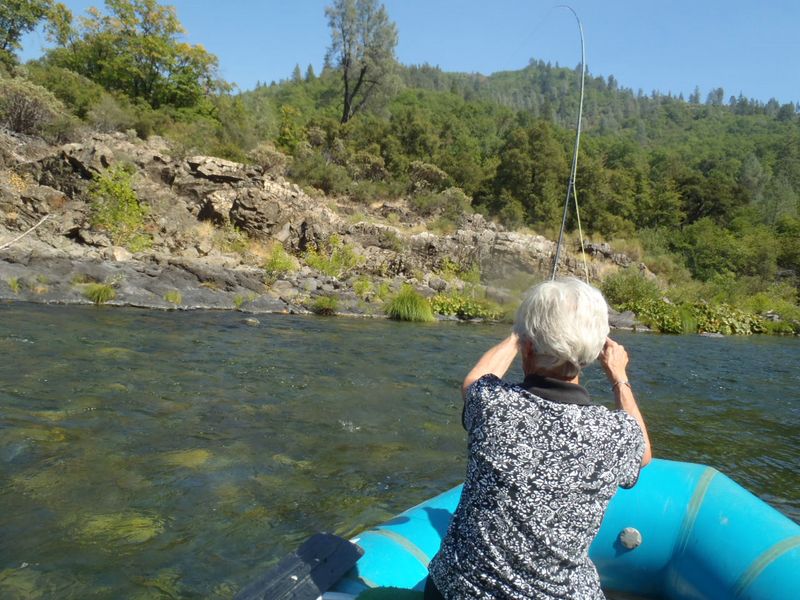 Joan hooking delight! After a great lunch Joan enjoyed her second half of the day.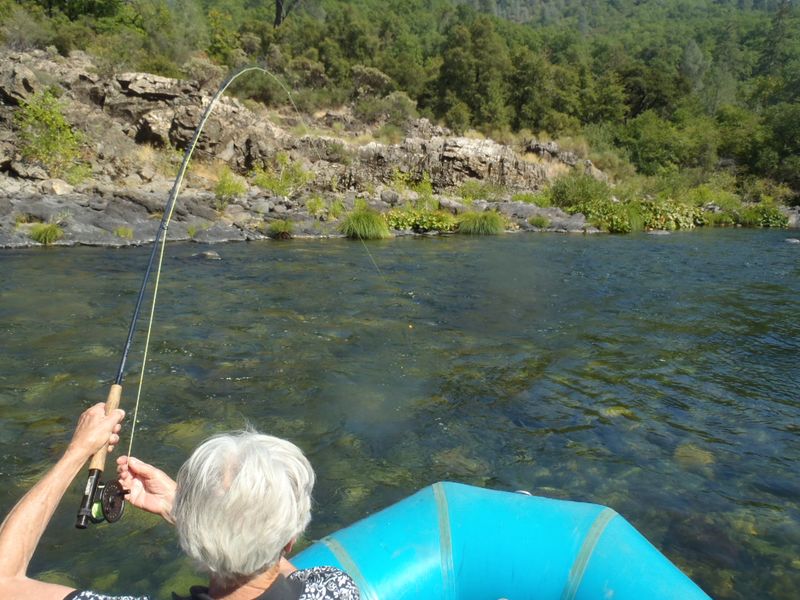 This trip was fantastic for Joan, there would be no way she could wade the this river nor would it be safe. Joan was right at home in our trout raft.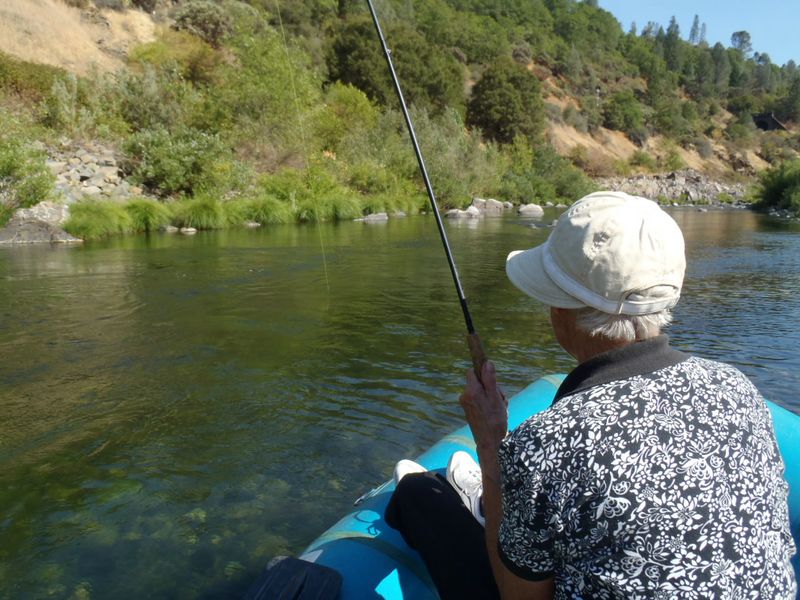 Heck who needs waders and boots, just wear your shoes or not!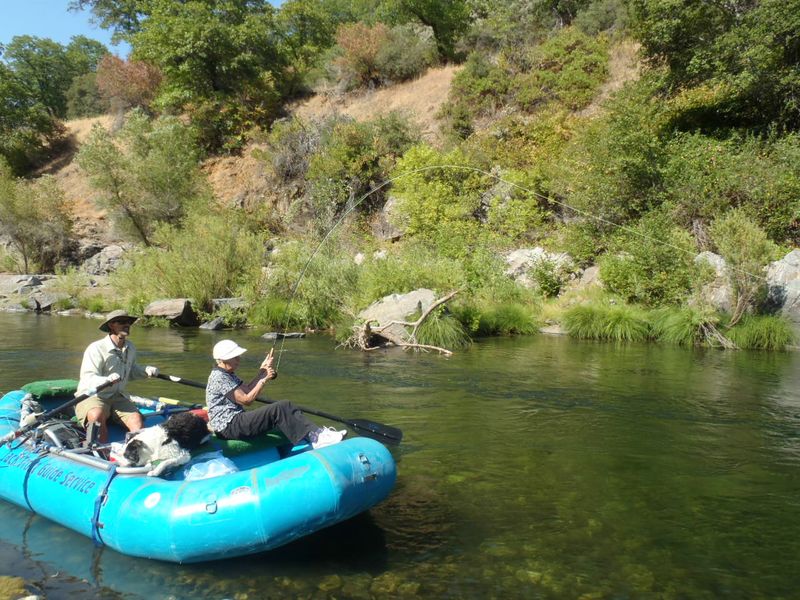 Joan giggles with delight as she hooks into another nice trout.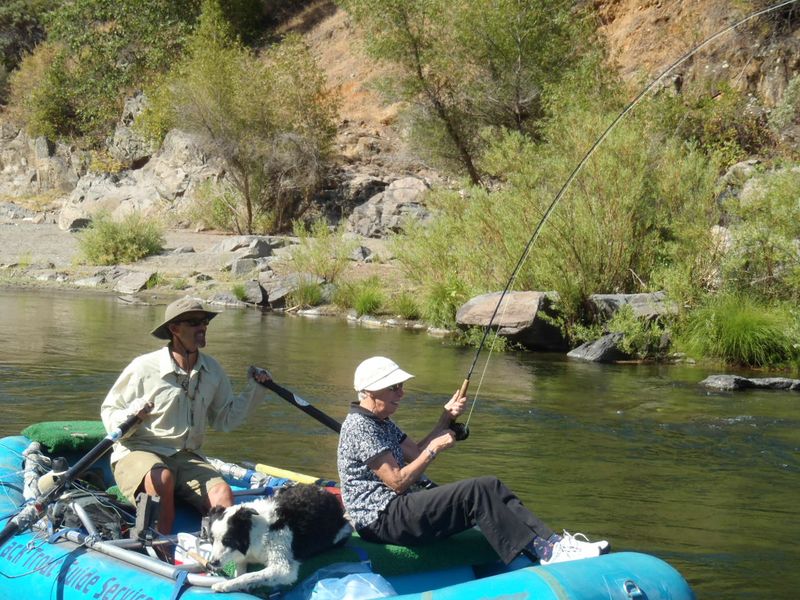 The adventures of Joan, a must watch reality TV show coming soon. A story about a sweet widow who fly fishes every chance she gets and loves every minute of it!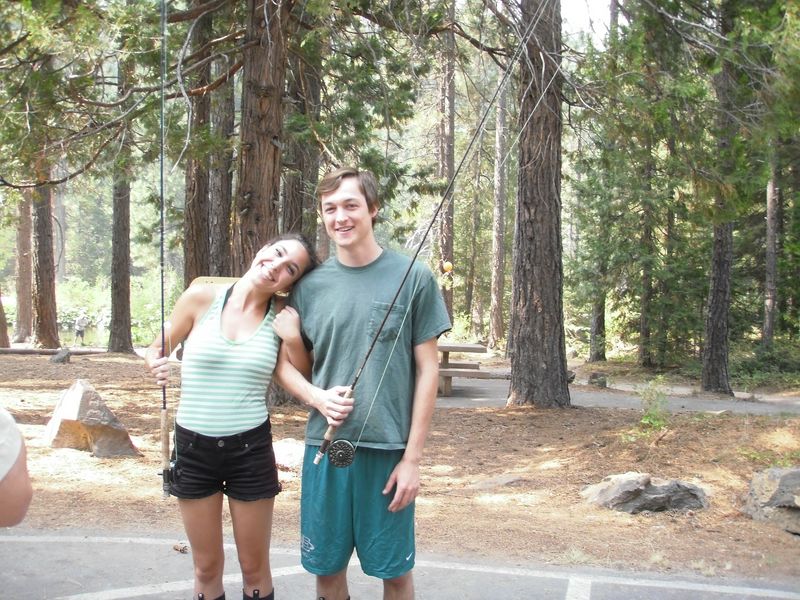 They loved their first ever fly fishing adventure with numerous hook-ups.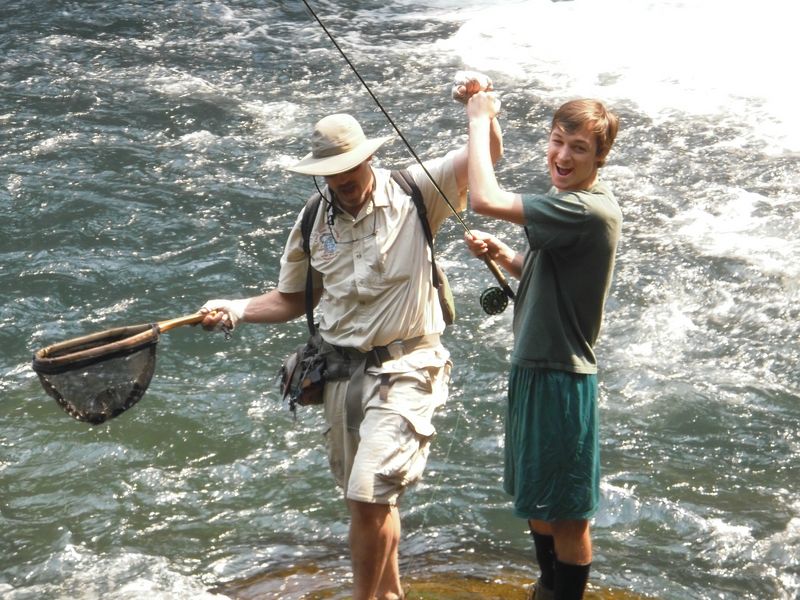 Adventure re-cap on Courtland's first trout ever on a fly rod. ABC Wide World of Sports Thrill of Victory! (Now if we fall, that's the agony of ……)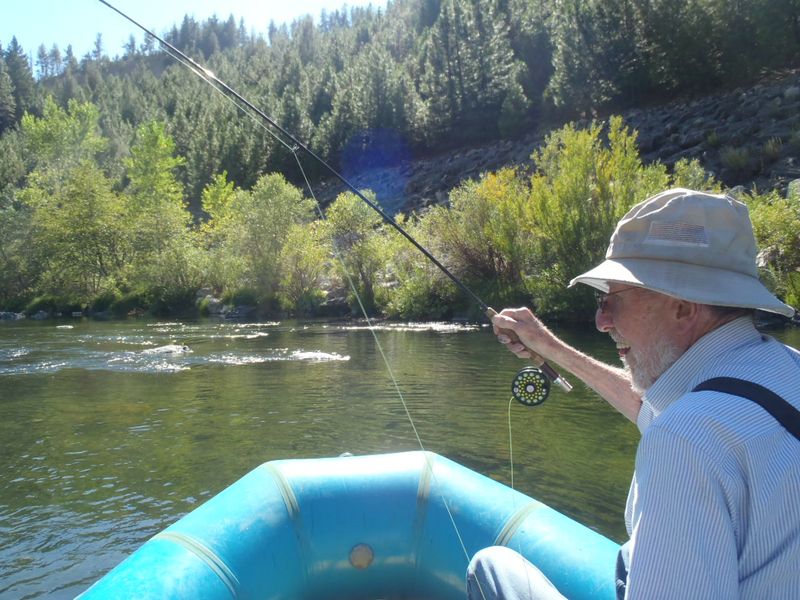 Good times with old buddies, thanks for coming up!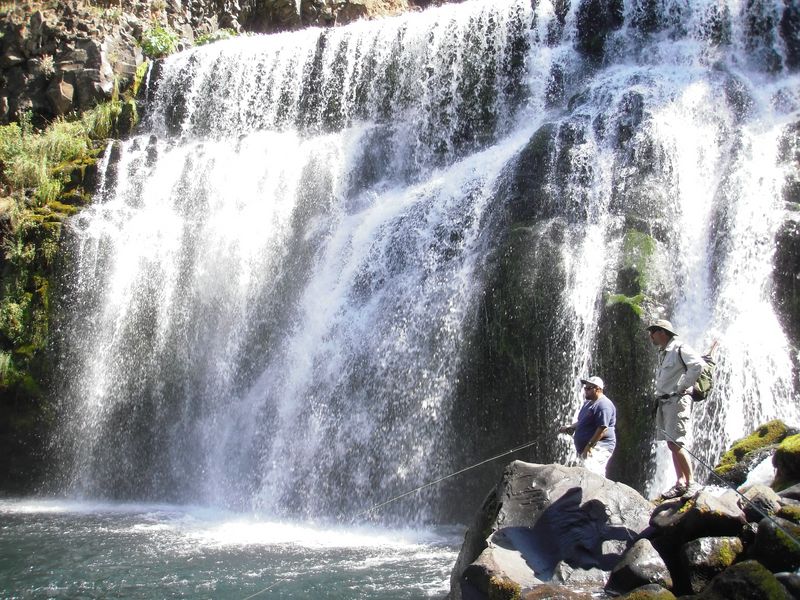 California's water all starts way up high in Northern California.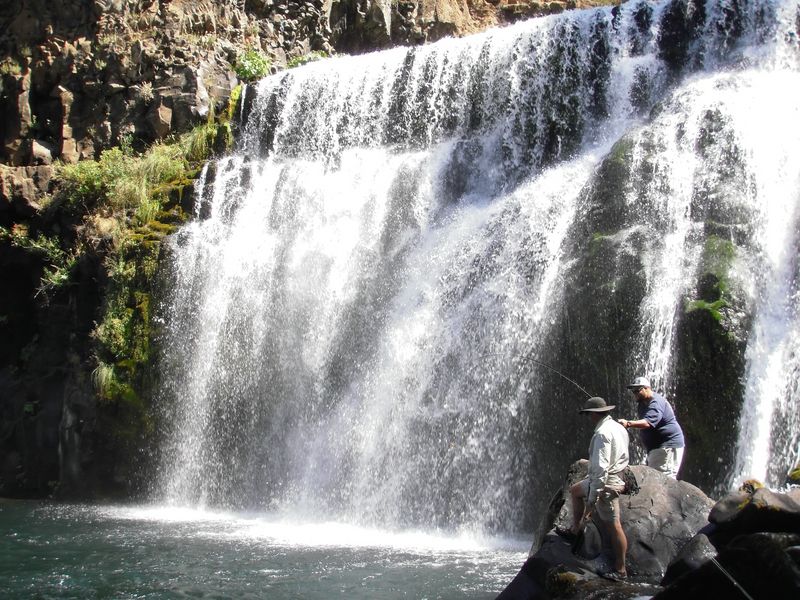 Fish on folks!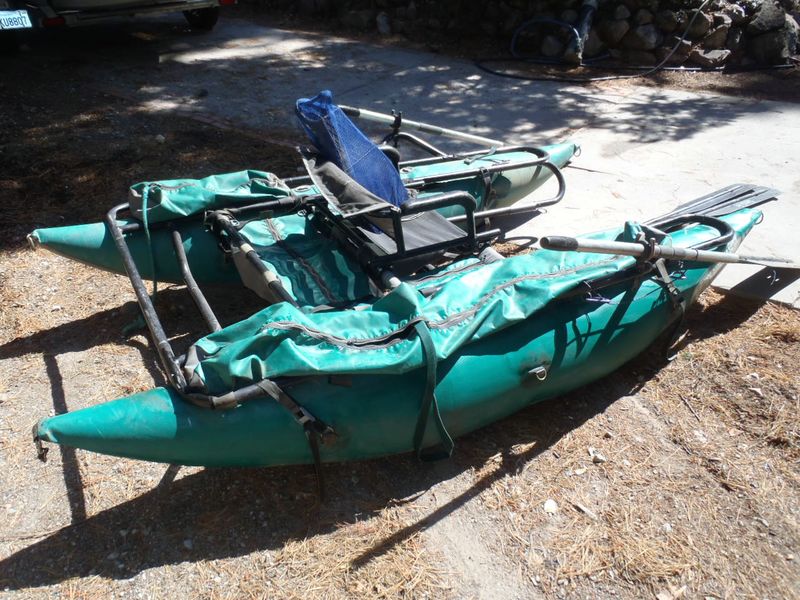 For Sale: JW OUTFITTER PONTOON BOAT RATED FOR CLASS 3 RIVERS.I have taken this down the Upper Sac many times. I want to sell this for $425, I paid $1200 for this boat. This boat is not just made for lakes, this boat can also be used on rivers. 2 pairs of oars and fins included.
Also if you have some fly fishing rods, waders, boots, boats, I am thinking about putting up a page to sell fly fishing things on this site. What do you think?
Good Signs – In 2009 when I was floating the Upper Sac in my raft, I would go a week before seeing a train heading south bound loaded with wood from the Pacific Northwest, now looking back on it, it is like a litmus paper for our economy. Housing was super slow and we were on the decline in general. The other day I saw 5 trains in a row south bound loaded with wood for construction. One after another, like a force of nature wanting to rebuild America, one new job at a time as each passing box car promised with its loud screeching noise to my shagrin. Like two enemies that finally understood one another, I looked up at those train cars and got a chill down my spine, for the first time in 3 years I truly felt the economy was improving in the most important area, housing. Yea folks, all the signs are there. Low interest rates, low home prices and the wood is on the way! Next time you see a south bound Union Pacific Train coming down from the Pacific NorthWest
give a thumbs up and think that American is heading the right direction. Just look at what Union Pacific's stock has down this year! Indeed it isn't all bad out there, look for the good signs.  JT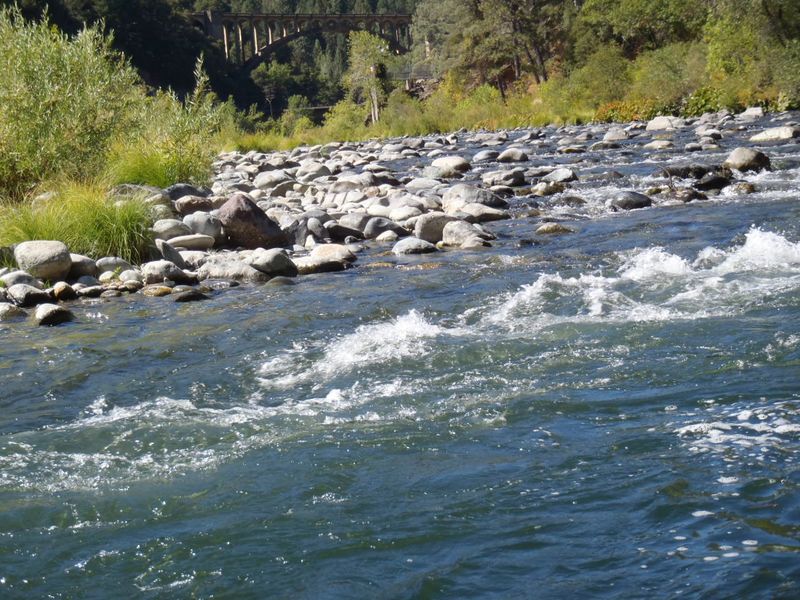 Sweet water, pure and pristine from Northern California.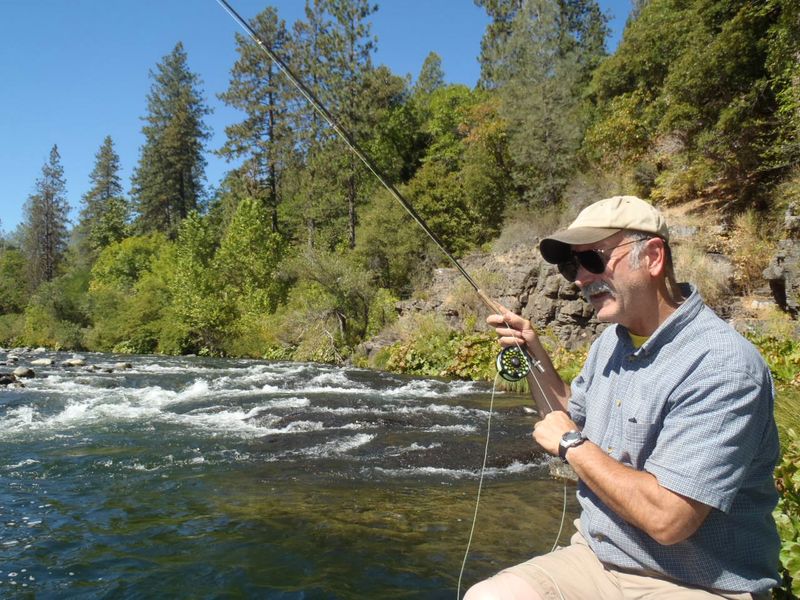 Don loves seeing those south bound trains heading from Oregon down into California loaded with lumber from Roseburg Lumber. Makes sense he works there! he agrees things are picking up and it looks like we could truly be on our way to recovery.
But right now catching this trout is the supreme importance.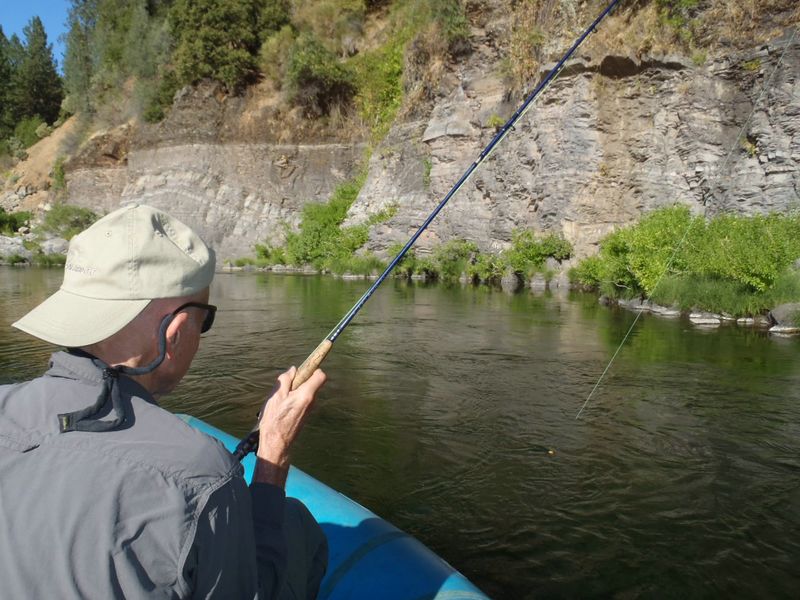 Chuck Persyn a regular of the Shasta area hooks up on a nice trout.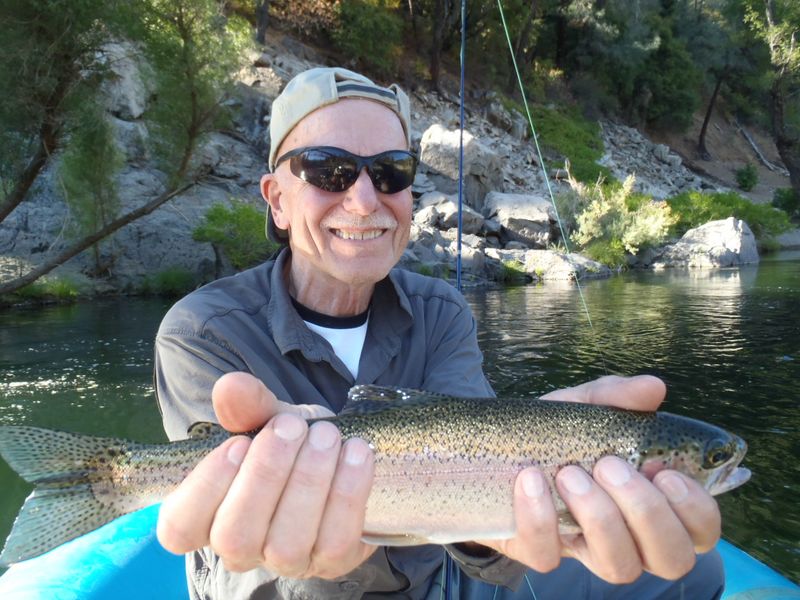 Right on Chuck, see you again in the spring!

Running for rivers, not for office!  jt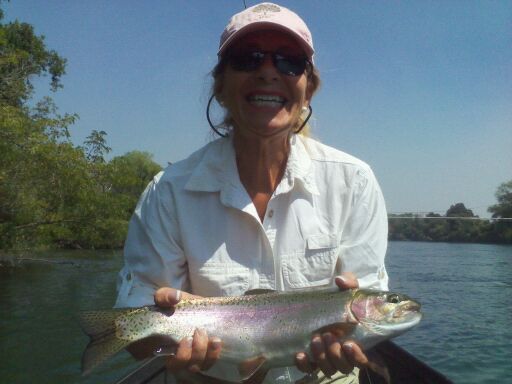 Forrest guided a number of our clients on the Lower Sac this past month.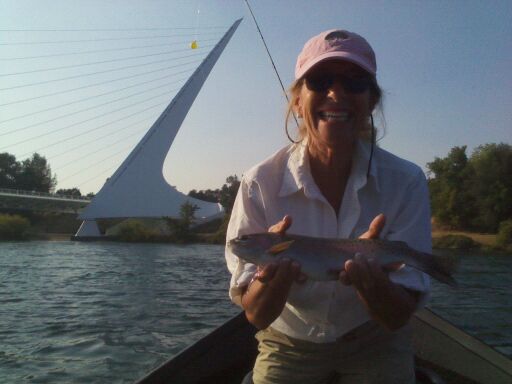 The Lower Sac is on fire right now folks. Call me if you want to schedule a trip in Oct or November give me a  call.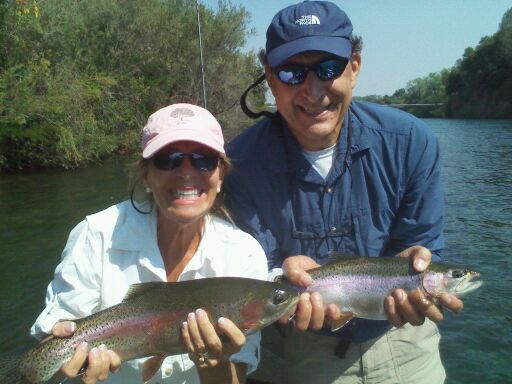 We could try for a COUPLE DOUBLE or a COUPLE OF DOUBLES … Well you know what I mean! (Good job Forrest!)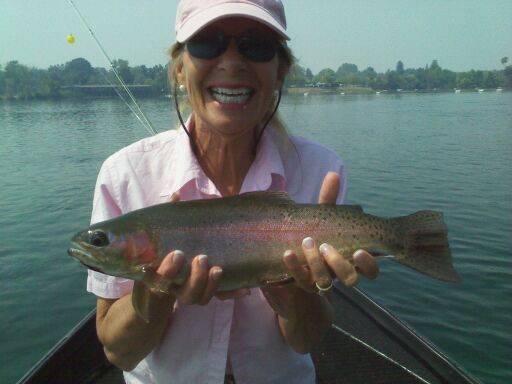 Now that's a fun day!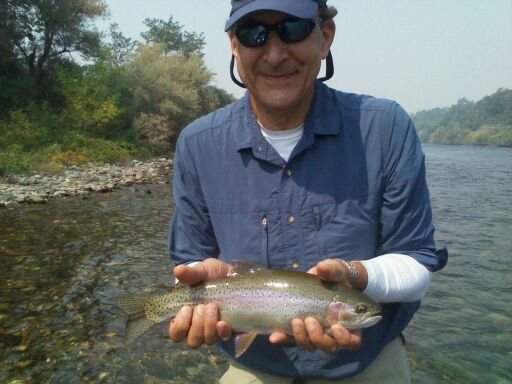 I just love that Lower Sac, aren't we blessed to have so many great places to fish in the North State.
I've always said, "If they never Dammed up Shasta Lake, the Rivers Runs Through it, never would of been filmed in Montana!" (McCloud)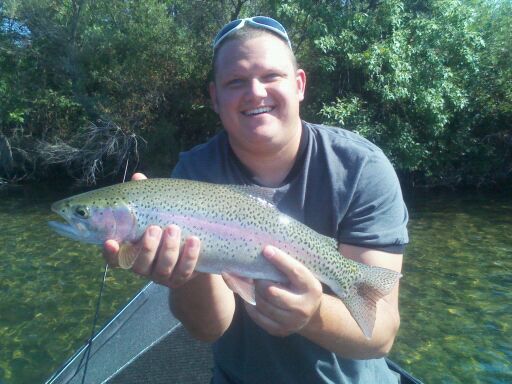 SWEET!
Trinity River Steelhead – 
Lunkers galore on the Trinity River, hope you make it up this year.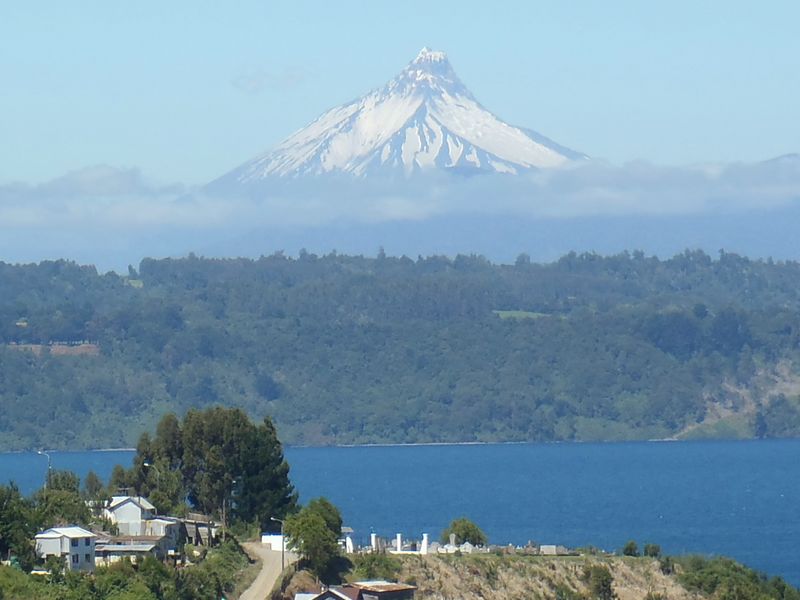 Chile season started on October 15th when the Rio Maullin opened, on November 15th the Rio Petrohue opens. Edgar has already started guiding and it looks to be a great season in Chile.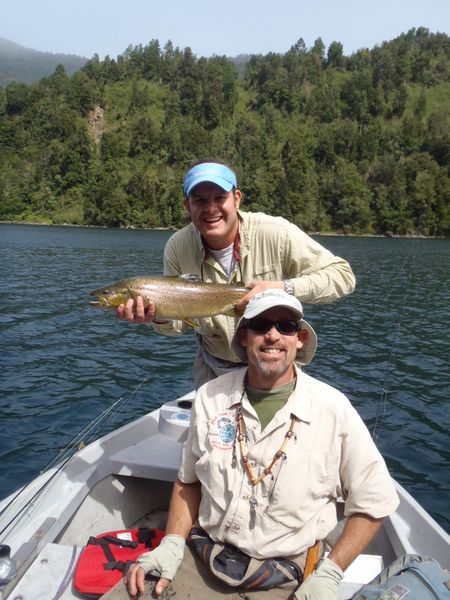 We would like to thanks all the folks who have already signed up for this season in Chile! BIG BROWNS DOWN THERE!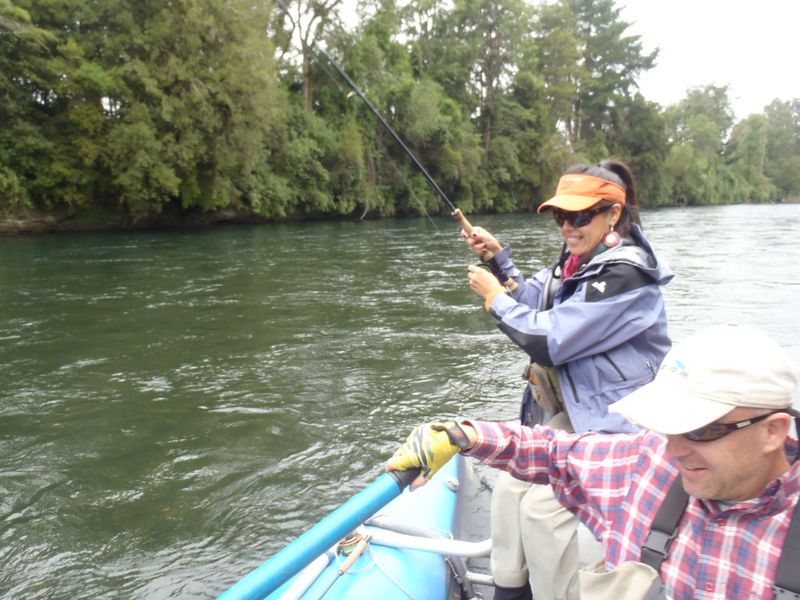 It will be great to be out guiding again with Edgar and Carola.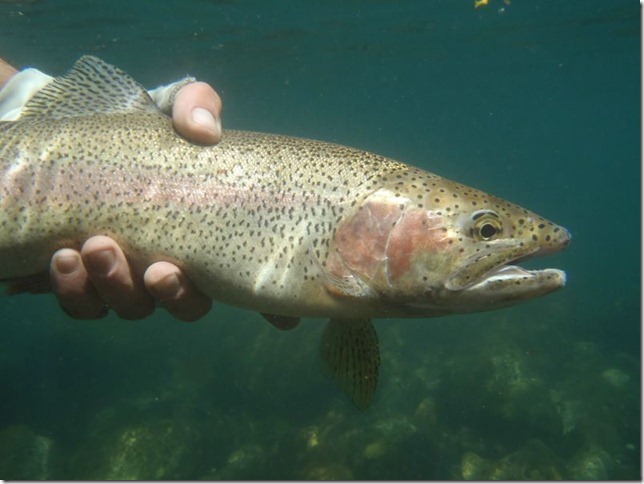 Nice hard fighting trout are plentiful on our private runs.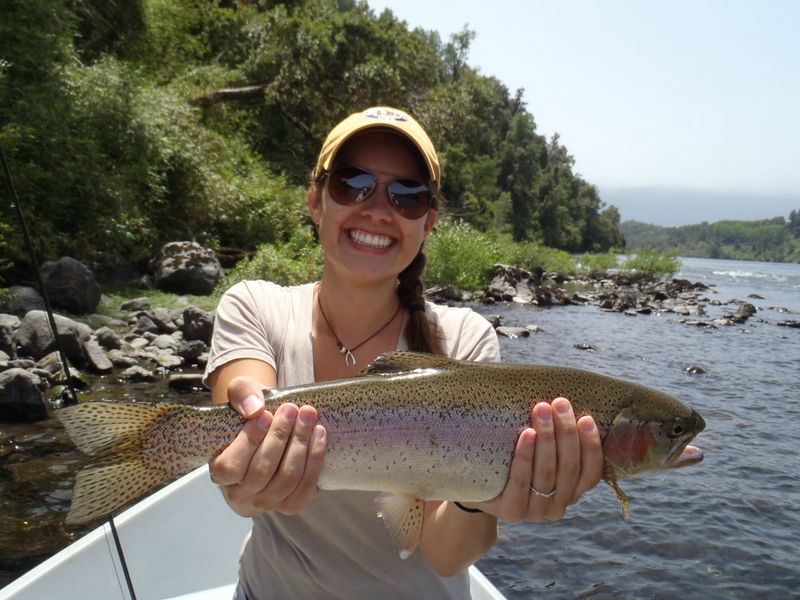 This is another great place for beginners to come down and check out. We offer 2 week fly fishing excursions in the Lake District, Rivers District of Chile and Patagonia Argentina. Way to go JEAN!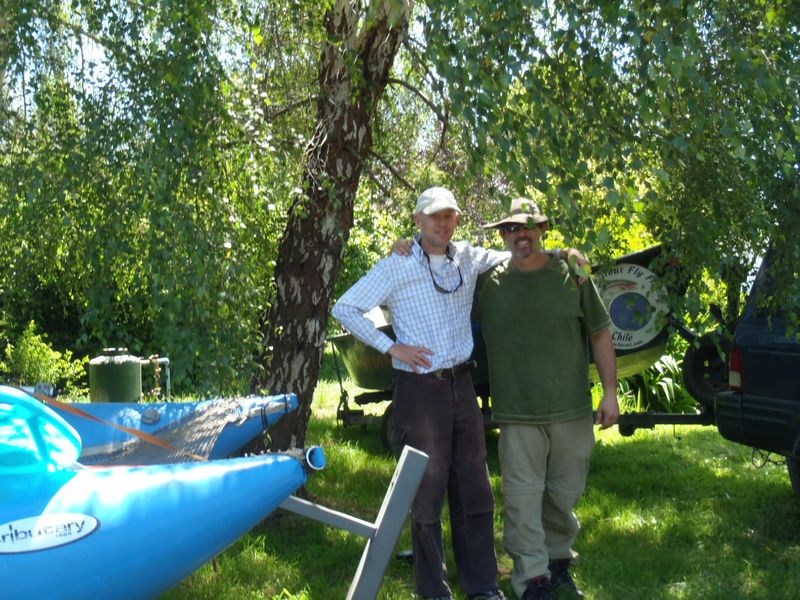 Edgar & Trout ready for action in Chile for the 2012/2013 season in South America.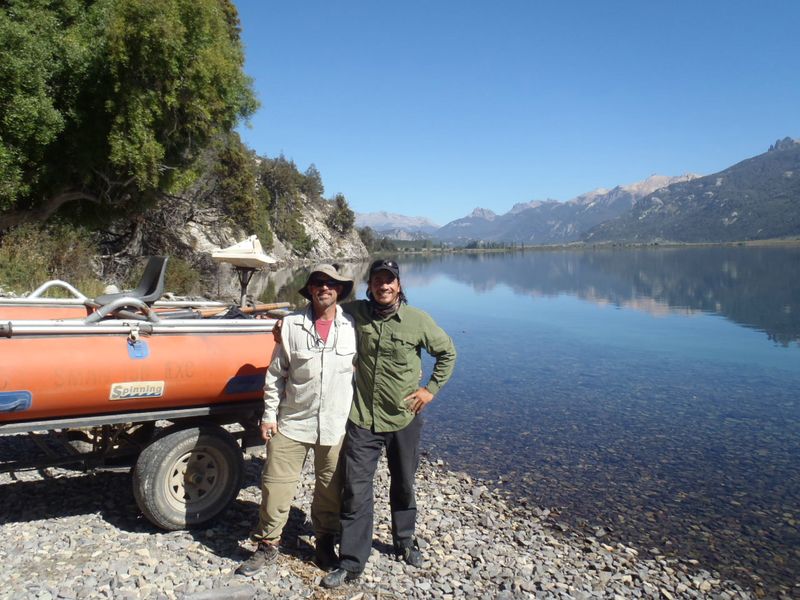 Argentina 2013 – Juan and I are ready for your dream trip to the best places to fly fish in Argentina. Hope to see you there!  Jack, Carola & Juan!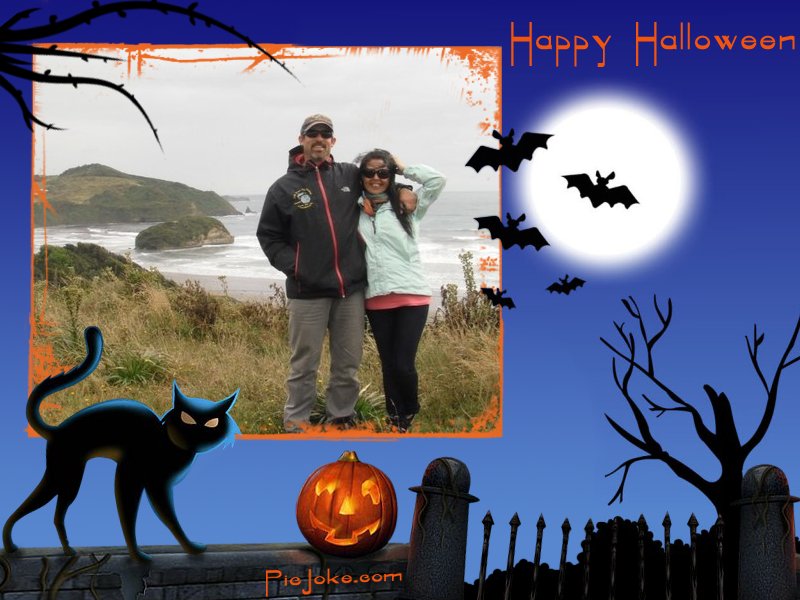 Thanks for watching our adventures!
Happy Halloween !!  Jack, Carola & Team Trout Guides & Kobe Beef Trout too!