FALL STEELHEAD & TROUT FISHING ON THE TRINITY, KLAMATH, LOWER SACRAMENTO RIVERS.
CHILE & ARGENTINA SIGN-UPS FOR THIS NOVEMBER THROUGH APRIL 2013!!
530-926-4540 STEELHEAD & TROUT HOTLINE – INFO@JACKTROUT.COM
SATURDAY, SEPTEMBER 22, 2012
10 am to 10 pm
Global Peace Prayer 4 pm
Backyard of
Shasta Base Camp
308 S. Mt. Shasta Blvd.
Mt. Shasta, CA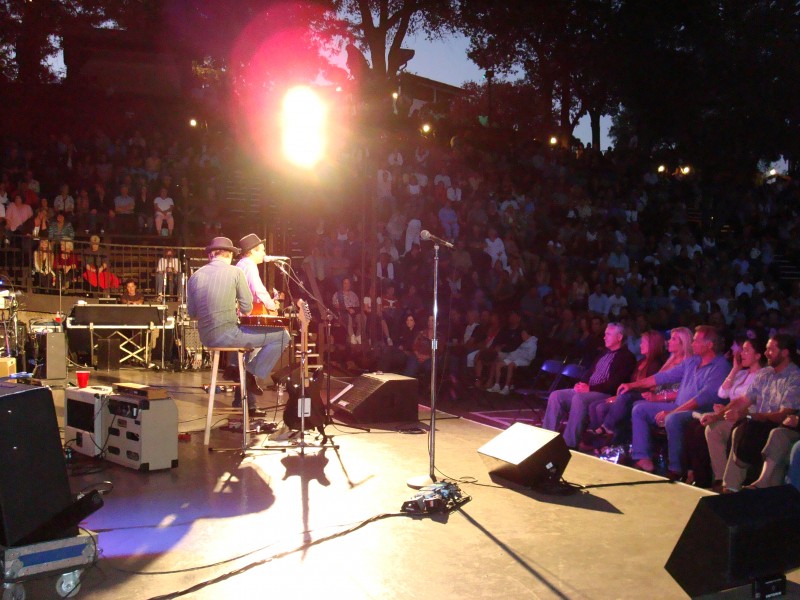 DON'T MISS JERRY HANNAN AT THE EARTH DANCE SHASTA, NOMINATED FOR AN OSCAR FOR HIS SONG SOCIETY IN SEAN PENN'S MOVIE IN 2007 INTO THE WILD. HE WILL BE THE STAR ENTERTAINMENT FOR SURE!          www.earthdanceshasta.com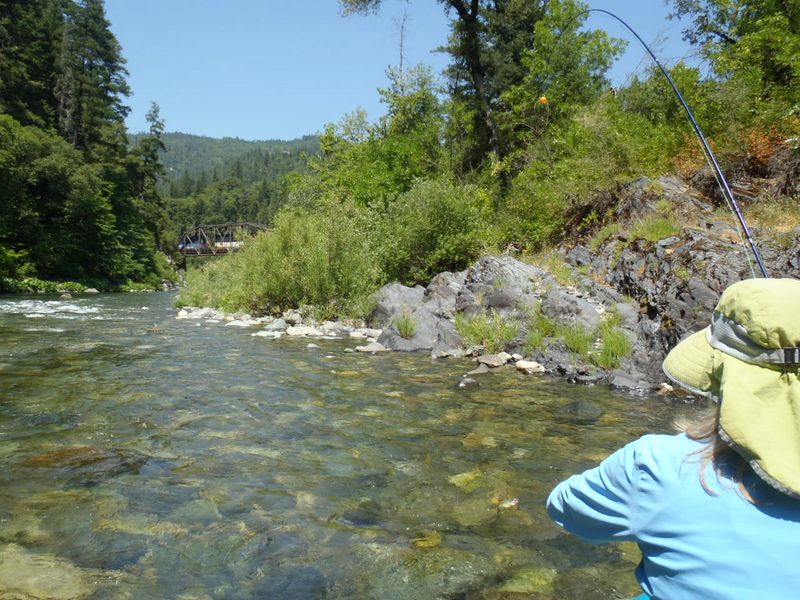 The best part about summer is getting away to the best places in California or where ever you think is best for you and your family. As long as it's near a cool mountain stream or a nice deep lake to enjoy all these wonderful and hot summer days…
(I guess it would be true that some folks would like to get away to some place dry, hot & dusty, or possible a trip to the city now and again. I guess that's why they have menus in restaurants.)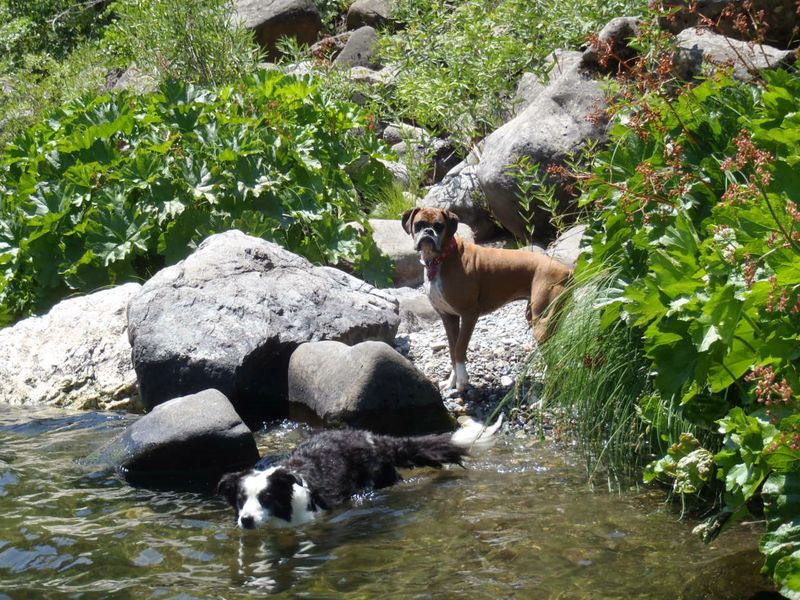 You could take your dogs out for a swim, you know they'd love it!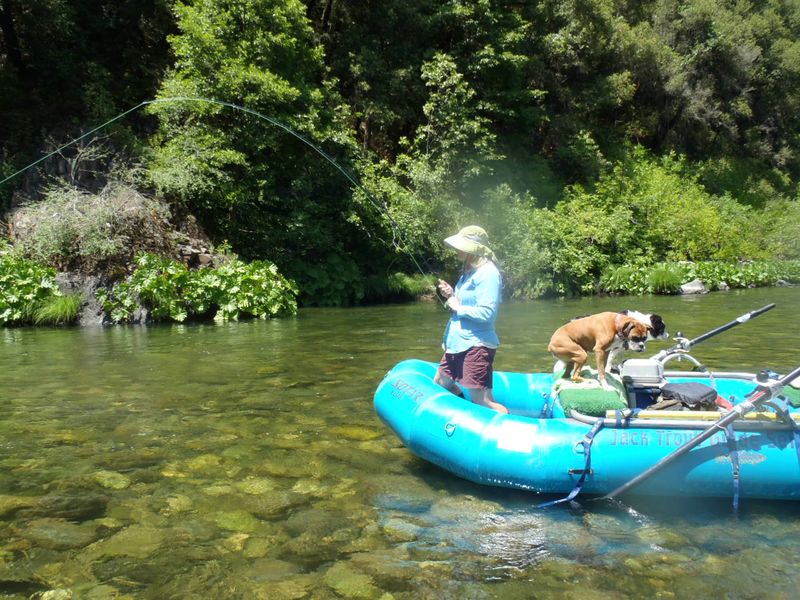 Couple of weeks ago some folks from Redding came up to check out the fly fishing on the Upper Sac.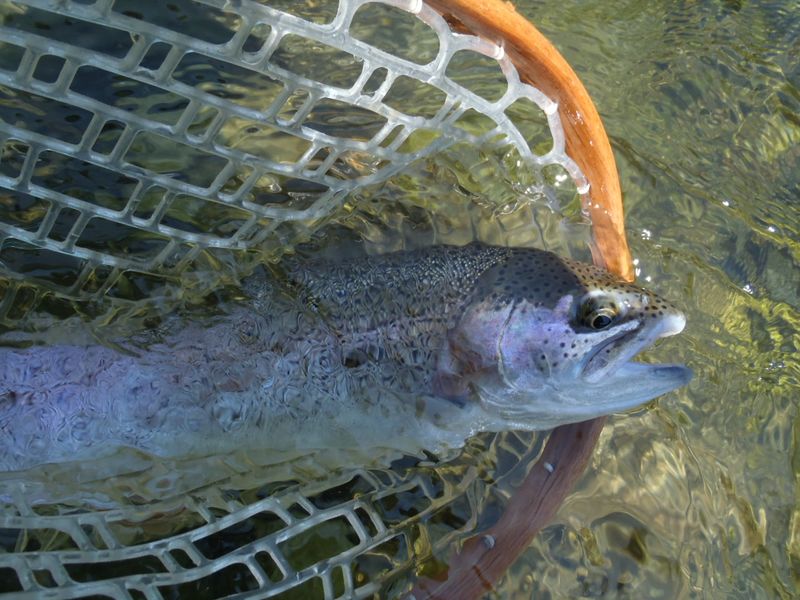 A wonderful prize for all!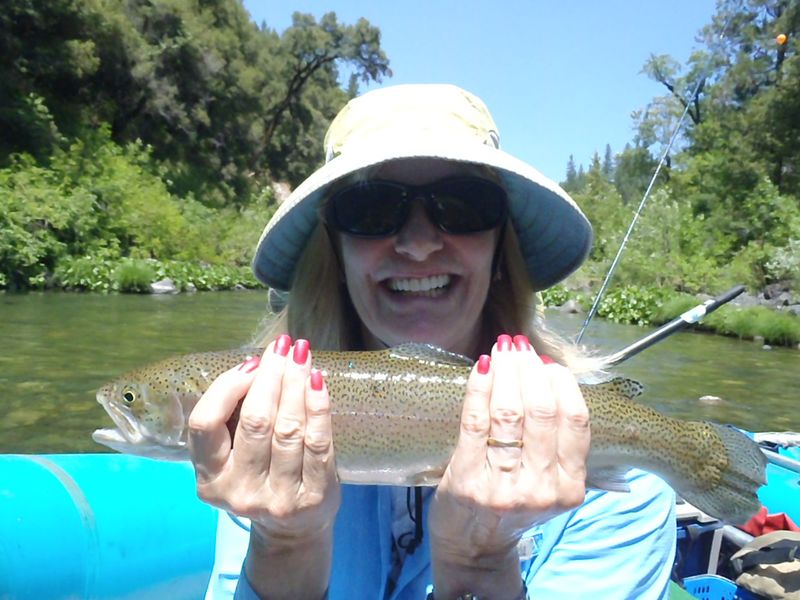 Way to go! Hope to see you in the fall..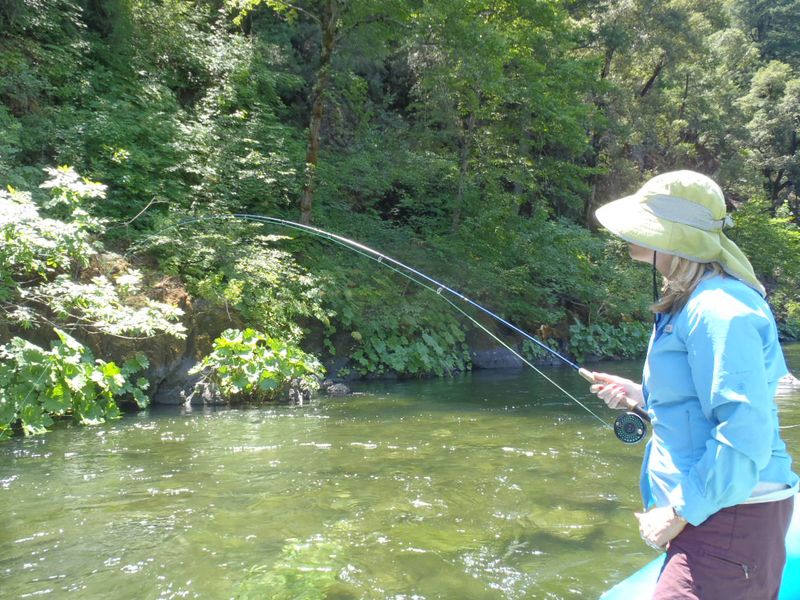 If you're stressed, hot, bummed out or stuck in traffic constantly. You may need to head north to Dunsmuir, California. The river is the answer my friends.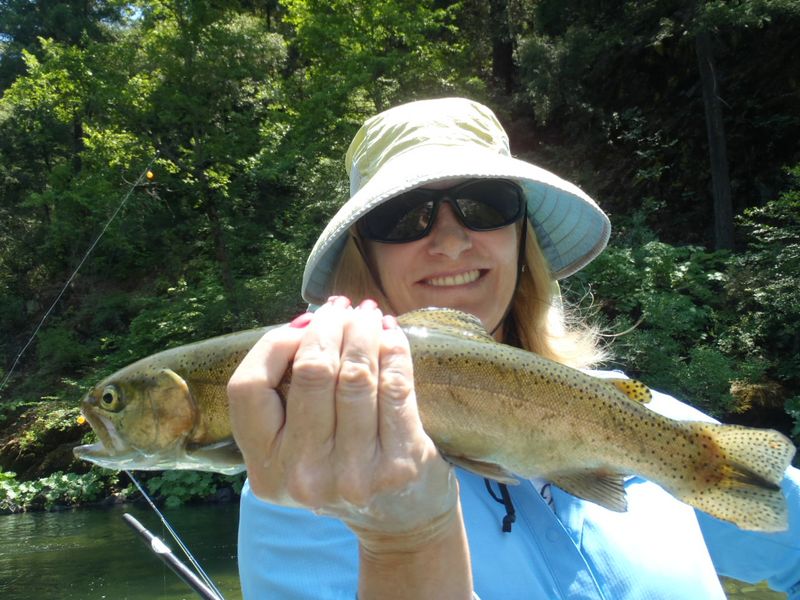 Maybe what you need is a great big trout from the Mount Shasta area!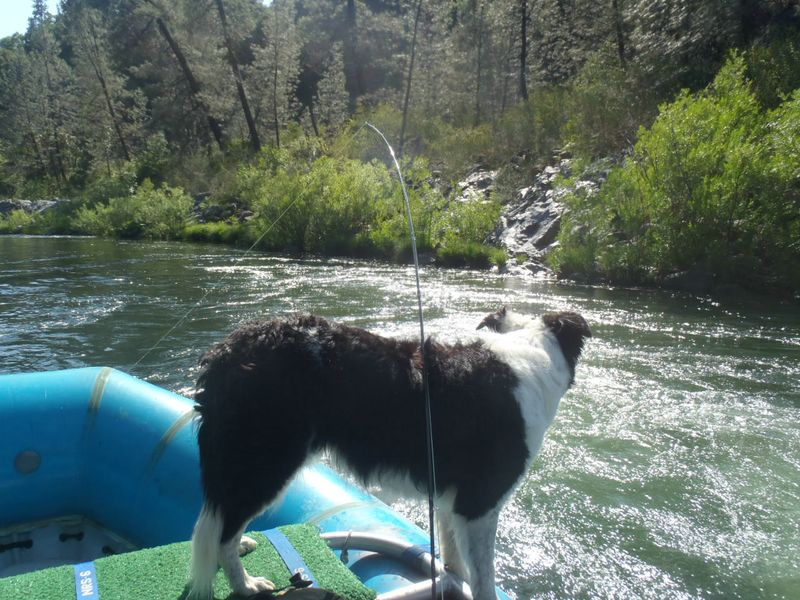 One day Kobe Beef and I went out fishing and Beefy got to feel the trout on the rod, he loved his hook-up, for sure a natural born fly fisher.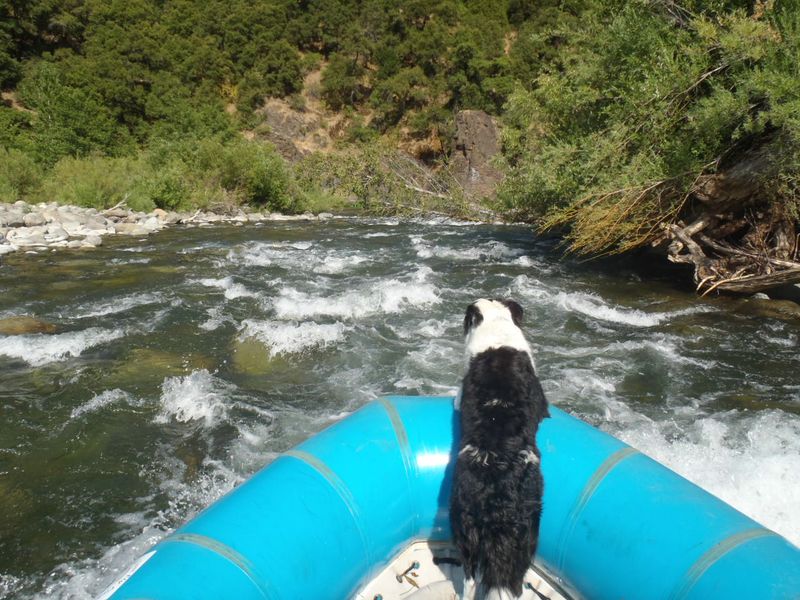 Beefy rafting on his favorite river, up ahead a tree fell down but that doesn't scare my fearless dog!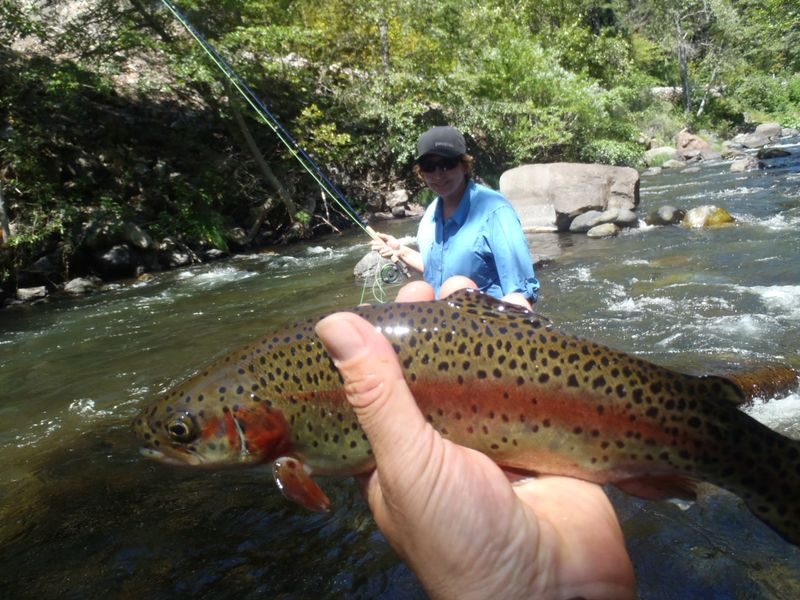 To all the beginners we've guided this summer, we salute you!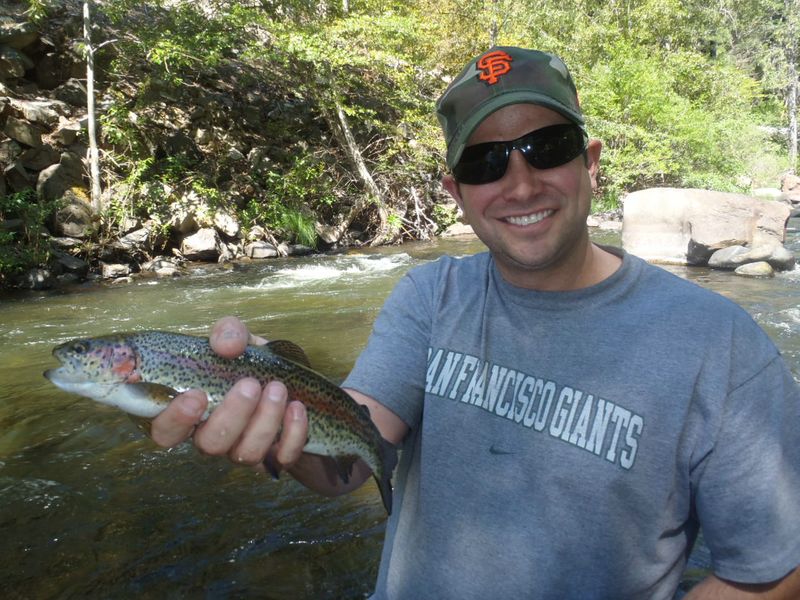 Giants fans too! Nice day of fishing Dominic..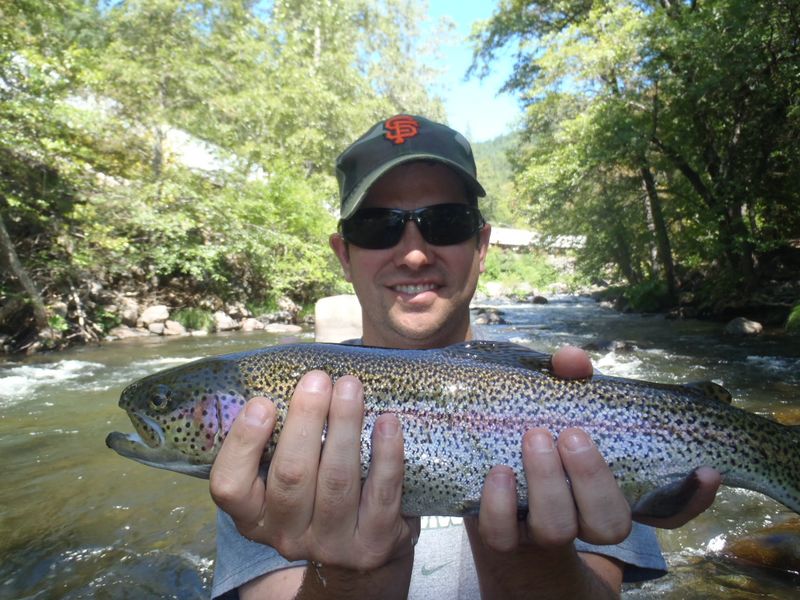 Lunkers are not over-rated my friends.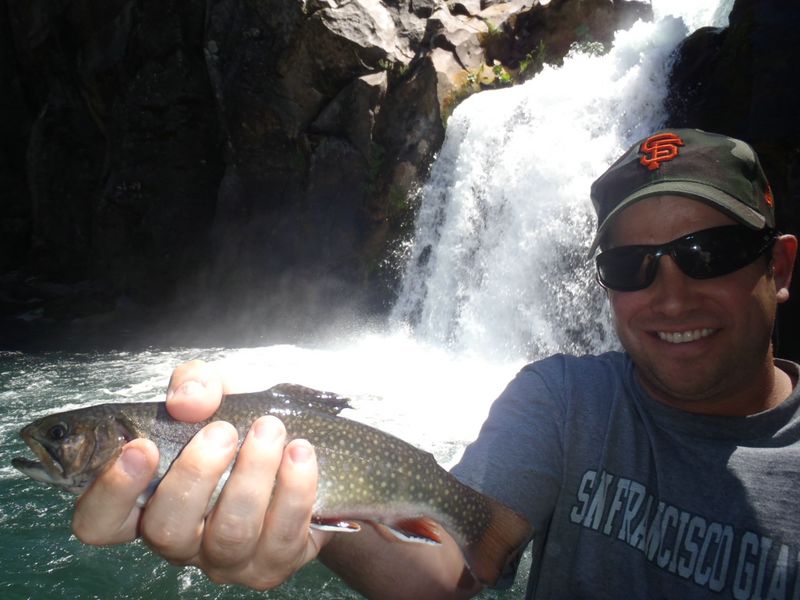 Brook Trout at the falls is cool, stop on by the town of McCloud and have a great burger or a milk shake at the McCloud Mercantile Soda Shoppe from 1895.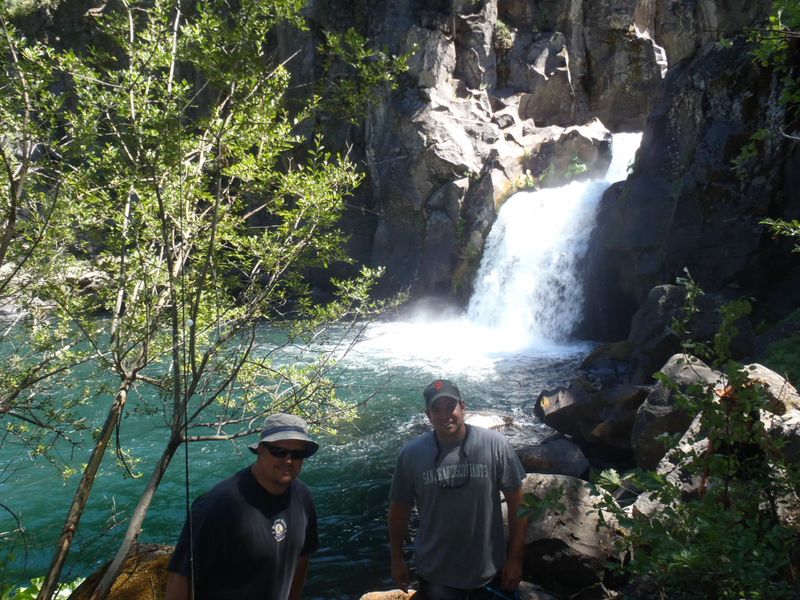 Spending time in the outdoors with friends… I mean that's why we do all that work during the week!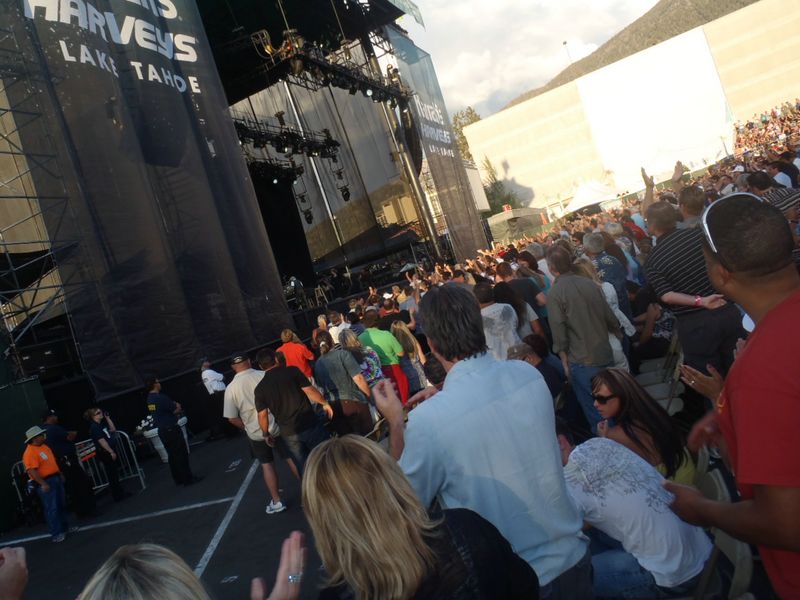 Enough guiding time to take my wife out for some entertainment, lets go to Lake Tahoe and see a rock concert. Harvey's Lake Tahoe is a great safe place to see a concert. We chose, Journey, Pat Benetar and Lover boy, a blast fromt he past for sure….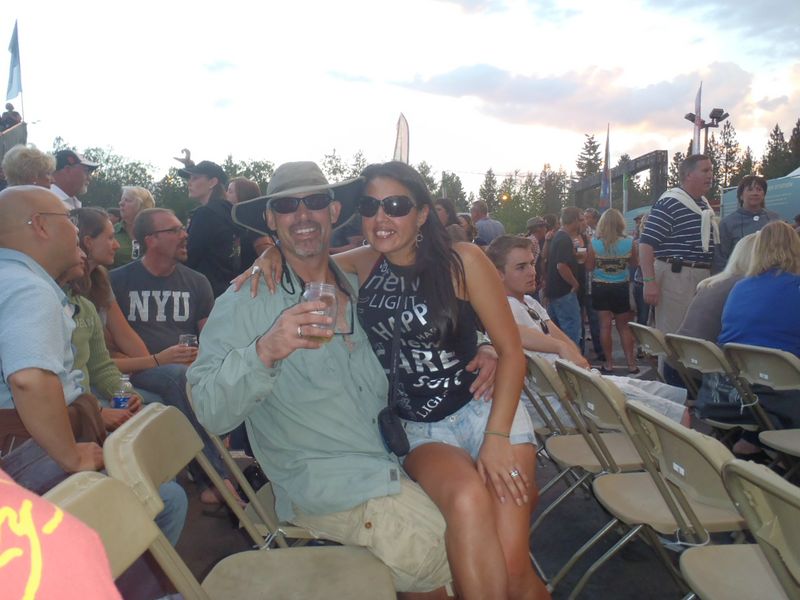 It was a great show and a great time out for Carola and I, we loved the shows.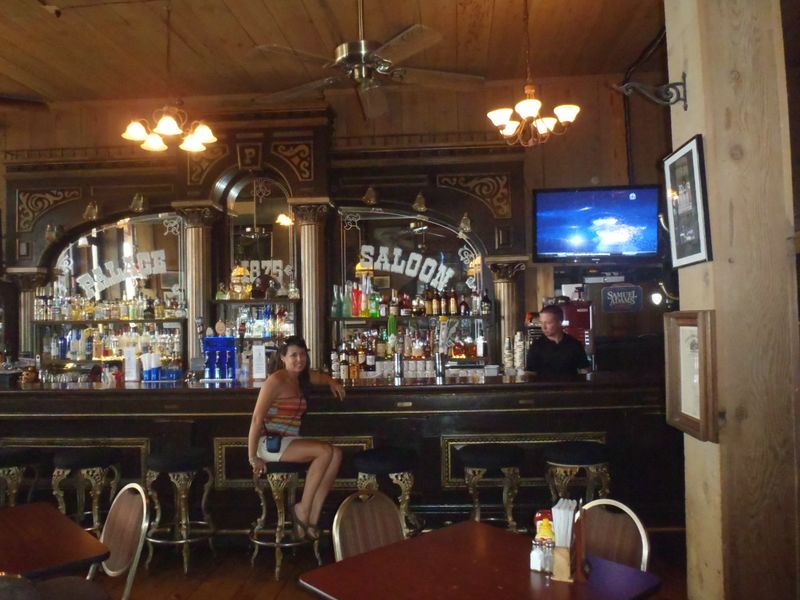 Maybe some of you don't know this but I love old history, especially from the 1800's so we headed for the Comstock Load at Virginia City. Most of the gold & silver was discovered and extracted from Mt Davidson in the 1850's & 60's and at one time Virginia City was the richest city in the world. Any man who worked on the mines made 4 maybe 5 times more than any average man, so the town grew and grew and supplied the San Francisco Mint with gold and silver for minting our national coins. Then later due to bandits over Donner Summit and on the way to SF, the Carson City Mint was built for a shorter haul to mint the coins. This is a great town to spend a night in and think back about the pioneers who came from all over the world to strike it rich or die, many found the later to be true. There were even folks who came as far as Austrailia, England, Chile, Argentina and many other countries as it was the place to be!
(Did you know Nevada is still the 3rd largest producer of gold and silver in the world next to South Africa and Australia) That's only a State versus countries…. Wow!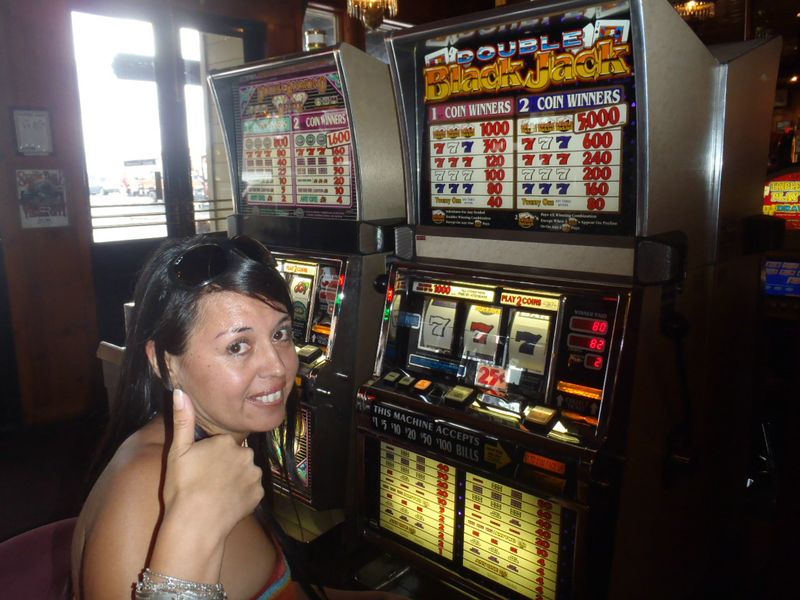 Carola hit a jackpot and we ate dinner that night for free and then some!!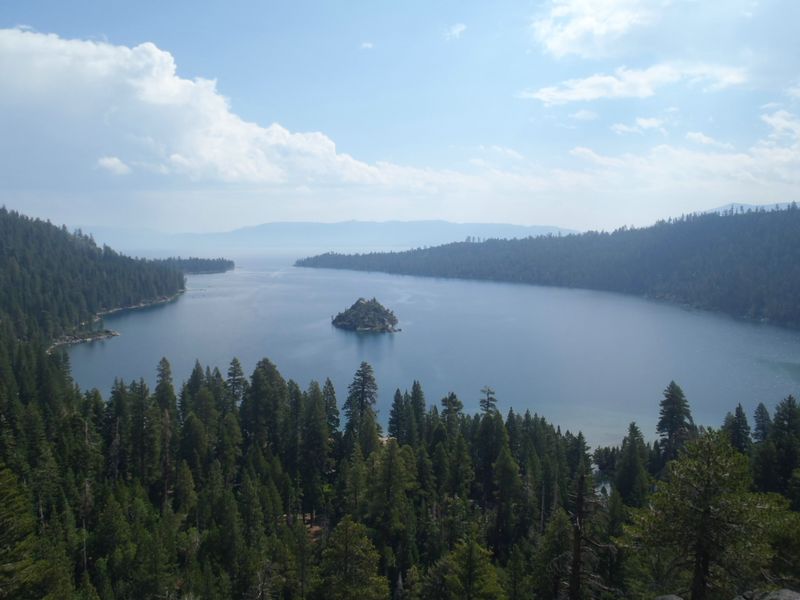 Before we headed to Virginia City we drove the circumference of Lake Tahoe, it was amazing and clear. They say the lake in recent years has become even more clear as visibility has grown by 50 feet. This is Emerald Bay, this was a spot where during prohibition they hollowed out caves as they hid barrels of alcohol in banks of this bay later to be brought down to Reno & Tahoe to entertain the masses. As a kid, I loved driving over here from Portola with my dad, he would tell me all these stories and thought I wasn't listening…
Lake Tahoe is almost exactly half the size of Chile's Lago Llanquihue (Near Puerto Varas & Puerto Montt) the 2nd largest lake in Chile.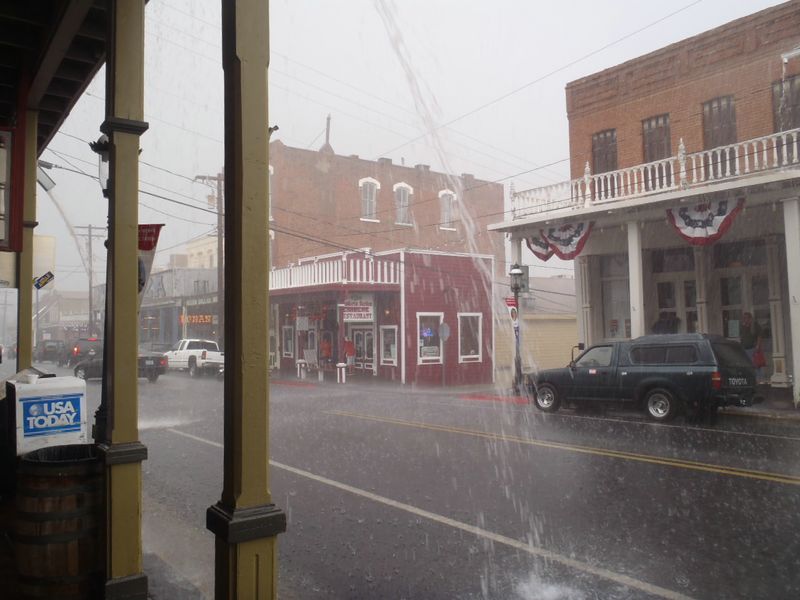 Back in Virginia City, the rain started to come down like a flash flood! (I thought this was the desert…) This must be one of those….So called FLASH FLOODS!! Hold on to your hats folks…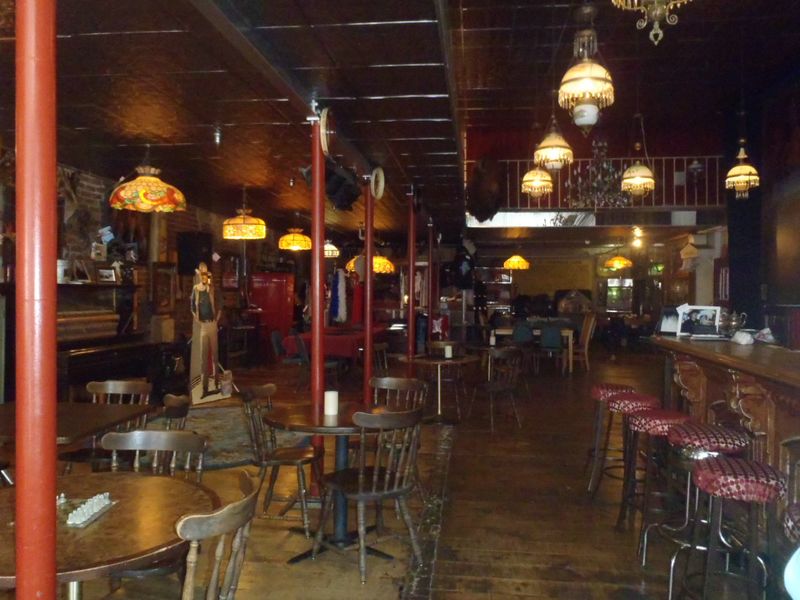 We stayed at the Silver Queen Hotel, the same hotel where Samuel Clemens changed his name to Mark Twain, where he started his famous news paper the Territorial Enterprise in this same hotel!
Have to have a drink and stay at this place!!
(Great prices!!)
http://www.twainquotes.com/teindex.html
(We like to take pictures early in the morning when people are not present, it's not a ghost town)
www.silverqueenhotel.net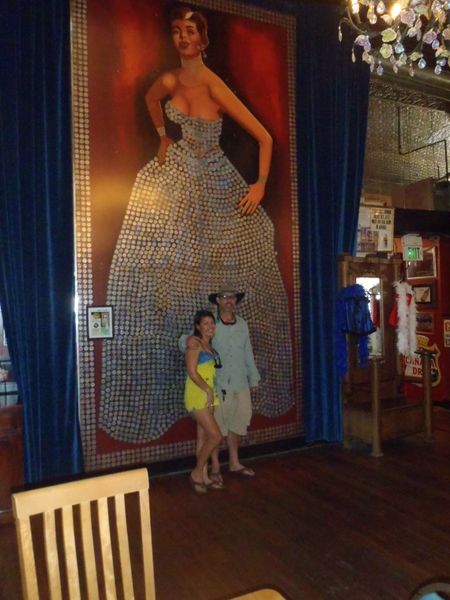 This is in Ripley's Believe it or not? This 40 foot women made of Silver Morgan Dollars and $20 Gold Dollars.. (You got my attention!) This town is just a whole lot of rich history and fun!! We plan to go back in September for old time pictures and part 2. (Did you know the Captain and Tennille got married at the Silver Queen in Virginia City, that one made me laugh.) Love will keep them together…. WHATEVER!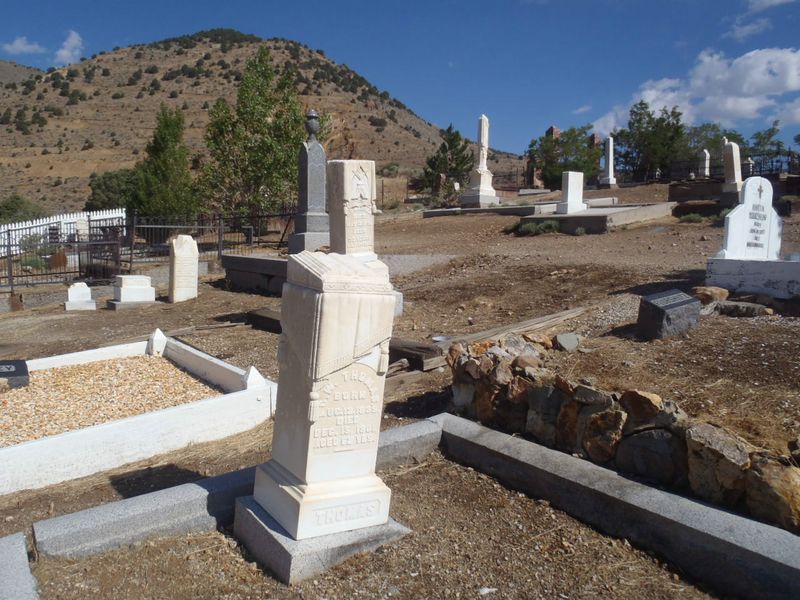 Some of you out there might think, I thought Jack Trout was a fly fishing guide, shouldn't the stories just be about rivers and fishing?
My take on this blog has always been to entertain you, promote the town of Mount Shasta, Dunsmuir & McCloud, Jack Trout Guide Service and share something a little more personal than most, so you know my wife and I are real people you might want to spend a day with out on the river.
This is the cemetery in Virginia City a must visit while hanging out. Most of people here were from other countries like England, Switzerland, Austria, Argentina, Chile. over 70% of the people here died before they were 40 years old, either to being over worked, disease or in a gun fight. It was a tough existence, one in which we don't know about these days, and you think your muscles are tired…
I am grateful for all these individuals who came here and started the American west and set the ground work to make us the richest country in the world, if you're wondering when we became the richest lands in the world it happen after these folks gave it all to us. They were good ancestors, hope we can be as good to ours.
Families like the Hearst Family Fortune was first made here in the silver mines of Virginia City.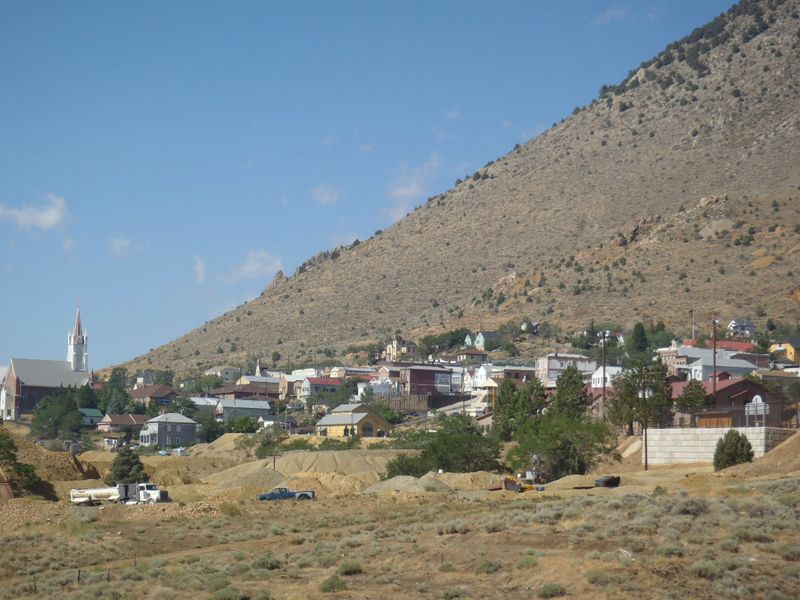 They are still pulling more gold out of Nevada then any other place in the USA. The Church in the background the cross at the top of the church is made of real gold!! What a great place to hang out for a couple of days and relive the era.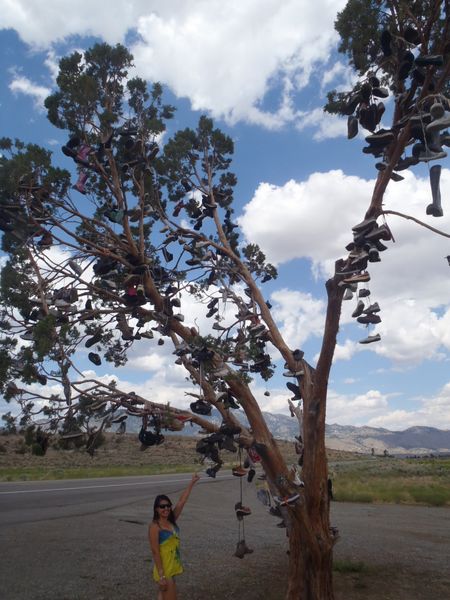 OMG – It's the SHOE TREE FROM HWY 395 BETWEEN BOARDER TOWN & SUSANVILLE, CALIFORNIA, NEAR HALLELUJAH JUCTION AT HWY 70. WE NEED MORE COLOR FOLKS!!
I HAVE BROUGHT 2 PAIRS OF WADING BOOTS, MAYBE YOU HAVE SOMETHING TO ADD..
HIS NAME IS SHOOEY!! 🙂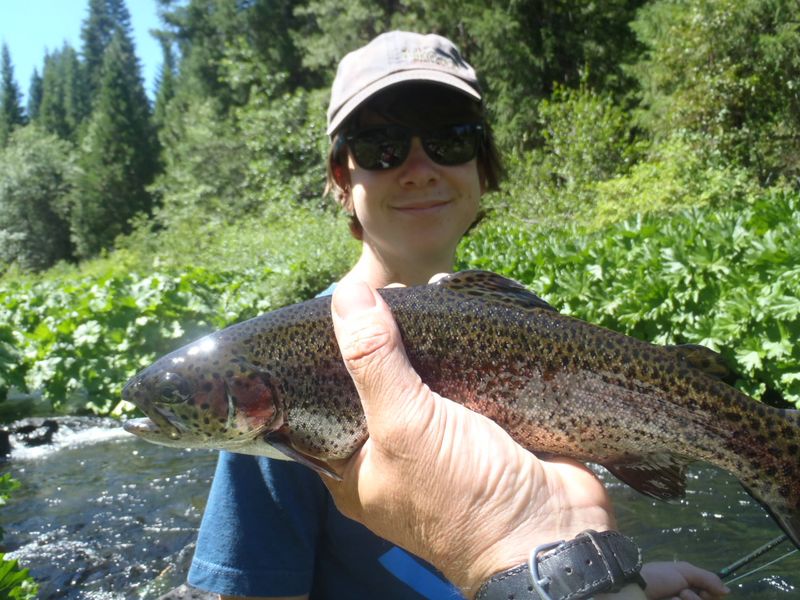 You know what makes this all so great is all of you! 20 years and it keeps getting better and now the next generation of fly fishers are coming up, time to pass the torch!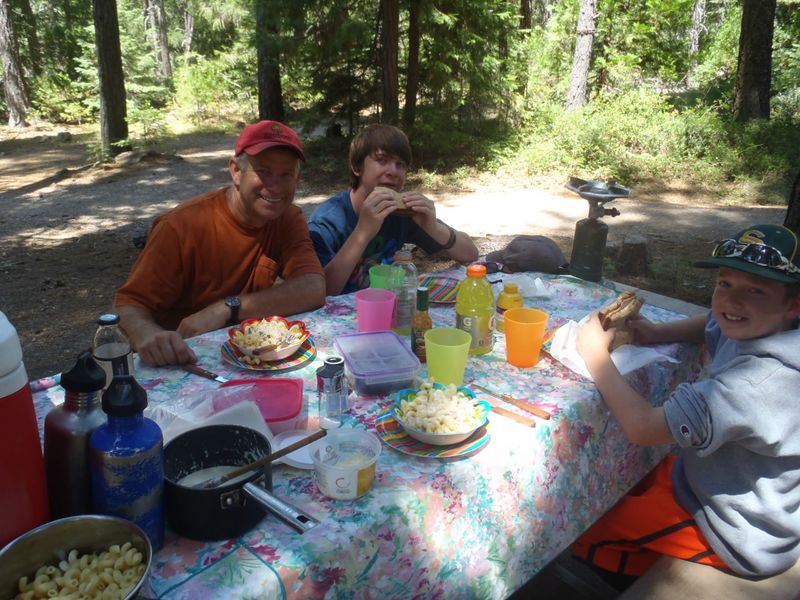 I hadn't seen Frank for years and he came up last month with his 2 boys who had never fly fished and we caught and released a lot of trout that day, had a grand time and the boys learned a new sport they can enjoy the rest of their lives. We all enjoyed Carola's fantastic MAC & CHEESE lunch!! 🙂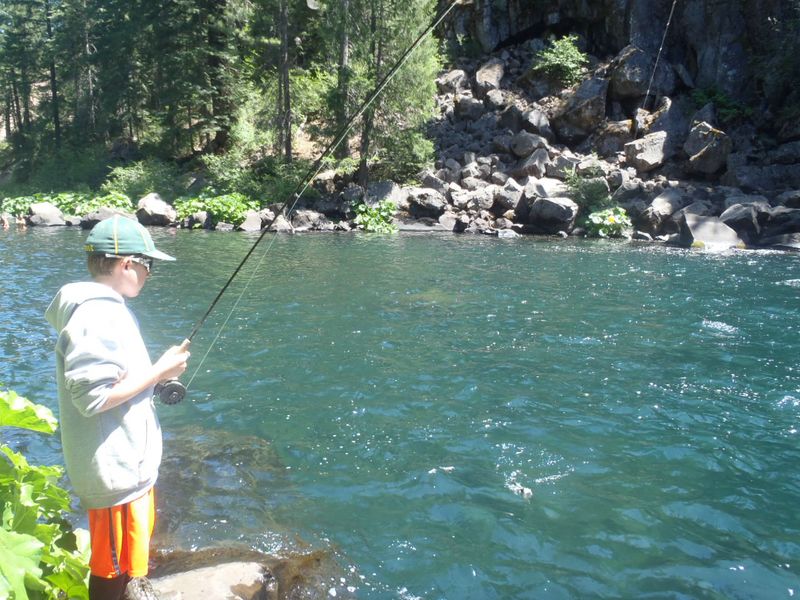 Then it was back to catching really nice Brook Trout on the McCloud River.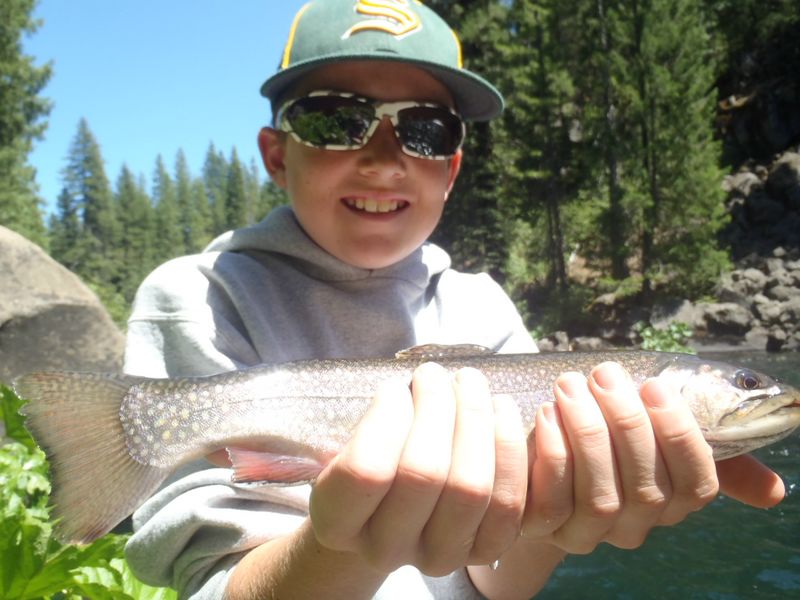 Brian with a huge Brook Trout for our area and look at those beautiful colors! Catch trout now on small nymphs size 18 & 20's. What names you ask me to disclose… Why Surely! Pt no bead size 18, Micro Mayfly Black size 20 and the Rainbow Warrior size 18 & 20 all available at the
Ted fay Fly Shop www.tedfay.com
Give Bob a Call 530-235-2969
CAVE SPRINGS RESORT & VACATIONS HOMES ON THE RIVER –
530-235-2721 LOUIE DEWEY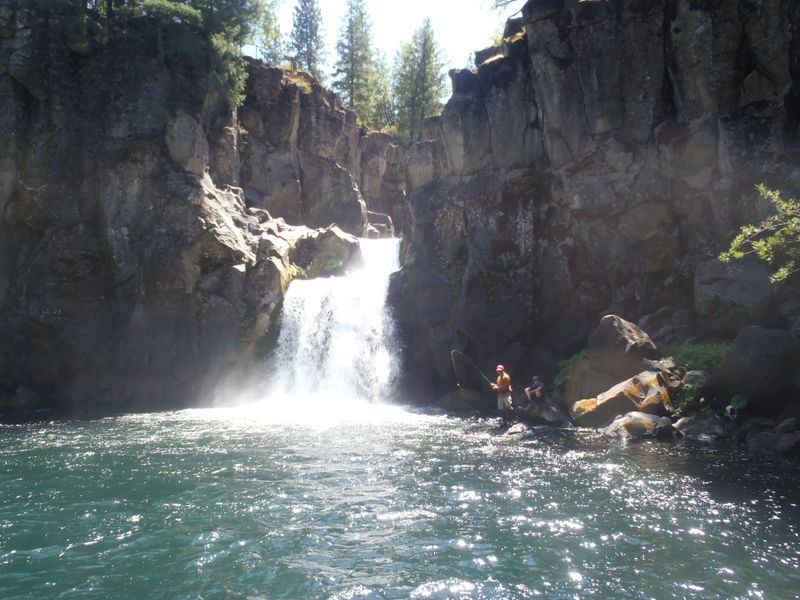 Can we say, FISH ON!
Water, California's most precious resource, pure & natural. Feeding the State as well as the Nation and it all starts up here.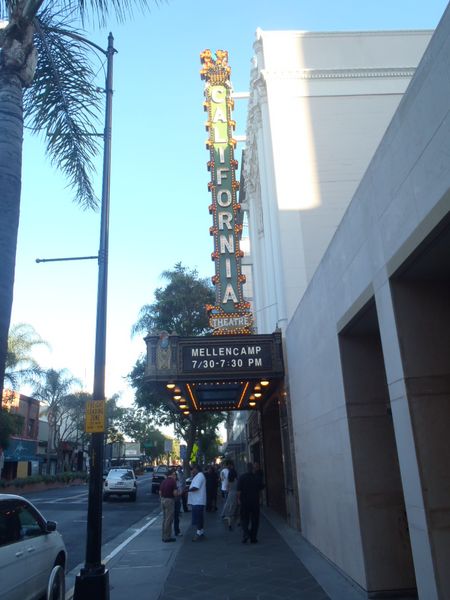 My 45th birthday was on July 31st, so we headed for the Bay Area for some city entertainment.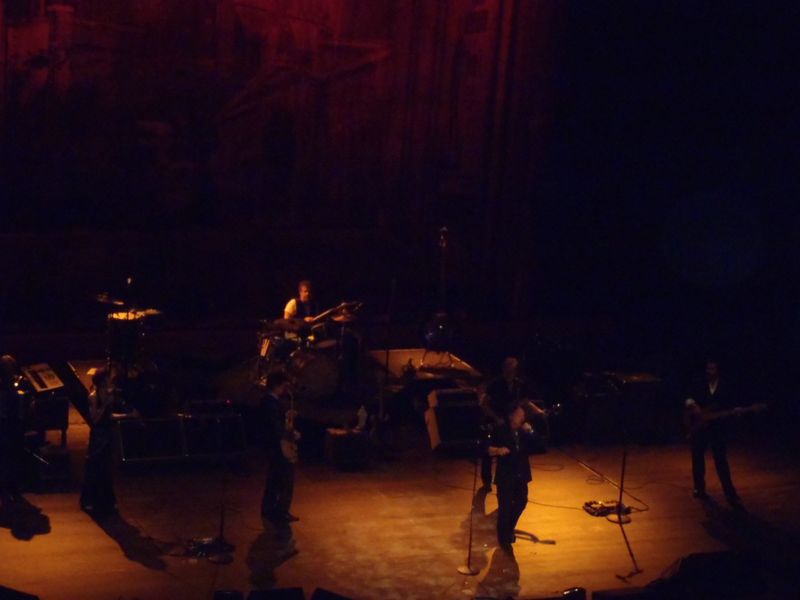 John Cougar was a band I liked in high school, it was fun night out with Carola at her 3rd concert in the USA.
JOHN MELLANCAMP RECEIVED THE JOHN STEINBECK AWARD THAT NIGHT!!
Mellancamp wrote great songs about growning up small town and being a good American, but none other of his words he chose struck me more in the heart as a kid as when he wrote, "Suck it and tough it out, be the best you can!" in that song "Moments to Memories" about an old man he rode with on a Greyhound bus from Jamestown, who shed some enlightenment on John as a kid. He later knew what that old man was talking about when he grew older. Might be everyone's story on some level. jt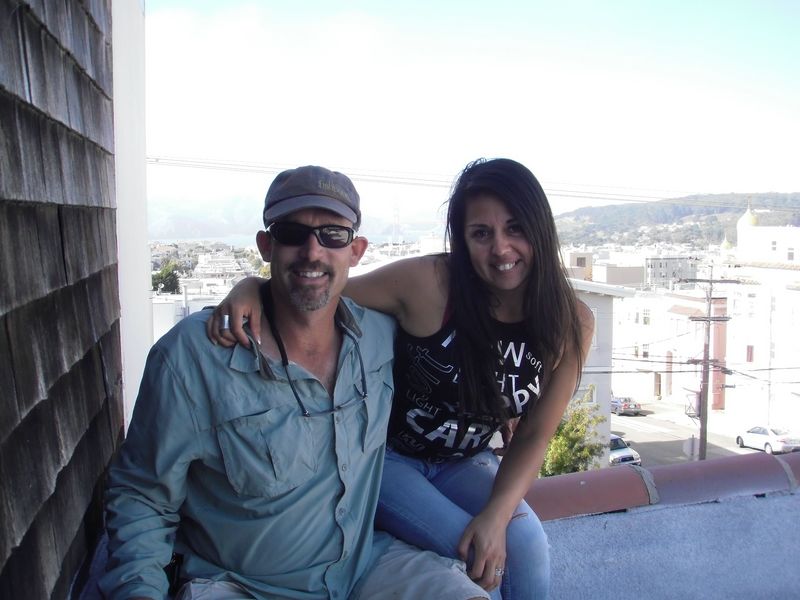 One of our clients invited us to stay in his vacation house in SF that had a view of the Golden Gate bridge from the roof!! Good birthday party up there !! 🙂 We love San Francisco and the Bay Area, what a great place to visit when we are not guiding all of you.  
(Thank you Arthur Smileage!)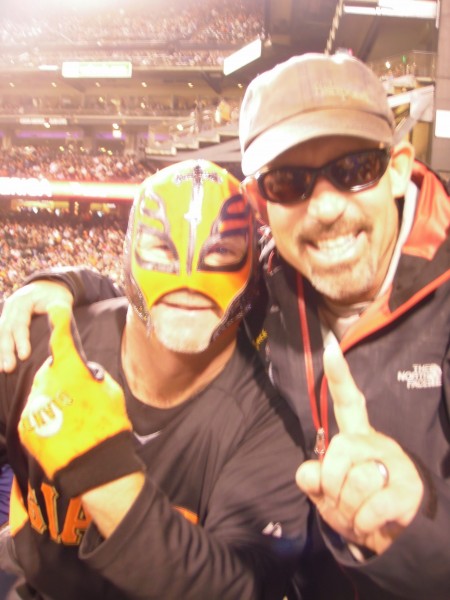 The next day the Giants beat The NY Mets and it was a great birthday party for me! We had bleacher seats right behind Melky in left field, Carola loved her first ML baseball game.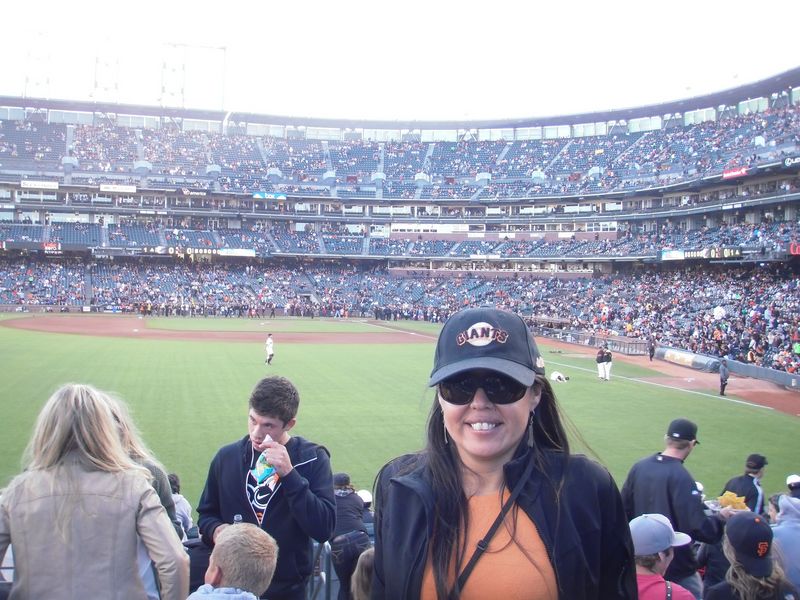 There's not a bad seat in the whole stadium, we really suggest bleacher seats the fans are hilarious out there!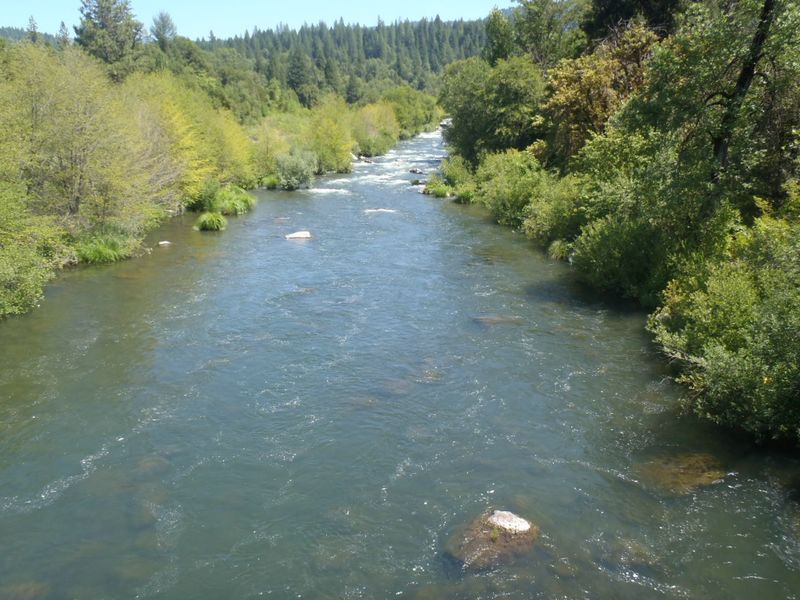 On the way back home we stopped and fished on the Pit River at Big Bend, then went swimming due to heat in a nearby creek.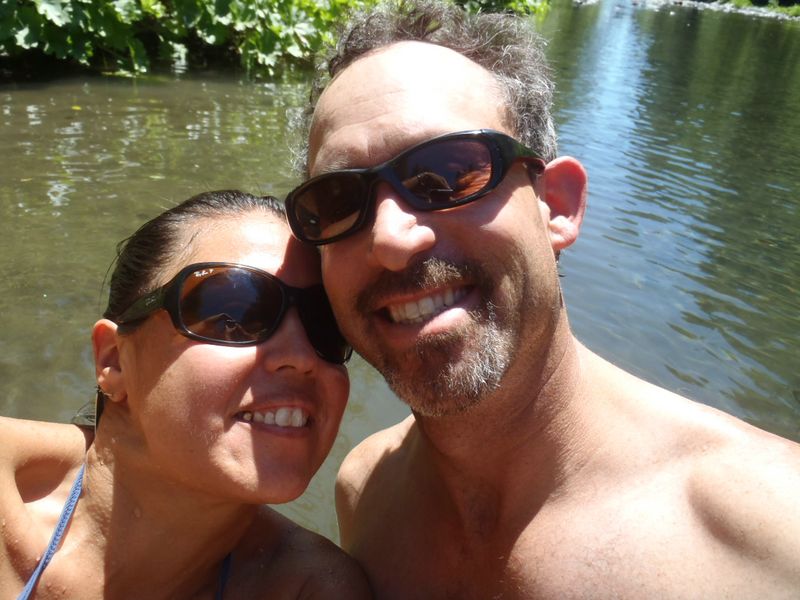 A nice dive into a creek is a nice summer escape. Enjoy your National Forests, it's yours and mine!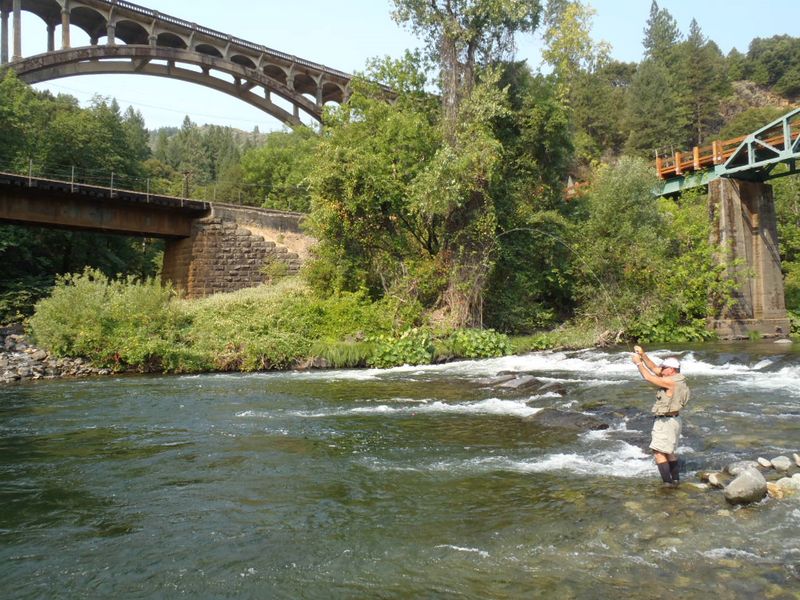 Norm Braga came a calling for a trip with big trout for he and his son.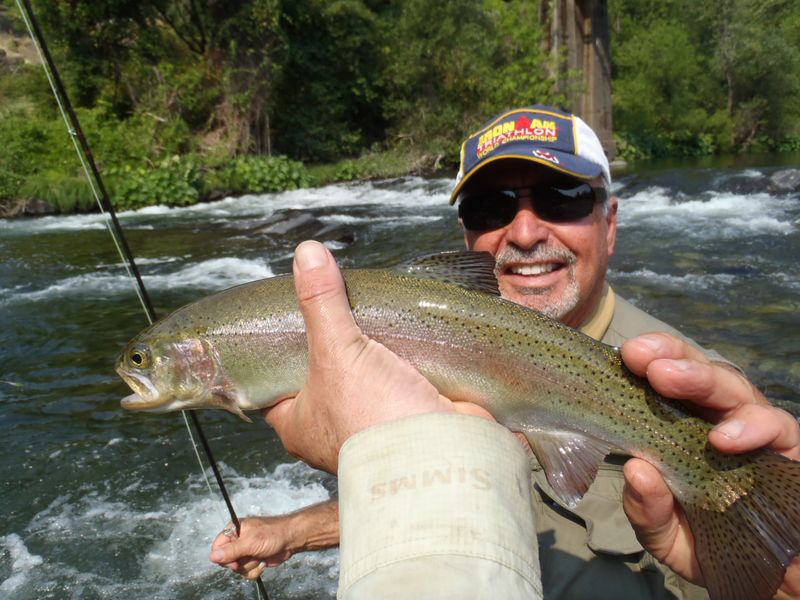 This looks to be a good start Norm.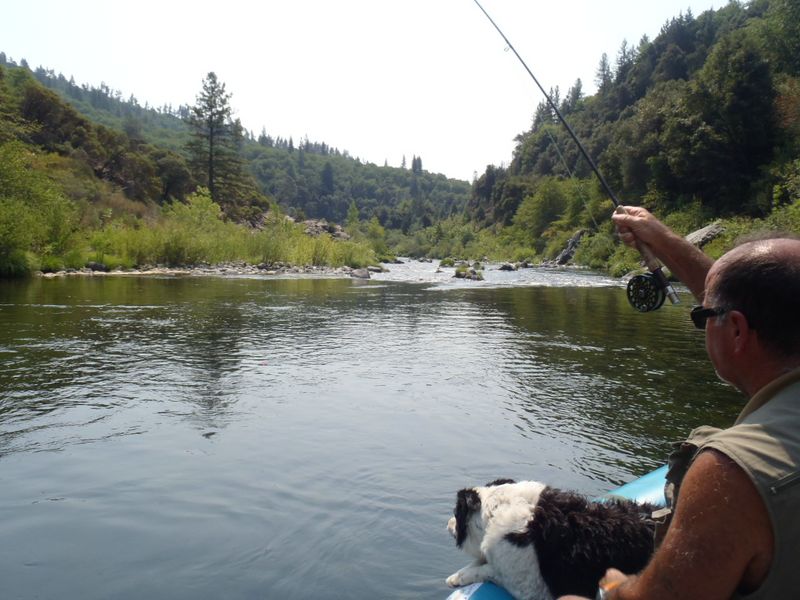 A little farther down the river Kobe Beef Trout sees more fish just a few feet down.
 Norm with his non-stop assault on big trout that day. 
Come on back Norm & Josh for big steelhead trout this fall.  jt&ct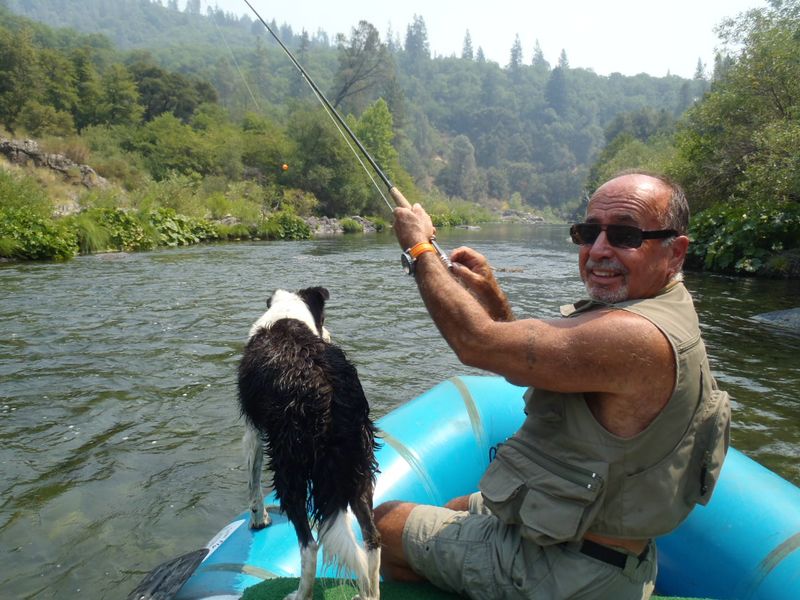 What a team, Kobe Beefer and Norm Braga on top of their game folks!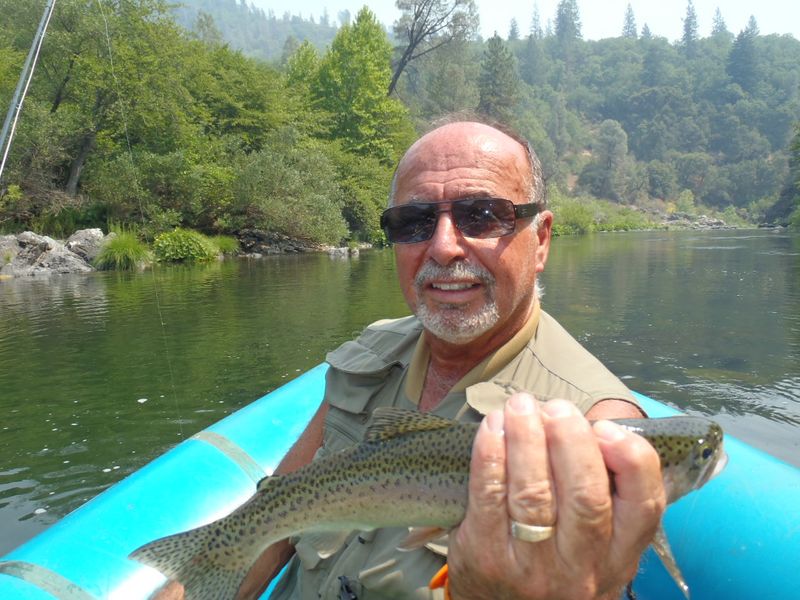 SWEET! 
WITH A REBEL YELL, NORM WANTS – MORE MORE MORE!
Norman Braga ~ YOU'RE MY SIZZLER OF THE WEEK AWARD WINNER!! CONGRATULATIONS SIZZLER!!  JACK & CAROLA TROUT
WE LIKE TO CATCH AND RELEASE ALL THE TROUT AND STEELHEAD WE CATCH. PLEASE IF YOU WANT TO KEEP FISH, CALL SOMEONE ELSE.
JACK & CAROLA TROUT     530-926-4540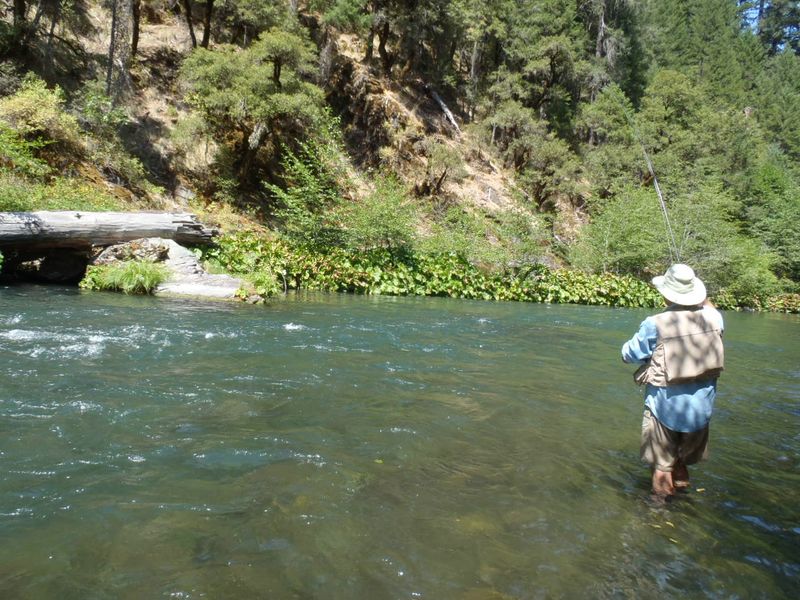 McCloud River is the place to be in the fall!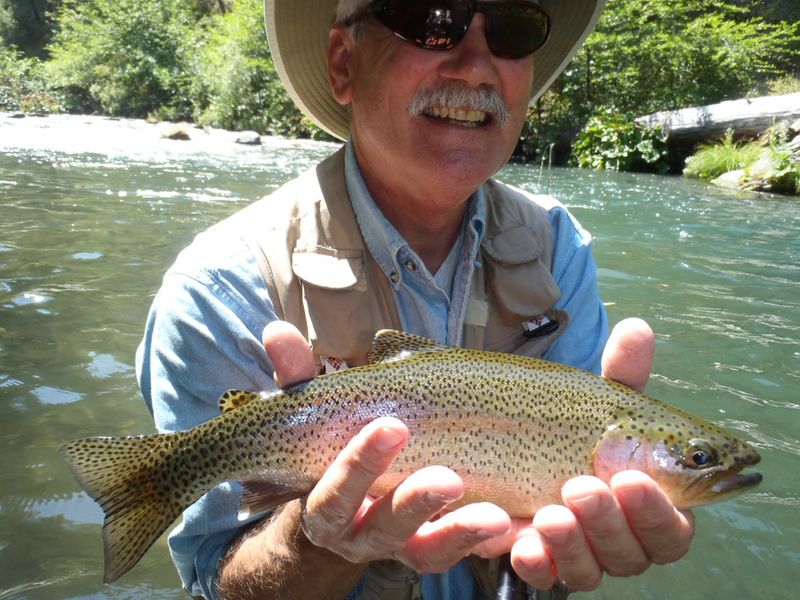 Steve Perata wanted to check it out again!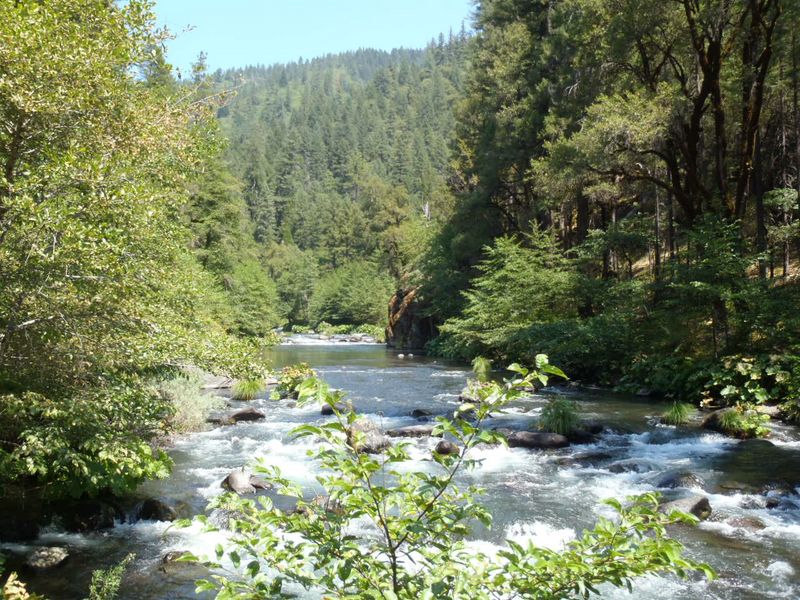 We know the best places fly fishing has to offer in Northern California, call us for this fall hatches!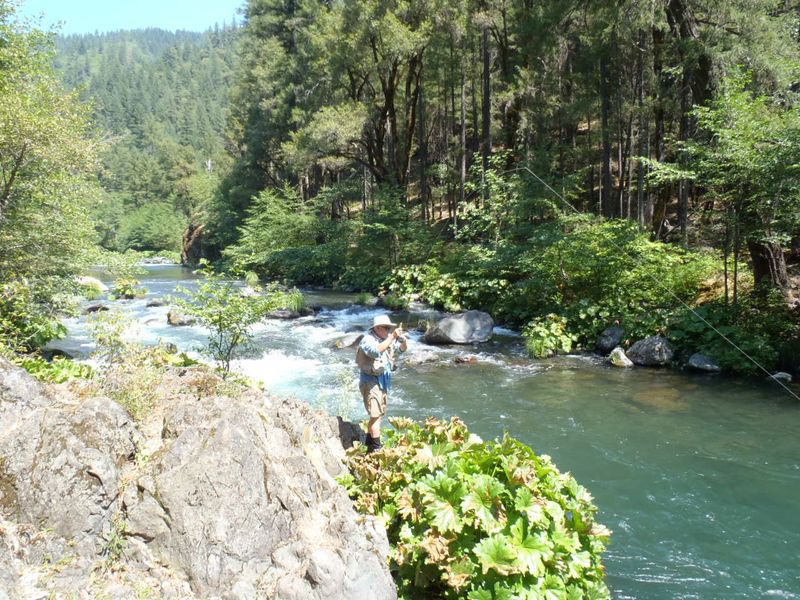 Steve caught nice trout after nice trout as we fly fished the Lower McCloud with success.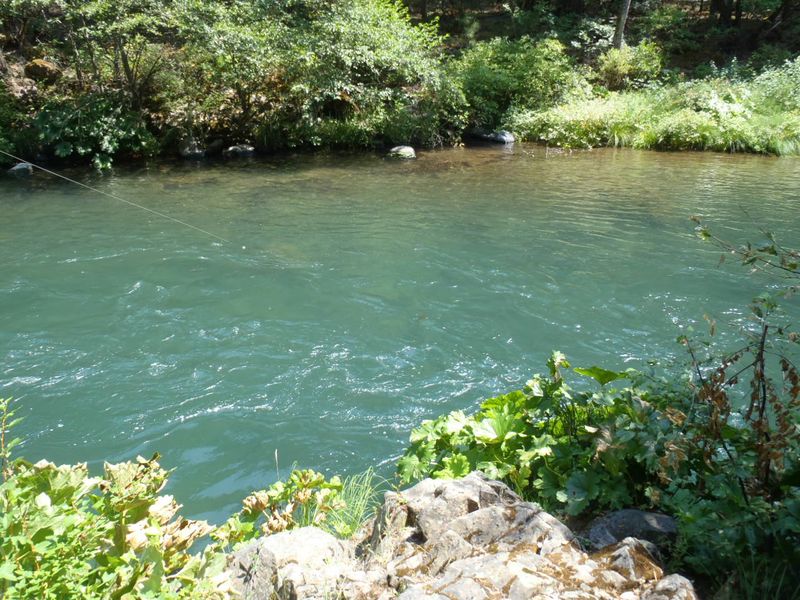 These are the hard fighting trout that made their way down to South America, New Zealand and Australia.
(Southern Hemisphere)
The McCloud River Rainbow, the most well traveled trout in the world.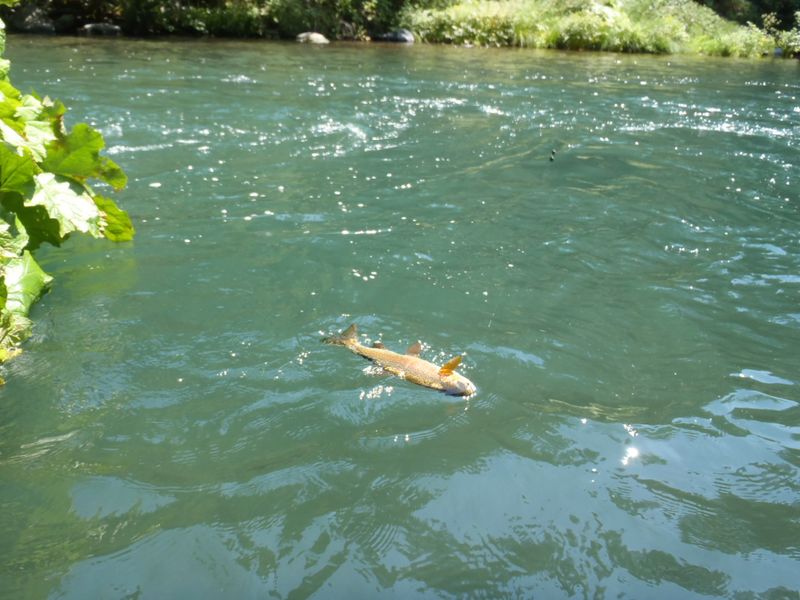 We hope to guide you there this fall.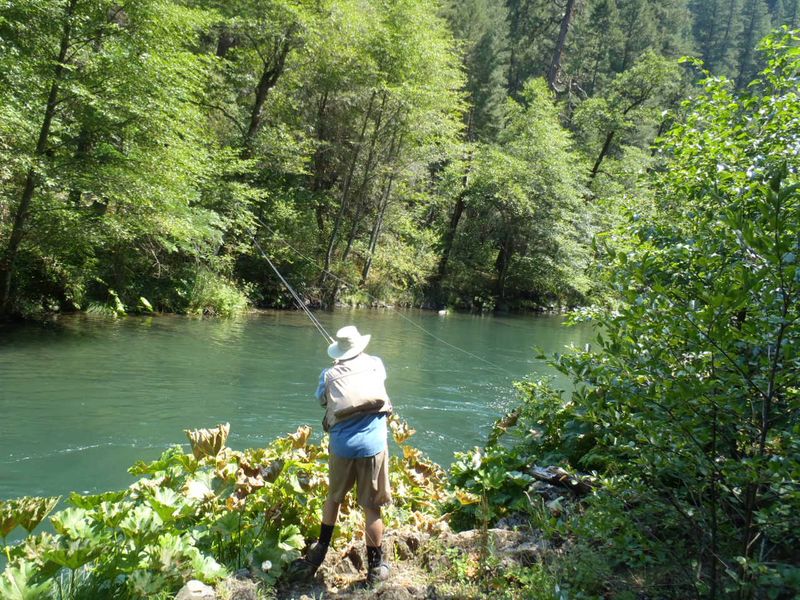 But be ready to run down river!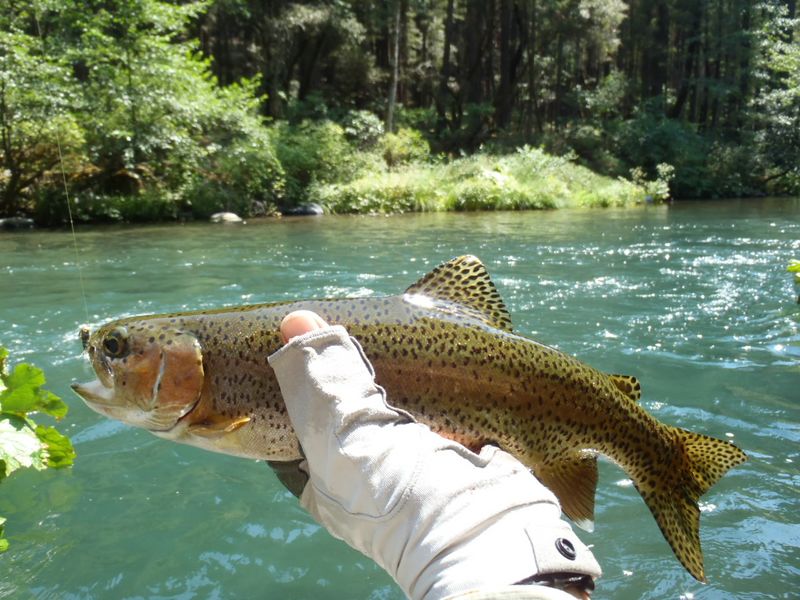 Dry fly fishing will be starting up about the middle of September through October, we have some openings in both months. jt  530-926-4540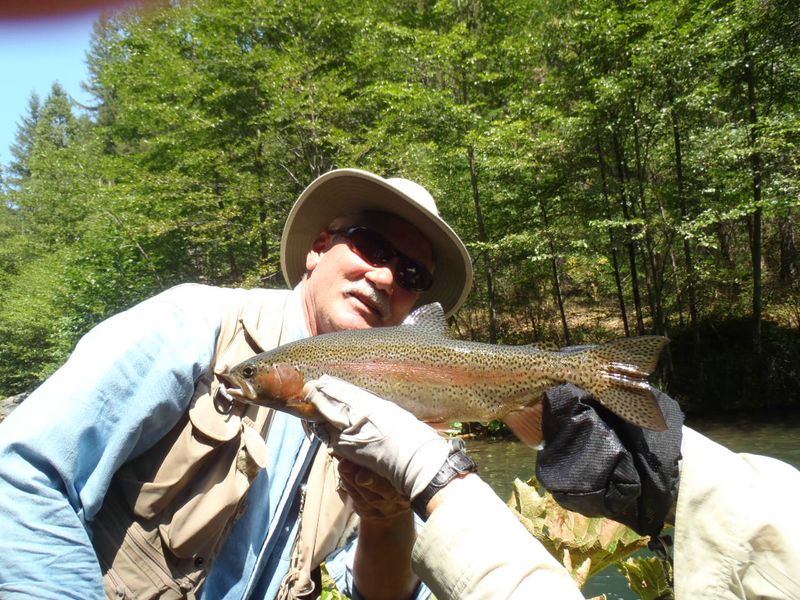 A turquoise river packed with healthy hard fighting rainbows with unbelievable beauty Walt Disney 
even tries to copy.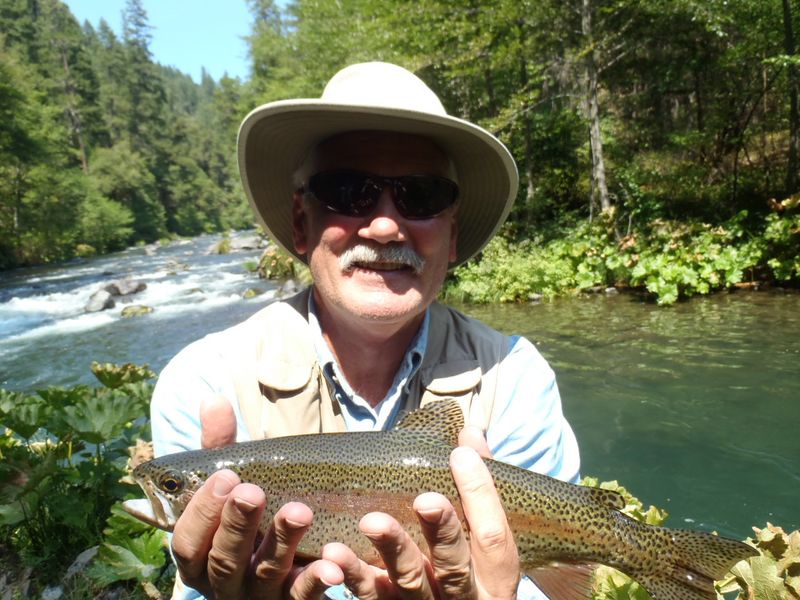 Way to go Steve, thanks again for coming up and referring me Norm & Josh Braga!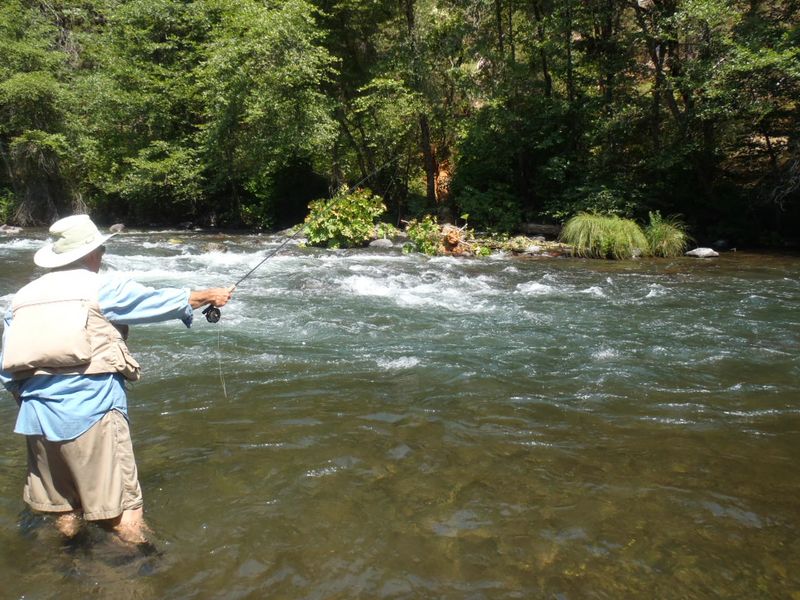 Using small flies this time of year on any North State river is a sure bet.
WhoooHOOOO!! Nice fish on, can we keep up with him though……..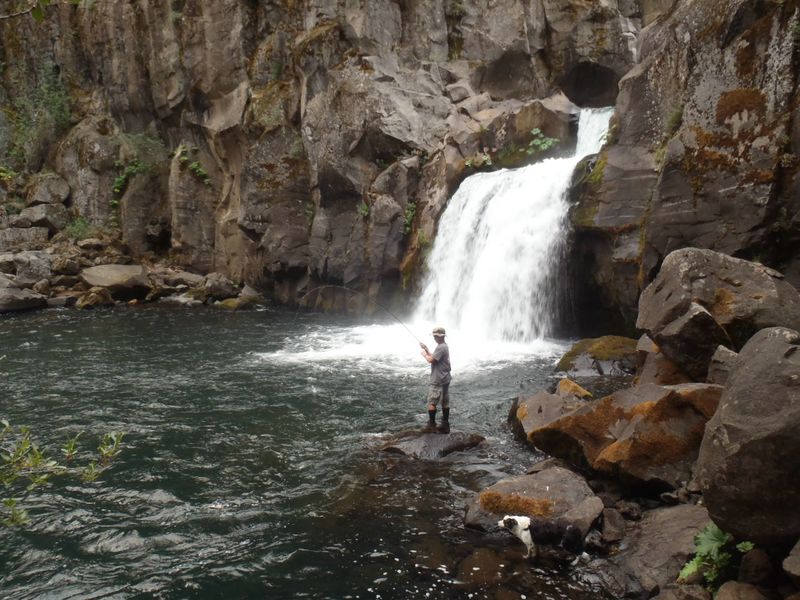 Beefy on top of his game looking for rising trout!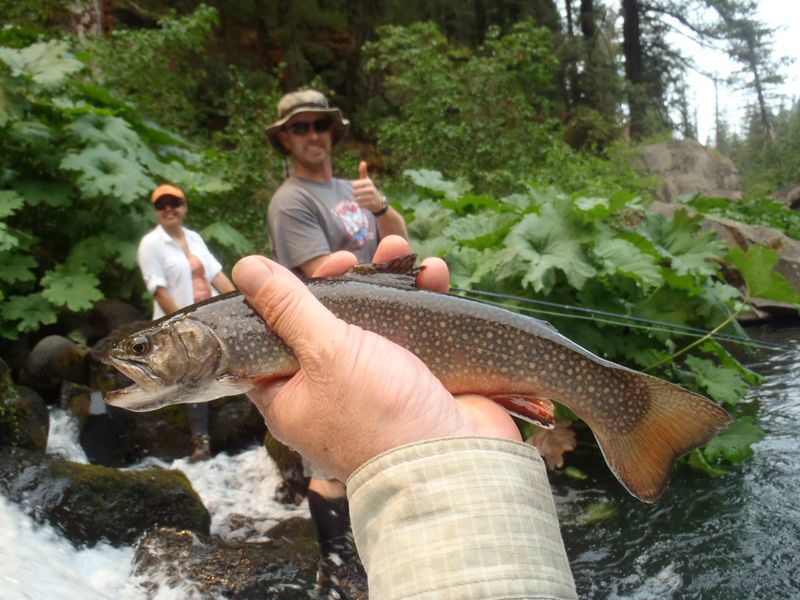 Brook Shields Trout! Nice Adam..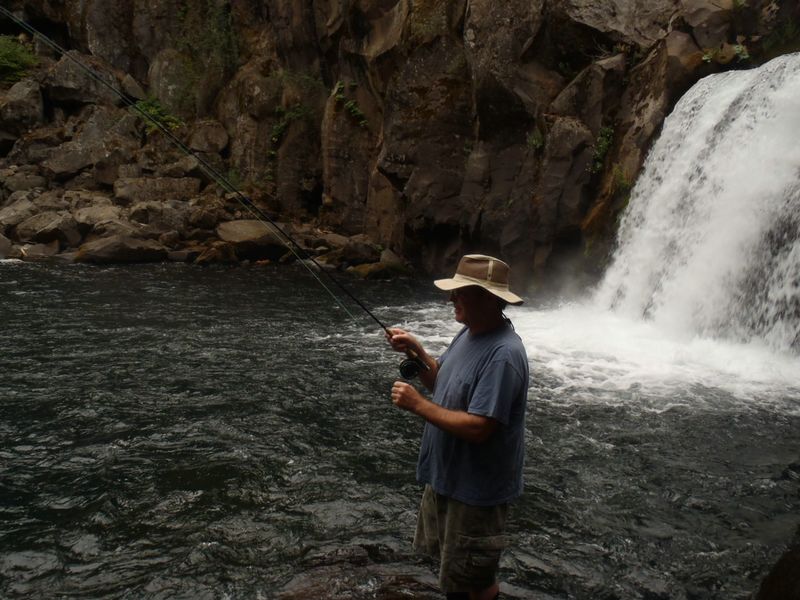 Gene first time fly fishing, way to go Pops!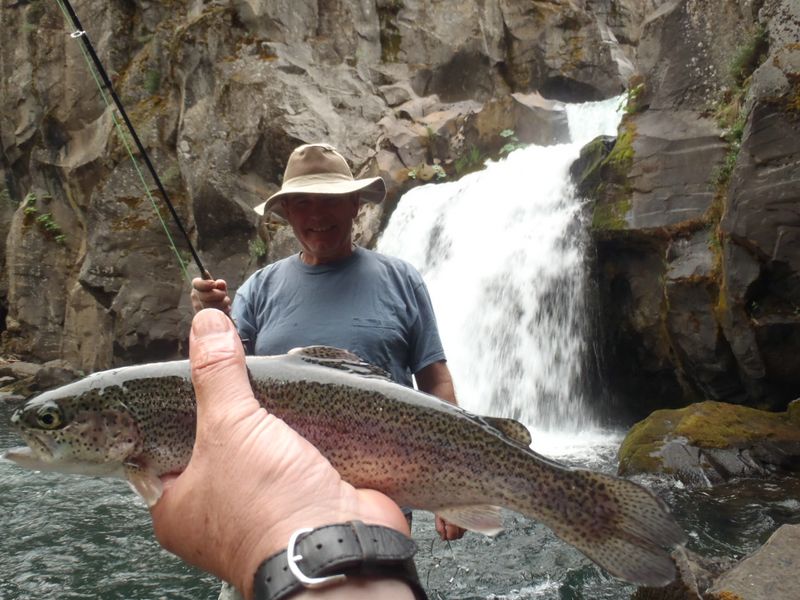 Gene the fly fishing machine, great for you and Adam to share a new hobby together.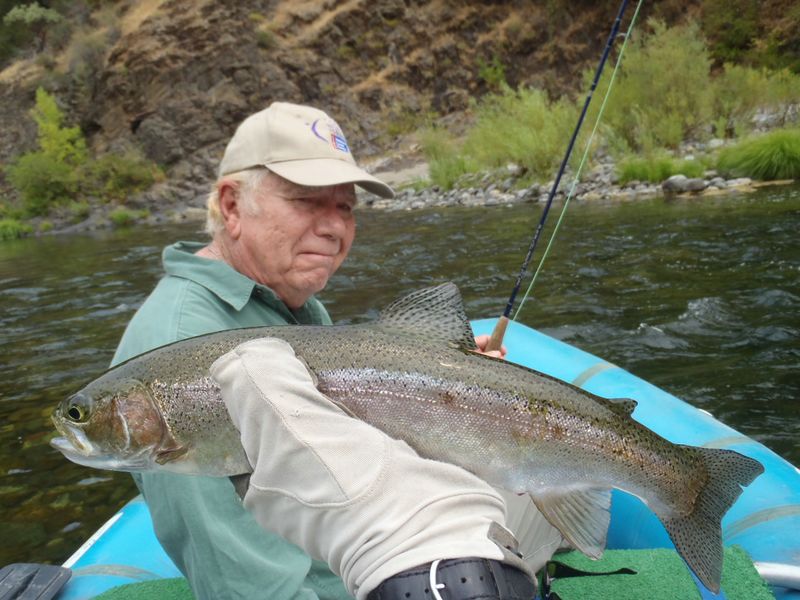 Jim Swineford lived in Dunsmuir from 1941 to 1949 with his father who he used to fish with on the Upper Sacramento River. Now 80 years old he can't wade the river anymore but he was so grateful for my fly fishing raft trip I provide for the golden oldies as we like to call them. He relived past memories and caught many nice trout in his fathers honor. For the many older men I guide out of my raft that can not wade the river any more, I am glad I can provide these safe trips for everyone in my 20th year.
Jack Trout Guide Service – We are committed to providing a more private trip that consists of what you communicate to us. We always want to earn your repeat and referral business as well as more than meet your expectations in all areas of guiding and outfitting.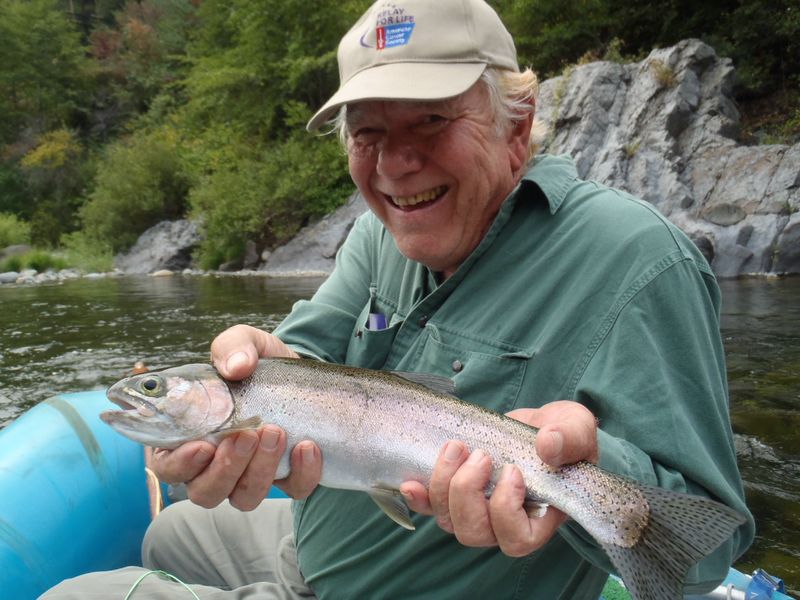 Right on Pops, you live your dreams, you deserve it!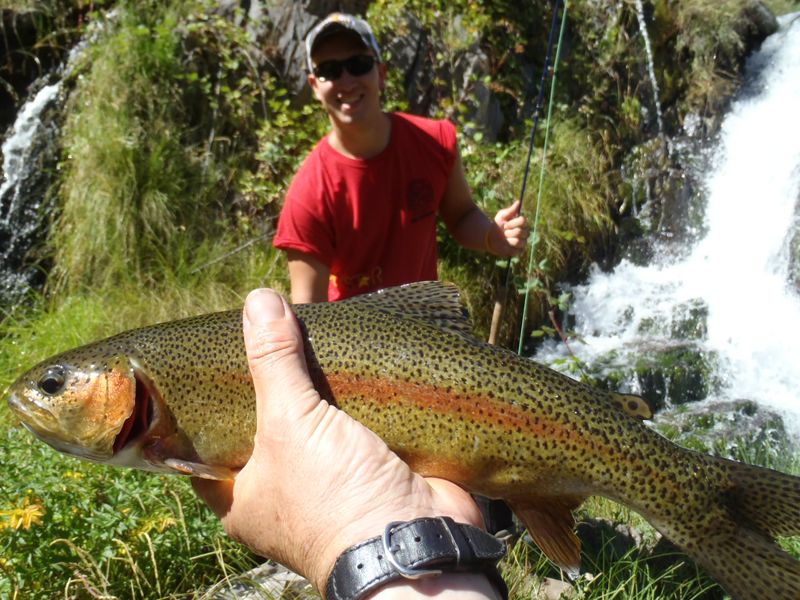 John & Phil Parker enjoyed their first day fly fishing father & son, always a must make adventure!
You imagine if you caught this trout your first day fly fishing!! whoooohoooo!!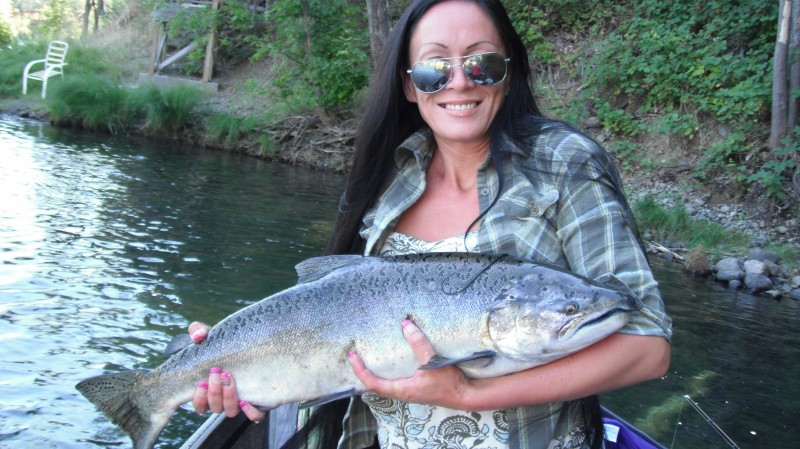 Salmon & Steelhead fishing on the Trinity River, give us a call!!  530-926-4540 
You can keep salmon but not the steelhead.
Our clients have been lading some lunkers!! Forrest is guiding people weekly, call us to set up your guide date.
You can catch a salmon right now and maybe a steelhead.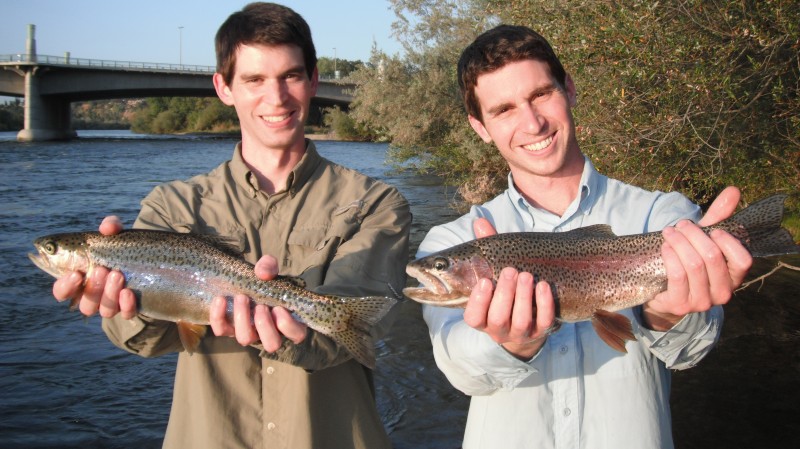 LOWER SACRAMENTO IS ON FIRE, THE TEAM TROUT GUIDES ARE READY TO GUIDE YOU, 
ASK THE DOUBLE MINT TROUT TWINS! BIG RAINBOWS AND RIGHT NOW IN AUGUST THE RIVER IS FISHING GREAT, MAYBE ONE OF THE BEST TIMES OF THE YEAR SINCE CADDIS HATCHES ARE GOING OFF DAILY NOW. FORREST AND MATT ARE GUIDING AND CATCHING CLIENTS AWESOME TROUT!
CHILE  2012 / 2013 THIS WILL BE A FANTASTIC YEAR IN CHILE & ARGENTINA
CAN YOU HANDLE THE KIND OF TROUT YOU COULD HOOK INTO IS ALL WE WANT TO KNOW?
 WE HAVE SOME DATES LEFT DECEMBER THROUGH MAY 2013. 
ANDY SWANN'S GOING TO BE BACK FOR SURE!
If you're planning a trip down to fly fish South America, you can go out with me in my drift boat in Chile. Look forward to it!  
Jack & Carola Trout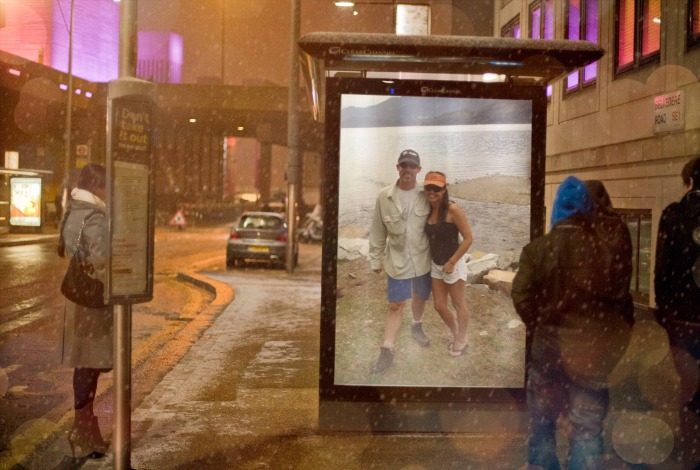 WE HOPE TO SEE YOU THIS WINTER IN CHILE, THANKS FOR WATCHING OUR ADVENTURES AND REMEMBER YOUR ANCESTORS AND BE GRATEFUL, STUDY HISTORY AND DON'T REPEAT IT IF IT DIDN'T WORK IN THE LAST CENTURY!
"Getting cursed by future generations as a bad ancestor would be the only thing that would make me turn in my grave!" Jack Trout
Best to you, Jack Carola & Kobe Beef Trout  &  Team Trout International Guides