* BELIZE FLY FISHING TRIPS ARE UNDERWAY NOW *
                                                     STILL HAVE SPACE IN JUNE  & JULY 2015
530-918-8879 OUR INTERNATIONAL PHONE THAT RINGS ME ANY WHERE OR EMAIL AT INFO@JACKTROUT.COM
Need an up to the minute update? Check out our Facebook Page & Videos –   JACK TROUT FLY FISHING FACEBOOK PAGE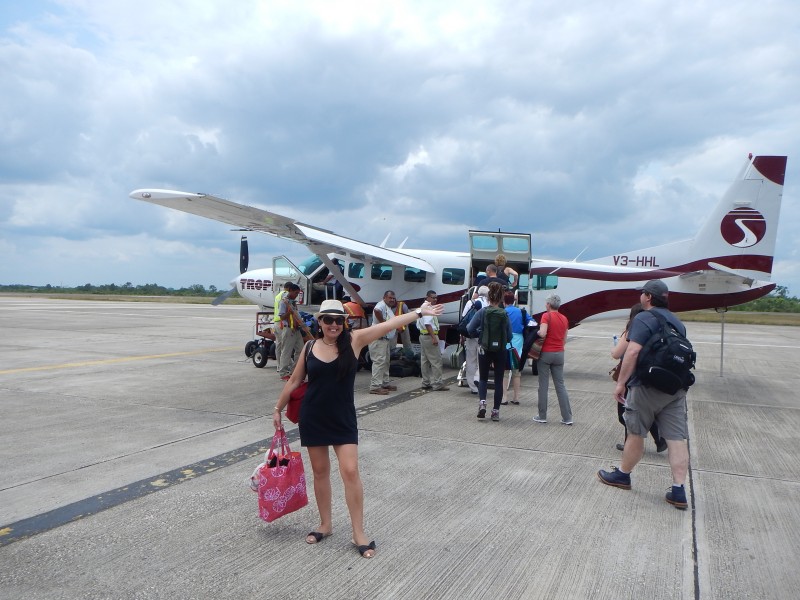 Finally back in Belize again, for Carola Trout, it was her first trip ever to Central  America and boy was she happy to finally arrive. The air was warm, humid and the tropical smells were inviting and fresh. We had many groups coming down after this first week, so we had plenty of time to get things in order, ready and nailed down.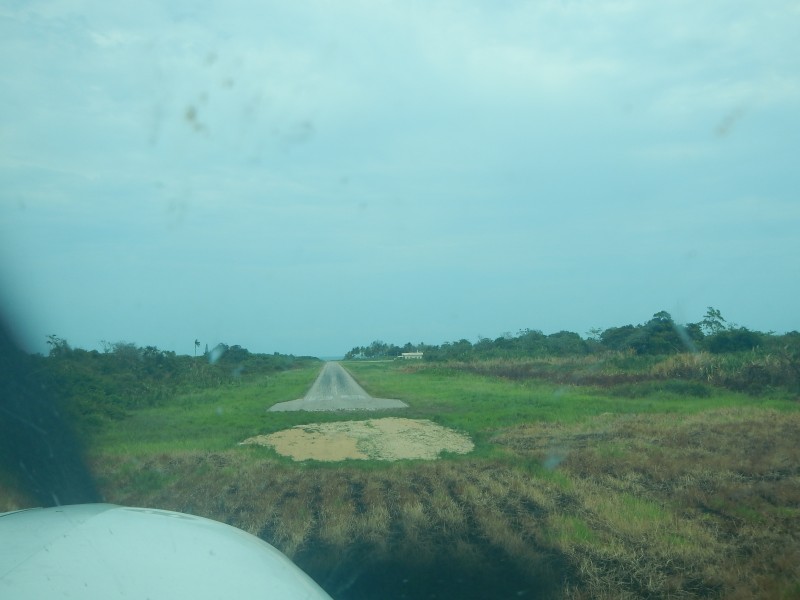 The second leg was from Belize City to Dangriga Belize a short but memorable 15 minute ride down the Caribbean Coastline.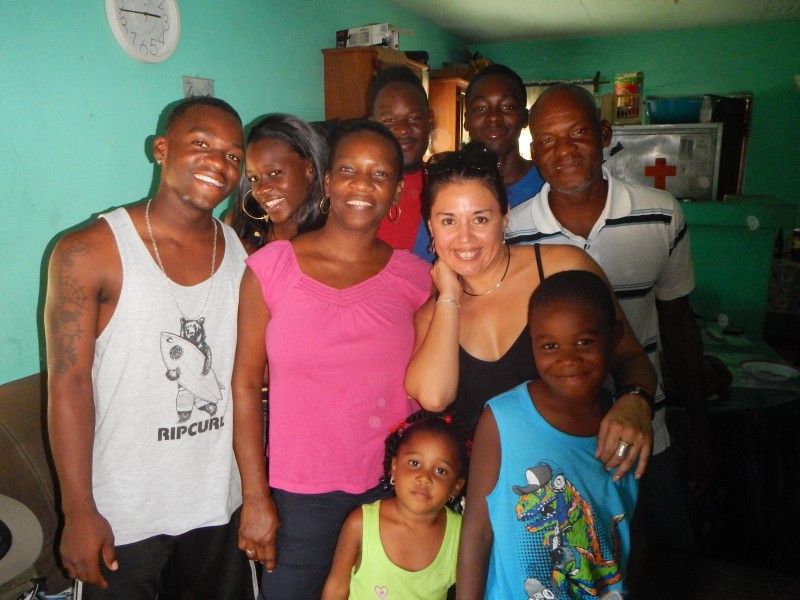 Then Lloyd my guide and his family were all waiting for me and Carola to arrive as it had been a few years since I had been back to Hopkins Belize. We had a great sit down and chat, and then we talked about everything that had happen in the last 7 years I had been away meeting up with Carola in Chile, a few volcano and earthquake disasters (normal practice for Chileans) and our courtship &  marriage, etc. It was great to see Clarice, Lloyd's wife and all the kids now grown up like Franz, Claricia, Rabi and Alvin who are all now grown adults since my last story in Belize in 2007. We got all the new updates in Hopkins Village and it was good to hear Lloyd was the soccer coach for Hopkins and they beat Dangriga their arch rivals.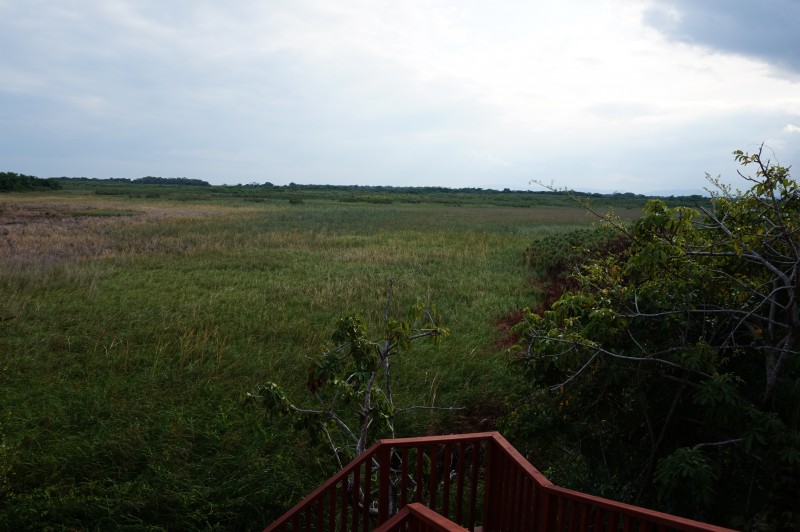 Lloyd took us over to the house we rent out in Belize and we had this incredible view of the forest in back. With an abundance of wildlife and back and many birds migrating through constantly.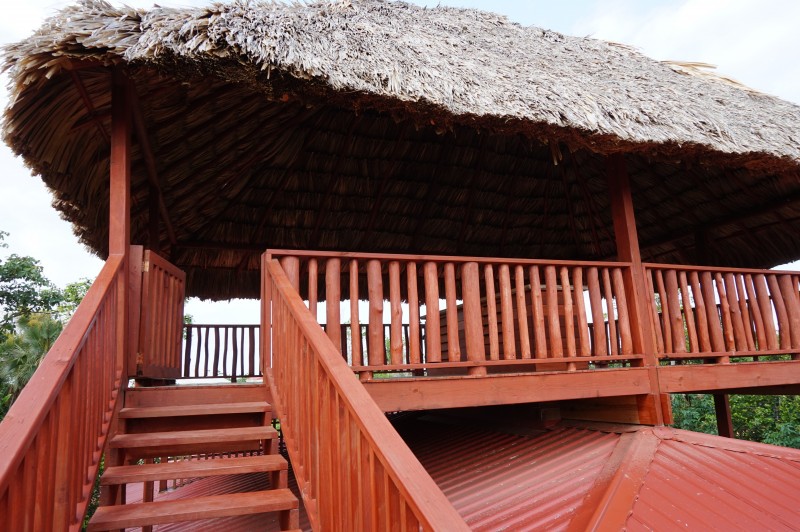 The third story acts as a thatched party pad with hammocks in the far corners, it was obvious this place was built to entertain oneself and relax. Great place to crack open a beer is you ask me. Ernest Hemmingway would approve of this endeavor to build a thatched lookout and party deck, one side you have a view of the ocean and one side you have views of the jungle and a lagoon that may harbor crocodiles. I was always glassing over their with my binoculars looking for a snout and eyes lurking.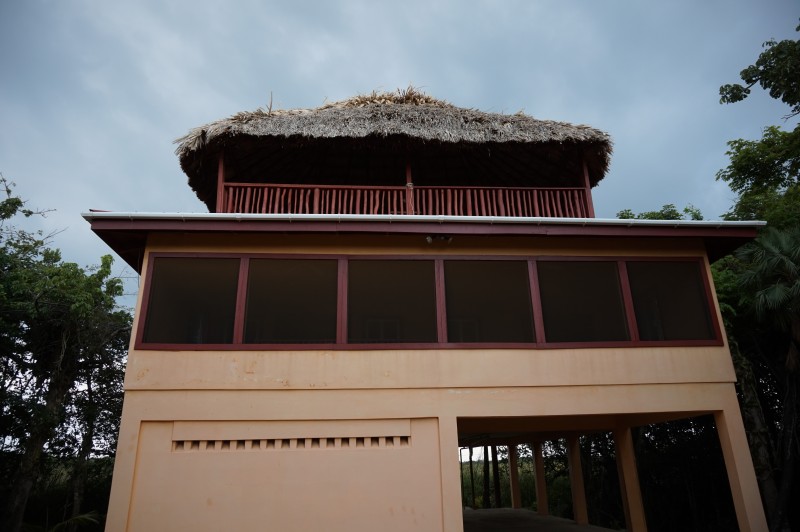 It had a screen in patio room, two bikes and great views from every where you stood. Ask us how to rent this house at info@jacktrout.com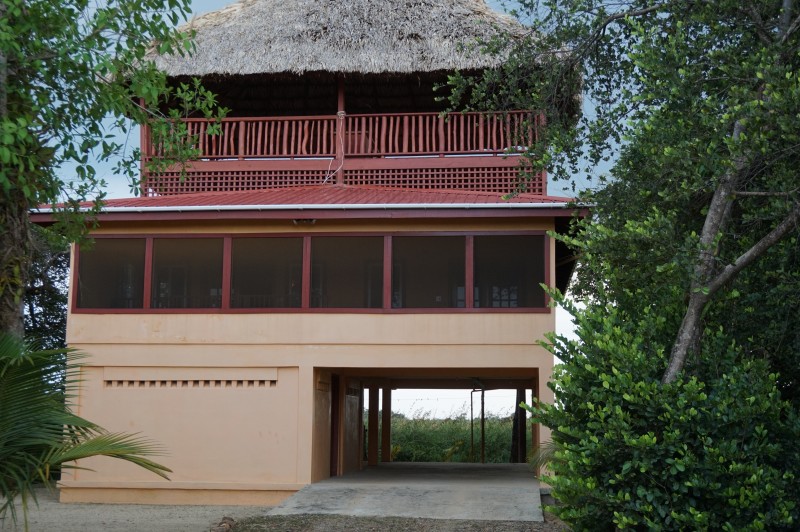 A perfect place to hang out down here in Southern Belize and act as a local, do a little cooking, yet close enough by bike to all the great places we frequented.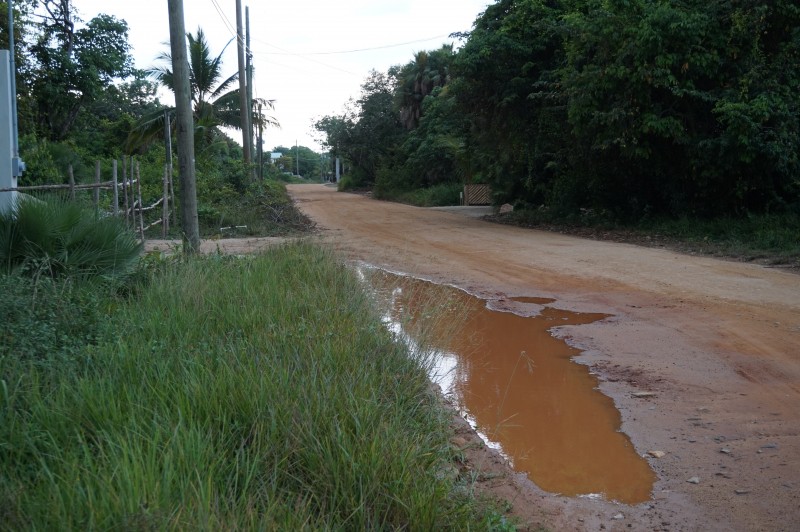 The roads were easy to walk or ride and only about 10 minutes by bike to all the pubs, resorts and restaurants.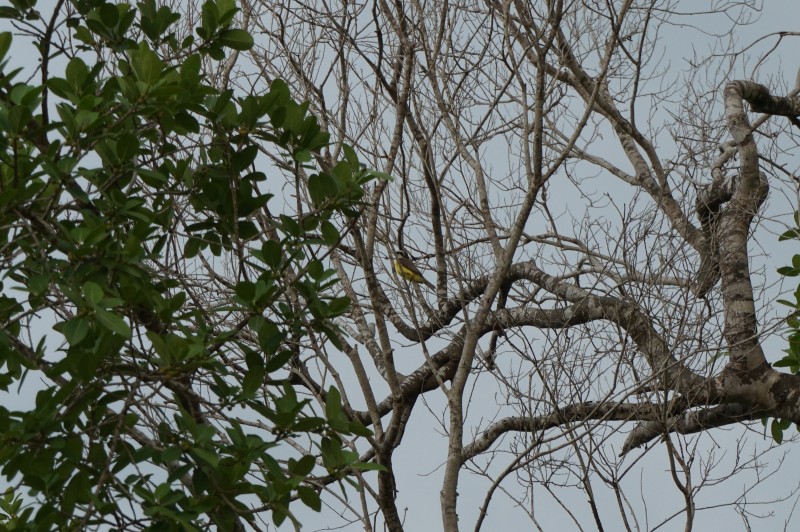 Every day I saw beautiful birds in the trees next to the our house in Hopkins Belize, at night I could hear animals stirring in the trees, vines bushes around the house it was so cool.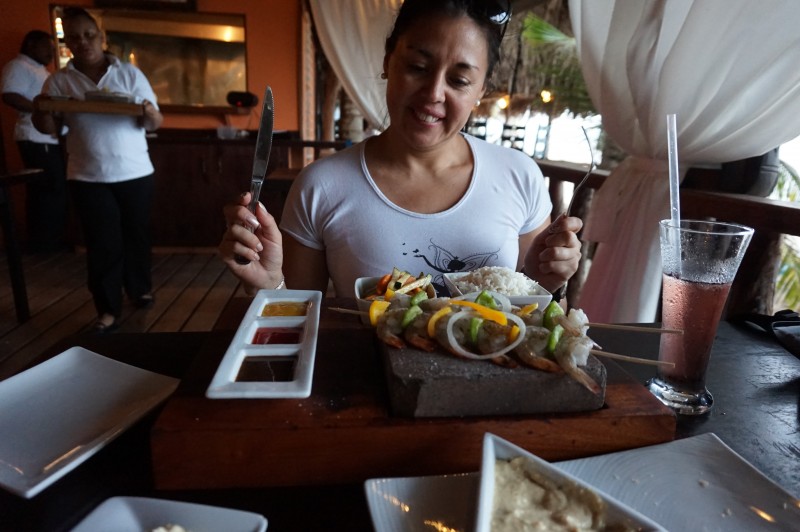 One of the restaurants by the house served raw fish on 700 degree rocks that you cook at your table, it was sure different but we got the hang of it and everything turned out great.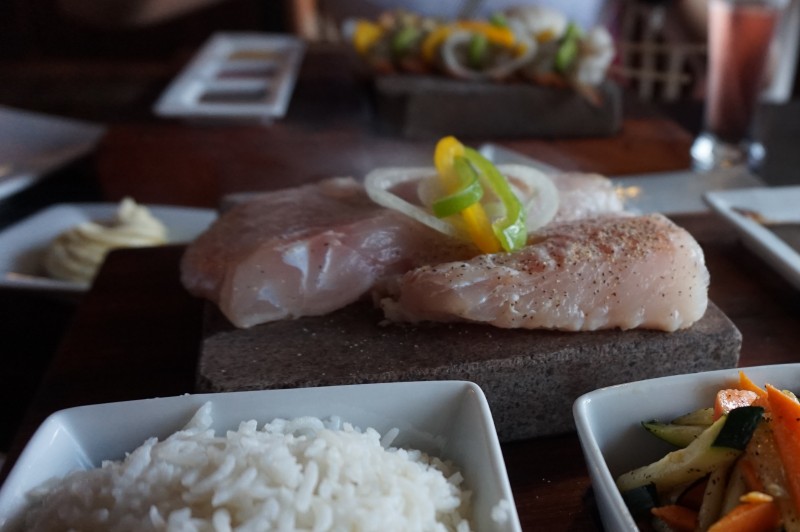 I had fresh Grouper fillets and they couldn't of been fresher or better folks. Just watch your fingers on those slabs or it won't be love on the rocks.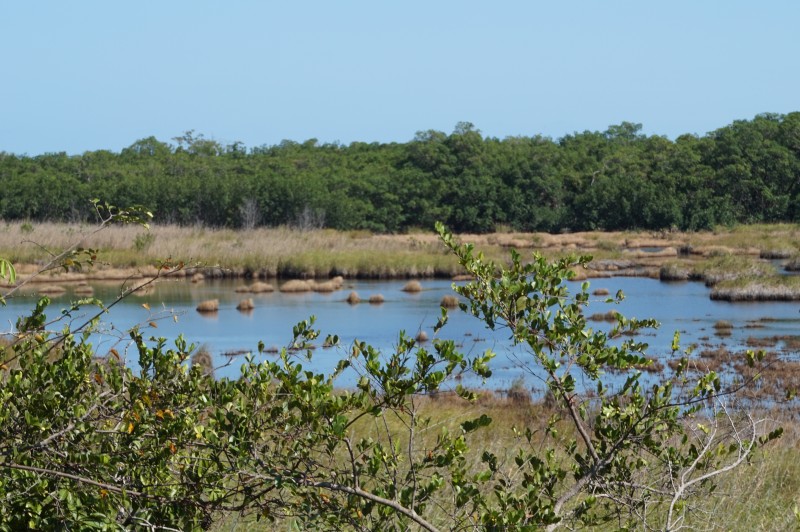 Out the other side of the view form the home you could see a lagoona where supposedly huge crocodiles lounge out there with mojitos and shrimp cocktails.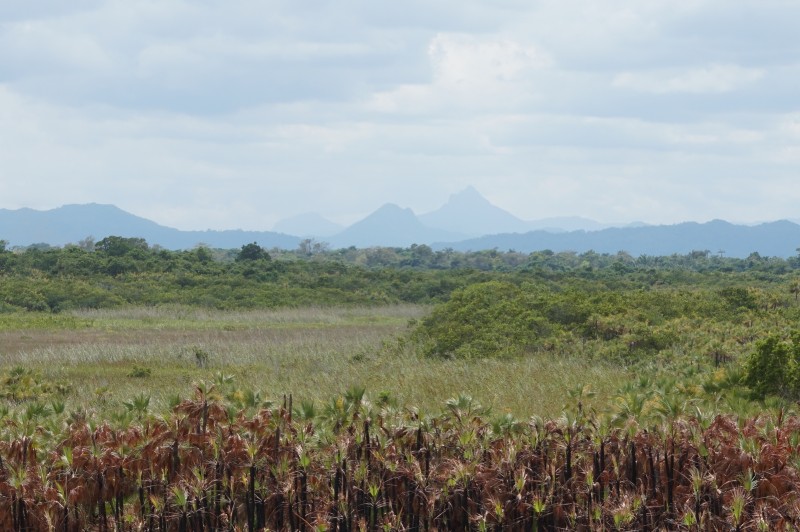 An awesome view of the Victorian Mountains behind the property and what I coined as the "Serengeti."
Quati Monteo In Belize.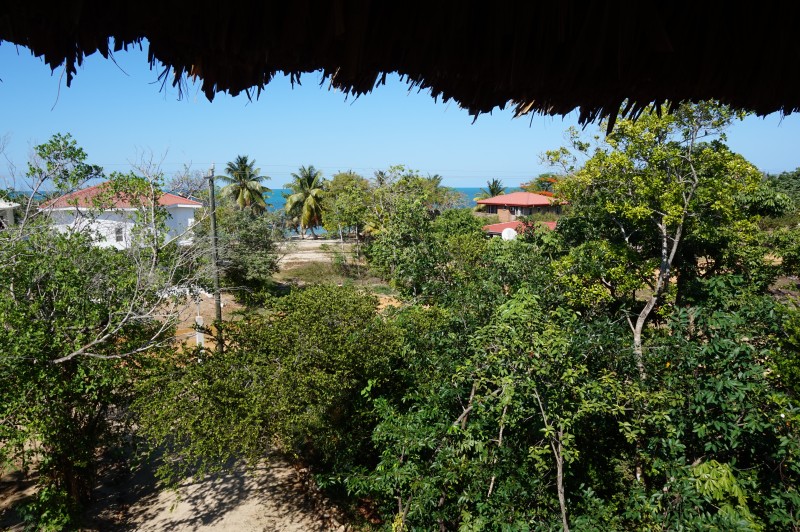 Up top towards the beach you could see wonderful homes with amazing white beaches with inviting coastlines and safe passages where we went often to swim and lay out in the sun.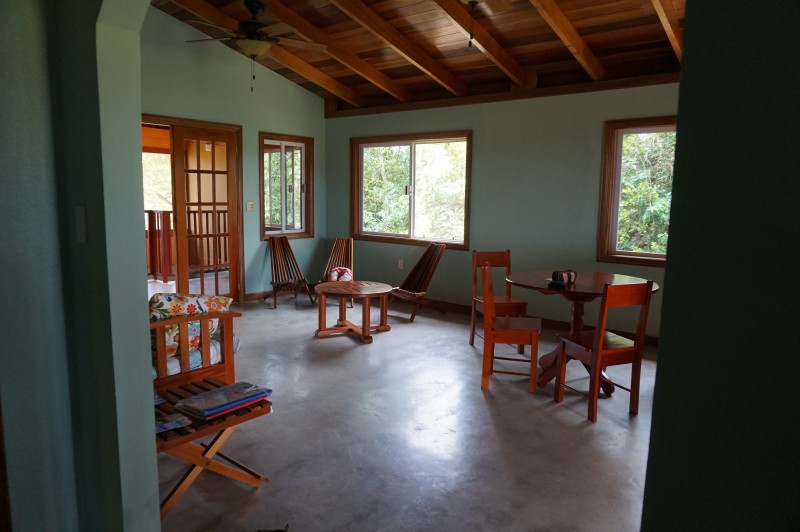 Inside the home was decorated in fine Belizean wood furniture and amazing grains that I admire being a modest wood worker from my high school days at Portola with one of our favorite teacher's Mr. Champion. If you like fine grain woods and amazing craftsmanship, you're in for a treat in Belize.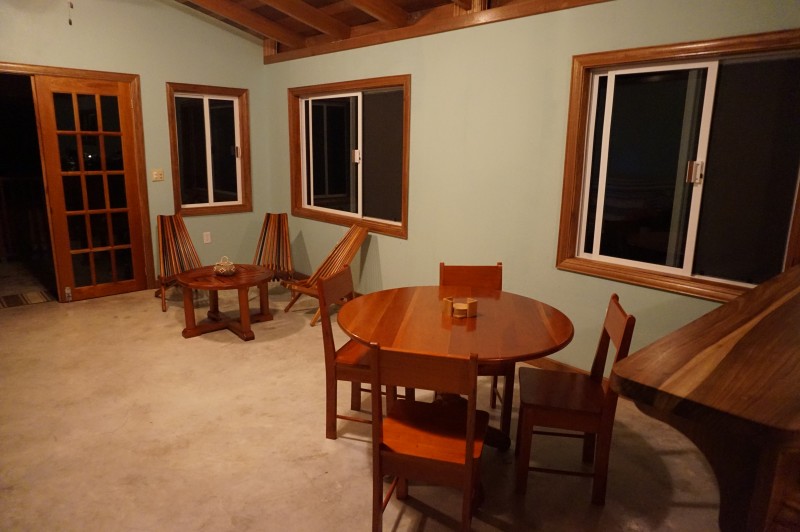 Nice place to drink a tropical drink and eat a banana if you ask me!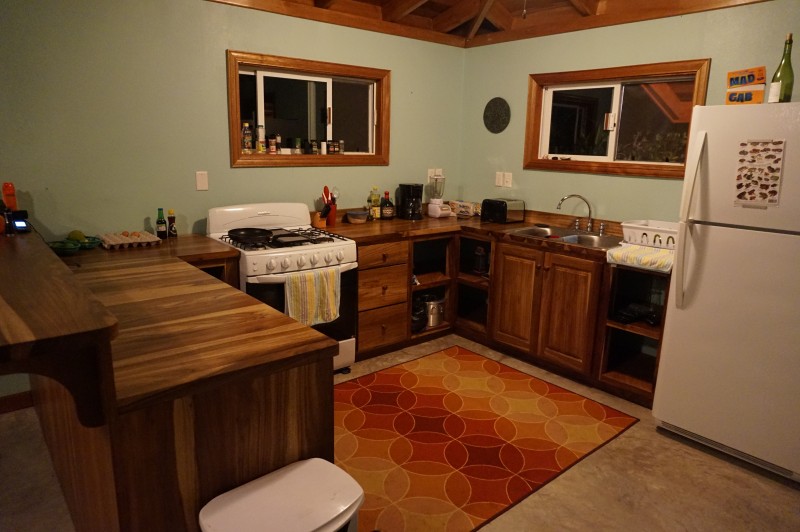 Kitchen was large and very functional as well as it made it easy to make coffee in the morning and save some bucks eating a few meals at the house.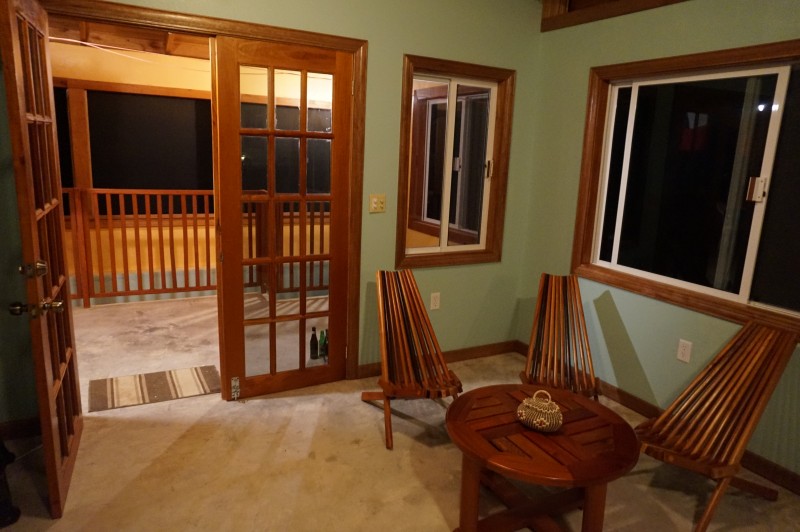 Love those tables and chairs, sure wish I could of taken them home with me back to Mount Shasta, California aren't they gorgeous!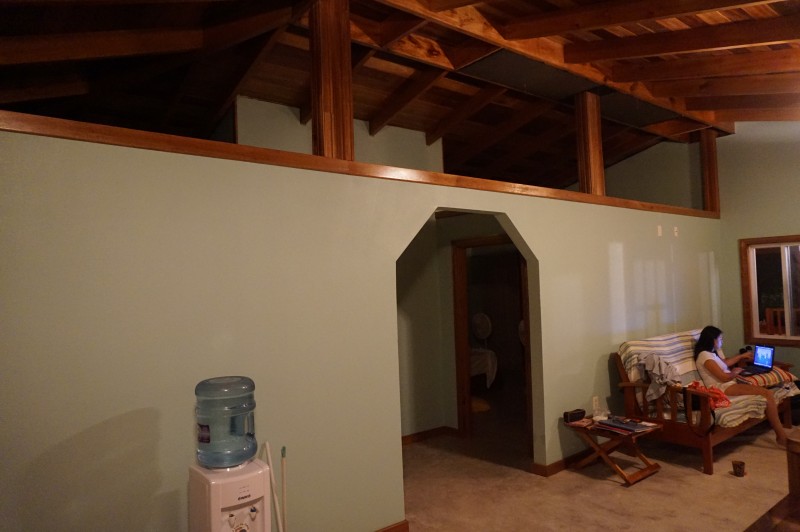 Just a great find for us in Belize and we'd like to share it with all of you when you head down to Belize, Central America.
Down at the Jaguar Reef Resort things couldn't of been better, I had been booking and selling fly fishing packages with this lodge for over 20 years and it was great to be back. The staff, the managers and the owner are all great people who are always trying to make it right for you. I was excited for my 6 groups that were coming down in the 3 weeks we were visiting and it gave me the chance to visit with my guides, bring them down some gear that was needed and check out the Team Trout Belize operation first hand.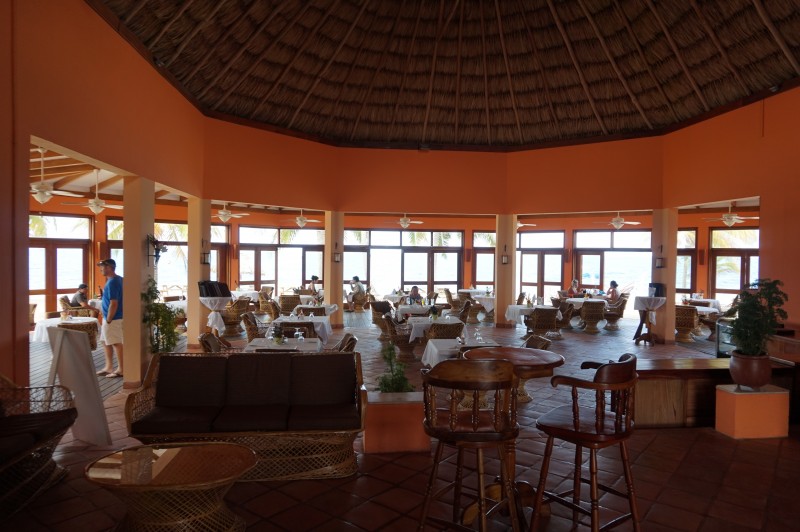 The dining facility was exquisite and wonderful views from every window made the food and drinks taste all that much better.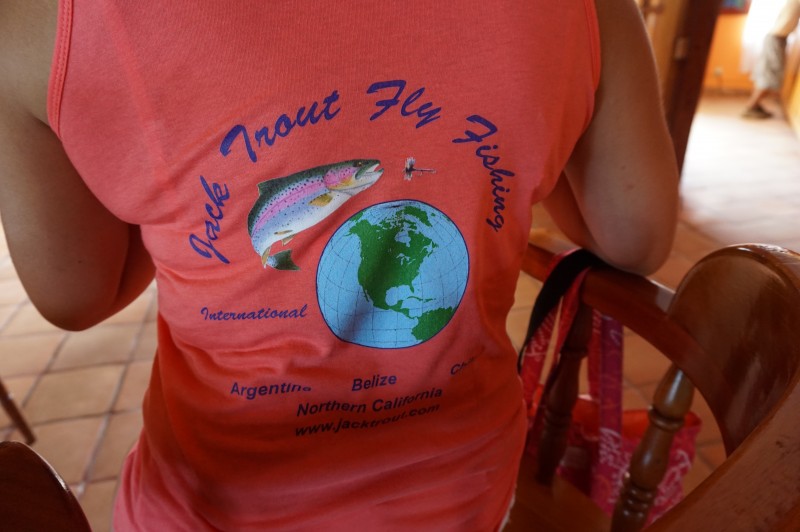 When you're thinking off fly fishing or touring Argentina, Belize or Chile Call on Jack Trout Fly Fishing International, It's our experience that set's us apart. Thanks, Jack & Carola Trout * info@jacktrout.com * 530-926-4540 USA* www.jacktrout.com
Best beers on the trip were Belikin & Lighthouse, both owned by the same company and we sure are glad for that, they are great! Warrior's Playoff Game in the background was fun to watch down here at the Jaguar Reef Resort with Lebron on the other side of the country winning, they sure love Lebron down here in Belize with a few beers to laugh.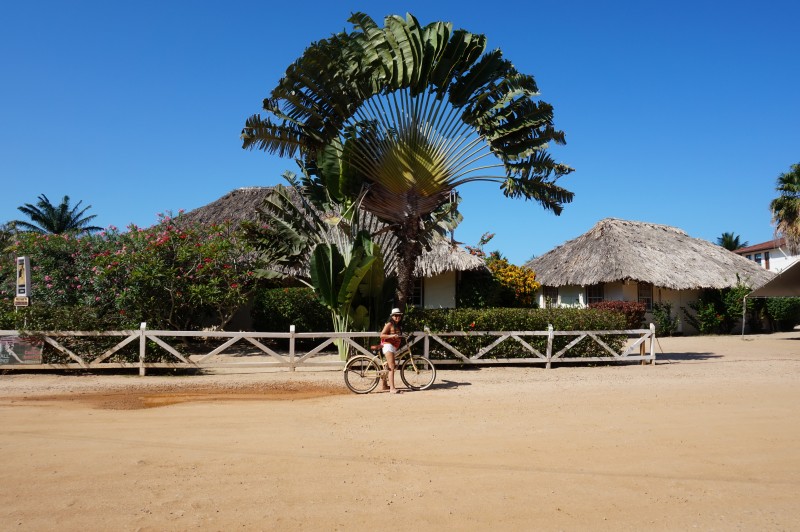 The Travelers Palm Tree – This tree actually holds water in it's center, so if you cut into these trees many of weary travelers found comfort in these palms that relieved thirst. In front of the ocean view cabanas at Jaguar Reef Resort, an easy bike ride from our house in Hopkins.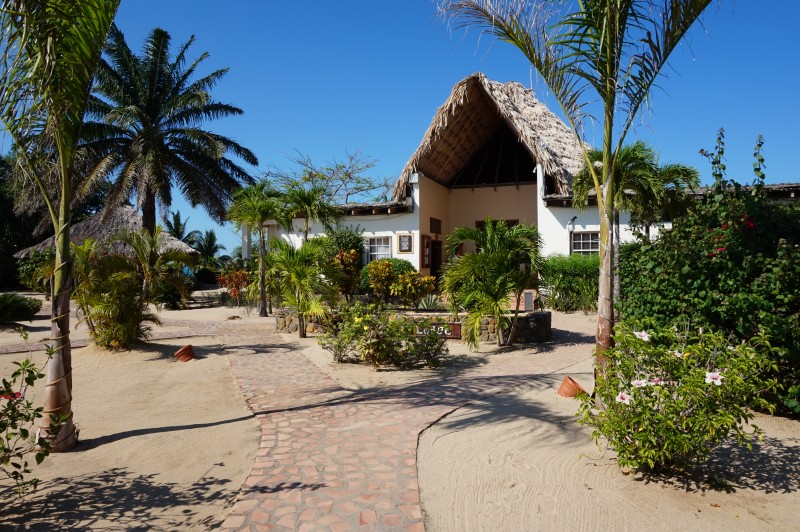 Back down at the Jaguar Reef Resort, for lunch and a mid day drink, I can't think of of a better place to hang out in Hopkins with their great menu and bar tender Fermin who has won national bar tender awards from Cancun to Belize City for his amazing concocktions like his Brazillian Caipirinha or Dirty Banana.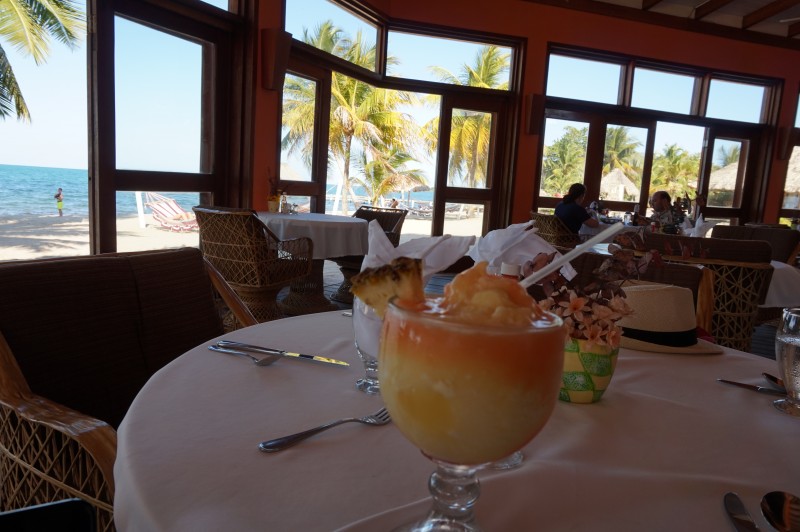 Is that a drink or dessert folks?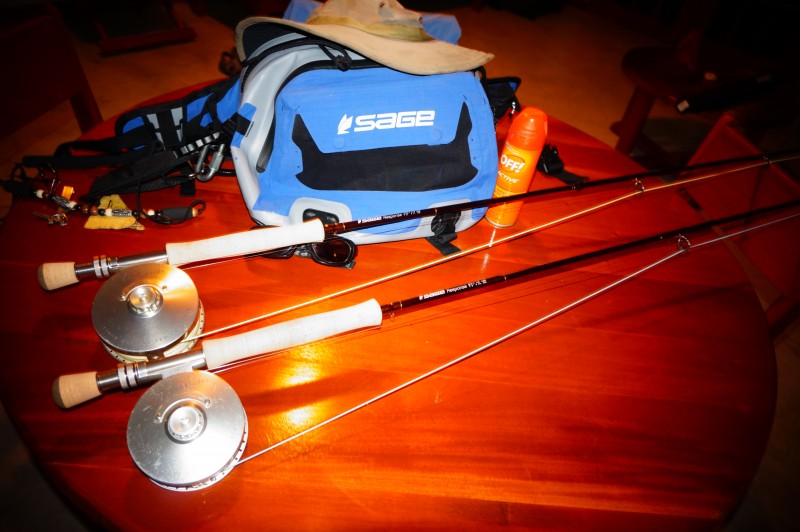 Sage rods – Tibor Reels, how you can you go wrong folks! You should bring down an 8 wt. and a 10 wt. fly rod both with floating lines or clear tip lines like what Rio Saltwater lines offer for permit, bones and tarpon. Check out this link for a list of what to bring to Belize.
LIST OF WHAT TO BRING TO BELIZE FOR FLY FISHING, GEAR, HOME CHECK LIST, SAFETY IN BELIZE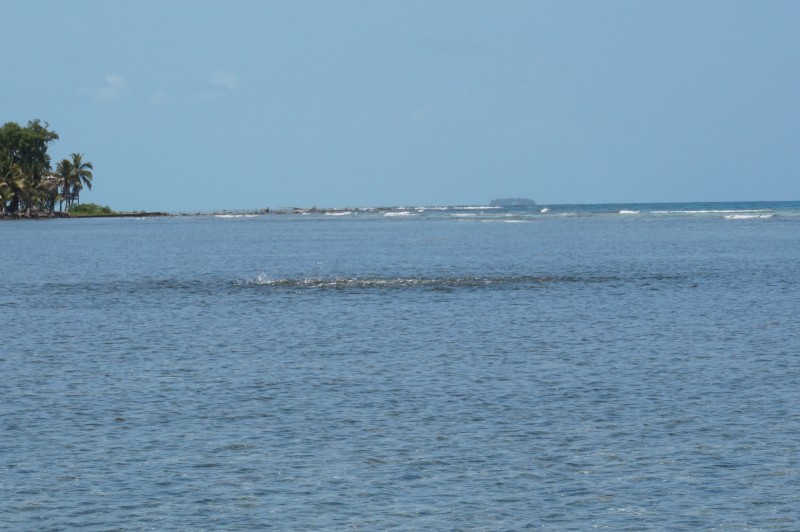 Out walking one day on the flats near South Water Cayes, in Southern Belize I saw all these bone fish being harassed by this barracuda. I think it's time to cast now…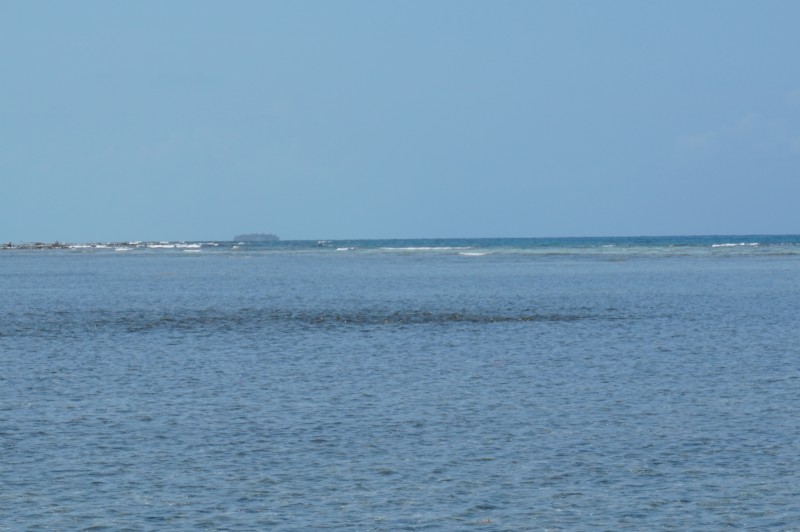 I walked out a little closer as the school moved out away from us, it always seems that way when we're stocking fish in the flats of Belize, near Dangriga and Placencia. The school moves most of the time away from you so keep stalking.
Killer bones can be caught, so hard fighting, so incredible strong with a burst speed that could drag a steelhead three times his weight.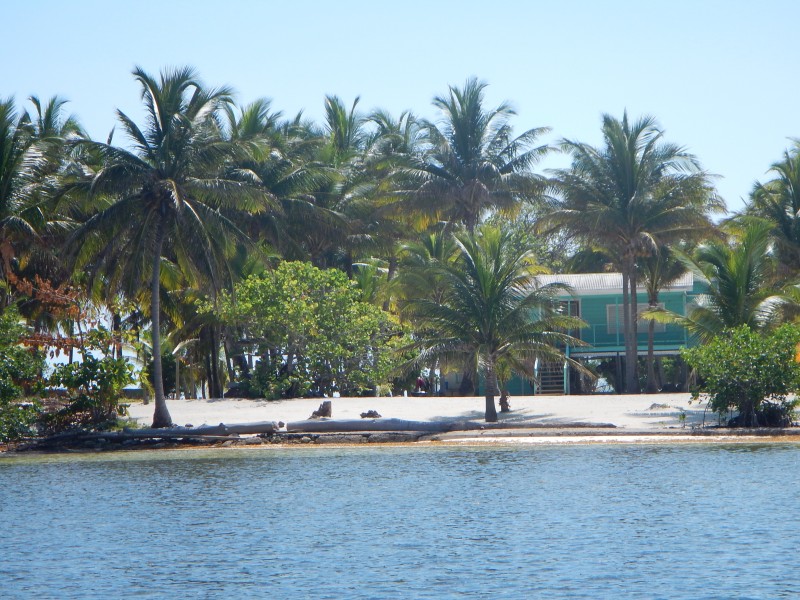 Great places all over you can stay at depending on what your likes and dislikes are. Here's the question you have to ask yourselves as couples.
1. Are you just there to fish? 2. Do you like restaurants, night life and the ability to move from pub to resort exploring 3. Do you need to be wifi connected on your vacation? 4. Do you just want to say adios universe, I don't want to see a sole on my vacation and fish or tour everyday. 5. Do you want salt water adventures then move into the jungle for Mayan and exploratory animal and cultural tours? Are you a diver or a snorkeler? Carola likes to be on land, I want to be on an island fishing all the time, we compromise in the middle, not a bad gig if you ask me.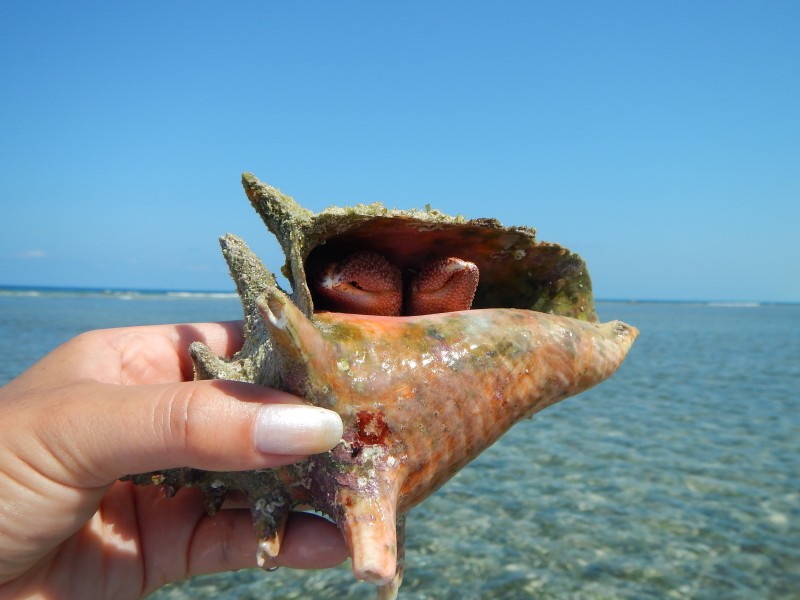 A little conch anyone, what a great find out here on the flats, we'll put him back and let him grow up a little.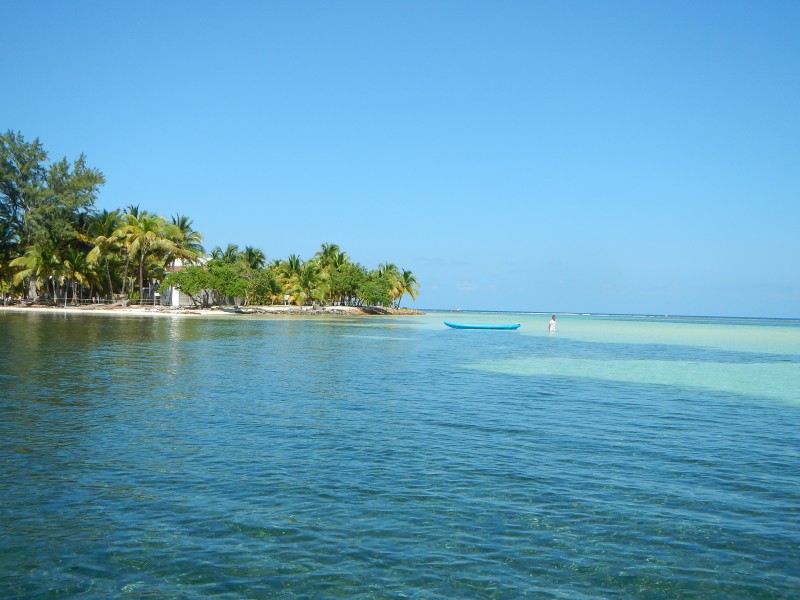 Nice scenes here in Southern Belize, pretty much all year around 70's, 80's and 90's.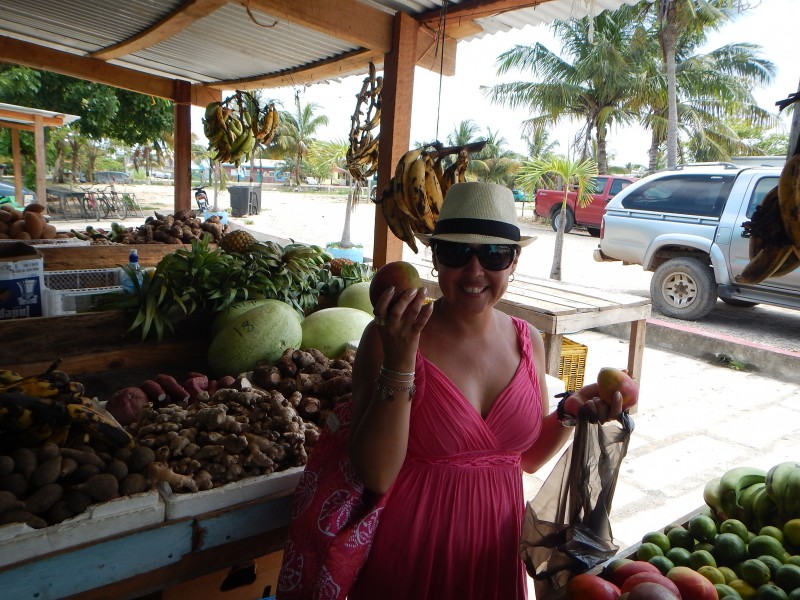 Fruit network is incredible here in Dangriga Belize with just about anything you want being affordable and ripe. We had to go out and shop as our first clients were arriving the next day and Carola was doing some cooking at their 5 bedroom suite house on the beach and the 10 people we were guiding and outfitting down in Hopkins Belize at the Almond Beach Resort & Spa.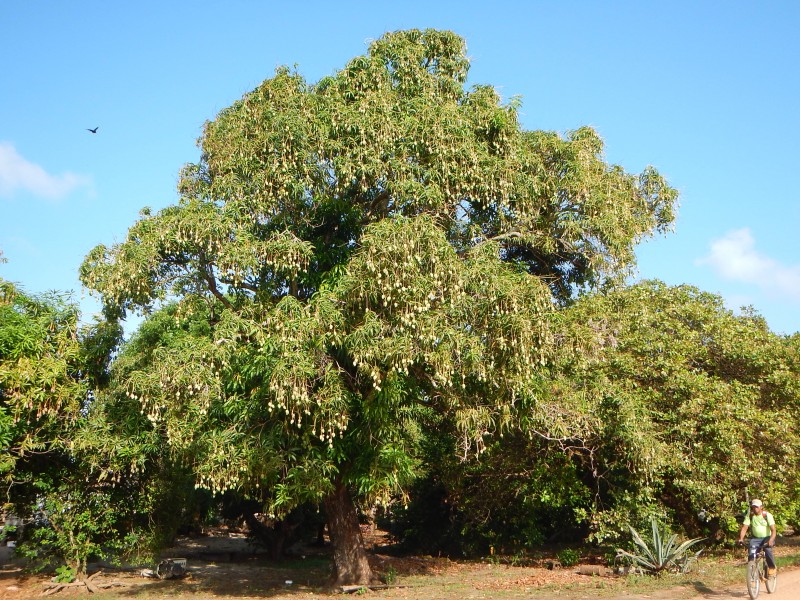 How can you go wrong folks, that's a mango tree just two weeks out from being ripe for the famous Mango Festival here in Belize on May 30th, 2015.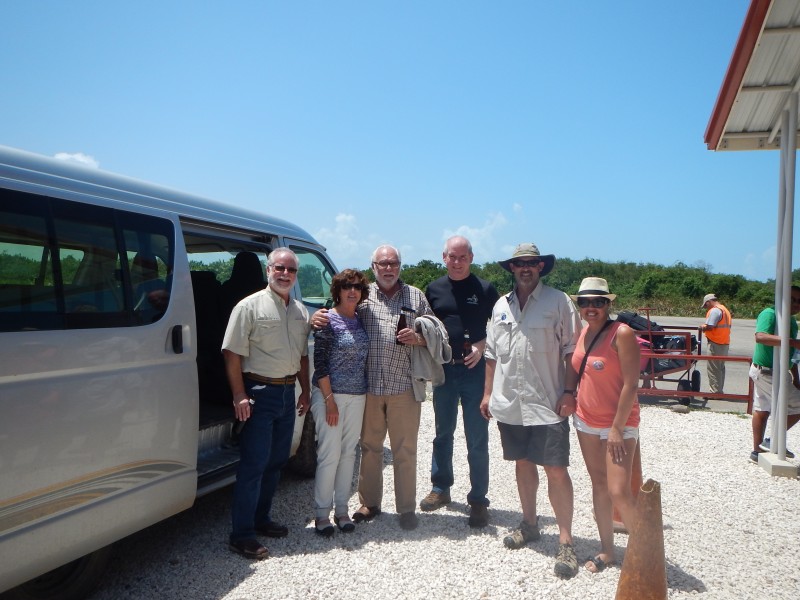 The group started to arrive from all over the United States, we had handled all their airplane reservations and all necessary travel documents into Belize.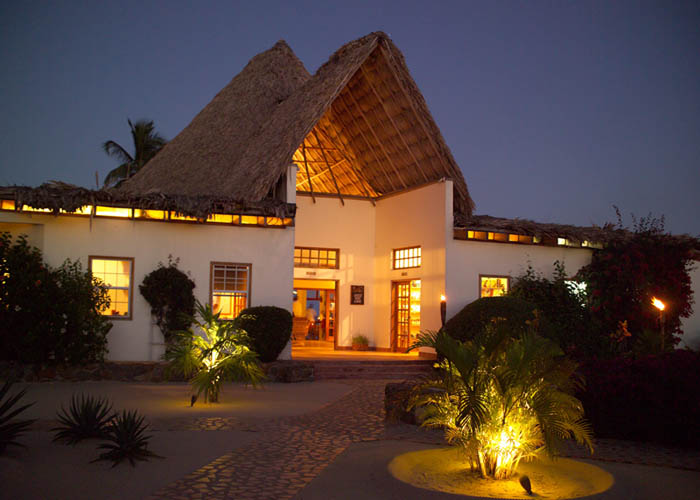 That night the Jaguar Reef Resort was the perefct place to have our first dinner together and the group was really excited for their week. The Jaguar Reef Resort & The Almond Beach Resort and Spa are the perfect places for my valued clientele. In all it's fame and glory, enriching so many of its guests lives and making tropical Caribbean dreams come true, the Jaguar Reef Resort and Almond Beach Resort & Spa are a perfect match for Jack Trout International Fly Fishing & his groups in Southern Belize.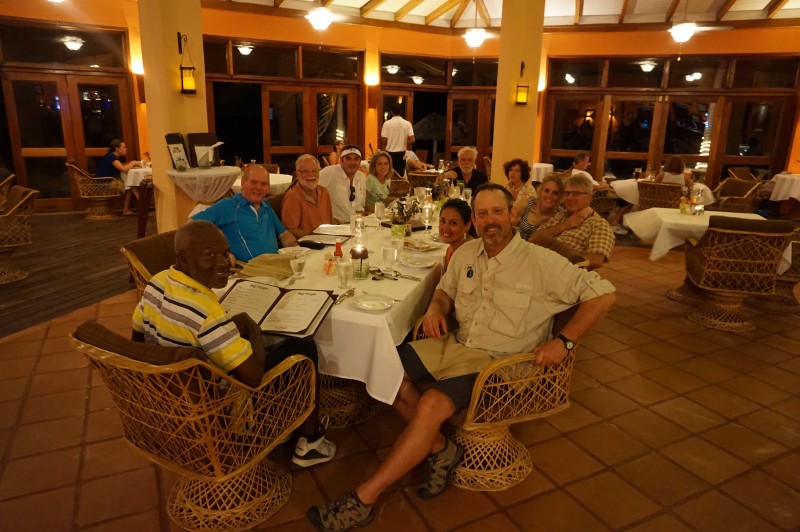 My head guide Lloyd Nunez joined us for dinner and we had the usual very festive dinner with lots of chattering going on until the food was served. I was happy to be back with Lloyd in Belize since we have been doing business together since 1997. This was Richard Gebhart's second time to Hopkins Belize with me as we helped him with his family of 10 in 2007 and that trip was a total success! We hoped to match that honor and possible have someone land a permit the most elusive saltwater fish to land on a fly rod. Plus I had my new secret weapon, my wife Carola who is a superstar in her own right, like me she is always on top of every detail to make the clients vacation easier.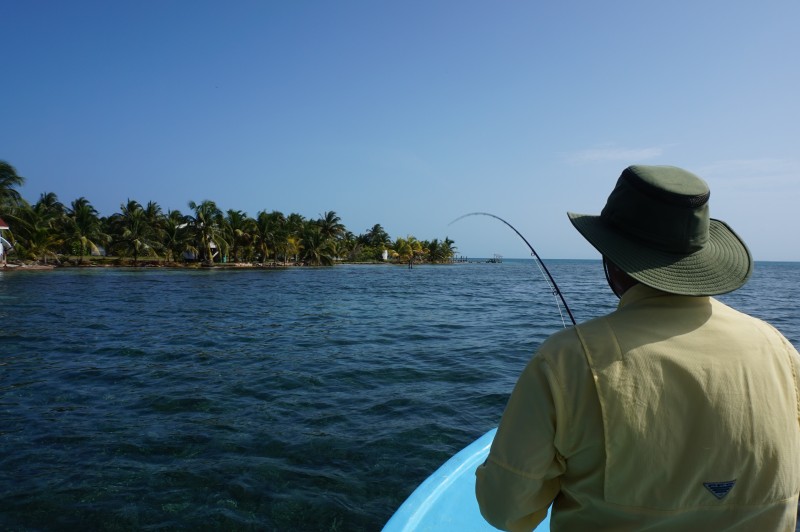 First day out with author and fly fishing writer John Randall, on his first experience fly fishing on saltwater, he had never caught a permit before this trip, so we were stalking with him on a daily basis looking for permit in knee deep water where the turtle grass grows and the incoming tides are crashing into shallow reefs. This creates a perfect habitat for the silvery critters that remind me of the old silver Morgan Dollars we used in the U.S. from 1878 to 1904.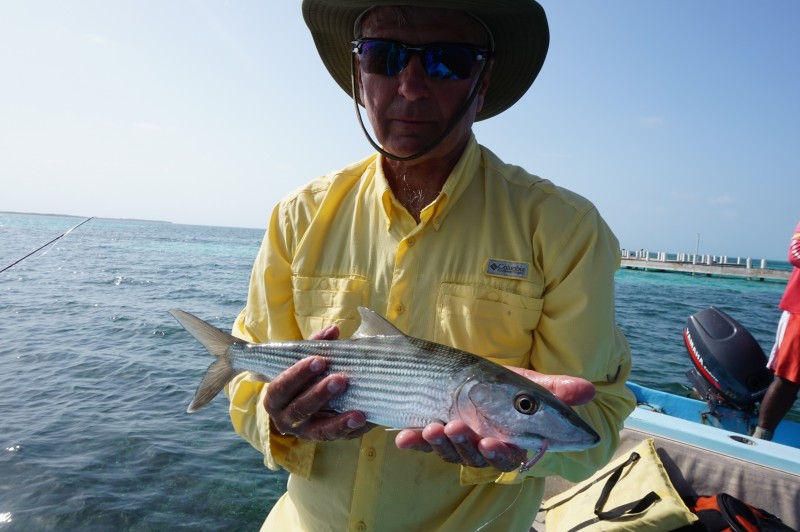 On this day for John Randall it would be bone fish that he landed, on another day he and his wife Joann caught 9 bone fish together. They said it was a great day and looked forward to the still possibility of landing a permit on a crab pattern.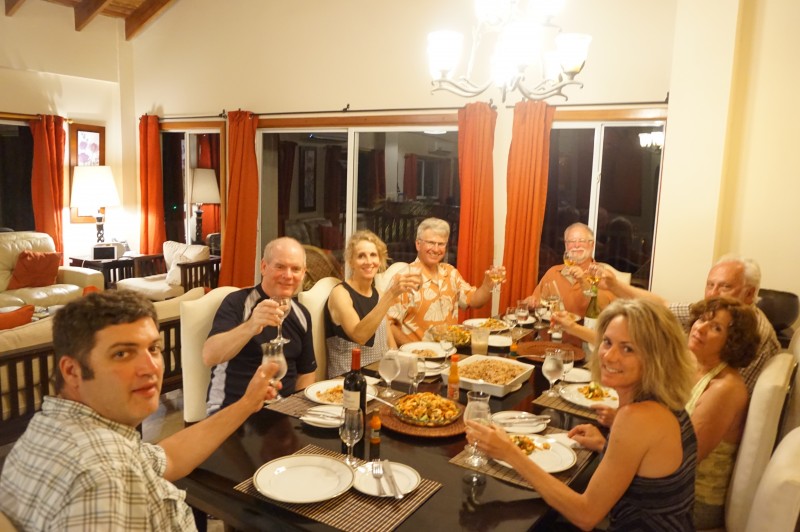 That first night Carola's shrimp dinner was a hit with her mango rice and and dessert.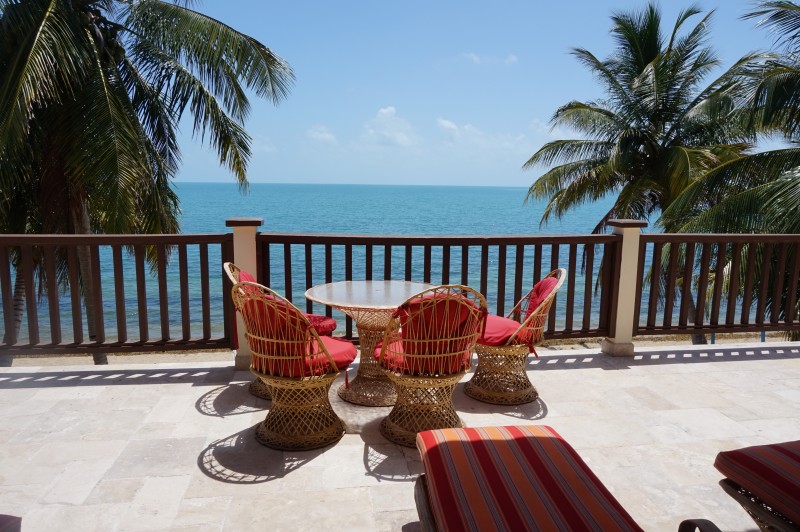 This was a top rate resort 5 bedroom suite, we rented and arranged for the group, the price was great for family or for a business event. it includes free bike rentals, sea kayaks and next to specialty coffee shop. The penthouse is about $675 per night and can sleep 10, what a bargain when you take into consideration airfare is only about $650 from the US. That leaves space in the budget to hire us and we can take care of all of the rest, so you can concentrate on having a vacation too with colleagues, family or friends.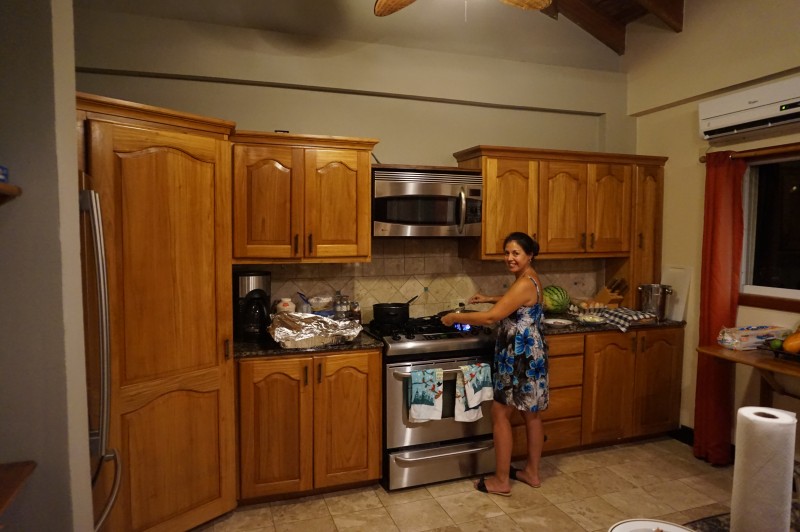 Carola was the chef, I was her loyal assistant, it was a hoot! The group had us buy all the alcohol and food just before they arrived and we handled half the nights feeding the troops. The atmosphere was electric and the laughs were non-stop.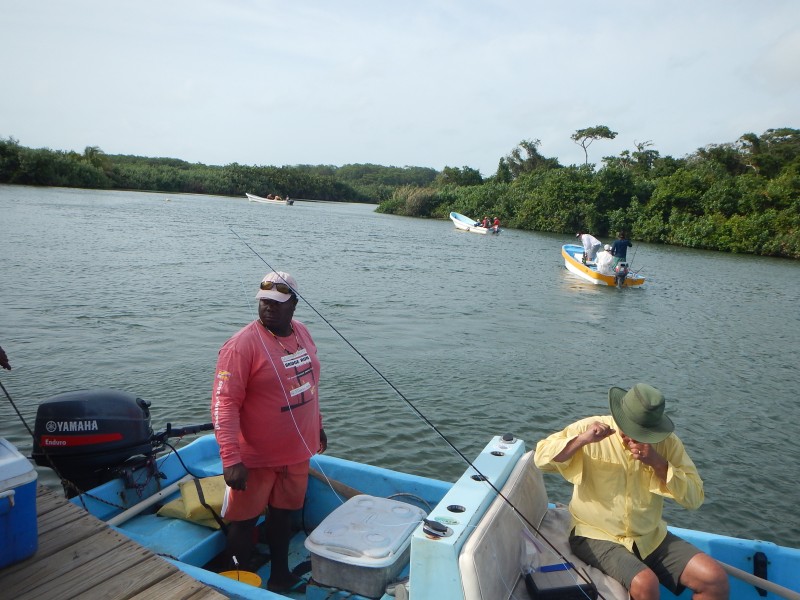 The guides, the clients and the boats headed out onto flats in every direction, you could tell in the air something good was going to happen that day.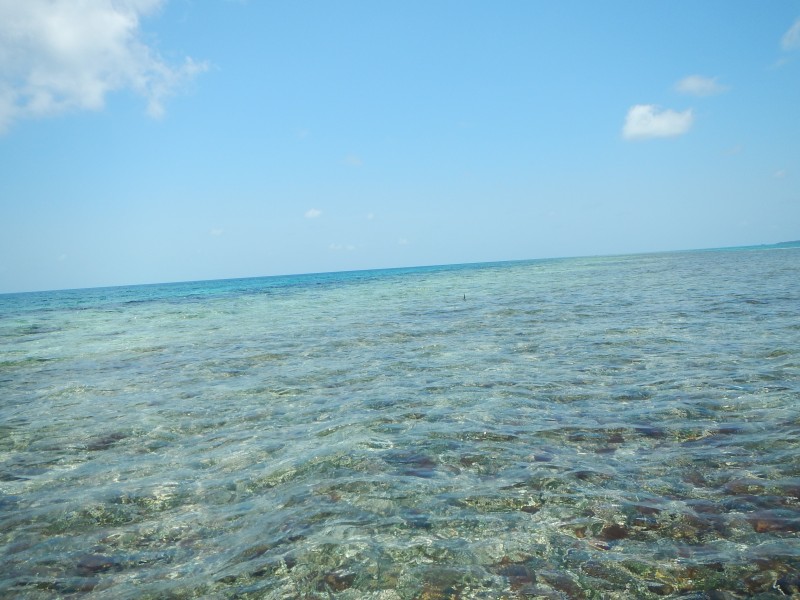 There in the middle of the picture a permit!!! They're feeding on crabs and when they're tailing, this is when you get close and cast accurately to them. Listen closely to what your guide says and how to strip the line and then hold on for the ride people!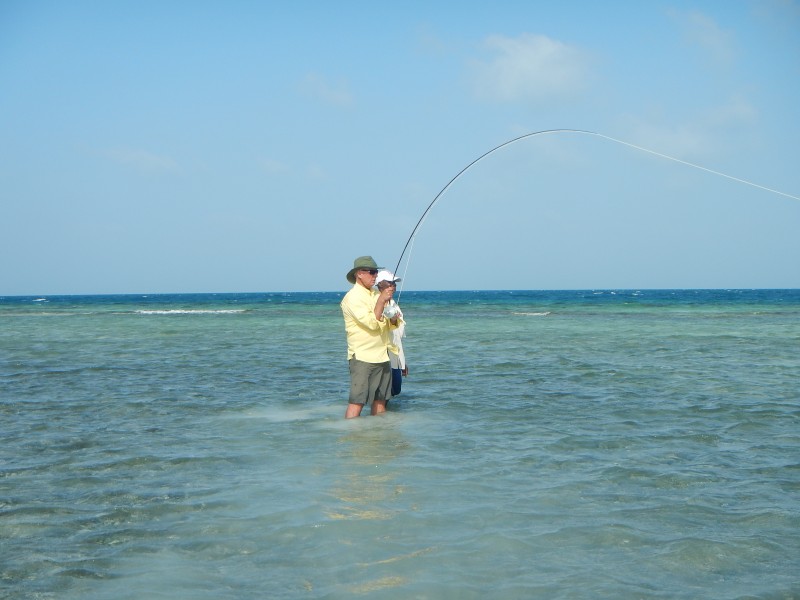 Jason Randall folks, with his first permit hook-up – can he land this car door with a motor?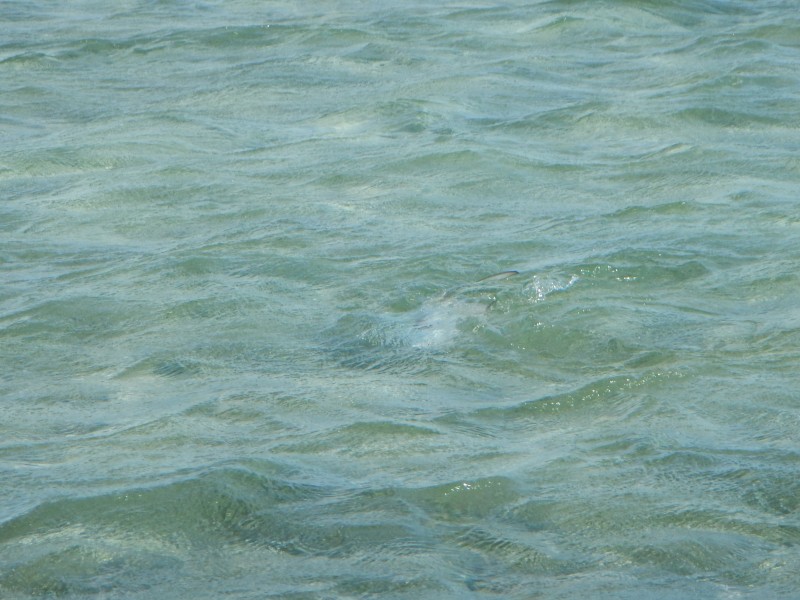 This is the place where you don't want to foul it up now, so everyone gets real quiet and you hope he doesn't shake off in front of your eyes.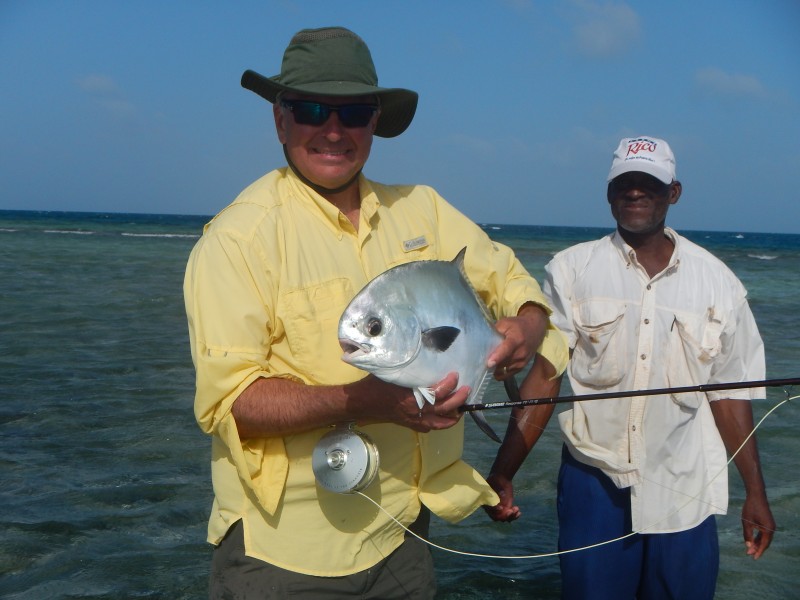 Not on this day, way to go Jason, what an amazing fish to land on a fly rod.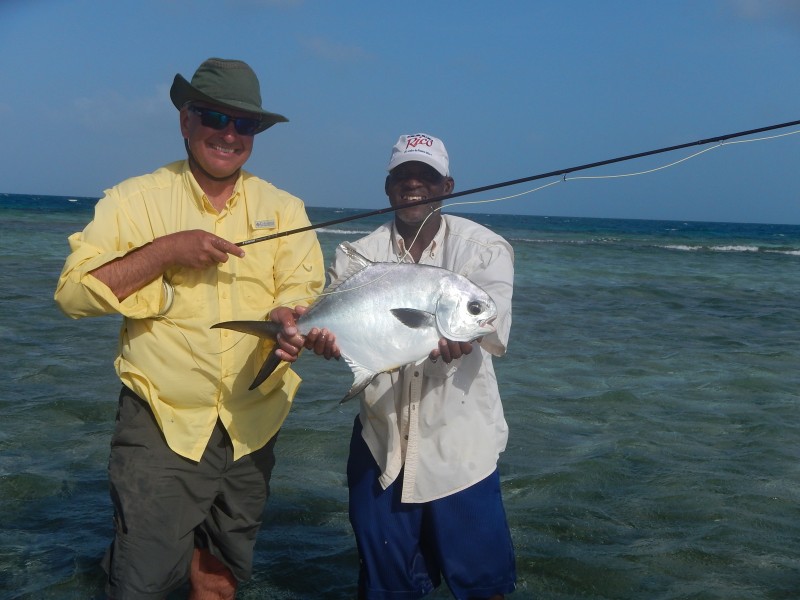 Lloyd sure was happy to hand this permit under his belt, he's honing in on 1000 landed permit in his 31 year career as a fly fishing guide in Belize.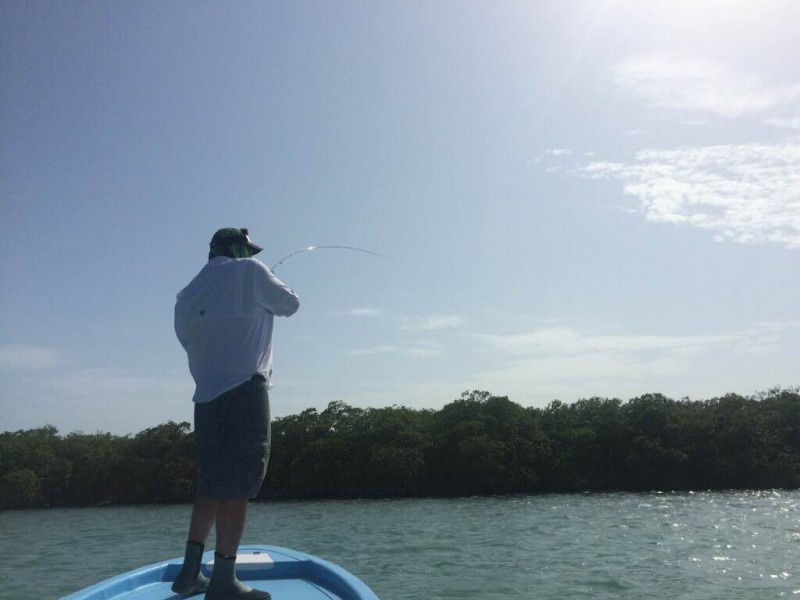 Brandon & Neely had their day in the sun landing nice fish every day they were out with one of the guides, it was another great trip for them. I hope to see them back in September for part two of our hosted trips.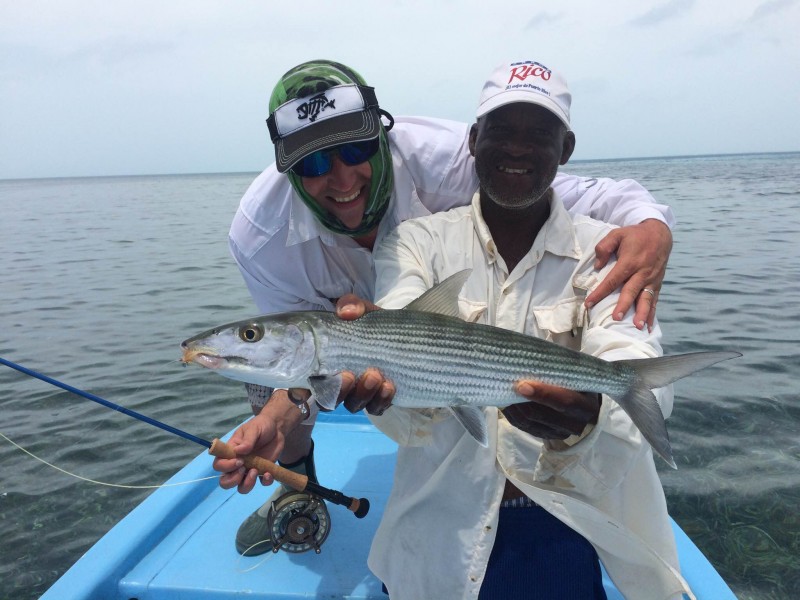 Huge permit folks!! Way to go Lloyd and Brandon on the bone front!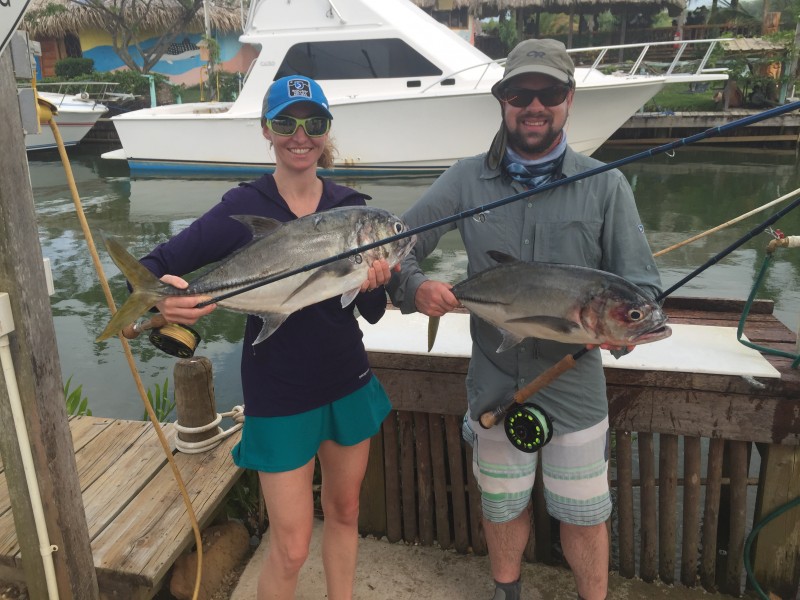 Jacks caught on flies, wow those are huge on those fly rods, thanks for coming down again Danny and Christina. That's what's for dinner folks. Bring that to the Jaguar Reef Resort  or one of the local restaurants and they will prepare a feast for you in special sauces. Just some food for thought.. jt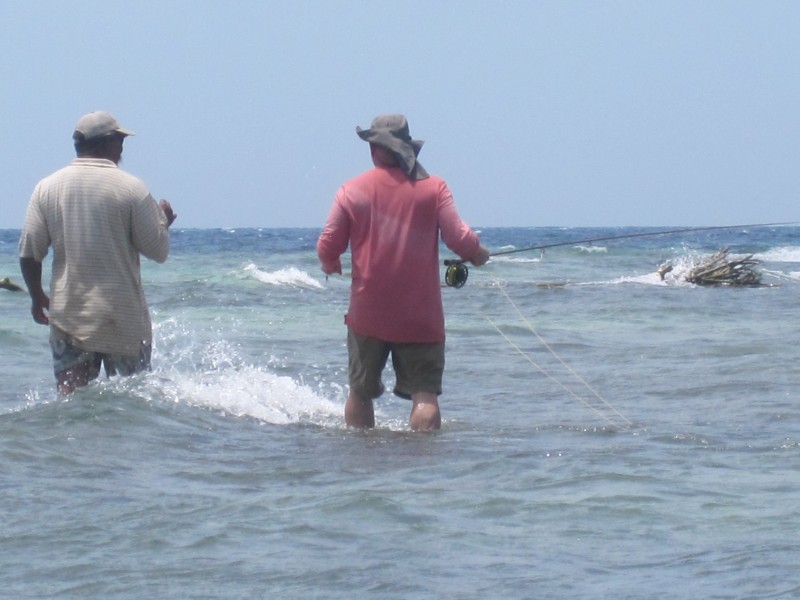 Stanley Diment was a real group highlight, that guy had the time of his life, I must admit he had one of the largest smiles I have ever guided. jt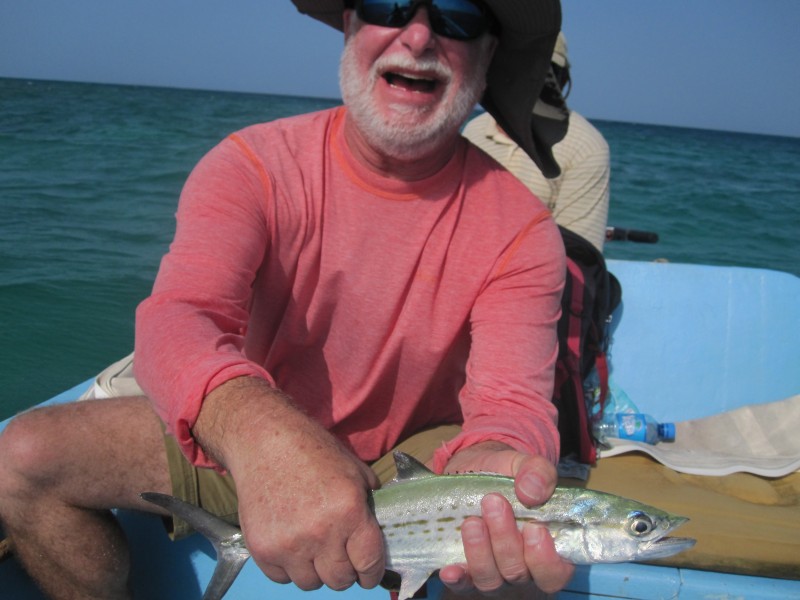 "Belize fishing"
Recently went fishing with Jack in Belize for Bonefish, Permit and Tarpon. First class all the way from our pickup at the airport. Excellent fishing, accommodations (beachfront, on the ocean), guides and food. Jack set up a Mayan Jungle Cave River Float day trip that was exceptional and not to be forgotten. I can't give him enough praise – – exceptional trip and I highly recommend it ——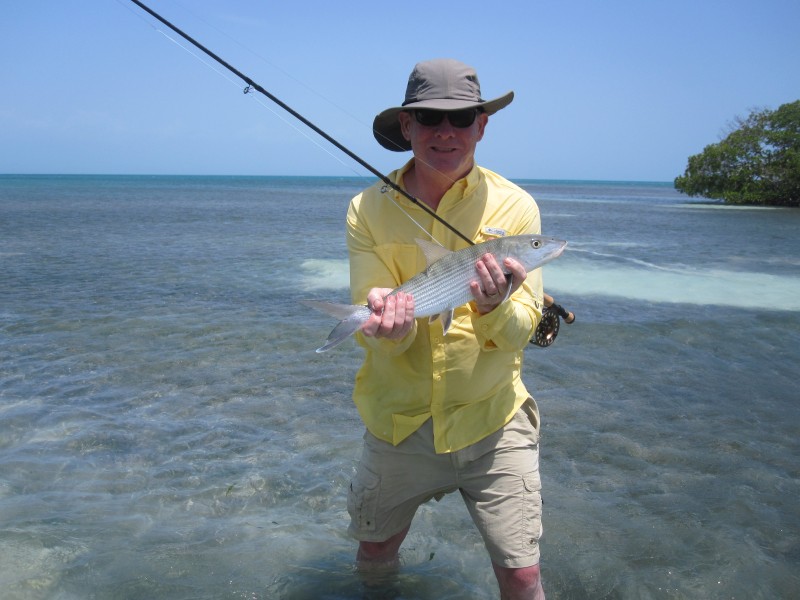 Peter Ainslie from Halifax, Nova Scotia said he'd be back and looked forward to our trip together in the fall for steelhead in Northern California next.
\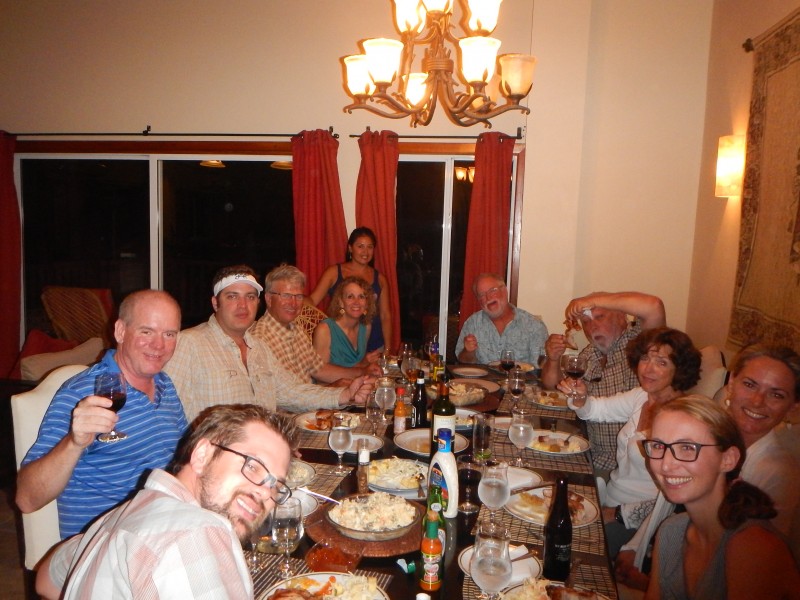 Then two more guest showed up and it became a fly fishing & Belize tours party as Carola nailed it again on the dinner.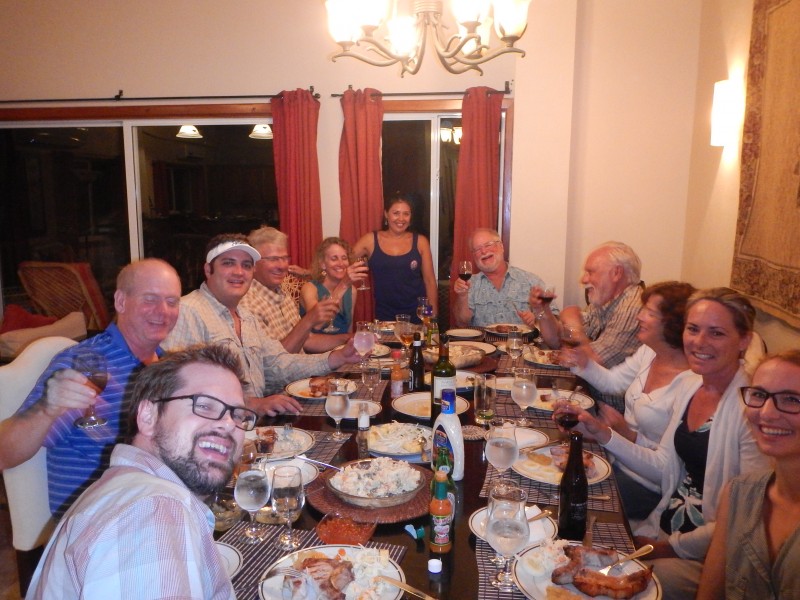 Hilarious folks! We know how to entertain a group of fun characters like these folks, good food, wine and desserts.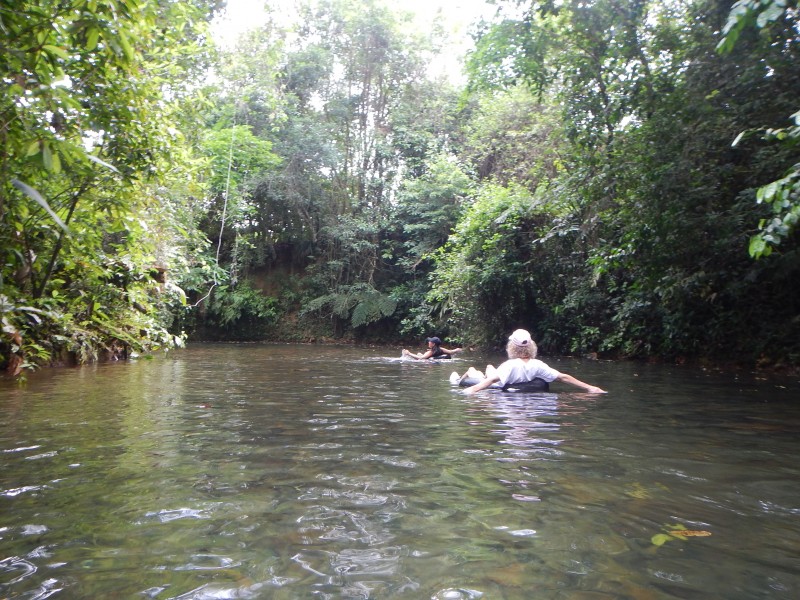 The next day I took the group to see my friends at Caves Branch and float the river until we found the cave.
The Jones Party had arrive ready to seek adventures and Mayan ruins within these cave walls.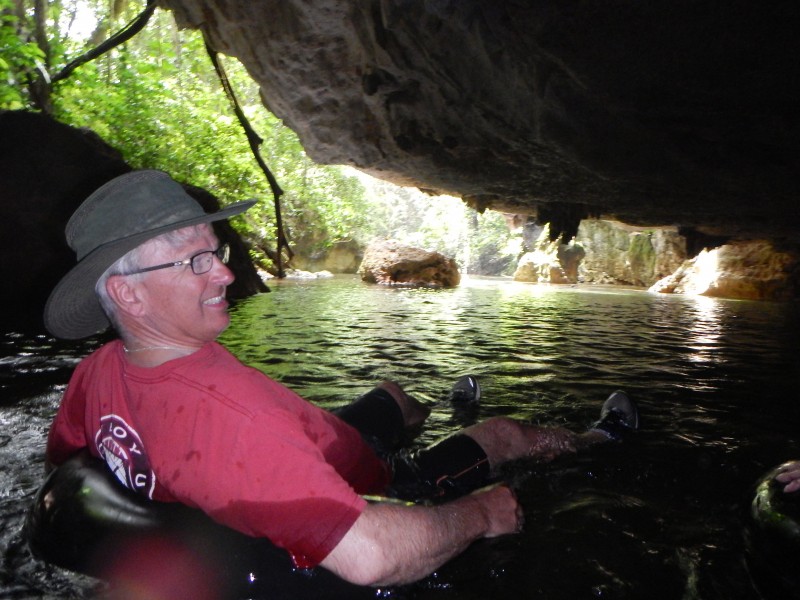 As we entered inside the cave, things began to get dark and Jason commented that he had never seen anything like this before and loved it.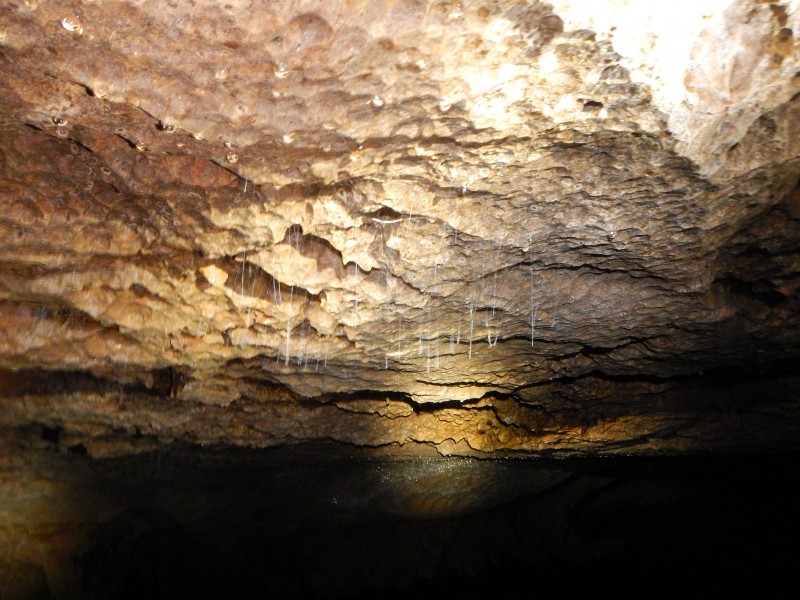 This larva makes this cave snot and it's really creepy, that's when I get over towards Carola, just to see the funny look on her face when she sees this post nasal drip. "You know it is cold and flu season for caves…" 🙂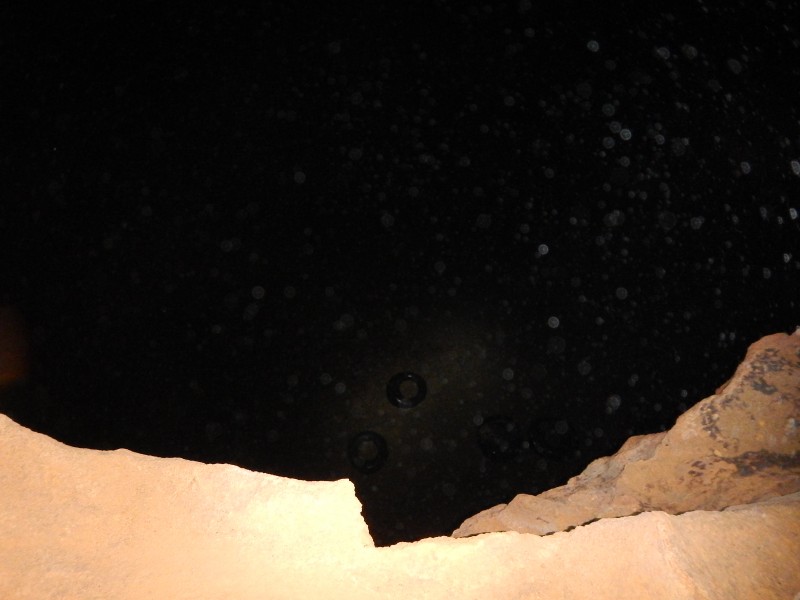 Then we climbed this crystal limestone trail that took us up to 60 feet above the river where the Mayans used to preform sacrifices.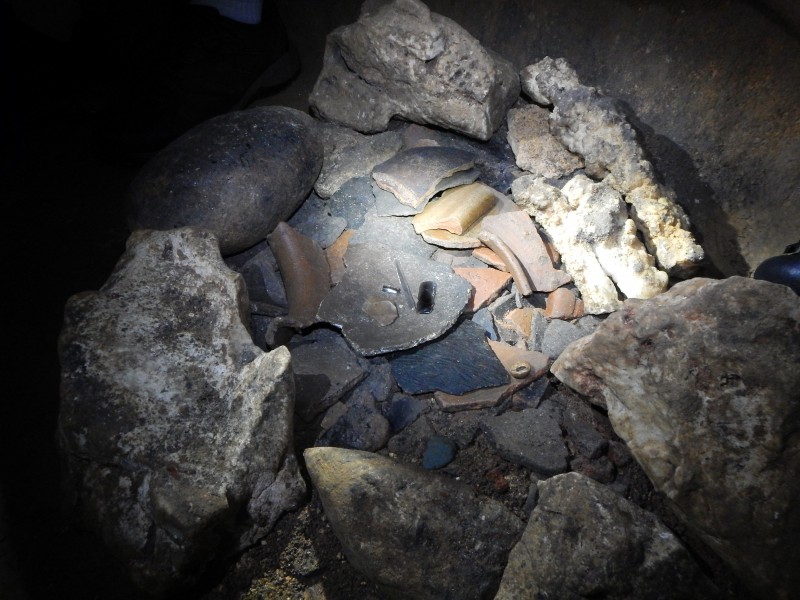 Artifacts, pieces of pottery, glass needles and knives as well as ceremonial beads. It was a real cache and look back into time and the mind of the Maya culture that existed from 800 B.C. to about 1000 A.D. here in Central America. Belize is the heartland of the Mayan legacy and there are many inland tours that can be seen while traveling through this wonderful country.
Looks pretty sacred to me, also the white crystals reminds me of our very own Shasta Caverns here in Northern California.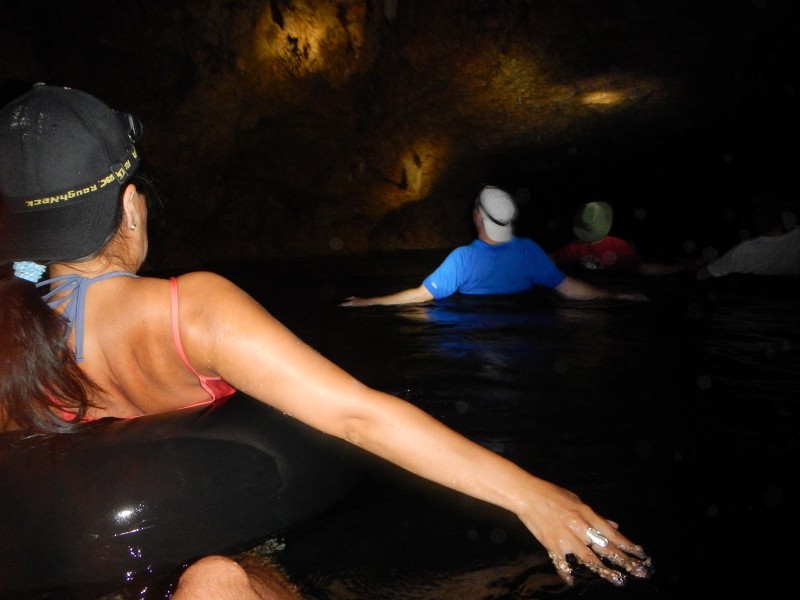 Back in the raft again for a float further into the cave and to have lunch, we are now more than two miles back in this cave with only head lamps to light our paths…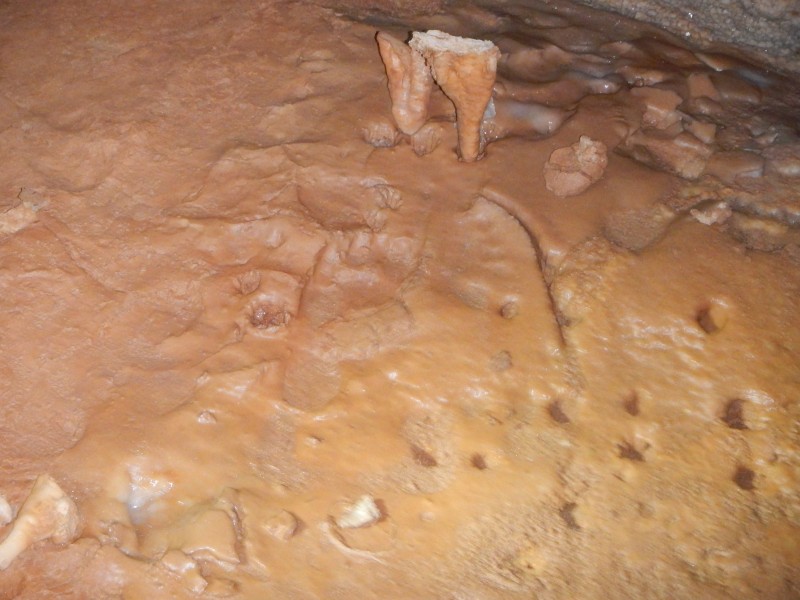 Then we got back to where the infamous foot prints were left by Mayan Man in the mud that had harden and became fossilized into the floor of this cave.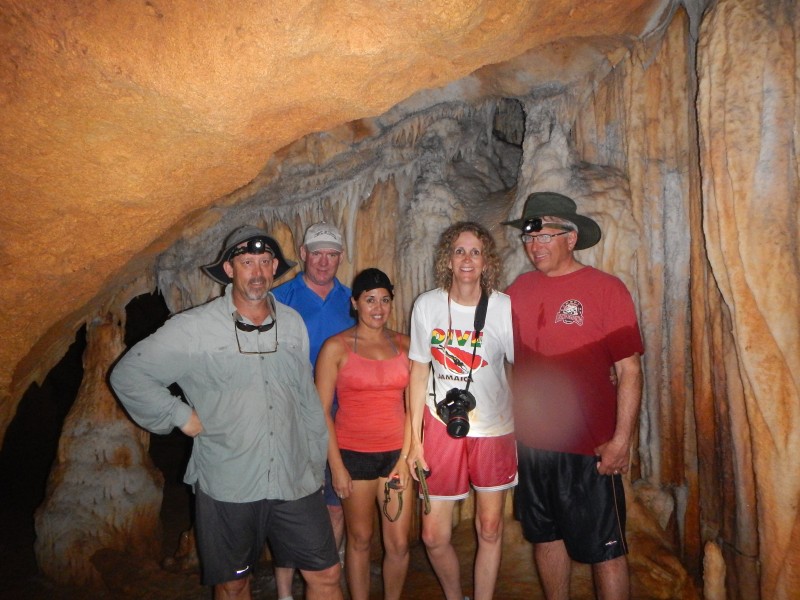 A group shot in total darkness, it was an amazing experience not  being able to see your hand in front of your face when we turned off our lamps.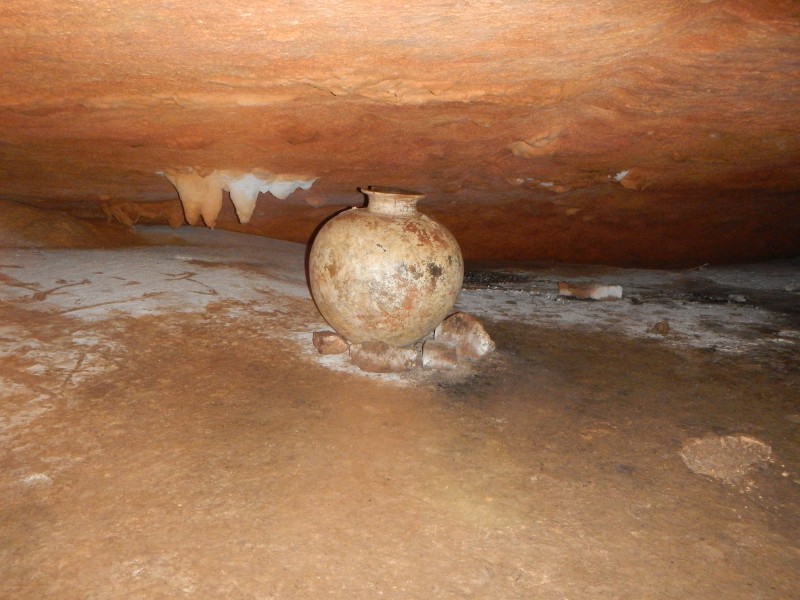 Then this huge piece of ancient pottery unscathed and sitting in total perfection, it must be worth a fortune Indiana Jones.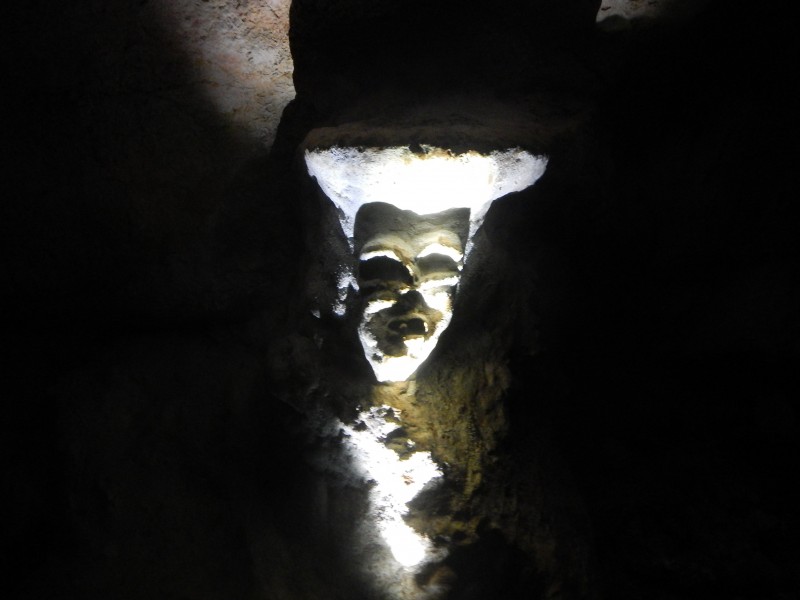 Lastly, the Mayan Monkey God of Fertility just to top it off! Wow, that's good at my age, Thanks Monkey Man! jt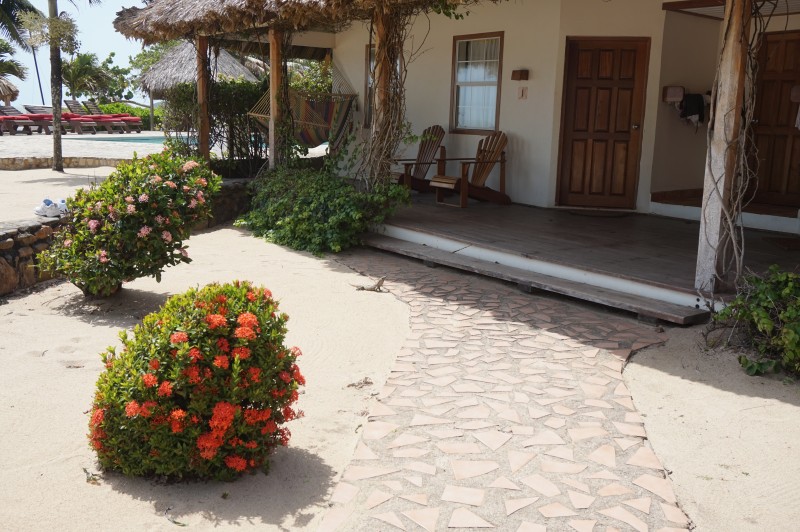 Back at the Jag, things are going slow and this iguana is enjoying the hot rays and the sweet climate.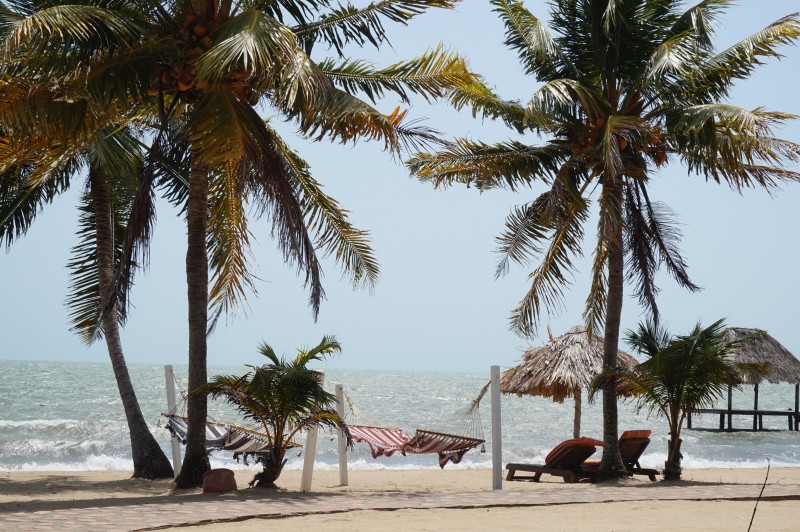 Great views is what he must be thinking about here in Southern Belize.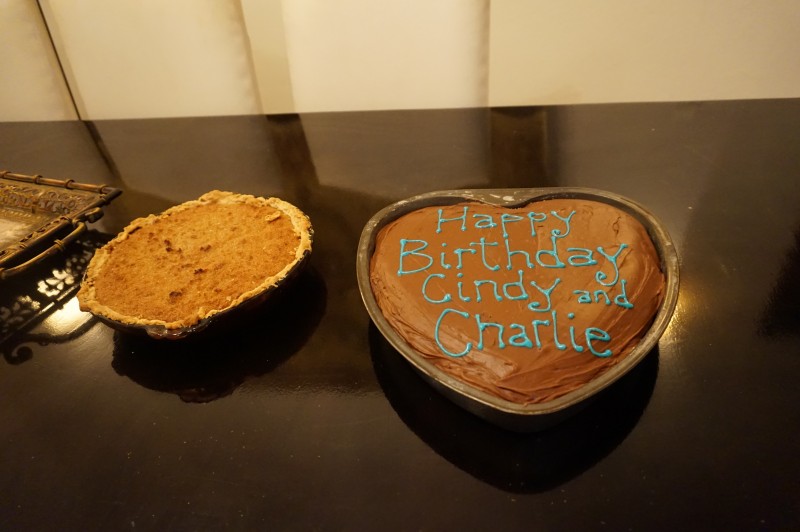 Today was Cindy Gebhart's birthday and our tour guide Charelton's birthday so we thought we'd arrange a big party out on the village.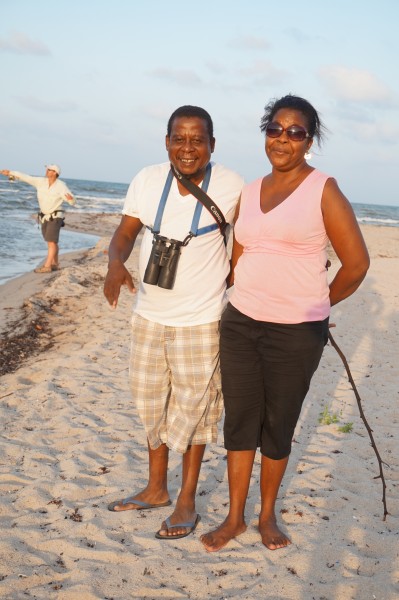 Charleton & Clarin are our very best friends in Belize, Charlie does tours for me and around  Hopkins. He also shuttles people back in forth from the Dangriga airport making it an incredible experience, the clients never forget. He is the smartest person I have ever met in Belize as he knows every plant, every animal, every bird, every snake & reptile, every name of everything and great story to boot! This man is a walking Belizean encyclopedia!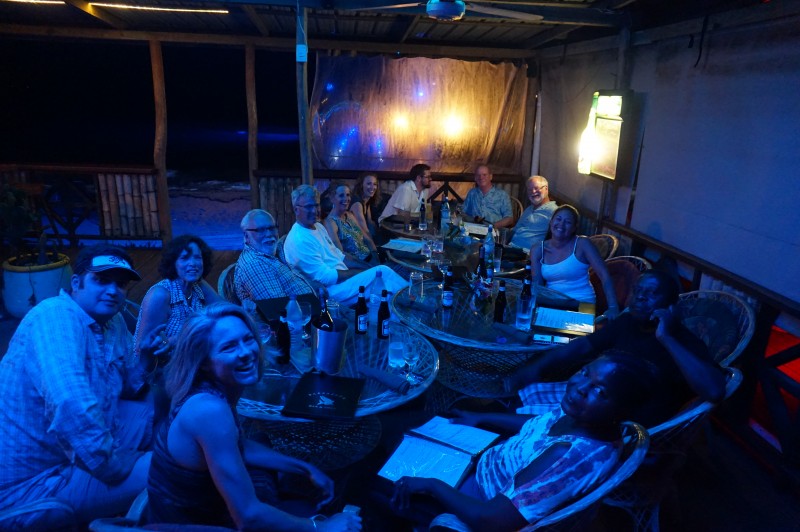 It was a great party alright, everyone had such a great time and the food was terrific at Beaches & Dreams Barracuda Restaurant.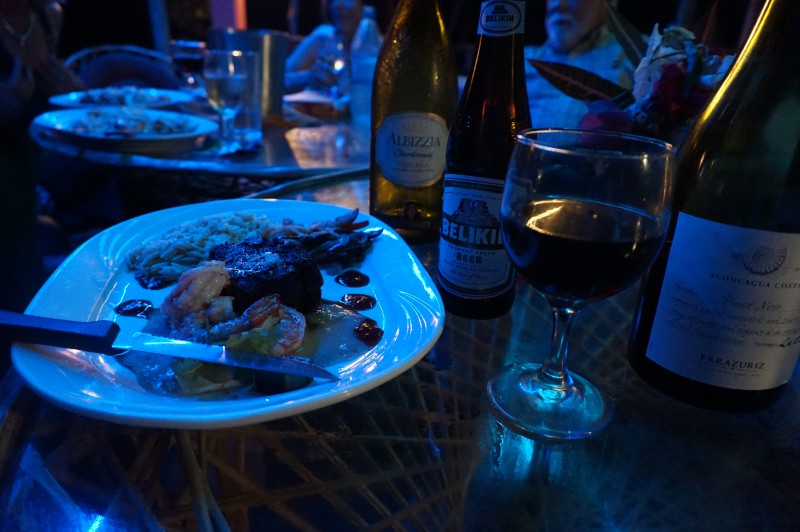 Great food and wines were a delight.
Fresh fish in a wonderful atmosphere, you couldn't beat the company for sure!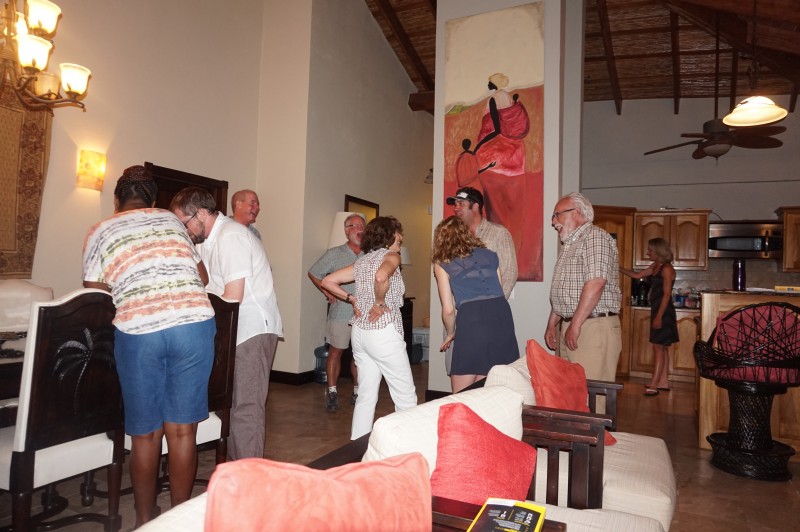 Back at the pad, things got even more fun as the birthday cake and never ending tales were keeping most in stitches, it was great to see everyone having such a great time.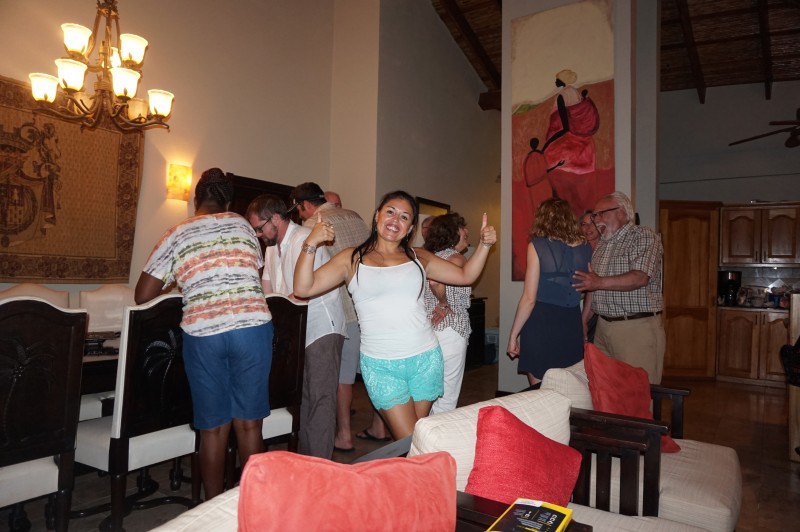 A+ for my wife who handled everything with expertise, pride and great culinary skills. We would like to thank the Veterinarians that came down that we'll be fishing with again in Northern California in mid November.
All the best, Jack & Carola Trout & The Team Trout Guides.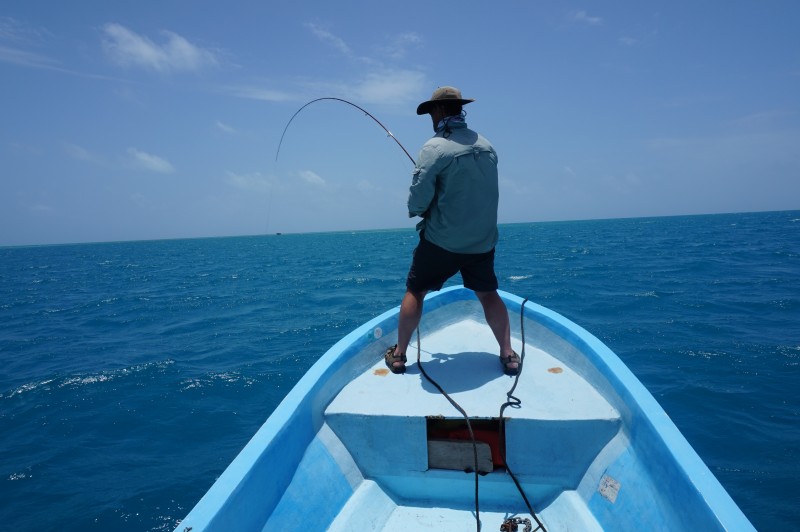 After the first group left, Lloyd and Nowell took me out for a couple days fishing for permit and bones, when we came off this caye and there were jacks every where and I casted to one and had THE half hour fight of my life!
Spanish Mackerel I caught was a fun fight on my 8 wt fly rod one day.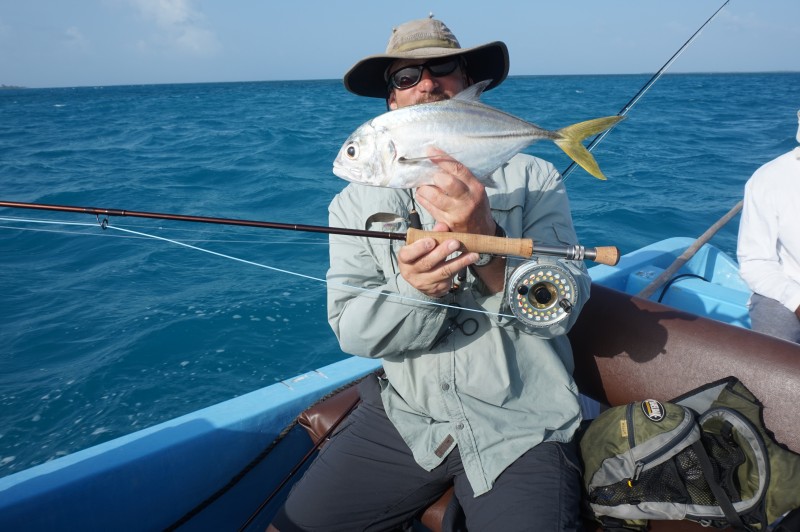 Jacks were out on that day for sure, what a hoot and the guide brought them home for dinner.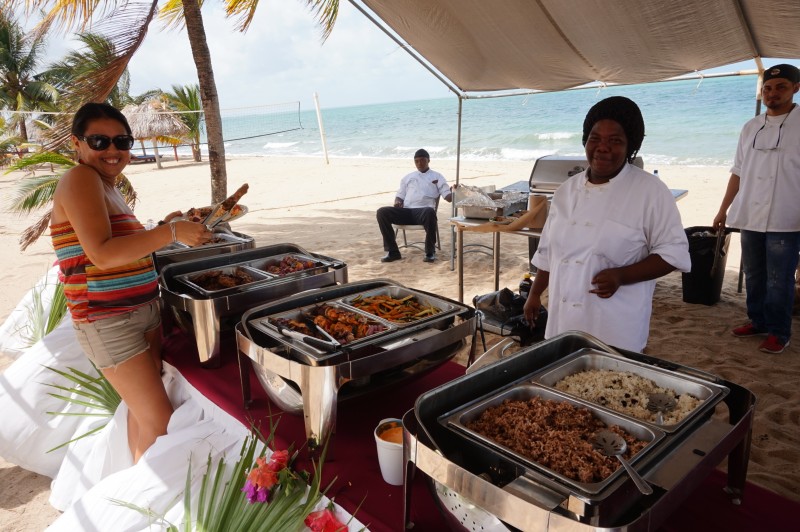 We were thinking about that hot shot chef Mina from the Jaguar Reef Resort and their "Sunday Funday – Mina's Kitchen!!" all you can eat seafood brunch. Every time Mina cooks something up you can expect it to be amazing, she's a superstar in her field.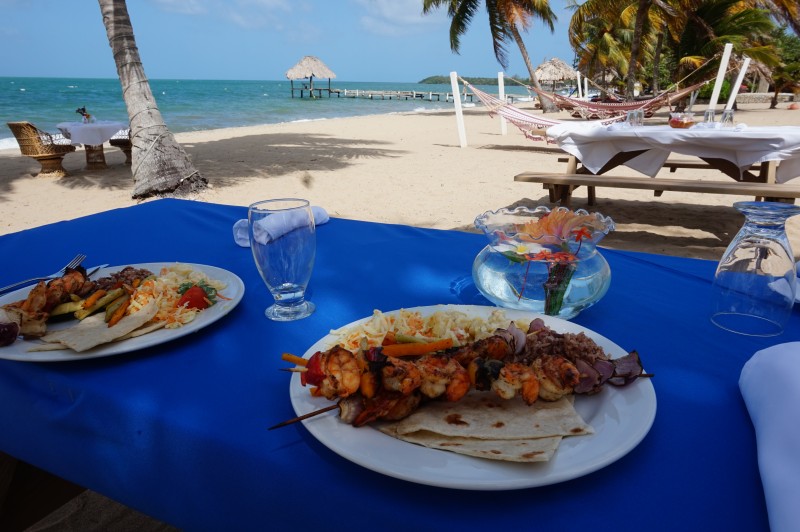 You know what I mean people! Yahoo, I'd climb a palm tree for this meal, if they only knew. Great fresh food and because they have such a diverse crowd here at the Jag, the fly fishing is under the radar still and most flats most often we never see anyone else. We Like to come to Belize April, May and first half of June. Then Sept, Oct November and miss the tourist season, but have great angling and little or no pressure.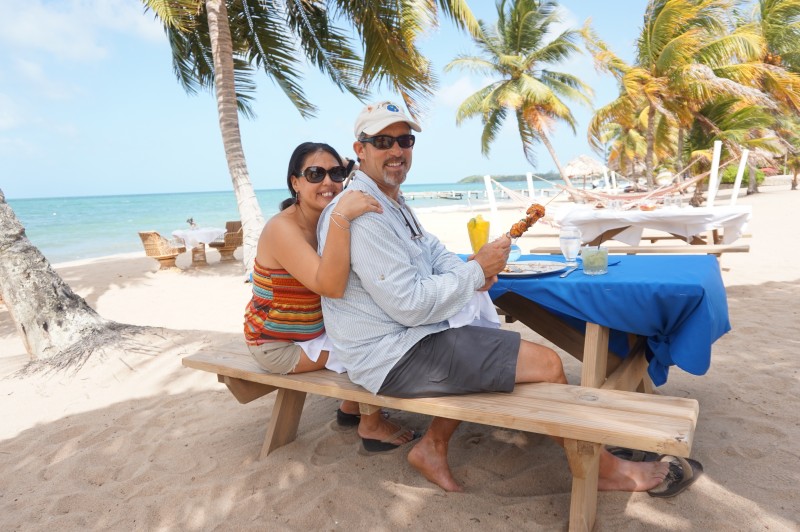 This a great place that is affordable and easy to get to from the United States. It's safe and there's so much to do here.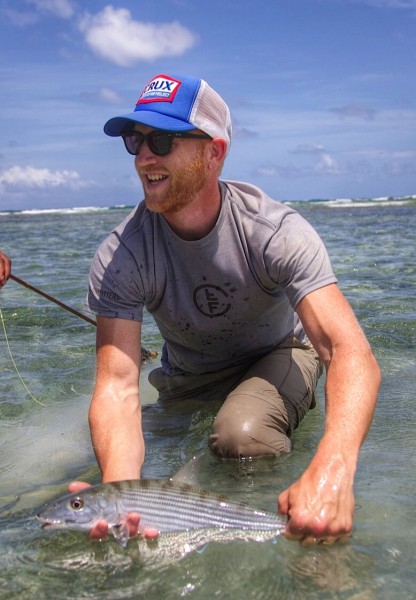 Then David Stockton and Bucky Buchstaber came a calling for a Permit & Bone saltwater trip and the famous fly fishermen Bucky Buchstaber, landed some nice bones and can I hear a drum roll ladies and gentlemen…..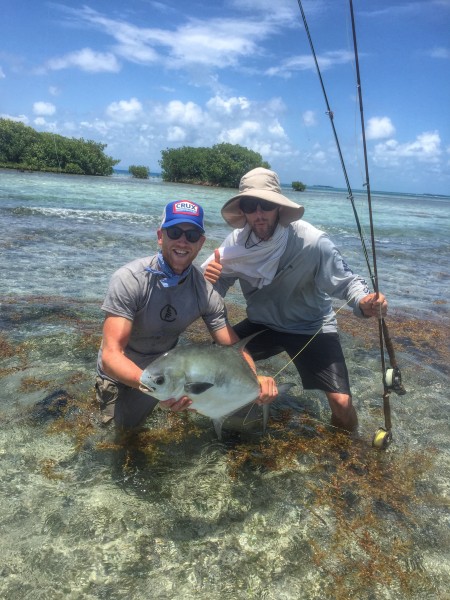 This lovely and very sexy permit that must of weighed about 8 to 10lbs I'm just guessing. This Hopkins Belize area for permit is the best! Daily we jump an average of 7 schools of permit per high tide, then we head for the bones or tarpon.
Thanks David and Bucky for calling on,  Jack Trout Fly Fishing International Belize.
"We caught fish in what has to be one of the most beautiful places in the world…"
Jack Trout Fly Fishing with Captain Lloyd 'N Crew in Hopkins Belize will get you where you want to be, feasting your eyes on the fish in the flats. Lloyd doesn't have a lot to say, but the experience speak for itself. And Jack Trout takes this business very seriously. Take it from two pastors, these guys know flat fishing in Belize.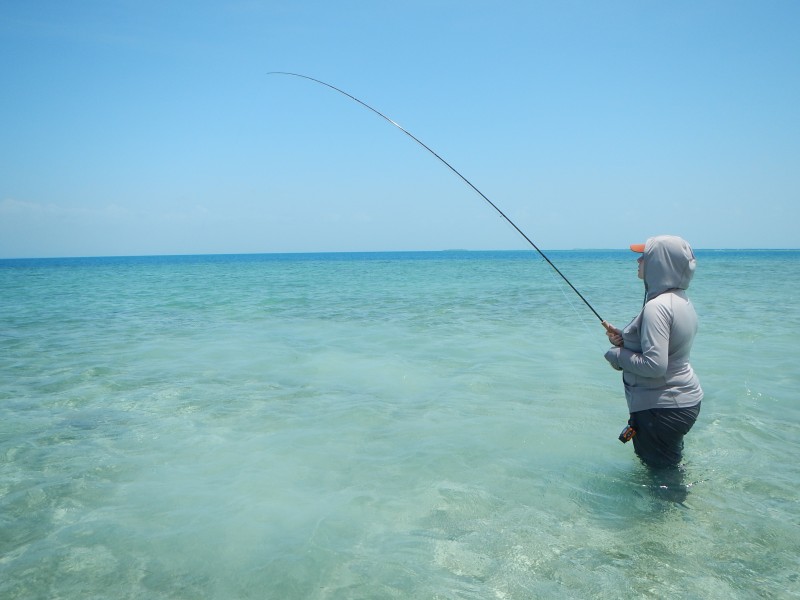 Soon Anne and her husband Scott arrived for their honeymoon together, they were so happy to be there and out fishing and enjoying the views.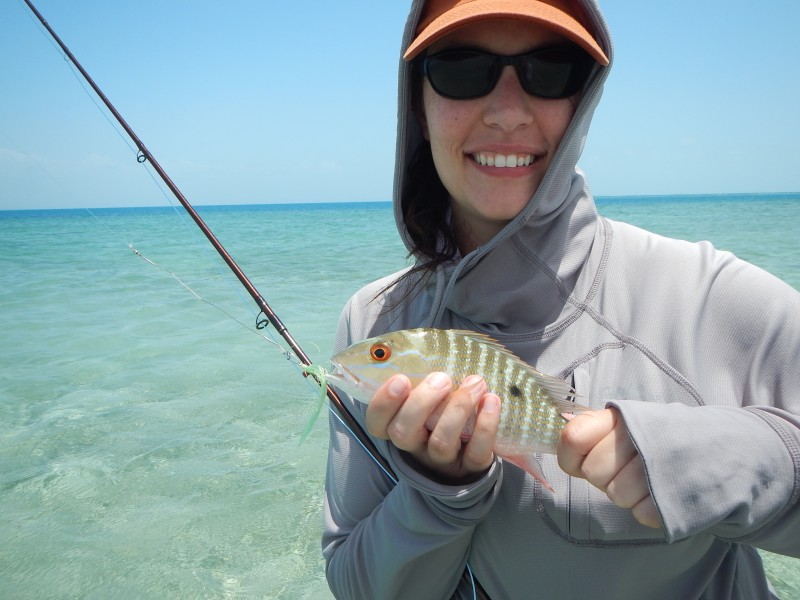 As Scott was pursuing permit, I worked with Anne blind casting in the flats where I knew there'd be fish. She hooked this snapper and then she got a big surprise.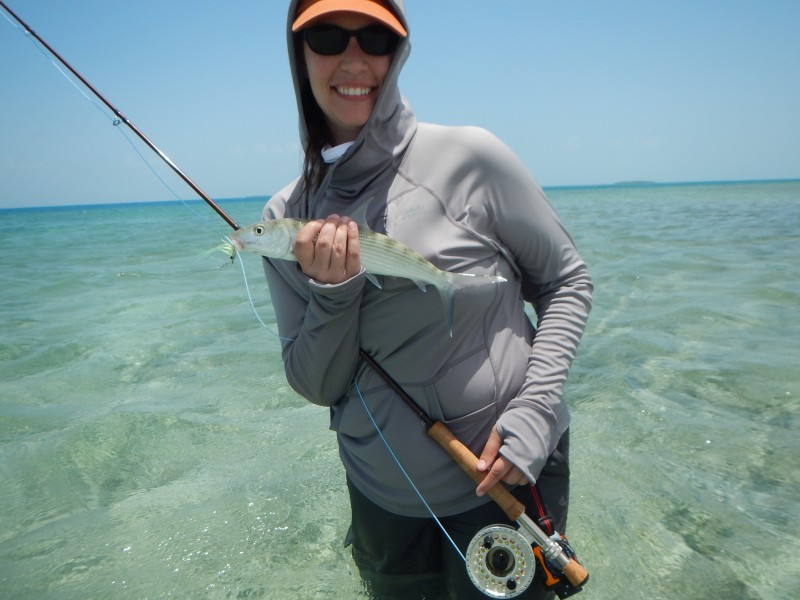 Anne hooked her first bone fish on a fly rod and it gave her a big fight she won't soon forget.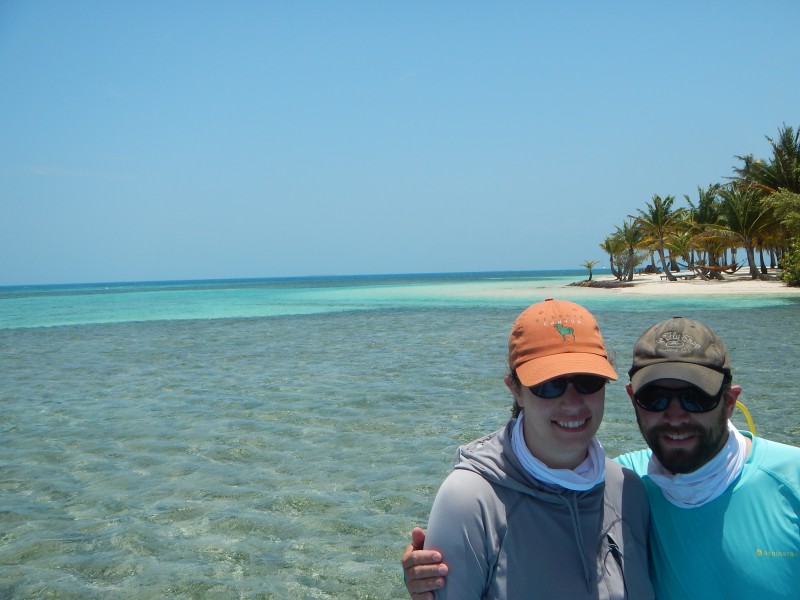 Happy couple here in the sweethearts land of tropical dreams, Belize is a place for lovers. congratulations you two!
Jack & Carola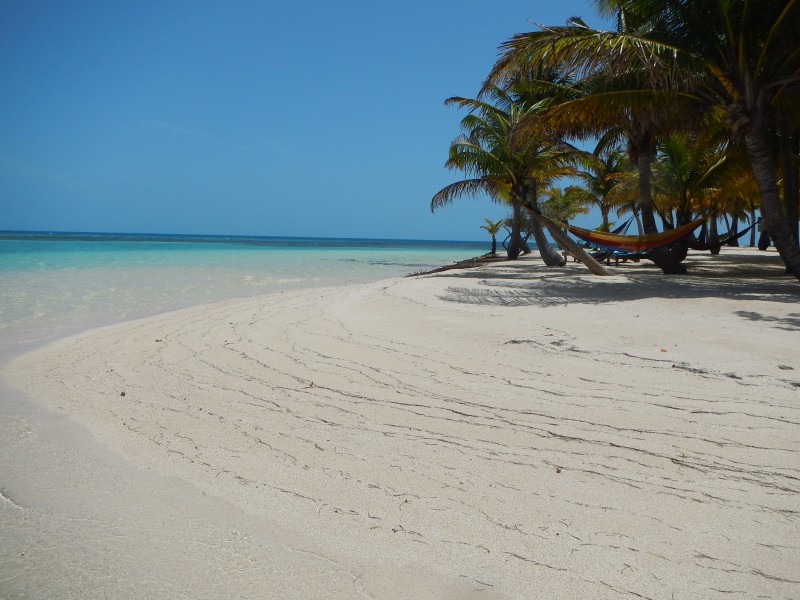 Can't beat that folks!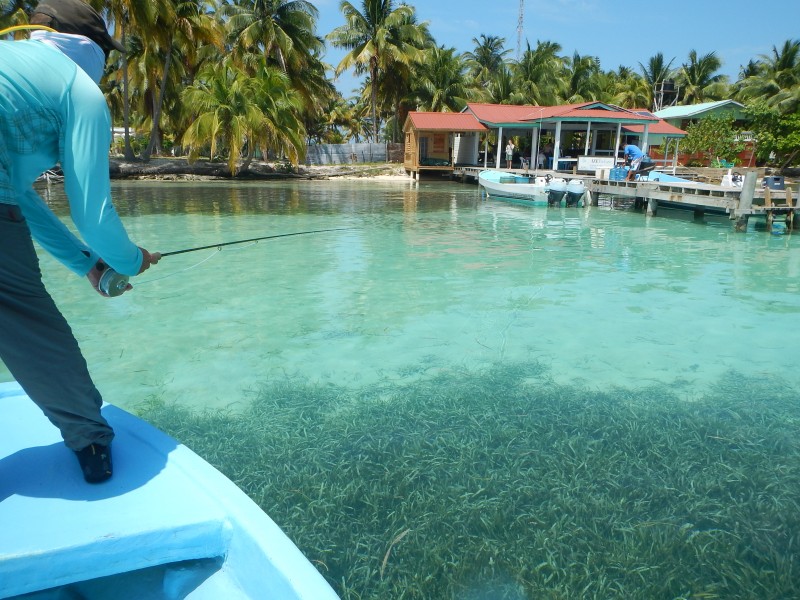 Schools of bone fish in South Water Cayes proved to be tough.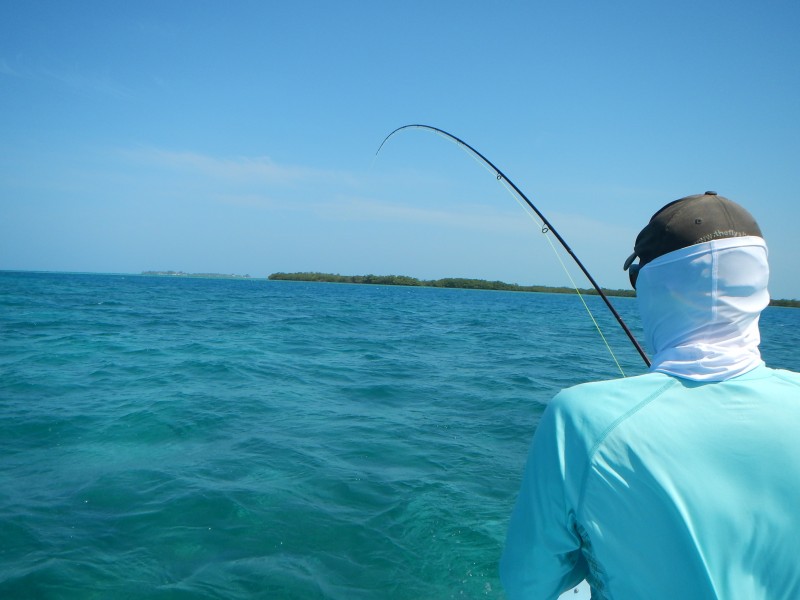 Out in another location where it was deeper, we hit silver and Scott had a rocket on his hands.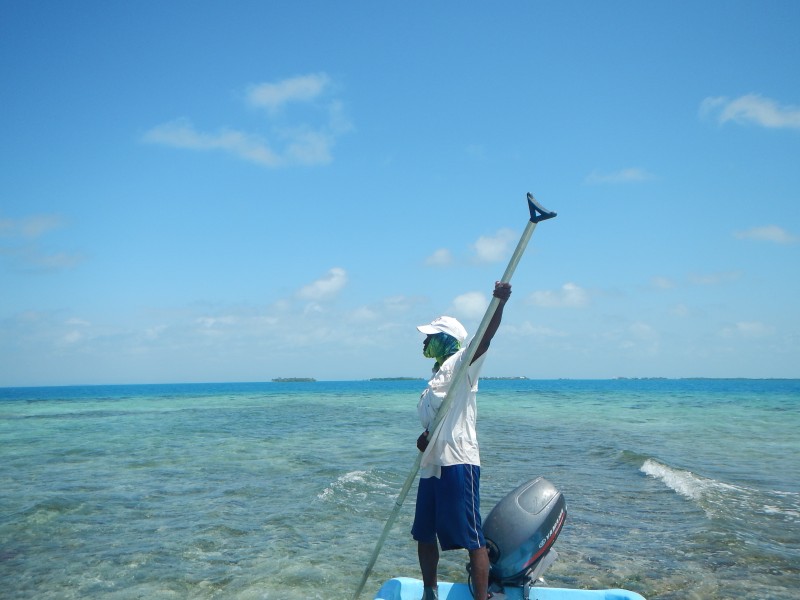 Lloyd pushed me out looking for permit then we saw a group of nine and I casted into them, Then Lloyd said, "take two strips Jack – STOP!" Take two more stripes – Stop!" Lloyd he's got it!!! Fish On!!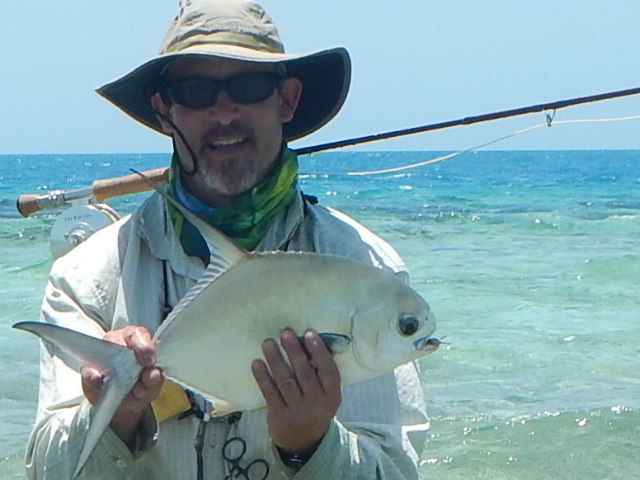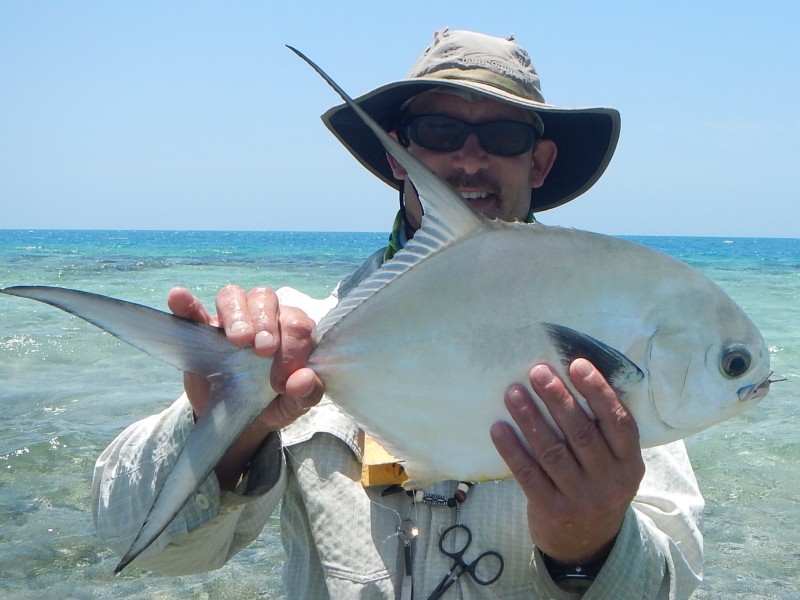 It was a pleasure to catch this incredible permit that gave such an amazing fight, almost spongy when I finally turned his head in the water, a feeling I haven't ever felt on a fly rod before.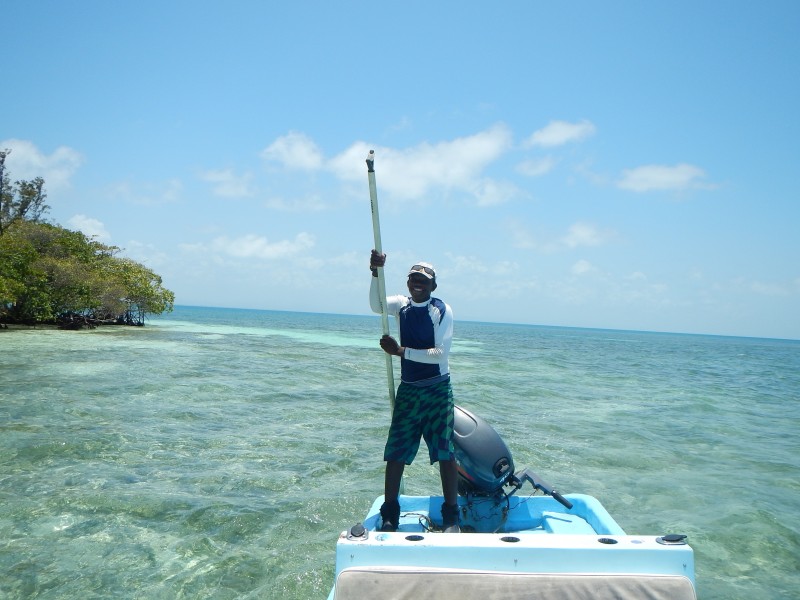 Marlin, Marvin's boy who was one of the best permit spotters. Most of my clients were commenting on how that kid could spot permit like Superman sees through Lois Lane. He spotted my permit, that I got! Way to go Marlin, keep going out with Uncle Lloyd.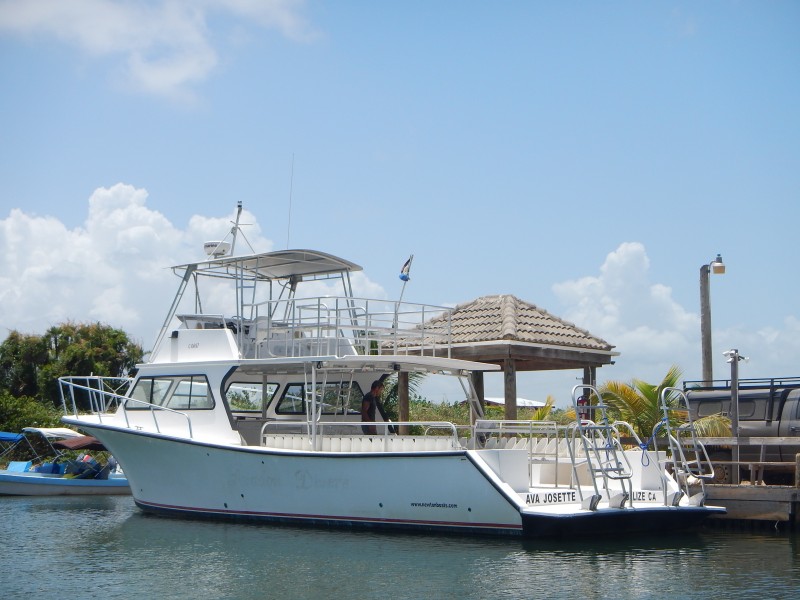 I have access to rent out this boat for 15 people for a trip out to Glovers Reef.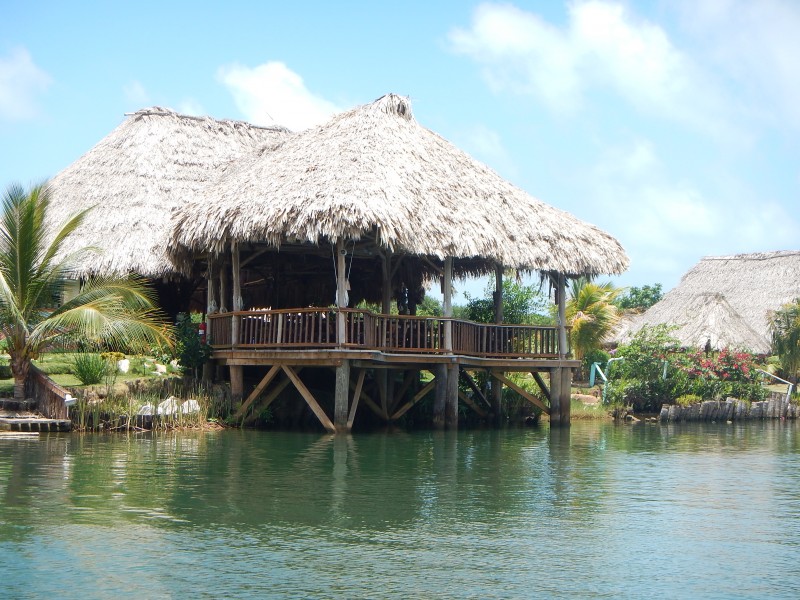 Marina Pub a locals favorite past time bar.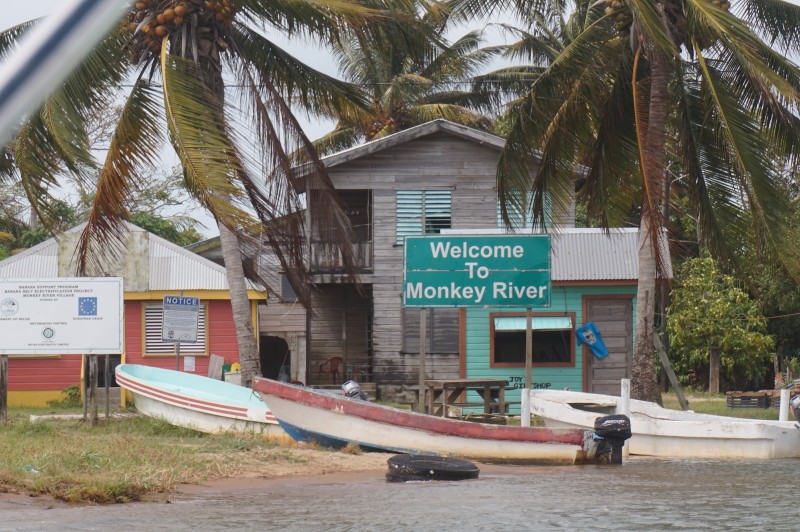 Then we drove down with Charleton & Clarin to Placencia to go up the Monkey River and see the Howler Monkeys.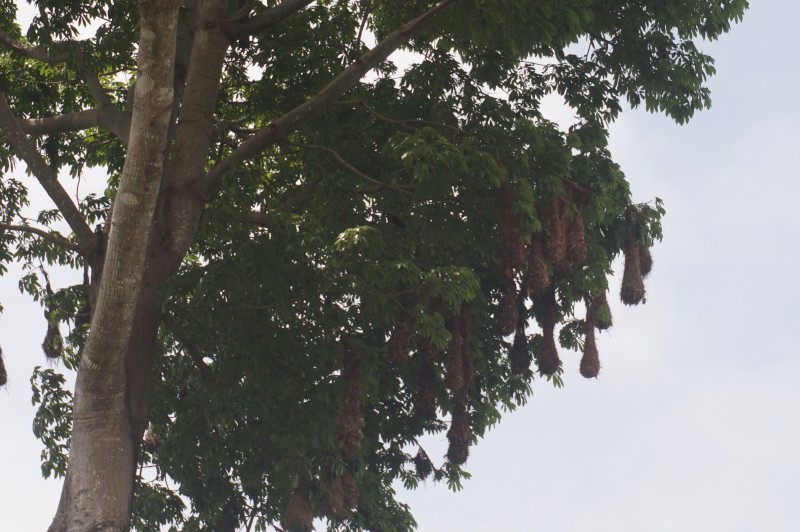 It turned out to be much more interesting than ever expected, these nest in the trees are woven by birds that make these nest that sustain hurricane force winds and survive.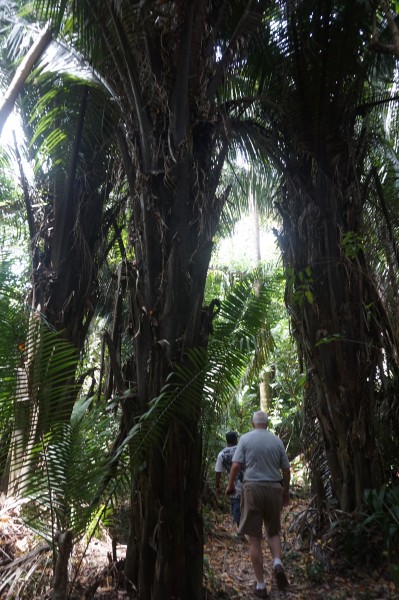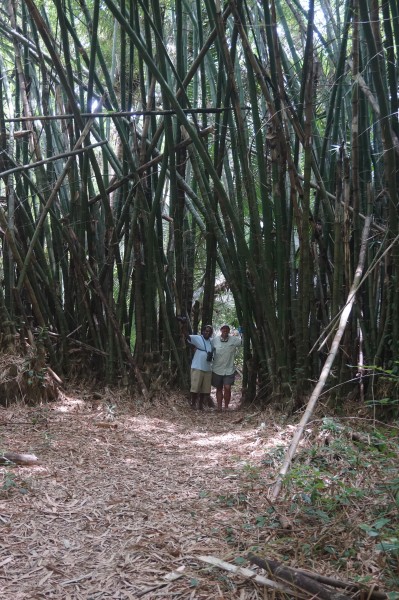 We got out of the boat and hiked up the jungle, I had never been in a jungle with so much open space, it was like out of an episode of Gilligan's Island. Then we could hear the monkey's as we got more into the jungle away from the river. Me and Charleton laugh hard as we walked through this bamboo doorway, naturally made here the jungles of Belize.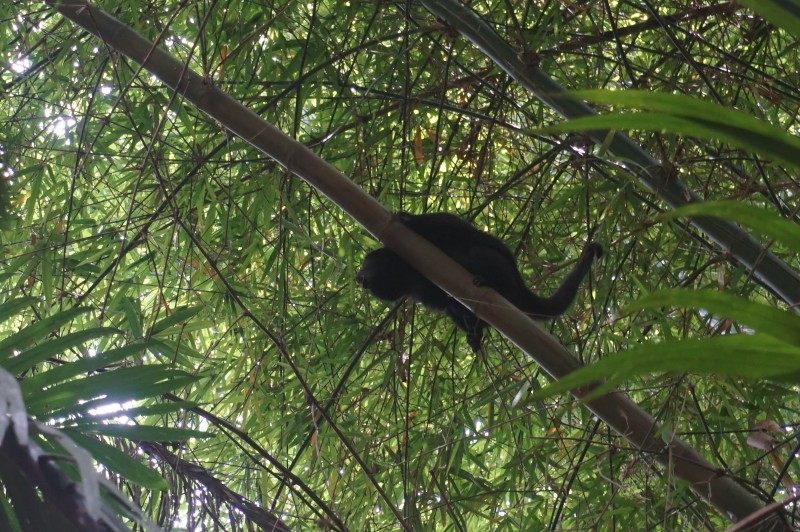 Then I looked up and there was the monkey right above my head, I saw why they call them Howler Monkey's.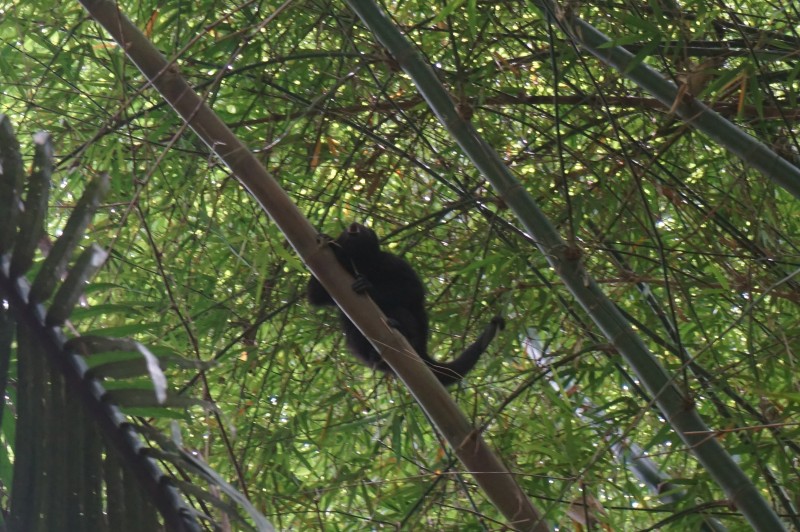 He was upset because we forgot the bananas, I knew we needed to stop off and bring him in a crate of Del Monte.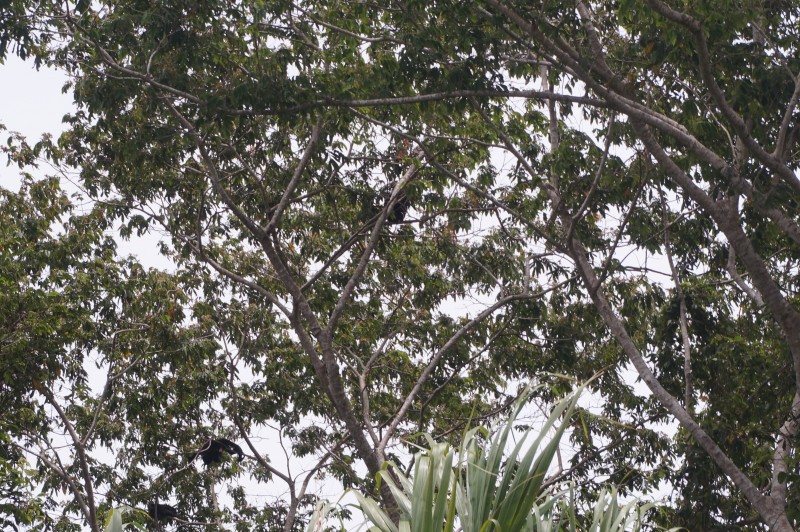 Everywhere in the trees we saw monkey's, I was singing in my head, "Take the last train to Clarksville and meet you at the station." It was great! I suggest we do this trip if you come down and we can set it all up for you.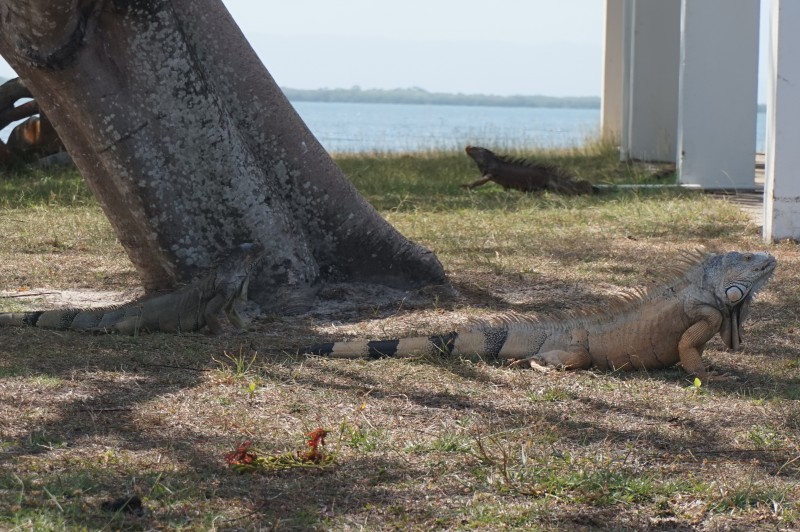 We like the all the company we saw that day, very relaxing and low key if you ask me.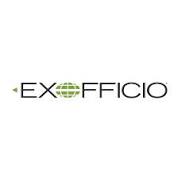 Big Thanks Goes Out To Exofficio Bugs Away Saltwater Clothing For Sponsoring All Of Our Clothing For This Trip To Belize.  Exofficio – High Performance Outdoor Clothing.
So that's our adventures in Belize ranging for about $3655 per person for ocean front rooms at a 5 star resort. 3 meals per day, 5 days guiding or touring.
Or a house package for $2750 per week, 5 days guiding or touring, all lunches included. All trips are double occupancy. Single day trips for one or two anglers is $450 includes lunch and all gear.
Let Jack & Carola Trout help plan your trip to Southern Belize * Give us a call at 530-926-4540* www.jacktrout.com * info@jacktrout.com