* BELIZE FLY FISHING TRIPS ARE UNDERWAY NOW *
                                                     STILL HAVE SPACE IN APRIL, MAY & JUNE  2015
530-918-8879 OUR INTERNATIONAL PHONE THAT RINGS ME ANY WHERE OR EMAIL AT INFO@JACKTROUT.COM
Need an up to the minute update? Check out our Facebook Page & Videos –   JACK TROUT FLY FISHING FACEBOOK PAGE
We got home, unpacked our bags, looked around everything looked great and as soon as I could I got the raft put together for the Upper Sacramento Fly Fishing Float. I love this trip through the Sacramento Canyon. It was so good to be back home in Shasta and it was evident that spring was peeking it's head over the horizon as the leaves were now seen as buds on most of the trees at the 3800 foot elevation level.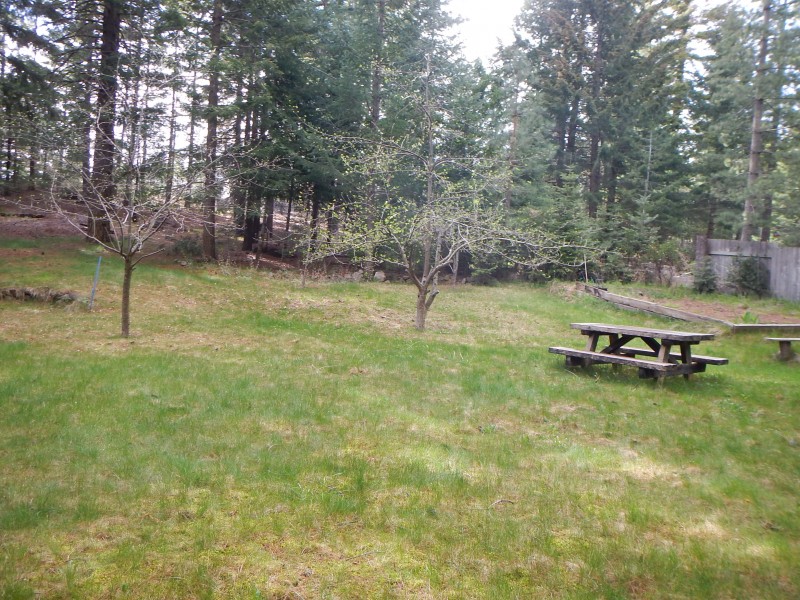 Backyard looking good from a very light winter in the Mount Shasta, California area.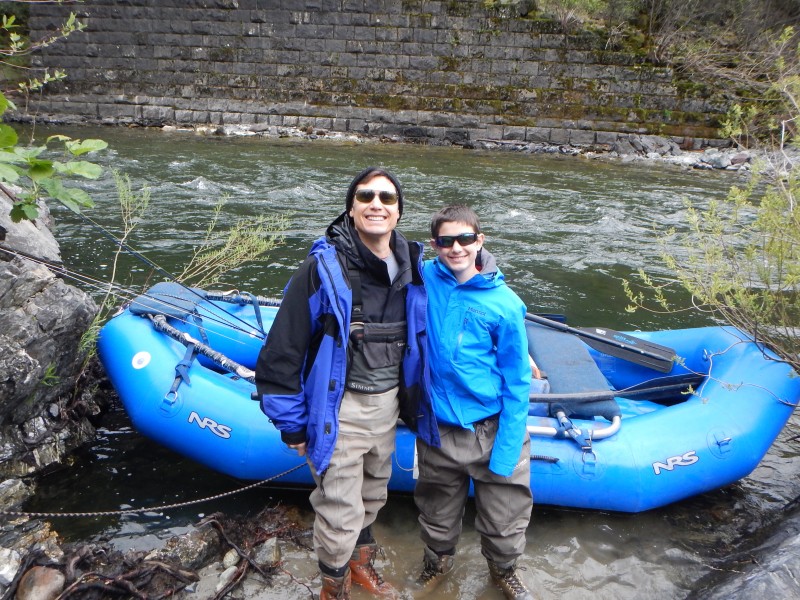 The first trip was a dad and son from the Sacramento area who were excited to do this float on the Upper Sac.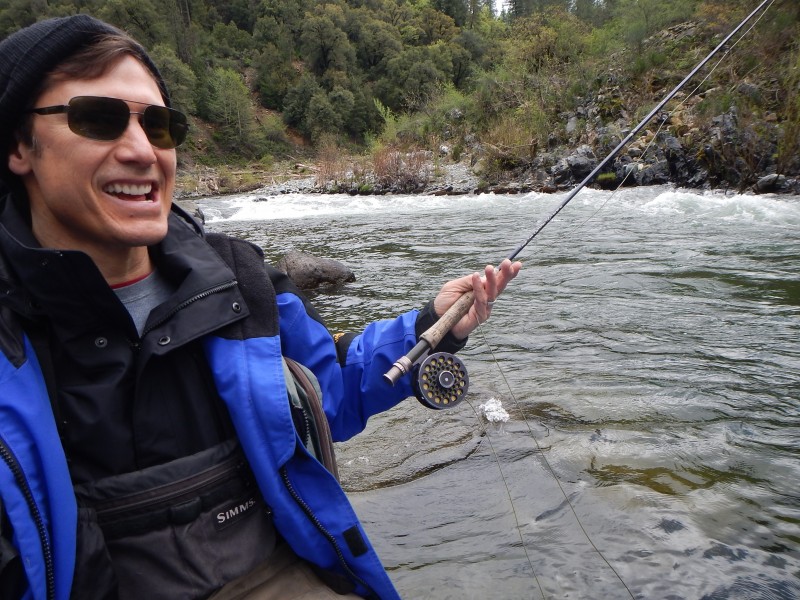 The flows are always good and rivers a nice place to unwind and get back to nature.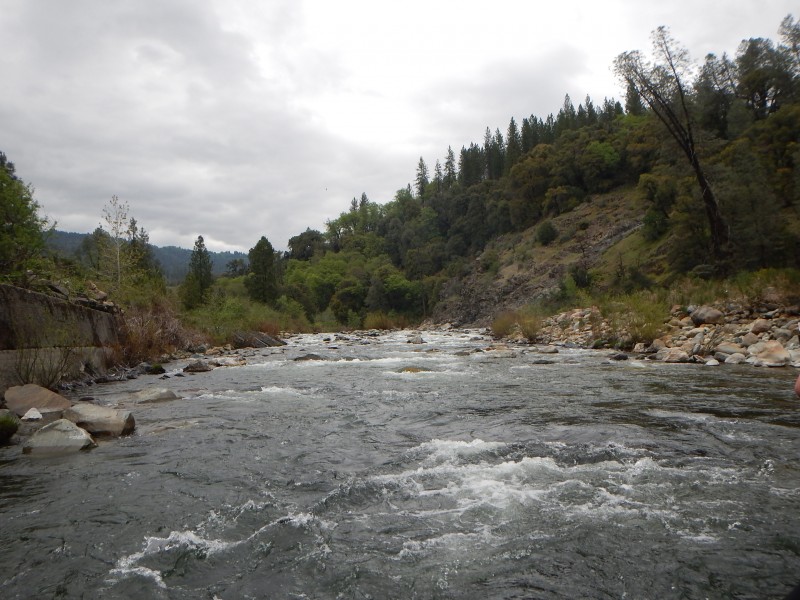 This float trip is fun because we not only catch trout, but get to experience light white water action like this rapid called White Horse that's a real hoot.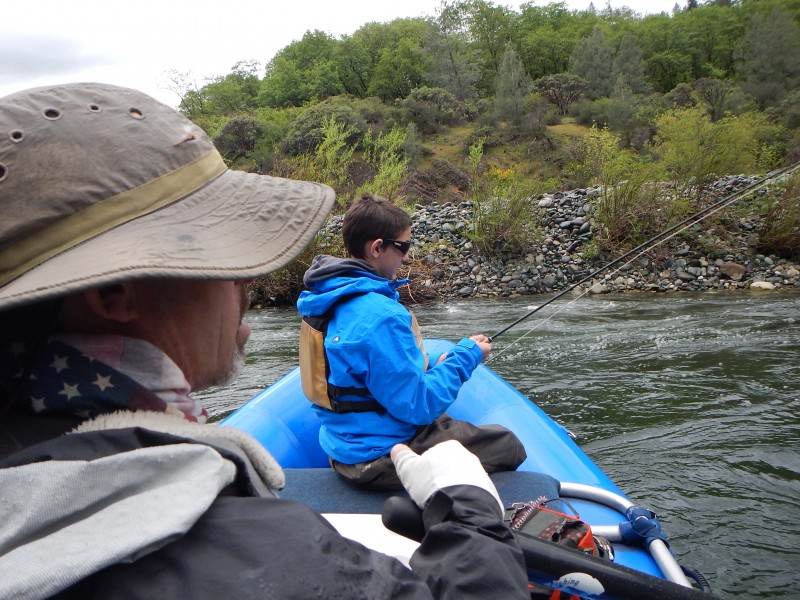 Great trip for young kids and their parents, they get to experience so much.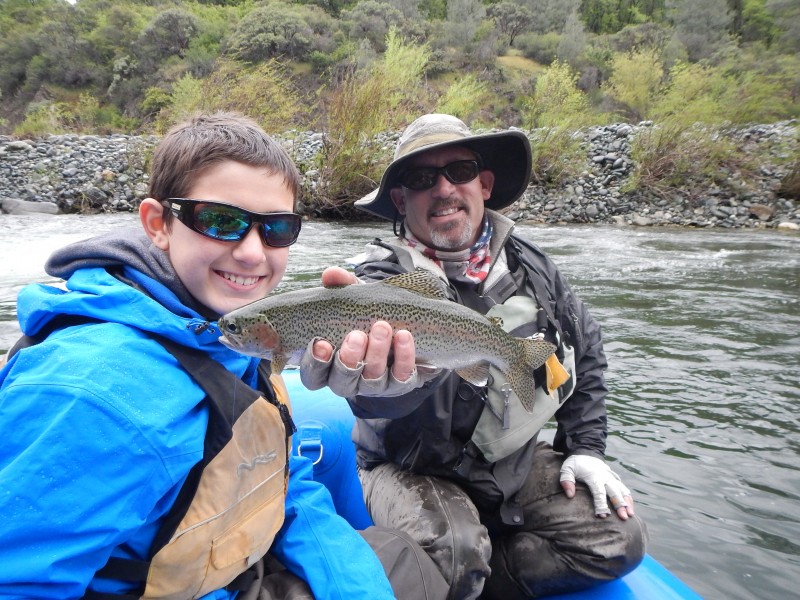 Now that's what i'm talking about, good clean fun that lasts a lifetime in the memories of a kid and his pops out looking for new adventures!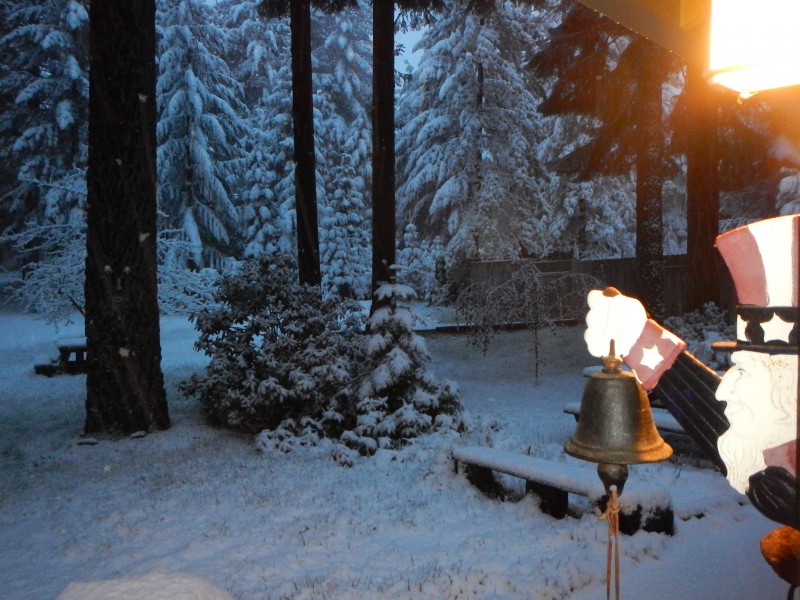 Then just like that, 3 days later like we brought the weather back with us from Chile. (It was raining hard when we left.) It snowed the biggest and the only storm of the season. It was awesome, all that snow repacked the mountain and rebooted the river flows as I then had plenty of water to do my raft trip at the best flows for catching trout. It was like a gift from the Sky Pilot herself,Mother Nature, what a babe!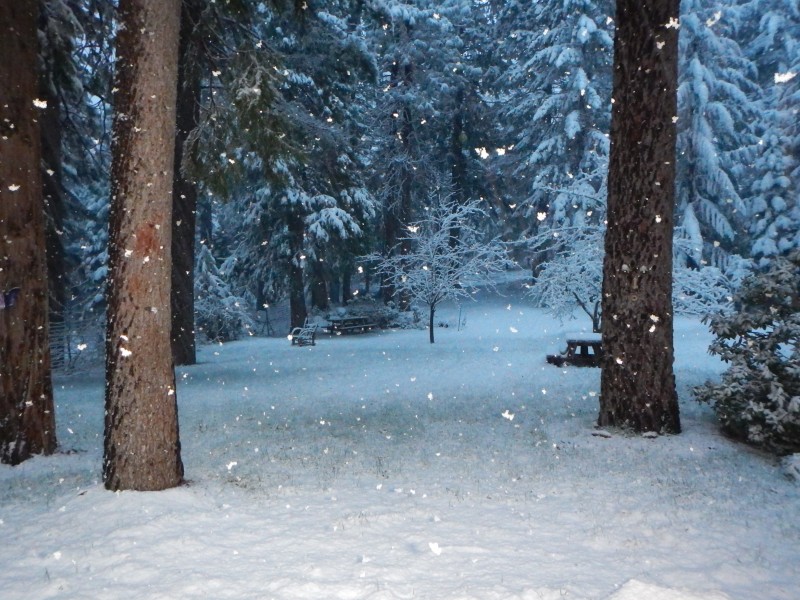 Snow falling like when I was a boy growing up in Portola, California, the fifty cent Ben Franklin snow flakes we all remember as kids. It was like out of a movie, and the cool blue winter colors and the sound of silence that filled the air with soft occasional whispers of snow sinking into itself comfortable.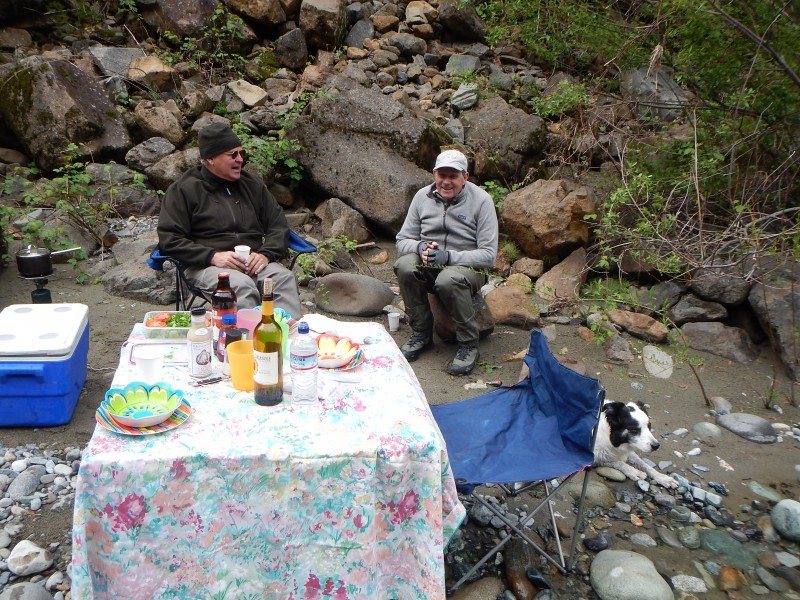 The next day was Howard Nestell and his friend Jim Huebner who came up to float with the Beef and me. It was good to be back on the river with my best friend Beef dog.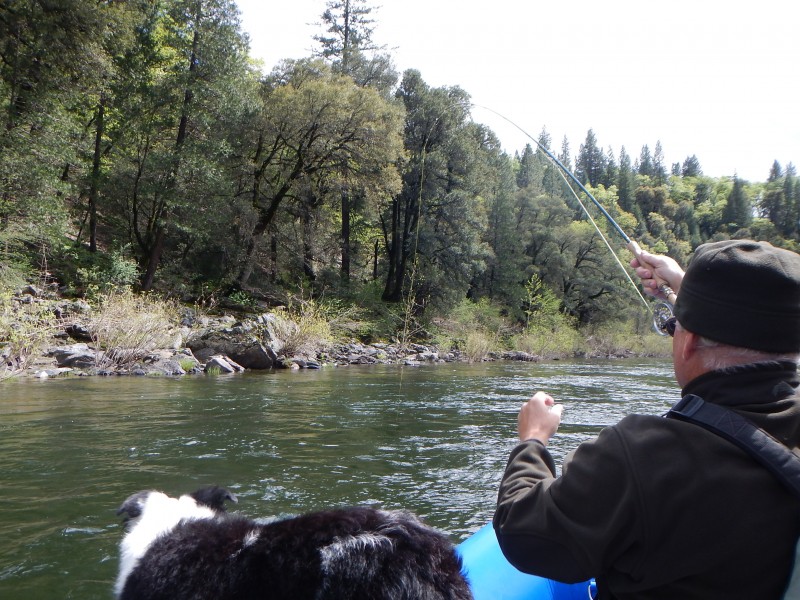 After a great lunch, fish on !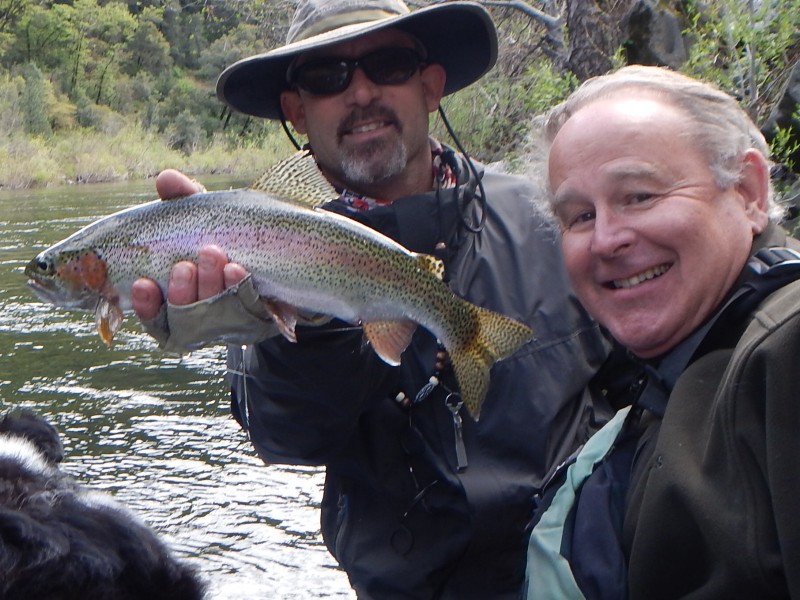 Now that's a fine Upper Sac Trout folks.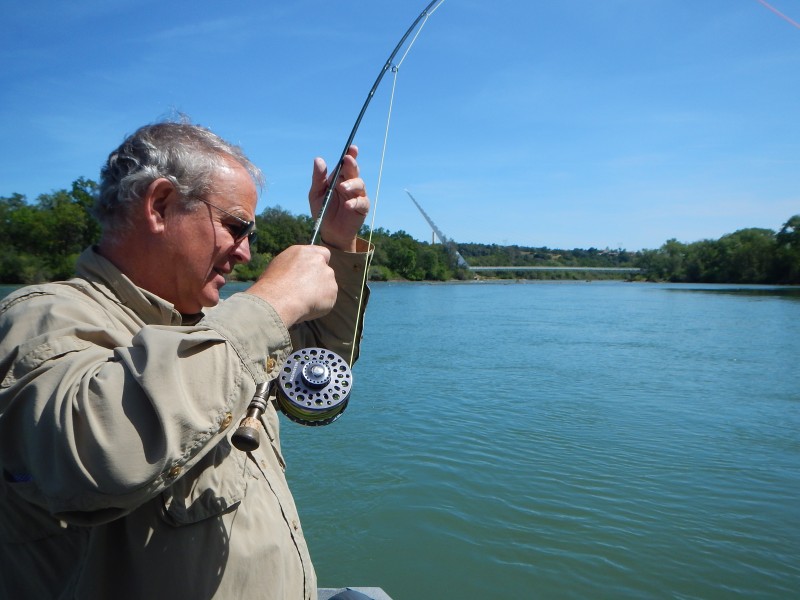 Down on the Lower Sac the next day, the big trout bite was on.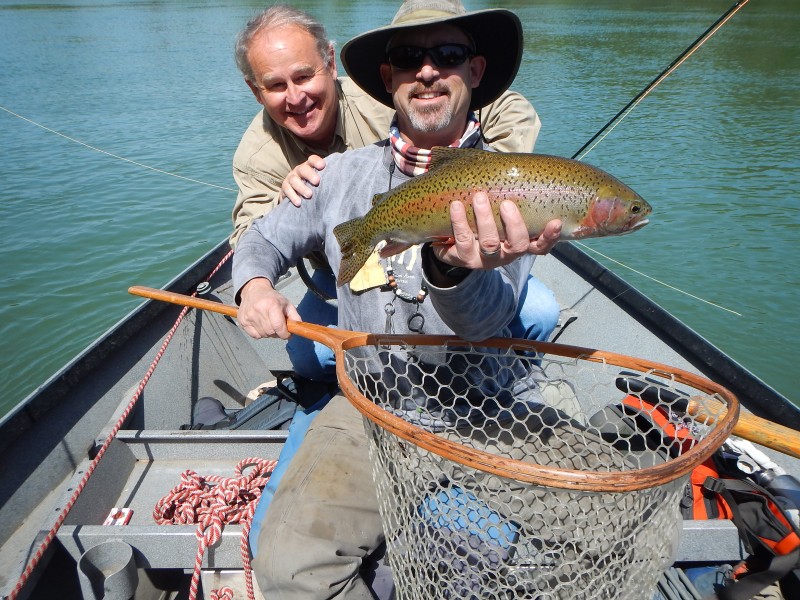 That's a great trout Howard, congratulations!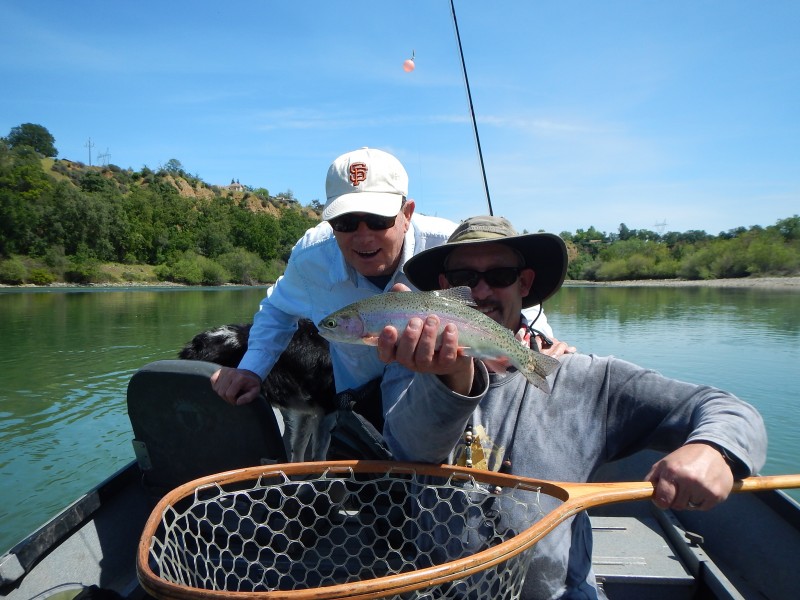 Jim gets into the action with this scrappy trout, that pulled hard.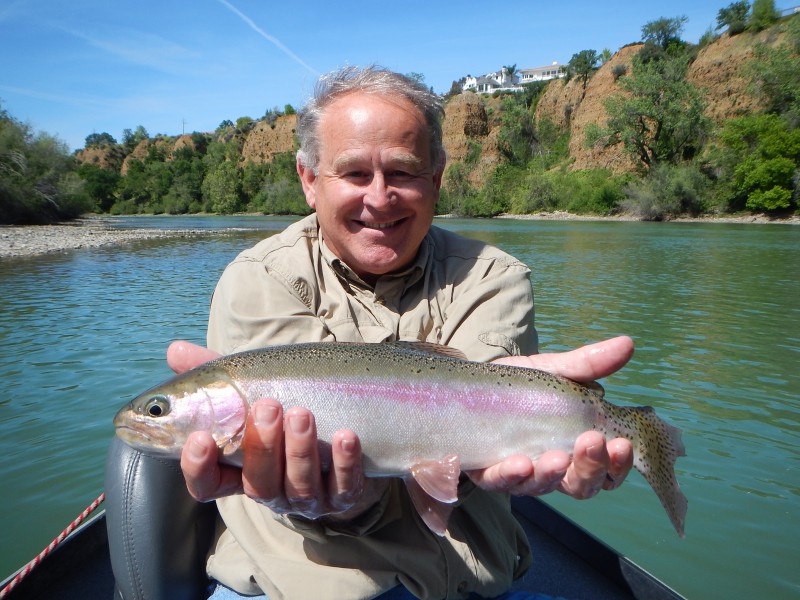 Howard then hooked into this lunker trout that day on the Lower Sacramento River in Redding, California.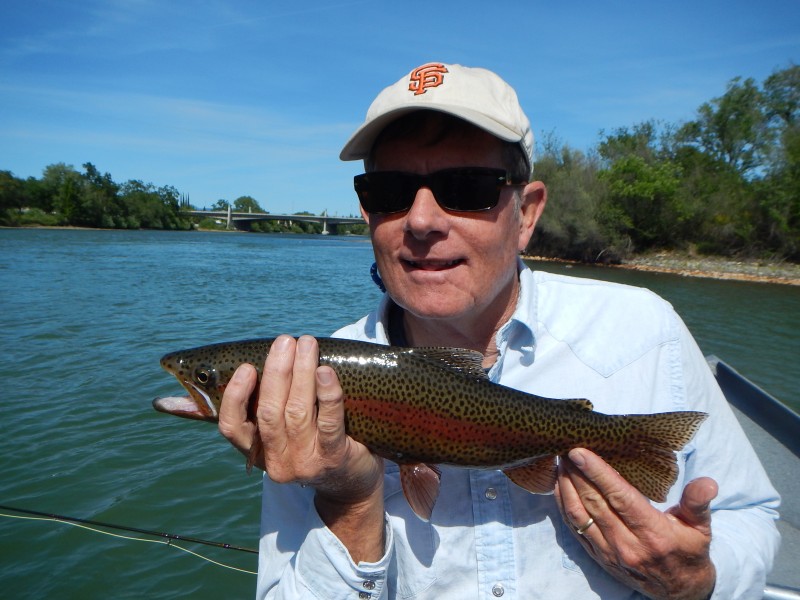 Love those red stripes, nice leopard spots too.
Then Jim landed this incredible trout by anyone's standards! This had amazing colors and fought  like a heavy weight champ.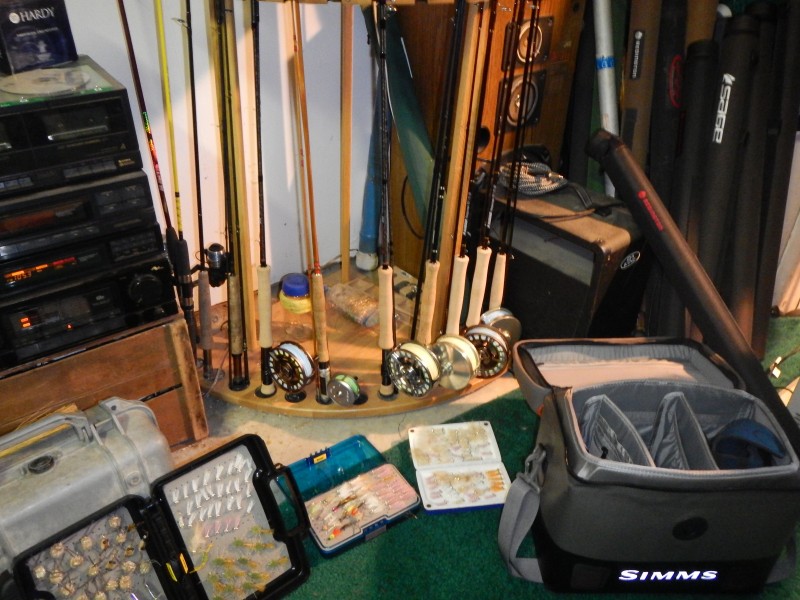 Getting ready for the big trip to Hopkins Belize from May 1st to May 22nd, stay tuned for those adventures!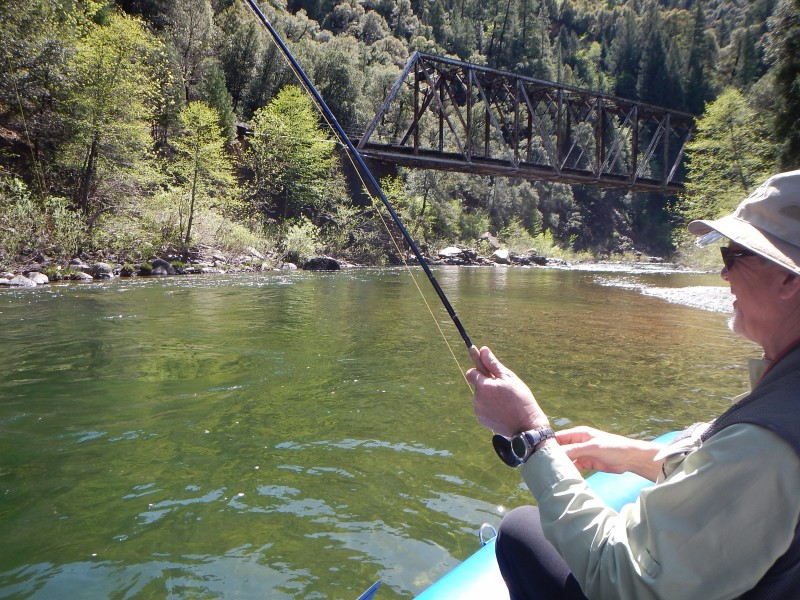 Local writer and fishing legend Chip O'Brien came to visit me this past week and catch trout on the Upper Sac Rafting fly fishing trip, it was a lot of fun.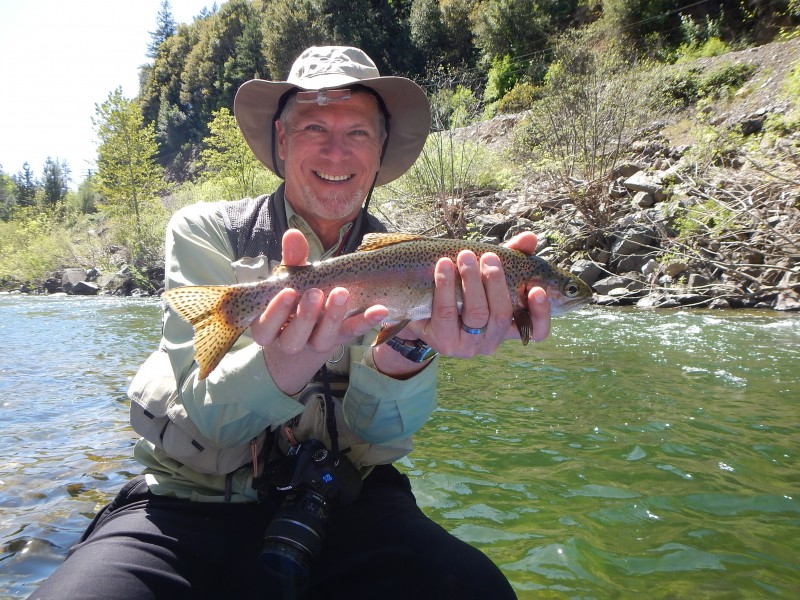 Nice trout Chip, thanks for stopping by and visiting the area, what a great day indeed.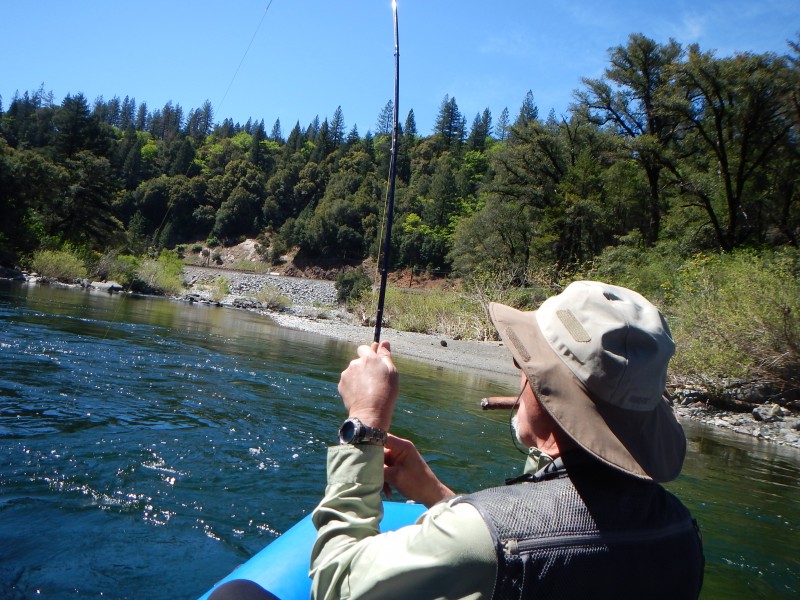 I just so happen to have a Cuban Cigar in my pocket and offered it to Chip, he loved it! Sure would be great to visit there with no restrictions, really doesn't make sense these days…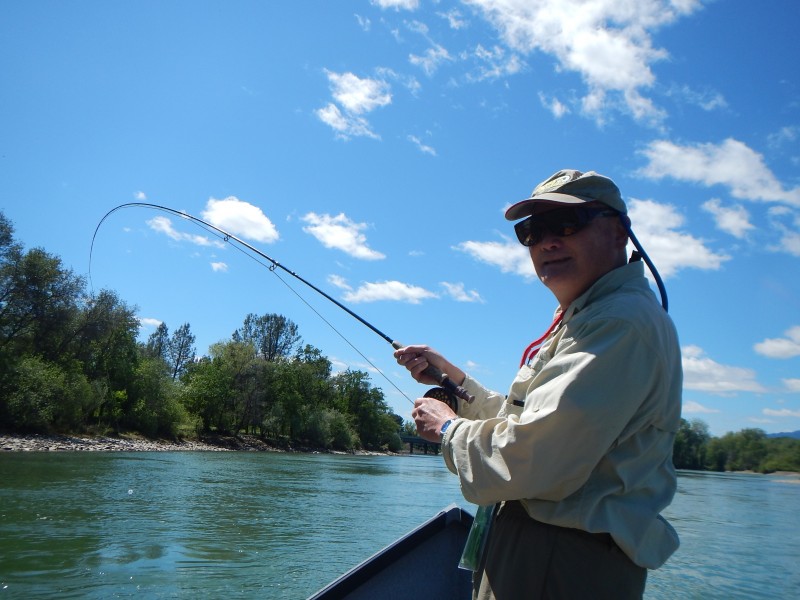 Then a man named Daniel Lee called from Mountain View, California and said he had been wanting to fish the Lower Sac for years and saw my ad and decided to call me.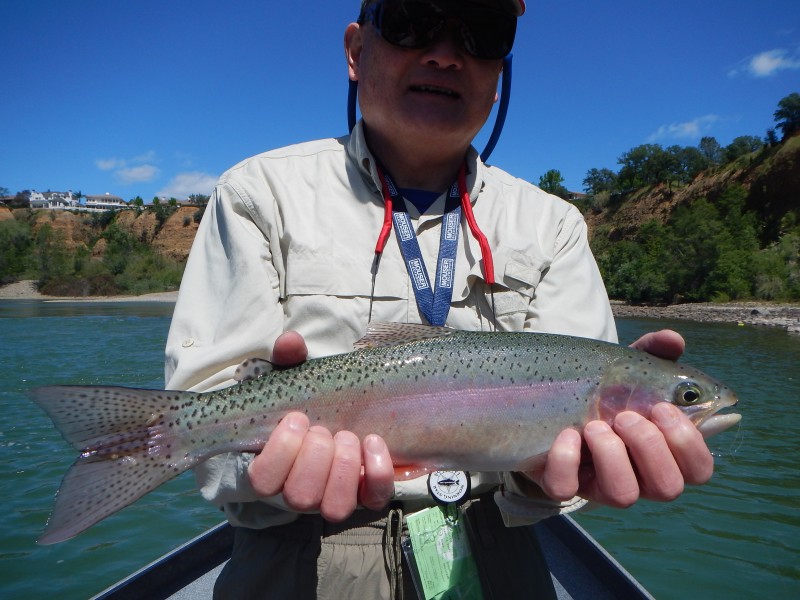 We caught so many nice trout on the Lower Sac it was awesome and had some great conversations about the world and foreign countries. Thanks Daniel!
The Mount Shasta Museum is hosting the Fly Fishing Film Festival on Saturday, June 13, (matinee at 1 p.m., evening performance at 7).
I am hoping you can get the word out to your contacts.  The price is $15/person.  There are free raffle prizes at each performance.
The films are high quality, award winning, with wonderful scenery and action.
Here is the website where you can see previews of the films: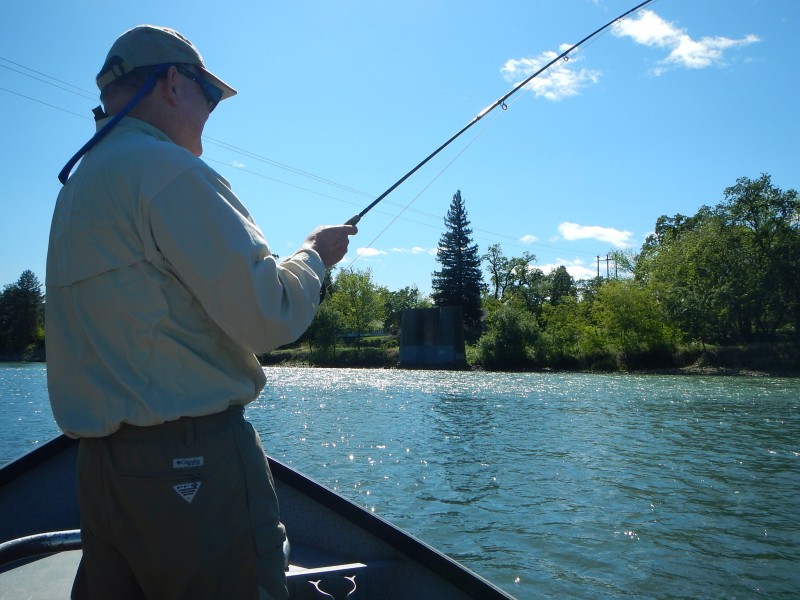 Daniel and I plan to fish together in the fall for steelhead on the Trinity and Klamath Rivers. info@jacktrout.com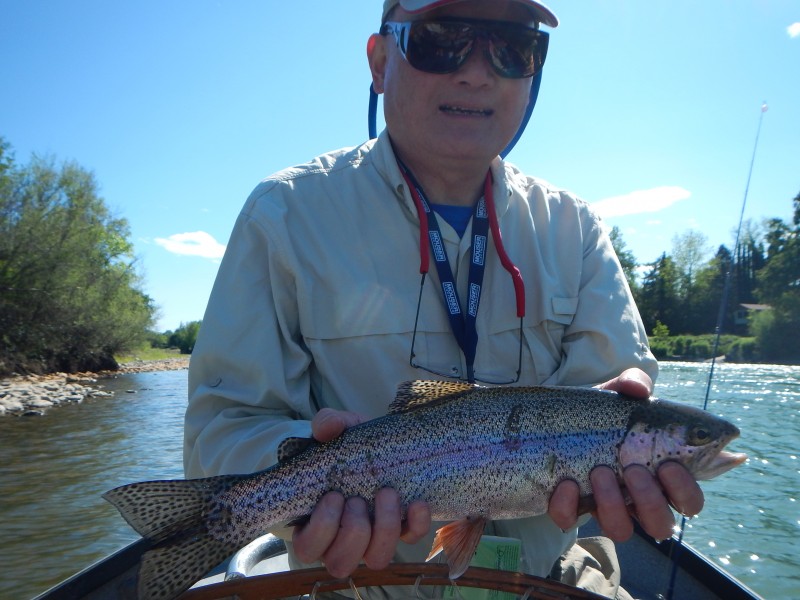 Thanks for coming up Daniel, had a great time using little flies.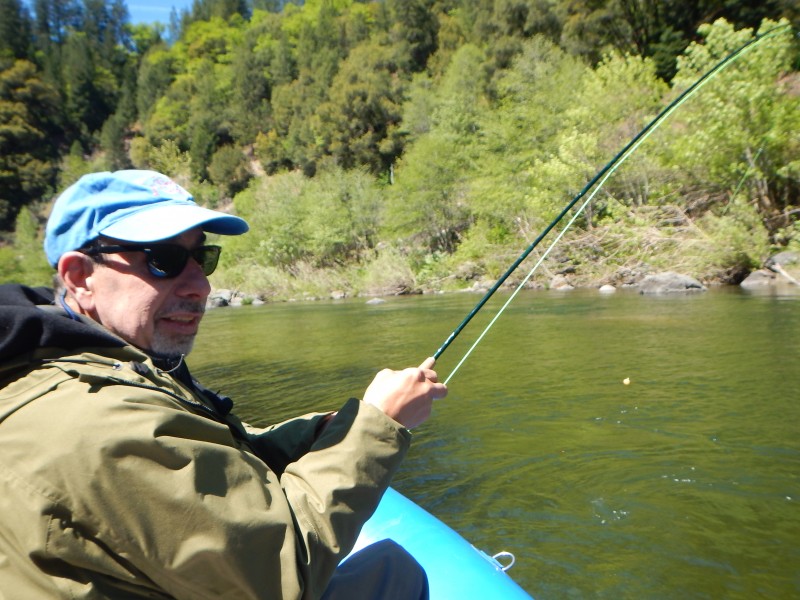 Larry Kamp from Lafayette called and came up wanting to fish two days with me, one day on the Upper Sac and one day on the Lower Sac.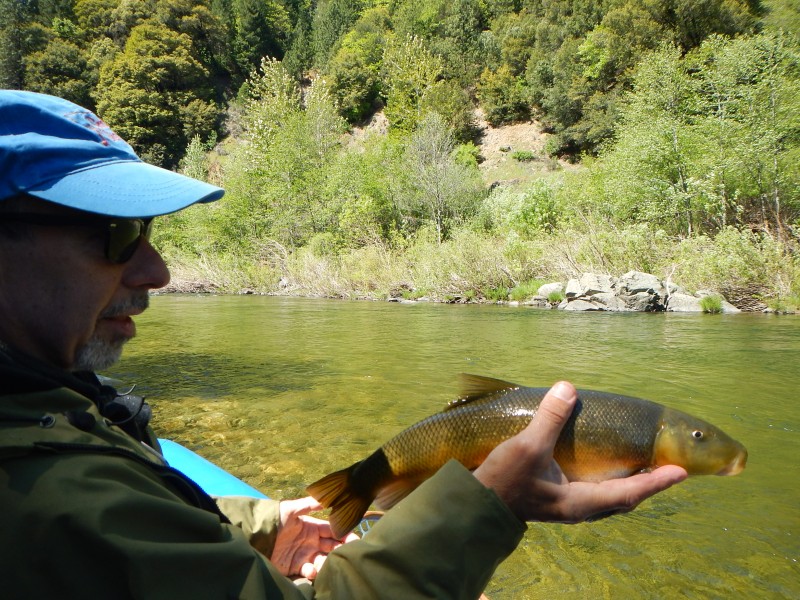 We caught a sucker that fought like a sucker and laughed hard about it.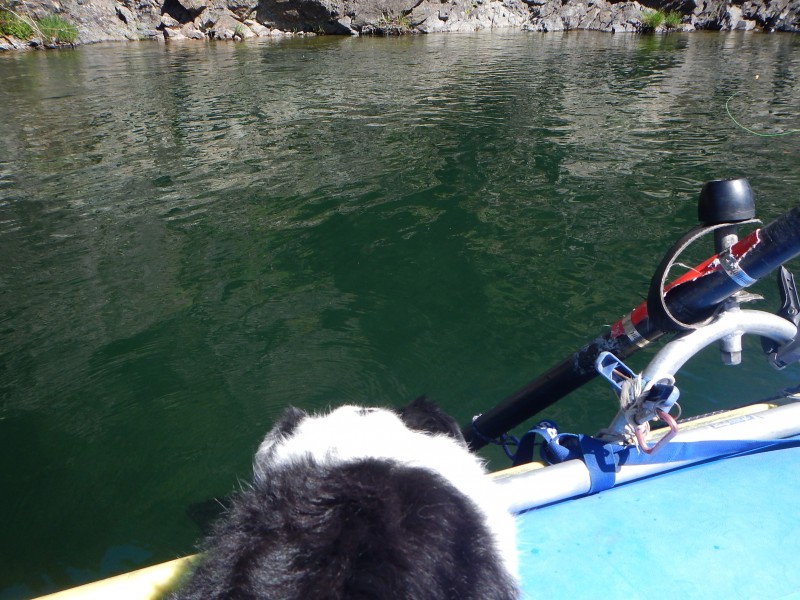 The fishing has been slower in the mornings but picks up about noon on all the North State rivers.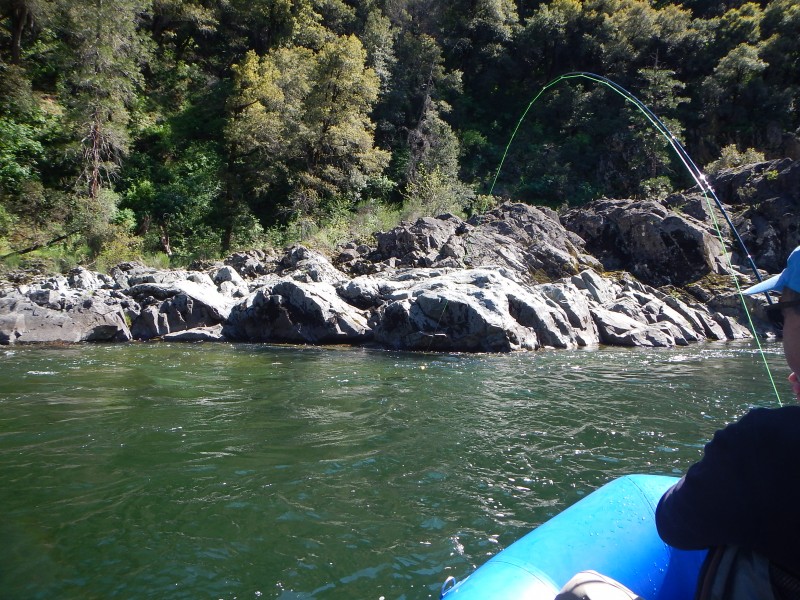 After we dropped down past White Horse, the river got real calm and deep and we hooked some great trout in this hole.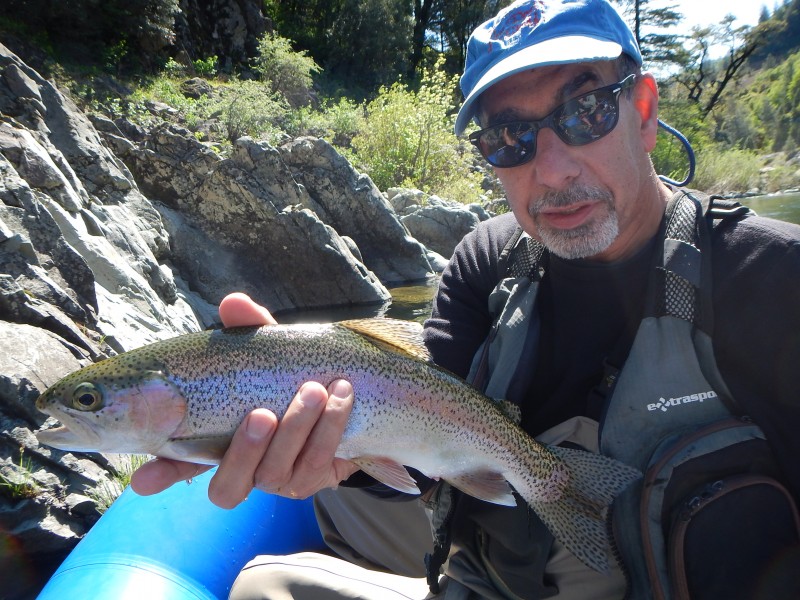 This has been a good year for bigger trout on the Upper Sac river.
Beef dog loving every minute out on the float, sees something out in the forest.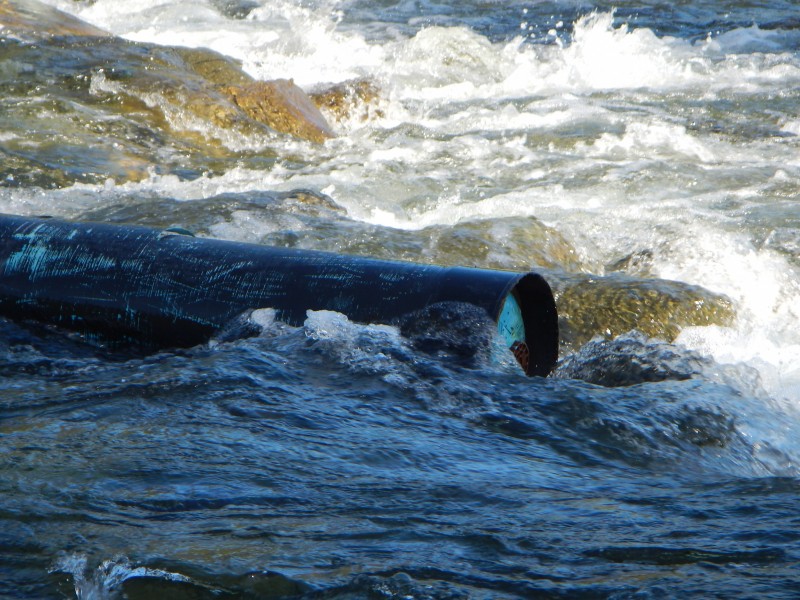 This gas tank out in the river on the Upper Sac up from Fender Ferry's Green Bridge, hope we can get it out of the river.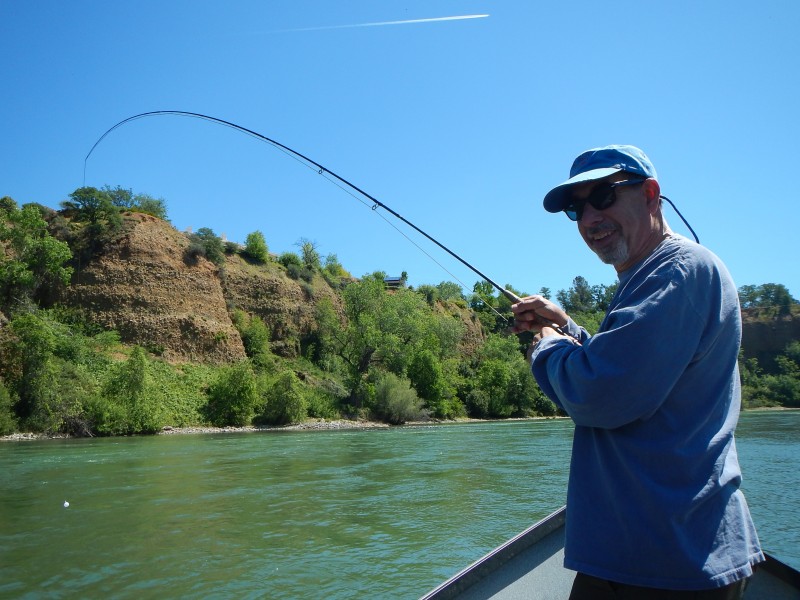 Larry hooking trout on the Lower Sac River this past week plans also to come back for steelhead fishing in the fall.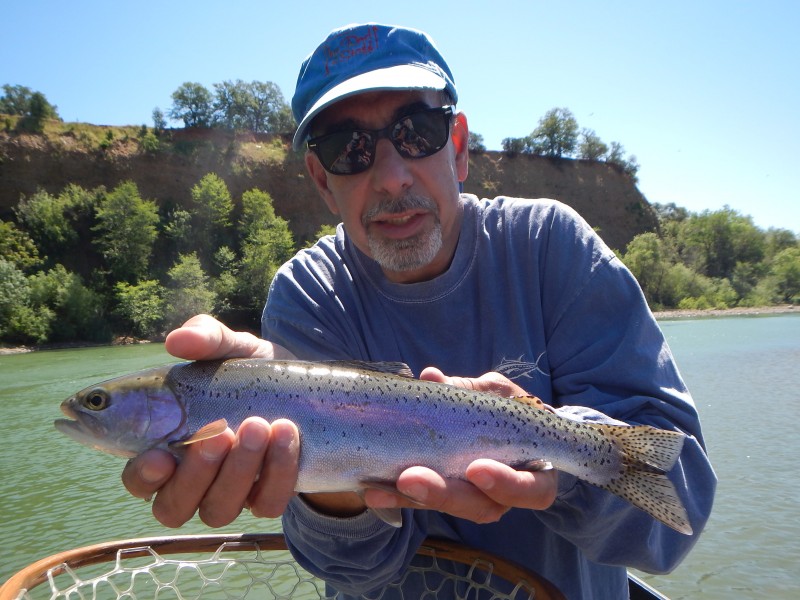 Oh, yea!  Thanks Larry, see you again later in the season.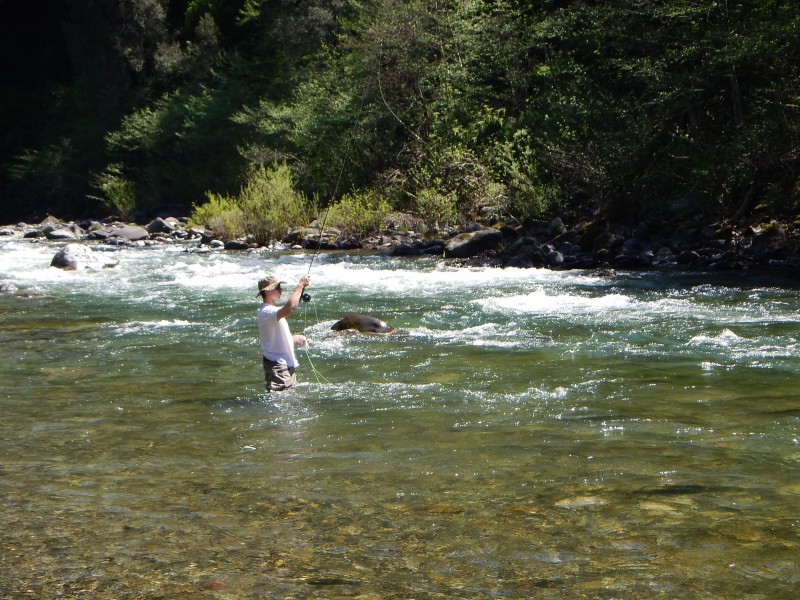 Then Jared and John Rogers came up to fish with me for two on the Upper & Lower Sacramento rivers. We're just waiting for the McCloud to open this weekend.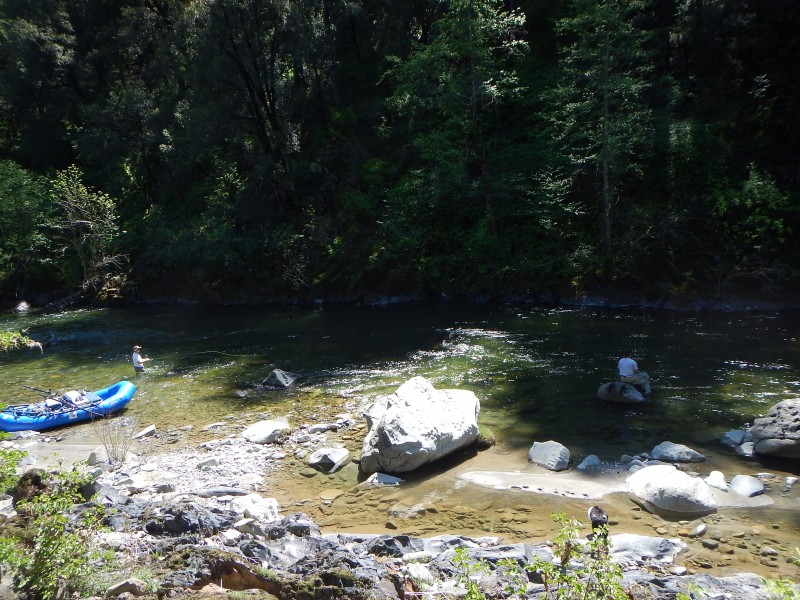 So we rafted the Upper Sac the first day and got out at the some awesome places and started hooking some trout.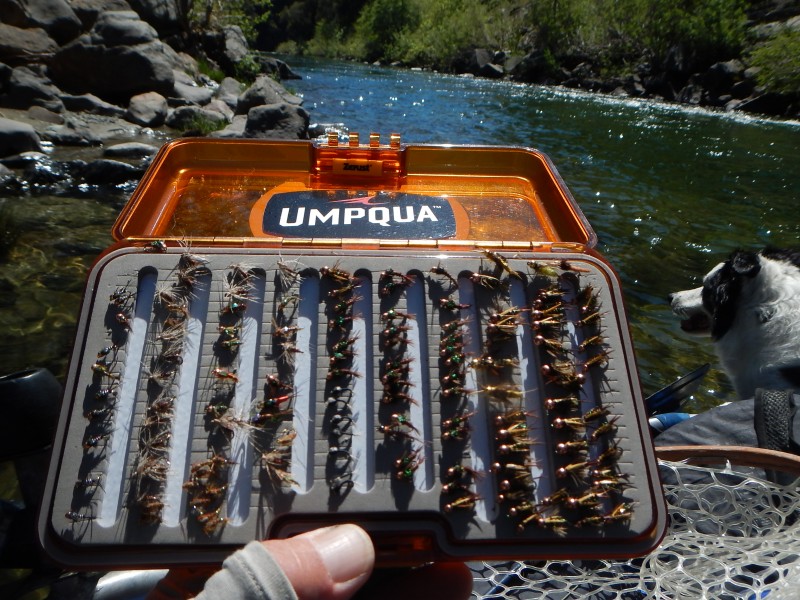 Thank you Umpqua Flies! www.umpqua.com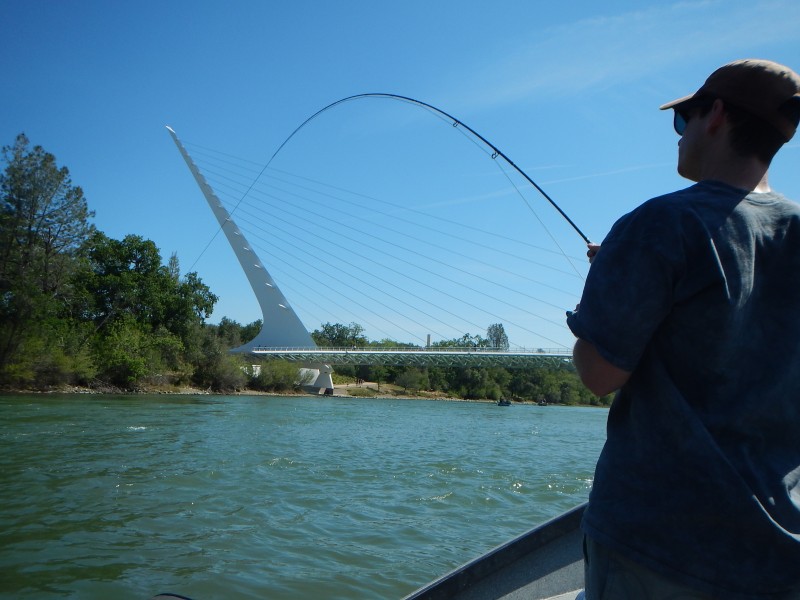 Then Jared starting hooking trout on the Lower Sac and I felt bad for dad, he was hooking a lot more trout. But dad didn't care, he was happy for his son and pretty soon, John started hooking all the trout.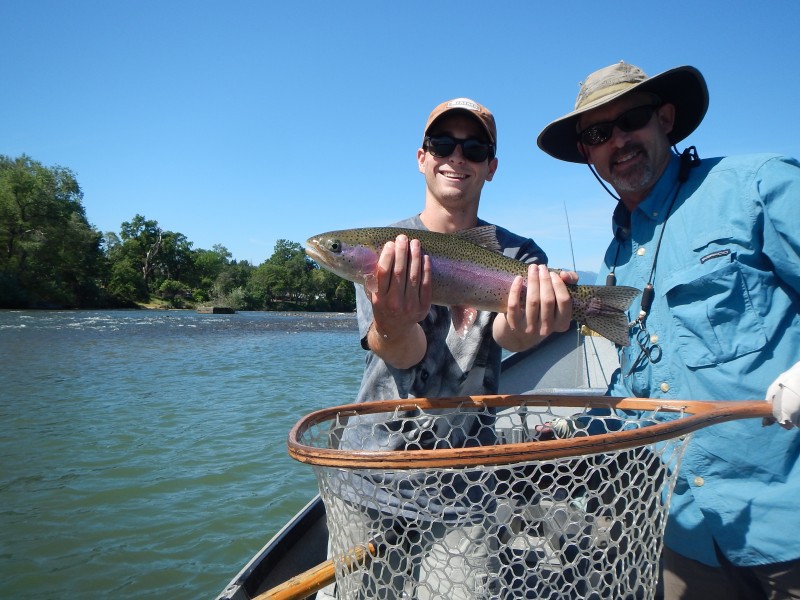 Now that's a trout worth bragging over, what a great catch Jared!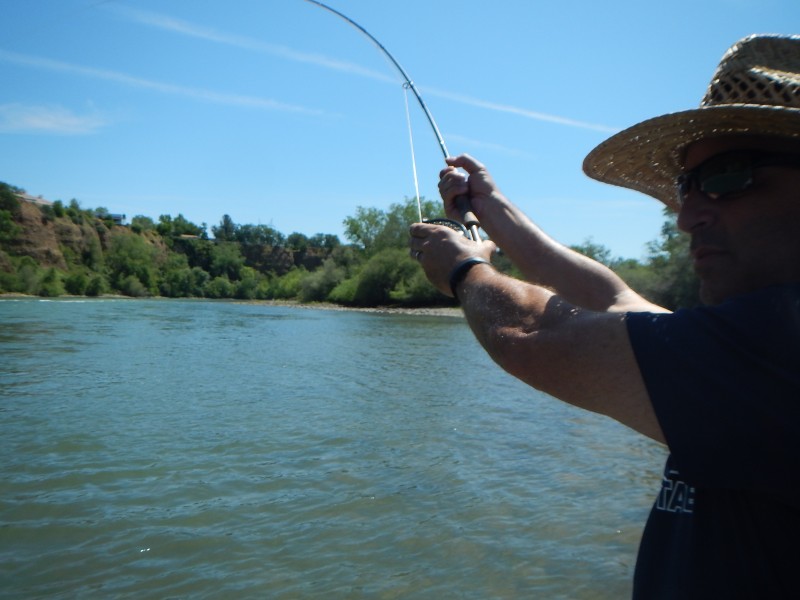 Next john hooked a nice lunker and I started feeling pretty good about our day.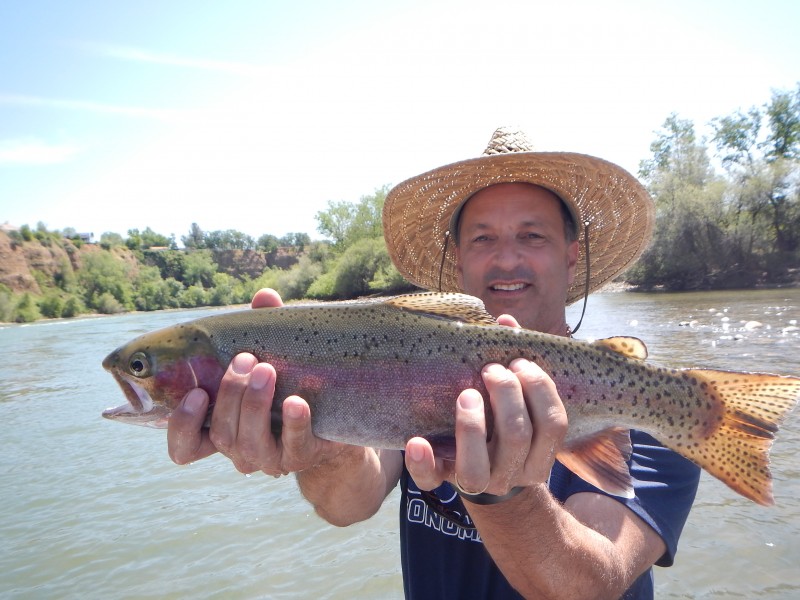 Now that's some nice trout porn there John!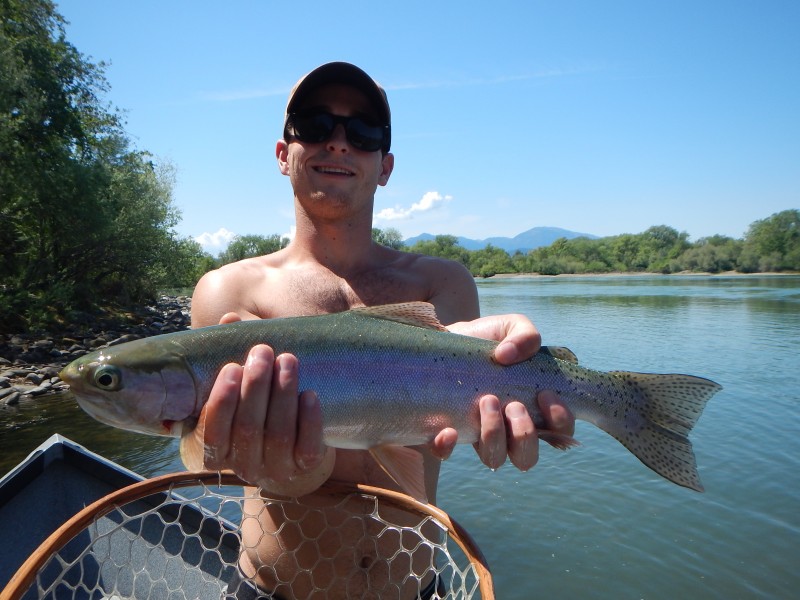 Have a great year Jared and John. Thanks for the great fishing, see you again out on the river on April 24th. They had so much fun folks, they are coming back!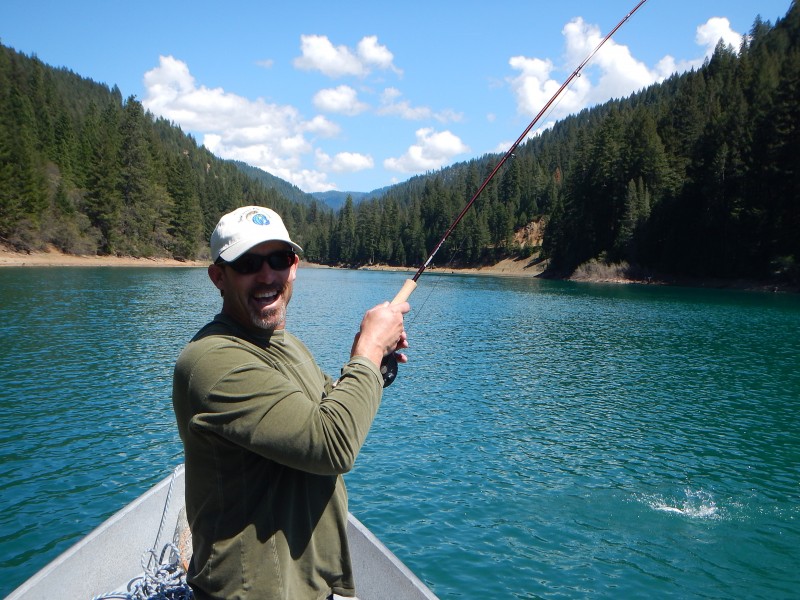 Had a day off and went fishing with my guide and friend Dale Langstaff on the McCloud Reservoir, we caught trout on streamers, dries, and nymphs, what a great fishery and gorgeous views too boot.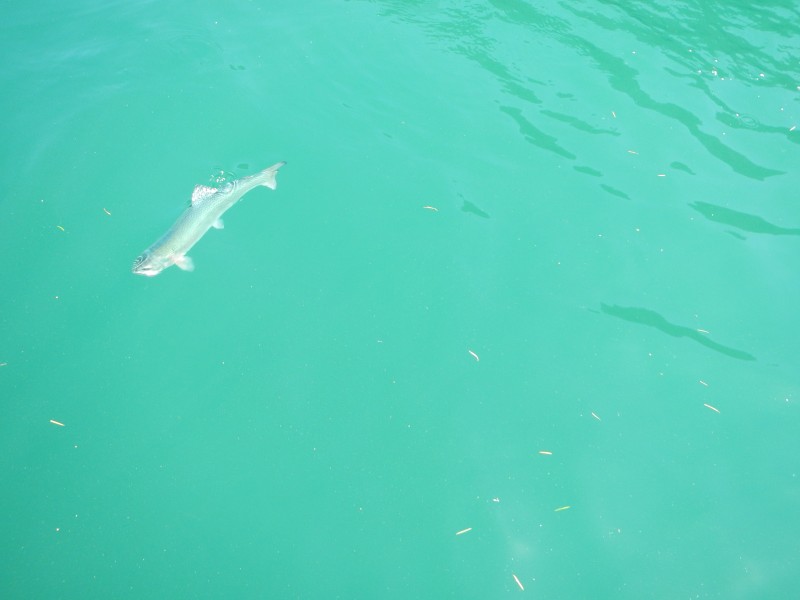 Awesome colors, awesome fish in this lake!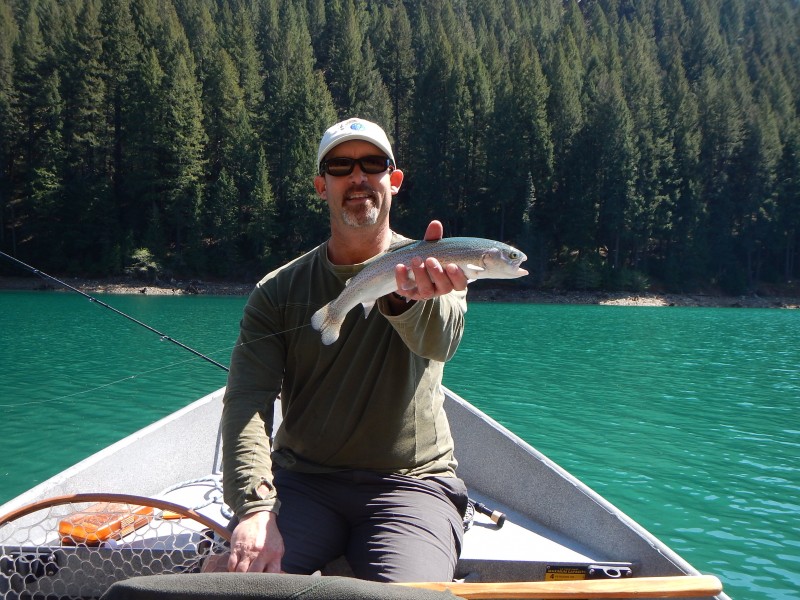 People ask me all the time if I still like to fish? I would have to say, more than ever I love to get out and shake a stick in my favorite locations.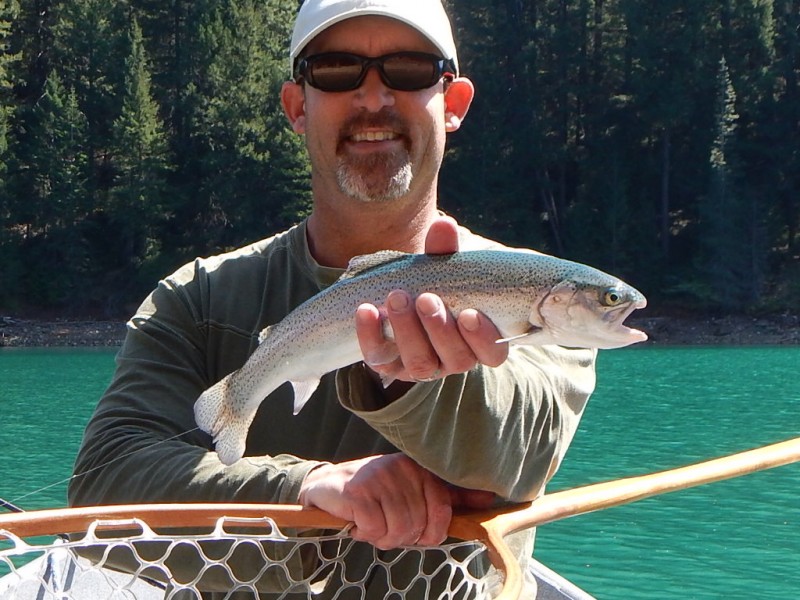 Thanks for watching our adventures, Jack & Carola Trout 530-918-8879 * 530-926-4540 * info@jacktrout.com