Trips from Chile to Argentina are going great, hope to see you on one of them!
Spring sign-ups for fly fishing trips in Northern California & Belize are full force now, reserve your dates.
INFO@JACKTROUT.COM  *  530-926-4540 *  ON SKYPE : jacktrout24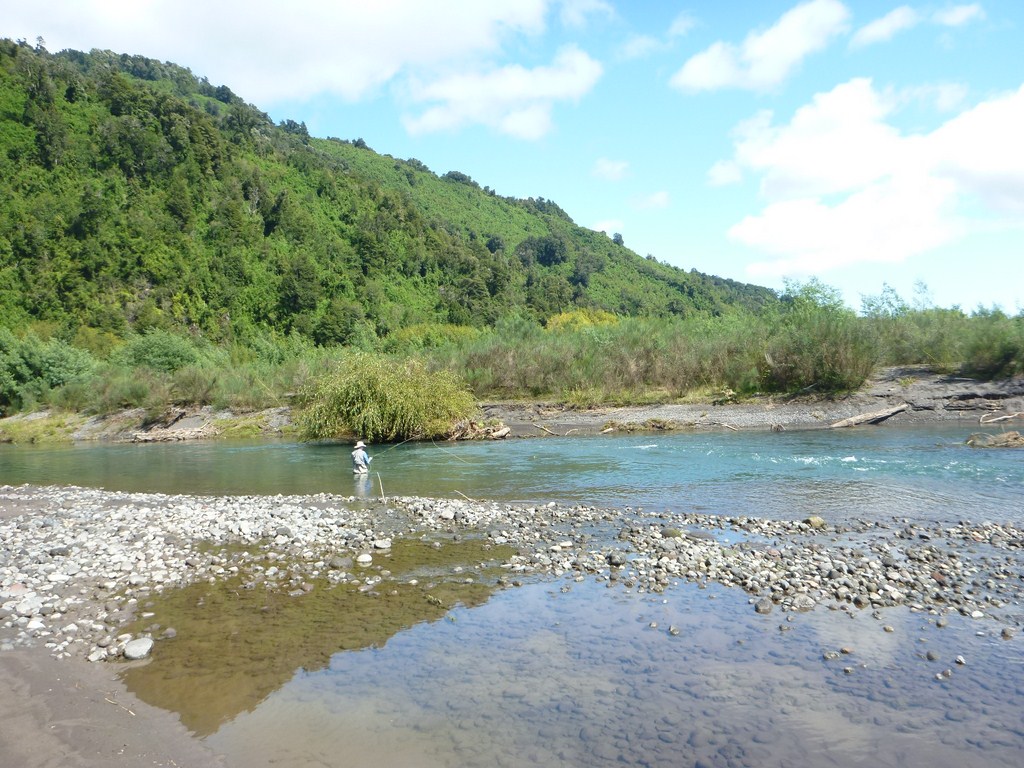 Recently on a river in Chile our client Mark Lee from Australia enjoyed a day of fly fishing on a local river we guide on.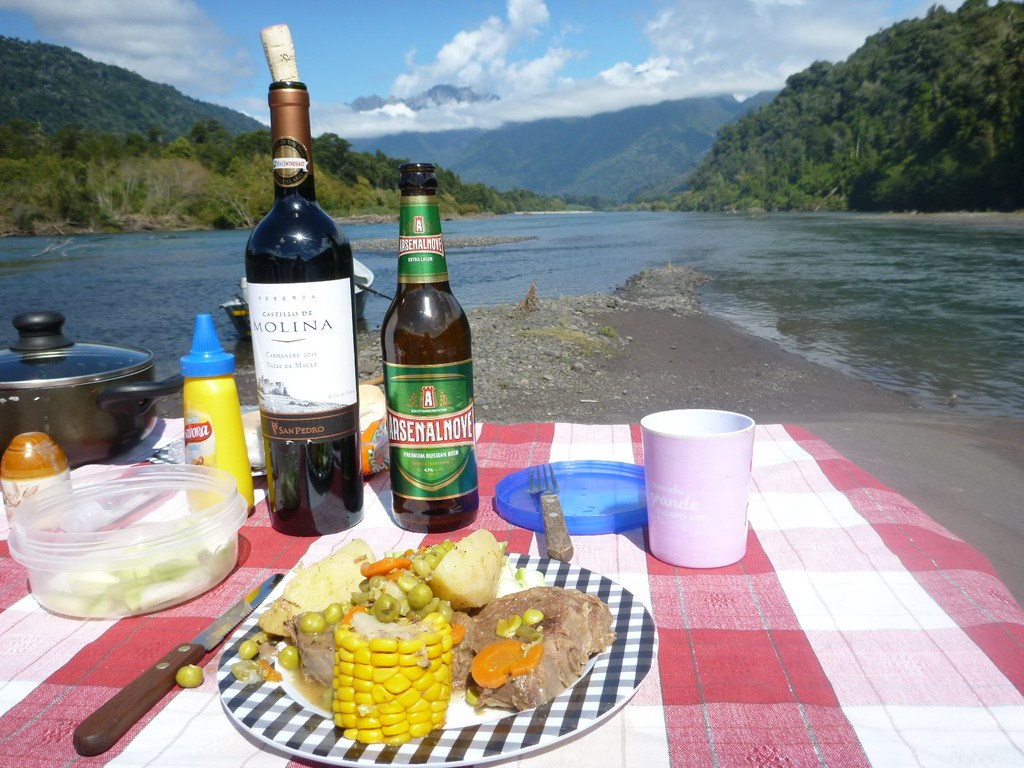 Lunch is always fantastic when Carola's in the kitchen, we think in addition to fly fishing the lunch also plays a critical role in making the day a success.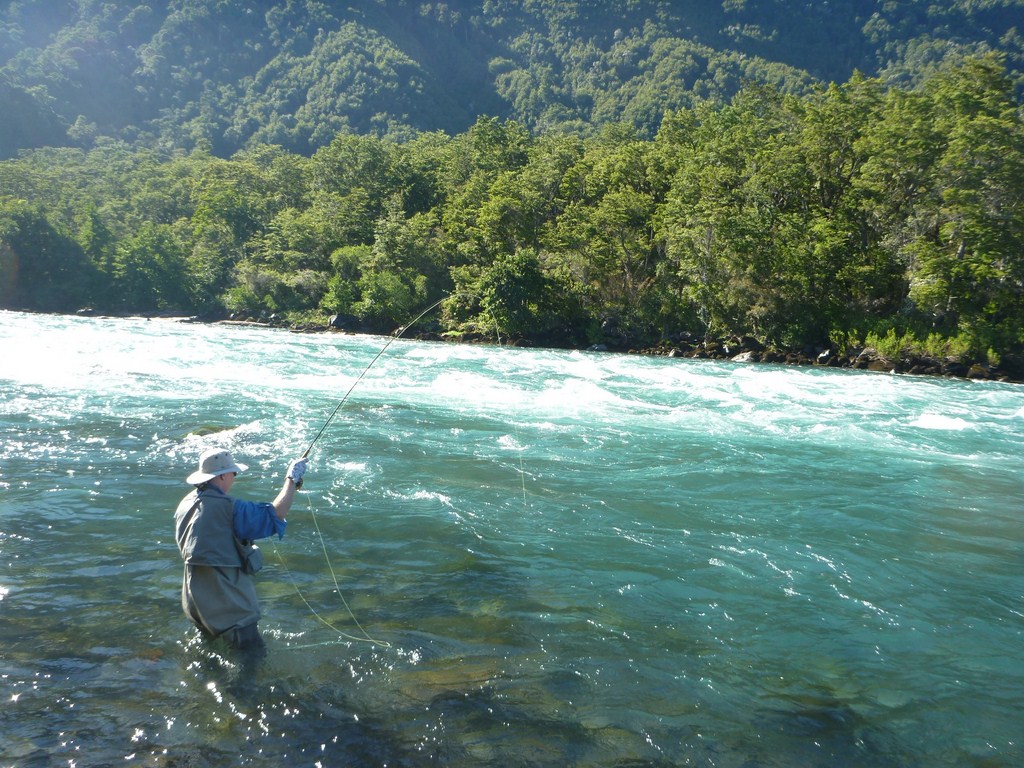 We also took Mark, wading one day and he enjoyed this trout he hooked into.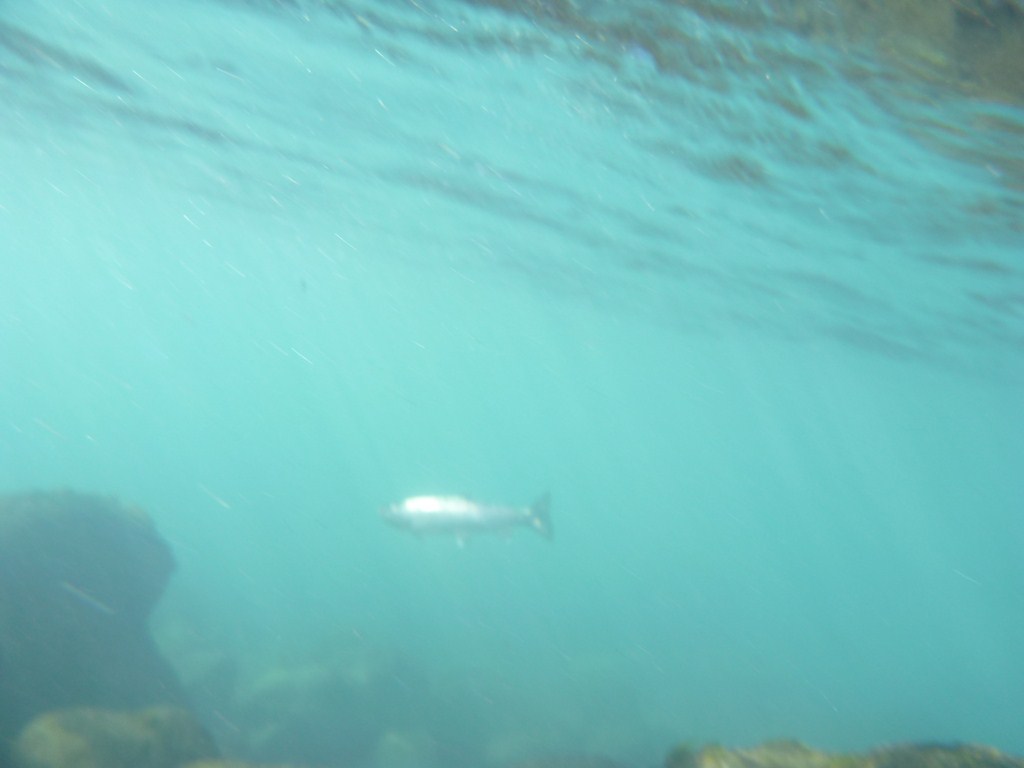 This one was a nice trout that  lived up to the Chilean reputation for aggressively hard fighting fish that never give up that easily.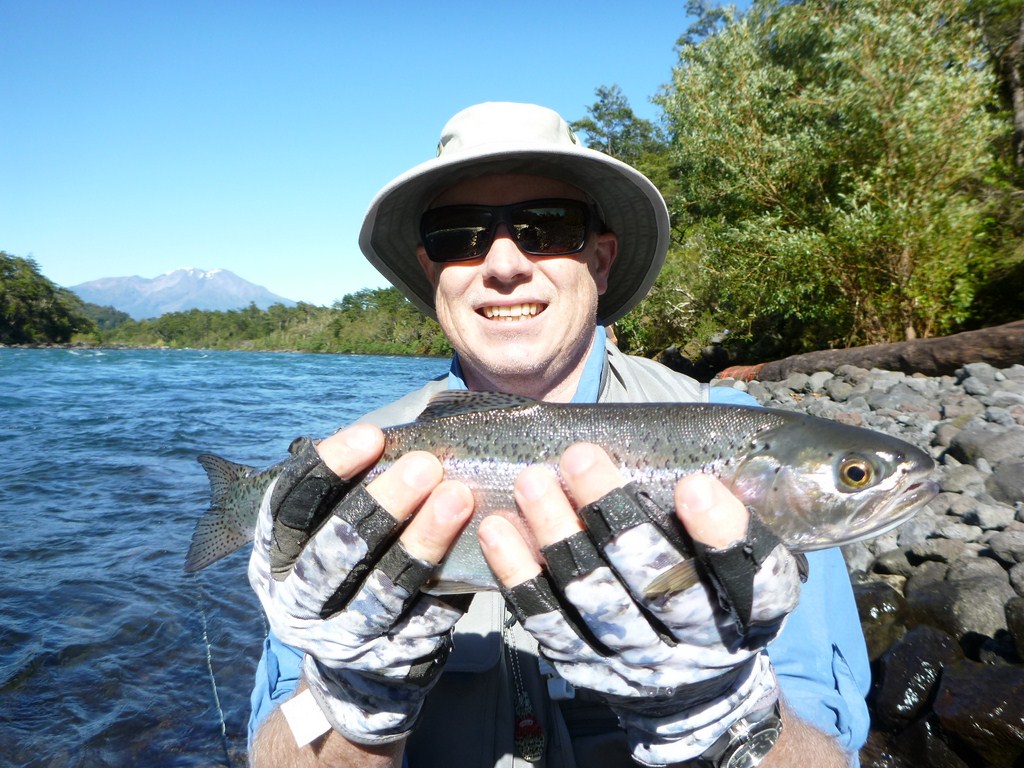 Way to go Mark, all your Aussie friends are cheering you on bro!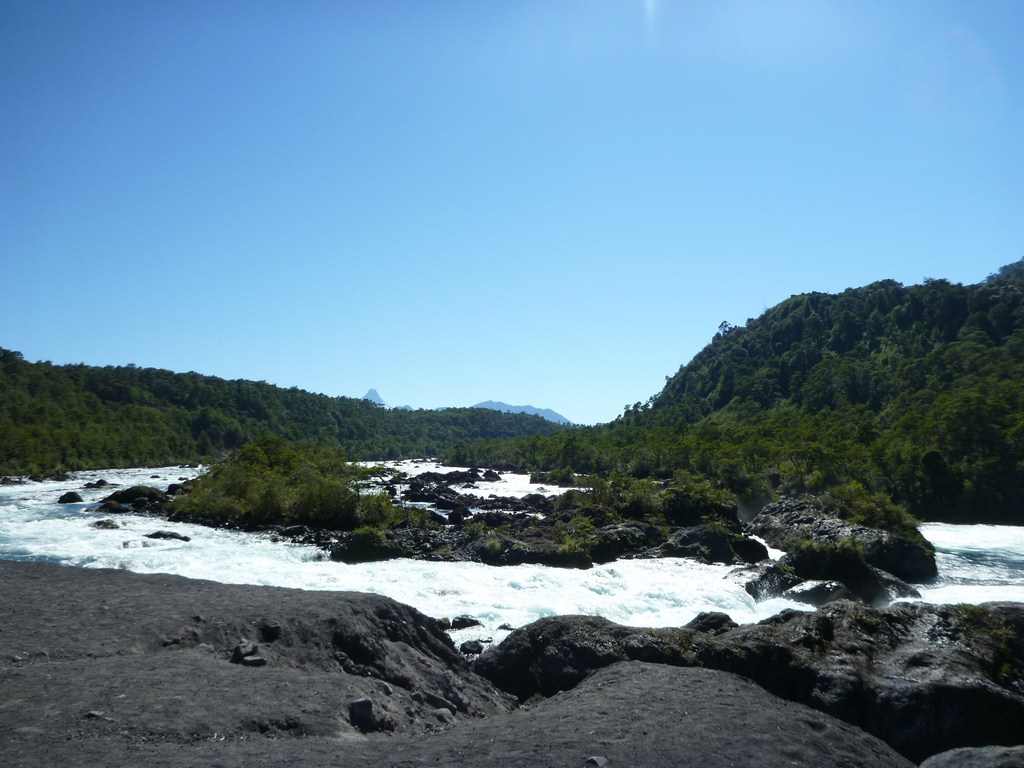 The massive water ways of Chile, rolling endlessly to the sea.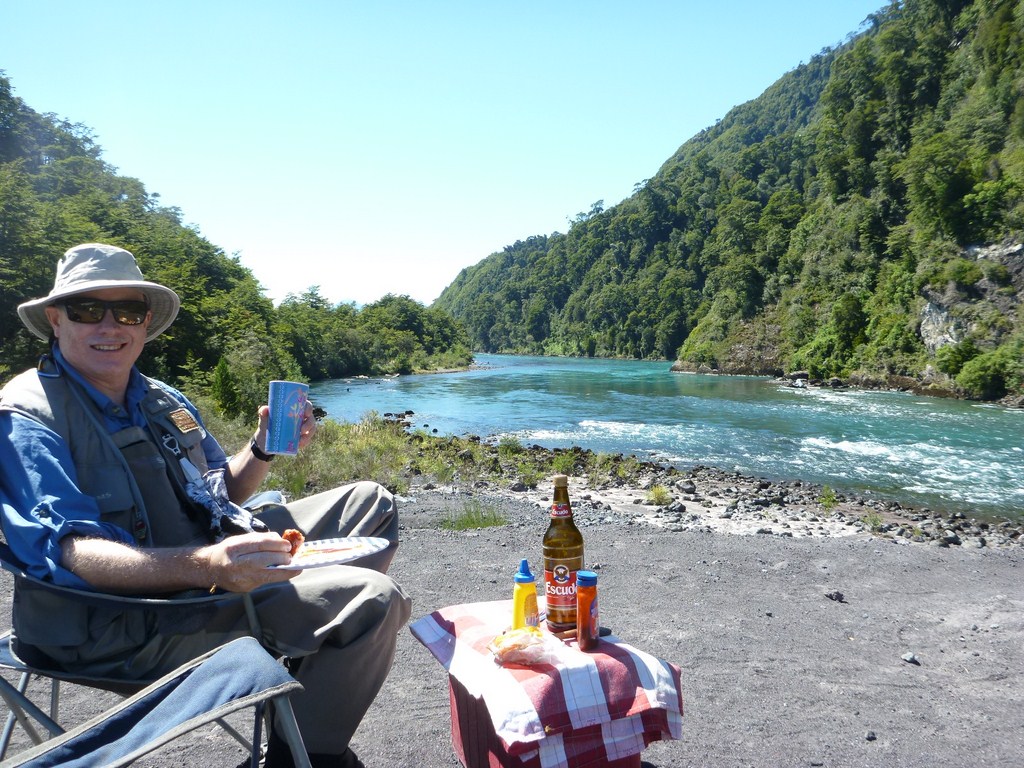 Lunch with a view, no reservation needed my friends…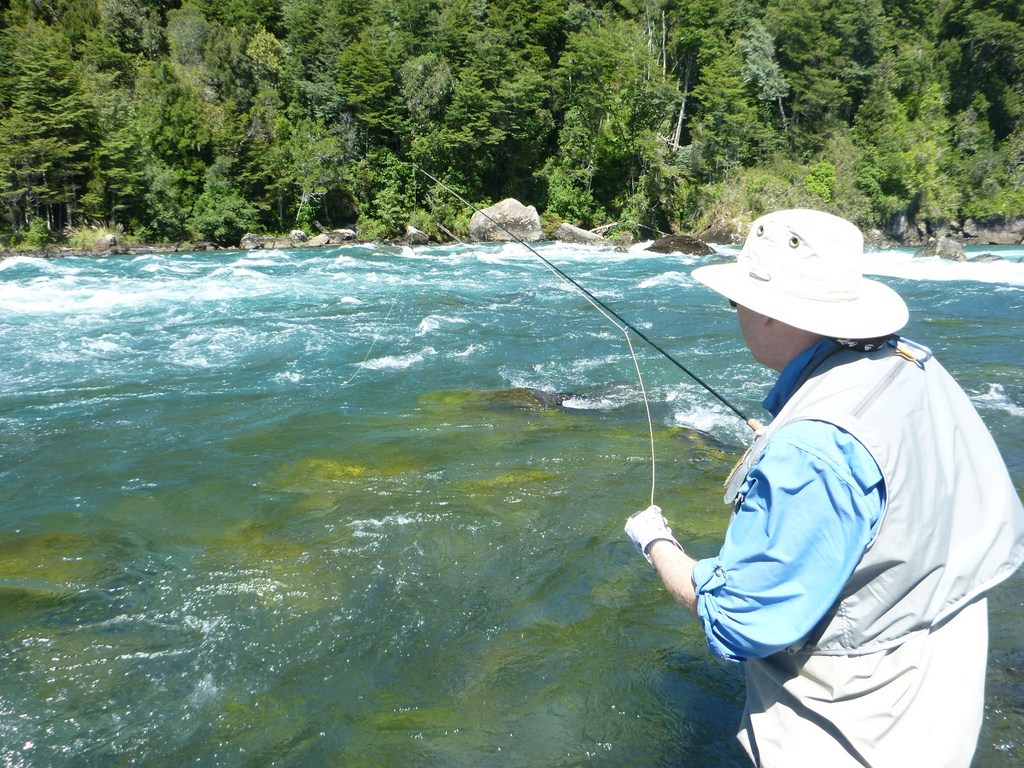 Pocket water nymphing, one of my all time favorites.
 One of our clients out with Edgar this past week had terrific fishing and landed this awesome rainbow Sizzlers!
 Meanwhile, our guides over in Argentina are having a hook fest on a Patagonia Argentine river.
This brown trout was one of the highlights of the week on a fantastic lake we guide folks on in Argentina.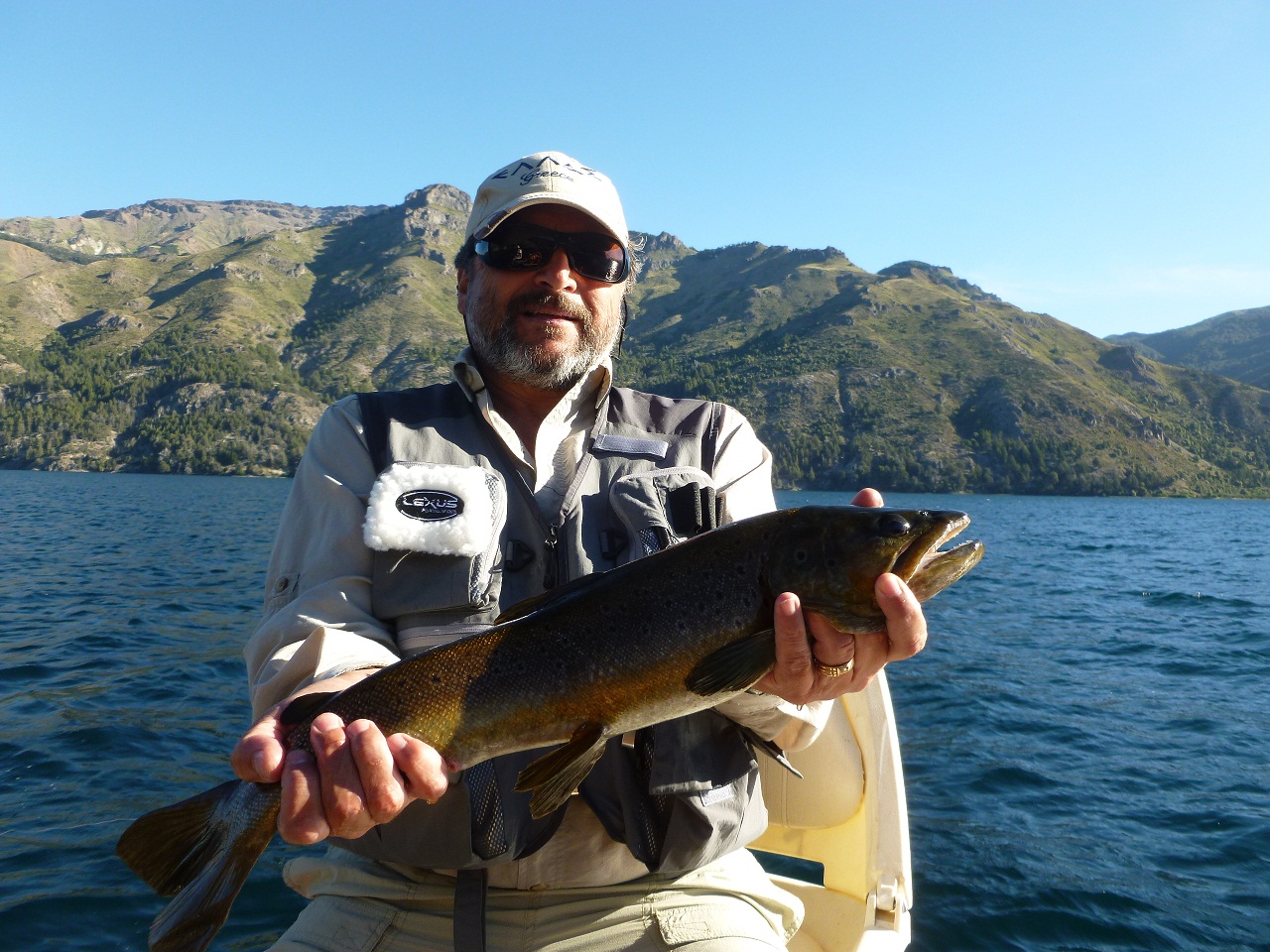 But not to be outdone, one of Gabriel's clients took this brown trout not too long after that!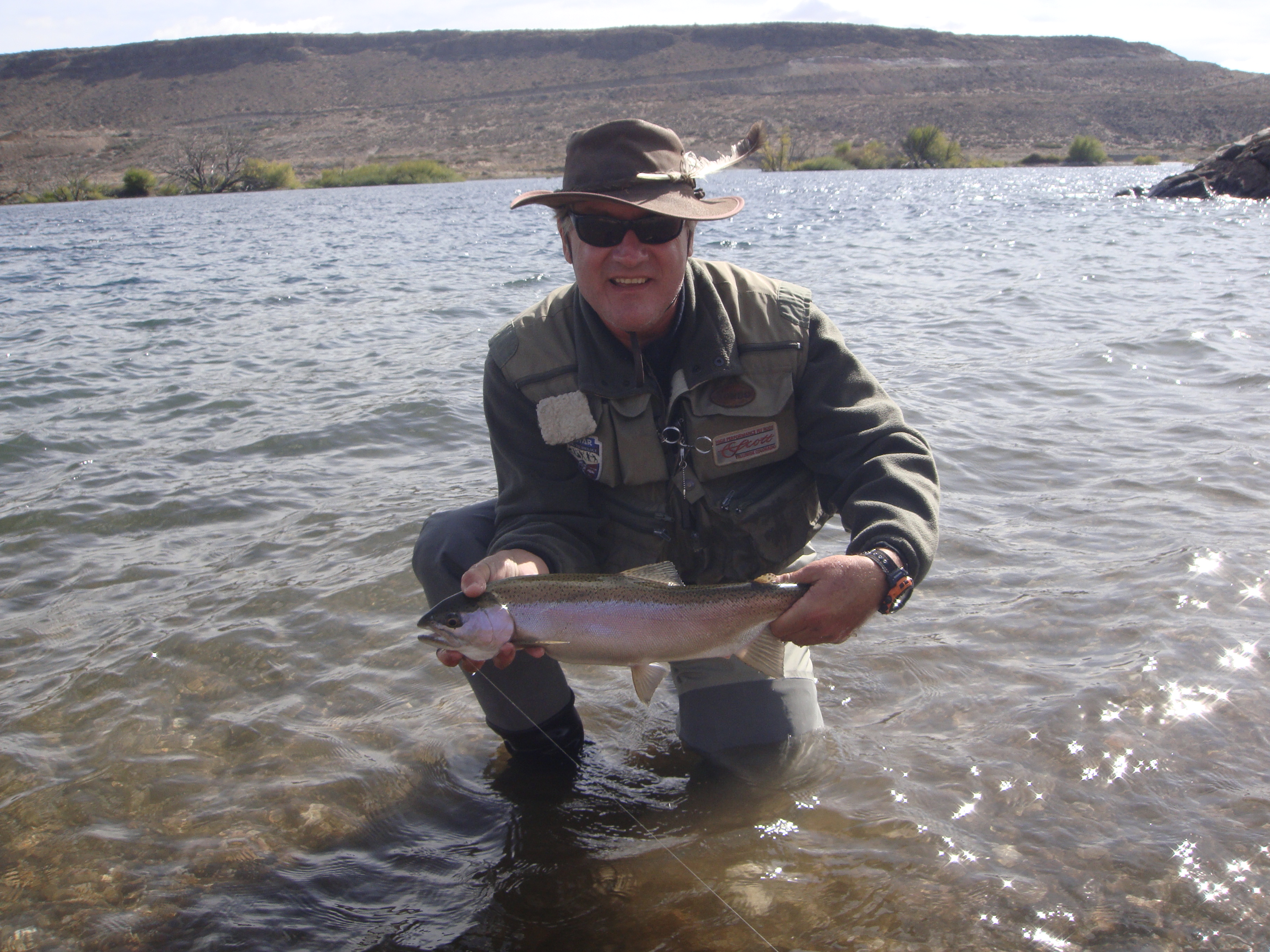 Some~where over the rainbow!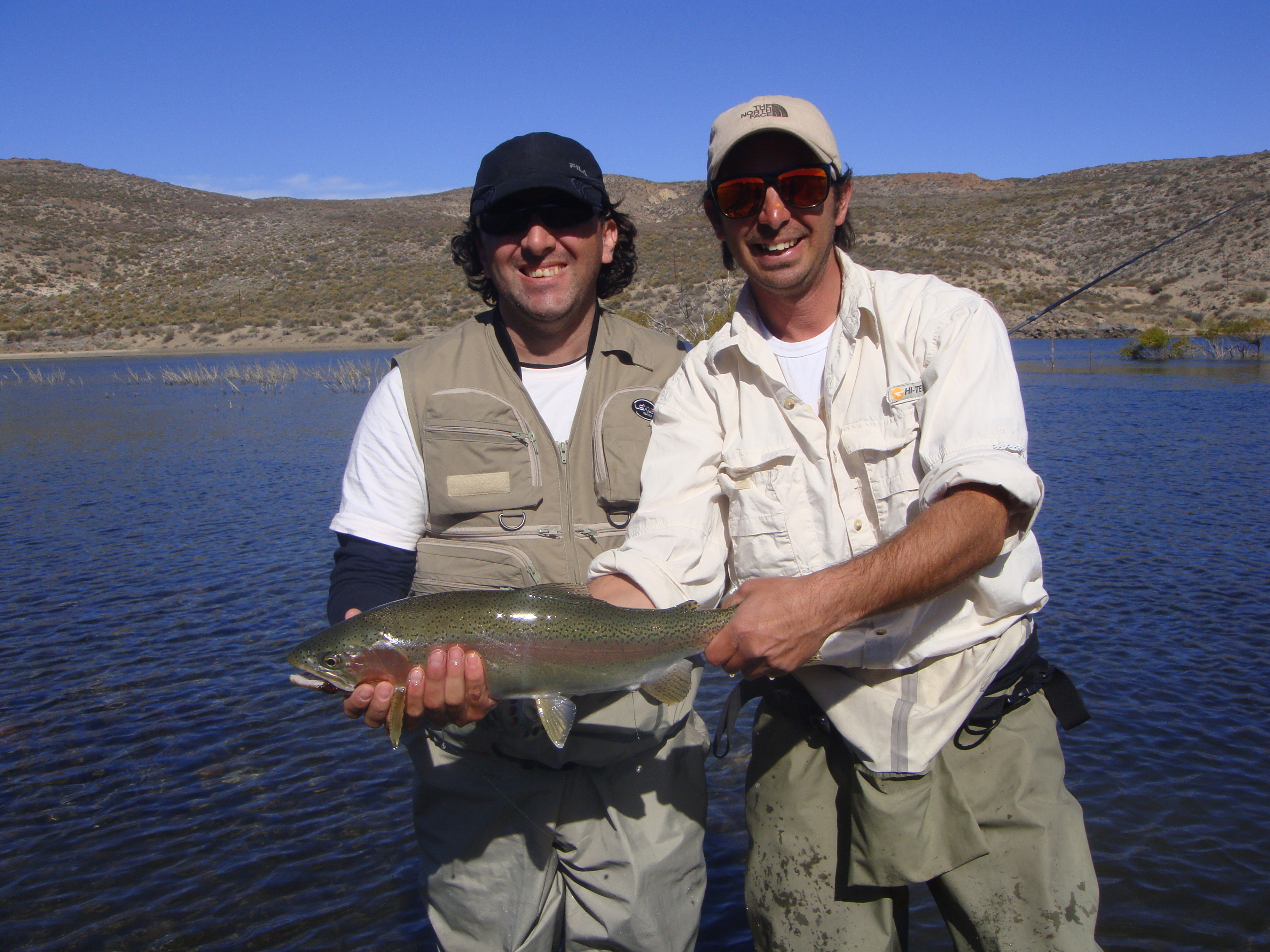 Our guide Gabriel and his client on a remote Patagonia lake in the Andes with a fine rainbow we wouldn't kick out of bed for eating crackers.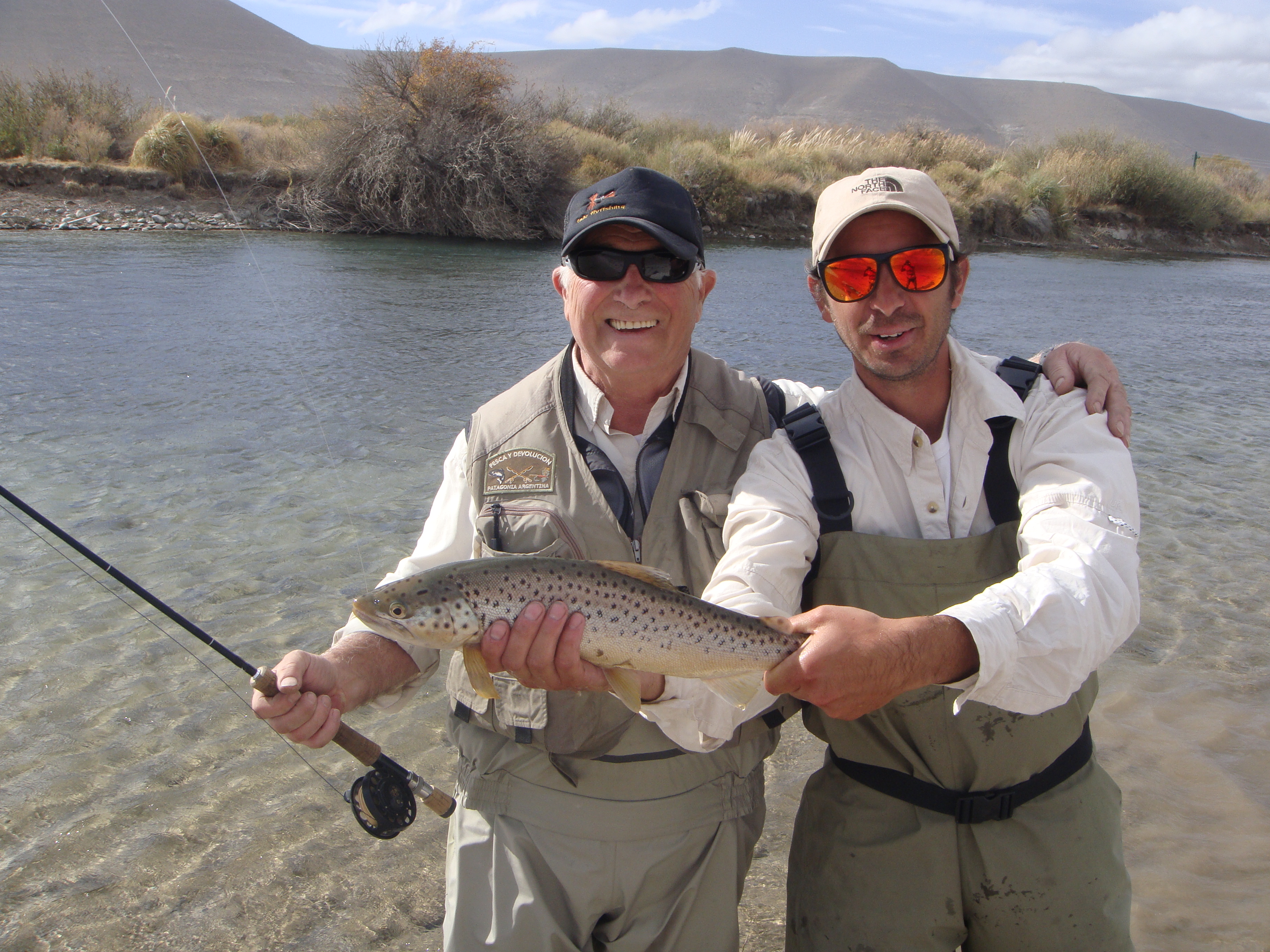 And how about this brown trout looking healthy and fine, pulling out line and making the prime time! Gabriel is the Martin Short of Argentina, a real comedian on his own right out on the river.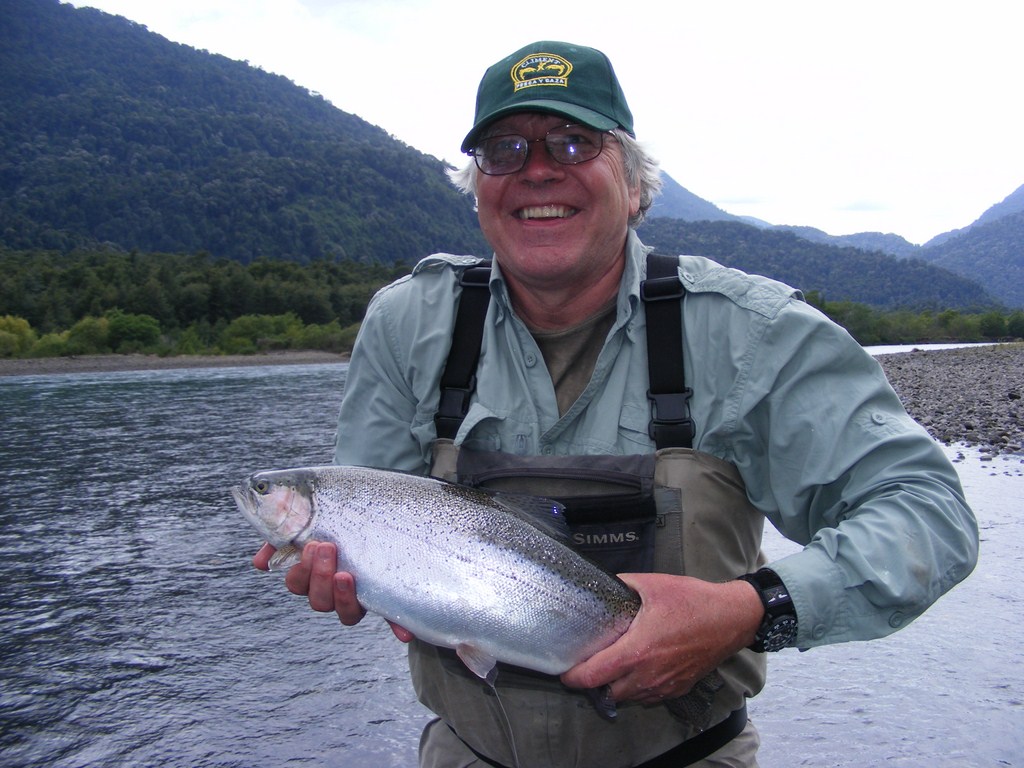 Our guide Edgar had a great week of guiding in Chile with big catches almost everyday.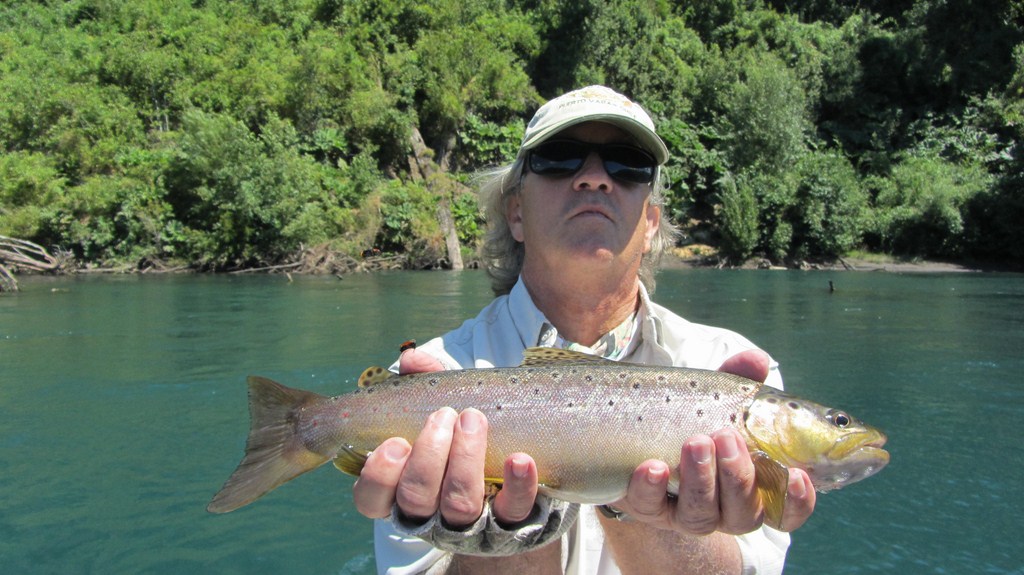 Legend Andrew Swann of Chile is back at it again folks, what will he land on this trip…..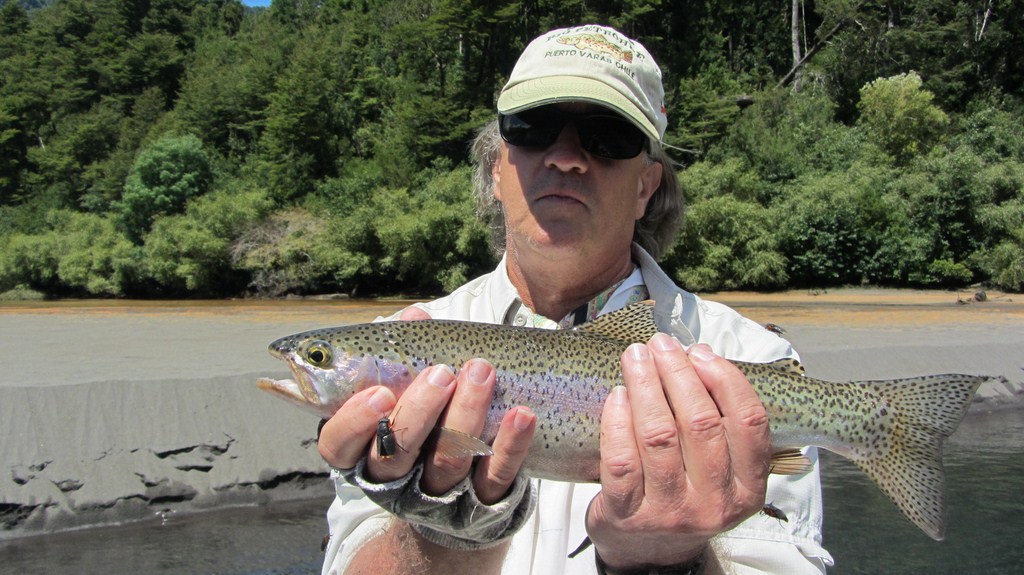 Bows and bros, what else more in life could you want?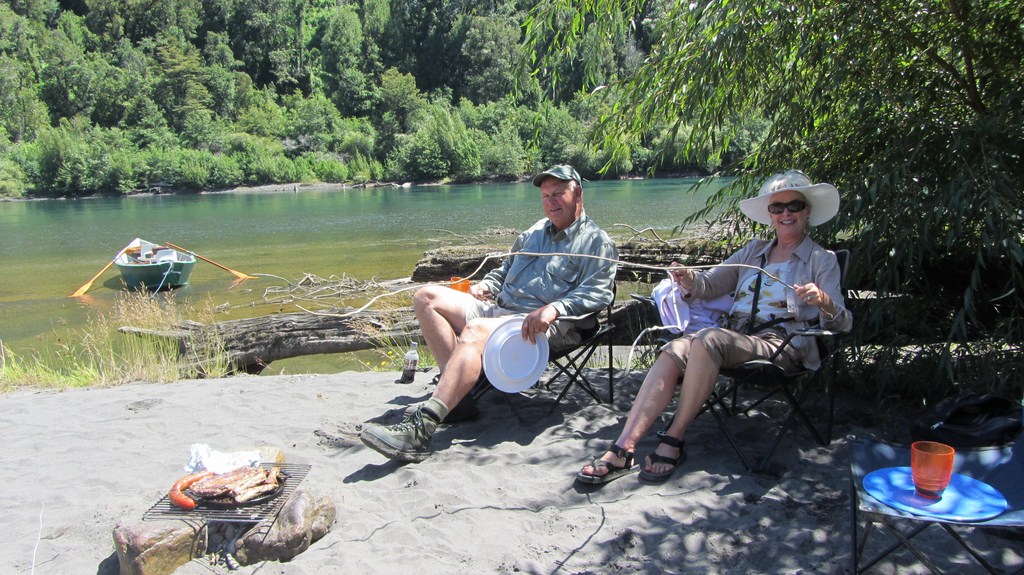 Wasted away again Margaritaville, searching for that lost shaker of salt.. Thanks again to Mike & Susan we loved every minute of it!
So did our guide Mattias.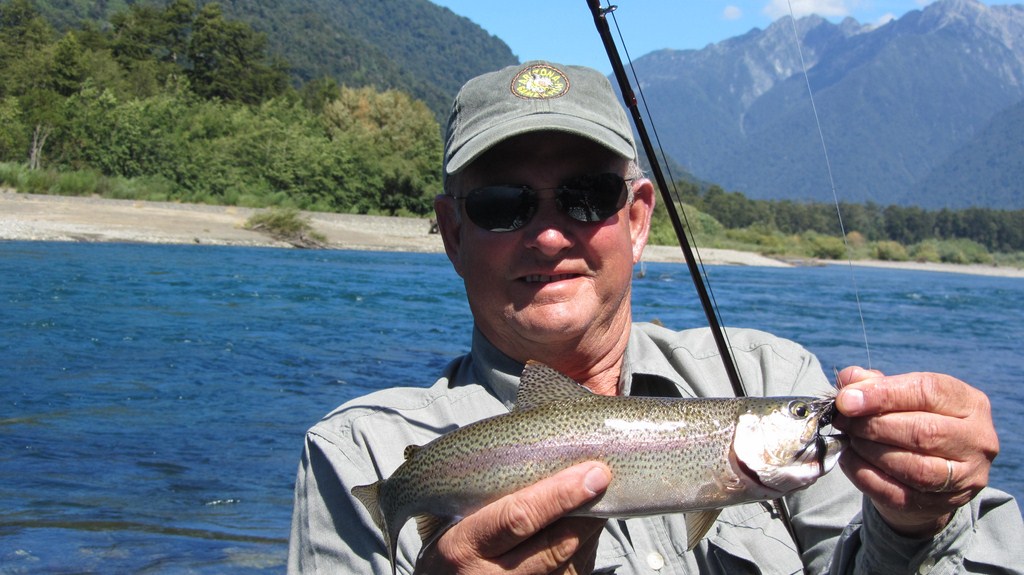 Nice views and nice bows, what a splendid way to spend a summer day in South America.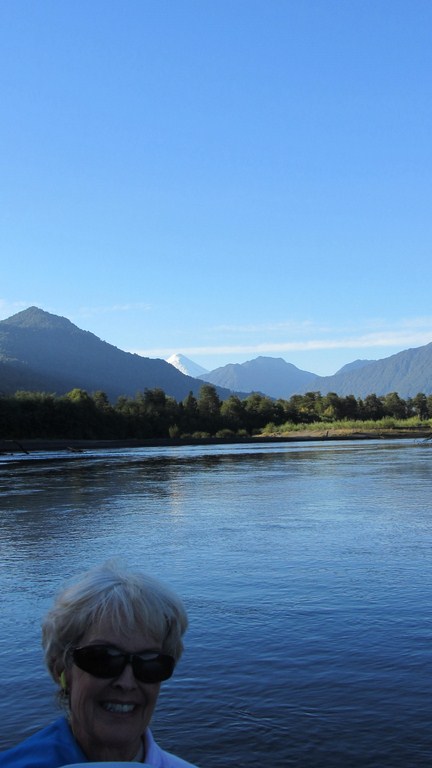 Carola wanted to say, thanks again Susan for the great company and allowing her to tour you around in her home country of Chile.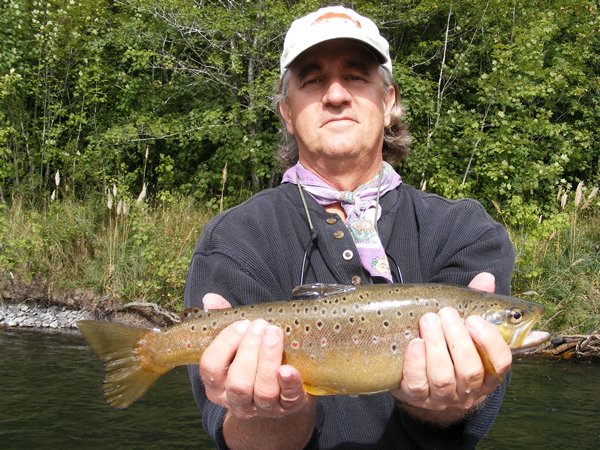 Andrew Swann standing proud with another great hook-up.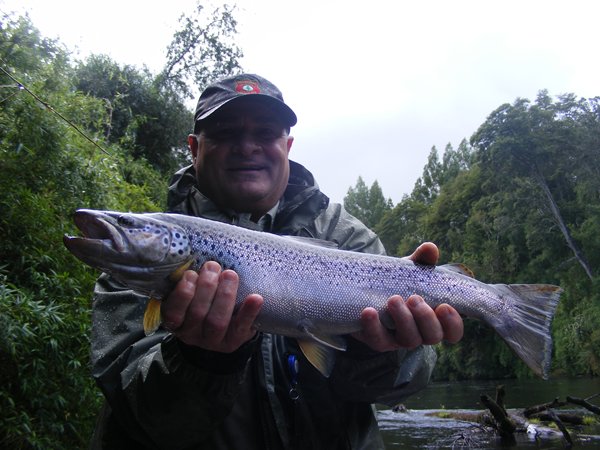 What about this seas-run brown Edgar client hooked on one of our private sections of river in Chile.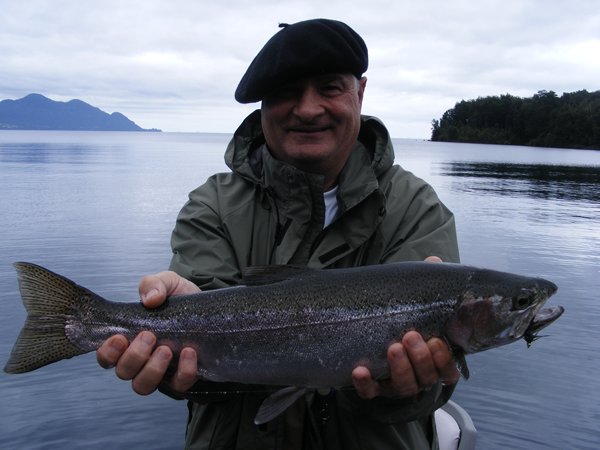 And out near the fjords in Chile with a ocean a couple of breaths away, one of Edgar's clients landed this lunker this past week.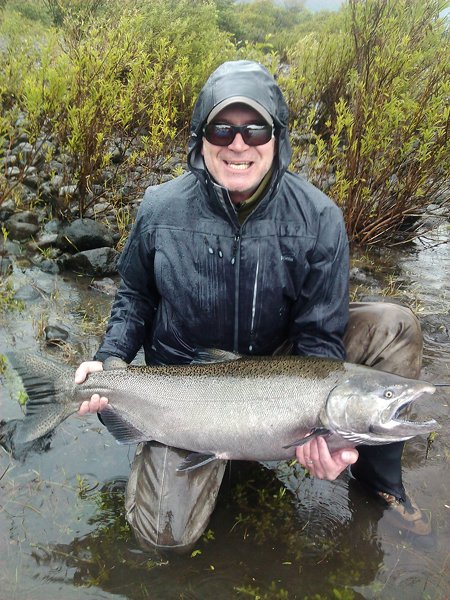 Also this salmon on a 9 wt. fly rod. The salmon are coming in right now in full force, the rains drive them in large numbers and the trout follow making this time of year the best. The only thing I've seen is landing the beasts. "Speak softly and carry a big stick!"
Dan Vogel came a calling after one of his friends who we guided earlier in the season Mike Hawkins, told him he had a good trip with Mattias and me in Chile.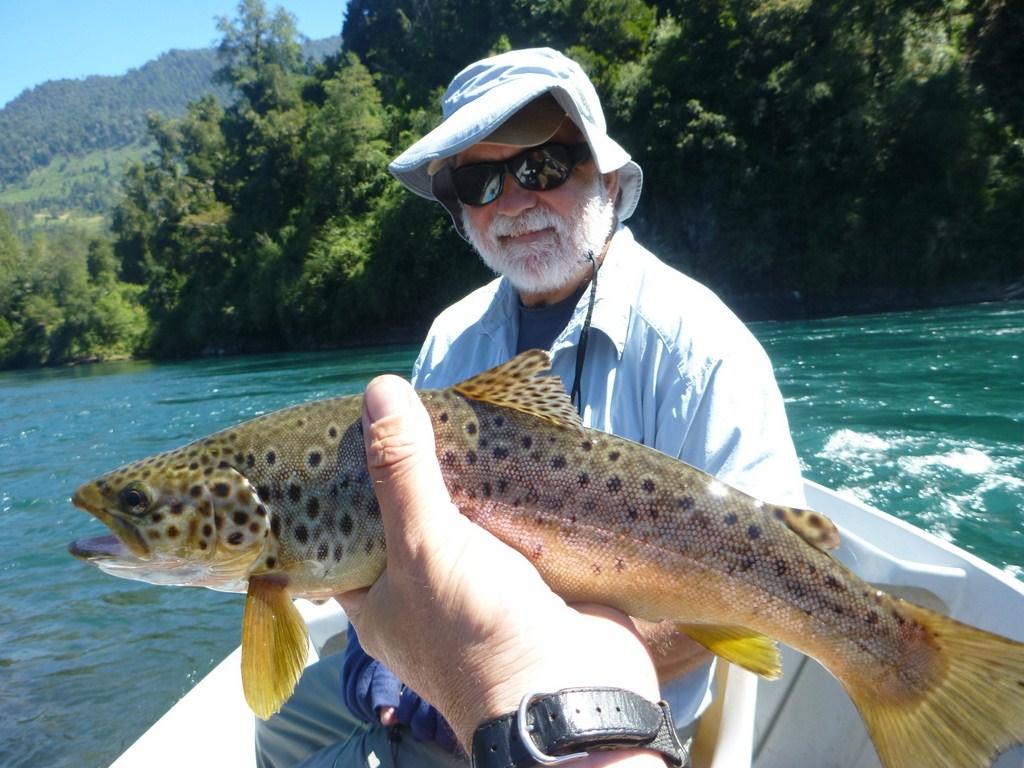 He caught plenty of trout everyday and we had a great time together.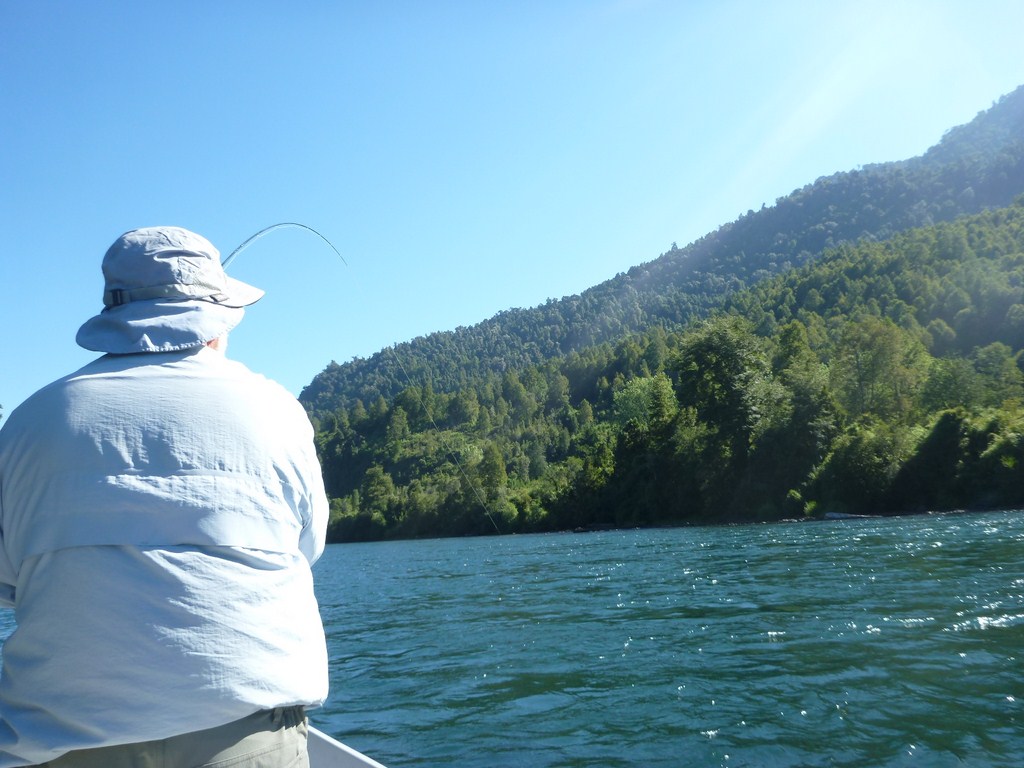 Hooking big fish in Argentina is one of Dan's favorite past times, but he also enjoyed the prospects of what Chile had to offer.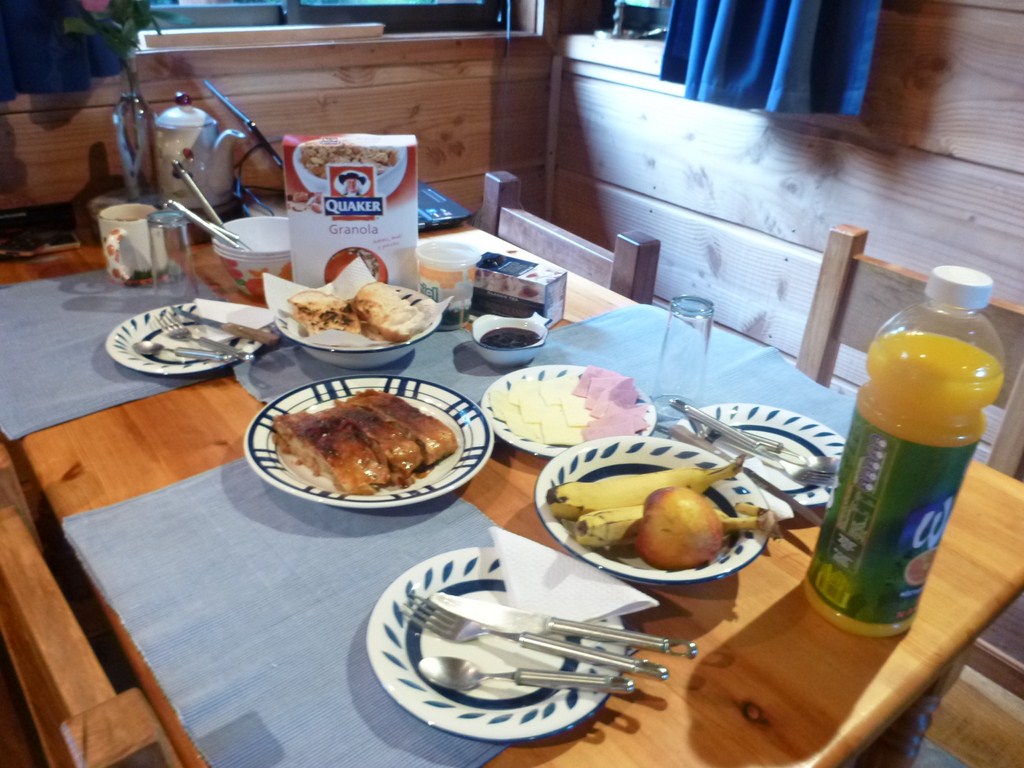 We serve fine breakfast's at our cabin home we have here in Chile, we think you're going to like it.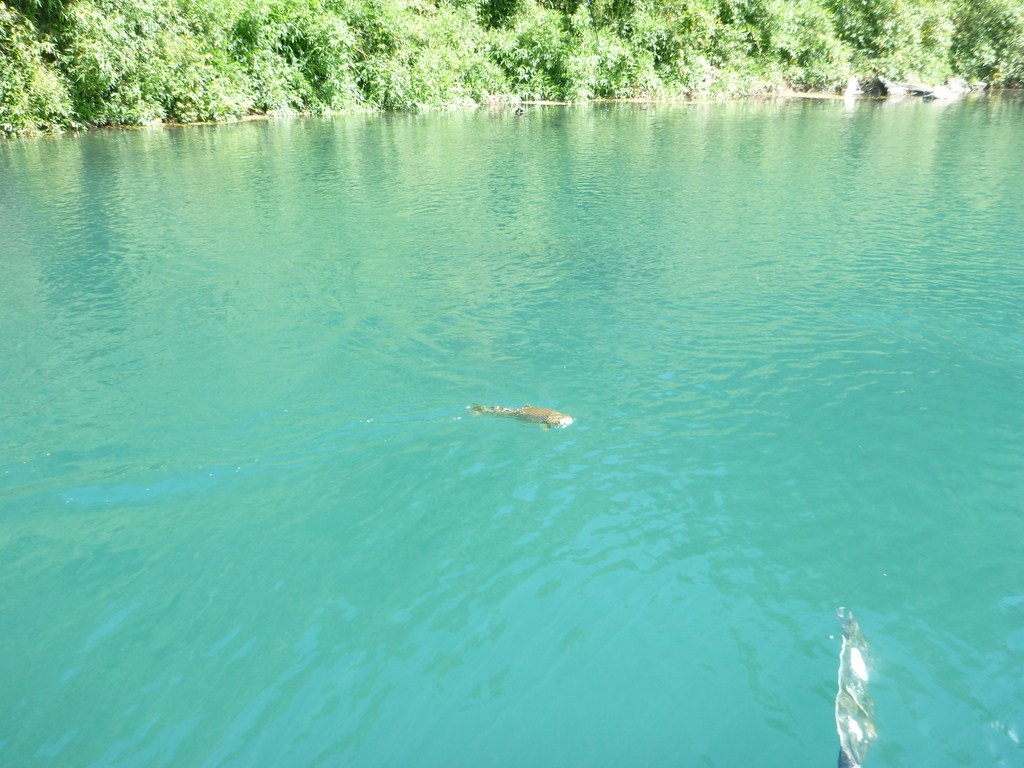 Start the day out right with a nice breakfast them go and hook some nice trout. Now that sounds like a winning plan to me.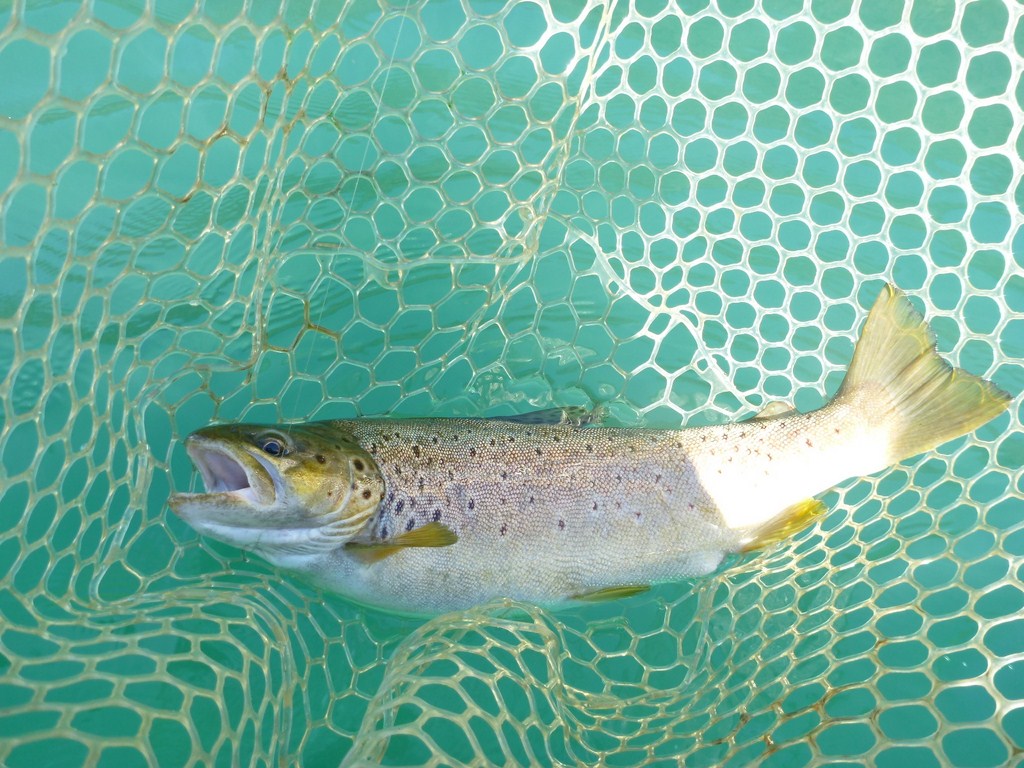 Nice brown trout caught on flies we tie is the way to go folks!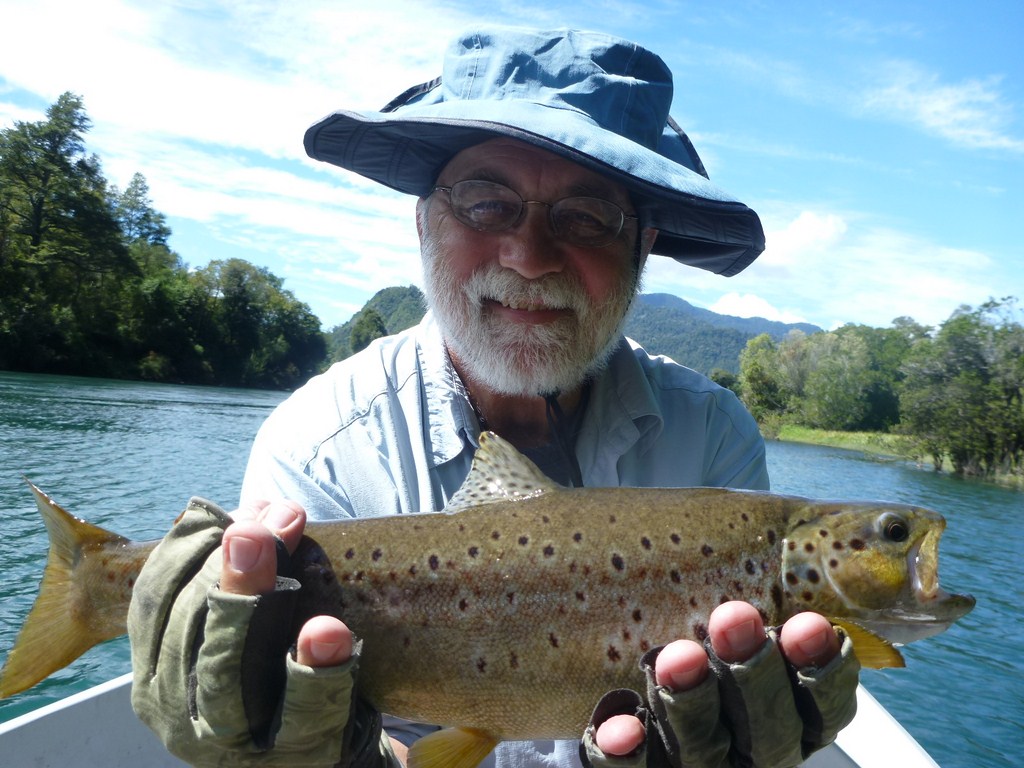 Dan the man! Does it on both sides of the Andes annually folks, this guy knows all the best places to fish for trout in South America.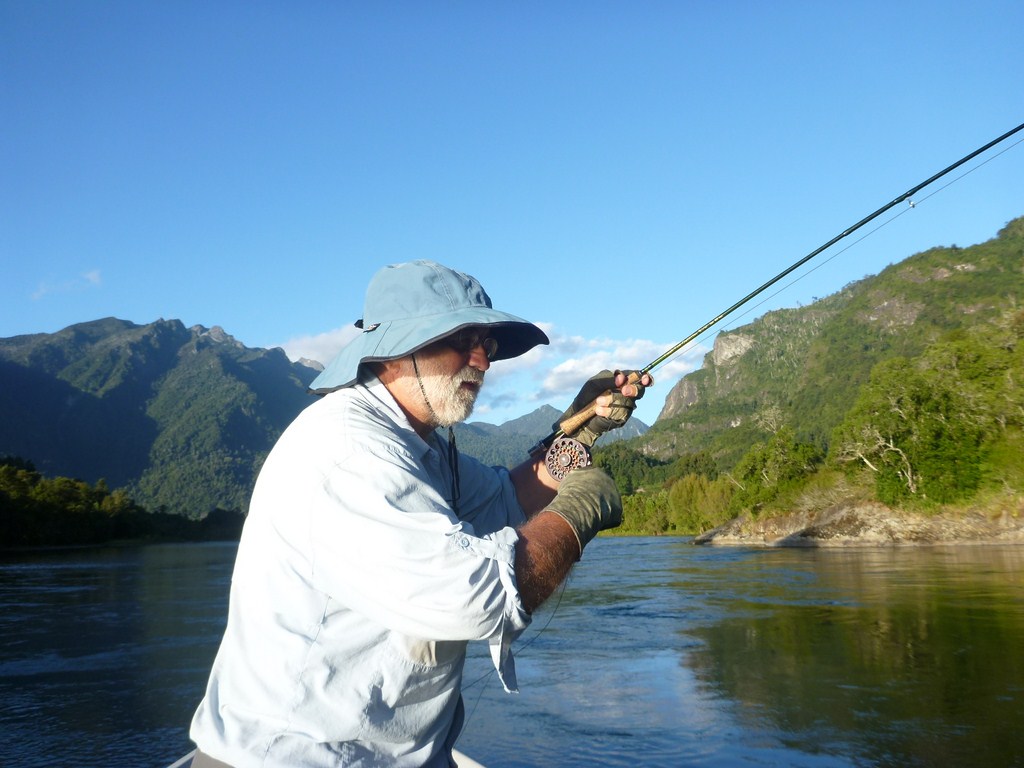 With views incredible, maybe we can wet your appetite for Chile and Argentina for the 2013/ 2014 season….
Dan's coming back!
How sweet it is ladies and gentlemen guiding the incredible waters of Chile and sending folks over to be guided by my guides in Argentina. It's a dream come true!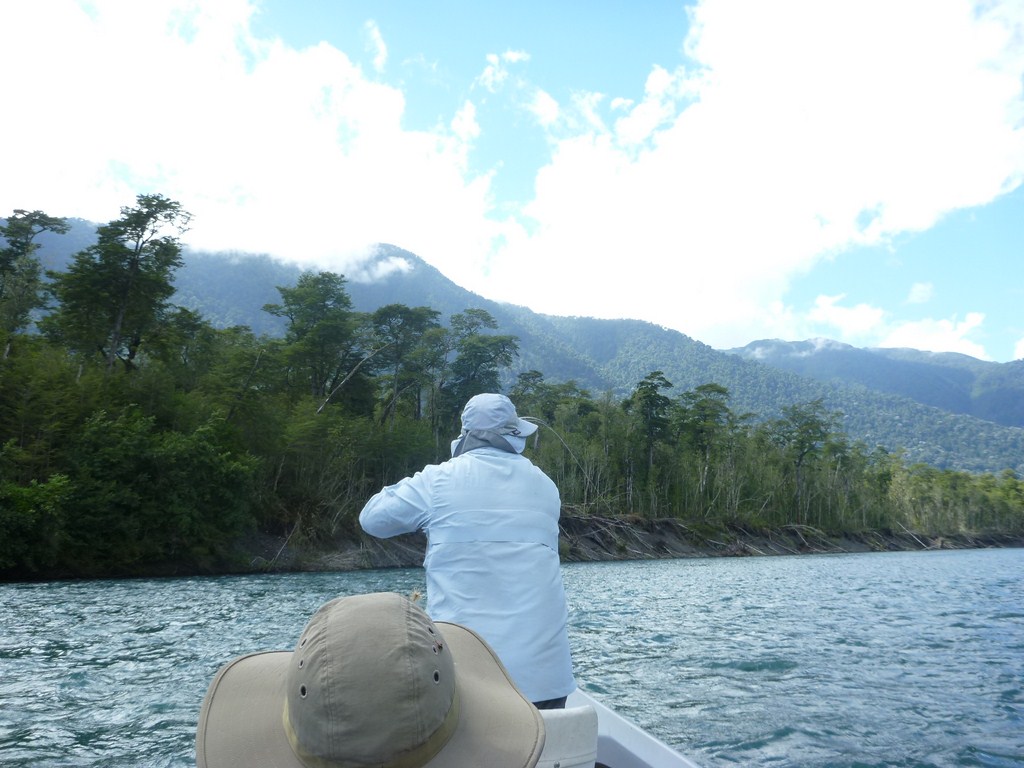 Then out on the Rio Petrohue, we hooked a 15 lb plus salmon on the fly!
We ended up not landing the beast but he had him on for 15 minutes and said, this was the biggest thing he ever hooked into on his fly rod.
This is one of the fine establishments we lodge our folks while staying in Chile, we think you're going to like it. Especially the views of Volcano Villarrica from the balcony!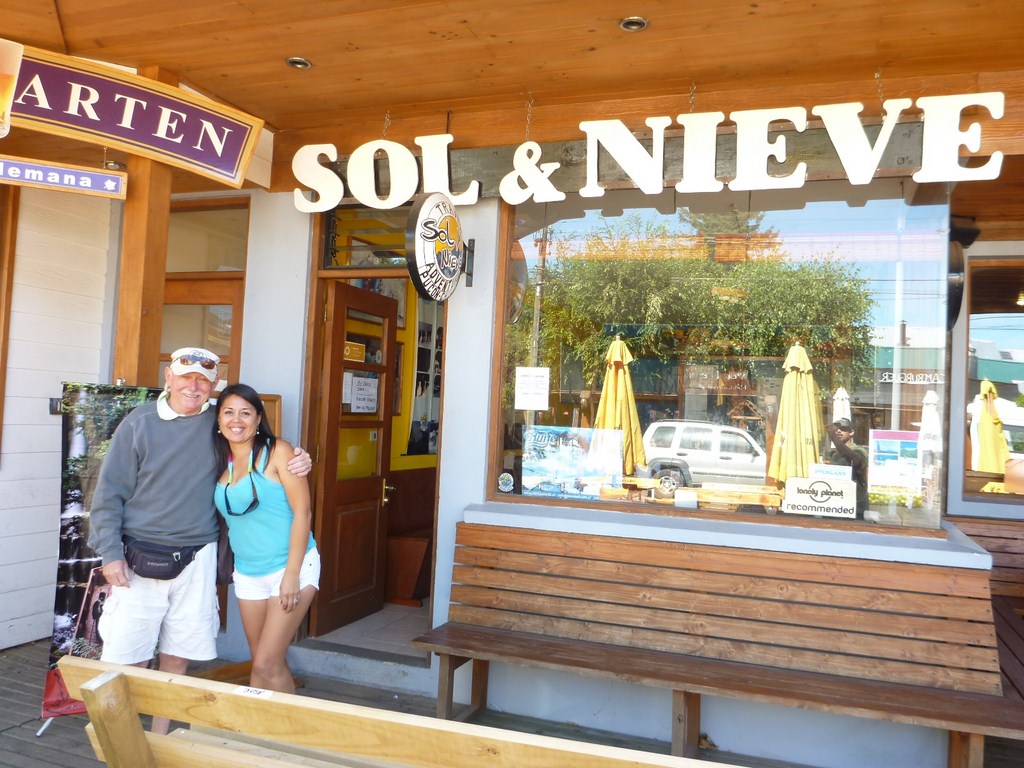 Carola provides tours on our trips for non-anglers in the towns of Puerto Varas, Puerto Montt, Pucon and San Martin de los Andes. This is one of the outfitters we use if you want to raft, climb a volcano, horse back ride, scenic tours, take a boat ride on the many lakes and more. Willie Hatcher has been providing tours around Pucon for over 30 years, we look forward to hooking it up for you.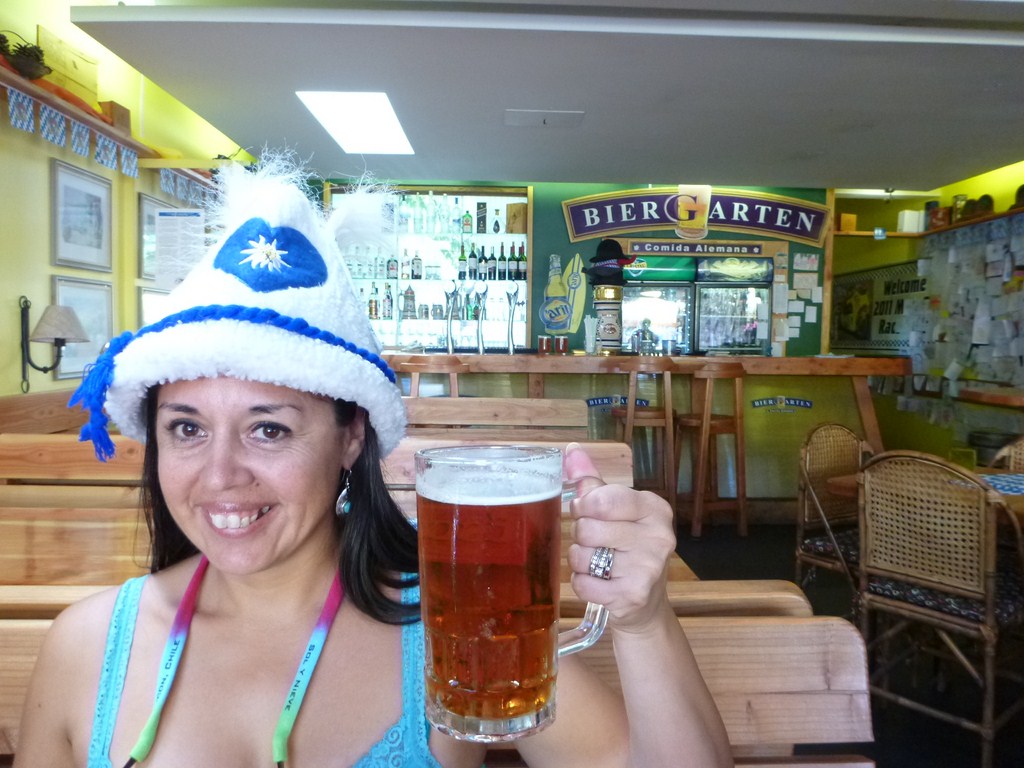 We love the Bier Garten Restaurant in Pucon, Chile for food and great beers! How I got so lucky to have the most beautiful and supportive partner to build this business in 2 continents. I raise a toast to that! Cheers, I love my wife Carola ! Good things happen to good people my dad always said.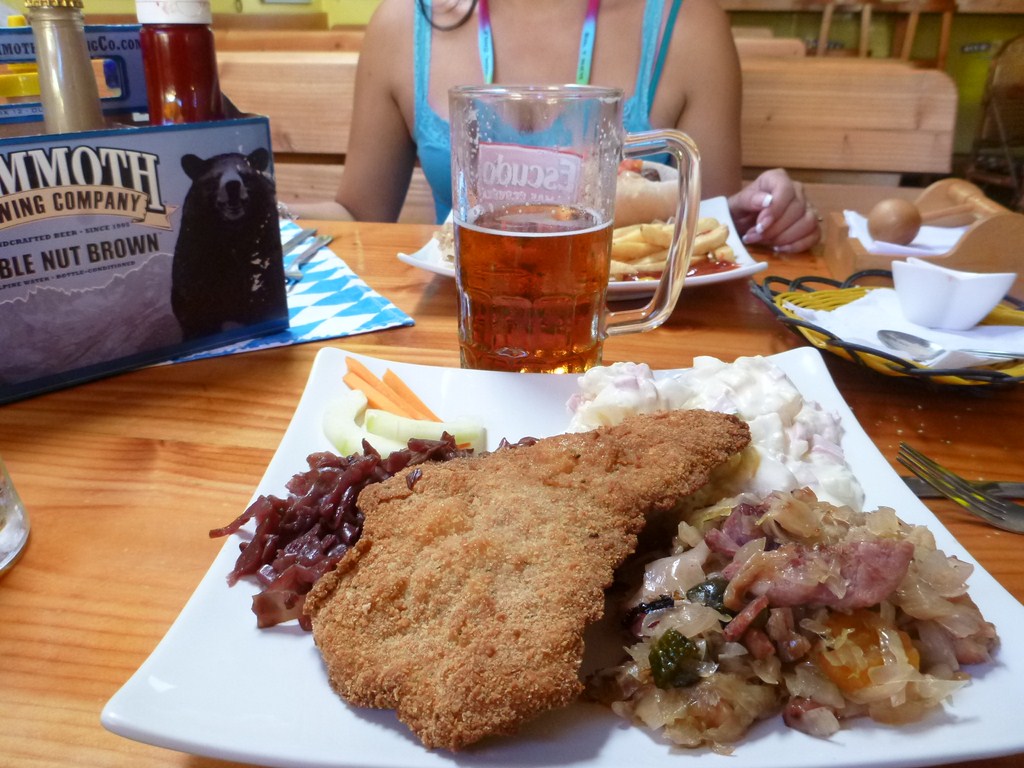 Yummy German food at this place folks!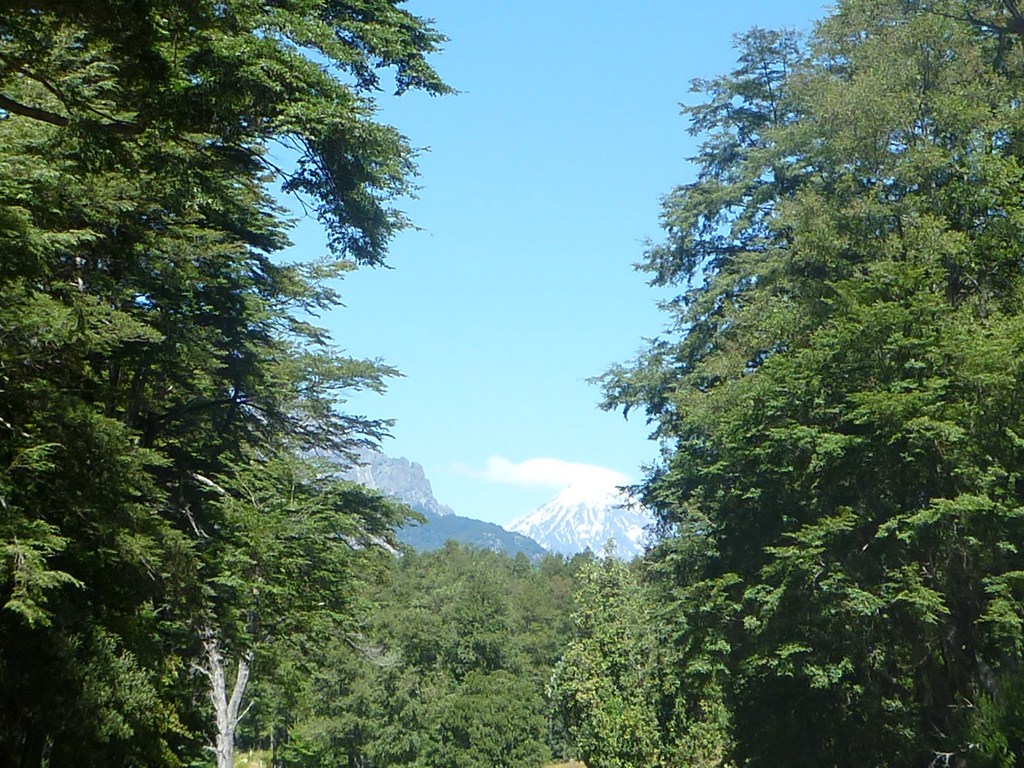 We love taking the drive from Argentina to Chile. On a sunny day it can be one of the most wonderful journey's on planet Earth.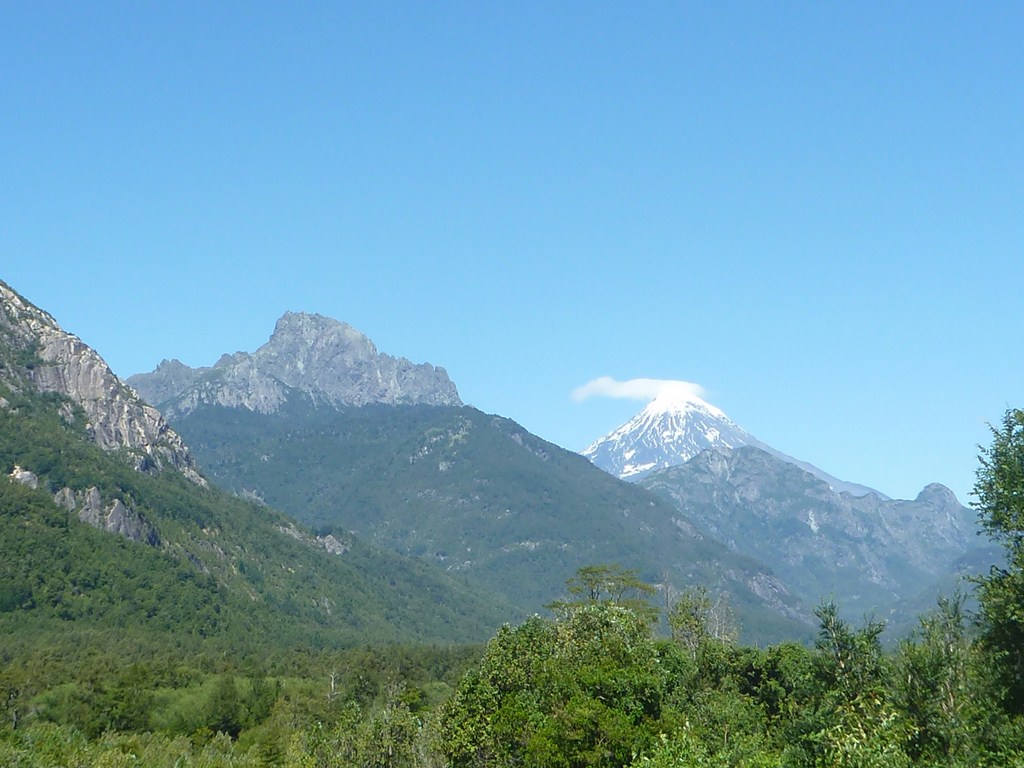 And I say to myself, what a wonderful world….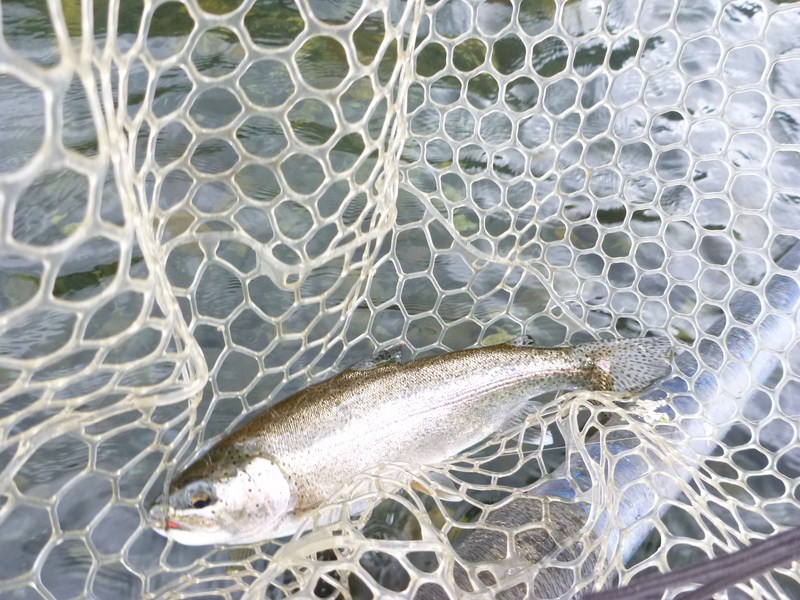 Nice trout on dry fly!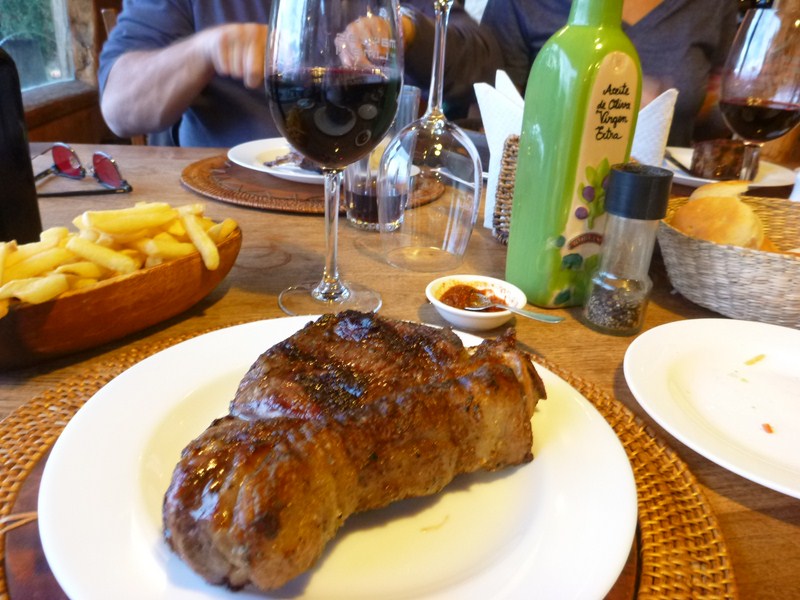 Where's the beef is what I'm talking about!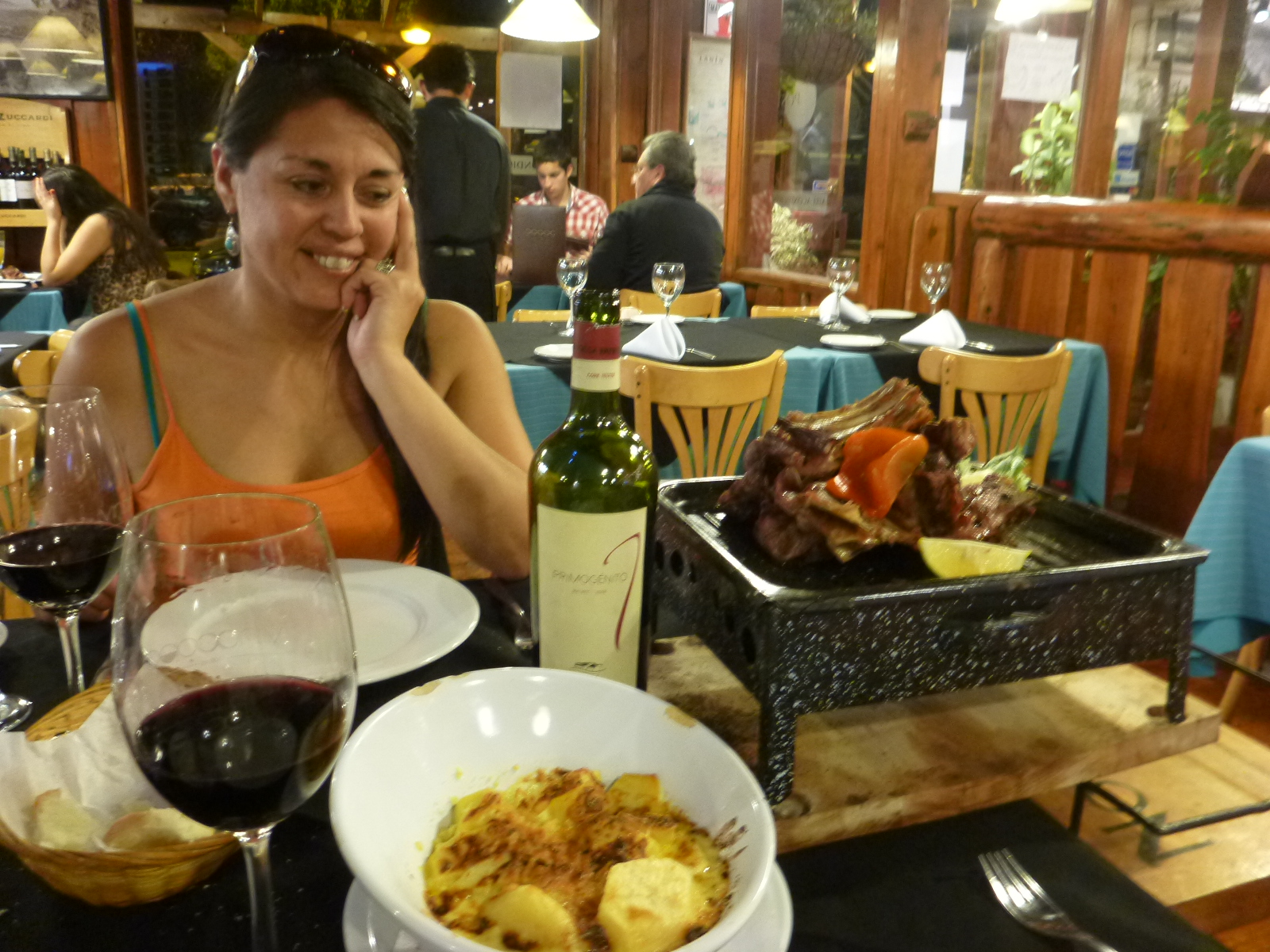 I promise, we guide you folks in Chile and Argentina, we'll take you out to some of the best restaurants you've ever been to. I hope you like great salads, lamb, beef, fish and chicken.

Carola's tours are some of the best available, a true Chilean experience that many have grown fond of on their visits to see us down under.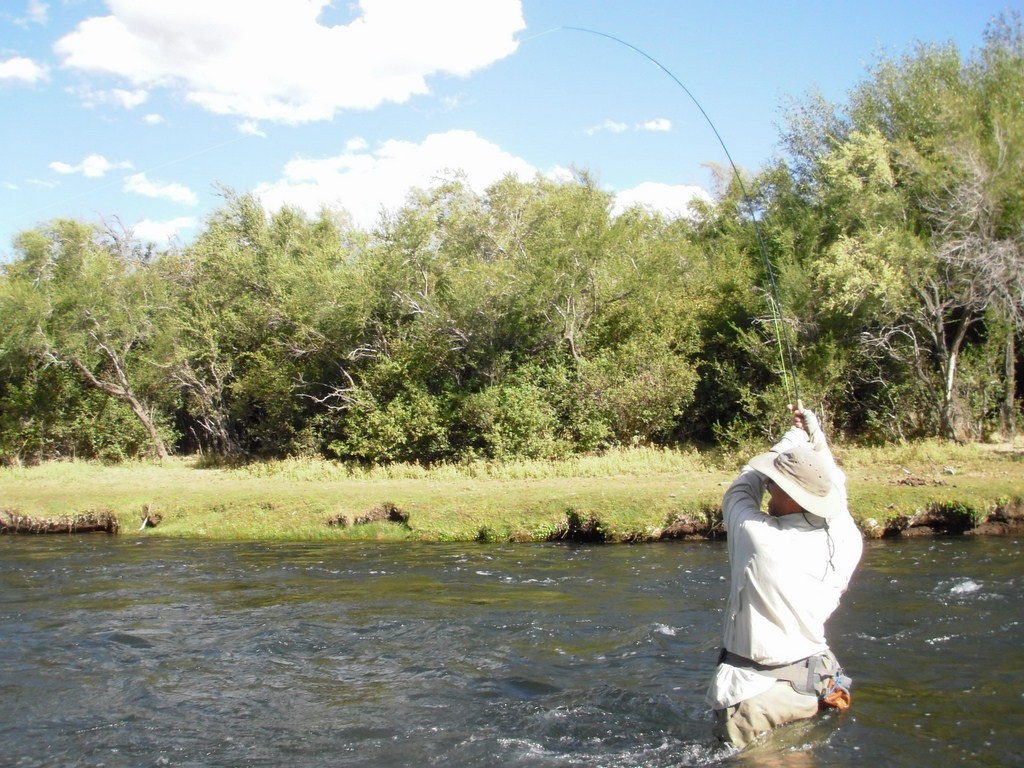 Then I hooked a lunker that took me into my backing in 5 seconds!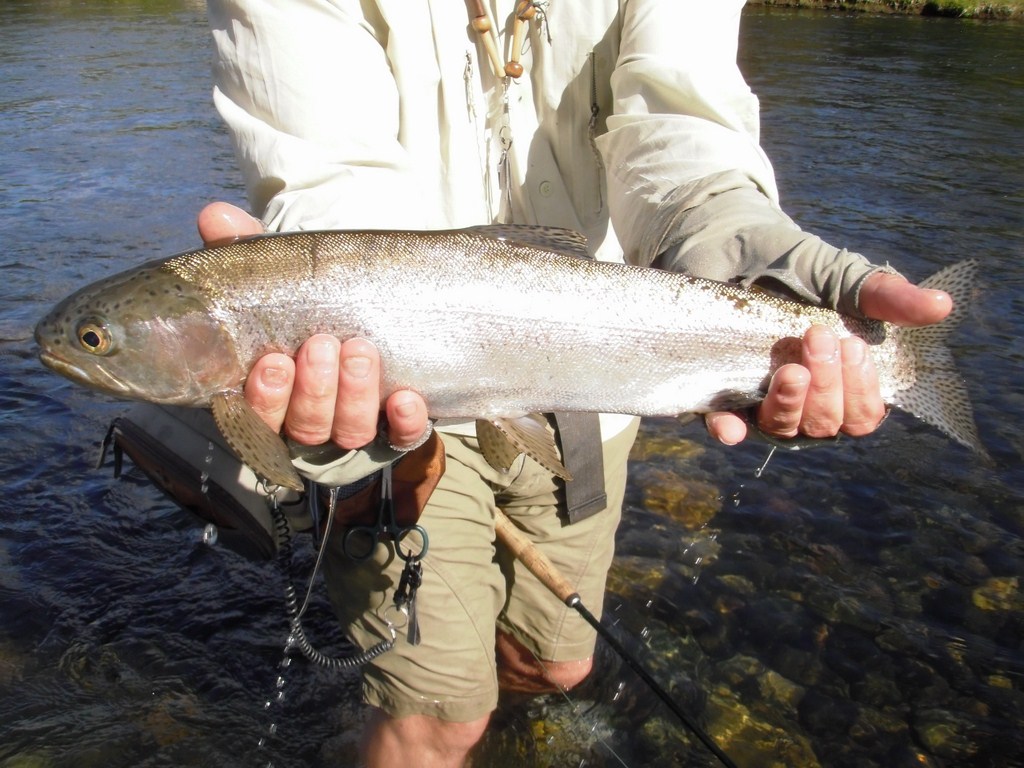 Sassy isn't she!?!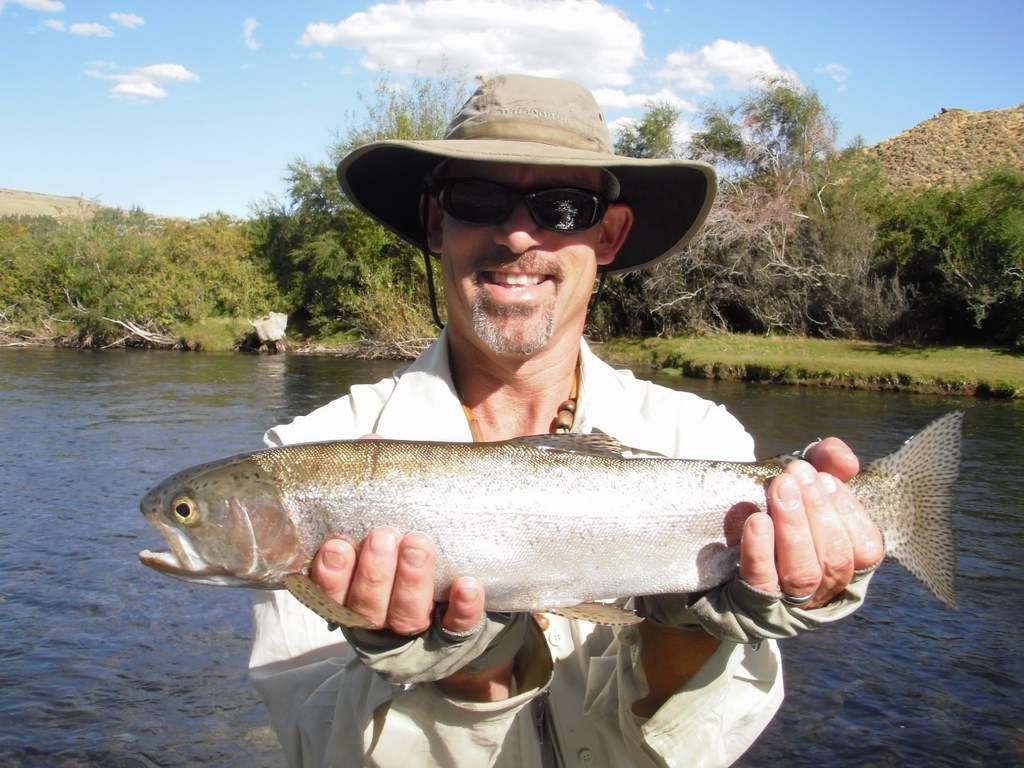 Fly fishing Argentina is tops on my list, hope to send you over there folks!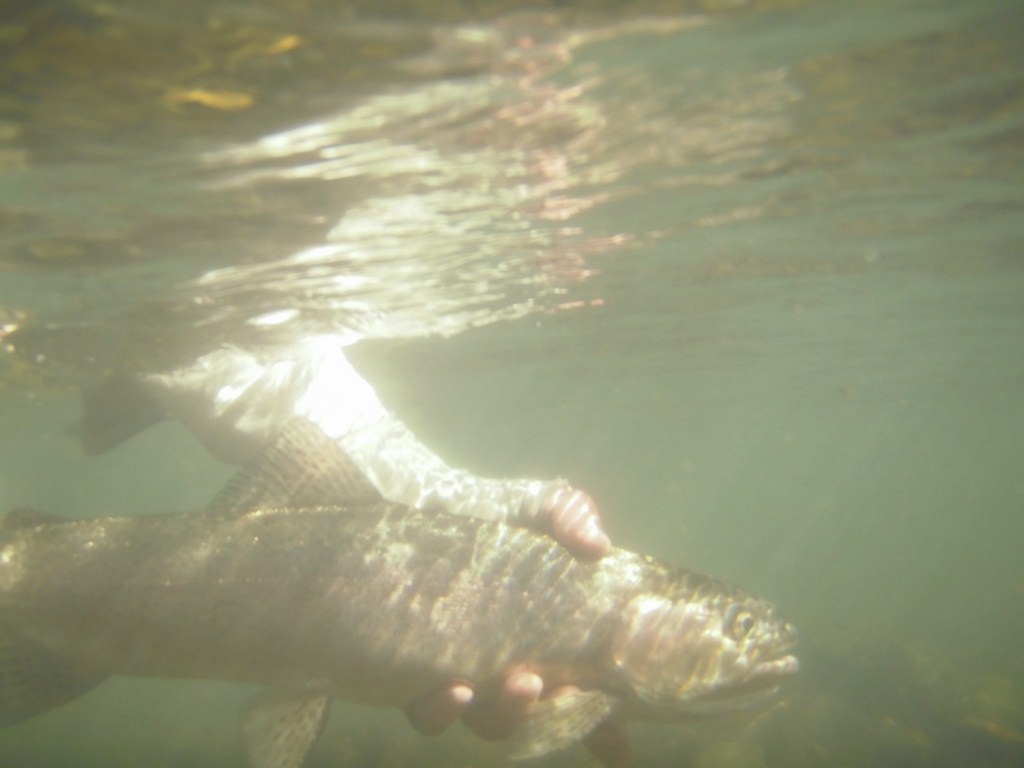 It's ok baby, you're home free now. Go back and make many more generations for others to enjoy!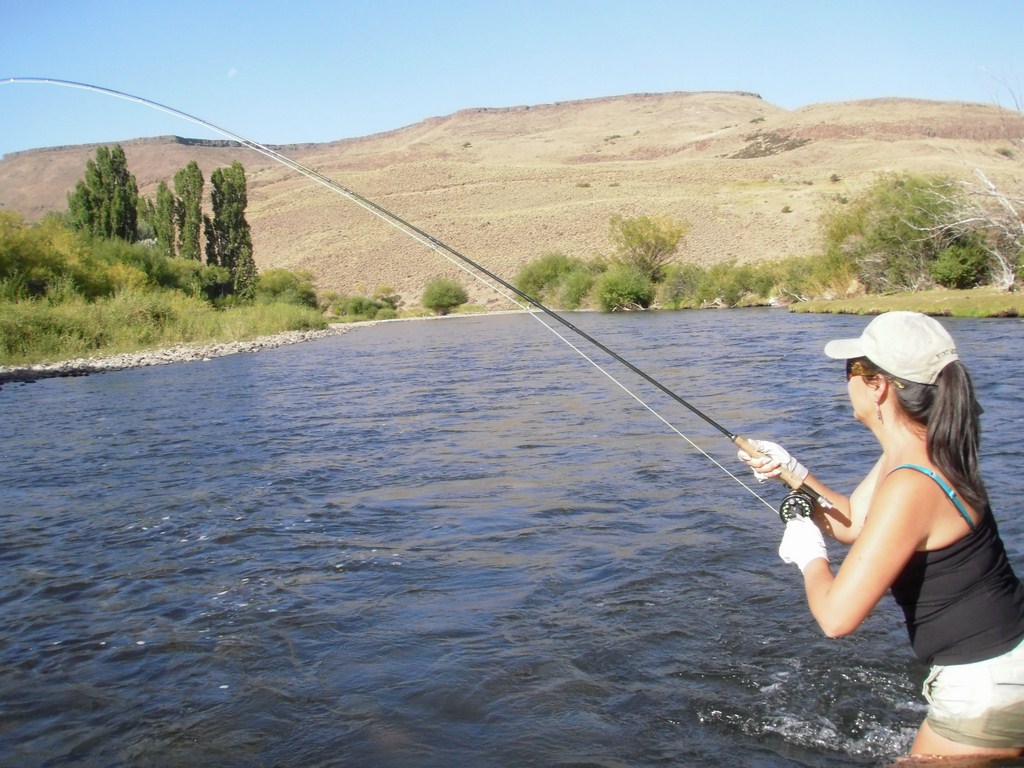 Then Carola got in on the action and caught a few trout, way to go honey!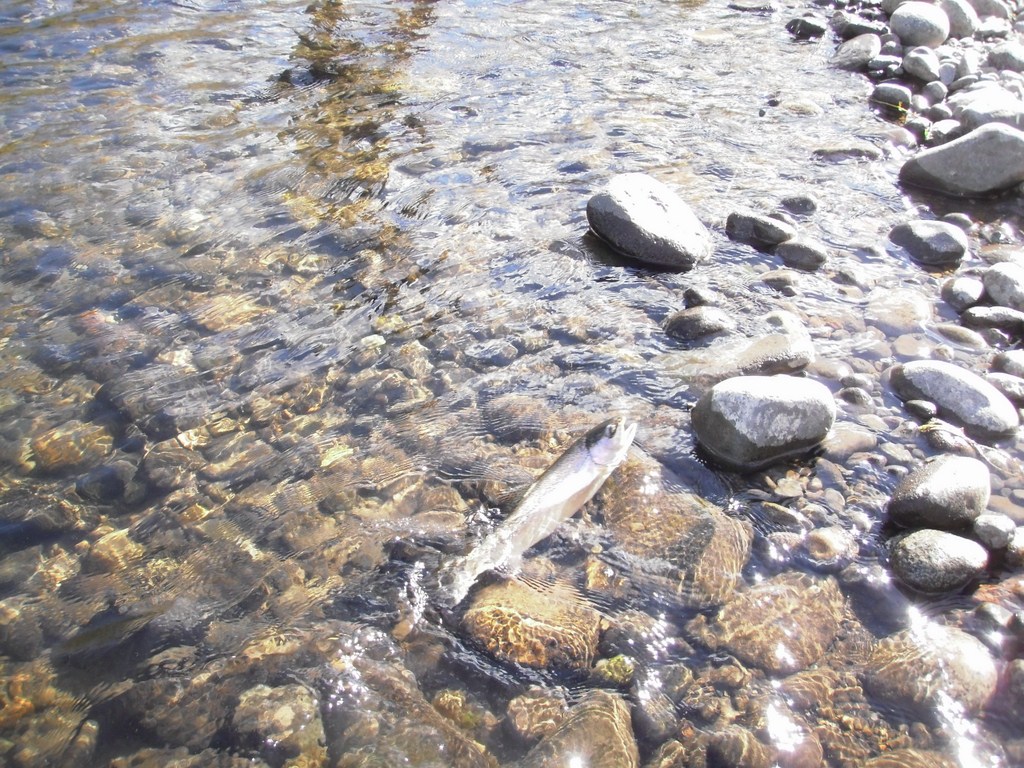 Very respectable babe, keep him in the water….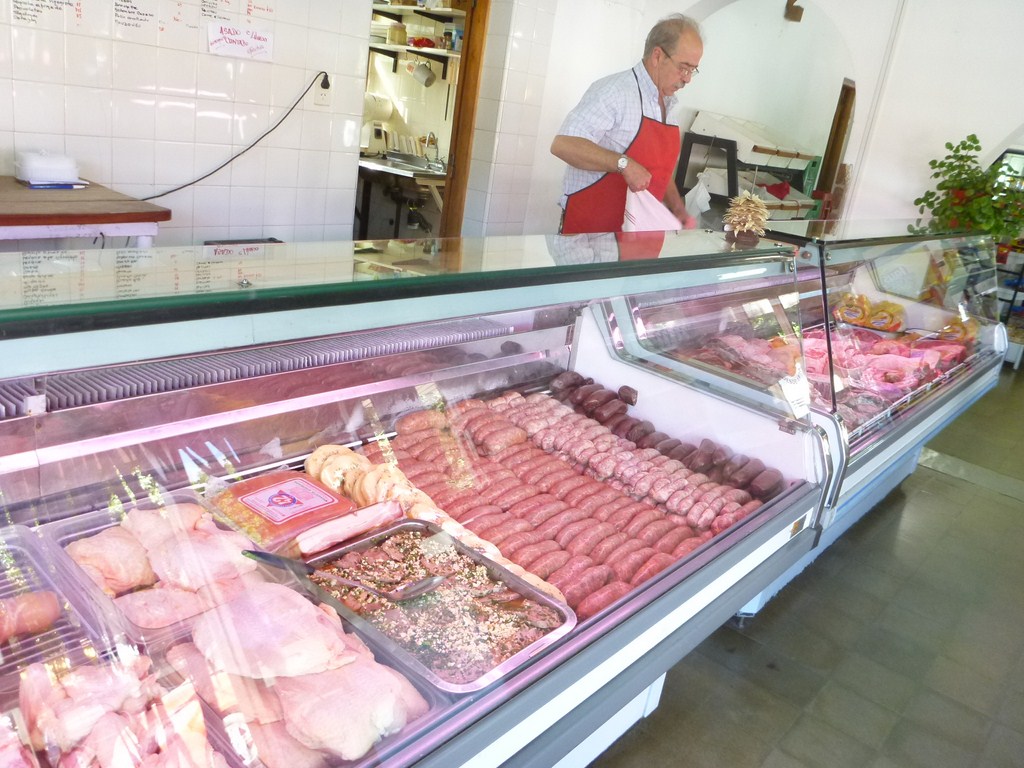 Let's go by the meat market in Argentina and pick up some great meat to BBQ!!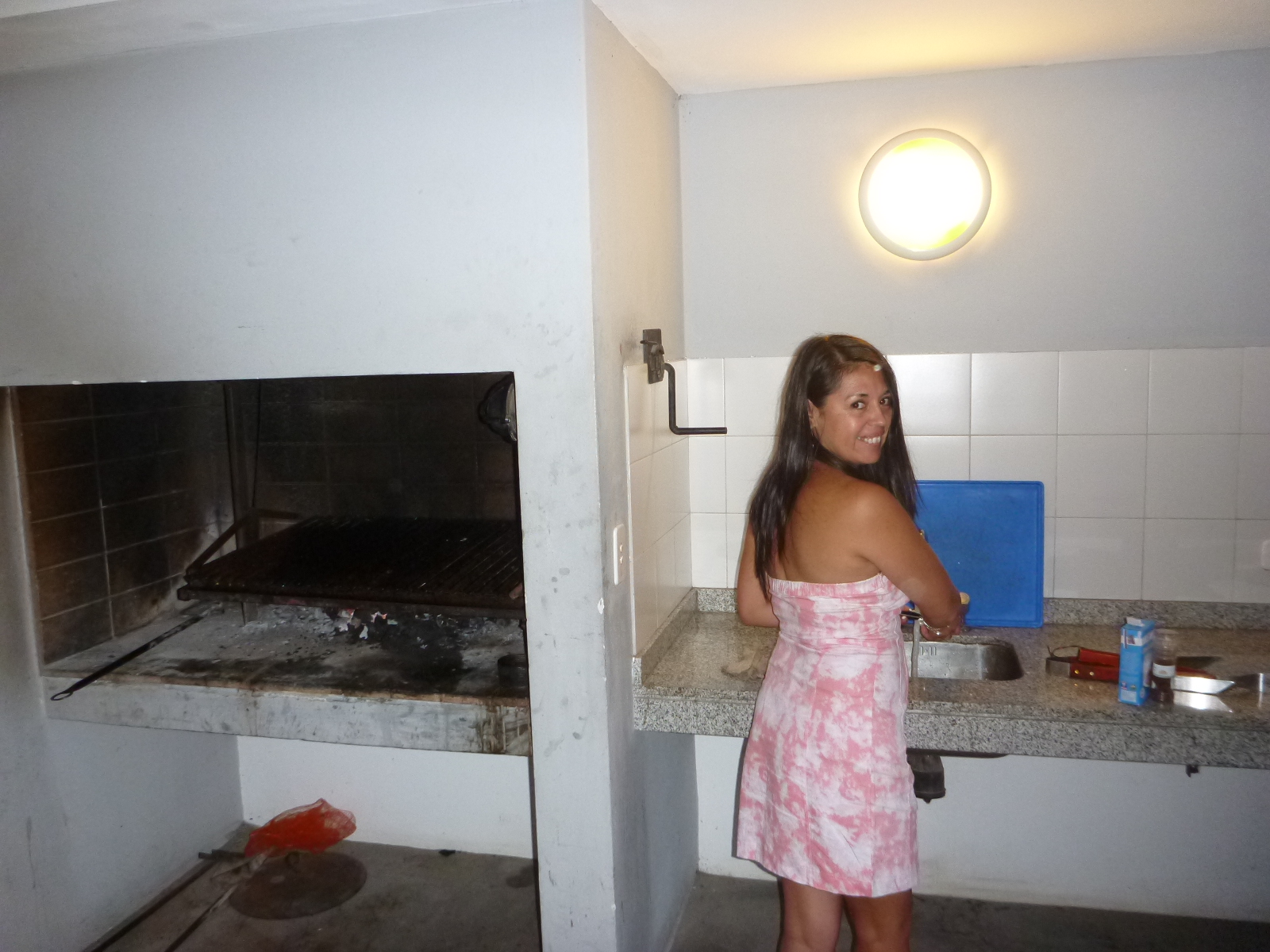 Hey baby, lets have a BBQ Argentine style, I love their lamb e flavor is over the top!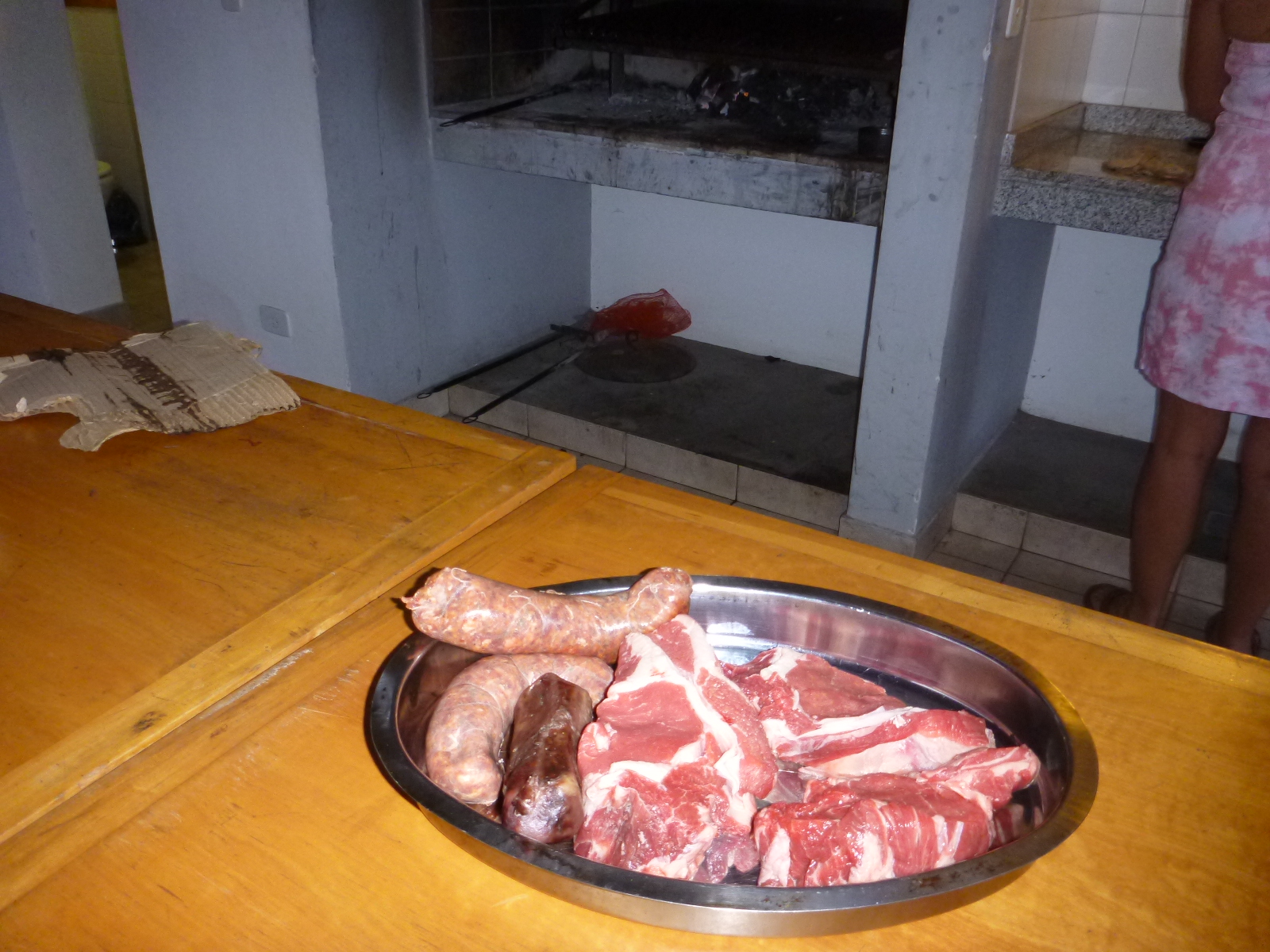 On this night we had sausages and NY steaks called Bife Chorizos, it was incredible!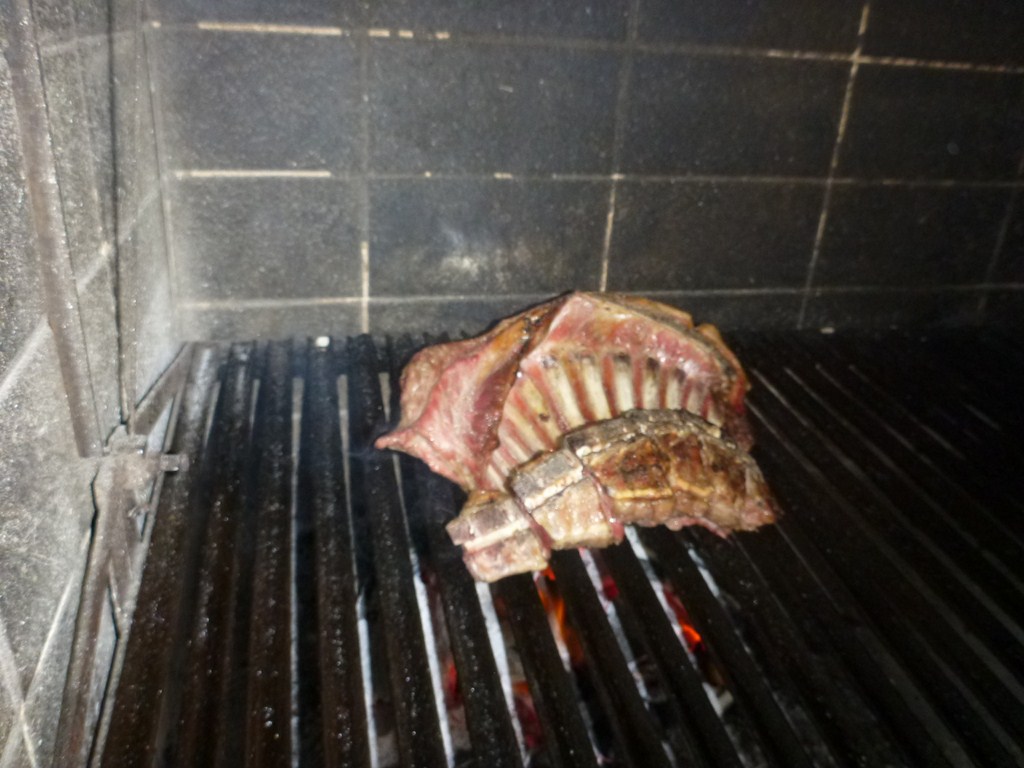 On another night we prepared a whole rack of lamb we bought for around $15 USD, it was the most incredible piece of lamb I've ever tasted.
 Our guide Jorge is the best, with Gabriel and I planning daily where the clients go to, this was another successful trip we are very proud of.

Thanks for watching our adventures!
Best to you in 2013, Jack & Carola Trout & The Team Trout Guides International
http://www.jacktrout.com/chile.html
http://www.jacktrout.com/argentina.html
*********************************************************
EMAILS FROM YOU:
Dear Pit River guides and anglers,
The Pit River Technical Review Group (TRG) will be meeting again in Redding on March 13, 2013. In preparation for this meeting we're writing to give you a brief update on the latest reports, surveys, and monitoring efforts associated with the Pit 3, 4, and 5 re-licensing process.
As you know, the new flow prescriptions exceeded CalTrout's recommended flow rates of 200 cfs in Pit 3 and 350 in Pit 4 and 5. Consequently, fishability and accessibility do not currently meet your hopes and expectations.
Despite this, CalTrout still believes that the flow rate compromise reached in the licensing negotiations will benefit fish and the long-term health of Pit 3, 4, and 5. But we sympathize with the guides that have been hurt financially by these abrupt changes. Although we have no current means to reverse the license agreement, we can continue to 1) keep you up-to-date on the implementation of the new license requirements 2) continue to voice your concerns/frustrations to the TRG 3) work with the TRG on potential adaptive management opportunities in the future.
Moving Forward
On March 21, 2012, after meeting with a core group of Pit River guides, CalTrout submitted official comments to the TRG that focused on three primary concerns.
Comments and Concerns from Last Pit River Technical Advisory Committee meeting:
1. Flows, especially in Pit 4 and 5 are well above license condition minimum flows resulting in extremely challenging and unanticipated angling conditions.
2. Sampling methodologies for monitoring relative fish abundance were compromised by high baseflows. This resulted in a lack of comparable data to previous years. Absent this data it is impossible to determine if the new flows are actually benefiting the trout population.
3. Anglers are overwhelmingly dissatisfied with the new flow regime. Angler satisfaction is an evaluation criteria metric to be used as part of the adaptive management process.
See attached for a full version of comments we submitted last year. CalTrout continues to work with the TRG on addressing these concerns in 2013. We will keep you informed if and when opportunities arise to adapt current license implementation requirements.
Here is a summary of some of the findings from last year's studies. You can find the full studies at http://www.pit345implementation.com/default.aspx.
Angler Survey Overview
The new Pit 3, 4, and 5 FERC license requires an angler and recreation monitoring of the Project Area during the first five years (2011-2015) of the new license-required flow conditions. This survey monitors angler "effort, success, catch rates, size of fish, and satisfaction. Additionally an End-of-Season Angler Survey was created on-line and distributed via email to anglers and an Angler Guide survey was developed to query local fishing guides known to take clients to the Pit 3, 4, or 5 reaches.
Angler Survey Data overview from 2012:
1. 707 angler recreation surveys were distributed during 75 survey days, 229 survey were returned (32% survey return rate)
2. Anglers came primarily from Shasta County, and the San Francisco Bay Area Counties but also from Arizona, Nevada, Oregon, and Washington,
3. Fly anglers made up 64% of those surveyed, bait and lure anglers made up 37%
4. 2,573 rainbow trout reported caught, 49 brown trout caught
5. Catch rates: Pit 3) 2.6 trout per angler hour, Pit 4) 2 trout per angler hour, Pit 5) .6 tour per angler hour (98% of all trout released)
6. 67% of anglers responded that Pit 3 velocity was too fast, 69% state that Pit 3 water level was too high, Pit 4 and 5 anglers evenly split with regards to velocity and water levels being too high
7. Pit 3) 63-67% satisfied with overall experience Pit 4) 59% satisfied with overall experience Pit 5) 65% satisfied with overall experience
8. 58% of guides reported for Pit 3,4, and 5 decreases in 1) overall angling experience of clients 2) percentage of clients capable of fishing a reach 3) number of client days fished
9. In 2012 majority of anglers 59-67% were satisfied with overall fishing experience in all reaches
10. 70-74% surveyed were satisfied with size and number of trout caught
Fish Monitoring overview from 2012
1. Article 401 Certification Condition of State Water Resources Control Board (State Water Board) requires PG&E to monitor aquatic organisms. Sampling began in September 2011; as part of plan PG&E was to review efficacy of the sampling methods and recommend needed modifications
2. 2011 Sampling methods, when implemented under higher in-stream flows, were ineffective at providing results that were directly comparable to pre-license sampling conducted at much lower flows. PG&E submitted a Method Modification Proposal to the resource agencies in June 2012
3. Modifications included: 1) elimination of requirement to compare results to previous studies 2) experimental use of modified sampling techniques 3) development of new index based on new sampling techniques, elimination of requirement to monitor rough sculpin
4. New sampling methods include: 1) elimination of barge electrofishing 2) elimination of main channel snorkel counts 3) continue fry lane snorkel counts 4) use of extended night time experimental gill nets 5) use of hook and line fly fishing samples for mark-recapture estimates 6) use of fyke nets to determine their efficacy for catching large fish 7) use of downstream margin electrofishing to a bag seine
5. River fish monitoring was conducted during September 2012 in Pit 3, 4, and 5. 2012 modified sampling methods were generally effective for collecting margin species and rainbow trout. But efforts to develop mark-recapture population estimates were unsuccessful due to low recapture rates. Gill nets, fyke nets, and electrofishing downstream into bag seine were also determined to be ineffective. Based on these results, PG&E recommends that future fish monitoring be based upon margin snorkeling, margin upstream electrofishing, and catch per unit effort (CPUE) hook and line sampling techniques in all reaches
6. Pit 3 supported the highest total fish biomass (rainbow trout 8.5 lbs. per acre). Biomass declined in downstream reaches (rainbow trout 3.7 lbs. per acre in Pit 4 and .1lb per acre in Pit 5)
7. Pit 3: 2011 catch rates were 4.12 fish/hr verses 2012 catch rates of 2.84 fish/hr
8. Pit 4 2012 rates: 3.3 fish/hr, Pit 5 2012 rates were 2.75 fish/hr
9. Four non-native species were observed during the 2012 monitoring surveys: brown trout, smallmouth bass, largemouth bass, and green sunfish
10. 2013 Recommendations: conduct an additional round of hook and line sampling in the Pit 4 and 5 reaches to expand baseline for analysis of effect of Pit 5 whitewater recreational flow releases. Also conduct two additional rounds of margin electrofishing in the Pit 5 reach: one before release and second one after.
Upcoming Technical Review Group Meeting and Comments
As mentioned above, the next TRG meeting will take place on March 13 from 9am to 5pm at the Red Lion Hotel (1830 Hilltop Drive, Redding CA). CalTrout will attend.
In addition to the reports summarized above, please visit the Pit 3, 4, and 5 Project public website for access to all 2012 Draft Monitoring Reports and provide your comments via email to both Jessica Albietz at J3AD@pge.com and Christina Lawson at Christina.lawson@cardno.com.
Please feel free to contact CalTrout at cknight@caltrout.org or dbraugh@caltrout.org to discuss concerns or specific components of the monitoring reports. CalTrout is currently reviewing PG&E's proposed modifications to the 2013 River Fish Monitoring methodology.
Best,
Curtis Knight and Drew Braugh
CalTrout
_____________________________
Curtis Knight
Conservation Director
(530)859-1872